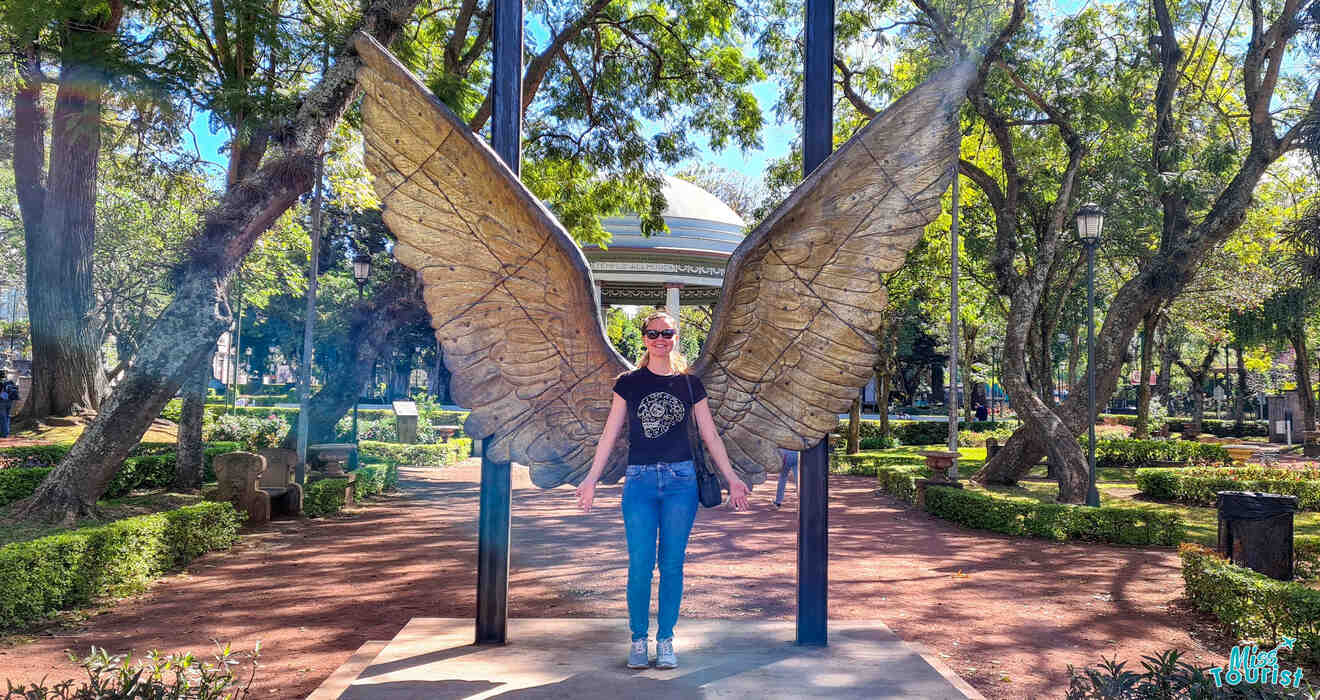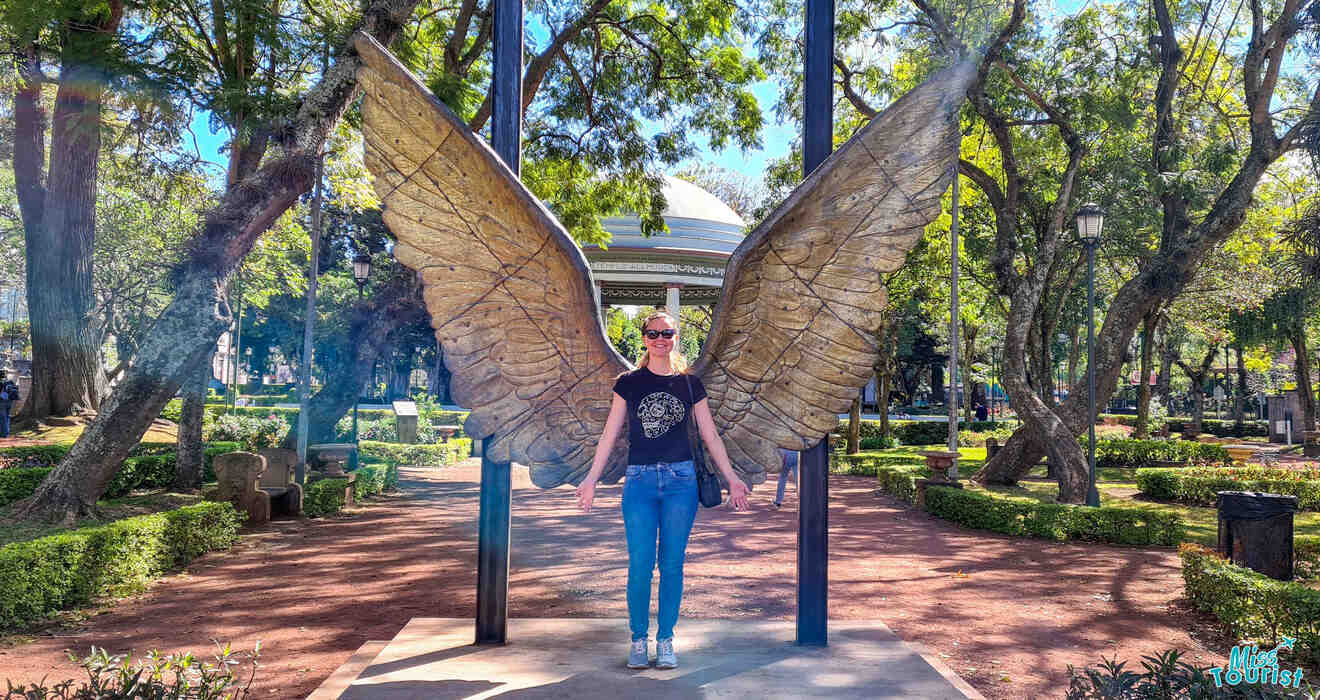 San Jose is the vibrant capital city of Costa Rica, located on the Caribbean Coast of Latin America. I was lucky enough to live here for about 3 months and spent a lot of time exploring the sites!
Even if it is often overlooked by tourists in favor of Costa Rica's stunning nature, San Jose has a lot of cultures, history, and tourist attractions to offer, so it is definitely a must during your vacation, especially if you want to experience the Costa Rican local life!
In order to help you choose what to focus on, I wrote this Costa Rica travel blog with the best things to do in San Jose, Costa Rica, including museums, restaurants, national parks, markets, and much more… so no one will be left behind.
Make sure to stick around because I also included a special bonus with a day trip itinerary to explore the greater San Jose region!
Are you ready to jump on this cool Costa Rica trip with me?
Let's start!
If you are in a hurry
If you don't have time to read the whole Costa Rica travel blog, check out this quick list of the best tours to join in San Jose Costa Rica:
Here are the main things to book in advance:
And here are the best hotels: Gran hotel (Luxury), Sleep Inn Hotel Paseo Las Damas (Mid-range), Cando Living Apartments (Budget), URBN Escalante (Airbnb)
1. Stroll around downtown San Jose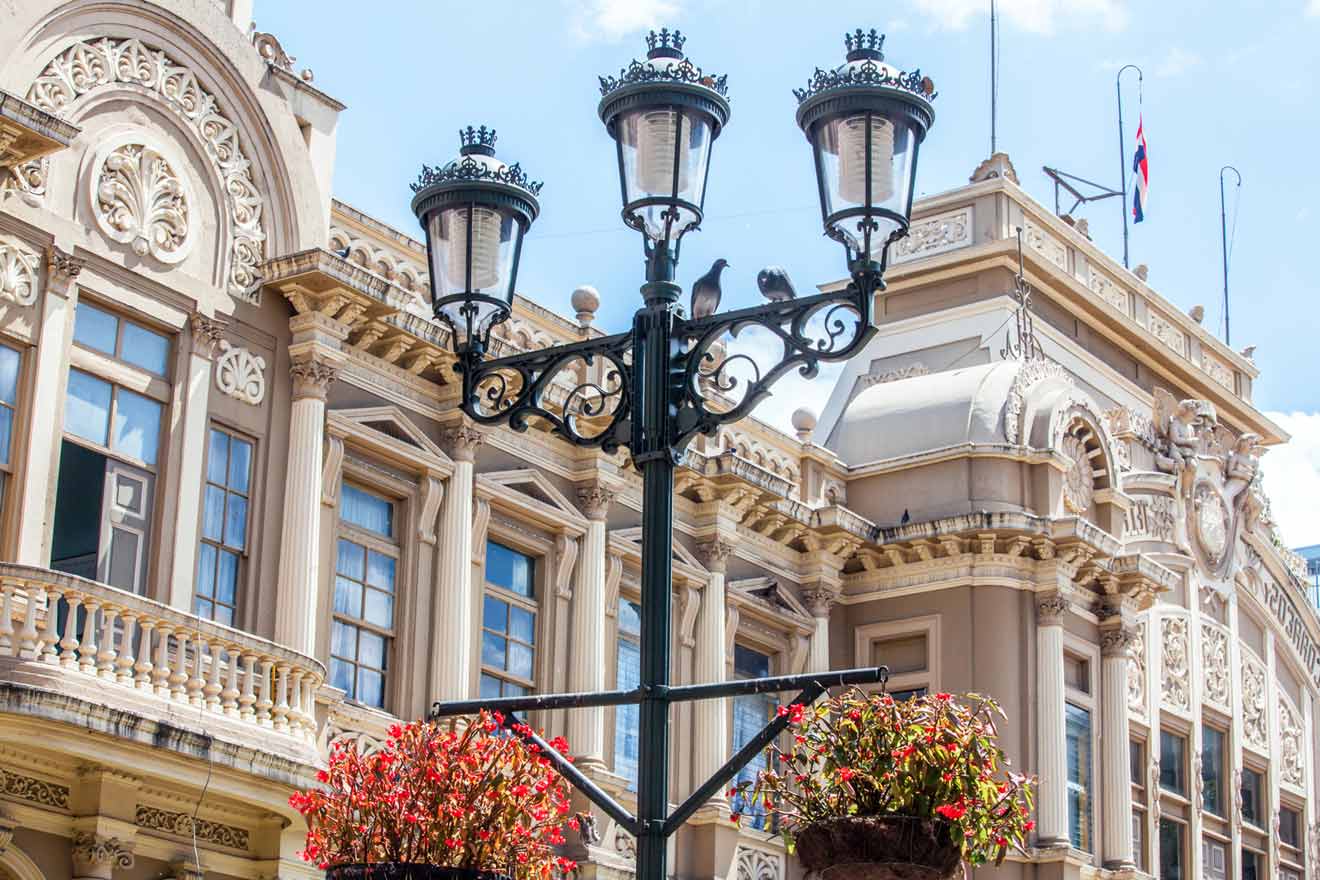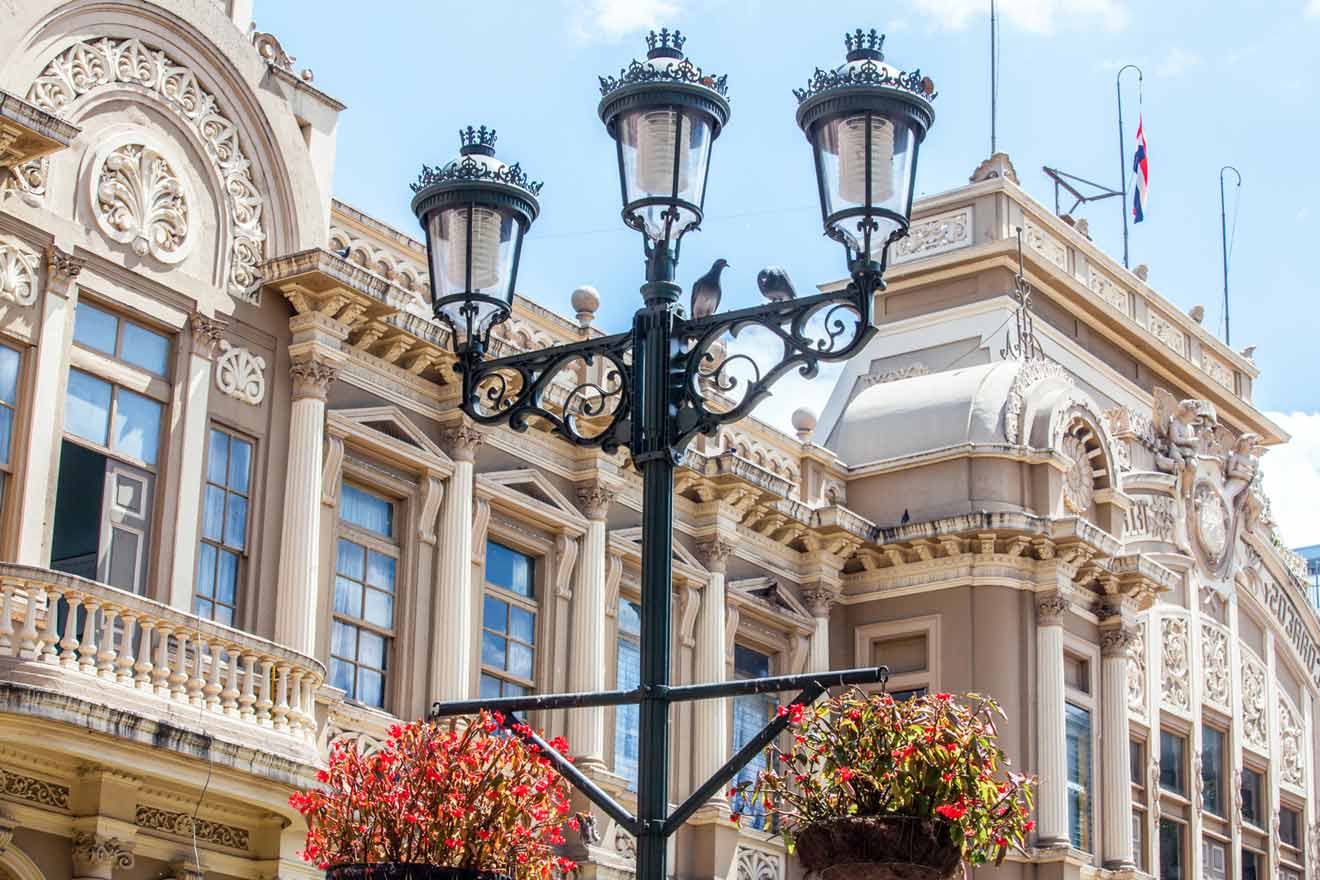 If you want to experience the real Costa Rican culture, the best thing you can do in San Jose is just to go sightseeing around downtown San Jose where you'll find most of the attractions, historical buildings, and local people.
The main street in downtown San Jose is Central Avenue (Avenida Central): perfect for some people watching, especially around 4-5 pm, where you can see all the locals getting off work and get a feel of the typical city Costa Rican life.
The Avenida Central will take you through Plaza de la Cultura square, which has a great central position to reach some of the city highlights like the Pre-Columbian Gold Museum and the National Theater (that we'll see in the next sections).
While you're here, don't forget to take a pic with the San Jose sign. And if you love gelato, here you can try the best local ice cream at Pops Plaza de La Cultura!
In downtown San Jose you'll also find many beautiful churches like the huge Metropolitan Cathedral (Catedral Metropolitana), featuring neoclassical architecture and 42 stained glass windows.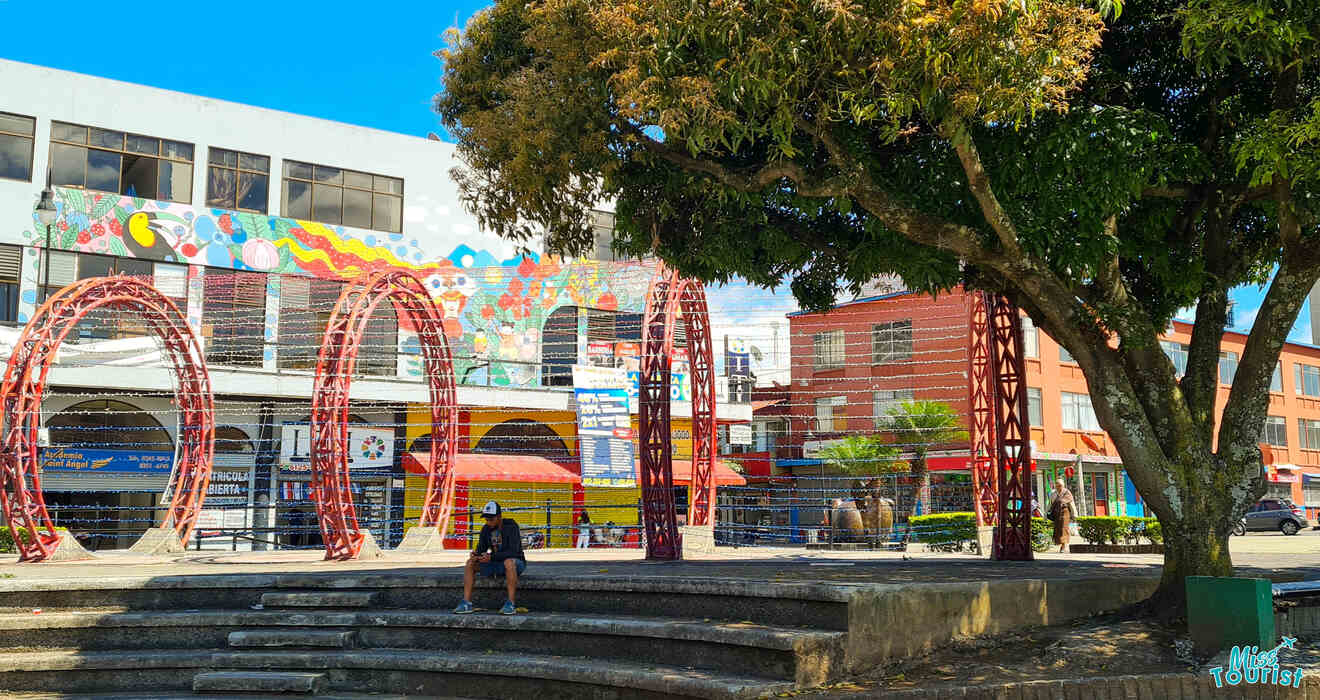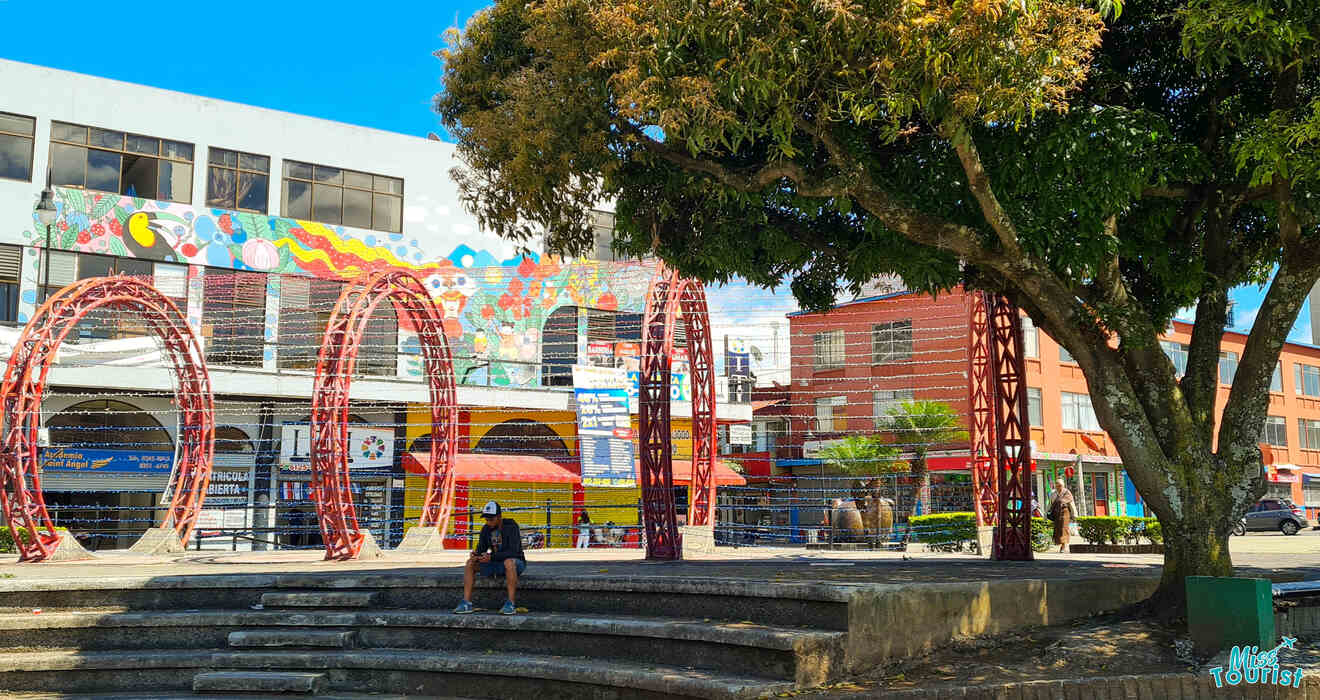 If you prefer to explore the Costa Rican capital's rich history with a guide to explain the significance of the city highlights, I recommend you join this 5-hour San Jose city tour!
PRO TIP: if you are on a tight budget you can join a free walking tour instead or just wander around the city alone. The guys I went on a free tour with also run this website, check it out for restaurant recommendations!
FUN FACT: In San Jose, you won't find any real postal address, so to get to places the easiest way is to follow Google Maps (the address will be something like "200 mt North from a big tree in Escazu" – I've heard that even the postmen don't know all the addresses and they can only work in their neighborhood, crazy!)
TOUR PRICE: US$95
2. Visit all the cool museums
If you're fond of museums, you'll love San Jose, Costa Rica, offering many options to explore Costa Rica's history, see pre-Columbian artifacts and keep your kids entertained.
Here are the must-see museums when visiting San Jose:
2.1 Jade Museum – the biggest jade collection in the world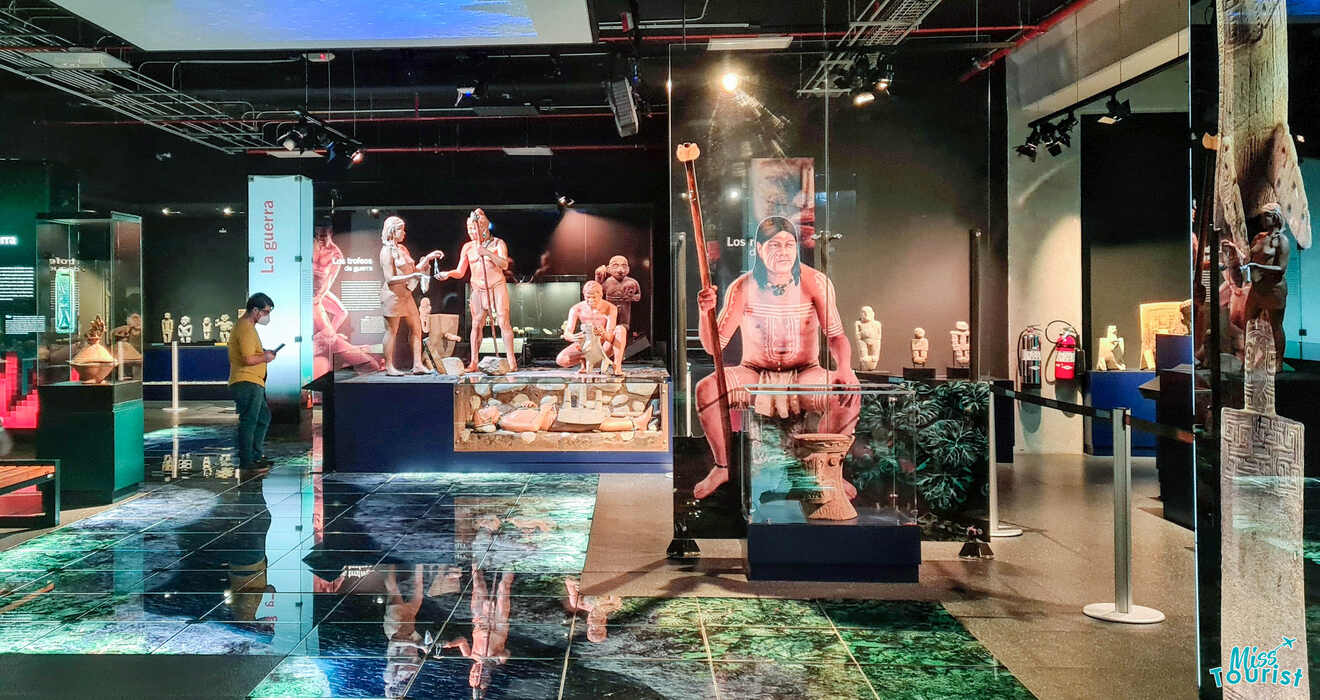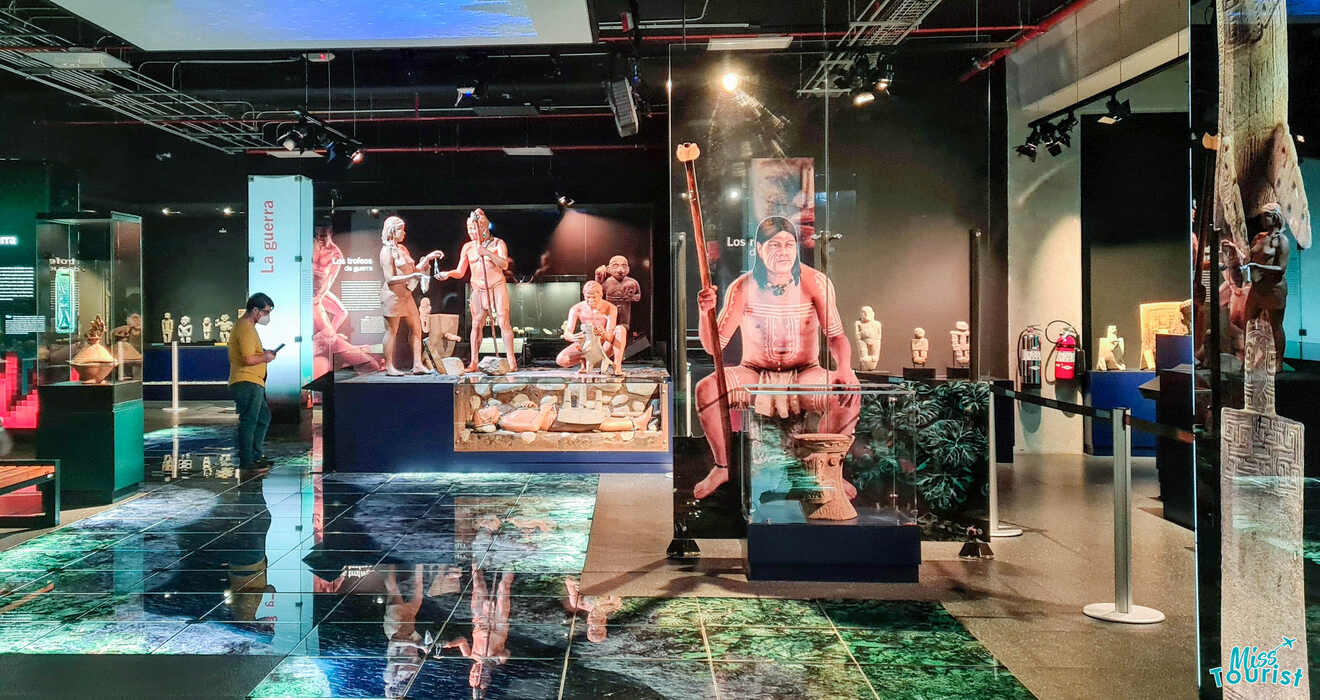 The Jade Museum of San Jose is the biggest museum of jade in the whole world, founded in 1977 by Fidel Tristan Castro, located in Plaza de la Democracia.
In the Jade Museum, you can gaze at a super interesting and diverse collection of pre-Columbian artifacts from 500 BC to 800 AD, including tables, ceramics, ceremonial heads, and especially jade relics.
These were very revered in pre-Columbian times… and you'll get to know why yourself, I don't want to spoil anything!
The whole Jade Museum building has 5 floors but the museum occupies only one floor, which hosts exhibitions changing every 3 to 4 months, and it's pretty interactive too… so no reason to skip it!
PRICE: 9,600 CRC (US$16)
2.2 Pre-Columbian Gold Museum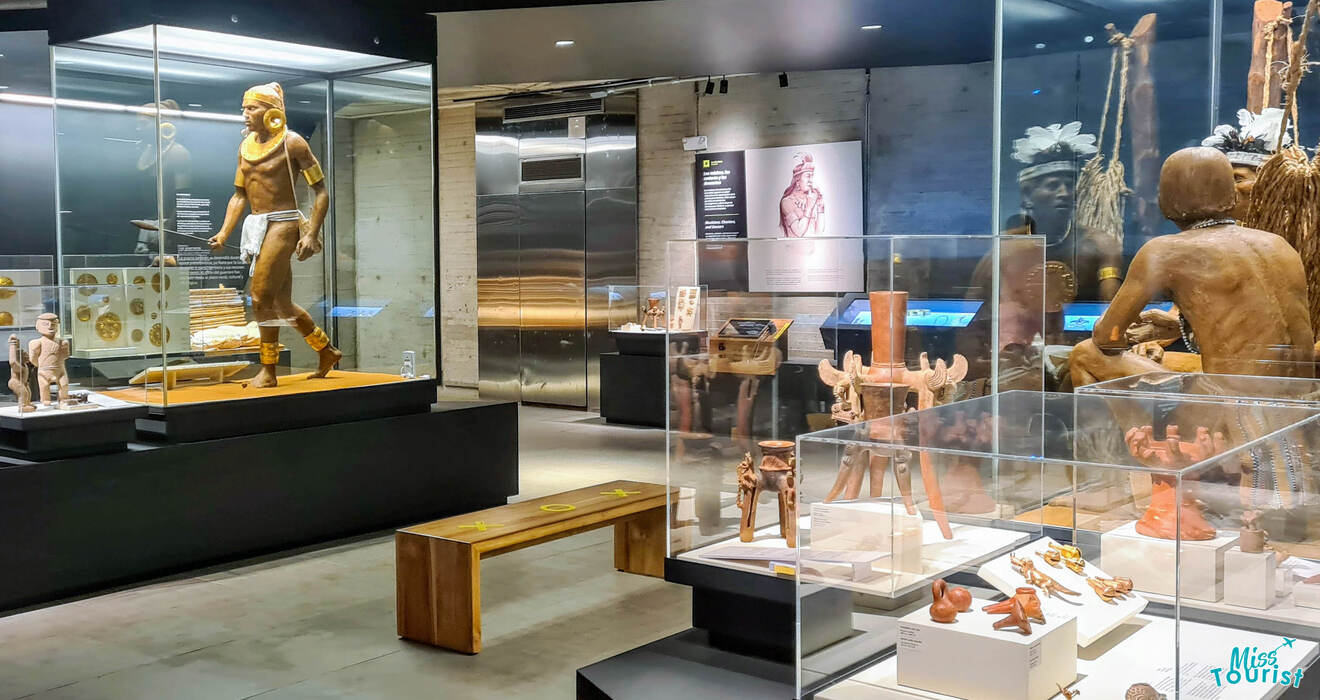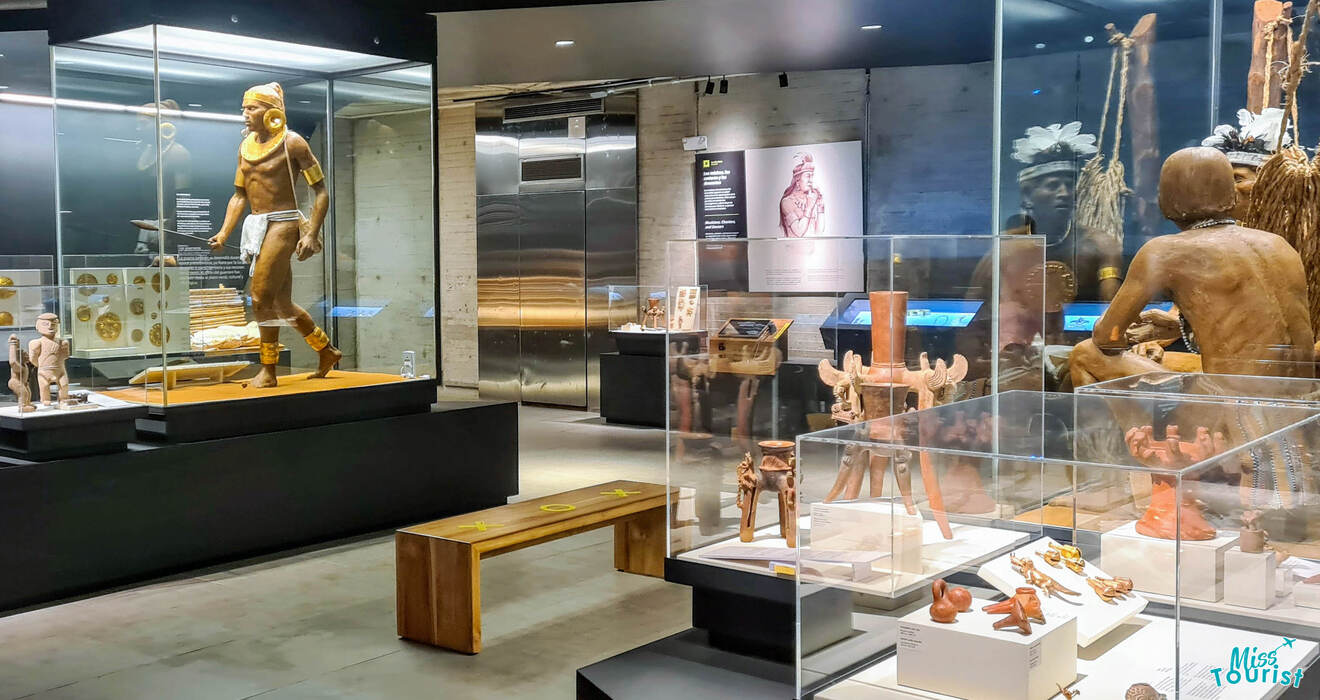 Right under Plaza de La Cultura, you'll find the Pre-Columbian Gold Museum, showcasing the largest collection of pre-Columbian gold in Central America, plus stone and ceramic artifacts, as well as bills and coins used in the past and current times!
In this underground museum, you'll find life-size dioramas depicting scenes from pre-Columbian times!
PRO TIP: The Gold Museum is divided into 3 floors: I suggest you go all the way down right away (where you'll find the gold objects from ancient times) and then go up!
PRICE: 9,300 CRC (US$15)
2.3 Costa Rica's National Museum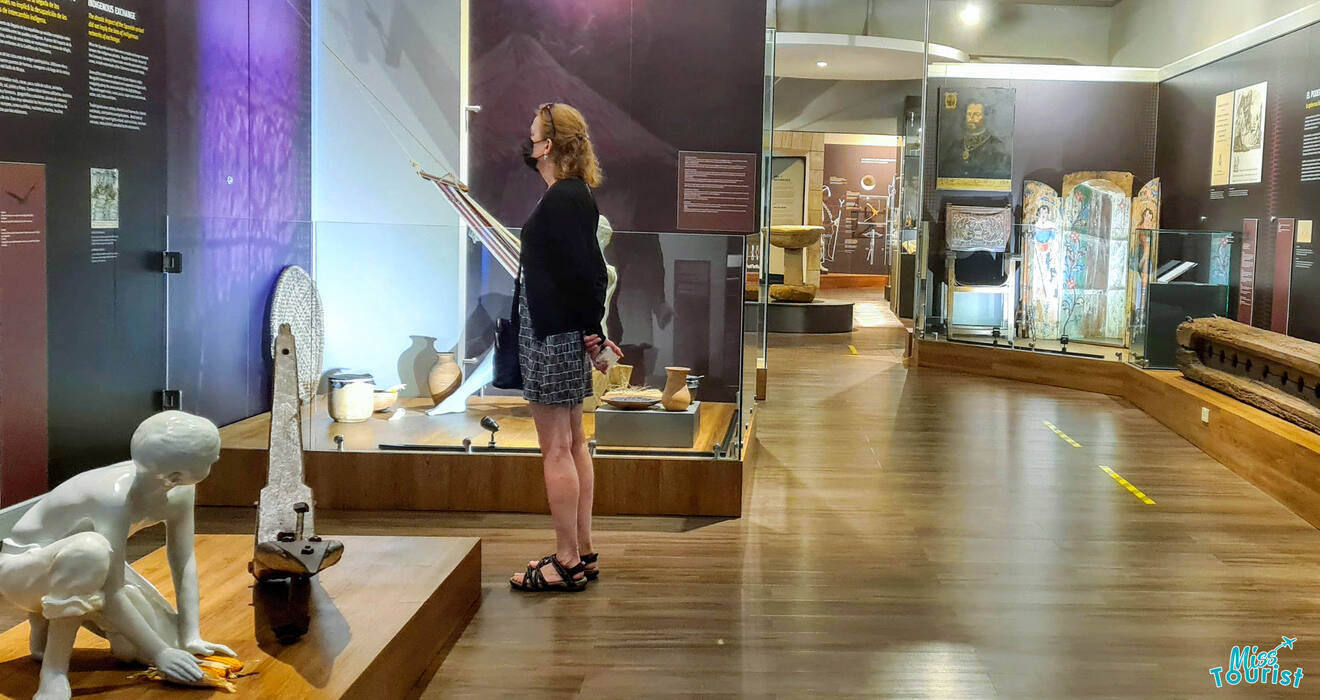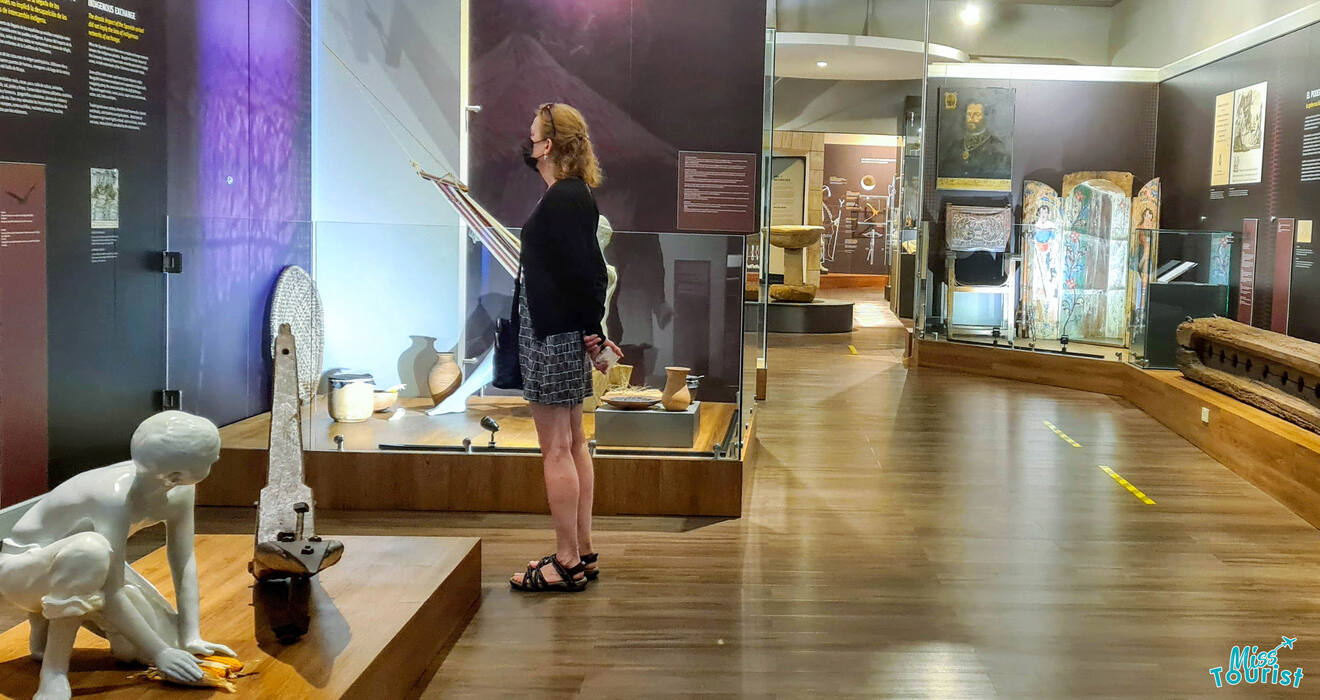 The National Museum is a must on the list of things to do in San Jose for any history buff. Used in the past as a fortress, now it showcases the history of the country in chronological order, from pre-Columbian periods to modern-day times.
Costa Rica's National Museum is my favorite museum in the country as it is interactive and interesting… there is a test at the end so make sure you pay attention!
Included in your visit there is even a walk through a tiny and beautiful butterfly garden, right at the entrance of the museum with tropical plants and colorful species!
PRICE:US$11
2.4 Museo de Los Niños (Children's Museum)
Going to San Jose with the family? Then you cannot miss the Children's Museum: an interactive museum where your kids can play and learn while having fun, from astronomy to ecology and much more!
In the Children's Museum, there are more than 40 cool exhibits that all the family will enjoy. The most popular one is the earthquake simulator… check it out!
PRICE: US$4
3. Check out the National Theater (Teatro Nacional)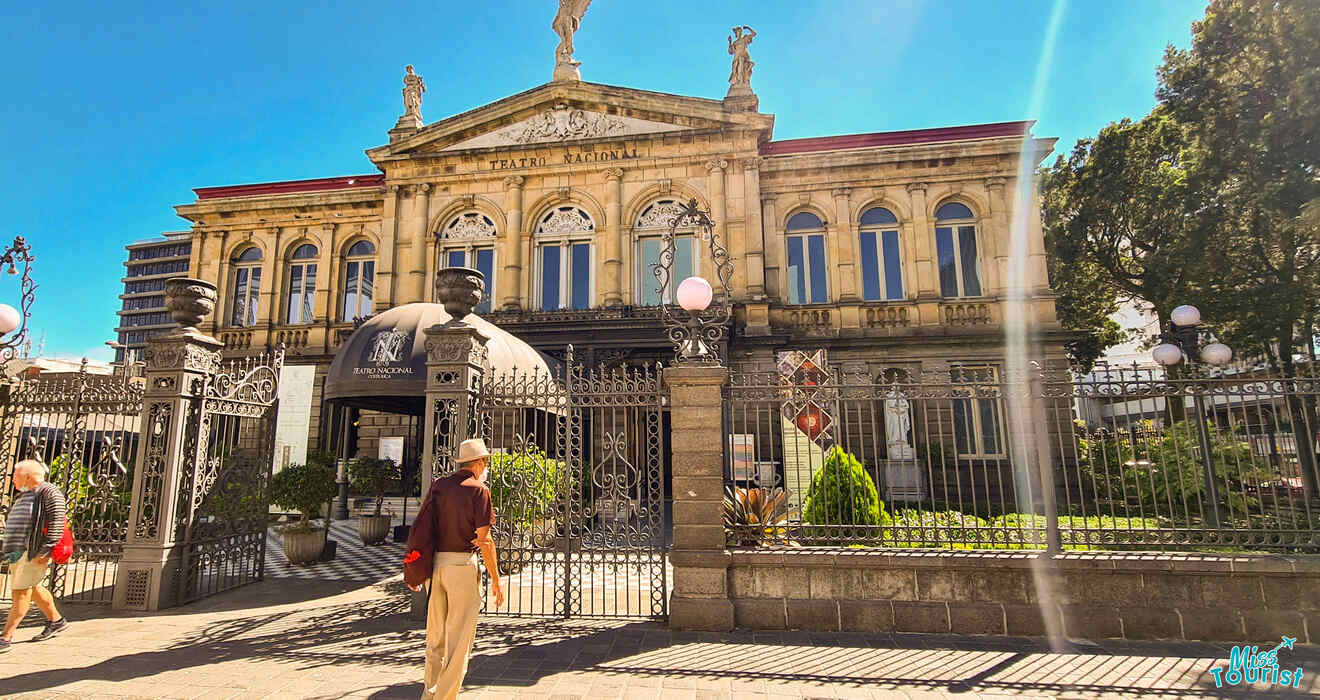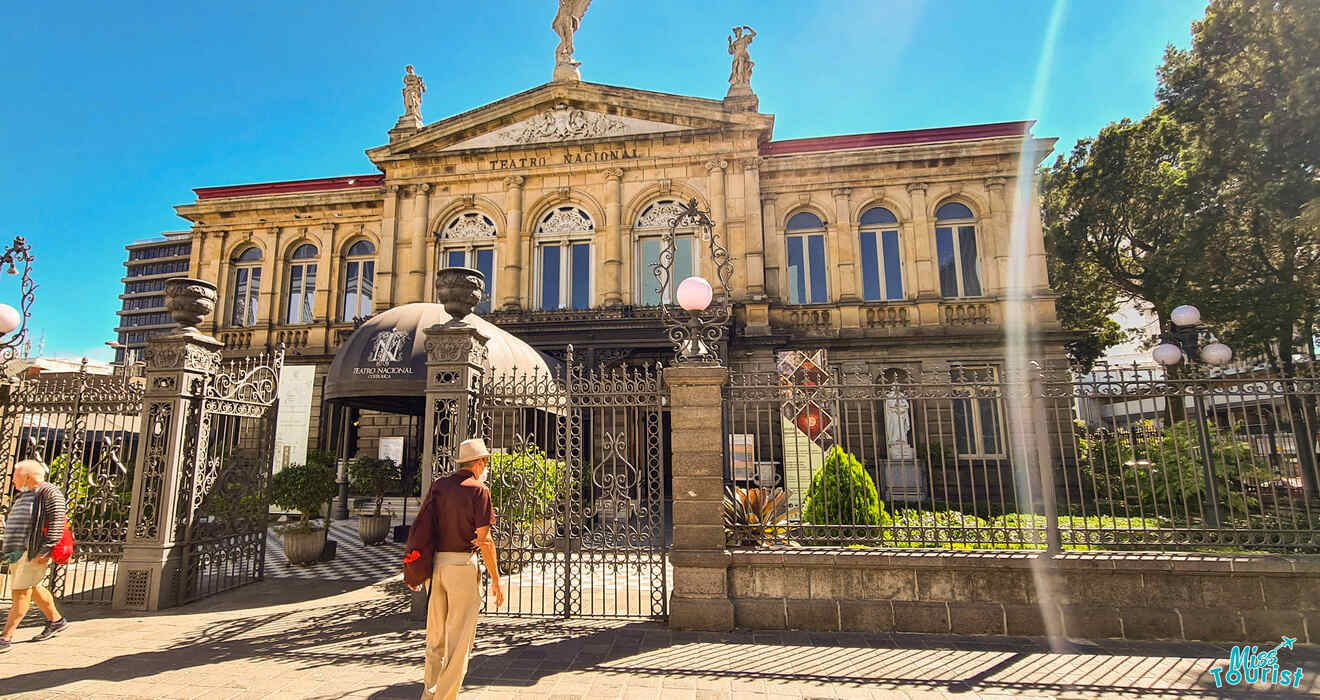 The National Theater (Teatro Nacional Costa Rica) is one of the most prestigious buildings in San Jose, featuring stunning marble statues and lavish furnishings, hosting shows for the San Jose residents since 1897!
You can come here to watch one of the cool shows or have a tour of the building, happening from Monday to Sunday, from 9 am until 4 pm. The guides are actors, so the visit is super interesting and interactive and you'll get to know the history of the theater!
My personal tip? Stop for a break at Alma de cafe, inside the National Theatre, where you can look at the beautiful ceilings while sipping your coffee (aaaaand, if you decide to go to the toilet while there, you can even take a peek at the inside of the theater!)
PRICE: US$5
4. Chill at La Sabana park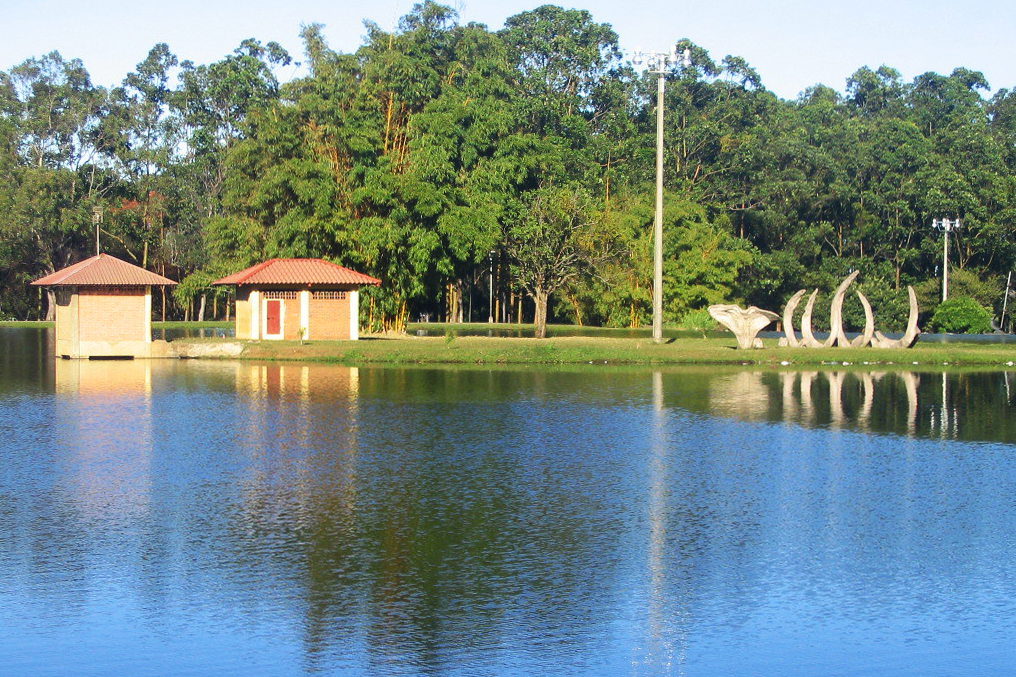 In Downtown Jose you will find La Sabana Metropolitan Park, Costa Rica's largest and most loved urban park… the perfect place to relax in nature and take a break from city life (while still being in the city!).
This central park is home to a square kilometer of green areas, a lake, public sports fields, and many iconic institutions of the town like the Costa Rican Art Museum and the National Stadium.
Whether you want to have a picnic with your family and friends, do some physical activity, or just meditate in total peace, La Sabana Metropolitan Park is the place to be!
P.S.: If you love the idea of being in contact with nature, check out Manuel Antonio National Park: a tropical paradise around 3hrs drive from San Jose hosting amazing flora and fauna to explore, and some of the most beautiful beaches in the world! I've been there and it is fantastic!
5. Shop at the Central Market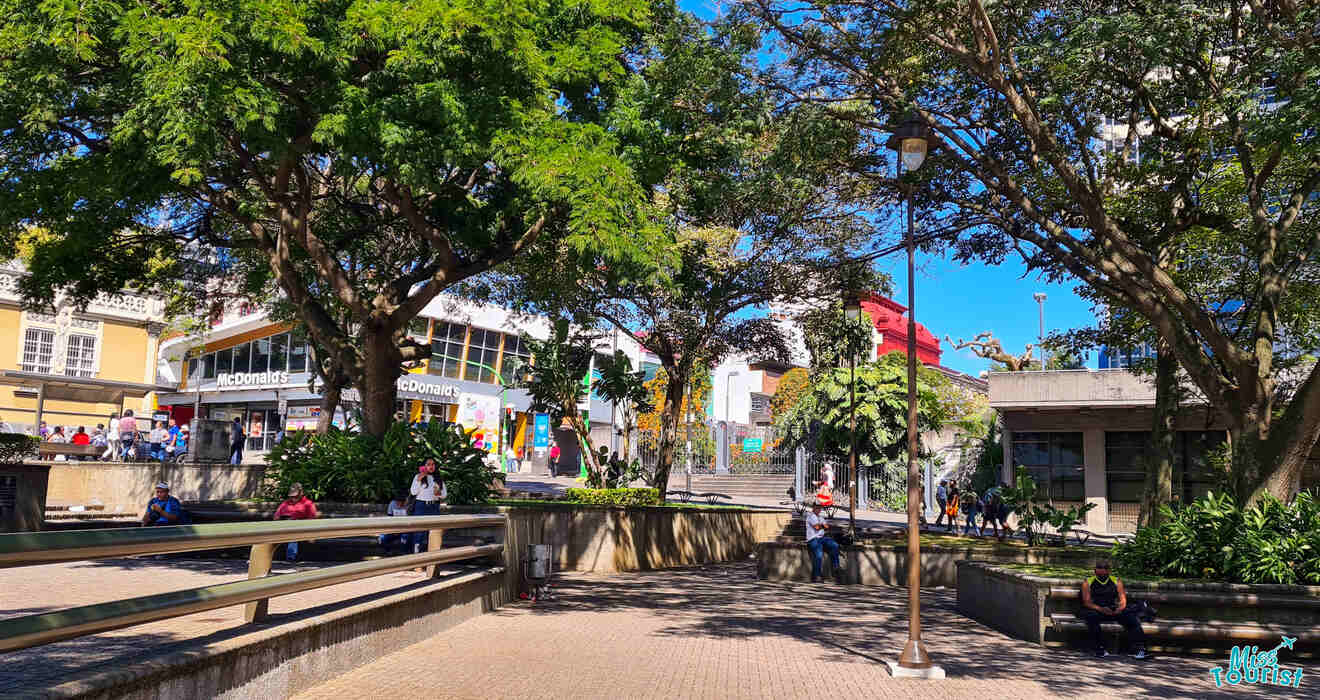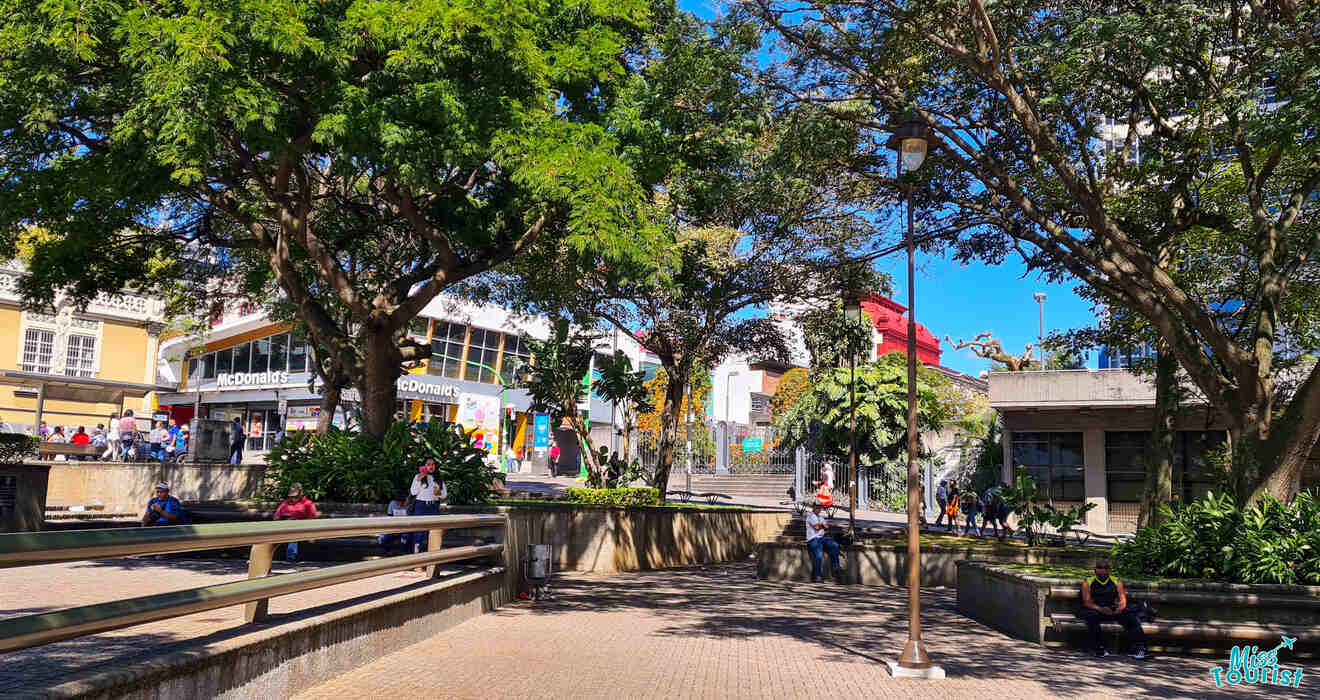 If you are a market enthusiast like me, you need to pass through the vibrant Central Market (Mercado Central) where all the Costa Ricans go shopping!
This indoor market opened in the 1800s, so is the most authentic gem you can find in the modern San Jose. It features more than 200 shops, stalls, and eateries where you can try the local food!
In the Central Market, you can buy anything from food and herbs to textiles, books, handicrafts, and, of course, many souvenirs for a memory of your holiday in San Jose Costa Rica!
PRO TIP: If you're mostly interested in artisanal products, I suggest you check out the Municipal craft market, where you'll find more unique handmade local souvenirs! And if you negotiate (you should) you'll get prices 3 times cheaper than the ones in tourist shops!
6. Enjoy some local craft beer on a pub crawl!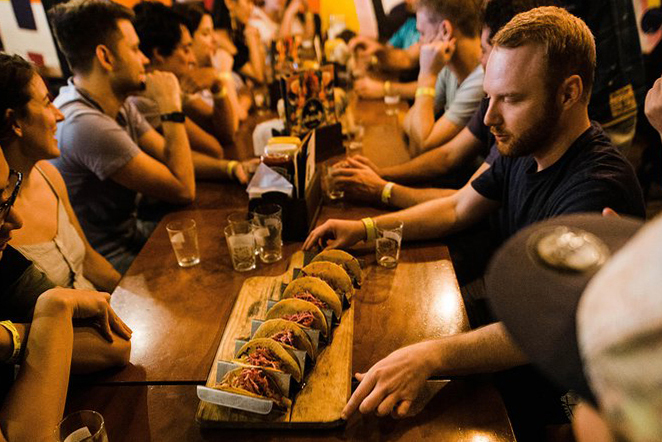 Do you love beer? Well, then you'll be happy to know that Costa Rican is developing a fairly new craft beer industry, which Costa Ricans are quite proud of.
In the San Jose downtown area, there are various restaurants and bars where you can try some of the best local craft beer like the República Casa Cervecera, located right in front of the National Stadium, or the super popular Costa Rica Beer Factory.
Otherwise, you can join this cool pub crawl in San Jose that will take you around the best local breweries, while you learn about the brewing process and how to pair beer with certain foods. This is also a great way to safely discover the city's streets at night!
PRICE: US$80
7. Check out San Jose's street art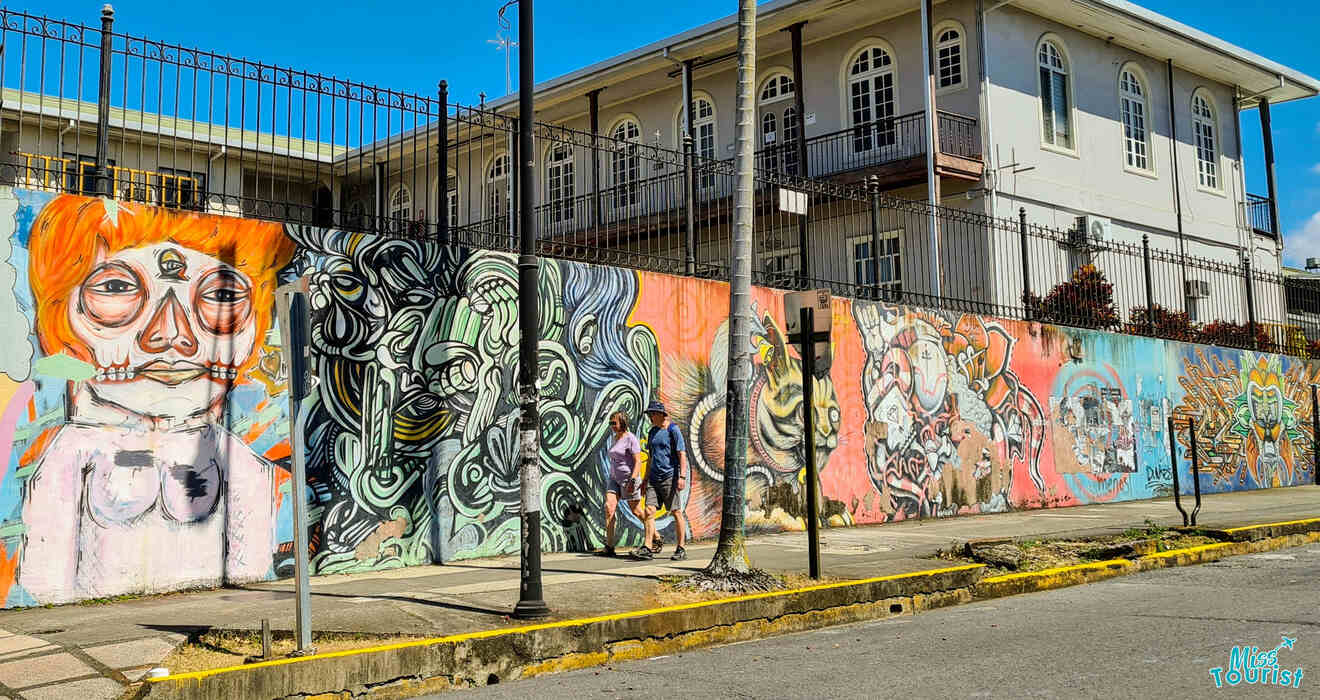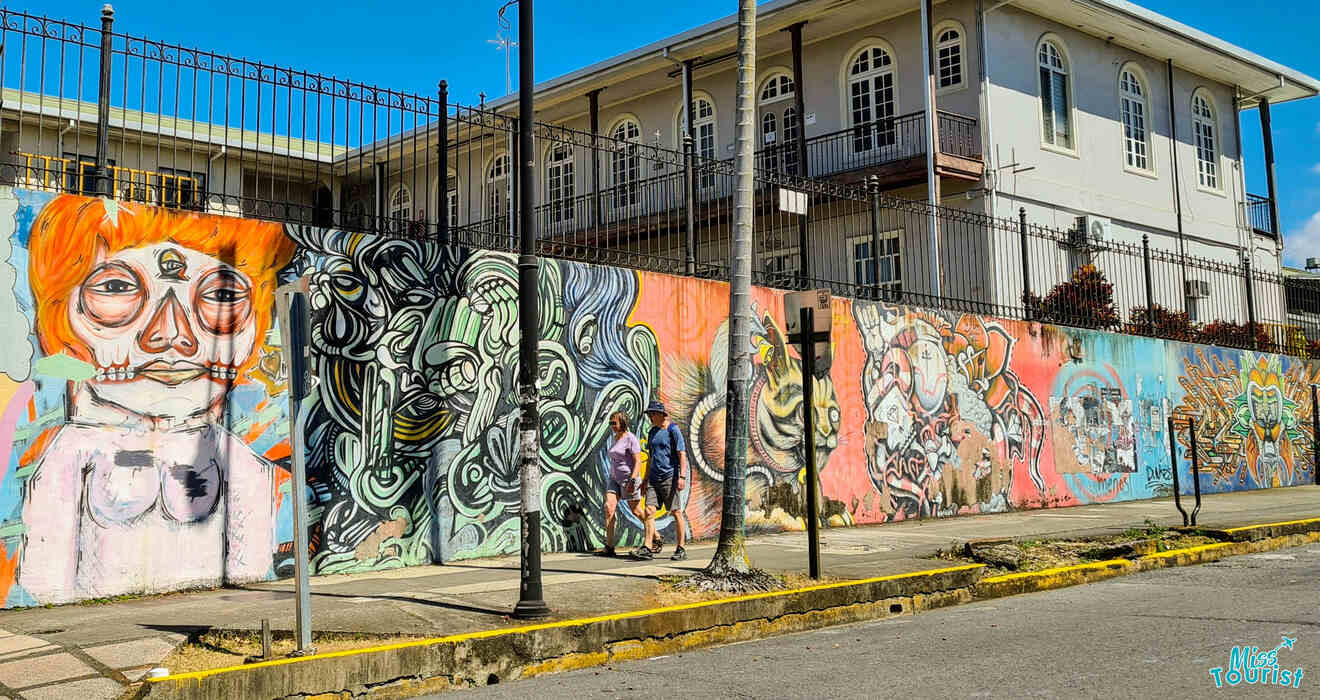 If you love street art as much as I do, you will go crazy with California Boulevard in San Jose, where they offer artists a chance to express their art on a famous graffiti wall. Each artist gets their own piece of the wall for five years!
But art is all over San Jose… you just need to know where to find it! So join this street art tour through the best galleries with indigenous works, paintings, sculptures, etc… and if you're lucky you could also meet the artists.
During this 2-hour tour, you'll also see the local graffiti and learn about the history of the city and Costa Rican art!
PRICE: US$45
8. Enjoy the best views from Pico Blanco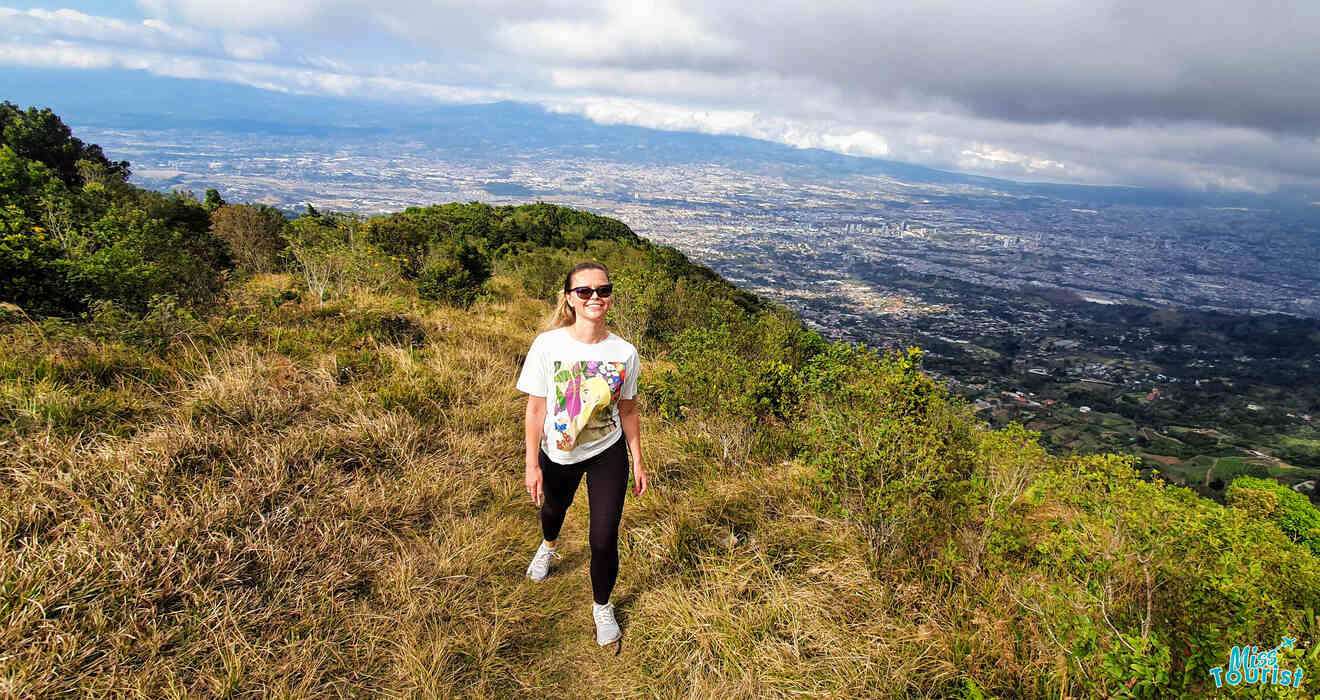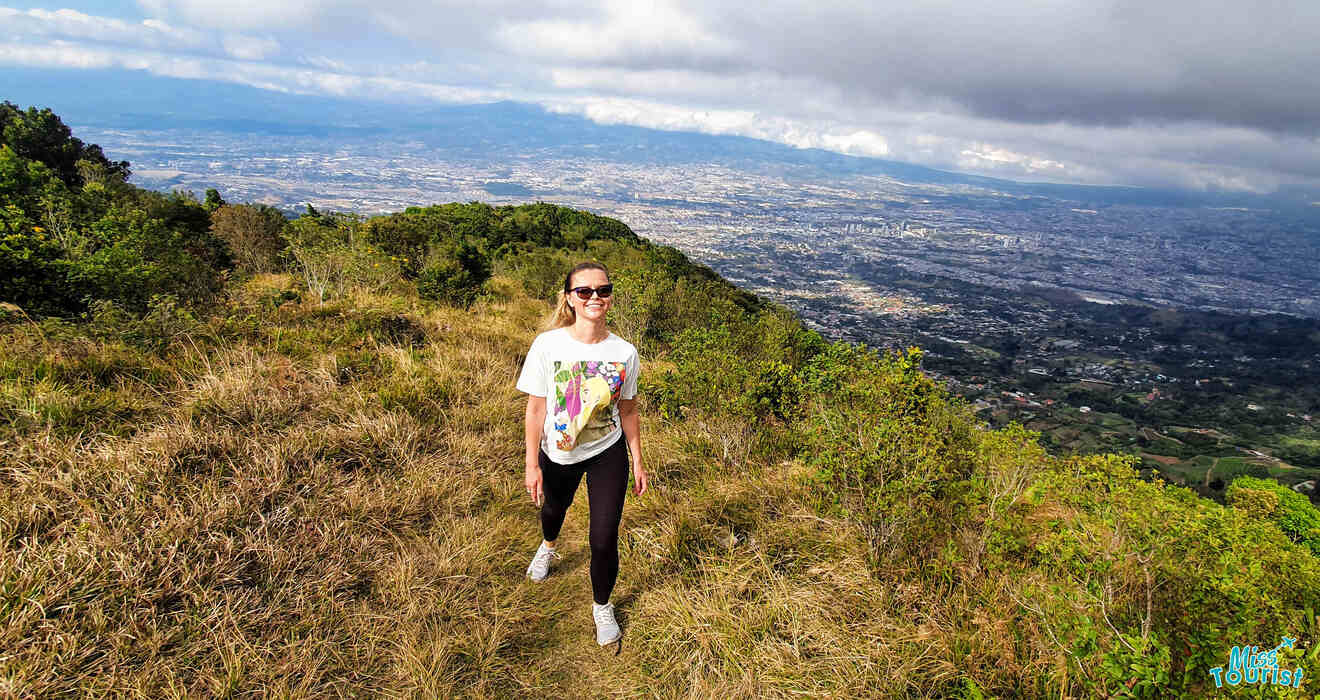 There are many hiking trails around San Jose Costa Rica, but a very good one that not many people know about is the Pico Blanco trail, meaning 'white peak', because of the rocky outcropping close to its highest point.
We got to know about this place thanks to some locals, and we couldn't be happier to have done it. The spot will give you some incredible views of the city!
The hike is quite challenging but only if you go all the way up as the app All Trails suggests. Do NOT do it – it gets muddy and cloudy, so just stop when you see the view like in the picture above, until there it is not a hard hike and the views are rewarding!
The first part is easy and beautiful, the views are just as stunning and it will take you 2 hours instead of 4!
If you rent your own car or take a taxi (~US$12) it will take around 25 minutes to get to Pico Blanco.
9. Try the best food in Barrio Escalante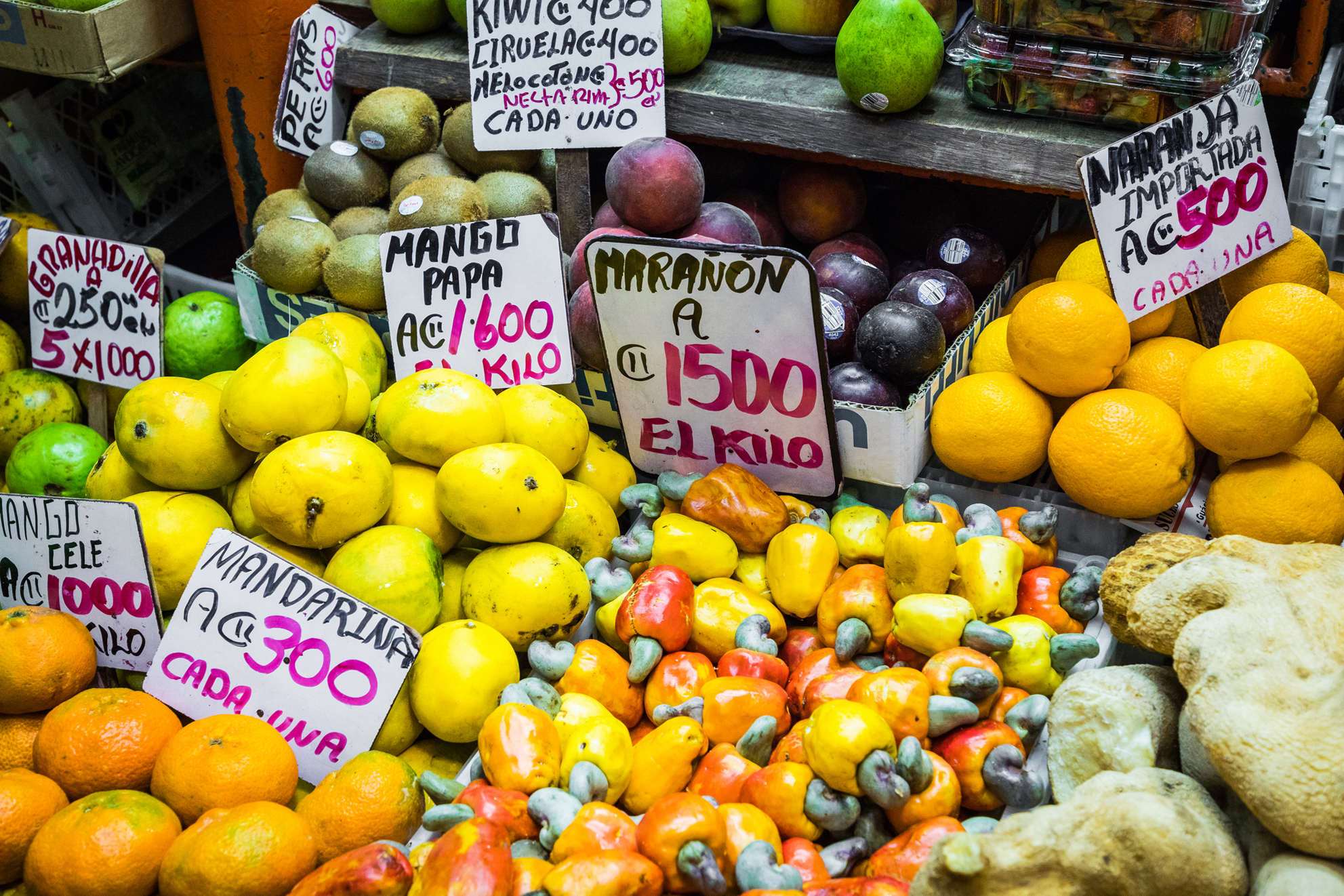 You cannot leave San Jose, Costa Rica, without trying the delicious local food. There's no better place to do that than the Barrio Escalante neighborhood, also the perfect place to explore San Jose's nightlife!
In fact, this area is the new cultural and gastronomic epicenter of the city, where you will find countless restaurants and bars, most of them concentrated in the street 'Paseo Gastronómico la Luz'.
You can either try Costa Rican food by yourself in all the amazing restaurants or be guided on this food tour. During the tour, you will explore the produce stalls of the Central Market and sample some local coffee brews while also learning some San Jose history, forUS$54.
And for those of you who have a bit of a sweet tooth, you might have heard that Costa Rica is pretty good at making chocolate. Here is a great chocolate tour if you want to learn all about the industry and even visit a cacao plantation!
If, instead, you prefer the option of discovering the most traditional dishes in Costa Rica by yourself, here's a list of some must food to try:
Gallo Pinto: Breakfast dish made of rice, beans, vegetables and spices
The Casado: The most traditional dish in Costa Rican cuisine, made up of rice, beans, salad, tortillas, fried platano, and meat (you can choose beef, pork, chicken or fish)
Tamales: Different to a Mexican tamale (and less spicy), cooked with garlic and other spices and wrapping is made of banana leaves instead of corn
Arroz con Leche: This is my favorite Costa Rican dessert, made of rice, milk, sugar, salt, lemon zest, and cinnamon sticks!
10. Enjoy outdoor activities near La Fortuna!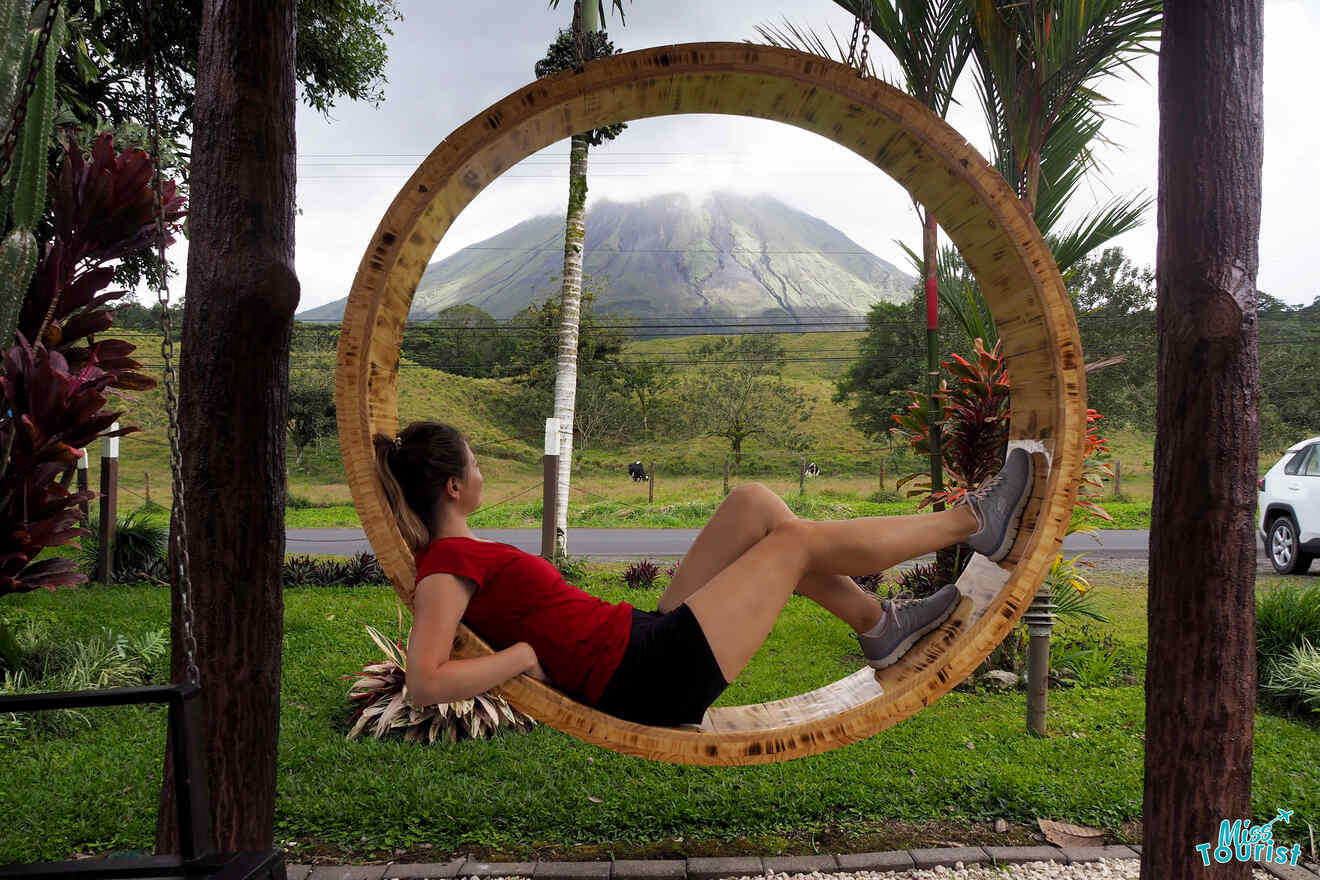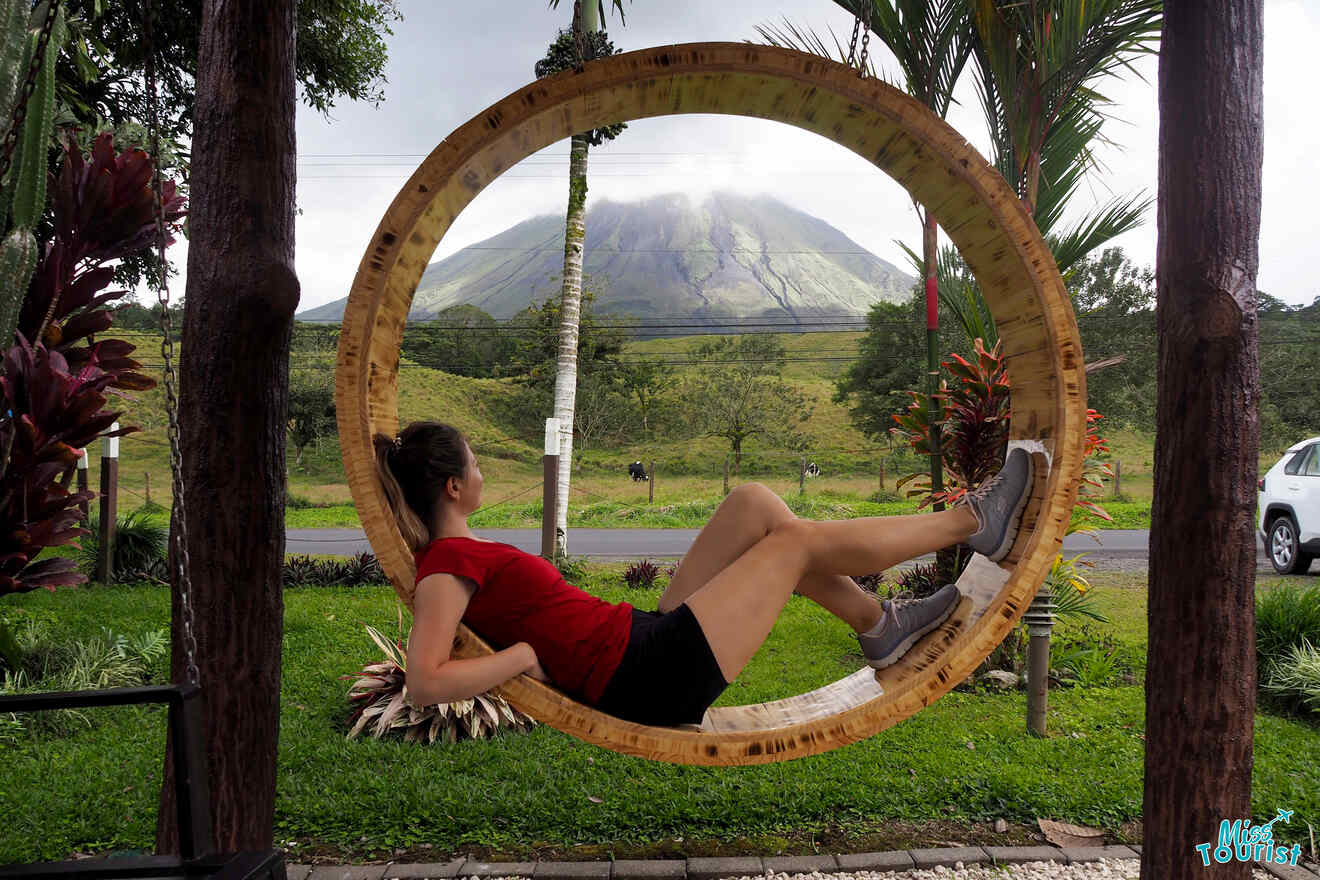 La Fortuna is a small town located a 2-hour drive northwest of San Jose. It hosts many natural attractions and adventures for outdoor lovers, making it the perfect place if you want to spend a day in nature!
One of the best things to do here is for sure to cross the Arenal Hanging Bridges: many suspension bridges located in the Volcan Arenal National Park, which make part of a 2-mile trail through a private rainforest reserve.
During your self-guided tour, you will cross the bridges while discovering the biodiversity and wildlife of the beautiful forest, seeing its different layers of the rainforest, spotting the many animal species, and gazing at the views of the Arenal Volcano forUS$25!
Another way to more deeply discover the natural beauty of the La Fortuna region is with this full-day tour from La Fortuna!
During this guided trip you'll hike through a lush rainforest, visit a butterfly garden, take a dip at La Fortuna waterfall and finish your day with a cocktail in natural hot springs… isn't it great?
This is also one of the best things to do in San Jose, Costa Rica for families!
P.S.: If you decide to spend some days in La Fortuna, we have another post dedicated to the best hotels in San Jose if you decide to stay a couple of nights!
ENTRY:US$25
GUIDED TOUR: US$130
| | |
| --- | --- |
| 🤩 Range of activities: | Large |
| 👪 Family-friendly score: | Medium |
| 🏛️ Best museum: | Jade Museum |
| 🎢 Top paid attraction: | National Museum |
| 🚶🏽‍♂️ Best free activity: | Free Walking Tour |
| 👧 Best attraction for kids: | Children's Museum |
| 🕺 Nightlife: | Barrio Escalante |
| 🥟 Must try food: | Empanadas |
| 📅 How many days: | 2-3 |
| 📍 Best neighborhood: | San Jose Downtown |
| ✈️Cost of traveling: | Medium |
BONUS: 1-day itinerary exploring the greater San Jose region
During my stay in San Jose, I decided to rent a car for one full day to visit some places around the city, and I made my own schedule for a cool day trip!
The Poás Volcano was the main attraction I wanted to check out during this day, but there were many other beautiful spots to visit, so why not visit them all at once?
Here below you will find the best things to do in San Jose, Costa Rica, during a day trip, including some that I didn't have the chance to see (you can skip some of them, but otherwise it is doable in a day):
Stop 1: Poás Volcano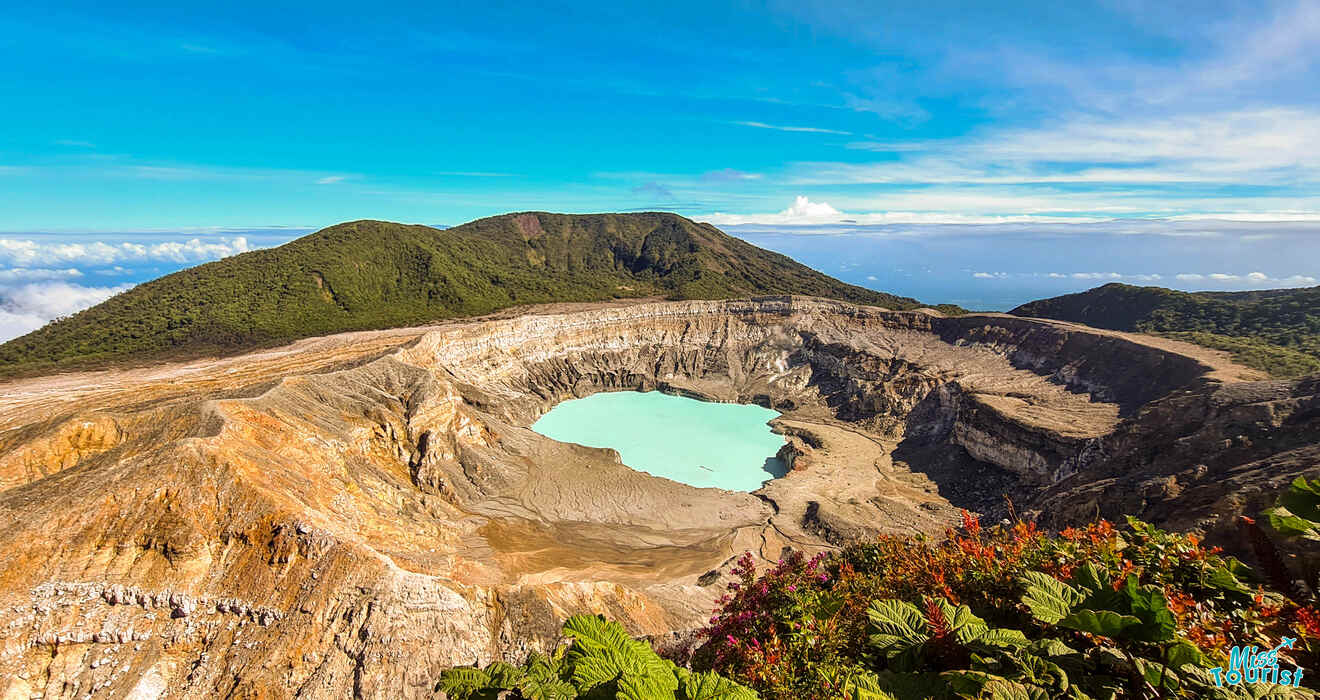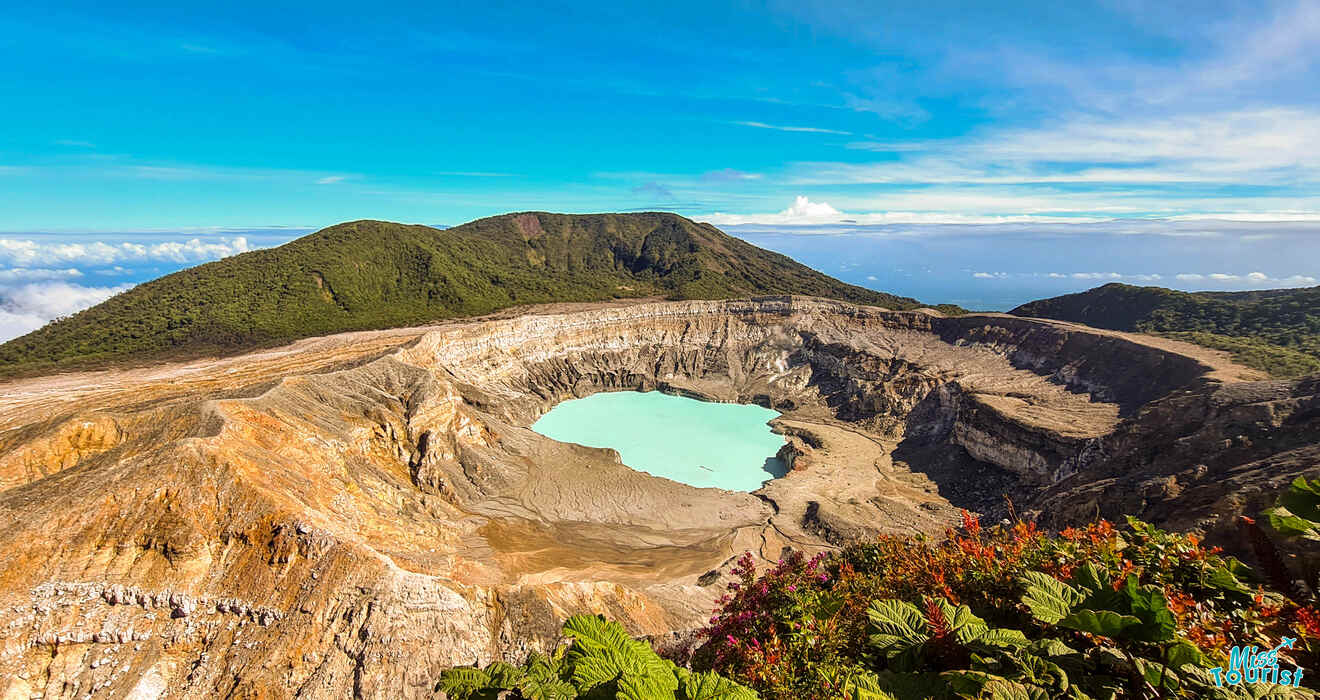 The Poas Volcano is an active stratovolcano located within Poas Volcano National Park
in central Costa Rica, about 1 hour and a half from San Jose, Costa Rica, and nothing less than one of the largest craters in the world!
If you want to visit it, you HAVE TO buy your ticket online in advance: we saw many cars being turned around once at the entrance! At the entrance there's always a huge line, so try to come 20 mins before your tour is scheduled.
PRO TIP: Get the earliest ticket possible (it is at 8 am) – I know it is early, but then the opportunity of seeing the crater is the highest. After 12 it is almost guaranteed it will be covered by the clouds completely, so it will be a pity to go all the way to see nothing. We got there at 8 and you can see our view in the pic above, it was perfect!
The tour itself takes 20 minutes, but I would count it as about 1,5 hours to be honest – you spend 20-25 mins at the actual crater, but there is time in the line to park, then you need to get your helmets and watch an introductory movie about the volcano, walk to the crater etc.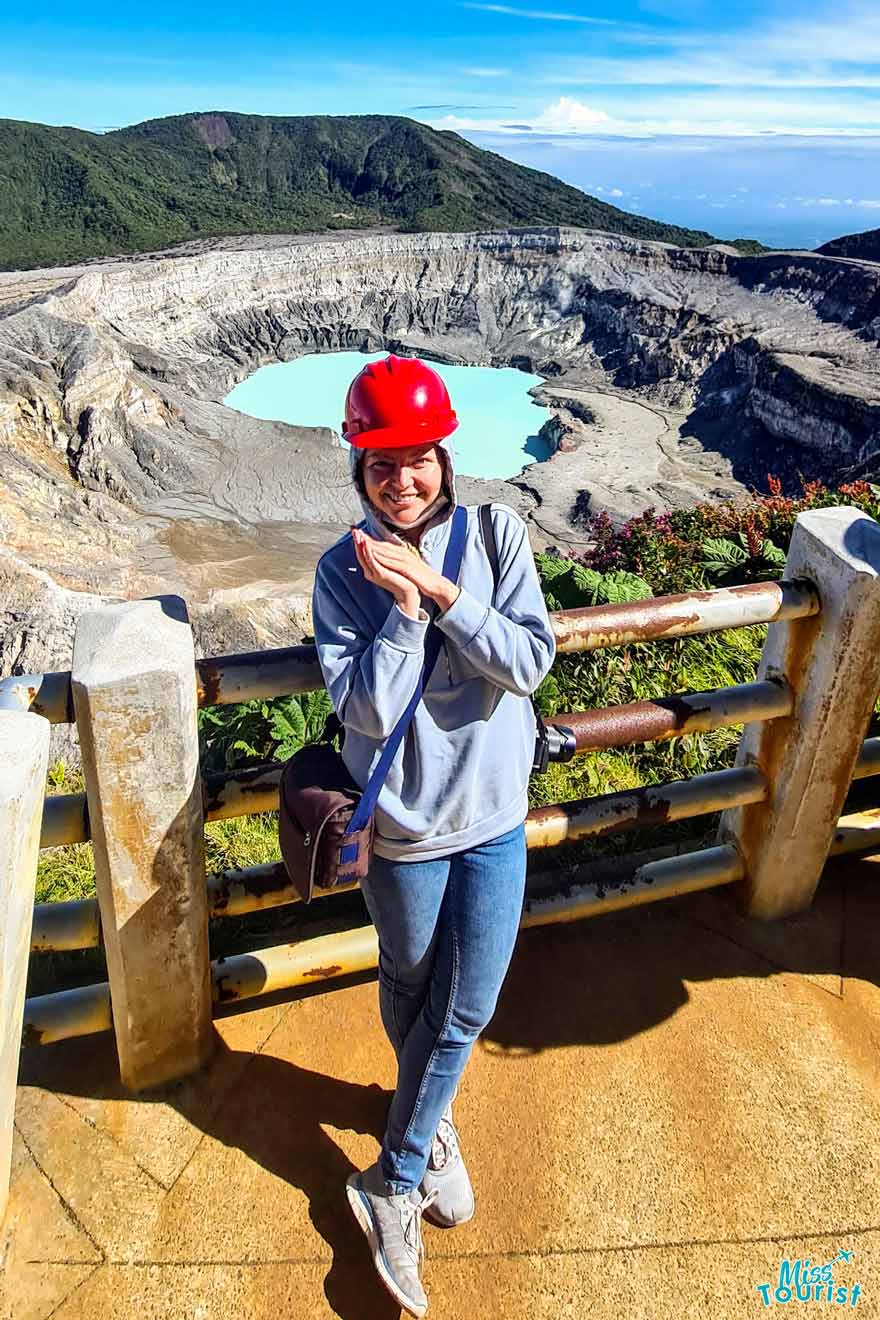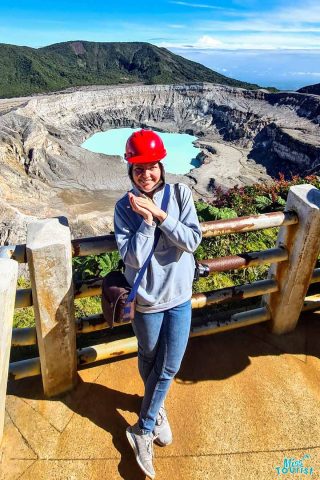 P.S.: When driving from San Jose to Poas, it is impossible not to buy fresas (fresh strawberries), they sell them everywhere on the road… the perfect snack for a day full of activities!

PRICE:US$15
How to get there:
By Car
Going to the Volcano from San Jose, Costa Rica, will take you about 1.5 hours by car, and Renting a car is the only option. You could find taxis/ubers to get there but then it's basically impossible to find something for the way back.

Guided Tour
If you don't want to rent a car, you can explore the Volcano on this guided tour from San José, Costa Rica, also including a visit to the incredible La Paz Waterfall Garden (which we'll see right below) and a coffee plantation.


Stop 2: La Paz Waterfall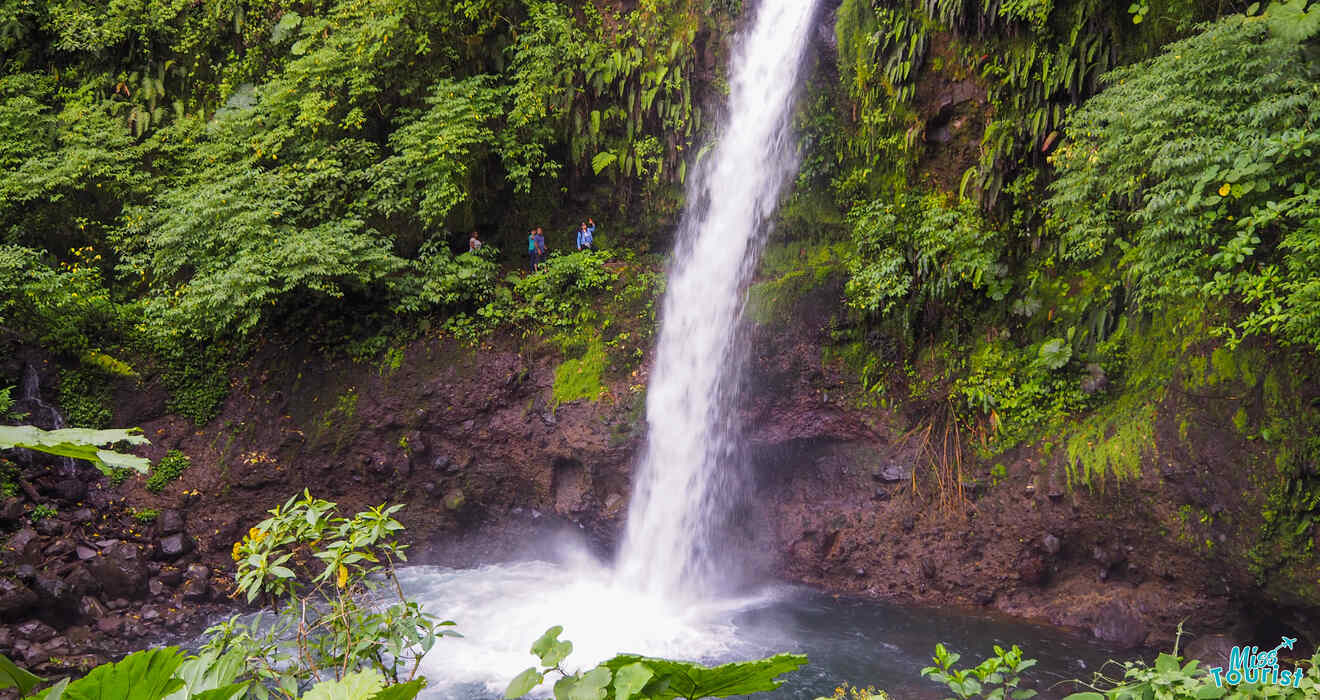 La Paz is a beautiful waterfall located just on the road to the Volcano (about half an hour from it) so you can decide to visit it before or after it!
The waterfall is located 5 minutes walking from Route 126, so people often stop on the road to take photos of it, but the most stunning falls are actually above the La Paz Waterfall, which can be accessed by easy hiking trails of the Waterfall Gardens Nature Park.
In other words, it's up to you to decide if you just see it from the road (in this case you don't have to pay) or to explore the stunning nature of the park, forUS$50 but in this case, it will take you all the rest of your day: the park is huge! We did the free part and it was awesome nevertheless!
PRO TIP: Go behind the waterfall too!
Stop 3: Laguna de Fraijanes Recreational Park
If you want to spend the rest of your day just relaxing in nature, you should stop at the big Laguna de Fraijanes Recreational Park after visiting the Volcano, located 20 minutes from it.
Unfortunately, I didn't have the chance to visit it because of the big line at the entrance, but this is the perfect place to hike, have a picnic with family or friends (there's no restaurant inside), or just enjoy some peace and calm!
PRICE:US$7
Stop 4: Zoo Ave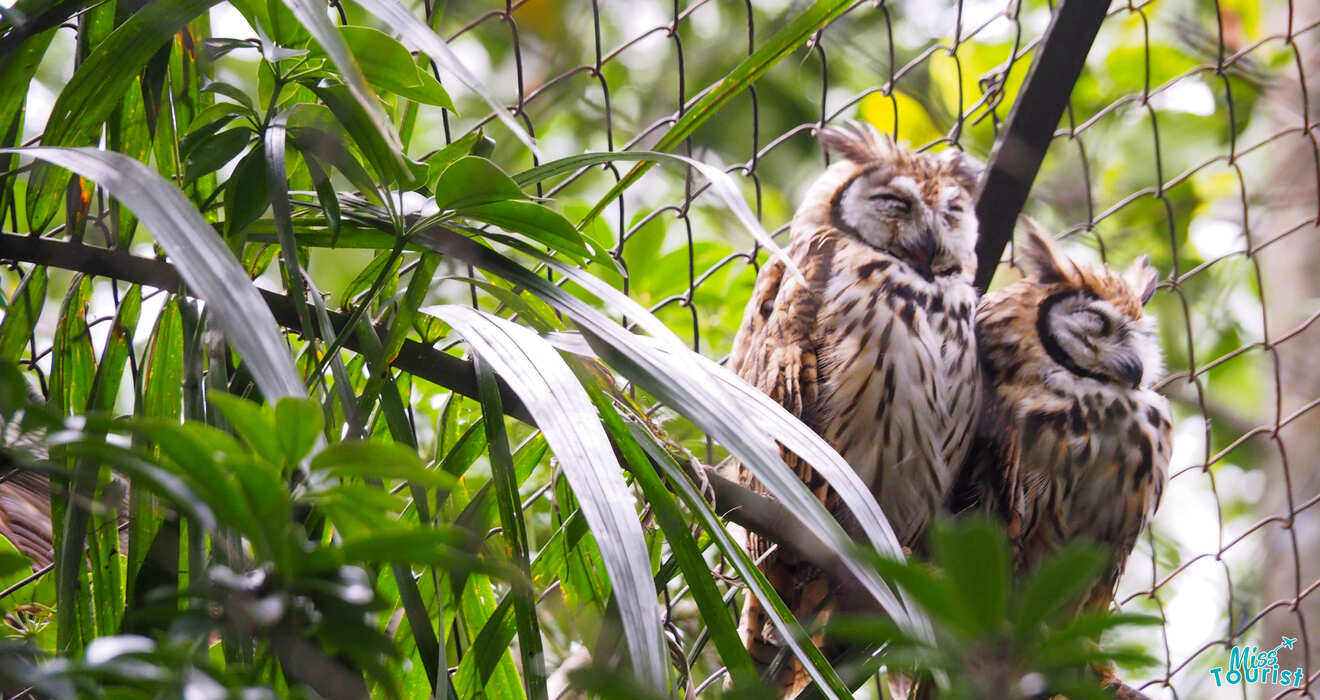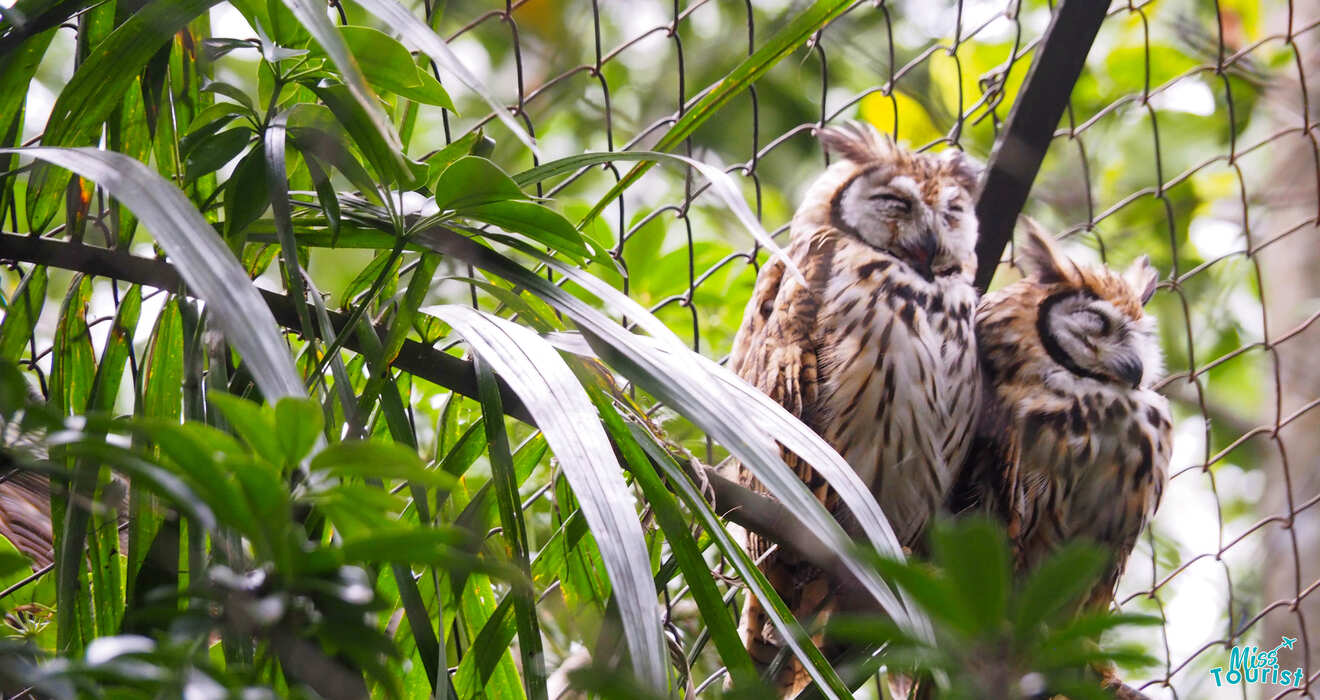 Zoo Ave is conveniently located on the way back to San Jose, so we decided to check it out too!
FUN FACT: there are no zoos in Costa Rica, the place we went was not one as well, it is a Rescate Wildlife Rescue Center.
This place is dedicated to rescuing animals and saving them and is the perfect place to enjoy an afternoon with the family. There is a nice restaurant inside and you can see all kinds of rescue animals like sloths, monkeys, jaguars, and much more!
The only downside is that the ticket is quite expensive (US$30), but since it all goes to a good cause we did not mind paying the fee.
Where to stay in San Jose, Costa Rica
If you want to have access to most of the best stuff to do in San Jose, Costa Rica, the best place to stay in the city is definitely downtown San Jose, where you'll find all the main museums, Central Avenue, and the Central Market.
P.S: If you are thinking about extending your trip to other Costa Rica destinations, I suggest you check out the charming Puerto Viejo, located only 4 hours driving from San Jose, Costa Rica.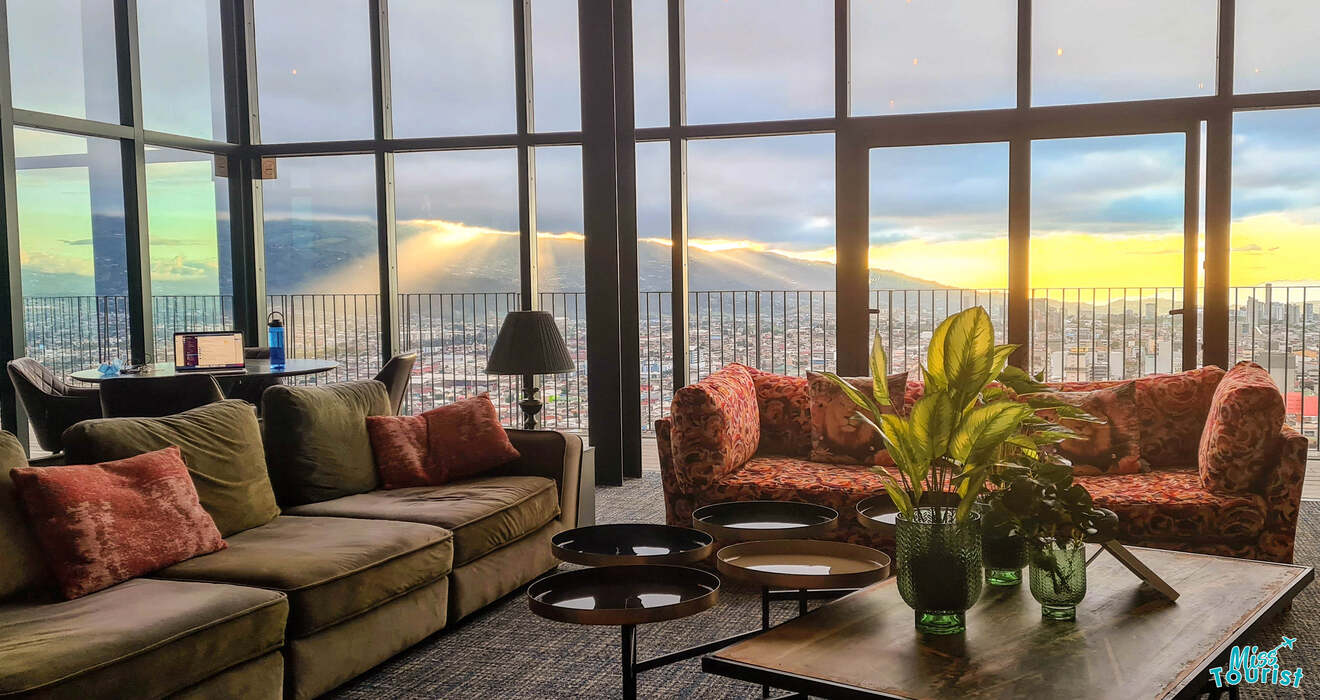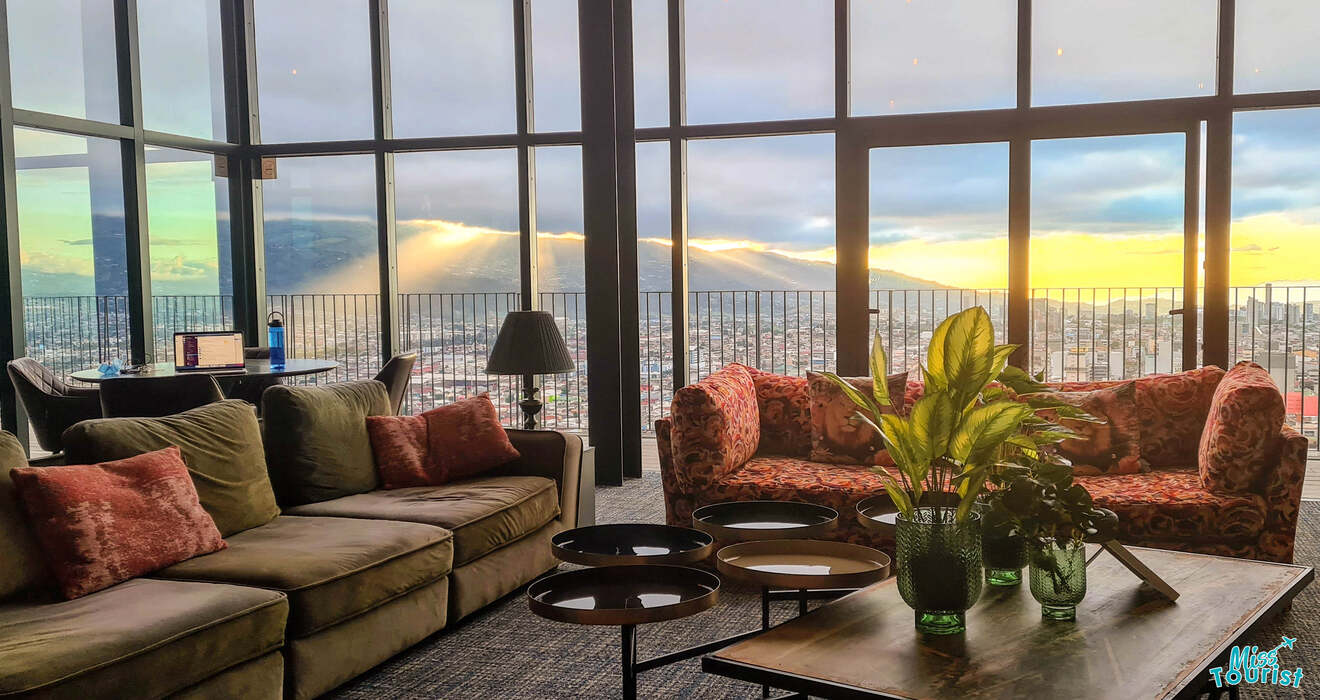 Frequently asked questions about San Jose Costa Rica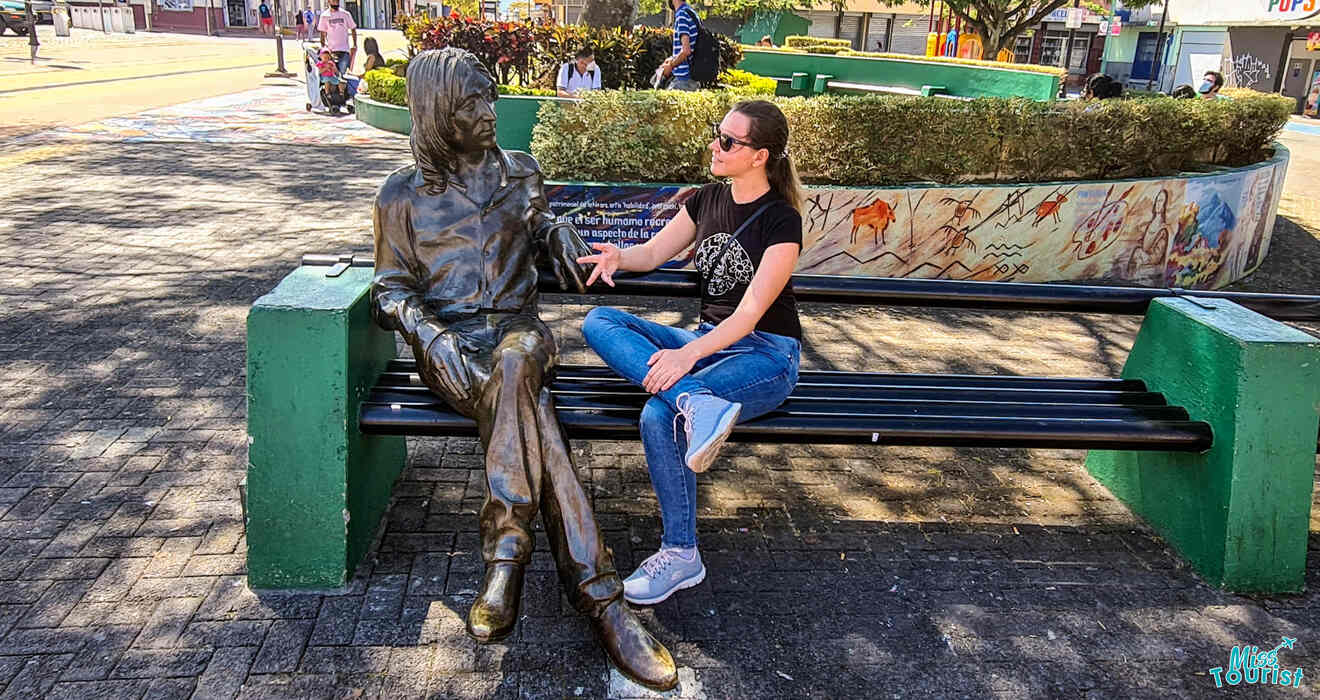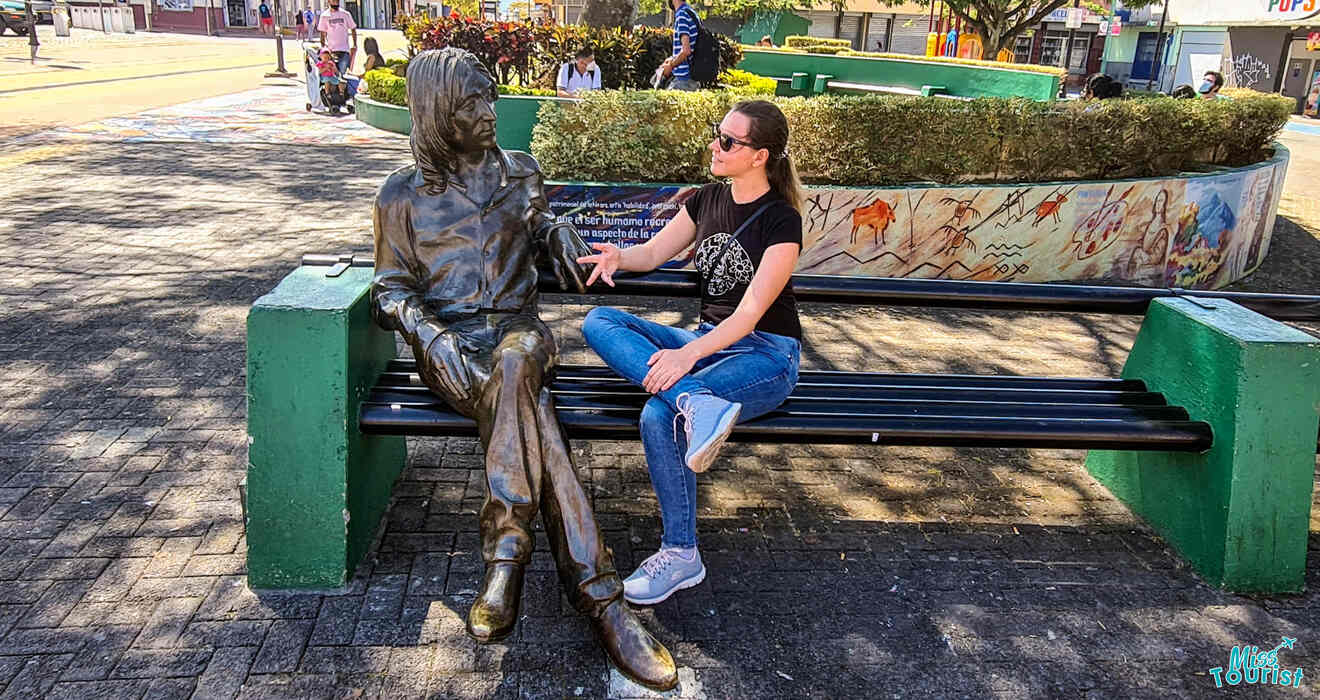 🤩 What are the best things to do in San Jose Costa Rica?
The best things to do in San Jose, Costa Rica, are visiting Museo del Jade, the National Museum, and strolling in the Avenida Central (central avenue) in San Jose city center, a great way to experience San Jose's daily life!
🚗 Do you need a car in San Jose, Costa Rica?
If you stay in the San Jose center now, you do not need a car, the city is hilly, so most of the time it is not very walkable but you can just take an Uber (they are pretty affordable there). If you want to visit the surroundings of San Jose then it's better to rent a car.
🟡 Is San Jose, Costa Rica, safe? 
Generally yes, San Jose, Costa Rica, is safe but the city center can be sketchy at night. There are tons of police around but you need to take some common precautions like not walking around at night, and taking Ubers. 
📅 How many days I should spend in San Jose, Costa Rica? 
2-3 days in San Jose are enough to enjoy all the best things to do in San Jose, Costa Rica, like visiting the National Theatre (Teatro Nacional) and the pre-Columbian Gold Museum 
🤔 What are some unusual things to do in San Jose, Costa Rica?
Explore the eerie and fascinating Pre-Columbian Gold Museum, showcasing an extraordinary collection of intricate gold artifacts dating back to ancient indigenous civilizations.
Conclusion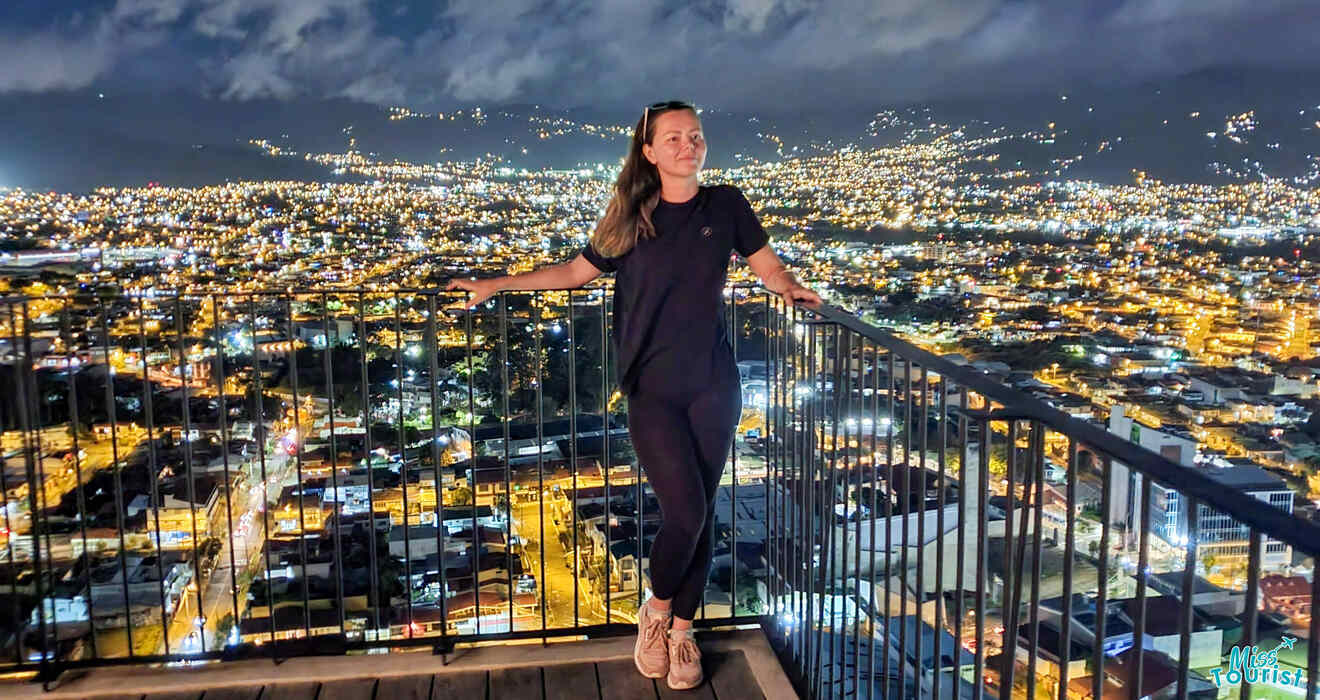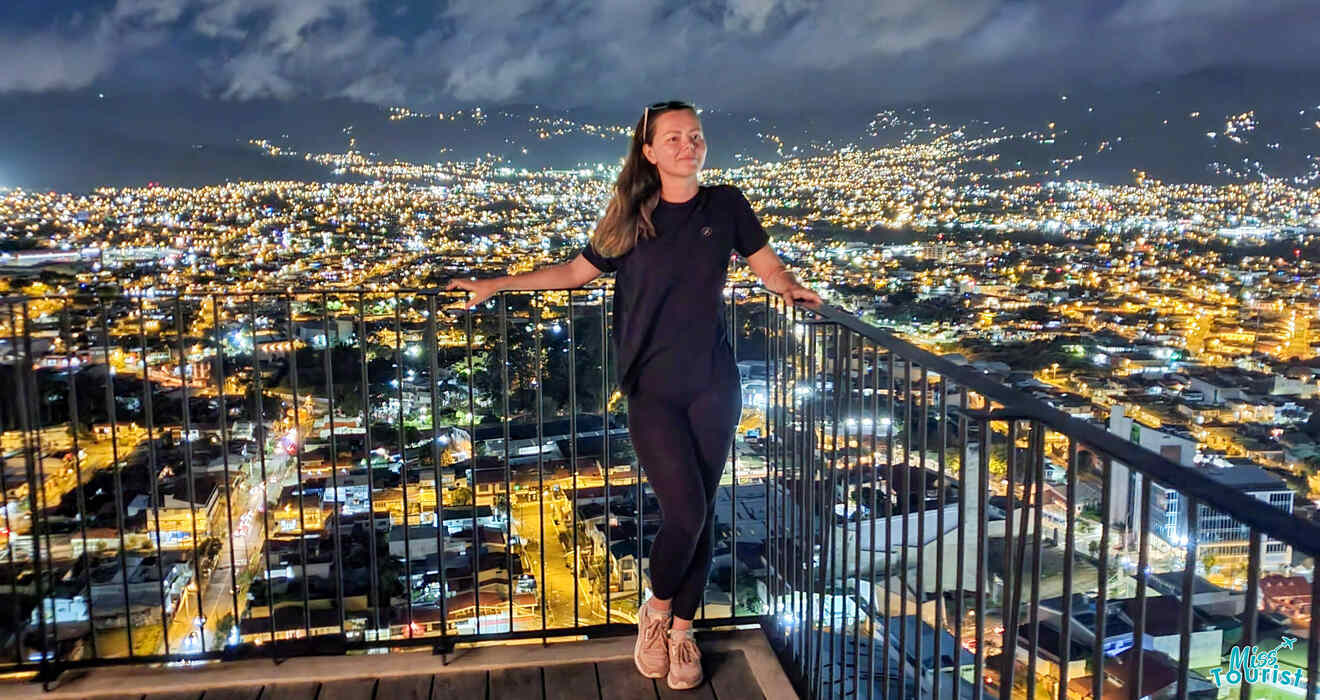 Congrats! You finally reached the end of this cool post about the best things to do in San Jose, Costa Rica's capital city.
We saw everything you can do in this amazing city in Costa Rica: San Jose's top attractions, tours, and natural spots, and I also included a bonus with a great idea for a day trip… so no traveler will be disappointed!
I hope you enjoyed reading my guide as much as I did writing it for you, and that it will help you have an amazing time in San Jose, Costa Rica!
If you have any suggestions for me or questions about the destination, please share them in the comments below, I am looking forward to reading them all!
Have a great vacation in Costa Rica!
Yulia
---
Pin it for later!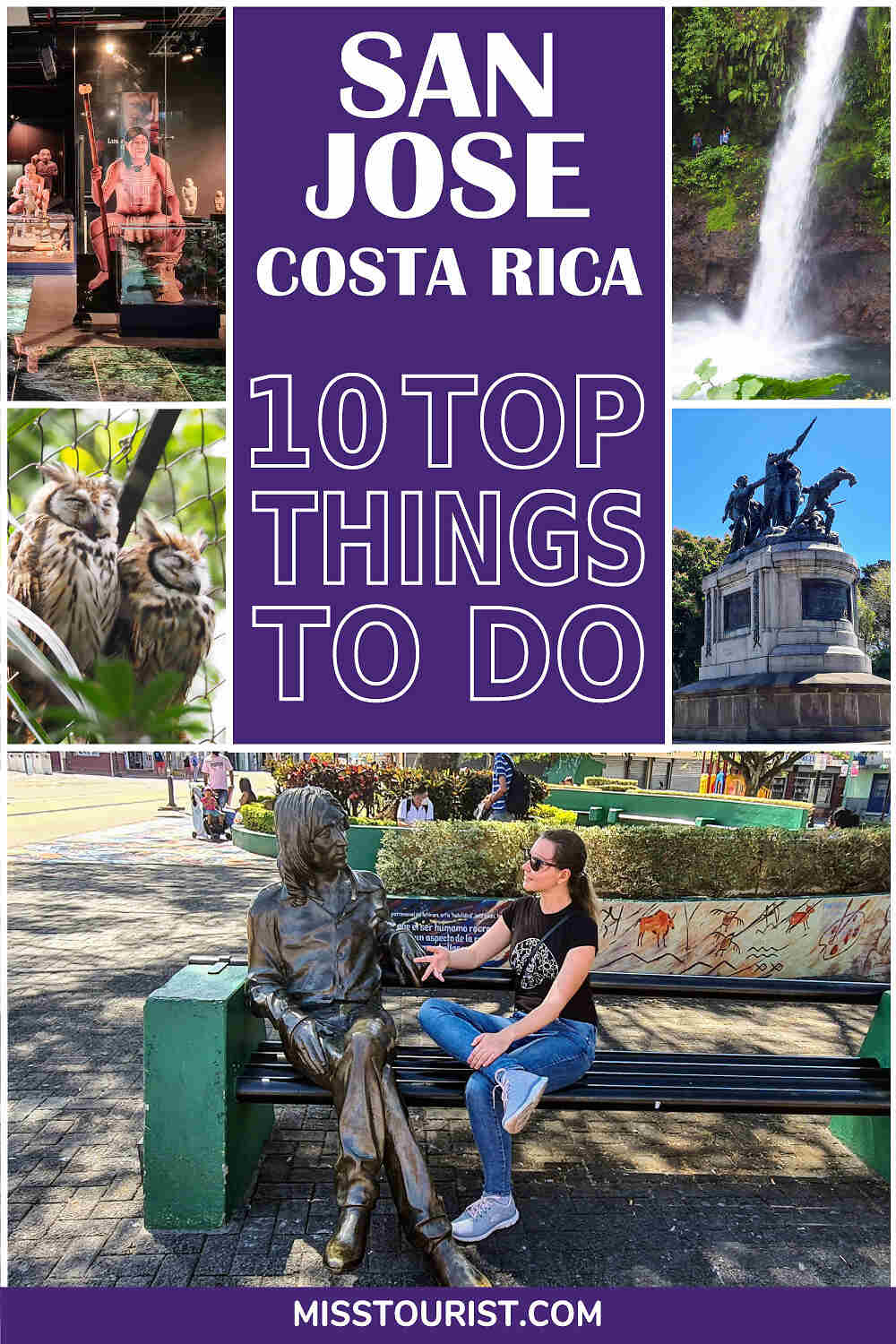 Pin it for later!