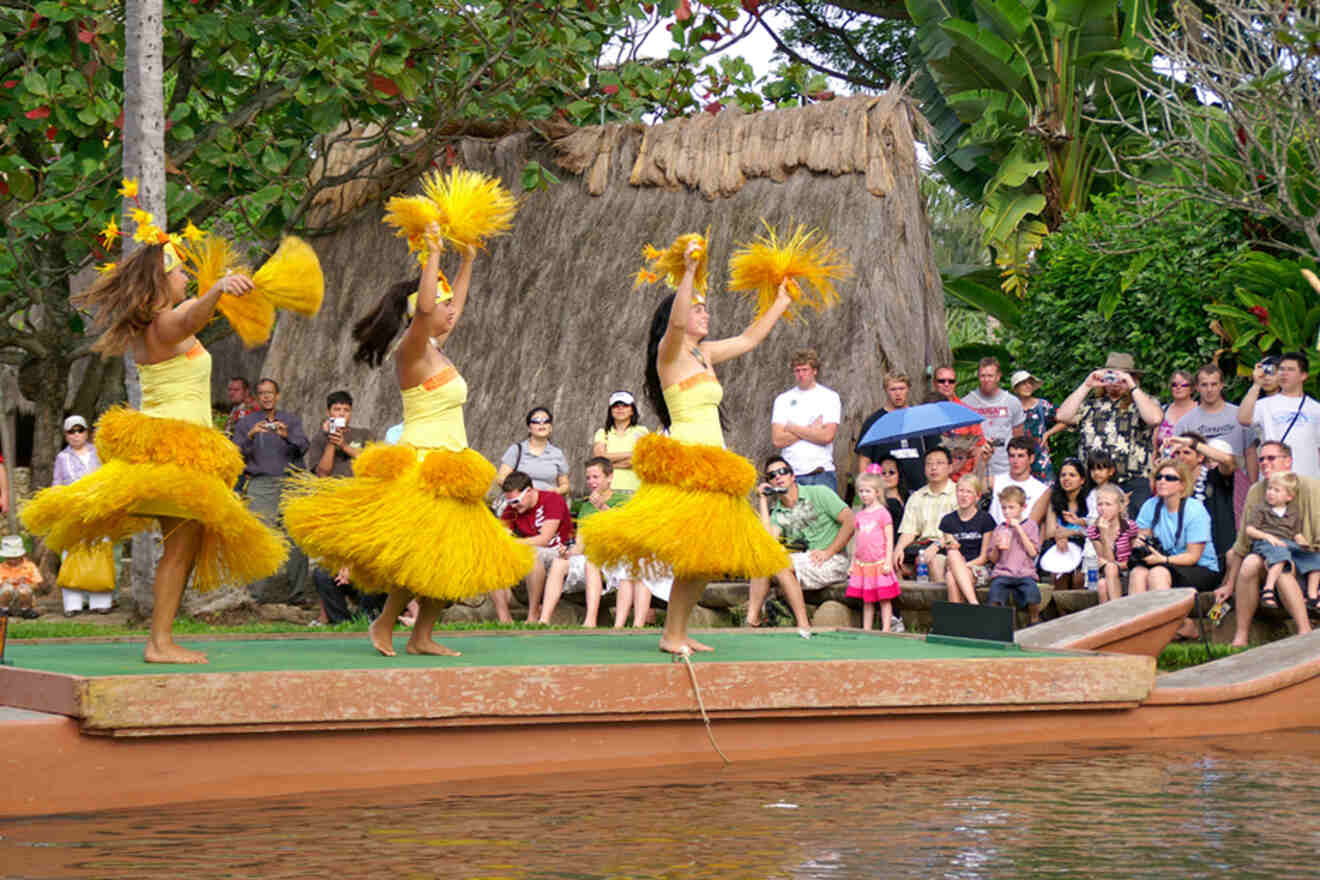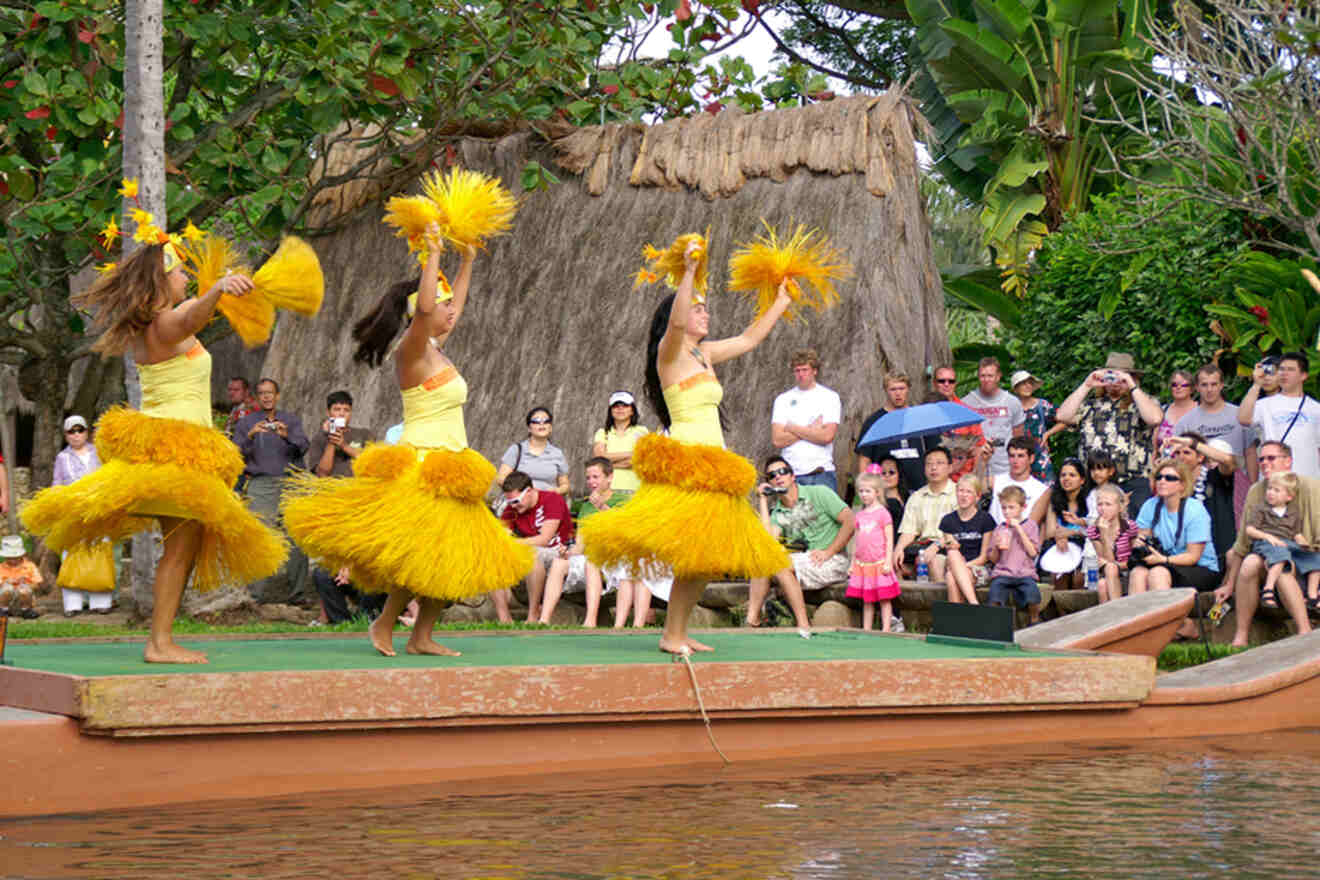 Are you passionate about hula dance? Maybe you've taken a few lessons or watched some of those YouTube videos. But I'm telling you, nothing compares to the epic experience of an authentic Luau Oahu show.
This traditional dance is the first thing people think of when Hawaii is mentioned. So it's only natural that this experience should be the first on your to-do list when you visit Oahu.
Now, there are a lot of different options and combo tours as well as tour operators that can grant you the pleasure of witnessing amazing fire dancers, so I took it upon myself to list you the very best choices out of them.
You are sure to treat your buds with amazing buffet dinners and stunning dance shows. I also included a little bonus of some additional tours you could take while in Oahu for a more immersive experience of Hawaii.
Always remember to book your tours in advance so that you can avoid missing an experience because of poor planning.
If you are in a hurry
Here are the best luaus in Oahu that you shouldn't miss out on:
1. Experience Hawaiian luau at Paradise Cove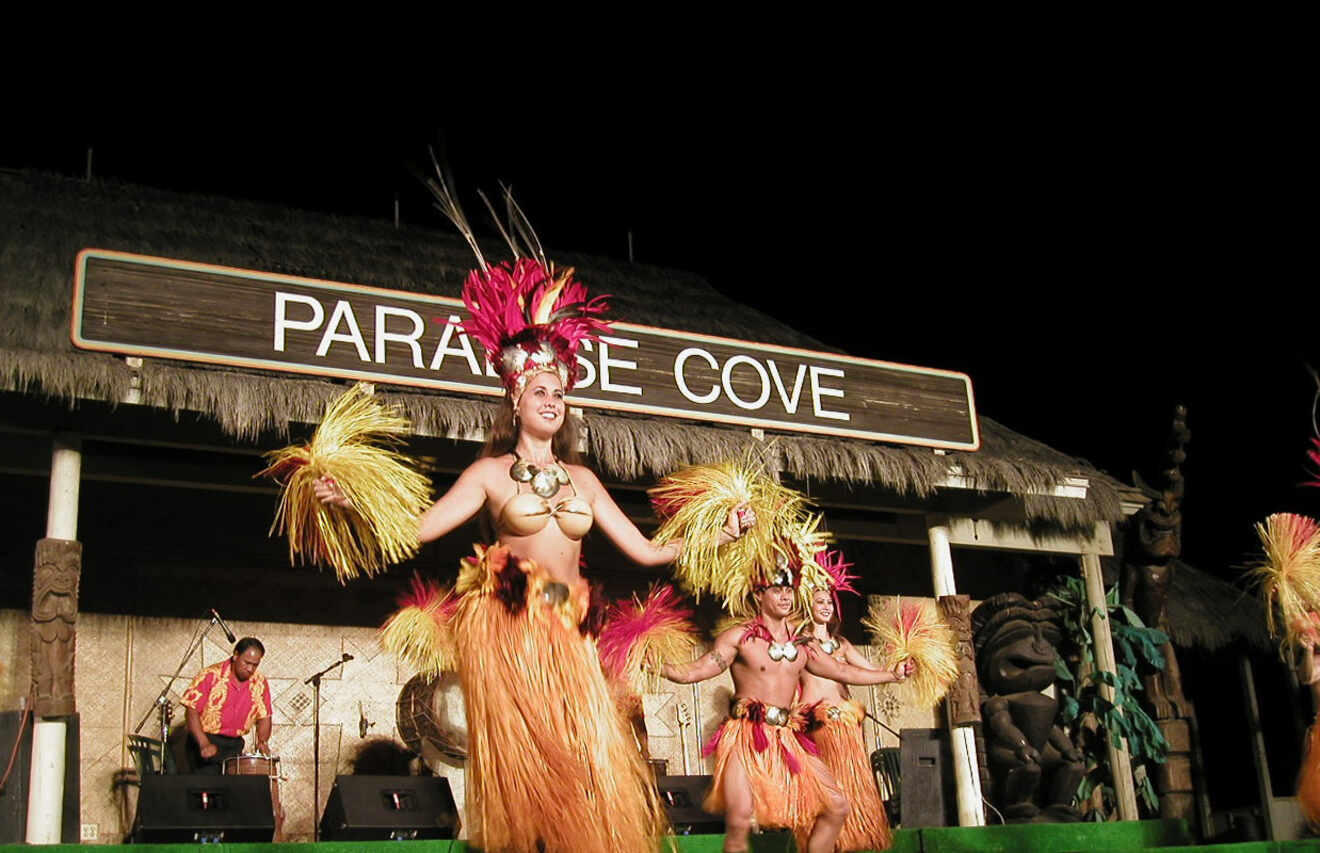 Duration: 5.5 hours
Price: from US$140
Why you should take it: the most popular traditional Hawaiian Luau experience
Paradise Cove luau brings you the perfect traditional Hawaiian culture experience! Soak in the stunning sunset over the ocean as you enjoy traditional Hawaiian music, dinner entertainment, and Paradise Cove's extensive menu.
As soon as you step foot onto the island, you'll be greeted with a thirst-quenching Mai Tai. This perfect tropical potion is just the right pick-me-up to get your night going.
This luau is jam-packed with traditional Hawaiian dishes that'll get your taste buds hooping and hollering! From succulent seafood to kalua pork, plus a rainbow of tropical fruits, it's a foodie's dream.
Soft strums of traditional Hawaiian music will fill the air, while hula dancers mesmerize with their graceful swaying and rustling skirts. And of course, the night wouldn't be complete without the fire dancers. This tour offers 3 Oahu dining packages, custom designed to give you a piece of paradise that suits you to a T!
2. Explore the Polynesian Islands & traditional luau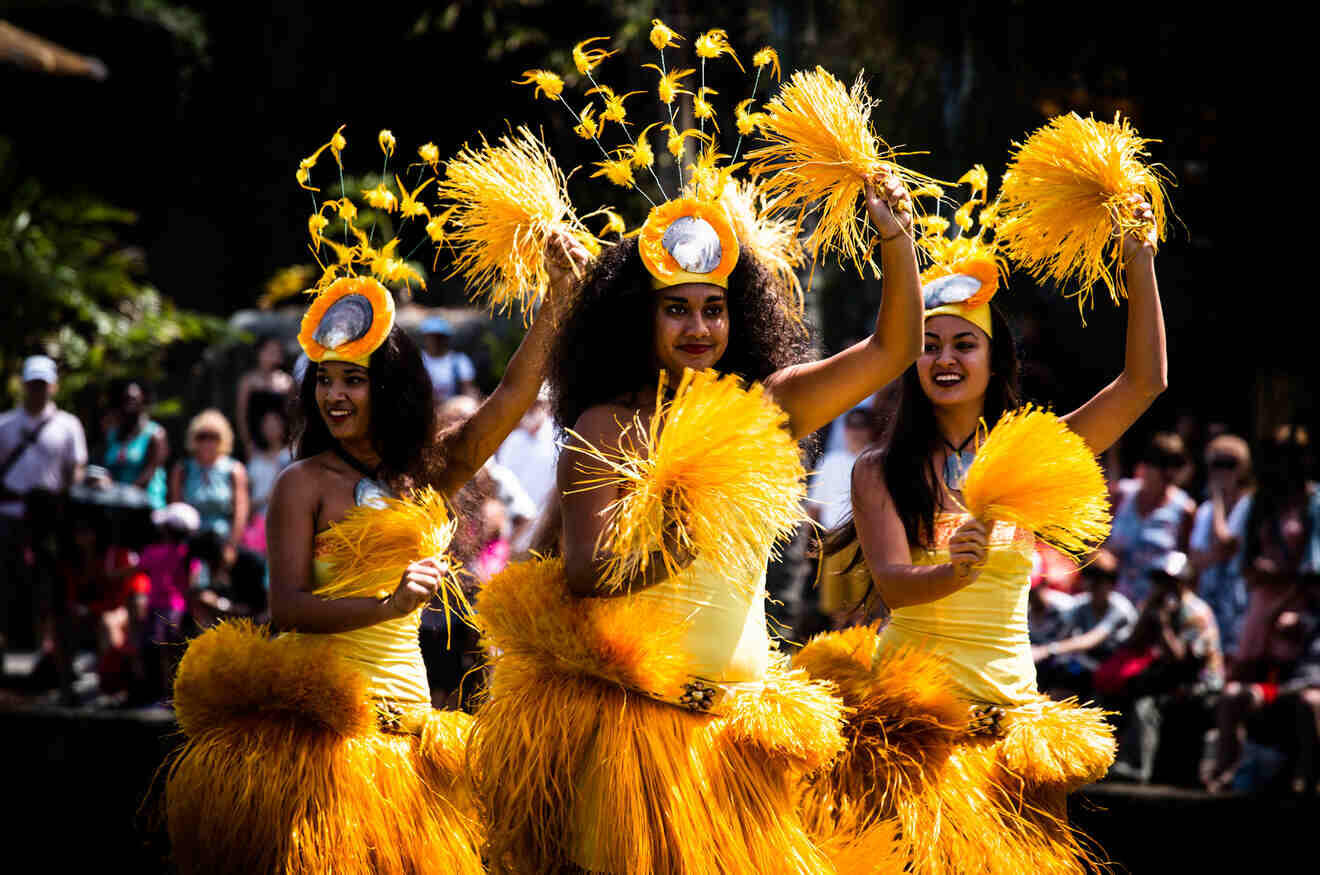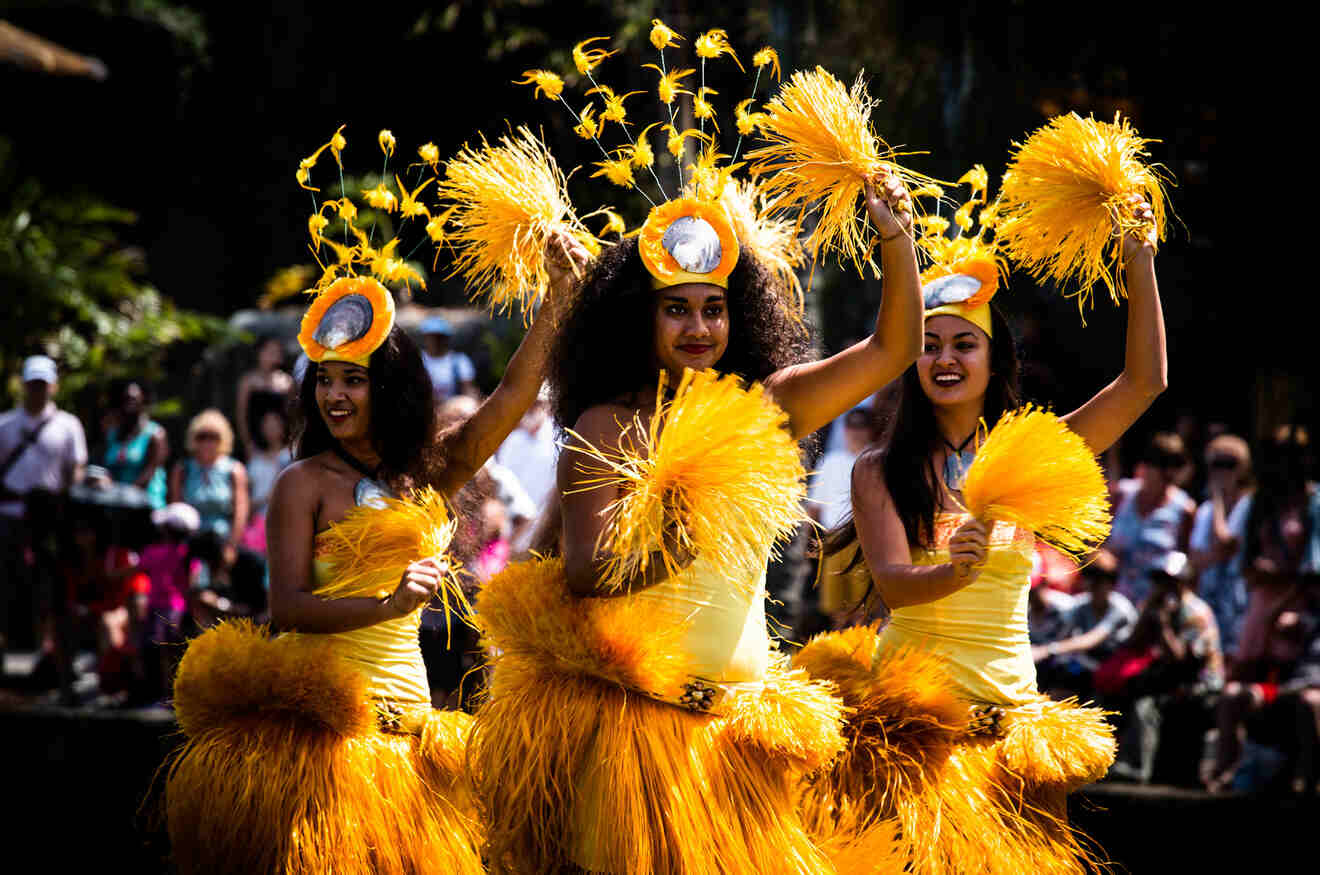 Duration: 2 hours
Price: from US$140
Why you should take it: hosted by Original World Fire Knife Dance Champion
Get ready for a tropical shindig on the Hawaiian Islands with Chief's luau – the sun's always shining, and there's a festive evening waiting for you every night! And this isn't just any old Hawaiian luau, it's an extravaganza hosted by Chief Sielu, the Original World Fire Knife Dance Champion.
The second you set foot inside, you're invited with a traditional Hawaiian lei, an intricate, fragrant garland. Instantly, the spirit of Aloha gives you a huge hug and wraps its warmth around you like a blanket. You'll really take the plunge into Polynesian culture. Chief Sielu will astound you with his spectacular fire dancing and hilarious comedy.
Behold the mesmerizing culture of the enchanting Polynesian Islands. And what's a luau without traditional Hawaiian food? Indulge in dinner packages that will have your taste buds doing the hula dance!
Ensure your night is a breeze by upgrading for priority access and convenient hotel pickup.
3. See toa luau in Waimea Valley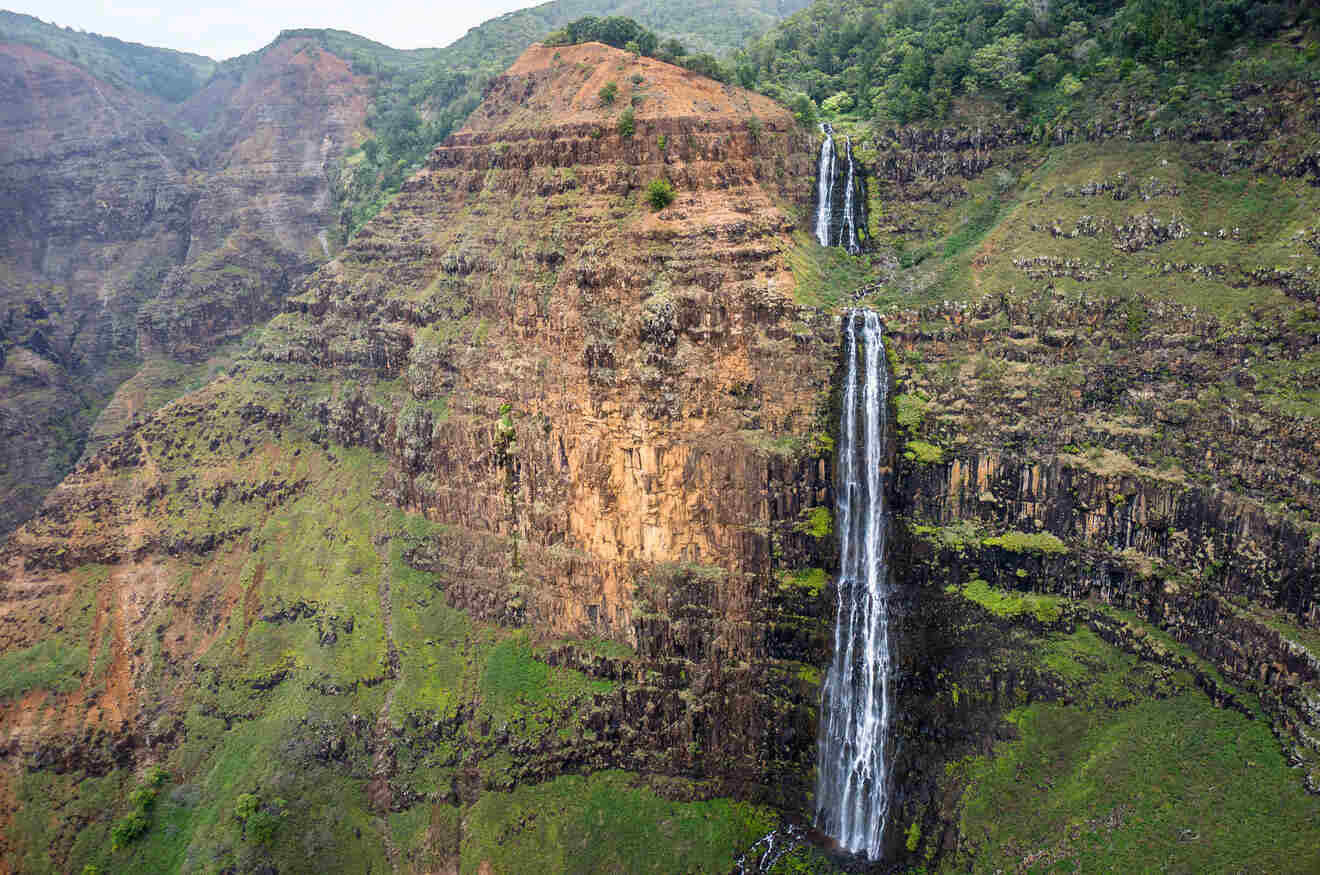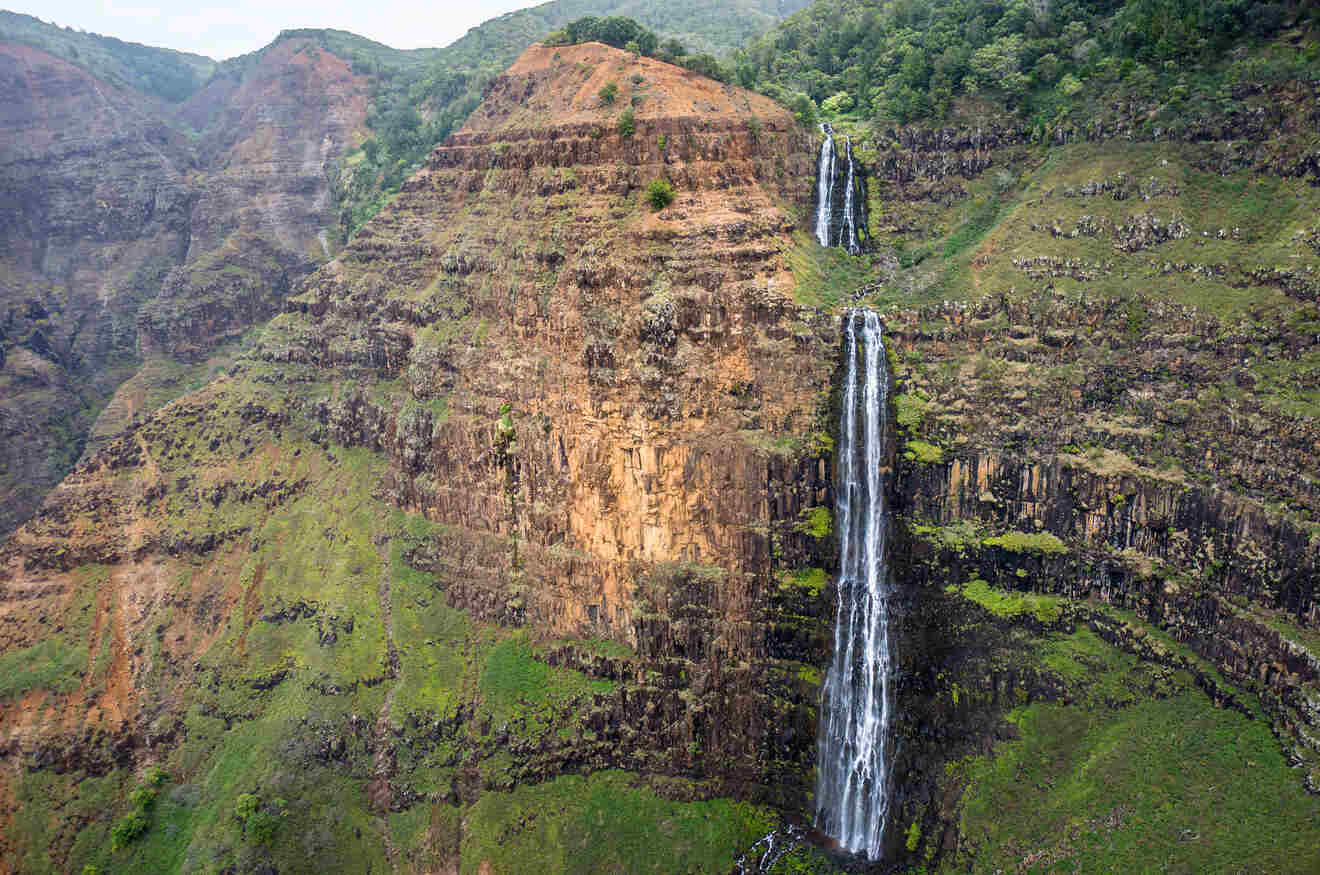 Duration: 3 hours
Price: from US$126
Why you should take it: great combo tour
This is a unique afternoon adventure full of cultural activities. You'll take a stroll through the Waimea Valley, one of many Hawaiian gems. You'll be blown away by the dazzling botanical gardens, with their riotous explosion of vibrant colors cascading all around you. The same blooms that are used to make your fresh flower lei greeting necklaces.
The tour includes a hike to Waimea Falls, so adventurer lovers will for sure love that part. As the afternoon sun dips into the evening, you'll get to see hula dancing! Hold your breath as the air sizzles with energy when fire knife dancing takes center stage and shows off its awe-inspiring moves.
As you soak in the scene before your eyes, tantalize your taste buds with a royal Hawaiian dinner buffet. You can also sip on tropical cocktails.
4. Enjoy fire dance in Waikiki beach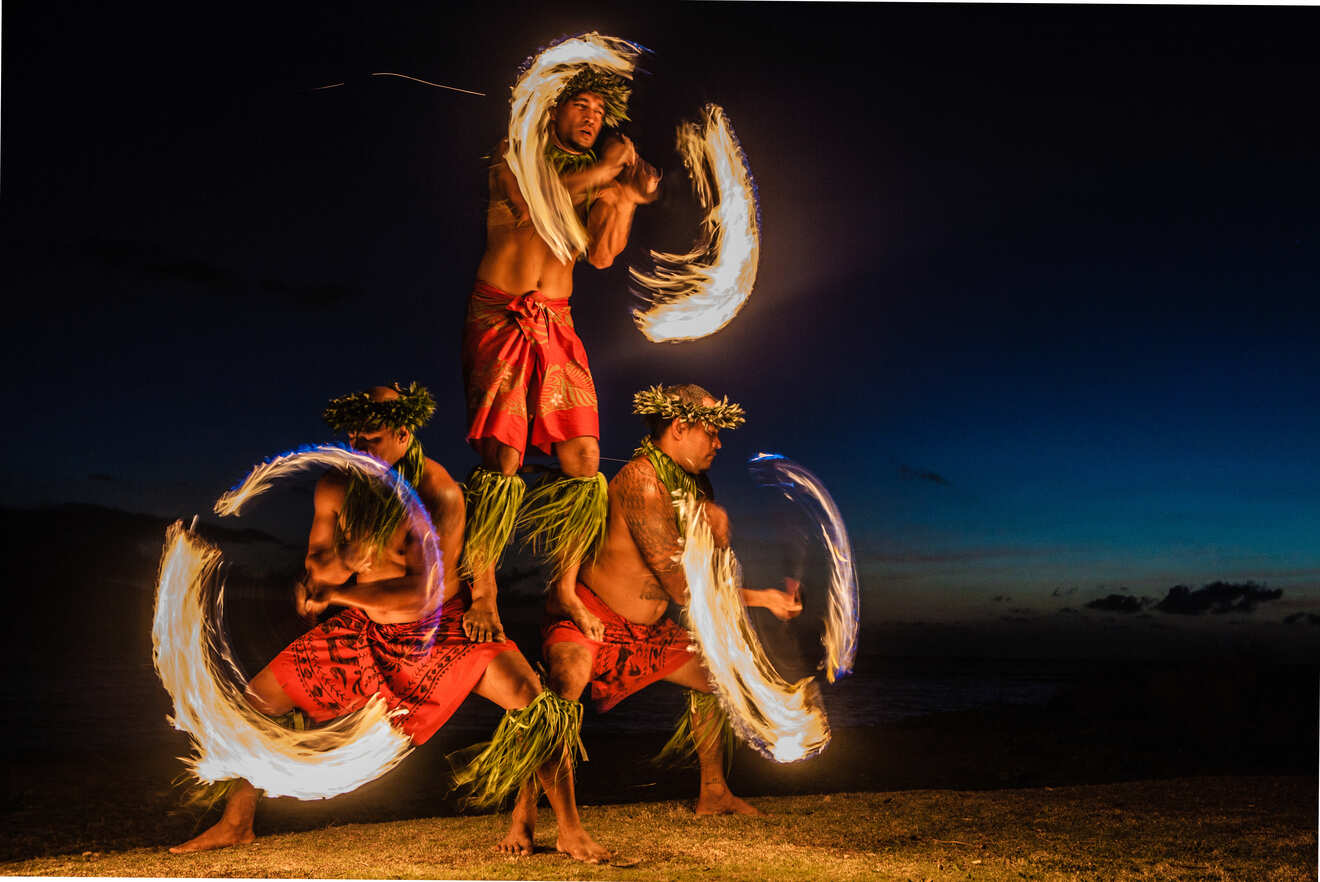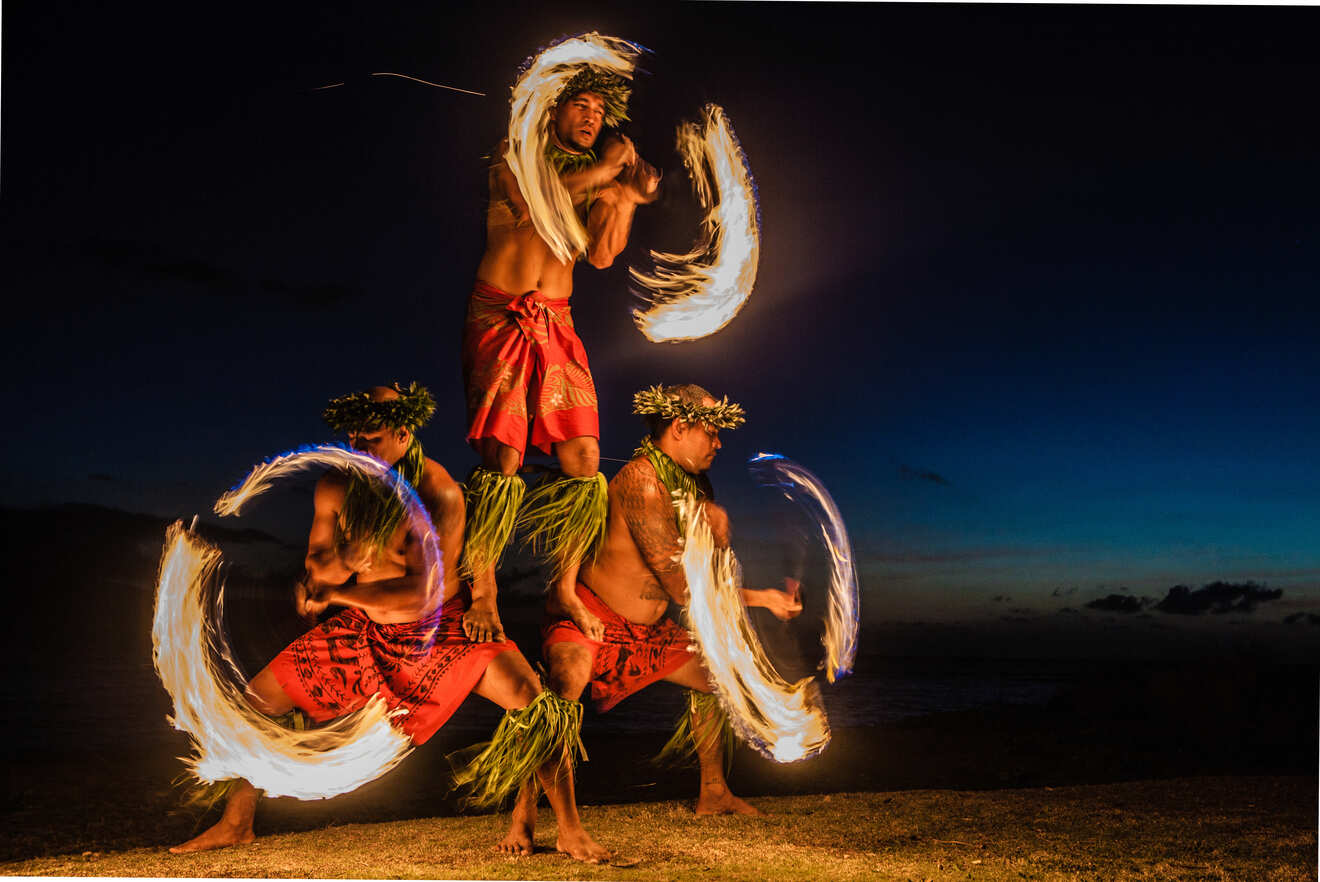 Duration: 3.5 hours
Price: from US$130
Why you should take it: Oahu luau buffet dinner with live music
This tour will have your groove on and taste some delicious food. Feel the joyful energy of the legendary Waikiki Luau!
Kick off your flip-flops and take the plunge into the festivities with a heart-felt shell lei greeting, coconut headband weaving, and a tropical Mai Tai that tastes purely like sunshine!
As the sun dips below the horizon and darkness blankets the sky, give in to the smell of island-roasted kalua pig. This luau-themed dinner is jam-packed with authentic dishes that will make your taste buds dance! As you chow down, let the soul-soothing live Hawaiian music take you back in time to the other Polynesian islands, the ancient ones. Be mesmerized by the hula dancers and spear-throwing as they share captivating stories through their graceful moves!
The tour offers hula lessons and ukulele lessons so you won't only feast your eyes on the dance moves you'll also get an authentic learning experience.
5. Go on a Ka Moana luau tour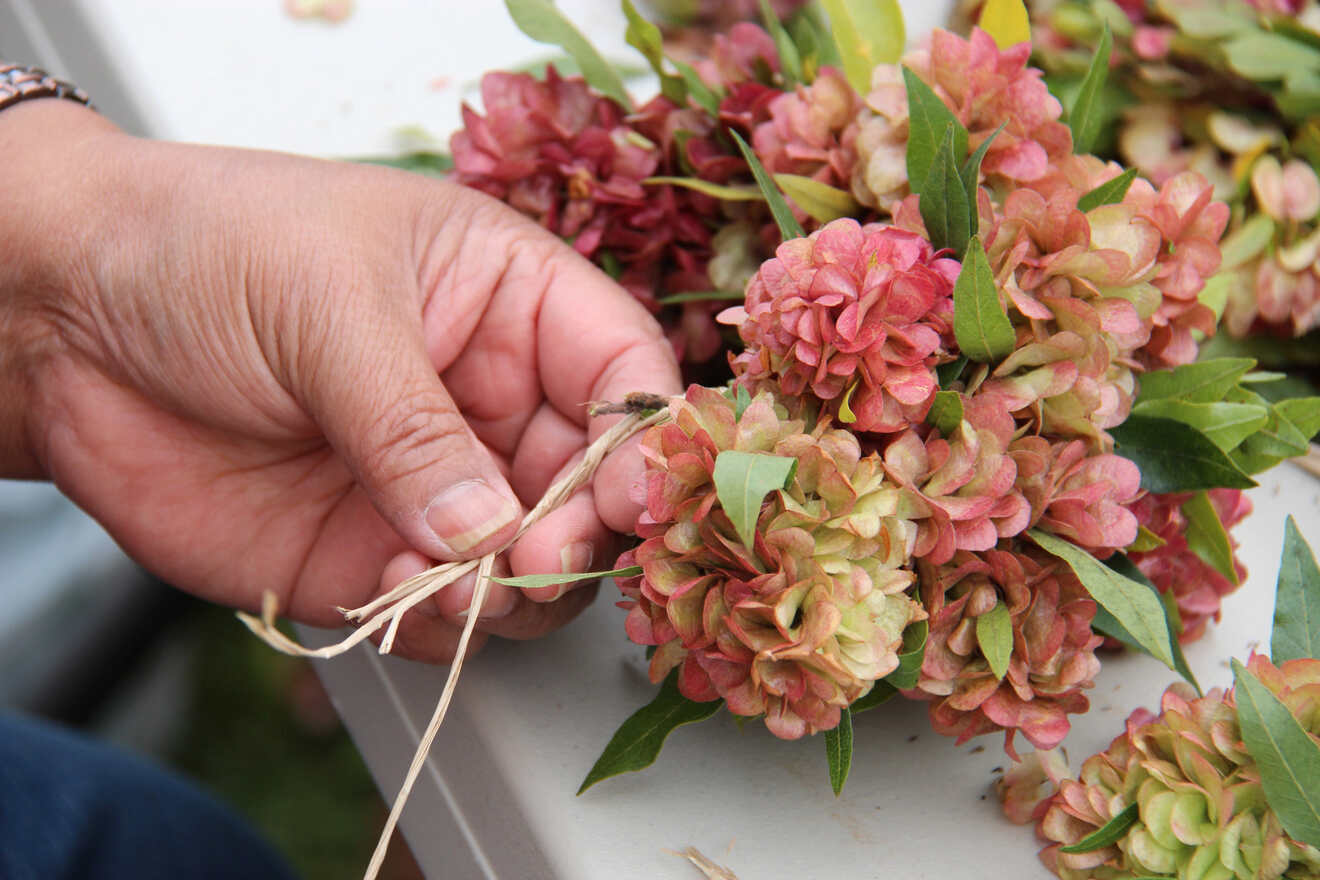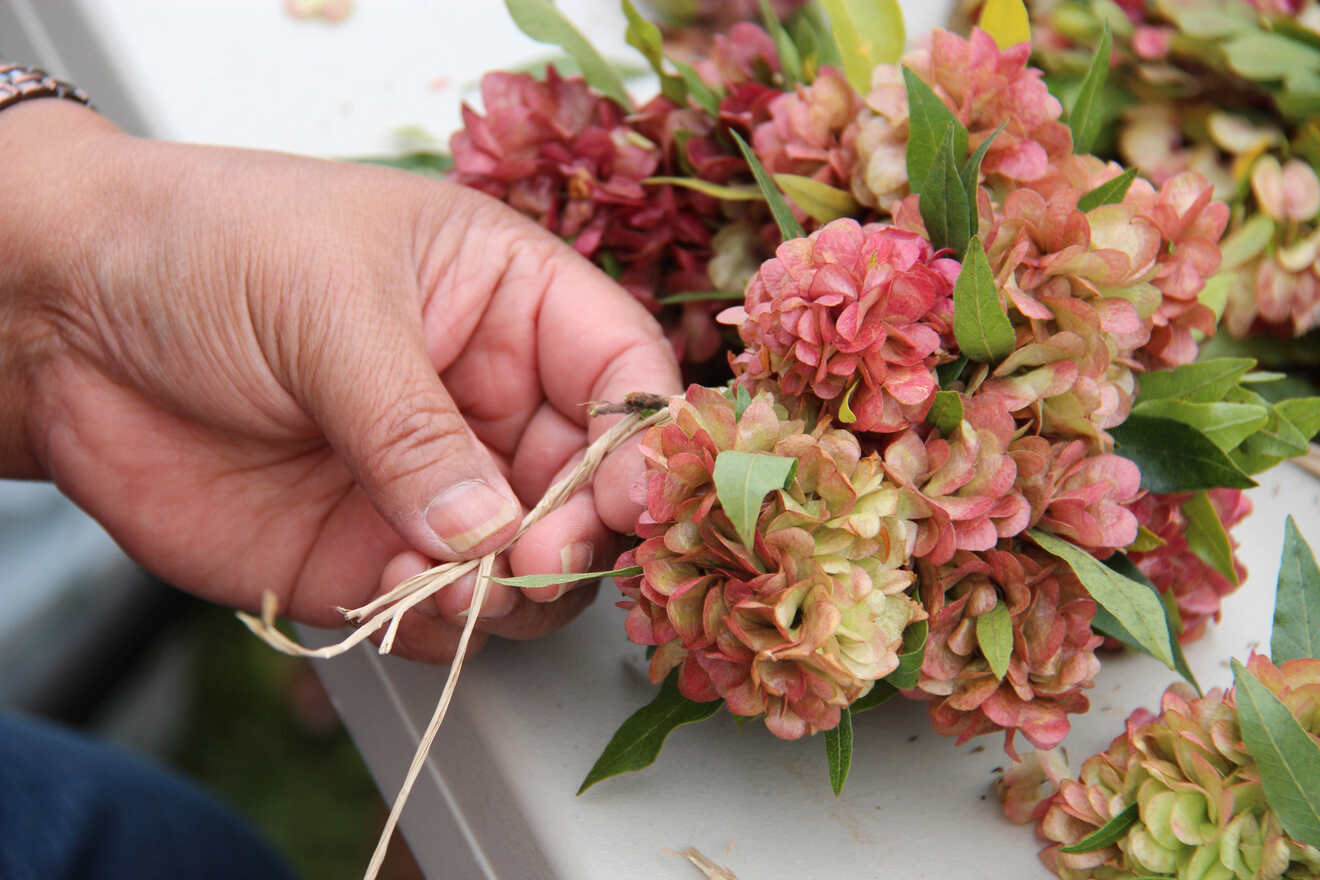 Duration: 3 hours
Price: from US$150
Why you should take it: luau buffet at the scenic location
Are you itching to slip on your flip-flops and soak in the glorious rays of the sun settling in a Hawaiian village? This tour is not only a Luau night out, it's a spectacular cultural experience.
You'll feel the rhythms pulse through your veins as you take part in activities that will captivate and edify. Strum a ukulele, get creative with flower lei-stringing, and learn to swivel those hips while doing the hula!
As the tantalizing smell of Hawaiian cuisine fills your nose, your taste buds wildly direct you to the buffet. You'll feel like Hawaiian royalty with a selection of delicious island dishes. Think Kalua pork cooked underground for that extra tenderness, lomi lomi salmon for an amazing zing, and Mahar Mahi grilled to perfection.
Wrap up your Hawaiian journey with a performance from award-winning Polynesian fire dancers.
6. Join a Royal Hawaiian Center Oahu luaus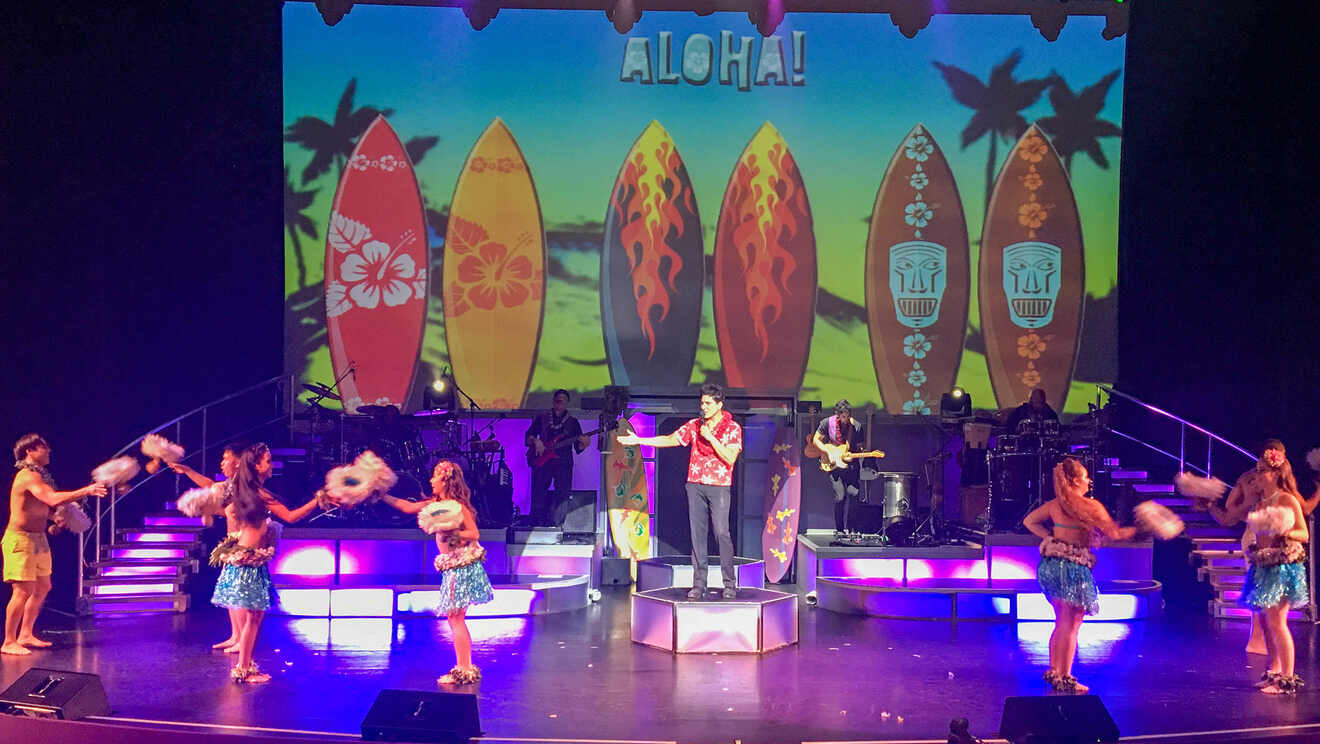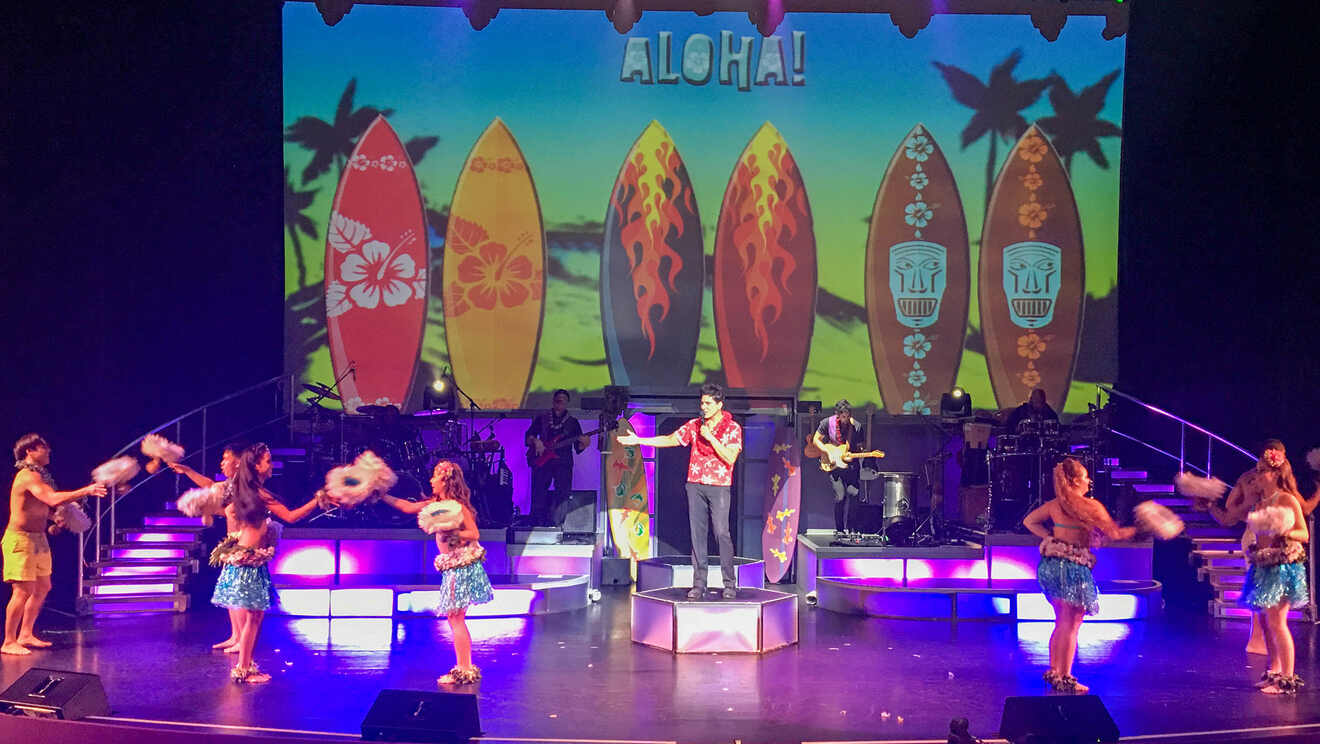 Duration: 1 to 3 hours
Price: from US$76
Why you should take it: royal Hawaiian luau experience
The "Rock-a-Hula" show is sure to transport you through decades of Hawaiian culture from the 1920s onward – and all within the walls of the Royal Hawaiian Center! Treat yourself and your squad to an epic experience; choose from general admission or upgrade to a VIP package.
And if you're looking for an authentic luxury experience, I have a luau offer for you. Every other evening, The Royal Hawaiian Hotel pays tribute to the legendary place where it stands today, Helumoa: as the playground of Hawaiian royalty. Taking place on the Ocean Lawn surrounded by sensational views of Waikiki Beach. Here diners can tuck into delicious grub as they're accompanied by stories, songs, hula, and culture – an authentic celebration of The Royal and all it stands for!
7. Get amazed by a luau at Coral Crater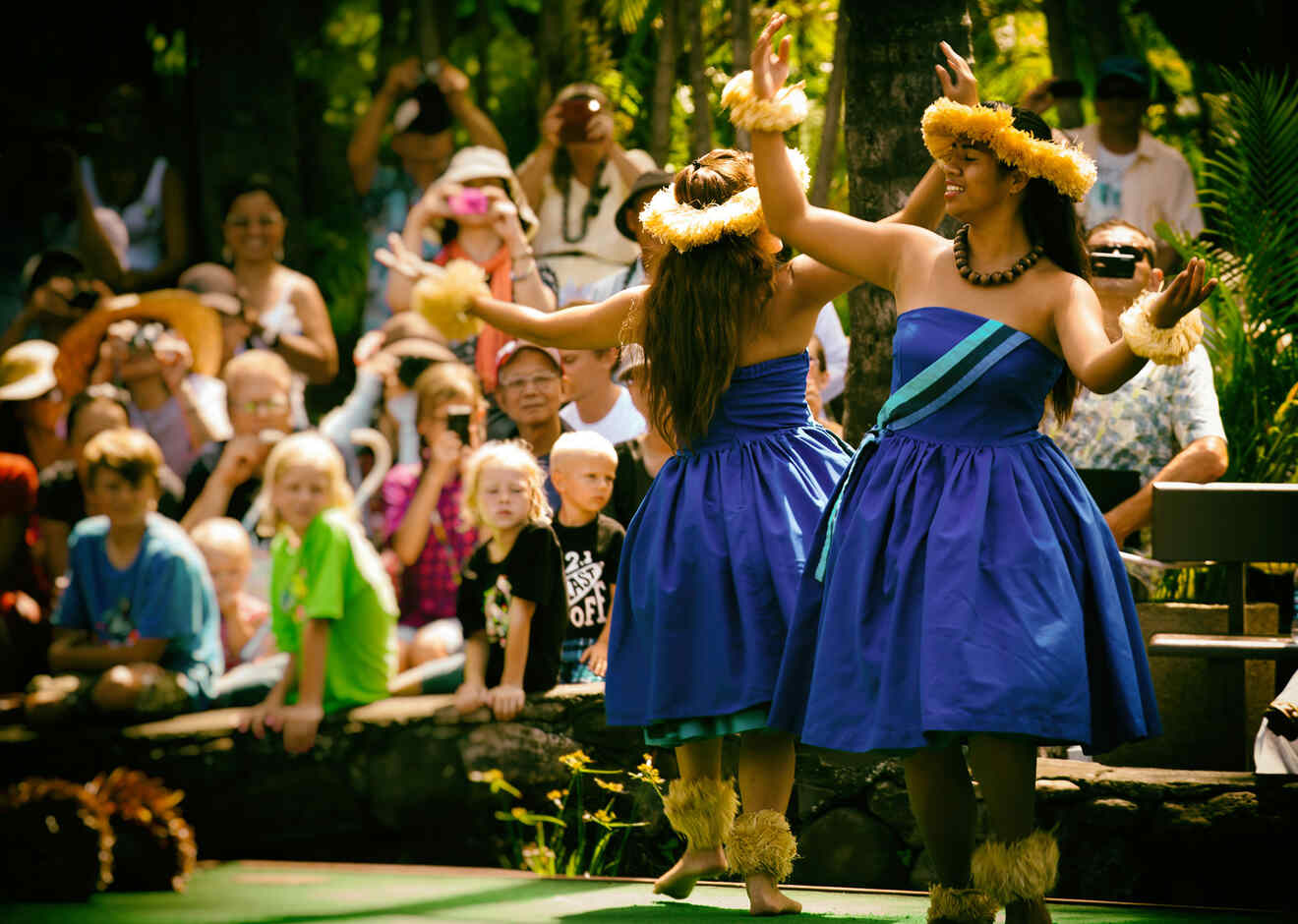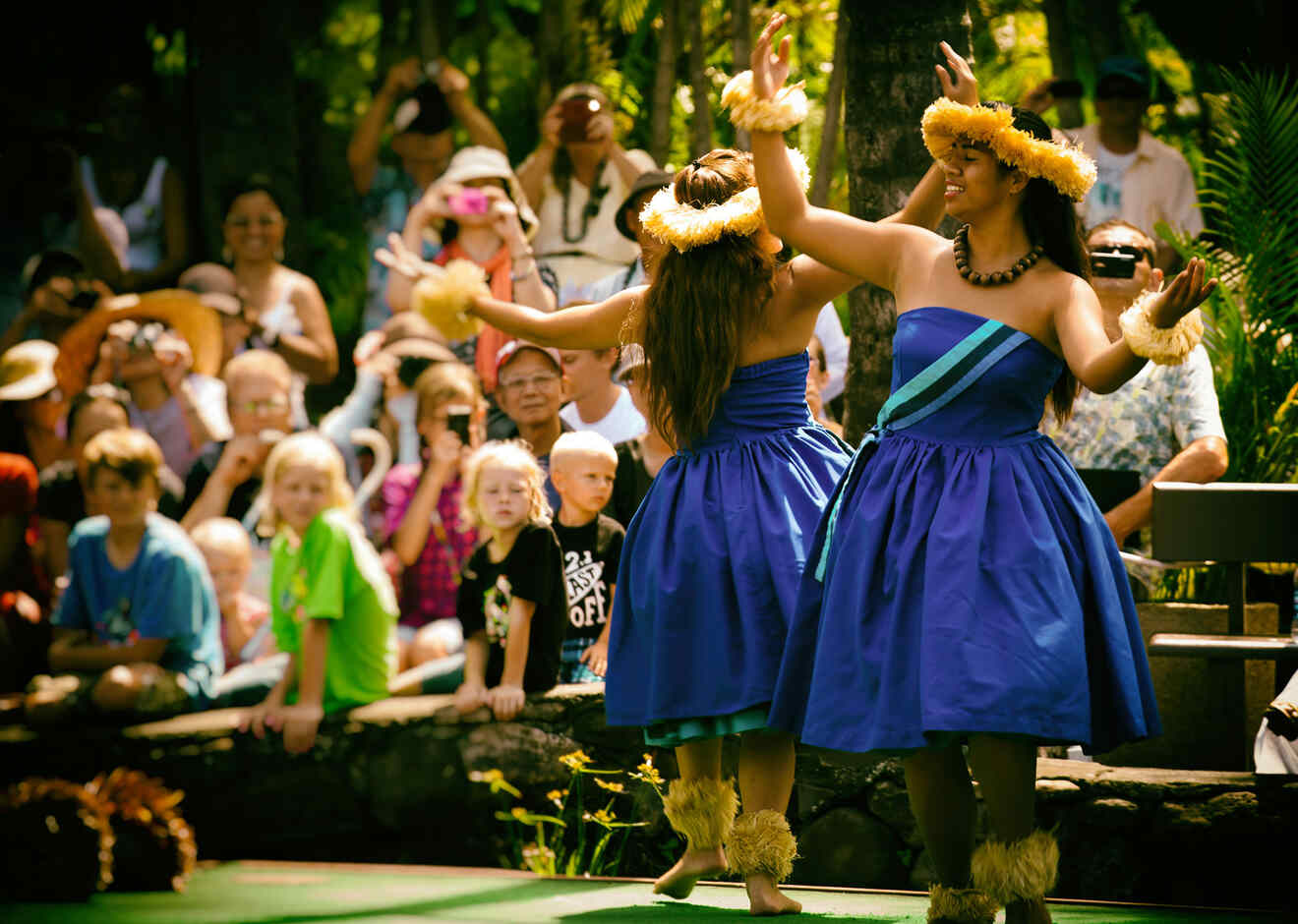 Duration: 3 hours
Price: from US$120
Why you should take it: caters to many different people and tastes
This is a great tour that can help many different groups of people experience the Polynesian culture. You and your squad can witness Mele Luau at Coral Crater and get your taste buds tingling for some delicious Hawaiian fare! You'll be welcomed with a traditional luau greeting, followed by tantalizing appetizers while watching the traditional cooking demonstration. Then, feast on amazing dishes as you witness live hula, haka, and fire knife dances – how cool!
One more awesome thing is that this tour offers pickup from certain hotels, so it's convenient in that way as well. That's not all! A lei greeting is also included. No matter if you have kids or are vegan, there are many options available, so you can feel free to jump in and enjoy a luau show like no other.
8. Dare to join the Queens Waikiki Luau tour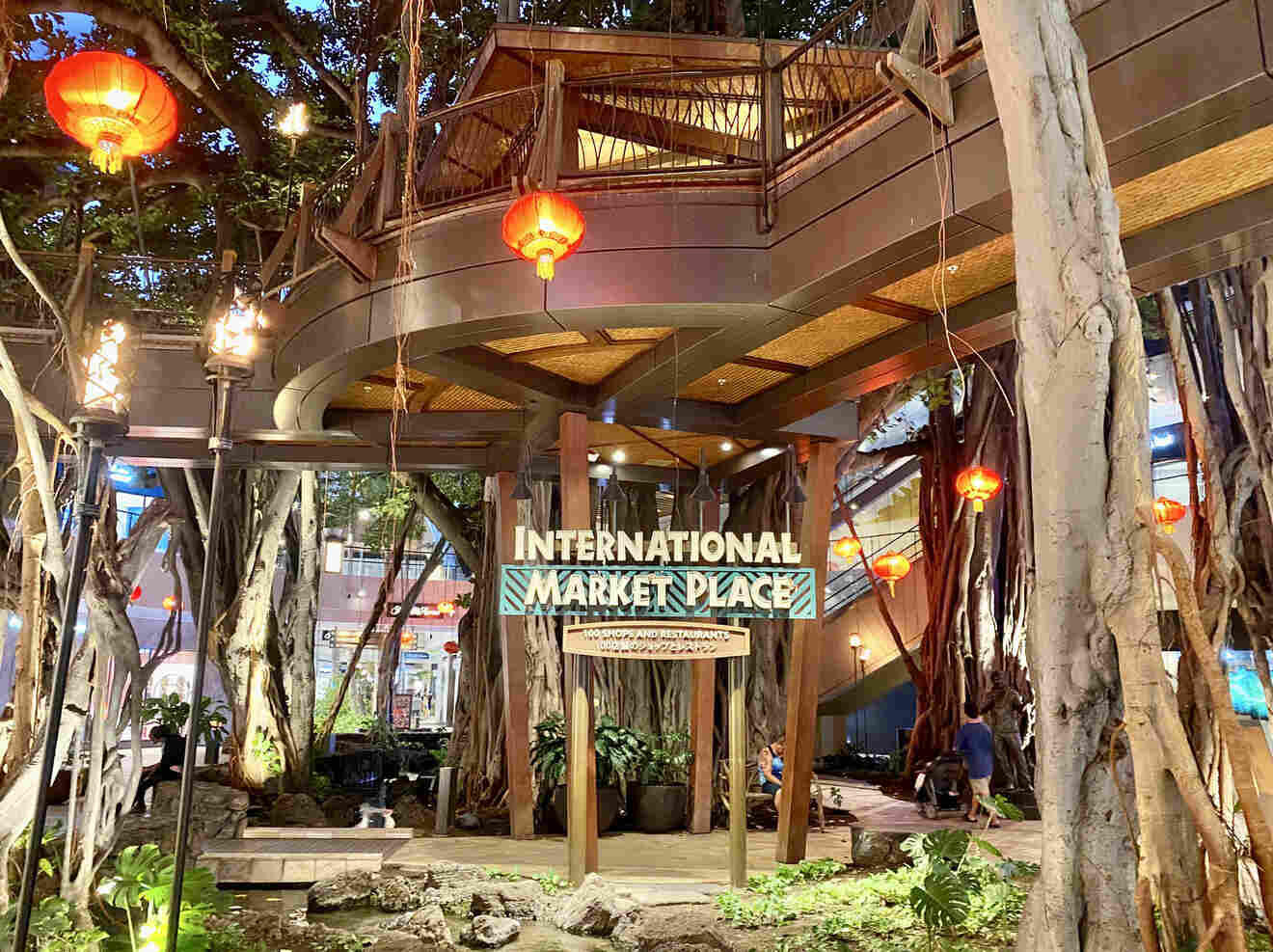 Duration: 3 hours
Price: from US$150
Why you should take it: for the convenient location
Are you ready to have the night of your life in Oahu? This luau is located conveniently at the International Market Place, right in the heart of Waikiki. There'll be delicious Hawaiian food to feast on and an awesome Polynesian show with a mesmerizing fire knife dance guaranteed to give you an unforgettable experience!
It's your chance to kick back, take a break from the daily grind and treat yourself to something special – this Polynesian adventure! The hotel is close by to plenty of awesome places to eat, plus exciting performing arts shows and that crazy fire knife performance that will blow your mind.
Throw a shindig to remember! If you want your birthday, anniversary, or any celebratory occasion to be totally unforgettable, seeing a show is an awesome option. Sure, the show only lasts 3 hours, but trust me, the memories will remain forever.
9. Embark on a Kapolei experience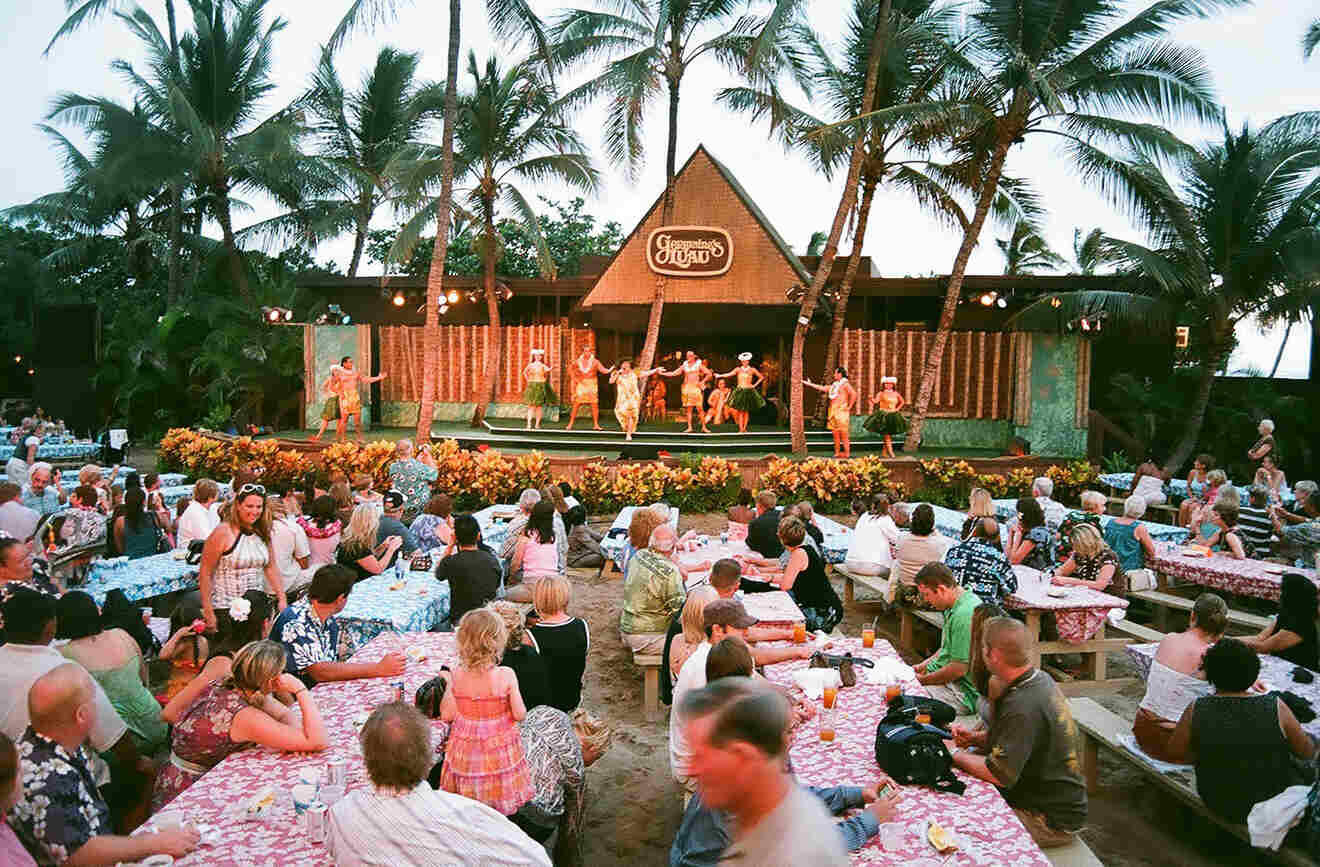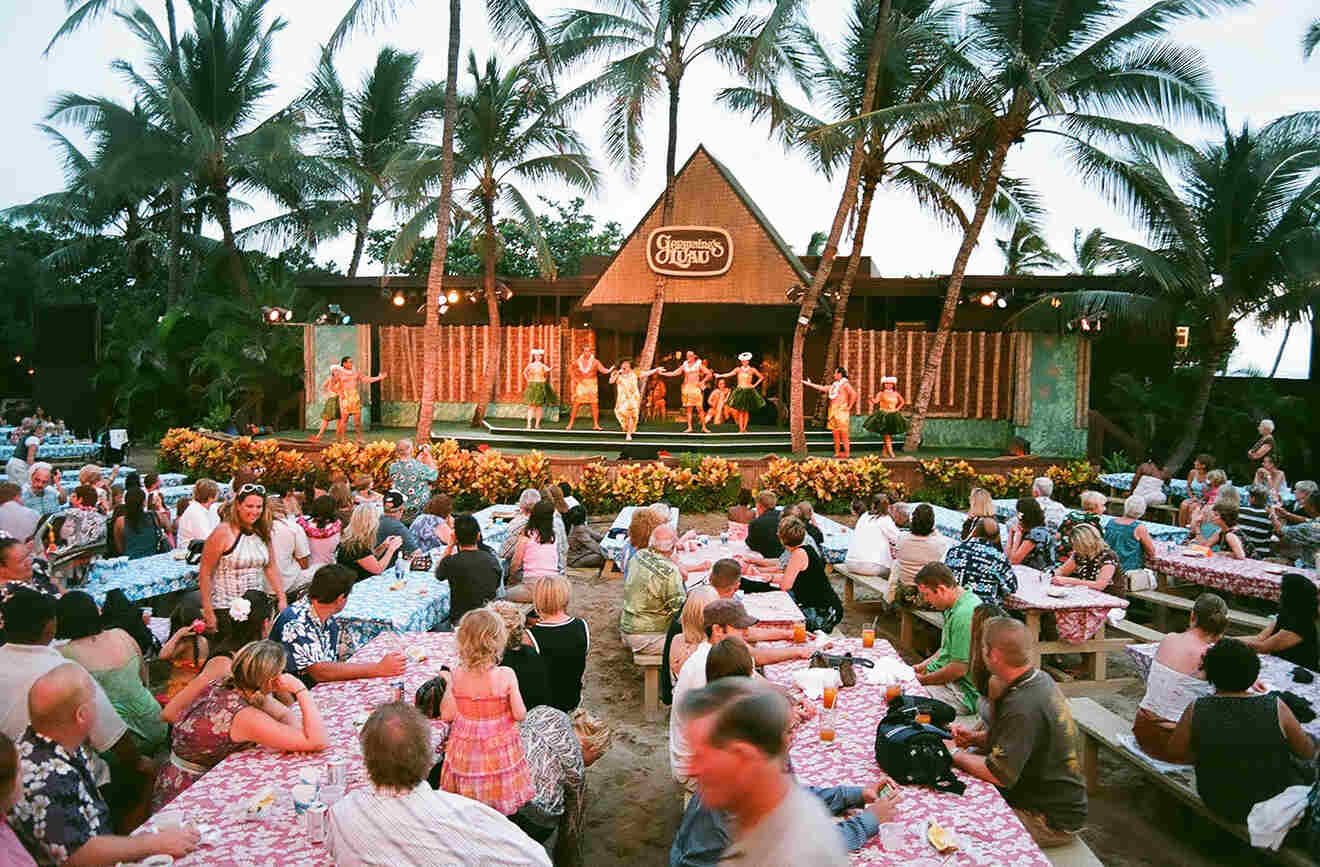 Duration: 3 hours
Price: from US$150
Why you should take it: family-friendly luau tour
Treat yourself to a unique cultural experience in Kapolei and book this luau dinner complete with a traditional lei welcome!
From the moment you step onto Germaine's Luau and get that beautiful lei draped around your neck to when you reluctantly utter farewell, you'll be surrounded by an awesome Ohana having fun, chowing down on local delicacies, and taking in the incomparable atmosphere of Hawaii and Polynesian culture. The kiddos won't find a single dull moment either.
Dig into delectable Hawaiian-American dishes, such as succulent roasted pig, island fish sautéed to perfection, and signature Hawaiian chicken. Plus, you won't want to miss out on the live Polynesian fire-knife, hula, and slap-dancing performances! Learn all about the culture as you indulge in your meal, plus alcoholic drinks are included with both packages. You can upgrade for round-trip hotel transfers, too – whatever fits your budget best.
10. Say Aloha to Kai Luau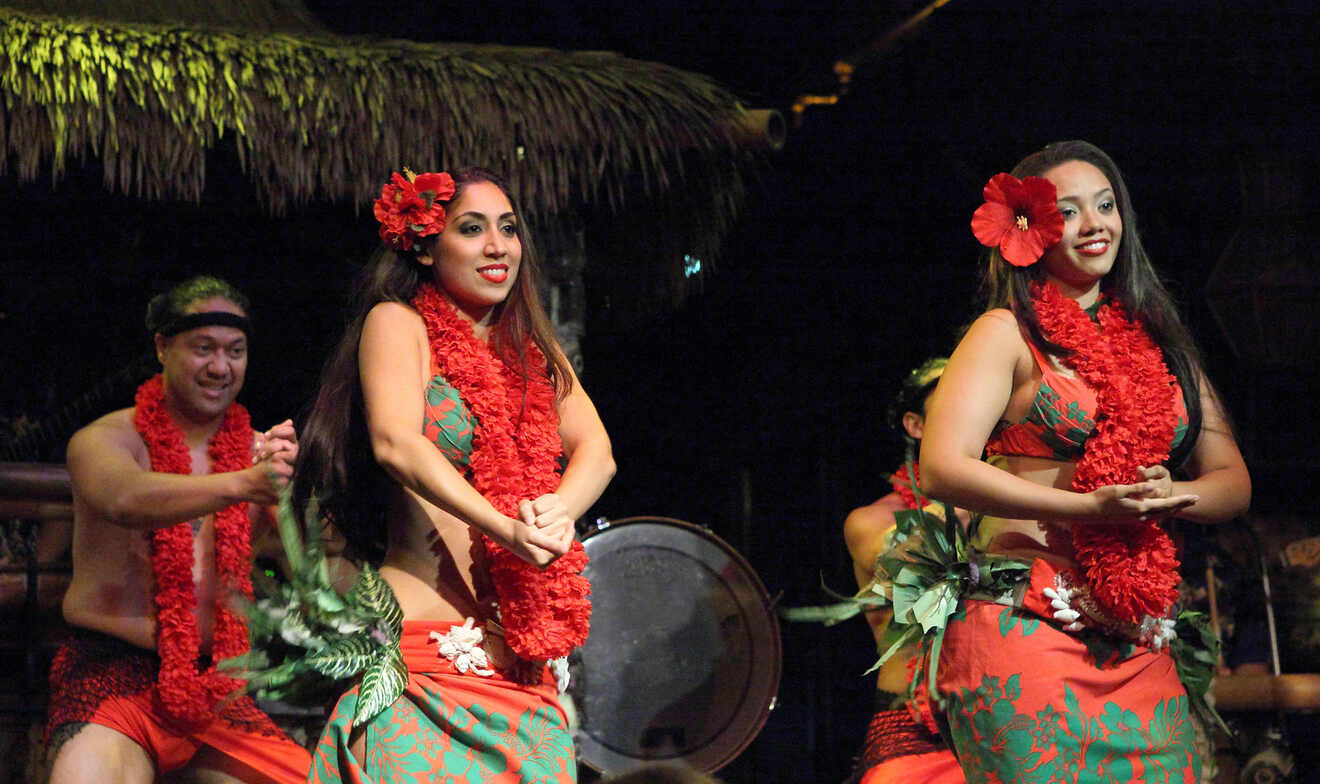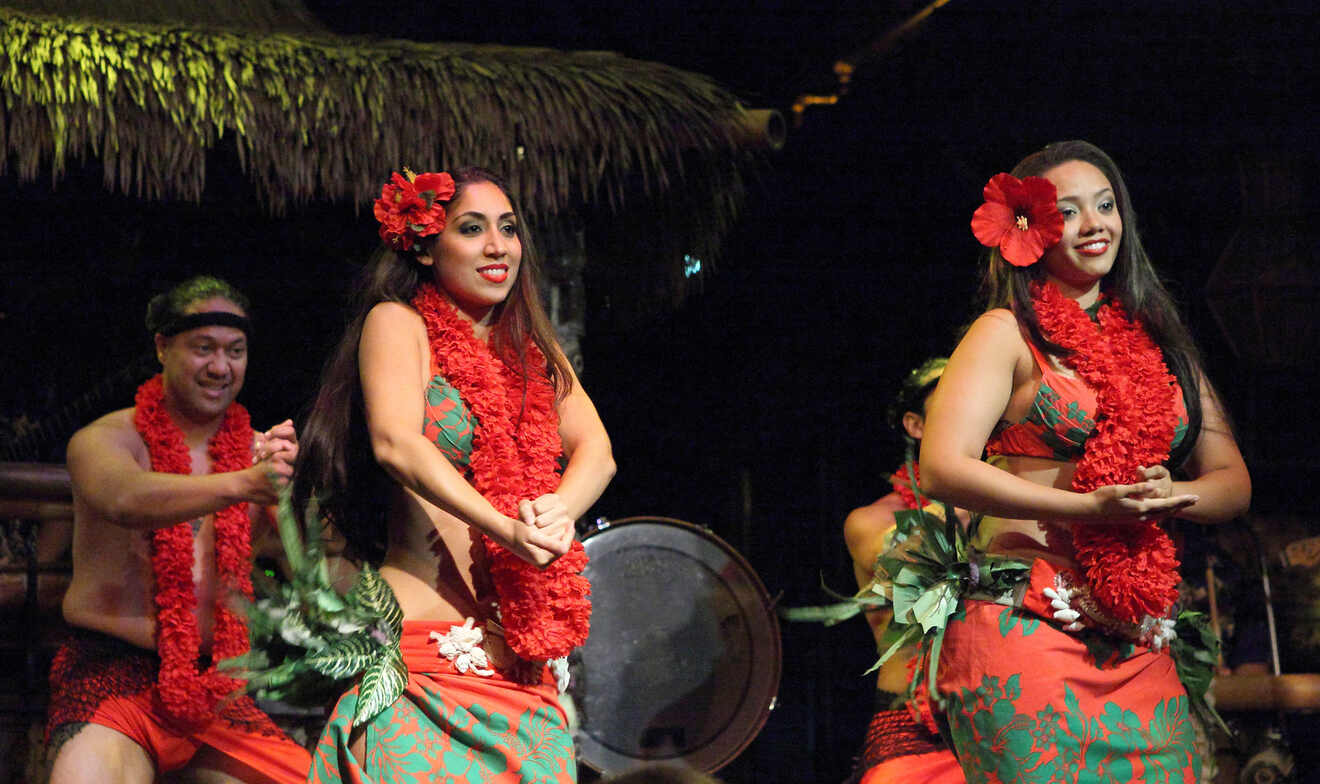 Duration: 3 hours
Price: from US$125
Why you should take it: located in Sea Life Park
Aloha Kai Luau awaits you at Sea Life Park – Hawaii's ultimate wildlife marine park & aquarium. Take the scenic route with a tour bus and enjoy the entertaining commentary from your driver as you cruise past Diamond Head, Koko Head, Hanauma Bay, and many other famous places in Oahu, all in just 25 minutes from Waikiki! It's much closer than other luaus that require a 1.5-hour highway drive.
Prepare to be dazzled; there's nothing like the moonlit skies reflecting off of the deep blue Pacific Ocean with Oahu's highest sea cliffs towering behind. Talk about picture-perfect!
The tour includes a live show and entertainment and an opportunity to get souvenirs as well. It's wheelchair accessible.
11. Visit Polynesian Cultural Center luau tour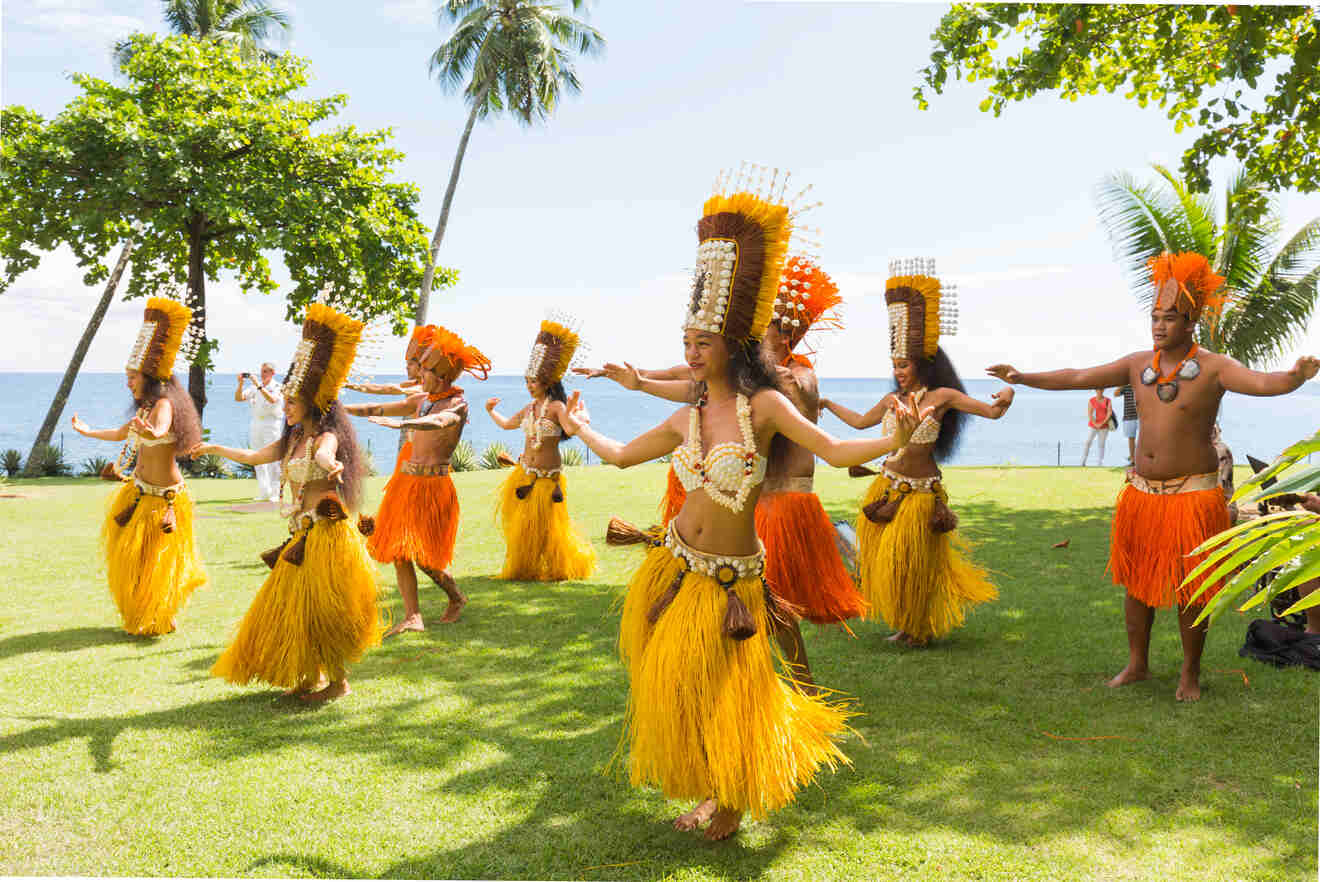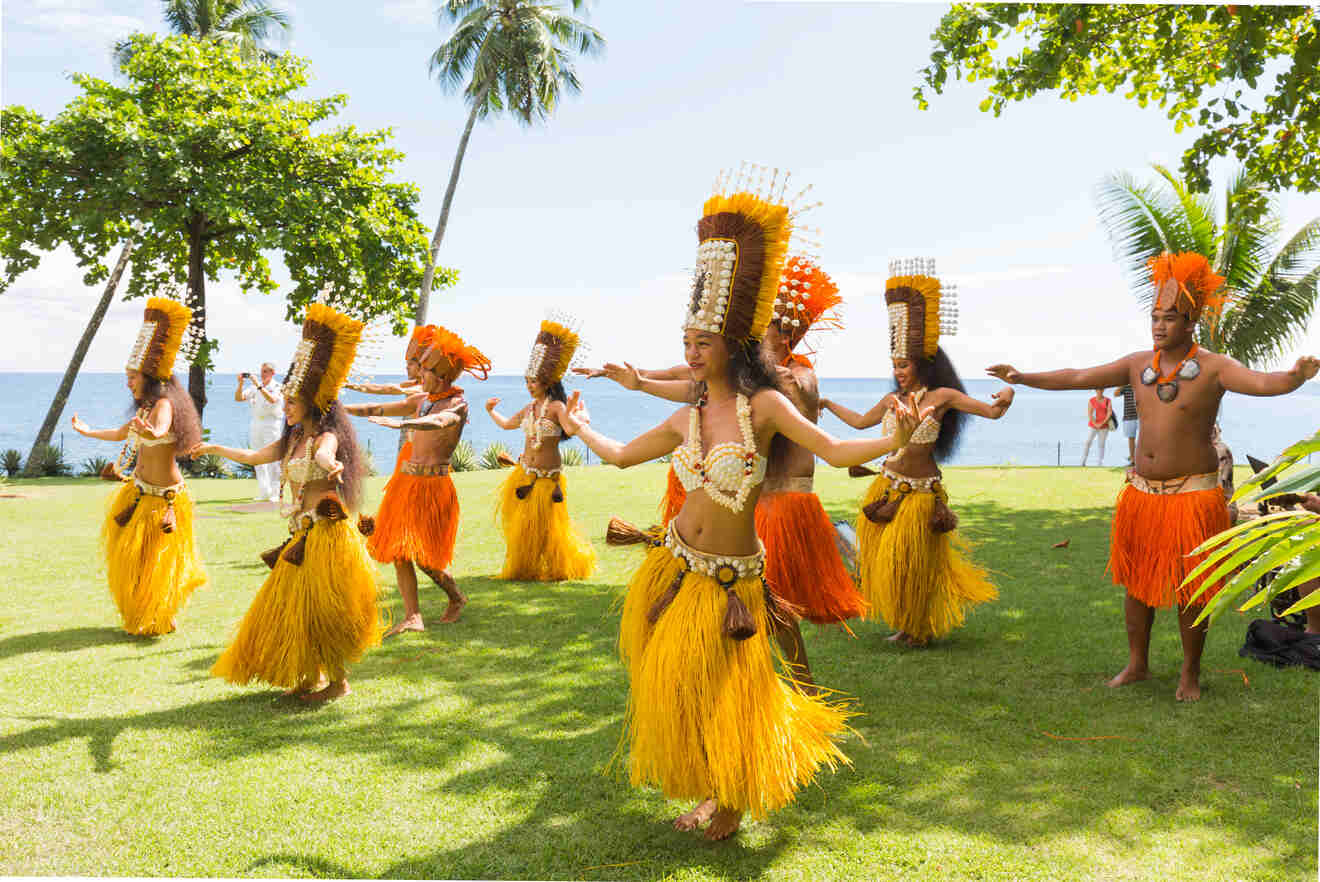 Duration: 1.5 hours
Price: from US$112
Why you should take it: spectacular Polynesian dances
When looking for cultural activities, make sure to include Polynesian Cultural Center on the list! It's located on Oahu's North Shore.
Feast your senses on an astonishing showcase of island culture and entertainment! Let the rhythm of the islands transport you from the roaring twenties to the present day. With a bevy of artists putting on a power-packed performance, you're sure to be mesmerized by the hypnotic swaying of hula dancers, awe-inspiring fire knife spins, to sweet harmonies from talented musicians. The tour offers plenty of gateway buffet packages as well, so you sure won't leave hungry.
Polynesian Cultural Center Luau shows don't offer just a Luau ticket but so many different options as well. Some of them are the imu ceremony, table service, Ali'i luau, Ha Breath of Life, hula lesson gift shop, and other luaus tours.
12. Visit Aulani Disney Resort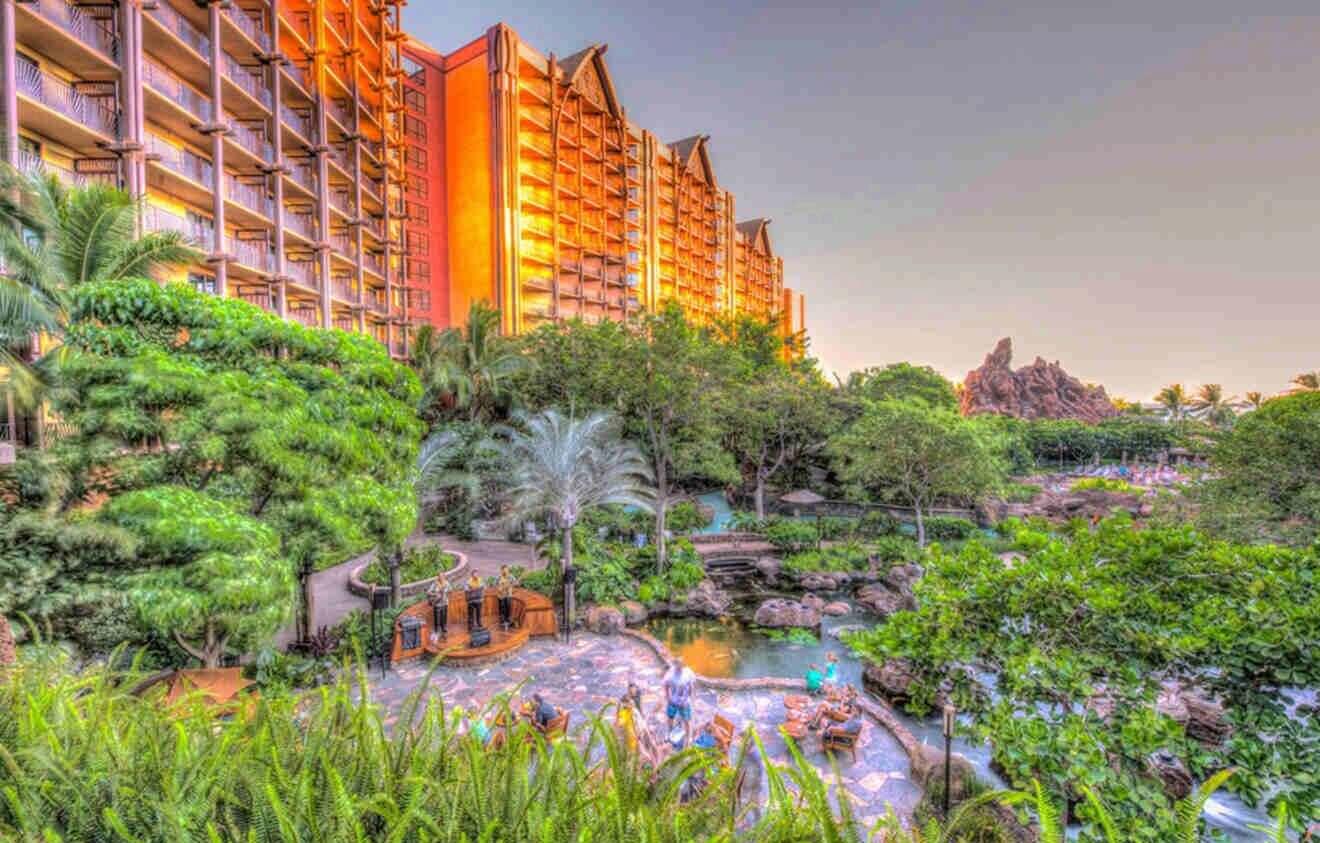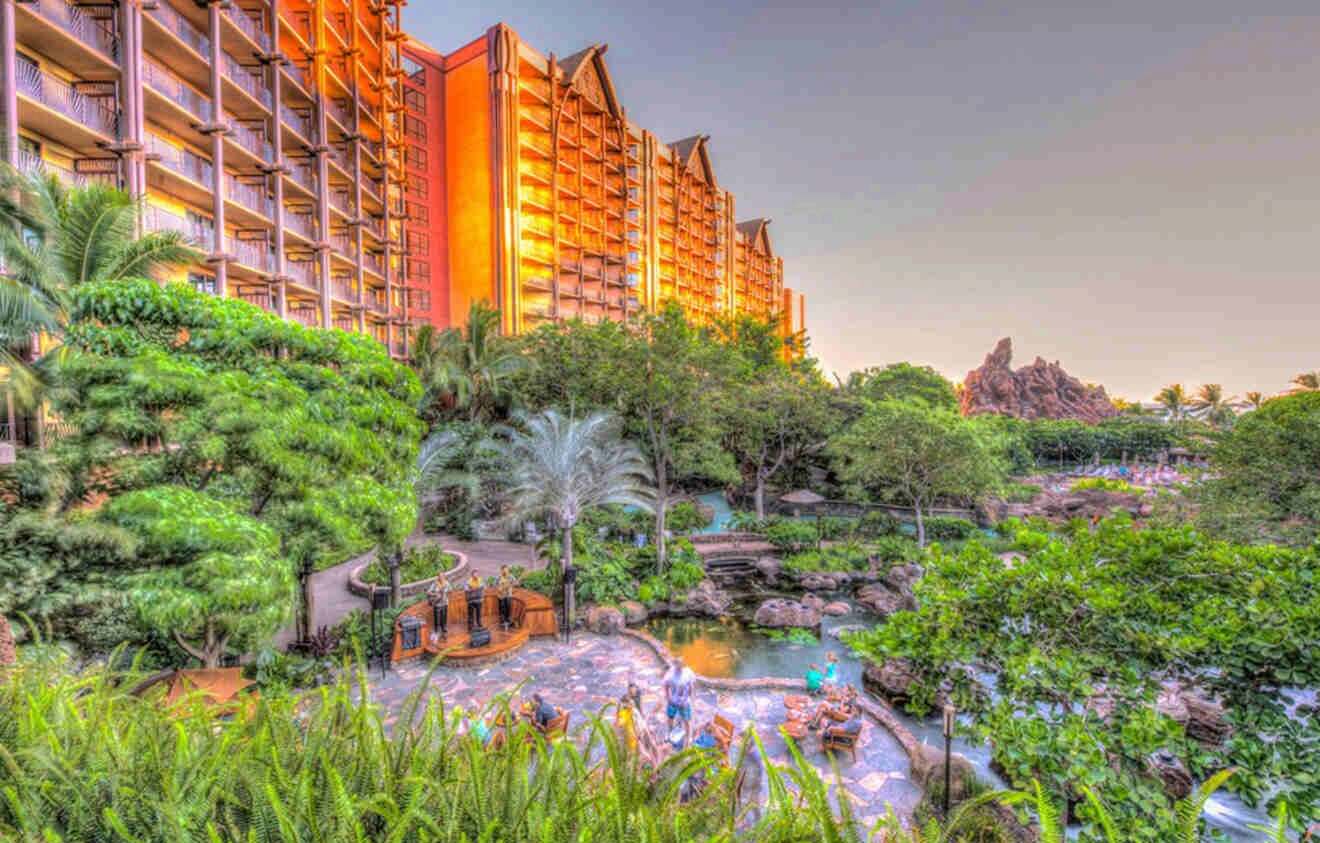 Duration: 3 hours
Price: from US$200
Why you should take it: entertainment offered by Disney
This tour is a one-of-a-kind experience that only Disney can provide. You'll feel like a kid again. Before the main event, you'll first immerse yourself in the cultures of the islands through entrancing pre-show displays. Gaze in amazement at skilled artisans crafting gorgeous flower arrangements that'll take your breath away. Then you can witness centuries-old paʻi ai taro pounding.
Taste a delicious buffet featuring island delights, sink your teeth into succulent prime rib seasoned with sea salt, treat your taste buds to local seafood and produce, and indulge in some desserts that you won't be able to resist.
You won't be able to take your eyes off the transporting movements, entrancing music, and mesmerizing tale-telling by the dancers. You'll be spellbound and sitting on the edge of your seat!
BONUS: Oahu tours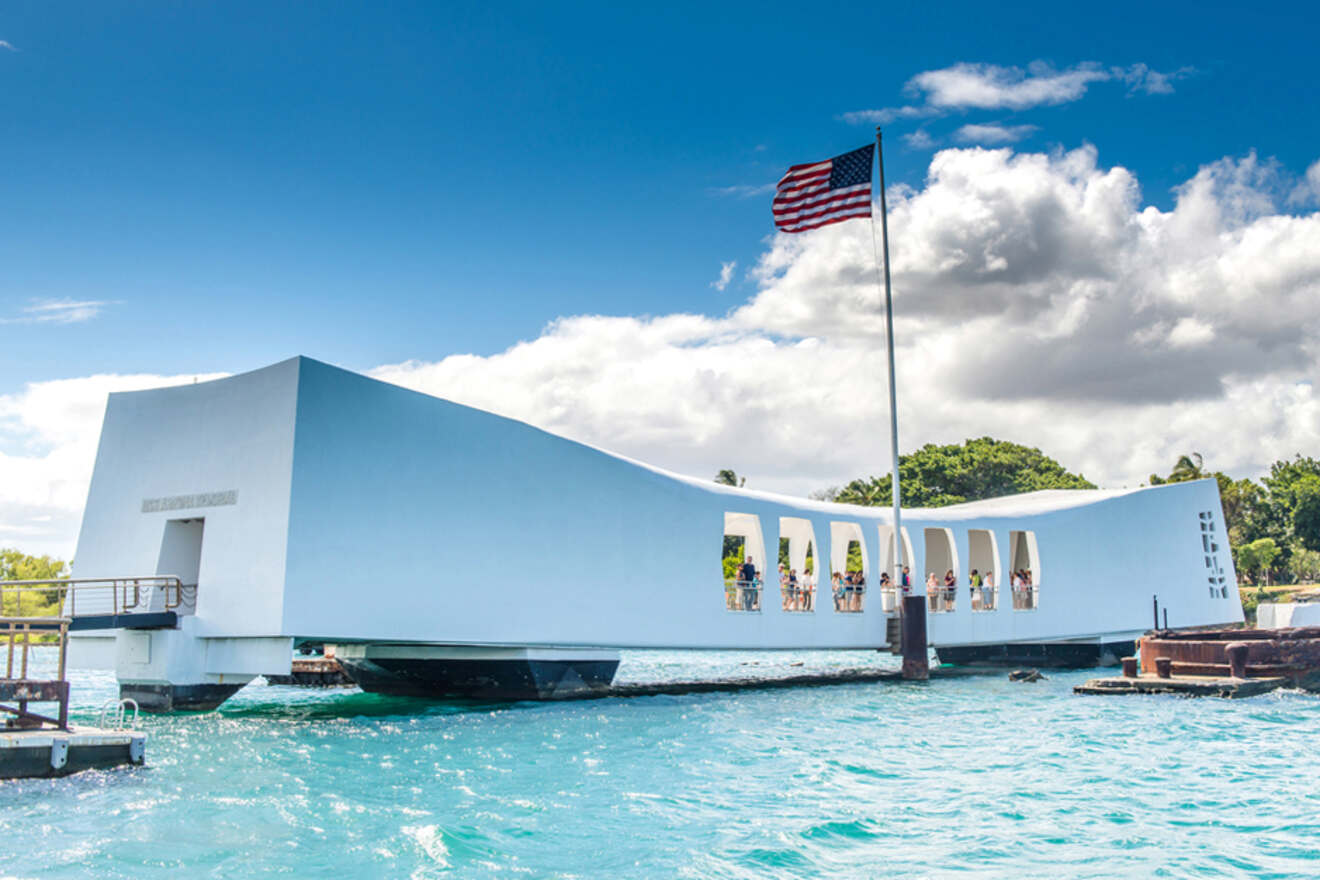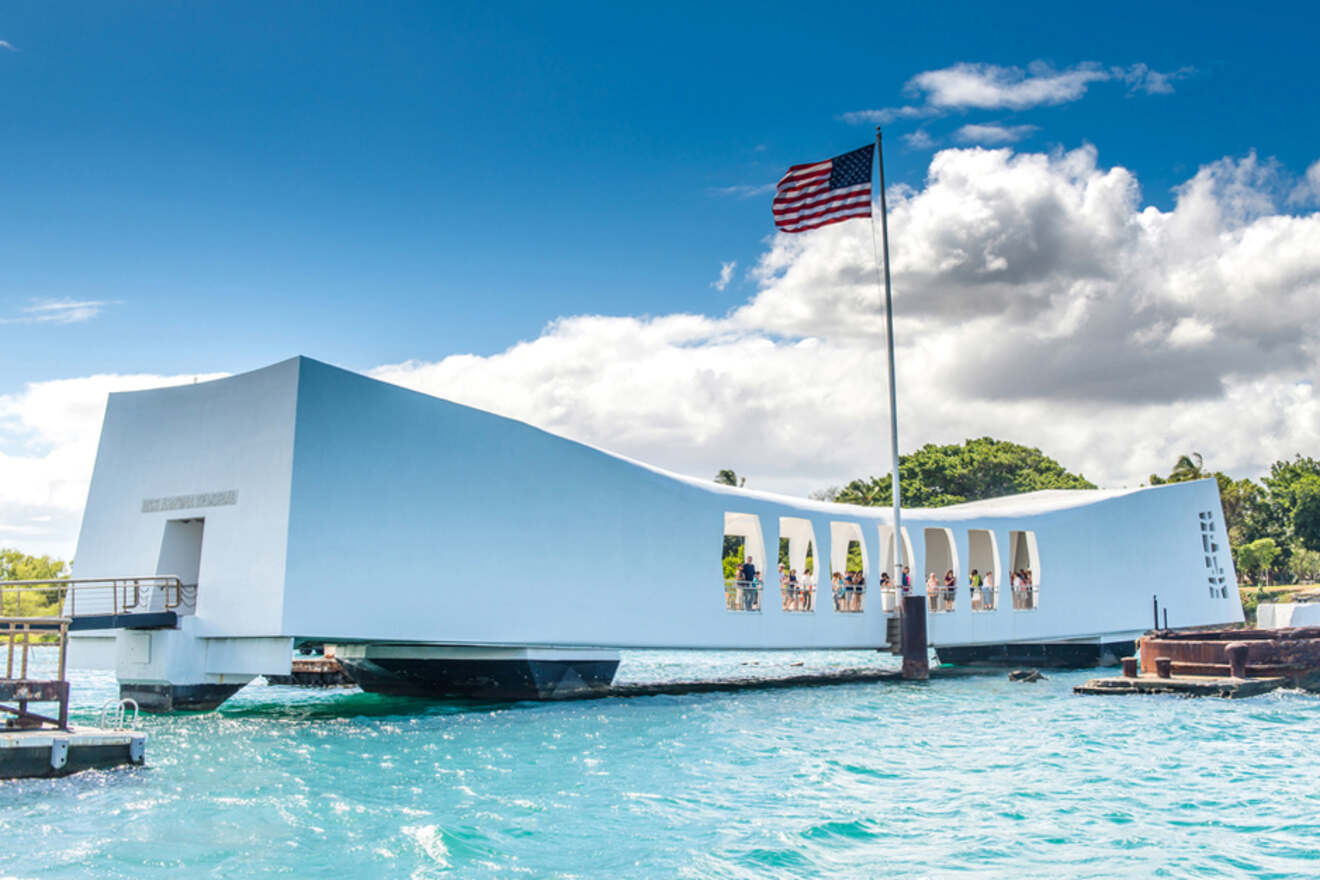 If you want to experience other amazing tours in Oahu besides a Luau party, here are some amazing options for you:
Visit the iconic Pearl Harbor – Don't miss the must-see Pearl Harbor National Monument! With this tour, you get hassle-free entry, plus boat tickets to the USS Arizona. Once there, head over to the Visitor Center and relive December 7, 1941, with a short film and interactive exhibits. Follow your guide to the Pearl Harbor National Memorial and come face-to-face with WWII history.
Embark on a sunset cruise in Oahu – Plan your perfect Hawaiian holiday early and join this sublime 2-hour cruise from Oahu! As you sail along the beautiful coastline, savor a scrumptious 3-course crab and steak dinner while enjoying the show "60 Years of Aloha," featuring Hawaii's most talented actors. Oh, and did I mention the stunning sunset views? Truly a great tour.
Join a Kualoa Ranch adventure – Embark on a thrilling tour of the Kualoa, Hakipu'u, and Ka'a'awa Valleys with a small group driving around in an open-air vehicle just like in the movies! Check out the paddock, bunkers, dinosaur cages, and that spectacular field, all properties you saw in the movie classics! With panoramic views along the way and several tour times available for convenience, it's a must-do tour.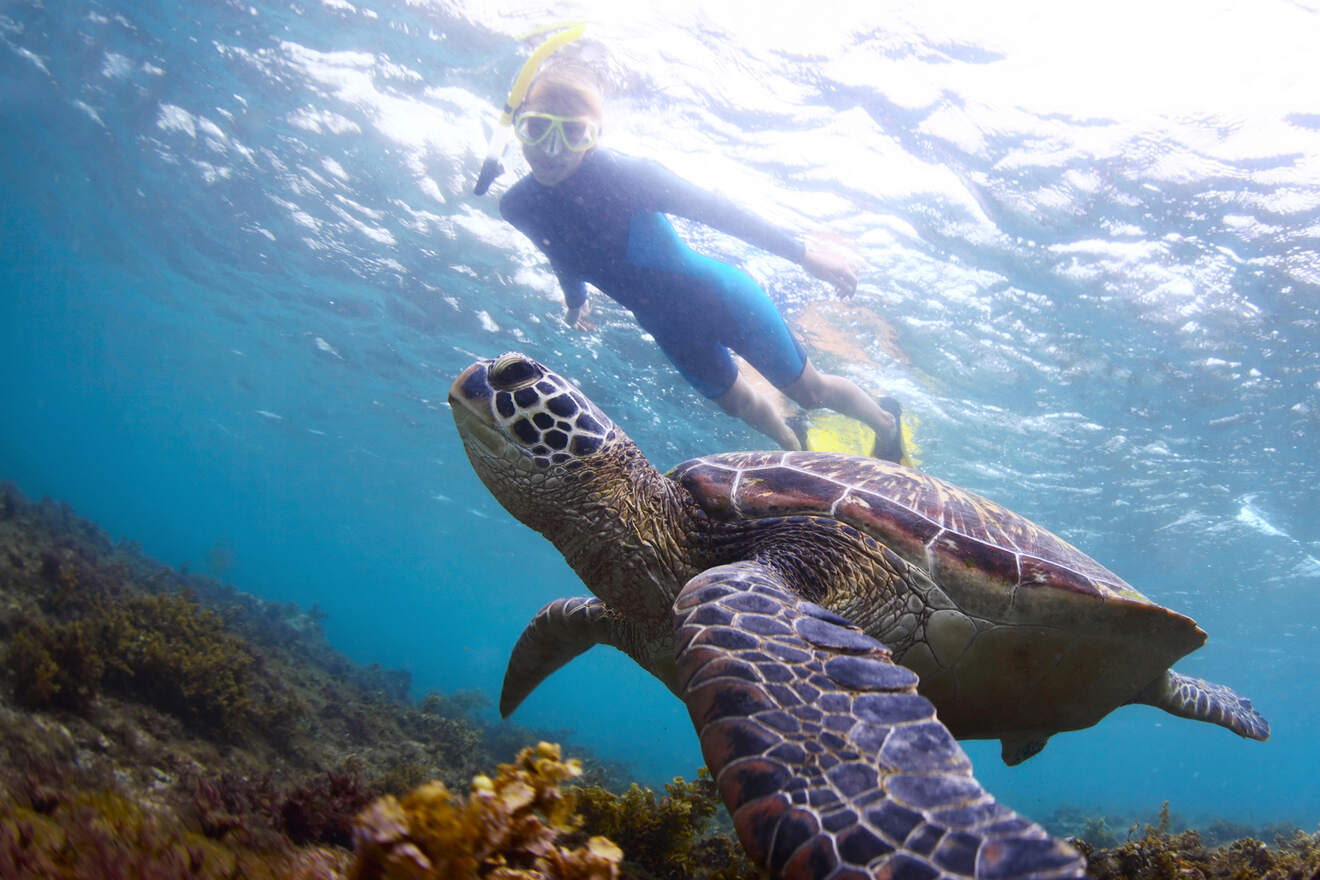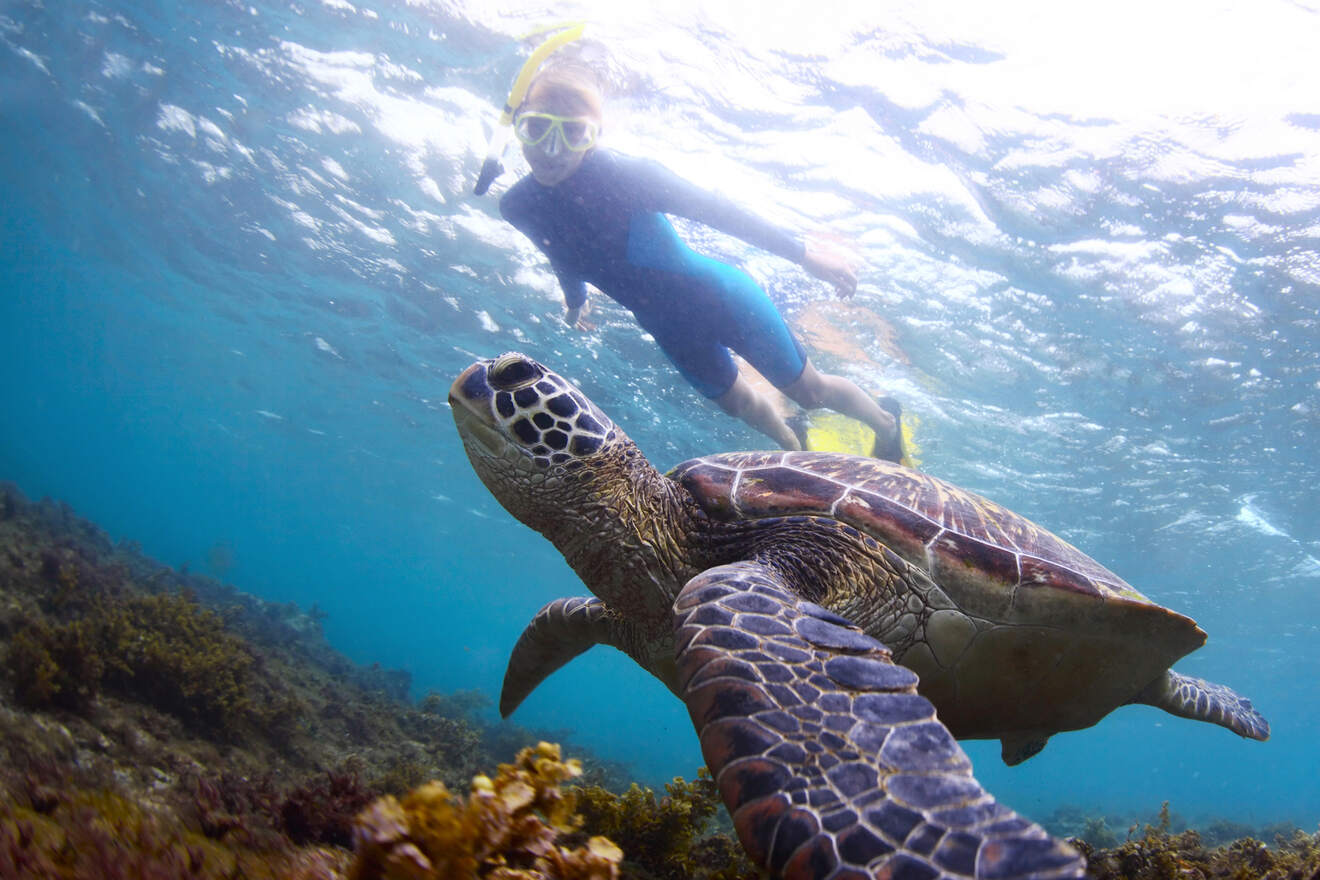 FAQs about luau in Oahu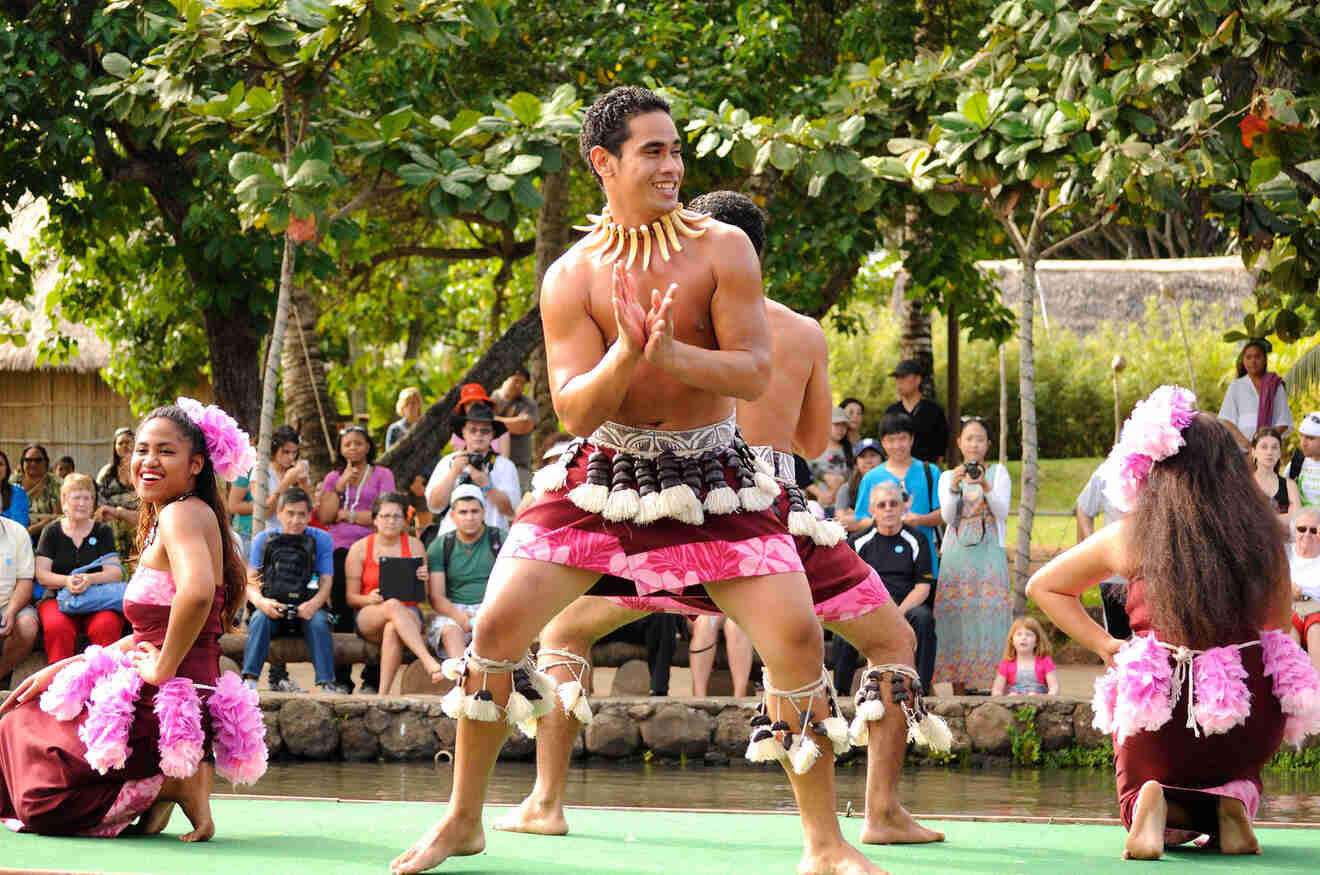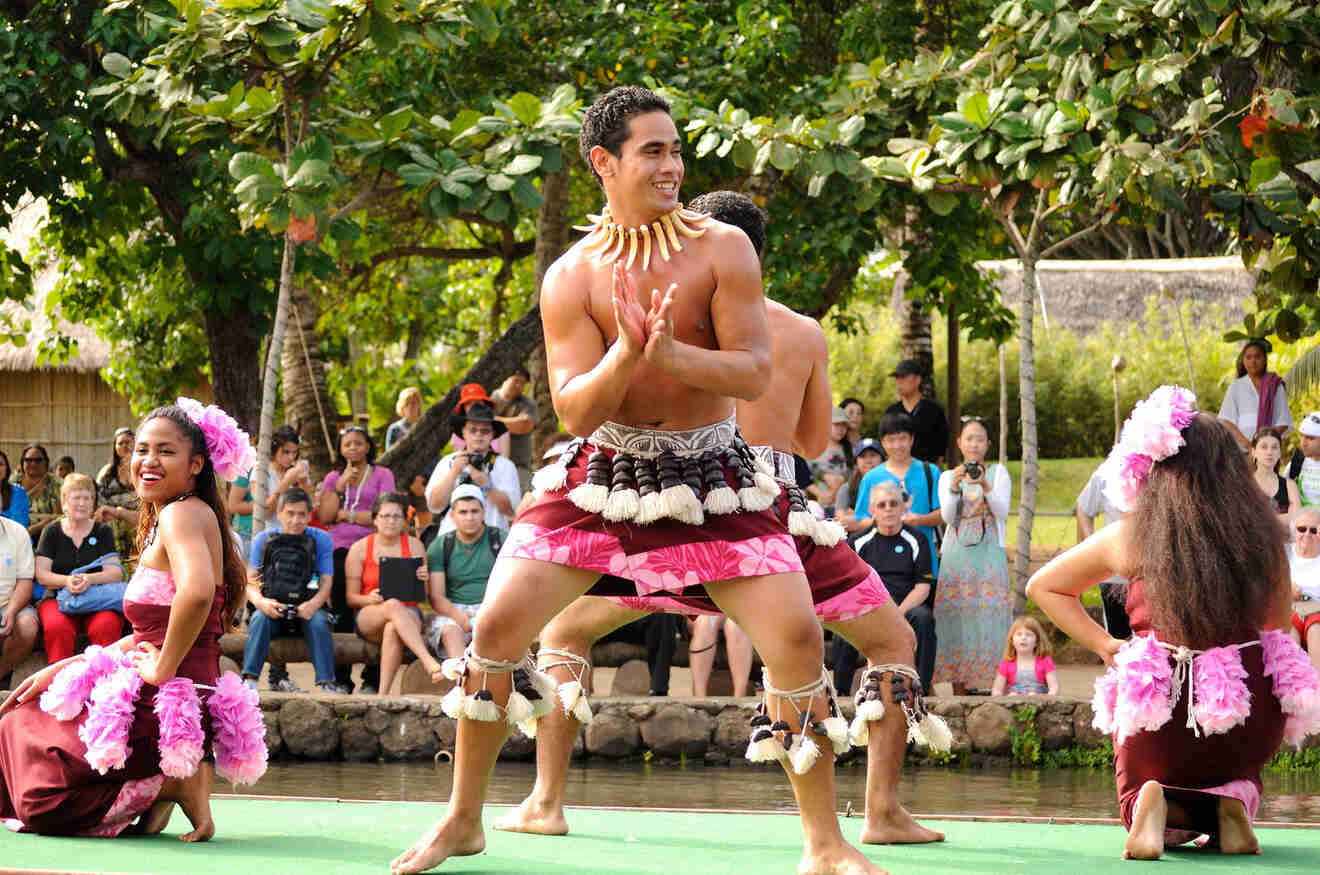 📍 Is a luau in Oahu worth it?
🔝 What is the most authentic luau in Hawaii?
The most popular and traveler's favorite choice for Luau shows is Paradise Cove Luau Tour. You'll get an authentic experience with traditional fire dancers, live entertainment, and delicious dinner packages.
💰 How much is a private luau in Oahu?
Depends on the tour operator and their offerings and location. The average price starts from US$275 per person.
🌊 What can I do instead of a luau in Oahu?
Conclusion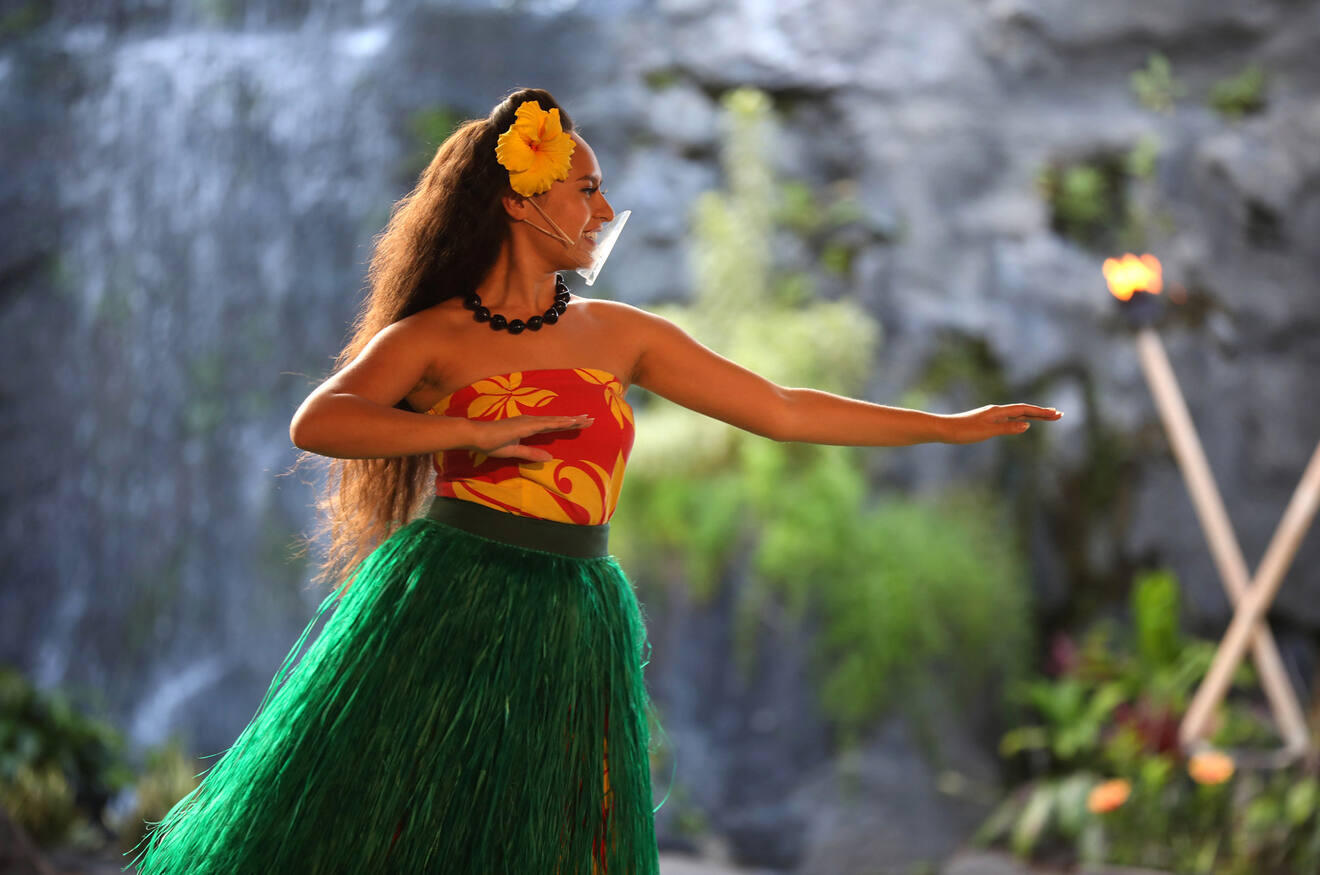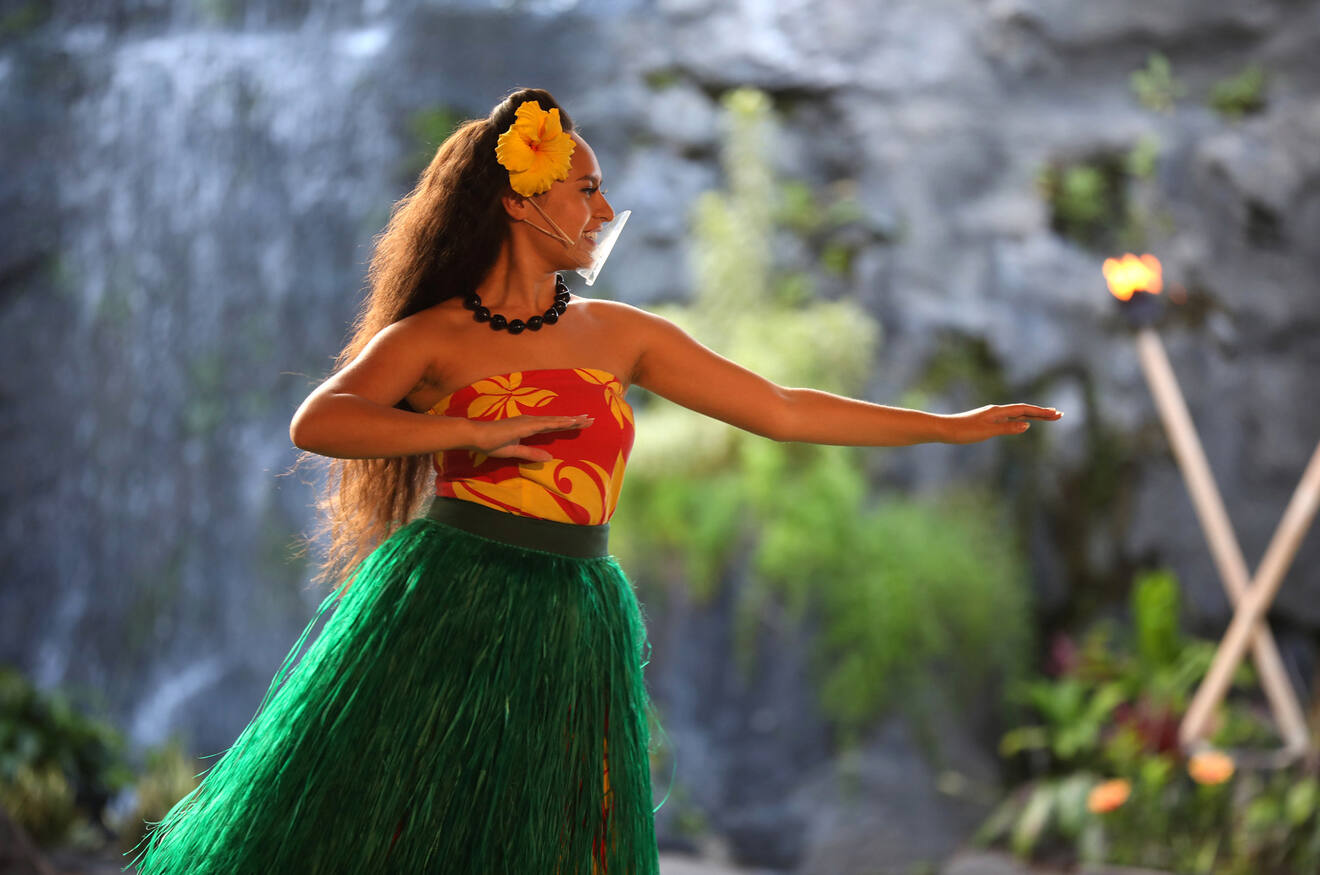 We danced our way to the end of this list. I hope this list of Luau Oahu tours inspired you to start planning your next Hawaiian adventure.
With amazing food choices, talented dancers, and an authentic flavor, these tours are truly an unmissable choice for anyone that wants to experience true Hawaii in its full glory. Don't forget also to check out some of the offers from the bonus section, I'm sure you'll have a blast with them as well.
Don't get too carried away and forget just how popular both Oahu and Luau experiences truly are. That's why I advise you to play smart and book your tours ahead.
And for my passionate travelers who have already had the honor of witnessing these shows, please don't be shy and share your opinions and tips, and tricks in the comments below.
Until the next dance,
Angelina
---
Pin it for later!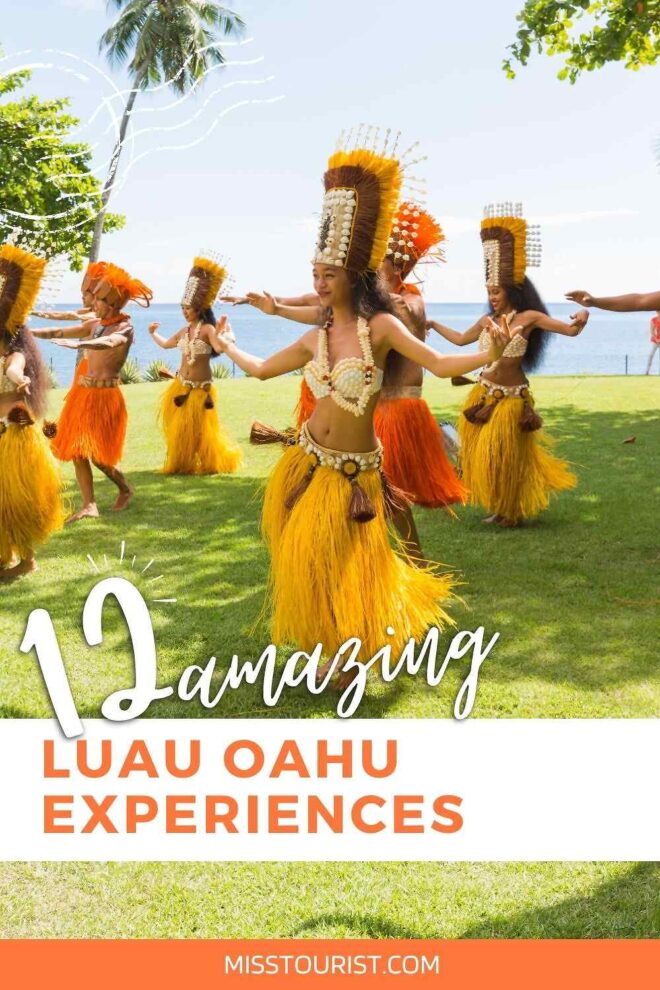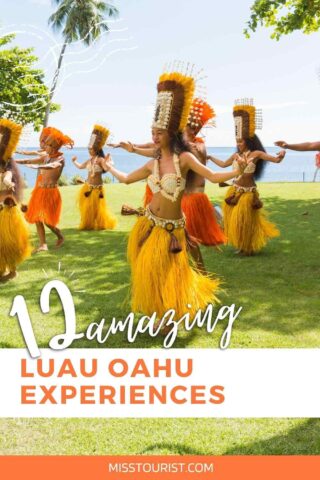 Pin it for later!