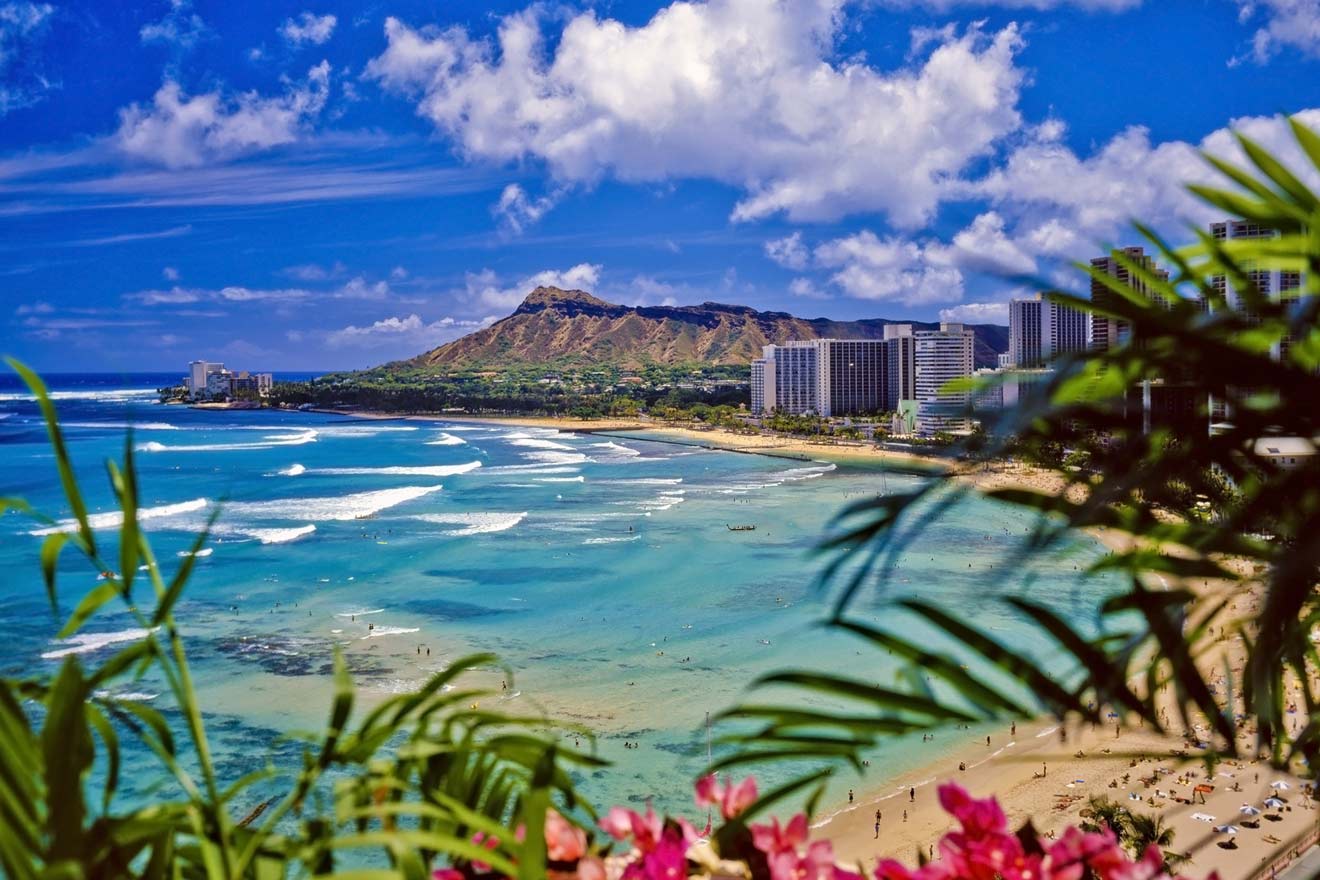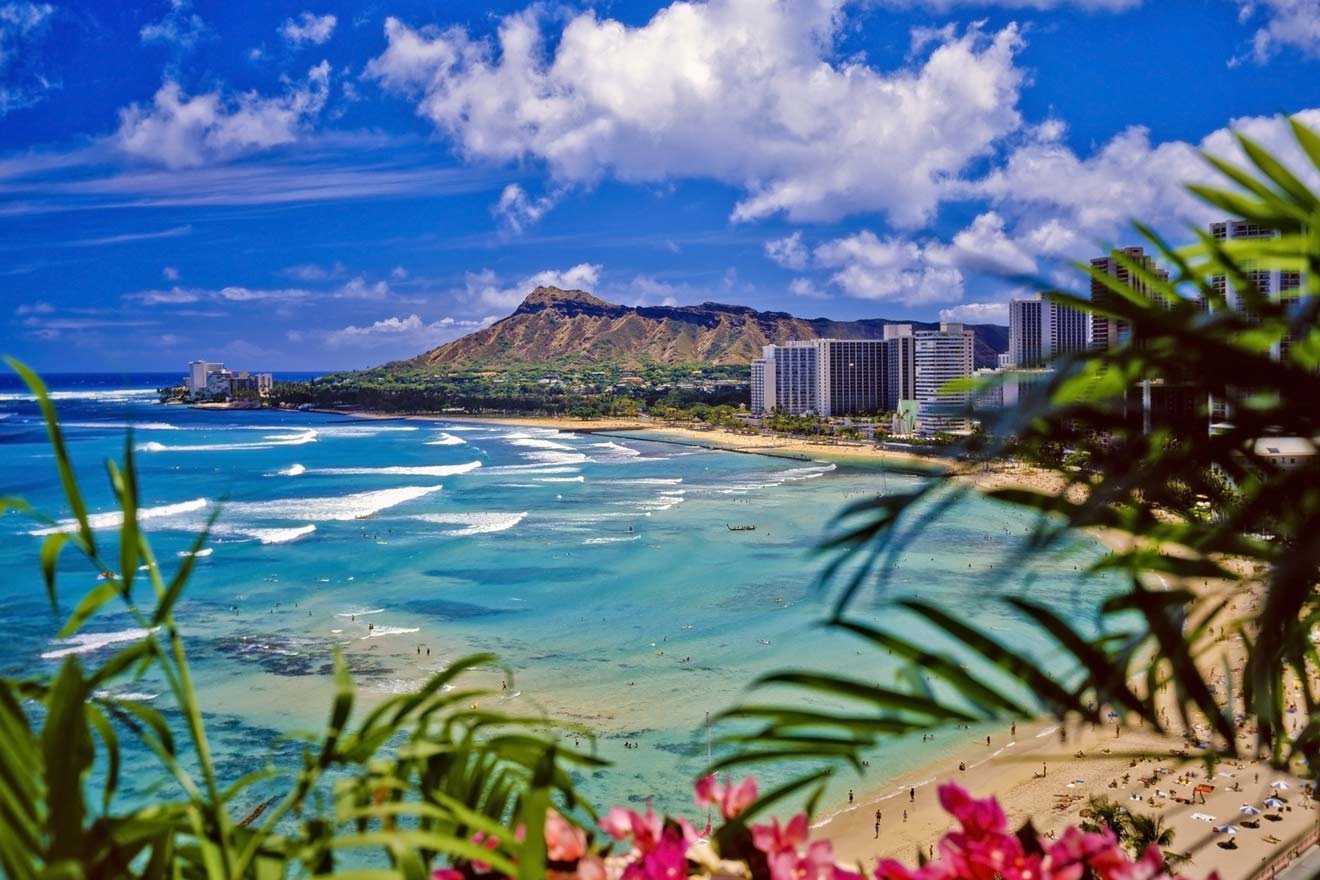 Known as one of the best places in the world for surfers, Waikiki is a unique location on the island of Oahu in Hawaii, that's filled with amazing hotels, trendy restaurants, and lots of beautiful nature!
In this post, you'll find the best 5-star hotels in Waikiki listed from most to least expensive so that you can decide quickly! As you'll notice, there aren't so many, so I added a bonus section with some unique 4 stars hotels that look just as good (just scroll below)!
Hawaii is one of the most popular destinations in the world and Waikiki is possibly the most popular location here, so I recommend booking your hotels a couple of months in advance! Trust me, they'll sell out super fast!
Let's go, we've got many waves to catch!
If you are in a hurry
Eager to book your 5-star hotels on Waikiki Beach right now? Then have a look at this short list of the best accommodations in the area:
Here's a map that will help you visualize all the 5-star hotels in Waikiki that I will be talking about in this post:
1. Halekulani Hotel – fabulous resort with live Jazz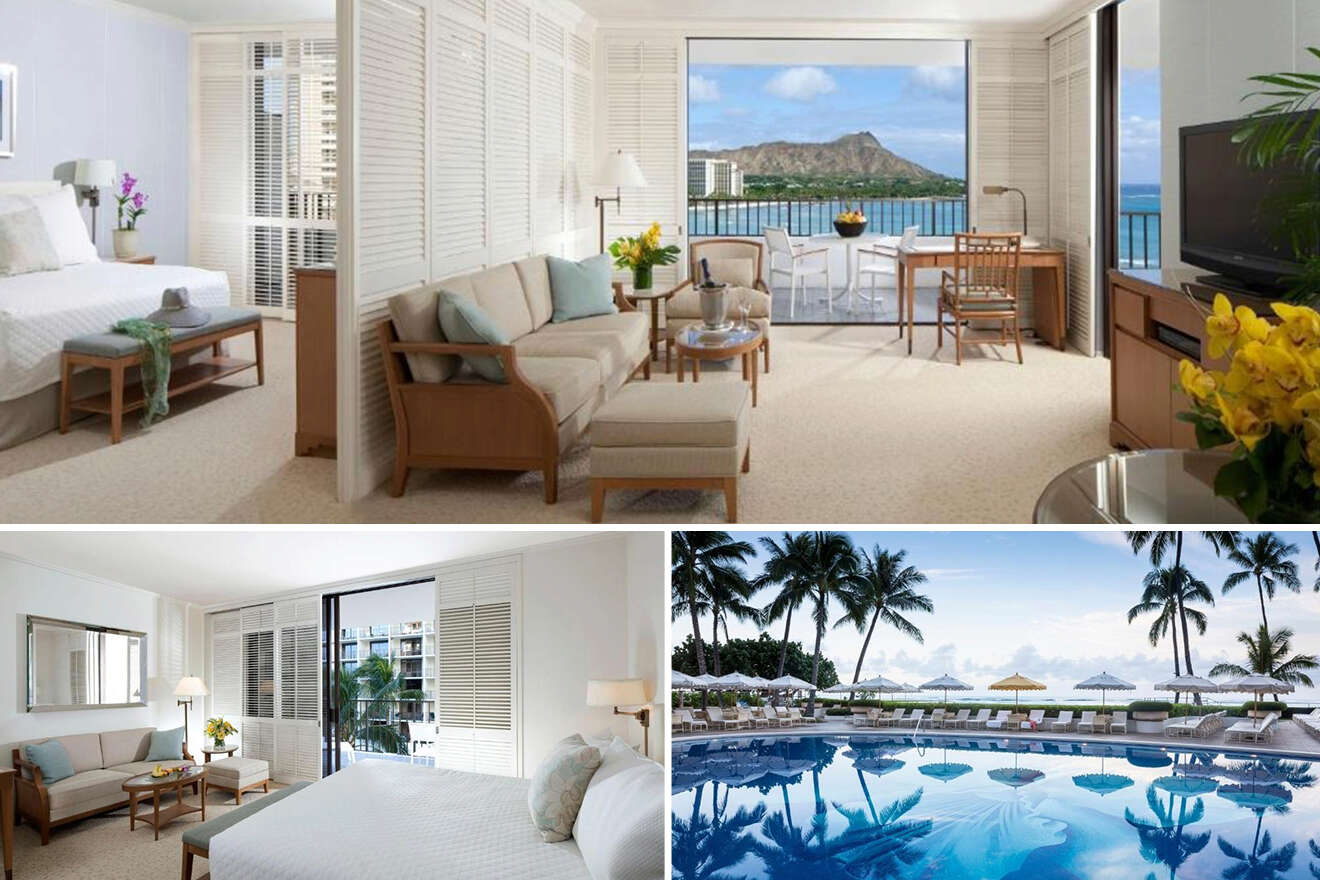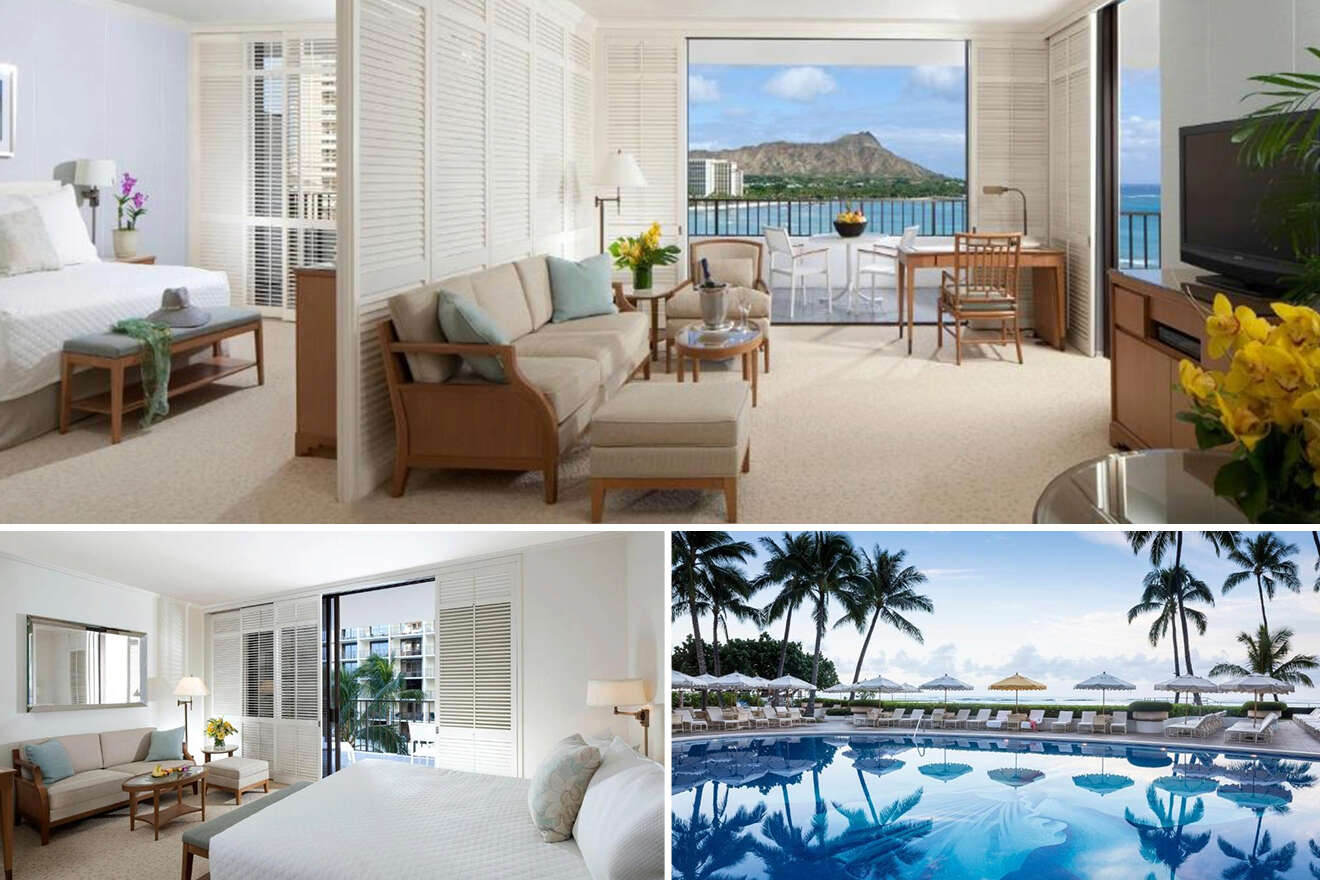 With a convenient location on Waikiki Beach (one of the best areas in Honolulu) and overlooking the beautiful Diamond Head, this luxury resort features 7 restaurants, a live jazz lounge, and an outdoor swimming pool. All the guest rooms at the resort come with a spacious lanai, a fresh fruit bowl, and a luxurious en suite bathroom with a deep soaking tub!
Enjoy sumptuous Sunday brunch at Orchids or some delicious French cuisine at the fine dining restaurant La Mer. And don't forget about their fantastic spa center that offers many facilities. Resort amenities include different activities like water sports, tours, and live music performances, which you shouldn't miss!
2. Aston Waikiki Beach Tower – a beautiful hotel with a hot tub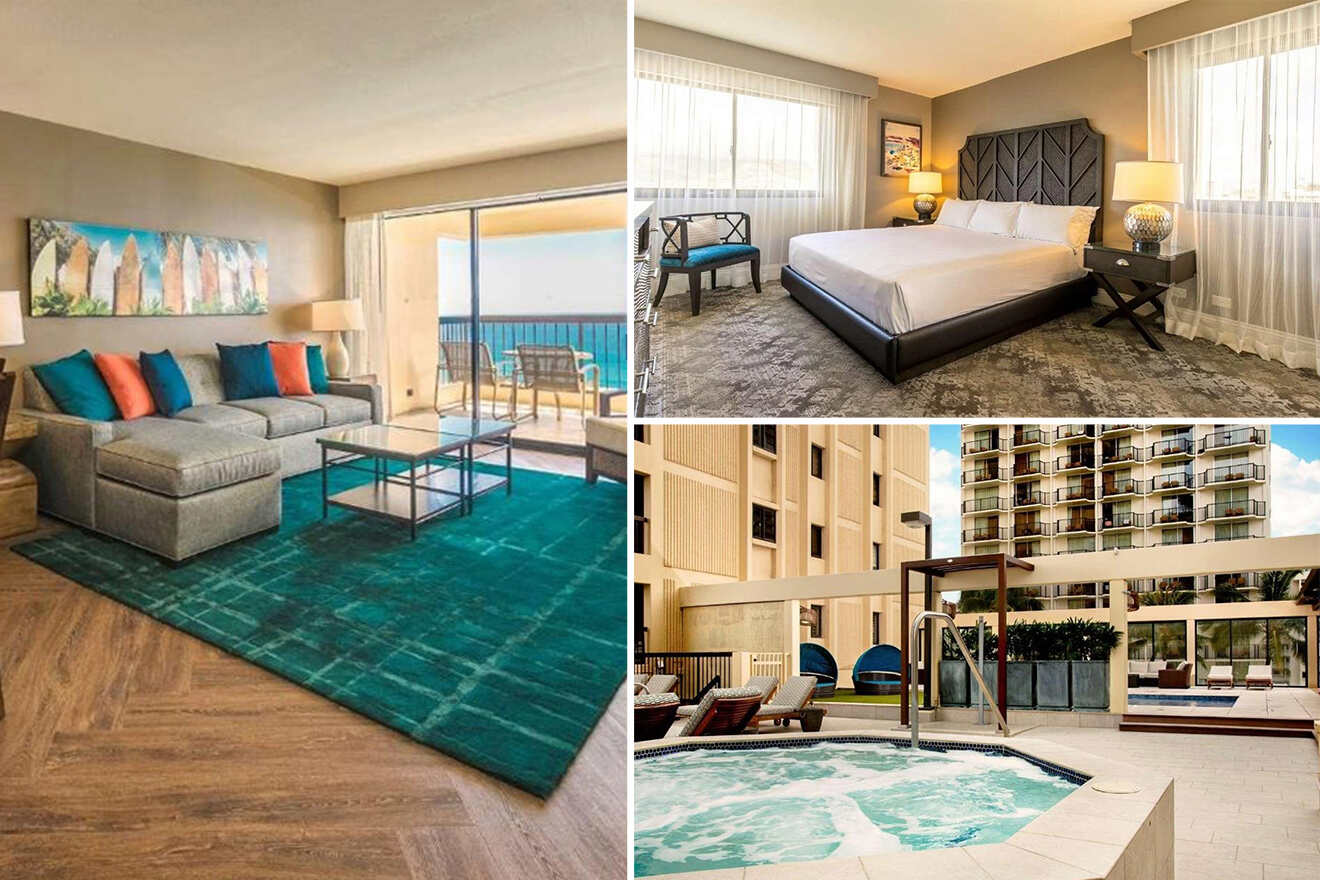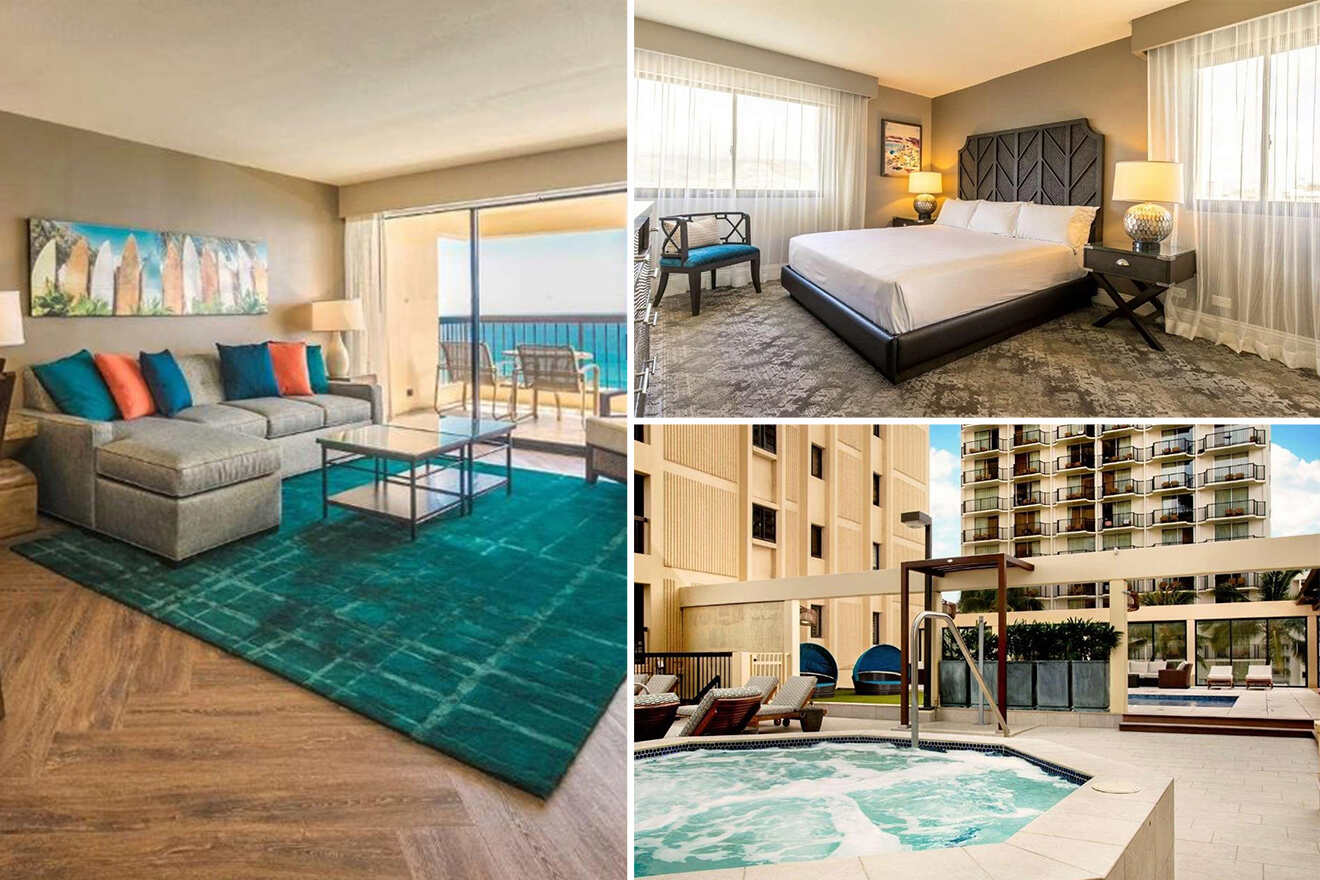 Wake up to a breathtaking view of the ocean at this hotel on Waikiki Beach that has everything you need for a fabulous stay! All the apartments have such a cool design, and they come with lots of space, a flat-screen tv, a kitchen, and a balcony where you can enjoy your morning coffee.
Besides all this, you'll have access to many other facilities like room service, barbecue grills, an open-air dining area, billiards, a jet spa, yoga classes, and a fitness center. I recommend starting your day with a sesh in the hot tub followed by a relaxing yoga class. But don't forget that Waikiki is a super popular area, and hotels here sell out fast. I highly recommend booking early to avoid missing out on your favorite place!
3. The Ritz-Carlton Residences – for the best infinity pool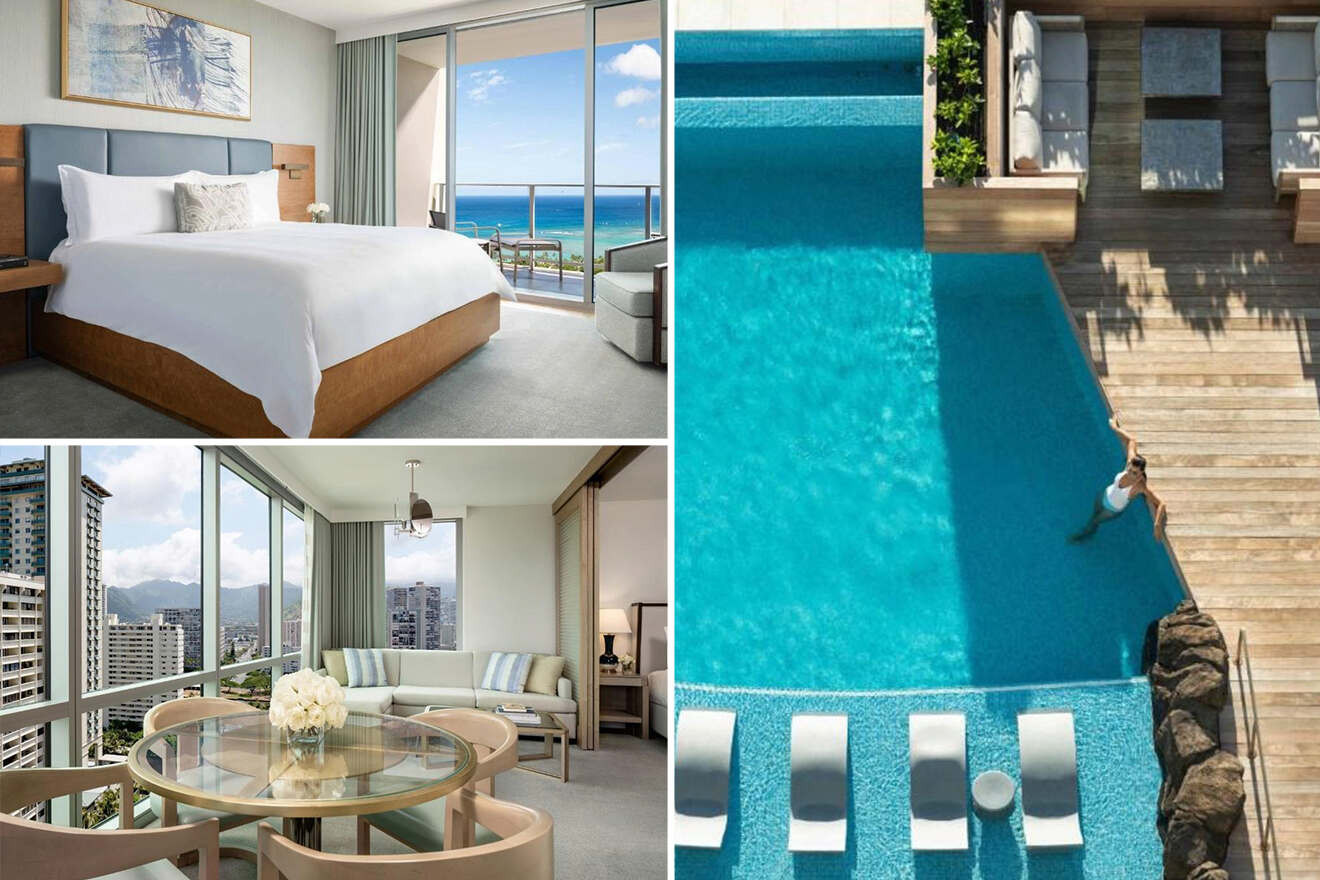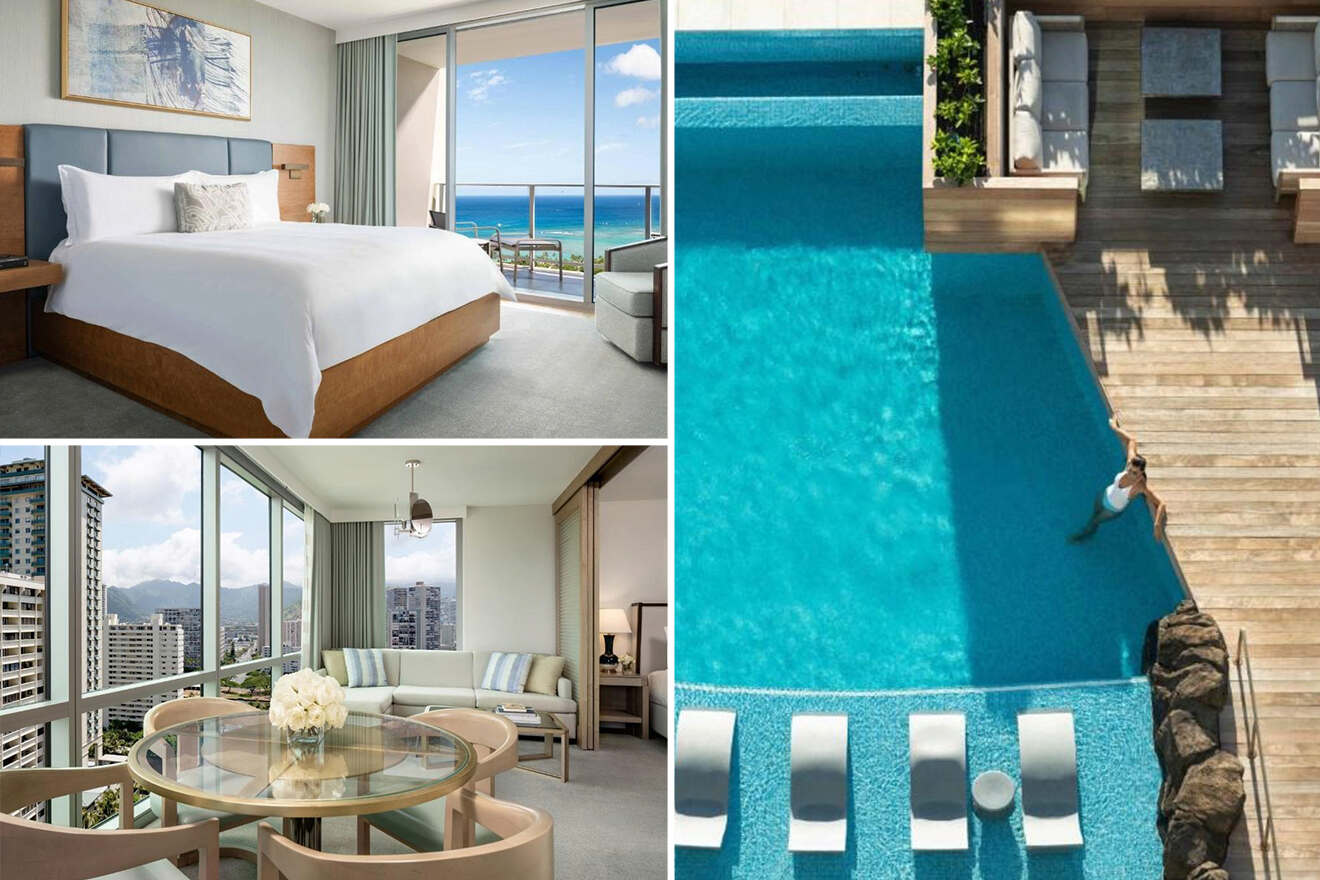 Aloha! Who's ready for a distinctive luxury resort experience in Waikiki where they get to sip cocktails by the infinity pool all day long, eat delicious food and sunbathe under the Hawaiian sun? I'm sure everyone is packing their bags already, especially after looking at this hotel!
The Ritz-Carlton Residences, Waikiki, offers elegantly decorated hotel luxury suites with an en suite bathroom, large windows overlooking the ocean, a balcony, a small kitchenette, and a flat-screen tv. The accommodation has an impeccable dining service at their 6 restaurants which serve a la carte food. When you're not out exploring Waikiki, you're welcome to chill by the infinity pool or enjoy some facials at the spa!
4. The Royal Hawaiian – to enjoy a private beach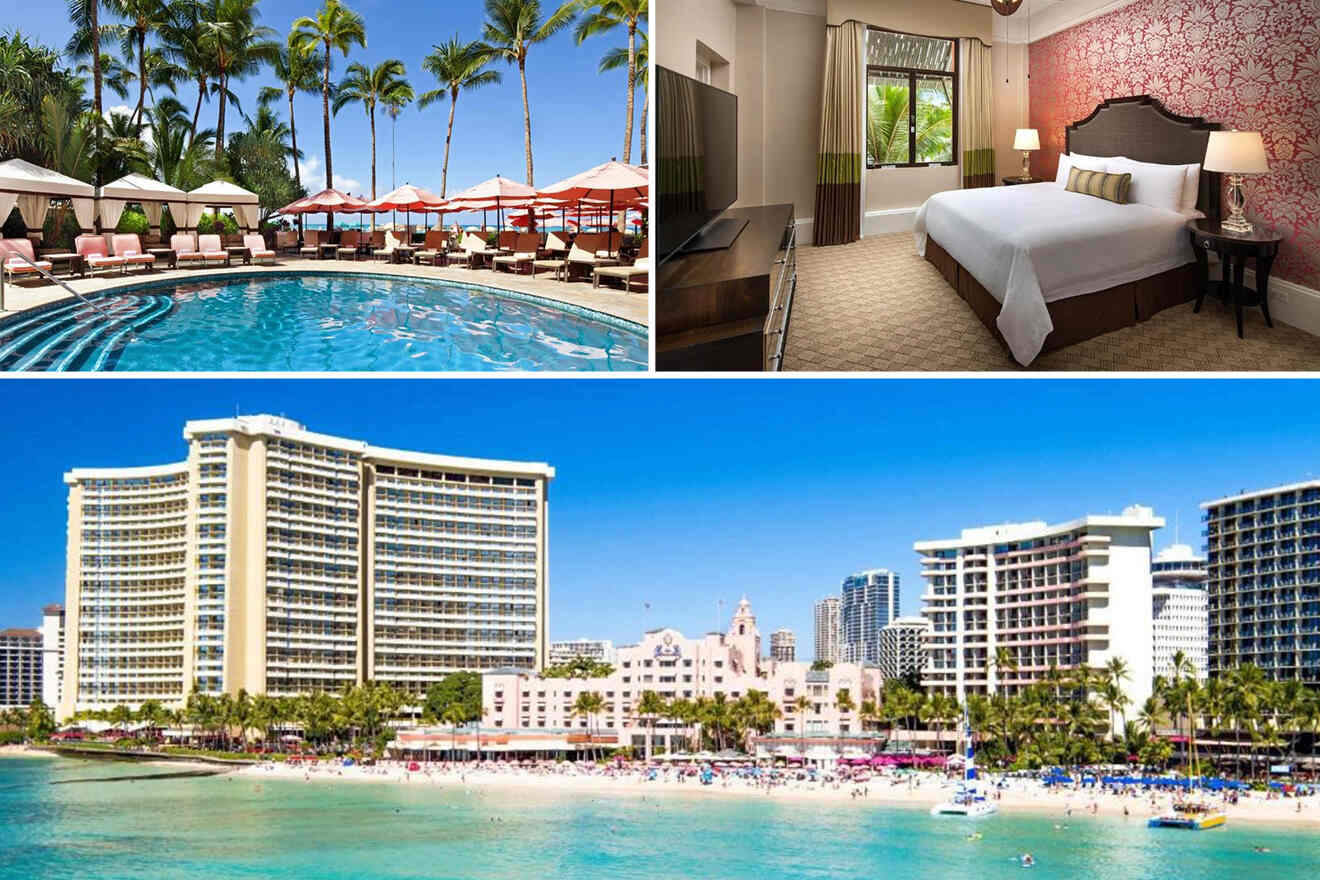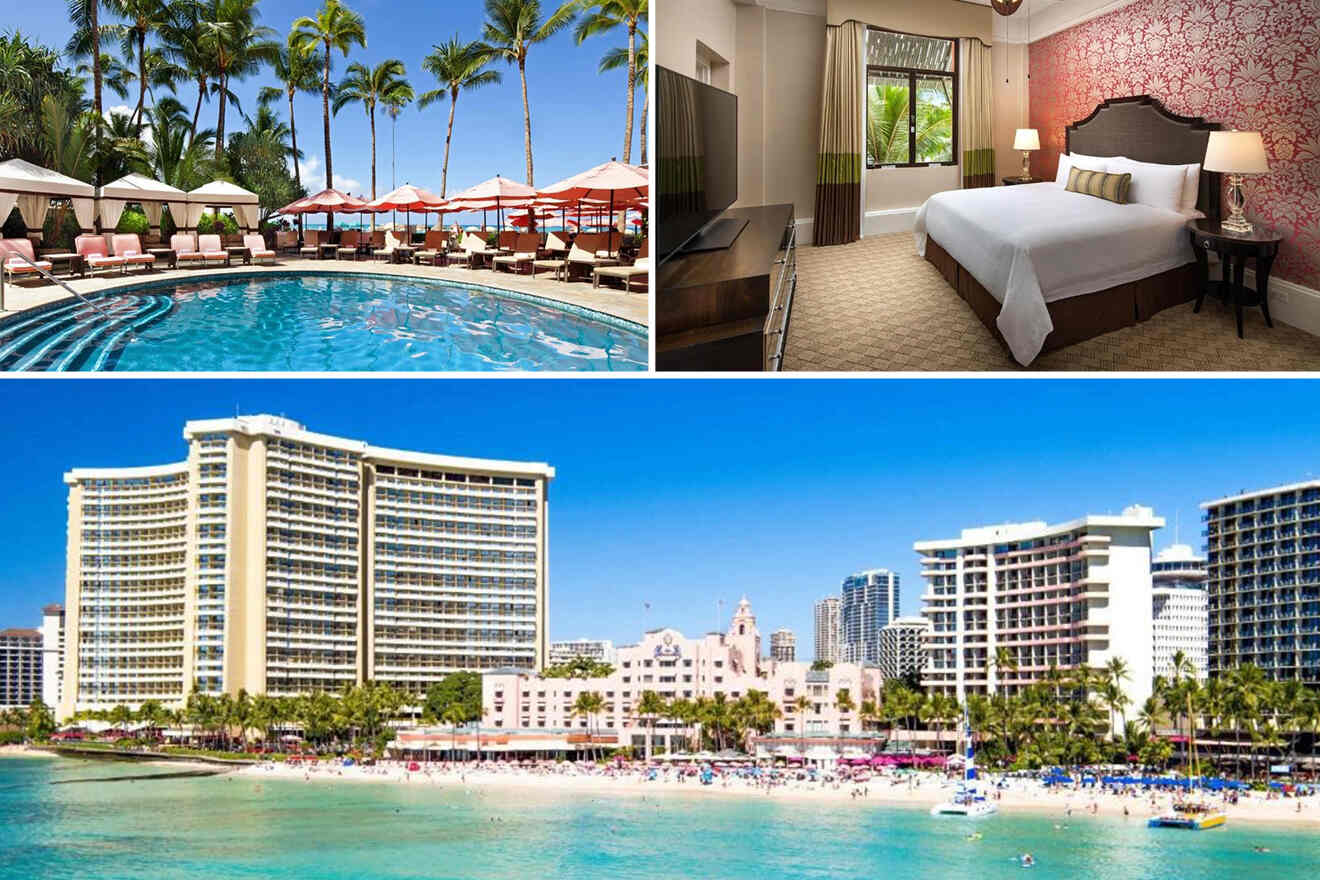 You'll love staying at this luxury collection resort! Everything from the design to the Diamond Head views screams Hawaii, and of course, all the amazing amenities they offer will keep you busy all day long! Each room at the Royal Hawaiian has free wifi access and a flat screen tv.
Indulge in all the sweet treats at their on-property bakery, and then head out to the private beach area to sunbathe and swim in the ocean! This is the closest luxury hotel to the Royal Hawaiian Shopping Center, and it offers many amenities like 2 outdoor pool options, a full-service spa, and a fitness center.
5. Trump International Hotel – for the celebrity treatment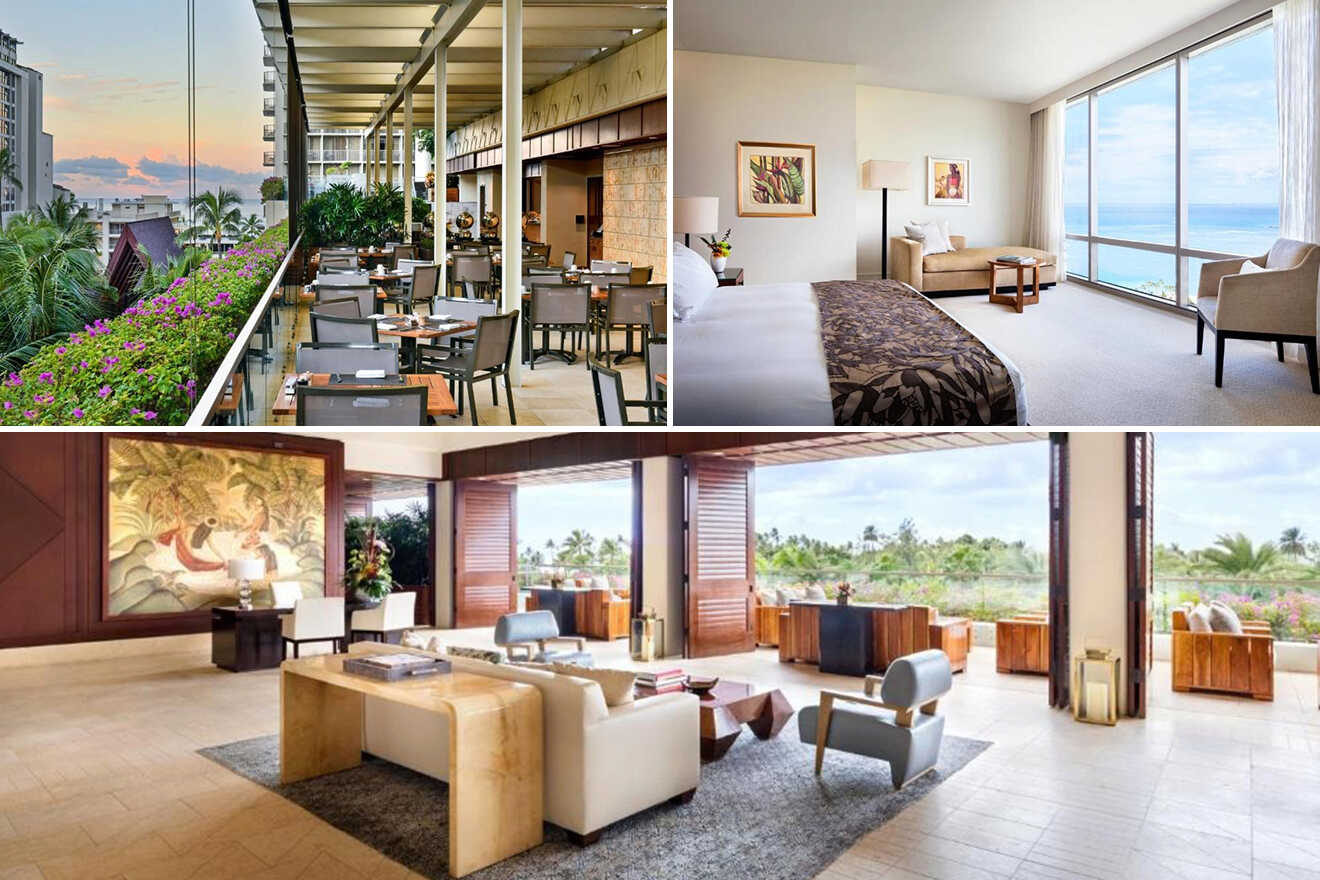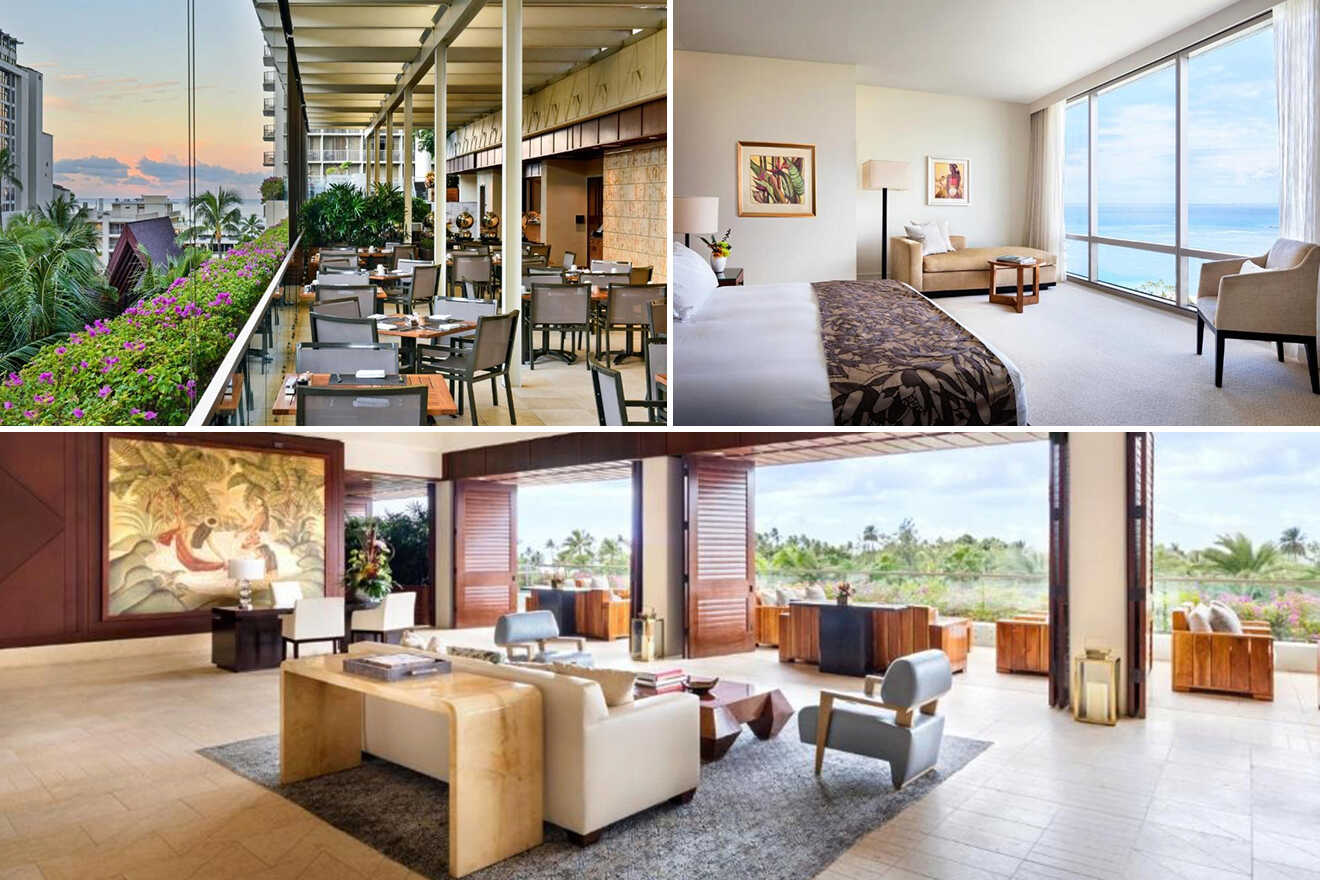 Waikiki is like paradise on Earth, and you'll need a hotel that goes perfectly with the Hawaiian scenery! Trump Waikiki features everything you'd want in accommodation on an island like Honolulu! Enjoy full days of eating yummy fruits by the pool, swimming and relaxing at the full-service spa, and of course, heading to Ala Wai Golf Course to play some golf!
By that, I mean that you'll have the beach right at your doorstep, an outdoor pool, private parking services, and 2 restaurants. Each room at Trump International Hotel Waikiki is beautifully decorated, and it has ceiling-to-floor windows, free wifi, and an Italian marble bath.
6. Alohilani Resort – beachside hotel featuring an Oceanarium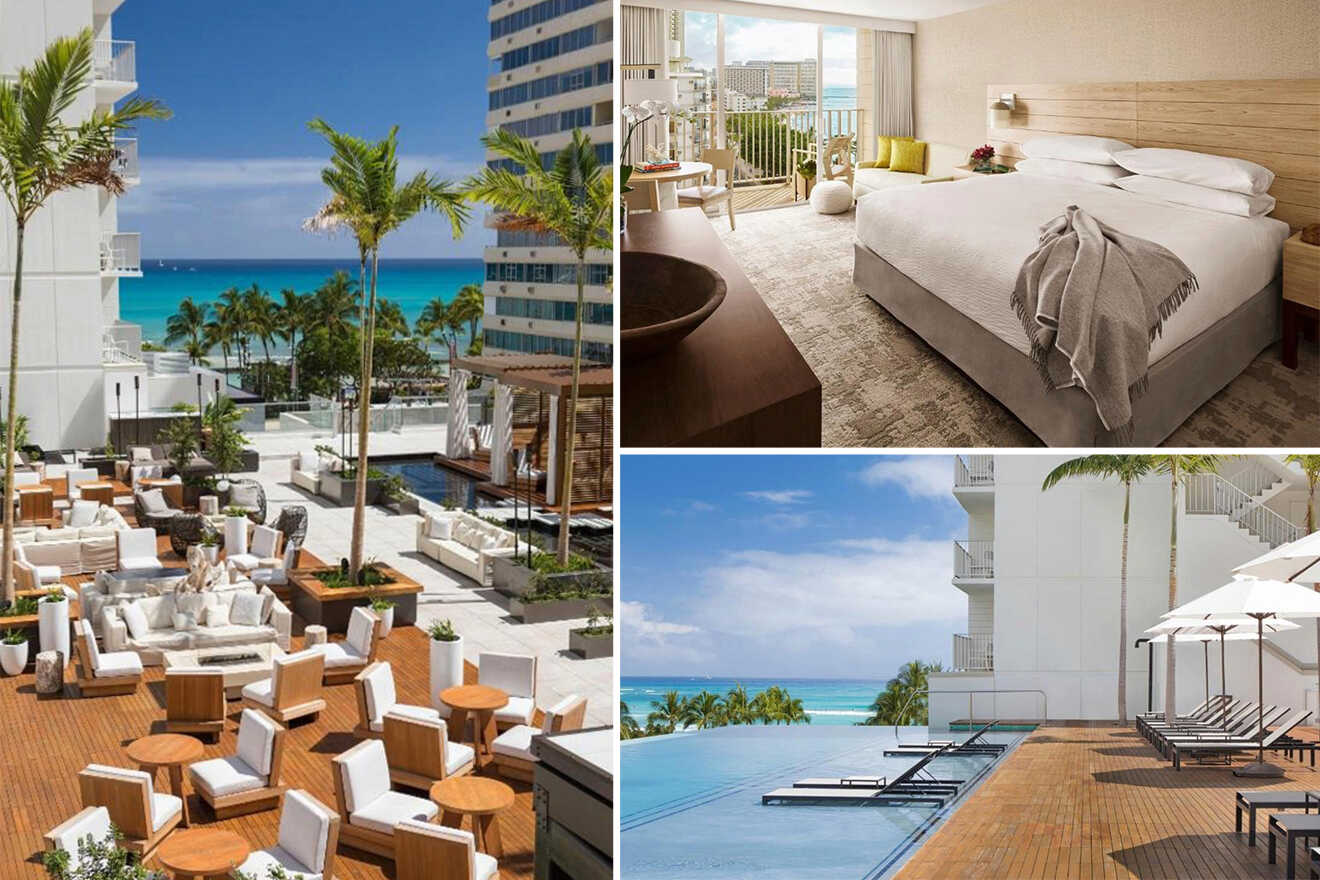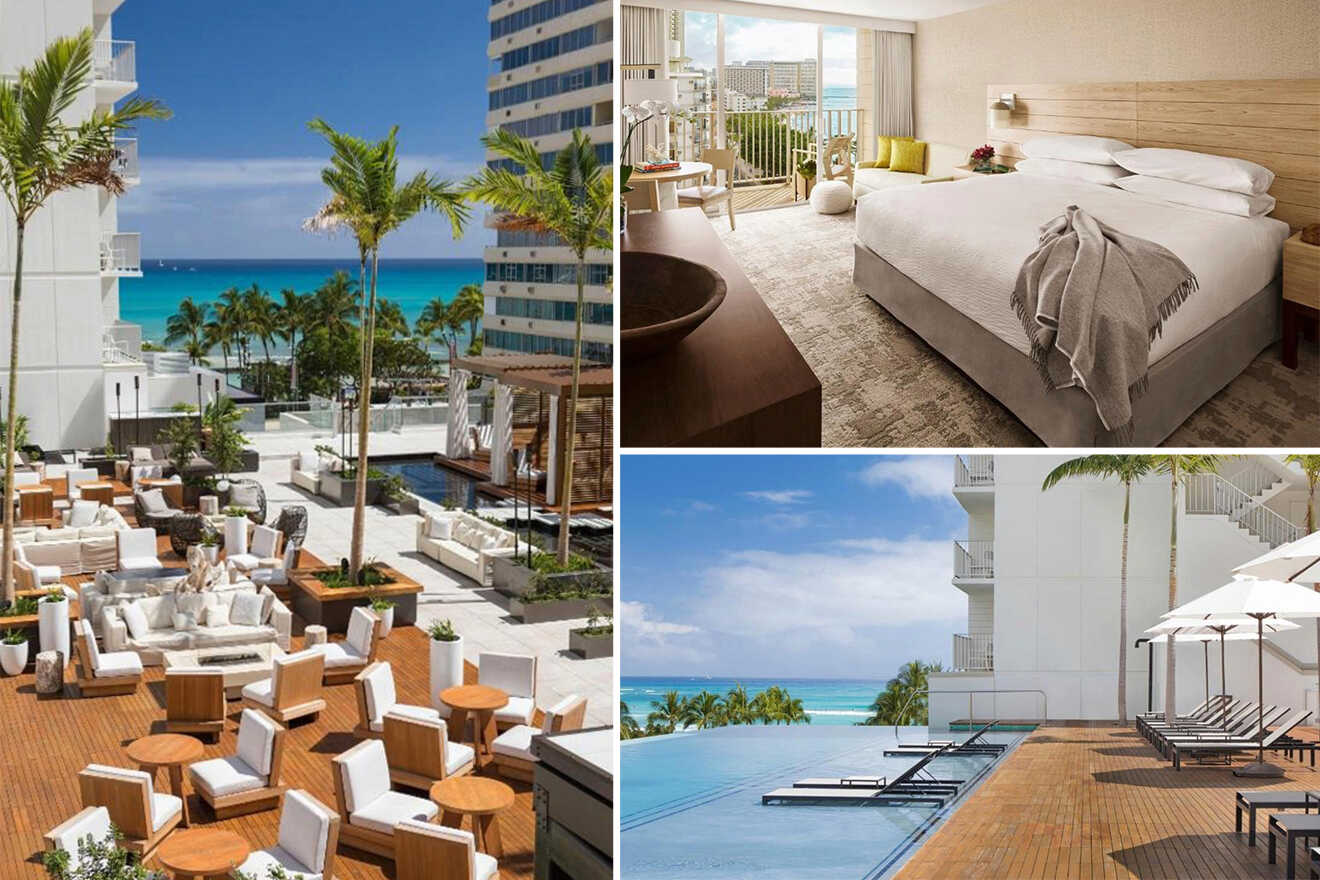 I love the design of this luxury resort that has a full-service business center! The beige and brown wood aesthetics sure do its justice. Set right near Waikiki Beach, in the middle of the lobby of this 5-star hotel you will even find a two-story saltwater Oceanarium, filled with tones of colorful reef fish native to Hawaii!
All the rooms at Alohilani Resort Waikiki Beach come with free wifi, views of the Pacific Ocean and Diamond Head, and comfortable beds. And even when you're not up to going to the beach, you can chill by the saltwater heated swimming pool (there's also an outdoor pool for the kids) and listen to some live music!
| | |
| --- | --- |
| 📅 How many days: | 7-10 days |
| ⭐ Top 5-star hotel: | Halekulani |
| 🌞 Best time to visit: | April to May |
| 👪 Luxury family hotel: | Alohilani Resort Waikiki Beach |
| 🤩 Unique attraction: | Diamond Head Crater |
| 💵 Avg luxury hotel price: | $500 |
| 🍽️ Dinner for 2 with wine: | $100 |
| 😍 Best 4-star hotel: | Moana Surfrider |
BONUS: The best 4 stars hotel in Waikiki
Well, we finished with the best five-star hotels Waikiki but as you've noticed there aren't so many and as I mentioned already, they do book out fast! If you missed your chance at all those charming accommodations, fear not. I've found many other amazing hotels which are just as good (even if they are not quite 5 stars).
All these 4 stars hotels are just as amazing luxury hotels with prices from US$600 to US$300. I've listed them from most to least expensive so you can choose wisely.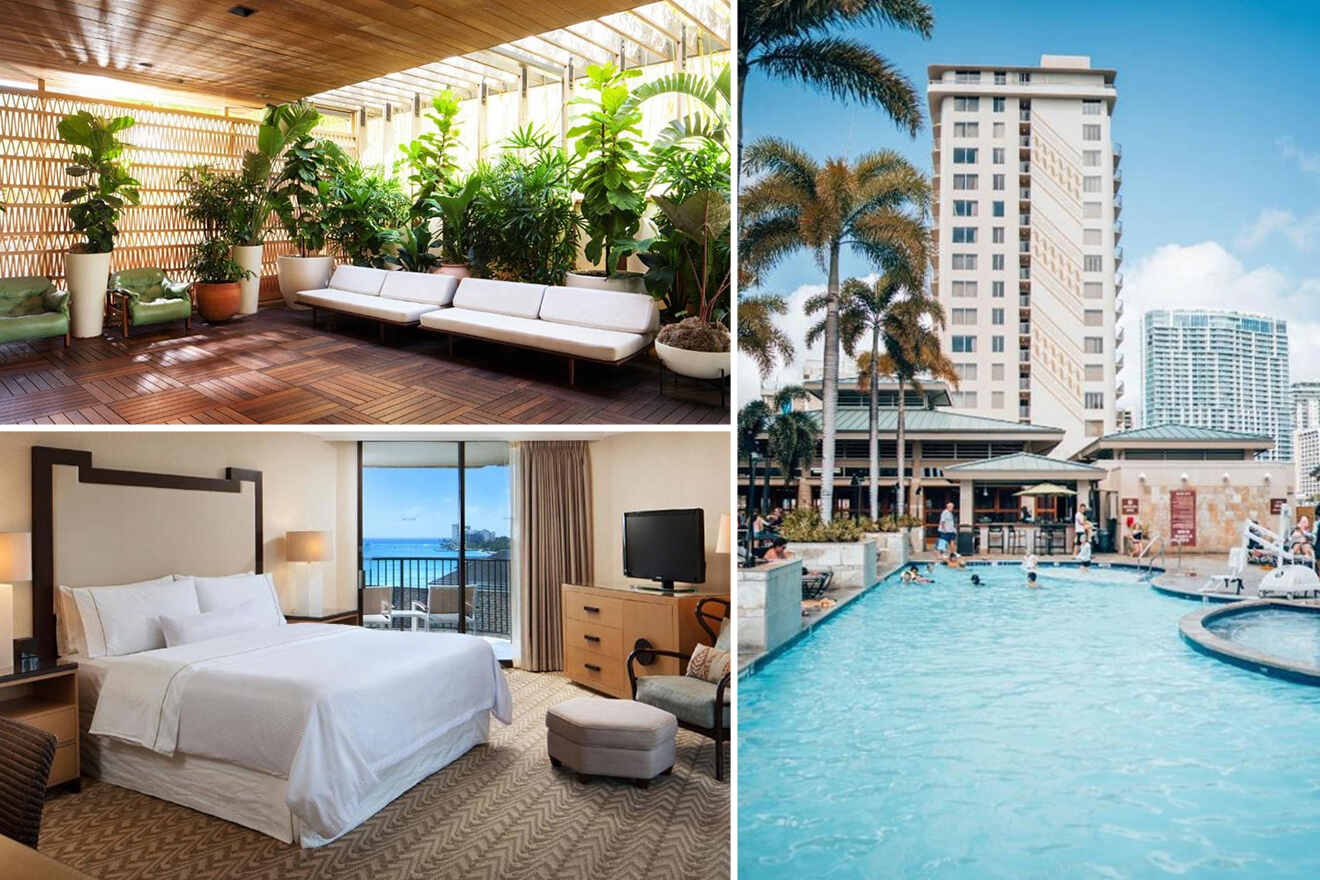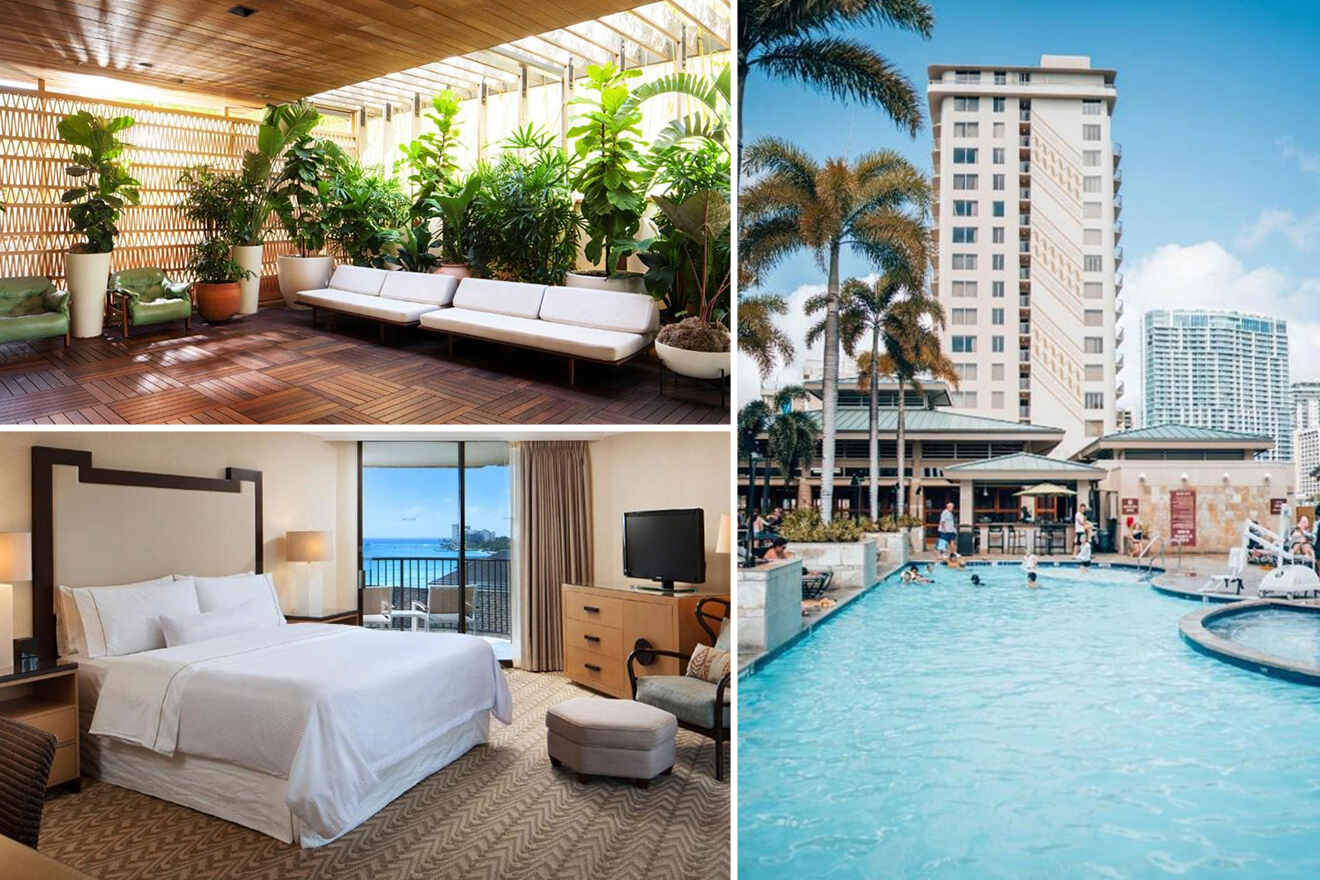 Moana Surfrider, A Westin Resort & Spa – Vamos a la playa! (the song is already playing in my head.) Set only a short walk away from the beach, this hotel has an outdoor pool facility, a fitness centre, and a spa! Start your day with free gourmet coffee, and then head to the restaurant to indulge in all the delicious Hawaiian food, or you can order room service. The hotel suites have free Wi-Fi, and some even feature a balcony overlooking Diamond Head!
Sheraton Waikiki – You'll love catching the sunsets (or sunrises if you're an early bird) by the infinity pool of this Waikiki hotel that has 4 restaurants on-site. The accommodation has modern rooms featuring views of Diamond Head Crater Park or the ocean, and coffee facilities. Perfect for families as there's a pool designated for the little ones and a kids club, plus a spa center where the parents can relax. Sheraton is a top choice for your trip!
The Laylow – This place is just a 30-minute drive away from Honolulu International Airport and has such a cool design! They used the best color palette, which will instantly put you in a good mood! And once you see all the facilities, you'll want to jump for joy. The accommodation comes with a swimming pool and a restaurant, plus each guest room at the hotel has free wifi and a flat screen tv. Dress up and head to the pool for evening entertainment and complimentary shaved Hawaiian ice!
Halepuna Waikiki by Halekulani – A fabulous hotel near Waikiki Beach perfect for those of you who are all about the looks and appreciate harmonious decor! The accommodation has an amazing infinity pool on the 8th floor that overlooks the ocean and offers "magazine-style views" plus a pool bar and garden. The guest rooms come with a deep-soaking tub where you can relax after long days of exploring!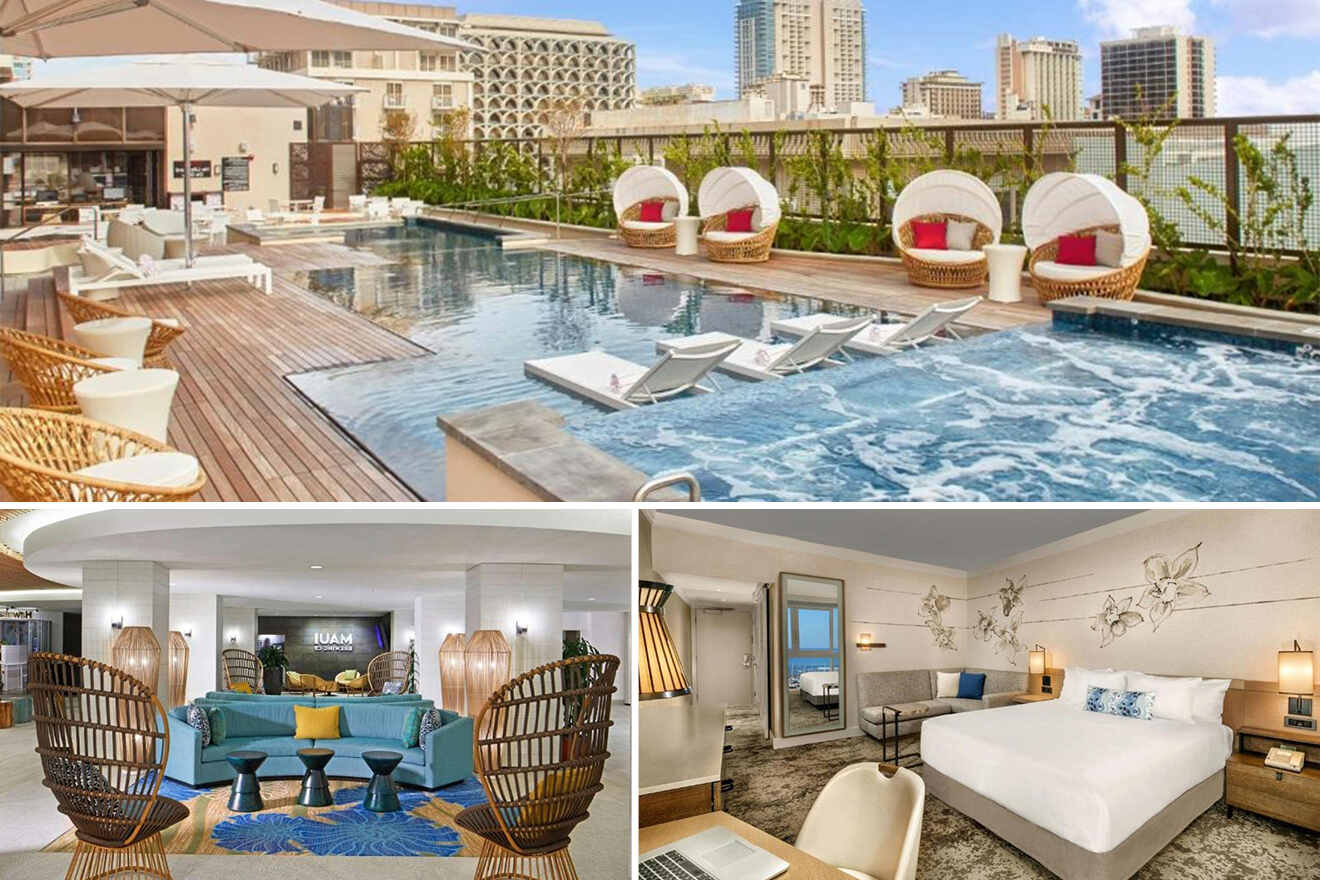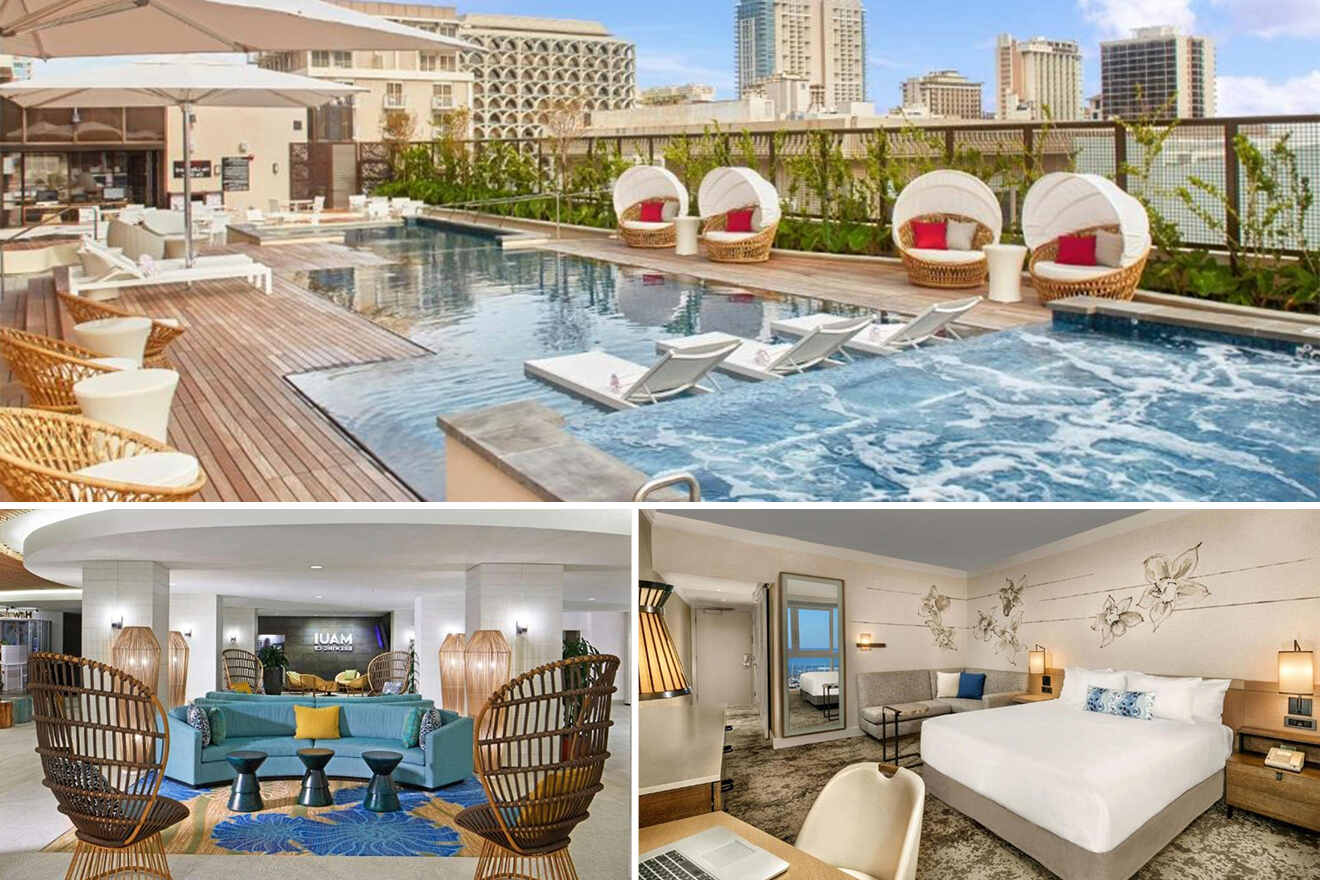 Prince Waikiki – Dear foodies, I've got just the place for you! Prince Waikiki is an iconic hotel set by the harbor that offers delicious dining options and of course, lots of other great facilities including a spa center, a garden, and an outdoor pool. The restaurant on-site served traditional Hawaiian food plus other international flavors.
Embassy Suites by Hilton – Set only 1 minute away from Waikiki Beach and a 30-minute drive from Honolulu International Airport, this 4-star hotel in Honolulu comes with a Grand Lanain (on the 4th floor), a heated swimming pool, and a children's pool as well. Walls decorated with Hawaiian art, warm colors, and modern facilities, make this hotel perfect for your holiday!
Hyatt Centric – Drink your coffee and then head straight to Waikiki Beach which is only a 4 minute walk away from the accommodation. Featuring a simple yet chic design Hyatt Centric has a restaurant and bar, and a lounge with a wading pool. End a night of great dining with a drink by the outdoor fire pits, on the terrace.
Waikiki Beachcomber by Outrigger – Have some fun in the sun while staying at this 4-star hotel in Honolulu that's located just a 2-minute walk away from Waikiki Beach and not too far from Ala Moana Shopping Center! Guests will have access to a restaurant, an outdoor swimming pool, and a fitness center. Start your day with a yummy breakfast at the restaurant, and then head out to the beach!
FAQs about 5-star hotels in Waikiki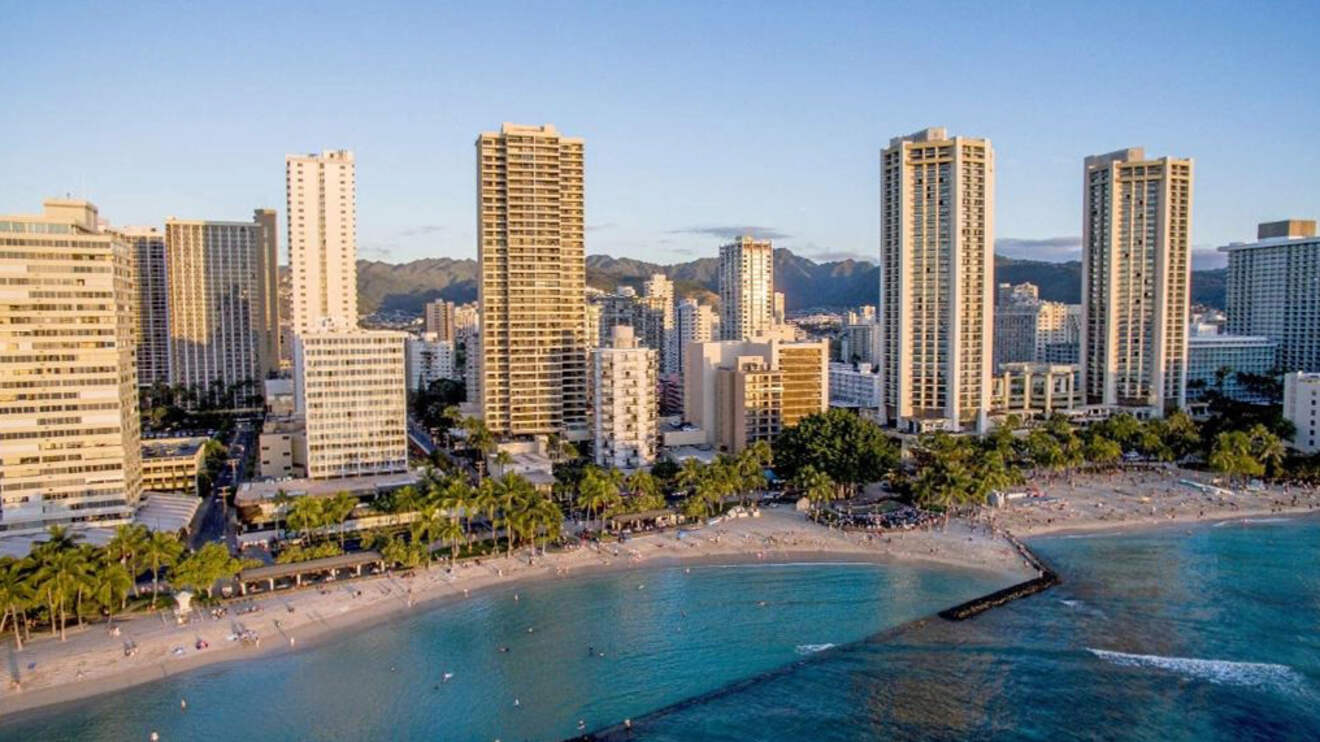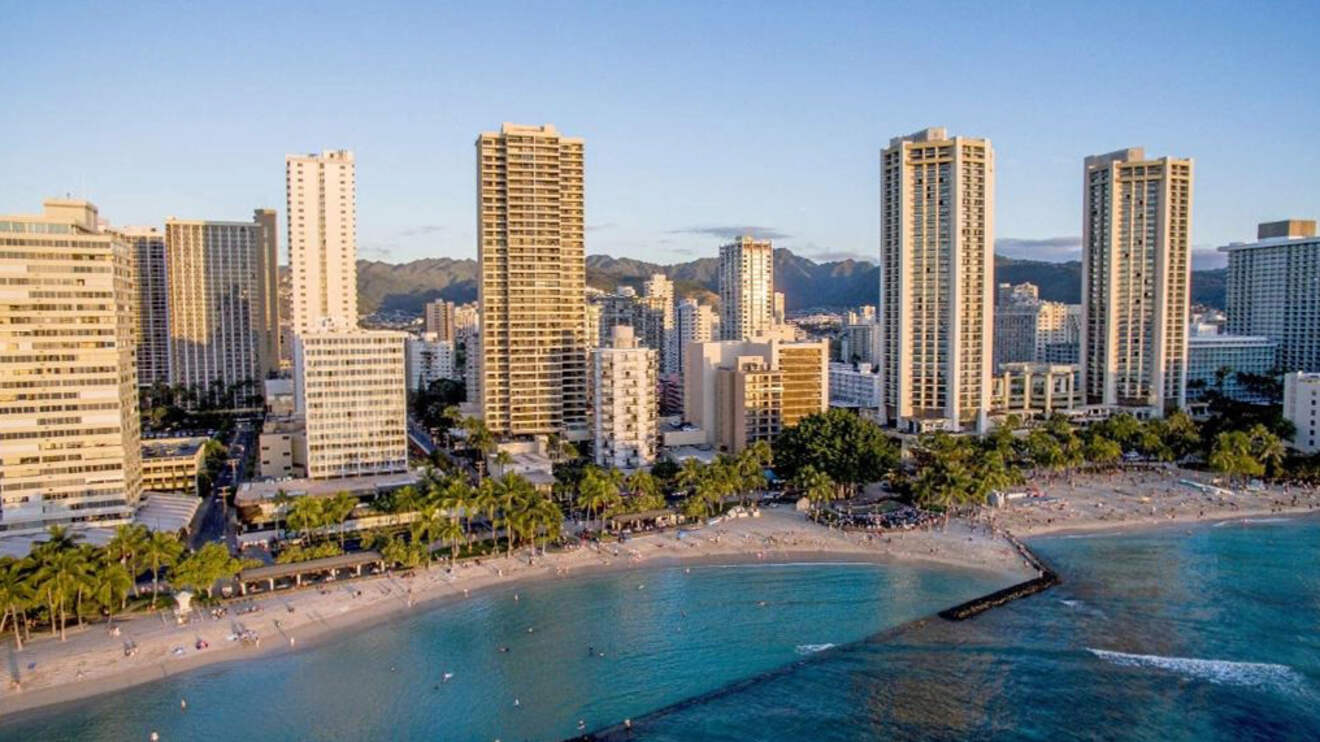 🤔 Is Waikiki worth visiting?
Yes! Waikiki is a vibrant area that's not only famous for its surf beach but also because it hosts some of the best 5-star hotels on the island and great restaurants! 
🚗 Which hotel in Waikiki offers free parking?
Aston Waikiki Beach Tower is one of the best 5-star hotels near the famed Waikiki Beach Walk that offers lots of facilities, including free parking and an outdoor pool. 
🌞 What's the best time of the year to go to Waikiki?
The best time to visit Waikiki on the island of Oahu is either April to May or September to October.
🏨 Which are the best 5 stars hotels in Honolulu?
Conclusion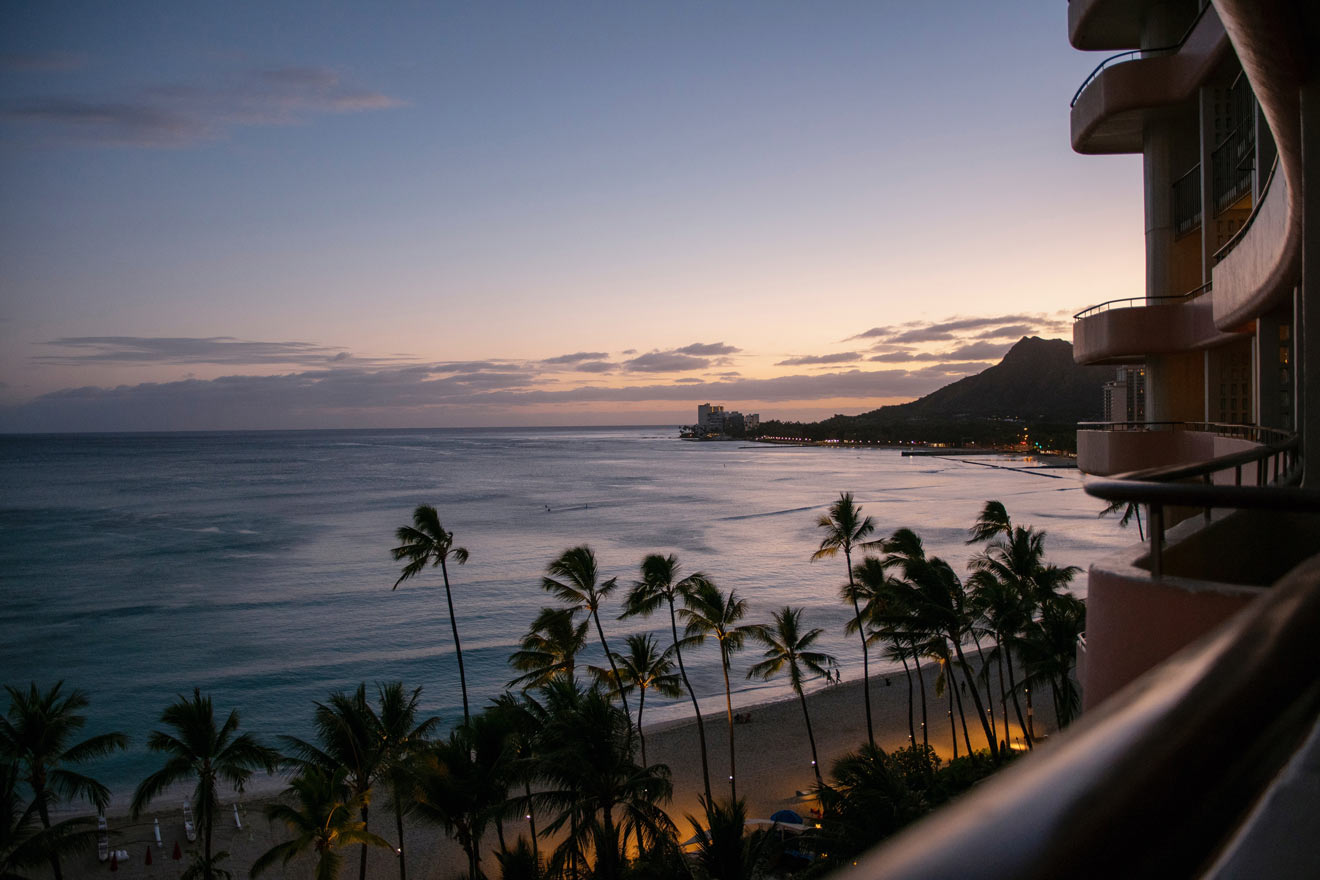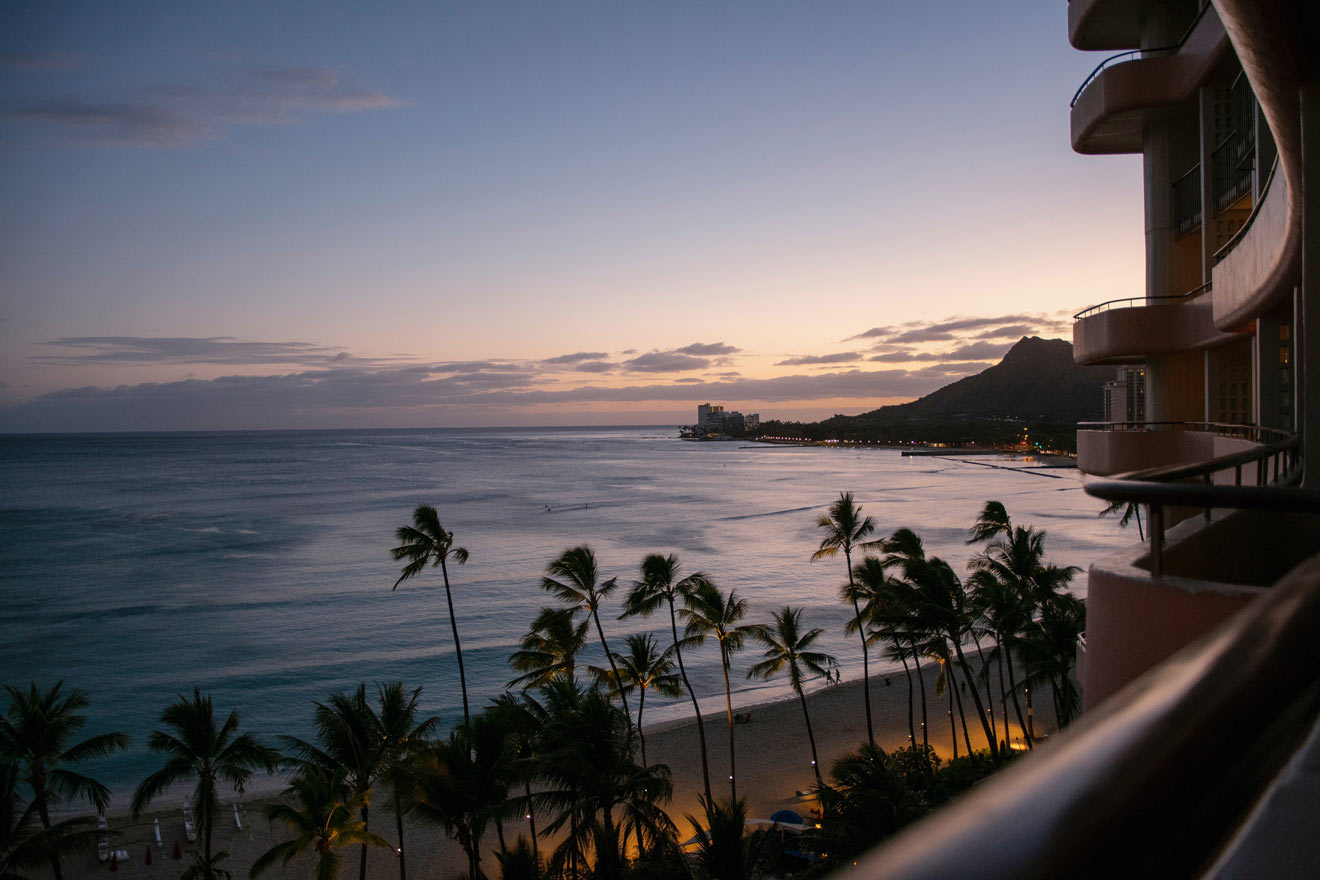 These 5-star hotels look amazing. I would book them as early as possible if I were you because they'll sell out so fast! But Waikiki is such a dream destination I guess there is no wondering why!
We've now gone through the best 5 stars hotels in Waikiki, listed from most to least expensive, plus a list of 4 stars hotels for anyone who's missed their chance s looking for something more affordable!
You've got lots of options, but I know sometimes that can be a bit overwhelming. In case you need some extra help, here are my top 2 favorite 5-star hotels:
Halekulani – A fabulous hotel on Waikiki Beach that offers oceanfront casual terrace dining, a live jazz lounge, and a spa center
Aston Waikiki Beach Tower – Wake up to a breathtaking sight of the ocean in the spacious rooms of this accommodation with a beautiful pool
Well, we've reached the end of our Hawaiian journey! I'm sure this article will help you find the perfect 5-star hotels for your stay in Oahu, but if you have any other questions, just leave me a comment below, and I'll answer as soon as I can!
Safe Travels,
Victoria
---
Pin it for later!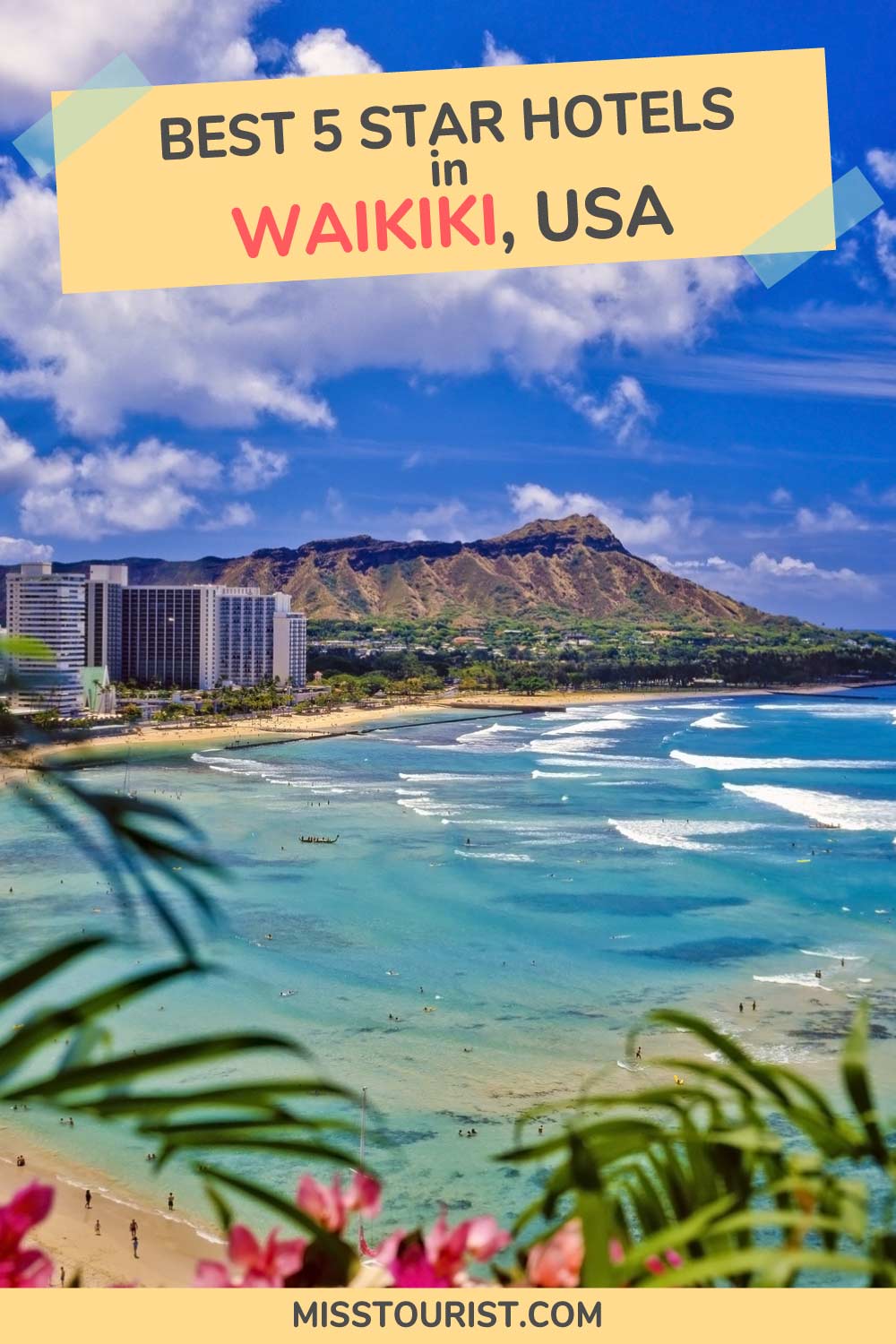 Pin it for later!