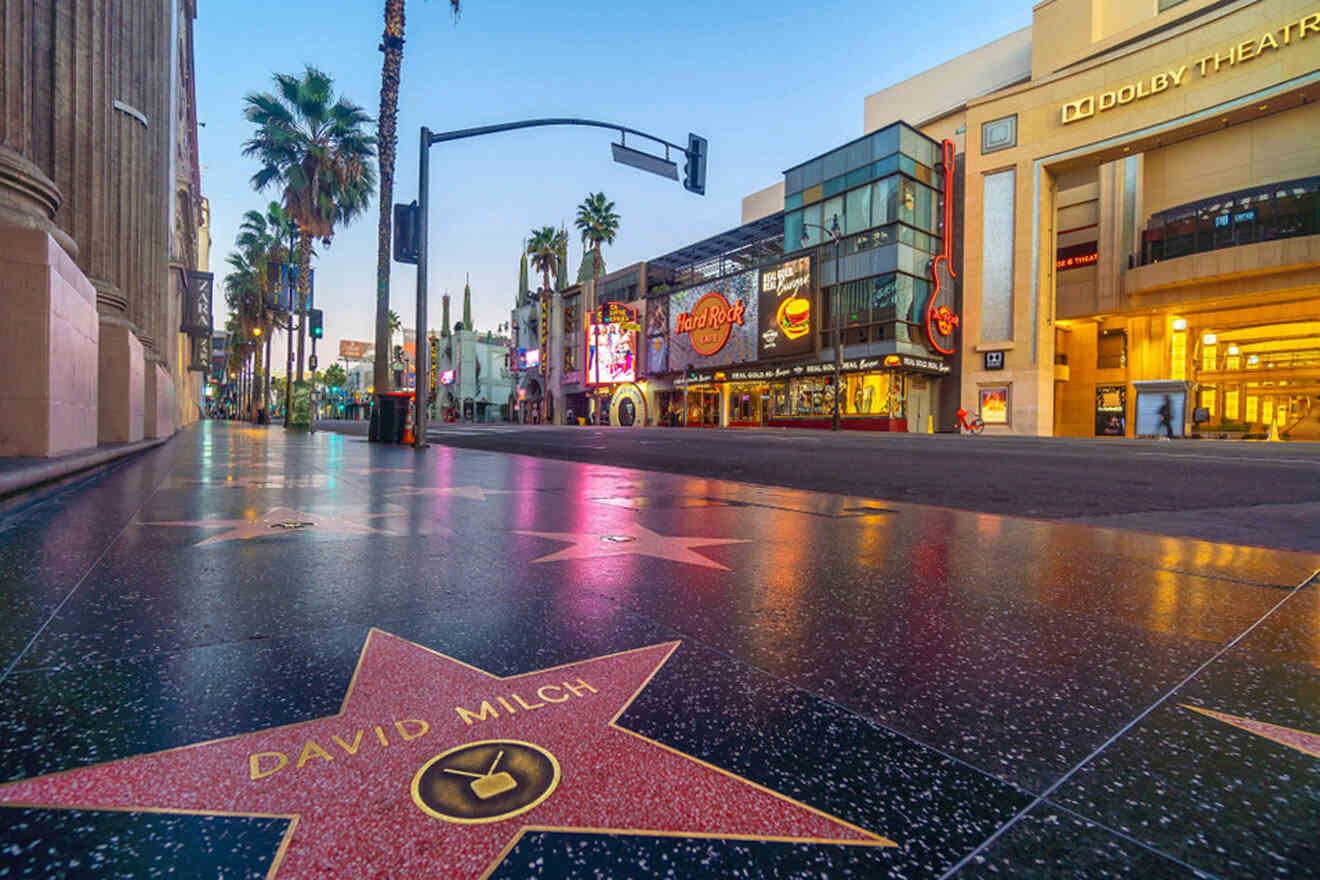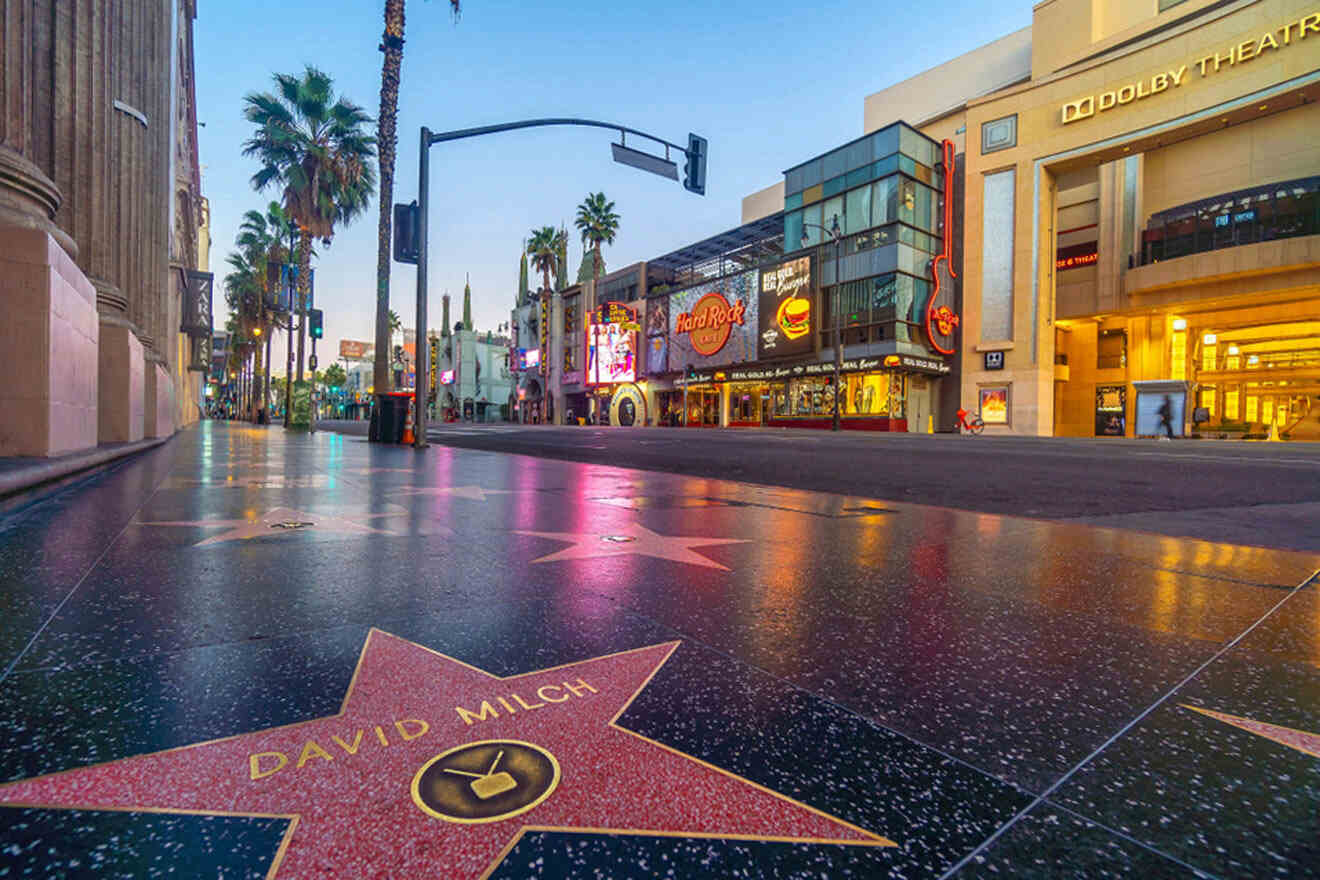 Just hearing the name 'Hollywood' conjures up images of snapping paparazzi bulbs, red carpets, movie stars, extravagant homes, and luxury cars. There's a reason this warm, palm-tree-lined city is affectionately referred to as 'La La Land' – Hollywood, CA, is a place where reality and make-believe exist in perfect balance.
As a Southern California native and movie aficionado, I've been visiting Hollywood for decades. No matter how many trips I take, the amount of things to do in Hollywood always amazes me: iconic landmarks, top tourist attractions, fascinating museums, and a glitzy history that seems to come alive right along Hollywood Boulevard.
And, thanks to Los Angeles' temperate climate, visiting Hollywood is a good idea any time of year. But ensuring your plans are secured before arrival is vital. Book ahead and free up your time for more Hollywood history and sites. So throw on your most expensive designer duds, and follow me on a trip through Tinseltown!
If you are in a hurry
Whether you are interested in a Hollywood wax museum or a theme park, there are countless things to do in Hollywood. Maximize your time and secure your bookings well in advance!
Here are the main things to book in advance:
And here are the best hotels: Chateau Marmont (luxury), The Hollywood Roosevelt (mid-range), Elaine's Hollywood Bed & Breakfast (budget)
1. Snap selfies with celebrities at a wax museum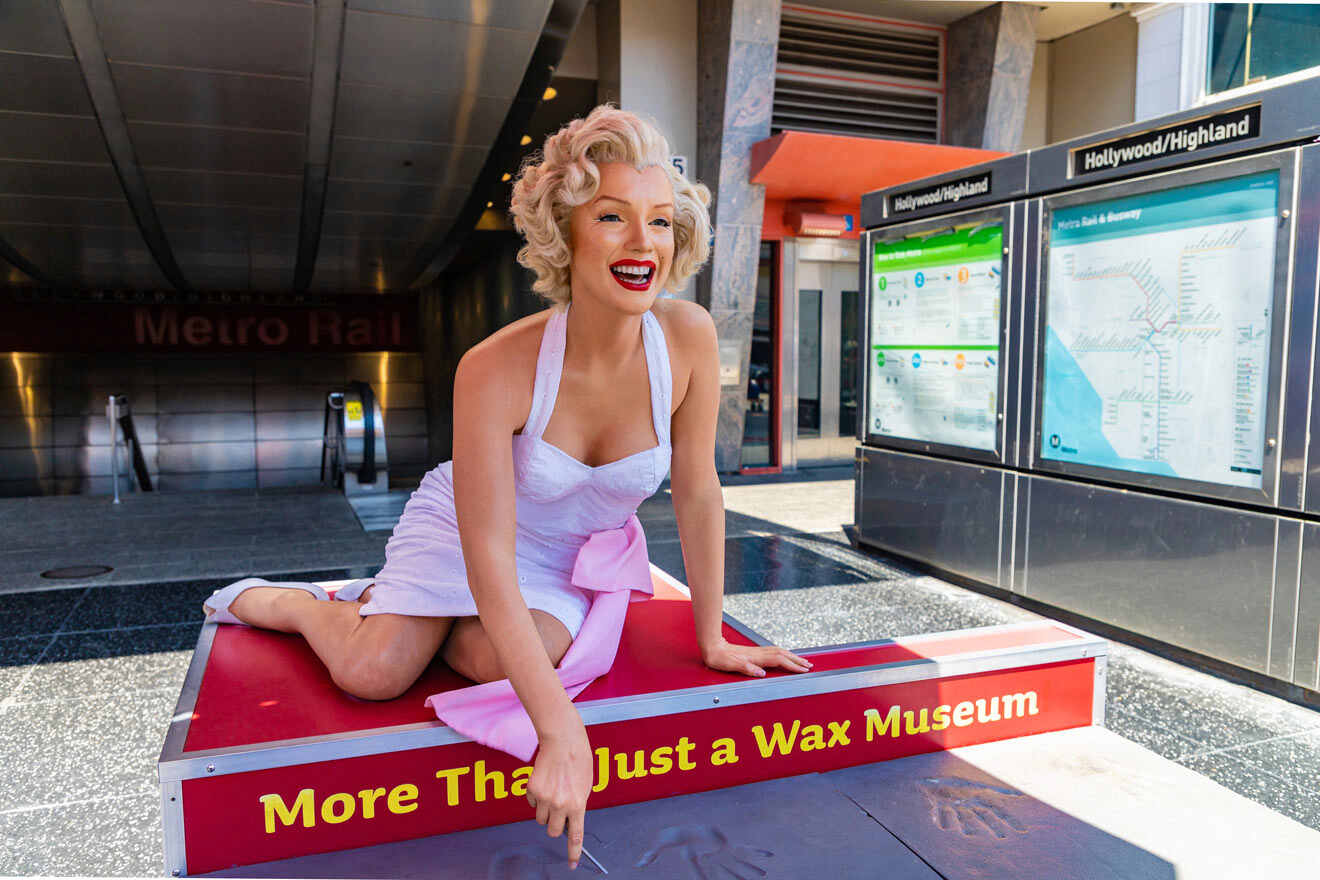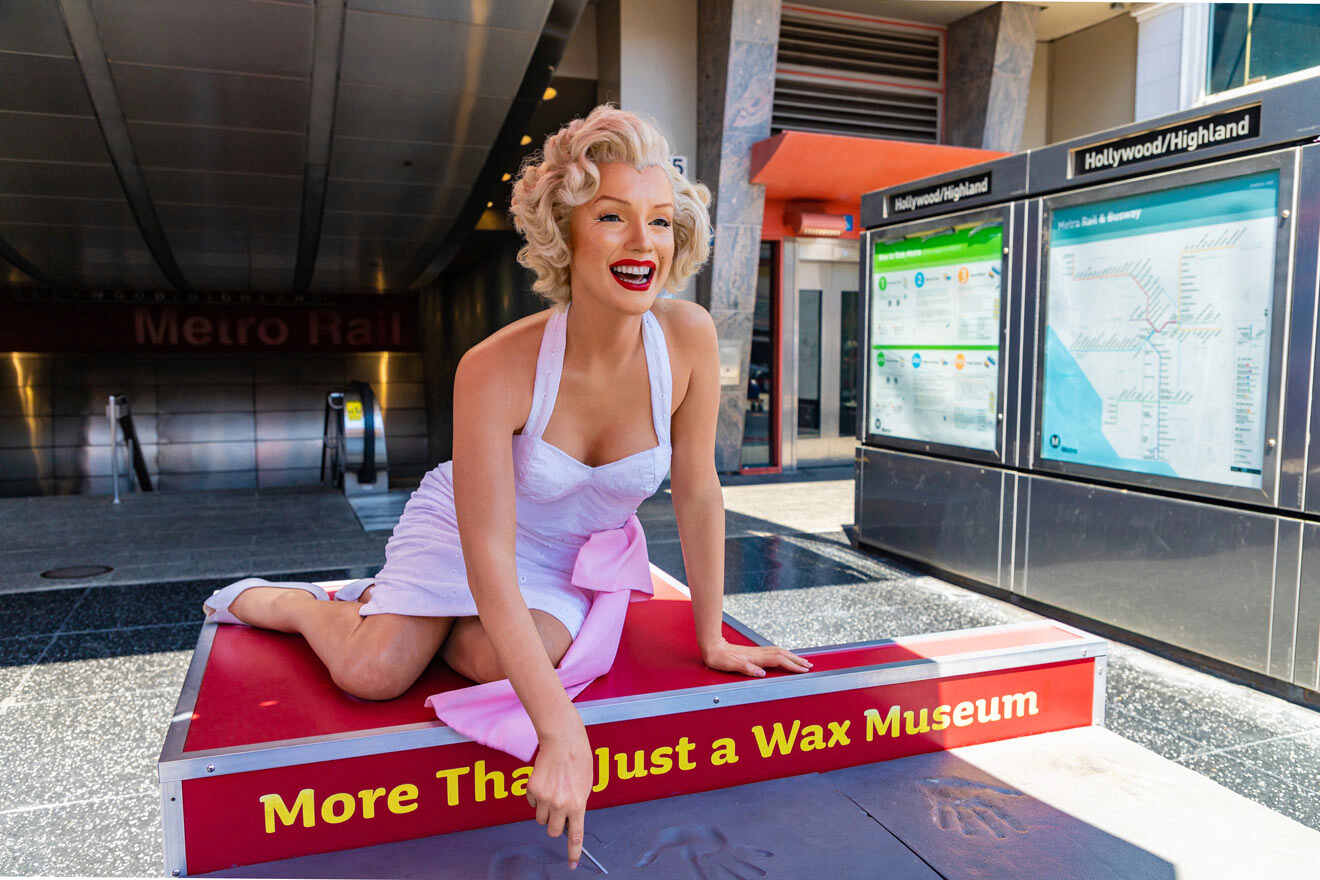 You can't visit Hollywood, CA, without grabbing a few photo ops with your favorite celebrities like Marilyn Monroe and Elvis Presley!
Hollywood Blvd is home to both the Hollywood Wax Museum and Madame Tussauds Hollywood; both options house over 120 of the most famous celebrities' wax likenesses.
Meander through the halls and take as many photos (get silly!) as your phone will hold. Pose next to legend Michael Jackson, get up close and personal with Marilyn Monroe, head over the rainbow with Judy Garland, or maybe take a pic with the late, great Charlie Chaplin.
The Hollywood Wax Museum and Madame Tussauds Hollywood are worth a visit, but if you're short on time, pick just one. Both museums offer an afternoon filled with fun and laughter, but I'm impartial to Madame Tussauds. I love that it is right next to TCL Chinese Theatre for combo-ing attractions and saving time. It has a nice overflow to the museum, great lighting, and new celeb additions like Dwayne "The Rock" Johnson and Angela Bassett.
PRICE: Hollywood Wax Museum from US$30 for adults, Madame Tussauds Hollywood US$34 for adults.
Book Your Madam Tussauds Tickets
2. Match handprints at TCL Chinese Theatre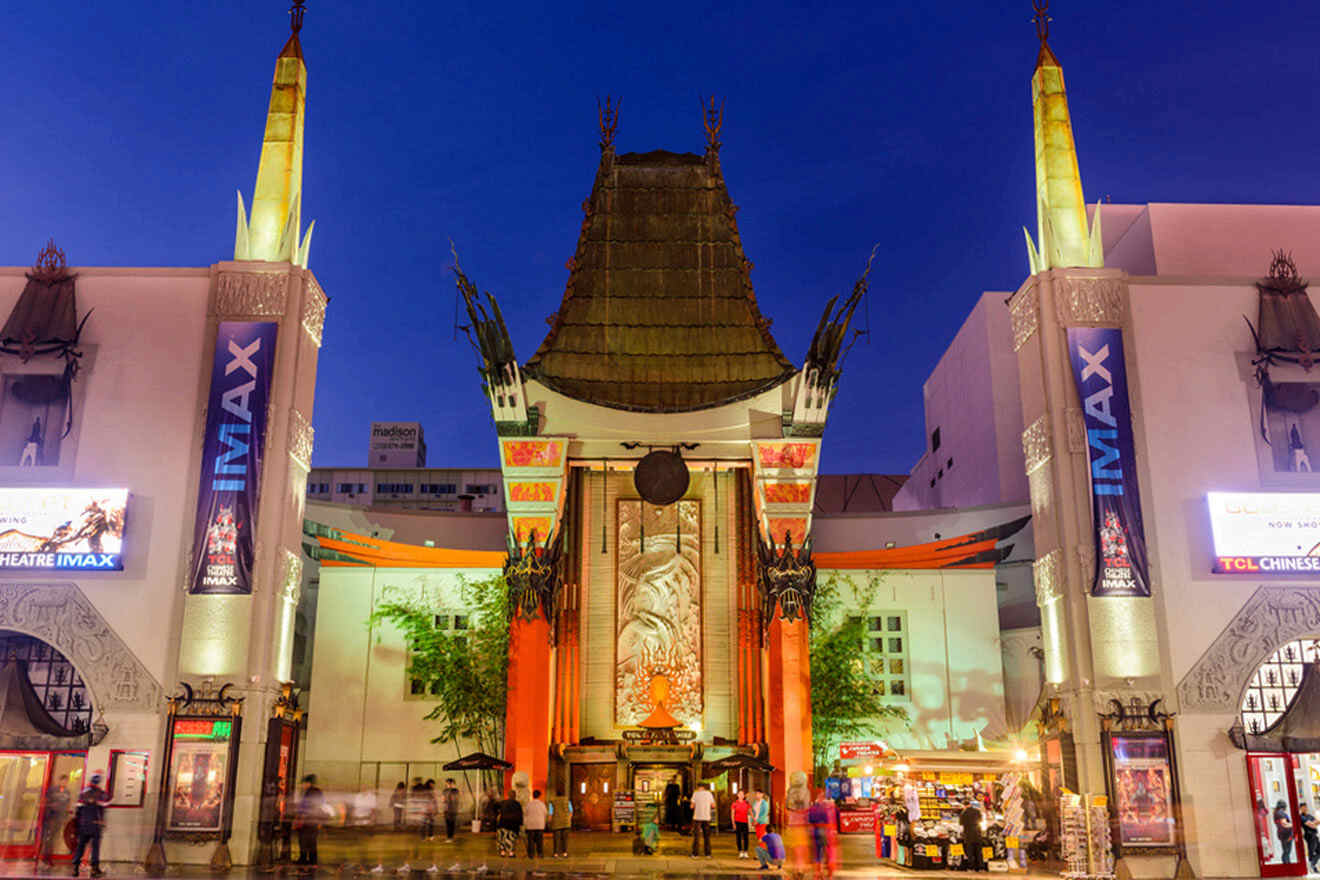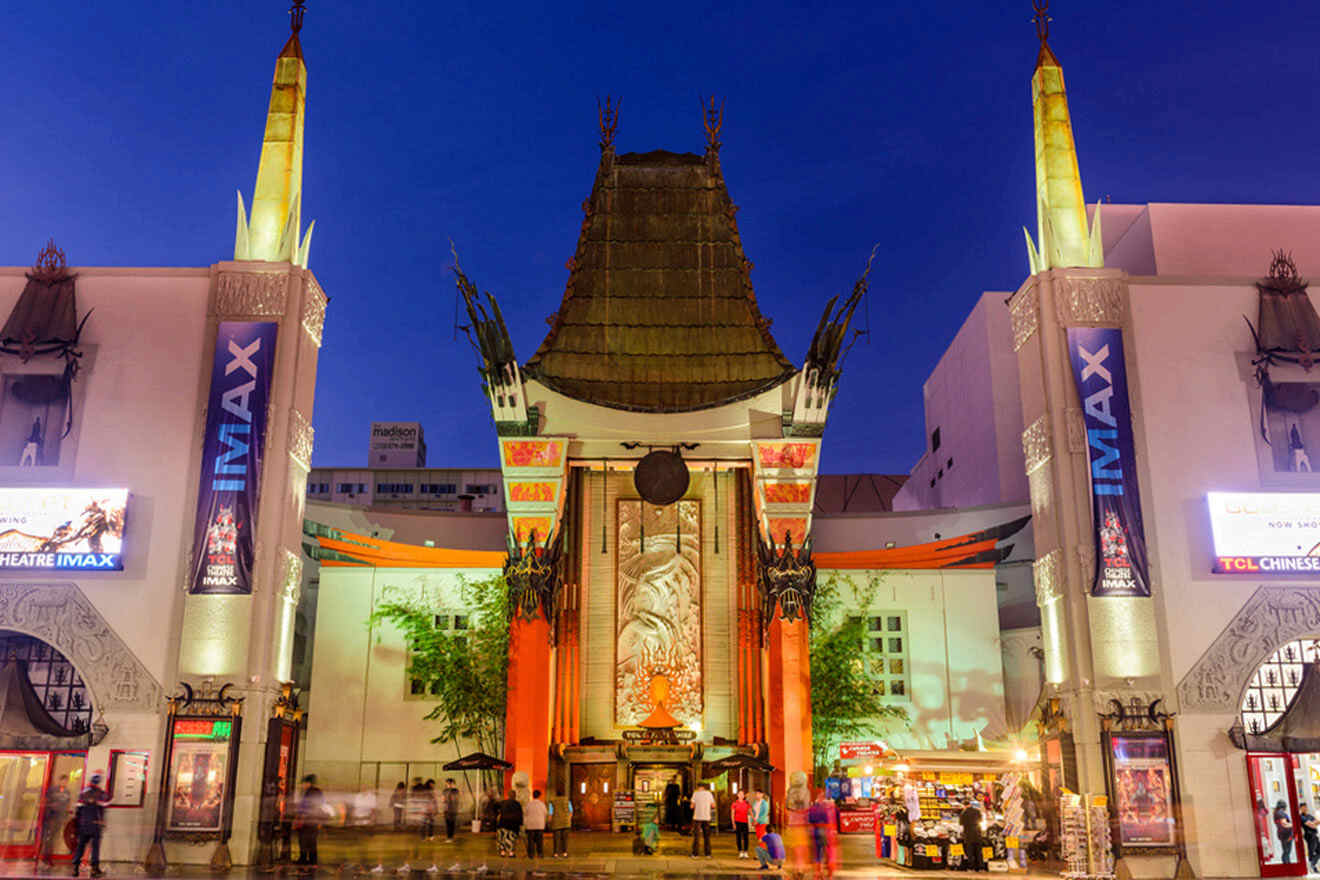 Formally known as Grauman's Chinese Theatre, this beautiful structure was bought by a Chinese manufacturing company and renamed in 2013.
Still a functioning movie theater, this architectural marvel designed by Sid Grauman in 1927 brings hundreds of thousands of visitors each month. I love moseying around in the front courtyard and matching hands and footprints with some of the most iconic movie stars from decades past. This is also a great spot for kids (and adults!) to take photographs with TV and film's most popular characters, as many street performers come dressed in costume as your favorite stars.
PRO TIP: If you're catching a flick inside, opt for the main theater instead of the others since it still holds the charm and original design from Old Hollywood.
HACK: Stay at The Hollywood Roosevelt for a room right across from TCL Chinese Theatre!
PRICE: US$26 for adults, additional fees for IMAX
3. Pump up your adrenaline at Universal Studios Hollywood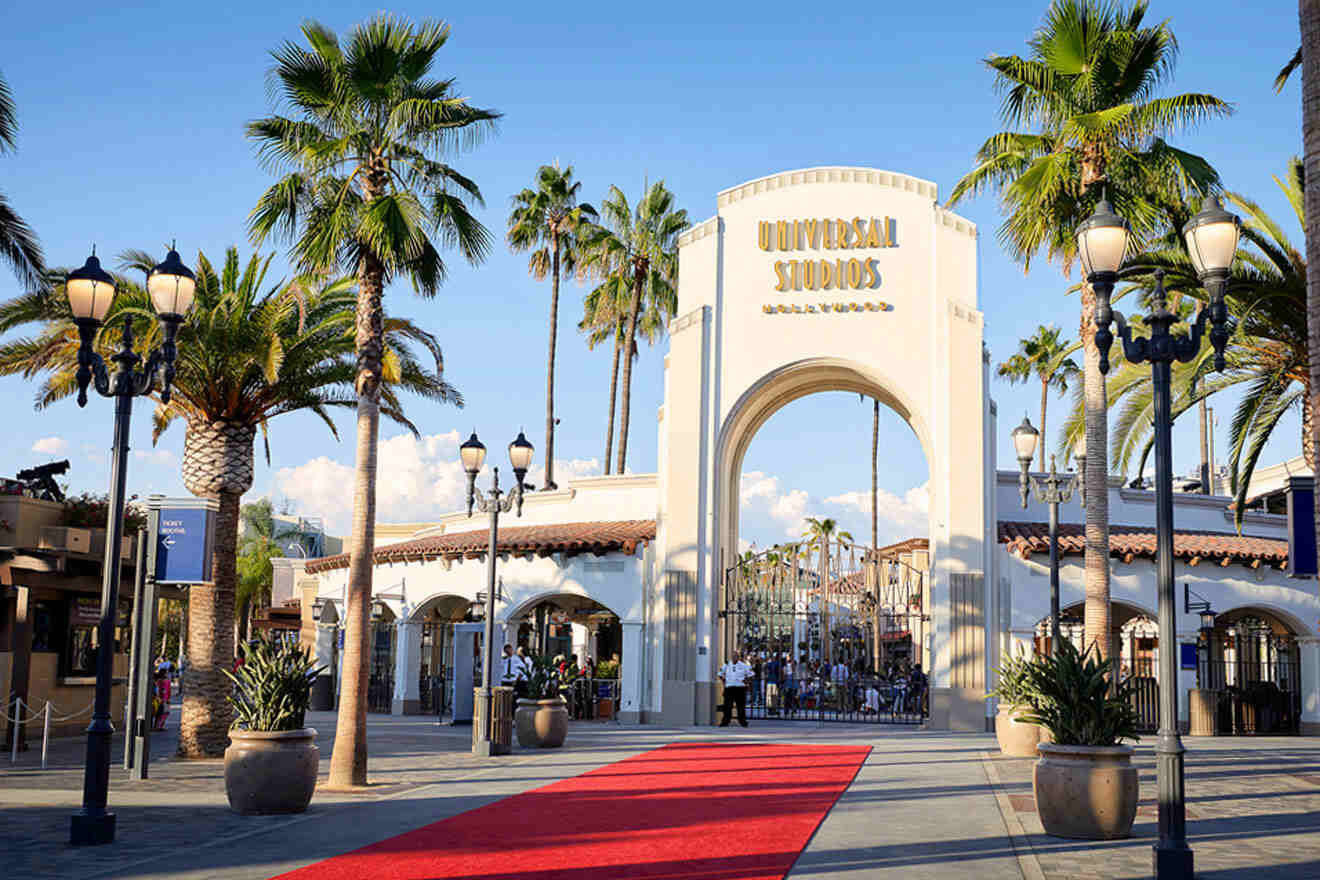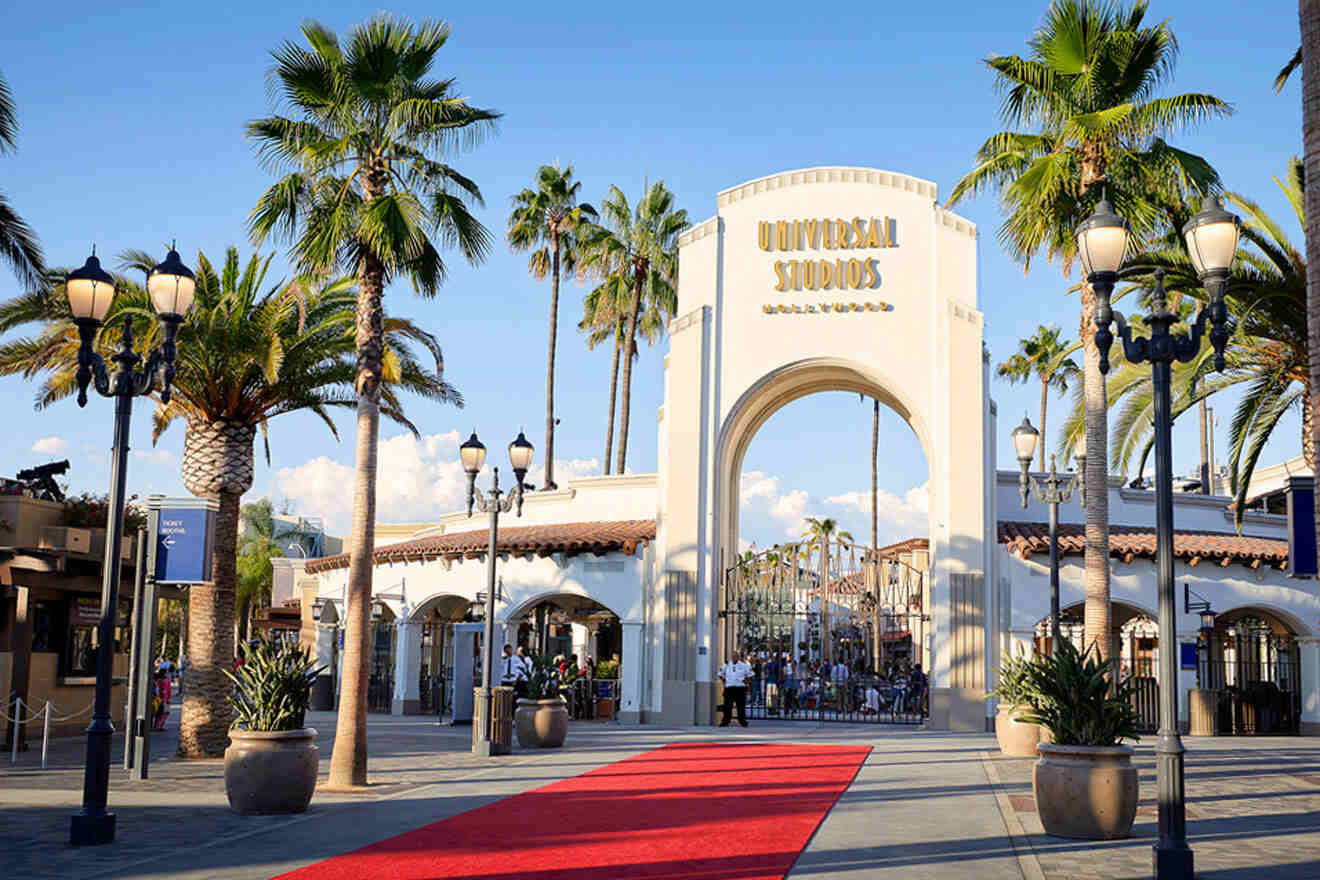 What better way to fully immerse in the movie and television industry than a trip to Universal Studios Hollywood? With hundreds of interactive games, rides, attractions, and shows, the whole family can enjoy a day (or two!) in Universal Studios' incredible theme park.
Here it is easy to get into the action with heart-throbbing roller coasters and enchanting 3D experiences. Although they usually have the most severe lines, the Wizarding World of Harry Potter is a must-do for any Harry Potter fans, and Jurassic World: The Ride was by far my favorite – from their incredible design, ability to immerse me in the experience, and come off the ride dying to go again!
PRO TIP: Roll through Universal Studios like an A-List celebrity by reserving the VIP experience! Skip long lines and check out off-limits areas of the park. Limited availability, book early!
PRICE: General admission is US$139 for adults, VIP Experience from US$370 for adults
4. Discover the Hollywood Walk of Fame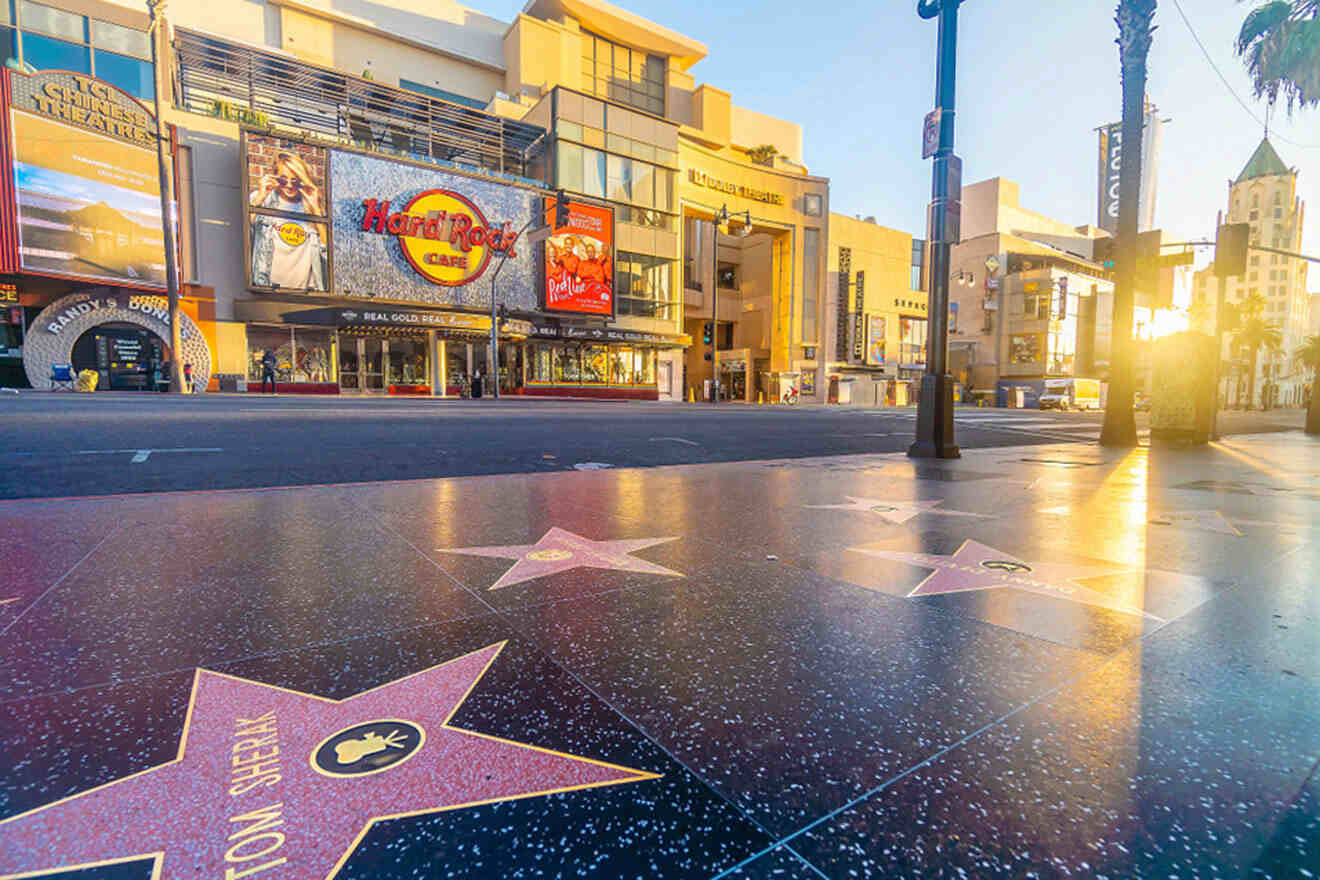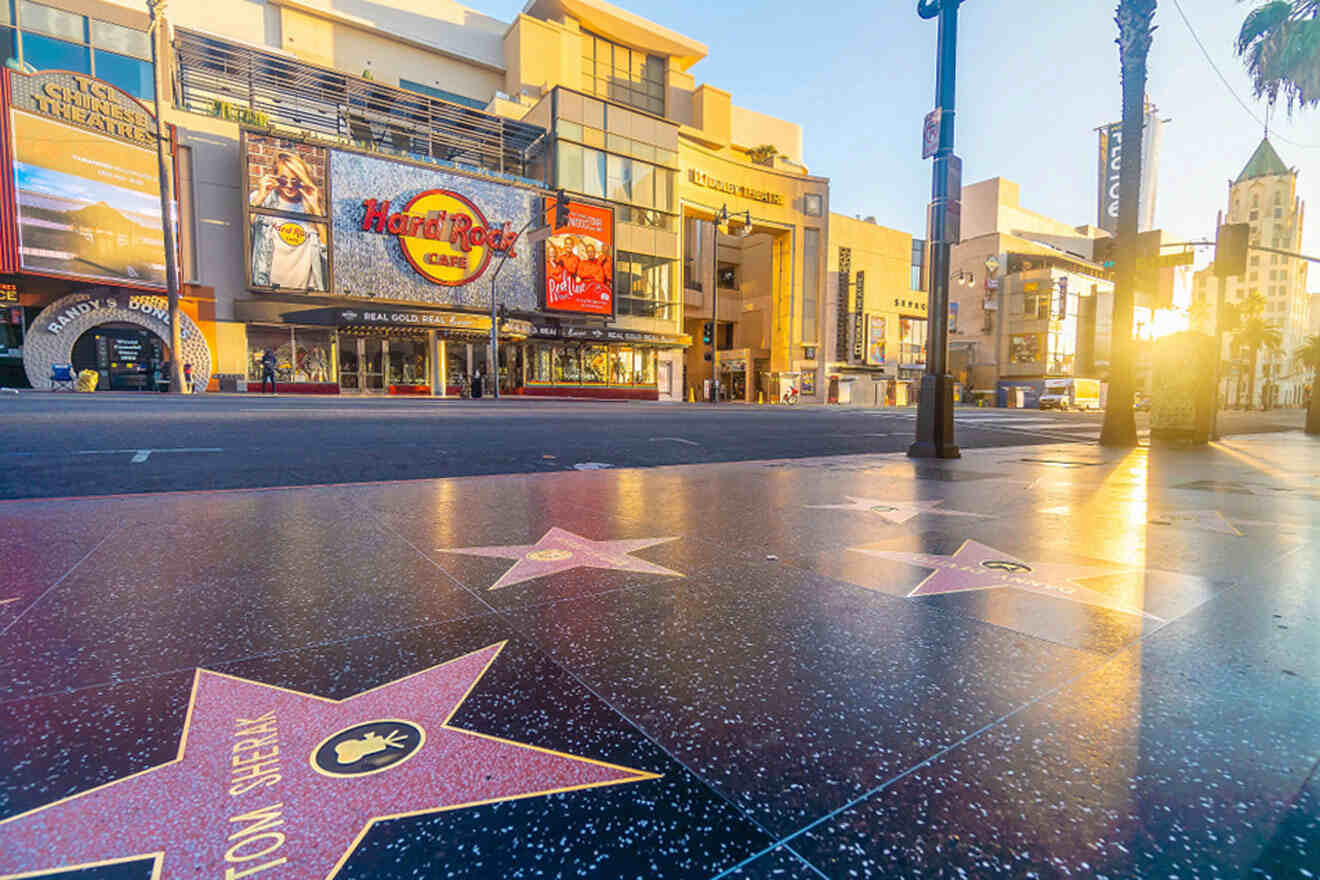 This star-studded sidewalk stretches over 2 miles (app. 3 kilometers) and showcases over 2,600 pink stars spaced exactly 6 feet (c. 2 m)!
Watching just about any movie about Hollywood, it's likely you've caught a glimpse of this famous Hollywood walkway. With over a mile-long stretch of pavement lined with bronze-rimmed pink stars adorning the names of Hollywood's elite, you can spend hours enjoying this activity. The Walk of Fame, running along Hollywood Boulevard and Vine Street, is the perfect spot to spend the morning sipping on your latte and gazing down at the achievements of the rich and famous.
PRICE: FREE
5. Breathe it all in at Barnsdall Art Park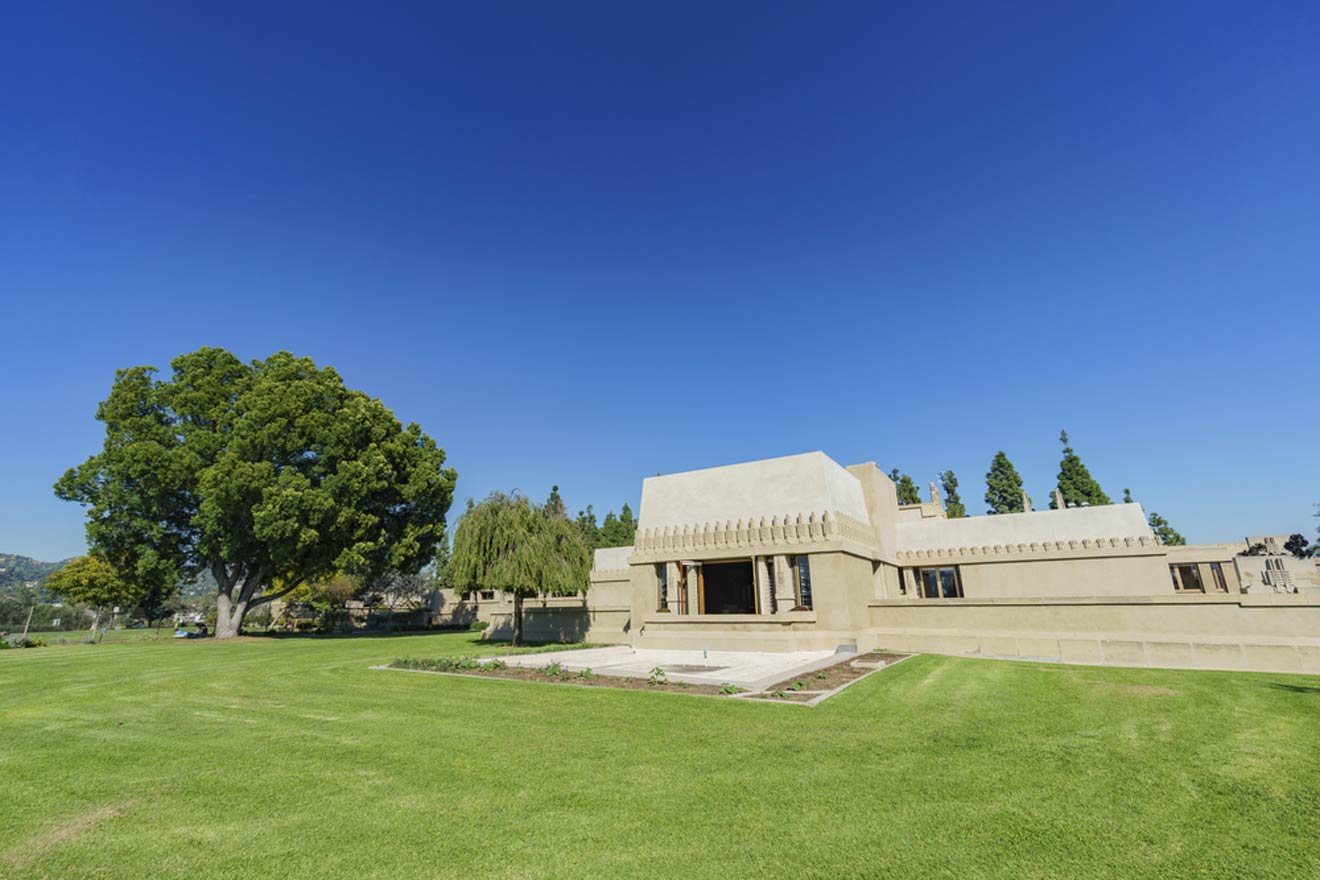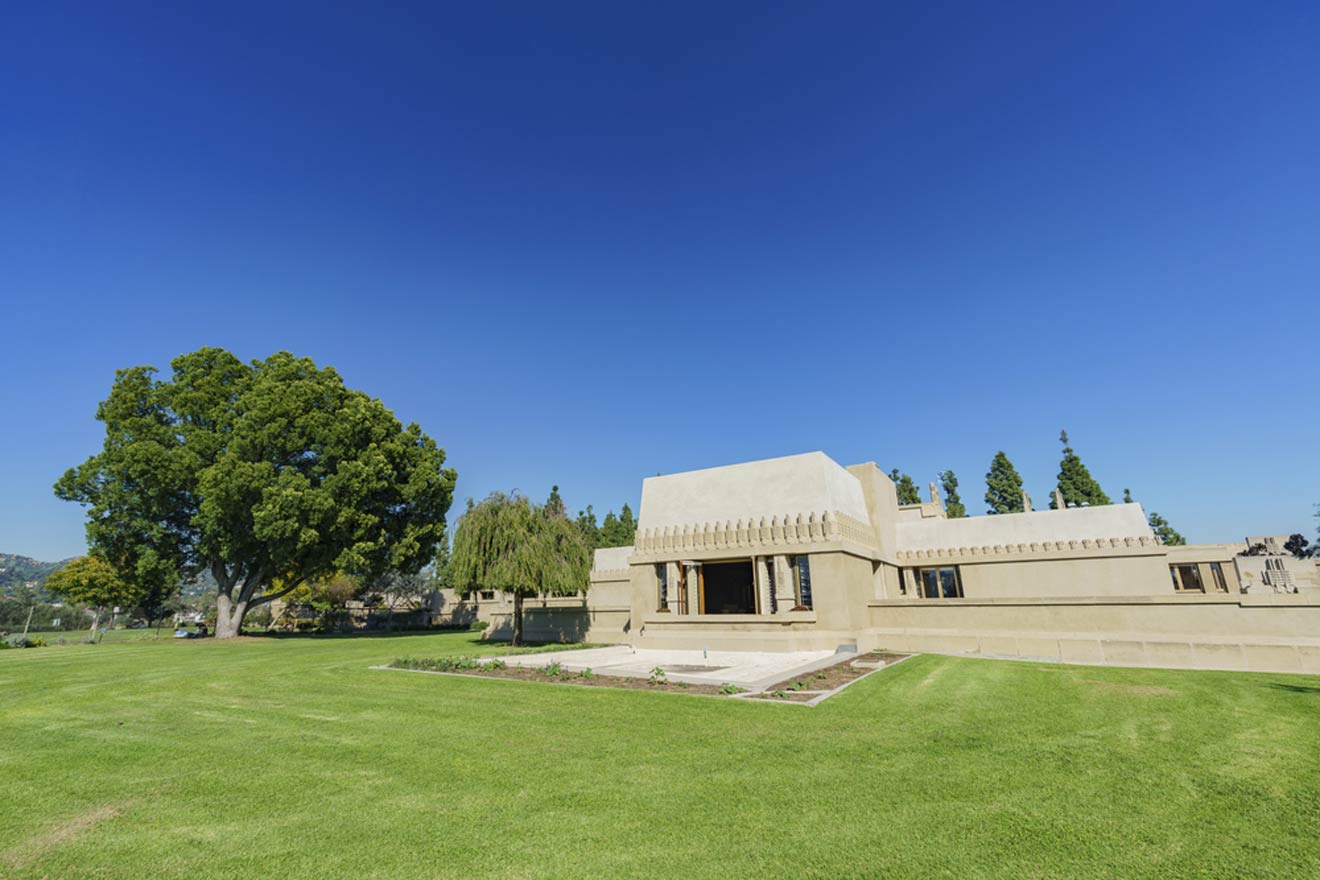 Right along Hollywood Blvd, in East Hollywood, you'll find Barnsdall Art Park, an amazing green space enjoyed by the community and visitors alike.
Alice Barnsdall, a World War I-era oil heiress, bought the land and commissioned Frank Lloyd Wright to construct several buildings on her property. One of those buildings became Barnsdall's residence, later named the Hollyhock House, and is now a Unesco World Heritage Site.
It's pretty sensational that you can tour this iconic masterpiece that is the Hollyhock House; fortunately, Barnsdall donated it to the city of Los Angeles to use as an art complex for the community. It's tucked within Barnsdall Art Park and is not the only place worth a visit. Stop by the Barnsdall Gallery Theatre to catch the latest music, dance, or art performance.
PRO TIP: In the summertime, it's nice to beat the heat, grab a picnic basket, and enjoy the outdoor movies on the lawn.
PRICE: FREE
6. Take a photo with the Hollywood Sign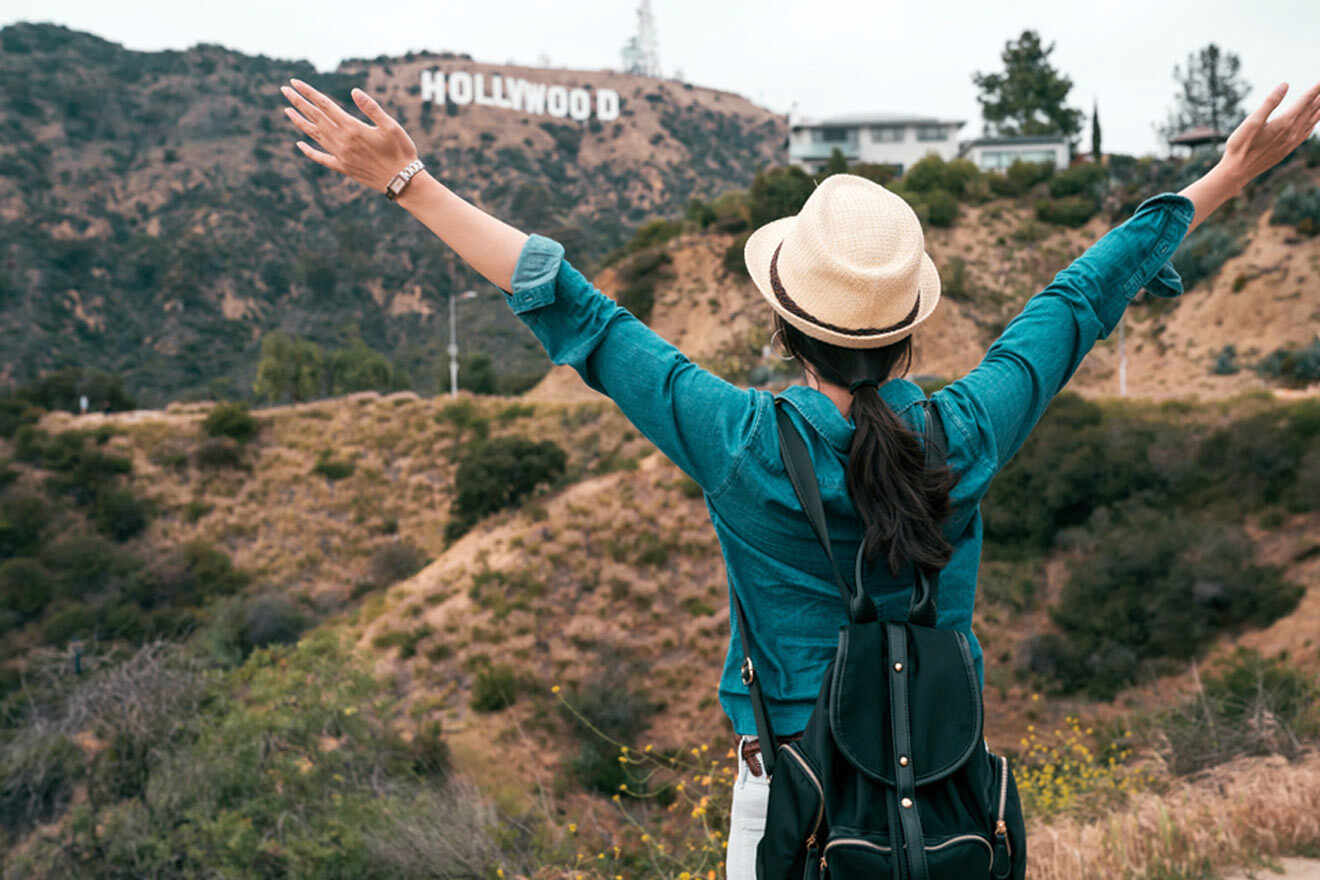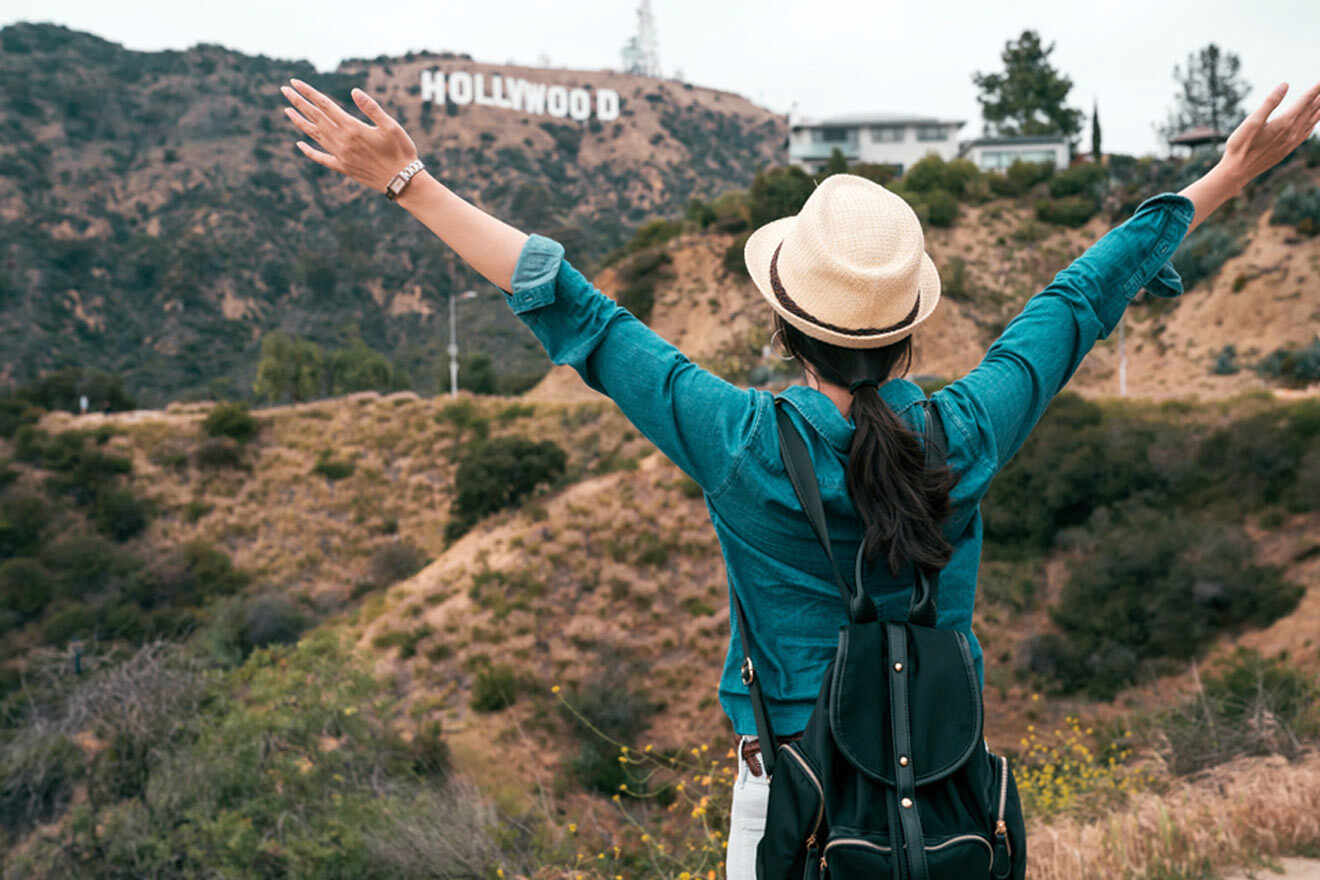 The Hollywood sign originally read "Hollywoodland" and was created as a real estate advertisement in 1923.
One of my favorite things to do in Hollywood, CA, has to be gazing in awe at this absolute legend.
High atop the famous neighborhood of Hollywood Hills, this iconic symbol of cinema serves as a constant reminder of the entertainment industry that pulses down below. Many visitors find it a personal challenge to find the perfect spot to view and take a selfie with the Hollywood Sign. It can eat up your time, though, so my suggestion is to hop on a guided tour and ensure you know exactly where you'll get that photo opportunity.
TOUR PRICE: from US$50
7. Take a scenic drive through the Hollywood Hills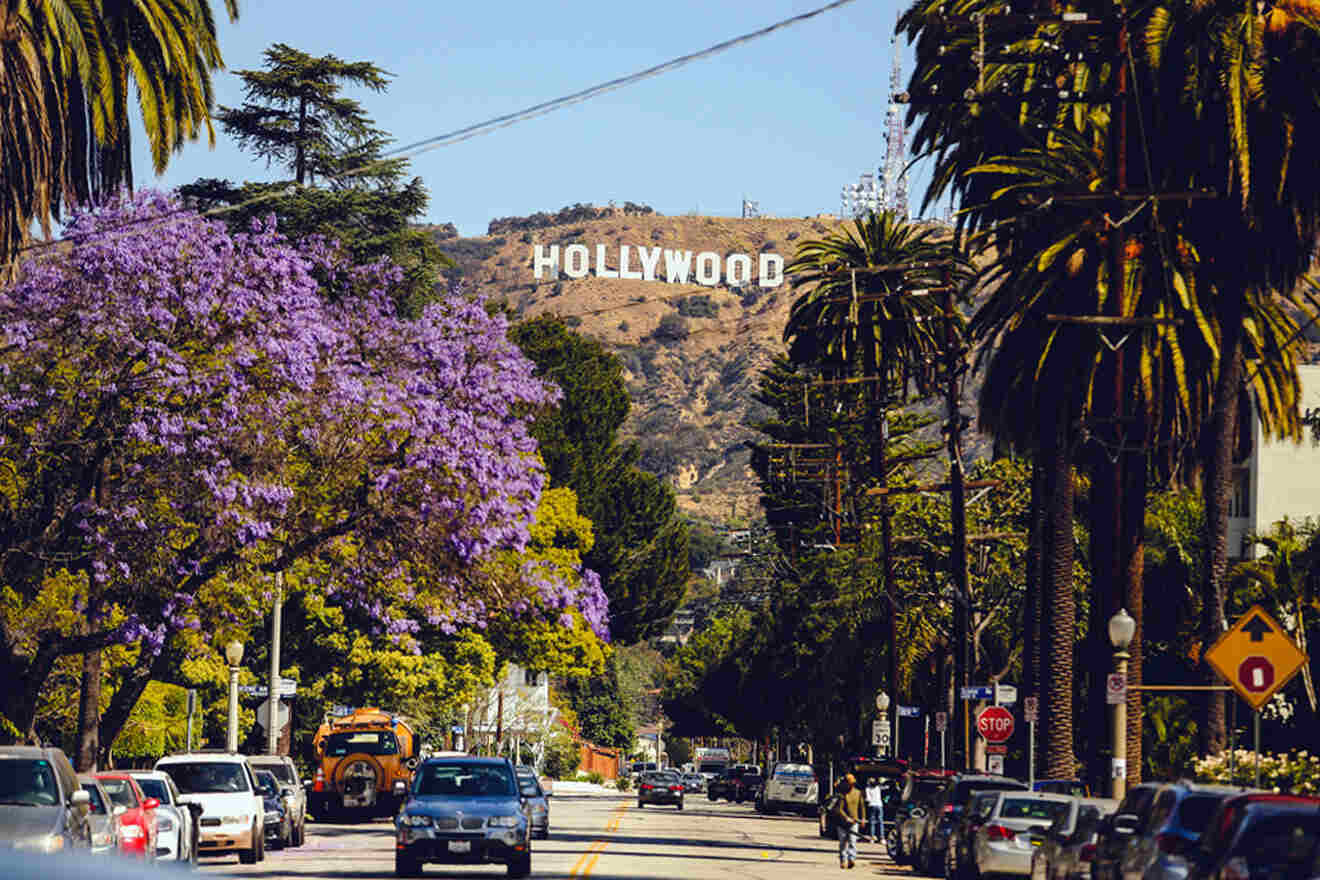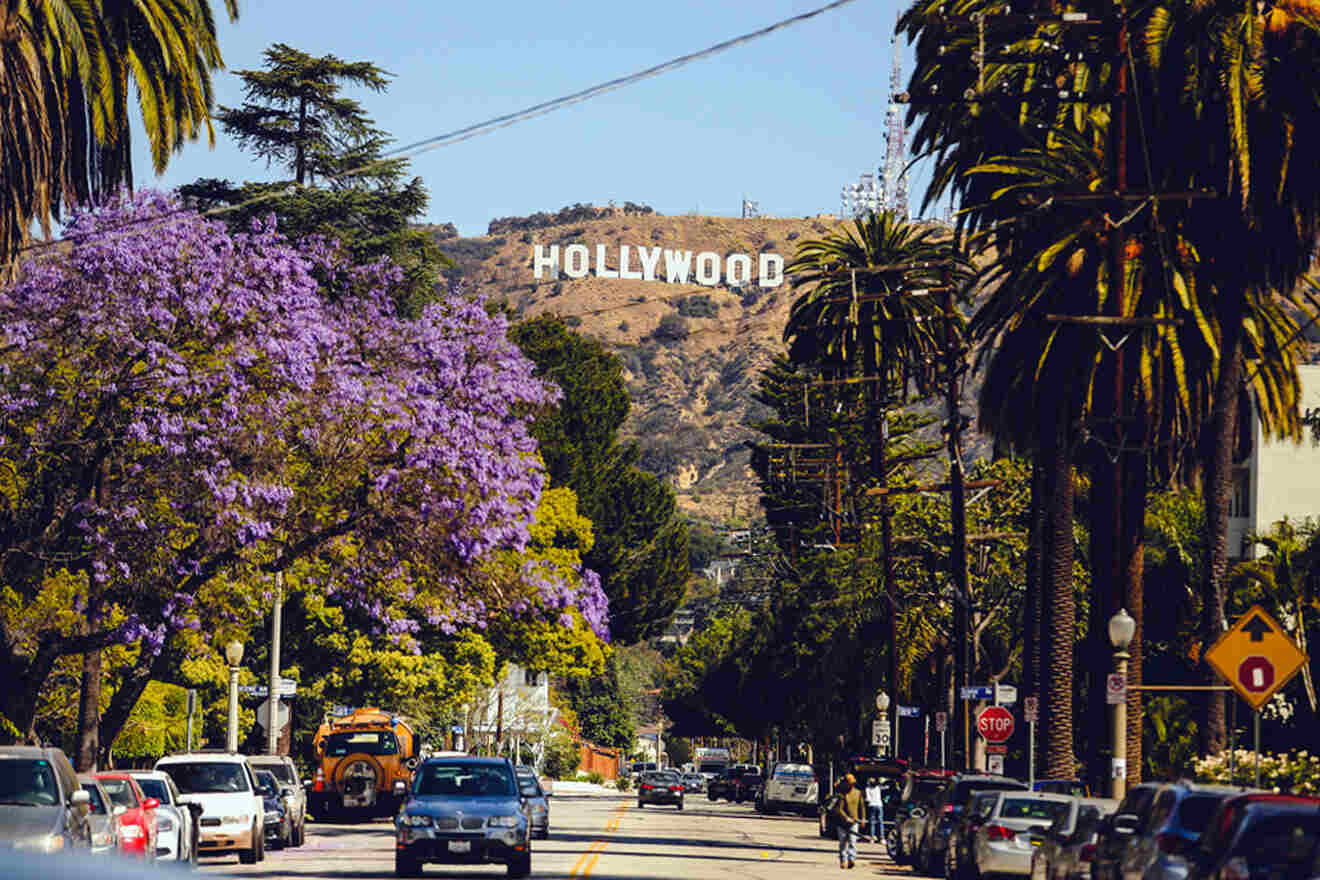 What could be more Hollywood than a scenic drive through the rolling Hollywood Hills, home to some of the biggest stars? This picturesque cruise will take through amazing twists and turns as you pass exotic cars lining the streets and the extravagant homes of Hollywood celebrities.
There are many routes you can take through the Hollywood Hills, but I suggest starting at La Cienega Blvd and Sunset, not far from the Sunset Strip.
PRICE: FREE
8. Tour the Griffith Observatory in Griffith Park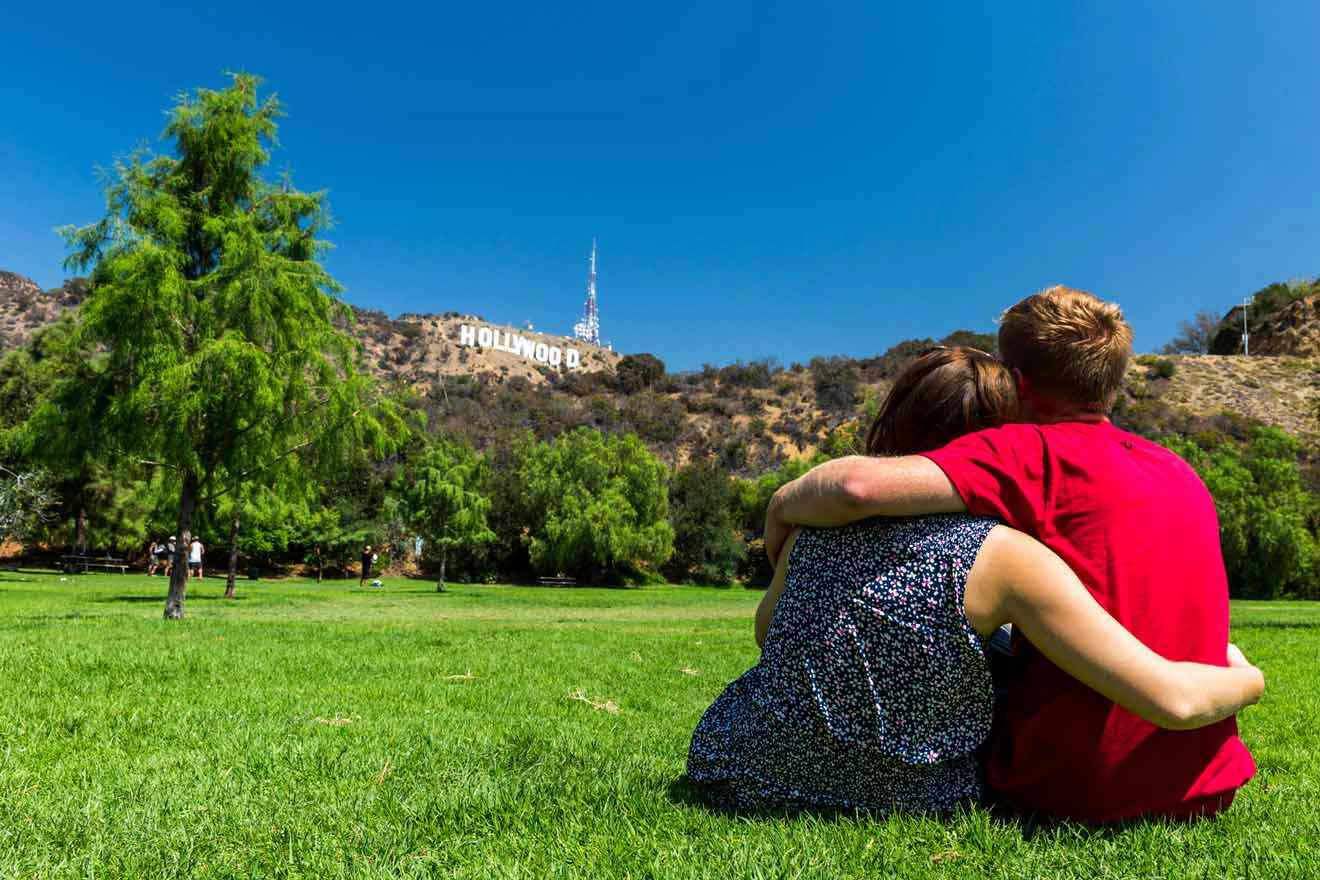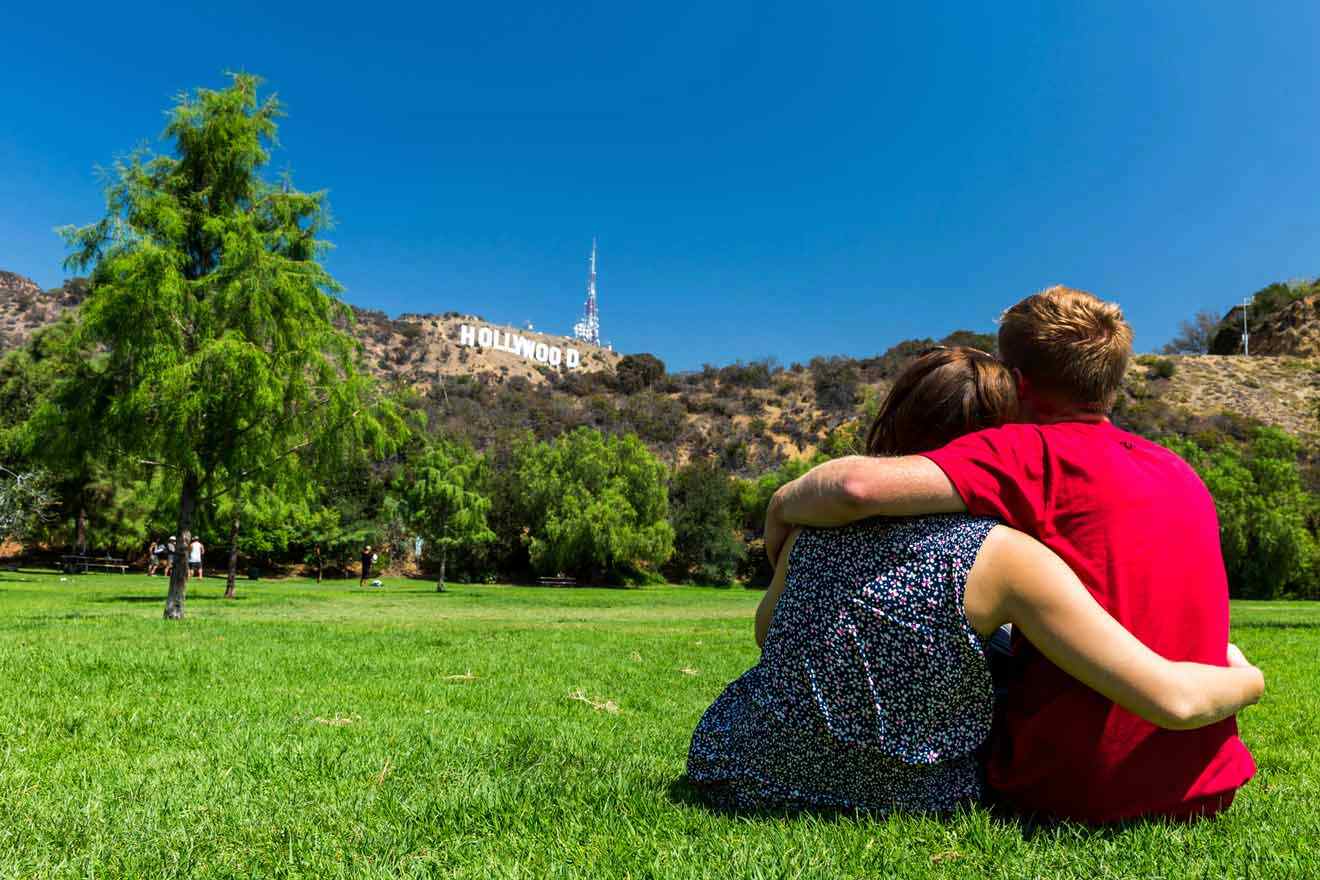 If spending the day inside a Hollywood museum is just not your thing, lace up your runners and hit the great outdoors at Griffith Park, which has one of the best hiking trails in LA. Step away from the hustle of the city and discover this natural oasis tucked into the heart of Hollywood. Explore the park's scenic trails, grab some shade and a good book, or enjoy a nice picnic sprawled out on the great, green lawns.
At the top of the hill in Griffith Park, you'll find the Griffith Observatory perched on the southern slope of Mount Hollywood. This incredible hub for astronomy dates back to 1935 and welcomes the public free of charge. While Griffith Observatory itself has amazing views of the park and city, I highly recommend a behind-the-scenes VIP tour for this experience. There is nothing quite like getting up close and personal with Hollywood's real stars.
PRICE: from US$180
9. Ride horseback at Sunset Ranch Hollywood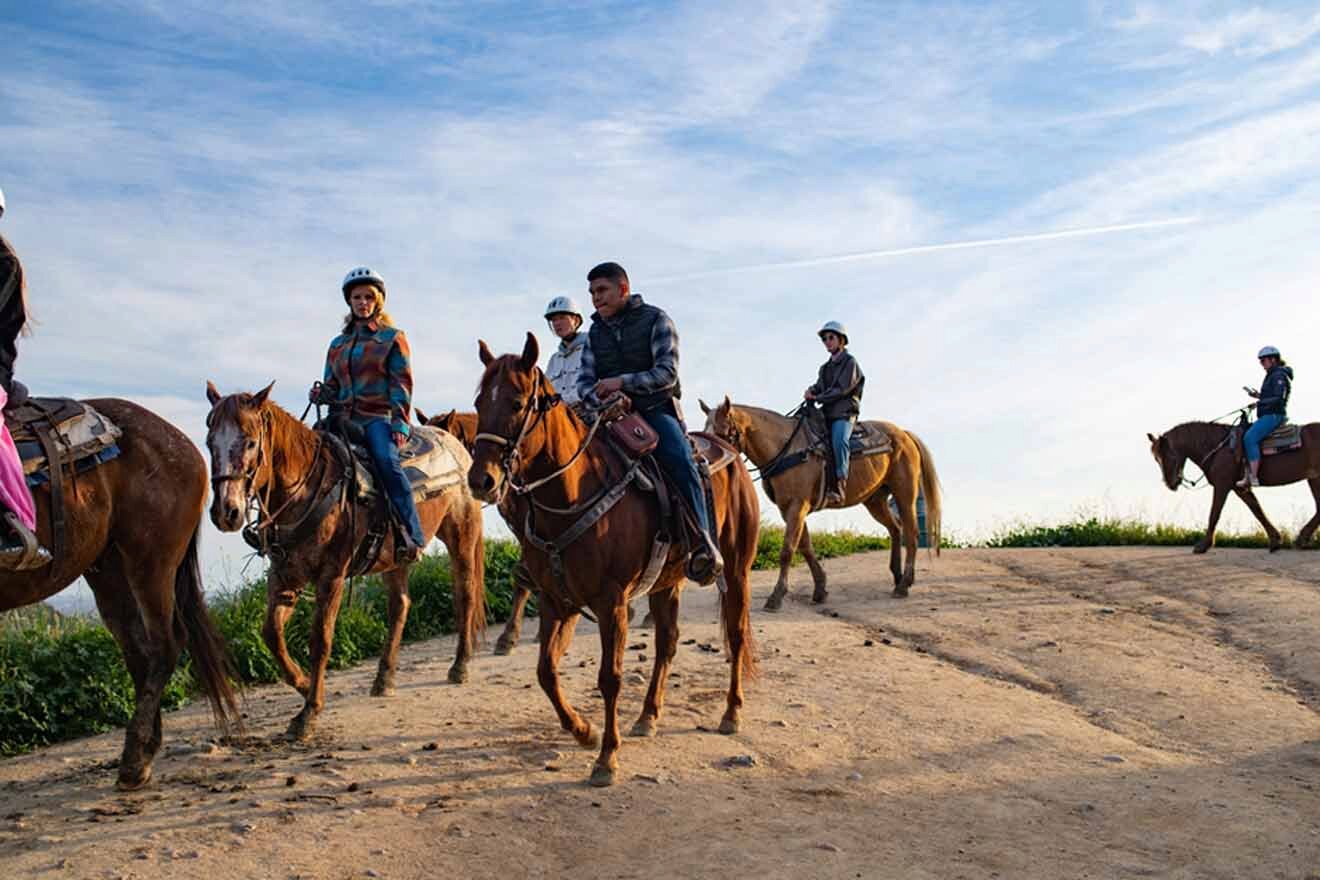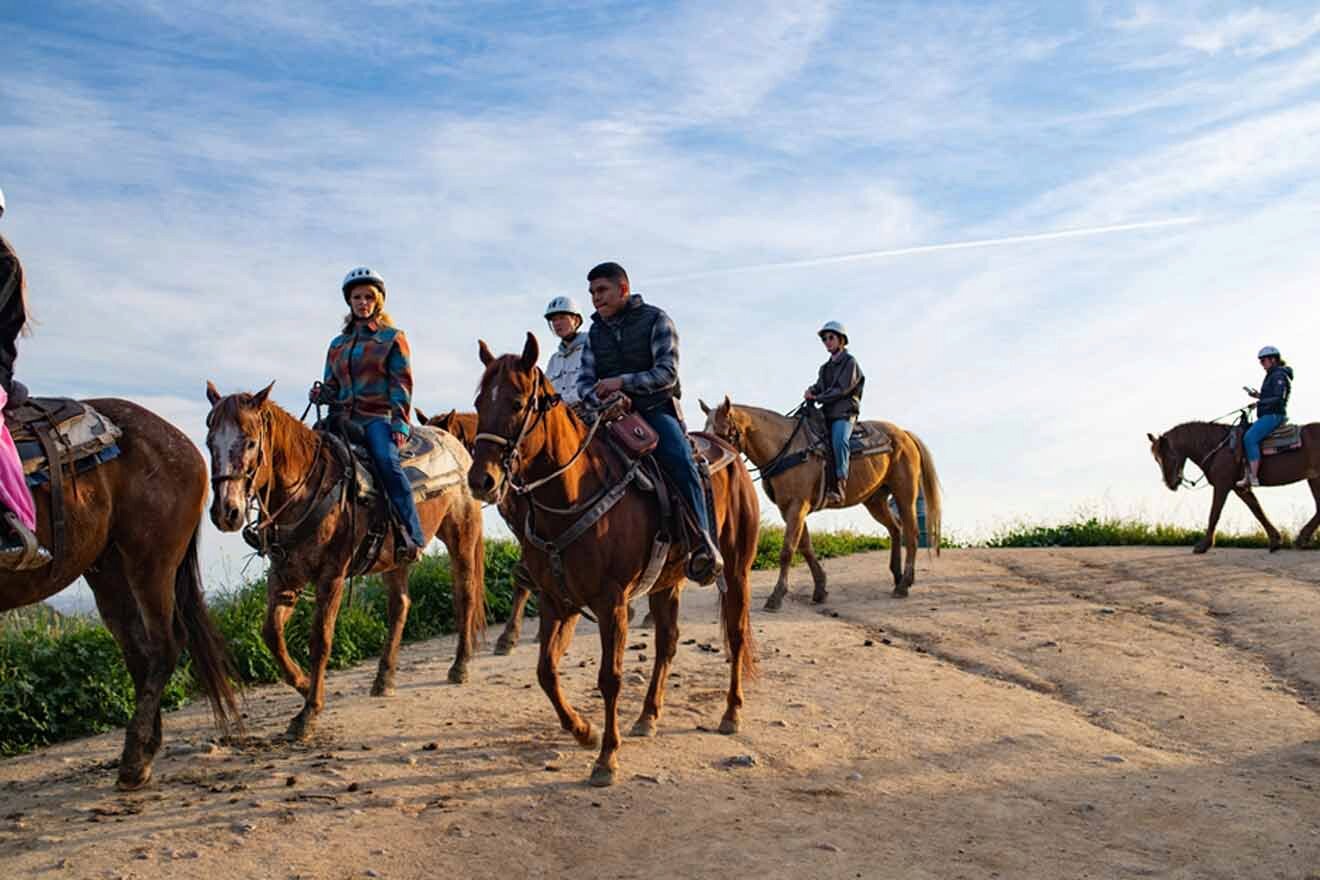 Okay, without question, horseback riding at Sunset Ranch Hollywood is one of my favorite things to do in Hollywood!
If you're looking for adventure and a way to combo activities, book a tour with these folks, and they will make your trip to La La Land absolutely unforgettable. Tours are for beginners to advanced riders alike and meander through Griffith Park and up to Griffith Observatory for amazing views.
Choose the 1-hour tour if you just want that perfect photo and a memorable experience. Opt for the more elaborate treks that include meals if you want to stay on the trails all day.
PRICE: from US$75 per person
10. Shop the day away at Ovation Hollywood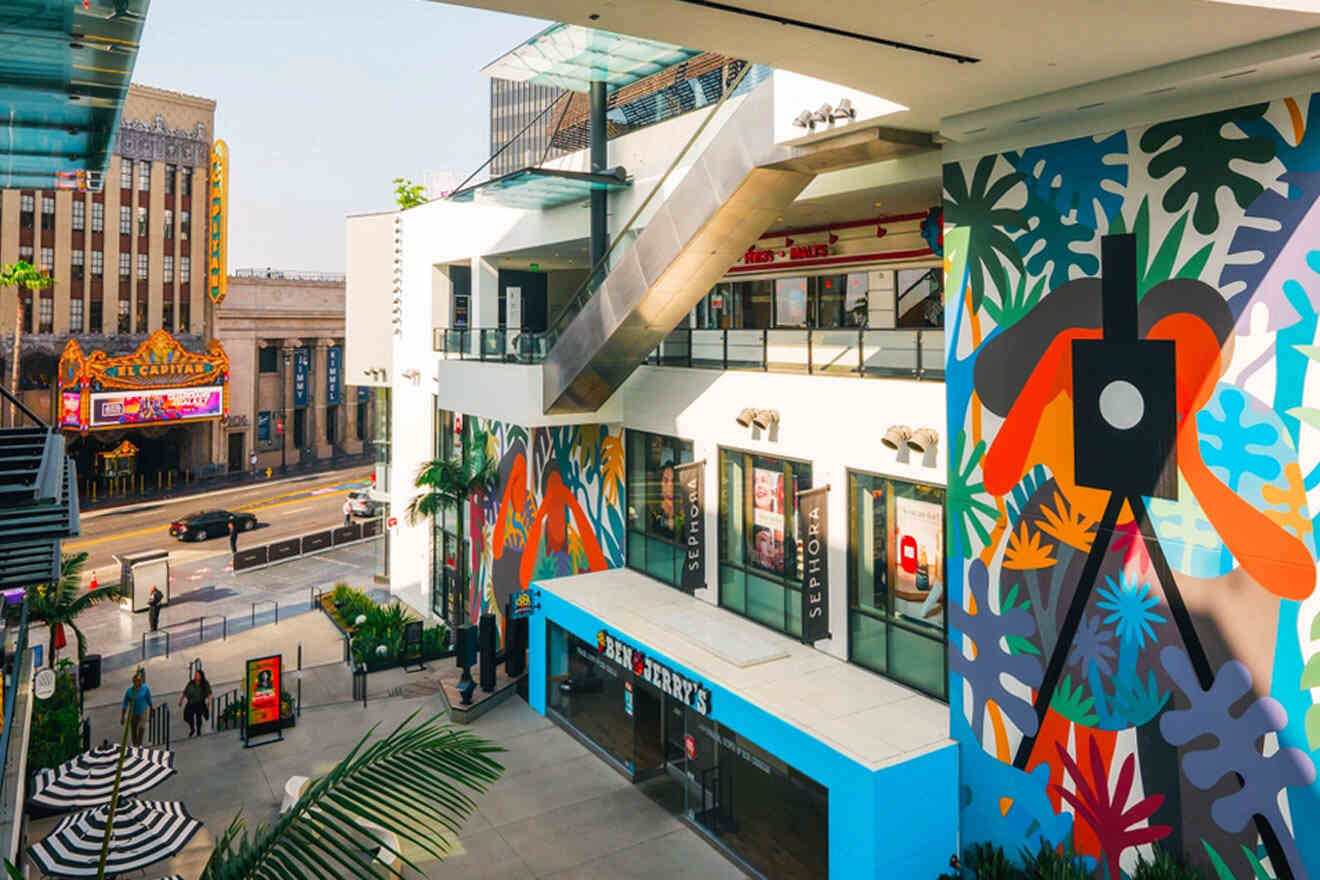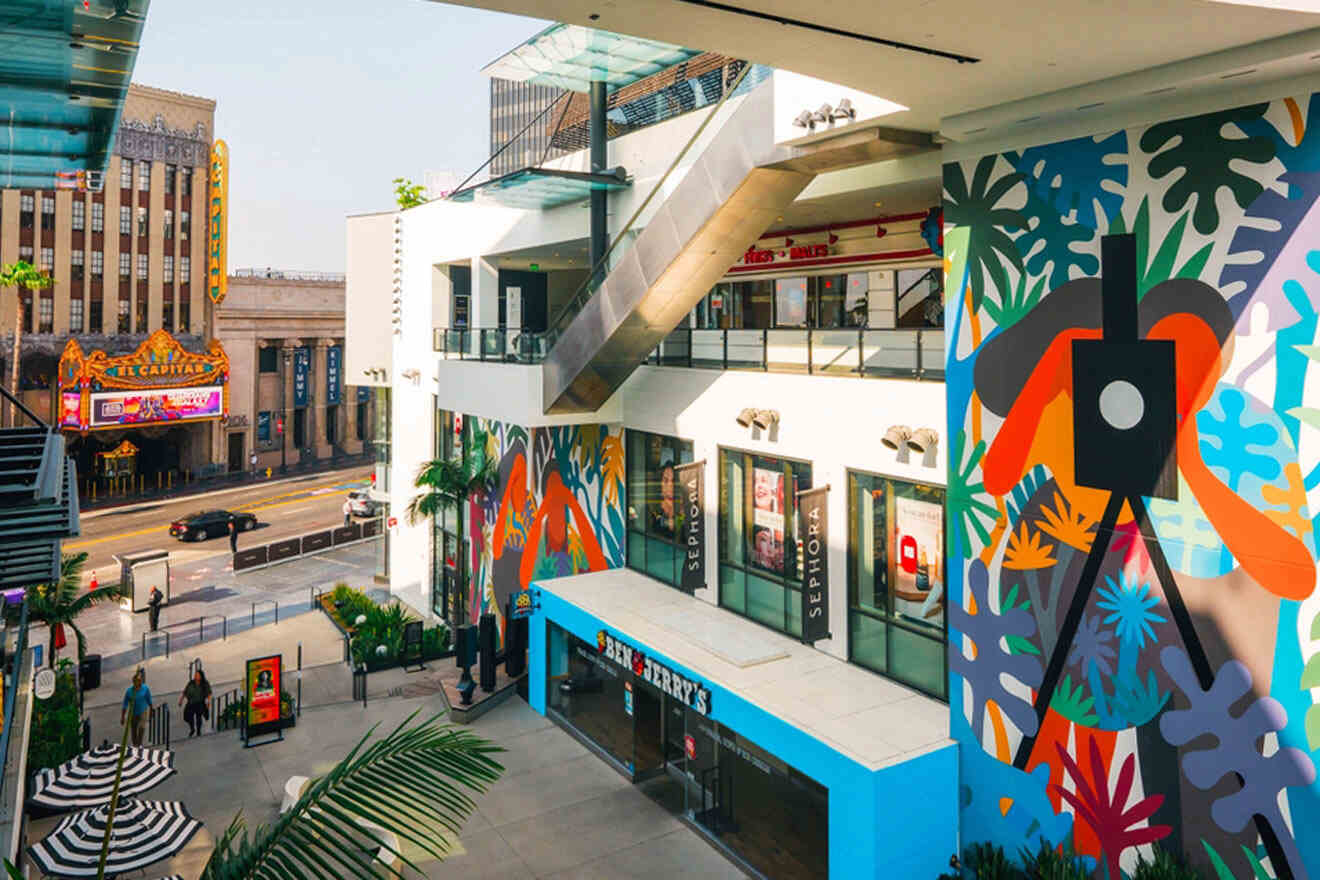 Formerly referred to as Hollywood & Highland, this all-around entertainment center located on the corner of Hollywood Blvd and Highland Ave is the perfect spot to shop, dine, and play while in Hollywood. Housing the famous Dolby Theatre, which hosts the Academy Awards, there is something majestic about window shopping in the presence of such cinematic historical significance.
HACK: Check out the elevated walkways surrounding the Dolby Theatre – they feature views of the famous Hollywood sign.
PRICE: FREE
11. Jam out at the Hollywood Bowl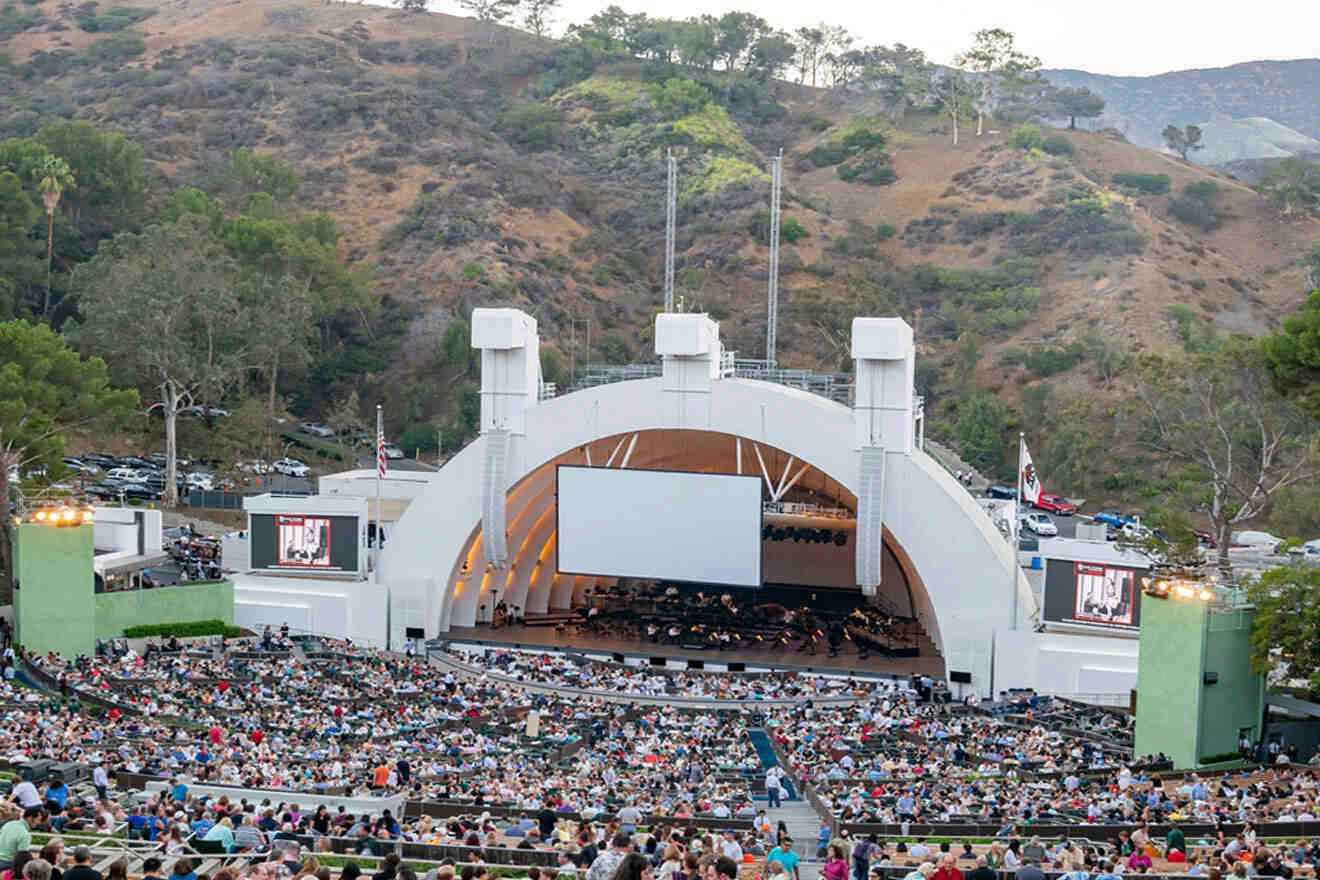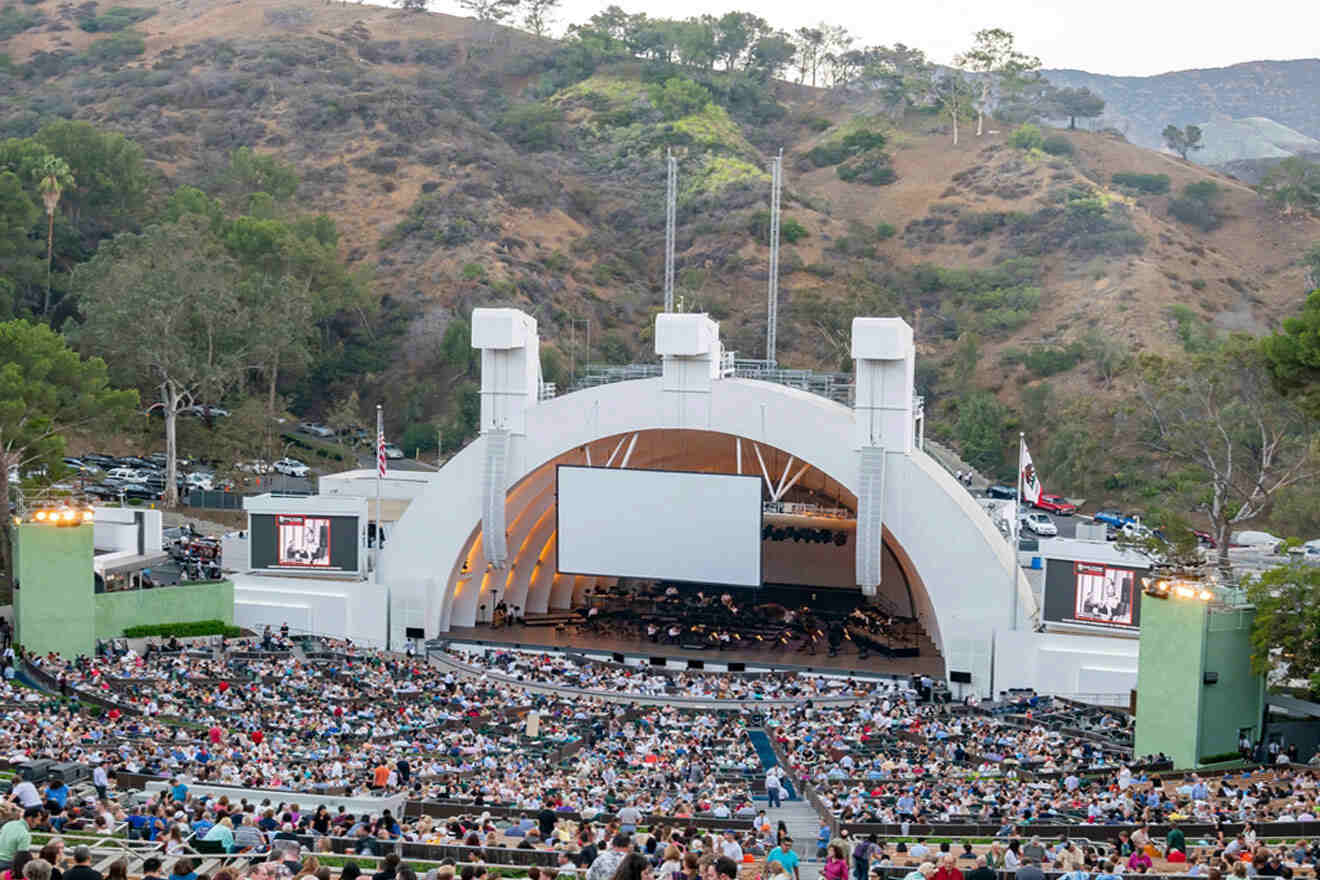 Catching a concert at the Hollywood Bowl is one of the absolute best things to do in Hollywood. Maybe it's the fact that I caught a carefree, rockin' Jimmy Buffet concert in this iconic venue, but I highly suggest checking out the lineup and buying tickets A.S.A.P.
The Hollywood Bowl is such an ideal concert venue. It's located outdoors, so you can enjoy the SoCal weather, and it's set up in amphitheater style, so it feels intimate, and the acoustics are phenomenal.
PRO TIP: Bring your own snacks and beverages, as prices at the concession are sky-high!
PRICE: Varies by event
12. Take an iconic Hollywood Studio Tour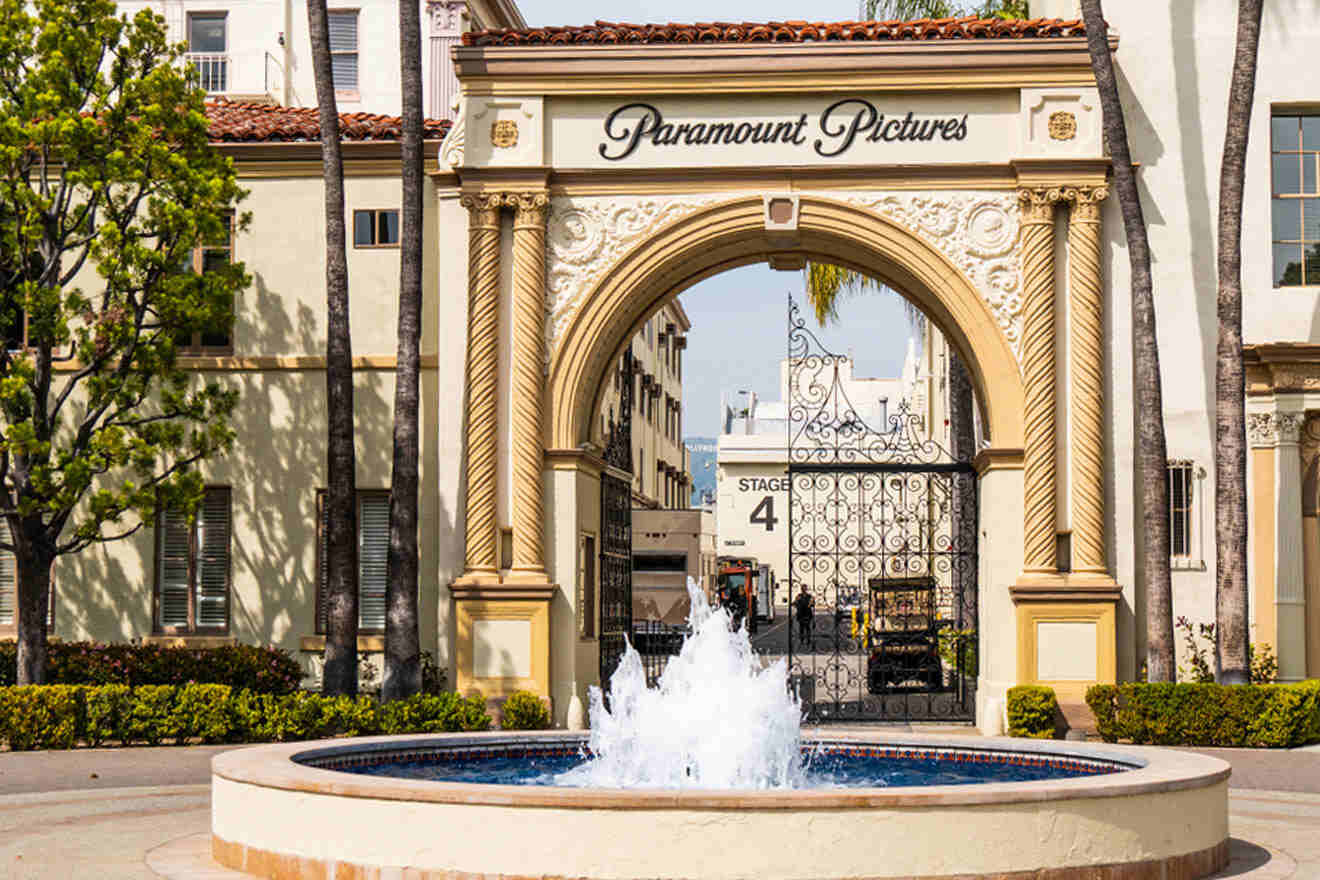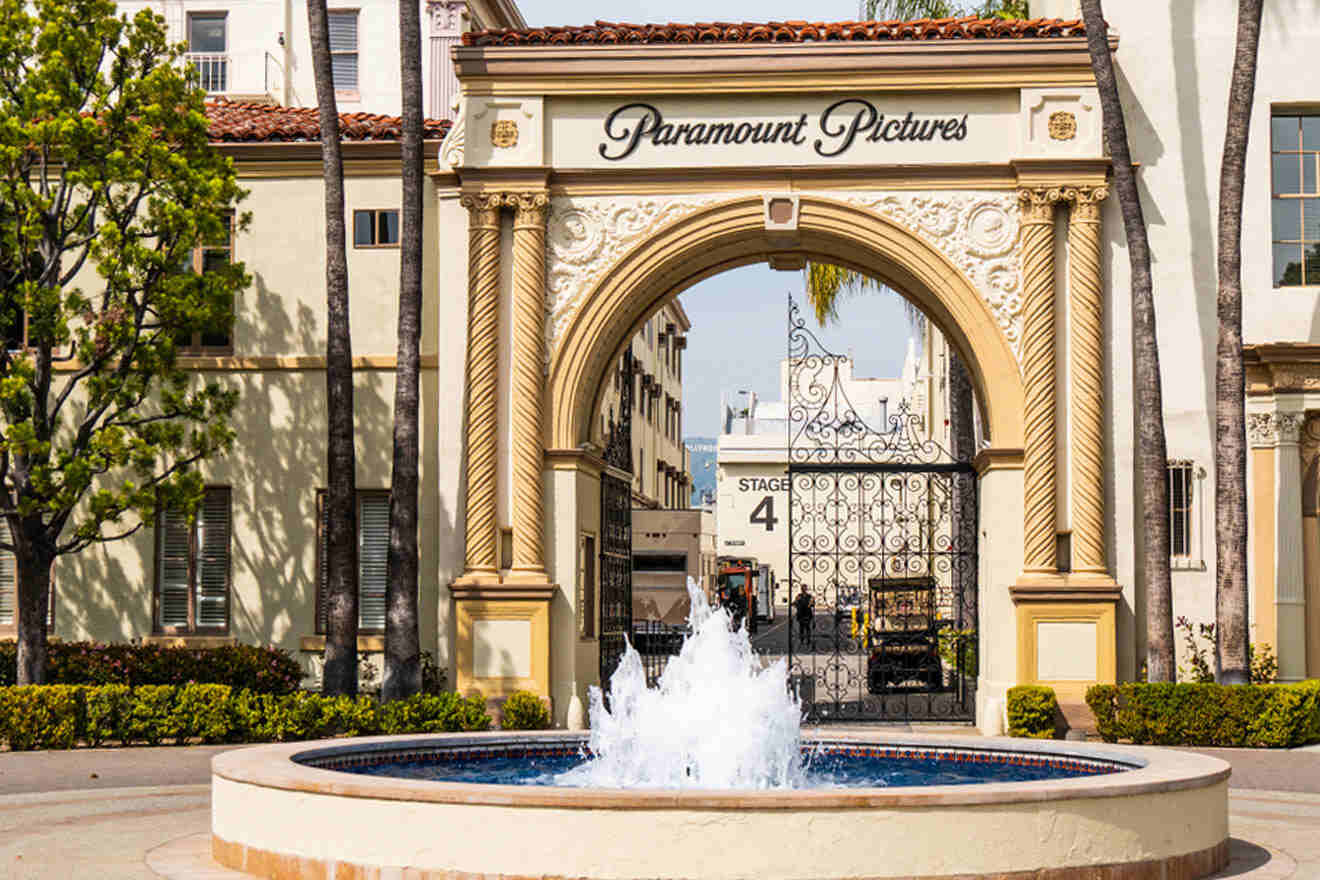 Hollywood, CA is a town where magic happens, and what better way to dive into that whimsy than visiting a studio backlot?!
Many of our favorite television shows and films are shot right on the premises at the Hollywood studio lots. Paramount Pictures Studio Tour is chock full of history on how Paramount got its footing in Hollywood, and it allows you to peek into the prop room and ogle over memorable items from your favorite movies, and they even let you hold a real Academy Award!
If getting on set and pretending to be your favorite TV show character is more your thing, check out the Warner Bros. Studio Tour. Friends TV show fan? Cozy up to a coffee at Central Perk or snuggle up on those familiar, colorful couches for a chance to feel like the other friend.
PRICE: Warner Bros. Studio Tour starts at US$70, Paramount Studio Tour starts at US$60
13. Cruise the Sunset Strip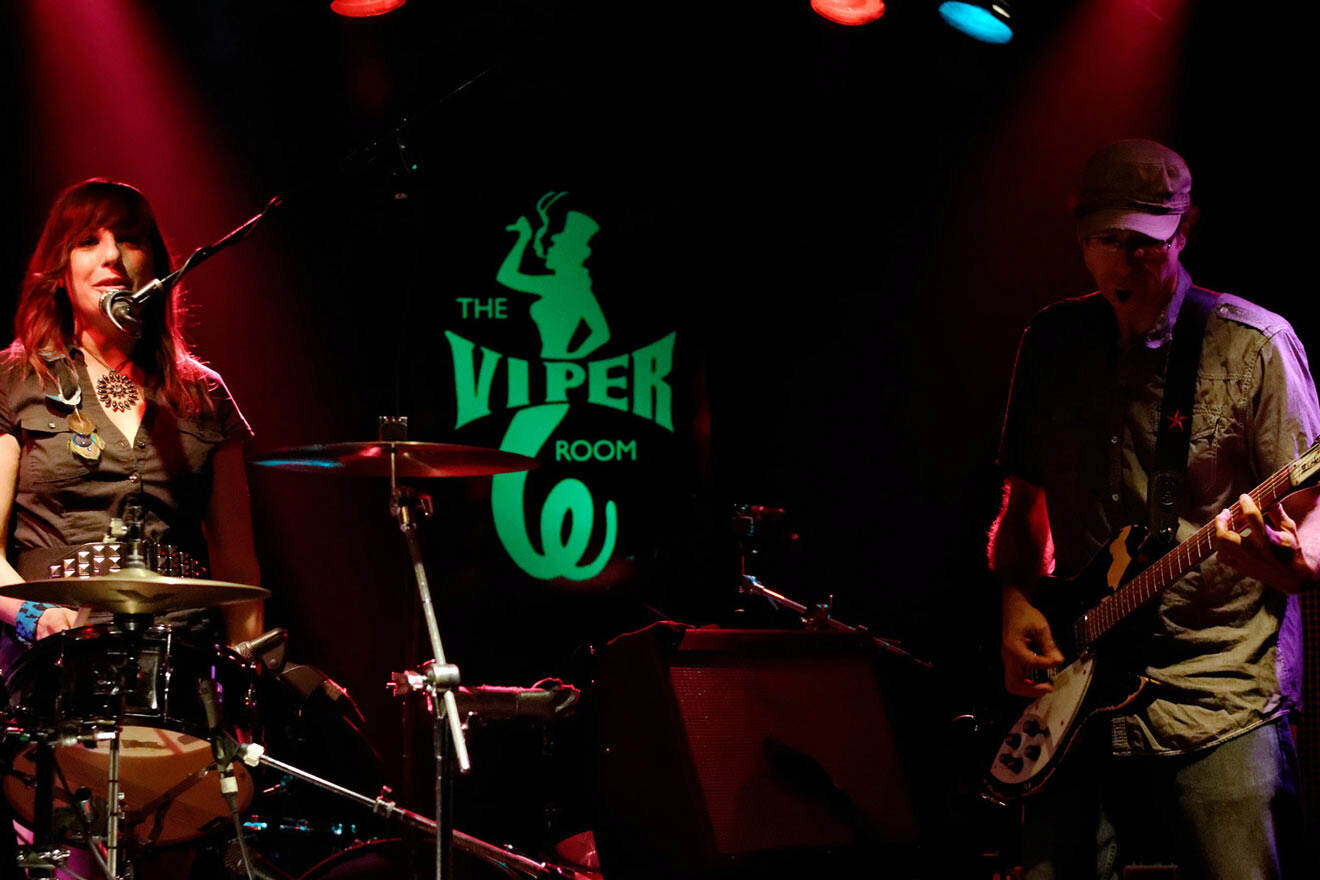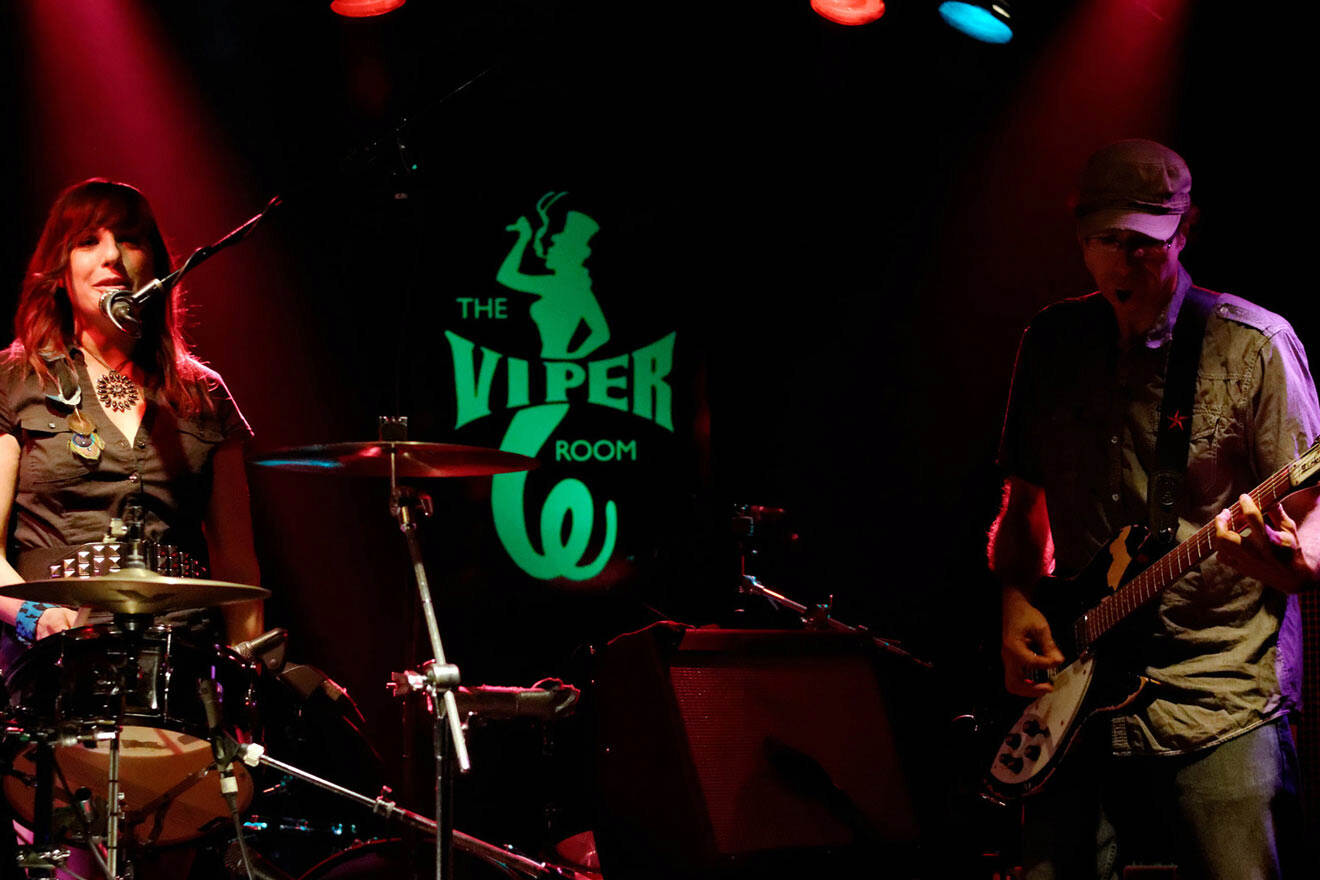 Here on Sunset Boulevard in West Hollywood, you'll find the trendiest nightclubs, bars, and concert venues in the city. LA's hippest and trendiest celebs' parties happen on the Sunset Strip, making places like The Viper Room and Laugh Factory recognizable names and often difficult venues to get into.
But the strip isn't all late-night shenanigans! I suggest visiting during the daytime for shopping at Sunset Plaza or checking out LA's largest independent book shop Book Soup.
PRO TIP: If you're hungry, scope out Pink's Hot Dogs in West Hollywood for the meanest dog you've ever tried!
14. Explore Runyon Canyon Park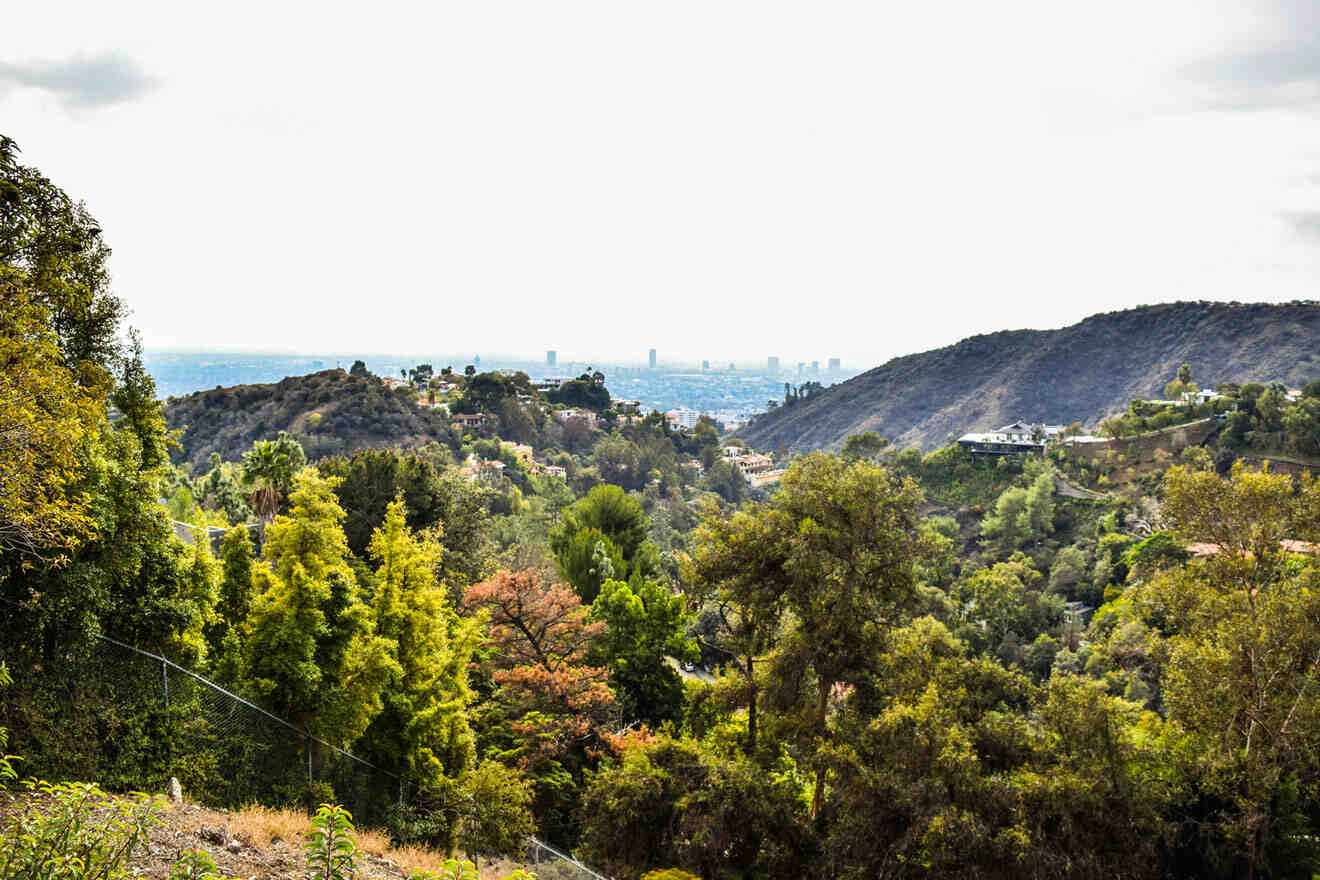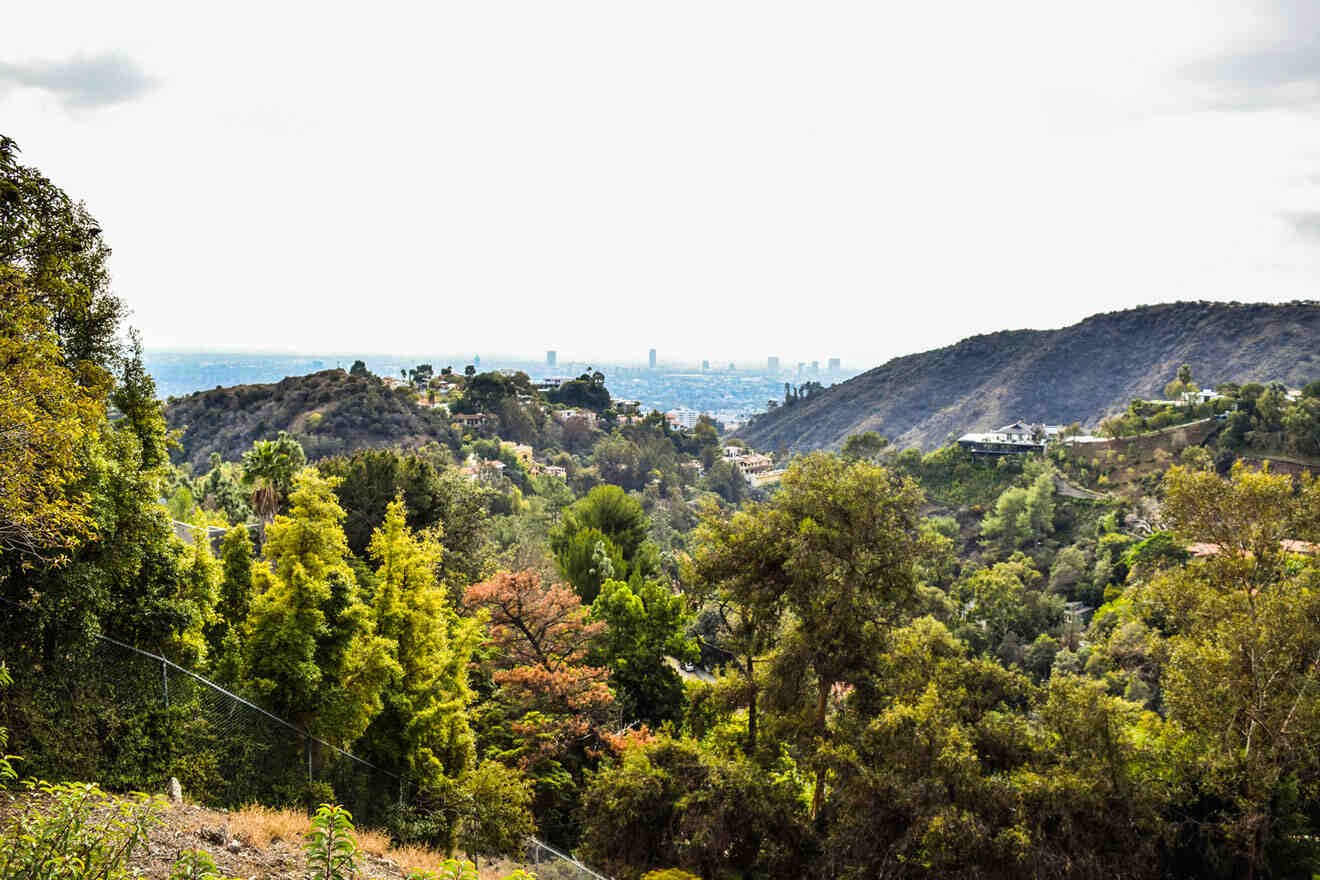 Towering high above Hollywood, CA, and downtown Los Angeles is the breathtaking Runyon Canyon Park which is a 160-acre (c. 65 hectares) park filled with trails, rock climbing, and some of the best views in the city (look for the majestic Santa Monica Mountains in the distance).
Popular with tourists, residents, and even resident movie stars, these trails are heavily trodden. Come prepared to people-watch and share the great outdoors with others around you, and you'll have a blast!
PRO TIP: This park is dog-friendly, so bring your furry friend! Just don't forget some water for those hot, sunny days with little shade.
PRICE: FREE
15. Tour the famous Dolby Theatre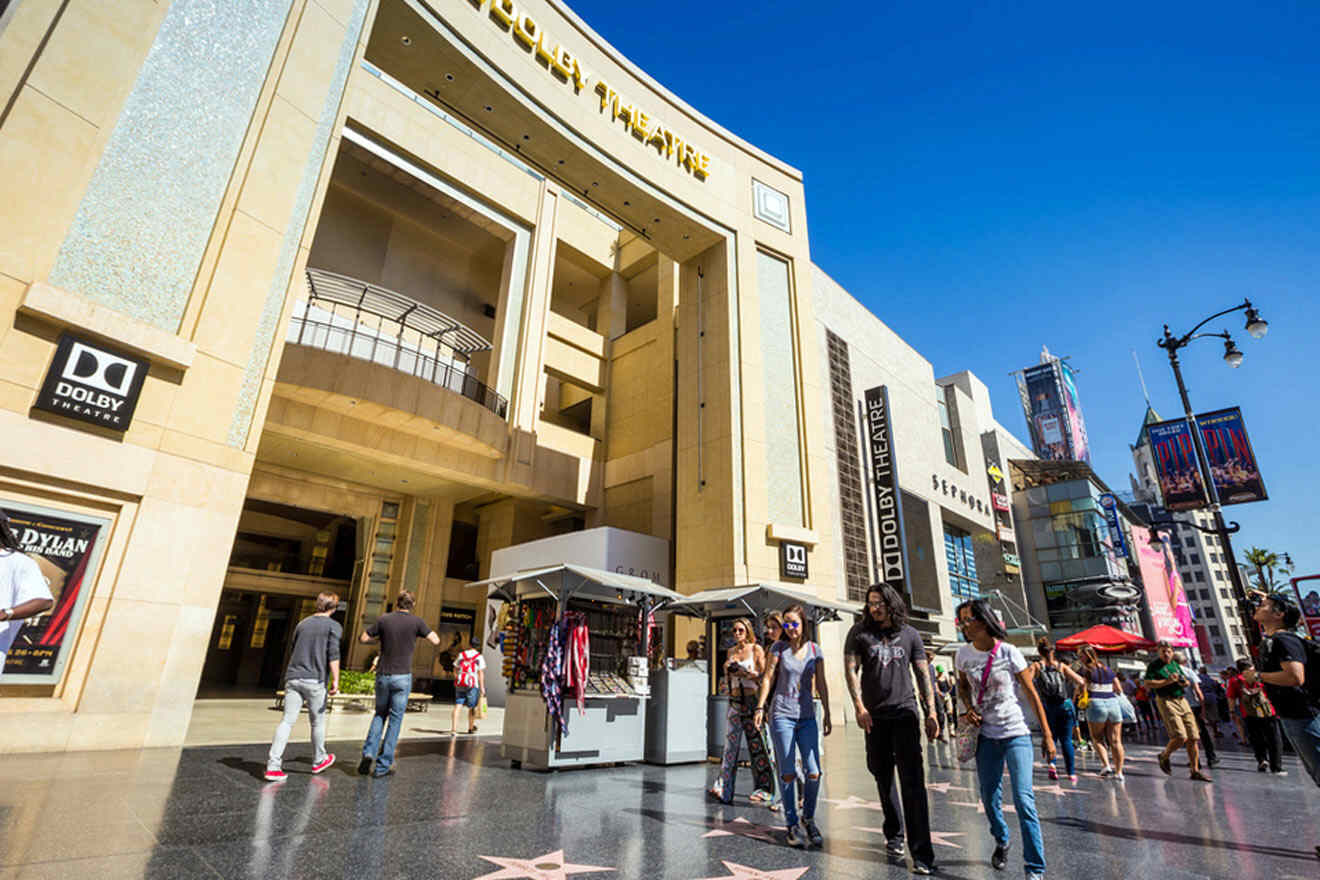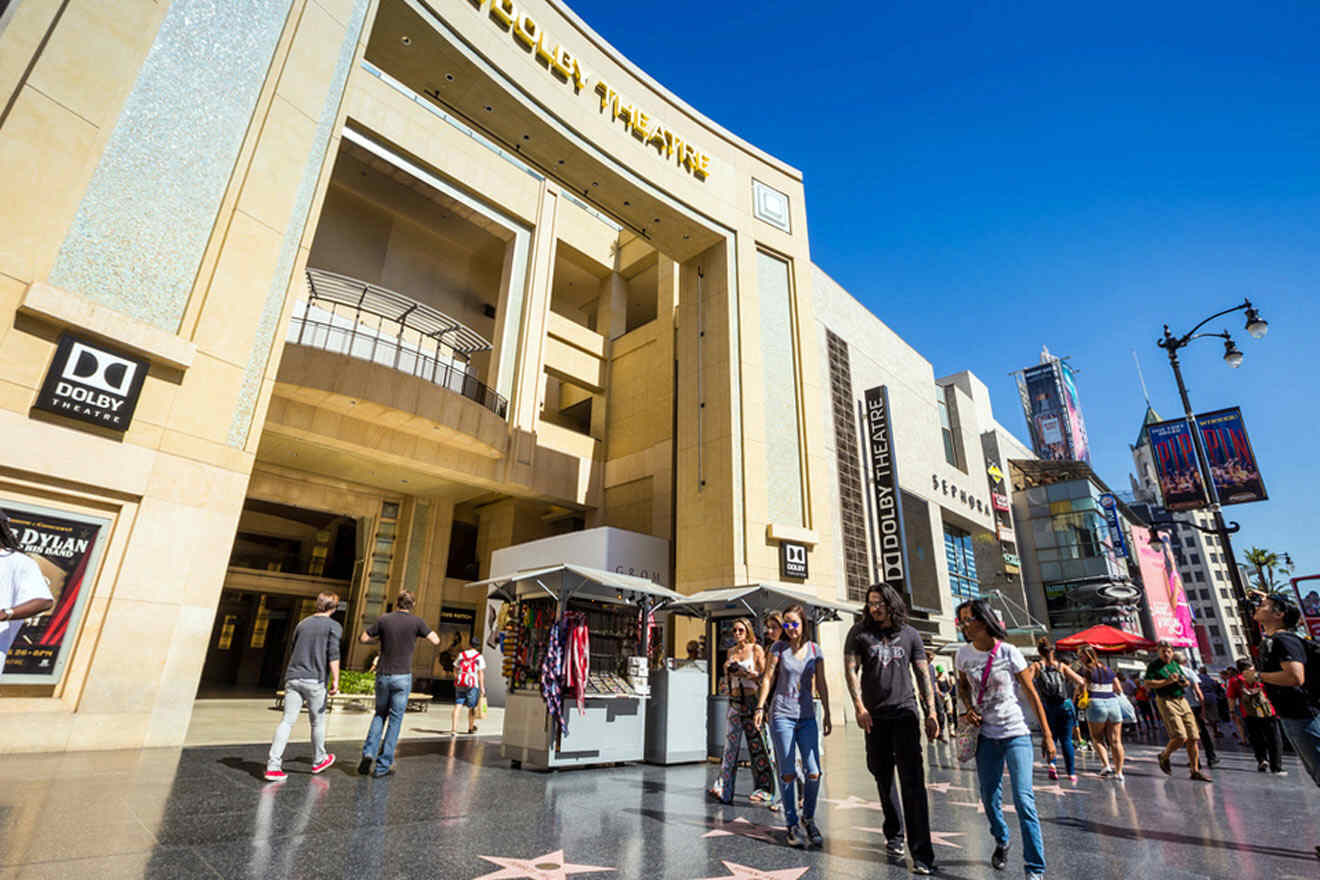 Gold statues, extravagant gowns, and million-dollar smiles meet up once a year on the red carpet of the Dolby Theatre for the prestigious Academy Awards, the most important night in cinema. Situated within Ovation Hollywood, it's easy to grab some photos, a bite to eat, and some great souvenirs all in one place.
PRO TIP: Go inside for a tour! Splurge on admission and take the guided tour for a behind-the-scenes peek at the Oscars.
HACK: Snab a photo of the iconic Hollywood Sign from the upper walkways lining the outside of the theater.
PRICE: US$30 per person
16. Observe movie magic at the Hollywood Museum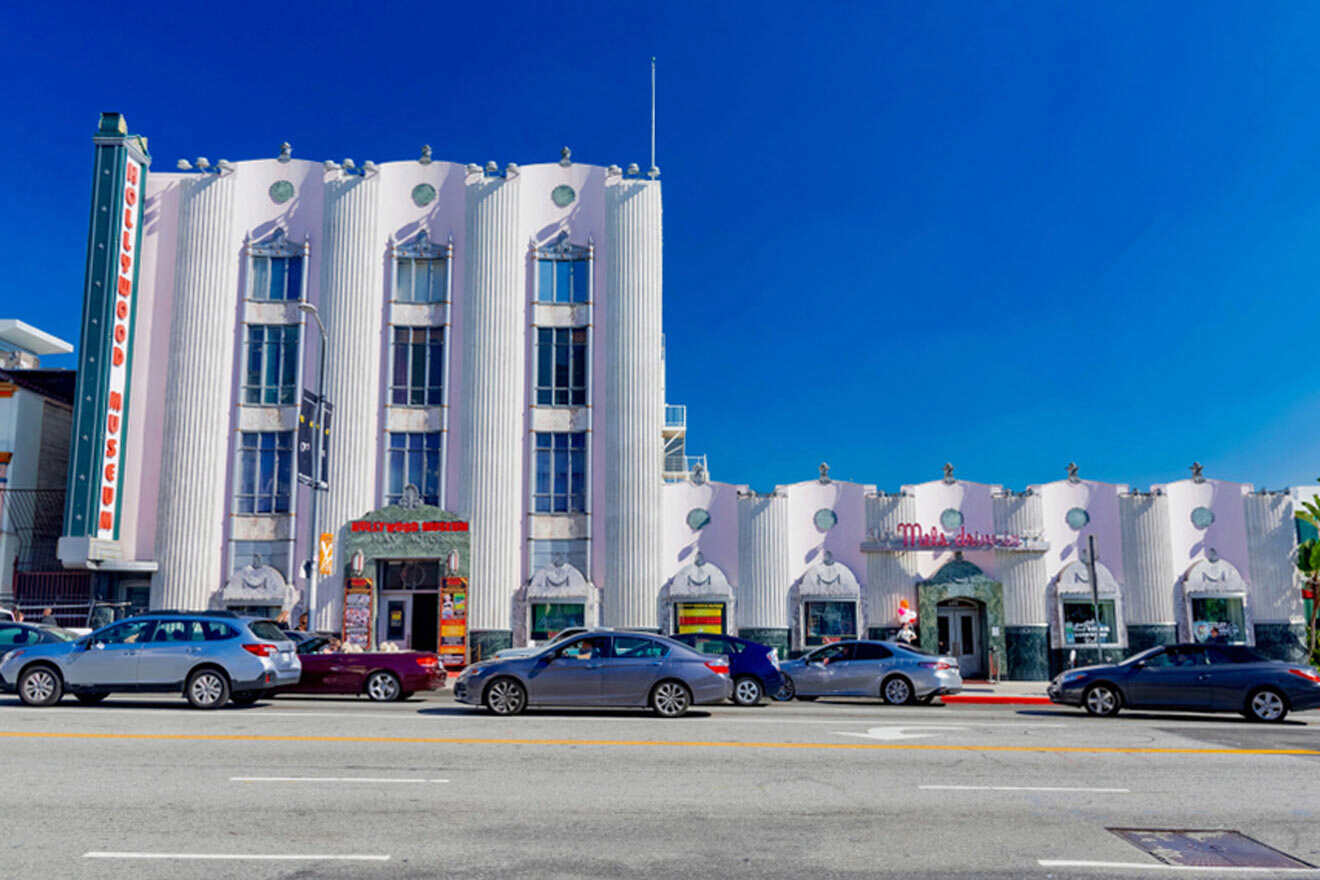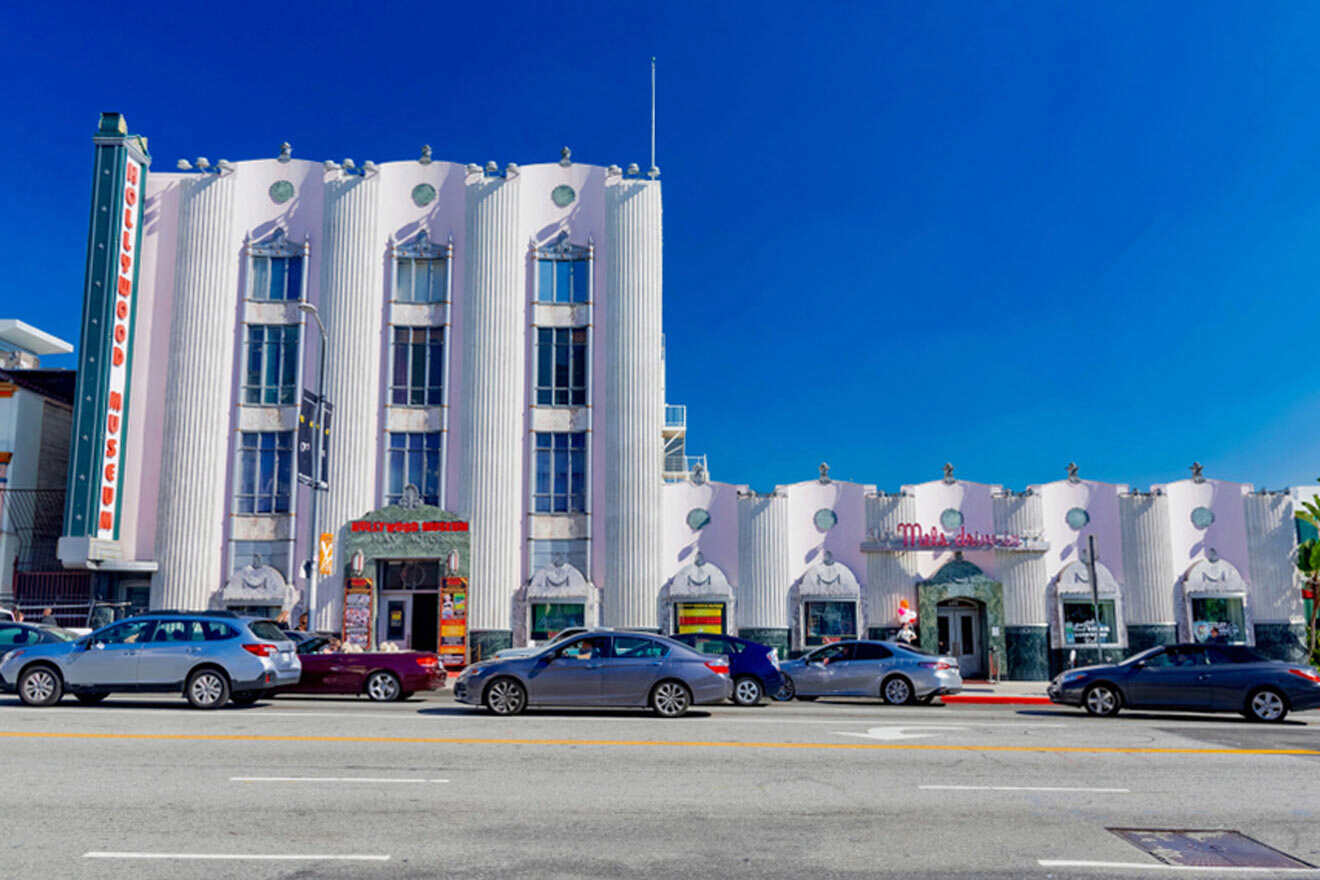 Hollywood Museum is one of the most popular Hollywood attractions housing over 10,000 pieces of movie memorabilia. With countless movies showcased and preserved, you are sure to recognize props, photos, and costumes from your favorite films.
Imagine staring down the dark prison hallway that led Jodie Foster's character to Hanibal Lecter in Silence of the Lambs or coming up close and personal with Sylvester Stallone's boxing robe from Rocky. This museum is located near many of the popular attractions, like the Walk of Fame.
PRICE: US$15 per person
17. Go back in time to El Capitan Theatre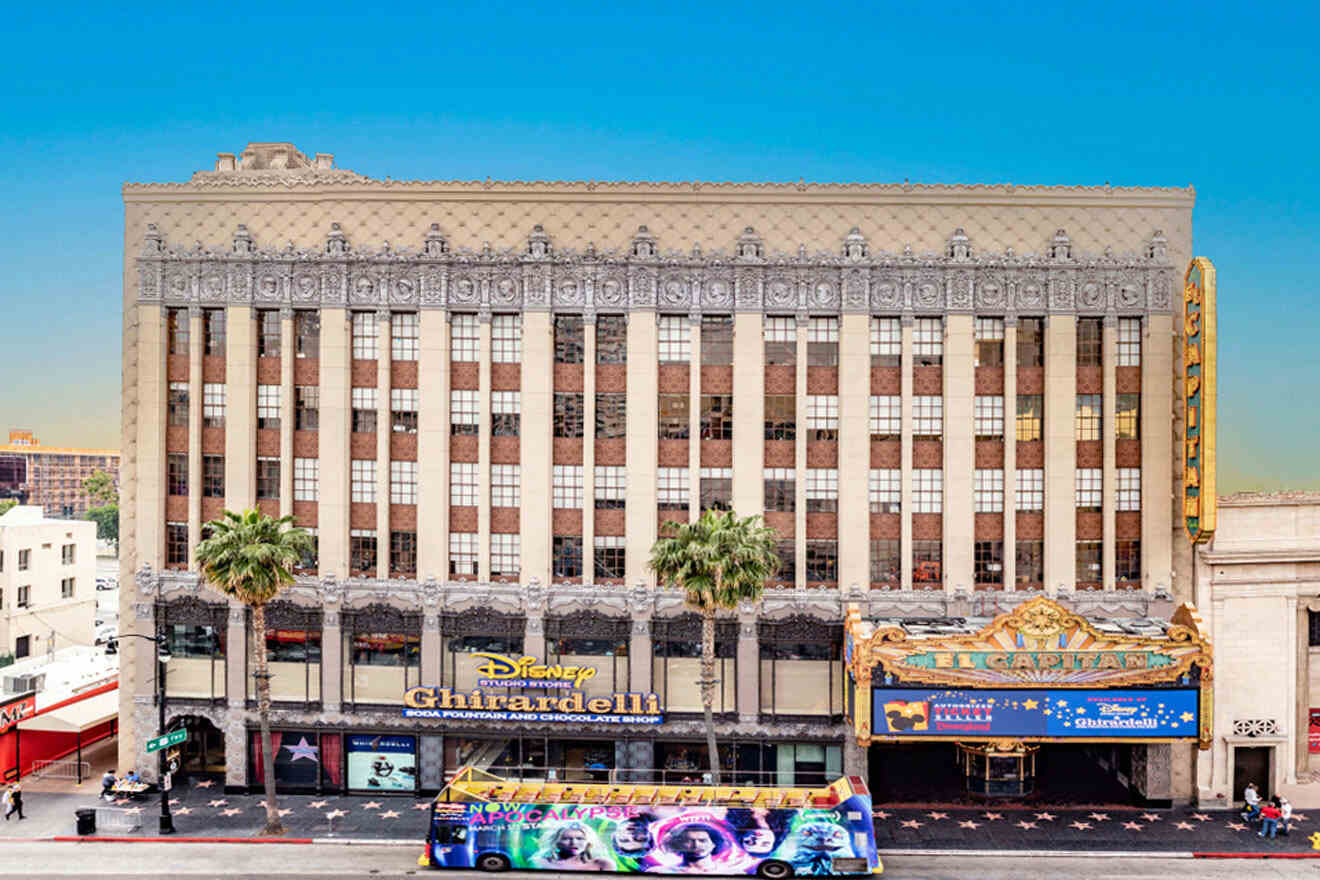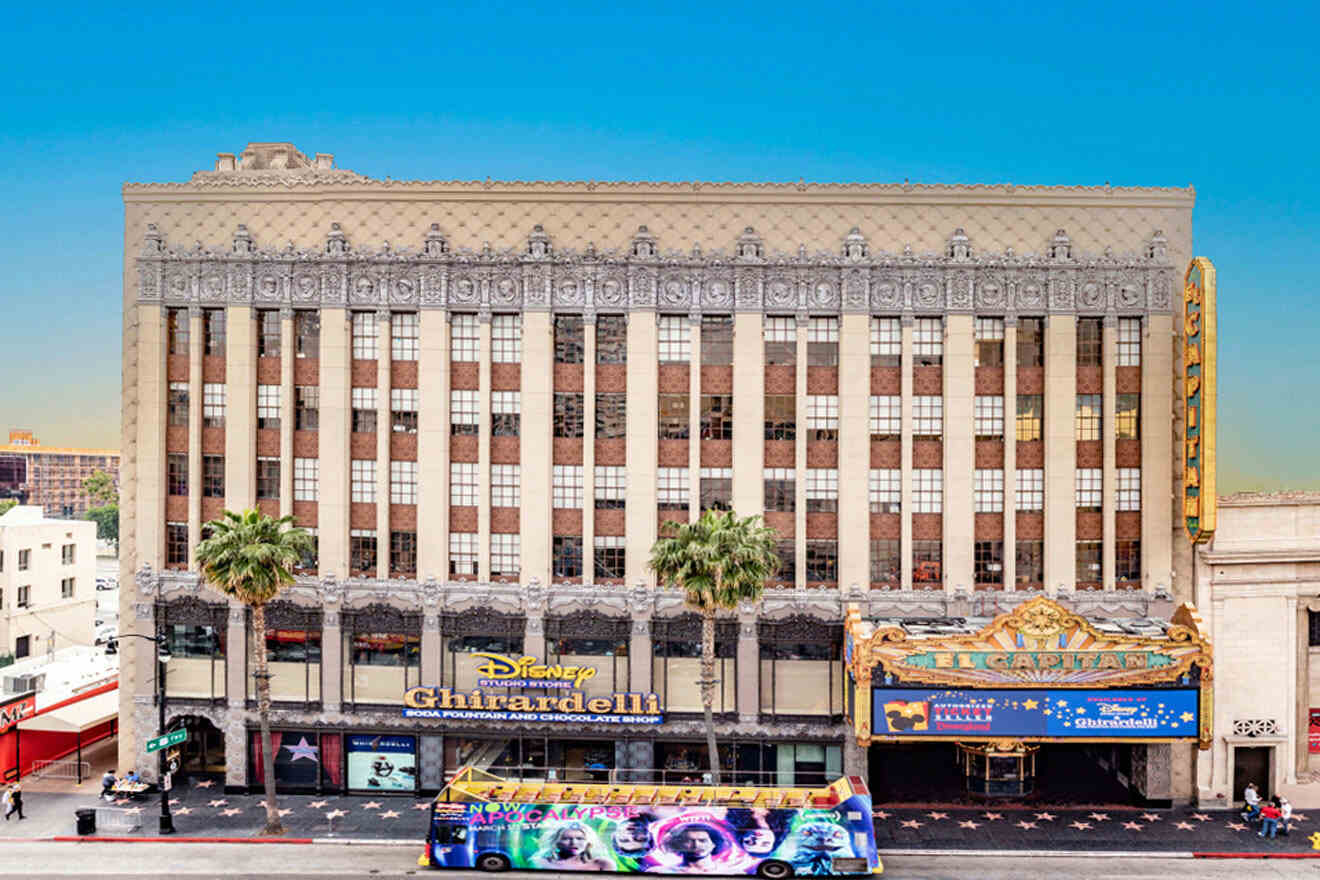 Before each movie screening, viewers are treated to music from the Mighty Wurlitzer Theater organ.
This stunning marvel of Spanish Colonial architecture adorned in amazing fabrics and vibrant color was once home to a live theater production but was converted to a working movie theater in 1941.
El Capitan is famously known for hosting the premiere of Orson Welles' controversial film Citizen Kane and is a short walk away from all of Hollywood's attractions. Pop in for a modern movie in the home of your favorite classic films.
PRICE: US$25 for adults
18. Lay down a new track at the Capitol Records building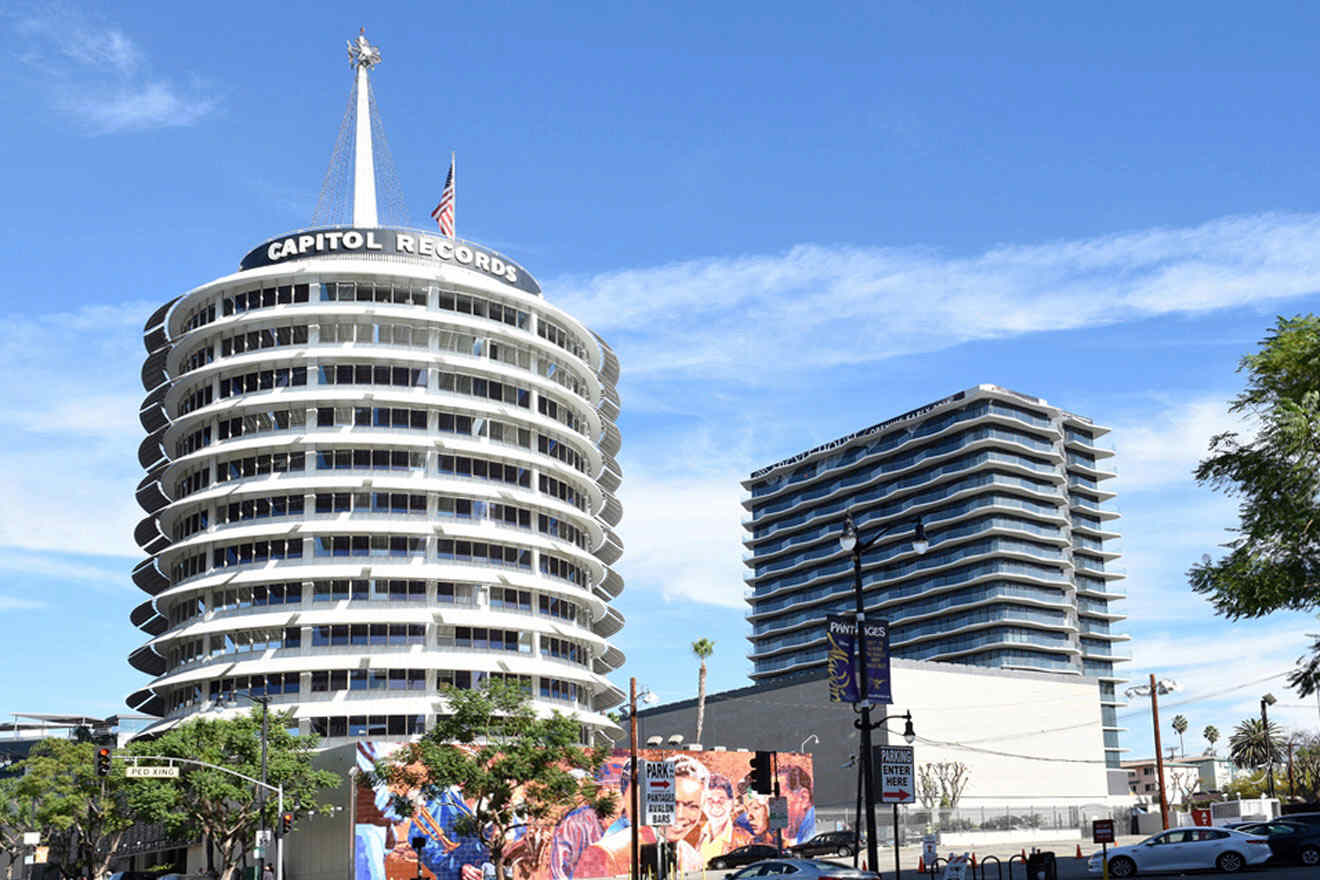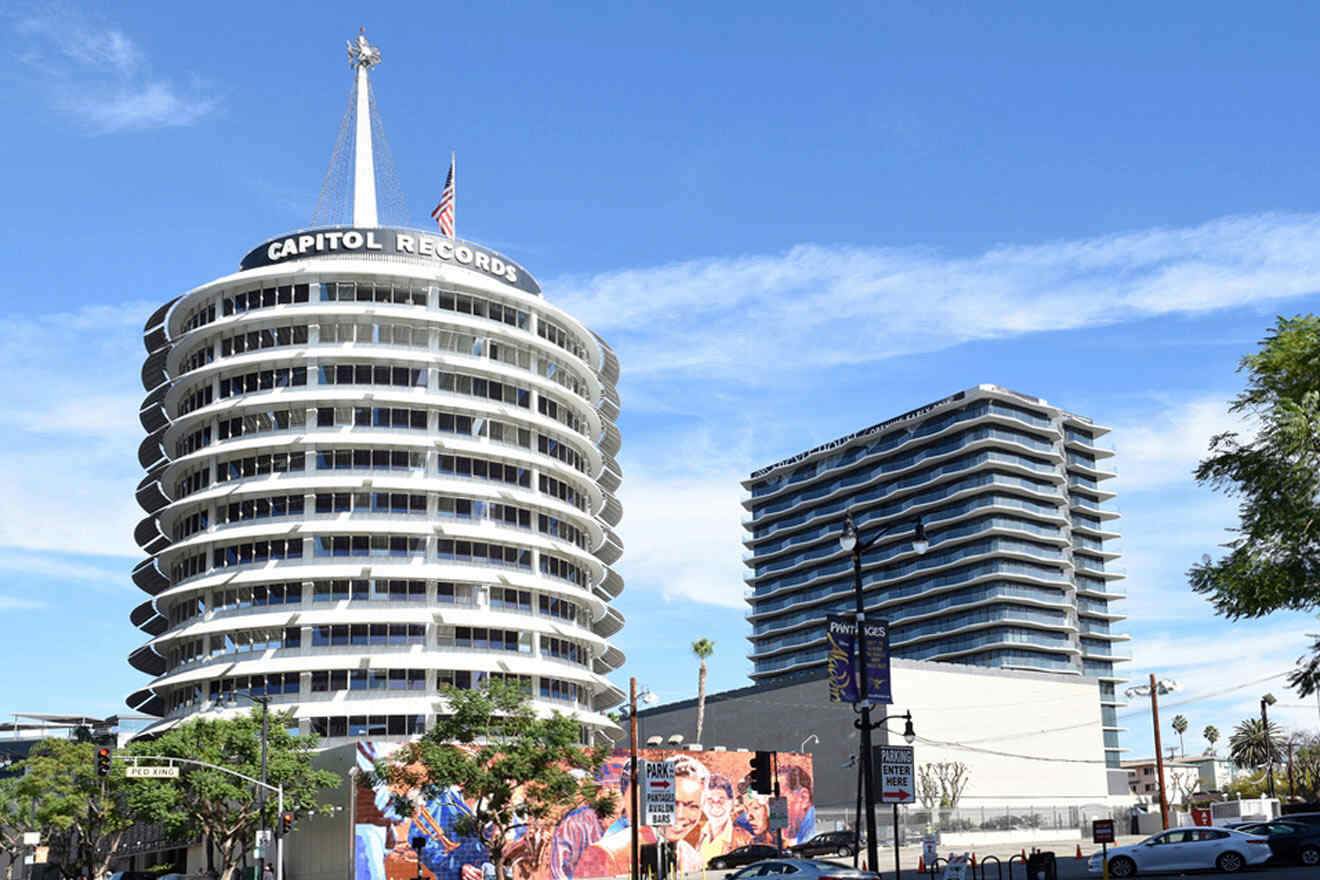 Constructed in 1956 as the world's first circular office building.
When it comes to things to do in Hollywood, sometimes the photo ops are just as cool as the theme parks. Sitting on the corner of Hollywood Boulevard and Vine Street, Capitol Records has one of the most interesting, show-stopping designs I've ever seen.
It towers above and was designed to look like a stack of records! Famous musicians like Frank Sinatra, The Beatles, and many more recorded many of music's most iconic songs right here in this studio. Today, this building is a working office, so unfortunately, no visitors are allowed inside.
19. Join the dig at La Brea Tar Pits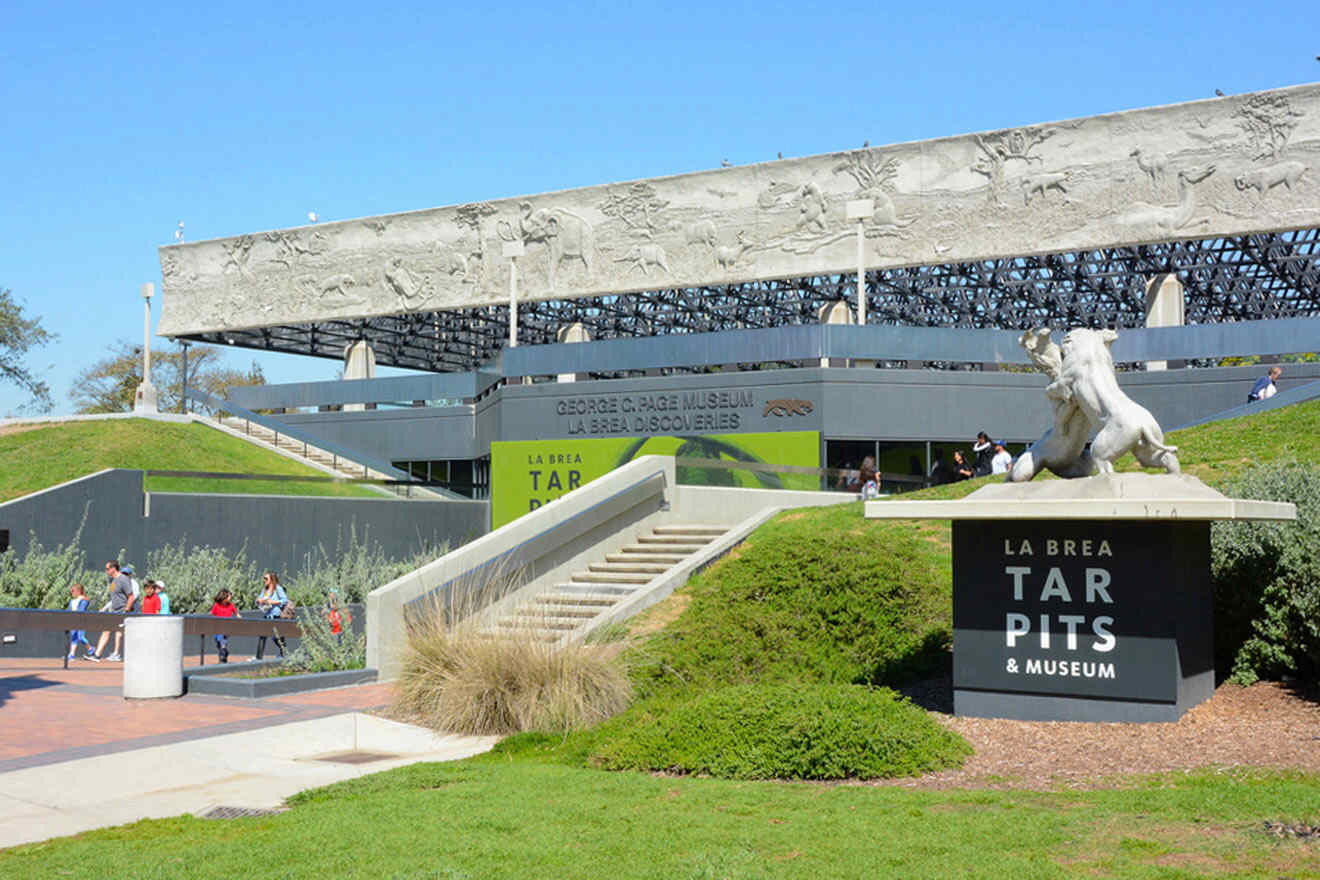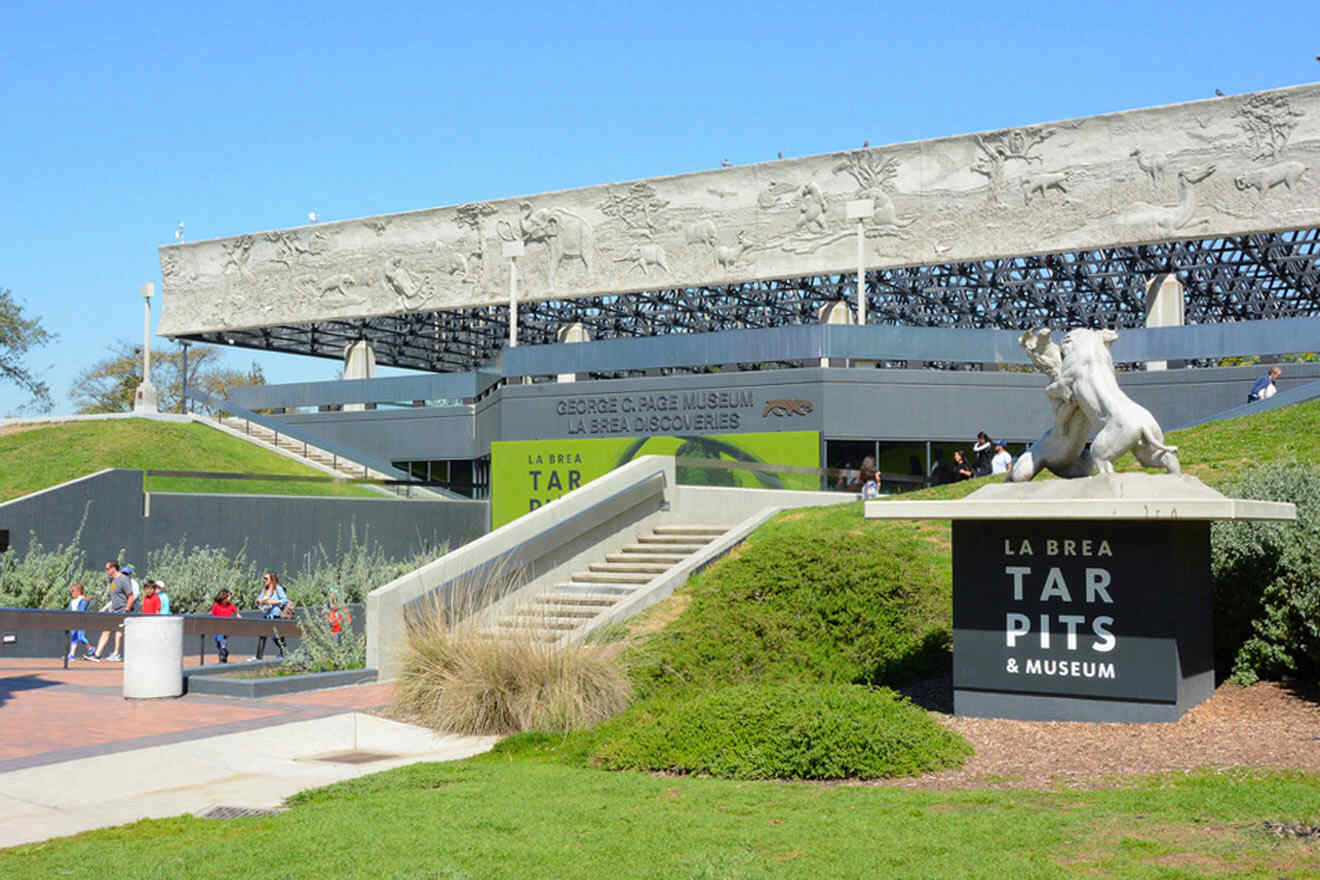 Travel back in time and observe some of the most concentrated locales for preserved fossils on planet Earth! La Brea Tar Pits, brea meaning tar in Spanish, was formed from oil bubbling up from deep within the ground and bubbling over, bringing with it millions of perfectly preserved animal fossils from centuries ago.
While it is free to walk the grounds, I highly recommend purchasing admission to the museum, where you will see recreations of the fossils they've pulled from the pits over 3.5 million fossils, to be more precise!
PRICE: FREE to enter the grounds; museum admission US$15 for adults
20. Monkey around at the LA Zoo and Botanical Gardens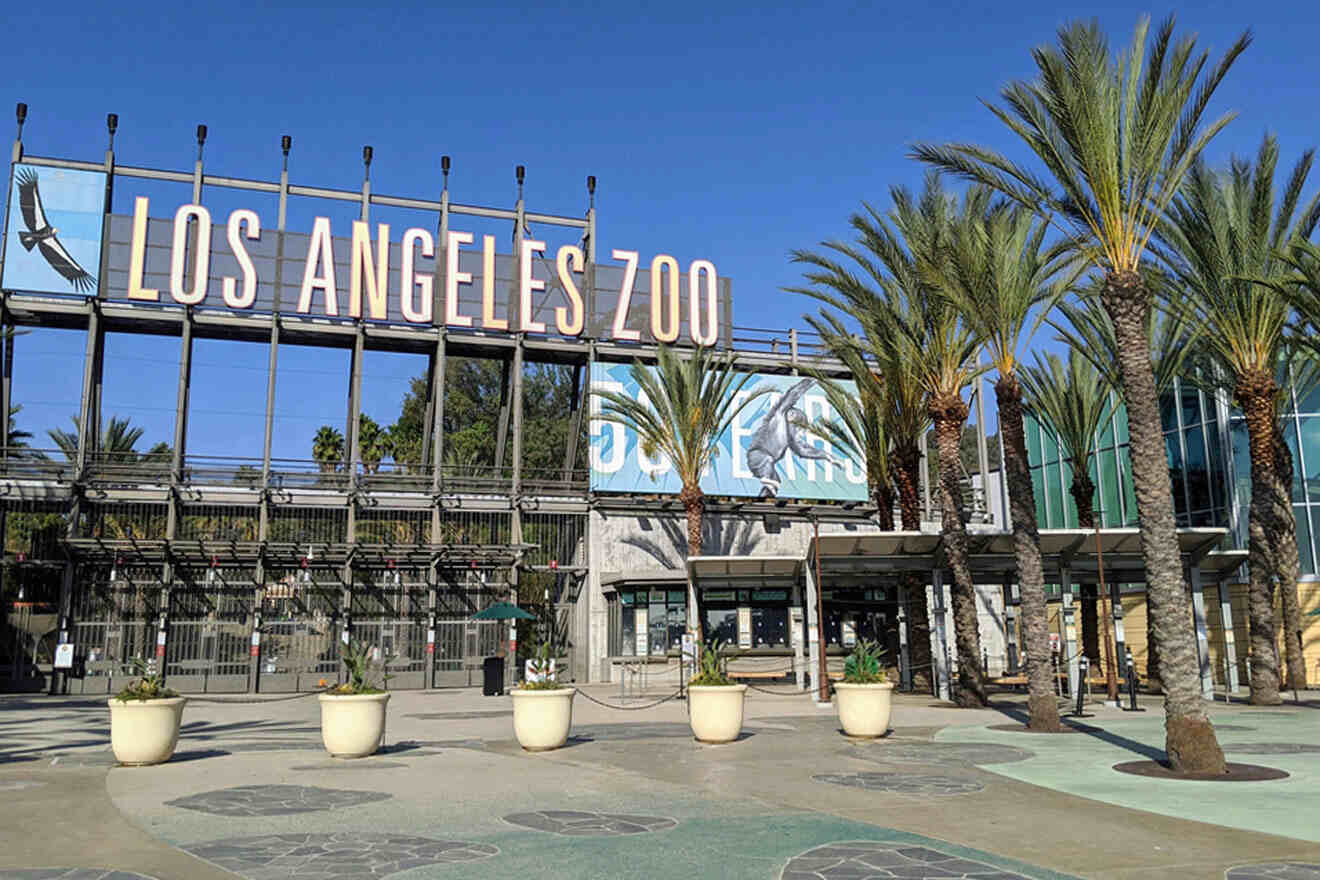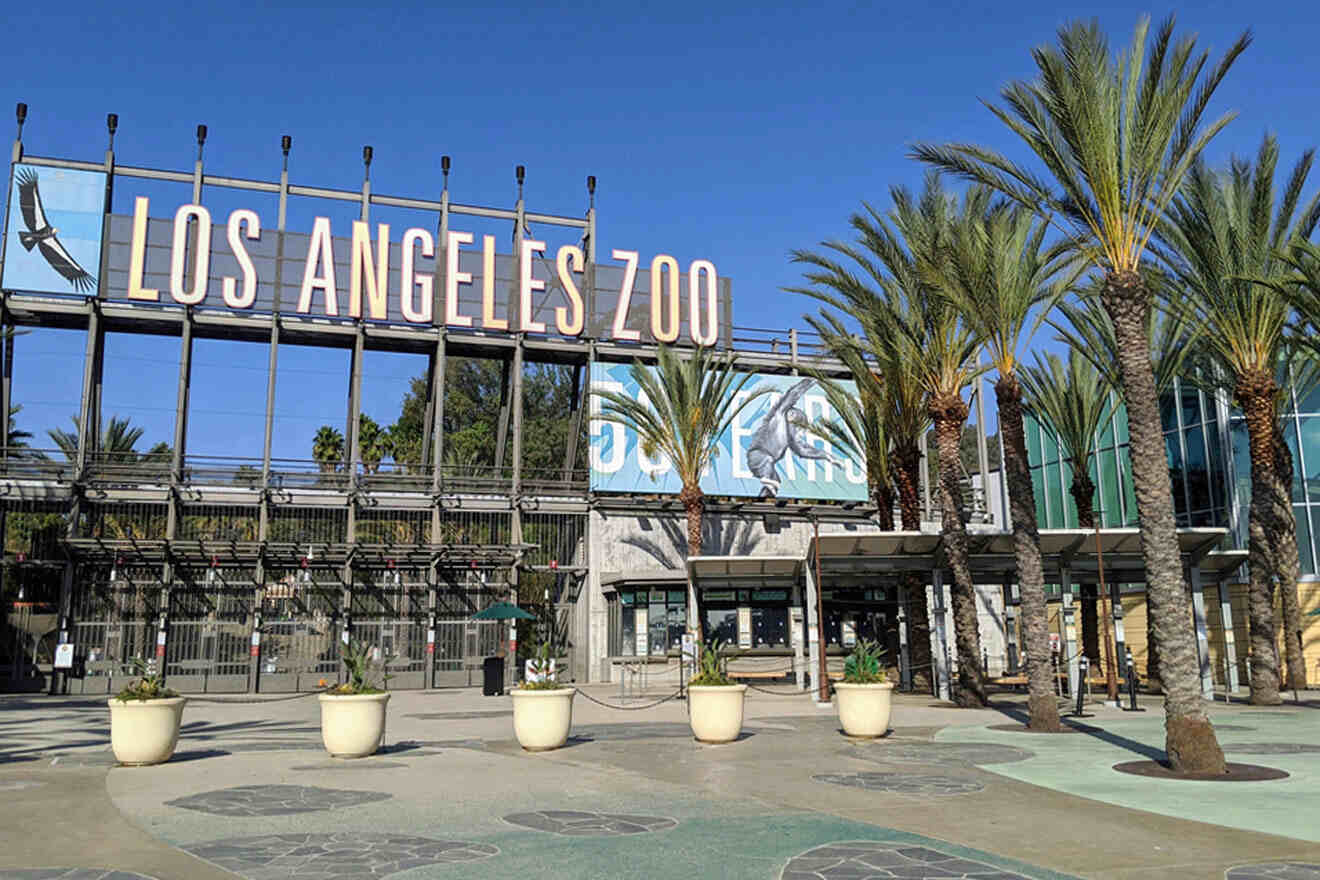 Being from San Diego, I'm a bit of a zoo snob, as we have one of the best in the nation with that said, I was blown away by my visit to the LA Zoo and Botanical Gardens.
I'm surprised and glad to say although small, it is definitely mighty, with plenty to see and do. Many of the fan favorites are present: lions, tigers, and bears, oh my! The LA Zoo is manageable with comfy walking shoes, a hat, and water. I would suggest allotting at least 2 hours to get the most out of your experience.
PRO TIP: Feedings are the best times to see the animals active! Call ahead or check the zoo website for updates on timing.
PRICE: US$22 per person
21. Test your perception at Ripley's Believe It or Not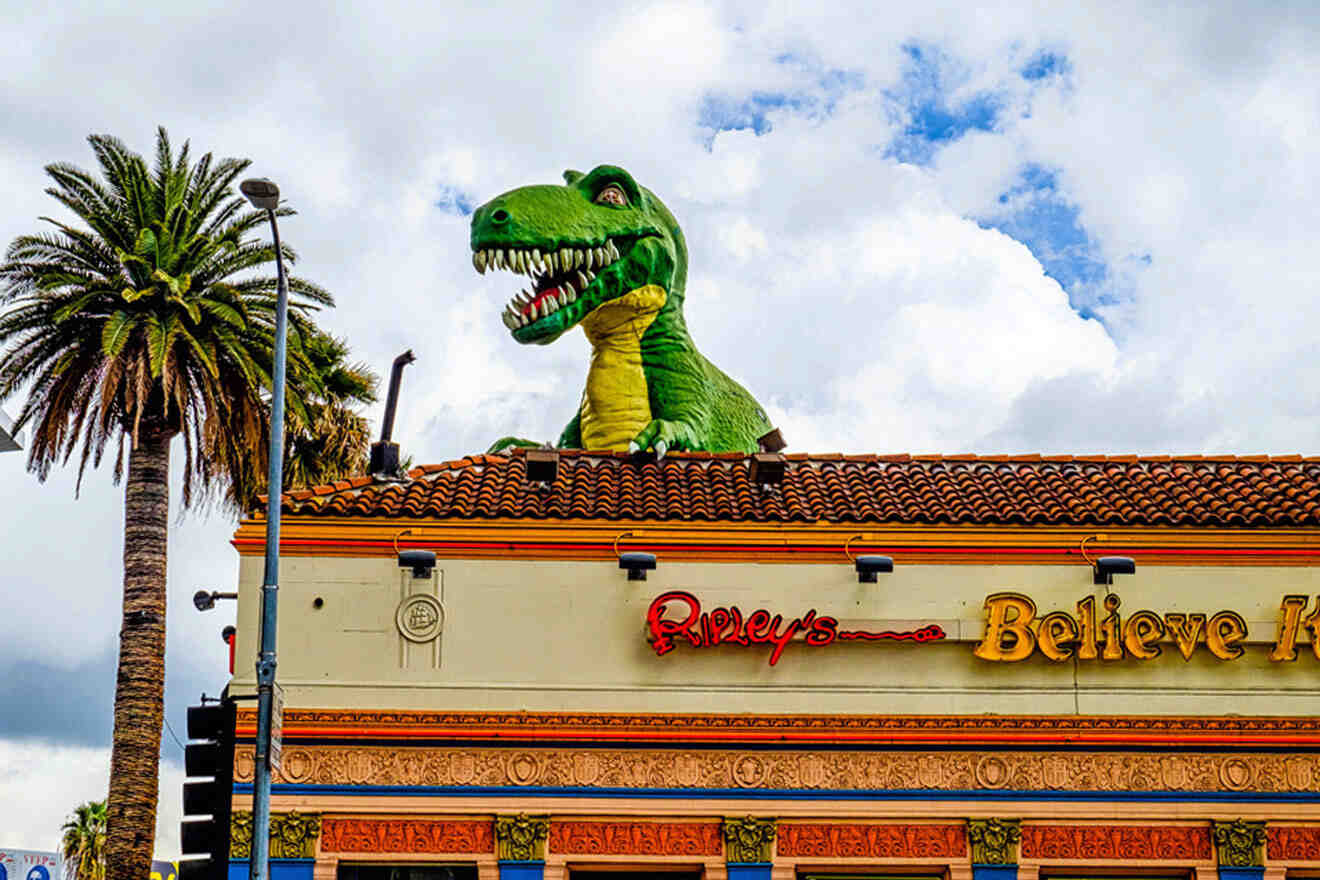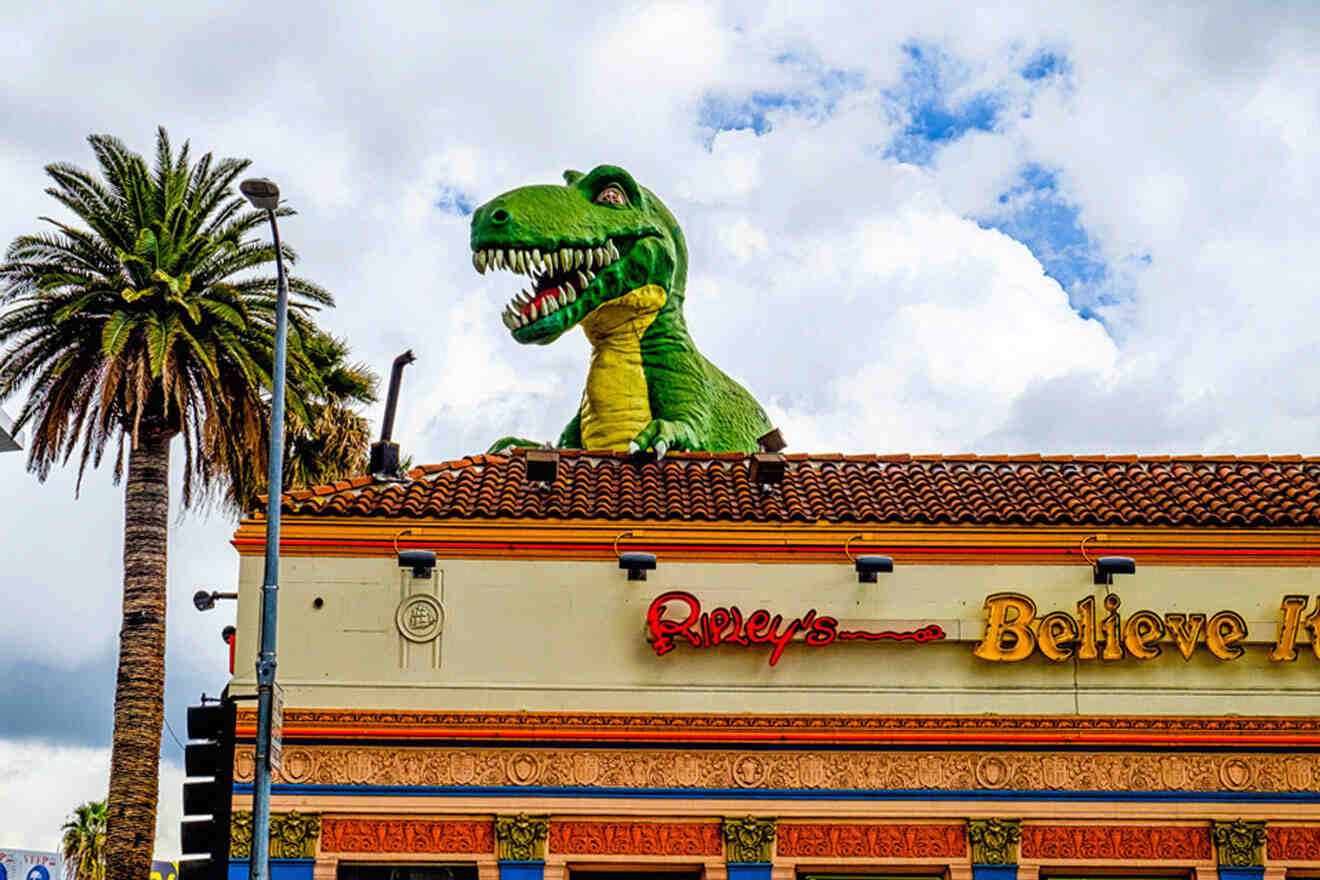 This wacky museum is fun for all ages as you immerse in the most questionable exhibits in all of Hollywood. Test your perception and sense of reality by gazing at the most incredible and unbelievable sights you've ever seen (like a shrunken human head!).
PRO TIP: Schedule this visit for later in the day. Ripley's is one of the few museums open in the evening.
PRICE: from US$26 per person
22. Explore the Hollywood Heritage Museum
An absolute must for any film enthusiast, the Hollywood Heritage Museum takes you on a journey through film and television's past. Located near the Hollywood Bowl, this small but wildly interesting stop on your itinerary is not to be missed. Don't forget to stop at their gift shop so you can keep a piece of Hollywood forever!
PRICE: US$7 per person
23. Be amazed at Guinness World Records Museum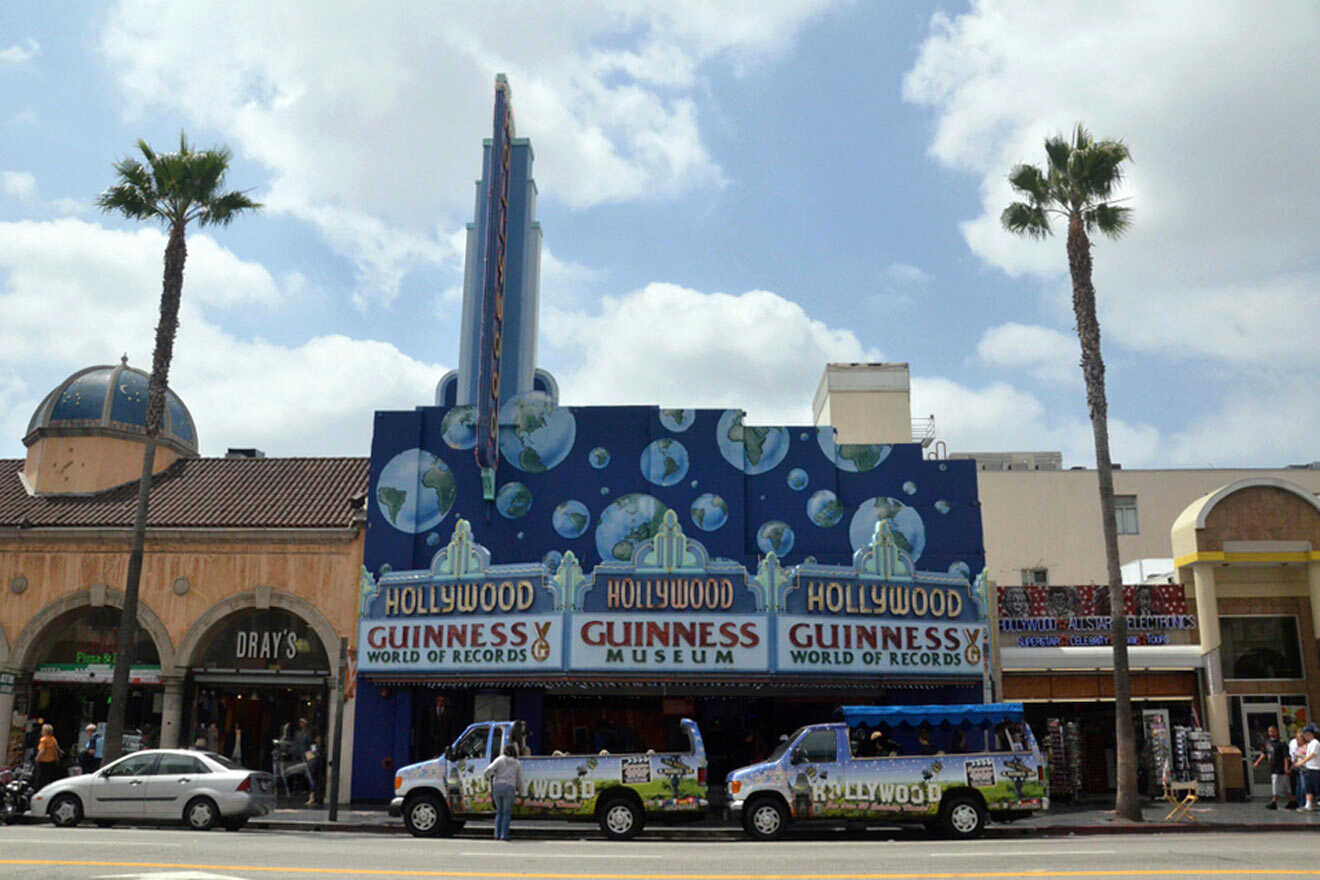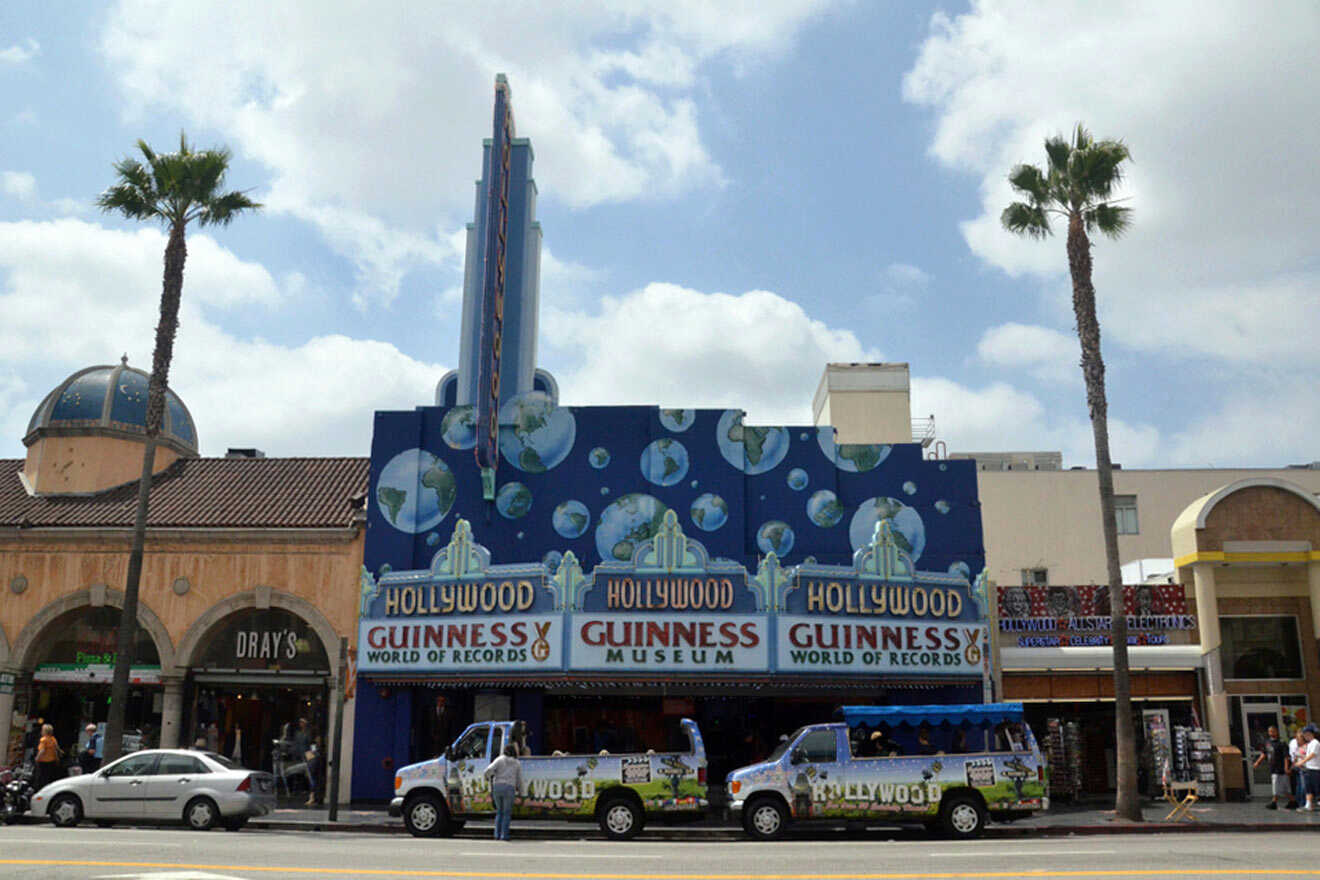 This Hollywood museum is one of a kind and definitely worth a peek. From crazy stats on the lowest limbo of all time to the largest piece of art ever made, this fun and interesting activity will leave you with conversation starters for months to come.
PRICE: from US$30 per person
24. Snap a pic at Lake Hollywood Park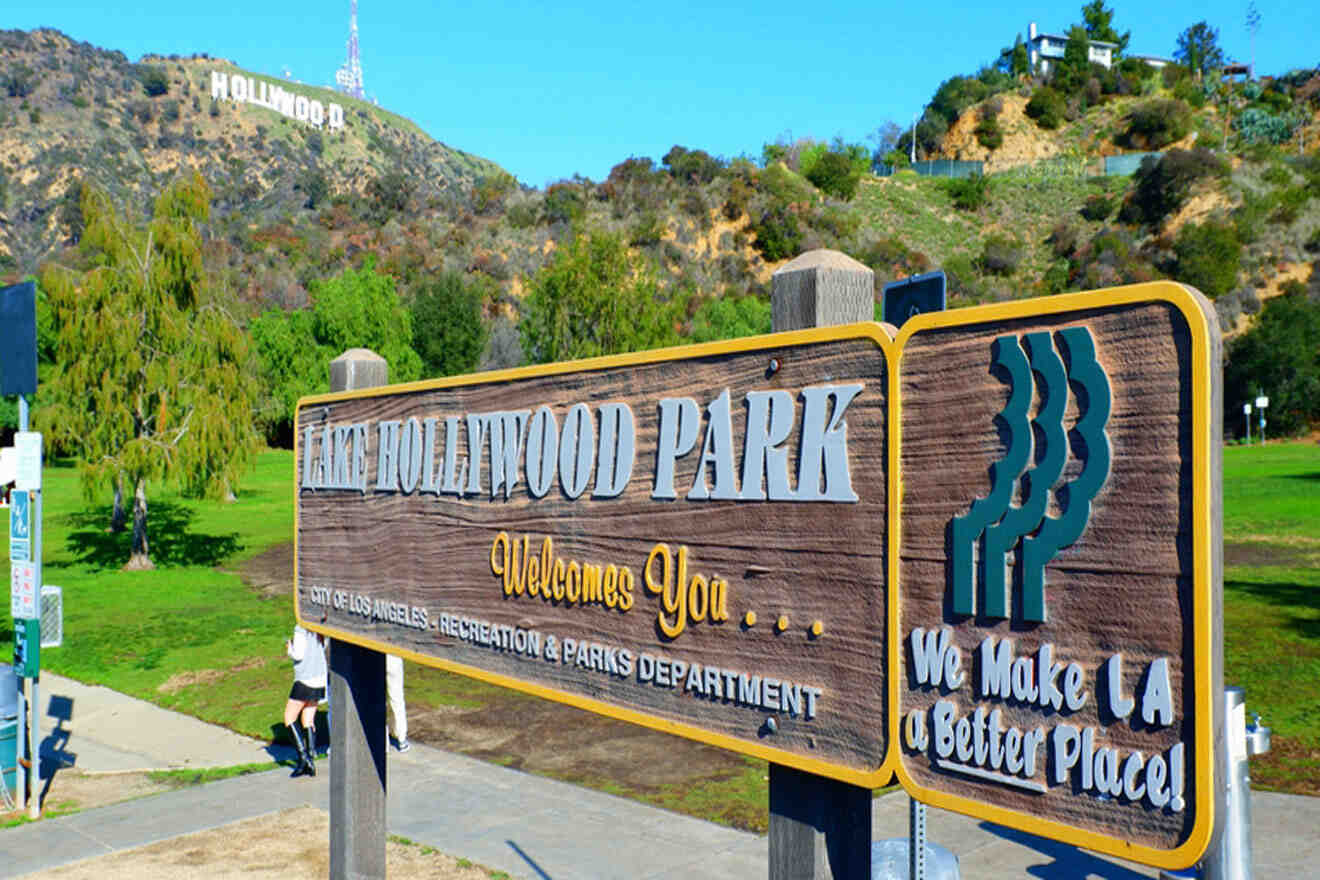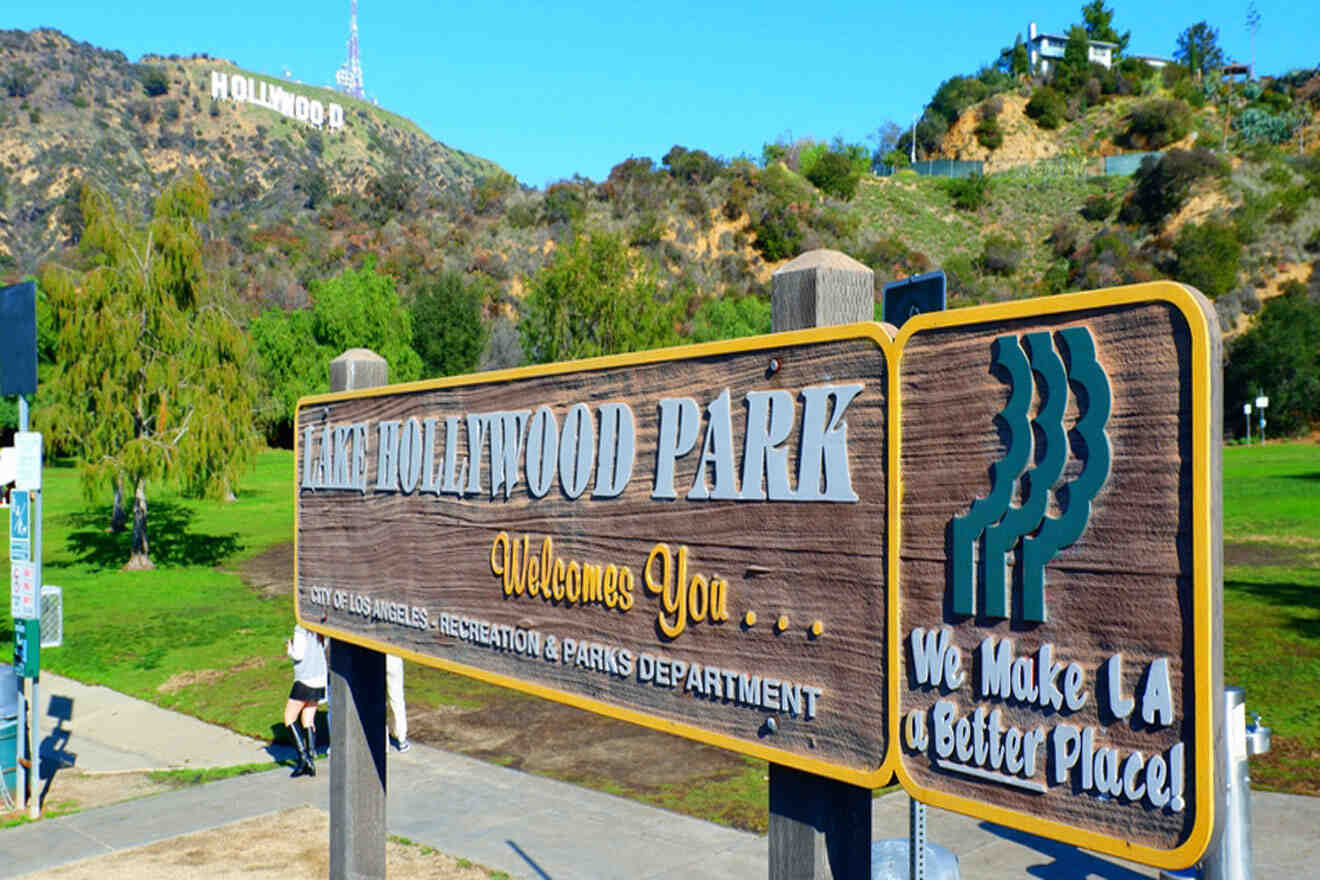 So, we all know it's a must to get the perfect photo backdrop of the Hollywood Sign to bring home from your trip. If you run out of time or just need an easy go-to for checking this one off your list, head over to Lake Hollywood Park. There is plenty of parking, and you are sure to get a glimpse of that iconic sign.
Where to stay in Hollywood
From plush, luxurious hotels to trendy boutique hideaways, I'm here to spill the tea on the top recommendations for where to rest your fabulous head in the heart of Hollywood.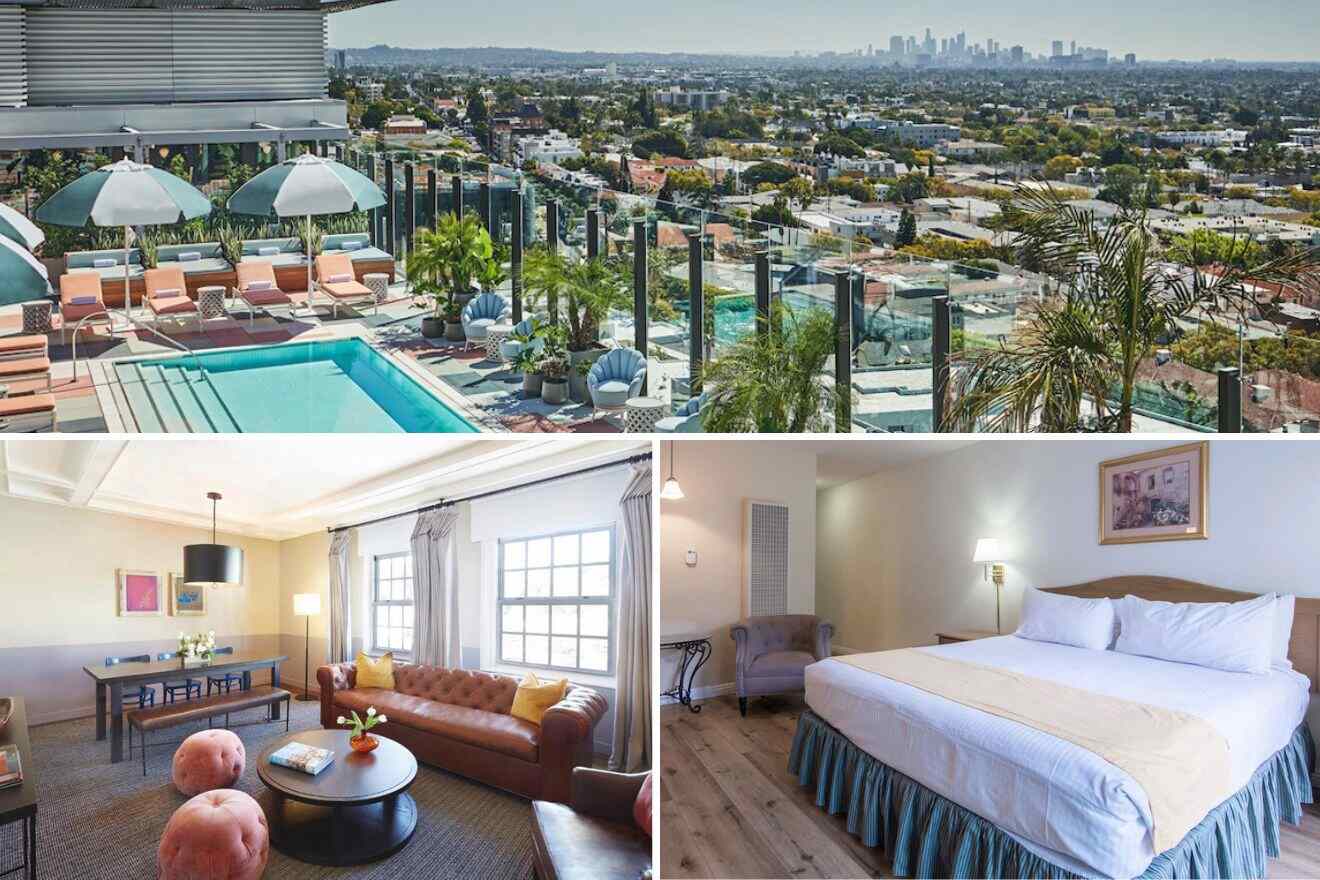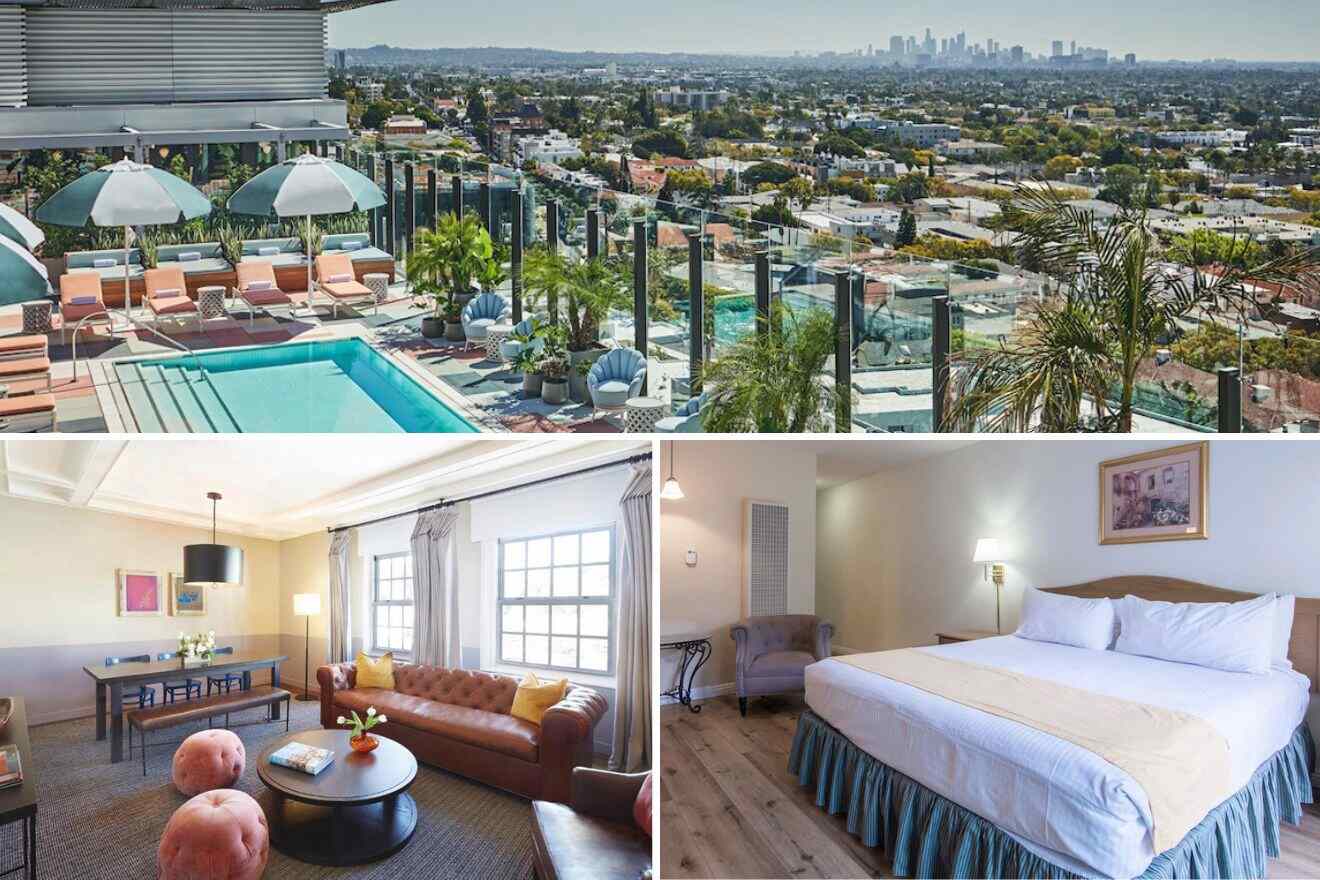 Luxury (US$400 and up)
Pendry West Hollywood – This chic and modern oasis has one of the most incredible rooftop pools with sweeping views of LA.
The Chateau Marmont – Feel like you're in town for the Academy Awards. A favorite among celebrities, this exclusive retreat offers luxurious suites with stunning views of the city, a poolside tropical oasis, and a delectable restaurant where you might just rub elbows with Hollywood's elite.
Mid-Range (US$200 – US$400)
Dream Hollywood – Swanky without being stuffy, this sleek hotel is perfect for a glamorous stay in LA close to all the things to do in Hollywood.
The Hollywood Roosevelt – This historic and elegantly decorated hotel on Hollywood Blvd. is centered smack dab in all the action, right across from many of Hollywood's best tourist attractions.
Budget (up to US$200)
The Hollywood Orchid Suites – A budget-friendly option located just steps away from Hollywood Boulevard. The spacious suites provide a home-away-from-home experience, complete with a kitchenette and separate living area.
Elaine's Hollywood Bed & Breakfast – Feel like this cozy B&B that has comfy rooms with private bathrooms and some with a terrace overlooking the lush garden. Buffet or continental breakfast is included as well as Wi-Fi.
FAQs about things to do in Hollywood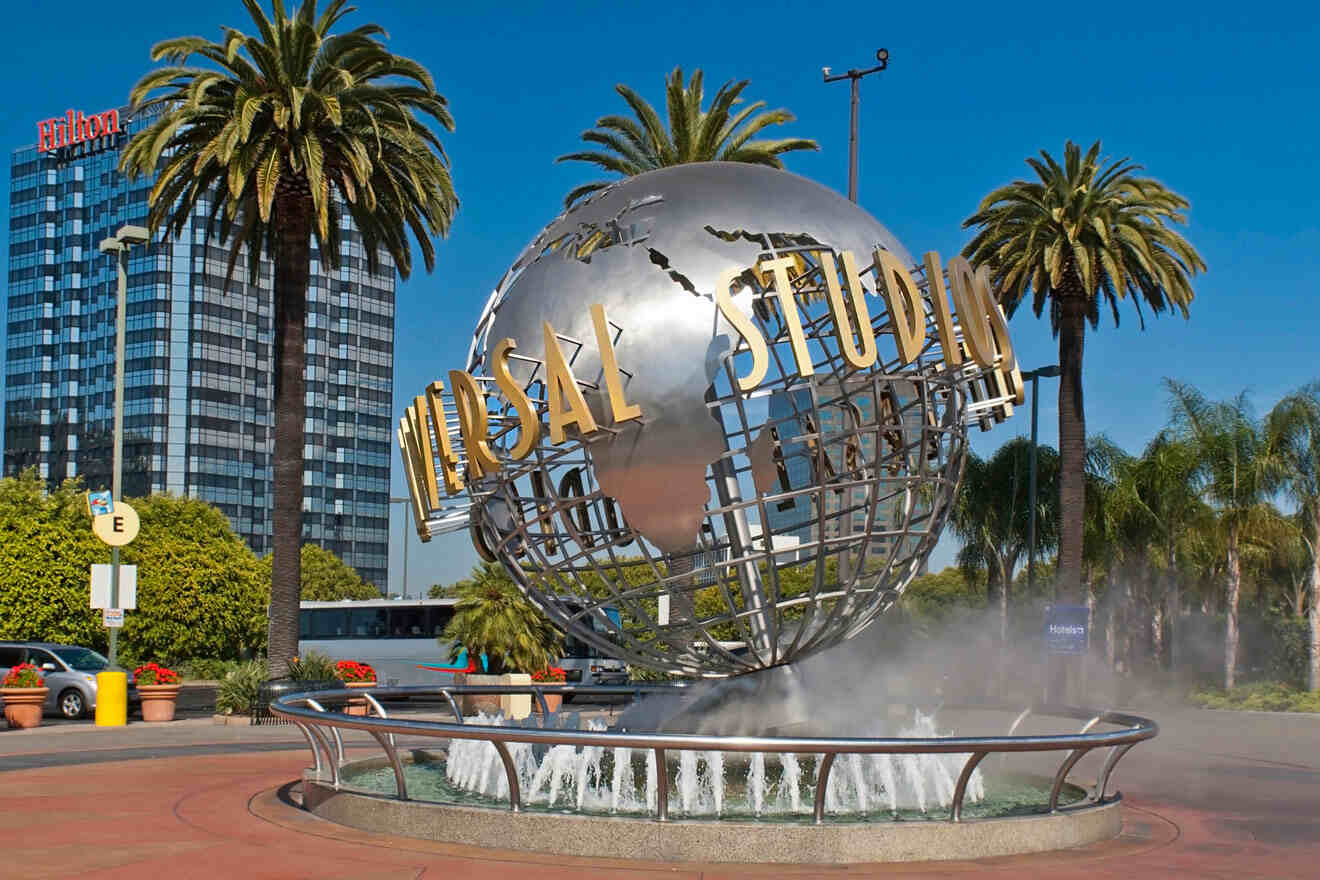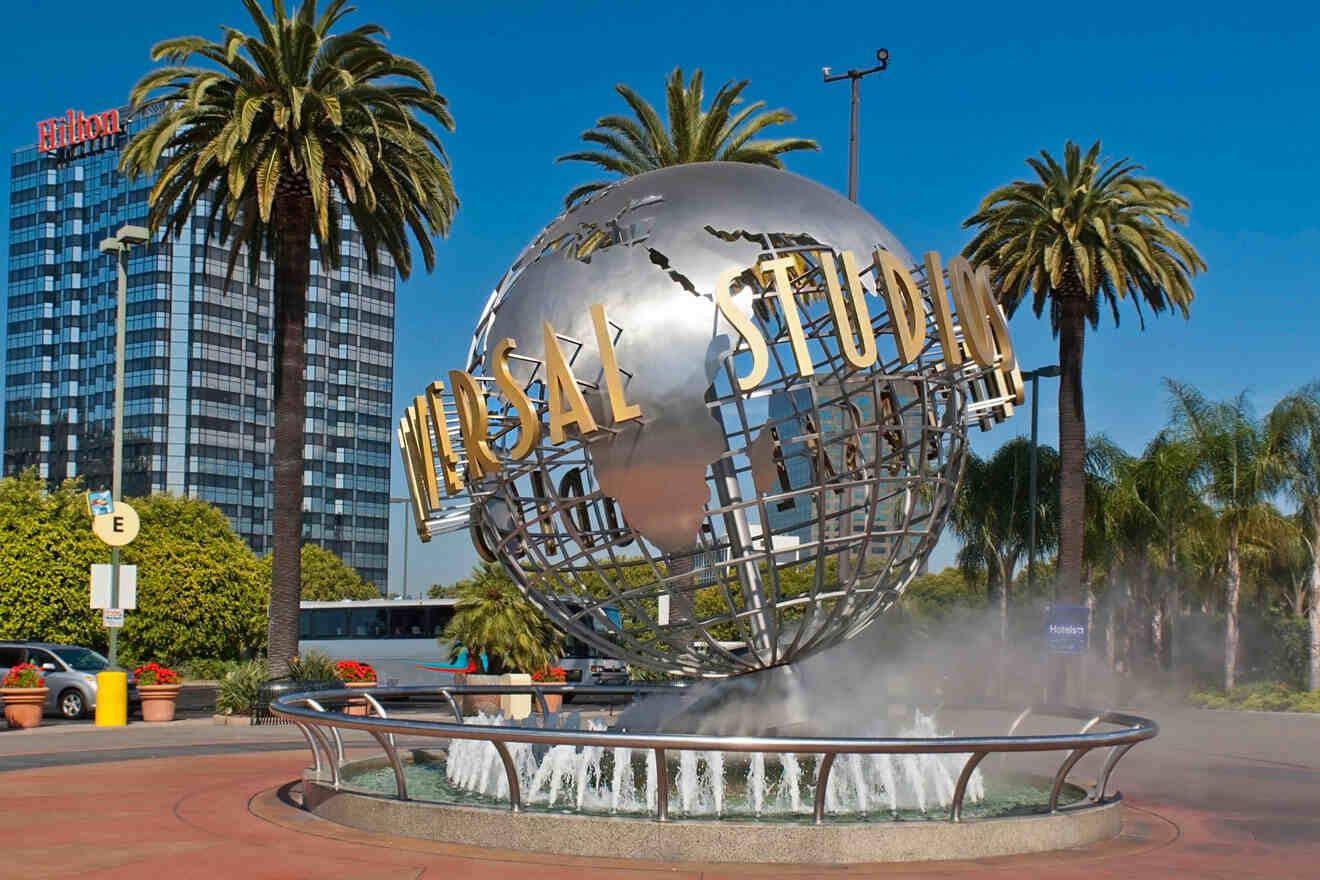 💡 What are the best things to do in LA?
My favorite tourist attractions are the Hollywood Walk of Fame along Hollywood Blvd, the Universal Studios behind-the-scenes movie experience, the Hollyhock House, or strolling along the vibrant 3rd Street Promenade.
🌟 What are the best things to do in West Hollywood?
Pose with your favorite celebs at Madame Tussauds wax museum, take a guided hike up to the iconic Hollywood Sign, or play the day away at Universal Studios.
📅 When is the best time of year to visit Hollywood?
The weather is temperate year-round, but the crowds tend to be less in the fall and springtime.
🎥 How far is Hollywood from the beach?
While only about 12 miles (c. 20 km) from the beach, with factoring in LA traffic, it could be 30 – 45 minutes.
Conclusion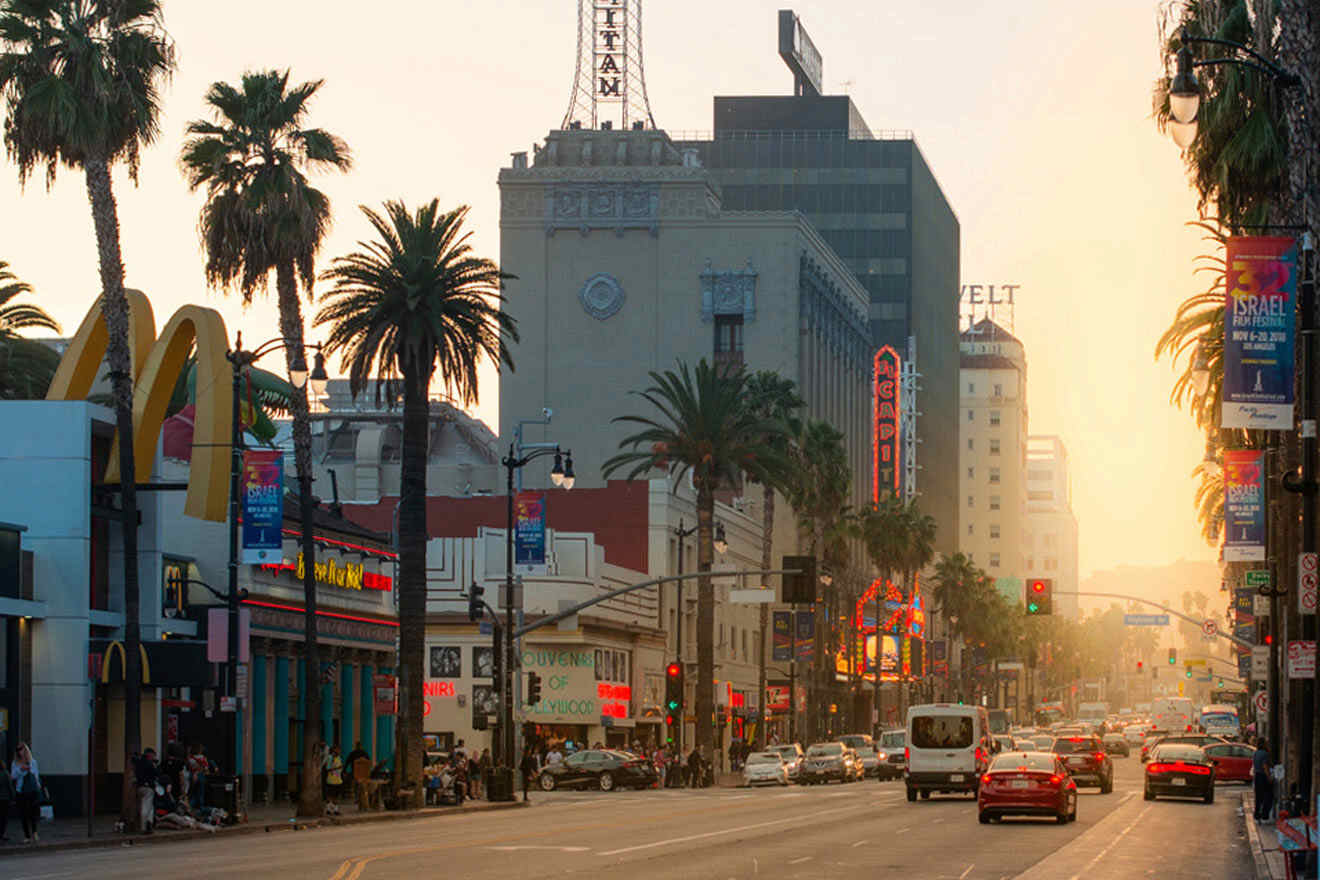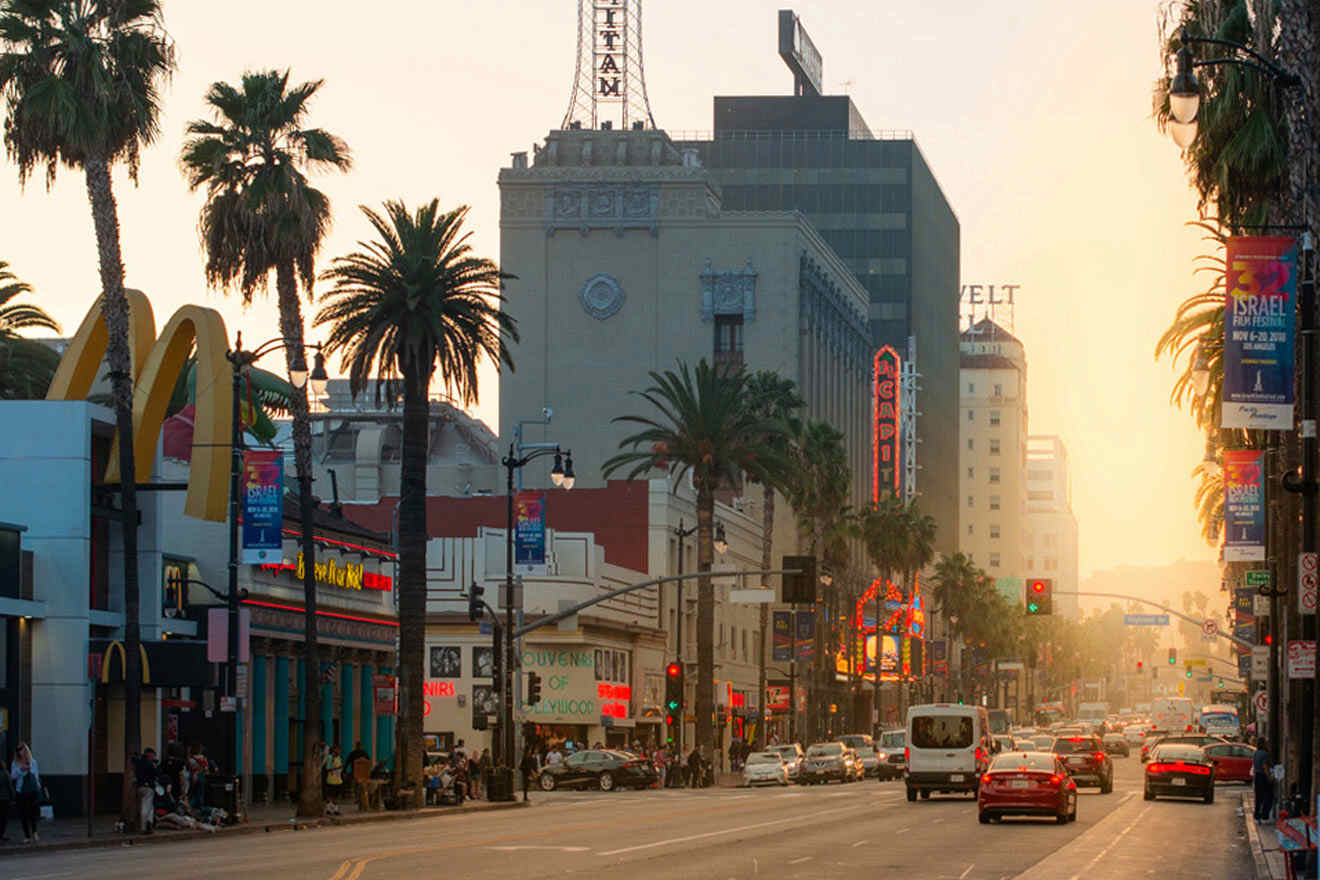 Even if you were in Hollywood forever, you may not see and do all there is in this amazing city! There's no doubt you can fill your itinerary with some incredible, movie-inspired, action-packed adventure. Just remember, with Hollywood being the most popular city in California, you'll want to book ahead!
Don't forget – let me know your favorites and why!
Aloha & safe travels,
Hayden Goldberg
---
Pin it for later!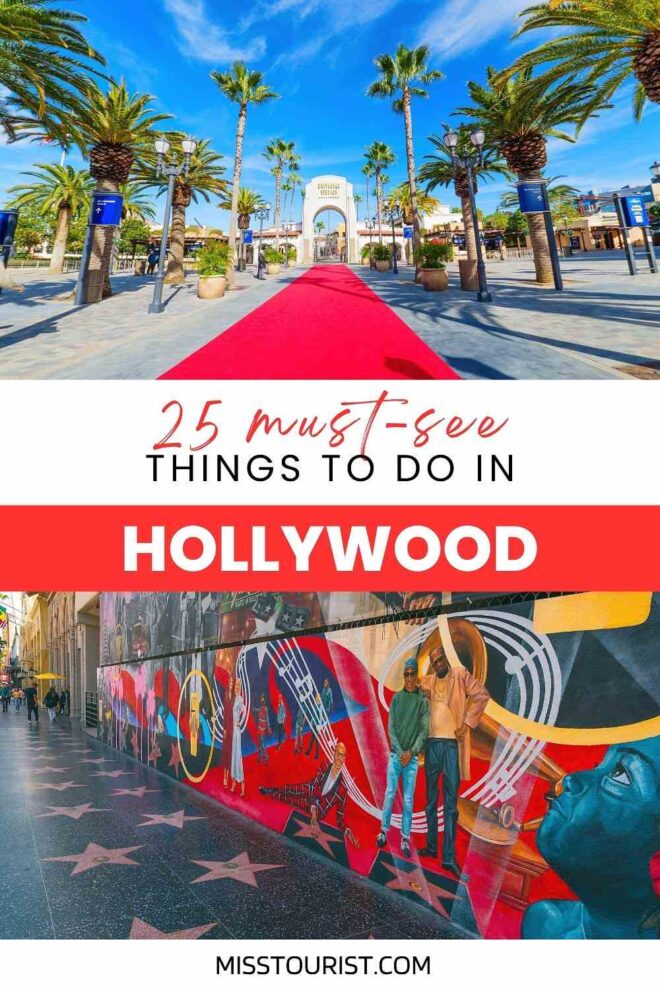 Pin it for later!