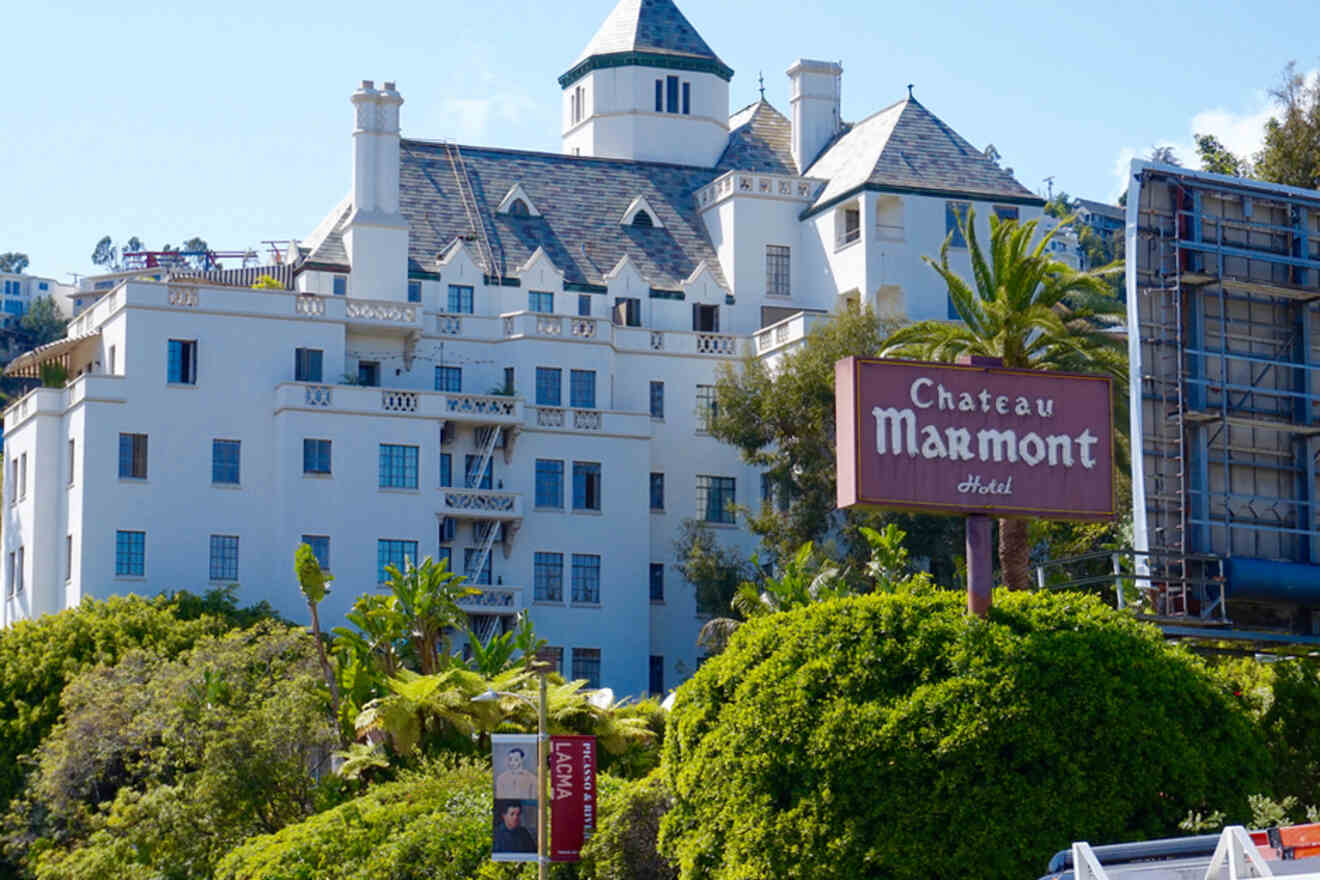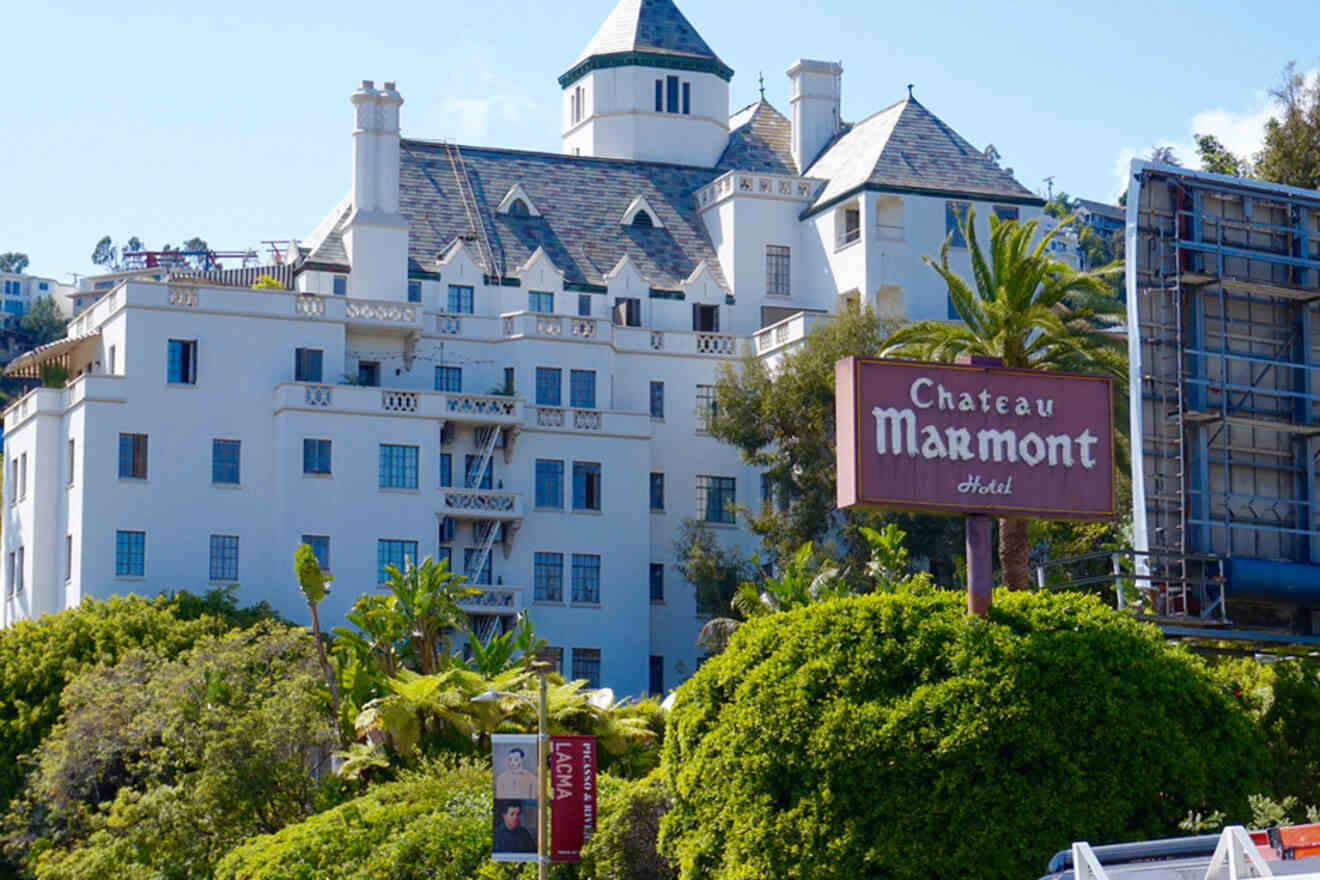 Marilyn Monroe, Elvis Presley, and F. Scott Fitzgerald! These are just some of the celebrities that stayed in the amazing places that I'll introduce in a second!
Follow me as today we'll discover the best historic hotels in Los Angeles! I've searched the web and found some unique accommodations which I ordered from most to least expensive so that you can easily pick your favorite!
Before we start, I do have to warn you that these one-of-a-kind hotels tend to book out months in advance. That's why I recommend securing your spot early!
I feel like we're all ready to dive into the classy Hollywood glamor!
So, put on your favorite Elvis Presley song, and let's go!
If you are in a hurry
Want to book your hotel right now? If you ain't got time to waste, then check out this short list of the best historic hotels in Los Angeles:
1. Hotel Bel-Air – classy LA hotel with a lush garden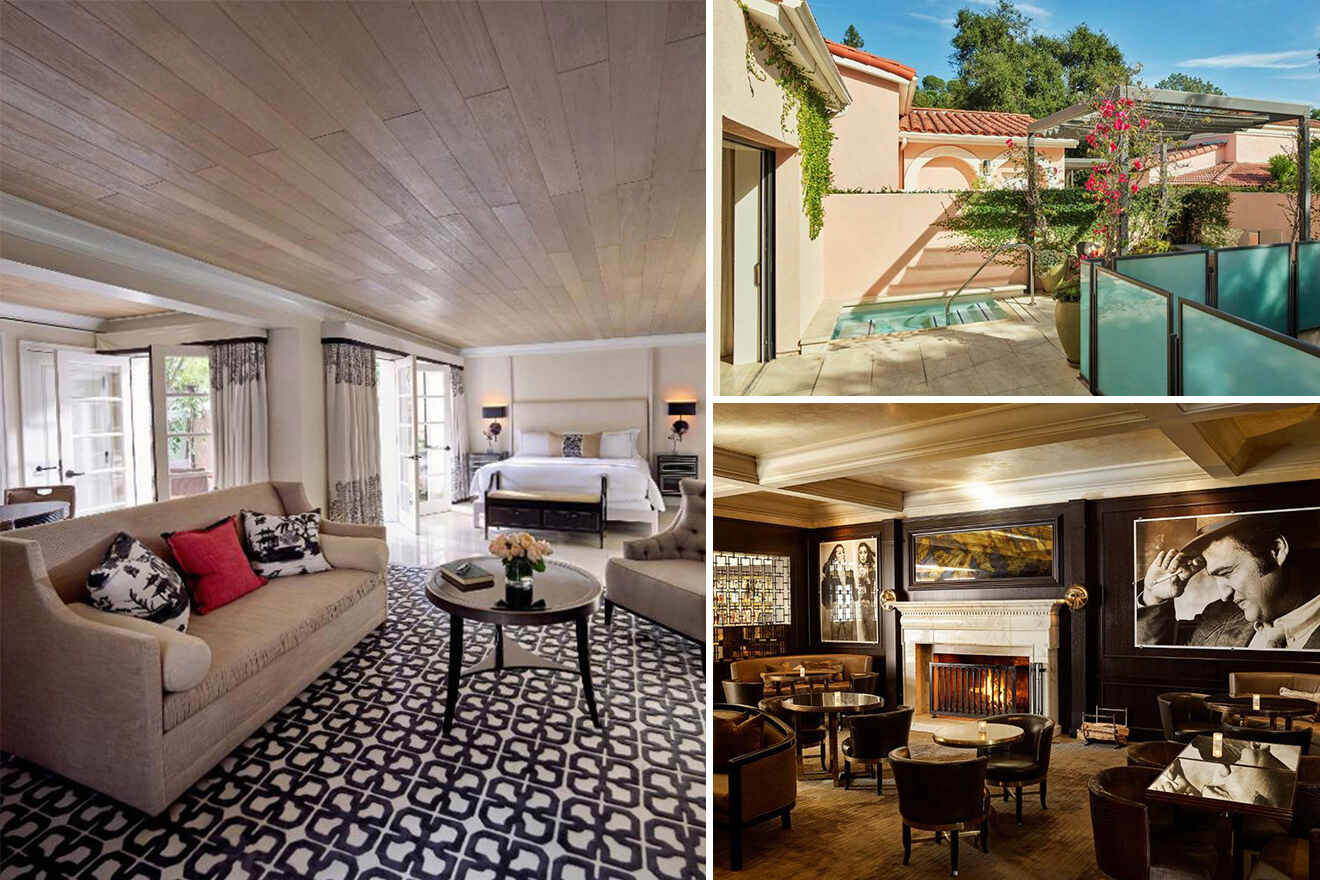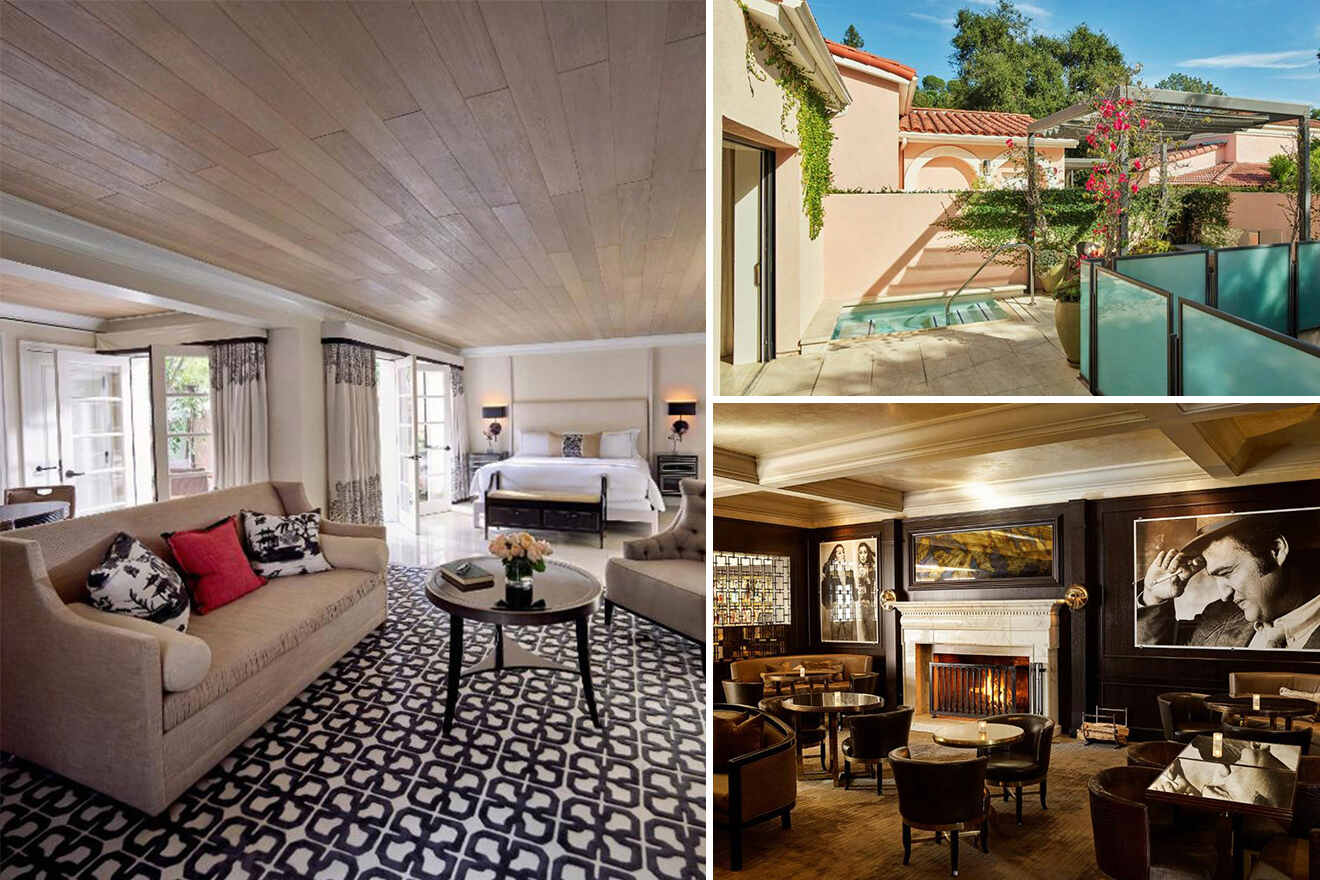 If you know anything about Bel Air, it's that it's the ultimate place to spot celebrities and find incredible luxury hotels! This 1950s place has a great location, and it's absolutely packed with lush, leafy greenery that will make you feel as if you're in heaven.
Guests will also love the suites, which are pretty spacious and come with modern amenities and some large windows which overlook the garden! Definitely explore the area while you're here, but if you need a bit of relaxation, you can always head to the spa to enjoy a nice long massage or go for a swim in the pool.
2. Beverly Wilshire, A Four Seasons Hotel – an elegant place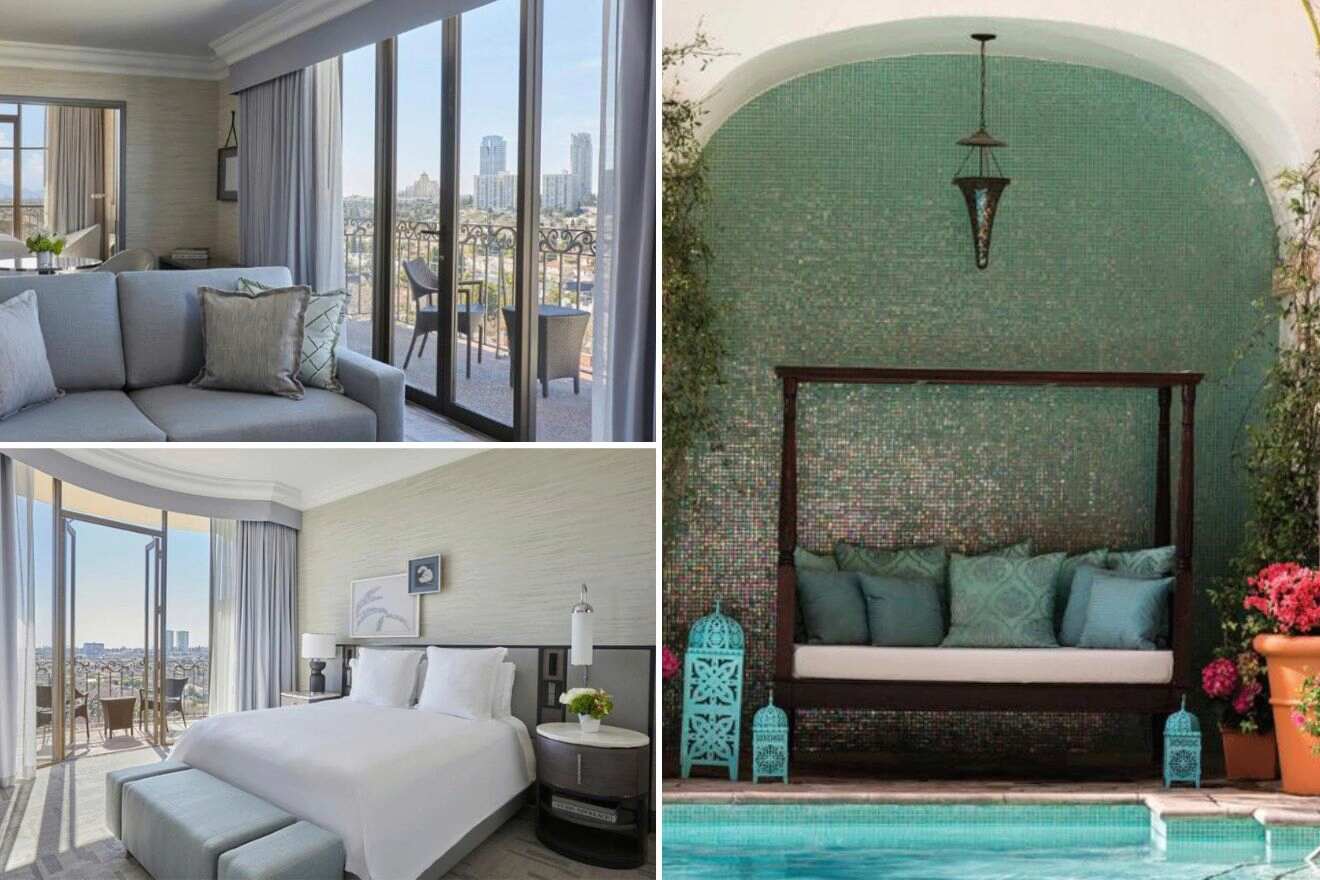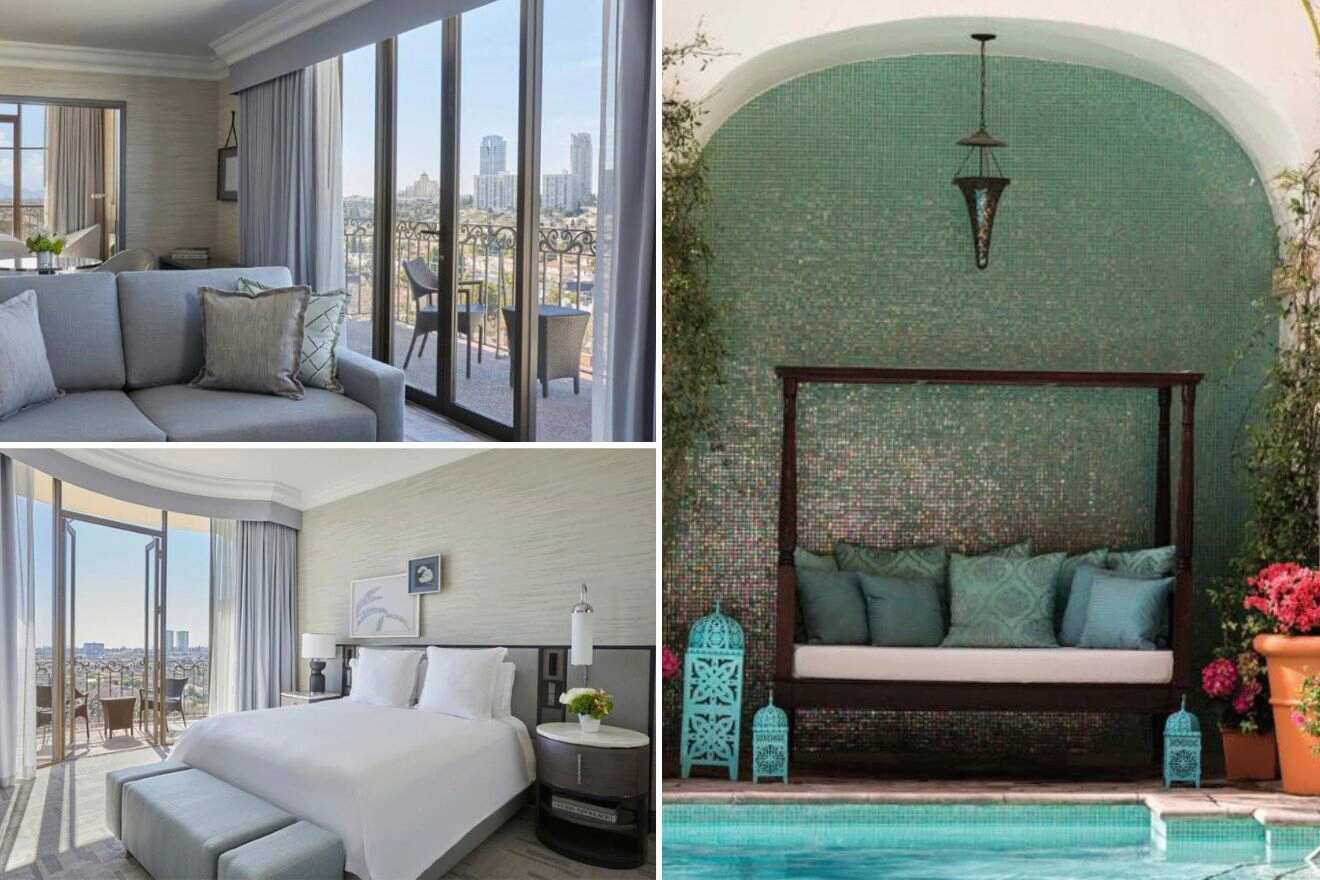 You might recognize the exteriors of this hotel from the famous movie Pretty Woman (if you haven't watched it, you've got some serious homework to do after reading the post)! Built in 1928, this Beverly Hills hotel has an Italian Renaissance style, and some amenities include a spa and a terrace. Over the years, the hotel housed some big names like Elvis Presley and Warren Beatty!
Set just across the street from Rodeo Drive, the hotel features a Mediterranean-style pool, a hot tub, and poolside cabanas. The perfect spots to enjoy your mornings alongside a cup of coffee or some tea. All guests prefer the suites that overlook Rodeo Drive or the Hollywood Hills (and let's face it, who wouldn't like to wake up to those stunning views!
3. The Beverly Hills Hotel – with a great location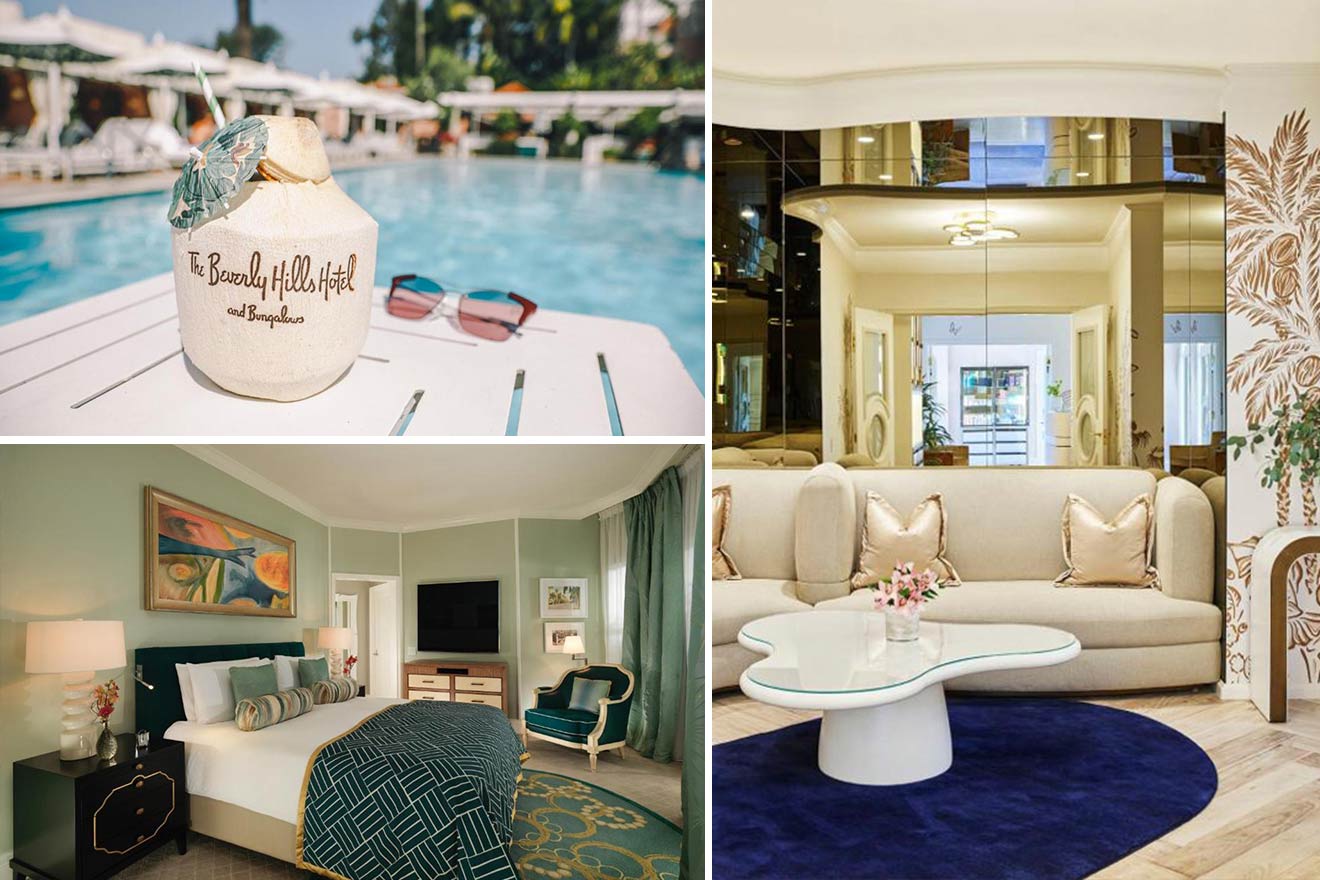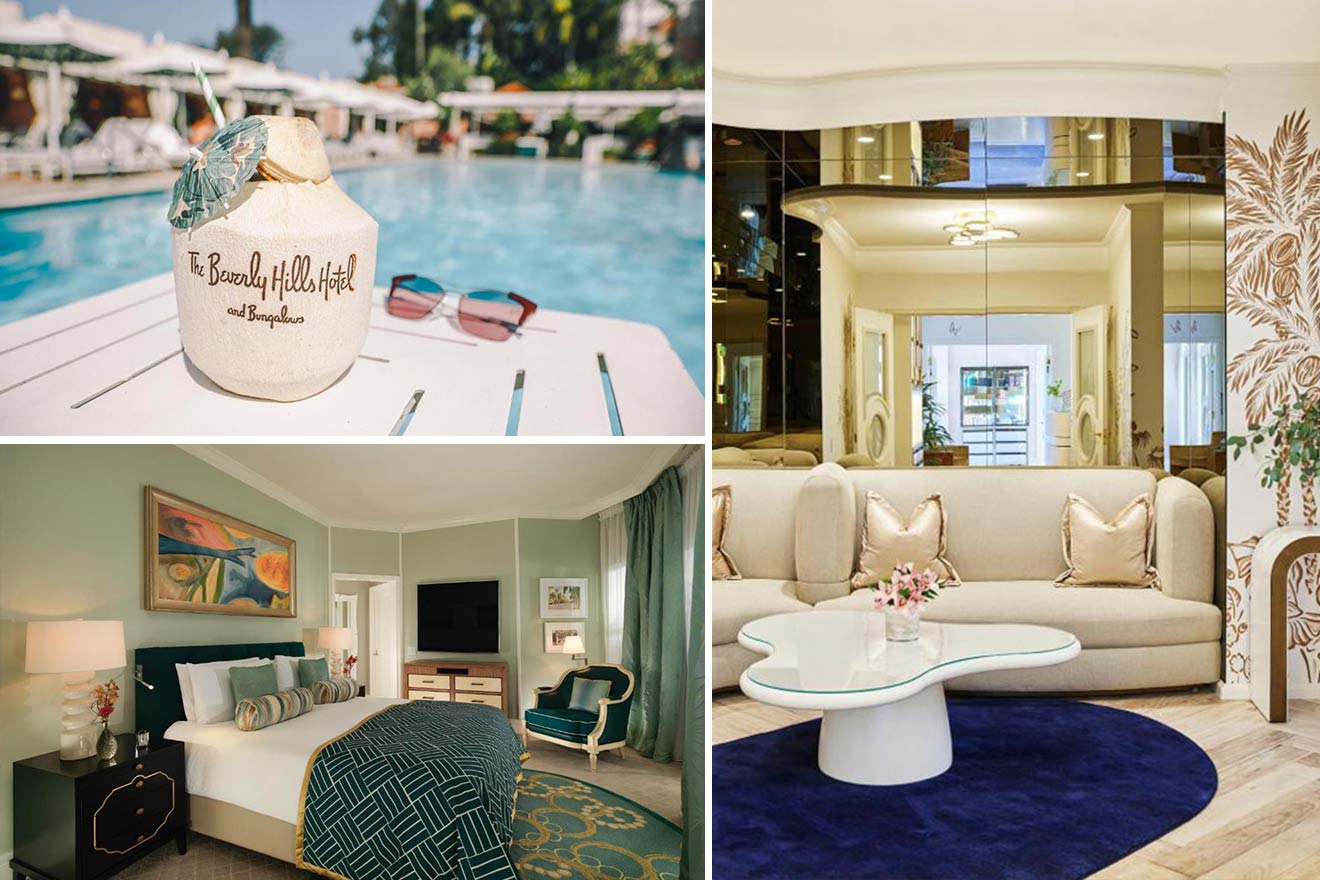 Livin' it up at the Hotel California…Who knows that verse? Yep, it's the Eagles' hit song Hotel California which apparently was inspired by one of the suites of the fabulous Dorchester collection hotel that's set on Sunset Boulevard! Founded in 1912, the accommodation (also known as the Pink Palace) is just a walk away from all the famous attractions!
The Beatles, Elizabeth Taylor, Greta Garbo, and Hunter S. Thompson are some of the celebrities who crossed the hotel's door! Each room is beautifully decorated with stylish furnishings and all the amenities you'll need for your stay. The accommodation also features a pool with underwater music, poolside cabanas, a spa, a crystal ballroom and 3 dining options.
4. Hotel Casa Del Mar – perfect hotel for beach lovers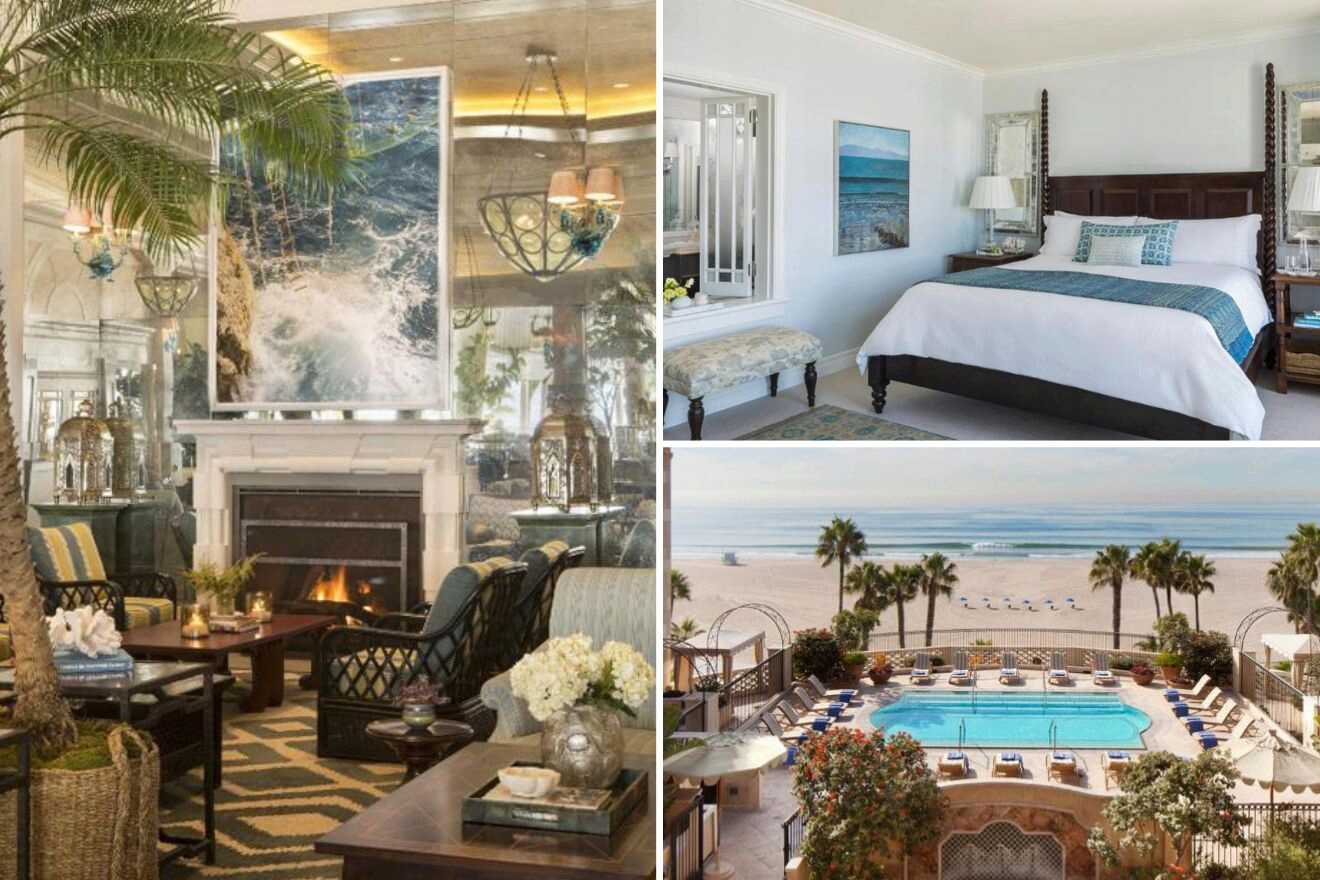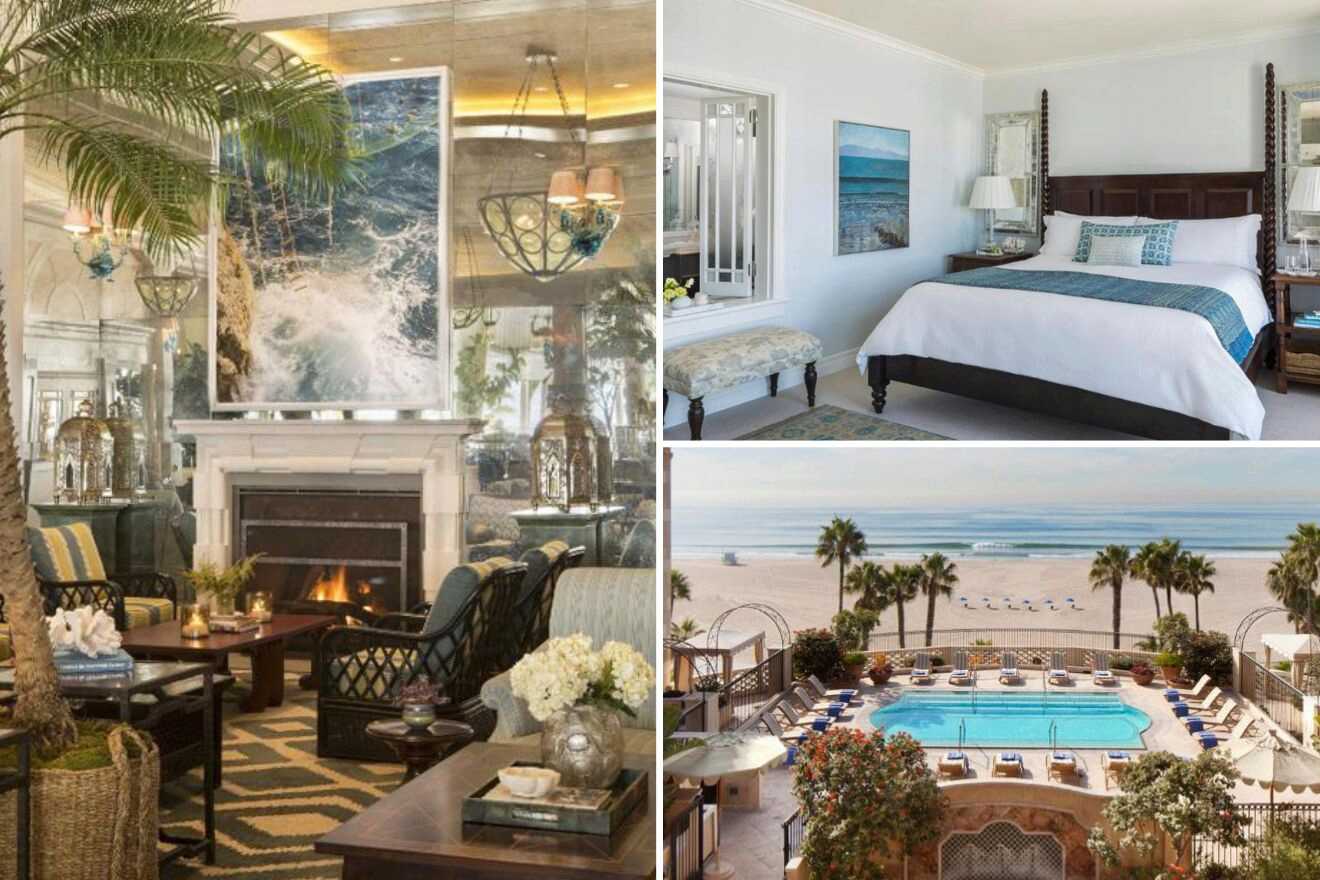 Want to wake up every morning to a stunning view of the ocean? Then book yourself a room at this 1926 historic landmark hotel in Santa Monica! Offering a central location near downtown Santa Monica, fabulous suites with a hydrotherapy spa tub, and floor-to-ceiling glass windows, this place is definitely the perfect spot for a romantic Californian getaway.
The Santa Monica accommodation offers 3 different dining options, where you can enjoy some romantic dinners at night and yummy breakfasts every morning. Visitors can also borrow some books from the hotel to explore the city. Make sure you book your hotel room in advance, these places are super famous, and they'll sell out fast!
5. Château Marmont – a French-inspired LA hotel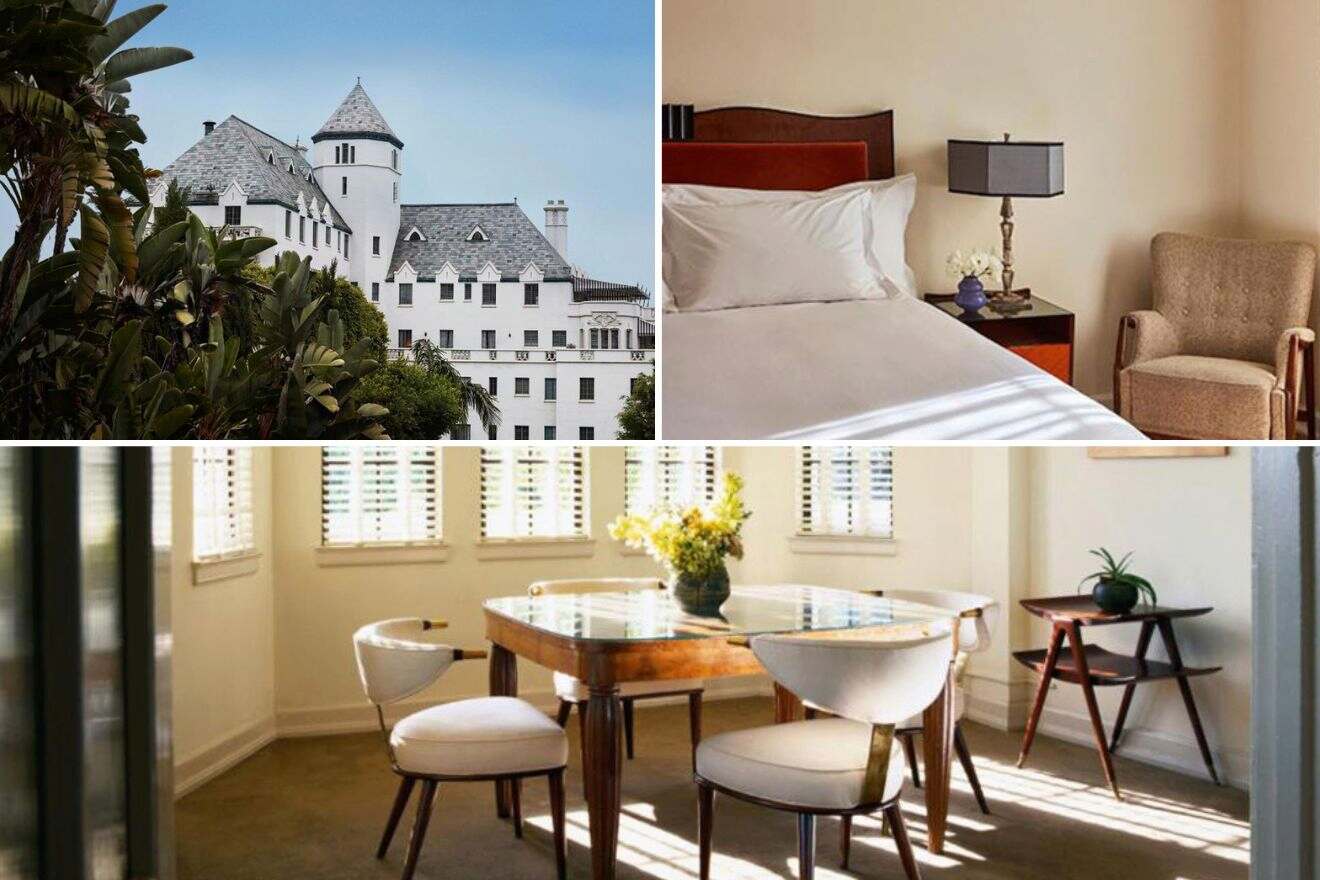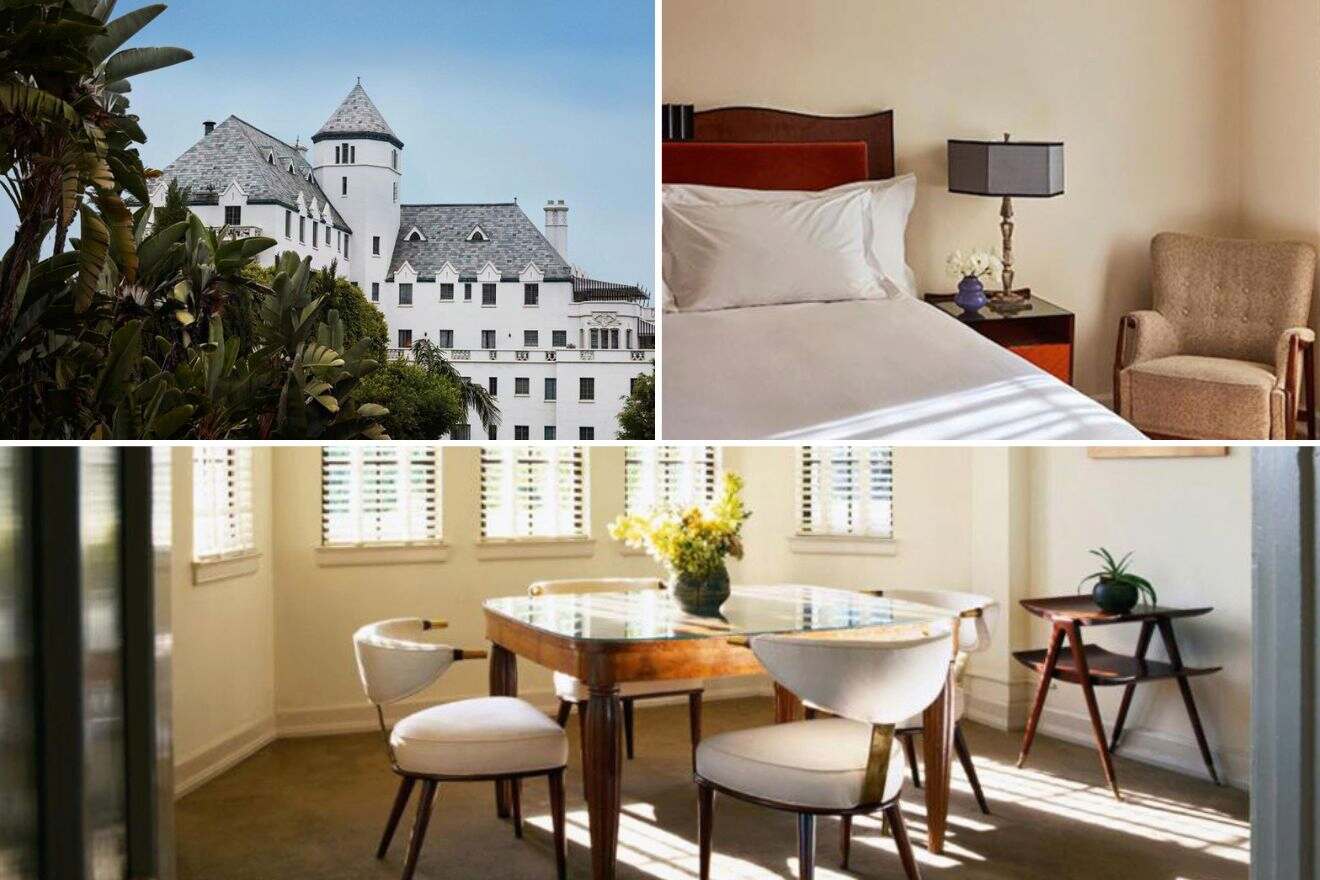 Oh my! You'll want to move ASAP to this gorgeous Hollywood hotel! This hotel was Inspired by the world-famous Château d'Amboise, a royal residence in Loire Valley, a stunning area with countless castles near Paris, and has also received some legendary guests like F. Scott Fitzgerald and Courtney Love.
Commissioned in 1927, the incredible accommodation will make all guests feel as if they've time-traveled and arrived in a whole different city! The suites are beautifully designed with period furnishings, and some also have balconies! You'll also find a spa center, an outdoor heated pool, and a restaurant.
6. Palihouse Santa Monica – for a relaxing holiday in LA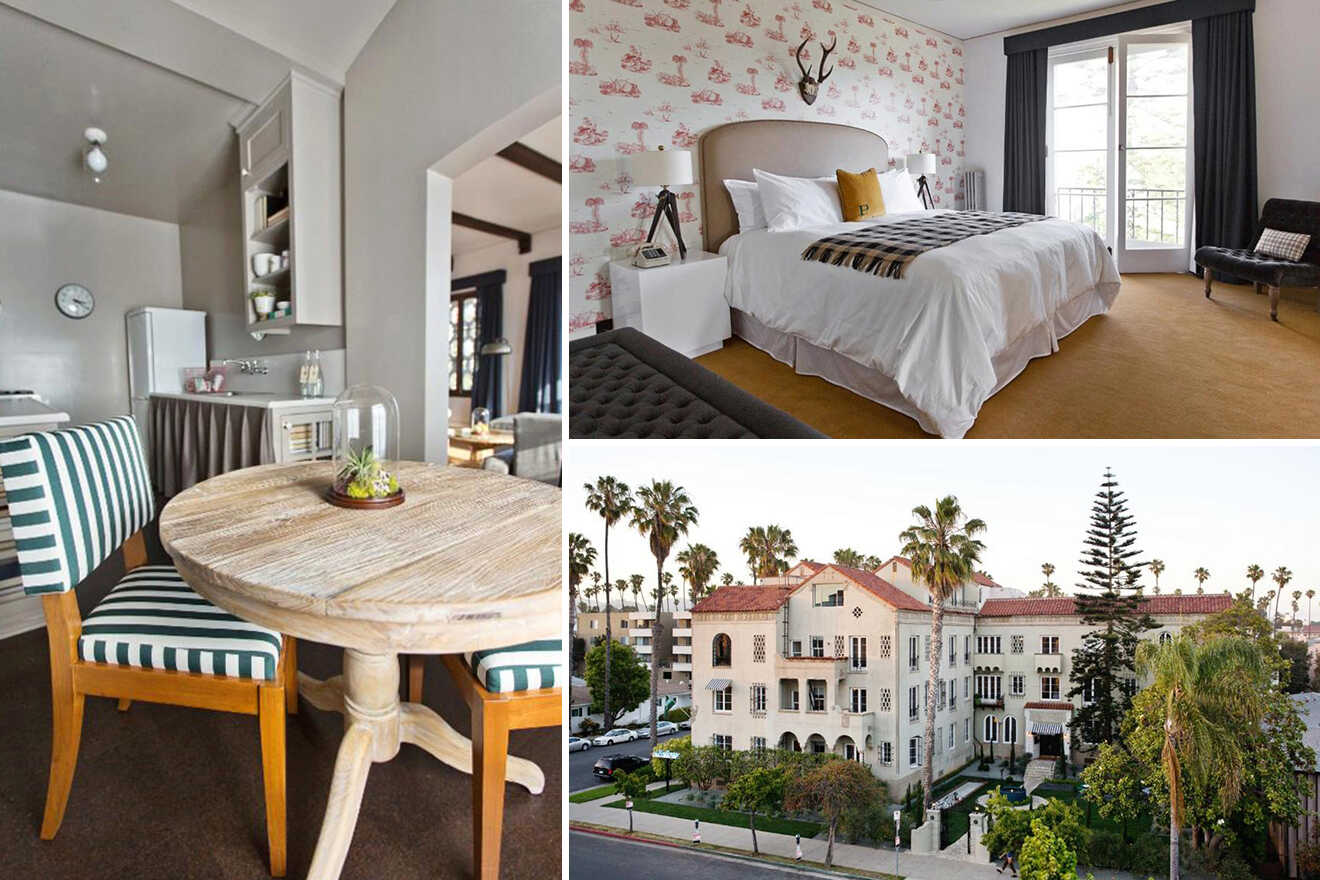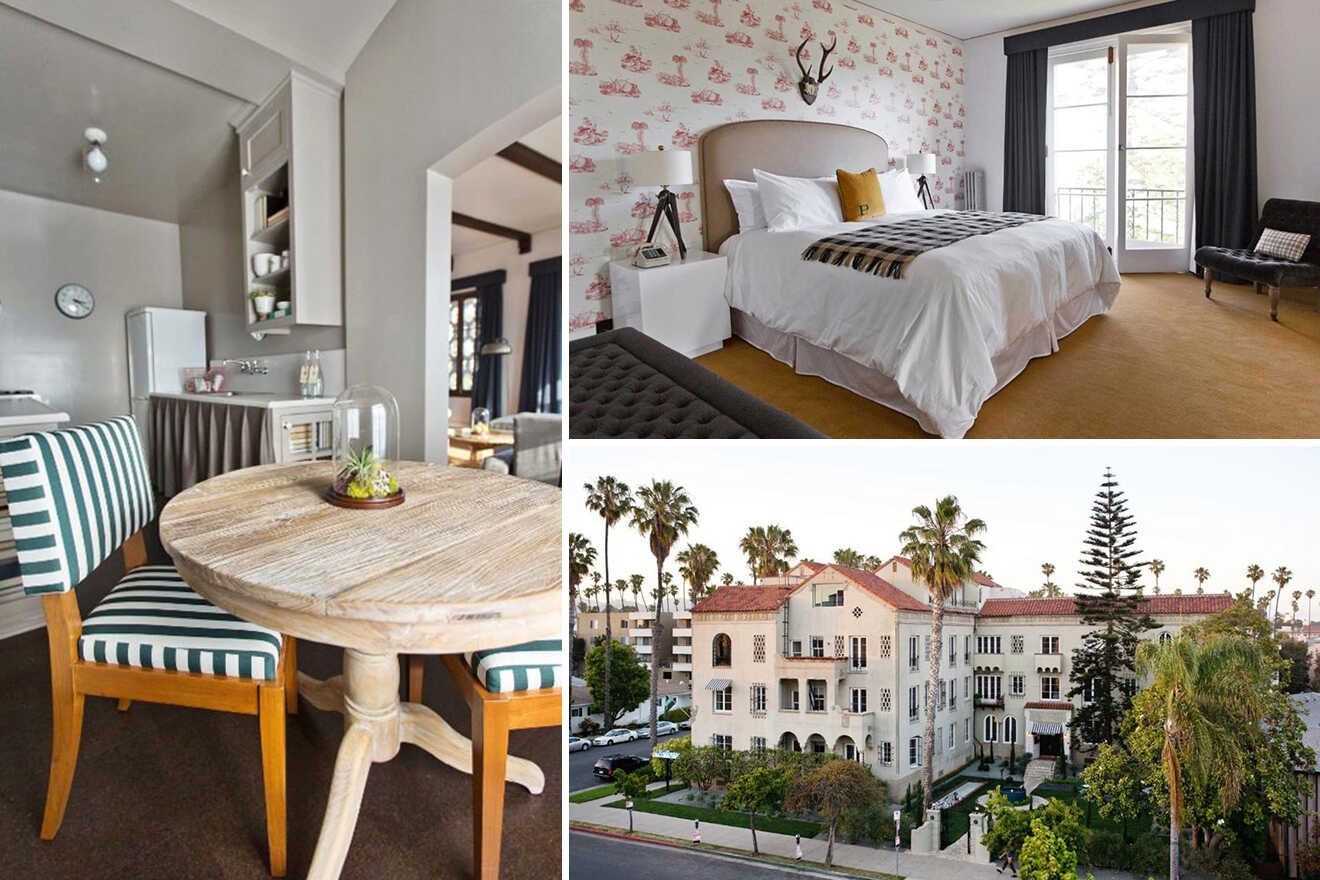 Los Angeles is great at making you feel as if you're traveling to a whole different city in the world! For example, if you've been missing the Mediterranean, then this Santa Monica hotel that was built in 1927 will be perfect for you!
Guests love that the hotel is set just a walk away from the beach and its quaint style and elegant furnishings. Each room comes with lots of space, large windows that offer so much brightness (this is a must for me), and free Wi-Fi. The accommodation has a dining option on-site, but definitely check out all the other restaurants in the area, a lush garden, and a spa center.
7. Sunset Tower Hotel – offers amazing views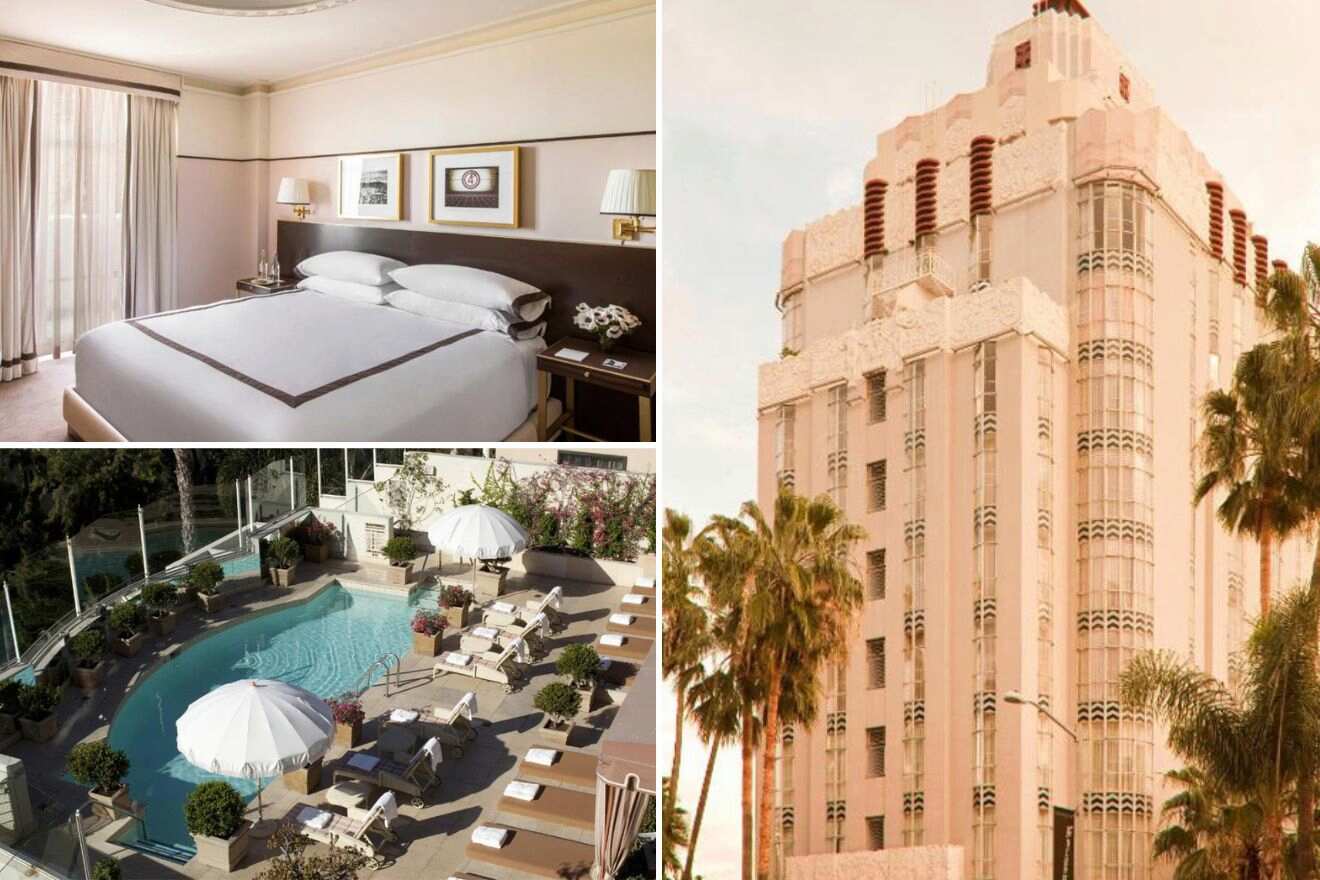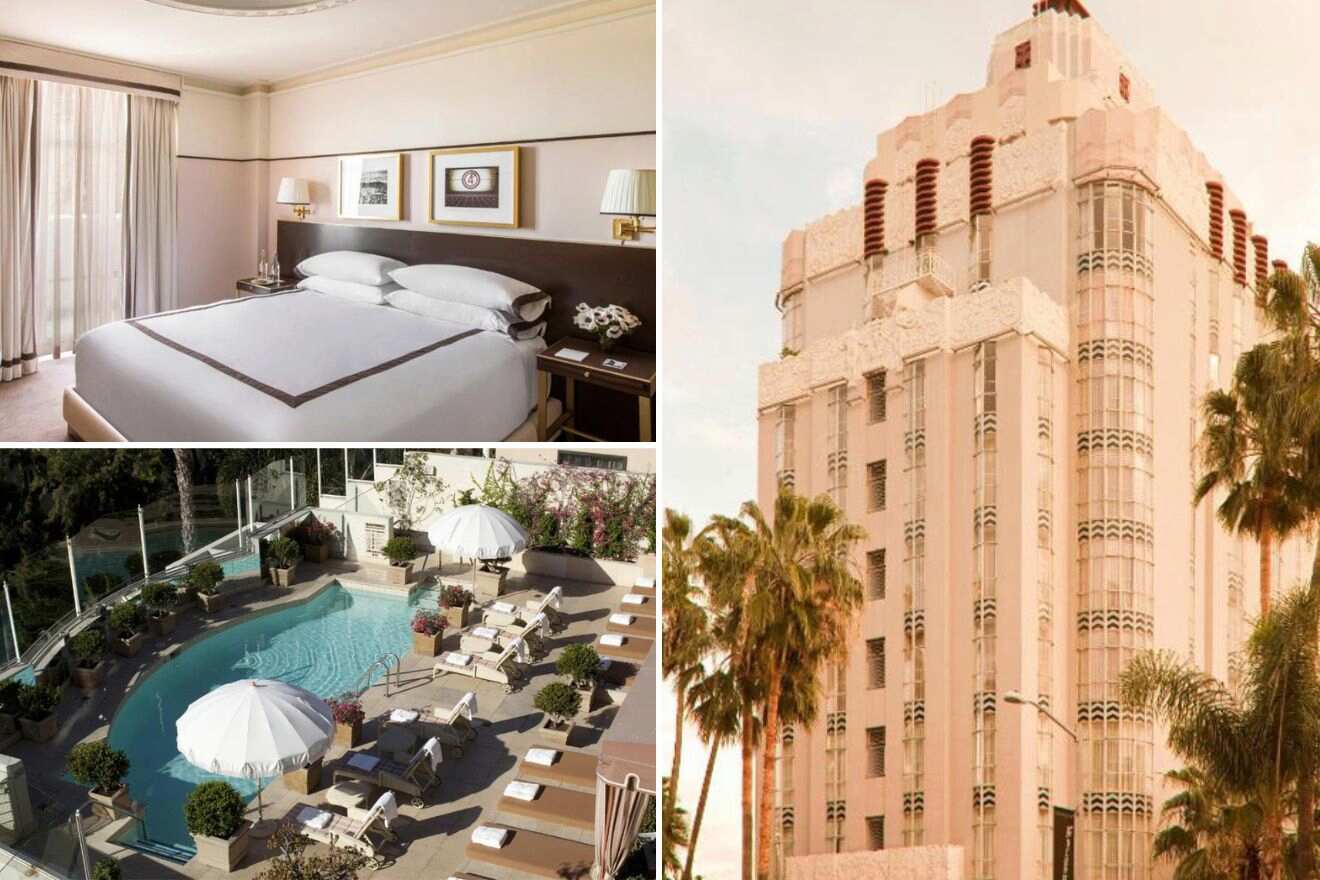 Another amazing luxury hotel set in West Hollywood that was opened in 1931 and has since hosted guests like Frank Sinatra, John Wayne, and Marilyn Monroe! Of course, the hotel has changed over the years, but it has still kept that fabulous Hollywood glamor!
The suites are super elegant and come with these amazing floor-to-ceiling windows with great views of the city and a private bathroom. My favorite part is definitely the rooftop pool, where you'll encounter even more incredible sights! You'll also find a dining option, a spa center, and a bar.
8. The Charlie West Hollywood – a unique celebrity home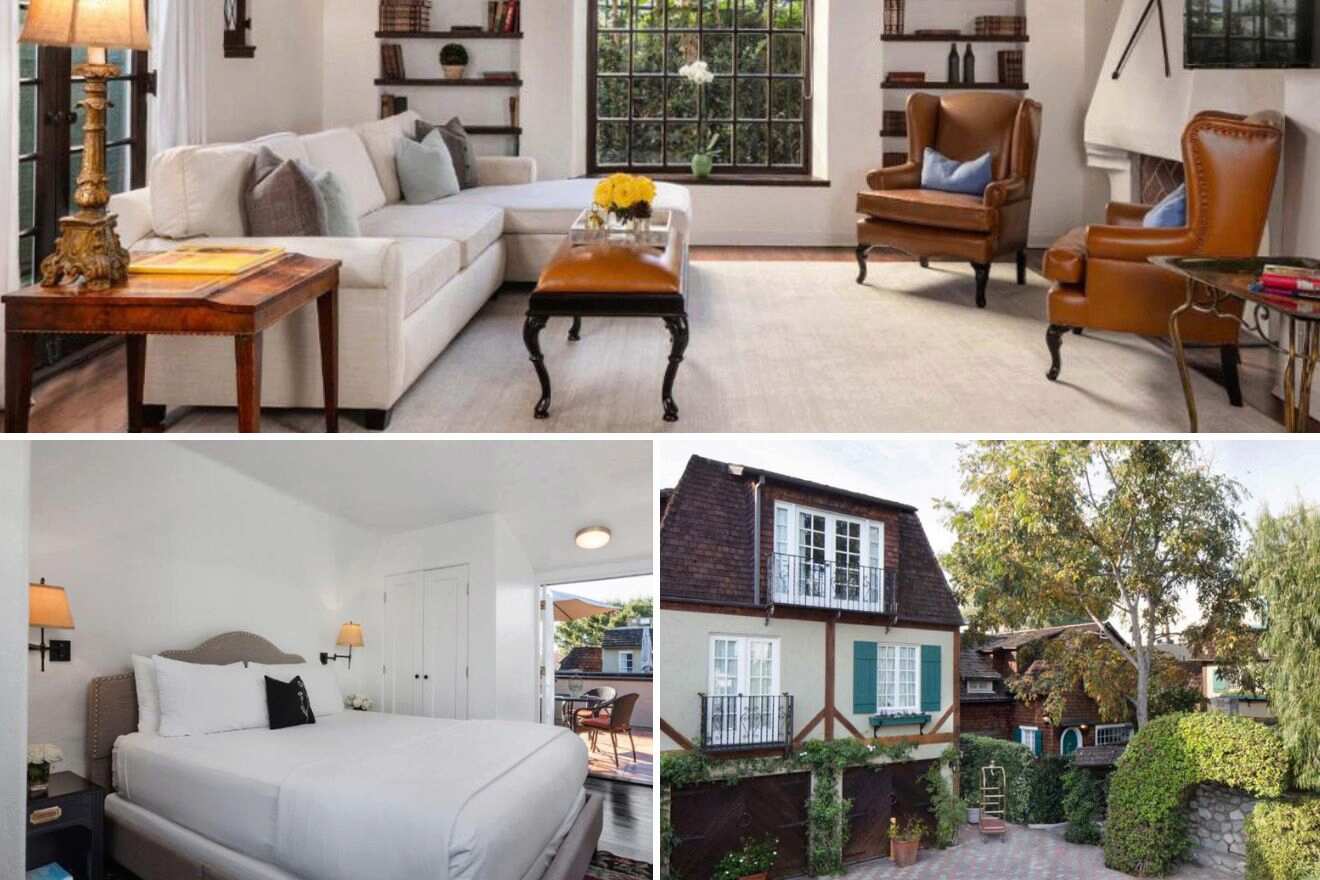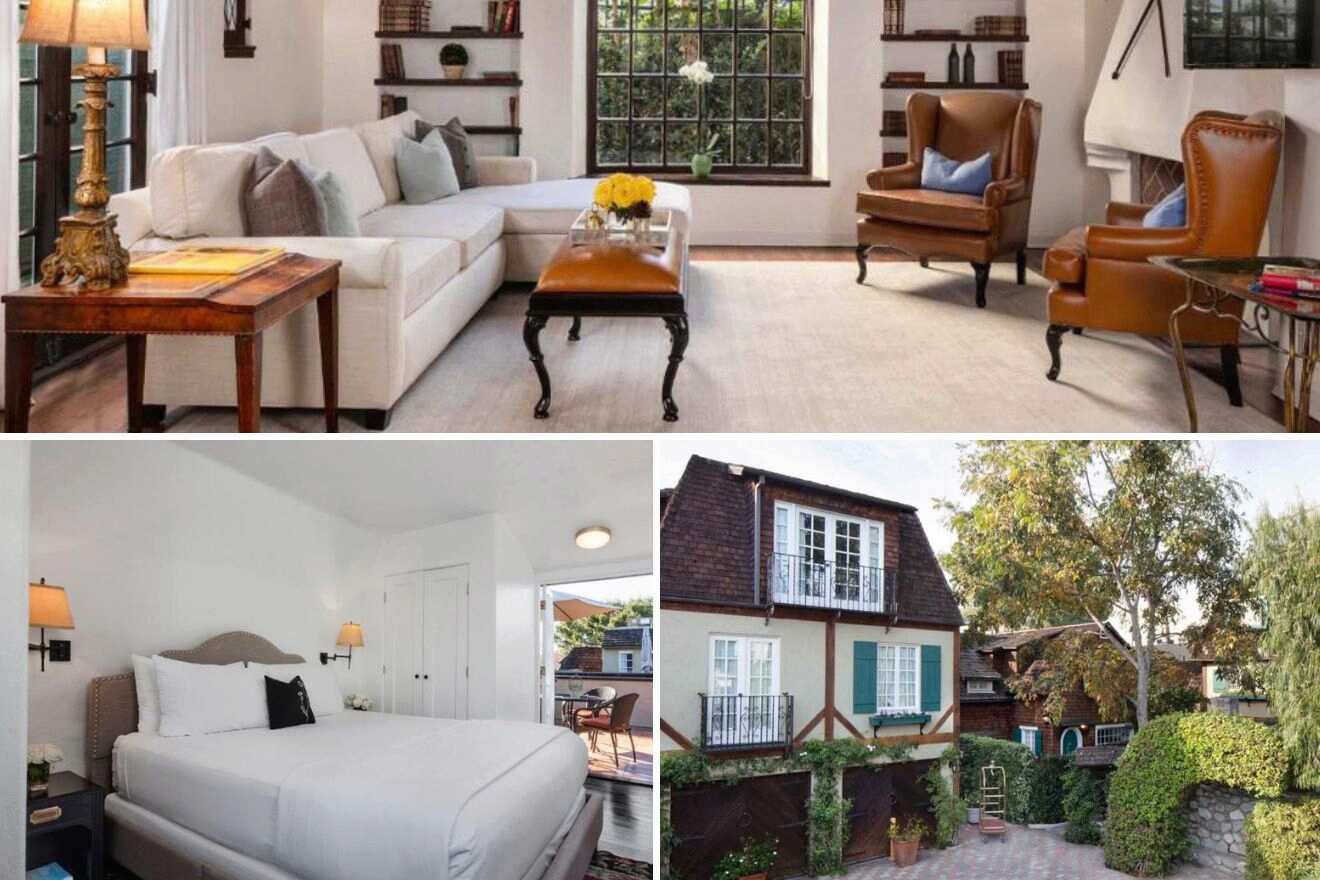 Who wants to stay in Charlie Chaplin's former home? I'm sure that the answer is: many people and this is your chance! This boutique hotel in West Hollywood, Los Angeles, was once the home of the famous comedian!
Each room has such a class, and it features wooden beam ceilings and a lot of space. But I've got to confess, my favorite parts are the stained glass windows which create this really unique atmosphere. When you're not out and about exploring Beverly Hills or shopping on Rodeo Drive, you can relax in the lush garden!
9. The Hollywood Roosevelt Hotel – an elegant hotel with a pool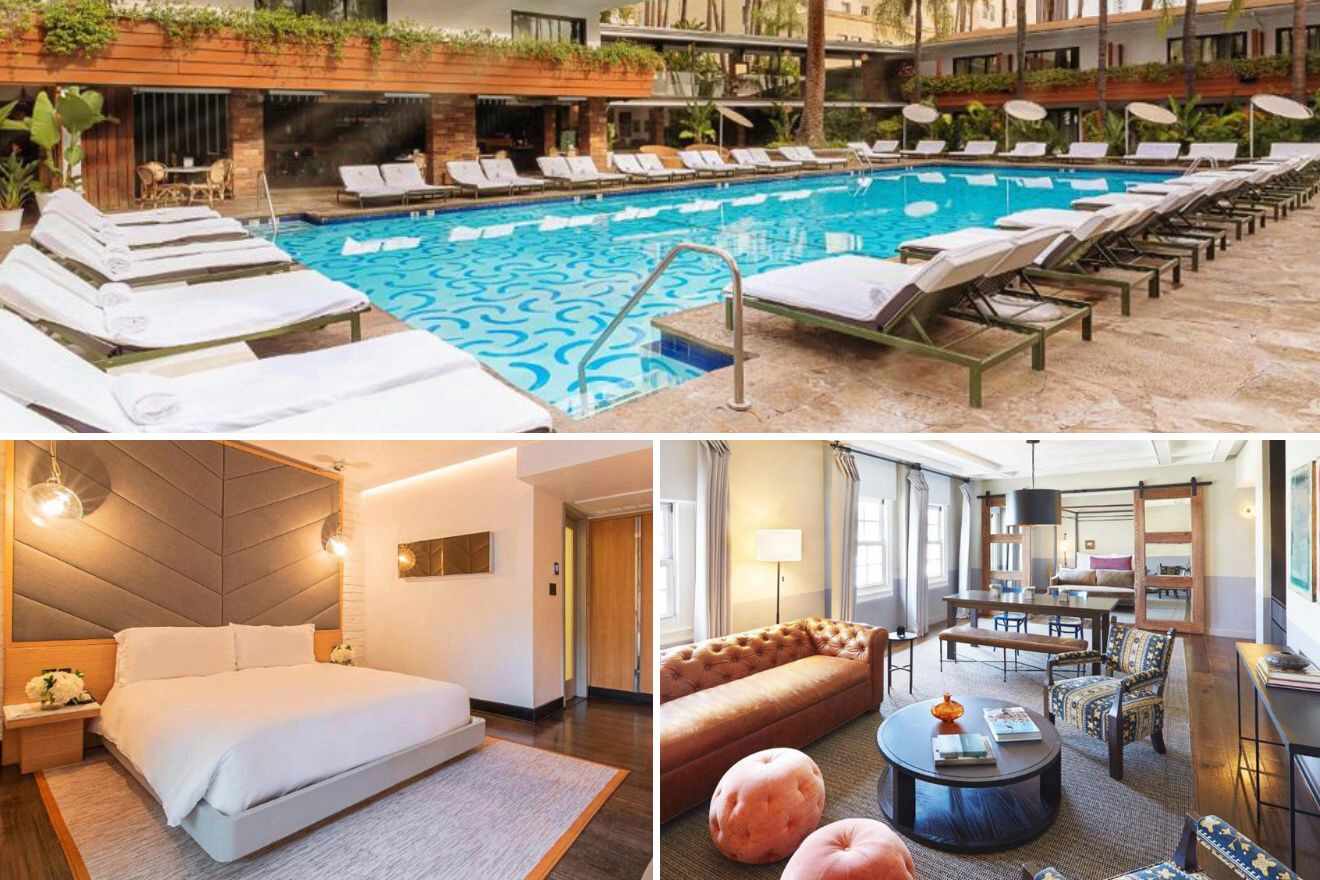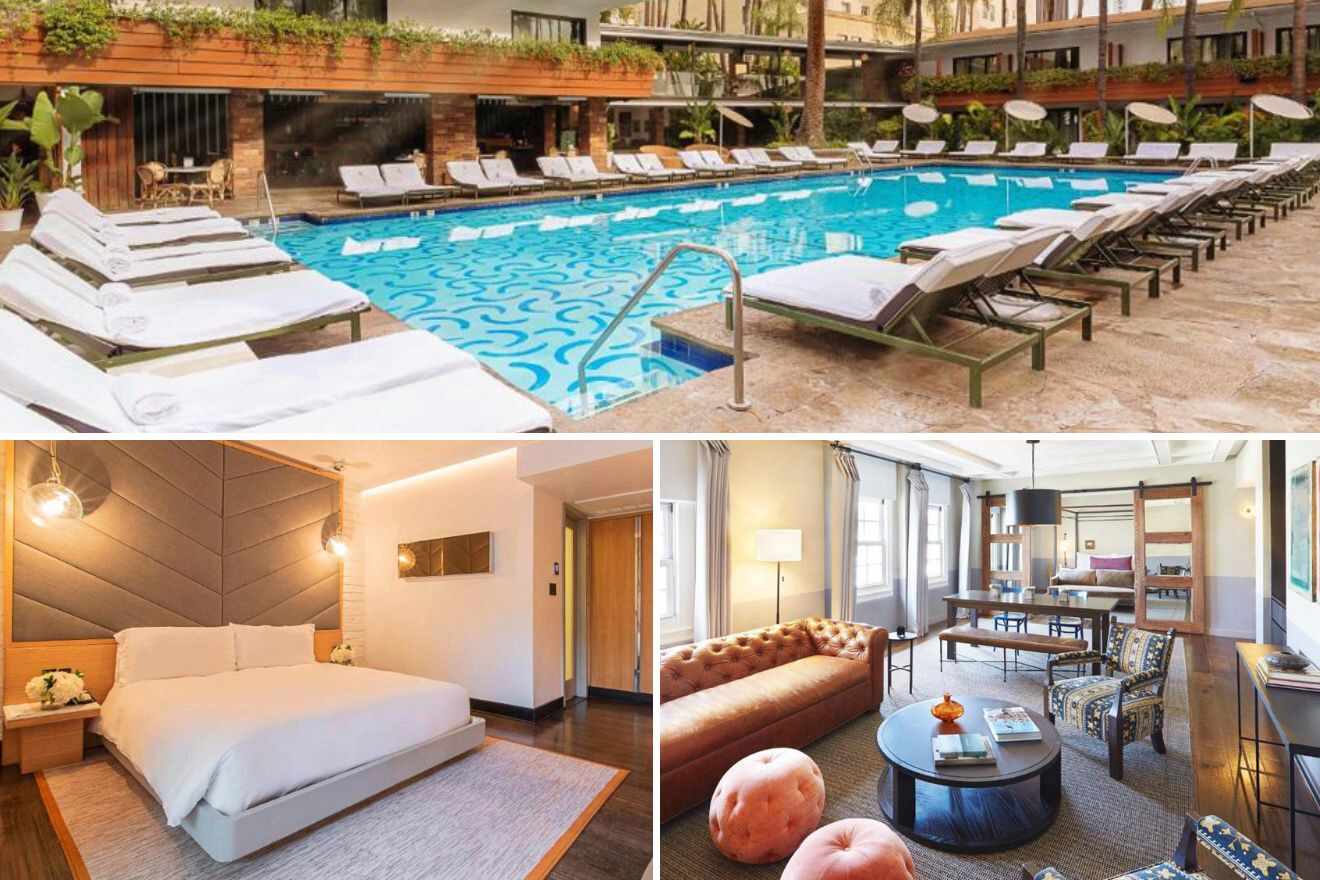 As you can probably guess, this hotel was named after former US President Theodore Roosevelt! Set on Hollywood Boulevard, this hotel also hosted some important figures like
Marilyn Monroe, Clark Gable, and Carole Lombard, and it has become a key location since it hosted the inaugural Academy Awards in 1929.
Perfect for those who want to stay just a short walk away from all the cool attractions and some fun things to do in California for couples, the hotel comes equipped with lots of facilities like an outdoor swimming pool, a wellness center, room service, and a restaurant. They also offer lots of fun activities like evening entertainment and movie nights.
10. The Bissell House Bed & Breakfast – for a tranquil stay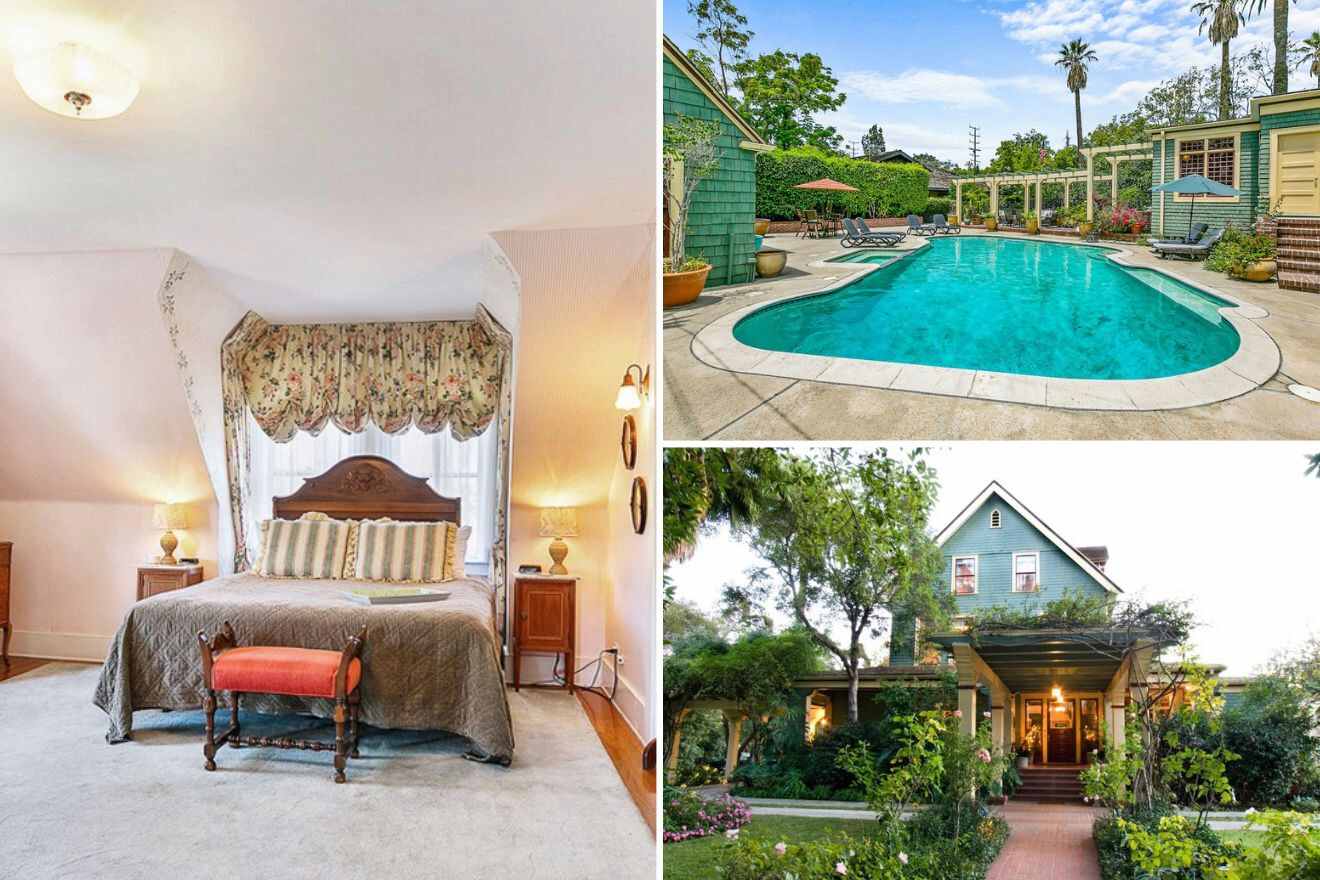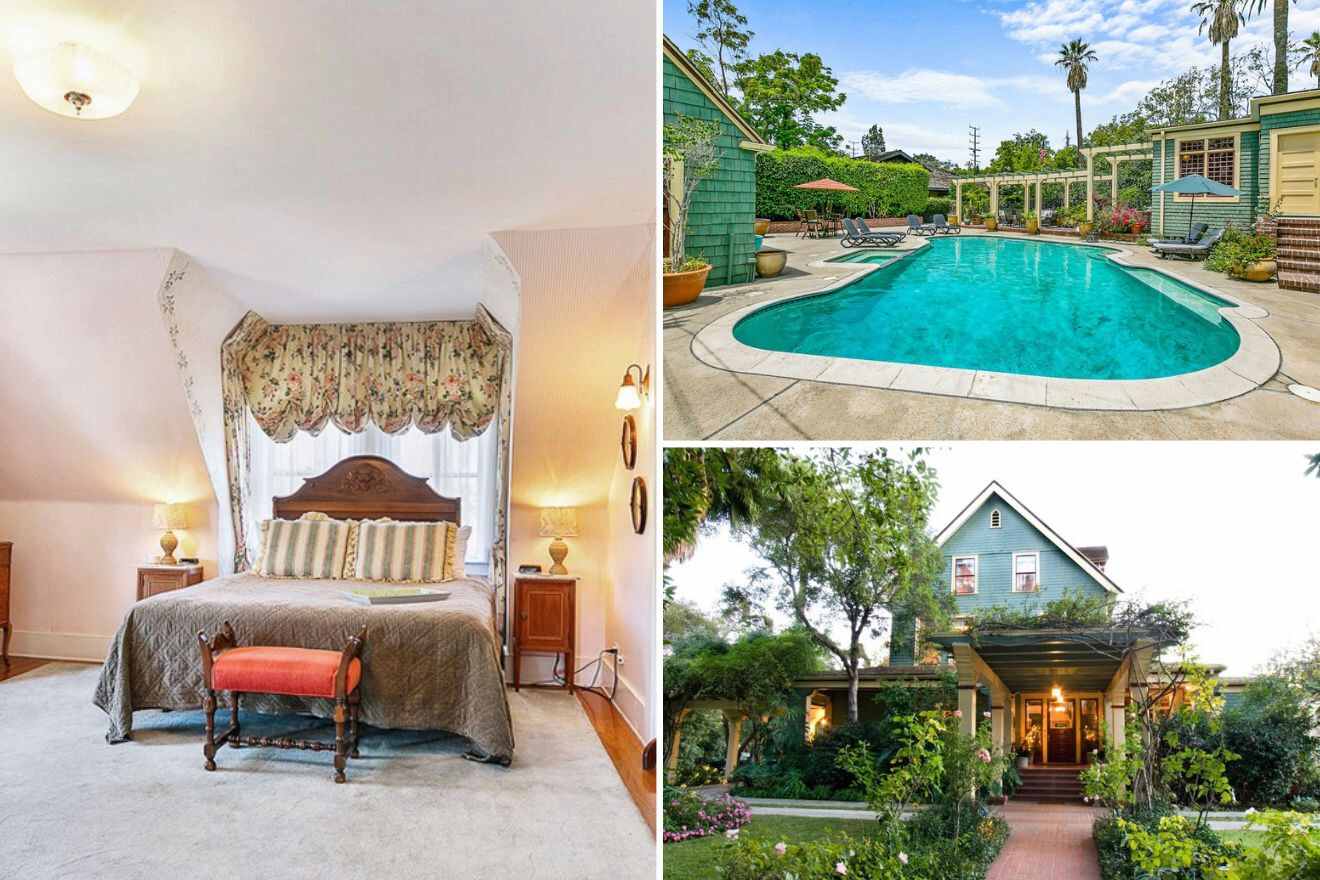 A beautiful bed and breakfast that was named after Anna Bissell McCay, the daughter of Melville Bissell, the man who invented the modern carpet sweeper! The accommodation is set in Pasadena, a bit further away from Los Angeles, which makes it perfect for those who want to stay away from the crowds and city noise!
All the suites are super charming and have floral wallpapers, lovely furnishings, and comfy beds. I think nature lovers will really appreciate their lush garden and the little patio that is decorated with lots of plants and has a seating area where you can enjoy your tea!
11. Hotel Per La – an urban LA hotel with a unique sculpture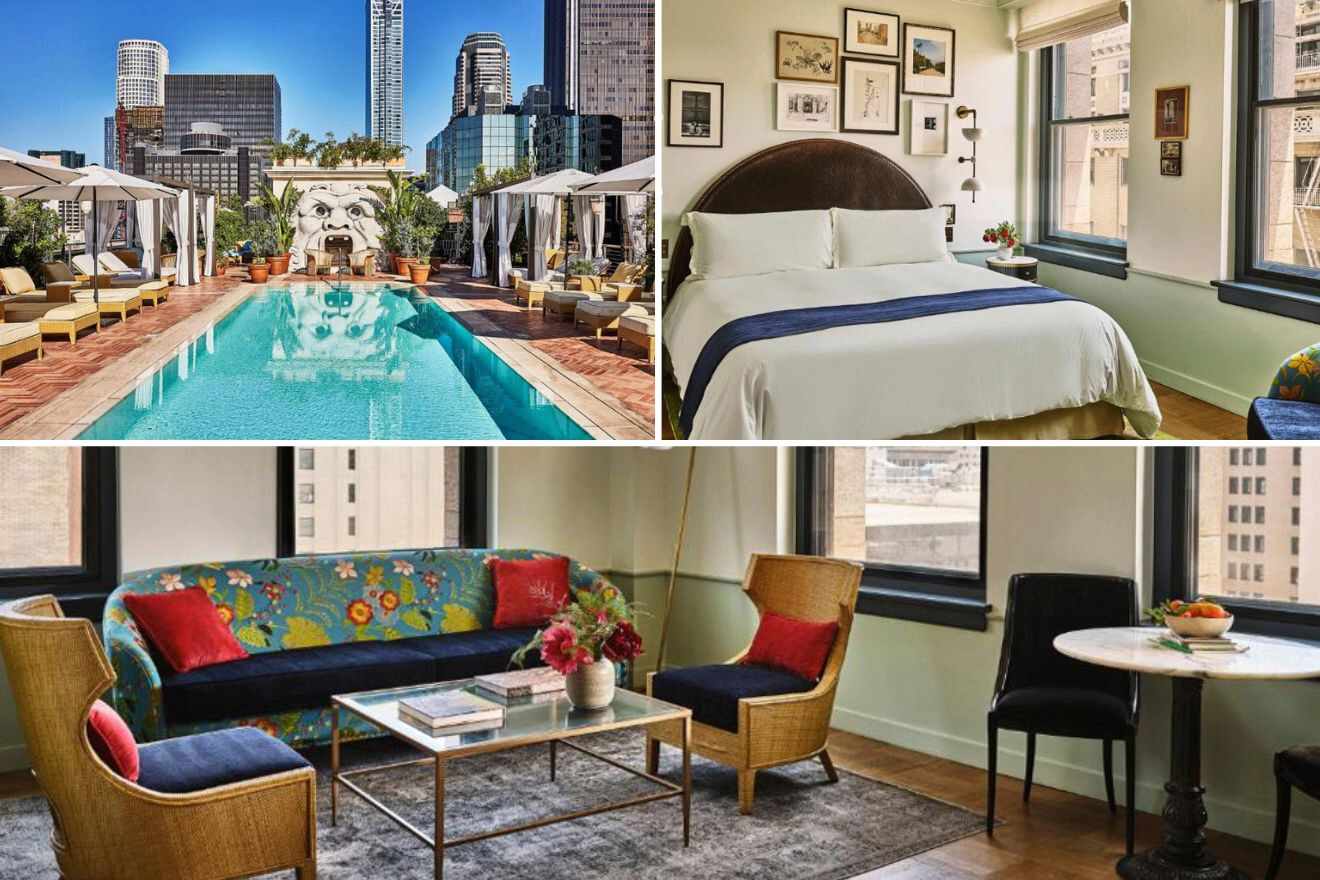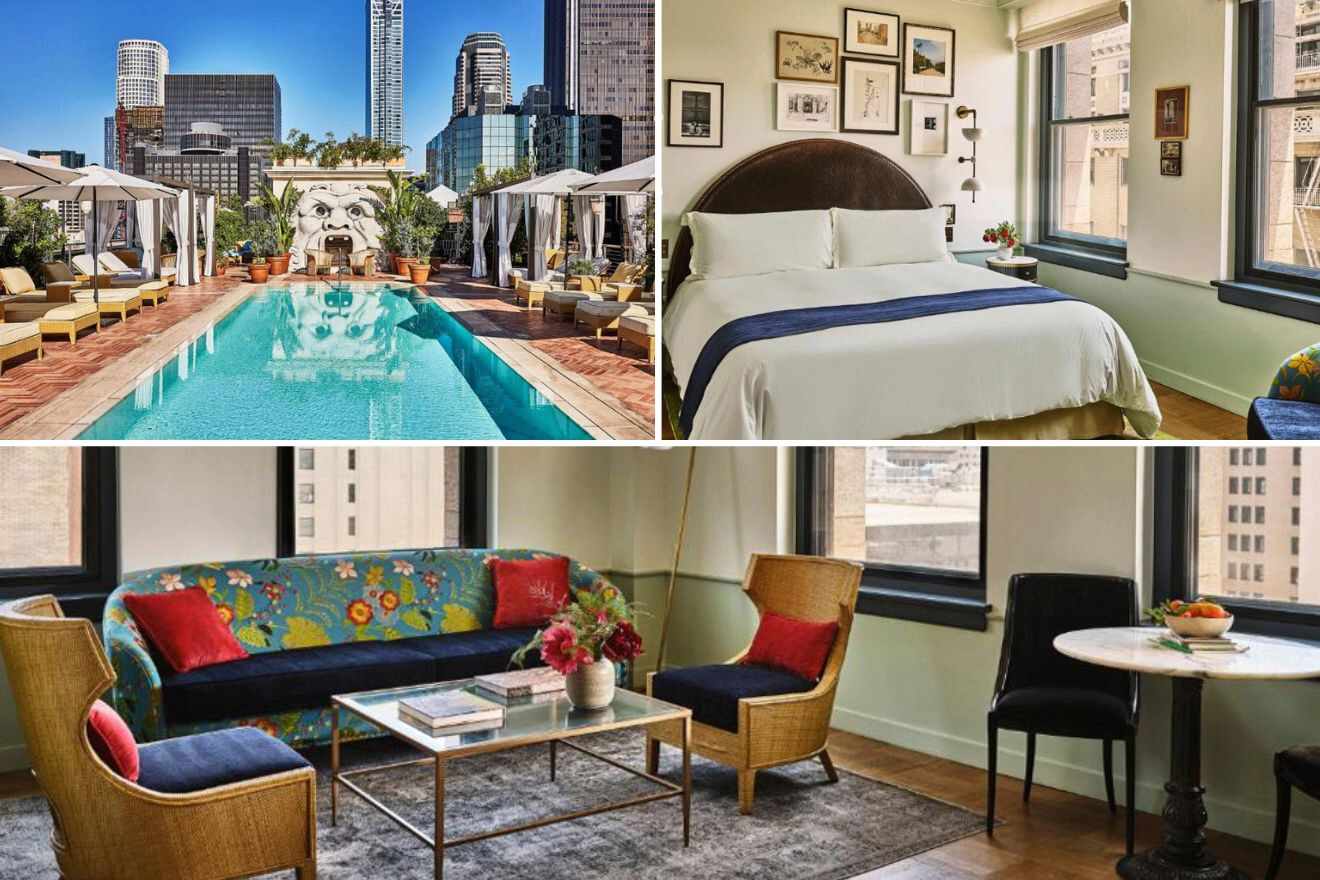 Set in downtown Los Angeles, California, just a short walk away from all the attractions, this amazing hotel is housed in what used to be the Bank of Italy, a historic 12-story building! All the rooms have such cool decor and a large soaking tub where you can relax after a day of exploring the city.
Make sure you snap a pic of the statue that's set at the far end of the pool while you're here, which is a replica of an important statue found in the 16th century in Northern Italy. Here they take cocktail hour super seriously, so make sure to enjoy some by the pool as well, and you can also rent some bikes from here (just don't do it in that order)!
12. Hotel Normandie – a classy Los Angeles hotel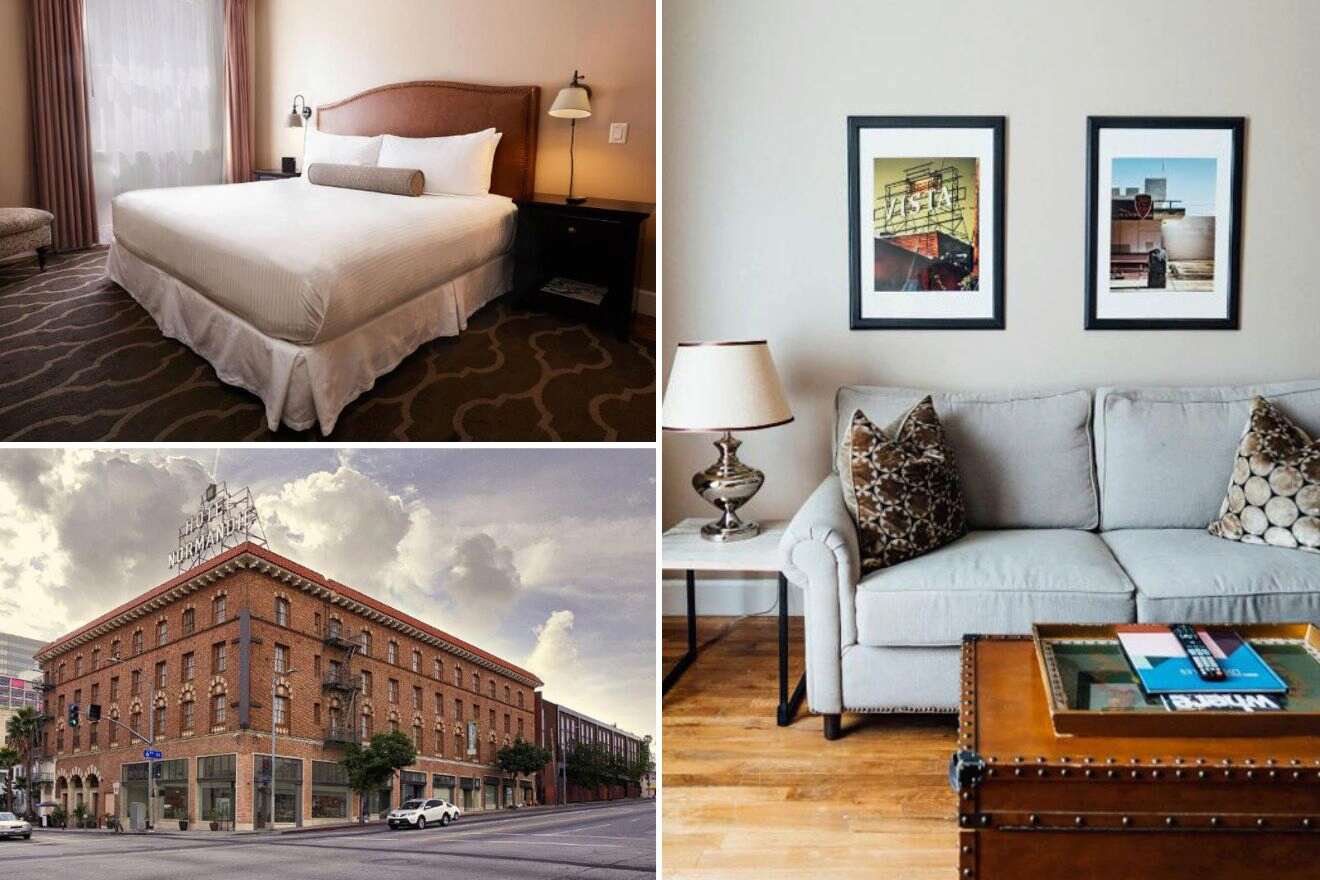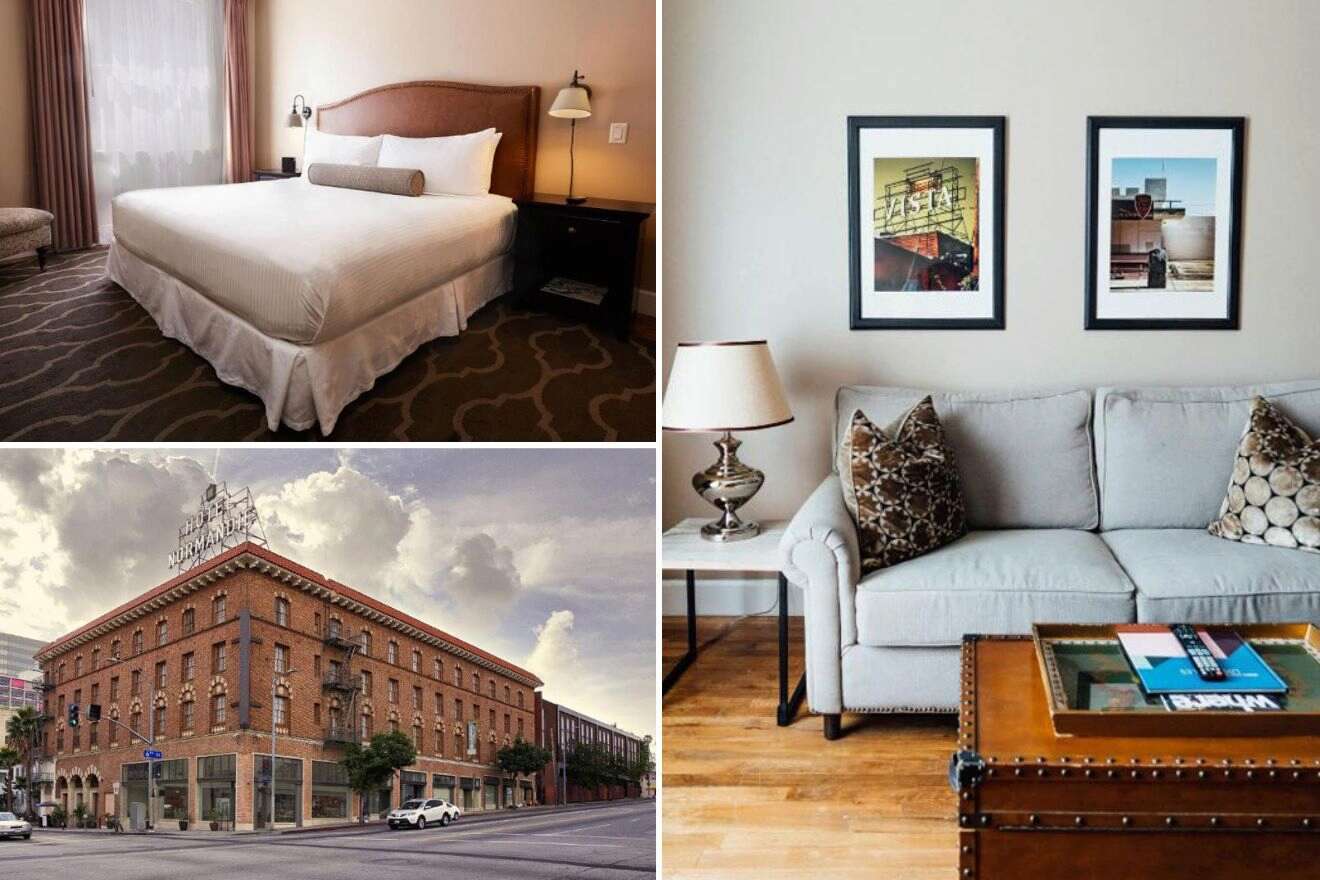 Originally built in 1926, this historic hotel set in the Wilshire District offers this homie atmosphere that will make you feel super comfortable the moment you arrive here! Elegant aesthetics and stylish furnishings will be just some of the main things that you'll notice at the hotel, and of course, their gorgeous domino floors.
The rooms are well equipped with all the facilities you need for your stay, including coffee makers, a private bathroom, and free Wi-Fi. And this other cool thing that they offer is an evening wine tasting!
13. Hotel Figueroa – a modern hotel with a great location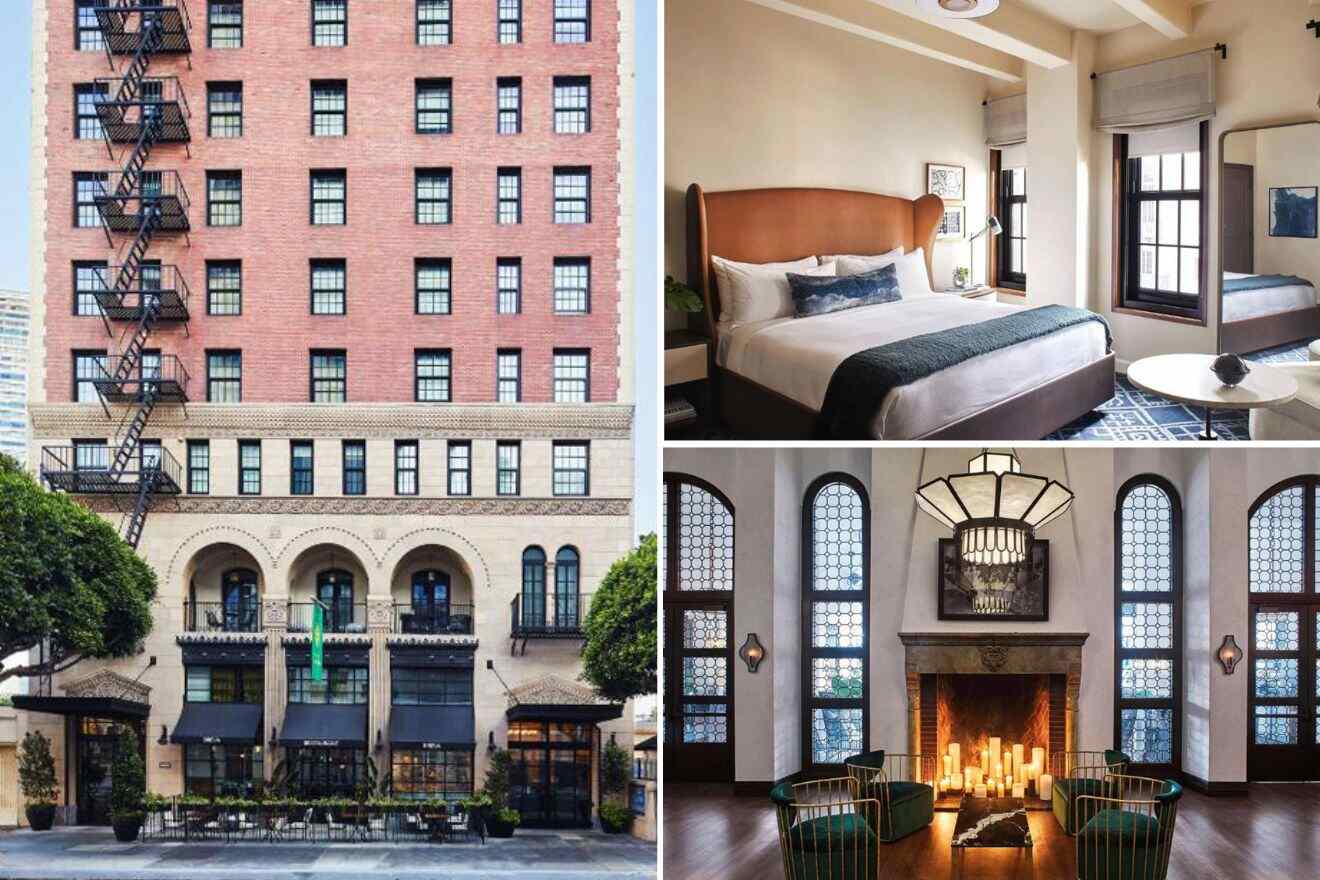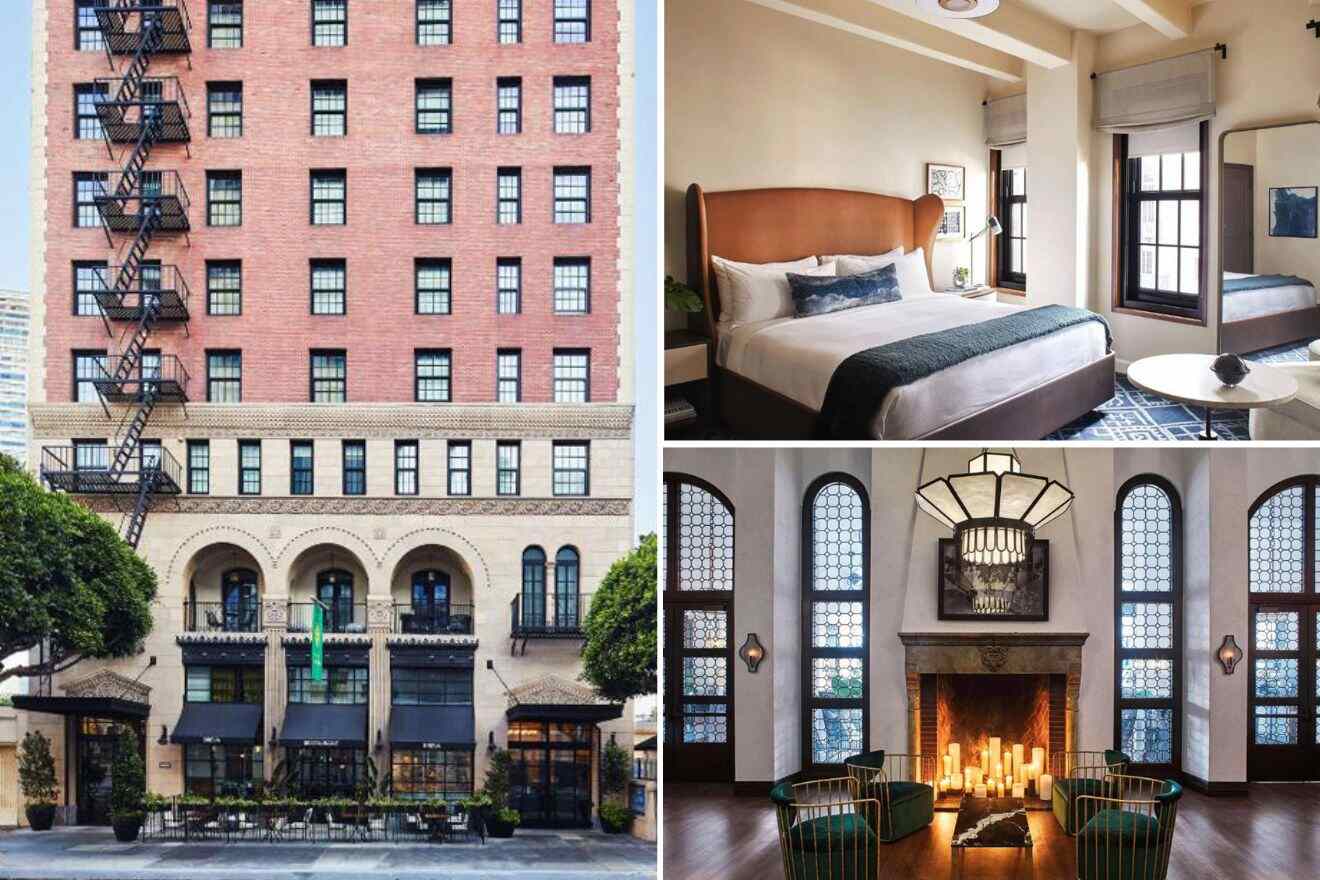 I love the combination of styles at this 1926 hotel! Set in downtown Los Angeles, the accommodation comes with rooms that have a contemporary design, free Wi-Fi, and a private bathroom.
The accommodation has 2 restaurants and 4 bars on-site, where you can try some yummy dishes and cocktails afterward! During those hot summer days, you can cool off in the outdoor swimming pool and relax on the terrace!
FAQs about historic hotels in Los Angeles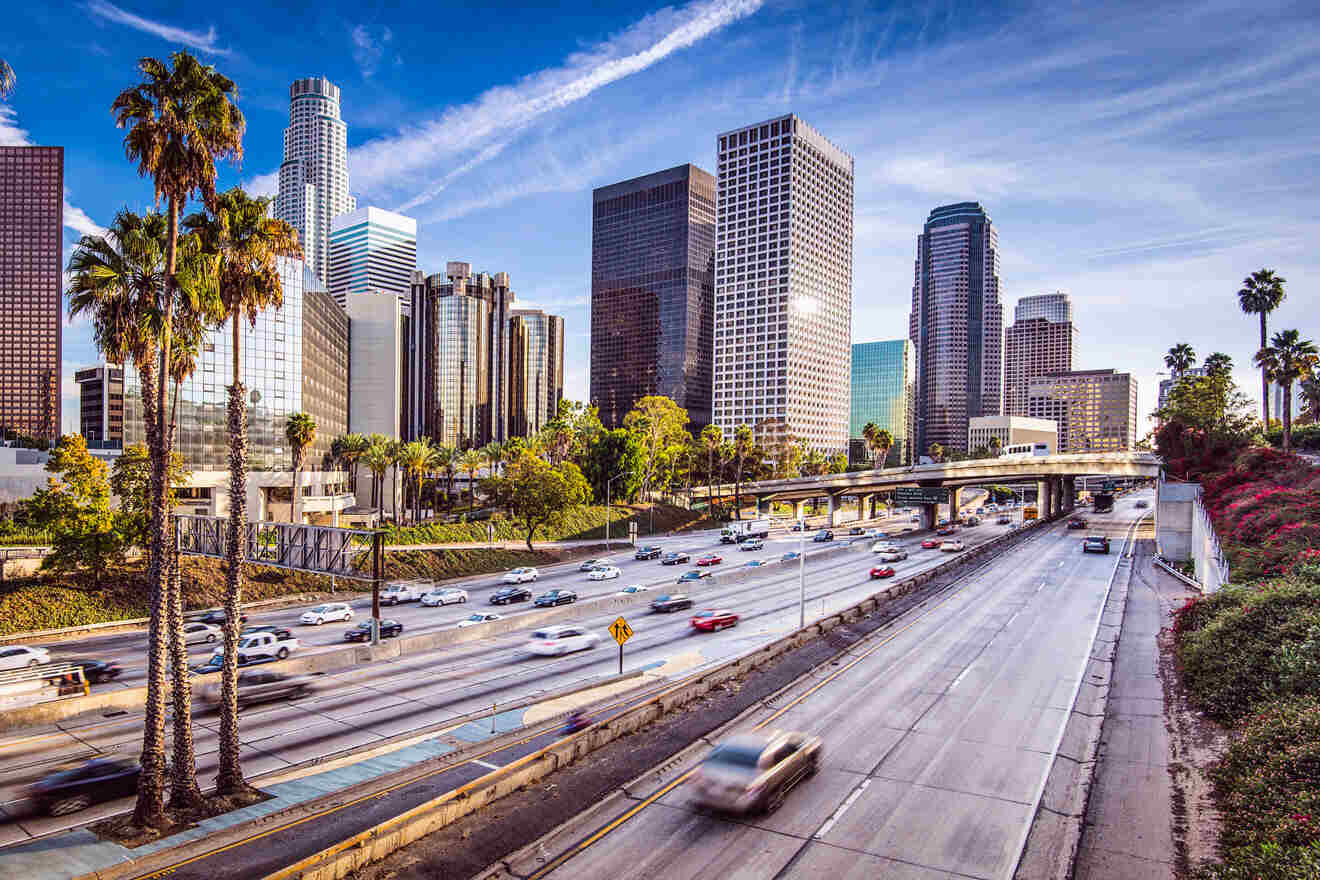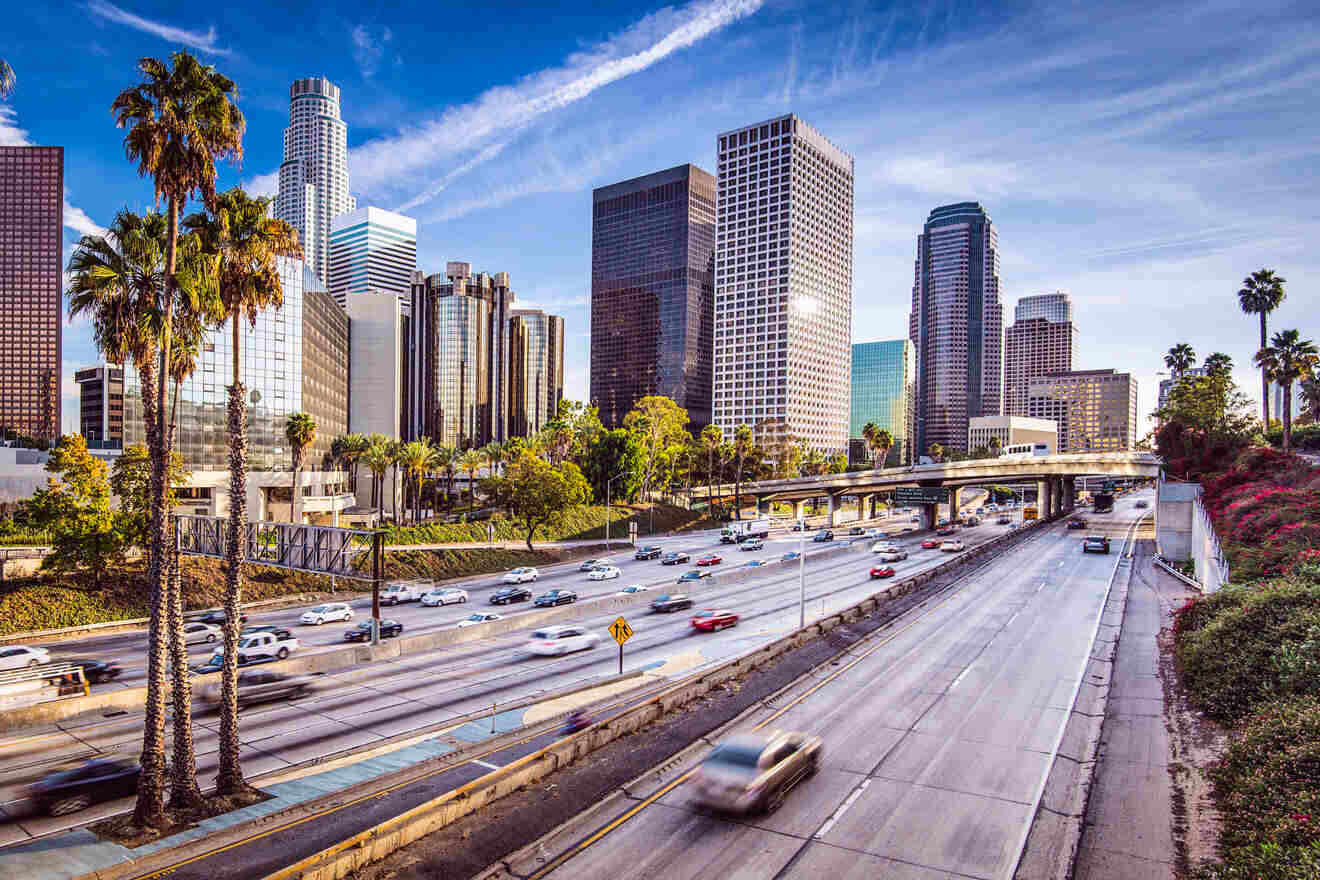 Conclusion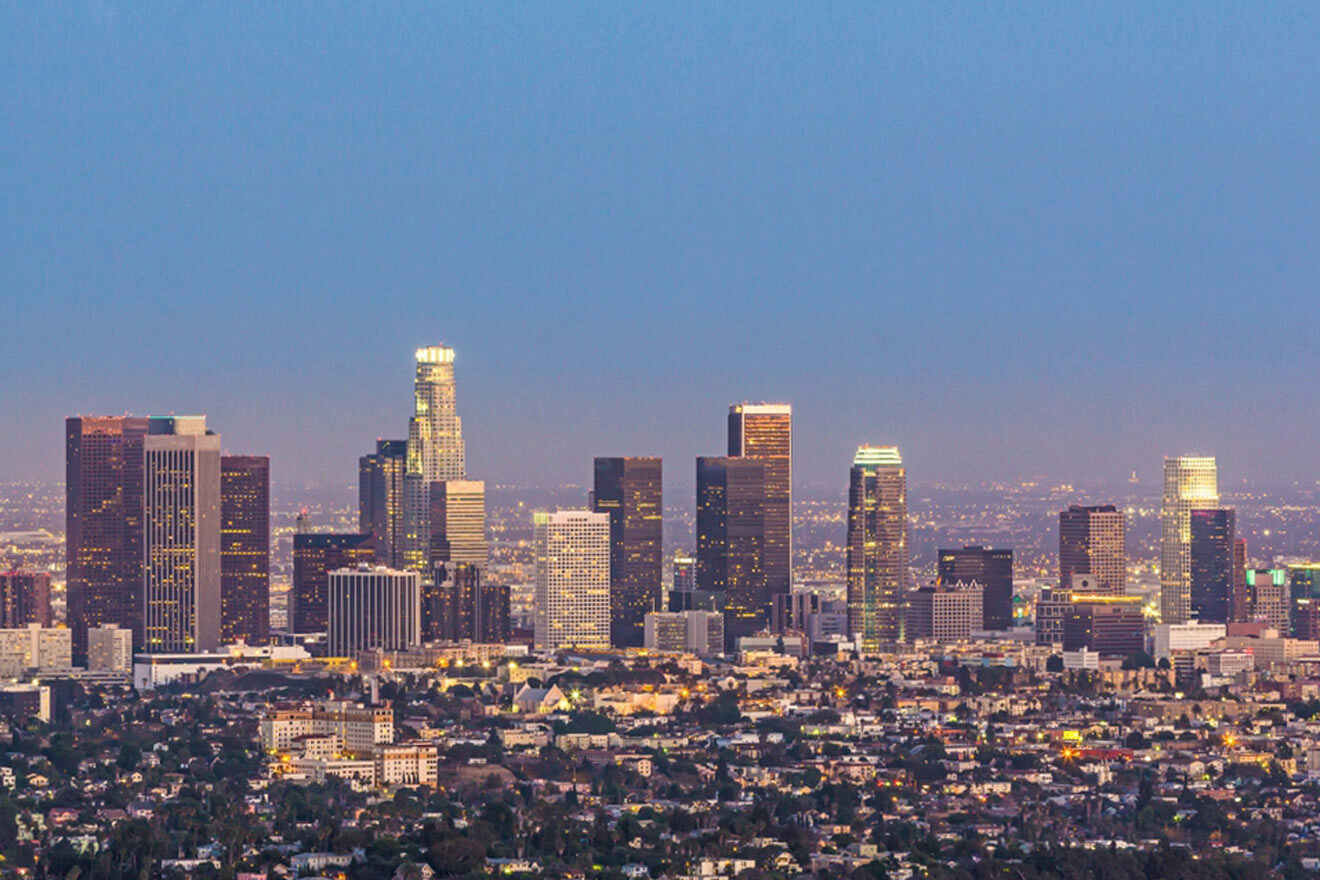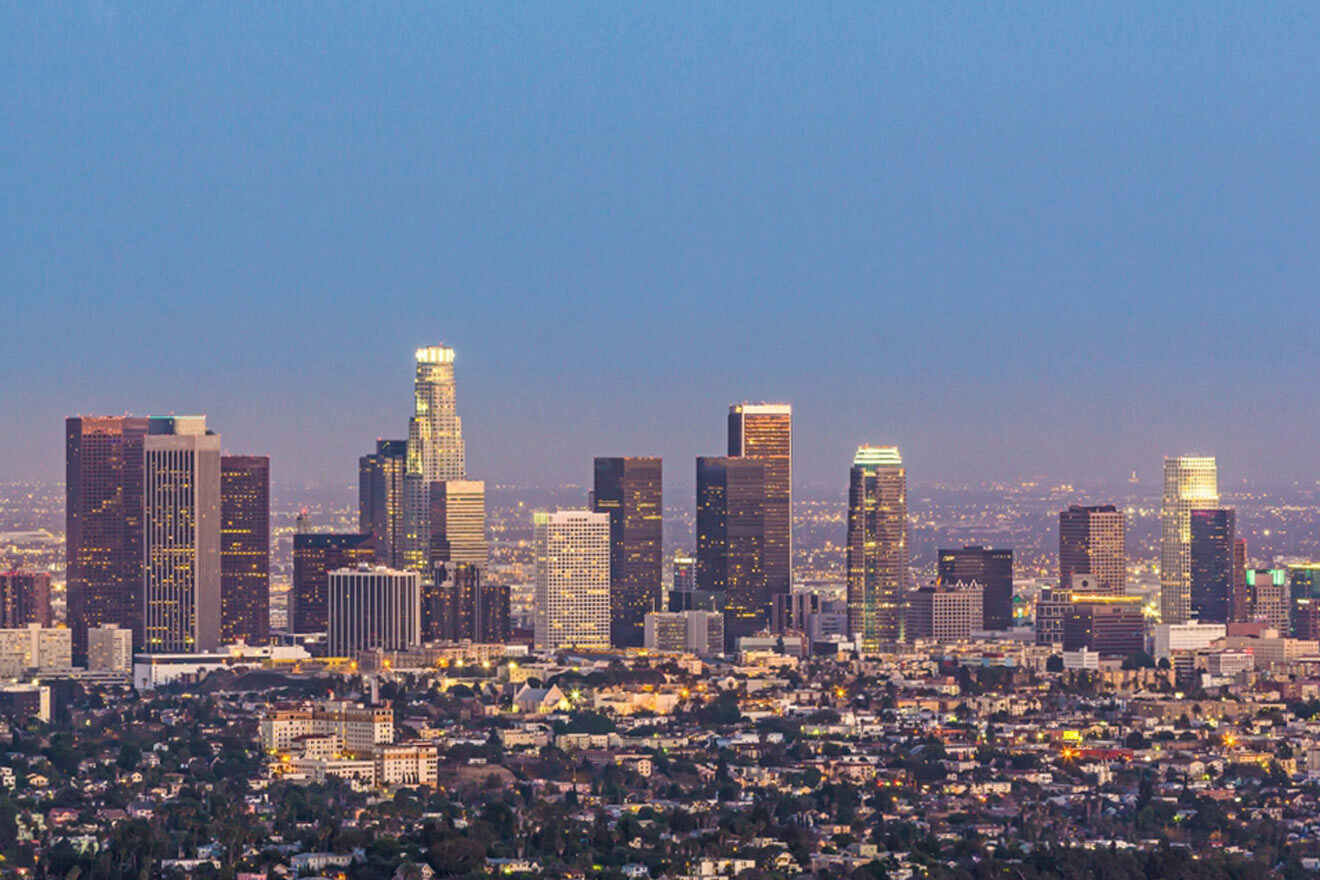 Already daydreaming about staying in the same hotel as Jim Morrison? I know, these places are incredible!
I'm happy you've got to see the coolest historic hotels in Los Angeles! It's been so much fun to learn where Hollywood celebrities used to spend their time!
Just remember that it's super important to book your hotels early! As I mentioned, these are some of the top accommodations in the city, and we all know how touristic Los Angeles is!
Don't hurry to close the page! You can't leave without hearing about my 2 favorite hotels:
The Beverly Hills Hotel – An iconic luxury hotel that has long catered to the rich and famous, like Elizabeth Taylor or the Beatles, and has a pool with underwater music.
Hotel Bel-Air – Tucked away between lush greenery, this hotel dating back to the 1950s, offers a spa center and a pool.
Have an amazing trip, everyone! And if you've got any other interesting details about these hotels, like other celebrities who stayed here, leave a comment below!
Safe travels,
Victoria
---
Pin it for later!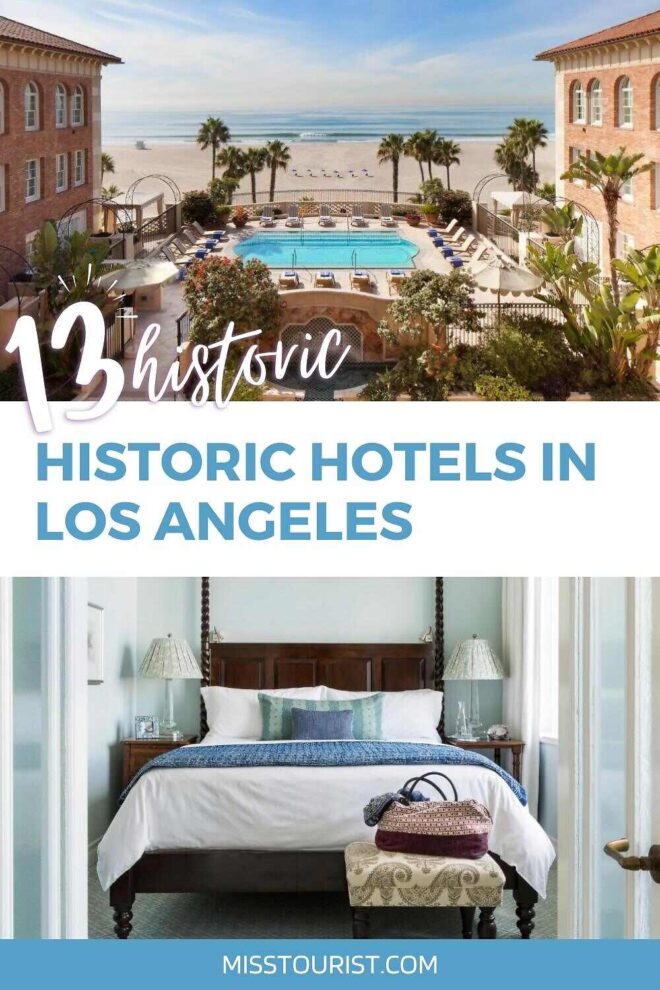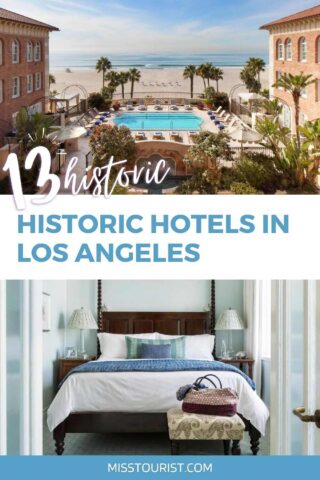 Pin it for later!