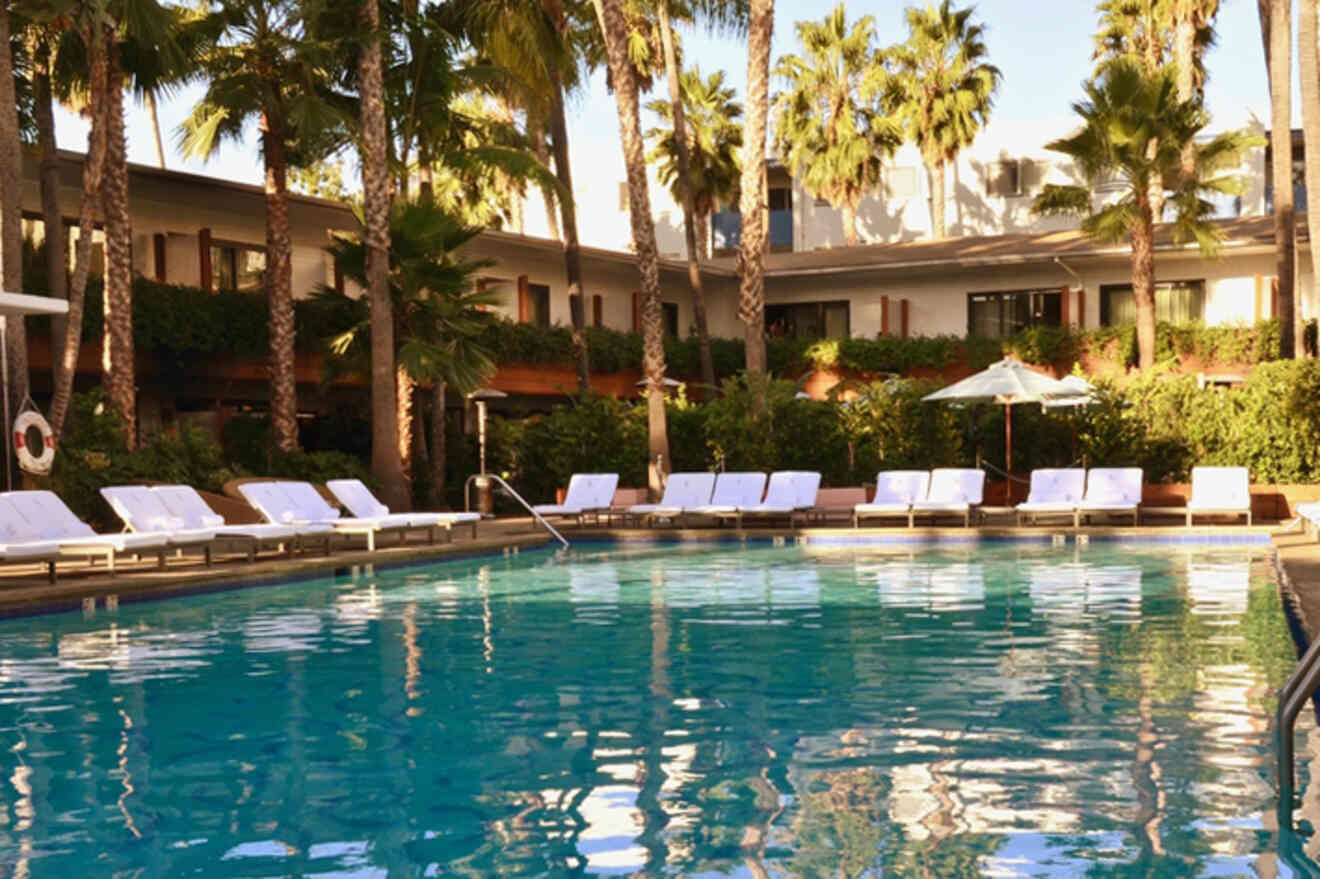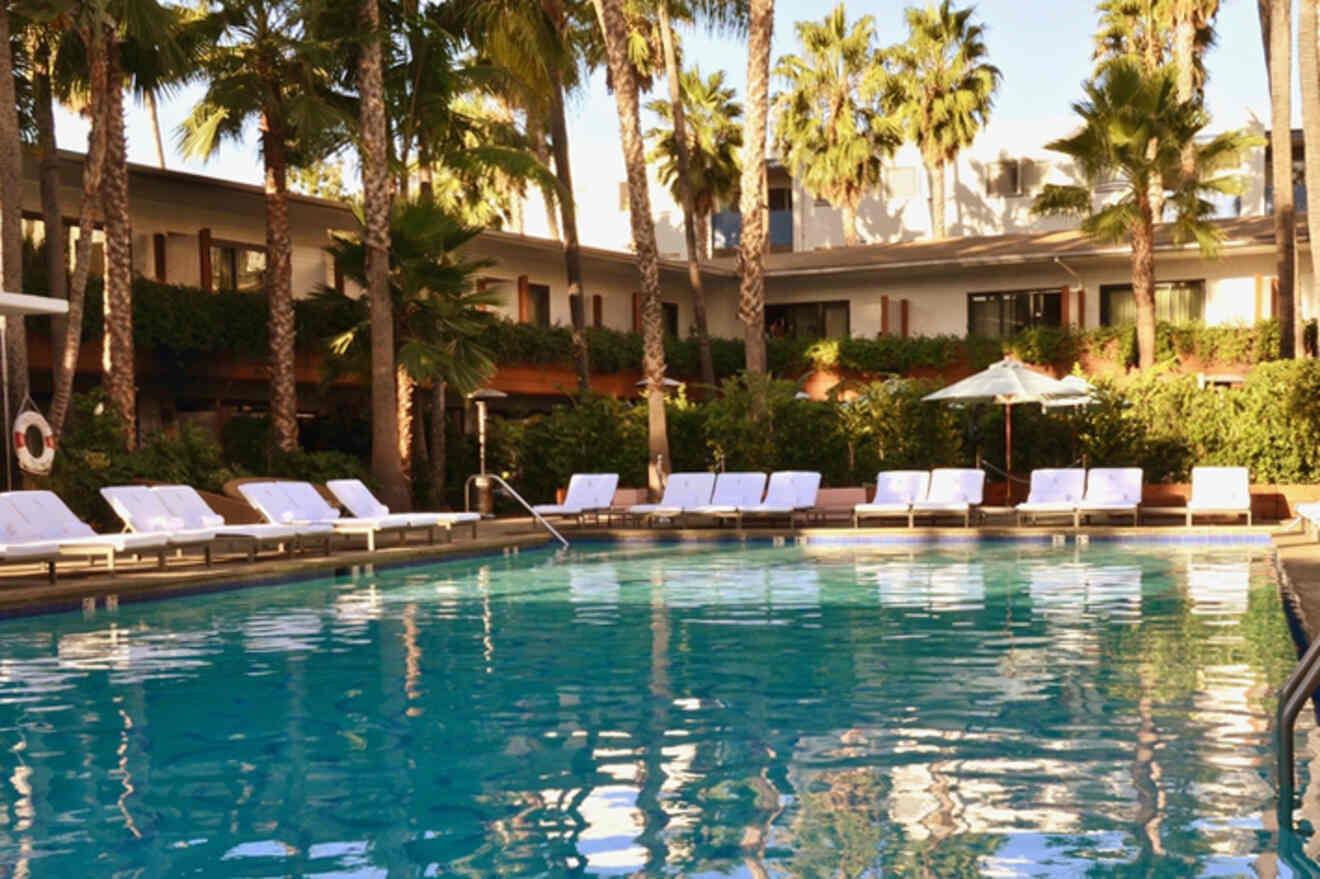 Beach, sun, Hollywood glamour, and I could go on and on! Truth is, California has it all! Including some of the leading hotels in the country!
So if you're headed there, brace yourselves and guard your wallets, as in this post, you'll find some of the best boutique hotels in California! I've looked on the web for hours and come up with a list of hotels (that I'm so proud of) and which I ordered from most to least expensive!
I didn't hold back at all, and you can surely tell that by the result! These hotels have spacious marble bathrooms, hot tubs, and outdoor fire pits, plus that Californian shabby chic style that we all love!
Before we jump straight in, I want to tell everyone how important it is to book your accommodation in advance. These are some of the best boutique hotels in California, and they'll definitely sell out fast!
Are you ready to enjoy that laid-back California culture?
Then let's go!
If you are in a hurry
Check out the list below, which I made especially for anyone who can't go through the whole post! It has the top boutique hotels in California:
Since we're talking about the whole state, I decided to make this map, so you can easily visualize all hotels that I'll talk about in the post:
1. Bardessono Hotel and Spa – fabulous Napa Valley hotel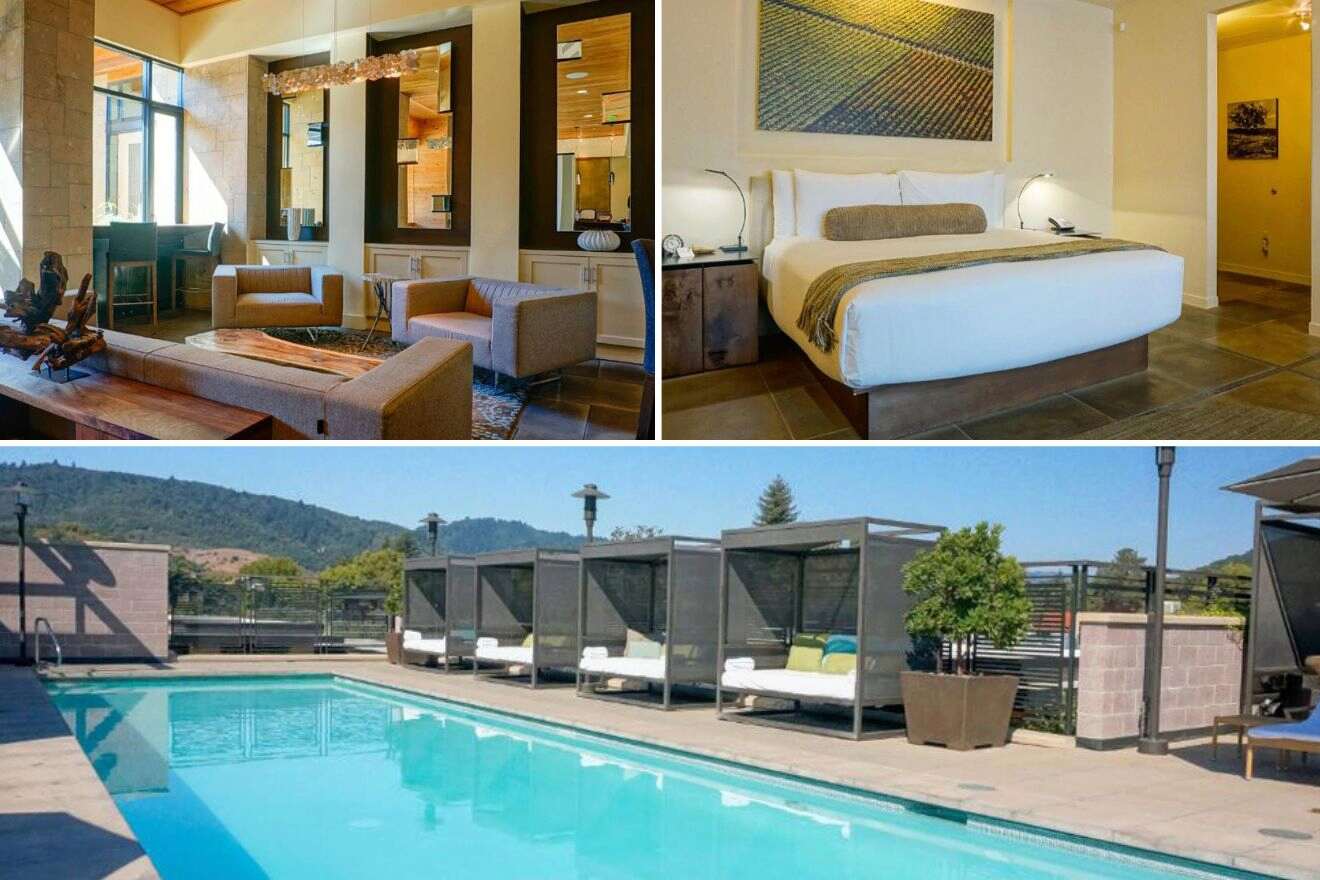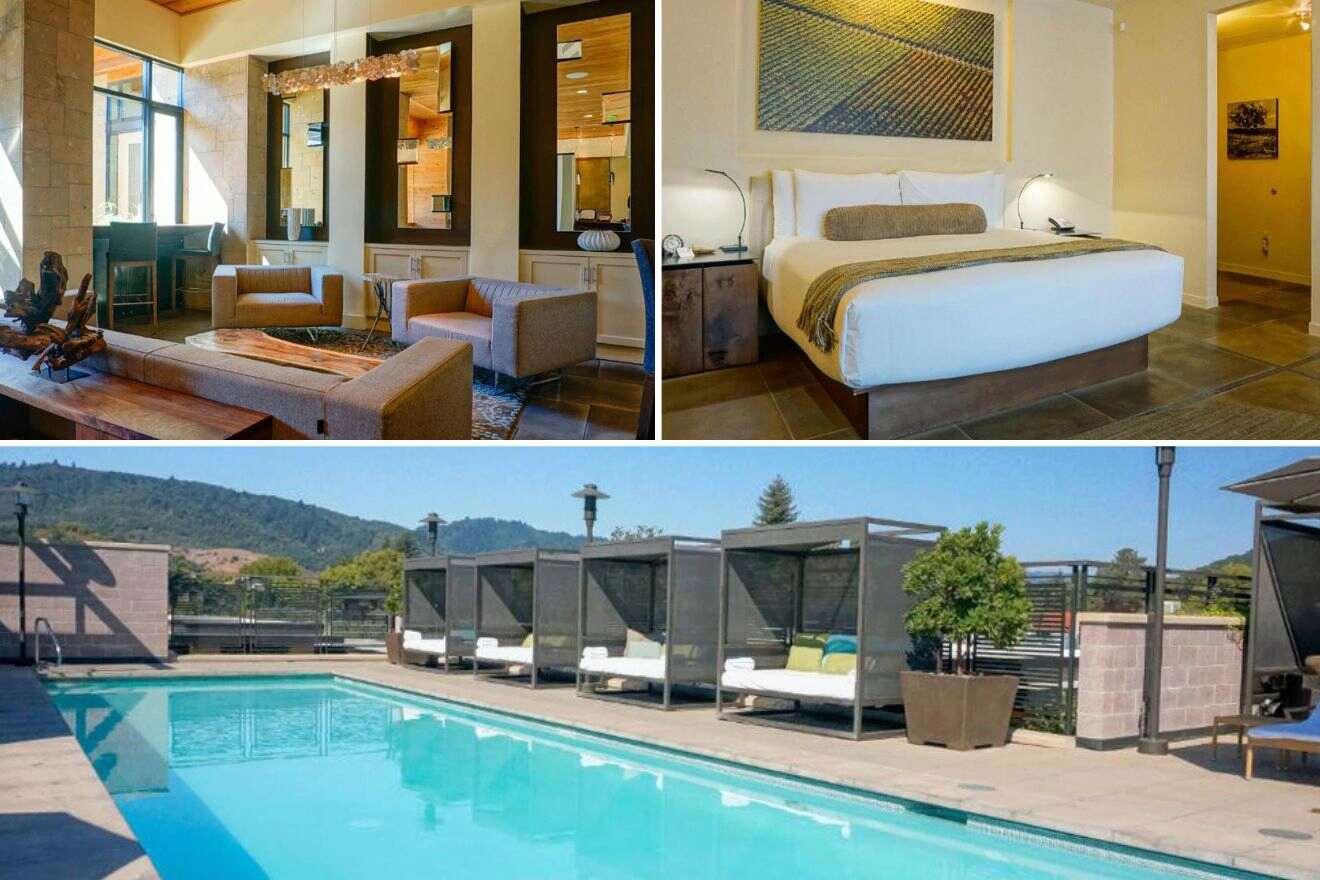 Looking for a place to stay in Napa Valley? Then check out this amazing accommodation that overlooks the wine country! The accommodation has suites with private balconies, fireplaces, and all the other facilities you'd need for your stay!
Set within walking distance of some wineries, the hotel is perfect for those who want to explore the beautiful California Wine Country and relax in their fabulous spa center or at the heated pool! You can also rent out bikes from the hotel and explore all those scenic hills!
2. The Surfrider Malibu – the perfect place for surfers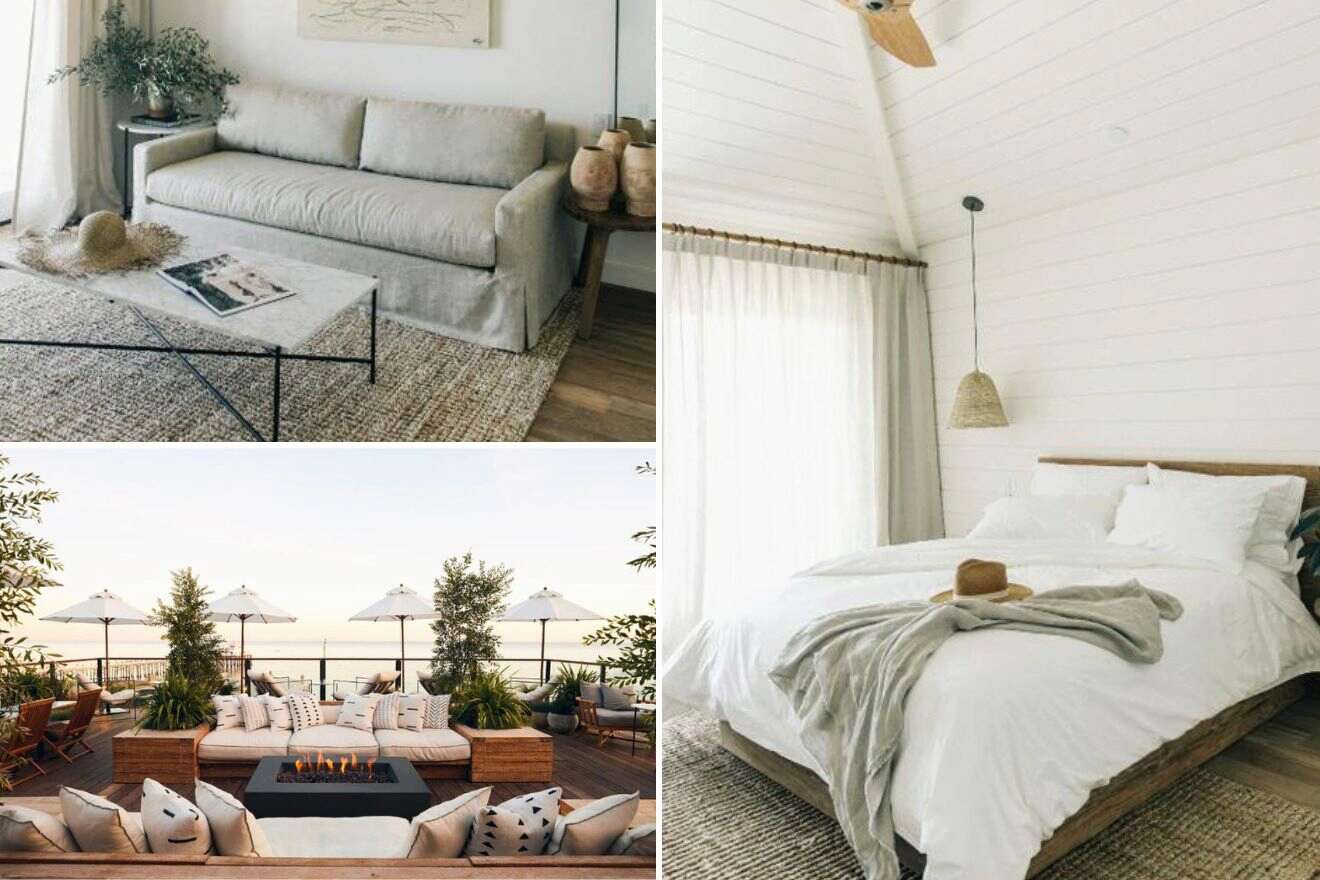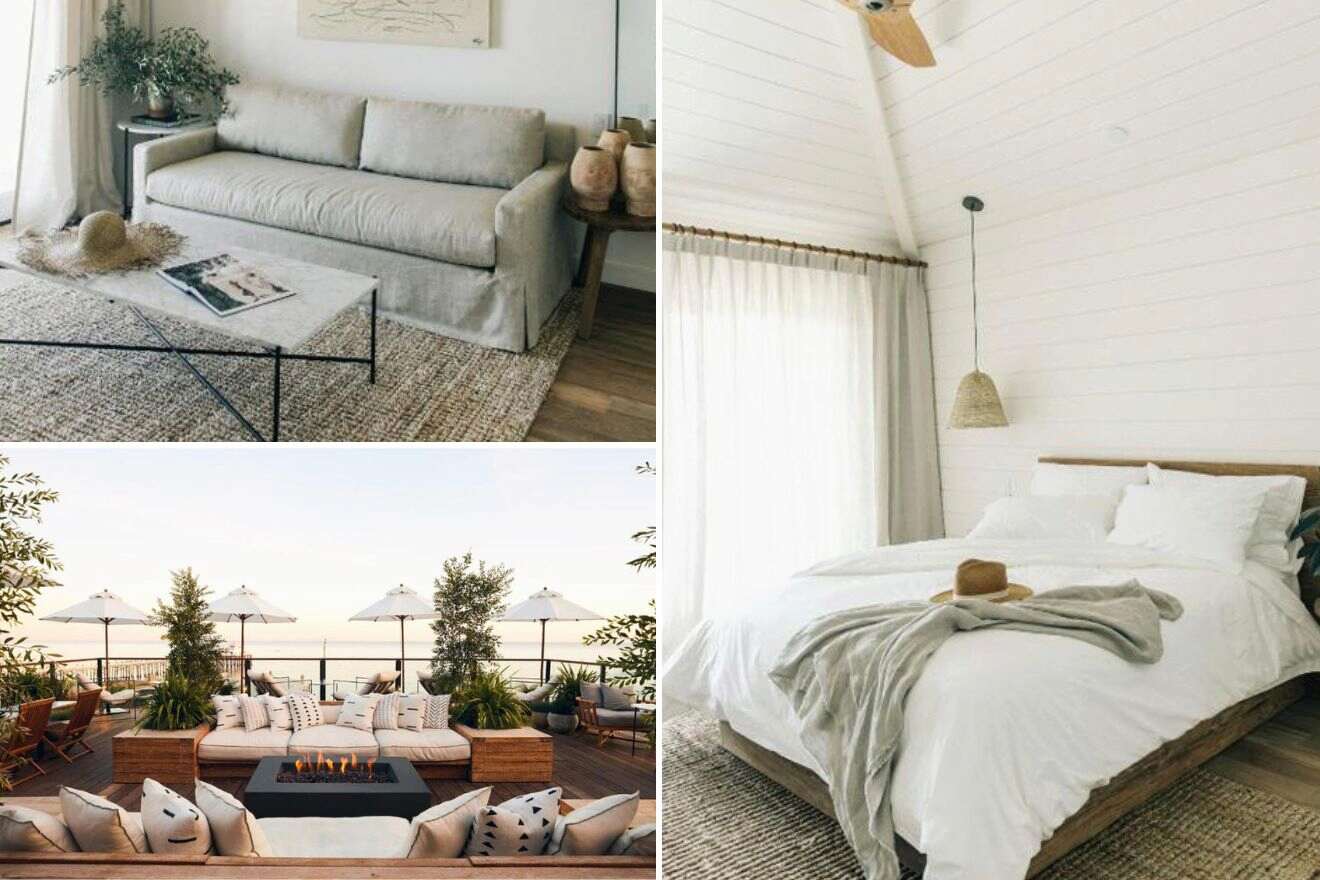 With an unbeatable location in Malibu, this incredible hotel comes with the most amazing ocean views! As for its design, think Mediterranean style but with Californian influences! The modern rooms are super cozy, and they come with private balconies where you can enjoy your morning coffee while admiring the Pacific Ocean views.
If you're a surfer, then you'll be happy to know that they offer free surfboards and stand-up paddle boards! Their roof deck bar is the perfect place to end a day of surfing or exploring the area! You can relax by the fire pit with your travel buddies, have a glass of wine, and plan tomorrow's adventures!
3. Santa Monica Proper Hotel – chic hotel with a great location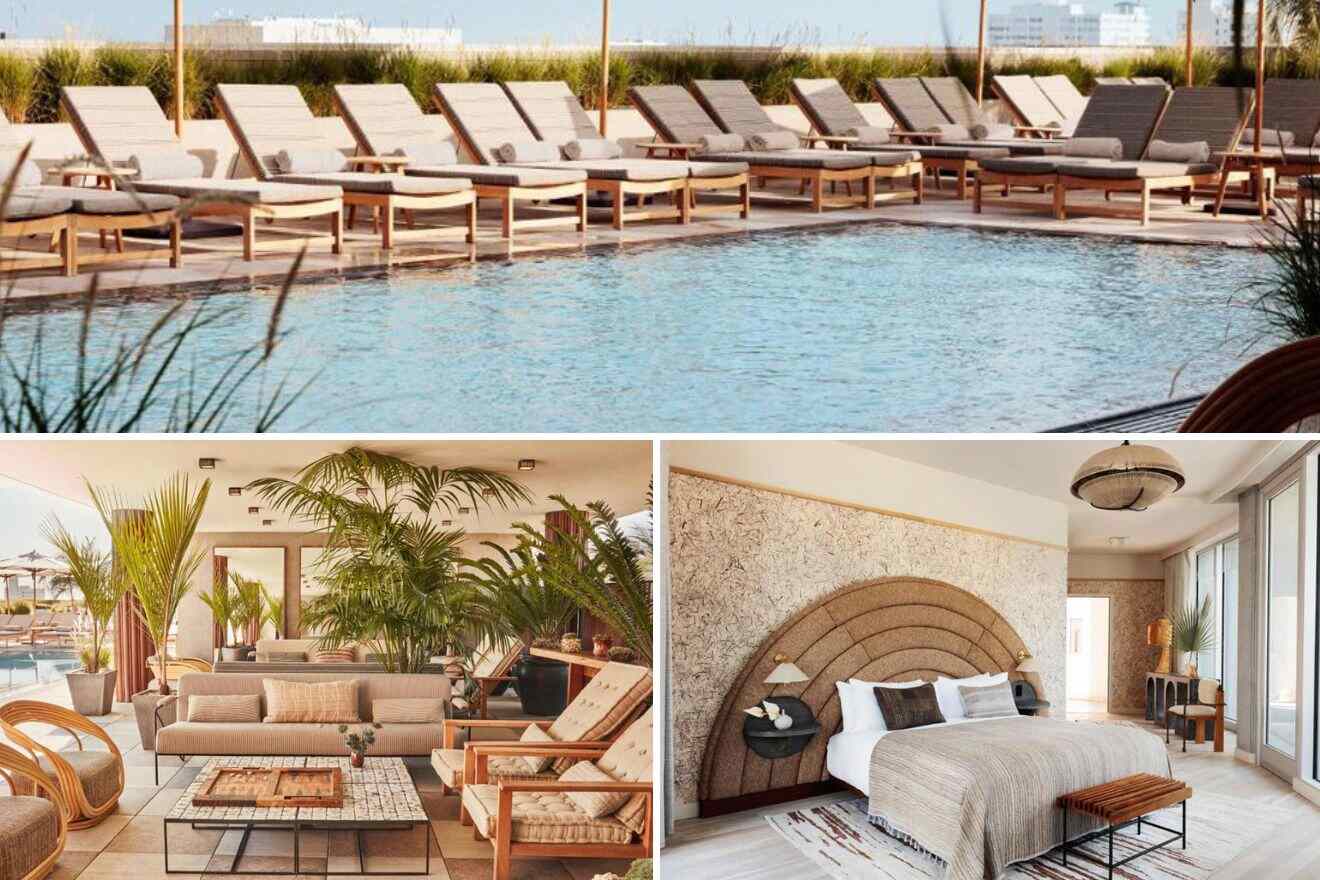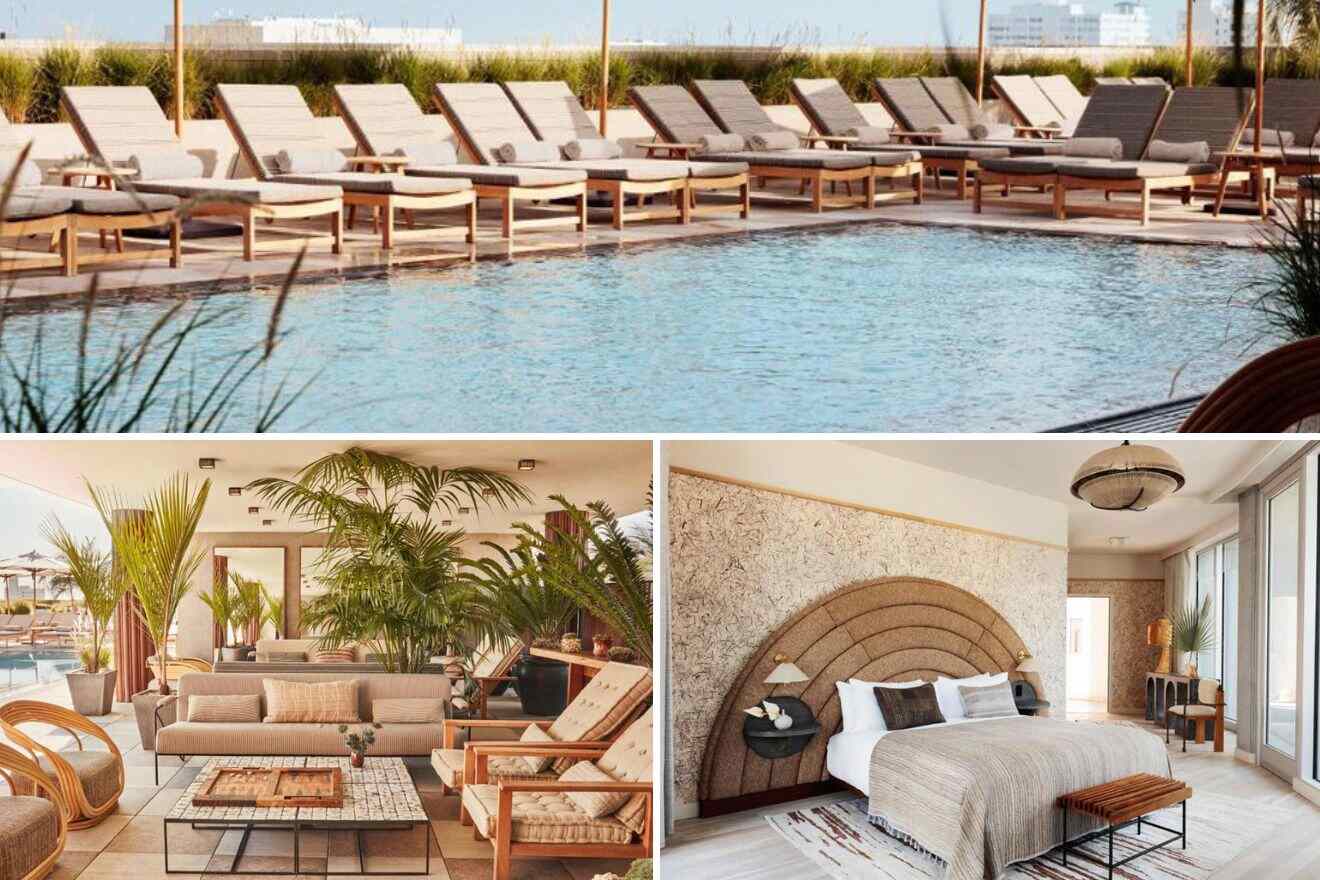 Set in a 1920s building in Santa Monica this amazing is just perfect for those of you who are design lovers! All the colors and the pieces used to decorate the guest rooms and the entire place are so soothing! A lot of beige, brown, and earthly tones were used, which go perfectly with contemporary architecture!
The accommodation offers impeccable service, and you'll find here a beautiful outdoor patio where you can relax, an outdoor pool, an on-site spa where you can enjoy the countless facilities, and an on-site restaurant where you can indulge in all the delicious food!
4. Orli La Jolla – for beach lovers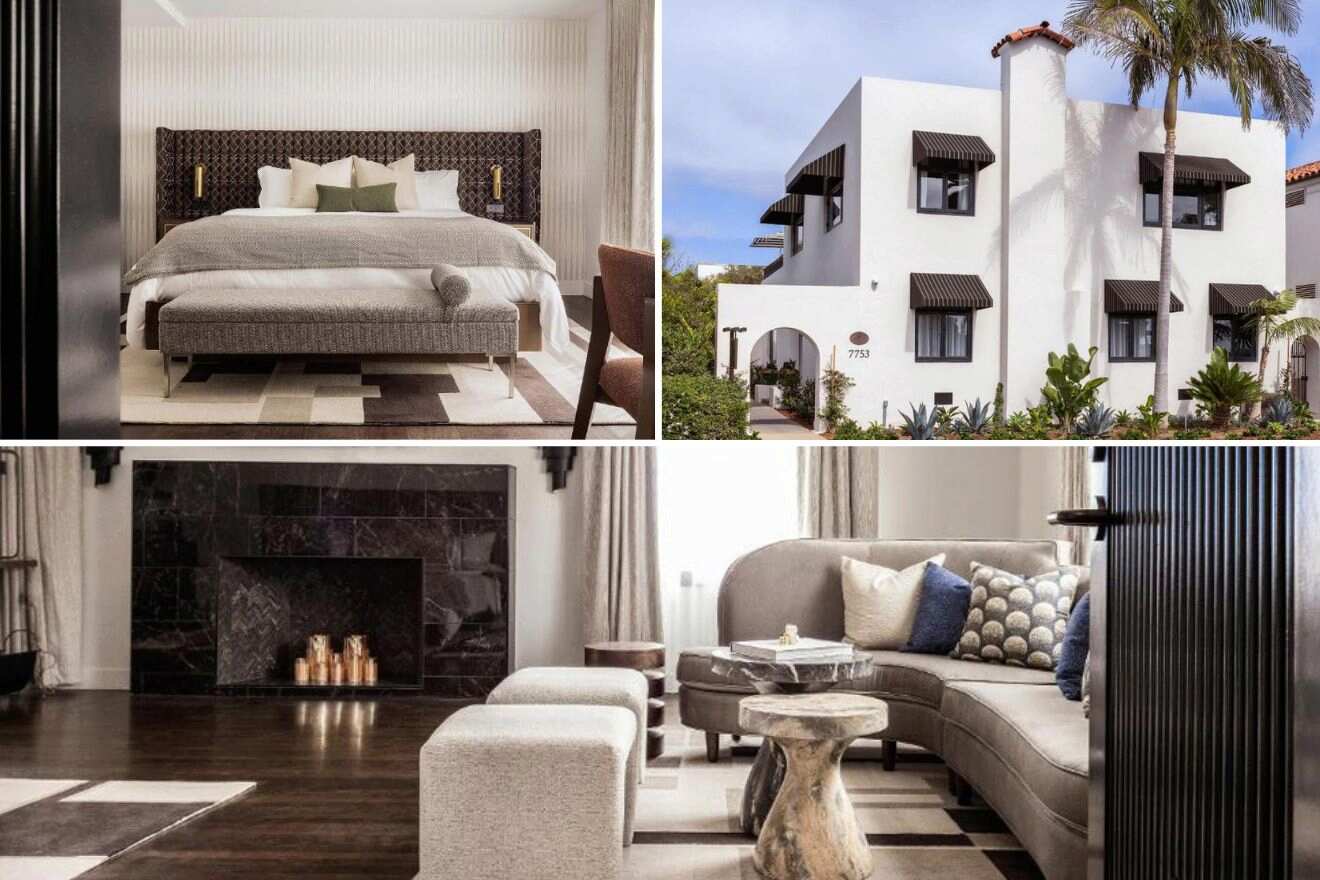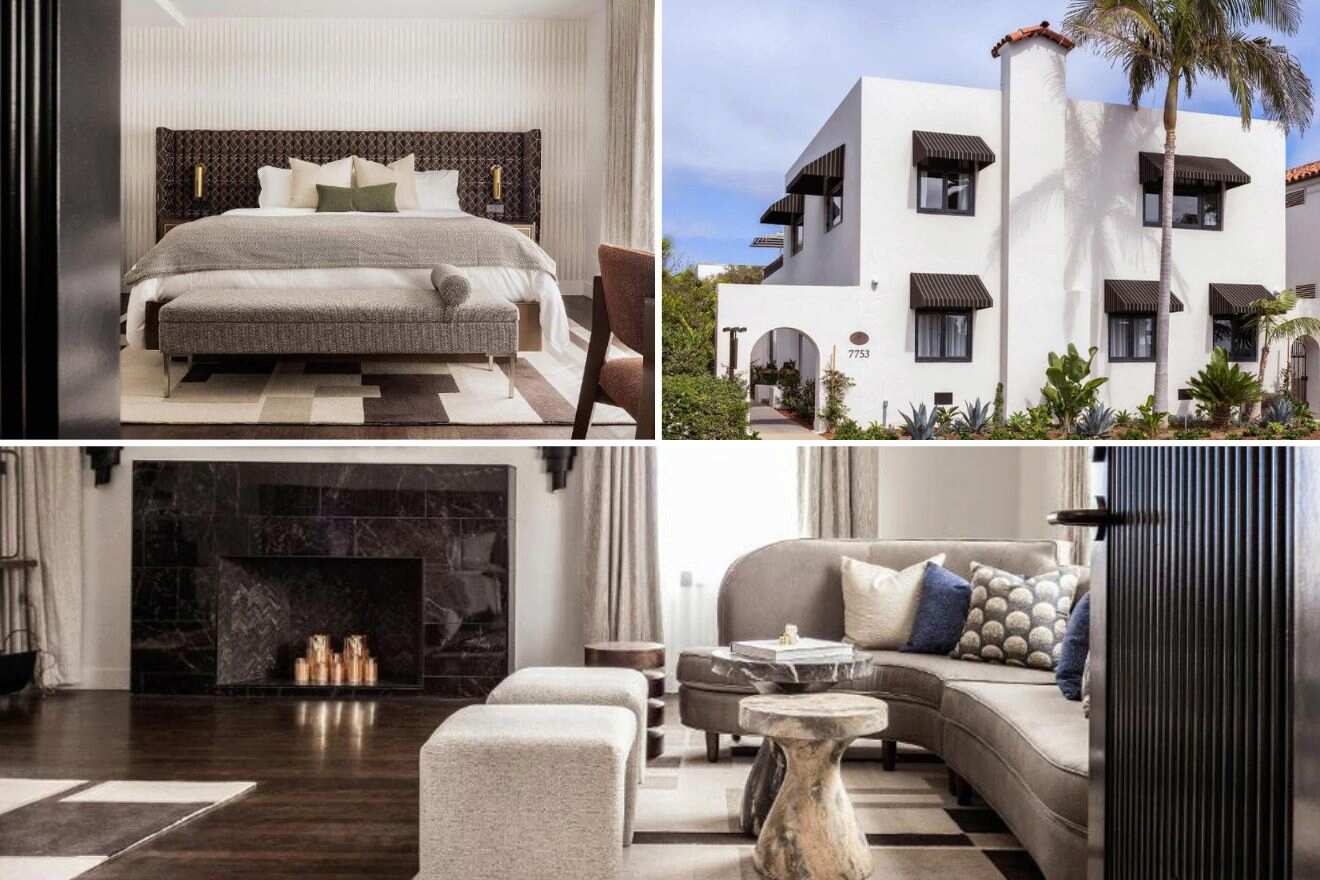 La Jolla is one of the best areas in San Diego, and it has some incredible hotels which are set within walking distance of the beach! This boutique hotel has such a cozy atmosphere and some incredible guest rooms, which come with a private bathroom, and a coffee machine, and some also have a private balcony.
Perfect for those who need a relaxing retreat by the Pacific Ocean, the hotel offers lots of modern amenities, plus it has a bike rental for those of you who want to explore as much of the area as possible!
5. Hotel Joaquin – for a chill trip in Laguna Beach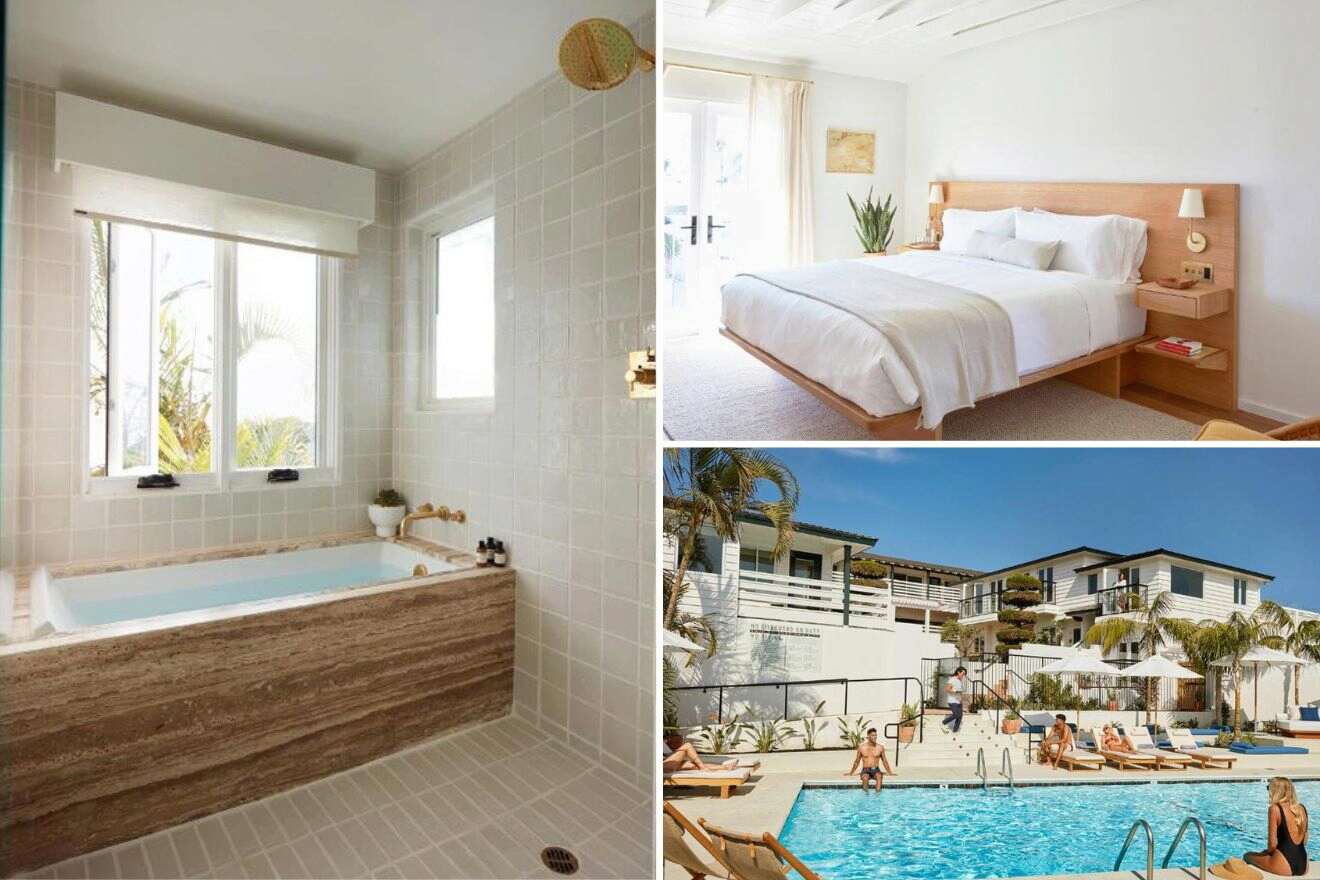 You'll surely fall in love with this Laguna Beach hotel in Southern California! It definitely has the California cool vibe, and it's conveniently situated just a short walk from the beach! The guest rooms have simple and modern decor, and they're super comfy and have a private balcony.
Start your mornings with some coffee and a delicious breakfast at the restaurant on-site that serves Mediterranean cuisine. For the rest of the morning, you can relax by the swimming pool or head straight to one of the best beaches in Southern California! But definitely come back to the hotel in time for their movie nights! Don't forget to book your hotels in California early, these are some of the best ones, and they'll sell out fast!
6. White Water – for a Cali holiday by the beach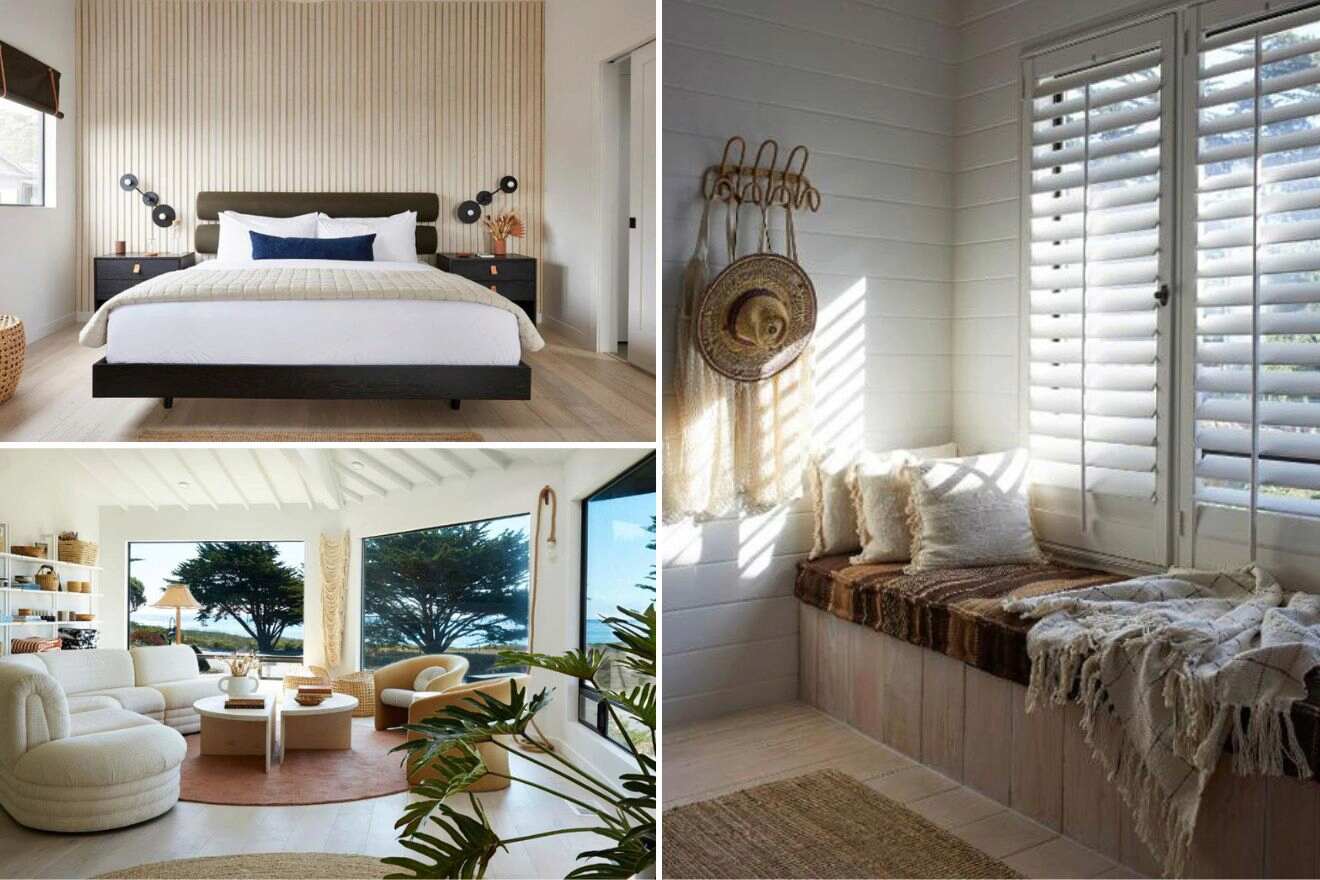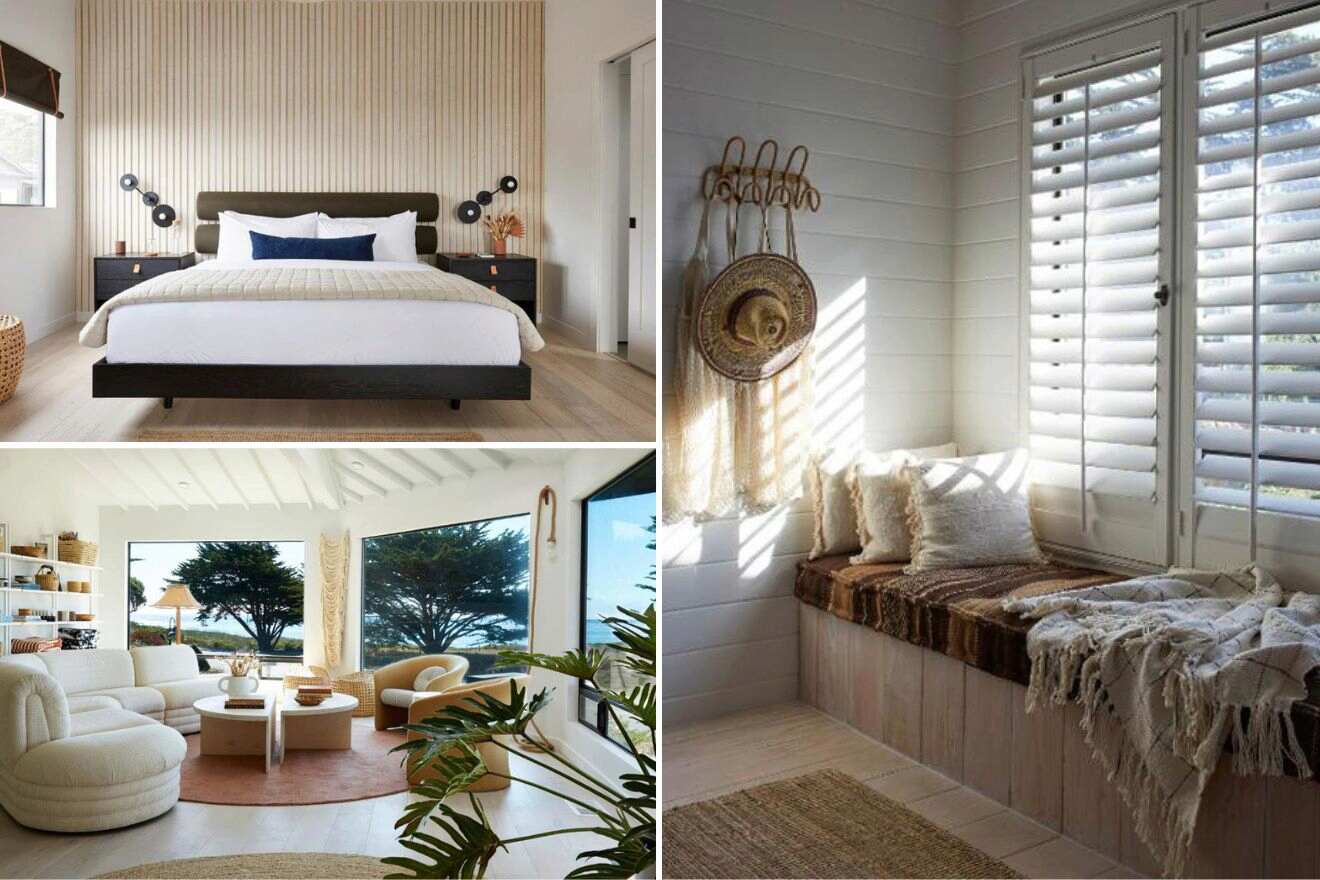 Wake up to a stunning sight of the Pacific Ocean while staying at this boutique hotel in Cambria, California! The accommodation has spacious rooms decorated with ultra-modern furniture, a fireplace, and a private bathroom (some even come with a private spa bath).
Whether you're coming here just to spend time by the beautiful Moonstone Beach, recharge, or you're looking forward to being out and about every day, White Water offers the perfect environment for all of that! And it has a garden where you can enjoy your mornings and a terrace that welcomes all guests to come and relax!
7. Simpson House Inn – for vintage lovers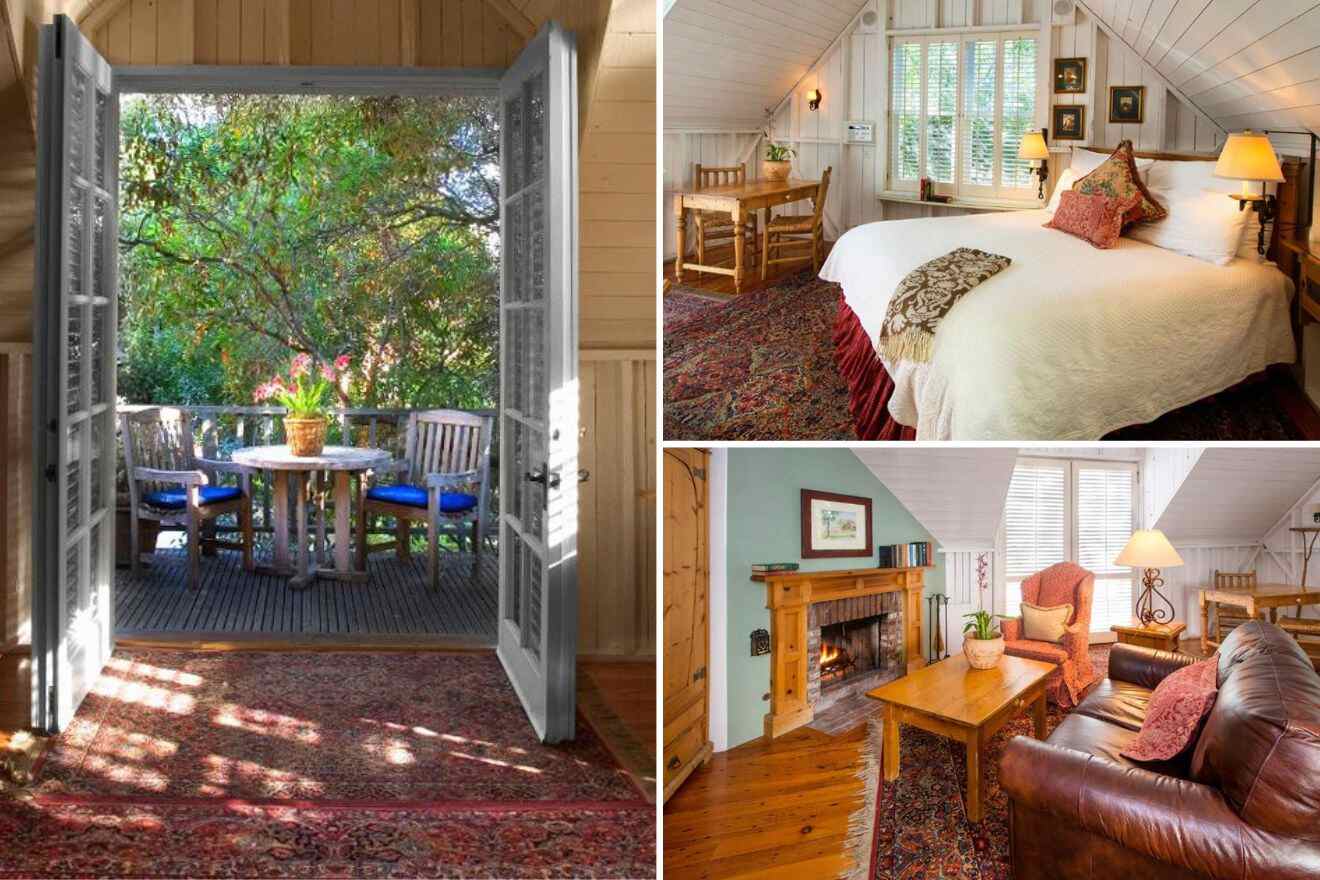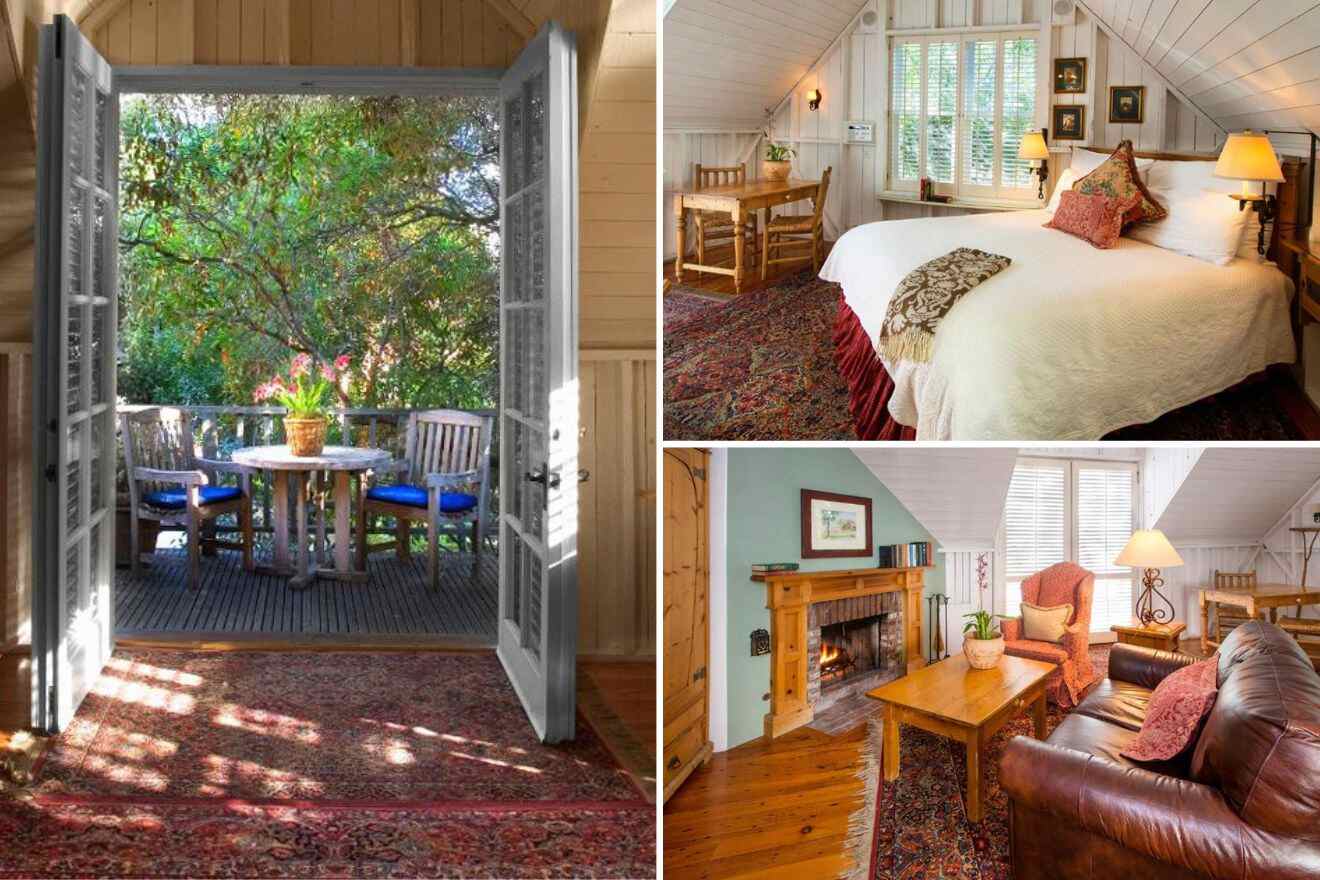 Looking for a fabulous place to stay in Santa Barbara? Oh well, there are a bunch of incredible boutique hotels here, including this one! The Victorian bed and breakfast was built in 1874, and although it was re-decorated and rearranged, it still has that old vintage charm.
Surrounded by extensive gardens, the accommodation offers individually-decorated rooms with lots of unique pieces of furnishing, comfy beds, and all the amenities you'll need for your stay. Each morning you can enjoy your breakfast in the garden, which by the way is prepared by a gourmet chef and of course spend as much time as you want to relax, maybe alongside your favorite book!
8. The Charlie West Hollywood – cool celebrity home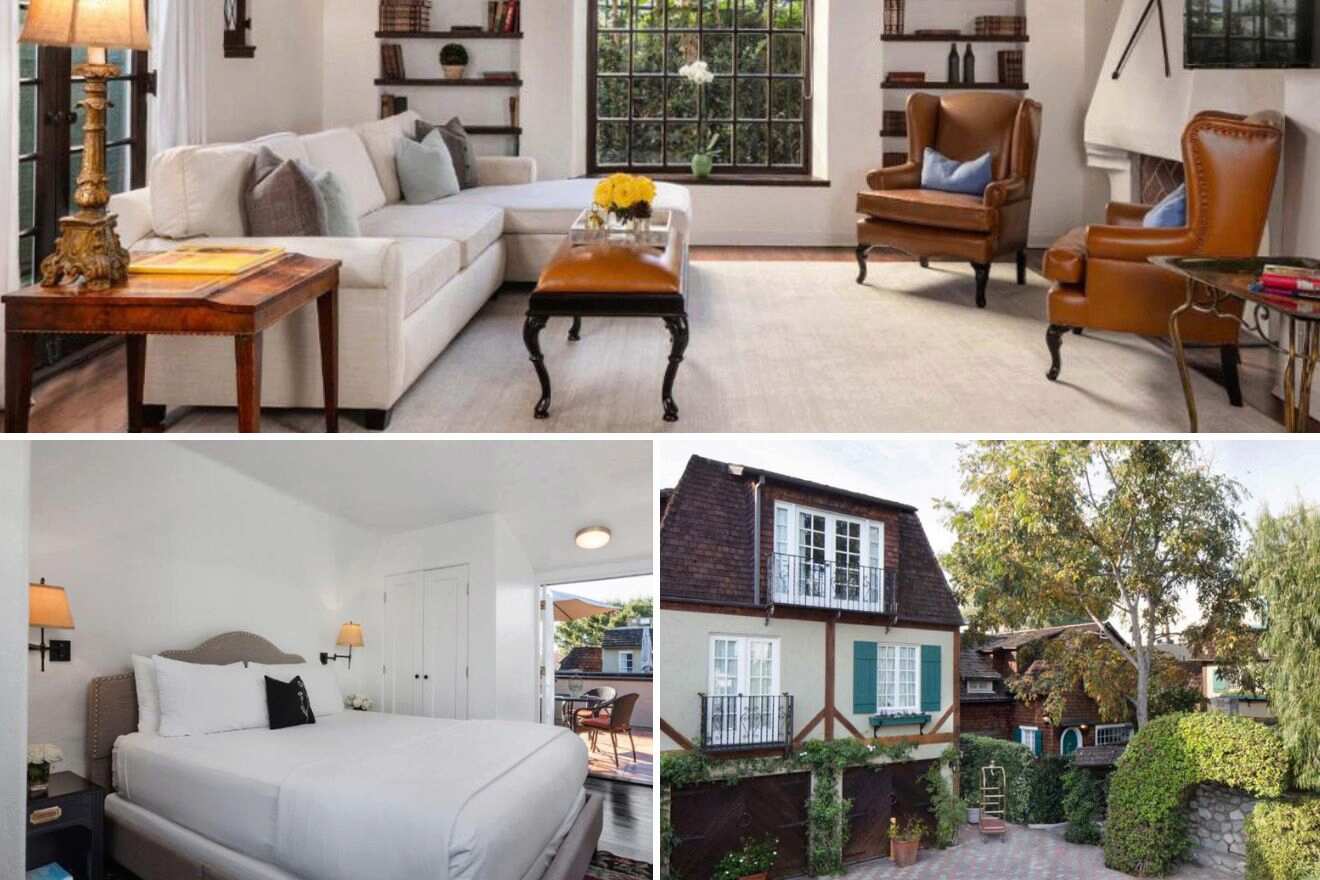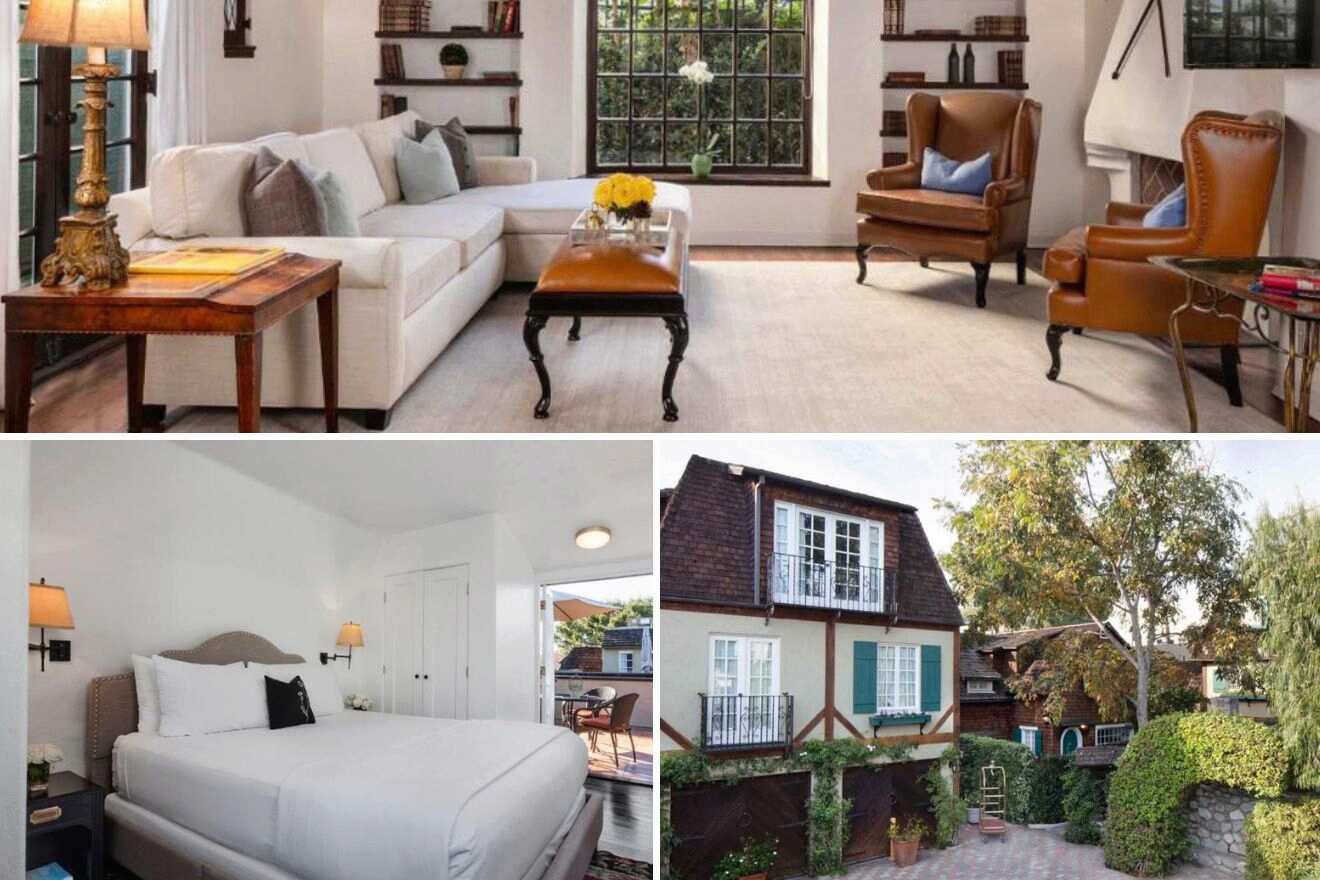 Ever wanted to stay in the home of a Hollywood celebrity? Well, this is your chance! This boutique hotel in West Hollywood, Los Angeles, was once the home of famous comedian Charlie Chaplin!
The accommodation sure has style! It combines so many different elements and unique furnishings that I'm sure many of you will love. The rooms have wooden beam ceilings like the rest of the house and offer a lot of space. One of my favorite things is definitely the stained glass windows which give a rather holy note to the entire place! During your stay, you can relax on the outdoor terrace and beautiful lush gardens.
9. The Guild Hotel – for the urban atmosphere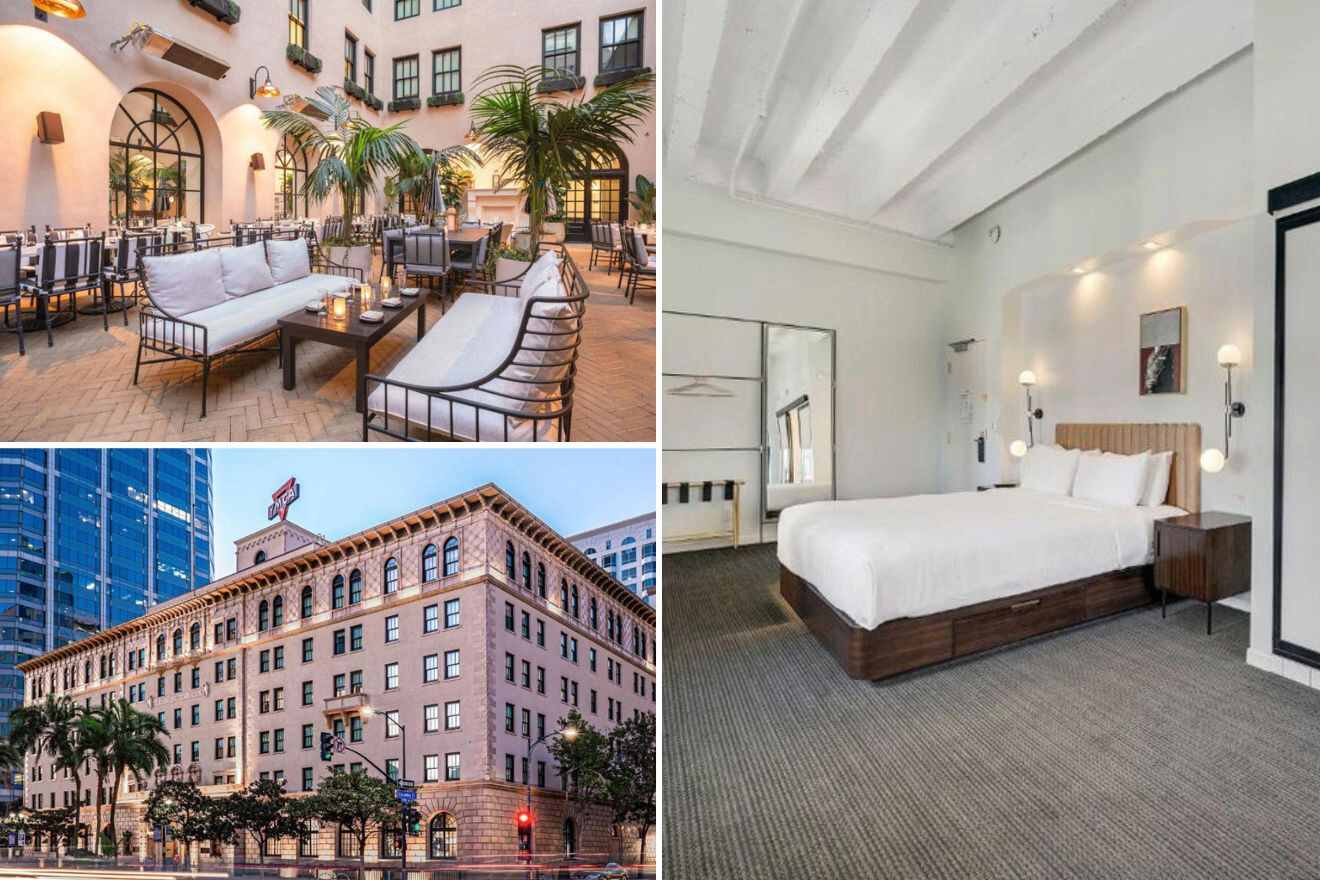 Set in the heart of downtown San Diego this amazing hotel has modern decor and some amazing rooms with a simple design that's super chic though! The suites come with a seating area, a flat-screen TV, and a private bathroom.
Close to numerous fine dining restaurants that serve local cuisine and attractions, the hotel offers a fitness center, a bar, and a restaurant. My favorite spot is definitely the terrace! It looks so cool and it seems like the perfect place to enjoy a drink or read your favorite book!
10. The Genevieve – for a fun wine trip in California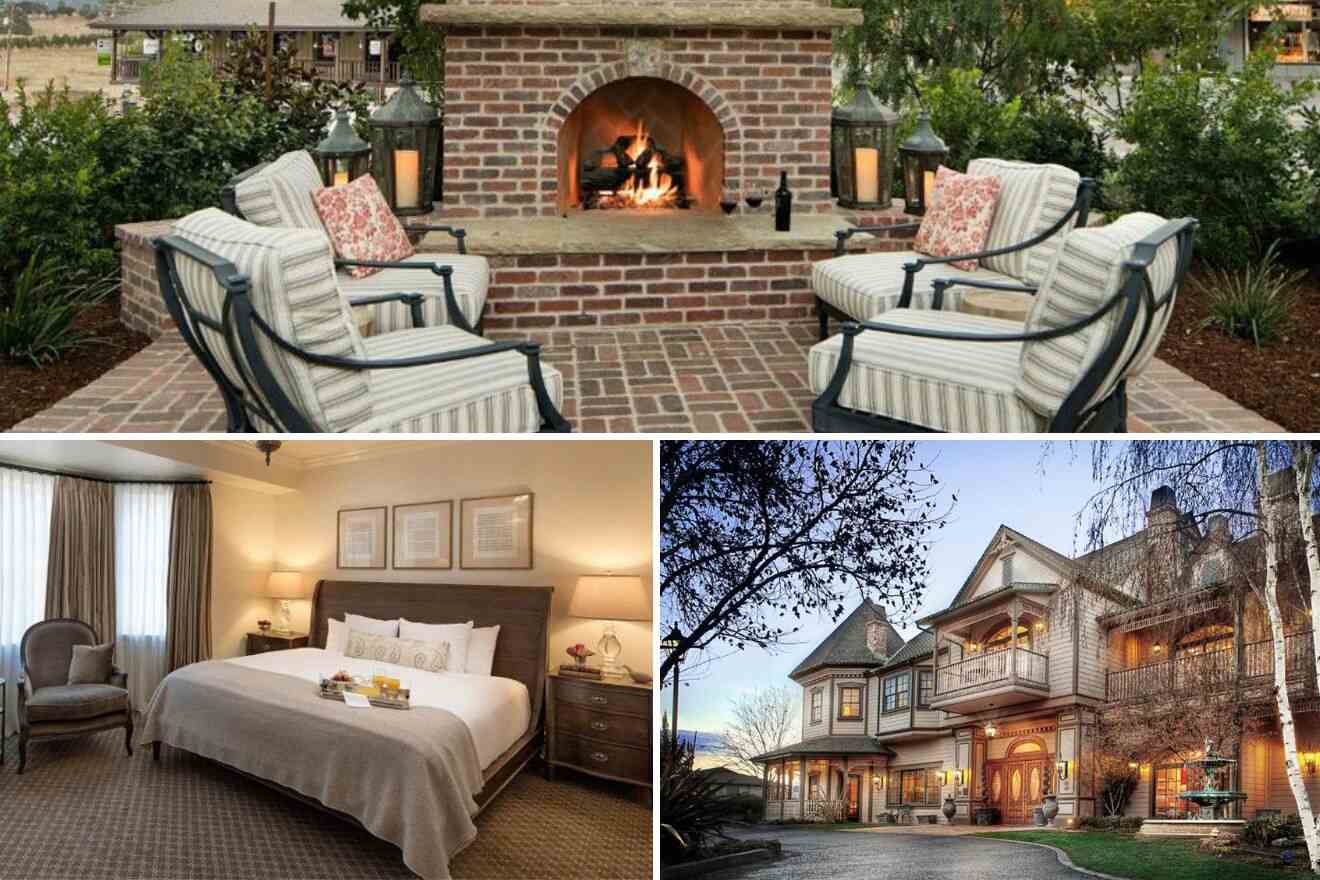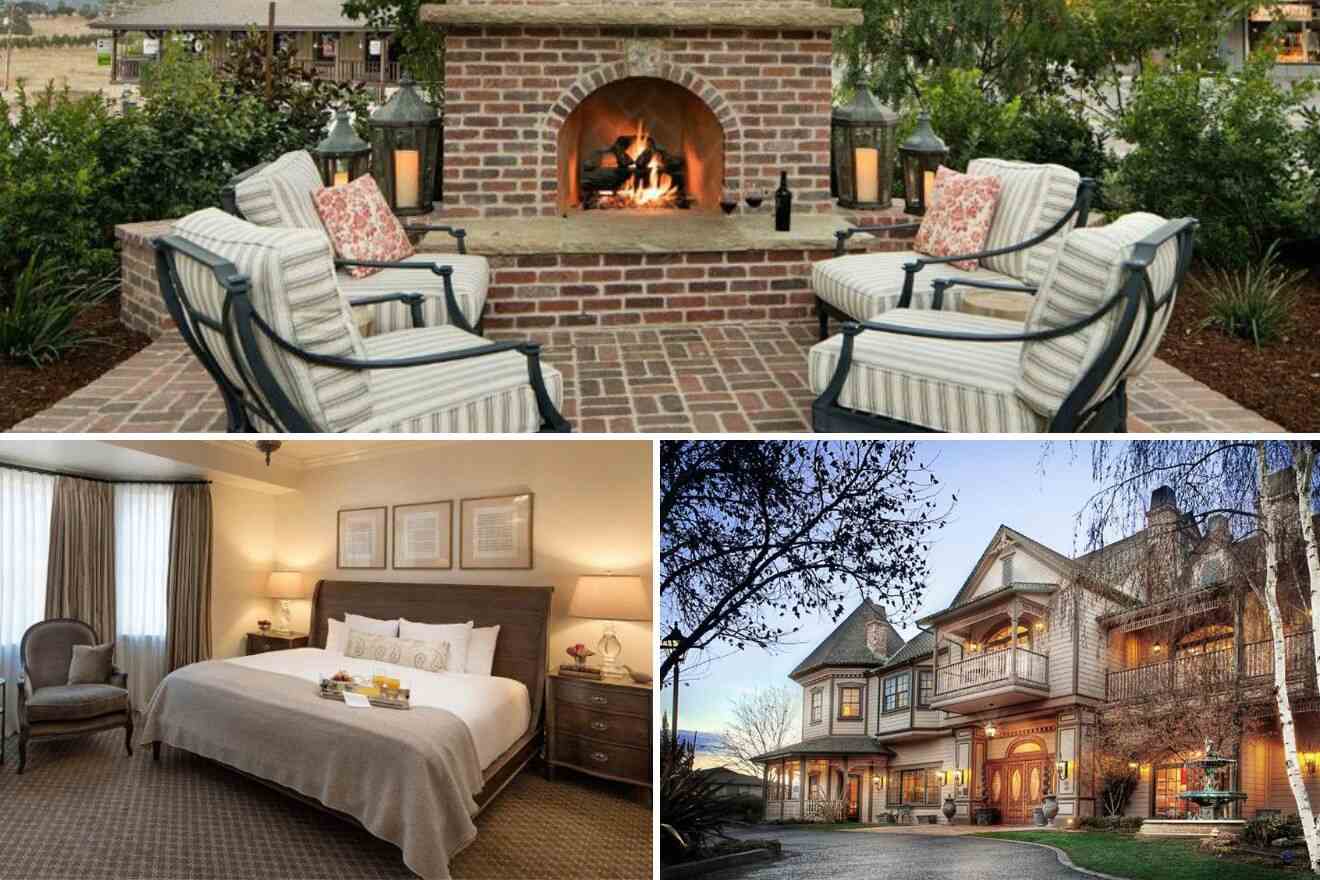 Located in the beautiful wine country of Santa Ynez, this Victorian accommodation looks as if it was taken out of a magazine! Everything from the fireplaces to the chic furniture used to decorate the hotel looks impeccable, and you didn't even hear about all their services!
The rooms are super bright and airy and filled with wooden furnishings and have a private bathroom with a spa bath. You'll also find an entire spa center at the hotel where you can go and relax with a nice long massage or in the steam room after a day of wine tasting and exploring these beautiful lands!
11. Olea Hotel – a great place for wine lovers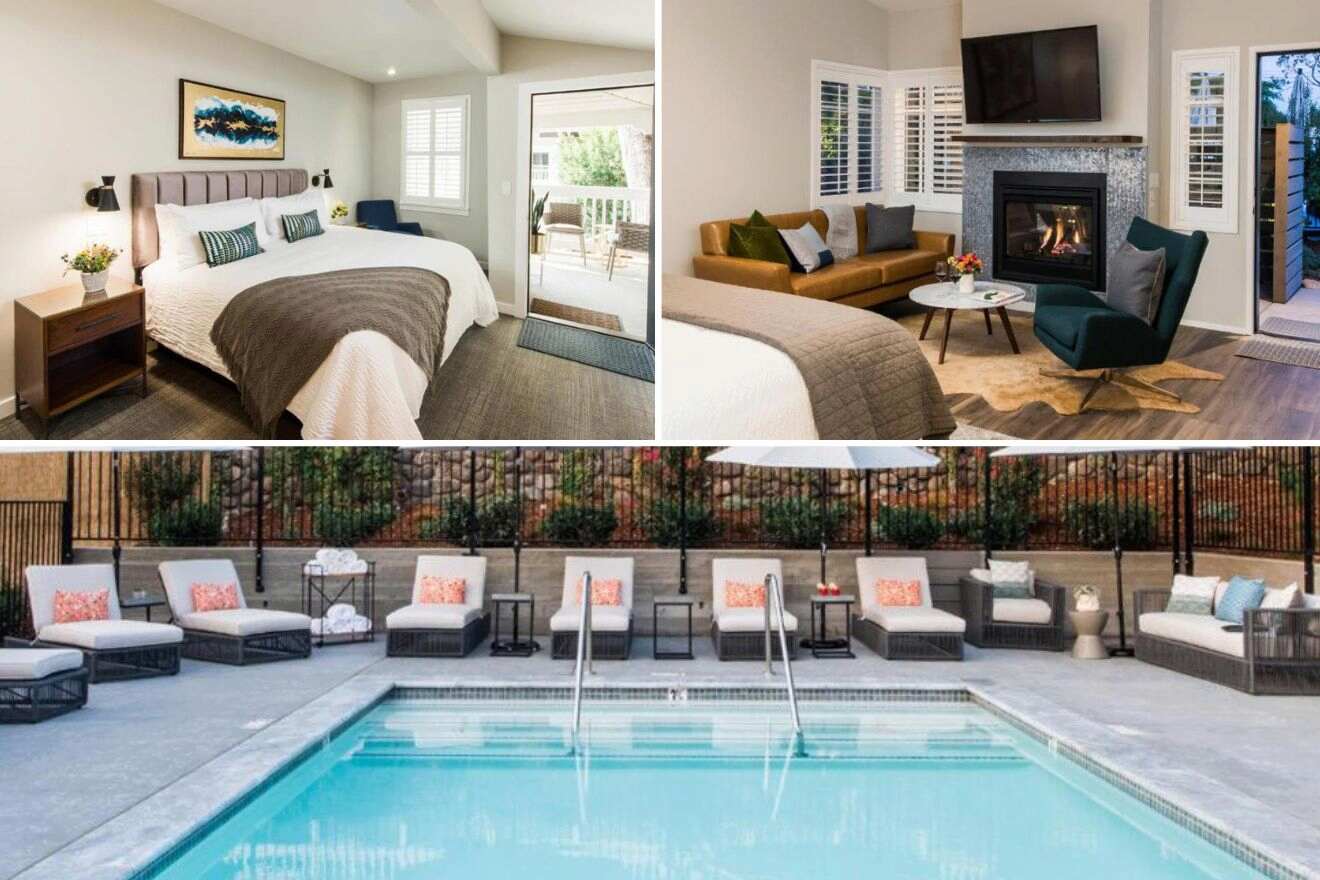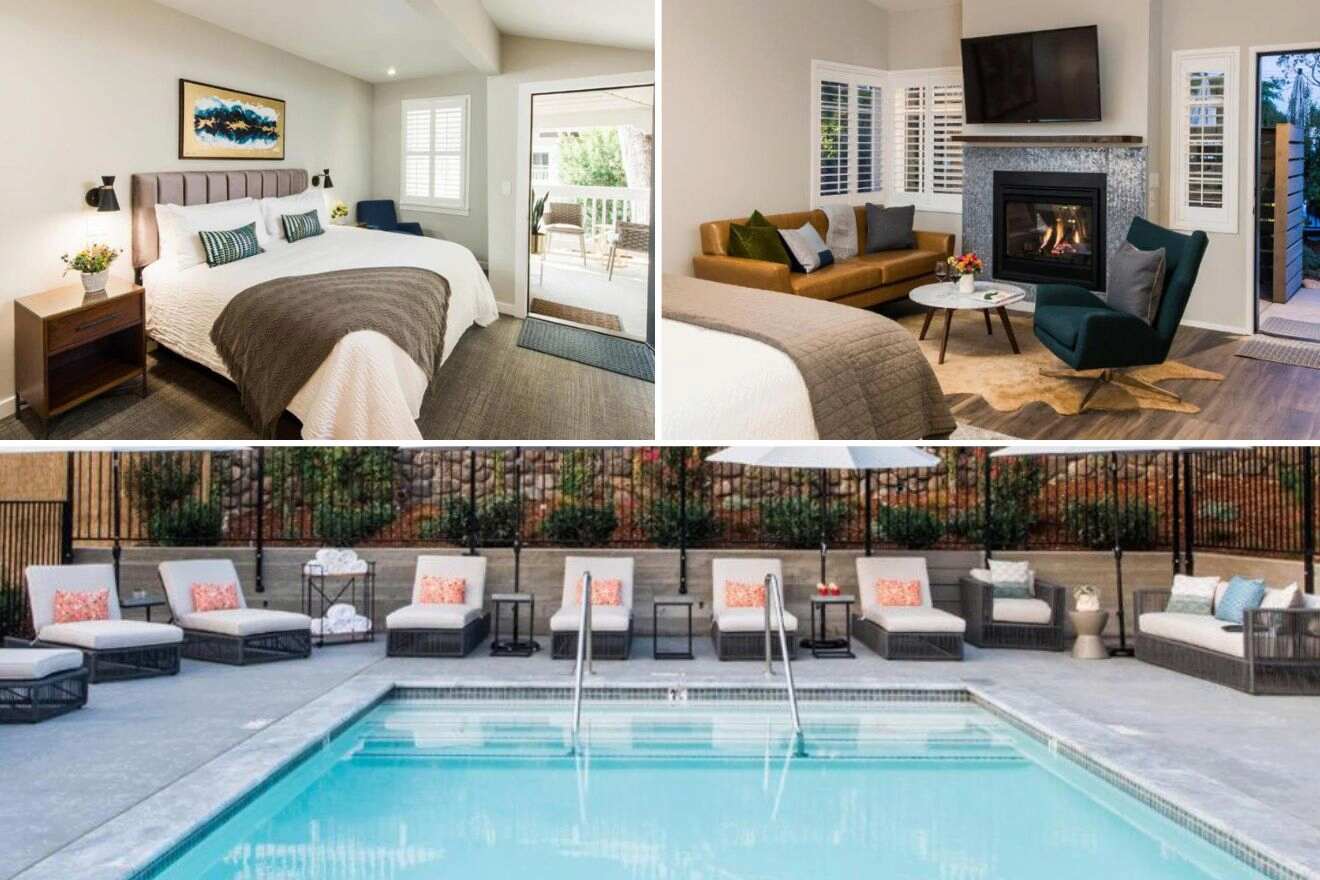 Nestled in the Sonoma Valley hills, this stunning hotel is super chic and perfect for a tranquil holiday filled with some spontaneous winery visits! Featuring spacious guest rooms with a private bathroom and a desk area, the accommodation has everything you need for your stay!
When you're not out and about indulging in all the local wines, you can relax on the outdoor patio, go for a dip in the swimming pool and chill in the hot tub. Once the sun sets, you can gather up by the fire pit and enjoy a beautiful Californian night and some more wine!
12. Sparrows Lodge – for a fun Californian getaway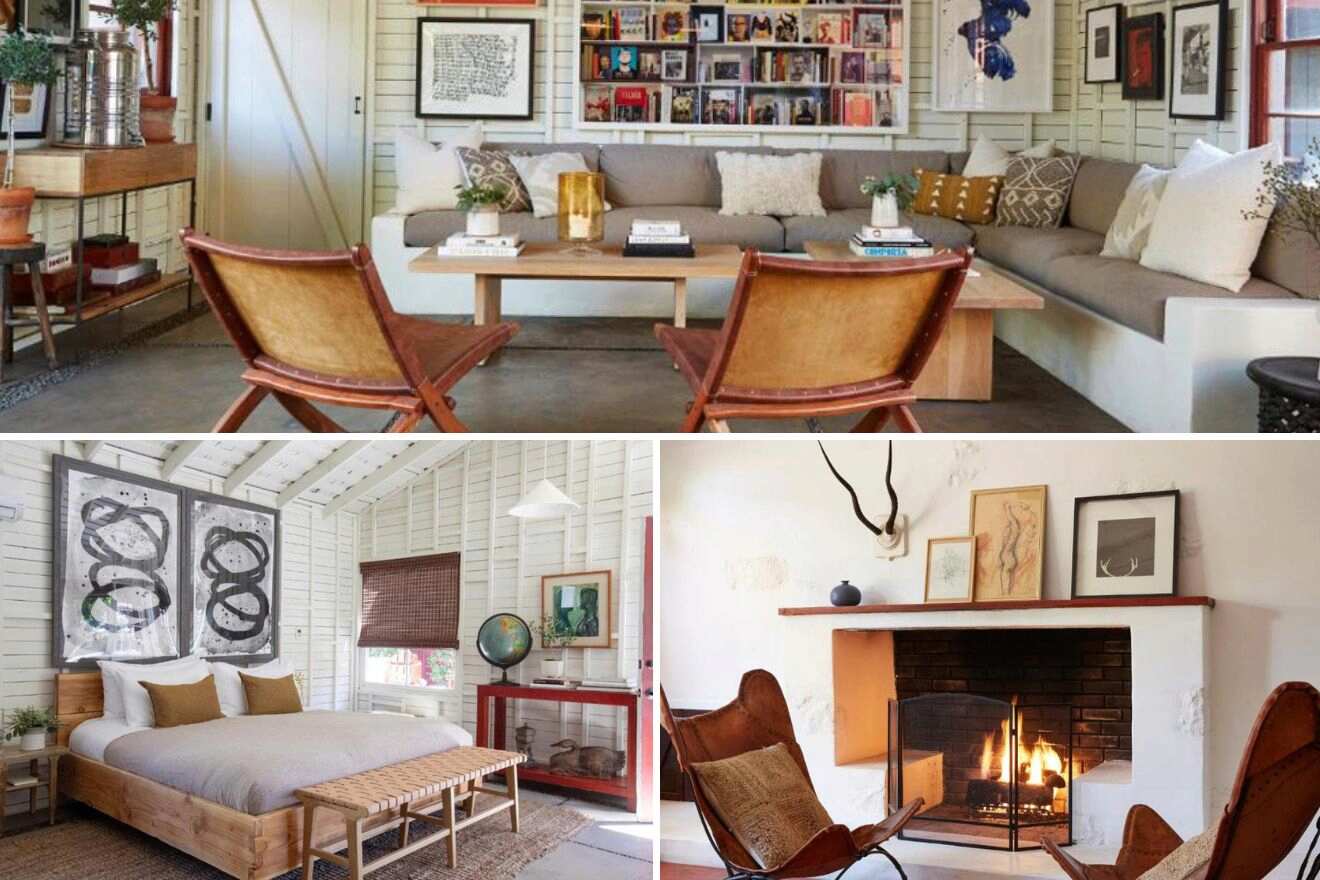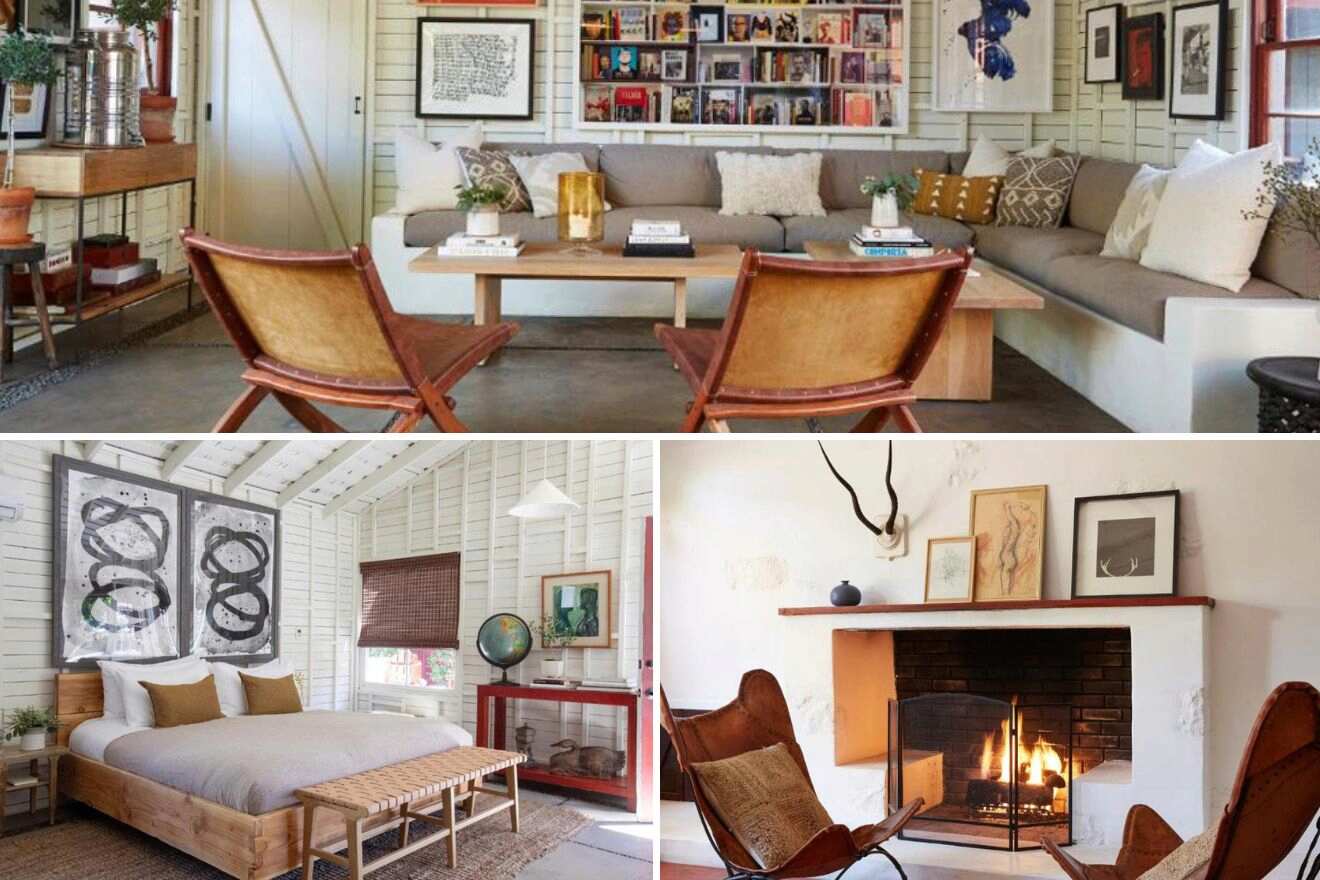 Can you feel the sage scent and see the palm trees? Then yes, you're probably approaching the famous Palm Springs! This amazing area is filled with numerous boutique hotels, and this one is surely one of the best! It gives off Mediterranean vibes, but once you head inside, you'll feel more like you're in California!
The rooms are super big and tall, which I absolutely love because it gives off that feeling of spaciousness! The entire lodge is built with pieces of wood and stone which I also think look pretty incredible! Soak up as much sun as you can by the swimming pool, enjoy some quiet nights on the outdoor patio, and relax in the hot tub while staying here!
13. San Francisco Proper Hotel – for an urban experience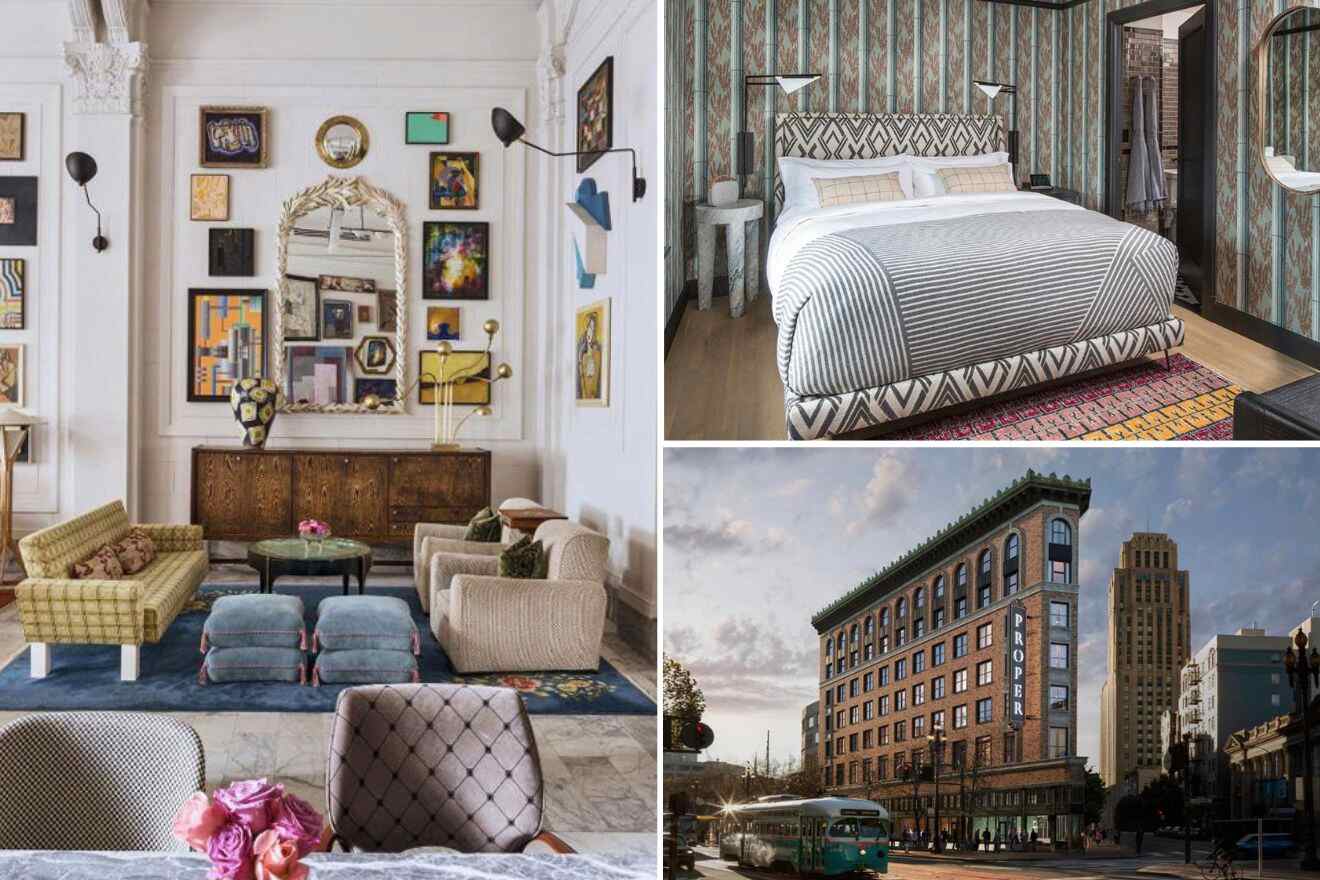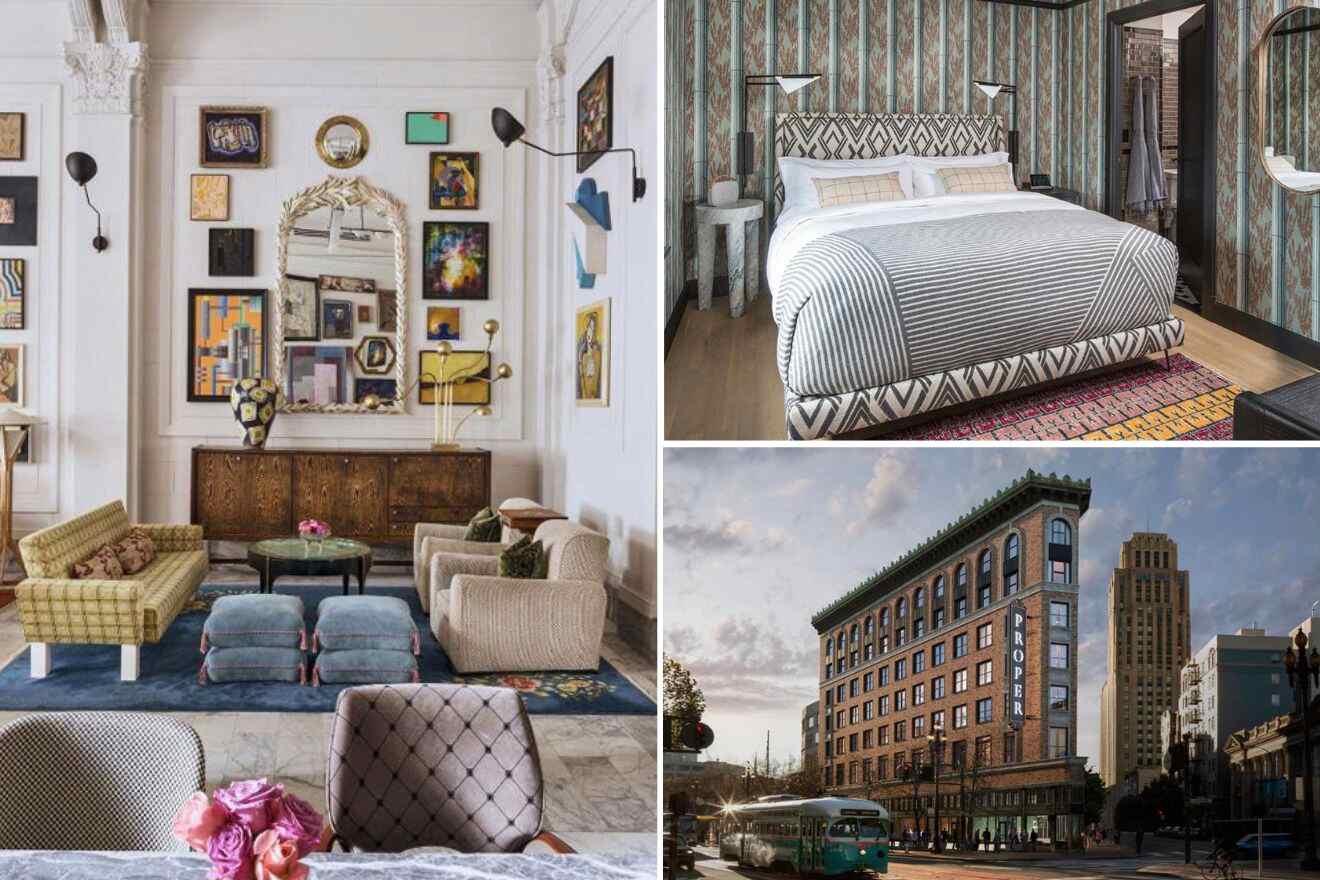 Looking for a place to stay in San Francisco in Northern California? Then check out this hotel which has an eclectic design, crazy-looking wallpapers, and walls decorated with contemporary art! Plus it offers an incredible view of the city!
All the suites are unique and come with a seating area and a private bathroom. During your stay, you can use the fitness center, enjoy some yummy meals at the restaurant, and relax after a day of exploring San Francisco on the rooftop bar by the outdoor firepits while admiring the stunning views!
14. Seven Gables Inn on Monterey Bay – vintage inn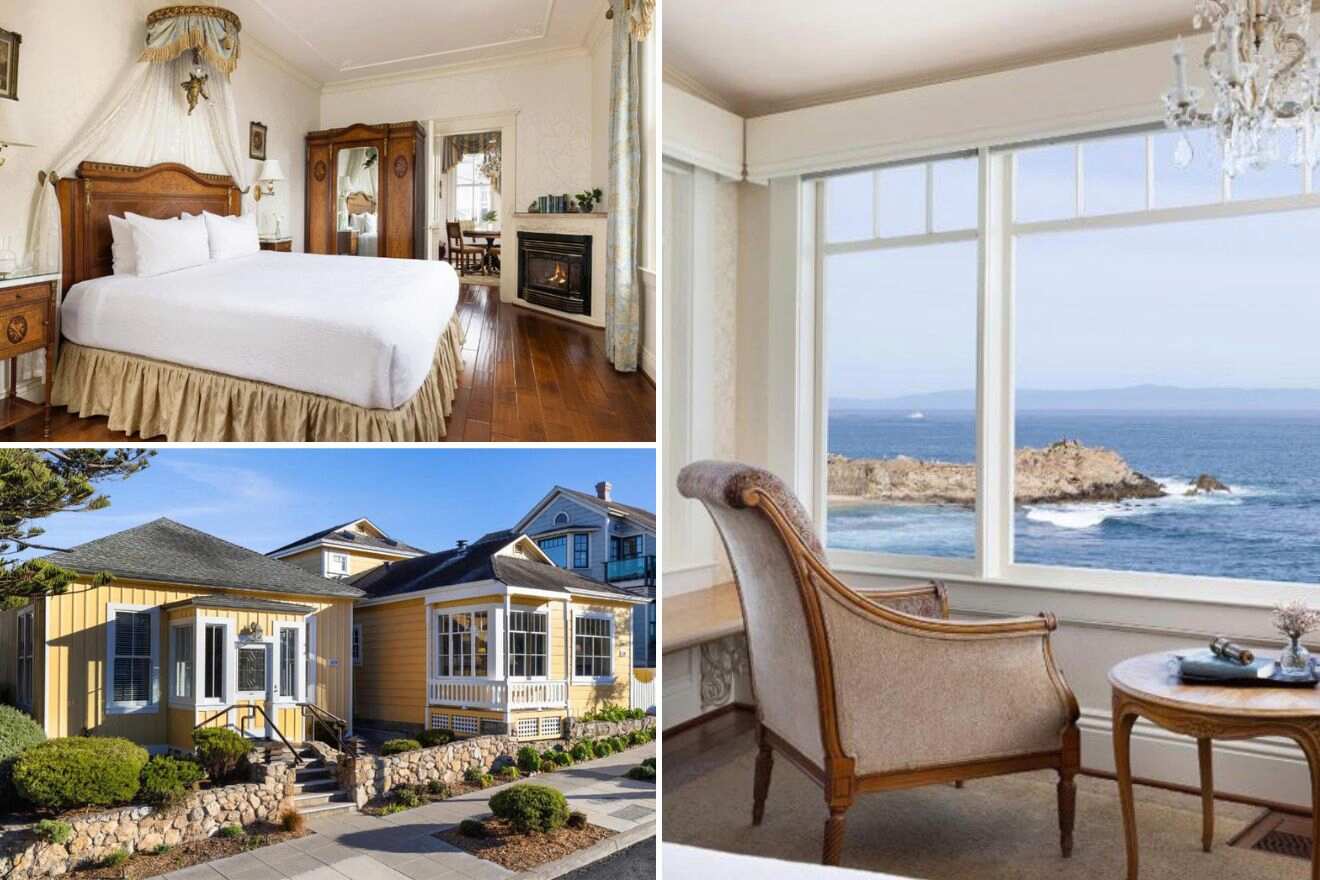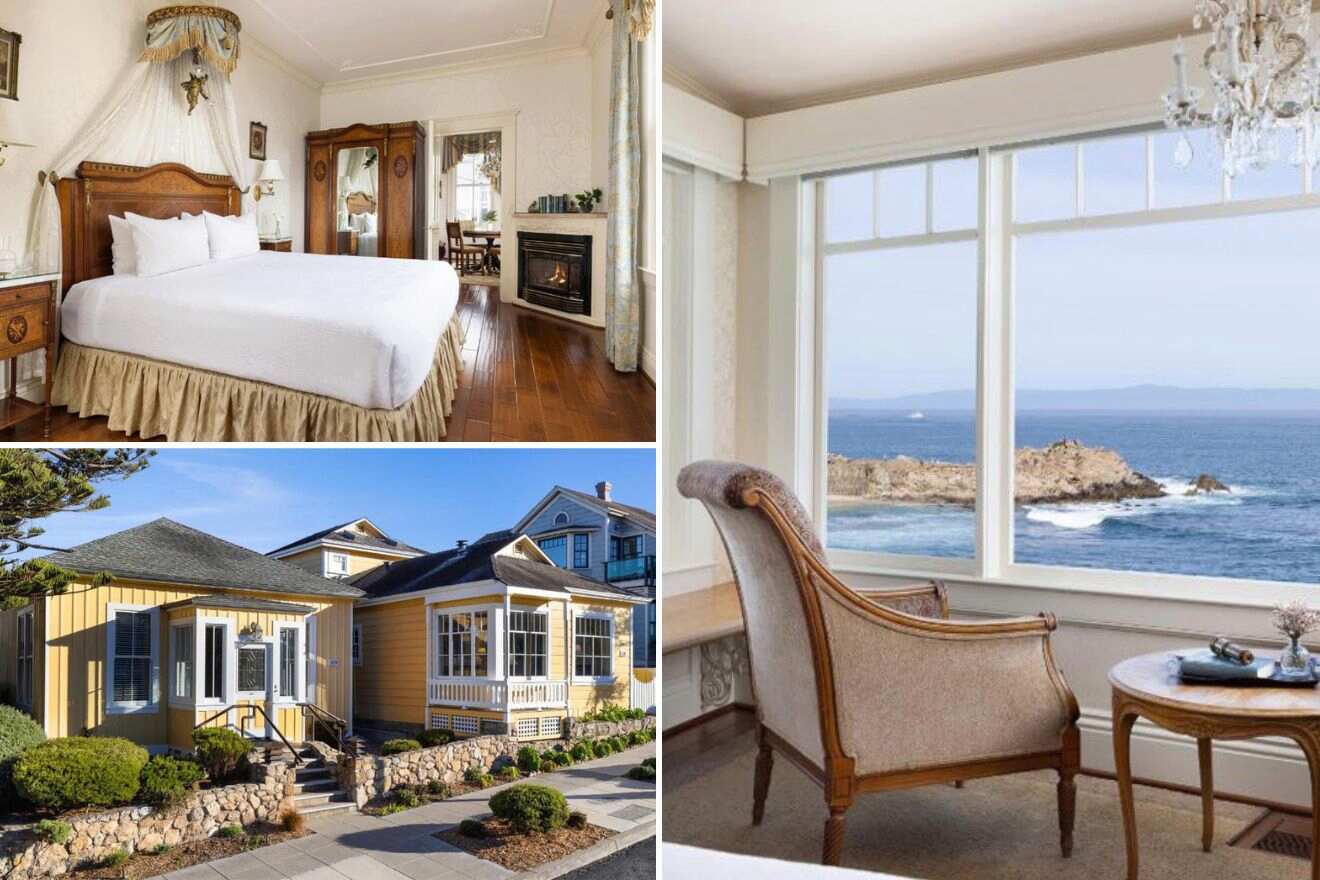 Nestled on the shores of Monterey Peninsula, this incredible boutique hotel is one of those places that you'll never want to leave! The whole place looks like a mansion from another era, and the furnishings are also in the same vibe! Most rooms are bright and offer breathtaking views of the Pacific Ocean.
I'm sure you'll be excited to explore the great outdoors the minute you arrive here! And you should have many hiking areas around the accommodation! For the days you don't feel like doing anything and just want to relax, head to the outdoor terrace and enjoy the serene atmosphere.
15. The Capri Hotel – for a relaxed trip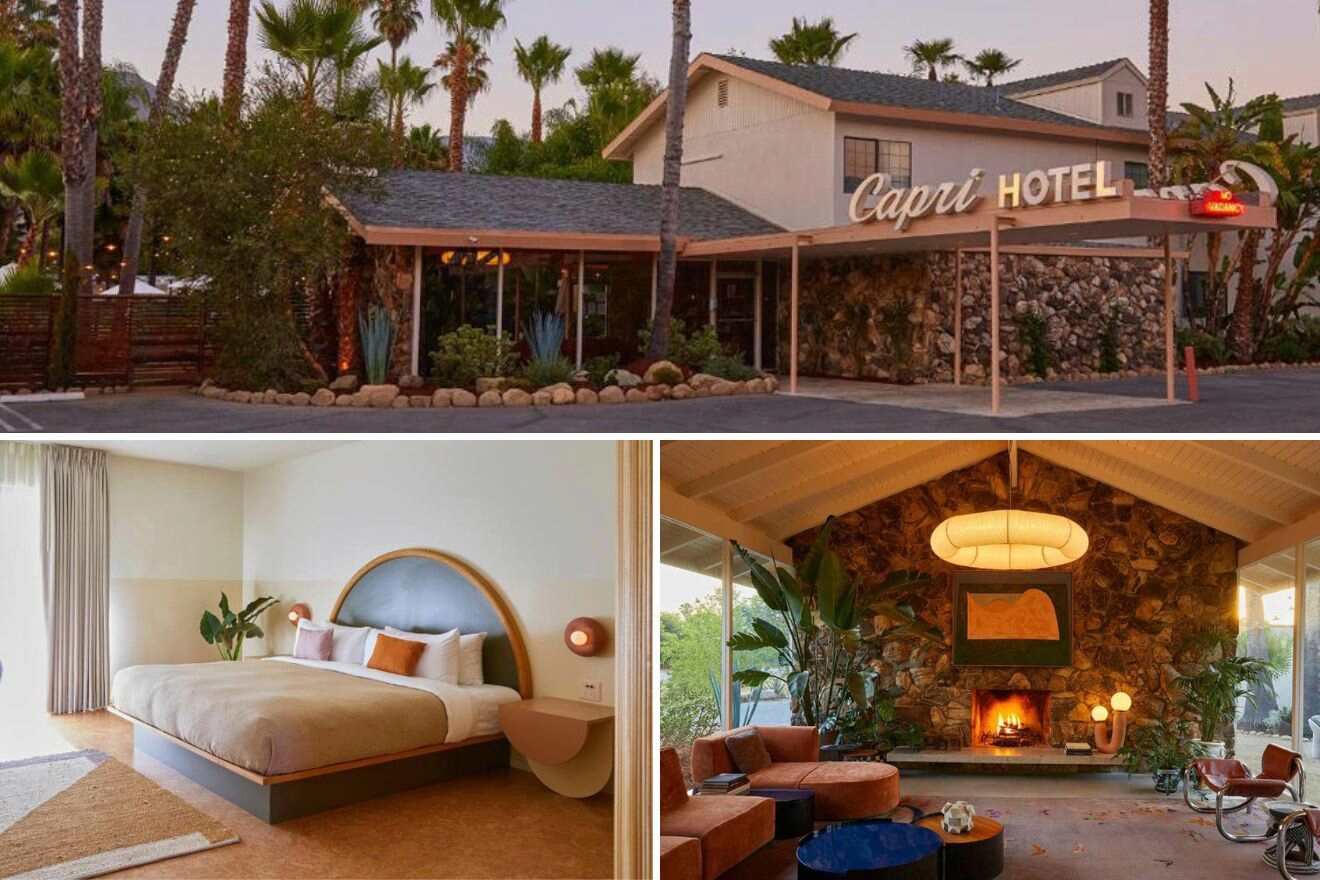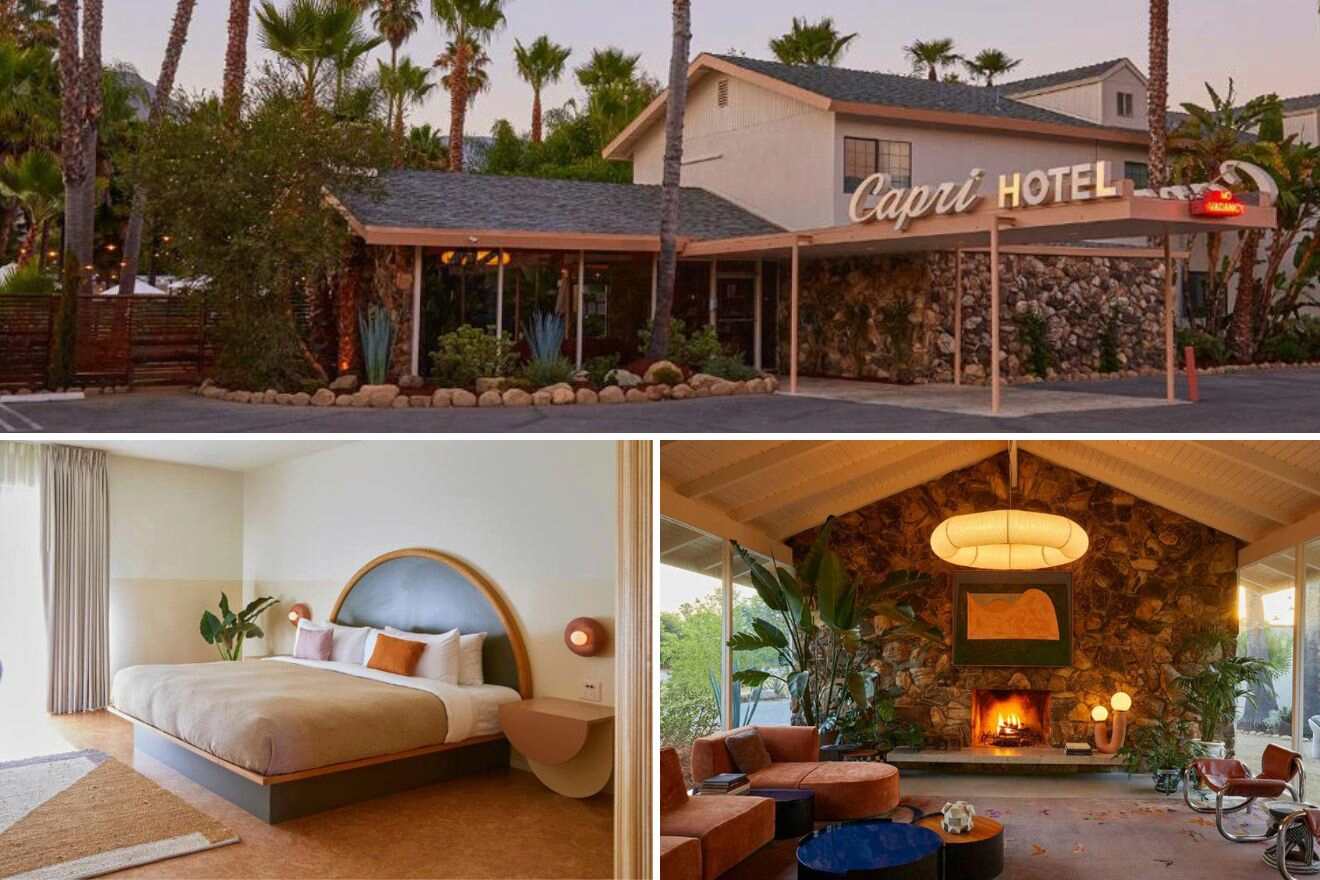 Gotta love those 60s vibes! I'm a huge fan, and the design and style of this place sure remind me of that period. Of course, it's a bit different and modernized, but the essence is the same! Set in downtown Ojai, the hotel offers rooms with comfy beds, a private bathroom, and a work desk.
Their lounge area is pretty amazing, too, as it has a huge wall made out of stone and a fireplace right in the wall. You'll also find a hot tub and even a masseuse. During the day, you can lounge poolside or head out to explore around the hotel, as there are a few hiking areas!
16. The Inn on Knowles Hill – with a beautiful design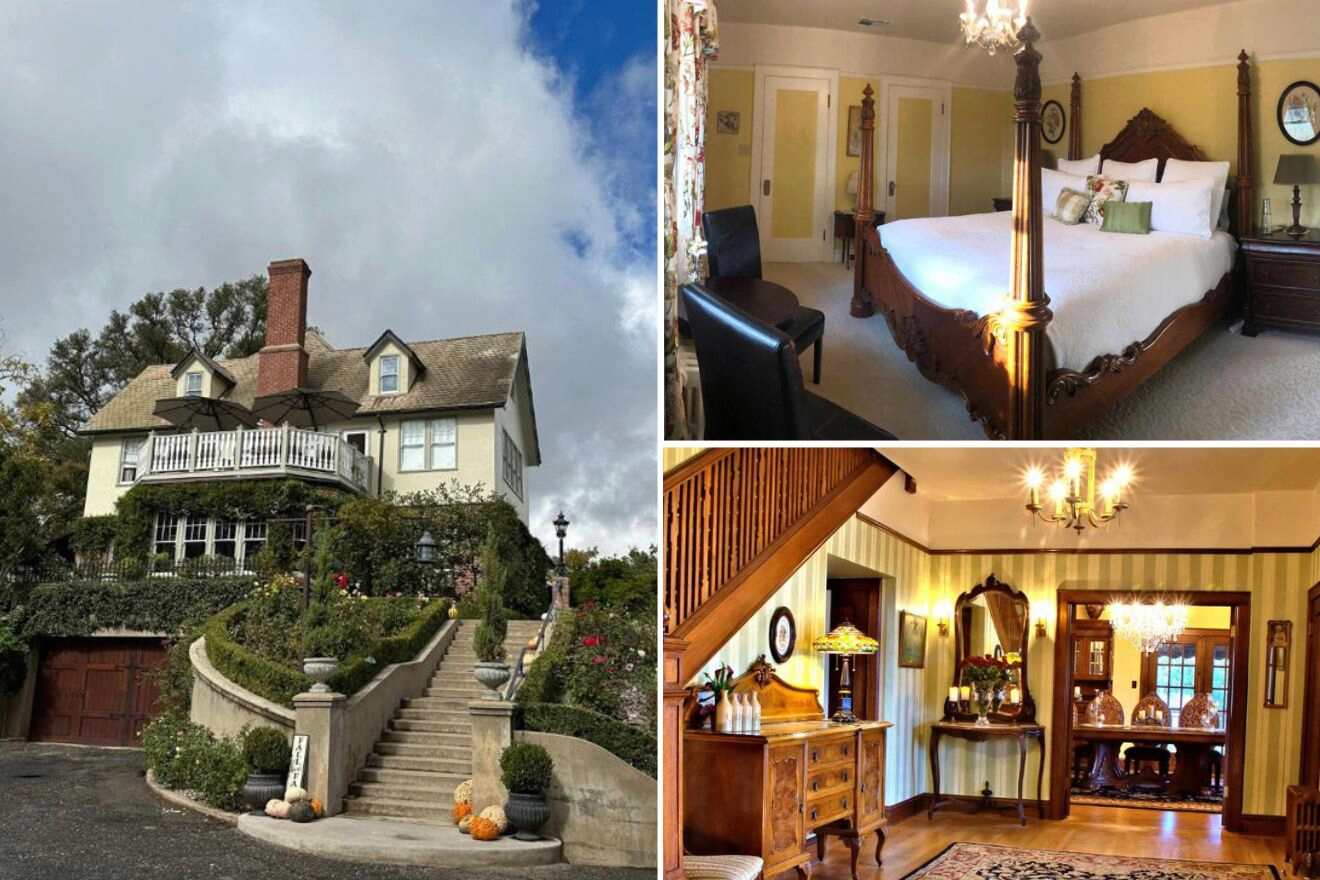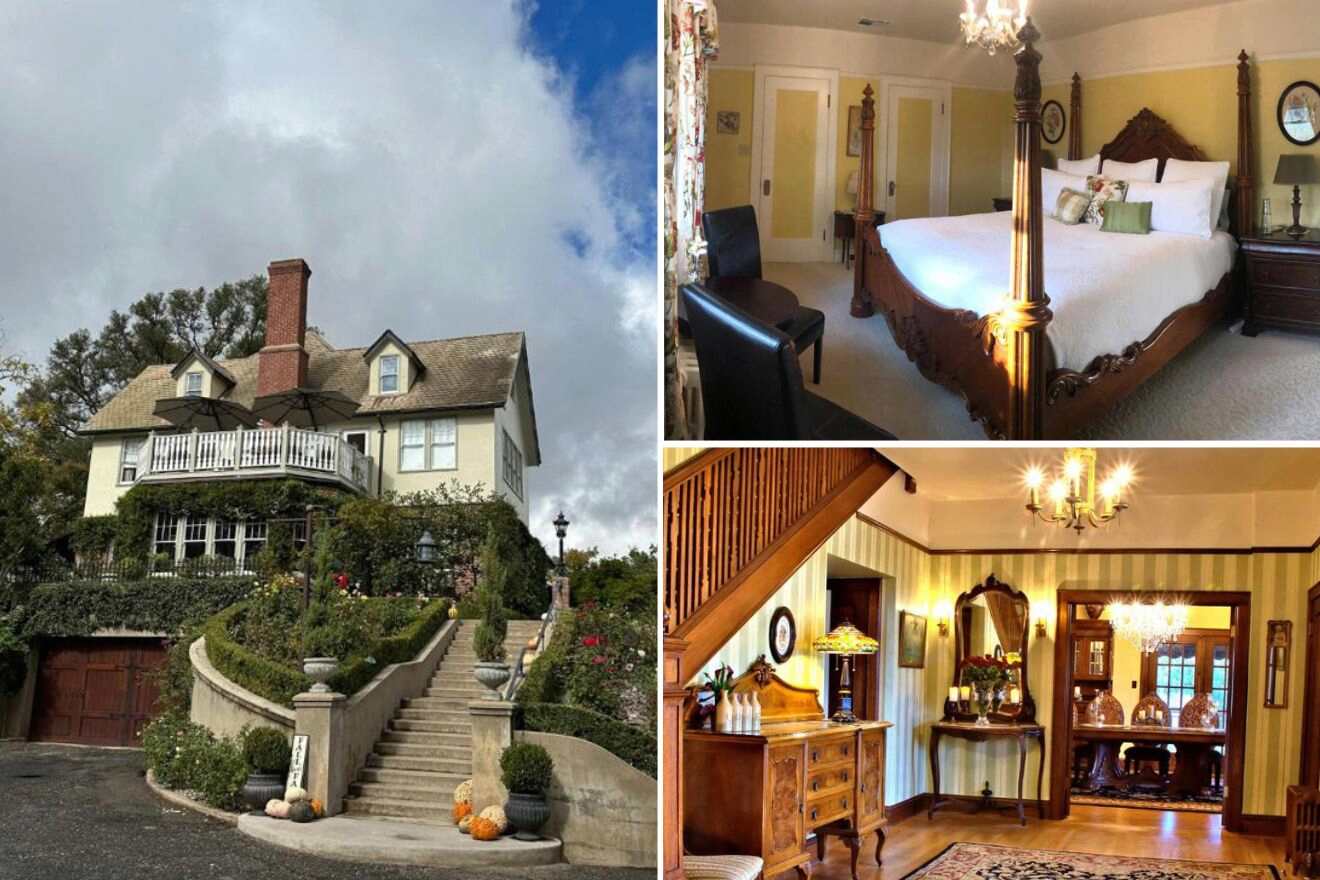 Another fabulous Californian inn, but this one is set in beautiful Sonora in Northern California! The accommodation has a super elegant design! Each room is individually decorated with unique furnishings and equipped with all the facilities you'll need for your stay (some suites also have private terraces).
Each morning you can start with a yummy English, Irish or American breakfast (yum!), and then you can enjoy the rest of your mornings in the beautiful gardens or on the terrace. The inn also organizes themed dinner nights, so definitely make sure you join one of those!
17. Fleur Noire Hotel – for nature lovers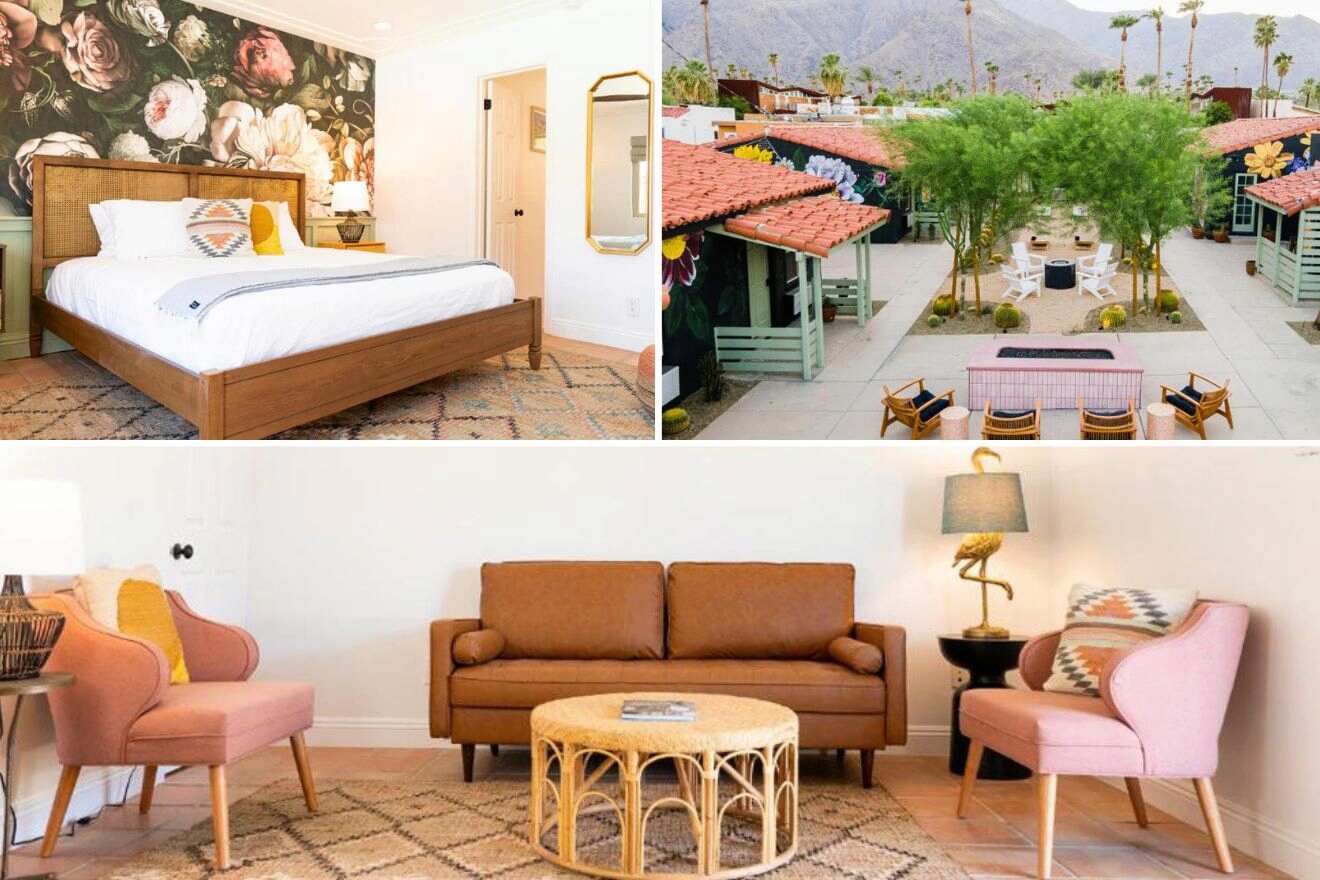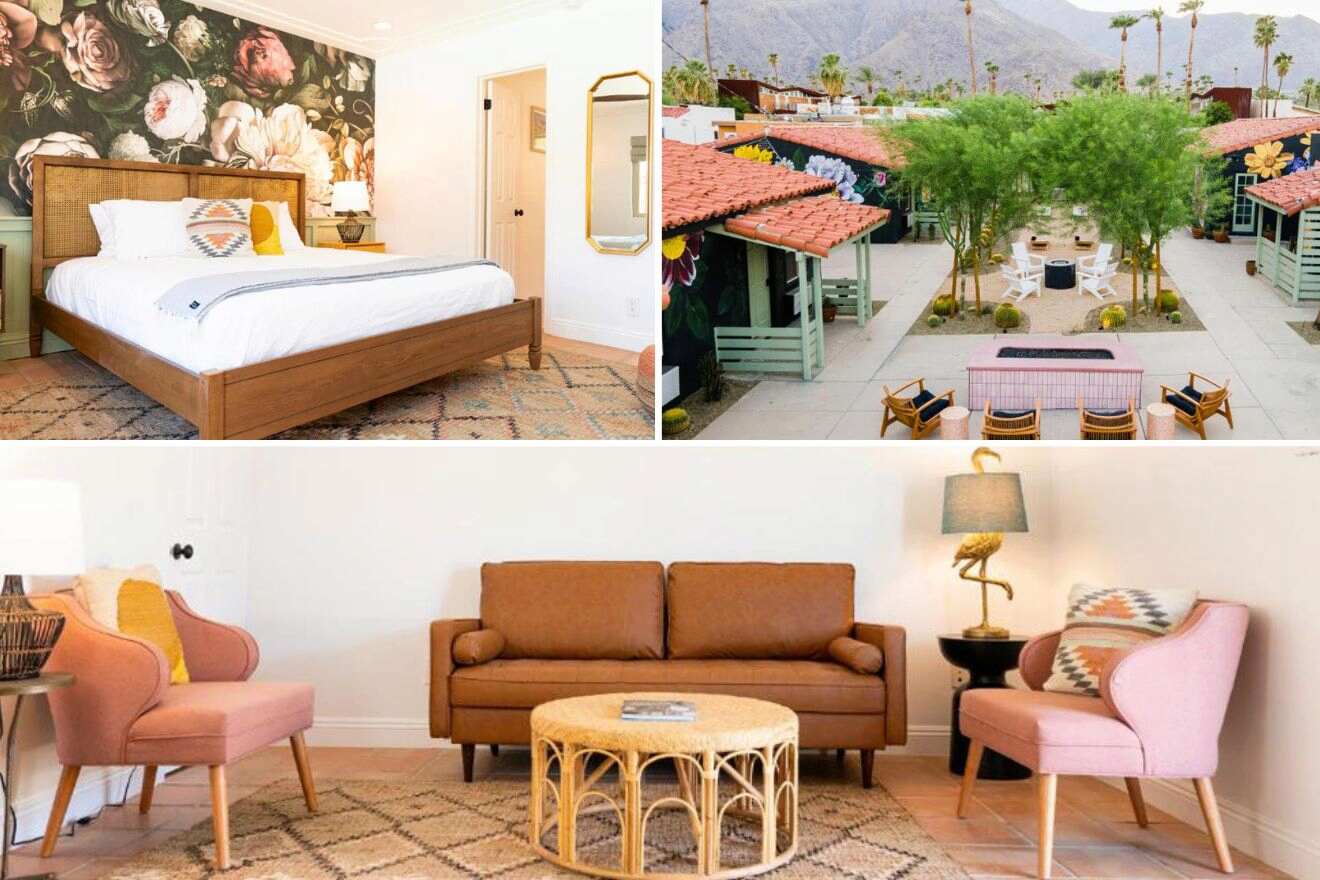 If you like flowers, then this hotel in Palm Springs is definitely for you! The accommodation has some of the most amazing floral wallpapers that I've ever seen! They also look super vivid, and it's almost like they're the real thing!
Besides that, the suites are pretty spacious and have super nice furnishings that go perfectly with the giant walls of flowers! You'll also find a garden, an outdoor swimming pool, and a cocktail bar where you can relax after a day of exploring the area!
18. San Luis Creek Lodge – a super comfy hotel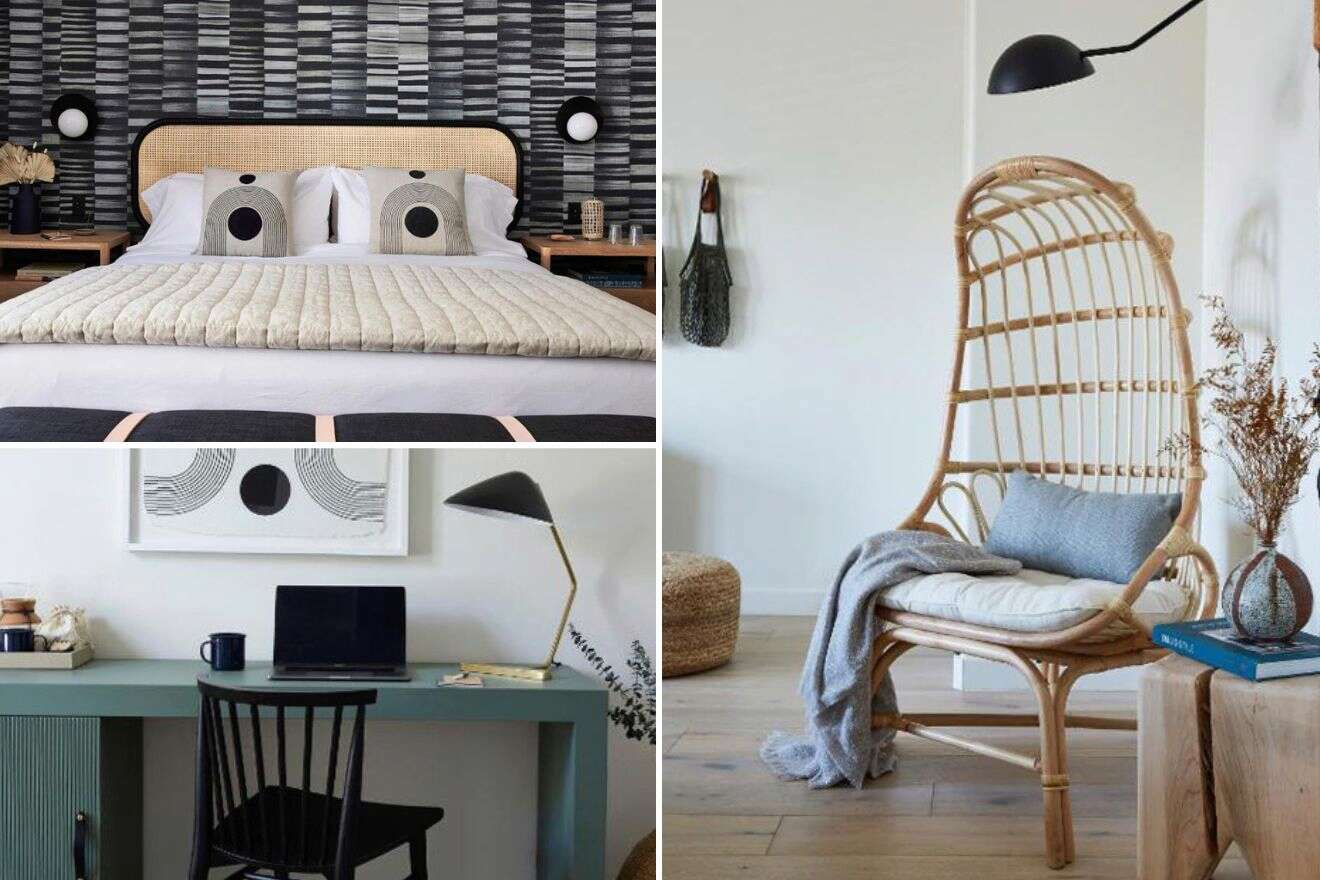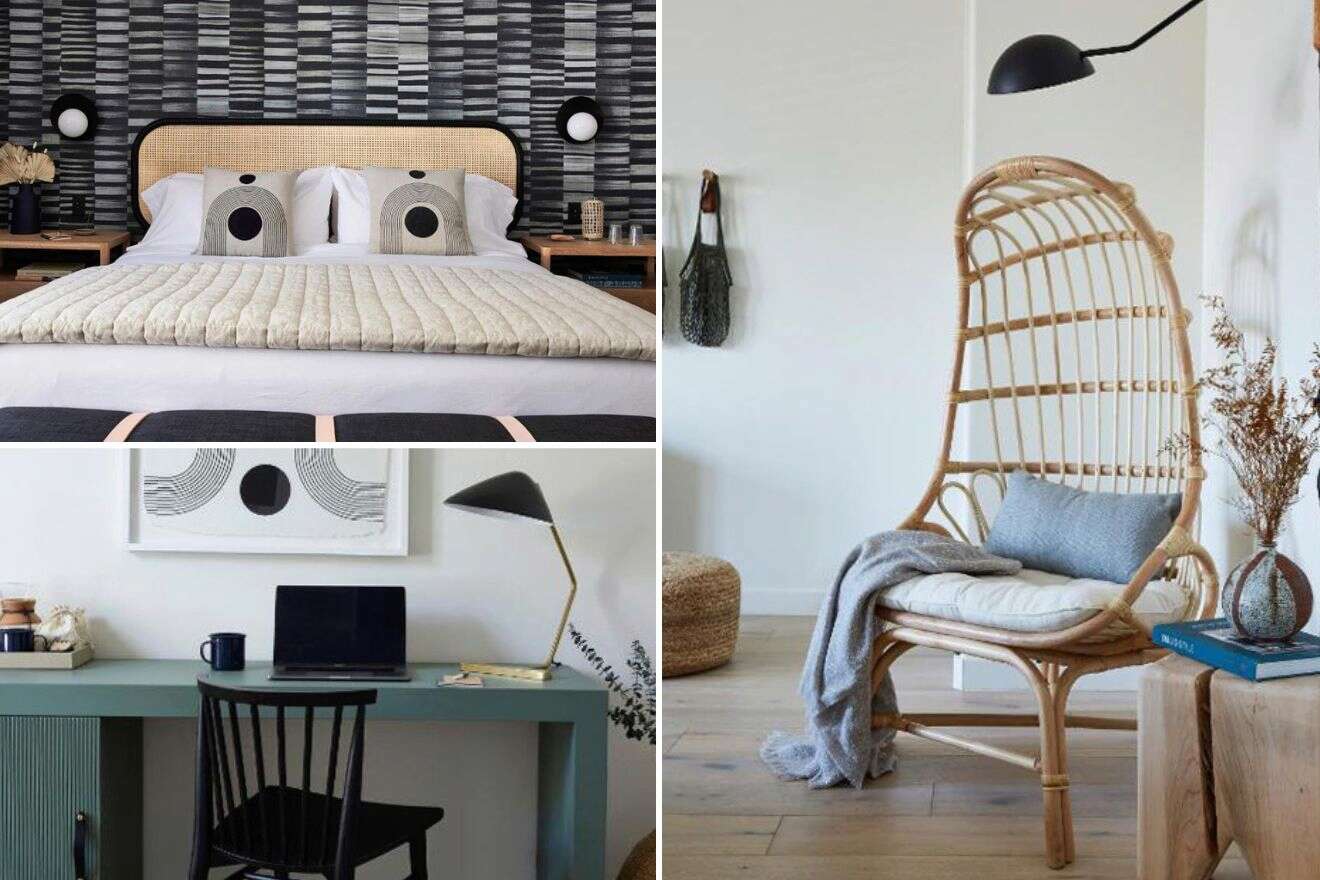 Slow-living and the art of enjoying the little things in life! This is the vibe that this hotel in San Luis Obispo is giving me! Perfect for those who want a tranquil holiday in California, the accommodation offers just the right environment!
The rooms are beautifully decorated, and they come with a flat-screen TV and a private bathroom. You can start your mornings with some yummy (free) breakfast, and then rent some bikes out of the accommodation and start your adventures!
19. The Coachman Hotel – for outdoorsy people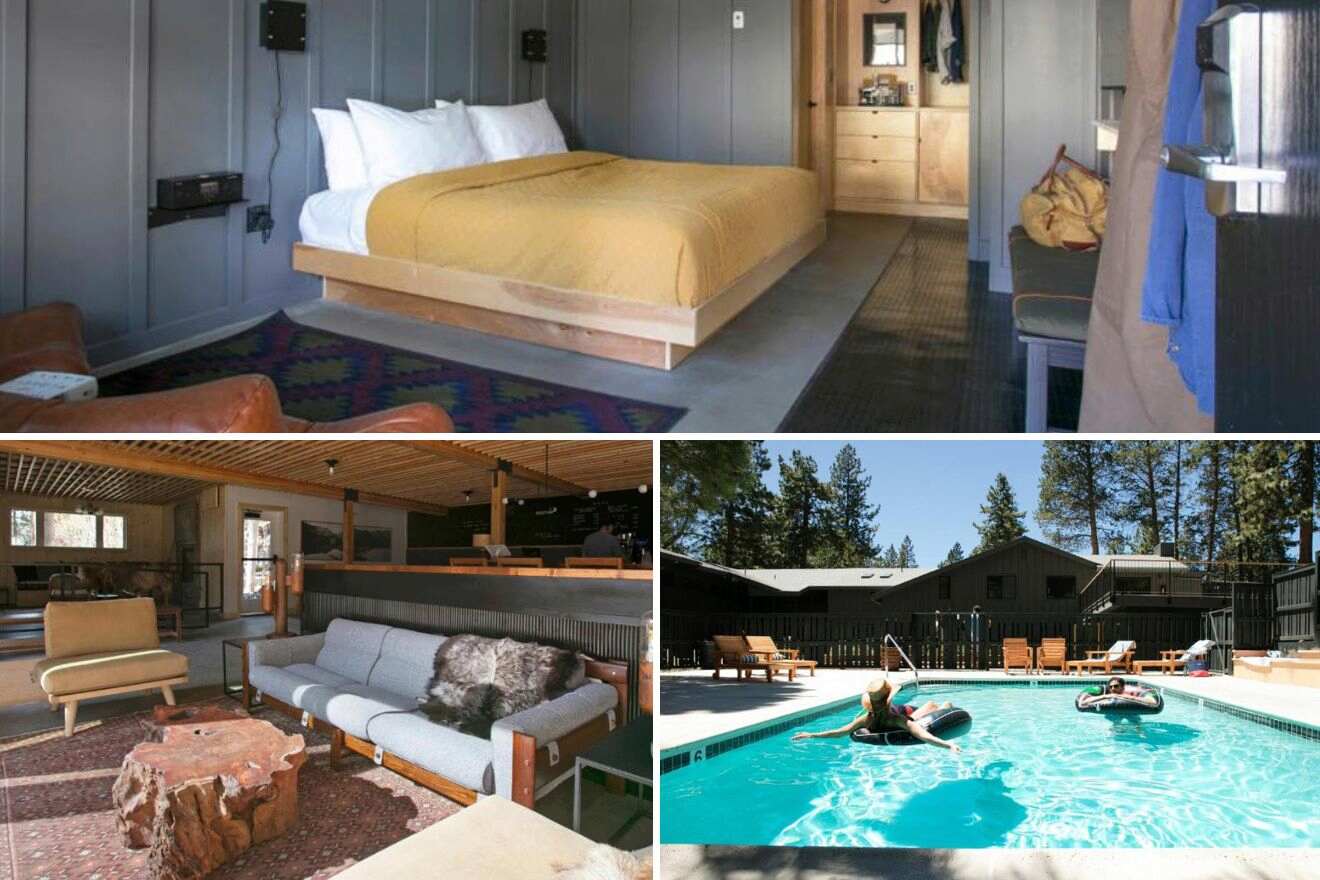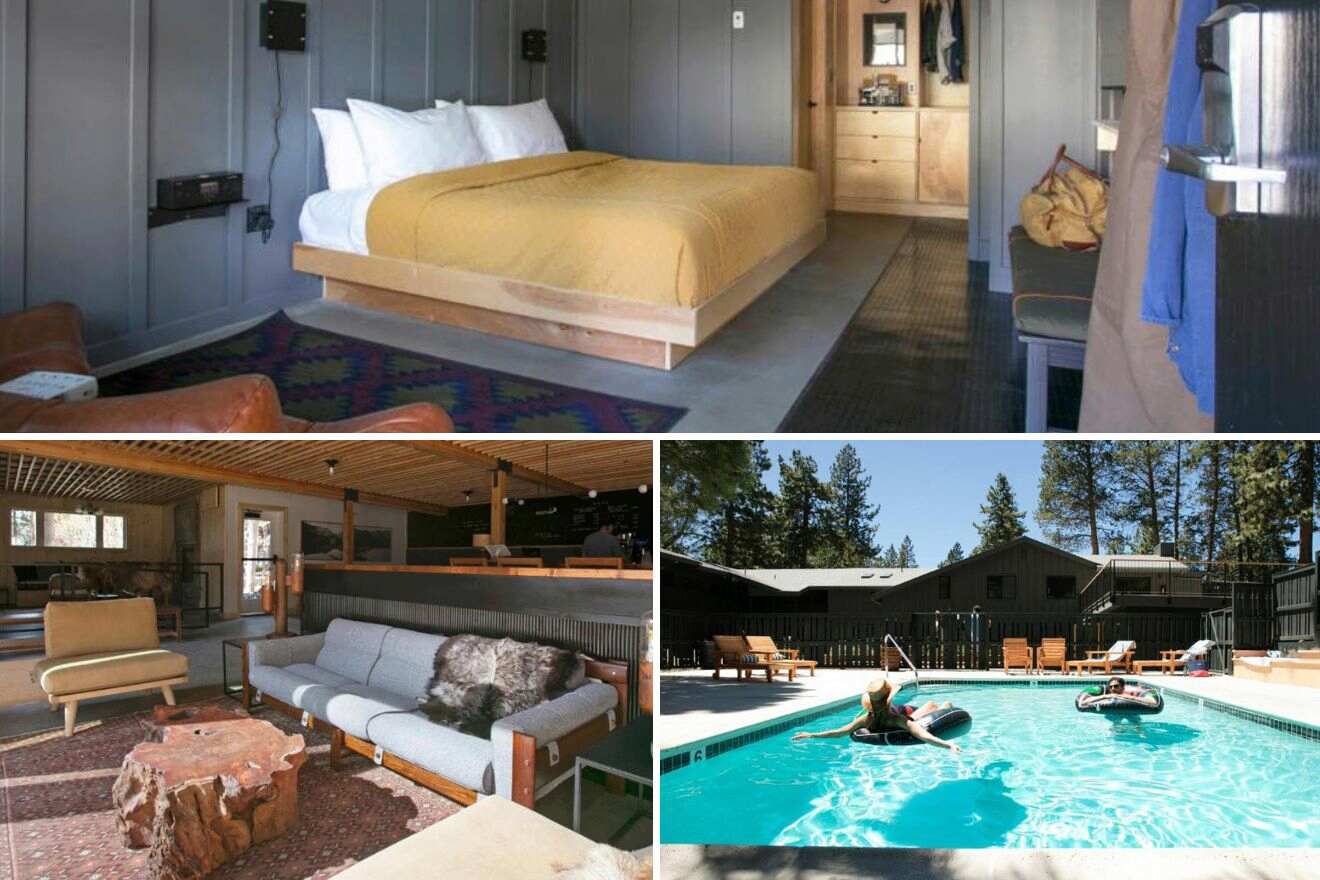 Get ready to enjoy that Californian sun by the outdoor pool of this hotel in South Lake Tahoe! Perfect for those who love to try all sorts of outdoor activities like skiing, golfing, and cycling, the accommodation offers everything you need for your stay!
Their rooms are super comfy, and they come with a flat-screen TV, a private bathroom, and free Wi-Fi. When you're not out by the pool or working out in the fitness center, you can head out to explore the beautiful area of South Lake Tahoe.
FAQs about boutique hotels in California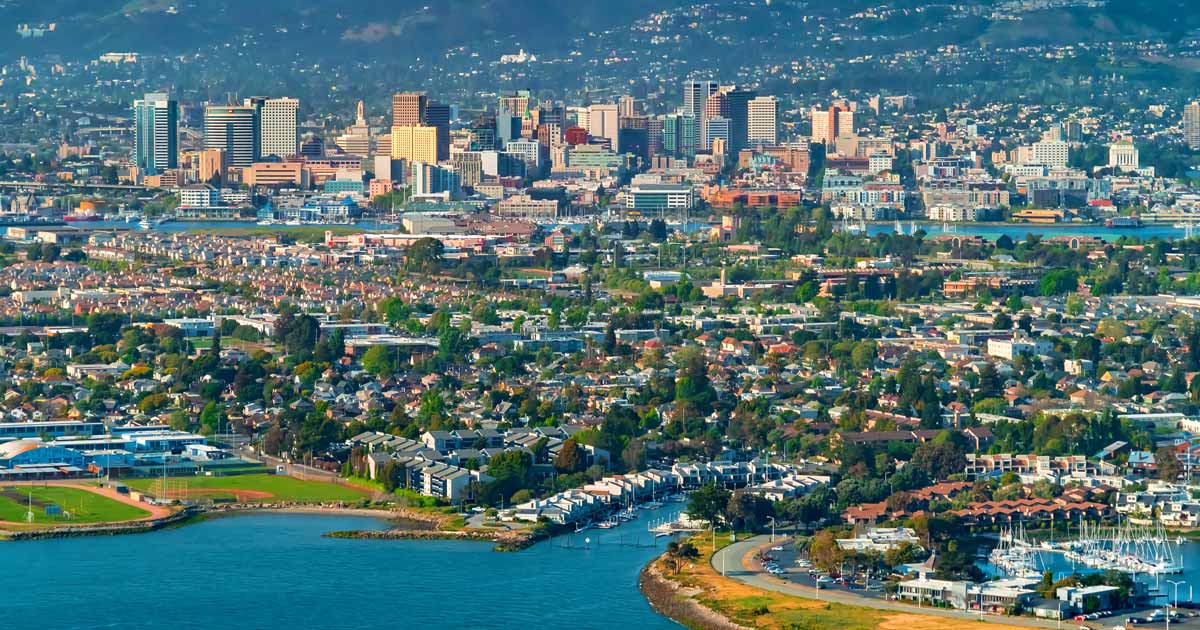 Conclusion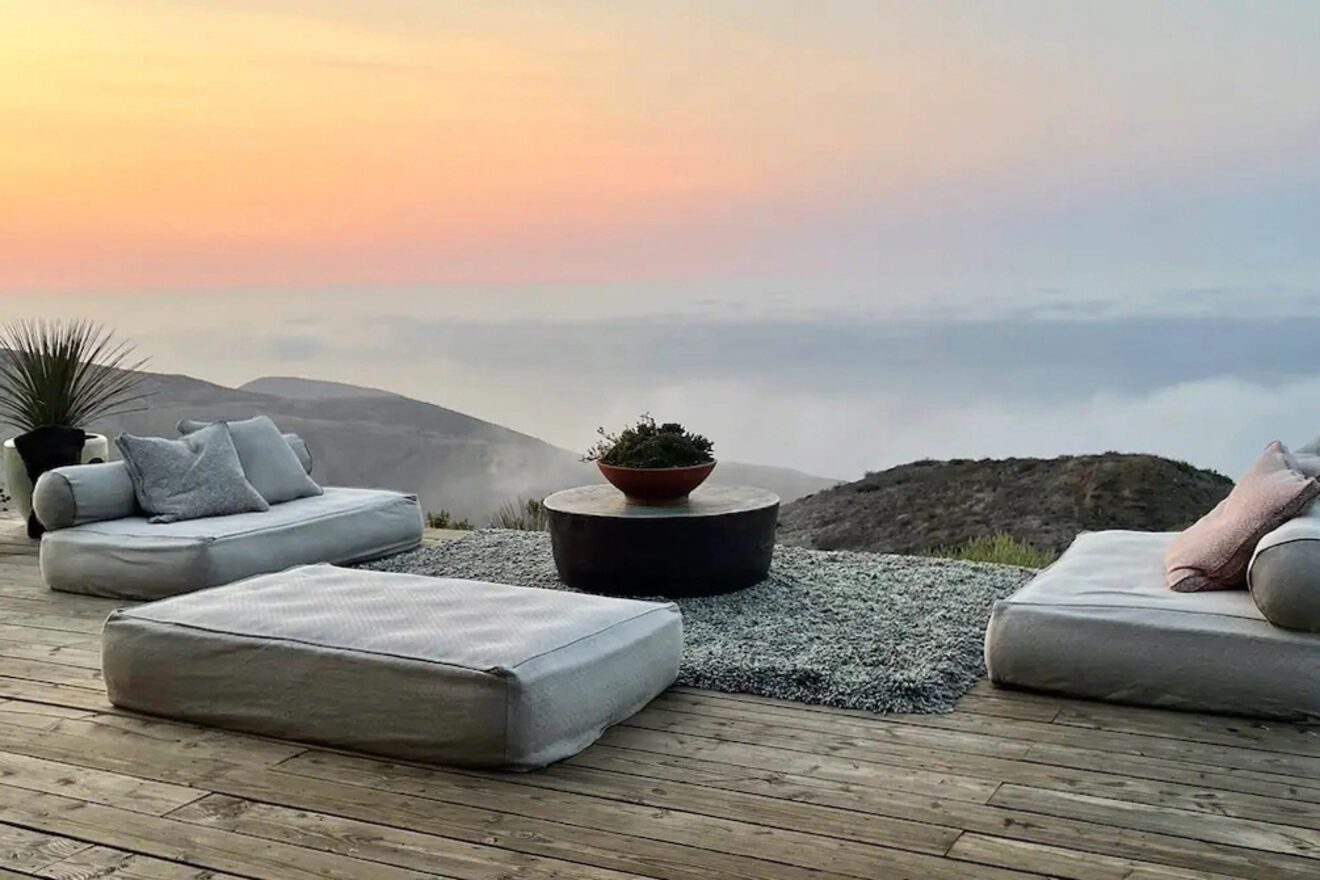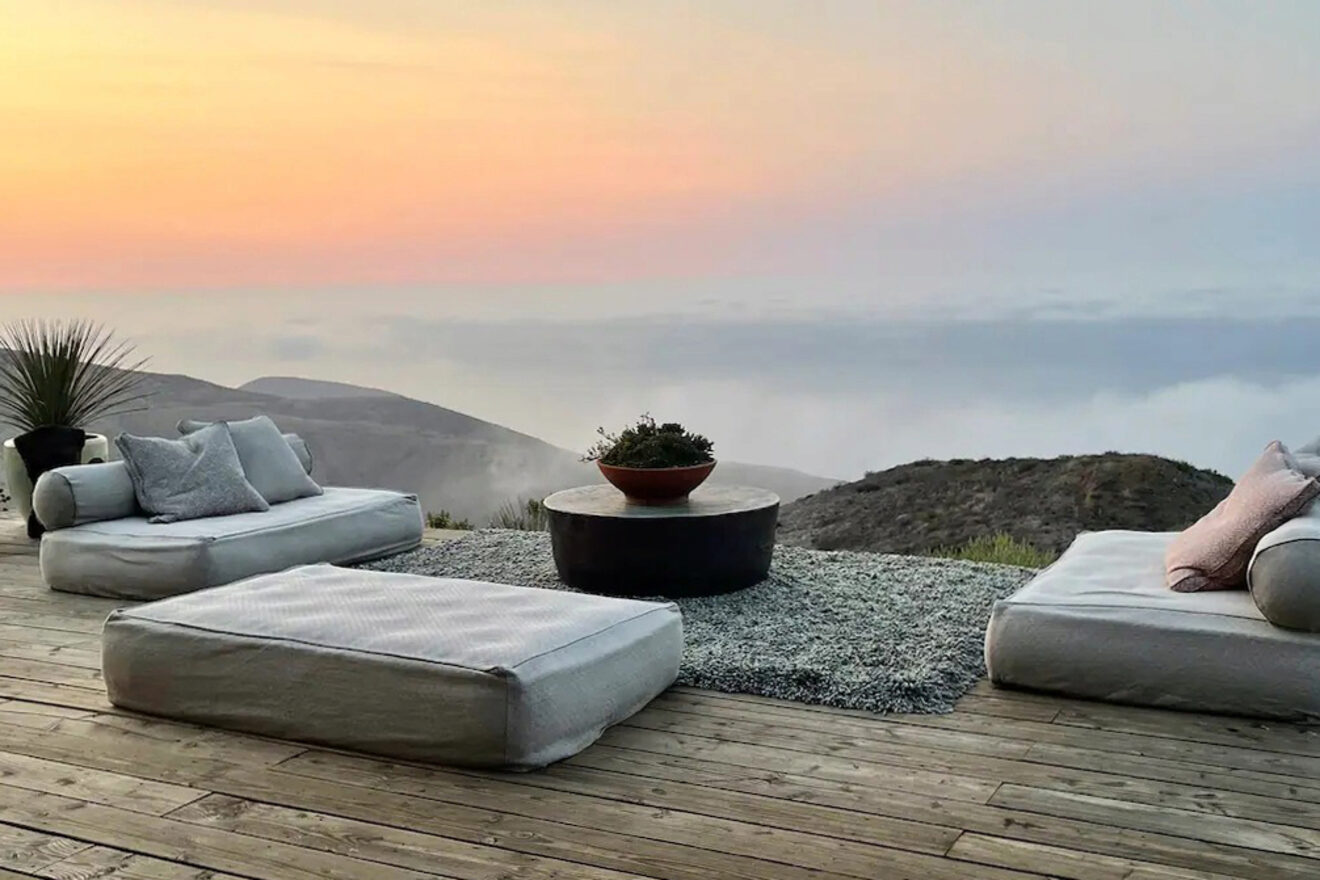 Oh my! These boutique hotels in California are incredible! Well, I did warn you at the beginning that I didn't hold back at all and included some of the most incredible places!
Just remember that it's super important to book them in advance, as they won't be on the market for too long!
Before we wrap it up, I wanted to offer everyone my top 2 favorite hotels in California! I know it's hard to pick from such a long list, so here they are:
The Surfrider Malibu – Enjoy the laid-back lifestyle at this unique hotel on the California Coast that offers rooms with sea views and room service.
Orli La Jolla – A great hotel by the beach that is beautifully-decorate and comes with an outdoor terrace.
Yay! We're done for today, and I'm so happy you decided to stick until the very end!
Enjoy your holiday in California and visit all the fun attractions like Yosemite National Park and take a Sonoma Wine Country tour, and don't forget I'm always around for questions. All you gotta do is drop me a comment below, and I'll answer ASAP!
Safe travels,
Victoria
---
Pin it for later!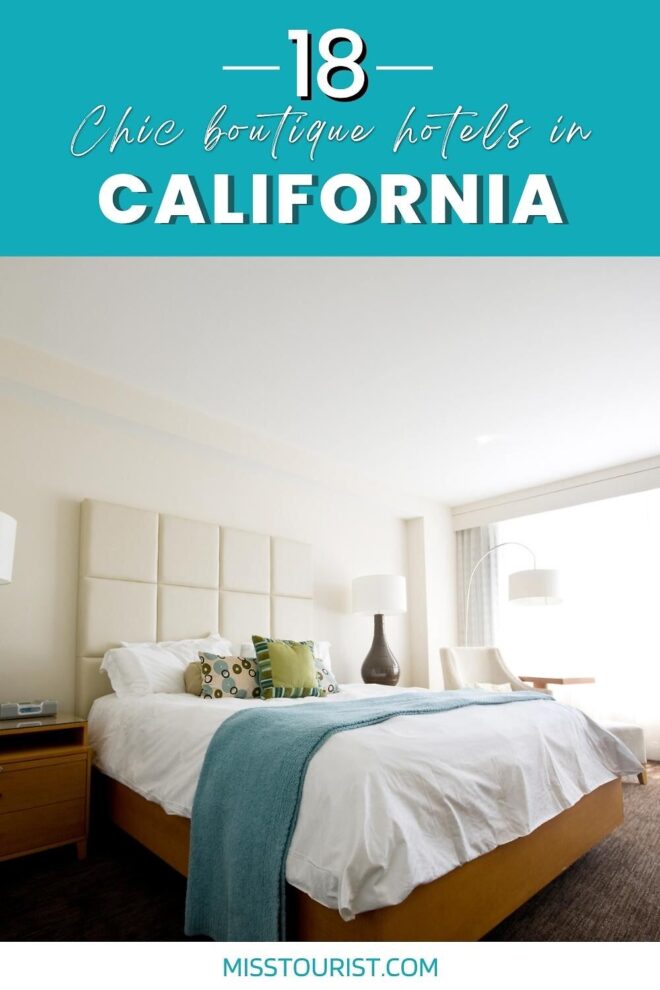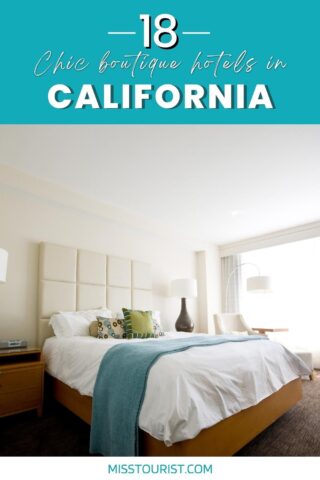 Pin it for later!