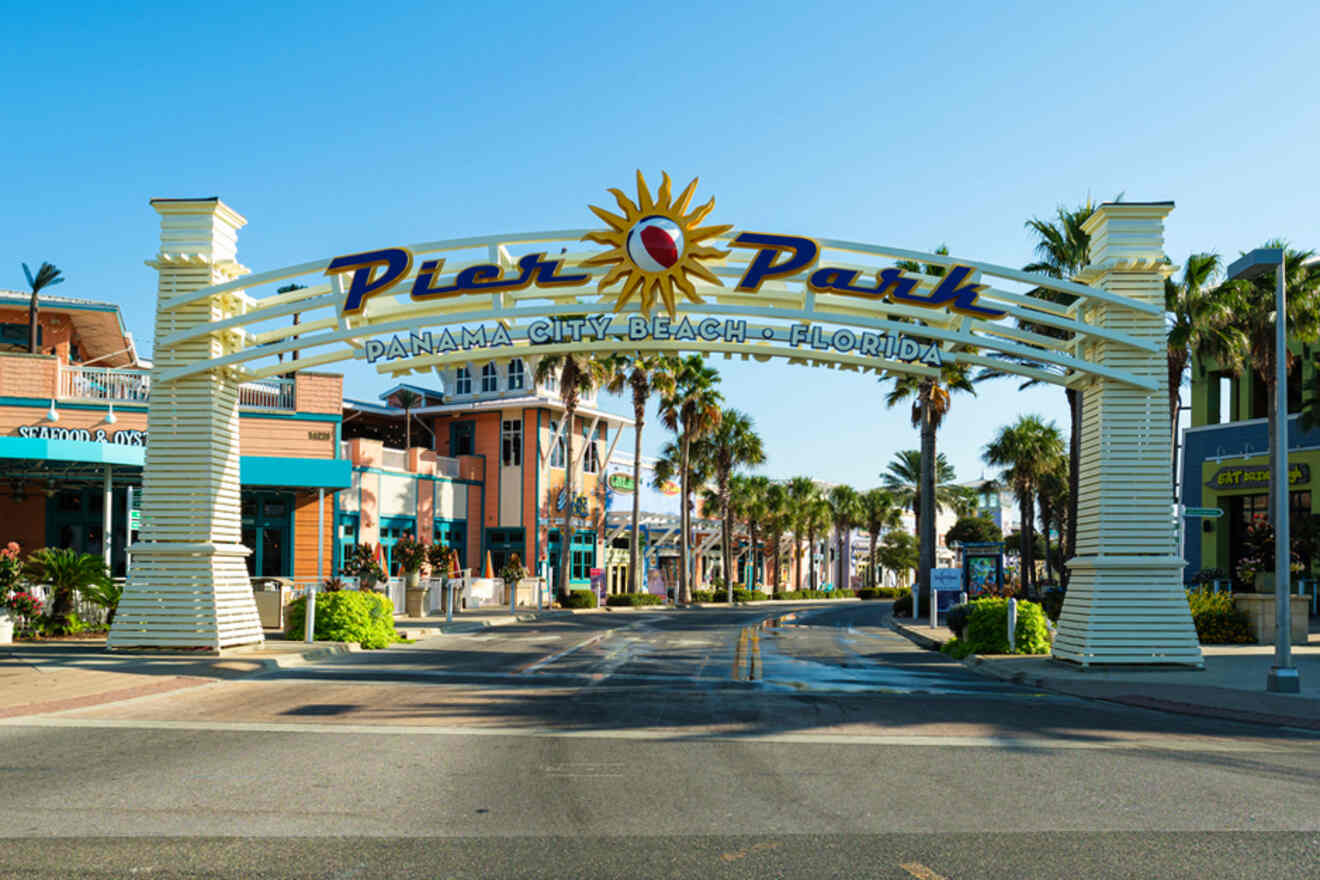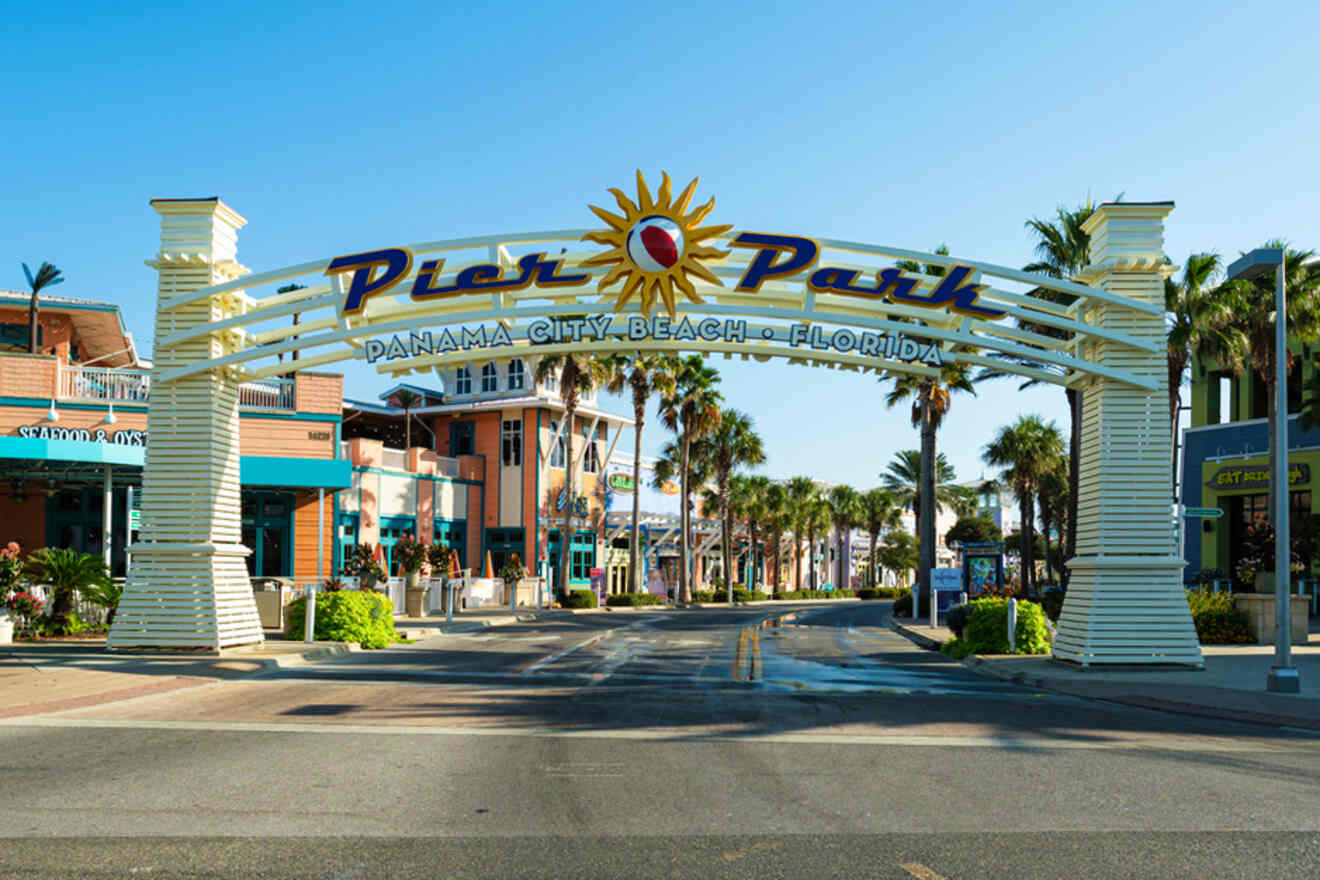 Panama City Beach is one of sunny Florida's most beautiful vacation destinations.
Nestled along the Gulf of Mexico in Northwest Florida, this must-visit tropical oasis is calling your name!
With long stretches of sugary white sand beaches, crystal clear waters, swaying palm trees, and excellent vibes, Panama City Beach should be high on your list of holiday destinations.
Feel your mind and body begin to relax as your mind takes in the beauty of turquoise waves lapping on white sandy shores. A true American beach town, Panama City Beach is filled with lots of unique activities that make it a hot spot for travelers from all over the globe.
Most of the attractions involve fun outdoor activities, water sports, hiking, and enjoying summer beach time fun! You'll honestly love this list!
As a Florida local, I am going to give you the inside scoop on the best things to do in Panama City Beach.
If you are in a hurry
Here are the main things to book in advance:
1. Explore St Andrews State Park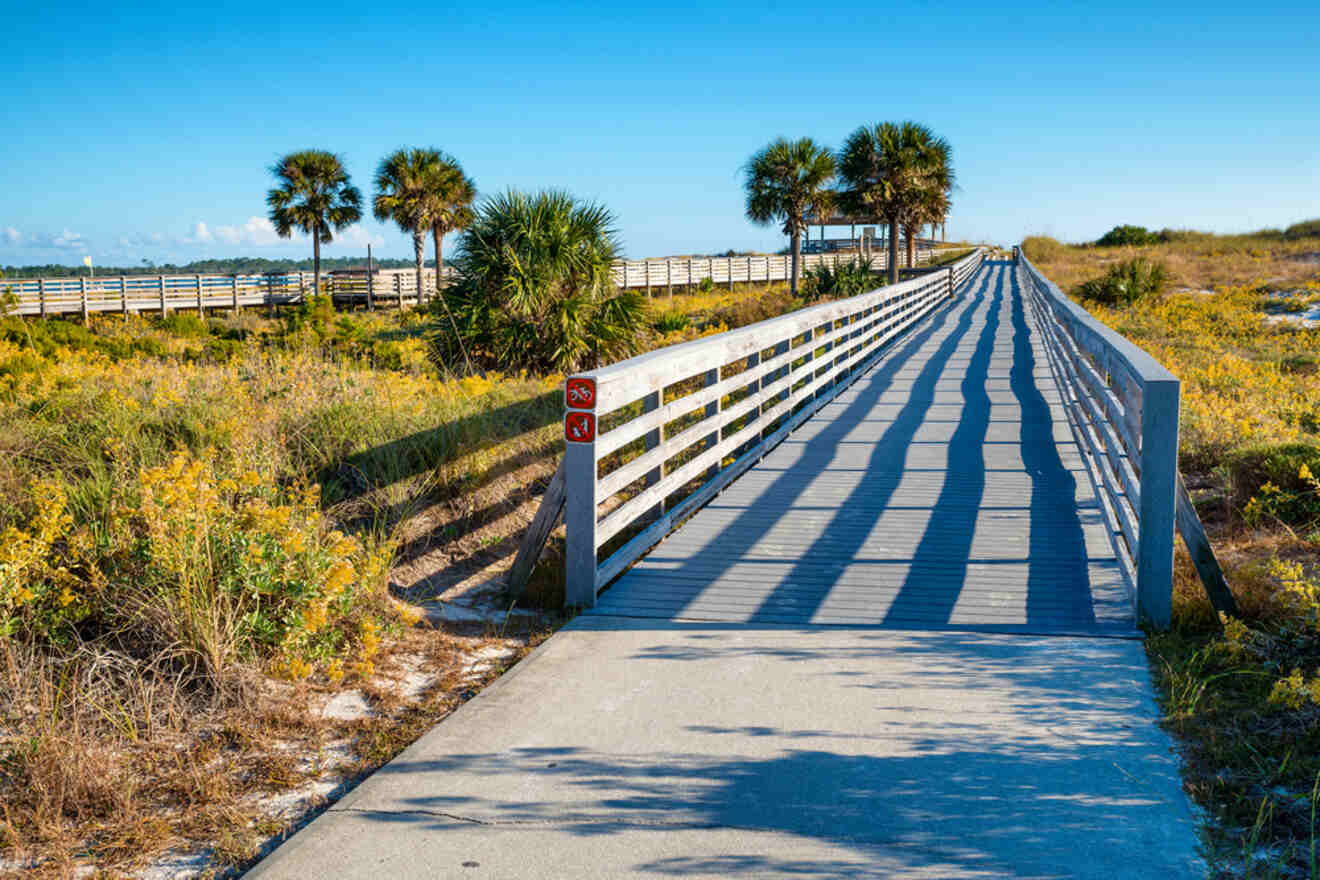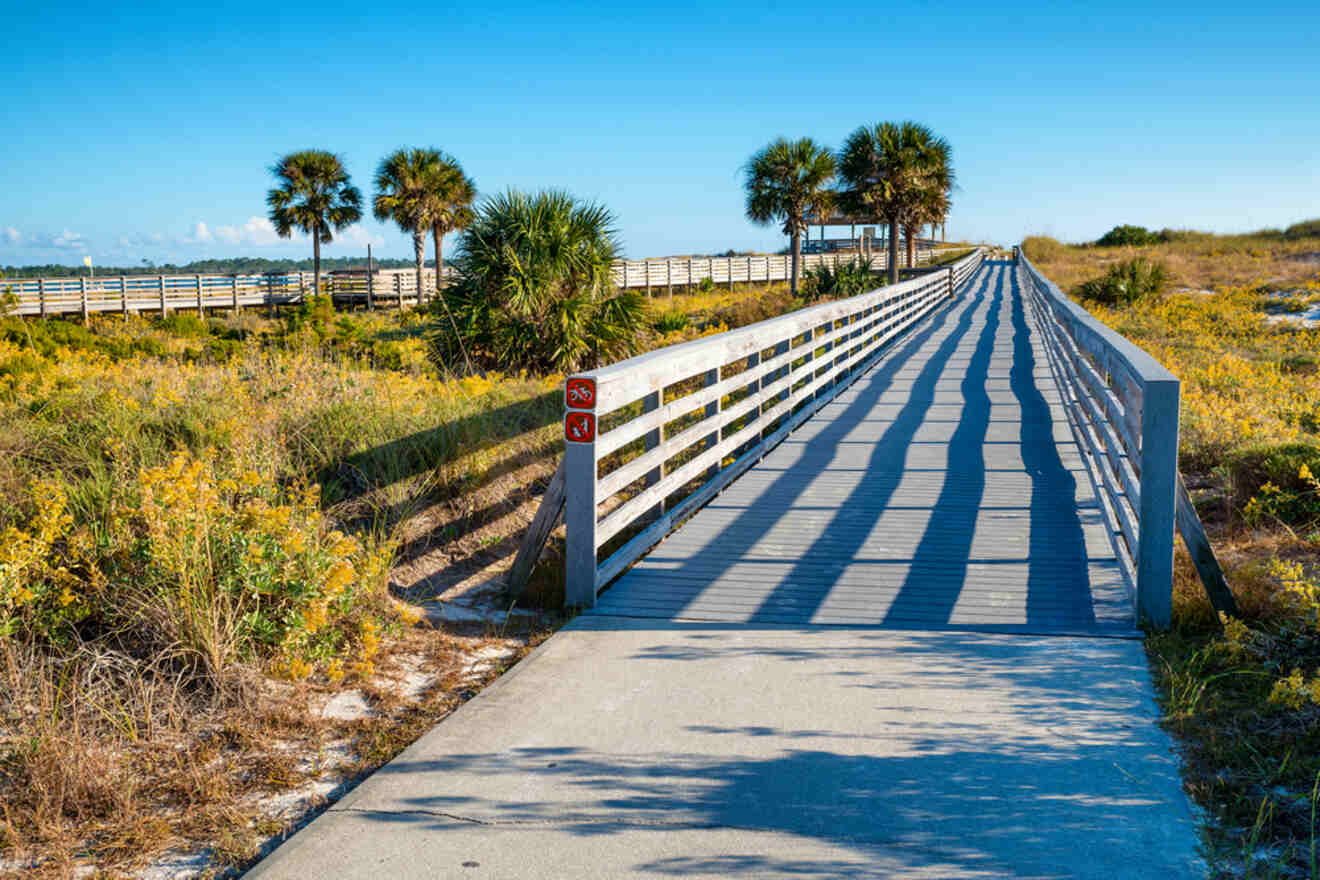 This 1,200-acre park is home to beautiful beaches, hiking trails, and a diverse range of wildlife. It's the perfect place to relax and enjoy the natural beauty of Panama City Beach.
One of the most beautiful state parks in the Panama City Beach area, this is the perfect place to get to know the natural landscape outside of the beachy and developed areas in Panama City Beach!
St Andrews State Park is home to biodiverse landscapes and habitats and an incredible abundance of wildlife. Wild spaces like this are critical to protect in Florida. As hundreds, if not thousands, of people are moving to the Sunshine State each year, it is imperative that we support wildlife and natural habitats in place of rapid development!
St Andrews State Park is an excellent place for hiking, fishing, biking, bird watching, botanizing, exploring, picnicking and BBQing, and more!
Is any vacation really complete without recharging in nature? Between the pine forests and wetlands, your mind and body will begin to unwind and release any stress or tension that you've been carrying around for far too long.
Check out this amazing guided shore dive in the park! You'll hang out with local marine life and all your equipment is provided for you!
PRICE: US$68
2. Spend a day on the beach, of course!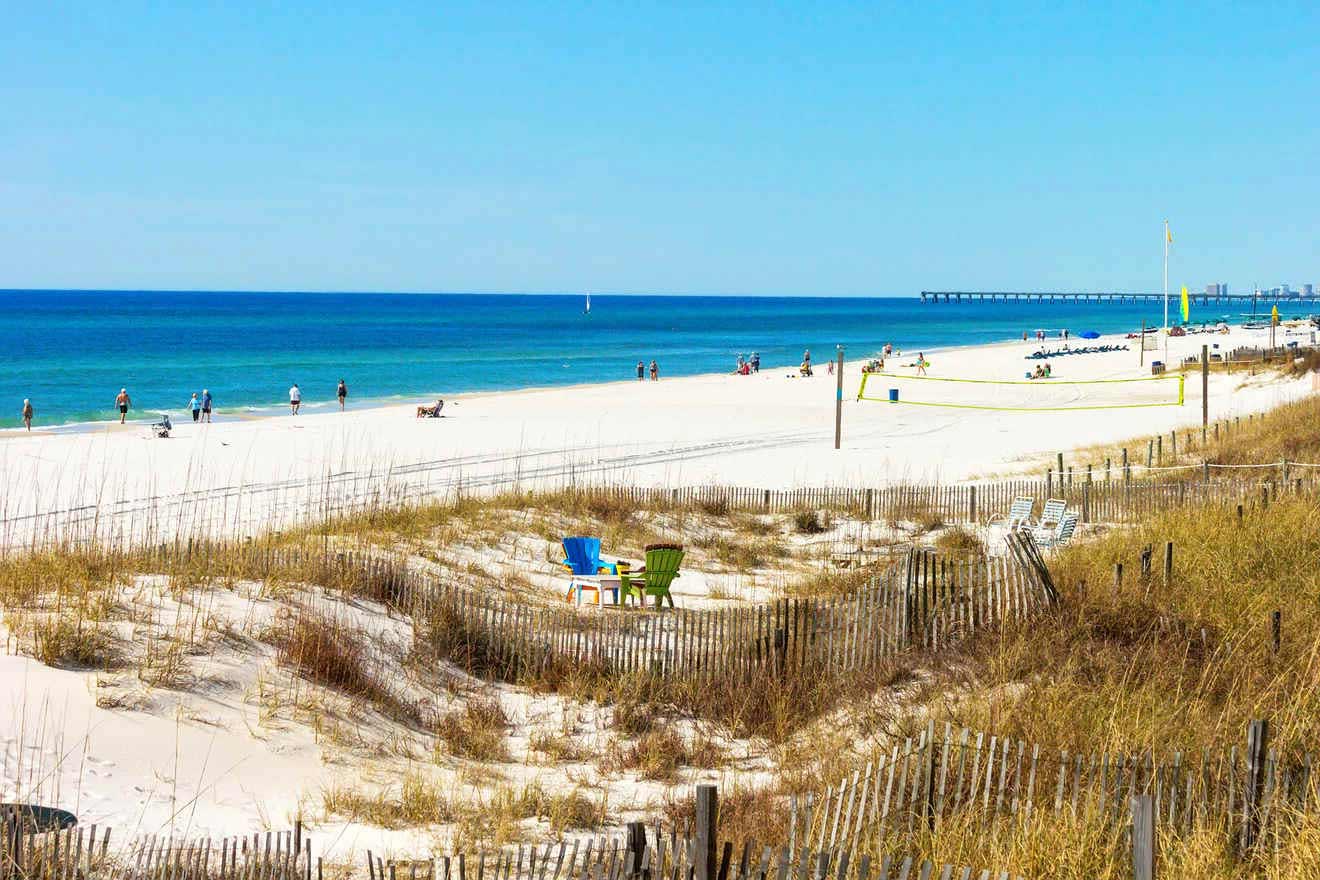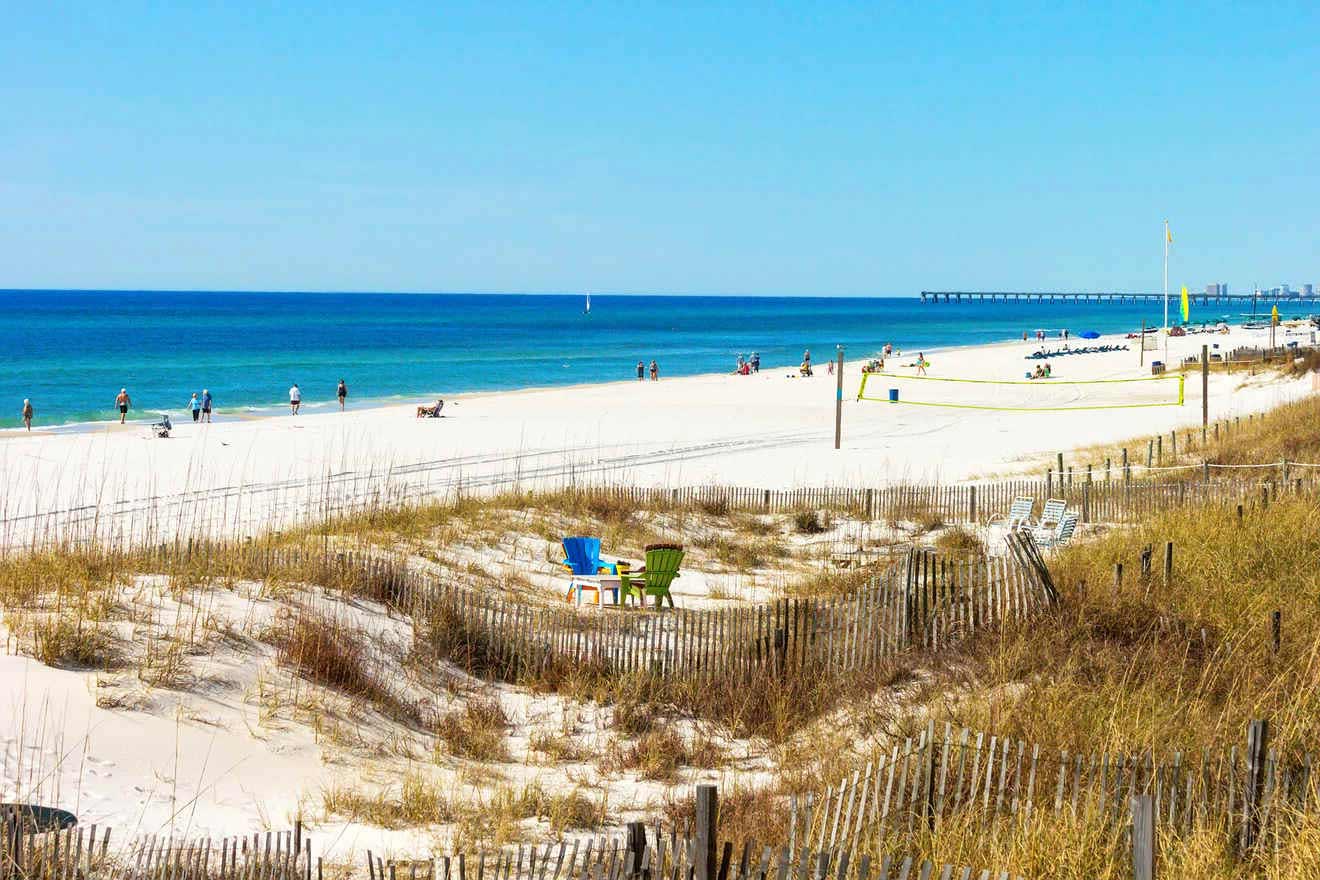 Panama City Beach is the centerpiece of the city. Loved by locals and tourists alike for the incredible views, going to the beach on your visit should be high on your list of things to do in Panama City Beach!
Panama City's Beach offers a whopping 28 miles of pristine Emerald Coast shoreline with dazzling white sand beaches and shallow waters perfect for swimming and snorkeling.
The shallow water makes for an excellent beach for kids and families.
Across the street from the City Pier is Pier Park, which boasts incredible restaurants and shops and provides an excellent place to catch some shade, grab a bite, and explore the heart and soul of Panama City Beach.
If you're a thrill seeker or daredevil, this lovely Florida Destination offers one of the most exhilarating water activities you can find for miles!
The Scream Machine Thrill Ride is essentially a rollercoaster on water, and it's definitely a one-of-a-kind adventure.
This twin-engine jet boat offers incredible speed, nose dives, 360-degree turns, and an incredible adrenaline-pumping thrill! This is excellent for those who want to keep the kids entertained or anyone who yearns for thrill rides.
PRICE: US$60
Book Your Scream Machine Thrill Ride
3. Get some incredible views on the Skywheel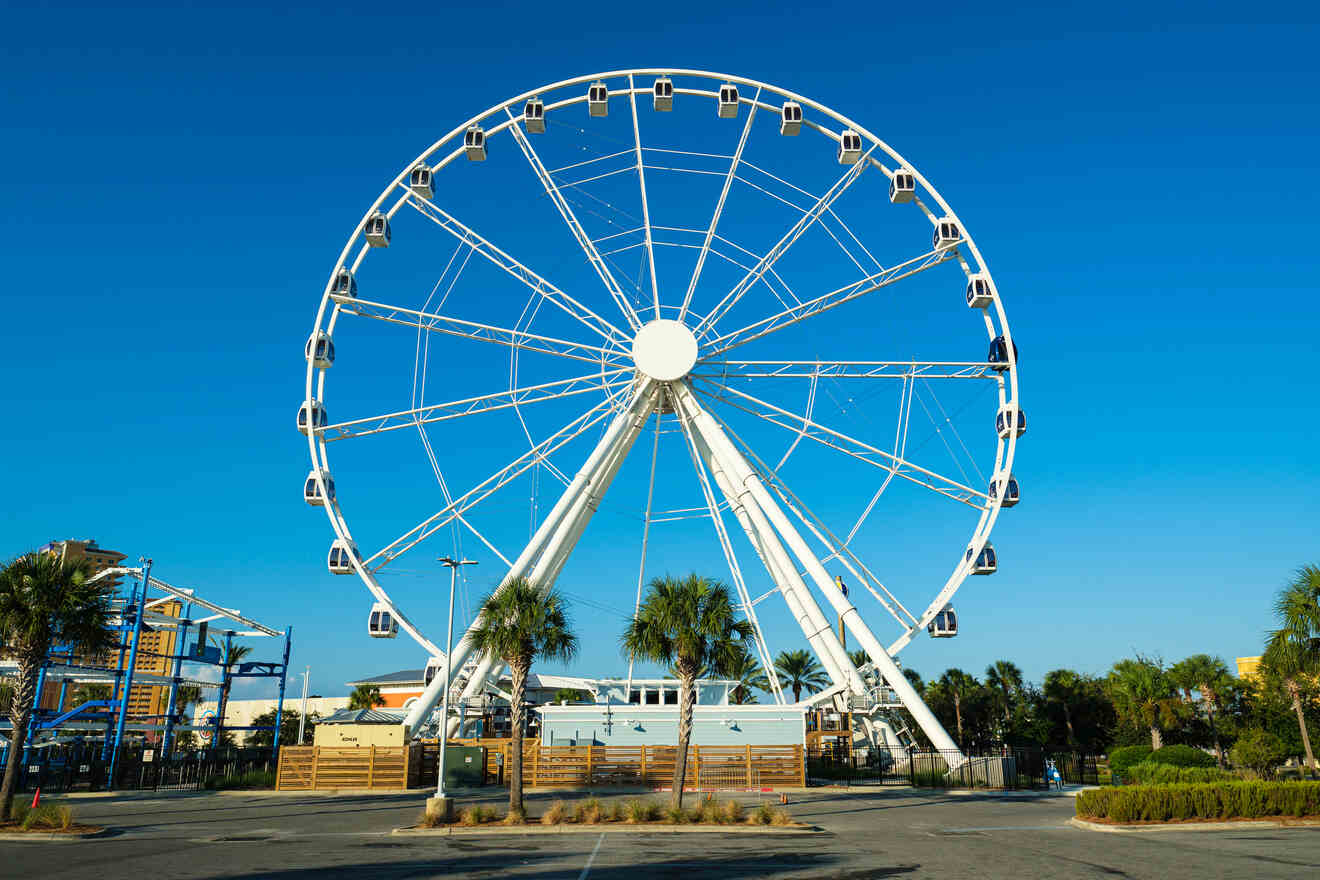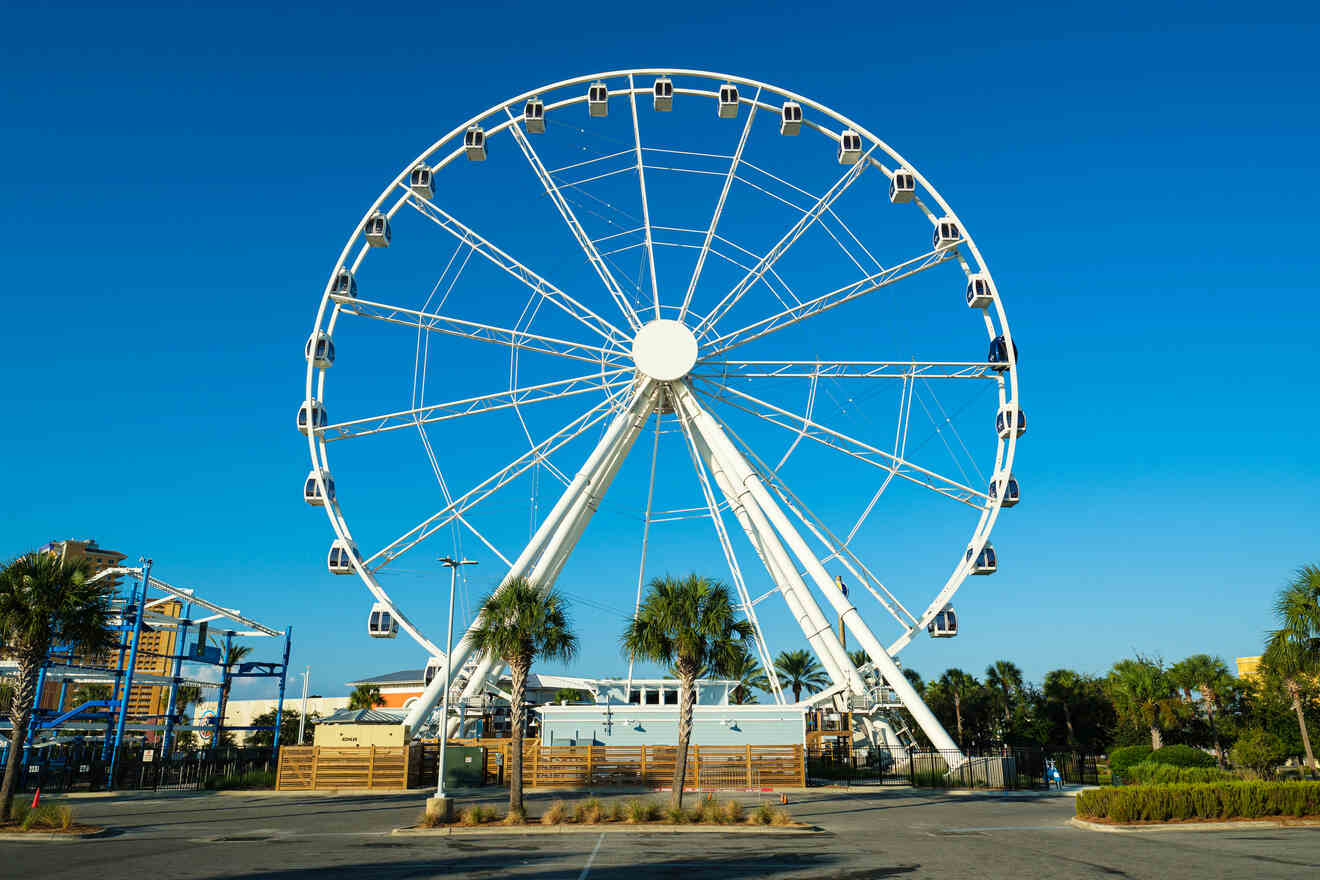 If you're looking for some epic views, look no further than taking a ride on the Skywheel!
Located in Pier Park, the Skywheel is one of Panama City Beach's most popular attractions. It's not difficult to see why, as the views from Pier Park are second to none.
Get a bird's eye view of the incredible Panama City Beach, City Pier, and the horizon as far as the eye can see.
With a glass bottom floor and incredible heights, this is one of the best things to do in Panama City. You can also purchase a VIP package and bring some drinks with you (non alcoholic or alcoholic).
PRICE: From US$10
4. Explore the beauty and bounty of Shell Island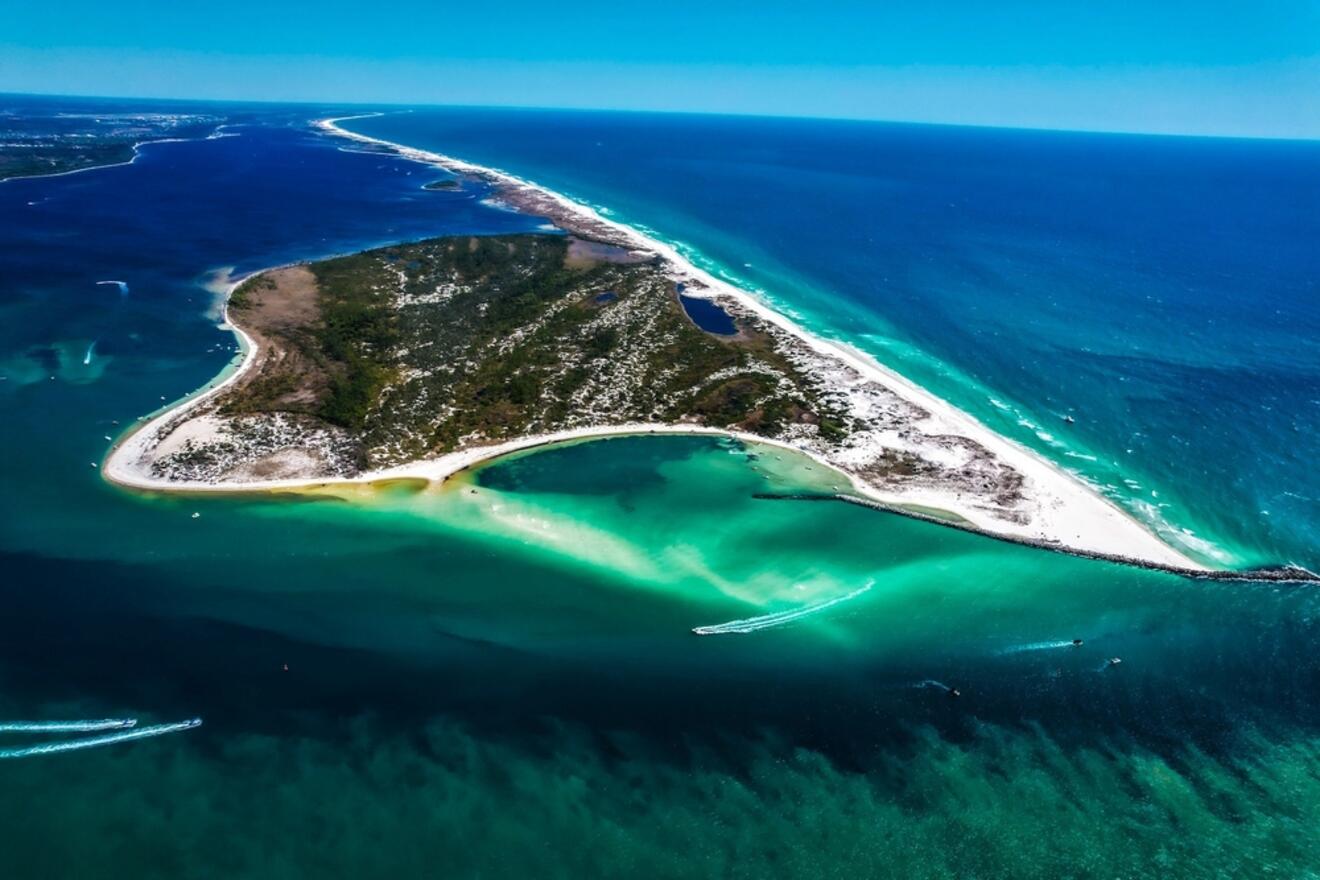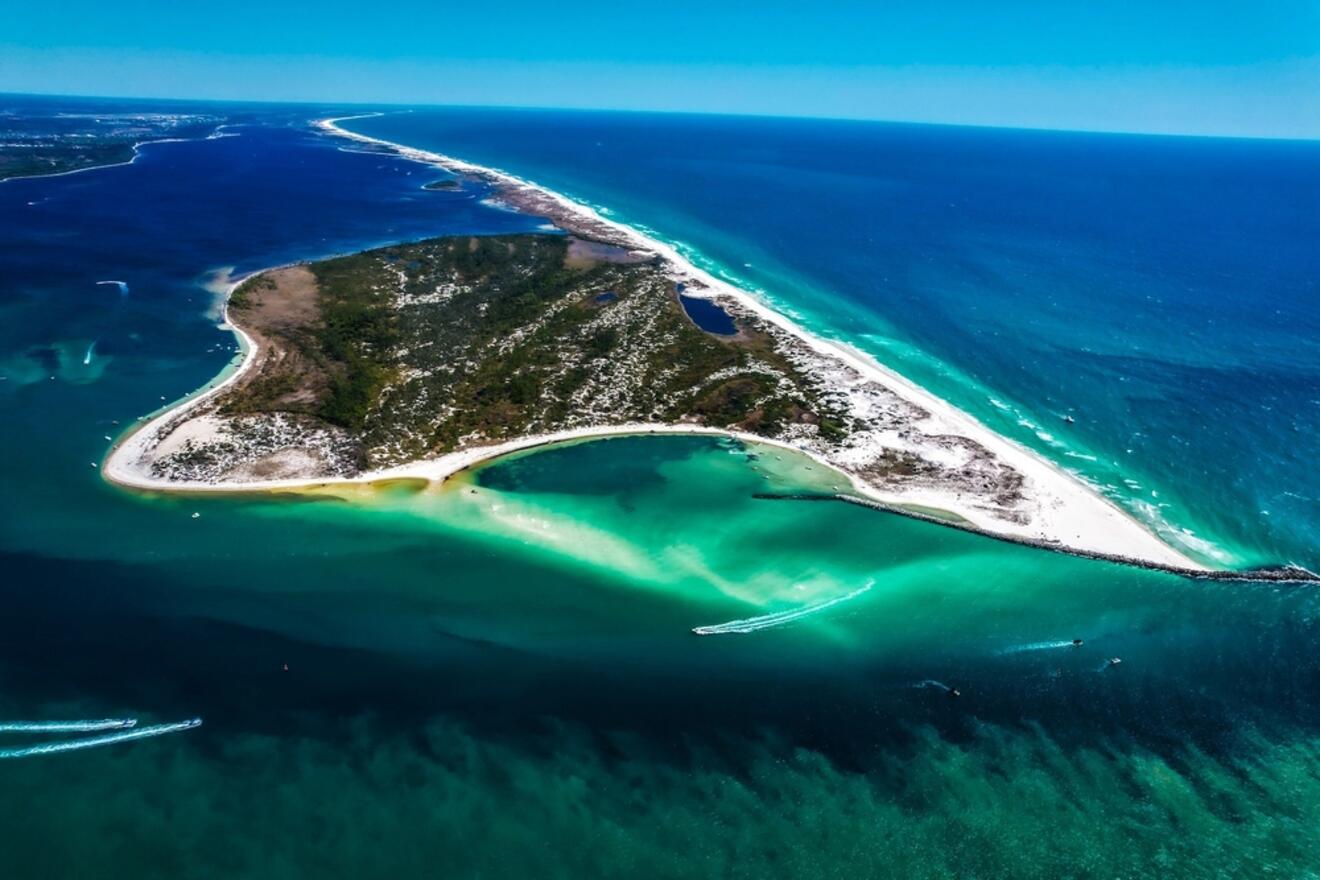 This seven-mile island on Florida's Emerald Coast is one of the most beautiful places to visit in Panama City Beach.
There are so many fun activities to do on Shell Island. From taking a boat out, to hiking, fishing, snorkeling, and seeing amazing marine life, this is a natural recreational hub in Panama City Beach.
This barrier island has one of the best beaches in the area for those who enjoy a more secluded and natural beach as opposed to an overdeveloped beach.
The best way to enjoy Shell Island is to rent a boat or book a tour because shell island can only be accessed by boat.
There is a shuttle available, but it does not run all the time, and you have to work around its schedule. I would highly recommend renting a boat or booking a snorkeling tour that brings you to Shell Island and allows you to explore the coral reefs at your own leisure.
This tour that I booked when I visited Panama City Beach was the best tour available by far. Not only does it get you to Shell Island, but it is also a dolphin-viewing catamaran cruise and snorkeling adventure!
I got super lucky because it sells out really quickly! I made sure to book before my trip because I did not want to miss out on the incredible beauty and tranquility that this tour has to offer.
I'm a nature lover, so I had to make sure that I got the best tour available to see the pristine wild side of Shell Island and Panama City Beach.
If you want the unique opportunity to sail on a catamaran, see dolphins, and go snorkeling on a gorgeous remote island off the coast of Panama City Beach, make sure you book this tour in advance!
PRICE: US$53
Book Your Dolphin Snorkel Adventure
5. Grab some local wine at the Panama City Beach Winery
Ever tried wine made from 100% local Florida fruit? Here's your chance!
With no additional preserves, chemicals, or additives, Panama City Beach Winery is one of the only places you can get wine made from 100% Florida fruits!
Who doesn't love a good local wine? Tropical fruit wine, anyone? YES!
One of the best parts about Panama City Beach Winery? They run complimentary wine tastings every day! This is a great place to visit on your trip to Panama City Beach and one of the most unique things to do in the area!
6. Watch the sunset from Russell Fields City Pier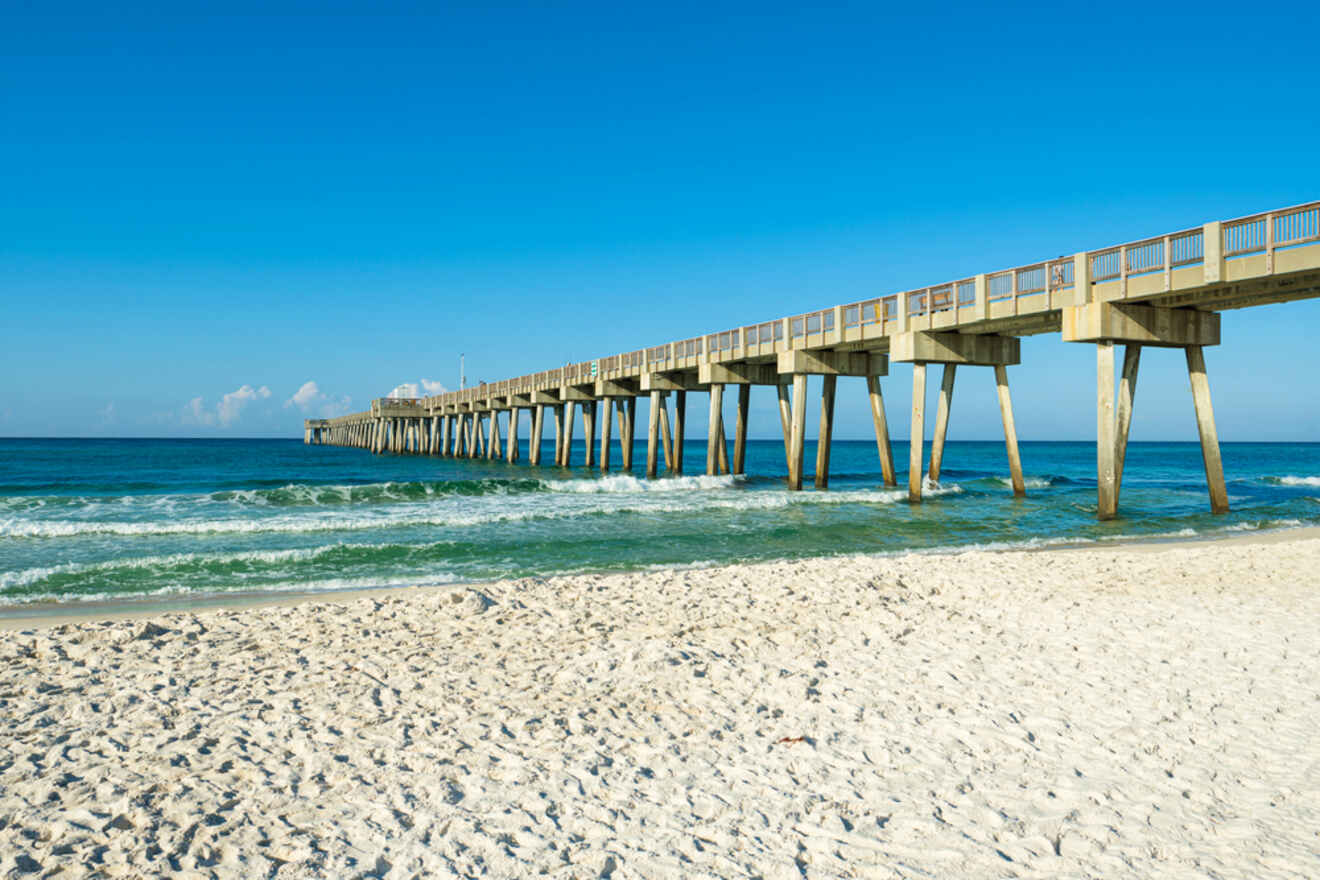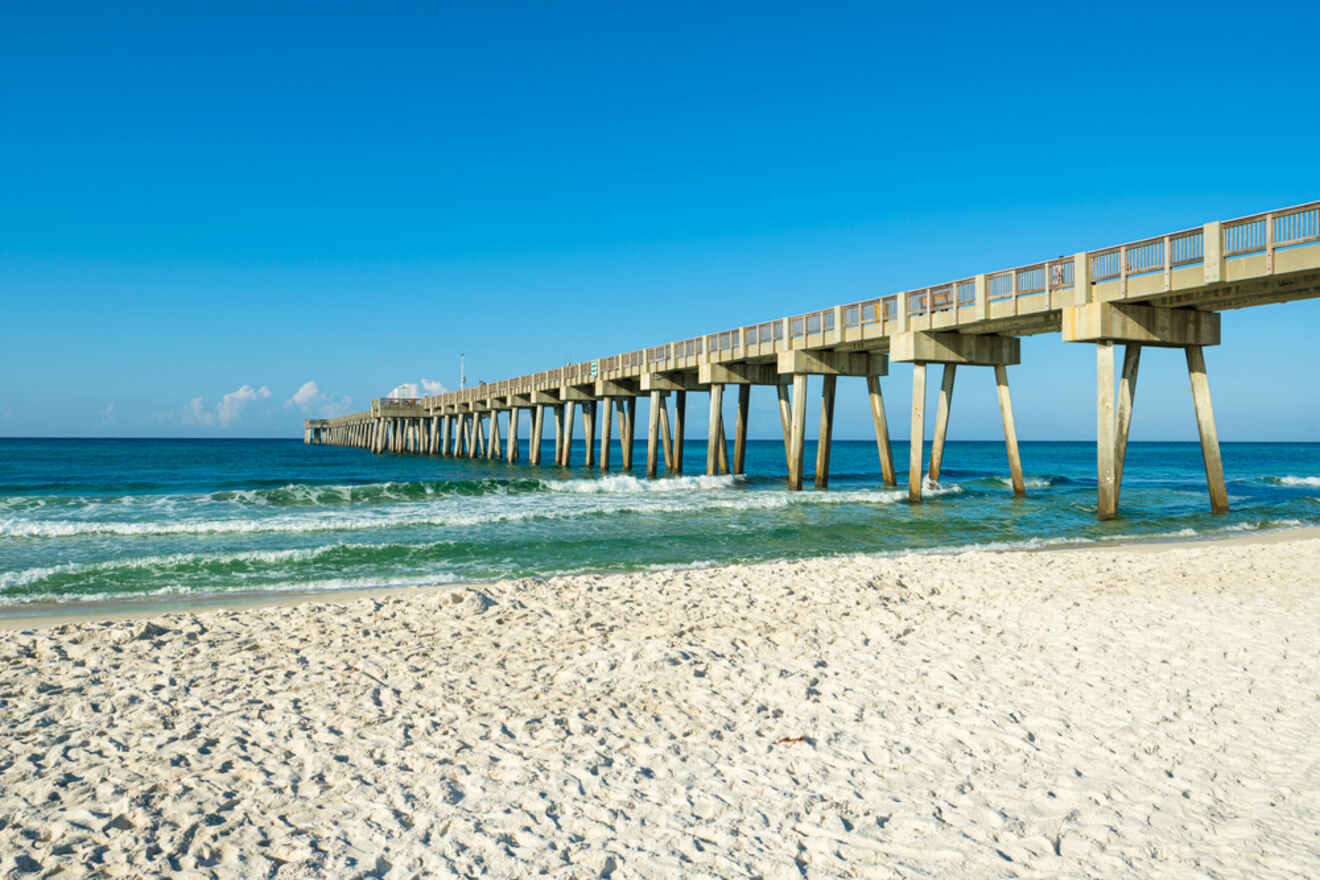 Another Pier Park gem, Russell Fields Pier should be high on your list of things to do in Panama City Beach!
At the very end of Pier Park, this pier extends over 1500 feet into the Gulf of Mexico. This is an excellent place to see wildlife, watch one of those famous West Coast sunsets, or take a romantic stroll with a loved one!
PRICE: US$3
7. Swim alongside dolphins at Water Planet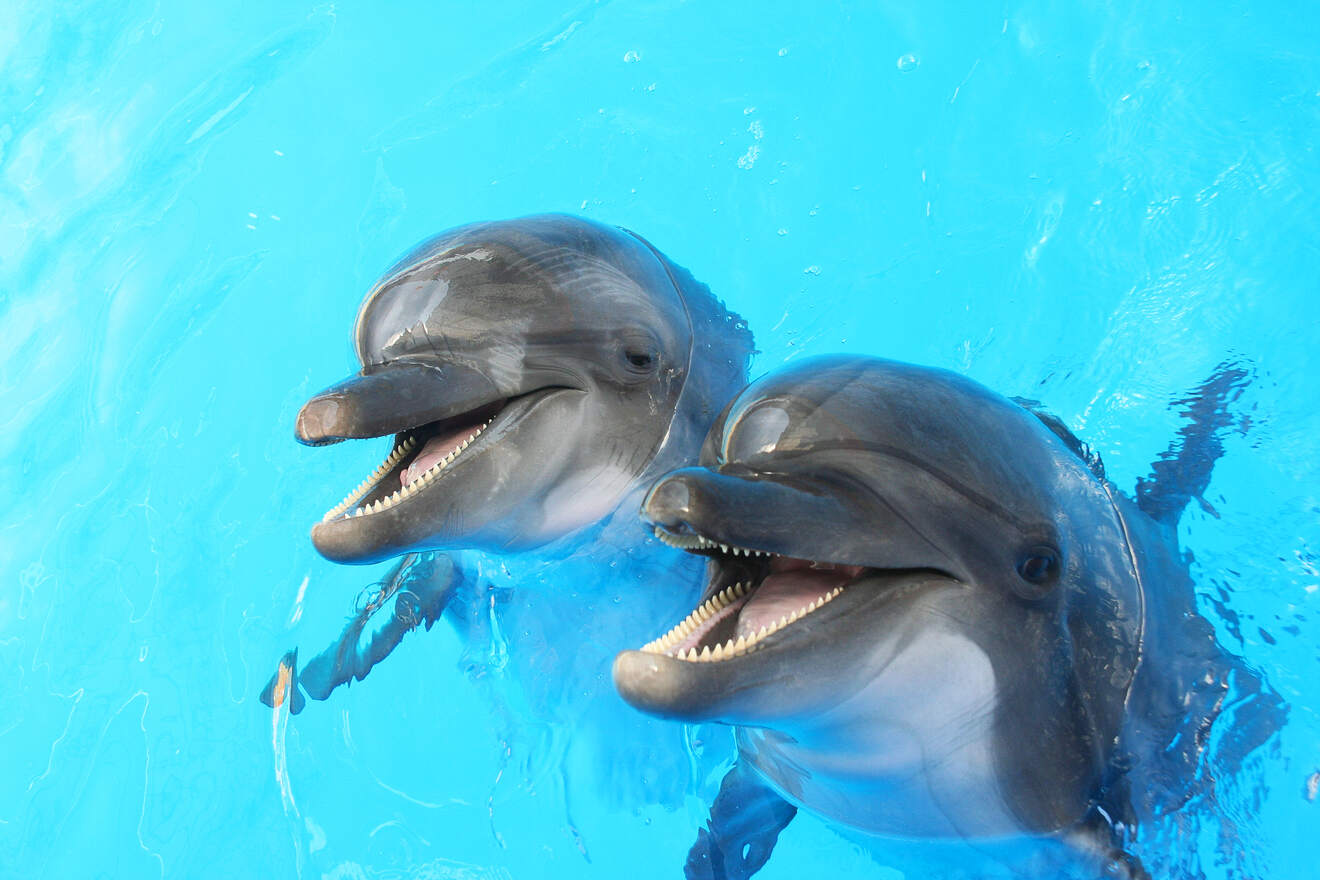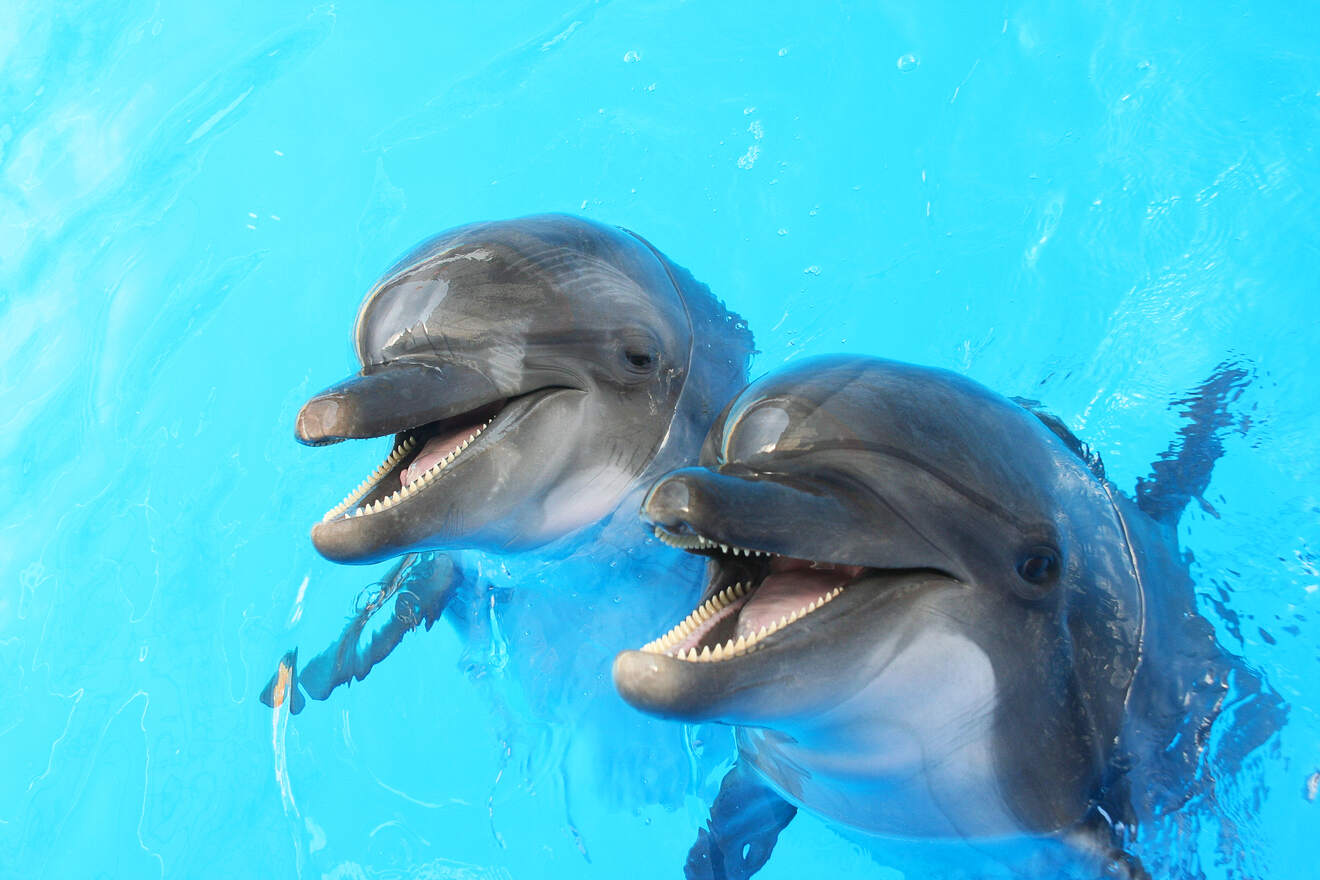 If you're looking for unique things to do in Panama City Beach, look no further than Water Planet!
Swimming with dolphins is an incredibly rare and unique experience that will bring you closer to nature and bring deep healing to the mind, body, and soul.
They have all sorts of different tours and educational experiences. They have some incredible dolphin experiences for the whole family, where you can explore Shell Island, go shelling, and even snorkel shipwrecks!
Water Planet also offers therapeutic dolphin programs that children with special needs especially benefit from!
8. Splash around Shipwreck Island Waterpark
Give your inner child the joy and love you deserve at Shipwreck Island Waterpark!
Here you can find incredible waterslides, lazy rivers, a tropical water park, wave pools, a ropes course, and more!
This is one of the best things to do with family in Panama City Beach. They even have a 500,000-gallon Ocean Motion Wave Pool that creates 3-foot waves!
If you're looking to take a break from the waves and still have loads and loads of fun, don't miss out on your opportunity to check out Shipwreck Island Waterpark!
Looking for something more lowkey? Check out the Lazy River and get some much-needed relaxation while floating down the river at your own leisurely pace.
Adrenaline pumping fun more your speed? Don't miss out on the Pirate's Plunge or the Tree Top Drop waterslides.
PRICE: US$50
9. Have loads of fun at Coconut Creek Family Fun Park
Looking for other activities besides the beach in Panama City Beach? Check out Coconut Creek Family Fun Park!
With a huge outdoor maze and two 18-hole golf courses, mini golf courses, and other outdoor adventures, this is a great way to keep the family entertained if you're not looking to spend the time at the beach.
Surrounded by African safari animal statues, this is a really great fun-filled activity to do with the family in Panama City Beach!
Plus, getting lost in a massive maze is a super fun learning experience for kiddos and adults alike!
PRICE: US$26
10. Check out Ripley's Believe It or Not!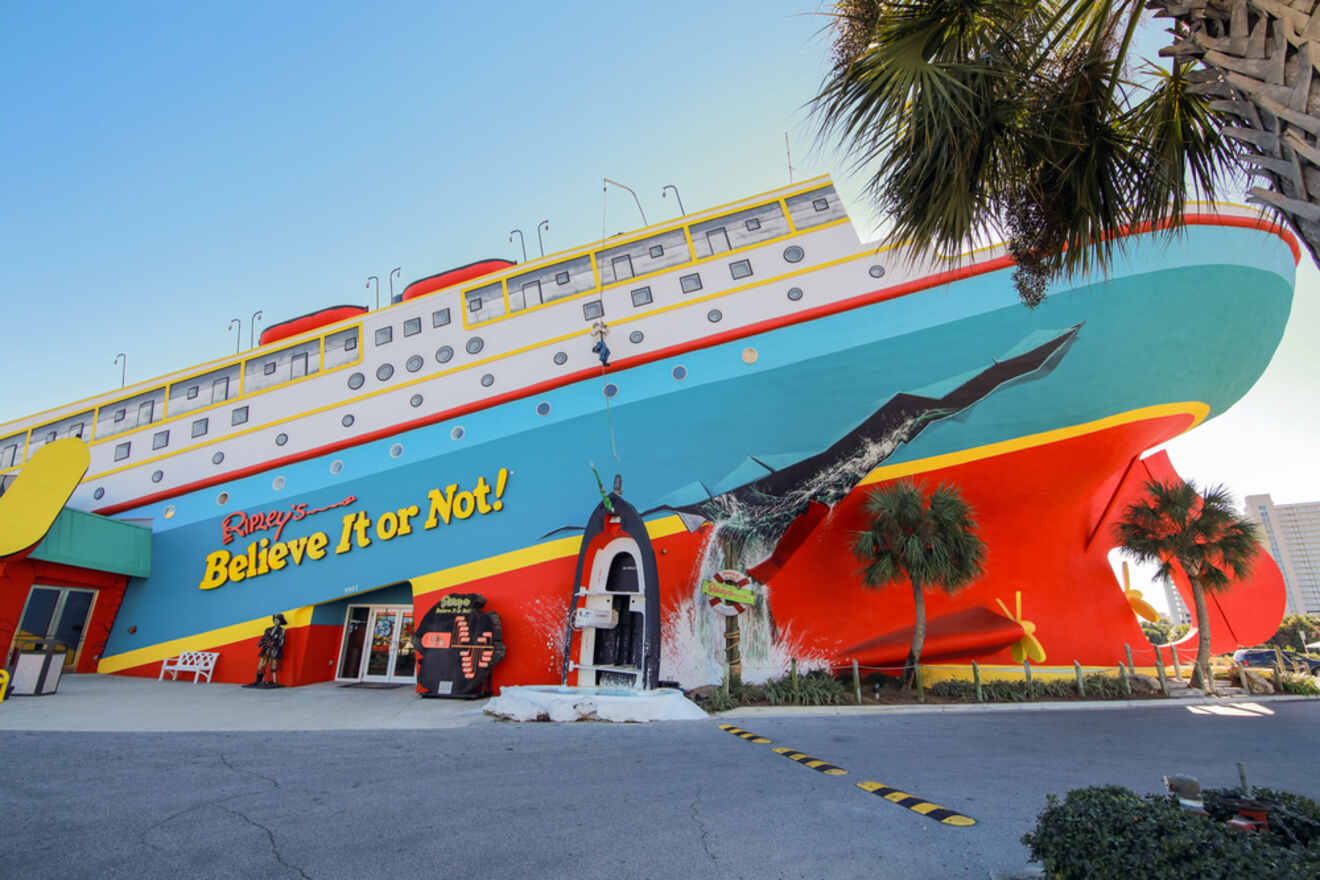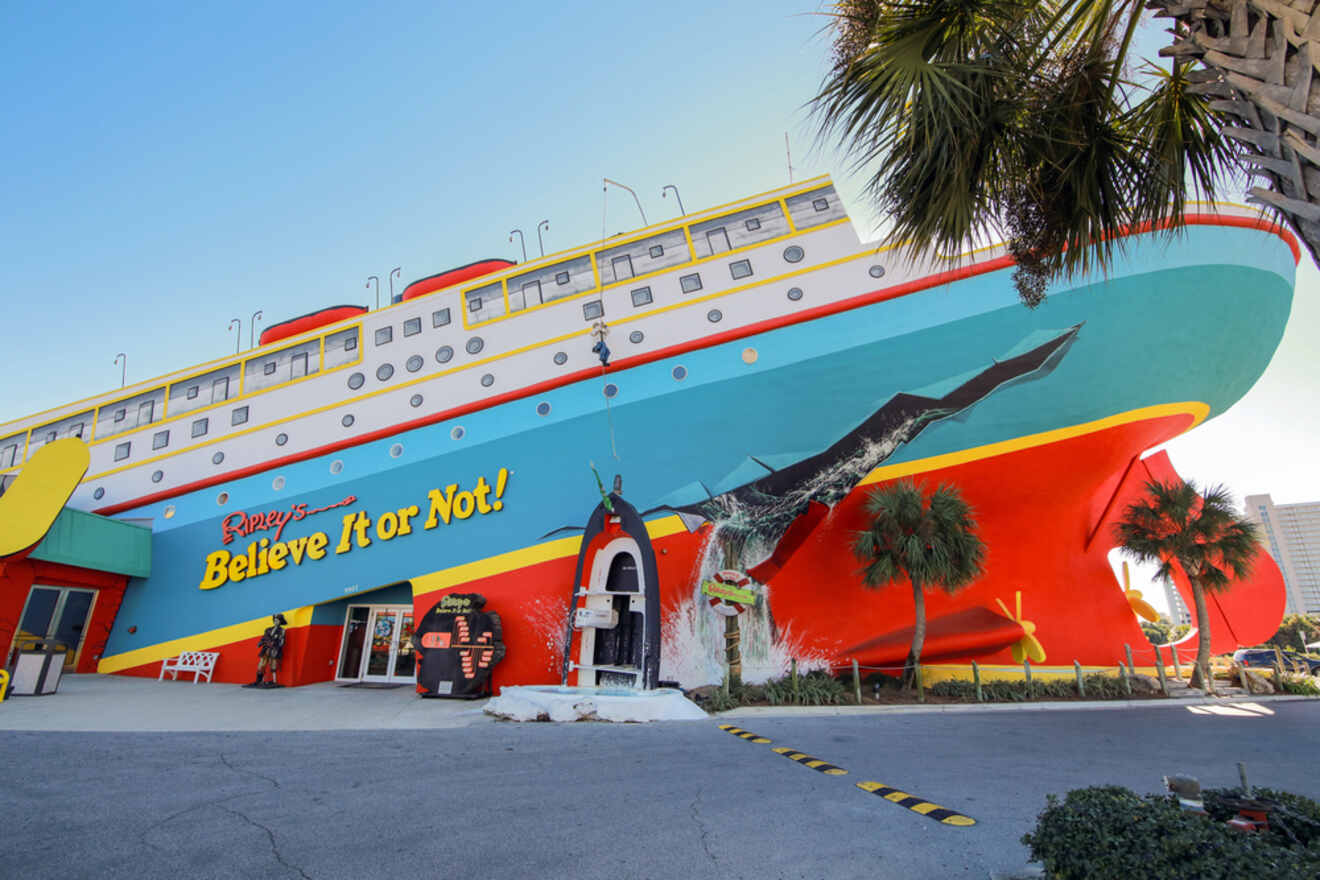 Looking for things to do when it's raining in Panama City Beach? Don't miss out on Ripley's Believe it or Not!
One of the more unique and quirky things to do in Panama City Beach, Ripley's Believe It or Not is a fascinating experience for younger kids and adults alike.
First of all, the building is designed to be in the shape of a ship. How cool is that?
The 4 main attractions at Ripley's Believe It or Not are the Odditorium, the 7D Moving Theatre, the Impossible LaseRace, and the Marvelous Mirror Maze.
Be prepared for some mind-bending and perspective-shifting fun! Get ready for your mind to be blown at your typical Ripley oddities, fun facts, wild films, and crazy artifacts.
Ticket prices vary.
11. Be in awe of the beauty at Conservation Park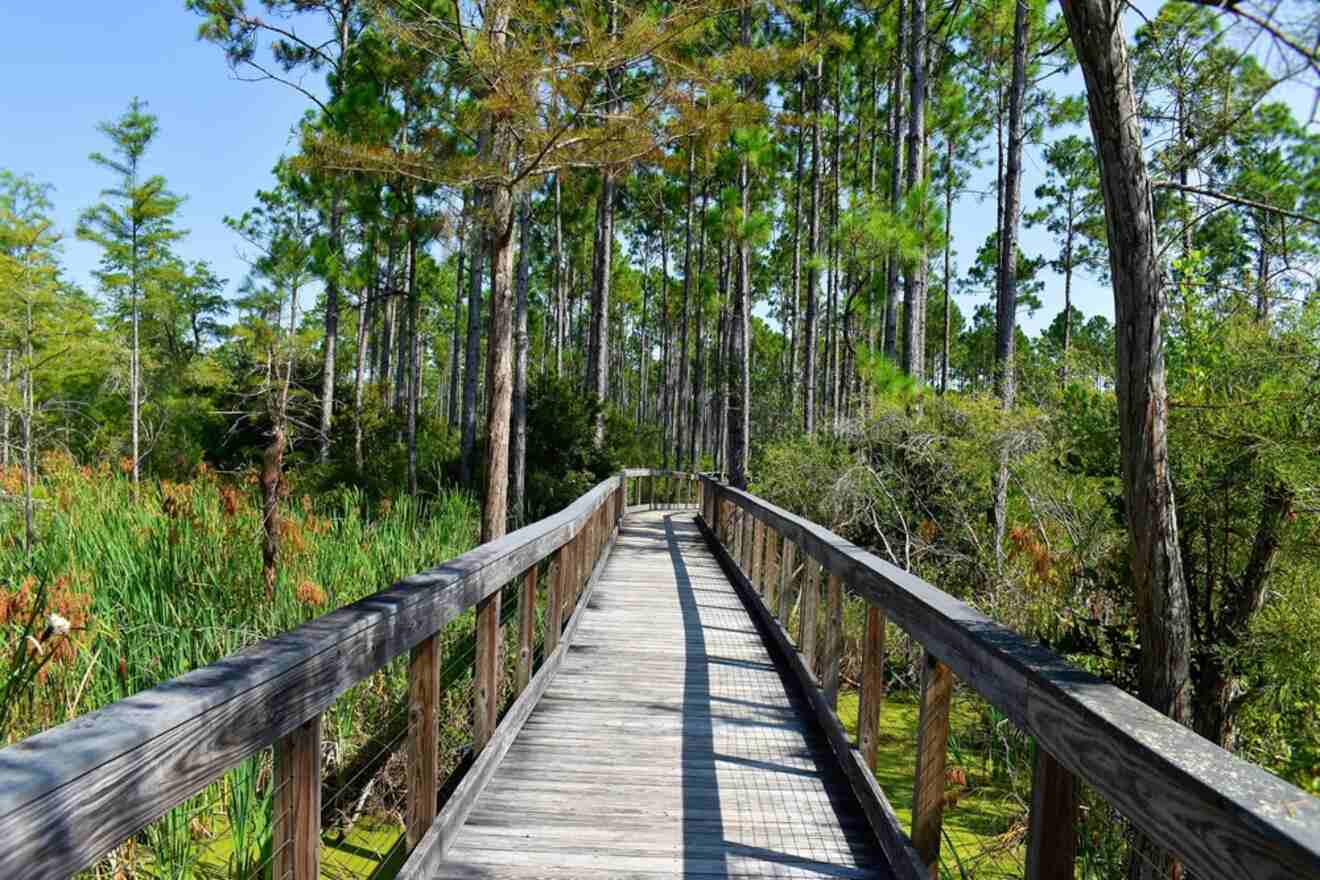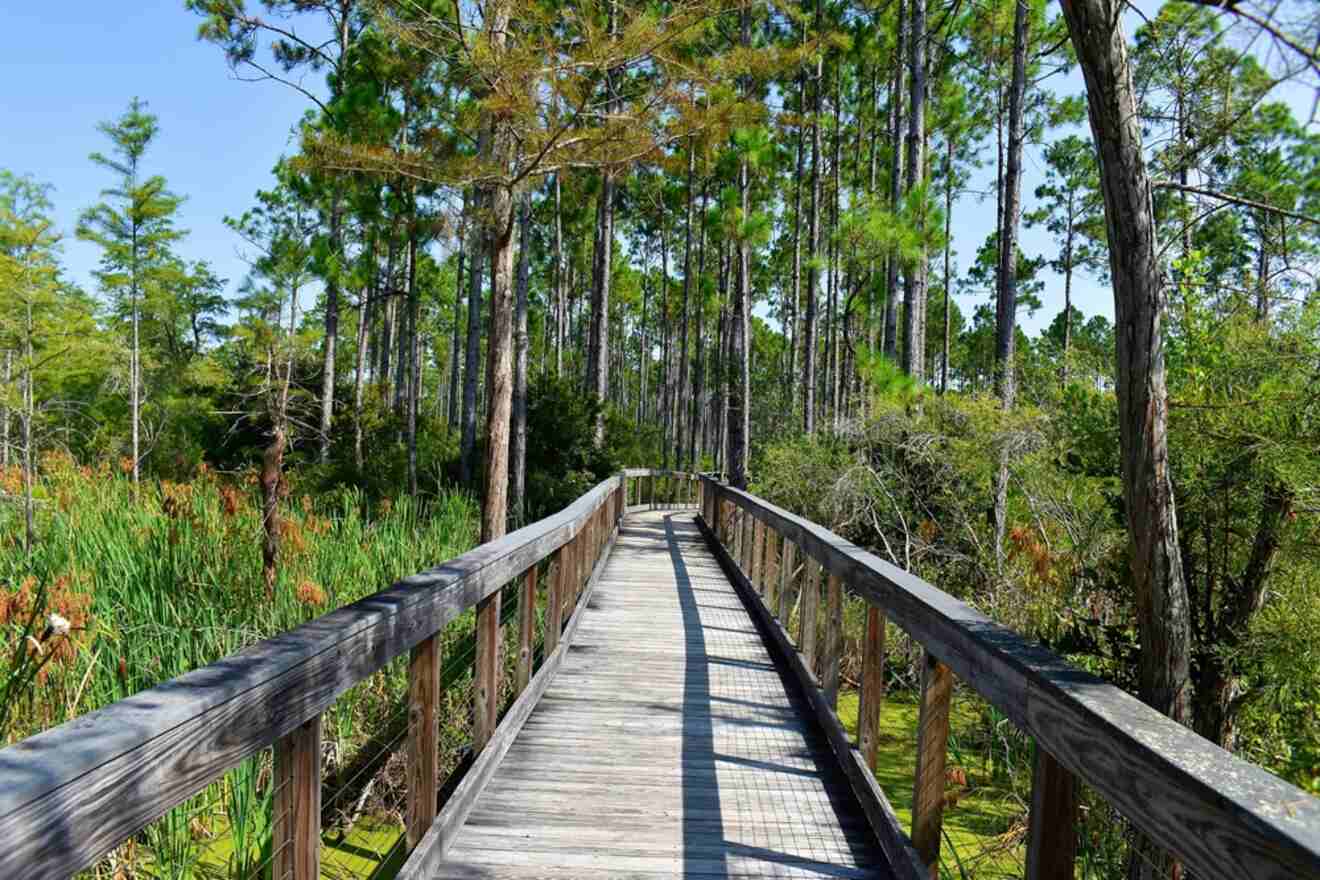 Panama City Beach is a gorgeous place to visit with numerous attractions. However, this particular corner of the Emerald Coast boasts some pretty unique and incredible beauty that you can't find in other parts of Florida.
With 3,000 acres of wetlands, uplands, pine forests, and stunning flora and fauna, this is one of the best eco attractions in Panama City Beach!
With all sorts of recreational activities, from hiking to biking, birdwatching, and wildlife viewing, this stunning park is one of the best things to do in Panama City.
With over a dozen trails running from ½ mile to 12 miles in length, Conservation Park has something for everyone!
Many of the hikes have a boardwalk that takes you through scenic wetlands and gives you a unique inside look at the incredible nature of Northwest Florida.
PRICE: Free
12. Check out WonderWorks Panama City Beach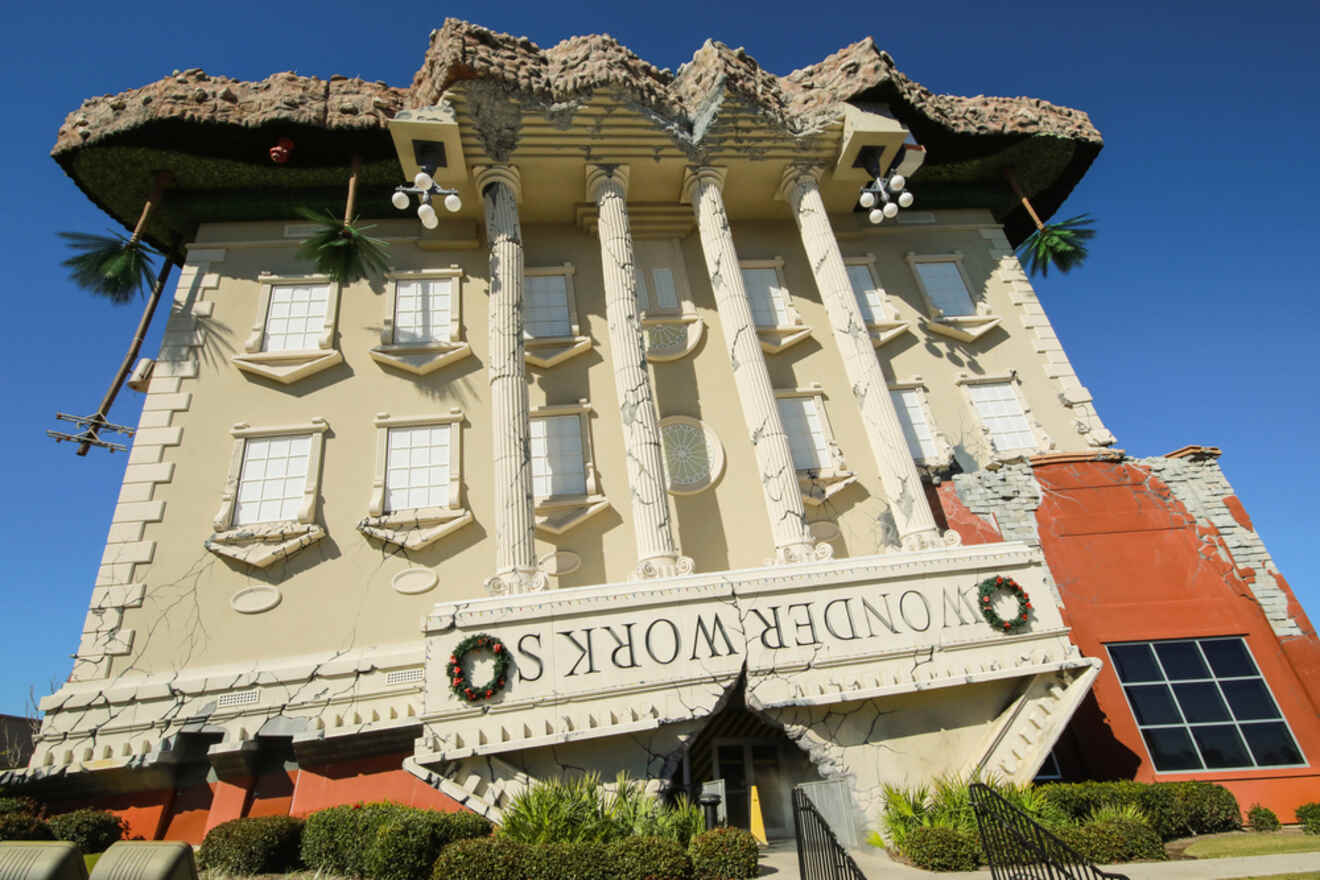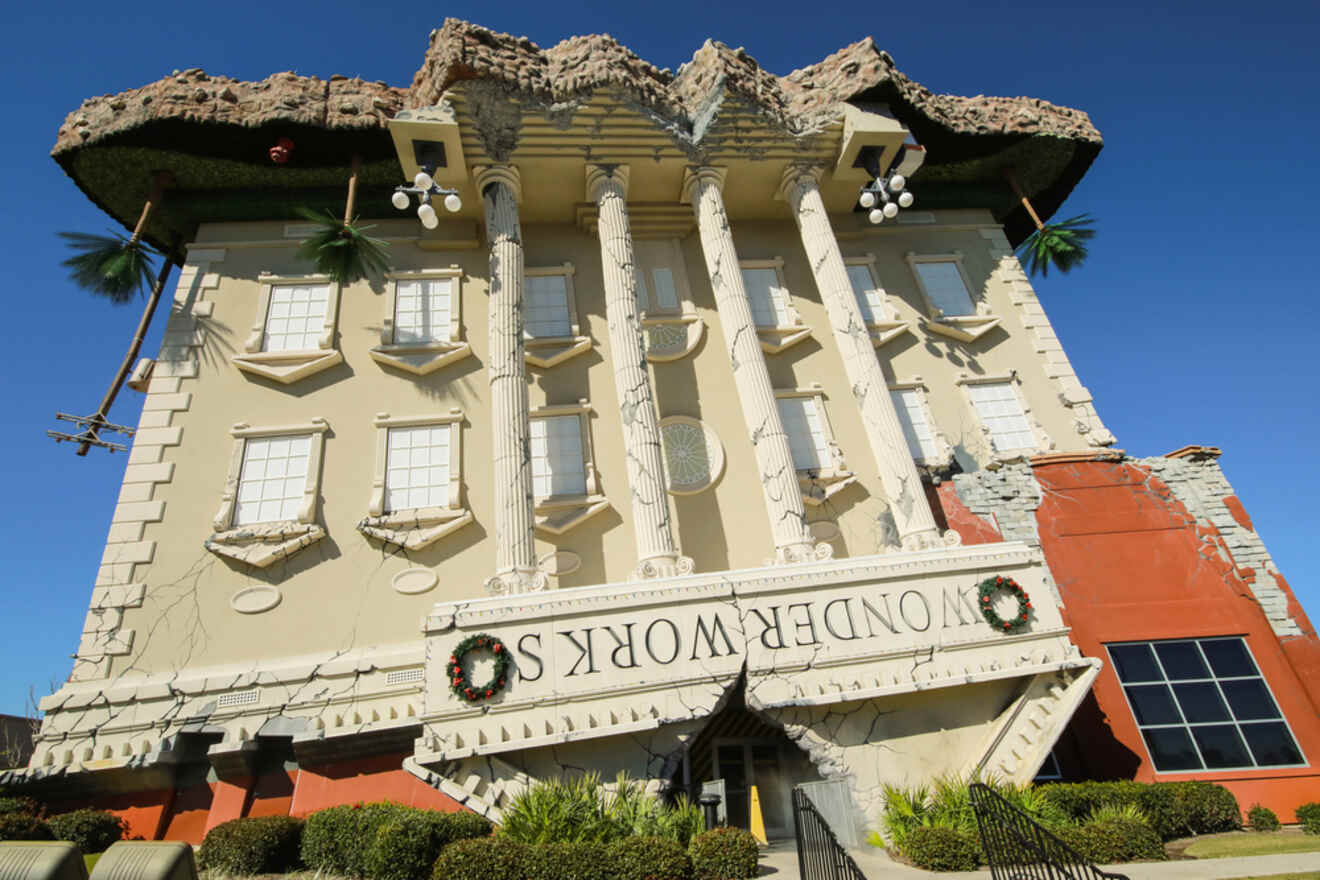 Ready to see the coolest building you've ever seen in your life?
One of the area's best-known building landmarks, WonderWorks has topsy-turvy architecture that brings a certain level of magic and whimsy to the entire experience.
This is by far one of the best things to do with kids in Panama City Beach. More than just your typical recreational center, WonderWorks is a giant playground combined with a science museum.
Looking for fun, interactive, and exciting ways to give your kids an educational experience? WonderWorks is the perfect place!
Experience some interactive learning with your little ones that makes for the perfect family bonding experience.
With all sorts of exciting rides that teach the wonders and limits of physics, a mural with lit-up colorful pegs that you can customize and leave your own imprint on, or a Tesla Coil exhibit, this is one of the most enriching experiences in Panama City Beach.
PRICE: US$34 for adults, US$28 for kids
13. Check out Camp Helen State Park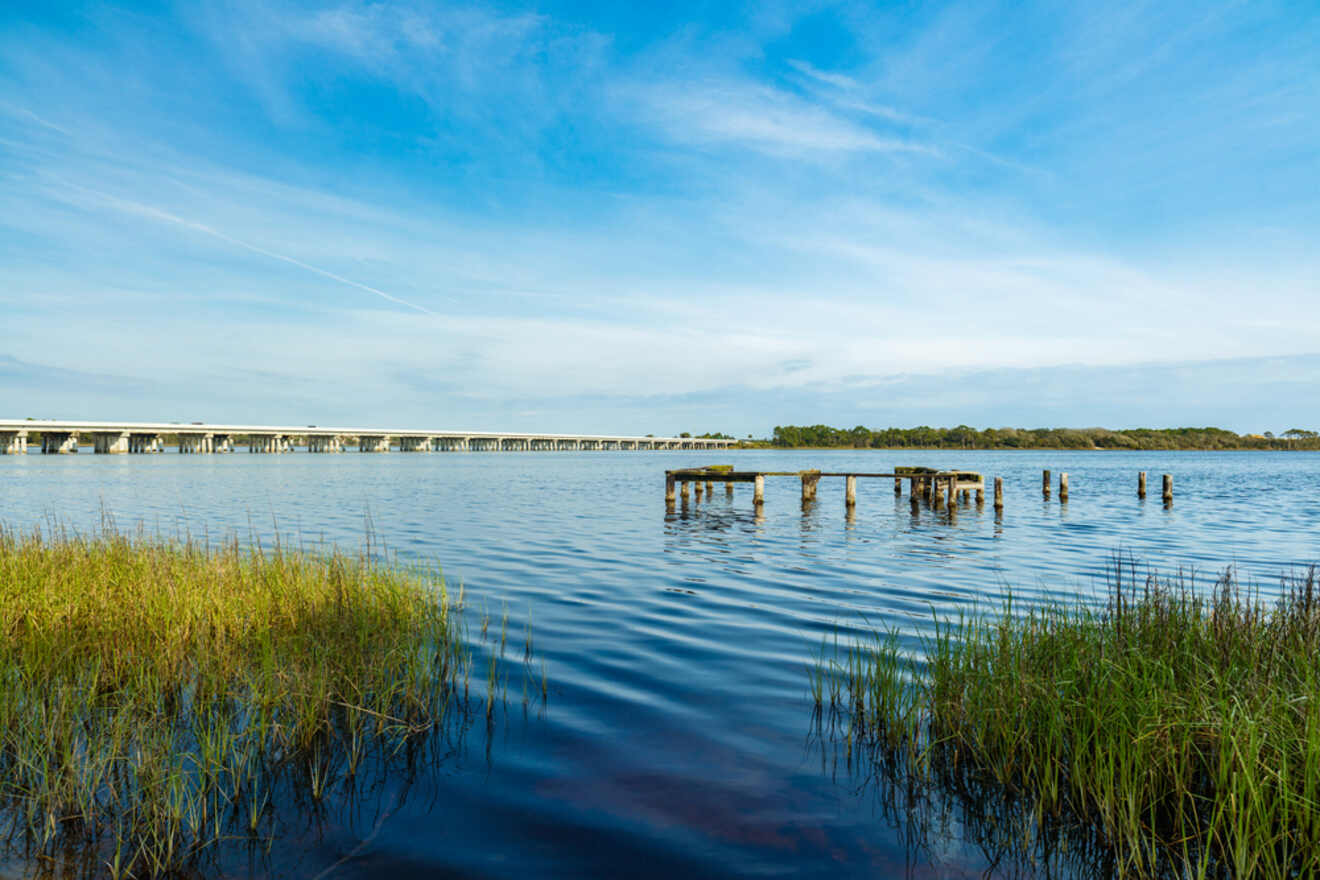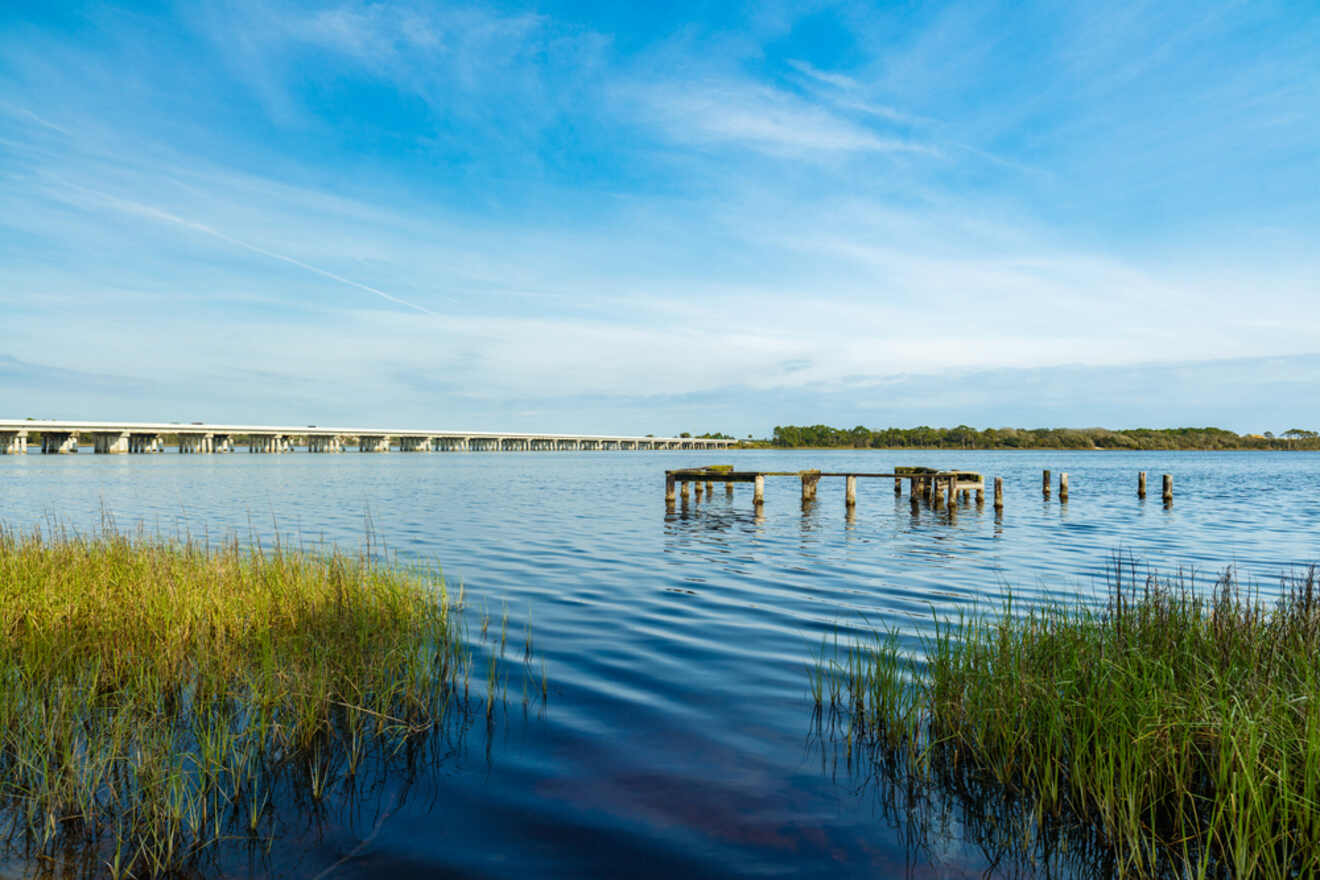 Yet another ecological haven in Panama City Beach, Camp Helen State Park is reason enough alone to visit Panama City Beach.
With pristine beaches and incredible trails, scrub forests, and flora and fauna, you do not want to miss out on Camp Helen State Park.
Bordered by water on three sides, there are endless possibilities when it comes to fun things to do at Camp Helen State Park.
On the Eastern border, you will find Lake Powell, one of the largest coastal dune lakes, a natural phenomenon that only occurs in a few places in the world!
There is a vast diversity of ecosystems in landscapes at this unique park. From saltwater to freshwater and the brackish water in between, there is so much to see at this gorgeous Panama City Beach destination.
Get to know a whole different side of the Gulf Coast at this incredible natural beauty!
PRICE: US$4 for vehicles, US$2 for pedestrians
14. Swim with wild dolphins on a boat cruise
This incredible boat cruise in Panama City Beach takes you on a unique adventure where you actually get to swim with dolphins in the wild!
This incredible tour takes you beyond the sugar sand beaches and into the gulf coast emerald waters, where you get the rare chance to swim with wild dolphins!
This incredible pontoon boat tour is one of the best adventures in Panama City Beach!
You are seriously missing out if you don't take a boat out and enjoy the fresh air and the pristine waters of Florida's Gulf Coast!
PRICE: US$60
15. Go on a sunset sail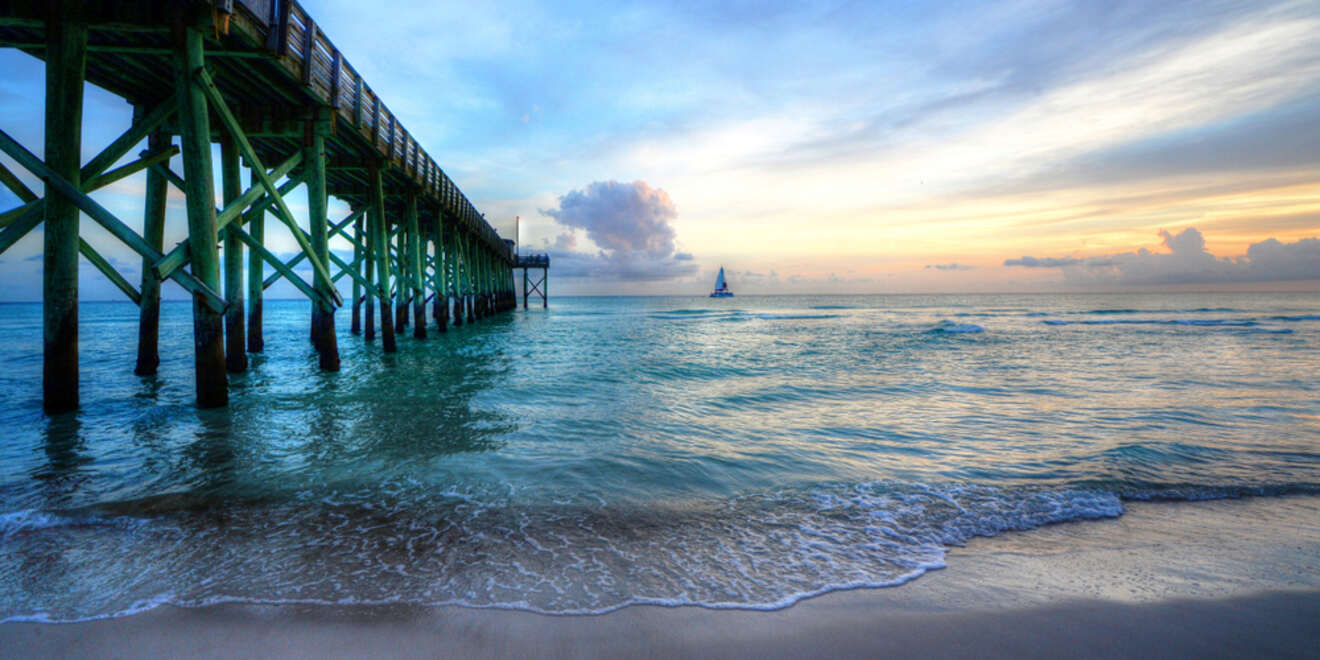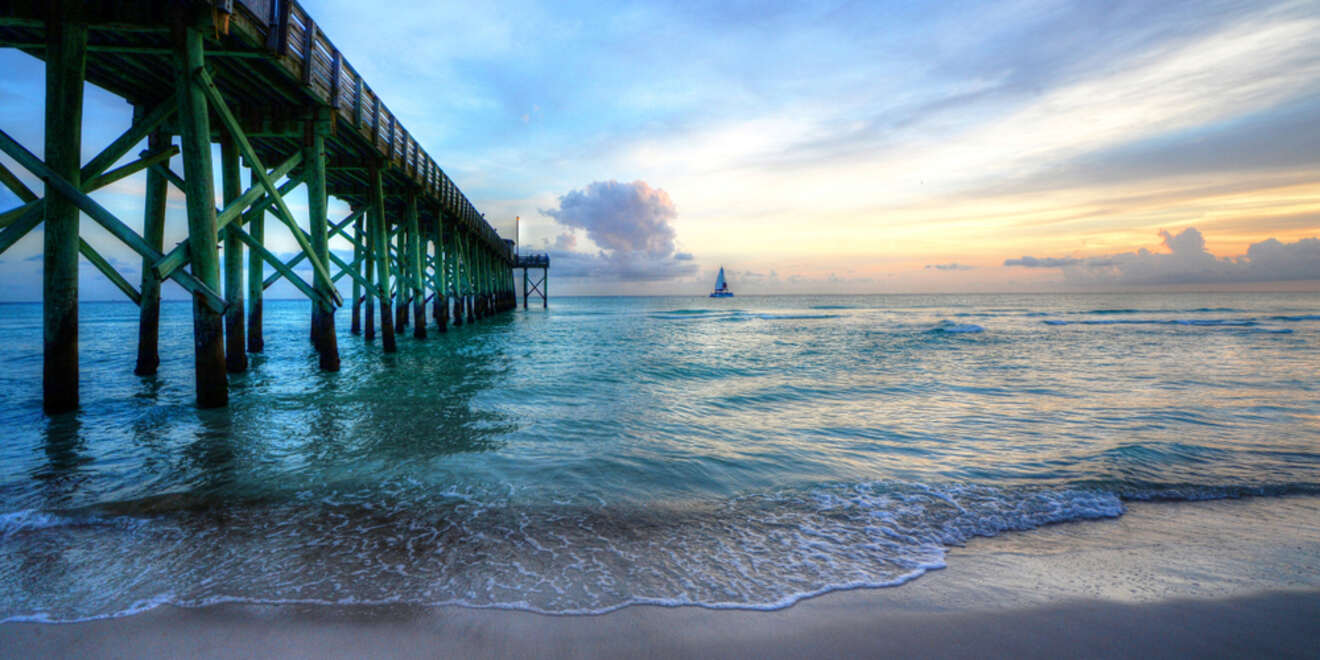 If there's anything that people know about the West Coast of Florida, it's that it has some of the best sunsets in the country!
You can always watch the sunset from the beach or the pier. But the most magical experience?
Watching the sunset from a sailboat on the water.
There is something so enchanting, ancient, and moving about watching the sunset from the perspective of a boat as you gently sail the calm waves of the Gulf of Mexico beach.
This is also one of the most romantic things to do in Panama City Beach, so if you're looking for the perfect thing to do with your loved one in Panama City Beach, look no further than going on a romantic sunset sail!
Plus, complimentary drinks are included! Also, sunset is when dolphins are most active, so your chances of seeing some dolphins on this picturesque cruise are extremely high.
Take your trip to the next level with this life-changing experience in Panama Beach City that you and your loved one will cherish forever.
PRICE: US$35
Book Your Romantic Sunset Cruise
16. Enjoy some fresh seafood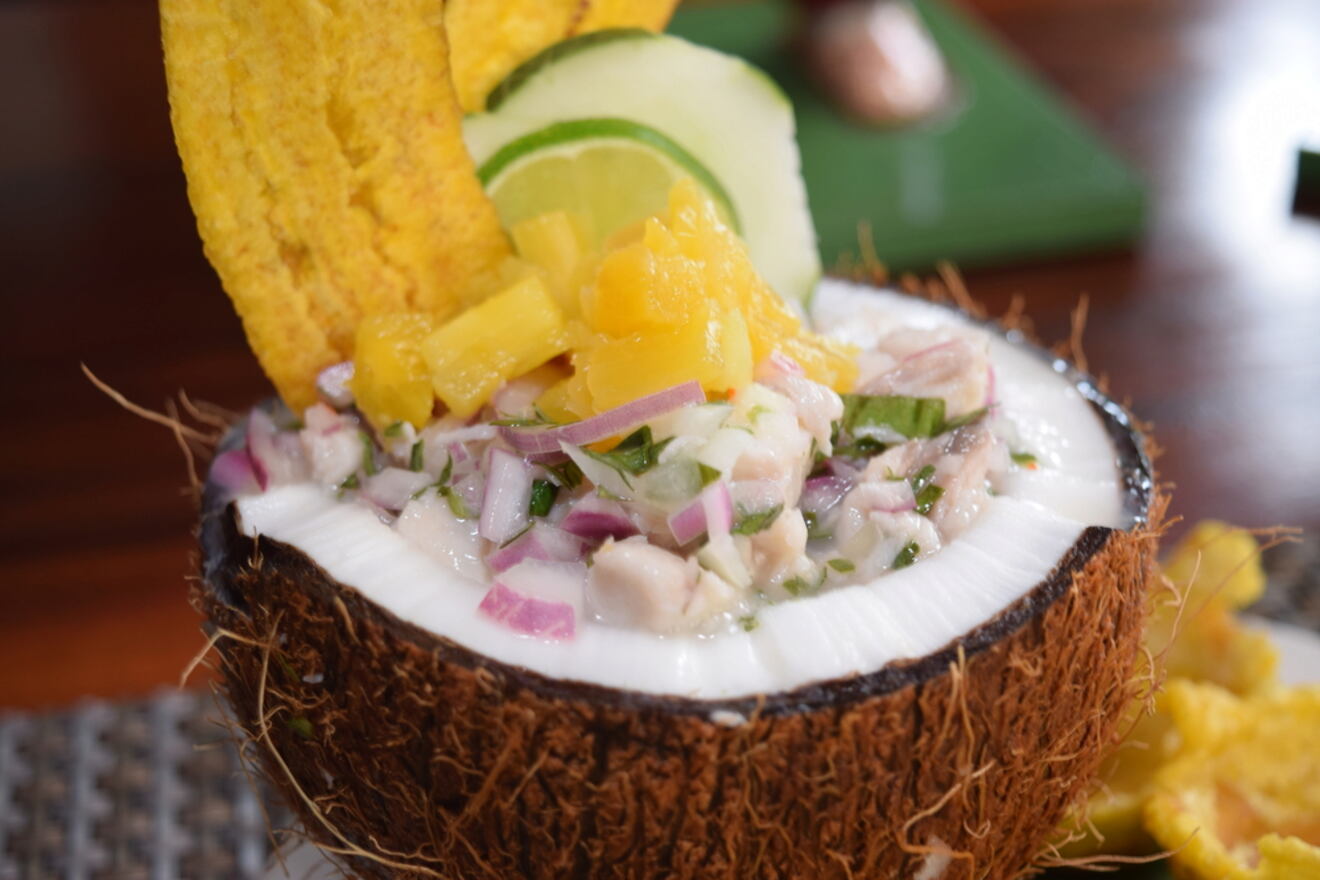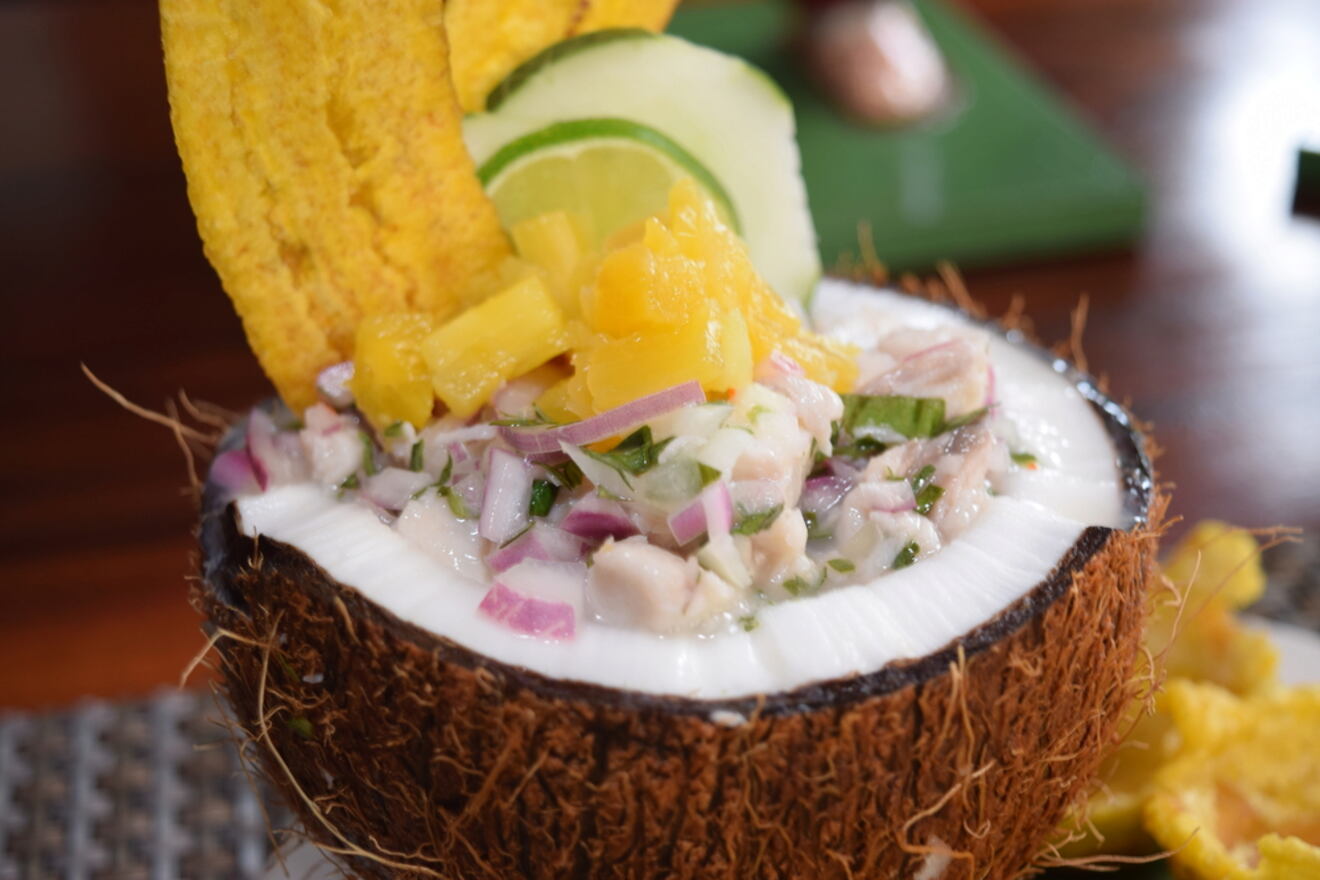 There are tons of places to eat seafood in Panama City Beach. These are some local favorites and some of the best:
Your trip to PCB is incomplete without getting some of the famous fresh catch!
17. Enjoy some fresh donuts at Thomas Donuts & Snack Shop
Thomas' Donuts & Snack Shop is one of the most iconic destinations in Panama City Beach.
Most people don't even know about this spot. That's part of what makes this hidden gem so special! This local spot is a donut lovers' paradise!
Who doesn't love a freshly made donut?
This local gem has everything from your classic donuts to Florida specialties, like a key lime-filled donut!
They also have other delicious breakfast classics. Make sure you stop by this incredible Panama City Beach spot on your trip!
18. Stand up paddle board lesson in PCB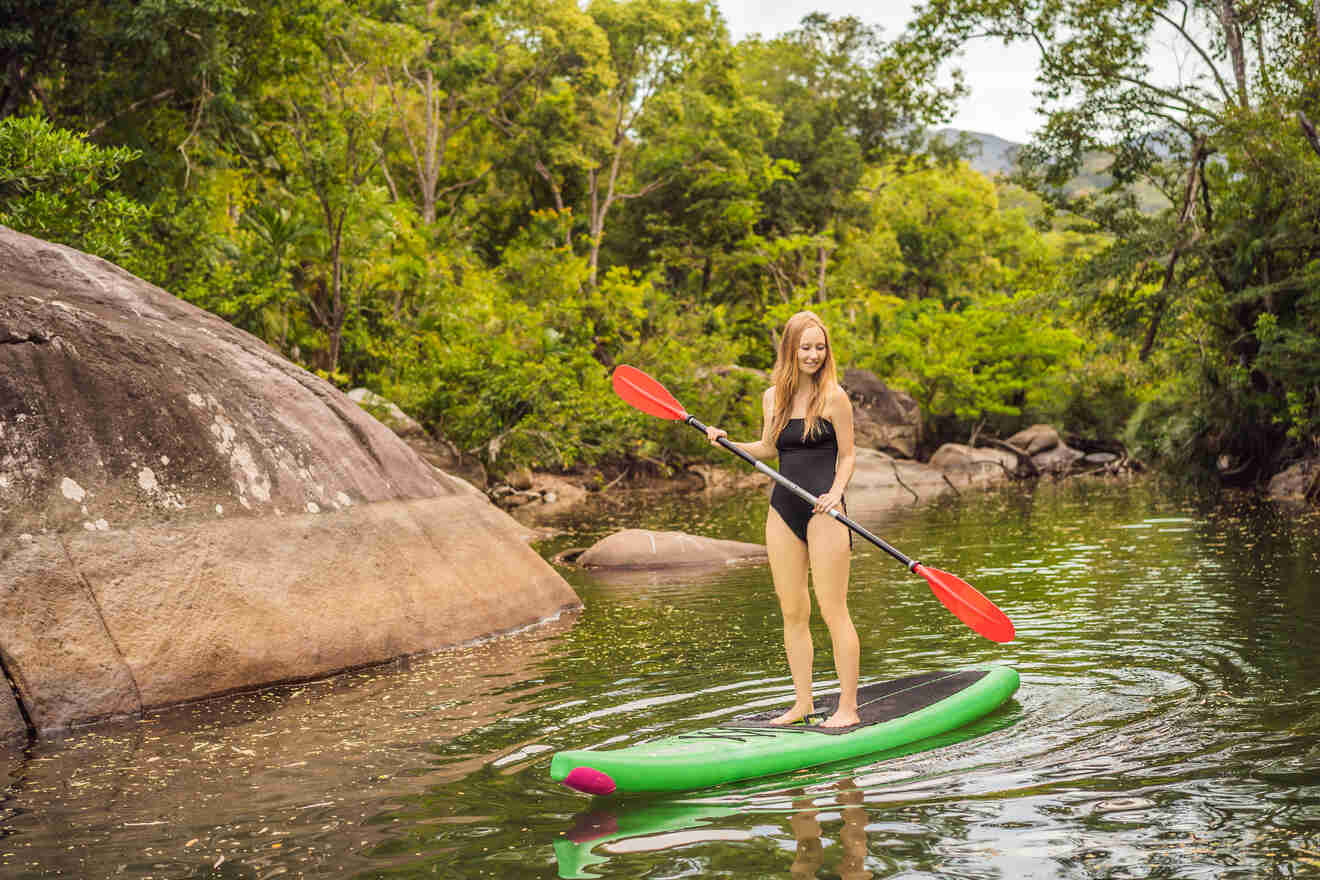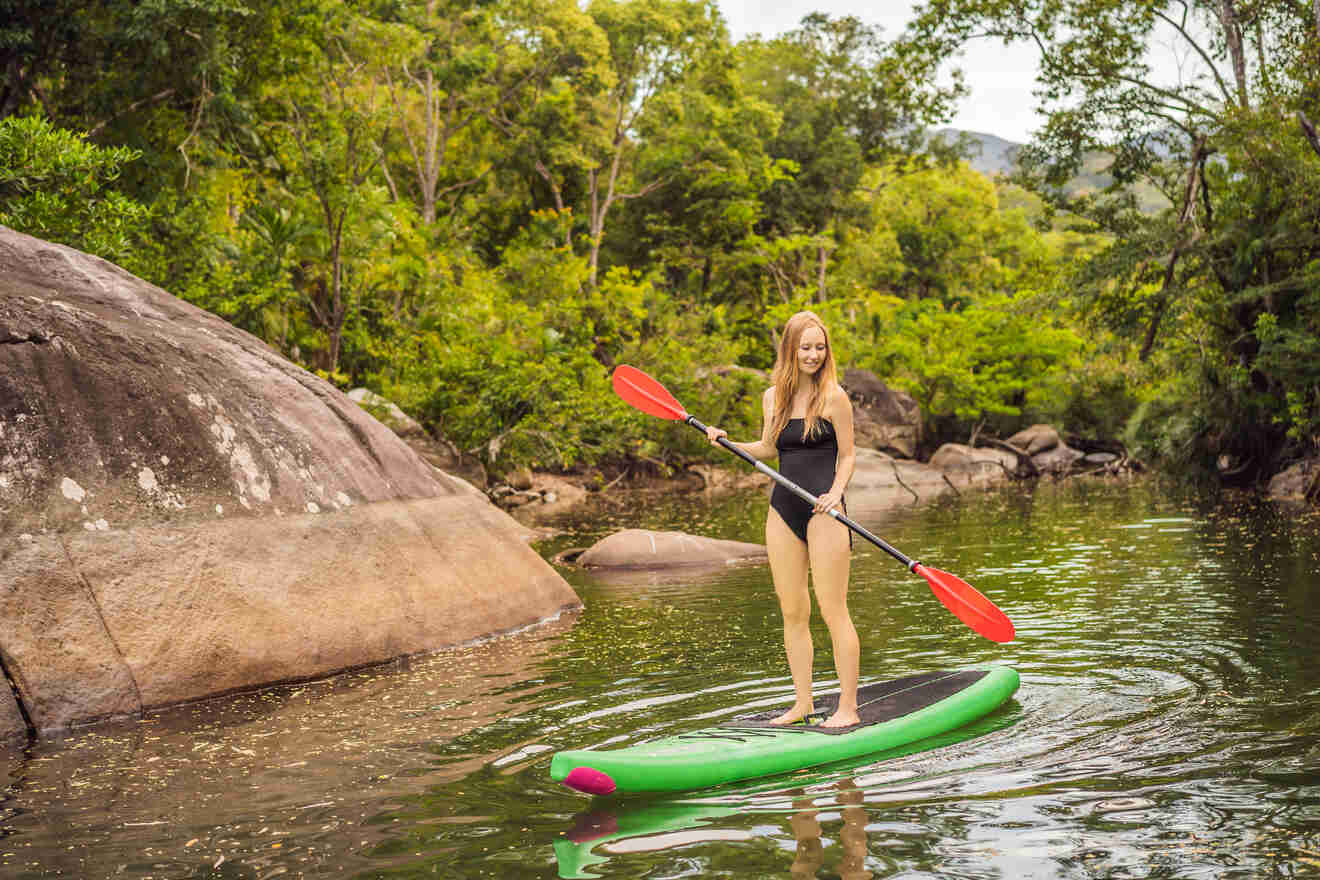 Paddleboarding is always a super special experience. Whether you're a beginner or a pro, paddle boarding in Panama City Beach is a once-in-a-lifetime adventure.
This is a great opportunity for people looking for a unique adventure and to learn a new and super cool skill! With a private instructor, safety gear, special sizing, instructions beginning on land, and more!
This is the best way to safely learn how to paddleboard!
PRICE: US$85
19. Get creative at an escape room
This zombie-themed escape room allows you to work your mind in creative ways that you normally would never experience (I should hope so!)
It's an hour-long race against the clock where you have to solve almost impossible puzzles, uncover various clues, and experience the challenge of a lifetime as you escape a zombie apocalypse.
Do you have what it takes to rescue your group from a zombie apocalypse?
Find out below!
PRICE: US$33
20. Go on a private sailboat to a secret water park
Yup! You read that right! On this super fun PCB tour, you get the rare experience of hopping aboard a catamaran and jumping off into a super fun water park in the ocean!
This tour packs a punch into a short period of time, so be prepared to indulge all your senses and participate in some super fun adventures on this excursion!
You can go kayaking, paddle boarding, snorkeling, jump on a giant water trampoline, test your rock climbing skills on a climbing wall, and slide down all sorts of fun slides directly into the ocean!
This is the most fun-filled tour you can find in the area!
Have the ultimate water adventure in PCB!
PRICE: US$75
Book Your Catamaran Water Adventure
21. Have an adventure at Race City Amusement Park
Yet another fun-filled adventure in PCB, the Race City Amusement Park is an excellent activity to do with the family or with kids.
Calling all adrenaline junkies, this amusement park has everything you need to get your fix!
With some of the fastest, steepest, and tallest Go-Kart tracks in the PCB area, this is the adventure you have been waiting for!
There are also bumper boats, a funhouse, rollercoasters, and much more. This is a must add-on to your PCB itinerary!
Prices vary, check them out here.
22. Learn how to scuba dive!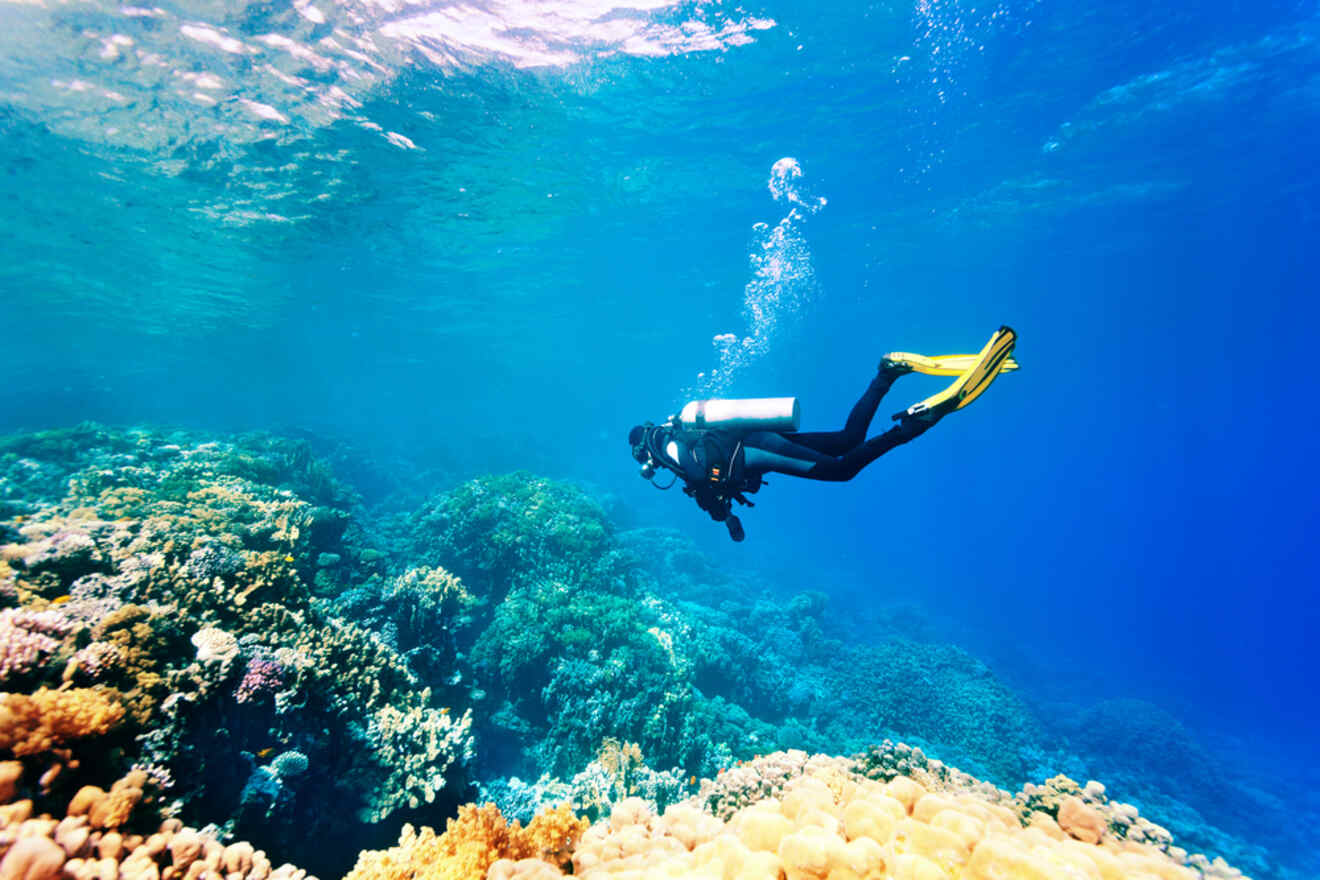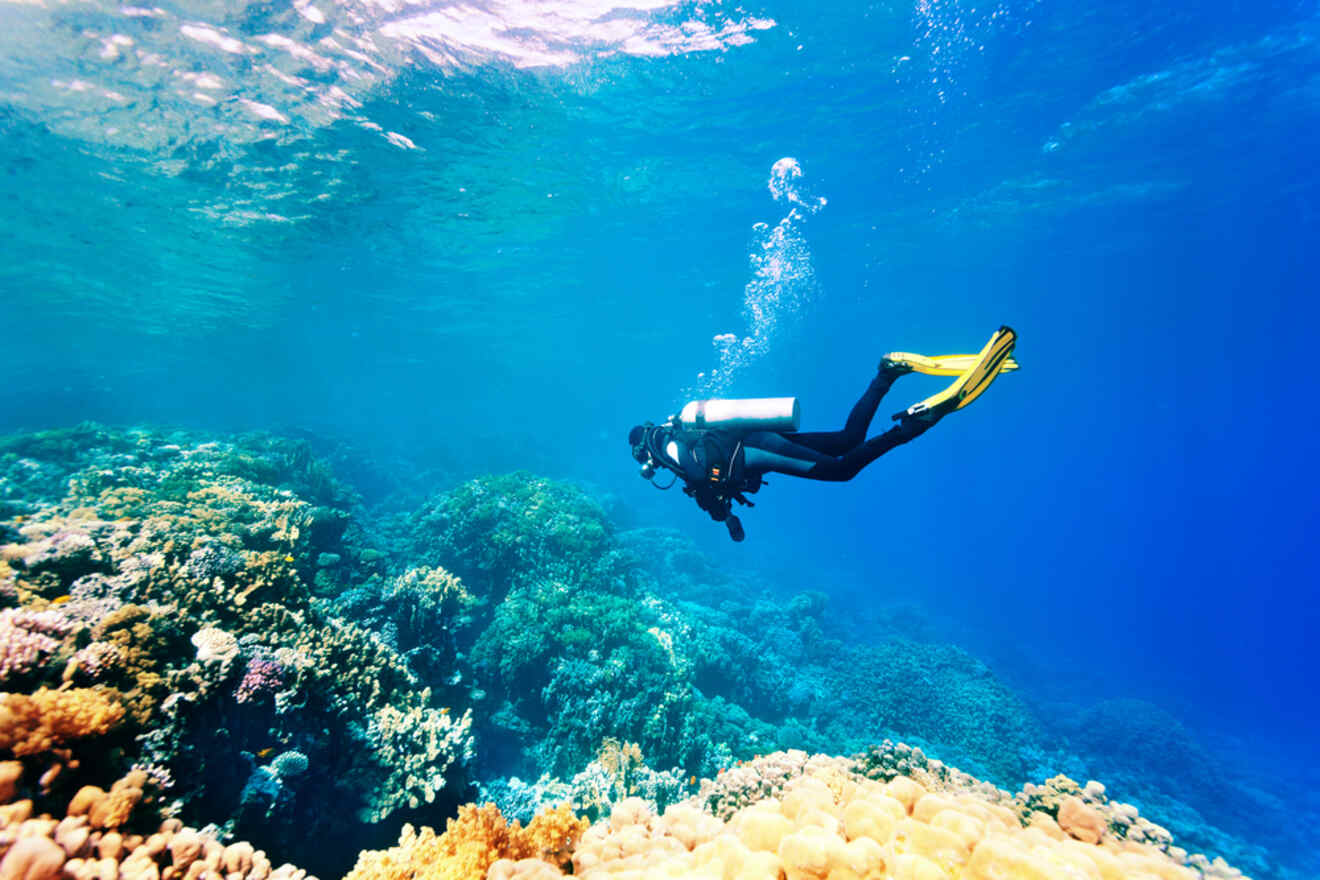 Scuba diving is one of the most popular water sports worldwide.
With plenty of old shipwrecks to explore, PCB is the perfect place to dive or learn how to dive.
This tour is excellent for beginners as a professional gets to walk you through every step of the way when it comes to scuba diving.
The best part? There are complimentary Go-Pro photos and videos included on this tour!
With the comfort of a professional instructor, dive into the depths of the incredible marine ecosystem of PCB! On this tour, you can learn and practice the fundamentals of scuba diving and be well on your way to scuba diving anywhere in the world!
All scuba equipment is included in this super awesome tour in PCB.
PRICE: US$99
Book Your Scuba Diving Experience
23. Take a selfie at the Selfie Museum
This new-age quirky museum is not everyone's cup of tea, but plenty of people love the concept of a Selfie Museum!
The PCB Selfie Museum is fun for anyone passionate about taking photos, and especially selfies!
Not the most common museum in the world, but an interesting concept nonetheless! It's a really niche concept and well worth checking out on your trip.
24. Experience floating yoga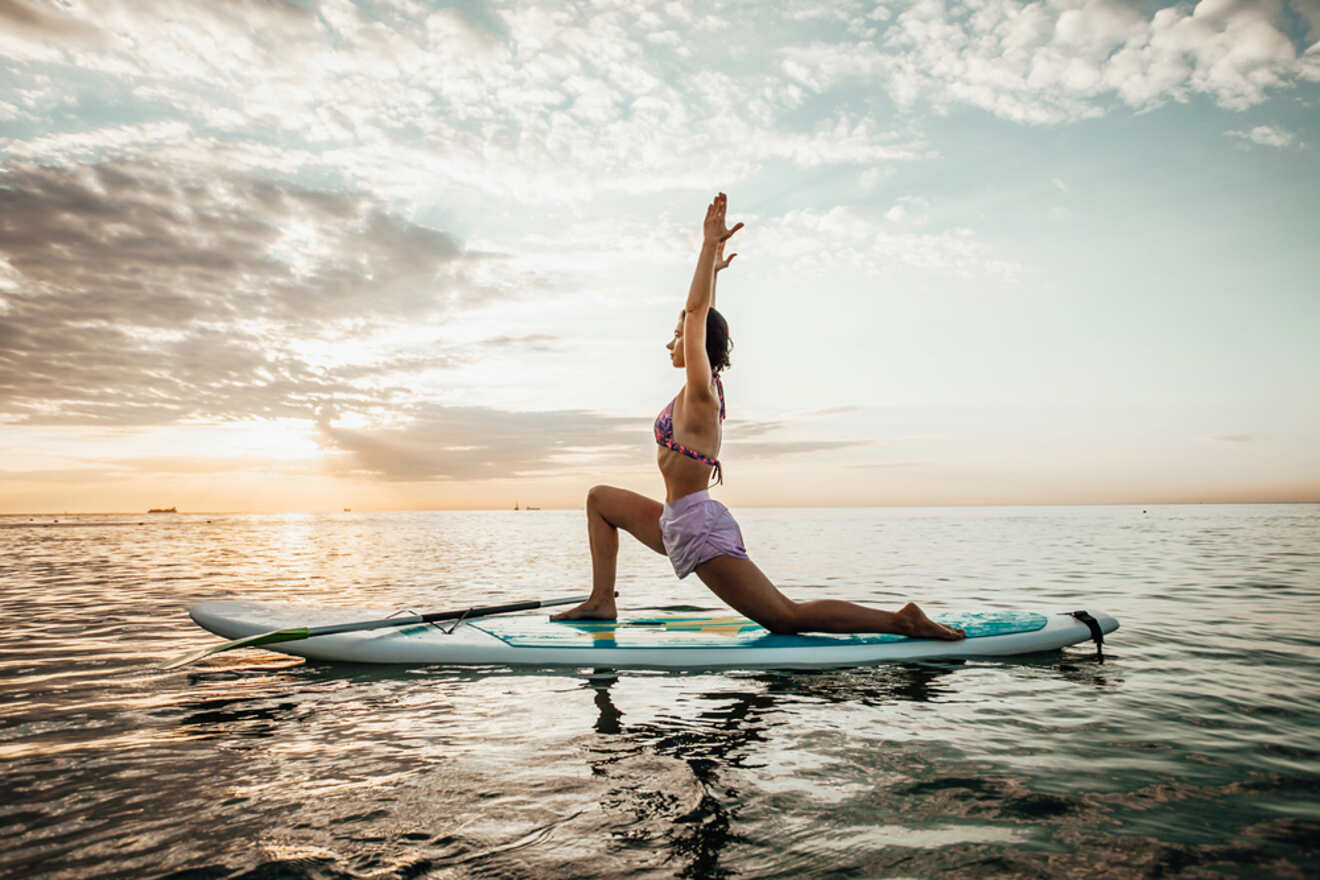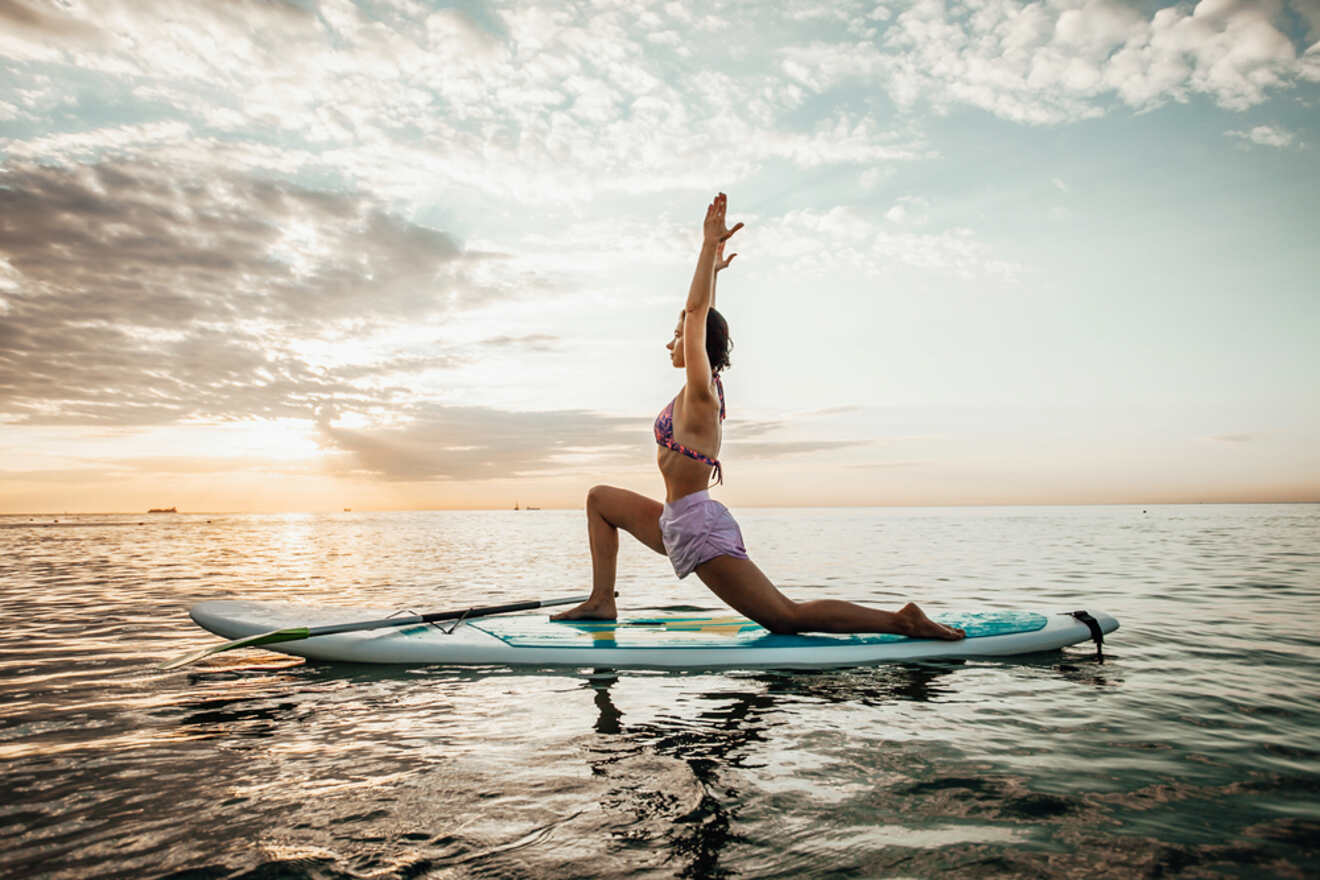 This is yet another super unique PCB adventure– floating yoga!
If you're looking for a one-of-a-kind experience on your trip, consider doing some relaxing floating yoga on the water.
There are varying options from beginner classes to advanced, and this provides an excellent way to get a low-impact workout while enjoying the remarkable beauty of Florida's waterways!
Balance your mind, body, and soul as you flow atop a paddle board and move into different yoga positions in the most incredible landscape.
Interact with the healing energy of the water as you reconnect with your center in a creative and therapeutic way.
PRICE: US$78
Book Your Floating Yoga Experience
FAQs about things to do in Panama City Beach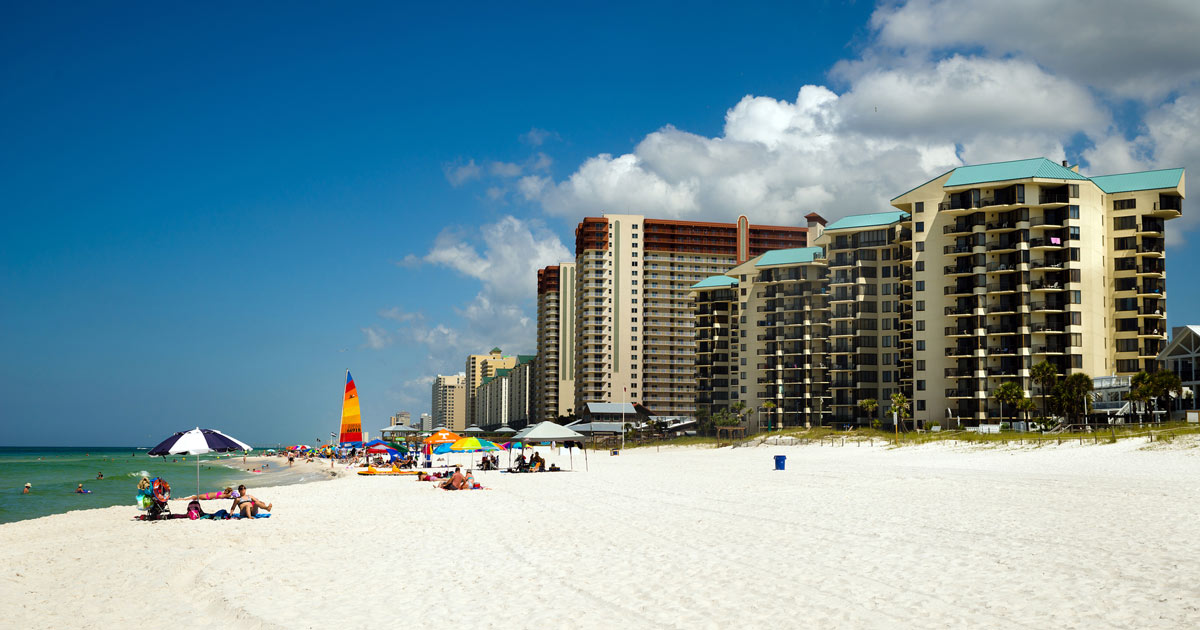 Conclusion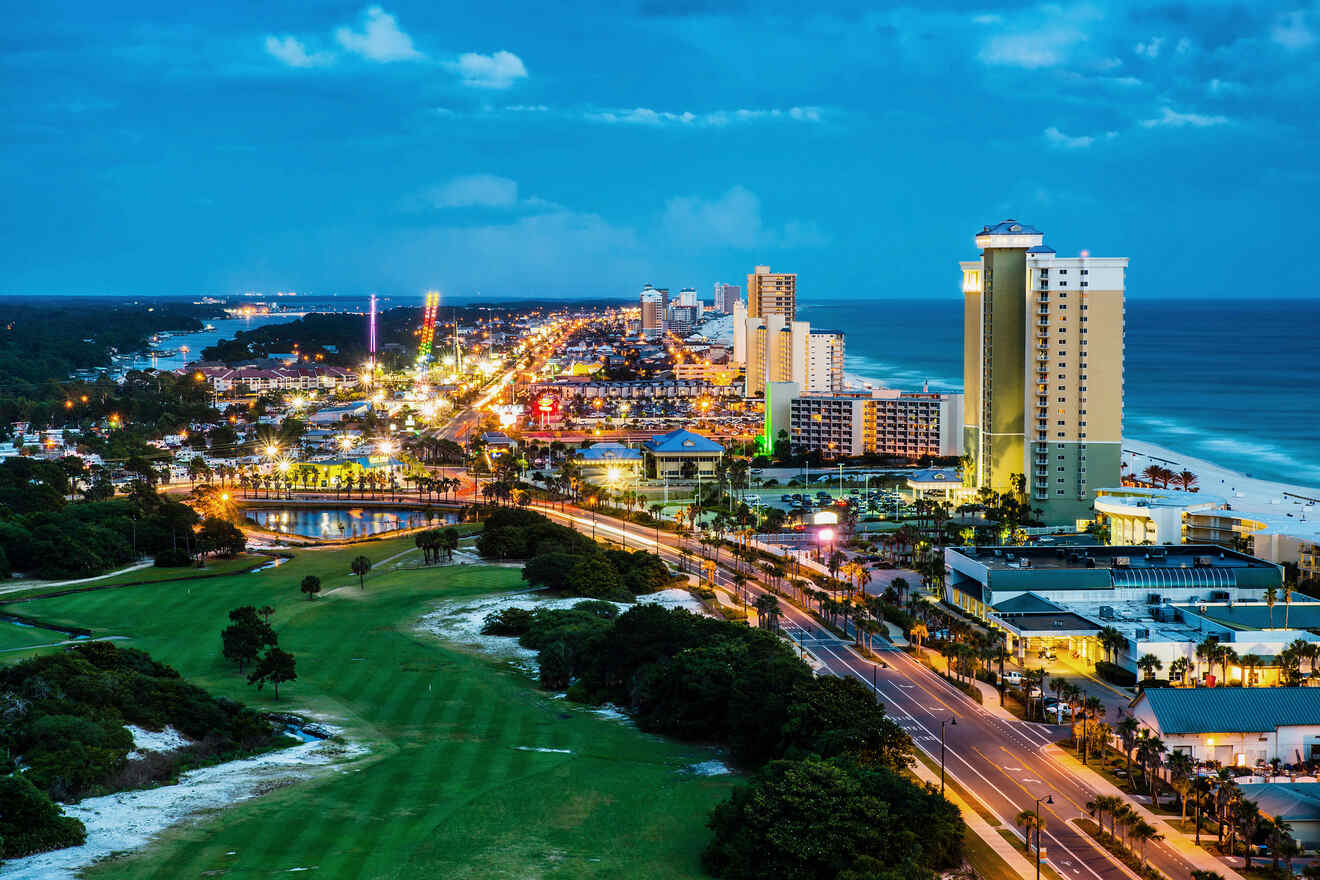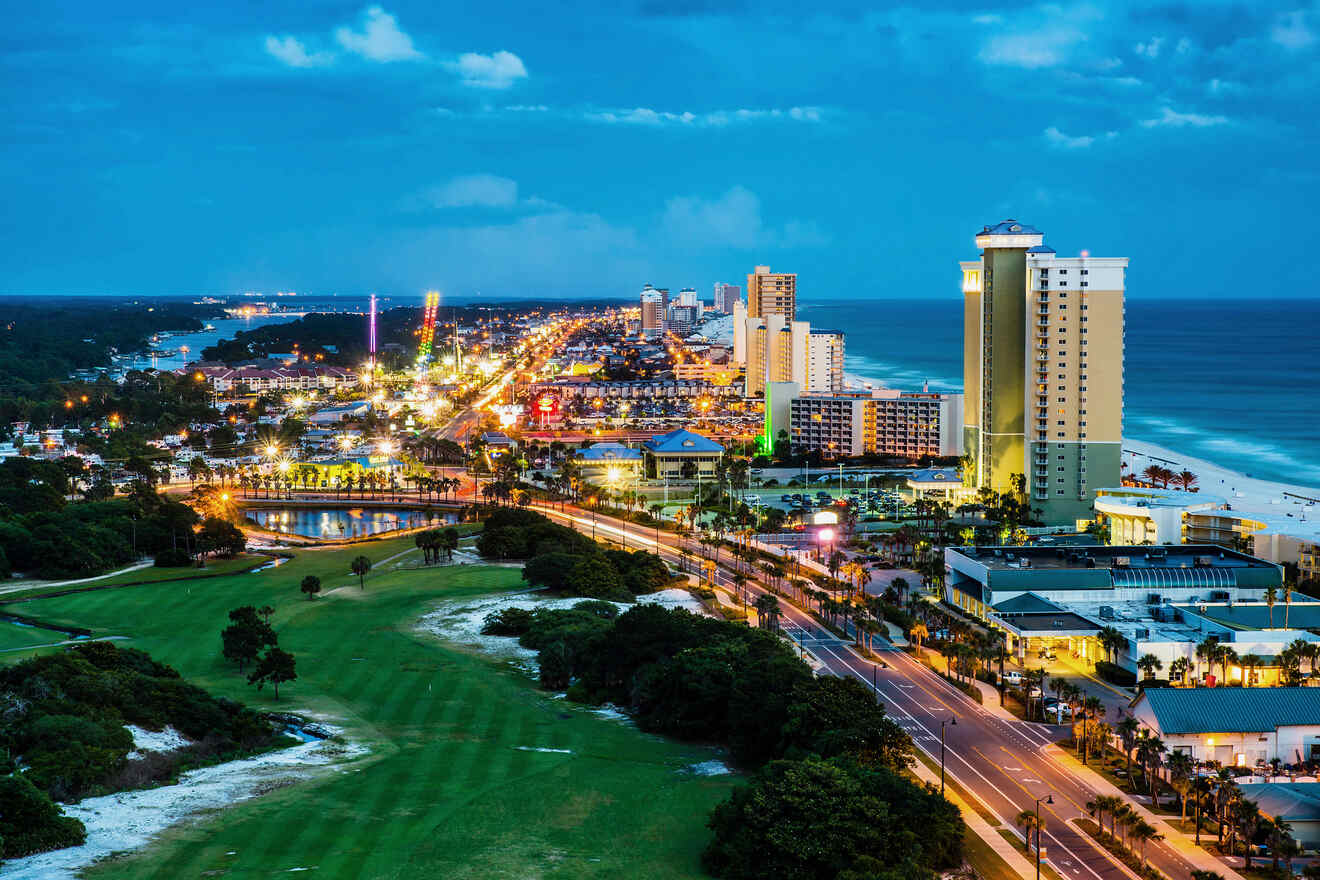 Visiting Panama City Beach is one of the best things to do in Florida!
Whether you're looking for a spring break destination, a vacation with the family, or with your loved one, this gorgeous Gulf Coast destination should be high on your list of beach getaways!
Between the gorgeous emerald, turquoise waters, white sandy beaches, and incredible nature parks, this is the perfect destination for anyone looking for a good time.
I hope you've loved my ultimate guide on things to do in Panama City Beach! Here are a couple of my favorite activities:
My favorite thing to do here is to have some fresh local Florida wine, unwind by the beach, go on a snorkel dolphin tour, and go on a nature hike through the gorgeous natural landscapes of the Florida Panhandle.
With Love and Gratitude,
Amira G.
---
Pin it for later!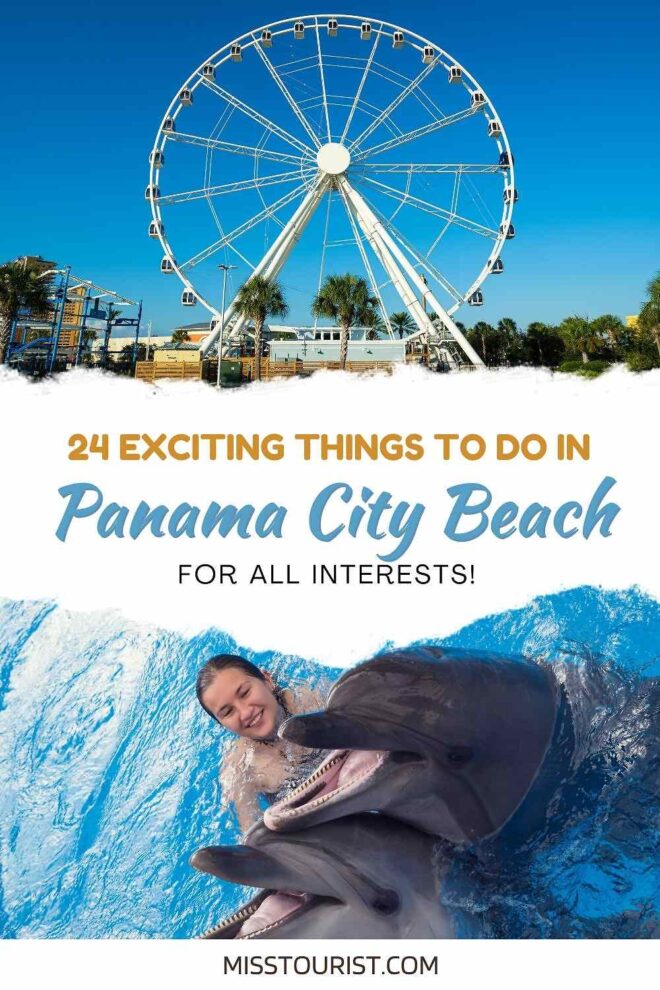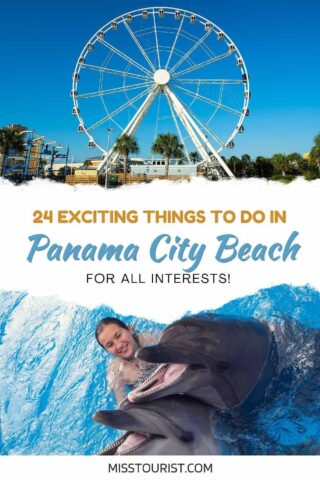 Pin it for later!