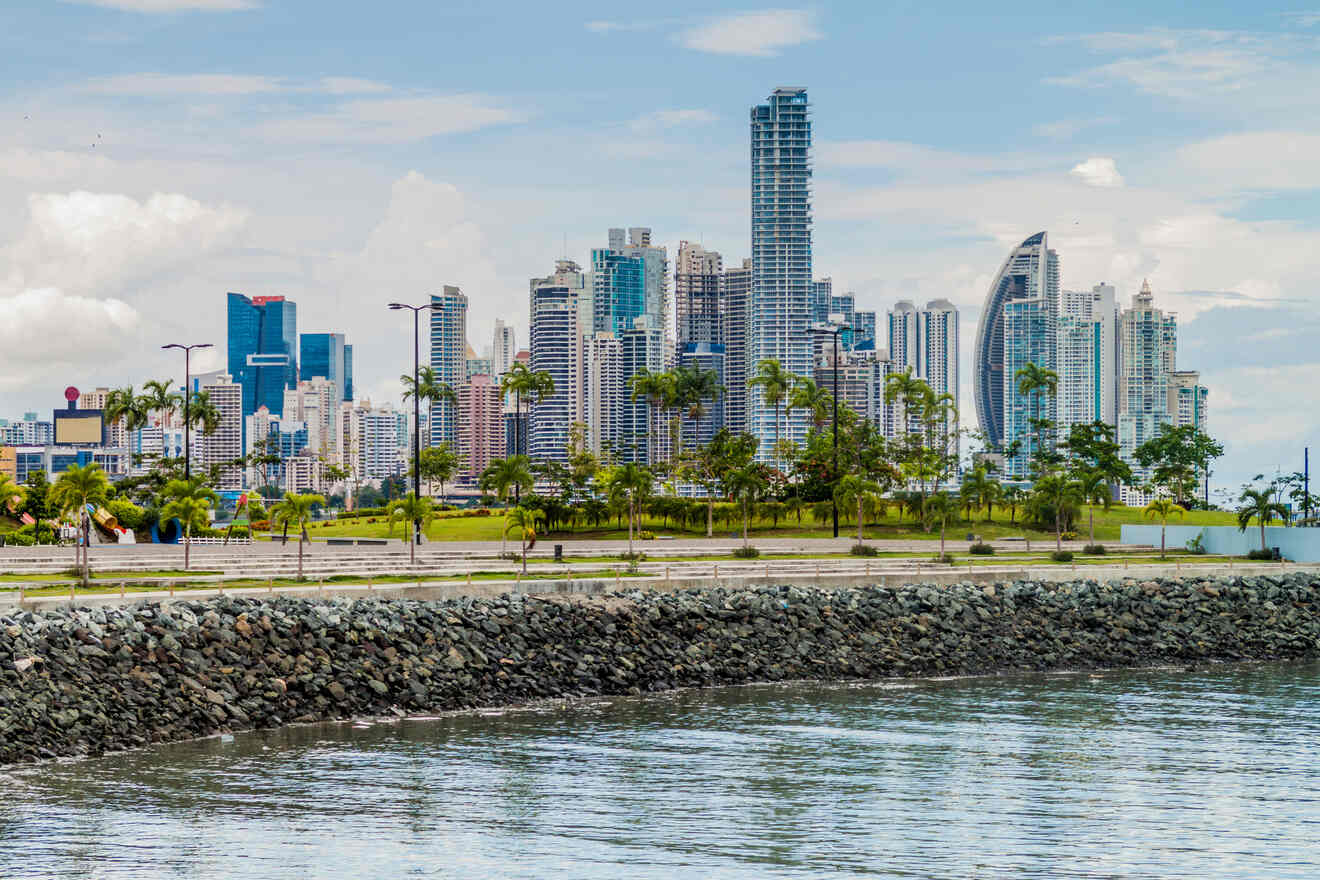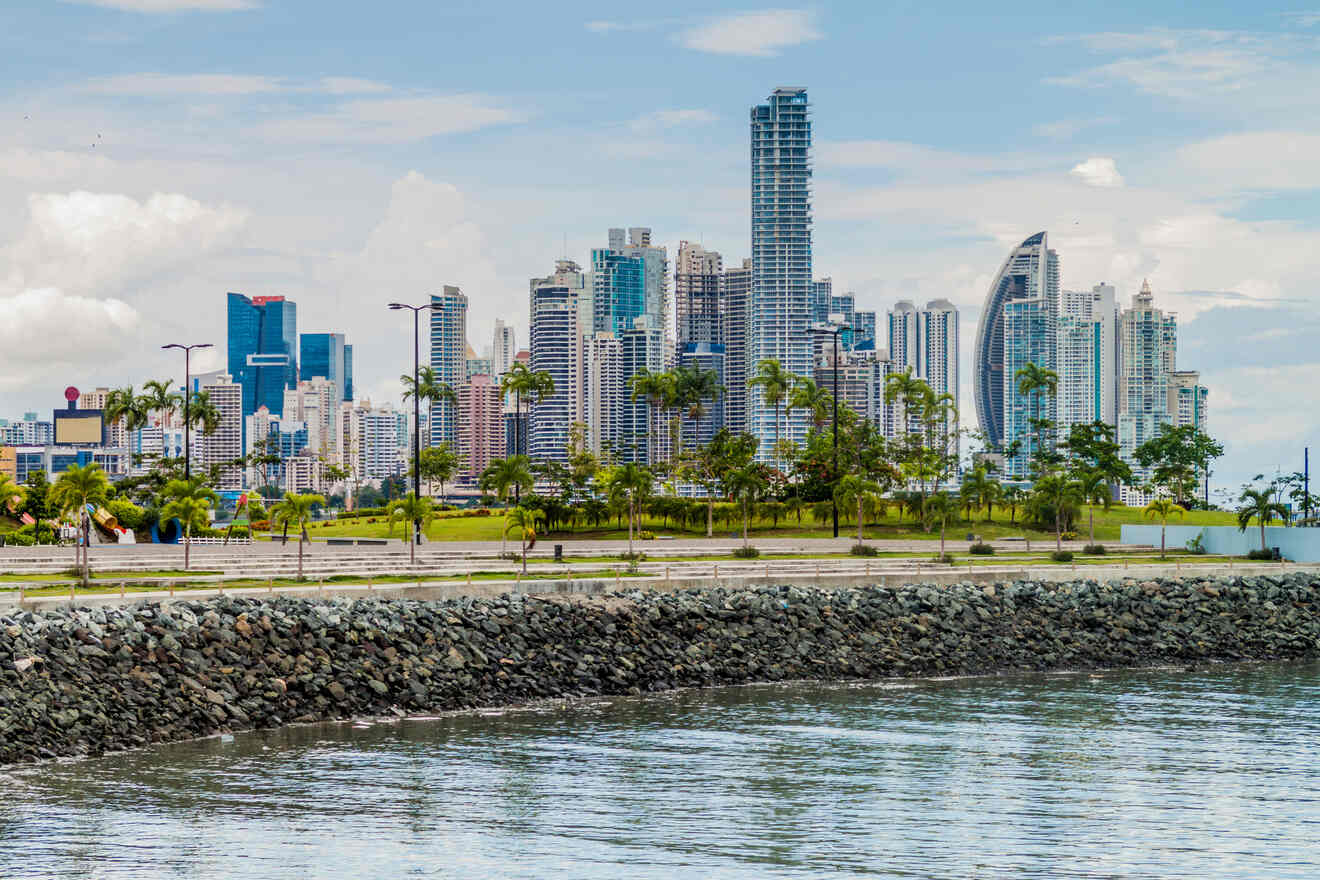 In recent years Panama City has become one of the most attractive tourist destinations in Latin America and a hub of culture, business, cuisine, and nightlife. A very unique place, Panama City is the only capital that has a rainforest within the city limits! We can all agree that it's a place worth visiting but here are more reasons why this is a fabulous vacation spot.
Don't worry, I've prepared a huge list for you. Although the city is known for its colonial sites, the modern skyscrapers that popped up since the early 2000s show the continuous growth of Panama City and its economic wealth.
Although most people know this city because of the Panama Canal, which was built between 1904 and 1914, many don't know that Panama City is a center for international banking and trade too.
In this article on where to stay in Panama City, I am going to pin down the best neighborhoods you can stay in during your holiday. These days it's hard to find that perfect hotel that will meet all your needs, so don't worry I found some of the most amazing locations for any type of budget, from the best resorts and hotels in Panama to friendly Airbnbs.
These accommodations are the best of the best so you should definitely book in advance, so you won't miss some amazing offers. You can also read about some of the main attractions in Panama City.
Let's go!
If you are in a hurry
I've compiled a list of some of the best places where to stay in Panama City. They are all located in the city center and are great choices that you should check for your next trip here.
To help you visualize their locations, here is a handy map of Panama City showing you the 5 best areas that I will be talking about in this post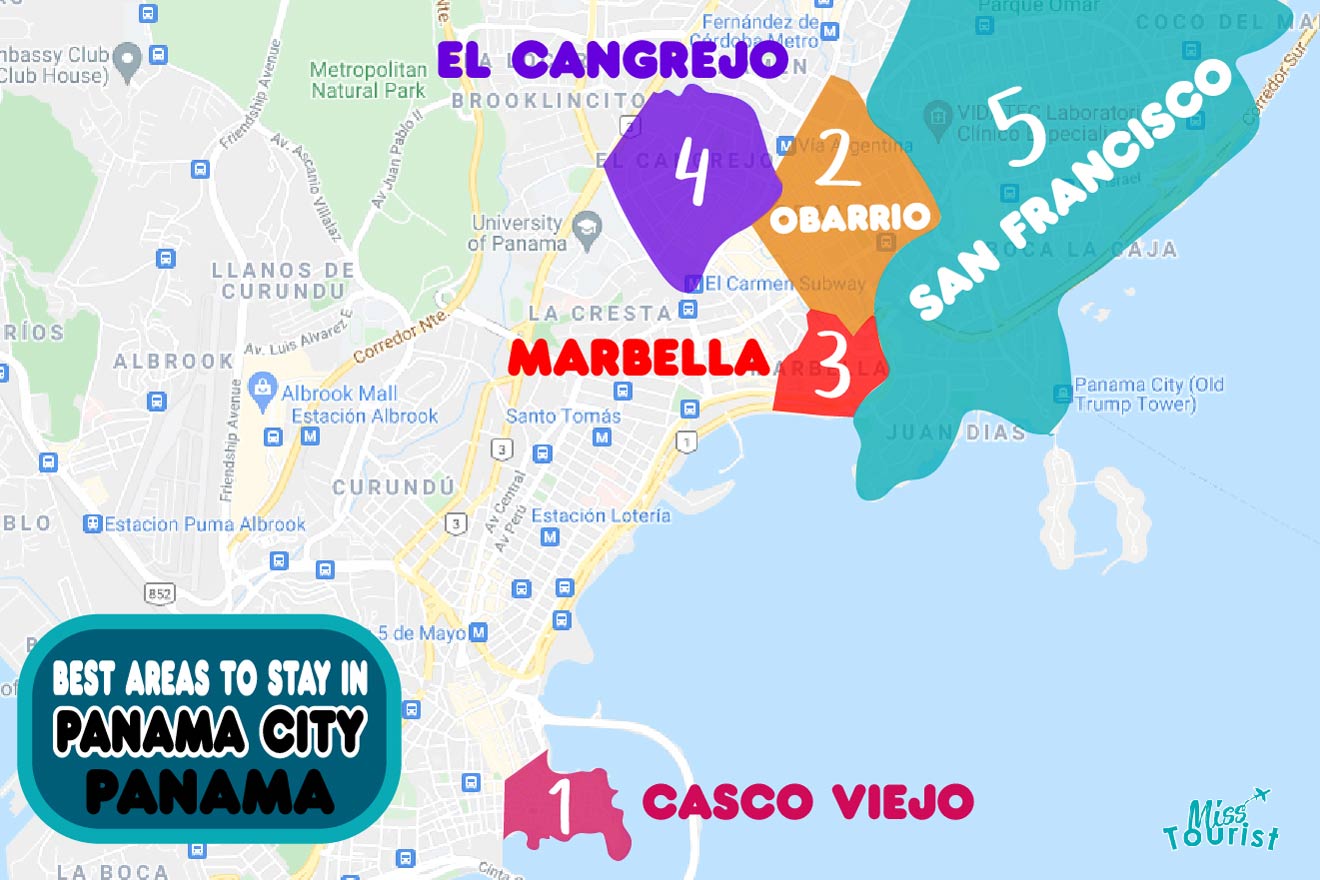 1. Casco Viejo – where to stay in Panama City for first timers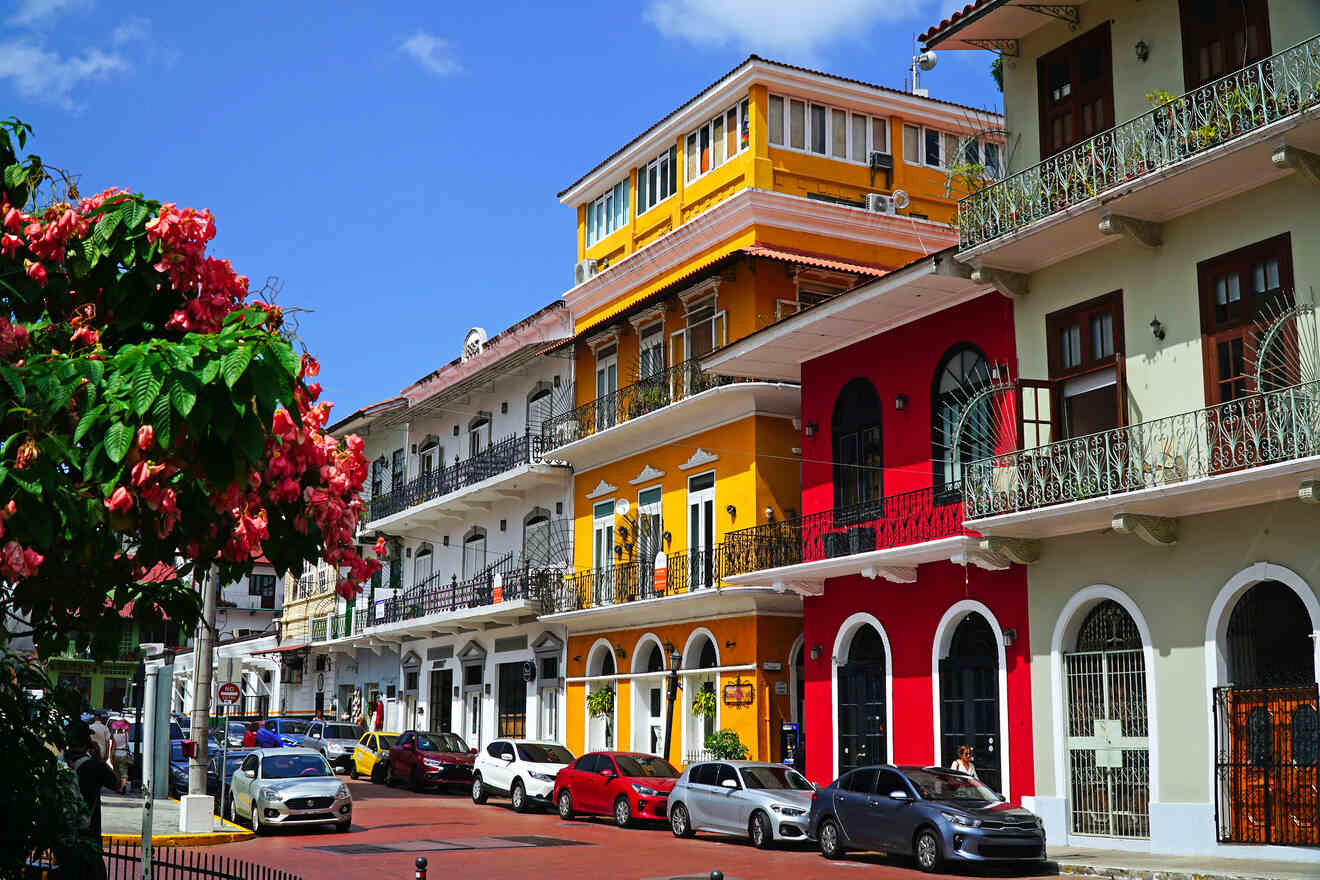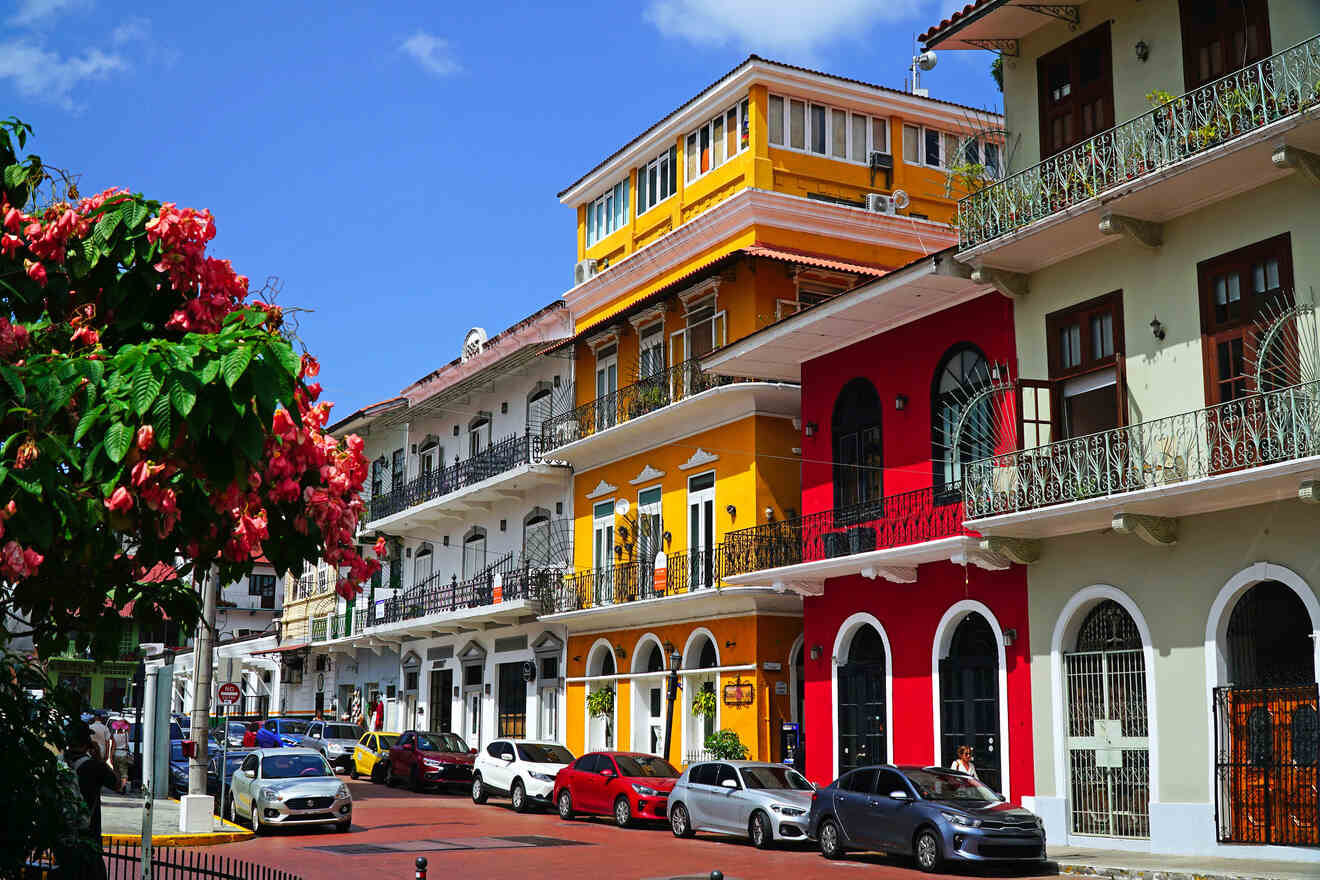 A must-see neighborhood in Panama City, Casco Viejo (Old Town) was declared by UNESCO a World Heritage site, back in 1997. Well known for its colonial architecture and vibrant street art you better take your camera around for this one because there are tons of Instagrammable places in Casco Viejo!
Casco Viejo is packed with some of the best boutiques, hotels, cafes, restaurants, and artisanal markets, the vibe of this trendy bohemian historical place will make you fall in love and get lost in its magic.
Casco Viejo is Panama City's most valuable treasure with many places to stay. For food and drinks visit CasaCasco which has various restaurants in one building, 3 floors of dining options.
Home to the city's most incredible colonial monuments, while you are in Casco Viejo you should search for the Metropolitan Cathedral, Palacio de Las Garzas, as well as cultural landmarks like the Museum of Religious Art and Mola Museum. This surely is one of the best areas to stay in Panama City.
Luxury hotel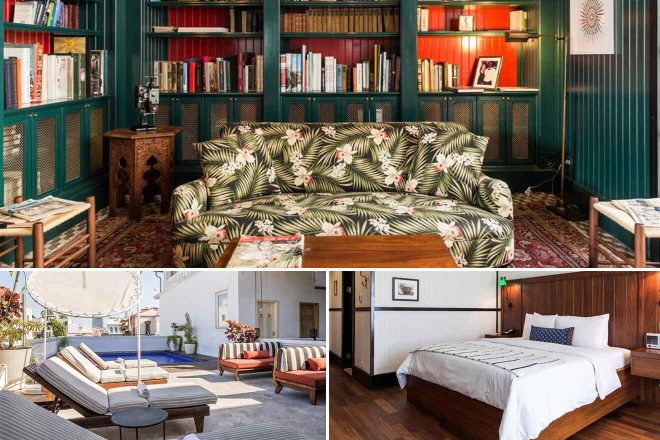 This hidden gem will become your dream hotel. The interior designs perfectly reflect Casco Viejo's mix of cultural influences and get ready to be taken aback by the incredible views from the swimming pool's one-of-a-kind terrace! Get lost in the courtyards and the private library which are inspired by Moroccan gardens
Other accommodation options in Casco Viejo
mid-range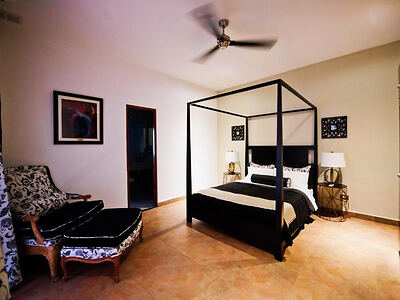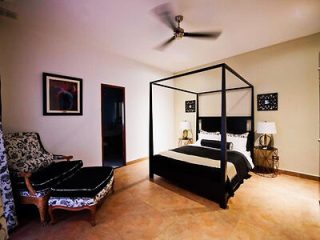 A charming spacious movie-like location with access to a private balcony, just near the Metropolitan Cathedral of Panama
airbnb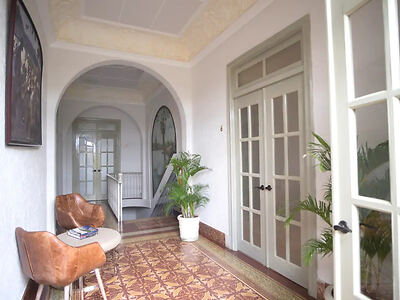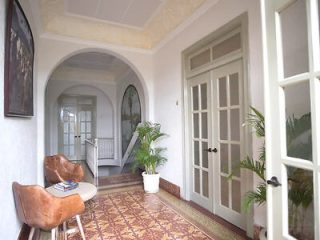 A Classic place with modern touches within a walking distance from the historic center in Casco Viejo
Things to do in Casco Viejo
2. Obarrio – for those on a budget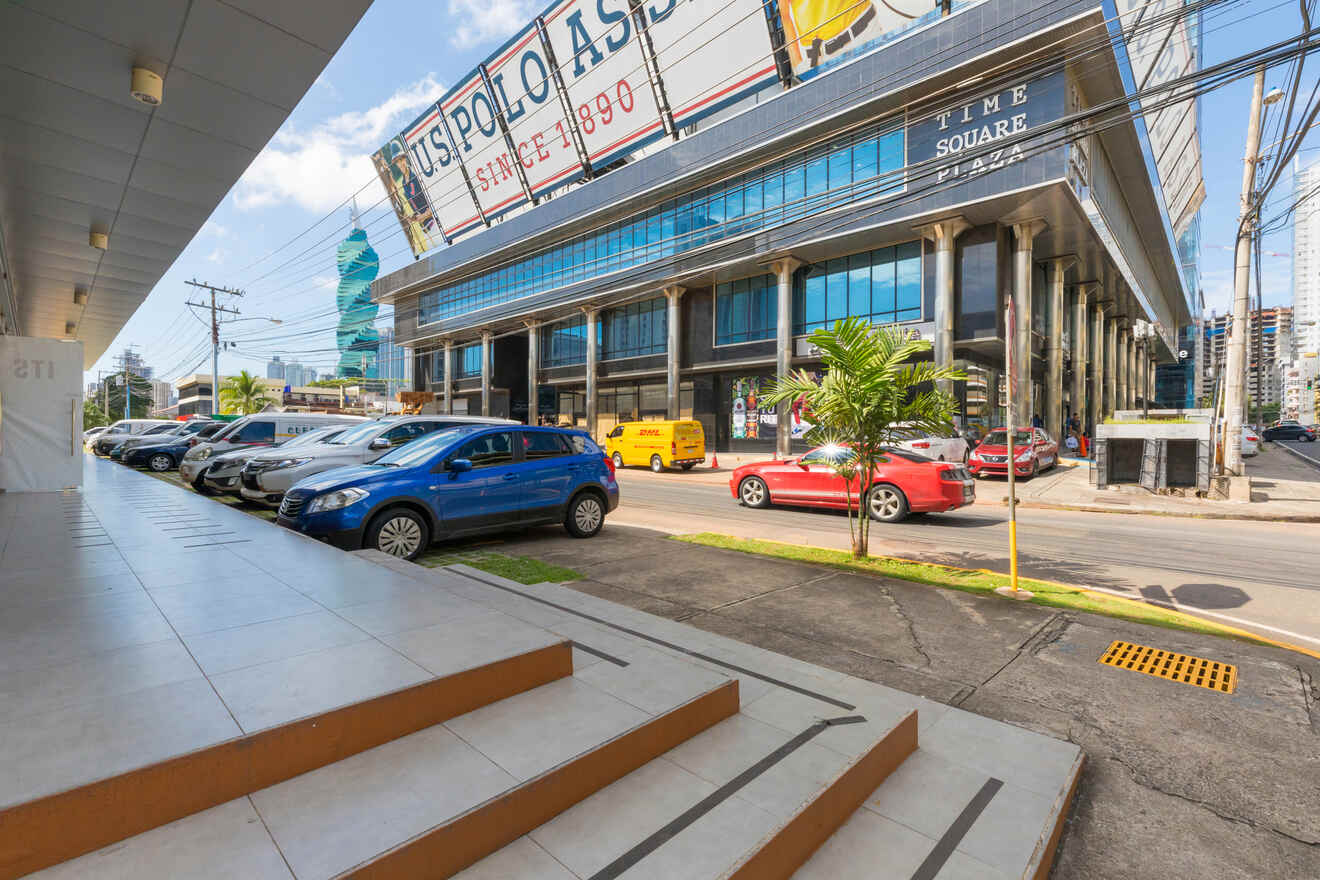 Obarrio is considered to be one of the best places to stay in Panama City if you're traveling on a budget. This hip, downtown area represents the perfect mix of modern and historic. Make sure you don't get confused about the logistics, the old town (Casco Viejo) and downtown area are different. Just to give you some perspective, Obarrio and the Downtown area is 3 miles east of the old town.
Obarrio offers tourists a range of architectural styles to admire with access to the most amazing views and is preferred by travelers for its safety and proximity to shopping, sightseeing, dining, and bars.
Get ready to be amazed by the charming architecture and design of the Parroquia Santuario Nacional del Corazón de María. If you're a fan of seafood, and if you're in Panama City then you must be, visit Restaurant Makoto for some delicious seafood and Japanese. If you're just looking for a place to eat a classic breakfast in Obarrio, then start your day at Café Madero.
Obarrio has some of the best hotels in Panama City, with tons of cool features like swimming pools and modern rooms. Make sure you book these in advance as they go really fast and I'm sure you want to find the best of the best! Here are some of the best options for each budget.
Luxury hotel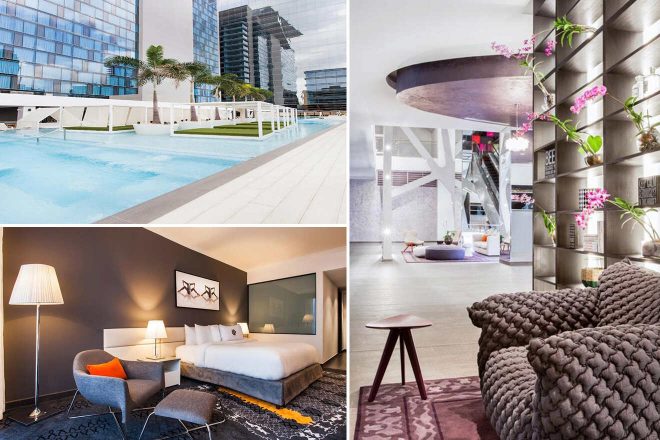 If you want to discover all that Panama City has to offer this hotel is the ideal spot for you. Mixing business and pleasure in a perfect way, you will enjoy your stay here whether you're sipping cocktails in the sky bar or conduct meetings in the conference rooms. A great stay in Panama City
Other accommodation options in Obarrio
mid-range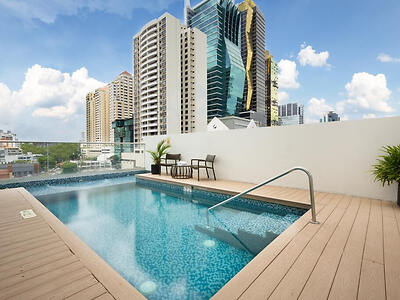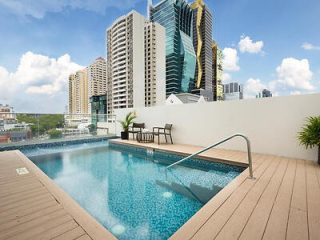 A perfect spacious location and great hotel for those who love a comfy bed, oceanfront Balboa Avenue is a 15-minute walk away
budget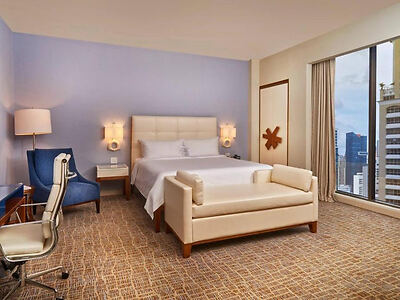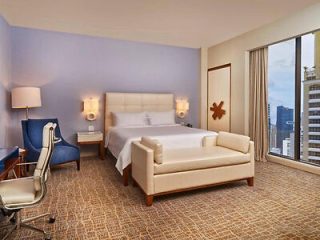 A fancy affordable hotel with a sea and mountain view, 10 minutes drive from the Old City Centre. One of the best hotels in this price range
airbnb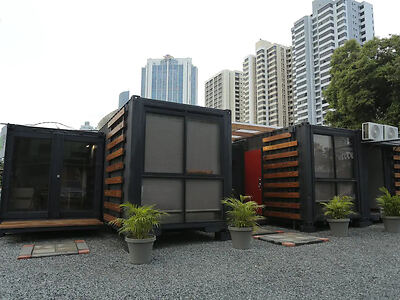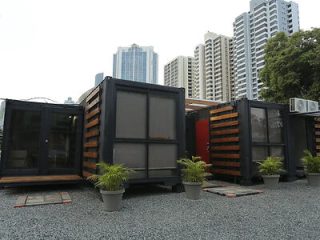 A private unique experience for the adventurous in you, located in the center of Panama City
Things to do in Obarrio
3. Marbella – best place for luxury travellers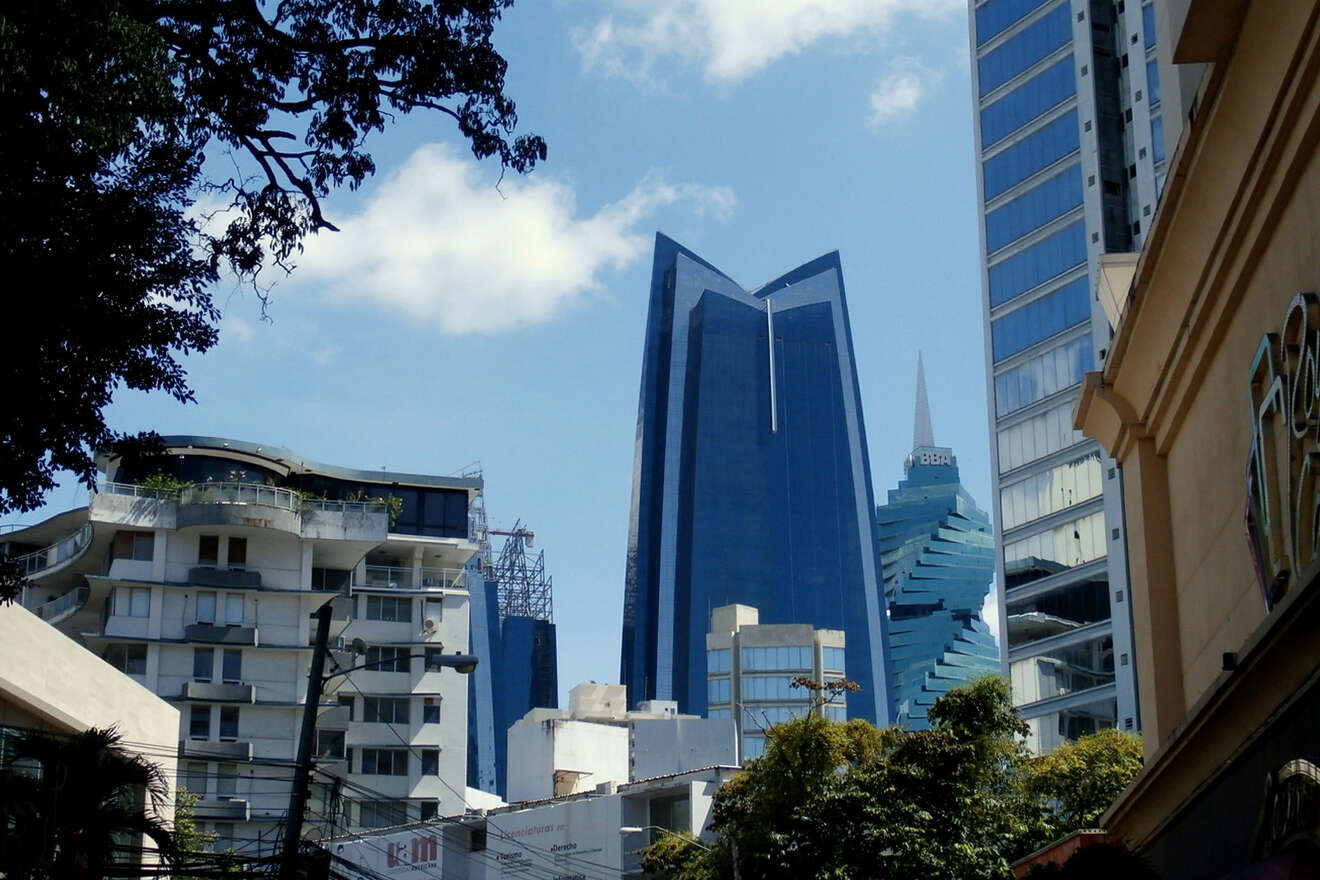 One of the most luxurious areas in Panama City (not to be confused with Marbella in Spain), this seaside district is located between Obarrio and the coast and is well known for its high-end shopping. A heaven for those of you who can't help it when it comes to adding another pair of shoes to your collection.
Here are located foreign embassies, luxury restaurants, bars, charming hotels, and the city's best towers. While you are in Marbella you should experience the exclusive Balboa Boutiques Panama Strip Mall, you can find here tons of fashion stores, beauty salons, and spas.
Although the neighborhood is packed with fashion boutiques and international banks, Marbella still has some of that colonial-style architecture. The area is popular with expats who love the quiet residential feel of the district.
Marbella is a perfect place for exploring and sightseeing, most places, like Panama Bay, for example, are within a walking distance. Here are some of Panama City's best hotels in the area:
Luxury hotel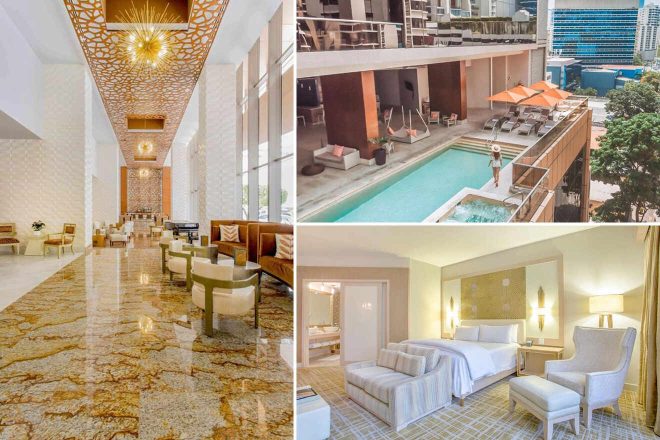 Enjoy a glamorous stay while in Panama City and get all the action with this hotel located in the city's center. With wood and marble accents this hotel will offer you an amazing experience with four restaurants to choose from, a bungalow terrace, and a gold-tiled outdoor swimming pool and spa
Other accommodation options in Marbella
budget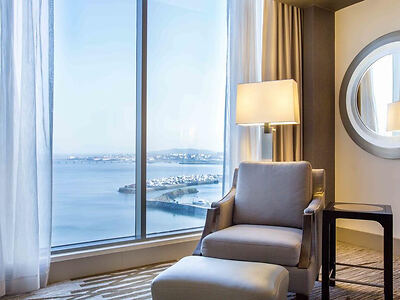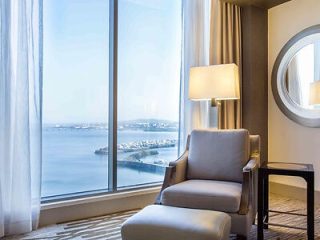 Located in the downtown area this spacious hotel is the best choice for a one night stay
airbnb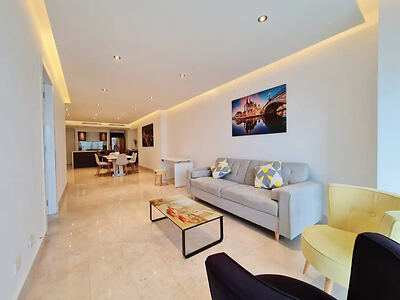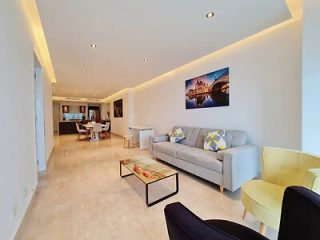 A sea view stylish one-room apartment with a swimming pool area and a gym
Things to do in Marbella
4. El Cangrejo – best for outdoor activities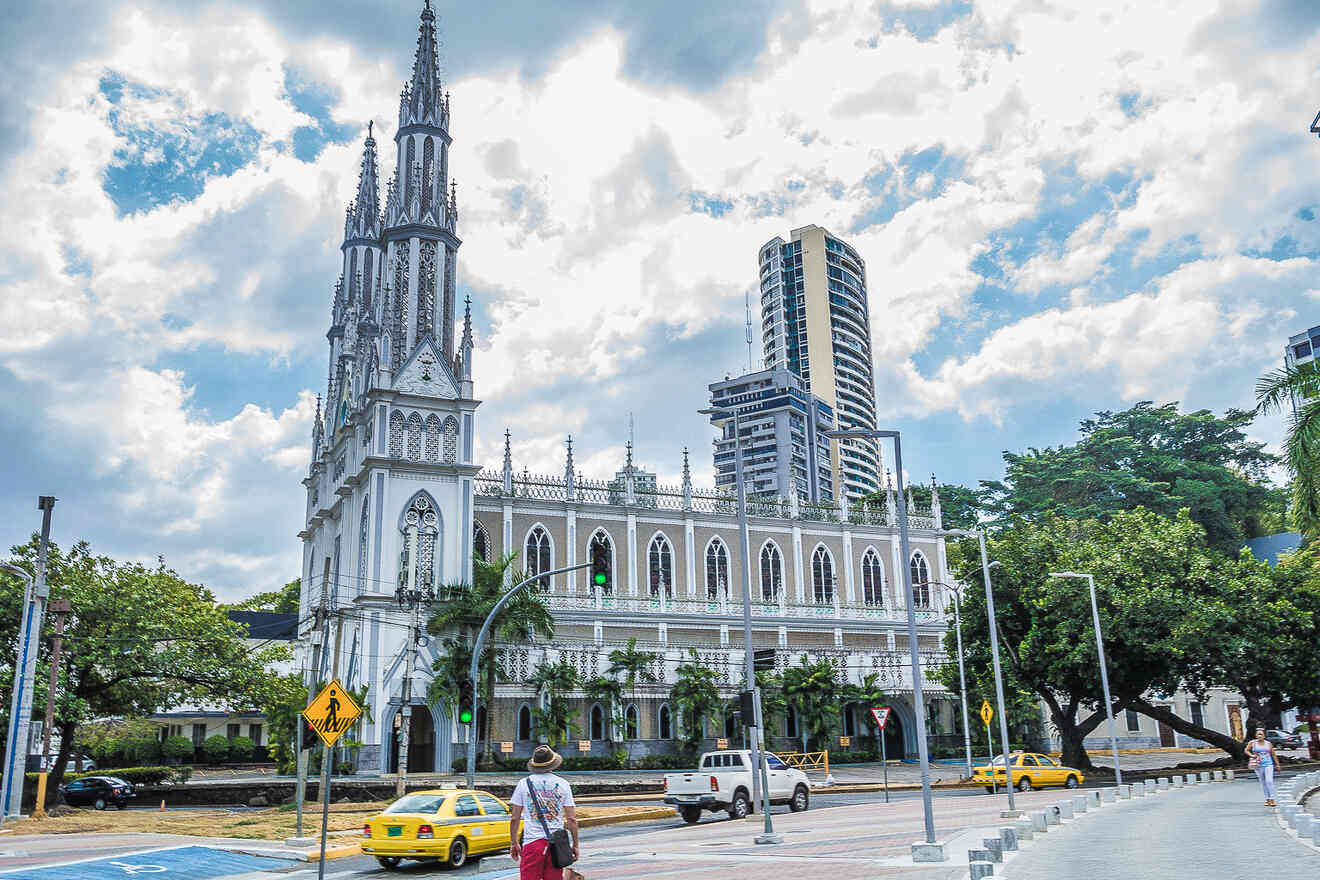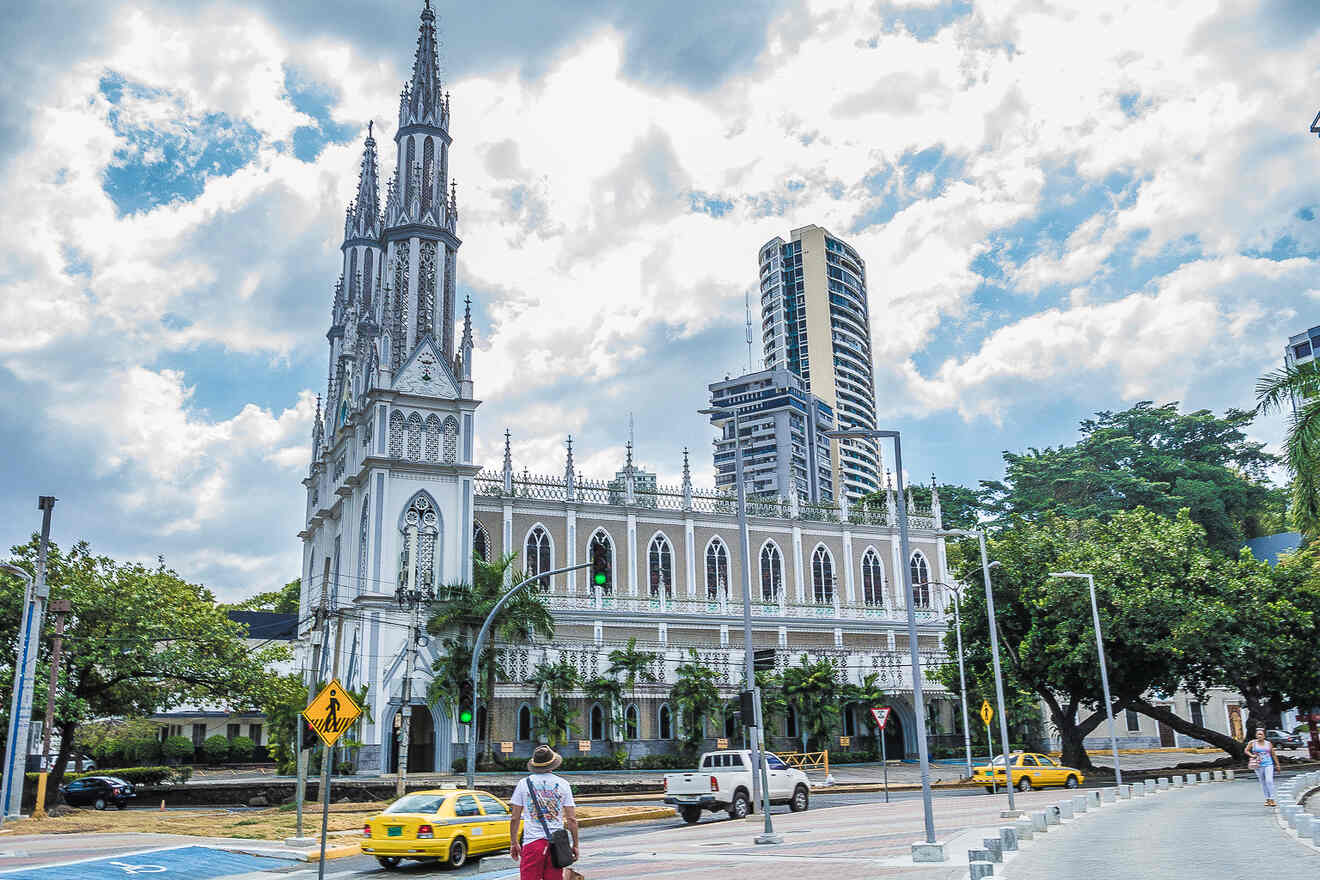 If you're planning your next family trip to Panama City, then El Cangrejo should be your top choice for accommodations and outdoor activities. Located in the city's central area El Cangrejo is one of the places where you can walk around safely thanks to its many parks and quiet atmosphere.
FUN FACT: The name of the neighborhood is not ordinary, it means the crab and it's because the streets are shaped like crab legs!
Don't worry though, you will still find many pubs, restaurants, and great shopping places in El Cangrejo. Plus, Panama City is one of the capitals where you can find eye-catching art on every street corner.
While you explore El Cangrejo search for the stunning Iglesia del Carmen and grab breakfast at the New York Bagel Cafe restaurant. Enjoy a day in the sun with your family in Parque Andres Bello which has playgrounds and basketball courts. You can also find a nearby rooftop bar and have a delicious cocktail while enjoying an unforgettable view.
Luxury hotel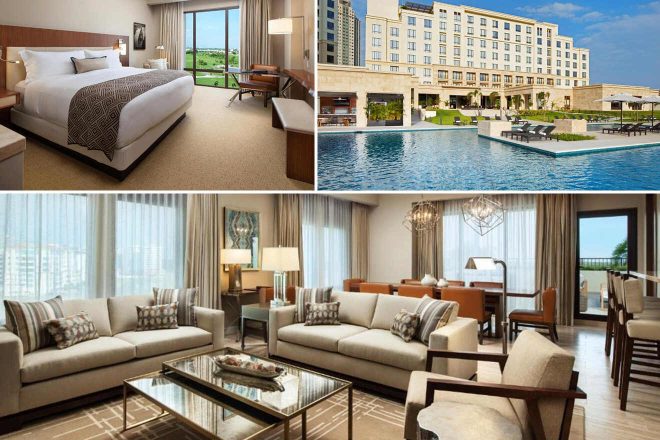 Just a short drive from Tocumen International Airport, this resort is renowned for its world-class golfing, however, the spa and fitness facilities will make it hard for you to leave this beautiful place. The rooms are cloaked in a soothing palette of ivory and beige however the lobby stands out with its colorful masks
Other accommodation options in El Cangrejo
mid-range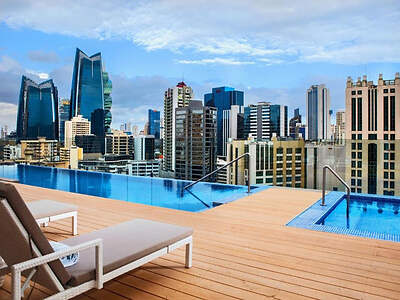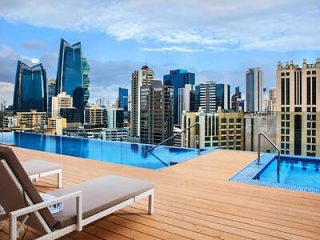 An upscale urban hotel with access to an amazing view of the skyscrapers and a Rooftop Lounge
budget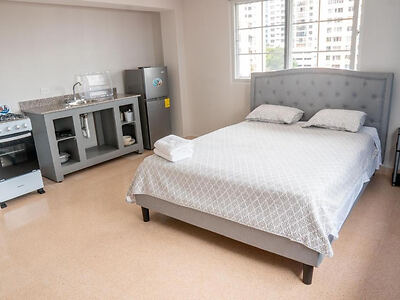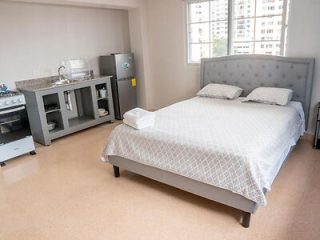 The best value for money hostel with lots of activities like table tennis and a terrace
airbnb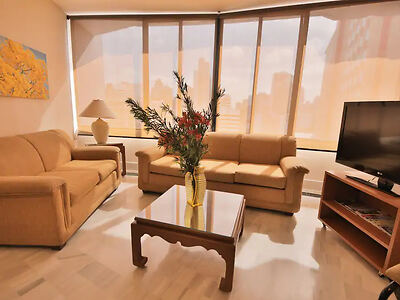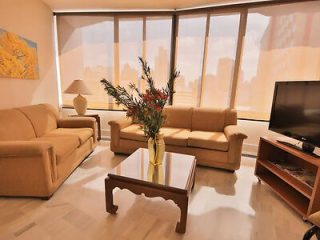 Breakfast buffet and a one minute walk to the Iglesia del Carmen metro station
Things to do in El Cangrejo
5. San Francisco – where to stay for food and nightlife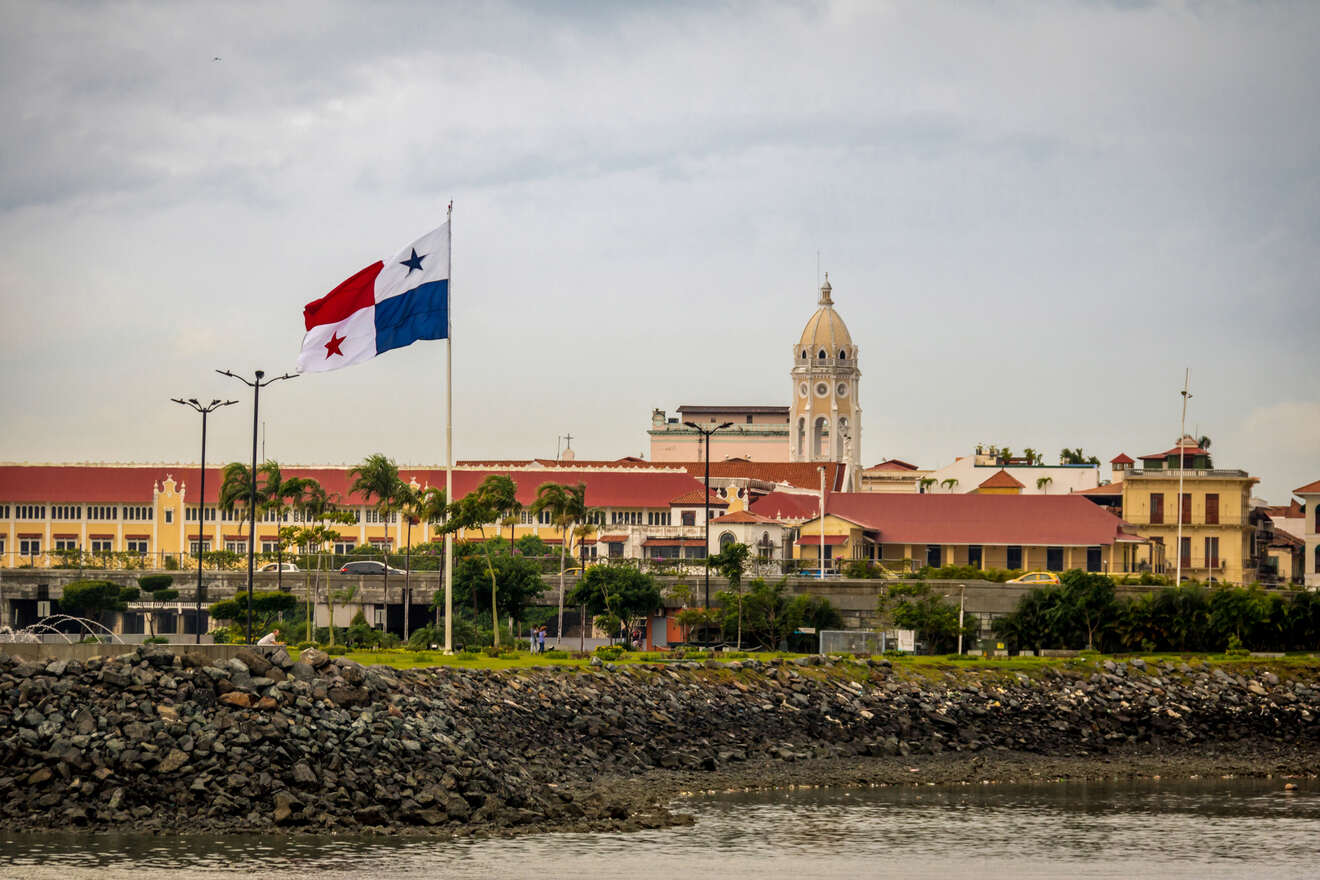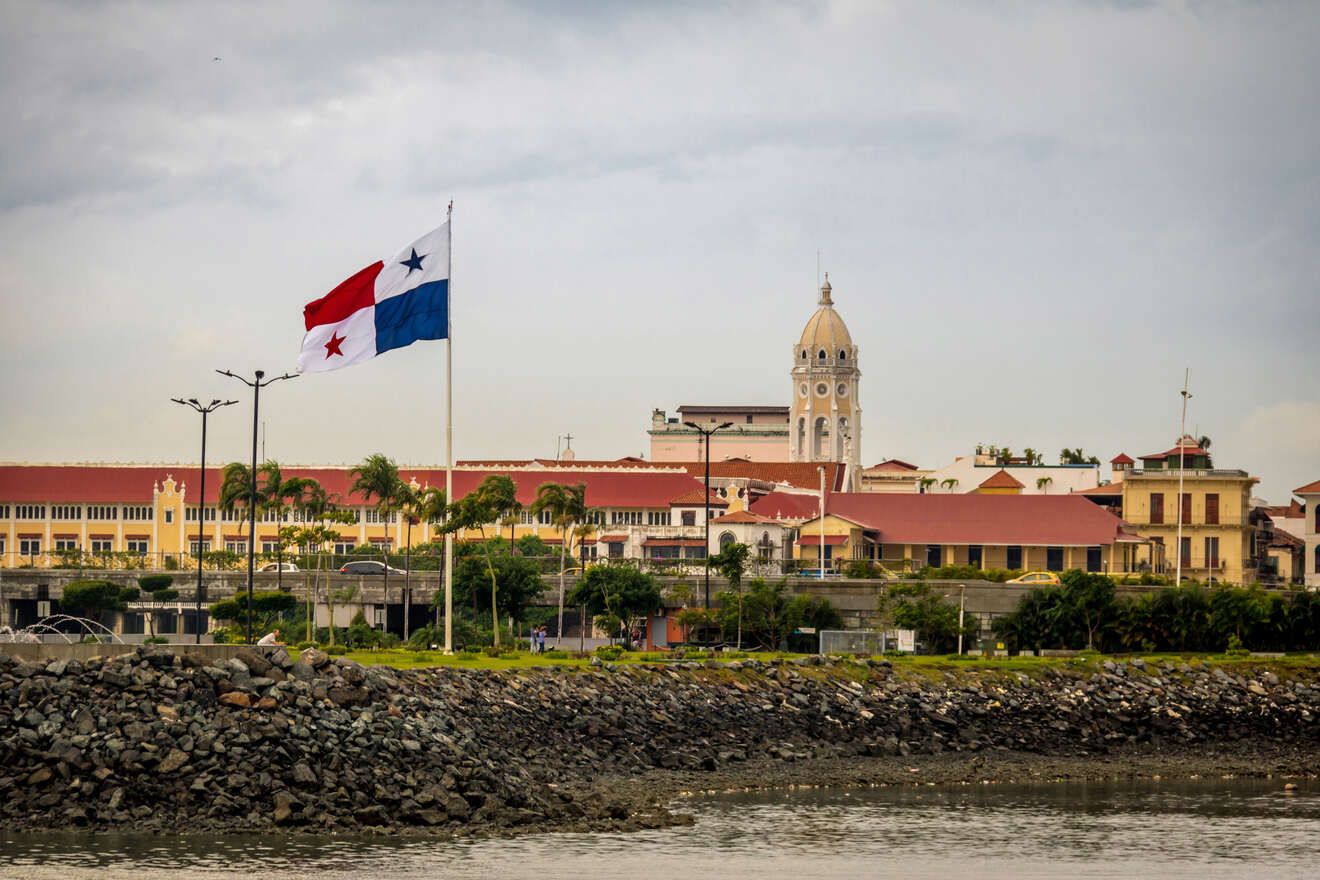 Located directly east of the city center, San Francisco is one of the most vibrant and alive neighborhoods in Panama City. It's suitable for all types of travelers thanks to its many entertainment features.
Full of buzzing bars and cozy cafes, San Francisco is a perfect location for the foodie in you as well. If you love to eat then you have come to the perfect district! Here you can find everything from food trucks and five-star restaurants.
I'm telling you, Panama City has to be your next travel destination, this place never gets boring which means these accommodations go really fast so you should book in advance in order to get a Panamastic experience!
Enjoy a day of sightseeing in the Omar Torrijos Park and then walk around and enjoy a local meal from Pig Backside, The Smoke Truck, and Anti-burger. If you're still in the mood for some shopping, Promises is my top choice for local vintage gems.
Let's have a look at its areas great places to stay in Panama City:
Luxury hotel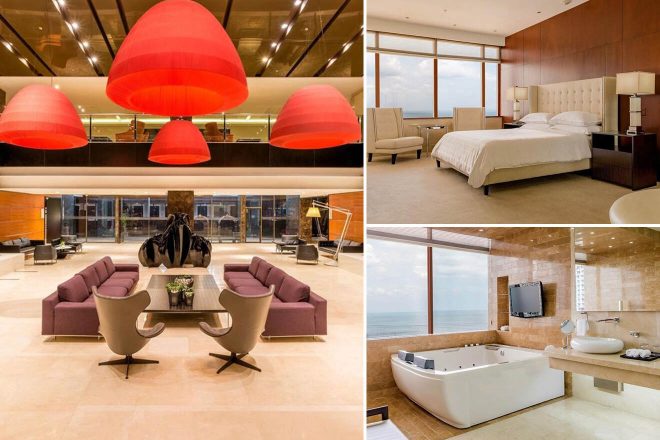 Looking for a relaxing escapade? With a spectacular view of the Bay of Panama, this hotel offers you a 24-hour gym and room service. Relax like you never did before in their outdoor swimming pool and spa. Located just 10 minutes drive away from Tocumen International Airport
Other accommodation options in San Francisco
mid-range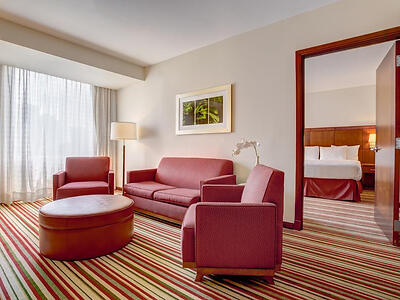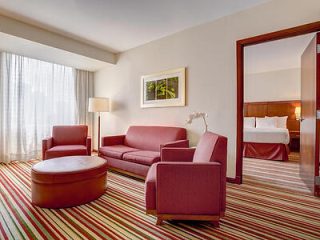 A delightful stay for those who appreciate international cuisine and the Panama Canal is just a 15 minutes drive away from the hotel
budget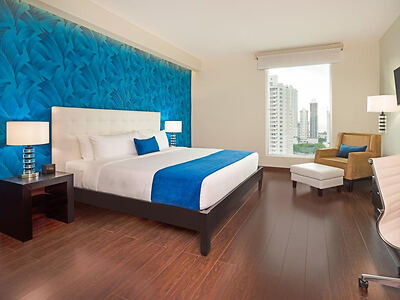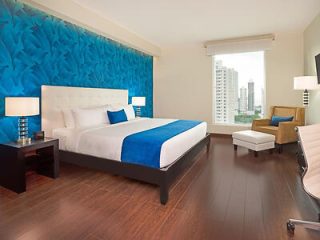 A nice place to stay with cozy rooms, a wellness center, meeting facilities, and free parking
airbnb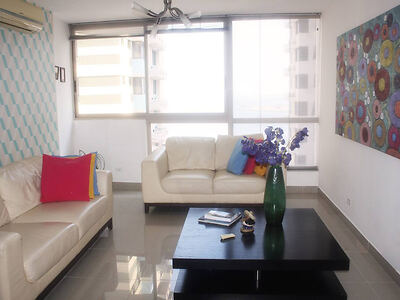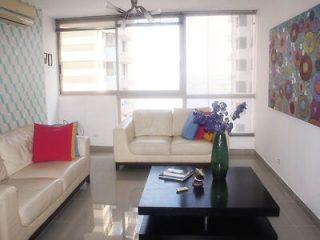 A comfortable intimate place located very close to Atlapa Convention Center and Multiplaza Mall
Things to do in San Francisco
| | |
| --- | --- |
| 👑 Luxury price: | $150 |
| 💵 Mid-range hotel: | $100 |
| 🛏️ Budget: | $50 |
| 🏠 Airbnb: | $60 |
| 💰 Accommodation prices: | Low |
| 📍 Best Area: | Casco Viejo |
| 🛎️ Best luxury hotel: | American Trade Hotel |
| 👛 Best budget hotel: | Blu Hostel |
BONUS: 6 things to know before travelling to Panama City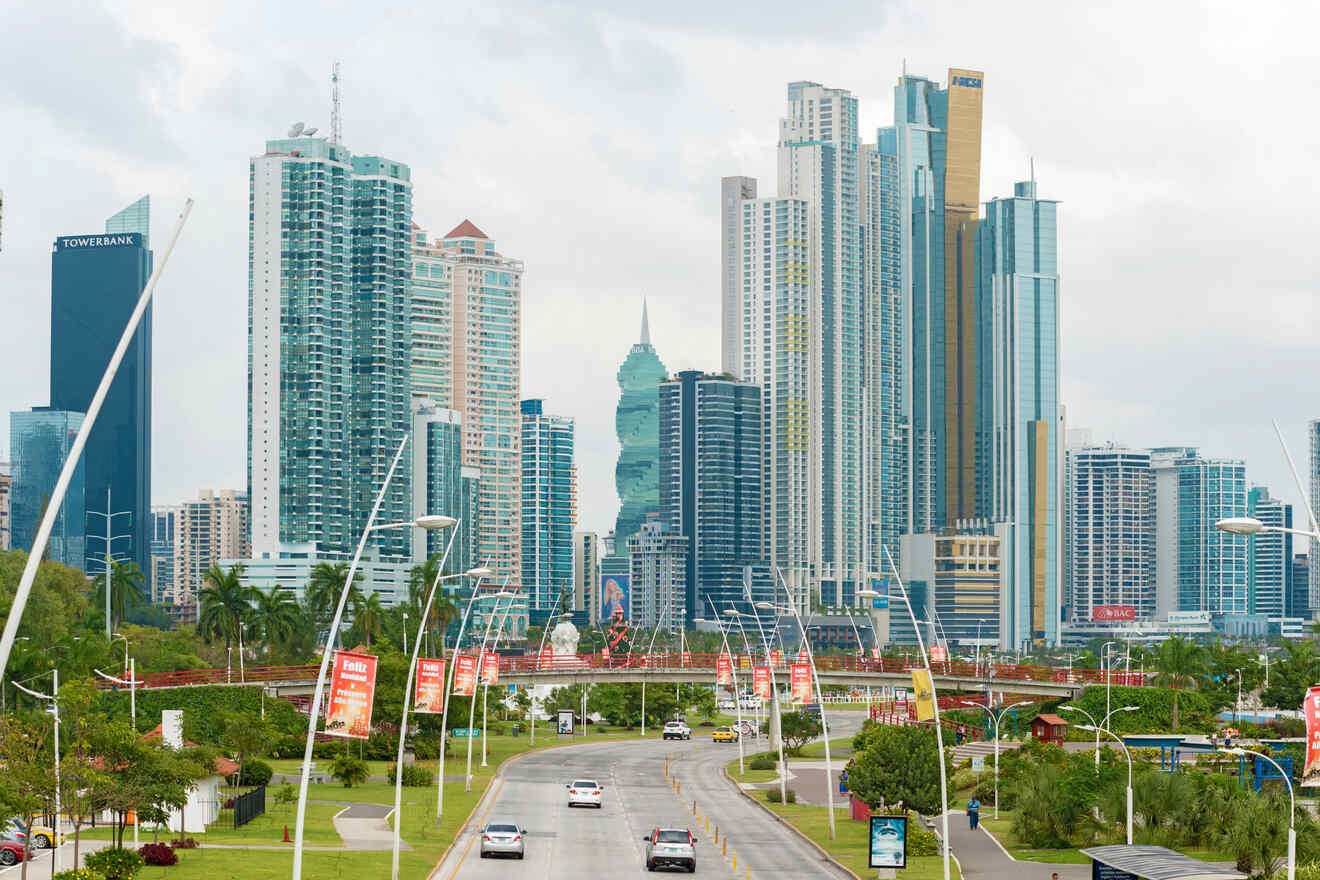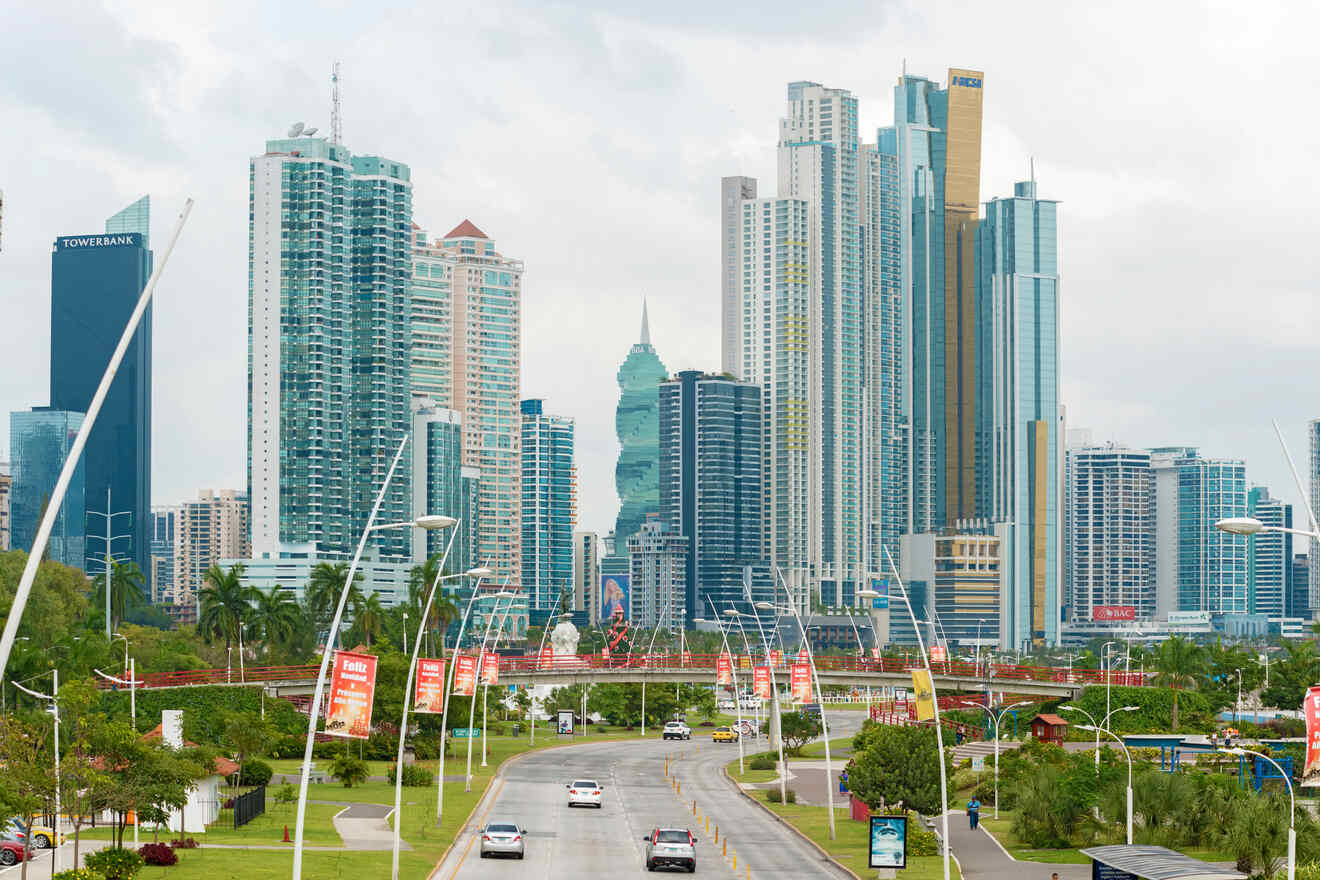 Although these days traveling is not as dangerous as it was before the smartphone & Uber era (they have Uber in Panama City by the way!), we still need to be careful and learn as much as we can about the places that we go to. Panama City is the most developed city in all of Central America, so you shouldn't worry too much.
That being said, I always like to learn some facts about the places that I'm going to visit, especially those which have a whole different culture from mine. So here's a list of the things you should consider while you stay in Panama City.
Also, if you're continuing your travels to Puerto Rico check out this post for the best Airbnbs in Puerto Rico to learn some more about this other incredible holiday destination!
1. The Huge Importance of the Panama Canal
The Panama Canal connects the Atlantic Ocean to the Pacific, divides the Isthmus of Panama, and is crucial for maritime trade. You can easily get to the historic Panama Canal and if you want to see the ships going through the channel you better wake up really early and be there from 9 a.m.
The Miraflores lock is the one usually visited by tourists, as it's the most easily accessible. Here, you can get the full Panama Canal experience, visit some of the exhibition halls or take pictures from the observation decks and maybe grab a souvenir for a loved one from the gift shop. The tour lasts almost two hours and it is open daily.

2. Venturing outside of Panama City
If you're looking for places to stay outside of Panama City make sure you take someone who speaks Spanish because outside of Panama City not many people know English and it might be hard for you to get around or find the best places to stay. You can also try and learn some basic Spanish phrases for travelers.
3. The currency is the US dollar
Although these days people don't use cash to pay for stuff it's good to know just in case. Though you might read online about the Panamanian Balboa, in reality, most of the money in Panama is from the US, there are however some coins that are Panamanian cents.

4. Panama has the most expensive coffee in the world
If you're a coffee lover and you're looking for some local tastes, then you've come to the right place. Panama's Geisha coffee is the most expensive coffee in the world per kilo.
This type of coffee requires unique cultivating conditions, only a certain amount of coffee can be grown every year. The flavor is quite distinct and exclusive, hence the price and high demand for this type of coffee. Casco Viejo has numerous coffee shops from where you can find this hip coffee.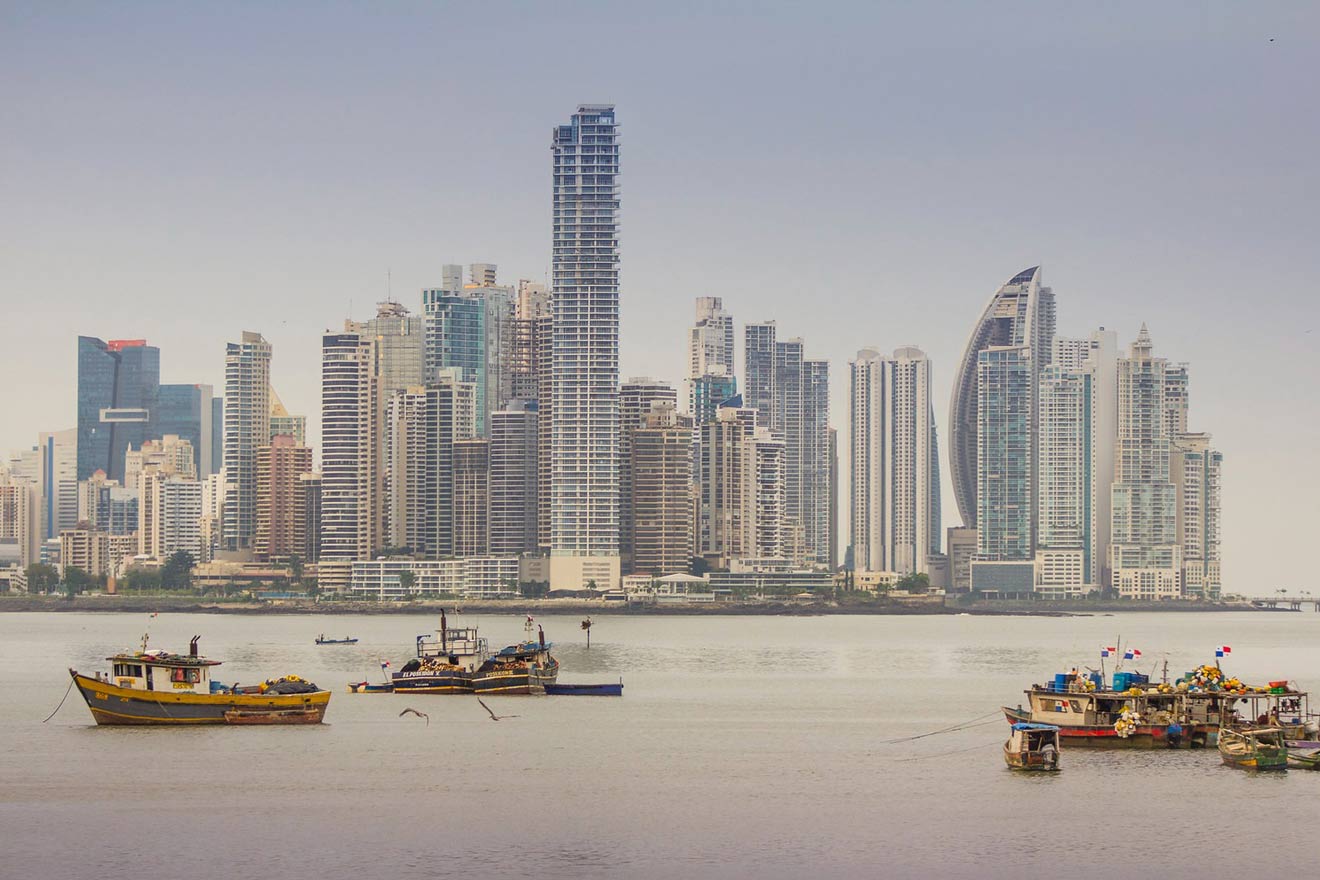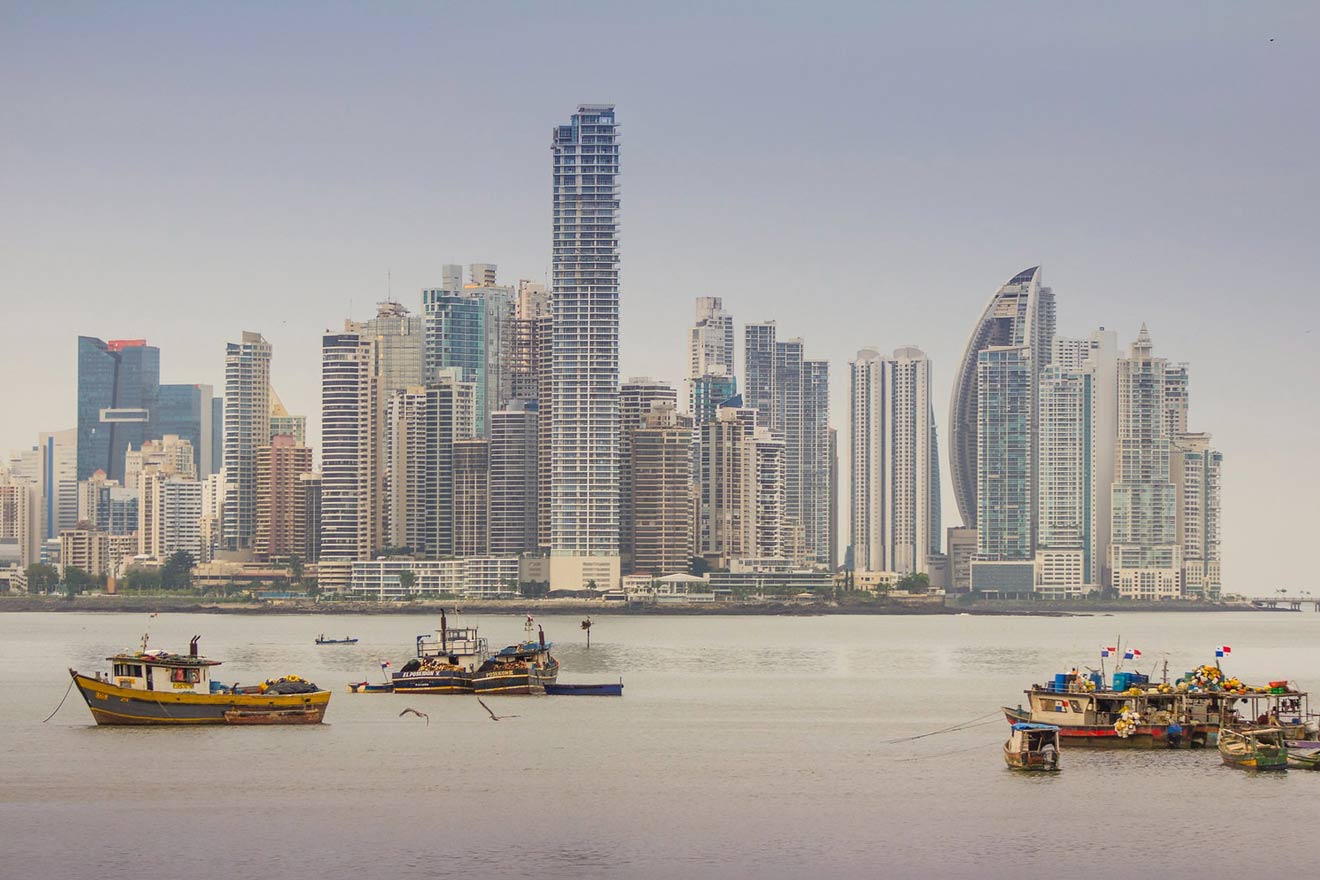 5. The Panama region has around 1600 islands
If you are in Panama City and wish to take a small detour, you can visit one of the most beautiful island chains in the world called the San Blas islands, you can find accommodations there and stay for the weekend.

You can get there either by flying from Panama City to Isla de Corazón de Jesús, which will take you 45 minutes or by car, from Panama City to Carti, San Blas but you'll need a tall truck SUV and it will take you 3 hours to get there. Once you get there you can sail for days in this amazing place.
Aside from the San Blas, Panama City's islands have plenty more to offer for visitors. Many of these are accessible from Panama City. For example, you can head to Taboga even just for one day, it is located just 13 miles away from Panama City, you can take the ferry which departs from the Amador Causeway and get there in 30 minutes.
The Pearl Islands are another popular choice, you can either go to Panama's city airport and take a 15 minutes flight to Contadora Islands or take the ferry from Punta Pacifica or Amador Causeway and get there in one hour and a half.
6. Don't freak if all the lights go out
Power outages are normal in Panama City, and they occur, on a large scale, somewhat frequently. Don't fret if everything turns off and shuts down suddenly, randomly, day or night!
Frequently asked questions about Panama City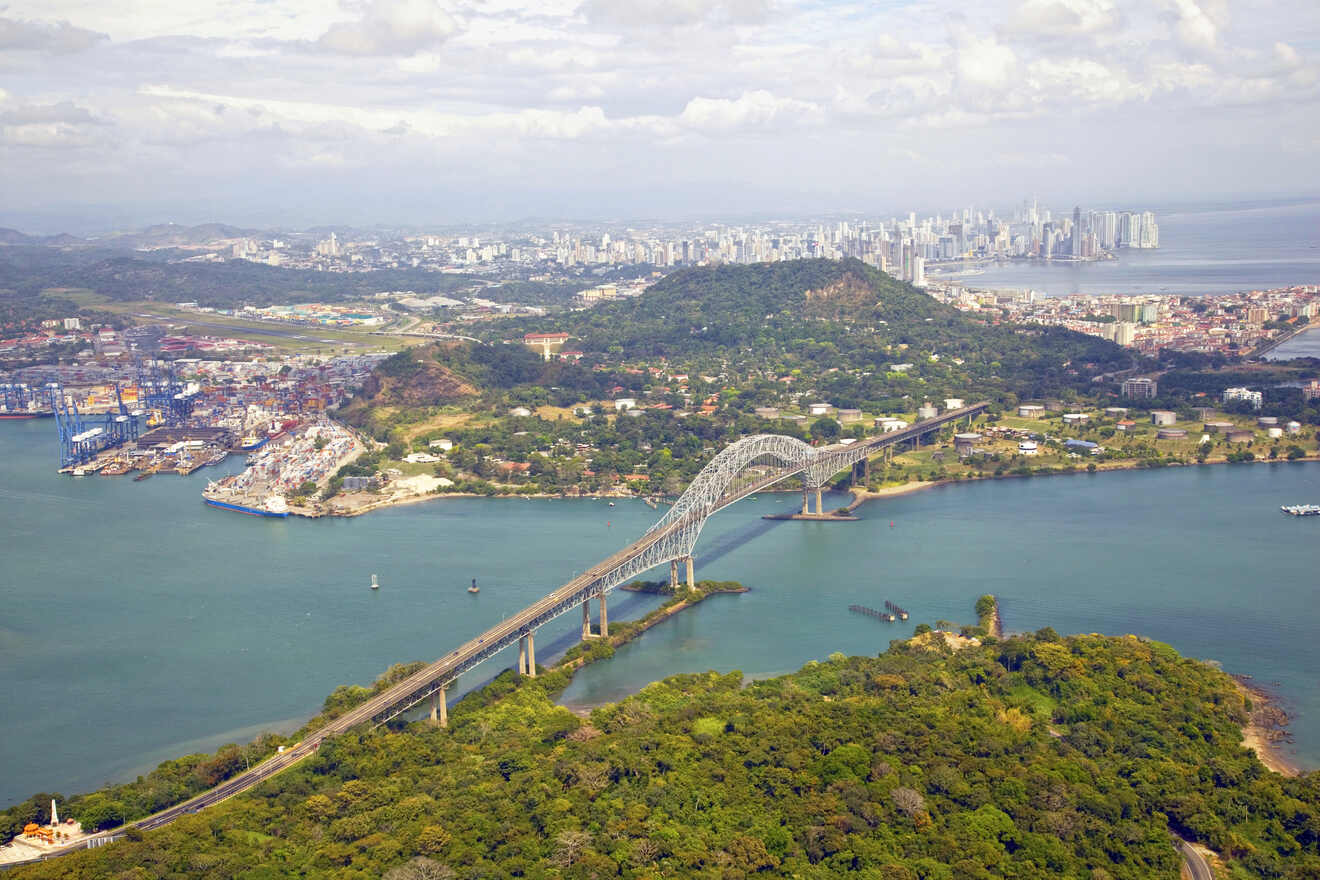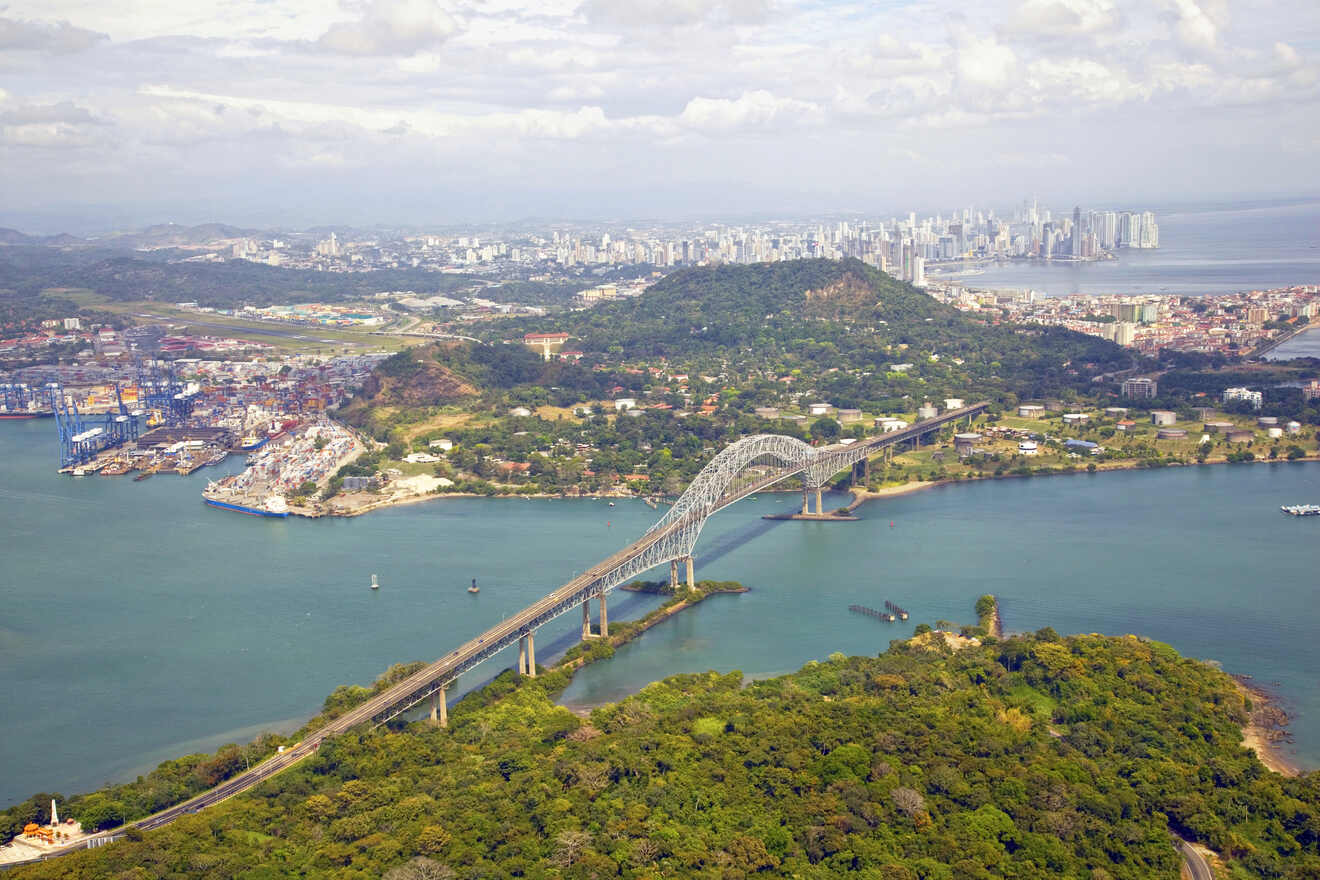 🏡 What is the best area to stay in Panama City?
The downtown area is the best one to stay while visiting Panama City. It has all the tourist amenities covered and some of the most luxurious hotels, many restaurants and it is the main shopping site.
🚫 Where should I NOT go in Panama?
While the tourist areas of the city are generally pretty safe, you should avoid some more dangerous areas, like parts of the Mosquito Gulf or parts of the Darién region, as well as all areas south of Jacque to the Colombian border.
❓Is Panama City safe for tourists?
Yes, Panama City is a safe country to visit and many families visit the developed tourist areas with their children, however, it's advised to exercise caution, particularly in crowded areas, as pick-pocketing and mugging is a common issue even in the city's best areas or hotels.
🏝️What is the best beach in Panama City?
One of the best beaches is just 3 hours away from Panama City, Playa Blanca is a magical place, the water is so clear and you can hide from the sun under the big trees. You'll wake up in paradise.
Conclusion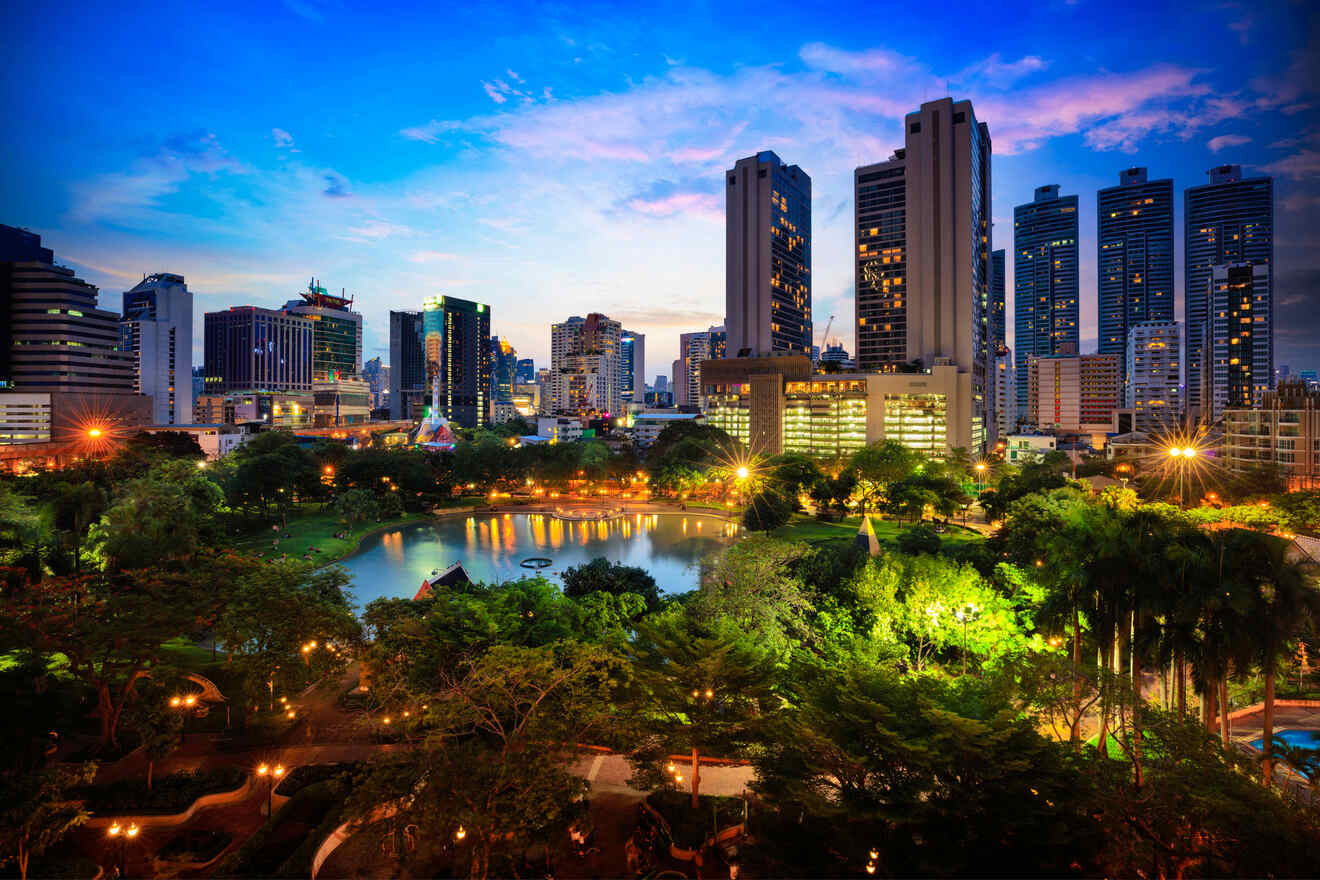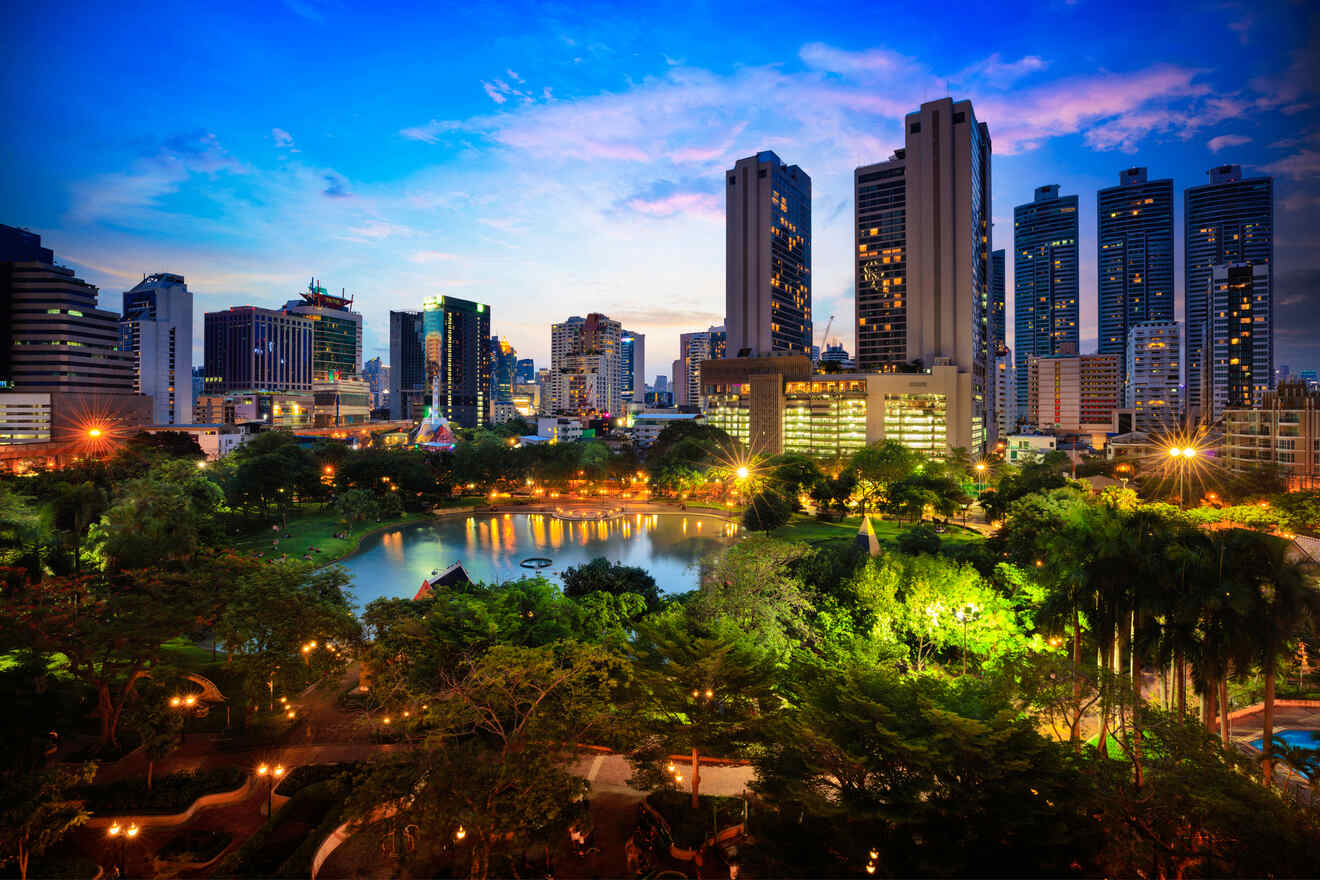 Here I say my farewell, it was nice to accompany you on a virtual tour and I hope you enjoyed my recommendations of places to stay in Panama City!
I mentioned the best areas for every type of traveler and budget options. You will find an area for families, luxury admirers, nightlife enthusiasts, foodie lovers, and of course the favorite area for all tourists – Casco Viejo.
As I said earlier Casco Viejo is the best place to explore and find accommodation if you're visiting Panama City for the first time. These two are my top places for where to stay in Panama City.
These places are selling fast, so you should book in advance if you don't want to miss staying in these amazing accommodations. If you're looking for some hidden gems within the US, check these unique Airbnbs in Florida!
Safe travels my online friends, do leave a comment and share anything that you know about Panama City that might help our community and other travel enthusiasts.
Enjoy the journey,
Victoria
---
Pin it for later!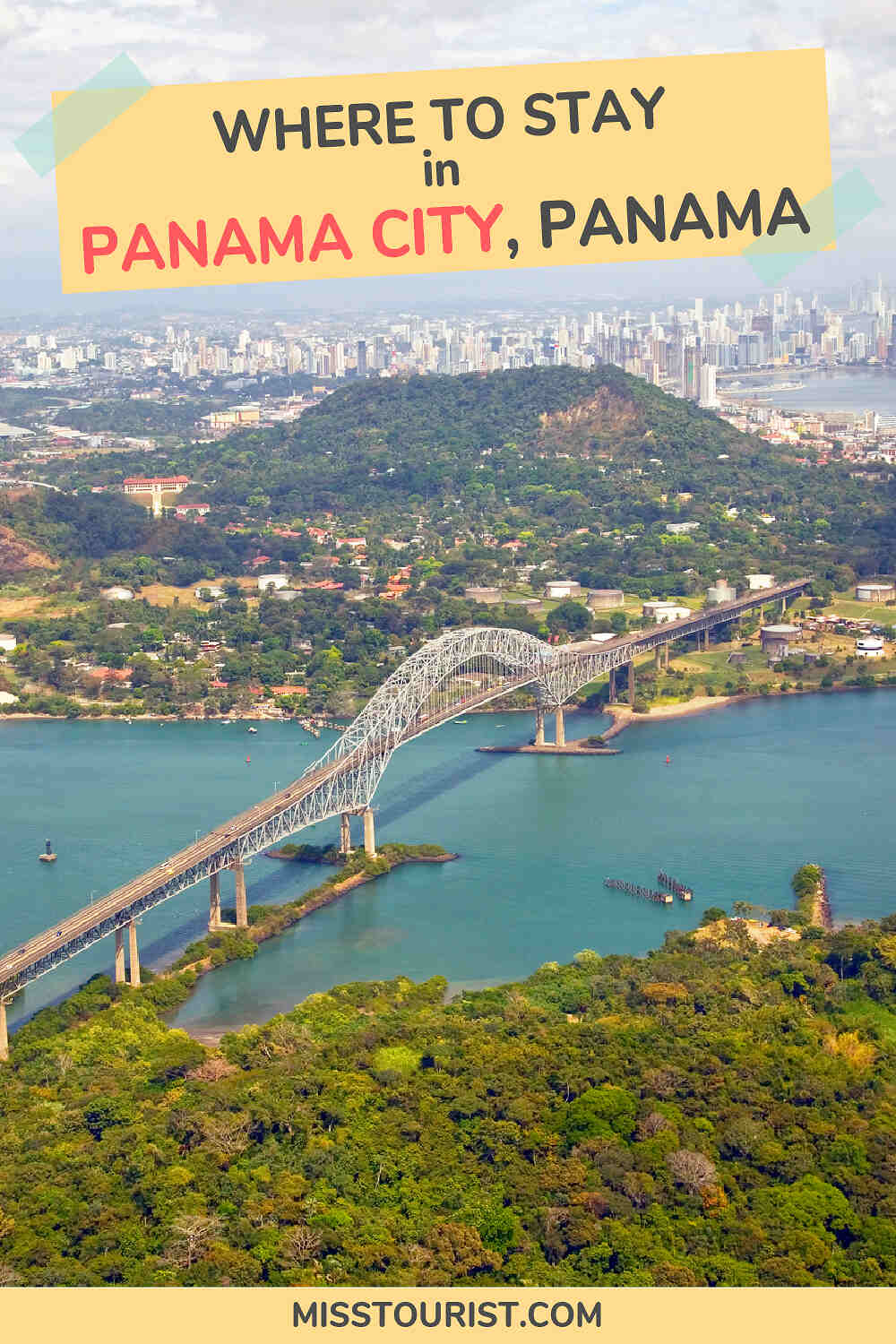 Pin it for later!