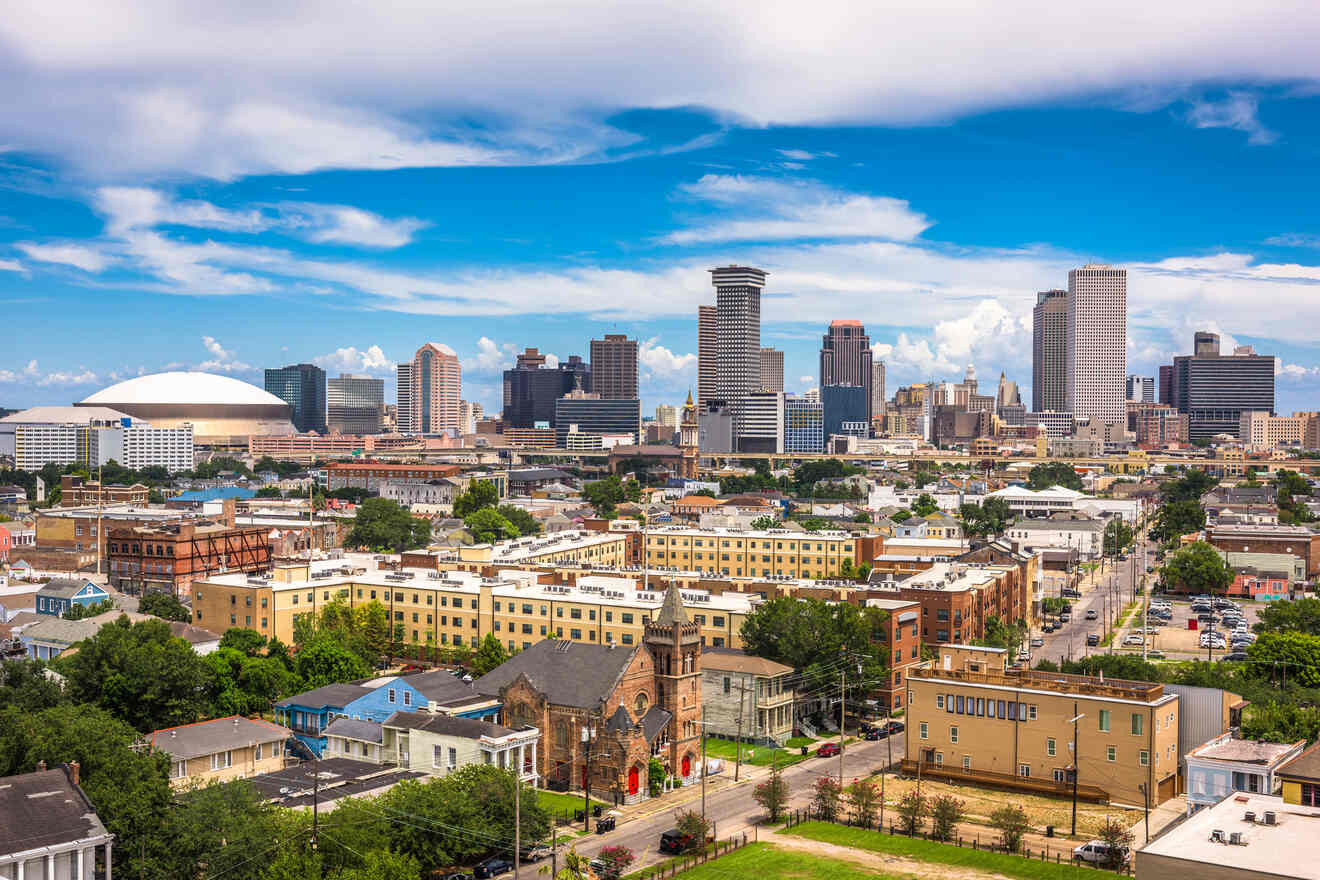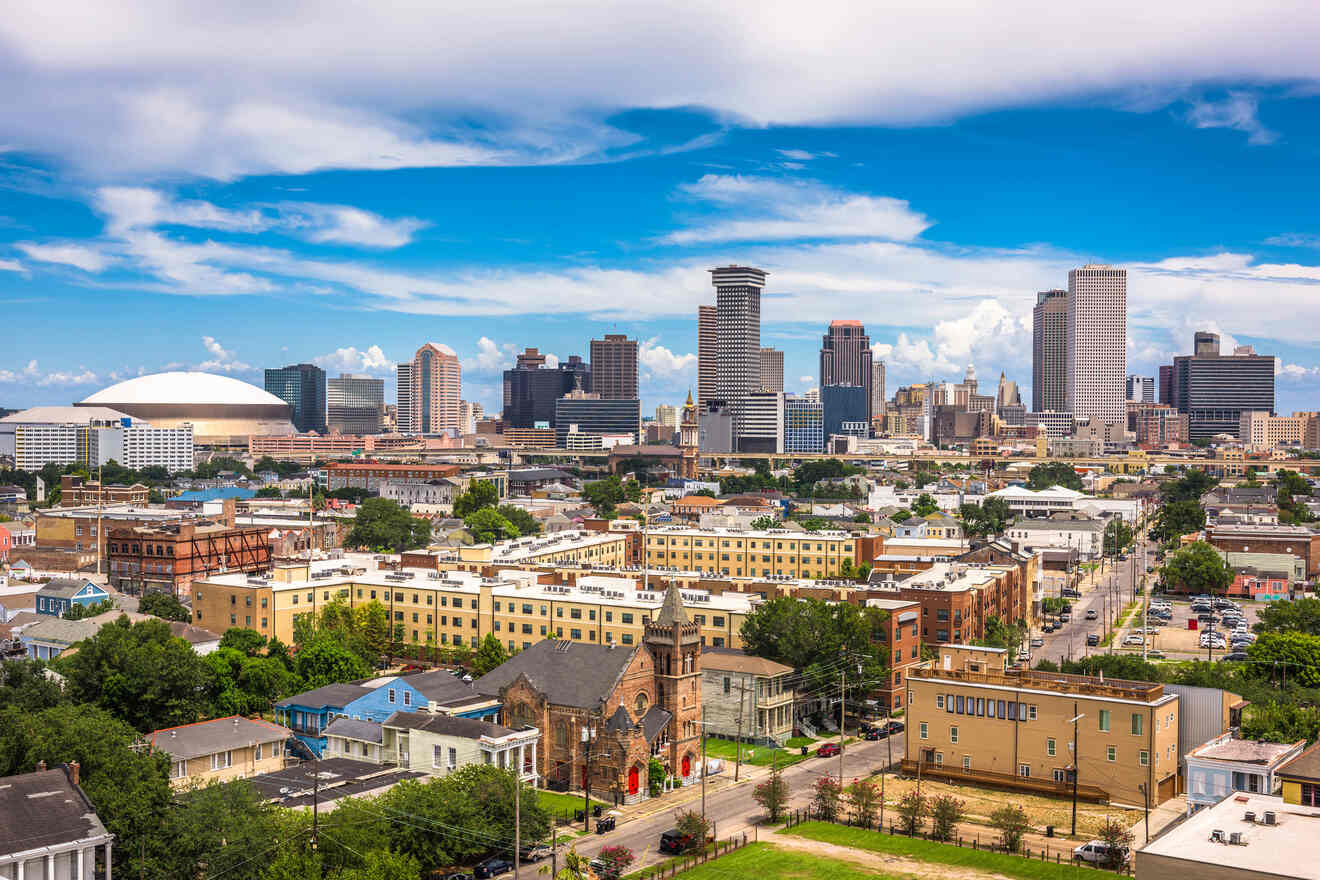 If I say, Mardi Gras, Bourbon Street, and jazz clubs you will probably automatically think of New Orleans! You are about to arrive in one of the most vibrant and colorful cities in the United States so get ready to have some fun in the Big Easy!
New Orleans is located in Louisiana and the largest city within the state. It is a city that offers a great live music scene, art galleries, fine restaurants, and upscale boutiques. So it won't be difficult to find something that suits your taste in New Orleans.
Situated on both sides of the Mississippi River, you will enjoy walking aimlessly in New Orleans's streets with beautiful architecture while hearing jazz tones in the background. I am sure you won't have difficulty filling your day here so let's find an answer to where to stay in New Orleans.
There are many nice accommodation options in New Orleans for all budgets and I went through all of them very carefully and hand-selected the best of the best ones to share with you. In this travel guide, I will talk about the 5 best neighborhoods to stay in with the highlights of the area and give hotel recommendations from luxury to budget plus Airbnbs in each neighborhood.
I highly recommend you to make a booking in advance for your hotel here as it will help you to get better deals and you would have not missed your favorite place. Most of the hotels have a free cancellation policy too, so do not worry if you change your mind!
Ready to walk along New Orleans Streets? Let's go!
If you are in a hurry
Here are the best places to stay in New Orleans from luxury to budget. They all have great reviews and great locations!
Here is a map of New Orleans with all the 5 areas I will be talking about in this travel guide, so you can easily visualize them:
1. French Quarter – where to stay in New Orleans for the first time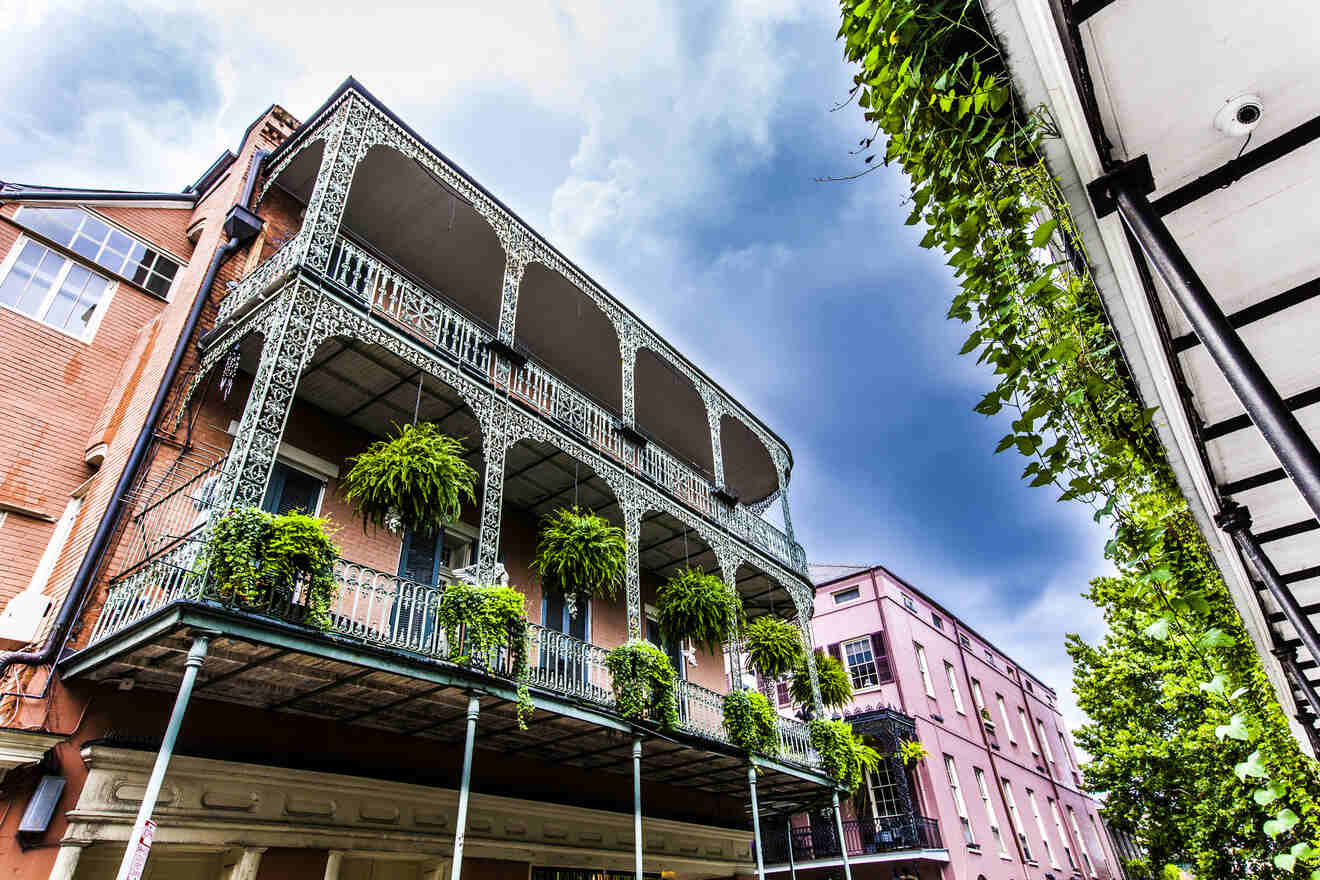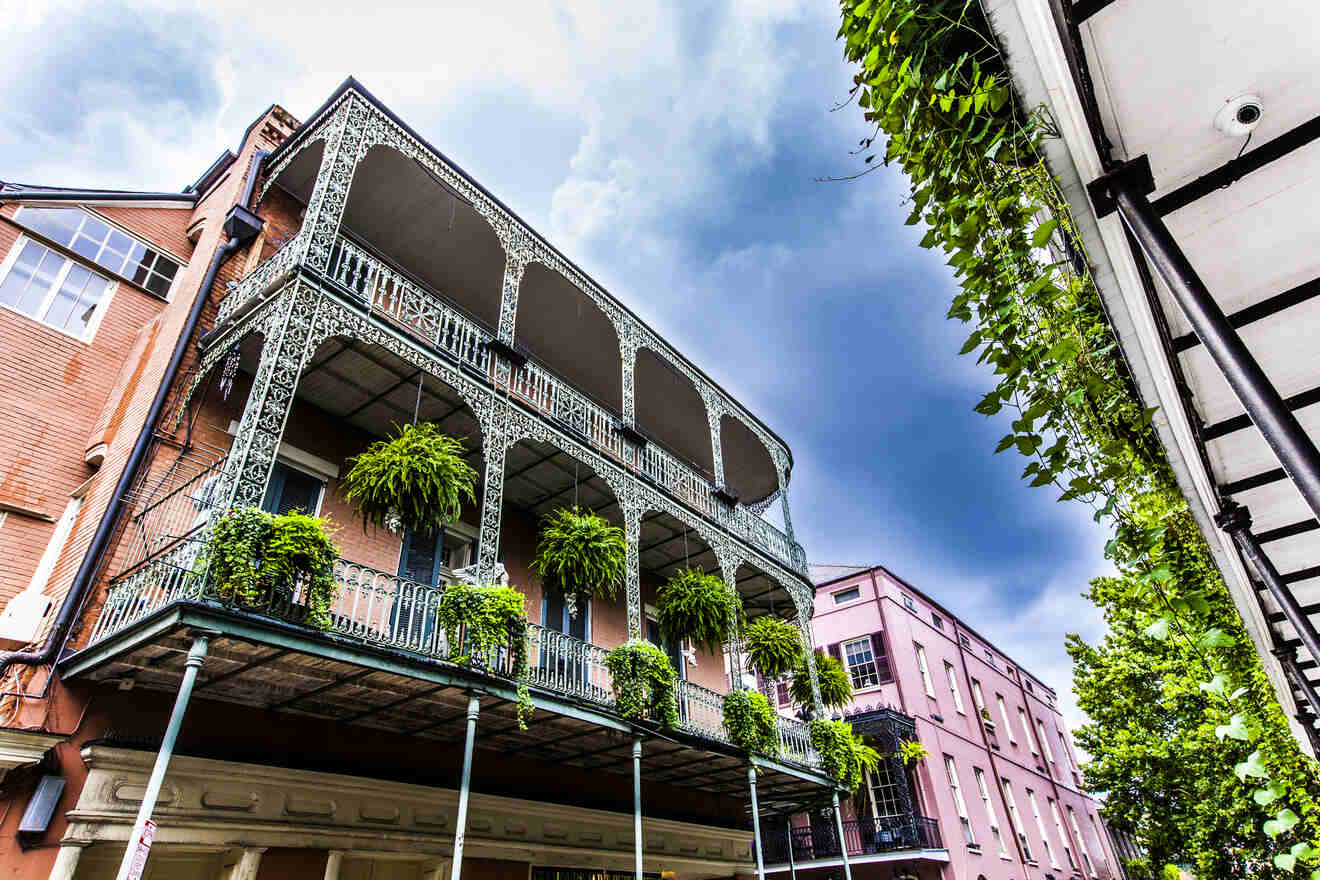 The French Quarter is the historic area and the most famous part of New Orleans. Here you will discover an amazing food scene, vibrant nightlife, all the main landmarks as well as great museums and art galleries. That's why my pick for first-timers is definitely the French Quarter!
Bourbon Street is the home of Mardi Gras and where you will find strips of bars and clubs with crazy parties all year long. Whilst New Orleans is known for its great jazz music scene, in Bourbon Street, you will find places pumping out all genres.
FUN FACT: Pulitzer Prize-winning playwright Tennessee Williams lived in French Quarter for more than 40 years and wrote 2 of his major plays A Streetcar Named Desire and Vieux Carré here. There is also the Tennessee Williams/New Orleans Literary Festival dedicated to him.
Besides music, there is a tonne of things to see on Royal Street, enjoy Spanish Creole architecture, and countless amazing galleries and shops. Don't forget to make a stop to have a great meal in one of the old creole restaurants!
In French Quarter there are many accommodation options for all budgets. Since it is the most popular area in New Orleans, I highly recommend you to make a booking in advance. If you're already as excited as I am, let's check out the best hotels in French Quarter.
Other accommodation options in French Quarter
Things to do in French Quarter
2. Central Business District – best place to stay for sightseeing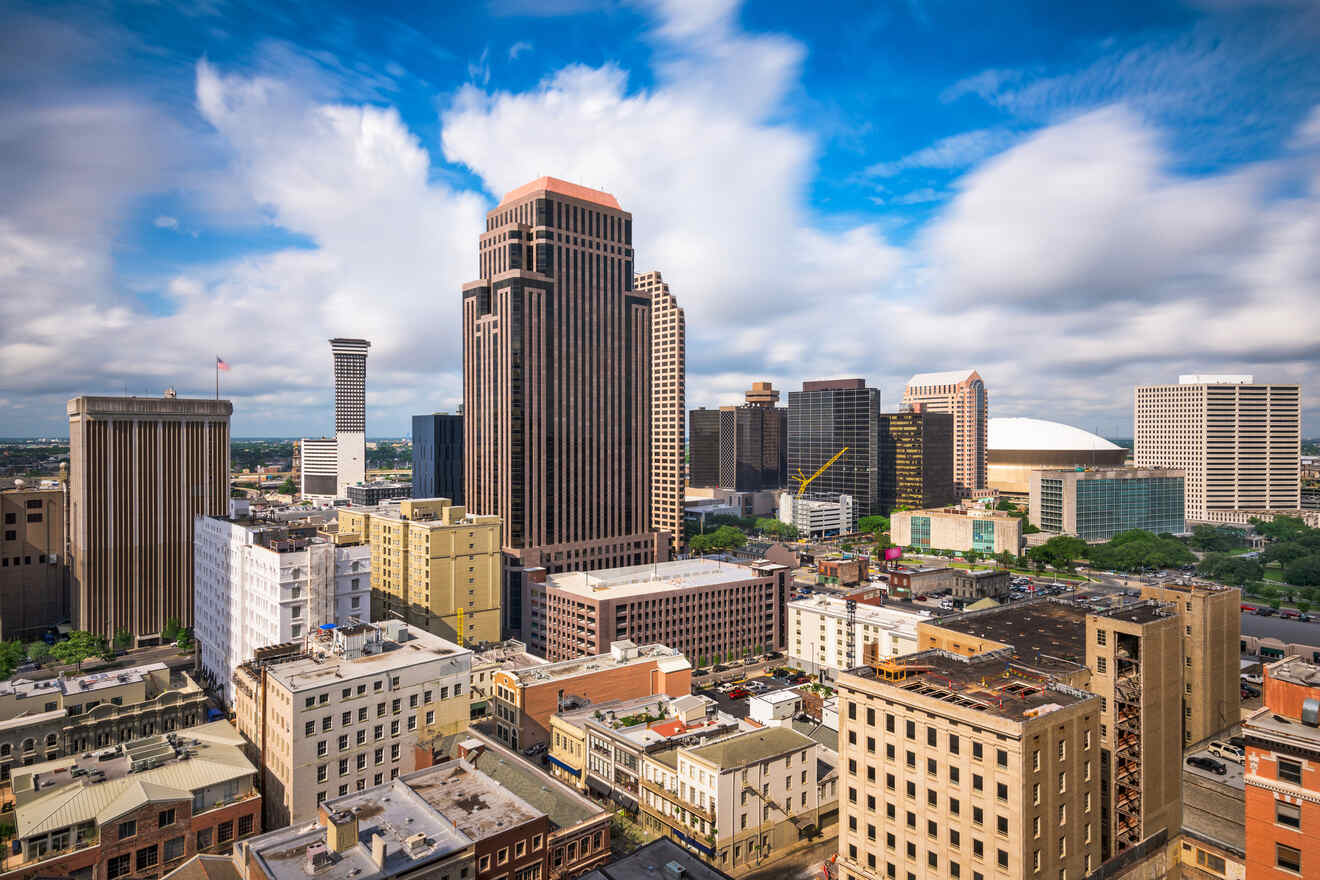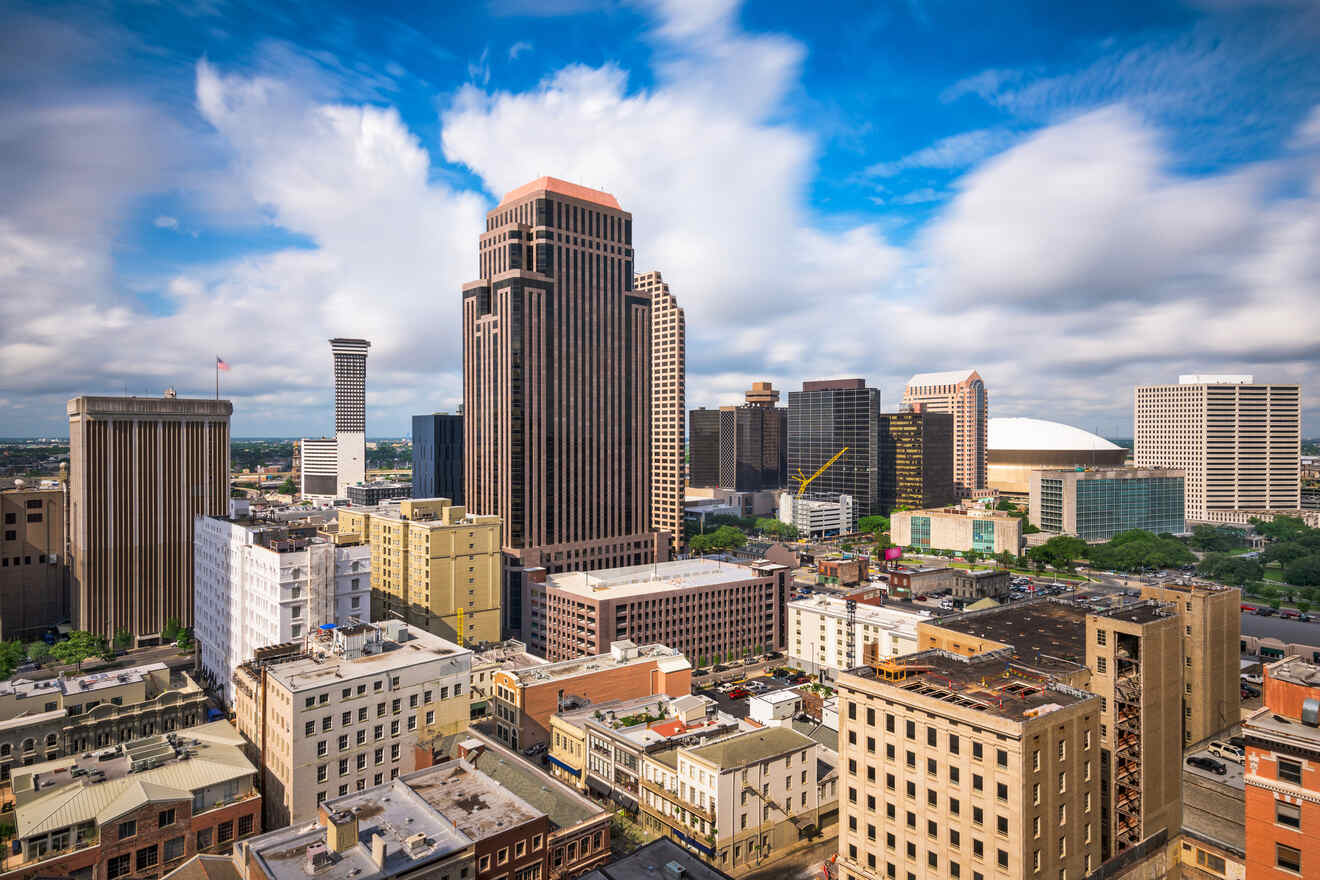 The Central Business District is also the downtown area of New Orleans and this neighborhood is a great mixture of commercial offices, nice shops, upscale restaurants as well as museums and concert halls.
Just 15 minutes walk west from the French Quarter, the Central Business District is sandwiched in by the Warehouse / Arts District to the south. So by staying here you will still have great access to all the major attractions of New Orleans.
The Central Business District is a very colorful neighborhood that offers something for every taste whether you are a shopaholic, luxury traveler, or party animal.
The best way to discover this neighborhood is simply to head to Canal Street and check out the tons of shops, cafes, and museums there. You should also take the Canal Street Ferry to enjoy a trip along the Mississippi River!
Once you hit the road your wanderlust soul might want to continue to trip, so, if you are looking for other travel destinations around New Orleans I highly recommend you check out these Dallas and Houston travel guides!
Other accommodation in Central Business District
Things to do in Central Business District
3. Warehouse / Arts District – a neighborhood for art lovers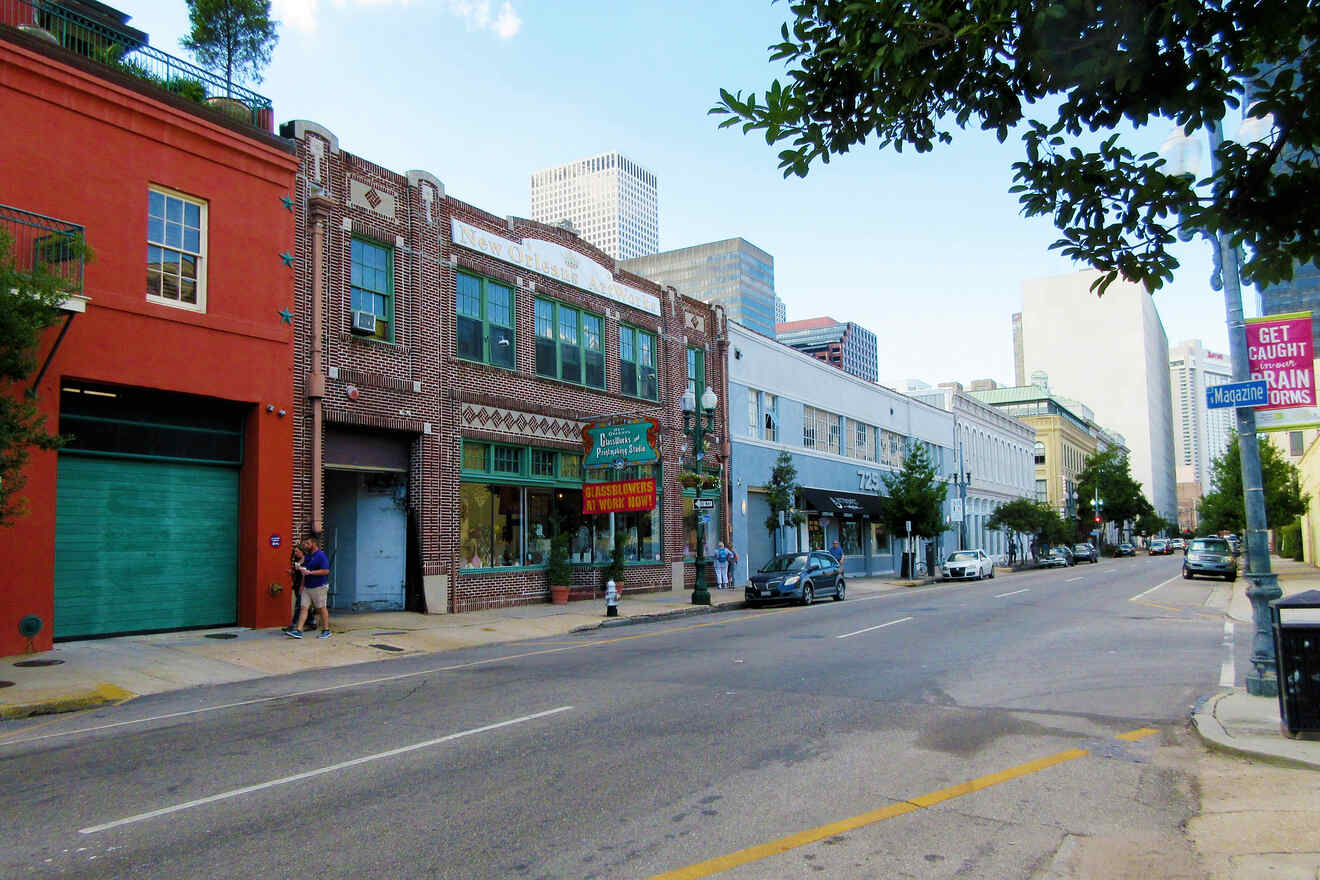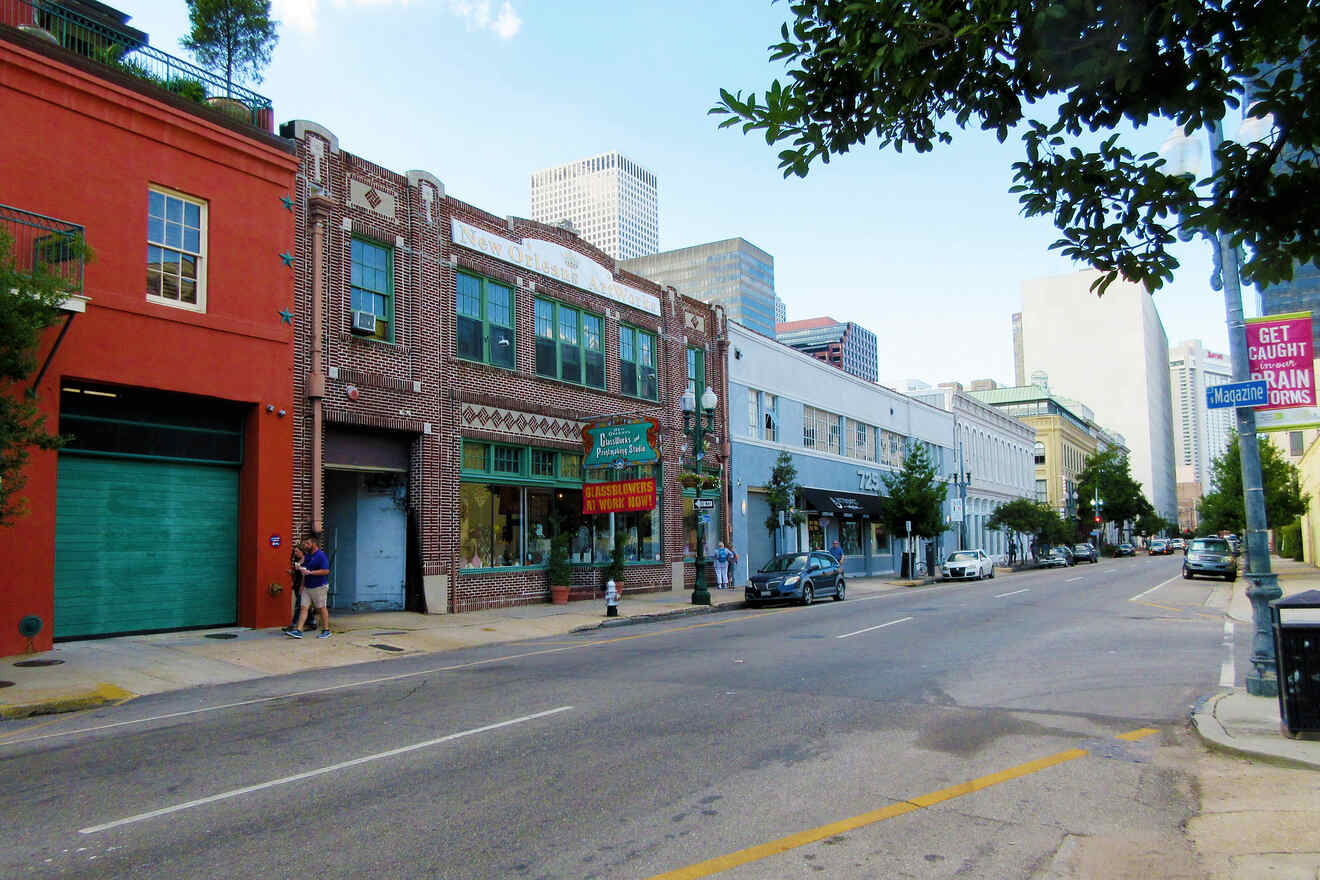 The Warehouse/Art District is located just next to the Central Business District and can be easily reached from French Quarter with a 20 minutes walk. It is a very elegant neighborhood with modern art galleries, fine dining restaurants, and great museums. Sounds so cool, doesn't it?
The Warehouse District is also a great place to witness the incredible atmosphere of Mardi Gras! Mardi Gras, also called Fat Tuesday, is the day before Ash Wednesday.
Every year one week before the carnival starts, you can see many parades in New Orleans with beautiful colorful decorations and people with amazing costumes and masks. As a part of the fun each year there is a king and a queen whose identities are kept as a secret until the ball night of Mardi Gras.
In every corner of Warehouse District, you will encounter a nice art gallery, a cool cafe, or a building with an impressive mural. The best way to enjoy this artsy area is simply wandering randomly along the beautiful streets and checking out the nice venues. Your Instagram feed will be so colorful with the photos you will take here!
If you are interested in exploring local art galleries and want to stay in a modern neighborhood you should definitely stay in Warehouse District. Here you will be able to find great accommodations for all budgets and you will also be close to the city center!
Other accommodation in Warehouse/Arts District
Things to do in Warehouse/Arts District
4. Faubourg Marigny – if you are looking for local experiences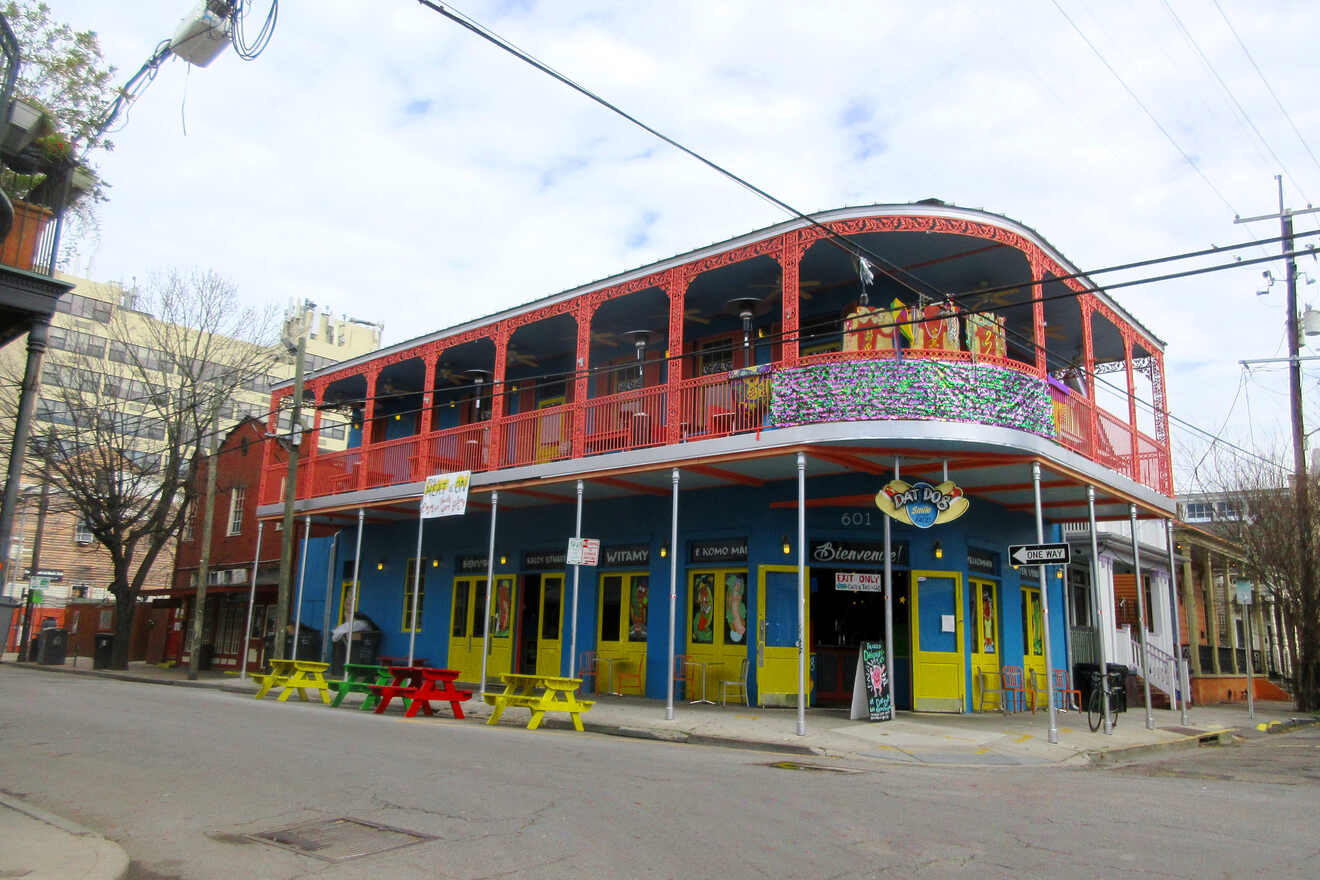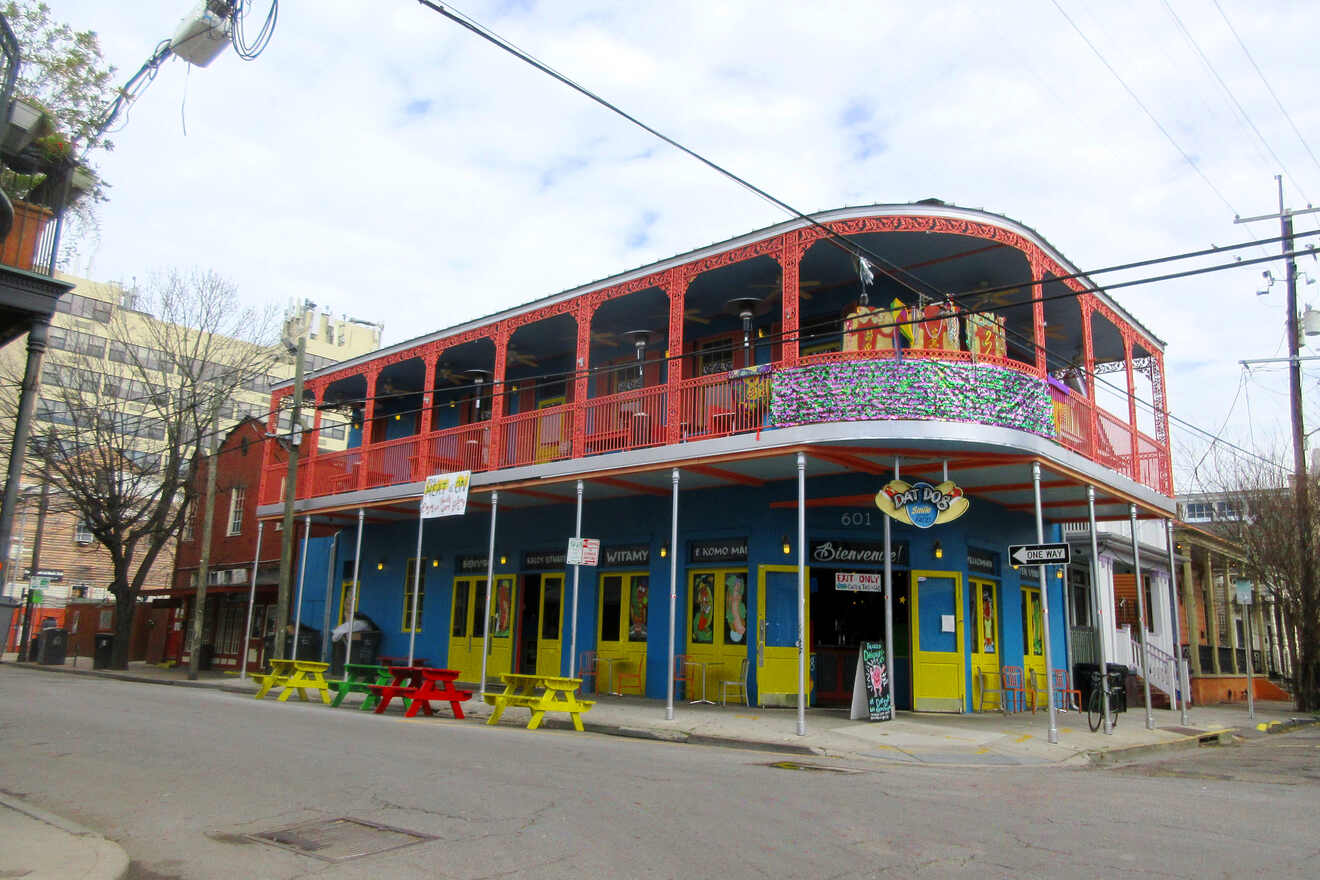 In New Orleans, if you are looking for an area with a bohemian atmosphere, laid-back vibe, and local music venues, Faubourg Marigny is the perfect neighborhood for you!
Located just a 15 minutes walk northeast of the French Quarter, Faubourg Marigny will offer you nice local pubs, live music venues, trendy restaurants, and cool tattoo parlors. You will have difficulty choosing one among so many nice places!
Frenchmen Street is the main street of this area and where music lovers will go crazy. It is the heart of live music venues like jazz bars, music clubs, and walking marching bands. If this is what you are looking for in your New Orleans trip, you will have so much fun in Faubourg Marigny.
Let's check out the best accommodations in this colorful neighborhood:
Other accommodation options in Faubourg Marigny
Things to do in Faubourg Marigny
5. Garden District – the coolest neighborhood in New Orleans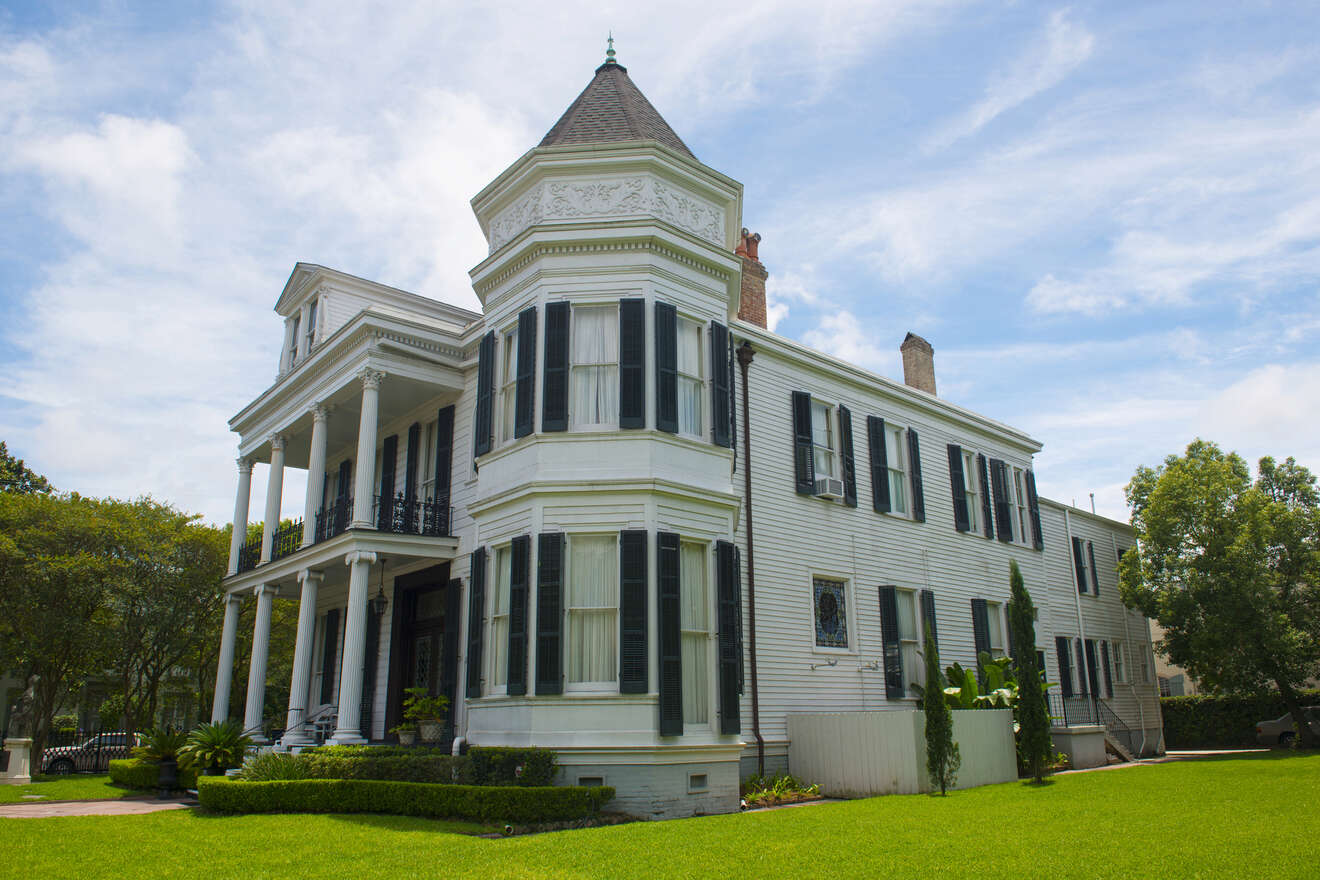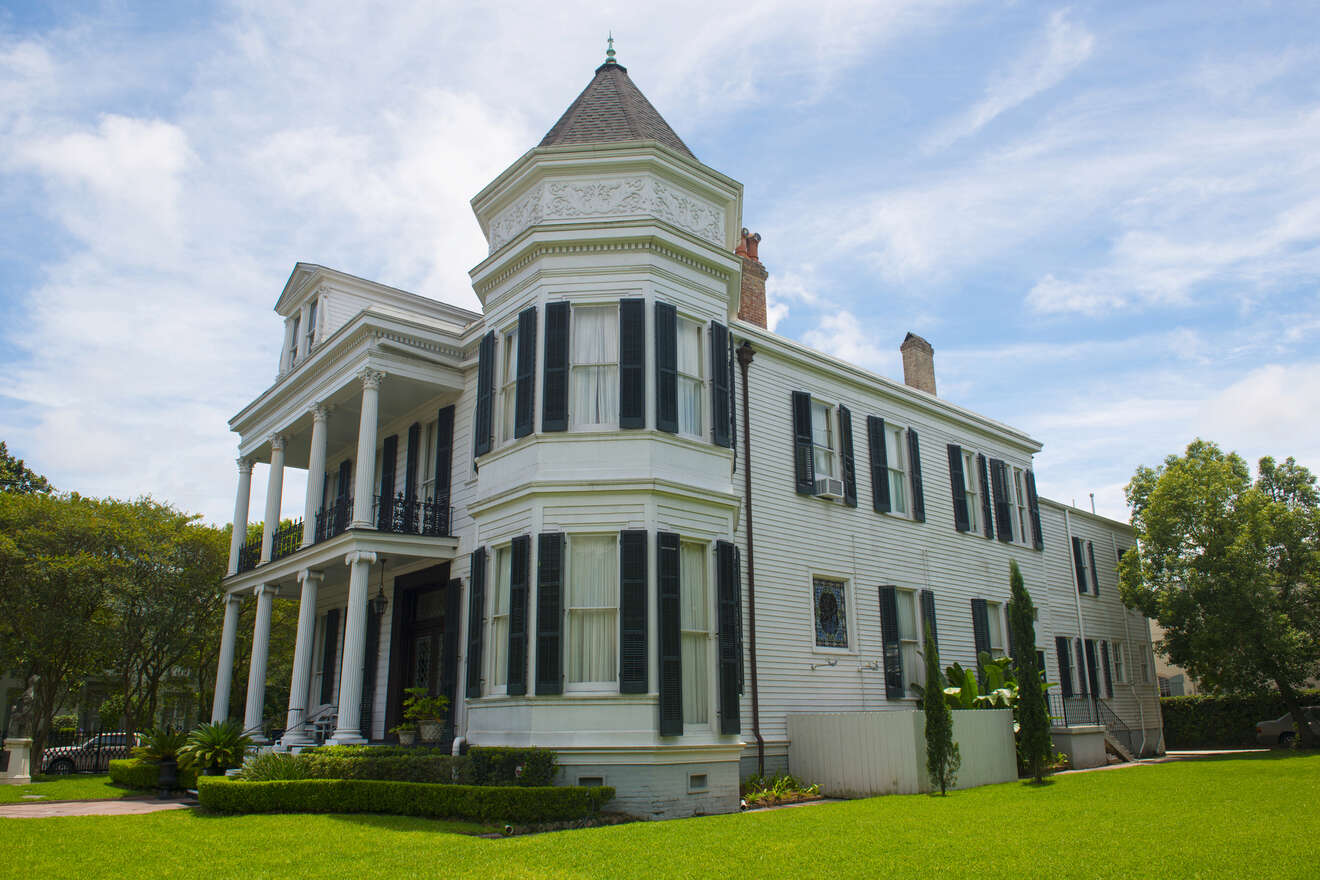 The Garden District is located on the south side of New Orleans downtown (just a 10 minutes drive). It is a very cool area famous for its historic mansions, elegant boutiques, and nice cafes. The best way to enjoy the Garden District is simply by having a stroll along beautiful streets, spotting colorful mansions, and enjoying chic cafes in between.
If you are a person like me who loves to be surprised by streets that come up with new things around every corner, you will enjoy this stroll for sure!
If you head uptown you will reach the Lower Garden District. It is not as fancy as the garden district but here you will find many pubs and budget-friendly restaurants. Another great way to wander around this neighborhood is by renting a bike. By bike, you can easily reach other neighborhoods and also enjoy some time in the parks.
Of course, the laid-back, elegant neighborhood of the Garden District offers many nice accommodation options too. Here are some of my favorite places I chose for you:
Other accommodation options in Garden District
Things to do in Garden District
Frequently asked questions about New Orleans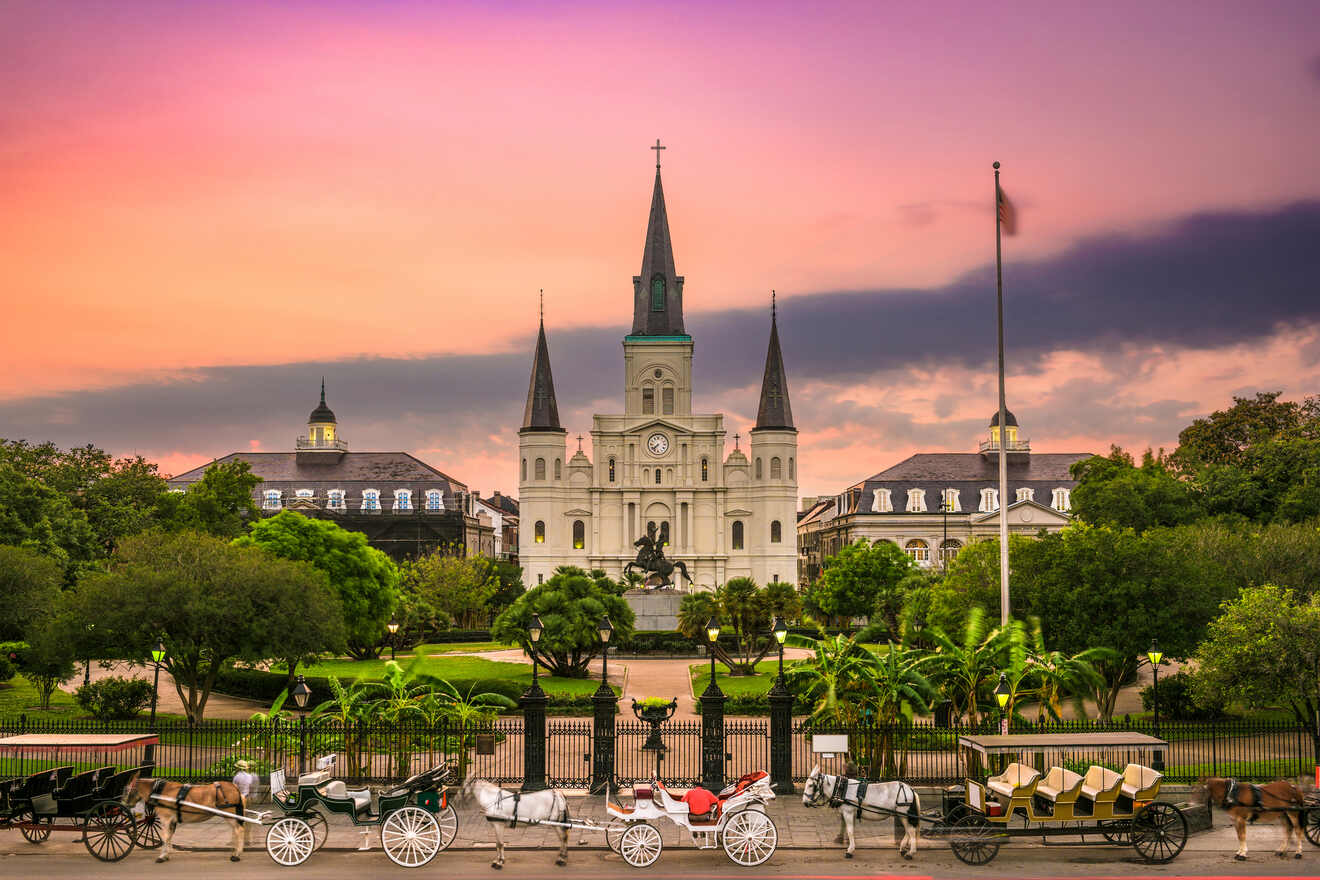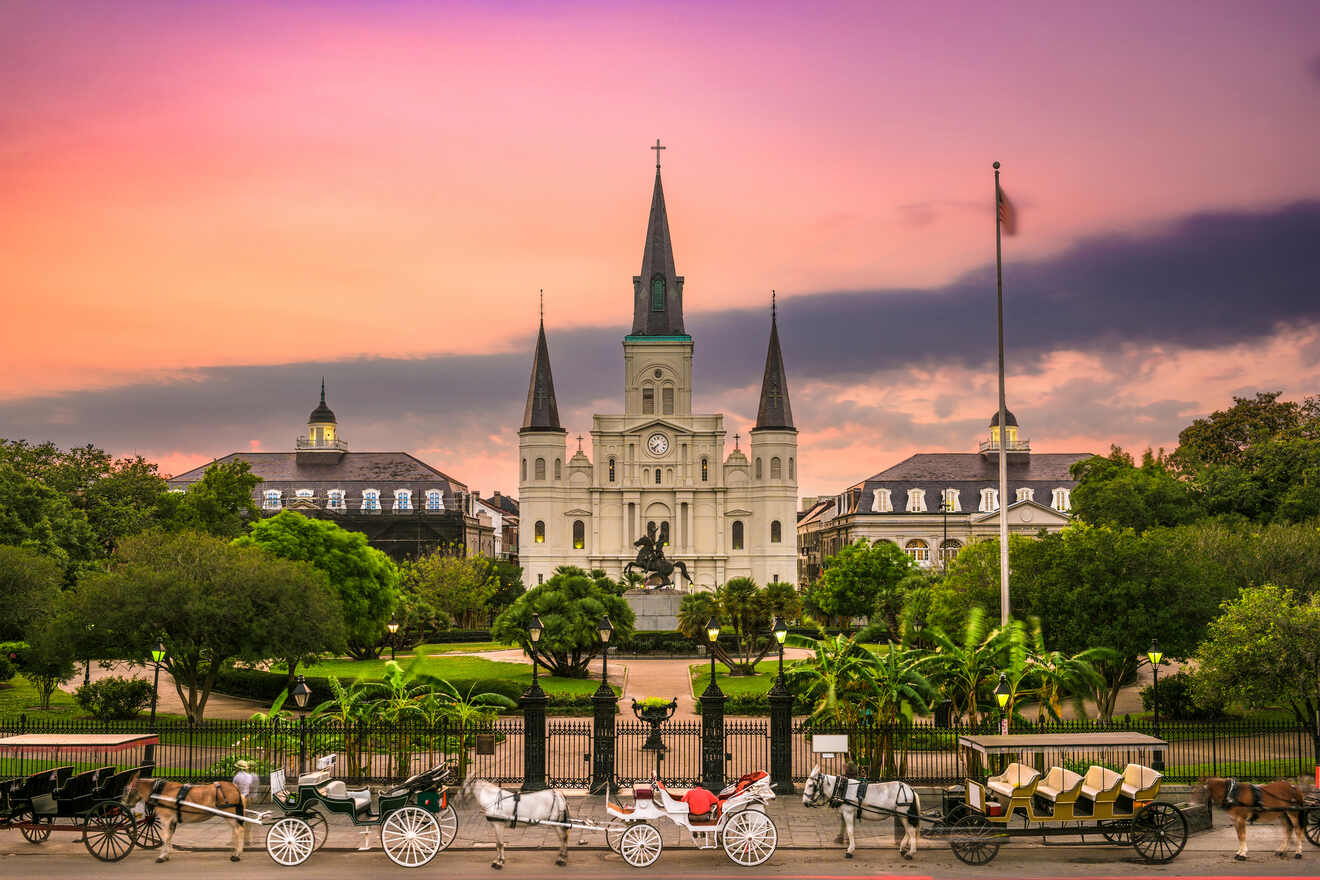 Conclusion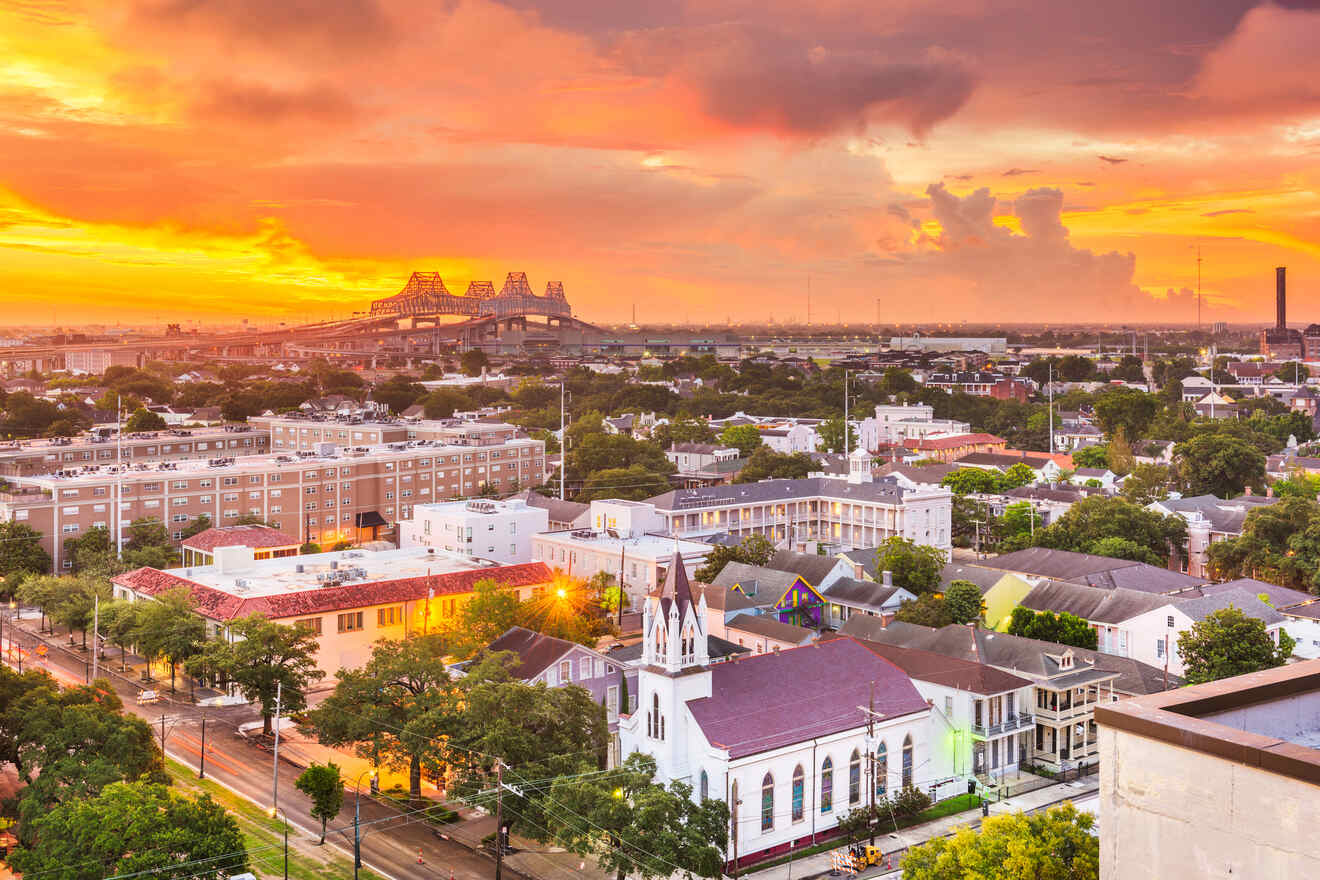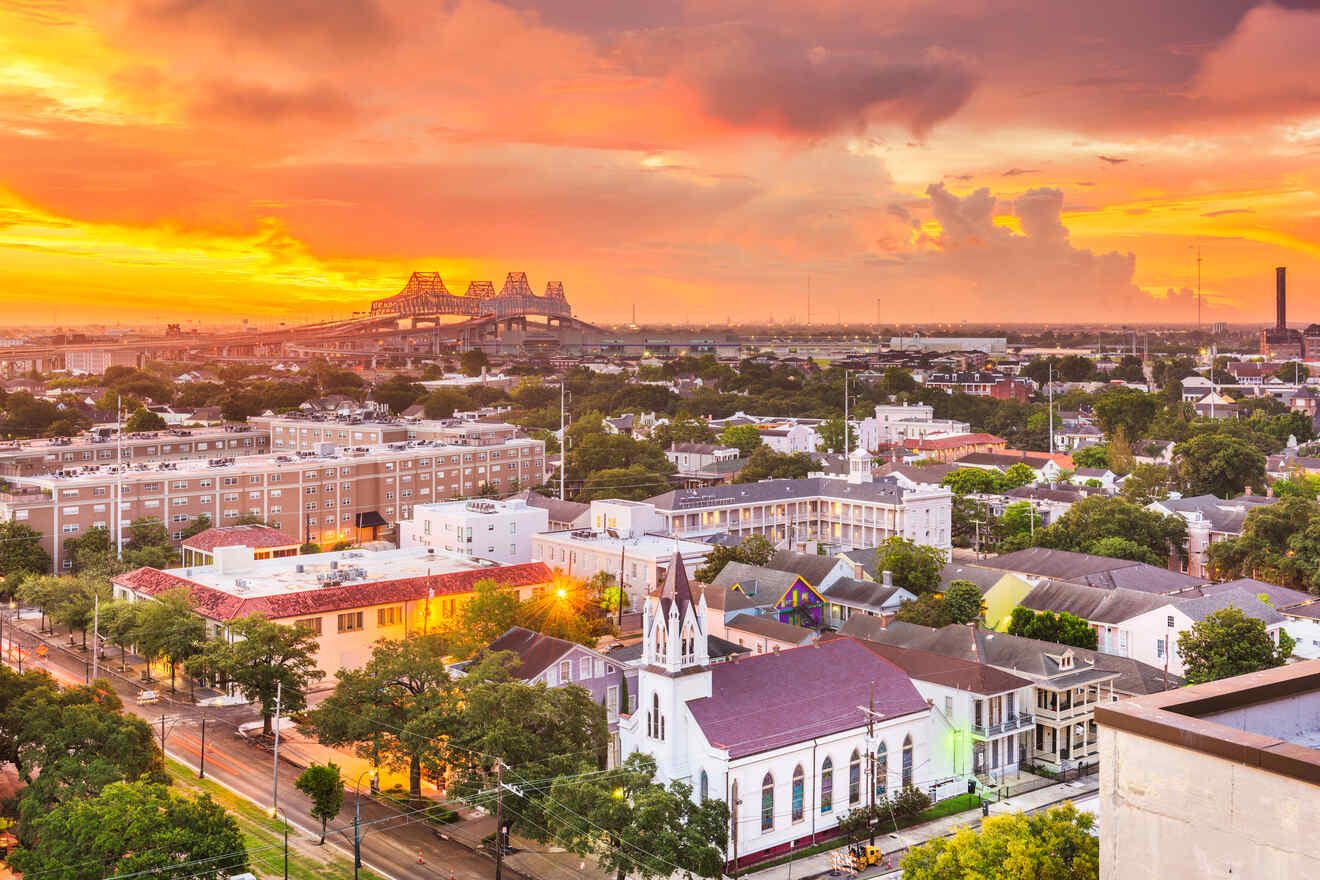 We've arrived at the end of our journey in Big Easy streets. I hope that this travel guide helped you to find your ideal place to stay in New Orleans and you are already looking forward to your trip. In this travel guide, I talked about the nicest areas to stay in New Orleans, with the best hotels as well as Airbnbs in each neighborhood.
To wrap up, here are the best 2 hotels to stay in New Orleans where I would definitely recommend you to choose. They both have good locations and great reviews too!
New Orleans is the most popular city in Louisiana, so, in order not to miss your perfect hotel don't forget to make a reservation now!
If you have any other suggestions or questions about New Orleans, please leave a comment below. I'll be happy to leave a reply to them!
Enjoy your time in New Orleans,
Eylul