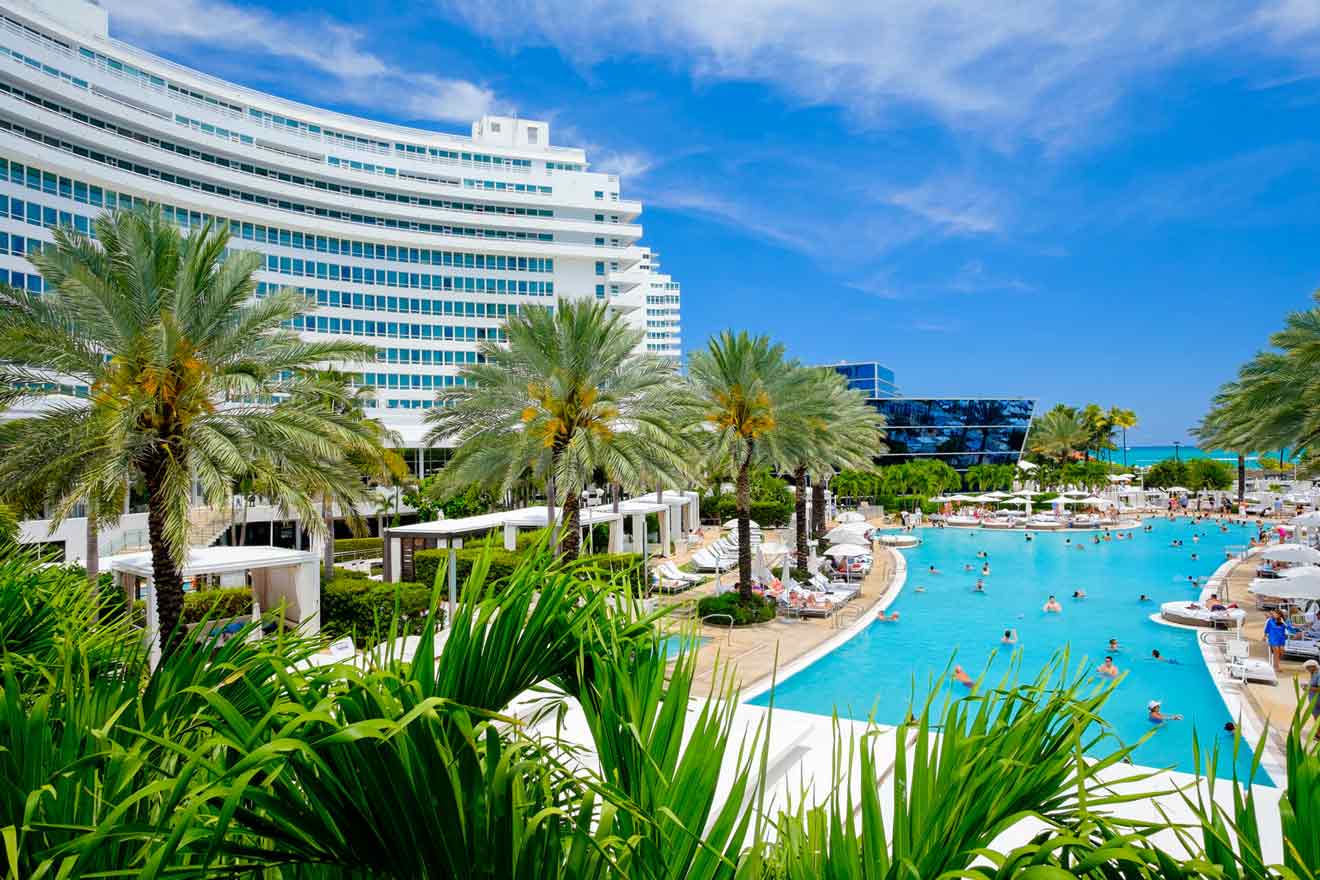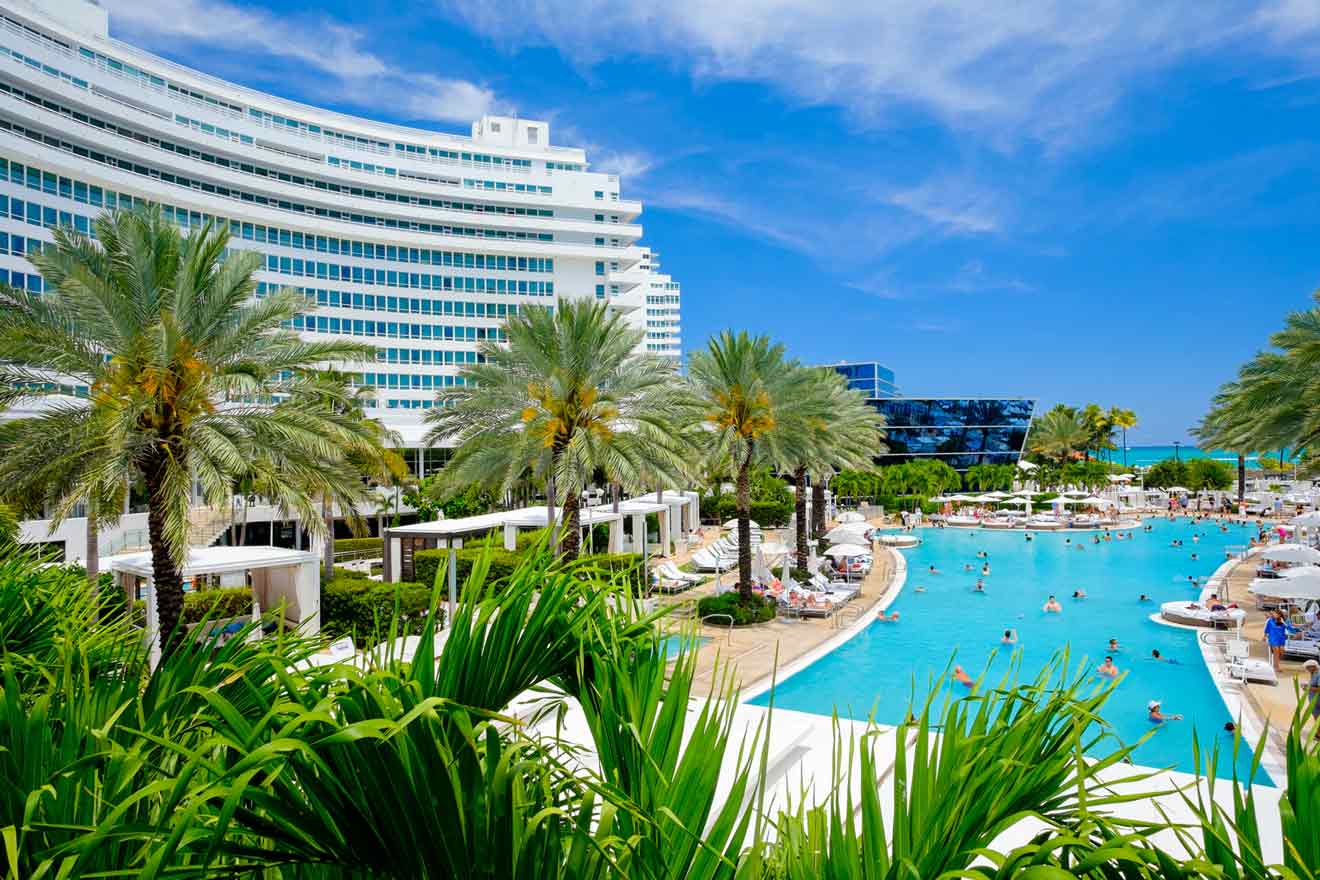 Looking for the best all-inclusive resorts in Florida for a family vacation? Well, you came to the right place!
To save you some precious time researching, I have already collected here all the top Florida all-inclusive family resorts and divided them by their special feature: they are also sorted in descending order from the most expensive to the least.
All the resorts mentioned here will give you access to all-inclusive packages and facilities for the entire family, from swimming pools to theme parks, kids clubs, tennis and basketball courts, access to water sports, beautiful beaches, and much more!
The only thing you need to do at this point is look for the best one for your travel needs, and when you have found it, book it in advance! These accommodations are super popular, and they get booked out super fast!
And now… let's jump right in!
If you are in a hurry
If you don't have time to read the whole post, check out this quick list of the best all-inclusive resorts for family vacations:
Since Florida is a big state, here's a map to visually see where each one of this top all-inclusive Florida family hotels is located:
1. Little Palm Island Resort & Spa – top private island resort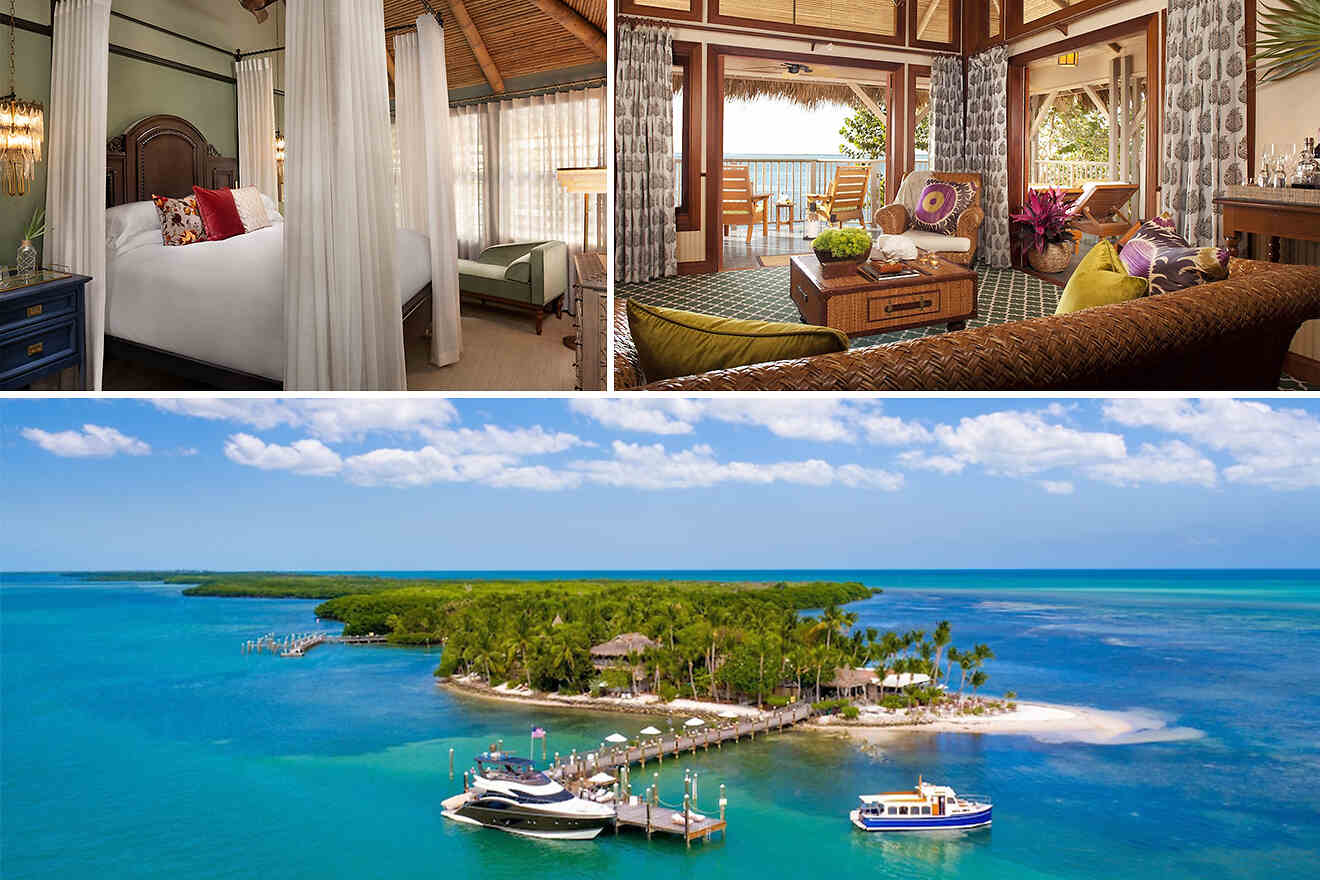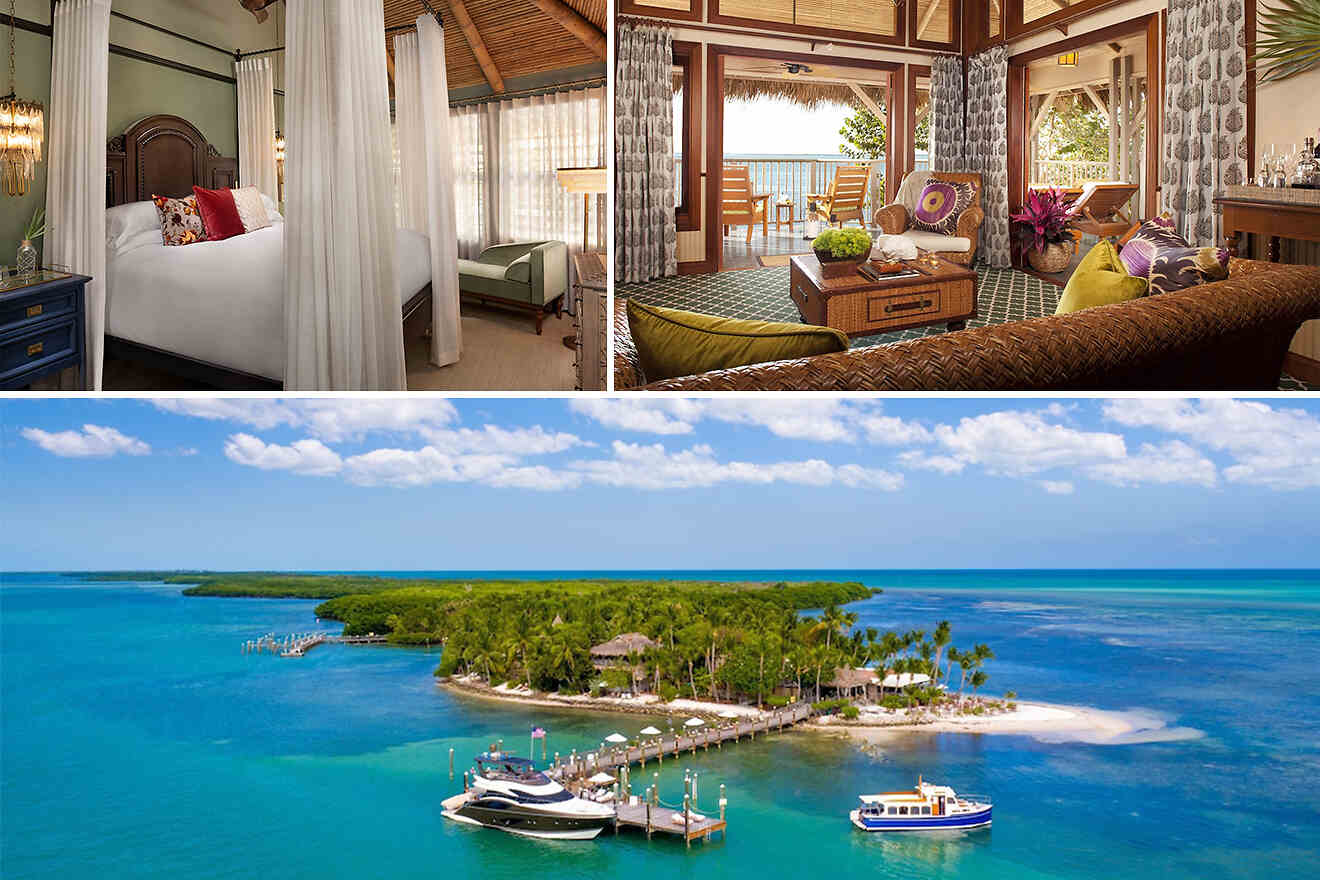 If you're looking for a unique family vacation, the luxury Little Palm Island Resort & Spa is for you, located on a private island off the coast of Little Torch Key, in the Florida Keys!
To get to the resort, you will need to take a boat or seaplane (how cool is that?!), and once there, they will take you immediately to one of the spacious rooms with private balconies.
Here you will have access to relaxing facilities like an indoor and outdoor full-service spa with a hot tub, and at the same time cool activities for the whole family, such as kayaking, snorkeling, scuba diving, sailing, skydiving, dolphin viewing, eco-tours and much more. There will be something for literally every taste!
2. Four Seasons Resort Orlando – a Walt Disney World Resort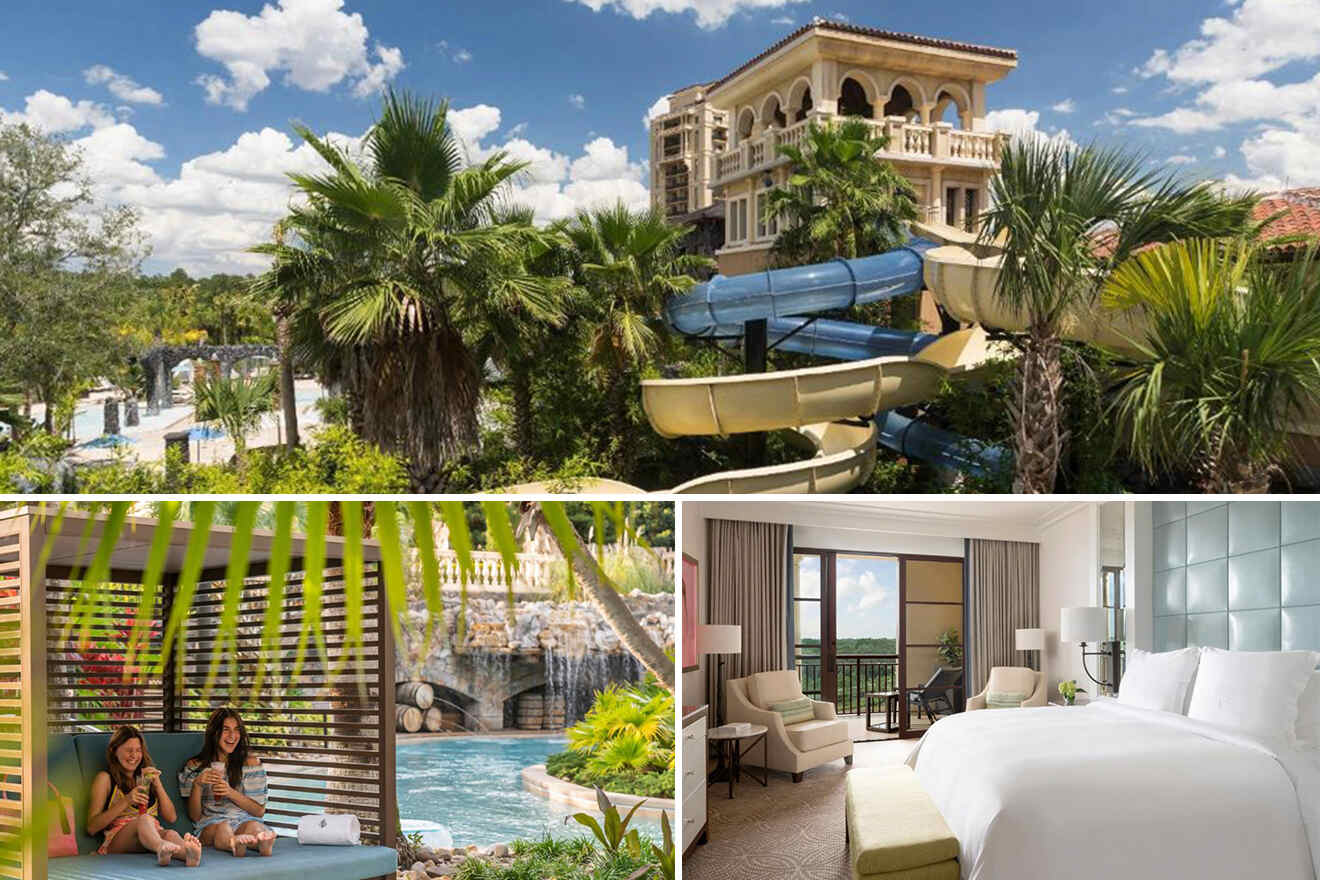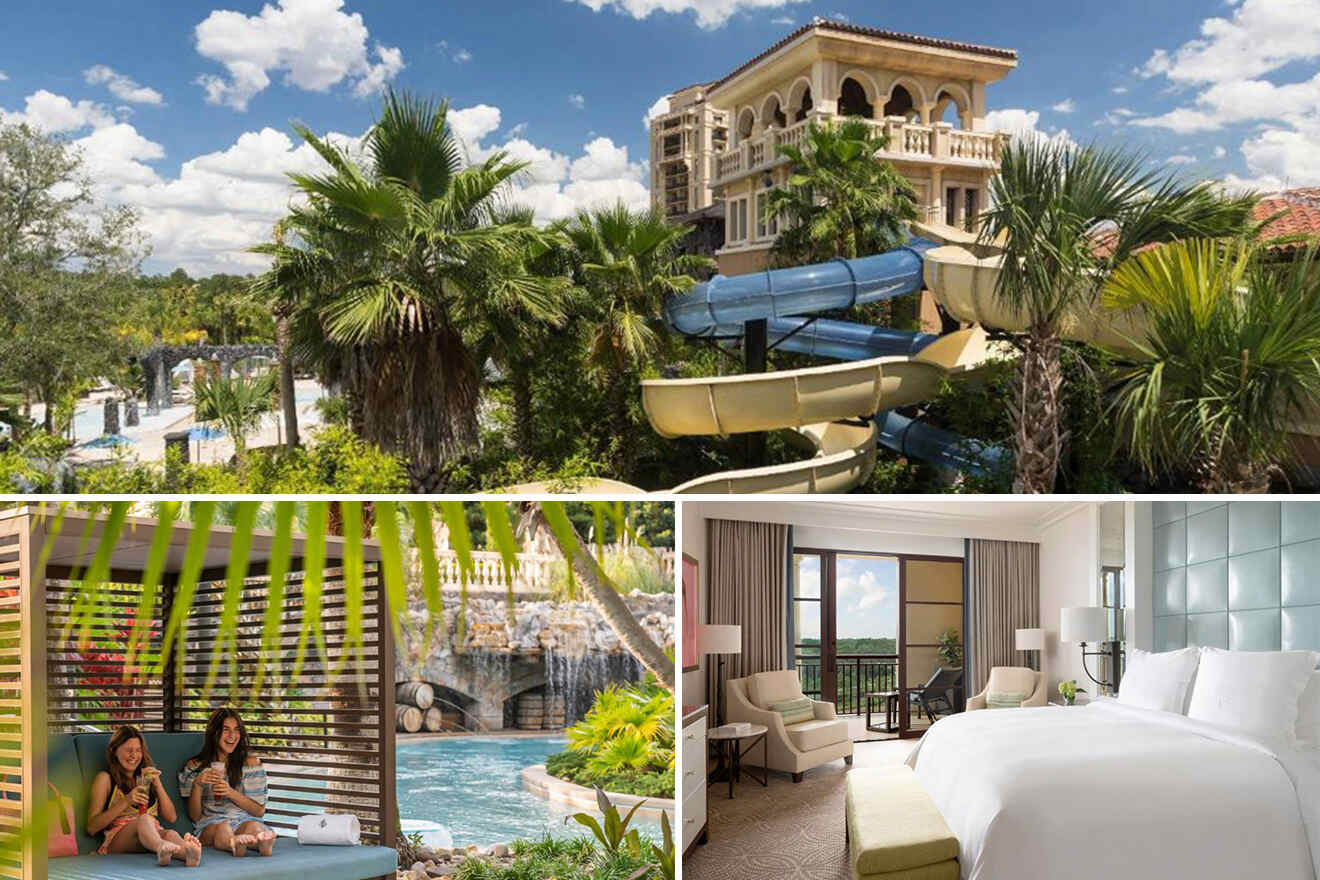 This kid-friendly resort is definitely one of the best options for families in Florida, offering an inclusive vacation package, luxury amenities, and complimentary transport to the 4 Disney parks around the resort in Orlando – one of the best places to stay in Florida!
But they will have as much fun inside the property, where you'll find a playground with a family pool, water slides and a lazy river, a "Kids for All Seasons" camp for small children from 4 to 12, and free dining for ages 5 and under at any of the on-site restaurants! And to start the day in the best way, bring your kids to have breakfast with a Disney character at "The Good Morning Breakfast"!
3. The Ritz – Carlton, Amelia Island – top oceanfront resort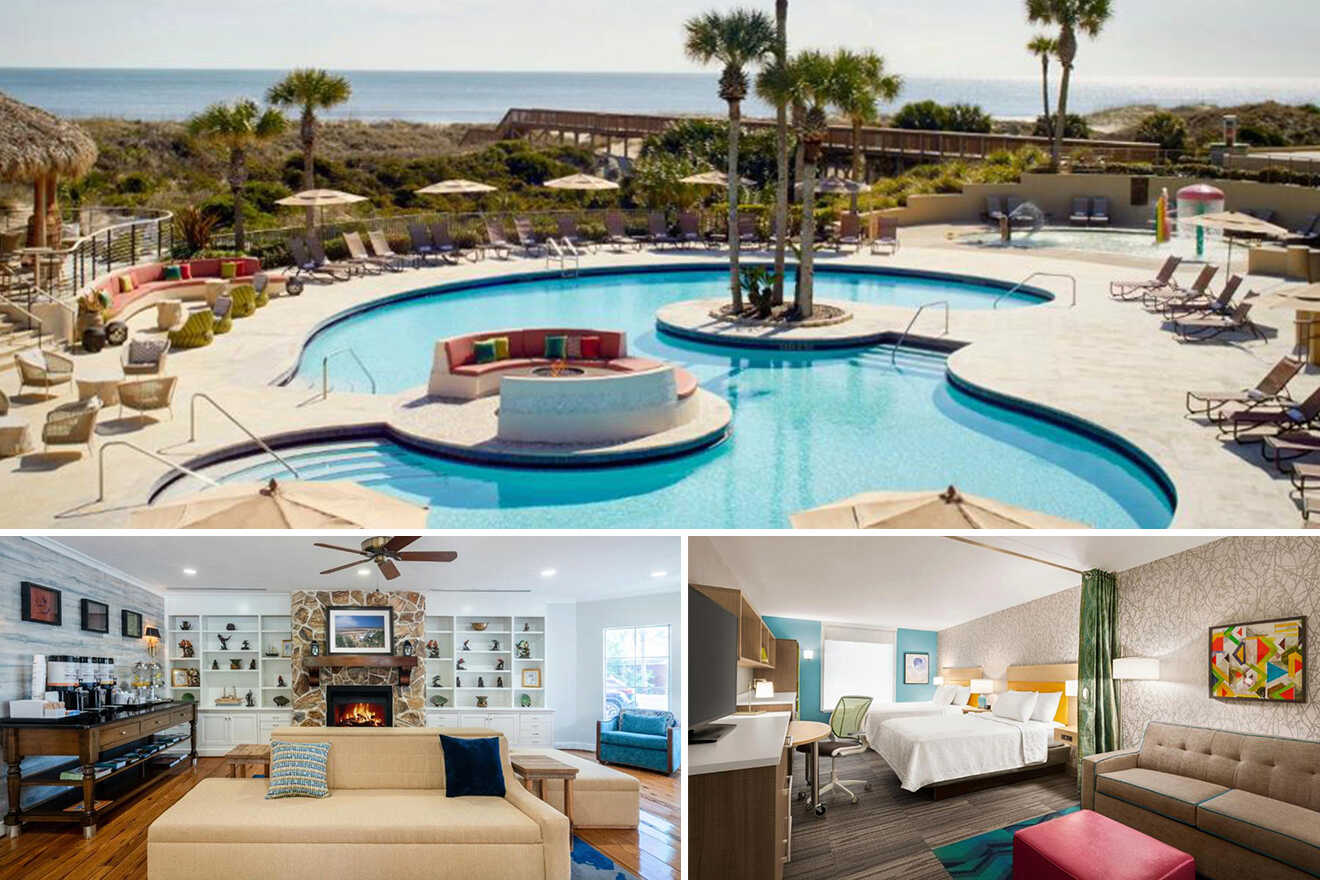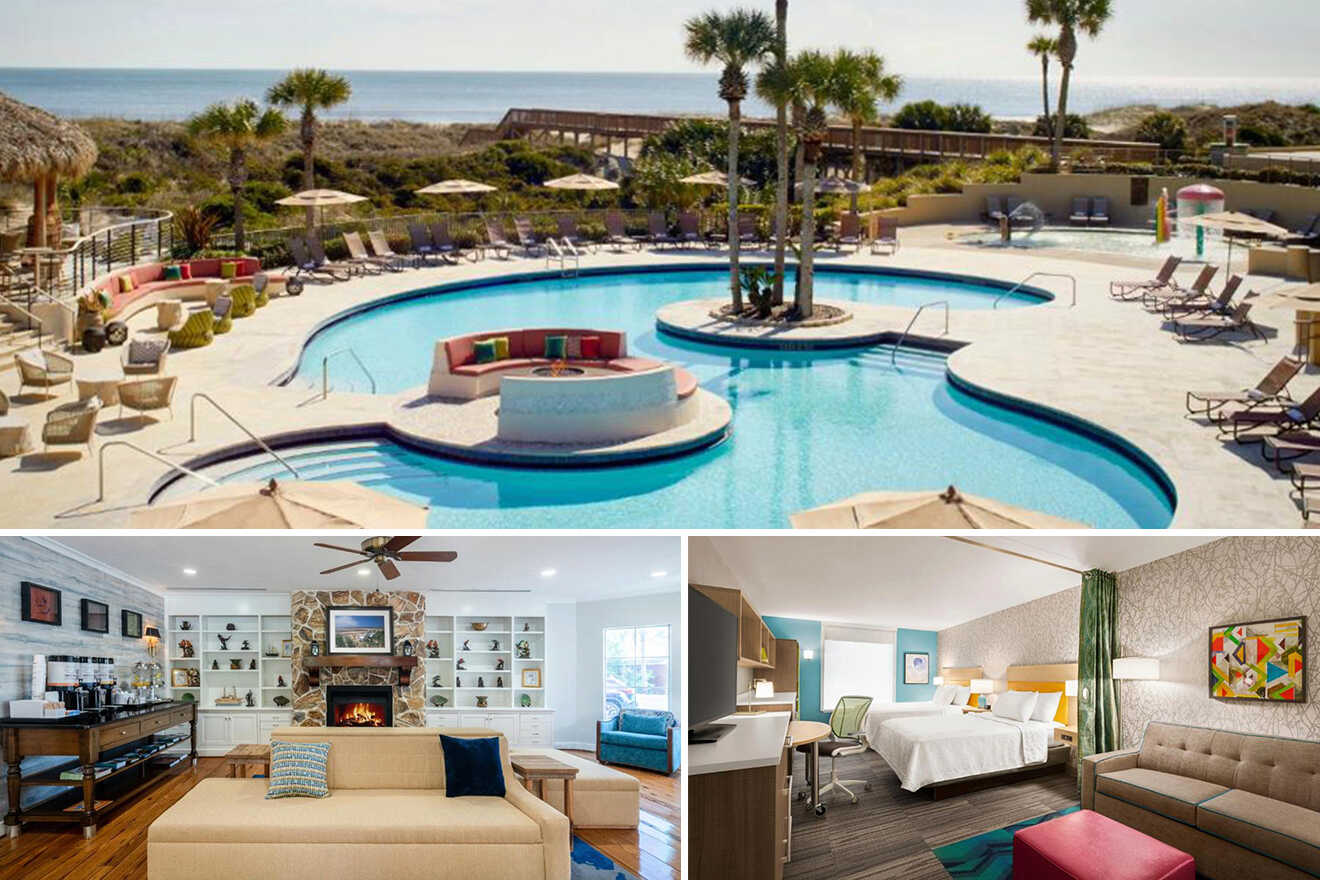 Located on Amelia Island, on Florida's northeastern coast, this luxury resort is perfect if you want to have the ultimate beach vacation with your family, offering direct access to a pristine white beach and blue waters.
Here you will wake up with stunning ocean views directly from your bed and have breakfast on your private balcony while smelling the fresh sea breeze! During your day, you can either have a relaxing hammock massage or stay in shape at the fitness center, while your children learn how to take care of the environment with one of the Ritz Kids programs!
4. The Don CeSar – for the best activities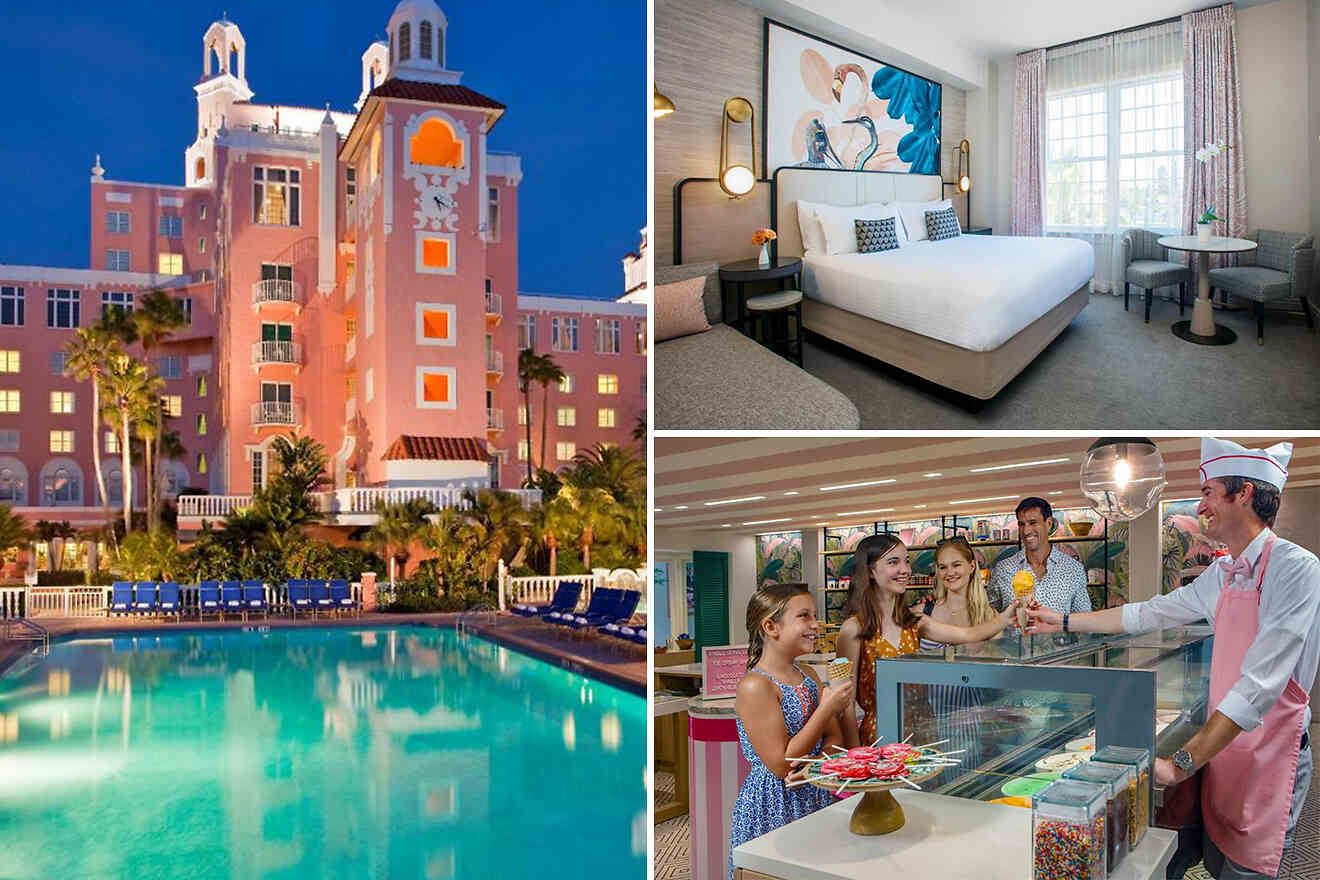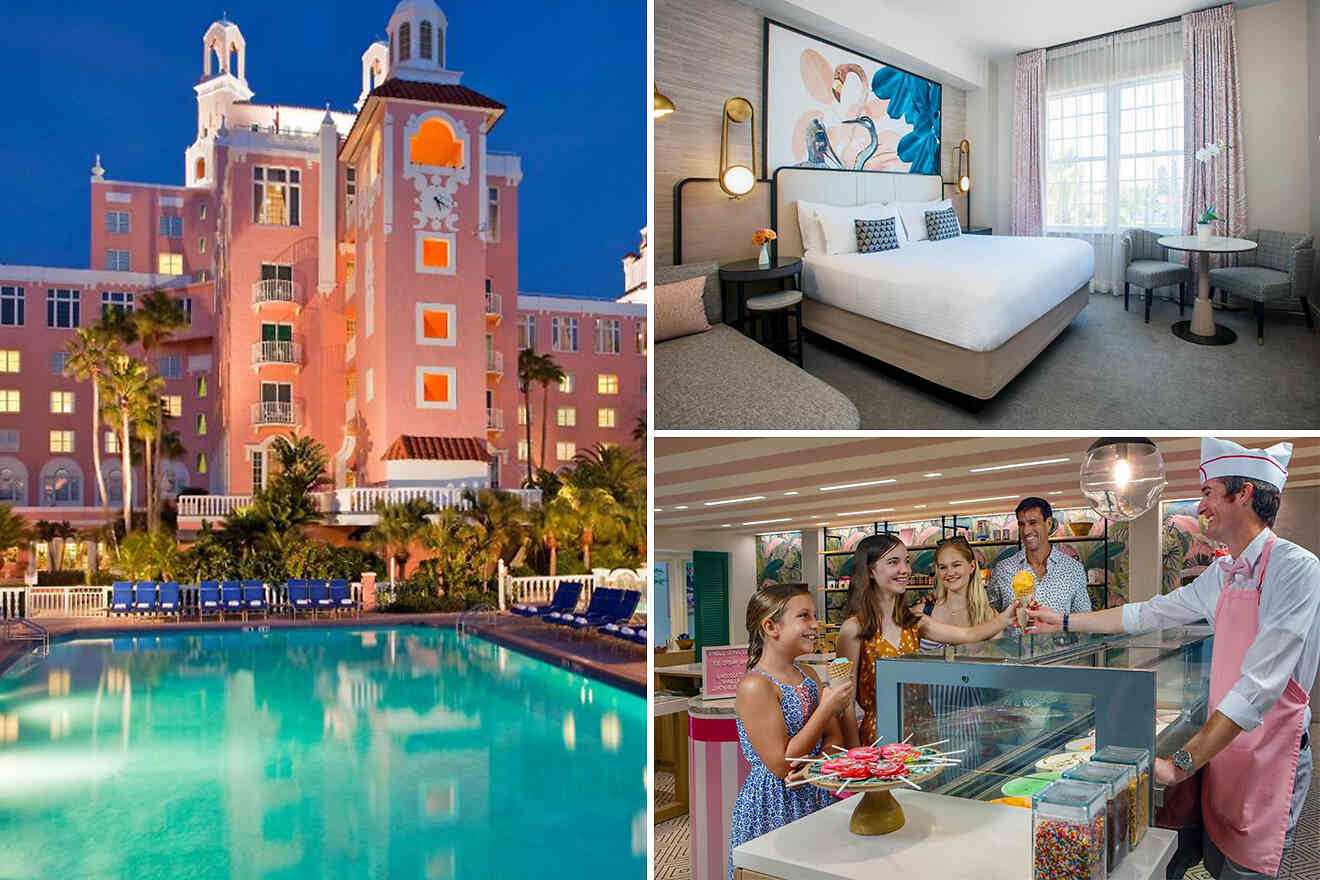 If you belong to the type of family who wants to participate in as many activities as possible during your holiday, this all-inclusive resort in St. Pete beach is for you! In fact, here, you can join many water sports, such as jet skiing (there are water sport rentals available on-site), partake in beach yoga, and leave your children having fun with the children's programming offered.
Here the all-inclusive resort fee includes complimentary valet parking, a daily US$150 food and beverage credit to consume at any of the resort's restaurants and lounges, and access to many cool facilities. Some examples? A big swimming pool with a poolside bar for relaxation, a private beach to soak up some sun in privacy, and a fitness center to stay in shape.
5. Treasure Island Beach Resort – the most intimate resort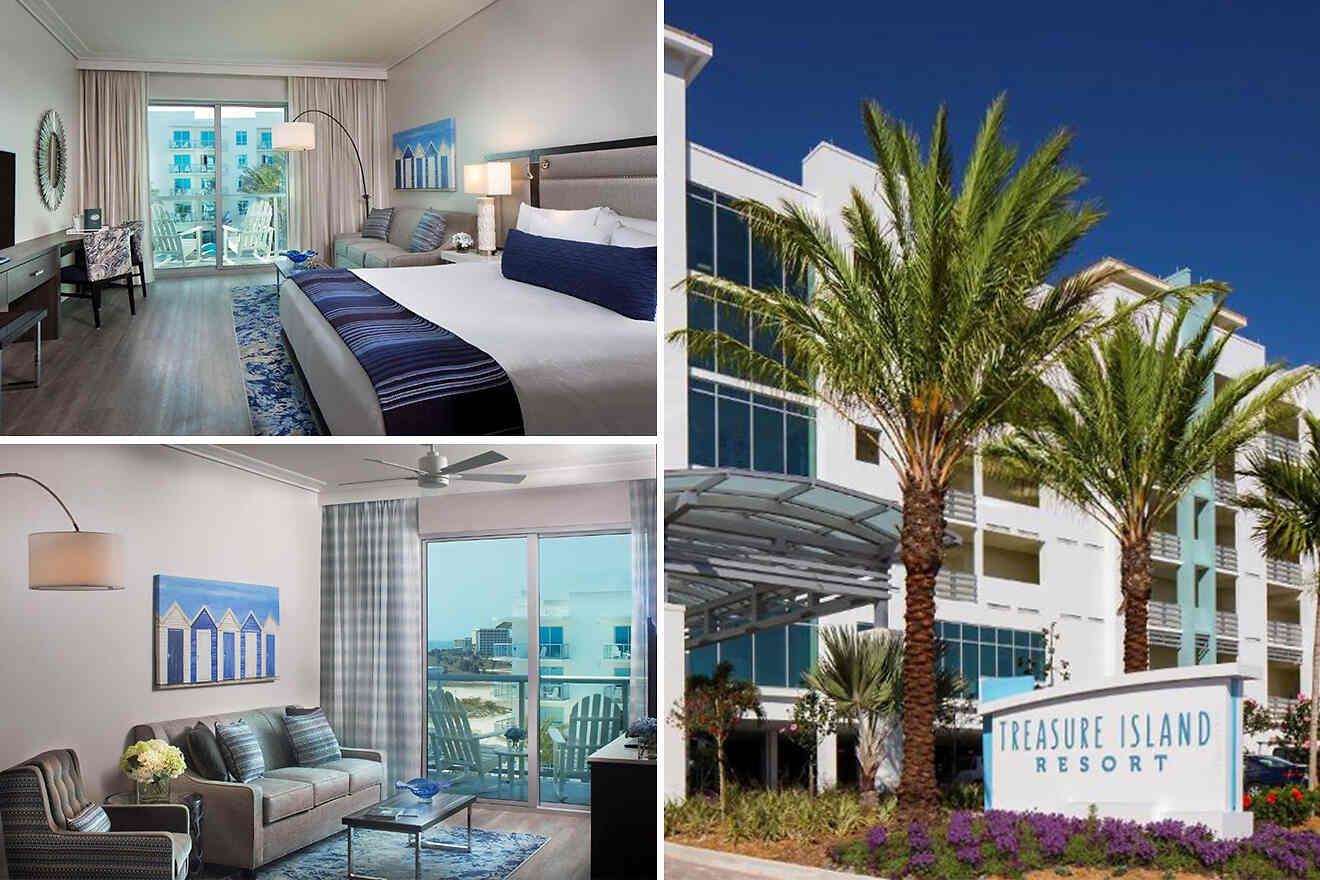 Located adjacent to St. Petersburg, the Treasure Island Beach Resort is the perfect place if you want to spend some intimate moments with your loved ones, offering only 77 suites and access to a stunning golden beach just a few steps away from your room!
Whether you want to relax or take part in entertaining activities, this resort won't let you down: here you can spend the day swimming, sailing, and windsurfing, soaking up some sun at the beach, or relaxing at the hot tub. Another plus? The Clearwater Marine Aquarium is just a short drive away from the property – just the perfect place for a family day trip!
6. Sandpearl Resort Private Beach – for flexible family packages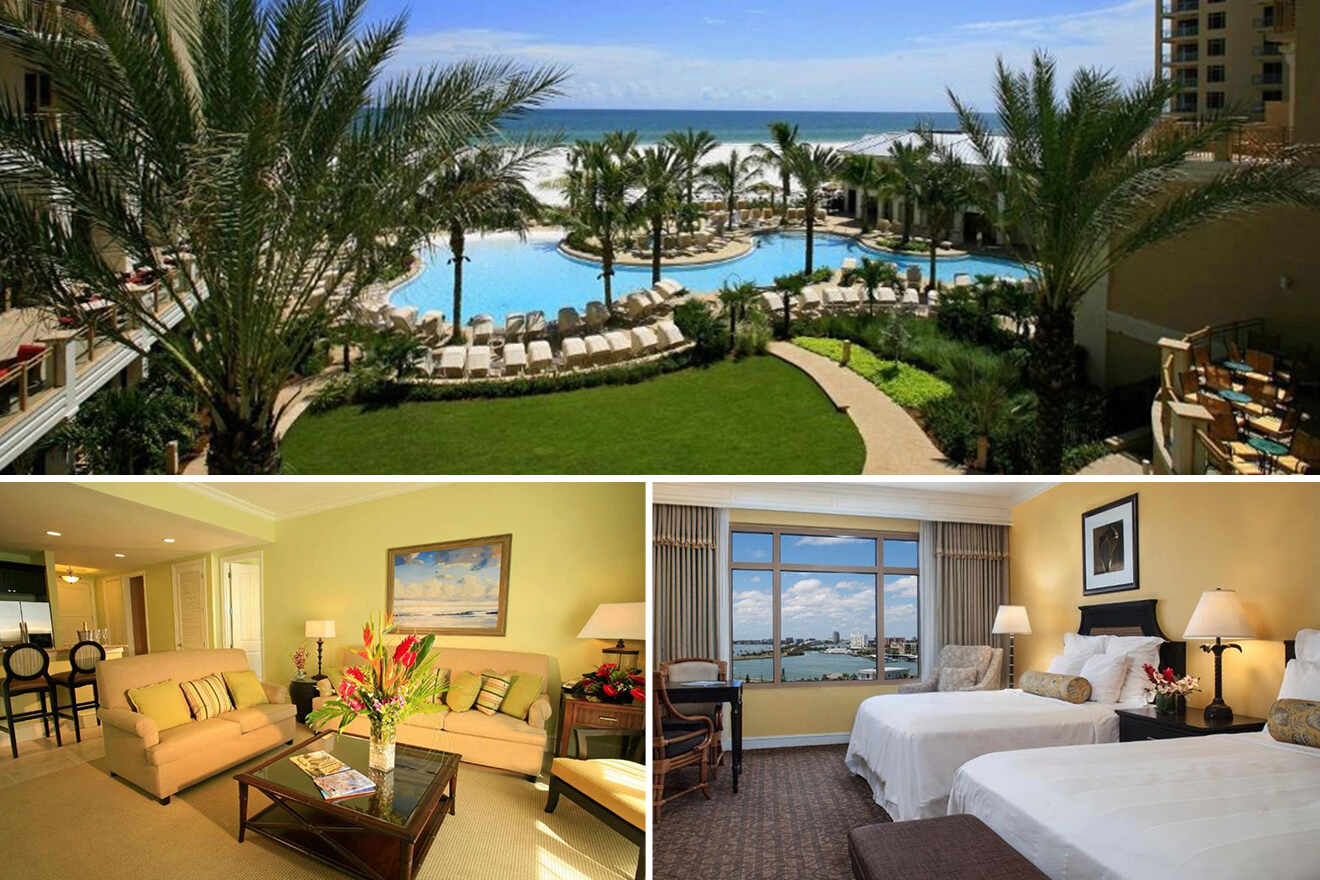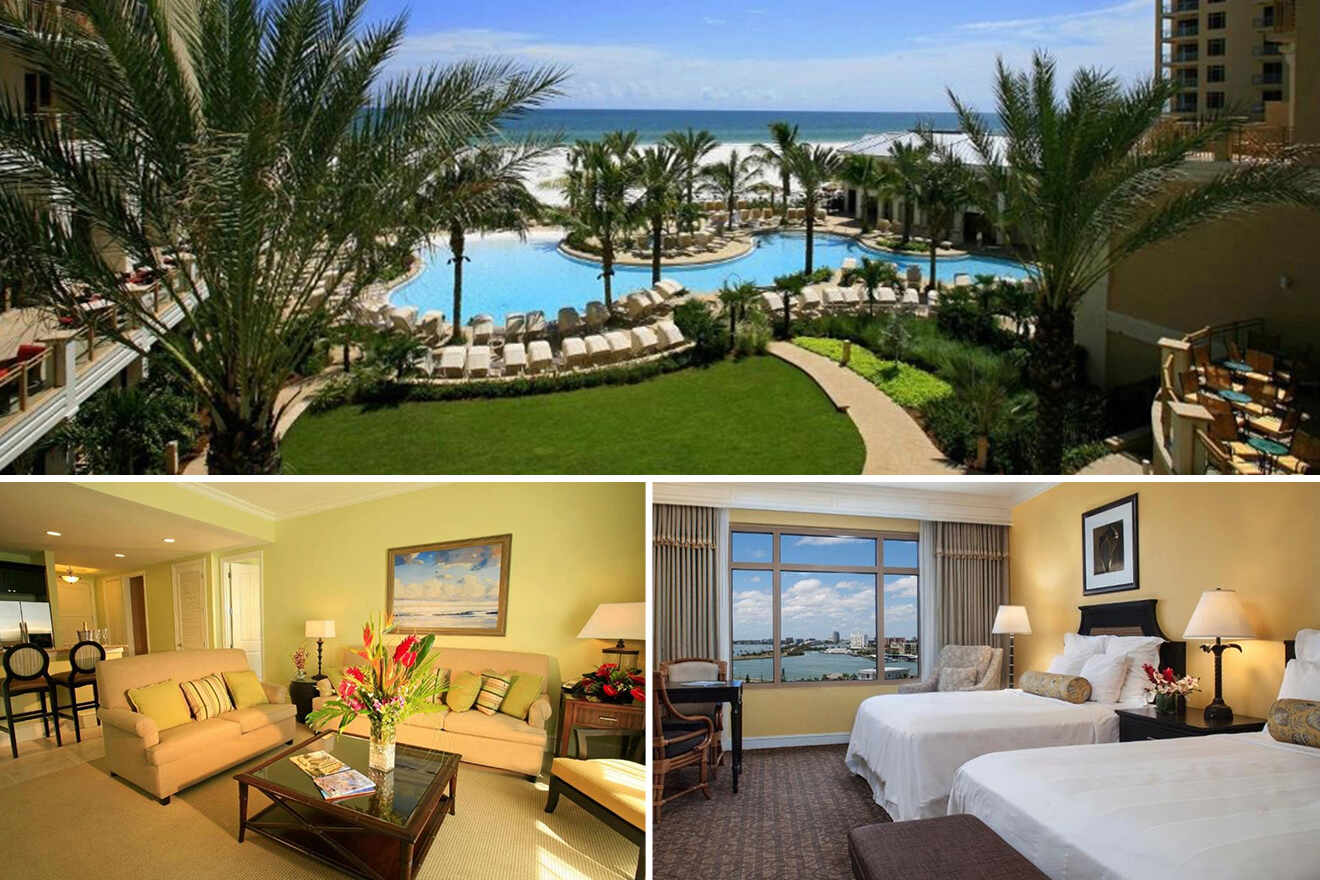 Located on a stunning private beach in Clearwater, this is a true all-inclusive resort, offering a flexible "Build Your Own Vacation" package so you can customize your family holiday and choose your favorite add-ons based on your interests!
Any all-inclusive option you choose will give you access to some incredible facilities and amenities, from a lagoon-style pool where you can just chill to a beachfront fire pit where you can gaze at the star or listen to the sound of the ocean after dinner and the kid-friendly Camp Ridley, where children from the ages 5 to 10 can learn about Florida's wildlife!
7. Costa d'Este Beach Resort & Spa – for watersports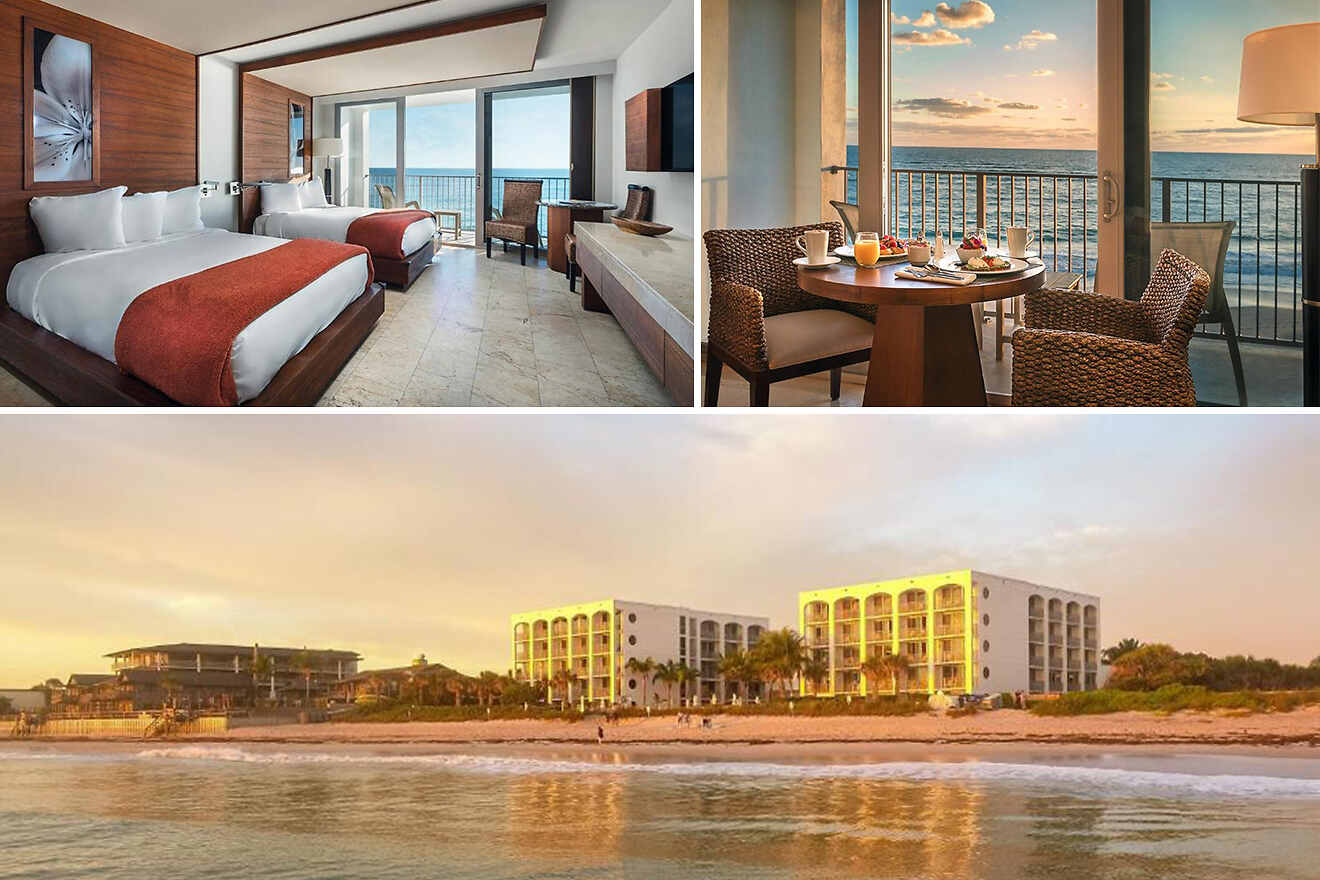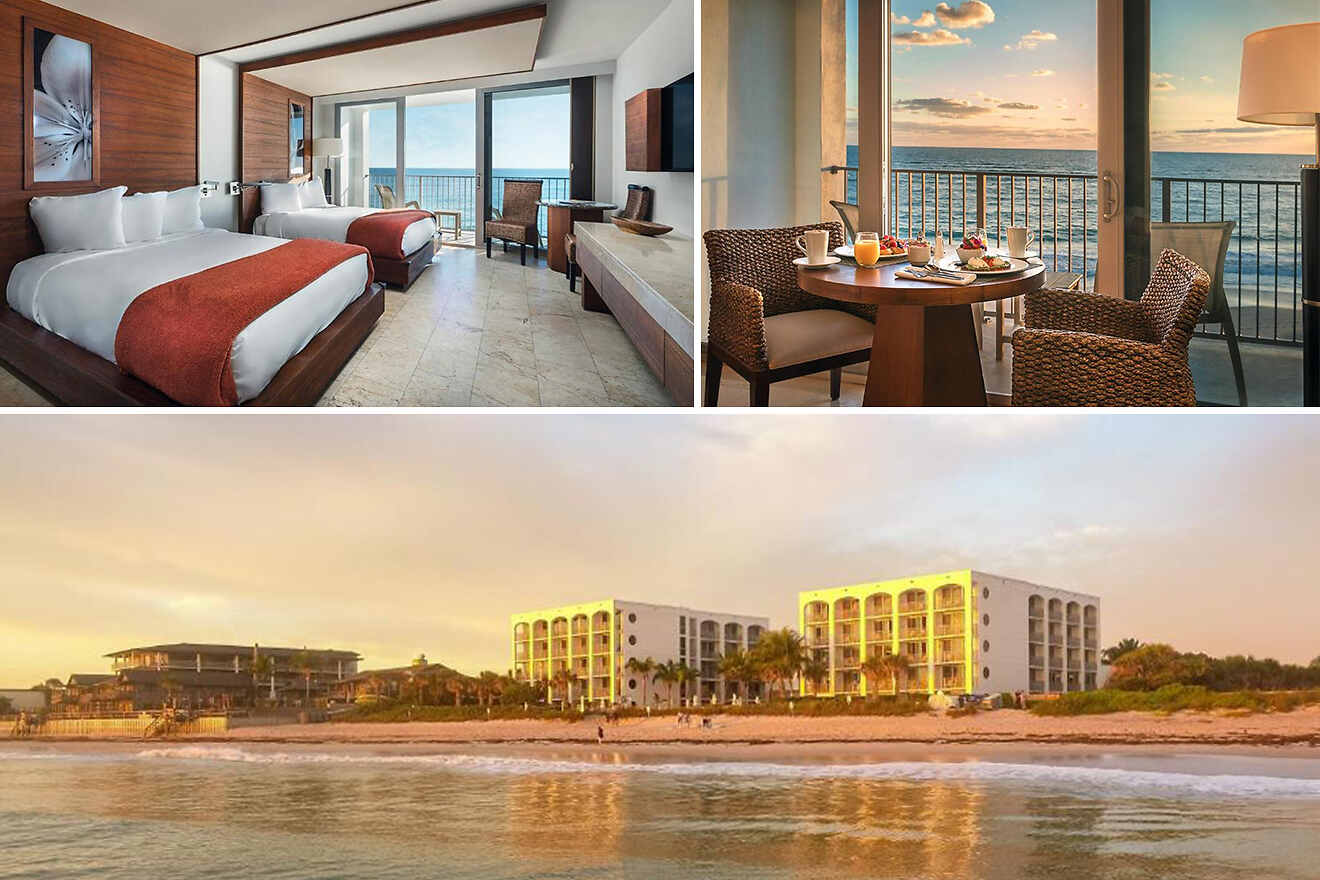 If you and your family are fans of watersports, the Costa d'Este Beach Resort & Spa, located on the beautiful Vero Beach, is THE place for you, offering access to endless activities like surfing, scuba diving, and deep-sea fishing, and there is even a top-rated golf course at a short drive for those who prefer to stay on the ground!
And wait to see the rooms, all boasting gorgeous water views, floor-to-ceiling windows, comfy beds, and some of them (the ones on the ground floor) even have a private garden and an outdoor cabana, so you can enjoy full privacy!
8. LEGOLAND® Florida Resort – for the best Florida theme park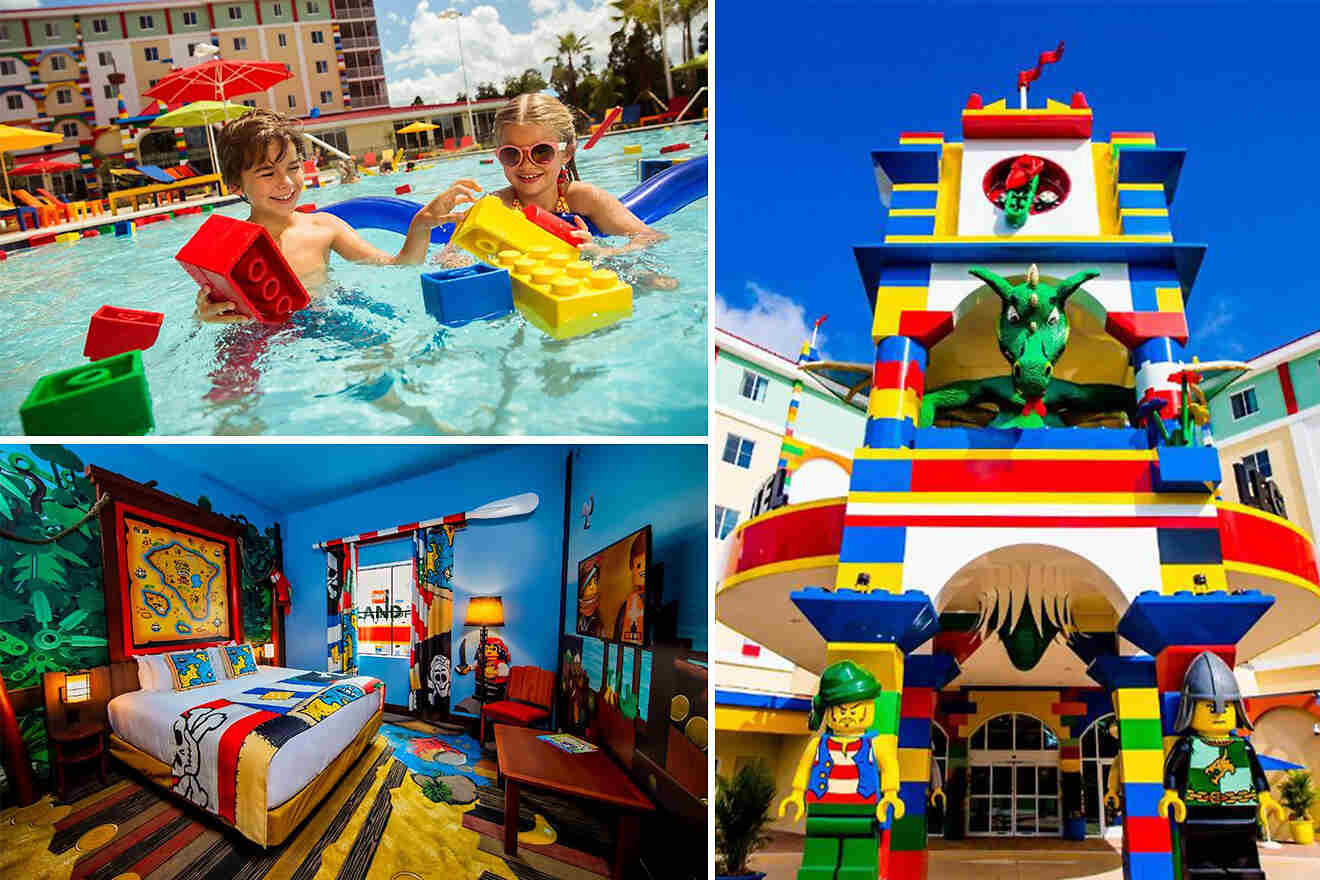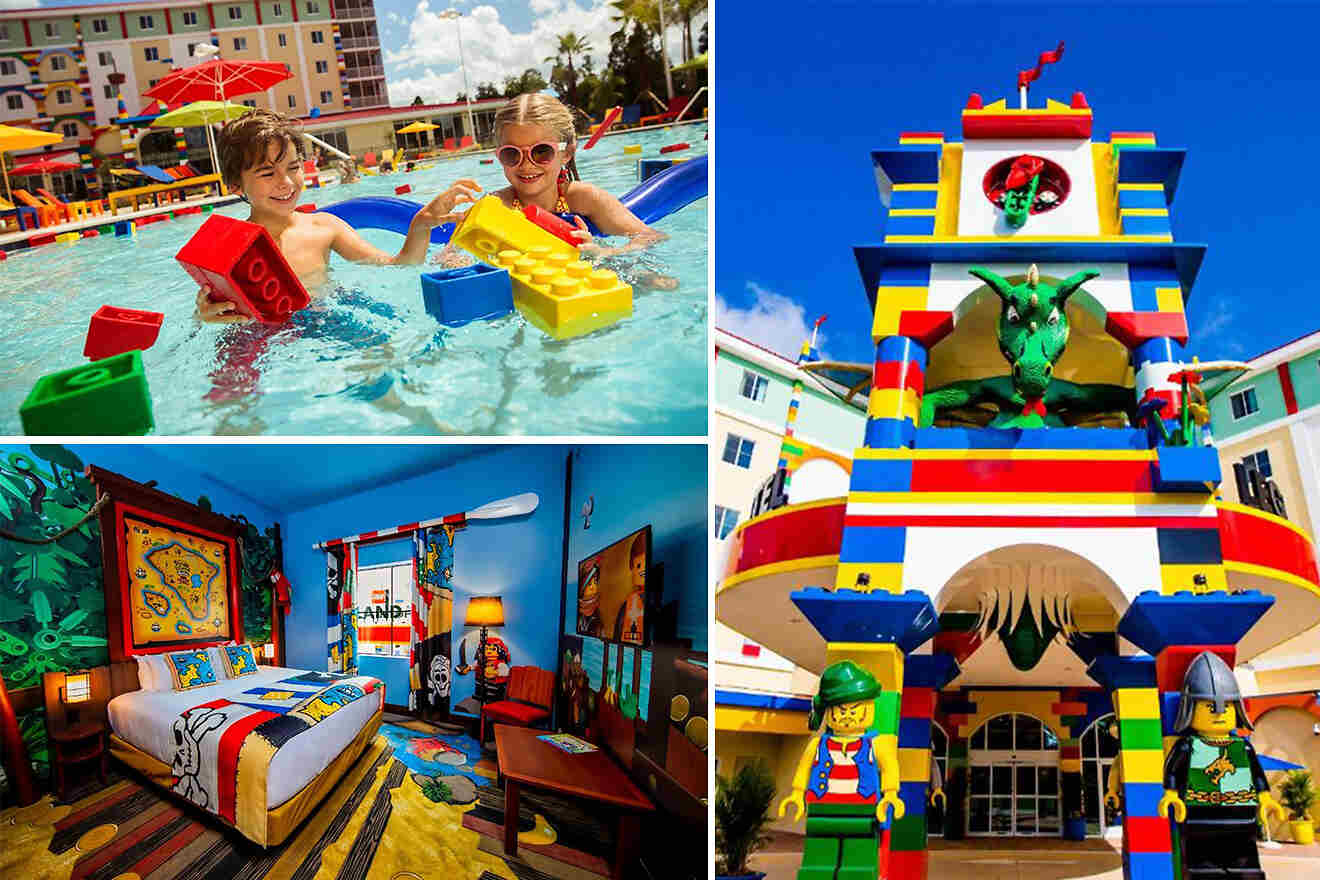 Located in Orlando, literally a few steps from the LEGOLAND® Florida theme park entrance, the LEGOLAND® hotel offers a cool and unique stay for both kids and parents, hosting a cool waterpark with floating lego and Lego characters roaming around the property!
If you choose the all-inclusive package, you will have free tickets to the LEGOLAND® Theme Park and Water Park, choose your favorite themed room (each one including a kid's area, and large Lego creations), and have access to an on-site spa, free mini golf and an in-park photo package, so you will remember these special moments forever!
9. Pink Shell Beach Resort and Marina – the best family rooms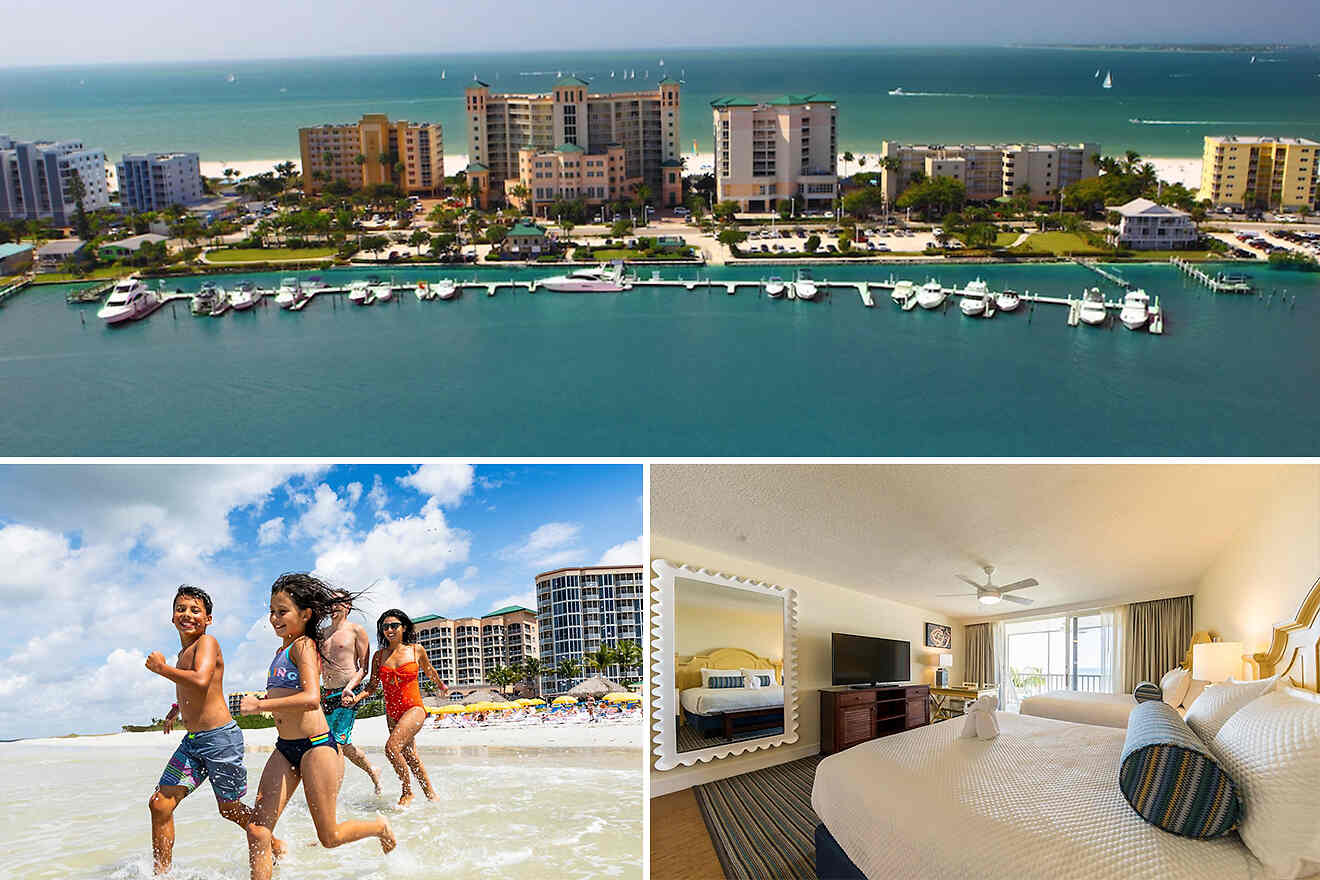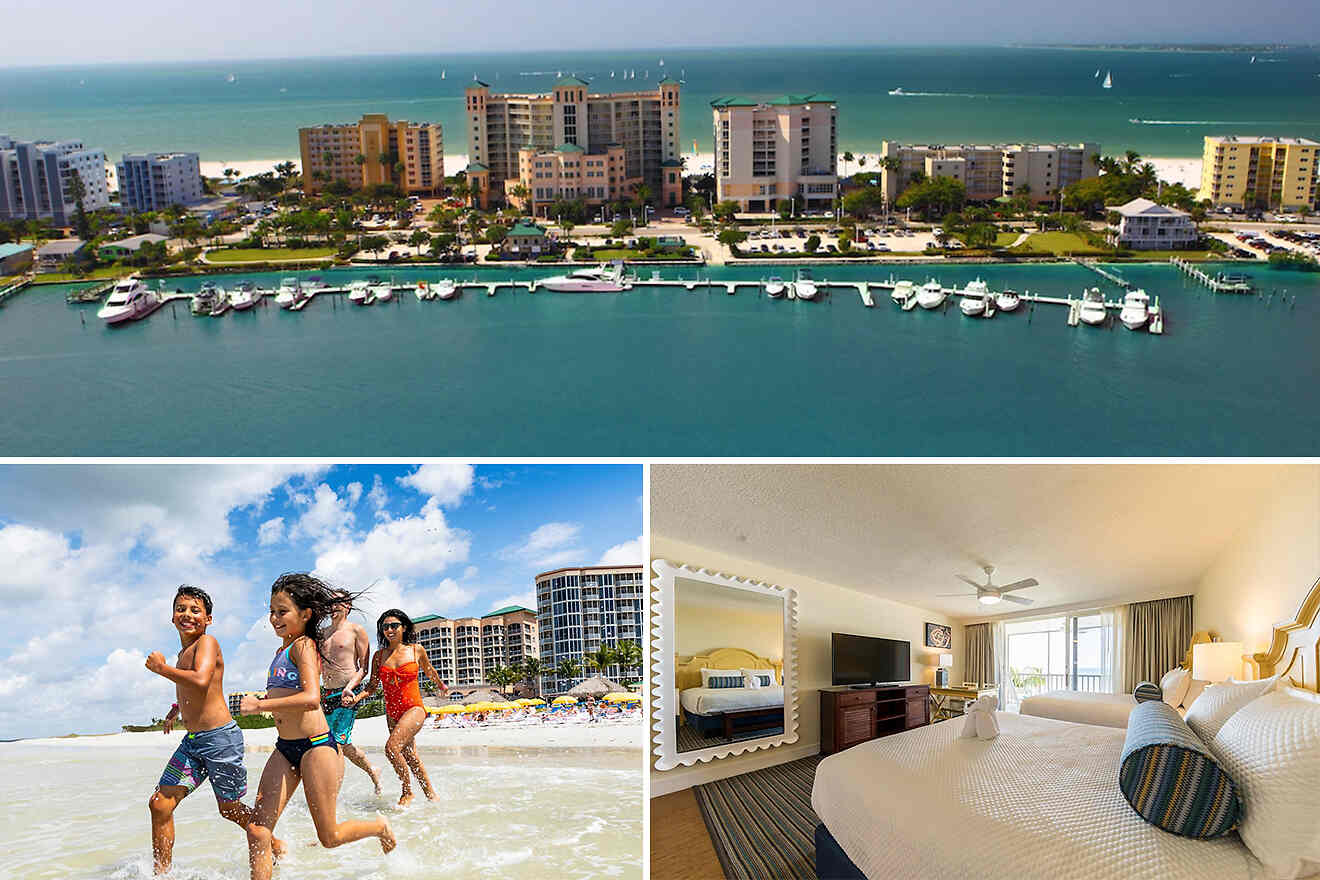 Located in Fort Myers Beach, Florida, this charming resort features some of the best accommodations for families. Here all the rooms and villas feature spectacular ocean views, spacious bedrooms, a fully-equipped kitchen where you can cook your favorite meals, and an enclosed lanai to enjoy some private moments with your beloved ones.
But make sure you don't spend the whole time in your room: this great family resort offers many cool activities to join, like sailing lessons, guided fishing tours and boat rentals, and if you prefer to relax you can get rejuvenating spa treatments at the huge full-service spa.
To end your day in the best way, have delicious dinners at one of the 3 on-site restaurants, one of which is right on the beach.
10. South Seas Island Resort – for a relaxing getaway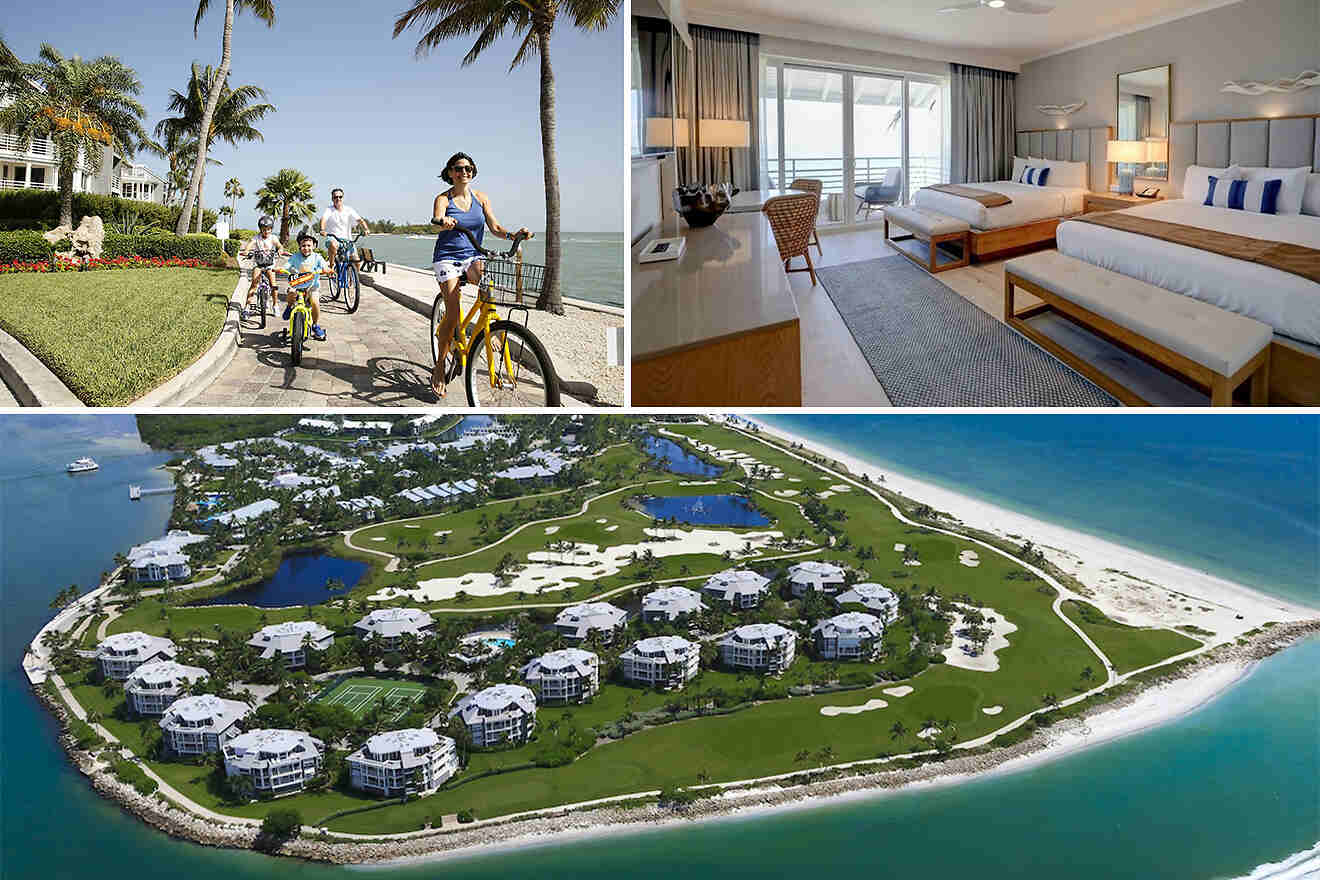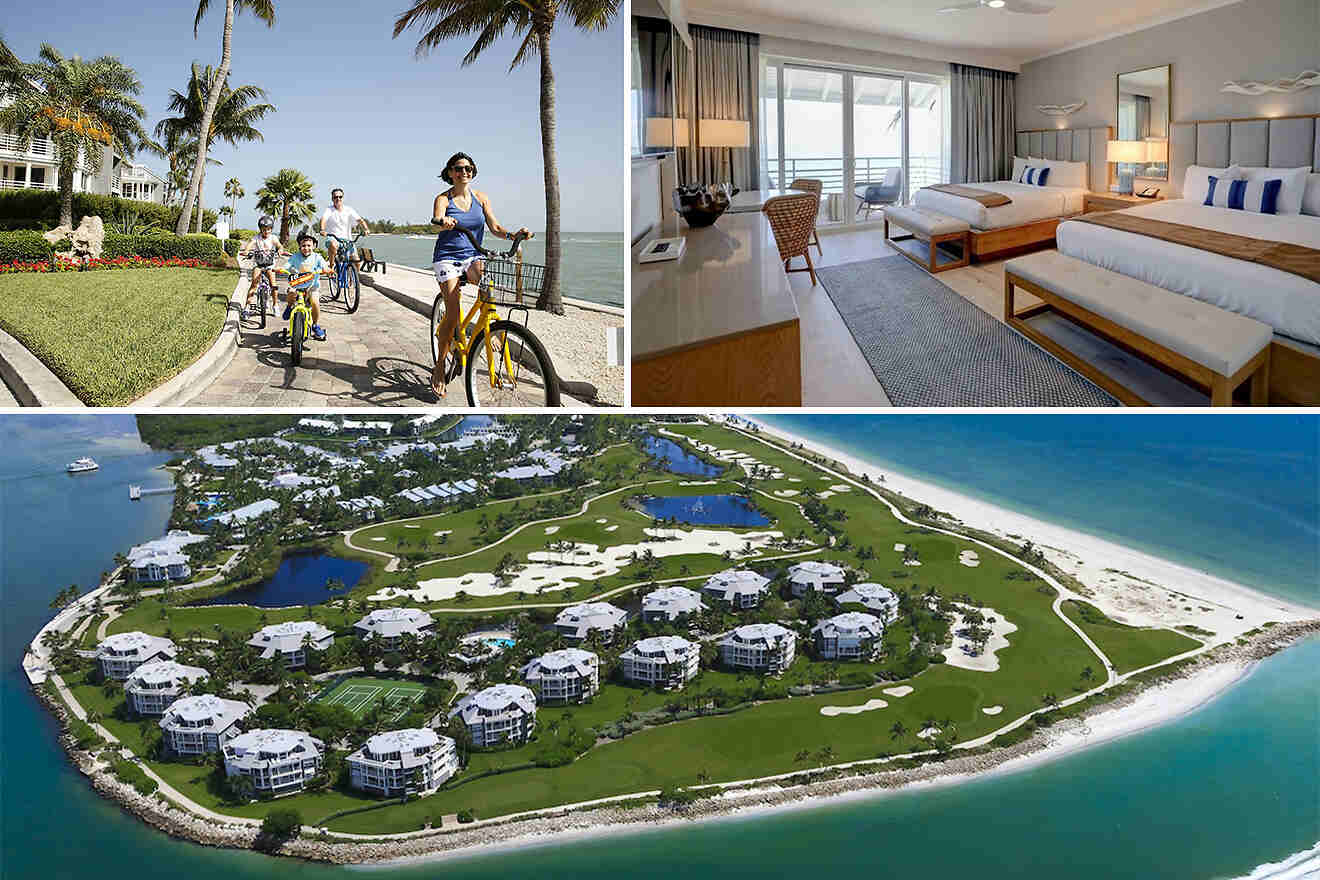 Located on Florida's Gulf Coast, at a short drive southwest of Fort Myers, South Seas Island Resort is perfect if you want to recharge your batteries and just spend some relaxing time with your family.
Here you will have direct access to a white sand beach, where you can have long walks or soak up some sun, a state-of-the-art spa for relaxing massages, and not 1, but 8 outdoor swimming pools where your kids can splash. And if you have small children, you can leave them at the children's club for an additional fee – I promise they will have a blast!
11. Disney's Animal Kingdom Lodge – for animal lovers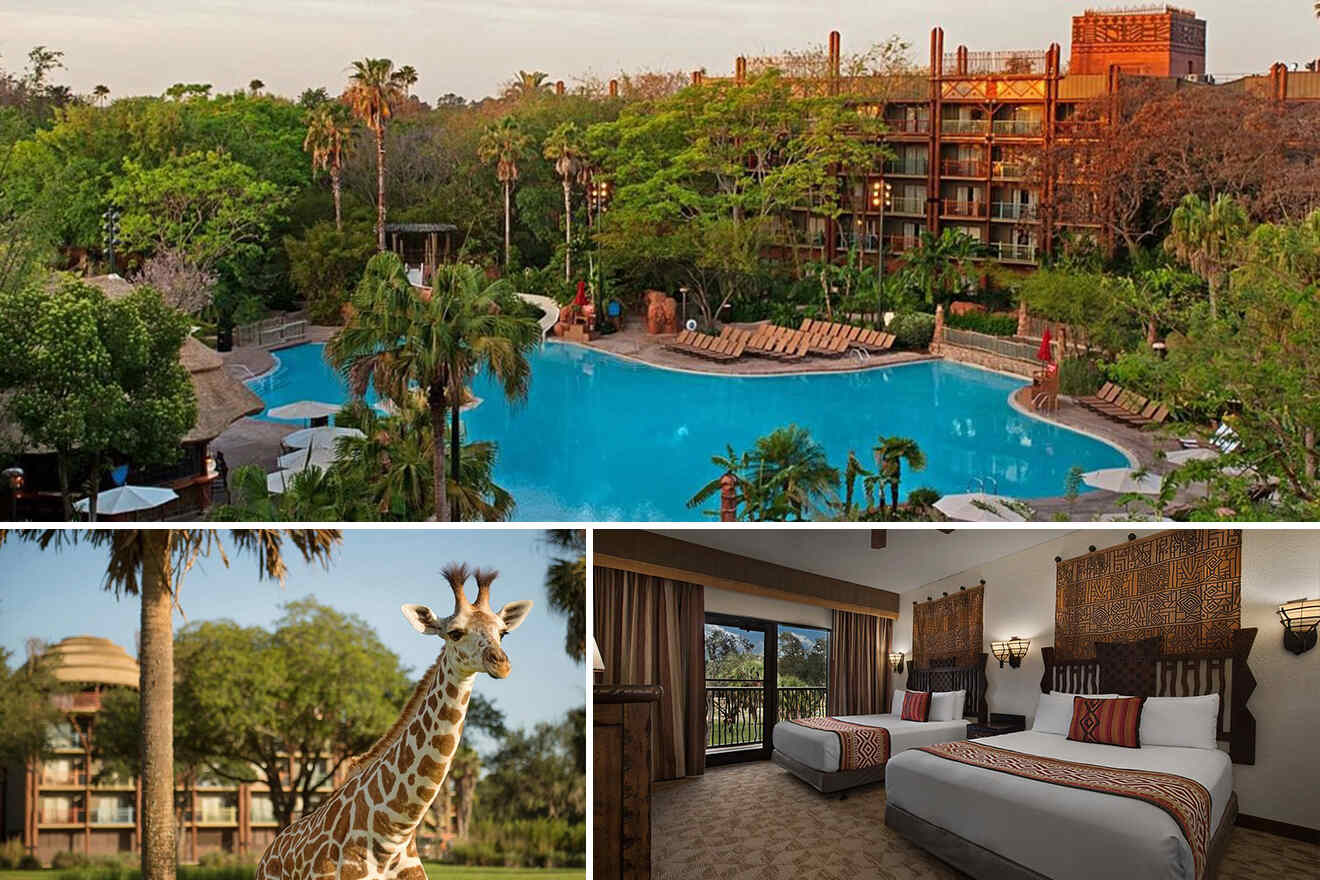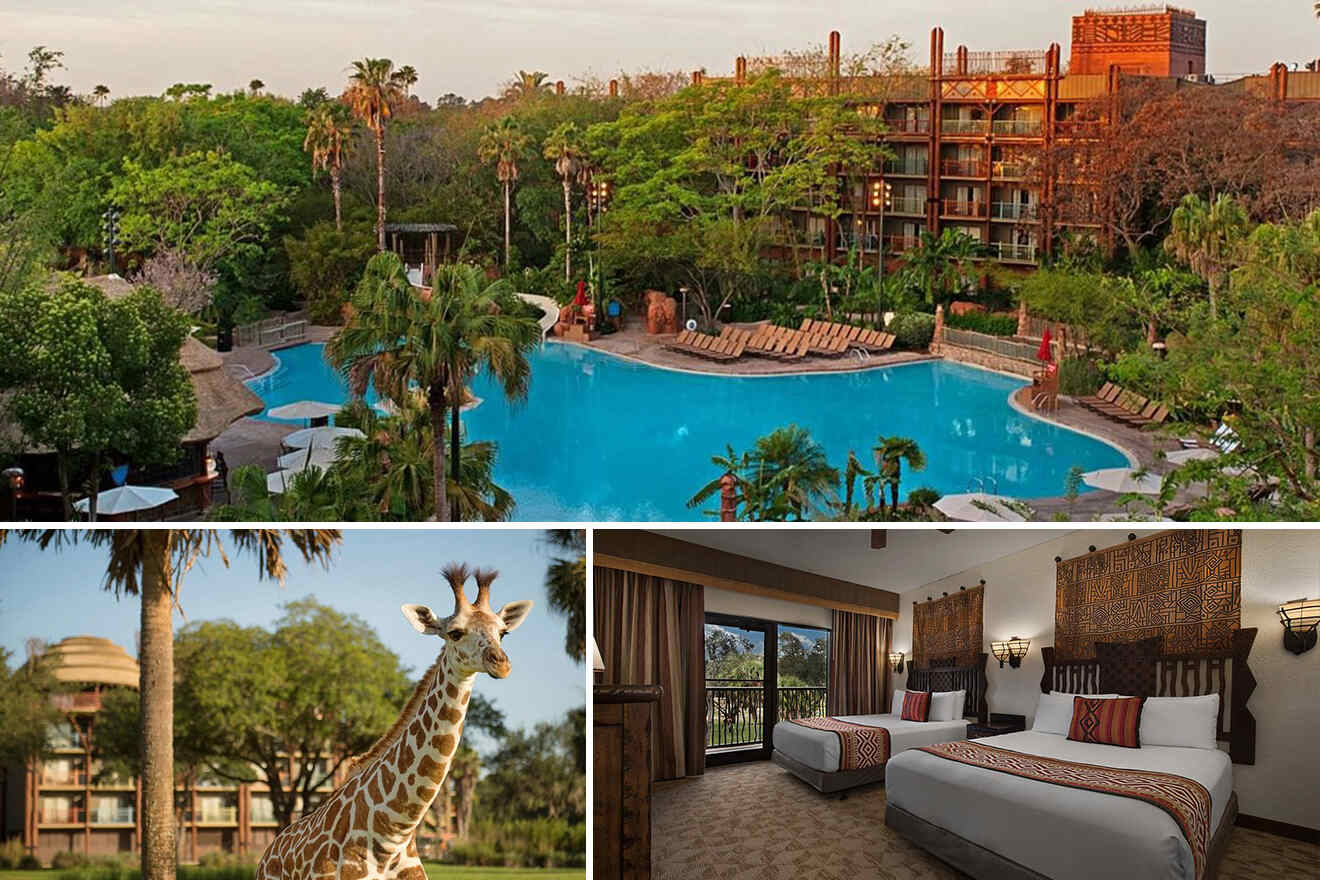 Located in Kissimmee, at a 30-minute drive from Orlando, this Disney World resort will make you feel like you are on a Safari in Africa, hosting exotic animals going around the property (at a safe distance, of course!). Imagine waking up in your room and seeing giraffes, flamingos, and zebras from your private balcony – how cool is that?
And the property itself is amazing, featuring decorations from African culture, on-site restaurants serving international cuisine, a resort pool with a pool bar and a waterslide, on-site shopping, and even live African folk music played daily in the resort lobby. This is definitely one of the best family-friendly resorts: check it out!
FAQs about all-inclusive family resorts in FL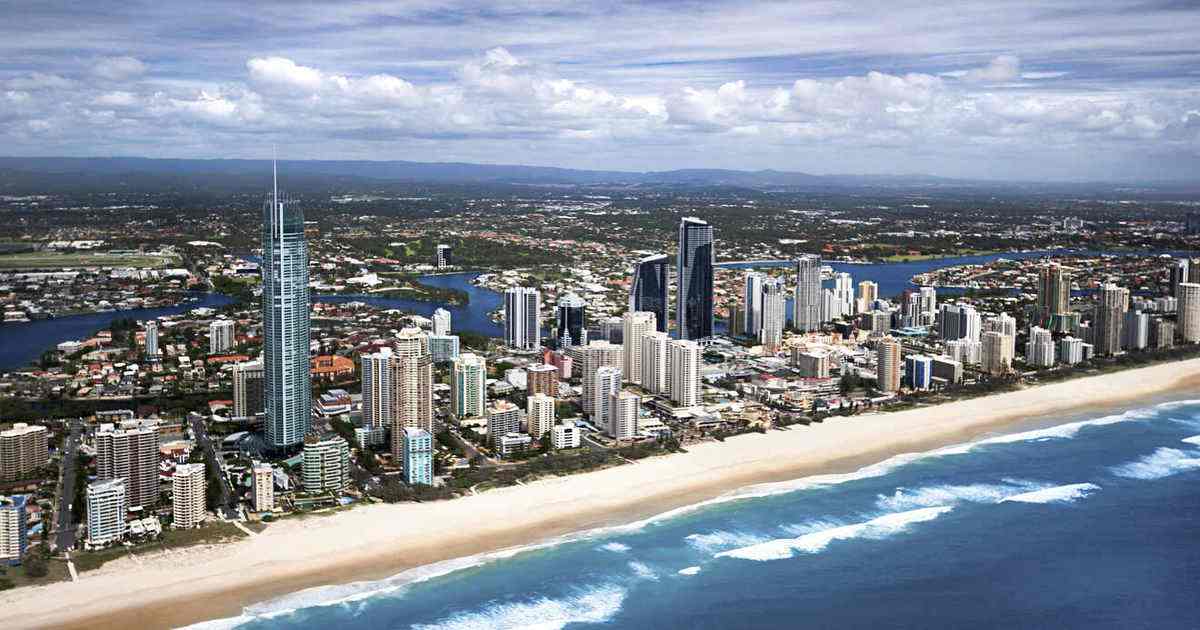 👑 Which are the best all-inclusive family resorts in Florida?
The best all-inclusive resorts for families in Florida are the luxury Little Palm Island Resort & Spa, located on a private island off the coast of Little Torch Key, in the Florida Keys, or the oceanfront The Don CeSar, located on St. Pete beach.
👨‍👩‍👦‍👦 Does Florida have all-inclusive resorts for families?
🌊 Which are the best all-inclusive resorts for families in Florida with a water park?
The best all-inclusive resorts for families in Florida with a water park are the Legoland Hotel, hosting a cool water park with floating lego, or the Four Seasons Resort Orlando, featuring a playground with a family pool, water slides, and a lazy river.
🤔 What does all-inclusive mean in Florida?
It depends on the package offered by the resort, but usually, all-inclusive resort fees in Florida include unlimited food and drinks every day, airport transportation, and access to the property's facilities and entertainment.
Conclusion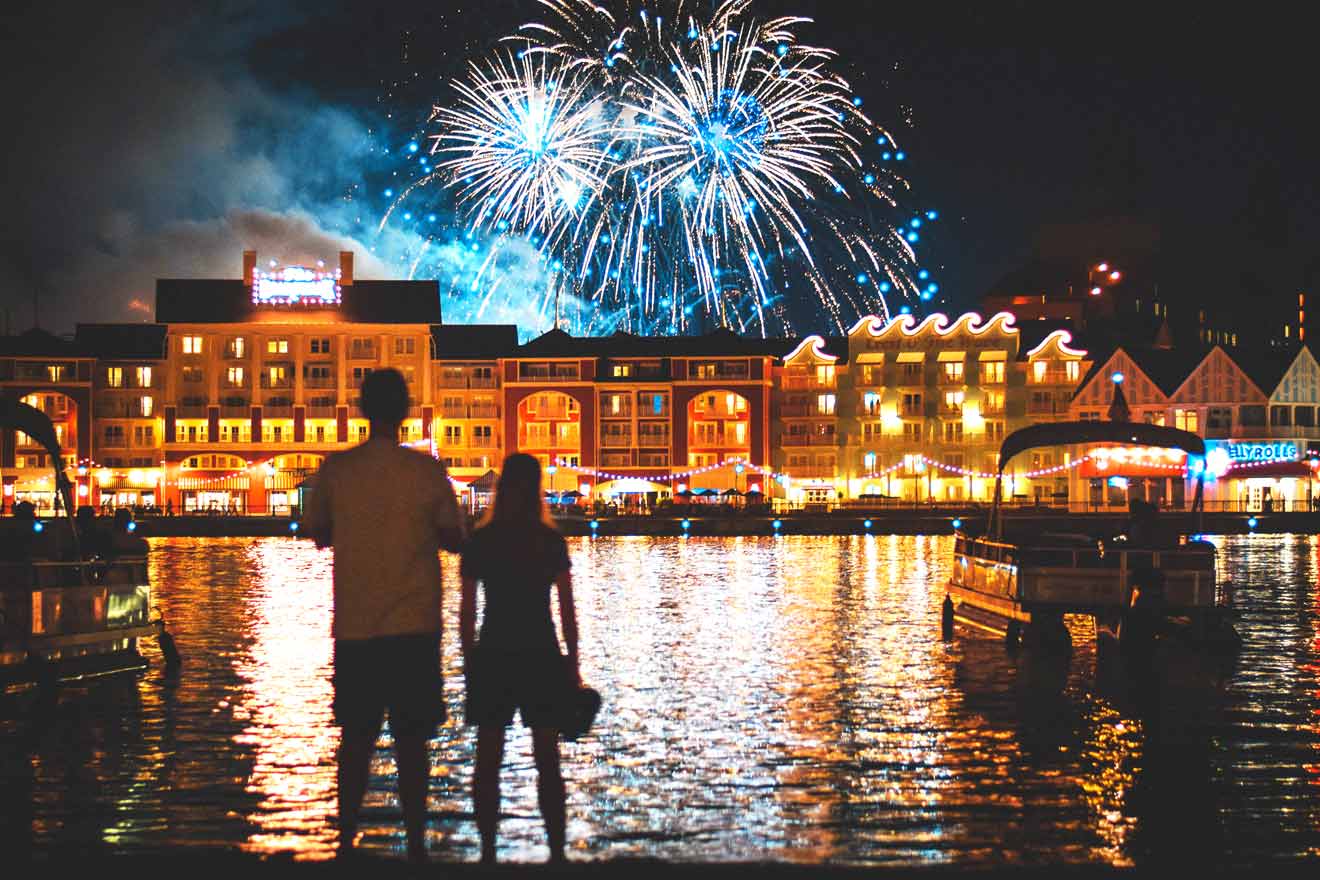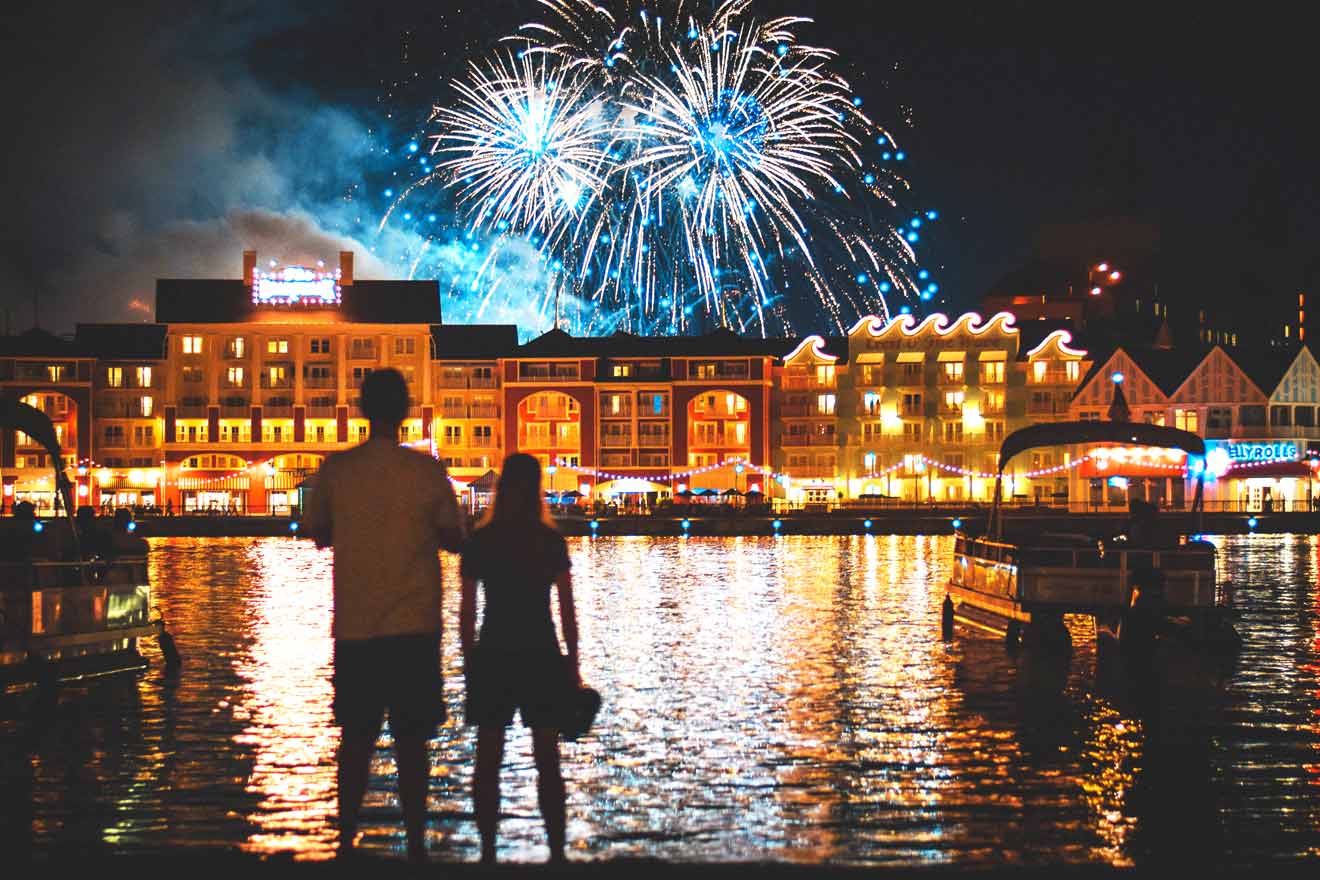 You made it to the end of this useful guide about the best all-inclusive resorts in Florida. Whether you were looking for a traditional all-inclusive resort, a cool themed resort, or an oceanfront accommodation with a private beach, I am sure you have found the perfect place for you!
But if you still don't know where you will spend your next family vacation, no worries! Check out my 2 absolute favorite Florida resorts for families here below, I hope this will help you in your decision:
The Don CeSar St. Pete Beach – Located on St. Pete Beach, this resort offers access to many cool watersports and children's programming for younger kids.
Four Seasons Resort Orlando – Check out this cool resort featuring a playground with a family pool, water slides, and a lazy river, as well as spacious rooms.
Do you like them as much as I do? Then make sure you book a room in your favorite resort immediately or at least some months in advance, or you might lose the spot!
And if you have any questions or resort suggestions for me, please don't hesitate to share them in the comments below.
Have an amazing family vacation!
Elena
---
Pin it for later!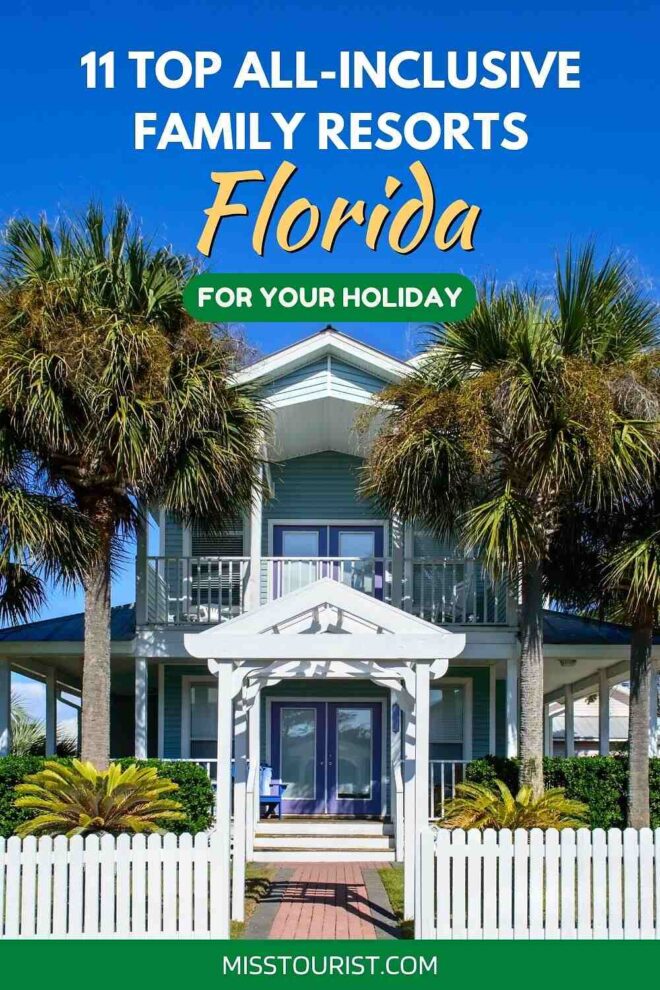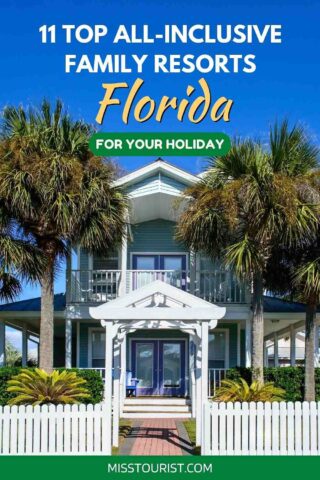 Pin it for later!