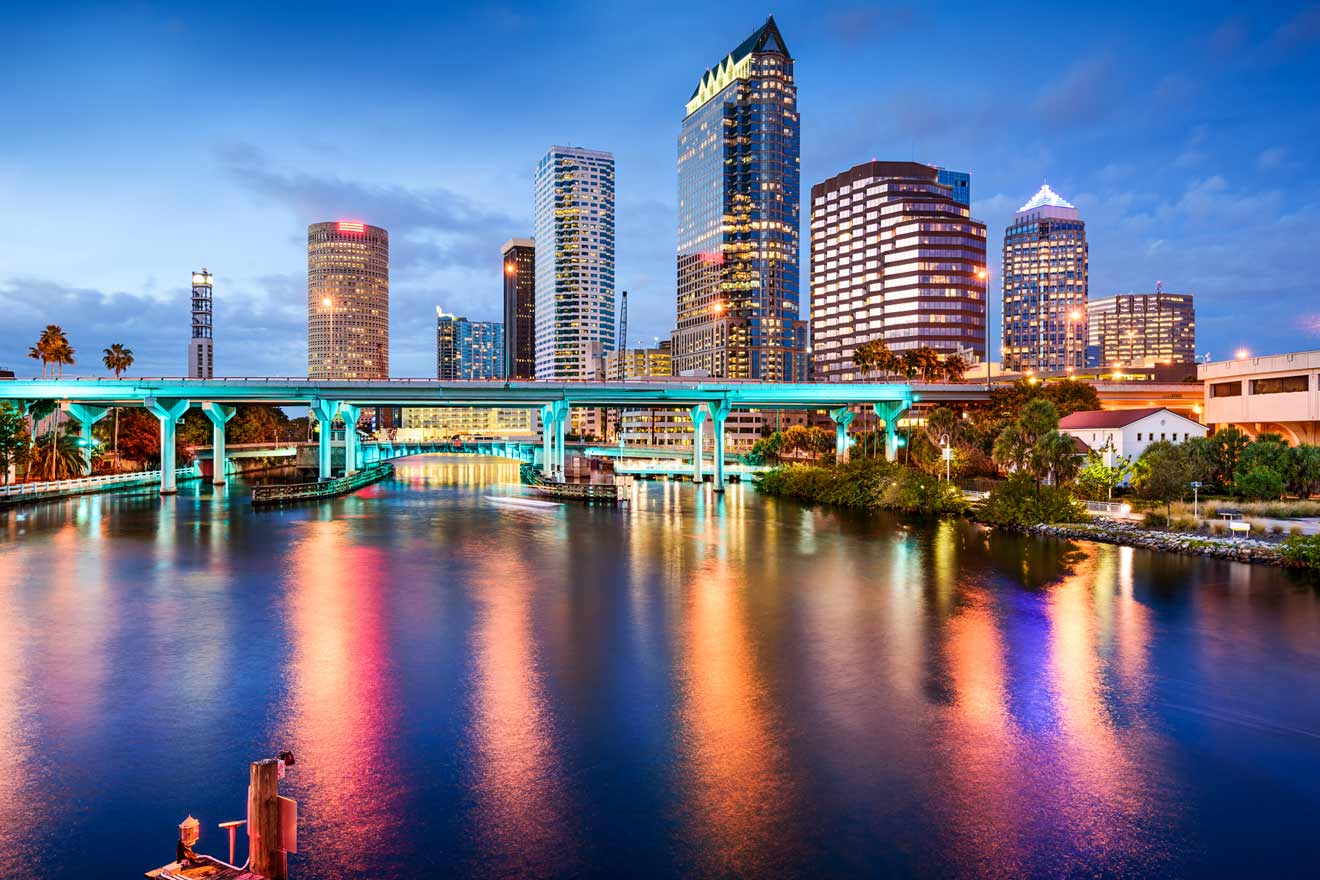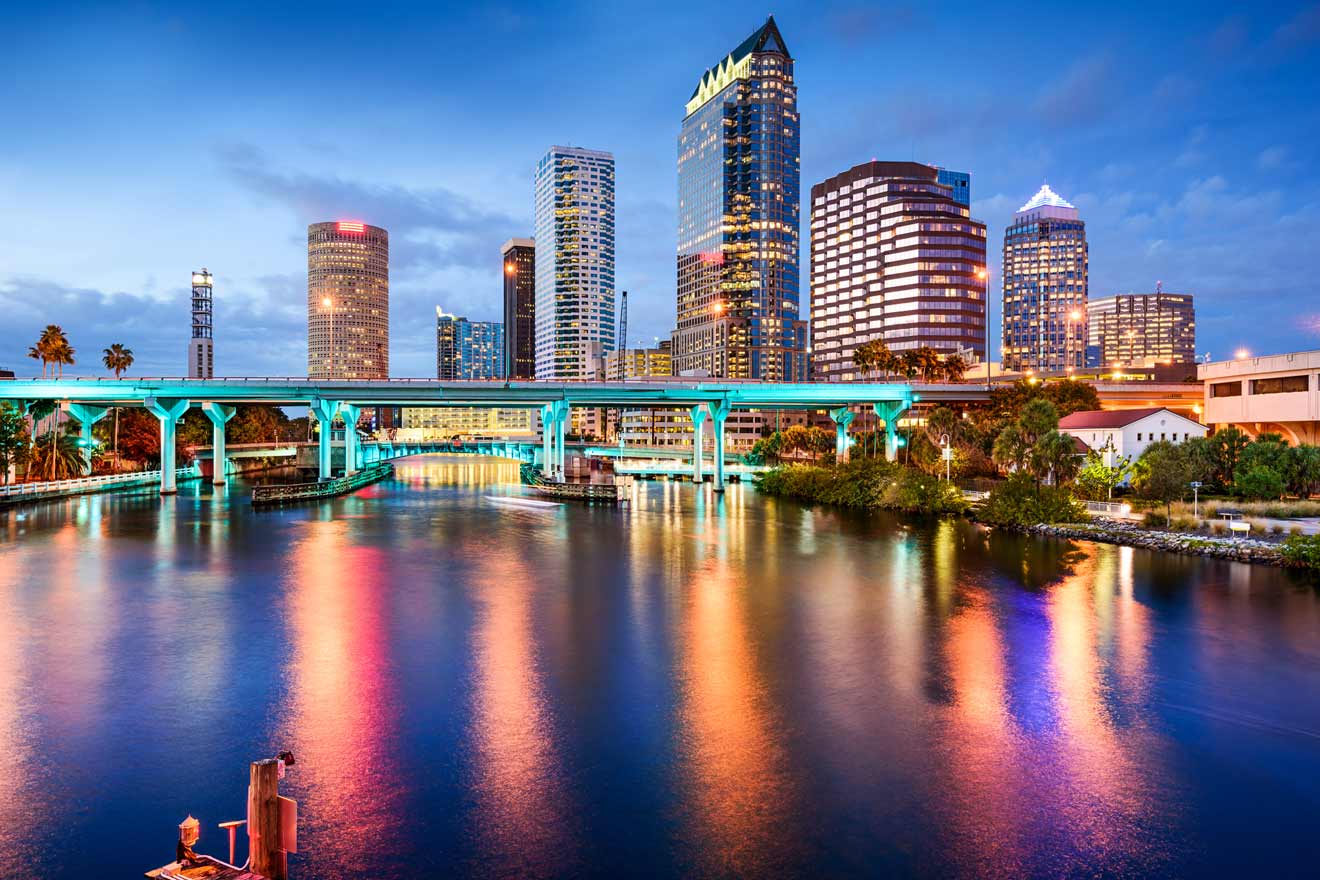 We've got the best Airbnb Tampa listings offering an enjoyable stay in comfortable accommodation to suit your taste.
Tampa, the third-largest city in Florida, is often overlooked by tourists who flock to cities like Orlando and Miami. But situated on Florida's west coast, Tampa Bay is more than just sandy beaches and warm, sunny weather.
Tampa's history has left the city with Spanish, Cuban, and Italian influences. The most tangible being that of the historic Ybor City neighborhood that continues to produce some of the best cigars in the world. There's also a plethora of splendid architecture to see here.
For anyone interested in arts and culture, you'll be delighted by the incredible art scenes. The Strats Center of Performing Arts also exhibits incredible performances. It's Broadway productions are New York-worthy!
If you're a foodie, you'll love all the restaurants in Tampa. There are also lots of hip bars that give Tampa an incredible, trendy nightlife.
If you're planning a trip to Tampa, you'll need the perfect place to stay. We've put together this carefully curated list of Airbnb's in Tampa to make your planning easier.
If You Are in a Hurry: Top rated Airbnbs in Tampa
If you're looking for where to stay in Tampa, but don't have time to look at all the incredible Airbnbs on this list, then these four options are what you're looking for. They're all centrally located, and there are options for all budgets.
Top 12 Airbnbs in Tampa, Florida
This list of Tampa vacation rentals has been carefully selected based on its rating, how popular it is, and how close it's located to downtown Tampa.
We have even calculated the actual average price for these Airbnb rentals — so there will be no surprises such as cleaning or service fees when you book your Tampa Airbnb. From low-cost private guest rooms to large family homes, you'll find the right Airbnb below.
NOTE: If you are looking for an overview of the best areas in the city and recommendations of the best hotels/airbnb's for each of them, check out this post.
1. Central & Modern 1920's Bungalow – The Best Spot For Large Families!
Location: Tampa Height
Price: from US$190 per night
Bedrooms: 4
Guests: 15
The century-old, historic bungalow may look small from the outside, but it's got plenty of space for a large family or group of friends. This Airbnb in Tampa, Florida is also stocked with tons of games like bowling.
In the backyard, you can lounge in the hammock or unwind around the firepit. This rental is definitely the type of vacation rental where fond memories will be made.
And the best part — it's less than 8 minutes from restaurants like Ulele as well as the Florida Aquarium and Tampa Theatre.
2. Rivers Residence – A Cozy One-Bedroom Condo
Price: US$920
Bedrooms: 1
Guest: 3
This chic condo is one of the perfect places to spend a romantic getaway with your loved one. The place's ambiance is relaxing, with a river view from your bedroom. Not to mention, it is incredibly spacious and has lots of natural lighting and classy decors. You'll definitely learn a thing or two about designing your future home.
Also, since this one-bedroom rental is located in the lively Hyde Park neighborhood, there will be no shortage of restaurants to visit, plus it's near Tampa's famous Bayshore Blvd and Hyde Park.
3. Hidden Gem – Family Home near Downtown Tampa
Price: US$175
Bedrooms: 1
Guest: 10
It's hard to find a good place that houses big groups of families and friends. So during your stay in Tampa, I got you covered with this amazing Airbnb that can comfortably accommodate up to 10 people so you and your friends can spend time together, laugh together, eat together – basically, do and experience things together.
The house seems vintage from the outside, but you'll be surprised that it looks totally modern on the inside! Also, there's a beautiful, large yard you can run around and a great venue to dine outdoors.
4. Tiny house in Historic Ybor – The best Airbnb in Tampa, FL, for Nightlife
Location: Ybor City
Price: from US$150 per night
Bedroom: 1
Guests: 2
This one-bedroom, white-picket fenced house has a luxury interior that will make you fall in love with this Airbnb. Guests often enjoy relaxing on the front porch, enjoying the warm weather.
These Airbnb Tampa hosts have even created a 'cheat sheet' to the surrounding neighborhood – so you're guaranteed to have an incredible stay here!
It's also within close proximity to several bars and clubs as well as The Ritz Ybor. Downtown Tampa is only 5 minutes away (by car).
5. Guest House on Bayshore – Excellent Spot in South Tampa
Location: Palma Ceia
Price: from US$140 per night
Bedroom: 1
Guests: 3
This guest house is the perfect spot to unwind. The neutral decor, natural light, and airy atmosphere will leave you feeling calm and relaxed. It also offers all the amenities you need for an enjoyable traveling experience.
In the neighborhood, you'll find plenty of fabulous restaurants and bars to dine at. Bayshore Boulevard is only two blocks away — a great spot if you enjoy running, walking, or cycling.
6. Charming Private Guest House – Vacation in a Quaint Village Near the City
Location: Davis Islands
Price: from US$120 per night
Bedroom: 1
Guests: 2
This charming one-bedroom guest house is the perfect spot for couples planning a romantic getaway. At night, you can sit under the soft lights in the courtyard and enjoy the warm Florida breeze. Or snuggle into the plush bed for an amazing night's sleep.
You can stroll through this quaint neighborhood to the end of the island for one of the best sunset views. Or head over to the nearby public pool for a quick dip. This Airbnb is also within walking distance of downtown Tampa as well as tons of fantastic restaurants!
7. Vintage Casita – Cozy Accommodation for Two
Location: Ybor City
Price: from US$90 per night
Bedroom: 1
Guests: 2
Another weird but wonderful Tampa Airbnb waiting to be booked. Filled with antiques and other upcycled decor items, this Airbnb is an absolute dream.
If you've had a busy day of sightseeing, you can come home and soak off in the century-old clawfoot bath. Otherwise, you can enjoy the many fantastic books and vintage vinyl that are available.
This hidden gem is situated in the historic cigar producing district where you'll be less than ten blocks away from the popular Columbia Restaurant as well as the Ybor City State Museum. There's also a groovy thrift store called the Stained Market Place right next door and it's even owned by this Airbnb's hosts!
8. Cute Little Loft – A Great Airbnb near Tampa International Airport
Location: Northeast MacFarlane
Price: from US$90 per night
Bedroom: 1
Guests: 3
This adorable studio is just what you need for a short stay in Tampa. For anyone working while traveling, you'll be pleased to find that there's a workspace with a comfortable chair for you to make use of.
This compact rental has maximized the use of the small space by including a loft bed. So be ready to climb a couple of feet up the ladder before reaching your snug sleep-spot.
For those interested in Ybor City and the cigar industry which Tampa is renowned for, you can visit one of the old factories, Santaella Cigar Factory Building, which is now home to artists and only three blocks away.
This is also one of the few Airbnb rentals conveniently located near the Tampa airport.
9. Private Apartment in The Oak – Great Location
Price: US$80
Bedrooms: 1
Guest: 2
A cozy and private apartment perfect for couples. It is convenient to all locations around Tampa. The place may not be that big, but you'll have the entire apartment for yourself with a separate entrance and parking space.
Aside from couples, this Airbnb is also a great place to stay if you have a little one. The hosts prepared a Pack n Play as a safe space for the baby to sleep and play. Not to mention, you are located in a quiet neighborhood, so you and the baby will surely have a sound sleep.
And if you need anything, the hosts are also wonderfully responsive and really do make every effort to ensure their guests have an enjoyable stay.
10. Stylish Private Suite – Best for Couples
Price: US$920
Bedrooms: 1
Guest: 3
You can find this stylish, private room for two in the heart of Tampa. The place is easily accessible and only 20-25 minutes from downtown.
The place may be small, but it has the basics a couple needs for a comfortable stay – a comfy bed, a kitchenette, and a private bathroom. The entrance is also private, with a small patio where you can enjoy your morning coffee.
11. Floriblanca Studio Cottage – Quirky Airbnb Close To the Waterfront
Location: Palmetto Beach
Price: from US$60 per night
Bedrooms: 1
Guests: 2
While this one-bedroom, cozy apartment may be small, it certainly has everything you need for an enjoyable travel experience. Quirky decor and a cool vinyl collection give this adorable apartment a hip, vintage feel to it.
On those sweltering summer days, you'll be happy to come home to cool air conditioning.
The Airbnb is only a couple blocks from McKay Bay, where you can stroll along the water's edge, admiring the view. You can reach south Tampa and most attractions within 10 minutes from this rental.
12. Cozy Queensize Bed With Shared Bath – Cheap Airbnb in Tampa
Location: North Hyde Park, West Tampa
Price: from US$60 per night
Bedrooms: 1
Guests: 1
If you are the kind of person who likes to be right in the action and wants to have some quality time to yourself, this is the ideal Airbnb. Spend your days visiting the nearby cafés, restaurants, gym, and bars. Or come home to a comfortable queen-sized bed and a good night's rest.
The superhost is incredible. From their warm, welcoming demeanor to their thoughtful suggestions on places to visit – a guest staying here will feel truly welcomed.
BONUS: Airbnb Tampa Florida – 4 Unique Stays
If you enjoy a more unique Airbnb experience or are a local looking to get away for a weekend, then look no further. These five Airbnbs are dotted in and around the Tampa Bay area and are fabulous. For your convenience, I am also mentioning how far each property is located – if driving by car – from Tampa center.
1. Riverside Guesthouse Tucked Away in Hip Seminole Heights
Location: Seminole Heights (10 mins from Tampa Center)
Price: from US$200 per night
Bedroom: 1
Guests: 2
This Tampa Bay guest suite is situated in the best spot. You'll spend most of your time here sitting on the screened porch, cooled by the surrounding trees.
Anyone who enjoys a good afternoon nap will love dozing off in the colorful hammock (which has been hung up on the screened porch). From this balcony, guests have a gorgeous outlook of the Hillsborough River and passing wildlife.
There might not be a jacuzzi, but guests will also have access to the private dock and the host's kayaks. No wonder this rental has a superhost and Airbnb Plus status!
The neighborhood of Seminole Heights is also less than 10 minutes from Busch Gardens.
2. Ent Home Farm Stay Maison de L'eau Douce Lakehouse
Location: Odessa (30 min from Tampa)
Price: from US$170 per night
Bedrooms: 1
Guests: 4
This lakefront cabin near Tampa is perfect for families wanting to get out of the city for a bit. It is a couple of feet away from the water's edge – so no need for a swimming pool at your Airbnb. Guests will have access to the hosts' kayaks.
This is one of the best vacation rentals in Tampa for families who want time to reconnect. In front of the house is a large grassy patch – an excellent spot to have picnics and play outdoor games as a family.
The interior is rustic but well decorated.
3. Luxury Private House in Urban Oasis
Price: US$550
Bedrooms: 3
Guest: 10
This luxurious apartment is located in the middle of action in Tampa. Not only is it decorated in modern style and it is spotlessly clean, but it is also fully equipped for everything you may need and more!
For instance, it even has a cozy fireplace right in the patio area with a spacious swimming pool where you can enjoy the view of the canal AND a jacuzzi!
By the way, did I mention it has a private dock from where you can park your boat if you have one (or you can rent it too, it can fit up to 3 boats). The hosts also provide kayaks free of charge for you to use.
4. Downtown (Ivanhoe Village) Loft Apartment
Location: Orlando (1 hour 20 minutes from Tampa)
Price: from US$100 per night
Bedrooms: 1
Guests: 2
Located in downtown Orlando, this one-bedroom Airbnb is close enough to Tampa for a quick weekend getaway. The 2 guests staying in this place will have the entire apartment to themselves.
The open-plan design and simple, classy decor make this Airbnb the ideal spot for couples.
There are tons of restaurants and bars in the surrounding neighborhood as well as the Orlando Science Center. A couple of blocks away, you'll find Lake Ivanhoe Park where you can picnic under the trees and walk along the water's edge.
Airbnb Tampa – Top 4 Airbnb Experiences
While you're finding the best place to stay, why don't you have a look at some of the incredible Airbnb experiences available in Tampa? I've found the top four experiences for you below:
Conclusion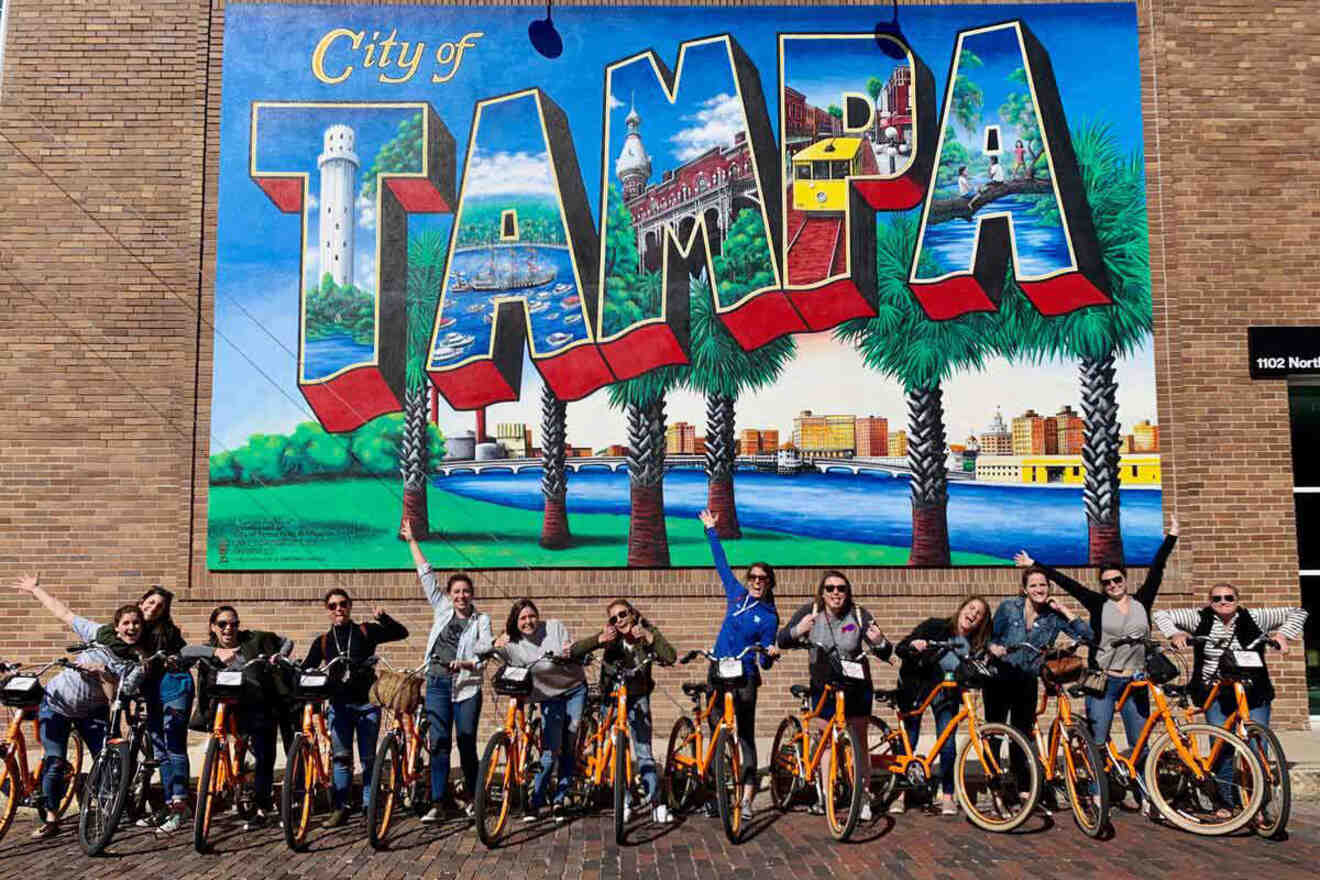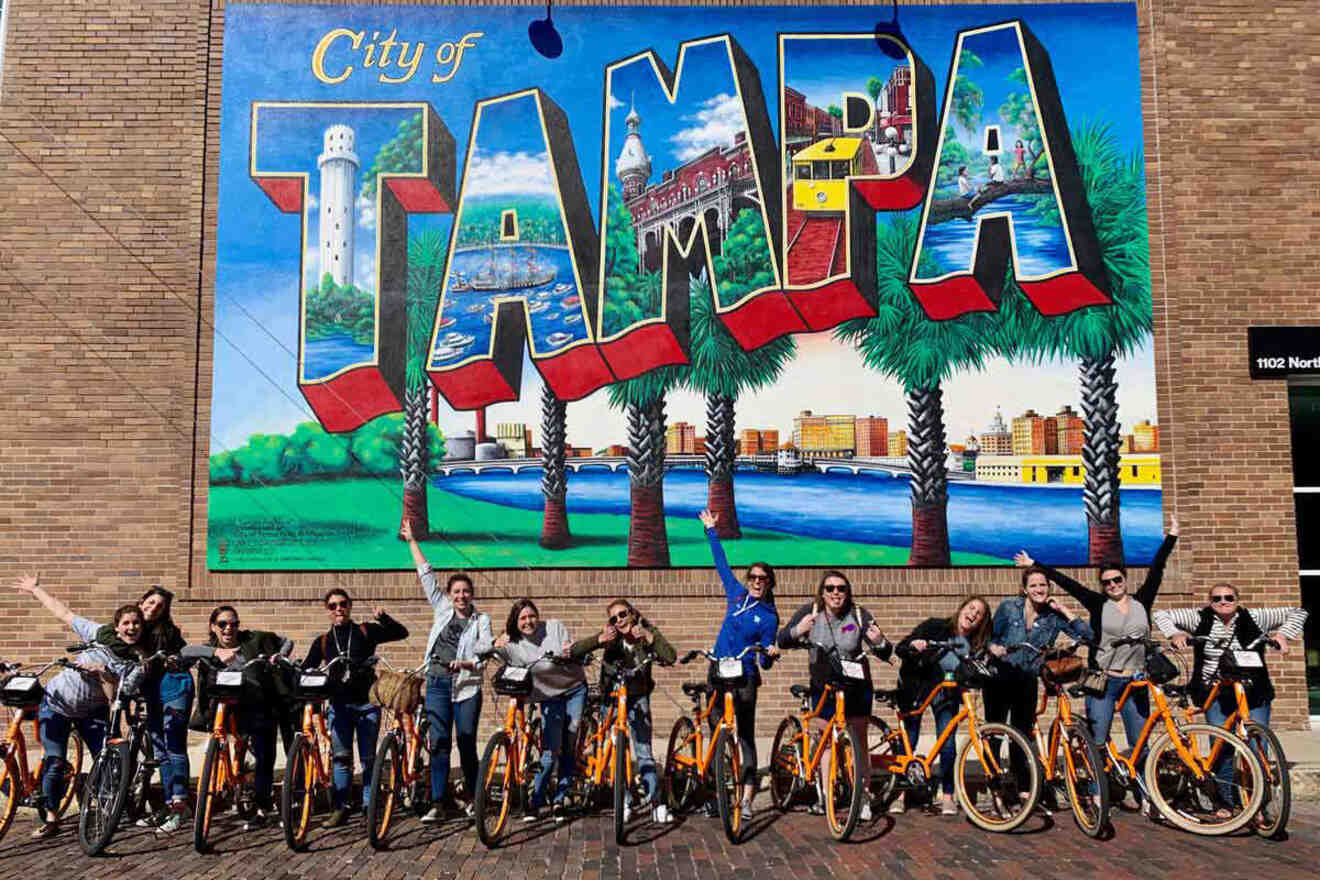 Tampa has an amazing history that has been influenced by several cultures. These cultures have infused themselves within the city, and their influences can be seen everywhere. From the art scenes and outstanding restaurants to the natural wonders and fun community pools, Tampa is definitely a worthy travel destination.
While I might have not mentioned much about kids-related activities in the post, there is a lot! You'll find plenty of child-friendly attractions here such as Dinosaur World and Busch Gardens.
If you're looking for a sunshine-filled destination, but don't stay on the East Coast, check out this post on the best places to stay in Los Angeles.
I hope you found your dream accommodation on this list of Airbnbs. If you've visited Tampa, Florida, and stayed in an amazing place that you didn't find on this list, do share your experience in the comments below.
I hope you have the most memorable time in Tampa Florida!
Yulia