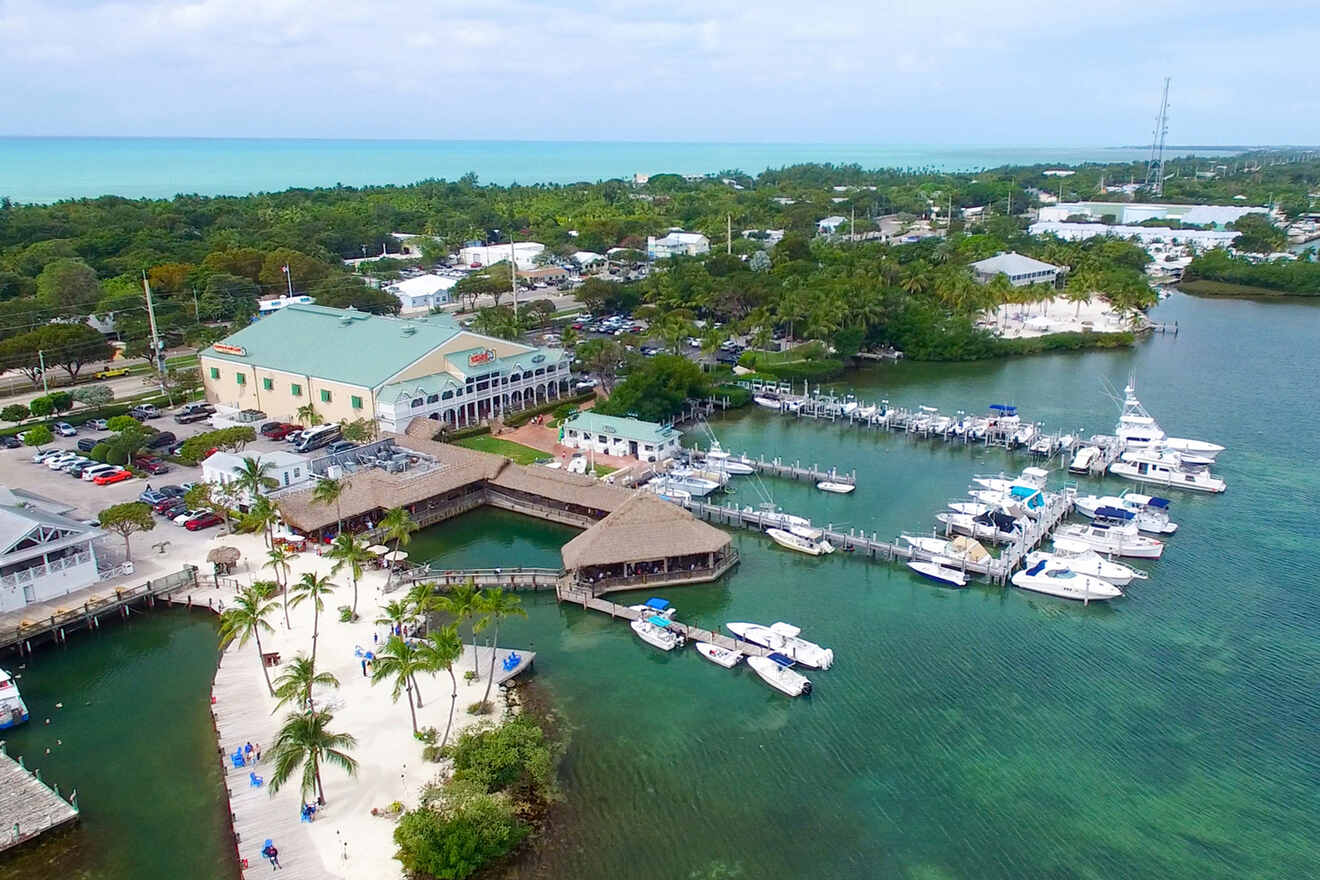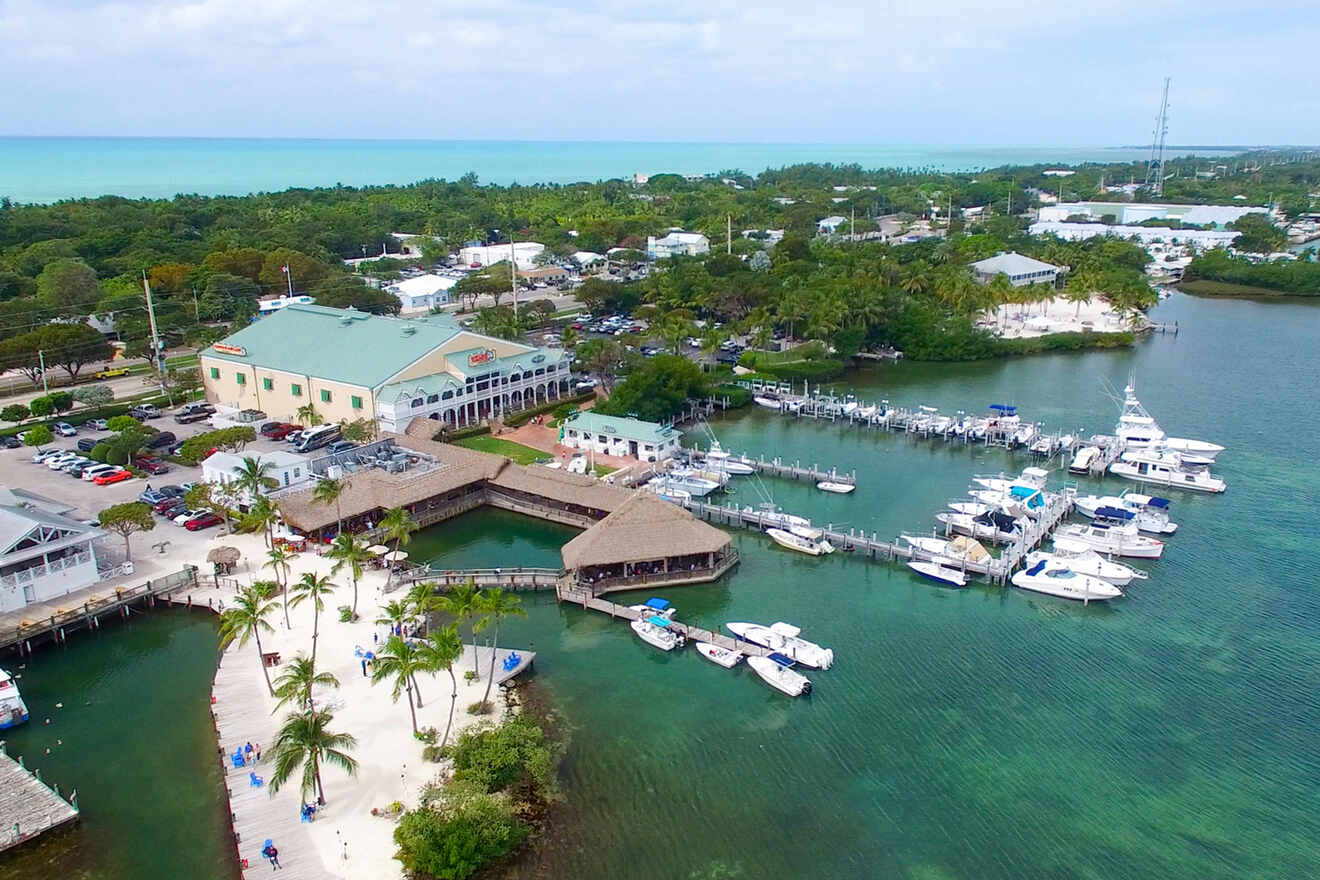 Neverending fun on the beach, fabulous hotels, and views that will make you fall in love with Florida all over again! Oh, yes, Islamorada is one of those places you'll come back to time and time again!
In this post, I'll help you find the best places to stay in Islamorada! I've made a list of the top hotels and resorts on the island, listed from most to least expensive, so you can decide quickly which one you want!
But you better not leave right after you've finished reading that because you would miss out on 2 amazing bonuses I've got for you! The first one has some wonderful hotels for families in Islamorada, and the 2nd one has a list of beach accommodations in Tavernier, an area right near Islamorada that offers the same atmosphere and vibes!
These places are the best of the best, so I highly recommend booking your hotels in Islamorada in advance, because oh my, they sell out so fast, that you might miss out on your favorite place if you don't get on it!
Okay, we're ready to hit the beach now!
If you are in a hurry
Ready to book your accommodation right now? Then have a look at this list of the best Islamorada hotels:
Check out this map that will help you visualize all the hotels in Islamorada that I'll talk about in this post:
Luxury (US$300 and up)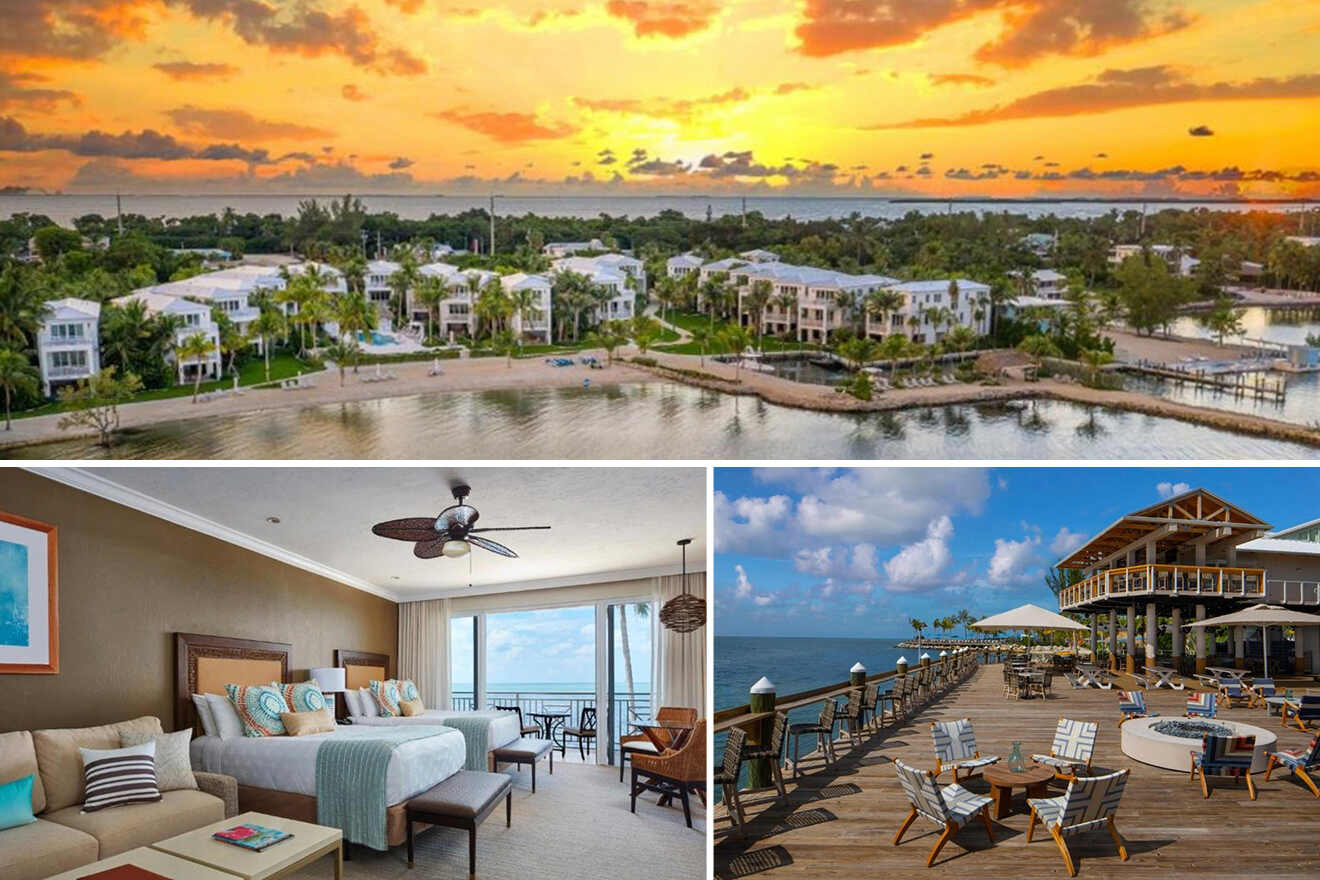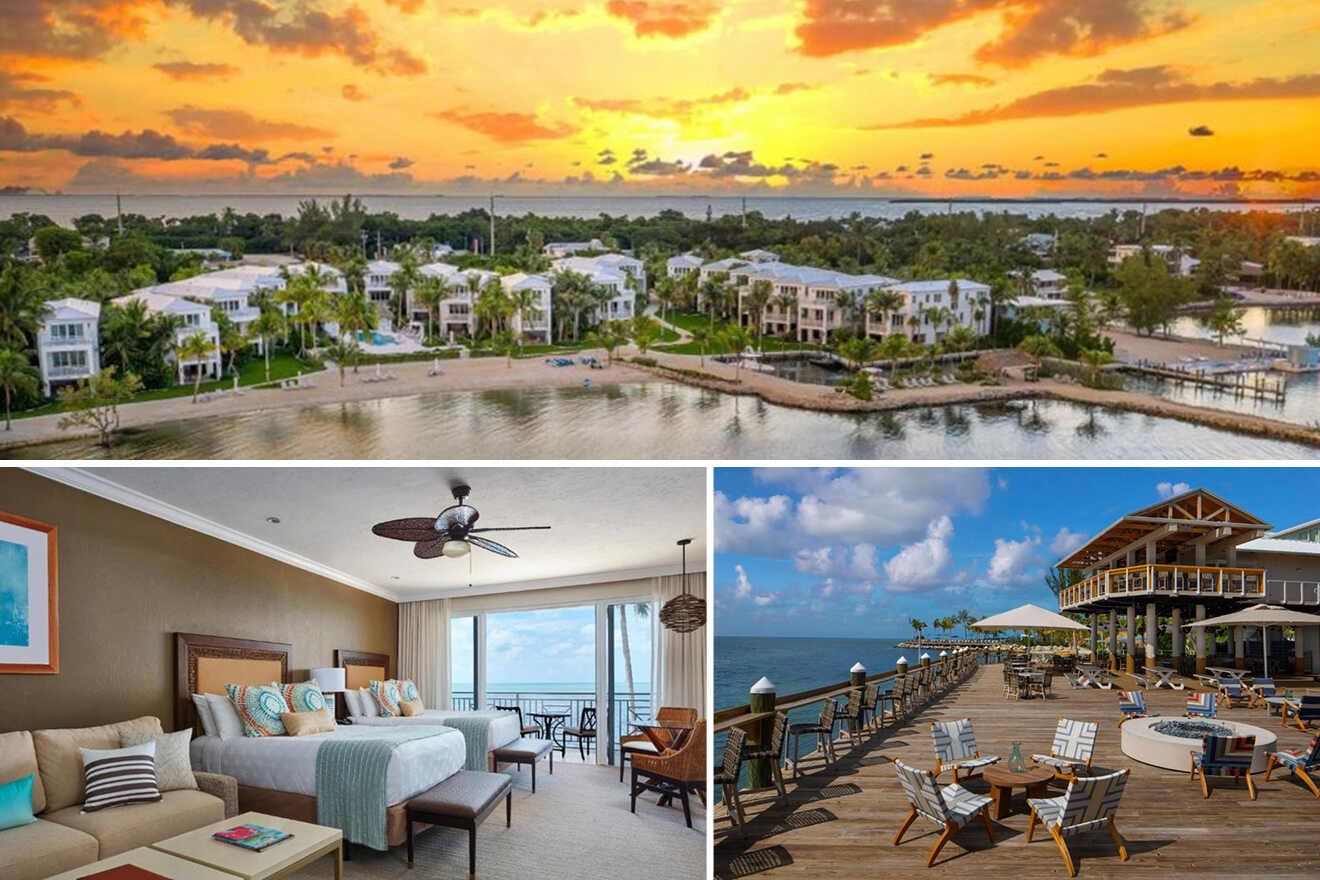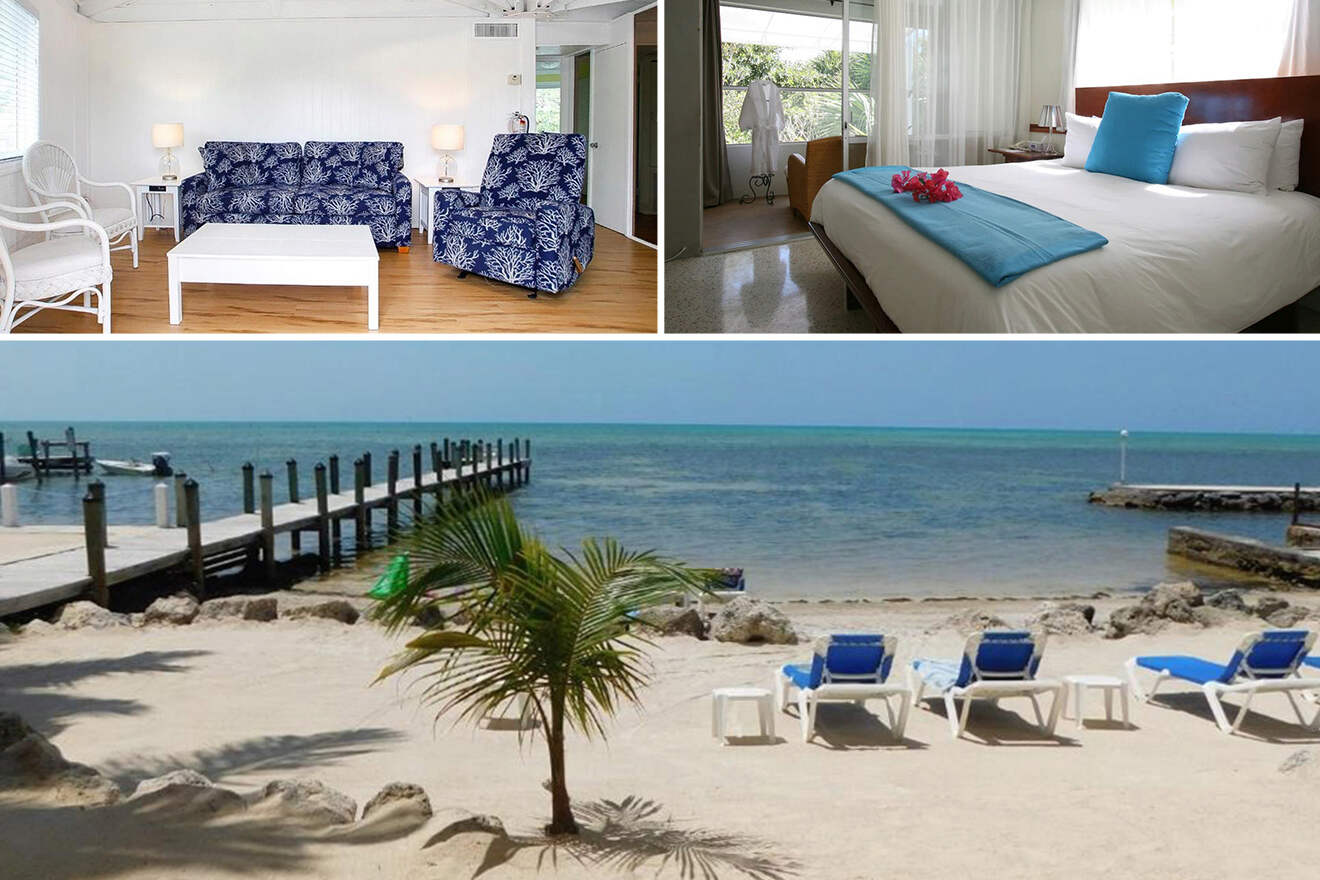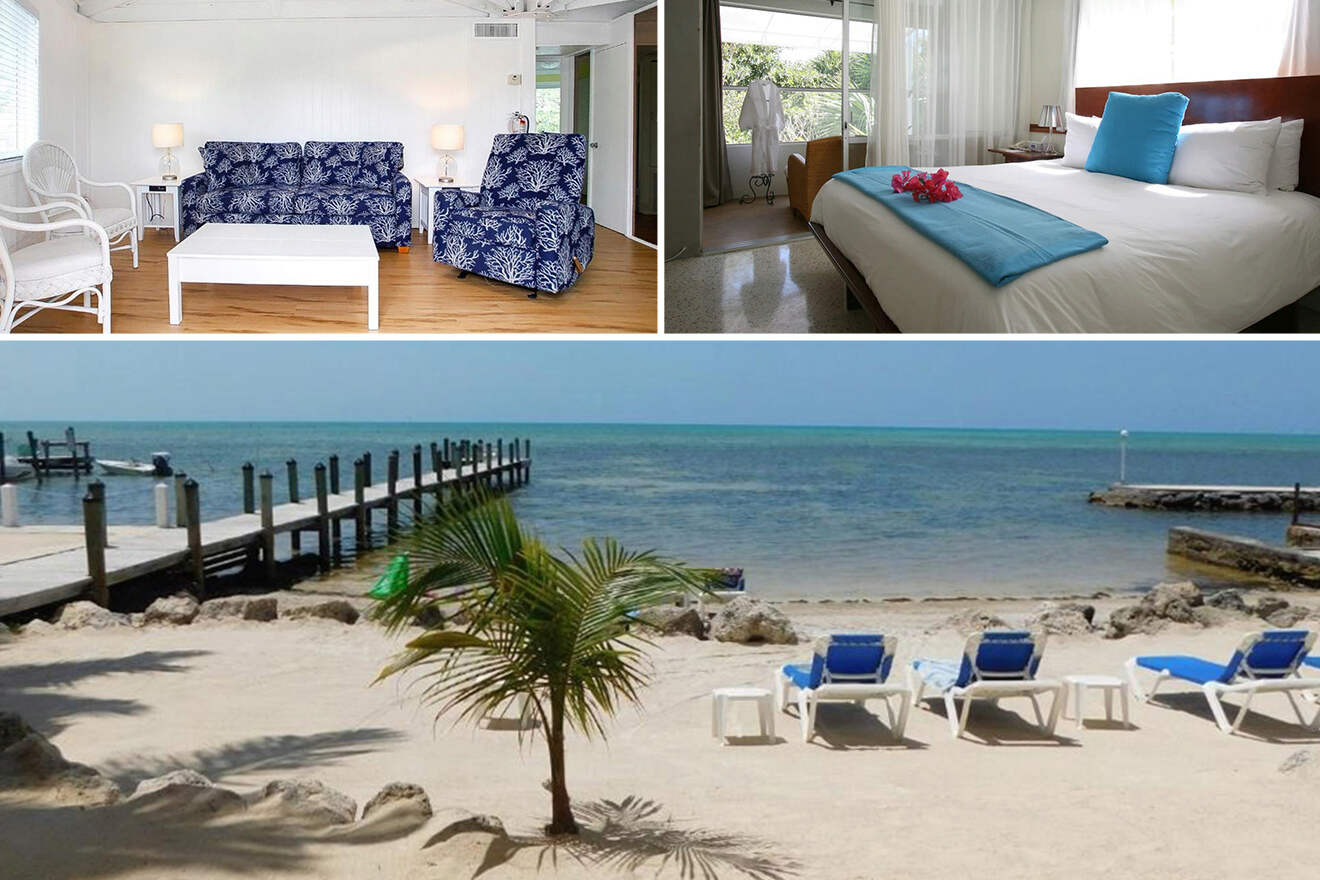 Casa Morada – Staying at this resort will feel like having access to your own private tropical jungle! Casa Morada offers such a beautiful setting, with tropical trees and lush greenery, plus an oceanfront location! The hotel has various suites that look amazing but offer different amenities. Some come with walk-in showers, some with sea views but no matter which you choose, you can borrow the bicycles free of charge and try other activities too!
Topsider Resort by Capital Vacations – If you're planning to stay for a longer time in Islamorada, enjoy the island life and even work from there, then you'll love this spot! Topsider Resort has 2 guest rooms, a living area, and a fully-equipped kitchen, so you won't have to eat out every night! Sea Oats Beach is set within walking distance from the aparthotel and there are many water sports available in the area!
Pines & Palms Resort – I love the tropical vibes of this place! The tiki bar is for sure my favorite part (let me know in the comments which one is yours), but it's also the homie feeling that puts this resort at the top! Each unit at Palms Resort has a unique island decor and they're equipped with many facilities including a full kitchen, and some have a private terrace. The resort also offers a private beach area, kayak, bike rentals, and private boat docks!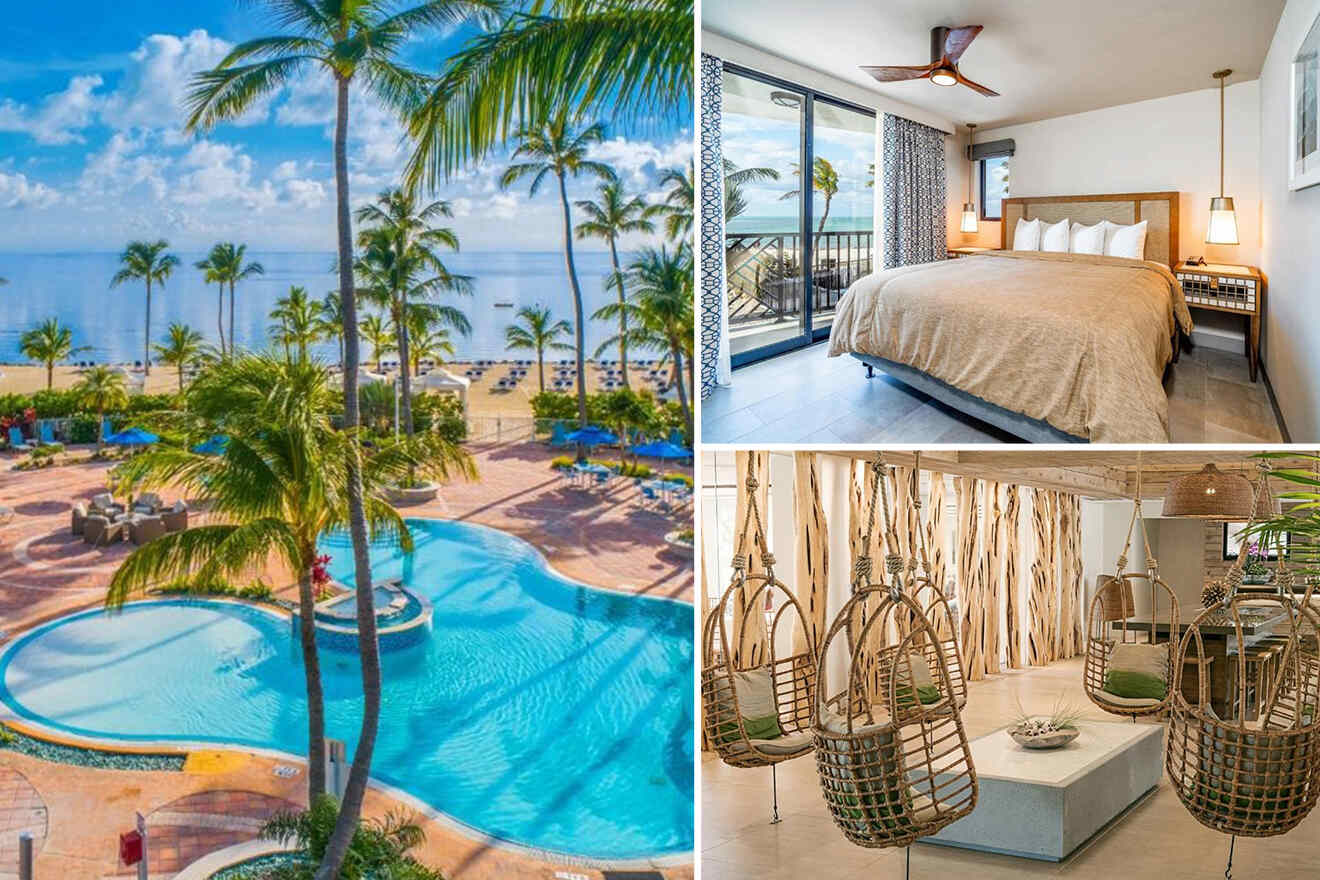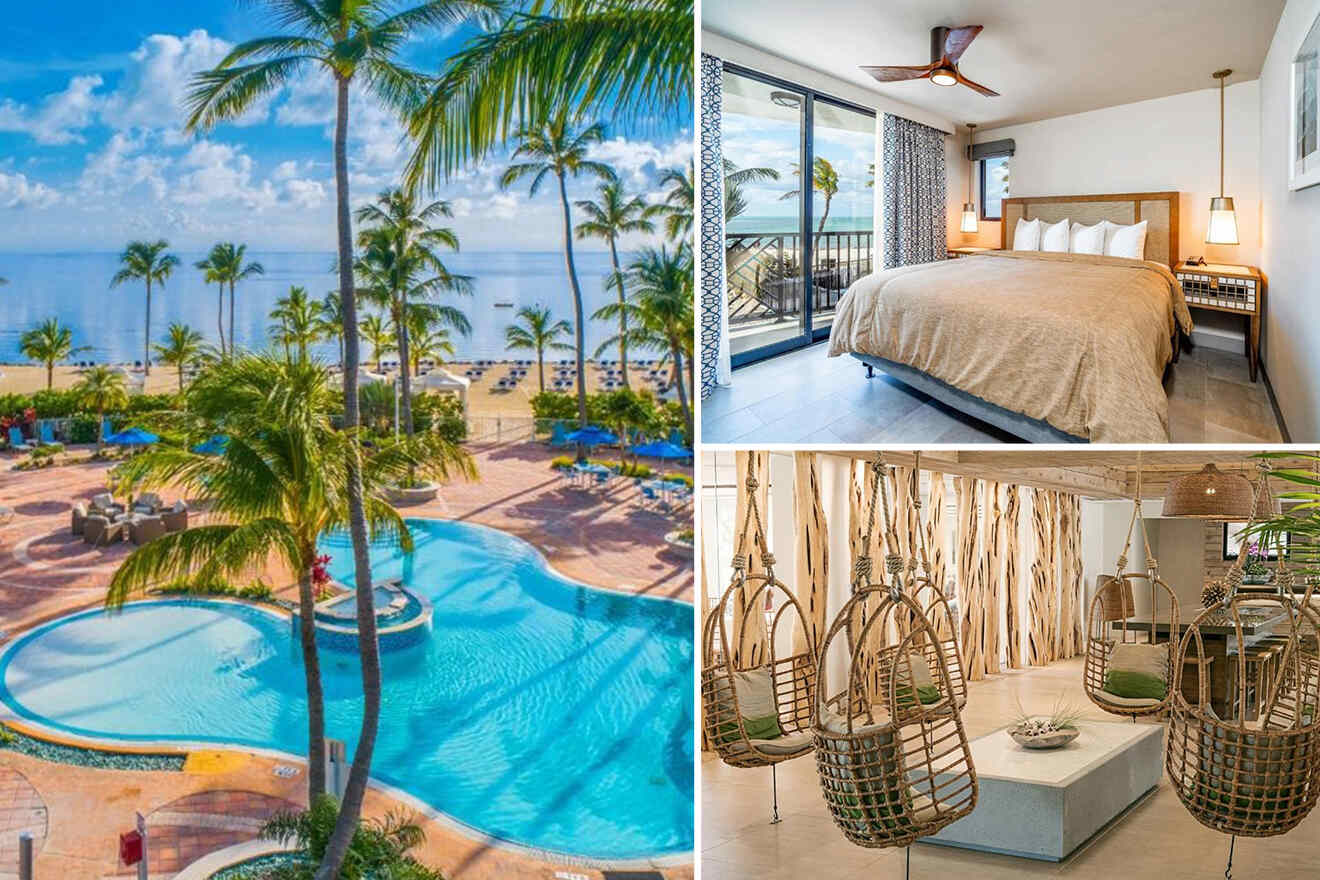 Islander Resort – Gotta love a room with a cool design! Featuring elegant elements and amazing views of the lush gardens, the guest rooms even come with a little patio! Islander Resort offers a private beach area and has 2 restaurants on-site. When you're not exploring the island, you can chill in the heated pool or go for a swim. And remember, I highly advise you to book your accommodation in advance. These are the best resorts, but there are not many, so make sure you don't miss your favorite!
Chesapeake Beach Resort – Fancy a room with a view? Then you'll love the suites at this simple yet super cool resort in Islamorada that has a private beach area. Each comes with many facilities including a flat-screen tv and a coffee machine. During the day you can sunbathe on the beach chairs or swim in the pool. If you're up for an excursion, catch a show at the nearby theater or visit the History of Diving Museum, located within walking distance of Chesapeake Beach Resort.
Amara Cay Resort – Chilling in the hammocks all day long, sunbathing on the private beach, and trying all sorts of water sports like scuba diving! That sounds like the perfect holiday to me! This hotel in Islamorada offers all that and more! Guests can hit the fitness center, chill in the hot tub for hours, or rent bicycles from Amara Cay Resort to explore the island! By the way, I've got a whole post on hotels in the Florida Keys, if you're up to visit any of the other Keys, they're so worth it!
Mid Range (US$150 – US$200)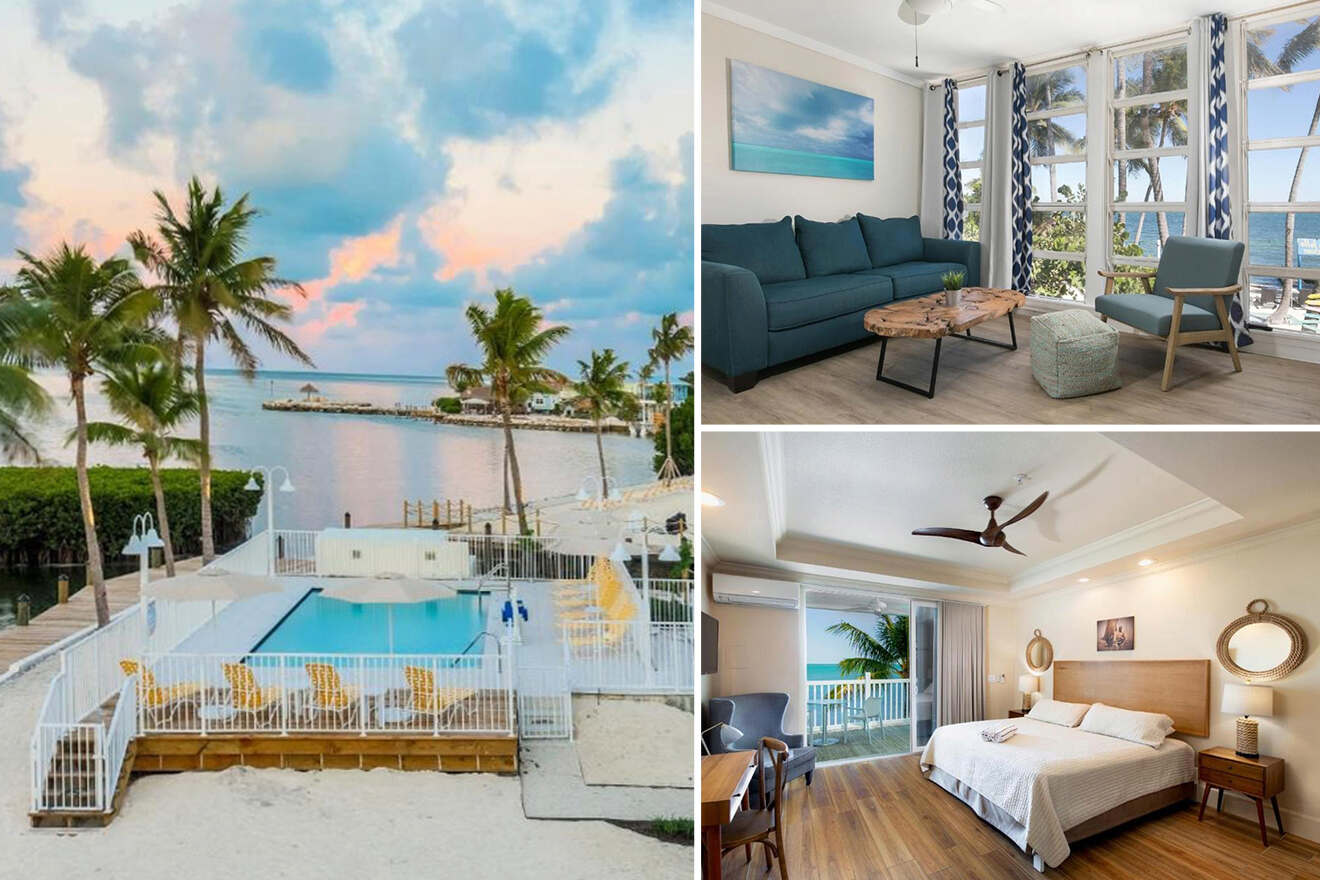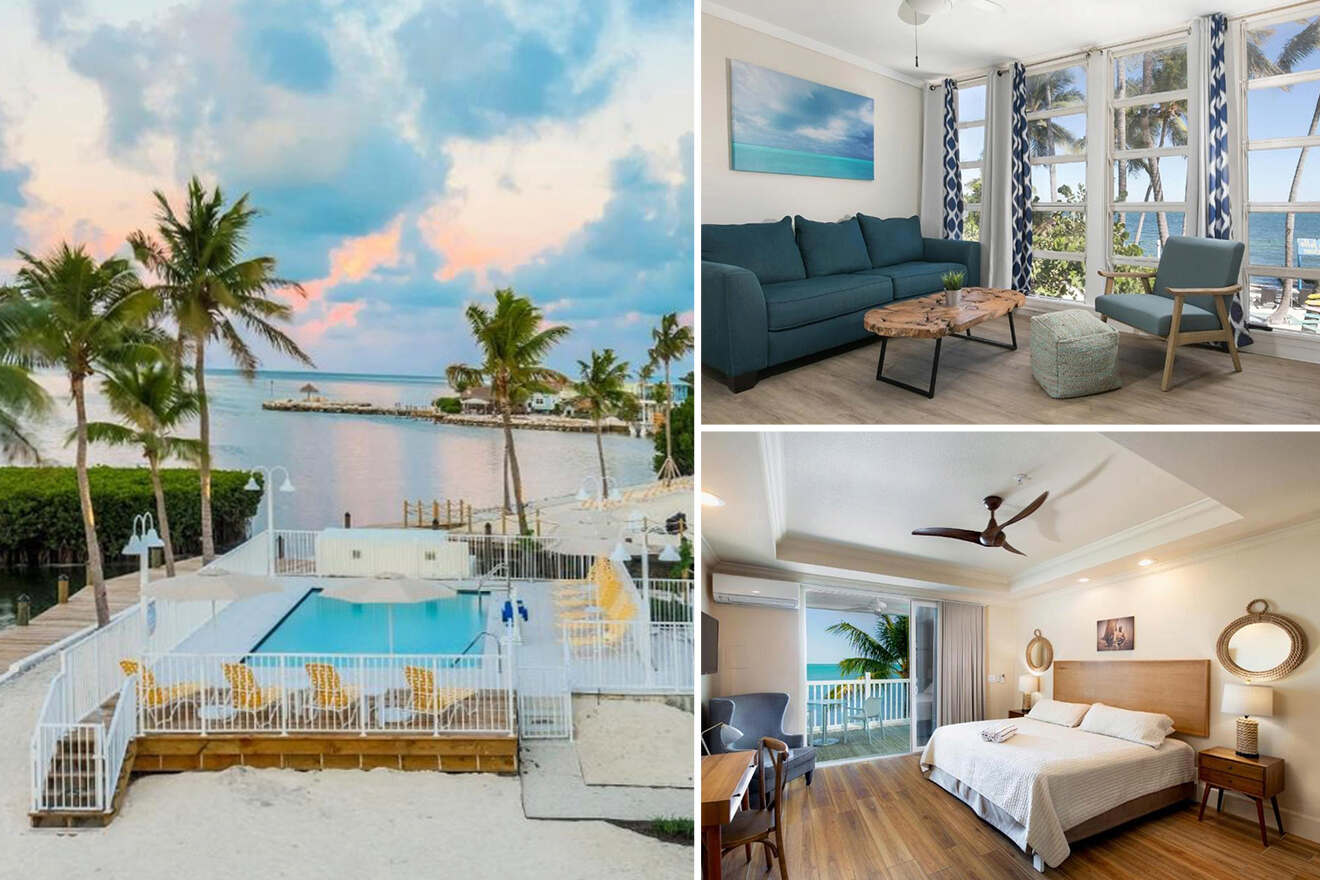 Budget (up to US$150)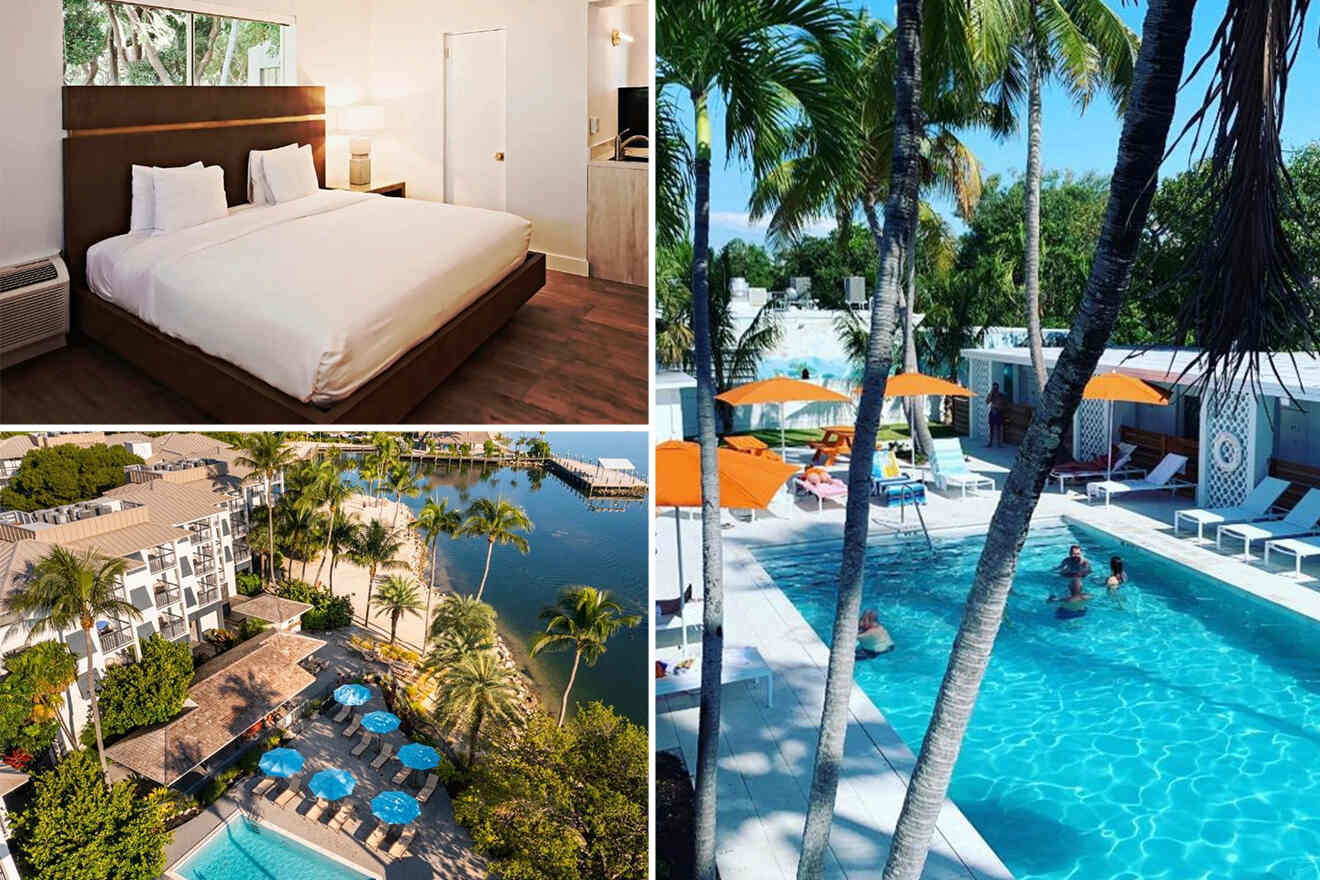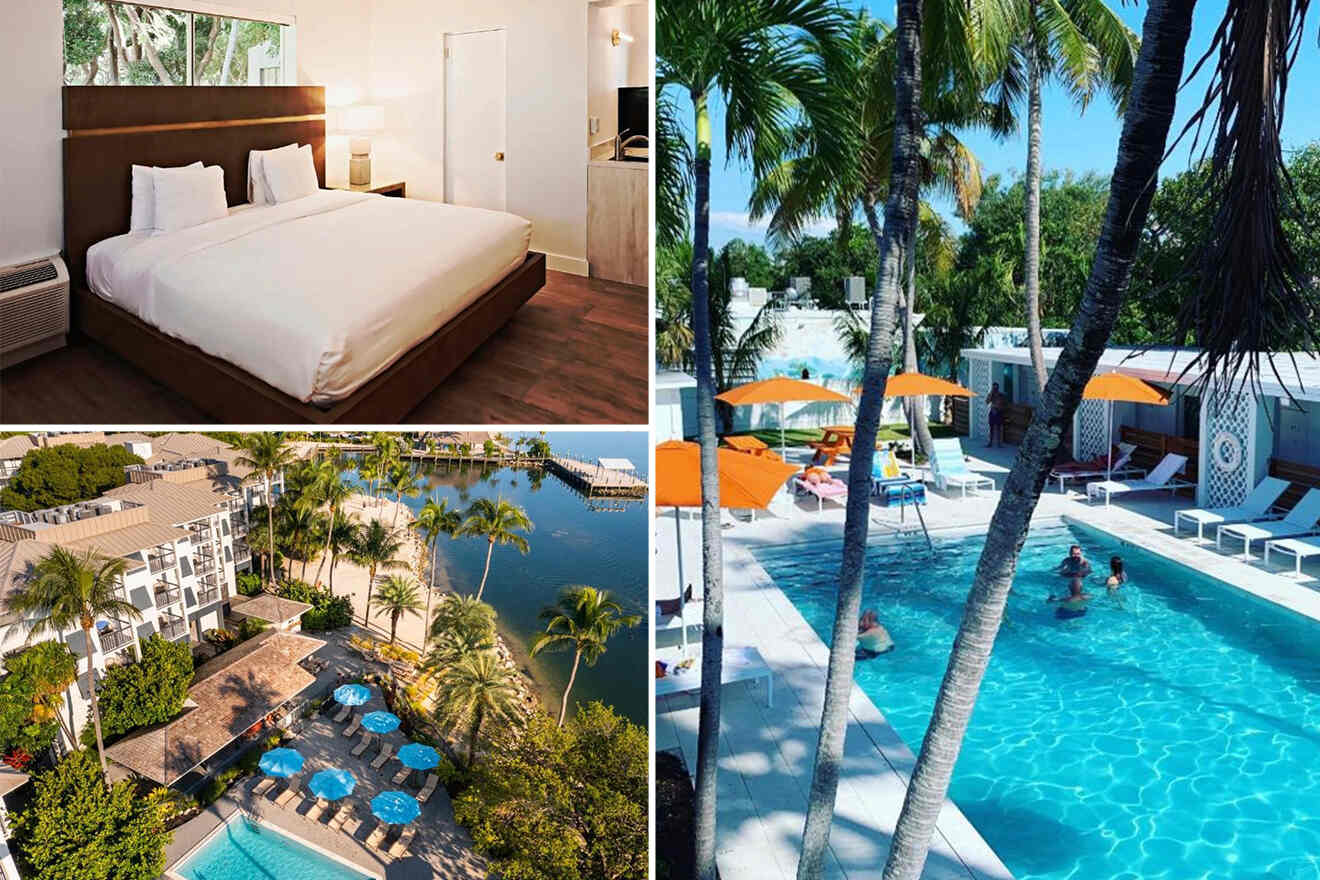 Sunset Inn – Travelling on a budget? I've got you covered! Sunset Inn has a great location on Overseas Highway, at a fair price! The accommodation has plenty of fun attractions like the History of Diving Museum and Anne's beach. Surrounded by lush gardens and tropical trees, the resort has comfortable rooms with a private bathroom, and some also come with a kitchenette. Swim in the pool and enjoy the fresh air in the garden. You'll love it here!
Pelican Cove Resort & Marina – For such an affordable price, this hotel sure has lots of perks! My favorite? It's set right on the beach, already a big plus, and it has a cabana bar, an on-site marina, and a saltwater lagoon! Wow, Pelican Cove Resort is so incredible! After a day of sunbathing, swimming in the pool, and snorkeling, head to the bar for some yummy cocktails to end your day in the right way!
BONUS 1: Best hotels in Islamorada for families
Planning a fun family trip in Islamorada? You'll probably need some great hotels then! Luckily I'm here to help you with that!
I've made a list with some amazing accommodations to stay in Islamorada perfect for you and the kids that will make your trip unforgettable! All these family hotels in Islamorada are listed in order from most to least expensive with prices from US$470 to US$250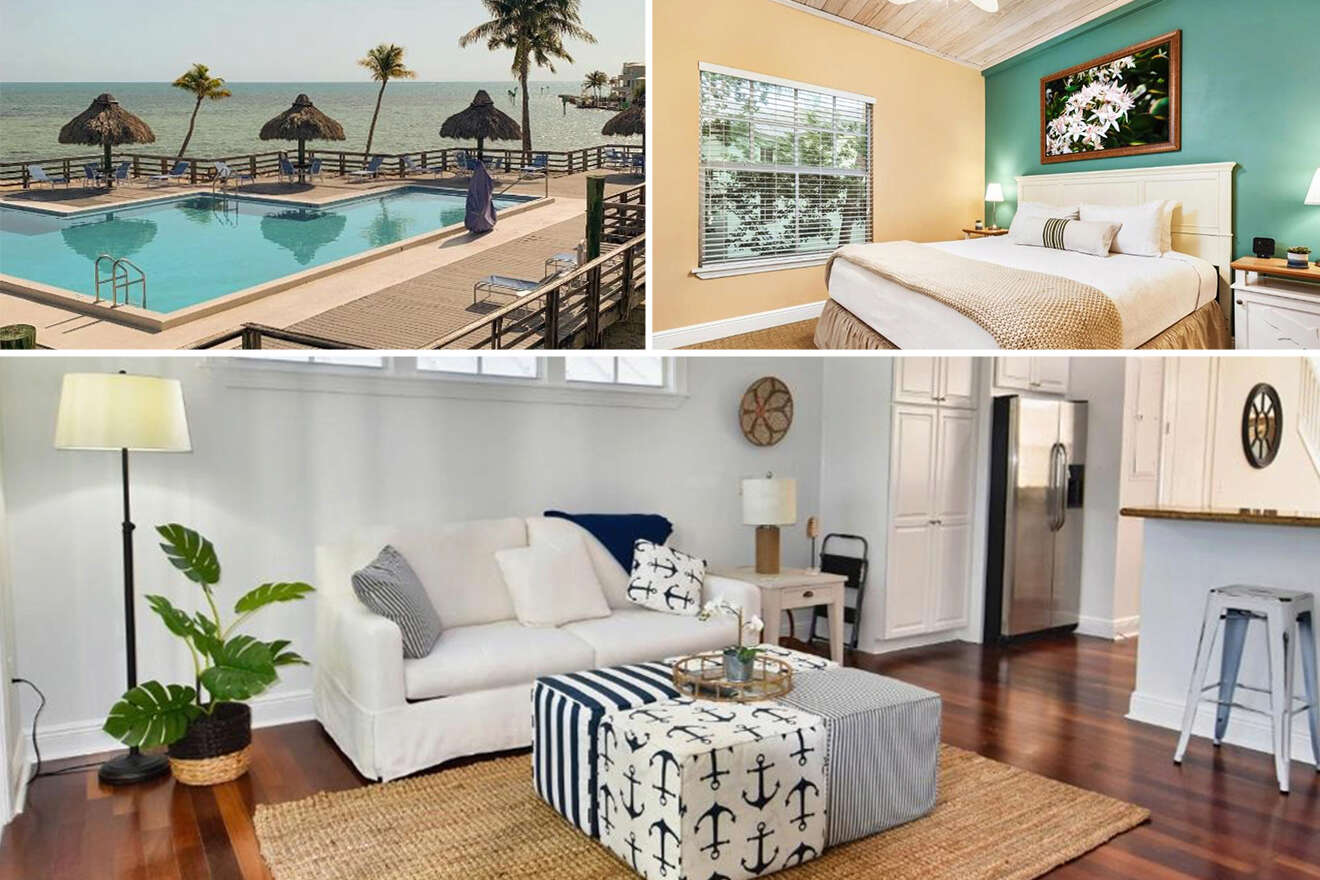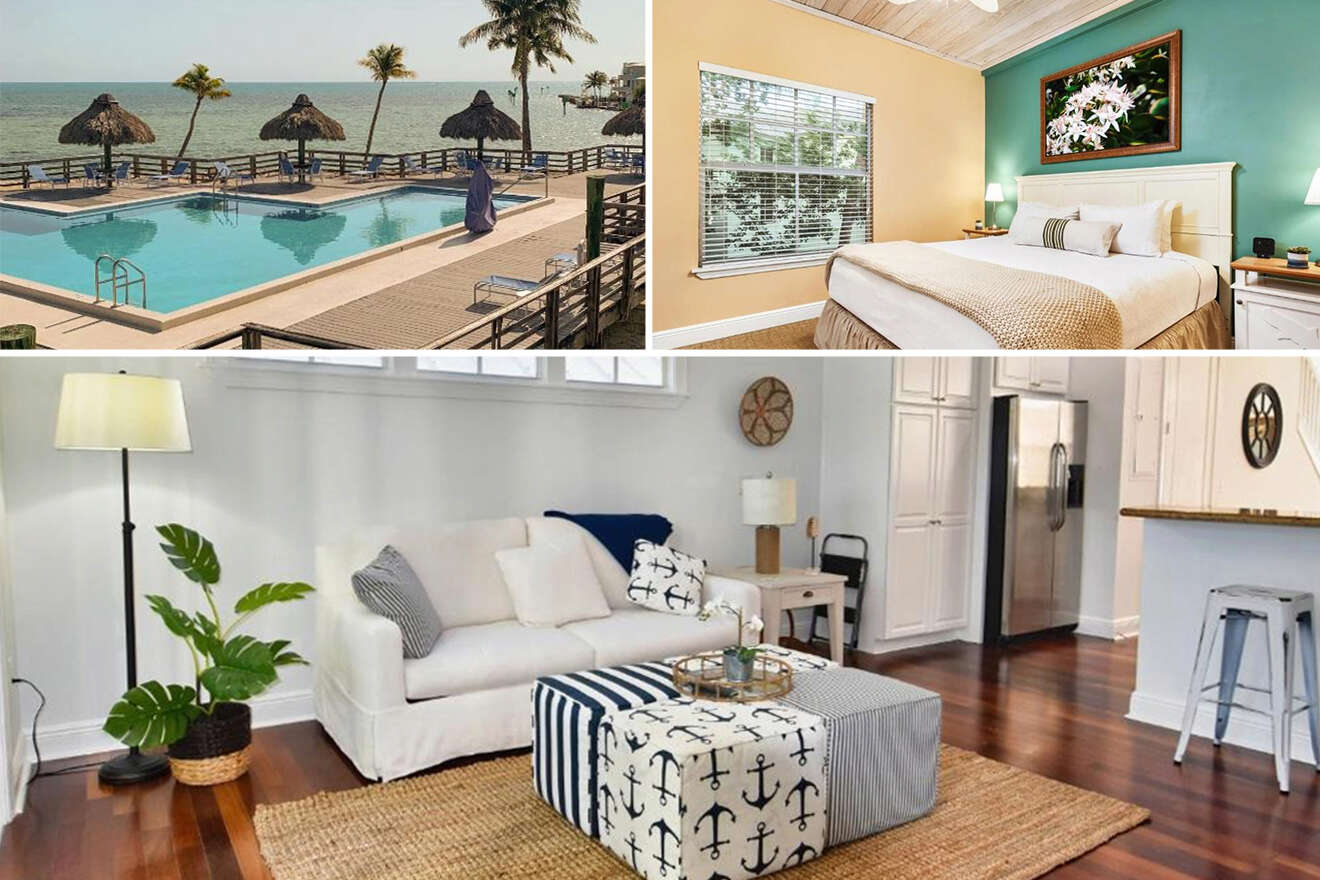 Angler's Reef Resort – Set on a beautiful private beach area, this fantastic resort in Islamorada offers private villas. Each unit has lots of space, spacious rooms, a kitchen, and a private bathroom. This sounds like the perfect setting for families if you ask me! During the day, you and the kids can try different water sports like snorkeling, diving, and windsurfing! Or chill by the pool and cool off on those hot summer days.
Caloosa Cove Resort – Hola traveler! Are you ready for an epic vacation with your whole family? Caloosa Cove Resort is the perfect place for that and it has plenty of fun things to do on-site, like playing tennis and swimming. After a long day of physical activity, you can head quickly to the restaurant to have a delicious dinner. The apartments are spacious and can fit your family, plus they also have a kitchen!
Islander Bayside Villas & Boatslips – Sunshine, great food, and chilling on the beach all day long. This family trip to Islamorada may be your best one yet! Especially when you stay at hotels like this one! With a waterfront location, spacious rooms for you and the family, and plenty of activities to keep you occupied, it'll be hard to say no! Rent some bicycles and explore the island with the little ones.
BONUS 2: Top hotels on the beach in Tavernier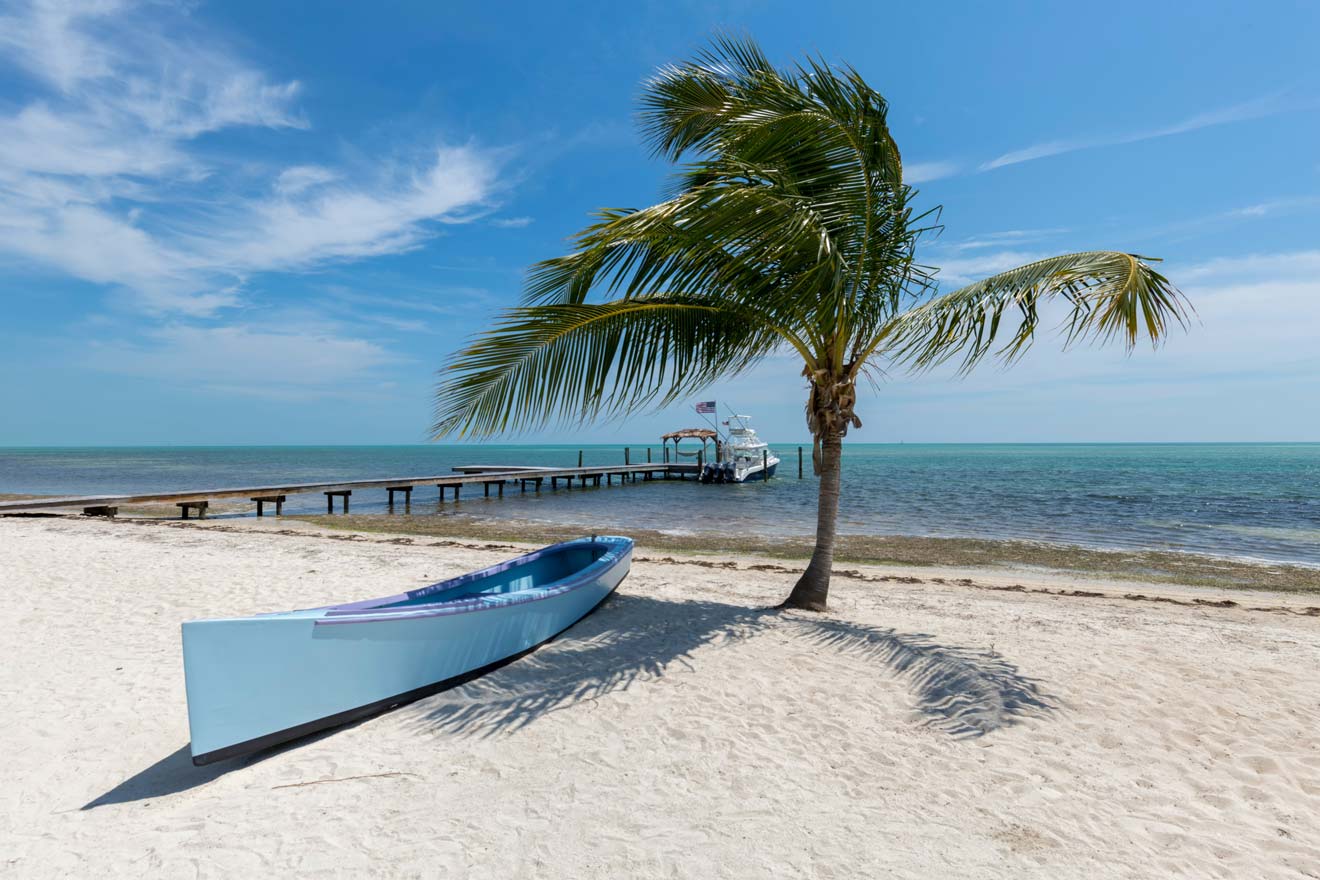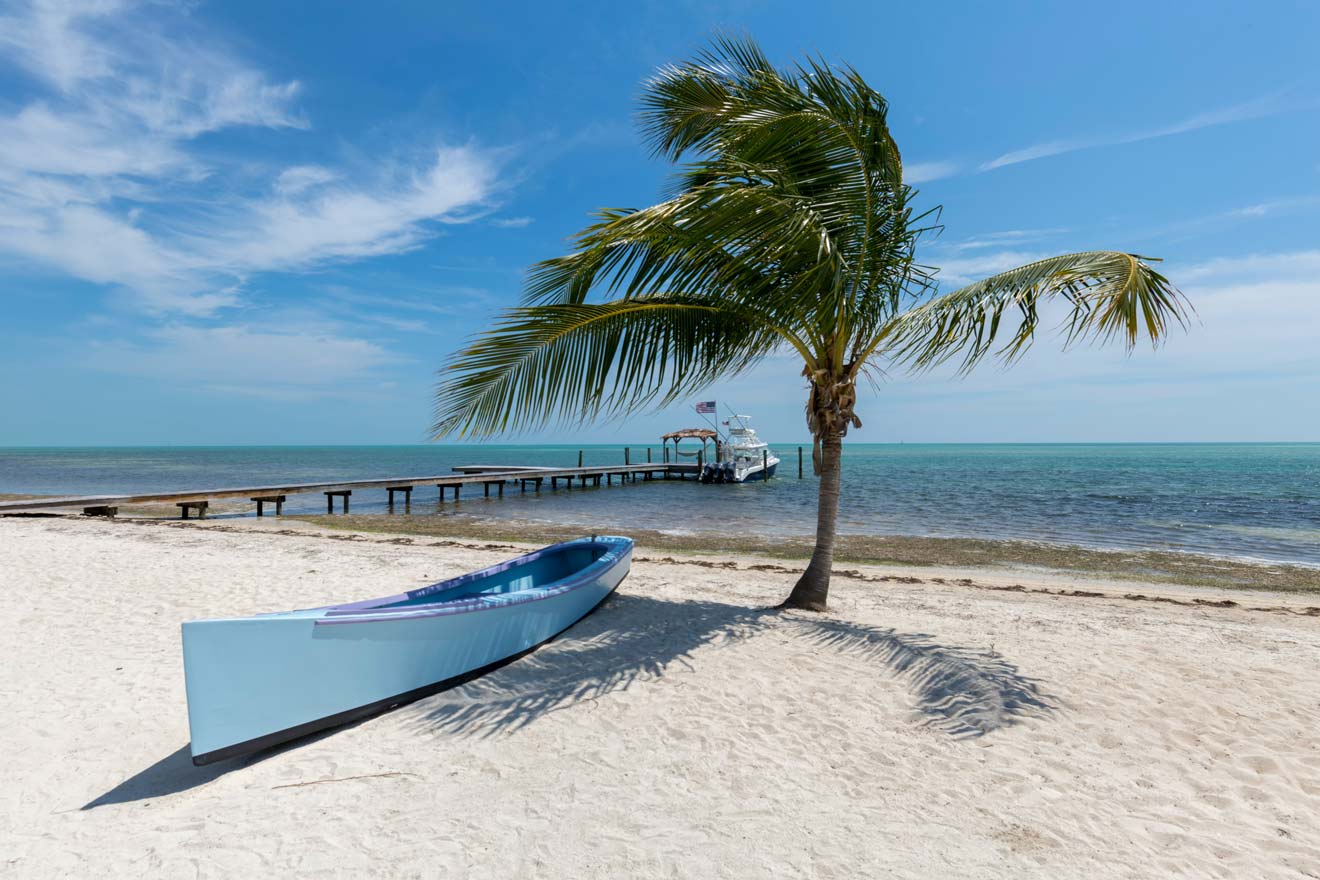 As you know, in my main list of accommodations I've already given you all the hotels on the beach in Islamorada. However, if you haven't found what you're looking for or maybe all those options are booked out, there are some more beachfront options in Tavernier that I wanted to offer you!
Tavernier is just 7 miles (11 km) from Islamorada and since the areas are super close (basically neighbors), you can't really tell where Islamorada ends and where Tavernier begins. The vibe and atmosphere are so similar that you won't even notice the difference!
So don't be sad if you can't find the beach accommodation you want in Islamorada. I'm here to save the day with Tavernier, which is right near the island!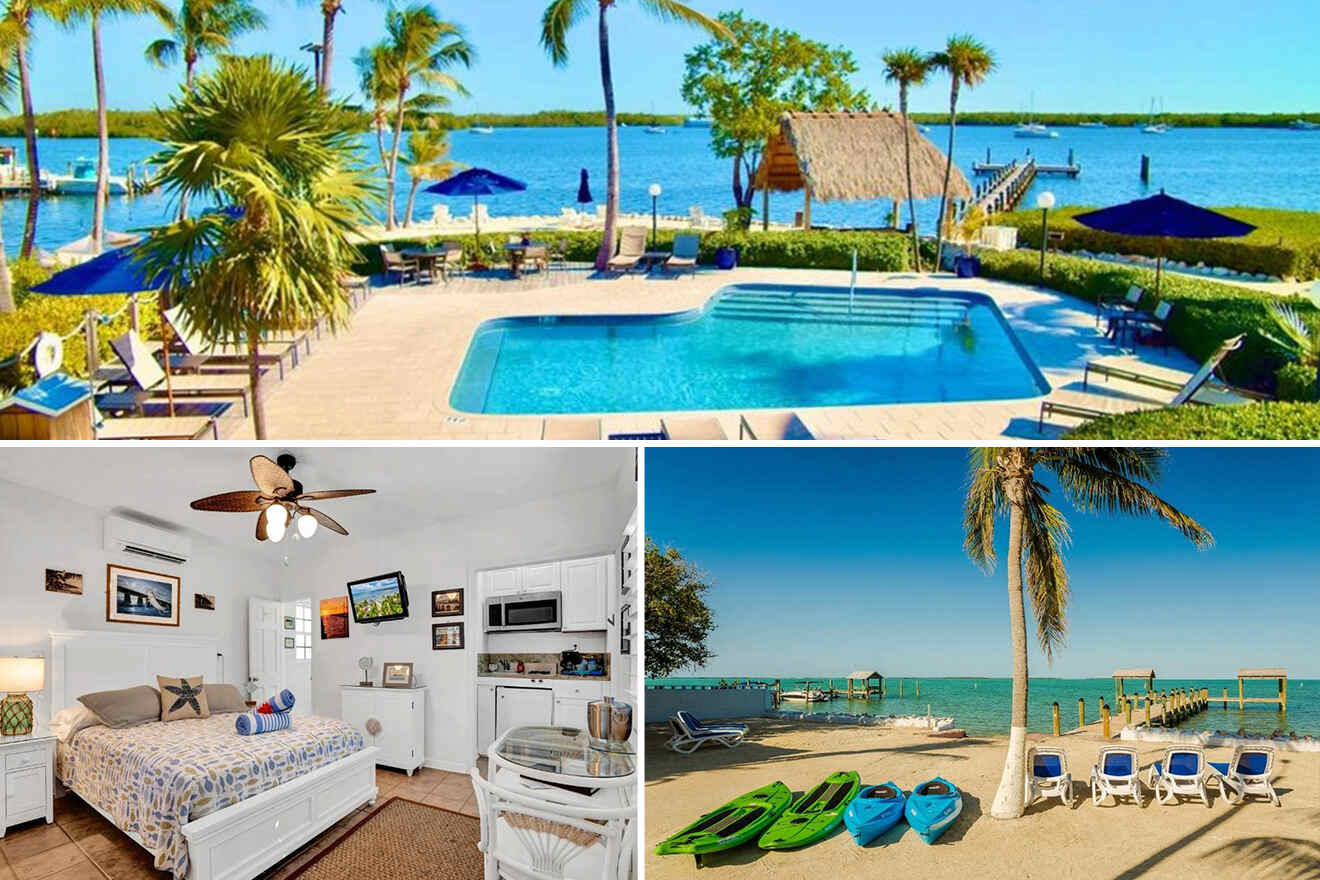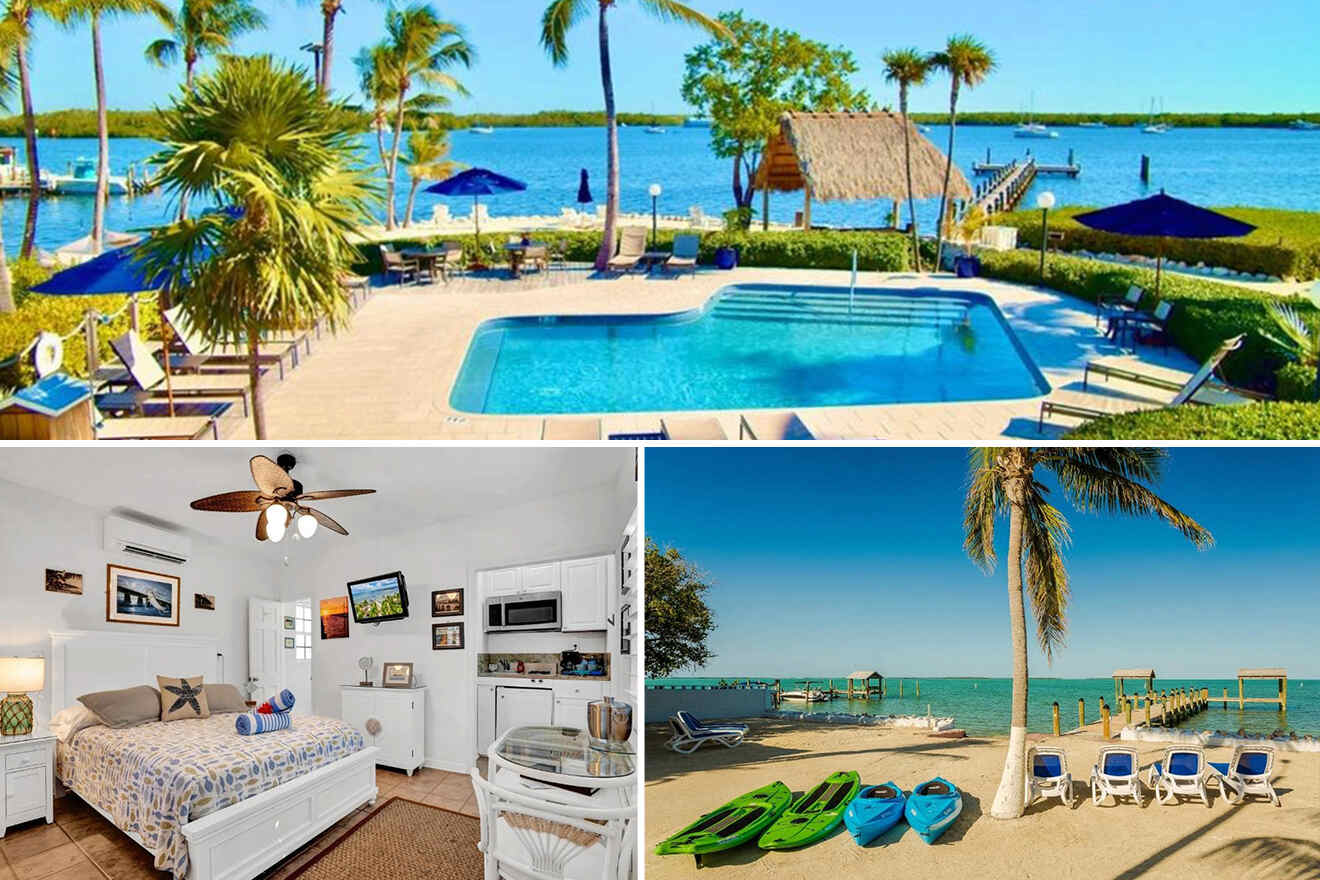 Luxury (US$300 and up)
Coconut Palm Inn – Nestled on a coconut plantation, this fabulous resort on the beach offers easy access to water sports like sport fishing, diving, and snorkeling. Start your morning right with some complimentary bagels, danish, coffee, and juice, and then head to the pool for a quick swim and sunbathing. Each room at Coconut Palm Inn has a comfortable bed, air-conditioning, and mini-refrigerators. You can gather by the outdoor fireplace at night and enjoy the chilly ocean breeze!
Atlantic Bay Resort – Cool tropical aesthetics and a fabulous location on the beach. Hold my purse, this resort may be my favorite! Offering a private beach area where guests can snorkel, this accommodation comes prepared to offer you an awesome holiday in Florida. The location is super peaceful, and the garden is such a wonderful place to catch the sunset. If you're up for some spots on-land (not just off-land), you can borrow bicycles from the resort and explore Tavernier.
Island Bay Resort – Grab your sunglasses, a good book, and get ready to relax in a hammock on the beach all day long! Each room is super comfortable, and it even has a small kitchenette and a table where you can fix something to eat super quickly. Some suites even have a patio with a garden view and at the accommodation, guests can use the barbecue facilities, and try snorkeling and fishing! So much to do!
Mid Range (US$150 – US$200)
Drift Hotel – Looking for something super affordable in Tavernier? This accommodation may be the right fit for you! The rooms have a super simple decor yet they're equipped with everything you need for your stay including a private bathroom and air-conditioning. During the day you can relax in the garden or on the sun terrace, which also has fire pits, perfect for a cozy night with your friends.
Frequently asked questions about hotels in Islamorada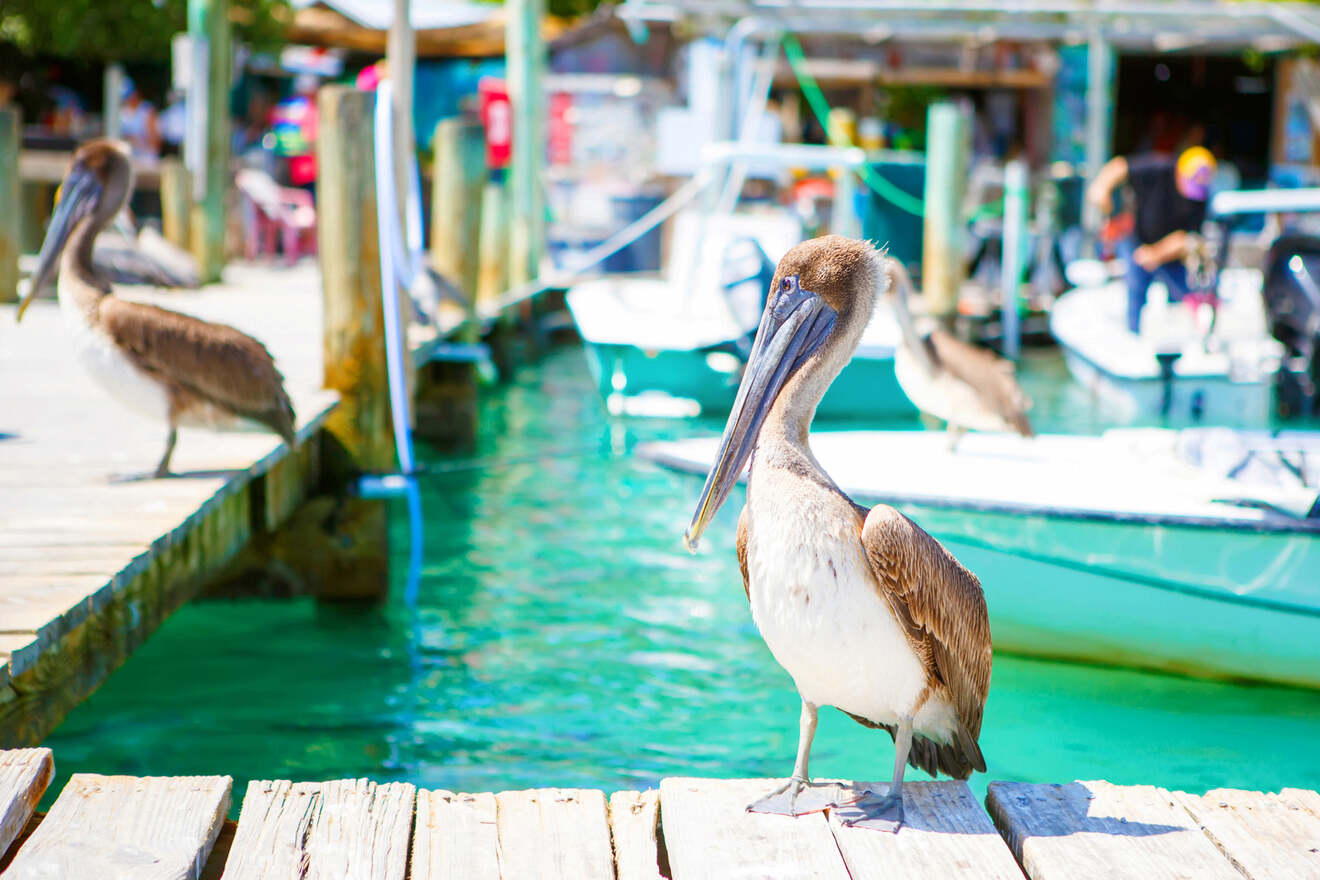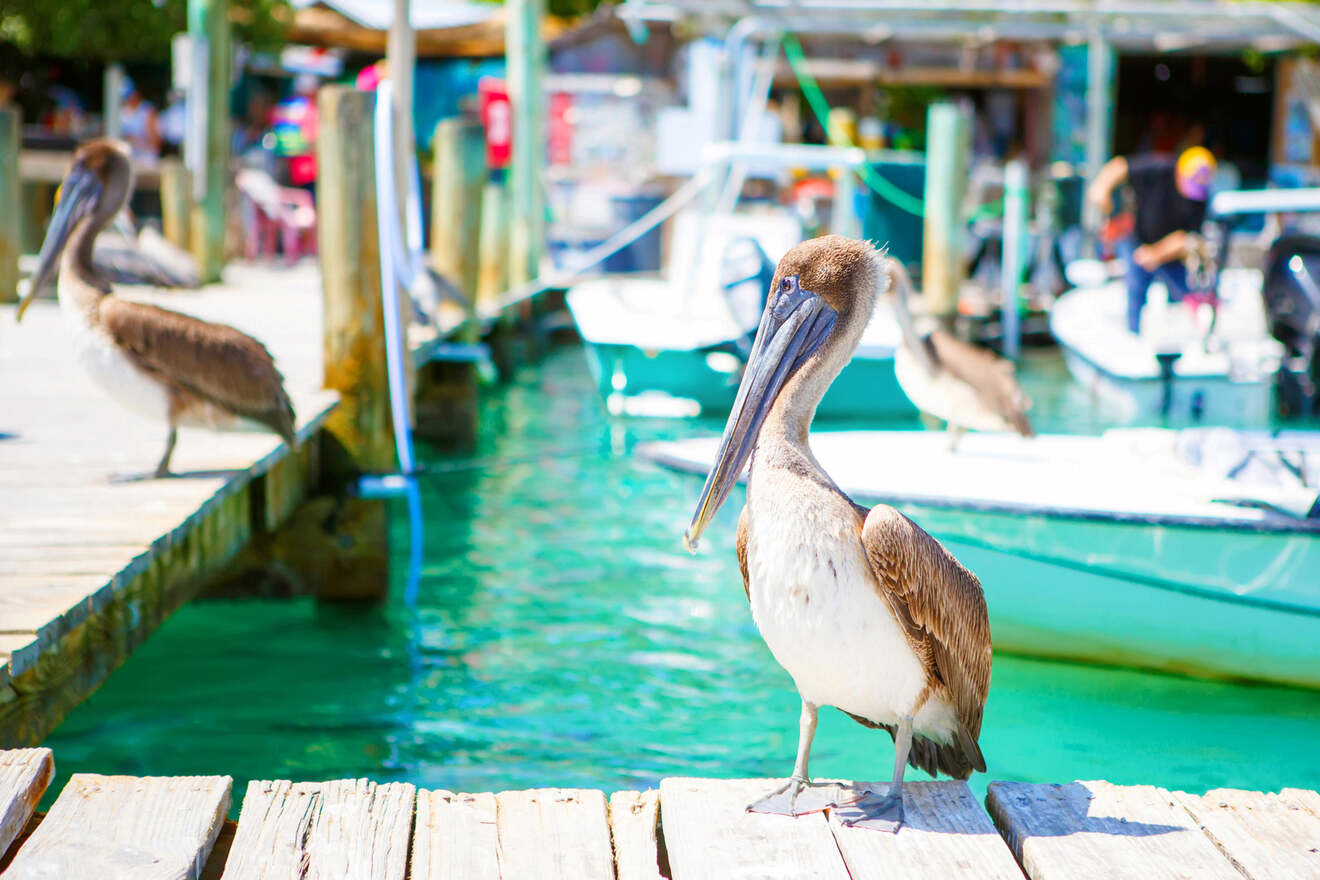 🏝️ Is Islamorada worth visiting?
Yes, Islamorada is a fabulous place to visit in Florida. The island has an up-scale small-town atmosphere, scenic bay, breathtaking ocean views, and resorts like The Islands of Islamorada that will make you come back for more! 
🏖️ Does Islamorada have good beaches?
Yes, all the beaches in Islamorada are amazing. Some of the best ones are Anne's Beach, Founders Park, and Holiday Isle Beach. 
🏊‍♀️ What are the best things to do in Islamorada?
Islamorada is famous for offering plenty of water activities like kayaking, paddle boarding, and fishing. But there are many things to do on land as well, like shopping in its boutique stores and bicycling in the area. 
💰How expensive are hotels in Islamorada?
Expect to pay around US$300 to stay in Islamorada in a luxury hotel. A mid-range one costs between US$150 and US$200 and budget accommodation can cost up to US$150.
Conclusion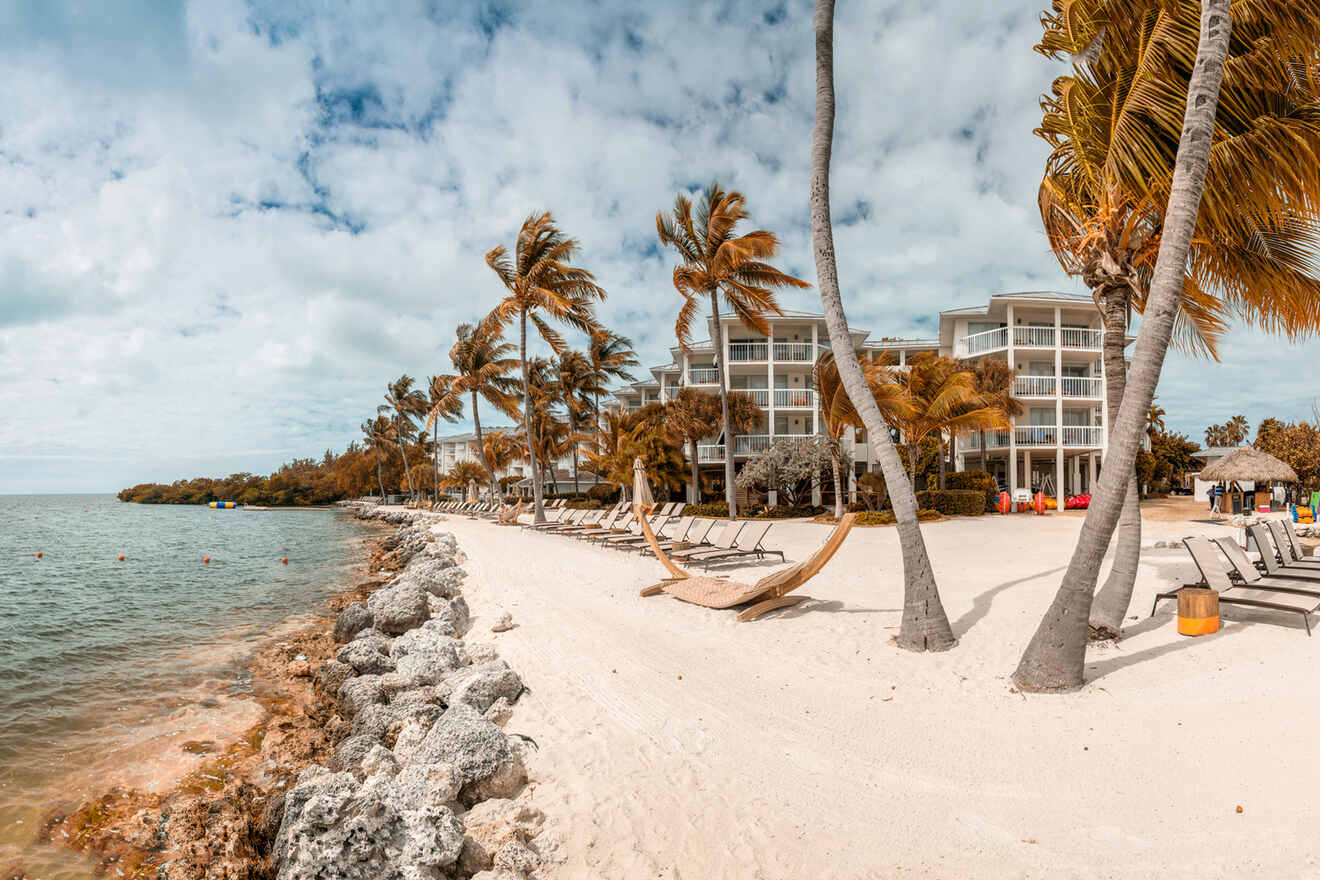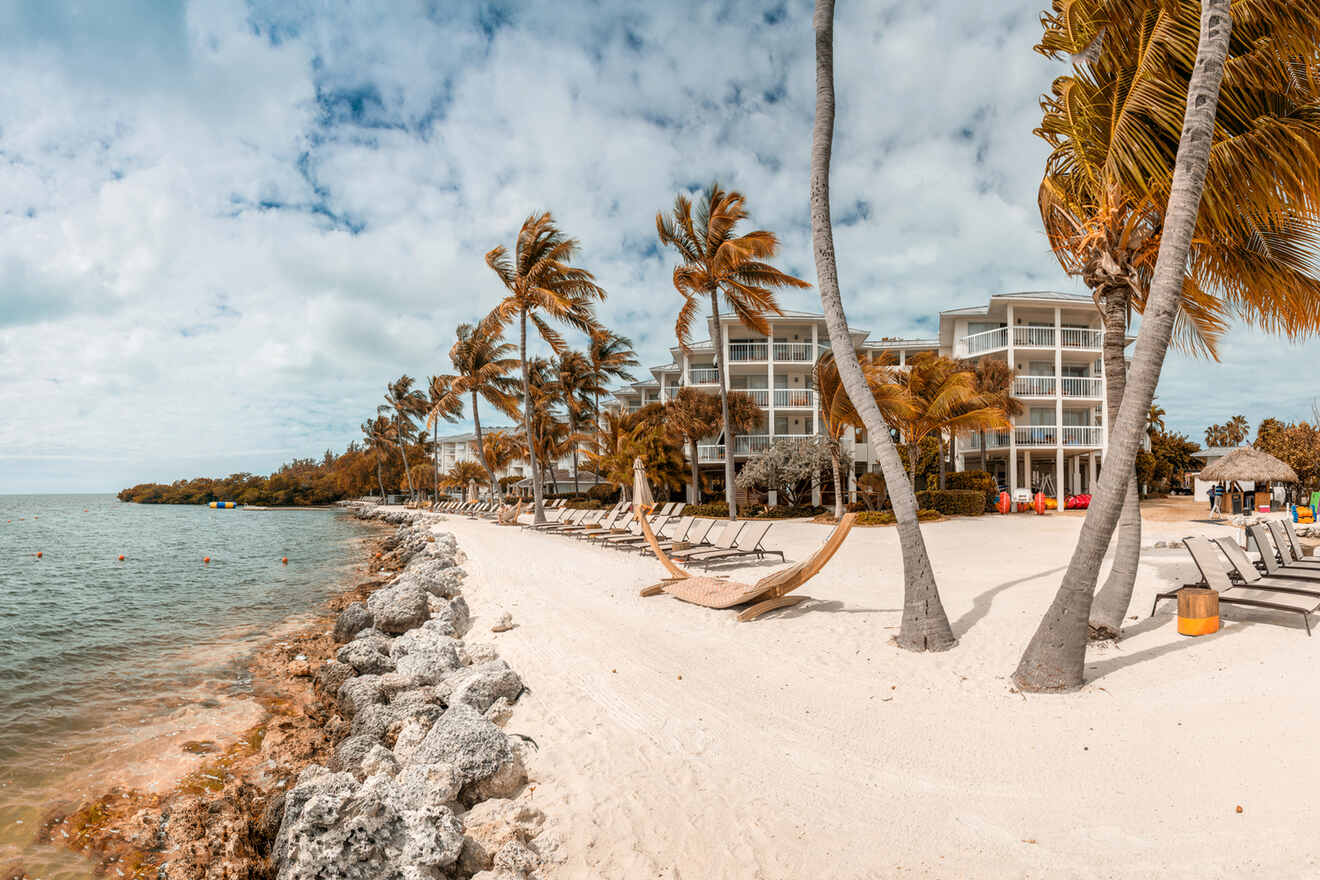 Am I the only one browsing the web for swimsuits and beach accessories now? This location has put me in a holiday mood, and I'm sure I'm not the only one!
I hope this article helped you decide which are the best places to stay in Islamorada!
We've gone through a detailed guide to the best hotels in Islamorada, from most to least expensive. Plus 2 bonus sections, one with wonderful family hotels on the island and one with some great beach hotels in Tavernier, set right near Islamorada.
Let's be honest, this list may be a bit overwhelming for you guys, but trust me, it's better to have many options than none at all. However, in case you need some extra help, here are my top 2 favorite options:
The Islands of Islamorada – One of the best luxury hotels in Islamorada that offers breathtaking views, an outdoor swimming pool, and plenty of water facilities
Fisher Inn Resort & Marina – This mid-range option is fantastic as it offers a beachfront location, an outdoor pool, and fun games
Make sure you book these popular hotels in advance! That way, you'll avoid the high prices and won't miss out on your favorite place.
Our journey ends here (but just for now, I'll be back with more amazing destinations). Until then, enjoy this trip to Islamorada, and don't forget that I'm here to help you with any details, so leave me a comment below, and I'll answer ASAP!
Safe travels,
Victoria
---
Pin it for later!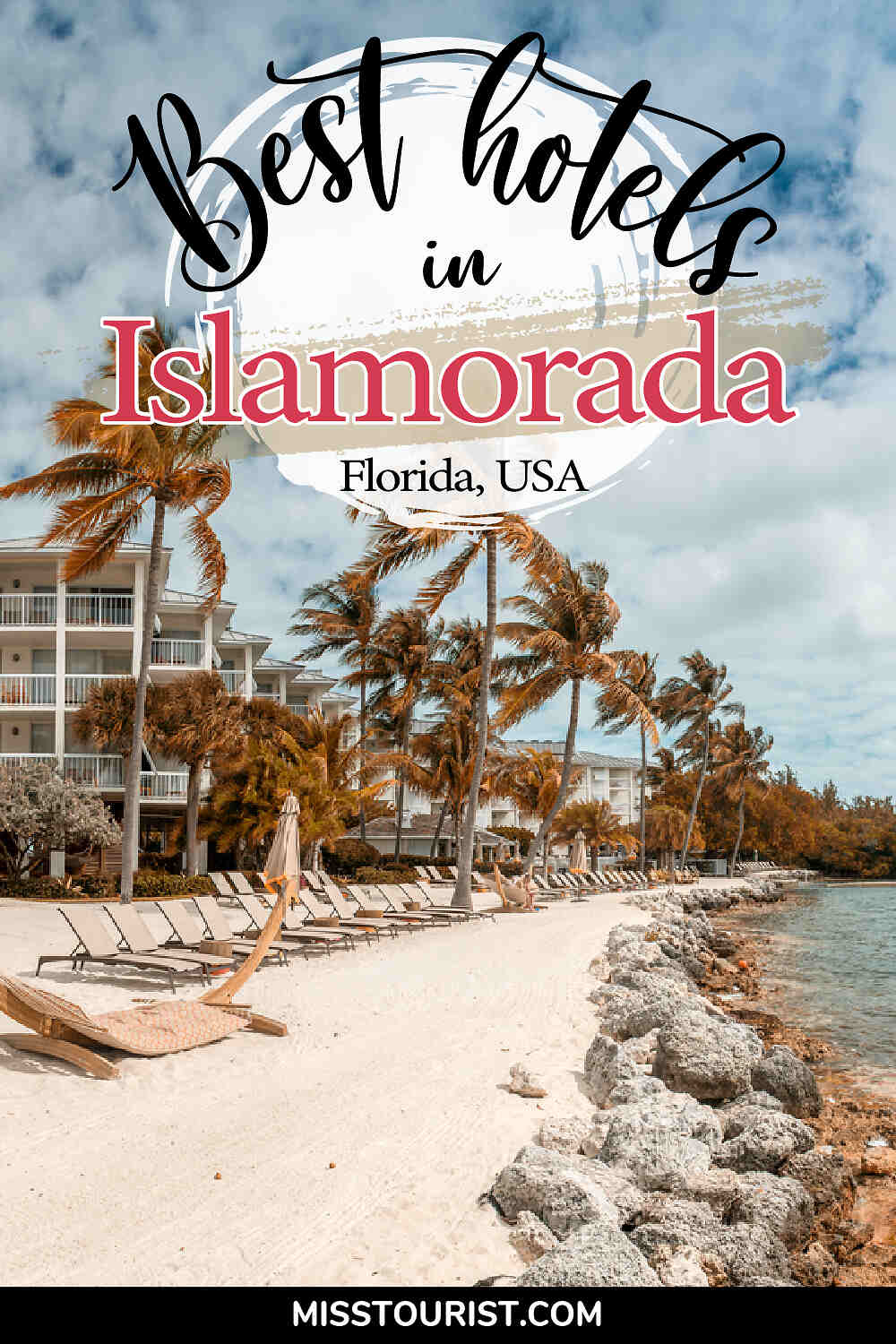 Pin it for later!