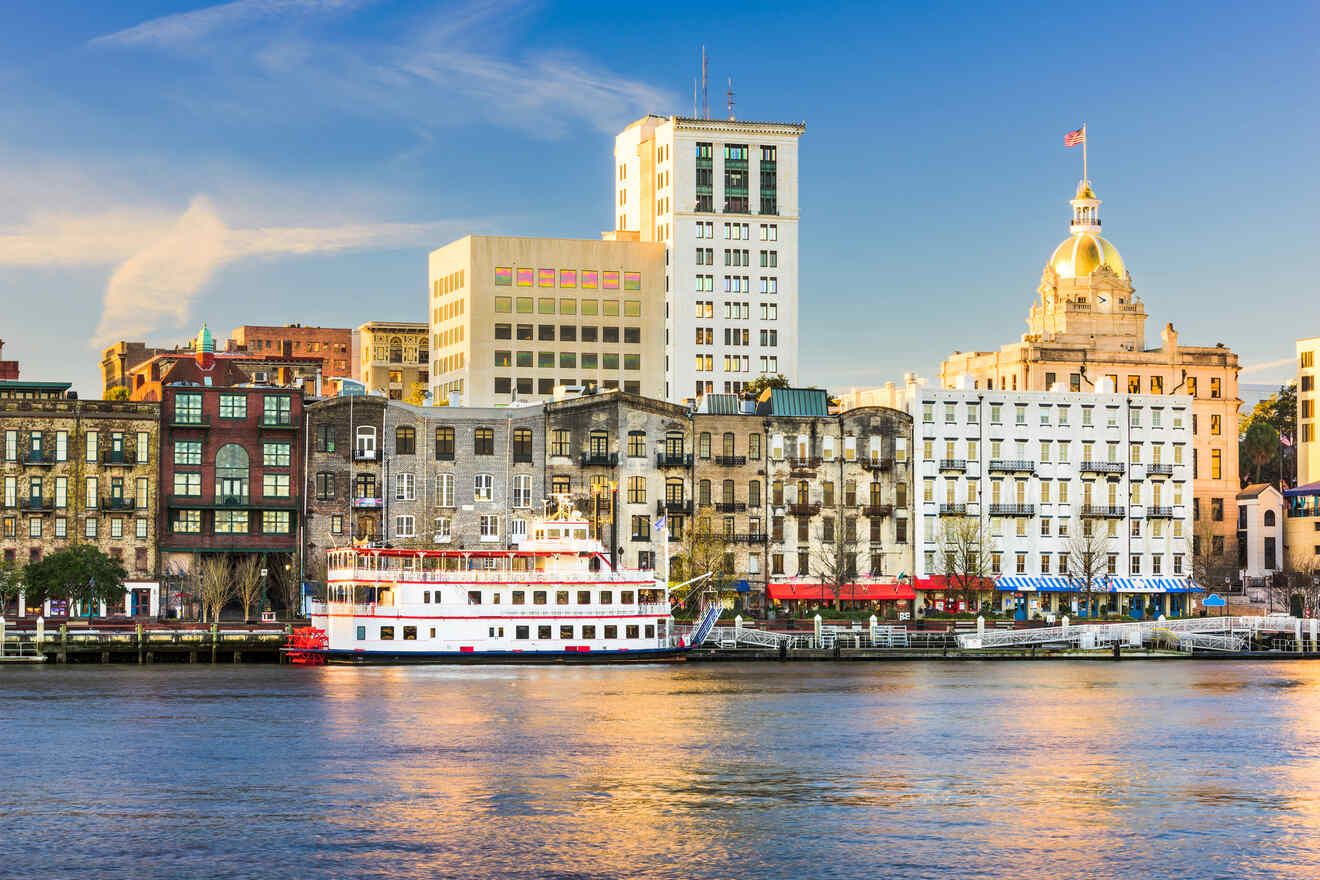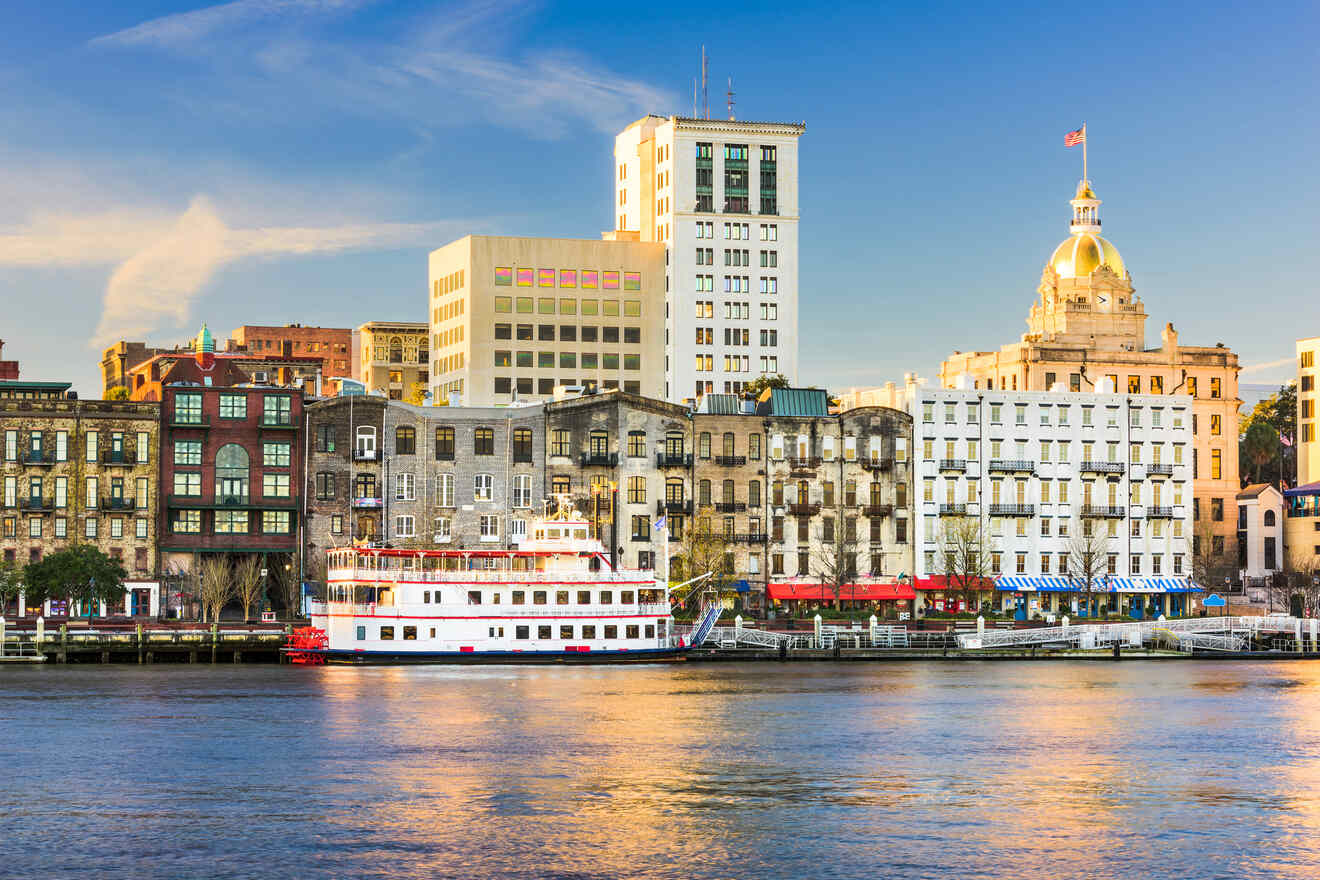 Savannah City (the oldest city in the state of Georgia) is best known for its art, unparalleled detail in architecture, and boutiques that cover every trend. Savannah boasts mile after mile of beautiful houses, manicured gardens, and historic squares. It's also a popular vacation destination, with tourists from all across the world flocking to the city searching for a slice of southern charm.
The best area to stay in Savannah is certainly the Historic District. You should choose this neighborhood if you want to be close to all the main attractions of the city such as The Cathedral Basilica of St. John the Baptist, Owens-Thomas House & Slave Quarters and the Forsyth Park,
In this article, I will be discussing the 4 best places where to stay in Savannah, GA. This list will narrow down its best neighborhoods full of charming attractions and beautiful accommodations for your visit and give you the best hotels for your budget.
It is also worth noting that most of these neighborhoods are located super close to each other, which is very walkable. You do not need to worry about transportation much in this case (well, except maybe for the last couple in the list).
If you are in a hurry
If you are in a rush to see the best rooms to stay in, then look no further with this list for the best place to stay in Savannah for any budget.
Here is a handy map showing the 4 areas of Savannah that I will be talking about in this post to help you get a better idea of where they are located.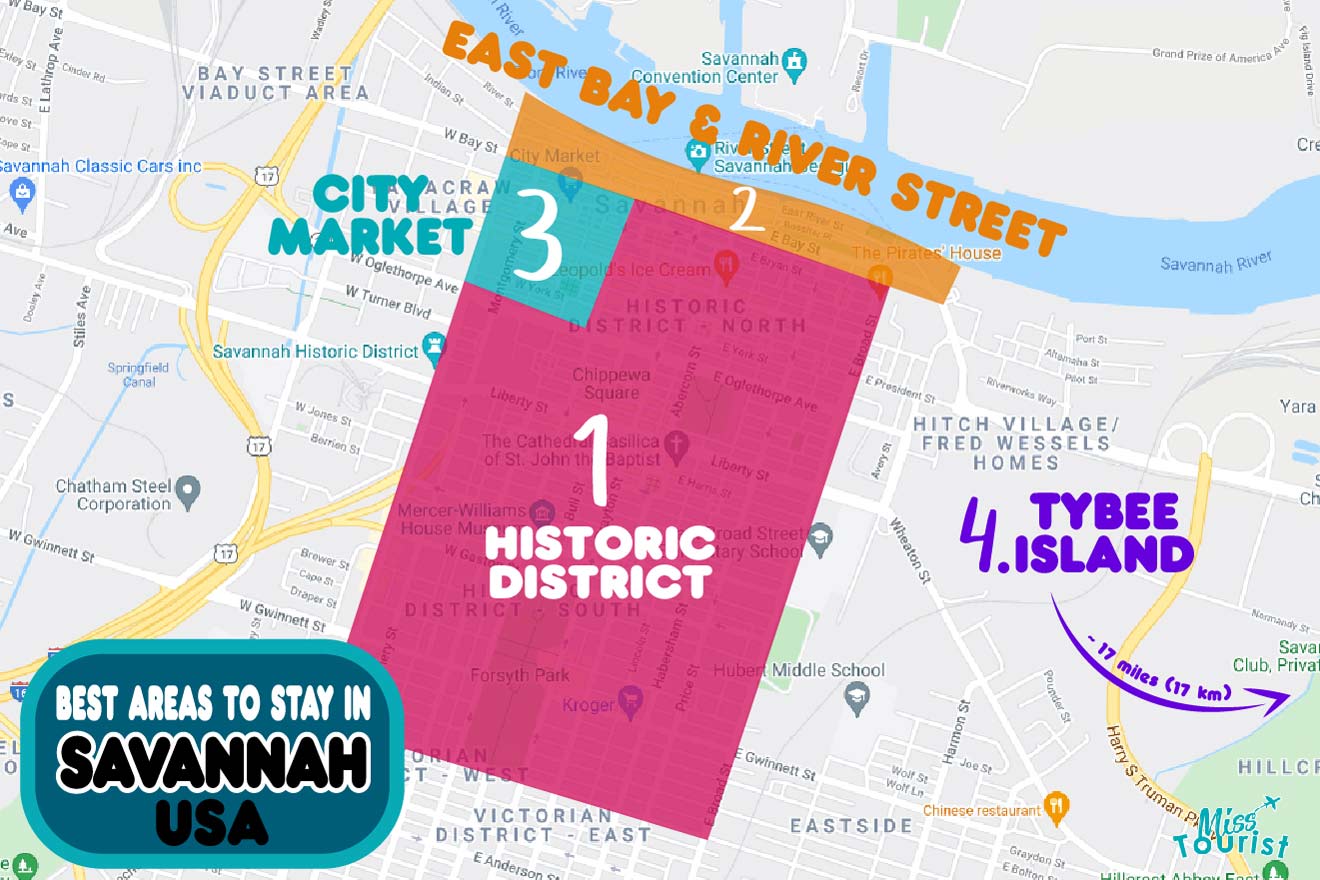 1. Savannah Historic District – where to stay for first-timers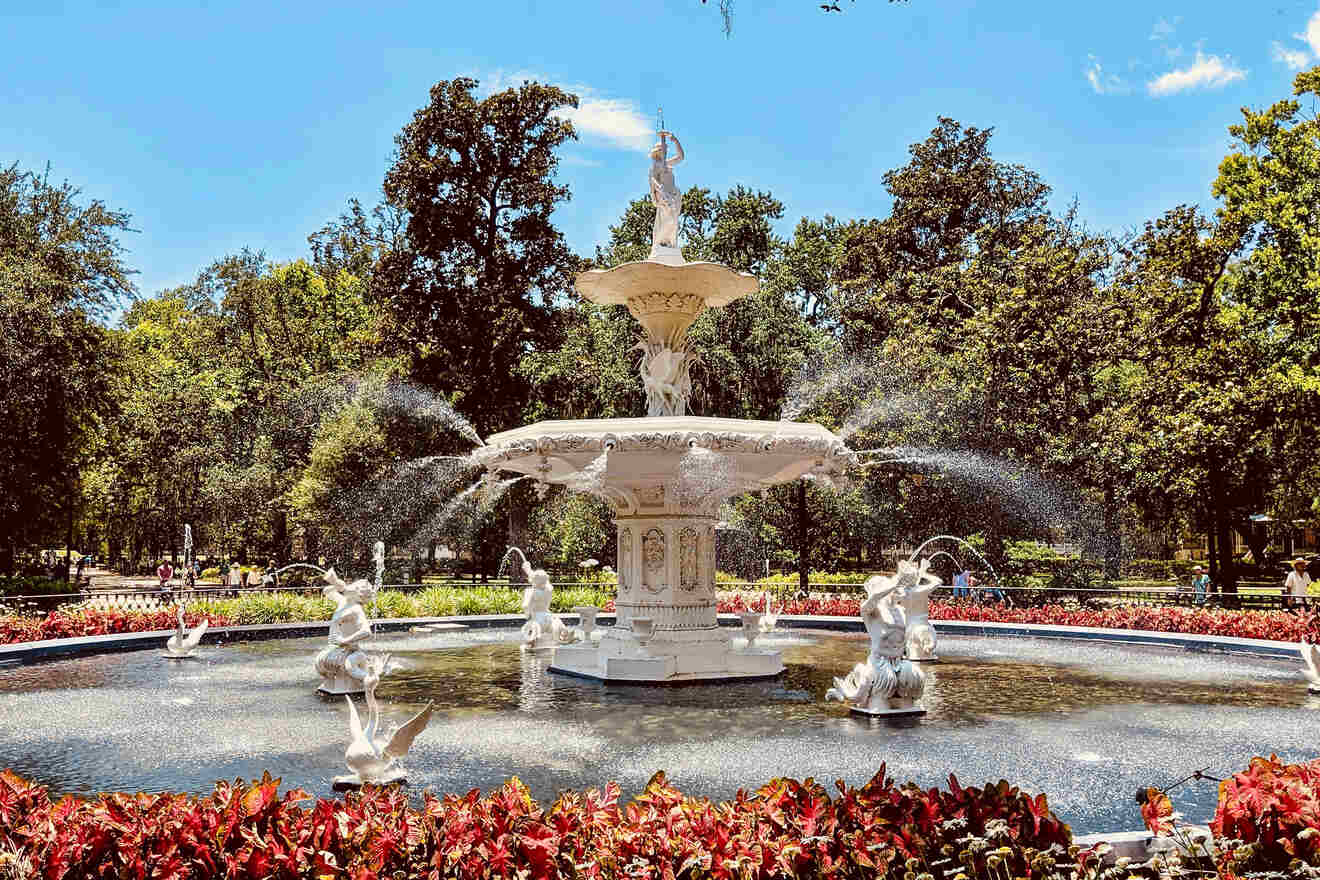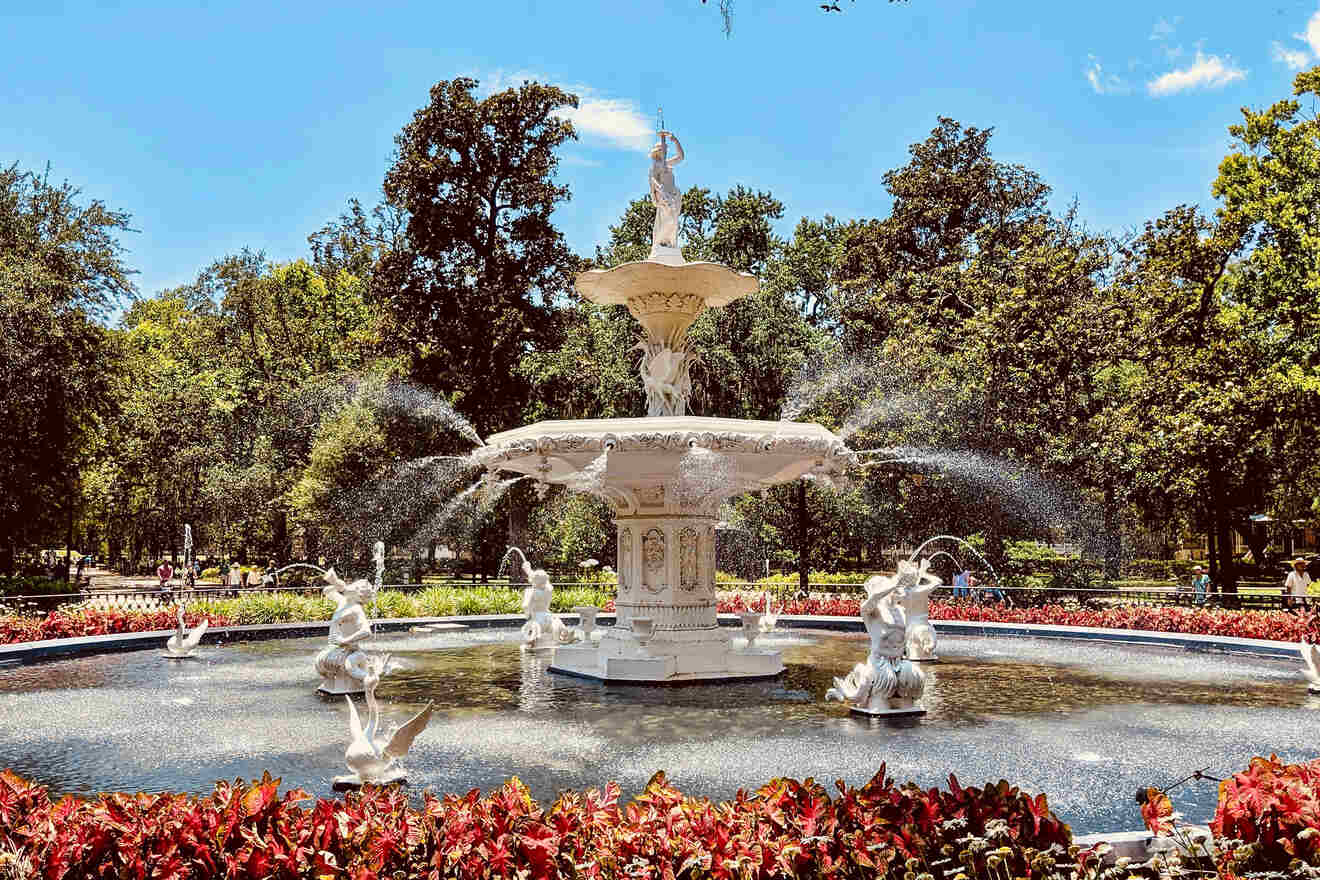 The historic district of Savannah (downtown) is home to some of the city's oldest and most notable houses and buildings that date back to the 19th century. The unique thing about the historic district of Savannah, Georgia, is that it is a city within a city that is conveniently located right at the heart of the town. Filled with structures from centuries ago, along with museums, 22 park squares, and over 100 restaurants, the Savannah Historic District is the perfect place to stay for first-time visitors as you will find everything within walking distance of your hotel!
With so many things to do in Savannah's Historic District, you might even find it hard to choose between the never-ending art galleries and countless parks (such as Forsyth Park) as you stroll the streets. At night, head to one of the happening bars for some live music. As you can imagine, there are also many great hotels to choose from but here are the best ones…
Luxury hotel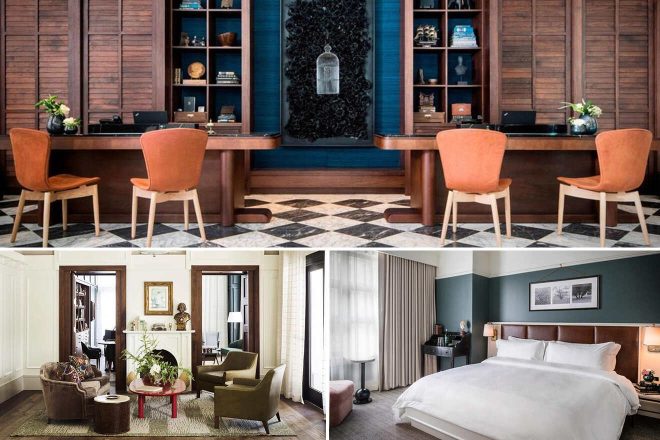 Stunning accommodation that fits right in with the heart of the historic district theme. Clean and well-maintained rooms that are perfect for your stay in Savannah. With a beautiful outdoor pool paired with a robust selection of food and a modern fitness center, this hotel in Savannah will define the rest of your downtime. 
Other options in Savannah Historic District
Mid-range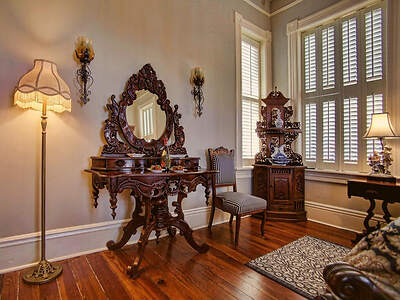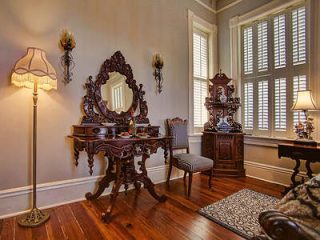 Regal 4 star hotel in the center with outdoor swimming pool and a perfect location in the center
Budget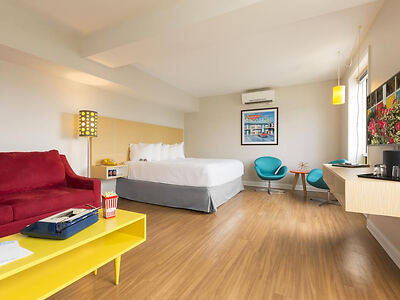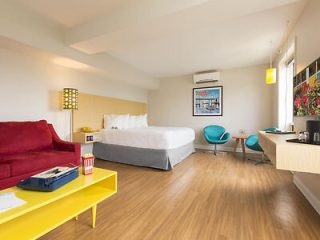 Charming budget option Located just outside the historic district with colorful, clean decor
Airbnb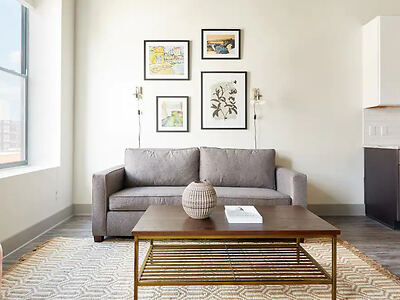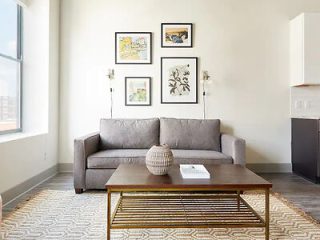 A minimal take on accommodations that parallels the historical scenery of the historic district
Things to do in Savannah Historic District
2. East Bay & River Street – where to stay for riverfront views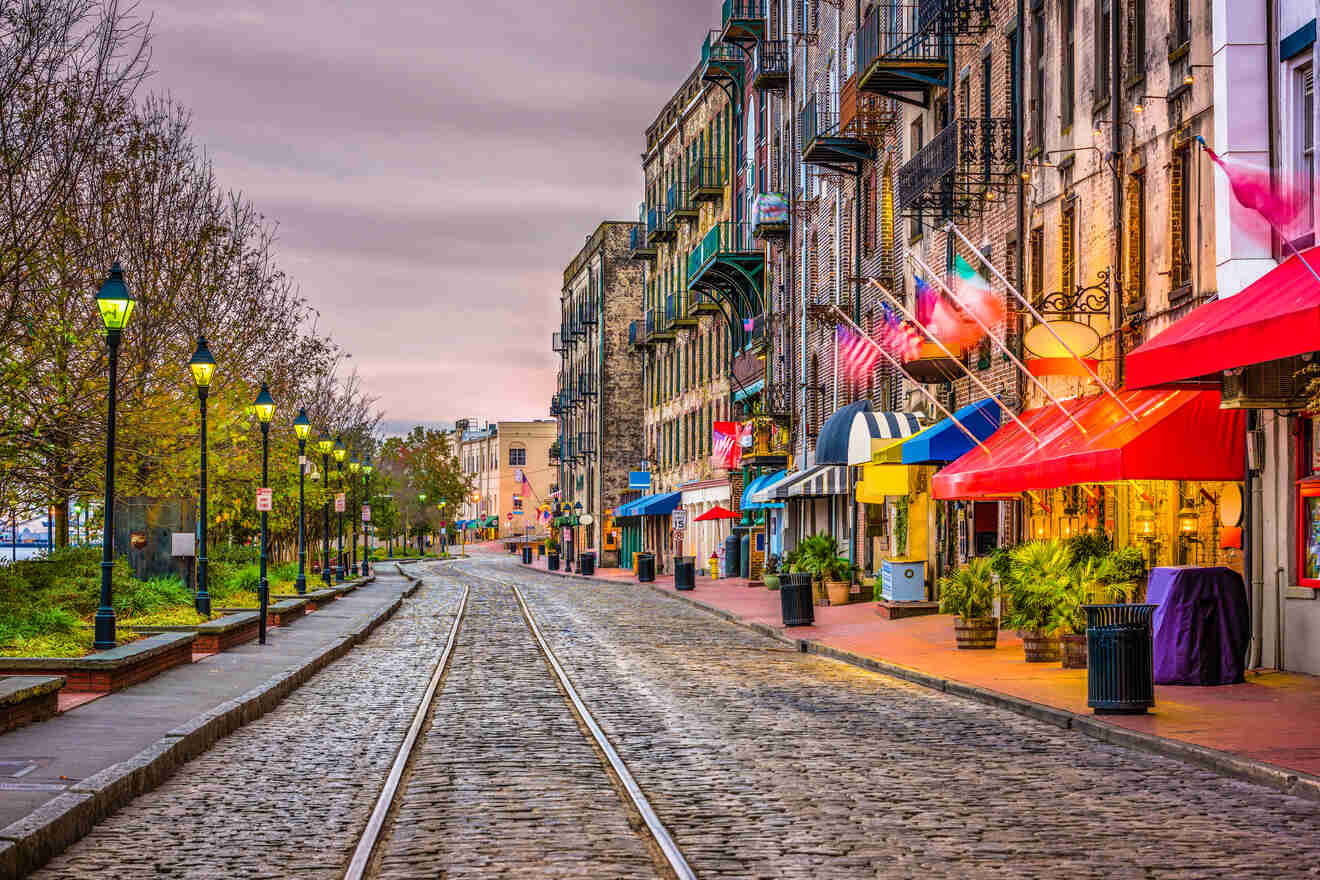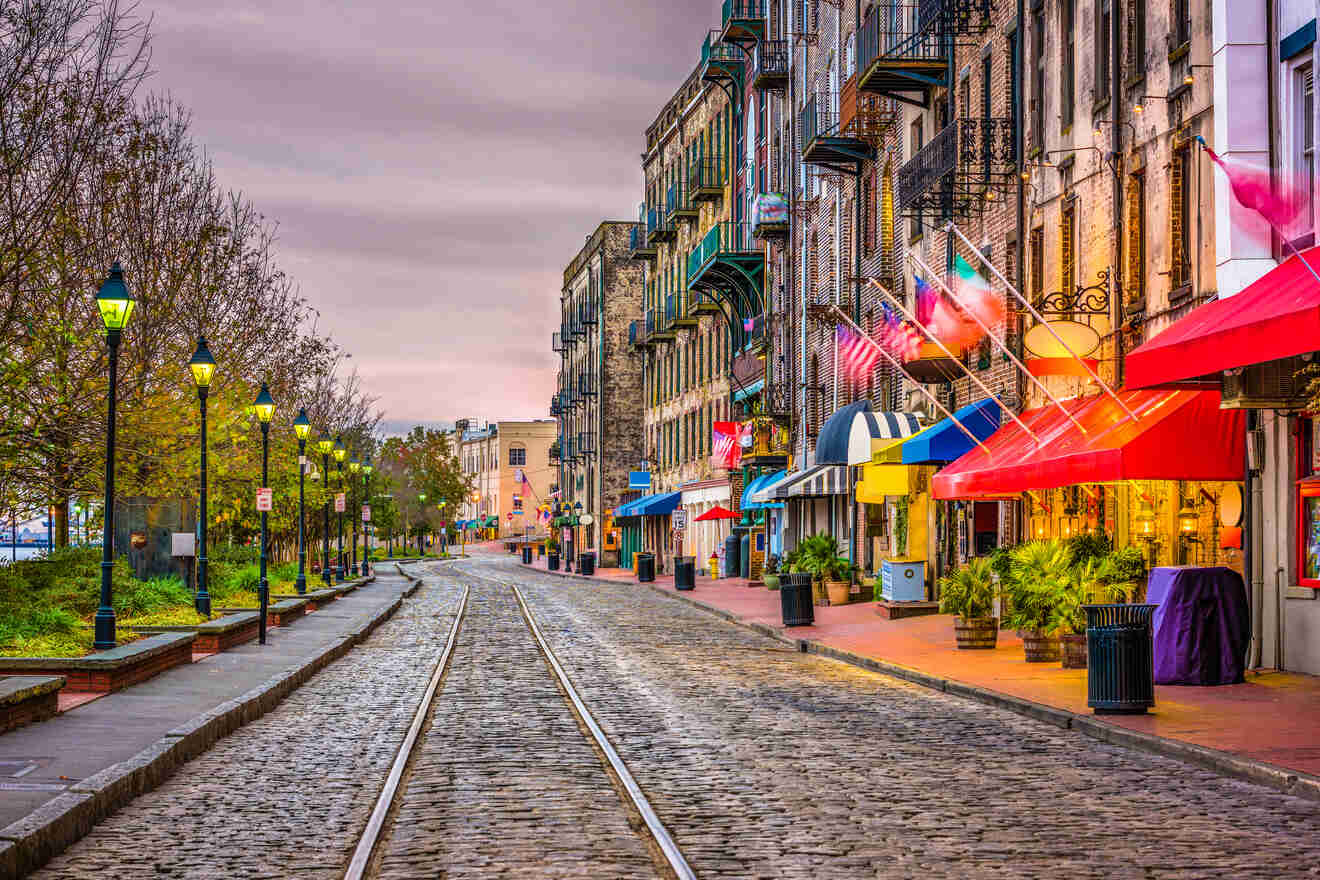 The small sliver of area between the Historic District and the Savannah River is where you will find the vibrant East Bay (also known as East Bay Street) and River Street in Savannah, Ga. It extends down the river to the east, overlooking both the river and downtown district, populated by many hotels, shops, restaurants, bars, and attractions.
The glistening river banks of the Savannah offers the most beautiful live music and nighttime view of the Savannah River that will keep your stay in the city fresh and enjoyable, while River Street itself is essentially a long shopping street that boasts incredible boutiques for all different styles as well as a happening atmosphere.
The classic red brick buildings of East Bay Street contrast with green, tree-lined streets to create a unique hipster vibe for the area. Just like its neighboring Historic District, East Bay is filled with art galleries, lively city markets, and a great selection of restaurants and cafes and has an abundance of great places to stay. To help you choose, here are the best ones for each budget.
Luxury hotel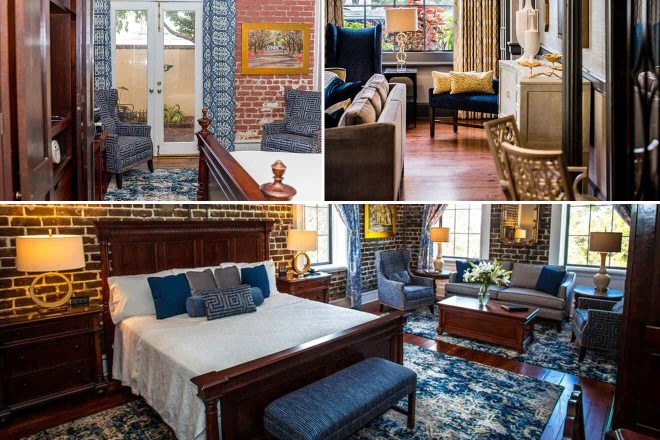 Featuring one of the best indoor landscapes you can find in hotels, you can tell East Bay Inn is a great luxury accommodation just from its facade. Decked out with a fitness center, hot tub, spacious rooms, and a location in the heart of East Bay, it is a guaranteed "savannah best" quality right by the riverfront.
Other accommodation in East Bay & River Street
Mid-range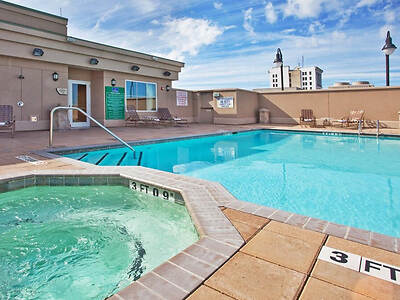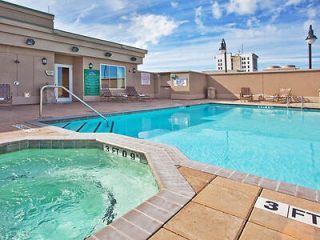 Features a rooftop swimming pool with city views and a daily buffet breakfast close to the riverfront
budget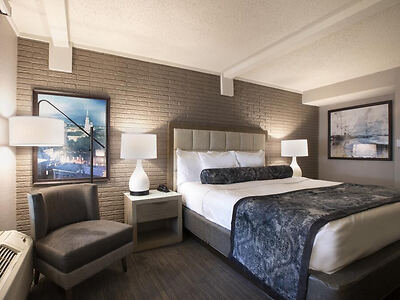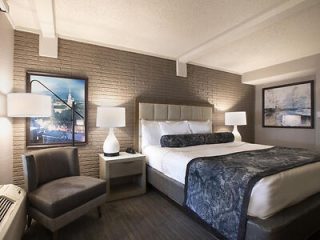 2 min walk from the waterfront with an outdoor pool and 24-hour fitness center
airbnb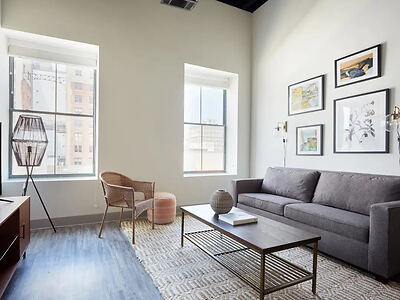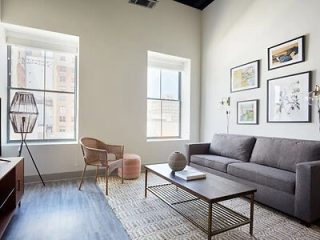 Bright and cozy 1 bedroom apartment in a great location with unique historic touches
Things to do in East Bay & River Street
3. City Market Area – where to stay in Savannah to slow down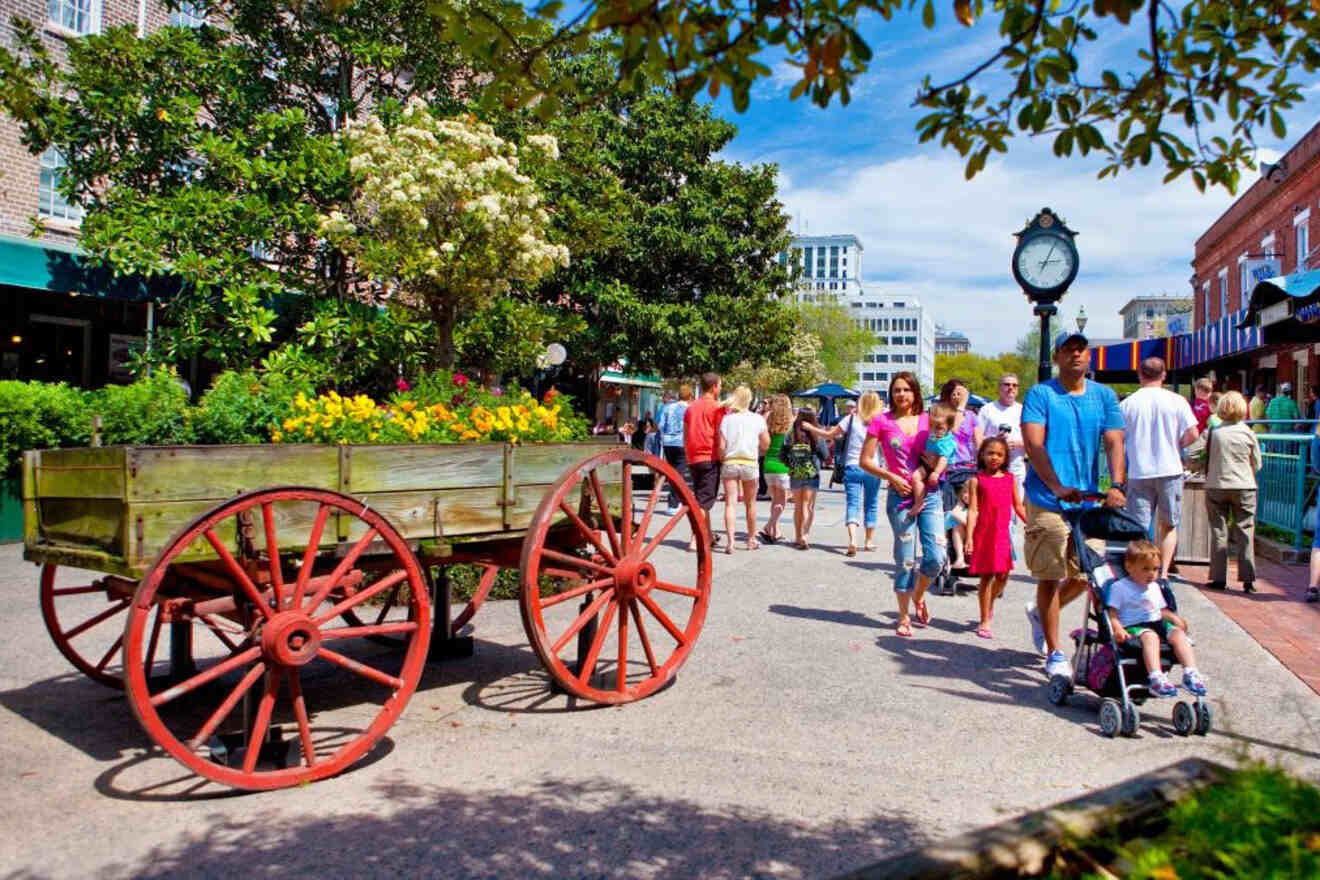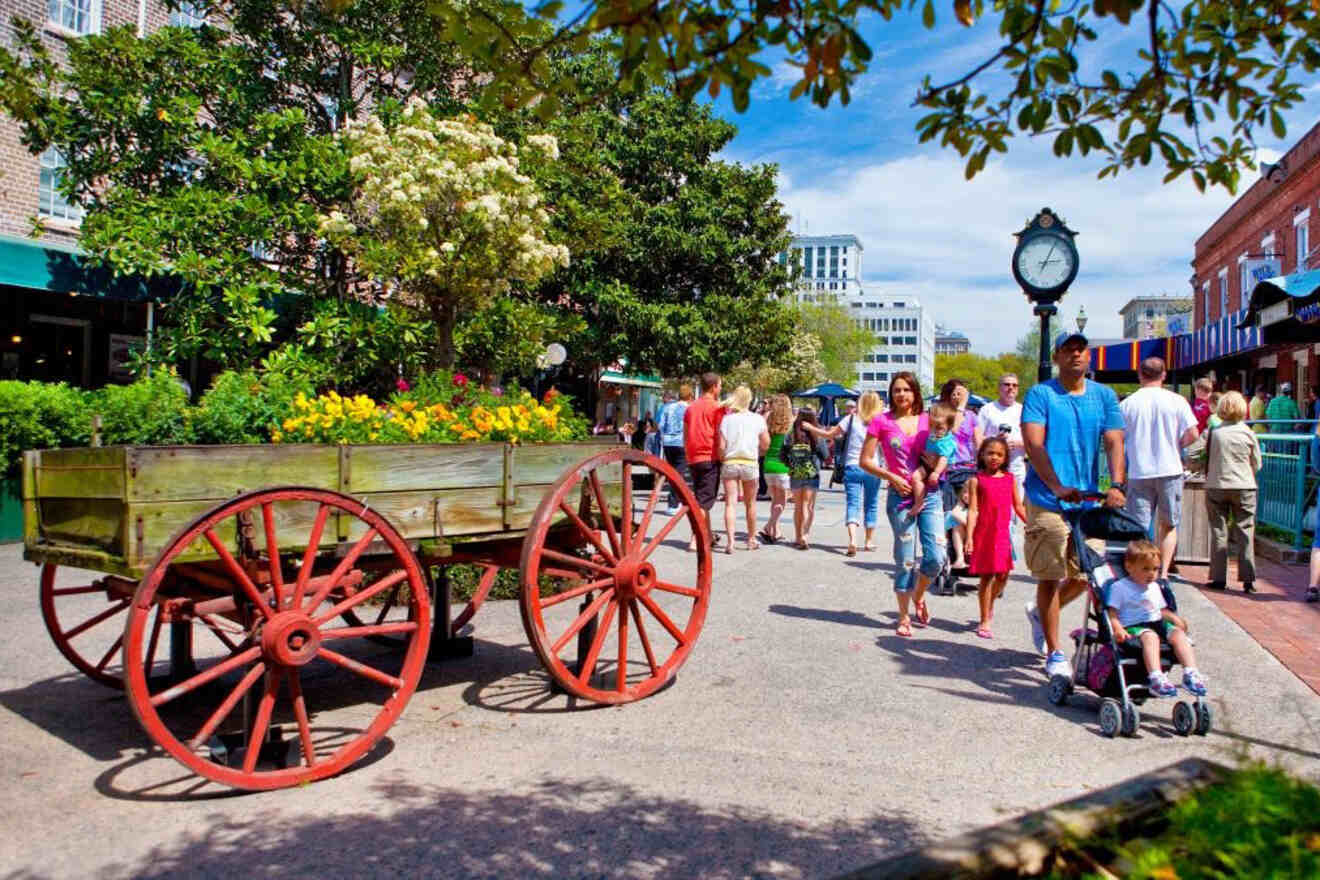 Truly an all-in-one marketplace and a great place to gather for people watching, City Market is one of the oldest markets in America, and the area surrounding it is one of the many vibrant hearts of this city.
Bordering Bay Street on one side and River Street on another, the market has a very urban feel inside its 19th-century brick walls with touches of classic southern features such as pergolas, street clocks, and flower-filled carriages. There are also two squares located within the market area, which create a relaxed weekend atmosphere every day of the week.
The City Market area of Savannah, Georgia, is a colorful, captivating area with old-world charm that's unlike any other place in the South. To visit the City Market area is to experience the vibrant colors, tastes, and smells of the past and the present, both in the historic buildings and the surrounding restaurants, shopping, and nightlife.
There is plenty here for you to enjoy, but this is the perfect area to slow down; choose a comfy street-side cafe and sip a coffee all day if you want to.
Luxury hotel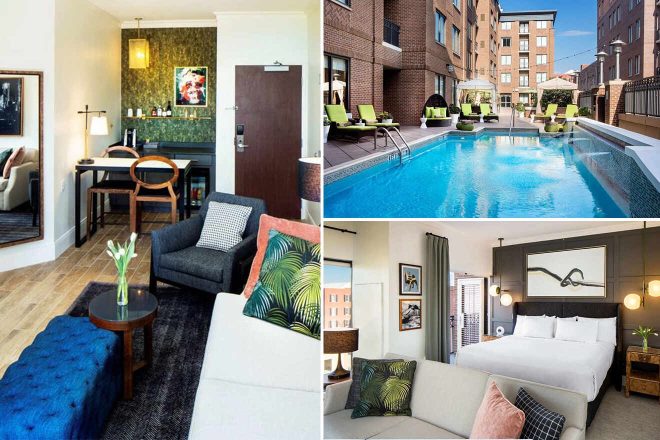 It is the thoughtful, little extra touches that make this luxury 4-star hotel special. Alongside the typical heated swimming pool with cabanas, fire pits, and a fully equipped gym, Andaz boasts a farm-to-table restaurant with seasonal ingredients and southern flavors as well as signature cocktails with homemade liqueurs. This colorful hotel has certainly thought of everything for your trip to Savannah, GA.
Other accommodation options in the City Market Area
Mid-range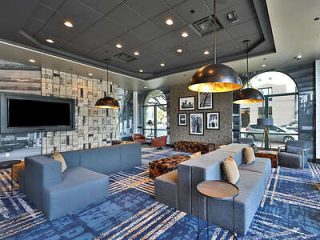 3-star hotel with outdoor swimming pool, onsite restaurant, gym, and concierge desk as well as room service
Budget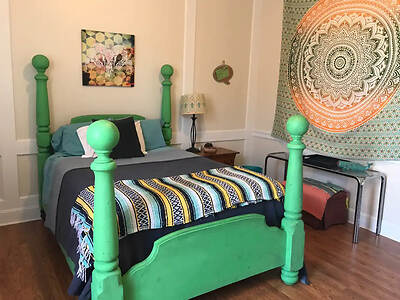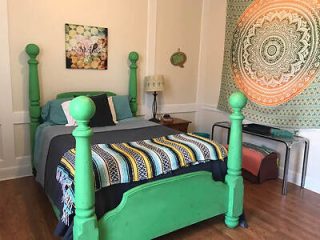 Colourful apartment in the center of town with a very friendly host and great location
airbnb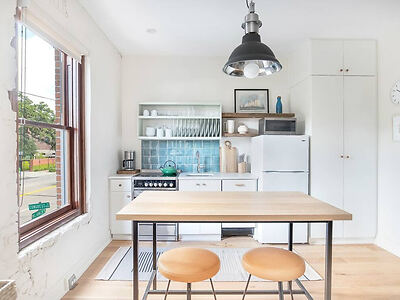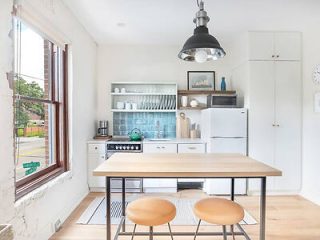 Spacious, bright apartment for up to 4 people with a fantastic view of the Talmadge Bridge
Things to do in the City Market Area
4. Tybee Island – where to stay for amazing beaches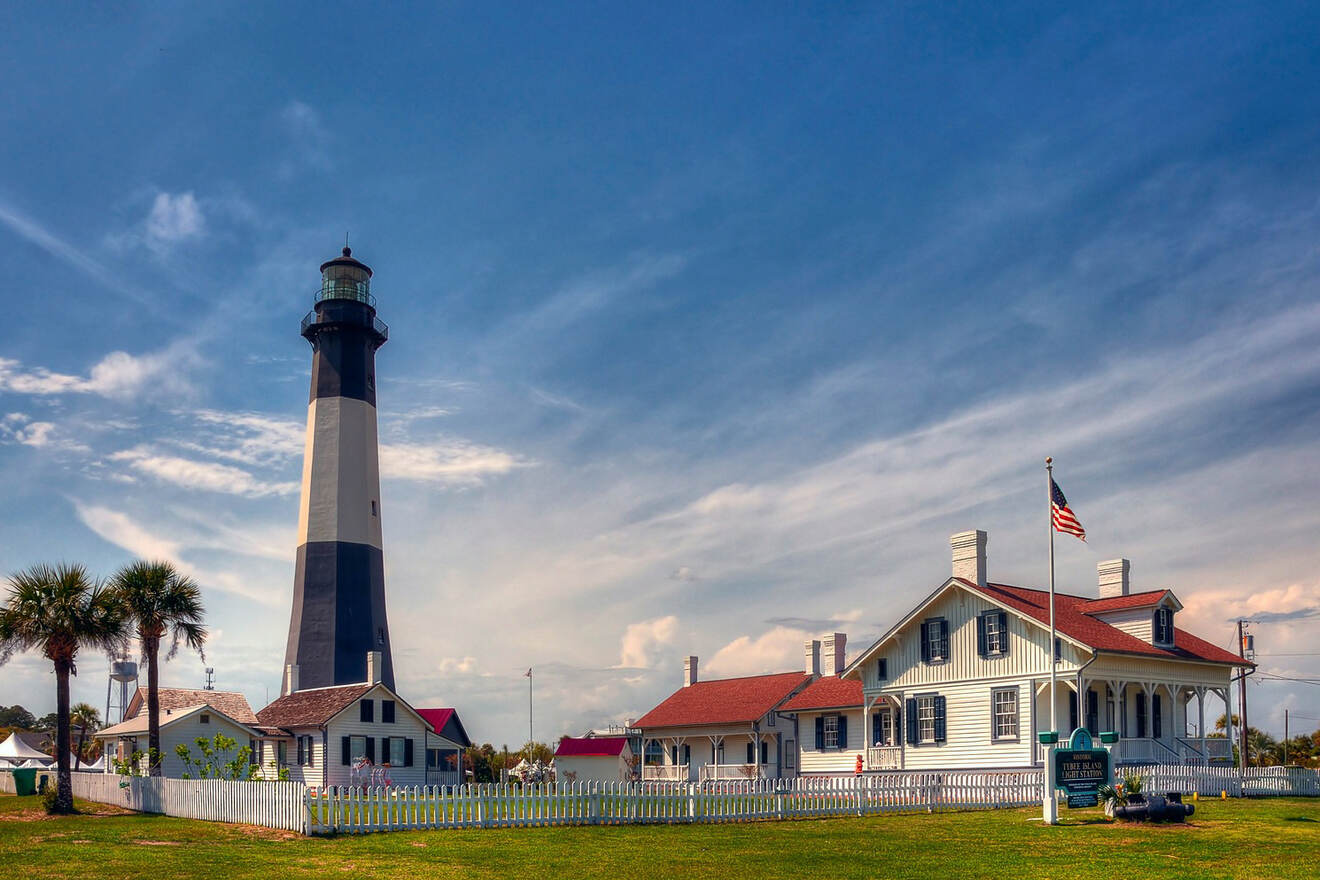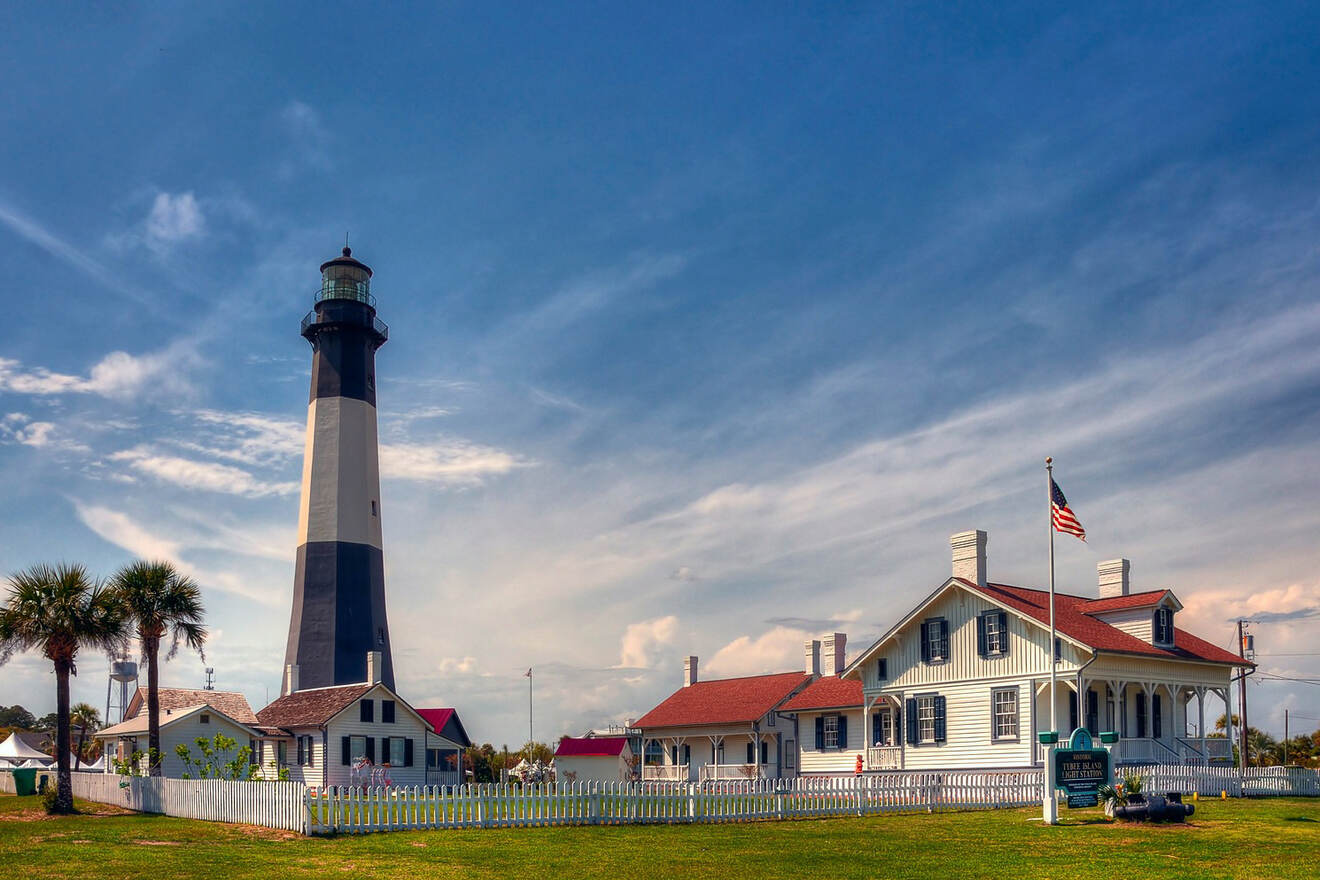 Located a 30min drive East of downtown Savannah, this barrier island is one of Savannah's most popular spots for those looking to relax on beautiful beaches. Yes, Savannah is not only about history, art, and culture! If you want to feel like you are in the Caribbean of Southern USA, then Tybee Island is the perfect area for you.
Leave the noisy sceneries of Savannah behind and experience the island's warm and gentle waves. Whether you like to sunbathe on the beach, rent a boat, go fishing in the Atlantic Ocean, or just watch the sunset with a bottle of wine, Tybee Island boasts one of the best long stretches of beach in the eastern United States and is a great place to do any of the above. There is even 18-hole golf if you feel so inclined!
While there isn't a vast range of accommodation options in Tybee Island (it's not a very big place), there are still some incredible options. Here are the best ones for each budget.
Luxury hotel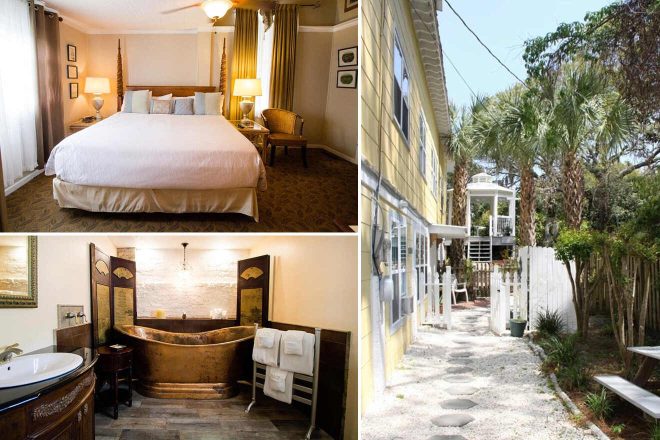 This cozy inn is just a minute's walk from the beach and boasts a warm, homey atmosphere with bright, themed rooms, a fireplace, and deluxe bathrooms. Relax in the lush garden or in any of the shared communal areas and feel secluded in your southern paradise. 
Other accommodation options in Tybee Island
Mid-range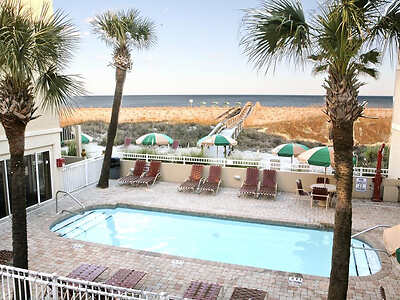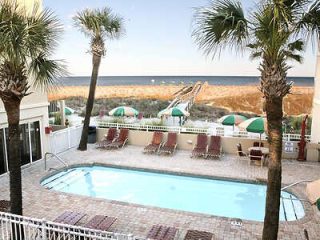 Beachfront hotel with outdoor pool, games room, free wifi, and breakfast included
budget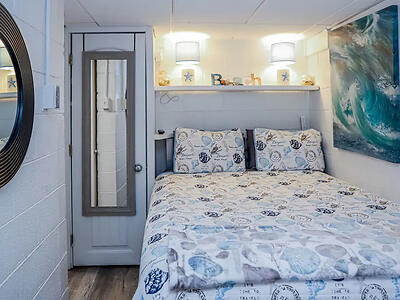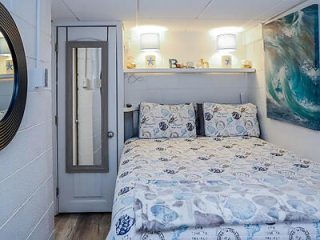 Cosy apartment 2 blocks from the beach with everything you needs for a relaxing vacation on a budget
airbnb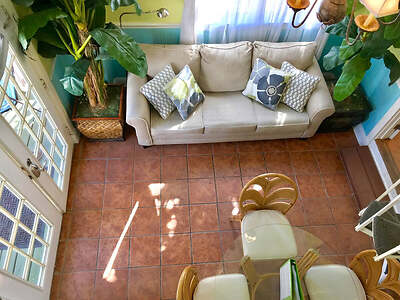 Situated in the heart of Tybee Island, this colorful condominium will have you relaxing 24/7
Things to do in Tybee Island
| | |
| --- | --- |
| 👑 Luxury price: | $270 |
| 💵 Mid-range hotel: | $150 |
| 🛏️ Budget: | $80 |
| 🏠 Airbnb: | $200 |
| 💰 Accommodation prices: | Medium |
| 📍 Best Area: | Savannah Historic District |
| 🛎️ Best luxury hotel: | Perry Lane Hotel |
| 👛 Best budget hotel: | Best Western |
Frequently asked questions about Savannah, Ga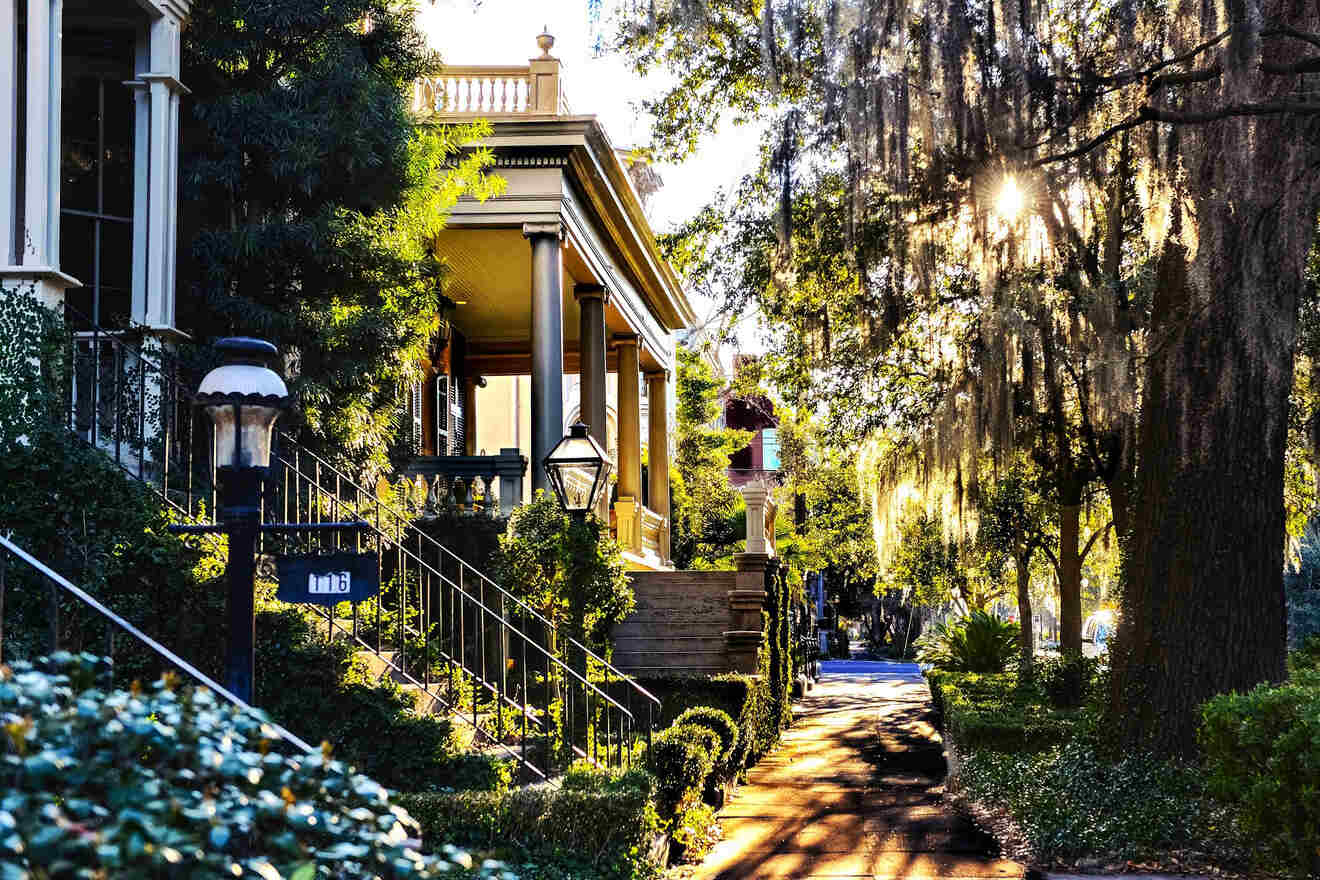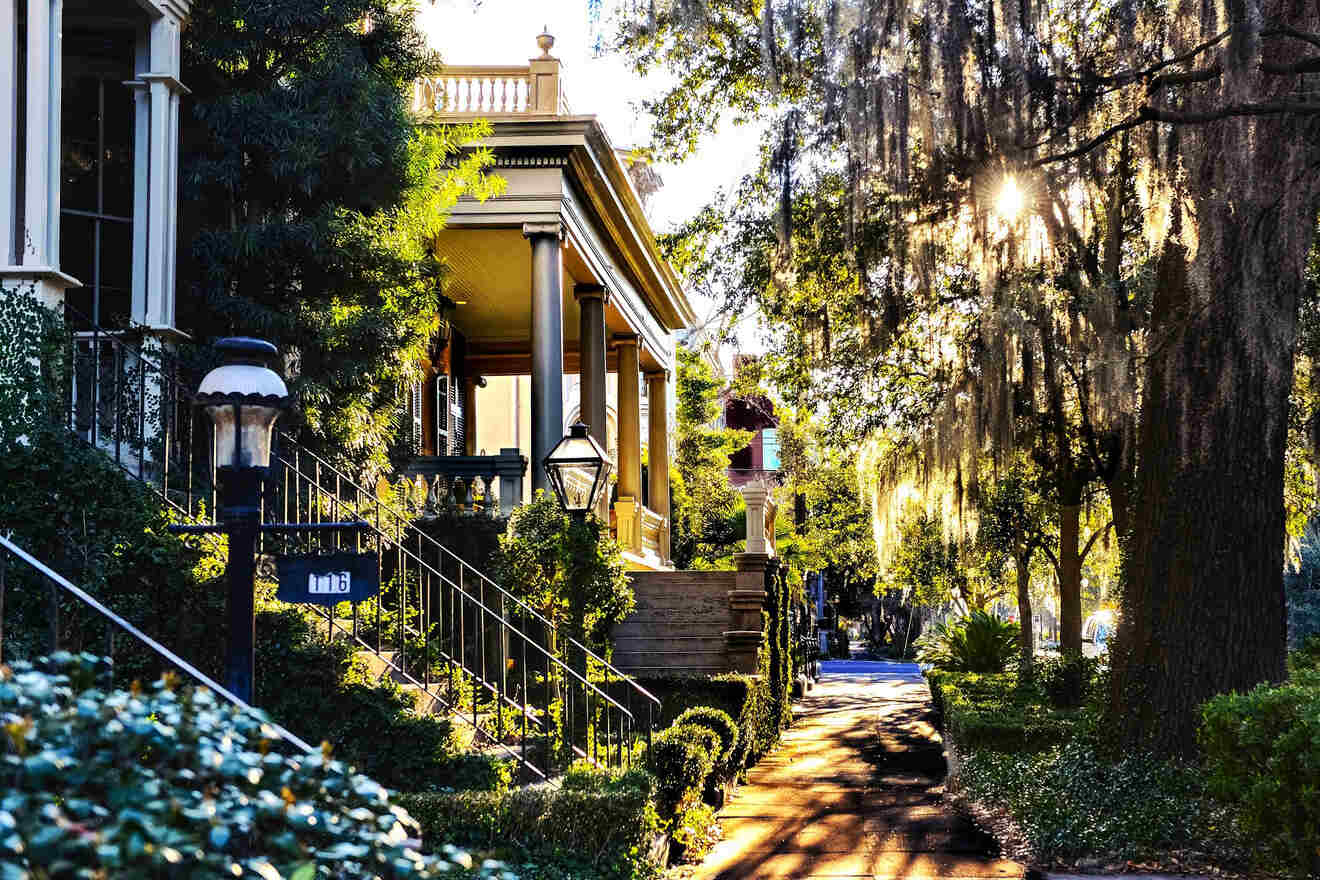 🌇  What is the best area to stay in Savannah, Ga?
The downtown area, which includes the Historic District, River Street, and East Bay, is the best area to stay in Savannah. You have all of the attractions and the best atmosphere within walking distance. 
🏠  Are there bad neighborhoods in Savannah?
Pretty much all of Savannah is relatively safe. There aren't necessarily any bad neighborhoods; however, some areas like the Historic District are best for tourists because of its history and central location.
🍂  What is the best month to visit Savannah?
Spring (March-June) is the best time to visit Savannah because of the spring colors that light up the picturesque streets. The temperatures are also perfect sweater weather at this time of year. 
Conclusion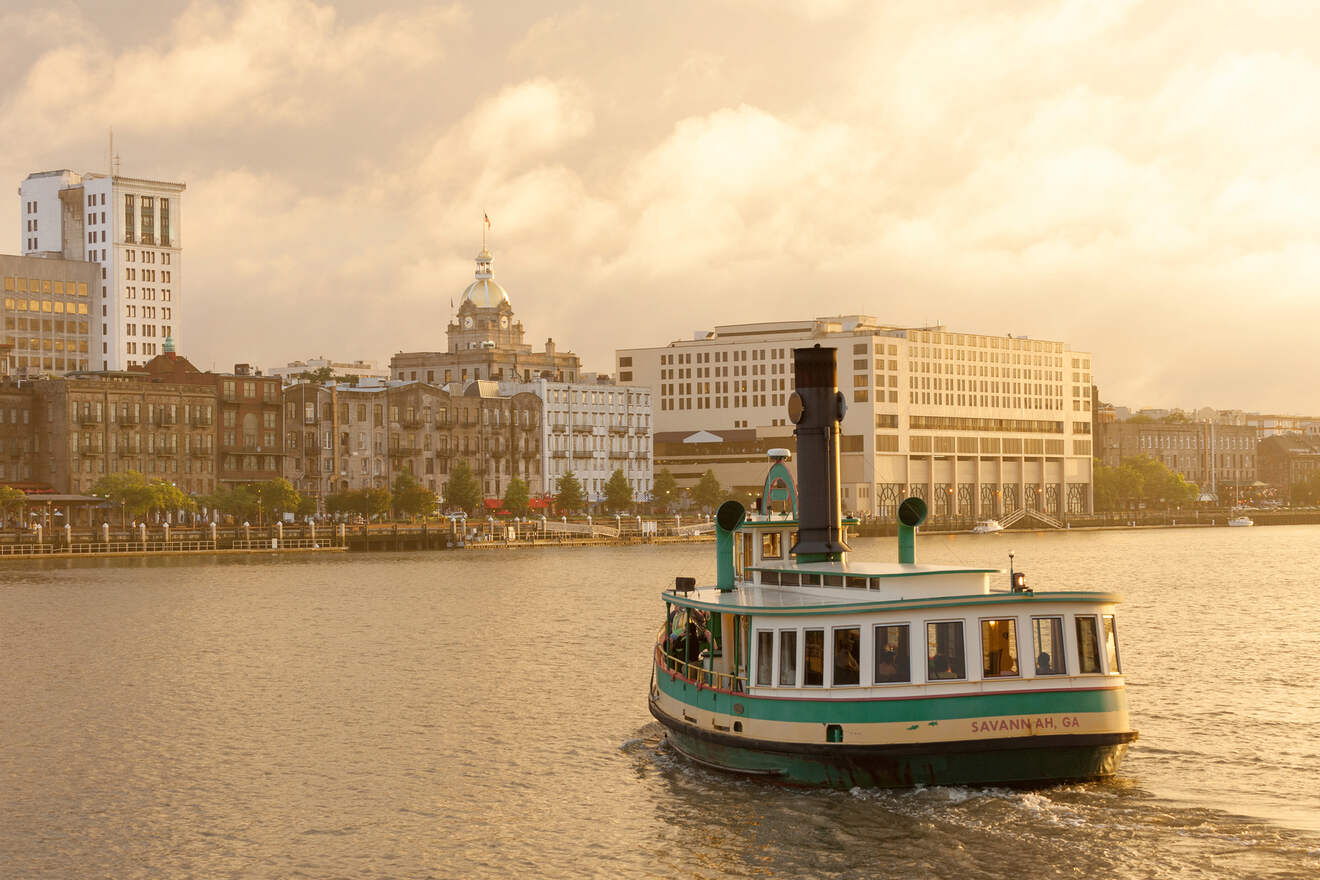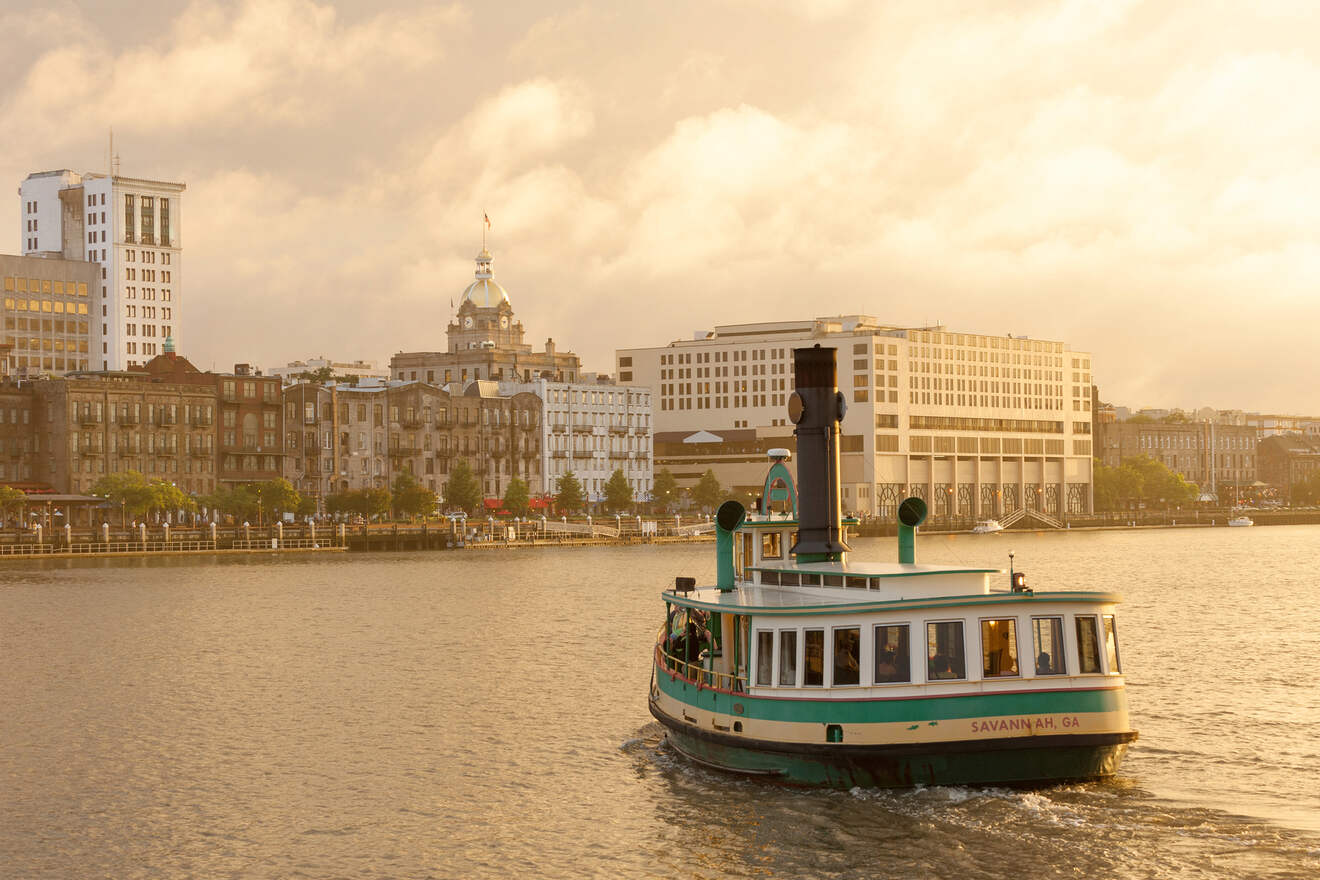 I hope you loved reading my post and found the perfect place where to stay in Savannah! Though the city is small compared to other cities of giant US states like Los Angeles, CA, it still has plenty of sights to see.
In this post, I have covered the top 4 areas for every type of traveler. There really is something for everyone in this beautiful city full of historic inns.

If you haven't already chosen, here are my absolute top 2 hotels in Savannah:
Don't wait too long if you have already decided to visit the beautiful city of Savannah! It's quite a popular town, and accommodations are selling out fast – the best deals just might be on their way out! If you're continuing to travel around Georgia, check out my post on Airbnbs in Atlanta.
Please leave me a comment below if you have any questions about a place to stay or Savannah in general. I will do my best to answer them asap!

Happy travels,
Kate
---
Pin it for later!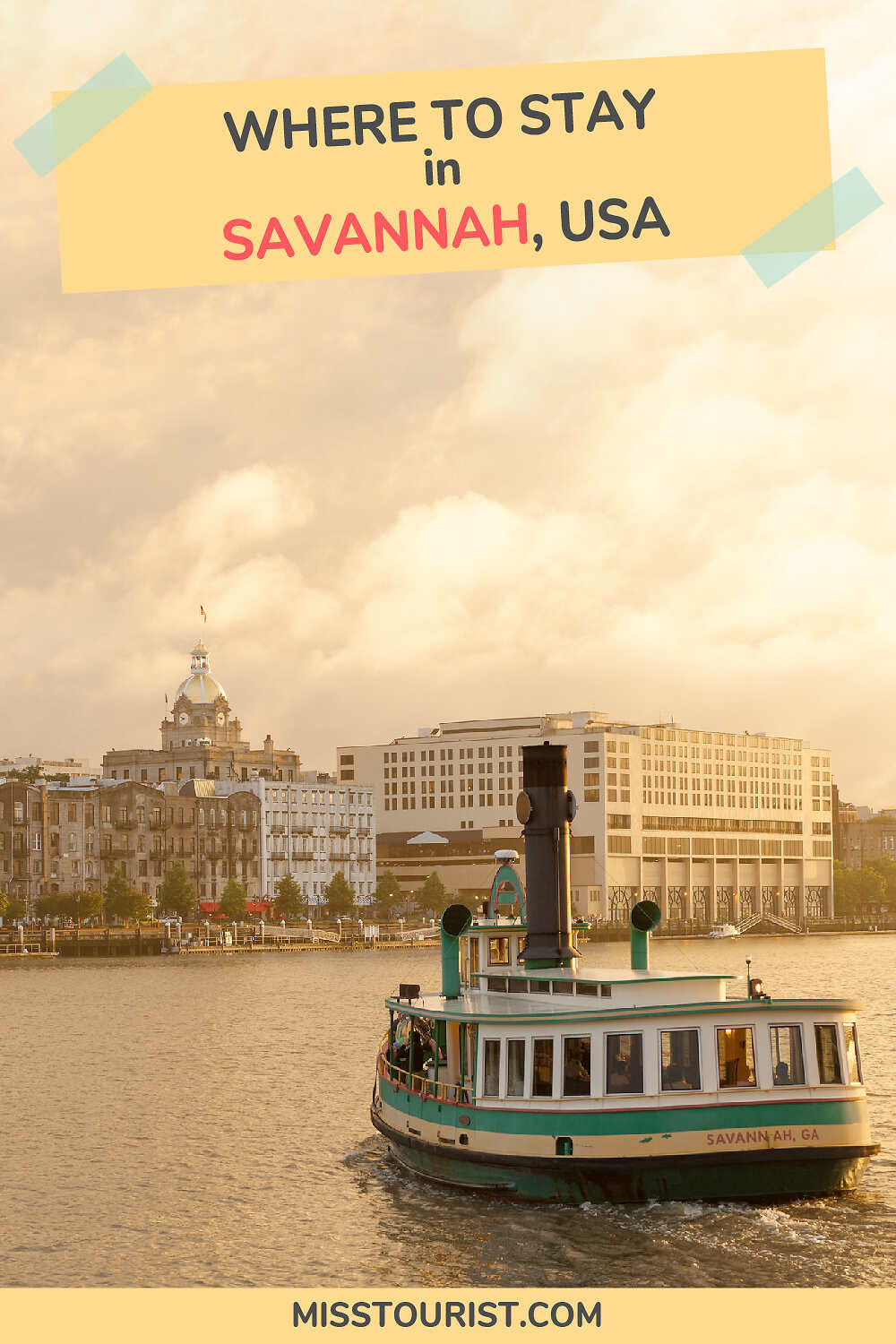 Pin it for later!