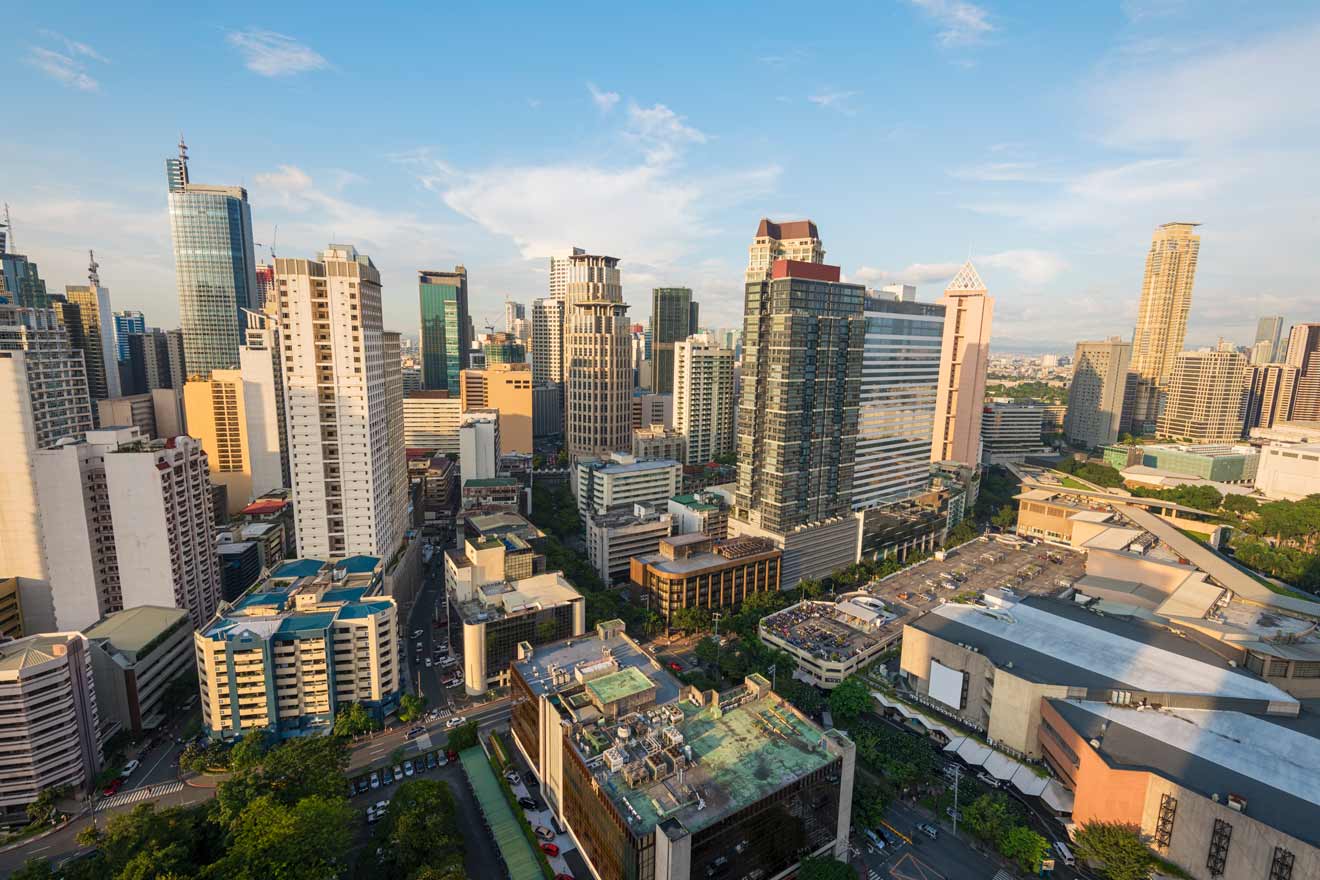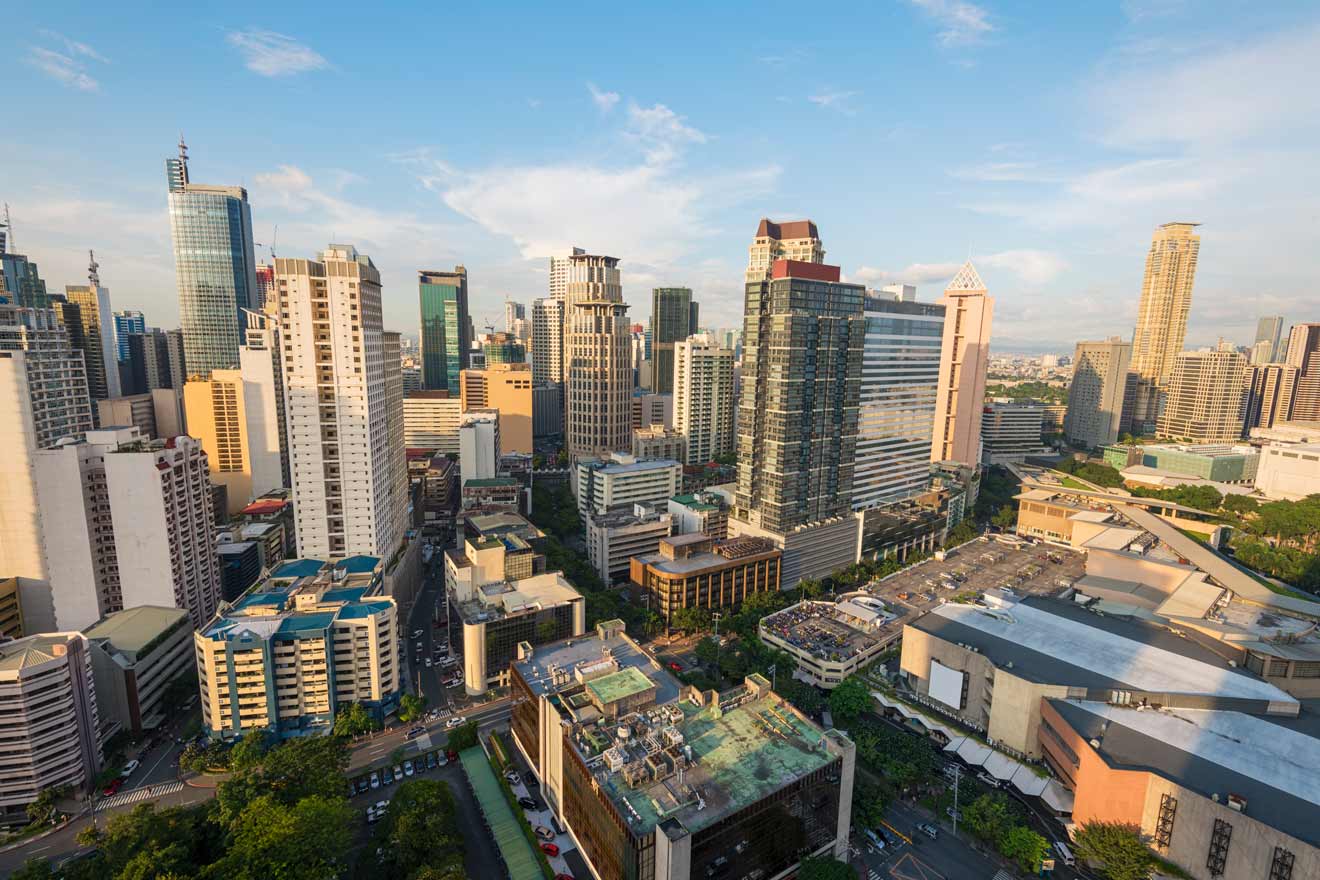 Manila, the capital of the Philippines, is a bustling metropolis known for great sightseeing, entertainment, shopping, and gastronomy. Metro Manila consists of 16 "sub-cities," the most popular ones being Makati, Malate, and Quezon City. Because of the city's size, density, and notorious traffic, deciding where to stay in Manila tends to be tricky but not impossible!
Moreover, this global city features sharp contrasts, from the glamour of Makati to the slums of Tondo. Therefore, choosing your base right can make a massive difference during the trip.
As usual, I have picked for you the best places to stay in Manila, Philippines wh, whilst considering the quality of the hotel or other accommodation, proximity to attractions, safety, and cost.
Before choosing a district or a neighborhood, note that getting around in Manila is often quite challenging. Thus, making a reservation well in advance to secure the best location and avoid long travel times will make your vacation that much better!
If you are in a hurry
For those of you who have little time, here are the best of the best accommodations – all in the city center, with great reviews and sorted by price:
Here are the different areas of Manila that I will be talking about in this post on one convenient map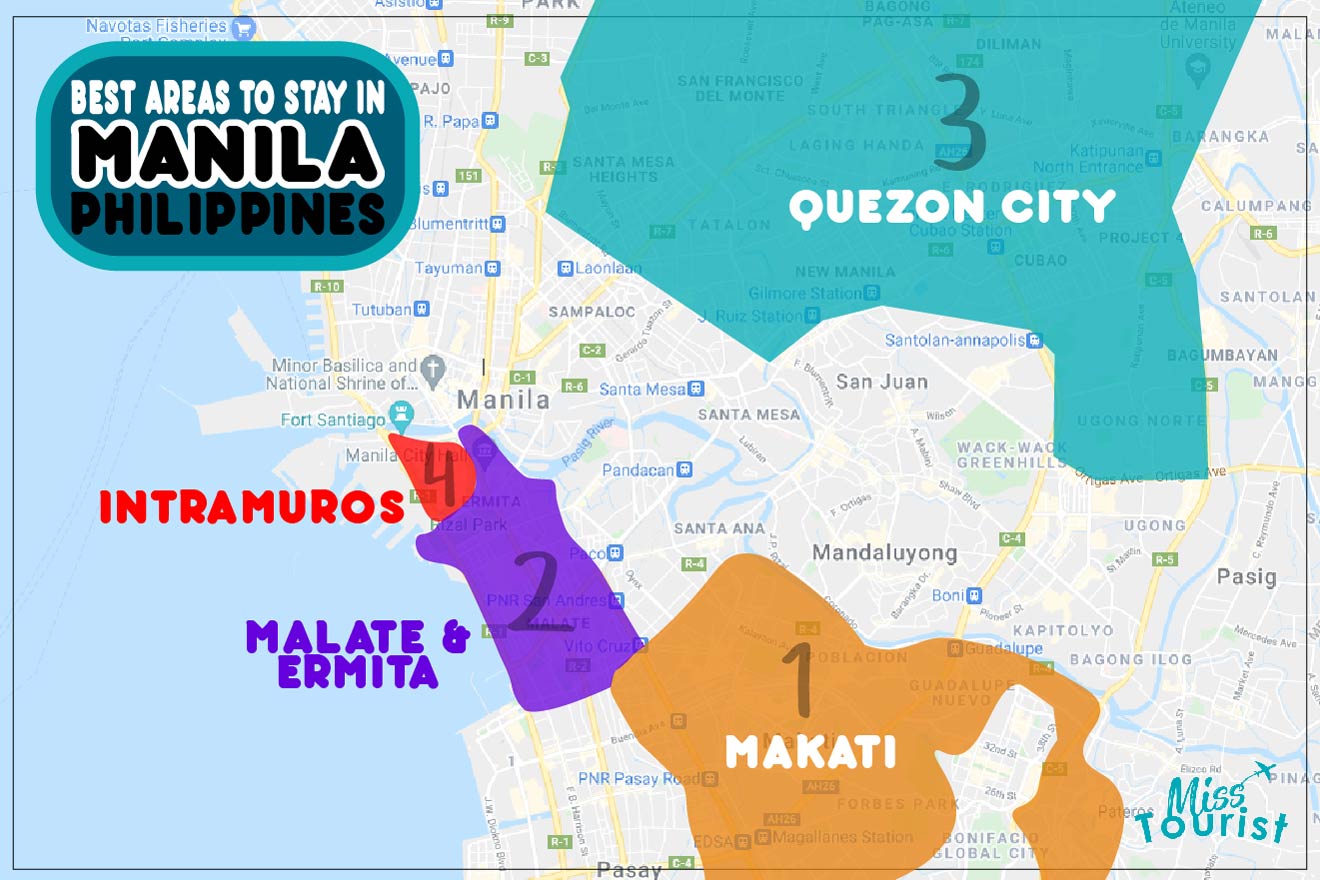 1. Makati – where to stay in Manila for first-timers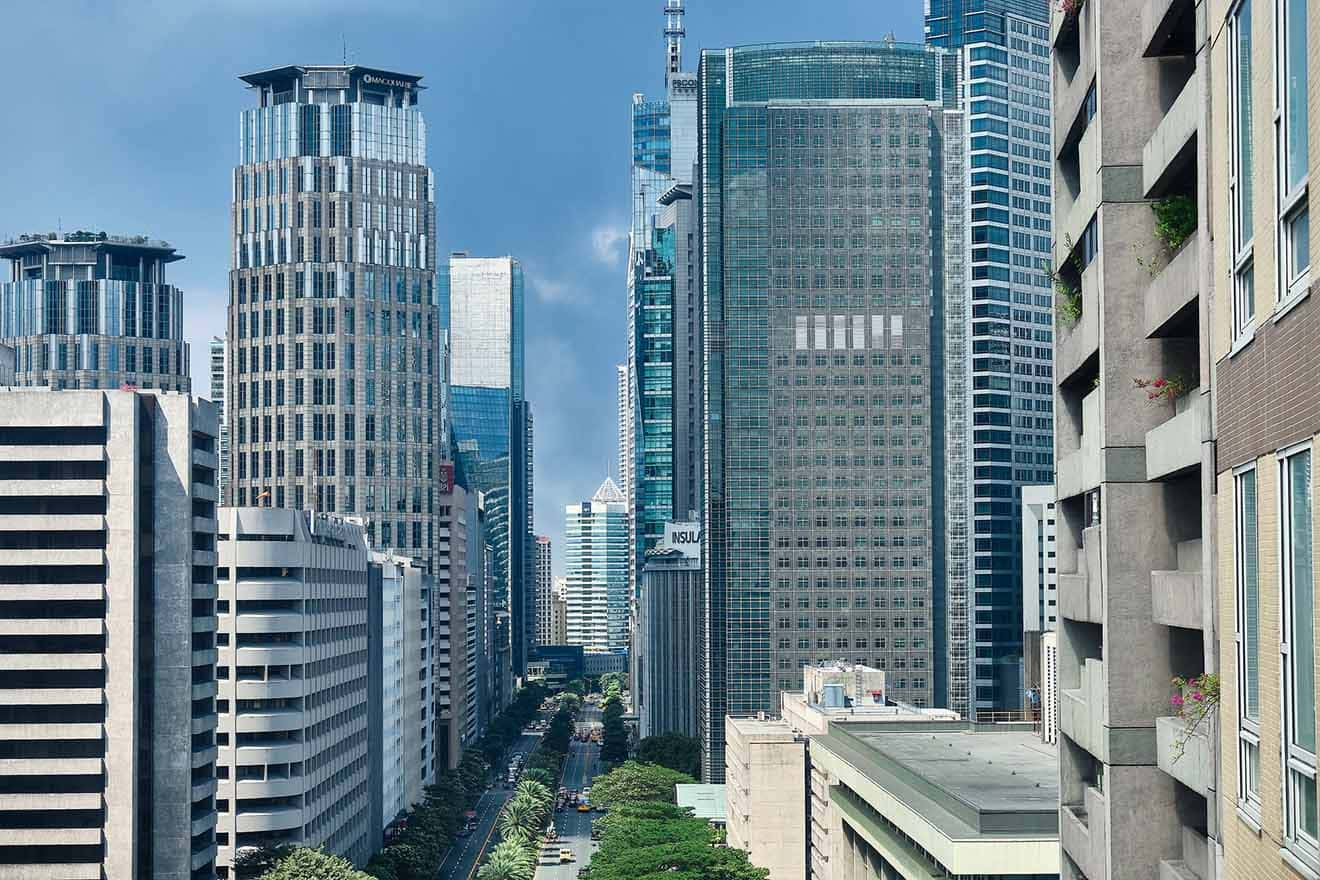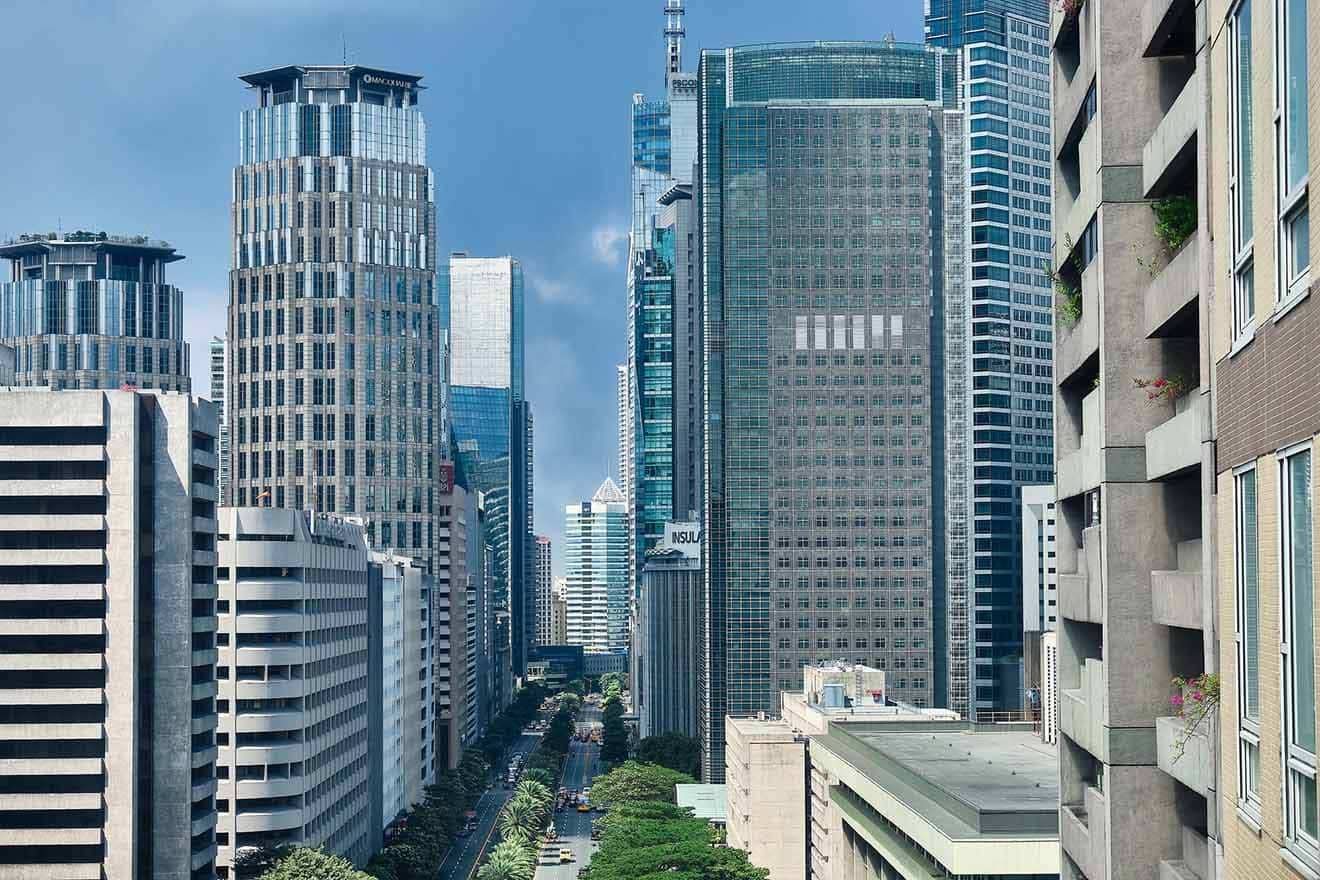 When deciding where to stay in Manila, many travelers coming for the first time choose Makati, the business district of the Philippines. Makati is a great place to stay for first-time visitors to Manila as it is clean, safe, and has many significant modern commercial developments such as the Ayala Center. The district abounds with shopping malls, cultural institutions, and international restaurants. It is the most westernized part of the city, so if you're prone to culture shock, you will feel most comfortable in Makati.
Just because it's safe doesn't mean there aren't plenty of places to have fun at night too! You'll find plenty of options to entertain yourself after the sun goes down, whether you enjoy live music, dancing, bar-hopping, or anything else.
Visitors staying for one night in Manila should also consider Makati due to its proximity to Bonifacio Global City and the international airport as Intramuros, Ermita, and other more centrally-located neighborhoods are a bit farther away.
Luxury hotel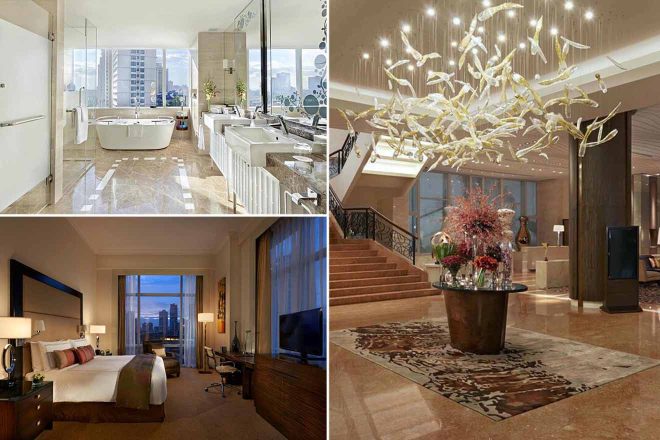 This luxury 5-star hotel is one of the best choices in Manila. The gym, spa, international restaurant, and outdoor pool on-site are just the beginning. Not only does Fairmont Makati offer great modern rooms, they even have a pillow menu to ensure you have the best sleep possible during your stay.
Other accommodation options in Makati
Mid-range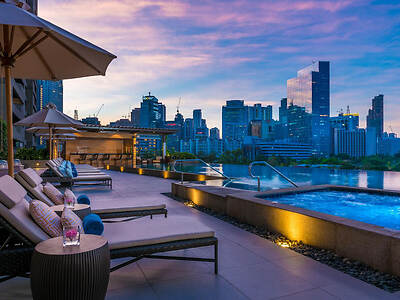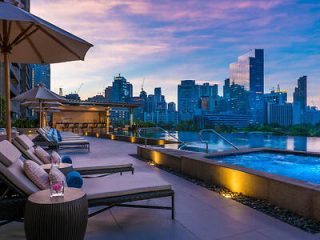 Deluxe hotel with a rooftop pool and the best value for money you'll find
budget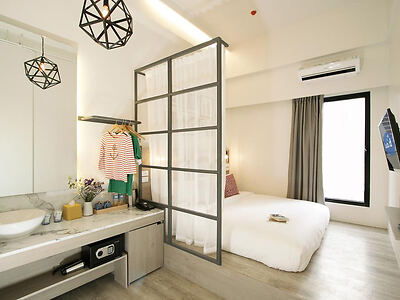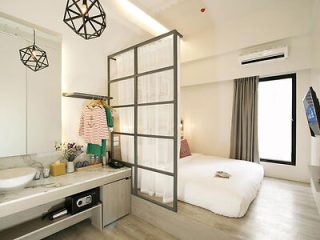 Beautiful rooms with onsite bar, daily breakfast, and central location
airbnb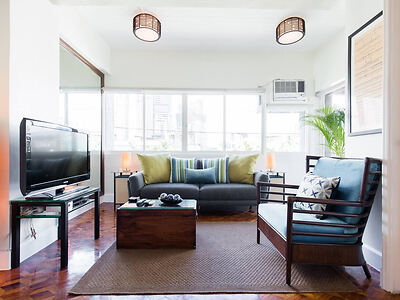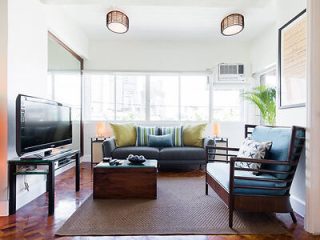 An airy apartment ideal for couples, located near Bonifacio Global
Things to do in Makati
Shop until you drop at the Ayala Center Manila
Take a glimpse into the local history and art at Ayala Museum
Visit the Manila American Cemetery and Memorial
Go bar-hopping in search of signature cocktails and quality wines at Poblacion
Check out the church of Nuestra Señora de Gracia
Visit Bonifacio Global City
2. Malate & Ermita – where to stay in Manila for nightlife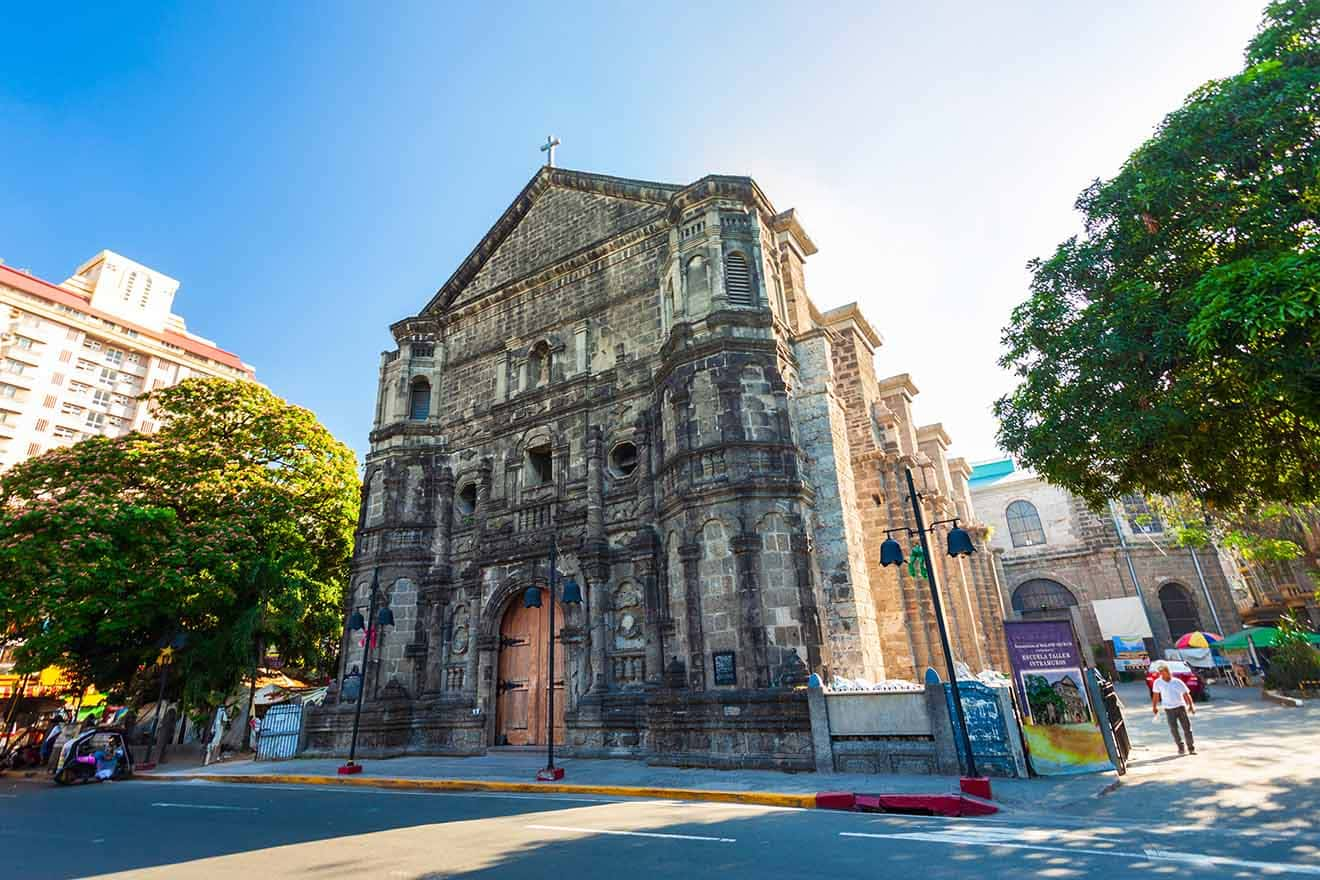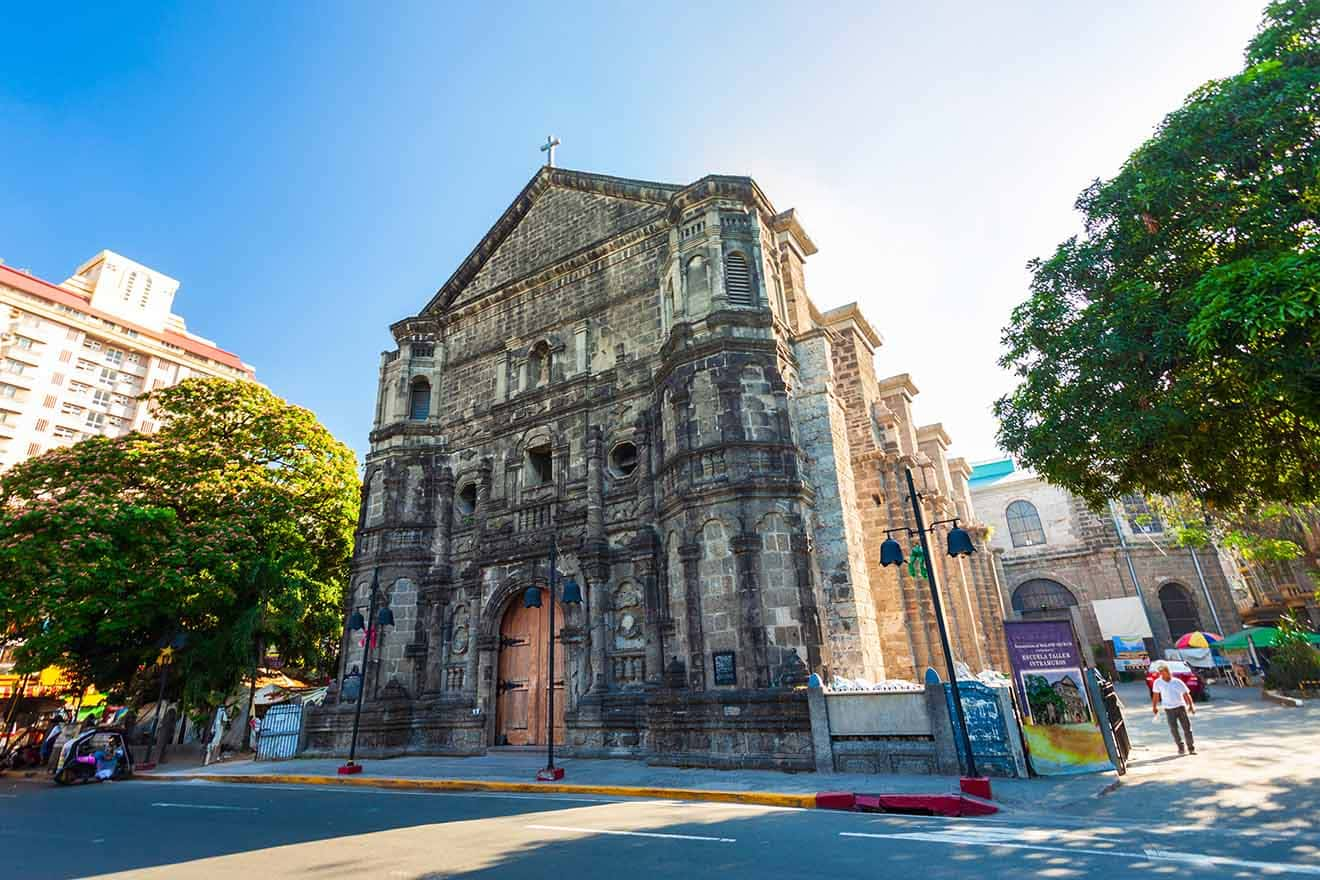 Malate and Ermita are lively destinations, teeming with attractions, specialty restaurants serving Filipino, Chinese and international food, shopping opportunities, and the best nightlife in Manila.
You will see tall skyscrapers next to single-story buildings leading down to Manila bay and will get a taste of the local life here. Look forward to delicious Filipino food and incredible sunset cruises. At night, some streets entirely change their character, becoming hotspots for party-goers.
If you're here to party, head to Del Pilar Street, the Red Light District of the quarter, but if you're looking for a more relaxed vacation, enjoy the expansive parks and gardens of Ermita.
Although there are still some poorer areas in this part of the city, in recent years, Malate & Ermita have become much safer areas to stay. Thanks to overall safety, great location on the waterfront, and opportunities catering to visitors of any type, Malate, and Ermita are some of the best areas for you to stay in Manila.
Luxury hotel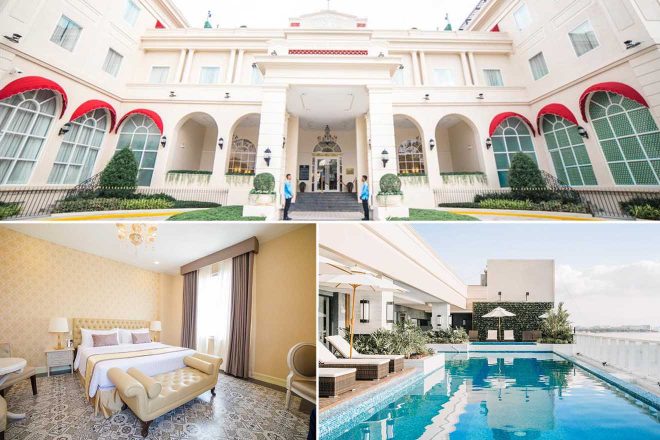 This beautiful hotel overlooks the namesake park and is right on the waterfront. Besides an unmatched location, enjoy its comfortable rooms and suites, breakfast, and overall service. An on-site gym and rooftop infinity pool with views over the city are just some of the hotel's other top-notch facilities.
Other accommodation options in Malate & Ermita
mid-range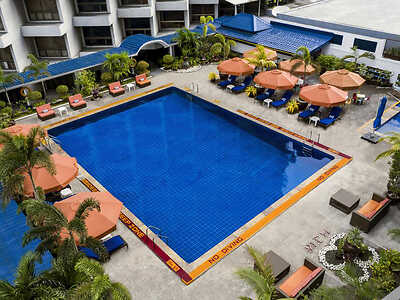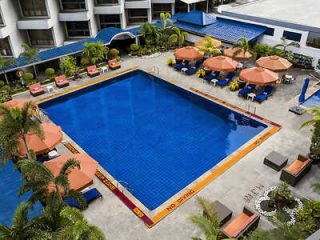 Modern, bright rooms with pools and views of Manila Bay
budget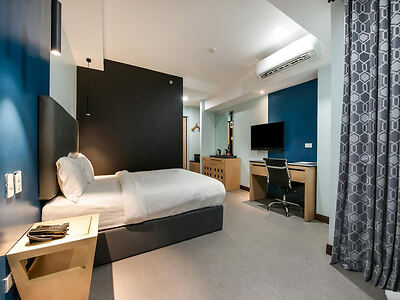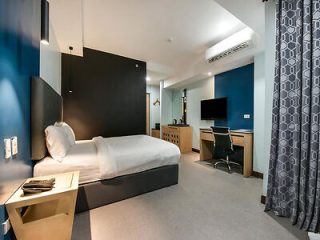 Clean budget rooms with concierge services
airbnb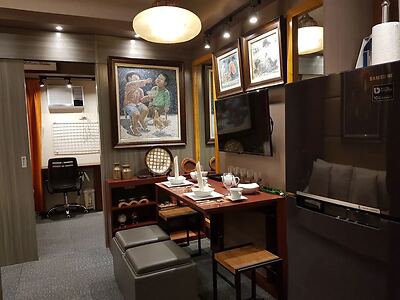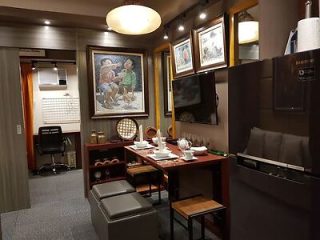 Comfortable central apartment full of original artwork
Things to do in Malate & Ermita
3. Quezon City – the trendy center of Manila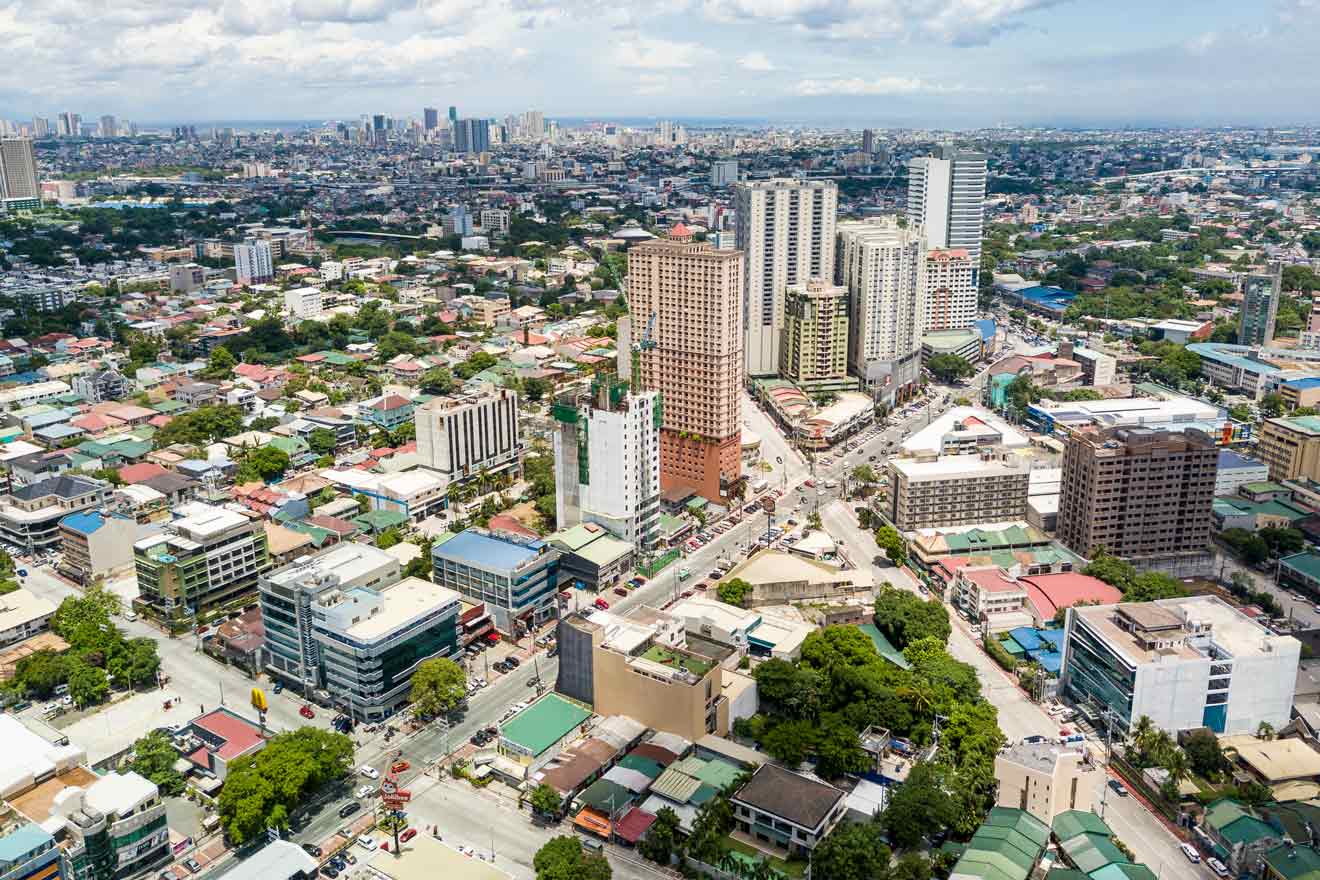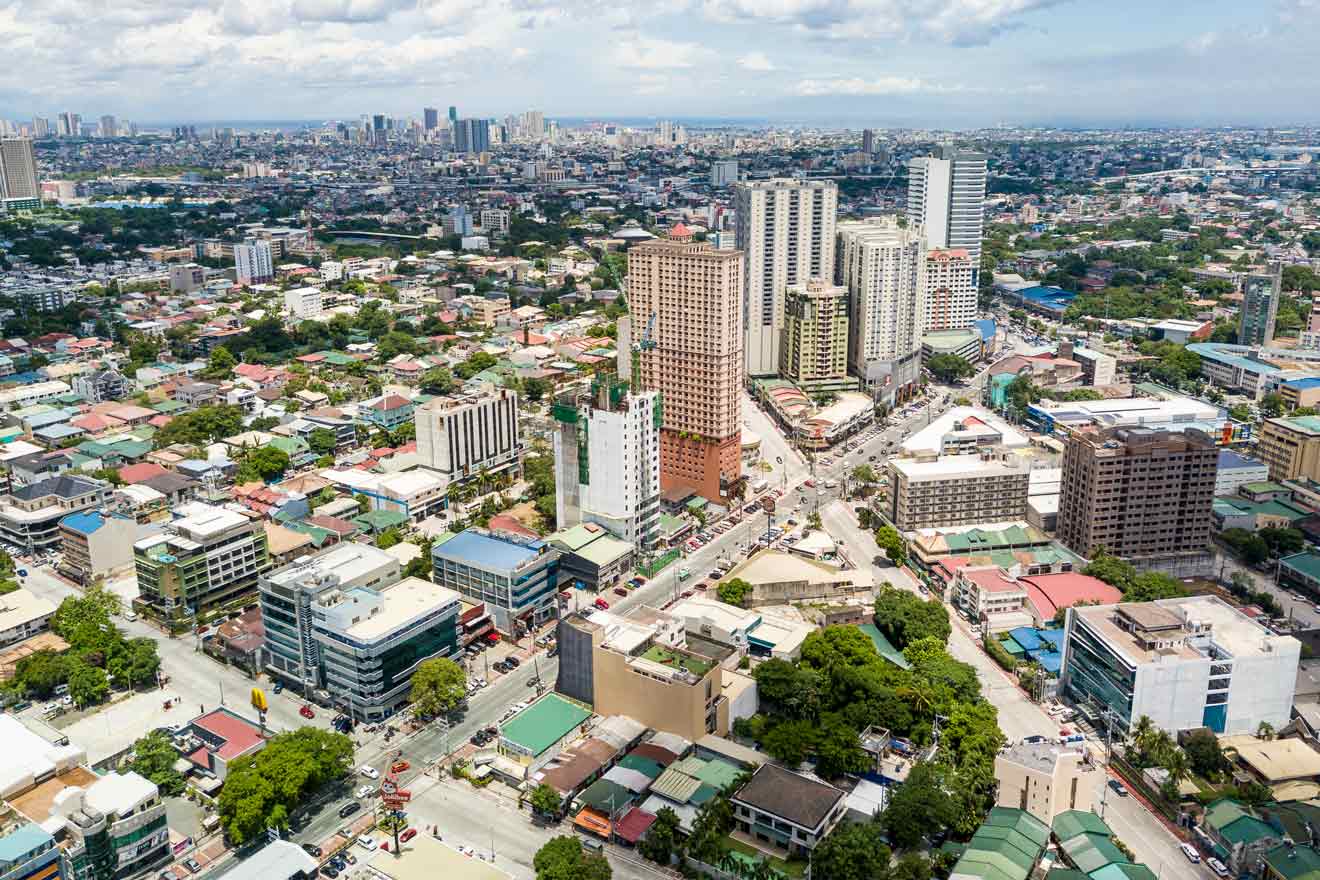 Known as a stylish, trendy, and foodie hotspot of Manila, Quezon City (QC) is the most populous area in the Philippines. Located northeast of the bay area, the city attracts a young populace eager to socialize at trendy cafes and shop at the best boutiques and is a great place to stay for backpackers.
Quezon City is not only home to some of the top universities in the country, but it is also where you will find some of the best street food in the country. So even if you're not a young gun (or young at heart), you will still enjoy countless street vendors offering incredible snacks at even better prices! There are also many things you can see in this former capital of the Philippines. If eco-tourism, religious sights, good food, and bargains are among your interests, you should stay here!
Note: Quezon City is around 25 mins by car from Makati, making it a little farther from the airport than other districts of Manila.
Luxury hotel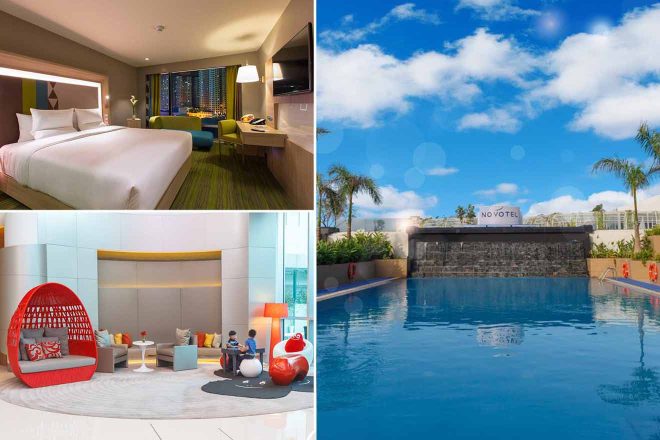 Modern open designs, kids playground, on-site restaurant, and an incredible pool are just the beginning when it comes to this stunning 4 4-starotel. With countless facilities to suit all types of visitors, it doesn't matter if you're visiting Manila for a family vacation, on a business trip, or a luxury getaway, Novotel Marina is a great choice!
Other accommodation options in Quezon city
mid-range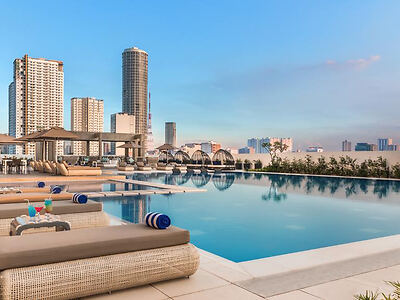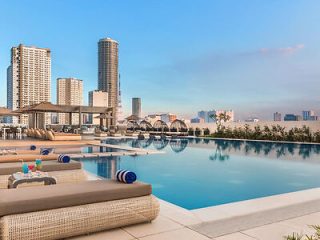 Gorgeous hotel with city views and deluxe outdoor pool and ballroom
budget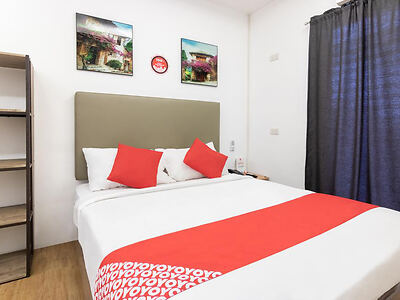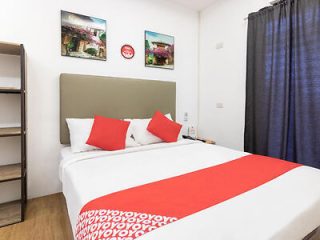 Clean, spacious rooms, good location, and room service
airbnb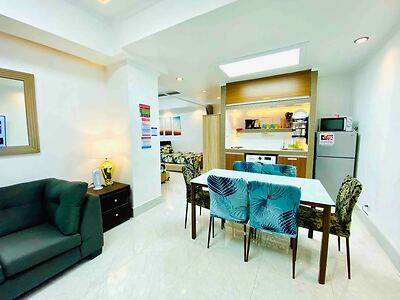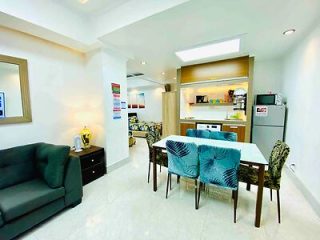 Bright, modern apartment with luxurious bathtub featuring a mounted tv
Things to do in Quezon City
4. Intramuros – the historic quarter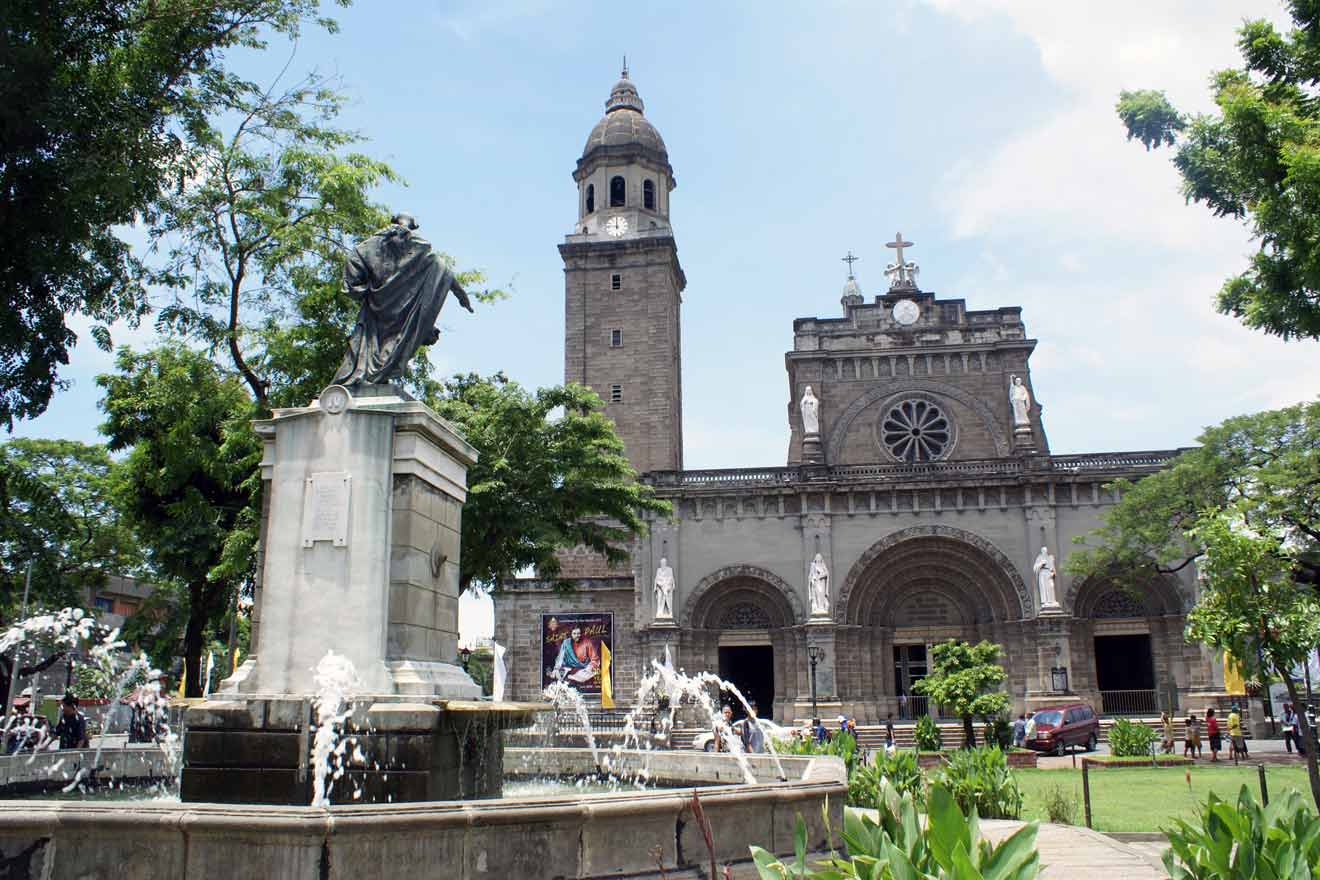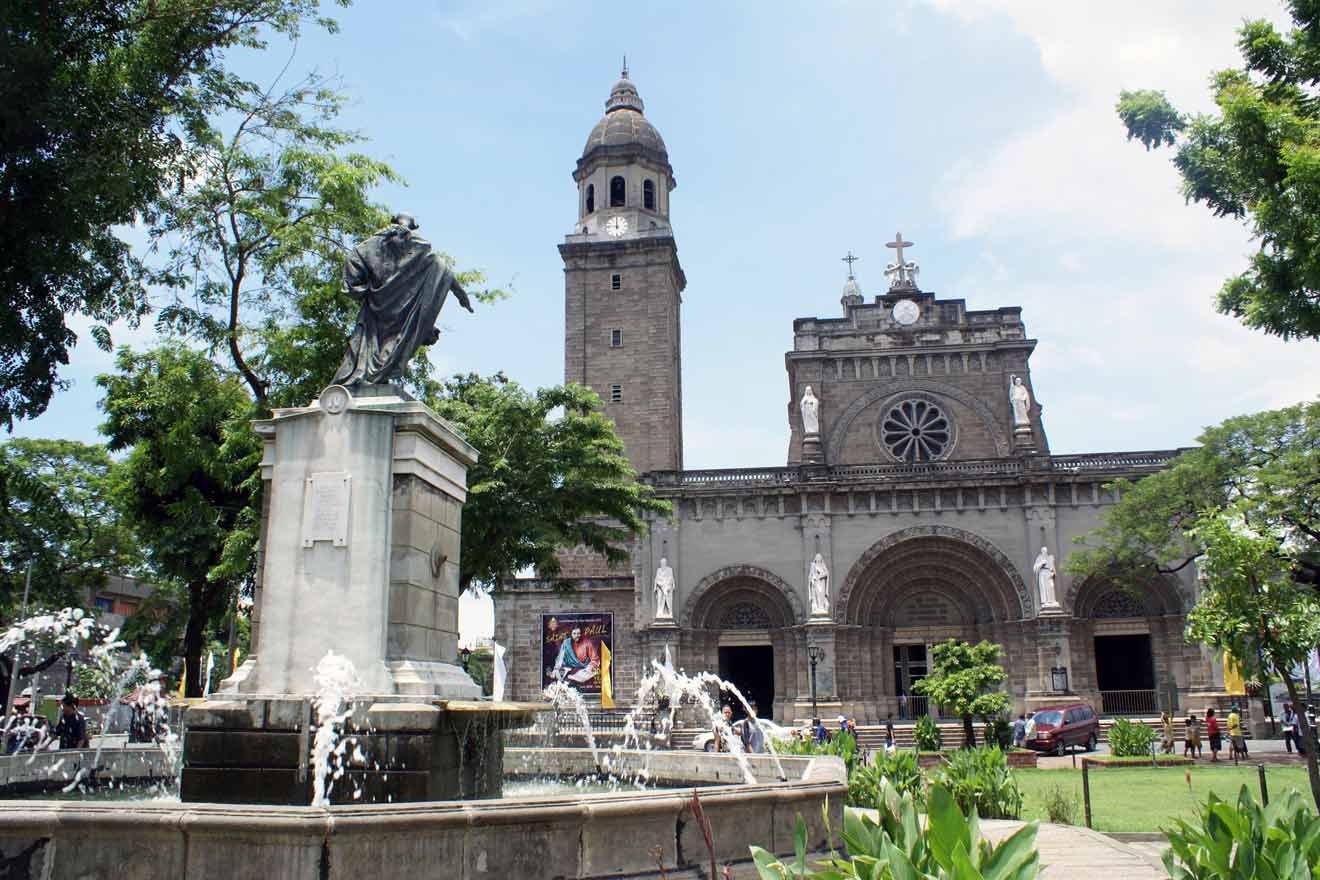 Intramuros translates from Spanish as "within walls." If you would love to experience old Manila history and culture whilst you travel, the historic quarter of Intramuros is the area for you. In the past, this part of the city was the epicenter of Spanish colonial rule in the 16th century. Consequently, you can find traces of those times here, including the walls surrounding the region and Spanish landmarks like Fort Santiago.
When you listen to Phillipinnos speak, you will notice many Spanish words which were ingrained into the language and remain there to this day!
Bordered by Ermita, the Pasig River, and the bay, Intramuros occupies a small area packed full of interesting things to see and do, making it not only a great place for history buffs but for families too! If you haven't had enough culture yet, across the river from Intramuros you will find the oldest Chinatown in the world in the Binondo district.
Luxury hotel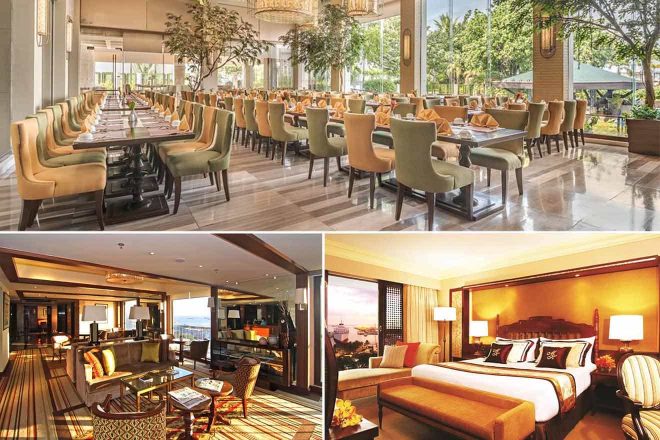 This 5-star property offers easy access to top tourist points of Intramuros and features a business center, spa, gym, outdoor pool, pool bar plus multiple restaurants serving Chinese, French, and other specialties. This hotel makes comfort an ultimate priority with high-class mattresses and other amenities and is one of the best places to stay in the city.
Other accommodation options in Intramuros
mid-range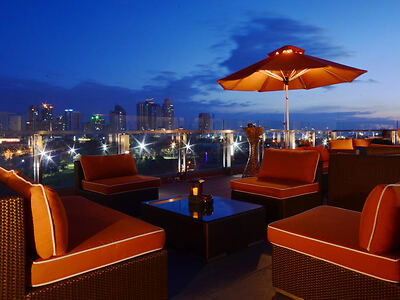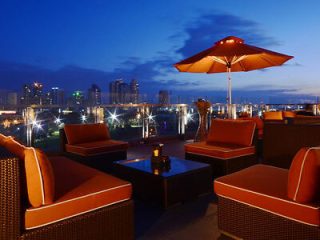 a premium location within the walled city with rooftop bar and restaurant
budget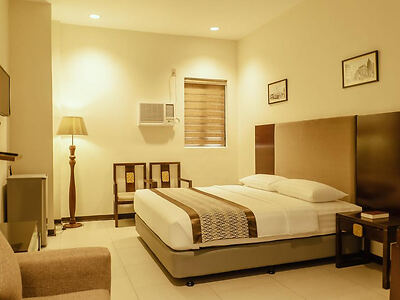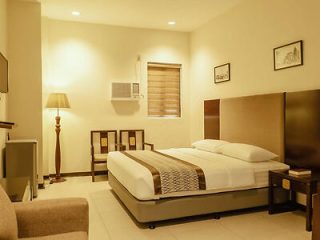 Clean, affordable hotel with onsite cafe and business center
airbnb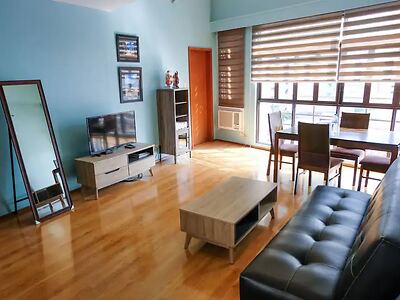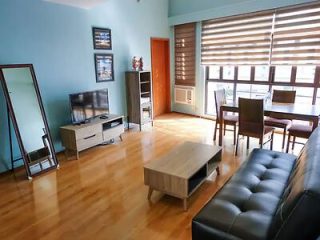 Great for big families, located near the top attractions of the historic city center
Things to do in Intramuros
Visit Fort Santiago, a Spanish relic
Check out San Agustin Church, a UNESCO site
See the neo-Romanesque masterpiece Manila Cathedral
Relax in San Diego Gardens
Experience how affluent people lived during the colonial times at Casa Manila, featuring the Spanish 19th-century style
Visit the Palacio del Gobernador
Explore the old tunnels of Puerta Real Gardens
| | |
| --- | --- |
| 👑 Luxury price: | $150 |
| 💵 Mid-range hotel: | $70 |
| 🛏️ Budget: | $30 |
| 🏠 Airbnb: | $50 |
| 💰 Accommodation prices: | Low |
| 📍 Best Area: | Manila |
| 🛎️ Best luxury hotel: | Fairmont Makati |
| 👛 Best budget hotel: | Red Planet Manila Bay |
BONUS: Things to know before visiting Manila, Philippines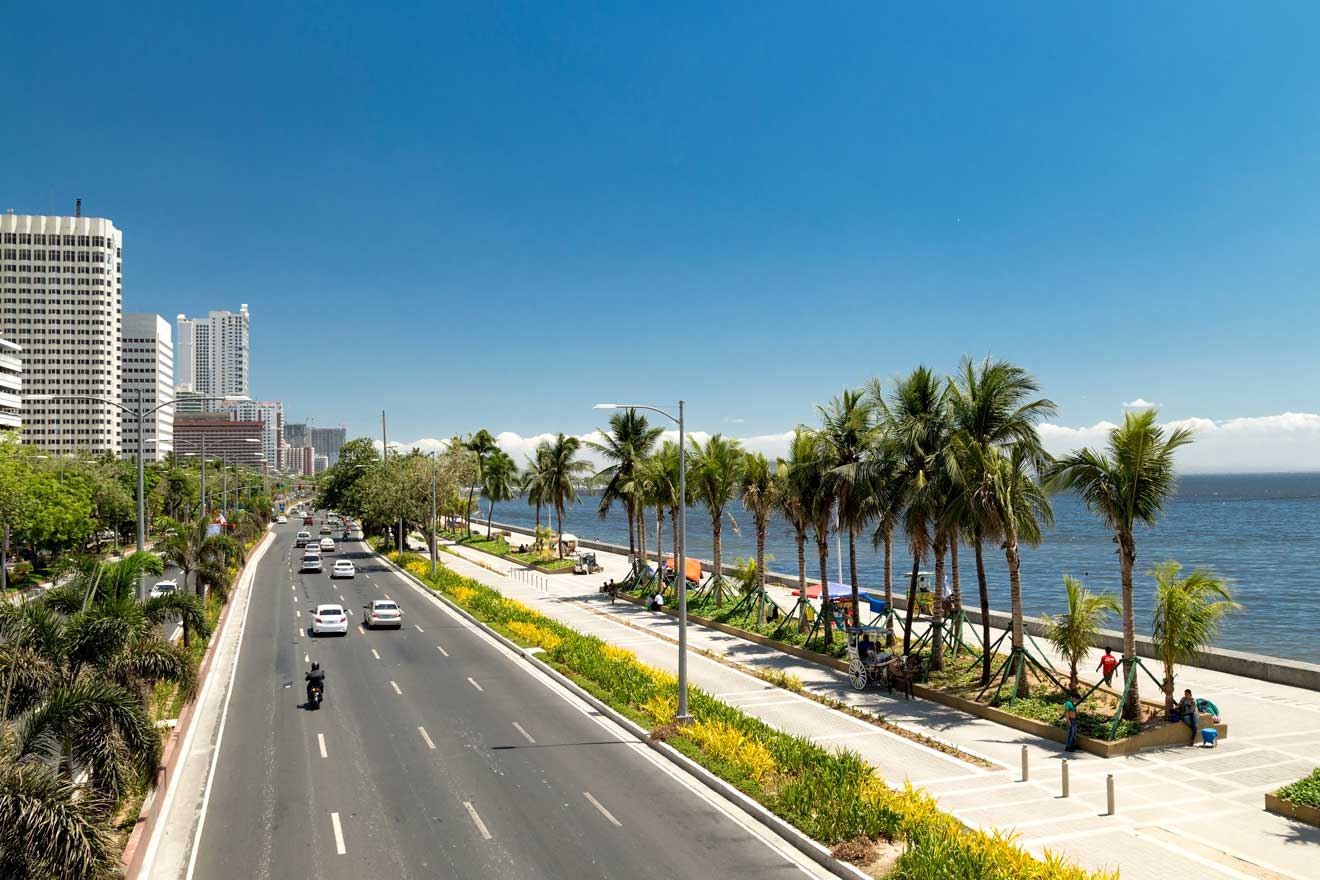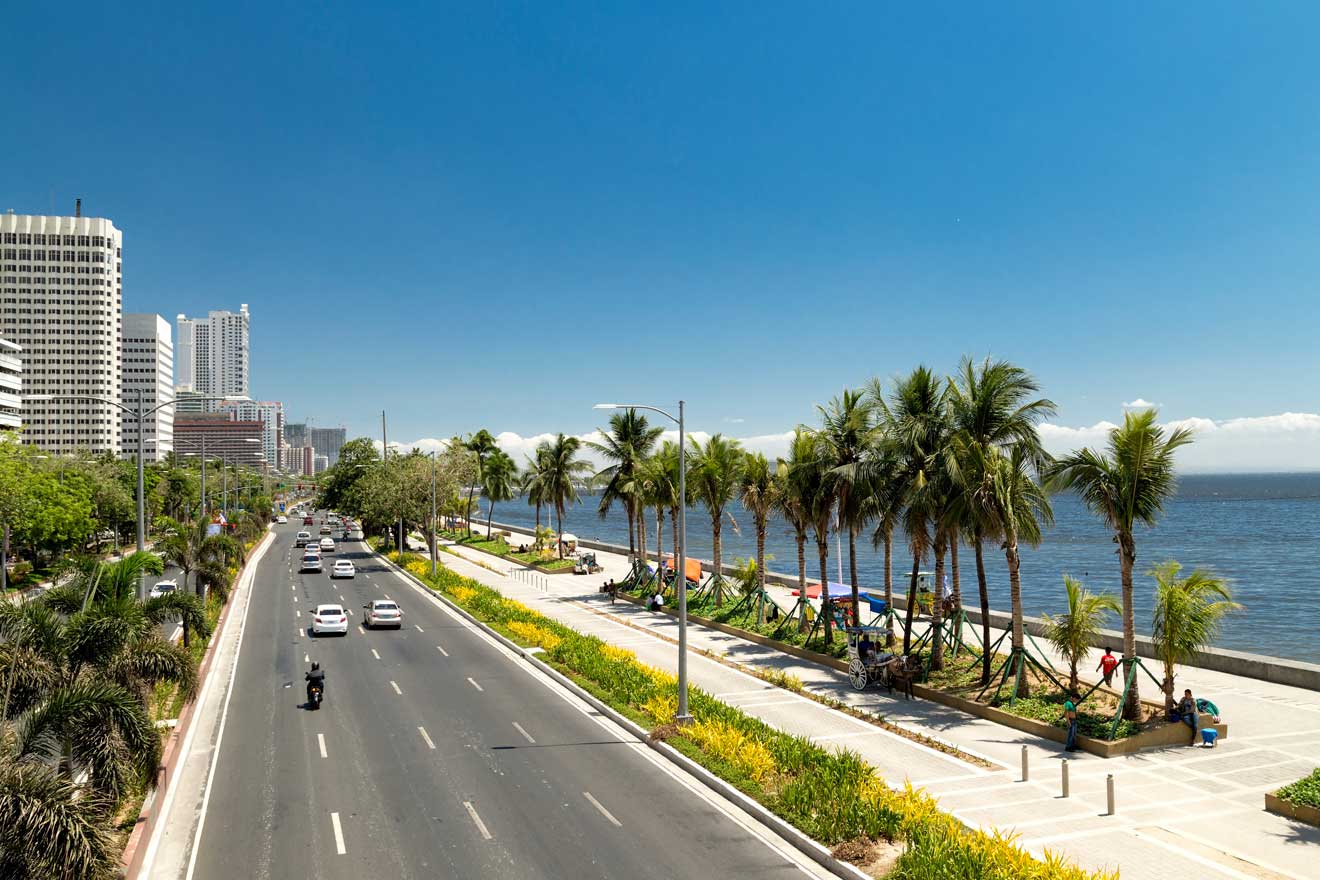 Traffic
When planning where to stay in Manila, include traffic among the main deciding factors. The city is notorious for its road congestion and overcrowding in trains and buses. As a consequence, many locals spend hours commuting from home to work during the worst of days. Make sure to remember that getting anywhere by car will take longer than you think!
Airport Transportation
Many tourists visiting the capital of the Philippines find transfers from the airport to their lodgings complicated. Hence, try reserving a hotel with the shuttle service if you are coming to Manila for the first time. It will save you time and money as well as provide you with a stress-free introduction to the Philippines.
Where NOT to Stay
Although the areas that I have discussed in this post are among the safest places in the city, there are areas you should avoid. Avoid areas around Navotas, Tondo, Baclaran, and other areas with high numbers of squatters and/or poorly lit streets. Generally, these areas are far away from the tourist sights so if you stay close to the areas I talked about, you should be okay.
Airport Hotels
Besides Makati, Pasay may be the best area for you to spend a day or two during a short stopover in Manila. Sofitel Philippine Plaza Manila (high-end), Conrad Manila (intermediate), or OYO 110 Asiatel Hotel (budget) are a few of the best hotels near Ninoy Aquino International Airport.
Pickpockets
Pickpocketing and petty theft is unfortunately quite common in Manila. Avoid wearing jewelry and carrying expensive belongings in bags whilst roaming the streets as they are very easily stolen. A common scam to be wary of is long conversations with strangers on the street, the scammer's friend can easily be searching through your personal things whilst you're distracted. Pickpockets are particularly common on the metro so hold your bags in front and be alert at all times.
Walking at Night
Try to avoid walking the streets at night, take a taxi instead. Taxis are very affordable in the Philippines and will get you to and from your destination in the safest way possible. Usually, it won't cost more than P150 ($3.50) for a 20min trip and you can either hail them on the street or book a ride on the Grab app. If you really do have to walk, avoid dimly lit streets and alleyways.
Frequently asked questions about Manila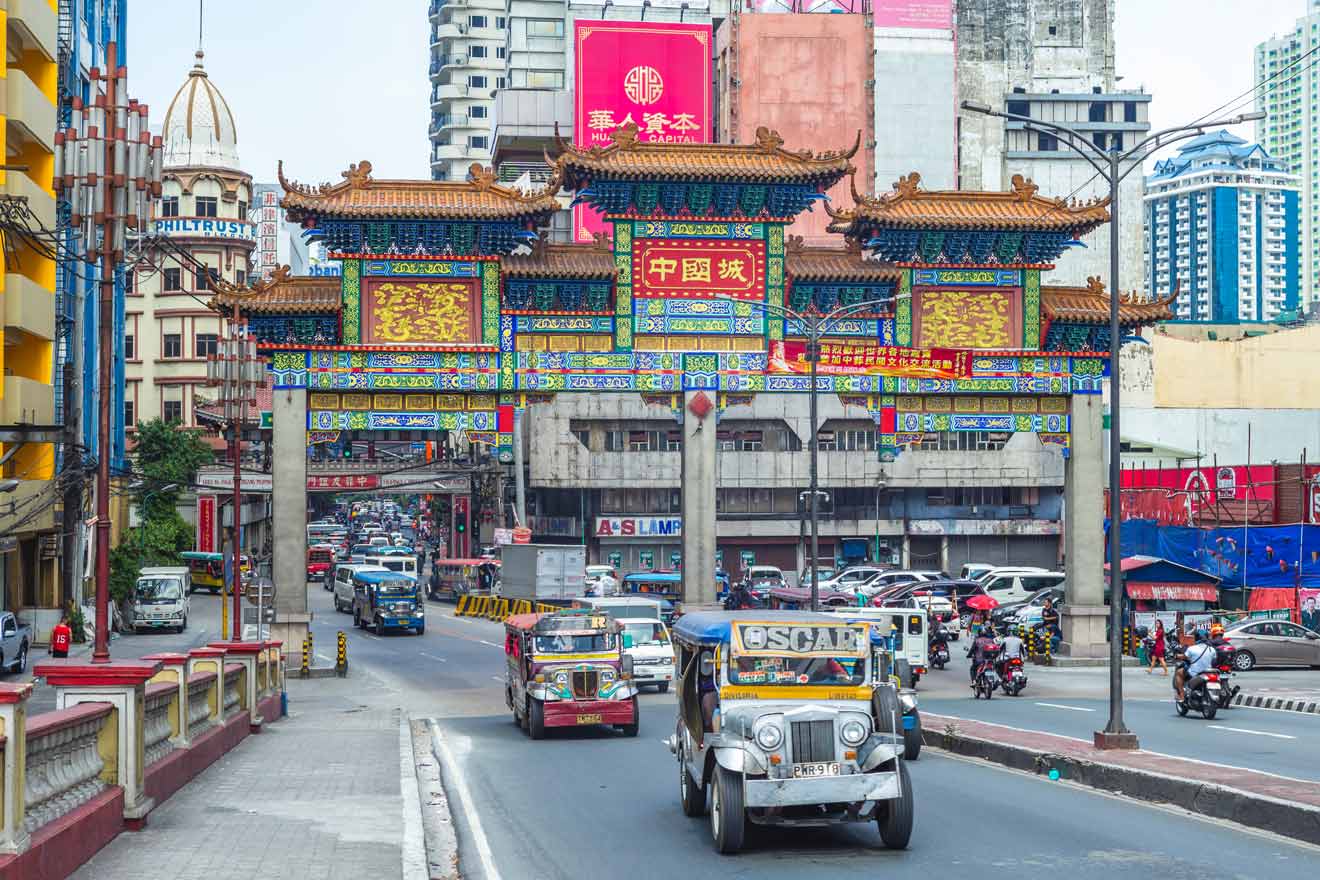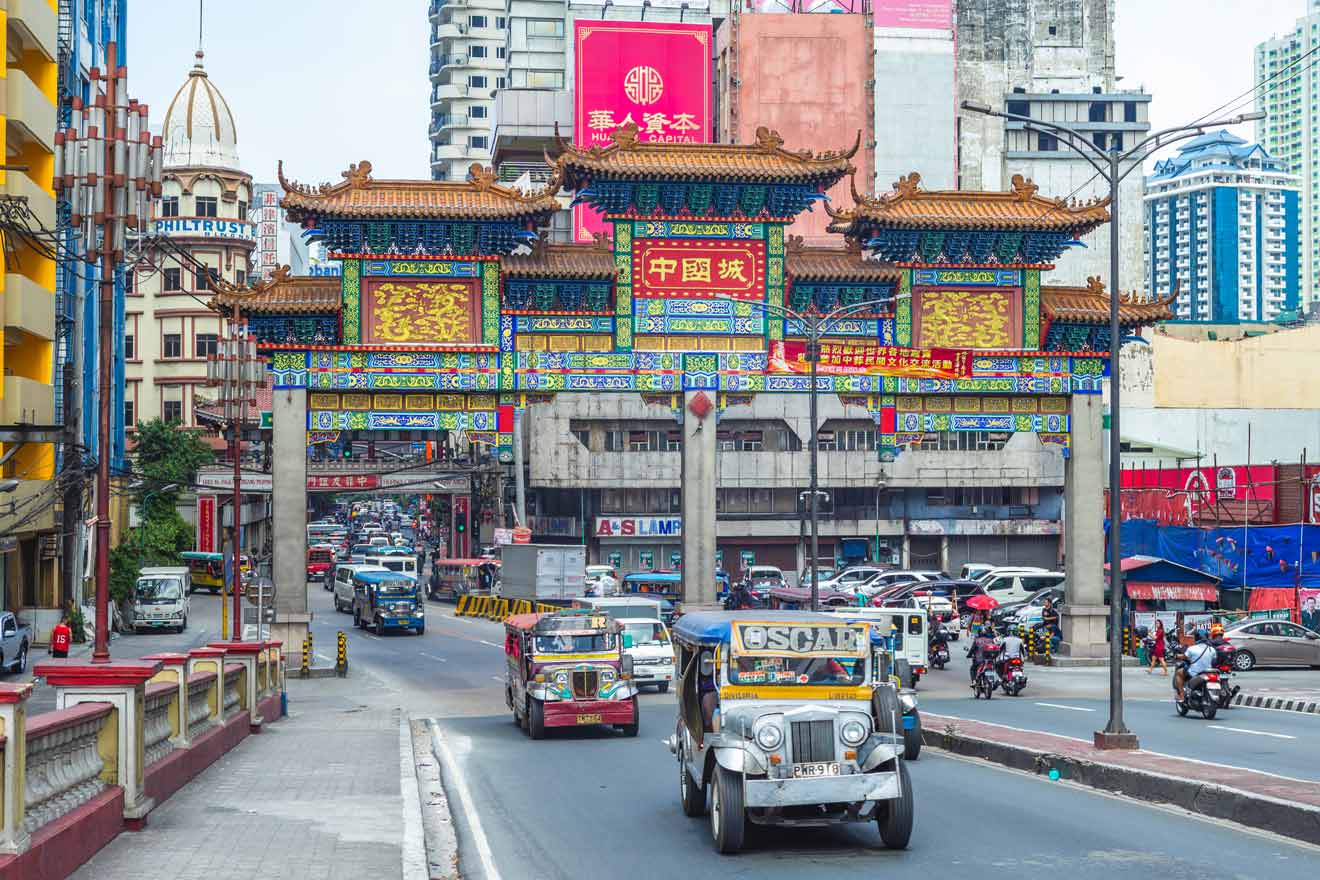 🧳 Where do tourists stay in Manila?
Most tourists stay in Makati since it is the most westernized part of the city. You will find big hotel chains and large shopping malls in this area as well as other tourist attractions. 
🇵🇭 Where is the best place to stay in the Philippines?
Everyone should see the capital Manila, during their stay, but Islands like Cebu, Boracay, and Palawan are some of the other best places to stay in the Philippines. 
🏙️ What is the city center of Manila?
Manila doesn't really have a city center as it is so big that it has many smaller cities inside it. Intramuros is the old capital and is a walled city with lots of history, alternatively, Makati is the modern center of business.
🕺 Where should I stay in Manila for nightlife?
Malate is the area to stay if you're looking to party as many streets become pedestrian-only at night with plenty of bars and clubs to choose from. Del Pilar Street is the Red Light District of the quarter with great parties all night long.
Conclusion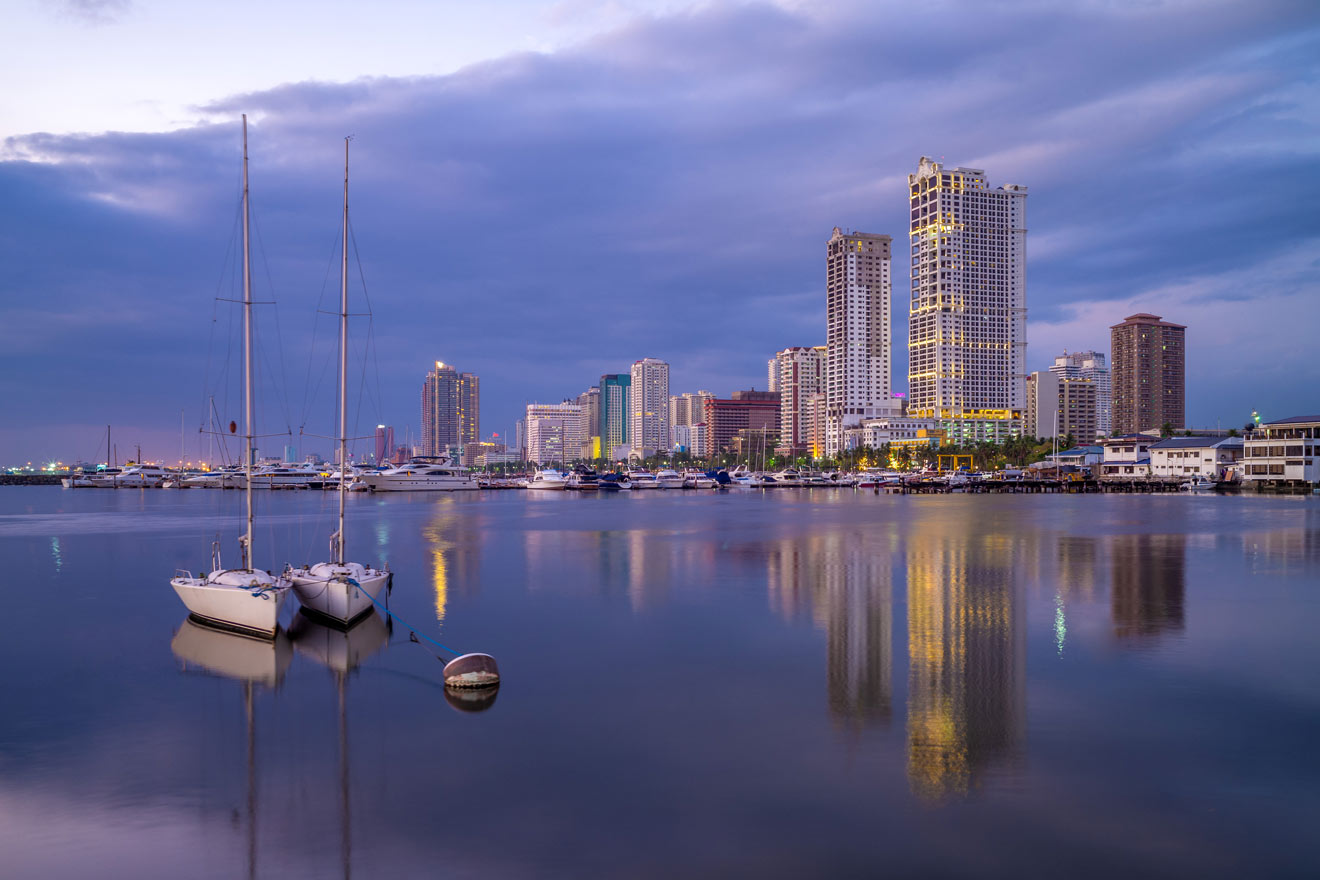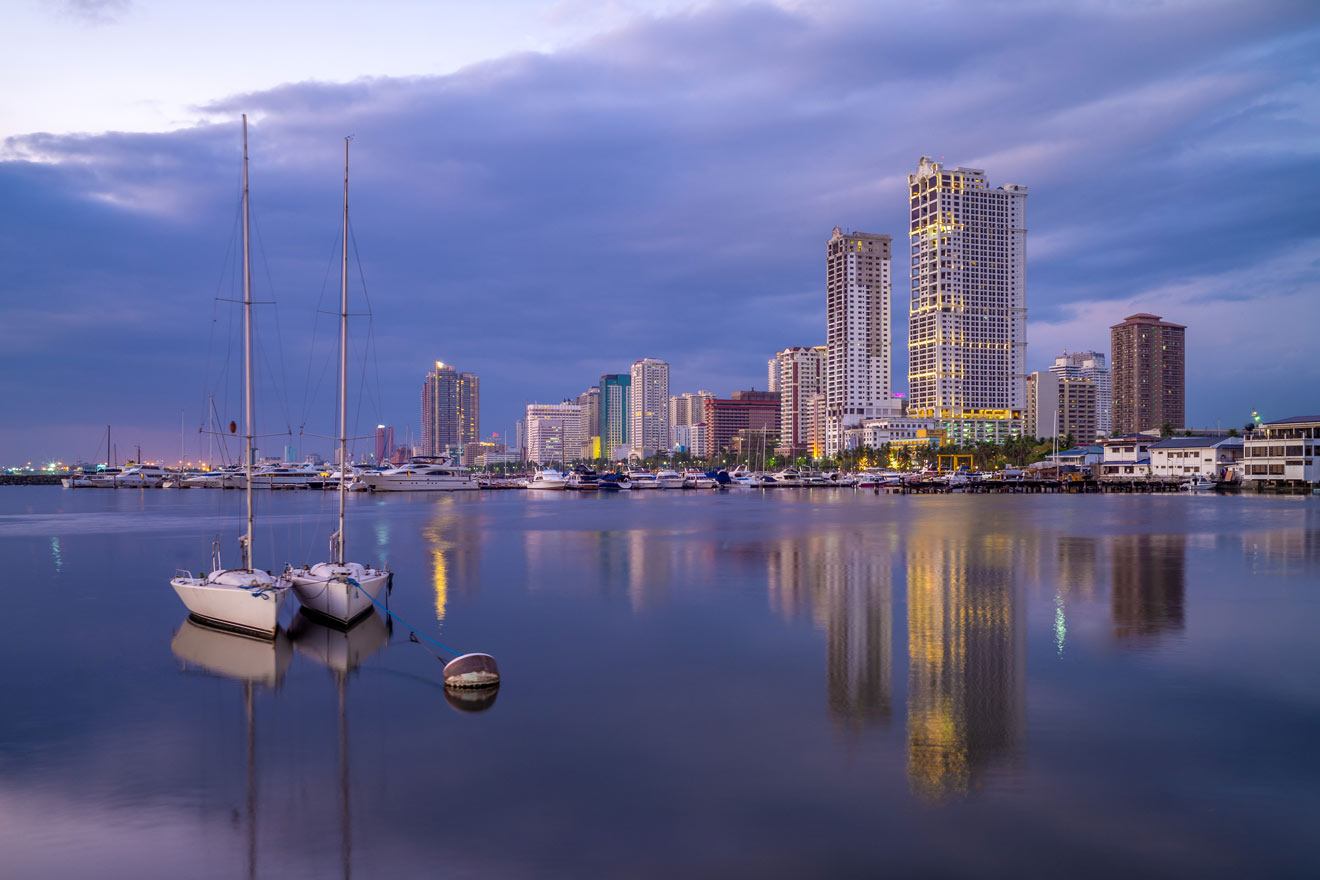 As you can see, there are many factors to consider when planning where to stay in Manila. The city teems with attractive sites and spots, both old and new, from Makati, southeast of the downtown, to Quezon City, northeast of it. The pearl of the orient is not as crazy as you might think!
Thank you for taking the time to read the article, I hope that you enjoyed it and found my tips helpful. Make sure to book ahead as Manila attracts over a million visitors every year and the best places get booked out quickly! If you haven't already chosen somewhere to stay in Manila, here are my absolute favorite options for you:
Fairmont Makati – with world-class facilities and a focus on comfort in a central location
JEN Manila – Modern, bright rooms with pools and views of Manila Bay
If you're continuing your trip throughout Asia, make sure to check out my guide to the best places to stay in Kuala Lumpur and if you have any questions about Manila, the Philippines, a place to stay or just want to let me know how your trip went, leave me a comment! I am looking forward to replying to you. 🙂
So, have a great trip to the capital of the Philippines! I'm sure you will if you choose one of these incredible places to stay!
Kate
---
Pin it for later!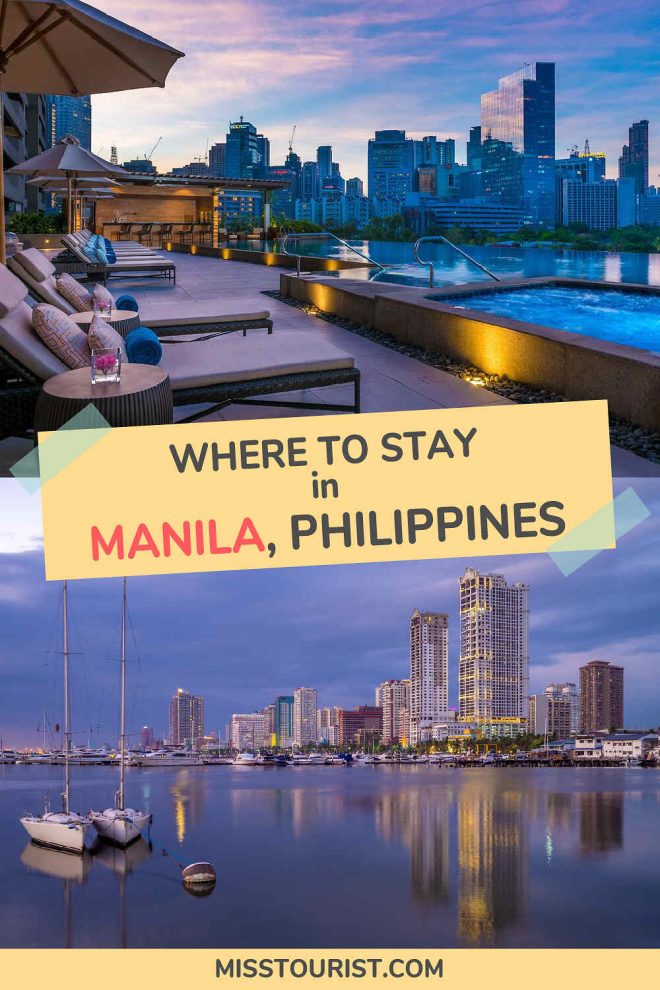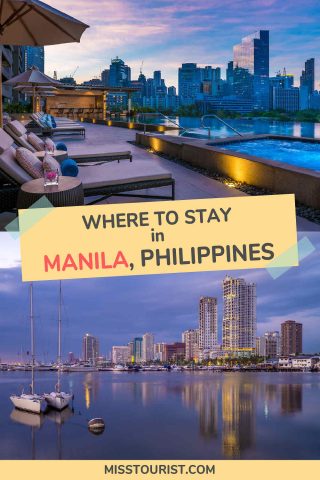 Pin it for later!