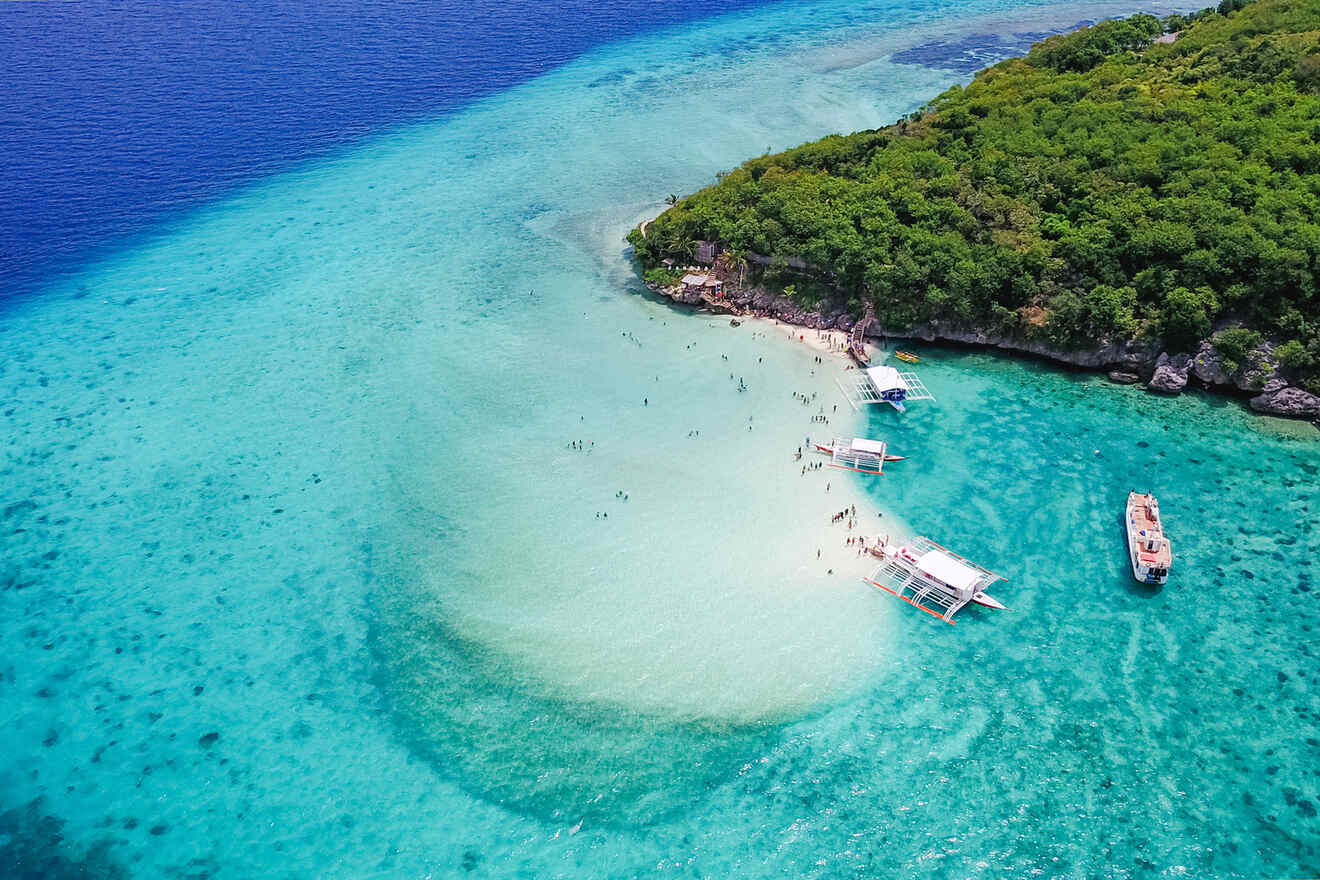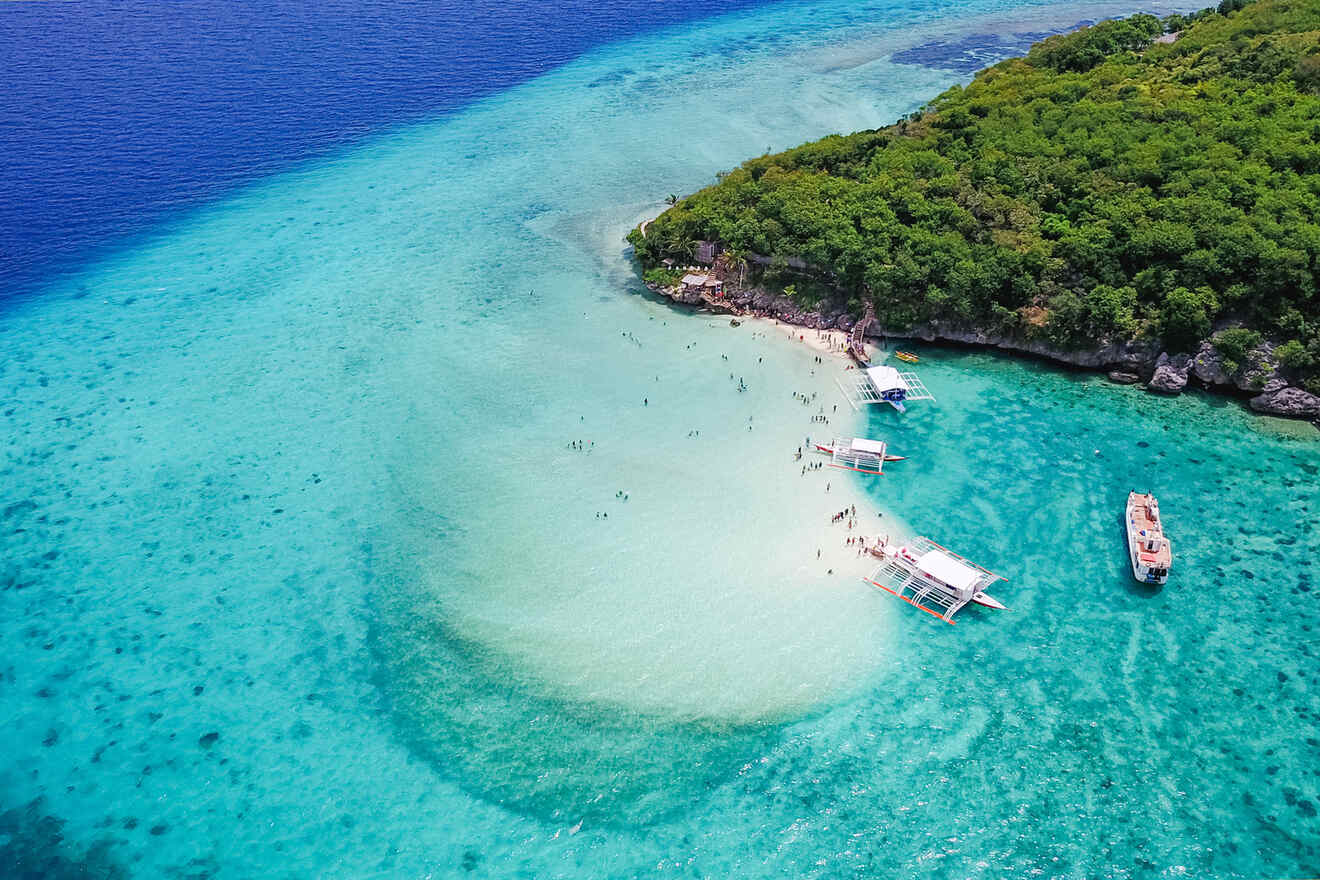 With its pristine beaches, crystal clear waters with amazing snorkeling and scuba diving, green jungles, charming villages, and good nightlife, Cebu Island is a real paradise for any kind of traveler out there!
The Island is quite big, and each part of it offers something very different for tourists, so deciding
Where to stay in Cebu can really make a difference on your vacation.
For this reason, I decided to save you some time and write this travel guide explaining the best areas in Cebu and nearby islands, including something for any taste and accommodation options for any budget, so anyone can be satisfied!
Cebu City is the best area for first-timers, Malapascua island to stay on a budget, Moalboal is the coolest area on the island, and Mactan Island is for water sports lovers.
When you decide which area and hotel are best for you, make sure you book your accommodation as soon as you can, so you can reserve a spot and take advantage of some good offers.
And now… let's jump right in!
If you are in a hurry
Here's a quick list of the top hotels in Cebu, divided by price range:
Here's a map so you can easily visualize all the best areas where to stay in Cebu: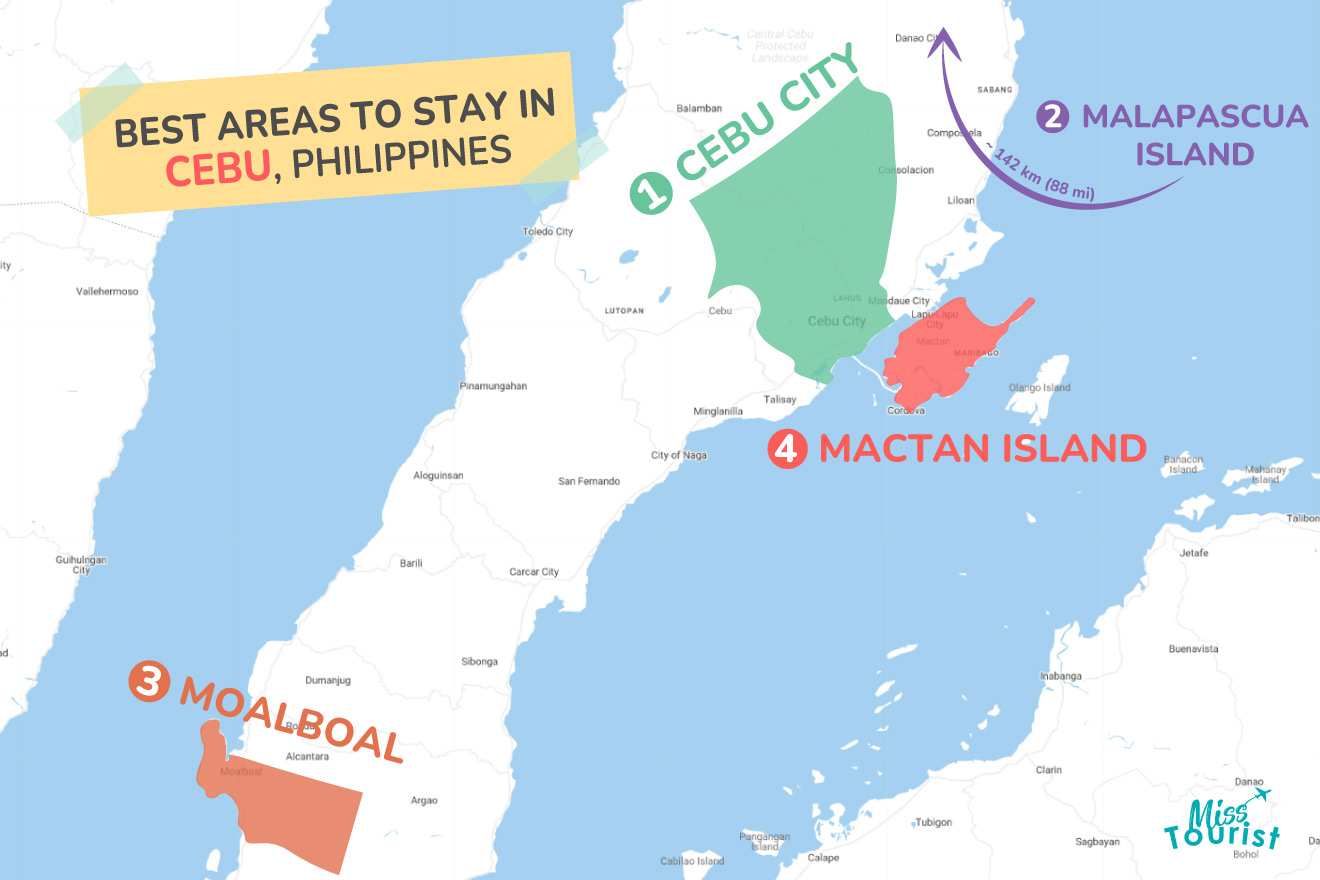 1. Cebu City – where to stay in Cebu for the first time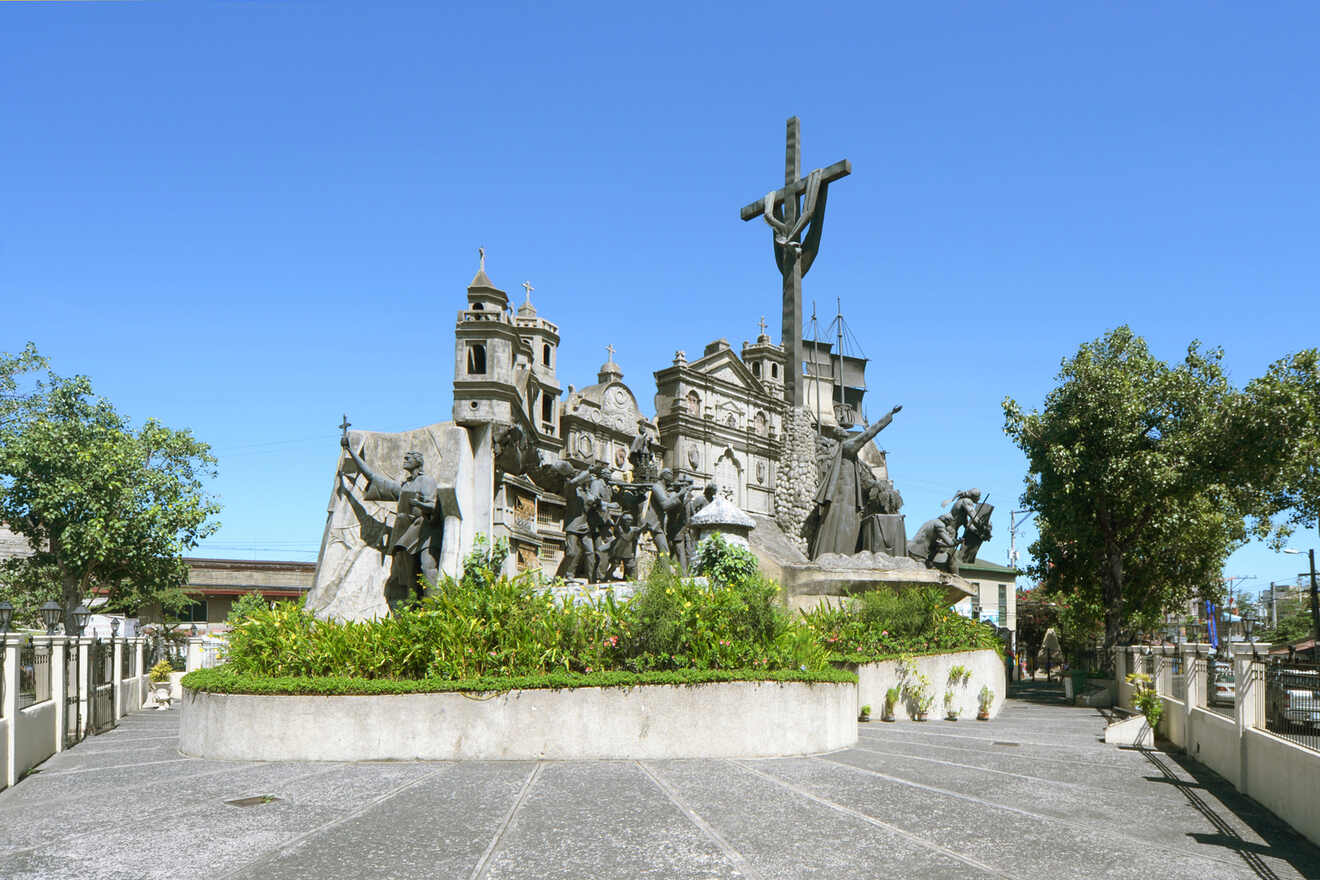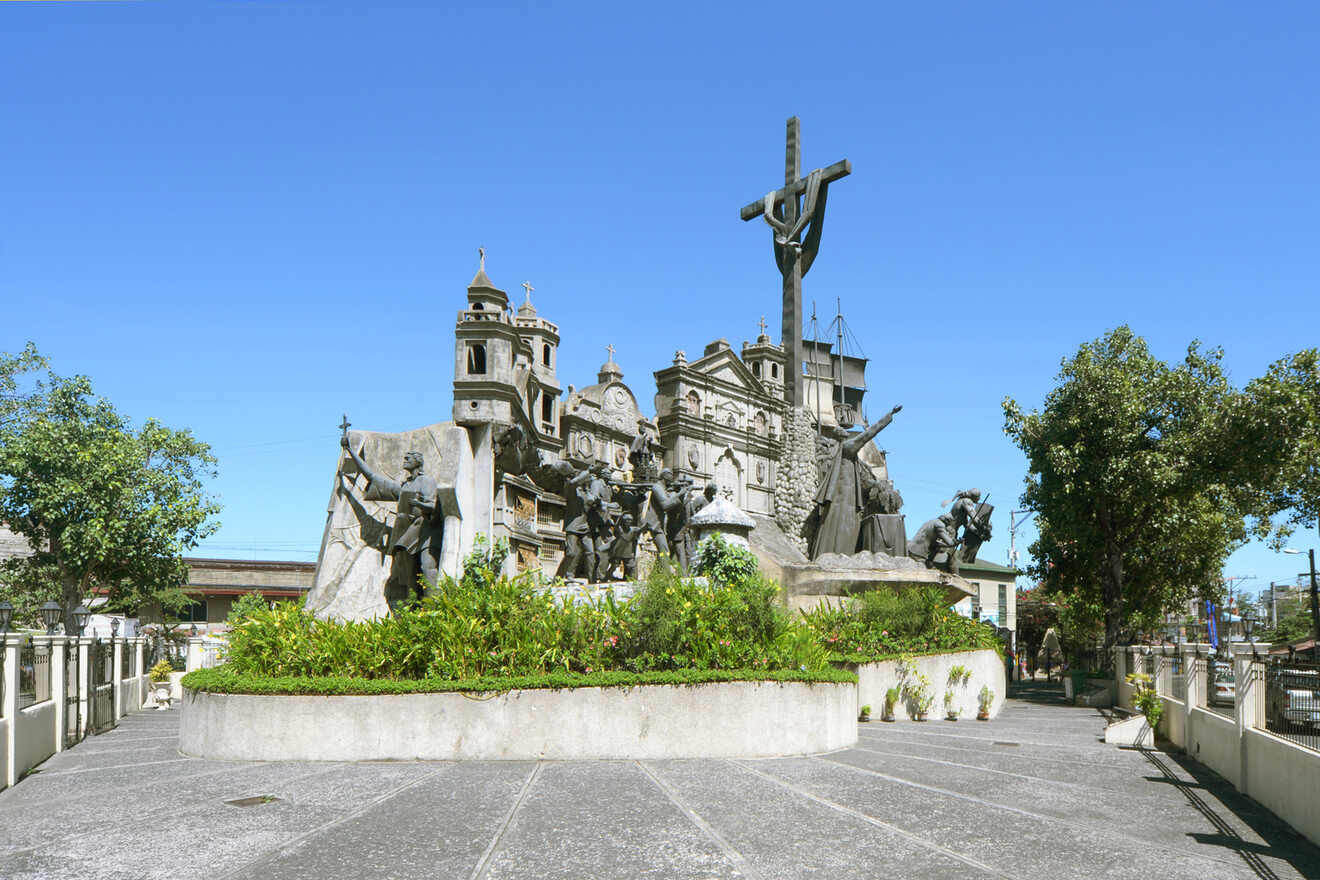 If it's your first time on the island and you are not really sure of what you want to experience, why not experience everything?
The big metropolis of Cebu City, the largest and oldest city in the Philippines, offers so many things for tourists, from historical and cultural attractions to delicious restaurants, good shopping, crazy nightlife, and much more… definitely the best place to stay in Cebu for the first time!
Here you can just walk around the city center while gazing at its historical landmarks and modern architecture… you will soak up immediately the vibrant and buzzing energy of the city!
Culture buffs can visit interesting museums like the Casa Gorordo Museum, while shopping addicts can go crazy in the many malls and shopping centers like the famous Ayala Center Cebu or in the local street shops and independent boutiques.
But if you get tired of the hustle and bustle of city life, no worries, many tours leave from Cebu City to explore both Cebu's natural landscapes and the nearby islands!
And when the sun goes down, there are countless options to enjoy Cebu's nightlife, from delicious restaurants serving local and international cuisine to lively bars and clubs.
Does it sound like the perfect place for you? Then check out the amazing hotel options here below:
Luxury hotel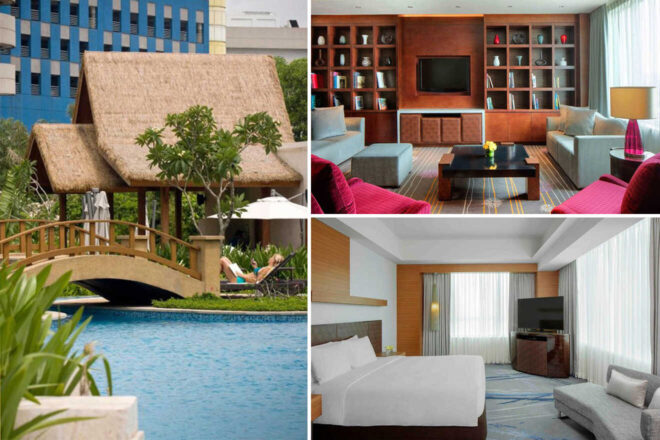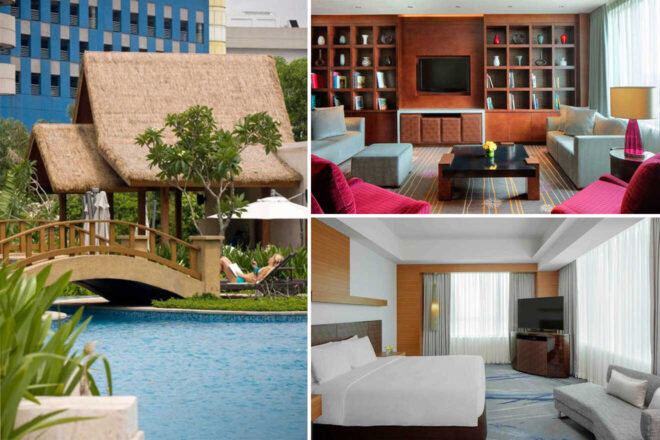 If you want to splurge a little during your holiday in Cebu City, I have the right option for you! The stunning Radisson Blu Cebu hotel, located right in the heart of the city, offers amazing amenities for a holiday full of comfort like a beautiful swimming pool, a relaxing spa offering treatments and massages, and 3 delicious dining options. The rooms are also amazing, featuring panoramic views of the city and Mactan Harbor… check out the pictures!
Other accommodation options in Cebu City
Mid-Range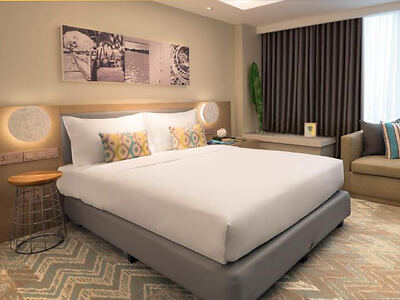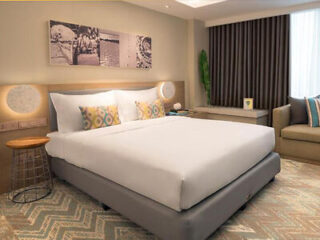 Check out this great hotel with panoramic sea views, a restaurant, a swimming pool, and free Wi-Fi available throughout the property
Budget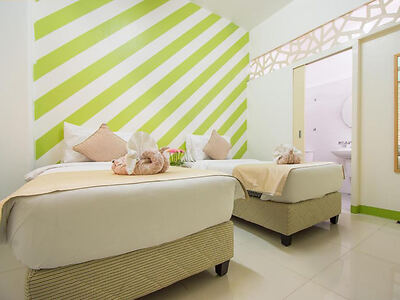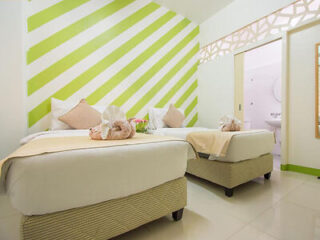 If you want to save some money during your stay in Cebu City, this hotel is for you, offering spacious rooms with private bathrooms
Airbnb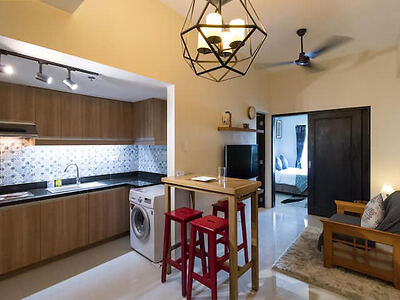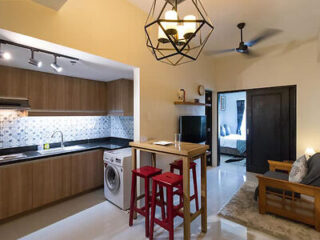 Feel at home in this cozy condo with a great position right in the middle of the city life: shops, bars, groceries and restaurants!
Things to do in Cebu City
2. Malapascua island – where to stay in Cebu on a budget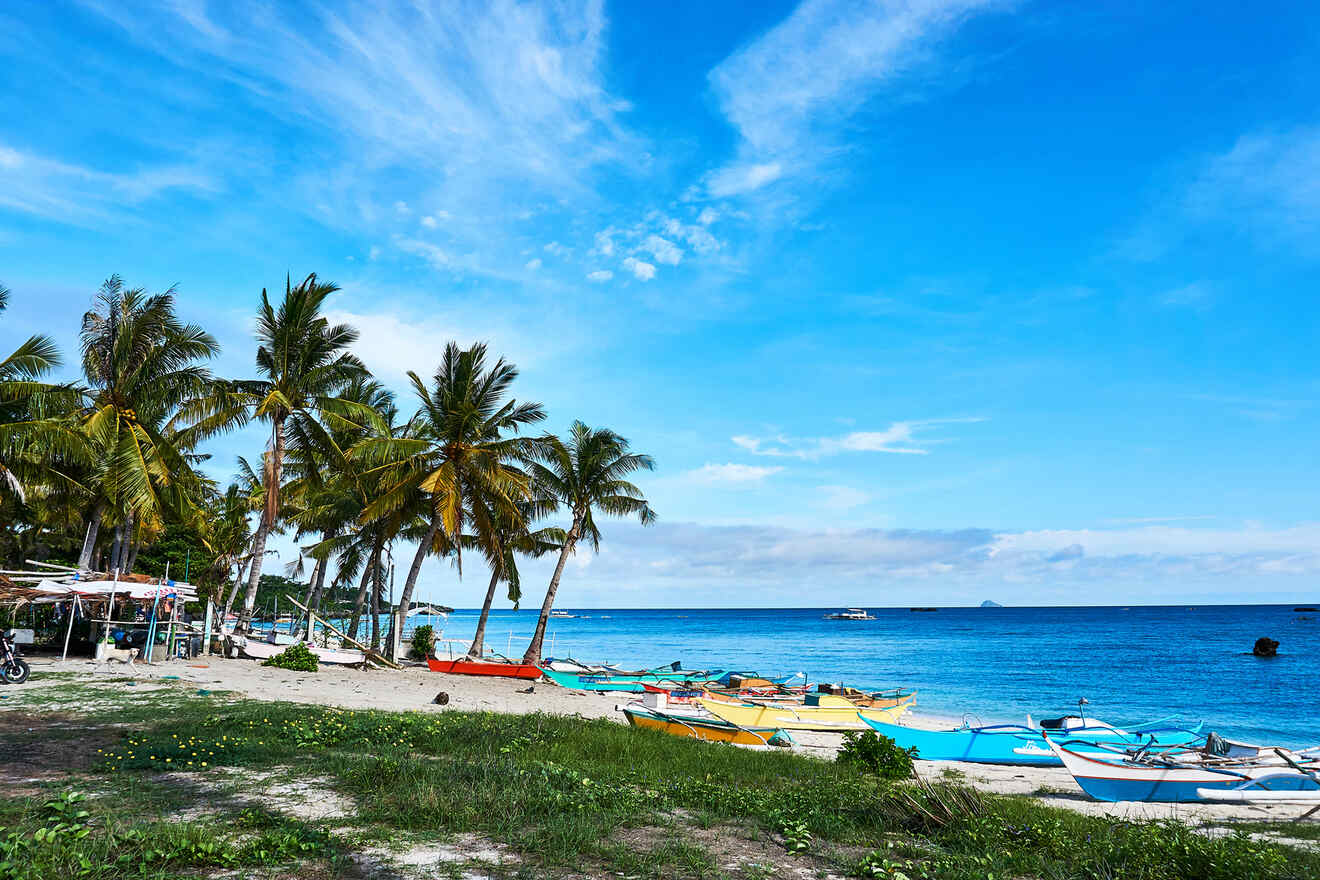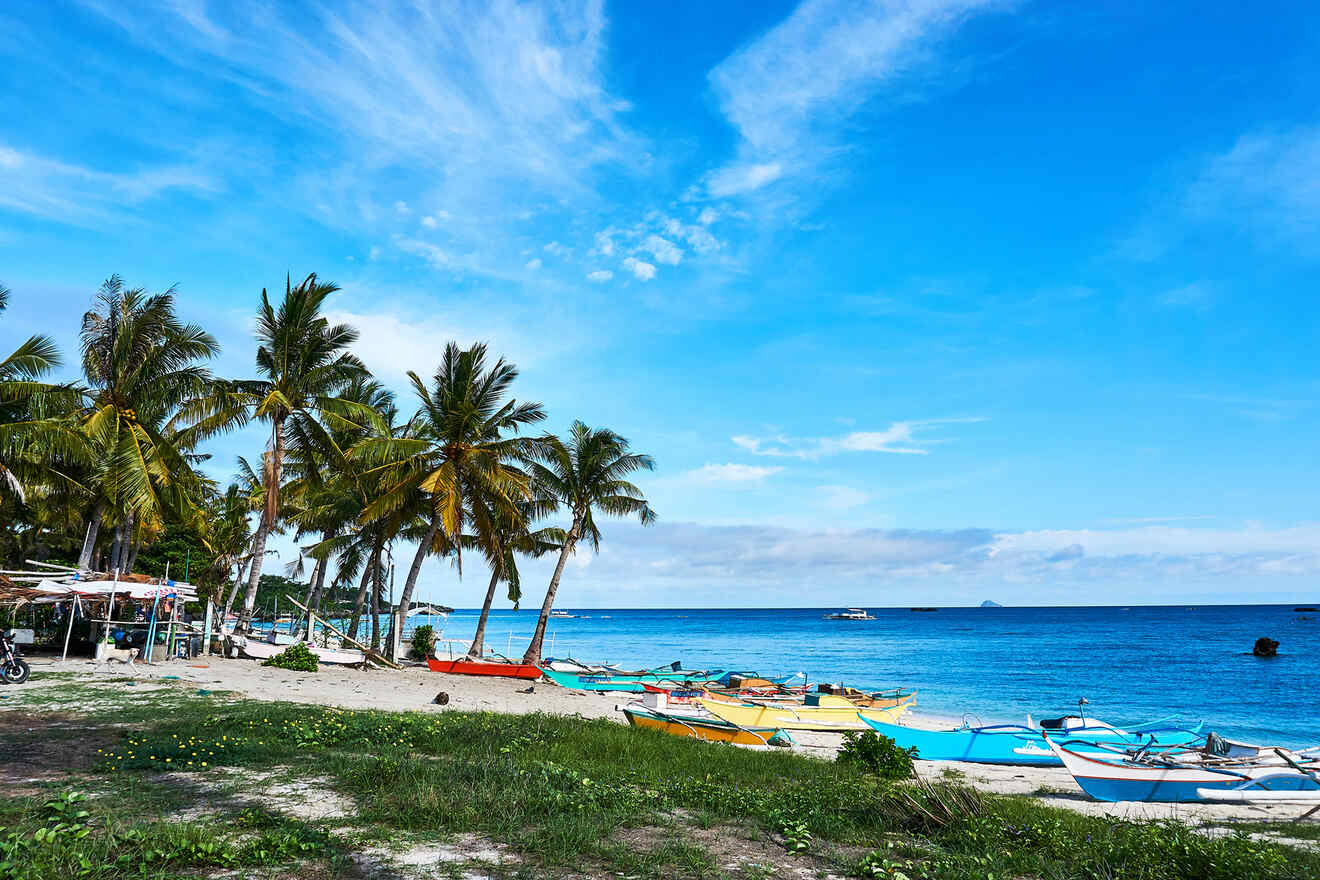 If you are traveling on a budget, the small and dreamy Malapascua Island, located off the northern coast of Cebu, will offer you veery cheap prices and much more!
In fact, here you will have access to palm-fringed white-sandy beaches, like the stunning Bounty Beach, crystal clear waters with excellent snorkeling, and a very laid-back atmosphere, which also make it a great place for families or couples looking for a tranquil getaway.
For all these reasons, Malapascua really reminds me of Coron island, another paradise in the Philippines. Check out our post about where to stay in Coron to learn more about it!
When you get tired of just relaxing at the beach, you can jump in the water and check out the reefs and rich marine life, like beautiful sharks and manta rays, or simply explore Malapascua's beautiful nature by foot… You can actually walk the whole island in only about 3 hours!
This remote, coral island is also perfect if you want to experience the local culture. You will see many locals fishing and farming to provide food for their daily life.
Whether you are a passionate scuba diver, a backpacker on a budget, or just want to have a relaxing beach holiday, Malapascua island is for you. Check out the amazing hotels and guesthouses here below!
Luxury hotel
Blanco Beach Resort Malapascua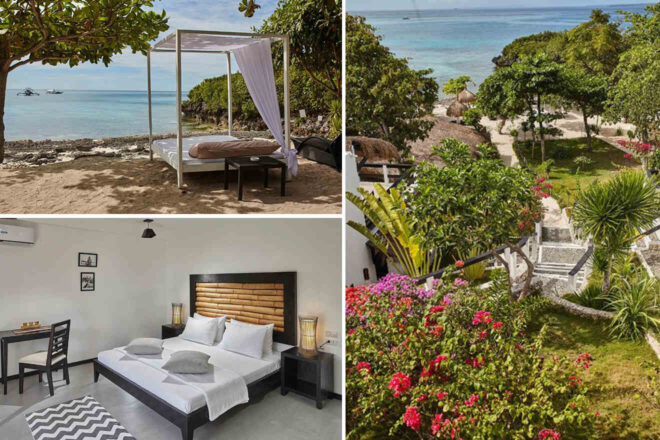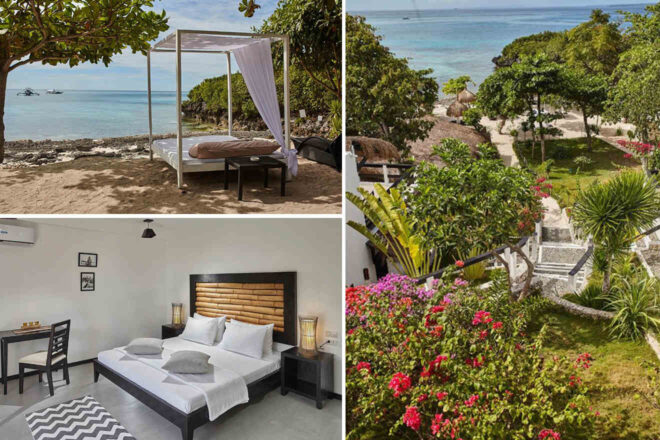 If you want to have the ultimate beach holiday, this exclusive resort is located a few steps from the dreamy Bounty Beach and offers all the comforts you need! Here you will have access to your own private beach area, so you can spend your day splashing or sunbathing in total privacy, and take a break from the sun at the delicious onsite restaurant, at the bar (serving refreshing cocktails) or in the tranquil garden.
Other accommodation options in Malapascua island
Mid-Range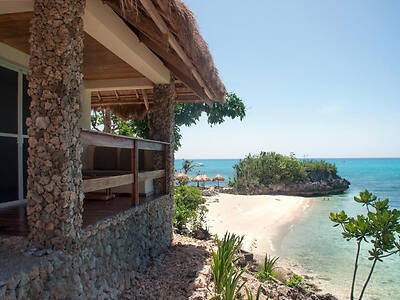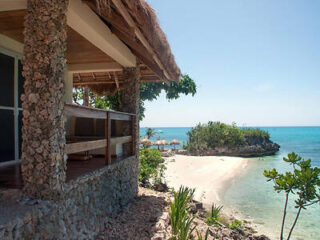 Have a tropical beach getaway in this beautiful resort, with private beach access and cozy rooms with wooden and bamboo furnishings. You'll love it!
Budget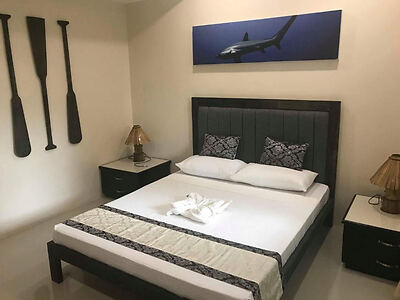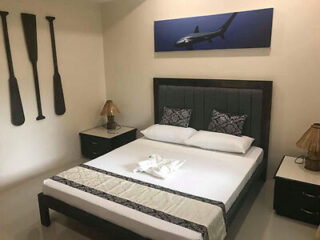 Are you traveling on a budget? Then check out this affordable hotel providing adults-only accommodation with a restaurant, a bar, and a lovely garden.
Airbnb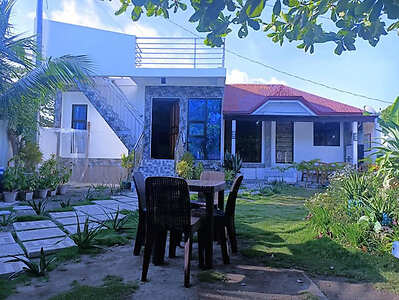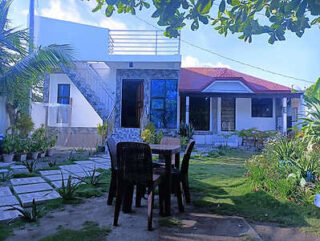 This villa will make you feel immediately at home, hosting  an open-plan living room and kitchen. The place is perfect for big families or friends, hosting up to 8 people.
Things to do in Malapascua island
3. Moalboal – the coolest area where to stay in Cebu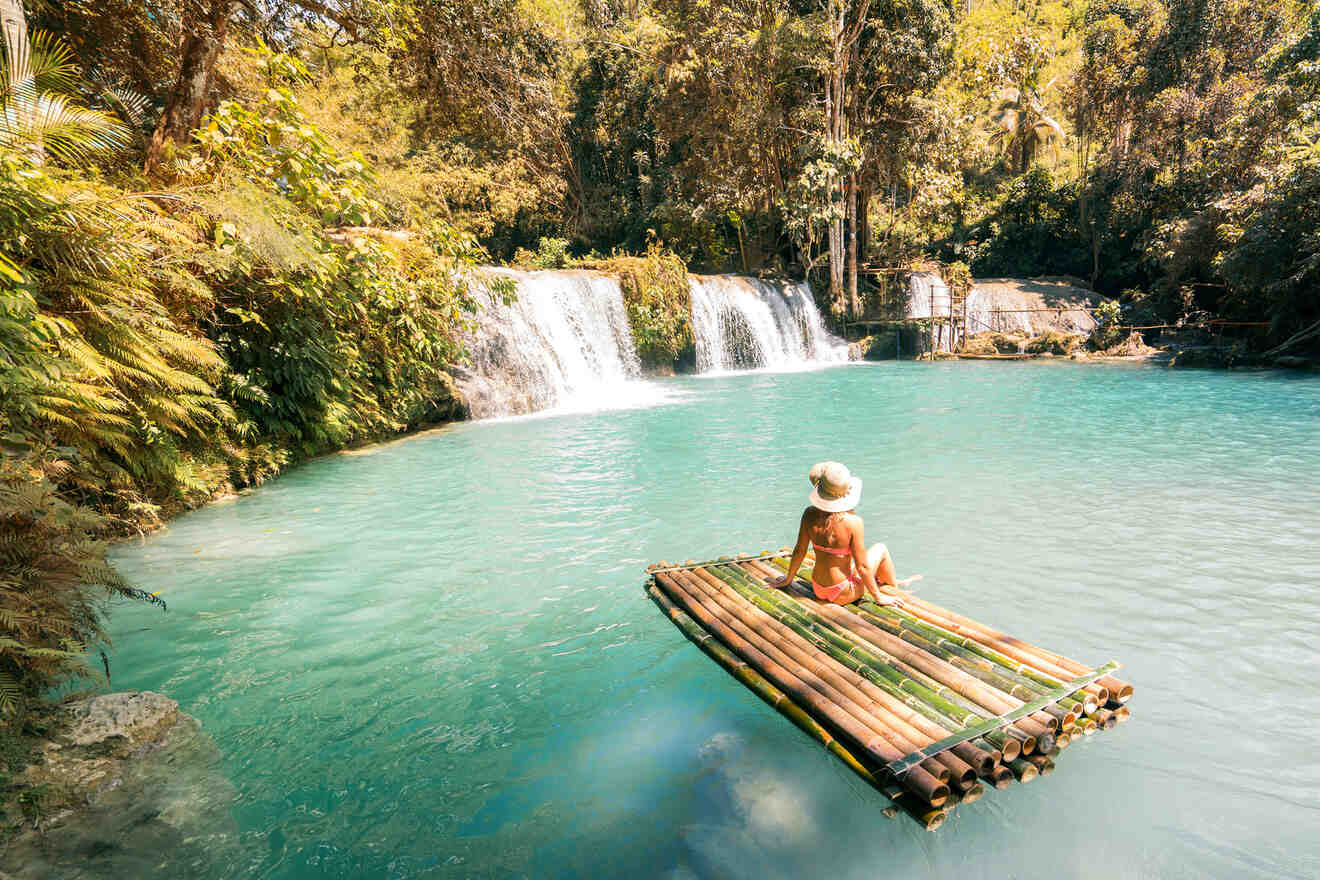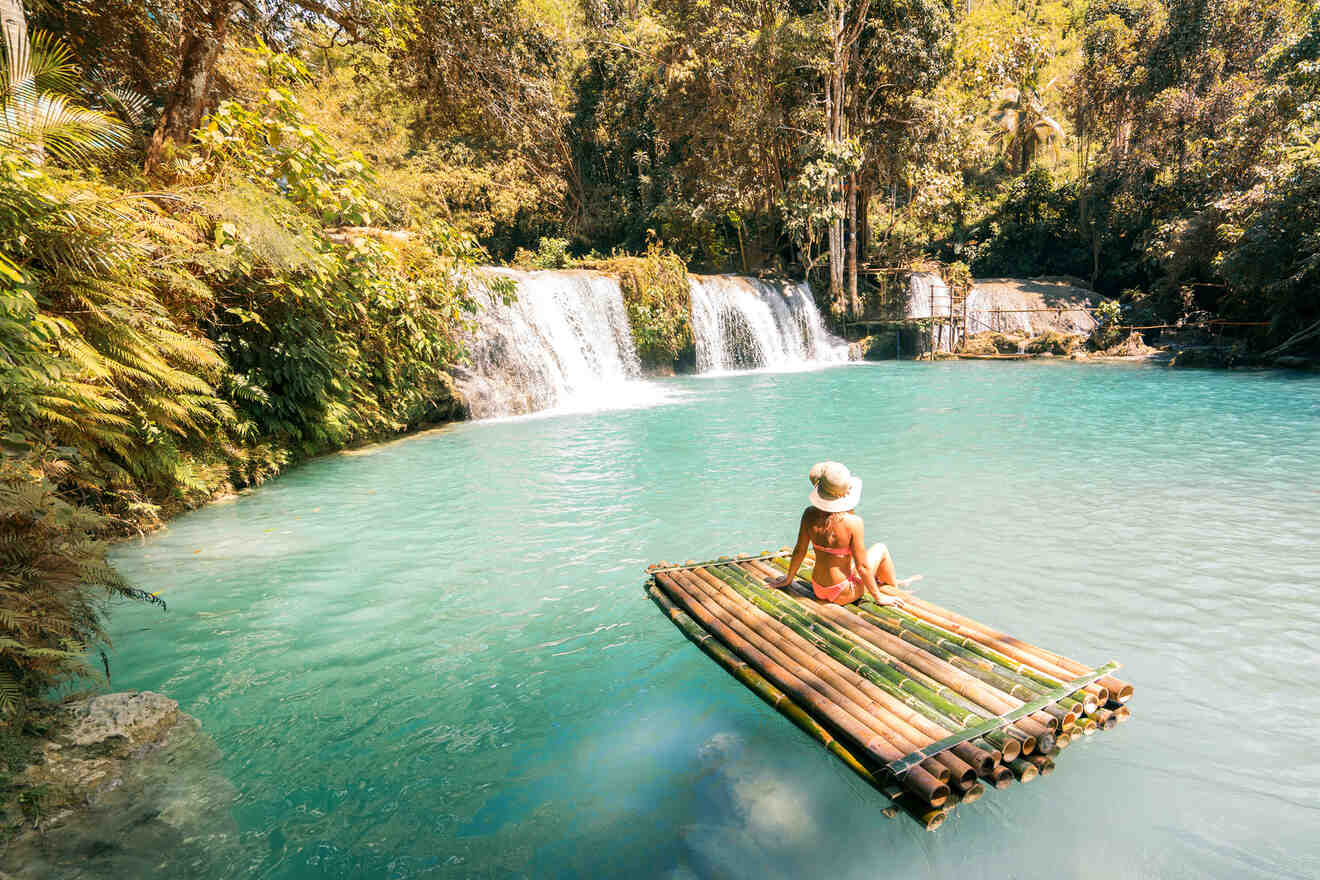 Located on Cebu's southwestern coast, 2 hours from Cebu City, the charming Moalboal is the coolest place on the island. Why?
This small town preserves the authentic Filipino culture without being overcrowded by tourists, plus offers access to blue waters rich in marine life and a lot of stunning nature to explore in its close surroundings.
Here passionate divers and snorkelers can explore colorful coral reefs and swim with exotic fish, while avid hikers can venture into green tropical rainforests offering rivers, magical waterfalls and canyons!
P.S.: Moalboal is the closest place to Pescador Island, a prime diving location where you can swim with shoals of millions of sardines!
Moalboal is actually divided into two main areas: Panagsama beach and White Beach.
Panagsama is the most popular tourist area, where you'll find most of the restaurants, bars, resorts, and nightlife options, while White Beach is more secluded and tranquil… so take this into consideration when you choose your hotel.
Talking about hotels, if you're already in love with this area, check out the amazing hotel options here below:
Luxury hotel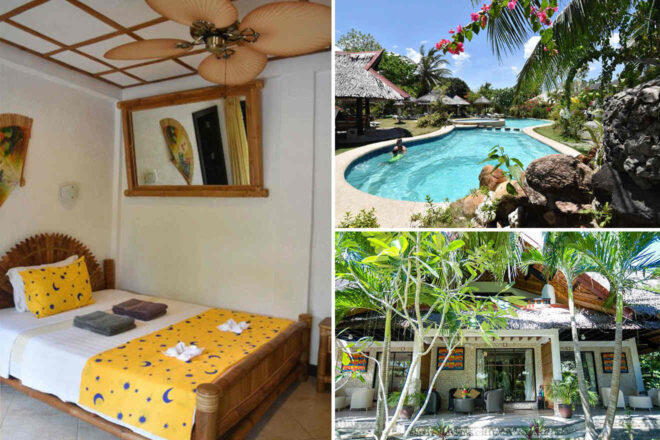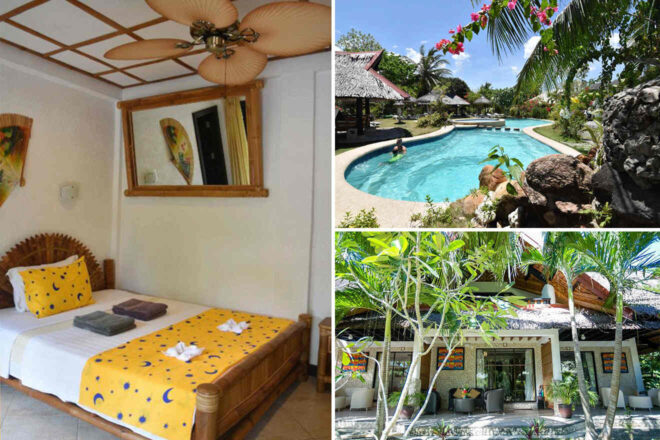 Treat yourself to one of the most beautiful resorts on Cebu Island! Located a stone away from the crystal clear waters of Moalboal Beach, this luxury accommodation has an outdoor swimming pool with panoramic sea views… but it has much more to offer. Some examples? Here you'll have access to an on-site restaurant serving delicious Asian and international cuisines and to the Ning-Ning Bar, where you can refresh yourself with a good cocktail!
Other accommodation options in Moalboal
Mid-Range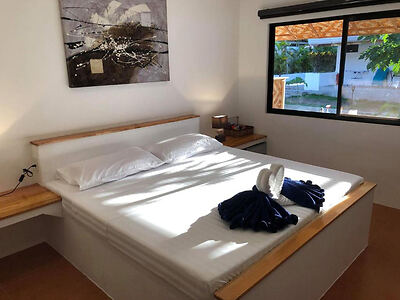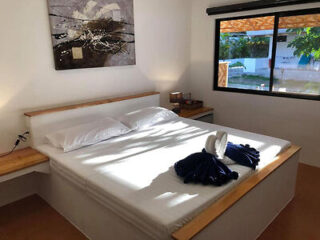 Located close to 25 diving spots and many dive shops, this hotel offers cozy accommodations with funny parrots all around!
Budget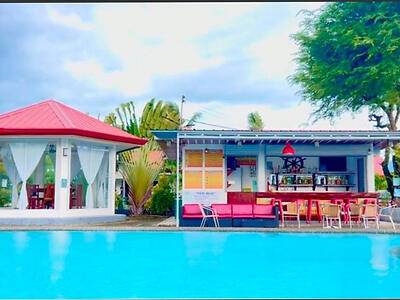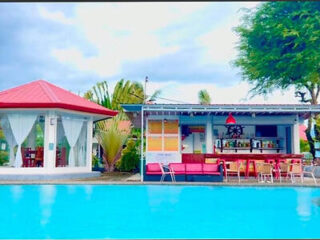 Save some money in this affordable resort, offering rooms with private balconies, air conditioning, and even a kitchen and dining area
Airbnb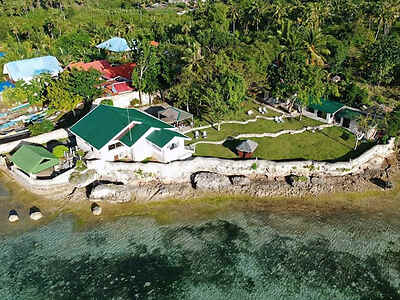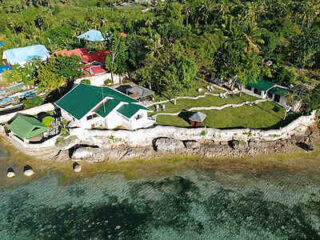 Looking for a place where to have a romantic getaway? Then check out this beautiful and intimate apartment, with a stunning beachfront view!
Things to do in Moalboal
4. Mactan Island – where to stay in Cebu for water sports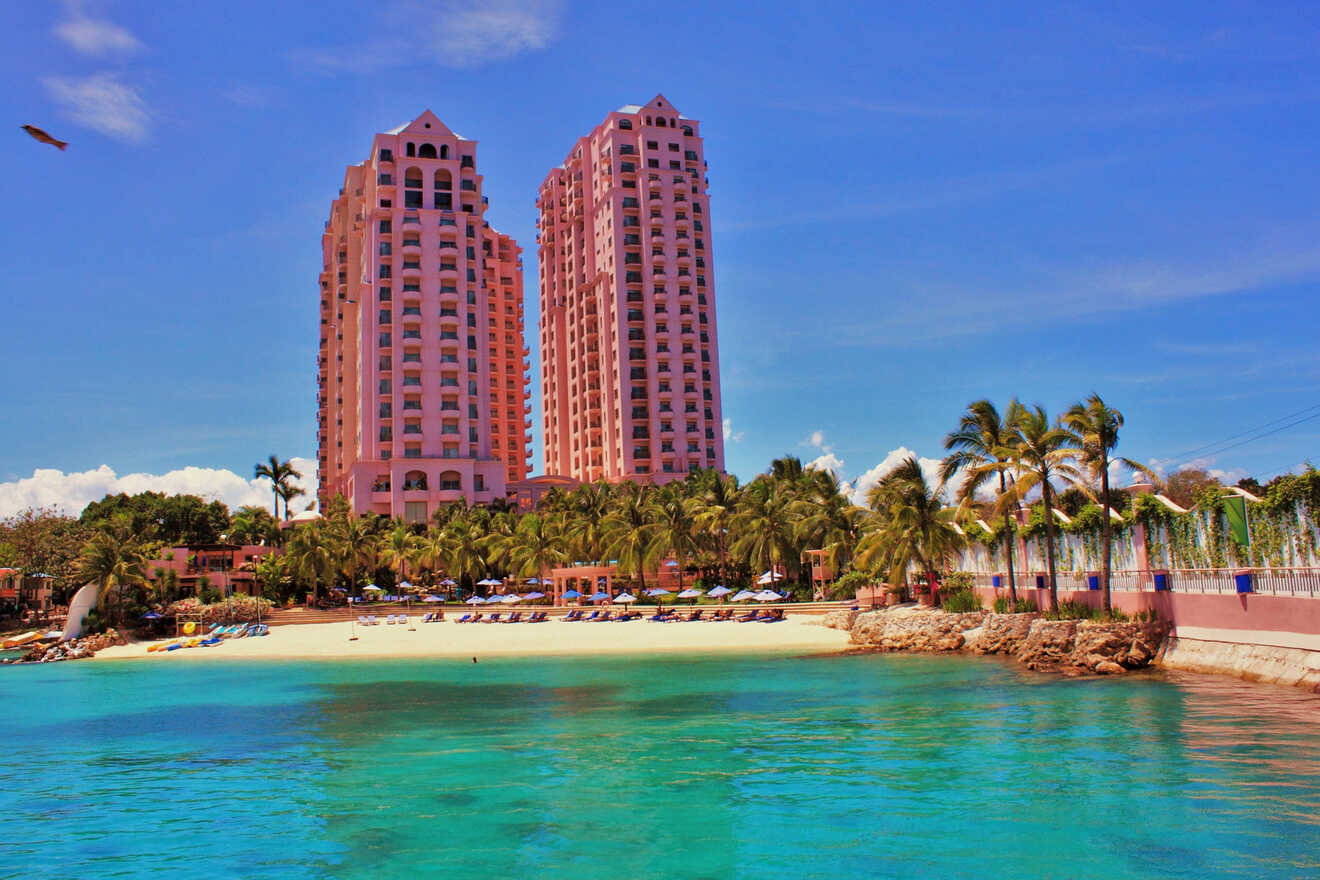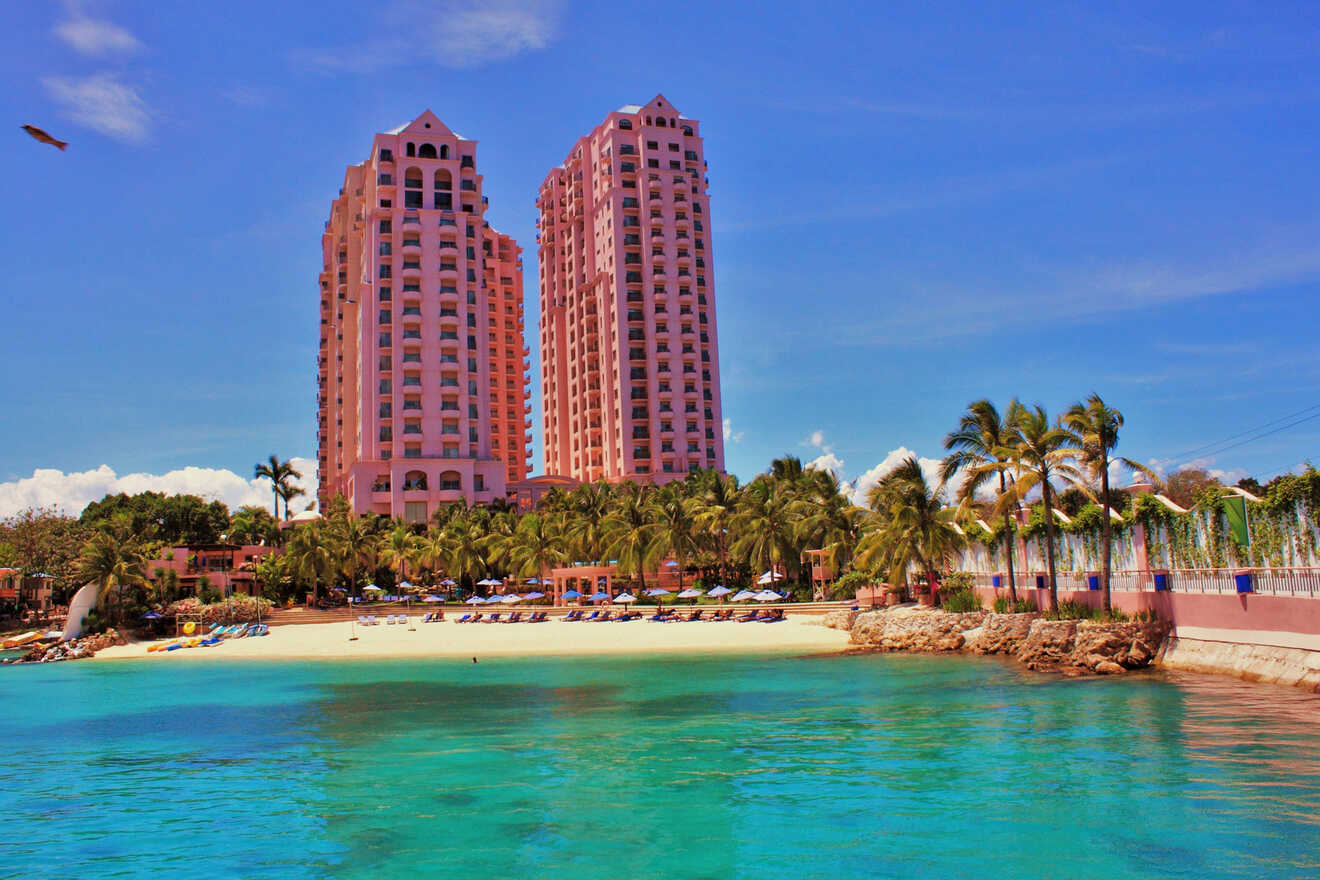 The coral Mactan island (also called Lapu-Lapu) is a paradise for those who want to have access to white-sand pristine beaches, crystal waters with rich marine life, and cool watersports at the same time.
In fact, here you can jump into the water every day and decide if you want to go for some amazing diving, snorkeling, sea kayaking, canyoning, or river climbing adventures.
If you are a beginner to watersports, no worries, there are many diving schools offering both classes and equipment hire. And after a day full of activities, you can recover your energy with a delicious meal at the many beachfront bars and restaurants.
One of the cool things about Mactan island is that it is easily accessible, being connected to Cebu City by two bridges, or alternatively you can take a flight directly to the Mactan-Cebu International Airport!
P.S. If you want to still have access to beautiful beaches but you want to stay in more high-end resorts or luxurious hotels, you probably will prefer staying at Bantayan island, located just north of Cebu, or on Palawan although it's a bit further away from Cebu.
But this doesn't mean you won't find good hotels in Mactan… check out the best options here below:
Luxury hotel
Jpark Island Resort & Waterpark Cebu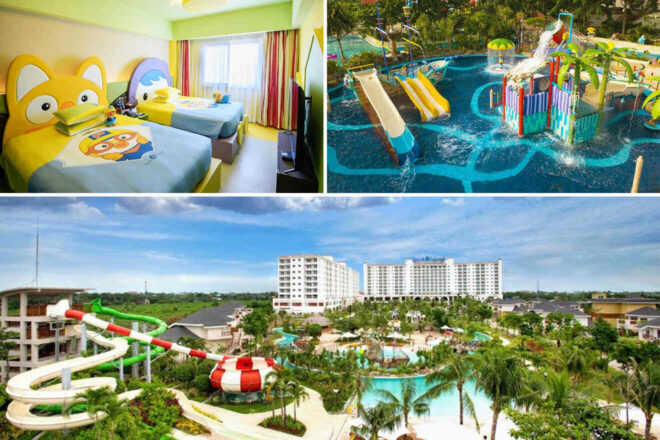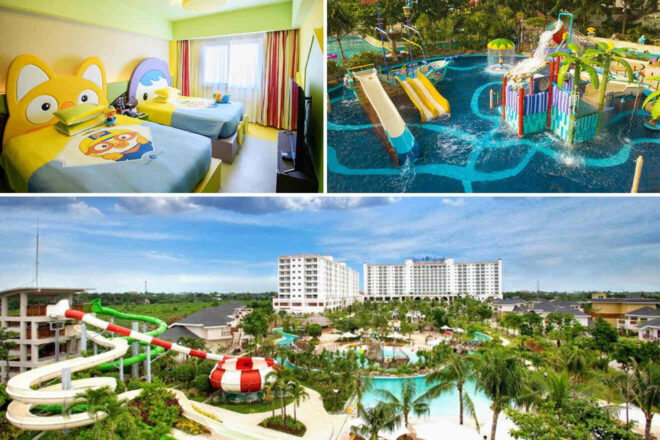 I am sure you will fall in love with this resort, at least I did! Located in an idyllic setting on Mactan Island, this huge property is perfect for any kind of traveler, featuring 6 themed pools, 10 dining outlets, a casino, a relaxing spa, a fitness center, a dive shop, an indoor themed park, and a private beach… I mean, what else do you need? It even offers free shuttles to and from Mactan-Cebu International Airport.
Other accommodation options in Mactan Island
Mid-Range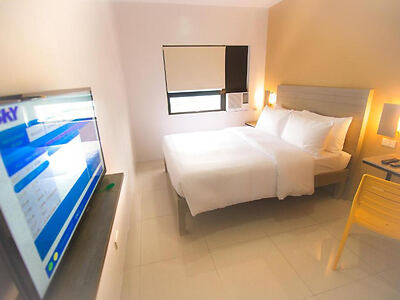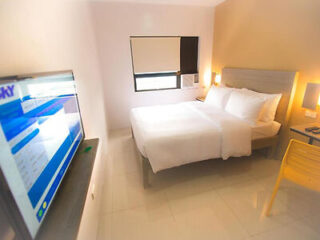 This accommodation offers spacious rooms with free Wi-Fi and free parking, at great value for the price!
Budget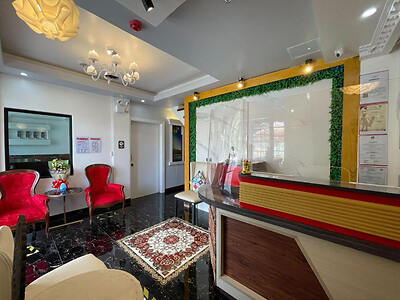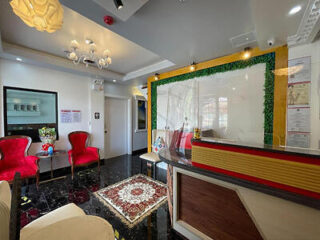 Traveling on a budget? Then check out this cheap hotel offering bright rooms with room service and free Wi-Fi
Airbnb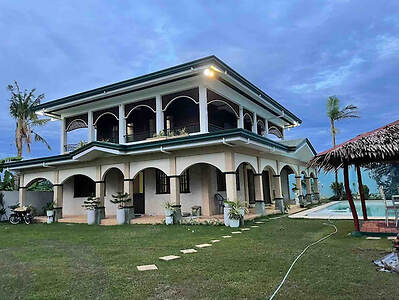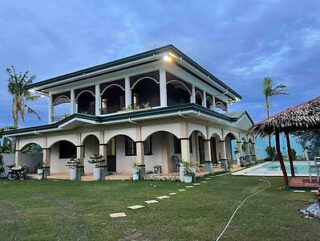 This lovely house is located in a peaceful residential area on Mactan island, perfect for a tranquil stay with the family!
Things to do in Mactan Island
FAQs about where to stay in Cebu Island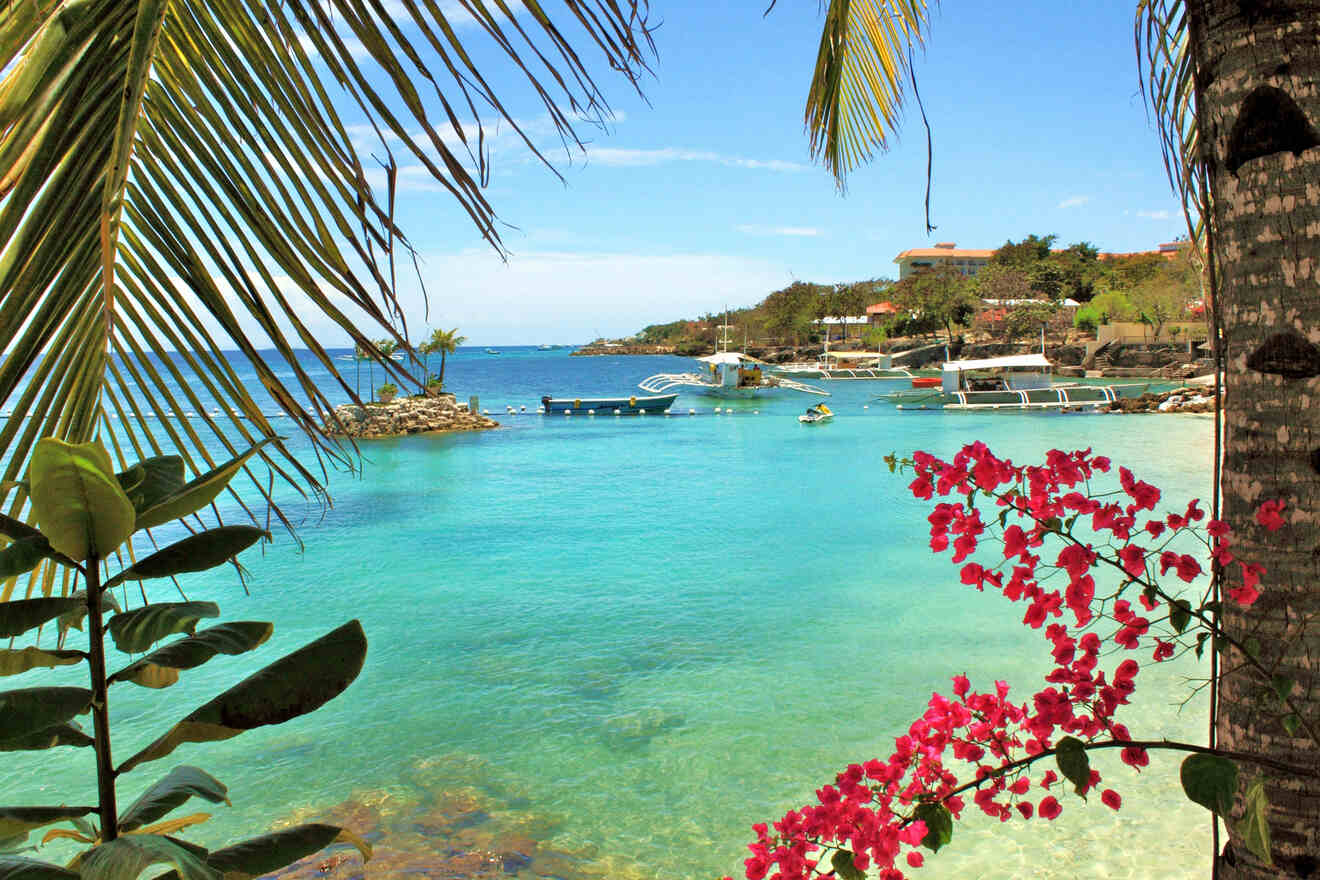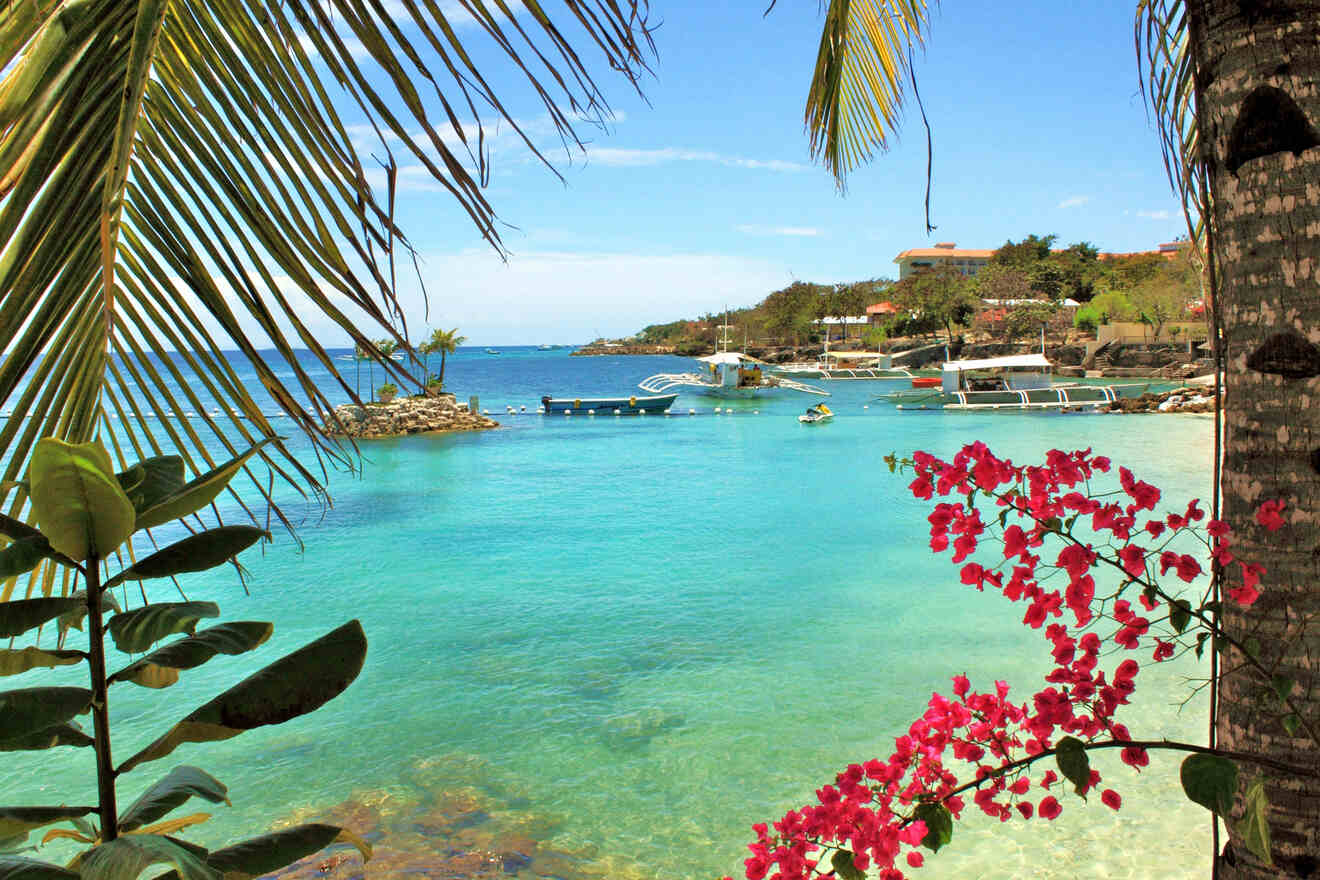 📍 What is the best area where to stay in Cebu?
The best area where to stay in Cebu is Cebu City, offering many cultural attractions, shopping, and nightlife options. Stay at the Radisson Blu Cebu if you want to have a luxury stay or Alicia Tower Residences to stay on a budget!
💵 What is the best area where to stay in Cebu on a budget?
⚖️ Is it better to stay in Cebu City or Bantayan?
Depending on what you are looking for, Cebu City is more bustling and offers access to many tourist attractions, while Bantayan has beautiful beaches and a more relaxing atmosphere.
👍 Is it worth it to stay in Cebu?
Definitely yes! Cebu island has so much to offer like stunning beaches, world-class snorkeling, and diving, many cultural attractions in Cebu City, island hopping tours, and delicious Filipino cuisine!
Conclusion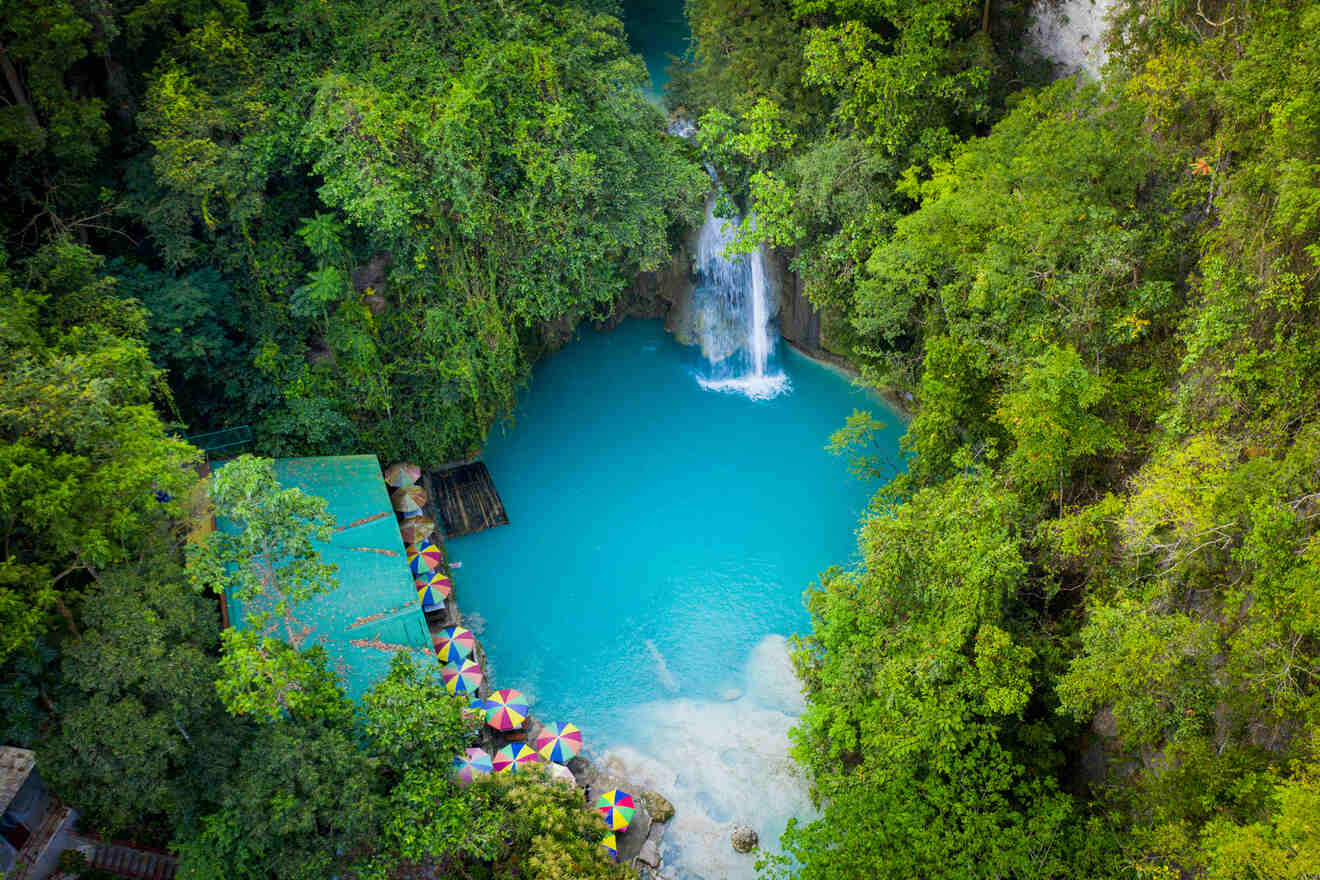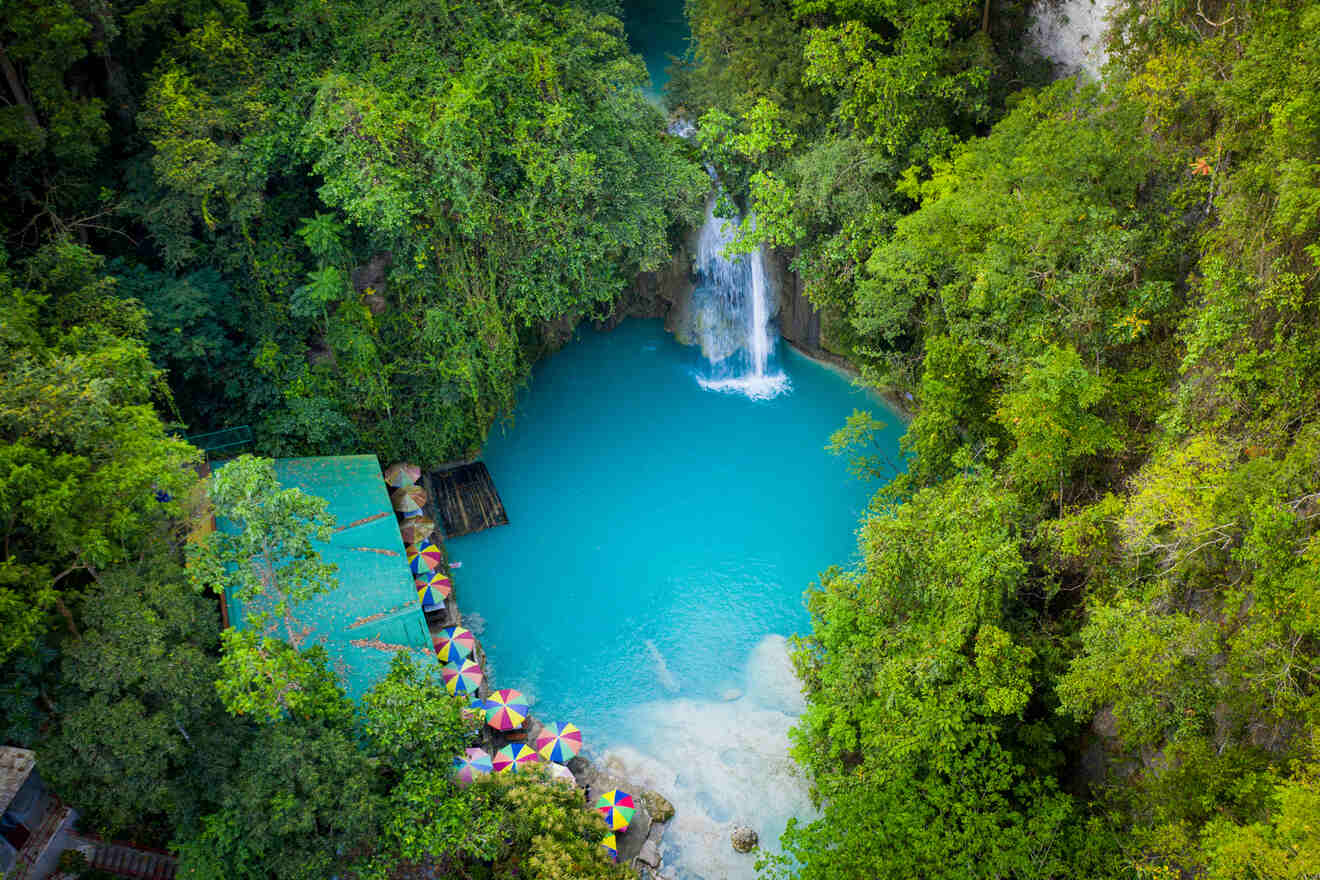 Here we are at the end of this useful guide about the best areas and islands where to stay in Cebu including hotel options for any kind of budget! Have you found the right one for you?
If you are still undecided, I cannot blame you, we went through so many options! So let me give you extra help with my favorite hotels in Cebu City, the most popular area of the island:
If you like them as much as I do, remember to book your room immediately or at least some months in advance, or you might lose the spot!
And if you have any comments or questions you would like to share, please do that in the comments below: I am looking forward to reading them all and answering you.
Have an incredible holiday!
Elena
---
Pin it for later!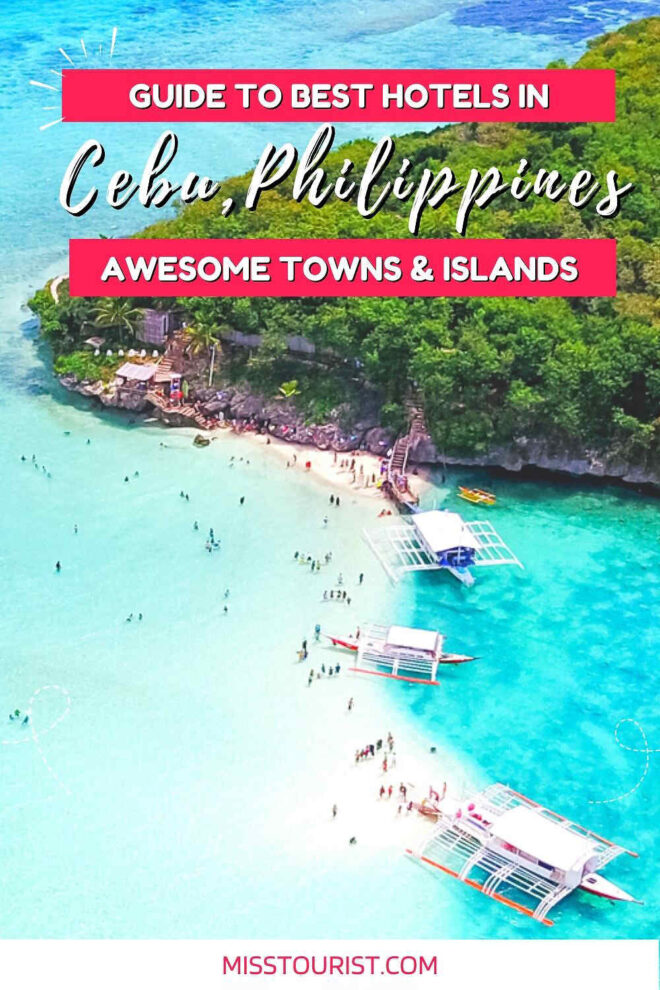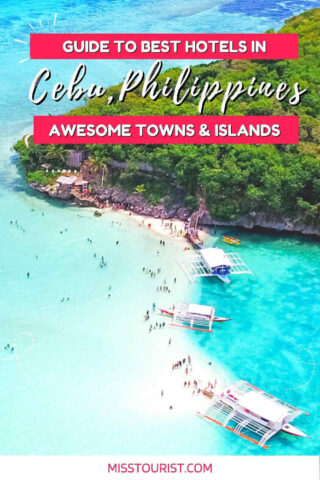 Pin it for later!