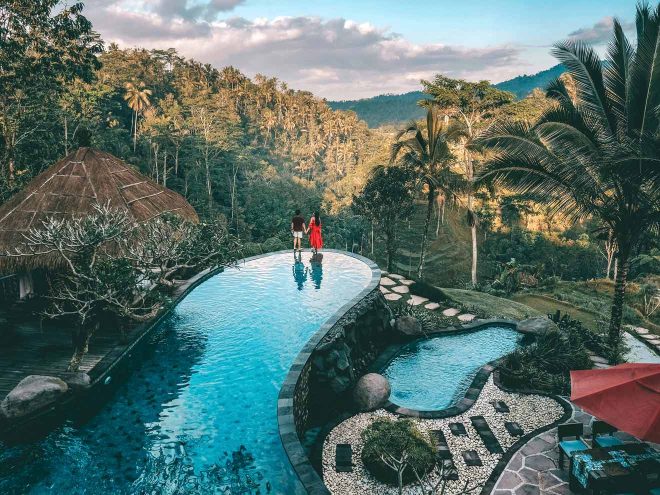 Ubud is probably one of my favorite places on Earth and one of the best places to stay in Bali, Indonesia – I love it so much that I have moved here recently! Just a couple of decades ago, Ubud was still a small craftsman and rice growing village, just to become the spiritual mecca of the world, where yogis and wellness enthusiasts gather and share their passions!
I figured that now that I live here and I know Ubud so well as well as the type of accommodation available, I would help you guys choose the best Ubud hotels so I can make your holidays extra special!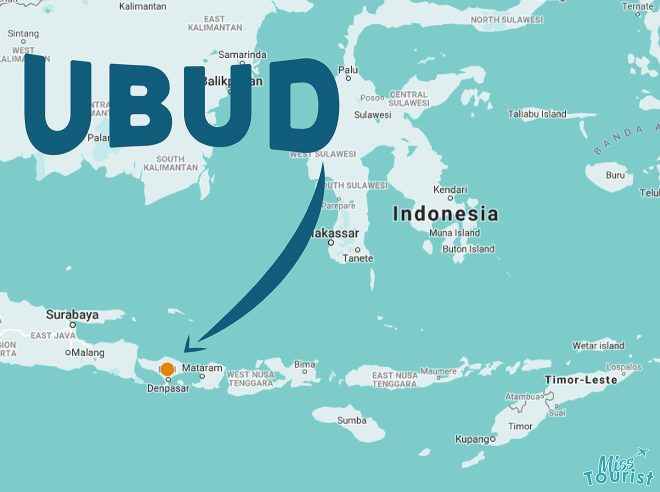 I personally consider Ubud the best area to stay in Bali, and where you stay in Bali impacts your trip probably at a 50%, this is because many Balinese villas Ubud and resorts are so amazing and offer so many services that travelers spend a big bunch of their trip just relaxing in their villa!
Whether you're looking for a beautiful retreat to stay at a hotel to enjoy some Balinese spa treatments or even one of those gorgeous pool villas to make your instagram 100 times better, I've got you covered!
Check out my travel guide below if you want to know where to stay in Ubud, Bali!
If you have little time here are my best options: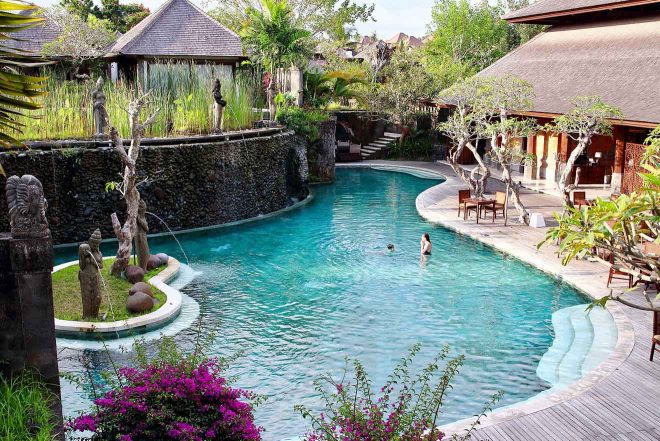 Staying in town vs outside of Ubud
Your Ubud experience will differ depending if you choose to stay in Ubud town or a little bit outside of it, maybe overlooking the rice paddies.
For instance, you should choose to stay in Ubud town if you want some convenience regarding shops or restaurants in walking distance. Most of the accommodation is centered around the Monkey Forest, the main road and Penestanan road. This way you also have a little bit more variety and you can pick and choose wherever you want to dine at!
You can definitely walk or bike within the town and then get a taxi/car/bike to see the surrounding areas.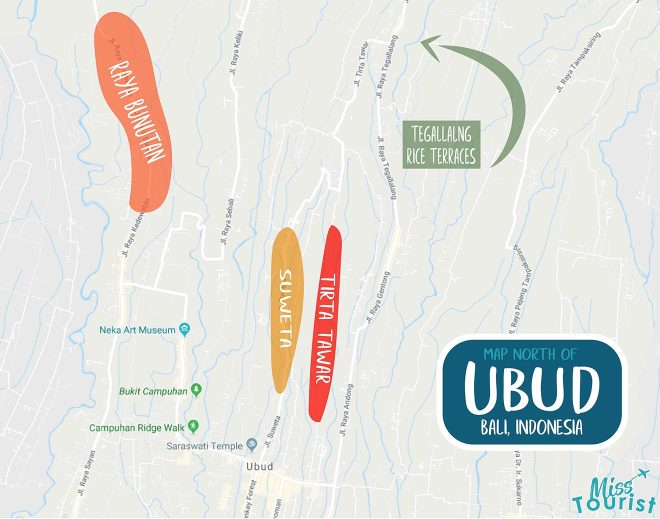 Alternatively, you can stay outside of town if you're looking for a more relaxing and calm stay at an Ubud villa. Here is actually where you find most of the incredible 5-star resorts in Bali, Ubud has to offer, many of them are secluded and overlook the rice paddies! They are totally worth it!
Most of them are located at the North of Ubud, and it is also my favourite area to stay! If you are looking for those picture perfect views to rice fields and no crowds then here is the list of streets I recommend looking for your perfect accommodation at:
Raya Bunutan – most best luxury hotels are located there
Tirta Tawar – a mix of local life and great secluded hotels
Suweta – located in between the above 2, Eat Pray Love movie was filmed there by the way!
Tegallalang – famous rice fields are there!
Pejeng – – also a charming area with quite some hotels opening everywhere, but the infrastructure around is not the best yet – you will need to drive to most restaurants and spas
Mas – also a great village that is growing in popularity amongst tourists, a pretty nice calm place with some restaurants and warungs
All of these places are about 10-15 minutes by motorbike or taxi from Ubud, except for Tegallalang, that one is a bit further – about 20 minutes driving.
NOTE: The traffic in Ubud, though quite busy is far from the craziness that you see in other Southeast Asian towns.
Regarding your stay, these are the 3 main price groups on accommodation Ubud:
1. Luxury accomodation in Ubud (US$165 and up)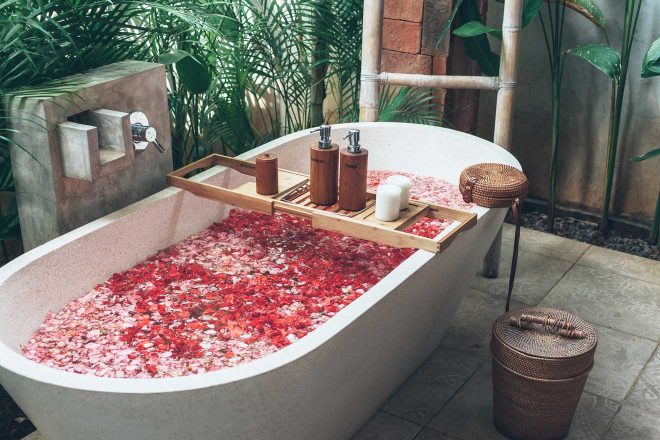 It is known worldwide that Bali is the mecca of luxury stays and what's best, the mecca of luxury stays at a very reasonable price. That's why if you are thinking about treating yourself to a great stay, you should do it in Ubud, there's no other place where you'll find that level of service and luxury at that price!
In Ubud, you can find many different types of stays, many of the best luxury hotels in Bali are located here. I have divided them in resorts, which consist of big hotels with suites and rooms and villas, which is a typical Balinese stay that consists on apartment type of stay in Ubud with the same hotel service that you would find in a resort.
1.1. Top 3 luxury resorts in Ubud
Luxury Ubud accommodation is definitely not scarce and the array of Ubud resorts will leave you speechless, some of them are like paradise on earth! These places are the classic resorts, with hotel-style lodging and all the services that you could ever dream off! Check out some of the best hotels in Ubud, Bali, below:
MANDAPA RITZ CARLTON UBUD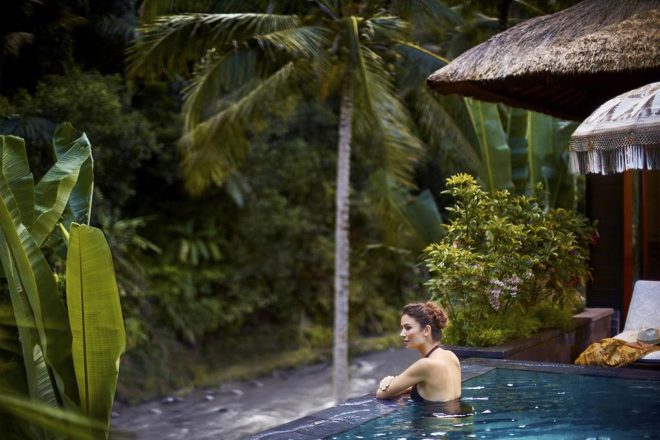 Mandapa Ritz Carlton Ubud is situated at walking distance from the Monkey Forest. The organic luxurious theme is carried throughout with touches of traditional Balinese decor leaving a quiet and relaxing feeling. You can enjoy the rice paddy views and hanging gardens from your own room and a spa treatment from their wellness center before heading to have some food at their onsite restaurant by the river. One of the best resorts in Ubud no doubt!
ALAYA RESORT UBUD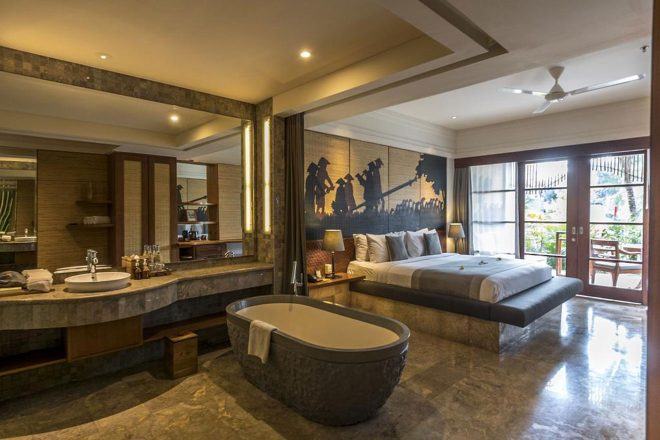 Alaya Resort Ubud is just 700 m from the Ubud city centre, the Alaya Ubud Hotel is the perfect oasis in the Ubud area, you will love it! With minimalistic yet cozy rooms, in this quiet luxury resort you can enjoy room serviced breakfast from your private terrace and head to the onsite pool. Just to finish the day having a couple of drinks while you enjoy some traditional Balinese live music!
KOMANEKA AT BISMA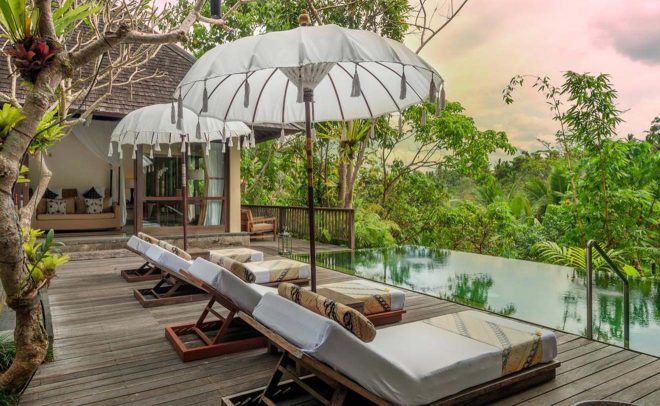 Komaneka at Bisma is a little bit further away, the Komaneka Ubud is probably one of my favorite Ubud luxury hotels. With an infinity pool overlooking the rice paddies, a great outdoor area and the most tastefully decorated rooms I have seen. Get your camera ready, because this is probably one of the most snap-worthy spots in Bali and one of the best infinity pools in Ubud!
1.2. Best luxury private villas in Ubud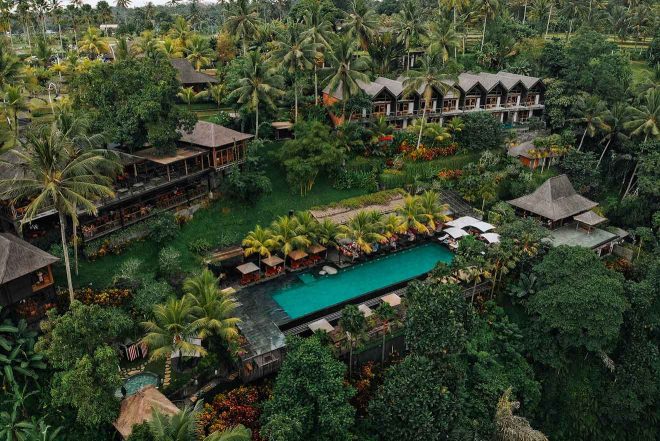 Some of the best hotels in Bali are not hotels, but villas! These villas are some of the best accommodations in the world in terms of decor, customer service and relaxation goals! It gives you the freedom and independence of having your own apartment, plus all the convenience found in a resort, just perfect!
Because there are so many good villas to stay in Ubud, it's been hard to pick but I have selected my 5 favorites. Check in the list below the wide range of villa stay in Ubud:
UBUD VILLAGE RESORT & SPA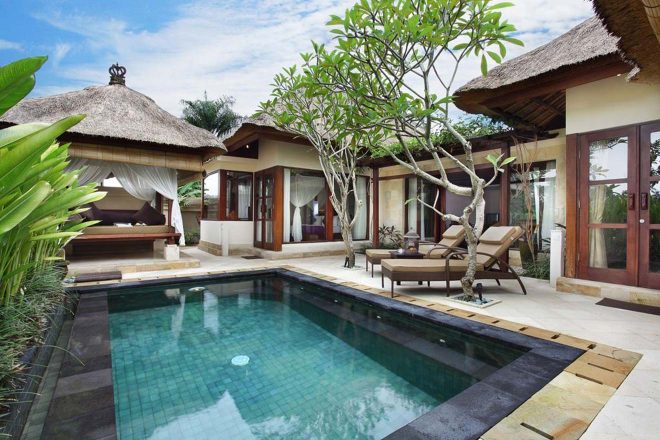 Ubud Village Resort & Spa if you're looking for a luxurious stay in Ubud but you're also looking to have a little bit of independence, make sure you reserve one of the Ubud Village private villas! Having your own Ubud villa with private pool, you can enjoy your own space while also experiencing all the perks from their world class service.
CALMA UBUD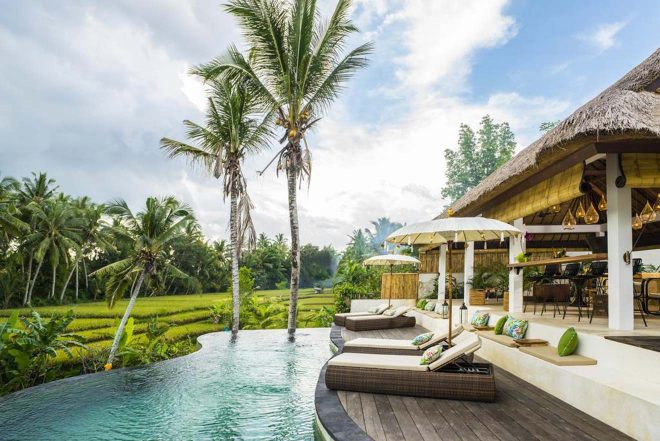 Calma Ubud iIf you're travelling with your family or a group of friends you will love the  2-bedroom luxury villas at Calma Ubud! Less than a kilometer away from the Ubud market, enjoy the swimming pool while you admire the views of the rice paddies and sip on a cocktail from their quiet onsite bar!
LADERA VILLA UBUD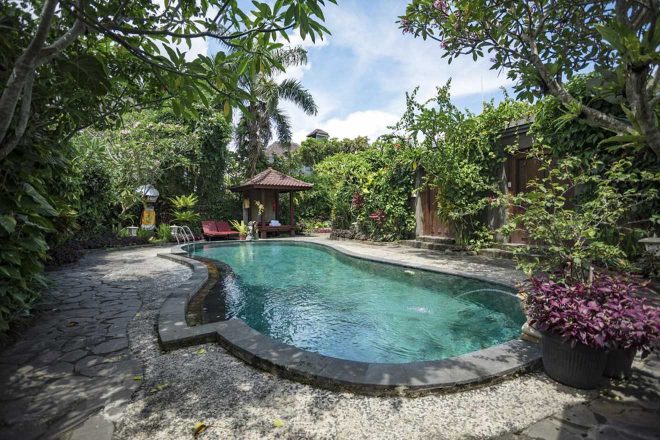 Ladera Villa Ubud the high-class villas at Ladera have their own private pool for you to frolic in! Apart from this, enjoy the outstanding service provided and the perfect location, just a 10-minute walk from the Ubud Market, the restaurant and coffee options available are just endless! One of the best villas in Ubud, Bali!
UBUD HANGING GARDEN HOTEL BALI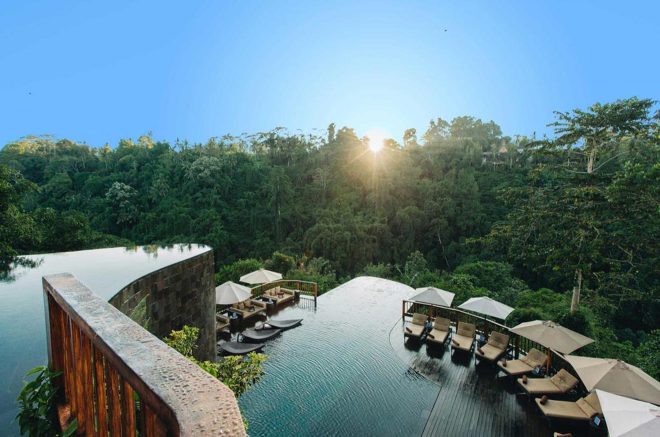 Ubud Hanging Garden Hotel Bali I couldn't leave this villa out! This Ubud resort is surrounded by the most beautiful green rainforest. It sits right by the river, where you can enjoy a great night view of the jungle. Plus, the staff is so attentive that they'll make you feel like royalty!
GREEN VILLAGE – BAMBOO HOUSES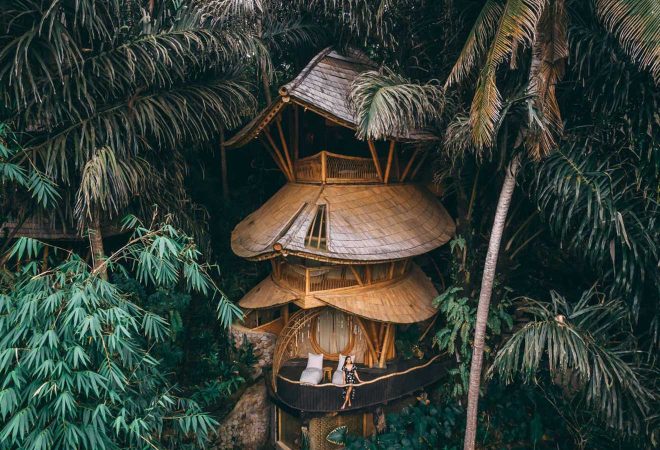 Green Village – Bamboo Houses this bamboo heaven is quite a unique stay in Bali. Features villas made out of bamboo, this eco-friendly paradise offers more than just a stay as it holds community gatherings and even a sustainability school ! It's 30-min away by car from Ubud, but definitely quite worth it!
VICEROY BALI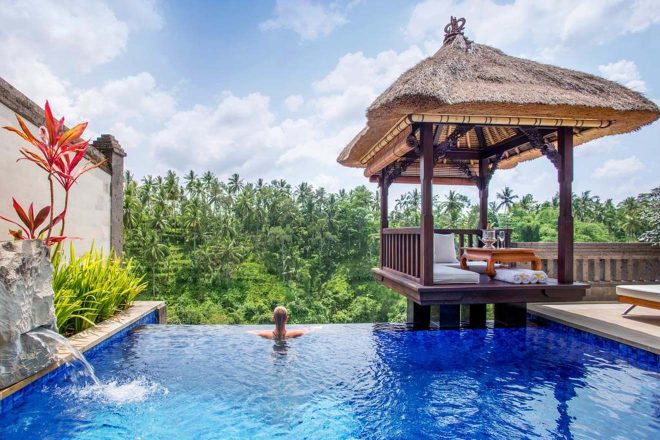 Viceroy Bali – Just 5-min drive away from Ubud, this luxurious villa will provide you with an escape from the busy streets of Ubud! With yoga classes, private pools and an award winning restaurant you will never want to go back home. Oh, and they have free shuttles in case you want to pay a visit to the city one day!
2. Middle-Priced (From US$55 to US$165)
The great thing about Ubud is that even if you're looking at a middle-priced stays you should be expecting amazing service and stunning facilities! There is something about Bali, that it is so aesthetically pleasing which makes most of the hotels and resorts pretty stunning. Check out the best middle priced accommodation options out in Ubud below:
2.1 THE SANKARA RESORT UBUD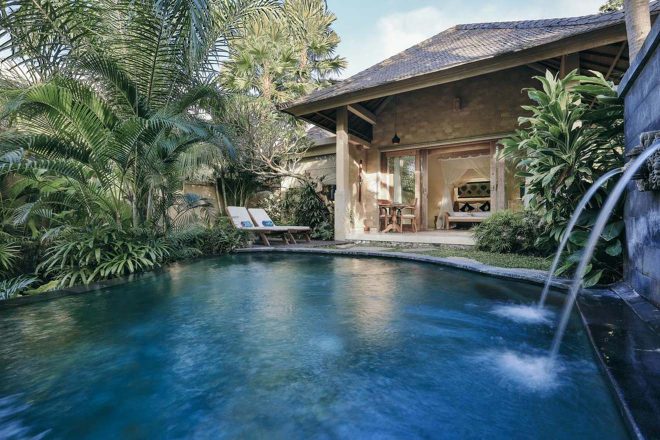 The Sankara Resort Ubud in this resort you can choose whether you want to stay in one of their stunning villas or in a resort room. Both of them decorated in a stunning modern yet traditional style, take advantage of their car transfers to Ubud and delicious typical Balinese breakfast at their on-site restaurant!
2.2 ADIWANA ARYA VILLA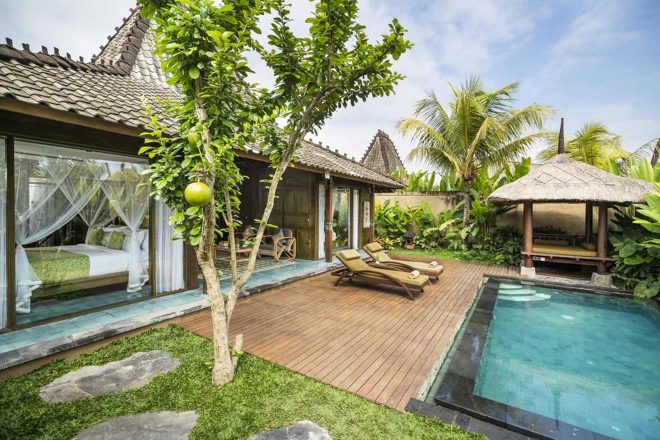 Adiwana Arya Villa one of the highlights of the Villa Arya Ubud is definitely the surroundings! Located in the heart of the rice fields yet just 1km away from the Monkey Forest and Ubud town. They have complimentary yoga classes, definitely a quiet and relaxing paradise for yoga-loving people!
3. Budget accommodation in Ubud (up to US$55)
If you thought that travelling to Bali on a budget meant that you had to skimp on quality of lodging, you are totally mistaken! If you do your homework well, you can find awesome stays and stunning properties where you can experience the proper Balinese trip and outstanding service. Moreover, my brother stayed in a couple of hostels in Ubud, some of them cost as least as 3$ a night and he said those were really nice places, some of them with a pool!
Anyway, many of good budget accommodation can be found in Panestanan area of Ubud, search around Raya Sayan or Yoga Barn and you will be fine! 🙂
Below I have found the best Ubud accommodation for cheap so you can save money and spend it on yummy breakfast and yoga lessons at The Yoga Barn!
3.1 Y RESORT UBUD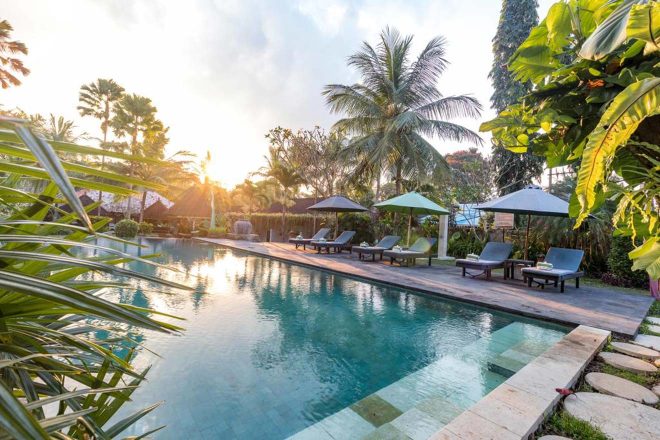 Y Resort Ubud just 500 meters away from the Ubud Market, this resort provides amazing value for money. You can enjoy really affordable yet elegant rooms and an outdoor area that makes it an oasis really close to Ubud! Make sure you spend a day relaxing by the lovely pool  and trying out their yummy Indonesian dishes.
3.2 DEWI PUTRI HOUSE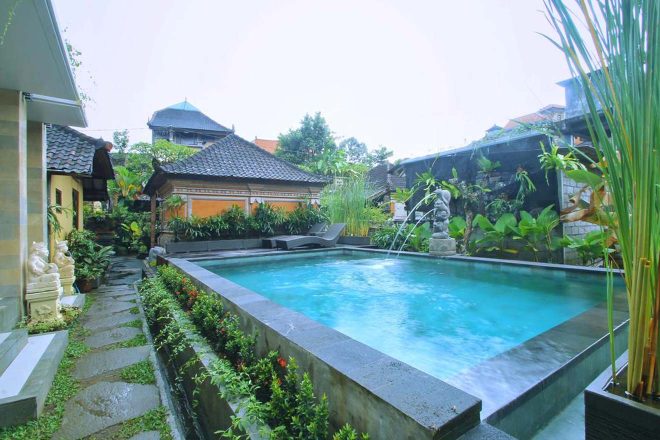 Dewi Putri House the excellent location in the heart of Ubud, will only be one of the reasons why this boutique hotel will be a highlight of your trip! With its own on-site Balinese temple and the Hinduism and traditional décor, there's no better place to experience what Ubud has to give while saving a few bucks to attend some meditation classes in town!
| | |
| --- | --- |
| 👑 Luxury price: | $250 |
| 💵 Mid Range: | $110 |
| 🛏️ Budget: | $30 |
| 🏠 Airbnb: | $100 |
| 💰 Accommodation prices: | Medium |
| 📍 Best area: | Raya Bunutan |
| 👪 Best for families: | Calma Ubud |
| 🛎️ Best luxury hotel: | |
| 💵 Best mid-range hotel: | |
| 👛 Best budget hotel: | Y Resort |
BONUS – Where to stay in Ubud on your honeymoon?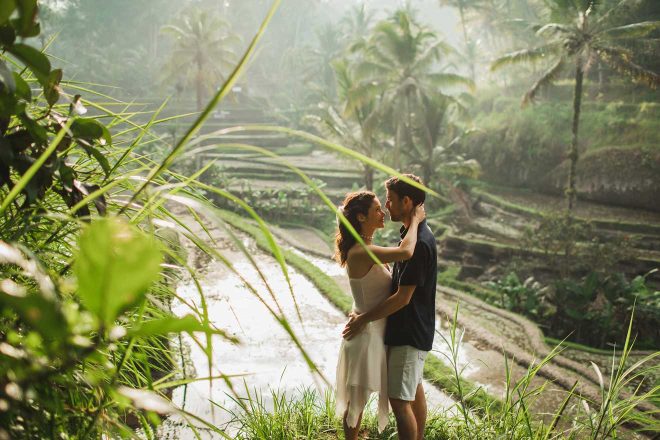 If you're heading to Ubud on your honeymoon, first of all, congratulations! And second of all, great choice! Ubud is an amazing destination to experience with your loved ones, from exploring the dreamy rice fields and mountains, to getting some relaxing Balinese massages, Ubud is just perfect for those looking for some fun activities while treating themselves to some wellness and alone time with your other half!
And by the way, with the stunning landscape that surrounds Ubud, and the incredible number of cool swings, you're bound for some great honeymoon snaps. Check out the best hotels in ubud for honeymooners below:
FOUR SEASONS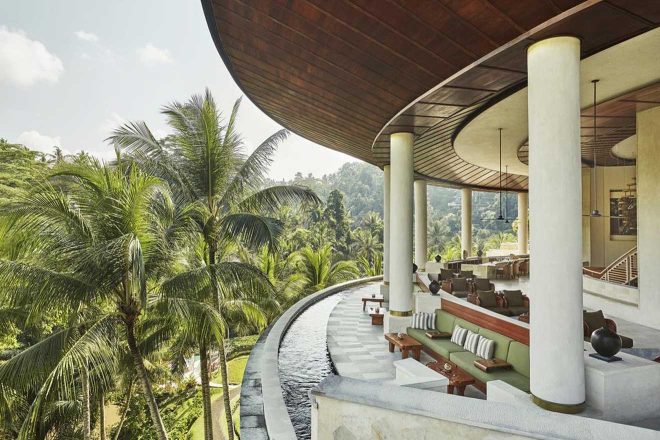 Four Seasons probably the most luxurious resorts in Ubud and overall the best resort in Bali, the Four Seasons in Bali, Ubud is set amidst the Balinese jungle with hanging gardens, offering delicious food in the four on-site restaurants, spa treatments and even yoga and cooking classes. The only downside is that you will never want to leave!
TIRTA ARUM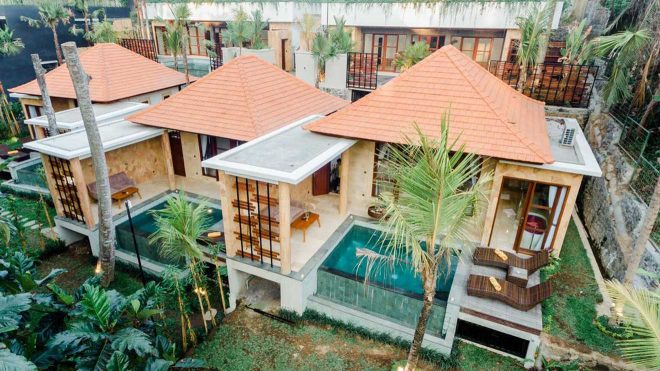 Tirta Arum if you're looking to spend the first few days of your married life in a jungle oasis, sipping on a cocktail at the infinity pool while you listen to the sounds from the Balinese wildlife, you will love the secluded Tirta Arum. And if you want to check out Ubud for the day, make sure you let their friendly staff know, they will organize a free shuttle to town for you and your loved one!
CAPUNG COTTAGES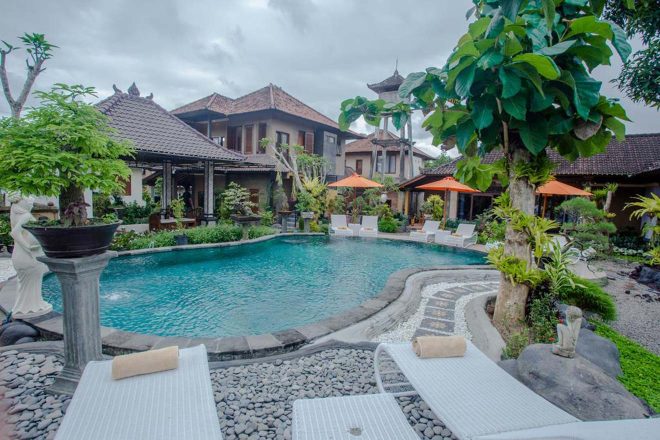 Capung Cottages couples love to stay in Ubud at the villas of Capung Cottages, one of the coziest 5-star hotels in Ubud, Bali! With private terraces and relaxing jacuzzis, this property is the best simple yet elegant option for your honeymoon. Reading by the outdoor pool after a day of sightseeing is just what all honeymoons should be like!
Things you should know before renting accommodation in Ubud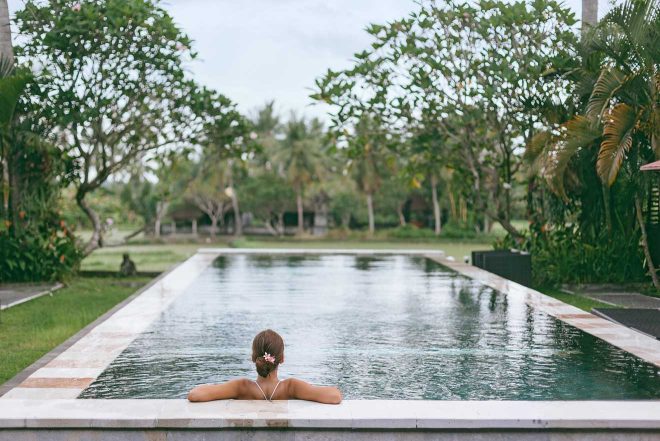 There are a couple of things that I wished I had known before I decided on where to stay in Ubud. Looking for accommodation in Bali is quite difficult, the array of choices is so wide that it can become really overwhelming.
However, there are a couple of tricks to narrow down your search, first of all, having a read of this post right here and for the other tips, just check them below!
Why you need to book in advance and do your research carefully?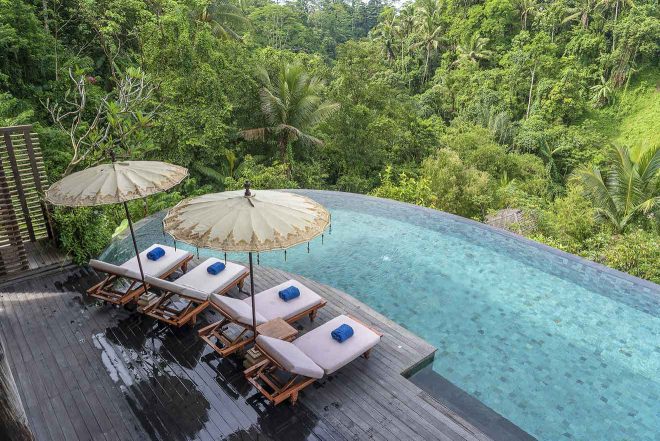 Ubud is becoming quite a popular destination amongst all types of travelers, from backpackers to digital nomads, this place is pumping with short and long term visitors! The truth is, the service level is still at development stage over there and booking an expensive hotel won't necessarily mean you will get great service over there.
Trust me, I live in Ubud for many months and stayed in many hotels over there, I definitely noticed the trend. Hotel owners decide it is going to be an expensive (mid-price) hotel, but completely forget to adjust the level of service they offer over there (due to lack of experience I guess).
Which one to choose: Agoda vs Booking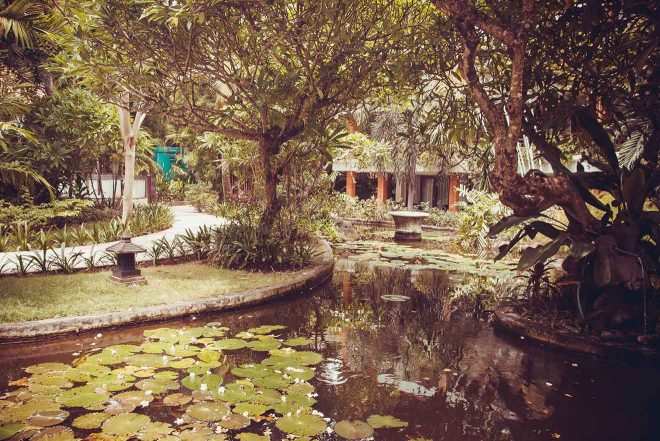 So one of the questions we ask ourselves when booking accommodation in Bali is, should I use Booking.com or Agoda? Well, in this case it doesn't really matter, they offer the same service and promise to protect you in case there are any problems with the hotel.
Regarding the price, sometimes it's worth it to double check both of them as they do have slightly different prices sometimes, but do not worry, we have manually compared the hotels we recommend and suggest you the site with the lower price right away!
NOTE: Watch out with Agoda, many times it looks cheaper when you first start creating the booking, but then they add their fees at the end and it ends up being more expensive than Booking.com! If you find that both of them have pretty much the same price, stick to the one you use the most, they usually have discounts for travellers that book often through them!
---
Conclusion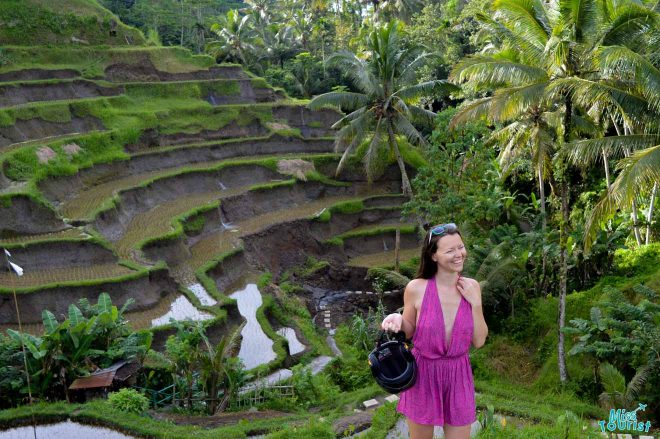 Ubud is a dreamy place that if you choose well, will provide you with the best lodging experience of your life! However, the service in some places is still to catch up with the rest of the world, that's why research and booking in advance is extremely important!
I live in this lush town for some time now, I stayed in many hotels and in this post I decided to make a full research of all the great hotels/guest houses/villas Ubud with amazing reviews so that you have a great time in this wonderful little piece of paradise on earth!
If you want more, you can check my other Bali posts here, and start daydreaming about your adventure!
I hope you found it useful, let me know in the comments below if there's any more info you need or just whether you liked Ubud or not!
Happy travels!
Yulia
Pin it for later!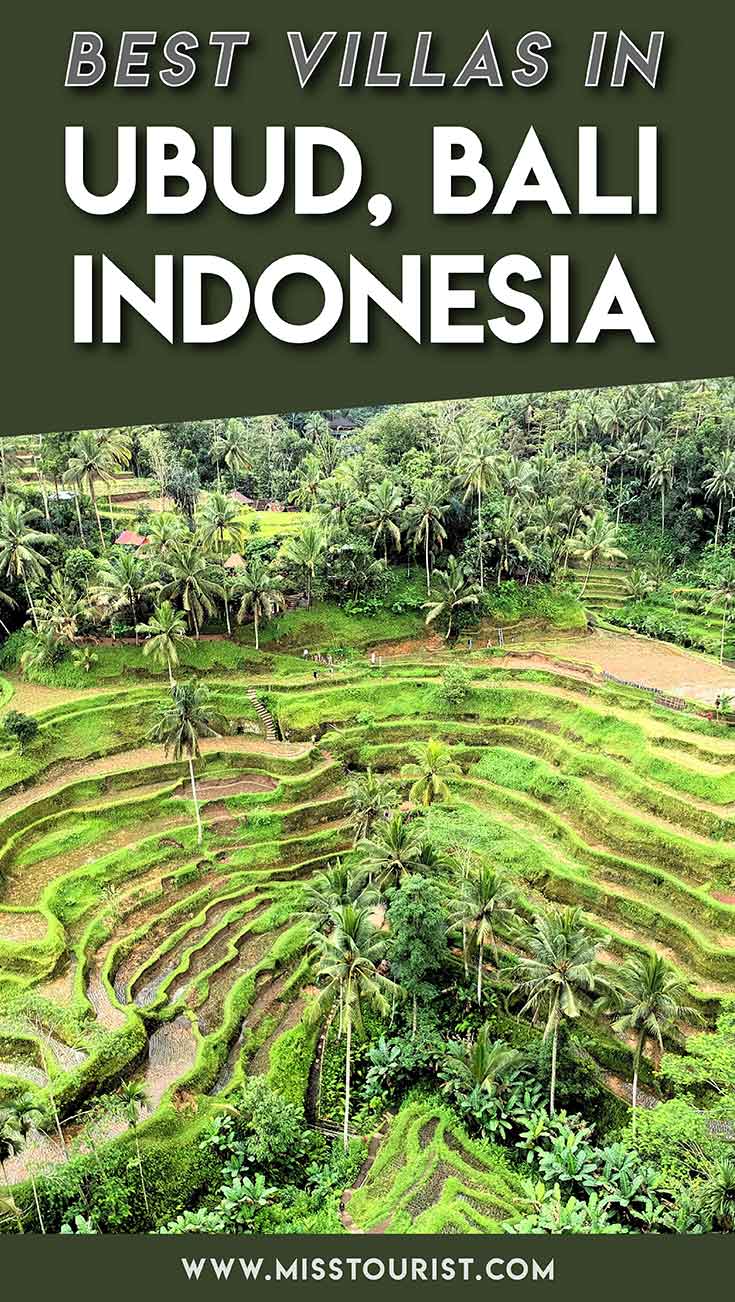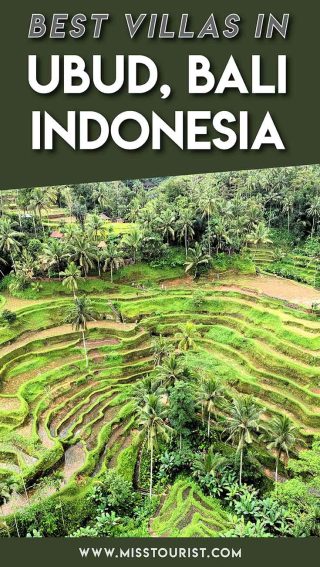 Pin it for later!