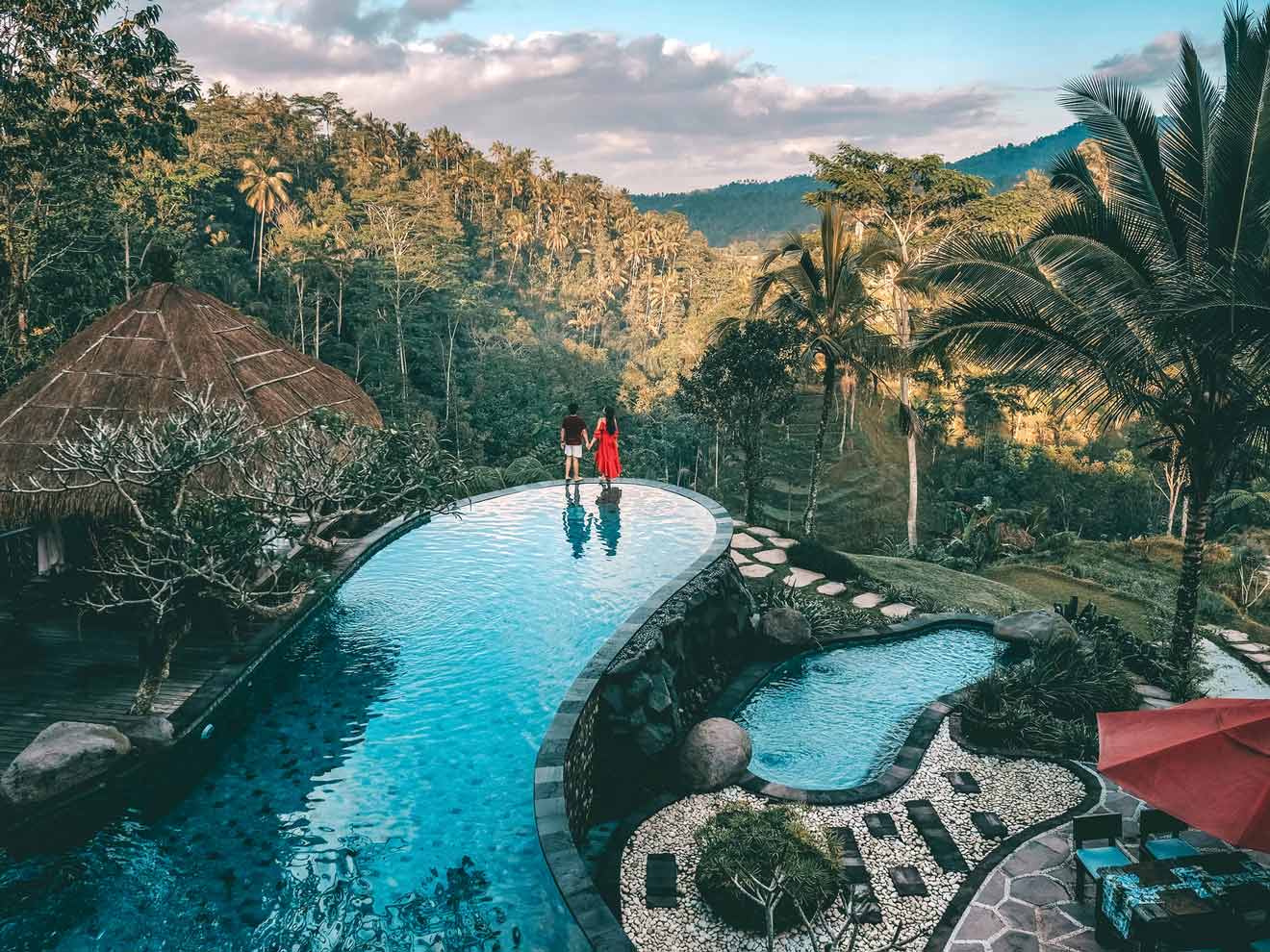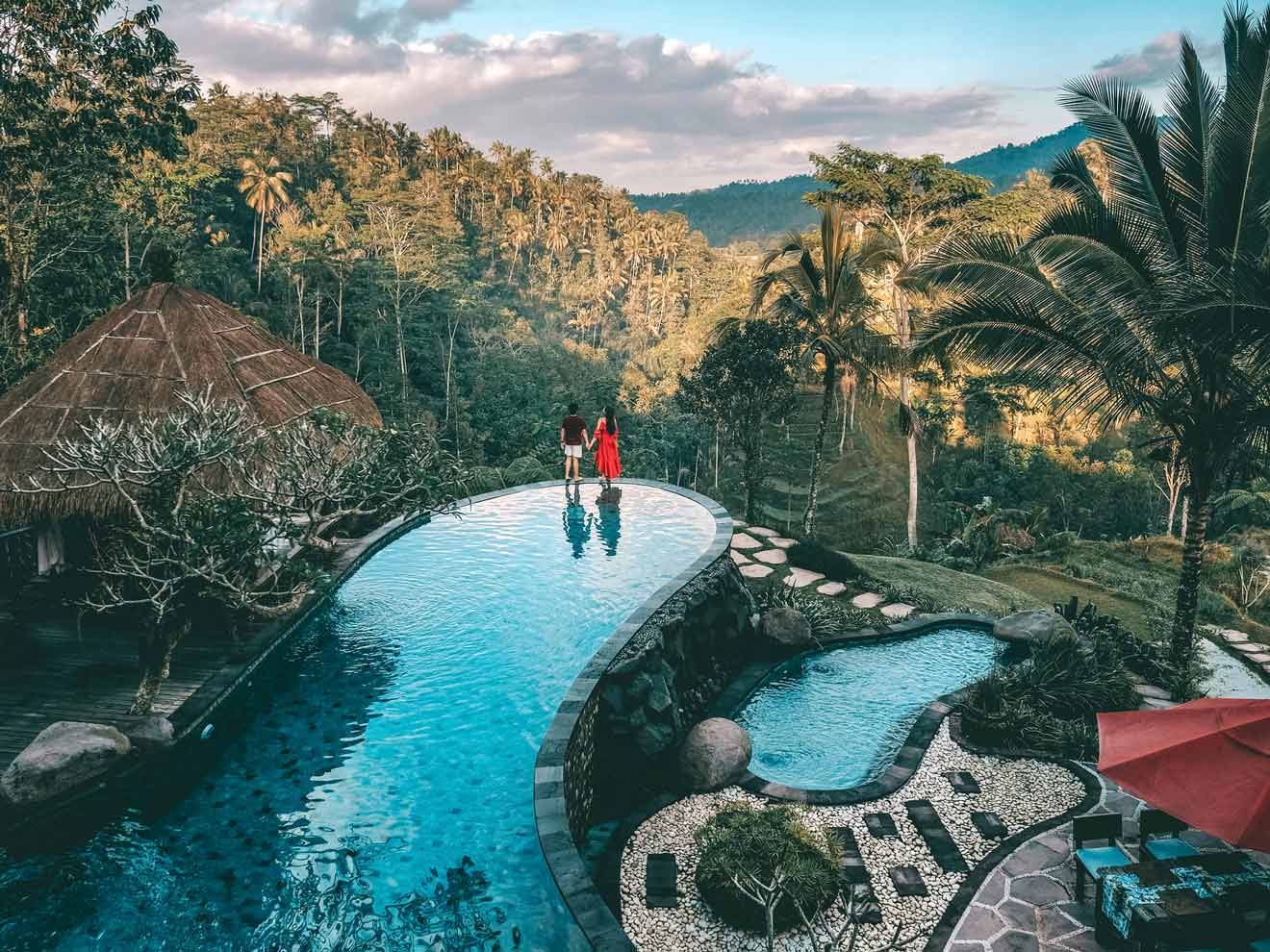 Ubud is probably one of my favorite places on Earth and one of the best places to stay in Bali, Indonesia – I love it so much that I actually moved here!
Even though it's amazing, I know that planning a trip to Ubud can be a little bit confusing. Should I stay in town or a little bit farther away? Don't worry, you are on the right site to decide where to stay in Ubud!
I have hand-picked the best Ubud hotels and villas to make your decision easier, so I am sure you will find the best option for your interests and budget!
But as you can imagine, many travelers from around the world visit Ubud all year long, so be quick and book in advance to secure your stay!
Now, if you are ready to dive into the best Ubud hotels, let's go!
If you are in a hurry: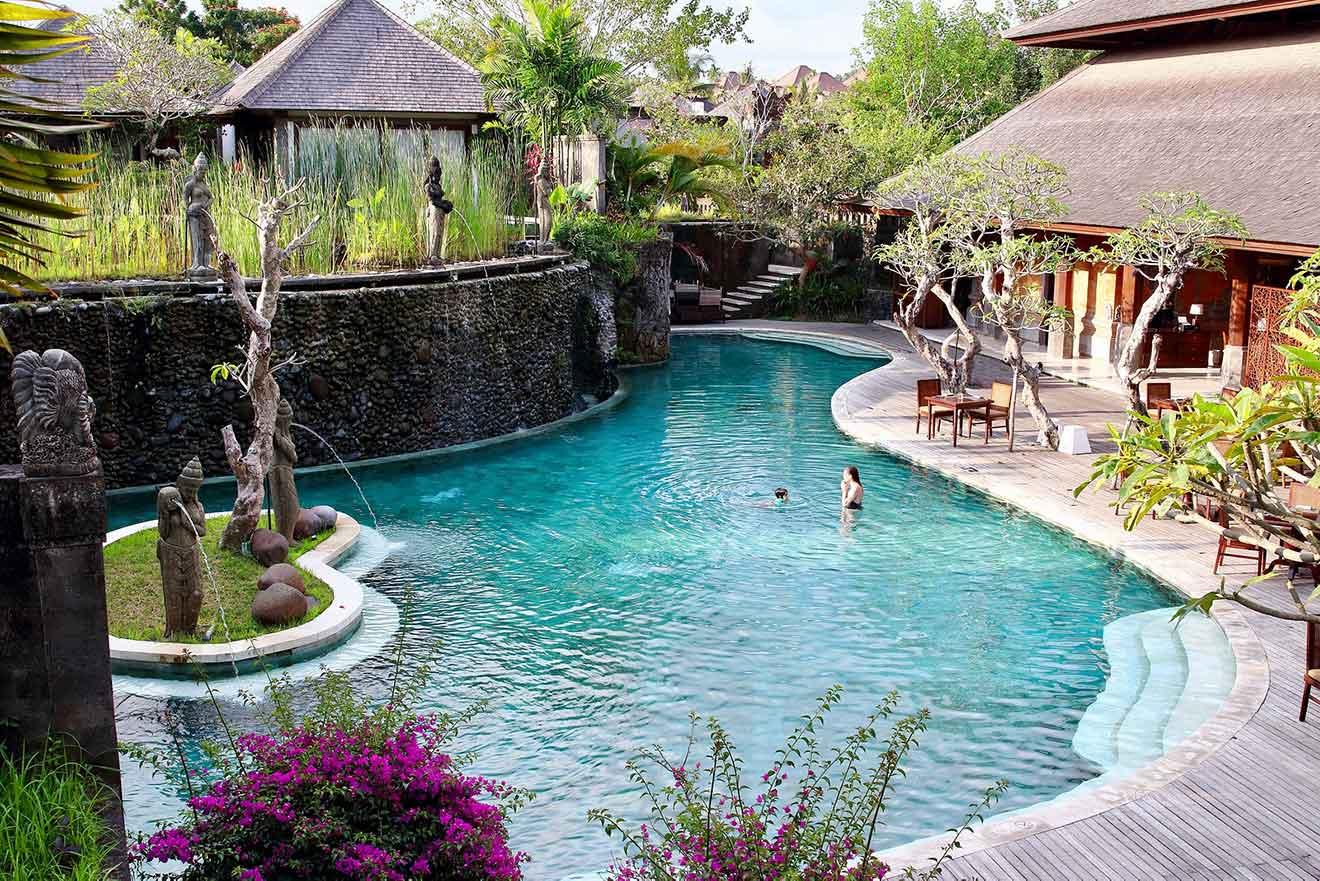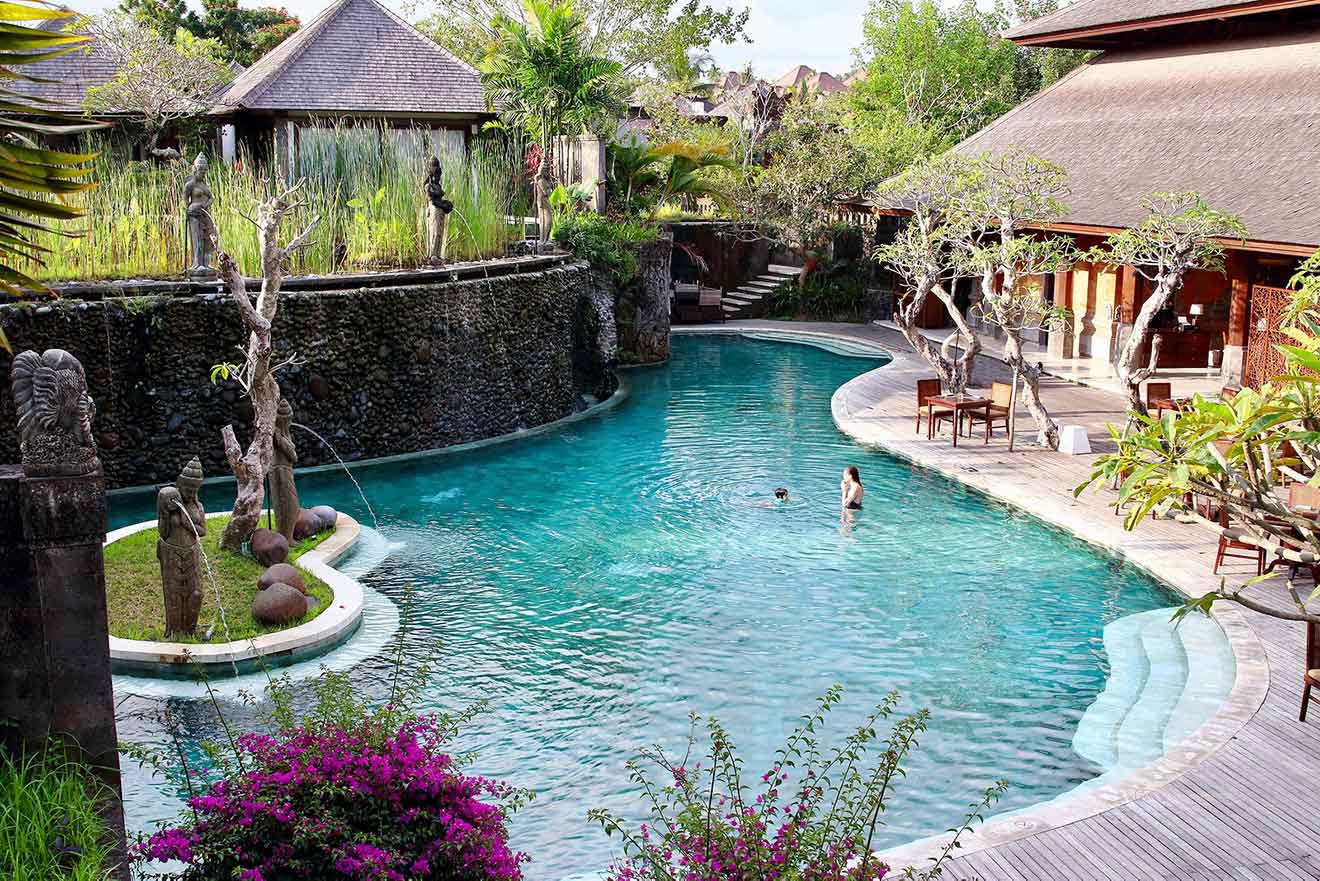 Without a doubt, the best area to stay in Ubud is Raya Bunutan, where you will find the best hotels and is the perfect place to overlook the amazing landscapes Bali has to offer!
As you can imagine, there are many more areas, but if you are ready to book a hotel right now, here are the best of the best:
Staying in town vs outside of Ubud
Let's begin this Ubud accommodation guide with this important fact: your experience will differ depending if you choose to stay in Ubud town or a little bit outside of it, maybe overlooking the rice paddies.
Inside Ubud: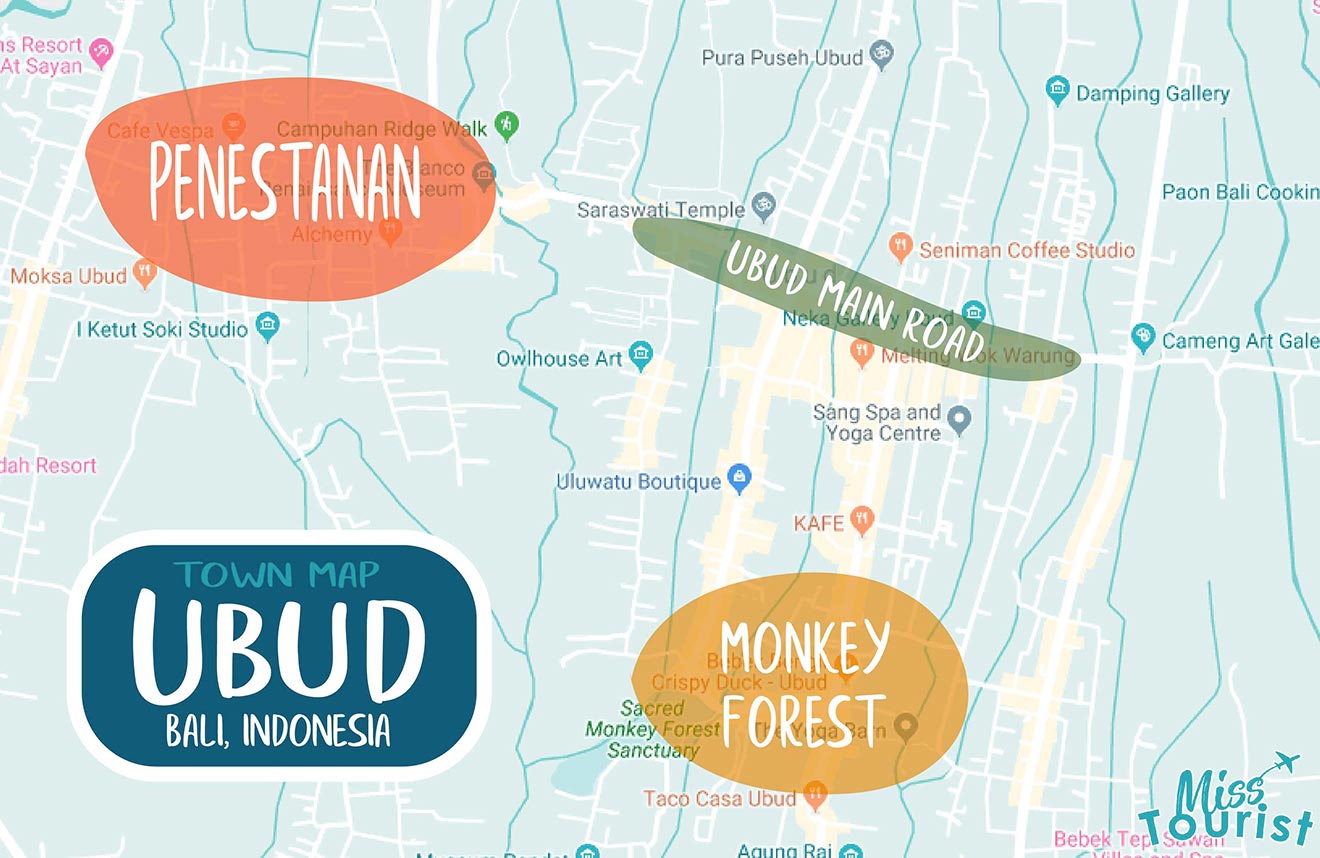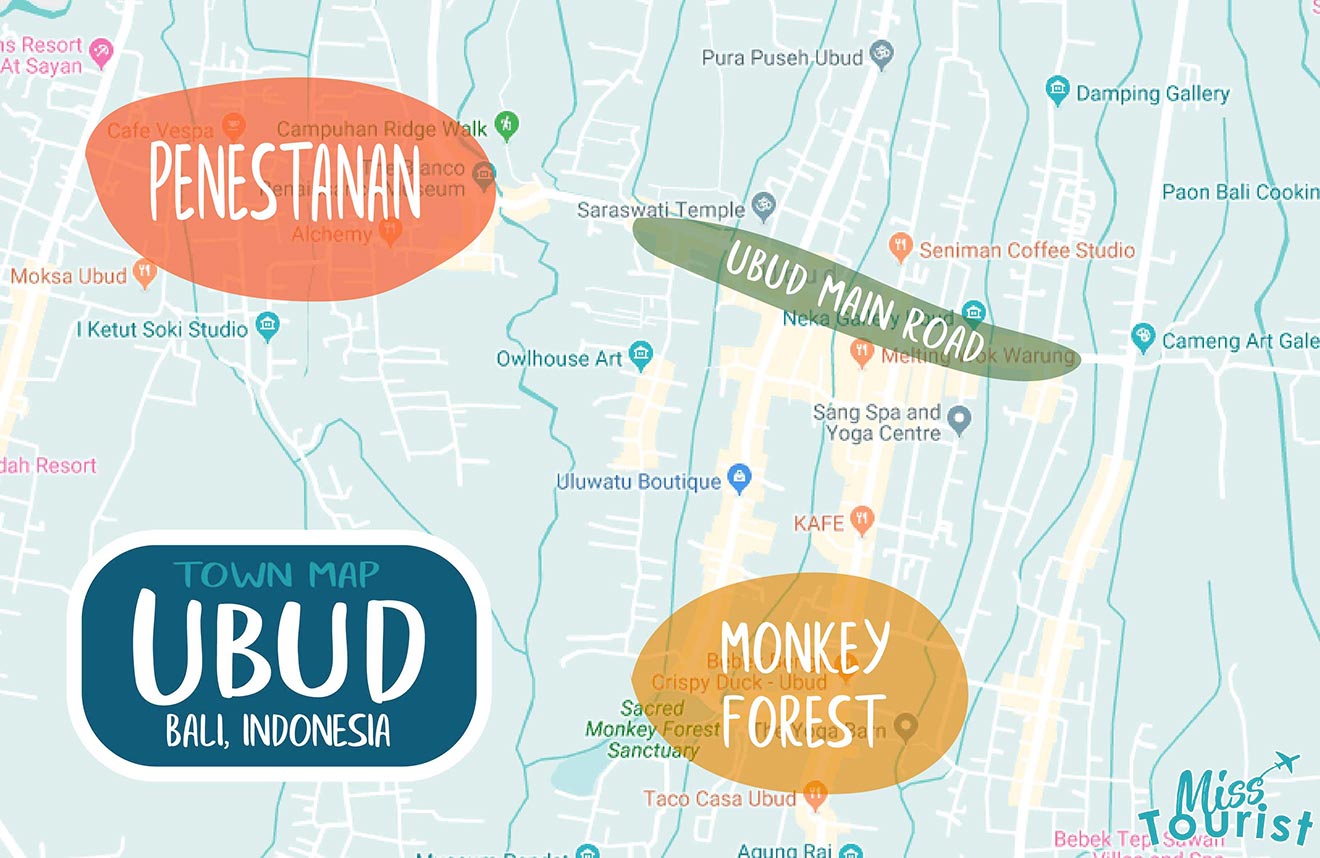 For instance, you should stay in Ubud town if you want some convenience regarding shops or restaurants within walking distance. Most Ubud hotels are centered around the Monkey Forest, the main road, and Penestanan road.
This way, you also have a little bit more variety, and you can pick and choose wherever you want to dine! You can definitely walk or bike within the town and then get a taxi, rent a car, or bike to see the surrounding areas.
Outside Ubud: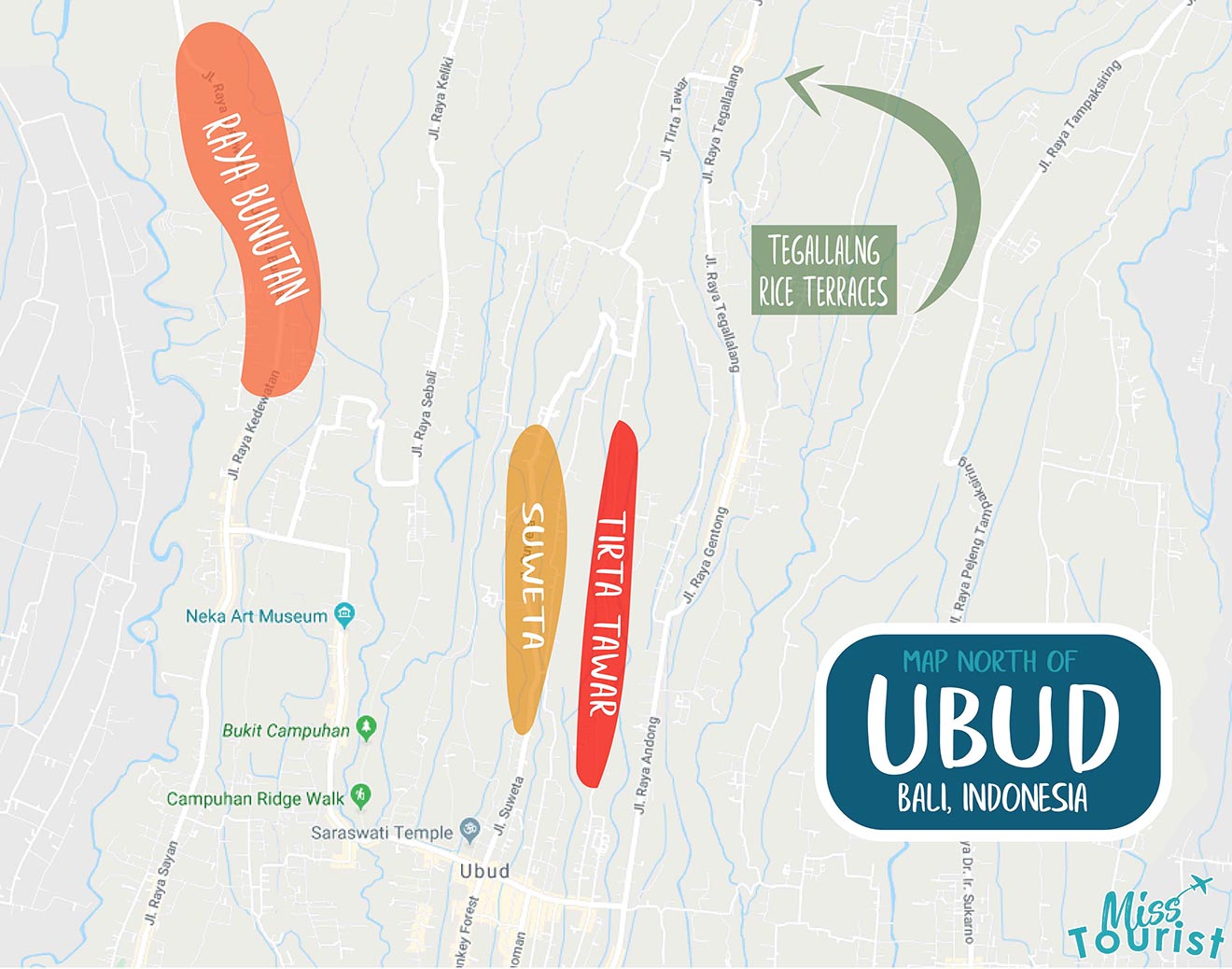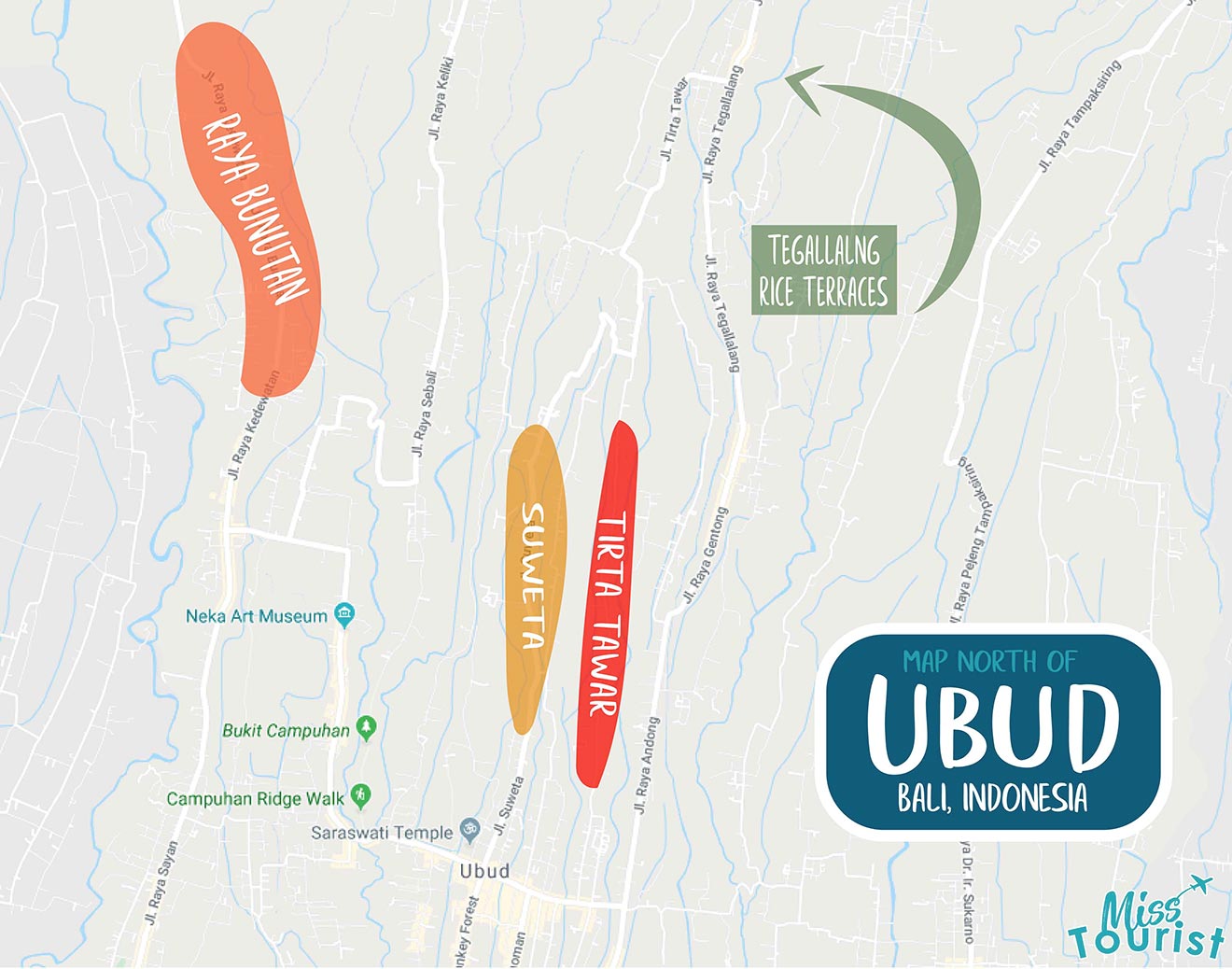 Alternatively, you can stay outside of town if you're looking for a more relaxing and calm stay in an Ubud villa.
Here is where you find most of the incredible 5-star resorts Ubud has to offer, many of them are secluded and overlook the rice paddies! Most of them are located in the North of Ubud, where you can snap picture-perfect views of rice fields since there are no crowds.
Here is the list of streets I recommend looking for your perfect accommodation outside of town:
Raya Bunutan – the best luxury hotels are located there
Tirta Tawar – a mix of local life and great secluded hotels
Suweta – located in between the above 2, Eat Pray Love movie was filmed there by the way!
Tegallalang – famous rice fields are there!
Pejeng – also a charming area with quite some hotels opening everywhere, but the infrastructure around is not the best yet – you will need to drive to most restaurants and spas
Mas – also a great village that is growing in popularity amongst tourists, a pretty nice calm place with some restaurants and warungs
All of these places are about 10-15 minutes by motorbike or taxi from Ubud, except for Tegallalang, that one is a bit further – about 20 minutes driving.
Now that you have an idea of the lay of the land, let's have a look at the 3 main price groups of accommodation in Ubud:
1. Luxury accomodation in Ubud (US$300 and up)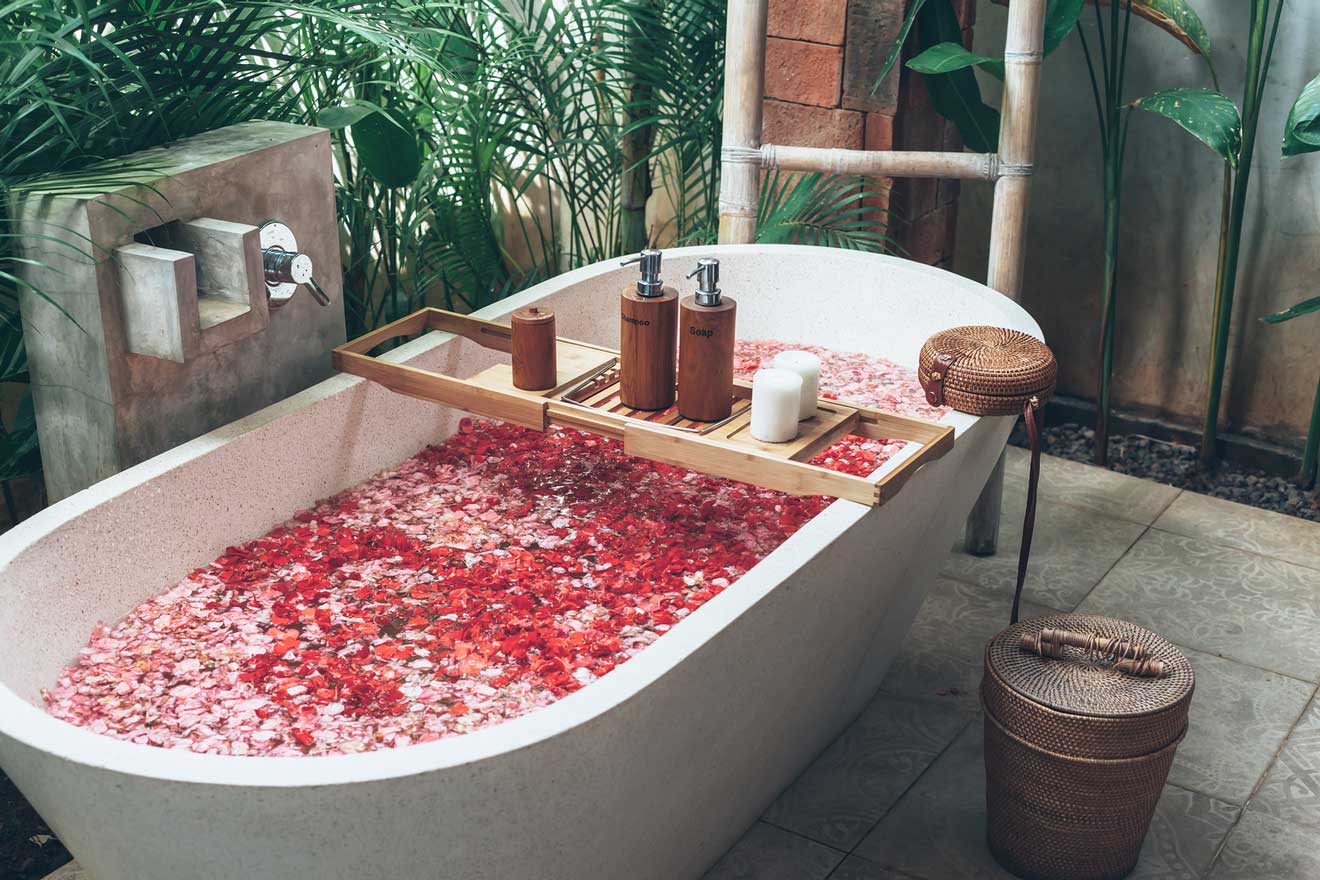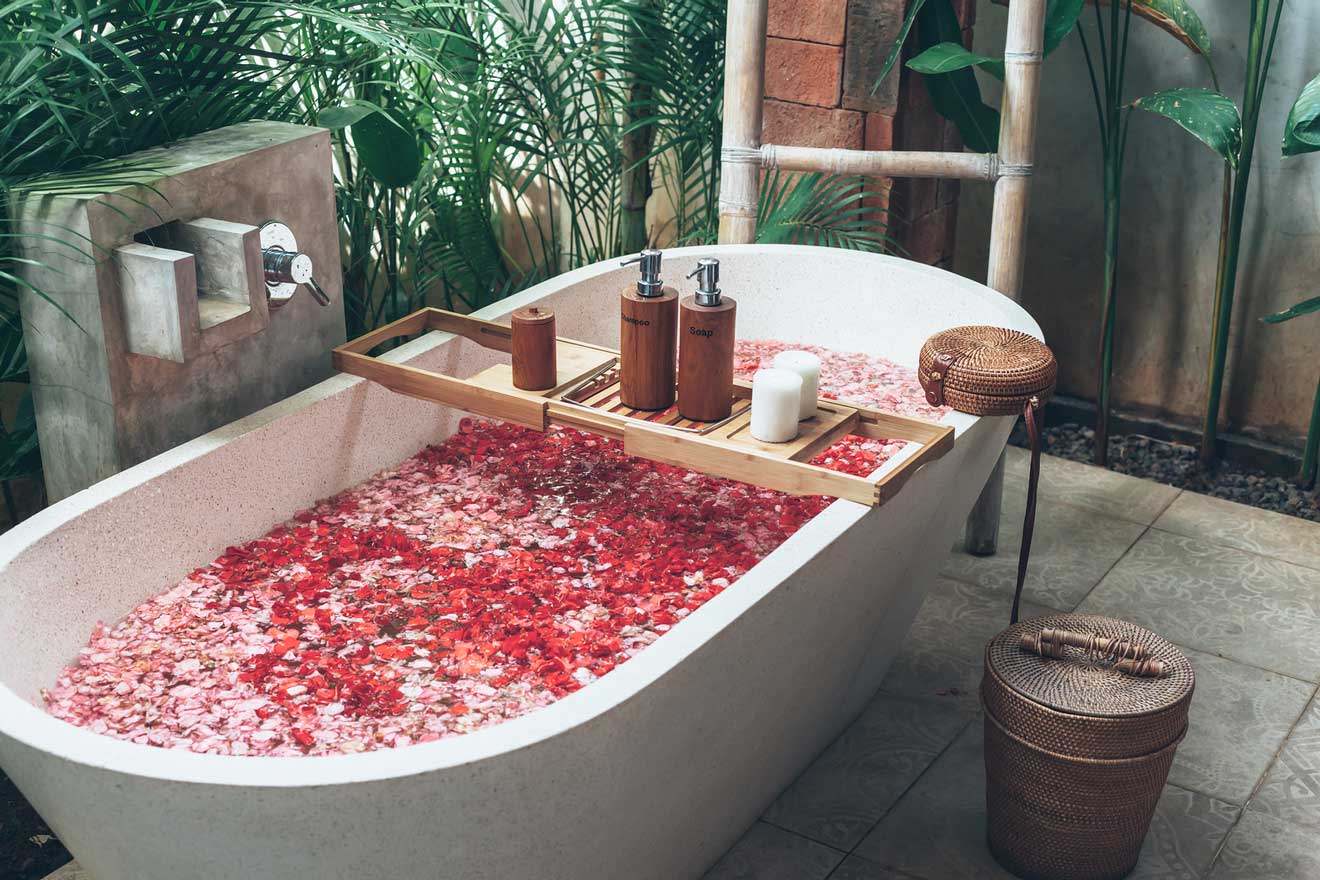 Ubud is the best place to book a luxurious stay! You will find the best resorts here to enjoy your Balinese trip!
It is known worldwide that Bali is the mecca of luxury stays and, what's best, the mecca of luxury stays at a very reasonable price. That's why if you are considering treating yourself to a great stay, you should do it in Ubud, there's no other place where you'll find that level of service and luxury at that price!
And while you're at it, if you are feeling adventurous, you can check these 11 exciting things to do in Canggu! I'm sure you will like them.
1.1. Top 3 luxury resorts in Ubud
Luxury Ubud accommodation is not scarce and the array of Ubud resorts will leave you speechless, some of them are like paradise on earth! These places are the classic resorts, with hotel-style lodging and all the services that you could ever dream of!
Check out some of the best hotels in Ubud, Bali, below:
Mandapa Ritz Carlton Ubud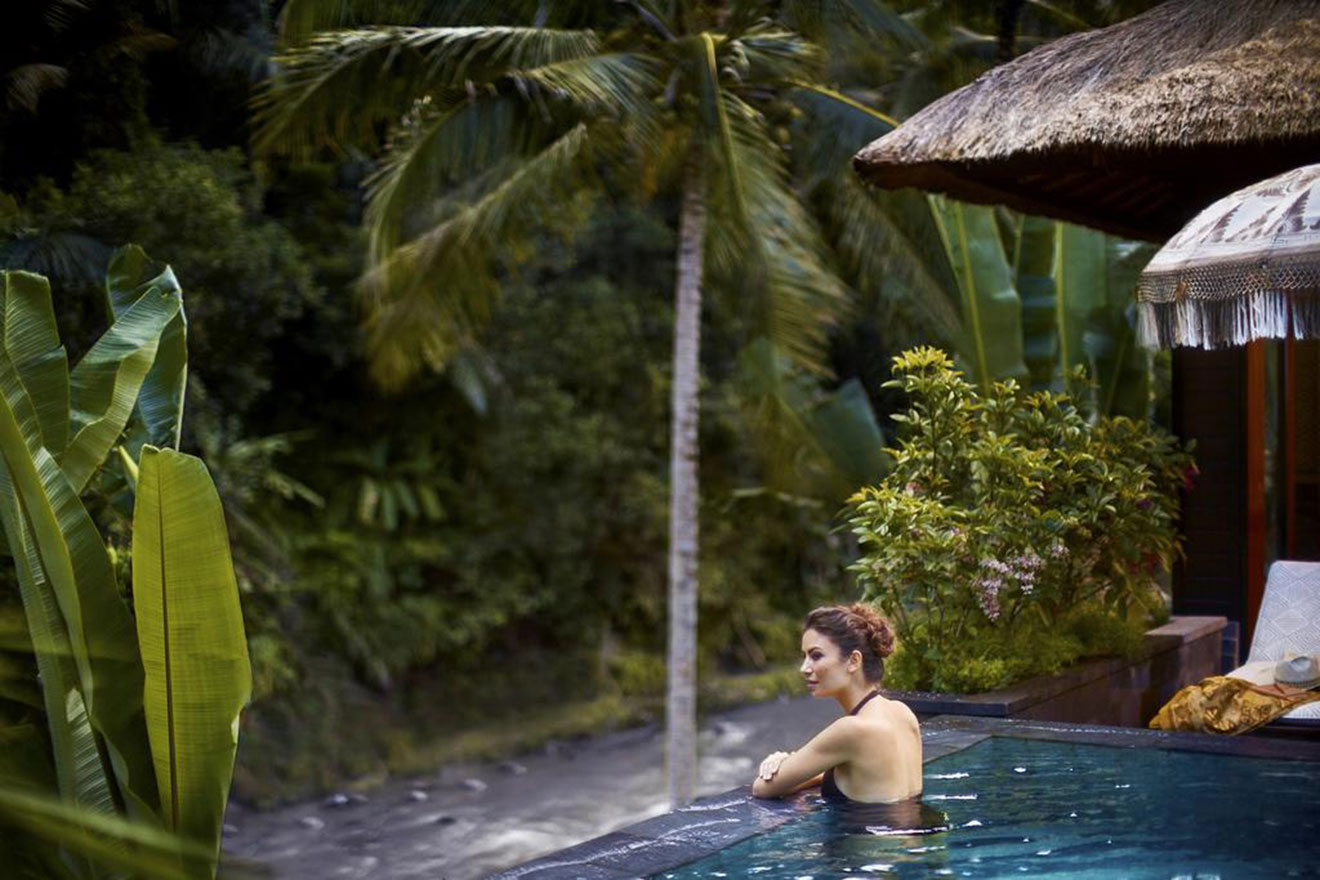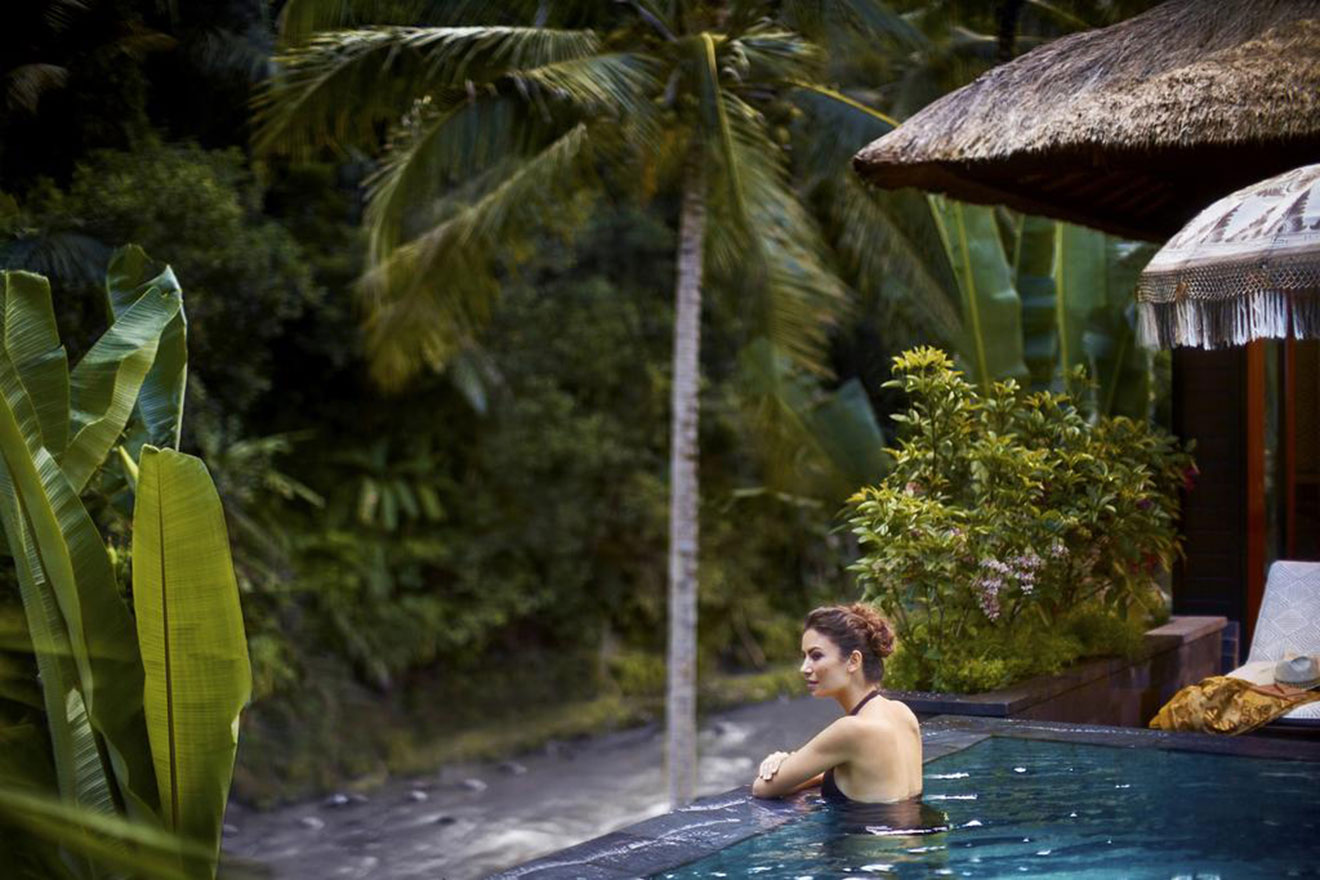 If you are wondering where to stay in Ubud near the Monkey Forest with a luxurious feel, this is the resort for you. The organic luxurious theme is carried throughout with touches of traditional Balinese decor leaving a quiet and relaxing feeling.
You can enjoy the rice paddy views and hanging gardens from your own room and indulge in a spa treatment from their wellness center before heading to have some food at their on-site restaurant by the river. One of the best resorts in Ubud, no doubt!
Tejaprana Bisma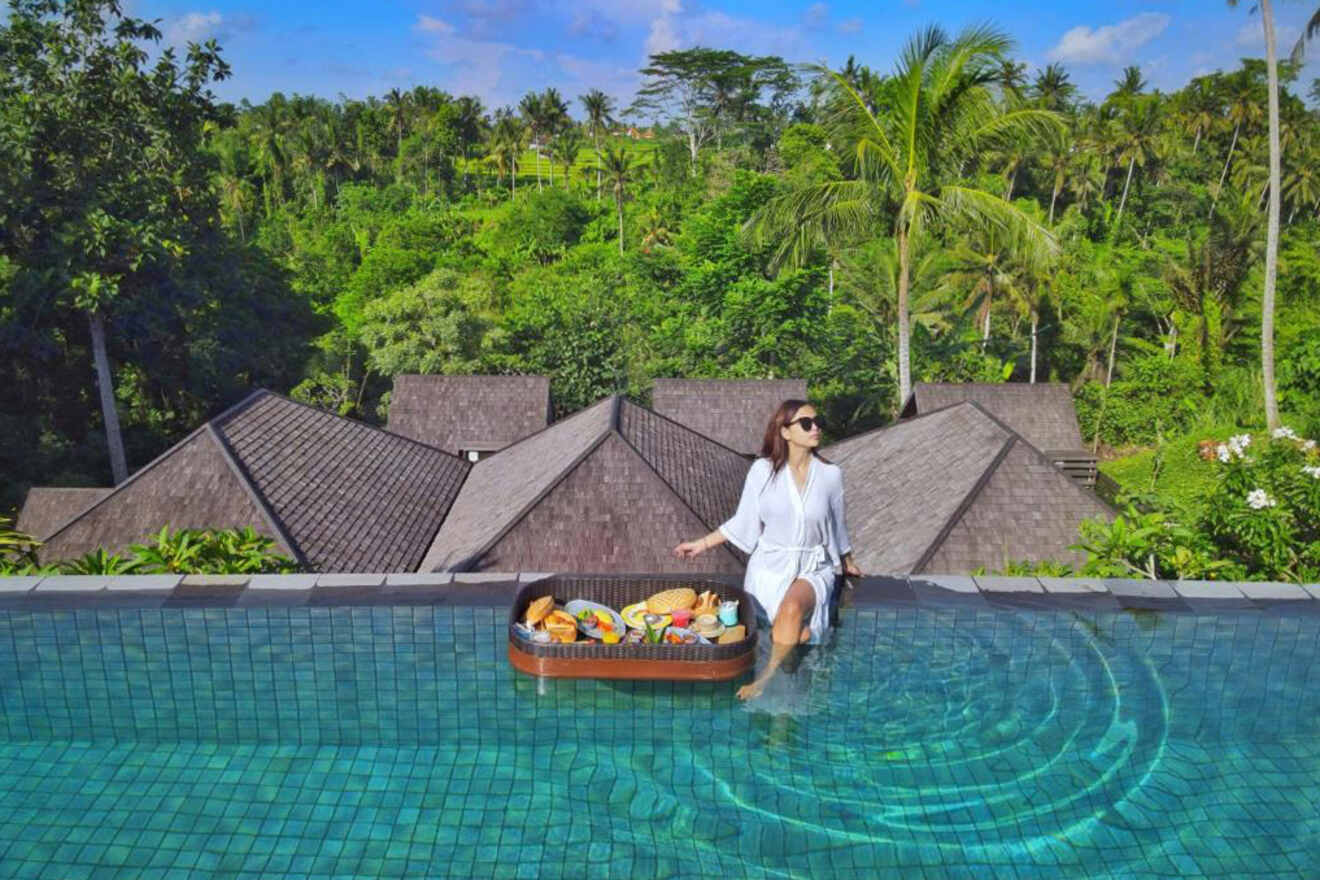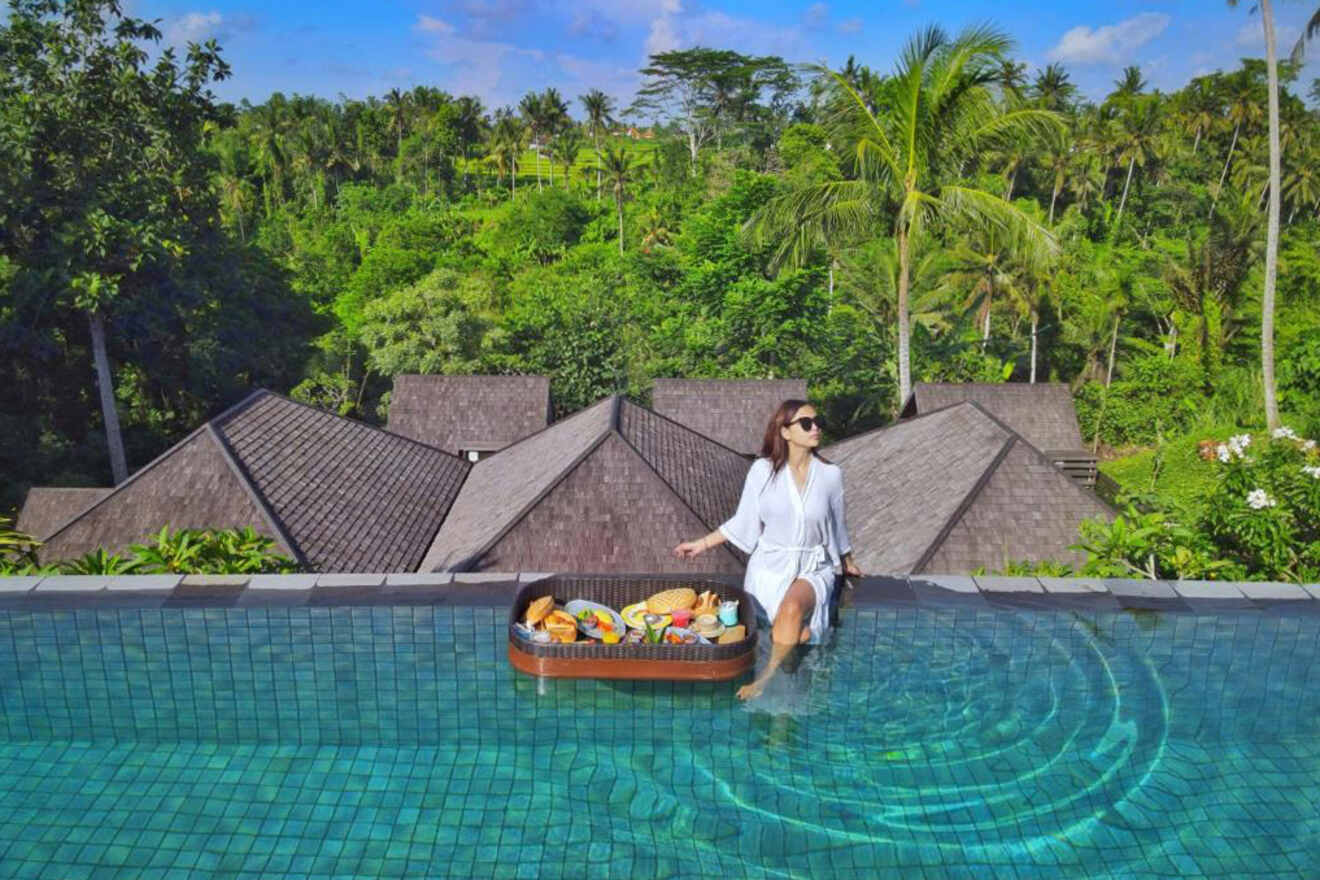 Located just 350 m from the Monkey Forest, the Tejaprana Bisma Hotel is the perfect oasis in the Ubud area, you will love it!
Not only does it boast Balinese-style rooms and an infinity pool, at this unique hotel you can enjoy private balconies and a private pool where you can have a delicious floating breakfast while enjoying the beautiful views. To finish your day, make sure to visit the on-site bar for a drink – or two!
Komaneka at Bisma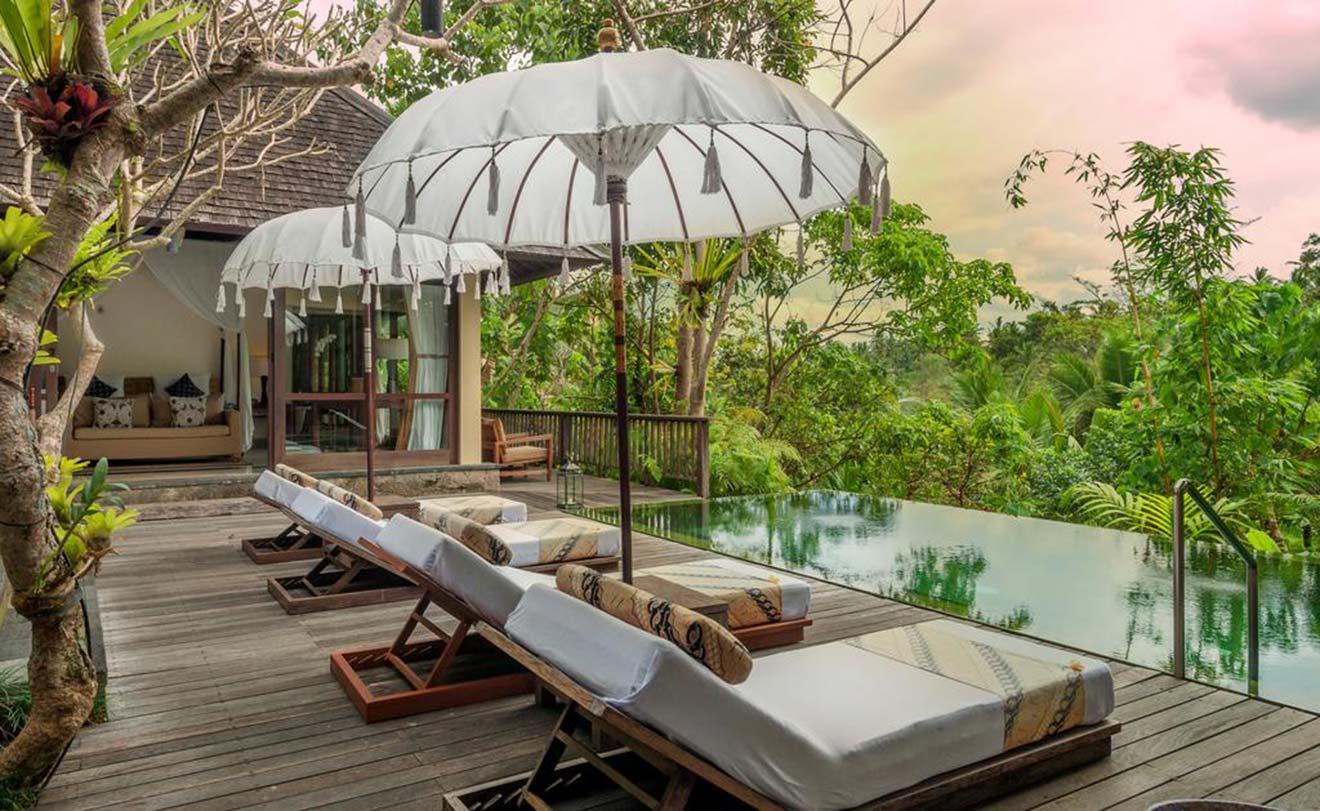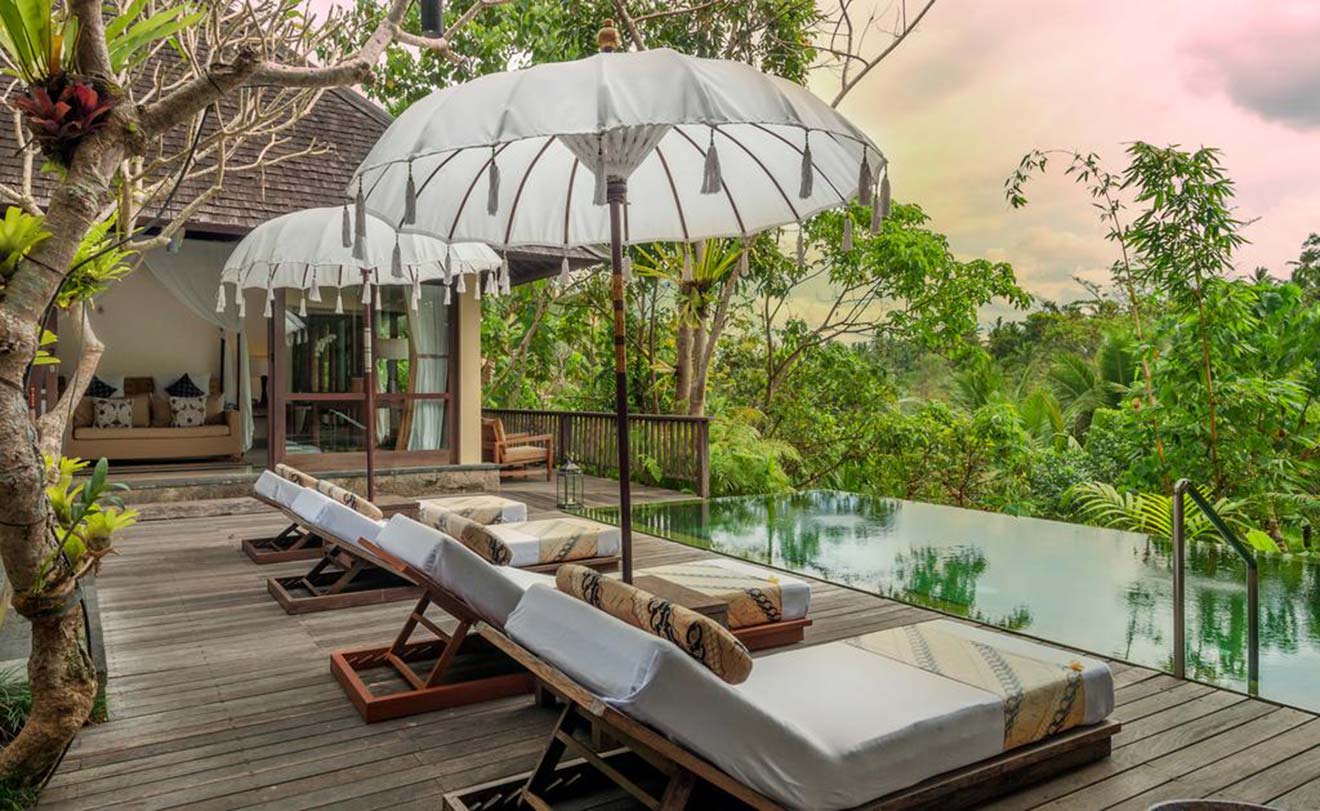 Komaneka at Bisma has a super close location to the Monkey Forest and Ubud Palace. Boasting an infinity pool overlooking the rice paddies, a great outdoor area, and the most tastefully decorated rooms I have seen, you're for sure in for a treat here!
Get your camera ready, because this is probably one of the most snap-worthy spots in Bali and the best infinity pool in Ubud!
1.2. Best luxury private villas in Ubud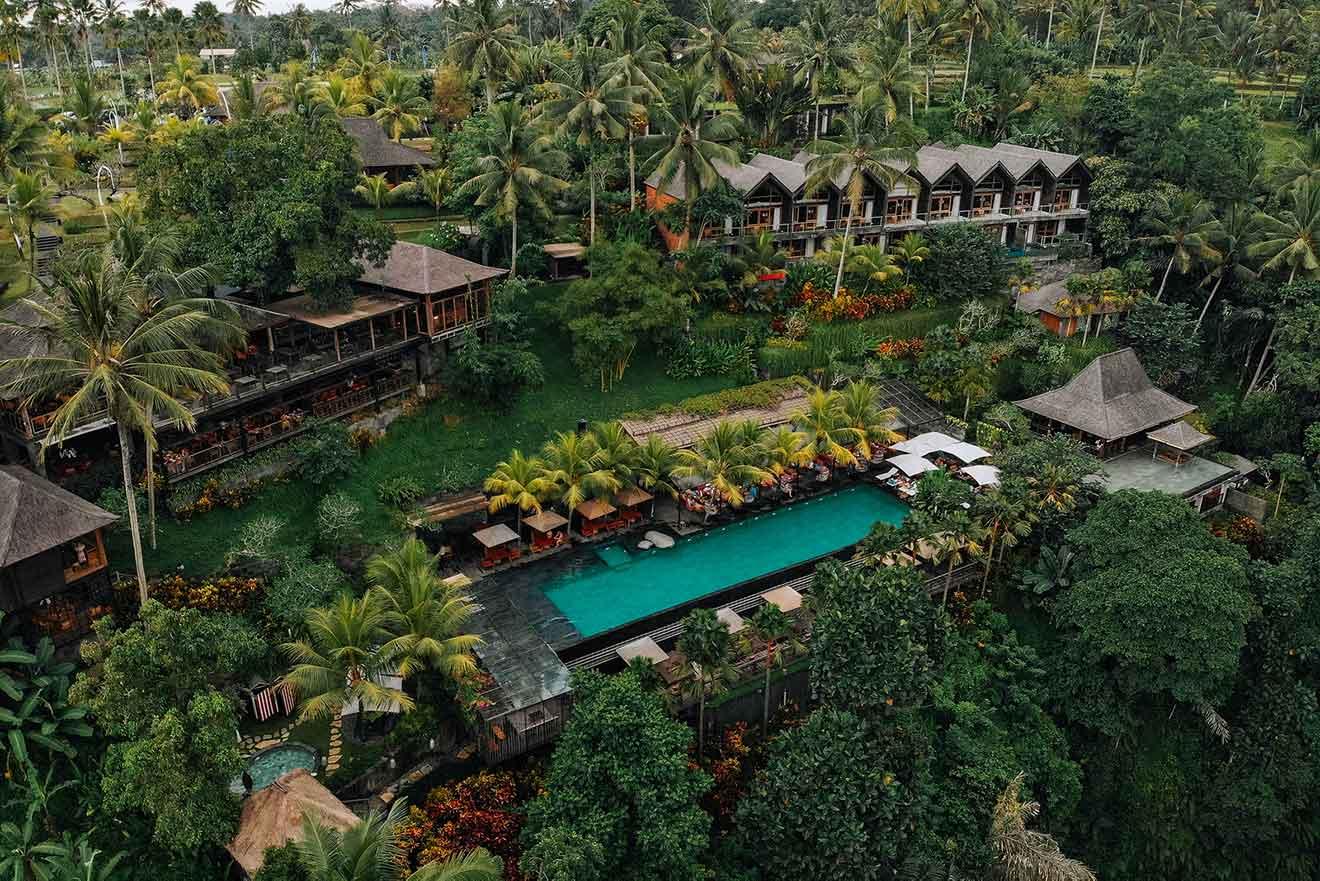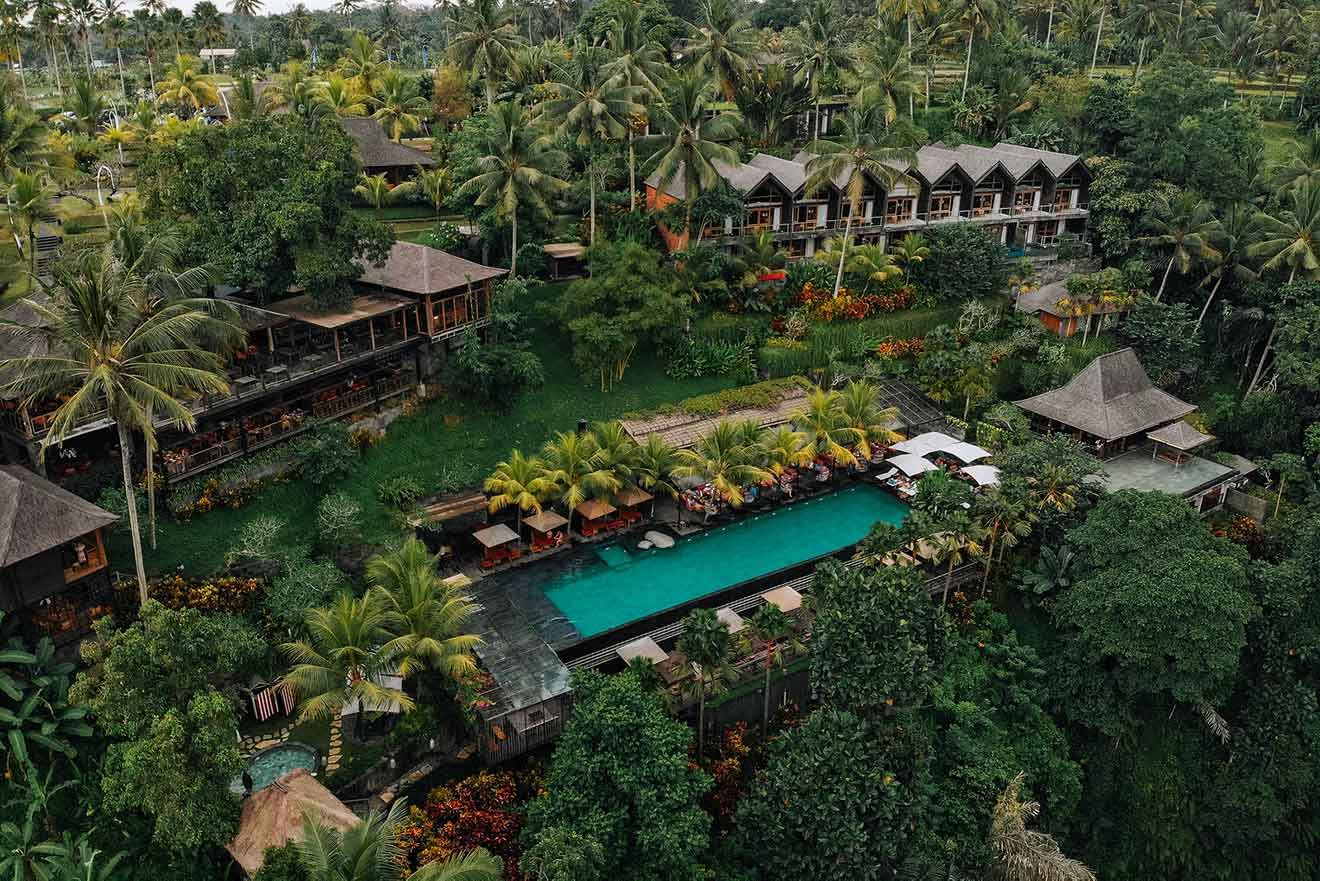 Booking a villa is one of the best options to enjoy the perks of staying at a hotel but having your own private area!
Some of the best hotels in Bali are not hotels, but villas! These private villas are some of the best accommodations in the world in terms of decor, customer service, and relaxation goals! It gives you the freedom and independence of having your own apartment, plus all the convenience found in a resort, just perfect!
Because there are so many amazing villas to stay in in Ubud, it's been hard to pick but I have selected my favorites. Check the list below the wide range of villa stays in Ubud:
Beehouse Dijiwa Ubud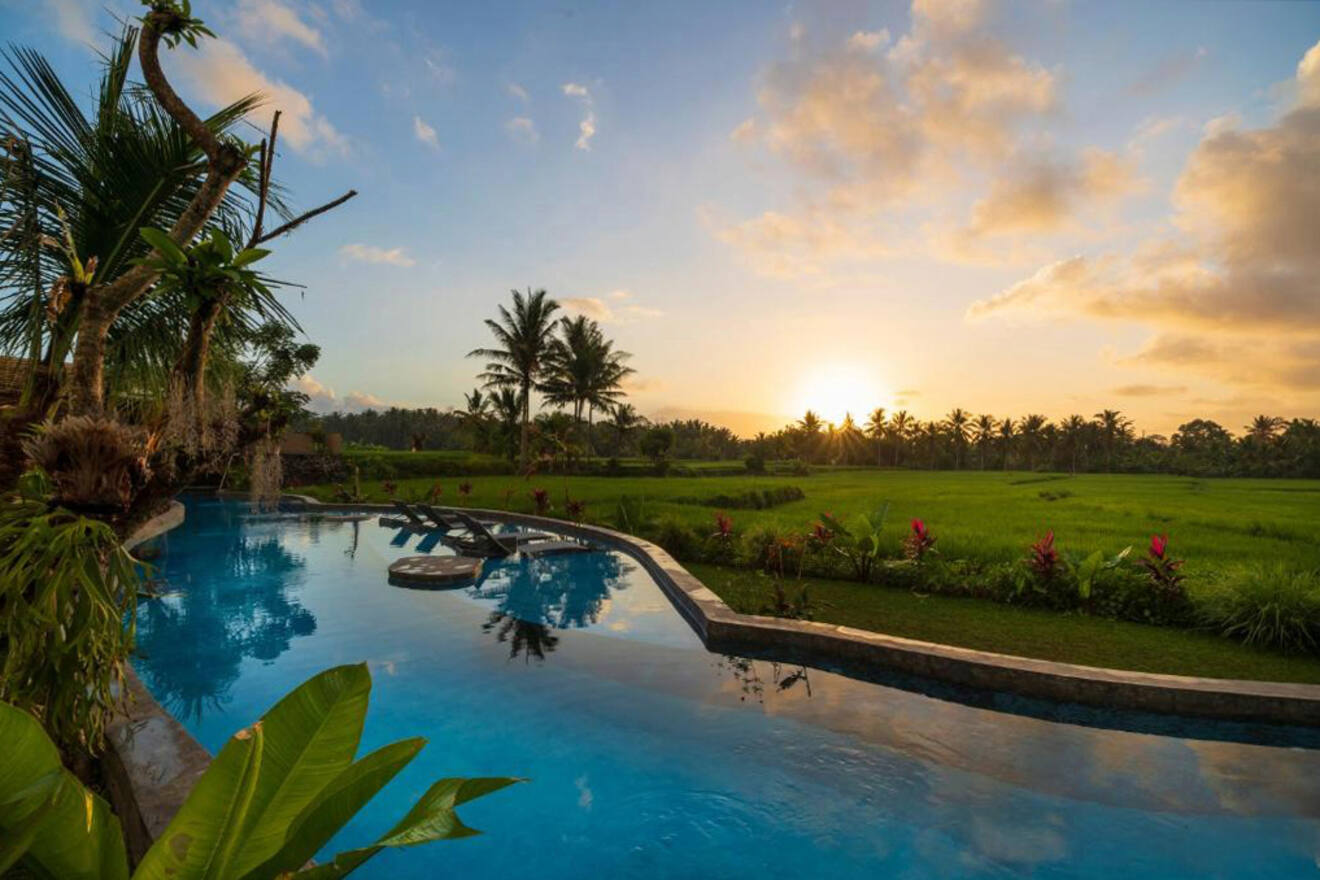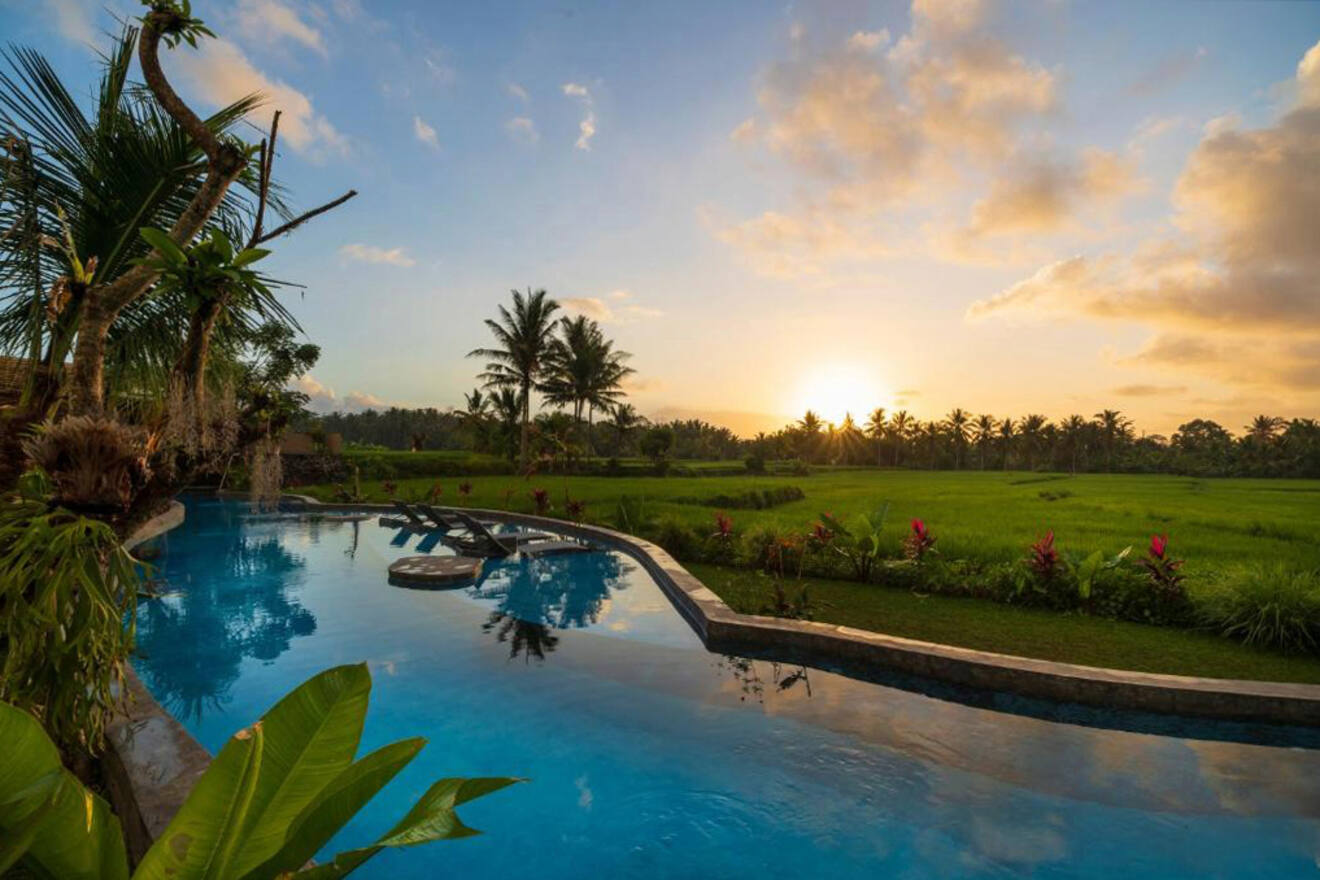 With private pool views, these villas will take your breath away! This luxurious stay will immerse you in the feeling of an exotic hideaway with its views, sun terrace, and world-class service.
Beehouse Dijiwa also provides guests with an incredible spa center where you can enjoy a neck or back massage to end the day. So, if you are looking for where to stay in Ubud to relax, this is a great option for you!
Royal Kamuela Villas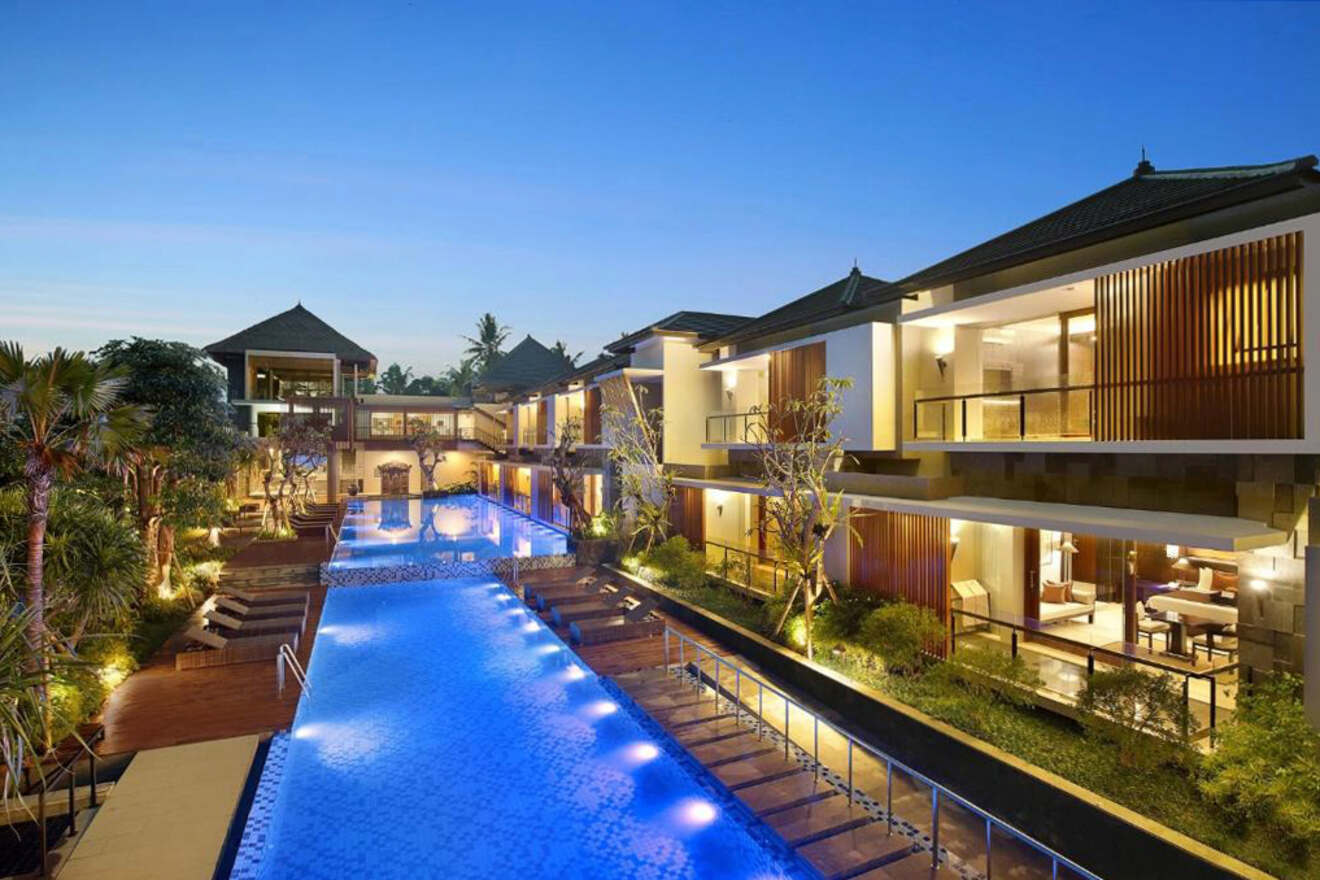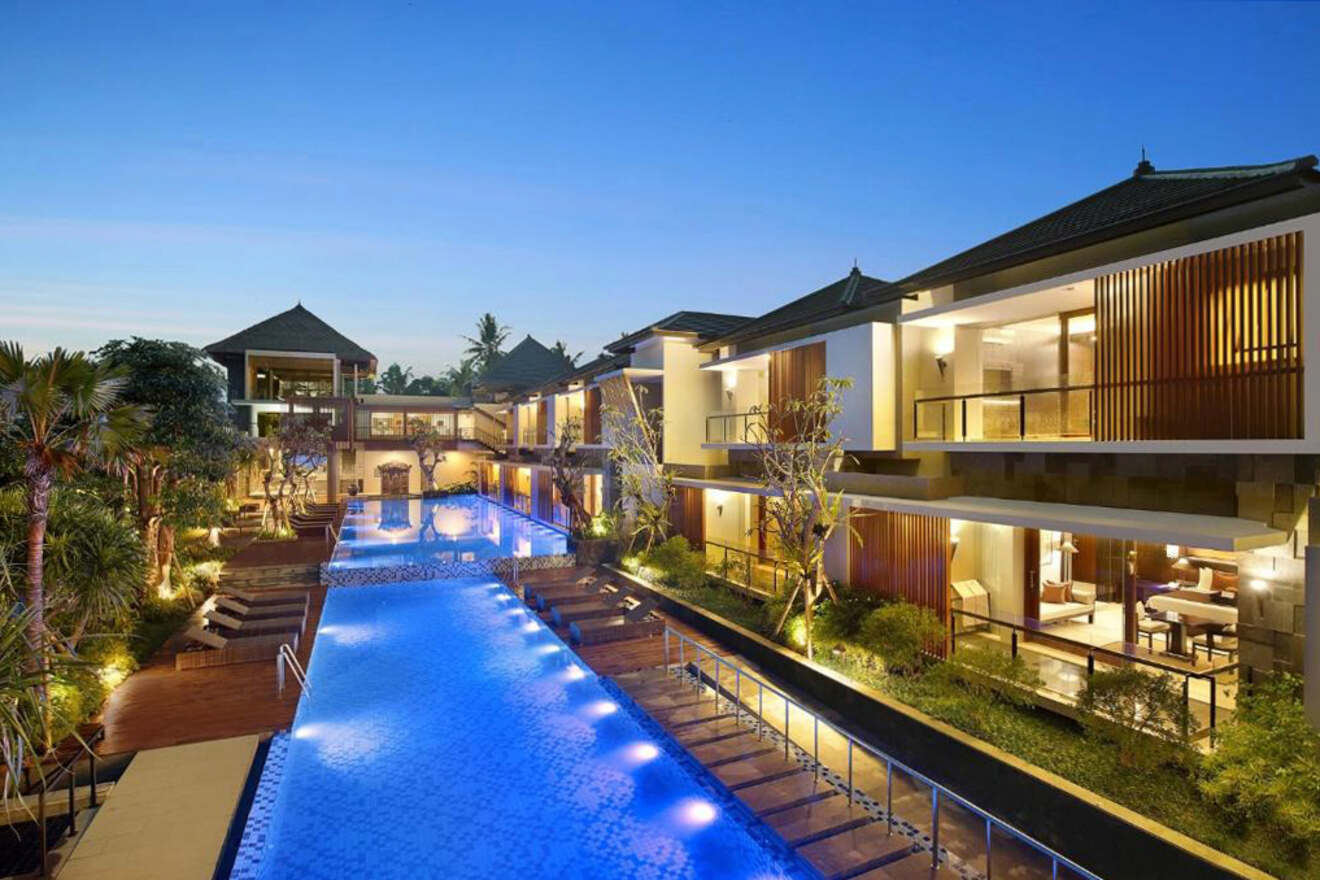 With beautiful private pools surrounded by tropical gardens, these private villas will leave you breathless.
Royal Kamuela is super close to the famous Monkey Forest so you know you will have amazing views to wake up to, and you can also book a tour to explore the forest and snap a good picture! The villas also provide service for horse and bike riding – what an incredible experience!
Ayuterra Resort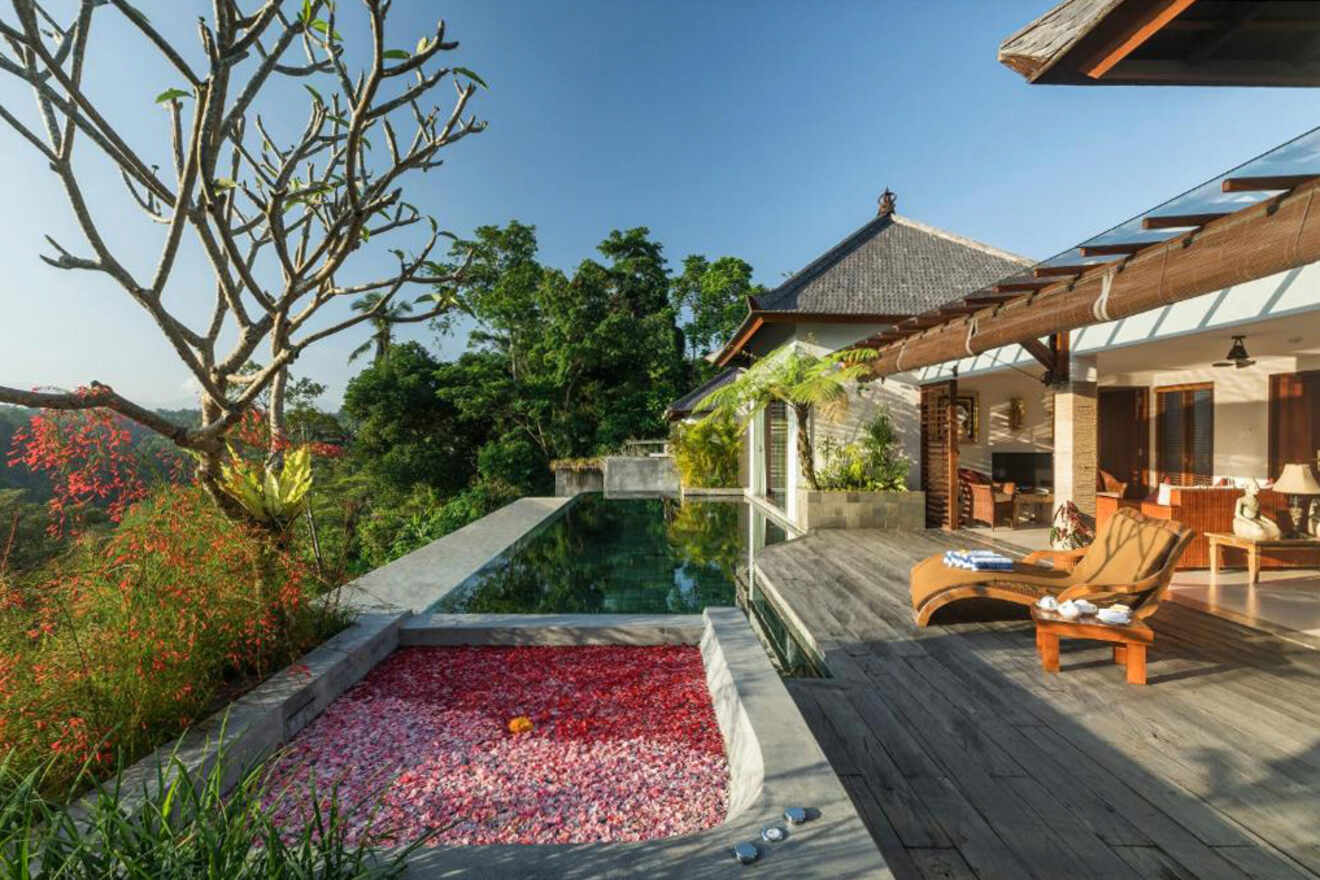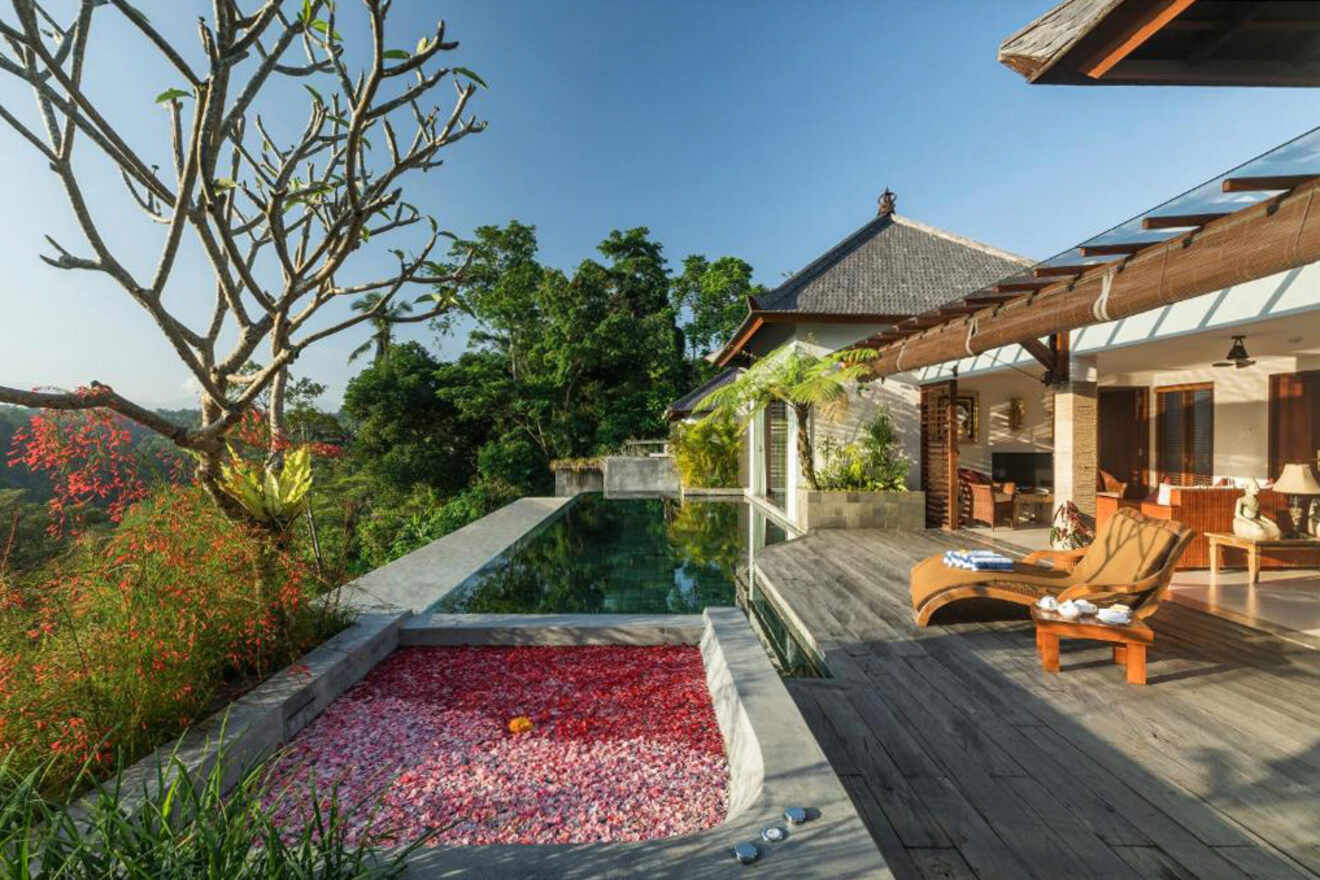 The high-class villas at Ayuterra Resort have their own private pool with incredible views of the Ayung River, the mountains and the surrounding greenery! Apart from this, you can enjoy the outstanding service provided and the perfect location, super close to the Ubud Traditional Art Market.
This resort also offers guests an on-site bar and restaurant to enjoy the evening making it one of the best villas in Ubud, Bali!
Mandana Ubud Villa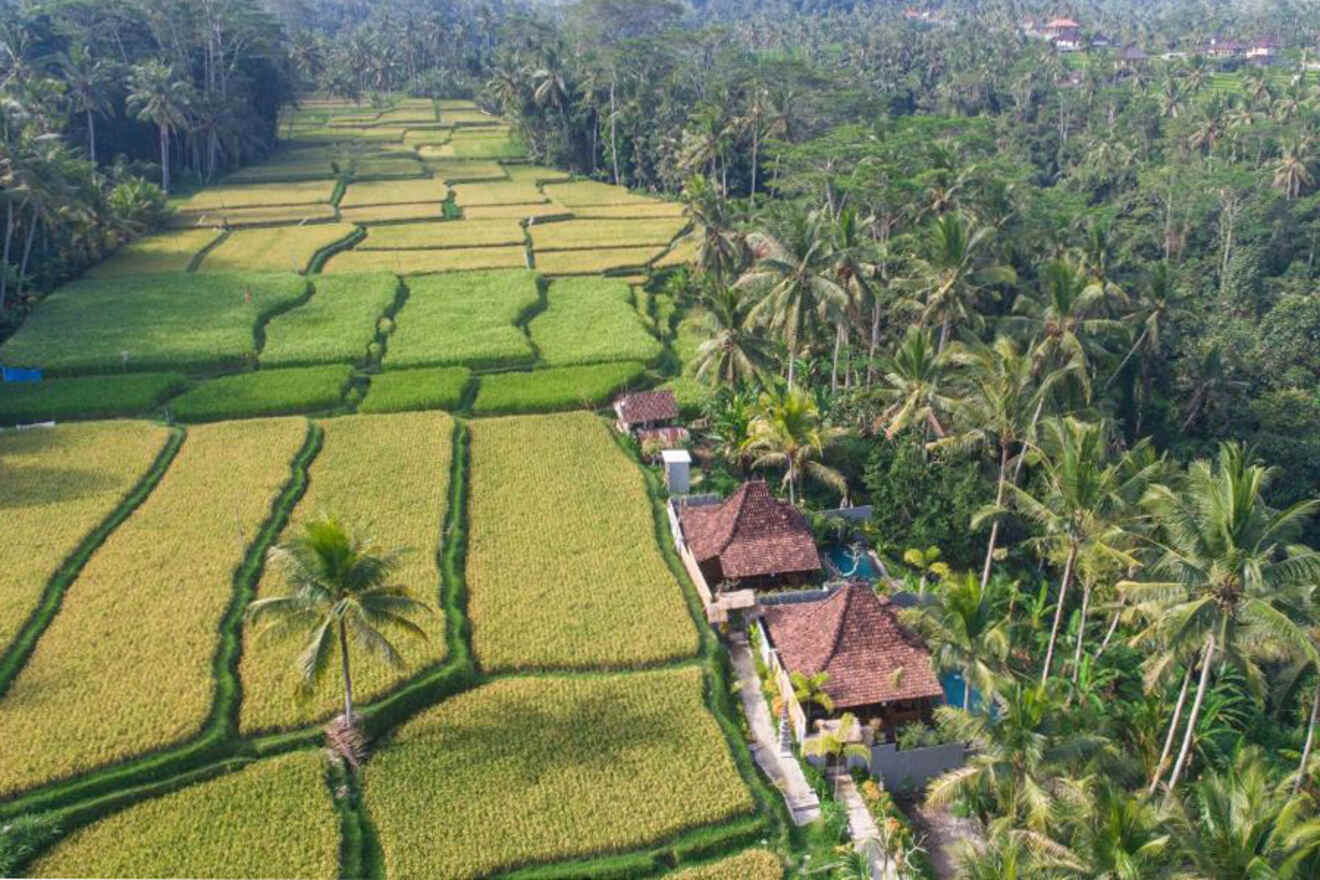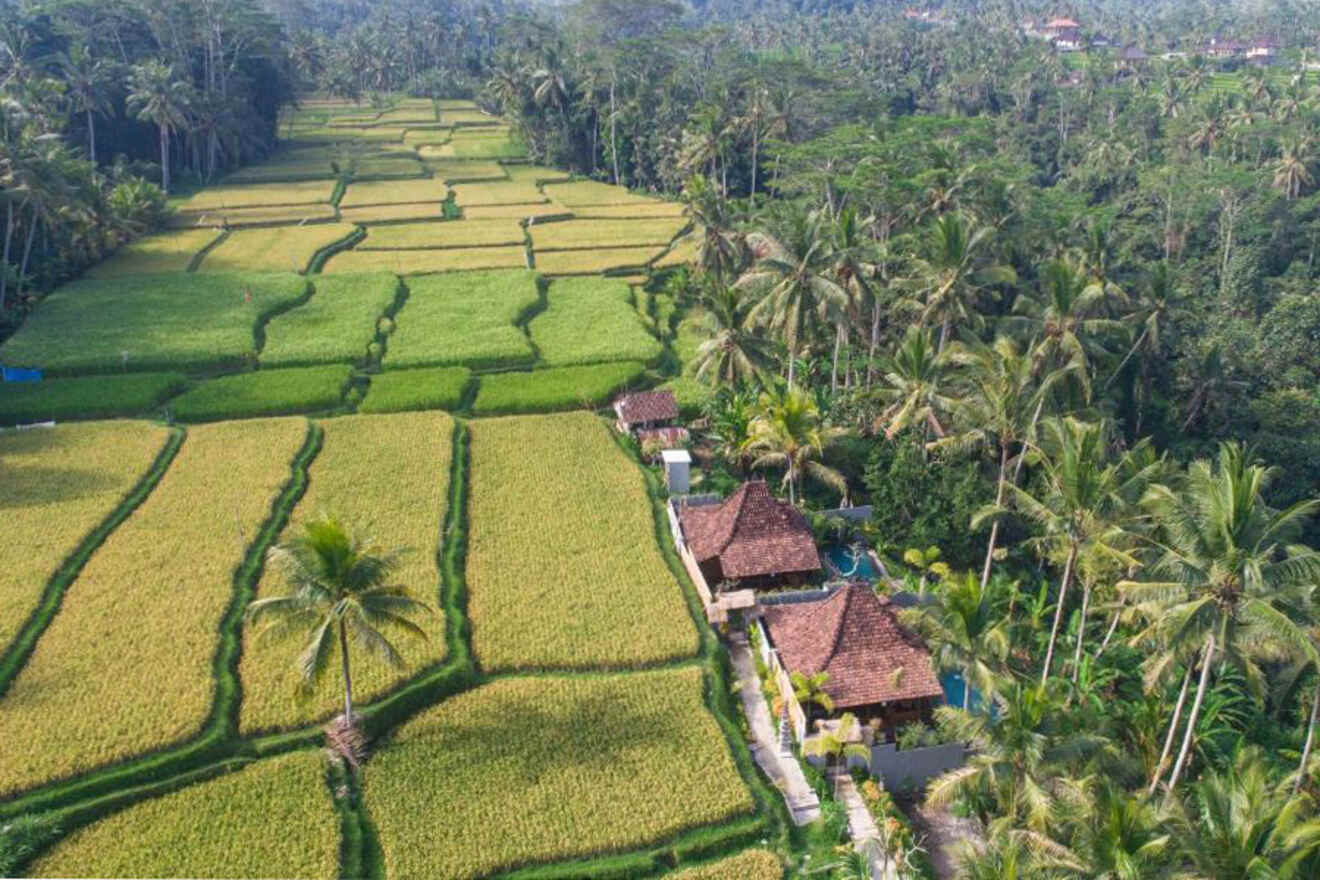 I couldn't leave this villa out! These incredible private villas feature an amazing private infinity pool in each room with beautiful rainforest views. The staff are recognized for their luxury treatment that will definitely make you feel like royalty! Plus, these private villas have an incredible location with many dining options!
Green Village – Bamboo Houses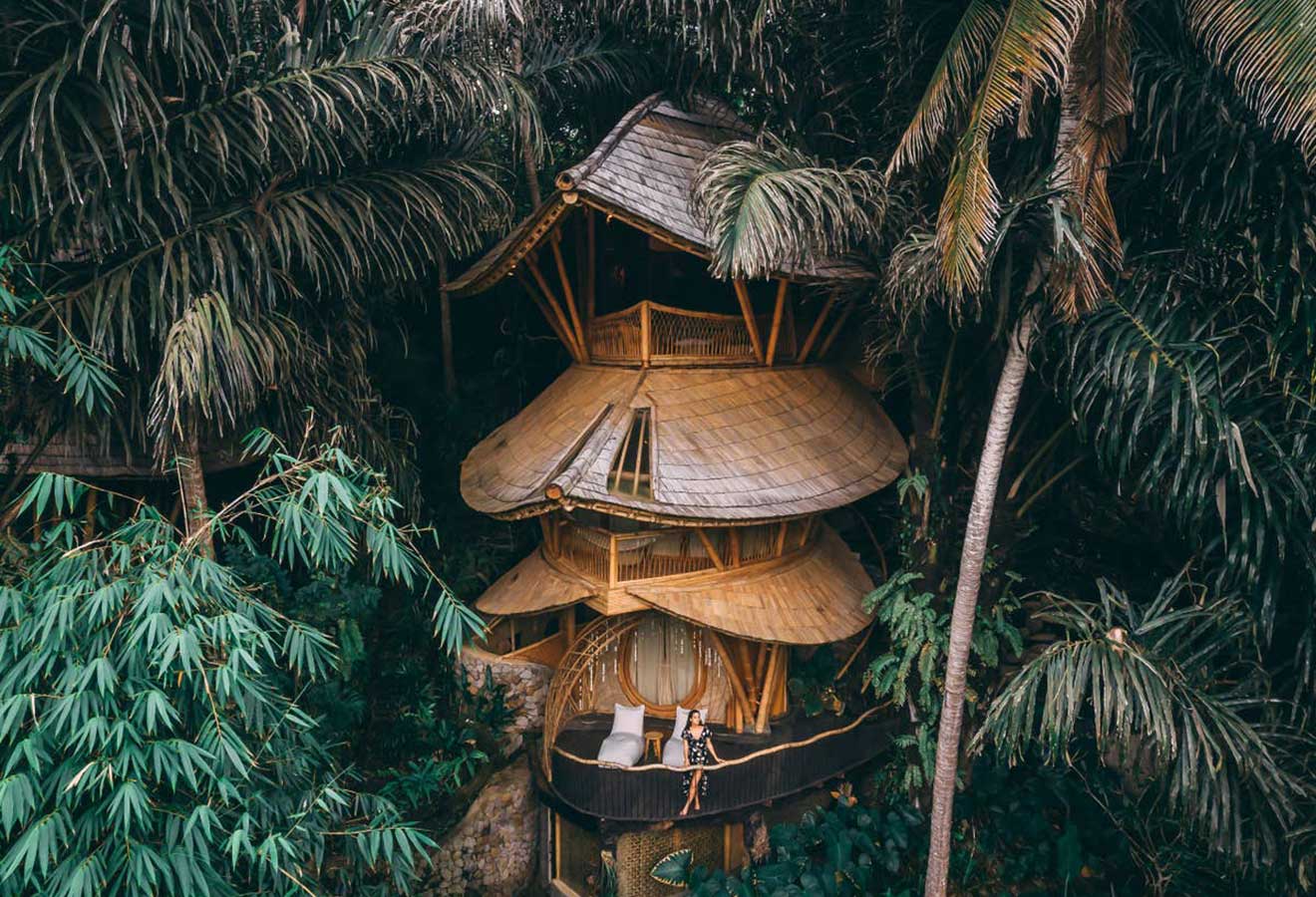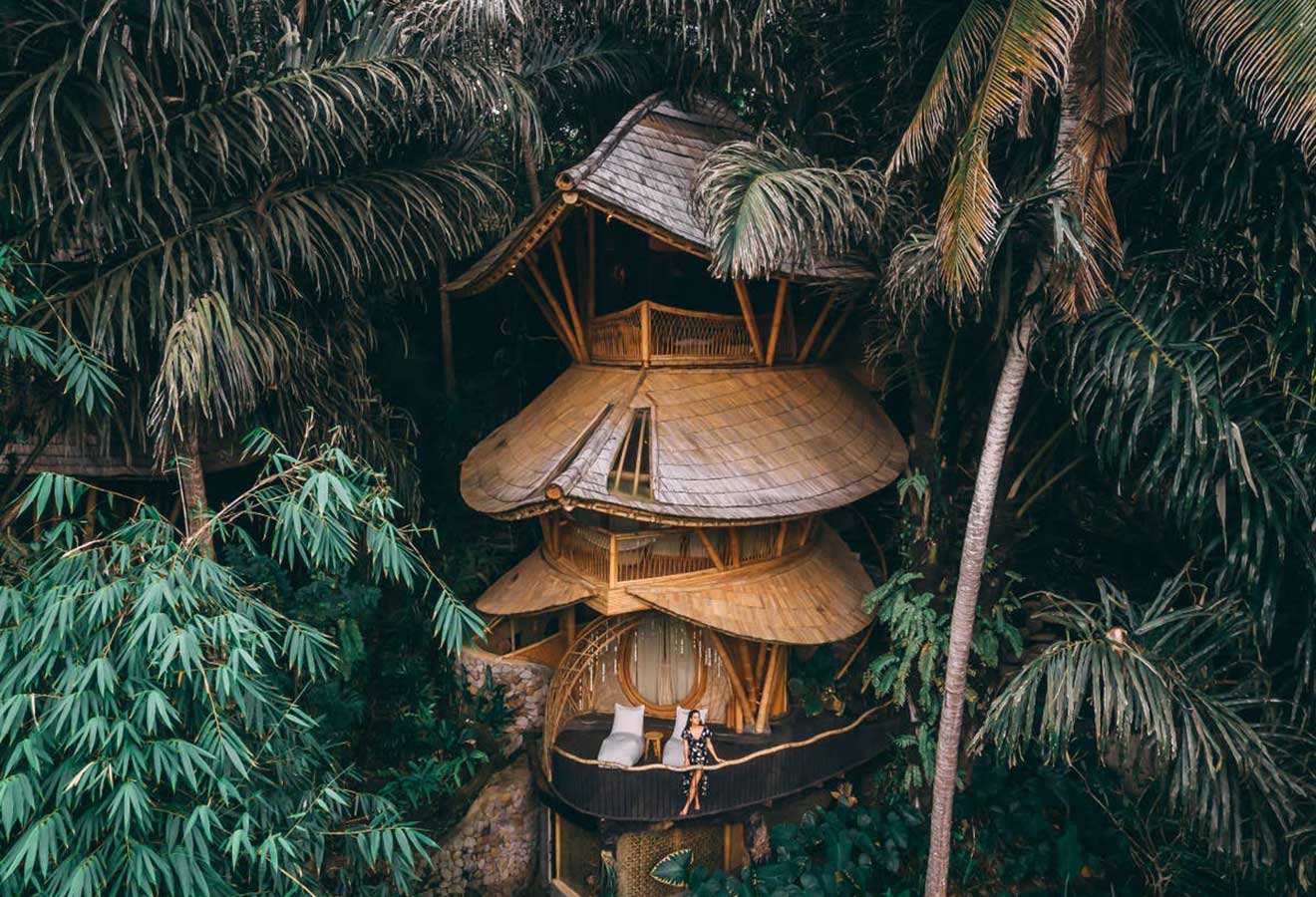 This bamboo heaven is quite a unique stay in Bali. Set in a river valley landscape, these villas made out of bamboo make the perfect eco-friendly paradise you are dreaming of!
Green village offers more than just a stay as it holds community gatherings and even a sustainability school! It's 30-min away by car from Ubud, but definitely quite worth it!
Viceroy Bali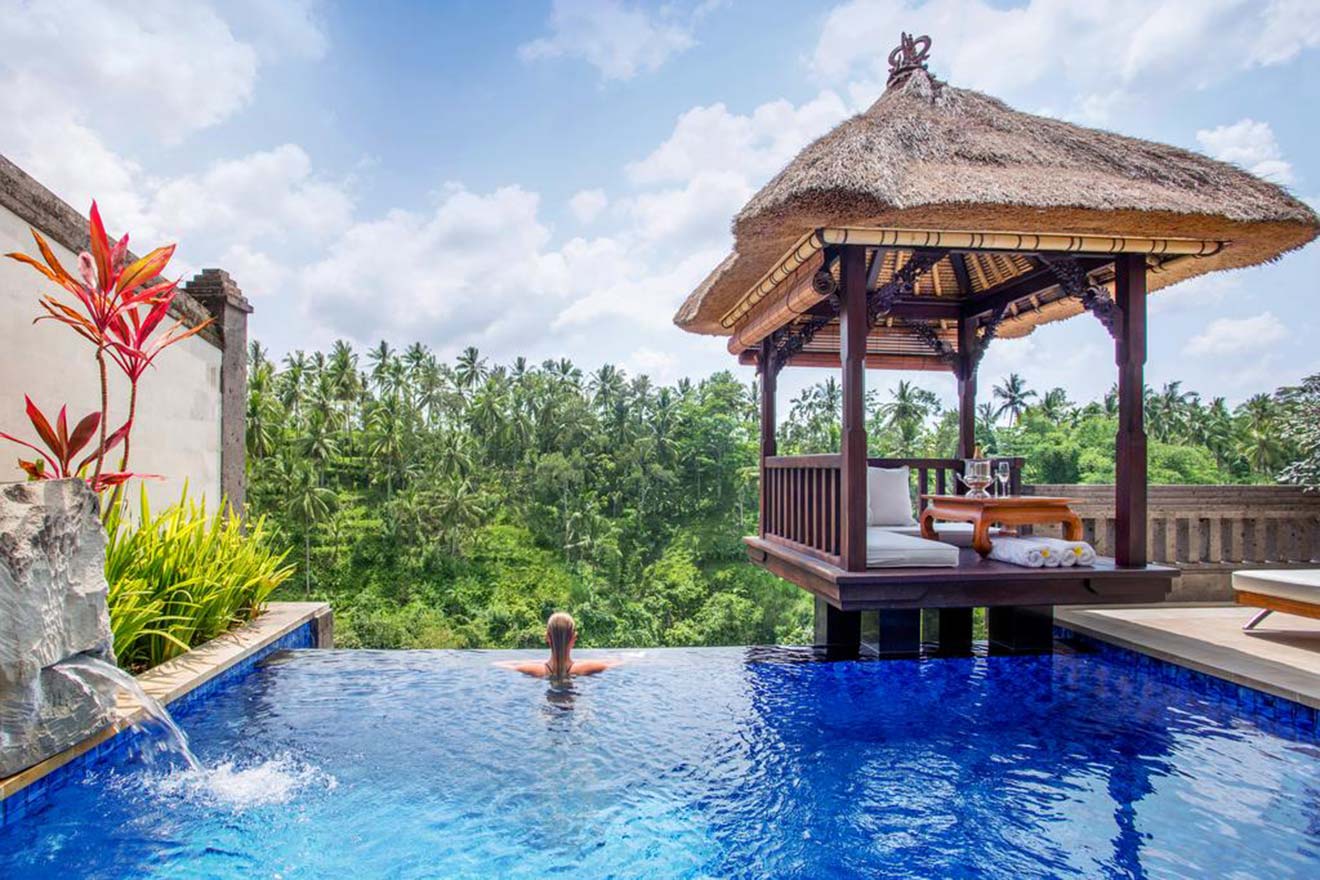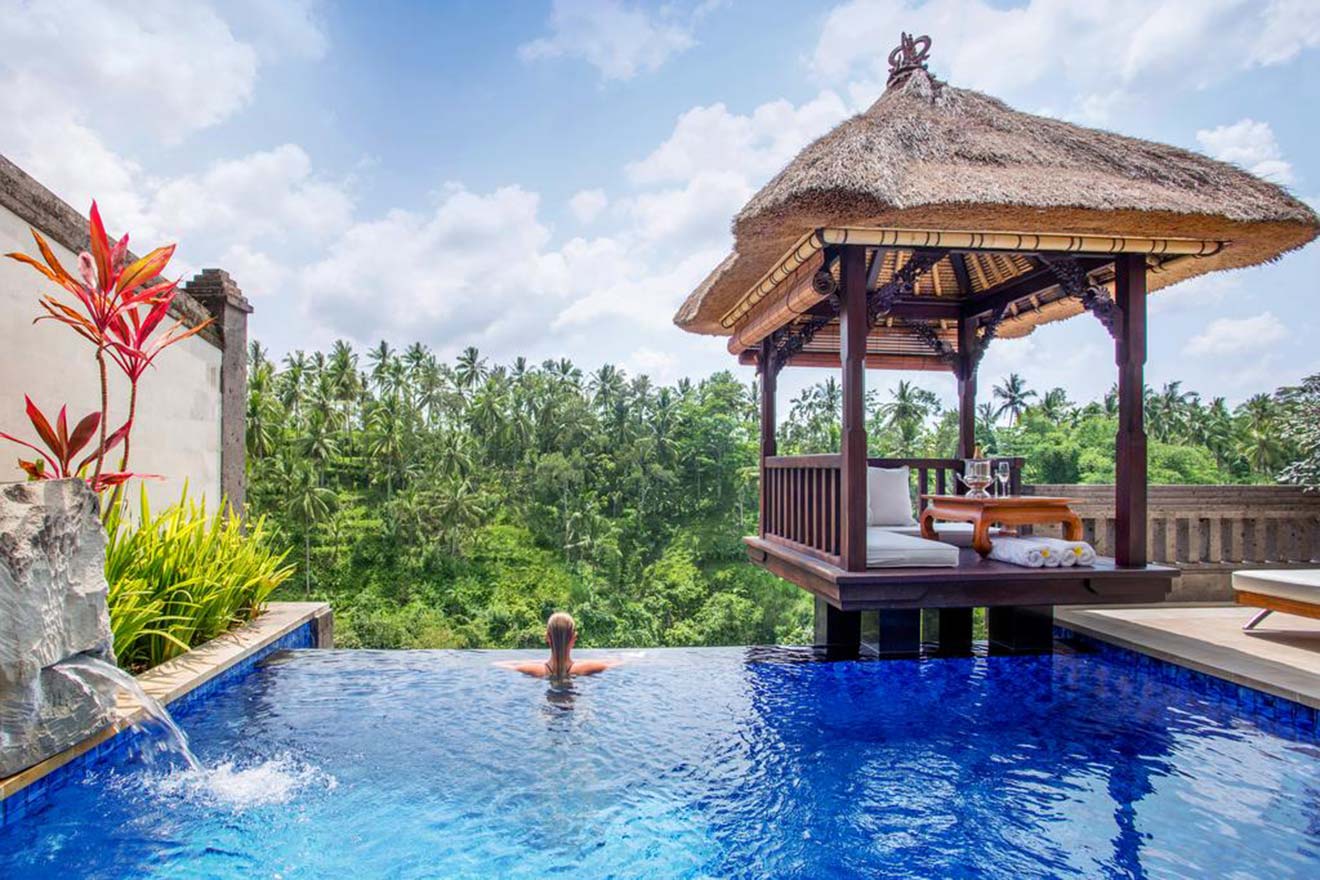 Just 5-min drive away from Ubud, this luxurious villa will provide you with an escape from the busy streets of Ubud! Boasting incredible views of the Petanu River and uninterrupted jungle views, you will definitely be relaxed during your stay!
With yoga classes, private pools, and an award-winning restaurant you will never want to go back home. Oh, and they have free shuttles in case you want to pay a visit to the city one day!
2. Middle-priced (from US$100 to US$300)
The great thing about Ubud is that even if you're looking at a middle-priced stay you should be expecting amazing service and stunning facilities!
There is something about Bali, that it is so aesthetically pleasing which makes most of the hotels and resorts pretty stunning. Check out the best middle priced Ubud hotels below:
2.1 Calma Ubud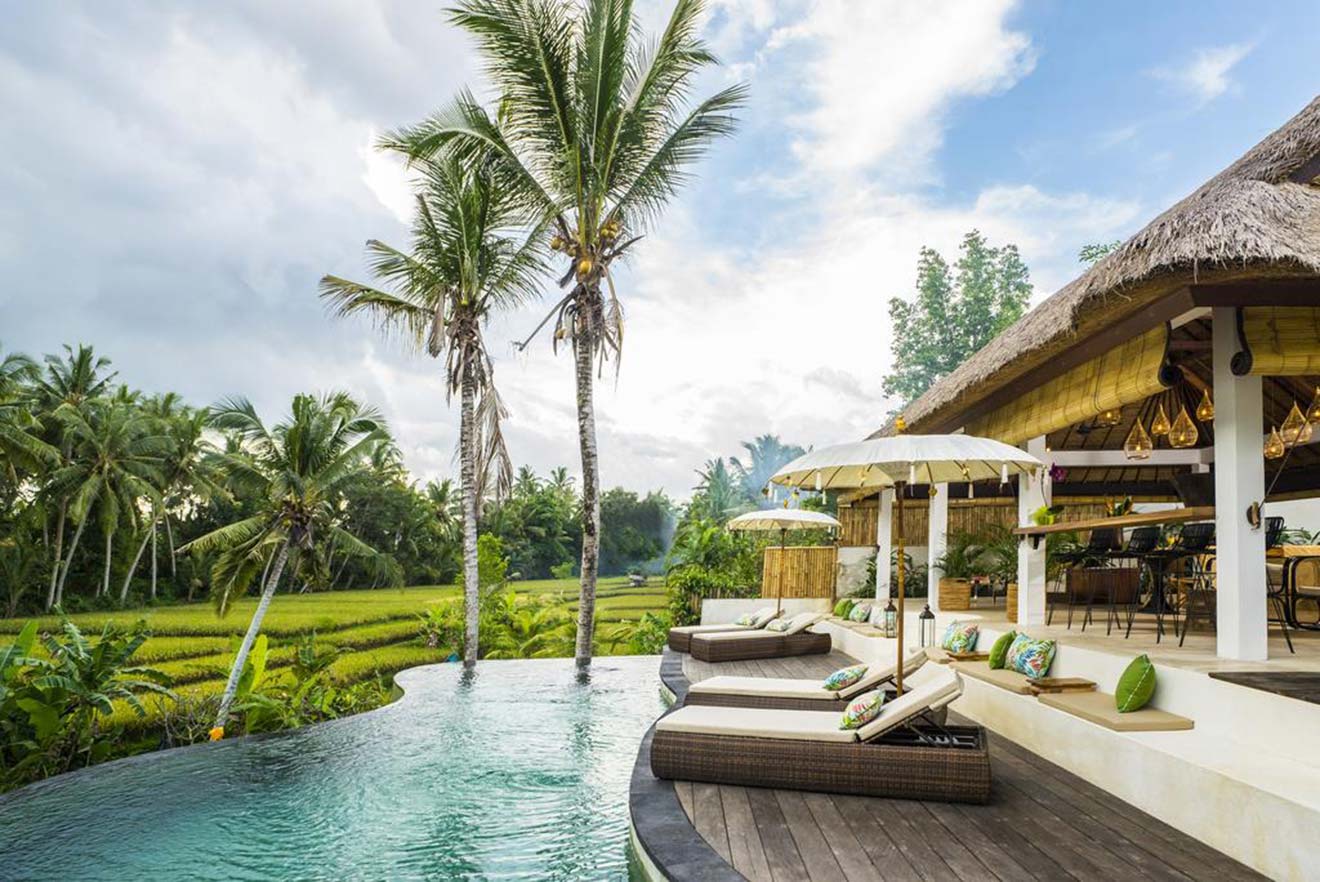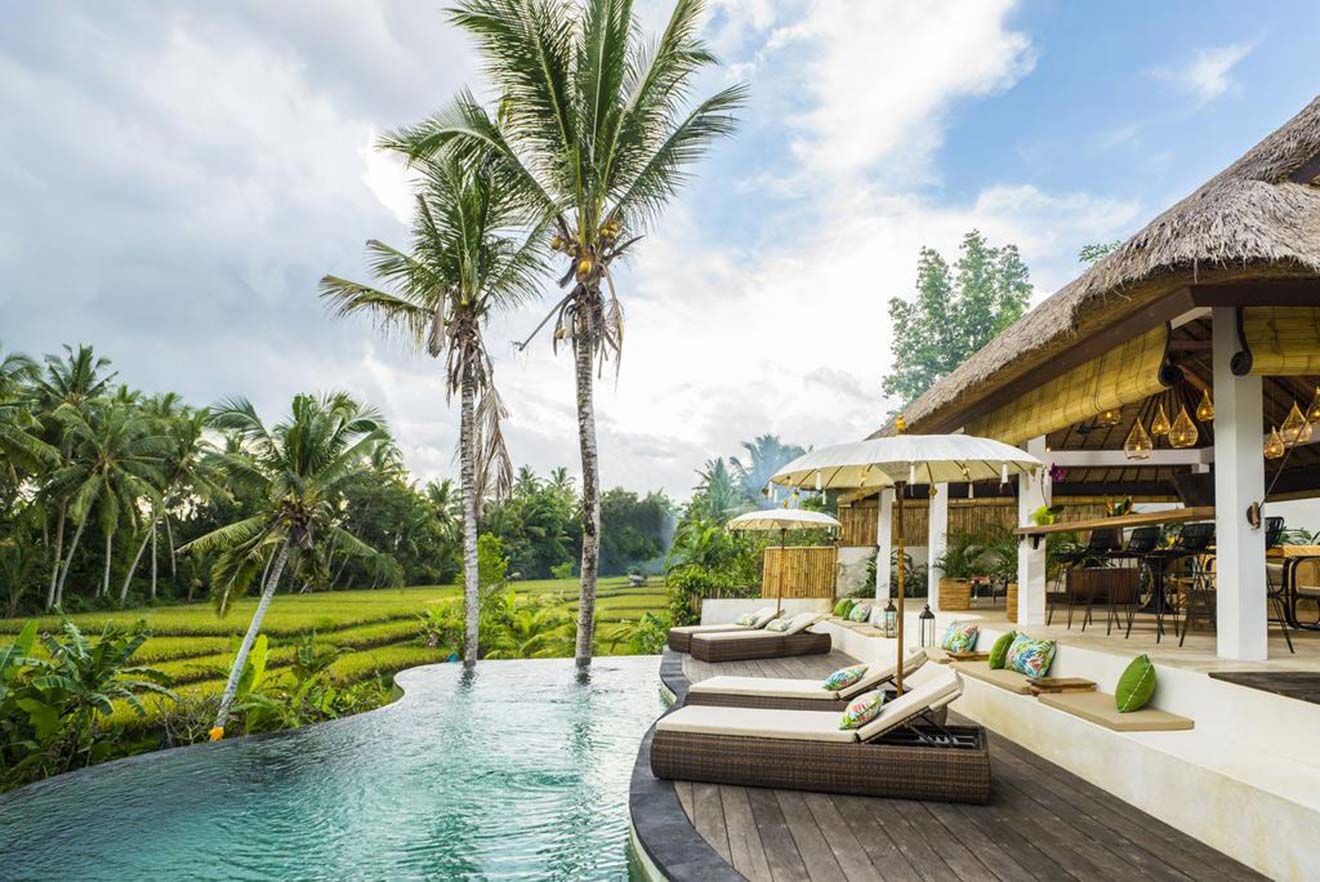 This is one of the best Ubud hotels if you're traveling with your family or a group of friends! You will love the 2-bedroom villas at Calma Ubud!
Less than a kilometer away from the Ubud market, enjoy the swimming pool while you admire the views of the rice paddies and sip on a cocktail from their quiet on-site bar! If you are looking for dining options, don't worry! This hotel offers a restaurant and a snack bar in case you are looking to grab a bite.
2.2 Adiwana Arya Villa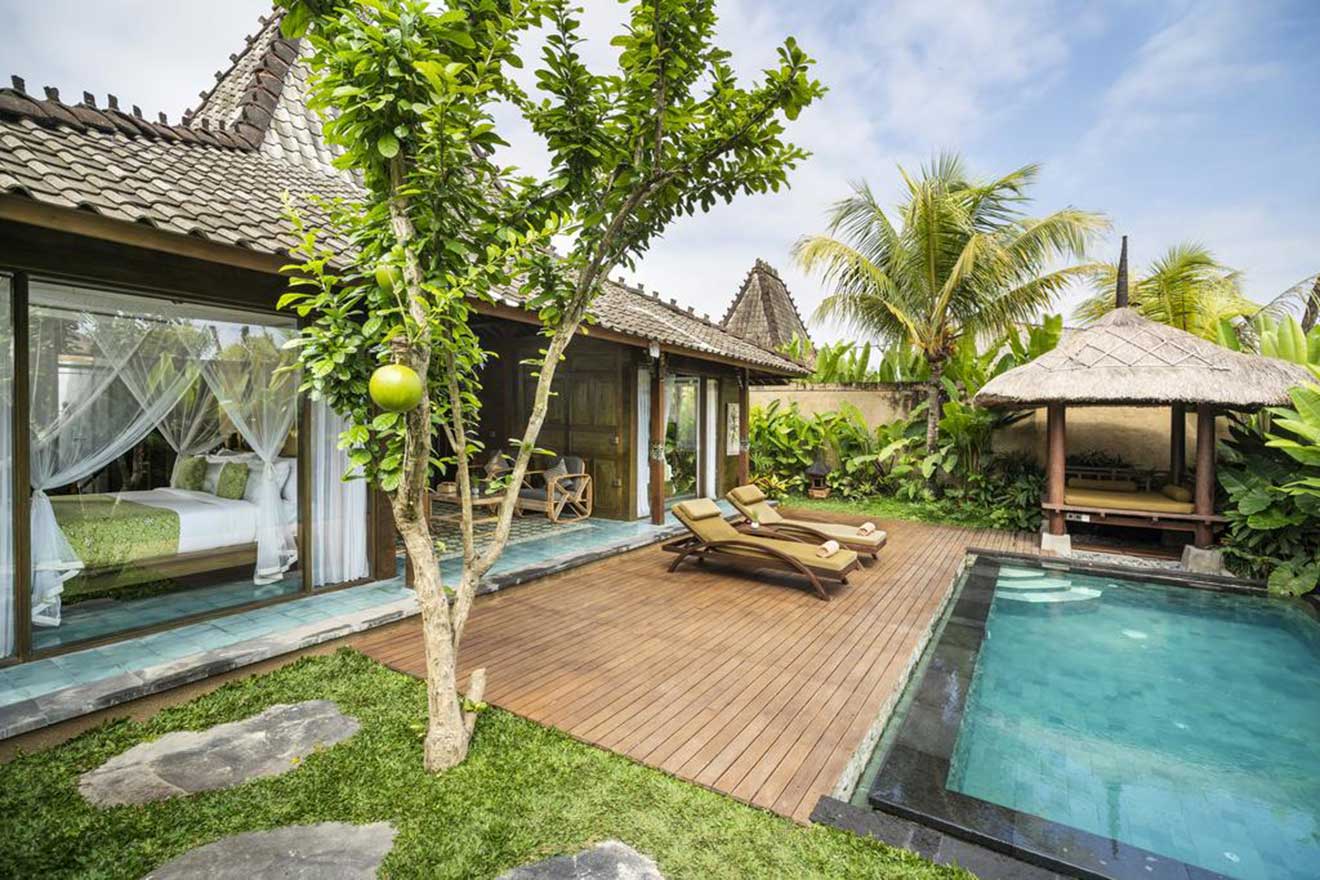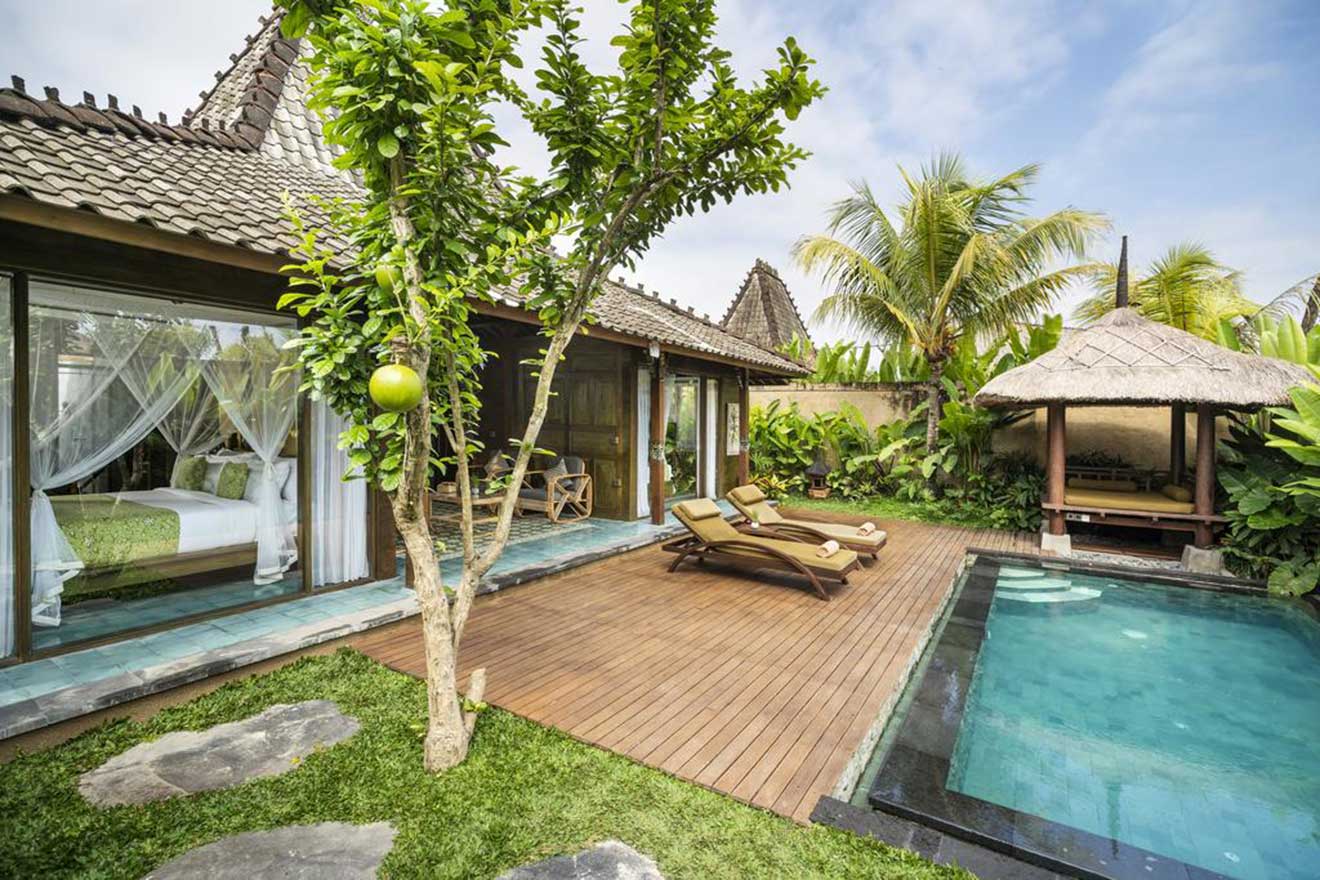 Set in a traditional wooden house, one of the highlights of this boutique hotel is definitely the surroundings! It is located in the heart of the rice fields, just 1km away from the Monkey Forest and Ubud town, so you know you will have incredible views from your room.
They also have complimentary yoga classes, definitely a quiet and relaxing paradise for yoga-loving people!
2.3 Alam Jiwa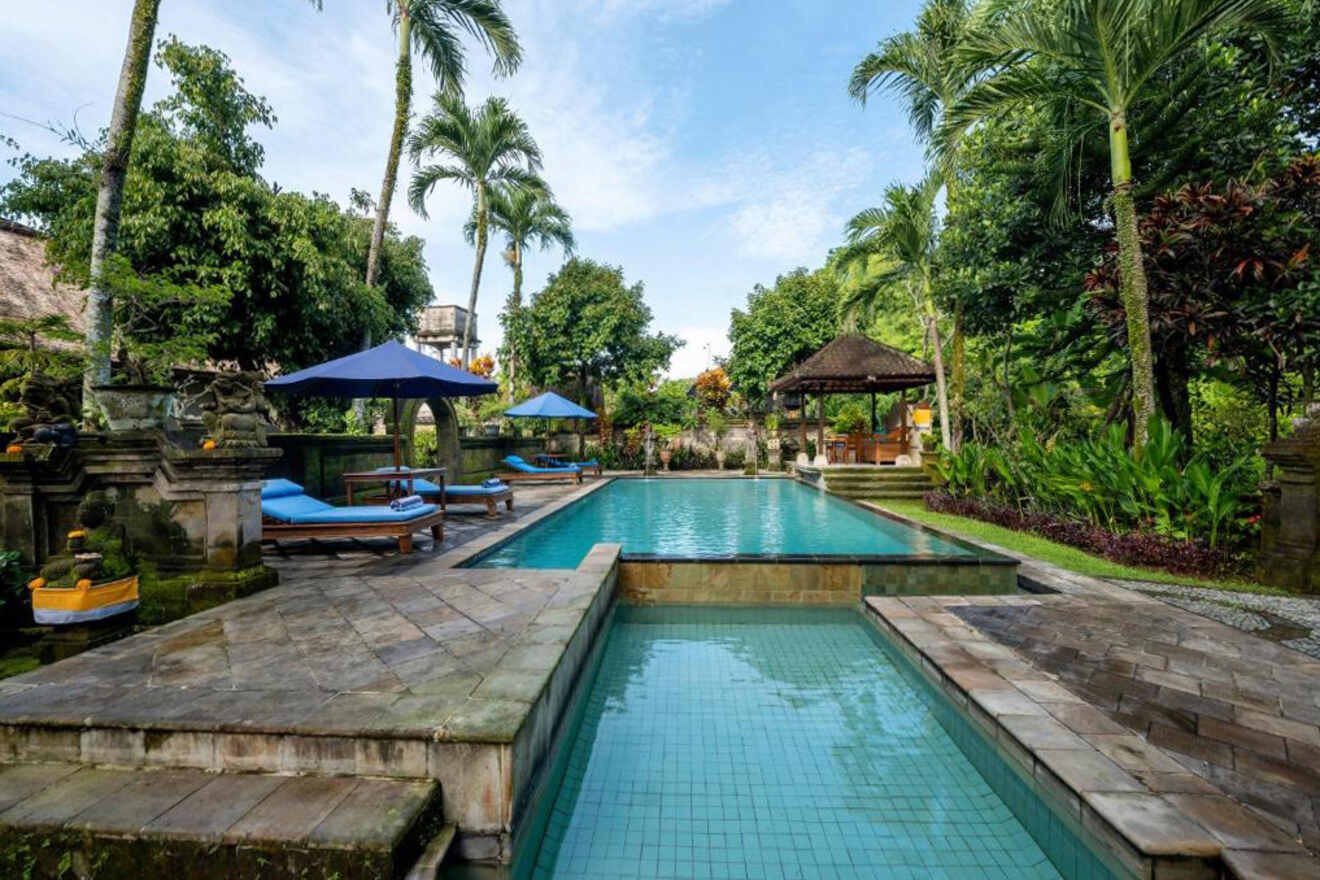 This other incredible hotel has mesmerizing views of the rice fields, and every room has a balcony or terrace, so rest assured you will wake up to these amazing views!
What's more, the staff here are known for their amazing service, and they will make sure your stay is relaxing and pleasant. The resort also offers bike and car hire if you want to visit the nearby landmarks such as Ubud Monkey Forest, Ubud Palace, or Ubud Market so you don't even have to think about a thing!
2.4 Nefatari Exclusive Villas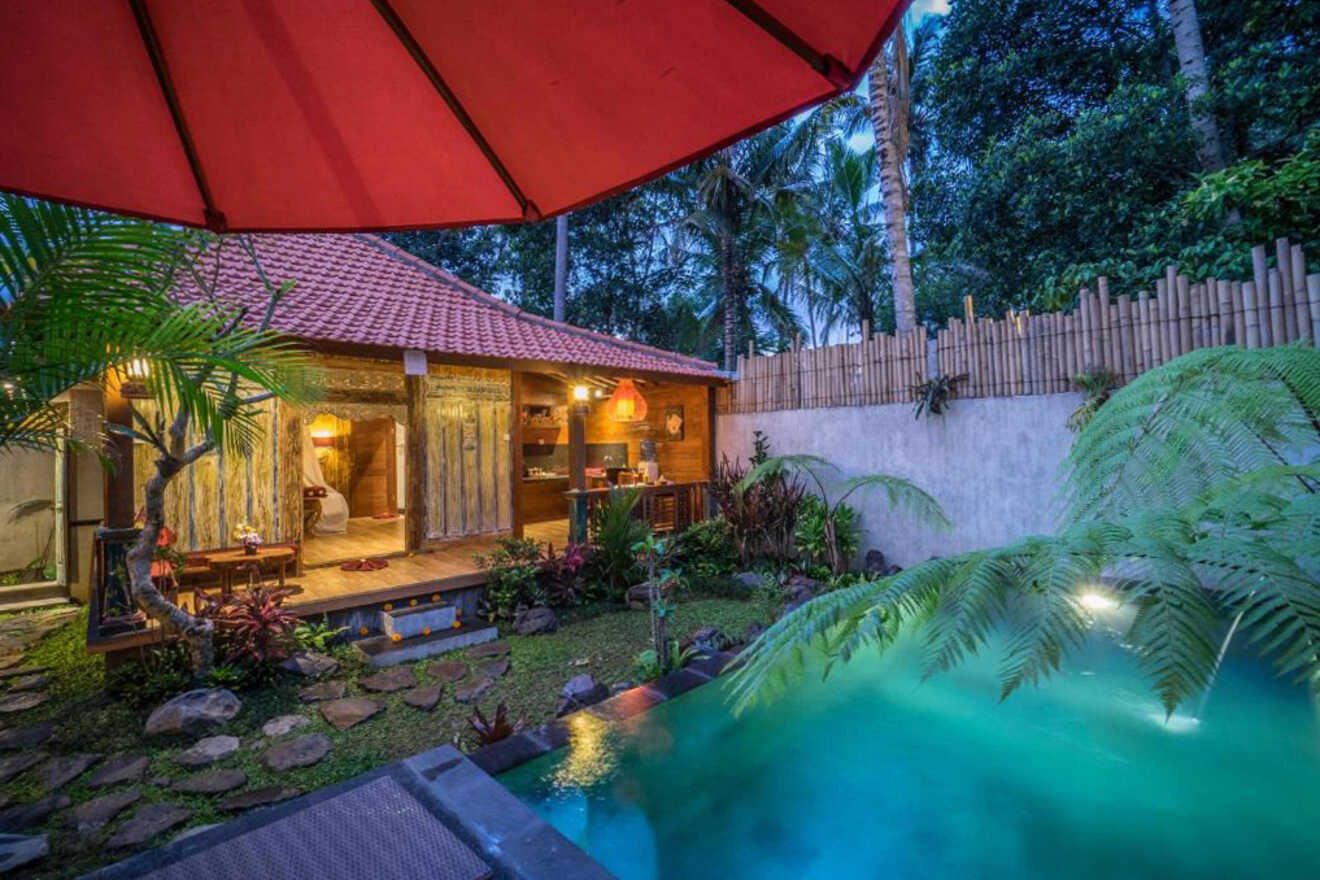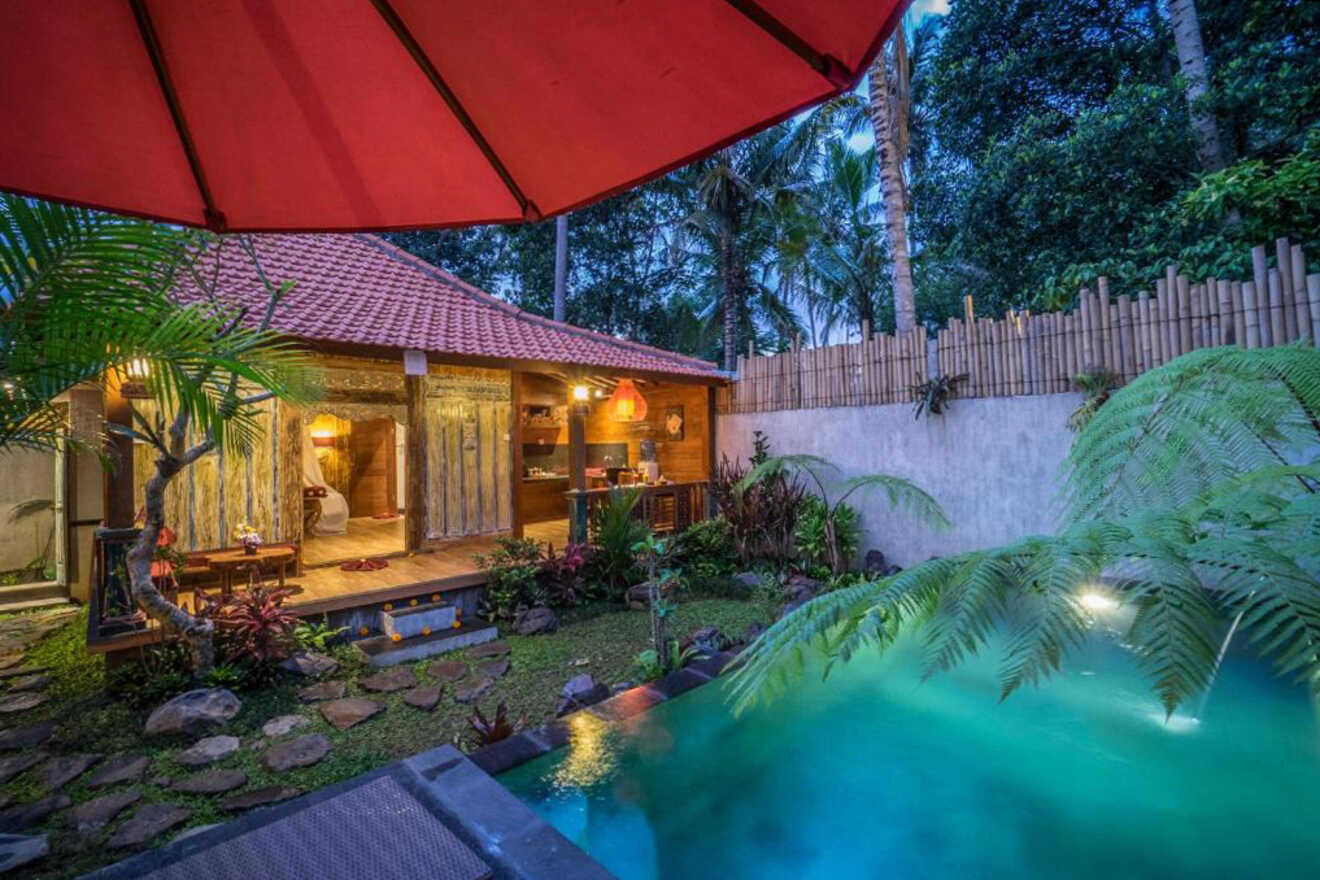 The options in Ubud are endless, so here is another mid-priced accommodation for your stay!

These cozy villas offer traditional Balinese-designed rooms with incredible views of the lush garden and, of course, an outdoor swimming pool. The villas also offer an on-site Bidadari restaurant where you will be served exquisite European and Indonesian dishes!
3. Budget accommodation in Ubud (up to US$100)
If you thought traveling to Bali on a budget meant that you had to skimp on the quality of lodging, you are mistaken! You can find awesome stays and stunning properties where you can experience a good Balinese trip and outstanding service.
Anyway, many good budget accommodations can be found in the Panestanan area of Ubud, just around Raya Sayan or Yoga Barn.
Below I have found the best Ubud accommodation on a budget so you can save money and spend it on yummy breakfast and yoga lessons at The Yoga Barn!
3.1 Puri Kobot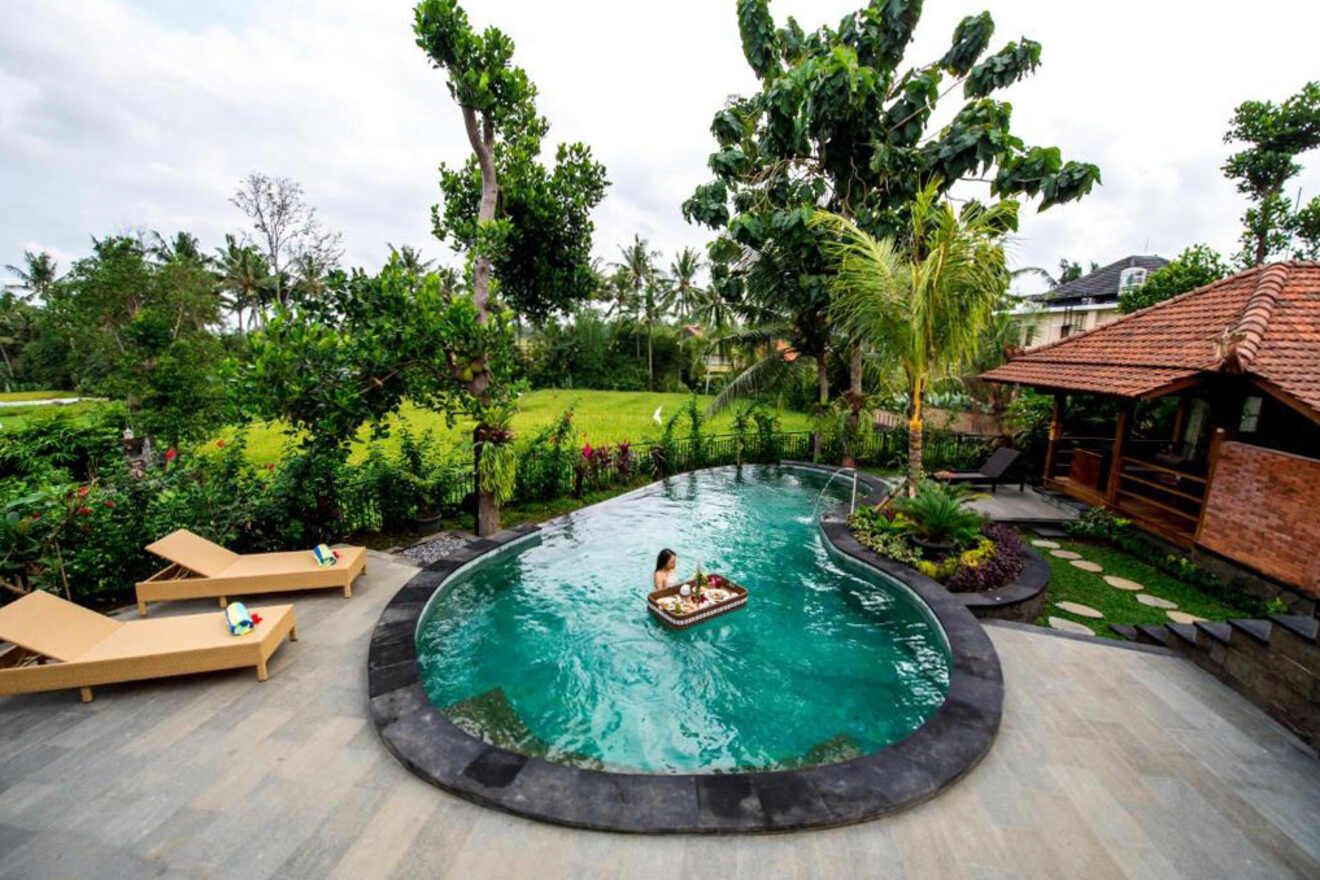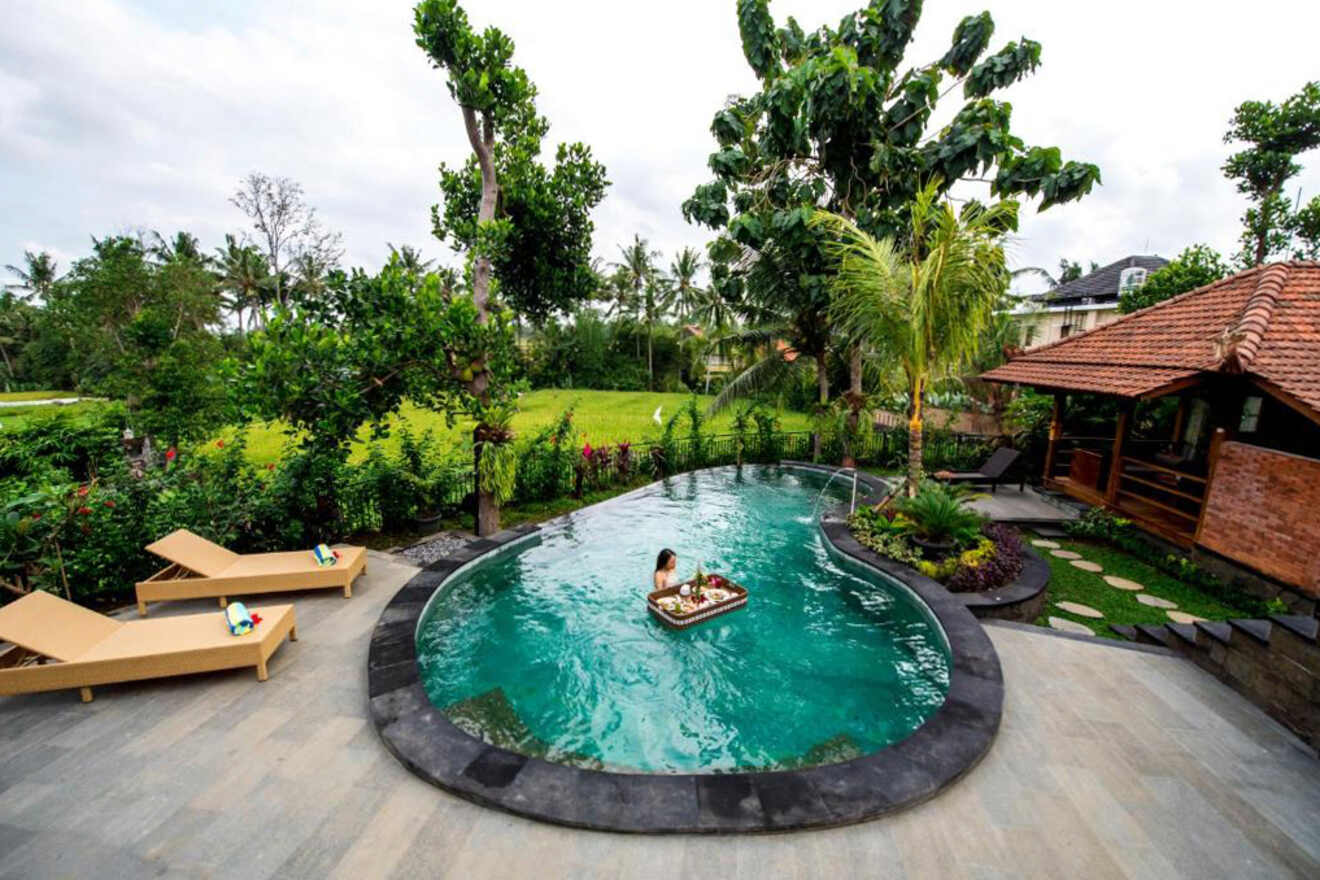 This amazing and affordable guest house features a garden, terrace, and pool where you can have an incredible floating breakfast to start the day!
Thanks to its amazing location, you will be super close to many dining options if you are looking to explore Ubud! And back at the hotel, enjoy affordable yet elegant rooms and an outdoor area that makes it one of the best budget Ubud hotels!
3.2 Angsoka Bungalow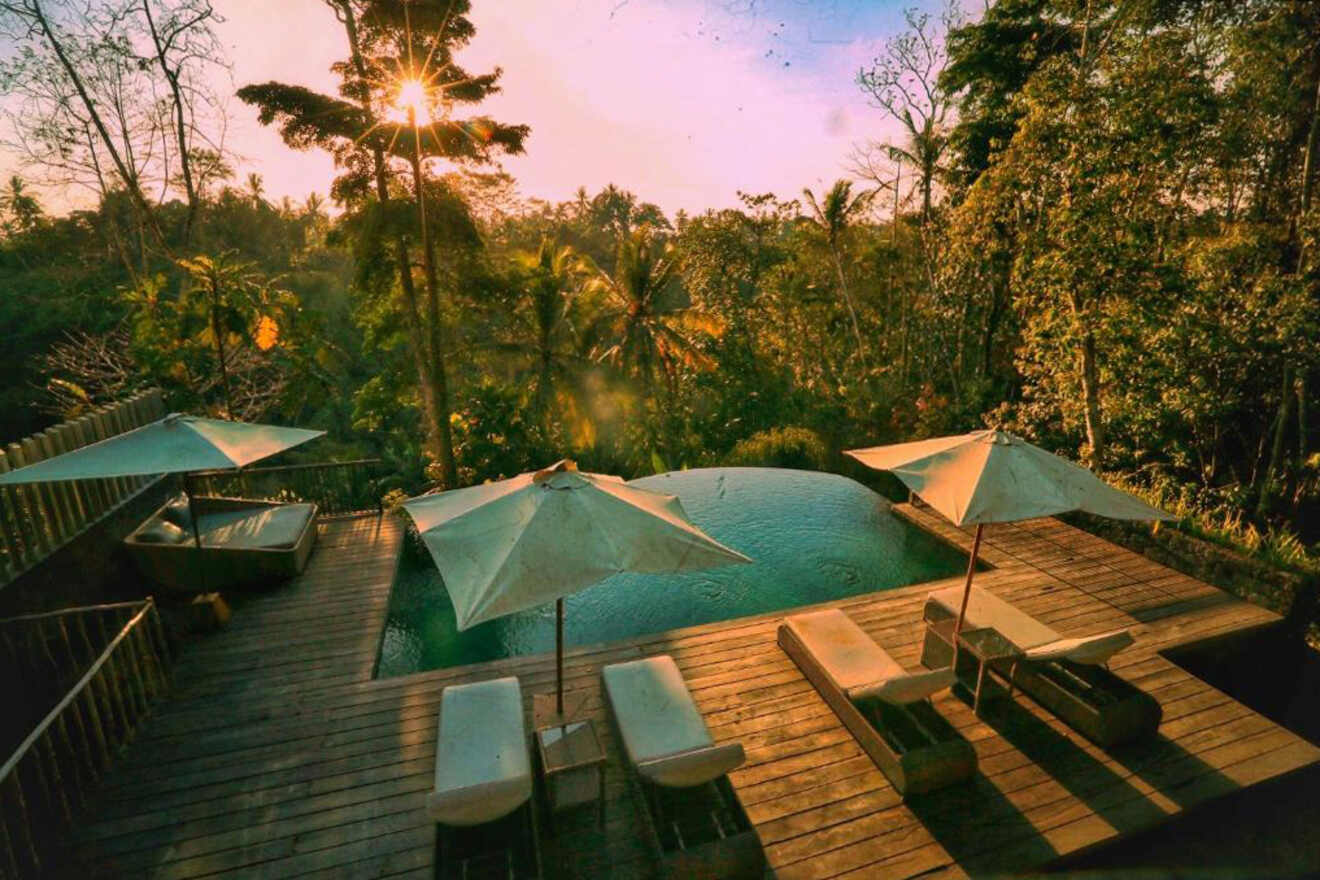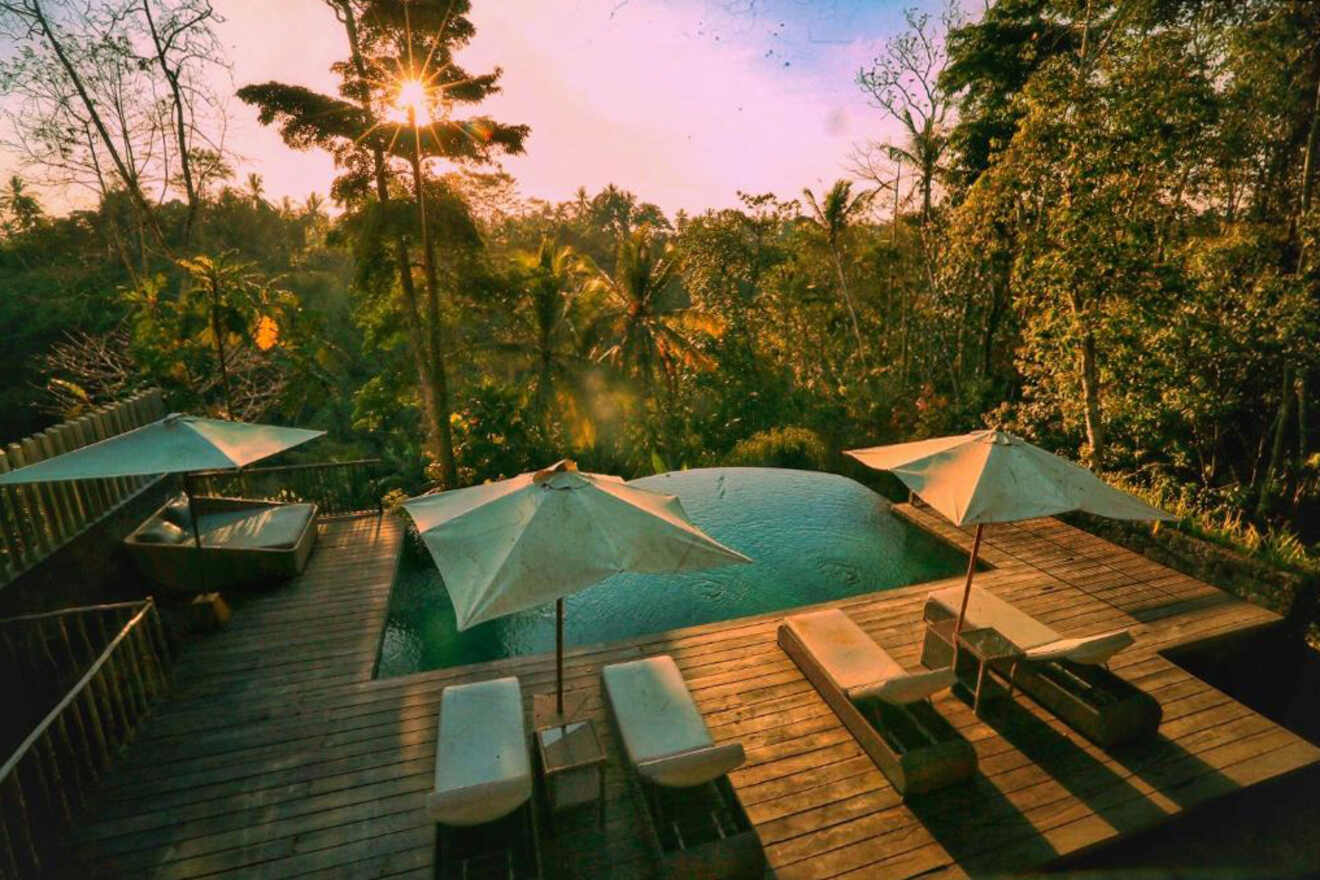 The excellent location in the heart of Ubud is only one of the reasons why this boutique hotel will be a highlight of your trip!
Located amidst lush tropical gardens, Angsoka offers Balinese-style accommodation above the Petanu River. And the rooms are simply superb! They feature either a private terrace or a balcony where you will overlook the landscaped gardens!
3.3 Ubud Aura Retreat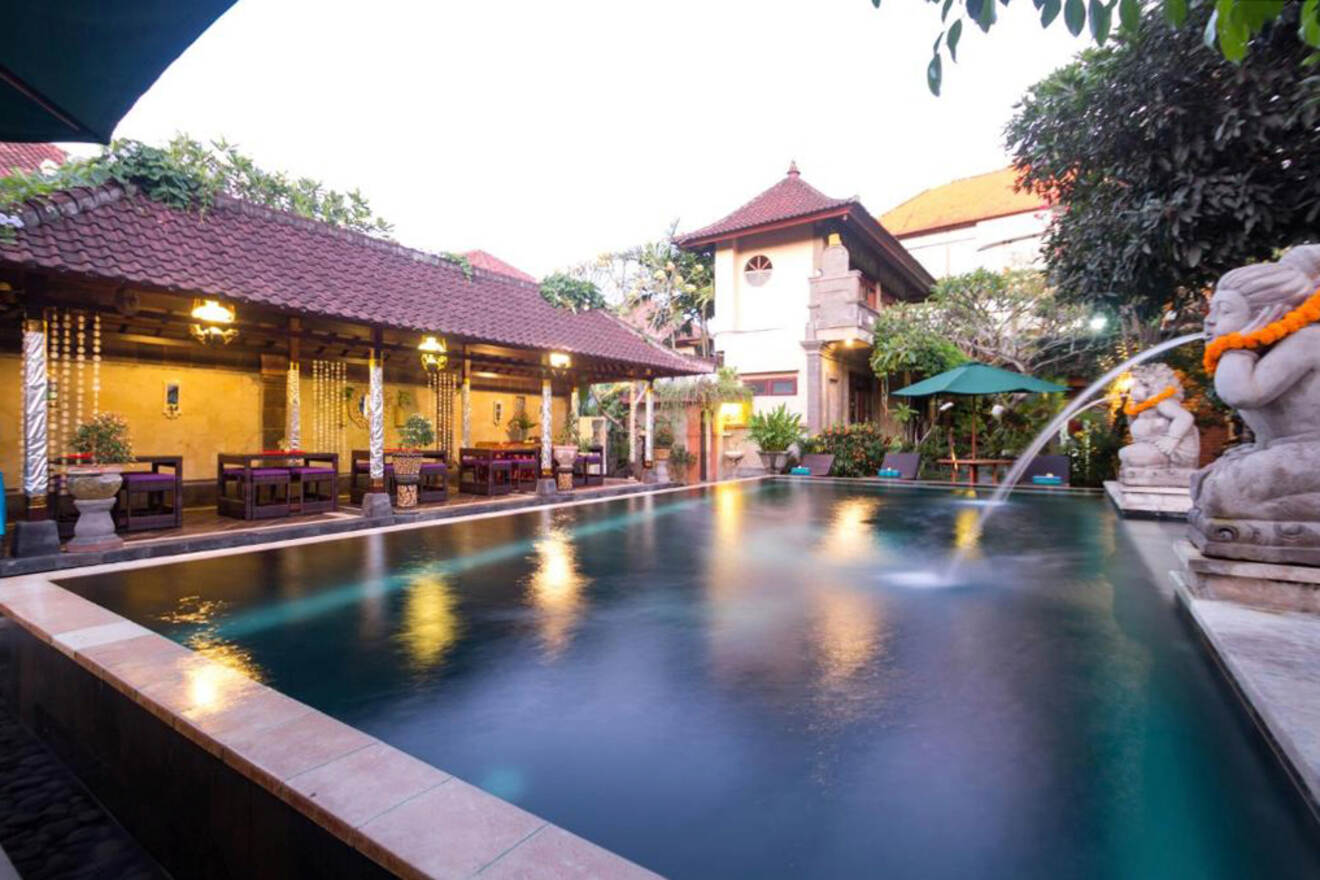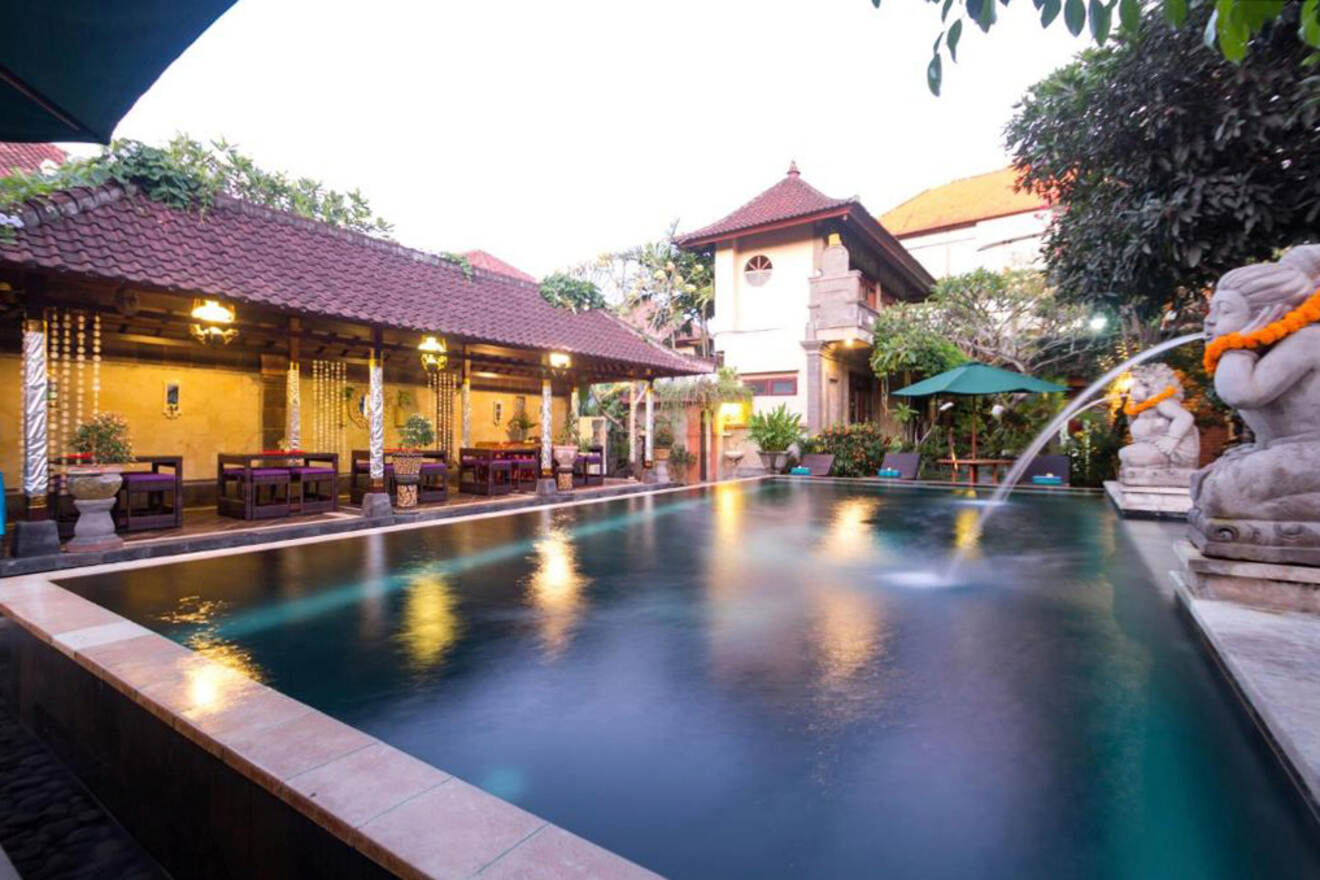 In this retreat, you will find so many benefits you won't believe for the price! Located less than 1 km away from Monkey Forest, you will have an on-site restaurant, free private parking, an outdoor swimming pool, a garden, and of course, free Wifi.
If that is not enough to convince you that this is one of the best budget hotels in Ubud, let me tell you that bike and car hire are available inside the hotel too, so you don't even need to worry about organizing a thing! What else can you ask for?
3.4 Taman Amartha Villa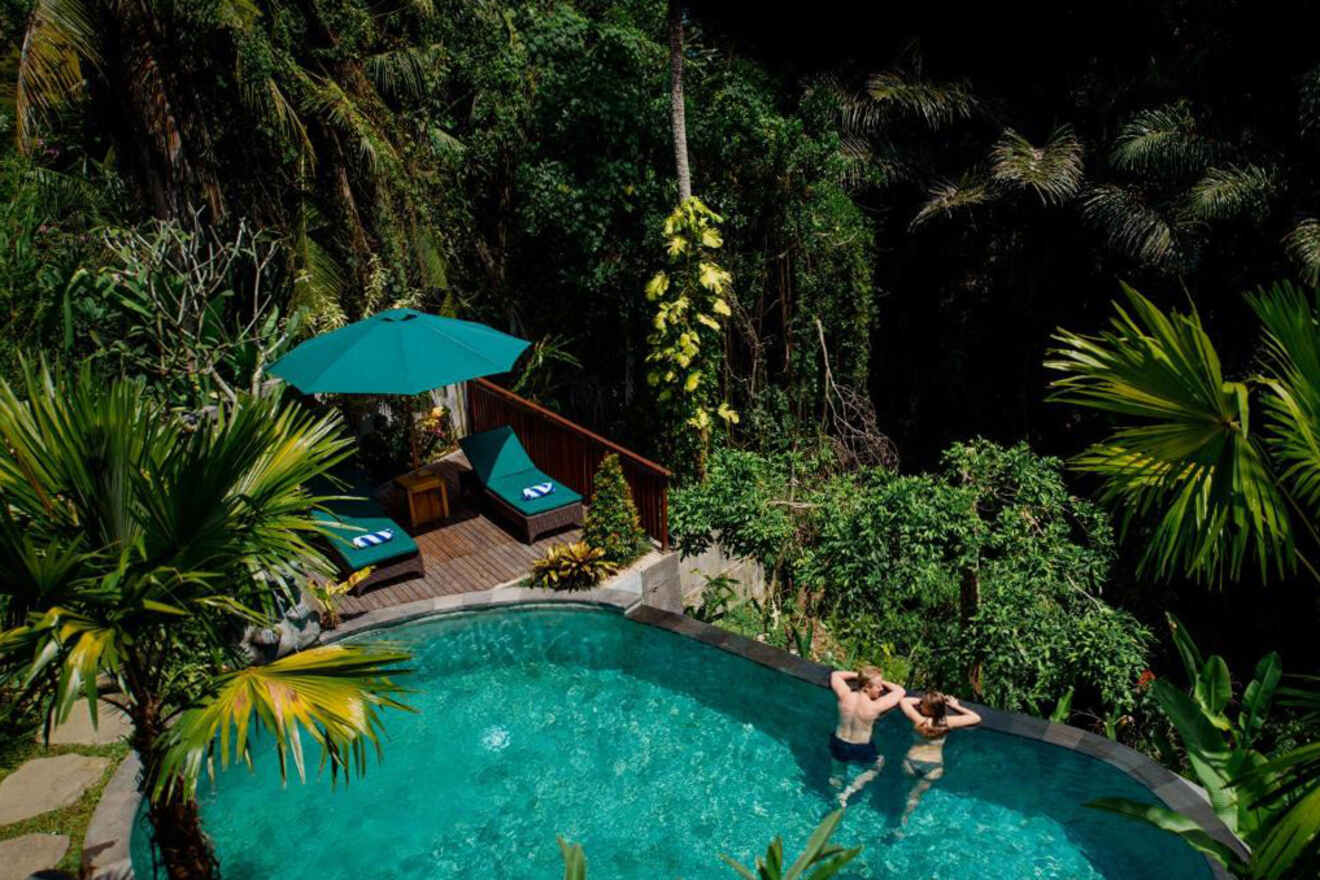 This amazing budget villa is the best option for you if you are looking to save some money but still want to experience the Balinese culture! The villas have amazing, cozy, and modern rooms and overall architecture!
Plus, if you decide to stay here, you will enjoy the seasonal outdoor swimming pool, a garden, a terrace, and an on-site restaurant that serves continental breakfast in the morning and European and Asian cuisine as well!
BONUS 1: Where to stay in Ubud on your honeymoon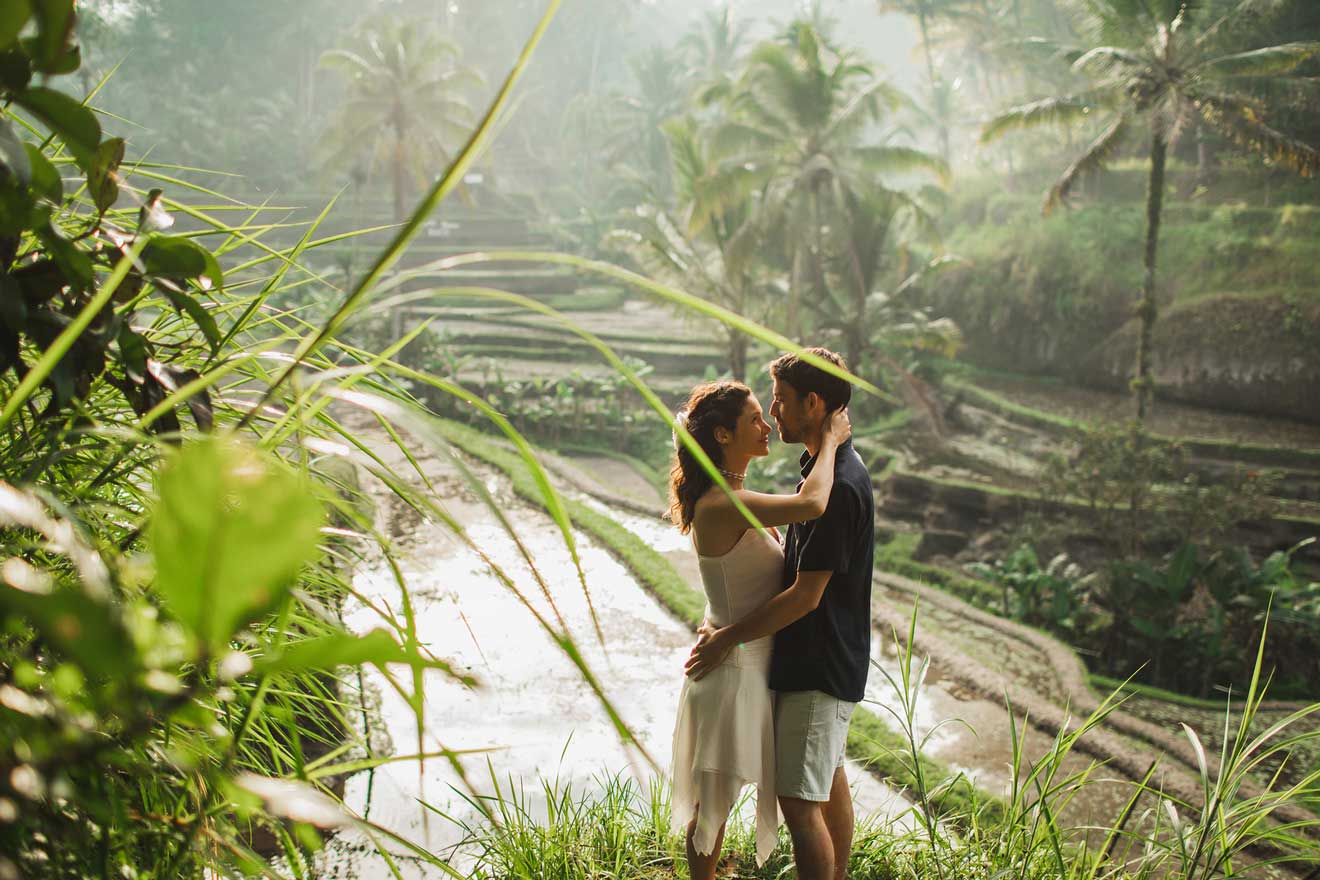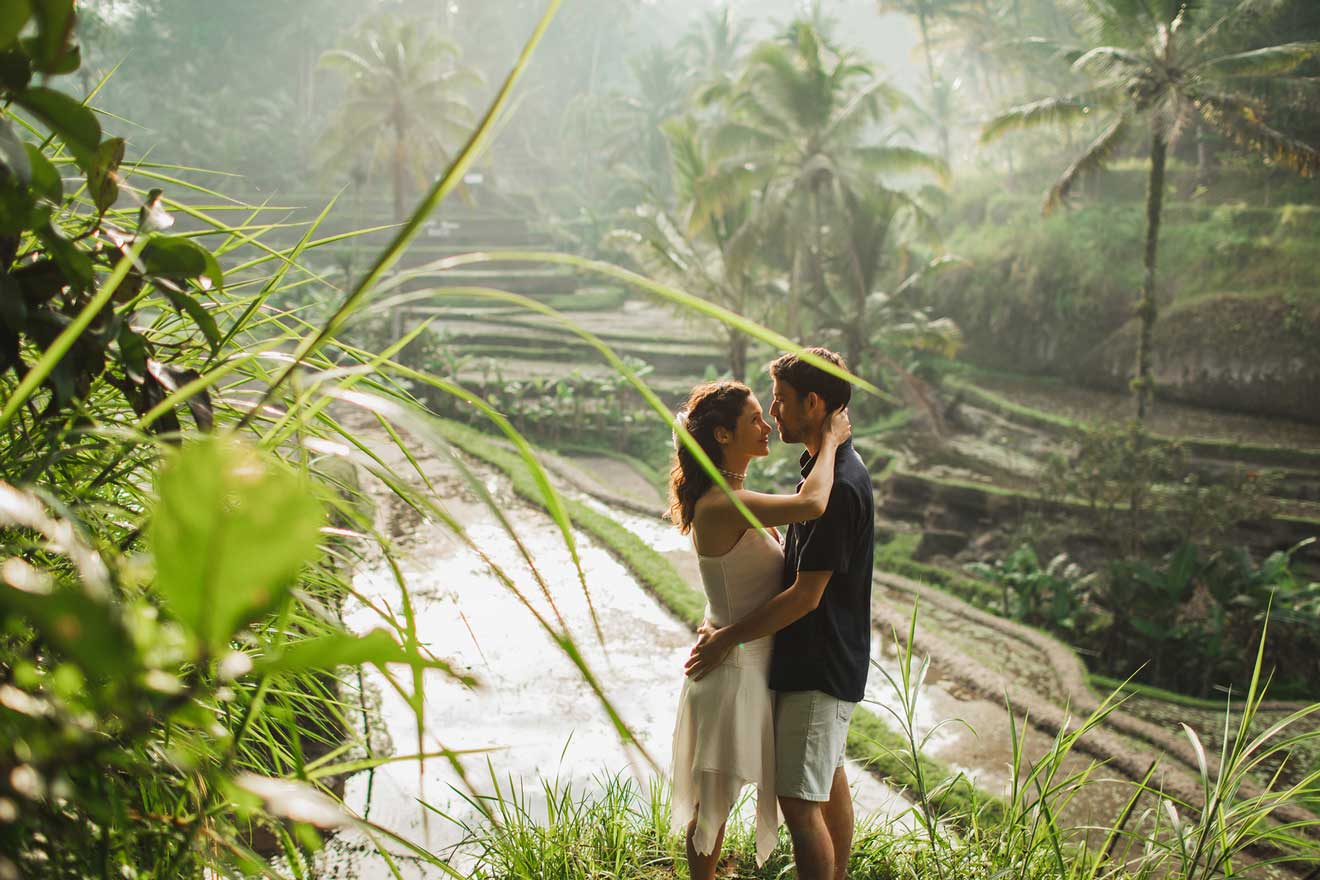 One of the best international destinations for honeymooners is, without a doubt, Ubud, Bali! Experience the island's magic with your partner. You won't regret it.
If you're heading to Ubud on your honeymoon, first of all, congratulations! And second of all, great choice!
Ubud is a fantastic destination to experience with your loved ones, from exploring the dreamy rice fields and mountains to getting some relaxing Balinese massages.
Ubud is perfect for those looking for fun activities while treating themselves to some wellness and alone time with your other half!
And by the way, with the stunning landscape surrounding Ubud and the incredible number of cool swings, you're bound for some great honeymoon snaps.
Four Seasons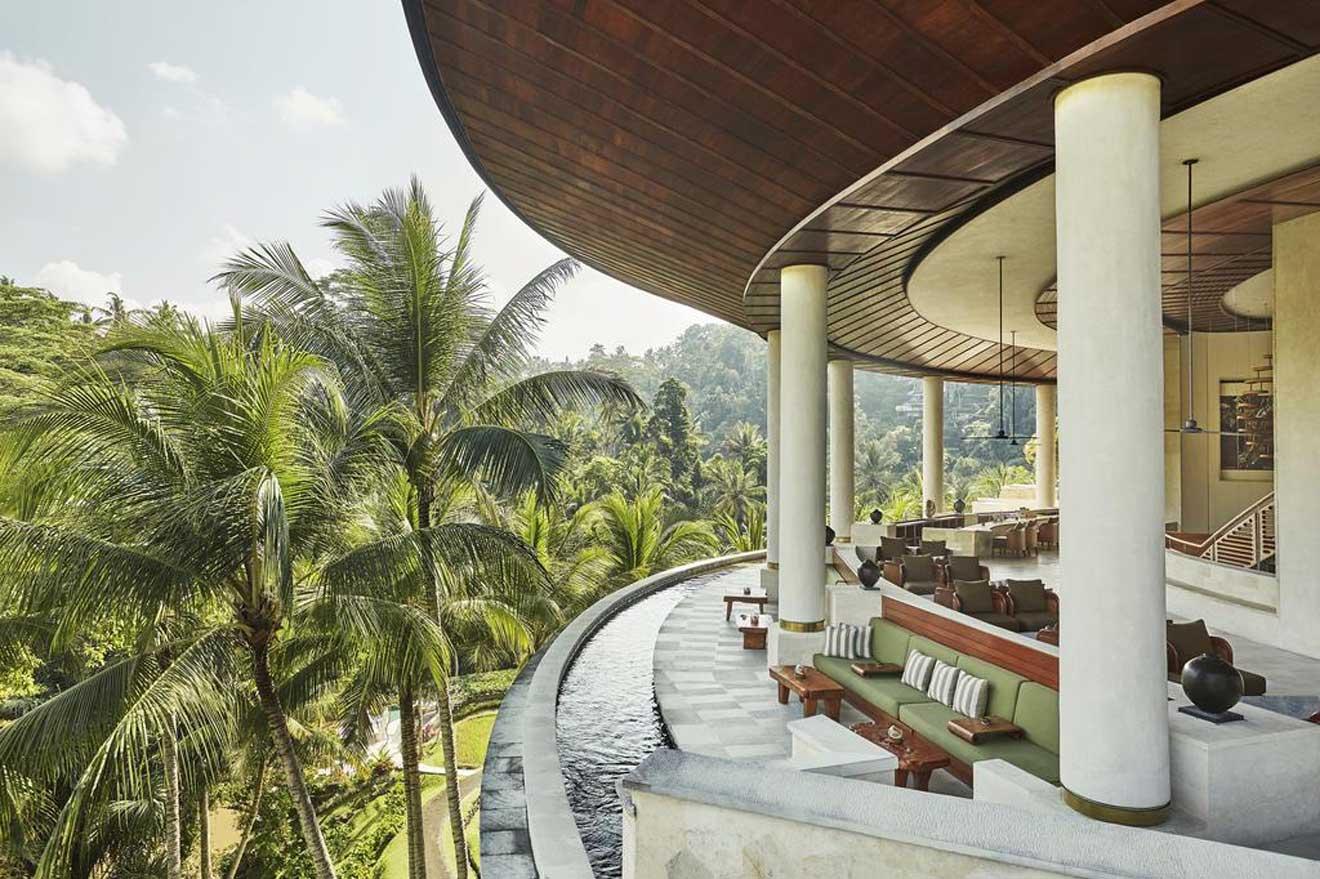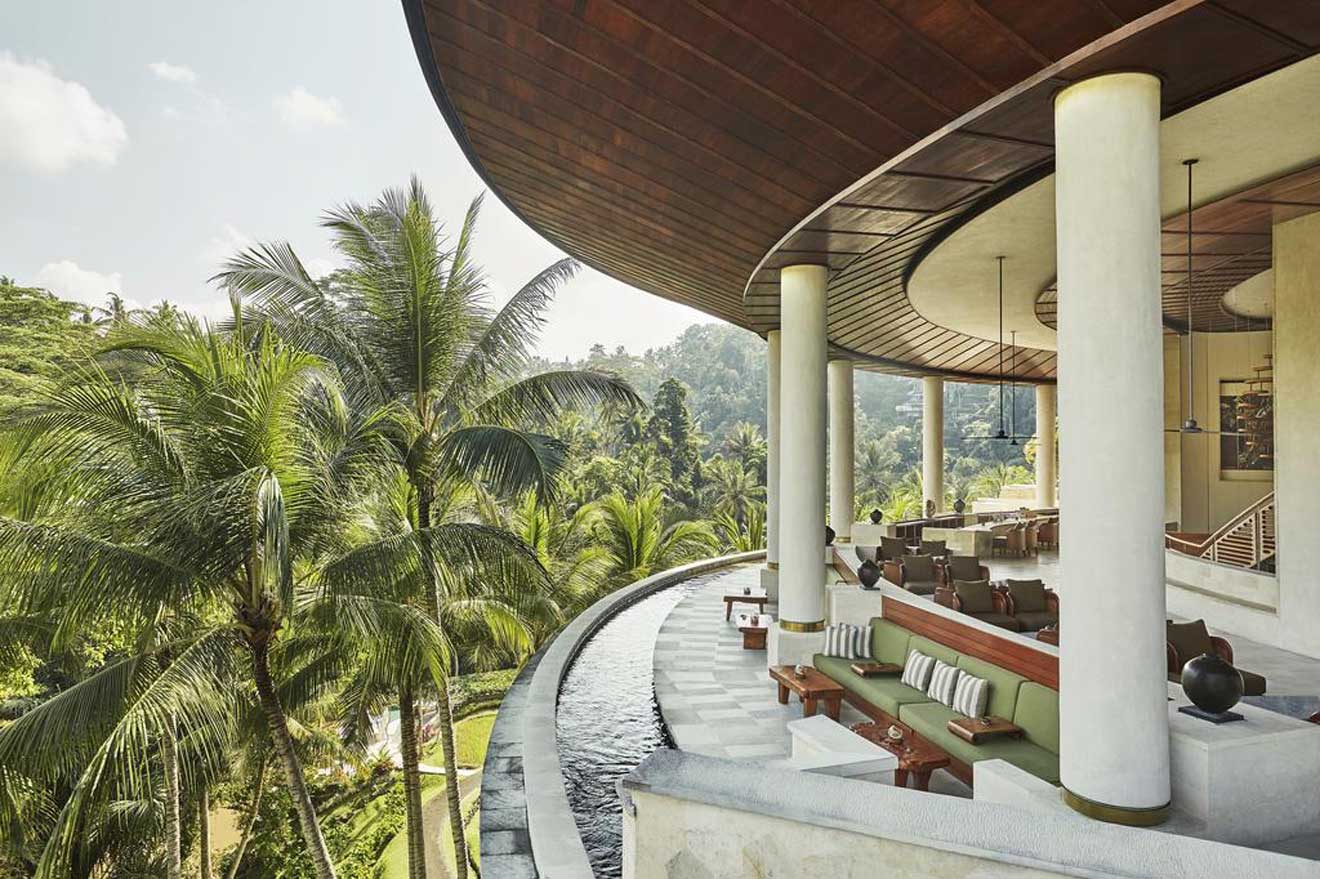 Probably the most luxurious resort in Ubud and, overall, the best resort in Bali. The Four Seasons in Bali, Ubud, is set amidst the Balinese jungle with hanging gardens, offering delicious food in the four on-site restaurants, spa treatments, and even yoga and cooking classes.
You will have access to 4 dining options, an outdoor pool, and a gym! The only downside is that you will never want to leave!
The Udaya Resort and Spa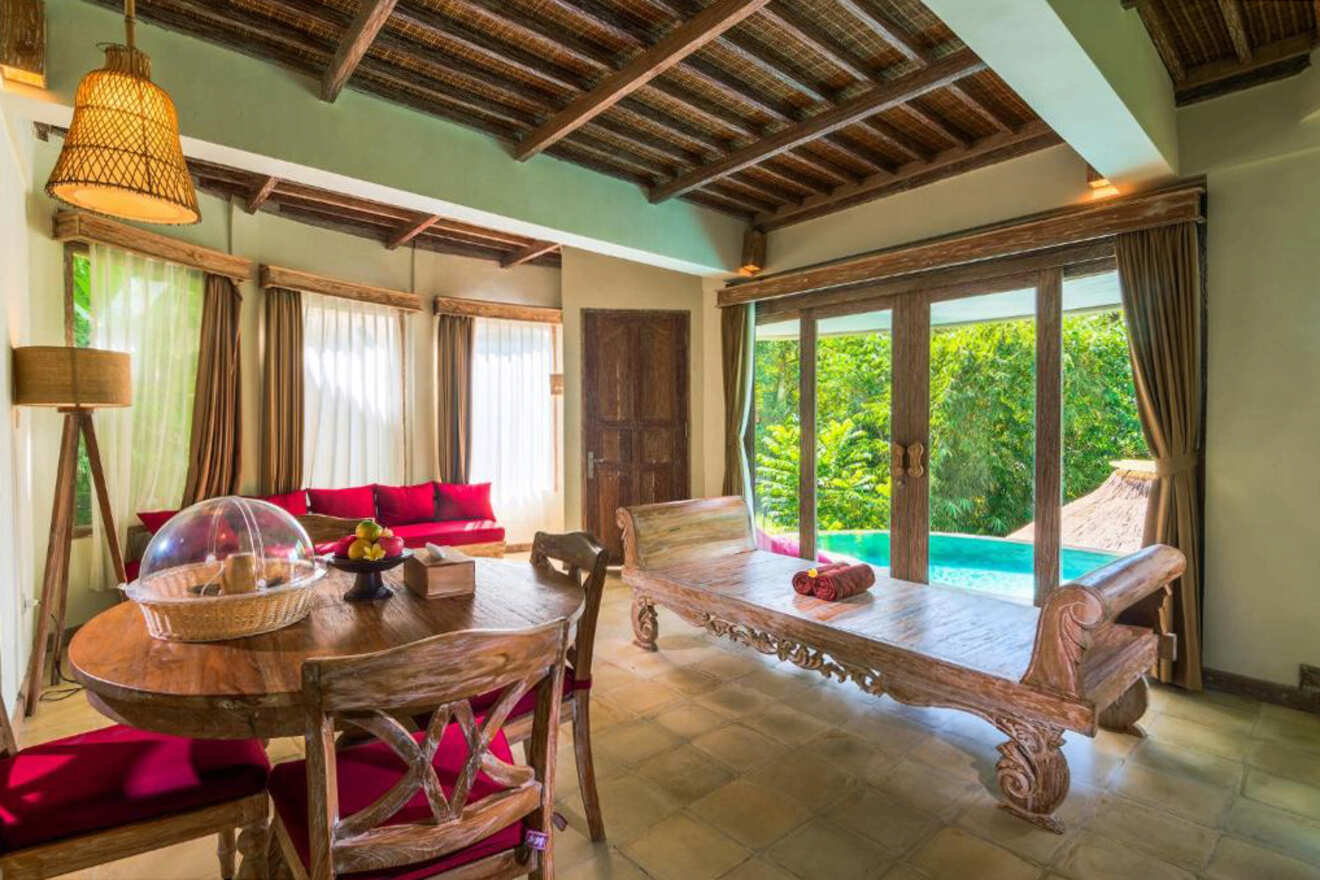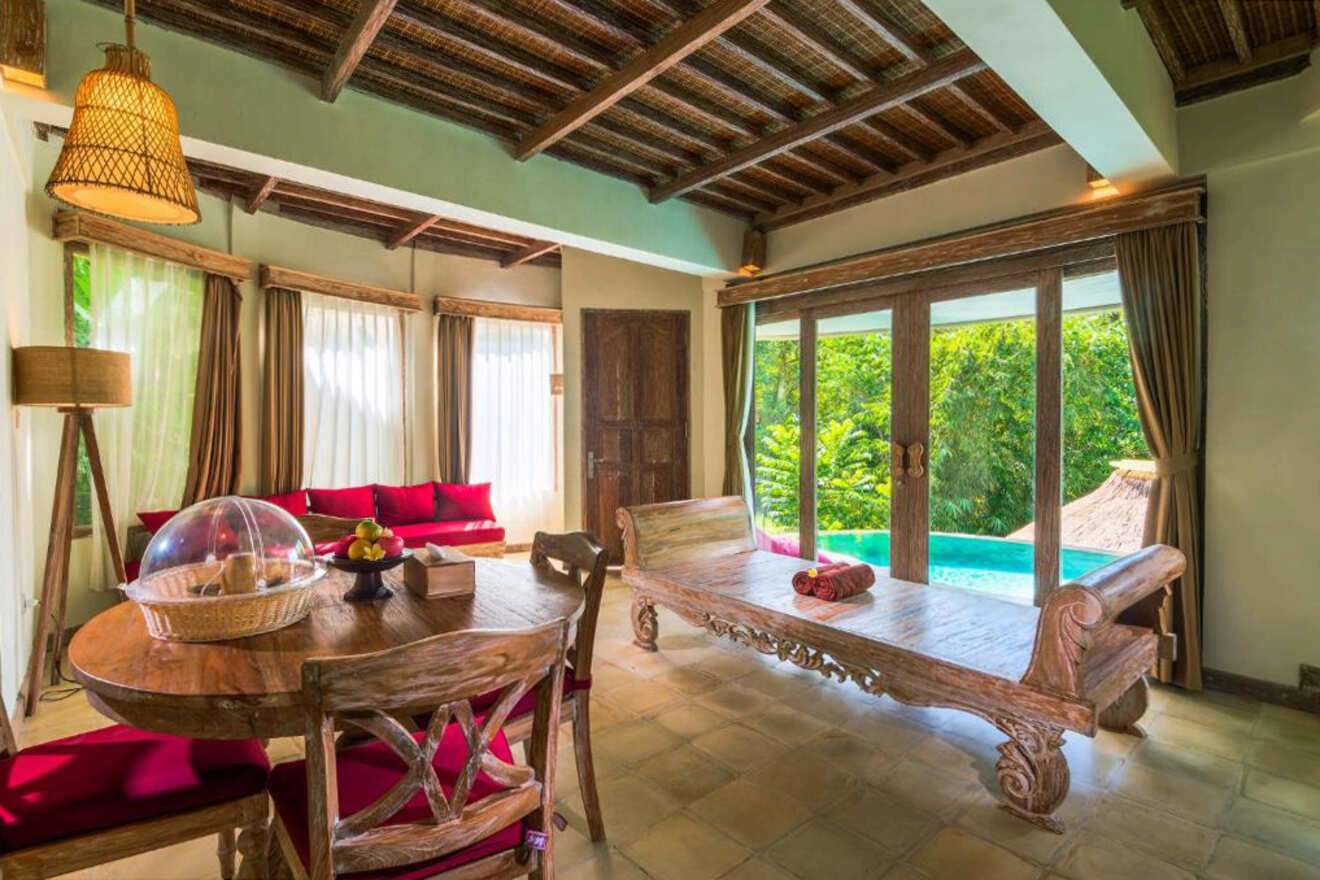 If you're looking to spend the first few days of your married life in a jungle oasis, sipping on a cocktail in the infinity pool while you listen to the sounds from the Balinese wildlife, you will love Udaya Resort.
This is one of the best Ubud hotels, not only because of its amazing amenities, it also has an incredible on-site restaurant where you and your loved one can try the delicious Balinese and Indonesian dishes.
The Kayon Resort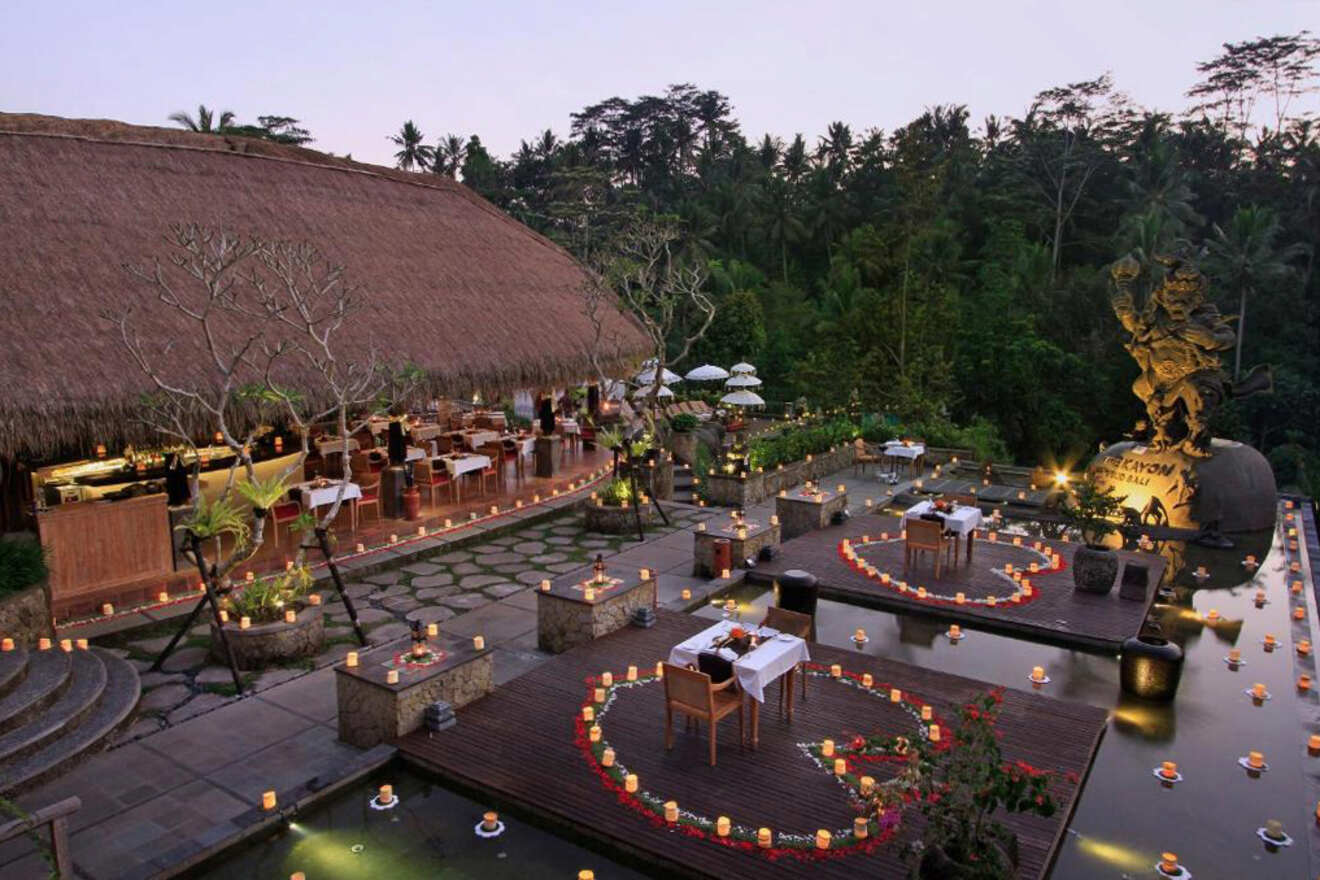 Couples love to stay in Ubud at this resort, one of the best 5-star hotels in Ubud, Bali! Featuring rooms and villas with views over the Petanu River, this property is one of the best options for your honeymoon.
After a long day, you can chill at the infinity pool or toast with your partner at the on-site bar. If you are looking for a fancier option, you can enjoy dining fusion dishes at KE-PI-TU restaurant, which features an incredible Balinese royal setting.
Things you should know before renting accommodation in Ubud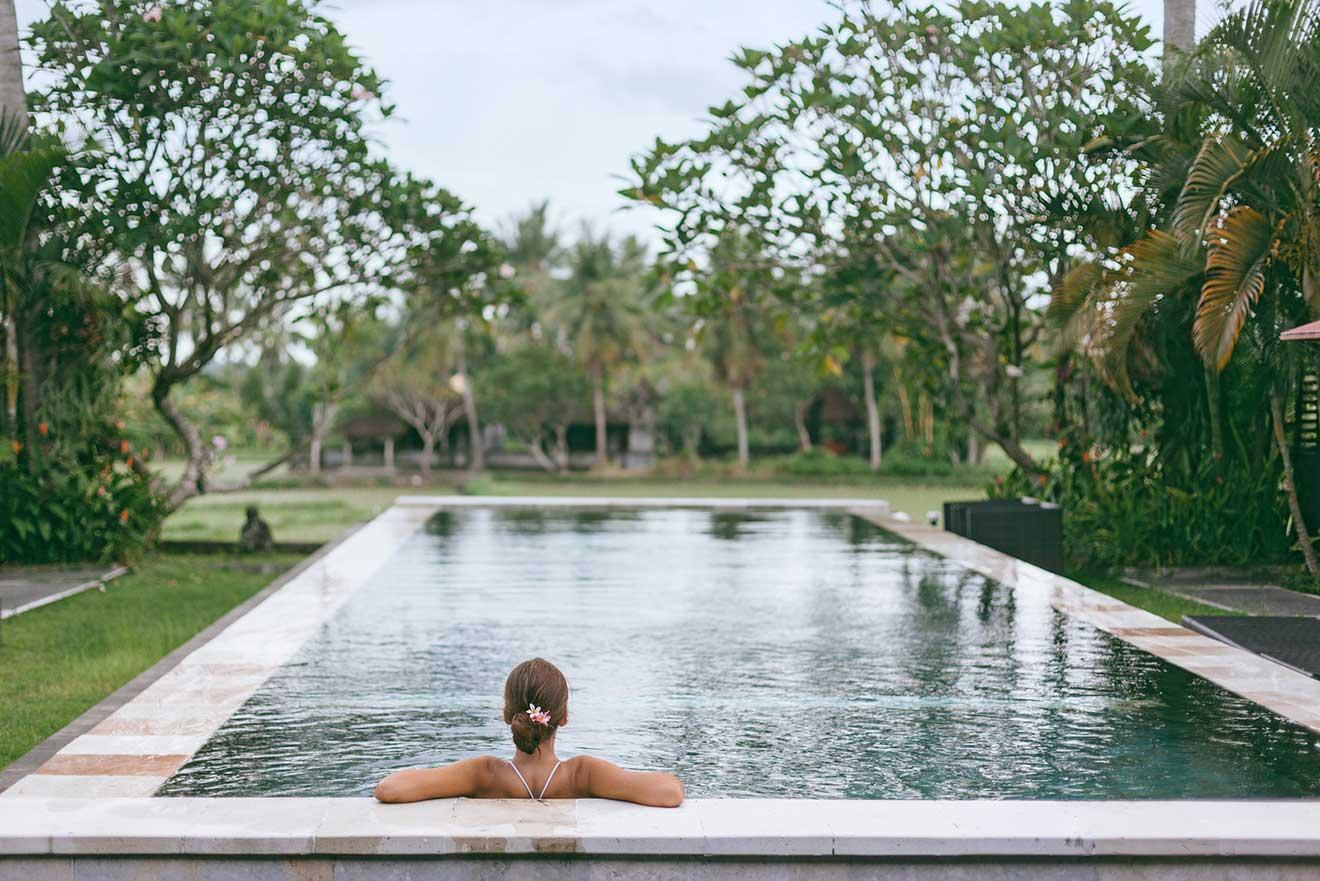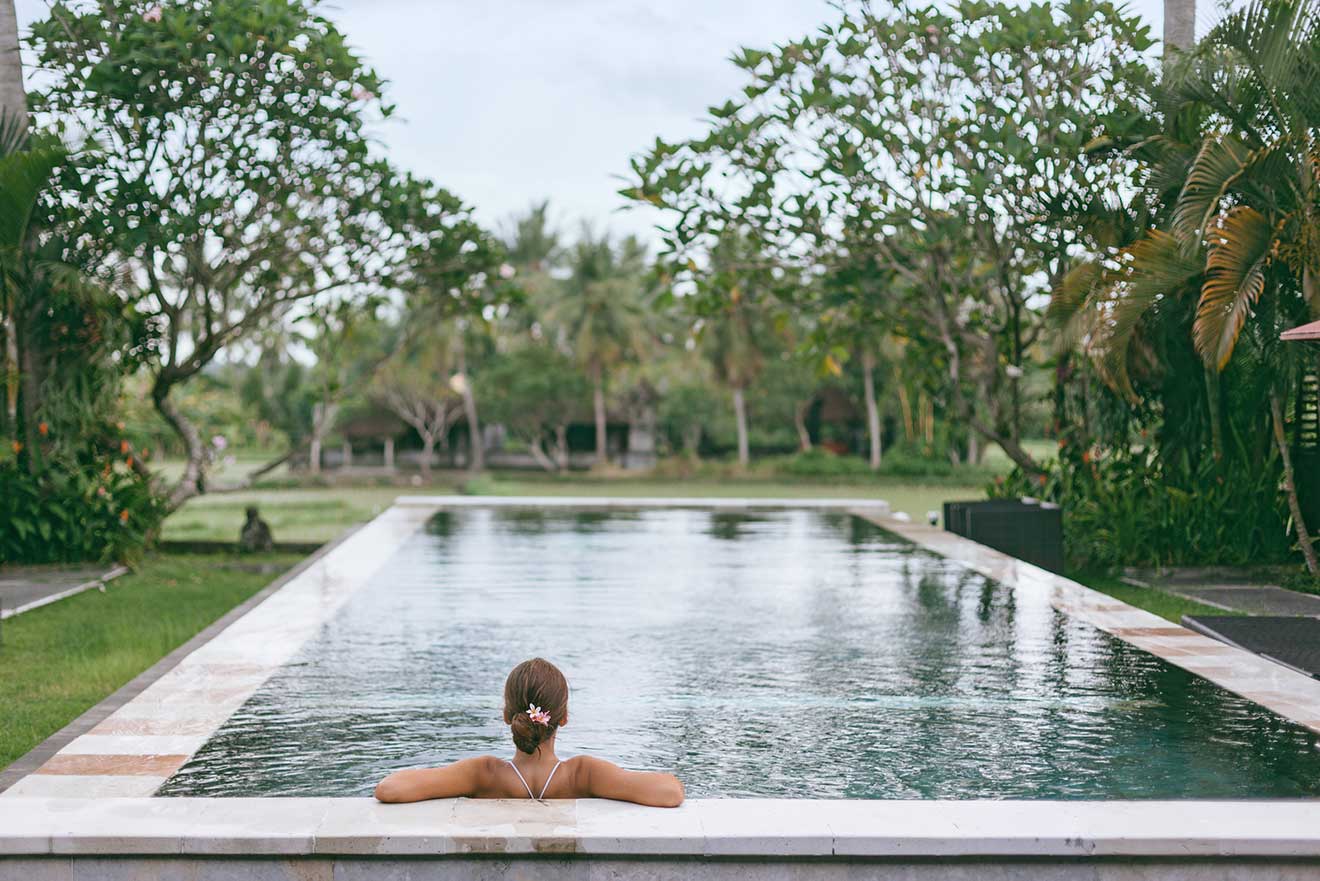 There are a couple of things that I wish I had known before I decided on where to stay in Ubud. Looking for accommodation in Bali is quite difficult, the array of choices is so wide that it can become really overwhelming.
However, there are a couple of tricks to narrow down your search, first of all, have a read of this post right here and for the other tips, just check them below!
Why do you need to book in advance and do your research carefully?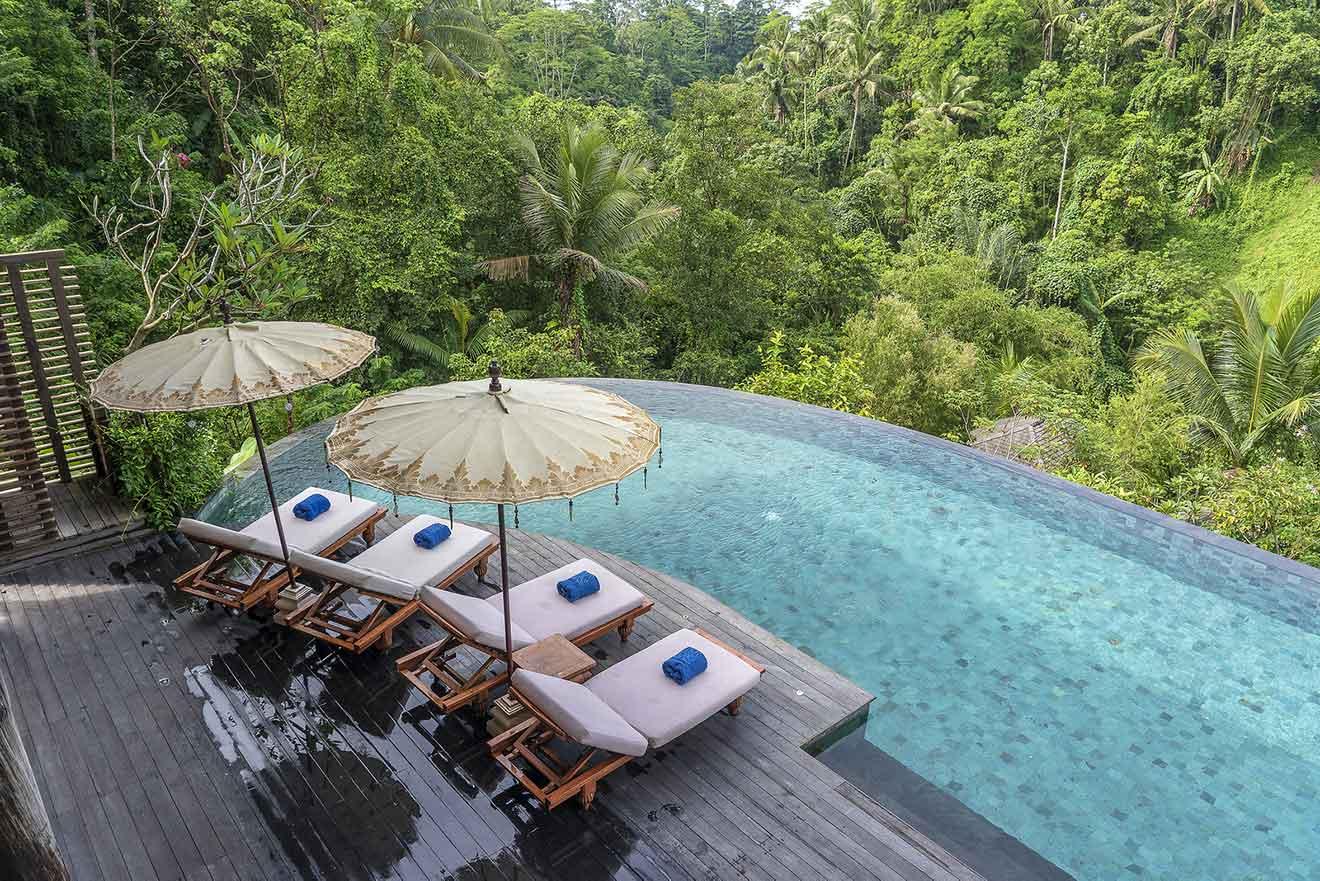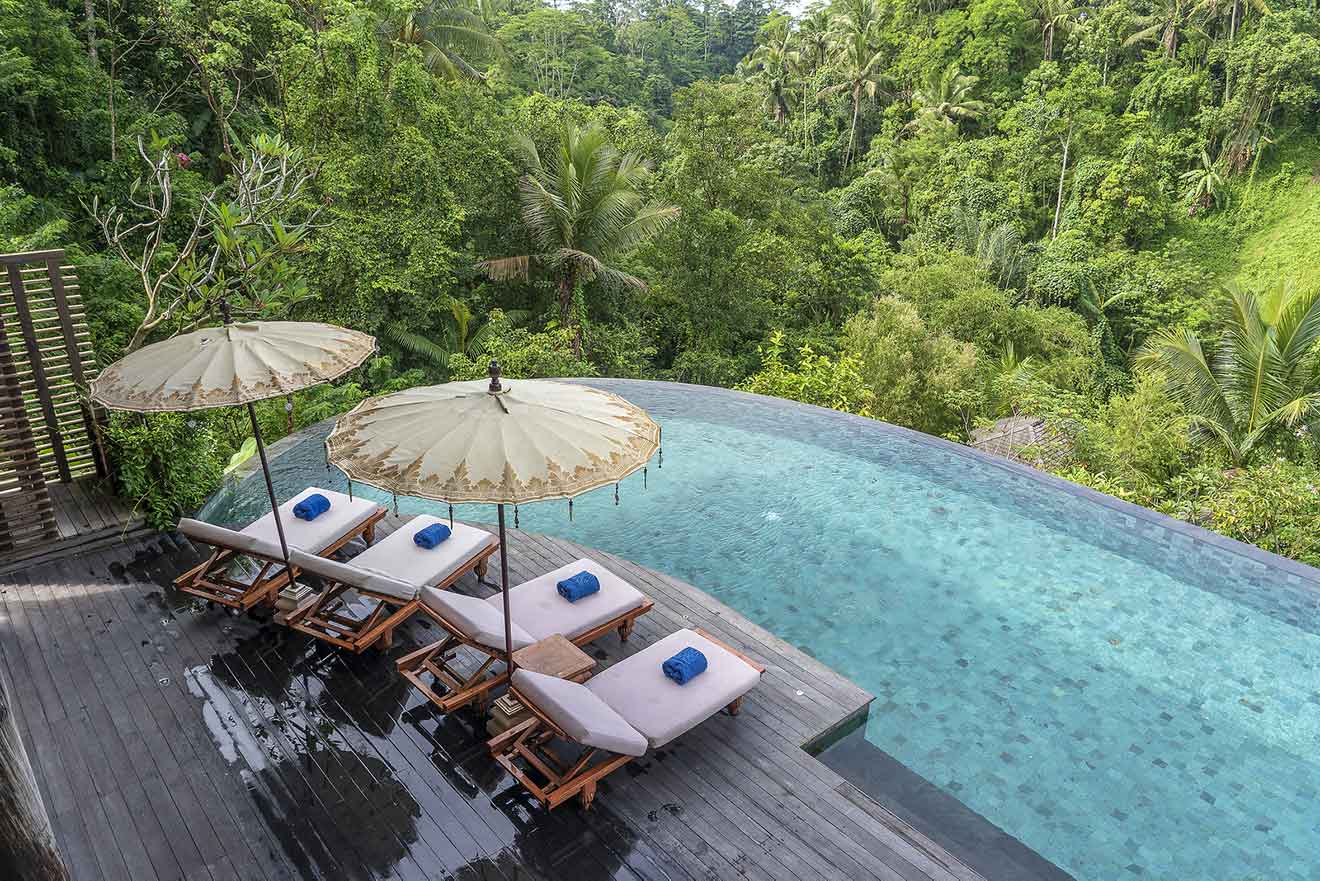 Ubud is becoming quite a popular destination amongst all types of travelers, from backpackers to digital nomads; this place is pumping with short and long-term visitors!
The service level is still at the development stage over there, and booking an expensive hotel won't necessarily mean you will get excellent service. So I would recommend paying close attention to the score of the hotel but also the reviews.
Trust me, I lived in Ubud for many months and stayed in many hotels over there, I definitely noticed the trend. Hotel owners decide it is going to be an expensive (mid-price) hotel, but completely forget to adjust the level of service they offer over there (due to lack of experience I guess).
But don't worry, you can be sure we have listed the best hotels to ensure you receive the service you are paying for. I told you, you are on the right site to help you decide where to stay in Ubud!
Other important points to take into consideration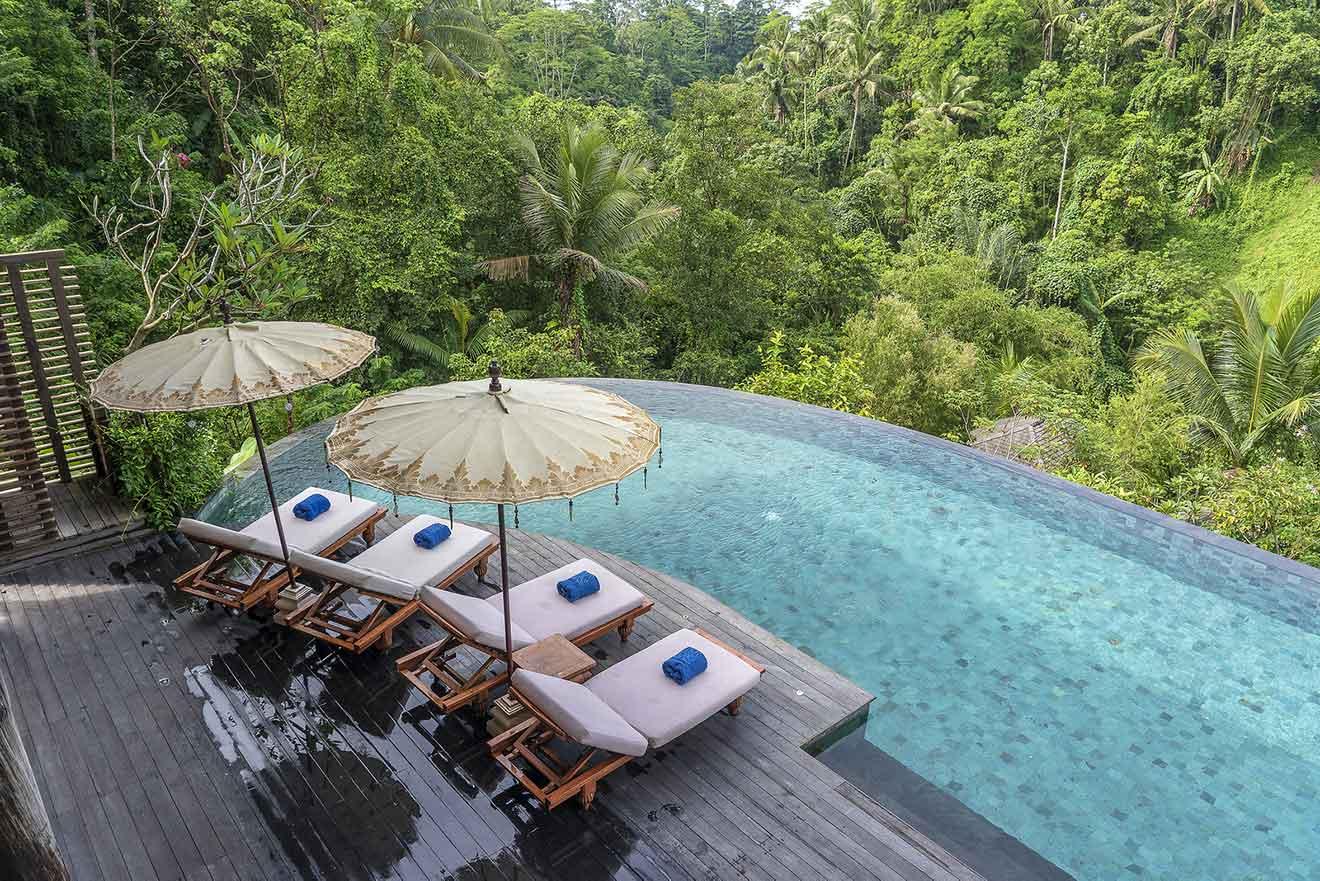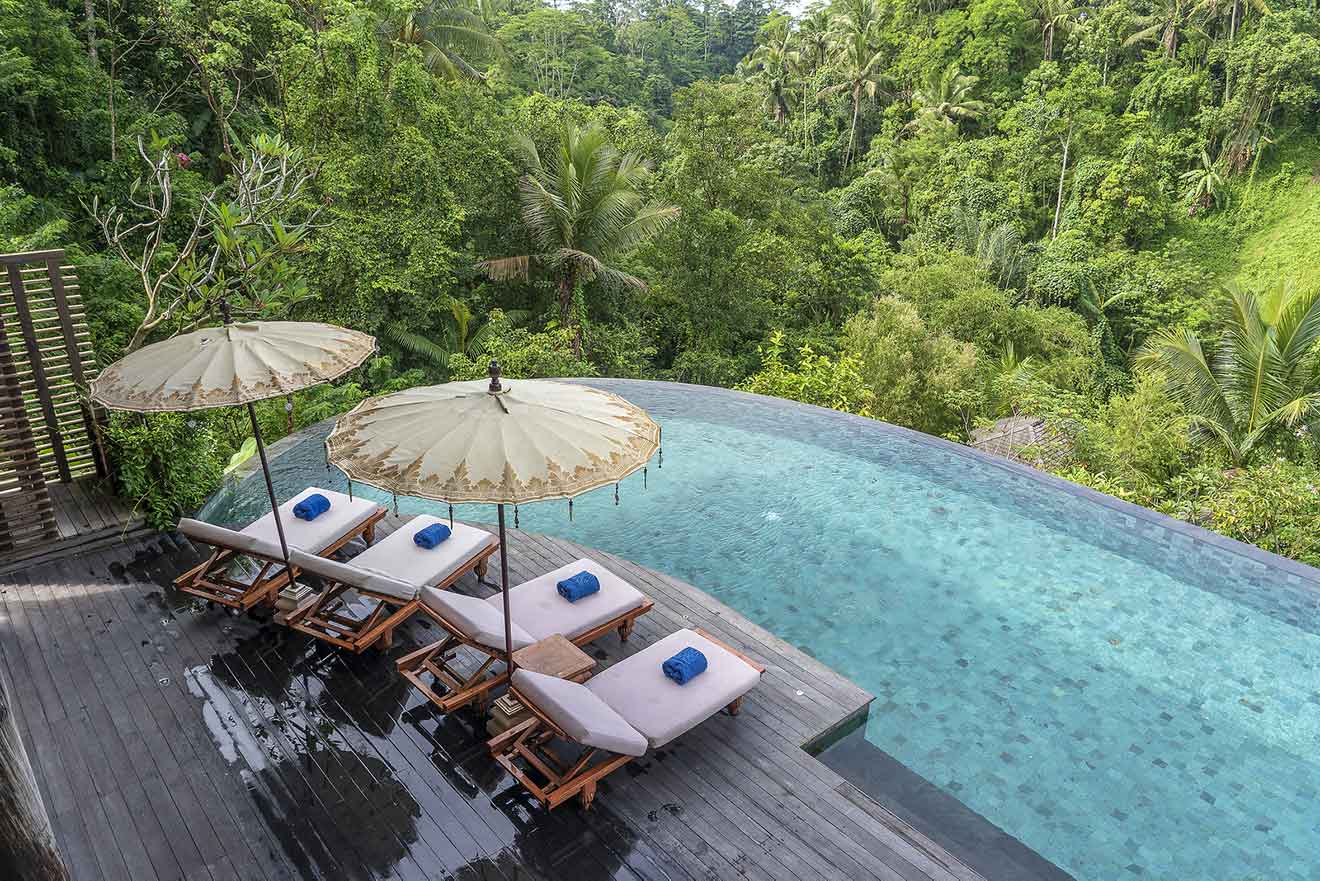 Aside from booking your accommodation early, here are some more tips and tricks you should think about when organizing your trip!
Book an Airport transfer – The best way to move from the International Airport (DPS) to your hotel in Ubud is by an airport transfer, you can book your pickup here. There is basically no public transport here so unless you are renting a car, organize a transfer in advance to save you stress when you arrive.
Pack good shoes – Even if you think you will be lying by the pool 24/7, make sure to bring some good shoes (more than flip flops) for walking around the streets. Remember that Indonesia is still a developing country meaning the footpaths won't necessarily be in pristine conditions (and sometimes are non existent!).
Rent a car or driver – As I mentioned, public transport is also non-existent. So if you want the freedom of exploring the other parts of Bali on your own, I recommend you book a car rental in advance here to ensure you get a safe one. Alternatively, if you wish to book a driver, organize this through your hotel (not on the street) as this is the best way to get around safely.
Nyepi – If you plan to visit Ubud during March, be mindful of Nyepi, a Balinese Hindu celebration when everything in Bali shuts down for the day.
Visas – Finally, make sure to check the visa requirements before you book to avoid stress in your trip. Check if you need a visa here.
FAQs about where to stay in Ubud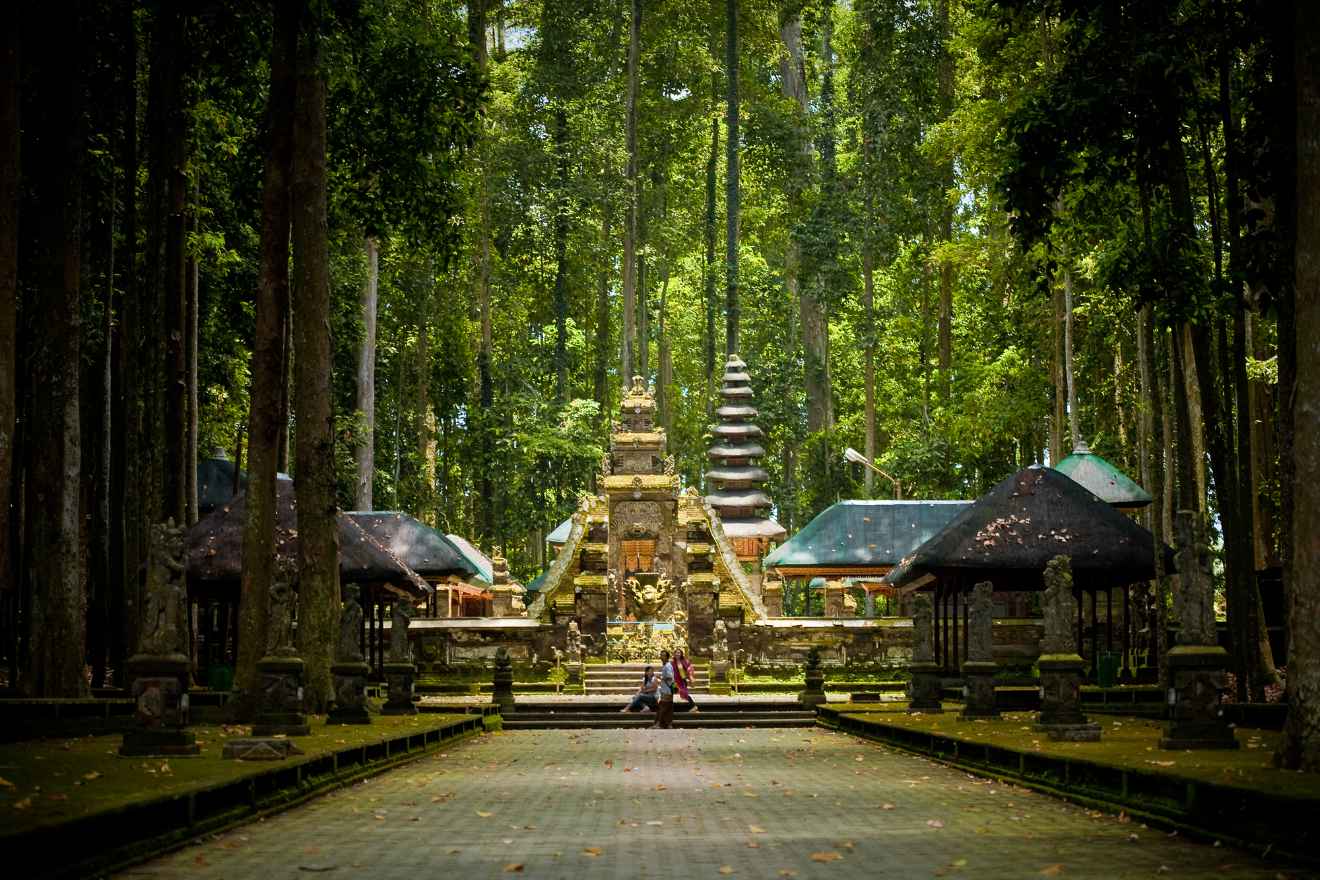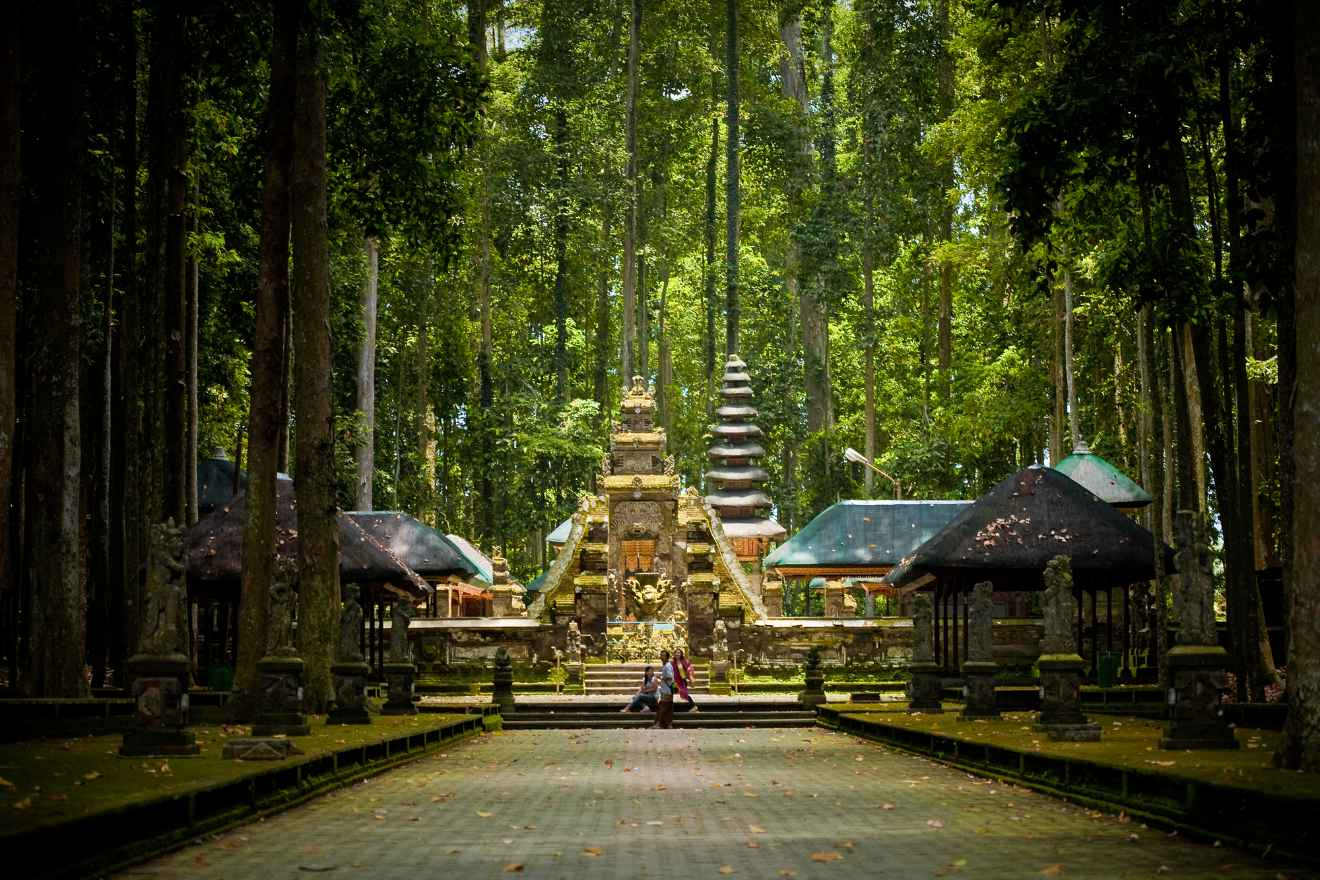 📍 What is the best area to stay in Ubud?
The best area to stay in Ubud is Raya Bunutan, you will find amazing hotel options and the landscapes are incredible! 
🏩 What is the best resort for honeymooners?
The best resort for honeymooners has to be the Four Seasons! It has out-of-this-world amenities and the service is 5-stars! 
👨‍👩‍👦 What is the best hotel for families?
The best hotel in Ubud for families is Calma Ubud, you will have spacious rooms! 
📅 How many days should I stay in Ubud?
3 days will be enough for you to explore Ubud and experience the things to do in the area!
🛵 How to get around Ubud?
There are a couple of options to get around Ubud; rent a car, rent a motorbike, grab a taxi or even a bike! 
Conclusion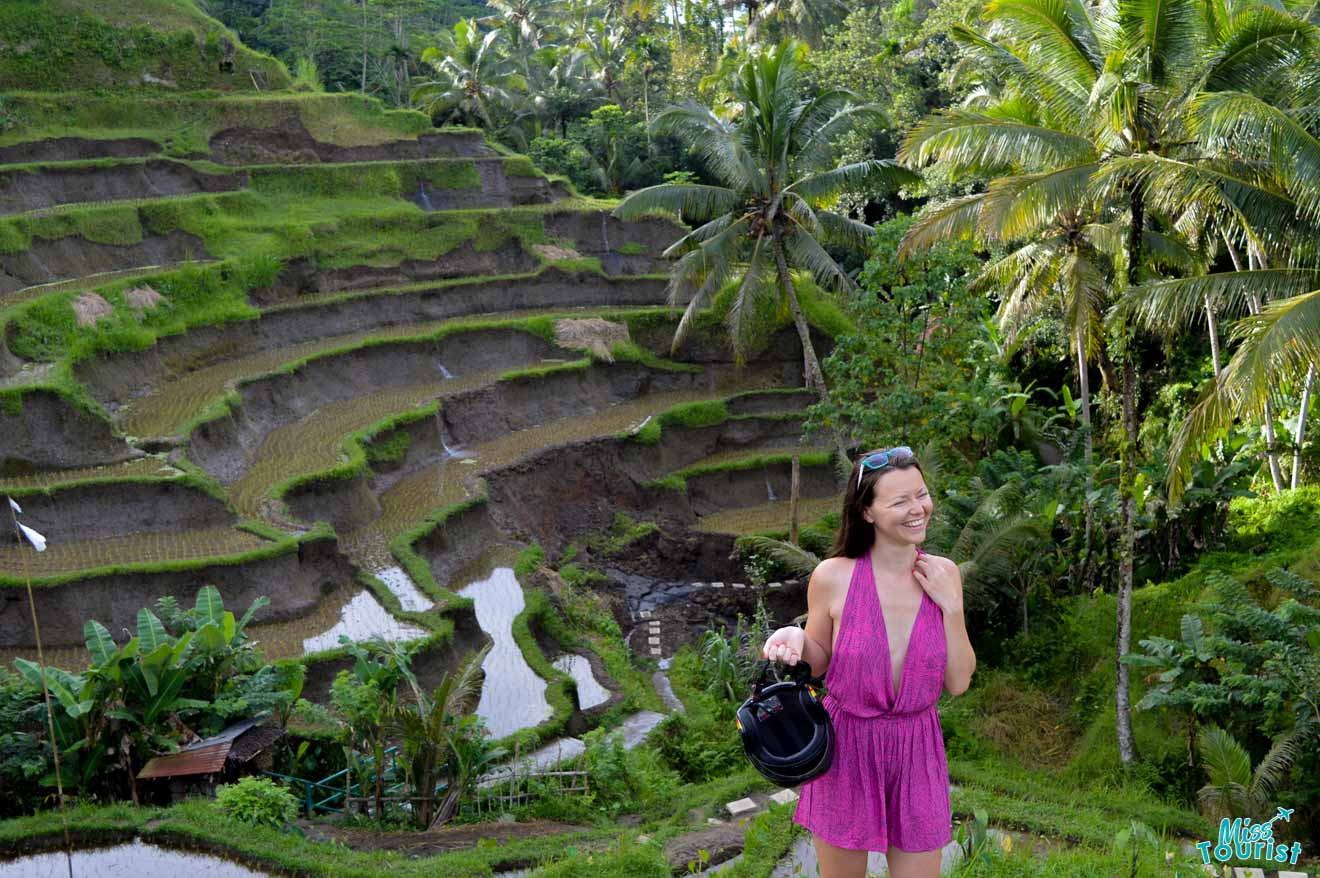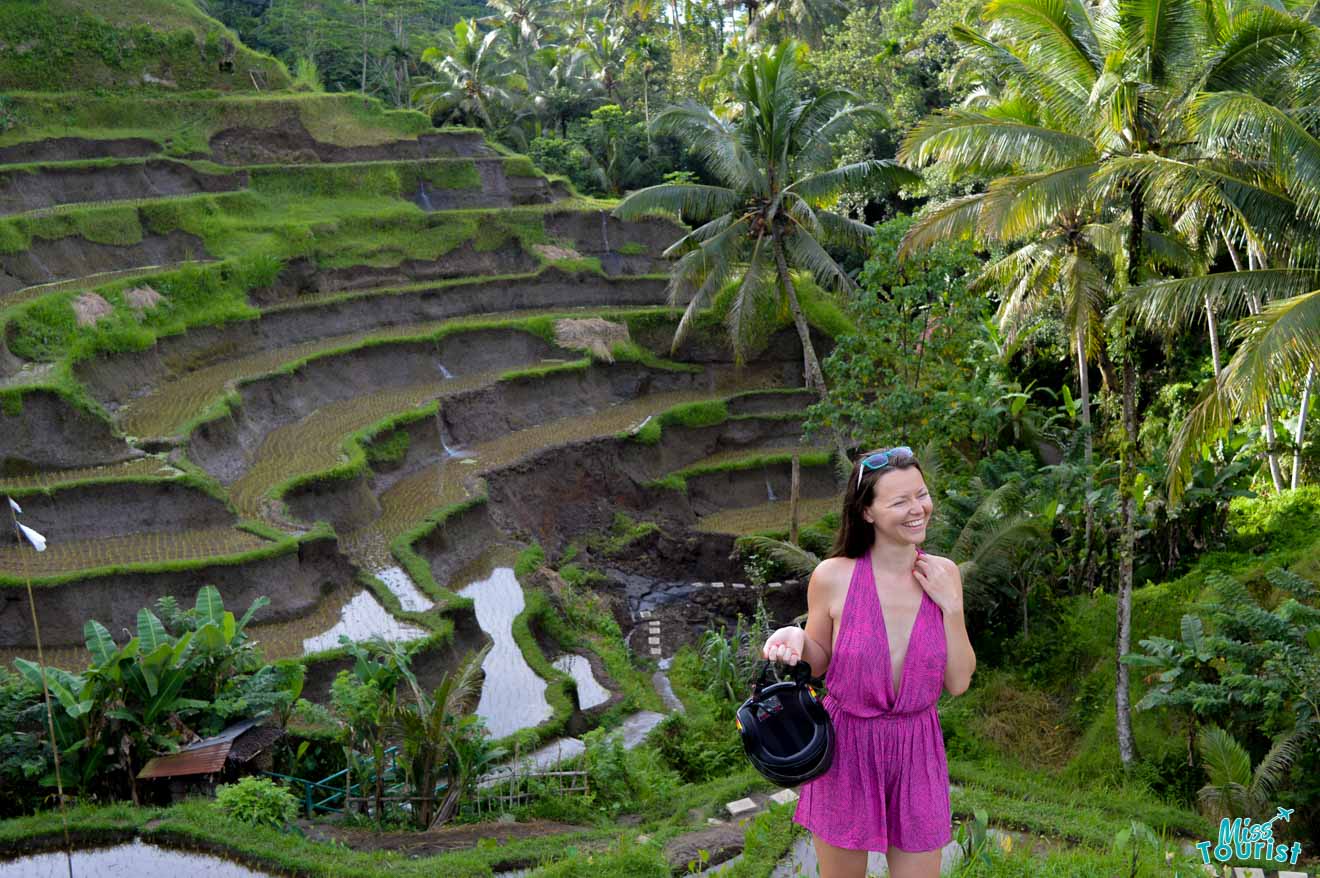 I am sure all the information in this Ubud accommodation guide will help you make a great choice and select the best hotel for your stay!
I talked about great luxury hotels and villas but also included amazing middle-priced and budget options, all with excellent reviews so that you have a great time in this beautiful little piece of paradise on earth!
As you can see, this is a lovely destination, and many travelers are looking for the best hotel in the city, so let me remind you that booking in advance is crucial, do not forget to do so!
But truth be told, I want to give you my favorite option to help you make your decision a little bit easier:
Tejaprana Bisma – if you want to experience Ubud luxuriously, this is the best option for you!
Adiwana Arya Villa – looking for a more yogui approach? I recommend this villa!
If you want more, you can check my other Bali posts here, and start daydreaming about your adventure!
I hope you found it helpful. Let me know in the comments below if there's any more info you need or just whether you liked Ubud or not!
Happy travels!
Yulia
Pin it for later!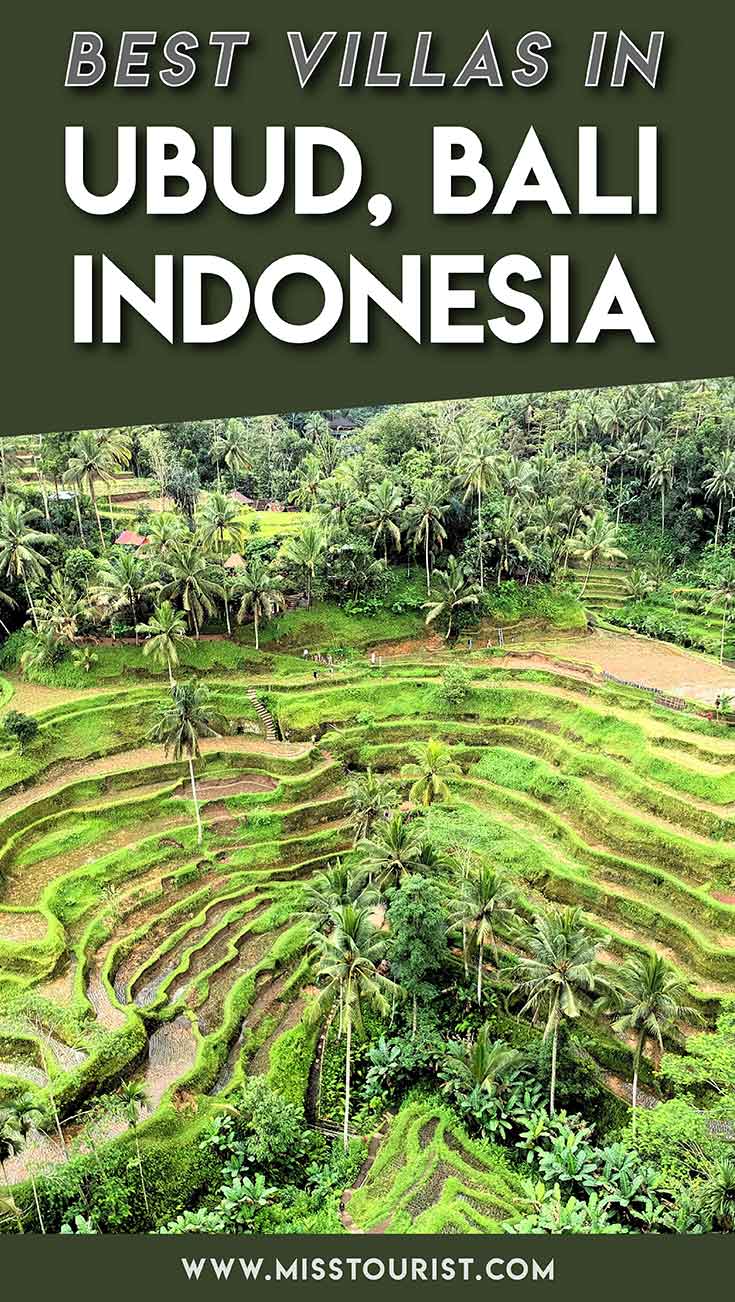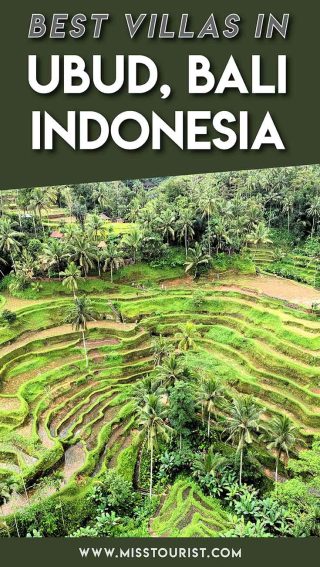 Pin it for later!