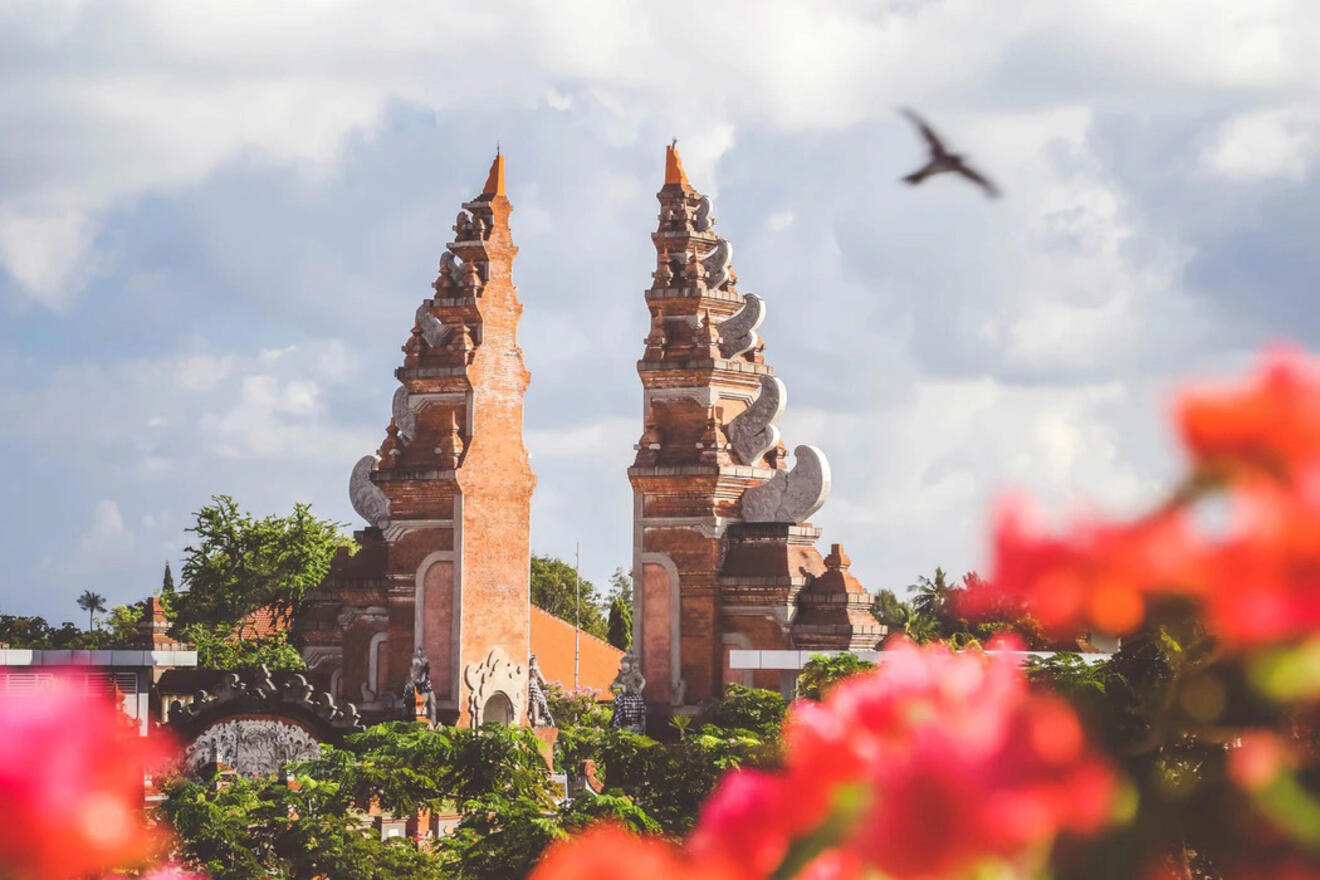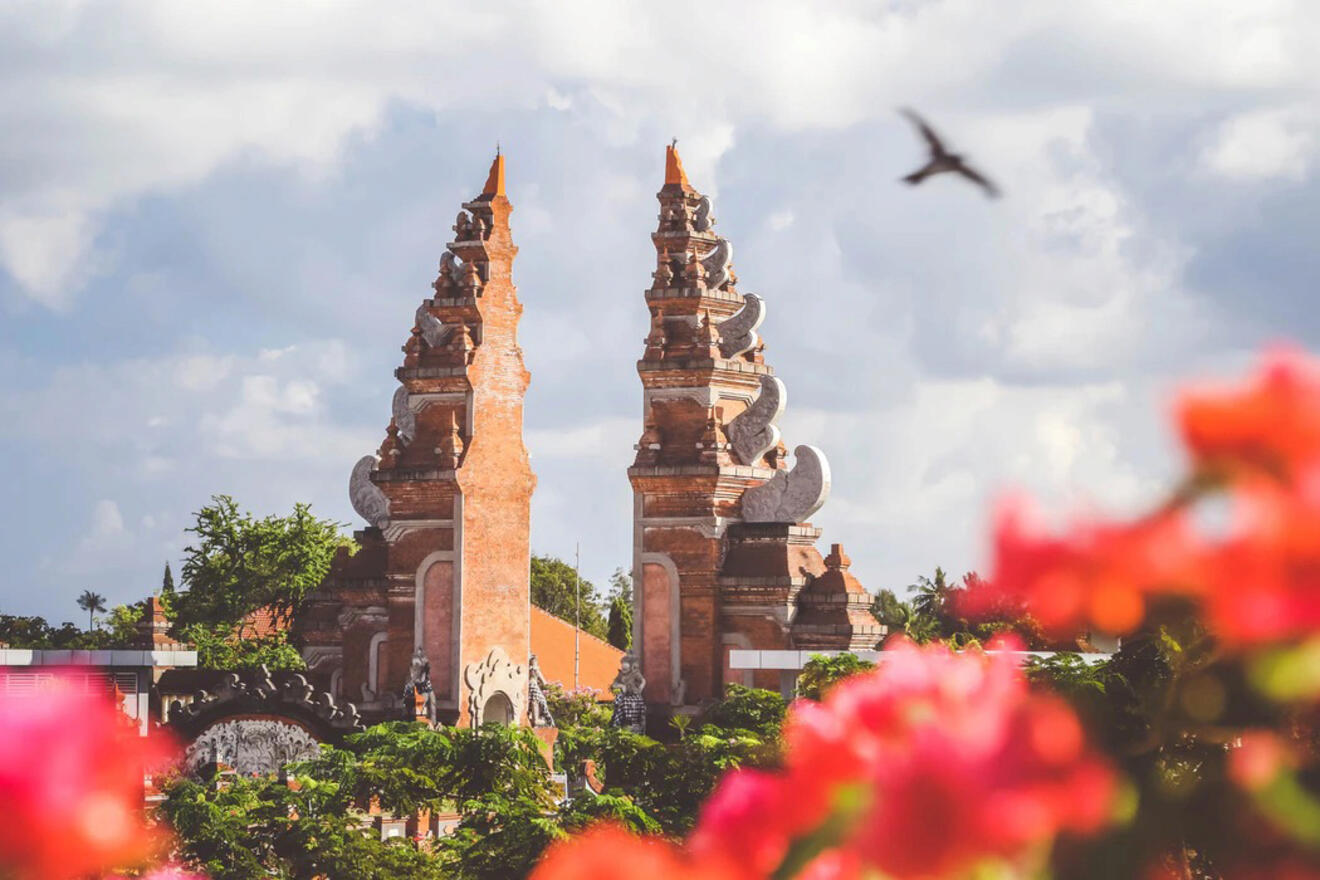 Year on year, people from around the world flock to Indonesia for a spiritual awakening, a detox, or a change of pace. Some just come to Bali for a good time. Whatever draws you to this magical, tropical place, you're bound to have an unforgettable stay, especially if you choose one of these best Airbnbs in Bali.
I hope my expertise can also help you a little bit since I lived in the island of Gods for over a year now and I'm absolutely loving it! I tried tons of Airbnbs in Bali myself, I am very well familiar with the areas, and I know what specifically to pay attention to when choosing a place to stay in Bali. Keep reading to know more! 🙂
Whether you're staying in a beach villa in Kuta or a bamboo house in Ubud, there are some genuinely stellar rentals in Bali to choose from. This post covers nineteen of the best Airbnbs in Bali for your tropical vacation, as well as four life-changing Airbnb experiences for you to try out while you're there.
If You Are in a Hurry: Top 4 Airbnbs in Bali
If you're looking for a quick-pick, you can take a look at my top four Bali Airbnbs below; fit to suit different budgets and styles. I've organized the properties from most to least expensive for your convenience.
Top 19 Airbnbs in Bali
My list is sorted from the most to least expensive Airbnbs and I've also taken the service and cleaning fees into account for your convenience. This way, you won't be surprised by any hidden costs when you're booking your favorite Airbnb in Bali.
These Airbnbs are the best of the best, each providing something unique in design, location, service, or originality. I also made sure to cover pretty much all the important areas on the island so you will definitely find something suitable for you!
As some of the Airbnbs are located in really small villages that you probably never heard of (I haven't), I'm also adding in parentheses where it is geographically located on the island. Hopefully, you'll find your dream vacation spot on this list.
1. Sharma Springs – Luxurious Bamboo Mansion with Pool
Location: Green School (Seminyak)
Price: From US$810 per night
Bedrooms: 4
Guests: 12
The beautiful Sharma Springs Airbnb has one of the most breathtaking views in Bali. This five-story bamboo house offers a unique design and an unforgettable experience. Relax on your private balcony in a luxurious hammock and absorb this heavenly slice of Bali.
You won't just get four ensuite bedrooms to choose from; Sharma also has a private pool and yoga area, a media room, and a stunning living room with a view of the forest. Perched on the edge of the sacred Ayung River valley, you'll see vistas stretching out as far as the eye can see.
2. Camaya Bali Suboya – Magical Bamboo House
Location: Selat (Eastside, but not the coast yet)
Price: From US$460 per night
Bedrooms: 1
Guests: 4
Thanks to iconic pictures on Instagram, the Camaya properties (this one and the one below) recently became one of the most wanted Airbnb in Bali and the whole world! Nestled in Selat's rice fields, you'll find this magical bamboo house with a nice private pool and a simply fantastic view! For a private villa away from the city noise, this Airbnb is one of the best. The outdoor rain shower will make you feel like you've never been so relaxed.
This one-bedroom villa has more than enough place for four guests, and you'll even get breakfast from the friendly staff. If you want to explore the local attractions, your host will be happy to give you access to a free motorcycle for your Selat adventures.
3. Camaya Bali Lotus – Magical Bungalow for Couples
Location: Selat (Eastside, but not the coast yet)
Price: From US$330 per night
Bedrooms: 1
Guests: 4
Another intriguing villa made from bamboo, this Airbnb has a luxurious yet laid-back feel. The property comprises of two romantic bungalows set right on the edge of the Selat rice fields. You'll have a private jacuzzi at this paradise escape, overlooking the magnificent green valley.
If you're looking to connect with nature, this bamboo Airbnb is for you. Free from the busyness of the city, Camaya Bali Lotus provides a tranquil bungalow getaway. You'll love watching the sunset over these tropical vistas that make Bali a one-of-a-kind destination. This beautiful villa is a nice option for romantic couples' vacations.
4. Villa Near Sanur Beach – Fully Staffed Family Villa
Location: Denpasar
Price: From US$320 per night
Bedrooms: 4
Guests: 10
If you want to vacation in the capital of Bali, this Airbnb villa in Denpasar offers the perfect location. You can stroll over to Sanur Beach on a sunny afternoon, and you'll never be more than a twenty-minute drive from the airport.
The property has a gorgeous pool with a lush vertical garden behind it. You'll also find four opulent bedrooms, each designed with a resort-style that will put you in ultra-vacation mode.
There's tons of room at this spacious villa, with a family room, dining room, and lovely outside area to enjoy. If you're a big family looking for a central Airbnb, this spot is for you!
5. Designer Loft with 2 Bedrooms – Great Rental for Friends
Location: Ubud
Price: From US$300 per night
Bedrooms: 2
Guests: 5
This property actually received many awards and was included as a top Airbnb on the island by tons of publications! Designer decor and a rice field view to boot. If you want to feel like you're living in paradise, choose this Ubud Airbnb surrounded by palm trees. Having a great view of the rice fields is like having your own tropical garden.
Expect a nice private swimming pool to indulge in, with the quaint area of Banjar Tunon just walking distance away. If that's not enough to convince you, Qantas Travel Insider dubbed this property one of the coolest Airbnbs in Bali! If you're looking for a luxurious place to stay near Ubud, this loft is for you.
6. Aura House: Eco Bamboo House – Dreamy Forest Villa
Location: Green School
Price: From US$240 per night
Bedrooms: 2
Guests: 4
Built on the west bank of the River Ayung, this marvelous bamboo house sees magnificent sunsets. If you like the sound of a fully equipped pool villa, make sure you book this Balian treehouse in advance! This Airbnb fills up fast.
The area has a fantastic, eclectic feel to it – perfect for those influencers out there looking for Instraggamable travel destinations. How many of us can say we stayed in a three-story bamboo bungalow overlooking the river?
Feeling lazy? You can order some great food at the communal kitchen, morning, noon, and night thanks to your Airbnb superhost.
7. Romantic Luxury Escape in Seminyak – Entire Villa for Couples
Location: Seminyak
Price: From US$220 per night
Bedrooms: 1
Guests: 2
This romantic one-bedroom villa has a sophisticated touch and gorgeous finishings. The master bedroom boasts vaulted ceilings draped in white cloth, providing an intimate setting for any honeymoon. When you're not lounging on your king-sized bed, you can relax by the swimming pool and take in the lush greenery of the area.
Styled with an authentic Balinese feel blending traditional Indonesian and modern design elements, your vacation here will feel like living inside of a magazine. For couples looking for a stylish and tranquil stay, this luxury escape is perfect for you.
8. The Clove House in Munduk – Airbnb Island in the Sky
Location: Banjar (North, but not the coast yet)
Price: From US$220 per night
Bedrooms: 1
Guests: 2
Besides the fully equipped kitchen and beautiful pool at the Clove House Airbnb, you'll also find an idyllic atmosphere seeping through every inch of the beautiful area.
Thanks to the open-air deck elevated 4000 feet above sea level, you'll be surrounded by jungle vistas and magnificent soundscapes of the natural world. Your private balcony would be the perfect place for a yoga or meditation session.
Soak in the luxurious tub overlooking the valley at this unforgettable private villa in Banjar.
9. Villa Agung – Beach Front in Amed
Location: Amed (East coast of Bali)
Price: From US$220 per night
Bedrooms: 3
Guests: 4
If you're looking for a top-notch pool and a great view, look no further than the VIlla Agung Airbnb. You're in for a luxurious getaway in Bali with magnificent ocean vistas right at your doorstep.
Whether you're tanning by the swimming pool or reading a book in the comfortable living room, this private villa is fully equipped with everything you need for a restful vacation.
You'll be within walking distance of the beach, and Amed is a great spot to go diving! Guests can also use the property's standup paddleboards.
10. Love Nest – Best for Couples
Price: US$205 per night
Bedrooms: 1
Guest: 2
Looking for a romantic getaway? Then this place is perfect for you. Enjoy a floating breakfast, grab a tropical drink, relax on the lounge, or dip in the pool.
Not to mention, this villa is close to a great selection of restaurants, famous cafes, and beach clubs, while at the very same time, it is perfectly located in a very quiet neighborhood.
11. Hideout Bali – Eco Bamboo Home
Location: Selat (East, but not the coast yet)
Price: From US$140 per night
Bedrooms: 1
Guests: 2
The rustic, eco-friendly bamboo house on the river banks is surrounded by nature for an authentic experience of Balinese culture. You'll have an exceptional view of the river waters right at your doorstep and the rice fields in the distance.
This unique villa in Bali is perfect for spiritually-minded travelers. Not only is the space designed to be a connection with the natural world, but it's also directly in front of a sacred Campuhan, meaning "where two rivers meet." The locals regard this joining of rivers as a holy place to cleanse the body and spirit.
12. Zen Hideaway – Sunset Views in Ubud Bali
Location: Ubud
Price: From US$120 per night
Bedrooms: 2
Guests: 4
Zen Hideaway has one of the most stunning porch swings you will ever see. The open-air living space welcomes the natural elements, bringing natural light and relaxing jungle soundscapes right into your private space. You'll be in the midst of the jungle, and the swing provides the most impeccable vistas right on your deck.
The house is made from reconstructed teak in a rustic, traditional design, offering a brilliant respite from hotels' stock standard commercial appeal. Just below this villa in Ubud is a peaceful walking trail that will take you to the beautiful Ayung River.
13. Beachfront Villa at Balian Surf Break – Perfect Stay for a Friends
Location: Lalang Lingga (West coast)
Price: From US$120 per night
Bedrooms: 2
Guests: 4
Did someone say private infinity pool? This sleek and modern Airbnb villa has everything you could need for a relaxing place to stay. Your private infinity pool looks out over the ocean between lush palm trees that break up the tropical view of Bali. The impeccably manicured garden hills roll down the valley, meeting the horizon as the waves break against the shore just below this magnificent property.
Each room has air conditioning and stylish decor, not to mention the enticing outdoor rain shower in your private tropical garden! Watch the beautiful Bali sunset from this stunning home away from home.
14. Villa Bohème – Peaceful Stay in Canggu
Location: Canggu (West coast)
Price: From US$110 per night
Bedrooms: 2
Guests: 4
Canggu, a resort village on the south coast, is one of the best beach spots in Bali, Indonesia. Known for stunning shores surrounded by rice fields, this town is one of Bali's best-kept secrets.
Located on one of the coolest streets in Canggu, Villa Boheme boasts a trendy location and resort-style decor. Expect whitewashed walls, houseplants, and a private pool at this beautiful two-bedroom Airbnb villa.
You'll also be within walking distance from the famous Samadi Yoga Centre. For those looking for a hip stay with all of the comforts of home, Villa Boheme is one of the trendiest Airbnbs in Bali.
15. Bubble Hotel Bali Uluwatu – Best Unique Stay in Bali
Location: Uluwatu
Price: From US$100 per night
Bedrooms: 1
Guests: 2
When it comes to unique villas, the Bubble Hotel is the best Airbnb Bali has to offer. You'll be fully immersed in the wonders of Bali at this distinctive bubble house, with nothing separating you from the beach!
The area is entirely secluded, except for the staff who will bring you your meals and necessities during your vacation. You'll be right on the shoreline with the Indian Ocean as your private pool and the beach as your playground.
Expect luxurious hammocks, outdoor showers, and a great view from this spectacular Bubble Hotel.
16. The Urban Escape
Location: Kecamatan Kediri (to the North from Canggu)
Price: From US$70 per night
Bedrooms: 2
Guests: 4
This beautiful modern villa has its own pool and is located less than a minute's walk from the beach! If you're looking for a luxurious place to call home, the Urban Escape boasts a fantastic location and modern design. You'll also be within driving distance of the iconic Tanah Lot Temple, one of the most scenic and culturally important spots in Bali, Indonesia.
The kitchen has everything you'll need for your stay, and you'll also have access to luxurious sunbeds and a pool. Staying here is like living on the page of a magazine!
17. Rice Field Triangle Dome – Ideal for a Quiet Couples Stay
Location: Pangkung Tibah (to the North from Canggu)
Price: From US$40 per night
Bedrooms: 1
Guests: 2
The Triangle Dome has a gorgeous swimming pool with a great view of the rice fields in your garden. You'll find a waterfall shower nestled amongst the trees and a beautiful A-frame house designed in the tropical styling's Bali is known for.
While the villa is located in a pretty remote area, there is still plenty to do with the beach just around the corner. You can request meals from the Balinese staff or take a short walk to the local restaurant. If you prefer to stay at home, the kitchen has everything you'll need for your stay.
18. Private Bungalow Room In Pondok Wisata Sartaya
Location: Lovina Beach (North of Bali)
Price: From US$30 per night
Bedrooms: 1
Guests: 2
Just a two-minute walk from the beach, this Airbnb villa has a huge pool and great features classic to Bali, Indonesia. Learn how to make traditional cider with the friendly staff and grab coconuts from the garden trees! You'll get a delicious breakfast every morning as you look out at the spectacular mountain view.
If it's a welcoming Airbnb you're after, this bungalow stay has attentive staff, and you'll get the chance to meet some friendly locals, too. You can even get a massage at the villa and a ride into town on one of the motorcycles for guests.
19. Affordable Studio Near Seminyak
Location: Seminyak
Price: From US$20 per night
Bedrooms: 1
Guests: 2
Looking for a luxurious king-size bed in a private room? You may have found the one! You'll have ample space to relax under the sun in the infinity pool, not to mention the beautiful terrace and garden. Each bedroom has its own balcony and kitchen, so you'll have all the privacy you need at this garden villa. Did I mention the beautiful mountain view?
You'll be just minutes away from the beach at this gorgeous villa, and the area has plenty of activities to entice you. Check out the Nyaman Gallery, just a five-minute drive away!
BONUS: Things To Know About Renting An Airbnb In Bali
I lived in Bali for a couple of years and I have rented many Airbnbs there so I know there are quite some things to keep in mind when you take your decision that are specific for this location.
When searching for the perfect Airbnb, many people look out for attractive features like an infinity pool, a private balcony, or proximity to the beach. However, there are tons of factors to take into consideration when booking your home away from home.
To help you avoid any surprises and find the ultimate rental to suit your tastes, I've outlined some things to look out for before you rent an Airbnb in Bali.
Which Area to Stay in Bali
Ubud town in Bali is a great hippie destination if you're looking for tranquility. The surrounding rainforests are filled with rice fields and paddies, and the largely untouched landscape provides a more quiet location than, say, Kuta, Bali. If you're looking for a hotel in the city, be sure to check out my guide on where to stay in Ubud.
On the other hand, there's Canggu. Canggu is a resort village filled with cool nightlife spots. If it's Instagrammable cafes and attractions you're after, Canggu is your best bet.
Seminyak, which is very close to Canggu, is filled with posh boutiques and 5-star hotels. For a more high-end experience of Bali, this area is sure to entice you.
Kuta, Bali, is a huge tourist attraction thanks to the fantastic beaches and resorts in the area. It's also super close to the airport. This area is party-centric with loads of nightlife options, and it has great surfing appeal for those beach bums out there.
Uluwatu is a more developed area in Bali, boasting gorgeous beaches and 5-star hotels.
If you want something a tad obscure, Amed is one of the less-visited destinations on the East side of Bali. This strip of fishing villages offers a great opportunity to understand the local fishing culture.
If you head North of Bali, you'll find some wonderful diving spots. Dolphin-spotting is also a popular activity in the northern areas like Lovina Beach.
Car access
Most of the villas will have car access to them, but some will only have motorbike-only access (which means that you will need to carry your luggage from the main road because a car simply could not reach the entrance). If you drive a motorbike yourself, that would probably not be an issue, but if you are planning on taking a driver/renting a car, check if your Airbnbs has a car acces as well.
Guest Reviews
It's always safer to choose a listing with a lot of reviews. Don't be fooled by glamorous villa pictures, as these can often be misleading. If a villa is brand new, and you are one of the first clients, you may not get the high-end experience you were looking forward to. I know some horror stories of many people who have booked super Instagrammable villas only to be disappointed on arrival.
When researching Airbnbs, trust the reviews over the images. Every villa in this list has good reviews, and I'd recommended scanning through any comments left by previous guests before you book a place.
Humidity
Most areas in Bali, especially Ubud, are super humid, so be prepared for that. Again, looking in the reviews will help you get a sense of how comfortable your stay will be. You can also look out for amenities such as air conditioning or even a pool.
If you stay there for a week or longer, you might want to take your bags "for a walk" (take them out in the sun) – otherwise they might literally start molding (it happened to me, haha!).
Food
Since some of the villas are located in very beautiful yet super secluded places, I recommend checking if there are some food options around first. Some properties like the Bubble Hotel will deliver food to you since you'll be far from any food shops. Many luxurious villas will also come with a cook if you pay extra fees. A great thing about Airbnbs in Bali is that most offer free breakfast – usually, you can expect some pancakes, fruit plates, or a refreshing fruit smoothie.
Facilities
Remember to pay special attention to the shared facilities, if any. There's a big difference between having a pool to yourself and having to share it with other guests on the property. Also, keep an eye out for shared accommodations. Will you have the whole villa to yourself or just a single room?
This can be a bit confusing when you look at Airbnb images, as they show everything, including the common areas. So, make sure you read the descriptions to get a full picture of what you're getting into.
Most villas nowadays have decent working internet, but again, it's always safer to check the reviews for Wifi capabilities and whether or not the internet at the property was fast if that is something crucial for you.
Top 4 Airbnb Experiences in Bali
With infinity pools, hammocks, and porch swings, it's tempting to restrict yourself to the confines of your Airbnb. But a trip to Bali, Indonesia, would be incomplete without visiting some of the world-renowned tourist spots and attractions in the area.
We've outlined four incredible Airbnb experiences you must try if you have time during your Bali vacation.
Conclusion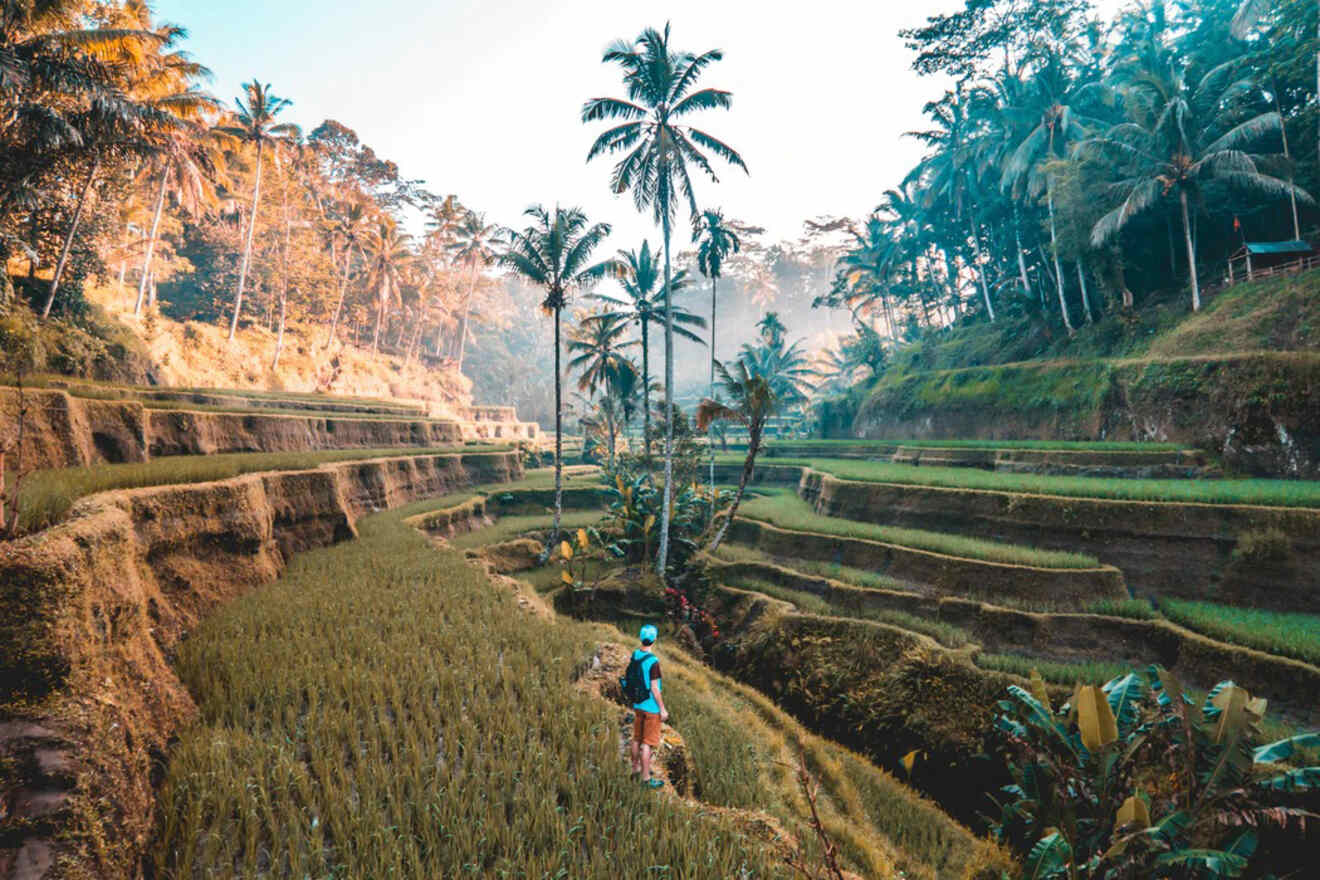 Bali is famous for having some of the most iconic Airbnbs in the world and it really is eye candy for anyone looking for a beautiful accommodation where you can truly relax and gaze at the ocean/ricefield/jungle – the choices are almost endless when it comes to the Island of Gods!
I hope I will play my part in your general impression of Bali and you will love it as much as i do (I have been living there for almost a year and will probably come back there many times!).
I tried to include all accommodations types and all locations, but if you still have any specific questions, make sure to drop them down in the comments!
Just to wrap up here are the 2 properties that I think you should check out if you haven't yet:
For the most unique stay, I recommend the Bubble Hotel in Uluwatu because, well, I've never stayed in a bubble house before. And I doubt many of you have, either!
For those looking for some well-deserved peace and quiet, my recommendation goes to the Zen Hideaway. The porch swing is simply to die for and those jungle views are the stuff of the dreams.
I hope you get to indulge in the very best this alluring Indonesian escape has to offer. If you've ever been to Bali, let me know in the comments below; I'd love to hear about your time in this iconic destination!