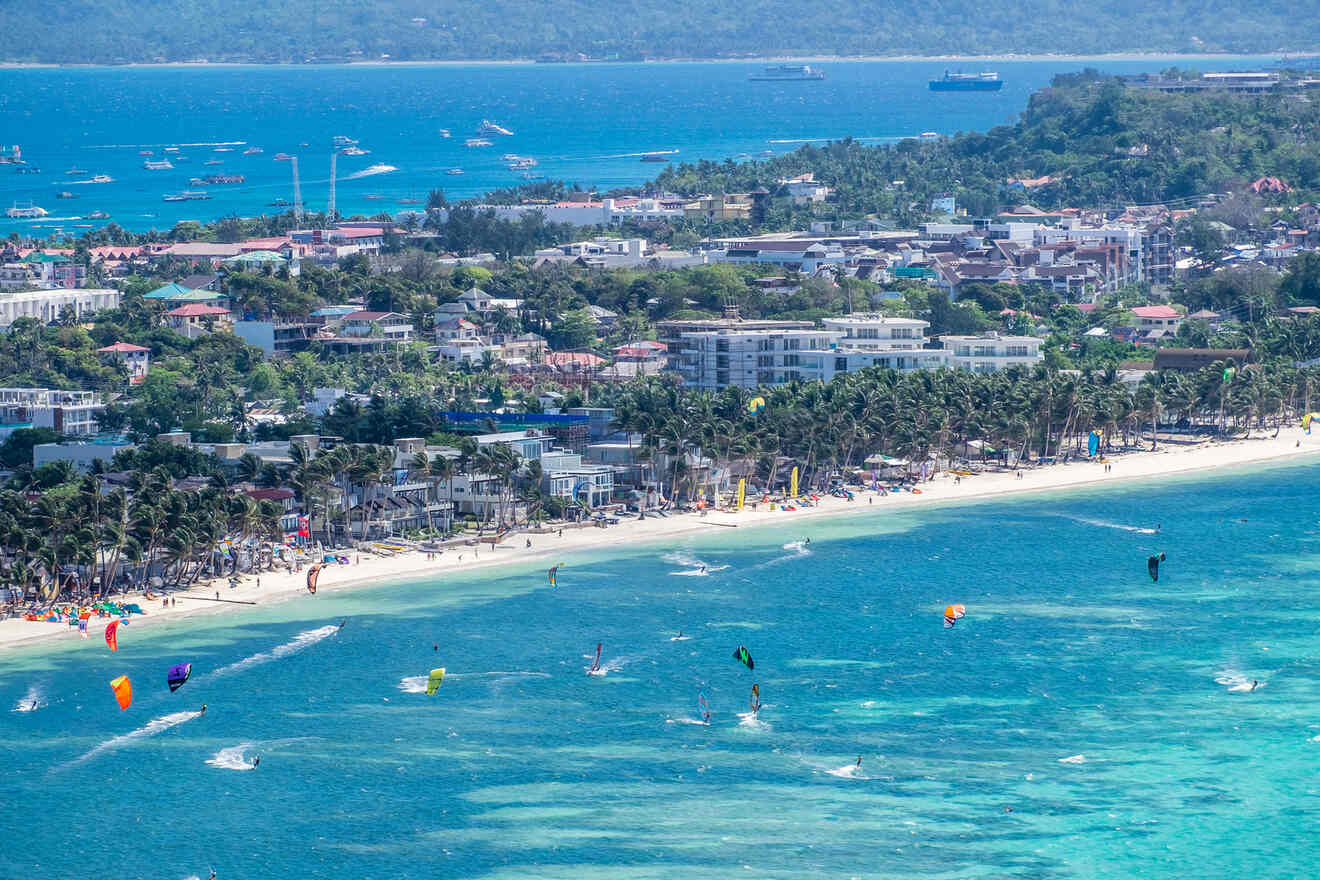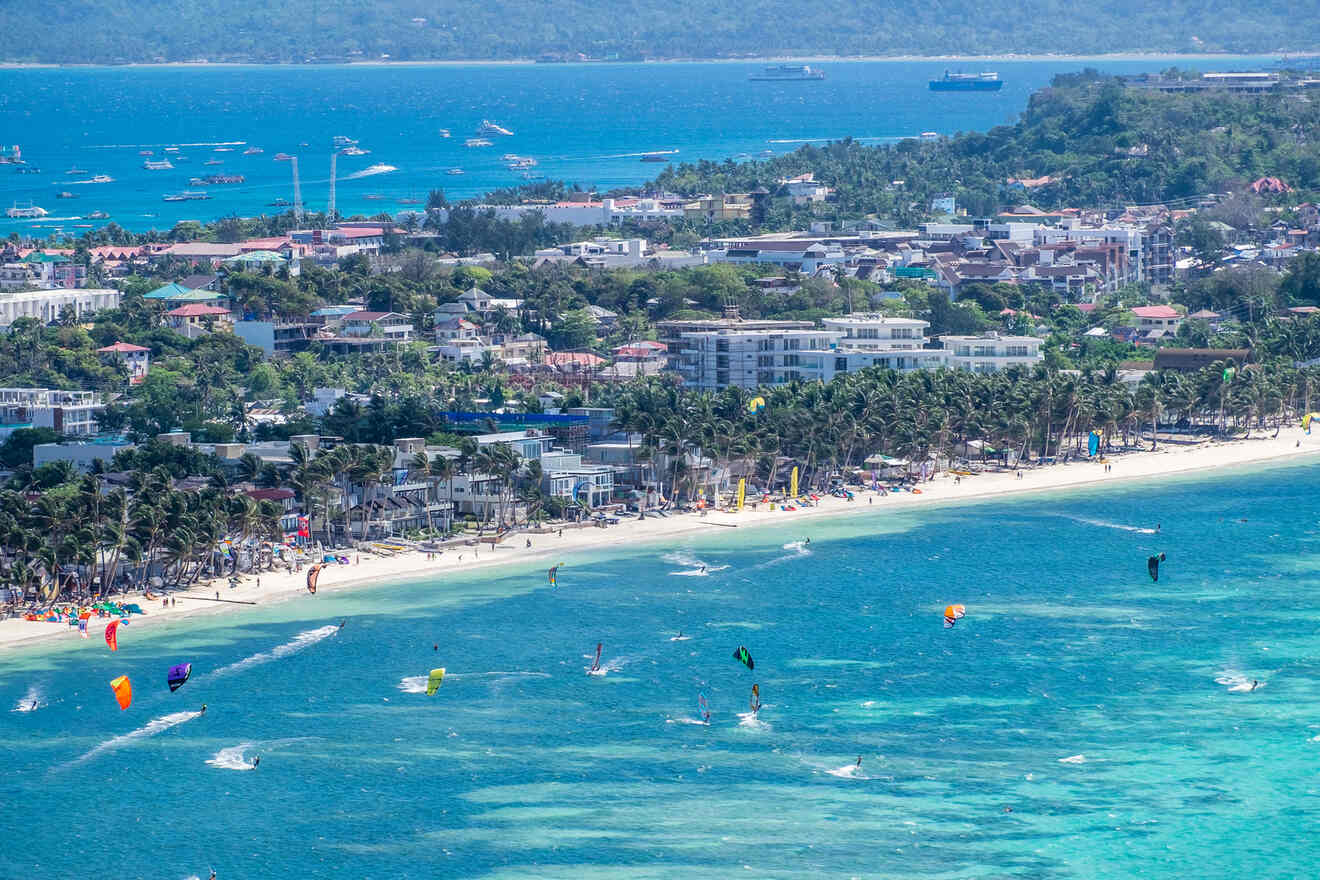 The island of Boracay is one of the most popular tourist destinations worldwide, drawing millions of tourists each year. It earned the title of being a top destination for tranquility and, in contrast… also for nightlife!
In recent years, major renovations have occurred to open a more sustainable Boracay and preserve this little piece of heaven on Earth. The new Boracay still doesn't stop giving birth to new restaurants, shops, hotels, and activities that anyone can enjoy. Each year, it ups its game to satisfy everyone's tropical island living dreams!
So today, let me help you to plan your trip with this comprehensive 3-day itinerary full of activities, accommodations, and every little thing you need to know about the island.
Since the island is quite small, I can say three days is enough to discover the island and fall deeper in love with it (I know I did when I visited)!
Are you ready! Let's start!
The 3 Stations in Boracay
It is important to know that this famous island resort is divided into three different areas called stations 1, 2, and 3.
When you arrive by boat in Boracay, you will start your journey from Cagban Port. From here it takes 10 minutes to get to station 3, 15 minutes to station 2, and 20 minutes to station 1 by E-Trikes or electronic tricycles (USD$3 – USD$4).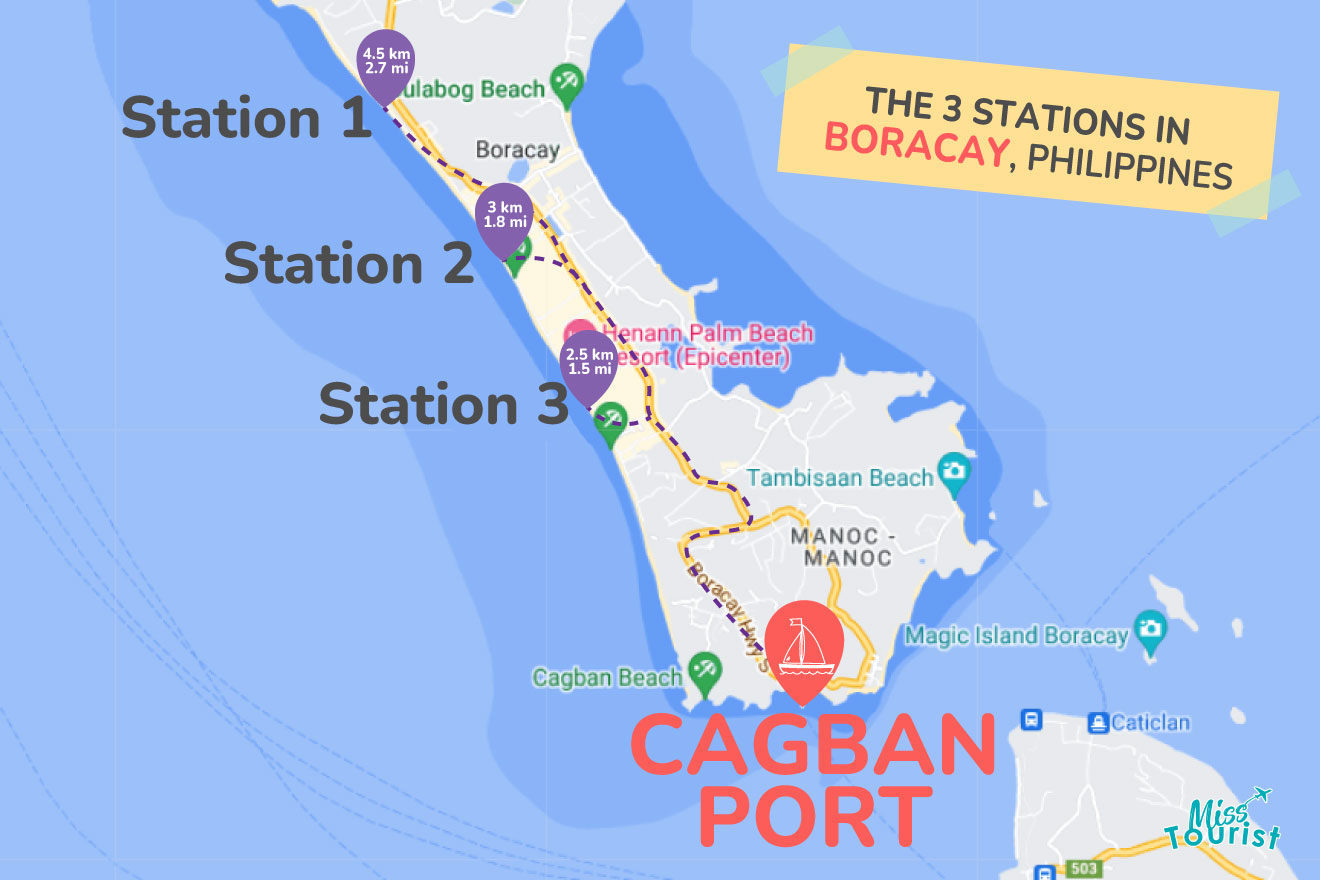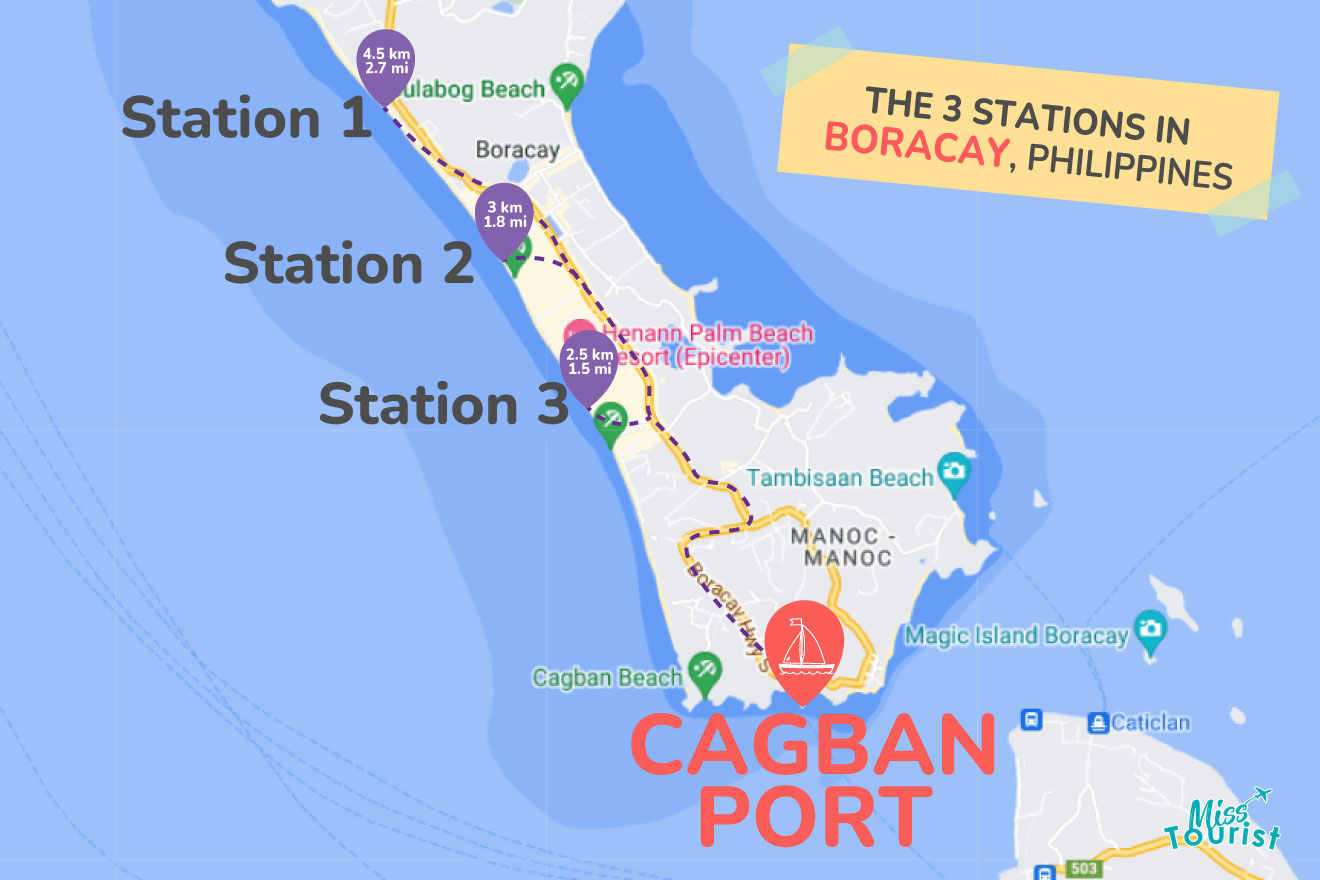 How are these stations different?
Station 1 – This is where you can find most of the luxury hotels and expensive resorts. Staying at station 1 will give you more exclusivity and comfort as well as easy access to several tours and activities. You can also dine at plenty of restaurants along the beach while enjoying the beautiful sunset.
Station 2 – Here you can shop till you drop at D'Mall for souvenir items, swimming gear, get a tattoo and have fun all night long. This is the area I chose to stay in during my Boracay vacation, and I must say, this is the liveliest part of the island. You'll be surrounded by tons of restaurants, bars, and cafes here.
Station 3 – As mentioned, this is the first station that you will see when you get to Boracay Island from Cagban port. Here, you can find more budget-friendly accommodations as well as low-priced local restaurants.
Now that you know the three stations located on Boracay, let's take a close look at the fun activities you should not miss during your stay on the island. Get your sunscreen and sunglasses ready, and head on to the sun!
Day 1
On your first day, let me take you on an underwater tour to see the beauty of marine life in Boracay. Try parasailing to see the entire island from above and enjoy the soothing ocean breeze. At the of the day, enjoy the stunning Boracay sunset from station 2 and nightlife through Pub Crawl that only Boracay could give!

Let's check out each activity in detail:
1.1 Try helmet diving (Station 1 or 2)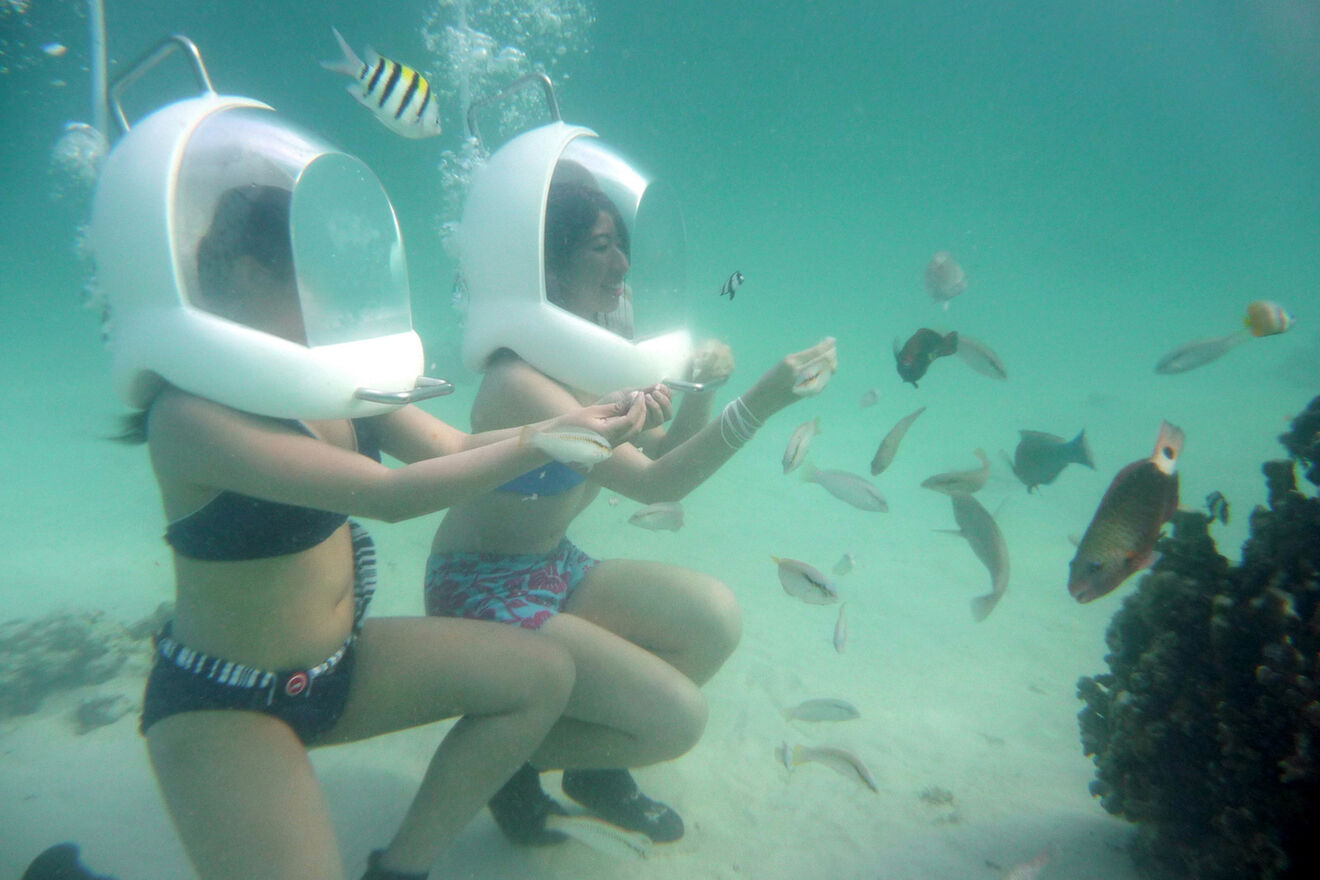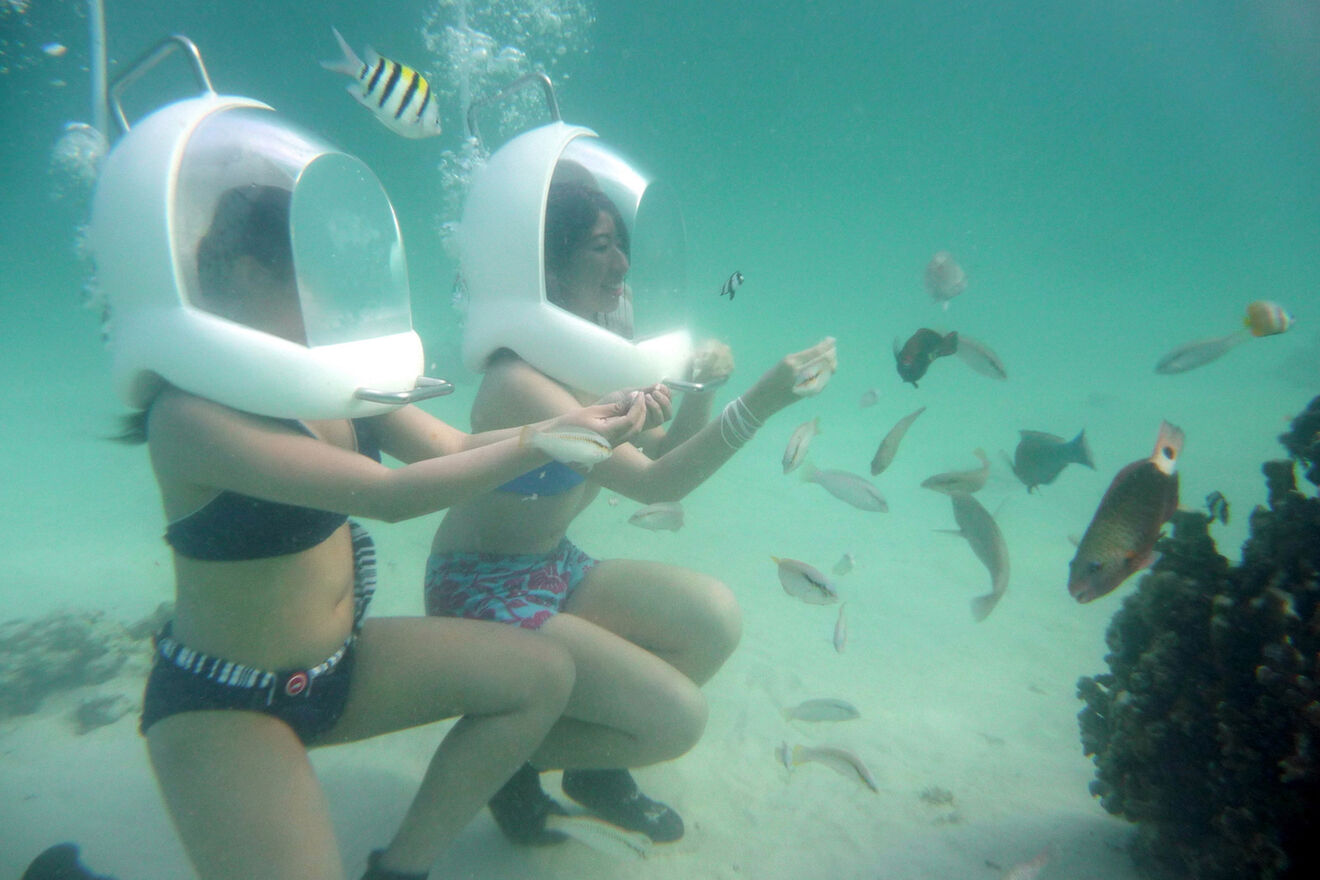 One of the most unconventional activities in Boracay's underwater world is helmet diving. It's great for anyone who wants to go a little deeper than they can with a snorkel but isn't quite ready to scuba dive.
Non-swimmers can also enjoy this activity because despite being in the ocean there is no swimming involved here.
Yup! All you have to do is put on a 25-kilogram helmet, walk on the seabed (yes, walk!), and responsibly enjoy the underwater life! Don't worry, the helmet doesn't seem that heavy when you're underwater!
Helmet diving allows you to explore the underwater world with a clear view of the exotic marine life of Boracay accompanied by a local PADI-qualified guide for around 20 mins underwater.
PRO TIP: Helmet diving is best done in the morning when the ocean is not wavy. But if you're not a morning person, you can also do it later in the afternoon.
You can book this activity from lots of locals and travel agencies in Station 1 or 2, but I highly recommend booking it in advance online and maybe grabbing a discount.
PRICE: Prices start from PHP 1200 (US$ 23), which includes photo and video opportunities and a CD of your captured memories.
NOTE: This activity is not advised for people who have high blood pressure, heart illness, and breathing problems.
1.2 Try "Real Coffee" (Station 2)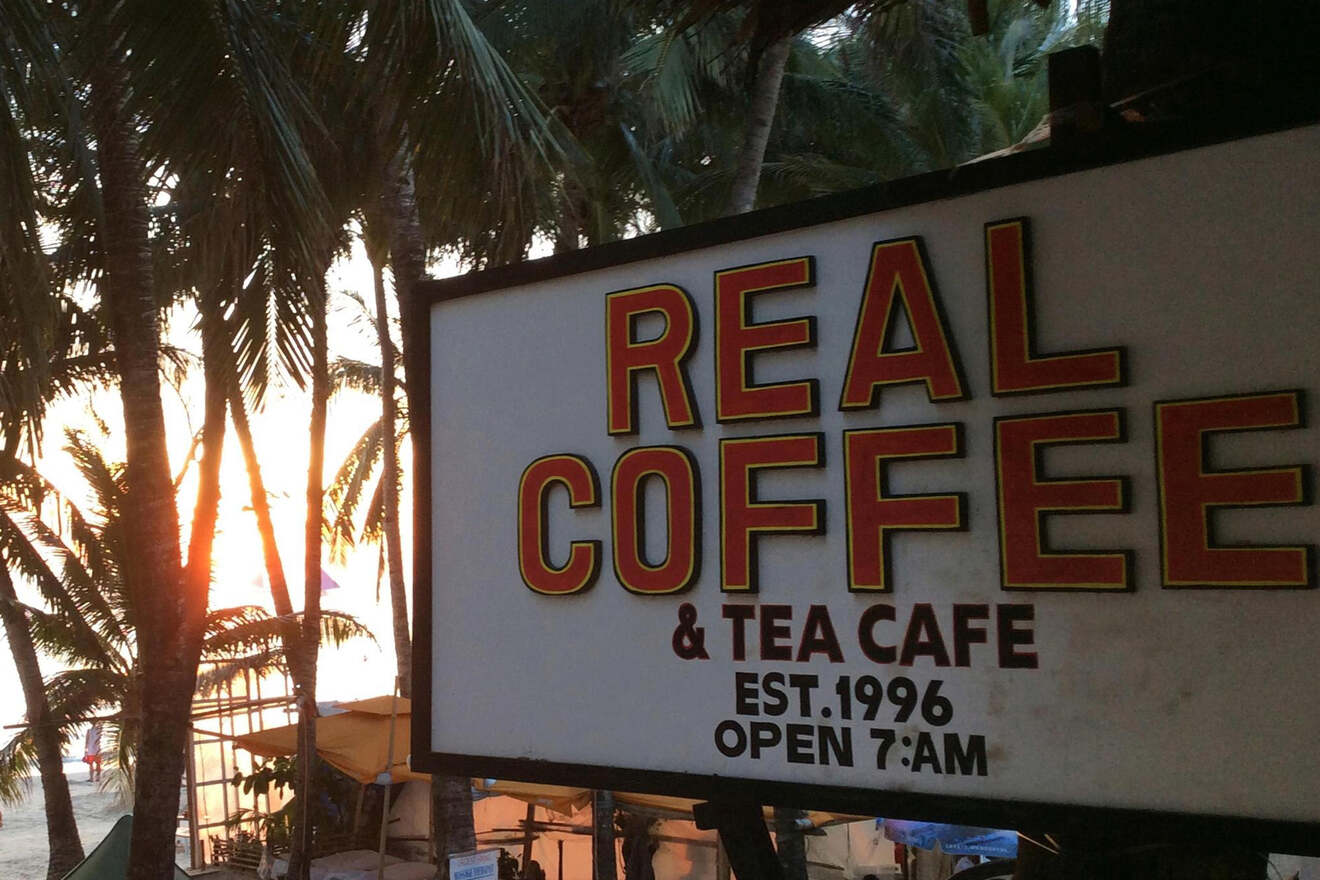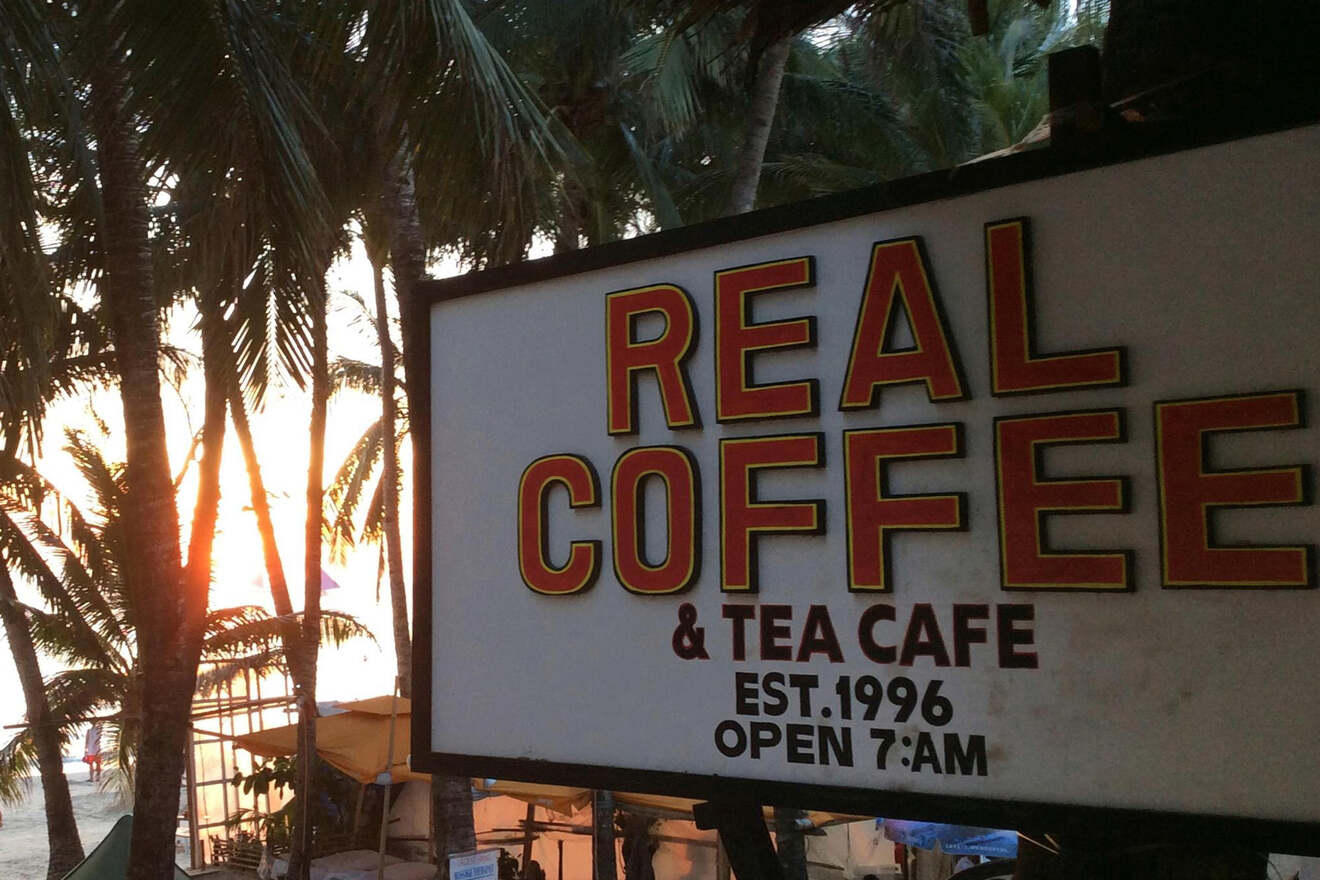 In between all the fun adventures, I found a perfect place to dine! Be it for breakfast or snacks to rejuvenate for the afternoon's activities, look for Real Coffee & Tea Cafe near D'Mall at Station 2.
This place offers a real coffee experience and I highly recommend grabbing one of their best-selling Calamansi Muffins!
Enjoy these and more while basking in the sun on the beautiful white sand beach or people watching from their tropical veranda. The food ranges from PHP 190 to 530 (US$3.64 to $10) so it is super affordable for the location!
1.3 Go parasailing (Station 1 or 3)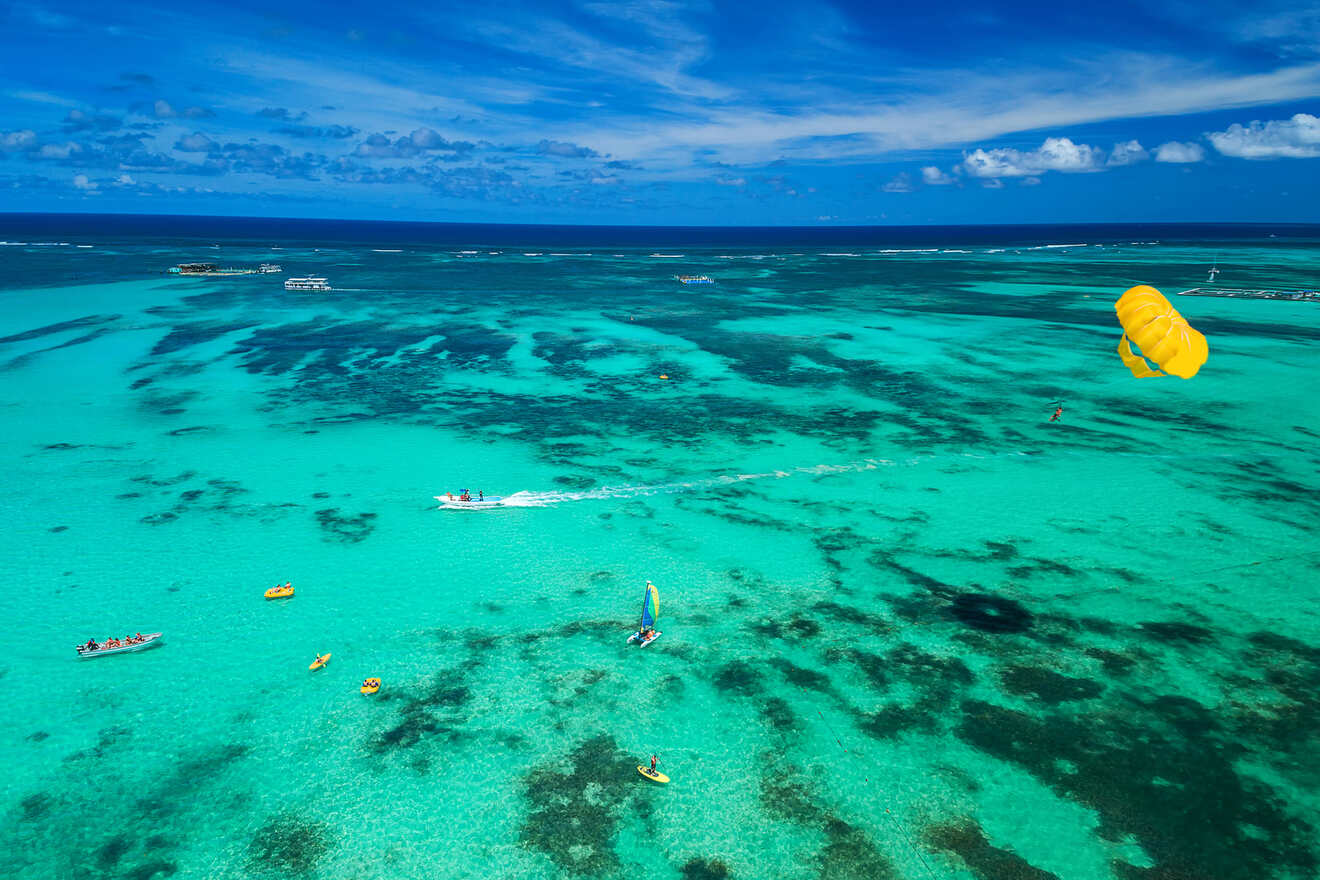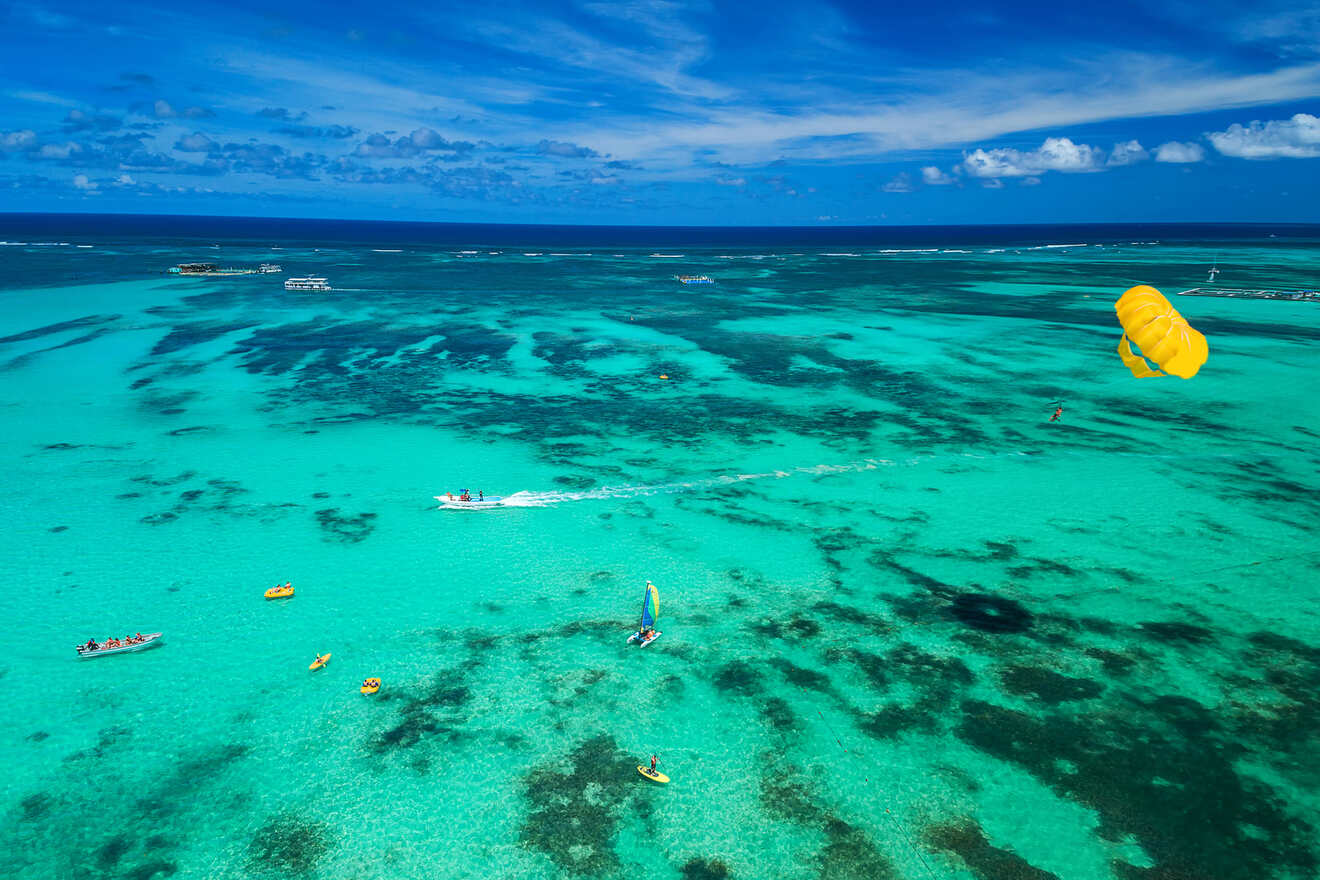 After exploring Boracay's marine life underwater, it's time to see Boracay from the skies, and parasailing is the perfect activity for that. The view of the beautiful coastlines and the ocean breeze will leave you smiling from ear to ear!
To make the activity a little less scary, especially for the first-timer, you can even take a friend and do it in tandem.
From Boracay station 1 or 3, you will take a speedboat ride to the floating water sports station where you will be given safety gear and a short orientation. Then, you're ready to take off and fly like a bird for the next 15 minutes!
PRO TIP: Personally, I recommend doing it early morning or late in the afternoon when the sun is not excruciatingly hot. Also, don't forget to put on sunscreen!
PRICE: PHP 2500 (US$50)
NOTE: If you easily get seasick (I can't help adding this since I know someone close to my heart who easily gets dizzy), I recommend taking medicine 30 minutes before the activity.
1.4. Party all night long on a pub crawl (Station 2)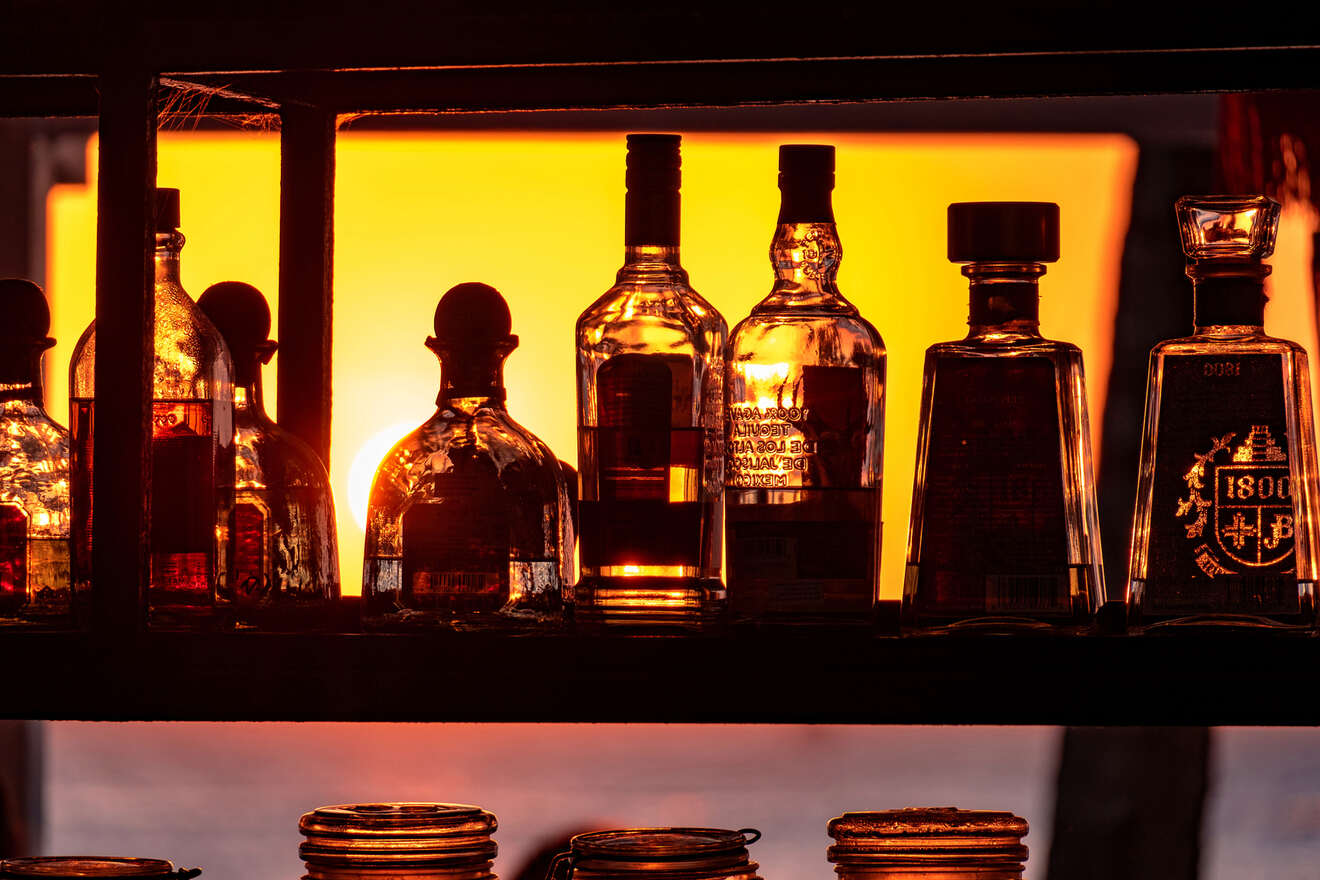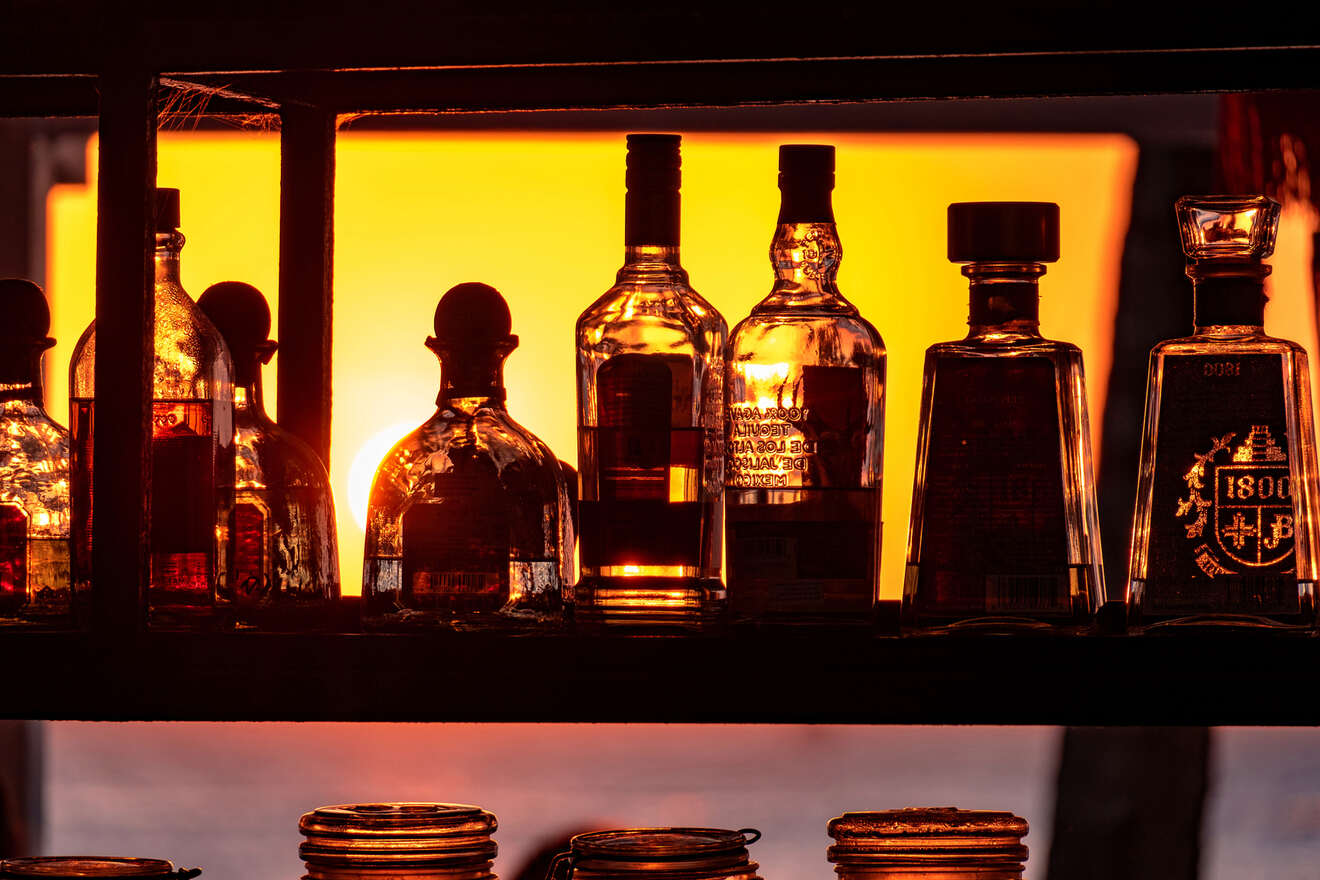 It's not that big of a secret that Station 2 is the prime party place in Boracay. Most of the bars and parties are found here and it's the best place to join a Pub Crawl!
Kicking off at 8 pm, this bar-hopping tour will take you to 4 different locations and include 10 free shots, a Boracay Pub Crawl shirt to take home plus plenty of drink specials throughout the night, and entrance to the famous Club Galaxy.
This is the best way to cap off your night, I promise! And while you may need to drink plenty of water the next day, the reason I suggest doing this on your first night is so you can hang out with your new friends for the rest of your vacation!
PRICE: PHP 990 (US$20)
Day 2
On your second day, it's time to pump some adrenaline into your body with these jam-packed water adventures and tours. Cliff-dive from Magic Island, snorkel at Crystal Cove and visit other white sand beaches around the Island. Continue with either a scuba diving class or kiteboarding lessons, and cap off the night with a sunset show at Spider House in Diniwid Beach!
2.1 Island and beach-hopping boat tour (Station 1)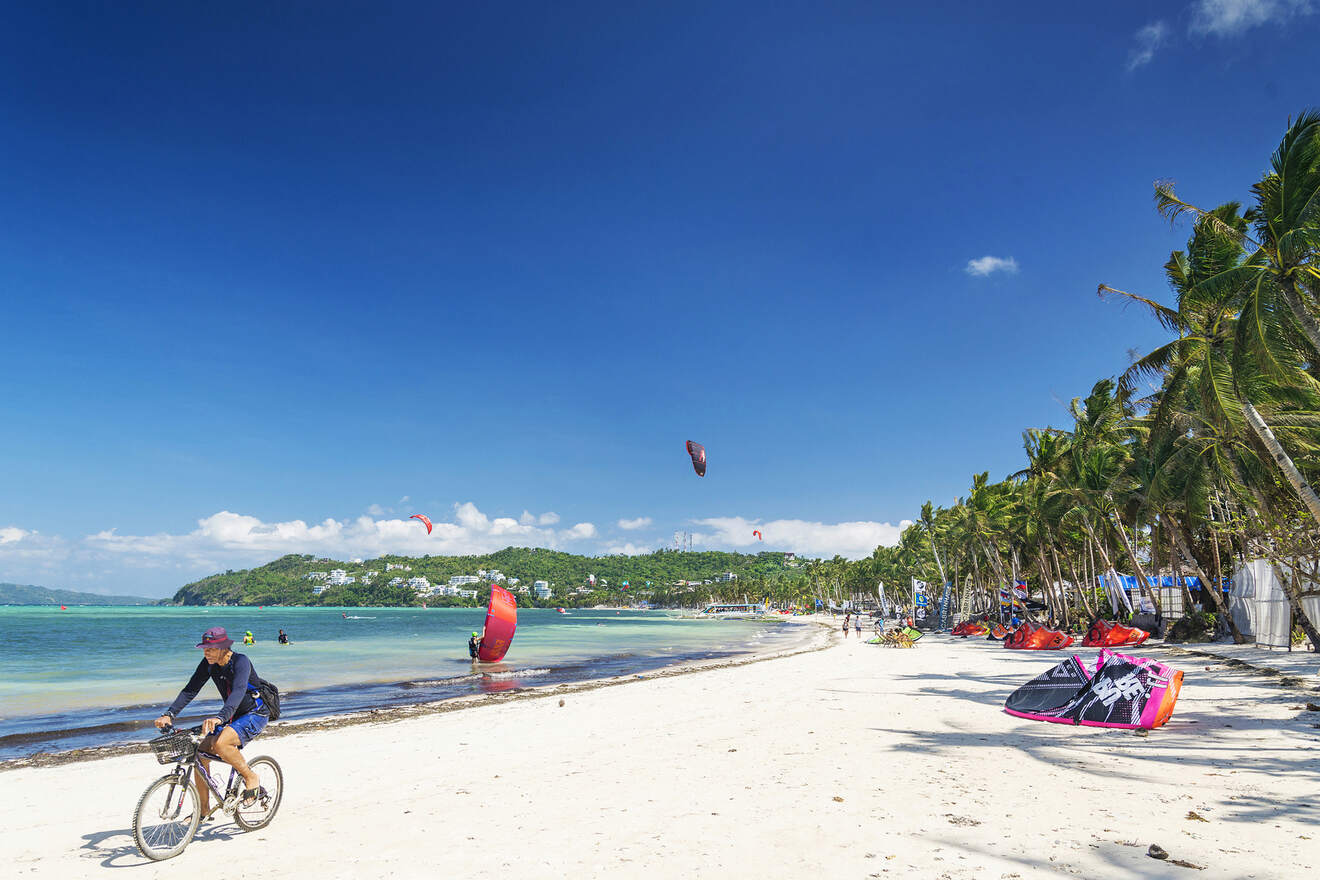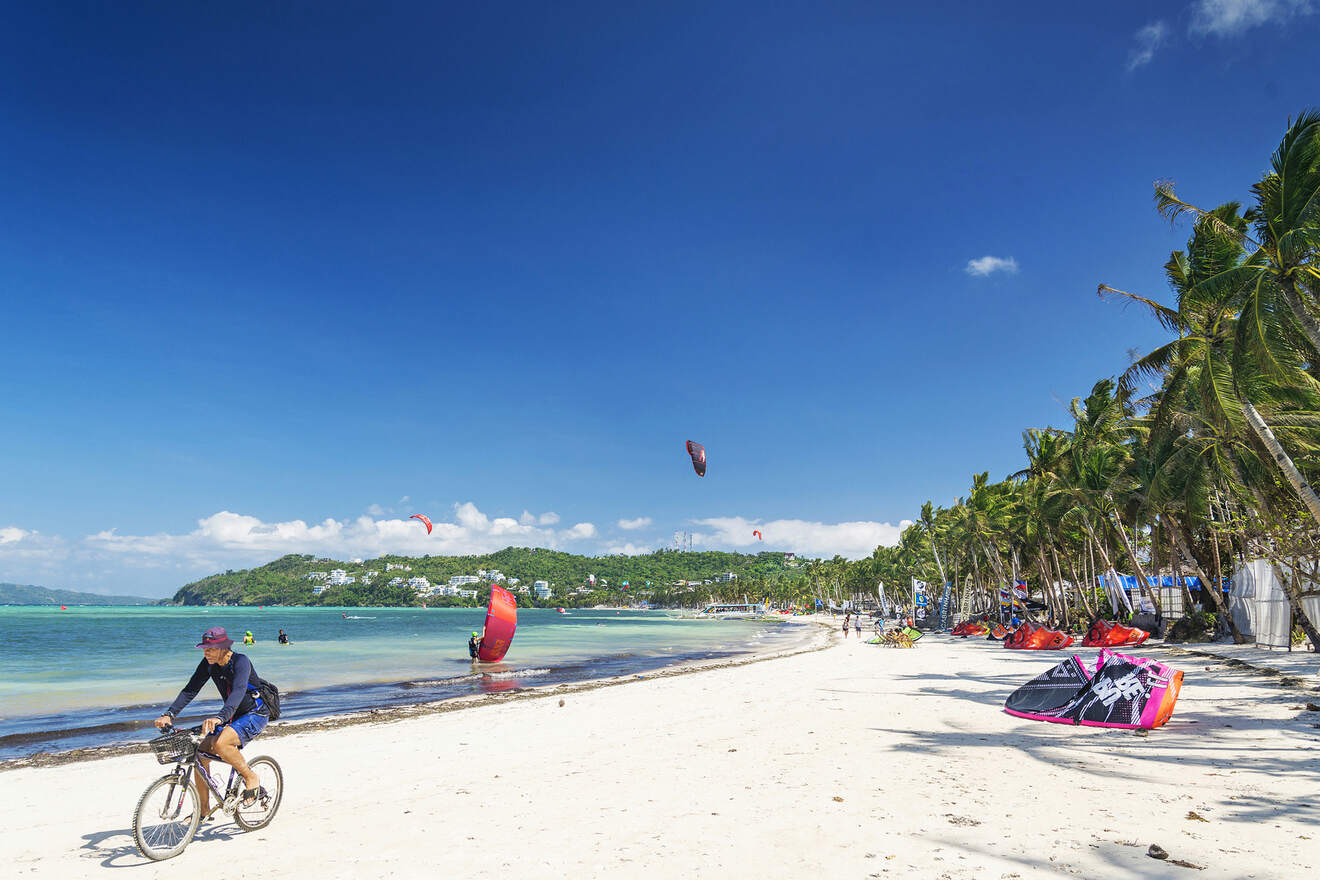 Get ready for a more sun-soaked experience with this island hopping tour from Boracay. You simply can't come to some of the prettiest islands in the world and not explore all the hidden beaches and coves only accessible by boat!
This 4-hour trip's highlights include snorkeling at Crystal Cove, cliff diving at Magic Island, taking IG-worthy photos at Puka Beach, and other gorgeous spots like the crocodile island and Blinghai Beach!
There will be plenty of stops, so you'll have enough time to marvel at the beauty of each location, dip in the ocean, snorkel, and swim to your heart's content. Plus you will get to enjoy a delicious local buffet for lunch!
PRICE: PHP 1200 (US$23) per person including snorkeling gear
2.2 Try scuba diving with a PADI instructor (Station 3)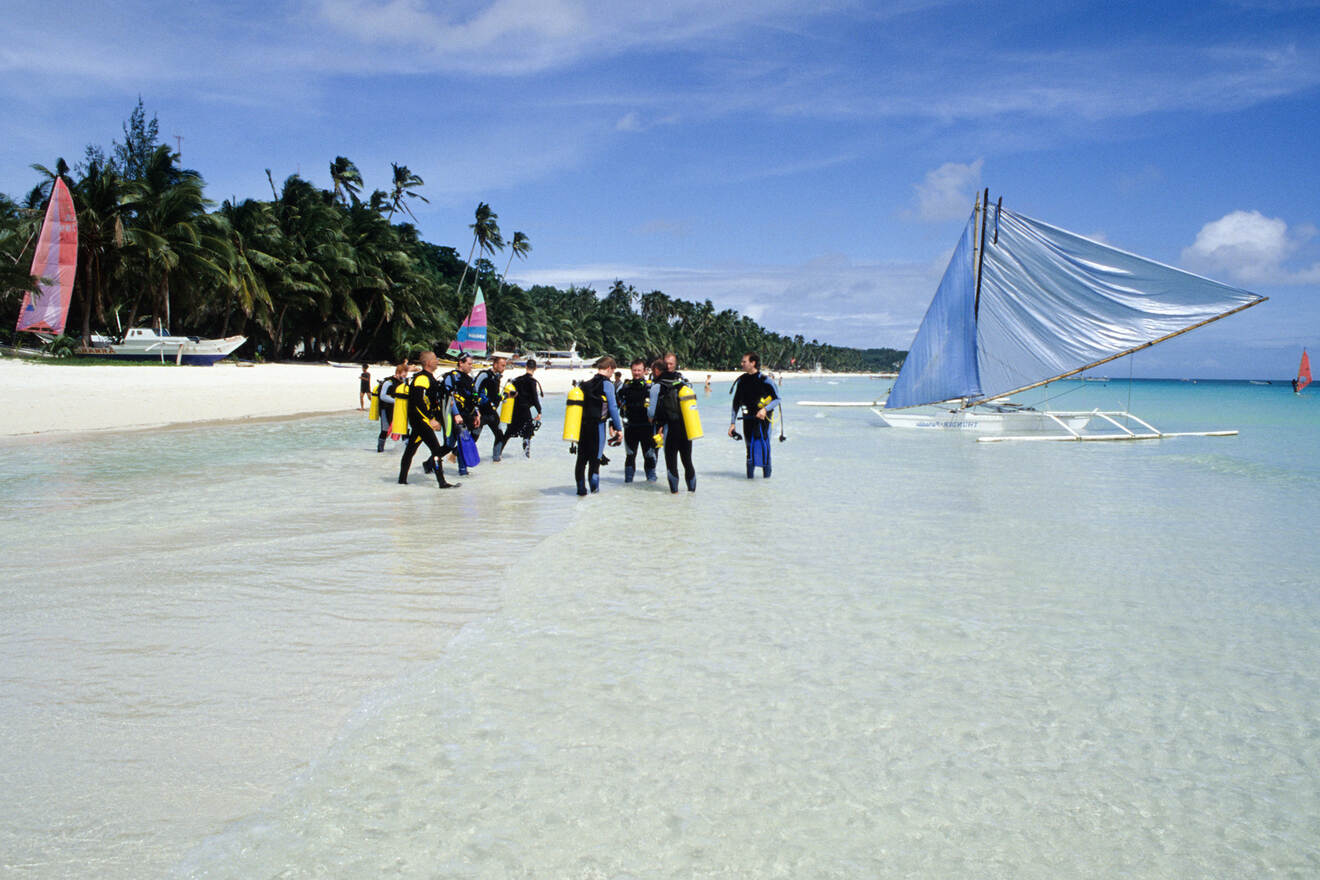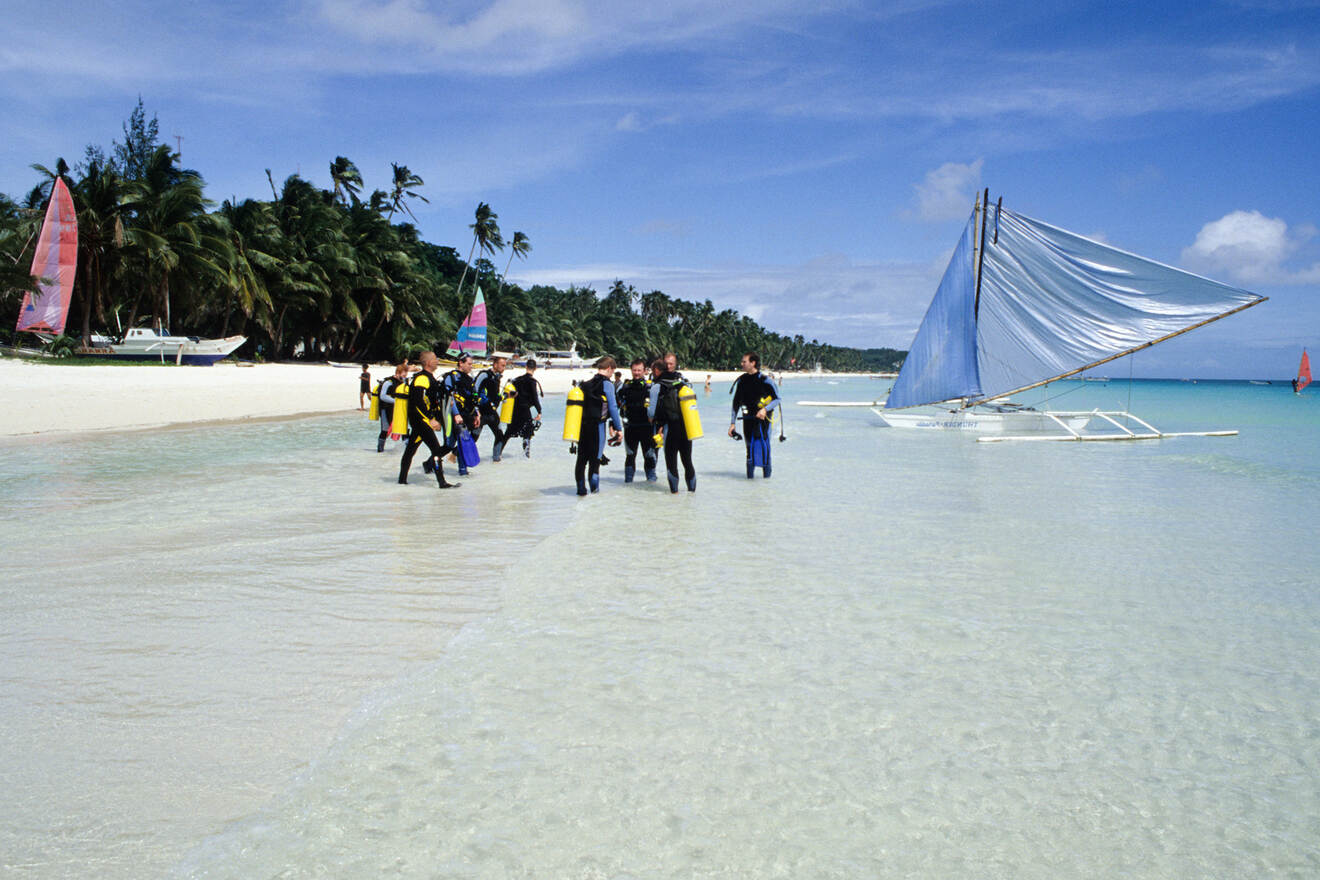 If you haven't tried scuba diving before, this is your chance to learn how to use diving equipment, learn proper breathing techniques, and, of course, the most exciting part – go diving at one of the best diving spots in the world!
First, you need to listen to some instructions on land so you understand the basics then you can head into the shallows to practice breathing and using equipment near the shore before going on a boat to the main site. I must say, this is super safe, and there's no need to be afraid since the master diver will always be with the entire activity.
Then, a boat will take you to the diving spot where you will decent to a maximum of 12m (40 feet) deep. You have 30 minutes to enjoy the underwater world and meet Nemo and other colorful fishes and beautiful corals!
PRO TIP: If you have a Go Pro, make sure to bring it along. You generally don't need a case for these depths and can record your underwater adventure!
NOTE: This is not a PADI certification course and is also not recommended for people with high blood pressure or some pre-existing medical conditions. You should also not fly within 24 hours of diving.
PRICE: PHP 3,200 (US$ 62) per person
2.3 Sunset session at Cha Cha's Beach Cafe (Station 2)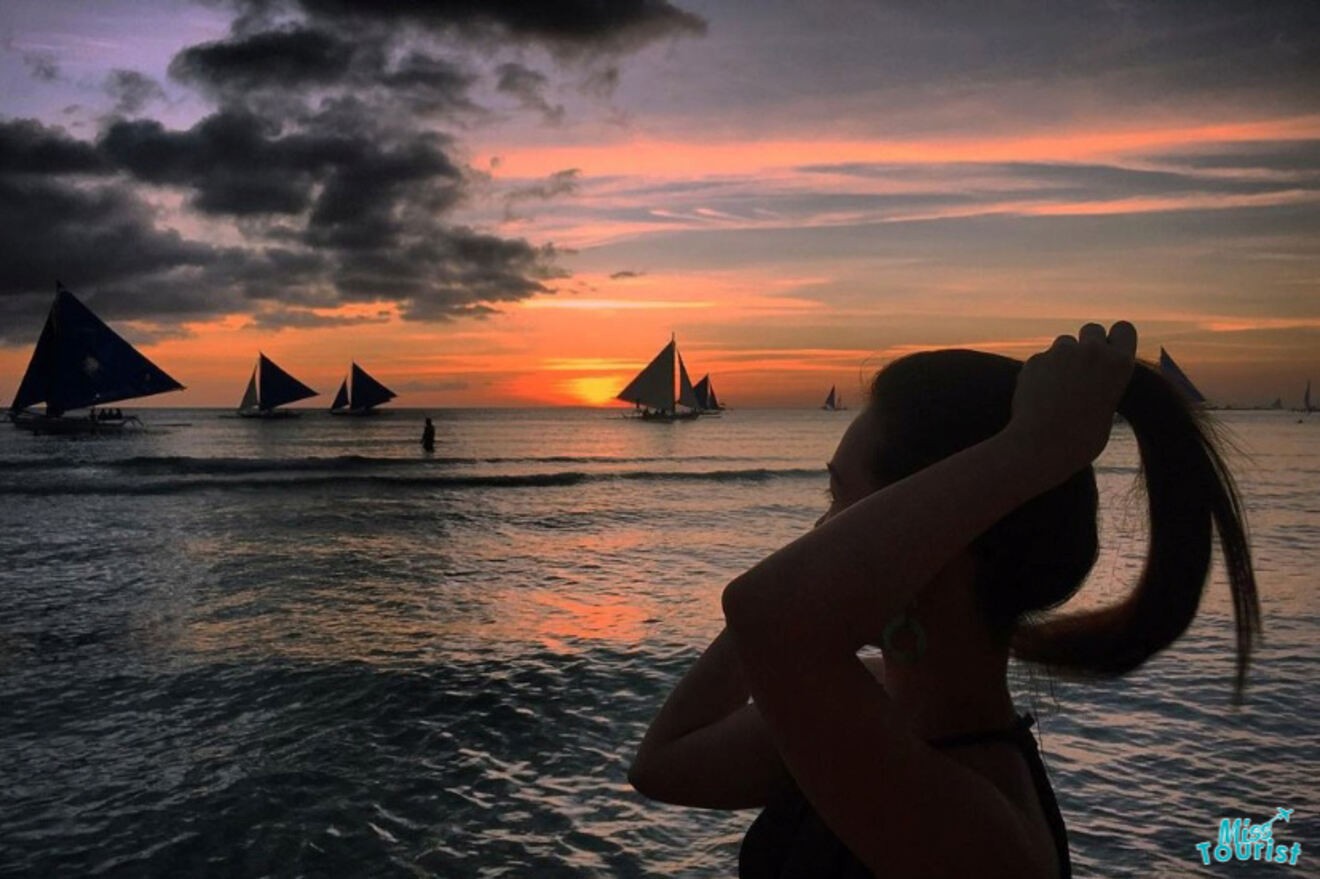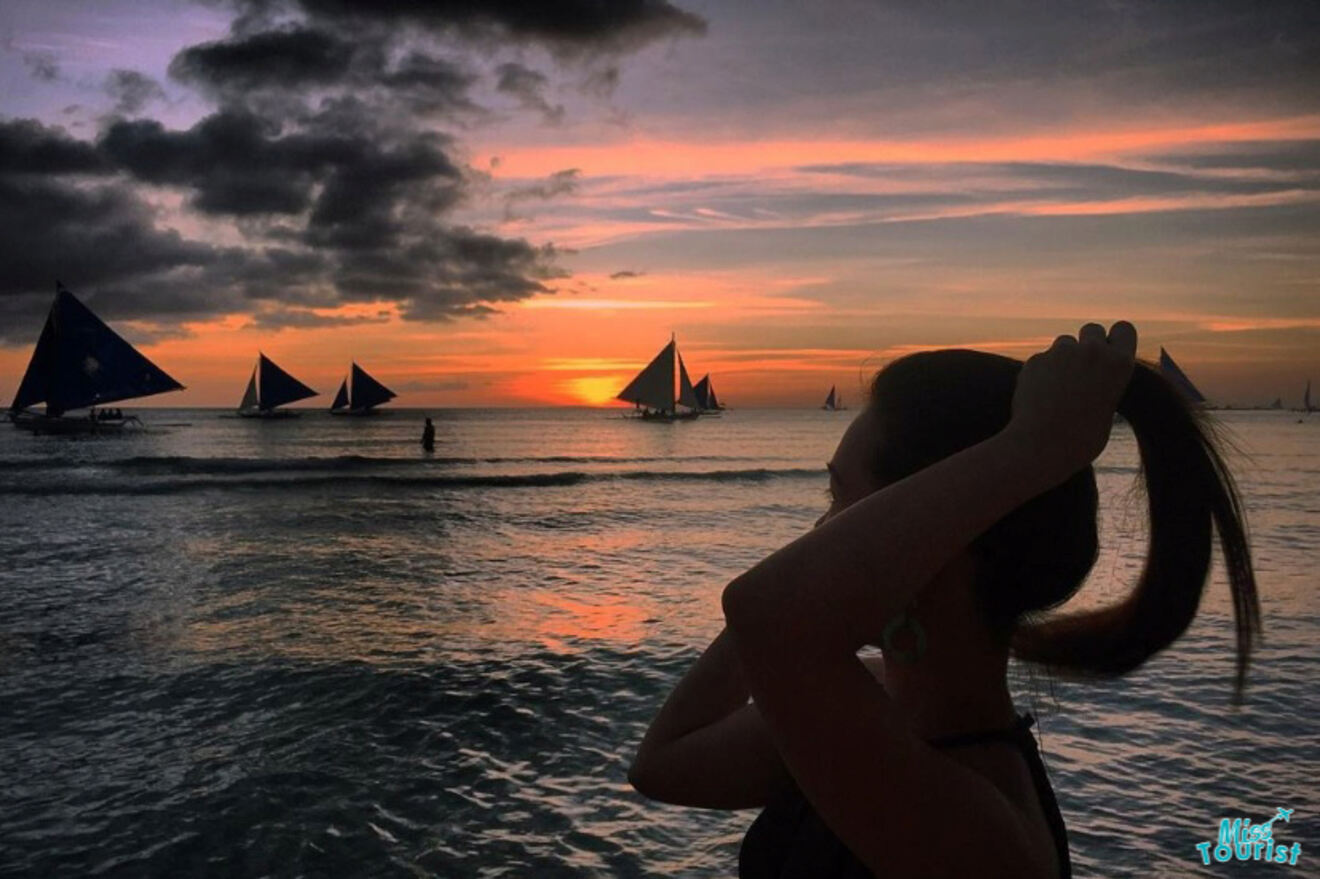 After all that activity you must be starving! So luckily for you, we're heading to a great beachfront restaurant to enjoy the sunset and a delicious dinner!
This is one of the best places to spend the evening as you will get to experience the famous Cha-cha's Sundown sessions!
Cha Cha's has live music or DJs playing great music from 3 pm – 8 pm, 2 for 1 cocktails, and a great view of the sunset over the ocean, what more could you ask for?
I love the decor of this modern cafe with huge glass windows and outdoor seating, plus the super long international menu has some pretty amazing options! 
BONUS ACTIVITY: Learn to kitesurf (Station 2)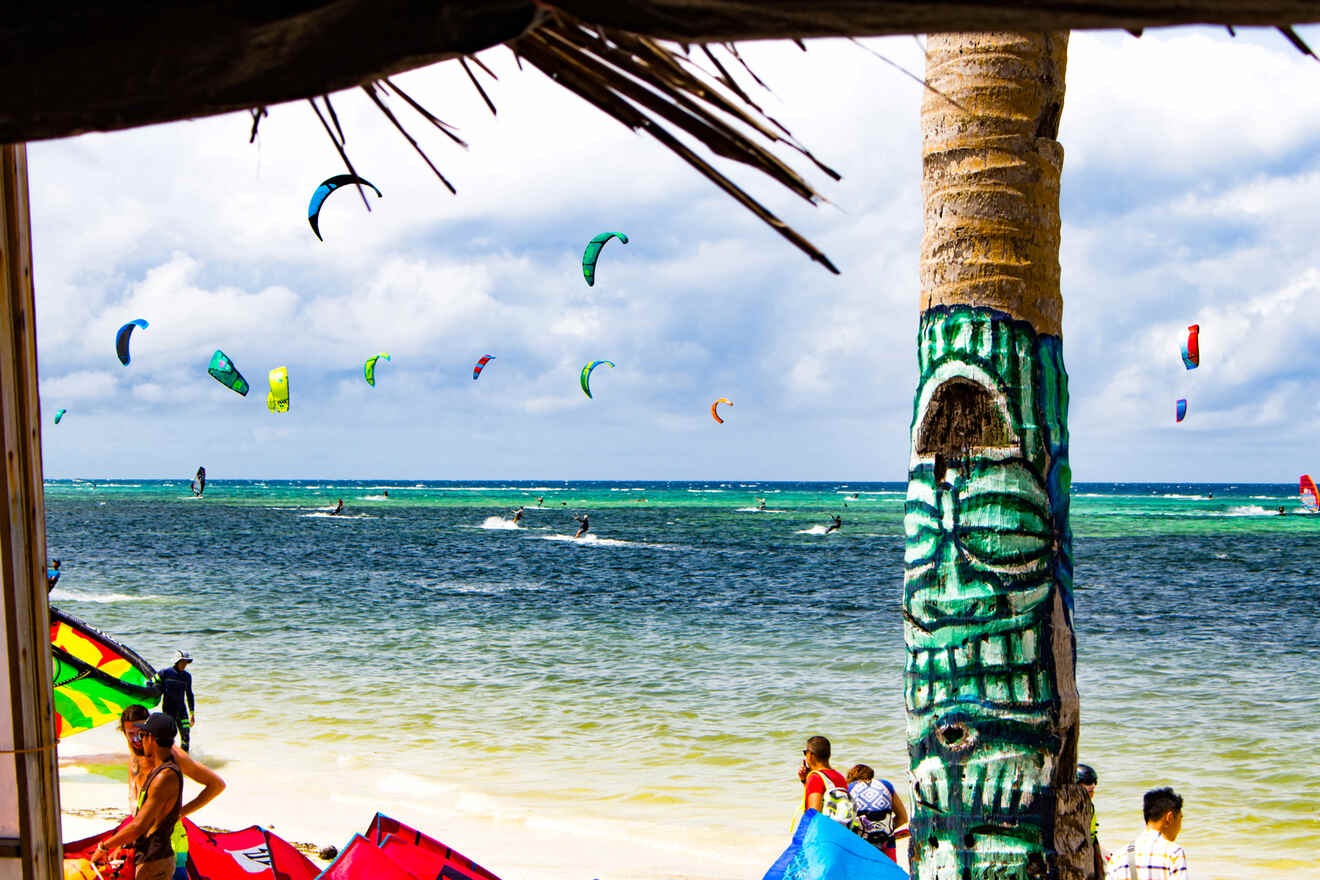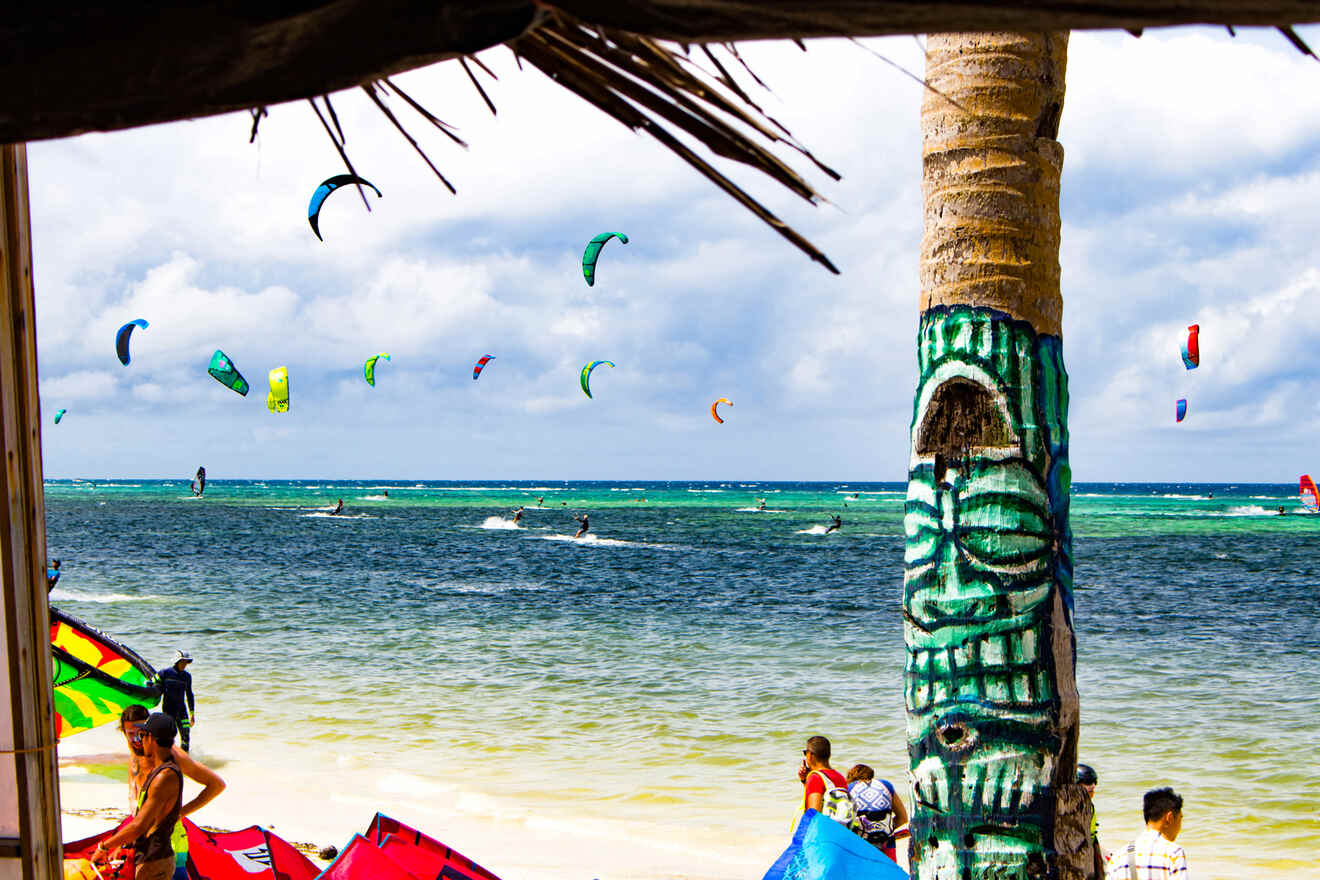 If you have had enough time underwater already or can't scuba dive for any other reason, here's another fun option for you!
With this beginner course on Bulabog Beach, you will learn how to pilot a kite and all about how wind direction works to power you. The best thing? You will receive an internationally recognized certification from IKO (International Kiteboarding Organization) at the end of the day!
Get firsthand experience of kiteboarding through this activity. You will first fly a small kite on the beach to learn where and how it flies. Next, you will set up a larger kite and learn to understand each part of it with the help of your guide, before you are shown how to be safe once you go in the water!
PRICE: PHP 7,000 (US$130) per person with kiteboarding equipment included
Day 3
On your third and last day, you can now take it easy to relax after an action-packed couple of days. Today, enjoy some shopping, explore more food options, go Paraw sailing, and end the day with a relaxing massage!
3.1 Shop til you drop at D'mall (Station 1)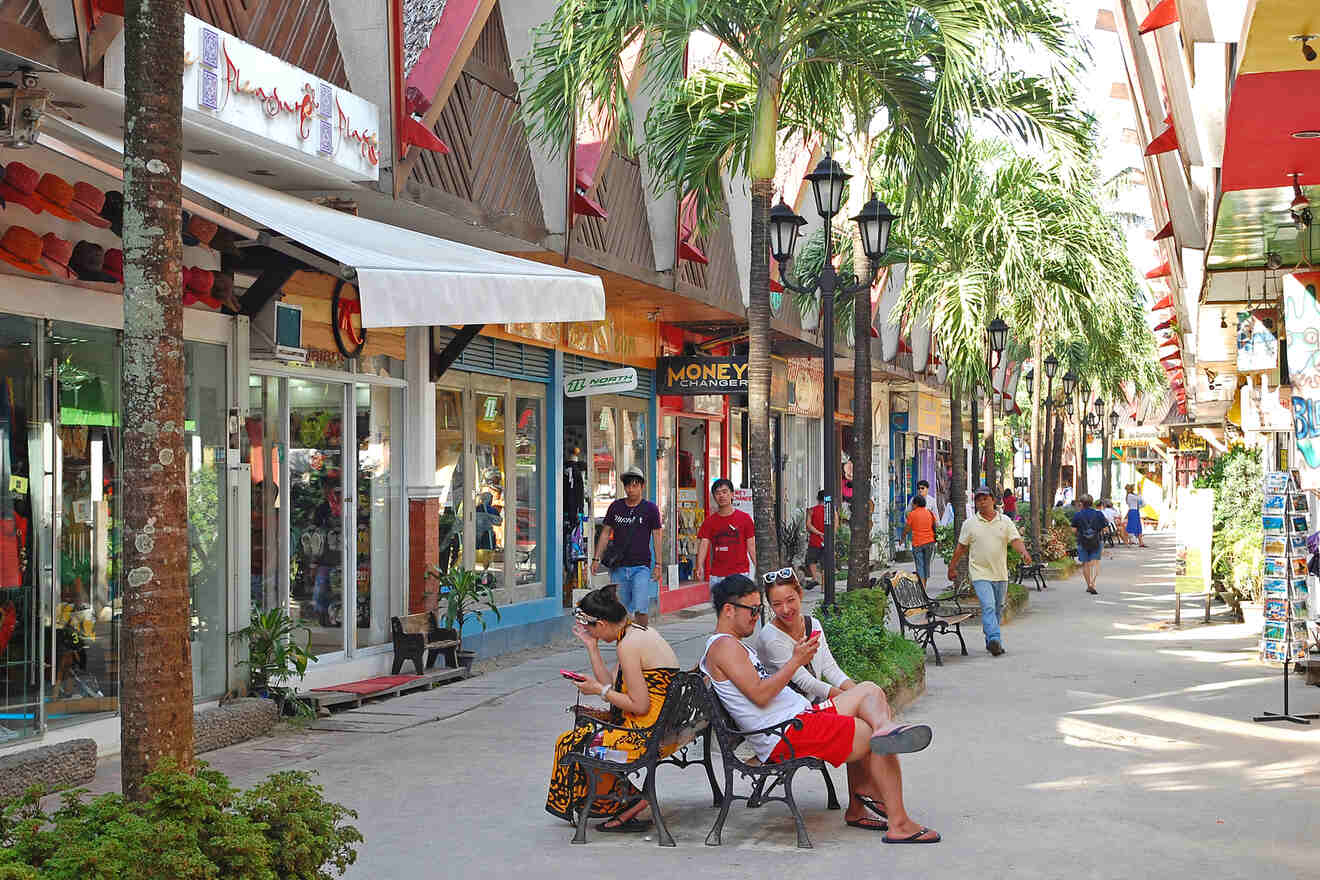 For all you shopping lovers, D'mall is a shopping paradise offering a variety of souvenir shops, restaurants, bars, cafés, and more! It is strategically located on White Beach between Stations 1 & 2.
PROTIP: The prices here for souvenir items are pretty high, so you should always haggle.
If you would like to mark your visit to the Island in a special way, here you can get a beautiful henna design drawn on your body or head to P&P Tattoo for a permanent tattoo. I also recommend a visit to Titania Wine Cellar!
And if you run out of cash while shopping, you don't need to worry since D'mall is equipped with ATMs, money changers, banks, and even pawn shops!
3.2 Go sailing on a Paraw boat (Stations 1 and 2)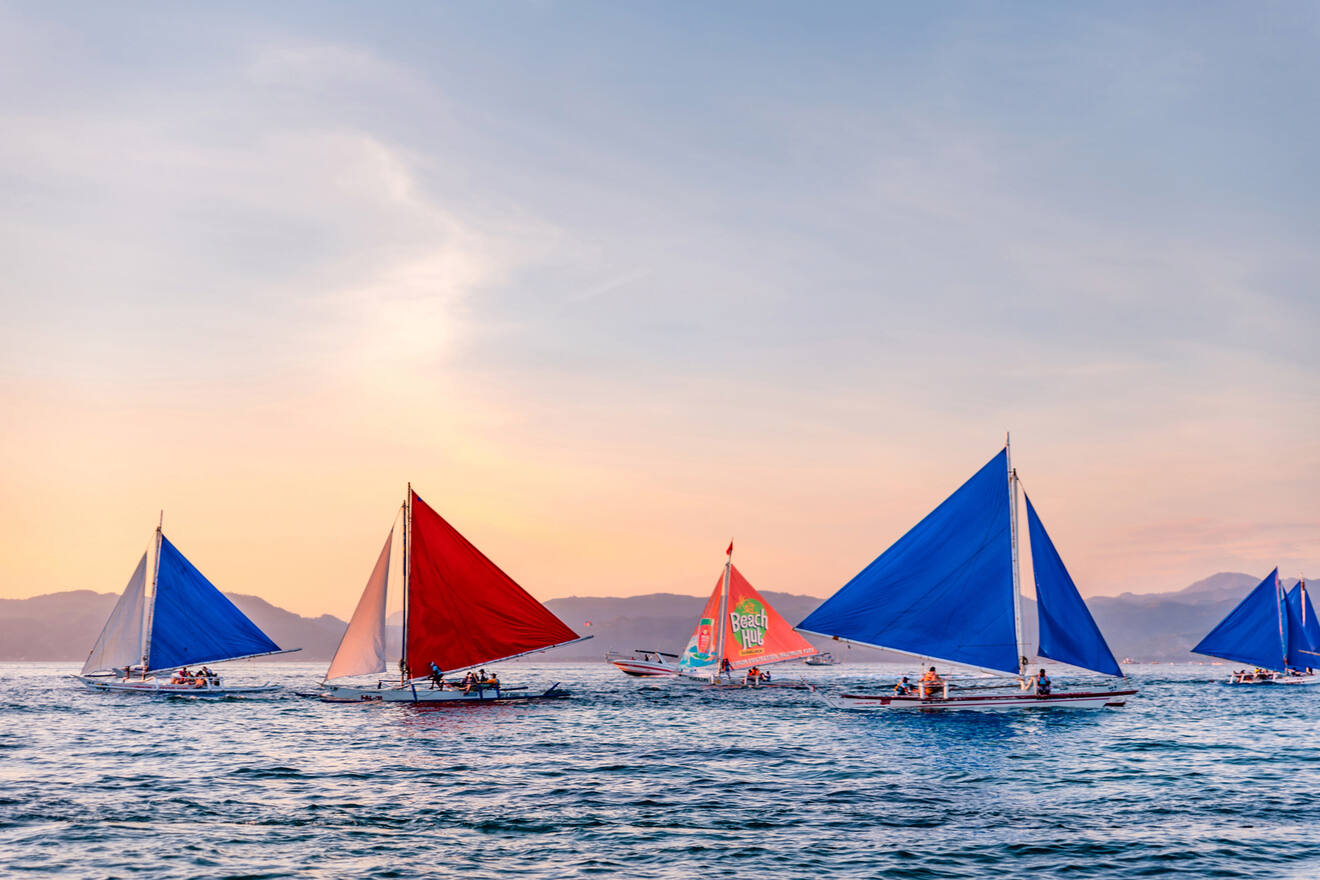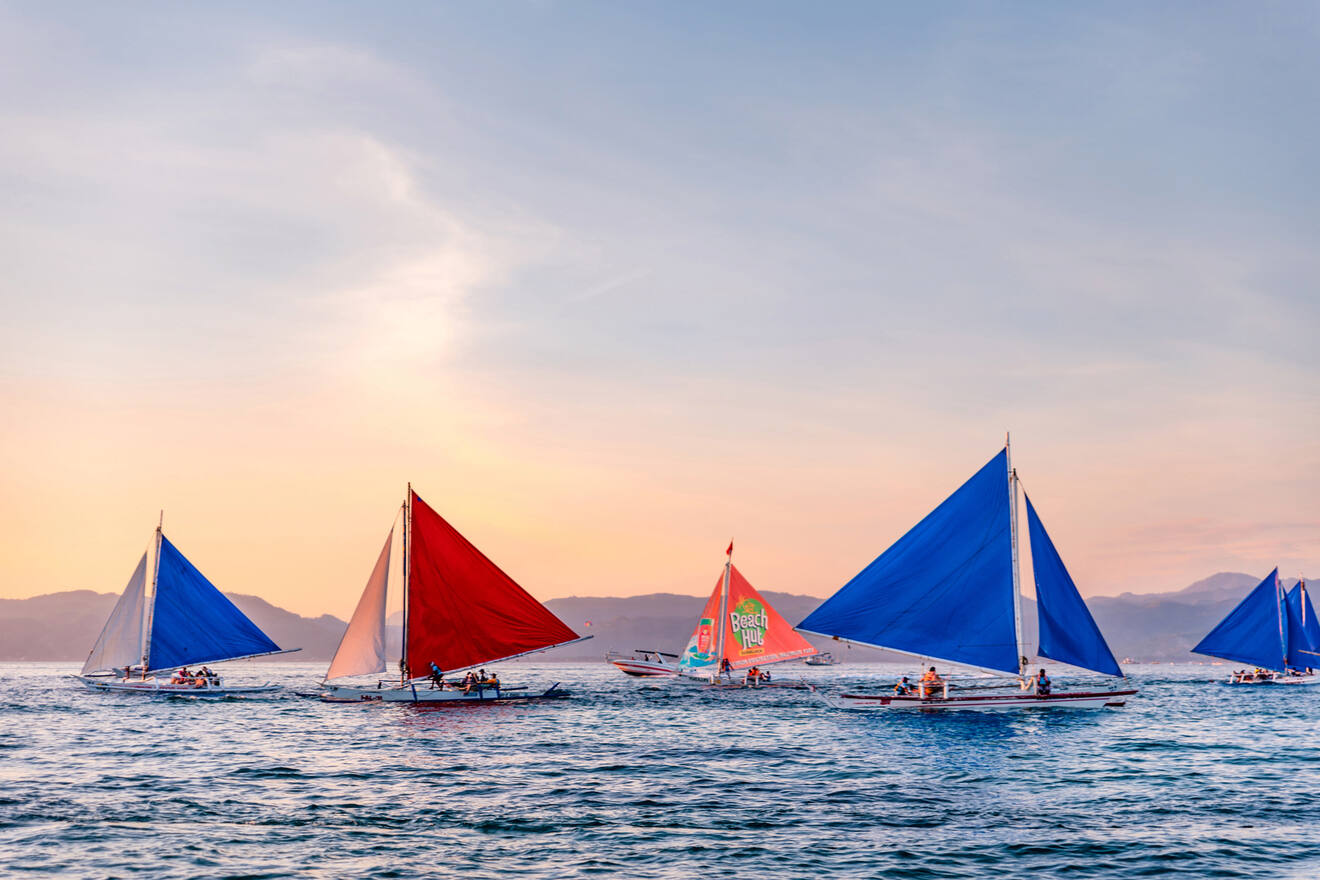 Paraw boats are probably one of the most photographed things on the island! So you can't leave without taking a trip on one of these traditional boats!
No that is not a typo, a Paraw is a traditional Philippino boat with two sails. You will see them everywhere in Boracay and since they're powered by the wind, Paraw boats are relaxingly quiet!
Enjoy the soothing feeling of floating around the bay for 30 or 60 mins depending on the trip you choose. You can arrange this activity directly with the locals on the beach or book it online if you want to have your vacation fully planned in advance.
PRICE: From PHP 905 (US$ 18) per person
3.3 Go Food and Restaurant Hopping
Okay, you probably heard of bar hopping or island hopping in this article, but on our last day at Boracay, it's time to try some foods that you simply must not miss!
So here is a list of my favorite places to eat in Boracay:
Must-try cold treats to beat the heat
Halomango (station 2) – You'll always find a line when you visit this shop, but it's definitely worth the wait! Aside from shaved mango ice cream, there are other options to choose from, like mango shakes, mango bingsu, mango fruit bucket, and all things mango! And the most popular item on the menu is the Mango Ice cup at PHP 150 (US$ 3).
Jonah's Fruit Shake Snack Bar (Station 1 & 2) – Of course, no island experience is complete without having some refreshing fruit shakes on hand! Sure, there are lots of fruit shake stands on the island, but I recommend this one the most! It has a varied selection of fruits but my personal favorite is avocado and mango! Prices range from PHP 75 to PHP 160 (US$ 1.50 – US$ 3.00).
Must-try Restaurants
BarLO Resto Lounge (station 1) – Getting a bite of the crowd's favorite; four-cheese pizza at BarLO Resto Lounge is essential for any visit to Boracay! Located in Station 1, this restaurant can be found at the Two Seasons Boracay Resort. I also recommend you try their oyster sisig (specially seasoned oysters)!
Nonie's (Station 2) – Health-conscious travelers can get their fill at this restaurant. It is known for serving healthy and delicious food as well as vegan Philippino options such as vegan champorado (chocolate rice porridge) and vegan sisig (normally crispy pork)! The restaurant also customizes meals according to dietary restrictions or allergies and uses fresh and organic ingredients from local farmers.
Los Indios Bravos (Station 1) – Your last day might call for a drink at this gastropub that serves Filipino handcrafted beers on tap alongside classic pub food from around the world. I must say their burger is one of the best in Boracay but you should also try the Roxas fresh oysters and premium steaks if you come for dinner! If you're lucky, you might hear a local band serenade you while enjoying your beer and comfort food.
3.4 End the day with a relaxing massage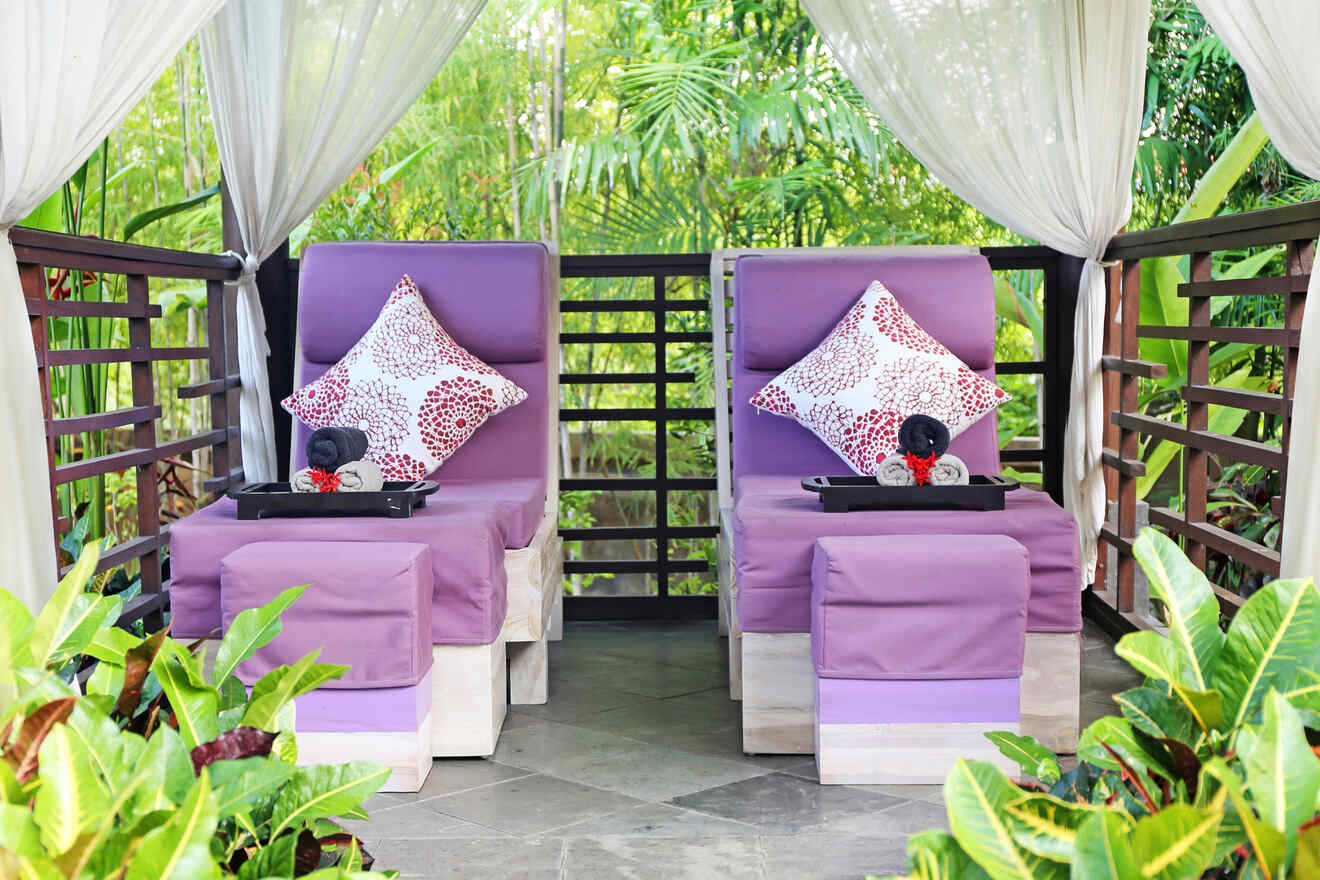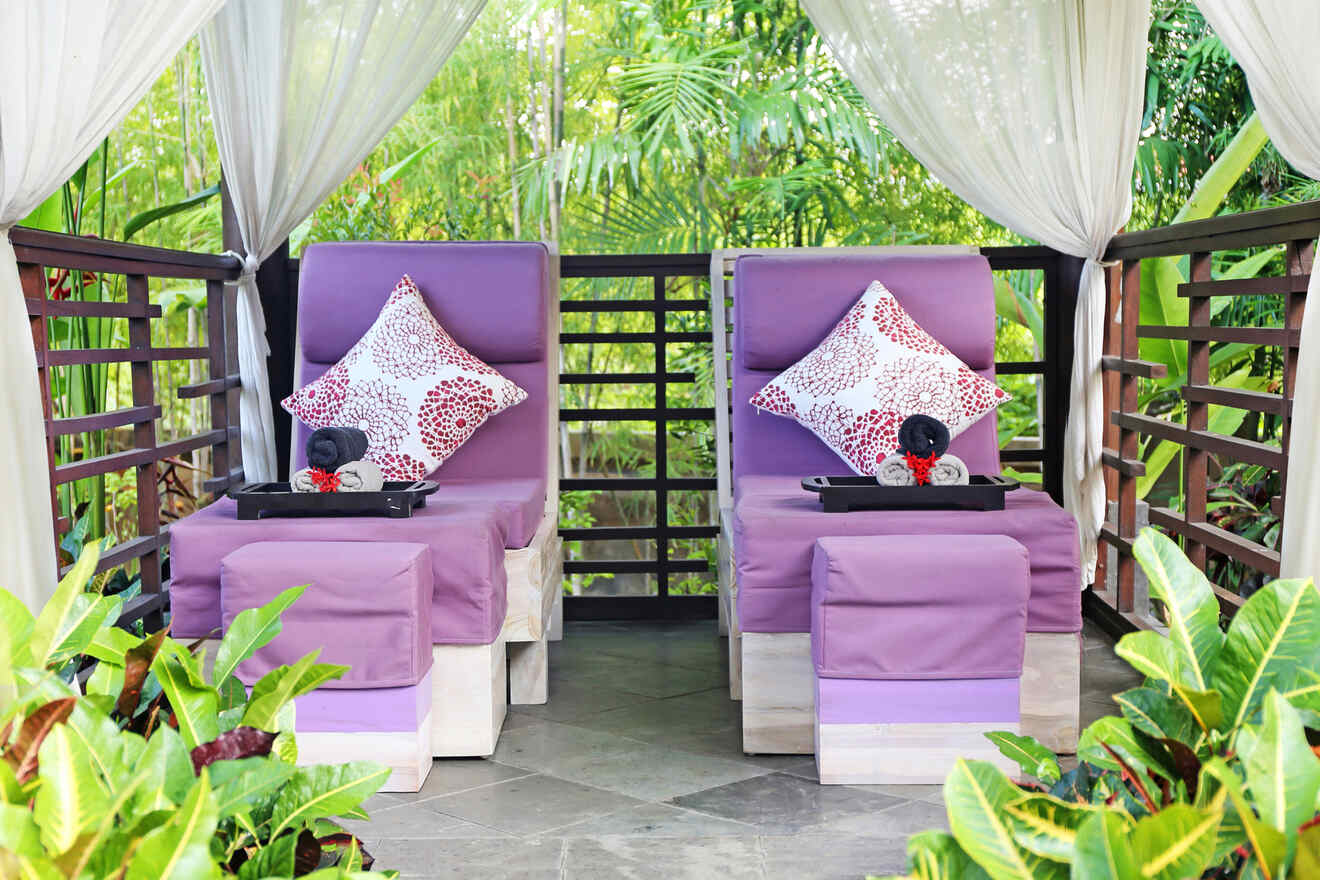 Still, at station 2 in D'Mall, you can find so many relaxing spas and massages for unbeatable prices!
Pamper yourself at D'Spa Boracay, where you can get a full body massage, body scrub, hot stone massage, ventosa, and even a hair spa! Or, if you prefer a simpler yet relaxing foot reflexology, I suggest you head on to Footzeez.
PRICE: Prices for a full body massage start from just PHP 800 (US$12) for 1 hour
Bonus: 3 unusual things to do in Boracay
For those of you who are perhaps extending their stay for a little longer or simply want a few more unique activities to fill their trip, here are some super unique activities I recommend trying in Boracay!
1. Mermaid swimming (Stations 1 and 2)
Make your childhood mermaid fantasy come true for a day through this unique mermaid swimming experience. Get ready and learn the most striking mermaid poses, wear a mermaid suit, and of course, take home a memorable photo of yourself!
The activity is run by the Philippine Mermaid Swimming Academy and varies from basic to advanced mermaid swimming lessons for those of you who have already given it a try before.
PRO TIP: The best time of year to try mermaid swimming is between October to June for the best weather.
For bookings, send them a message on Facebook or go directly to Kite Asia in D'Mall where they offer private and group lessons.

PRICE:
Introduction to Mermaiding Swimming Lesson – 90 mins: PHP 2,000 (US$38)
Mermaid Photo Op – 30 mins: PHP 1000 (US$20)
Advanced Mermaid Swimming IMSIA Level 3: A 3-hour activity where you can learn techniques and proper use of snorkel gear, execute handstands, bubble blowing, and more: PHP 3,600 (US$70)
2. Go Cliff diving at Ariel's Point (Station 1)
Cliff diving at Ariel's Point is the best bet for all adventure seekers while on the island!
Located a 35min boat ride from Station 1 on the western edge of Buruanga, there are five different diving platforms: the highest one starts from 13 to 15 meters, depending on the tide, and the rest are from 7 meters, 6 meters, 5 meters, and 3 meters high!
Trips run daily from 10 AM to 5 PM and while on the day trip you will get to enjoy a boat cruise to Ariel's Point, BBQ buffet lunch, afternoon snacks, unlimited beverages (including beer and mixed drinks), cliff diving, kayaking, SUP, snorkeling, and a souvenir bracelet all included in the price.

PRO TIP: If you are staying at Boracay Beach Club, a family-owned beachfront hotel in Station 1, you will get a discounted rate of only PHP 2,000 (US$40)
PRICE: PHP 2,500 (US$50)
3. Helicopter Tour (Station 1)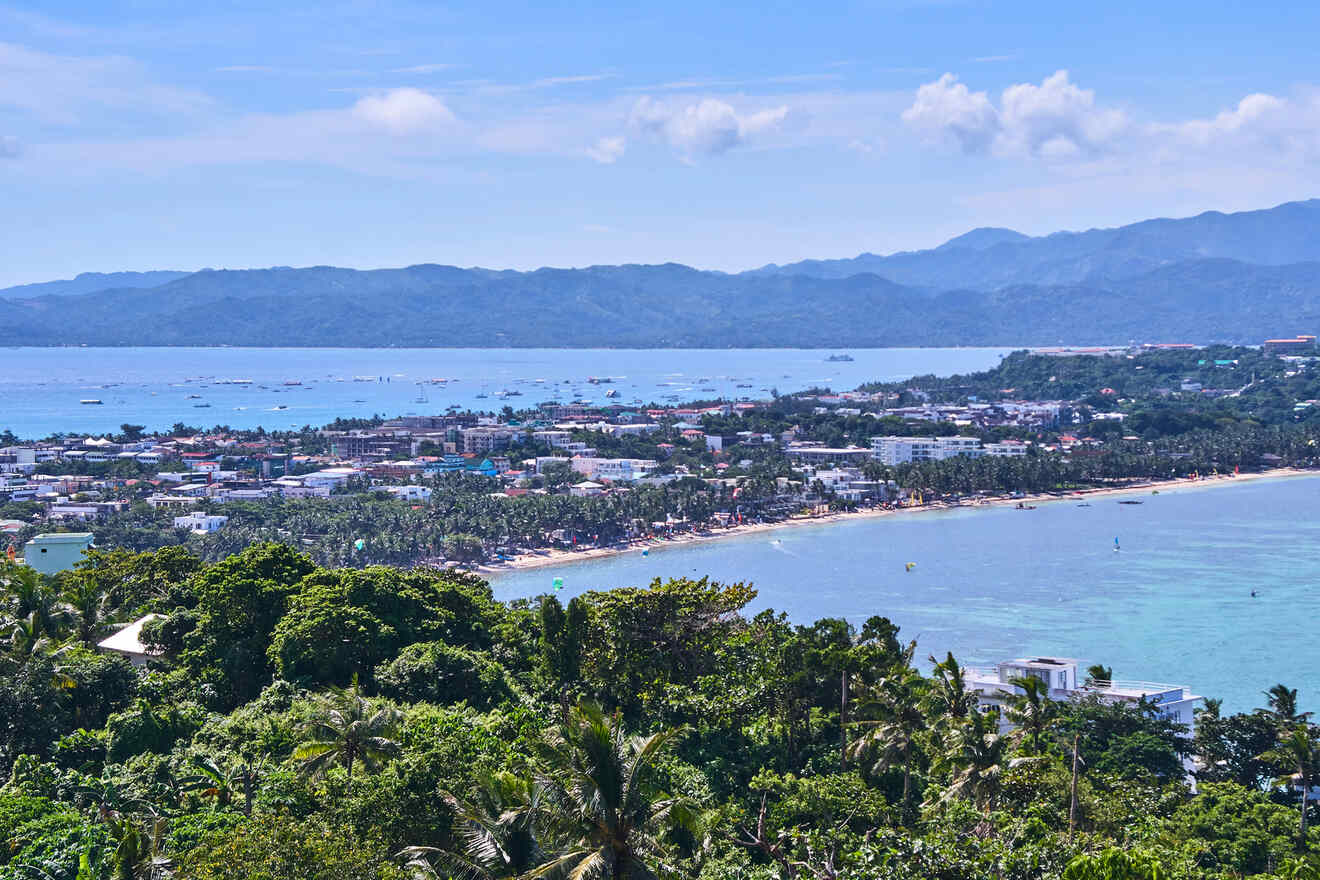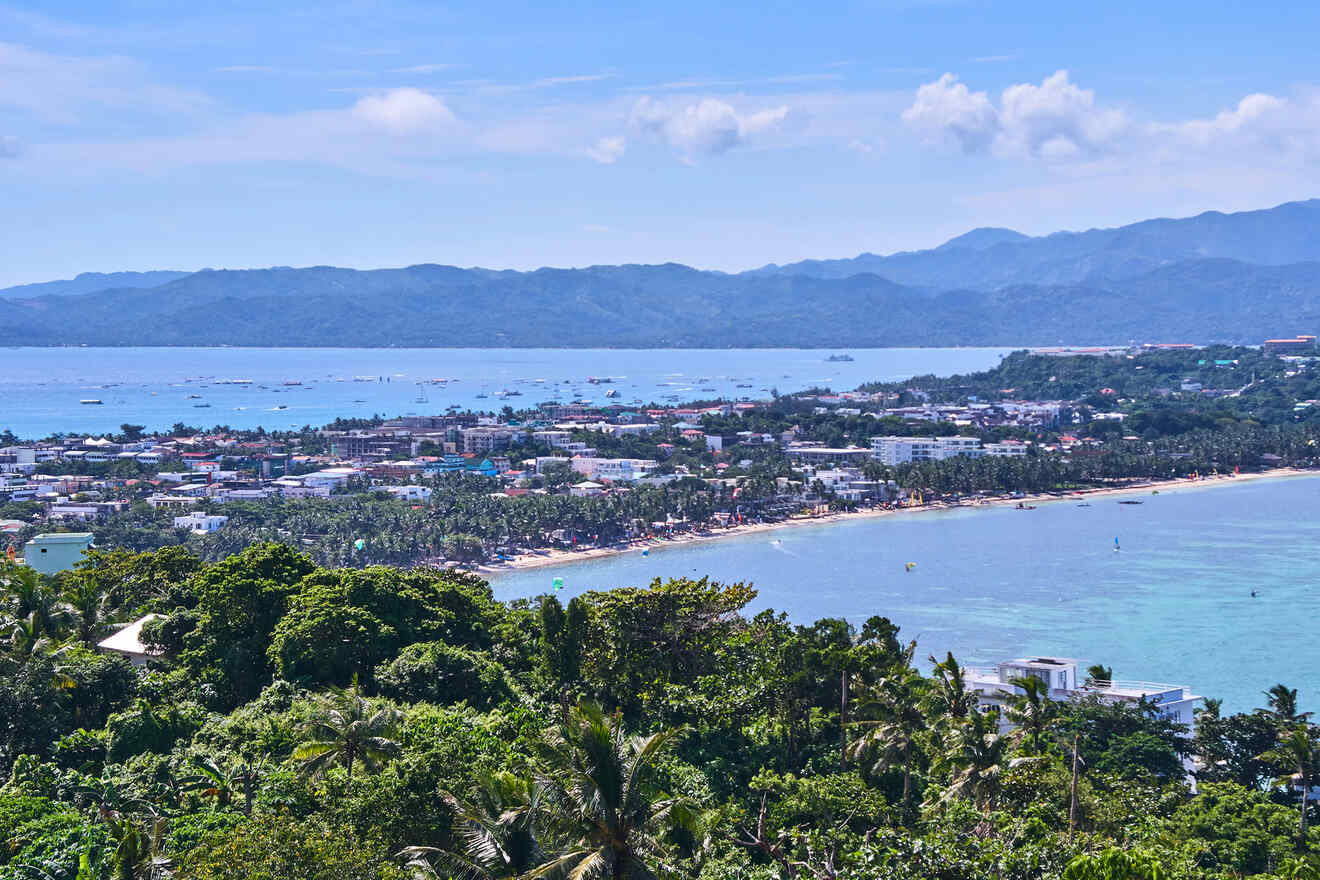 How about a helicopter ride to marvel at the beauty of Boracay island? This is one of the newest rides you can try in Boracay, perfect for a romantic getaway or a birthday gift to your loved one.
View the many outlying islands surrounding Boracay, the white sand beaches, and turquoise water from above.
There are three options available for a flight are as follows:
10-minute Beach Tour – Fly over Boracay's coastline, reefs, and white sand beaches
15-minute Island Tour – See the stunning Tambisaan Reef and fly over Bulabog Beach, Puka Beach, Diniwid Beach, and White Beach
20-minute VIP Tour – Explore Boracay's magnificent sights and then explore the neighboring islands of Carabao and Crocodile Island while marveling at the turquoise waters surrounded by lush forests
PRICE: Starting from PHP 11,300 (US$ 220) for 2 people
Where to stay in Boracay
This itinerary wouldn't be complete without giving you somewhere to rest your head at night! Here are my personal accommodation recommendations for every budget!
You will find high-end resorts, boutique hotels, and affordable hostels that won't break your bank on this list. Let's check them out:
Luxury (US$170 and up)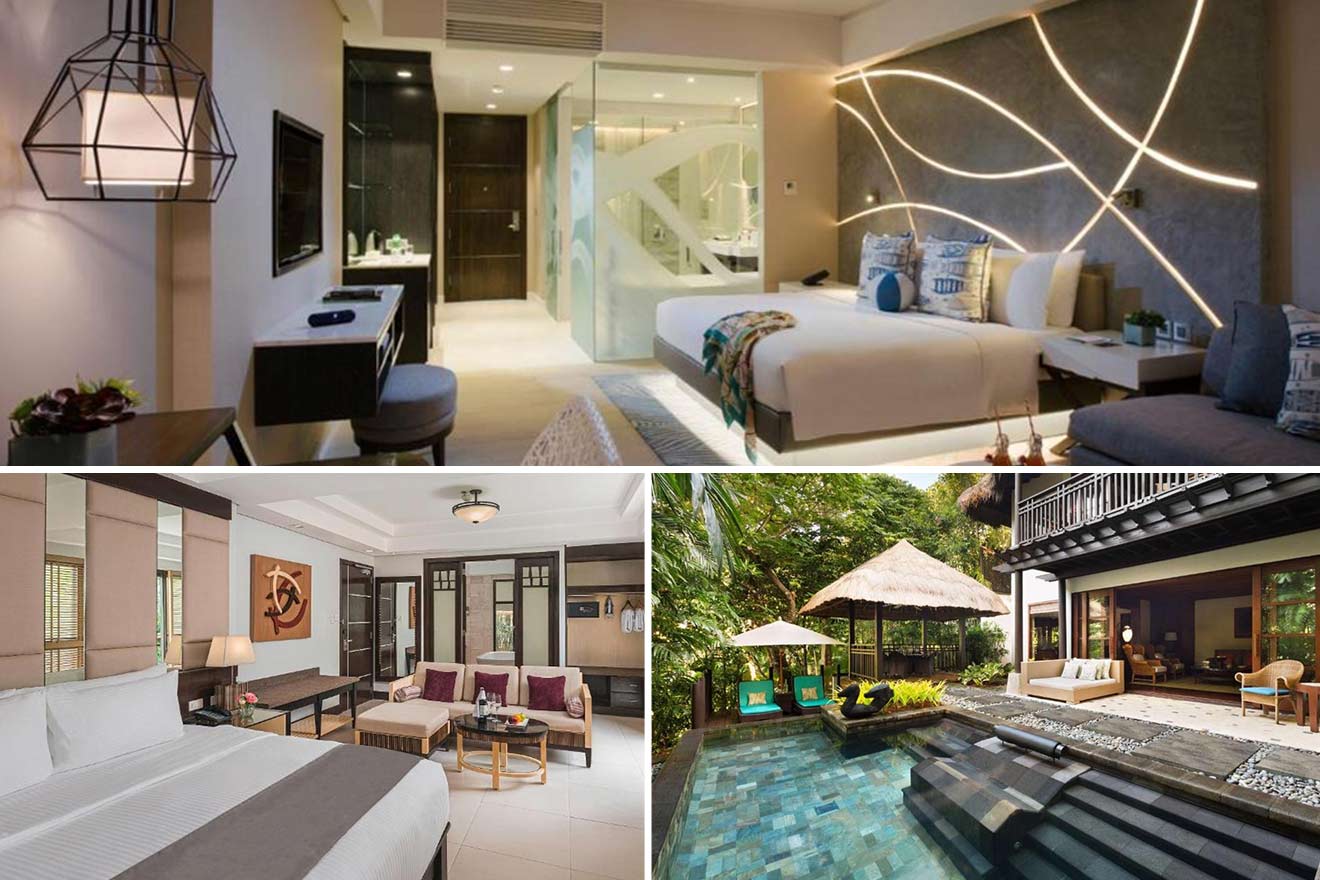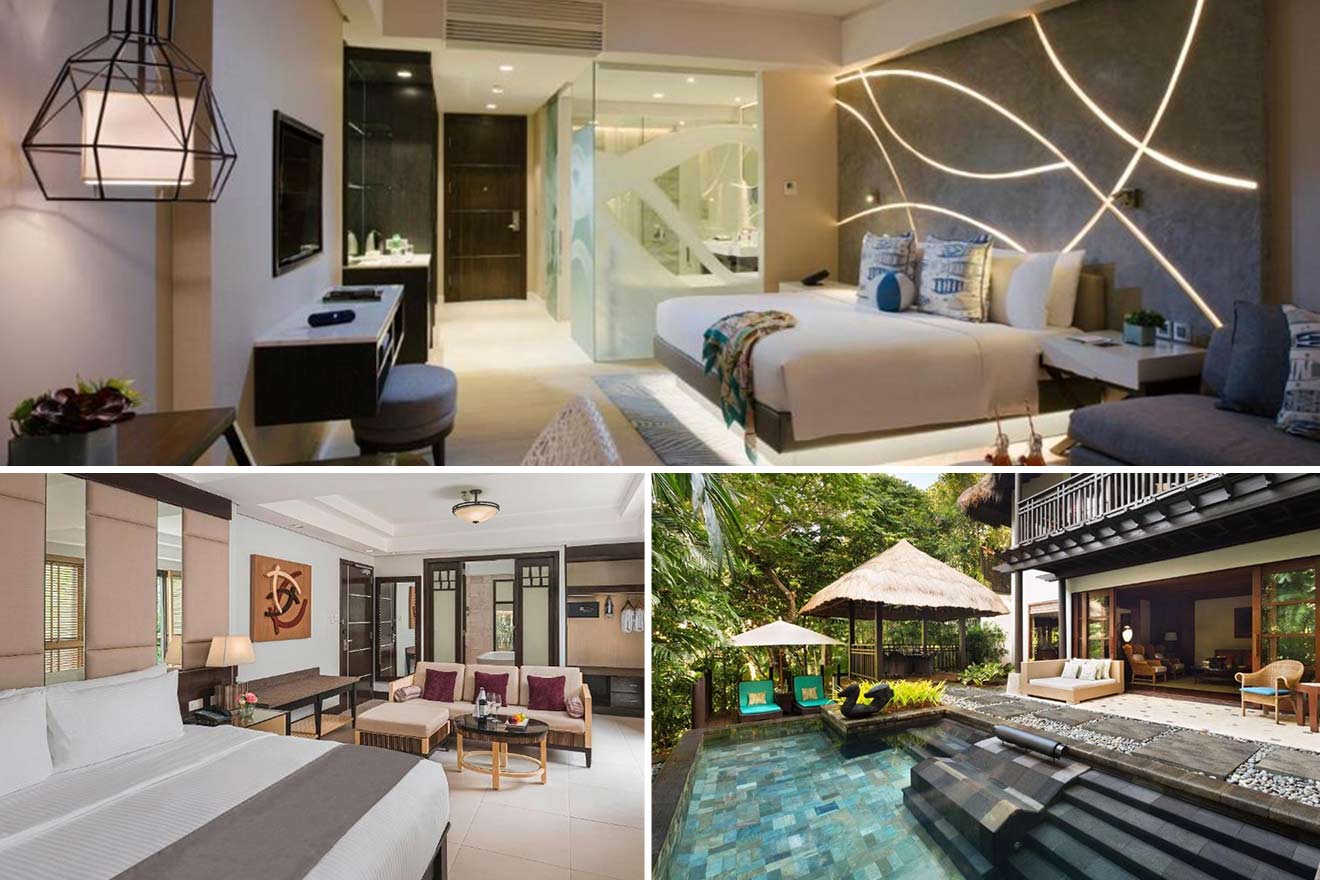 Shangri-La's Boracay Resort & Spa – Probably one of the first resorts established on the island of Boracay, Shangri-La's Boracay Resort & Spa is the best resort to book when you want to experience luxurious island life. Its interiors promise elegance with some indigenous touches such as Abaca and capiz shells for a total experience of the Filipino tropical vibe. While you're there, make sure to enjoy their two outdoor swimming pools, tennis court, water activities, and a gustatory dinner with a view of Rima!
The Lind Boracay – Found at the end of Station 1, The Lind Boracay is your quiet retreat, away from all the happenings. This five-star hotel has 119 rooms that offer either a beach or a garden view. It's also a family-friendly zone because of its "Kids' club," where children can take different programs such as the Origami Class while you have the time of your life by the beach. And the best thing about The Lind Boracay? They'll give you a complimentary dessert every day! If this is not heaven on Earth, I don't know what is.
Henann Garden Resort – Henann Garden Resort is a stone's throw away from the popular D'Mall so everything you need can be easily found around here. It has fantastic rooms that will soothe you after all the activities you've done on the island. More so, the pools at Henann Garden Resort Boracay are part of the place's signature beauty. It has four beautiful pools where guests can take a swim. It also has a huge breakfast selection, not to mention that they have vegetarian food too, for all to enjoy!
Mid-range (US$80 – US$170)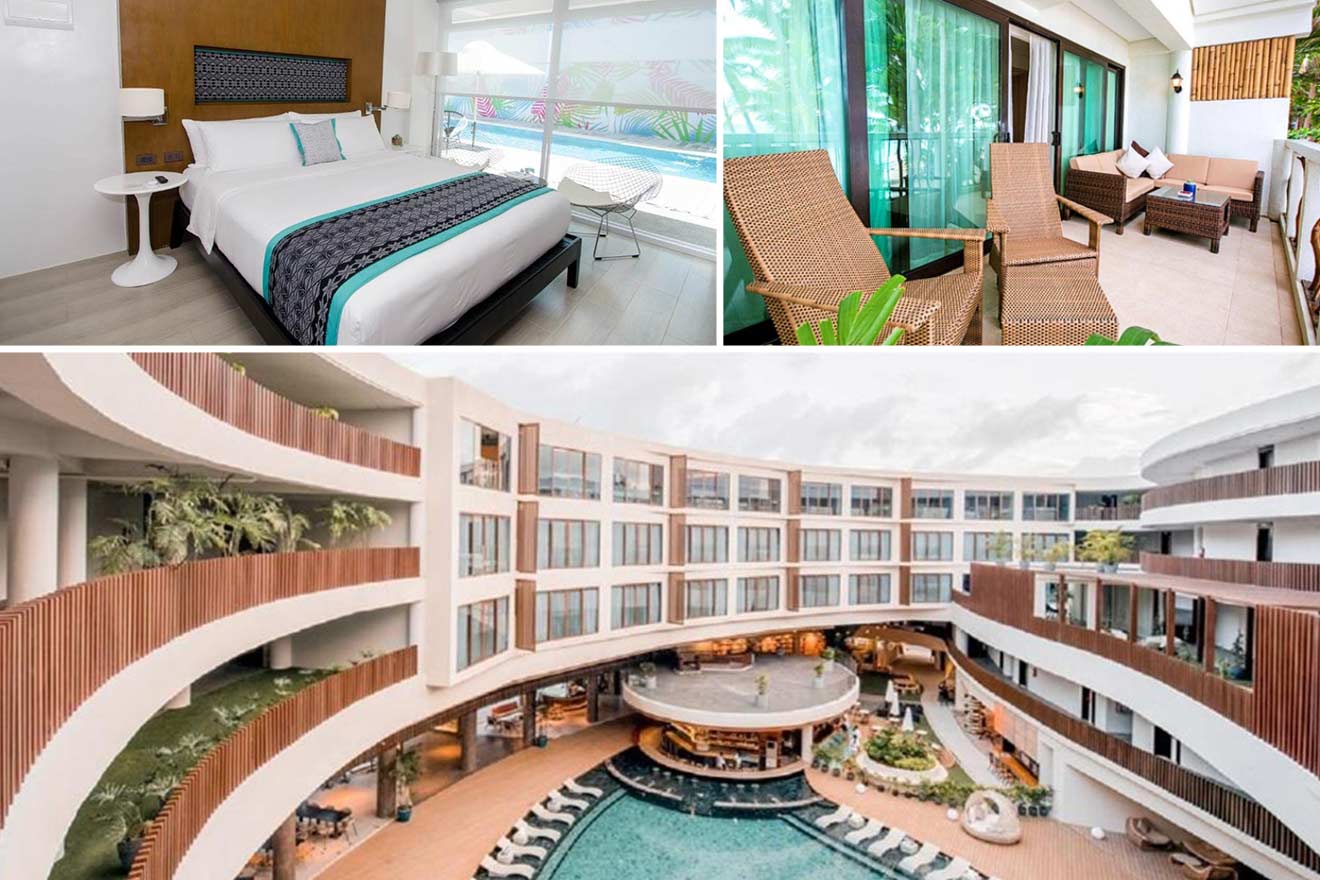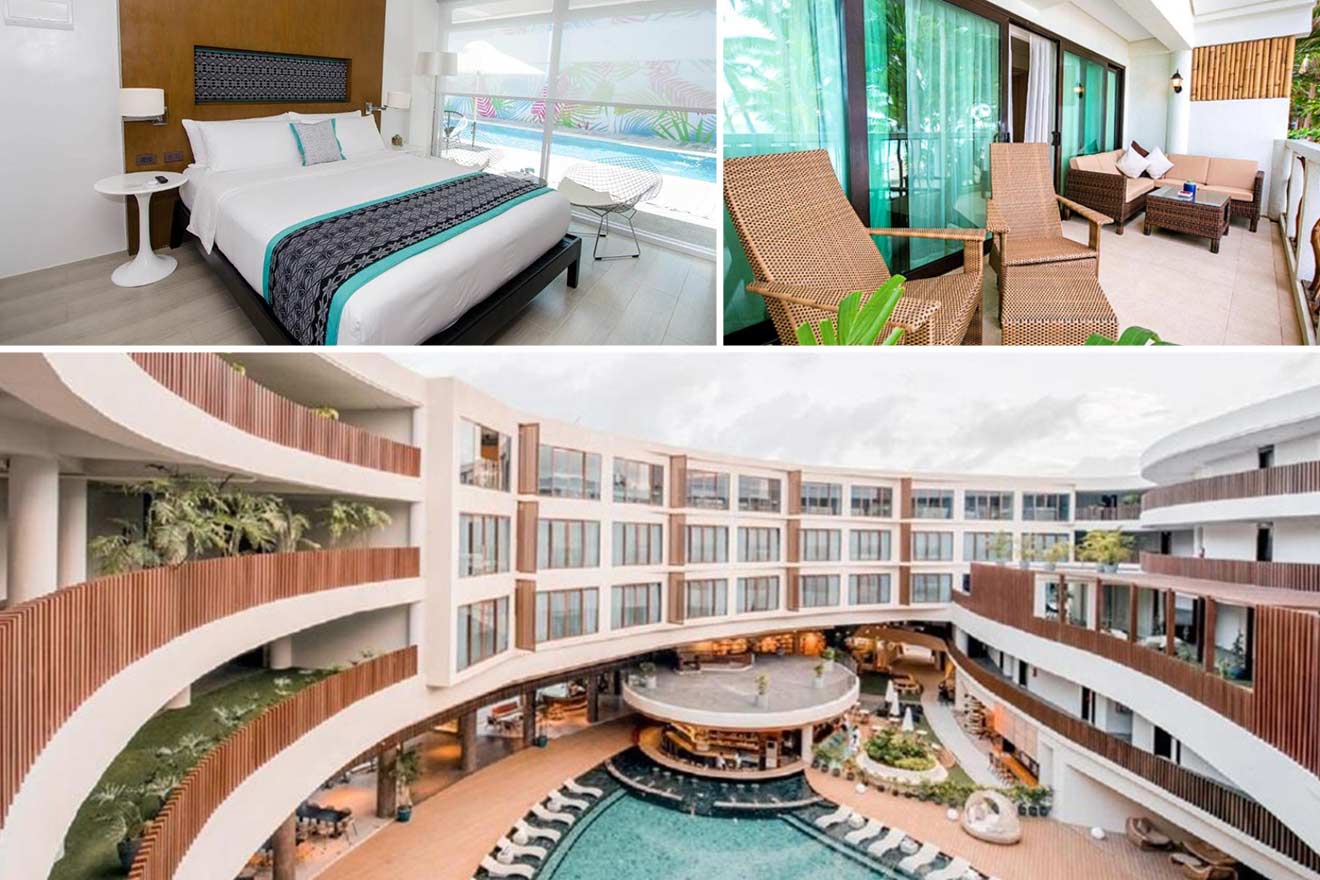 Hue Hotels and Resorts Boracay – If you are looking for a quiet, family-friendly hotel away from the party and loud music, look no further! The architectural structure of Hue Hotels, combining modern aesthetics and traditional Filipino elements, will blow your mind. And if I were to ask, the huge pool in this hotel is not just great but a masterpiece. Also, the staff is super friendly, and you get access to other amenities like the gym, bar, on-site restaurants, and more.
Coast Boracay – Coast Boracay is a 71-room resort with five room categories in Station 2. Each room and facility is designed with a Filipino heart in mind. Here, you will see designs that flaunt Mindanao textiles' local beauty, among others. It also has some delicate white finishing touches that perfectly complement the blue and green hues of the environment. The resort is well-equipped with Wi-Fi, SMART TVs, and luxurious amenities that won't break your bank!
Villa Caemilla Beach Boutique Hotel – this beautiful boutique hotel is located in Station 3, the quiet side of Boracay. The beachfront property boasts affordable rooms, complimentary land transport to carry you anywhere in Boracay, shuttle service to the jetty port, fast internet, and the Bella Isa Spa to keep you well-rested after your shenanigans on the island!
Budget (up to US$60)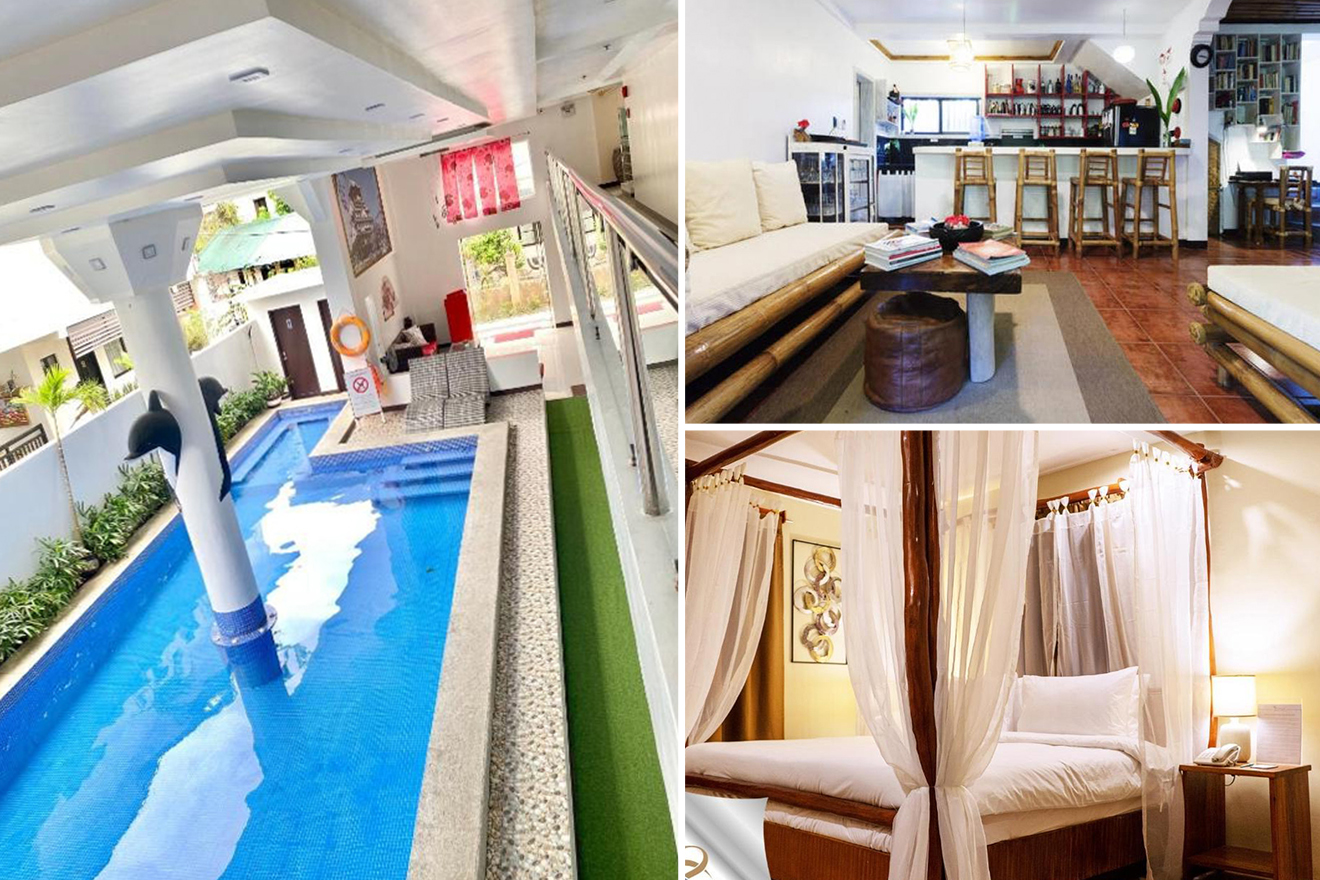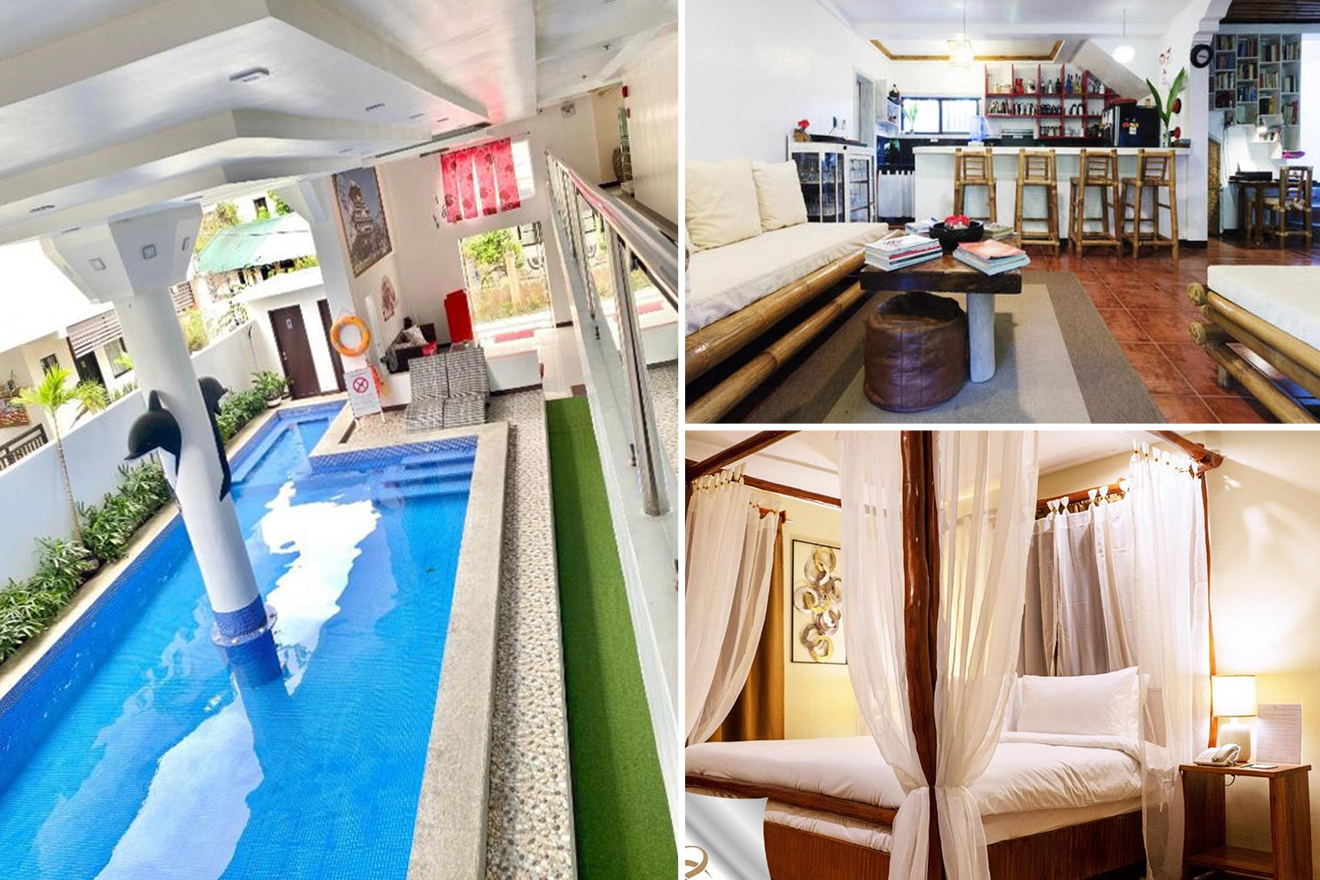 Serene La Playa Boracay – If you dream of staying in the luxurious area on station 1, but want to stay on a budget, then Serene La Playa Boracay will welcome you with a warm smile. The hotel is located close to the beach and the main street, so it's easy to travel around Boracay. All rooms are super clean and comfortable, and some rooms even have balconies. And while you are at the hotel, there's an on-site restaurant, and their rib-eye tapa is a must-try!
IL Mare Sakura Resort Boracay – A simple but spacious hotel room awaits you at Il Mare Sakura Resort. It's hard not to notice the Japanese-inspired rooms that are bright, spacious, and spotlessly clean. This place is famous for serving a delicious breakfast buffet, extremely accommodating staff, and concierge service.
Lanterna Hotel Boracay – Another incredible budget option that also offers an airport shuttle service! You'll have access to the shared kitchen where you can cook your own meals and if you plan to work and need a strong internet connection, you've found the right place. At the end of the day, relax on the lovely spacious balcony for the perfect evening.
How to get to Boracay
Now that you have your whole trip planned (and hopefully booked), you better know how to get to the wonderful island of Boracay. Here are your options depending on where you land in the Philippines:
By plane from Manila or Cebu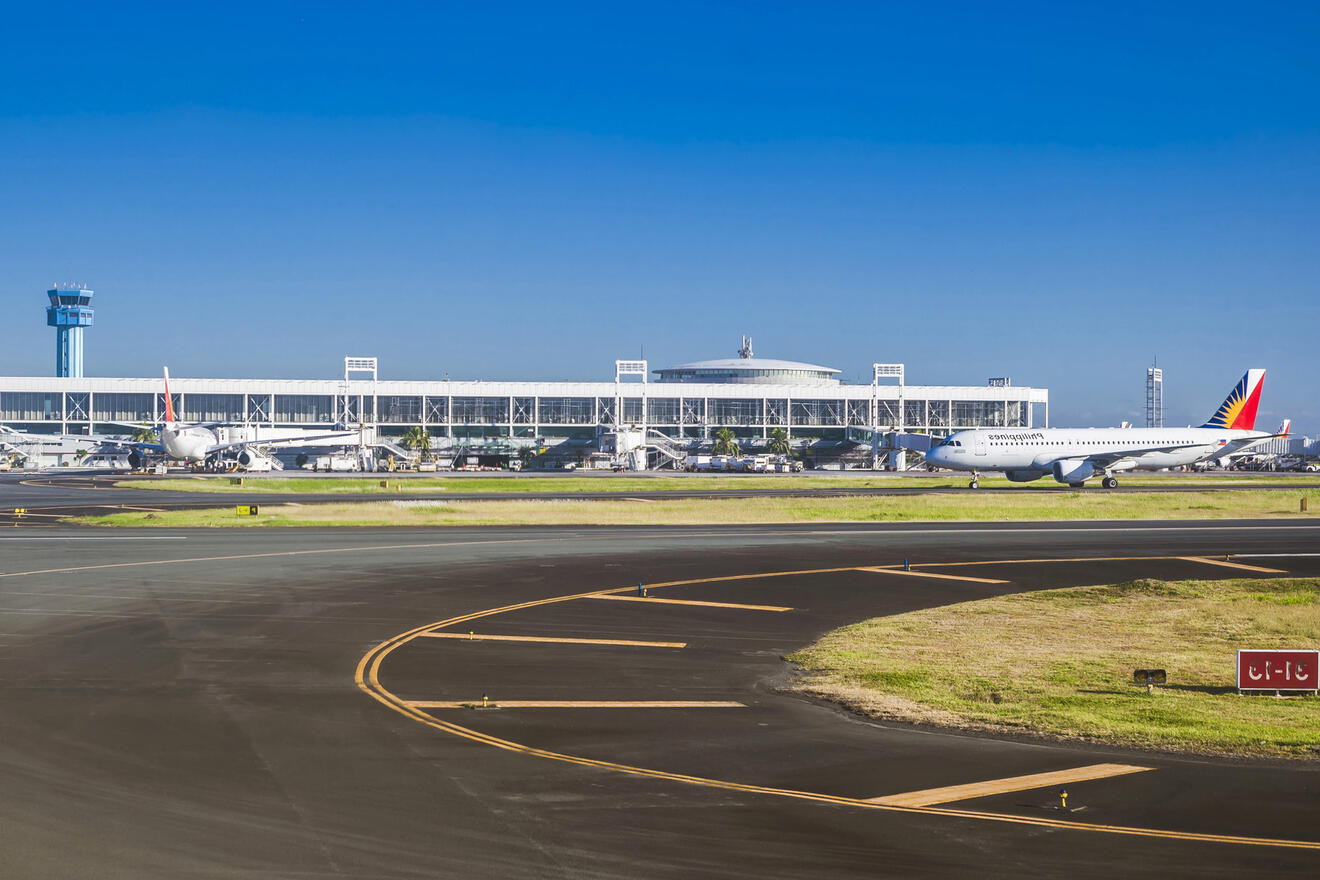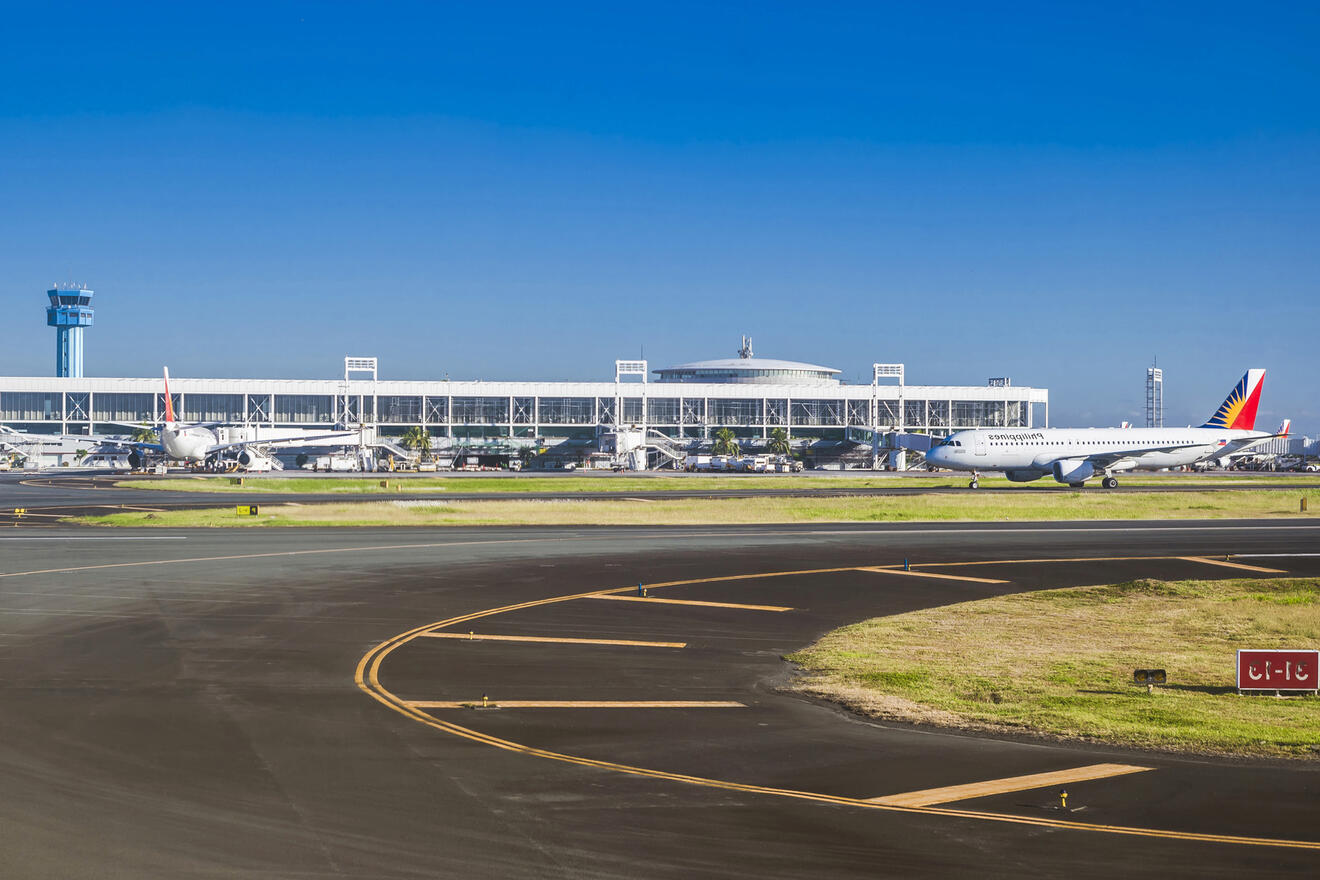 There are two airports close to Boracay; Kalibo airport and Caticlan airport, both located on the neighboring island of Panay.
While flights to Kalibo are sometimes cheaper, I still highly recommend you book a flight to Caticlan airport instead. If coming from Kalibo, you would need to also take a two-hour van or bus ride to reach Caticlan Jetty Port going to Boracay Island. Meanwhile, a direct flight to Caticlan will save you a lot of time because it is just a 10-minute walk or a five-minute tricycle ride to the port where you will catch the boat to Boracay (see below).
Local airlines such as Cebu Pacific Air, Air Asia, and Philippine Airlines have daily flights to Kalibo and Caticlan with round-trip airfares starting from around PHP 4,000 (US$80) from Manila or PHP 3,000 (US$60) from Cebu.
Overland from Iloilo/Panay Island
If you are already in Iloilo or have arrived here by boat, you will need to take a bus going to Caticlan.
Take any Ceres Bus going towards Caticlan and ask the driver to drop you off at the Caticlan Jetty Port. Travel time is about six hours and the bus fare is PHP 300 (US$6).
From the Caticlan Jetty Port, pay for the boat ticket and environmental fee for Boracay Island. This would probably sum up to PHP 200 (US$4) or less. Travel time is only 15 minutes and when you reach the island, just hail a tricycle and tell them to drop you off on your desired location (max US$5).
| | |
| --- | --- |
| ✈️ Cost of traveling: | Low |
| 📅 How many days: | 3 |
| 🏠 Where to stay: | Station 1 |
| 🍽️ Dinner for 2: | $25 |
| 👶 Family friendly score: | Good |
| 🚕 Average taxi price: | $5 for 10 mins |
Frequently Asked Questions about Boracay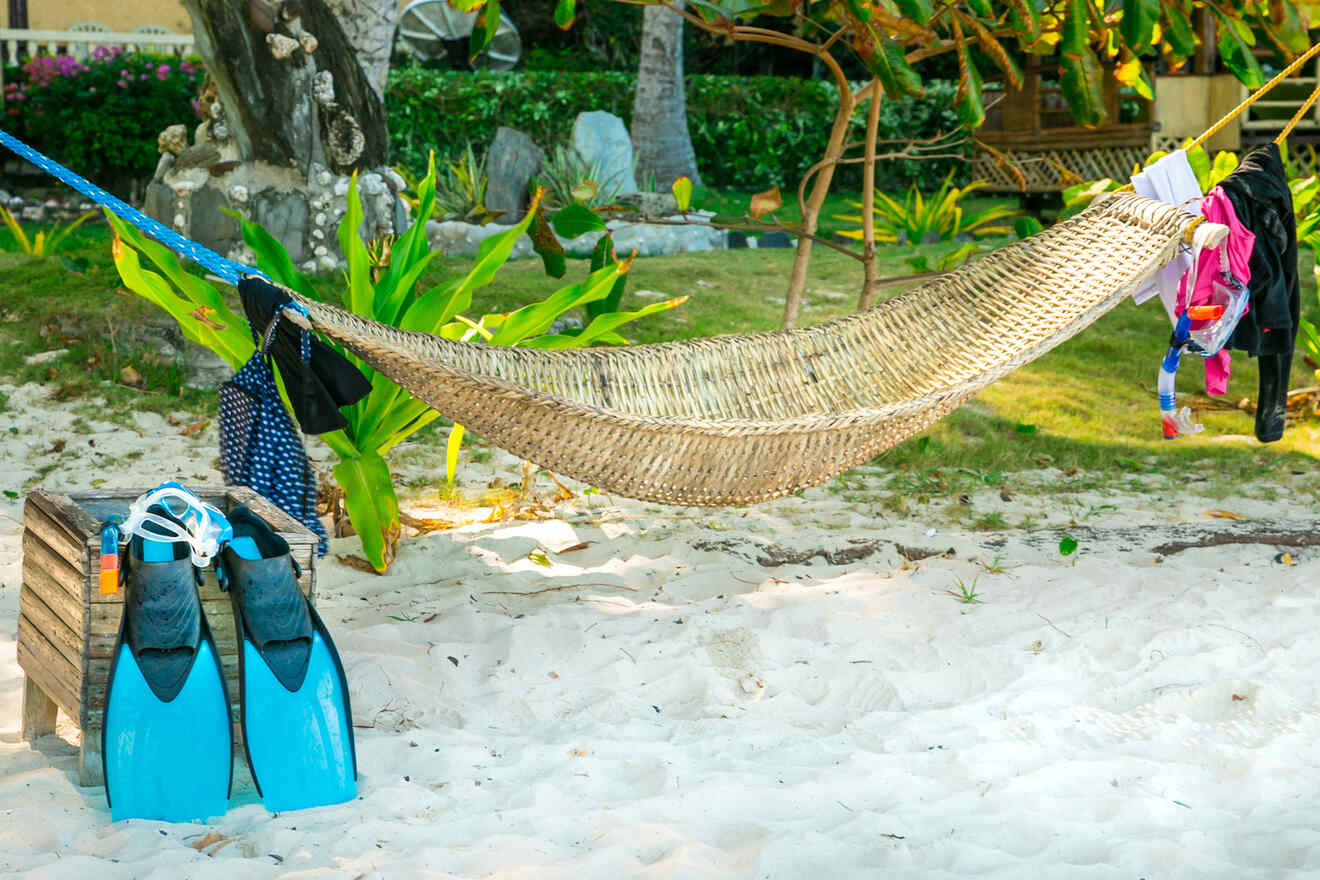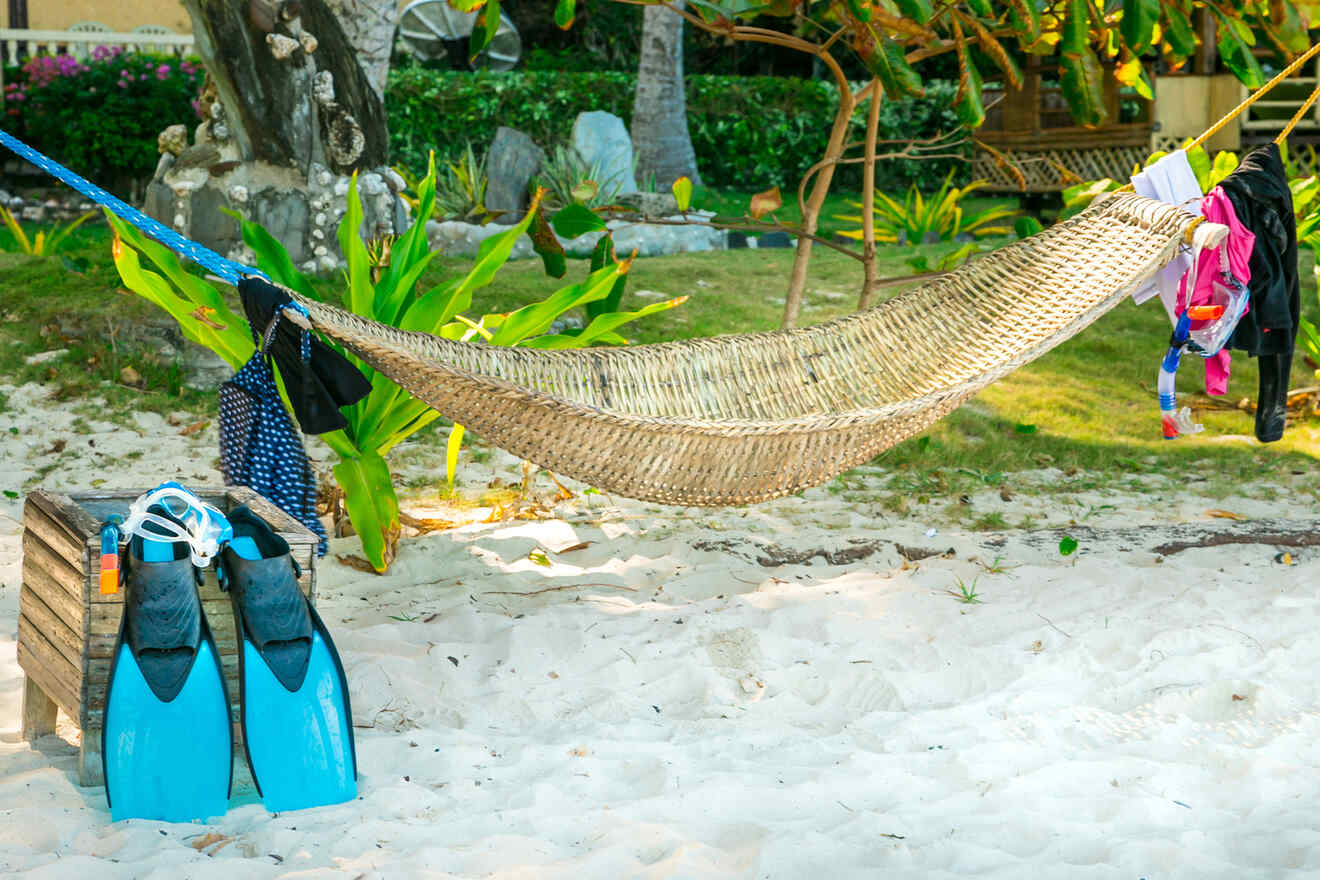 🕐 How many days is enough for Boracay?
3 days is enough to see all the major attractions in Boracay but if you want to experience the culture and atmosphere a little more deeply you could stay 5 days.
💲 How much does it cost to stay 3 days and 2 nights in Boracay?
Depending on the price of accommodation you pick you can travel around Boracay including hotel/hostel, food, attractions, and transport for between US$30 – US$200
🏠 Which is better Station 1, 2 or 3 in Boracay?
Station 1 is best if you are looking for luxury accommodation and lots of amenities, however you may prefer Station 2 if you are looking to party or Station 3 for budget accommodation. 
📅 What time of year is the best to visit Boracay?
The best time to visit is between November – April when there is the best weather. Avoid May – October which is the wet season here. 
Conclusion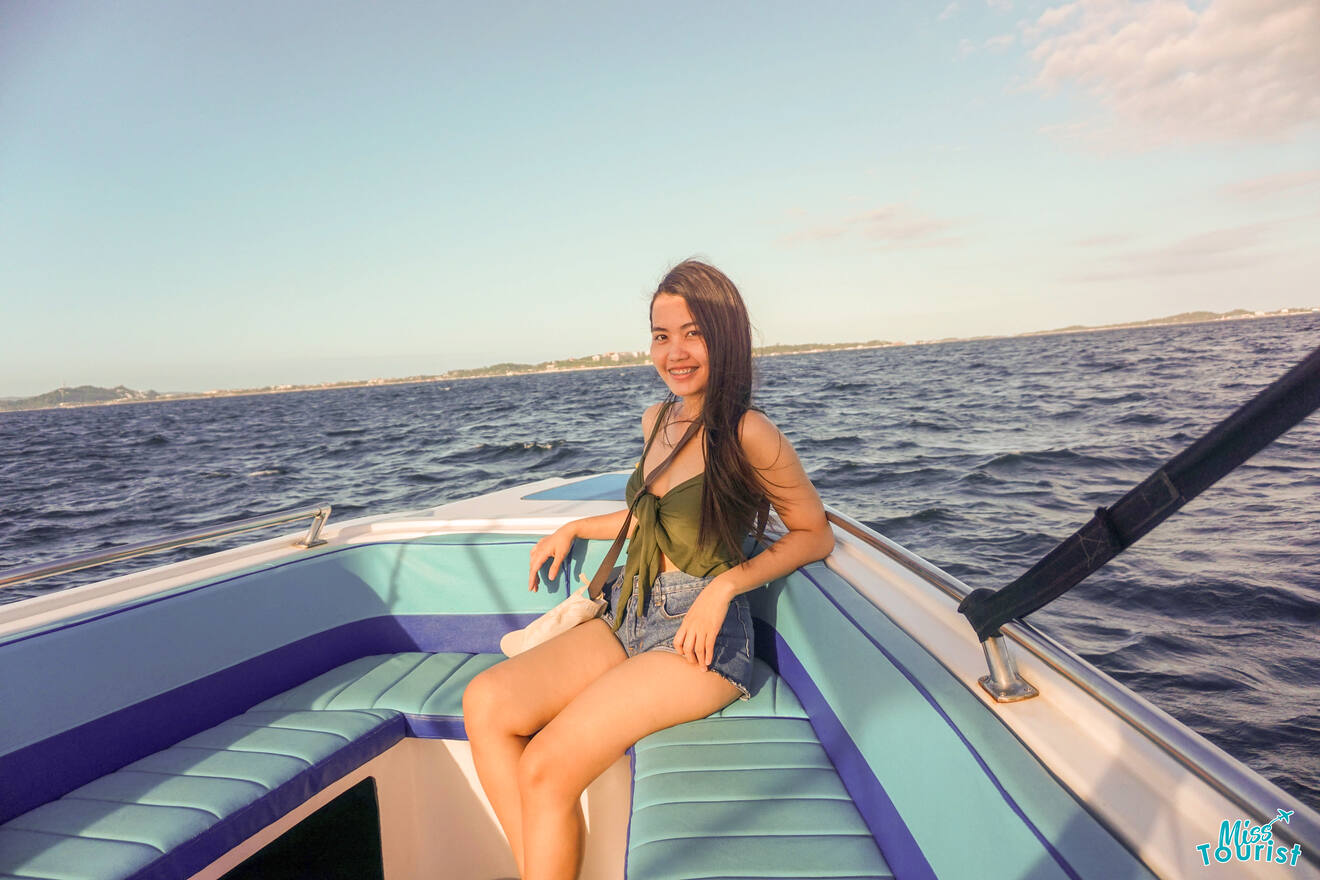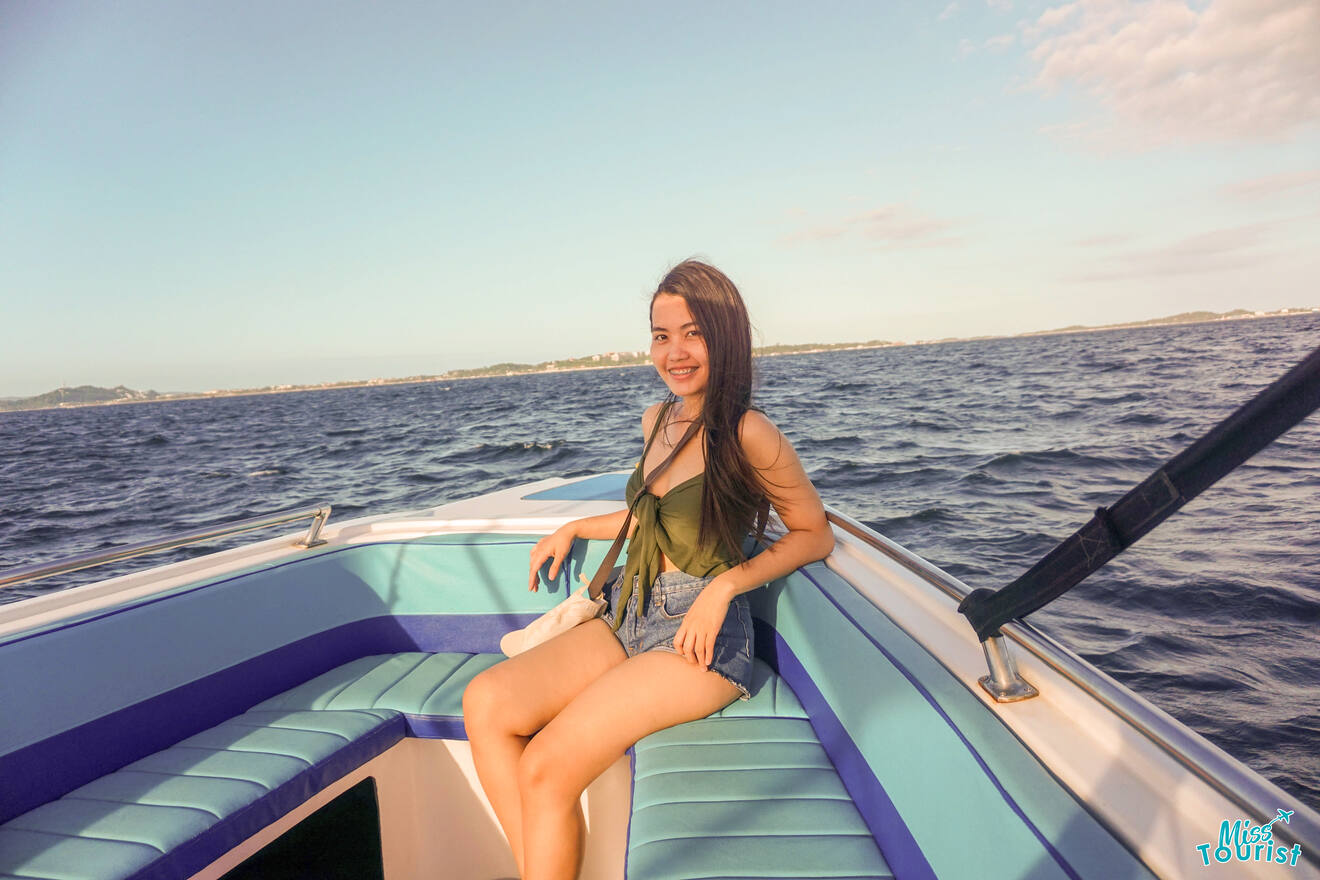 From white sand beaches to refreshing drinks, mouthwatering seafood dishes, culture, and tropical life, Boracay is without a doubt one of the best islands in the world! I hope this 3-day itinerary has been helpful to you. You can, of course, alter the flow of activities that best suit your schedule and prioritize what your heart desires!
Just a heads up, Boracay can get really crowded, especially during peak season (November to April). It's best to book your activities in advance as well as your hotel reservations and note that hotel reservations are also a prerequisite for you to enter the island!
And that's it! Snorkel and dive all you want, party all night, or simply relax on the island. Just don't forget to be a responsible tourist so we can preserve the beauty of one of the best islands in the world!
If you've been to Boracay, what are your top favorite things to do? Let me know in the comments section below.
Have a wonderful trip!
Shannice
---
Pin it for later!
Pin it for later!