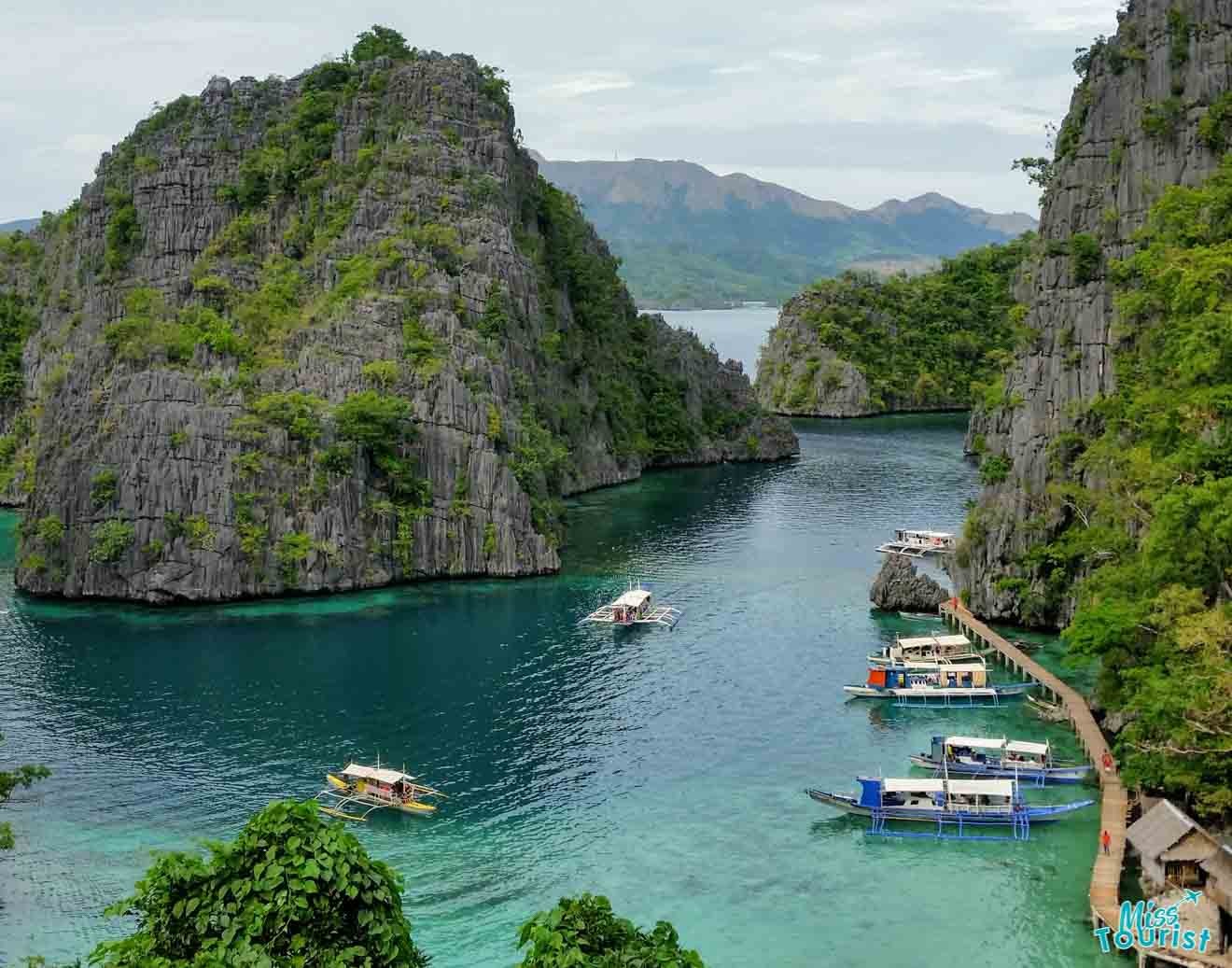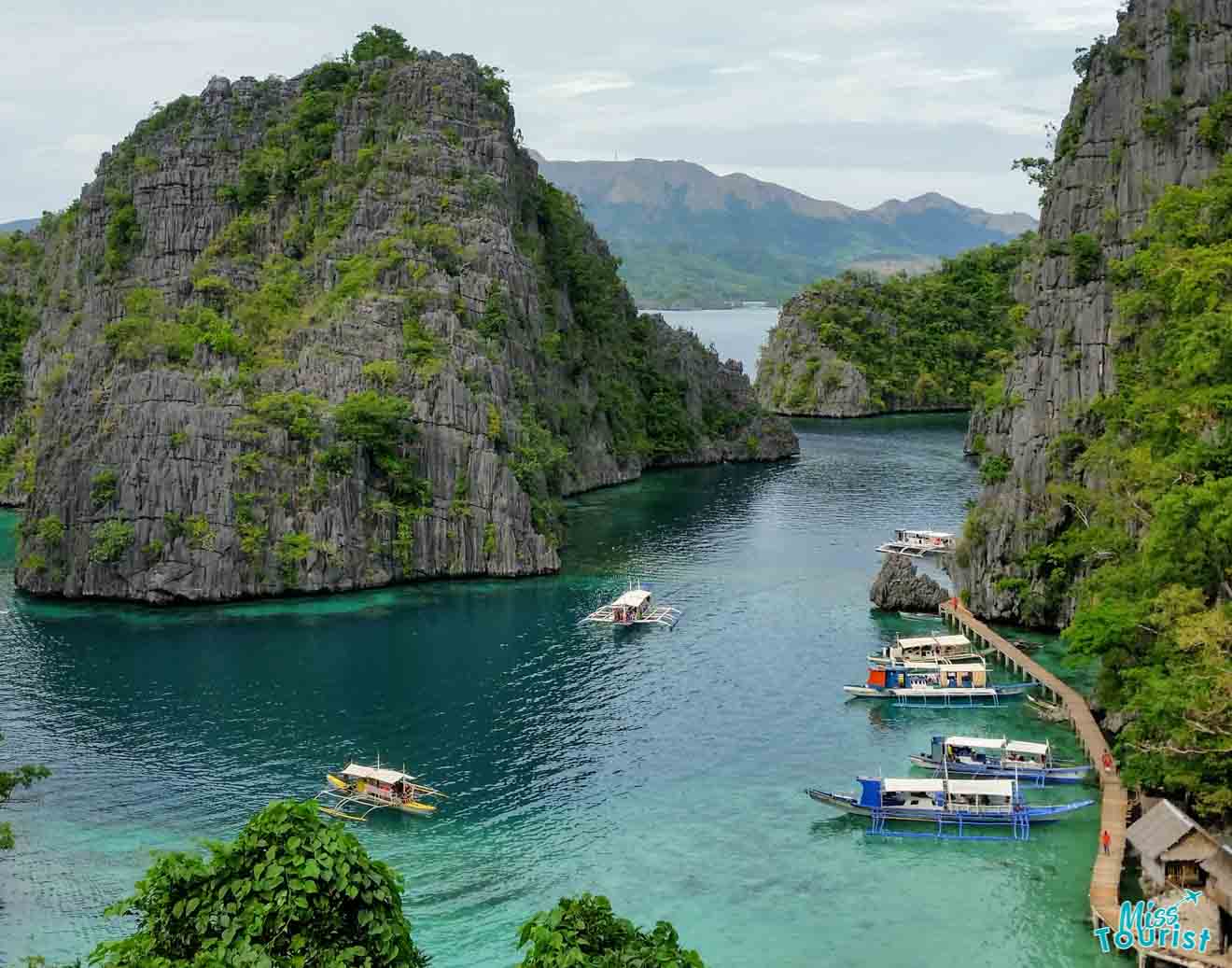 Palm trees, pristine beaches, and other amazing natural wonders await you in this tropical destination! Located in the Palawan region of the Philippines islands, Coron consists of several islands, including Coron island. But don't be confused, Coron Town (the main destination for tourists) is NOT actually located on Coron Island, it is found on the biggest island in the Coron Region, Busuanga.
The stunning limestone cliffs and beautiful blue color of the water will make you feel like you're in paradise! You'll want to swim, snorkel, dive, and kayak here all day long, not to mention the fact that it's a world-famous scuba diving destination thanks to the Japanese shipwrecks that were sunk during WWII!
Now let's see where to stay in Coron. I will give you the top places in the whole region including East Busuanga Island, West Busuanga Island and the outer islands. It can be difficult to decide and that's why I've made a list of the best areas and hotels, from luxurious to cheap ones, for each type of traveler and interest.
Remember that visitors plan their trip months in advance, and I highly recommend you do the same and book these hotels in advance, as they sell out super fast!
Let's go, the beautiful Bulalacao Island is waiting for us!
If you are in a hurry
If you want to book now, there's no reason to wait, quickly browse this list with the best hotel and resorts, all located in Coron Town & East Busuanga Island
Here's a map that will help you visualize all the areas where to stay in Coron that I will be talking about in this post: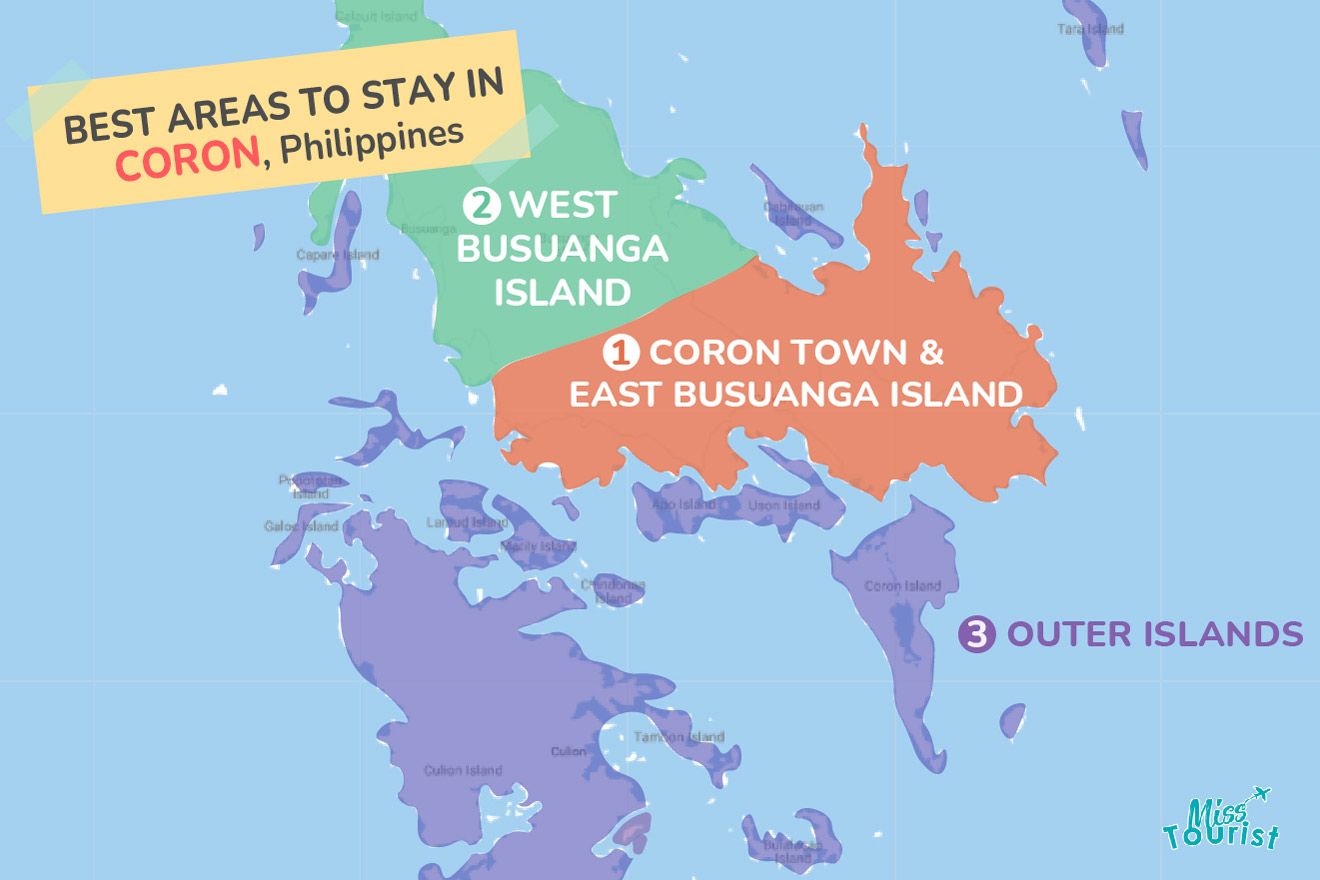 1. Coron Town & East Busuanga Island – where to stay in Coron for the first time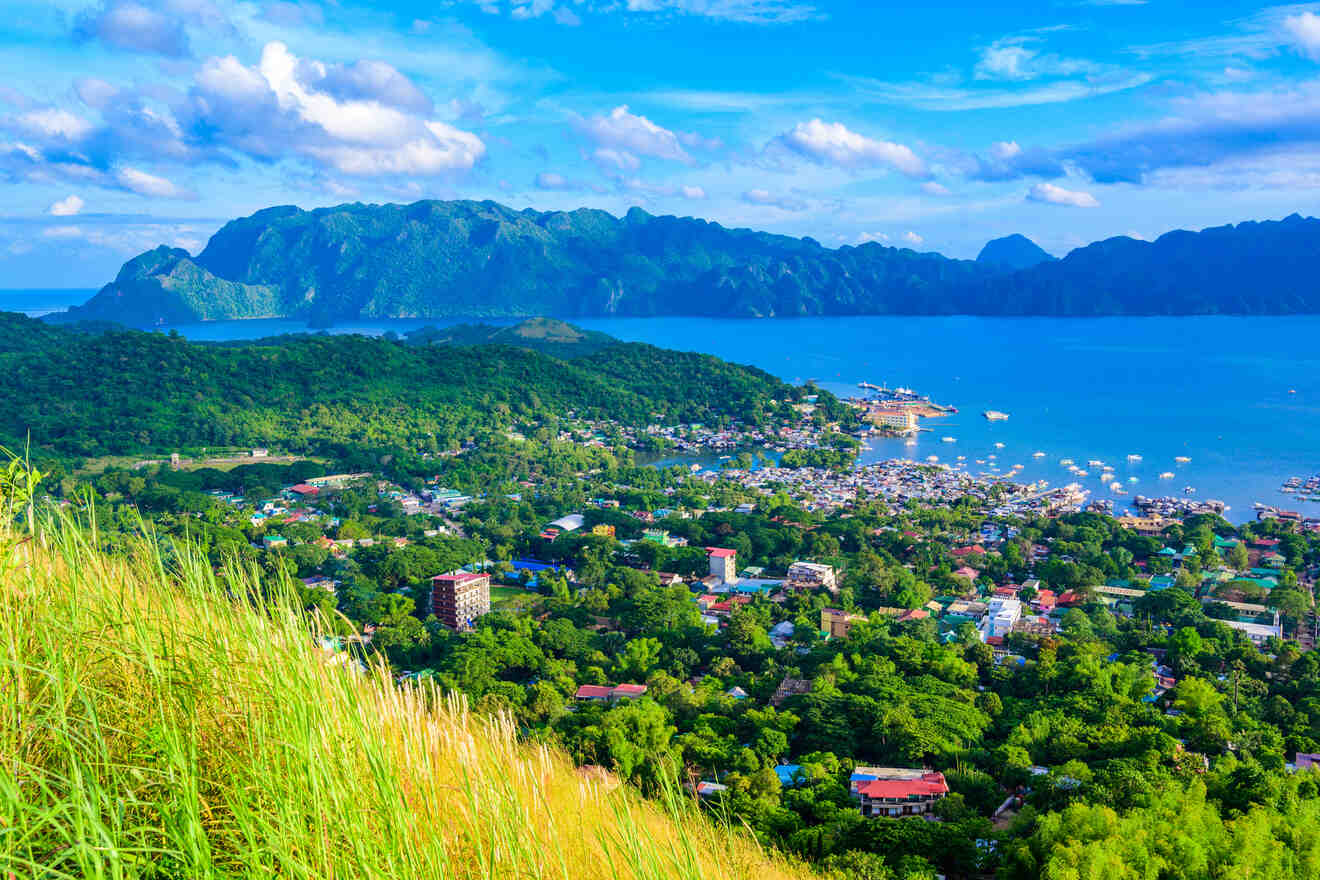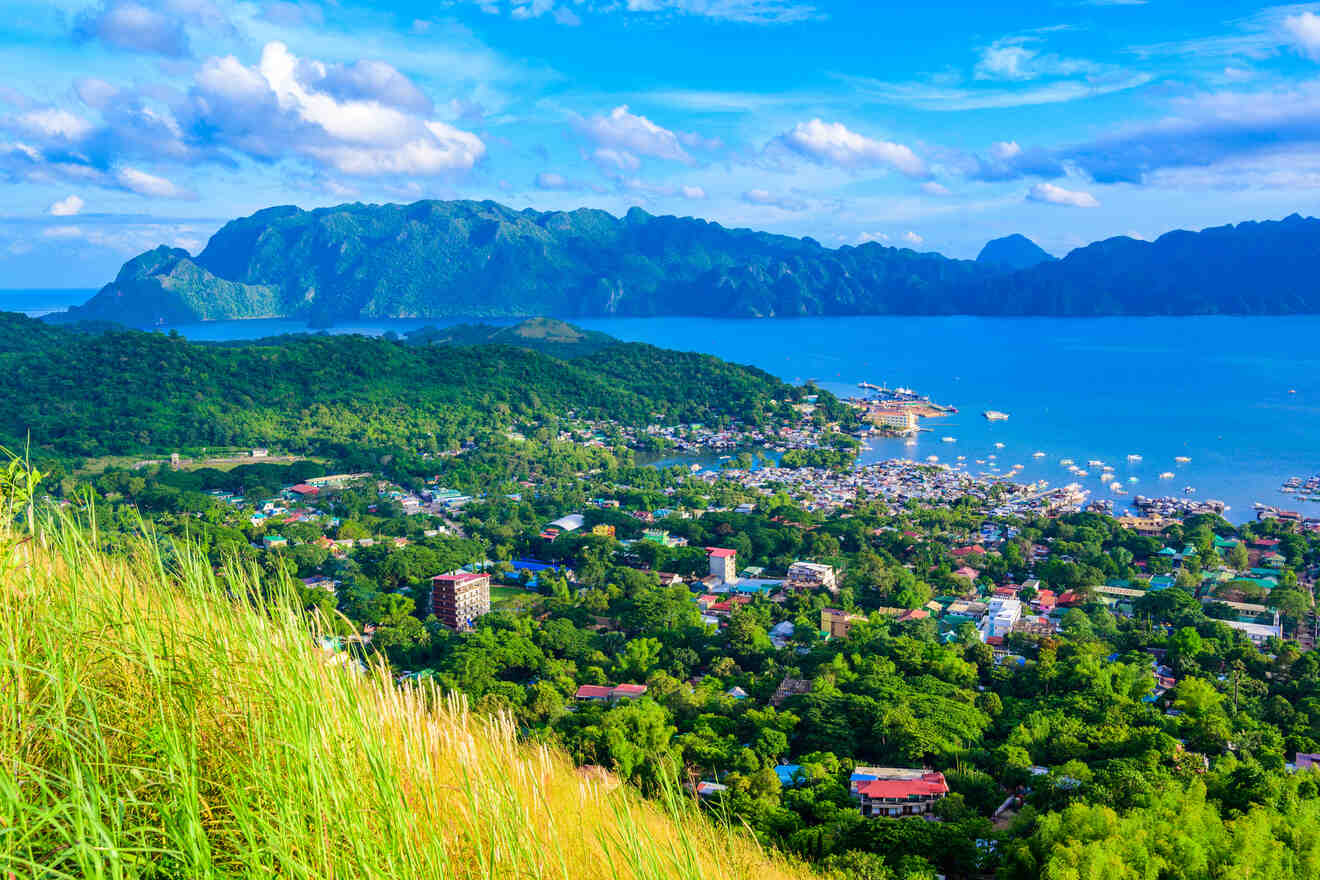 Hop on, dear traveler! Let's explore the beautiful Coron and its nearby surroundings! Our first stop is in Coron Town, and as you'll probably see, I've included the whole eastern part of the mainland of Coron in this first section. Coron town is found on the biggest island in the Coron Region, Busuanga. Don't worry, I know it's confusing that Coron Town isn't located on Coron Island.
Most people who visit this place stay in Coron Town, that's why I wanted to offer you guys enough options to help you find that perfect hotel. I will give you the top 4 places overall and a few extra specific recommendations that you'll find in the area for tourists who love beachfront hotels or for those who are traveling with the family.
This tropical paradise is known for its panoramic views of the cliffs, white sand beaches, and shipwreck diving! You'll be pleased to know that the streets here are lined with dive shops!
To get to Coron Town, you'll have to fly from Manila Airport to Busuanga Airport and get a bus to the town. So if you're staying in Manila for a few days in transit, make sure to check this post with the best hotels to stay in the city!
Coron Town is filled with most of the good hotels in the area, bars, restaurants, and cafes. Plus, you can easily start your island-hopping adventures around the Palawan region from Coron Town. As most travelers and backpackers start their journey here, the Coron Town Centre can get quite busy, especially around the Central Plaza and the Coron Public Market, which you should visit!
As Coron town has some of the best resorts and hotels in the area, they will sell out in a second! People book months, sometimes even a year in advance, so I highly recommend doing the same.
Luxury hotel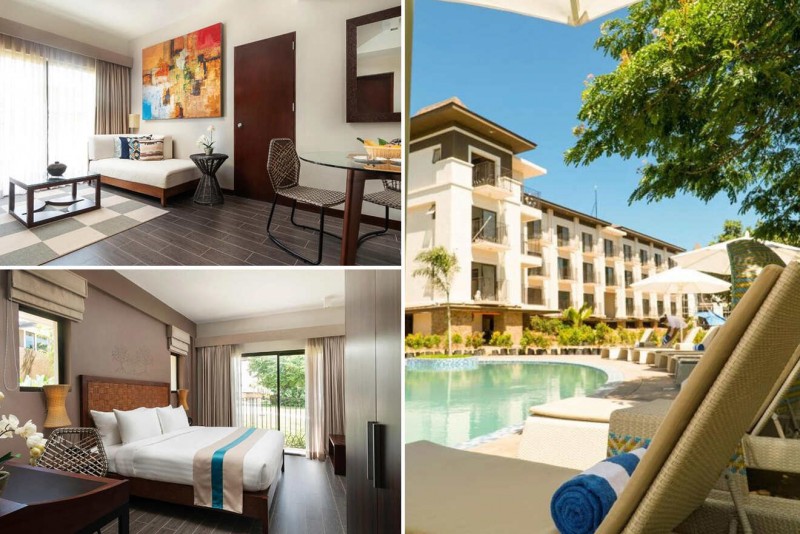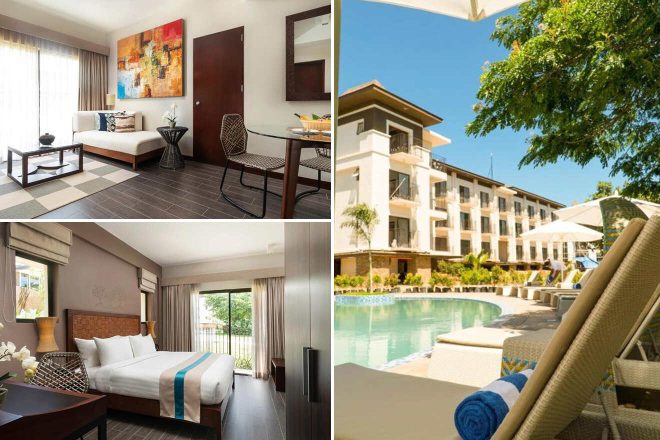 Relax on the loungers by the outdoor swimming pool, sunbathe under the island sun and enjoy the good vibes! This Coron resort offers spa services, which come in handy after a whole day of sightseeing around the island! The modern rooms have private bathrooms, air conditioning, and the hotel has an on-site restaurant.
Other options in Coron Town & East Busuanga Island
Mid-Range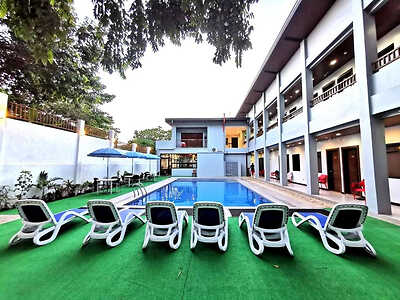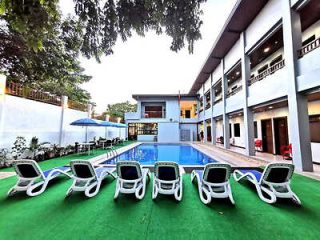 Spend some time by the swimming pool of this hotel that has spacious rooms, a restaurant, and a bar
Budget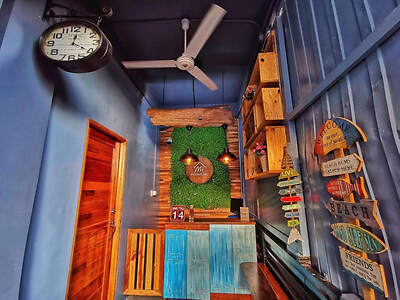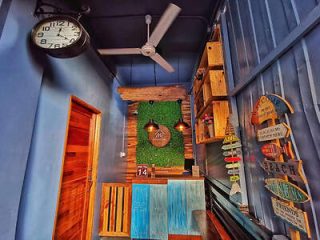 I love the rustic design of this cheap hostel perfect for backpackers that has a terrace and a bar
Airbnb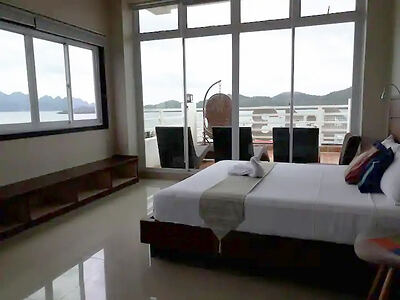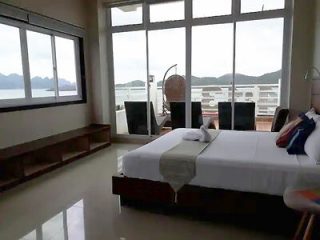 Enjoy the amazing landscapes from the balcony of this spacious penthouse with a kitchen
Things to do in Coron Town & East Busuanga Island
1.1 Best waterfront resorts in Coron Town & East Busuanga Island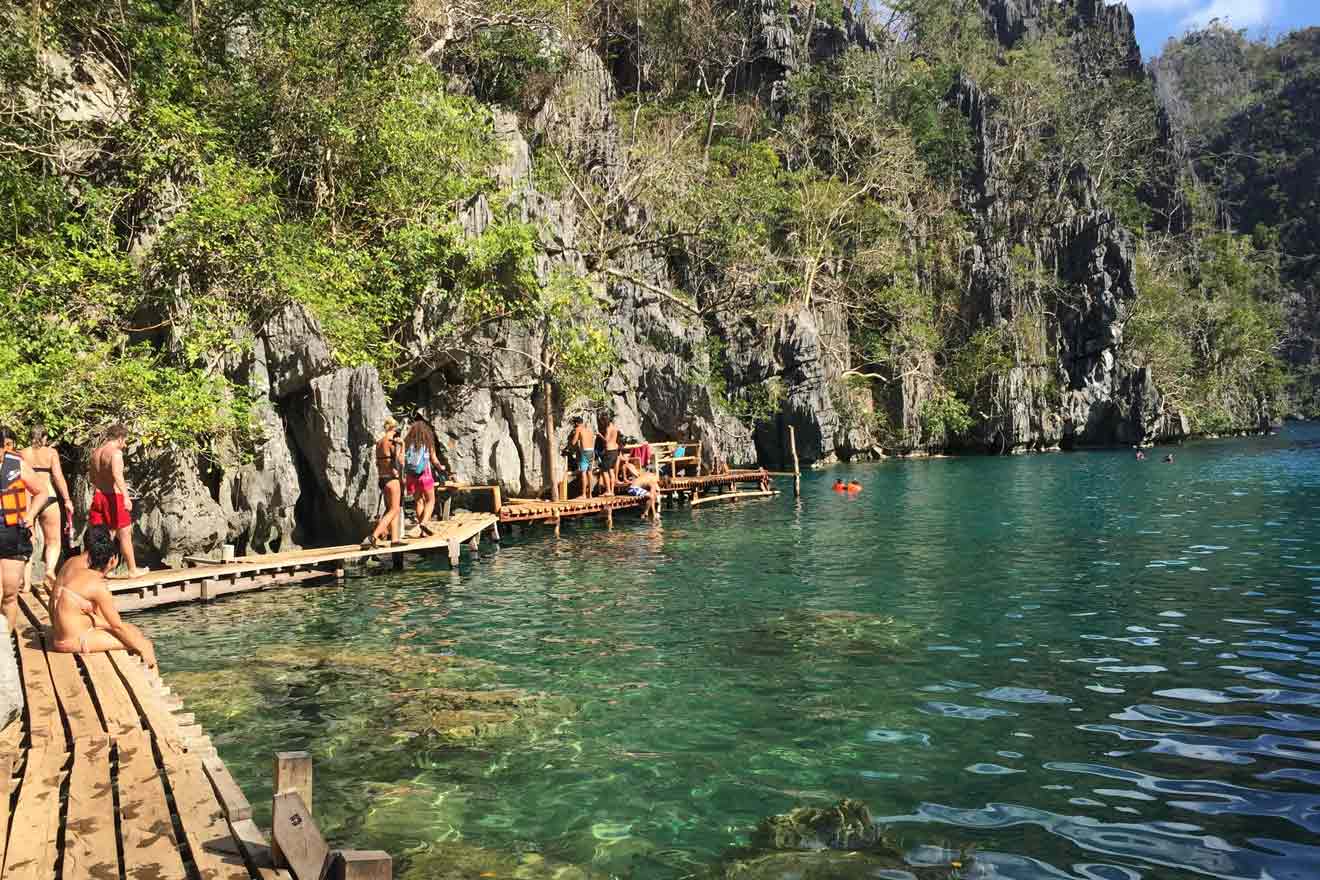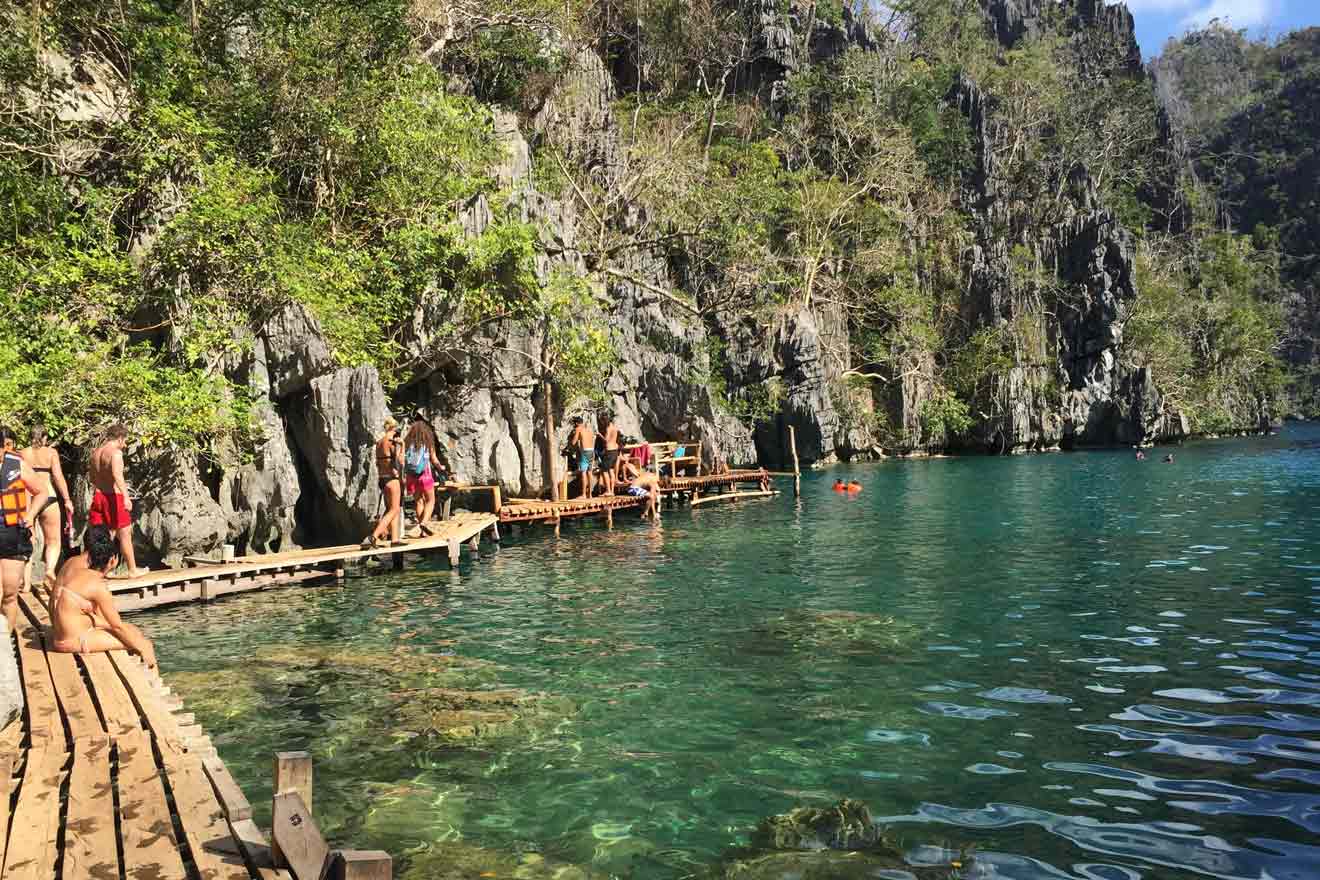 Who doesn't love that feeling when you wake up, and the first sight you see is the ocean? Well, I'm a huge fan of that feeling, and Coron Town & East Busuanga island is filled with tons of hotels that offer amazing sea views. All you have to do is enjoy the atmosphere and take advantage of all the amazing spa and sauna services.
Luxury hotel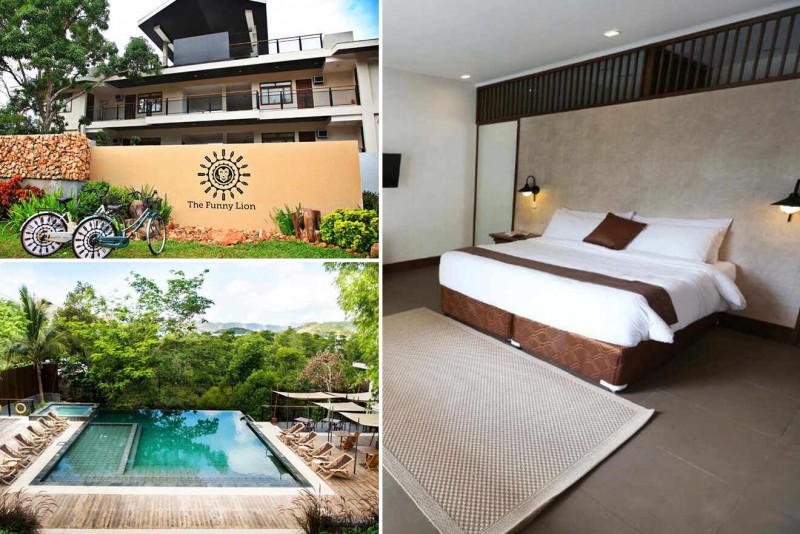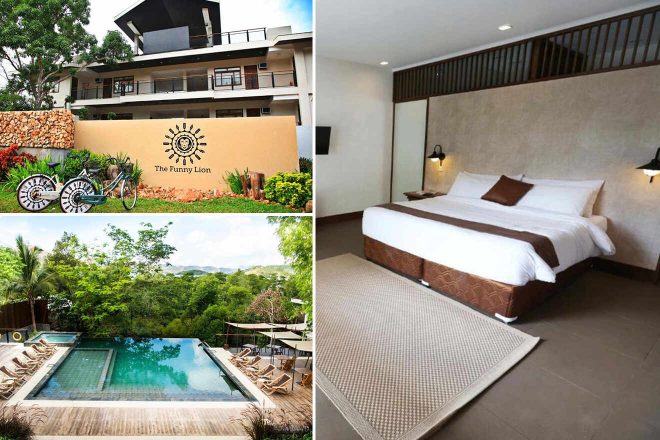 This luxurious Coron accommodation has a great swimming pool with stunning views and an open-air bath, perfect for couples on their honeymoon! The in-house restaurant is located on a large terrace, and there's also a bar on site. The room is super spacious, and it has a private bathroom.
Other waterfront options in Coron Town
mid-range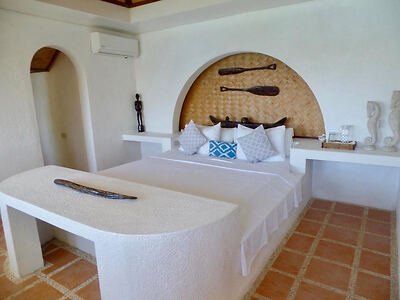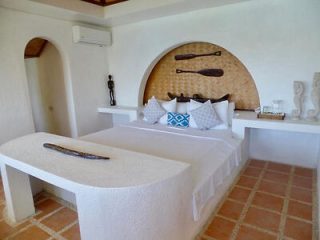 budget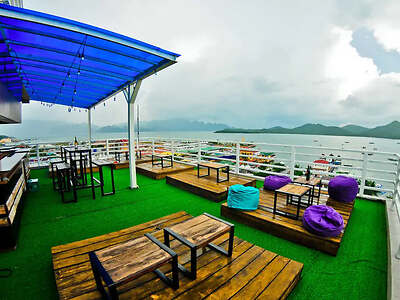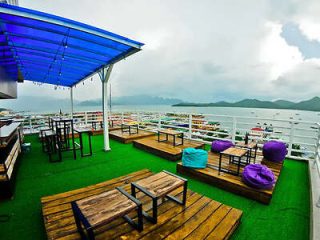 A cheap accommodation near the beach where you can chill on the rooftop terrace and have a drink 
airbnb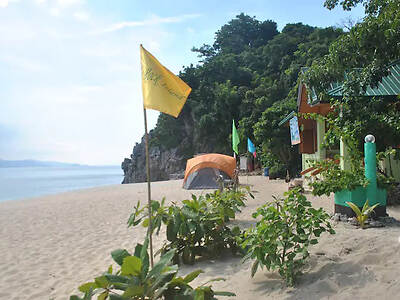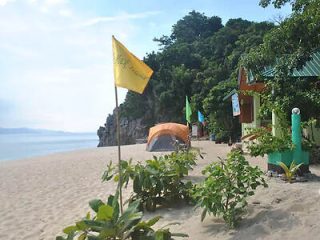 Located on one of the nearby islands, this bungalow offers visitors a unique stay, 2 rooms, and a kitchen
1.2 Best places to stay in Coron Town for families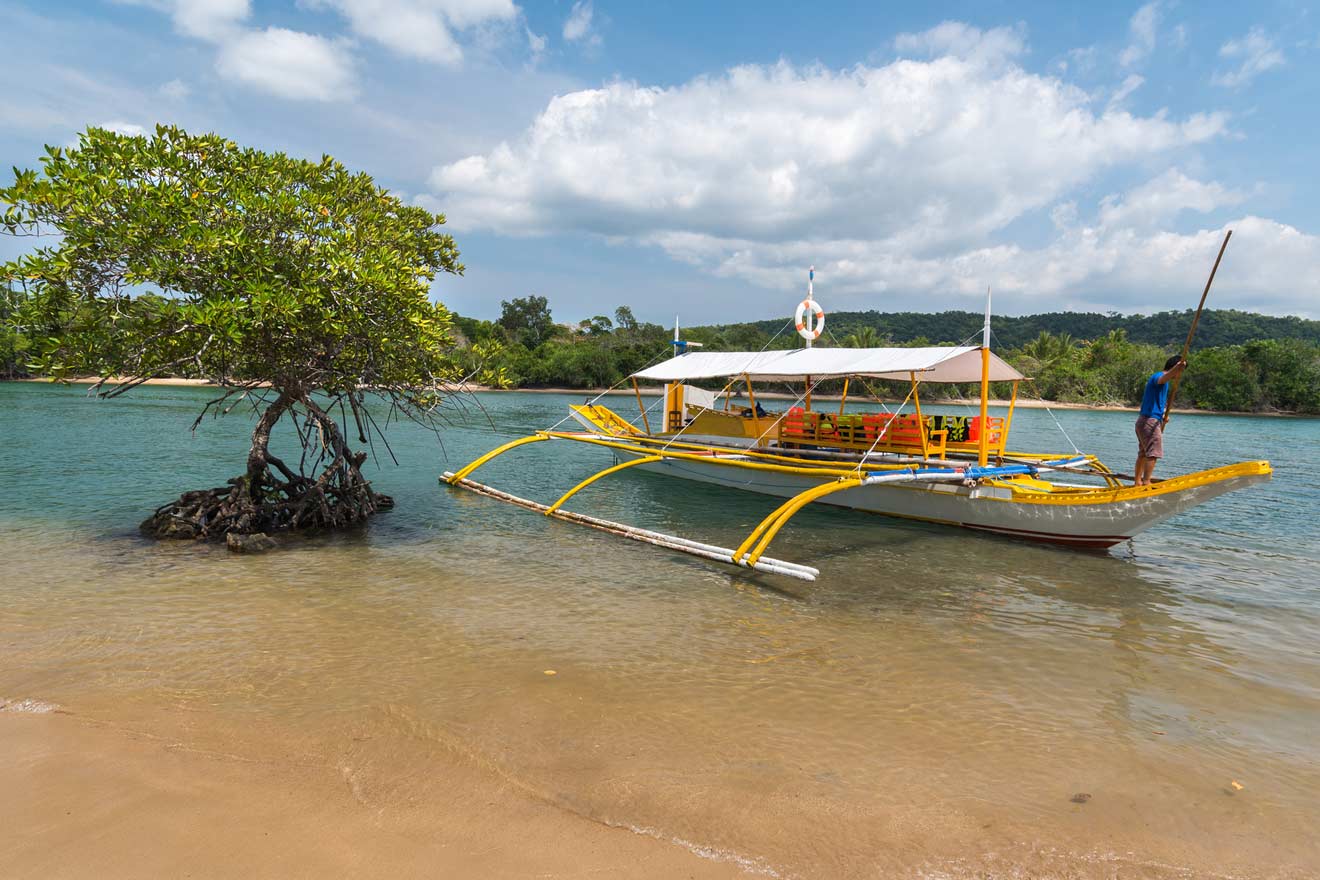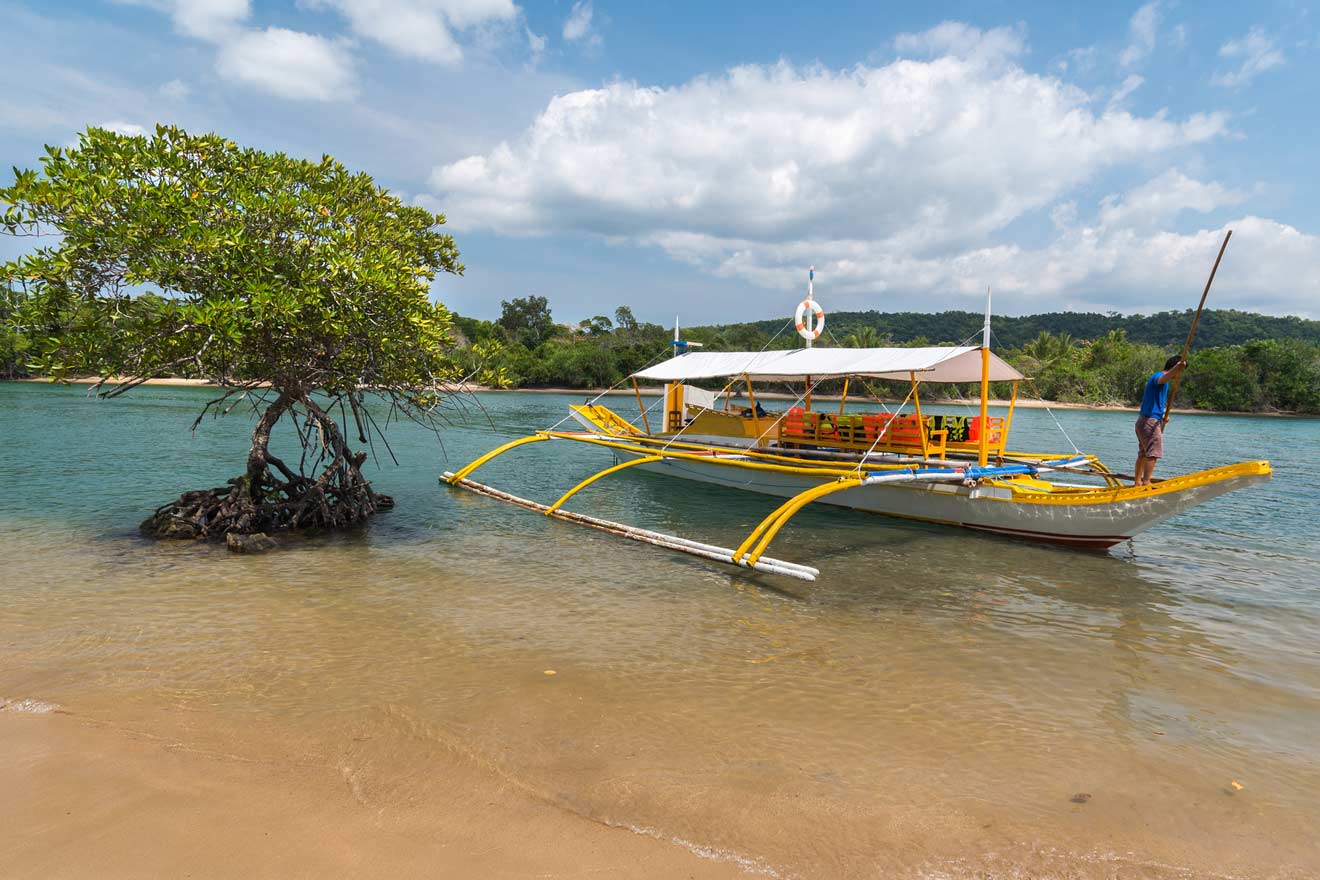 Don't worry if you're looking for where to stay in this area with your little ones, I've got you covered! There are many family-friendly hotels that offer a wide range of activities like hiking or the opportunity to go on an island-hopping tour!
And if you're planning to spend more time in the beautiful Philippines I can highly recommend checking out El Nido – it is a 3-4 hour ride by ferry. If you need accommodation tips on El Nido or any other part of the country, read my post about the best places to stay on the islands.
Luxury hotel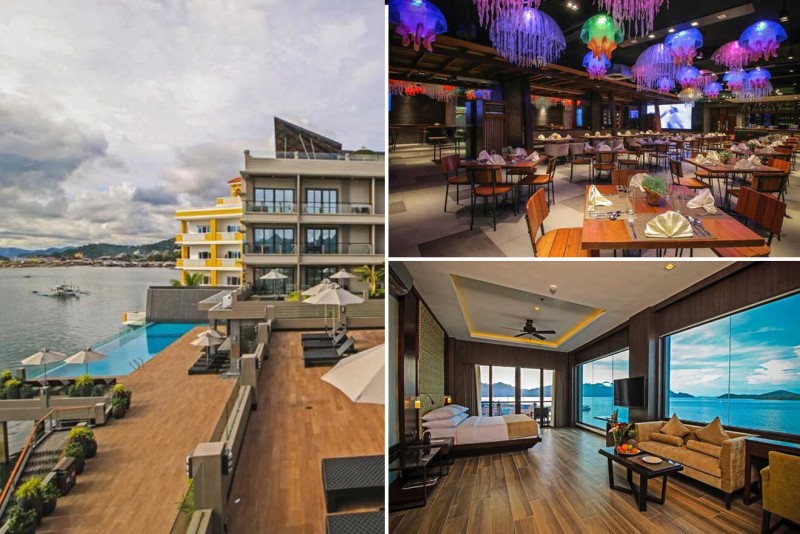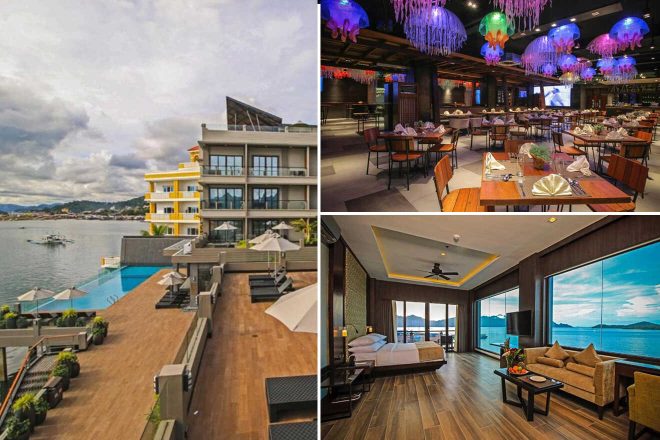 Perfectly located to offer its visitors stunning views of the ocean, this luxurious hotel is perfect for your family's getaway to Coron Town. Come back after a full day of sightseeing and have a cute movie night with the kids. During the day you can play by the beautiful infinity pool and catch a sunset here! Plus, the Coron Seaport is within walking distance of the hotel. 
Other accommodation for families in East Busuanga Island
mid-range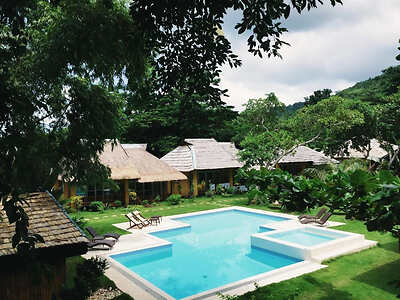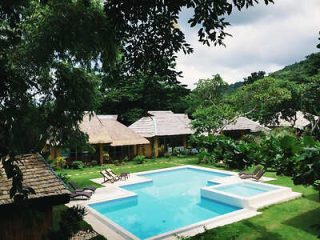 Tucked away between the trees, these cute bungalows have family rooms and a pool where the kids can play 
budget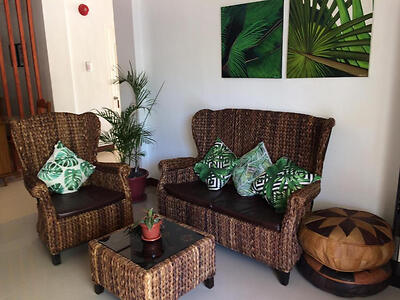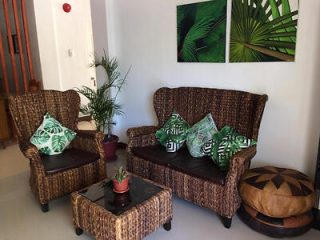 This cheap Coron hotel has garden space where the little ones can play and family rooms with TVs 
airbnb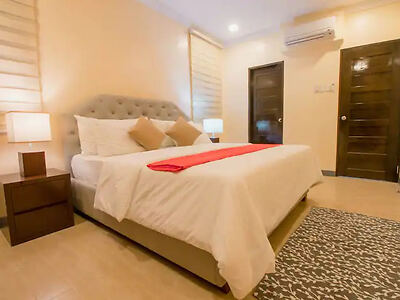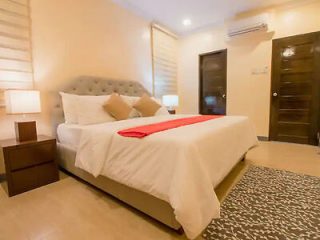 Conveniently located near Coron Town Center, this lovely villa has a pool, family rooms, and a kitchen 
Things to do in Coron Town & East Busuanga Island
2. West Busuanga – best places to stay for adventure junkies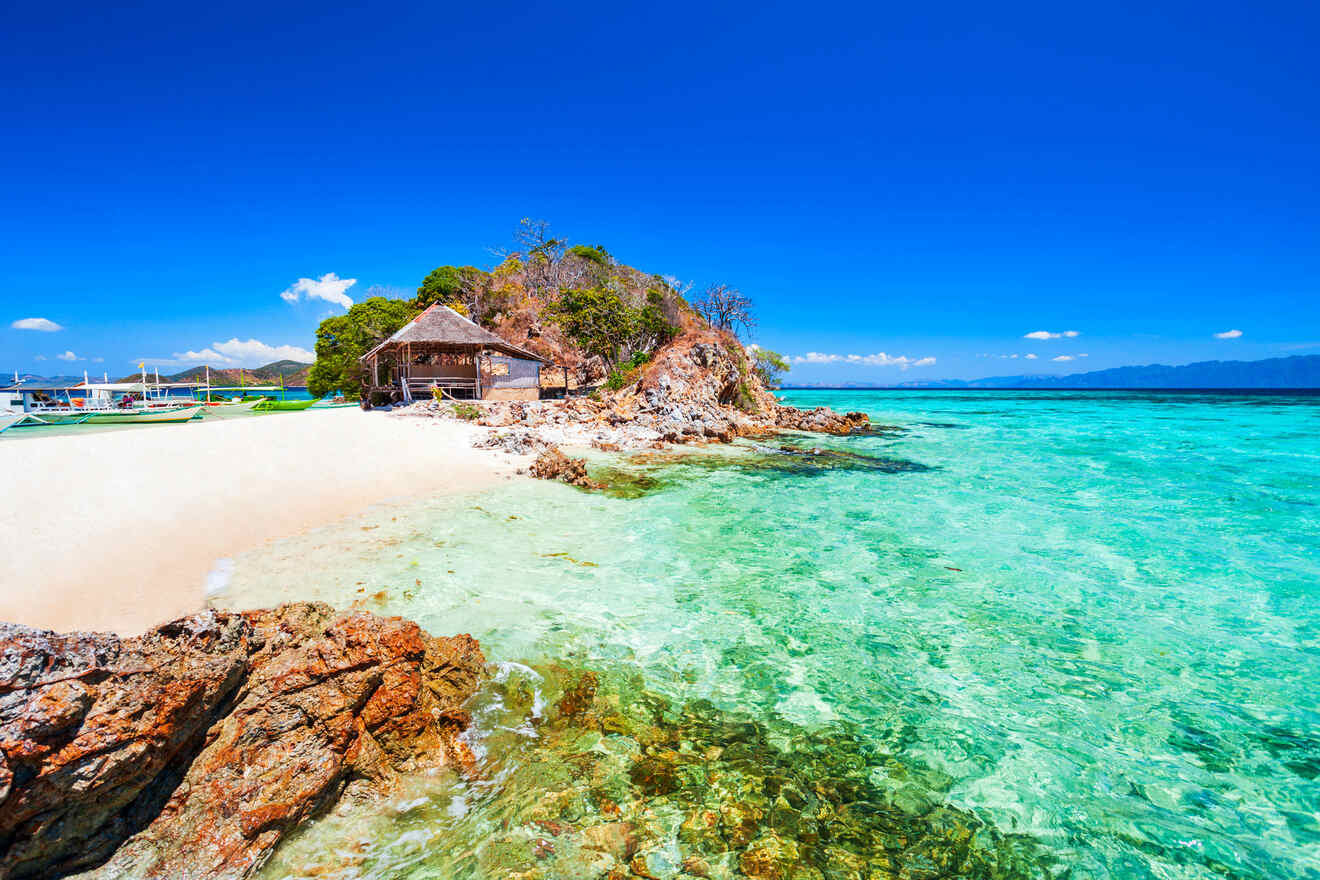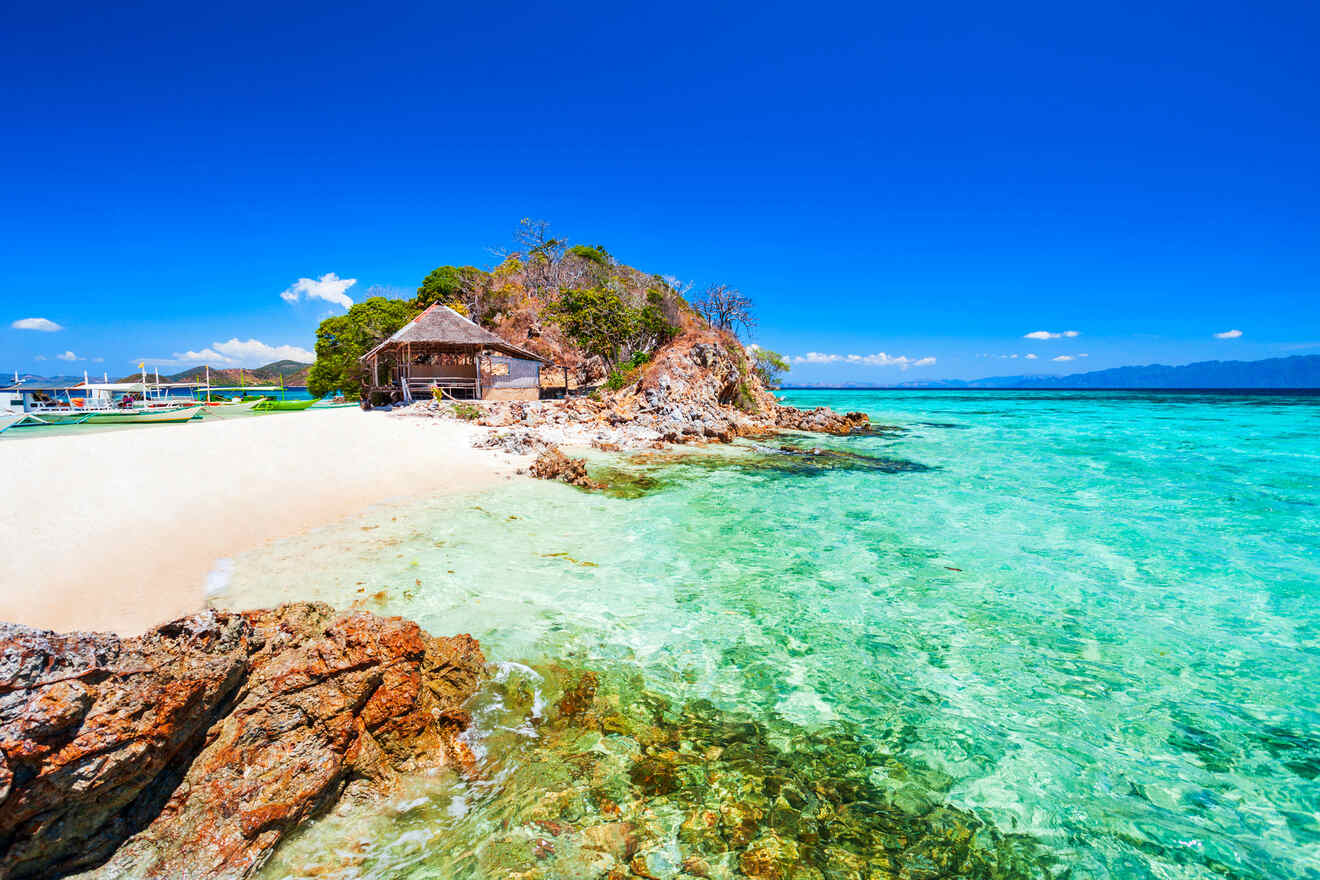 Let's go a bit further to the West part of Busuanga Island, to a place that really has that cool island charm! Don't worry you'll still be close to Coron Town since both areas are located on the same island but here you'll find tons of activities suited for adventure junkies. Pristine beaches, crystal clear waters, and stunning views make this place the perfect spot where to stay in Coron if you're an adventure junkie who loves to snorkel, kayak, or scuba dive all day long!
The Busuanga Bay Divers Shop is an independent dive shop that's located in the Busuanga Bay Lodge Resort, and it's a great place to get your advanced open water certification if you don't have one and where you can go shipwreck diving!
The atmosphere here is a bit more laid back than in Coron Town center, where you'll see tons of people trying to find a boat ride to one of the islands. Busuanga is more chilled and less crowded. The airport is conveniently located here, and there is a wide range of unique activities, from kayaking to snorkeling.
The Calauit Island National Park is one of the biggest attractions on the West Coast of Busuanga. You can take tours around the wildlife sanctuary home to a few cute giraffes and admire its natural beauty.
Luxury hotel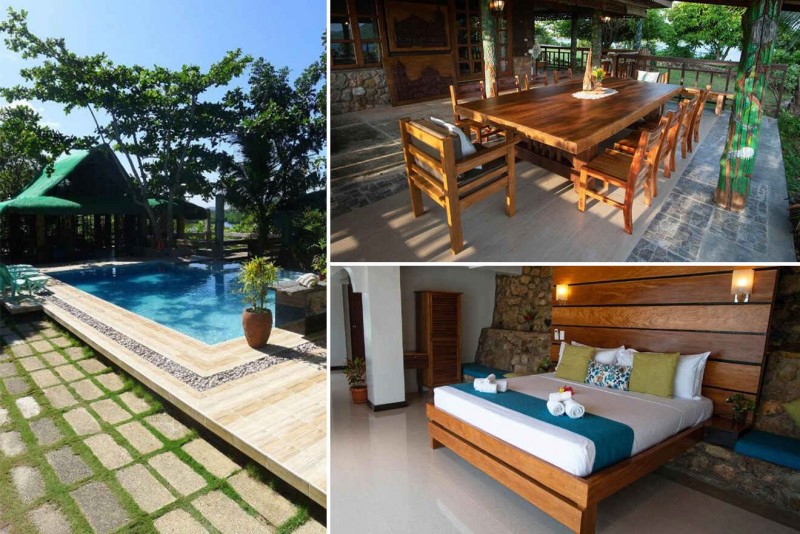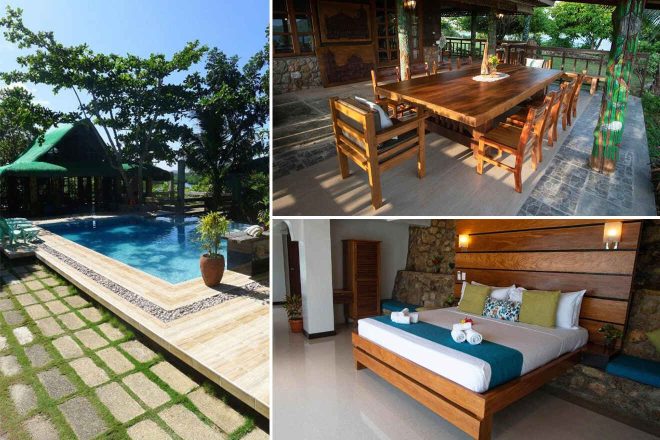 Enjoy your stay in Coron in this secluded resort that's surrounded by tons of beautiful trees and the ocean. The private beach area is perfect for anyone on their honeymoon or seeking some intimacy, and the rooms are super spacious, some that even have mountain views! Make sure to chill by the pool and drink lots of cocktails!
Other accommodation options in West Busuanga
Mid-Range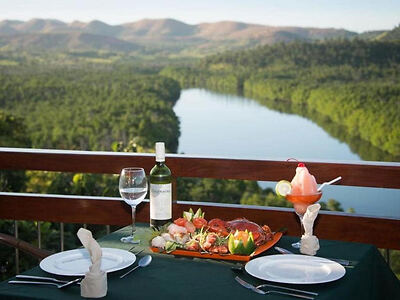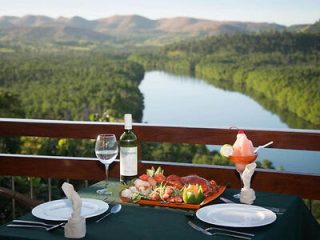 Have dinner with a view on the balcony of this lovely hotel that has spacious rooms and a restaurant
Budget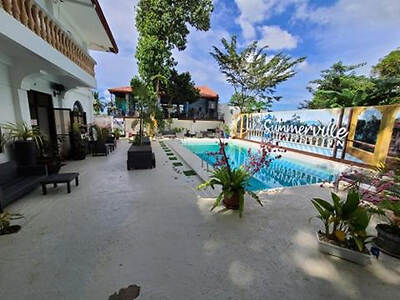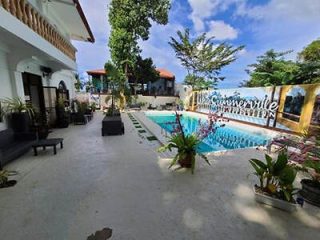 A cheap hotel for your stay in Coron that has a swimming pool, a bar, free wifi and it offers breakfast
Airbnb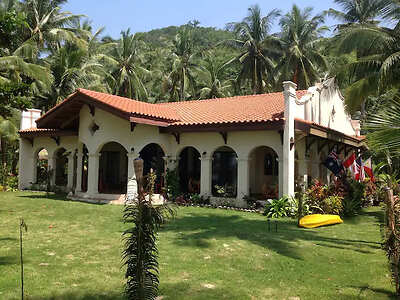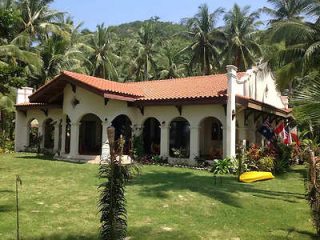 Live your island life dream in this beachfront guest house that has hammocks, a garden, and a kitchen
Things to do in West Busuanga
3. Outer Islands – where to stay in Coron for luxury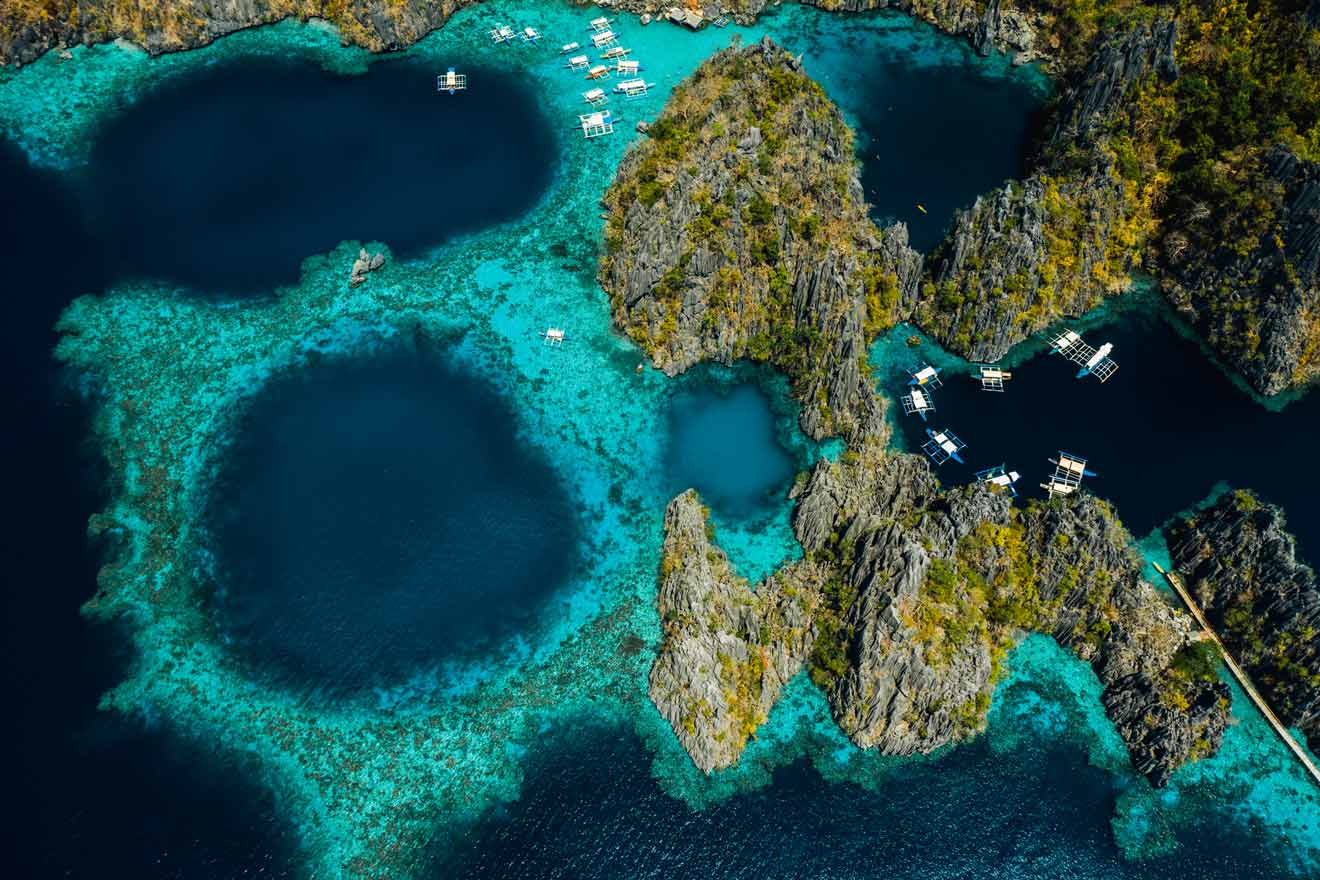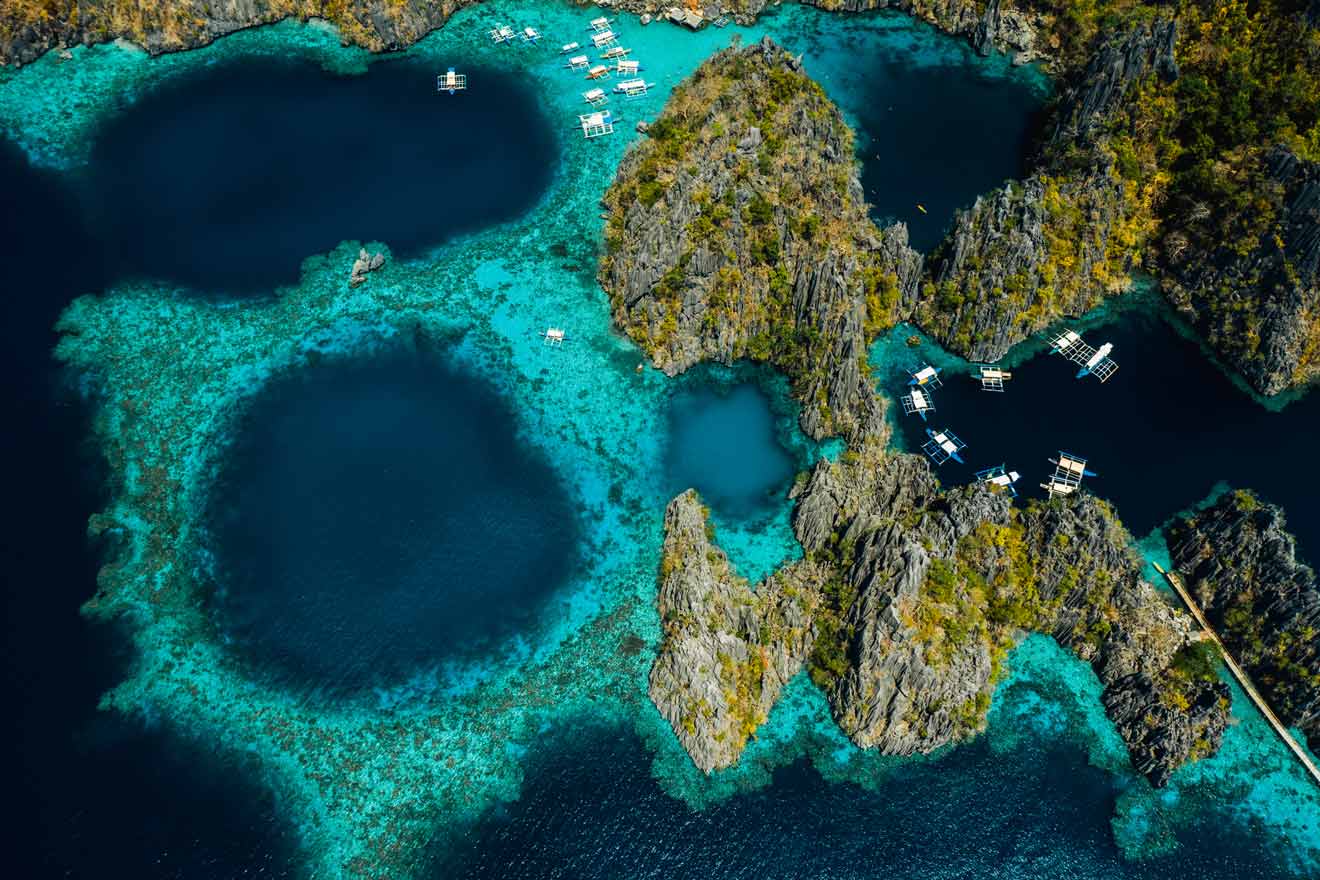 Some people who visit Coron, Palawan seek that remote island feeling and secluded resorts where they can enjoy some peace (which most likely you won't get if you stay in Coron Town Proper, as it is a busy part of the island).
If money isn't a concern during this holiday, I highly recommend visiting the islands south of Coron Town Proper. They are home to some amazing luxury resorts that have bars, stunning pools, and let's not forget about the feeling of staying on a remote island! So worth it!
Among the islands south of Coron Town, there's also Coron Island. This may be a bit confusing for some but Coron Town isn't located on Coron. It is one of the islands that makes up the whole Coron region.
Whichever island you stay on, the sights here are stunning, Coron Island is filled with sugary beaches, beautiful dreamy lagoons, and limestone cliffs. It's one of the best places to admire the wonders of mother nature! I'm sure you won't want to leave anytime soon! There are also a few scuba diving places around the coral reefs and shipwrecks.
Luxury hotel
Two Seasons Coron Island Resort & Spa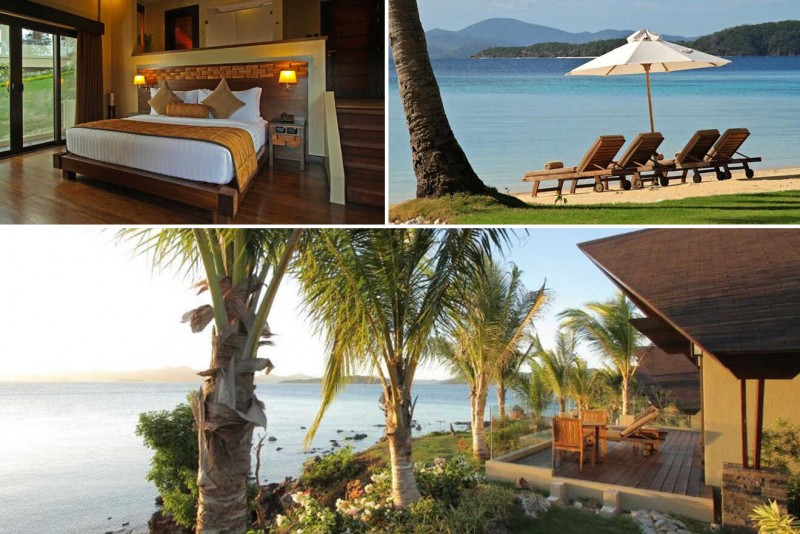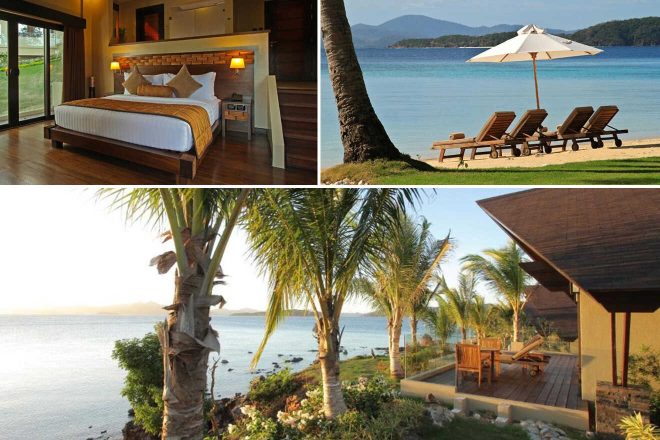 Forget about all your worries in this tropical paradise, that's nestled between the trees and surrounded by the crystal blue water! Sunbathe all day on the private beach or relax with a massage at the spa! Two Seasons resort is located on Bulalacao Island and it offers bungalows that have a private balcony.
Other accommodation options in Other Islands
Mid-Range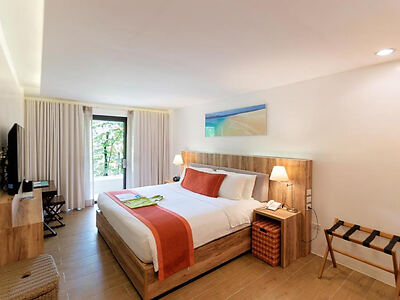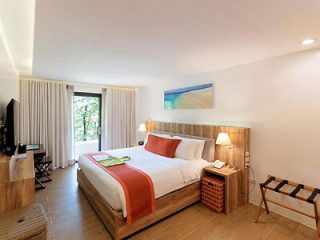 Sip your coffee on the balcony of your bungalow, located on Dimakya Island, this resort offers guests access to a private beach, a pool, and a restaurant
Budget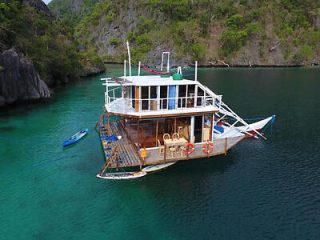 Enjoy a unique stay on Coron Island, in this cool boat hotel that offers stunning views of the sea, spacious family rooms, a restaurant, and a bar
Airbnb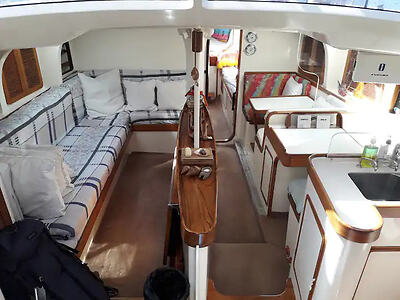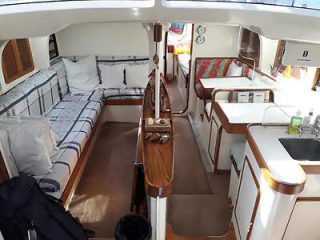 Wake up to the views of the cliffs and smell of the ocean in this cool boat house that has 3 rooms, free wifi and a restaurant
Things to do in Other Islands
BONUS: Best places to stay in Coron for diving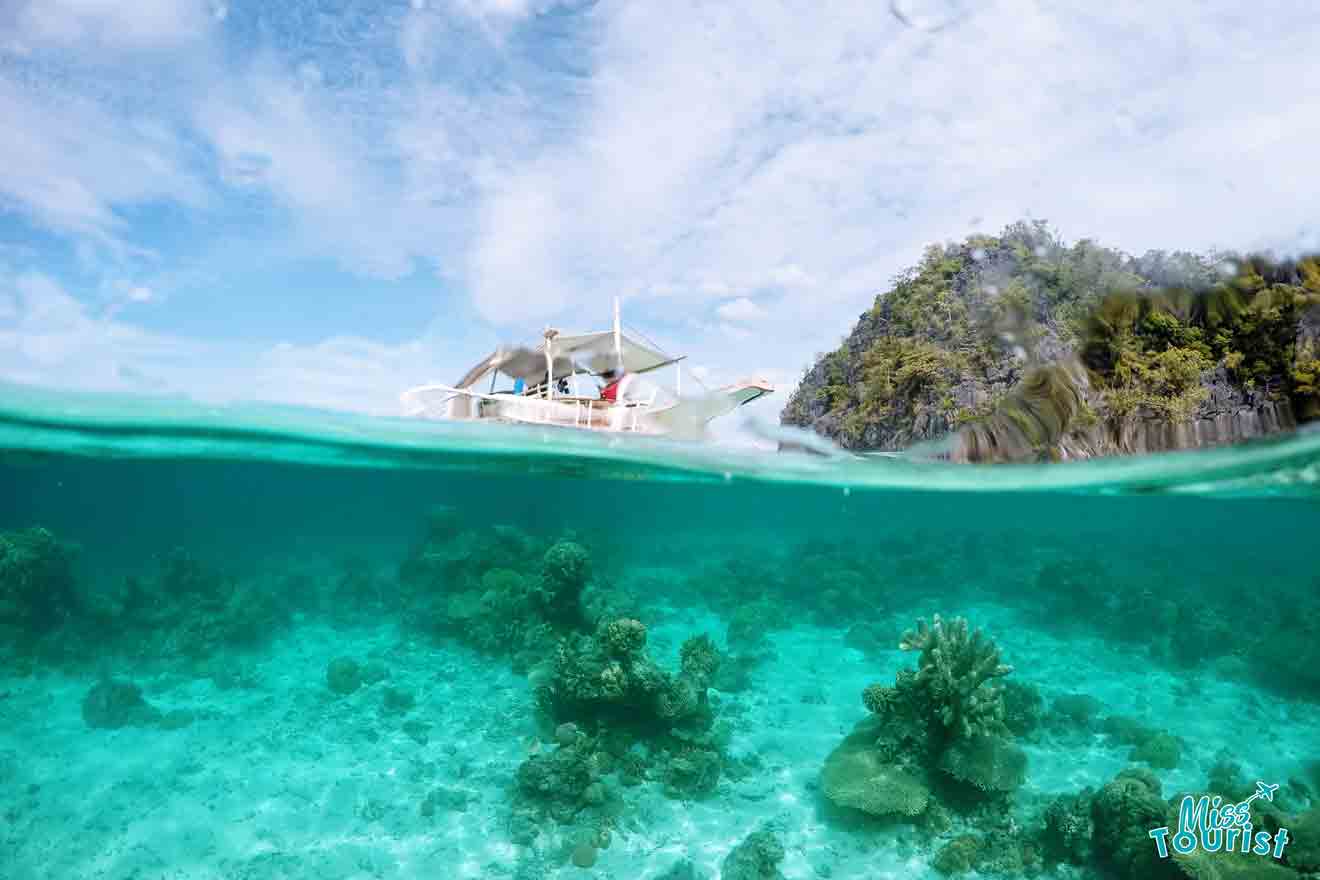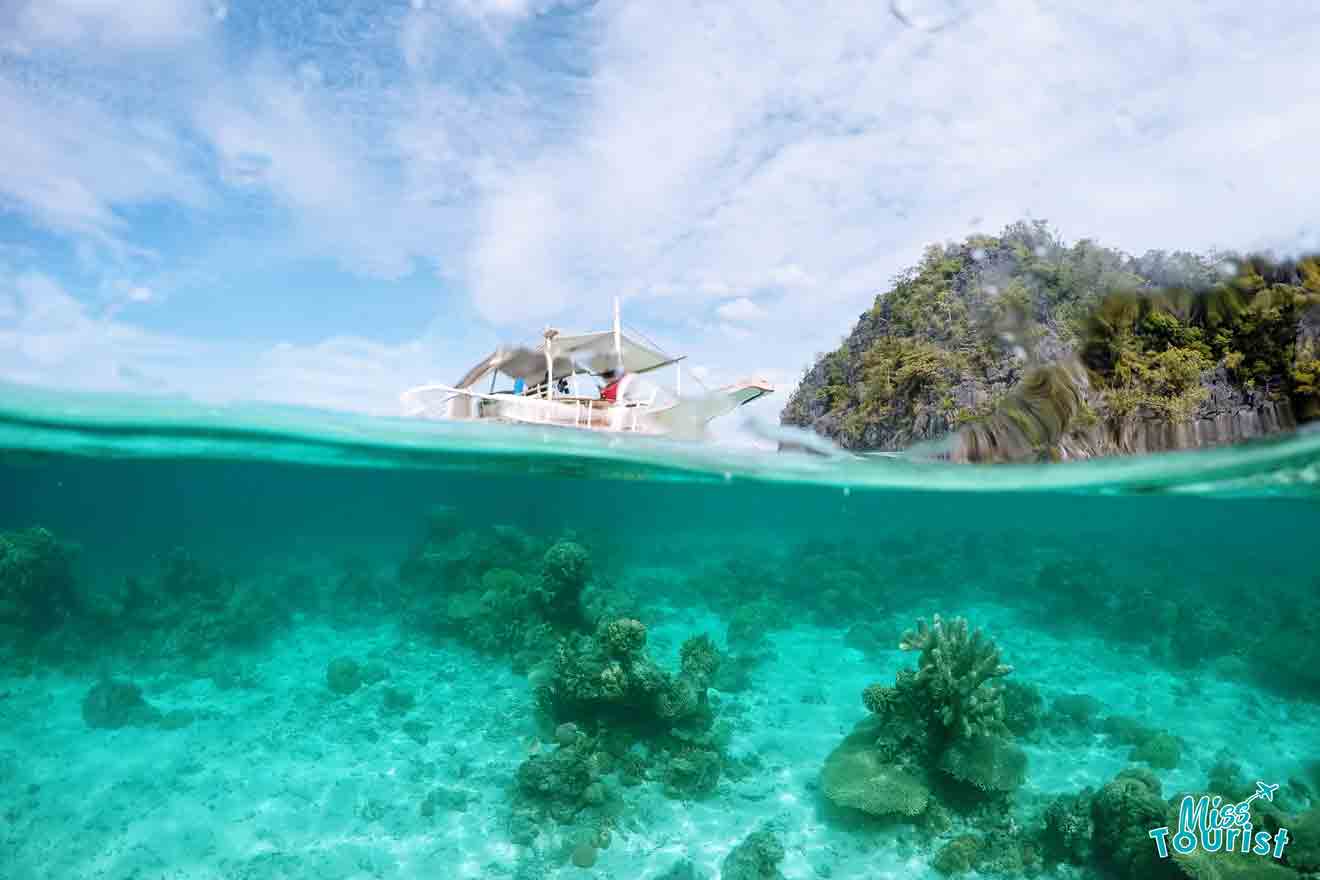 What's Coron if not a paradise for divers! Famous especially for its shipwreck diving, Coron has gathered people from all over the world who love to go on adventures underwater! The WWII shipwrecks are the star of the show here and no one who visits Coron misses the chance to see them.
NOTE: You will need to hold your advanced open water certificate to dive the wrecks so if you aren't already certified, it's a good idea to contact a few dive centers and see if you can arrange a course during your stay.
I know some of you will be looking for diving resorts that will provide you with everything you need so you don't have to worry about making arrangements once you get here, so here are the 3 best places where to stay in Coron for diving!
1. Two Seasons Resort
Located on the beautiful Bulalacao Island, this 5 star resort is everything you've ever imagined and more! The accommodation will offer you diving equipment and the diving instructors will be eager to teach any beginner or to accompany the experienced divers into the depths of the sea!
The resort has some nice bungalows, a restaurant and offers access to a private beach.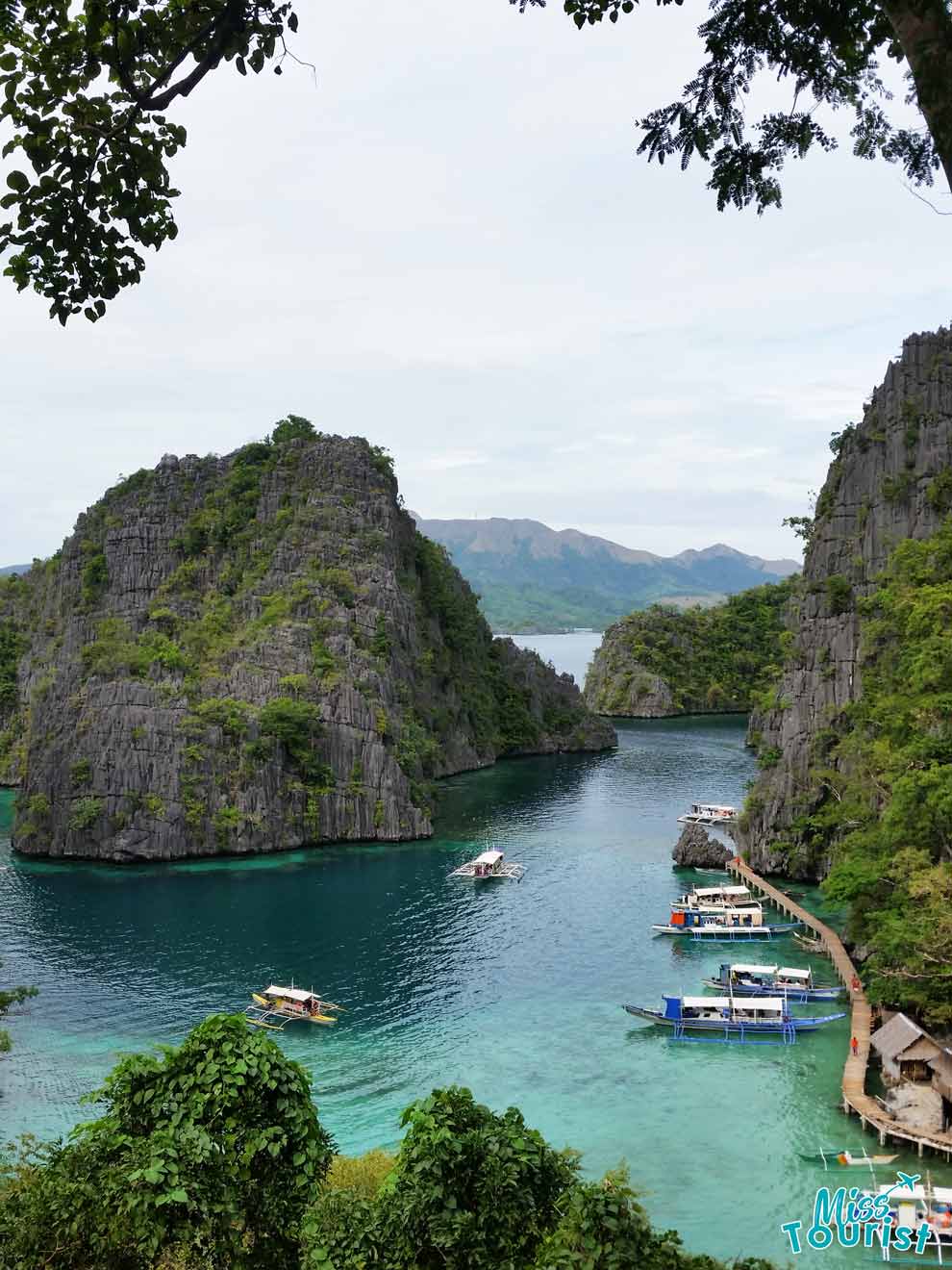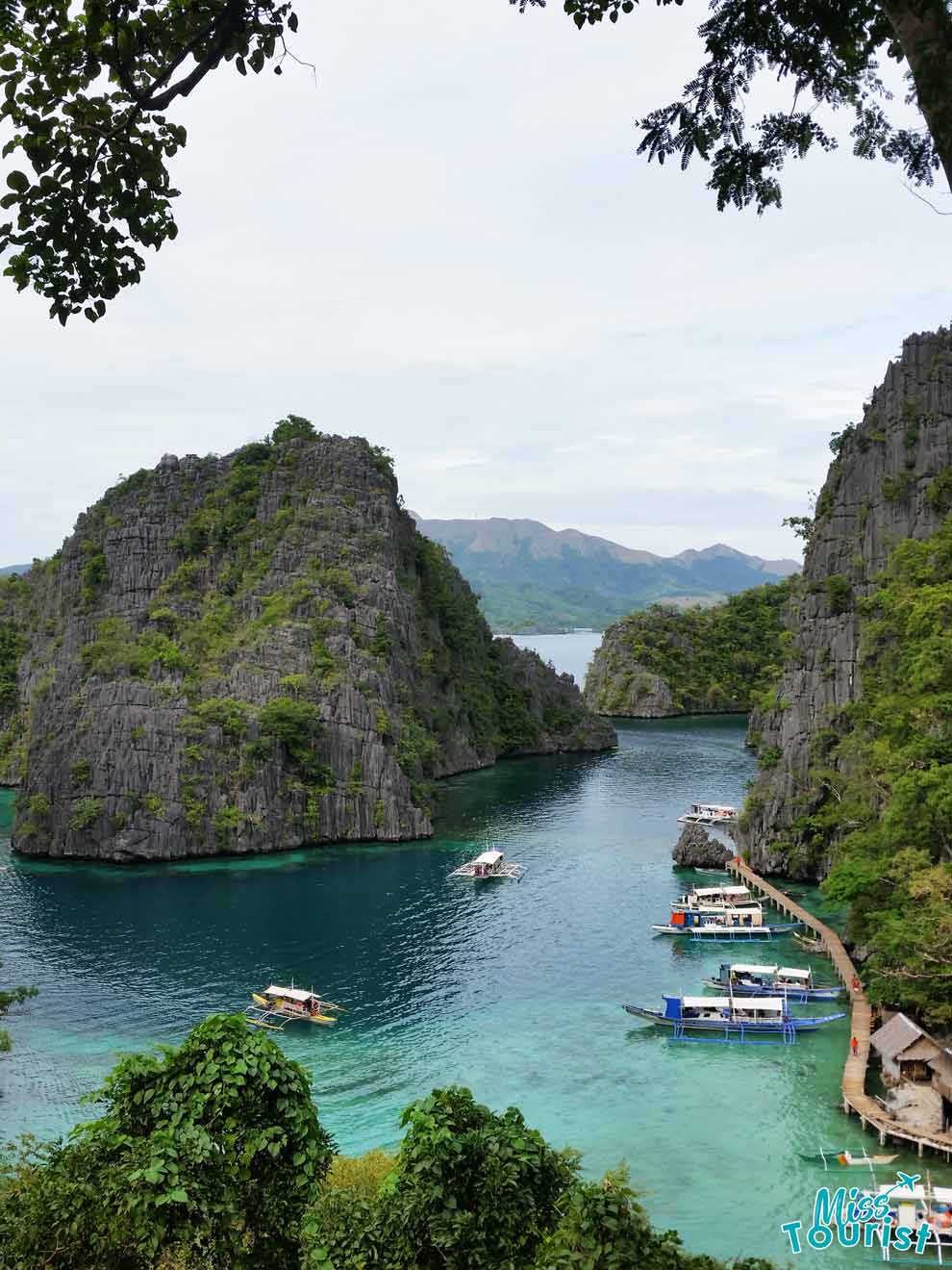 2. Busuanga Bay Lodge
Jump from your hotel room directly into the boat and go diving with the team of instructors at Busuanga Bay Lodge resort! Their full-service PADI dive resort will help you find the safest equipment or they also offer a wide range of courses from beginner to more advanced!
3. Sangat Island Dive Resort
This resort is located on Sangat Island. You'll find a dive facility on site that will offer you all the equipment you need plus a handful of PADI (Professional Association of Diving Instructors) instructors who can help you with equipment selection or if you want to sign up for a scuba course. Chill on the sugary sand or start your adventure with some canoeing time in the blue water. The bungalows have a balcony and stunning sea views!
4. Chindonan Dive Resort
This family owned resort that's located in Coron Bay, is ready to offer you an amazing diving experience during your holiday! The PADI 5 Star Resort has different diving packages courses for both beginners and more advanced people. So get ready to start the adventure of your life!
Frequently asked questions about Coron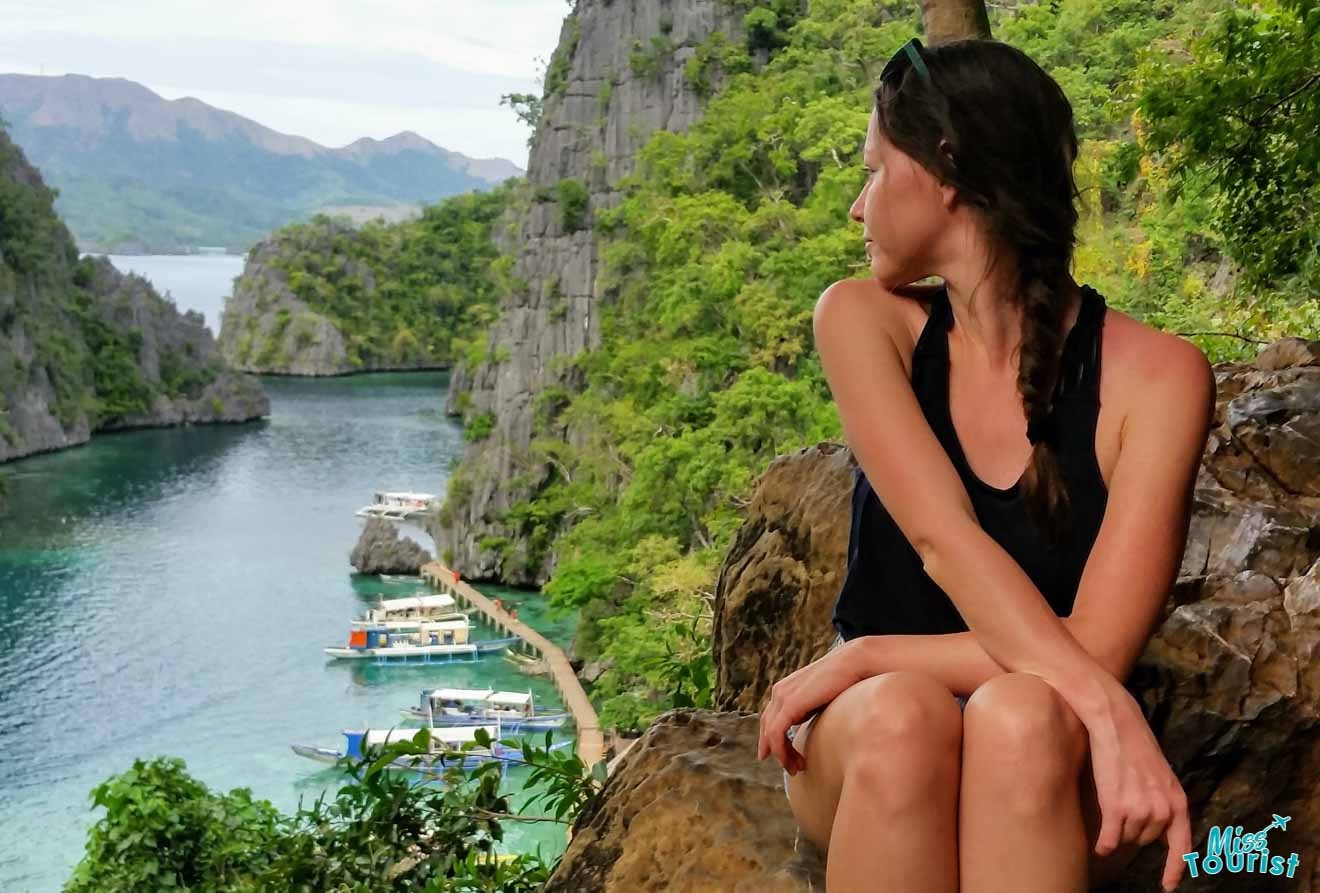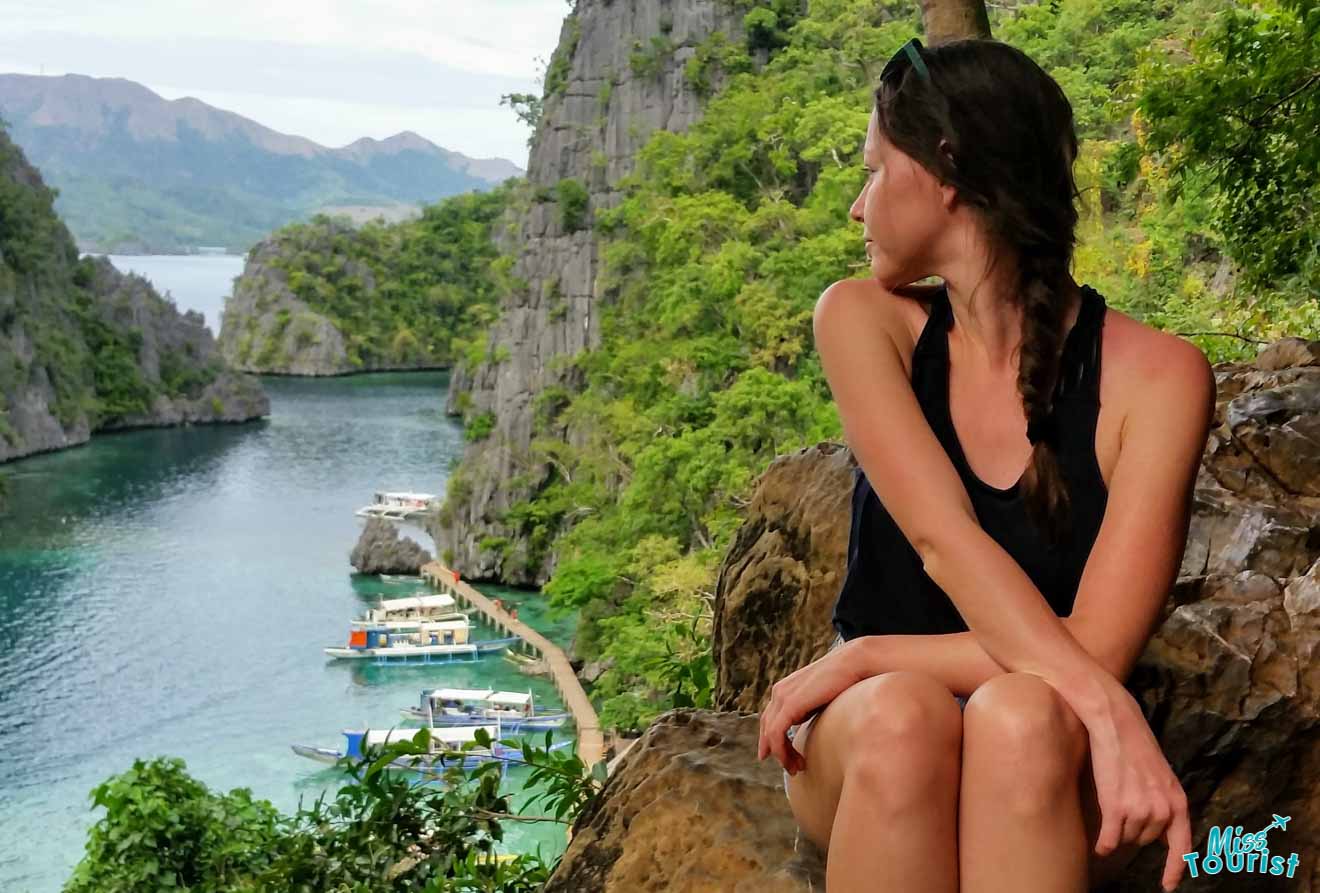 Conclusion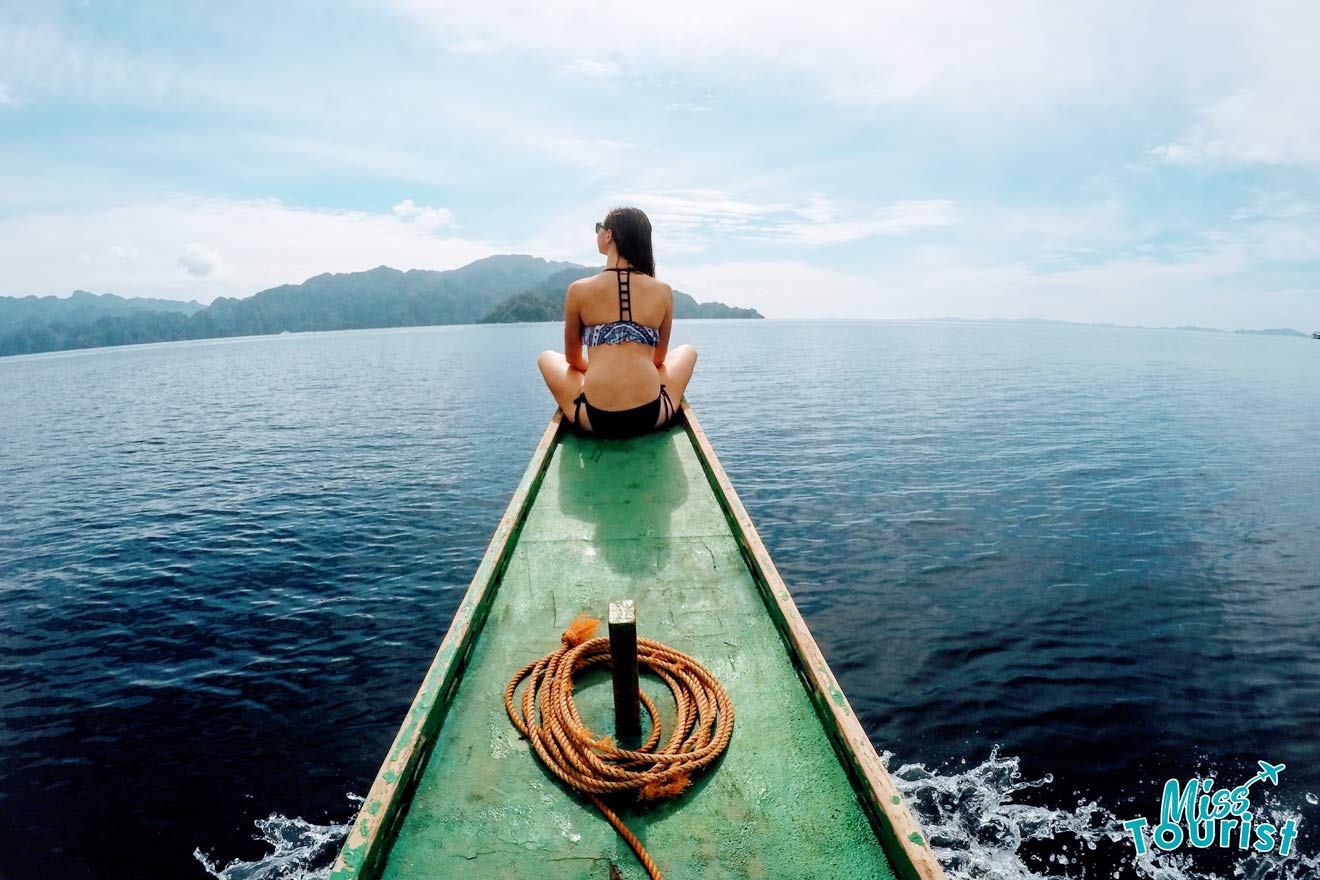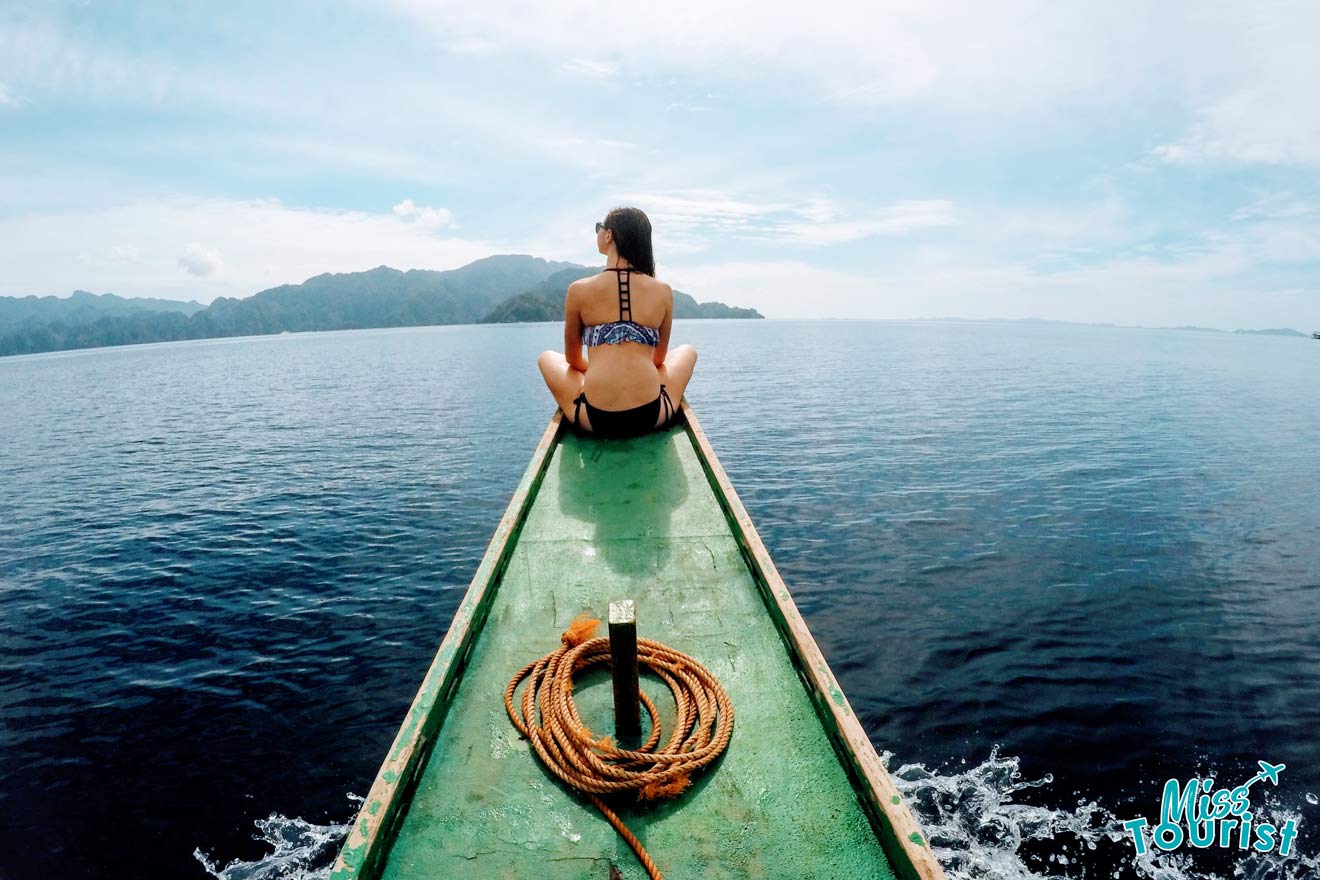 What a fun virtual trip! I hope this helped you decide where to stay in Coron and which Coron island resort to book!
There are many amazing accommodation options but here are my top favorite ones, both located in Coron Town & East Busuanga island:
There's one more thing you need to do now: book your hotels in advance! If you want to get the best deals and those cool rooms that have an ocean view I definitely think you should book your accommodation ASAP!
Enjoy this wonderful adventure! Go diving in the coolest places, snorkel all day long, and explore the beautiful Kayangan Lake. There's no place like Coron and that's why I want to hear all about your adventures, so leave me a comment below!
Safe travels,
Victoria
---
Pin it for later!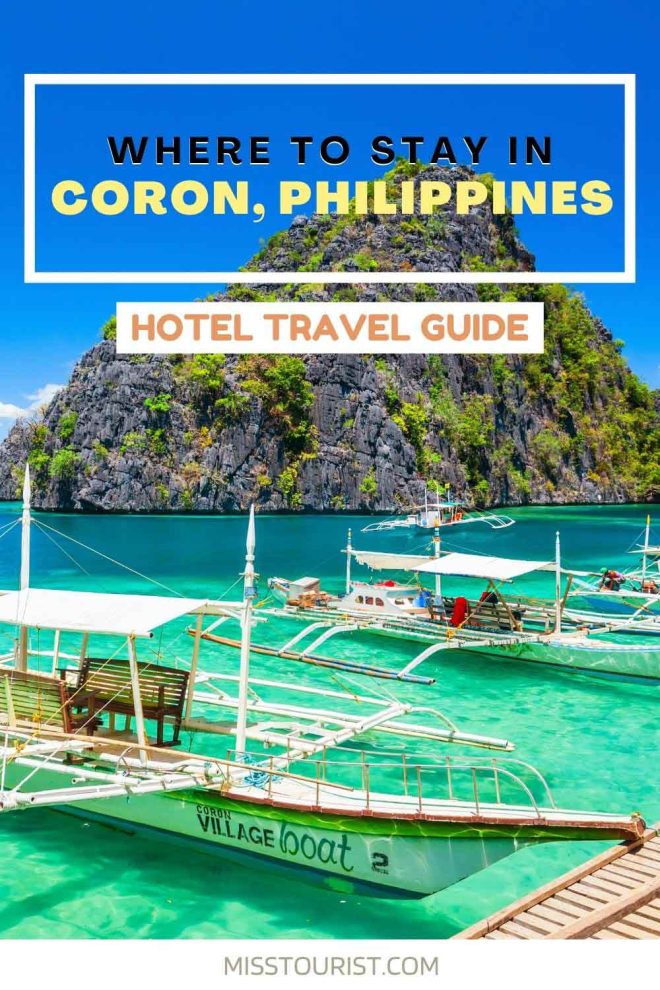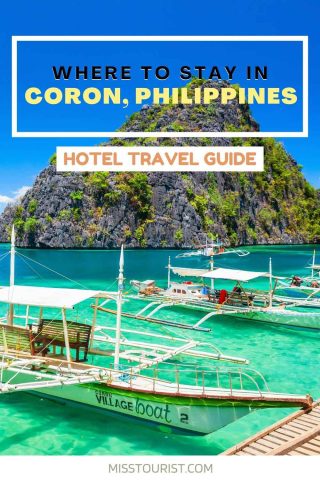 Pin it for later!