Formerly known as Kantipur or the "city of Glory", Kathmandu is the capital city of Nepal and a must for every traveller visiting this breathtaking country. Whether it's because it's a valley surrounded by four mountains, or because it is at a height of 1.400m above sea level or because Kathmandu used to be a lake where the lotus flower would grow by the thousands, or finally, it could be because the city has never been conquered by a foreign ruler!
Whatever your reason for visiting Kathmandu is, be it hiking in Nepal or just visiting the city, there is a high chance that you'll fall in love with it! I don't want this to be shadowed by a not-so-pleasant accommodation experience, this is why I have created a list of the top hotels in Kathmandu depending on your budget.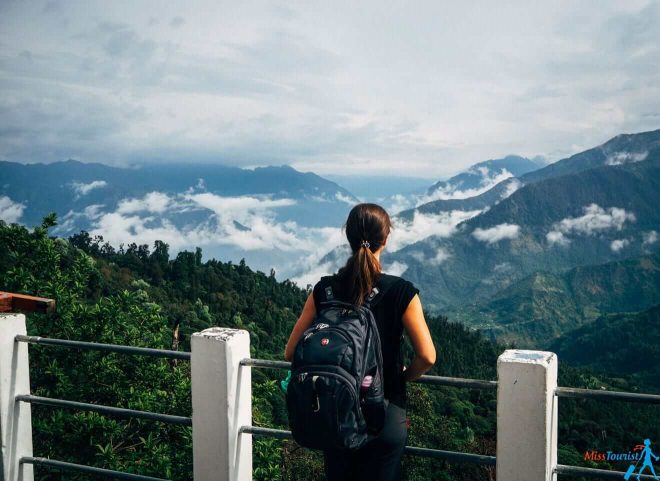 Now, if you are like most travelers, you will be heading to Nepal to do some trekking, and Kathmandu is the place where most people start their trekking adventure in Nepal. If you haven't yet, have a look at my post about Things to know before trekking in Nepal post in which I give you my tips before starting your epic adventure.
In any case, if you are planning to visit Nepal, you must be wondering how much does it cost to stay in a hotel in Kathmandu? Well, it totally depends on your budget, as the Kathmandu hotel price varies quite a lot!
Have in mind that planning ahead pays off, and even though the hotel industry in Kathmandu can seem big enough, places still sell out! So, booking your hotel in Kathmandu in advance is a great idea!
And without further ado, let's get straight to it! Here is my list of the best hotels in Kathmandu:
How to choose your hotel in Kathmandu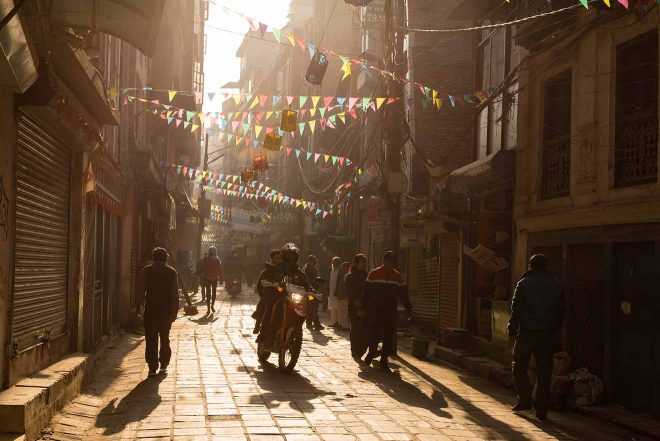 But which neighborhood is the best one to stay at in Kathmandu? I have decided not to divide this list by neighborhoods as Kathmandu's accommodation is usually located in the same areas. However, it's good to have an idea of the type of neighborhood you will be heading to and it will really depend on your traveling style and budget, so please find below a list with the main neighborhoods in Kathmandu: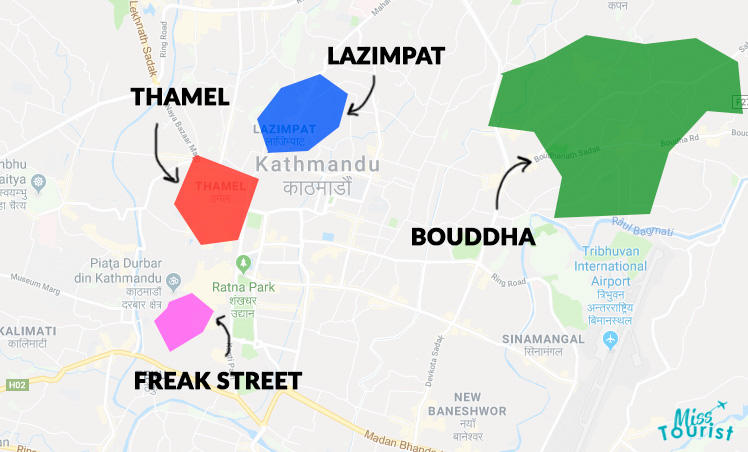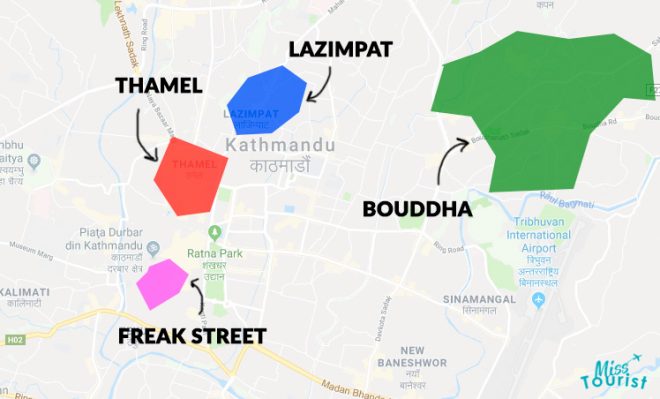 Thamel – Located in the city center and very popular amongst tourists, it's a must for every traveler. It's so much fun to get lost in its crazy maze streets and try every street food stall that you come across!
Lazimpat – Gorgeous area, full of high-class hotels and fine dining restaurants. It is the neighborhood where most of the embassies are located, a must-visit for all and a place to stay for those with a higher budget.
Boudha – Further away from the city center and a bustling place on its own, Boudha is a place where you can find a wide range of hotels, cafes, and restaurants for all budgets.
Freak Street – A historical place where the 60s and 70s hippies ended up after the summer of love or Woodstock, nowadays is, of course, a backpacker's paradise!
Best Hotels in Kathmandu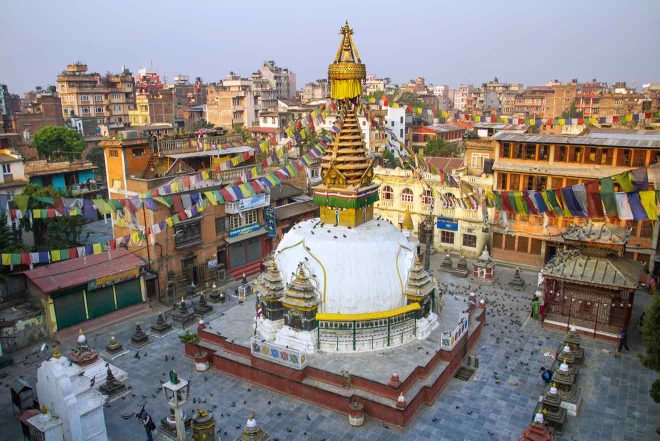 One of the first questions that you would ask yourself before heading to Nepal is: Where to stay in Kathmandu? I have carefully selected the best accommodation in this very simple yet effective Kathmandu hotel list, all of them with great reviews and categorized by price, from luxury to budget accommodation:
Whether you are looking for the cheapest hotels in Kathmandu or you are ready to splurge a little bit more, scroll down to see the ultimate list of Kathmandu hotels.
Luxury ($160 USD and up)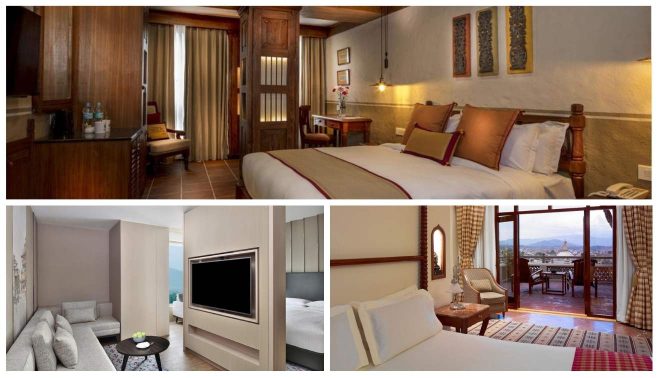 Kathmandu is a great place to scout for fancy hotels where you will be able to treat yourself Nepalese-style. One of the reasons for this being that due to its unique scenery, Nepal and specifically Kathmandu, is a hotspot for film productions – movies such as Dr. Strange or Everest have been shot here. Therefore, it's a not-so-unlikely place to spot a celebrity, as these celebrities love staying in 5-star hotels in Kathmandu.
Middle-priced (from $55 USD to $160 USD)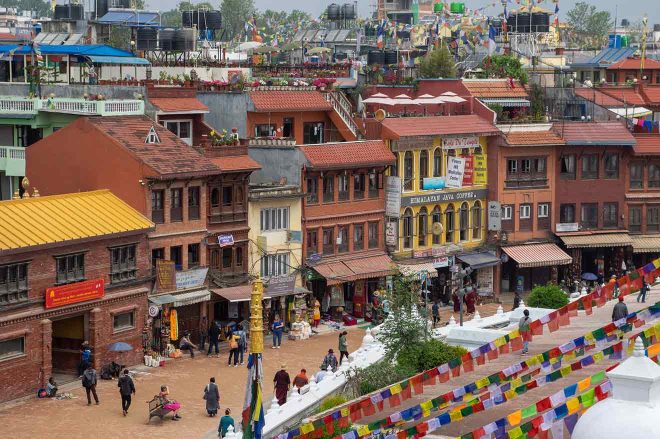 There is a wide variety of middle-priced hotels in Kathmandu, so picking and choosing can be a bit of a task. During my stay in Kathmandu, I stayed at Traditional Comfort Boutique Hotel, it was lovely and had a great vibe to it, however, it was a bit far from the most famous landmarks. Therefore, I have handpicked the best hotels for you to stay within your budget.
Below, you will find a list with 4 of my favorite mid-range hotels, most of them have little to envy to those 5 star Kathmandu Hotels and you are about to see why: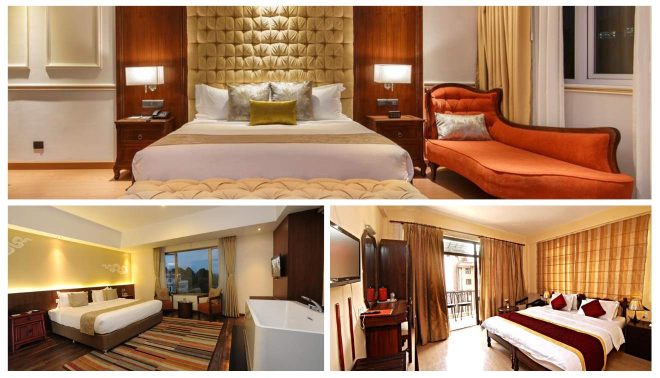 Budget (up to $55 USD)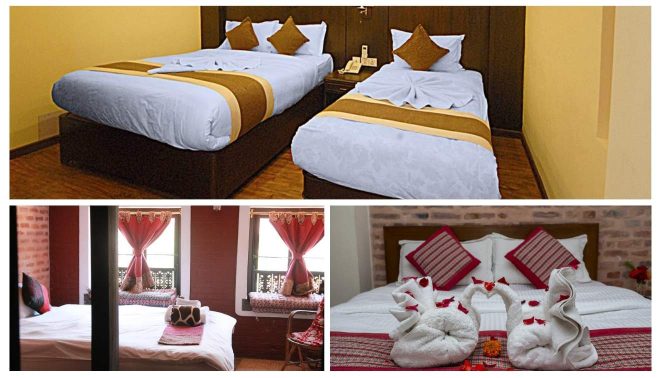 If the budget for your trip to Nepal is a bit tight, don't worry! There are so many perfectly good options that have little to envy to the most extravagant places, and it is really not a hard task to find a beautiful low-price hotel in Kathmandu. Just like in real life, many of these affordable stays are often the coziest ones.
Most of them make up for the lack of material luxury with the warmest hosts or a great atmosphere. This is the reason why they often get the best reviews! Scroll down to find a short list of the best cheap hotels in Kathmandu:
Bonus: Hotels in Kathmandu near the airport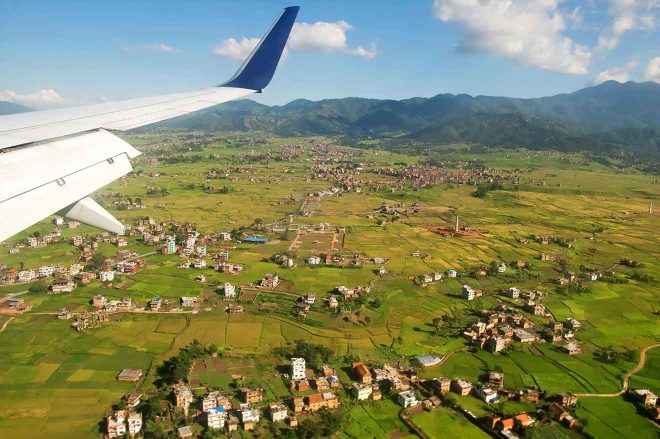 If you are going to Kathmandu, chances are that you are either landing in the country or leaving the country from this city. Being a hotspot for hikers and climbers alike, many travelers tend to do yearly trips to Nepal in order to conquer Everest (or attempt to). And unlike places such as SE Asia, where tourists' routes have been set for decades, many travelers in Nepal end up taking flights to and from places, this is why choosing an accommodation close to the airport is important for many tourists heading to this destination!
Even though the airport is just 5km away from the city center, it can be a pain to organize an airport transfer to and from your hotel or you might just be spending one night in the Nepalese capital city before heading to your trekking adventure, so you might not want to get too much into the city. This is why I have created a list of hotels in Kathmandu near the airport.
I have selected three best hotels, one per type of budget ranging from luxury to budget, and I have also chosen hotels that have a special character that gives you a good Kathmandu feeling on their own! Whether you want to splurge and treat yourself or you'd like a more affordable option, I've got you covered!
Check out the list of hotels in Kathmandu near the airport below: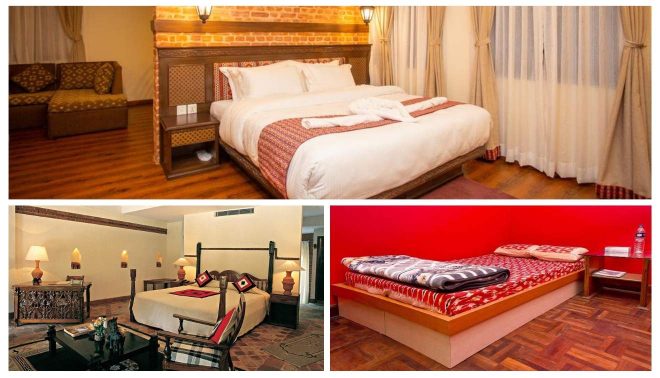 The Dwarika's Hotel – This is a perfect choice if you're looking for a luxurious stay. Designed just like a palace of the Newar Kings, Dwarika's hotel will leave you feeling like a member of the royal family after staying in their fabulous Kathmandu Hotel. With stunning traditional Nepalese décor and the most gorgeous high ceilings, this hotel feels like an oasis in the city. Make sure you try some traditional local cuisine in their highly rated restaurant.
Pashupati Boutique Hotel & Spa – As my middle-priced recommendation, this boutique hotel is a great option if you'd like to be close to the airport but not give up on amenities or comfort. Decorated in traditional Nepalese style, even if you are staying in the city just for a night, you will get the perfect Kathmandu experience. If you get the chance, you can visit Pashupatinath Temple, it's a Hindu temple complex located next to the Bagmati River!
Swagat Homestay – If you're traveling on a budget or even if you want to experience the real Kathmandu family lifestyle, you can choose to stay in Swagat Homestay. Homestays are a great way to experience a country's culture and this homestay is no exception, located close enough to the airport, but not so close that the noise will be a problem. Swagat Homestay is the perfect place to get a home feeling amongst the flights and tight trekking schedules!
How to get to and from Tribhuvan International Airport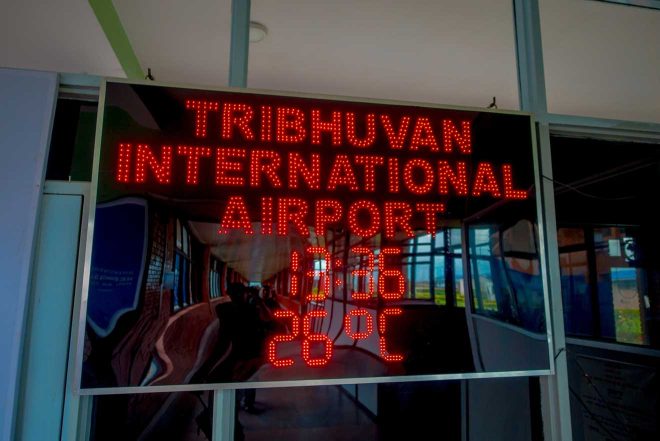 The Tribhuvan International Airport (KTM/VNKT) is located just 5km away from the heart of Kathmandu and a 20-30 min ride away. There are several transport options that you can choose from in order to get to the airport, such as airport transfers, taxis, and prepaid taxis. I have excluded local buses as there is no bus that takes you directly from Kathmandu's city center to the airport.
Here are your options:
Airport Transfers: most hotels in Kathmandu organize airport transfers. Once you book your accommodation, you can get in touch with them and organize your pick up or drop off. Bear in mind that sometimes it can be a bit pricier than just a normal taxi, but it's worth asking because some hotels provide it for free!
Prepaid taxis (around $7 to the city center): this is a great option for those a bit concerned with safety issues (not that there's anything to worry about, Kathmandu is pretty safe!). The government has a service that offers prepaid taxis that take you to your destination at a fixed rate, although they're a little bit more expensive than local taxis! Find the counter at the airport, past the information center.
Taxis (from $3 to 5$ to the city center): You will find them at the exit of the main building in the airport, feel free to haggle and agree on a rate before getting in the taxi, don't be a rookie!
---
Conclusion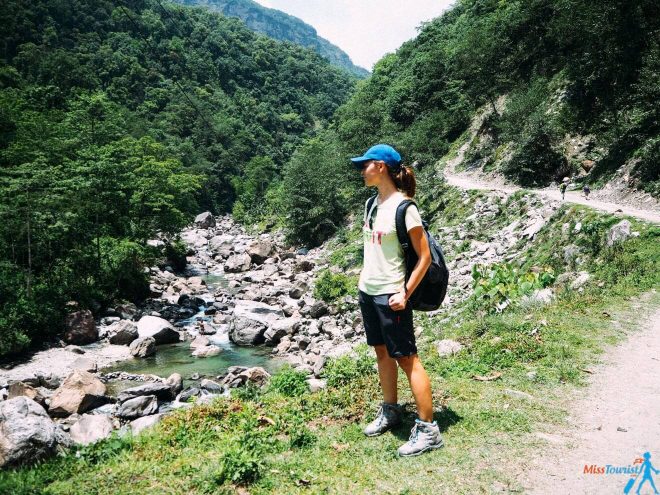 You have reached the end of my list containing the best Kathmandu accommodation options! From Kathmandu luxury hotels to the best budget hotels in Kathmandu, I have picked the best of the best so you don't have to do all the research.  So, if you were wondering which hotels are the best ones to stay at in Kathmandu or which hotels in Kathmandu have nice views, I have hopefully answered all these questions in this article!
Nepal is a destination for travelers and climbers that plan things ahead. Usually, trekking in Nepal requires a bit of booking in advance and this is why it is important to stay ahead of the game. Furthermore, Nepal's popularity keeps growing amongst tourists, making things harder for travelers that are a bit more spontaneous.
So, make sure you book your accommodation ahead of time and you will be able to choose your first choice!
I hope you have a great trip, and your Kathmandu accommodation will be one of your highlights!
If you have any doubt at all or just would like to say hi, drop me a comment below and I'll be happy to help you!
Happy travels!
Yulia
Pin it for later!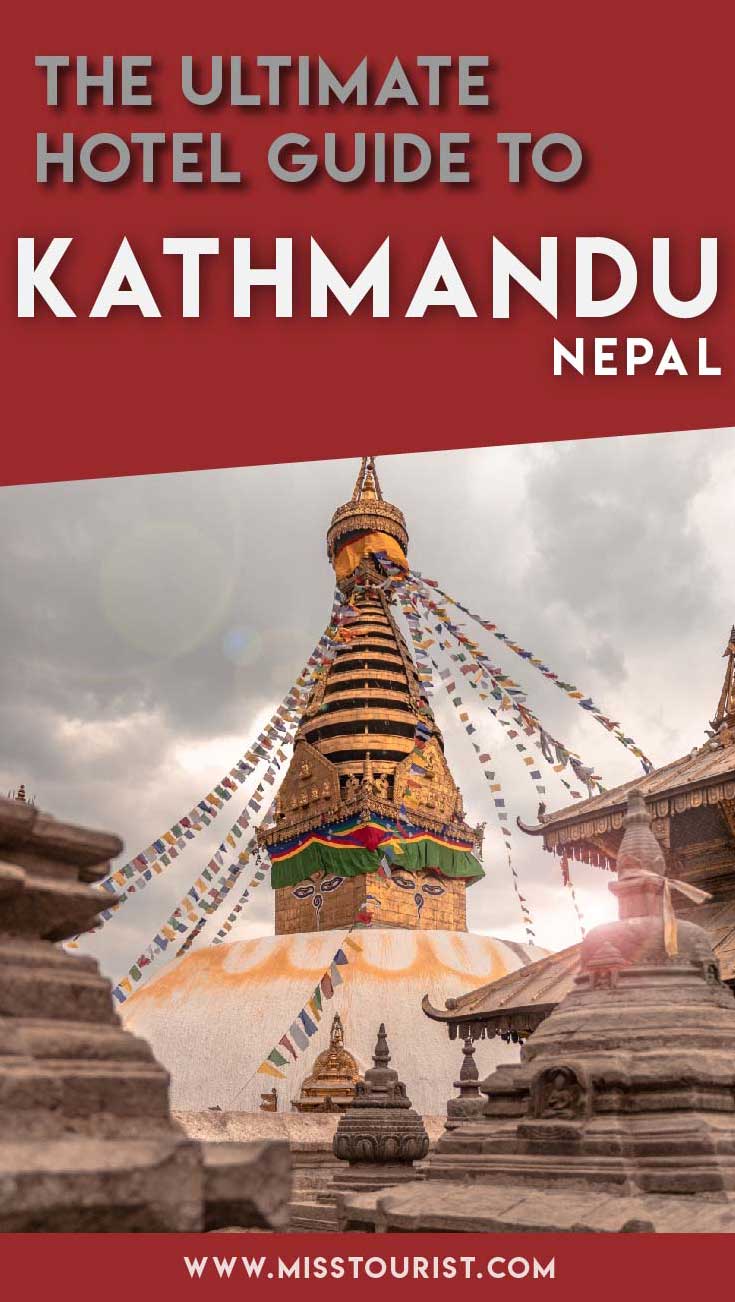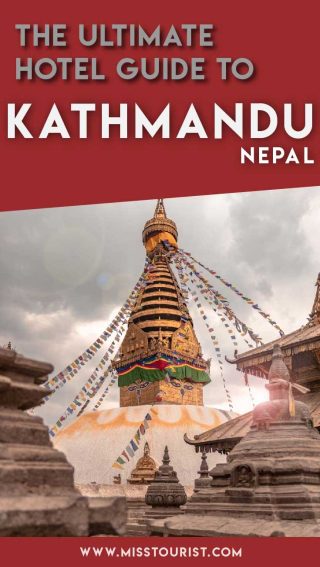 Pin it for later!