Singapore is without any doubts the most developed, urbanized country in Asia, if not in the world. I have stayed there for 4 days, which appeared to be not enough to fully discover this unique country-city.
I had a lovely Russian couple showing me around. They live there, so they showed me the best spots to visit while in Singapore as well as how to save significant sums of money on sightseeing and restaurants in Singapore. Continue reading to know more.
Here you go, my TOP 9 things to do in Singapore:
1. Super Tree show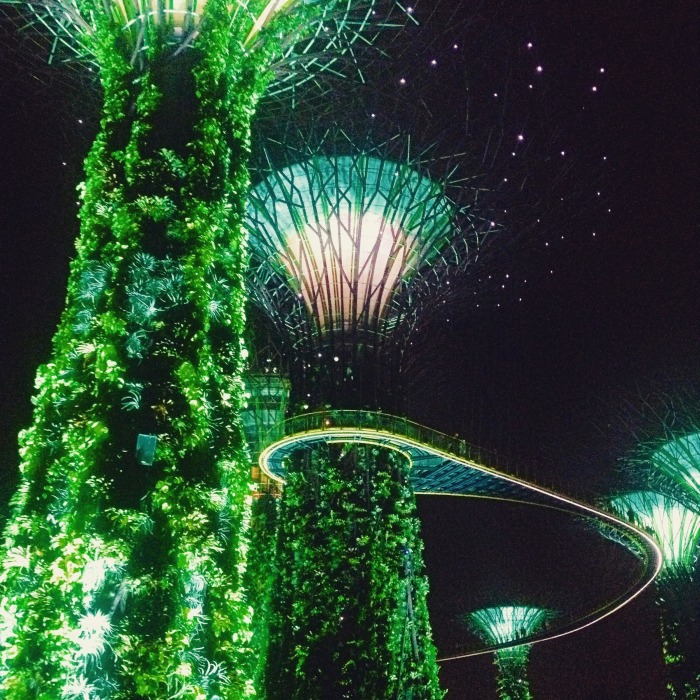 SuperTree Grove is is just WOW, seriously! I cannot even describe it properly, but I felt like I stepped in a a fairy tale, "Yulia in Wonderland" maybe.
The Garden Rhapsody is a show (more like something from outer space) that is held in Gardens by the Bay every evening. The futuristic looking trees/mushrooms are lighted up in different ways together with the music. Every detail is perfectly tuned to create an atmosphere that will give you a fantastic feeling of wonder and stimulate your mind.
I think EVERYBODY should see it, it really went beyond my expectation and imagination. It is my dream to take my parents there now!
I tried to capture the beauty and the atmosphere with my camera – did not work. You will have to come see it by yourself, sorry. 😉
TIP: The show is twice a day, at 7 45 p.m. and 8 45 p.m. and takes around 10 minutes. Make sure to come a bit in advance, so that you take the coolest spot!
By the way, the outdoors shows are all free in Singapore, for example like the next one:
2. Water show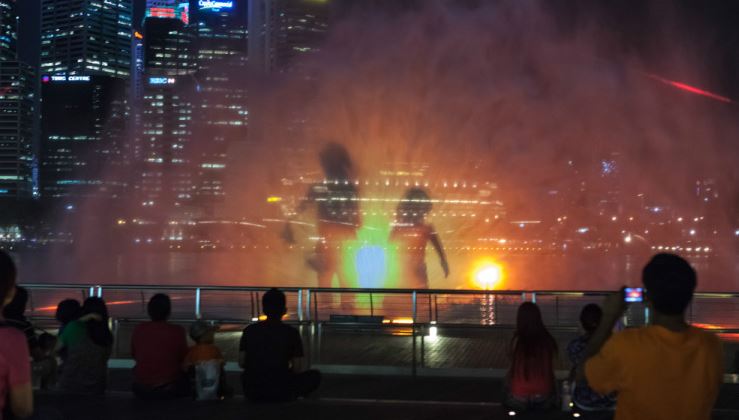 We always missed this one for various reasons, but when we finally reached it, it was definitely worth it!
Singing fountains with projections on it, bubbles everywhere and this amazing atmosphere of a holiday everyday – don't miss it while in Singapore!
The earliest one starts at 8 p.m. at Marina Bay Sands, the best view point is just near the Louis Vuitton boutique.
3. The Cloud Forest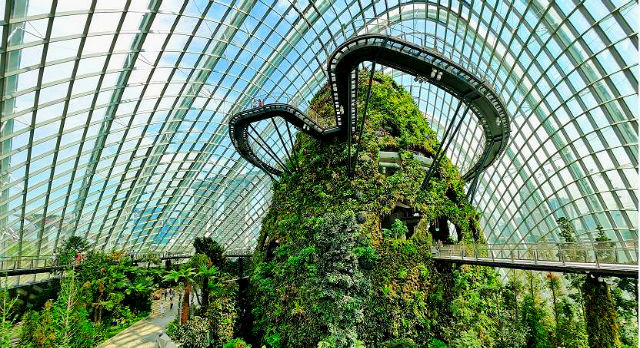 Ever wondered how concrete jungles might look like?
Singaporeans have created a whole new concept out there with planted walls, artificial waterfalls – somethings absolutely surreal! You can learn a lot about rare plants, take some great pictures, enjoy a magnificent view from to the Marina Bay Sands and just walk around this mysterious world built by man.
The entrance prices are here:
Is it worth it to go to the Flower Dome? My friends told me "Not really", so I skipped it.
TIP1: Make sure to have at least 1,5 hours of your spare time, and bring a jacket, as it is quite chilly and moist inside the conservation area.
The prices are below. Note, that if you are a student, do not forget to take your student ID with you – the entrance fee will be just 1$ instead of 5 $ for you.
TIP2: Try to visit in the morning when it is not too hot.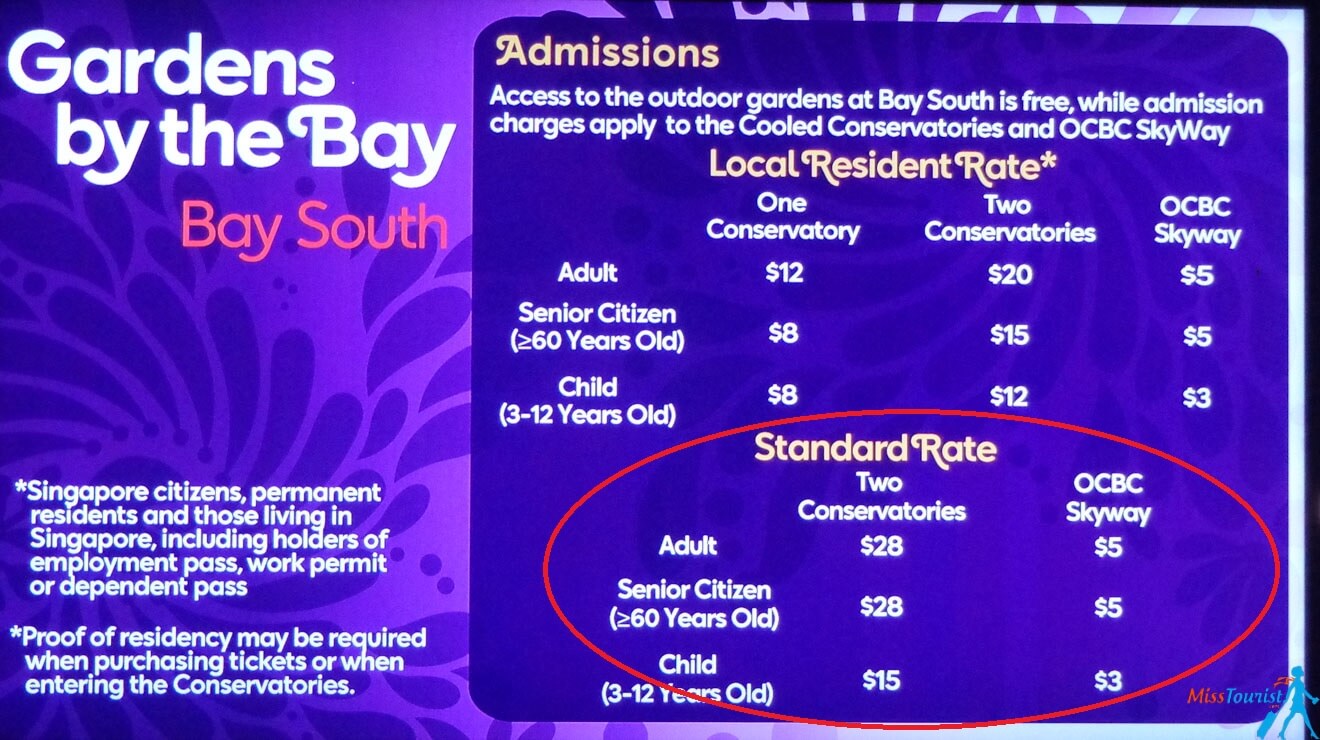 TIP3: If you want to visit the Cloud Forest and FLower Dome with a private transfer, get this tour, it is a very good deal!
4. Botanic gardens
I love parks and I that includes botanical gardens. I think I went to one almost in each country I visited! The one in Singapore is such a beautiful park. You can wonder it's alleys and get lost. It feels modern, fresh and ordered. Then, out of nowhere you can just wake up with a huge water monitor lizard in front of you.
The entrance to the Botanic garden is free of charge, but I also do recommend visiting National Orchid Garden. Unless you are some kind of Orchid expert you will discover a zillion new types of orchids which offer a sweet synthesis of visual beauty and matching fragrance.
Various types of orchids are presented, many colors around, great photo opportunities, we took hundreds of beautiful pictures! Go there!:)
It is inside the Botanic garden, but has a separate entrance.
5. Singapore Zoo
The zoo in Singapore is one of the top attractions. There are 4 options to chose from.
I went to a classic one, but I've heard the night safari is also pretty cool! Different shows at each time are held, you will not get bored during the whole day. I recommend visiting the zoo if you are traveling with kids, or if you have more than 3 days to see the city.
TIP: Unless you are with kids, I don't think there is any point of taking a train inside the Zoo. The queue is always long, and the distances are not that huge.
If you would like to save some money on tickets, try to buy them in advance (at least a week). Plenty of Groupon promotions are available and will save you at least 25%, which is quite significant if you go with the whole family. Here are the instructions:
How to buy cheap tickets to Singapore Zoo:
Search for a "Zoo" keyword on Groupon website (it can also an be anything else what you are interested in – Cloud forest for example);
At the moment I was writing this post this coupon was available. It saves you 35% percent and delivered for free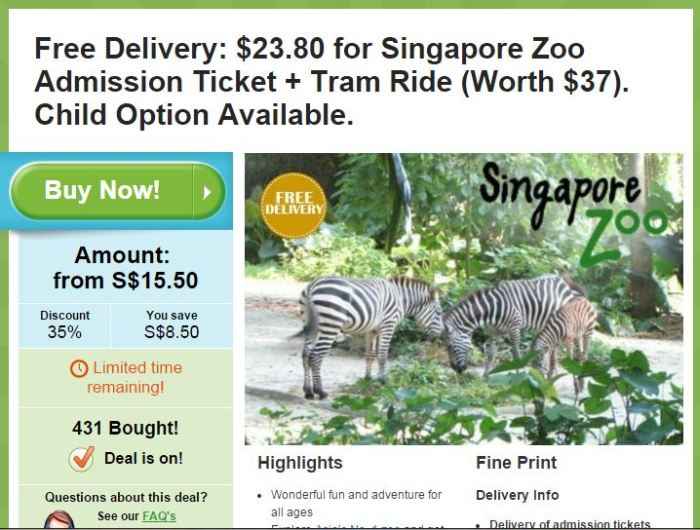 Note that the tickets are only delivered locally, so ask your hotel (the place where you are going to stay) if it is o.k. to have mails sent to this address.
Buy it at least a week in advance.
That's it, you have just saved 8,5 $ per person on the entrance ticket, not bad, you didn't do much! 🙂
TIP1: they usually also have coupons for Night safari, River Safari and Jurong Bird Park. You will save more or less the same much on each ticket, which is pretty good, considering the face you haven't done anything! 🙂
TIP2: If you would like to have a private transfer to and from the zoo with an optional Jungle Breakfast option (pretty cool!), check out this tour!
How to get to Singapore Zoo
Getting to the Zoo by public transport is not exactly obvious, so I decided to make a little guide for you.
Even though there is no MRT station within the walking distance from the Singapore Zoo, it is quite easy to get there.
I went from Choa Chu Kang MRT by bus number 927, it was free. Here are more options to get there from different MRTs:
6. Haw par villa
Searching for something special and ready to see some strange stuff?
Haw Par villa is your place! It is one of those places that you will not see on a typical tourist picture in Singapore.
It is one of the world's weirdest theme parks depicting scenes from Chinese folklore with over 1 000 statues. Some of them are: an old woman being breastfed, demons pitchforking loan sharks in hell – you got the idea.
It is truly a fascinating place to visit! Include it into your itinerary, you will not regret!It is easy to get there by metro (MRT station is called "Haw Par villa") and has a free admission, so why not to check it out?
7. Try street food
The street food is absolutely a-m-a-z-i-n-g in Singapore! Do not hesitate to try it!
It is a well known fact that Singapore is quite pricy. But surprisingly, street food is super cheap, it is still a riddle for me how a dish can cost 2-3 $ when a kg. of tomatoes in the supermarket costs the same much?
Want to know how to save a great deal on fine dining in Singapore? Listen up:
There is an application called The Entertainer.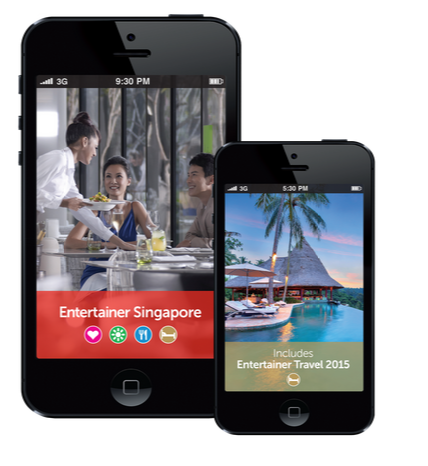 It will give you an access to many restaurants promotions – buy a dinner course, the second one is free. This application is so popular right now, you will hardly see any local eating out without the coupon from this application. Remember, that in order to get the link working, you have to pay 50$ to access the application and enjoy the offers for 1 year unlimited. Pretty good deal of you are staying in Singapore for, say, more than 5 days and going to dine in restaurants.
I also recommend just walking around China town district and trying out everything that looks interesting, the variety of choices is endless!
If you wish to rely on a specialist and have somebody walking you through Chinatown, get this 3,5 hours Food Adventure. You will never forget the feast on typical goodies such as rice cakes, poh piah, chicken rice, and more!
8. Rooftop bars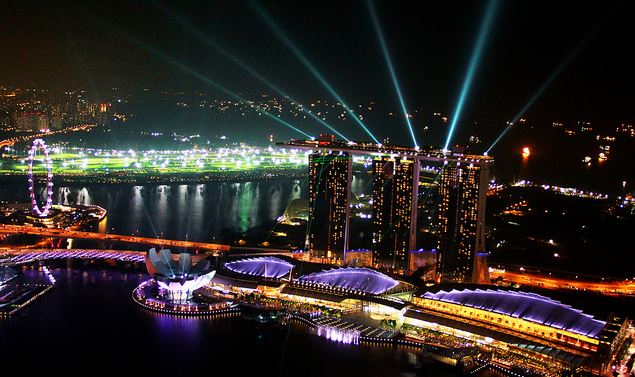 If you are in Singapore even for just a day, you just have to climb up one of its futuristic looking skyscrapers and enjoy the city's skyline view!
I have a couple of places to choose from for you:
The first one is located on the top of Marina Bay Sands hotel and it is FREE to go up. The rooftop bar is called KuDeTa, it is right above the SkyPark Observation Deck. People will pay 22 SGD$ to go there, see the view. The trick to enjoy the same view for free is to go to the bar instead. It's at the same floor, and just past the observation deck entrance (which is usually where 2 or 3 stewards are waiting to check tickets). You will be above them and, if you wish, you can enjoy the view with a drink in you hand for more or less the same money. Just make sure to look smart (don't wear flip-flops and shorts), and you will get in with no problems!
The other one is One Altitude, one of the tallest buildings in the country. The place is quite fancy, I liked it even more than KuDeTa! The view is awesome (because it is TO the Marina Bay Sands) and the place is more spacious, with a 360 degrees view. The entrance is 30 SGD$, drink included.
 9. Sentosa Island
Tired of sightseeing and want to just relax on the beach? Singapore has it also!
Sentosa is a popular island resort. Well, if you expect bounty beaches that is not the place to be, to be honest. Otherwise, it is very alive and easy to get beach in Singapore. Universal Studio amusement park is also located there by the way.
How to get to Sentosa island:
there are 3 ways to get to Sentosa:
1. By foot. Hours – Open 24 hours, Price – free. There are travelators that will help you go faster, about 20 minuites to get to the island by foot. If you use this choice, you can go back to Harbor front free of charge by train! 🙂
2. By train. Hours – 7 a.m. – midnight. Price – 4$. If you are tired and don't feel like walking, you can use the train, that goes parallel with the travalator.
3. By cable car. Hours – from 9 a.m. to 10 p.m., Price – 29$ return.
Discovering Sentosa island by bike can be a really great idea! Explore the island's greenery and beaches and simply relax bicycling around Sentosa. 2 hours Sentosa Bicycle Rental for just 14$ can be booked here.
TIP: if you are also having a SE Asia trip like me, I recommend to leave Singapore at the end of this trip. Otherwise, all the other countries will seem so underdeveloped to you in comparison! 😉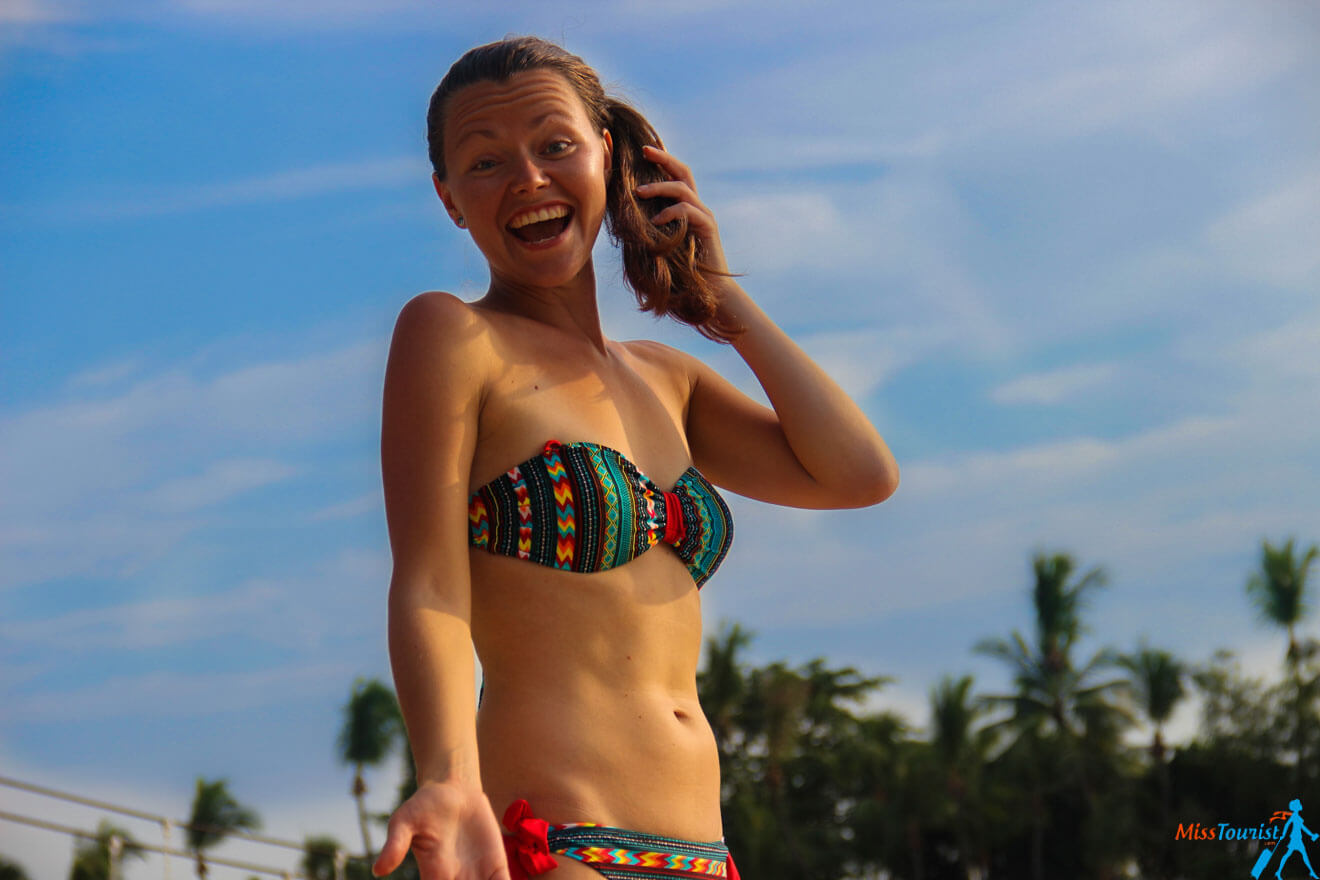 Where to stay in Singapore
There are plenty of choices to stay in this country-city for every wallet, i recommend these ones, click on my suggestions to see the prices for your dates:
Luxury stay – InterContenental Singapore – this elegantly decorated 5* hotel with an outdoor pool is your step into luxury lifestyle of Singapore!
Great value for money hotels – Carlton Hotel Singapore this 5* hotel can be surprisingly very affordable if you book in well in advance. Alternatively, Peninsula Excelsior Hotel is even cheaper and has a mind blowing view to the city!
Budget stay – Adamson Lodge is one of the best when it comes to the price and hospitality, located very close to everything. Number 2 would be Chic Capsule Otel for its chic decor and top location
---
Hope you liked my tips about this like-no-other country!
It is really an amazing place to visit, believe me, just do it!
NEXT: Malaysia is just around the corner, don't forget to include it in your itinerary!
Do you want to add something in the list? Comment in the section below and I might add it if it is really interesting!
Sharing is caring, don't forget to "Like" the post!
Yulia
---
Pin it on Pinterest!