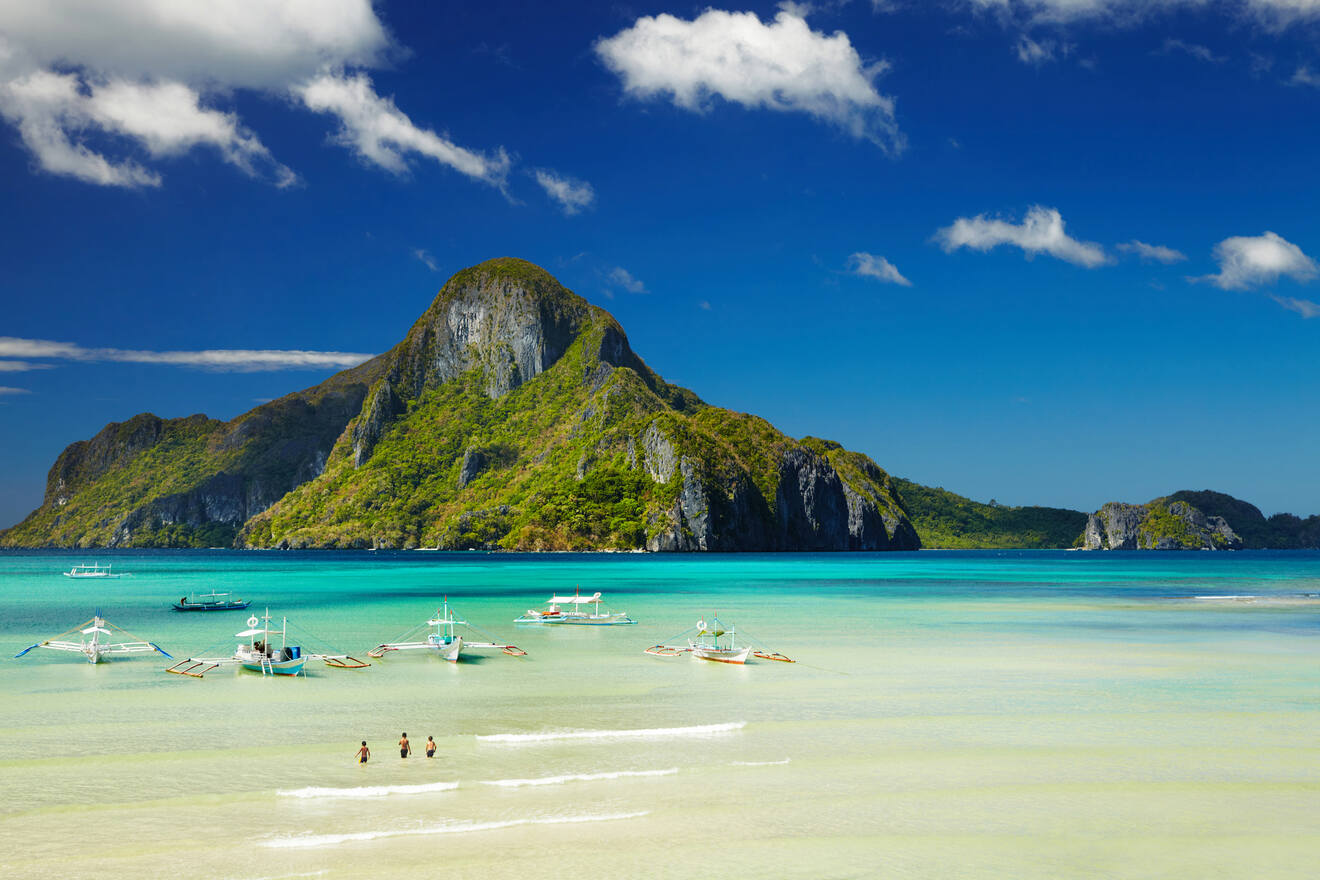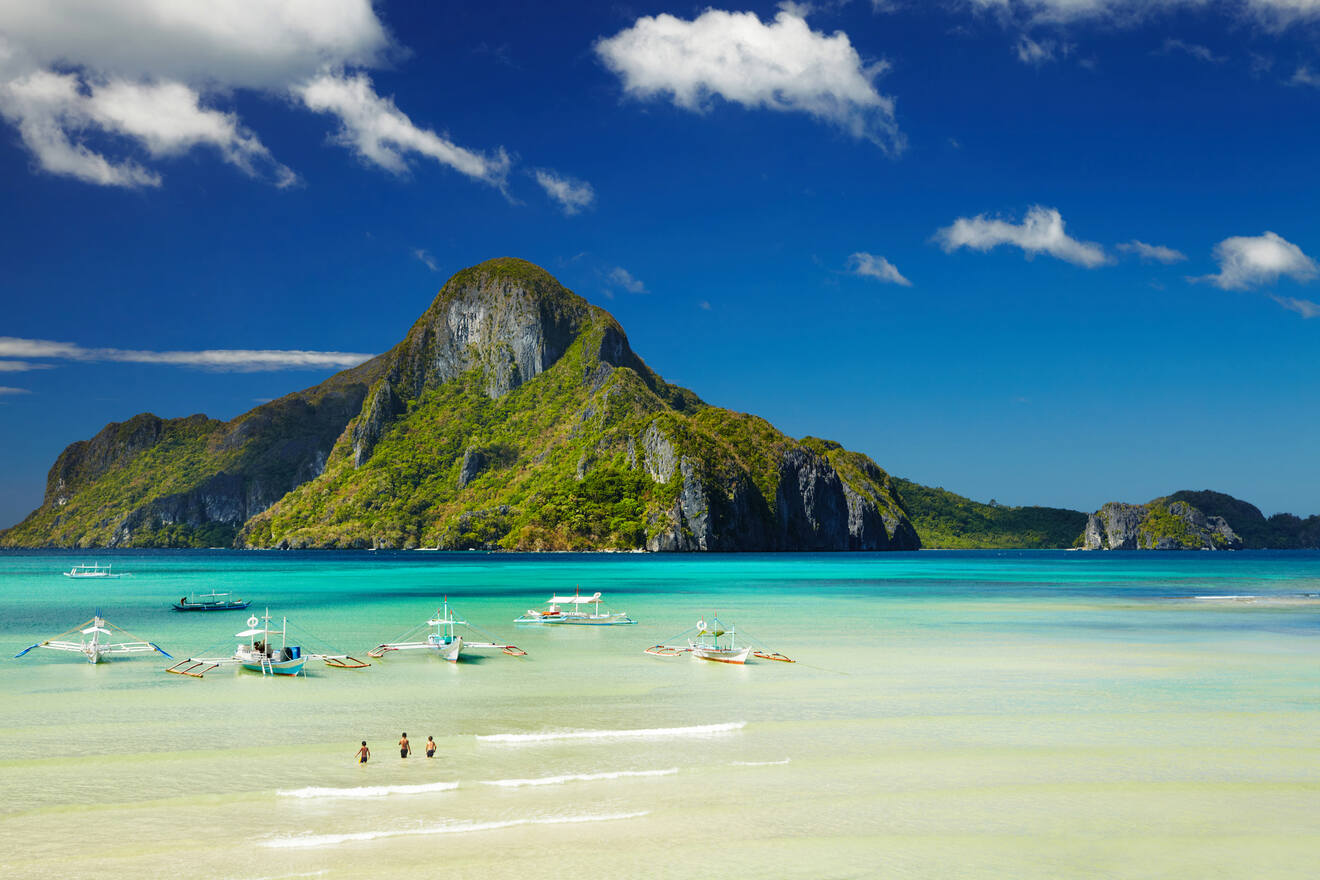 I hope you're ready to embark on one of the coolest adventures of your life! Get ready to scuba dive all day, to see some of the most beautiful coral reefs, and to chill under a palm tree on the beaches until the sun goes down! This is how we do it in the Philippines, a famous country made out of 7 641 islands, and only 2 000 are inhabited!
In this post I will mainly talk about the islands, and if you want to stay on more than one island you should know that generally the best way to get around is by plane. You can use boats for short distances but often they can't circulate if there's a storm. So I highly recommend choosing one spot and booking a hotel for a longer time!
Whether you're backpacking around the Philippines or relaxing in a 5-star beach resort, there will always be something new to discover on the beaches of this country. Who knows, maybe you'll be lucky enough to find something like the largest pearl in the world! I'm not making this up – a Filipino diver did discover that in the Palawan Sea! Now let's see which are the best places to stay in the Philippines.
I've made a list of the top luxury resorts, mid-range hotels, and hostels that will offer you an incredible time. Do make sure you book super in advance, it's definitely not a good idea to book your hotel in the Philippines at the last minute or when you get to the island.
As a lot of the country isn't quite up to the standards of more developed hotels, there's not that many hotels to choose from if you are looking for something with modern facilities. If you book last minute you'll risk paying a huge amount of money for something that's not worth even half of that!
Let's go, the beaches and reefs are calling us!
If you are in a hurry
If you want to book right now then there's no reason to wait, quickly browse this list with the best hotels all located on Cebu Island
Here's a map with all the islands for where to stay in the Philippines that I will be talking about in this post:
1. Cebu Island – where to stay in the Philippines for the first time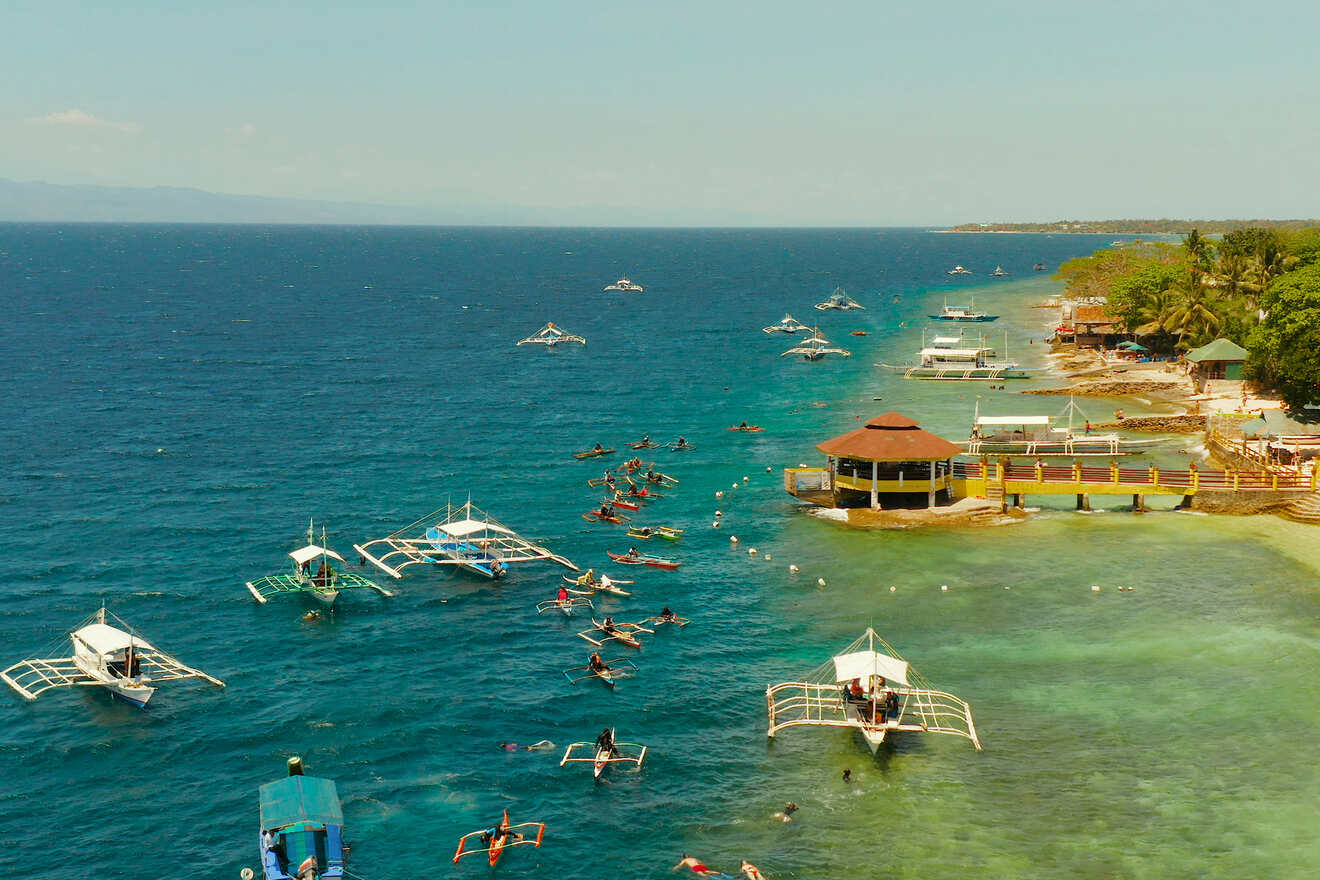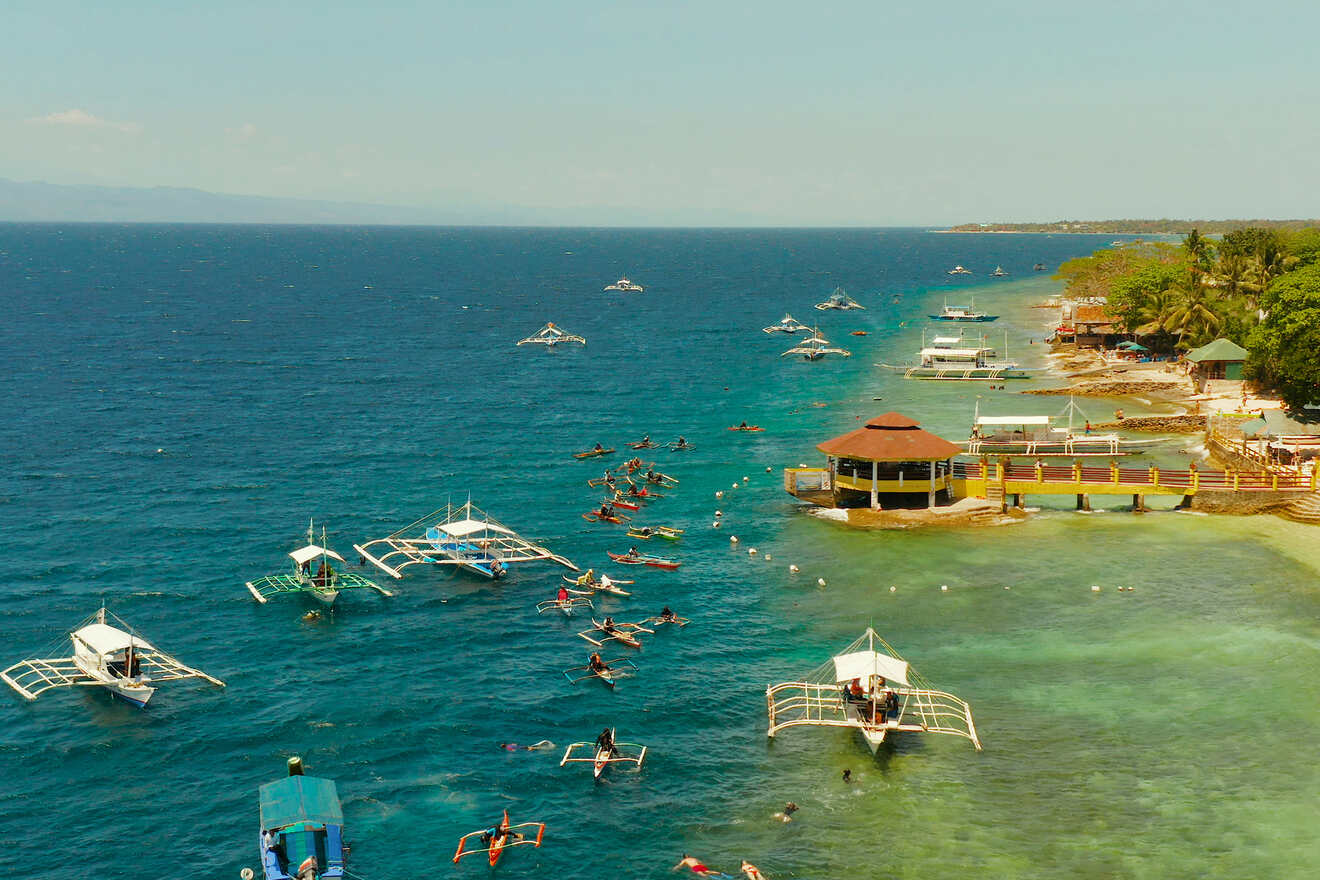 Are you ready to live your dream life on the white sands of Cebu island? Welcome to paradise my friend, we've been waiting for you! I hope you like an adventure because this island located in the south-central Philippines knows how to show its travelers a good time!
I highly recommend staying on Cebu Island if you're visiting for the first time, especially if you're backpacking around the Philippines. You're probably going to fly into Mactan Cebu Airport, so you won't even need to pass through Manilla, the capital city, to get to Cebu City (but if you are, check #2 here for where to stay).
Although you can explore Cebu City, the urban side of the island, I highly recommend going to Moalboal, located on the south-western side of Cebu Island. It's a stunning area, filled with a wide range of shops, restaurants, and cafes, right on the water! Make sure you book your hotel on Cebu Island in advance, although they offer a wide range of places to stay, I'm sure you'll want to get the best deal and prices!
And guess what? You can swim with sardines here! No, not just 10-20 sad sardines, there are thousands of them ready to have a party with you under the sea! Sometimes some turtles come to the party as well!
Oslob is another popular place in Cebu where travelers go swimming with whale sharks. Some people find it unethical due to the regular feeding and number of people in the water at one time so if you prefer a more natural (although not guaranteed) encounter, go to Donsol on Luzon Island.
Suppose you're done (for now) with the underwater adventure, I would make sure I visit the islands off the north of Cebu, like Bantayan Island, which have the most beautiful white-sand beaches and blue water, they are more off-the-beaten-path, but so worth it!
Other accommodation options in Cebu Island
Things to do in Cebu Island
2. Palawan – best place to stay in Philippines for luxury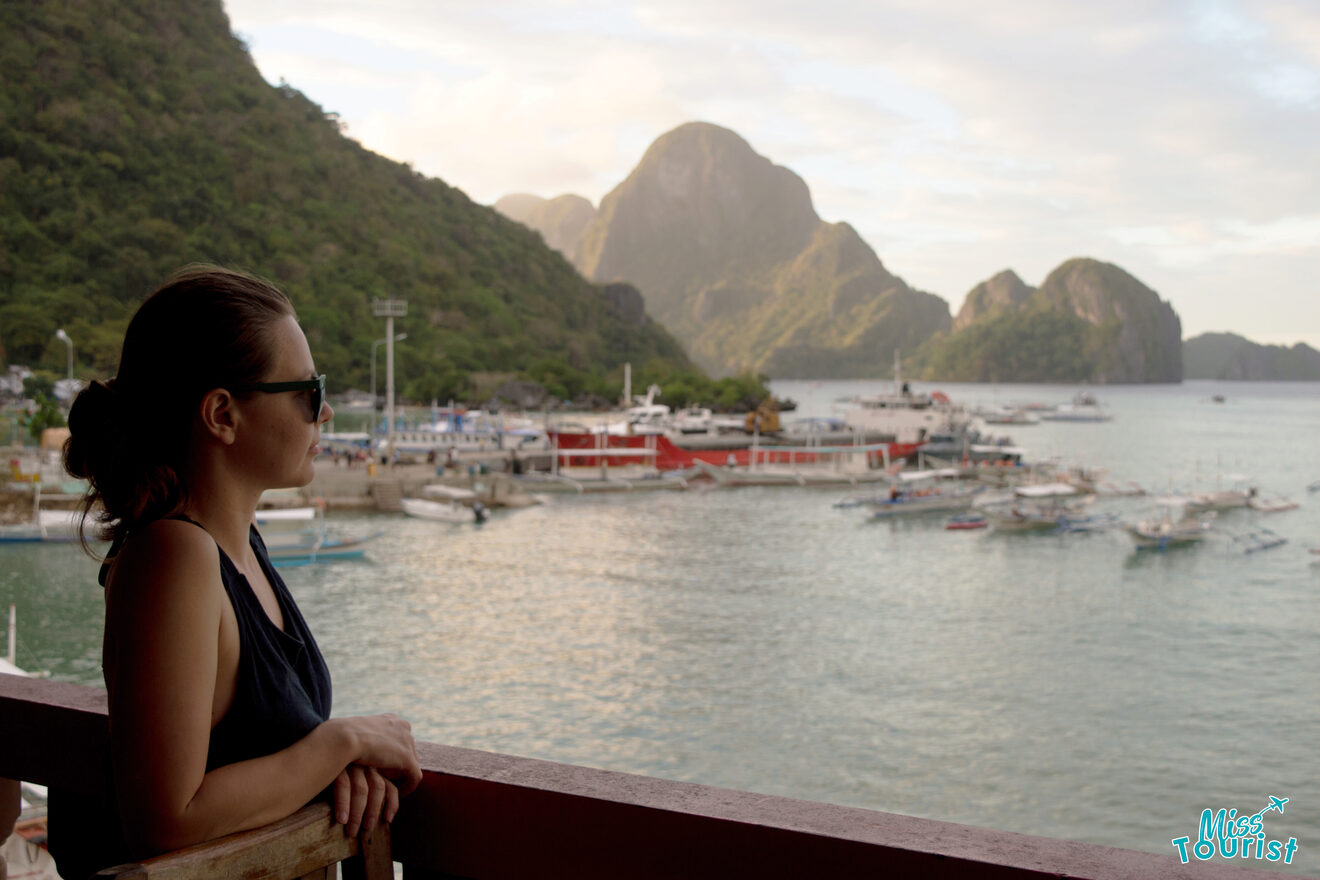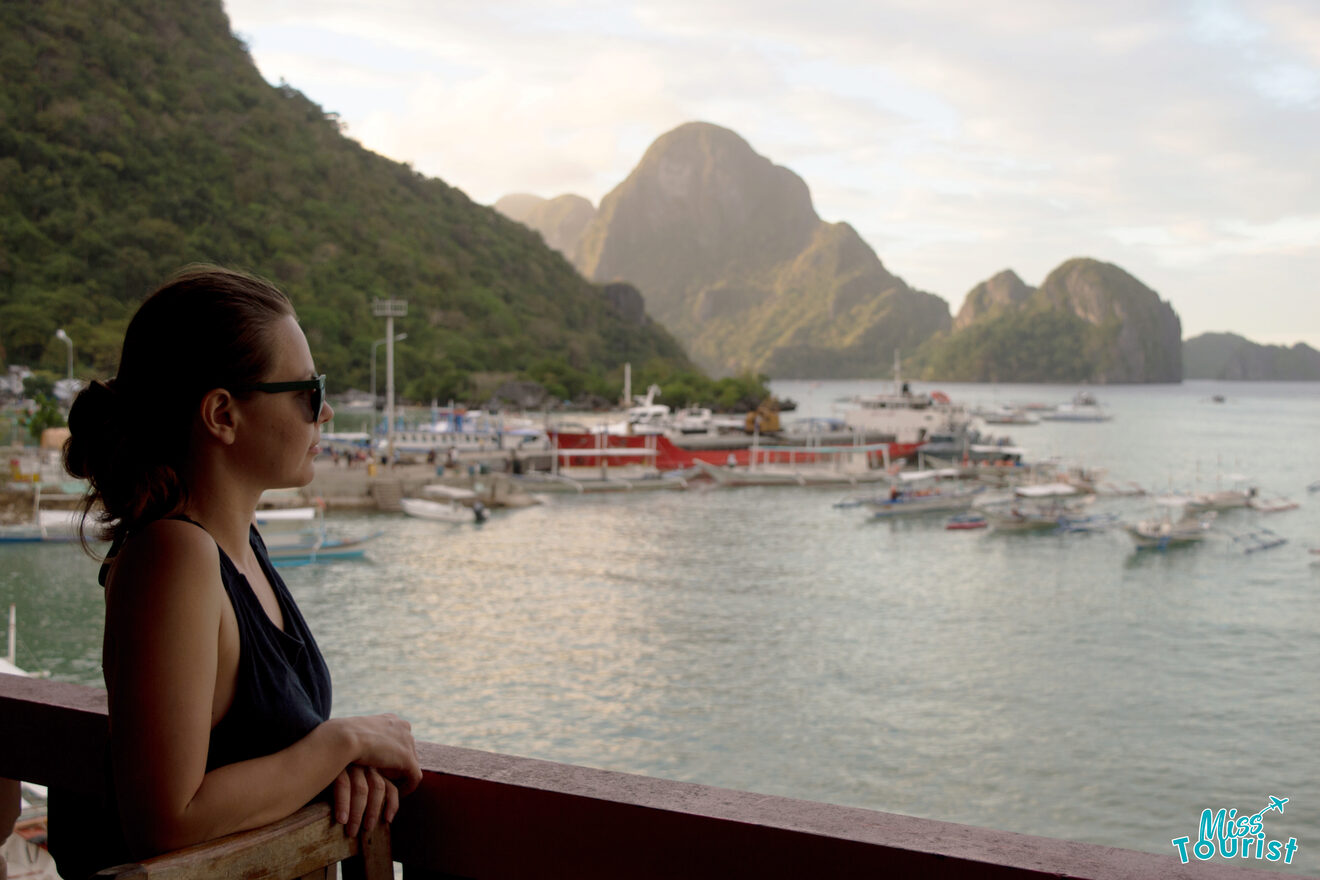 The province of Palawan is an archipelagic province located on the western side of the Philippines. Its capital city is called Puerto Princesa and as you probably guessed, it's a port, which makes it perfect for island hopping! To make it even better, Palawan Island is also a top destination for anyone looking for luxury hotels and resorts to stay in the Philippines.
El Nido, located in Palawan Island's northern part, is one of the most famous places here. It's filled with beautiful lagoons, white-sand beaches, and limestone cliffs! And if you're looking for a unique and luxurious stay in El Nido, check the bonus section of this post!
Puerto Princesa Subterranean River National Park, a UNESCO World Heritage site, is one of the biggest attractions on Palawan Island and it contains one of the most impressive cave systems in the world! This is certainly something not to miss!
When you plan your trip around Palawan, make sure to include a visit to Coron, an island that's located just a ferry ride away from Puerto Princesa. Many people who come to Palawan take a short trip to Coron to discover some of the most amazing shipwrecks from WWII. If you're an advanced diver, I actually recommend you spend a few nights there as it is one of the most well-known spots for shipwreck diving in Asia. Check out this post with the best places to stay in Coron.
But for now, here are the best places to stay in Palawan:
Other accommodation options in Palawan
Things to do in Palawan
3. Boracay Island – best place for nightlife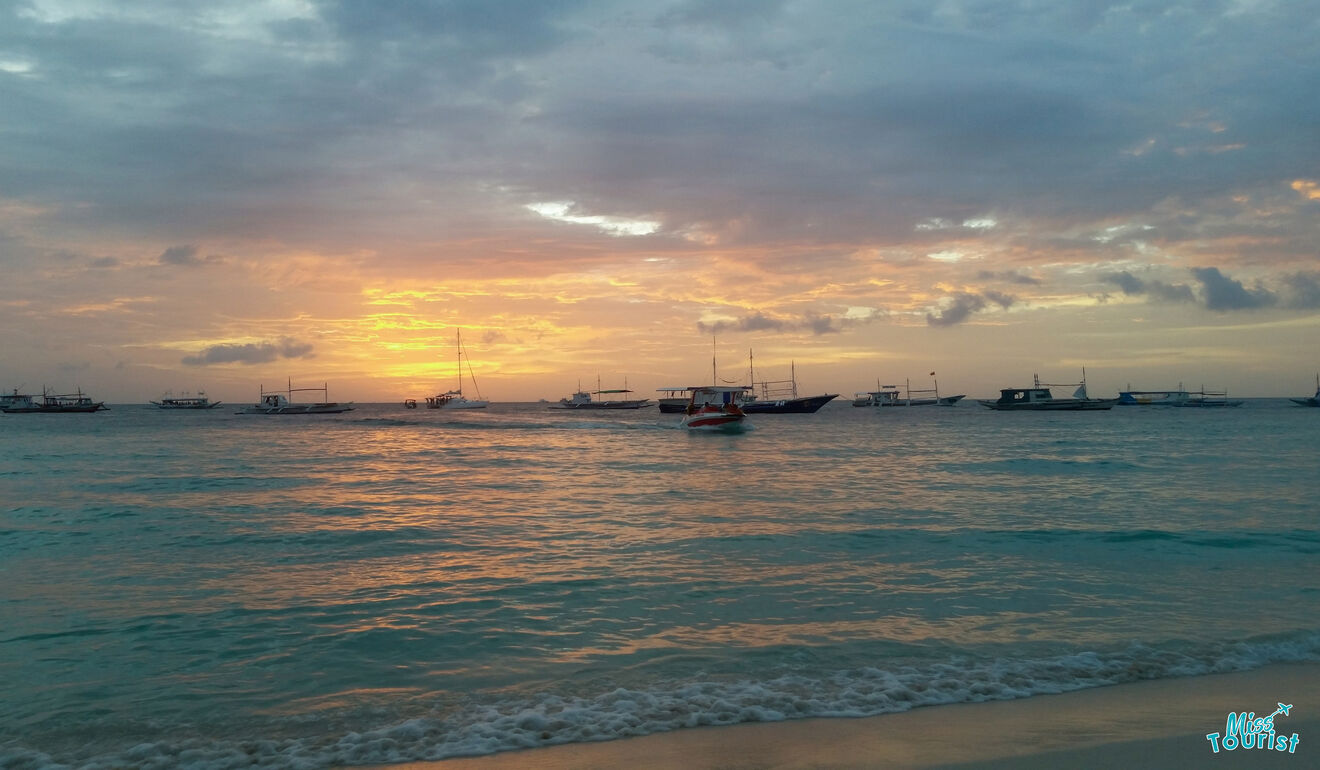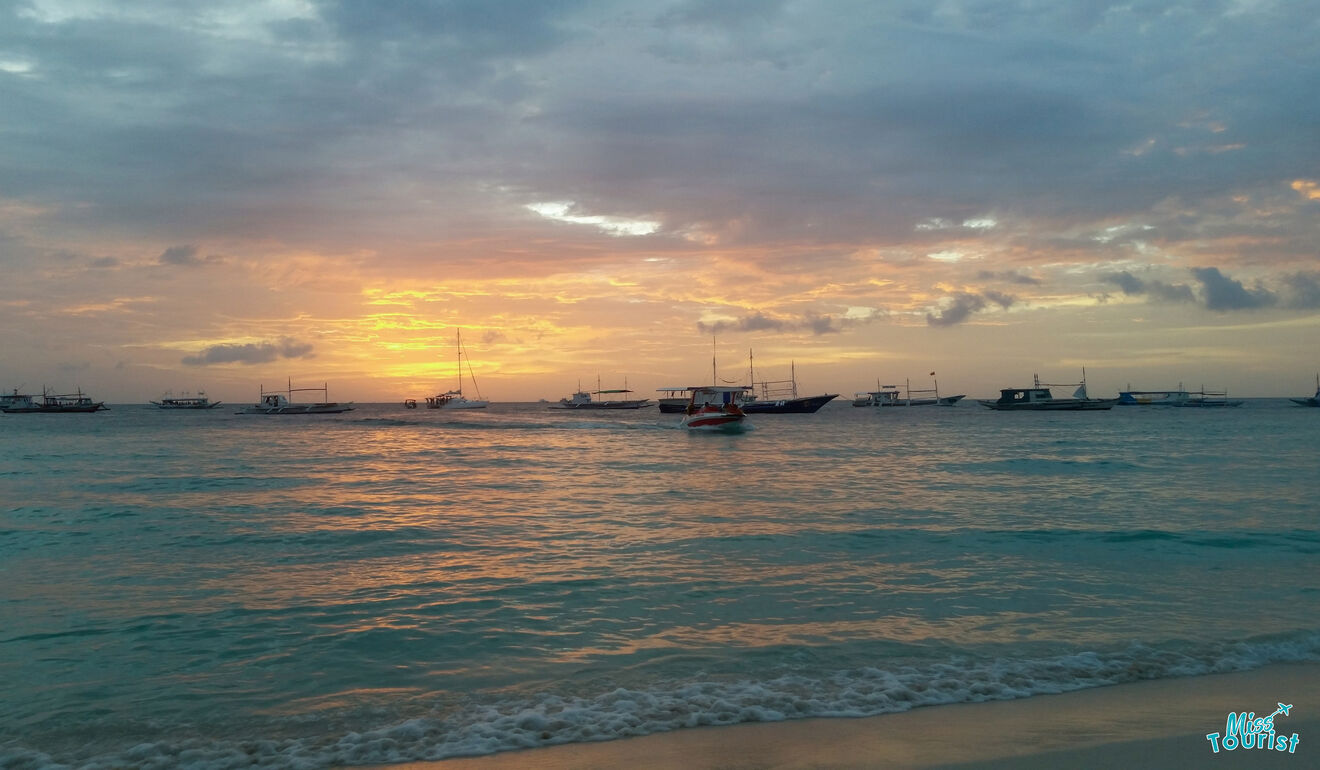 Located in the Western Visayas region of the Philippines and 200 miles (315 km) away from Manilla, this island is known for its beaches, a wide range of water sports like surfing, and most importantly, its very exciting nightlife! Boracay Island is a paradise for anyone who wants to experience the Philippines Islands both during the day and after the sun goes down!
You'll probably fly into Manila and then get on another flight to Caticlan (also known as Boracay Airport). Then, after you get to Caticlan, you only need to get to the Caticlan Jetty Port (just a 6-minute walk away from the airport), and finally, get a boat or ferry to Boracay Island! Voila! You have arrived at last!
Hello, paradise! The soft White Beach will be waiting for you to start your next adventure. The beach is super famous among those who love water sports. But so are Puka Shell Beach and Bulabog Beach, where you can try kitesurfing or windsurfing.
There are many luxury hotels and cheaper places to stay on Boracay Island, but I'm sure you won't be sleeping as much! This place is known as the party island, with tons of local cool clubs like Epic Boracay and Paraw Beach Club, therefore I'm sure you won't experience a single dull moment on Boracay Island!
Other accommodation options in Boracay Island
Things to do in Boracay Island
4. Siargao Island – where to stay in the Philippines for surfing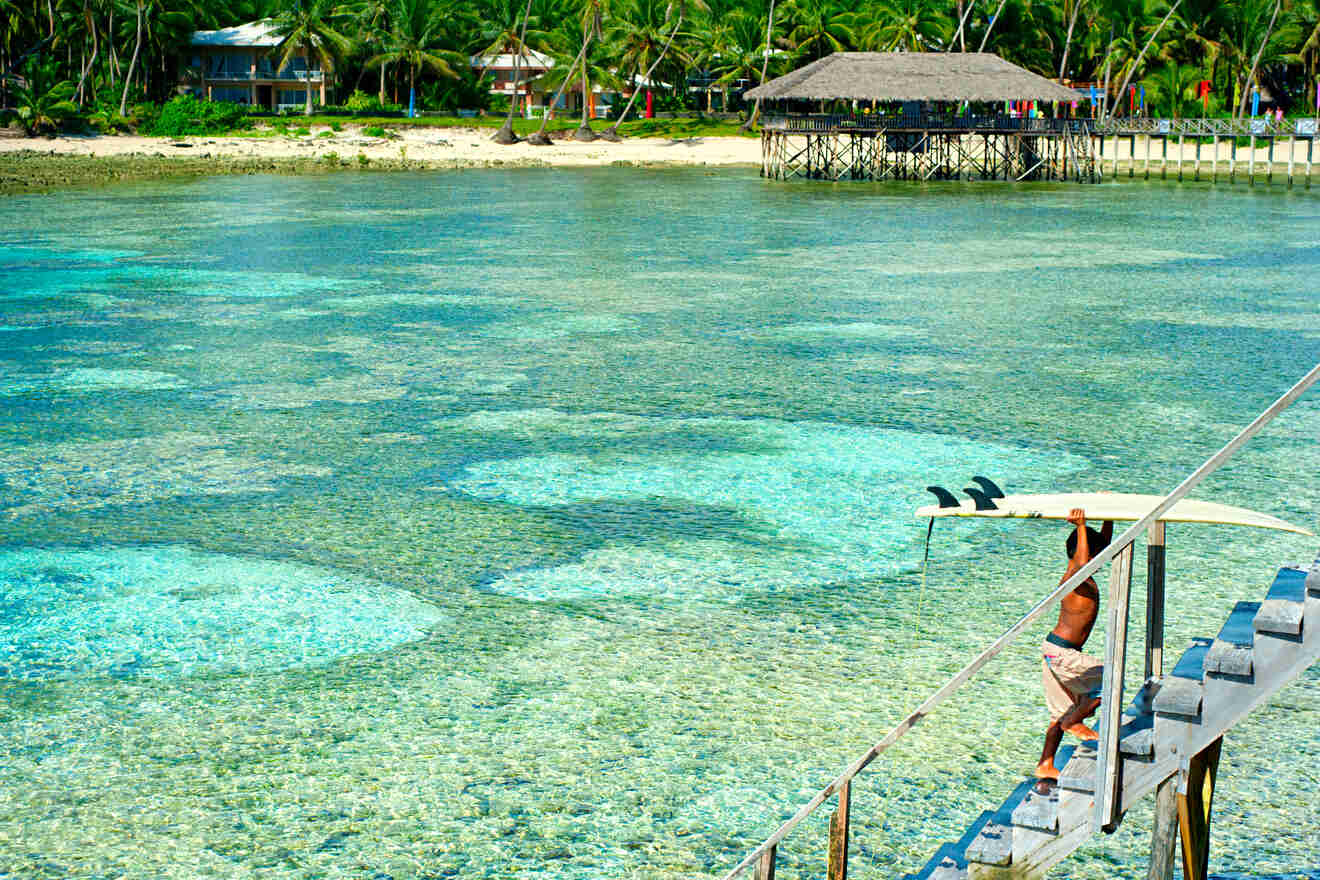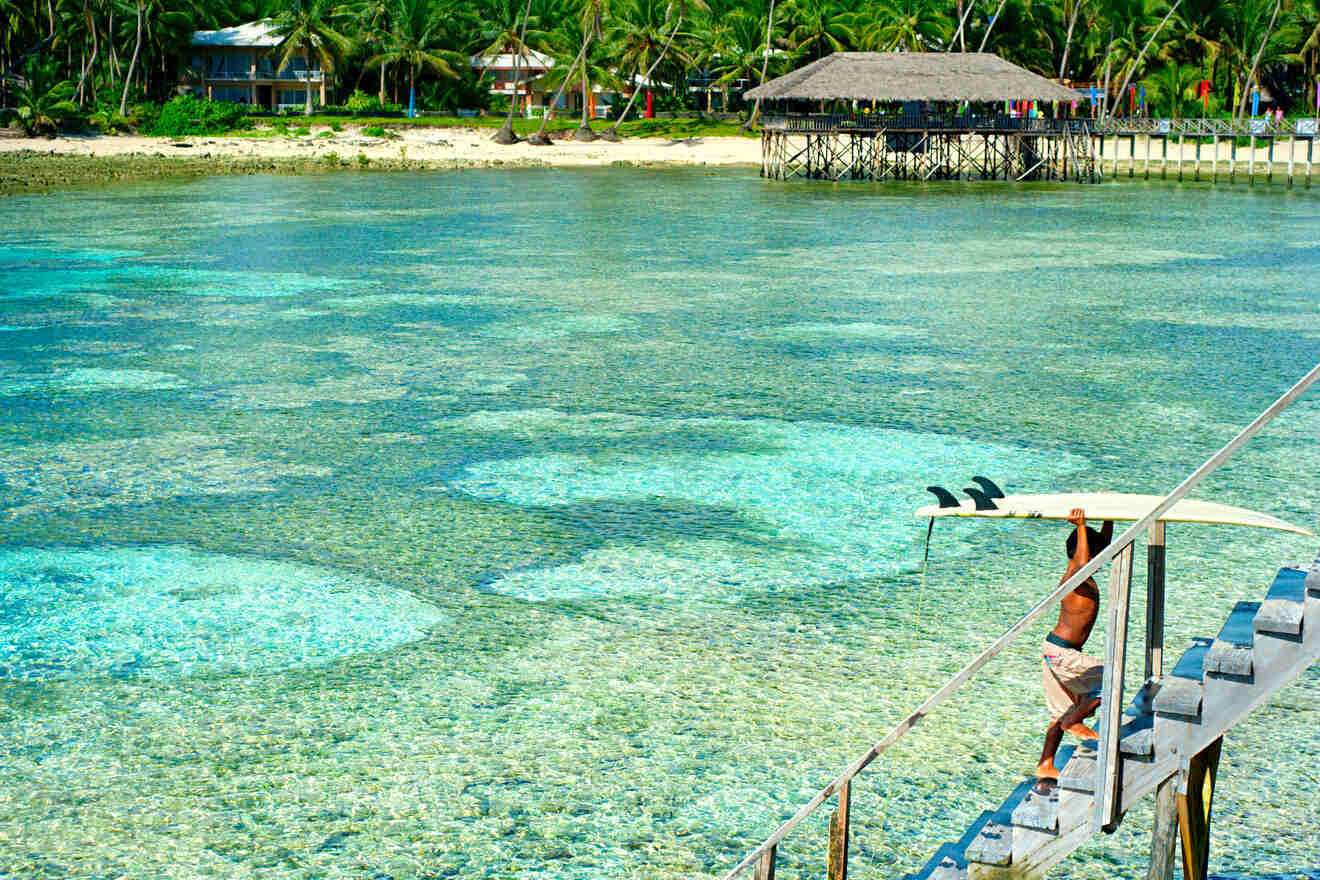 Located southeast of the capital city, Manila, Siargao Island is the perfect place to stay in the Philippines islands if you're backpacking around the country or looking for a stunning place for surfing! You can get to Siargao from Manila by plane in just 1 hour, but if you're looking for a cheaper option, you can take the ferry. Bear in mind that it will take you more than a day because you'll have to change the ferries a few times.
This tear-drop-shaped island might not be the biggest out of the islands in the Philippines but is for sure a large paradise for surfers. It was nicknamed the "capital of surfing" in the Philippines, but that's not its only perk. Siargao is a corner of paradise filled with stunning lagoons, mountains, reefs, and incredible wildlife!
Plus, if you're backpacking around the islands on your own, this is the best place to make some new friends! The General Luna area is perfect for mingling with all the other surfers because who doesn't need a drink after a long day? But my favorite spot is for sure the Tayangban Cave Pool, one of the most scenic places on the whole island.
Other accommodation options in Siargao
Things to do in Siargao
5. Manila – for a big-city feel (or a transfer)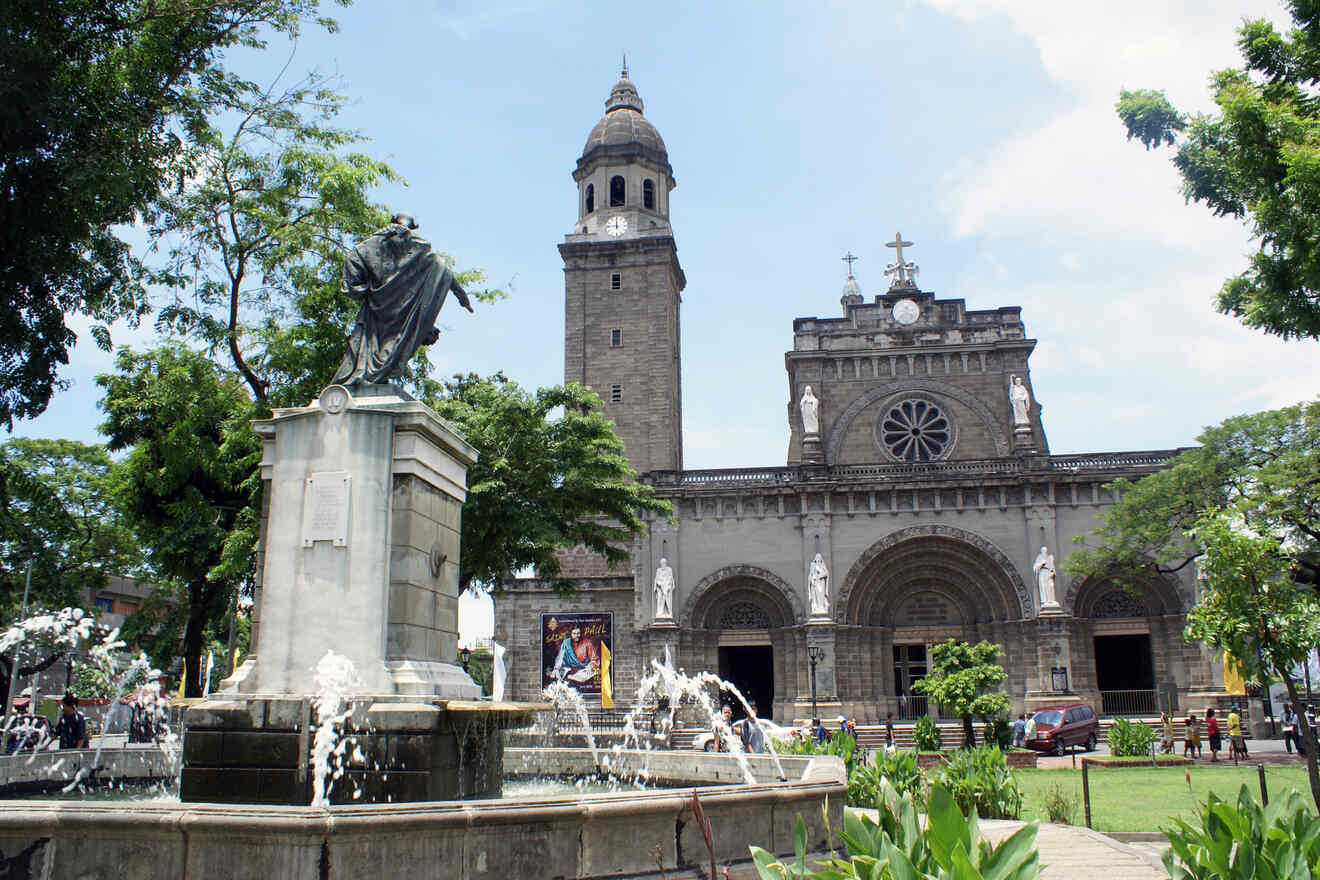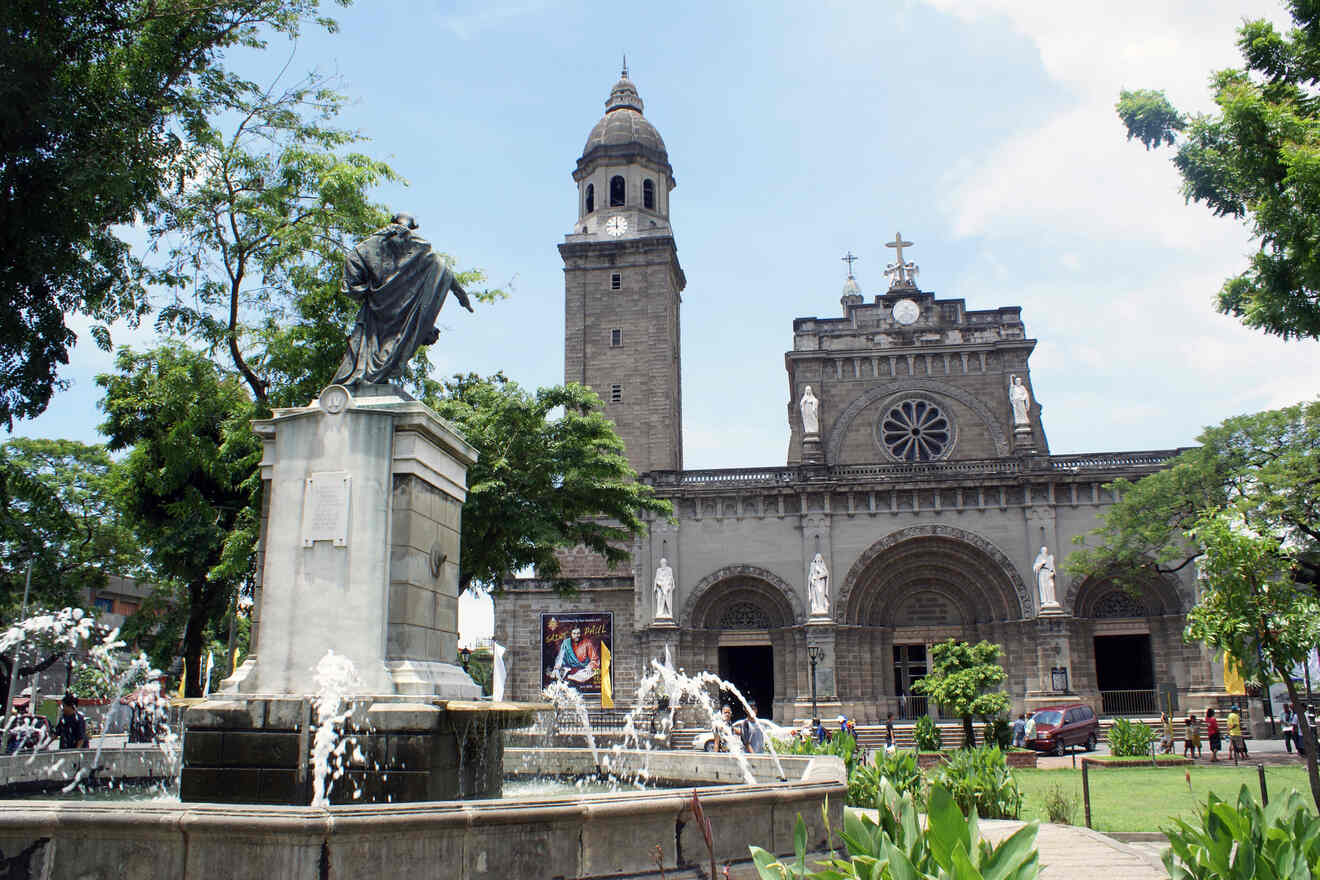 Welcome to the capital city of the Philippines, a densely populated bayside city located on Luzon Island. Travelers usually fly into this town since it's the gateway for the other islands in the Philippines. Although you probably won't spend your entire trip in Manila, if you have the time I recommend stopping by here for 2 or 3 days to explore the Filipino culture.
You'll find nice places to stay in Manila, and since you have a few days here, you can use this time to plan your trip and decide which beaches, mountains, and islands you want to visit in the remainder of the country. Manilla is famous for its mix of skyscrapers and Spanish colonial buildings, which are definitely worth seeing. Plus, you won't experience that big-city feel in any of the Philippines islands, maybe in Davao City, but that one has more of a local "small-town atmosphere".
As any other big city in Asia, Manila is filled with tons of attractions that will give you an insight into the Filipino culture and history, like Fort Santiago, Baluarte de San Diego, and its garden. And if you're looking for more hotels and hostels to stay in Manila, you can check this post!
Other accommodation options in Manila
Best hotels near the Manila Airport
Since many people often only spend a night in Manila as a layover before heading to one of the other incredible islands, here is a list of the best hotels near the Manila Airport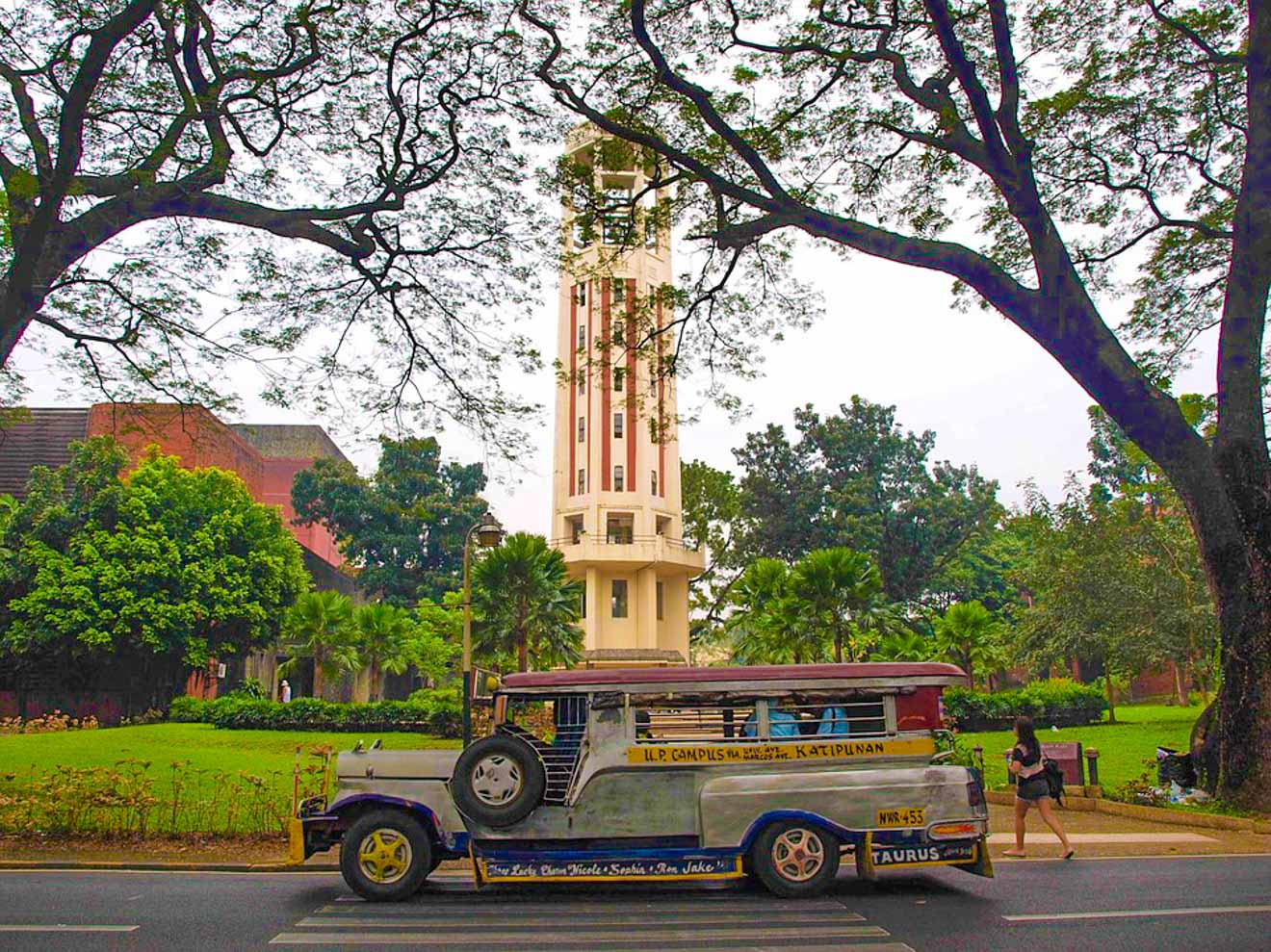 Things to do in Manila
6. Bohol Island – best place to stay in the Philippines for families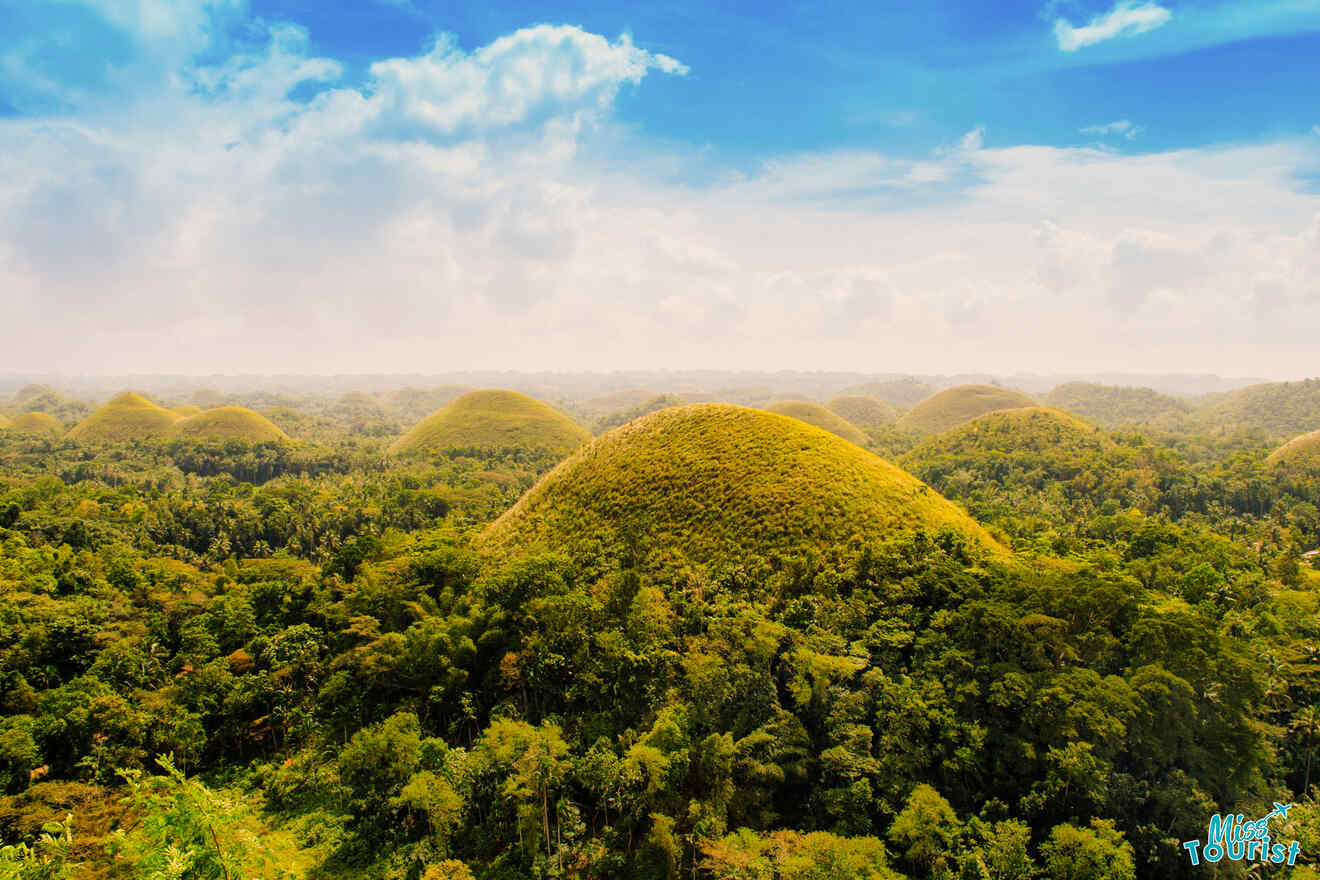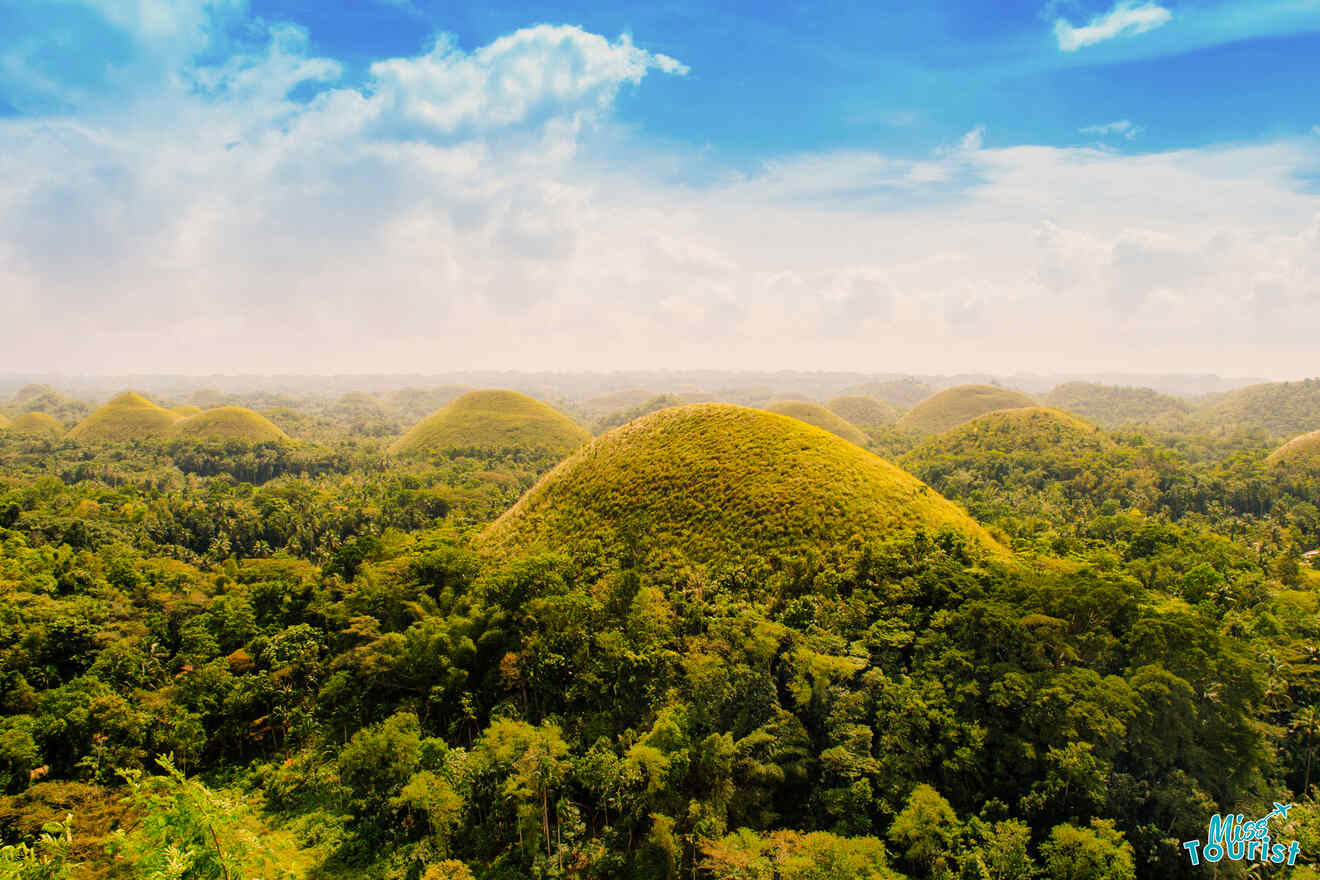 This island is definitely my kind of place! Bohol Island is located in the Central Visayas region, a paradise where the jungle and mountains meet the beach. Located an hour and a half away from Manilla by plane, you will arrive at the Bohol-Panglao International Airport.
This green piece of heaven is known for its Chocolate Hills and lush landscapes. Although it could've been a tempting idea to have a hill made of chocolate, I'm afraid this is not the case for the ones that you'll find in Bohol. The Chocolate Hills earned this nickname because the countless large mounds of limestone get that cocoa-brown color during the dry season.
I highly recommend booking your stay in Bohol if you're traveling with the family. The Philippines hotels on this island are perfect for the kids, and they have good prices. Plus, you will find a wide range of local attractions to visit and some nice beaches.
You should plan your trip here beforehand as the island is quite big and there are many things to see and do! Make sure not to miss the Bilar Man-Made Forest, which is a wonderful spot for a family stroll, but I'm also sure the kids will love the Philippine Tarsier Sanctuary, where they can spot those cute little tarsiers that they've might've seen in the cartoons or movies!
Other accommodation options in Bohol Island
Things to do in Bohol Island
BONUS: The 4 best overwater hotels to stay in the Philippines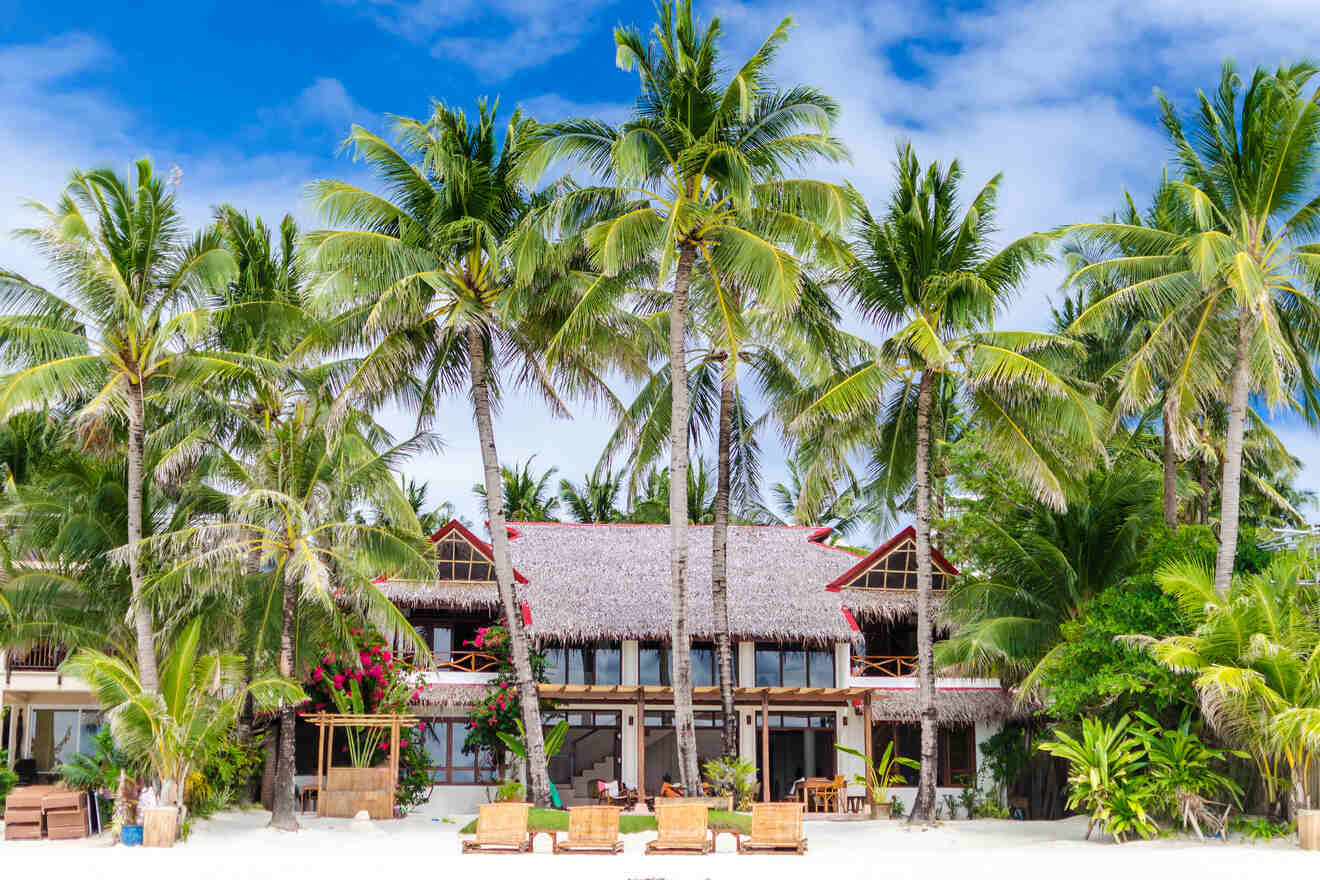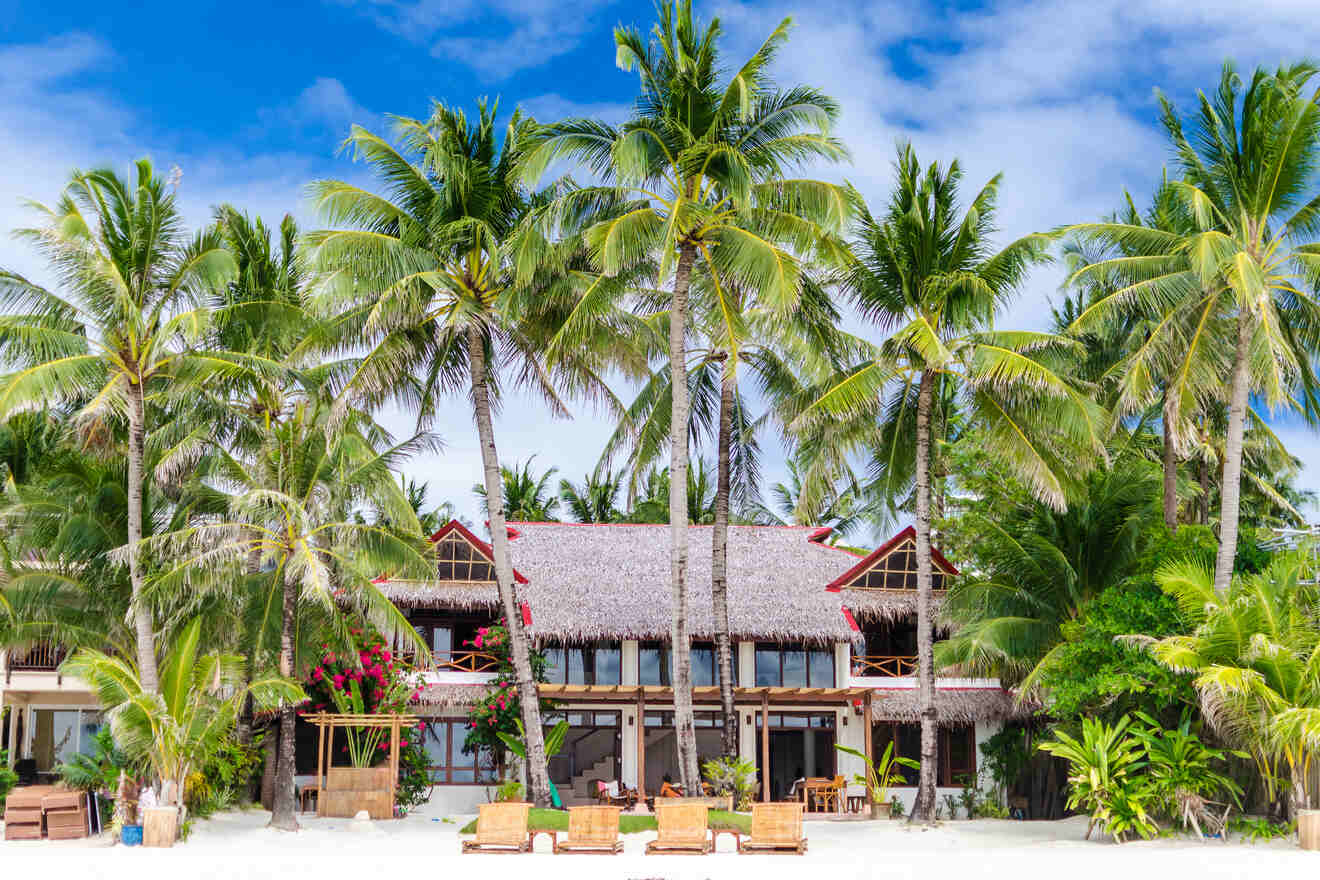 Are you getting ready to plan your trip to the Philippines and you're looking for a super unique place to stay? Well, I'm here to help you find the most stunning overwater Philippines hotels that will make your holiday in this country unforgettable!
1. Pearl Farm Beach Resort
This stunning place to stay on Samal Island is a tropical, overwater paradise that is tucked away between palm trees and gardens. The beach resort was also built and decorated with local materials making it all the more special! Drink your morning coffee on the little balcony of your room and enjoy the sea views before heading to the bar for a little afternoon delight!
2. El Nido Resorts Apulit Island
Located in the northeastern part of Palawan Island, within Taytay Bay, this unique place to stay in the Philippines is perfect for your romantic break! The cottages have nice Filipino decor and have a mini-bar and telephone! Enjoy some privacy and the stunning views of the bay as the sun sets over the island. End the day with a delicious dinner at the outdoor clubhouse and a drink at the bar.
3. Huma Island Resort
Located on a remote private island between Palawan and Mindoro islands, this stunning resort is the perfect place to stay for anyone who doesn't care about prices when it comes to their holiday! Chill in the outdoor jacuzzi and soak up under the Filipino sun all day long. The decor of the villas is so amazing it will be a hard time trying to decide if you should spend more time inside or outside.
4. Lagen Island Resort
Enjoy the best sea views from the comfort of your room that has a small balcony! Located in El Nido in Palawan, this stunning resort hotel offers guests activities like hiking, snorkeling, and cave tours. Take a whole day to relax at the spa center or swim in the pool. The resort has even a library, in case you want to catch up on your reading!
5. El Nido Resorts Miniloc Island
Catching a sunrise or sunset here is so amazing! Have a drink at the bar and enjoy the views after a full day of snorkeling and swimming in the Philippines waters. The rooms are super spacious, they have unique decor and a small balcony from where you can drink your morning coffee or enjoy some alone time!
Frequently asked questions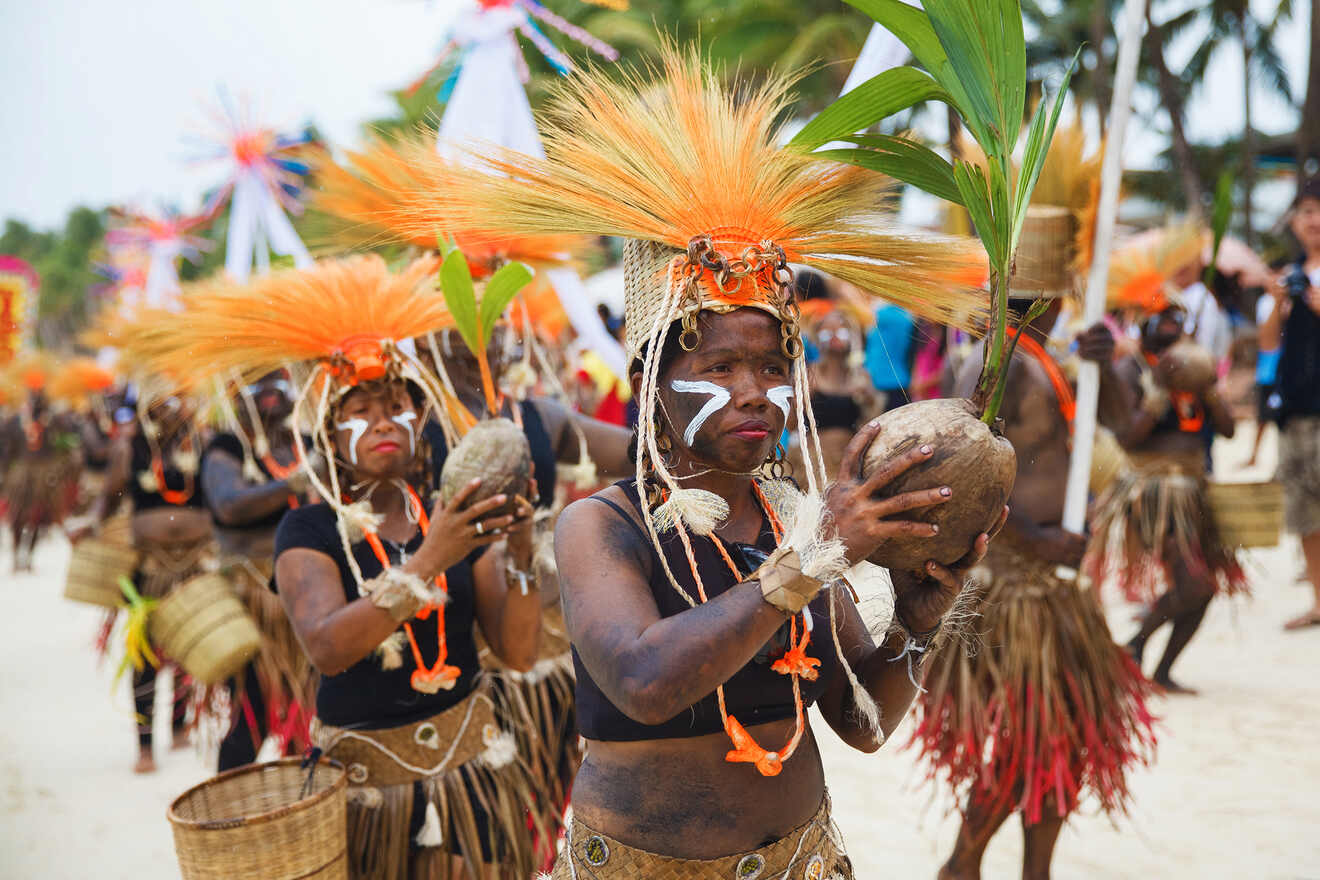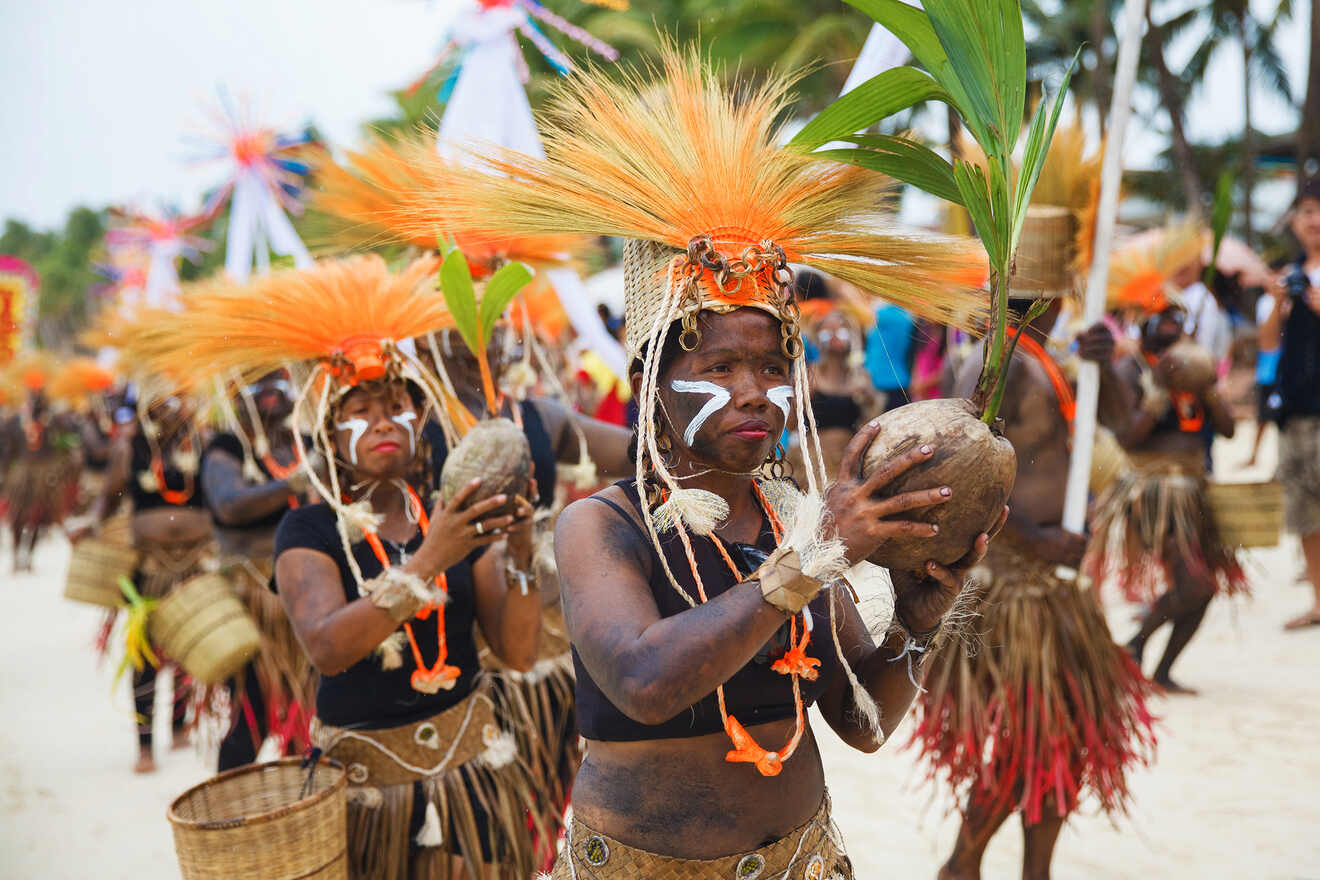 Conclusion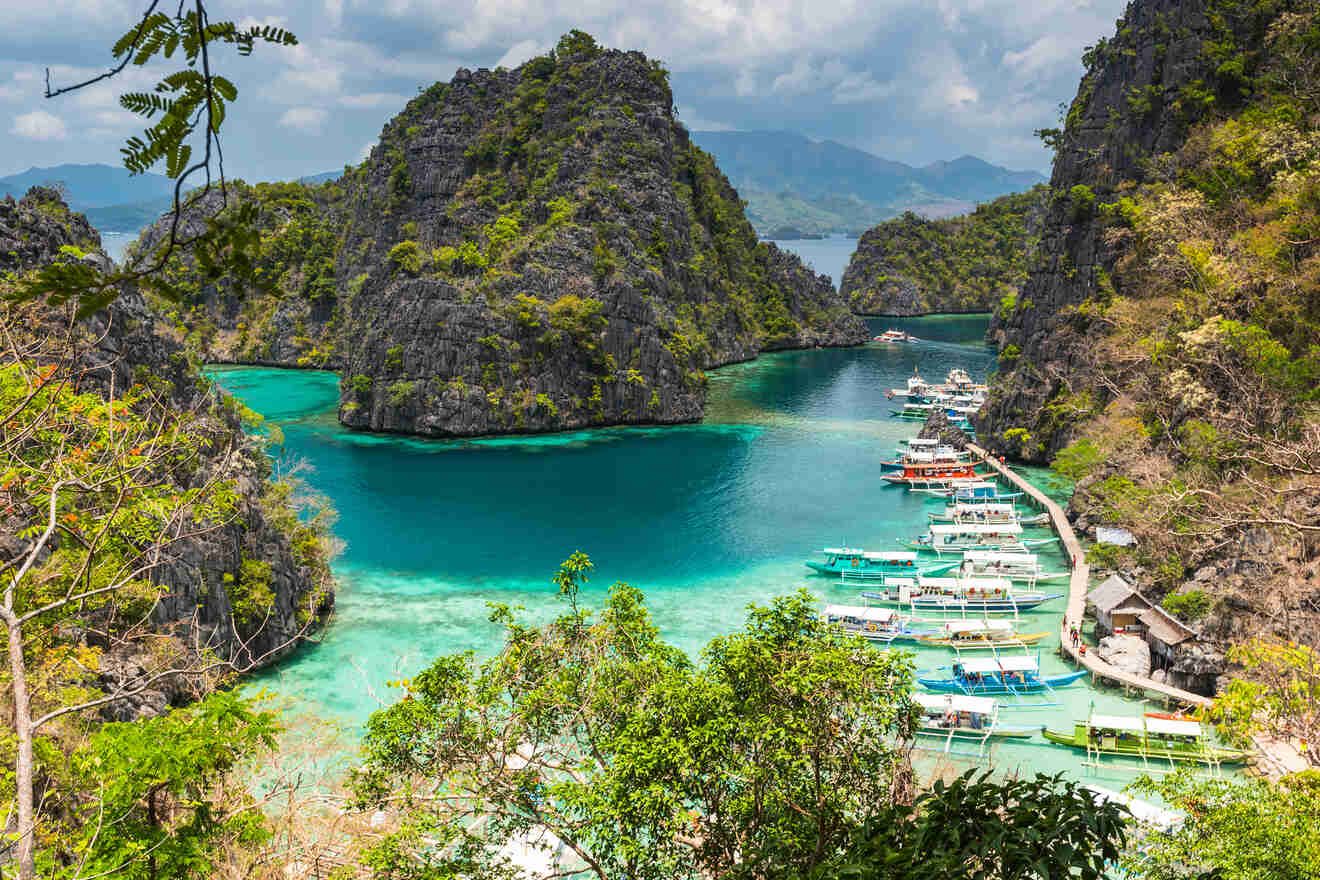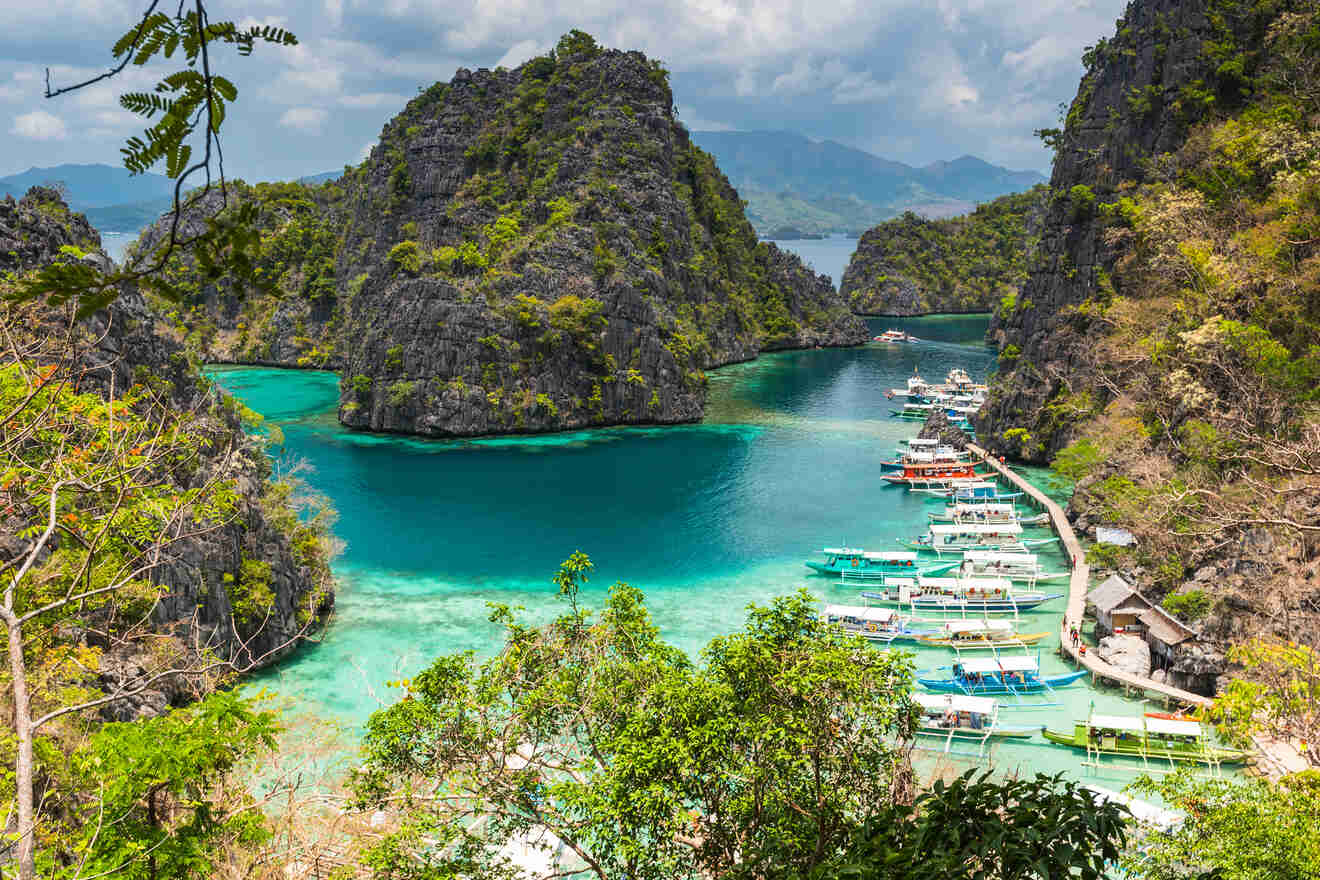 Can I just teleport myself to this country? I hope this post helped you decide which are the best places to stay in the Philippines. I've covered the top hotels and hostels for anyone who is looking for luxury or who is backpacking around the islands and mountains.
I know I gave you a wide range of options but here are my top favorite resort hotels both located on Cebu Island
Nothing to do now, then pack your bags and make sure you don't forget to book any hotel or hostel in advance! The Philippines Islands are at the top of many lists of the best holiday destinations in the world and people always hurry to find a nice place to stay!
That's it from me! For now, of course! I'll be back soon with more stunning destinations from around the world but until then, enjoy this unique holiday, go scuba diving with the sardines, admire the beautiful coral reefs and chill all day on a white beach! I want to hear all about it so don't forget to leave me a comment below!
Safe Travels,
Victoria
---