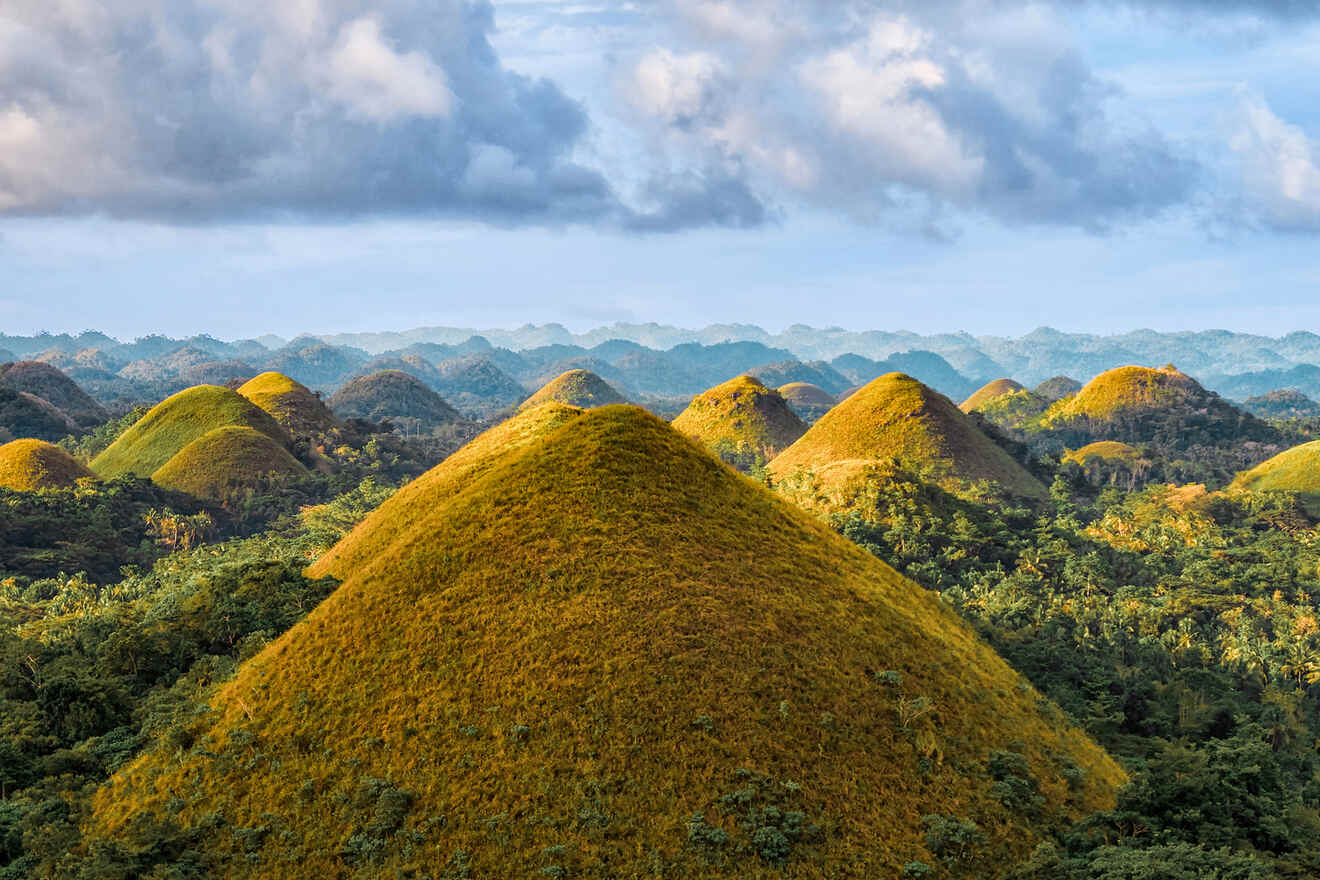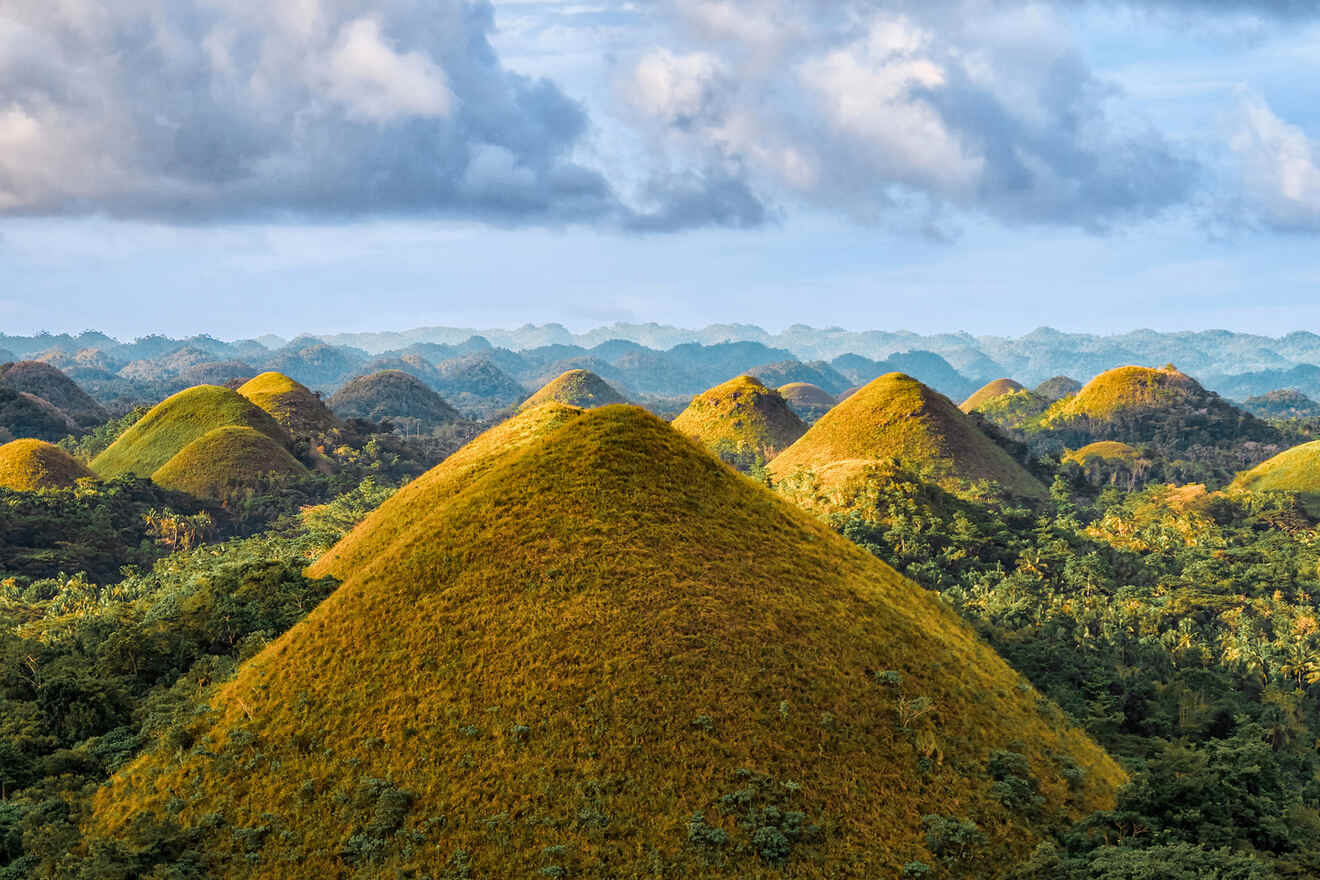 Bohol is more than just another island in the Philippines. White sand beaches, breathtaking underwater worlds, enchanting cave pools, iconic Chocolate Hills – Bohol's got them all!
Apart from natural wonders, Bohol is where you will find the smallest primates in the world and also boasts a rich history, more than 100 springs, and yup, you guessed it: unlimited fruit shakes everywhere on the island!
But with so much to explore in such little time, it's important to plan your itinerary carefully. So buckle up and let me take you on a ride around the beautiful island of Bohol!
This 3-day itinerary is easy to follow, complete with prices plus practical tips on how to travel like a local so you don't have to do anything except book your tickets and get on the plane!.
Let's go!
NOTE: The starting point for this itinerary will be Tagbilaran City since you'll probably land in the capital, whether it's by plane or ferry. Most people choose to stay here or on Panglao Island (20 mins drive south). You can easily adapt this itinerary to wherever you stay since it's only a 2.5-hour drive across the whole island!
Day 1 – Exploring the countryside
I know your excitement about all the cool things in nature that you want to see here, so let's explore the countryside for your Day 1.
For this itinerary, you can either rent a scooter and follow my guide for all the details, or join a full-day tour that includes many of the things on my list!
1. Visit the Tarsier Sanctuary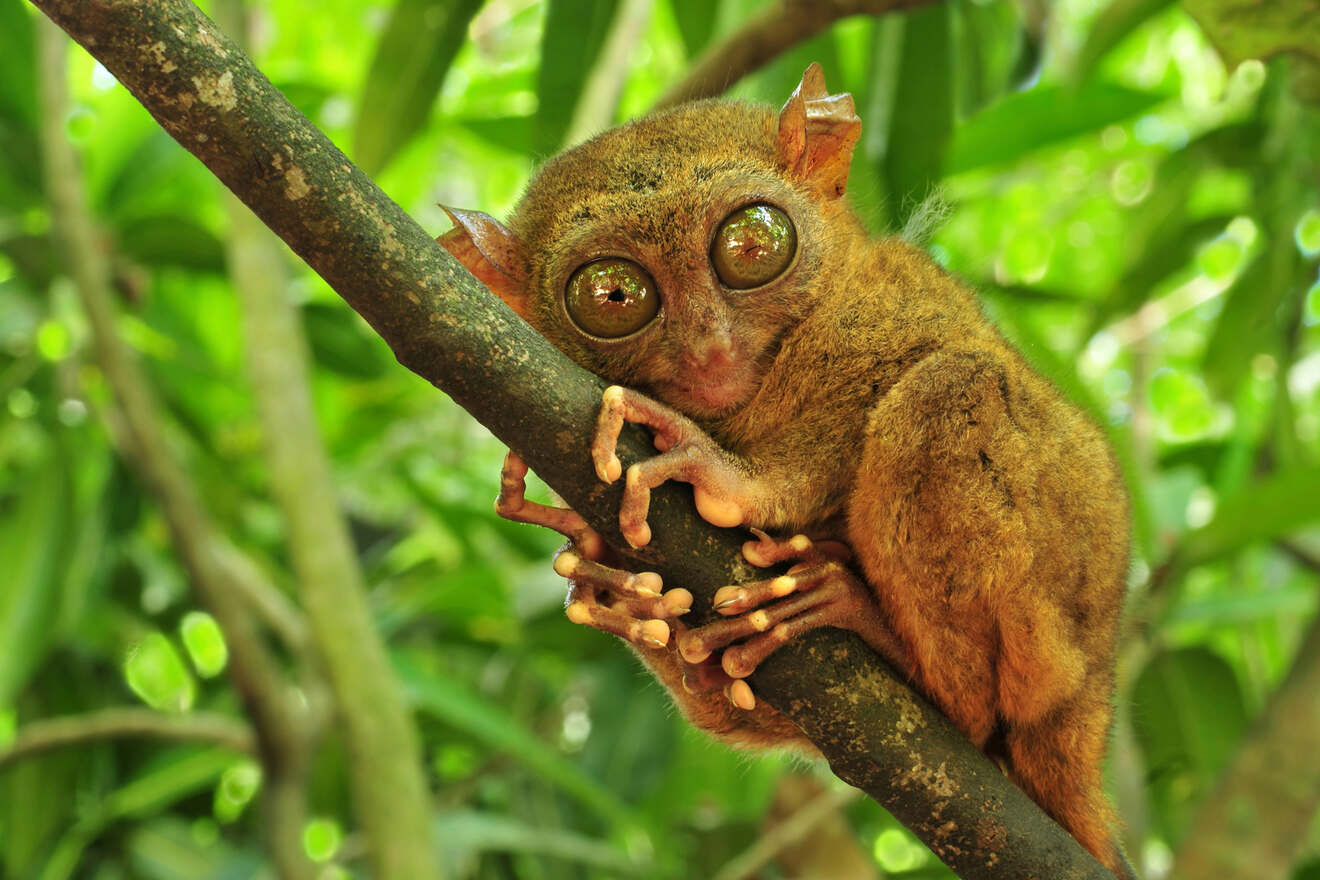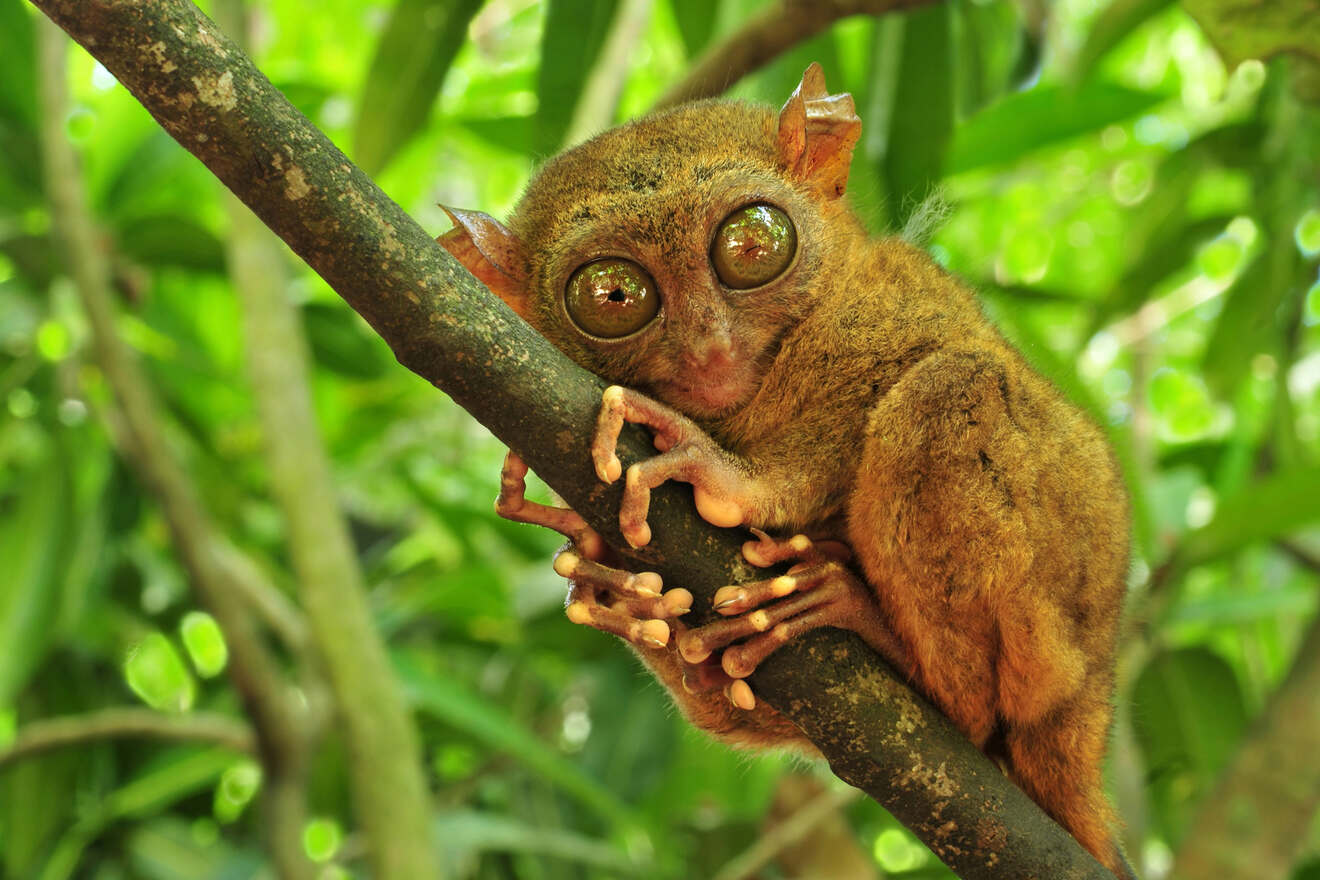 If a local is to describe Bohol, they probably won't use an adjective but rather describe it by its two biggest attractions – the Chocolate Hills or Tarsiers! On our first day trip visiting the cute and adorable Tarsier is first on the list!
To do that, we're going to the Tarsier Sanctuary, where these endangered species are being protected! This cute animal is as small as a closed hand, has gigantic eyes, huge ears, brown fur, and a long tail, you have probably never seen anything like it!
But Tarsiers are sensitive primates so silence is required in the sanctuary. They must not be touched, disturbed, or photographed with a flash. So make sure to be considerate when visiting these endangered species.
Distance: 20 minutes drive from Tagbilaran
Price: PHP 80 (US$ 1.50) per person
2. Take a Loboc River Cruise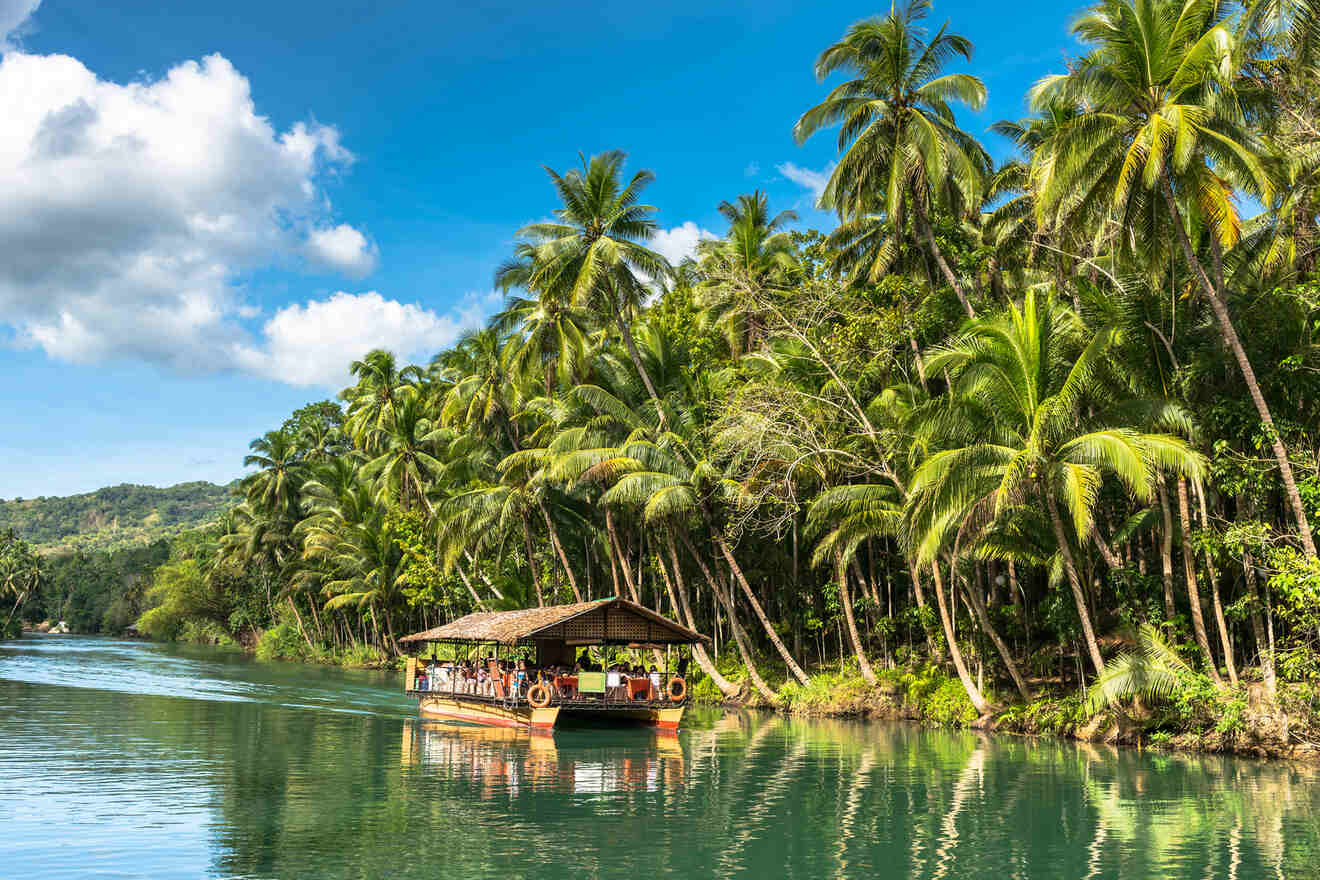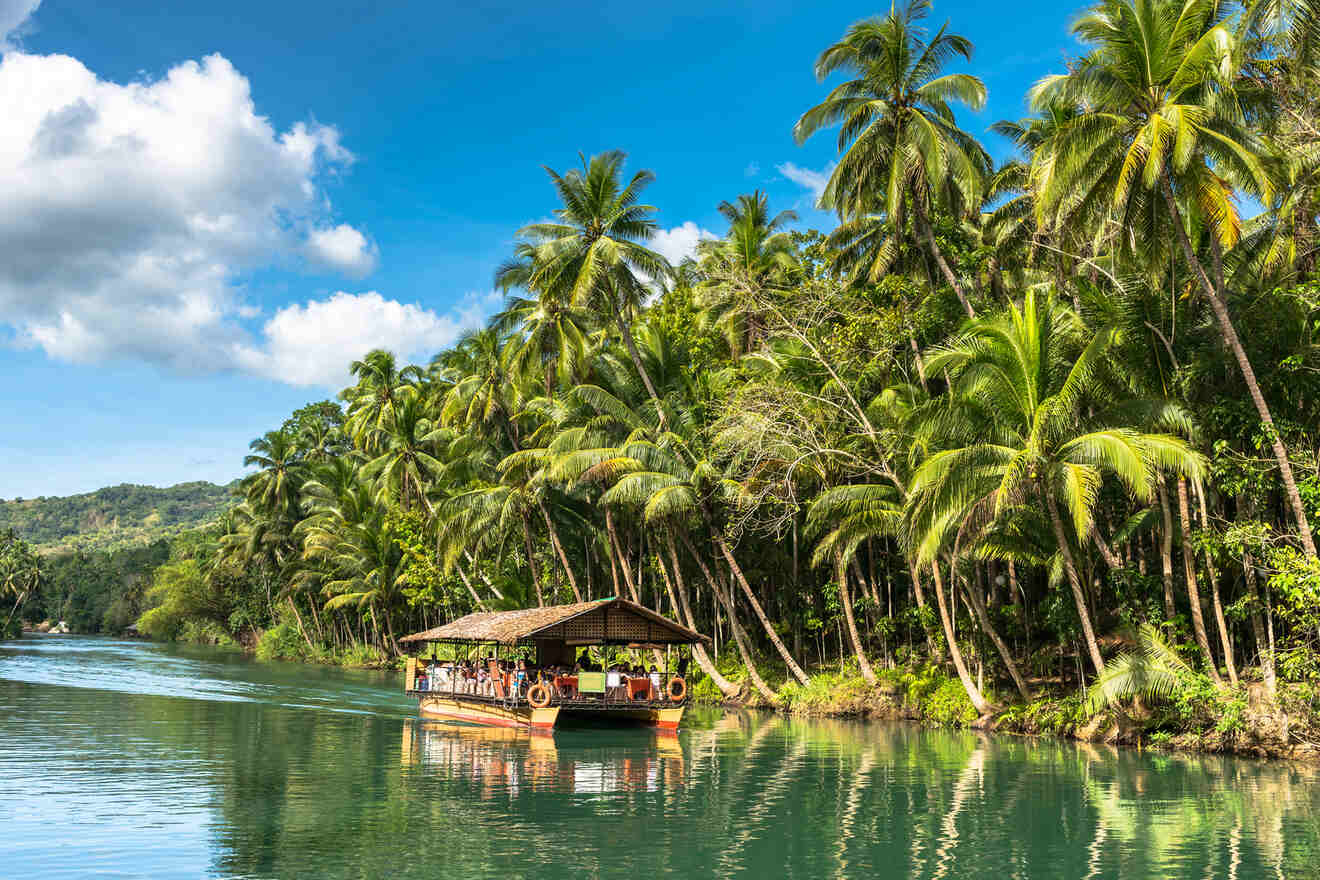 After watching the cute little primates clinging to small branches, let's head to one of the most relaxing activities – cruising the enchanting Loboc River! Oh yes, I chose this activity just in time for lunch!
You'll be cruising down the emerald Loboc river onboard a cool open boat surrounded by lush greenery with a live band on board to entertain you. On top of that, they've prepared unlimited delicious Filipino dishes for you to try!
Starting from Loay Bridge, the cruise rafts down the river until it reaches a small portion of Busay waterfalls and maneuvers back to the starting point, taking around 1.5 – 2 hours.
You can book yourself onto one of the many day tours which include the cruise or simply turn up at any time during the day and pay on the spot. There are no set departure times as the boats simply leave when they are full!
Distance: From the Tarsier Sanctuary – 20 mins drive. / From Tagbilaran – 35 minutes drive
Price: PHP 850 (US$16) for a shared cruise or from US$60 per person for a private cruise
3. See the man-made forest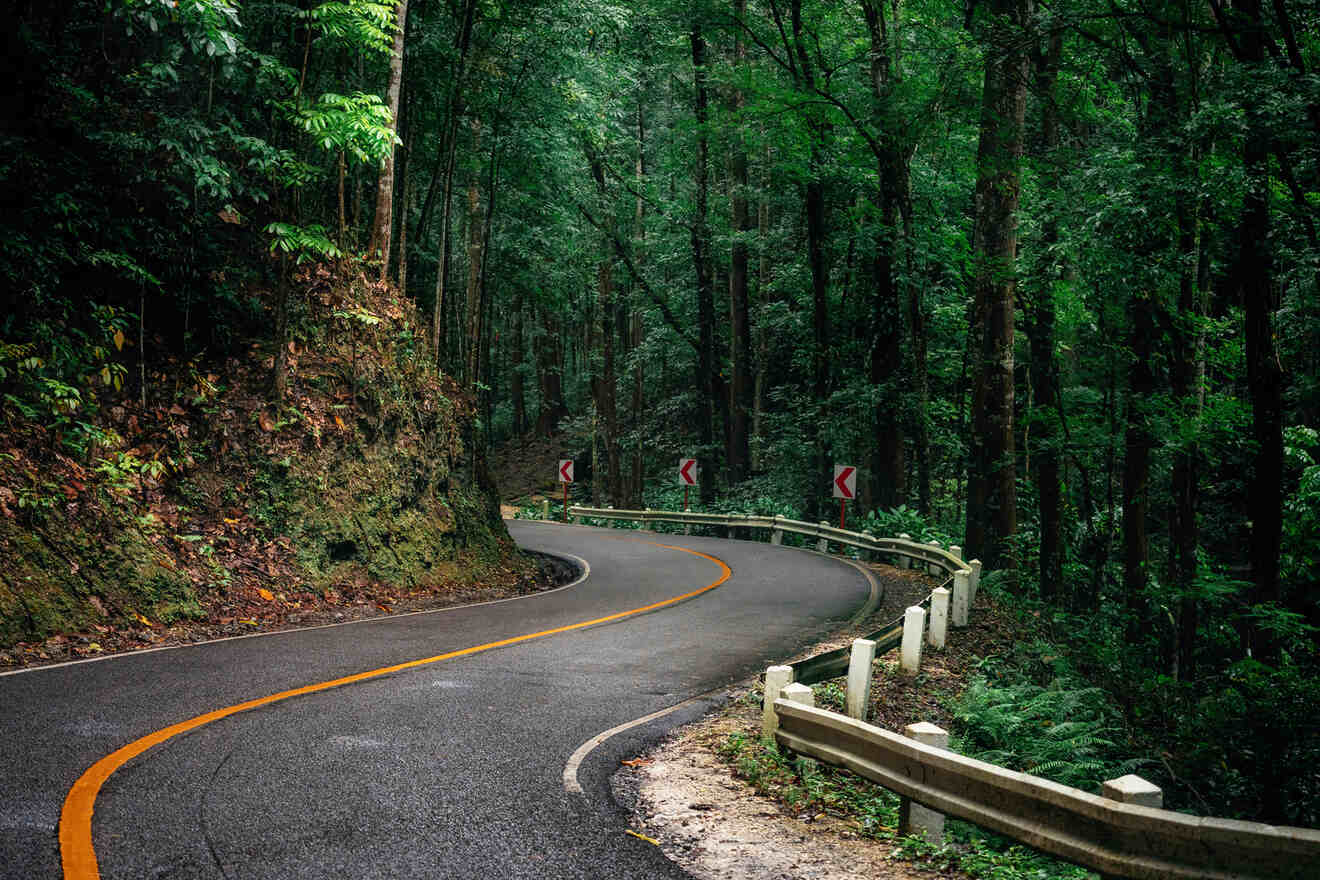 On your way to see the iconic Chocolate Hills, you will pass through the Man-made Forest in Bilar. The forest is about two kilometers long and made up of red and white mahogany trees planted 50 years ago as part of a reforestation project.
The road goes directly through the forest and with the trees perfectly aligned and uniform in height, this spot is great to take some really cool photos!
If you want to go even deeper, there are also plenty of walking trails and a few viewpoints to stretch your legs inside the forest.
Price: Free
Distance: From Loboc River – 20-minute drive / From Tagbilaran – 1 hour
4. Explore the Chocolate Hills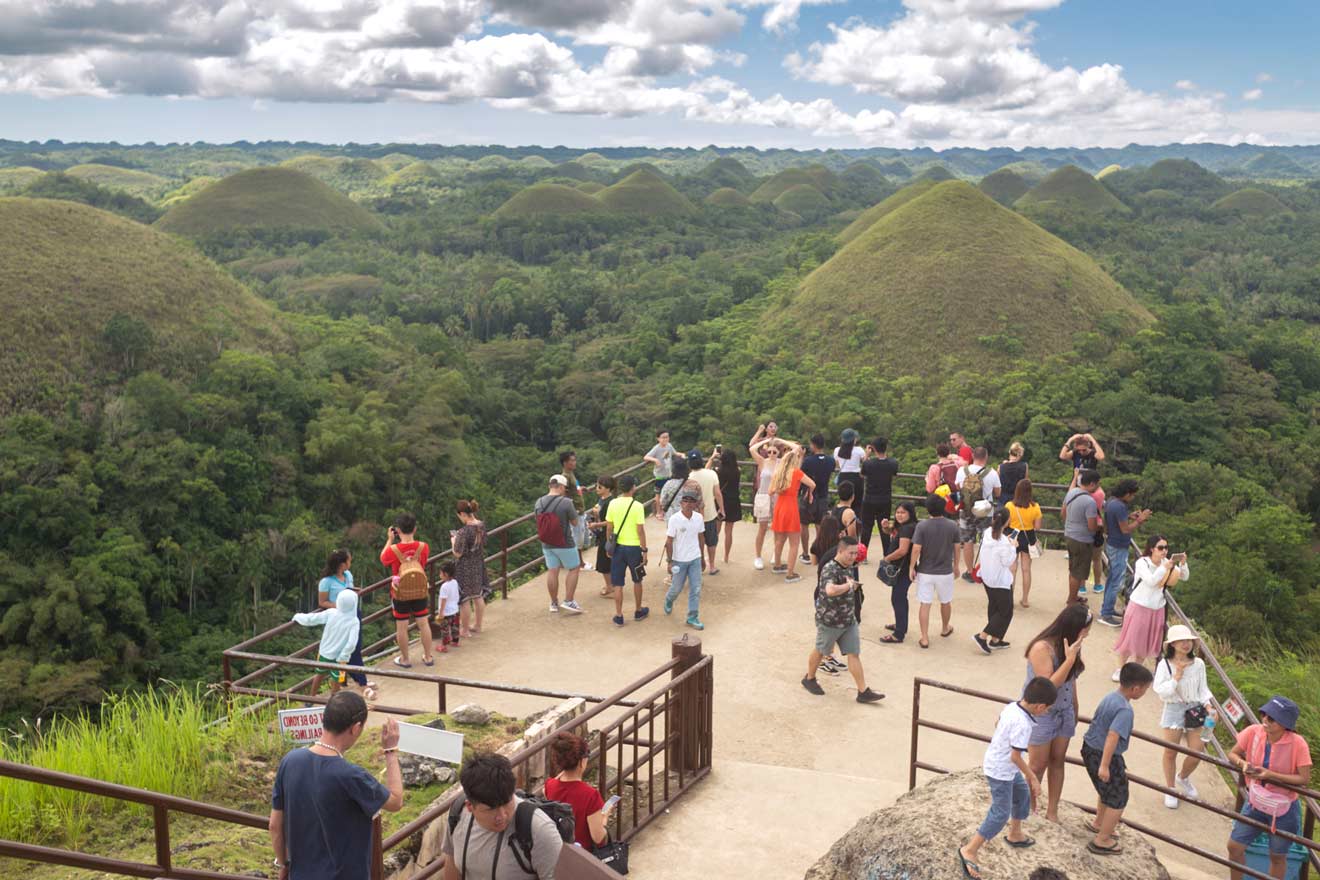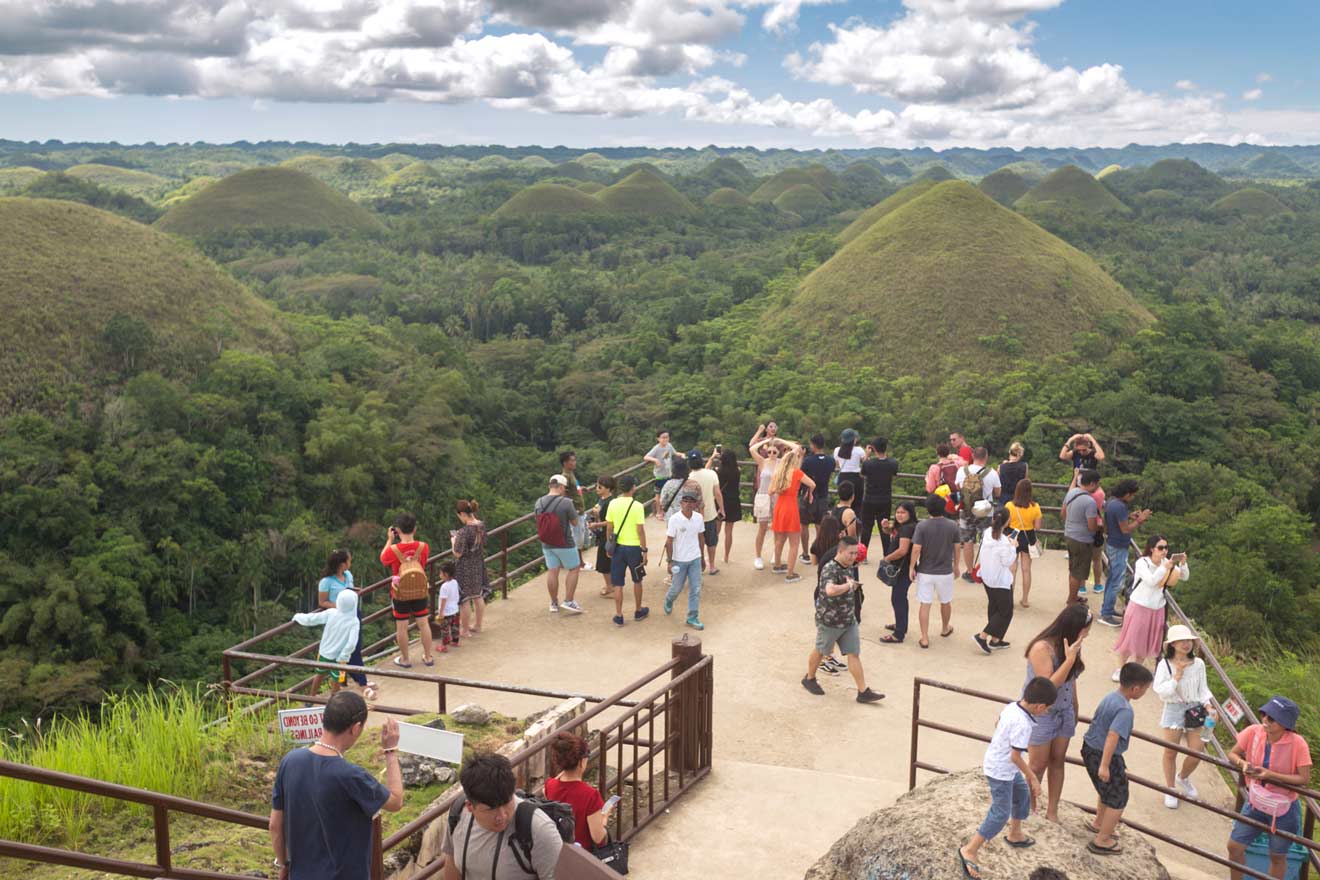 The Chocolate Hills have become Bohol's icon. Since I was little, I've seen this in postcards and this special place has landed in most local history textbooks, tourism campaign materials, and even the Philippine 200-peso banknote.
It's no wonder it was even declared a National Geological Monument!
The Chocolate Hills consist of a thousand beautiful, cone-shaped hills across 50 square kilometers of land in the towns of Carmen, Batuan, and Sagbayan. During summer, its green grasses turn brown hence the name Chocolate Hills!
Well, who wouldn't be enticed to witness more than 1,700 identical hills packed in one place? The best place to take your pictures is from the newly built Chocolate Hills Viewing Platform but there is so much more to do around the chocolate hills than simply look at them, here are a few of my top suggestions for you to choose from:
4.1 Chocolate Hills Adventure Park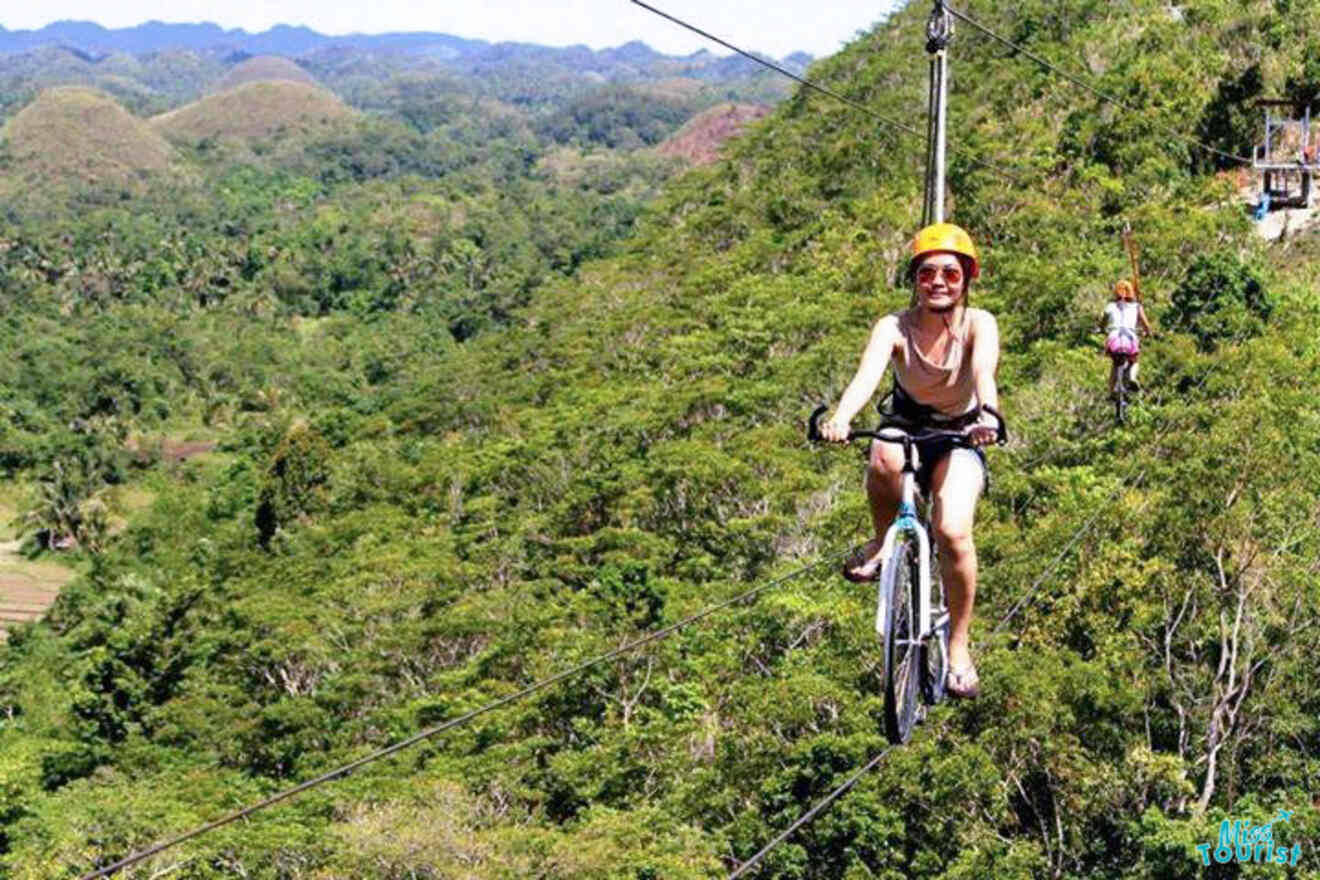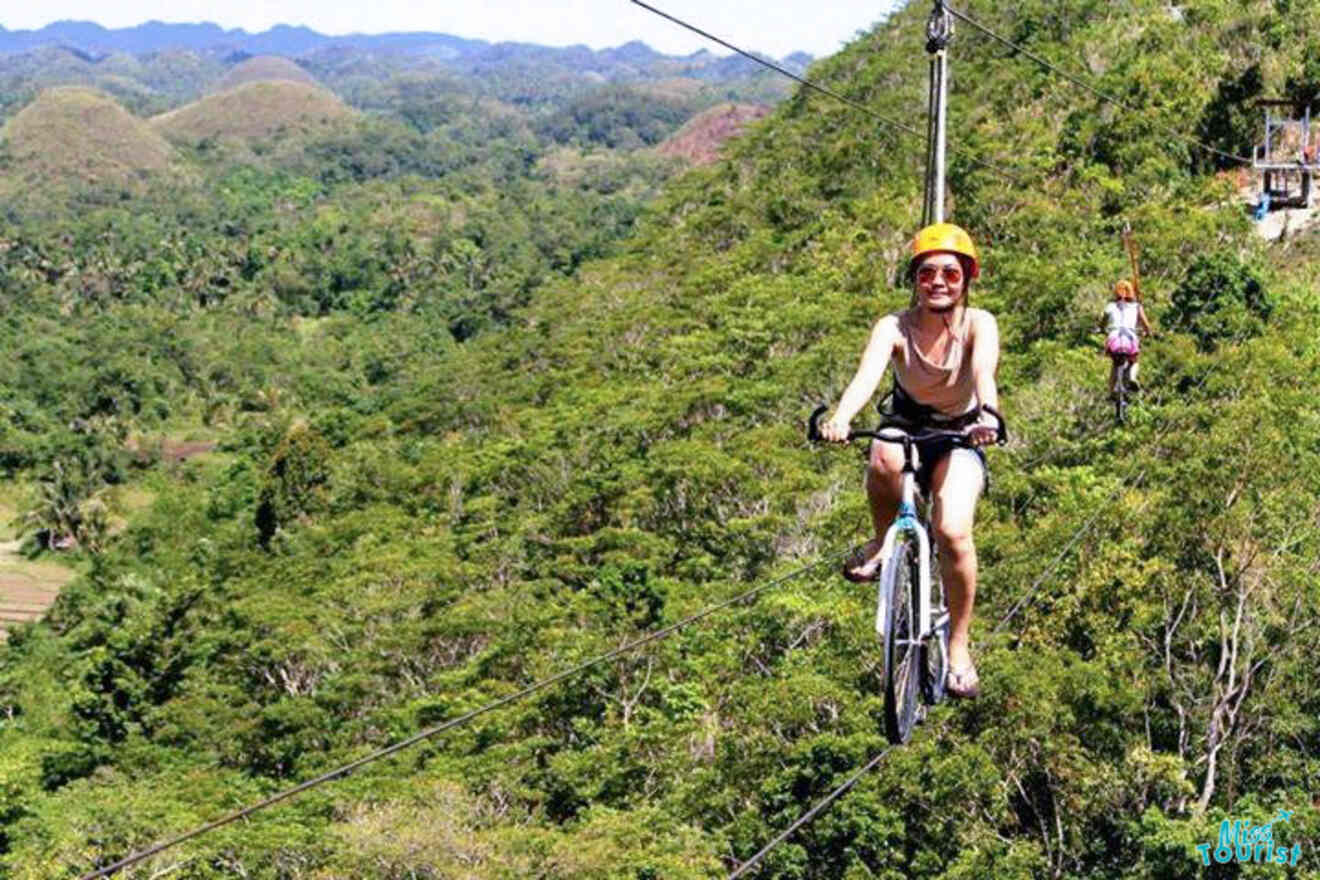 If you are like me and always want to take a simple sightseeing activity to the next level, I recommend you visit the Chocolate Hills Adventure Park. There are over 30 thrilling adventure activities both for kids and kids at heart, with the Chocolate Hills as your background!
Enjoy the view of the famous Chocolate Hills while riding a bike zipline. Biking in the air may seem scary, but finishing the course is so rewarding. My other favorite is the wave runner surf zipline and the Treetop course.
Price: Entrance costs PHP 50 (US$ 1) + US$8-12 per activity
4.2 ATV ride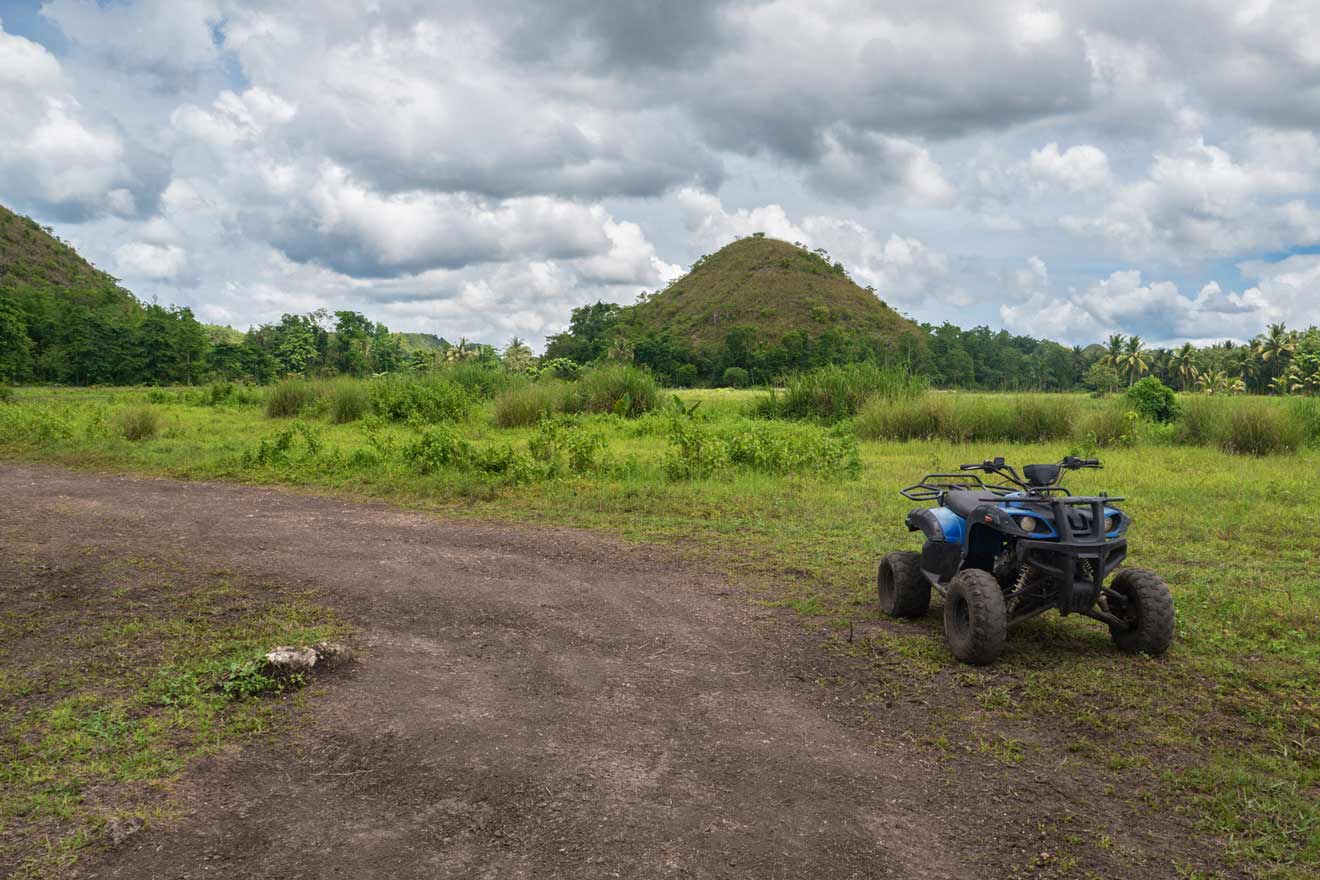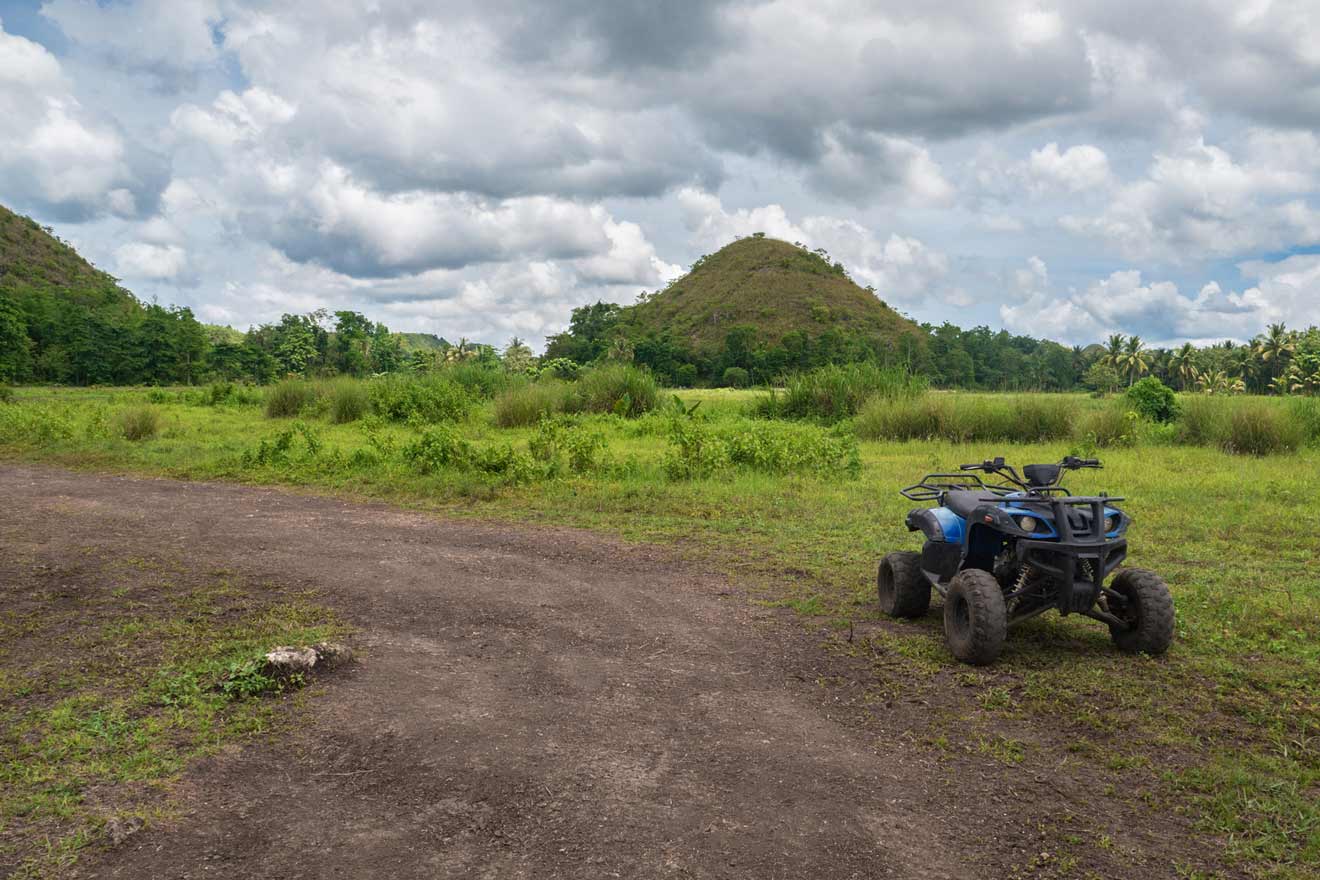 On the other hand, if you want to see Chocolate Hills up close, I suggest you go on an ATV ride! This can be a muddy experience, especially during the rainy season (June to November), but it sure is worth it!
There's also a buggy car if two of you want to experience it together (oh yes, I hear your #couplegoals).

This tour has many different starting points but you can even upgrade it to include the Loboc River Cruise if you don't want to spend the day driving a boring old car or scooter!
Price: From PHP 450 (US$9) for 30mins. Car Bug rentals are at PHP 1500 ((US$ 28.66), good for two people
Distance: From the Man-made forest – 30-minute drive
Day 2 – Touring the islands
Flipping days like pages as we're now on Day 2! This time, we will experience a more paradisiacal side of Bohol. Think of white sand beaches, tropical drinks, and swimming nonstop in these beautiful beaches and caves you can only find in Bohol!
Today we are heading to the island of Panglao, just a short drive across a bridge, southwest of Tagbilaran City.
1. Snorkel and relax on Dumaluan Beach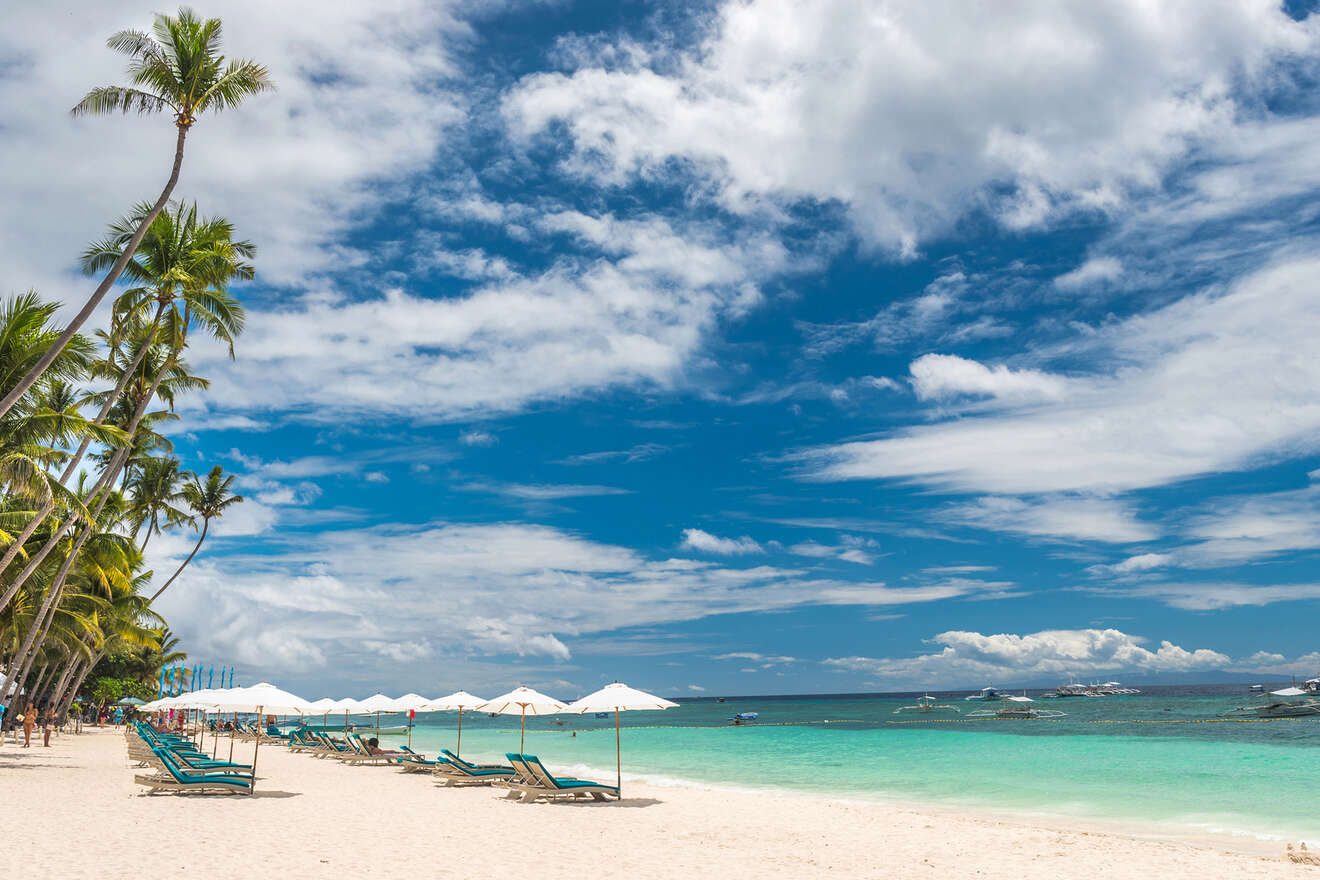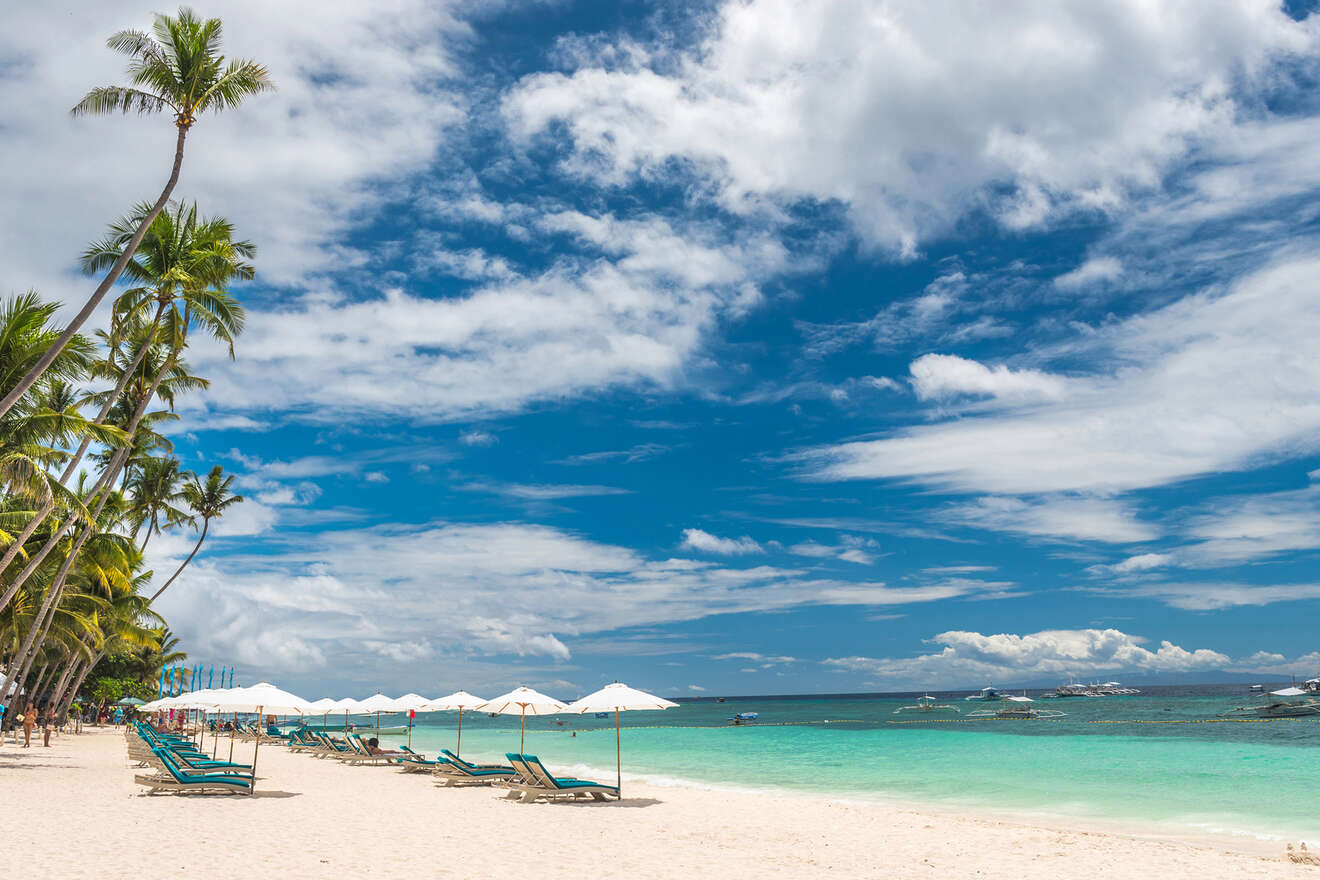 The first stop on Panglao Island promises to offer peaceful surroundings, lesser tourists than some other attractions in Bohol, and more affordable but quality food. There are also some high-end resorts here if that is more your speed.
Dumaluan is a good spot to kayak and free dive. Be ready to swim with coral, schools of fish, and sea snakes while you're here!
Kayak rental is around PHP 250 (US$ 5), snorkel mask is PHP 200 (US$4), and fins are PHP 150 (US$3) and you can rent equipment from the hotels or local shops.
Distance: From Alona Beach, the travel time to Dumaluan – 15-minute drive
On your way to Along Beach, make sure to stop by Bohol Bee Farm. You simply cannot leave this place until you get a scoop of ice cream. The best ice cream I've tasted my whole life!
2. Go Scuba Diving from Alona Beach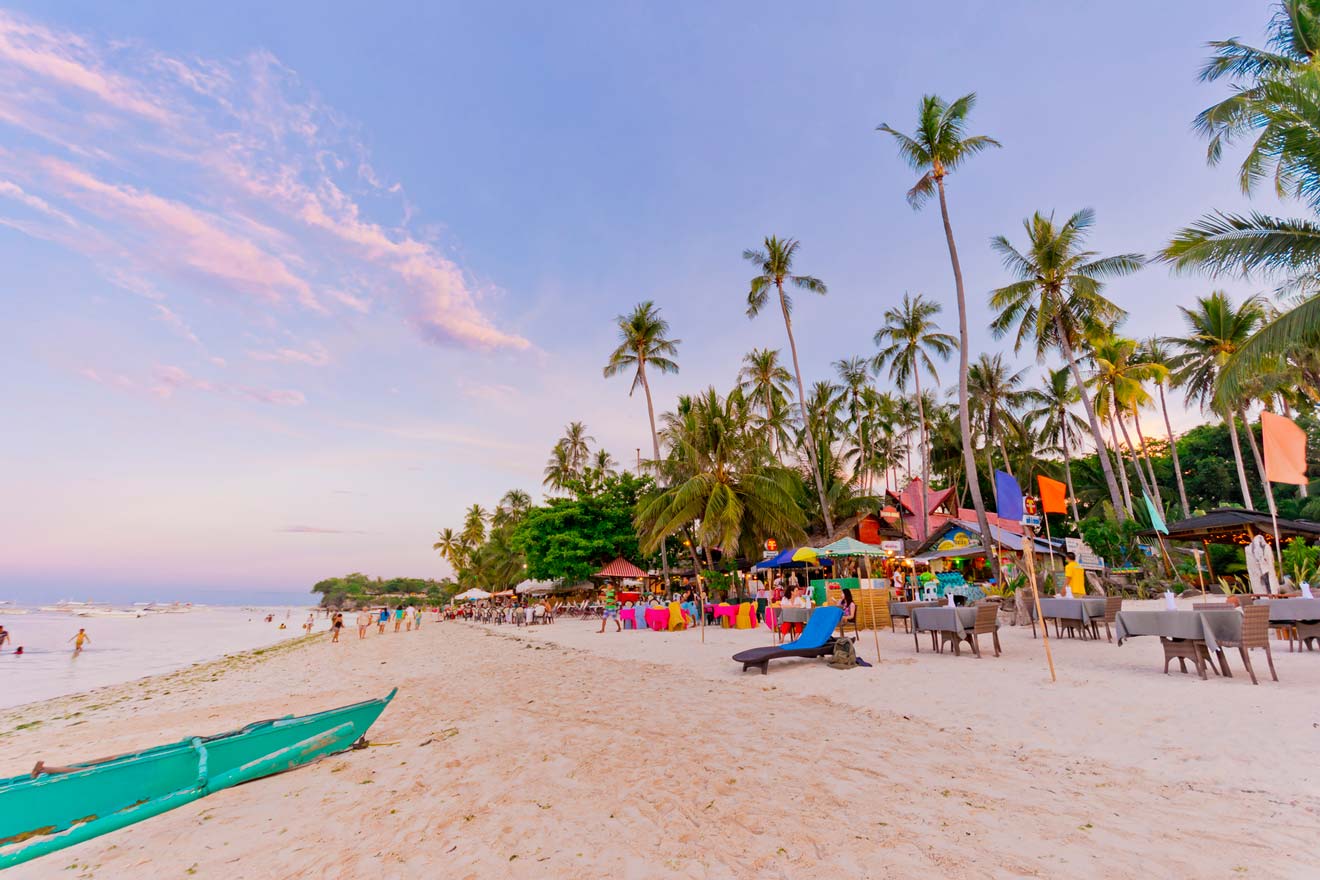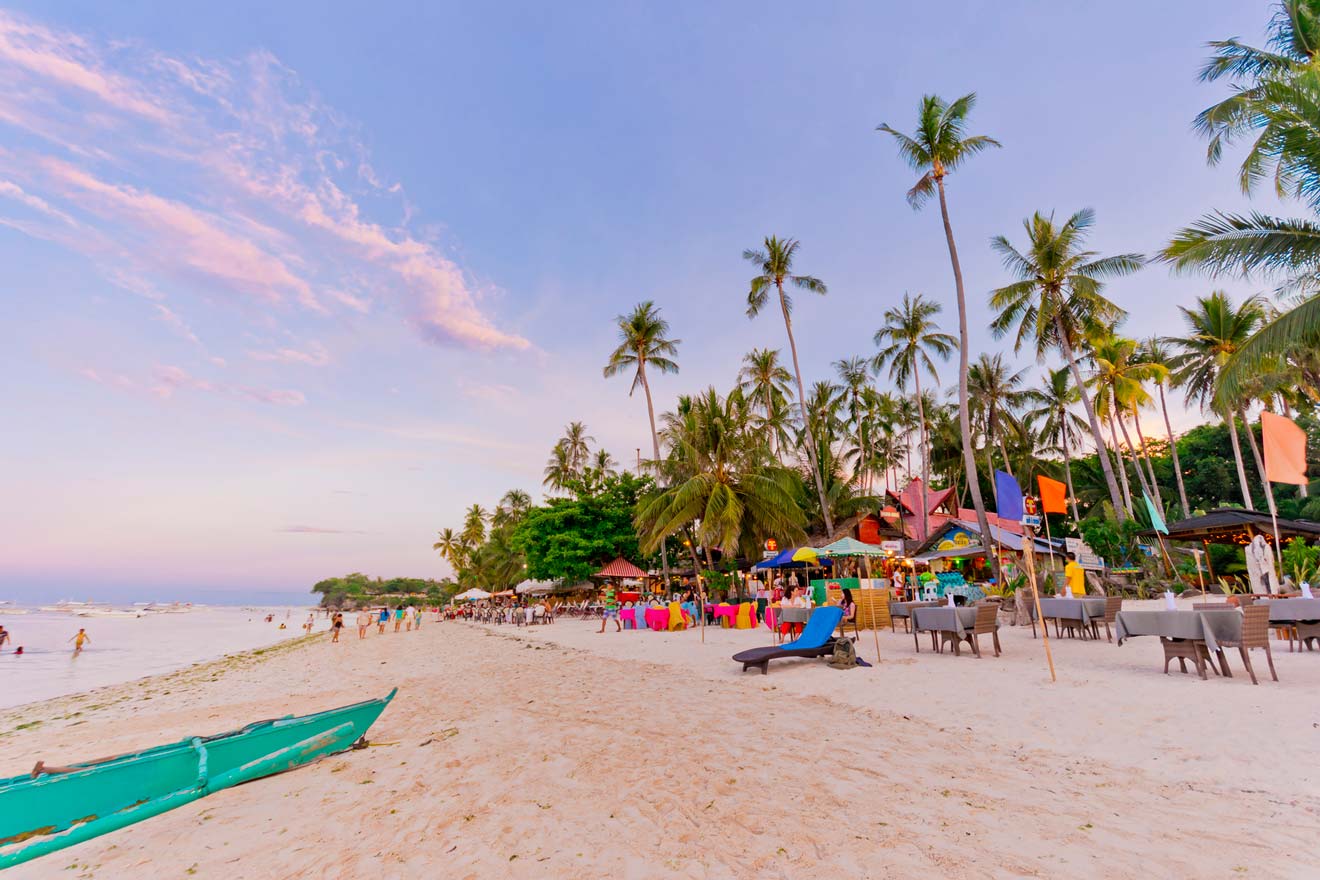 The next stop on our beach hopping adventure is Alona Beach, the heart of Panglao island and probably its most popular beach!
This one-and-a-half-kilometer stretch of white sand is the busiest and most crowded beach in Bohol. A number of resorts, hotels, travel agencies, restaurants, bars, dive shops, and mini-marts can be found in Alona, which explains the high number of tourists!
While you are here, take the time to swim in its crystal-clear waters, watch the sunset, get a tan, or even go scuba diving! This is one of the most popular places in Bohol for scuba diving and you will find plenty of scuba shops and schools in the area around the beach where you can hire gear or book dives.
If you get hungry I recommend Buzz Cafe, an all-organic restaurant that serves pasta, pizza, salad, ice cream, rice meals, refreshing drinks, and other organic dishes from Bohol Bee Farm. It has very reasonable prices. It offers one of the best meals in Bohol, I promise!
Distance: From Dumaluan Beach – 10 minutes drive
3. Island hop around Balicasag & Virgin Island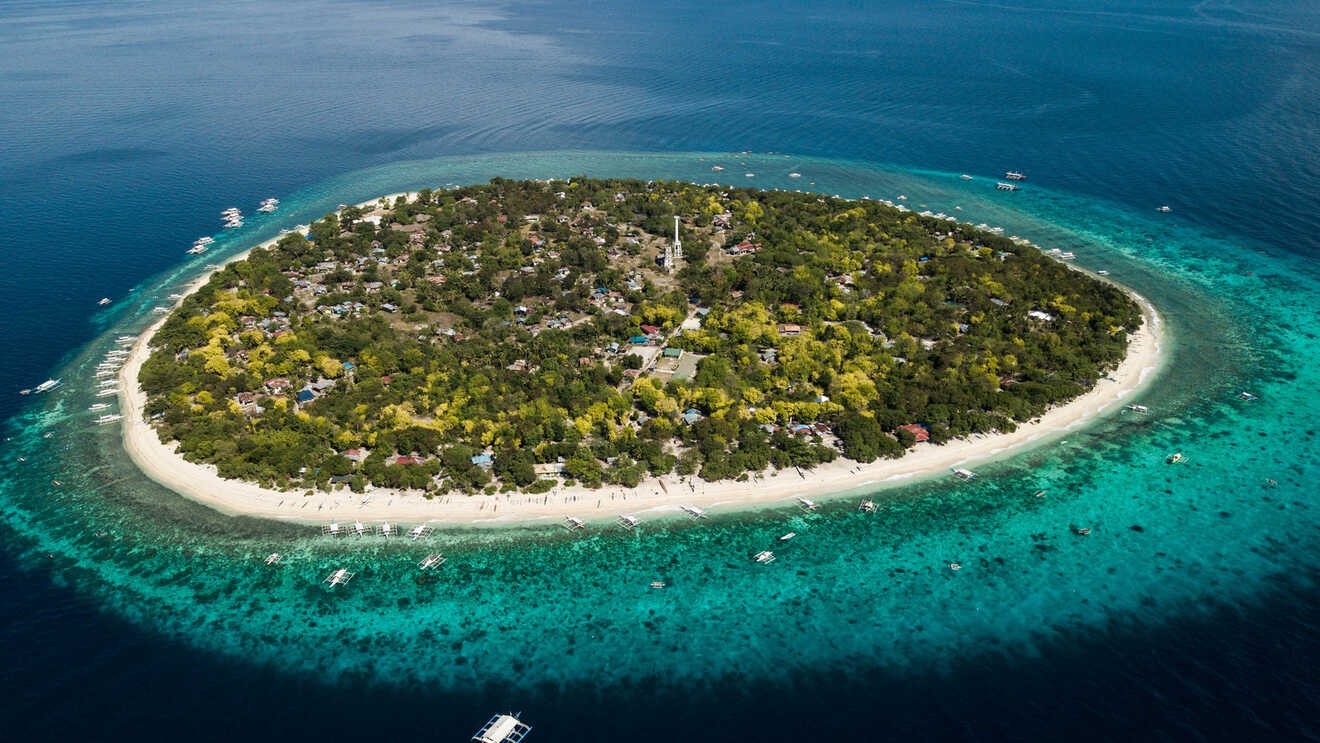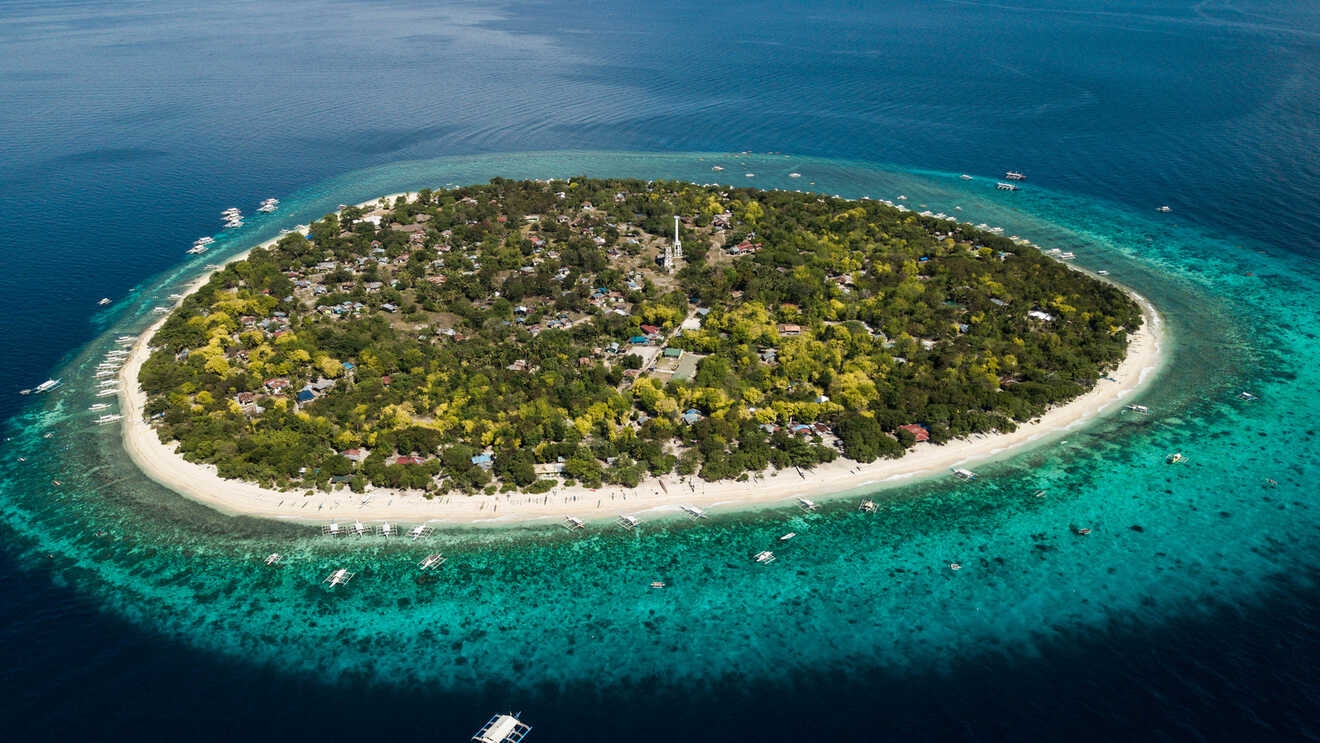 The islands surrounding Bohol and in particular, off the coast of Panglao, are very popular diving destinations because it's home to an outstanding marine sanctuary! In these waters you can see rich coral reefs, sea turtles, dolphins, and, if you are lucky, even see stingrays and blue whales!
The best way to experience this incredible place is to go on an island hopping tour departing from Alona Beach. On this trip, you will visit Balicasag Island and have the chance to snorkel with all the animals I just mentioned, as well as visit the beautiful sand bar on Virgin Island.
Even though you will be surrounded by nothing but the vastness of the ocean, there are tons of tourists and boats here every day. There are also restaurants on floating platforms that offer fresh coconut juice and grilled seafood. So it's really a must-try experience!
Price: PHP 3100 (US$60) including snorkeling gear
4. Explore Hinagdanan Cave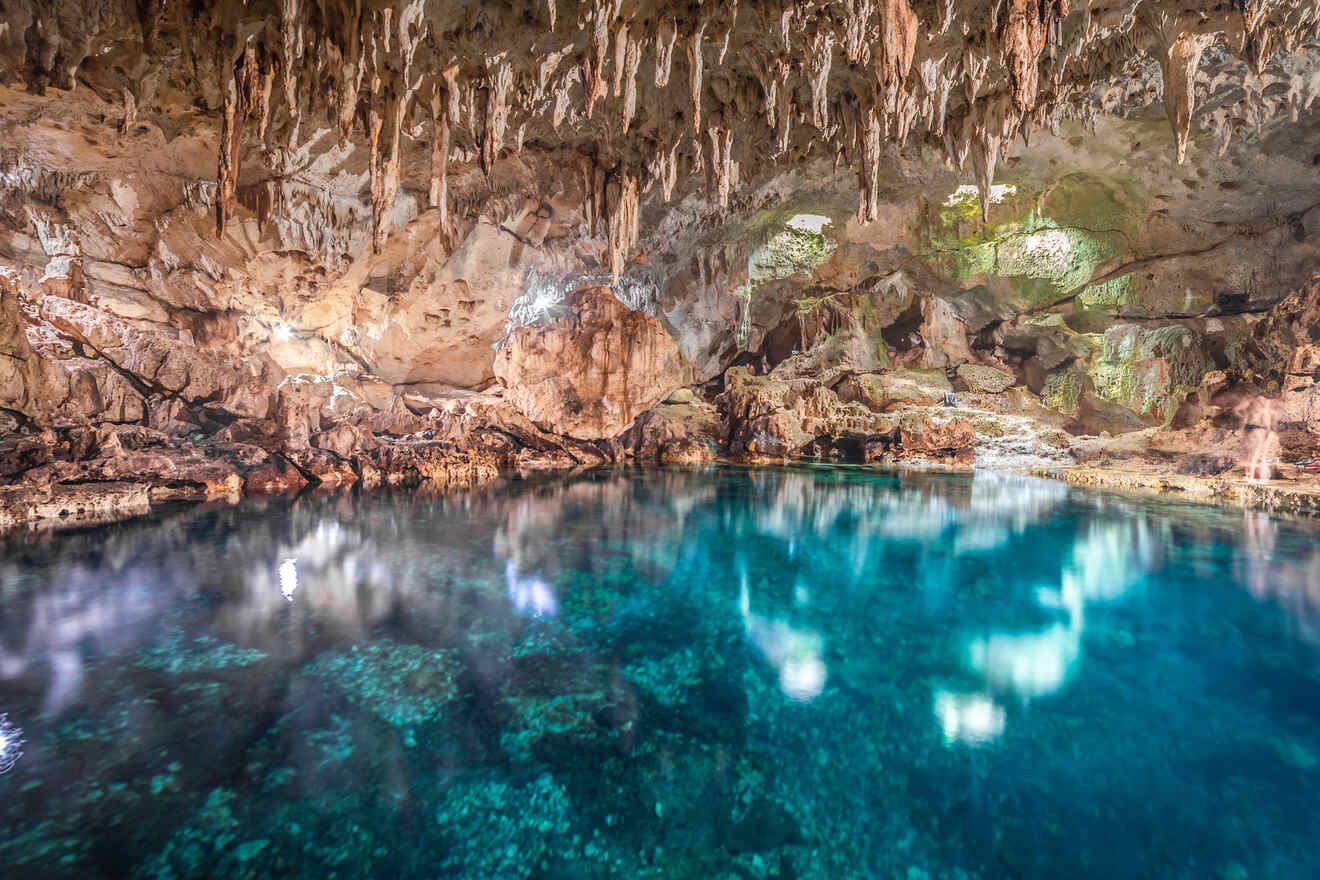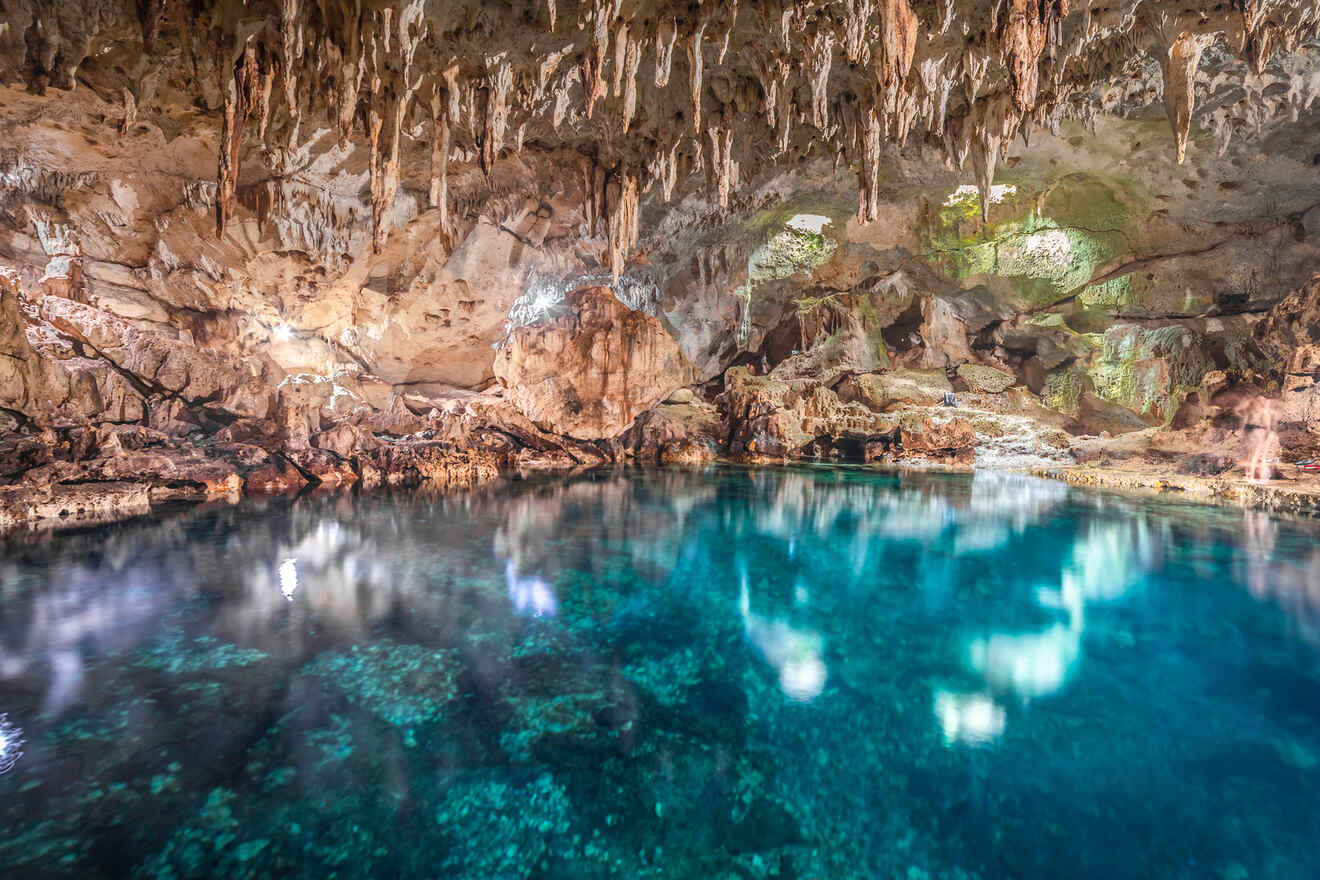 Okay now it's time to start heading back to your accommodation but not before stopping off at Hinagdanan Cave. Its name comes from a Filipino word for staircase "hagdan".
This cave was accidentally discovered by a local who was cleaning his land when he discovered a hole. Then he threw a stone down and heard a splash. Out of curiosity, he got a ladder and went down to inspect what was underneath.
Lo and behold, it was a cave with a deep green-surfaced pool that is now known as the Hinagdanan Cave. The cave looks majestic because of its large stalactites and stalagmites, and it has holes atop that create a series of naturally lit spotlights!
If you get hungry, there are restaurants close to the cave, and you can also buy souvenir items in some of the shops.
Price: PHP 25 (US$ 0.50) entry + PHP 100 (US$ 1) if you want to swim
Distance: From Alona Beach – 20 minutes drive
Day 3 – Historical Tour & Magical Falls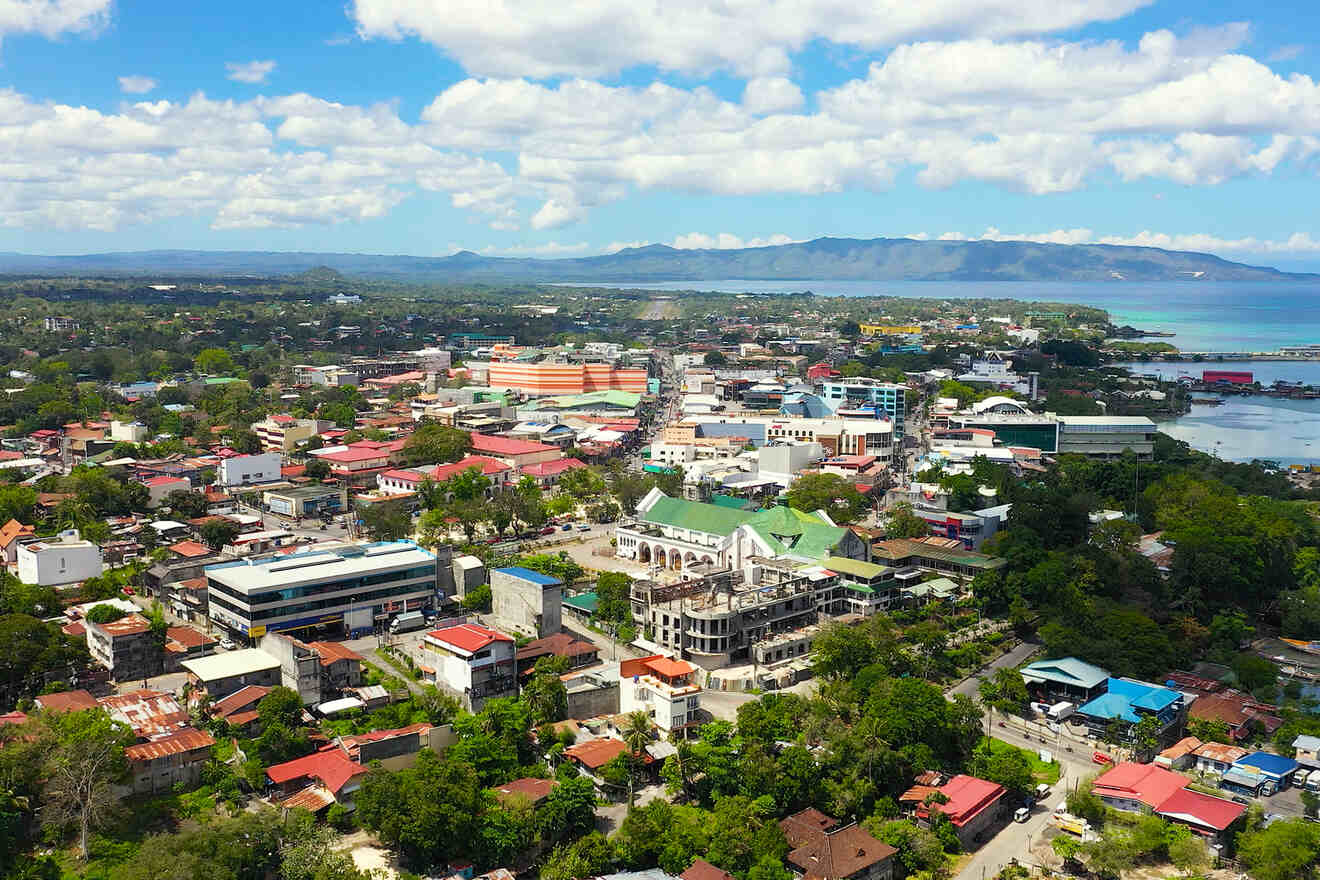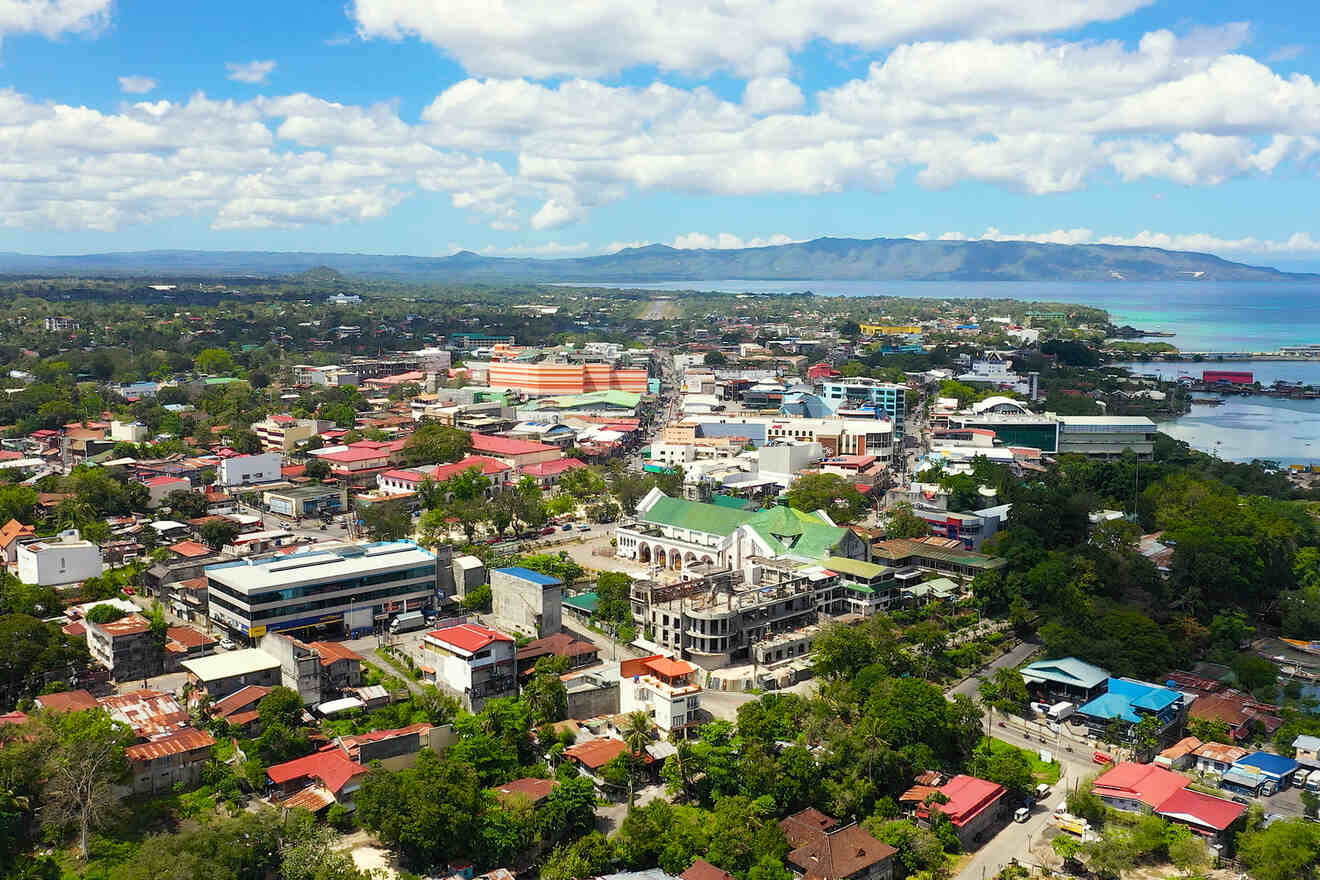 And finally, we are on our last day in Bohol! This day combines a historical tour and exploring the other parts of the island province to give you a complete overview of all this island has to offer.
1. See the "Sandugo" Blood Compact Shrine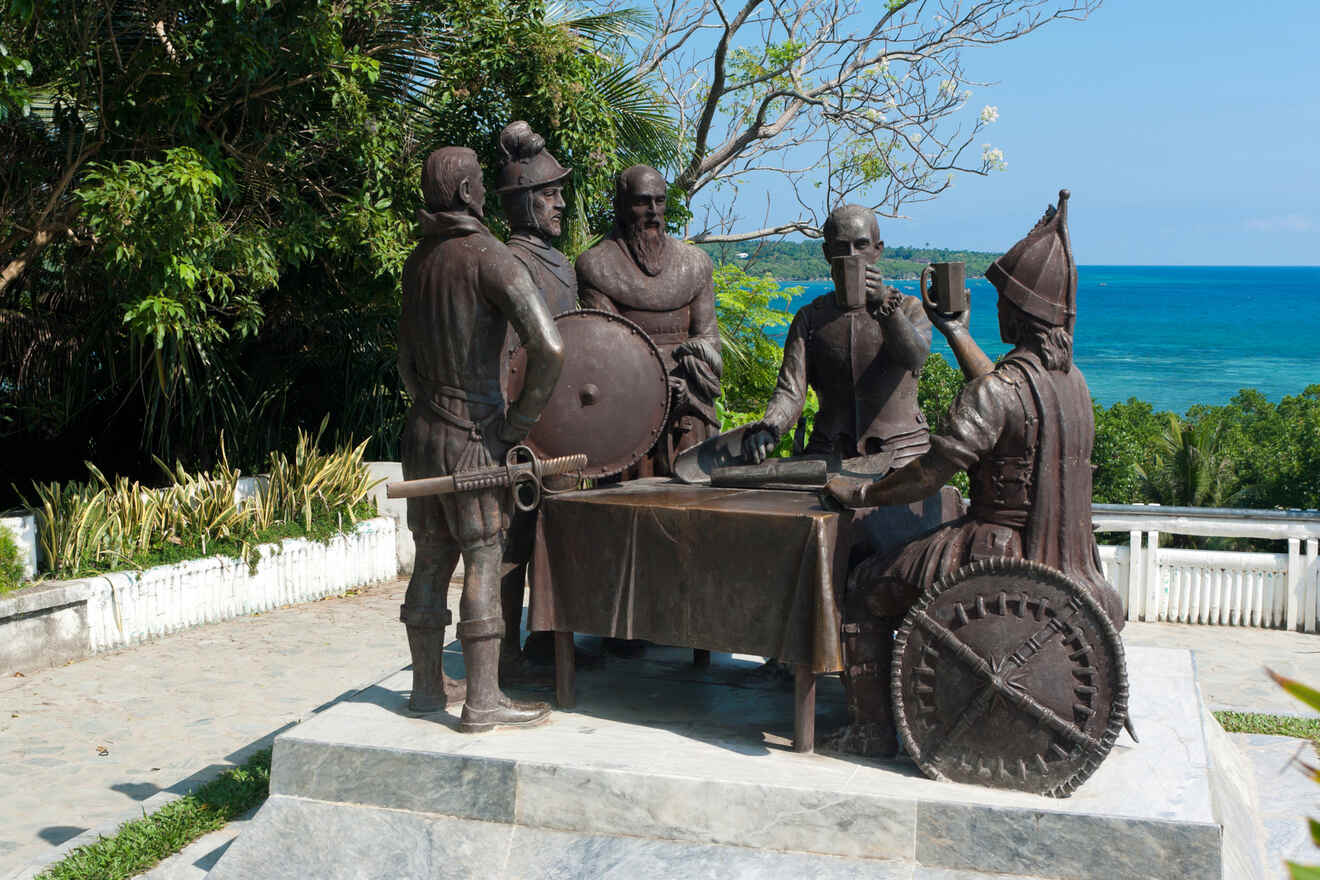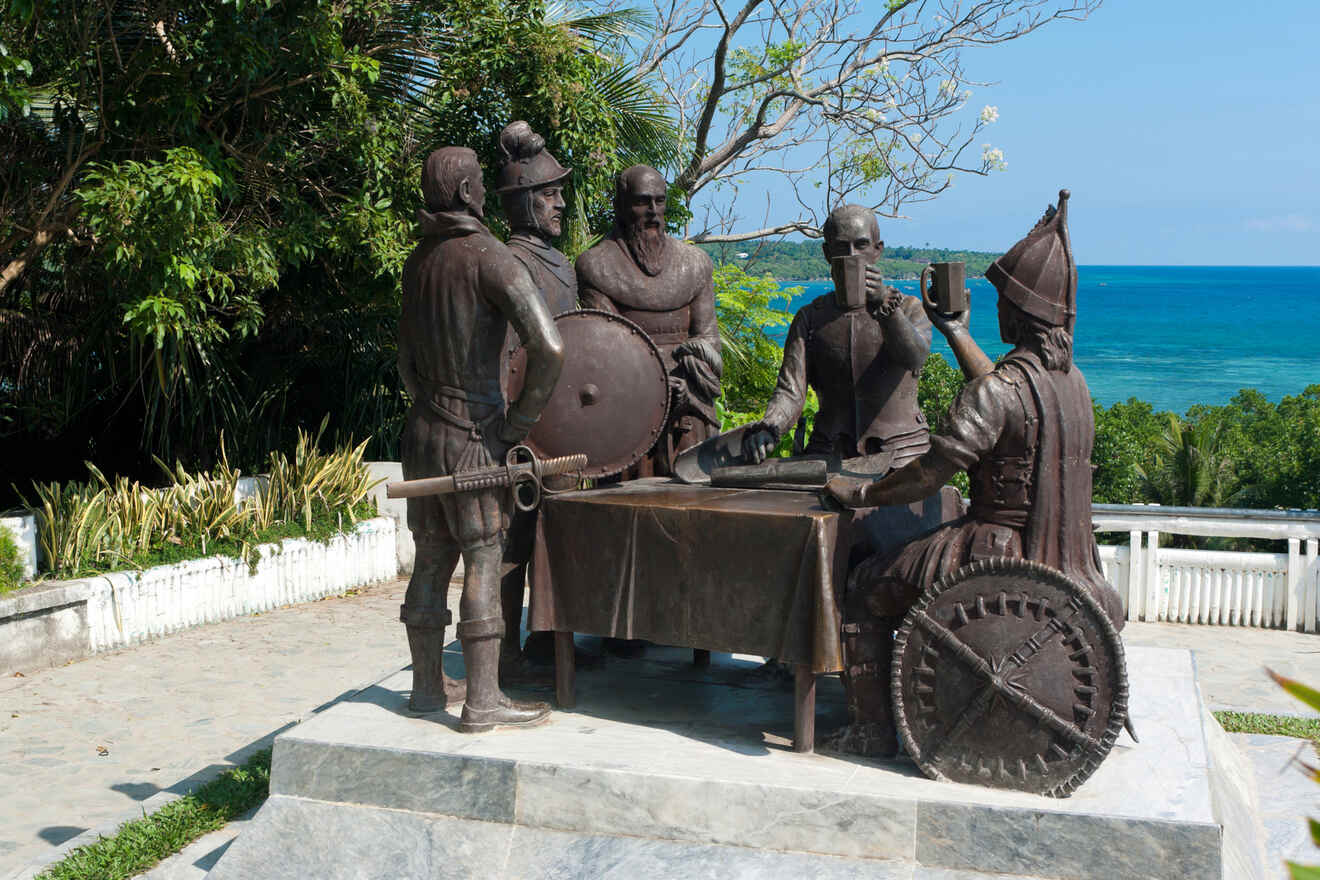 Today we're starting off right here in Tagbilaran City as it is always fascinating to discover the history behind these monuments in the capital.
On this very spot where the monument now stands, the international treaty of friendship between Spaniards and Filipinos took place way back in 1565. As part of the tribal tradition, they drank wine mixed with their own blood, hence the term "sandugo," which means "one blood."
This bronze sculpture depicting the historic moment was created by a Boholano National Artist, the late Napoleon V. Abueva.
Take a picture as a souvenir on your Bohol trip to this historical site or stay for a while and breathe the fresh air while watching the panoramic view of the area.
Distance: From Tagbilaran City – 10 minutes drive
2. Snap a picture of the Baclayon Church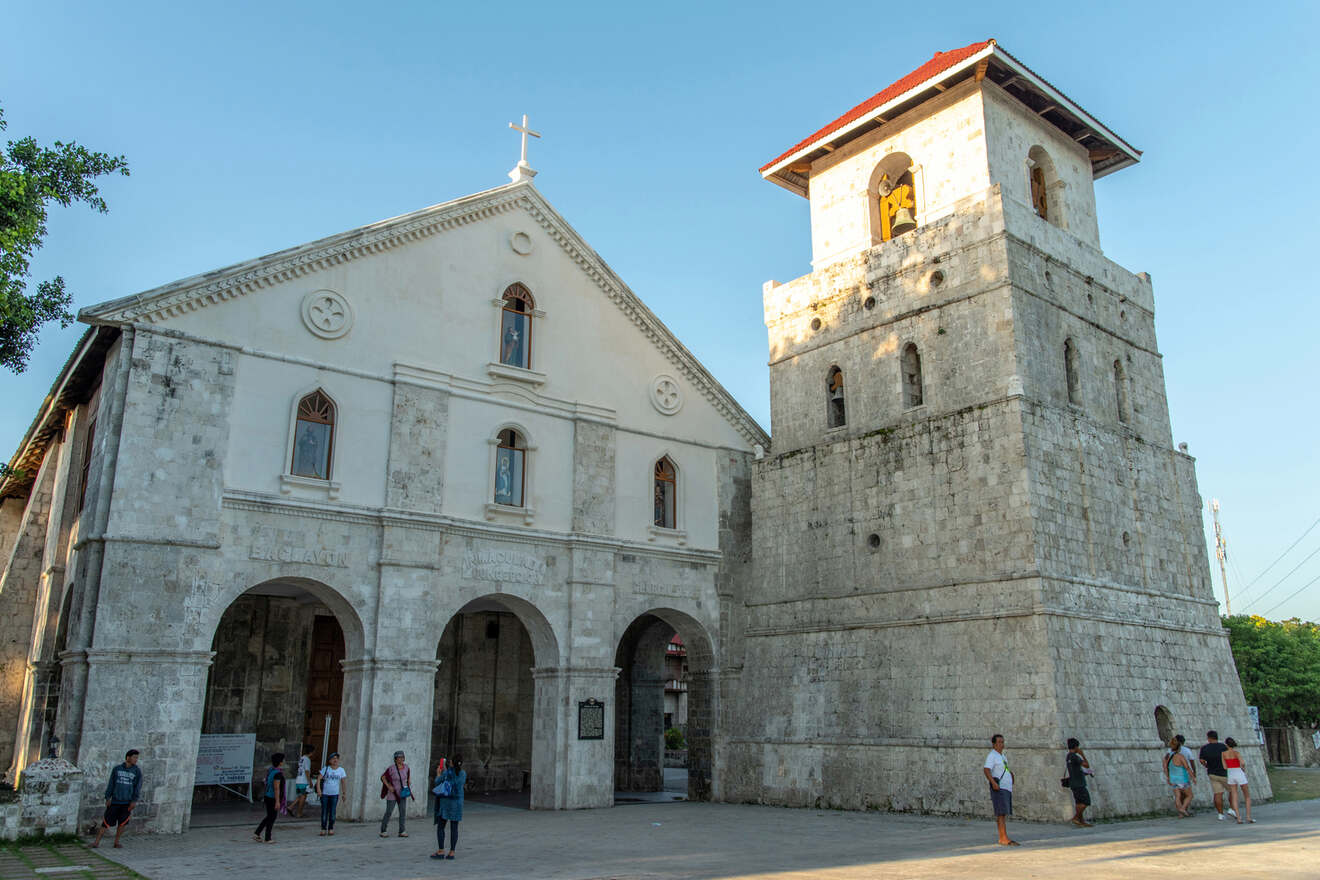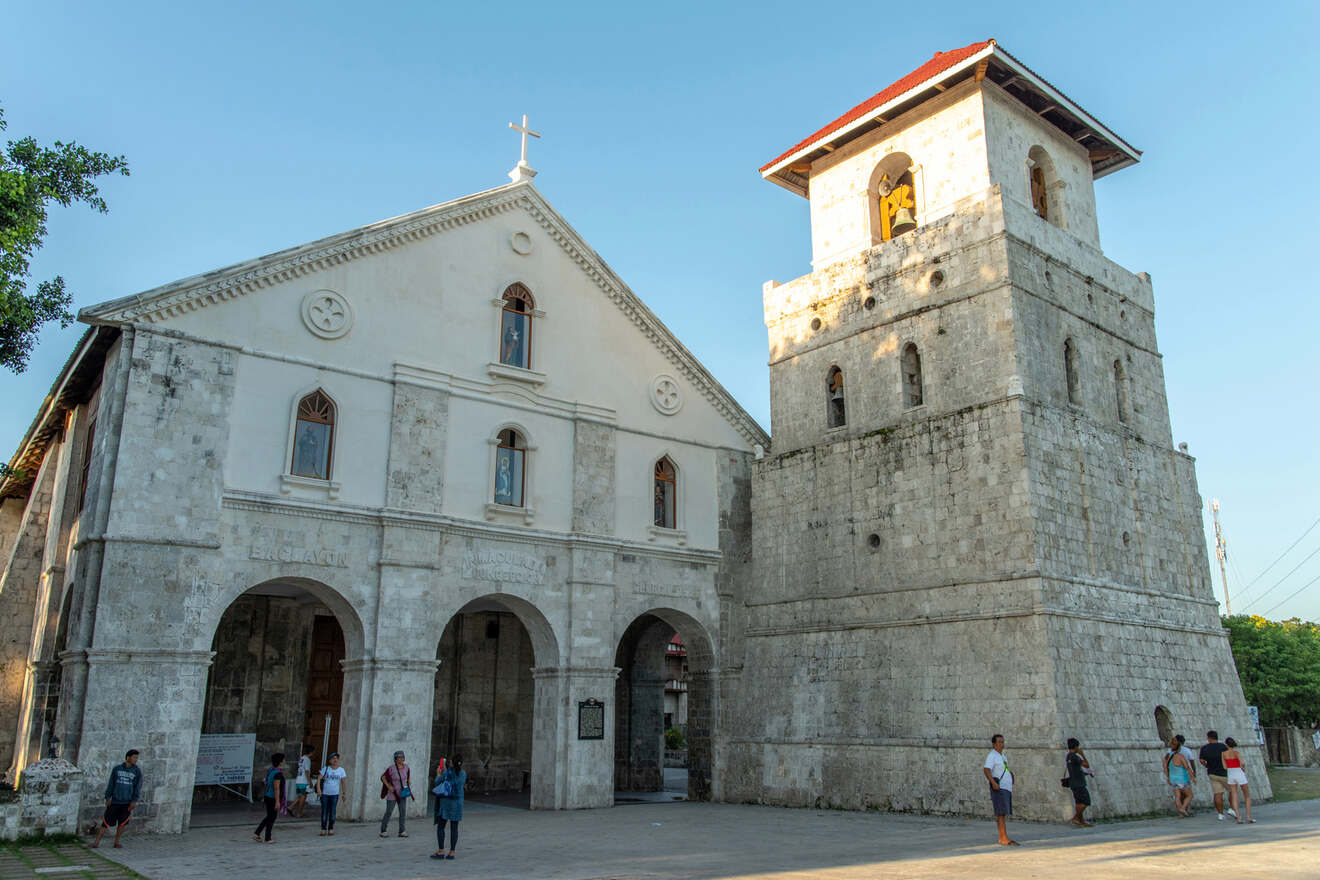 Another cultural site to see in Bohol is Baclayon Church. This is one of the oldest Catholic churches in the country and probably one of the few still standing that were built during the Spanish regime.
A strong earthquake may still strike Bohol (the last one in 2013 was magnitude 7.2), but up until now, this historical and cultural site has been standing strong!
You can visit this sacred place any time and any day to take photos or simply appreciate its unique architectural structure!
Distance: From Sandugo Shrine – 5 minutes by car
3. Visit the Kawasan Falls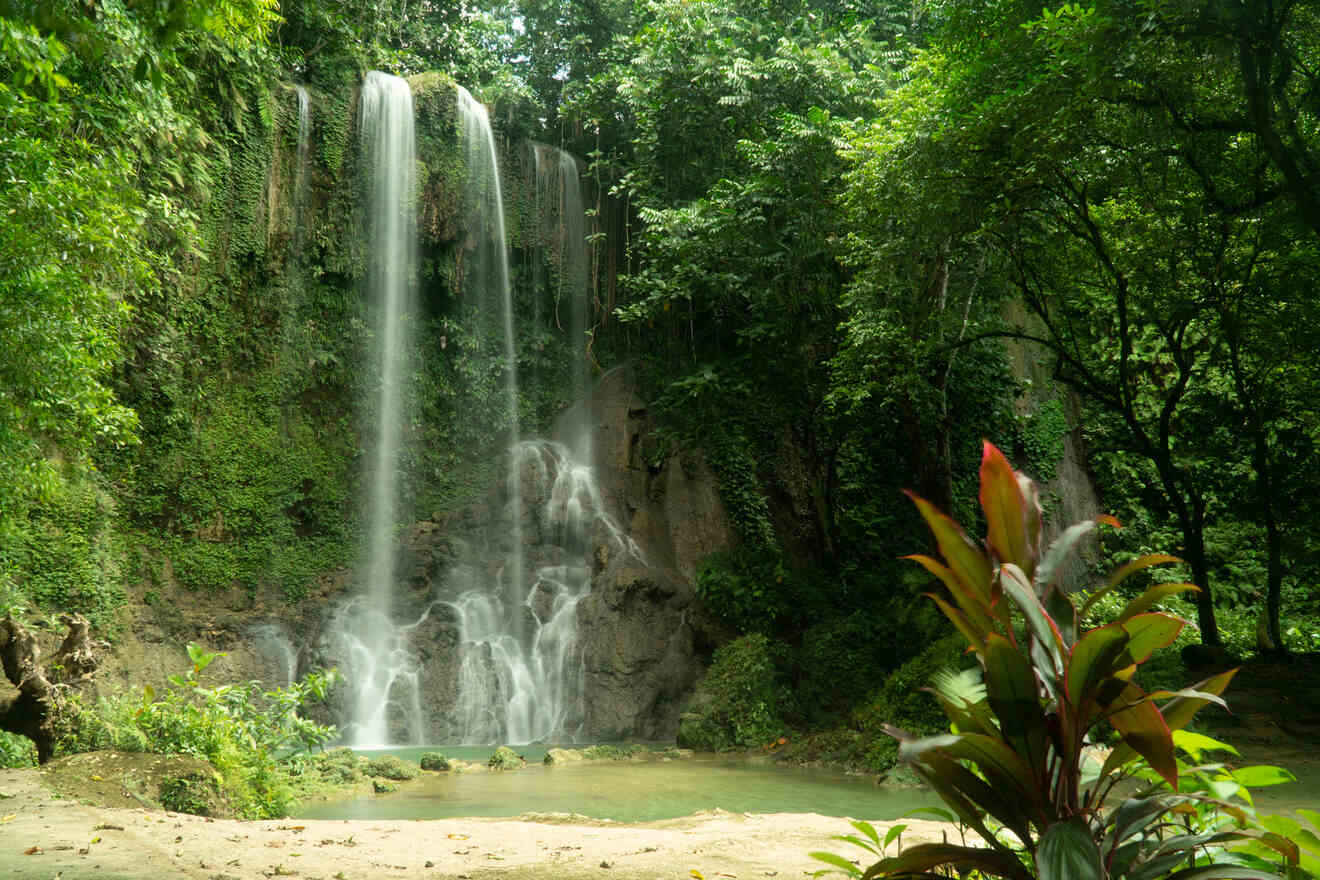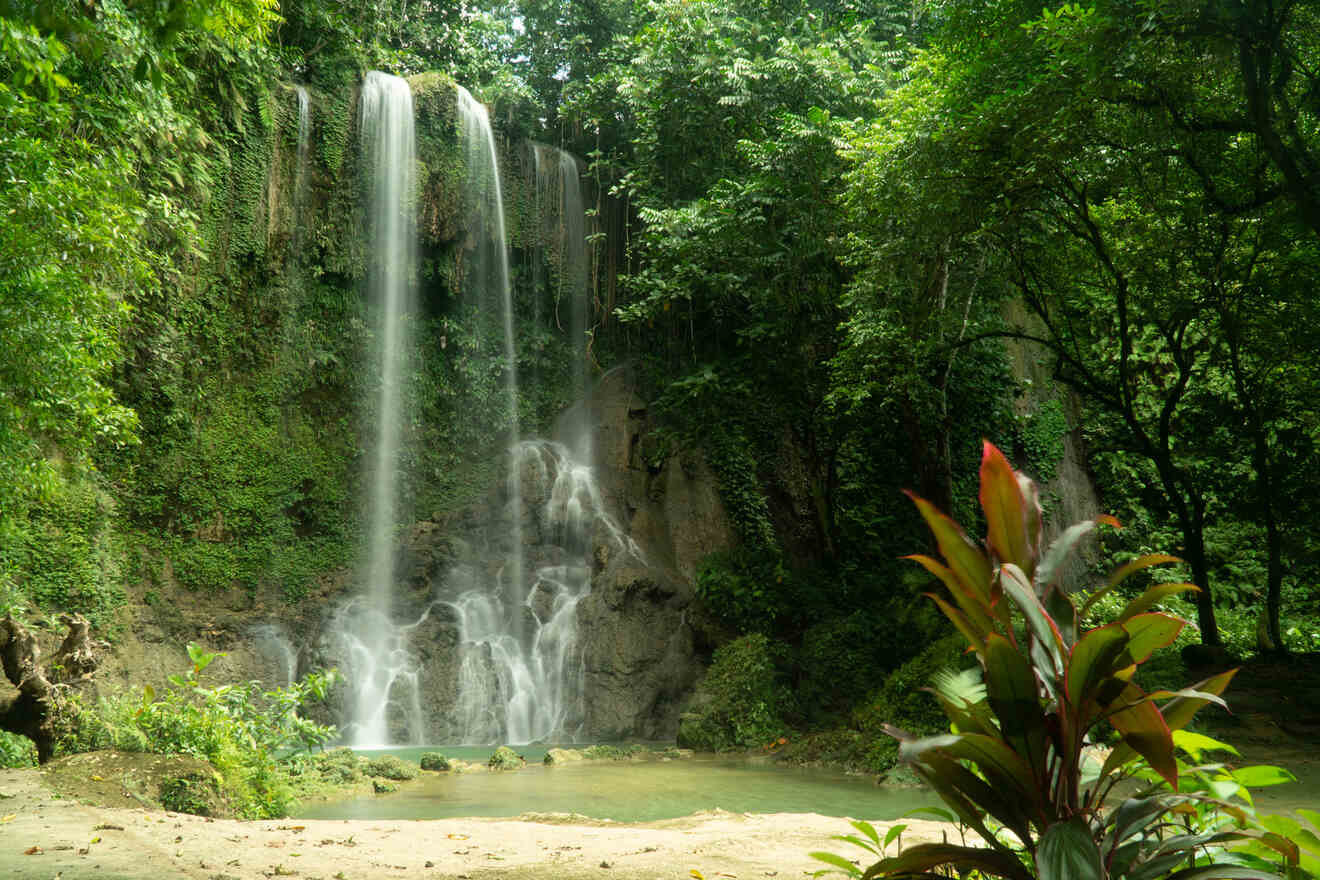 After a short visit to the historical and important sites of Bohol, it's time for another adventure before we fly out of Bohol!
We've explored beaches and caves and will now head to one of Bohol's majestic waterfalls.
Though it has the same name as the unfathomable blue Kawasan Falls in Cebu, this Kawasan Falls in Bohol has its own grandeur to show off. Before reaching the falls, you will have to descend to the base via some cemented stairs for about 10 minutes.
But trust me it's worth it! At the bottom, a towering fall with a green-surfaced catch basin will welcome you. The basin here is quite shallow so it's perfect if you want to cool off and relax!

PRO TIP: This is a less-traveled path, so if you visit on a weekday you may even have the waterfall to yourself!
Price: PHP 20 (US$ 0.40) entry
Distance: From Tagbilaran City – 30-minute drive
2. Swim at Mag-aso Falls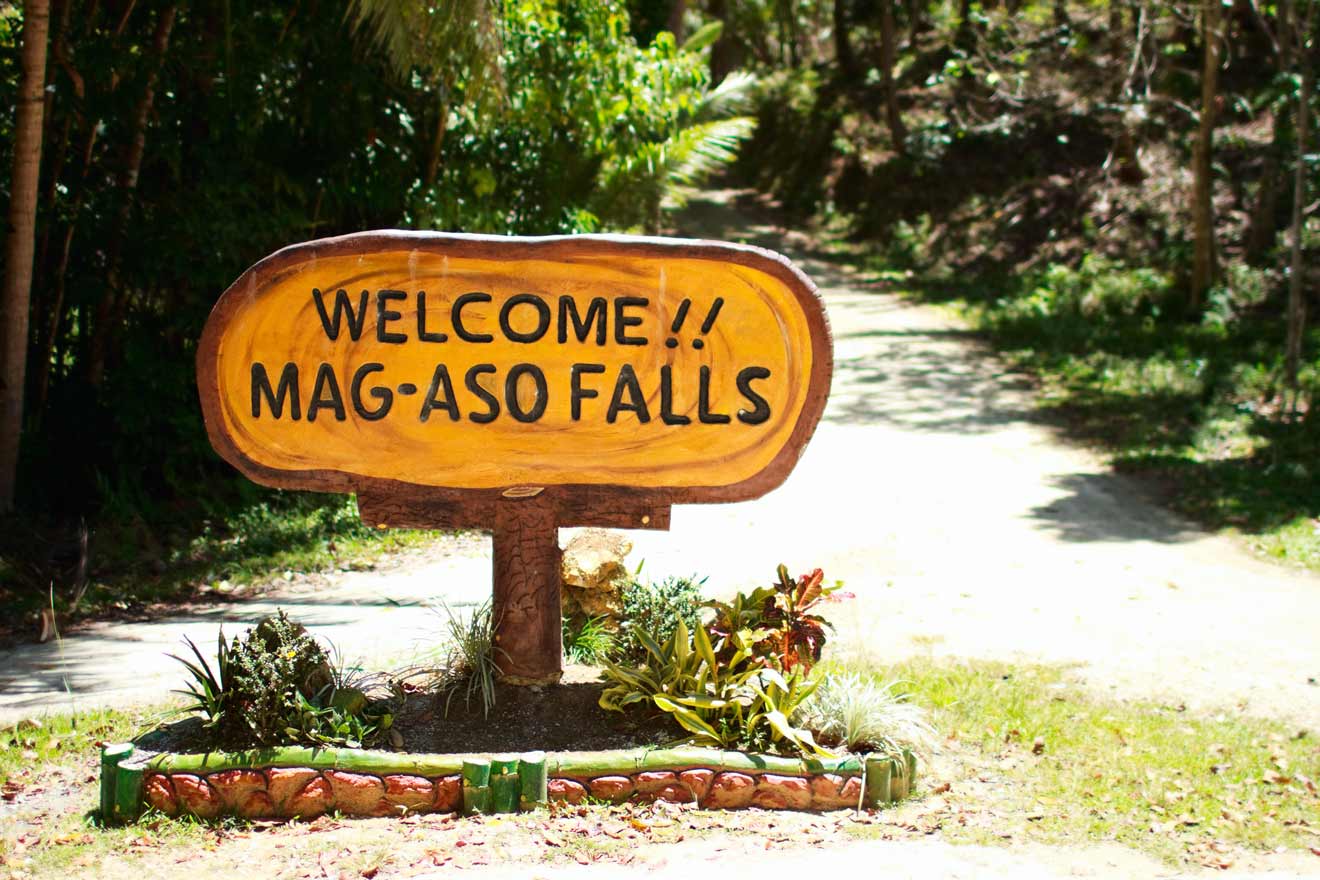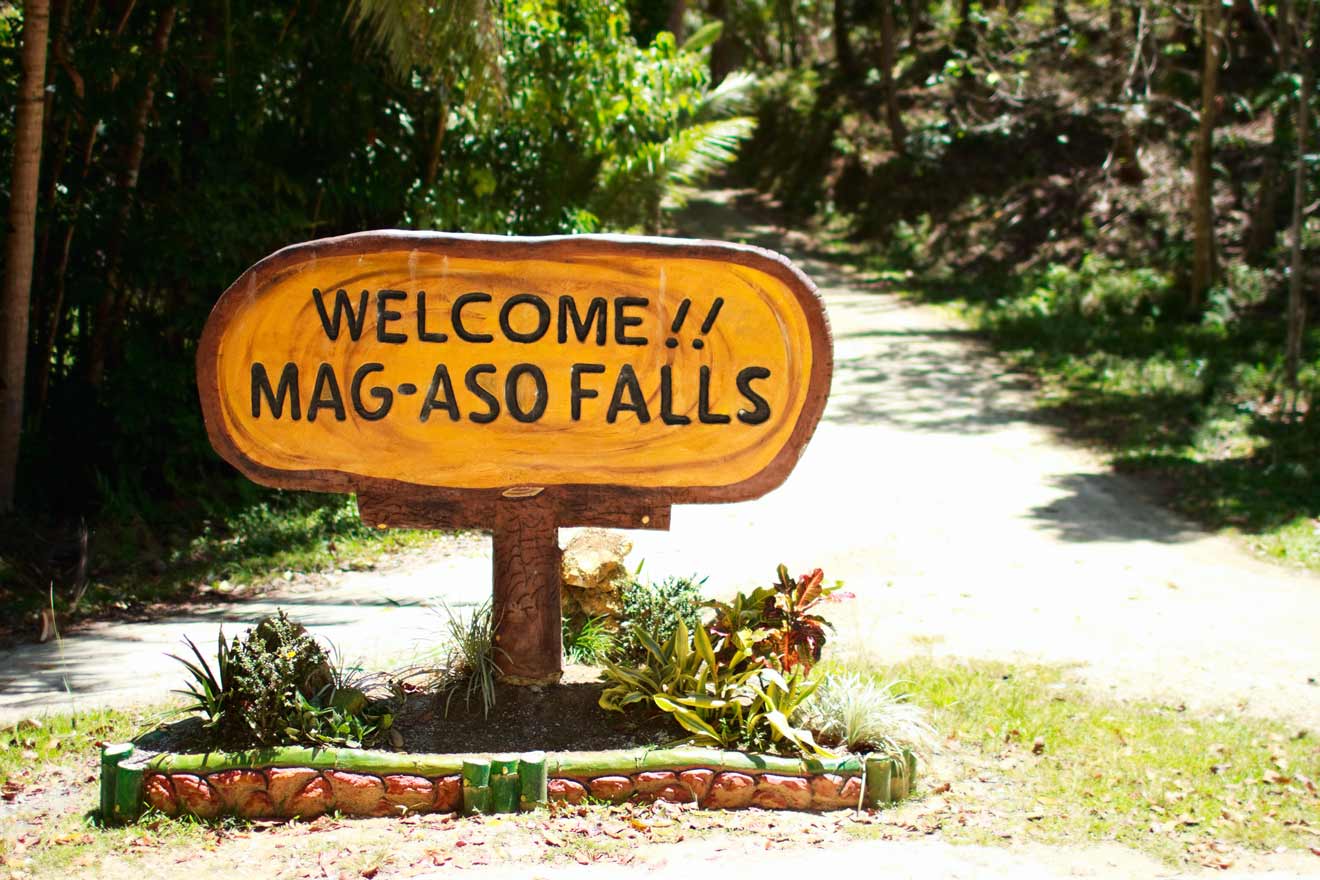 Another majestic fall you can visit is Mag-aso Falls in Antequera, Bohol.
Unlike Kawasan Falls, Mag-aso Falls are a couple of twin falls that flow over rocks into a cold blue catch basin. The water color is super beautiful and in the dry season, these falls aren't super powerful so you can actually sit underneath them for a natural massage!
To reach these falls you will still have to descend some cemented stairs by foot for around 10 mins. But since these ones are a bit more popular you will find a few cottages where you can rest in the shade along the way and some great observation decks.
Price: PHP 20 (US$ 0.40) entrance
Distance: From Kawasan Falls – 40 min drive
Extra Activity: Cliff jump into Cabagnow Cave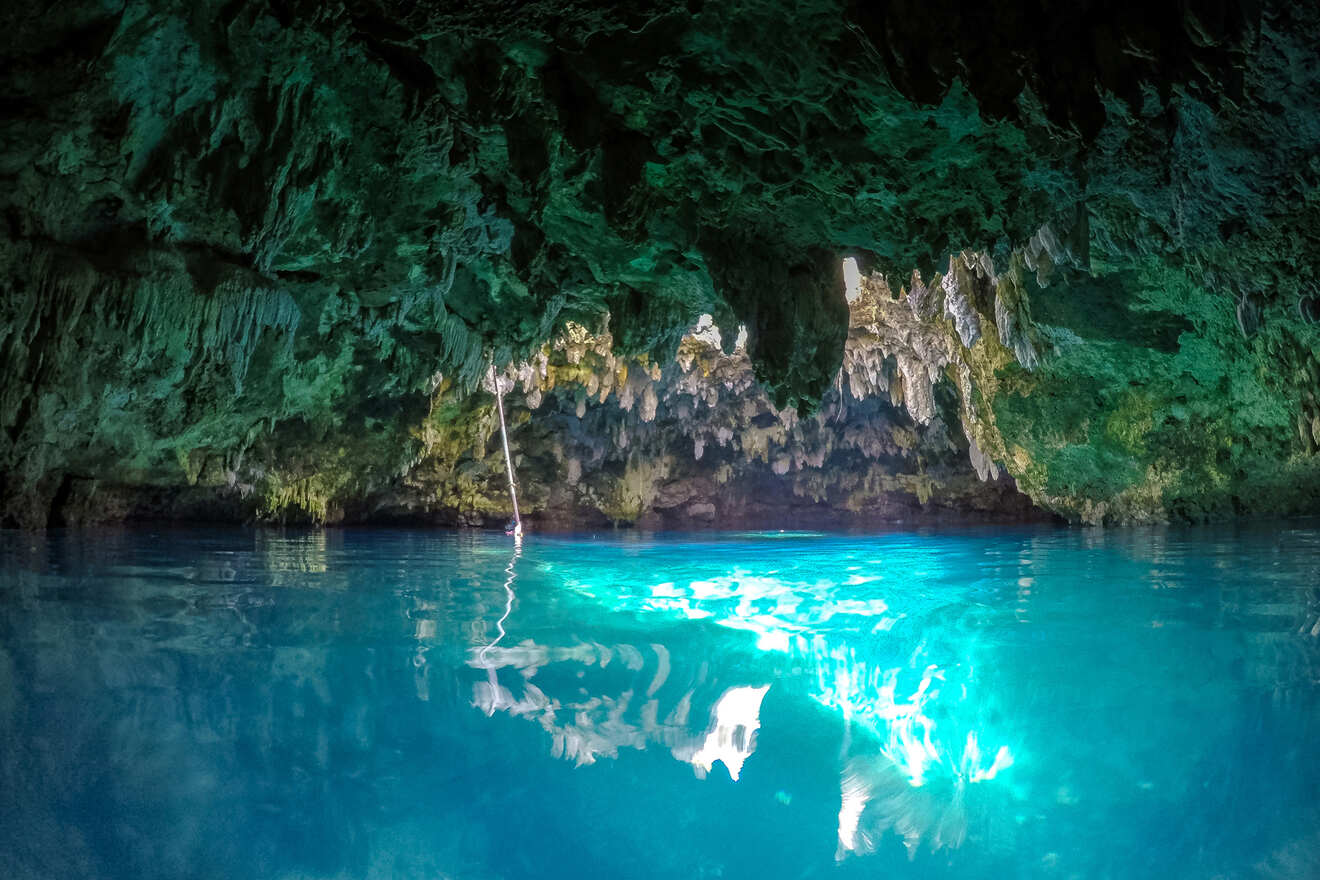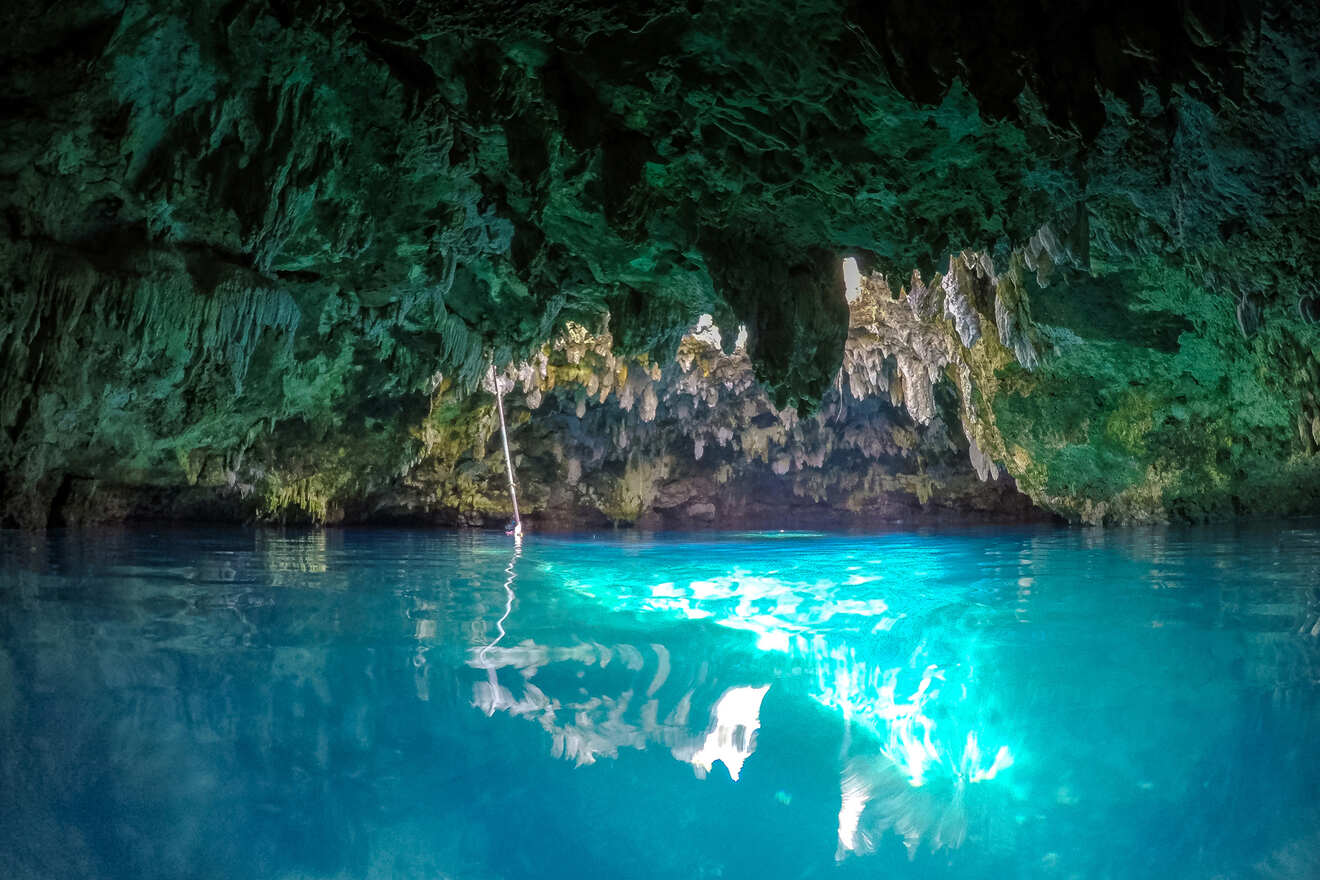 This one is a little further away than everything else in our list so I decided to add it as an optional extra. If you do choose to take the time to visit this cave, I'm sure you won't regret it!
Located in Anda, Bohol, the Cabagnow Cave pool is one of the hottest tourist attractions in Bohol these days, even stealing the spotlight from the well-known Bohol white sand beaches!
Interestingly enough, Cabagnow is not your typical cave. It looks like a sinkhole surrounded by trees and boasts of enchanting blue waters!
To enter the cave you need to jump in from the top! Sound easy enough although it is said to be between 20-25-feet deep and the only way to get out of the water is by the trusty rope ladder made by the locals!
But don't be scared, swimming in this enchanting cave is safe, and if you're not confident in the water, lifevests can be rented for a minimal price.
Price: PHP 50 (US$ 1)
Distance: From Tagbilaran – 2.5 hours drive
Where to stay in Bohol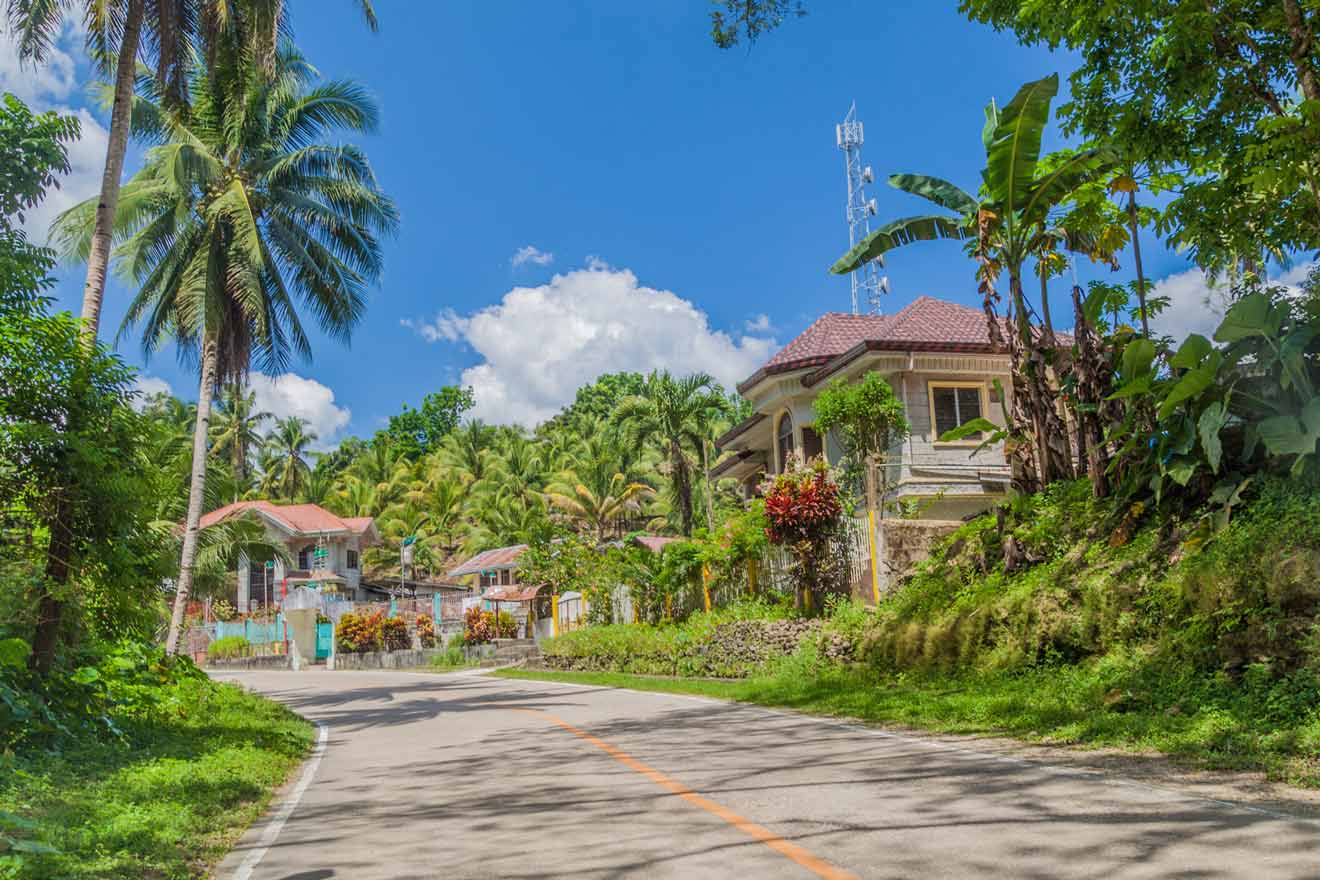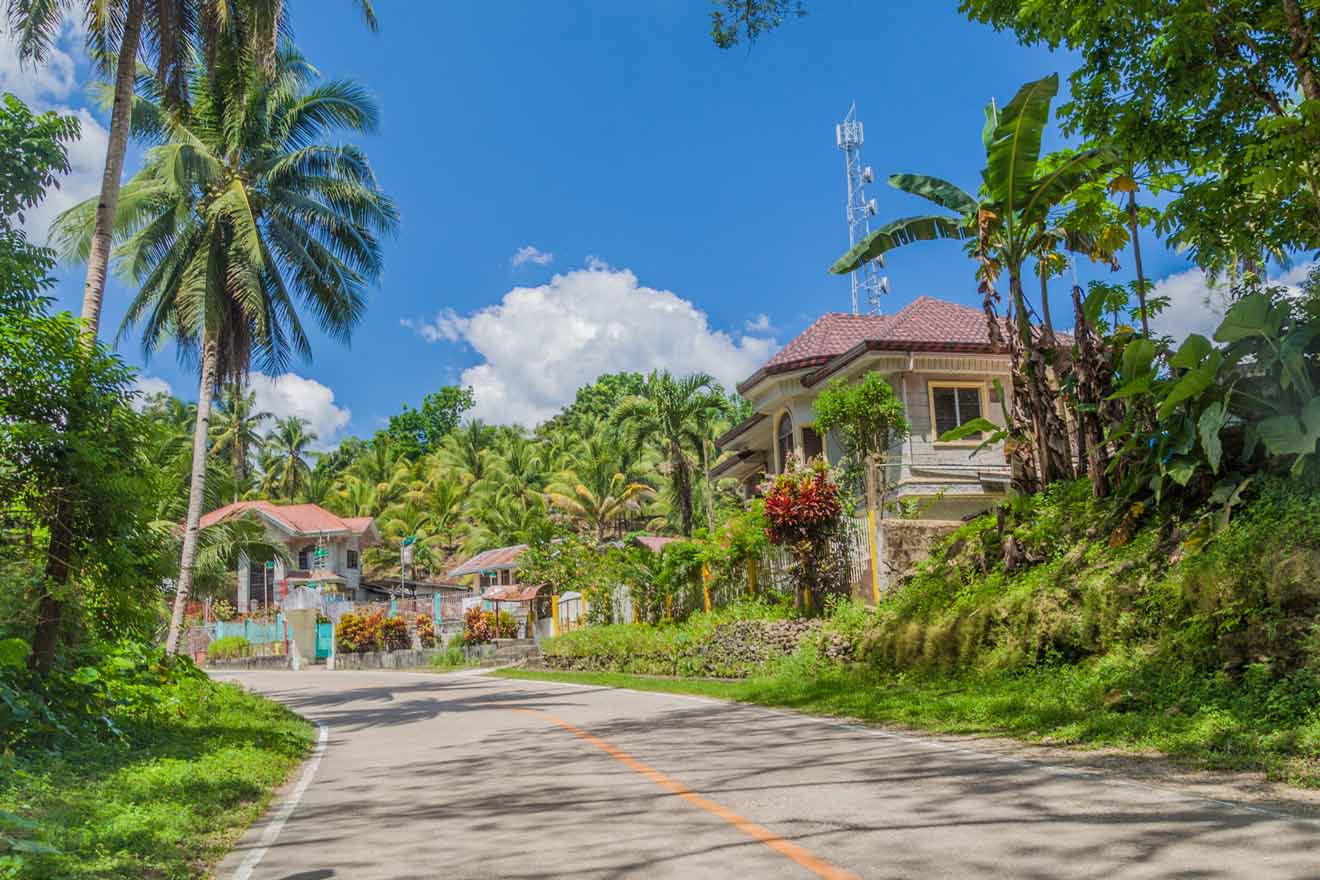 Now that you have your itinerary set, it's time to find the accommodations in Bohol that suit your needs. 
For this itinerary, you can stay in either Tagbilaran or on Panglao Island.
These two locations are only 20 mins' drive apart so it doesn't particularly matter whichever you choose. All of the accommodations I chose for you are easily accessible, have excellent customer service, and are close to most tourist attractions.
Luxury (US$150 and up)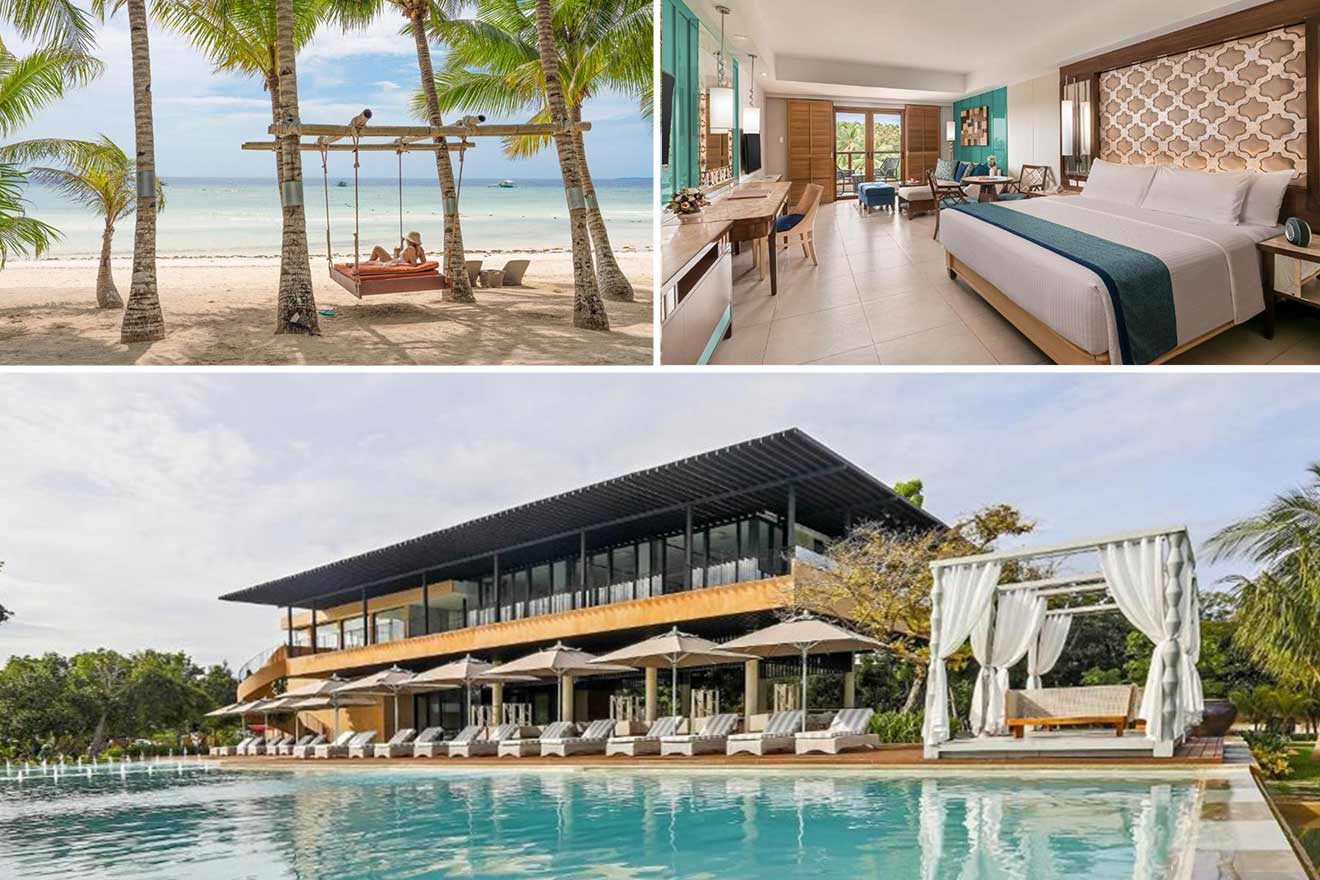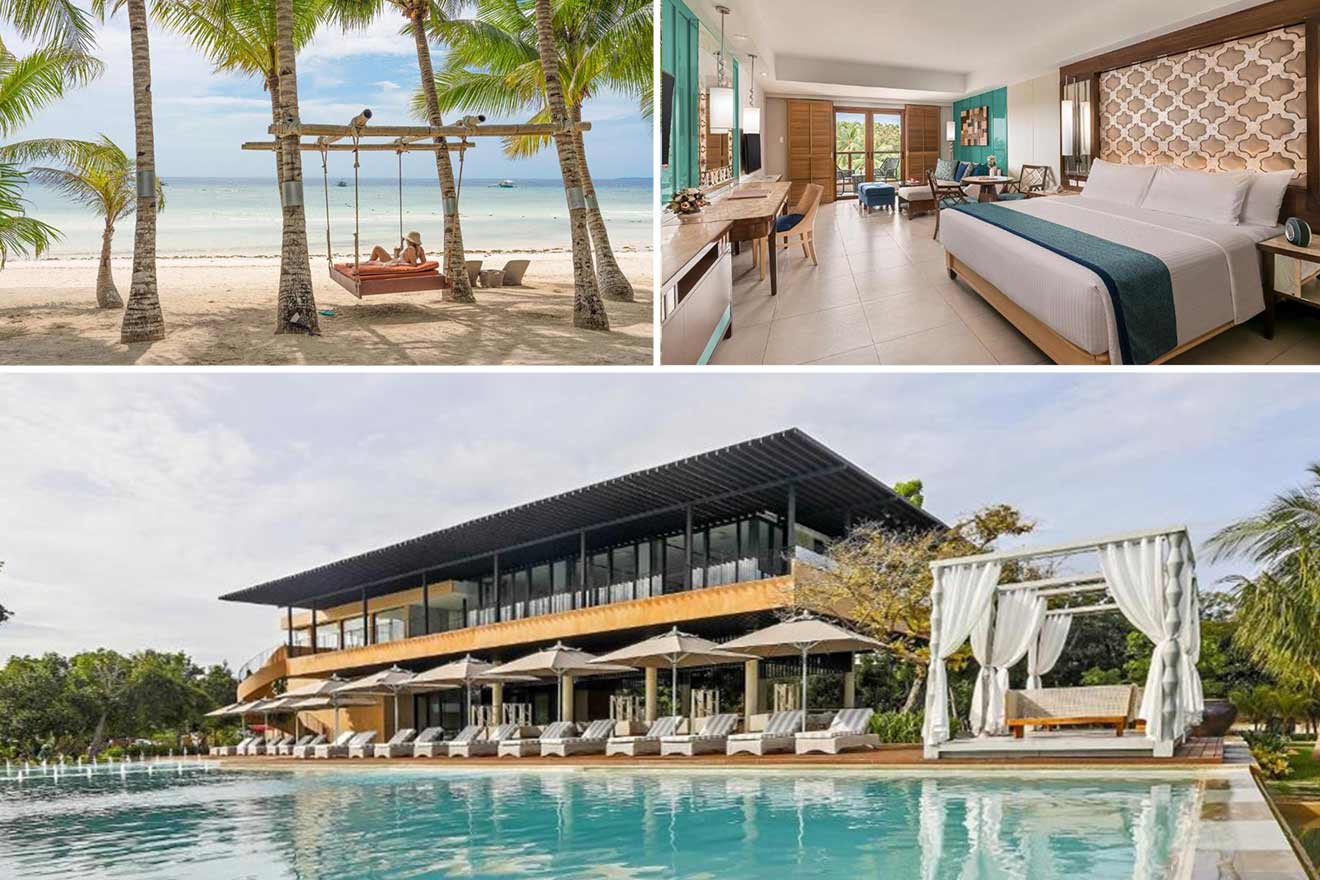 Mid-price (US$50 – $150)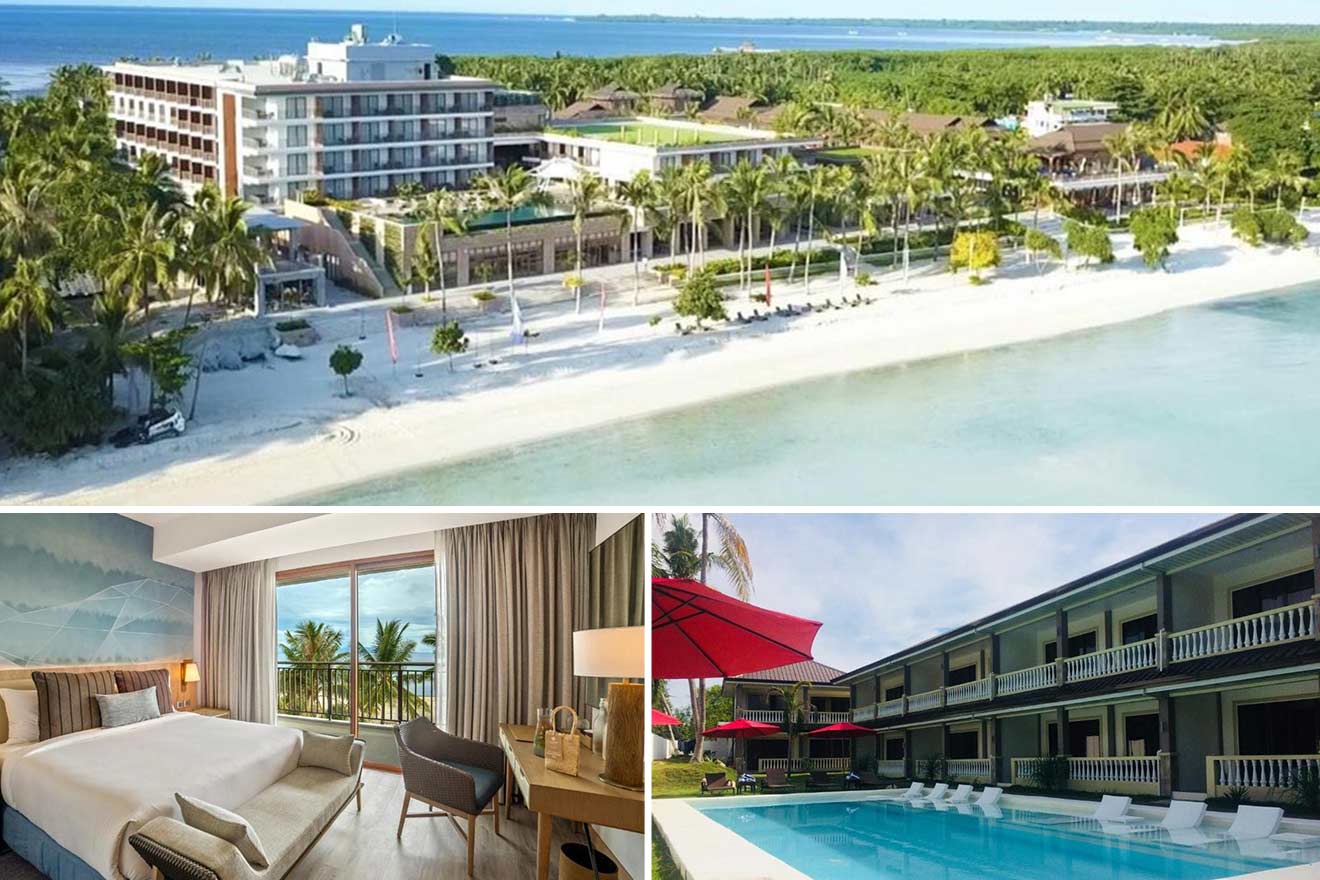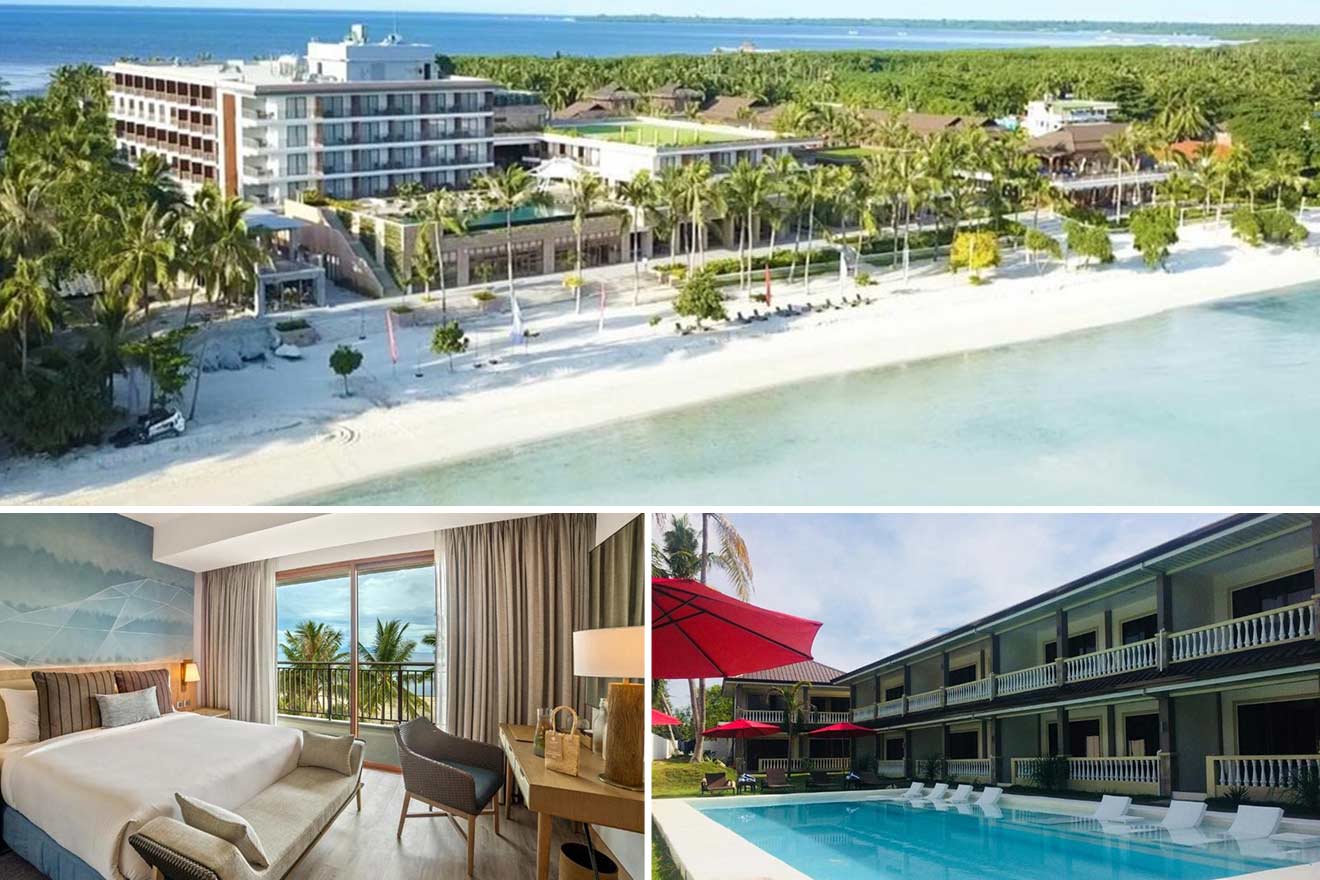 Budget (up to US$50)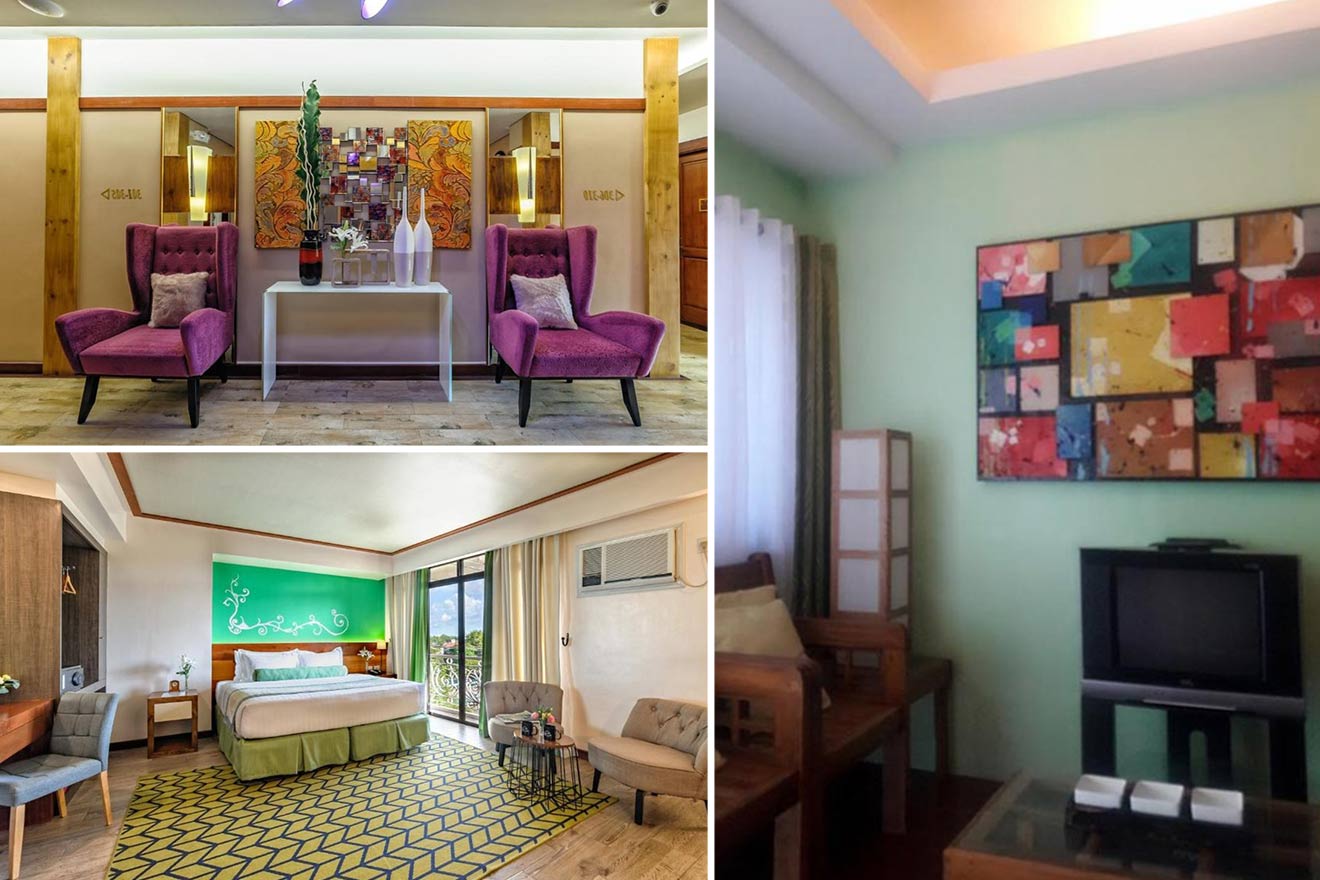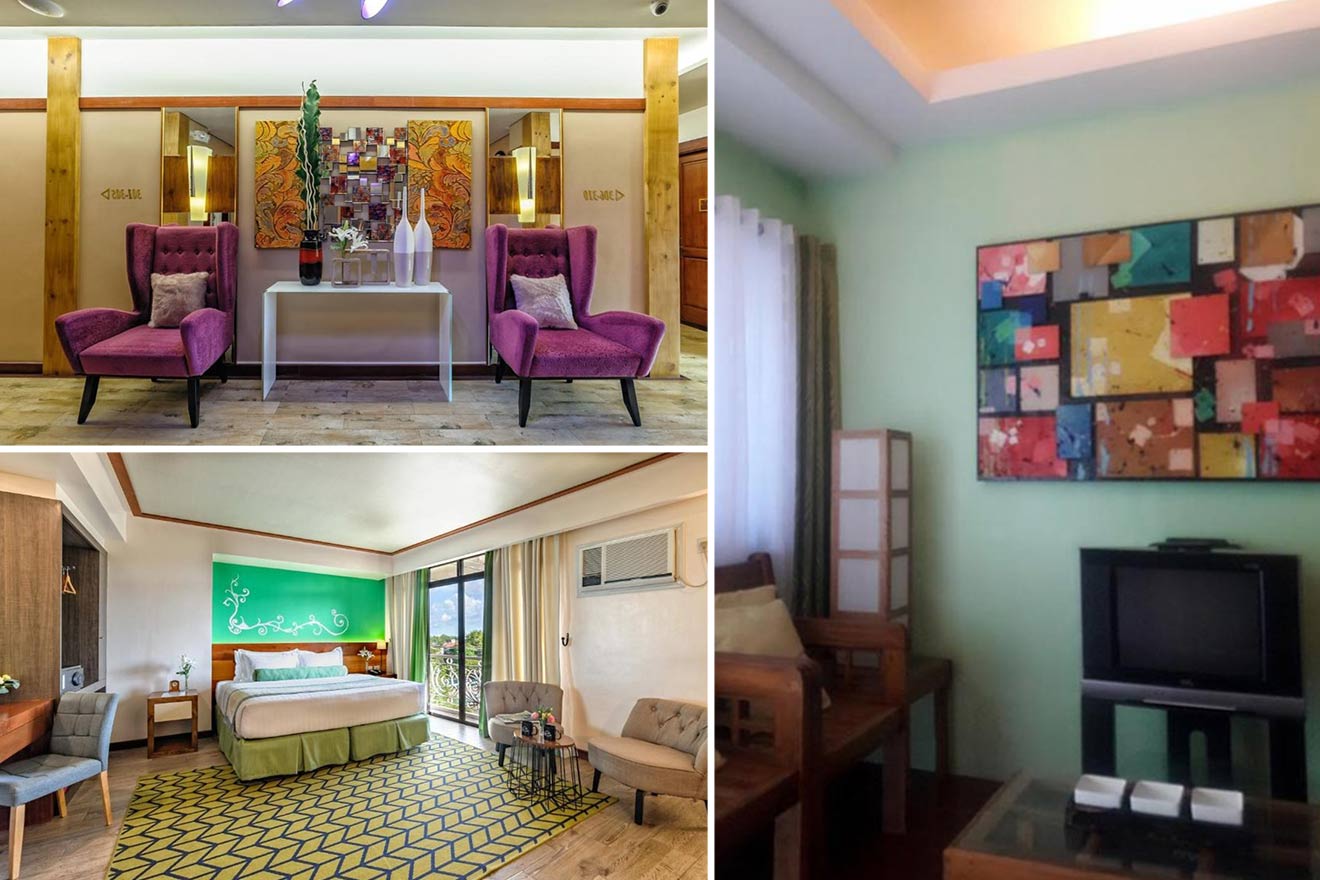 Transportation on Bohol Island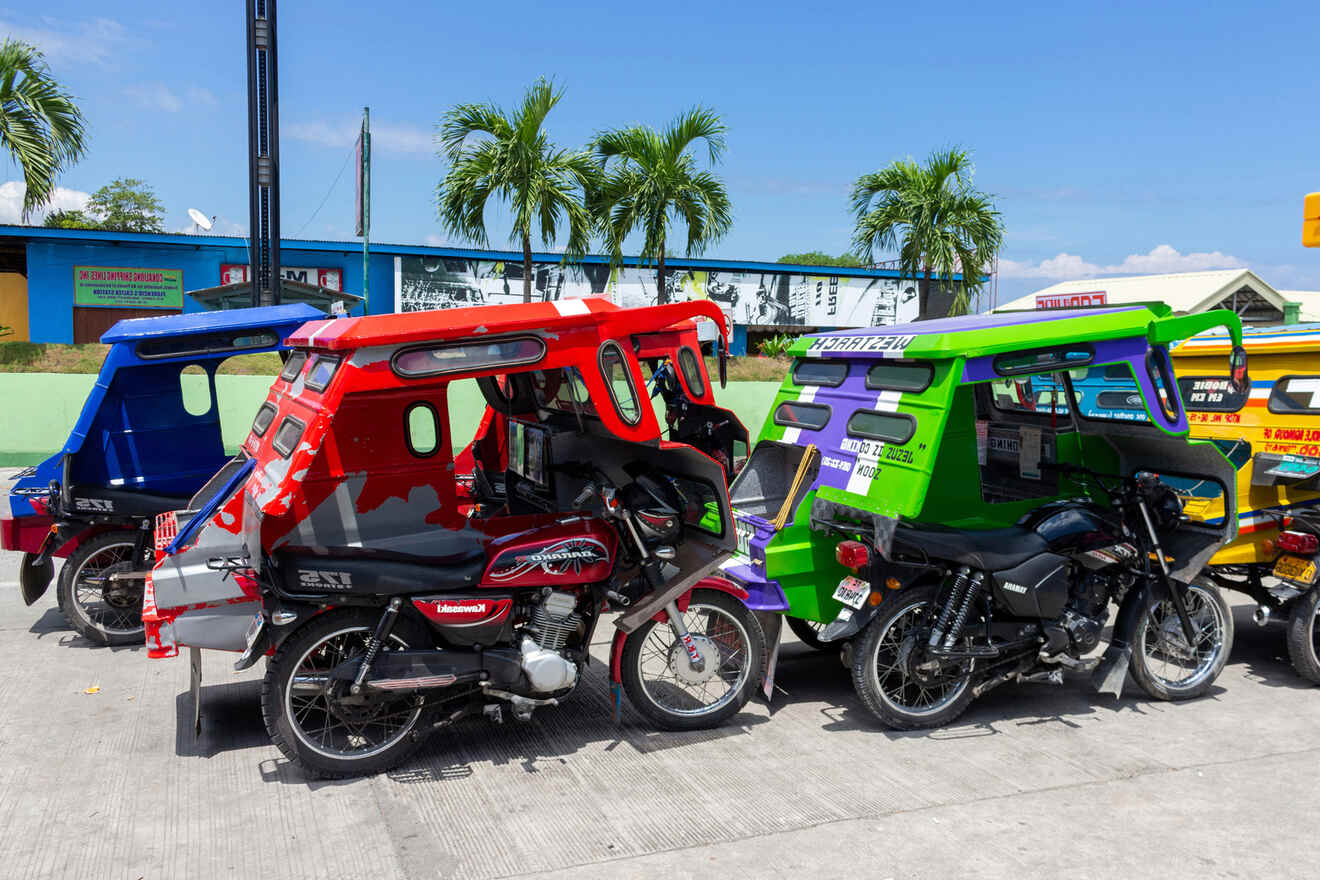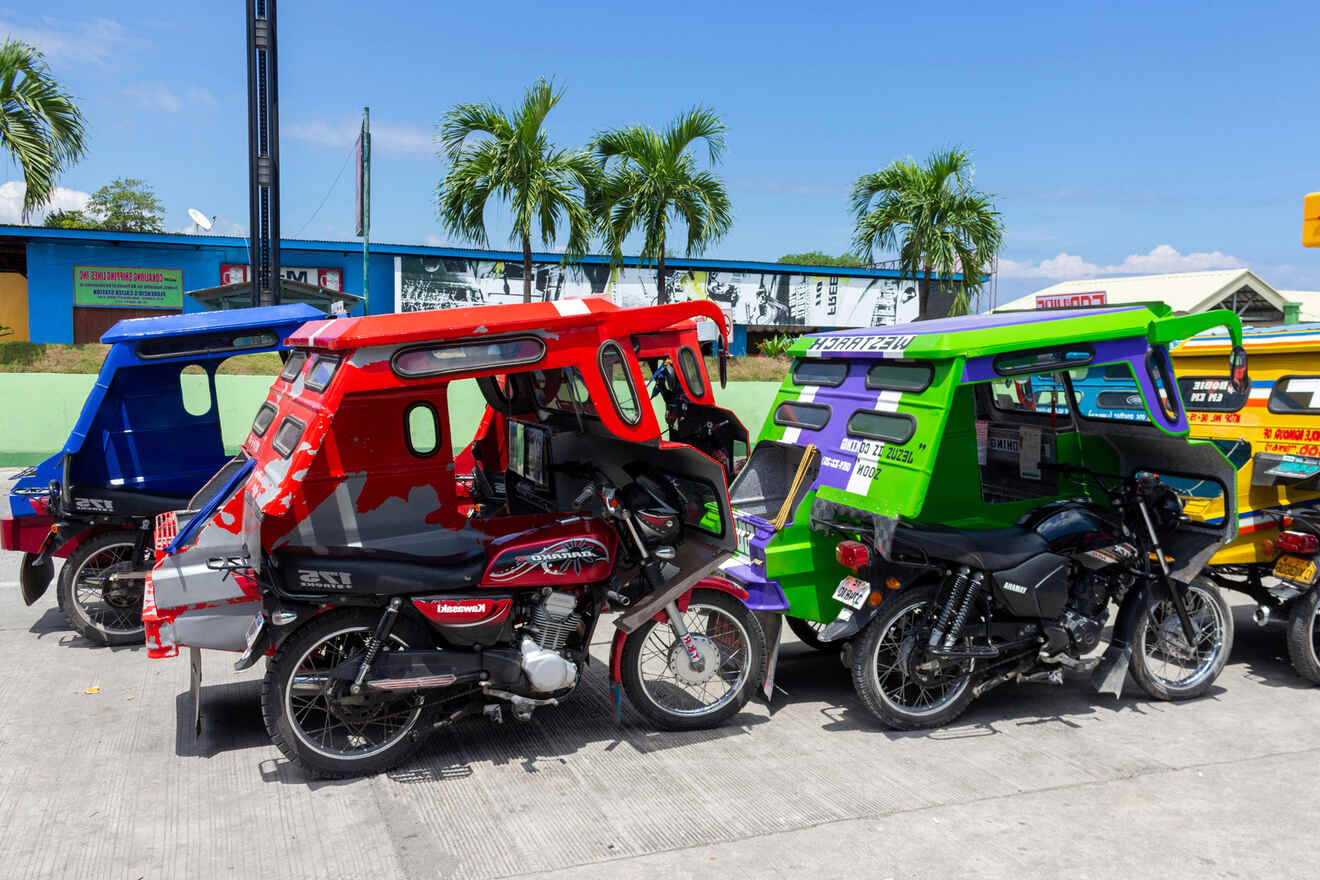 There are a few ways to get around Bohol and here I will talk about each one to give you a good overview of each.
Renting a Scooter
This is the best way to get around Bohol as it will save you a lot of money, plus you will be the captain of your own ship—or motorcycle that is.
Renting one cost around PHP 500 (US$10) per day, and a liter of gas is only PHP 100(US$2). Just keep your trusty map application on hand, and you're good to go around Bohol!
You will find rental places all over the island and they are more or less the same, so don't worry too much about where to pick up your bike.

NOTE: Technically you are legally required to have a specific motorbike license to drive a scooter in the Philippines. While this law is mostly ignored and many tourists hire and drive scooters, be away that you may be fined and travel insurance most likely won't cover you.
Renting a car with driver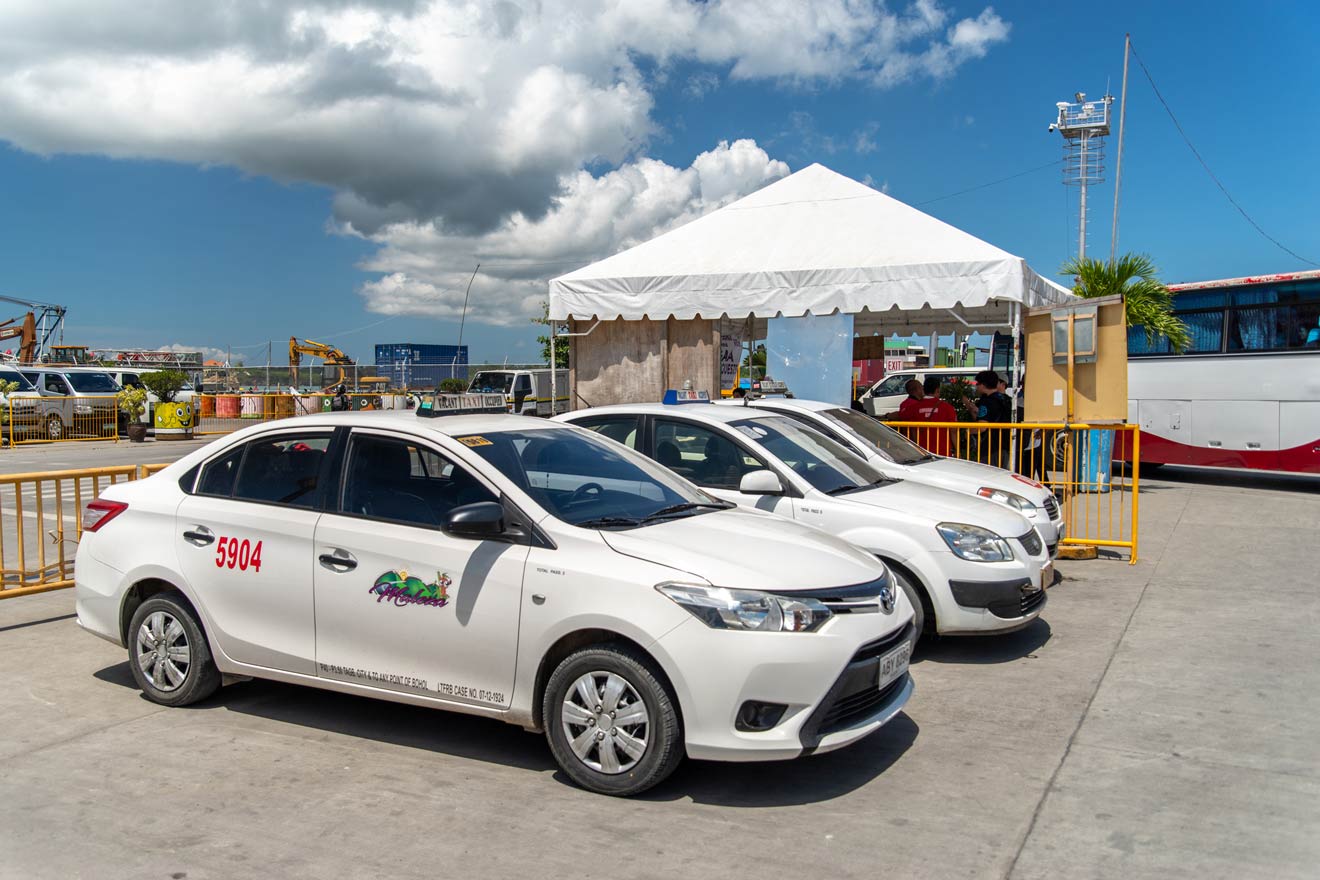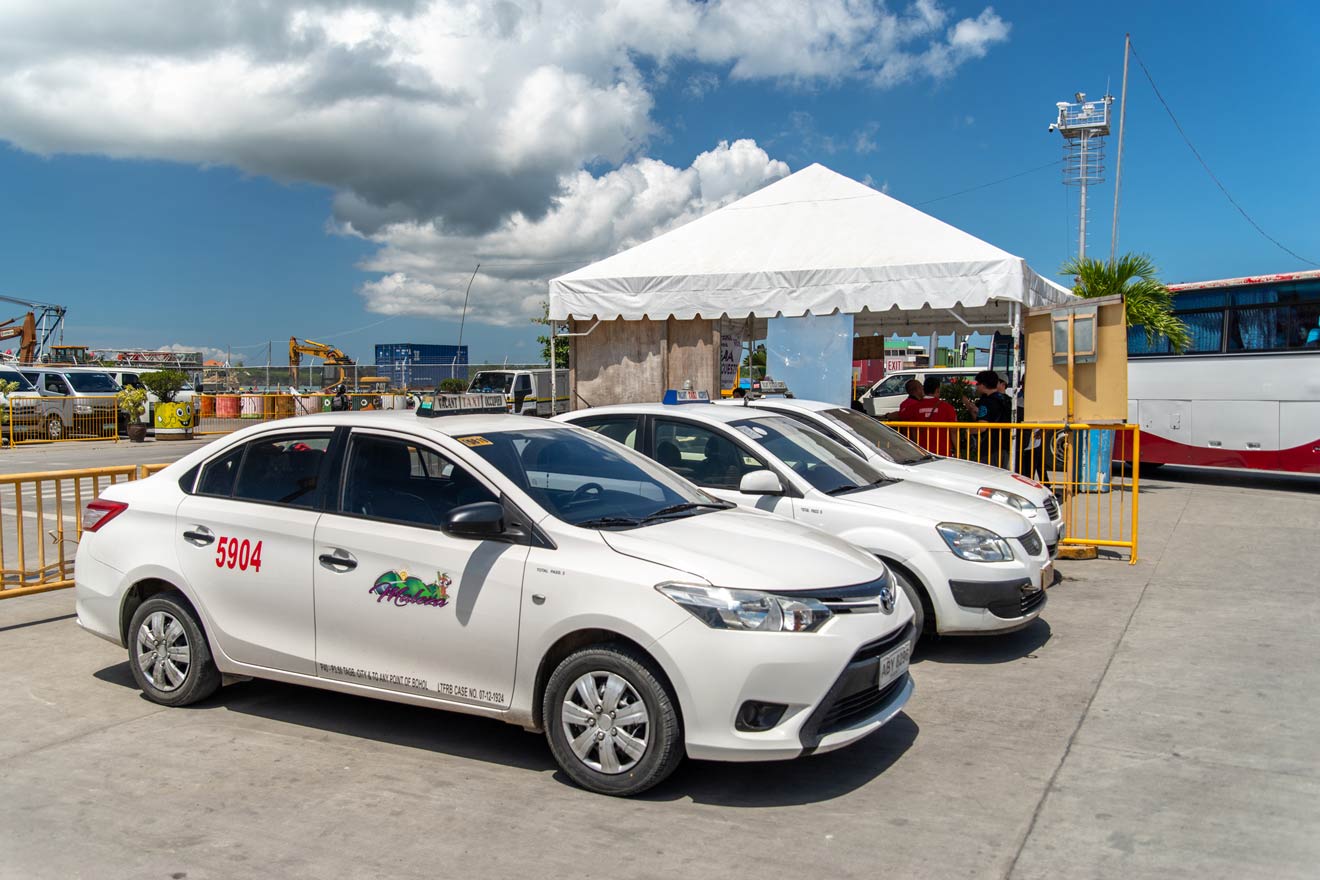 If you don't want to drive a scooter, or are traveling with a group, you can also rent a car with a driver. Since the driving conditions in Bohol are a little hectic I don't really advise driving yourself, but luckily, hiring a driver does not cost much here!
Renting a car with driver costs around PHP 2,500 (US$50) for 8 hours which can be split between the passengers!
Taking Tours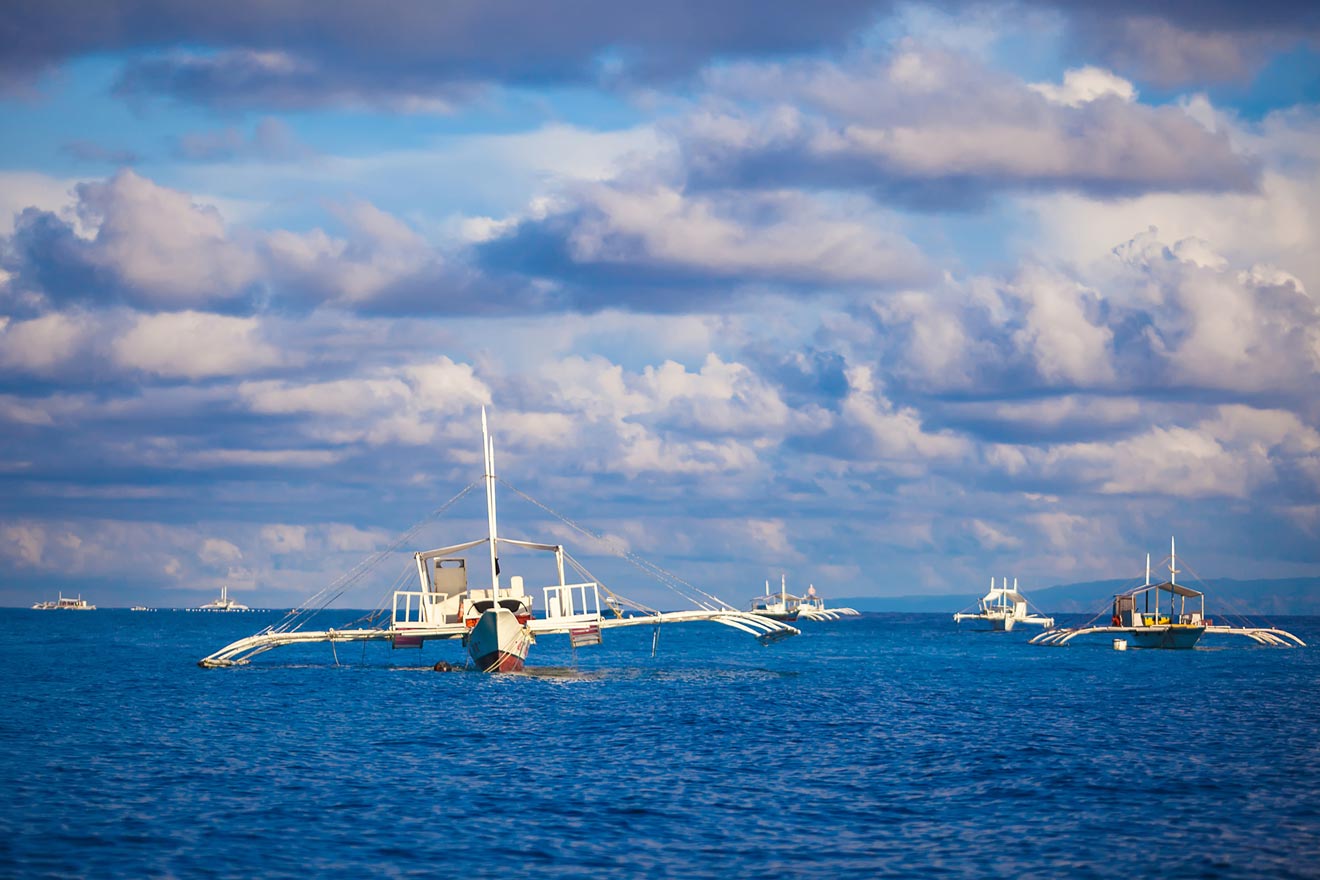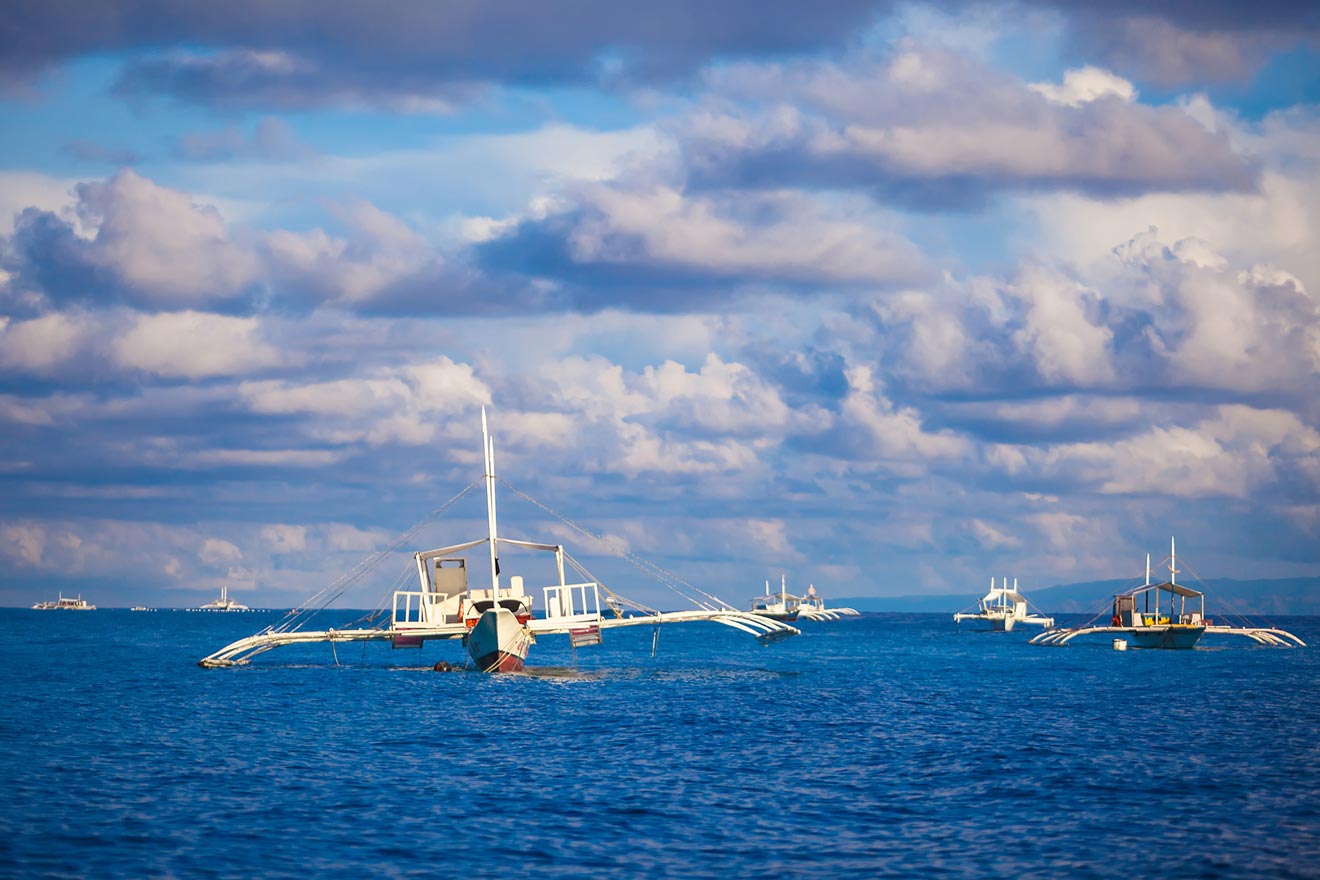 If you don't want to rent a scooter and want a cheaper option than renting a car and driver, the best way to get around is by taking group tours that will pick you up from your hotel, take you to all the attractions and drop you back safe and sound.
Here are some day trips I recommend for you to cover most of the attractions in this post:
| | |
| --- | --- |
| ✈️ Cost of traveling: | Low |
| 📅 How many days: | 3 |
| 🏠 Where to stay: | Panglao |
| 🍽️ Dinner for 2: | $25 |
| 👶 Family friendly score: | Good |
| 🚕 Average taxi price: | $5 for 10 mins |
Frequently Asked Questions about Bohol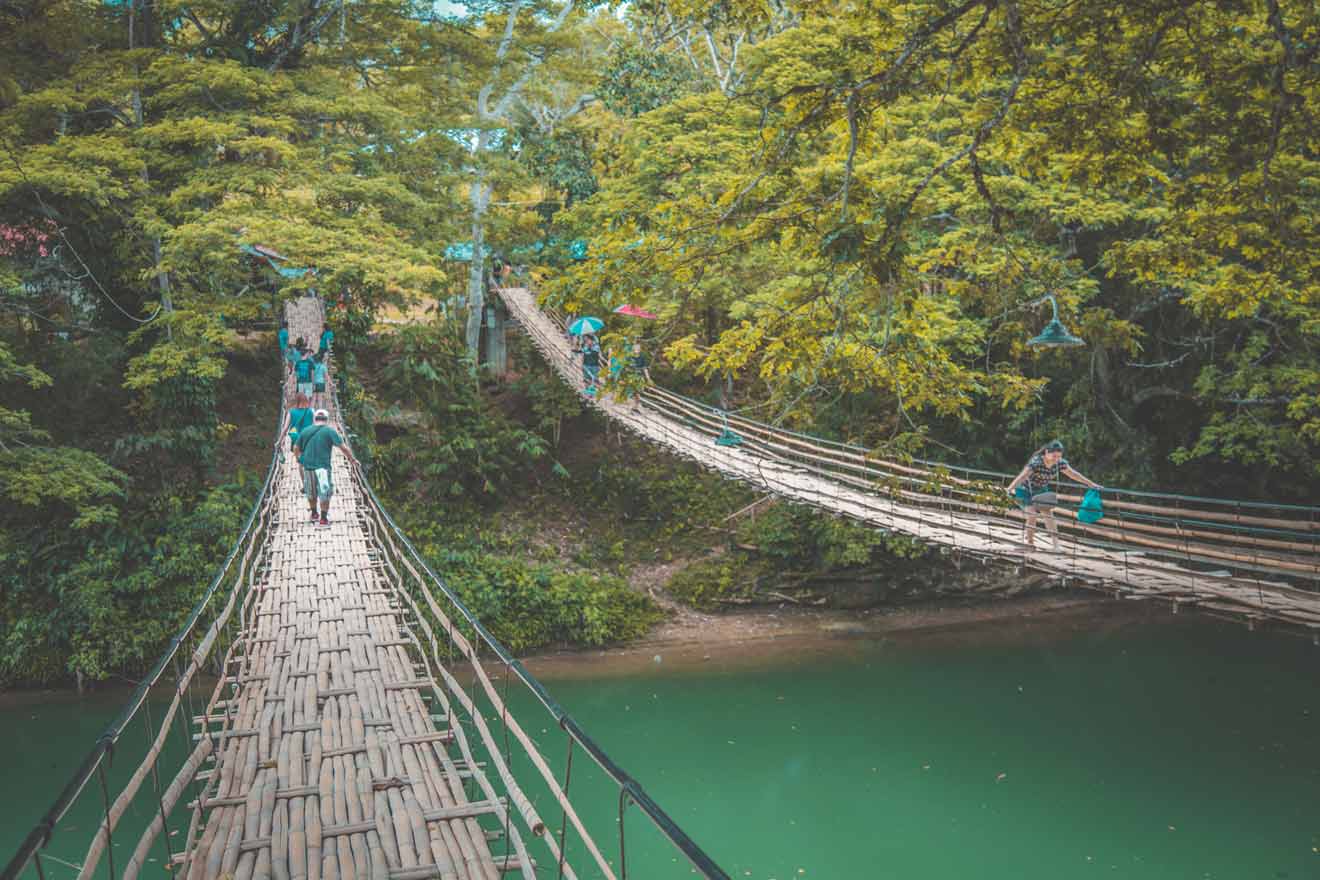 📅 How many days do you need in Bohol?
3 days is enough to see the major attractions in Bohol but if you want to have a more relaxed pace or see some off-the-beaten-track gems, 5 days is better. 
☀️ What is the best month to go to Bohol?
February is a great month to visit Bohol as the weather is ideal but the local crowds are not at their highest. 
🚌 What would be best for a day trip in Bohol?
There are really two options for day trips that depend on your interests. You can go island hopping around Balicasag Island & Virgin Island if you want to snorkel and see beaches. Alternatively, choose the countryside tour if you want to visit the Chocolate Hills. 
🤔 Is Bohol worth visiting?
Yes! There are so many amazing natural wonders in Bohol to see like the Chocolate Hill, lush forests, and white beaches. 
Conclusion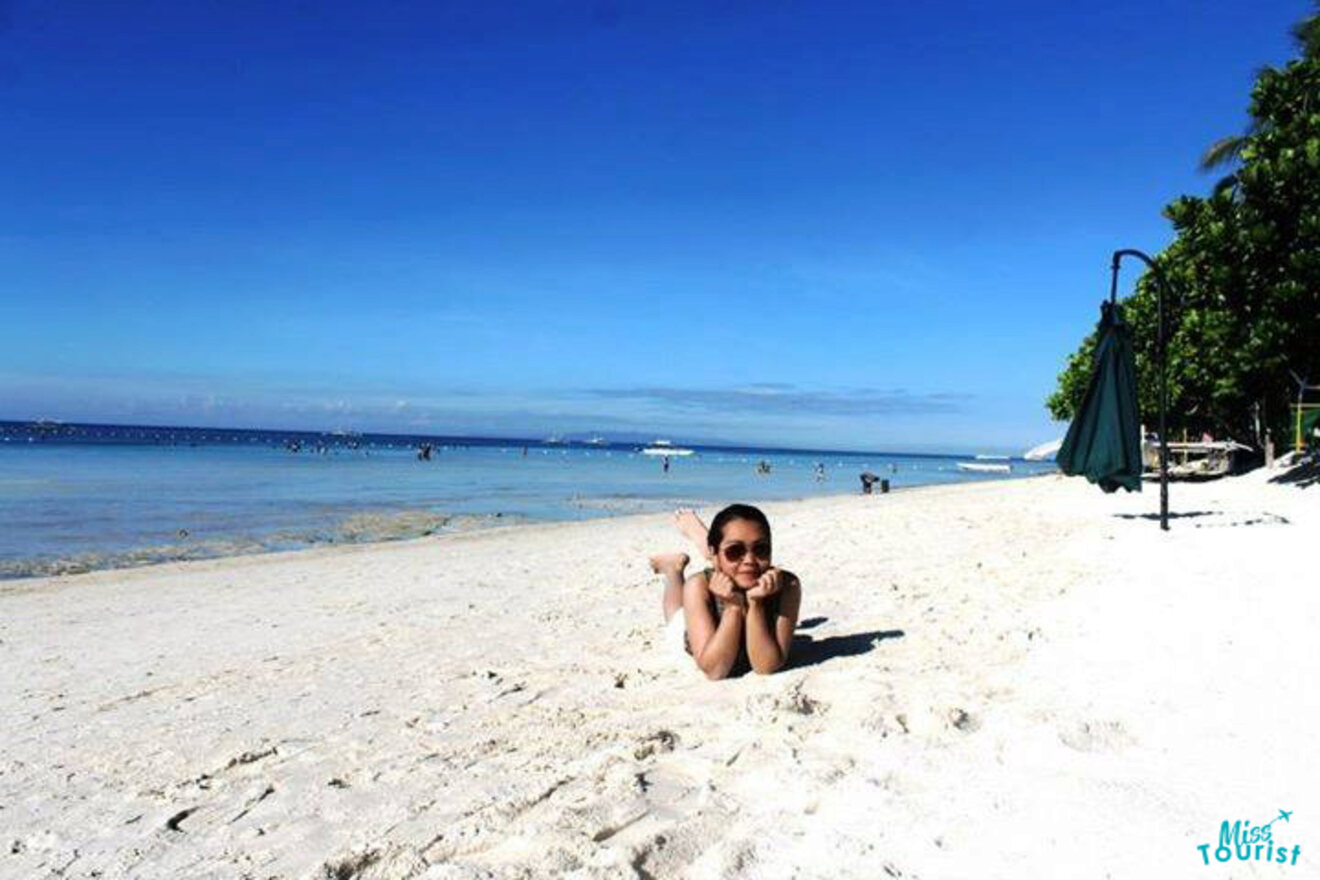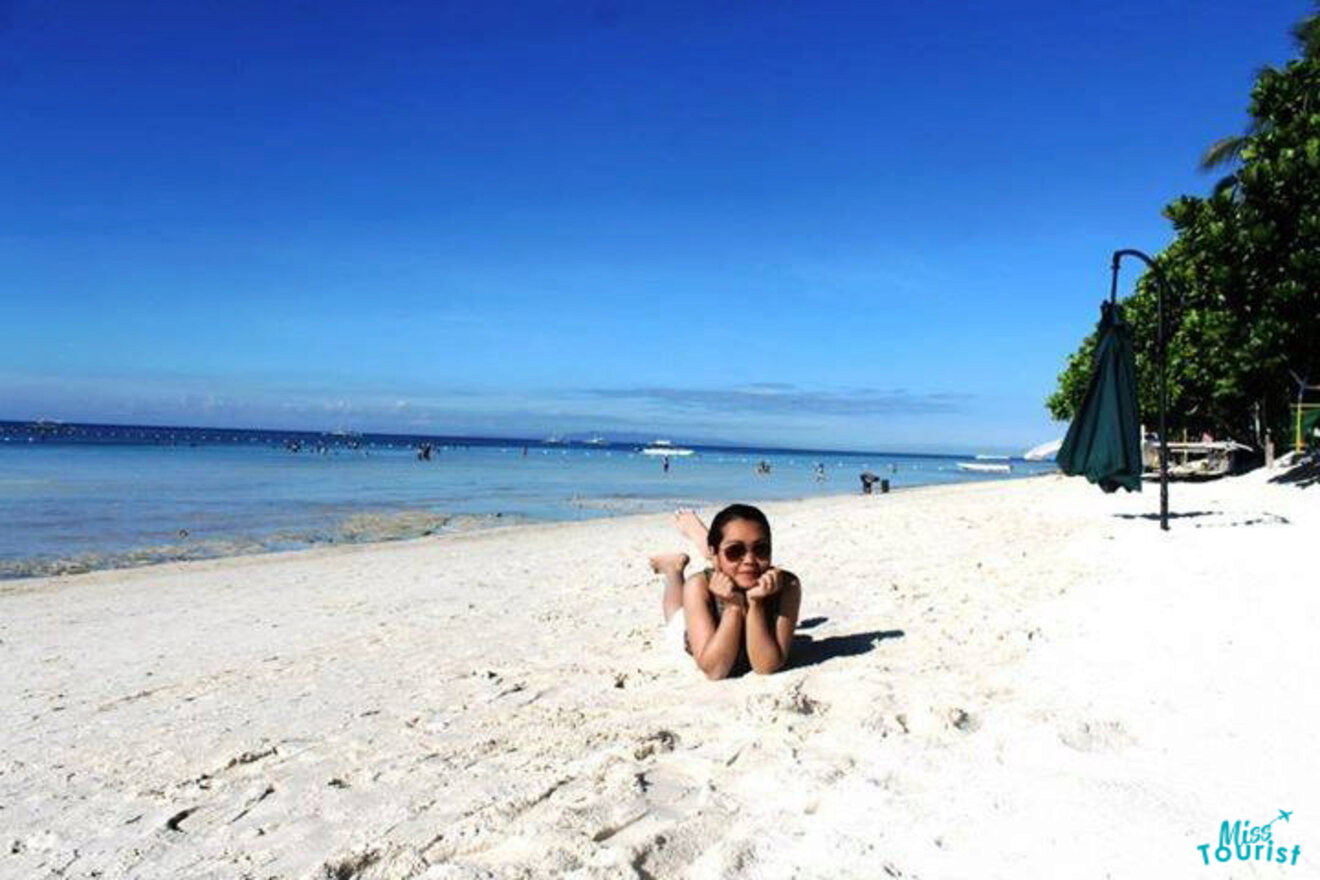 And that's it! Your complete 3-day Bohol Island full of fun activities, delicious food, and great accommodation. I'm sure you will love your time gulping down coconut water and fruit shakes while island hopping and beach bumming.
The best time to go there is during the summer months of February to May when the sun's game is strong. Meanwhile, if you visit in July, Bohol celebrates month-long with lots of festivals, street dancing, and other activities!
So if you choose these dates, I advise you to book your hotels and tours in advance to secure a spot (and get the best prices)!
And that's it! I hope you find this itinerary helpful and that you enjoy your Bohol trip as much as I did If you have questions about Bohol or the Philippines, your Pinay byahera (Filipina traveler) is always at your service. Drop a comment below, and I'll get back to you!
Happy Travels
Shannice
---
Pin it for later!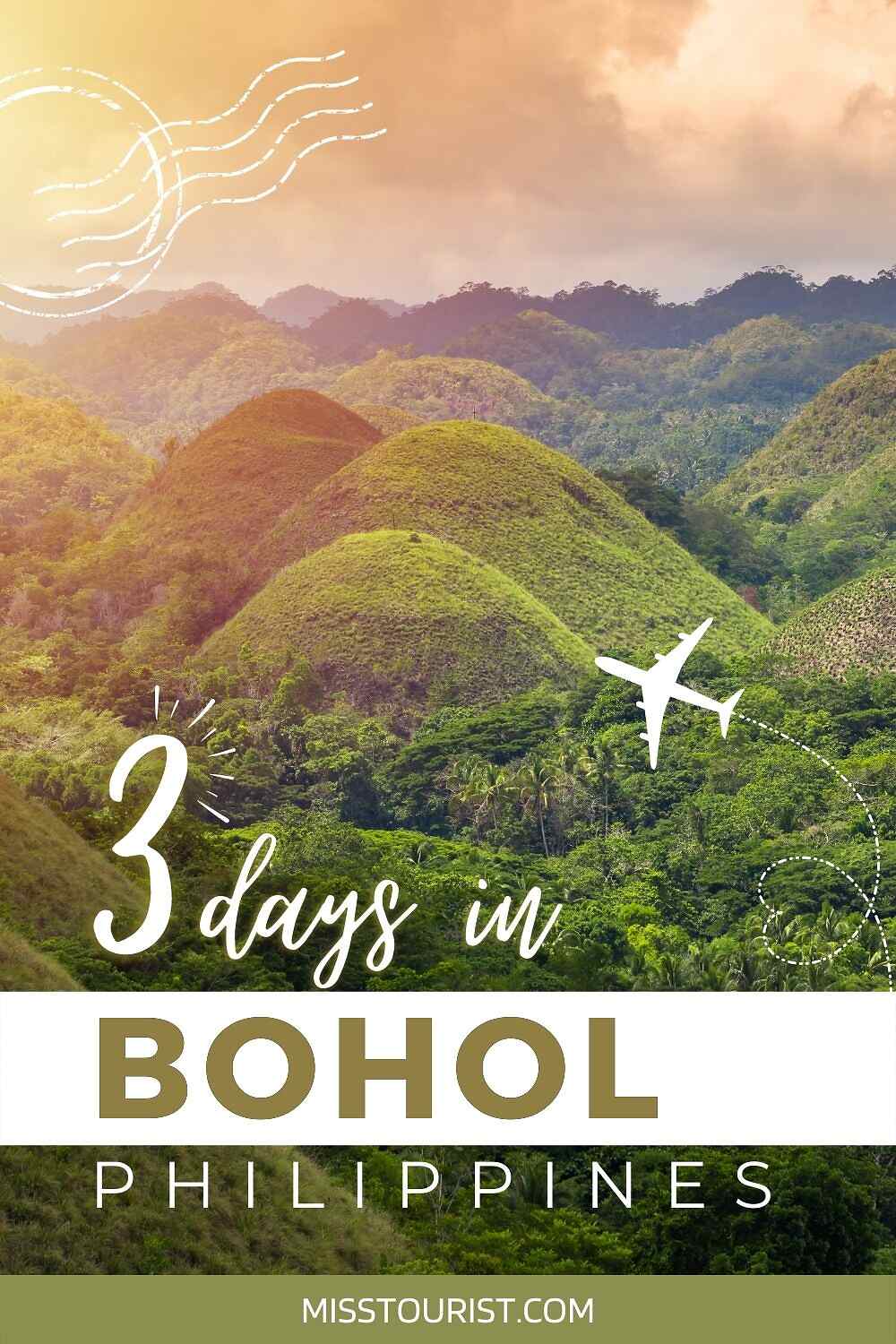 Pin it for later!