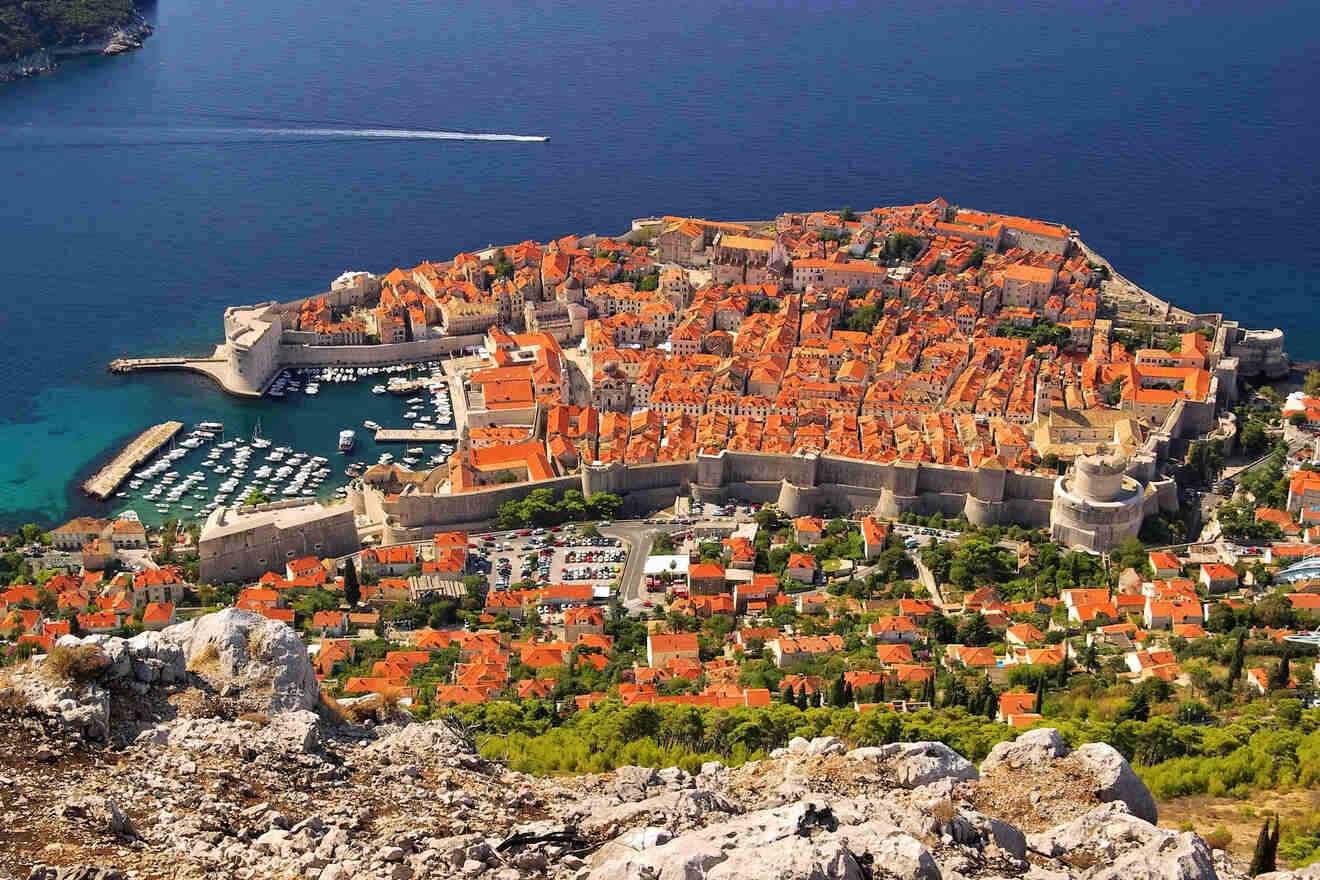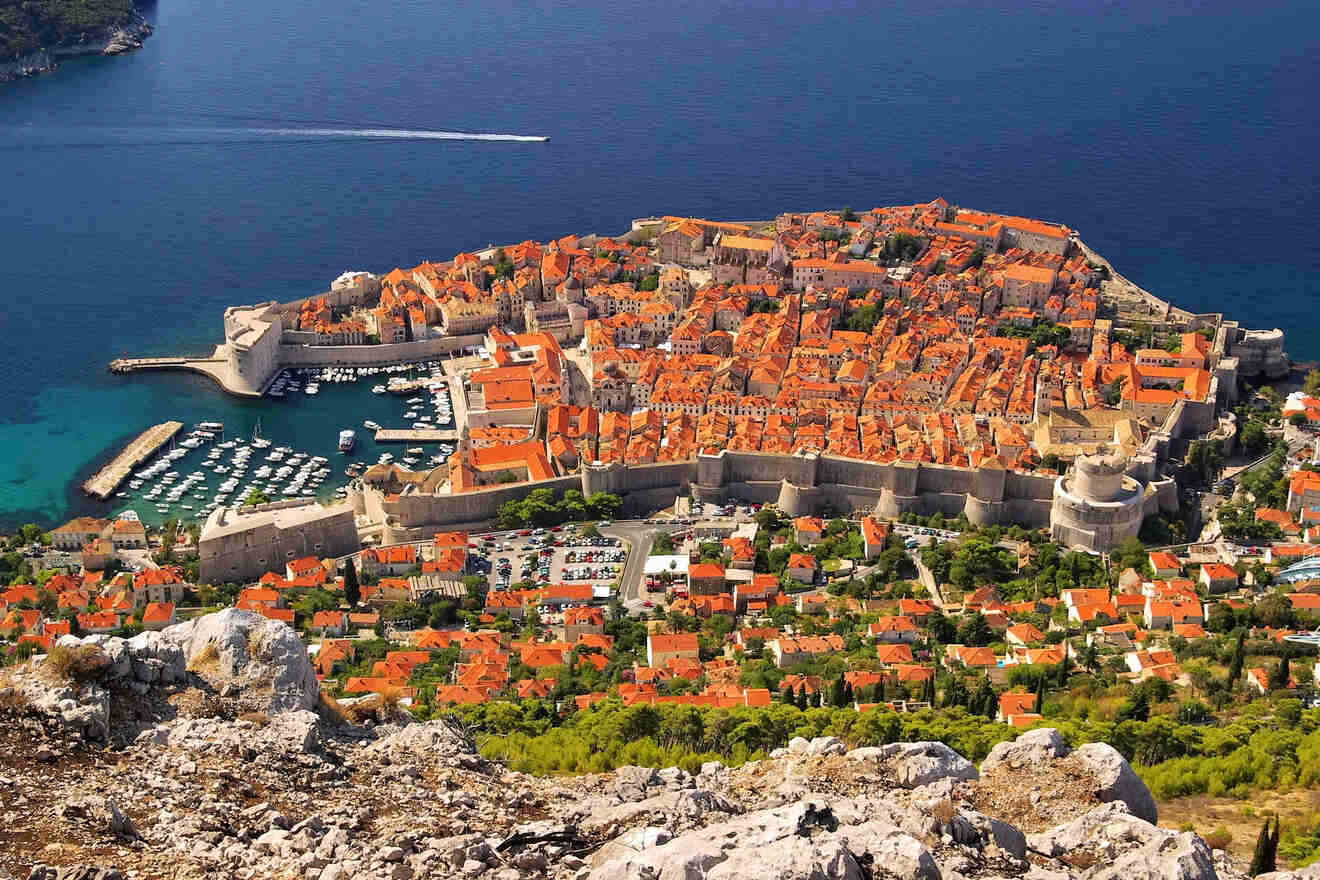 Also known as the "Pearl of the Adriatic Sea," this beautiful town is a favorite place for those in love with ancient architecture, poetic palaces, and pristine beaches! Dubrovnik, Croatia is a UNESCO World Heritage site, and it peaked its popularity when the Game of Thrones crew decided to make it one of their main filming locations.
We can't be surprised by that! It's hard not to fall in love with this unique city and its famous city walls, which were never breached!
If you're wondering where to stay in Dubrovnik, because let's face it, all the areas are so magical that it can be tough to choose, don't worry! By the end of this article you'll make up your mind! I've looked through hundreds of hotel lists to find you the absolute best one for each price range and I only recommend the best-rated hotels that I would choose for myself!
There are so many things to do and see here! I'm happy I'll get the chance to tell you all about the Dubrovnik best areas and all the top accommodation options from boutique hotels to mid-range hotels. Just keep in mind that you should book in advance if you want to get a great deal as these book out super fast!
The palaces are waiting for us! Let's go!
If you are in a hurry
Here's a list of all the best hotels in Dubrovnik Old Town that will help you decide quickly where to stay:
Here's a map of all the areas in Dubrovnik Croatia that I'm going to talk about in this post:
1. Old Town – where to stay in Dubrovnik for the first time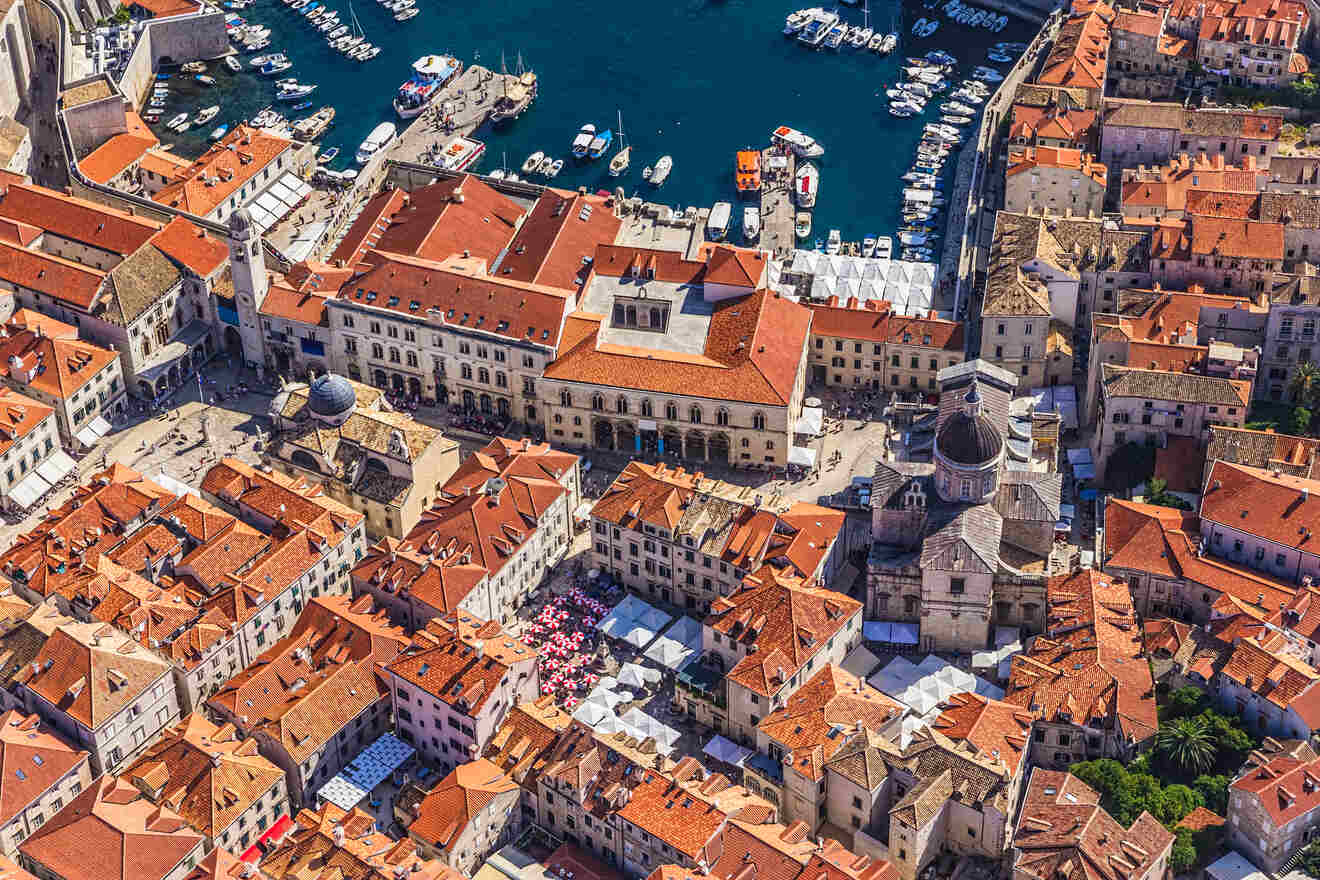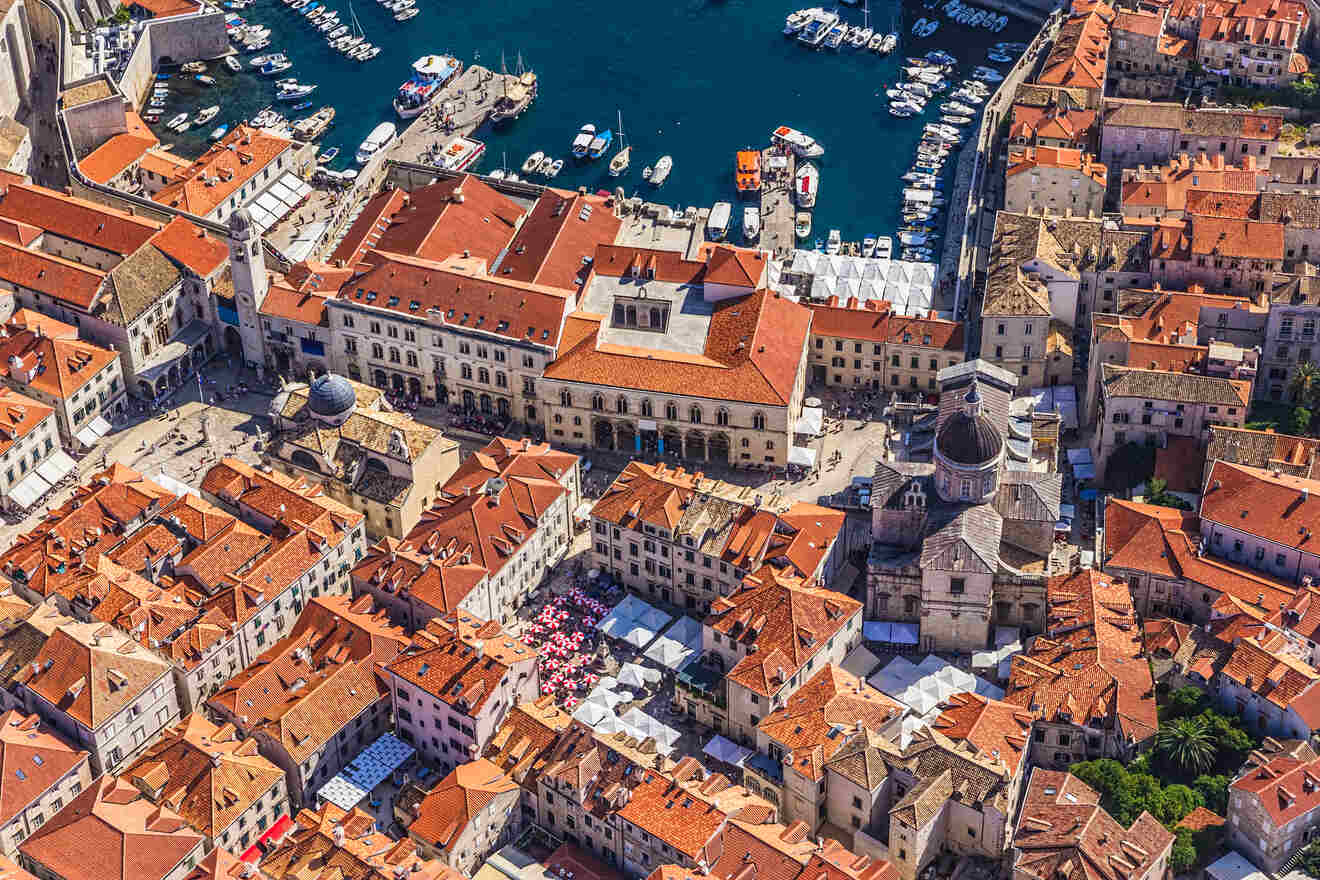 Welcome to the heart and soul of Dubrovnik! Located in the southeastern part of the city, this area is famous for its medieval walls made completely out of white stone! And not just that, if you've watched Game Of Thrones I'm sure you'll recognize tons of locations from the Old Town. All the big historical landmarks, museums, and gothic architecture make this area the best choice where to stay in Dubrovnik.
This city is a UNESCO World Heritage site and it's not the only one in Croatia, the Plitvice Lakes are also included and a place I highly recommend you visit. You can find more about it in this post about the best accommodation near the lakes.
Start your day by walking on the popular Stradun street in the Old Town, made entirely out of white marble! This is a top attraction for every tourist, and you're so going to love the feeling that you get here! It's like opening the door to the past with all the Renaissance houses lining each side of the street.
You should also see the ancient city walls and get lost in the magical atmosphere there. If you choose a hotel in the heart of the Old Town then you'll be able to get around on foot as most attractions are less than 20 minutes away from the accommodations.
I recommend waking up early, having a coffee, and continuing your Croatian holiday with a visit to the Rector's Palace and Sponza Palace in the Old Town. And again, I highly recommend booking the hotels here in advance as this is the most popular area to stay in the city and a top destination area for most tourists!
Other accommodation options in Old Town
Things to do in Old Town
Visit Rector's Palace and Sponza Palace in Dubrovnik Old Town
Climb up the Minčeta Tower for views of the Adriatic Sea
Admire the beauty of the Church of Saint Blaise in the city center
Book a tour to see "King's Landing" from Game of Thrones
See the amazing 12th century Vrata od Ploča gate
Attend a party at Revelin nightclub in an ancient fortress
Learn new things at the War Photo Gallery in the Old Town
Take the family to the Maritime Museum in the city center
2. Lapad – best area for families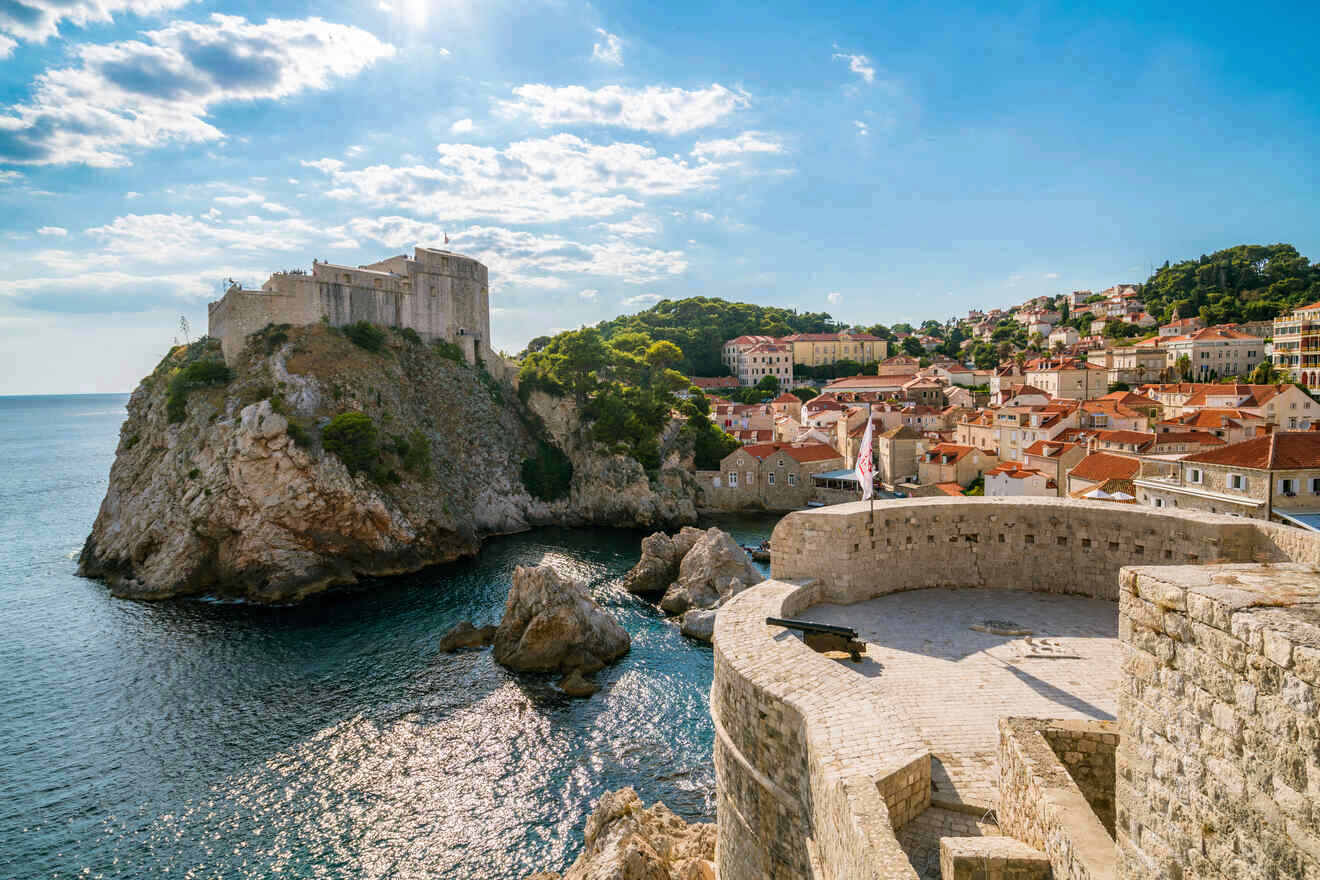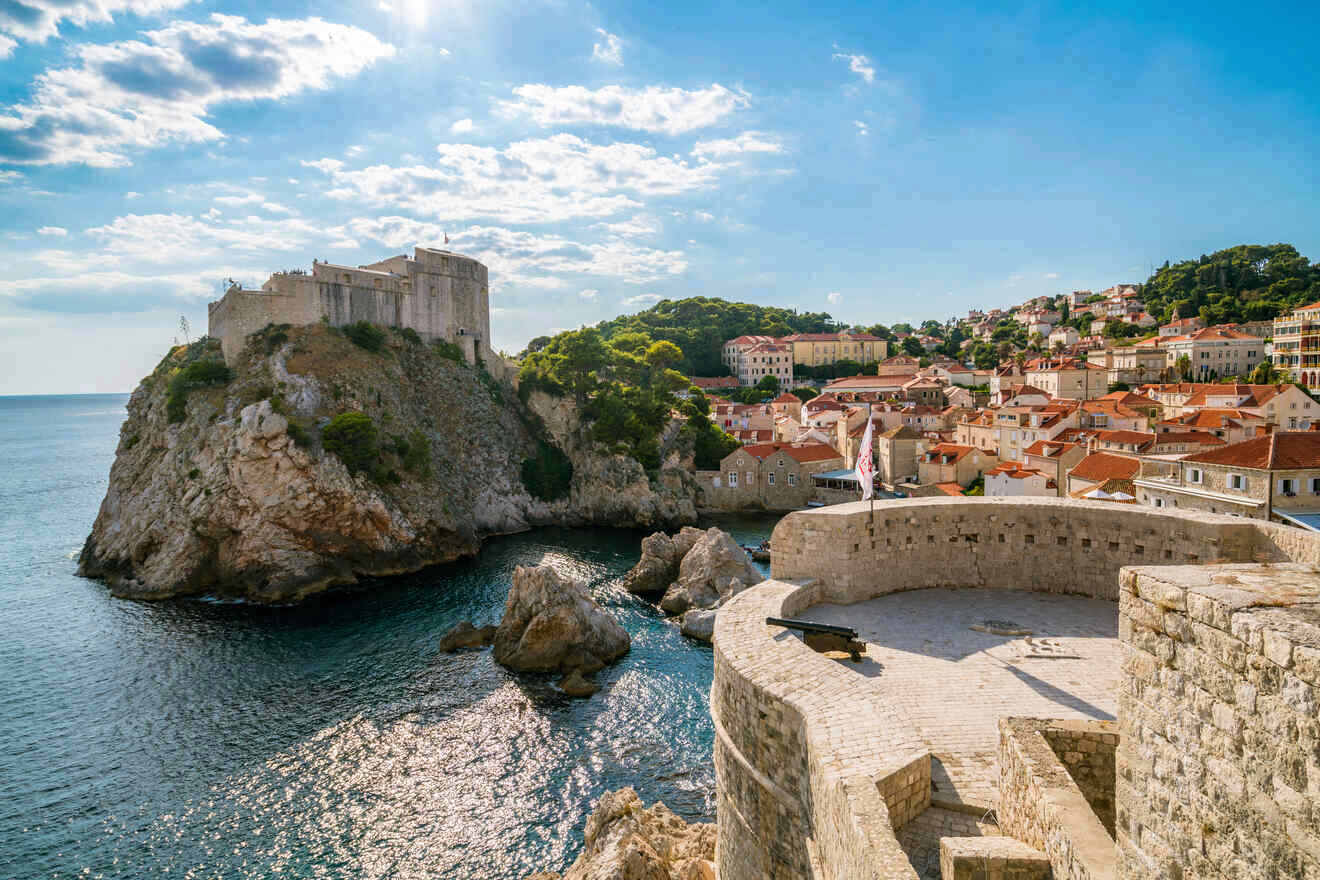 This beautiful residential area is situated 3 km (2 miles) northwest of the Old Town on the Lapad Peninsula. If you're wondering where to stay in Dubrovnik with the whole family, then I suggest booking your trip here! Thanks to its fantastic beaches where you can try all sorts of watersports and the many restaurants nearby, Lapad will be the best place to explore with your family. If you're looking for more amazing places in Croatia with your kids, check this article on where to stay in Split!
Even if you decide to stay at a hotel here, you can still easily explore the Old Town as the buses run frequently and it only takes 15 minutes to get there. However, I'm sure it will be hard to leave Lapad as you'll find a beach at every corner, and the spectacular views overlooking the Adriatic Sea will make you fall in love with Lapad.
If you enjoy spending as much time in nature as possible, then you'll be happy to know that the beach won't be your only choice. Just above the sea, you'll find a forest on a hill that has the most amazing view of the Peninsula! Take some time and enjoy the "lungs of Dubrovnik" with your whole family!
Here are the best family hotels in Dubrovnik for you…
Other accommodation options in Lapad
Things to do in Lapad
3. Ploče – where to stay in Dubrovnik near the beach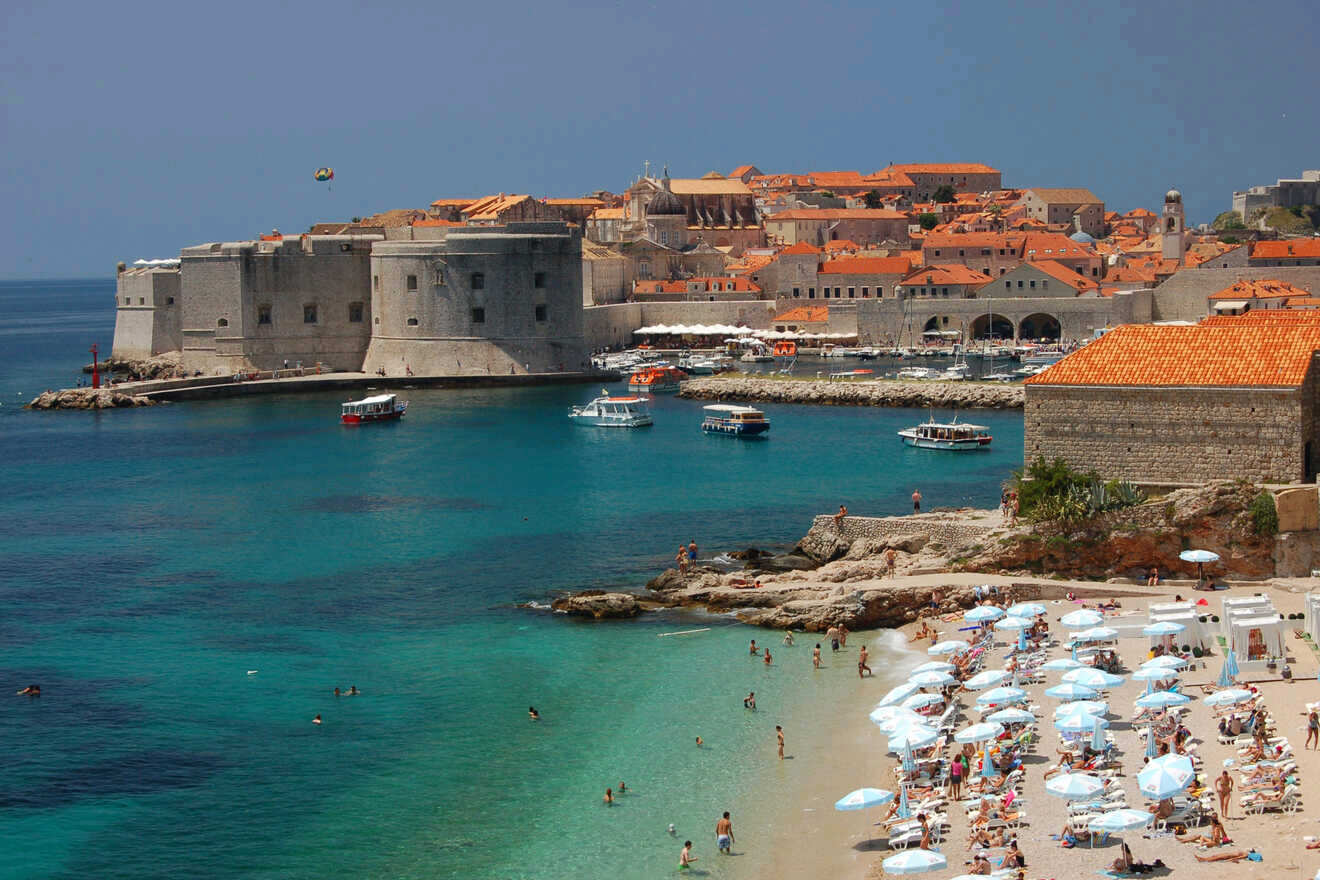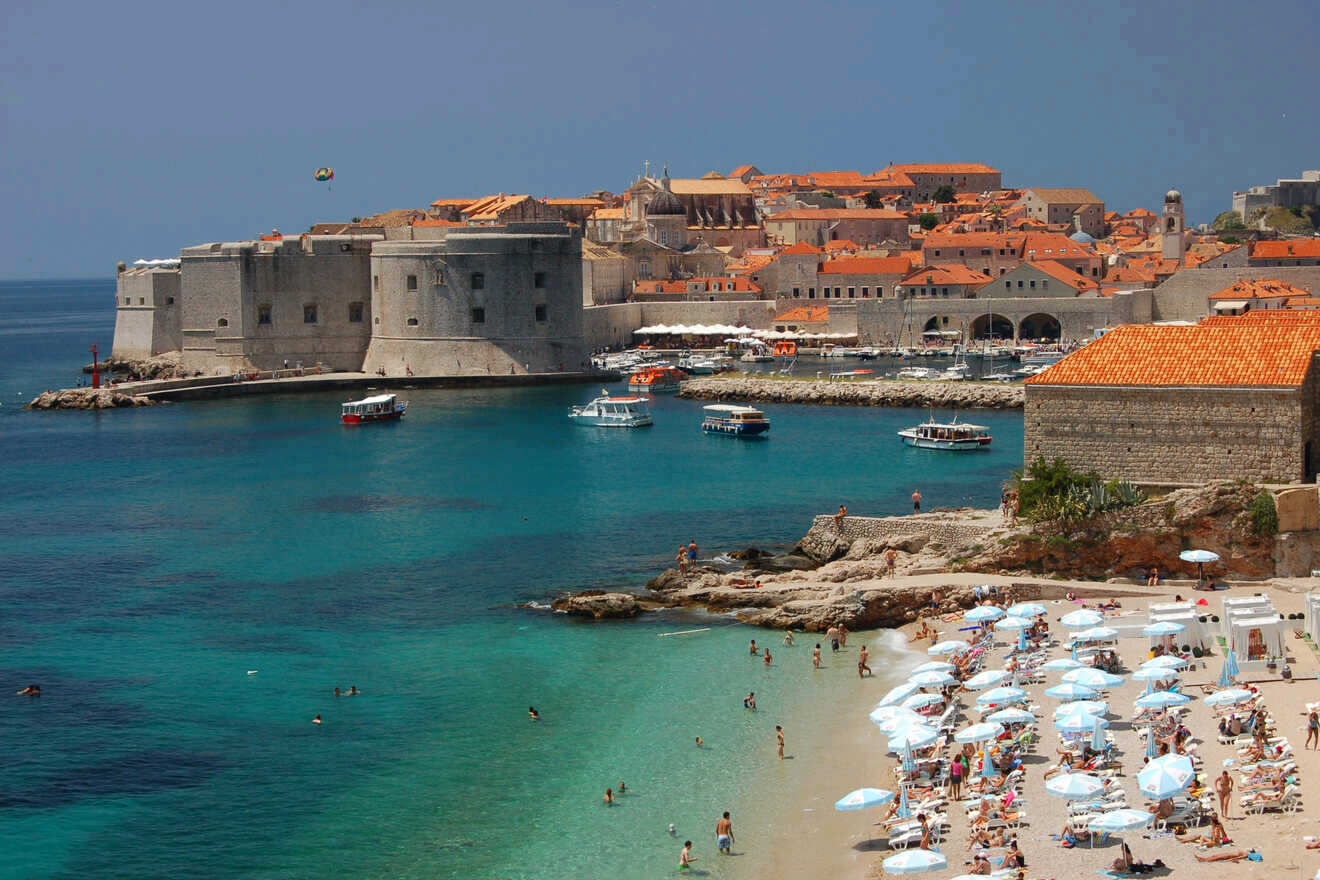 This area is located east of the Old Town and even if you choose a hotel to stay here, you can take the bus to visit attractions in the other neighborhoods. Ploče is the perfect place to stay in Dubrovnik if you want to enjoy visiting many historical sites, but there's also a beach nearby where you can relax and enjoy the beautiful Adriatic Sea.
Ploče will offer you the best of both worlds! What I mean by that is that you'll be close to all the ancient sites, but at the same time, you have the Banje beach in this area, which by the way, is the biggest public beach in Dubrovnik! Yay! I would love to sunbathe here! This area also has some of the best bars and restaurants where you'll find fresh seafood!
If you're still debating where to stay in Dubrovnik, I highly recommend this area! And make sure you book in advance to get your hand on the best hotels! You can spend your days relaxing on the beach with a cocktail in your hand, and then eat a delicious meal at one of the restaurants! Plus you can walk 10 minutes to the Old Town and visit other museums and palaces!
Other accommodation options in Ploče
Things to do in Ploče
Spend a relaxing day on Banje beach in Dubrovnik
Eat dinner at Cafe Lazareti
Admire the beautiful Ploče gate within the city walls
Have a cocktail at Banje Beach Night Club
See some beautiful Croatian art at the Museum of Modern Art
Take a walk to explore the Old Town
Ride the cable car to the Srd mountain and see the most amazing views of Dubrovnik
4. Gruz – best place to stay on a budget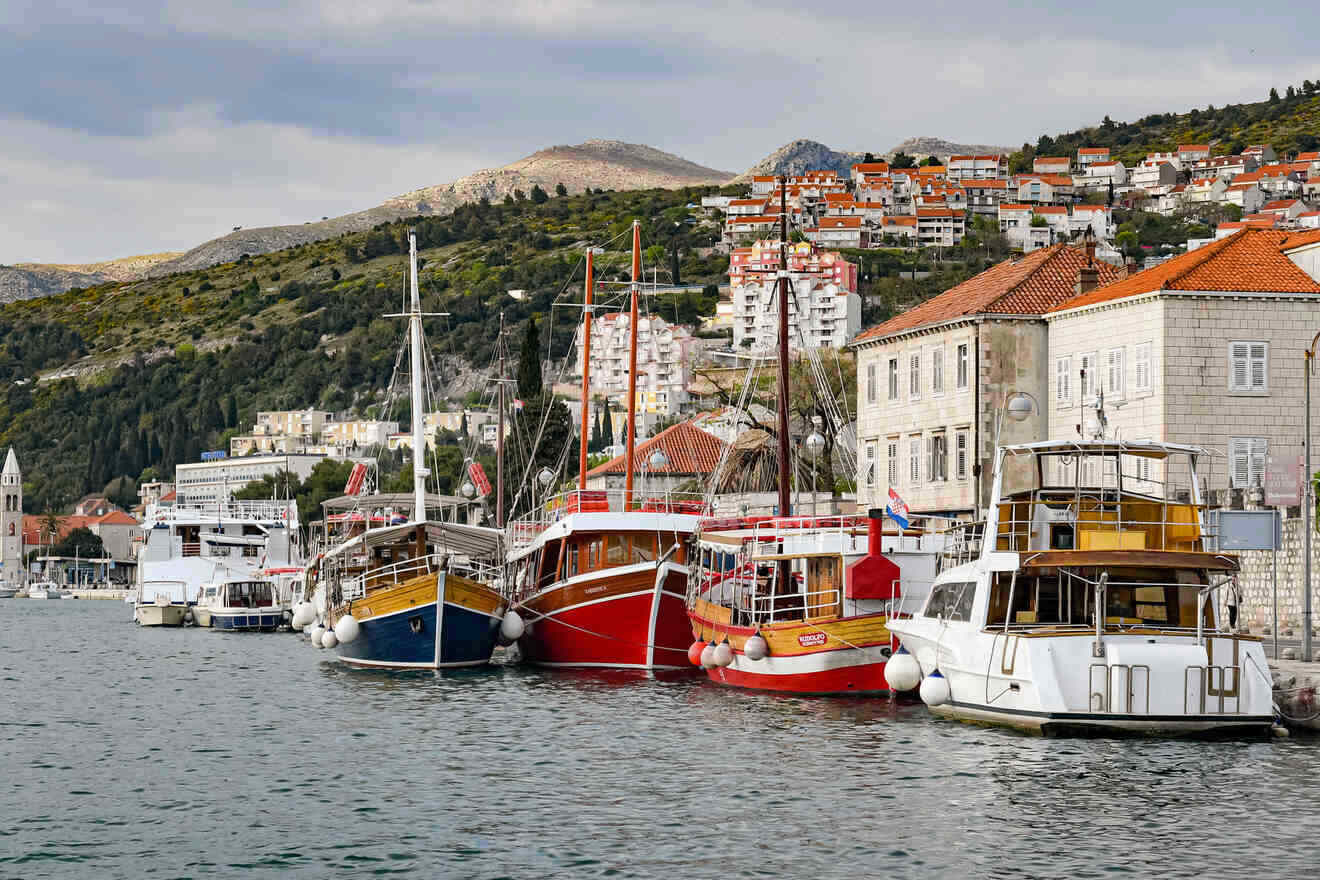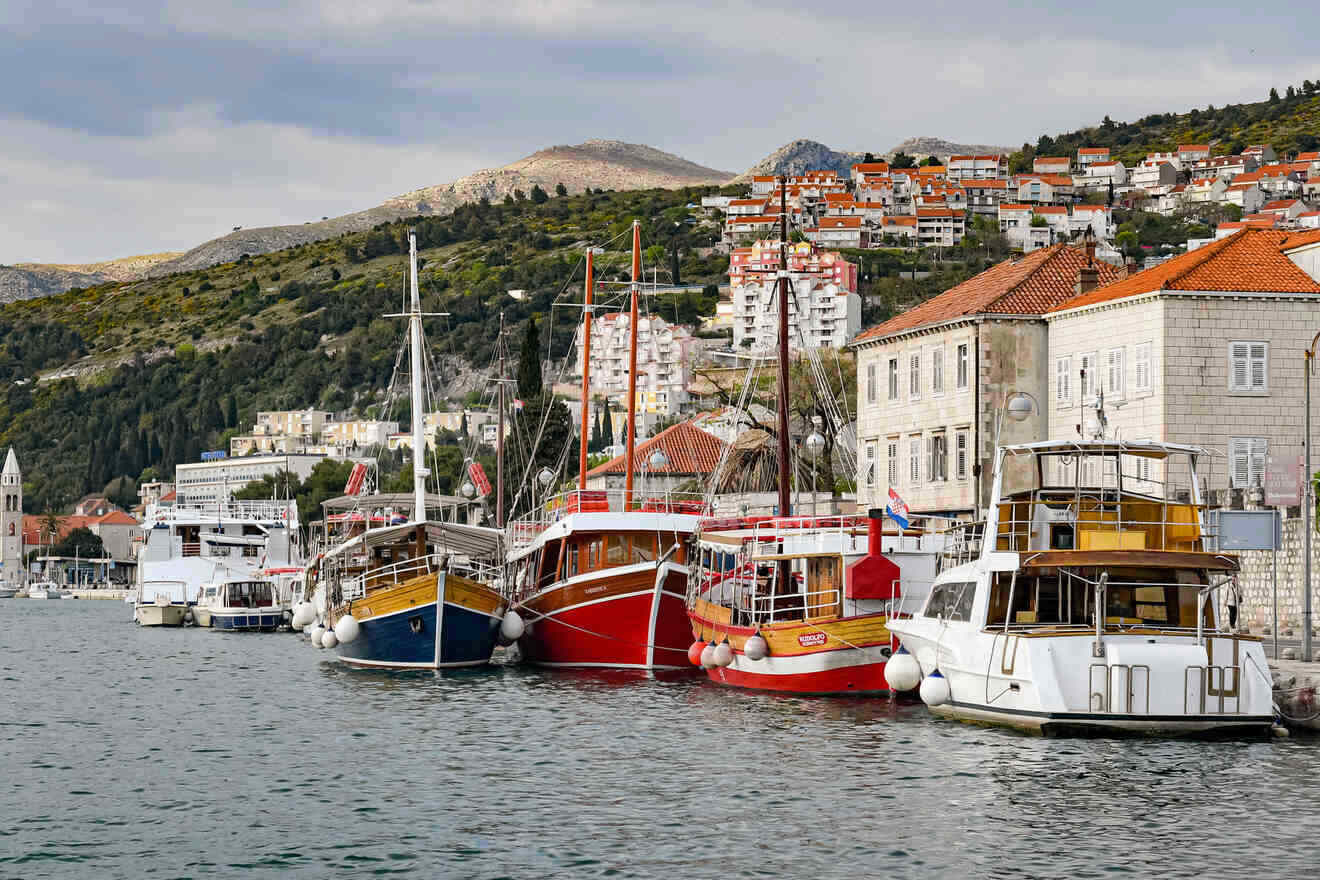 If you want to experience the local vibe of Dubrovnik and not pay a fortune for the hotels and restaurants, then I highly recommend booking your place here in advance! Located north from the Old Town, just 4 km (2 miles) away, this area is also popular because it's the main port in Dubrovnik. A residential neighborhood where you won't see as many tourists as in other places means that the hotel prices will be lower. Yay!
The marina here is very nice, not to mention the spectacular view of the Adriatic Sea! If you're thinking of going on a day trip to any of the islands nearby, then staying in Gruz will be perfect for you. You can easily arrange a ferry trip to the Elaphite Islands, which look so beautiful!
Enjoy one of the best neighborhoods in Dubrovnik with its authentic Croatian atmosphere and eat some delicious seafood at one of the restaurants while you're here!
Other accommodation options in Gruz
Things to do in Gruz
5. Babin Kuk – for luxury travelers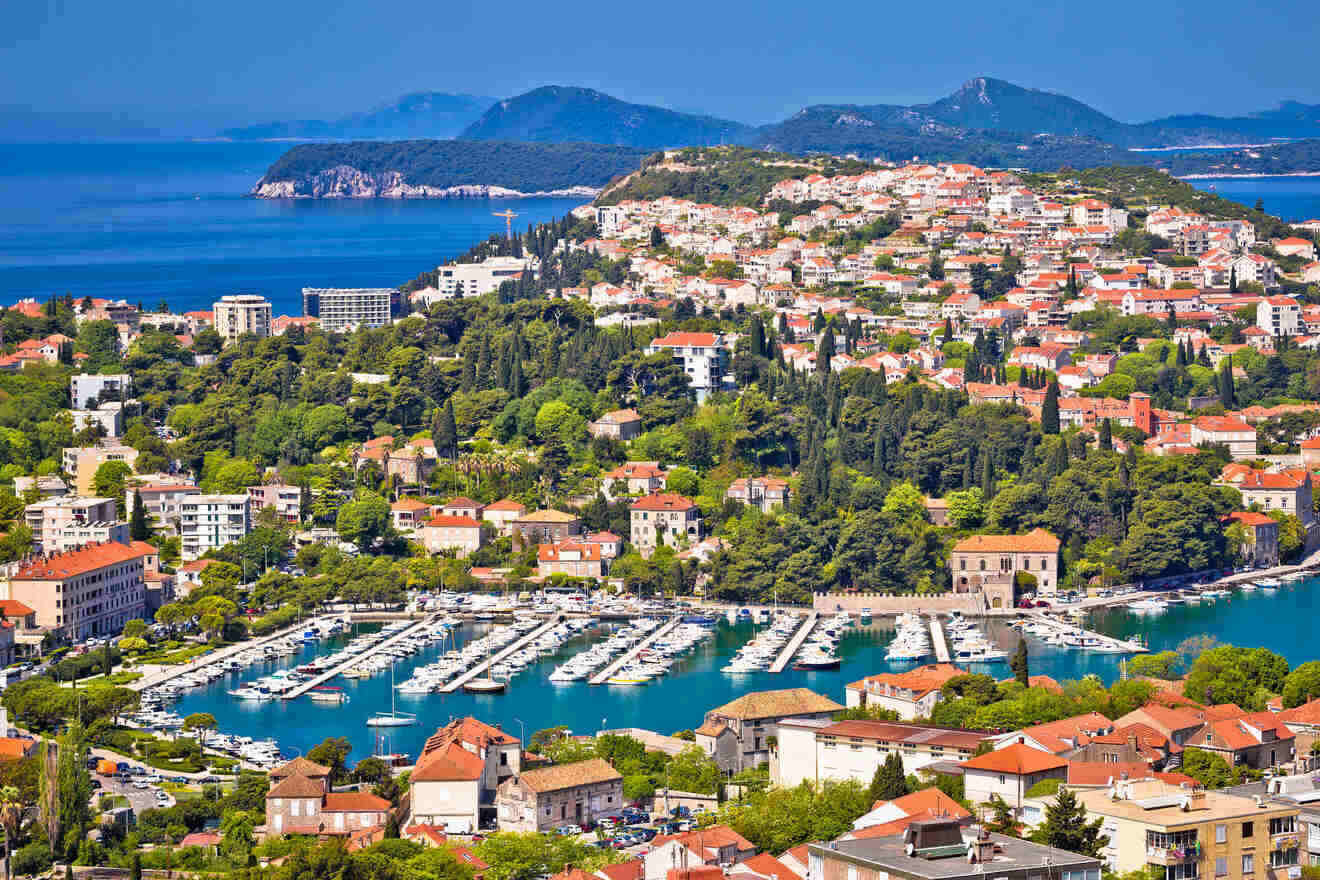 Located on the northern part of the Lapad Peninsula, just 4 km (2 miles) away from the Old Town, this area is perfect if you want to find luxury hotels but at the same time enjoy some peace and quiet during your stay in Dubrovnik. The beach is surrounded by huge rocks and green, full of spots that will make you relax and forget all your worries.
You'll find some of the best hotels here, not to mention the wide variety of bars and restaurants. Enjoy a full day of lying on the beach, admiring the beautiful views, and taking long romantic walks on the shores of Babin Kuk.
Don't be surprised if you spot many luxurious yachts and stylish spas! If you want some more privacy, you can head to the private beach, Copacabana, where there are tons of watersports activities, boat rides, and delicious food at the high-end restaurants.
Other accommodation options in Babin Kuk
Things to do in Babin Kuk
6. Pile – best place to stay close to public transportation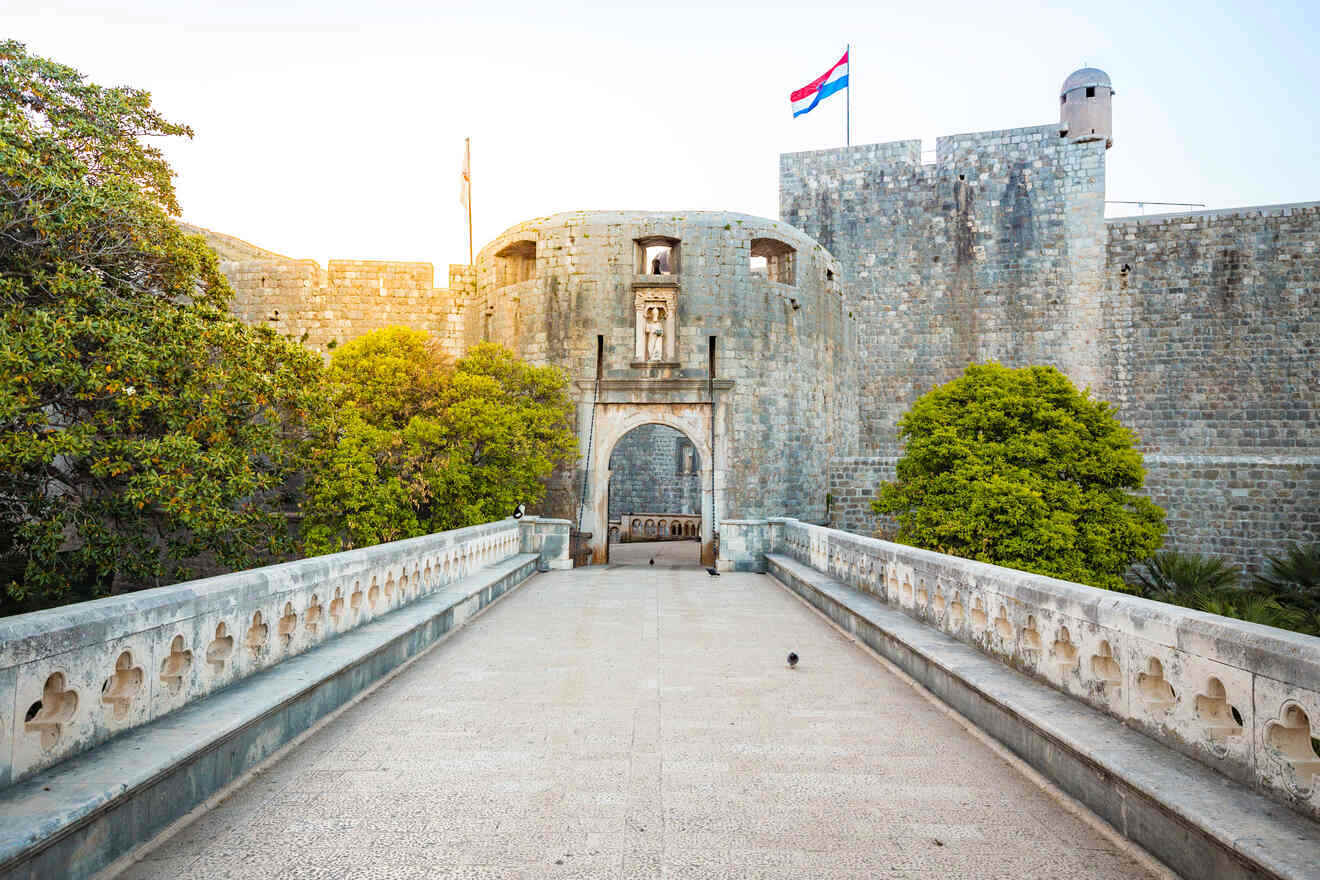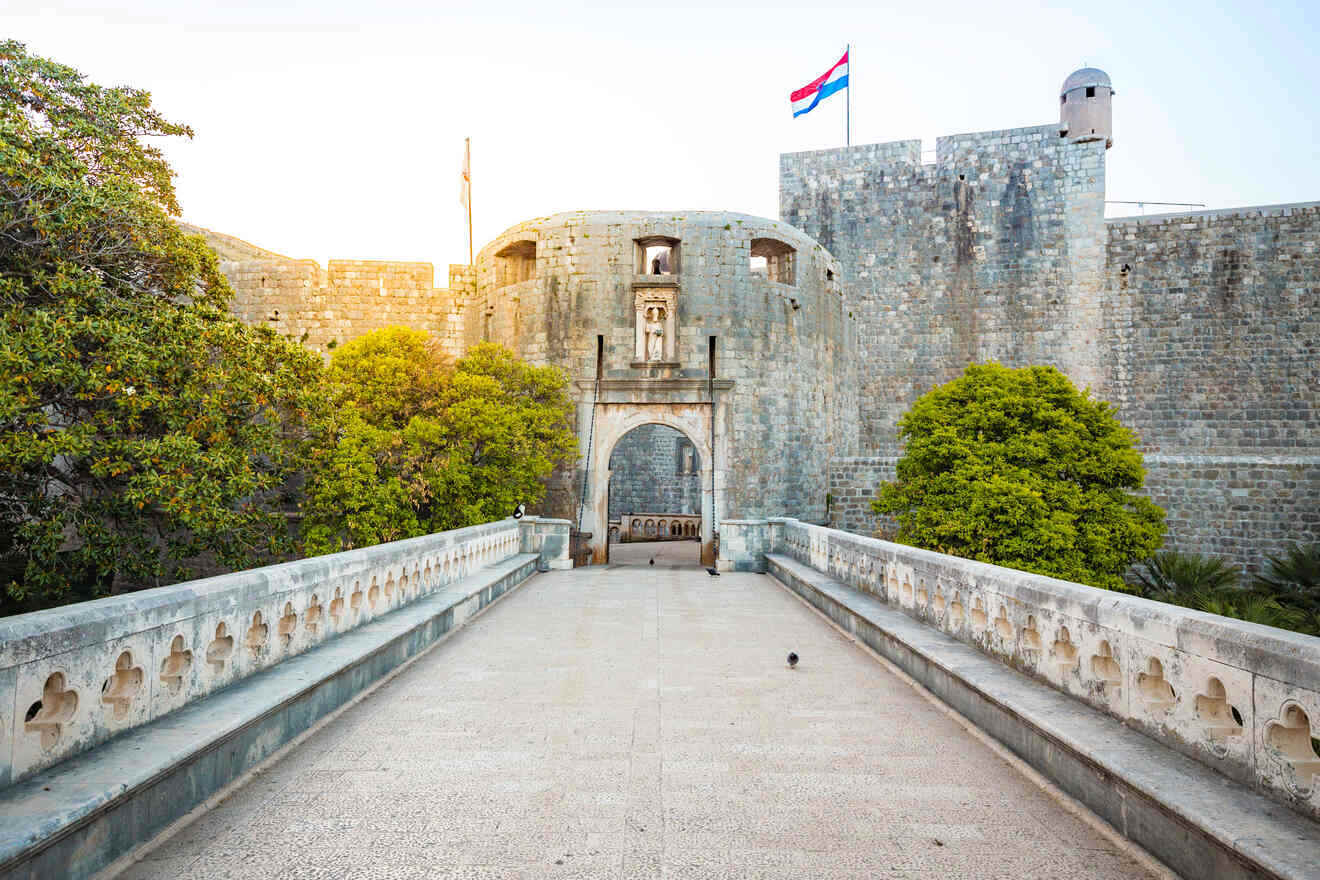 Famous for its ancient 15th-century city wall, Pile gate, and the 11th-century Lovrijenac fortress, this area is perfect for those who don't like to stay in one place while traveling. Because this is where most city buses have their last stop, you will find it super easy to explore other parts of the city like the Lapad Peninsula; plus, Pile is located within walking distance, just east of the Old Town.
Pile and the Lovrijenac fortress look like those medieval places that you see in history books and wonder how many wars took place there. Built on a 30-meter high rock, the fortress has to be one of the most unique places outside the Old Town in Dubrovnik. Historians believe that it was built between 1018 and 1038. Wow, that's a really long time! The views are so beautiful from here you can't miss the chance to see a sunset at this place in Pile.
You can spend your mornings in one of the many cafes, have a strong espresso and get ready for a full day of sightseeing and walking around. Of course, for those of you who want to relax and enjoy the Croatian sun, you can walk down to Dance beach and stay until the sun goes down!
Other accommodation options in Pile
Things to do in Pile
Visit the Lovrijenac fortress
Go to Old Town and see the Onofrio Fountain and the Franciscan Monastery
Admire the views from Fort Bokar
Go in the Old Town through the Pile Gate
Stop by Kolorina beach, a location used in the Game of Thrones series
Watch the sunset in the historic Gradac Park
See the gothic architecture of St. Saviour Church
Have a relaxing day at Dance beach
BONUS: Things to know about parking in Dubrovnik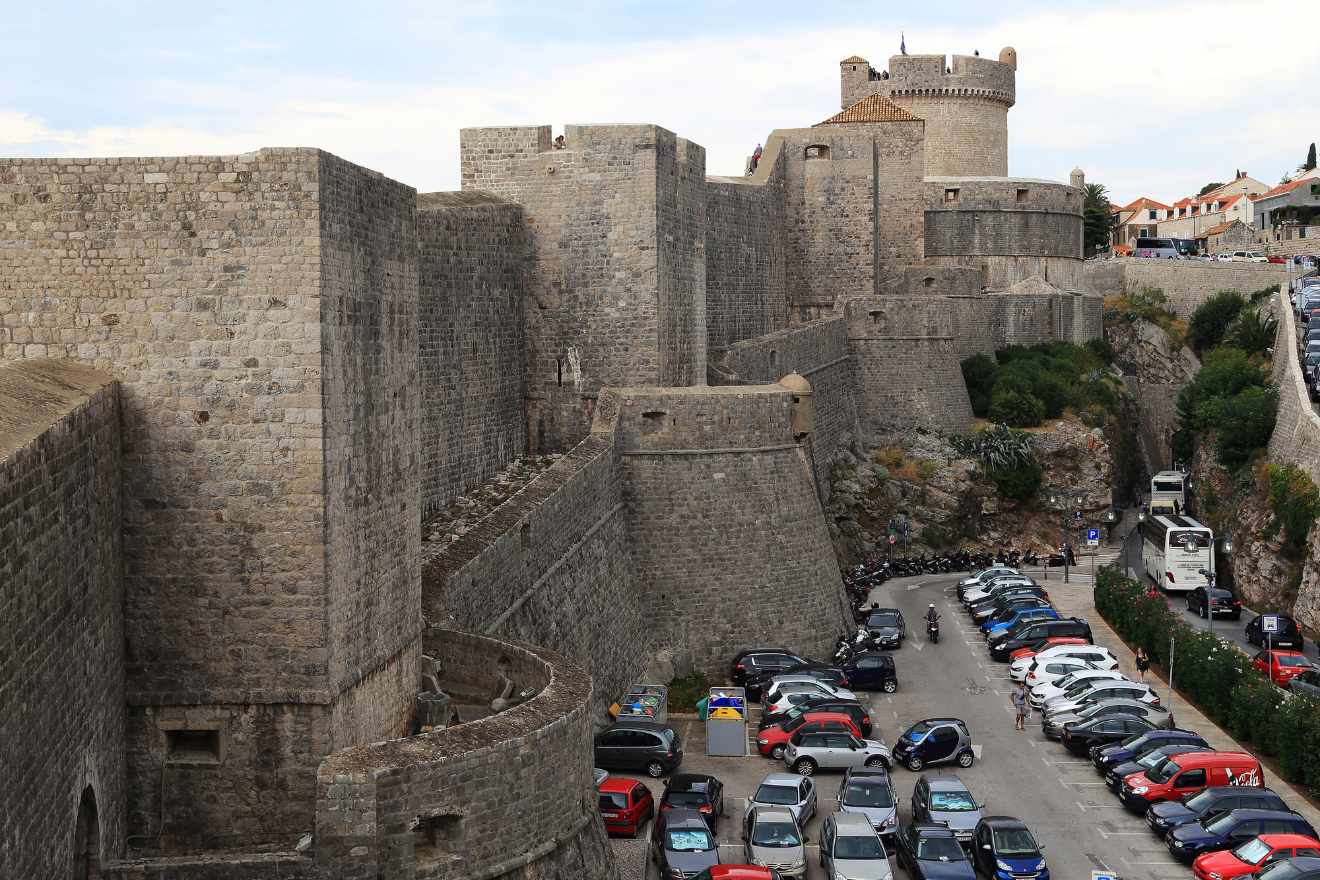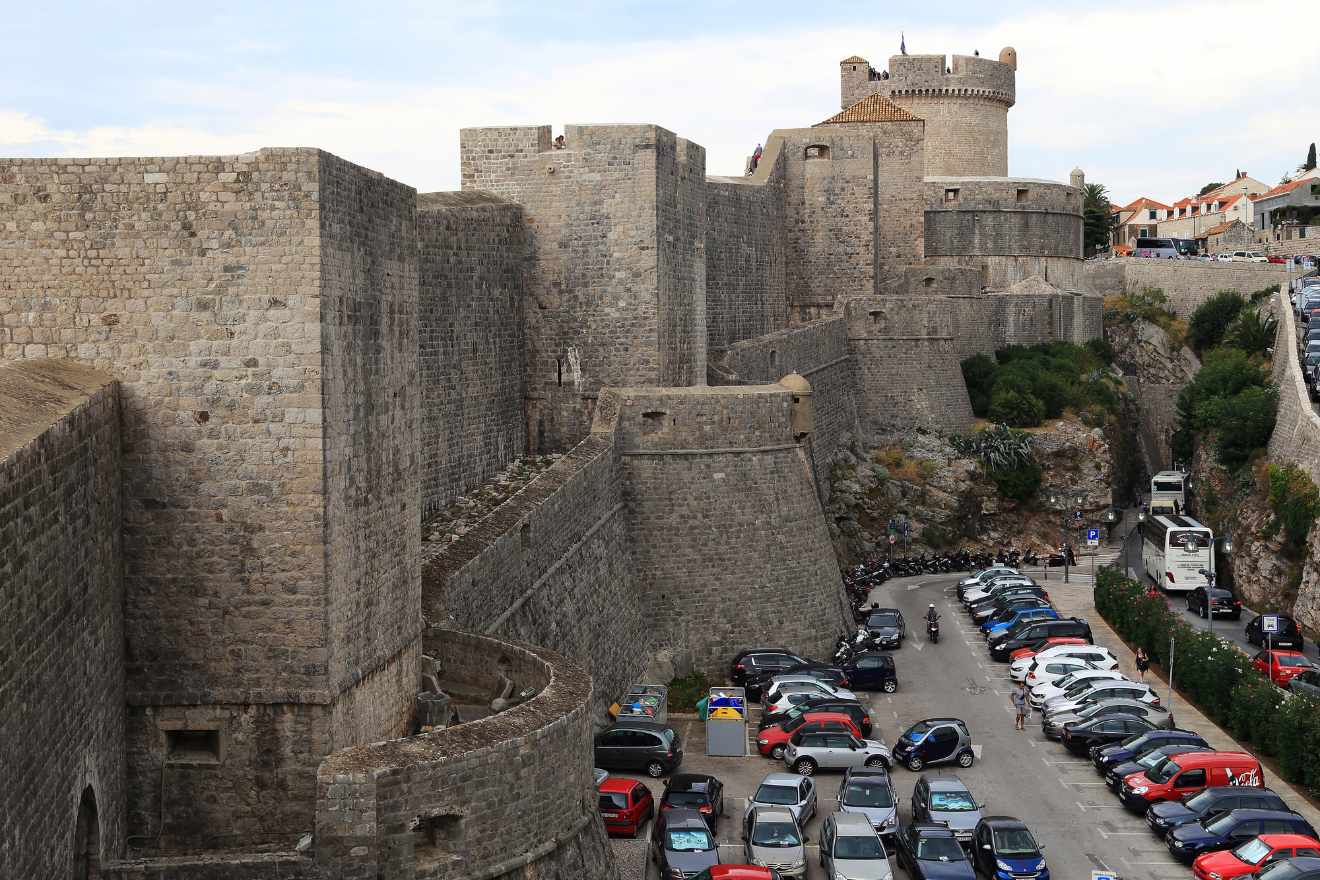 If you've decided to visit Dubrovnik by car or you're thinking about renting one, then you should definitely know a few things. We all get carried away when we're on holiday and sometimes forget about all the logistics!
Parking in a city like Dubrovnik can be a nightmare especially if you don't know anything about their rules. That's why I thought I would give you all the information you need on the topic. This city is charming and I don't want your trip to be affected because you weren't prepared.
Street Parking Zones
There are 5 parking zones in the city of Dubrovnik, and each zone has a different parking fee, however, the ticket price also varies depending on which time of the year you're visiting. As you might've expected, during the summer the prices reach a peak.
The most expensive one is Zone 0, where the price can reach 70 kunas (US$10) per hour and the cheapest is Zone 4, but that's super far from the Old Town, and you'll end up taking a cab or bus to get there.
Zone 0: Monday to Sunday (00:00 am – 23:59 pm)
Zone 1: Monday to Sunday (06:00 am – 22:00 pm)
Zone 2: the schedule is not available, check before going
Zone 3: Monday to Sunday (06:00 – 22:00 pm)
Zone 4: the schedule is not available, check before going
Check out this map so that you can visualize where each zone is located and how far or close it is from all the attractions.
How to buy and pay your parking ticket
I know some of you might think about taking a risk and not paying for your spot, however, you will have to pay a fee if you don't get a ticket and there's no excuse as there are plenty of ways to pay for your parking:
Parking metres, By text (Croatian phone number only), with an app:
BONUS 2: Best hotels with free parking
As you can see there are many things to take care of when parking your car, and I highly recommend booking a hotel that offers free parking, that way you only need to figure out where to park when you're going around town and don't worry about paying extra for the time that you're in the hotel.
Guesthouse S&L – Enjoy the beautiful weather in the garden of this accomodation that's located in Gruz. Oferring many amenities, including free parking, a kitchen and outdoor fire place, this charming hotel is equipped with everything you need for your trip. Just wait until you see those sea views from the balcony, they're incredible!
Villa Dard – This spacious villa is perfect for your holiday in Dubrovnik! It's super large and you even have a small terrace where you can gather up with your friends to have a wine of glass or 2 and change opinions about the city. The accomodation offers free parking, family rooms and breakfast!
Kosovic Apartment – Fancy a place that offers panoramic sea views? Well, then this accomodation is going to be perfect for you. It offers self-catering facilities and it's located in Pile. Other amenities also include free parking, family rooms and a dining area.
Frequently asked questions about Dubrovnik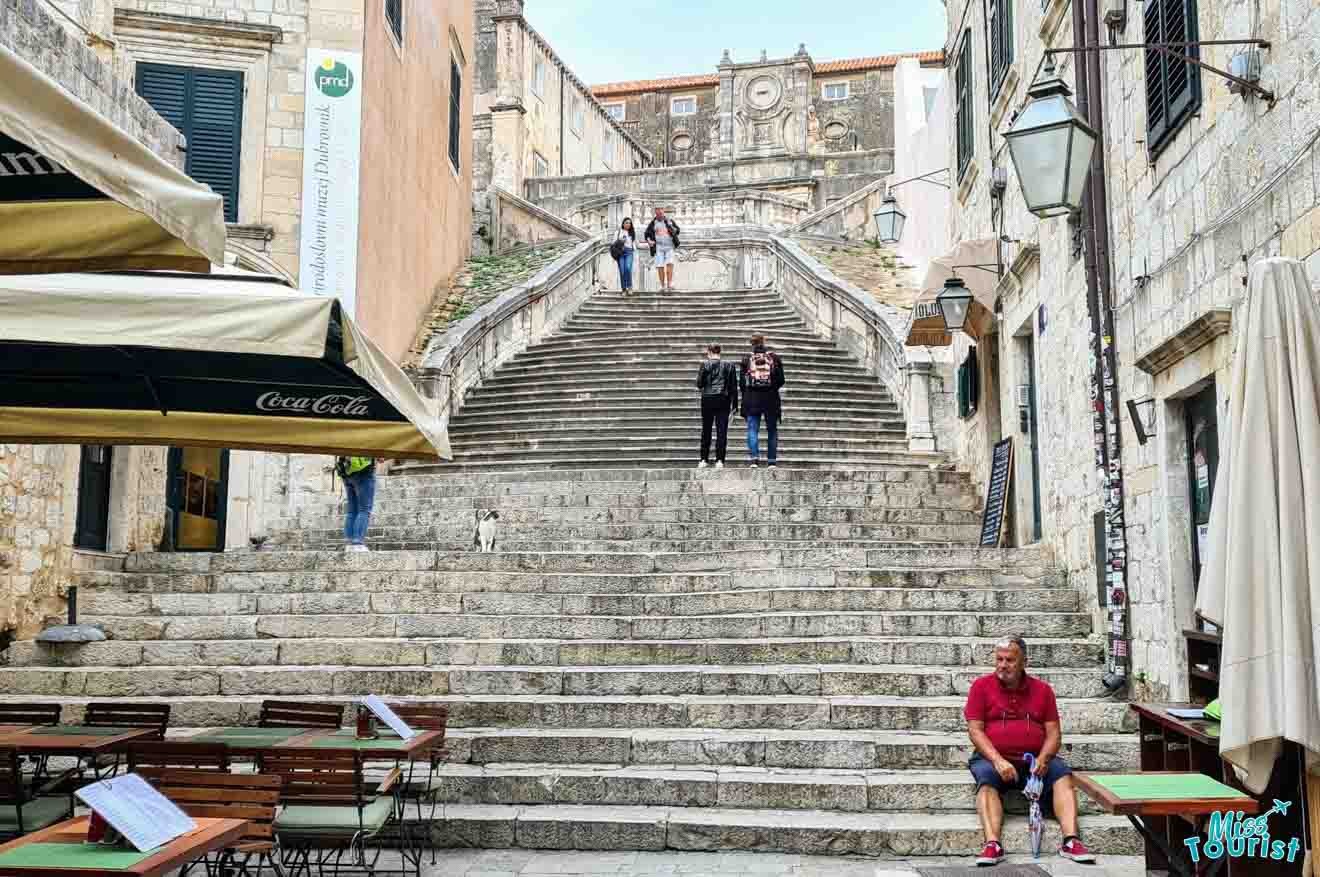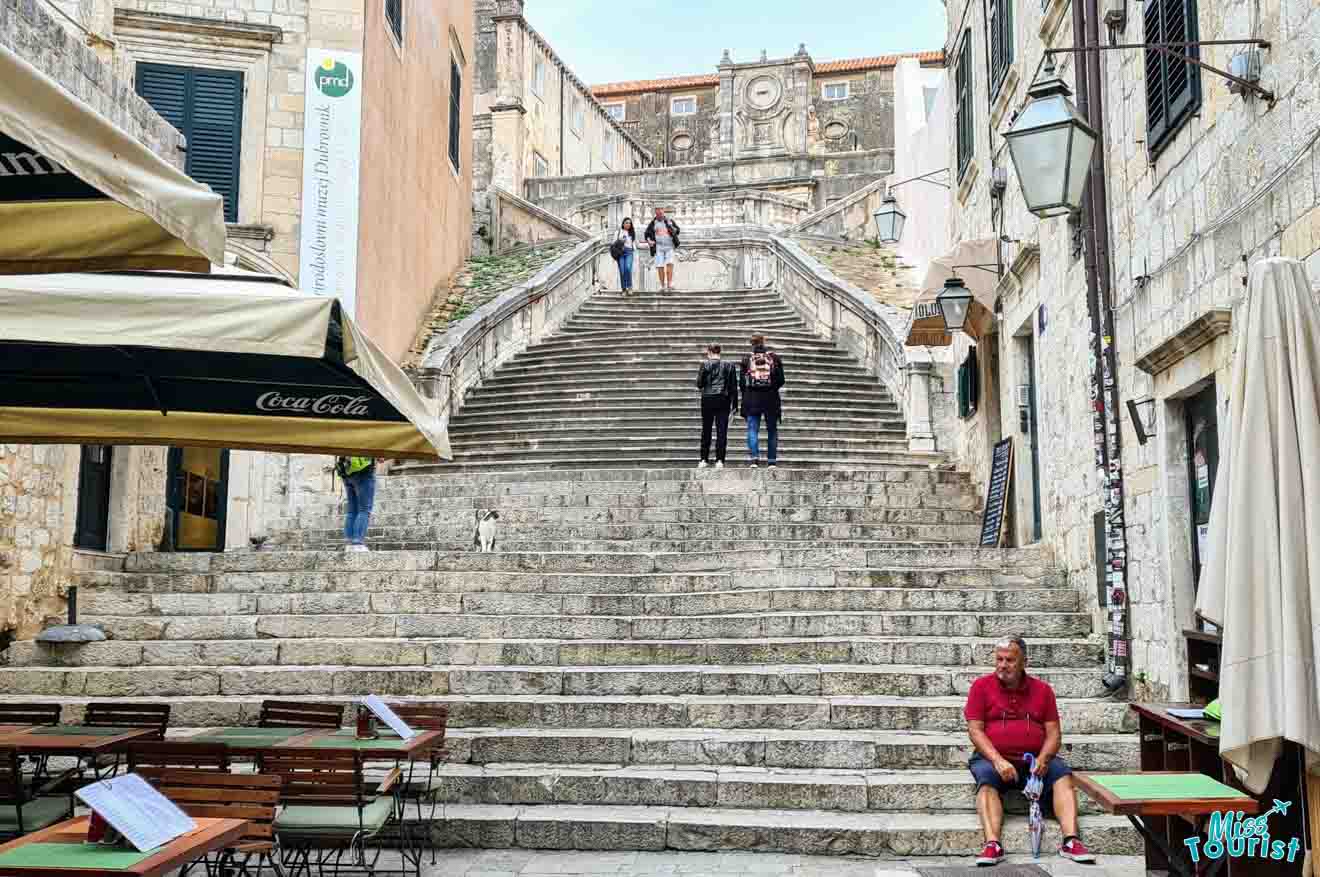 Conclusion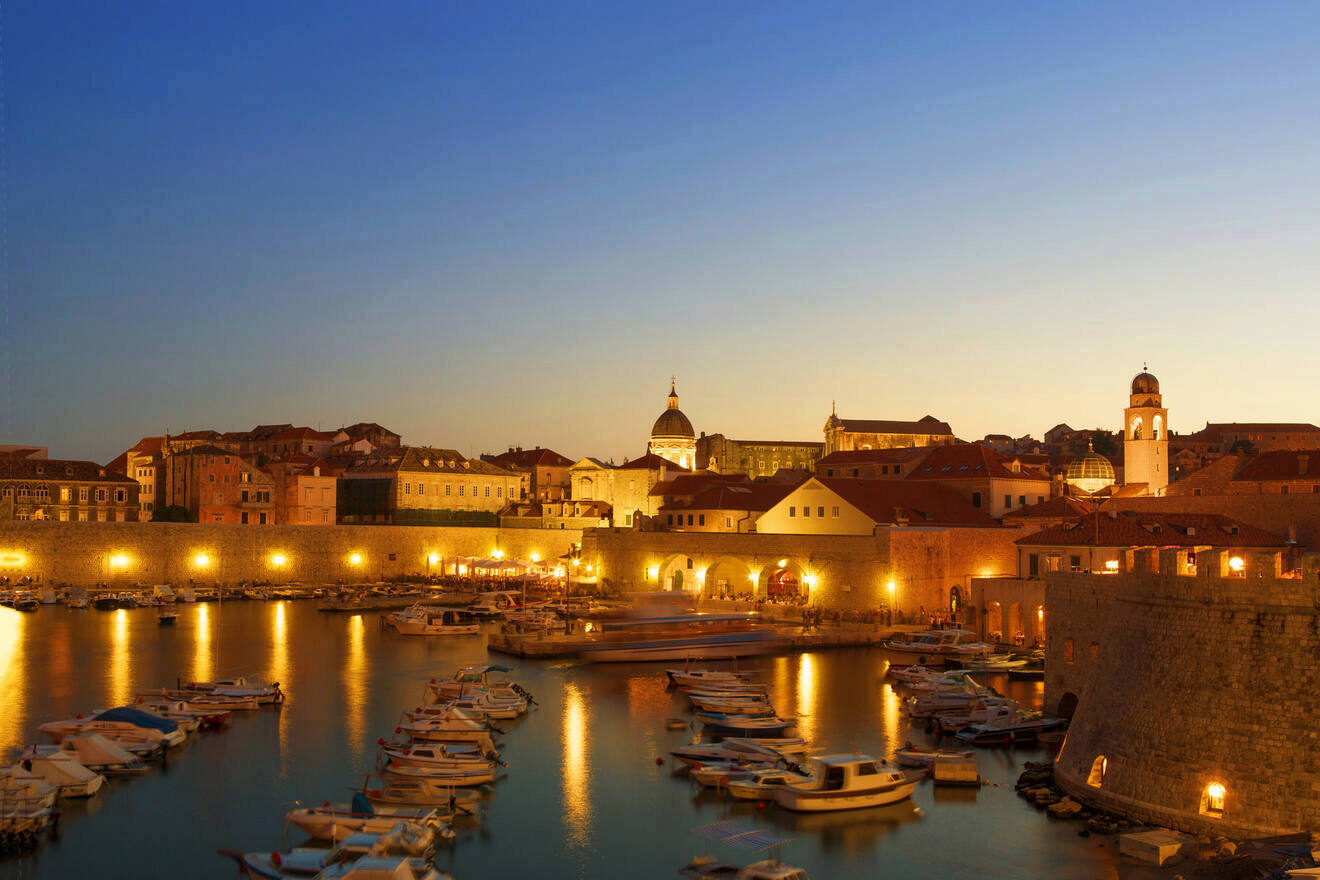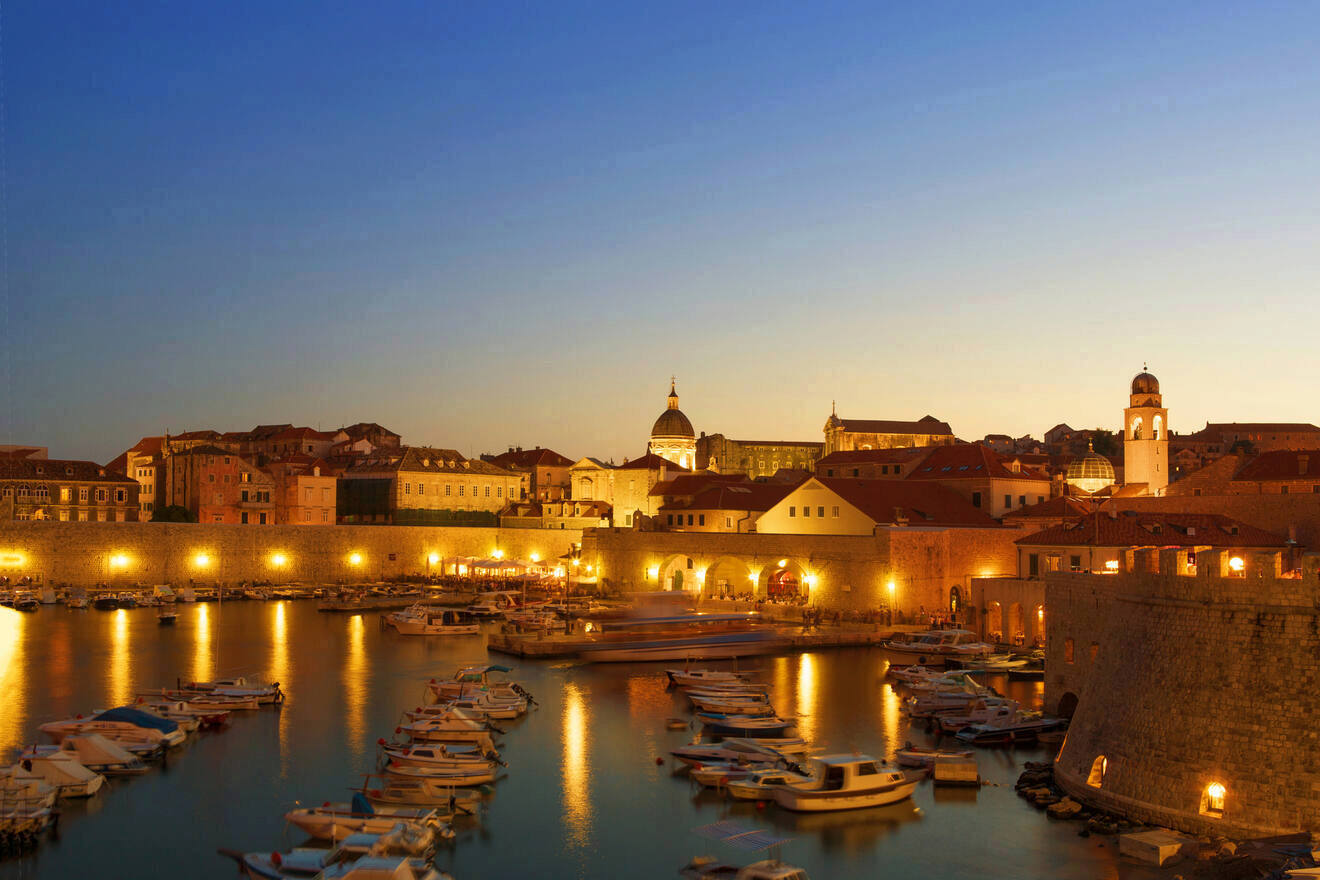 I absolutely loved it! There's something so magical about Dubrovnik, I don't know if it's all the legends and myths or the beauty of the Old Town of Dubrovnik and its unbreachable city walls. but I had a great time telling all about the best areas from Lapad and Babin Kuk to Old Town and all the others!
I know, I did it again! I've given you so many hotel options and they're all pretty amazing so you should definitely book them in advance. To make your life much easier here are my top 2 choices both located in Dubrovnik's Old Town:
The Pucic Palace – The Old town's best hotel set in an 18-century Baroque palace
Scalini Palace – An elegant hotel with lovely views of Dubrovnik's Old Town
I hope this article helped you decide where to stay in Dubrovnik, Croatia! Wander around this magical place, discover all the fantastic touristy spots in the Old Town and spend your days sunbathing on the pristine beaches of Dubrovnik!
Do leave a comment if you have any questions or suggestions for our traveling community.
Safe travels,
Victoria