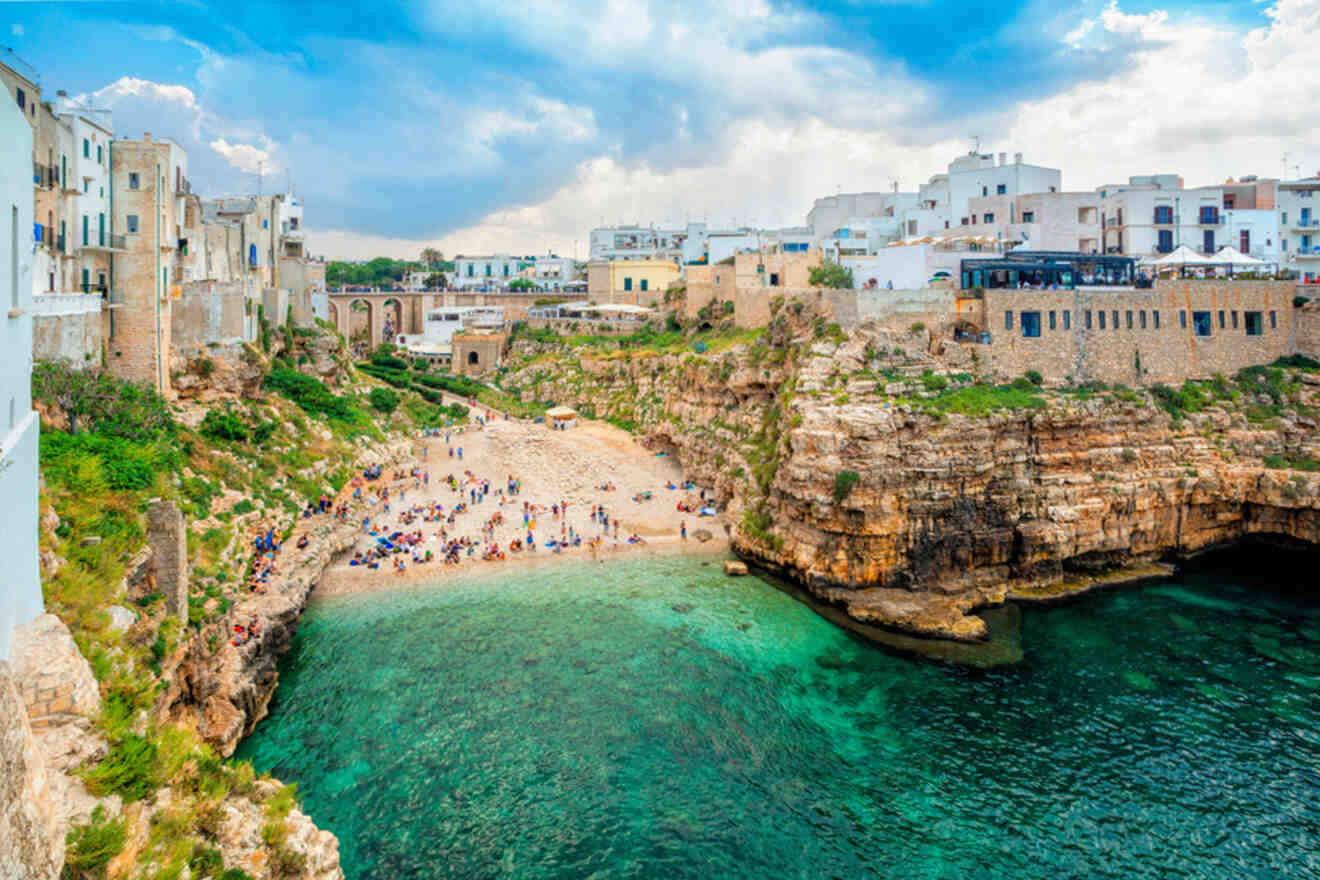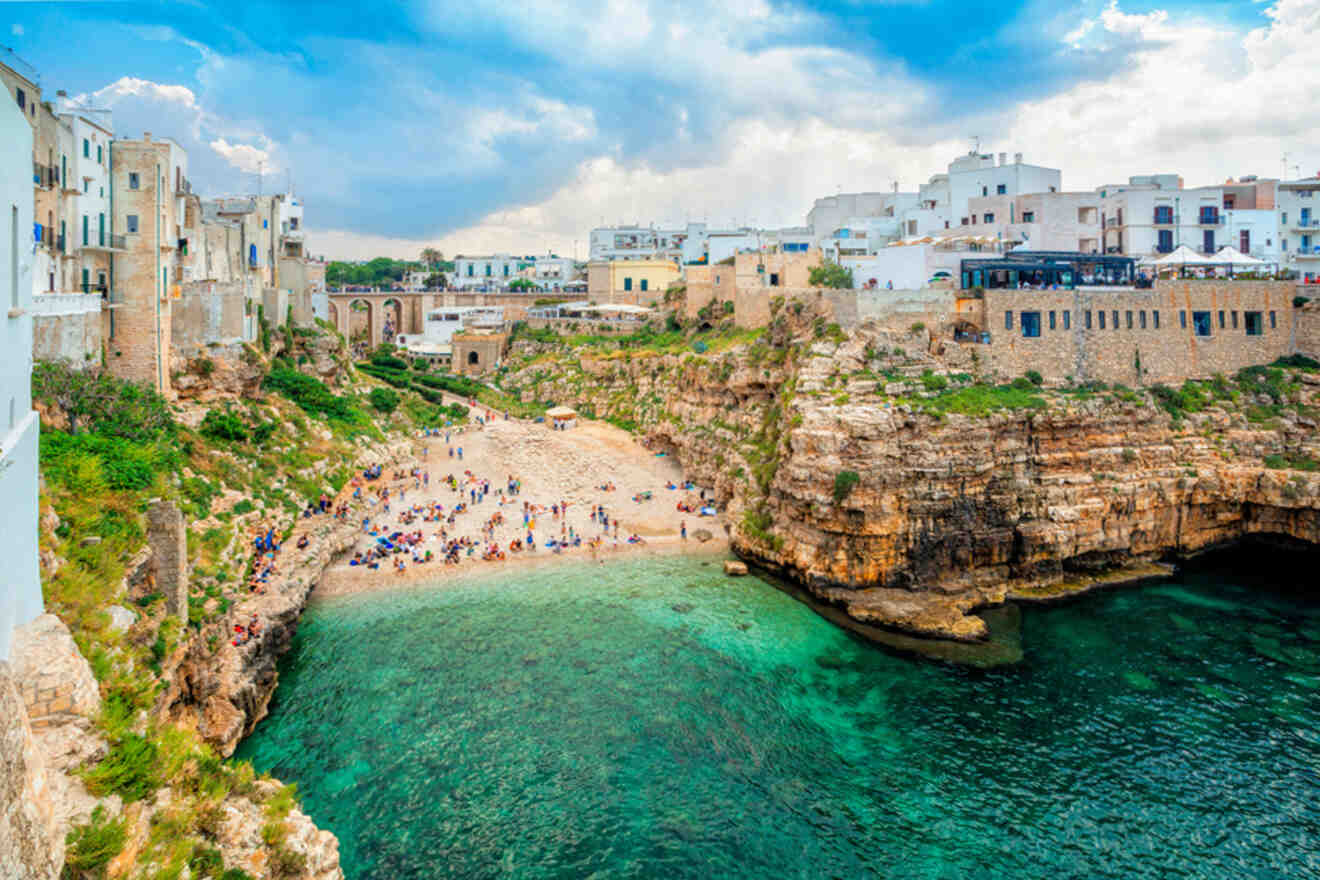 Planning a sweet escape to Bari in Southern Italy? Then prepare for lots of sunny days, yummy seafood, and impeccable wine!
I just came back from a trip there, and I'm ready to give you so many tips on things to do in Bari!
Below you'll find so much useful information I wish I had when planning my trip! From the best attractions, Bari tours, where to stay in Bari, and how to get to the city and around it, plus many more tips and tricks that I've learned during my time there.
One thing that I will say about Bari is that it tends to get pretty crowded! Especially during summertime (June, July, August). That's why I highly recommend booking your hotels in tours in advance, as the prices will only increase the closer you book to your holiday dates!
I'm sure you'll all fall in love with the authenticity of this town in Southern Italy!
So without further ado, here are the best things to do in Bari!
Andiamo!
If you are in a hurry
Don't worry if you can't make it through the whole post, just have a look below, and you'll find the main things to book in advance:
And here are the best hotels: VIS Urban Suites&Spa (luxury), Al Pescatore – B&B (mid-range), Room 56 – Le Dimore (budget)
1. Explore the Old Town (Bari Vecchia)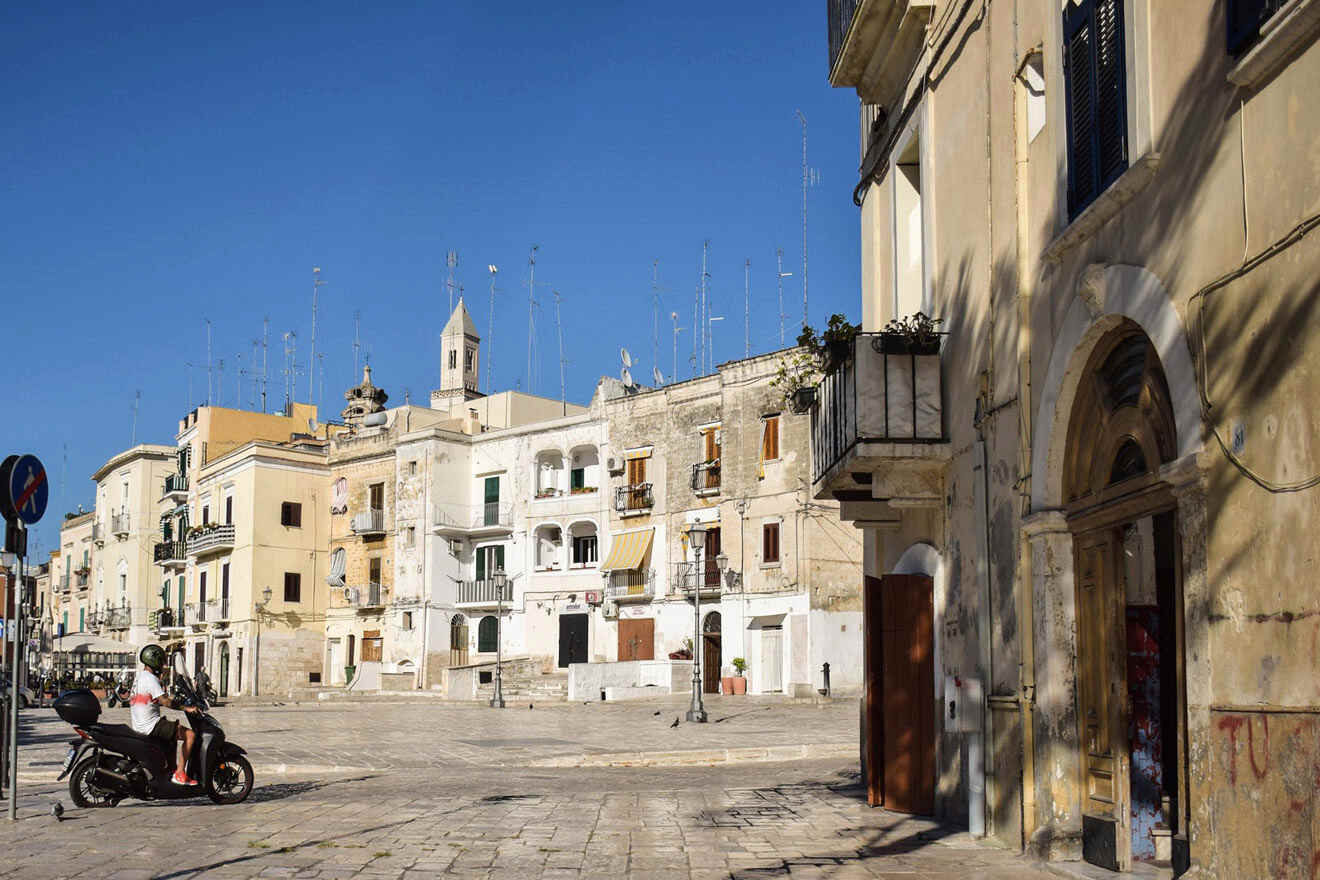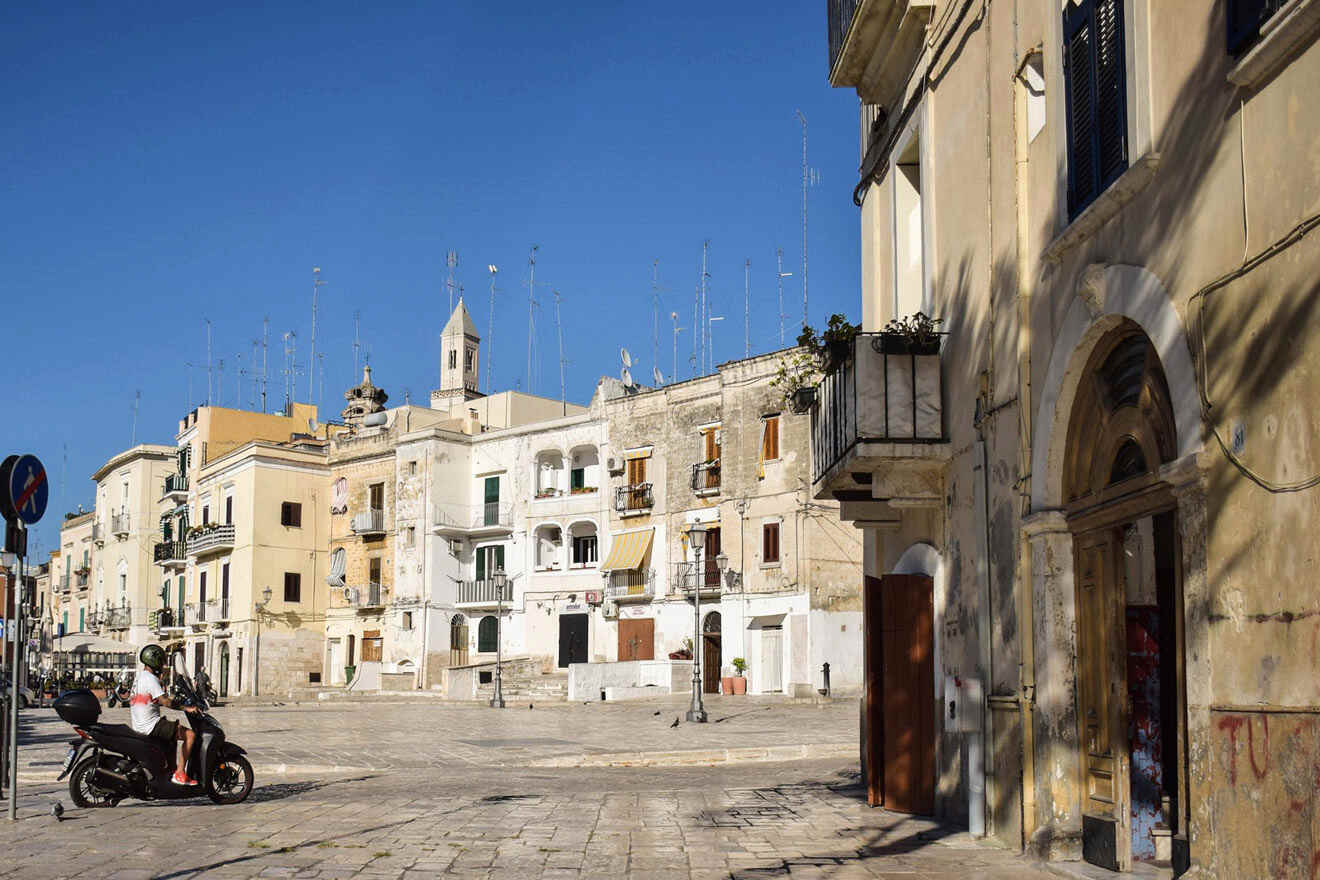 Unlike most old town areas in other Italian cities, Bari Vecchia has a unique allure which at first I found to be a bit weird, but as you get lost wandering the narrow streets, you'll get to see that there's a bigger picture!
I guess one thing that threw me off at first was the authenticity of Bari Vecchia!
Here the locals live in these ancient buildings normally. Usually, in other old towns in Italy, everything is super put together, but in Bari Vecchia, you get a real glimpse into the everyday lives of these people!
So don't be surprised if you see someone who just got off the shower and hangs out on a bench outside of the house or things like that!
Once you get into their spirit, you'll find them super funny and love how real they are!
These winding streets have so much rich history, and the best way is just to walk and walk for as long as you can to discover its numerous attractions and restaurants!
Alternatively, you can also join a guided tour if you'd like to learn more interesting things about the historic center! I found this really cool tour in the city center, which lasts 2h and costs around €40 (US$43), where you'll also learn how to make pasta from a local person!
TOUR PRICE: from €40 per person
2. Check out the symbolic art in Basilica di San Nicola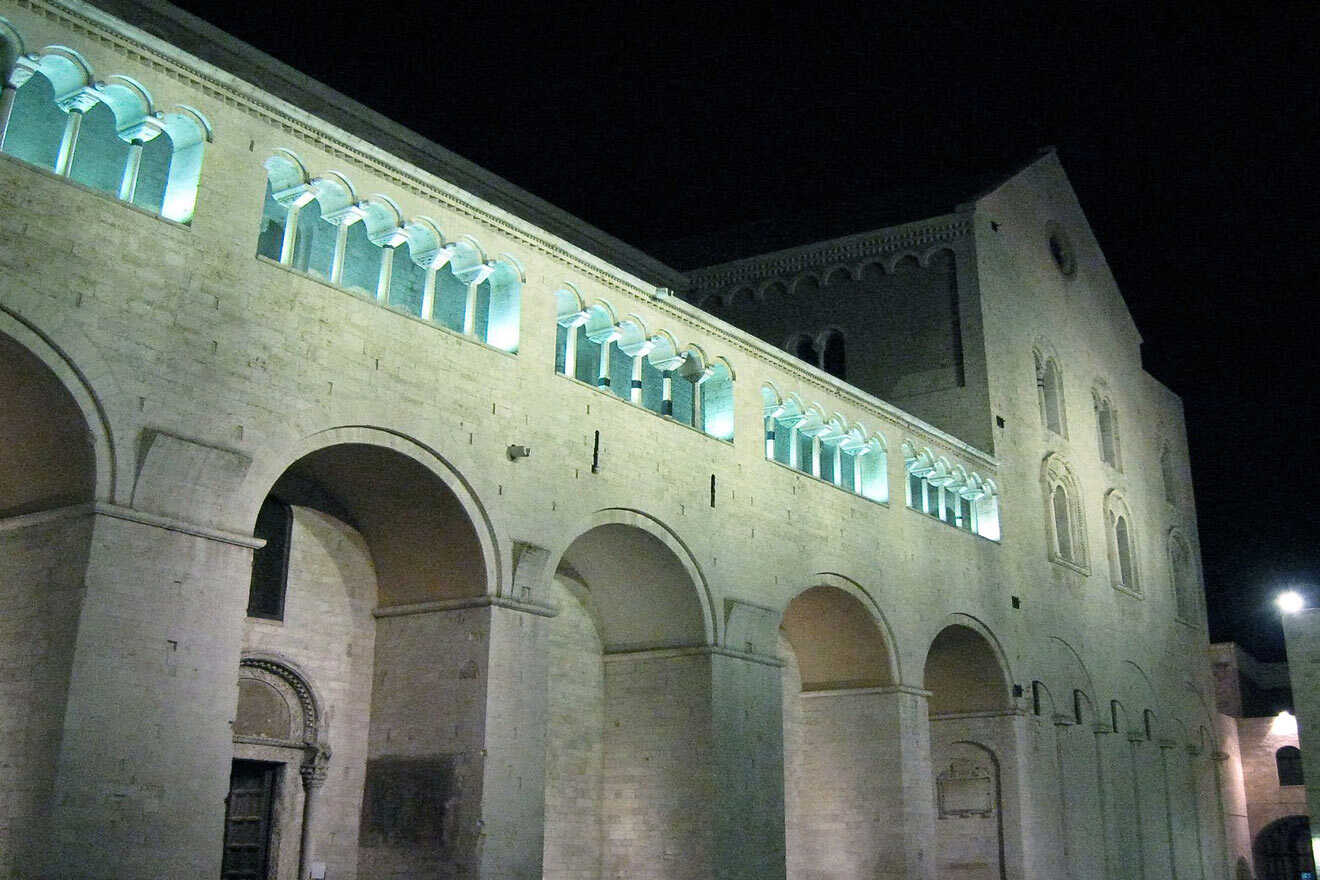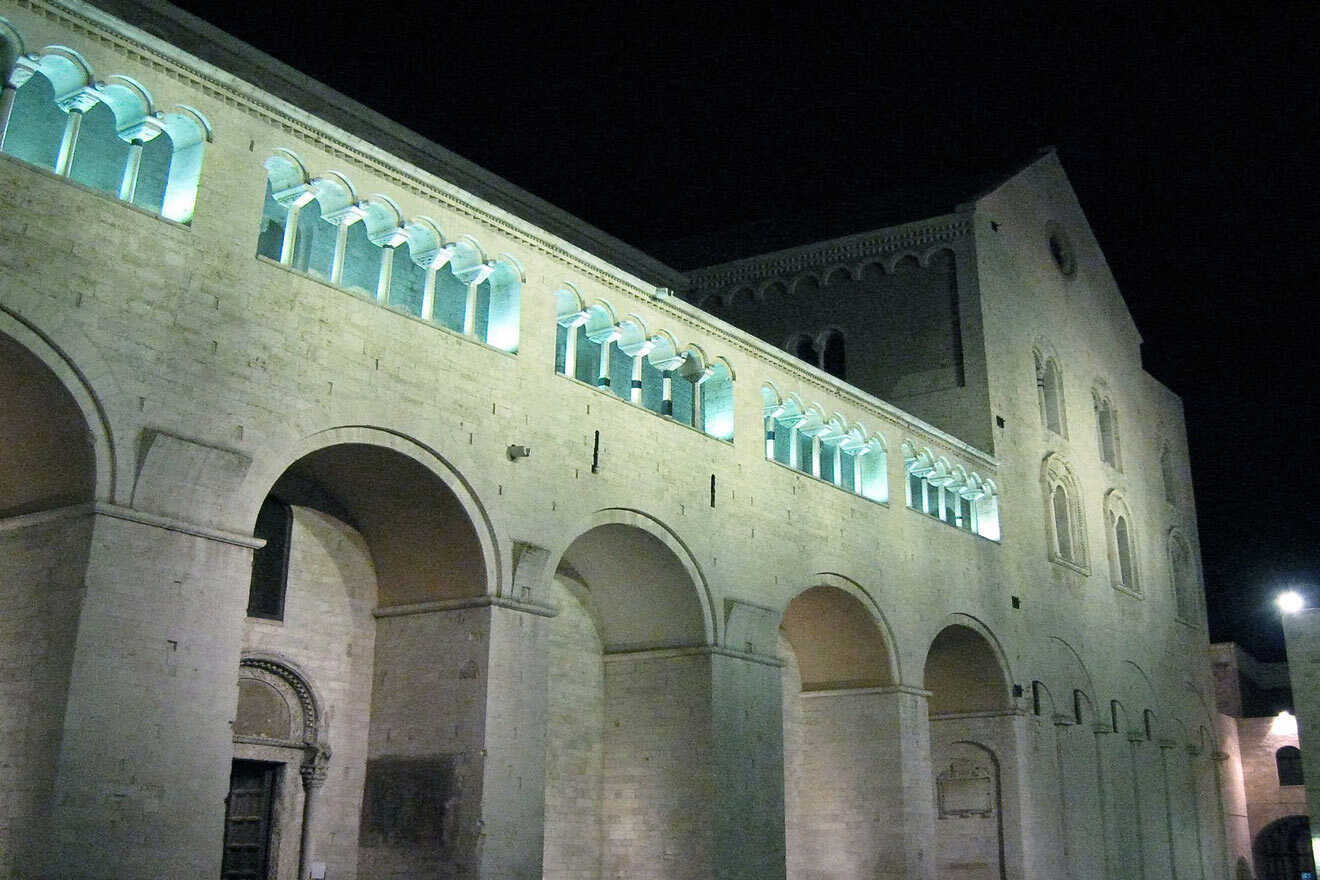 Bari Vecchia is filled with amazing attractions, and one of the main major sights is Basilica di San Nicola, the city's patron saint (which you may know from the legend of Santa Claus).
The church has a super eye-catching facade, and once you arrive in the small square where it's located, you'll immediately feel its grand energy!
What makes Basilica San Nicola one of the famous sights in Bari is that it's a church that is shared by both Catholics and Orthodox, and it is also an important pilgrimage destination for Roman Catholics and Orthodox Christians!
There's that, and also the fact that inside, the crypt holds the bones of St. Nicholas!
I highly recommend joining the St. Nicholas Basilica and Crypts tour to learn all the details about this amazing architectural, religious, and historical landmark. While inside, enjoy the tranquil atmosphere and admire all the frescoes, symbolic art, and statues!
TOUR PRICE: from €25 per person
3. Take a day trip to Matera, the city of stones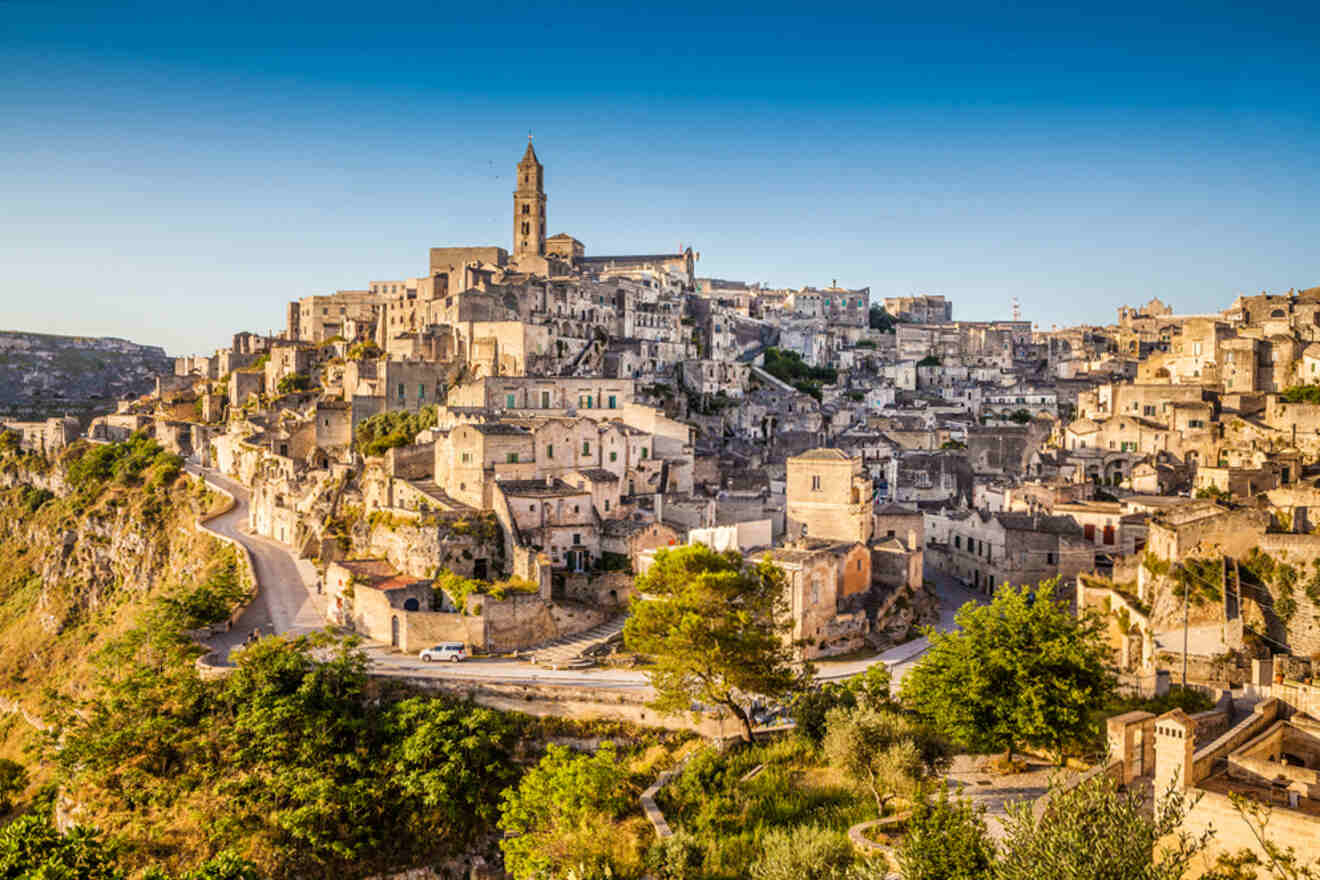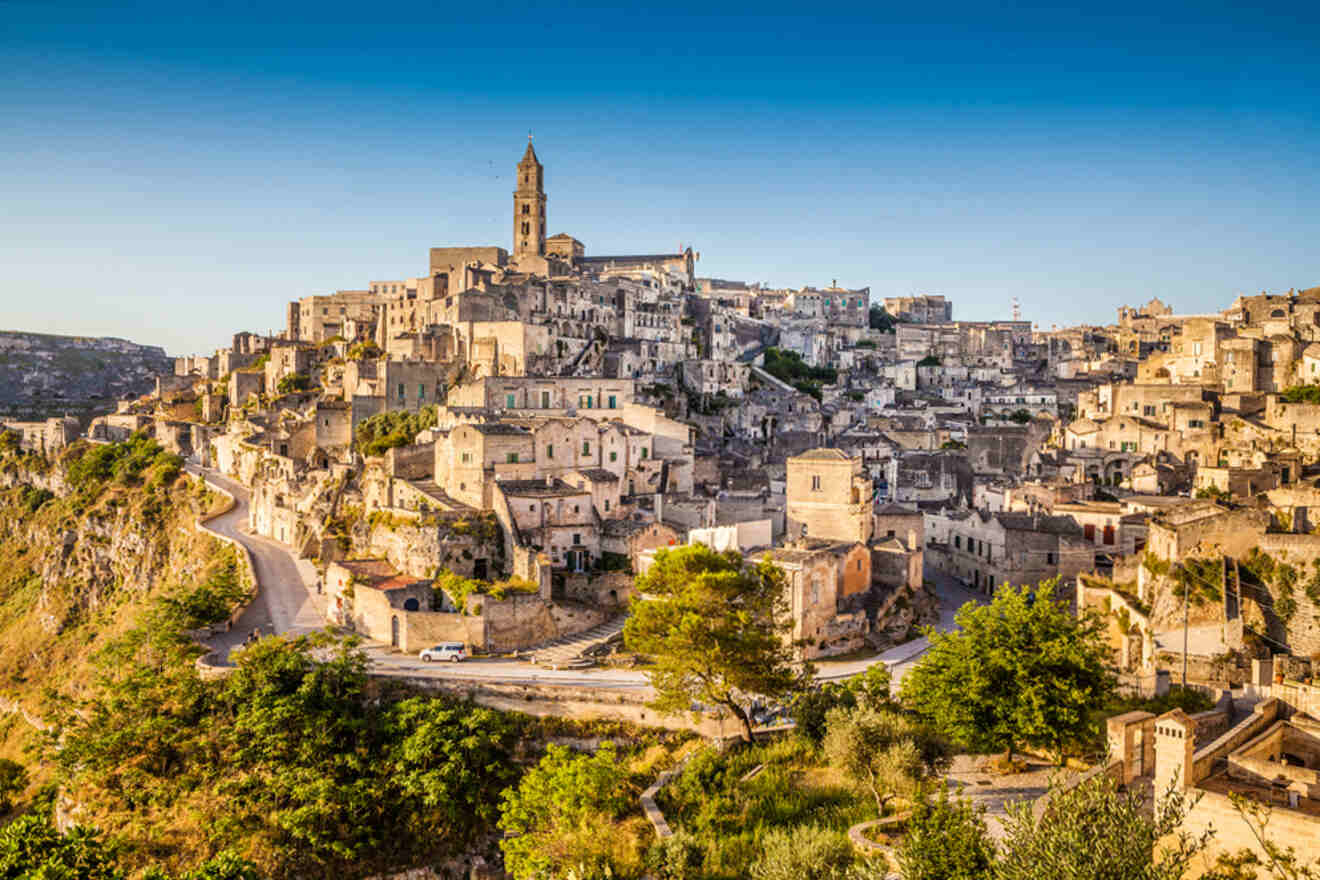 If you're in Bari for more than 1 day, I definitely recommend taking a trip to Matera to see the famous stone churches and caves!
That's what I did while I was here, and everything ran super smoothly! There are a few options that you can try, either take the bus there, rent a car, or join a tour!
In my opinion, the most affordable option is definitely the bus! It takes around 1h to get to Matera from Bari. The company we used was Bus Miccolis, and we paid €18 (US$20) for a return ticket. You can buy your ticket online or from Dea Cafe, which is also the departure location.
NOTE: The only inconvenience with this option is that the bus will leave you at a station in Matera that's located around 30 min away from the historic center.
If that's already too complicated for you, then you can join this day trip tour from Bari that includes transportation, a guide, and food tastings. The tour lasts around 7h, and it costs €145 (US$160).
Once there, enjoy the charming city, and immerse yourself in the local culture! I have a whole guide post on Matera and which attractions you shouldn't miss there, so definitely check it out!
TOUR PRICE: from €145 per person
4. Walk around Piazza Mercantile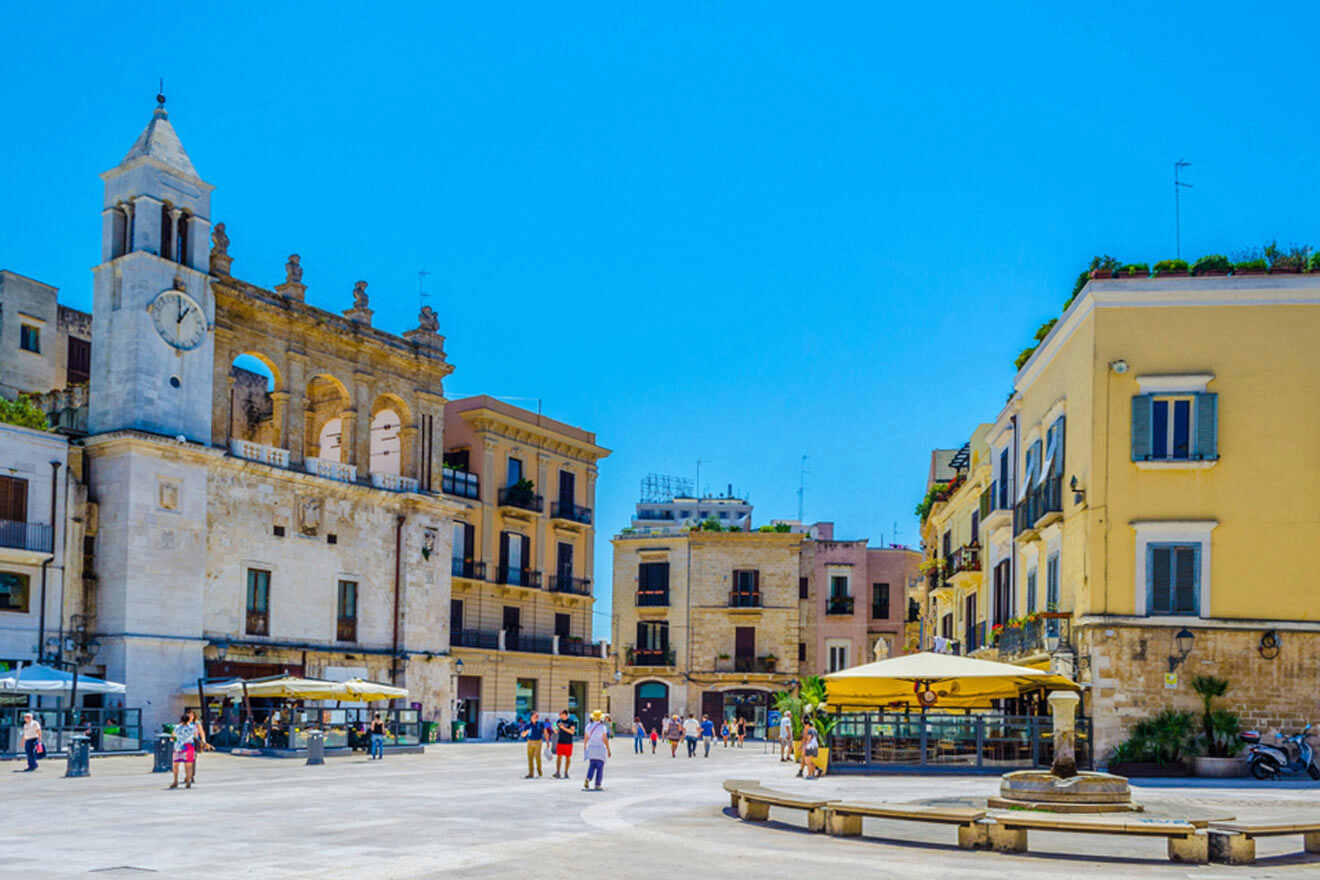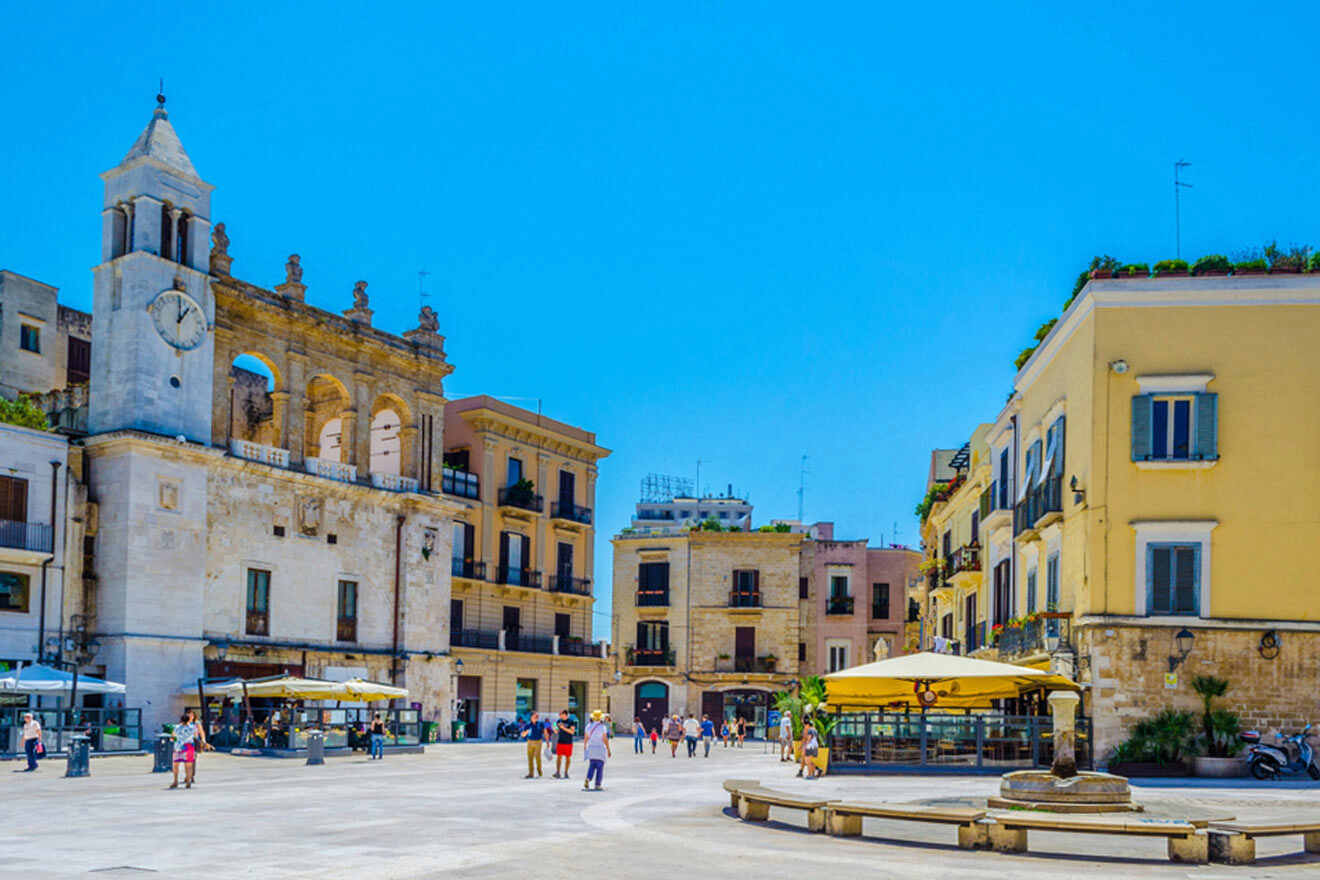 Known as one of the most important squares in Bari, Piazza Mercantile is the perfect place to stop for a minute after all the walking you've been doing around Bari Vecchia and do some people-watching!
Once you stop, you'll probably notice what was left of the Palazzo del Sedile, its gorgeous facade and clock tower!
There are lots of bars and restaurants here where you can indulge in all the local food and drink a glass of Primitivo wine, which is one of my favorites!
5. See the beautiful Castello Normanno-Svevo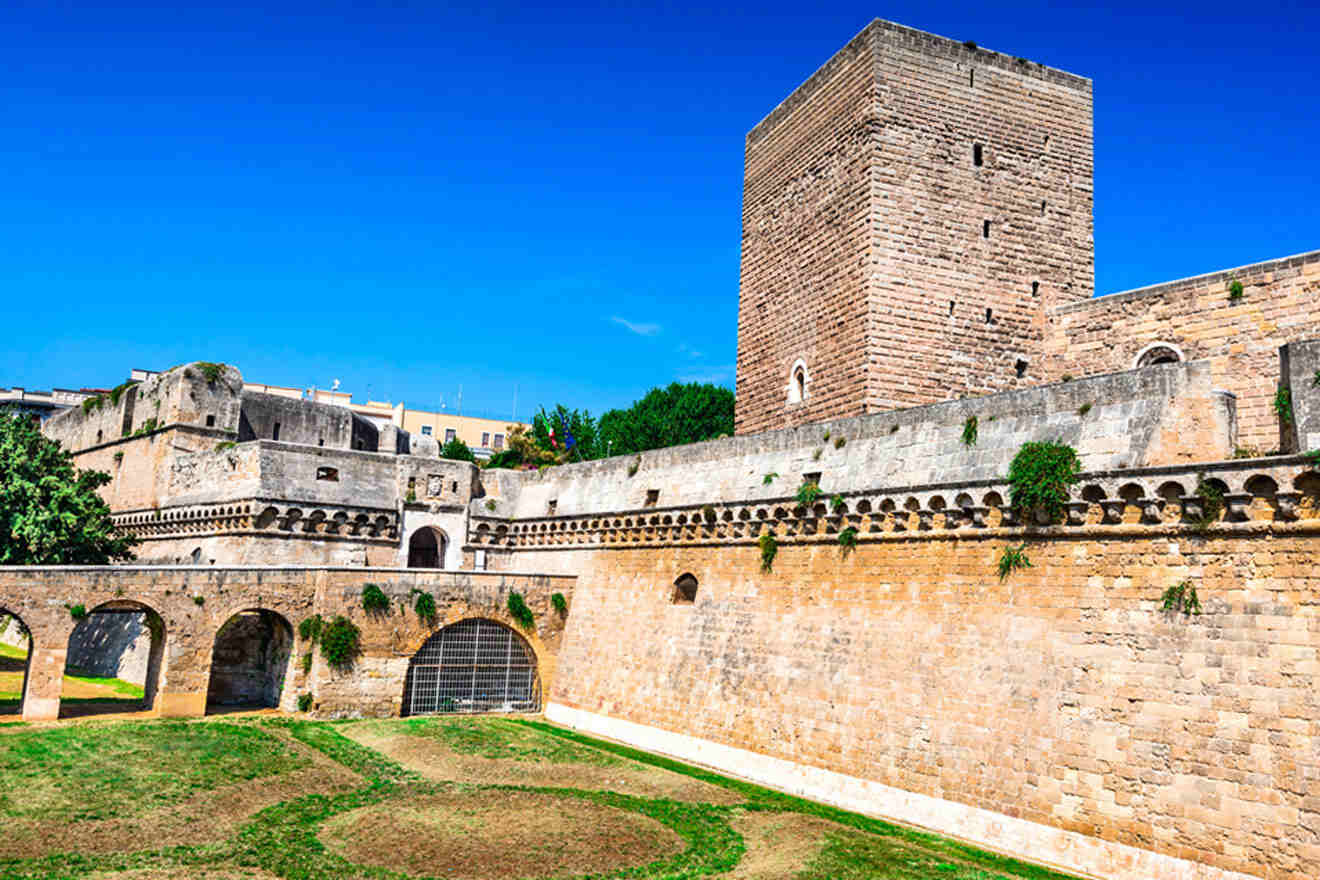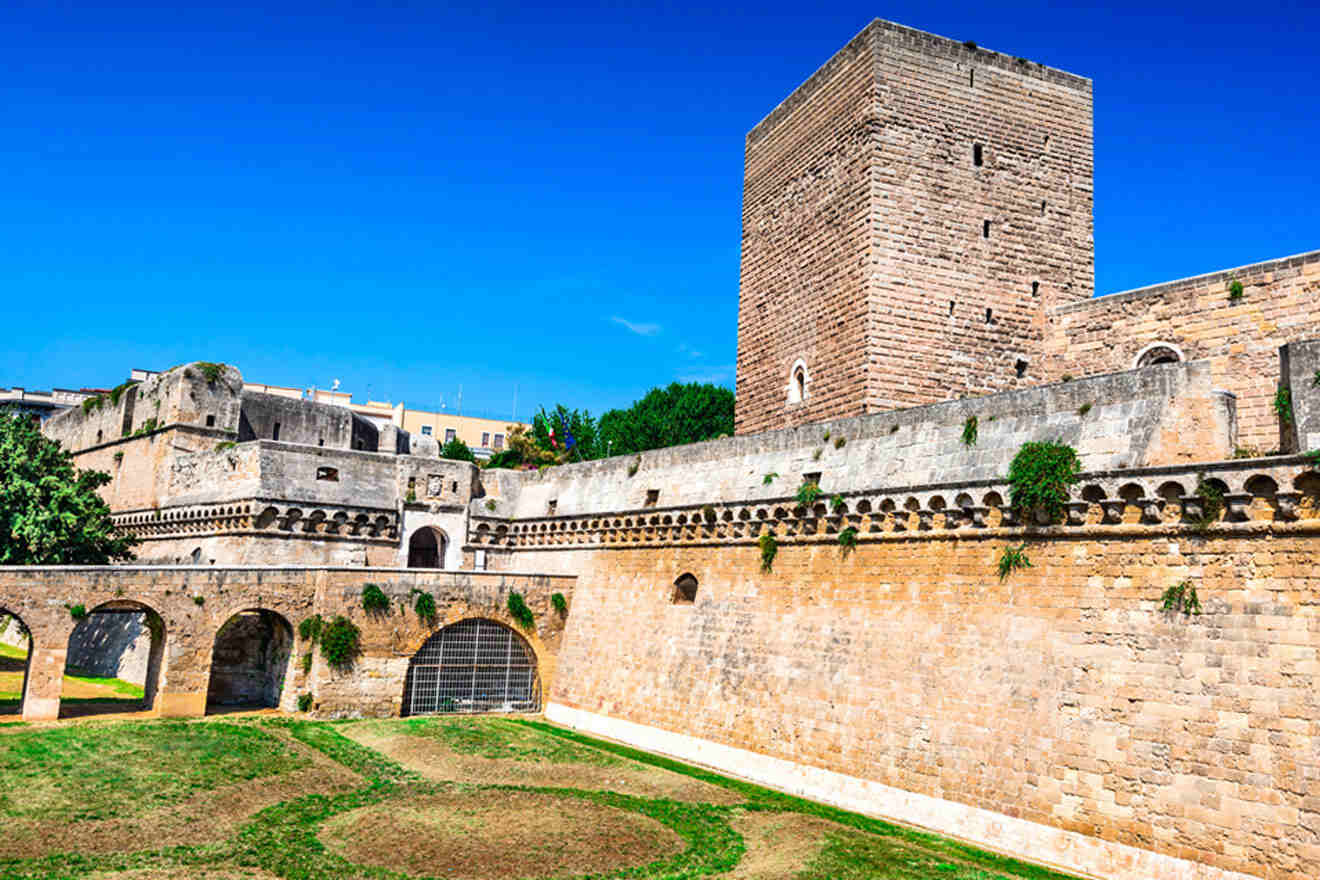 Bari Old Town is more than narrow streets and old houses! This area is home to lots of historic sites like Castello Normanno-Svevo!
Built in the 12th century during the Norman rule, the Bari Castle has a pretty tumultuous past! Throughout history, it served as a prison and barracks, and nowadays, the castle holds different exhibitions which you can see for a small fee!
But if you're not interested in heading inside the Bari Castle, then you can spend some time around, admiring its architecture! There are a few benches nearby, so you can get a gelato and enjoy it there!
PRICE: from €6 to €9
6. Visit Bari Cathedral (San Sabino Cathedral)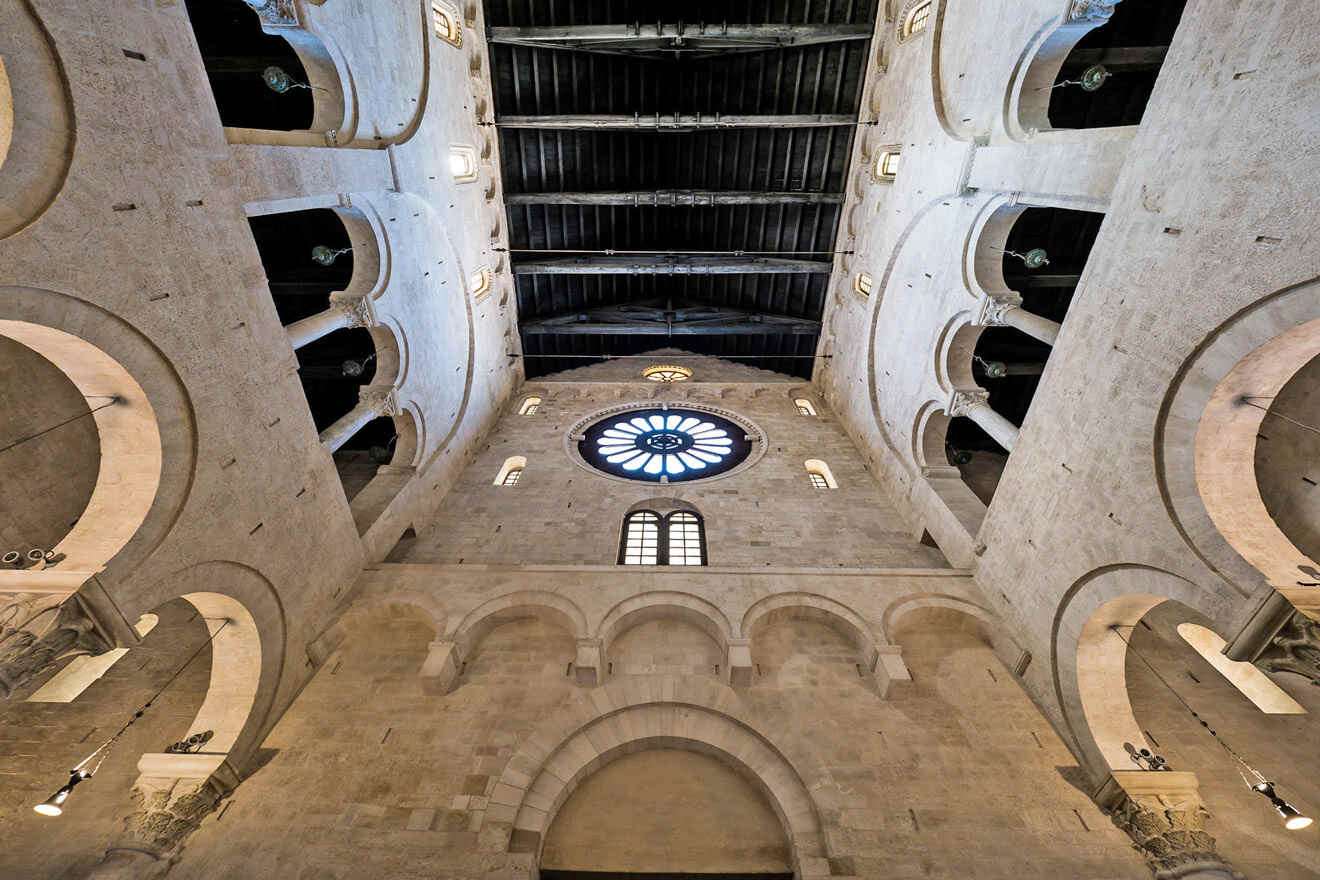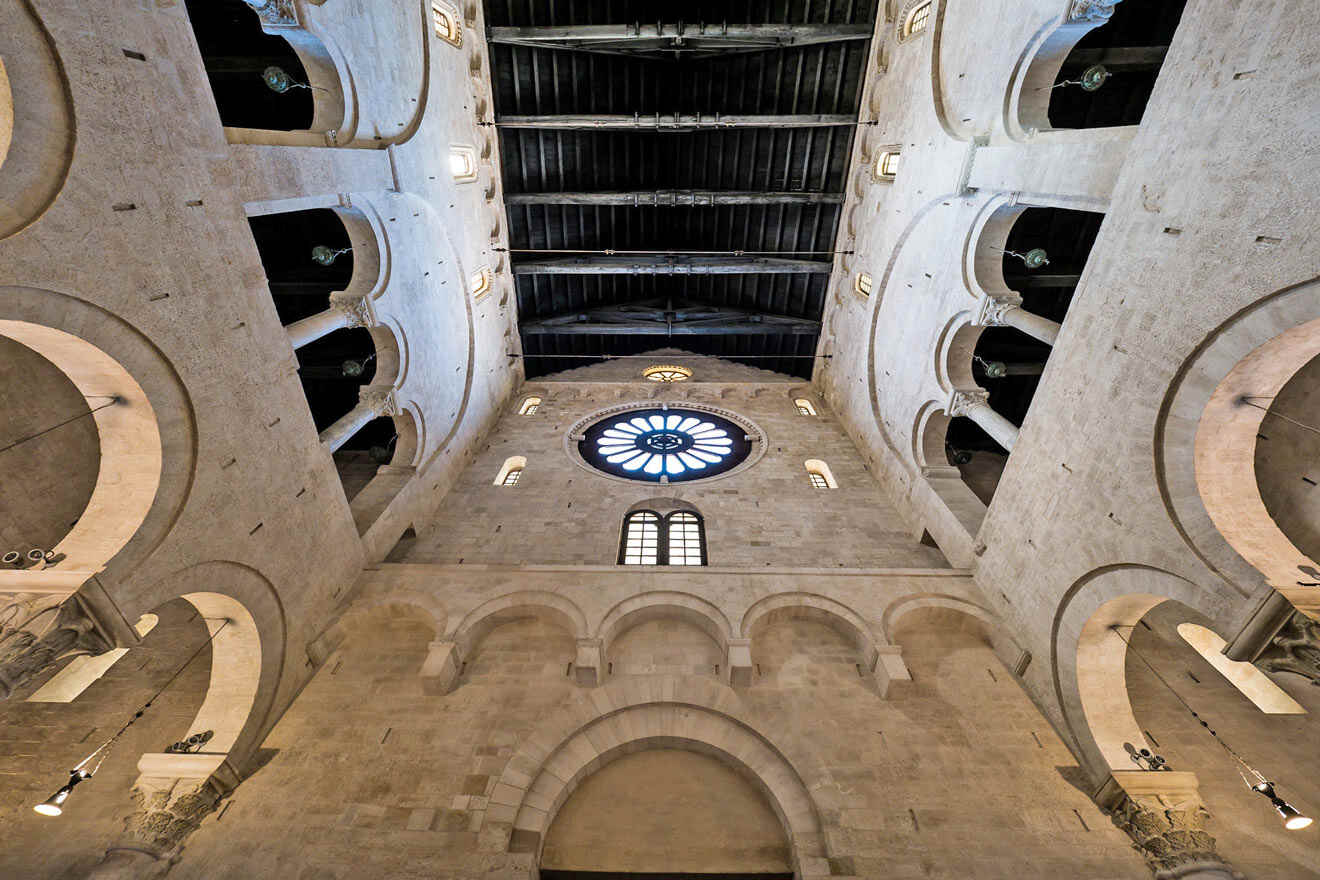 I'm sure you didn't forget we're on the lands of hundreds of years old churches and cathedrals!
Yep, Puglia has some incredible sites! As does Bari, so once you've seen the famous Saint Nicholas Church head over to Bari Cathedral (also known as the San Sabino Cathedral), which is also set in the charming Old Town!
Before going inside, pause a moment to admire the Cathedral's beautiful Romanesque architecture, its facade, and all the small details.
Just like all the other historic buildings, this was too rebuilt a few times, but this only adds to its magic! I think it's amazing to see how these places stood the test of time!
While you're inside make sure you also check out the Museo del Succorpo della Cattedrale!
PRICE: Free
7. Enjoy the sun on the beaches in Bari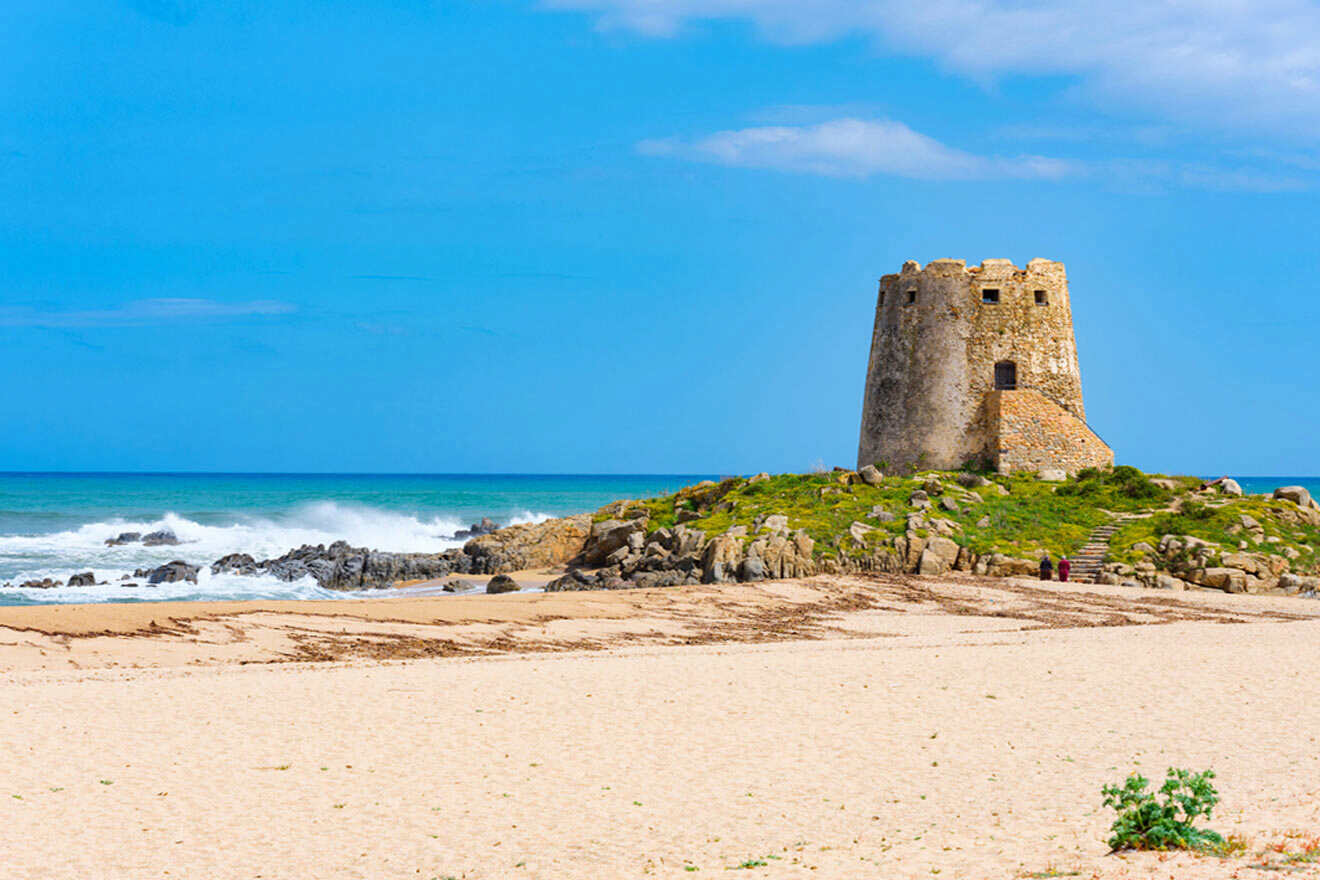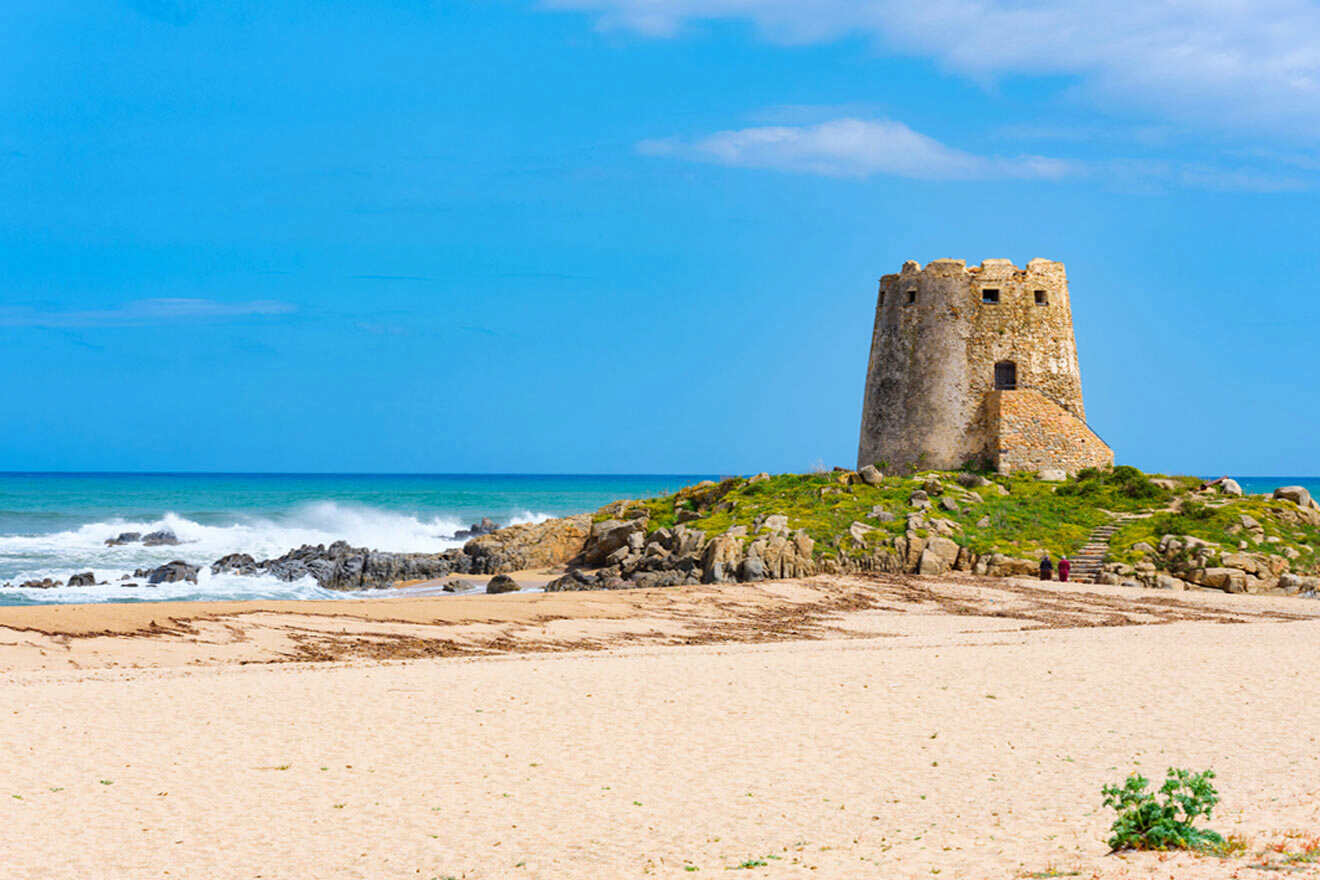 An Italian city with beaches right there under your nose? Oh, yes, please!
Bari is not only worth visiting for its delicious food, attractions, and winding streets! This city also has a few beaches where you can spend those hot summer days when it's impossible to explore around!
I'll mention here just the main ones, but I've got a whole post on the best beaches in Bari if you need a bit of extra information:
8. Catch a sunset at the Old Harbor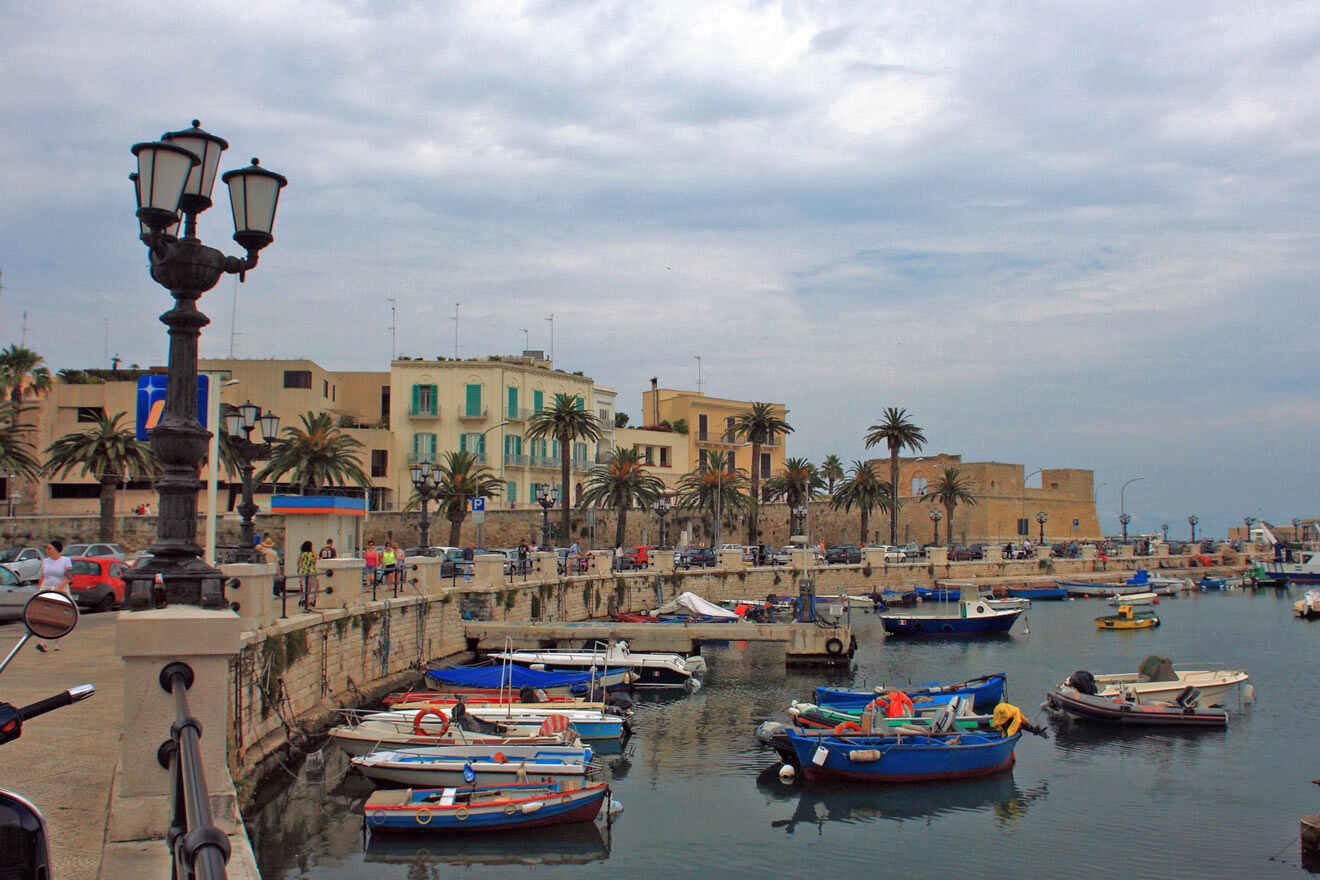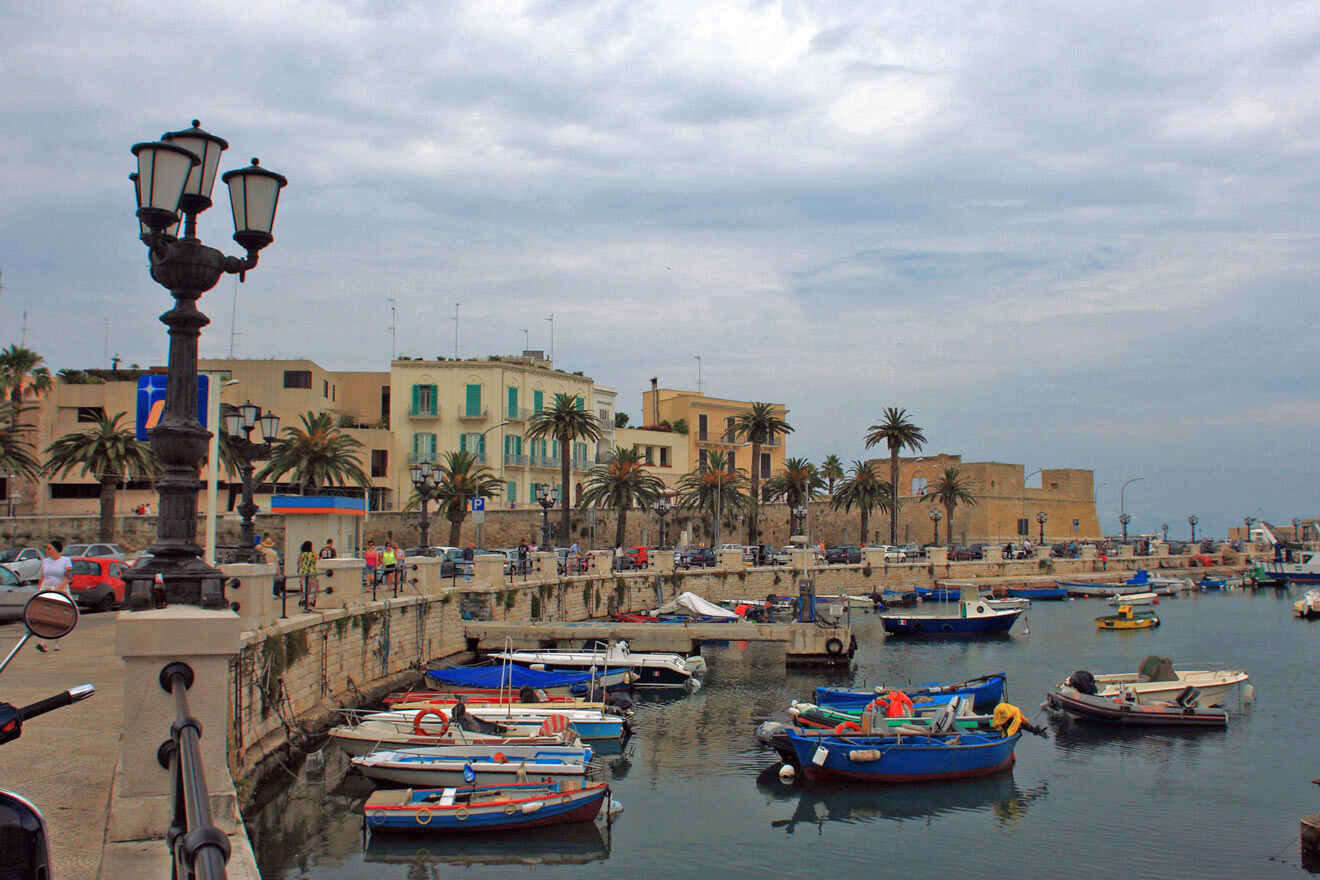 The Old Harbor has such a lovely atmosphere! Once you get here, you'll feel as if you've landed on an old postcard!
Little blue boats floating silently on the Adriatic Sea, locals going around their business, and busy seagulls looking for their next catch!
It's so idyllic! Especially if you come at sunset when that golden light hits the blue water creating a psychedelic picture!
If you're an early bird, then you can also come at sunrise, when it's just as beautiful and probably more hectic as all the local fishermen are coming back with fresh fish that they just caught!
9. Learn new things at Museo Archeologico di Santa Scolastica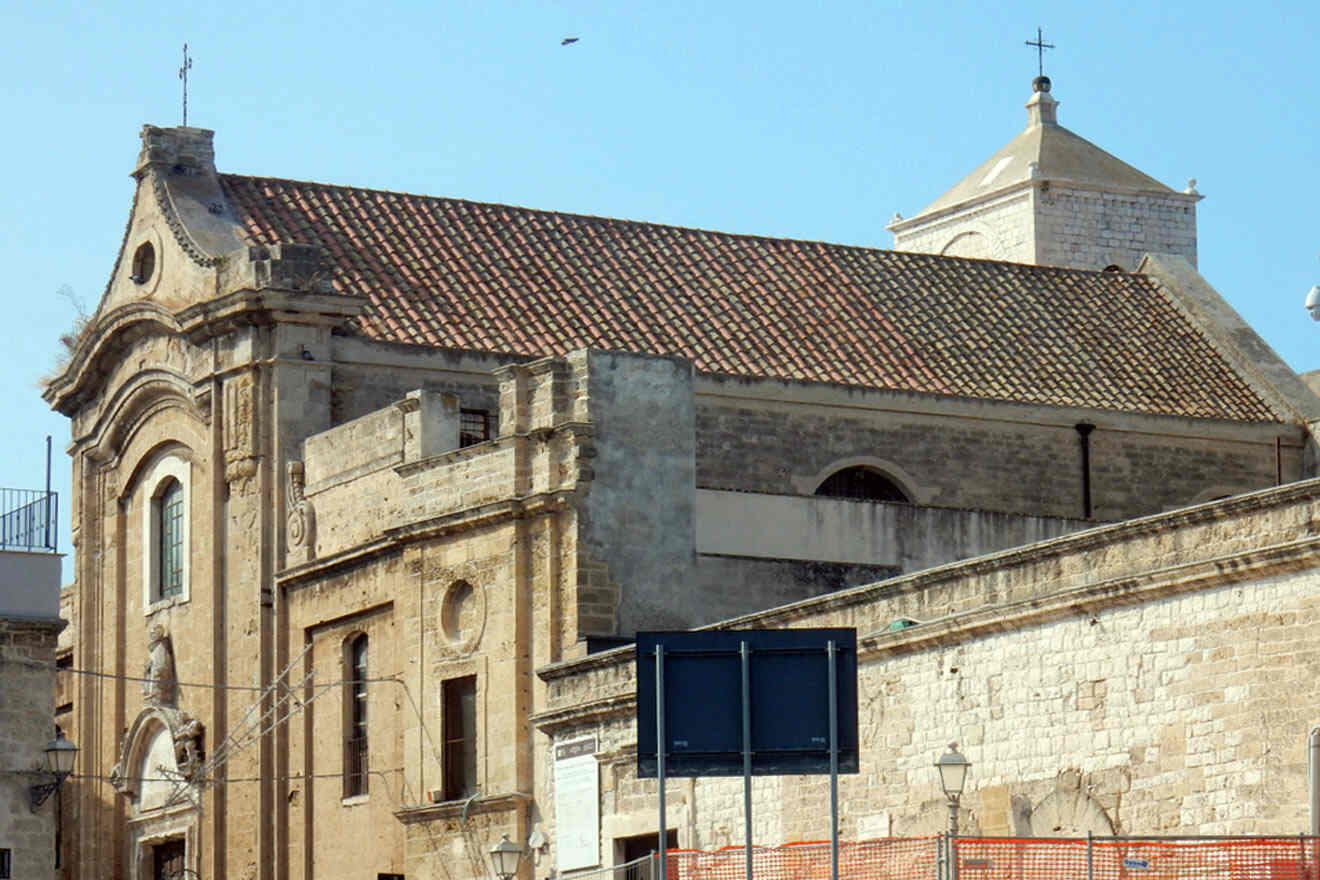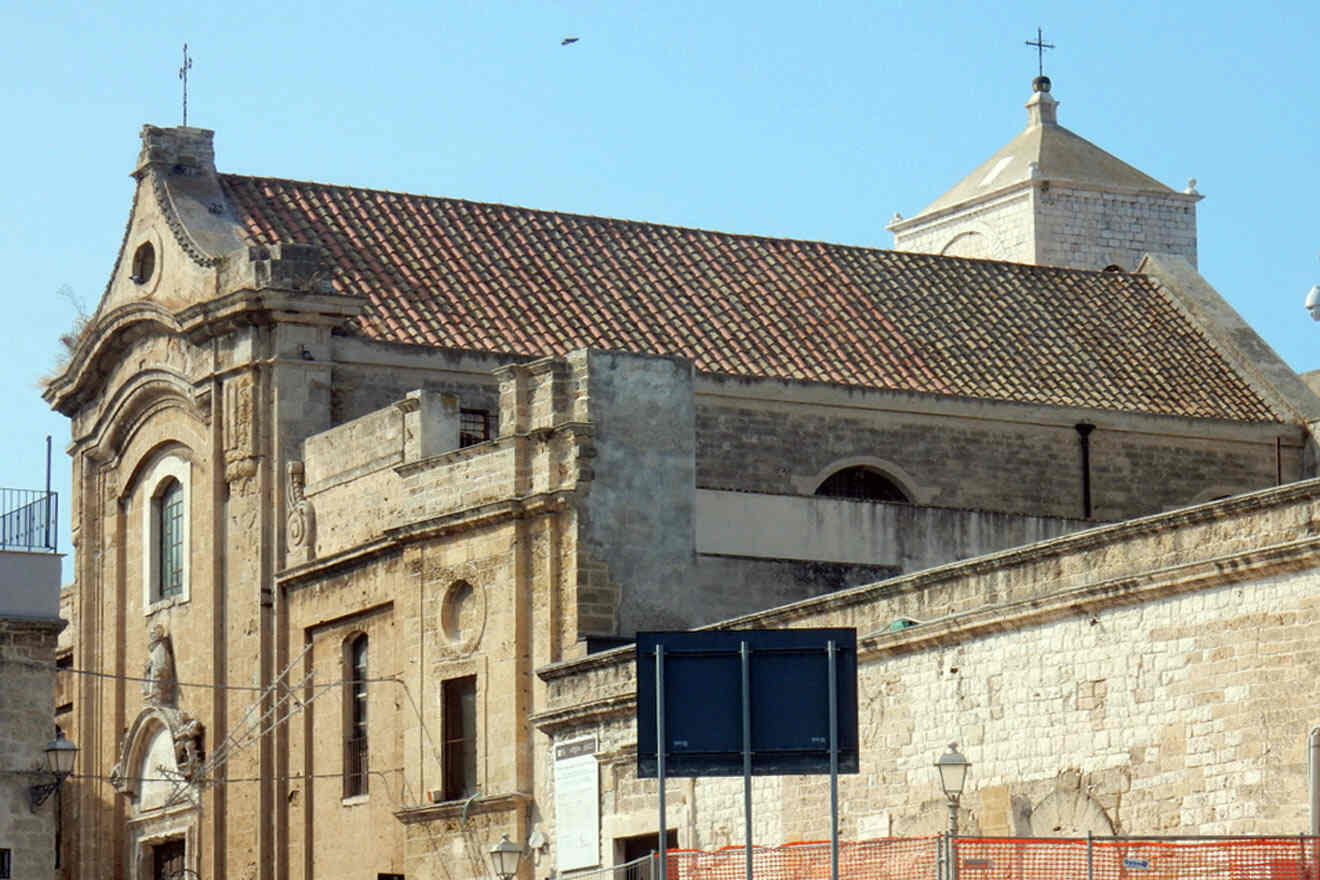 History lovers, this thing is definitely for you! Set in a 16th-century building, this museum has artifacts dating back to ancient Greece and the Roman Empire!
On the property, they also have some ancient ruins of a former church!
This place is great just to explore and check out all those incredible objects that they have!
PRICE: Free
10. Take a day trip tour to Alberobello & Polignano a Mare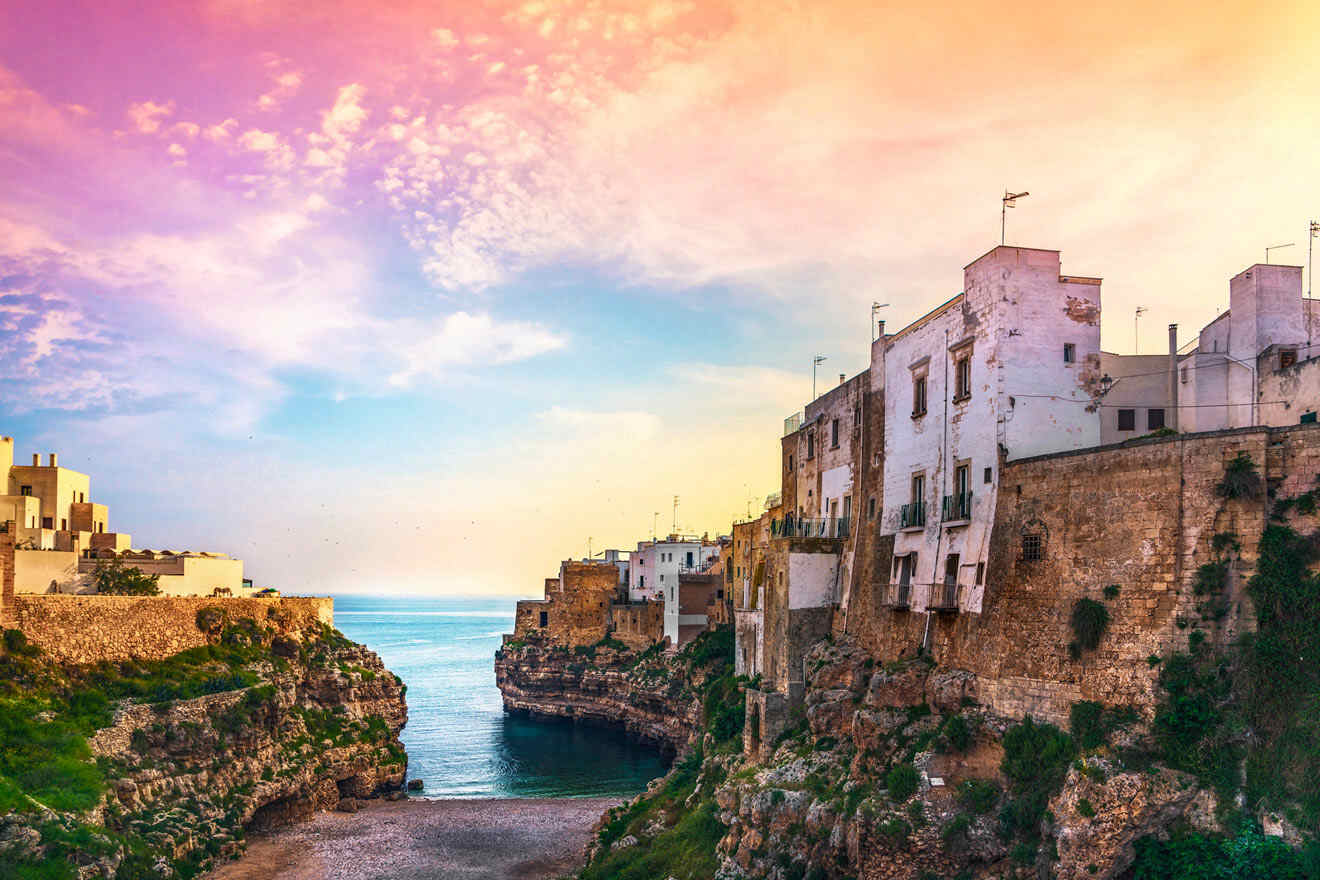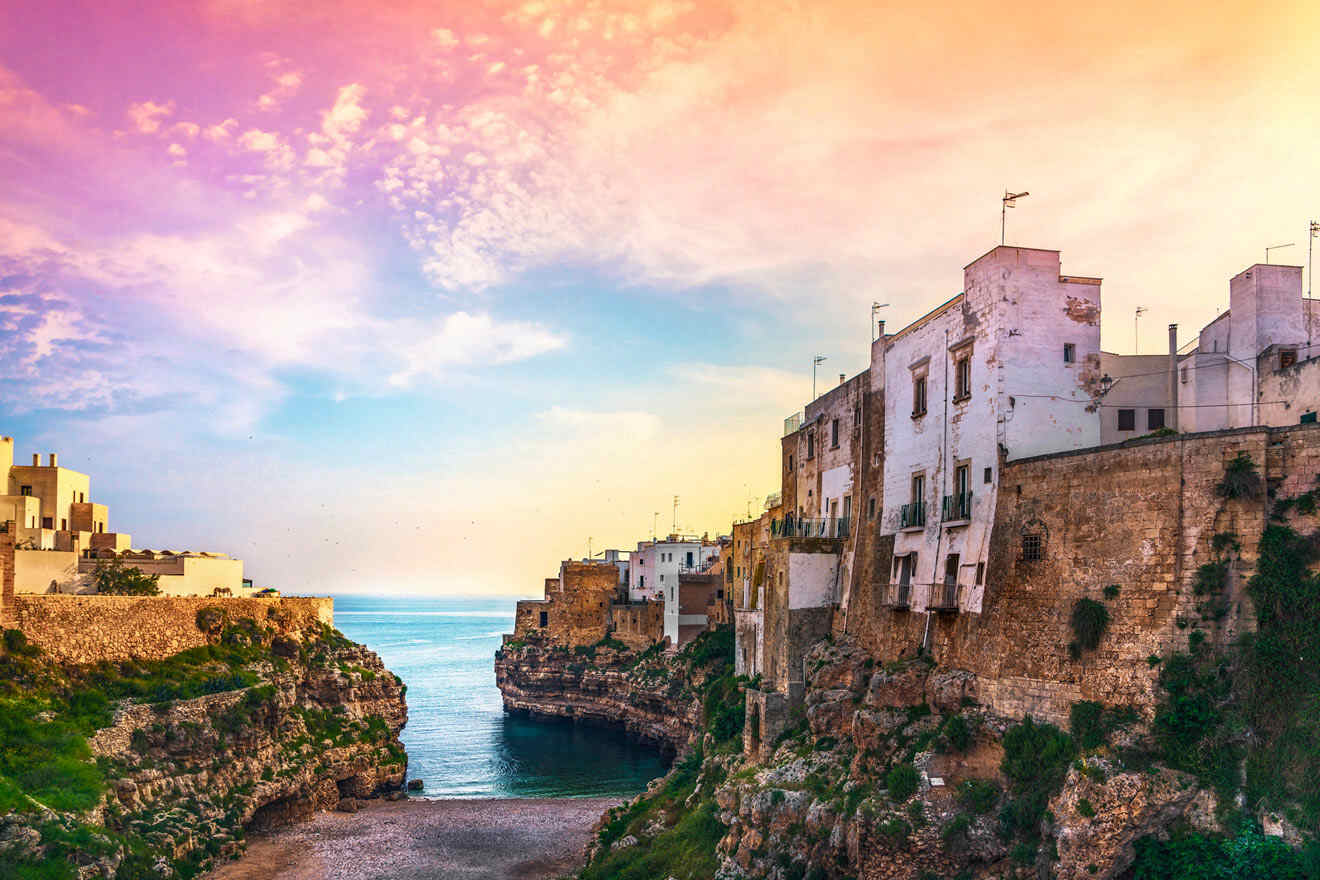 Get ready to see 2 of the most iconic cities in Puglia on this day trip tour from Bari!
If you've searched anything about this region, you've probably stumbled across these gorgeous places, and honestly, if you've got more time in Bari, you should definitely take advantage of that and go visit them!
I found this really amazing half-day tour which lasts 5h and costs €145 (US$150)! It includes transportation, a tour guide, an olive oil tasting, and entrance to a trullo house in Alberobello!
First, you'll head to Polignano a Mare, a beautiful beach town where you'll get to admire the incredible landscapes and the beach. But it'll be a short visit so bear in mind that you won't have time to sunbathe or swim.
From there, you'll go straight to Alberobello, a unique town and a UNESCO World Heritage Site that's famous for its white trullo houses! There you'll have more time to explore the streets, go inside the traditional houses, and even taste some delicious olive oil!
Sounds like such a dream!
TOUR PRICE: from €145 per person
Visit Alberobello & Polignano a Mare
11. Learn how to make pasta on Strada delle Orecchiette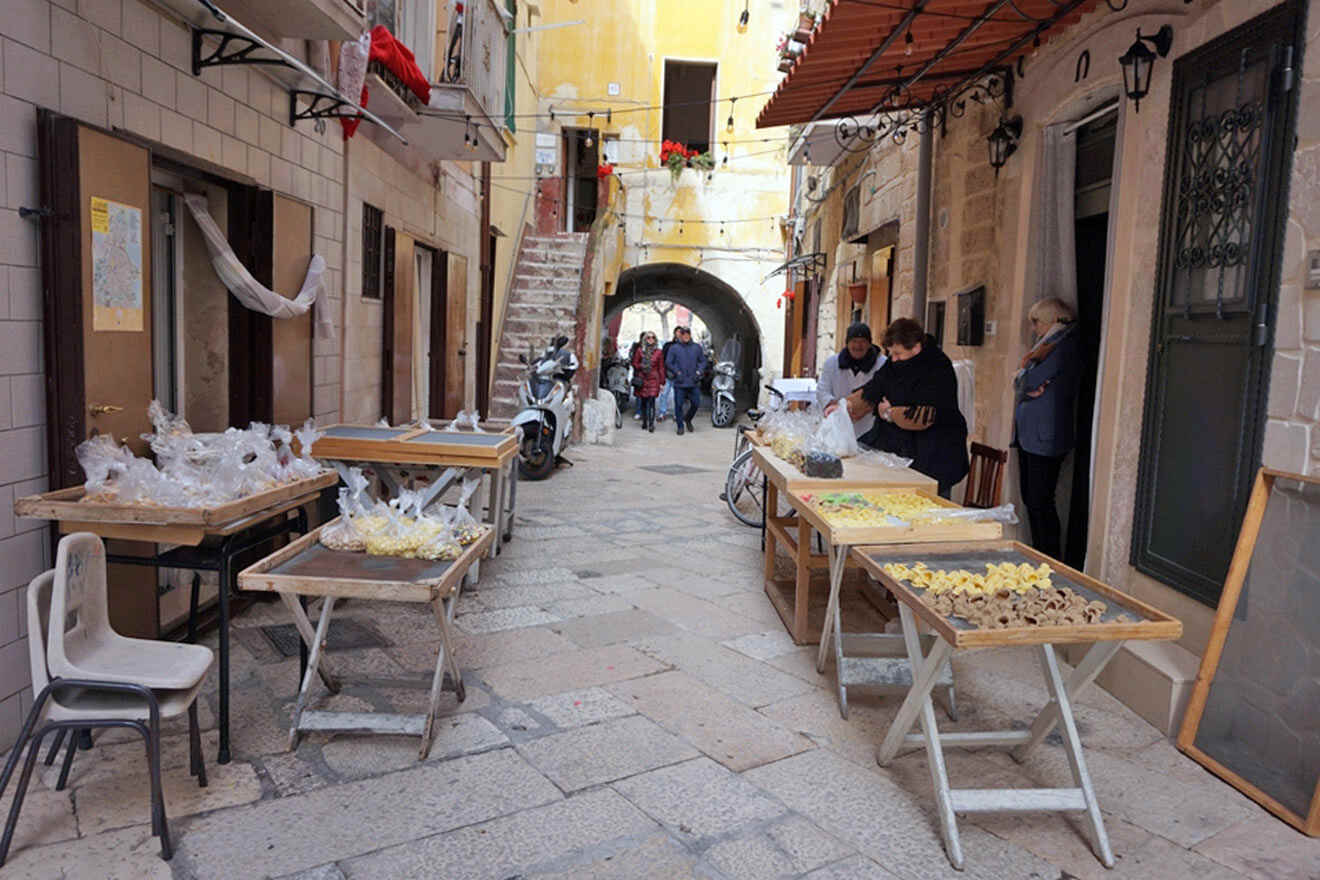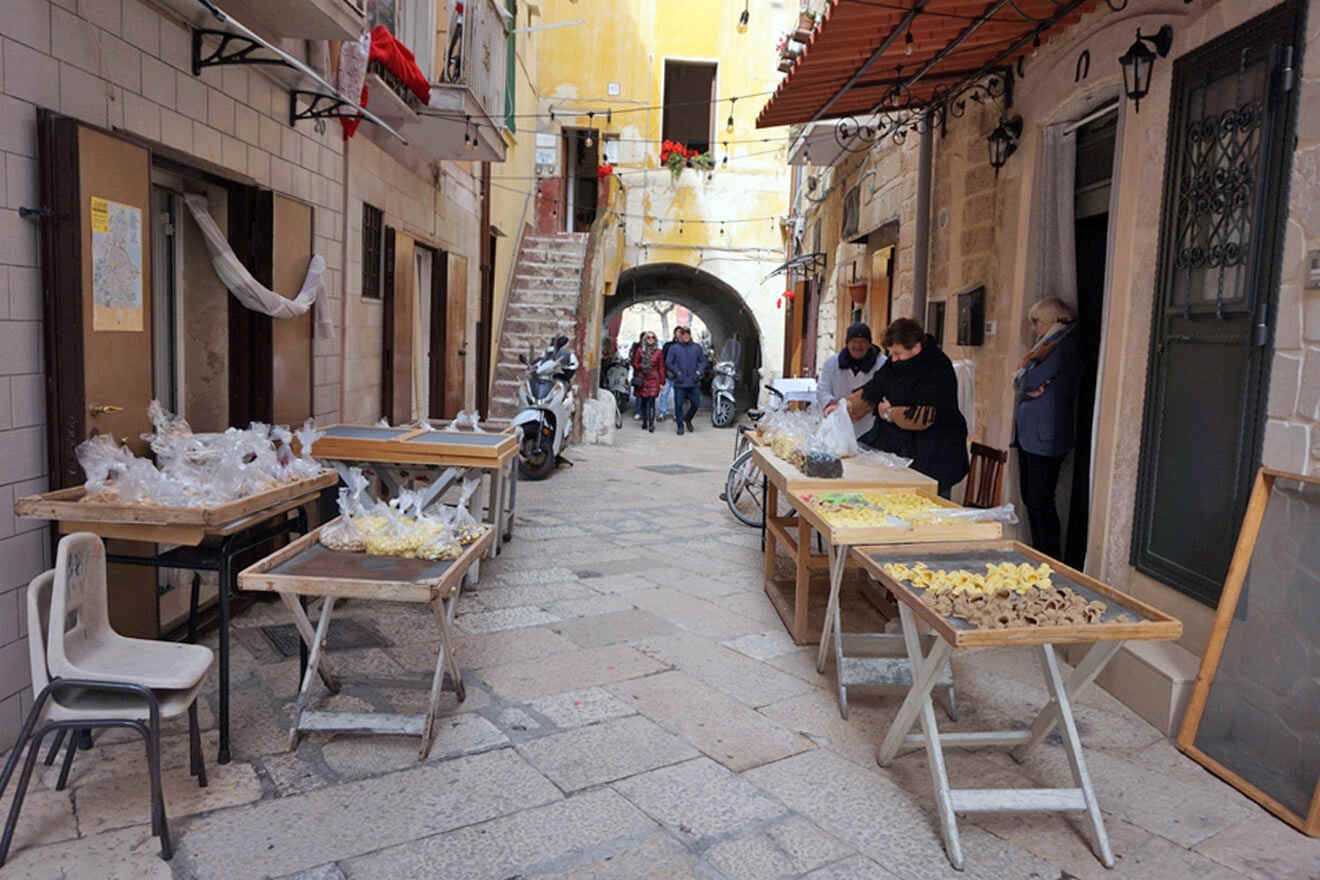 This is by far one of the coolest things to see in Bari, Italy!
In the Old Town, there's a street where local women gather around the tables and prepare fresh pasta that you can take at home as a souvenir!
Called Strada delle Orecchiette, after the name of the type of pasta that they prepare, this avenue is such a fun place to explore and get a taste of the local culture!
All the women are super cute, and it's so fun just to stop and watch their dexterity and how they prepare this fresh orecchiette pasta! This type of pasta is specific to this area, and you'll find them cooked in all restaurants around the Puglia region.
So come here and get some tips on how you could prepare it at home! You can also take pictures as they usually don't mind, but it's better to ask first!
12. Indulge in all the yummy food
Of course, it was impossible not to include this major thing to do on your Puglia trip in Bari, Italy!
Eat, eat, and eat again!
There are so many yummy local dishes to try here, and most of them include seafood, as fishing is such a big thing here!
There's nothing like a yummy dinner accompanied by some local wine after a long day of walking and visiting attractions.
To be honest, most restaurants in Bari, Italy, serve yummy food, but I know you love a good old review of some of the best ones, so here are the main ones that I liked:
Another great way to indulge in all the food in Bari is to join food tours! I found this walking street food which takes around 3h and costs €45 (US$50). During the tour, you'll be accompanied by a guide who will take you around the main attractions in Old Bari and to the best places to eat there, where you'll try different dishes and learn how they're prepared!
TOUR PRICE: from €45 per person
13. Relax in Piazza del Ferrarese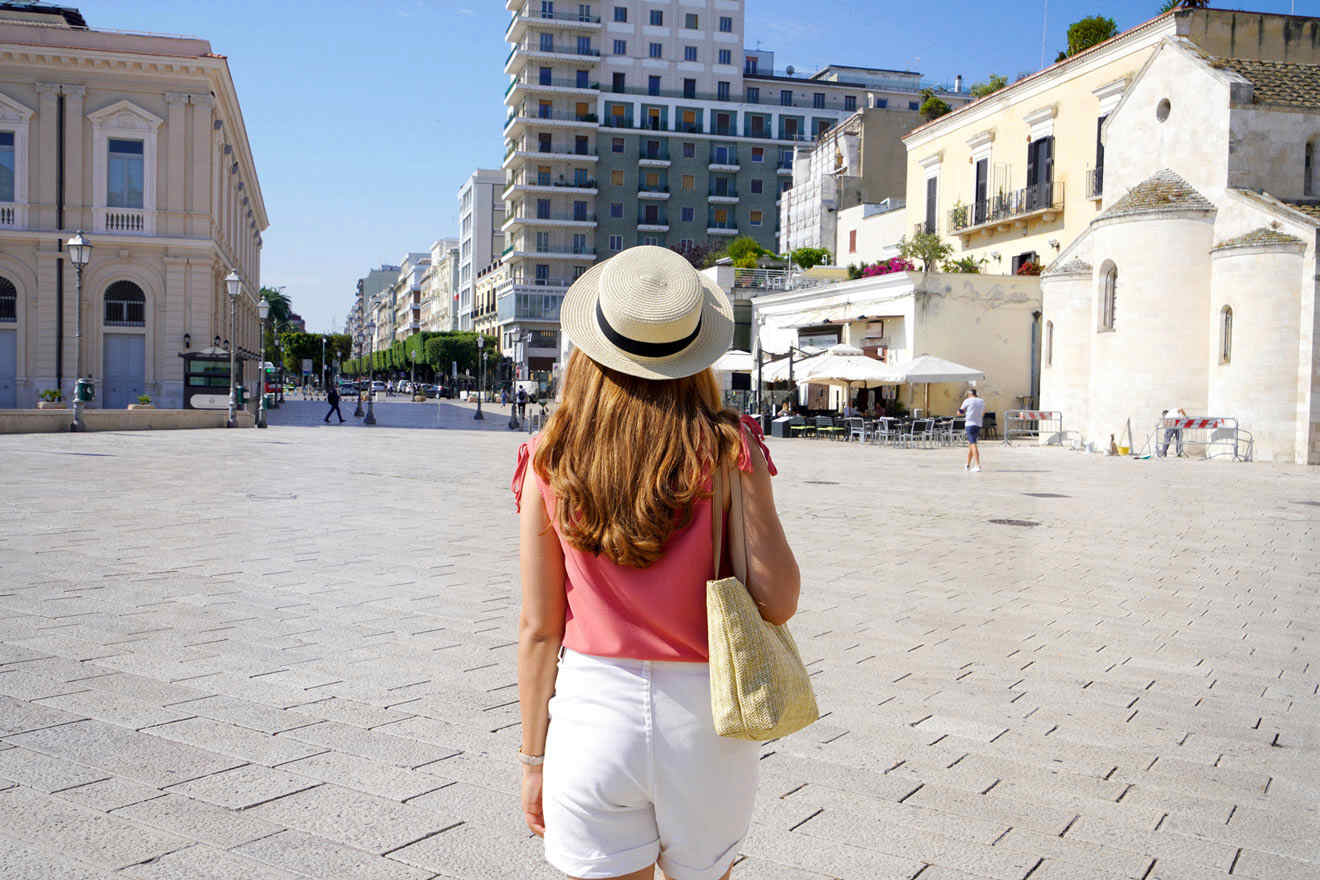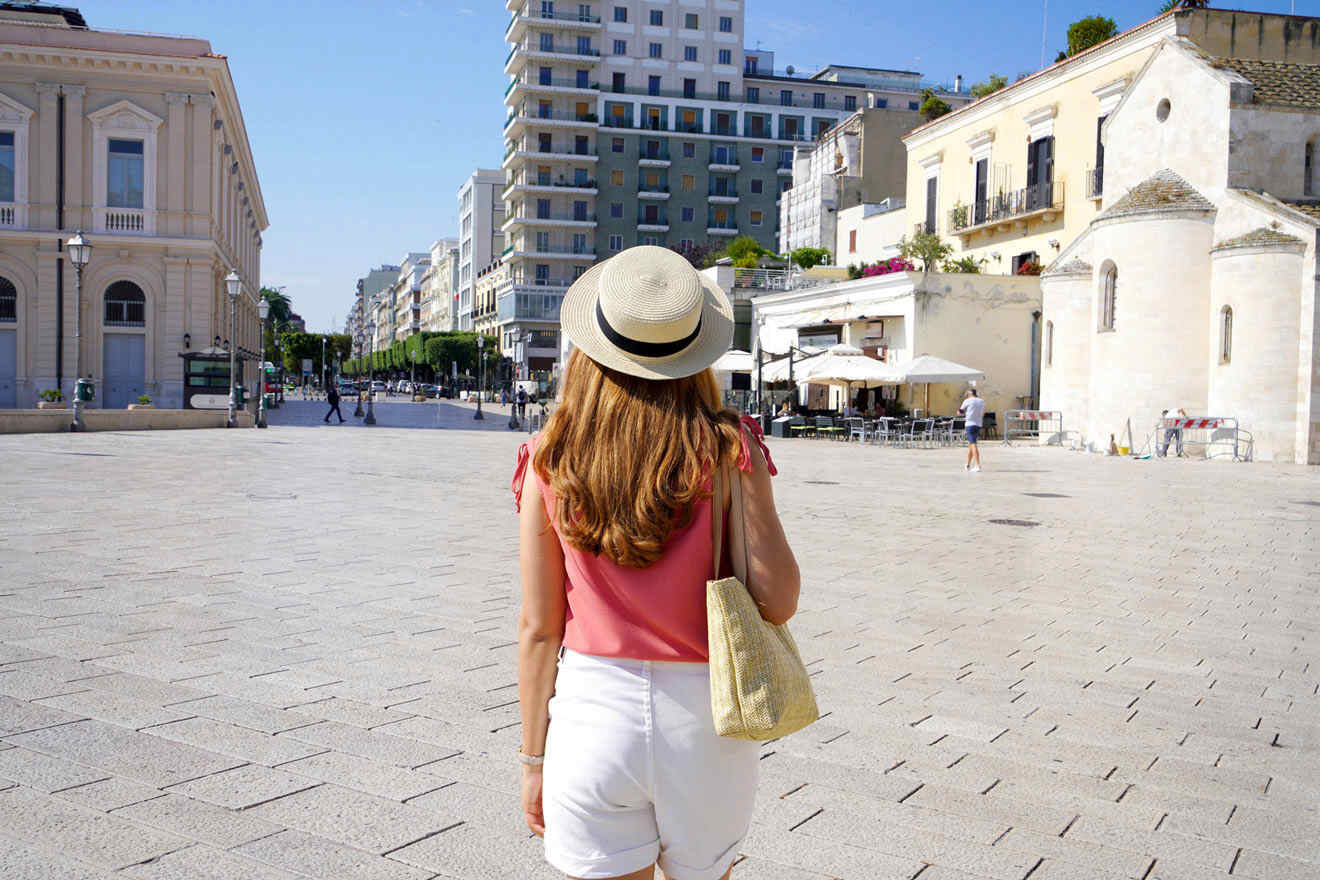 There's nothing like people-watching while drinking a glass of wine in an Italian piazza!
Piazza del Ferrase is set near the seafront promenade, which means you'll also get to admire the gorgeous Adriatic Sea!
There are lots of cafés, terraces, and restaurants in the piazza where you can sit. So once you're there, pick your favorite, sit down, and enjoy the famous dolce far niente!
14. Tour the incredible Teatro Petruzzelli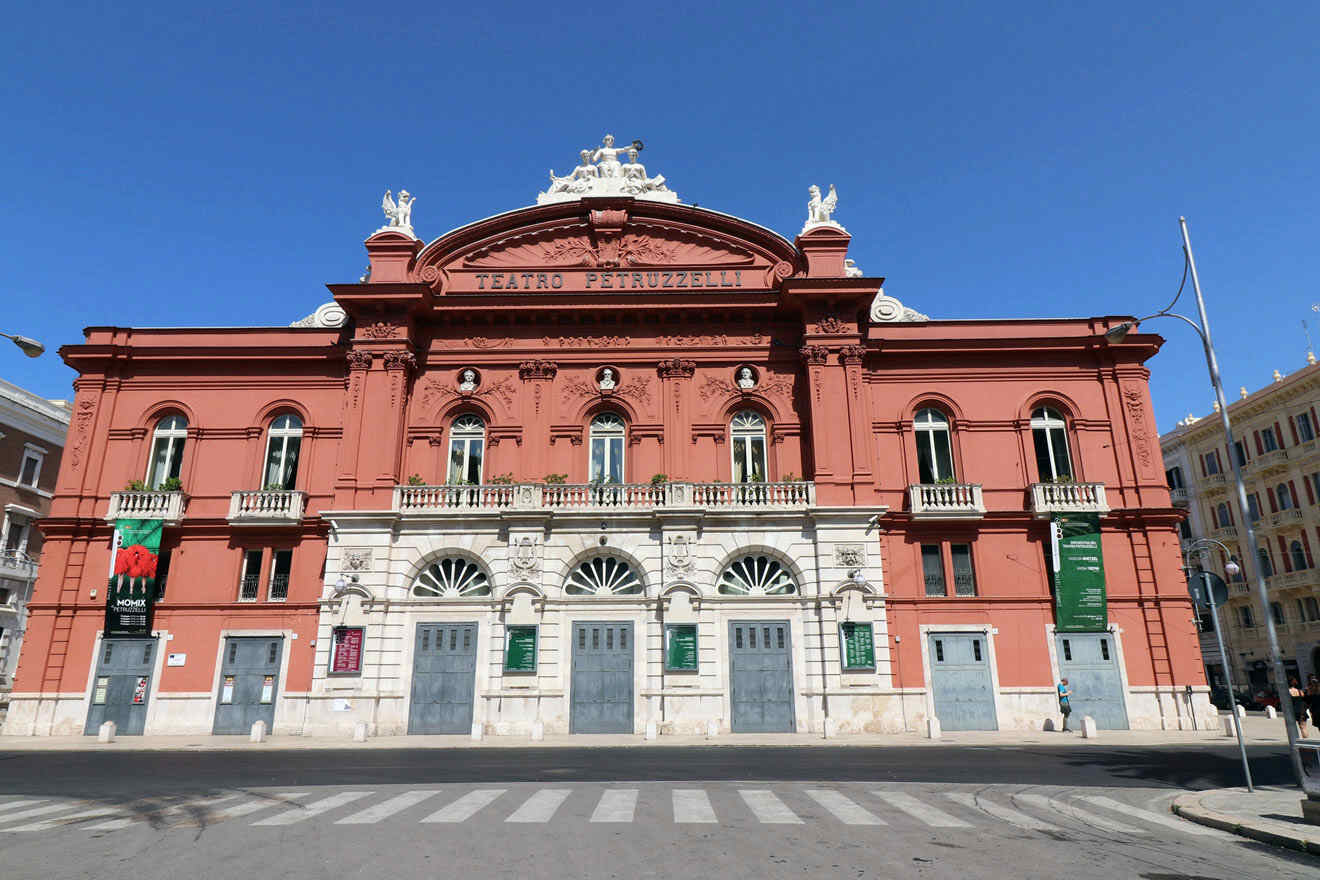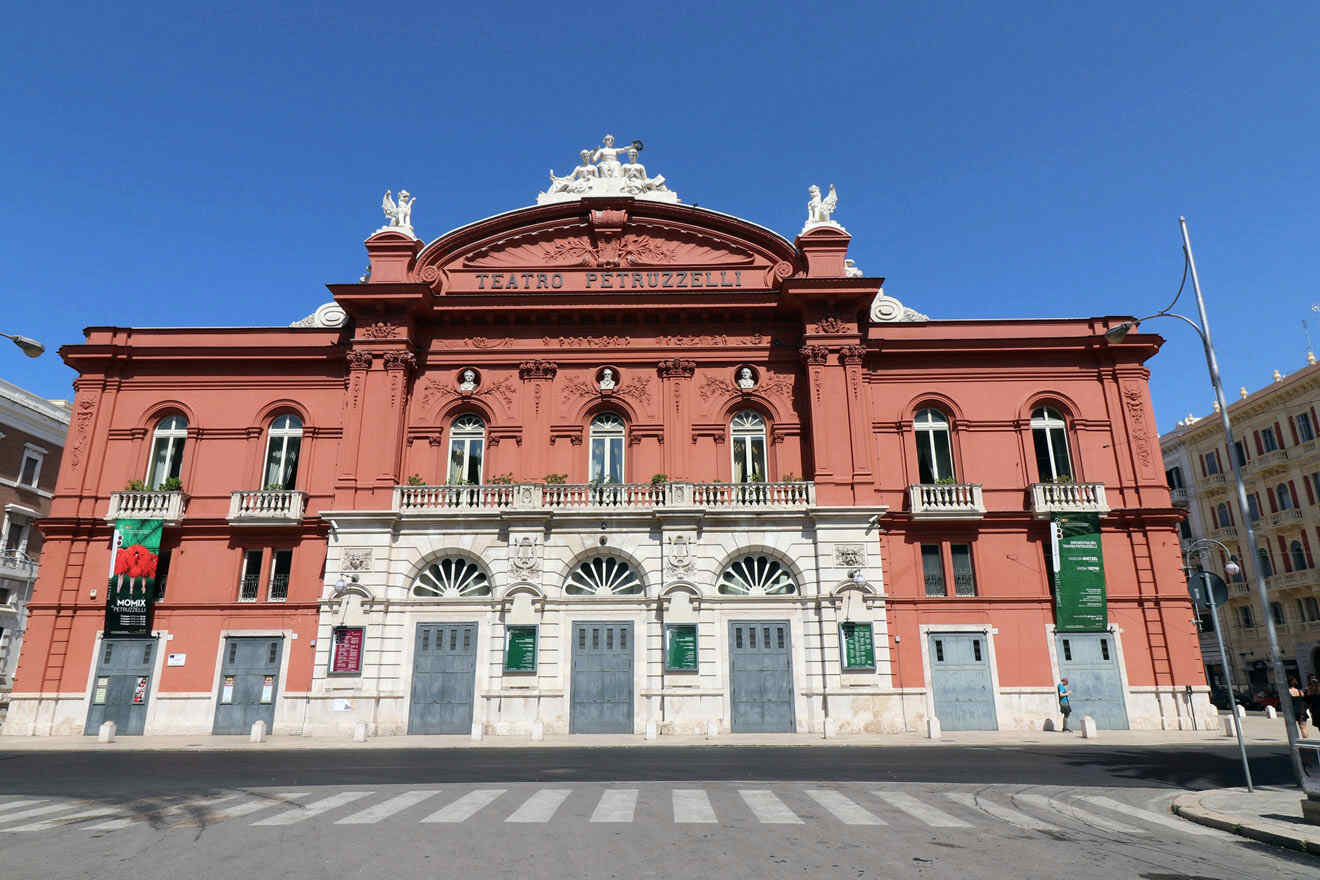 Say hello to the fourth-largest theatre in the country!
Set in the most recently built part of Bari, this building has a long history of being rebuilt and refurbished after a fire destroyed it in the 1990s!
Nowadays, it hosts lots of opera shows, plays, ballet, and concerts!
Some really big names like Liza Minnelli and Luciano Pavarotti had shows in this place!
If you want to visit the theatre, you can join one of their guided tours which cost only €5 (US$6), or you can also check out their schedule and see if they have a show when you're in town!
PRICE: €5
15. Shop until you drop in the Bari stores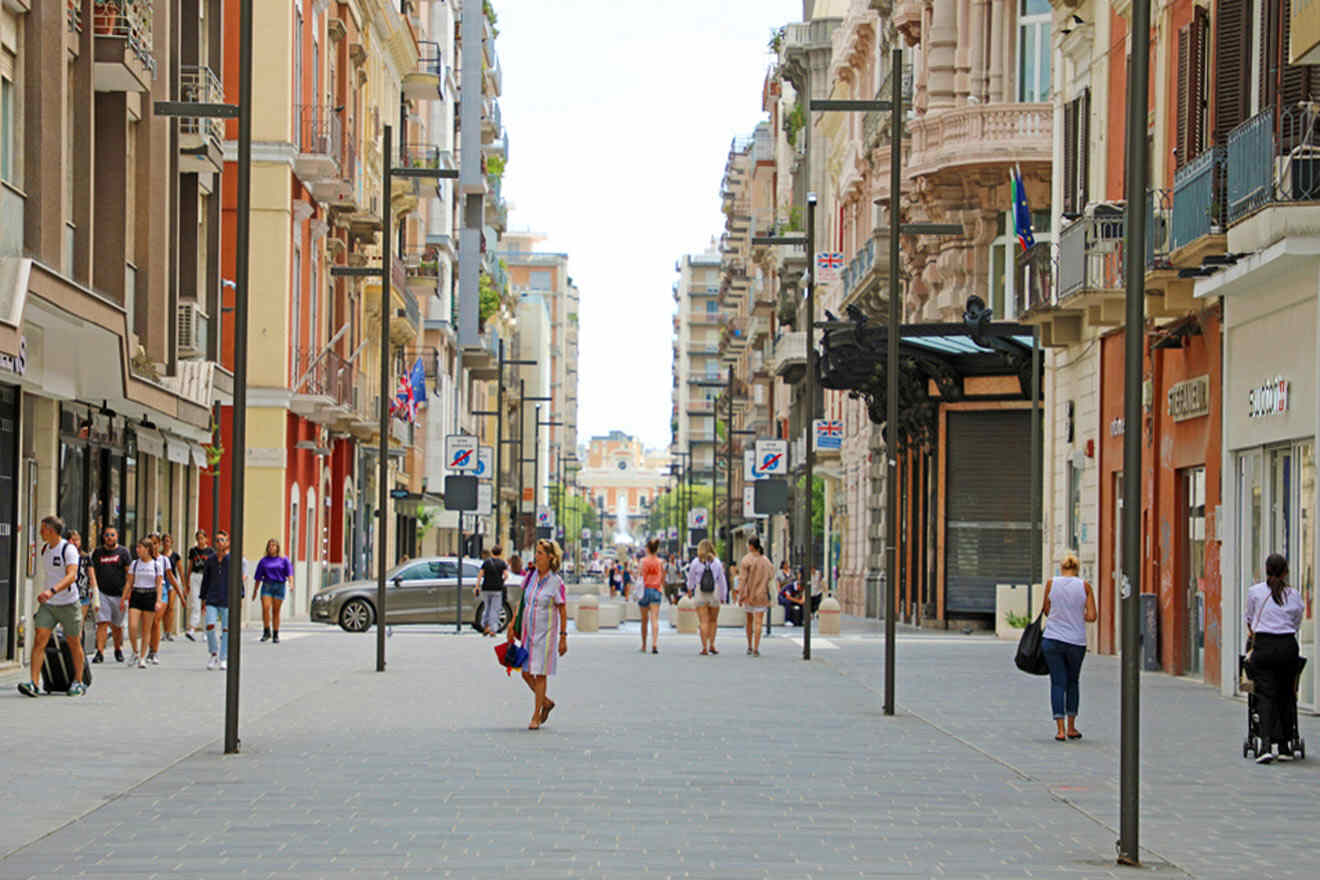 I know we've talked so much about the Old Town and the historic attractions in Bari! But there were really so many incredible ones that you should check out!
Still, there's also a new side of Bari where you'll find the chicest stores, fancy cafés, and more restaurants!
All these places are set in the Murat area, where you'll also find the Bari Train Station.
If you love shopping, then you definitely need to check out this area, as you'll find some of the big brands like Prada, Calvin Klein, Nike, and more!
16. Go on an evening stroll on Lungomare Nazario Sauro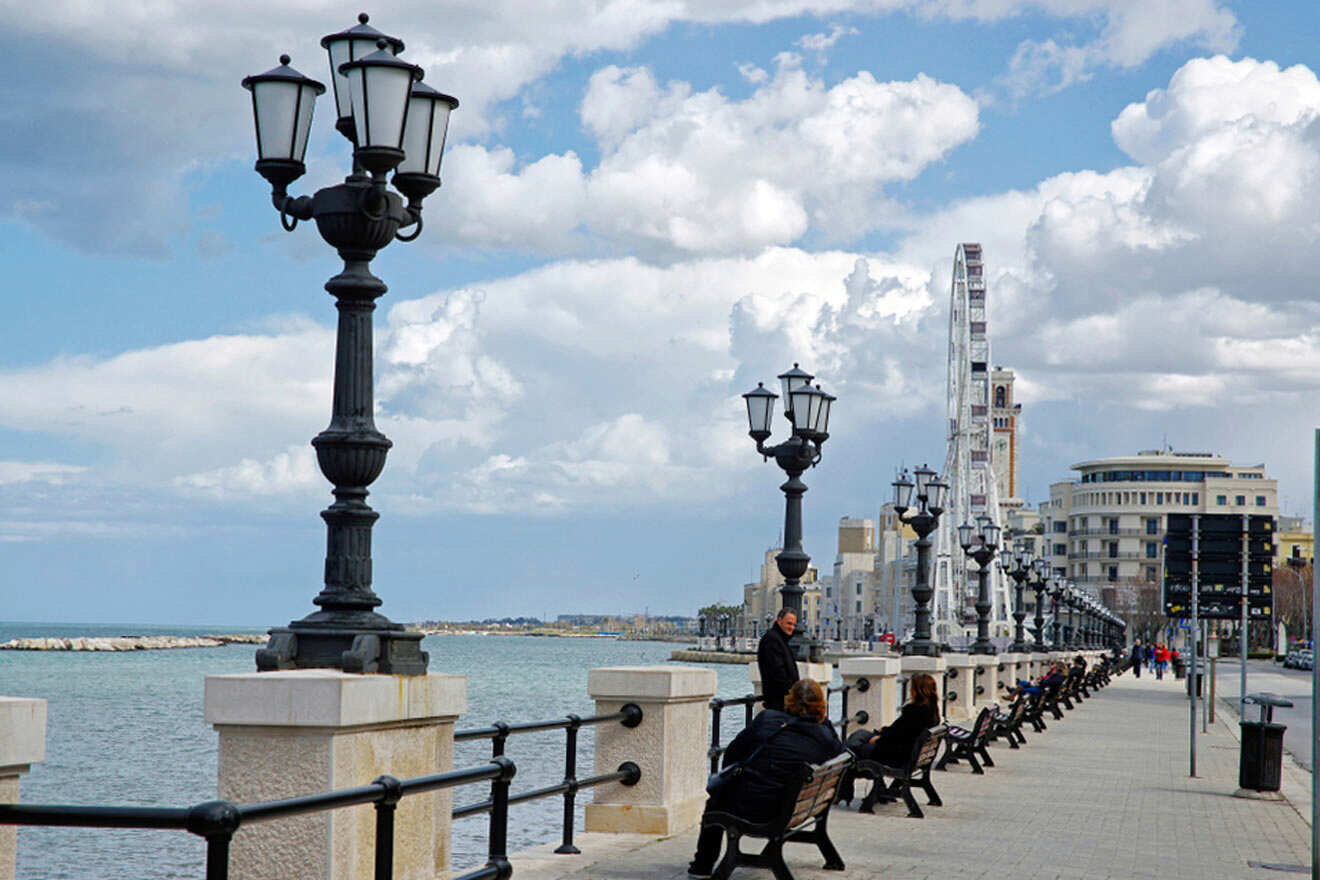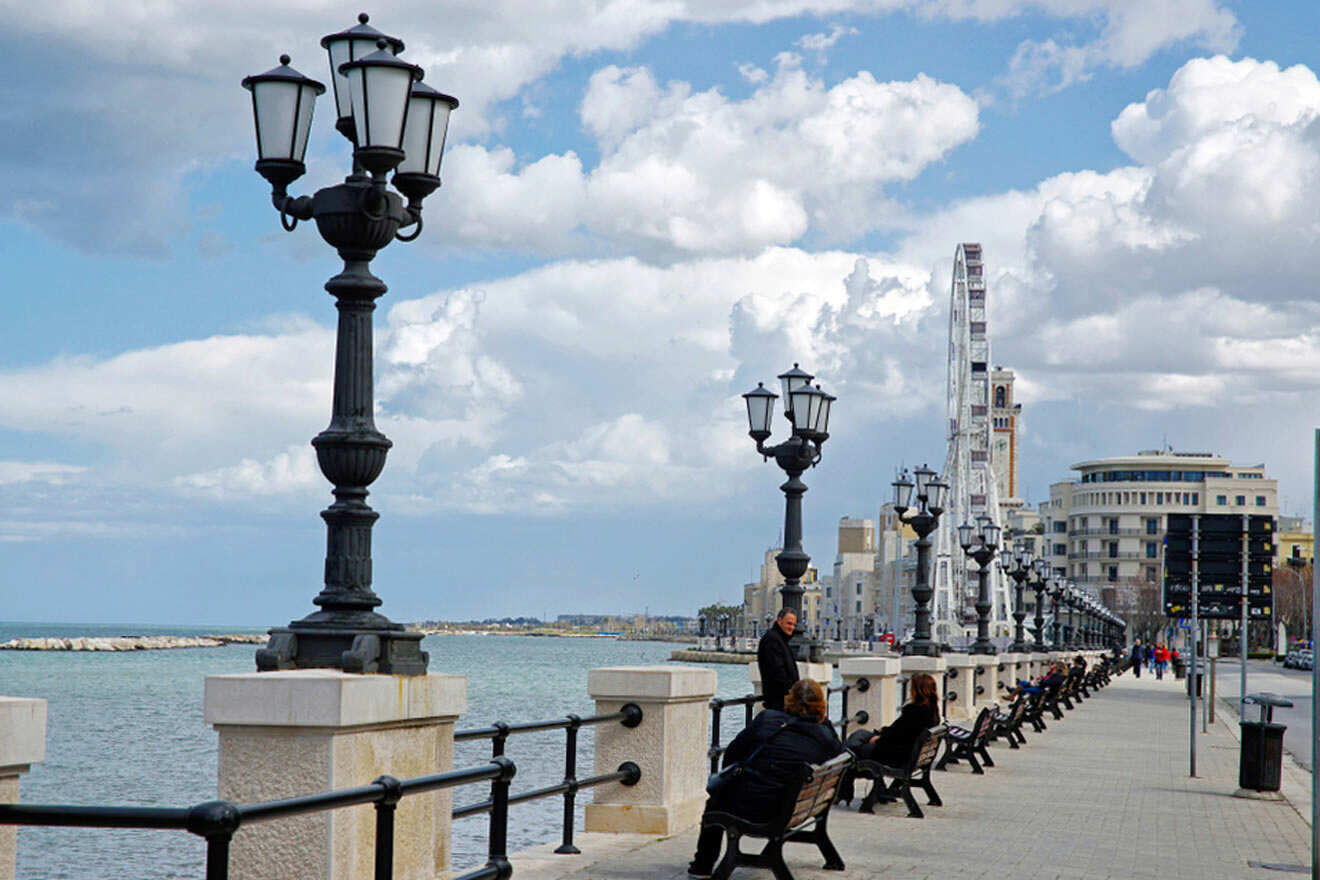 The perfect way to end your day in Bari? Head over to Lungomare Nazario Sauro, which is the name of the seafront promenade, and walk around it!
If you're lucky to catch a lovely sunset, then it'll definitely be a memorable night!
The promenade overlooks the stunning Adriatic Sea, and at night when all the lights are turned on, you'll feel as if you've landed on the set of a romantic movie!
Stretching from the harbor to the Parco per Cani, Bari Lungomare Nazario Sauro is lined with historic buildings, terraces, and restaurants!
17. Admire the art at Pinacoteca Metropolitana di Bari
This gorgeous art gallery isn't so popular with tourists, although I don't understand why since it houses some incredible paintings and works of art!
Set near the Lungomare Nazario Sauro promenade, this museum is housed in a beautiful building which is actually the Palazzo della Provincia di Bari!
We spent around 2h admiring all the gorgeous paintings and loved every minute of it!
Definitely head there if you've got the time, as it offers a breath of fresh air from all the other Bari attractions.
PRICE: €5
Practical information about Bari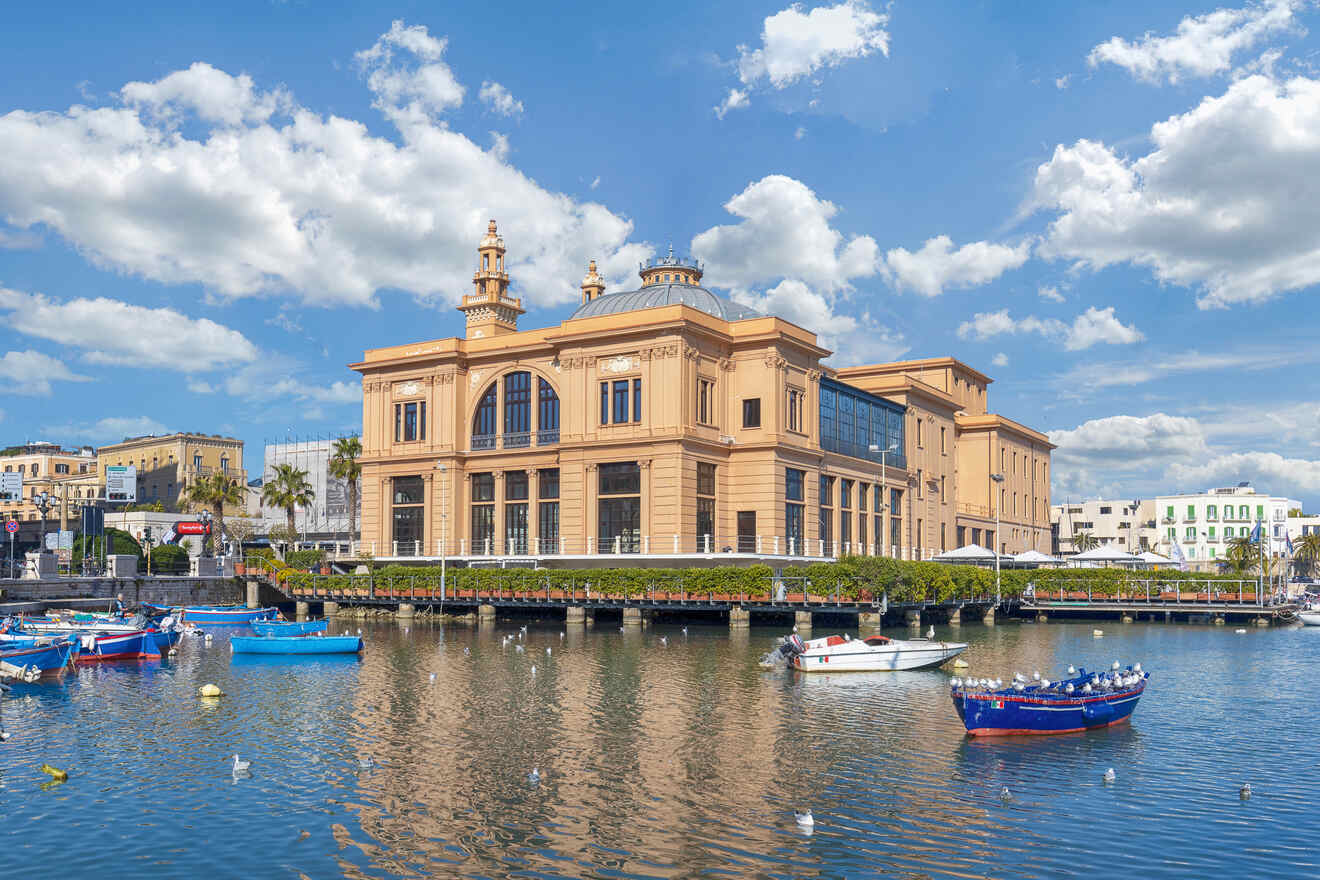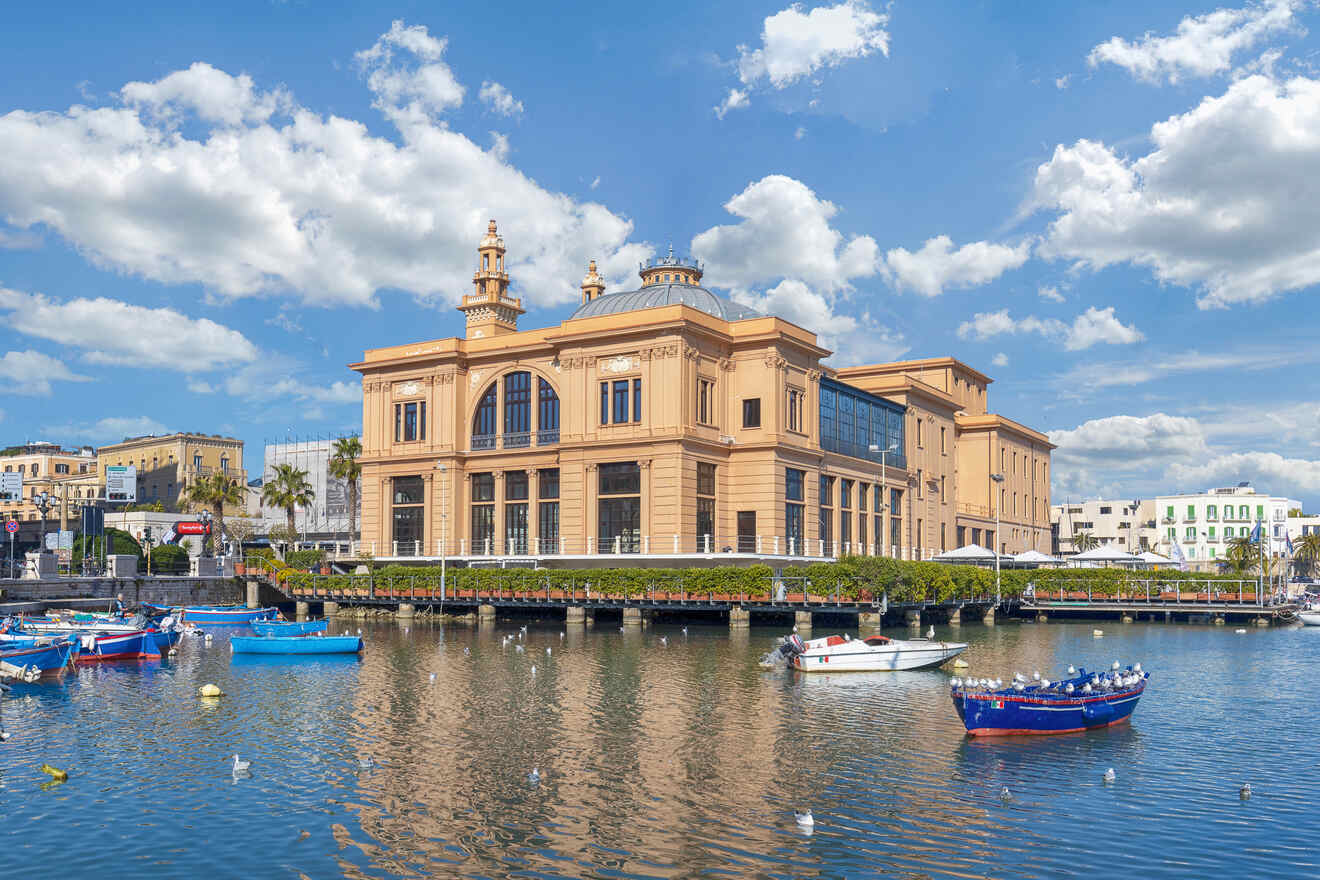 Alright, everyone! I'm so happy you made it to the end of this amazing list of things to do in Bari! I know there's a lot of information to take in, but if you've scrolled down to this part, then you're in for even more useful tips!
Since I've already been here, I decided to make this section where I'll add some great places to stay in Bari and how to get to Bari and around the city!
So without further ado, let's start!
Where to stay in Bari
Here are some of the best places to stay in Bari, Italy, which I ordered by price so that you can easily find your favorite: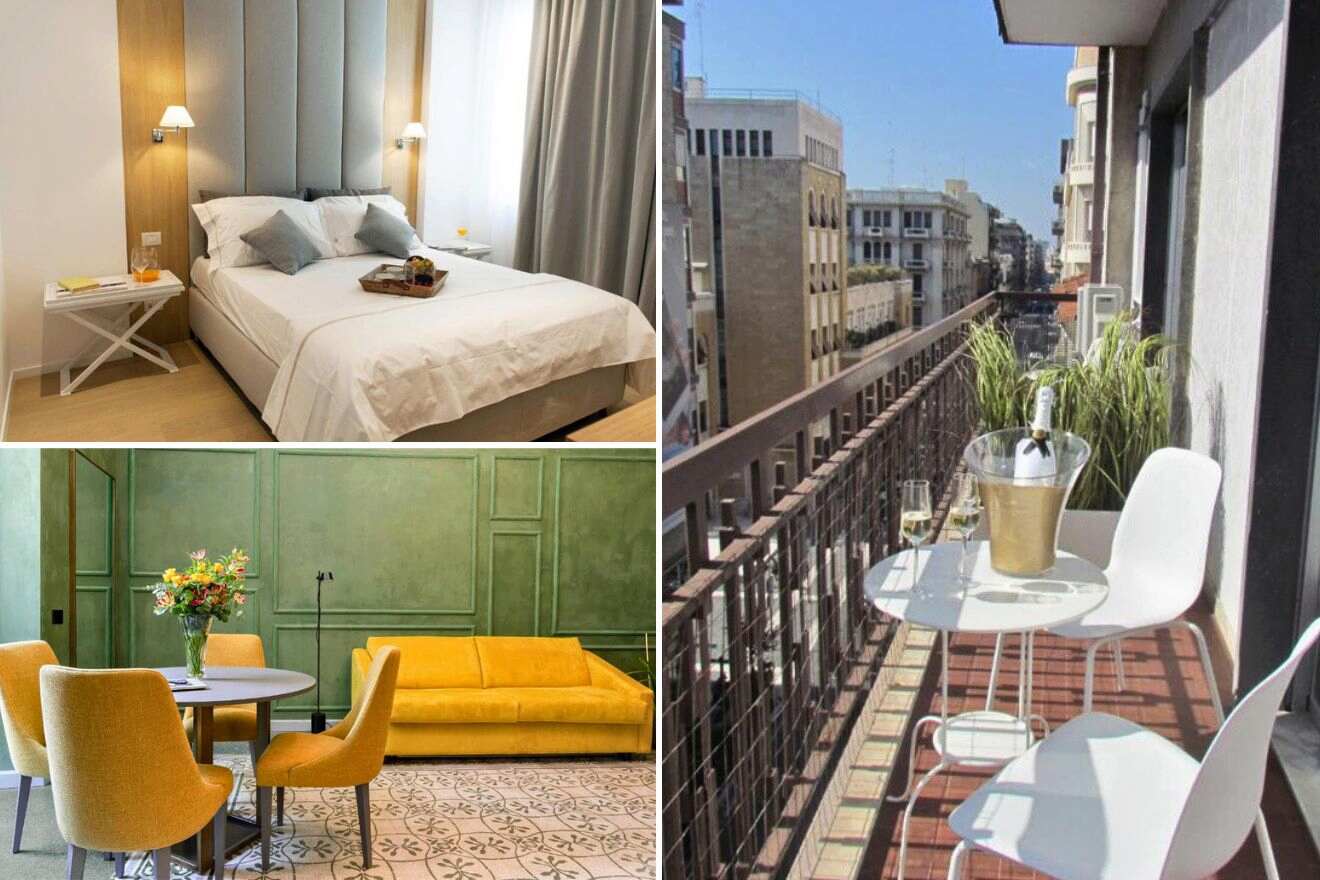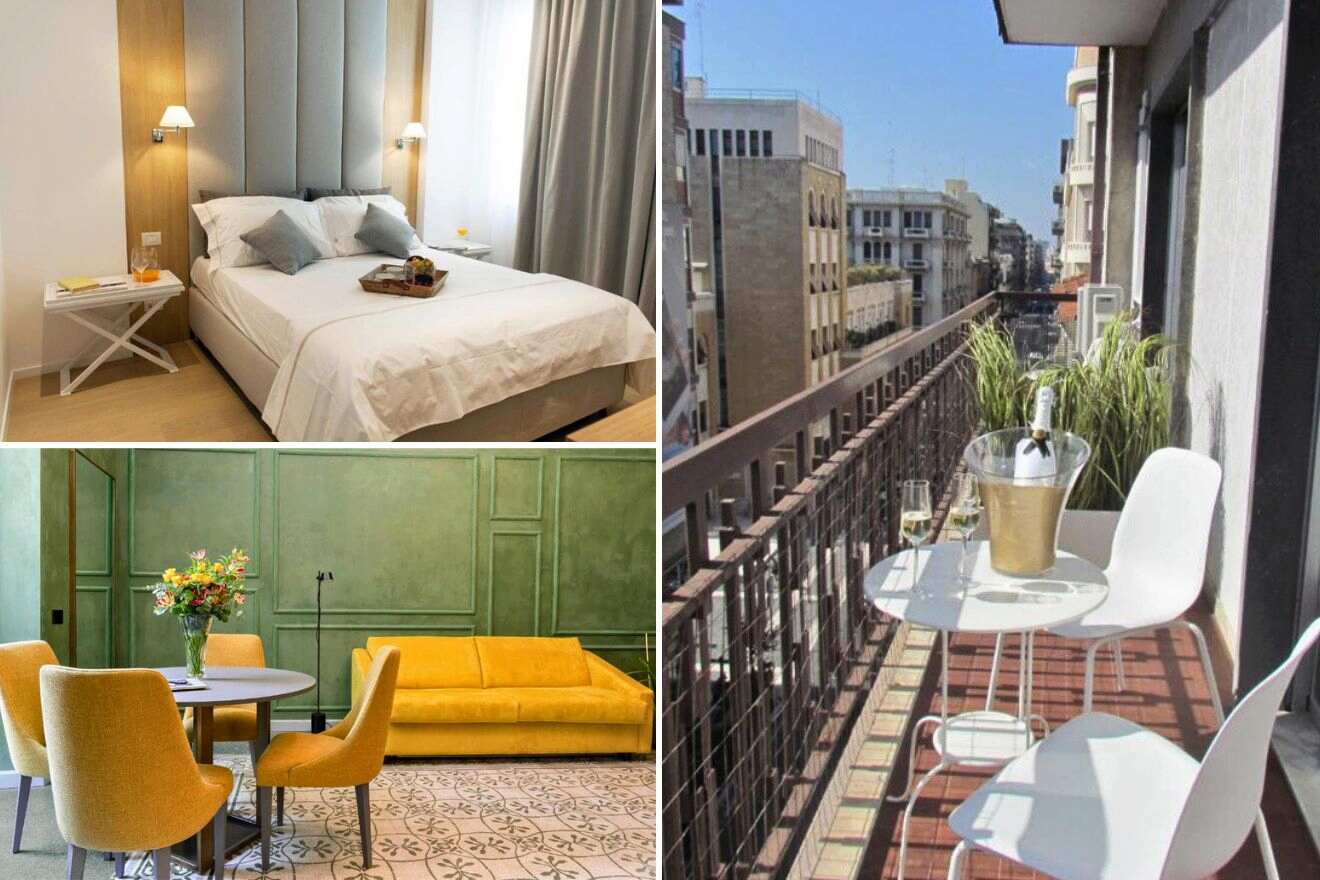 How to get to Bari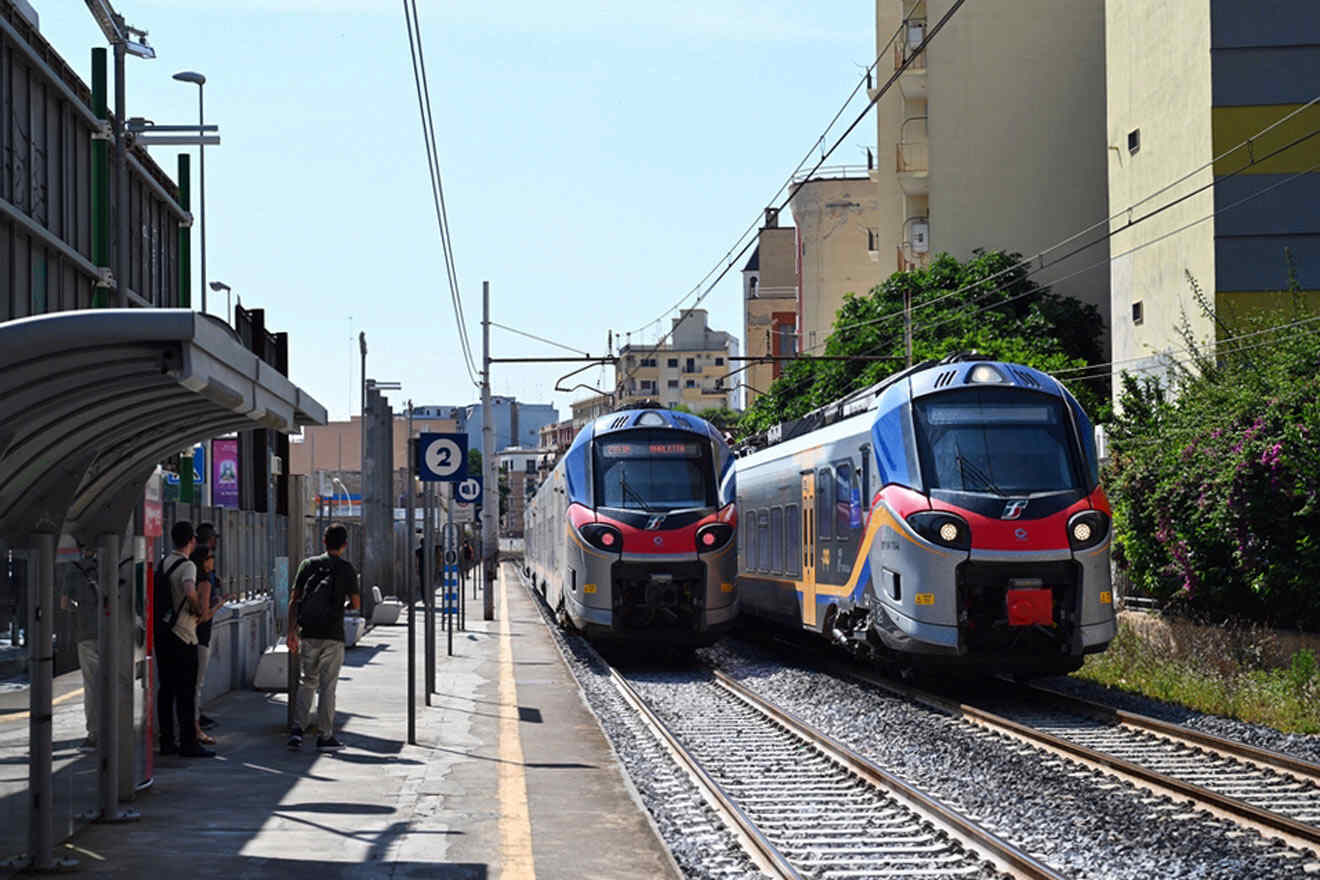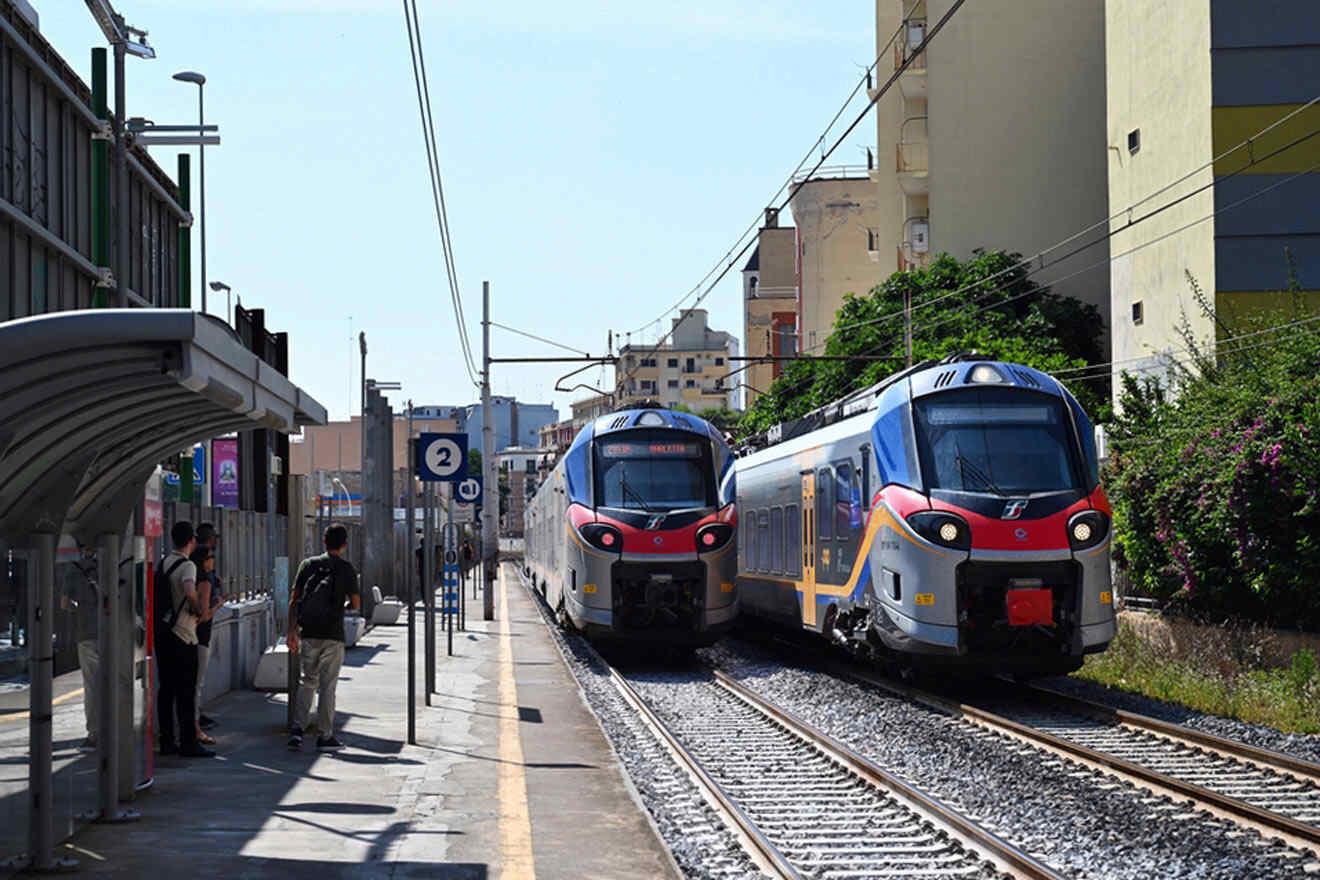 Well, it really depends on where you're coming from! But luckily, since Bari is the capital city of Puglia, you can easily reach it:
How to get around Bari
I think the best way to get around the city is by walking! That's what I did, and I found it to be perfect as the main touristic areas are not far away from each other!
Of course, if you want to maybe visit some of the beaches or other towns you can use the train or the bus service!
FAQs about things to do in Bari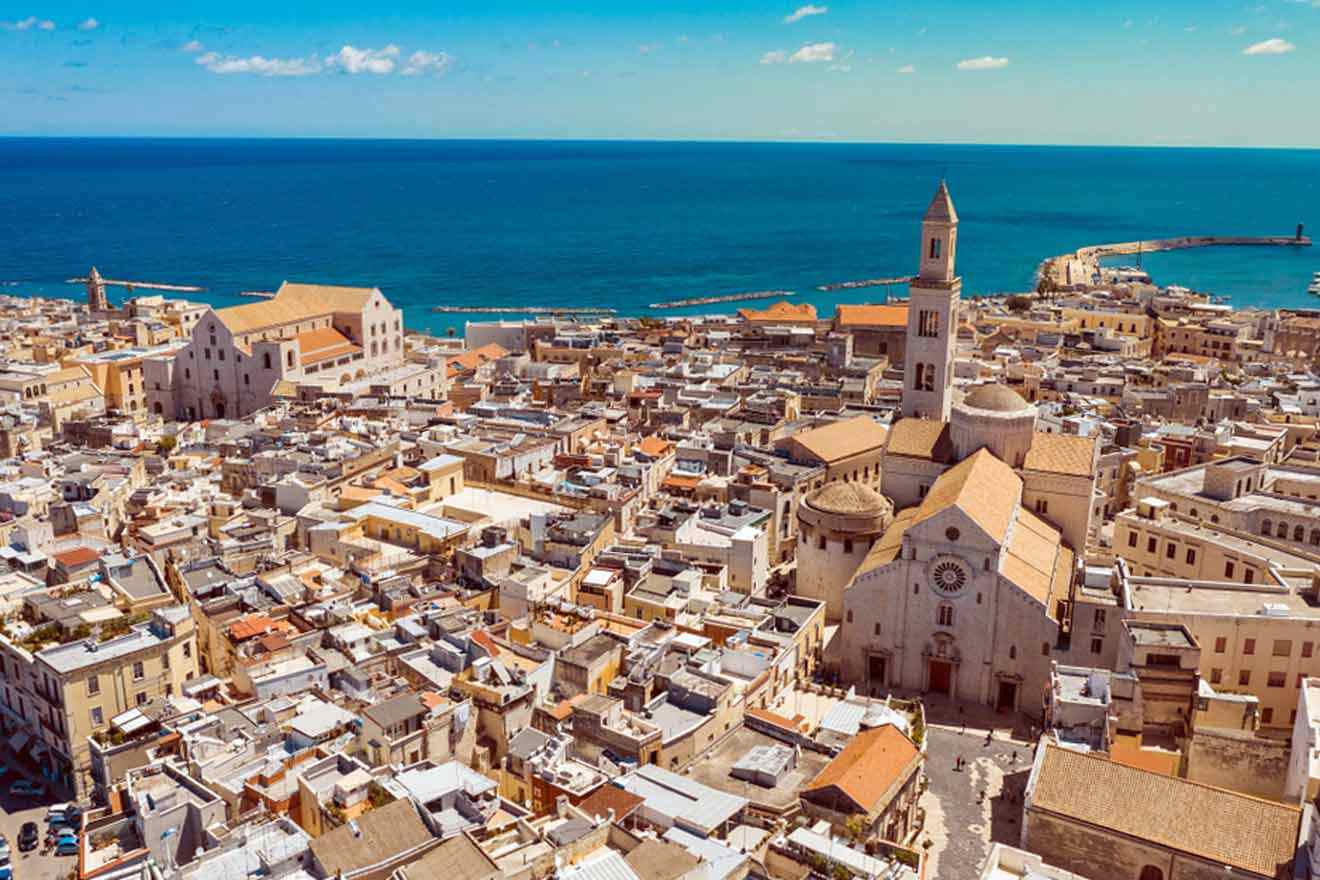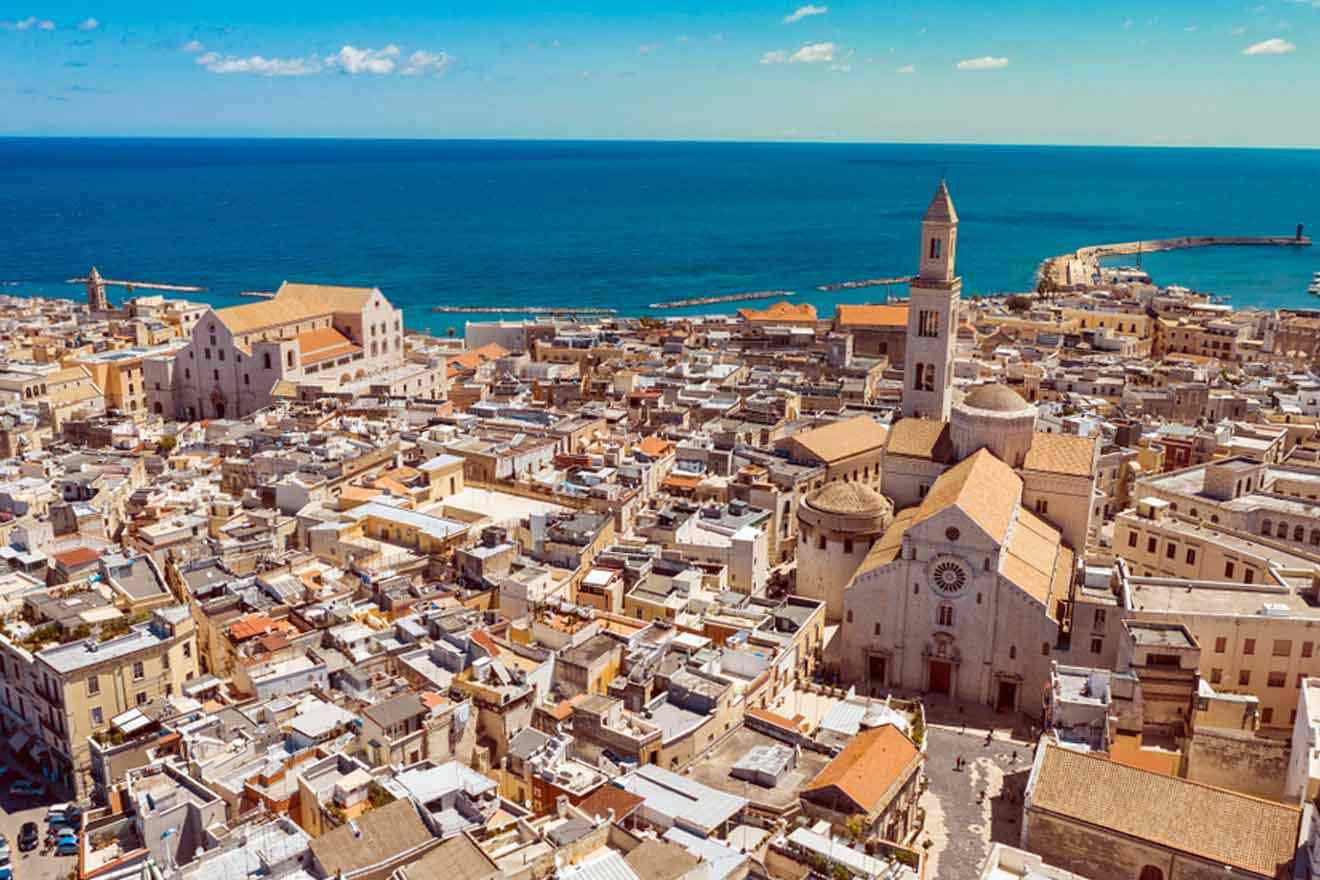 🍝 Is it worth visiting Bari?
Yes! Bari is a wonderful city with so many fun things to do and attractions! Plus, it's a great location from where you can take day trips around the whole Puglia region.
📅 How many days should I spend in Bari?
It depends. If you're taking day trips, I'd recommend spending 3 to 4 days if not, then 2 to 3 days should be enough.
⛵ What is Bari famous for?
Bari is known as a major transport hub, its ferry port, which is one of the largest ones in Italy, but also for its attractions like Basilica San Nicola!
🚶‍♀️ Is Bari, Italy, a walkable city?
Yes! You can walk pretty much to all of the main attractions in Bari! It's a great way to discover all the hidden gems and delicious street food!
Conclusion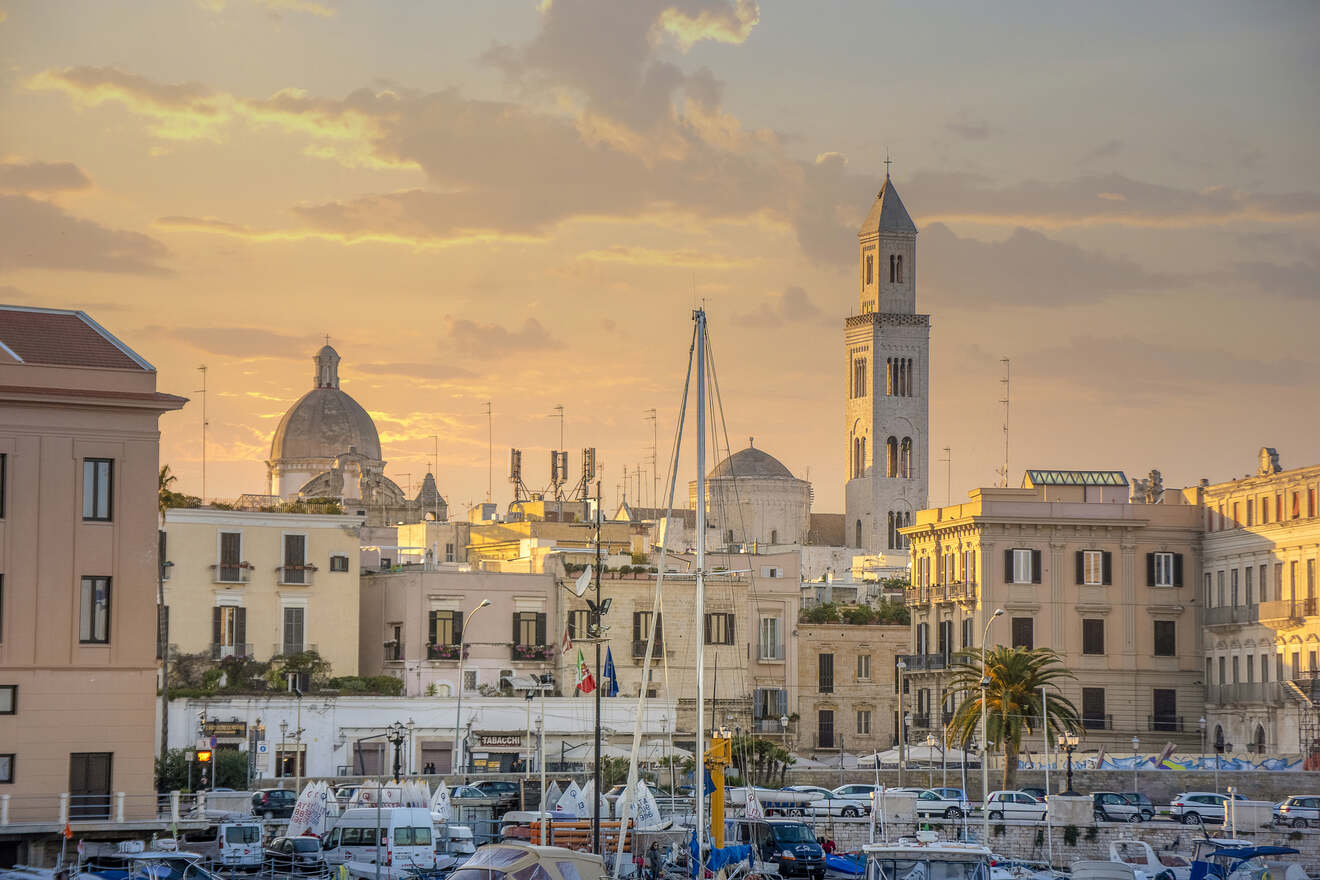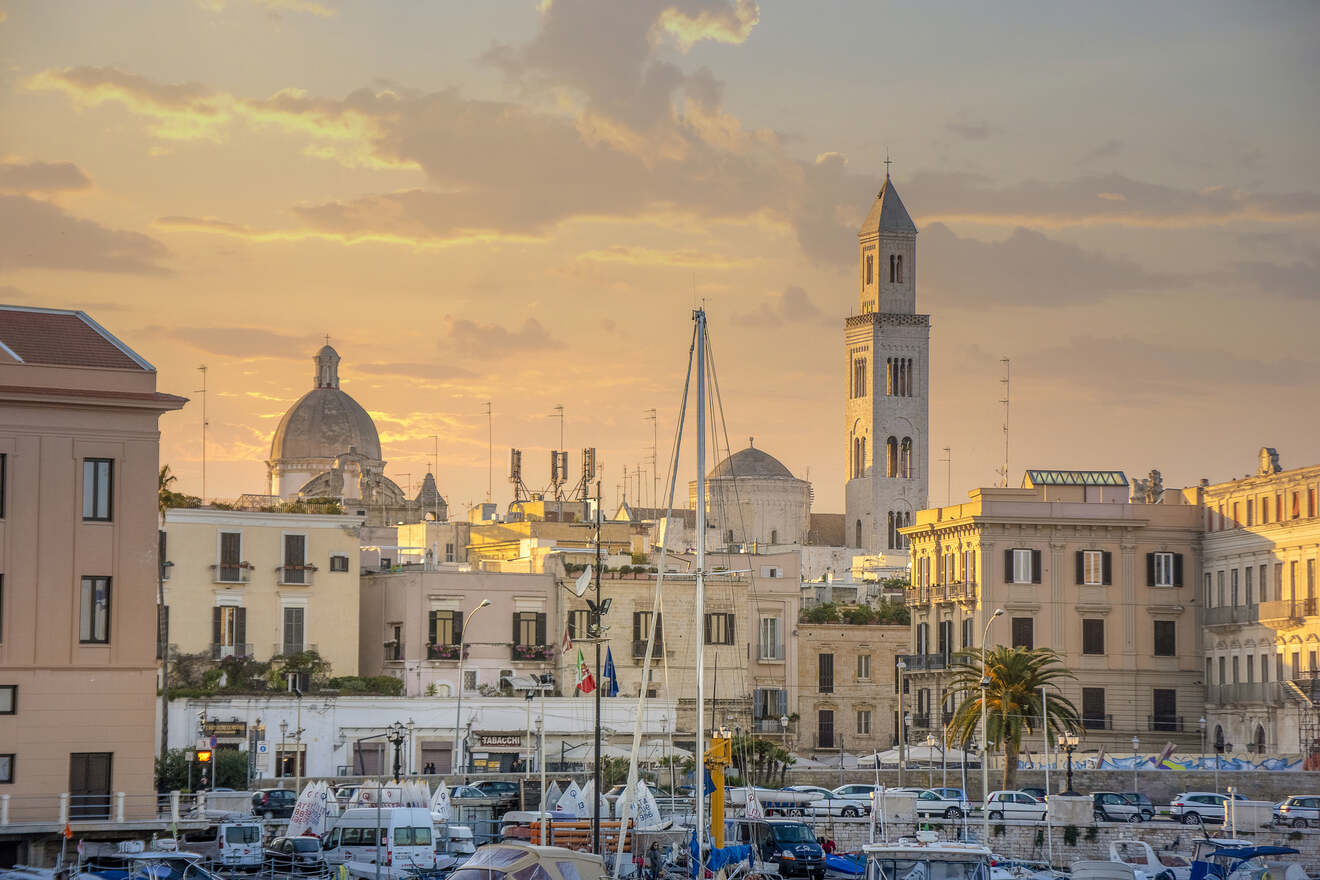 Already craving some pasta, seafood, and wine? I know the feeling, but luckily you'll be heading to Bari, Italy, soon!
I hope this post with the best things to do in Bari gave you a rough idea of how to plan your trip! I've included lots of details and information on the best places to stay in Bari and other things!
If you didn't get a chance to read the intro properly, I'd mention here as well that it's super important to book your tours and hotels in Bari, Italy, quickly! As the capital city of Puglia, this town gets many visitors!
We're almost done for today! But before we wrap it up, I wanted to leave you with 2 amazing activities that I think you'll enjoy on this trip:
I'm so excited you're headed to Puglia! This region is so dreamy, and I loved every minute of it!
If you've got any other questions about the other towns or even about Bari, don't hesitate to leave me a comment below, and I'll answer them ASAP!
Safe travels,
Victoria
---
Pin it for later!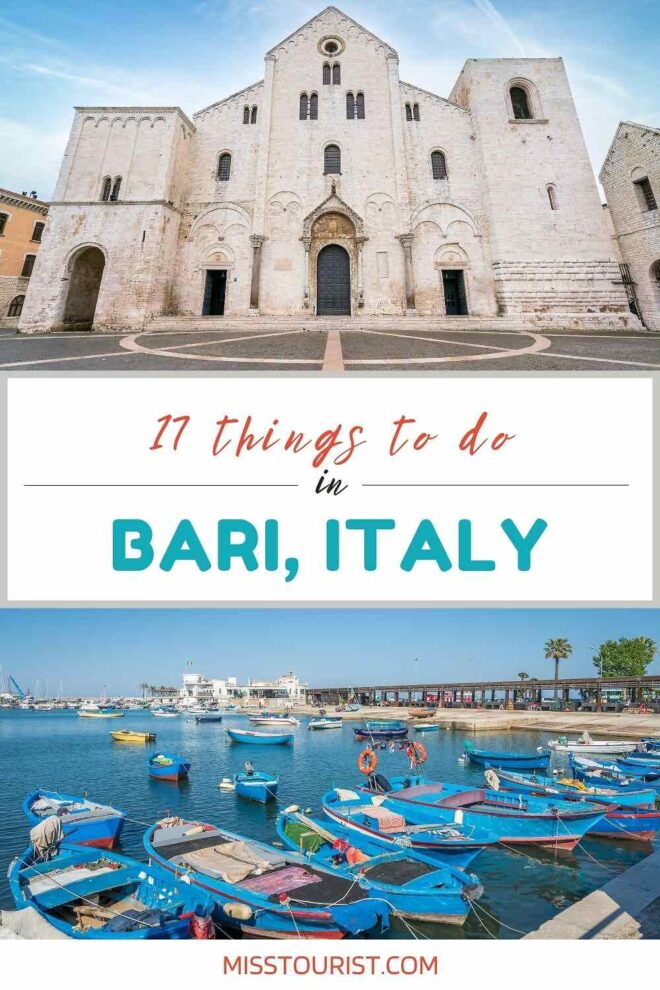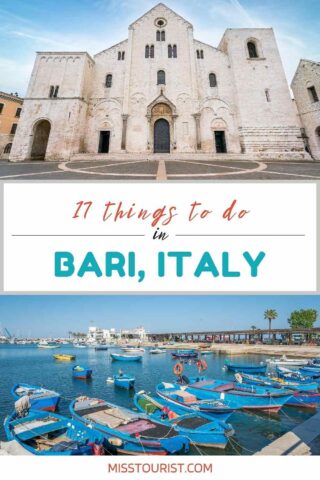 Pin it for later!