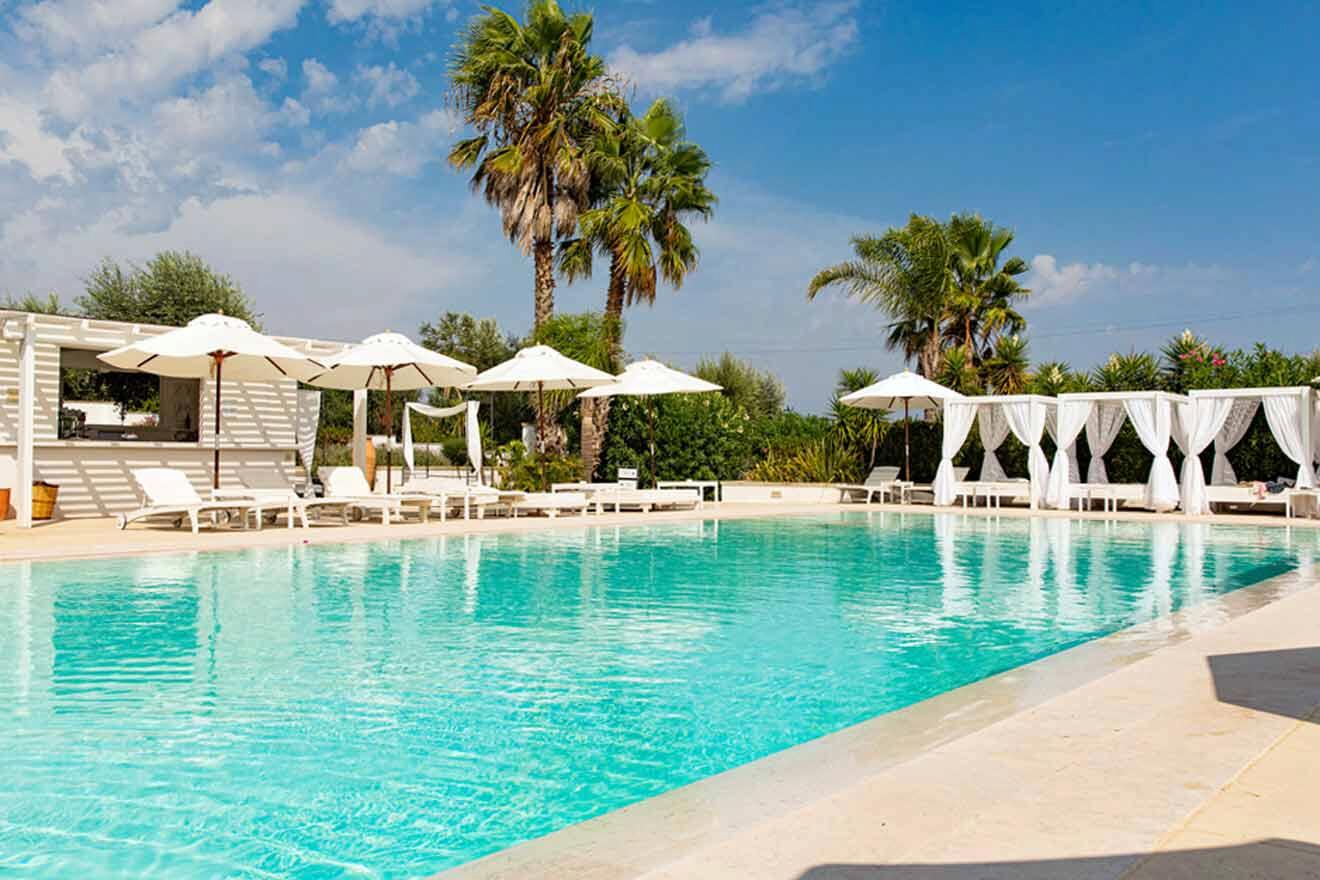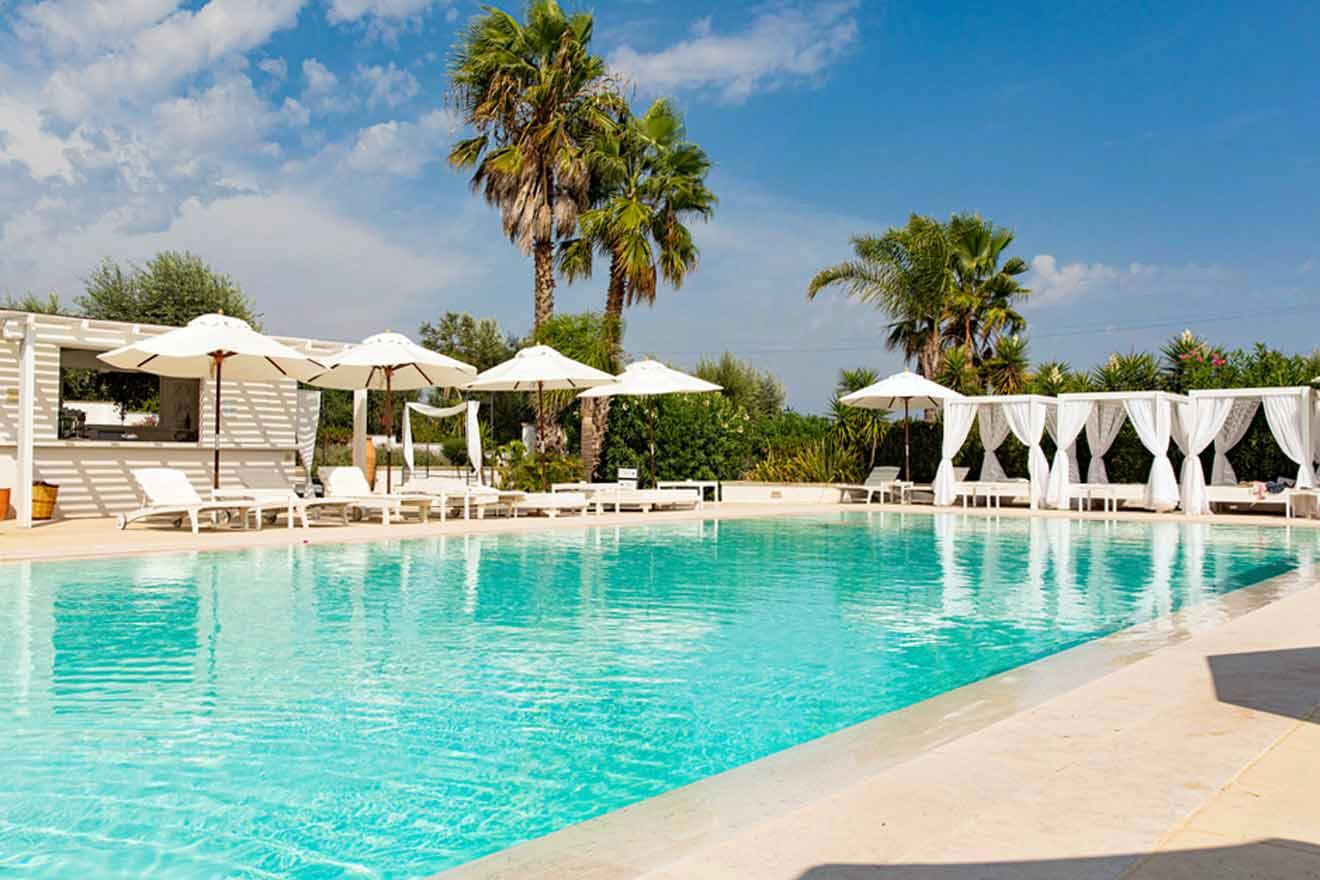 Jump right in, and let's set on a quest to find the best Otranto hotels together! I've been to Otranto myself, but I also did a very thorough research on the web and came up with a fabulous list of places. I ordered them from most to least expensive so that everyone can find their favorite!
As I recently came back from a trip to Otranto, I'm so happy to share with you some cool tips and, of course, help you find the hotel of your dreams!
Beware though! Otranto is one of the most popular places in Puglia, and especially during the summer season, the hotels book out super fast. Actually, during June, July, and August, you can expect to pay an extra €50 to €100 as the prices are much higher than compared to the low season (November, December, January).
That's why I recommend booking your favorite hotel in advance, which may help you save a few euros, too!
If you are in a hurry
Don't worry if you can't read the whole post! Just check out this amazing short list of the best Otranto hotels:
1. Baglioni Masseria Muzza – for a relaxing holiday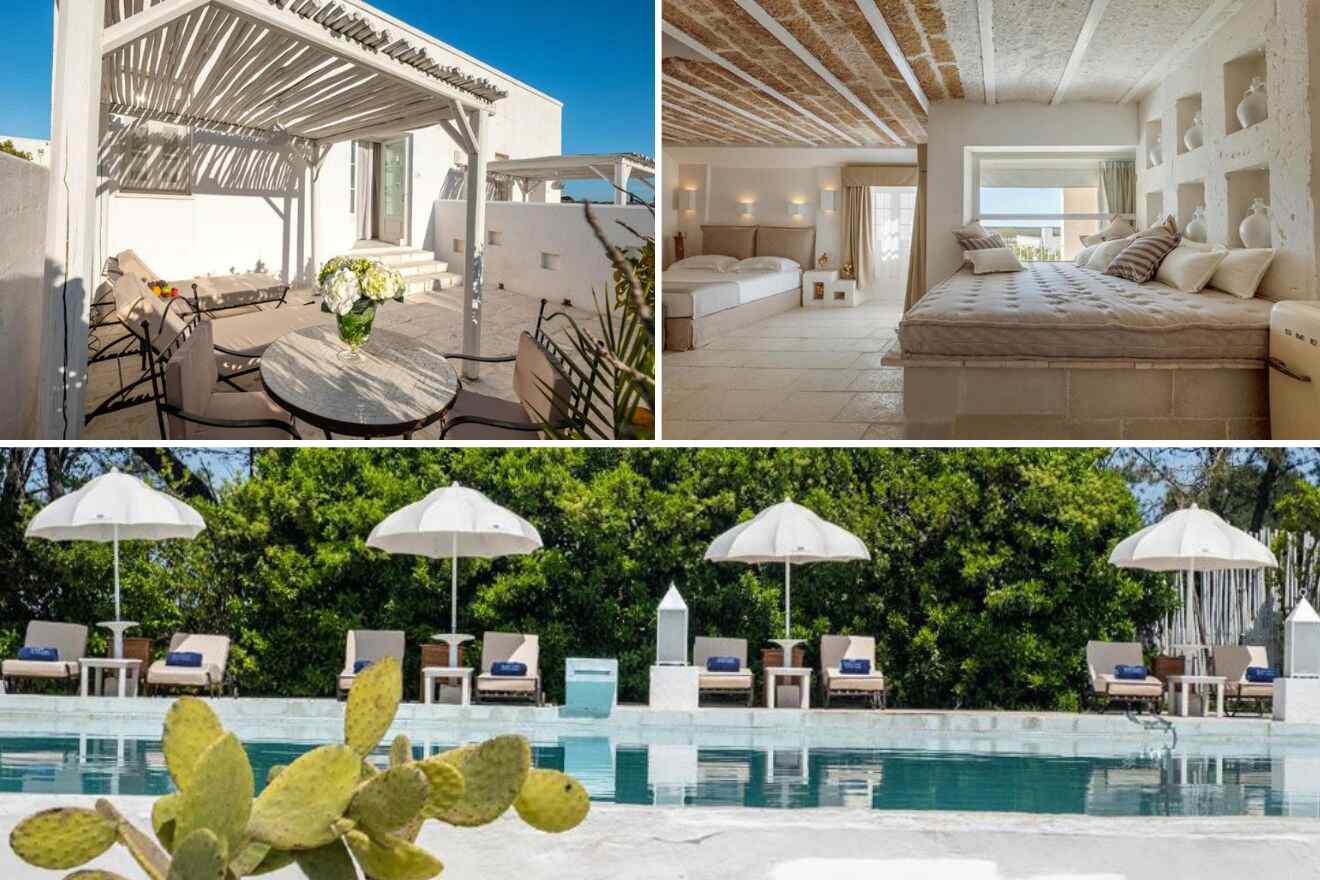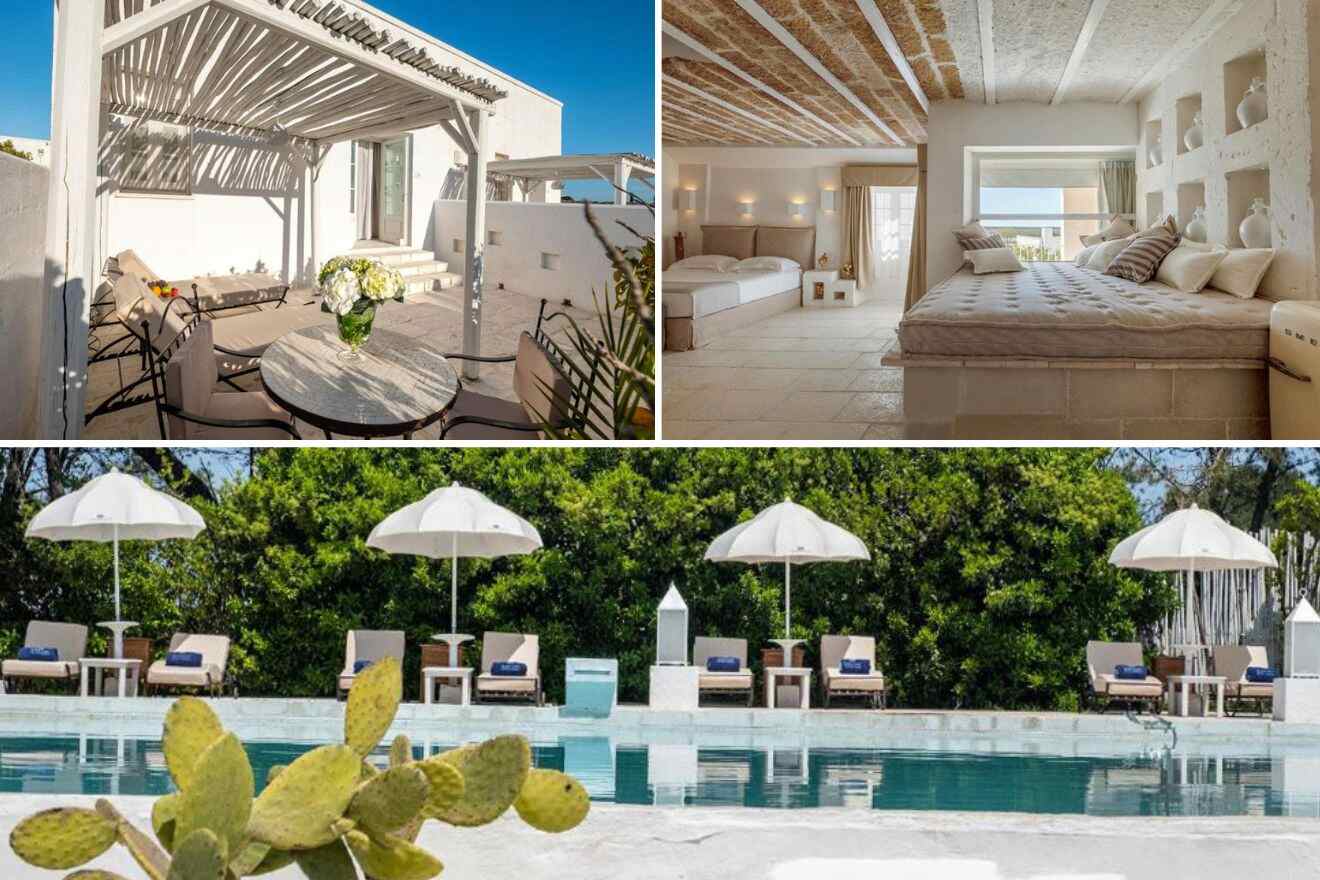 Treat yourself to a few days of unlimited Italian glamor and retreat to a tranquil garden hideaway where you can unwind, unplug, and basically live your best life! Otranto's masserias are incredible, and this one makes an exception as it features a relaxing pool and spa amenities.
Spend your mornings in rooms with timeless designs, chic decors, and a lovely beige and white color palette (some also have a fireplace). Start your morning with a delicious Pugliese breakfast and then head to the spa for a nice Turkish bath, or head downtown to visit all of Otranto's attractions (having been there already, I highly recommend visiting the Cathedral)!
2. Masseria Longa Boutique Hotel – traveling in style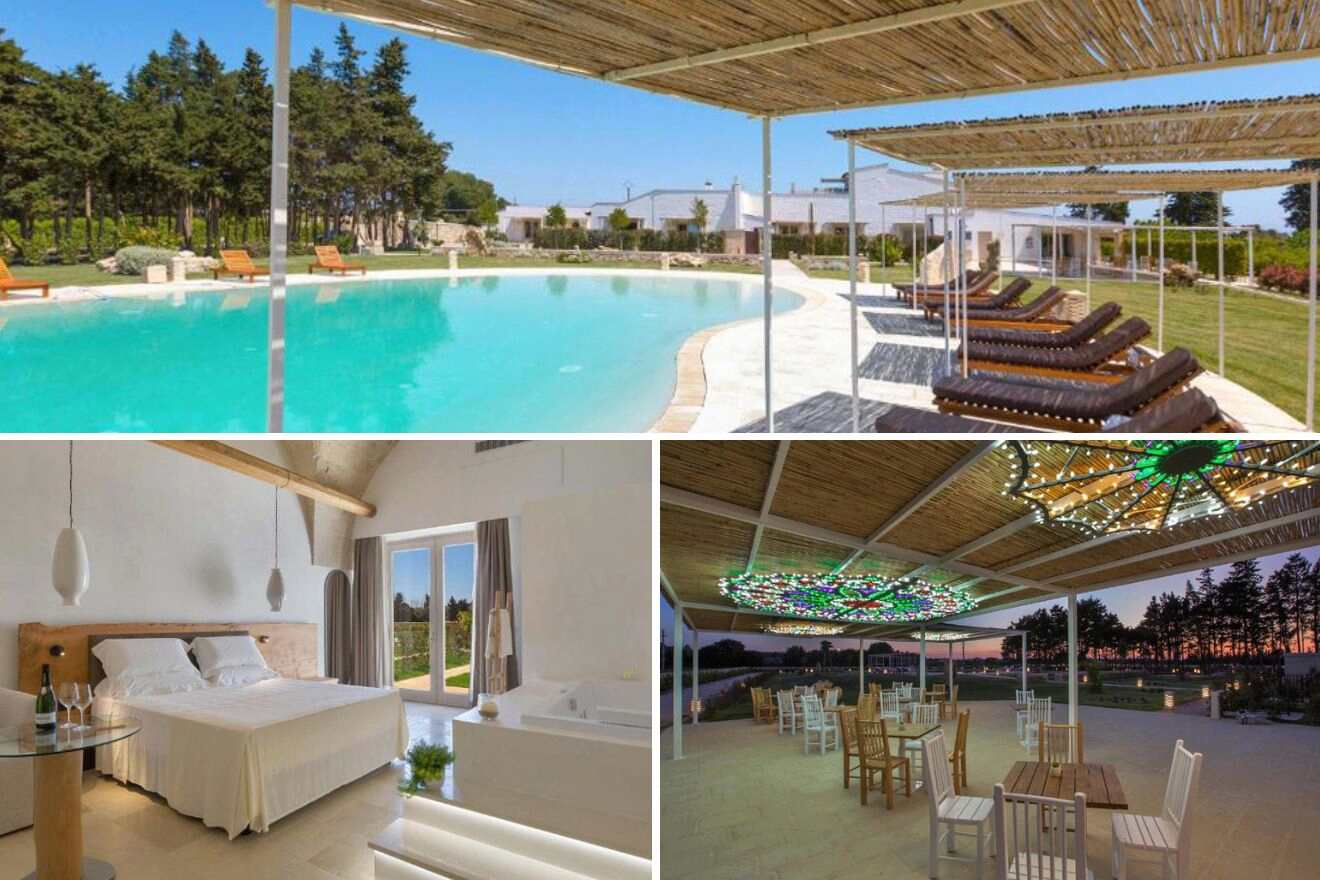 Ready to pamper yourself in full-service spas and dive into crystal-clear swimming pools? Then check out this amazing hotel in Otranto that's located a 20-minute drive away from the historic center! Surrounded by gorgeous views, this accommodation comes with an outdoor pool, a bar, and a wellness center!
Here, you can revel in modern amenities and comfort, drink wine on the terrace under the bright starry sky, and spend your days exploring Otranto on a bike you can rent out on-site! Their rooms are beautifully decorated, and most open up to a cute furnished outdoor patio where you can enjoy your morning espresso!
3. Masseria Mongiò dell'Elefante – with a great location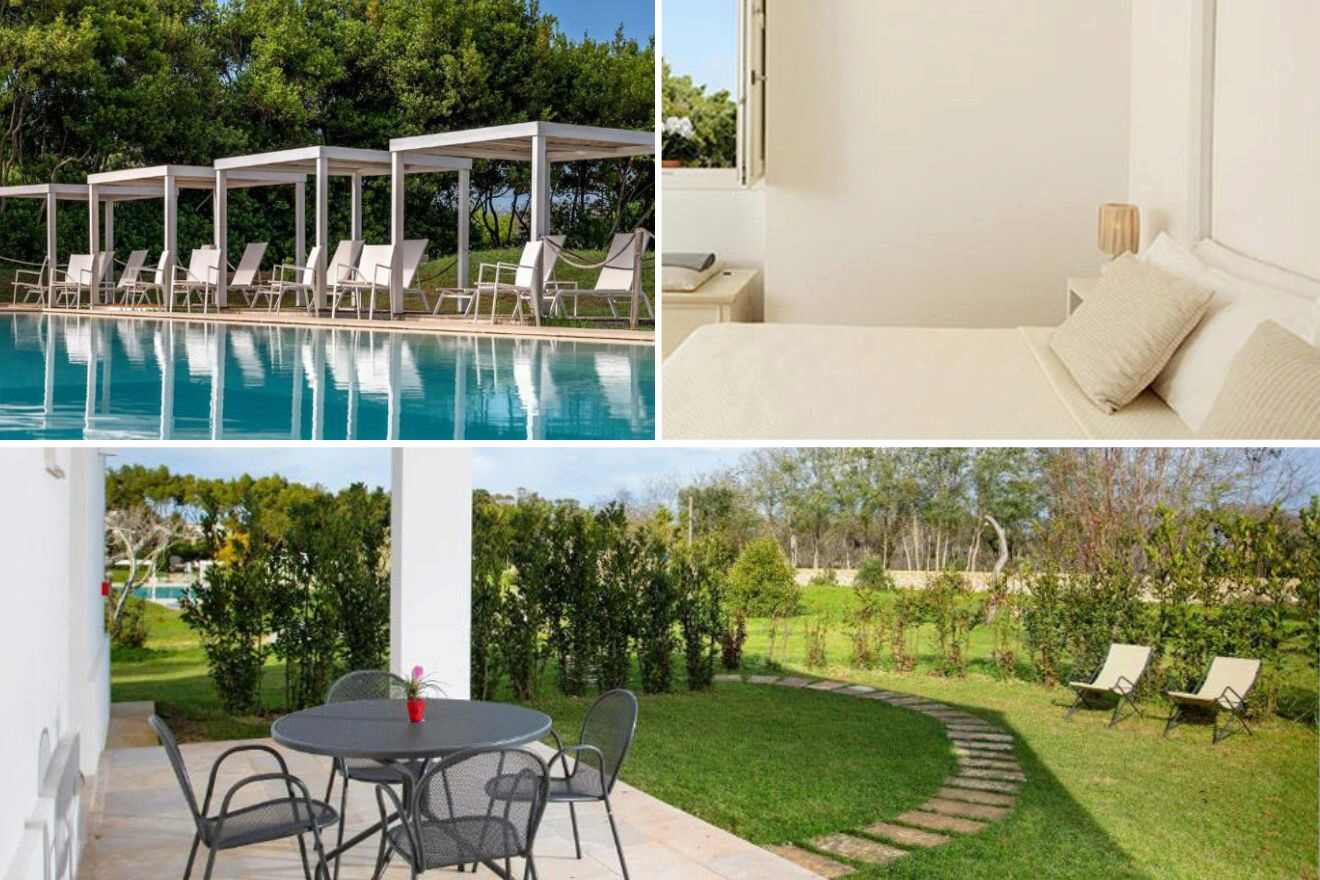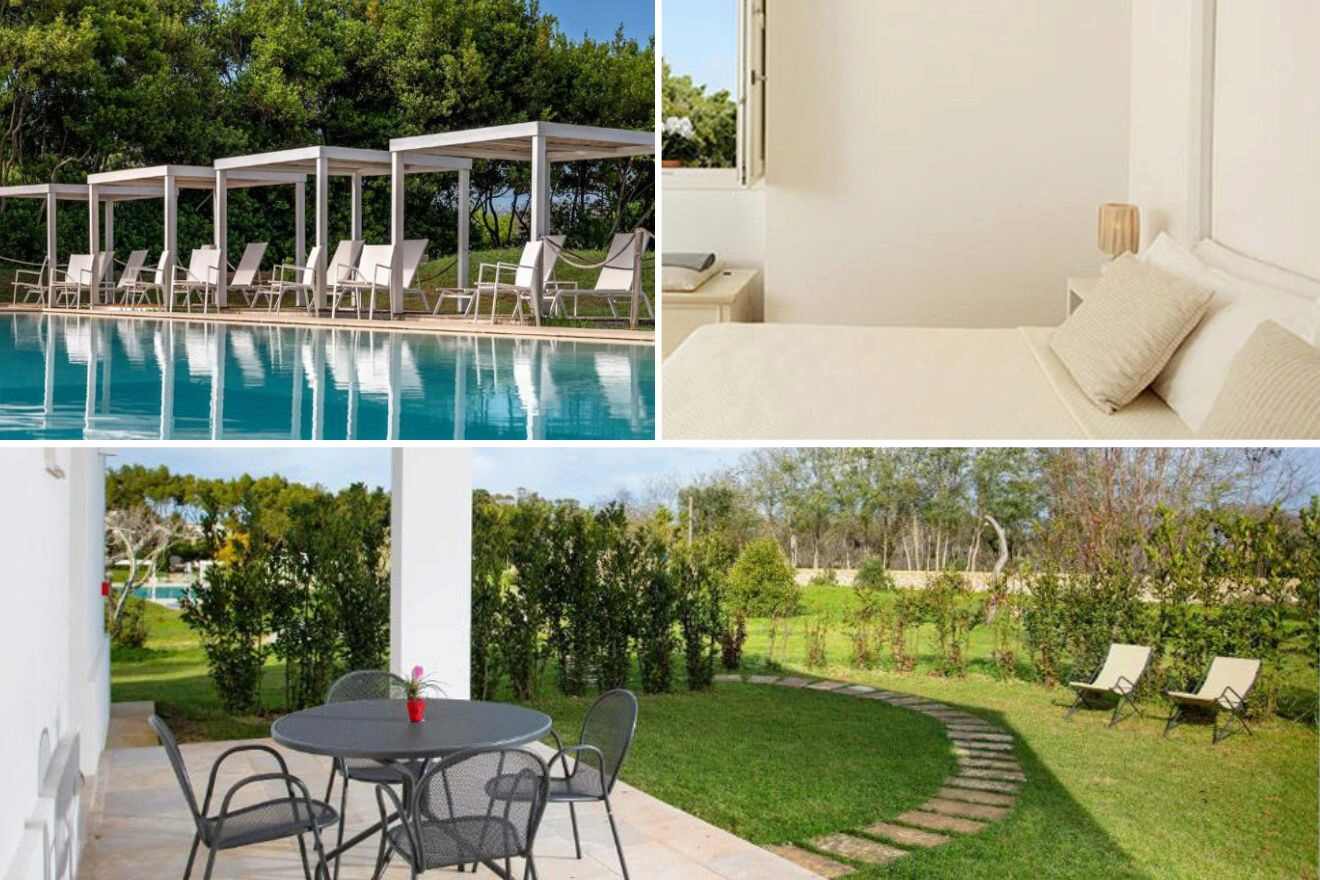 Located only a short walk from the famous Baia dei Turchi, one of the most beautiful beaches in the area, deriving its name from the Turkish fleet that arrived back in the 1400s when they attacked the city. This hotel is so perfect for your holiday as it offers a fabulous restaurant, a spa center, and a bar!
Experience the luxury in their elegant suites and admire the sunset views from their terrace lounge while sipping some Italian wine! You can start your days with a stroll to the nearby pristine beaches, or you can rent bikes from the hotel and get there faster! The accommodation also has a large outdoor pool where you can cool off during those hot summer days!
4. Masseria Muntibianchi AgriResort – with a cool design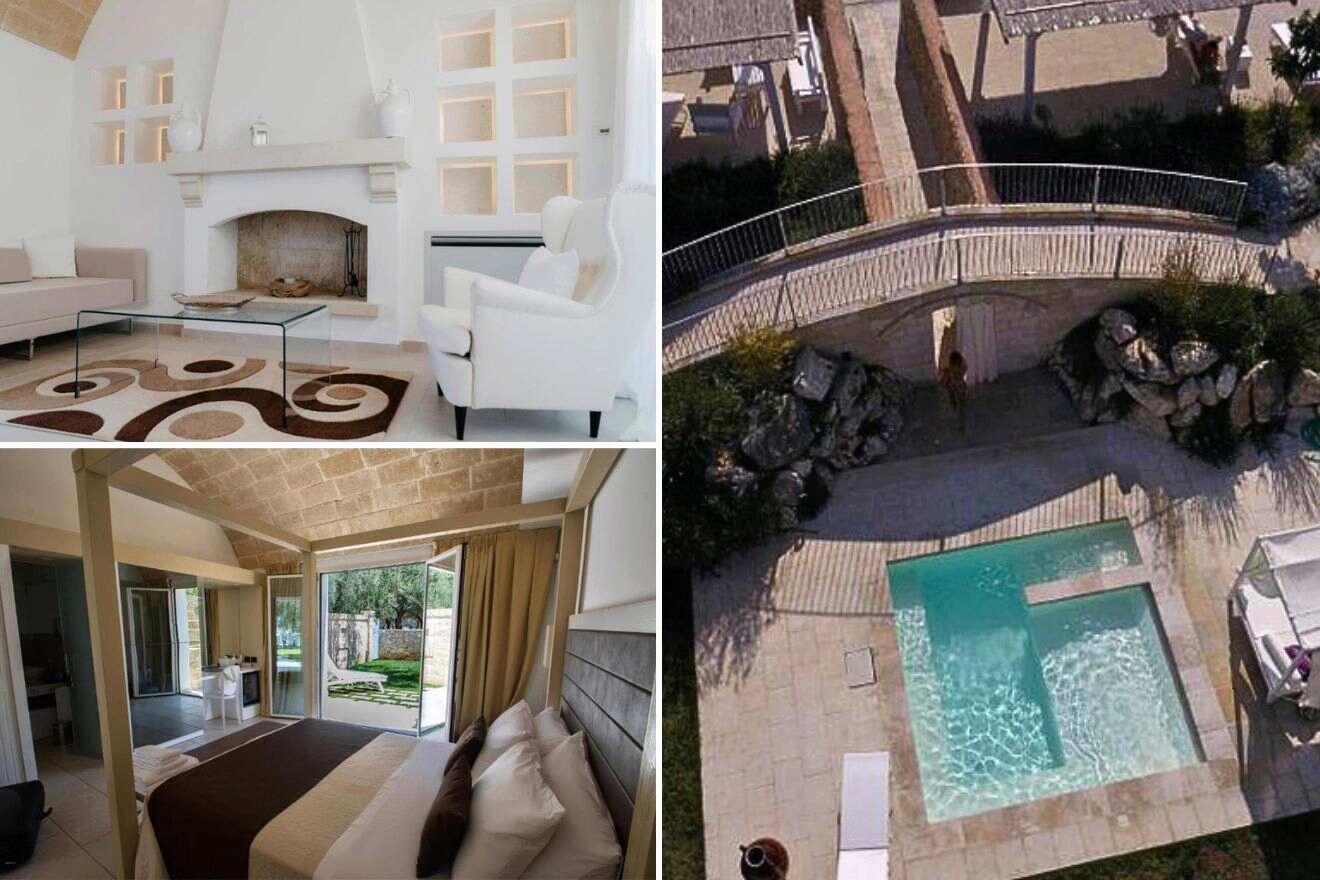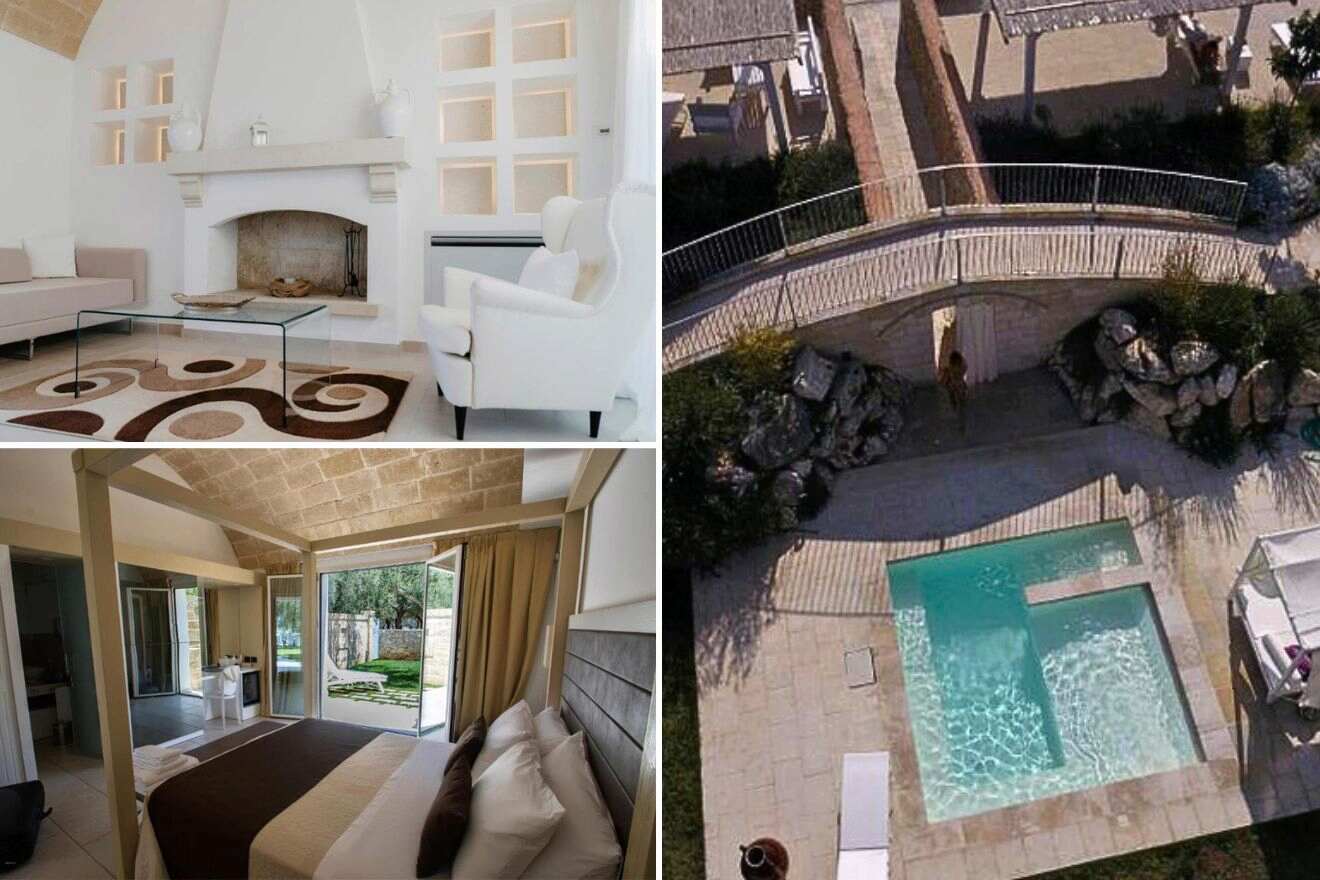 If you know a few things about this region (and if not, you can learn in our guide about the best areas and places to stay in Puglia), one of them has to be their really big one, their traditional stone out of which many houses are built! You can find so much of it at this hotel, which has a stunning design and an outdoor swimming pool.
Located 3 km (2 mi) from Otranto Castle, this accommodation serves traditional Italian cuisine in their 2 on-site restaurants. It also has a spa center where you can relax in the hot tub and enjoy long massages in its incredible vaulted ceiling rooms!
5. Masseria dei Monaci – with amazing sea views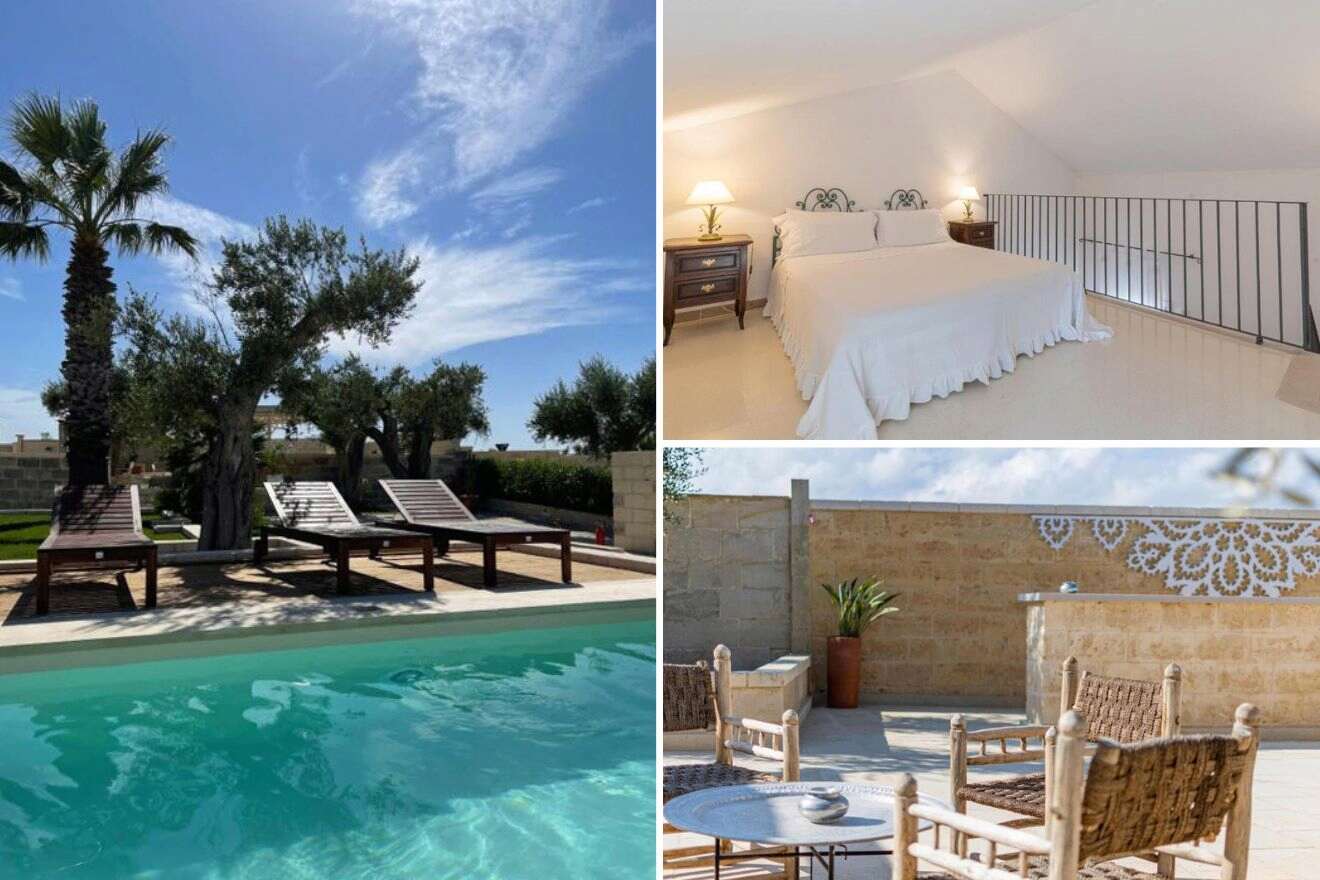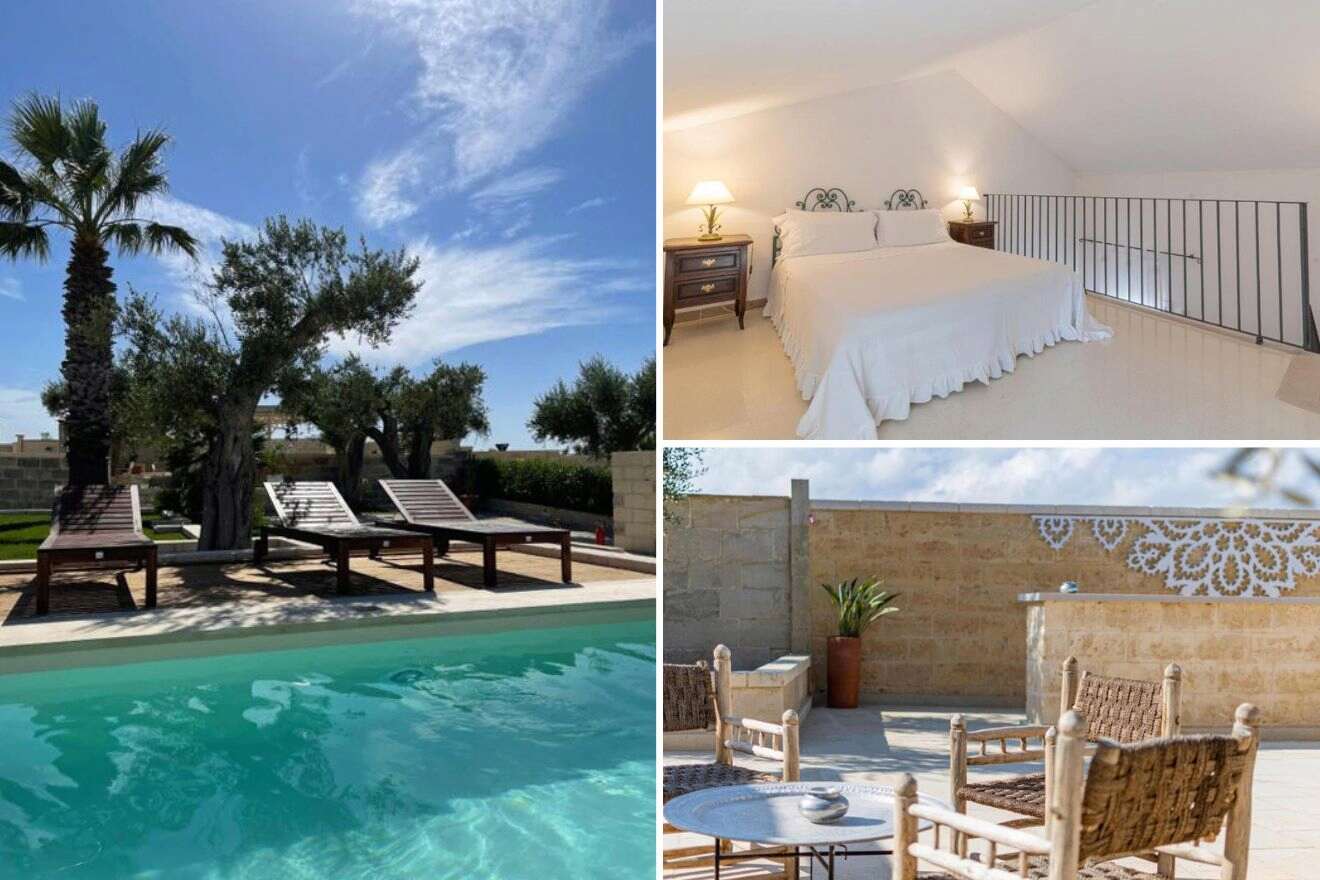 Sipping Aperols under olive trees and eating Italian delicacies all day long? Doesn't sound too bad, right? Then, book a room at this hotel that offers stunning views of the Adriatic Sea, an on-site restaurant, and a spa center.
Set a 20-minute drive away from Otranto's Cathedral, this amazing place has a sweet Mediterranean atmosphere, which we all love, and it translates through all the decorations, the garden, and the yummy food! Grab your bathing suits and get your daily dose of vitamin D by chilling near the outdoor pool or rent out bikes and explore around.
6. Masseria L'Uliveto Agri Resort – great for foodies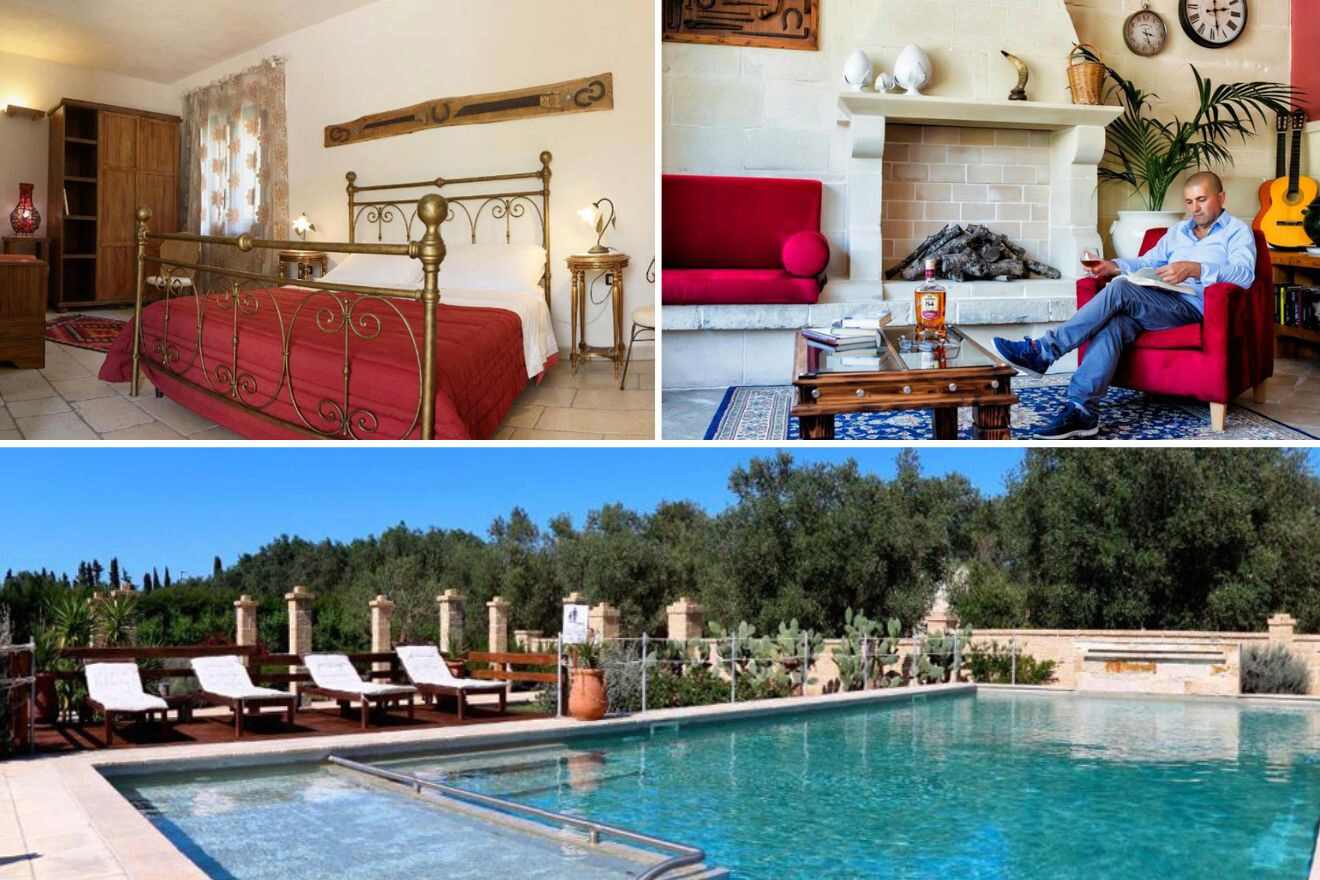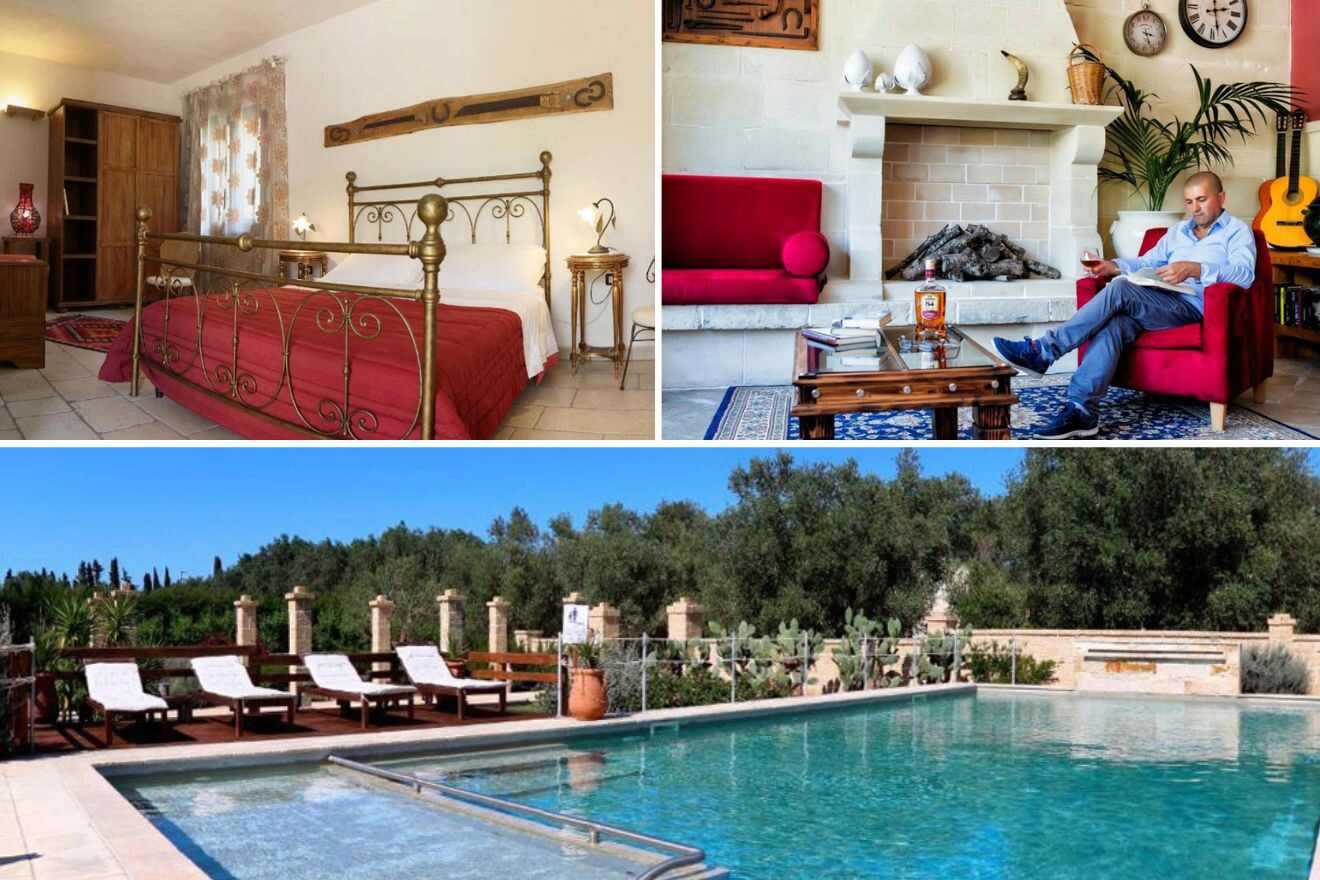 I love family-run businesses, especially in a place like Italy, where people are so warm and welcoming! That's what you can expect at this resort, which is located 2 km (1 mile) from Otranto's Santissima Annunziata Cathedral and has some amazing Italian country-styled rooms that come with natural-wood furnishings and whitewashed walls!
I'm sure you'll be eager to explore all the attractions in town but definitely take a day and, as the Italians say, enjoy the "dolce far niente" way! Basically, chilling all day long and doing nothing but sunbathing by the outdoor pool, eating delicious orecchiette pasta, drinking Pugliese wine at the restaurant on-site, and savoring a strong espresso on the outdoor terrace!
7. Hotel Palazzo Papaleo – offers a convenient location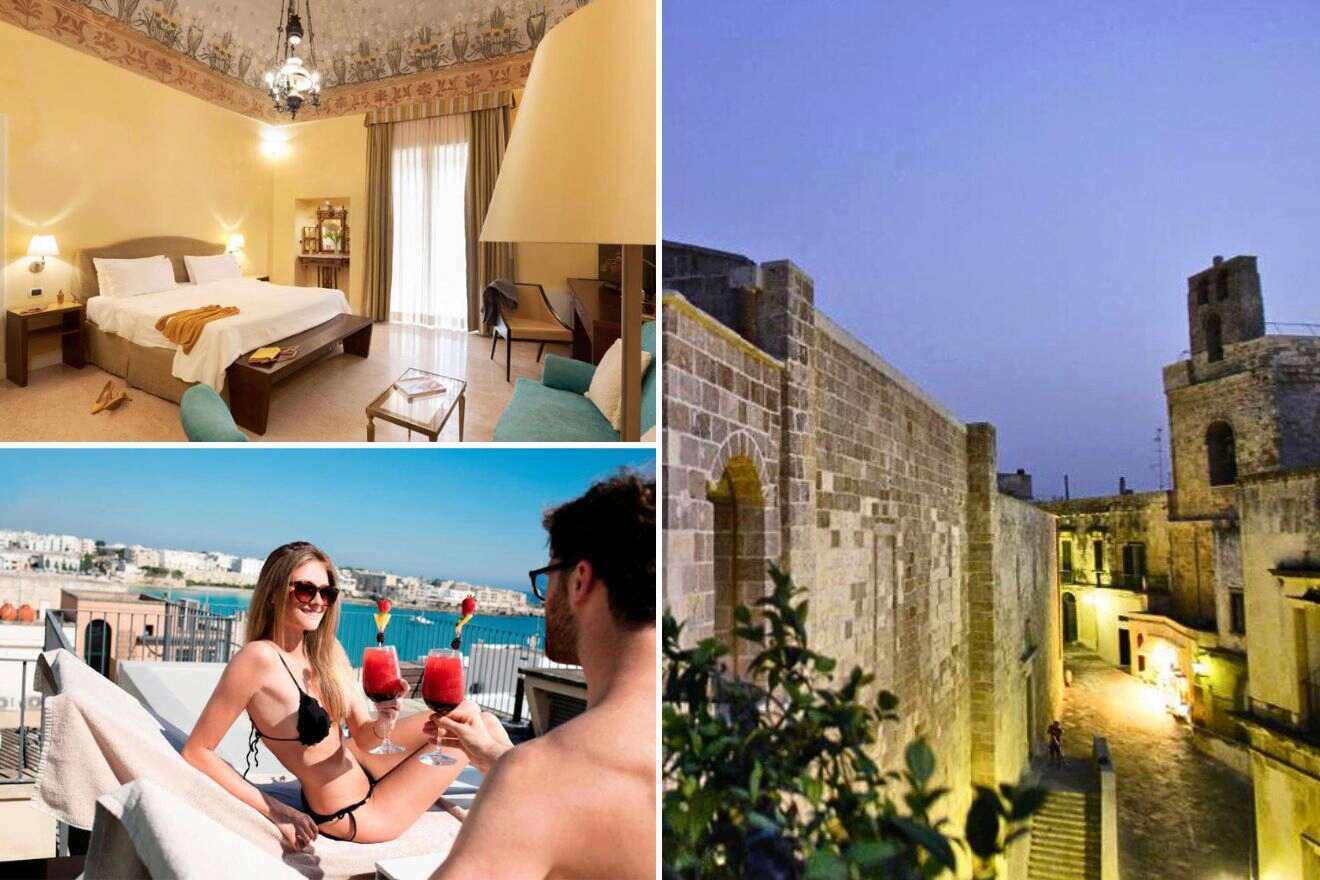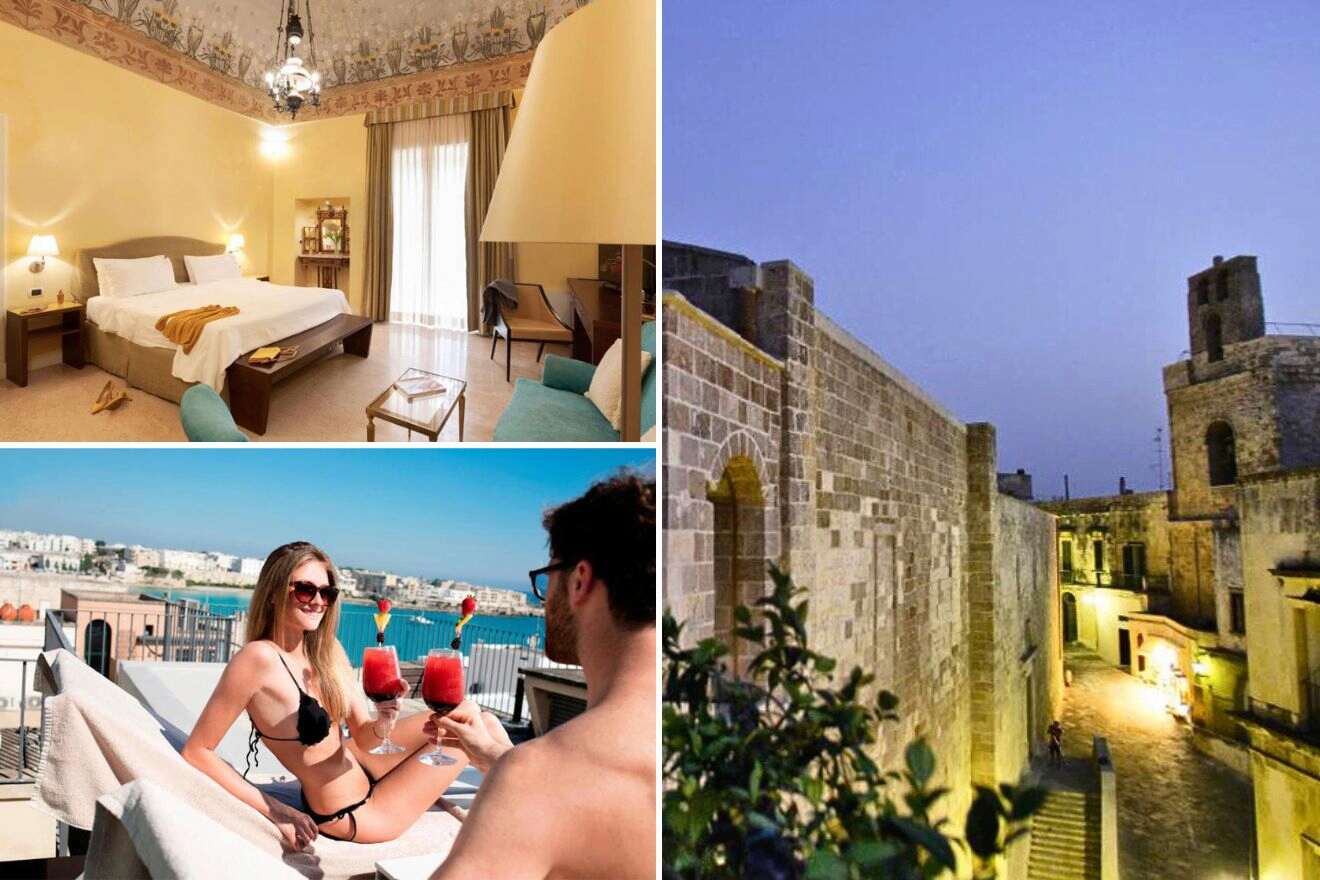 Want to discover local attractions with ease and get a room with a balcony that overlooks the medieval streets? Then check out this amazing hotel set in the Centro Storico, right near the Cathedral, housed in the historic building! Wow, what a dream this place is!
Spend your afternoons gazing at serene seafront views and relax in a sun-kissed rooftop hot tub! The hotel also offers some spa services, so you can take the whole day off and just relax! But also eat, of course! You'll also find an amazing restaurant that serves delicious Italian dishes (must try their orecchiette pasta; it's a favorite of mine)!
8. Corte Di Nettuno – for a tranquil holiday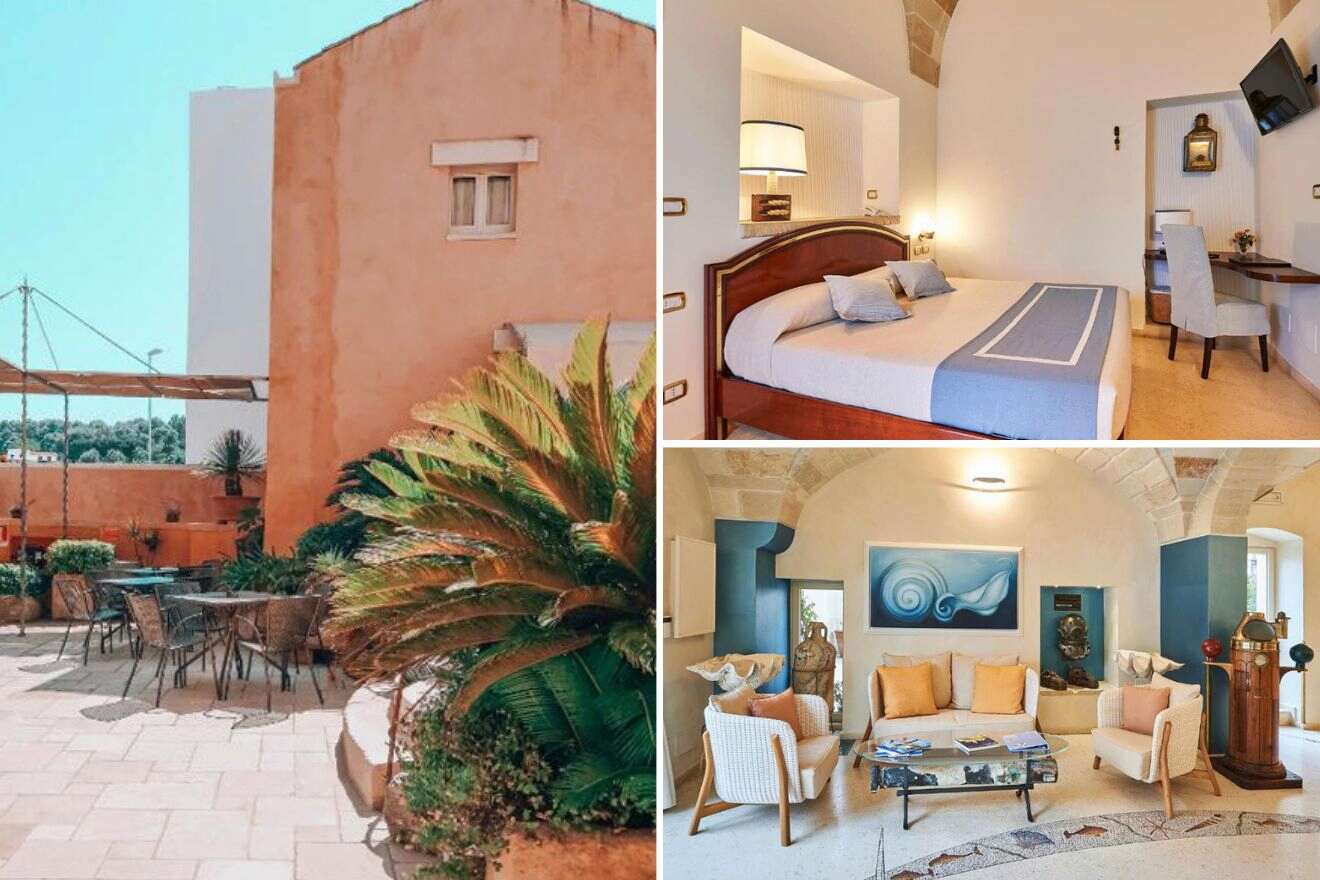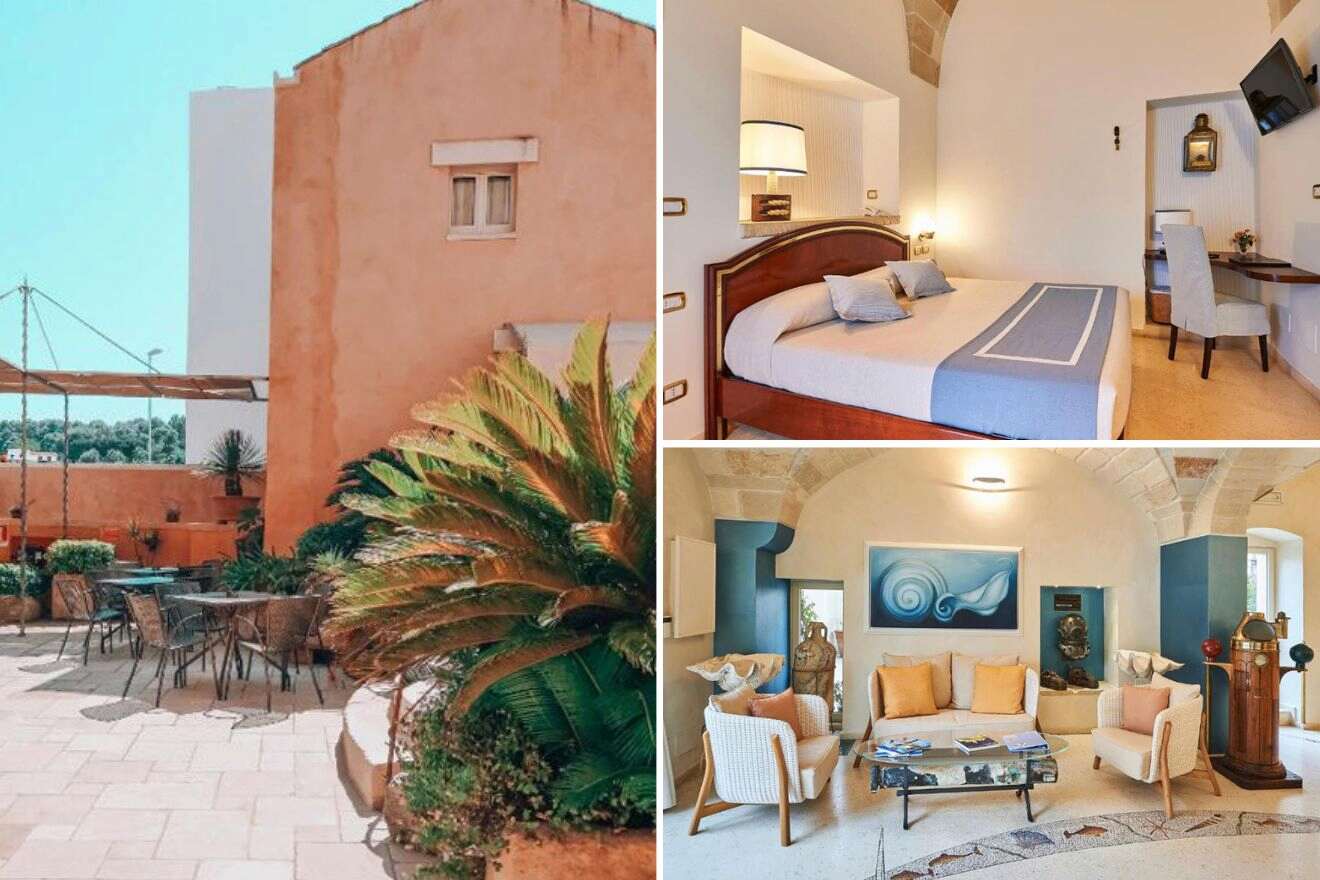 If I could describe Otranto in a few words, history and charm would be the main ones! I loved the vibe of this city, and I'm sure you'll feel the same, especially after spending time savoring the local cuisine in gourmet restaurants and spending the night at this hotel set near the Centro Storico!
Offering lovely decor throughout the whole property, this accommodation has spacious rooms equipped with all the necessary facilities, like free Wi-Fi and a flat-screen TV. You'll also find 2 on-site restaurants, a sun terrace, and a spa center! Make sure you book your Otranto hotel in advance. This town gets so many visitors, especially between June and August!
9. Tenuta Centoporte – with a magical atmosphere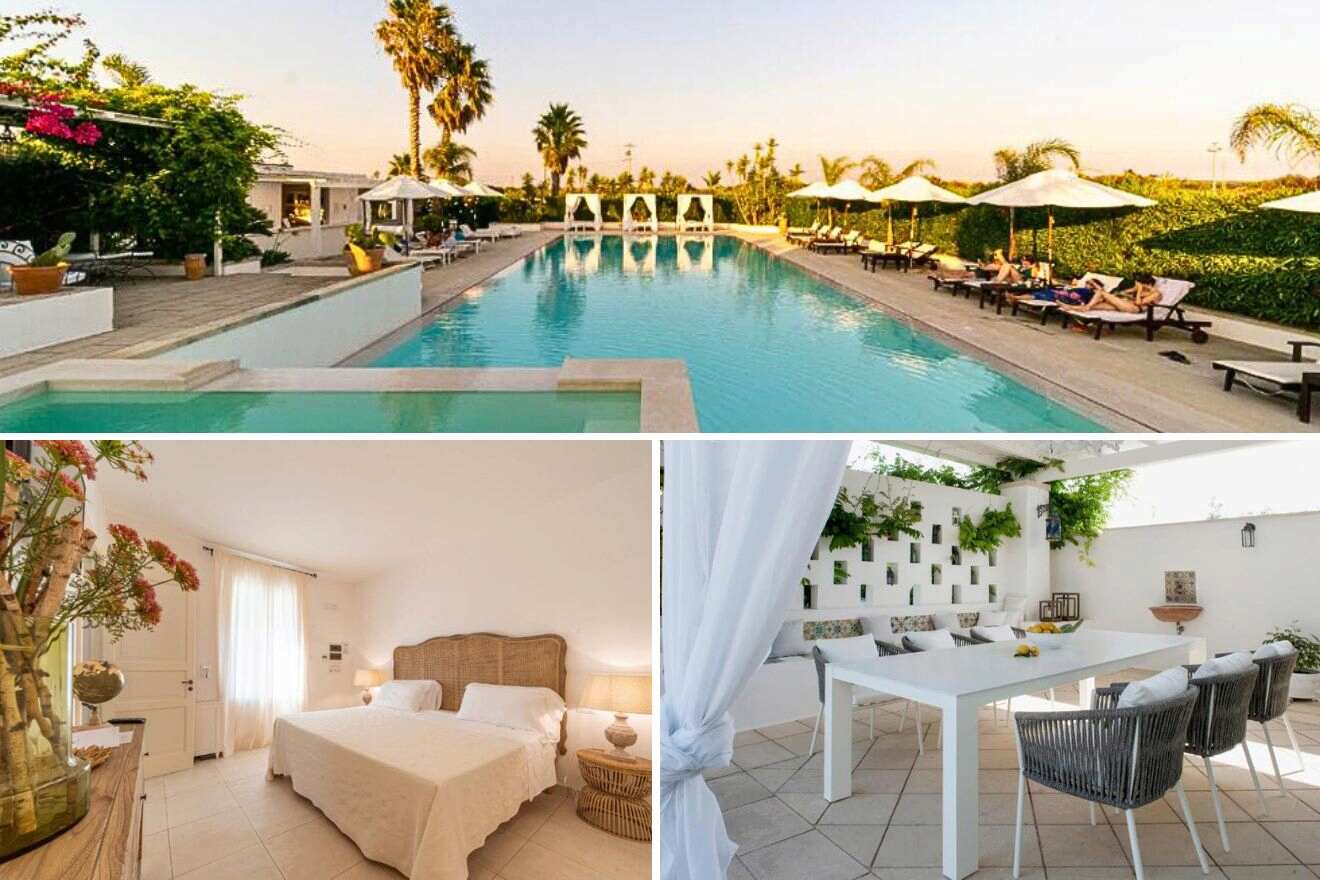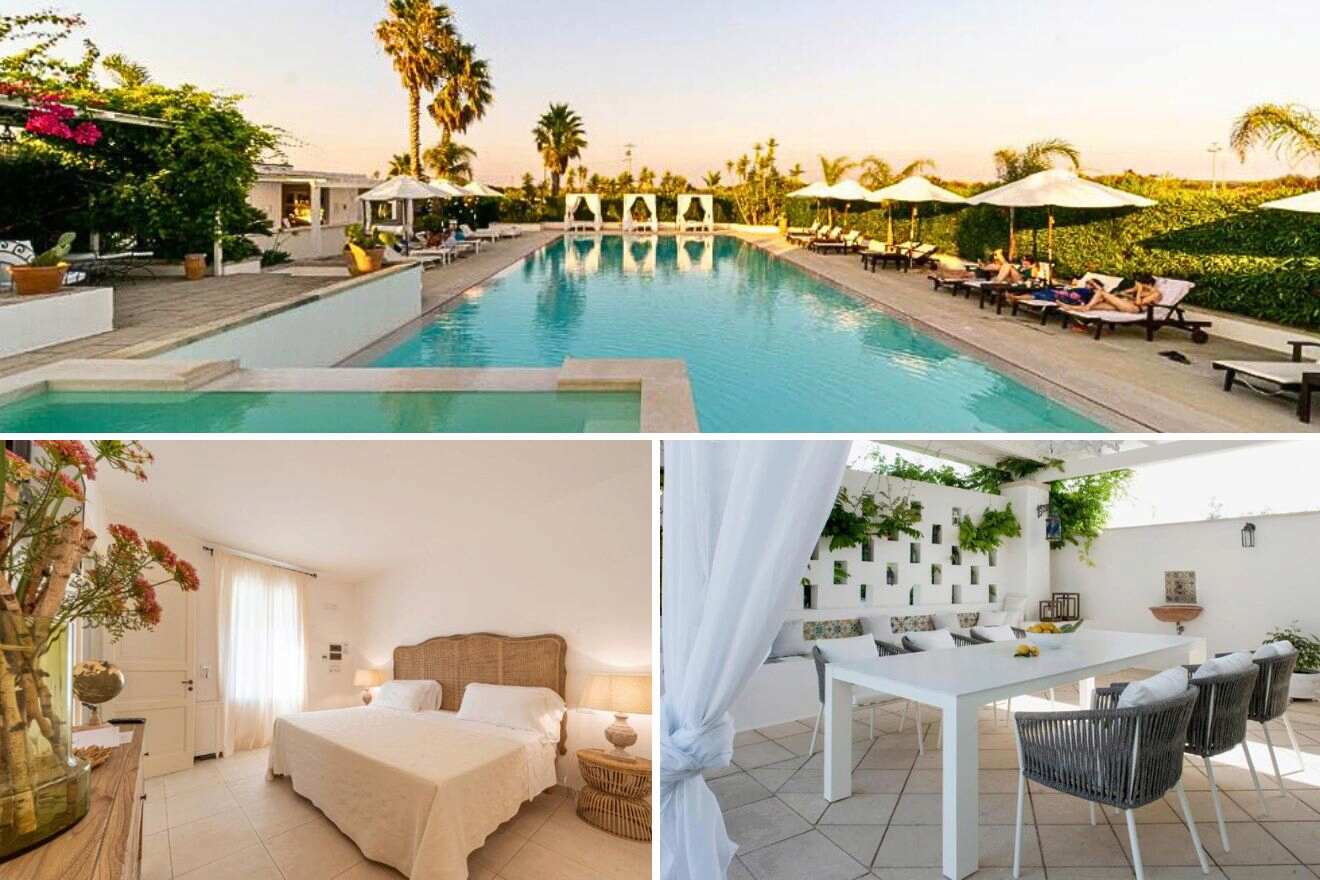 What a property! Boasting so much land, terraces, and a large pool, this accommodation, set 2 km (1 mile) from Otranto's Centro Storico, is like a dream come true for anyone who wants to experience the countryside in Italy!
Wake up and spend some time in their lush gardens before it gets too hot, drinking tea, coffee, or matcha! You can then change into your swimsuit and come relax by the swimming pool or get breakfast at the on-site restaurant (if you're too hungry)! But definitely make sure you join one of their yoga classes (the setup sure makes it even more magical).
10. Hotel San Giuseppe Dimora Storica – for history lovers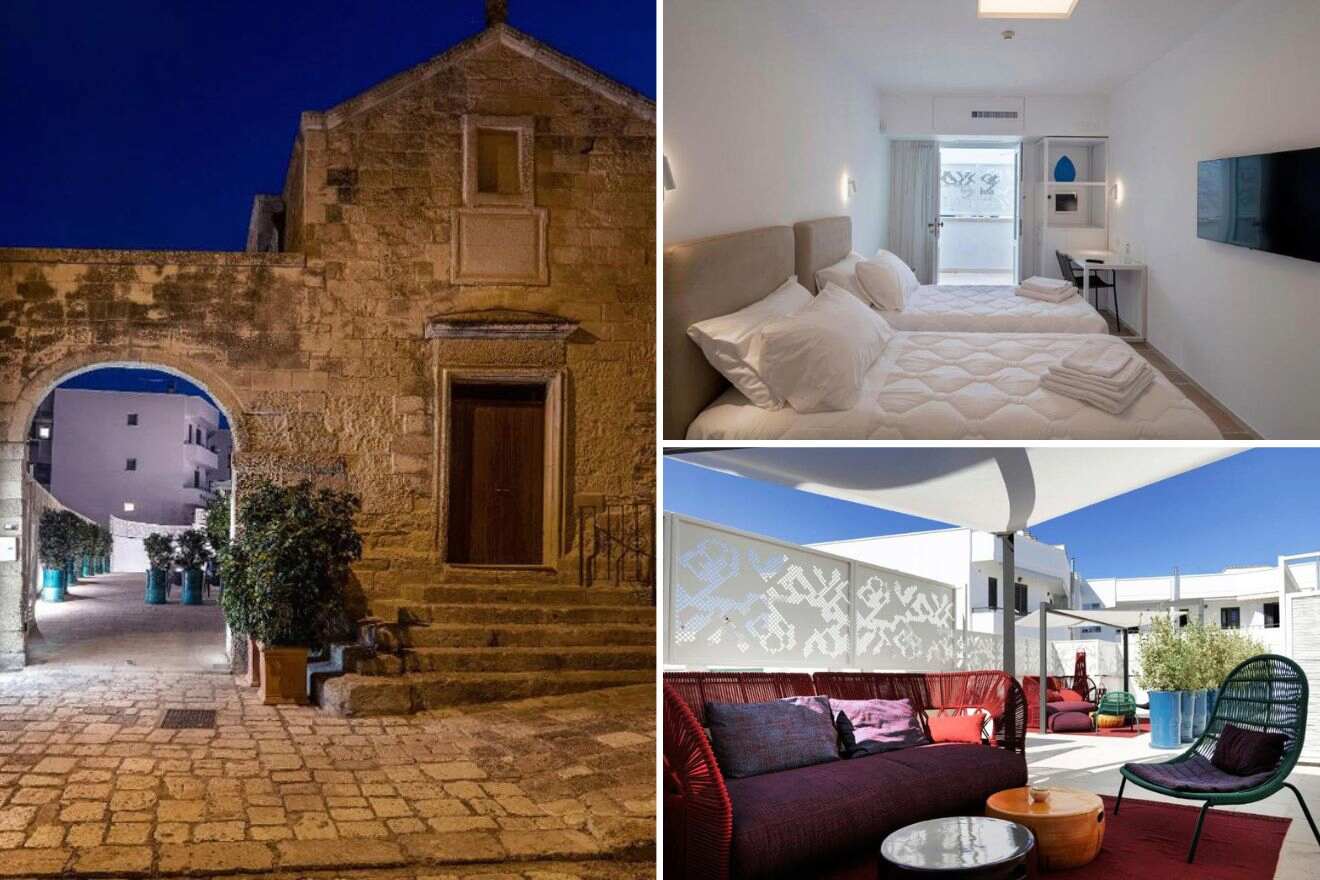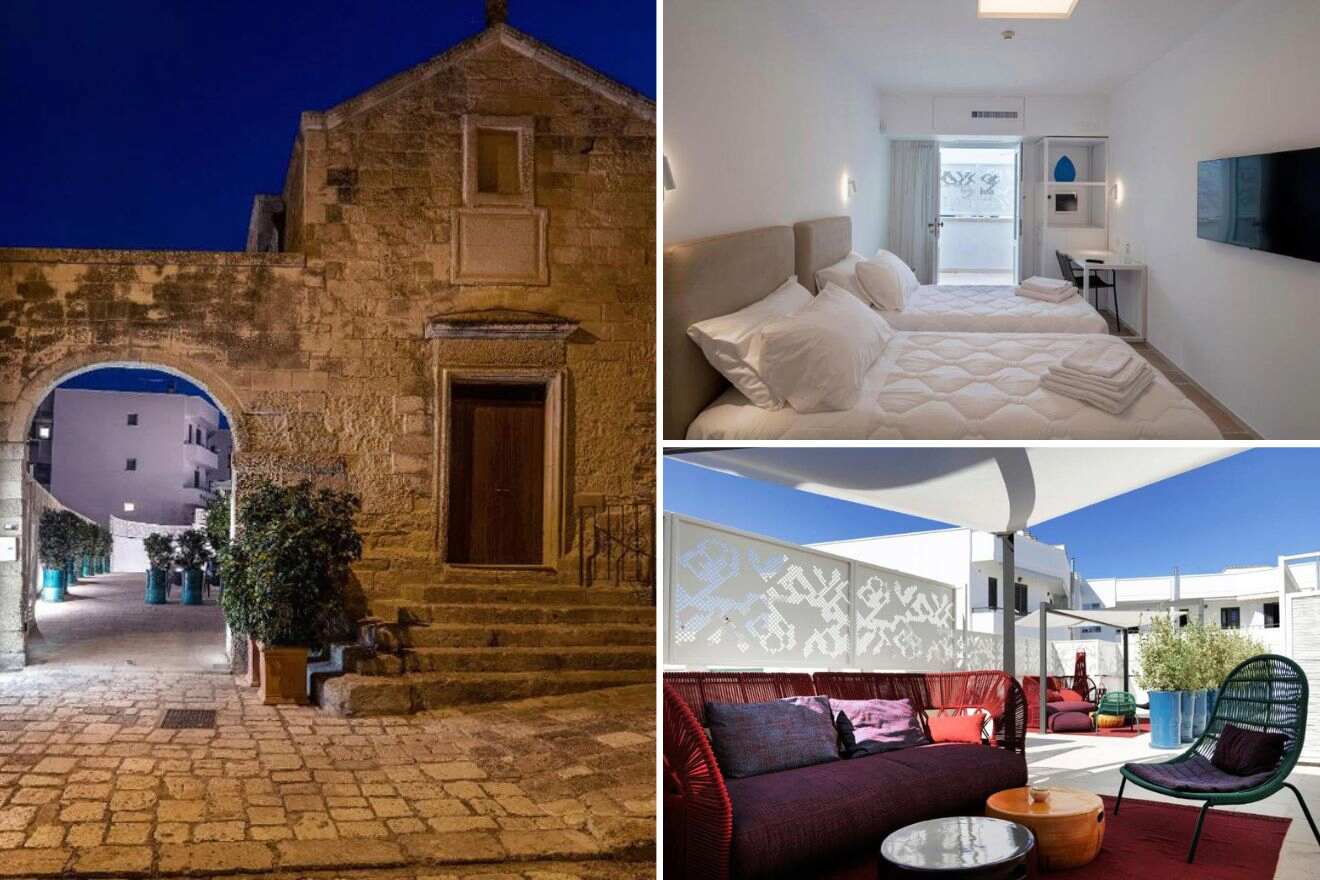 Providing convenient access to Otranto's historic sites, this accommodation is set in a 16th-century farmhouse typical for the Puglia region! I love rooms with historic charm wherever I go, and here you'll definitely find that but don't worry, all of them have modern amenities.
Some parts of the property are mostly made with the specific type of stone that they use in the entire region, which gives such a unique note to the whole place! Before you set out for the day, grab some breakfast at the accommodation, carefully prepared with local ingredients!
11. Hotel Bellavista – with breathtaking sea views
Wake up to the sound of coastal waves while staying at this modern hotel set 3 min away from Otranto's beautiful Cathedral and all its other attractions in the historic center. The family-run accommodation offers rooms with free Wi-Fi and balconies that overlook the sea!
Now, that's a sight I wouldn't mind waking up to every day! Although simple, the hotel has all the facilities you need for your holiday, including parking, and they can also arrange for some hiking trips if you're interested!
12. Masseria Panareo – with a fabulous infinity pool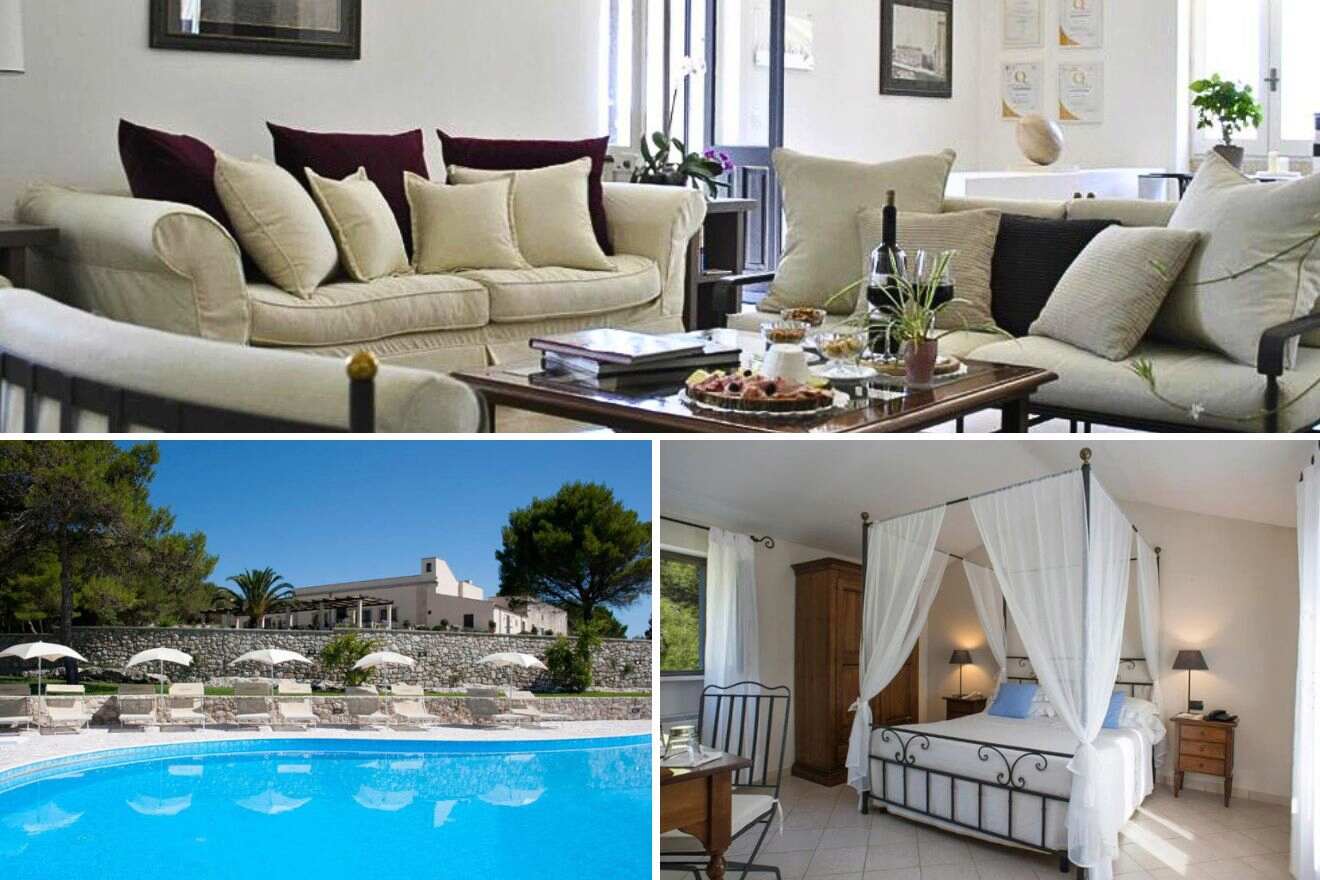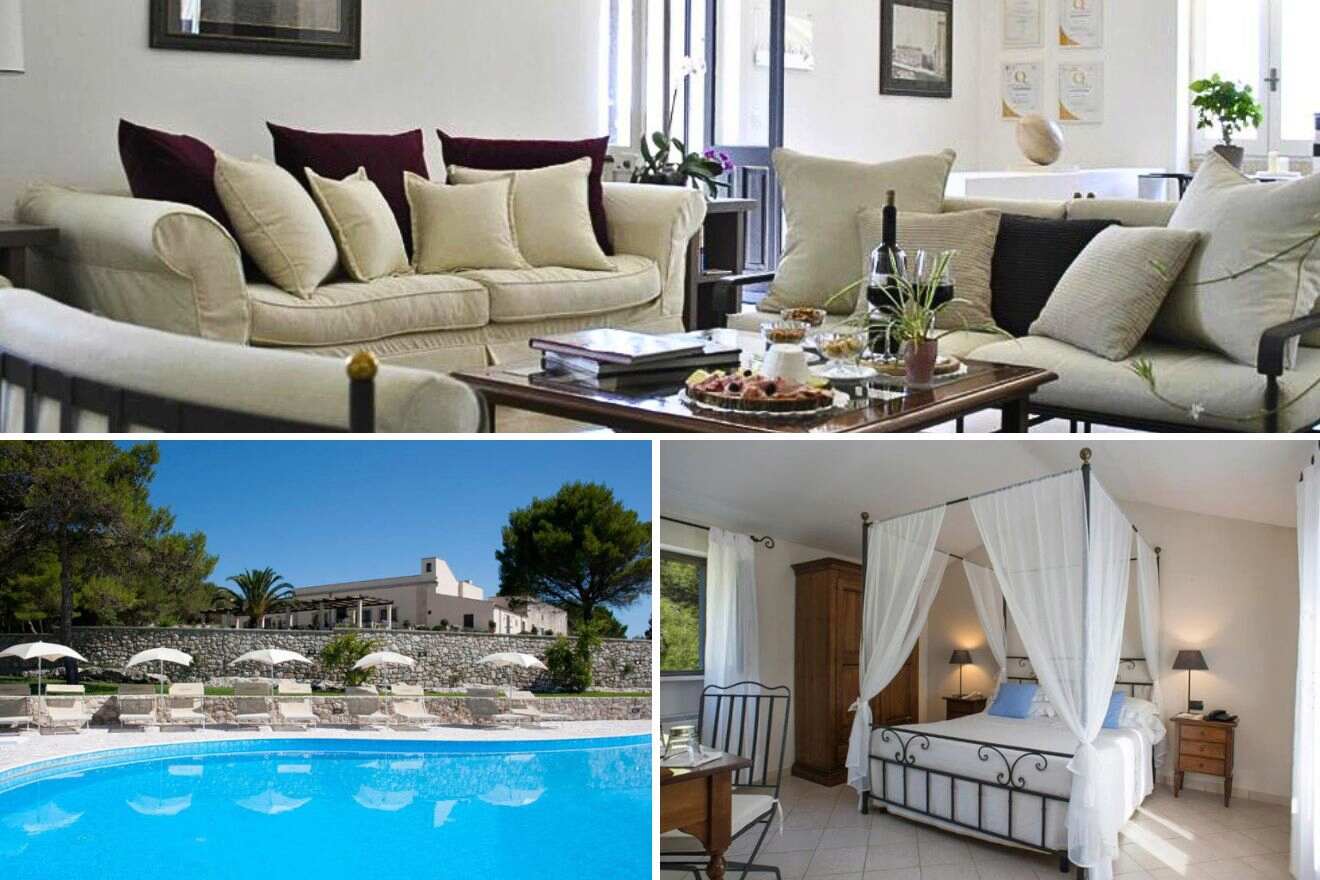 Italy's southern coastline towns have that certain "je ne sais quoi" and from experience, they're known to make people fall in love with them! I definitely felt like that while I was here, and if you book a hotel like this one, which offers so many gorgeous gardens, terraces, and yummy food, then you'll probably want to move up here!
Located a 10 min drive away from central Otranto, this accommodation has a scenic infinity pool, sea views, and tennis courts! Don't even get me started on the rooms, which will make you feel like some modern Roman prince or princess with their gorgeous decors!
13. Livantea Agriresort e Residence – for nature lovers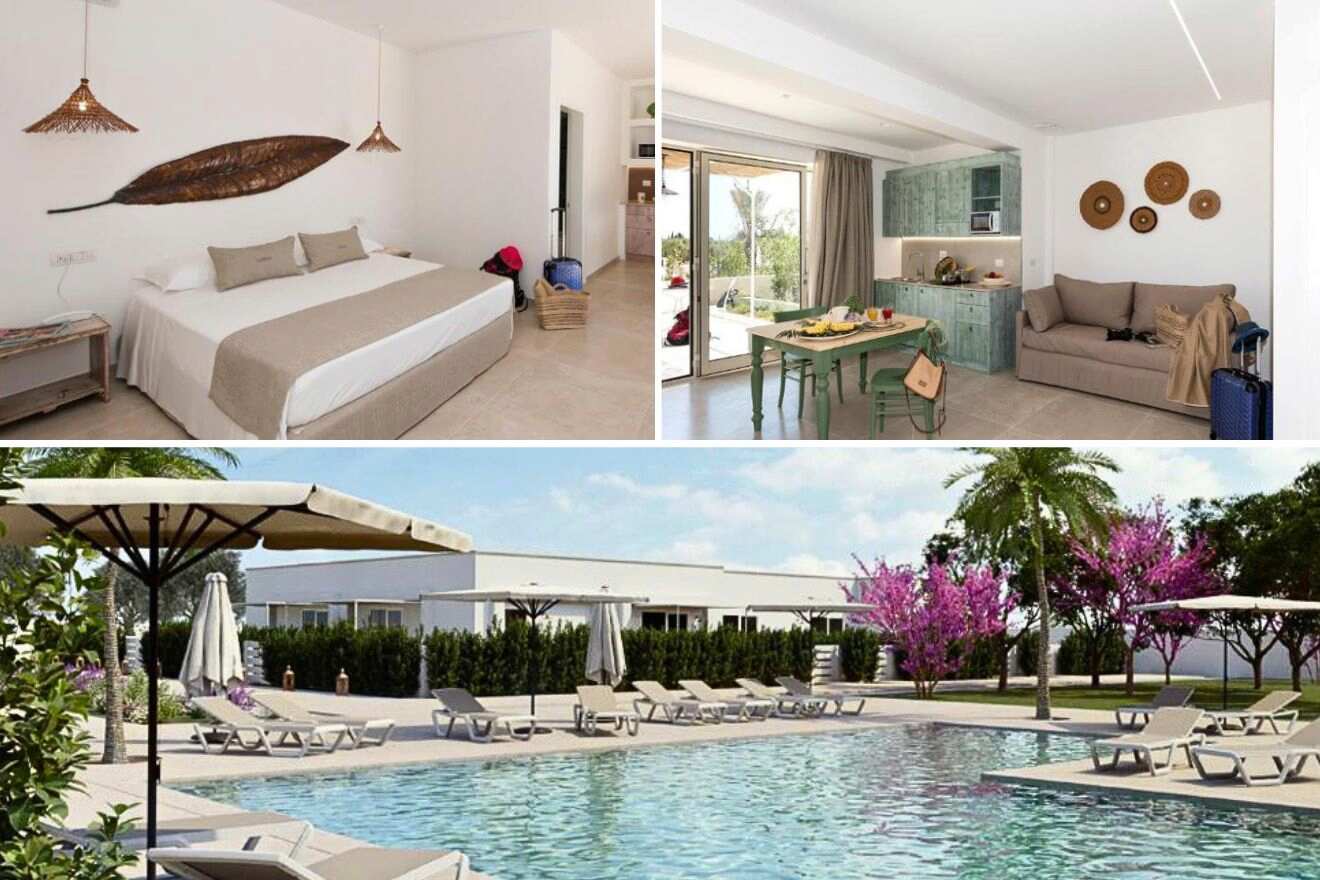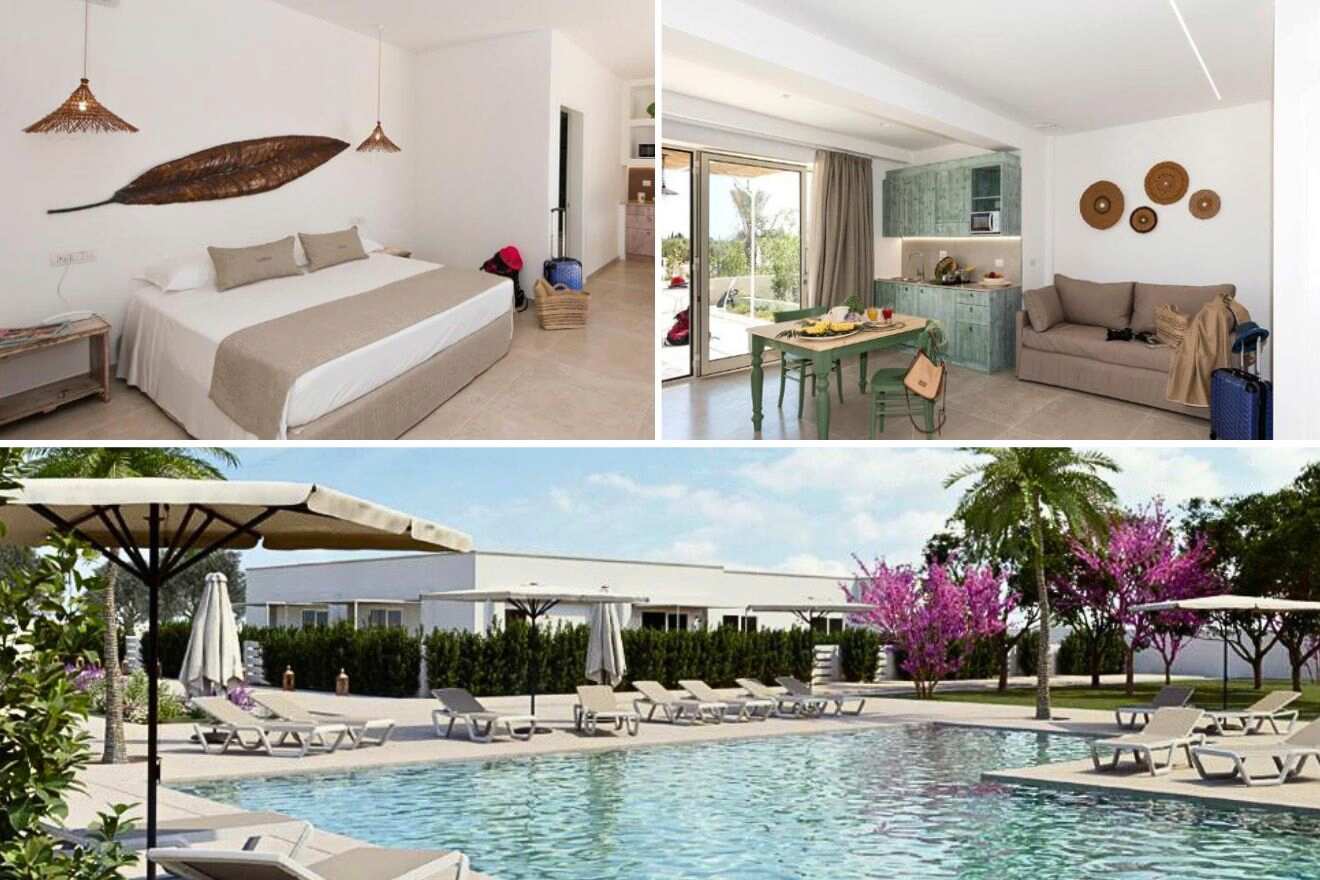 Lazy days in the hammock, followed by even more lazy nights chilling by the outdoor pool, enjoying a nice summer breeze! That sounds like the perfect setup! If you feel the same, then check out this accommodation that's set 2 km (1 mile) away from the historic center.
The resort is simple, yet it has lovely modern decor, rooms with tiled floors, a fully equipped kitchen, a dining area, and free Wi-Fi. When you're not out and about exploring the town, you can relax in the garden, read a bit on the sun terrace, or cool off with a swim in the infinity pool!
14. Masseria Bandino & Spa – great Otranto hotel for couples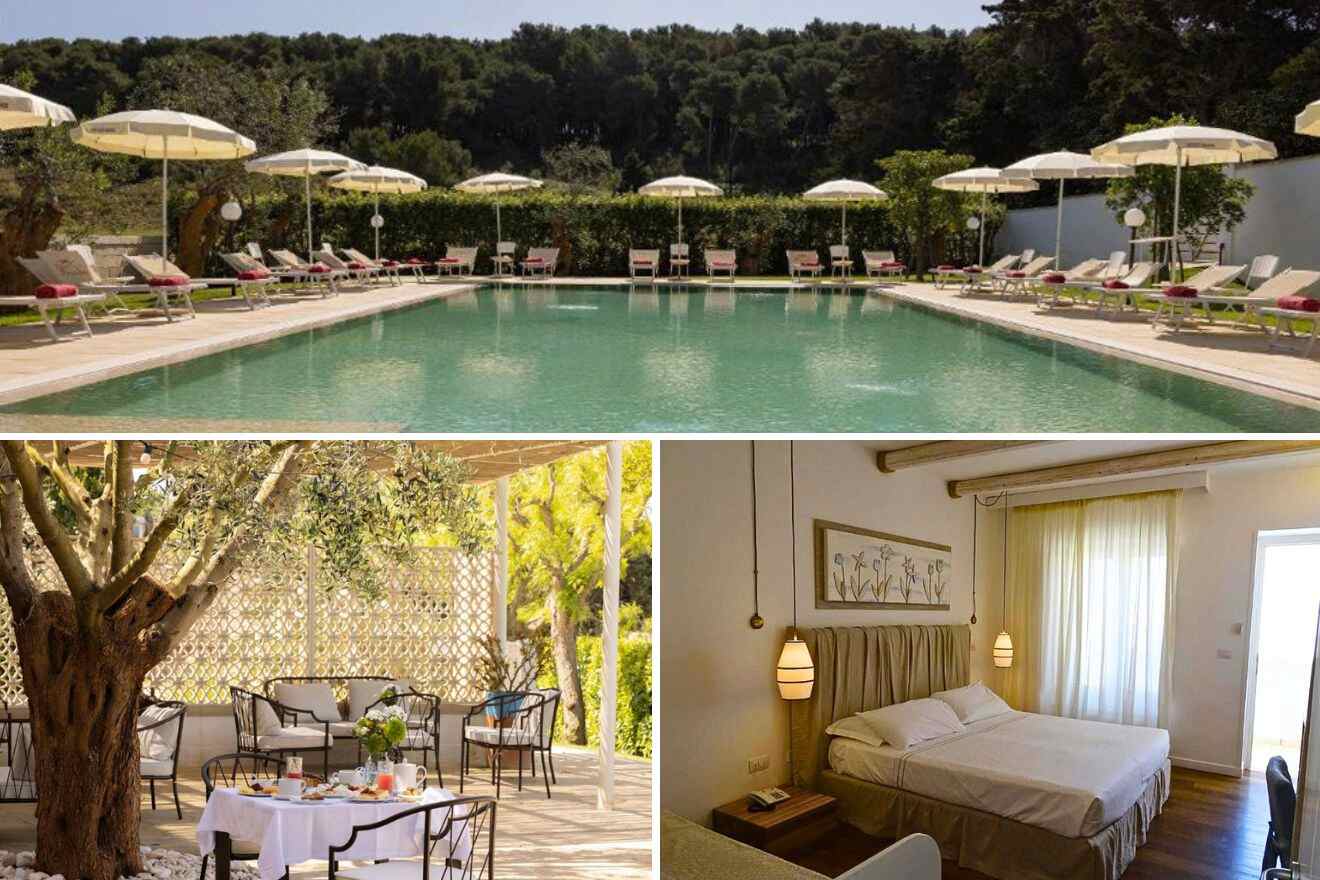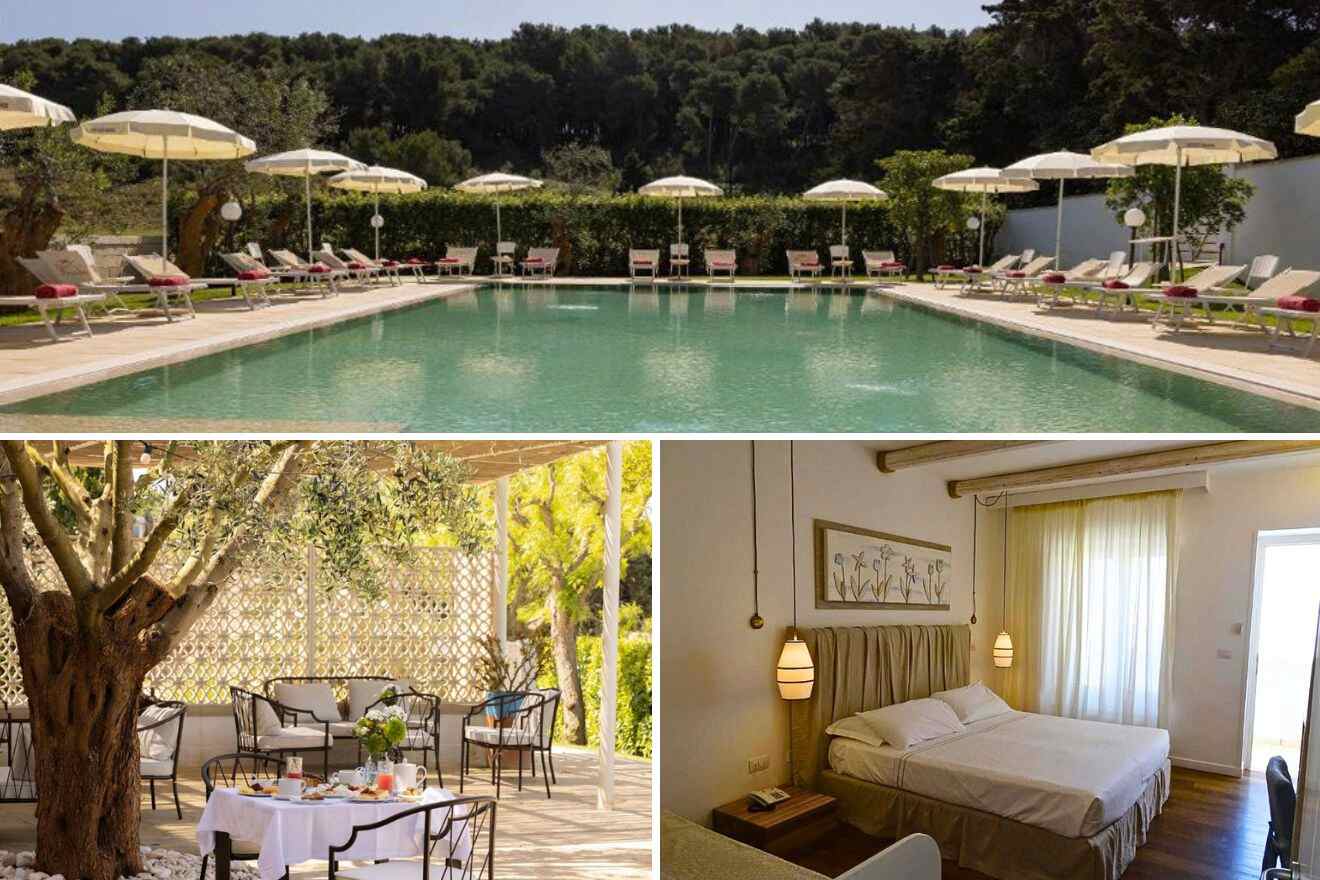 Planning a romantic getaway to Otranto? Then have a look at this resort, which is located 2 km (1 mile) away from the Centro Storico! Here, you can enjoy candle-lit dinners, have romantic spa dates, and go on fun adventures together!
Their rooms are pretty spacious and come with lovely shades of beige and white! Start your mornings with some yummy breakfast on the terrace next to a giant olive tree, and then head to the spa (which has over 20 treatment rooms) to relax and unwind after your flight!
15. Hotel La Plancia – for beach lovers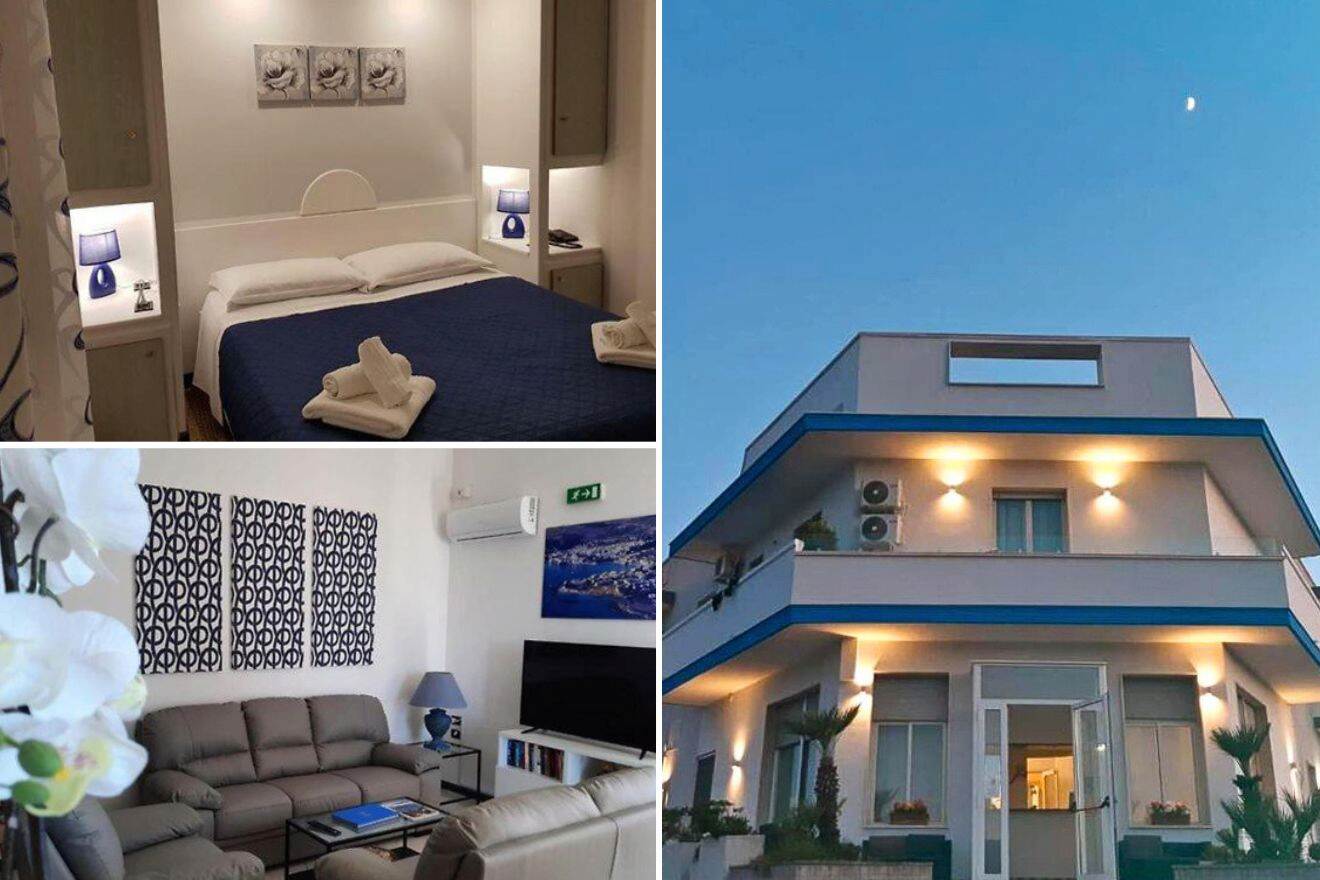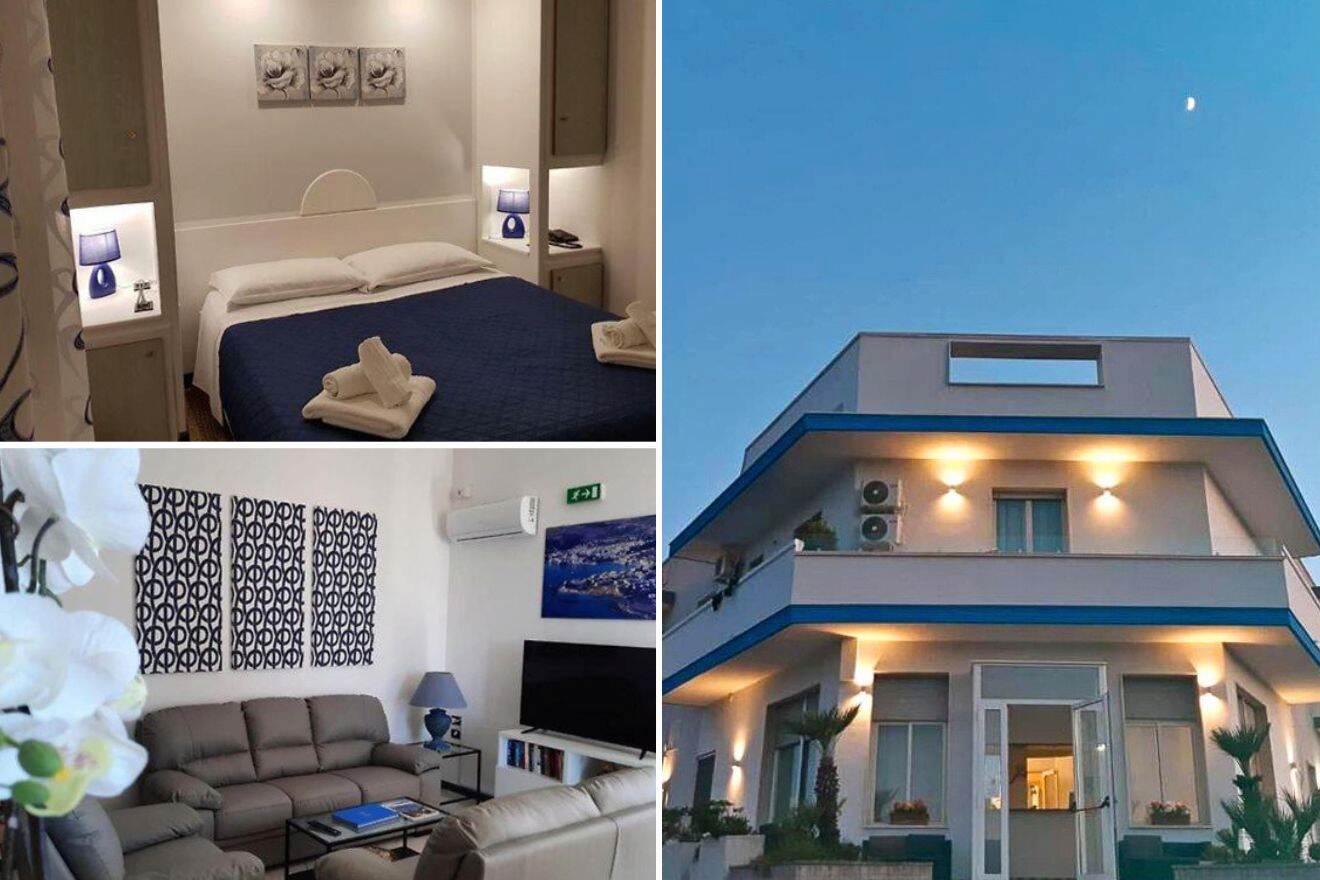 Set within walking distance of beautiful beaches, this hotel offers some amazing rooms with sea views, a private bathroom, a flat-screen TV, comfy beds, and some suites even come with a balcony!
Not only will you get to hit the beach whenever you want, but also visit all the attractions in the historic center, as most are set just a short walk away! Each morning, guests are invited to savor a delicious Italian breakfast on-site before heading out to explore Otranto's beautiful attractions!
16. Masseria Fabrizio – for budget travelers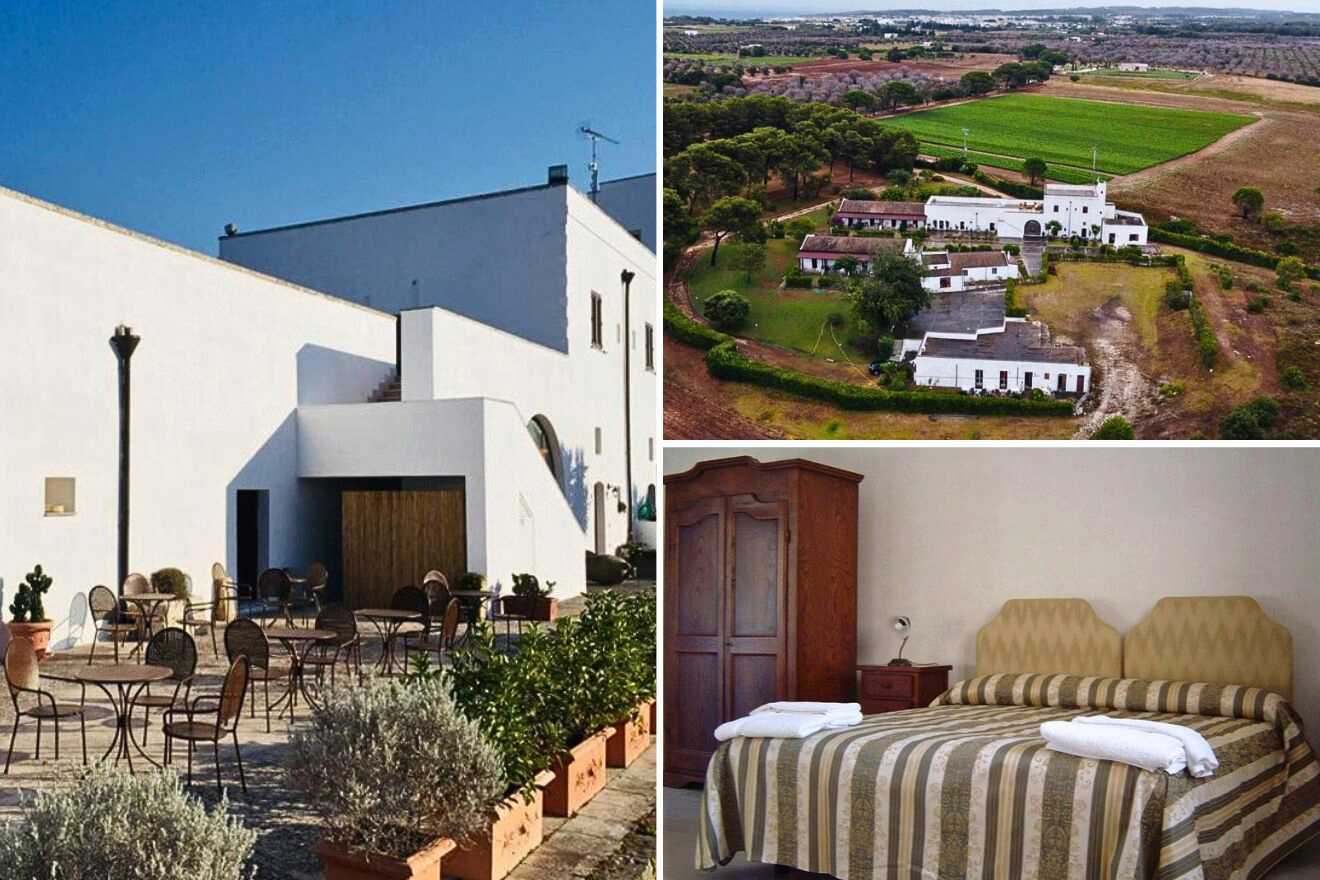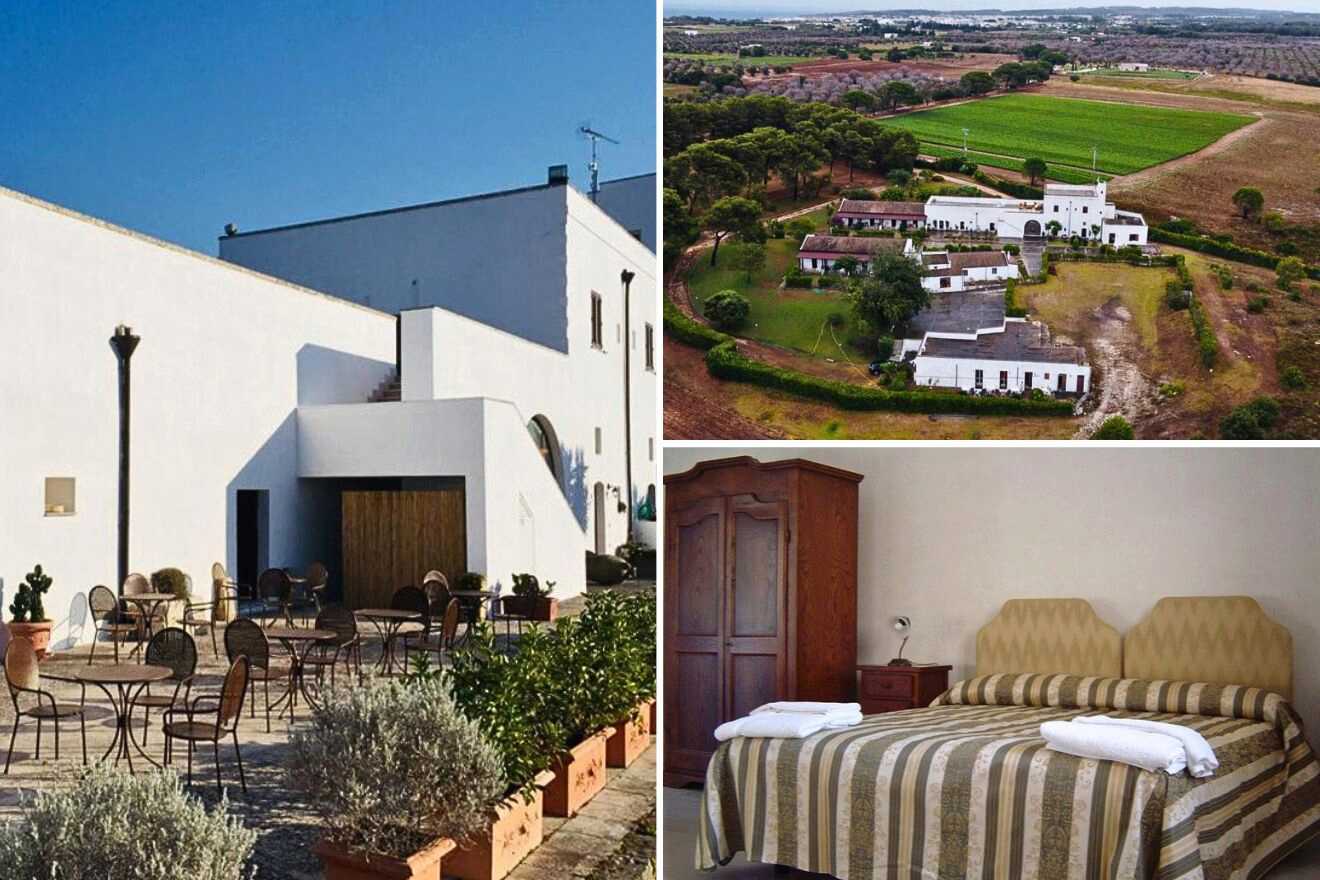 Housed in a restored country manor of the early 20th century, this gorgeous accommodation is super affordable, and it offers everything you need for your holiday! Located 3 km (2 miles) away from Otranto Castle, the accommodation offers free parking, an airport shuttle, and free Wi-Fi.
You'll love their suites with antique furnishings and garden views, and some also have a small patio. Start your morning with a nice walk on the property grounds (the views are so lovely), and then head inside to grab some breakfast before heading out for the day!
FAQs about Otranto hotels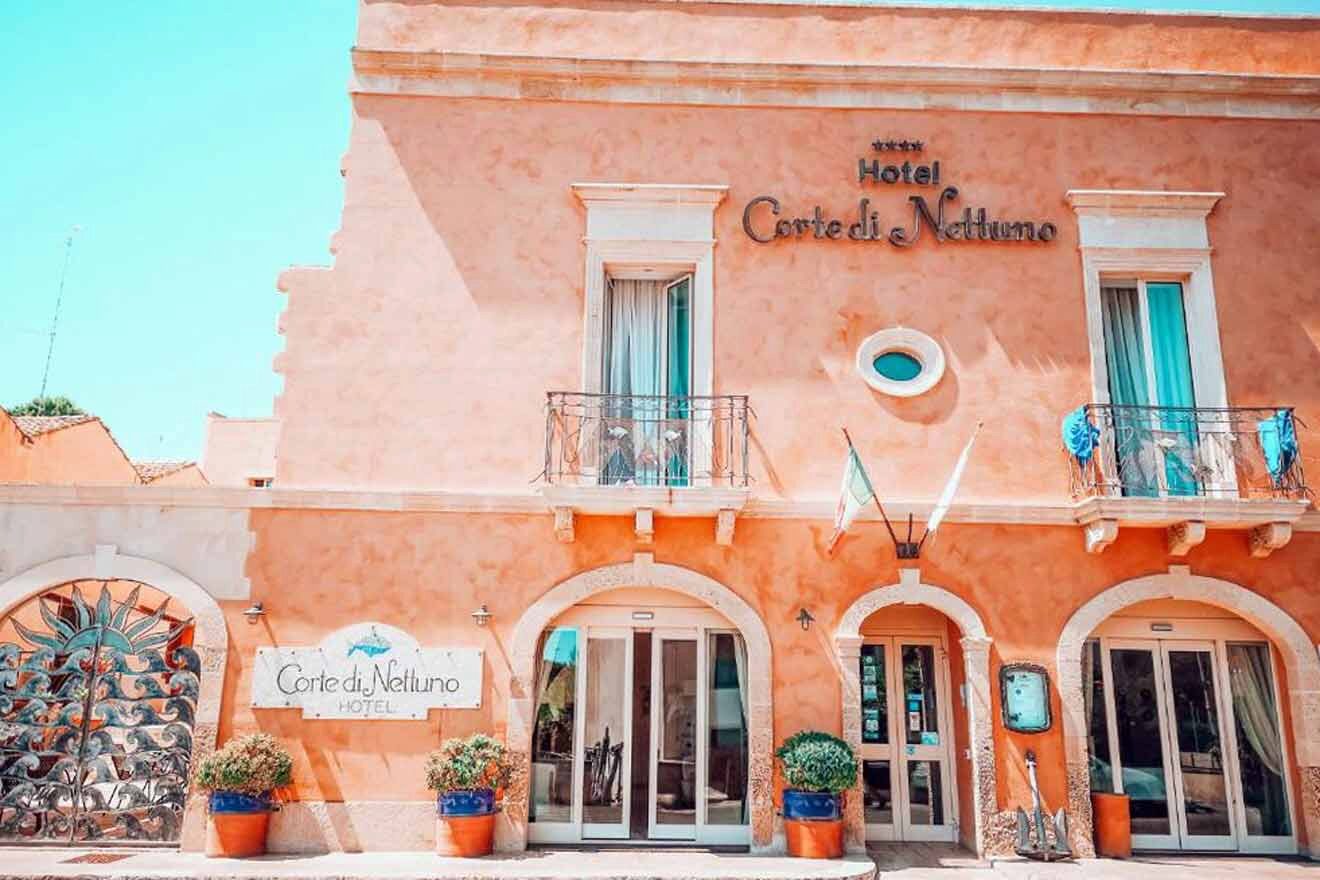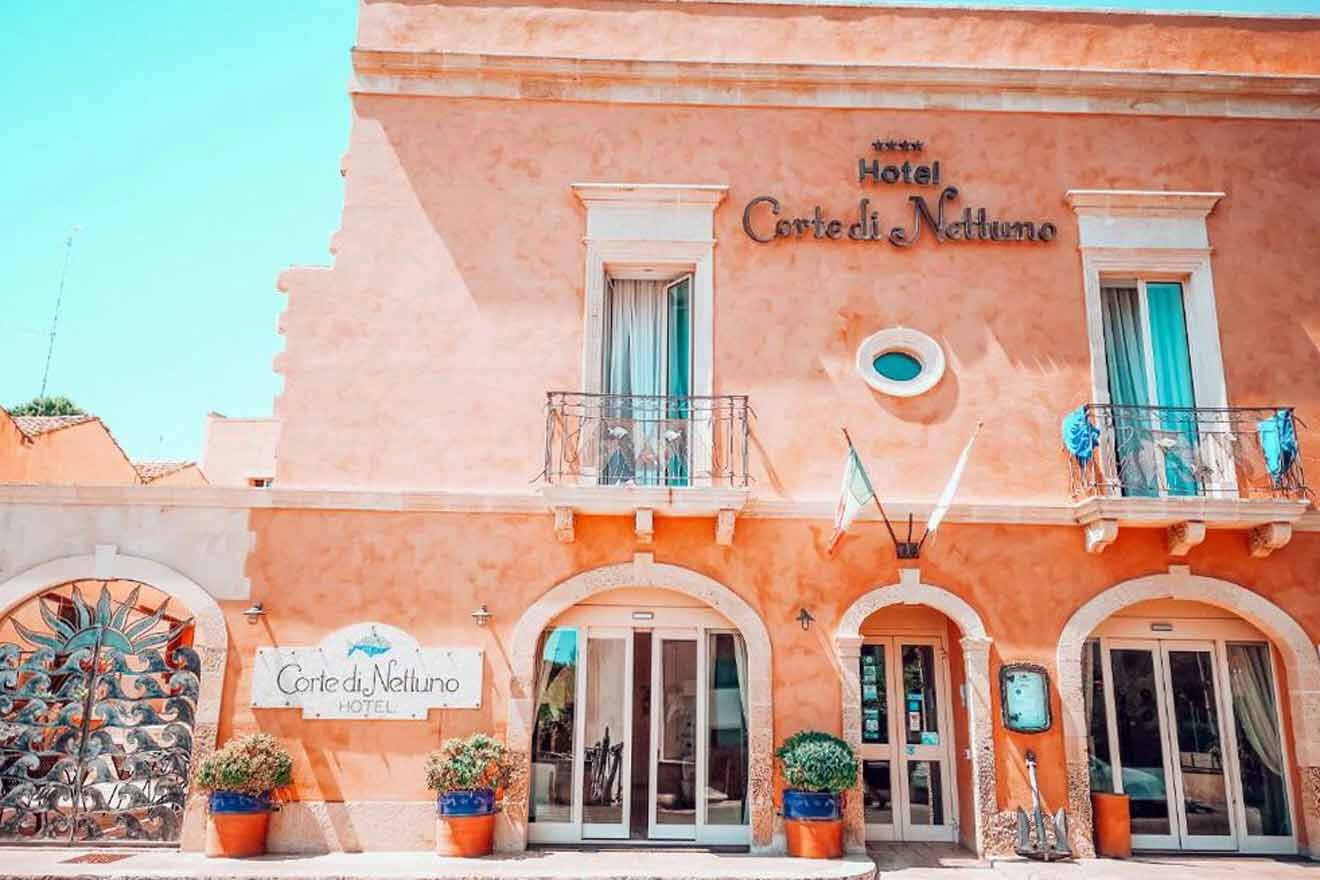 🍾 What are the best luxury hotels in Otranto?
👪 Which hotels in Otranto are good for families?
🏰 Which are the best things to do in Otranto?
Some of the best things to do in Otranto are checking out the beaches, exploring the historic center, and eating yummy food in all the restaurants!
🏖️ Which are some great Otranto hotels near the beach?
Conclusion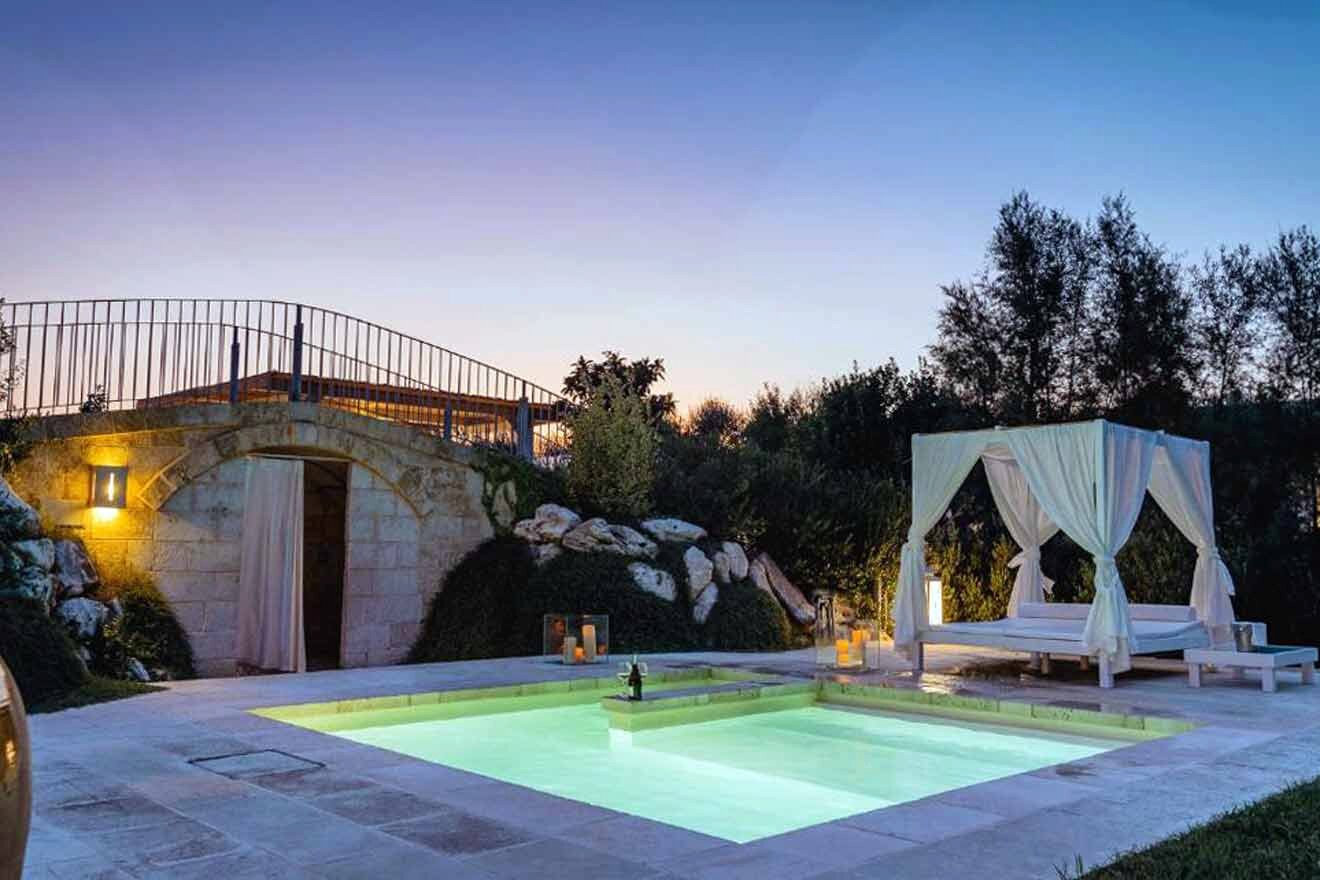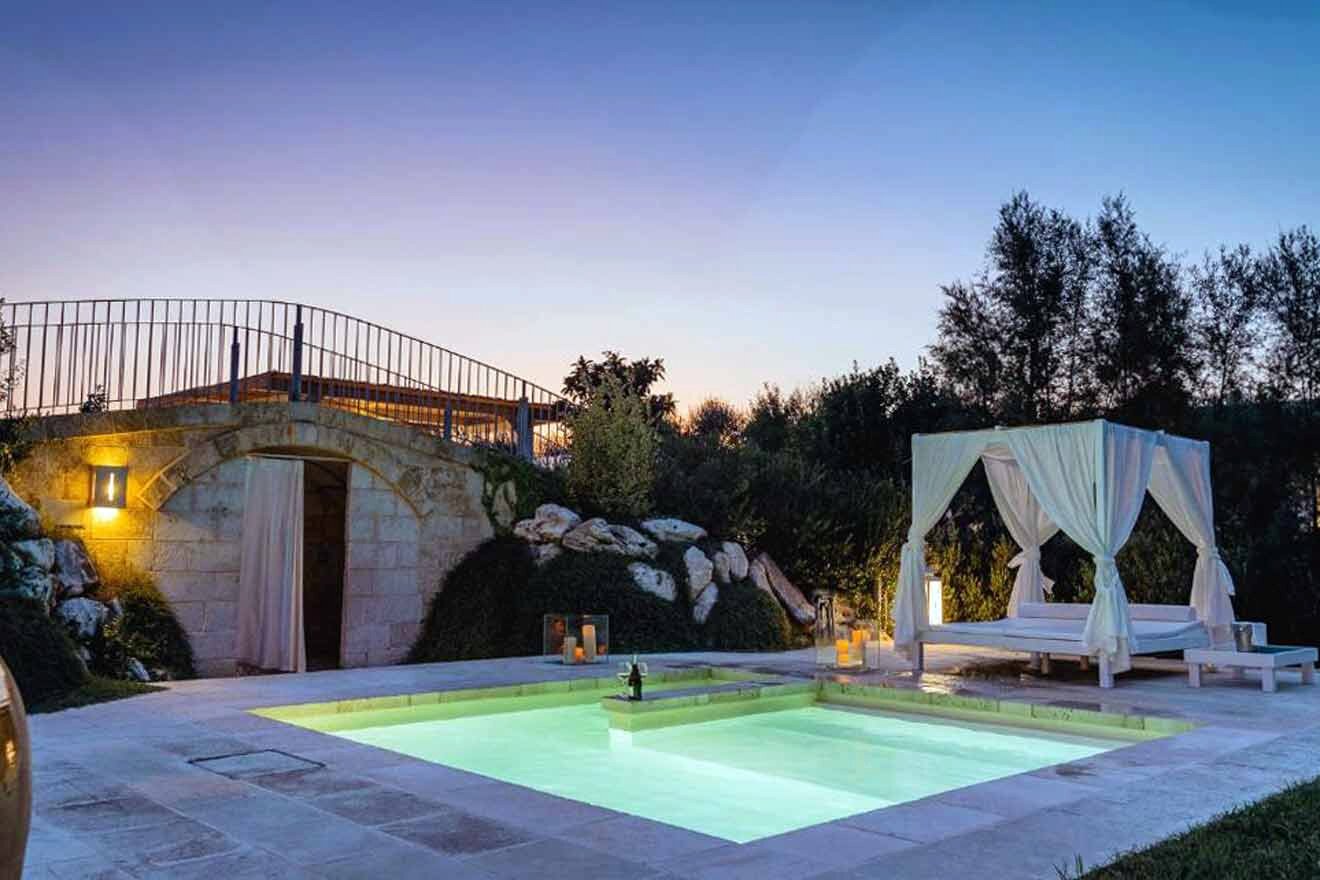 No one does it better than the Italians when it comes to art, food, and historic attractions!
I hope you enjoyed reading this post about the best Otranto hotels as much as I enjoyed writing it!
Don't forget that these places are some of the best in town! That's why I recommend booking in advance and securing your spot!
I know that's hard sometimes, especially in such a gorgeous place! But hey, I'll leave my 2 favorite hotels below for you! So check them out, maybe you'll love them too:
Baglioni Masseria Muzza – immerse yourself in the Italian charm at this accommodation that has an outdoor pool, 2 traditional restaurants, and a spa center.
Masseria Longa Boutique Hotel – catch a scenic sunset at this hotel with spa services, a lovely terrace, and a pool.
There you go! Now you're all set to start planning!
If any other questions pop up along the way, you can always drop me a comment below, and I'll make sure to answer it ASAP!
Safe travels,
Victoria
---
Pin it for later!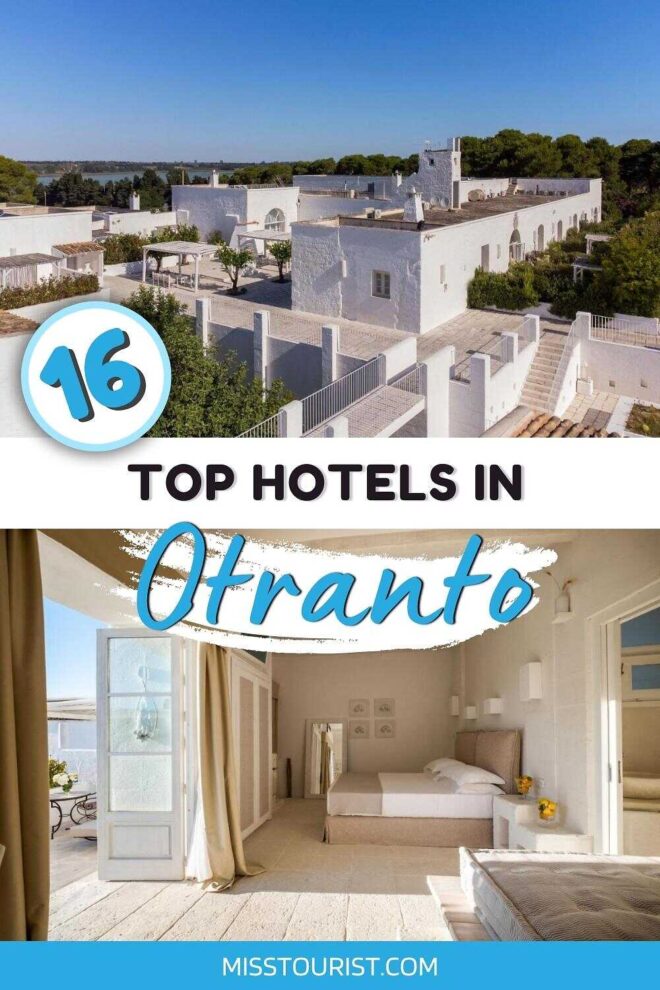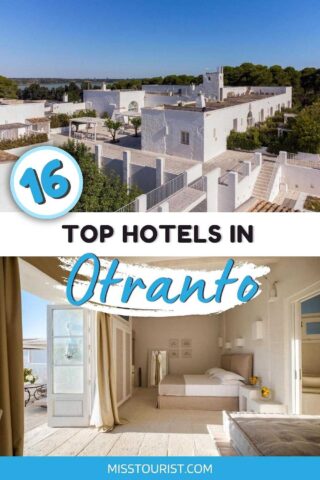 Pin it for later!