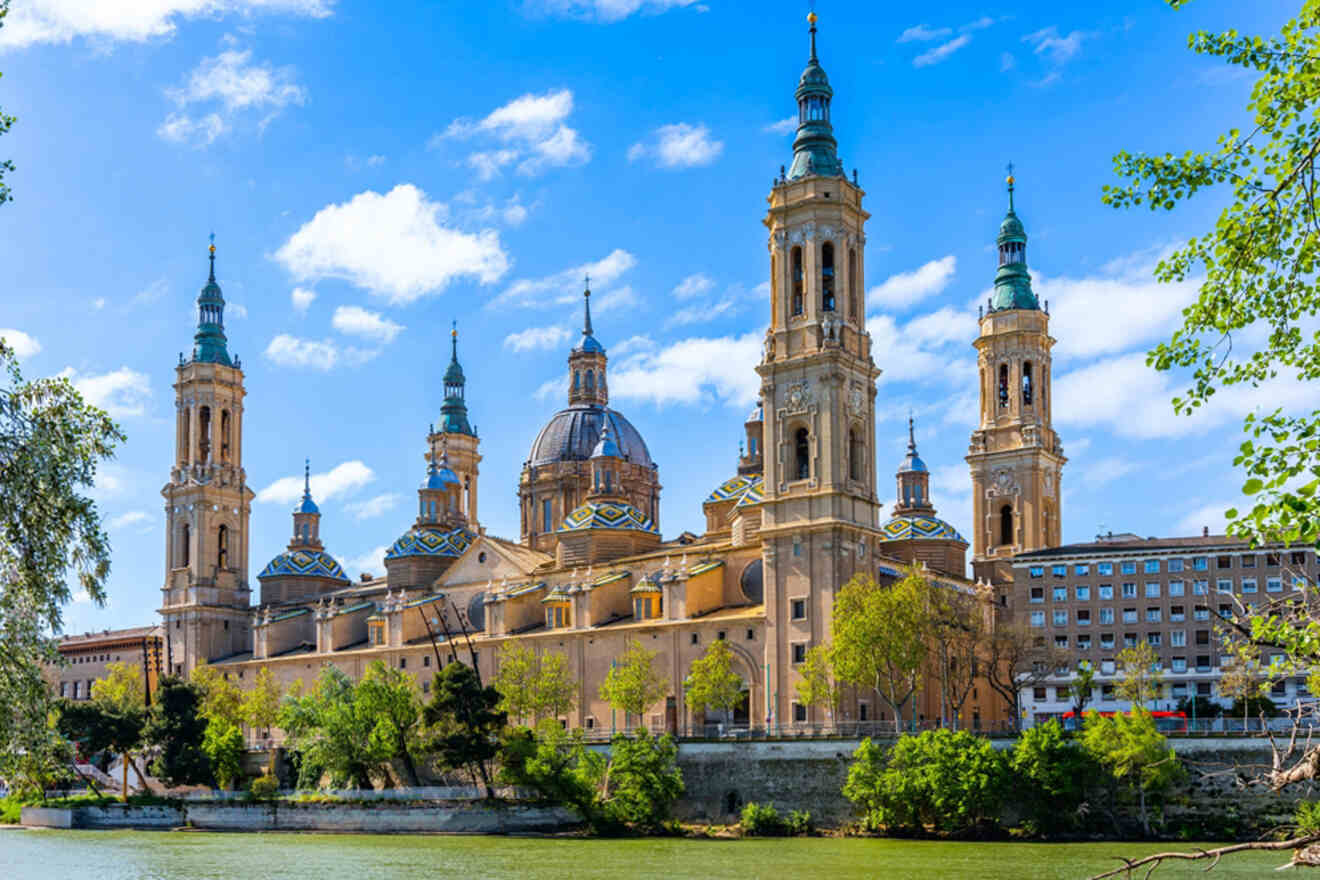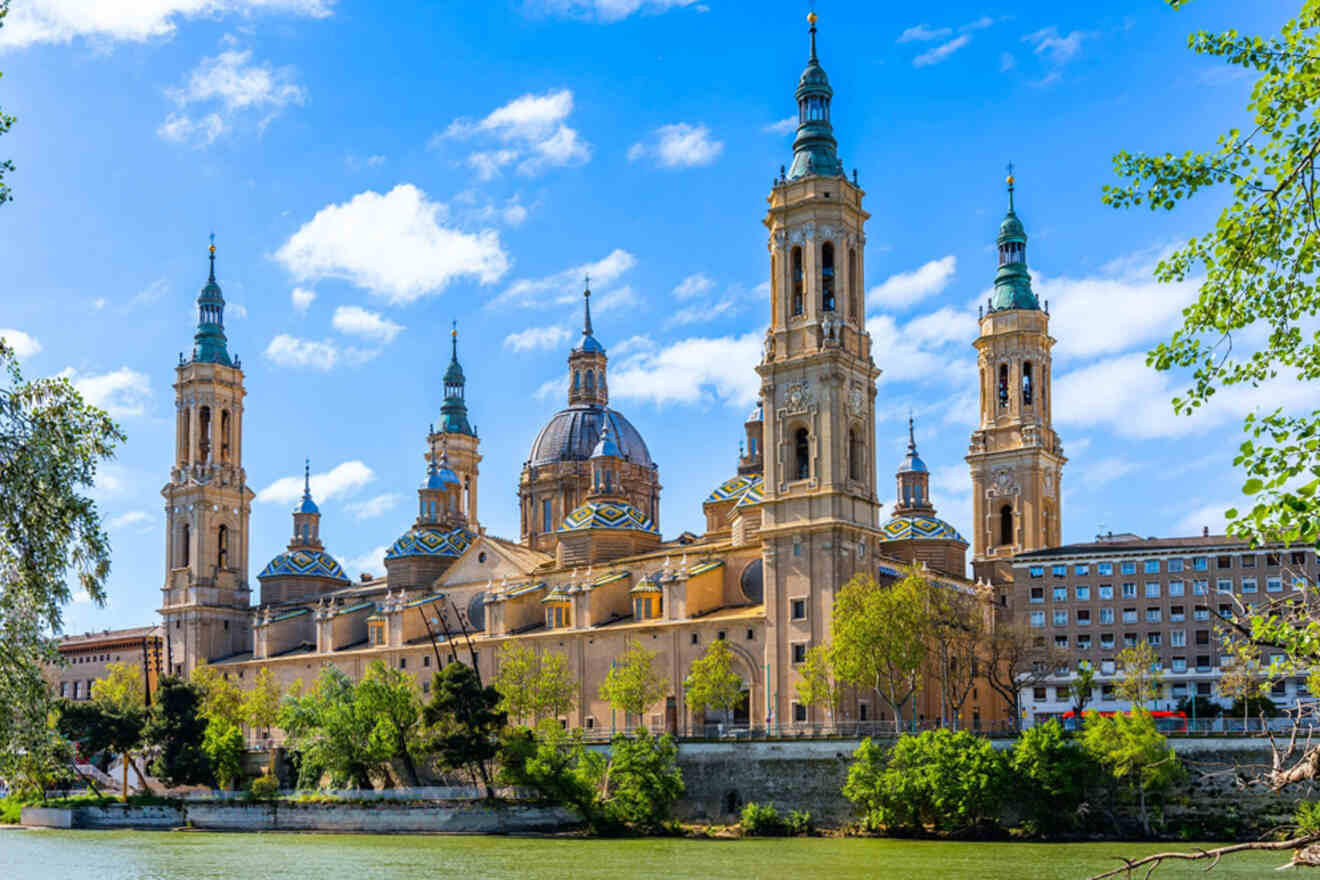 When people think of Spain, they often think of a white sandy beach in the Canary Islands or sangria in Barcelona, but Zaragoza in northeastern Spain is worth a visit too! Even though it doesn't get as much tourism as the south, Zaragoza has a lot to offer: beautiful architecture, a lively cultural scene, and tons of incredible food.
Zaragoza is the capital of the region of Aragón and it is the 5th largest city in Spain. It has a population of almost 700,000 people. I should also mention its location too – it's super convenient to get there by fast train or car from Madrid and Barcelona since it's located kind of halfway between the 2.
The train ride from Barcelona takes less than 2 hours, which is why I decided to visit for a weekend trip! 🙂
When you visit Zaragoza, you might find that it is difficult to choose the best things to do. There are numerous museums, historic attractions, and traditional events to see, and all of them are important elements of Zaragoza's rich cultural heritage. That's why I've gathered all the most amazing things to do in Zaragoza, so you can cherry-pick the best of the best!
Vamanos!
If you are in a hurry
Here are the main things to book in advance:
And here are the best hotels: INNSIDE by Melia Zaragoza (luxury), Hotel Avenida (mid-range), Hotel Inca (budget)
1. Have a quiet moment at Basilica of Our Lady of the Pillar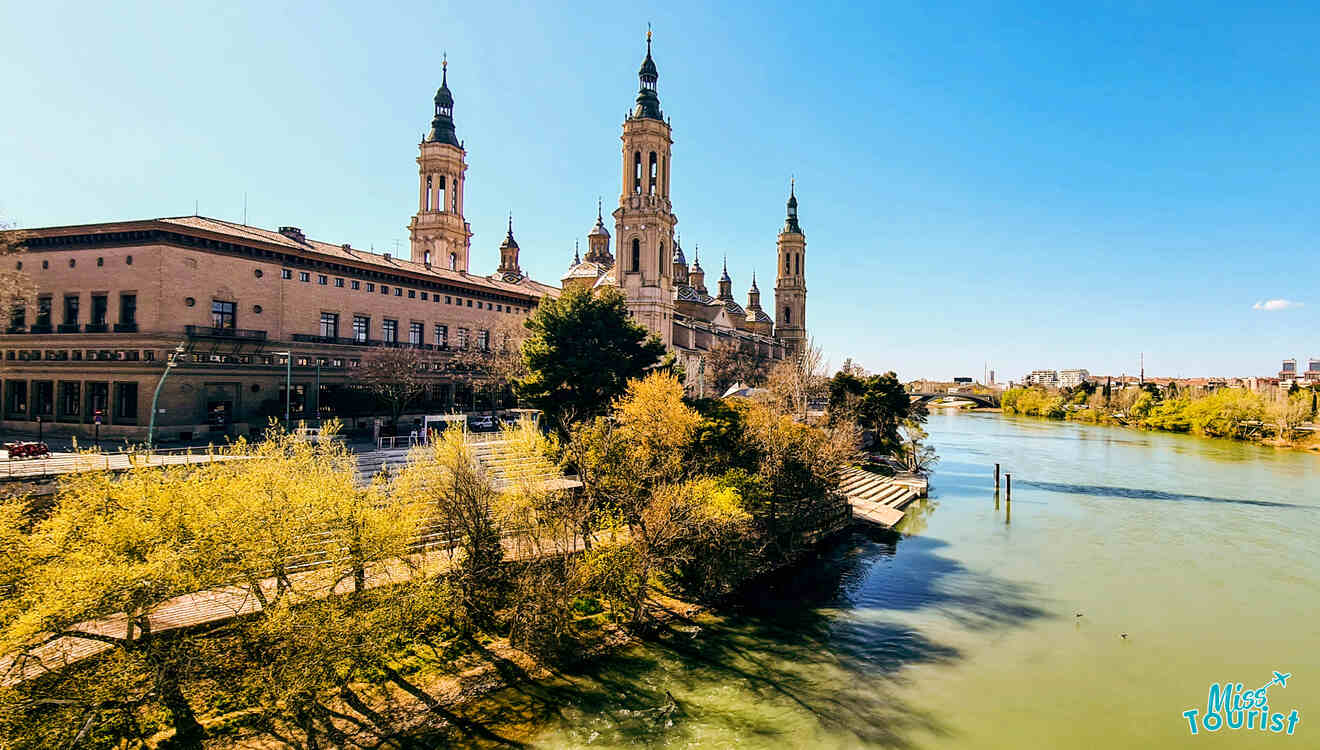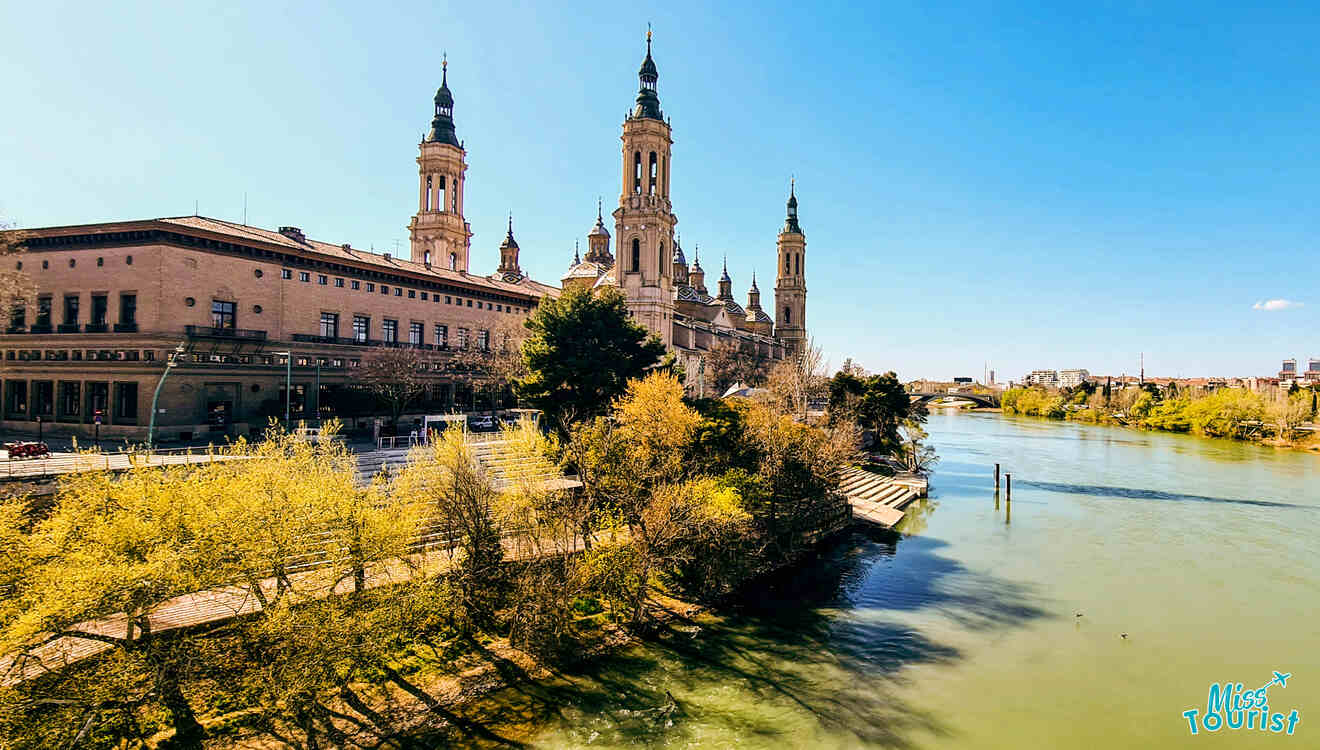 If you are traveling to Zaragoza, you should definitely visit the Basilica of Our Lady of the Pillar (Basílica de Nuestra Señora del Pilar). This large Catholic church is located right in the middle of Zaragoza, and it cannot be missed! (quite literally though, it is huuuuge!)
Legend has it that the Virgin Mary asked a saint to build her a chapel, and so she got a column ("el pilar") which later on got extended to a small chapel, and step-by-step it grew into a pretty big basilica it is today.
Although the interior of the church is pretty simple compared to other big basilicas around the world, it is definitely worth a visit inside – and it has 11(!) domes!
NOTE: It might be opened and closed numerous times during the day, so don't worry if you find yourself in front of a closed door. The opening hours are written on the entrance and they are typically closed in the middle of the day (usually from 2 PM to 4 PM, but times can vary).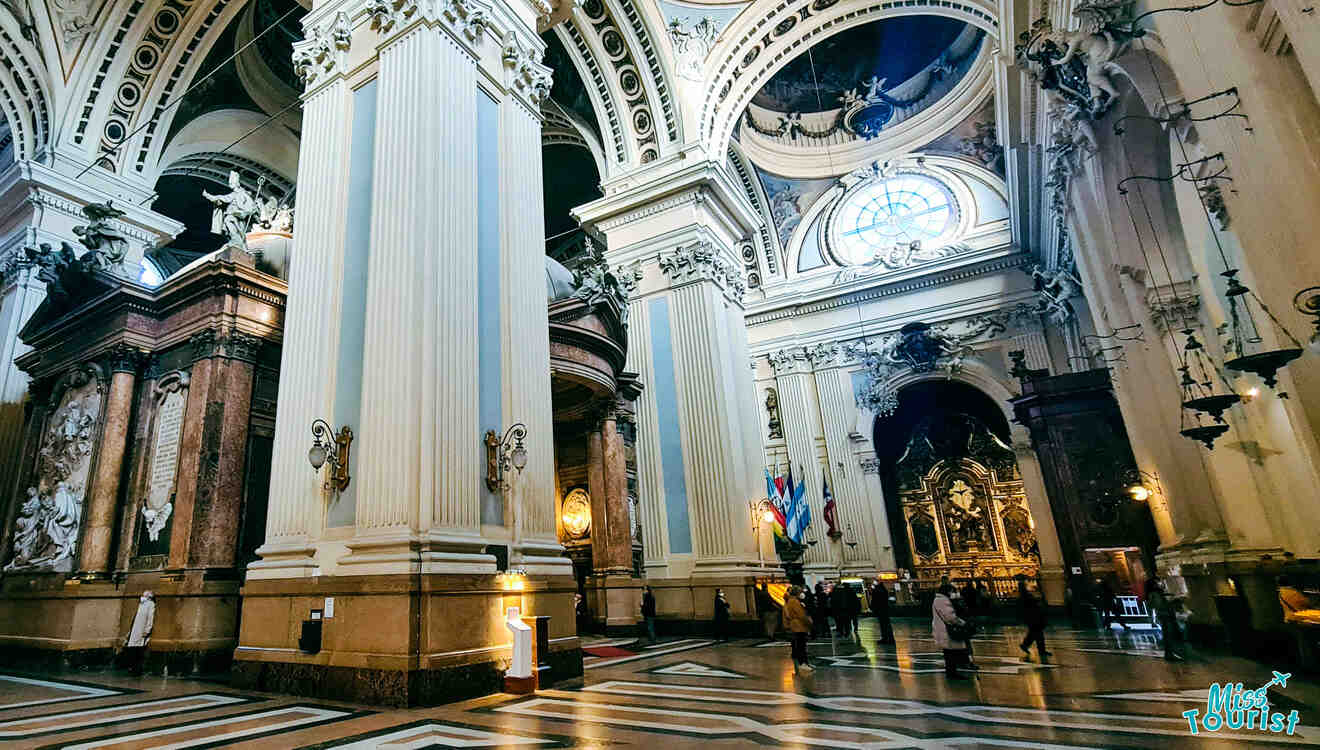 PRO TIP: do not miss the observation deck in the basilica (currently €4). It's called Torre de San Francisco de Borja and you will get to see a 360° view of the city. I've heard it is especially spectacular at night! There is an elevator that will take you all the way up to 60 meters and the rest of the way up, another 20 meters, there is a staircase.
PRO TIP 2: If you are also planning to go to the La SEO Cathedral, the famous Visigoth church, then I recommend buying a combo ticket to the tower and the SEO for just €9, which is a very good deal!
PRICE: €9 for the combo deal, €4 for the basilica's observation deck, free to visit the cathedral
2. Take an afternoon stroll in Plaza del Pilar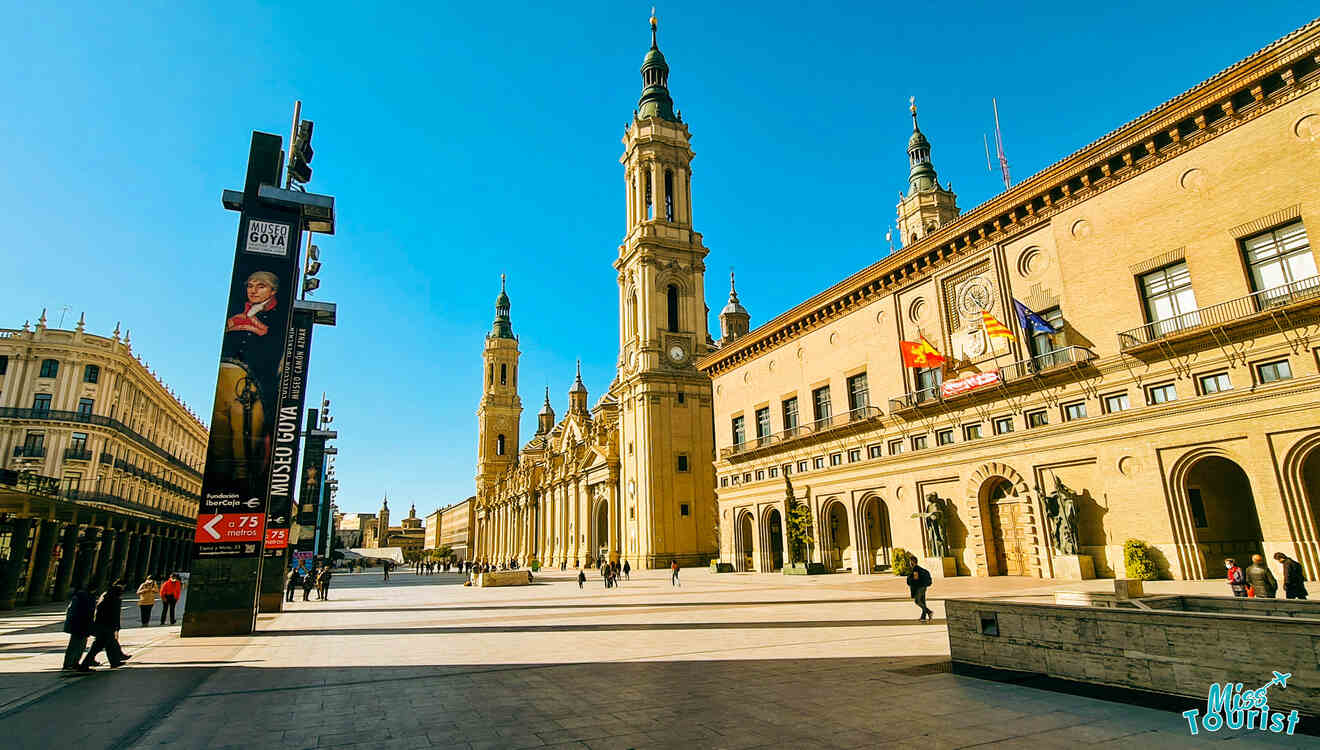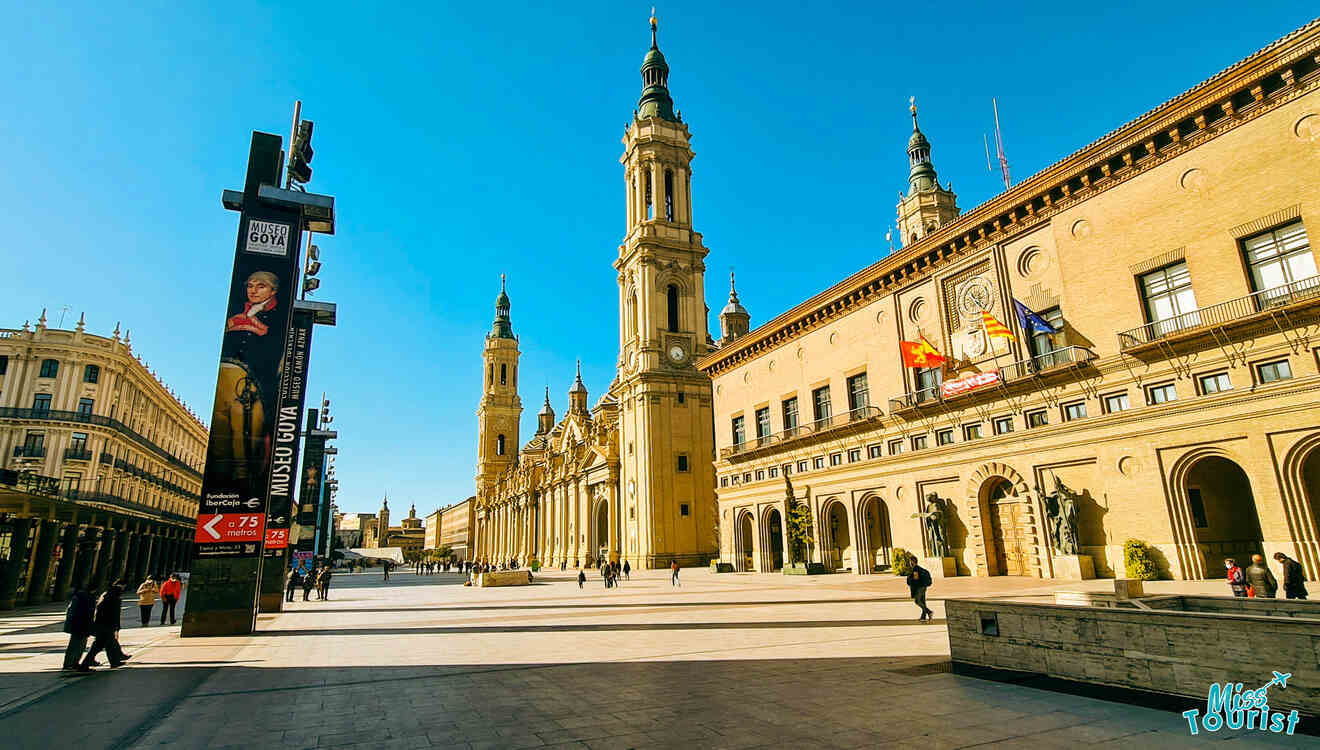 The plaza (the square) itself is worth a visit – it has to be one of the biggest squares I have seen in Spain!
If you're visiting the cathedral I mentioned above, you'll be in Plaza del Pilar anyway, so take a while to enjoy it! Make sure to walk it from one side to the other, there are many things that you will see – it has gorgeous fountains, and there are churches in the beginning, the middle, and the end of the square (no kidding!). It also has a couple of museums, Roman ruins, and numerous restaurants.
I highly recommend ordering a beer (or any other drink) and just enjoying a perfect view of the cathedral from your seat!
PRICE: Free
3. Walk around the Old Town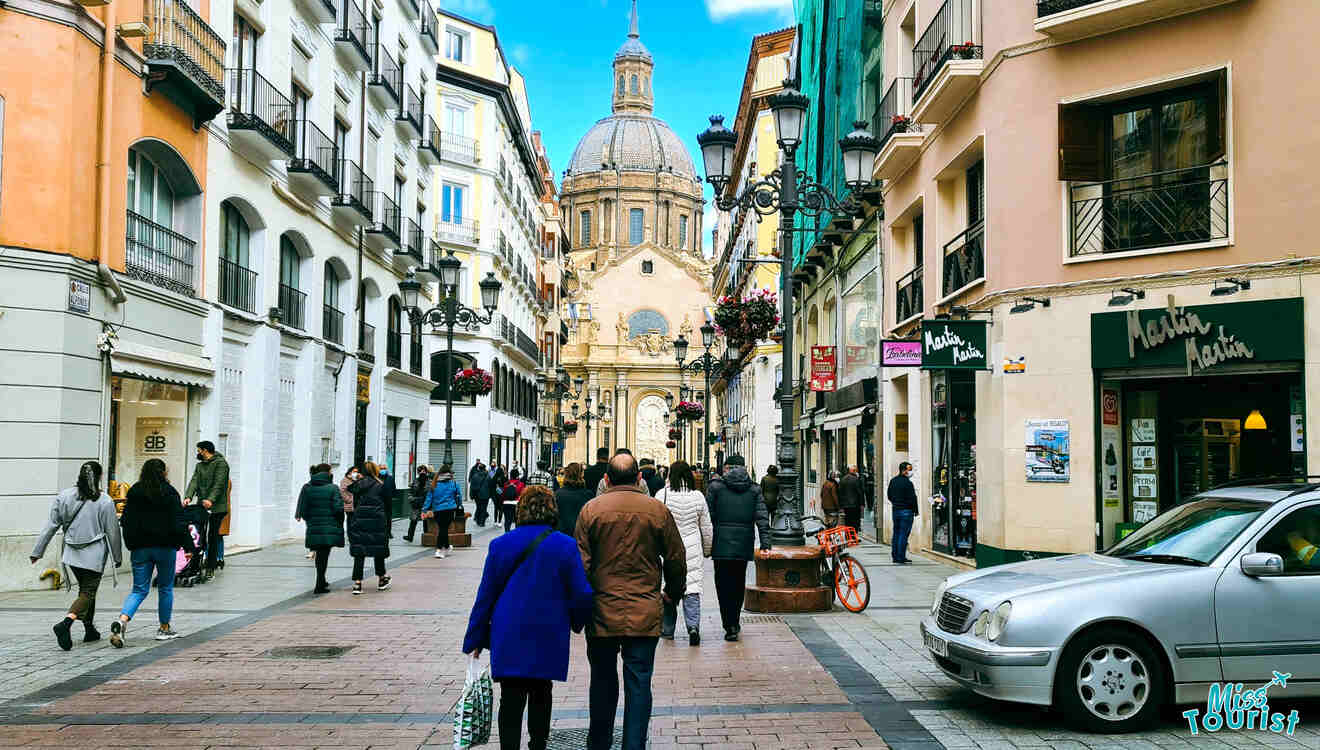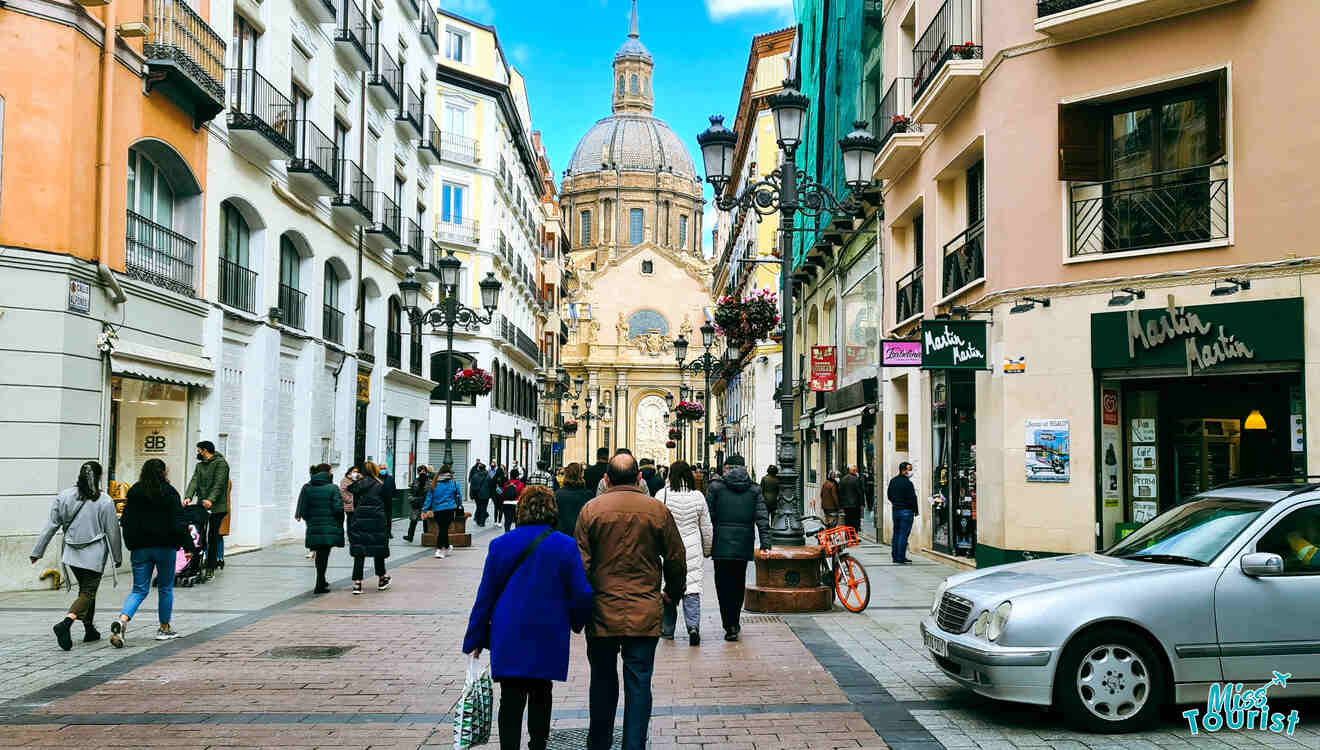 Once you walk Plaza del Pilar up and down, it is time to discover the rest of the Old Town. The city center is super walkable, everything is pretty much 10 minutes walking from the Basilica. You have the Museo del Foro de Caesaraugusta (ancient Roman ruins and Ceasaraugusta theater), the Francisco de Goya Museum (more on that later), some super nice restaurants and cafes (I also have some info on that below), and of course, the riverside with Puente de Piedra – the stone bridge.
Just walking around the town, you'll see plenty of historical sites, and don't miss the town square, Plaza de España!
As Zaragoza is a university city too, many people go out a lot in the evenings and on the weekends. The squares are full of people enjoying a glass of wine or beer sitting at a table!
I recommend checking out the narrow streets of the Old Town (Calle Estebanes and El Tubo in Plaza de España), that's where all the cool vibe places are, it seems! Younger crowds and some amazing cafes with a terrace can be found there.
PRO TIP: cross the Ebro River by the bridge and take a look at the basilica from the other side. You will have a better view, I promise!
PRICE: Free
4. Marvel at Aljafería Palace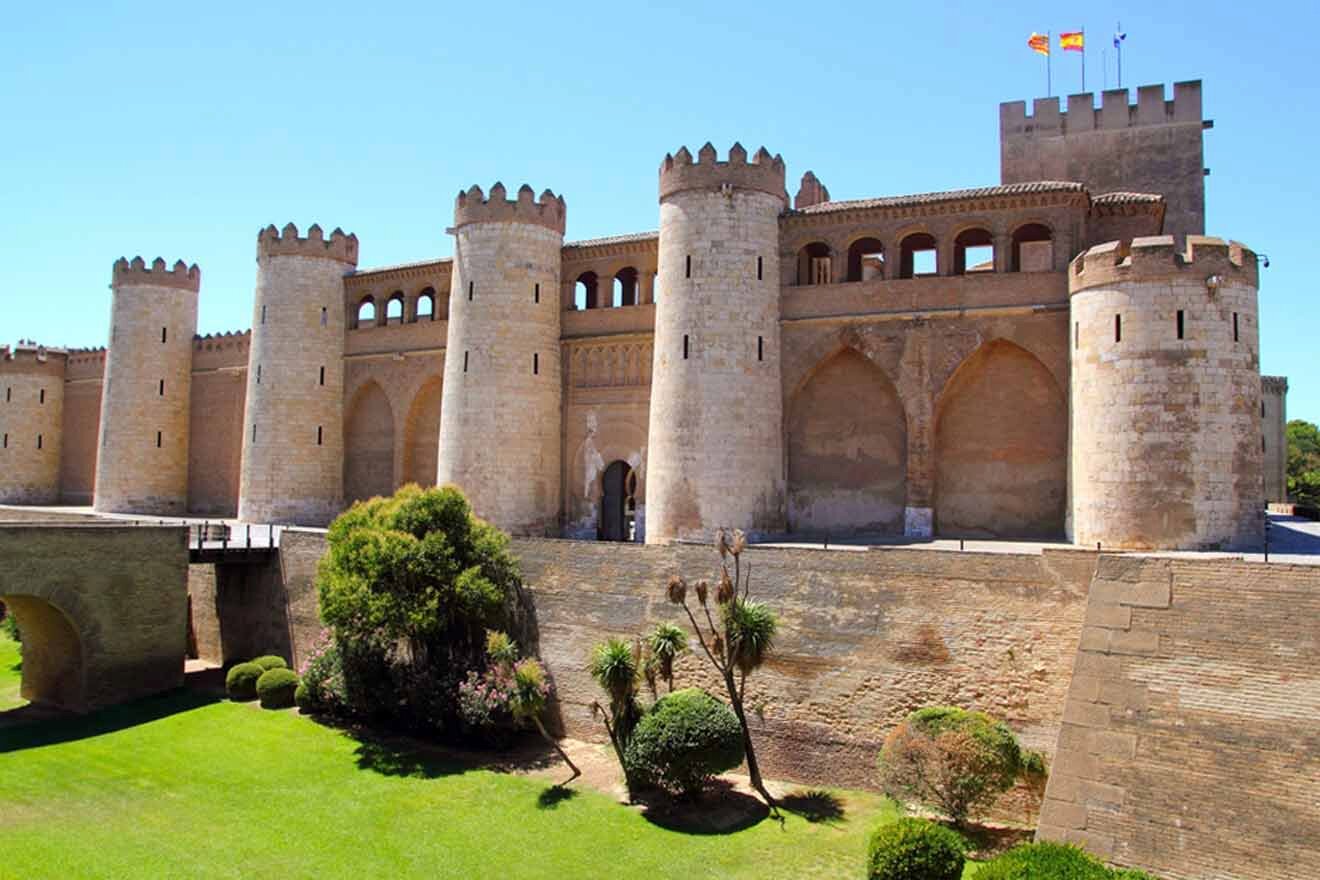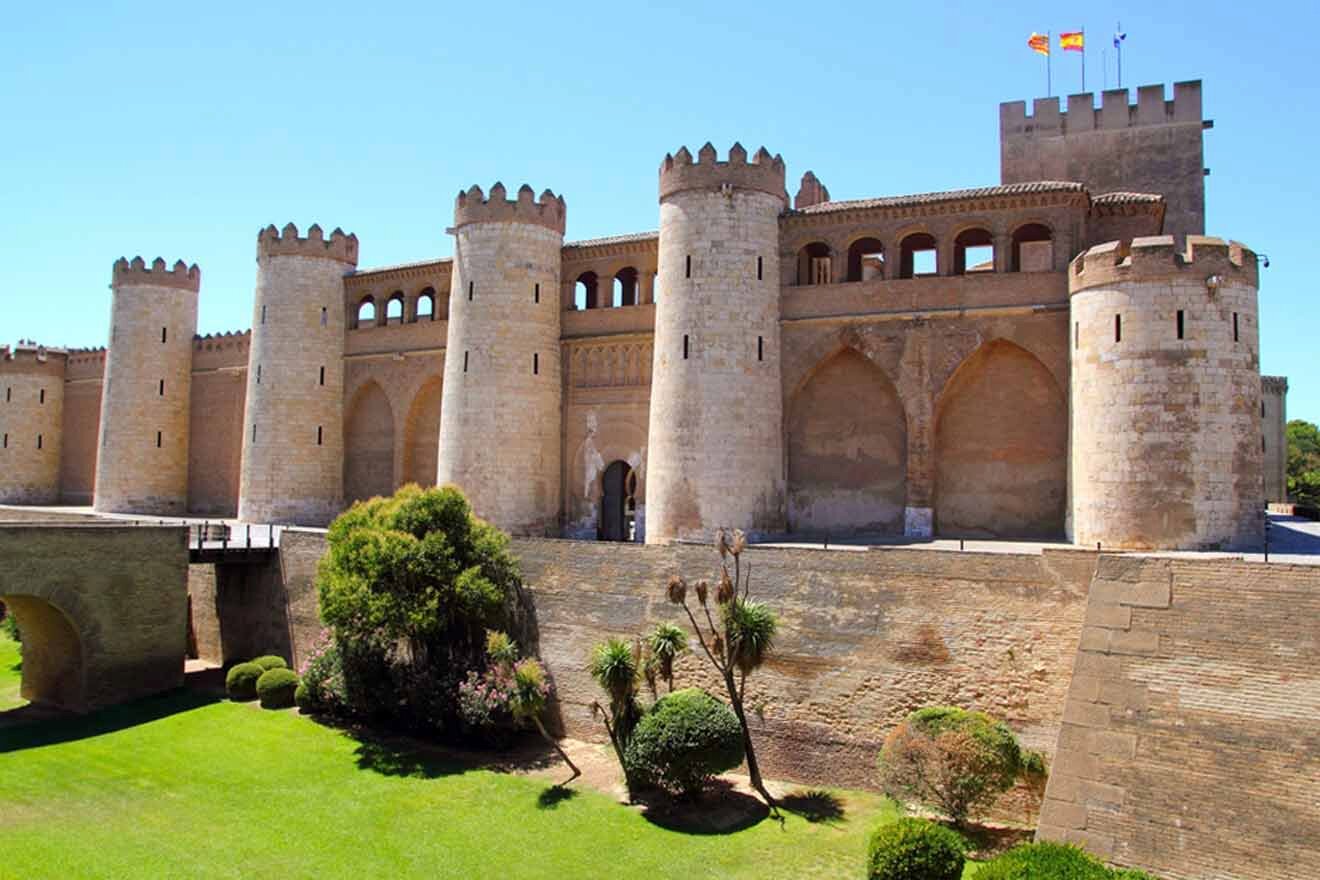 Built in the 11th century by the Moorish kings of the Aragon region, Aljafería Palace is a shining example of medieval architecture. In the 17th century, the building was reconverted into a palace by the new rulers of the city: the Spanish Habsburgs.
Aljafería Palace, a UNESCO World Heritage Site and fortified Islamic palace might look medieval and menacing from the outside, but it is beauuuutiful on the inside! You will understand what I am talking about when you see the super unique Hispano-Muslim, mudéjar architecture with curved arches.
Aljafería Palace was originally called Qasr al-Surur (which means Palace of the Joy) and it served many different purposes throughout the ages, including a prison!
HOW TO GET THERE: It is a good 20-25 mins walk from the city center, next to Calle de los Diputados, so you might consider a taxi/bus if you are not ready for a long walk.
ATTENTION: The tickets are (currently) free, but you need to book at least 3-4 days in advance (especially on the weekend). Silly me, I didn't manage to get it because I tried to book for the next day and it was sold out. Book your visit here (there is also an English version).
I called and tried to change the date but unfortunately, everything was booked, but the lady on the phone was extremely nice and really tried to help, so I really want to come back now and visit!
5. Get historical at Catedral del Salvador de Zaragoza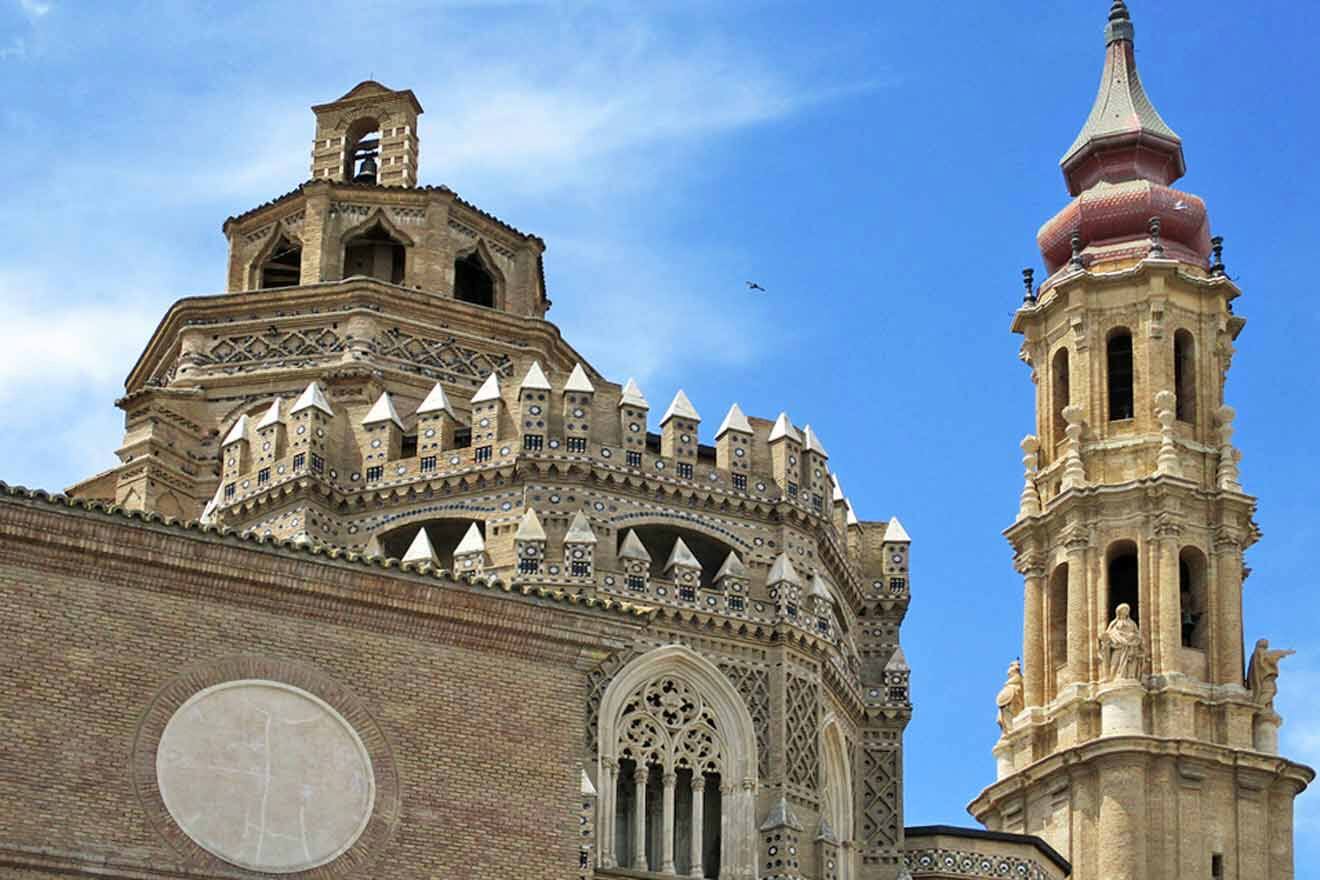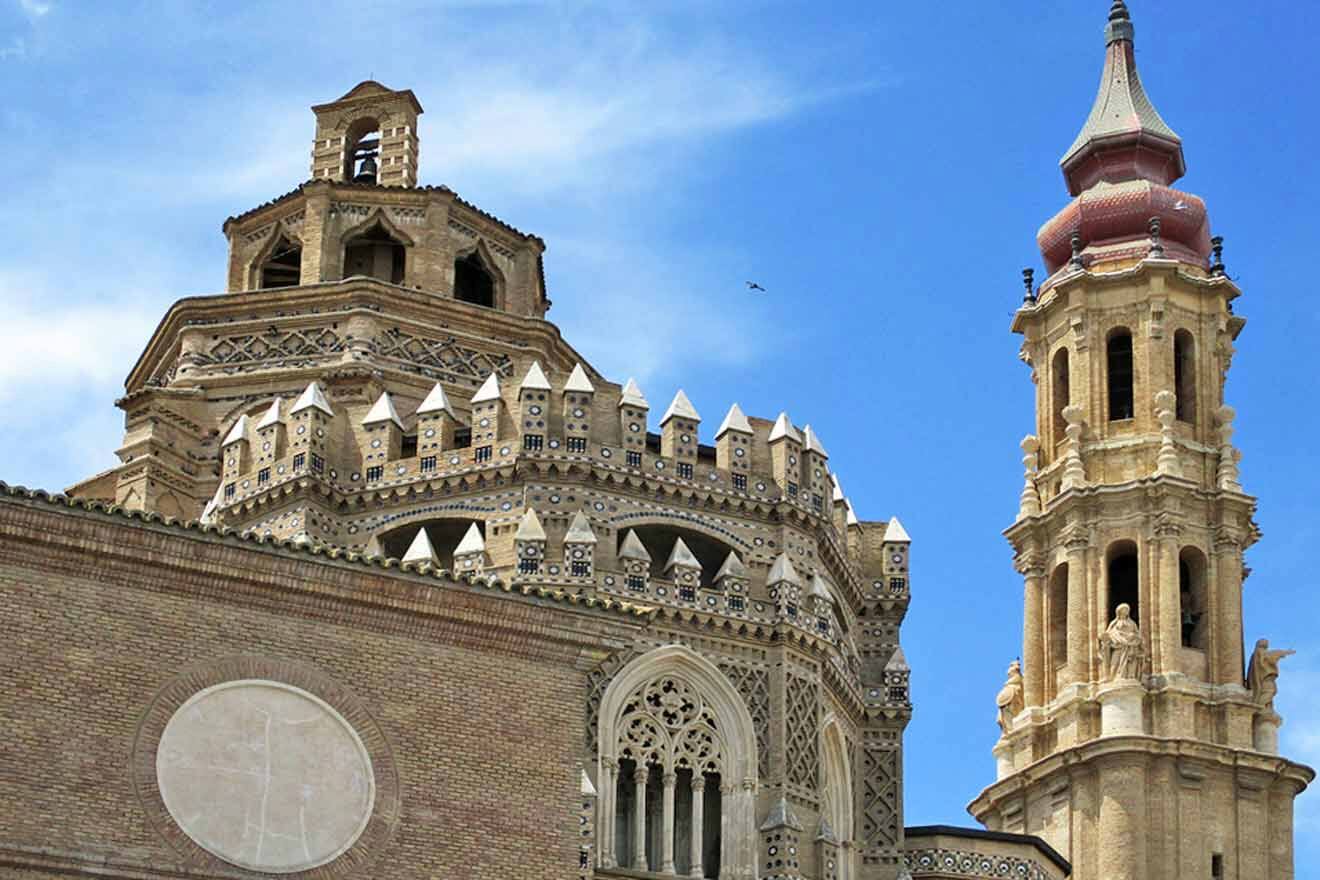 Don't miss the chance to visit the stunning Catedral del Salvador de Zaragoza, also known as La Seo, a masterpiece showcasing a blend of architectural styles. With origins dating back to a Roman temple and later a mosque, the cathedral now primarily features Gothic, Mudéjar, Renaissance, and Baroque elements!
Take a stroll inside to appreciate the intricate details, including the impressive main altarpiece, a Spanish Gothic wood carving masterpiece, and the 16th-century Mudejar wall, displaying a unique fusion of Islamic and Christian artistic influences.
The Tapestry Museum (Museo de Tapices) is included in the price of your visit – highly recommended!
NOTE: Unfortunately, no photos in the tapestries museum are allowed.
PRICE: €7
6. Taste the flavors of Zaragoza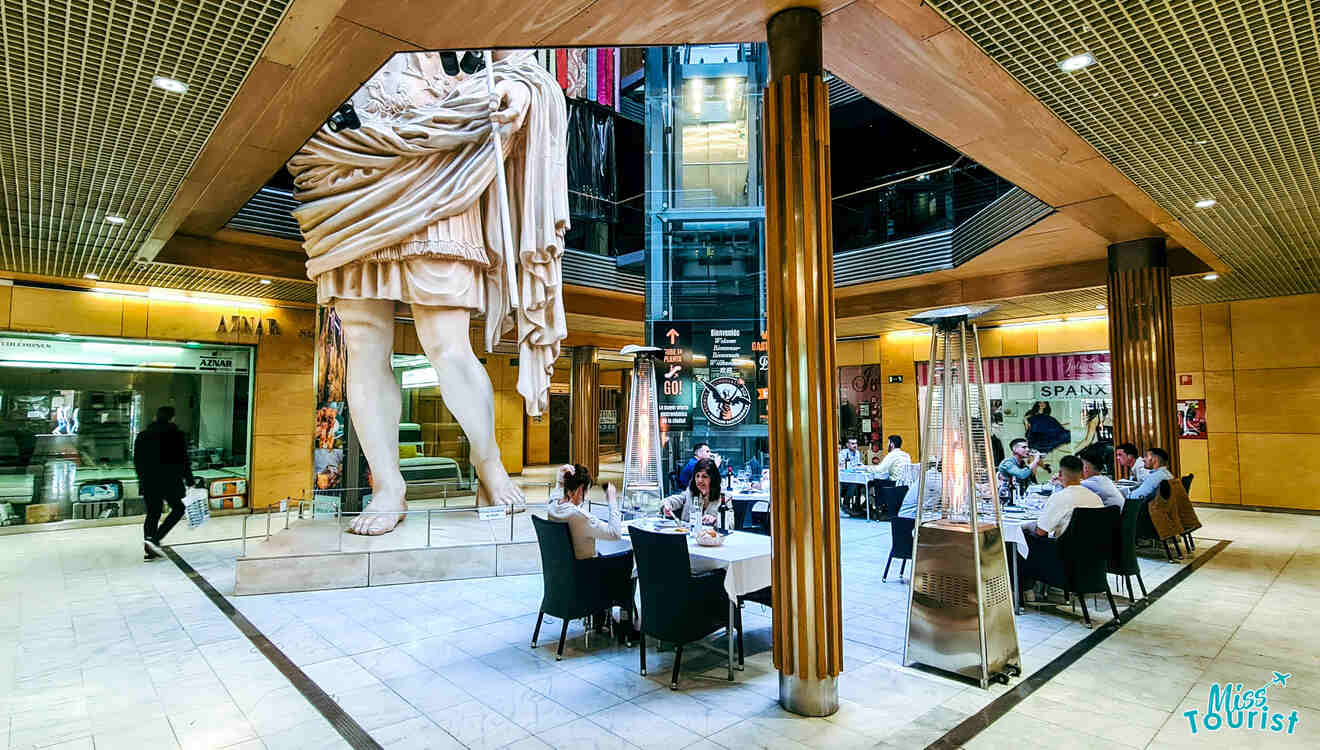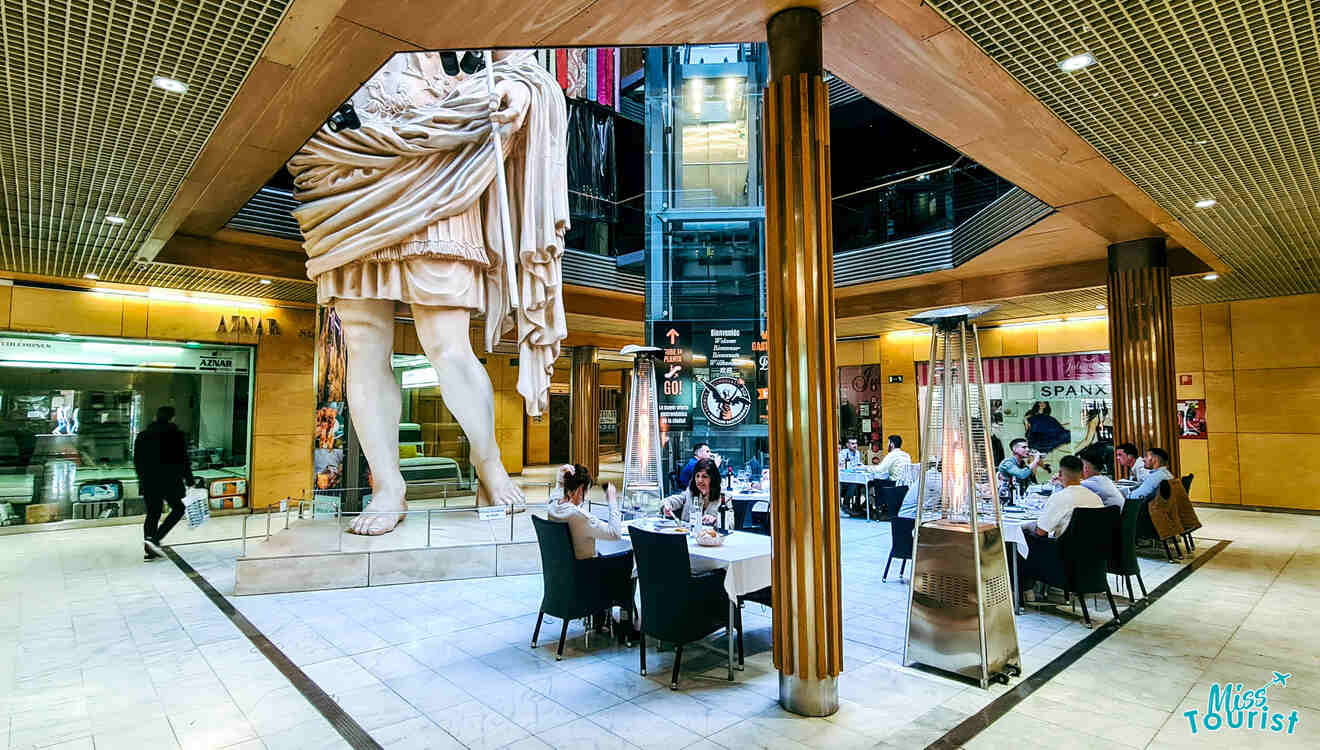 You can't visit Zaragoza without sampling all the incredible culinary delights the region has to offer!
Here are some awesome activities for all my foodies out there:
7. Embrace your inner painter at Museo Goya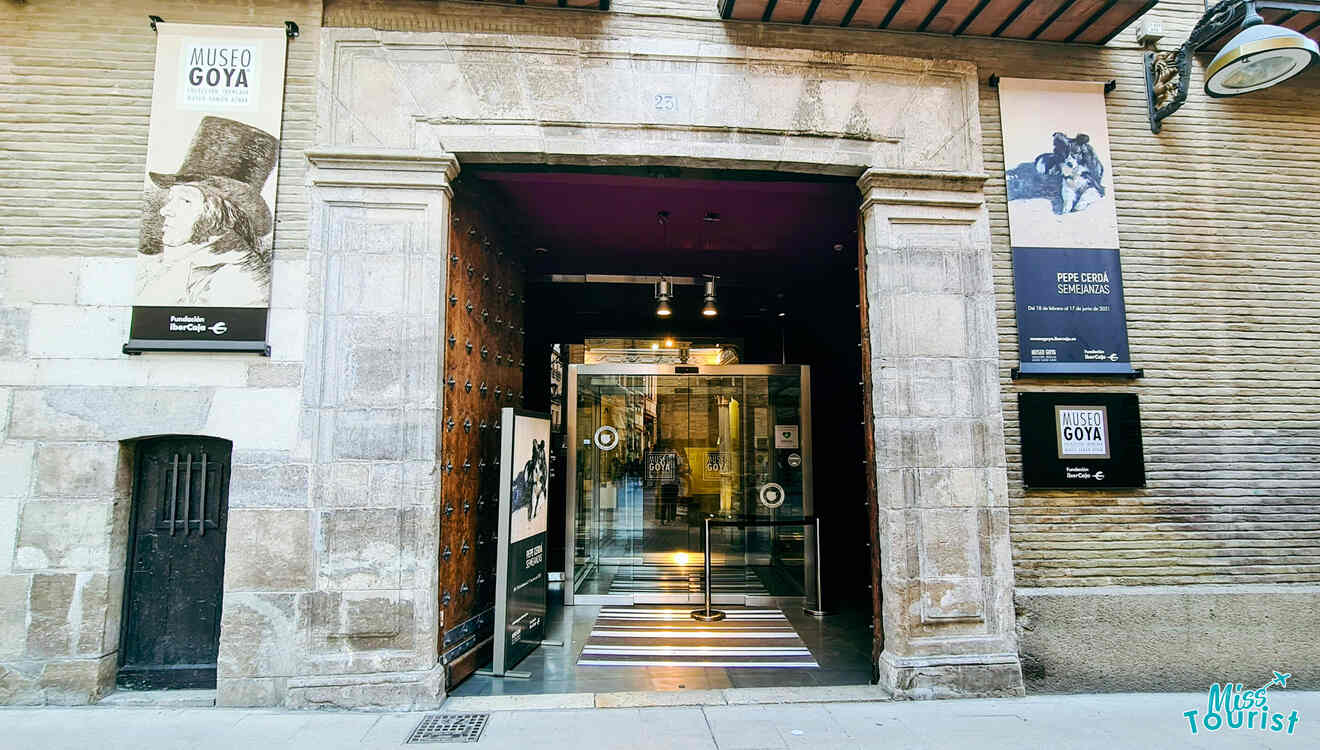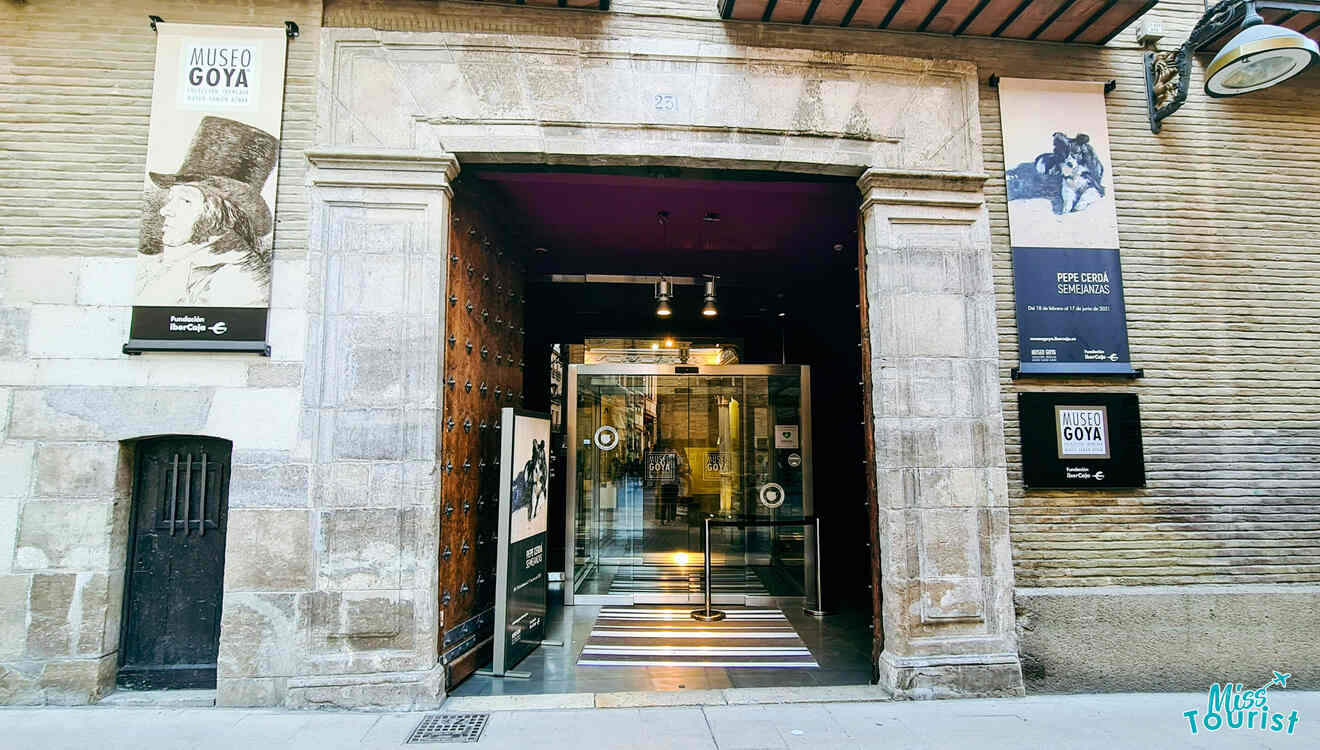 While most people will know Zaragoza as the birthplace of Francisco Goya, the famous painter, it is technically not true – Goya was born in a tiny village called Fuendetodos ~50km away from Zaragoza.
Nevertheless, you will see that locals are really proud of their fellow countrymen and this museum is dedicated to them, so you should definitely pay a visit!
I happened to visit on the day when it was free (a nice surprise, the first Wednesday of each month is free), otherwise, it is €8 (check the updated price on the official site here).
When you go, make sure to use their nice comprehensive audioguide (free if you have internet or connect to the museum Wi-Fi), so take your headphones!
You have a couple of floors and it is not only about Goya, you will see other works of Aragon painters, but in my humble opinion the engravings of Goya are the coolest room, so save some time for it!
PRO TIP: There are also lockers if you have bags
PRICE: €8
8. Explore Mercado Central de Zaragoza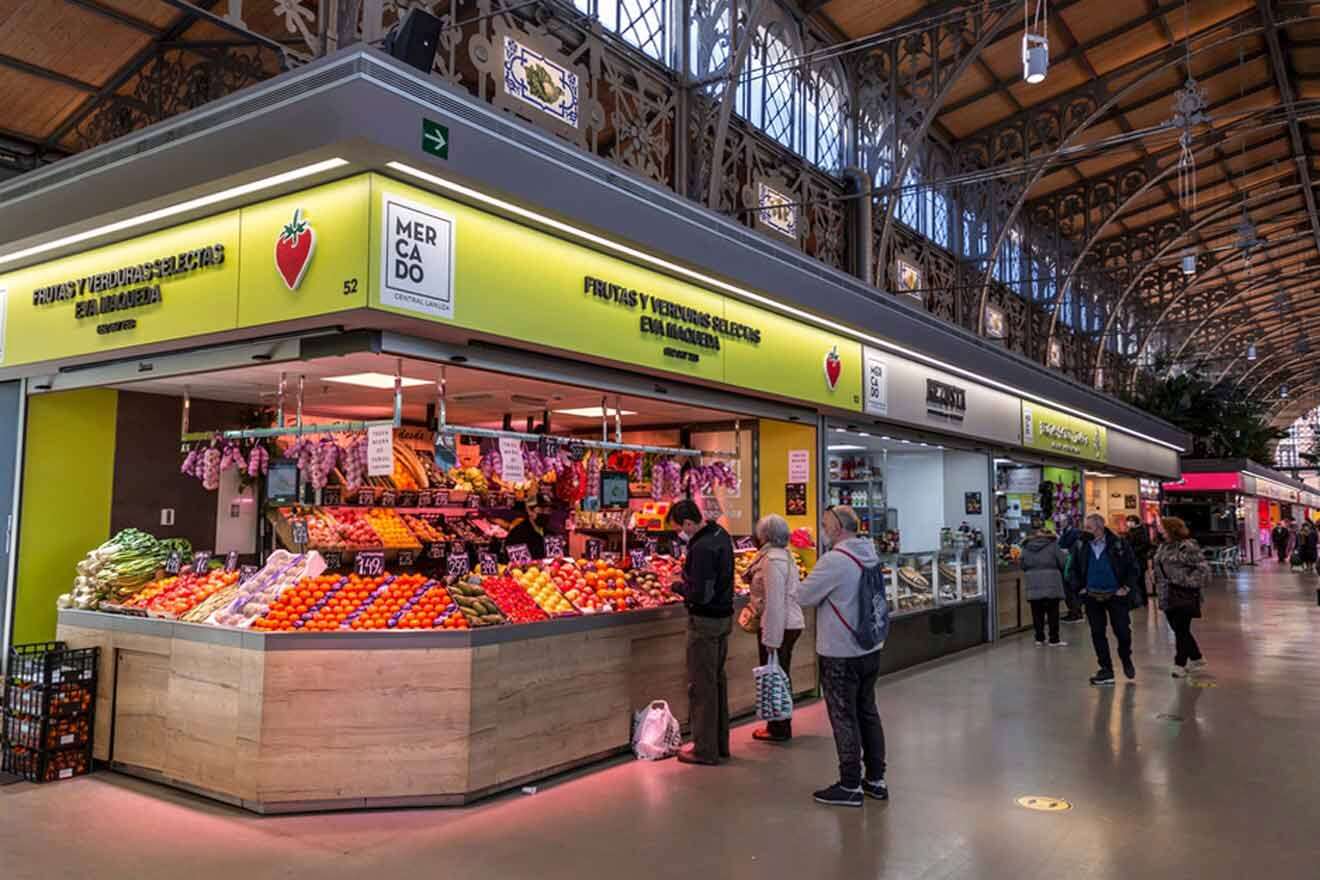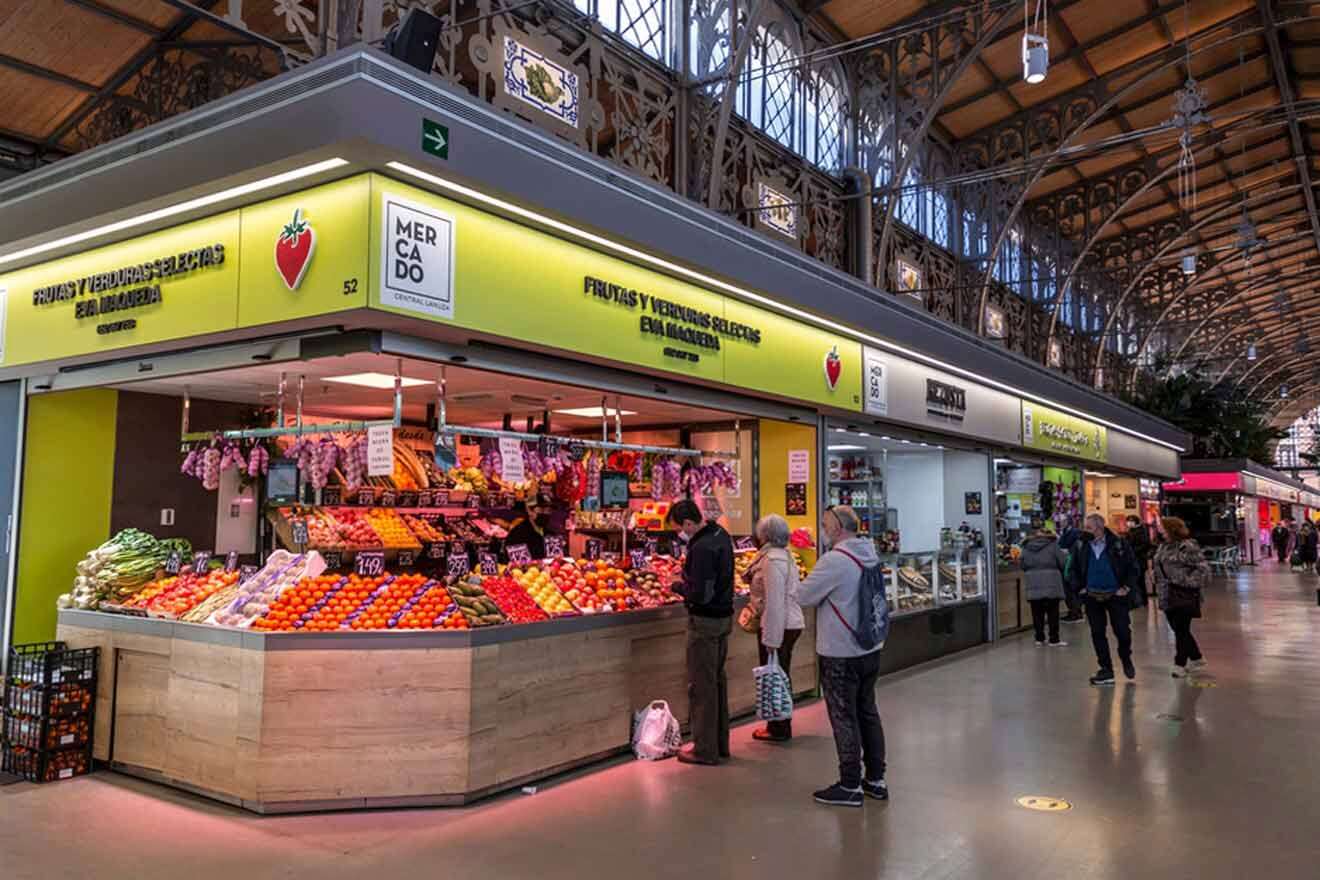 The Central Market of Zaragoza is located just a stone's throw away from Plaza del Pilar, and it is an attraction in and of itself, especially for all my foodies out there! This beautiful building was built at the end of the 19th century and it has always been the center of life and cultural events in Zaragoza.
Walk around the stalls with local sellers – you can buy everything from Iberian ham to seasonal fruits and Aragonese products over there!
Make sure to visit in the morning, as it closes at about 2 PM. However, it reopens at 5:30 PM until 9 PM on weekdays. Check the updated info here.
PRICE: Free (unless you fancy buying some Iberian ham!)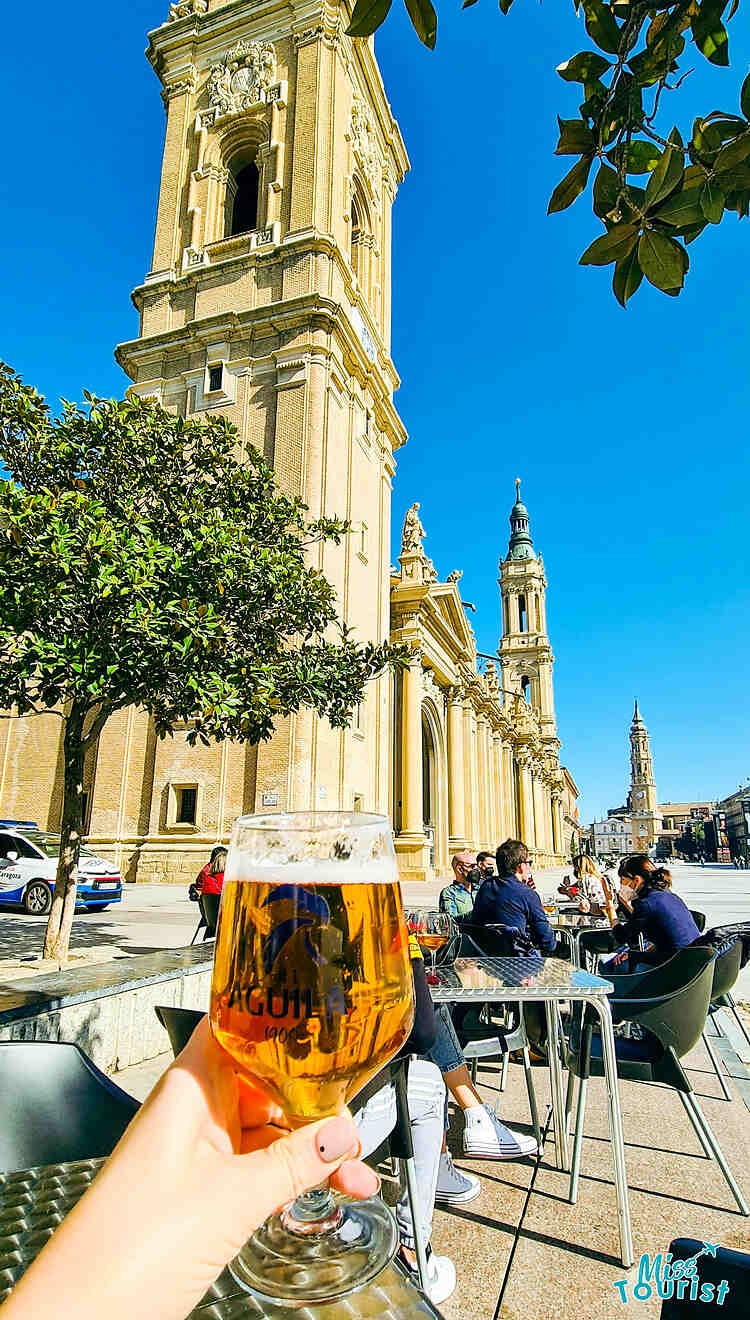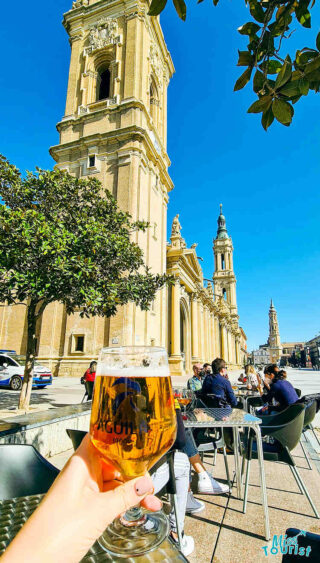 A walking tour in Zaragoza is perfect for discovering the city's charm and vibrant atmosphere. I always try to take one in a new city – it helps to get to know the city fast!
For a variety of experiences, consider these recommendations:
Free walking tour – Join a free guided tour led by passionate locals who share their knowledge and love for the city. These tours usually work on a tip-based system, so you can pay what you feel it's worth.
Group tour – If you are looking for a similar experience to the above but with fewer people where it is guaranteed you will have a chance to ask questions etc., check out this tour!
Private tour – For a more personalized experience, tailored to your interests and preferences, look into booking a private tour. This option offers deeper insights and allows you to ask questions and explore at your own pace.
Hop-on hop-off bus – For a more relaxed approach, try a bus tour! This option gives you the flexibility to visit the top attractions, while still providing interesting commentary and the freedom to explore on foot at each stop.
Street art tour – Immerse yourself in Zaragoza's urban art scene by taking a guided street art tour. Explore the city's colorful murals, graffiti, and artistic installations while learning about the artists and stories behind the creations.
10. See some fun exhibits at Sala de Exposiciones La Lonja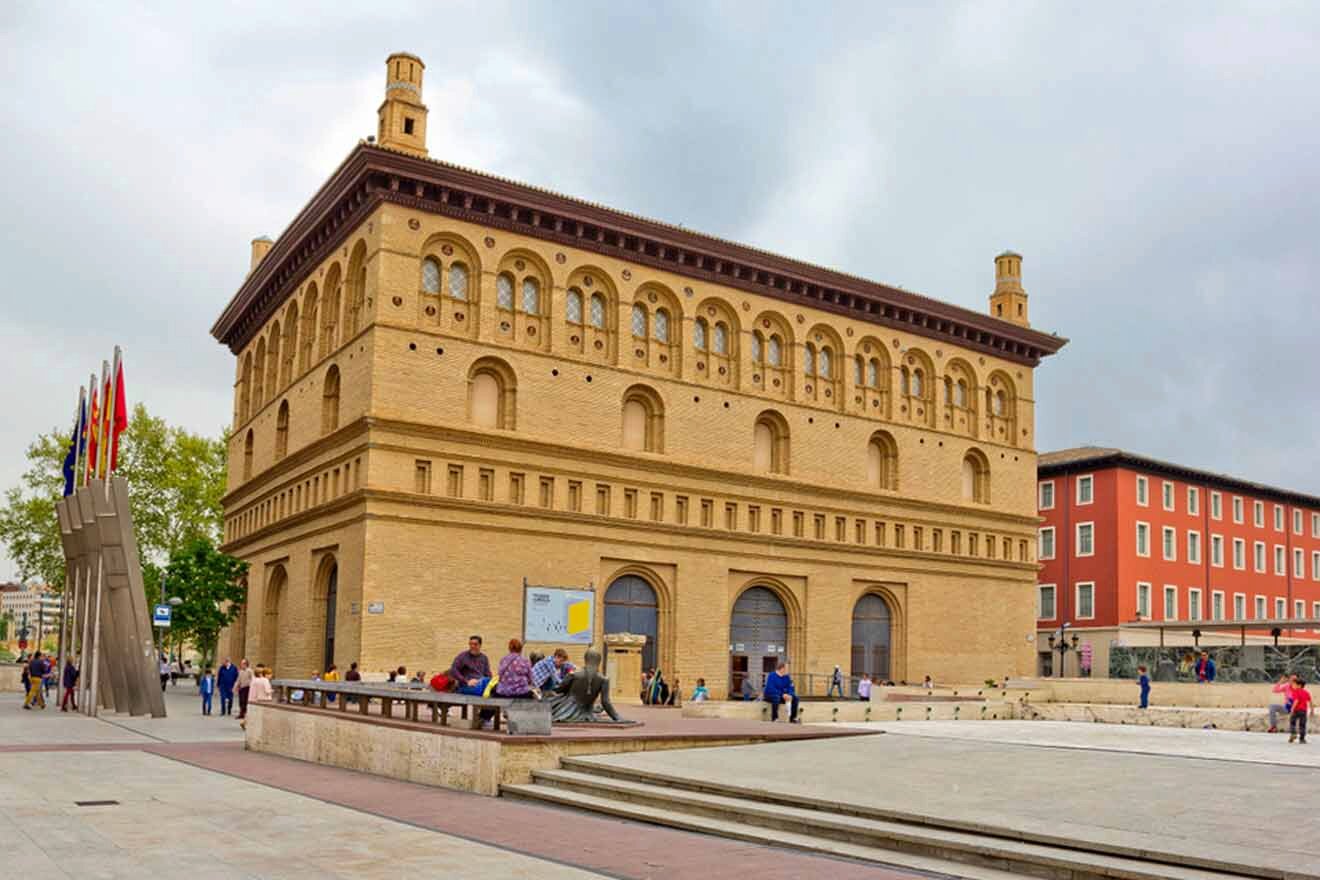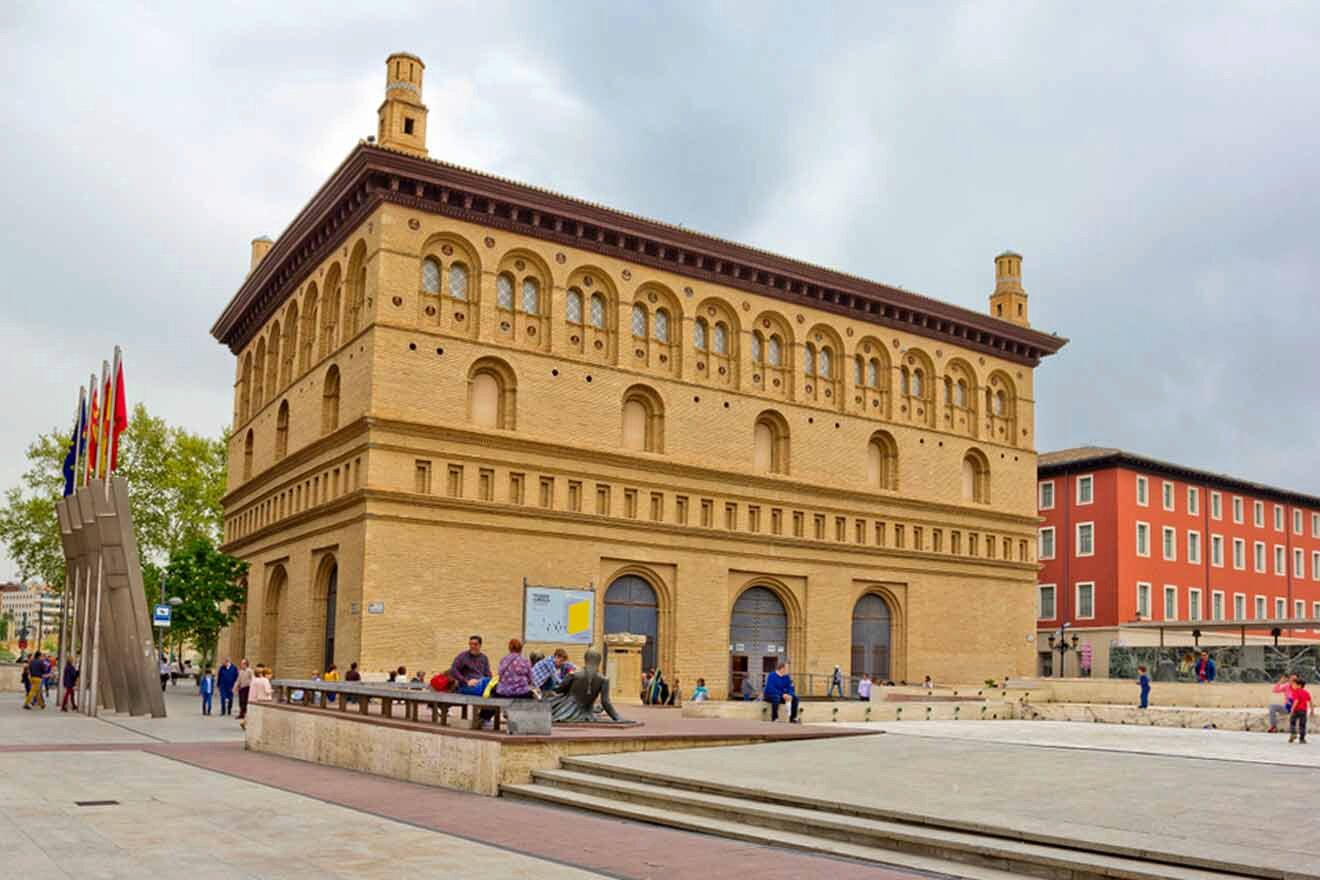 Lonja de Zaragoza (also known as Sala de Exposiciones La Lonja) is also located on Plaza del Pilar (surprise, surprise – I told you it fits quite a few things)!
The place has been around since the Middle Ages! Be sure to check out its stunning ceiling!
And the best part? It is free of charge to visit! Depending on when you go you'll get to see temporary exhibitions known as some of the most interesting in Zaragoza, so check out the website before you go to see what excitement you're in for!
The building reminded me of Venetian architecture, Piazza Venezia in Rome in particular – so if you're heading on a Eurotrip, definitely check out these secret spots in Rome if you're into that!
PRICE: Free
11. Go back in time at Museo de Zaragoza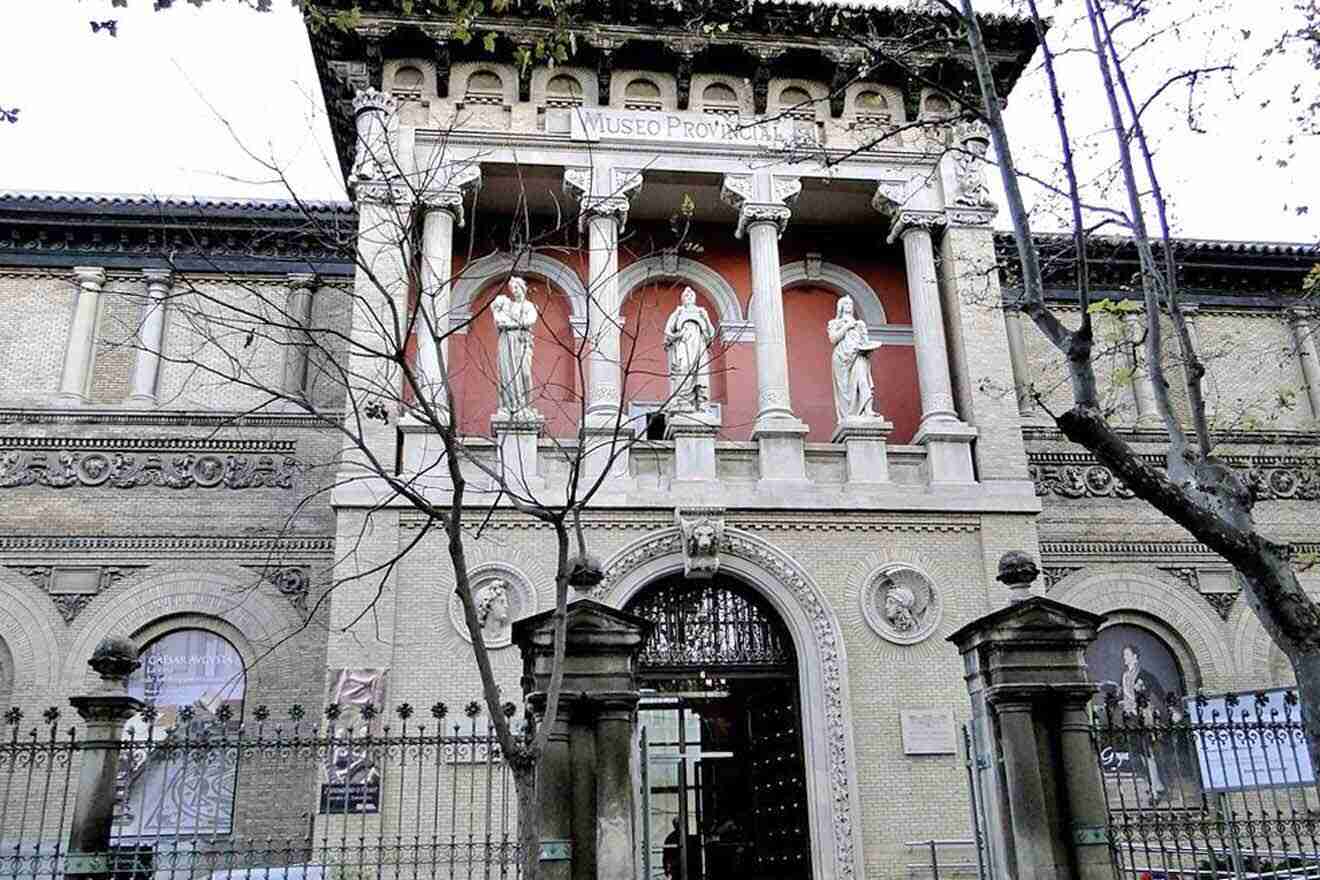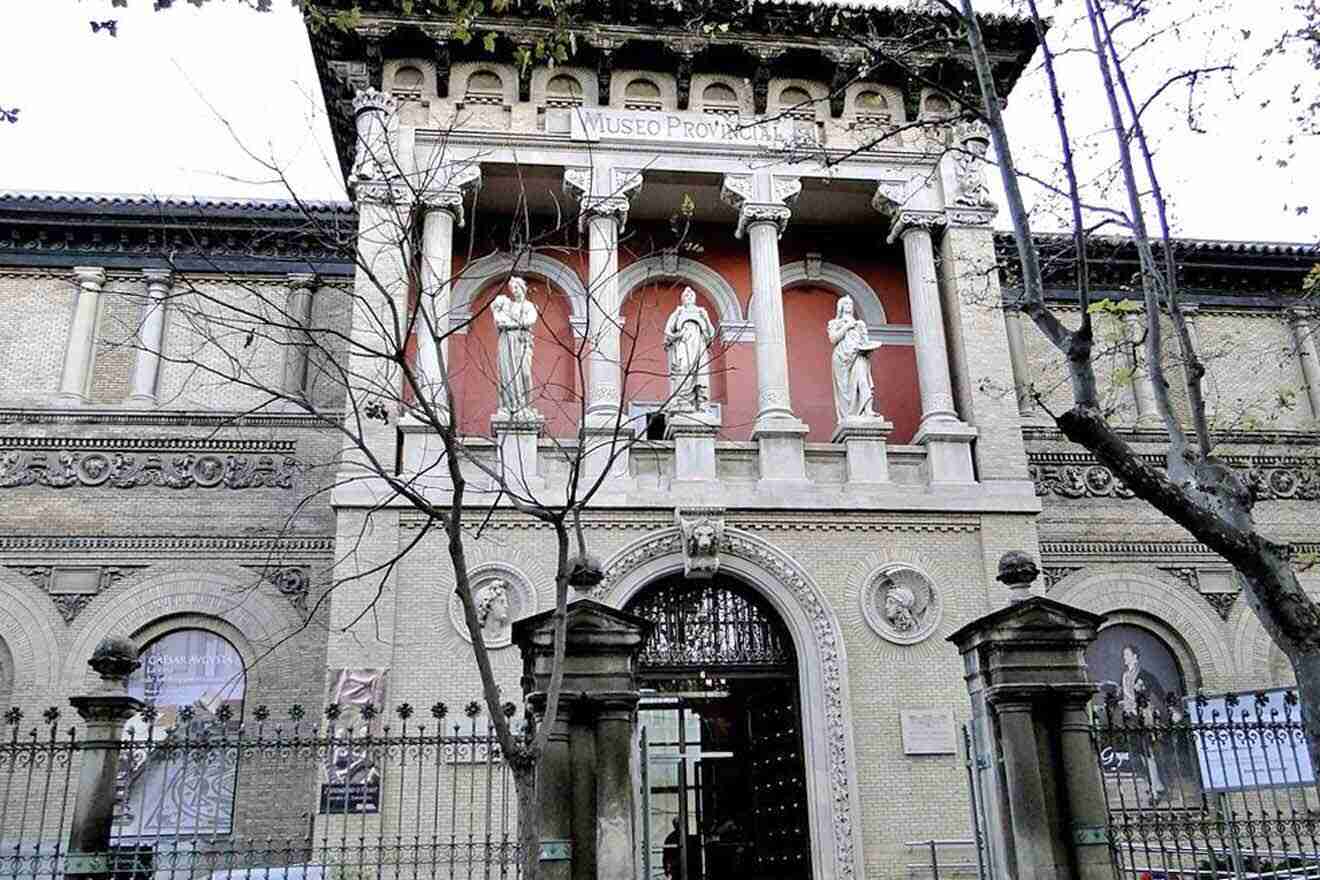 Just a couple of minutes away from the Old Town, Plaza de los Sitios hosts Museo de Zaragoza. In this museum, you'll find a huge collection of art, history, and archaeology from prehistoric times to modern masterpieces. Check out their Roman mosaic collection, it is definitely very, very impressive!
Don't miss the Goya section, where you can see works by the famous Spanish painter who was born nearby. There are also Roman mosaics and Islamic art sections that give you a glimpse of the city's diverse past.
PRO TIP: Try to visit earlier in the day because they close down some parts in the afternoon. Otherwise, the museum is open until 8 PM (as usual, accounting for Spanish siesta – they are off from 2 PM to 5 PM).
PRICE: Free (yay!)
12. Get artsy at the Institute of Art & Contemporary Culture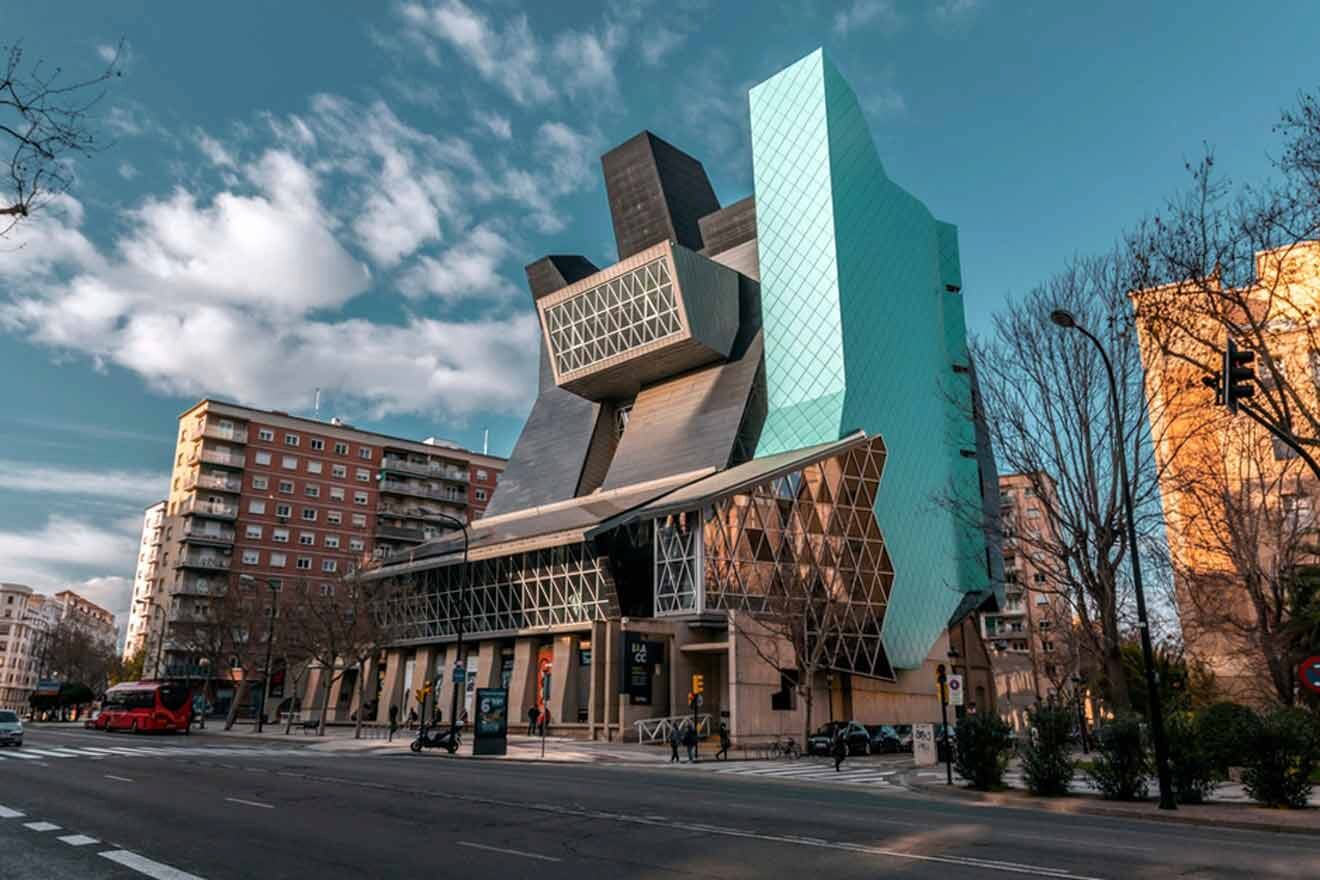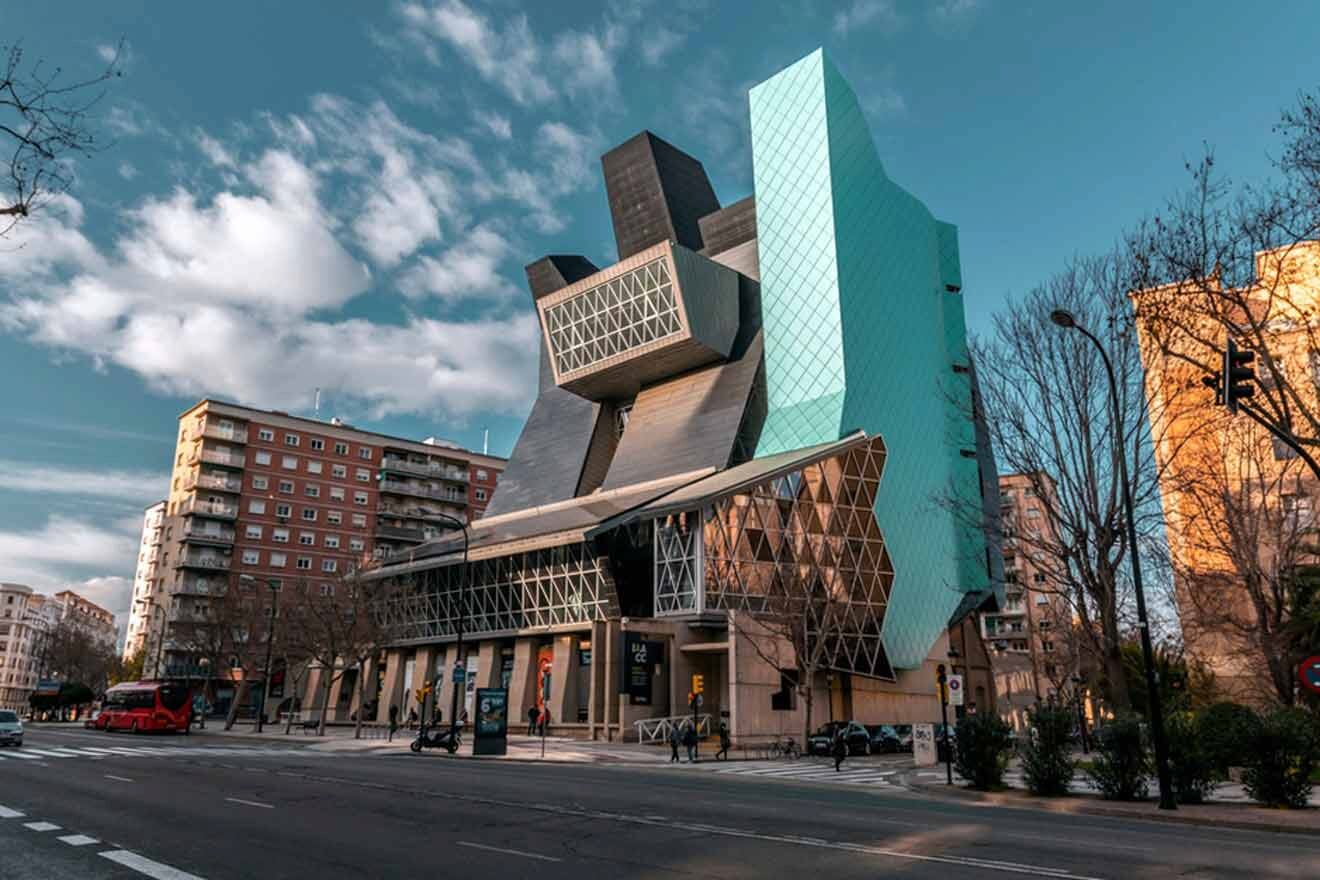 Make sure to stop by the Aragonese Institute of Art and Contemporary Culture (IAACC), an exciting destination for art lovers in Zaragoza! This creative hub is dedicated to showcasing innovative and contemporary art, promoting cultural exchange, and supporting artistic experimentation.
Expect to see an array of media, including paintings, sculptures, photographs, and installations, all reflecting modern artistic trends. The institute frequently hosts temporary exhibitions (check what's on now), so there's always something new and thought-provoking to discover.
Imho, it is definitely worth checking out even if you are not that much into modern art. And hey, it is also free!
NOTE: Keep in mind that the museum closes for siesta (from 2 PM to 5 PM).
13. Discover Museo del Teatro de Caesaraugusta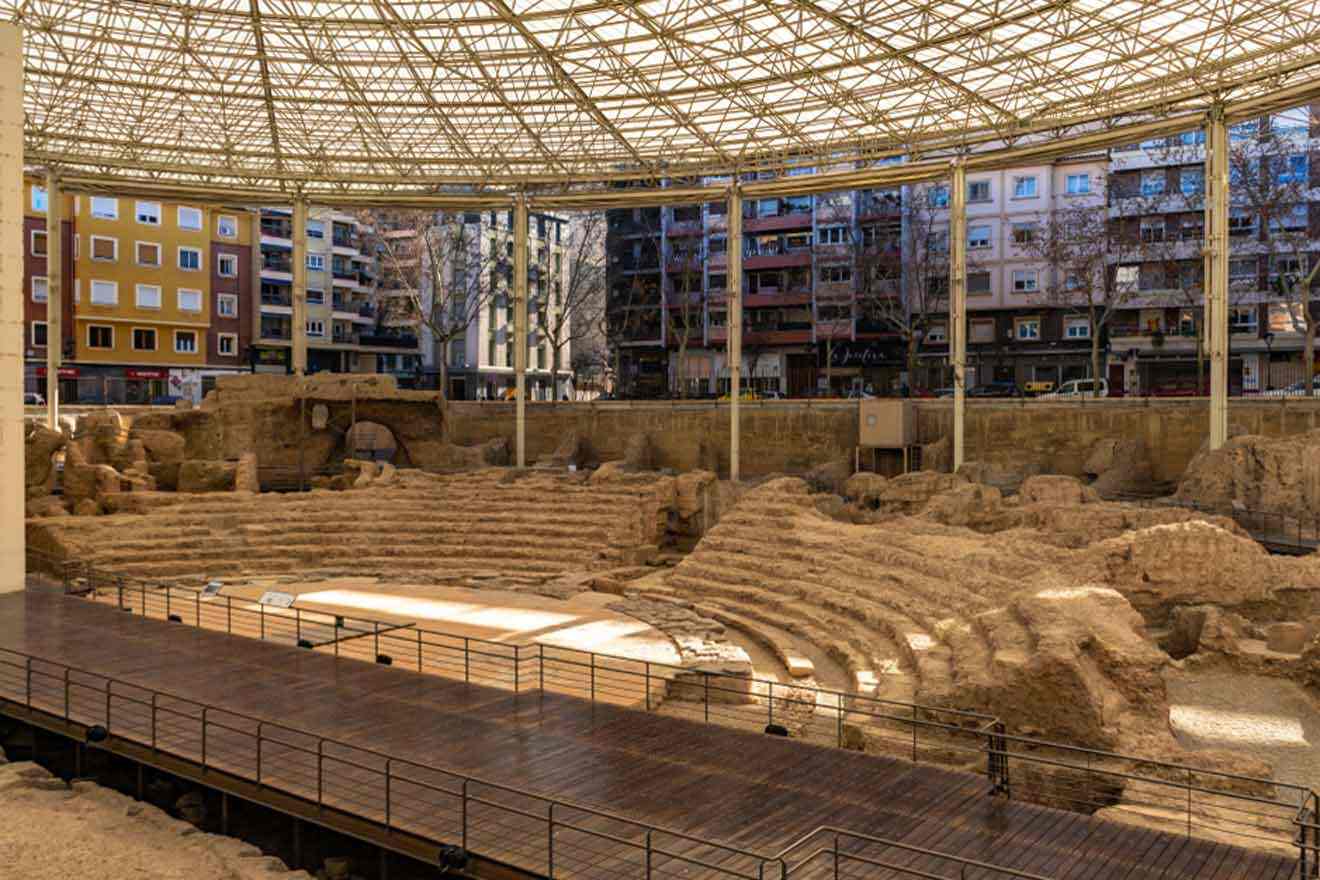 This archaeological treasure offers a unique glimpse into the city's Roman past and is a must-visit for history buffs and casual travelers alike.
Museo del Teatro de Caesaraugusta is a must-visit spot in Zaragoza, where you can explore the ancient Roman theater ruins. It's incredible to think that this place was built around 2,000 years ago and could hold up to 6,000 spectators!
The museum offers a cool experience, showing you the theater's history and how it was discovered. You can even walk around the ruins and old Roman walls and feel like you've traveled back in time. To enter, you'll only need to pay €4, but it's free if you are visiting on the first Sunday of the month (more info here).
PRO TIP: Don't confuse this museum with another Zaragoza attraction – Museo del Foro de Caesaraugusta. There are 4 Caesaraugusta sites actually: the ancient Roman forum, the baths, the port, and the theater. You can also get a combo ticket for all of them together for €7.
PRICE: €7
14. Relax in El Parque Grande José Antonio Labordeta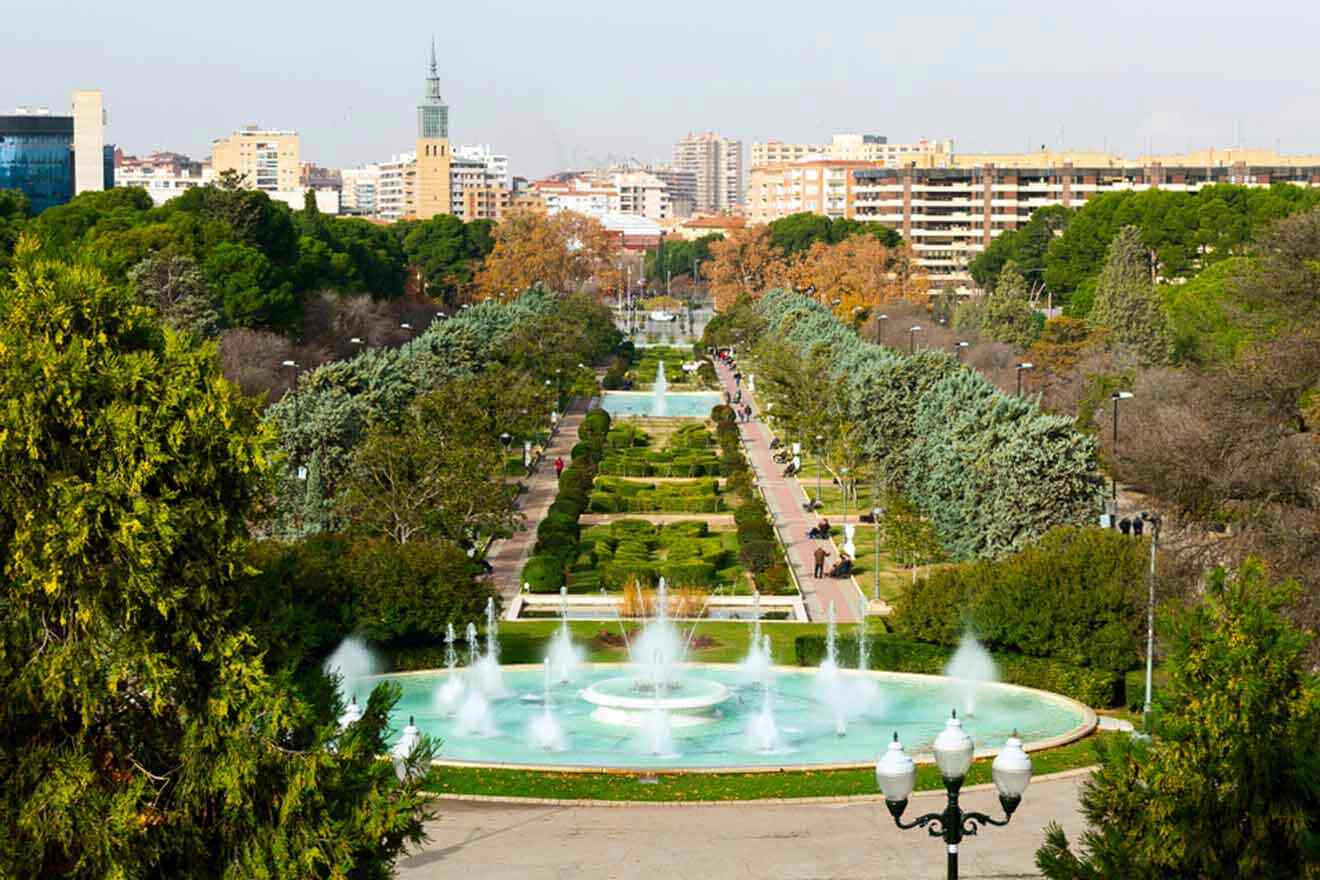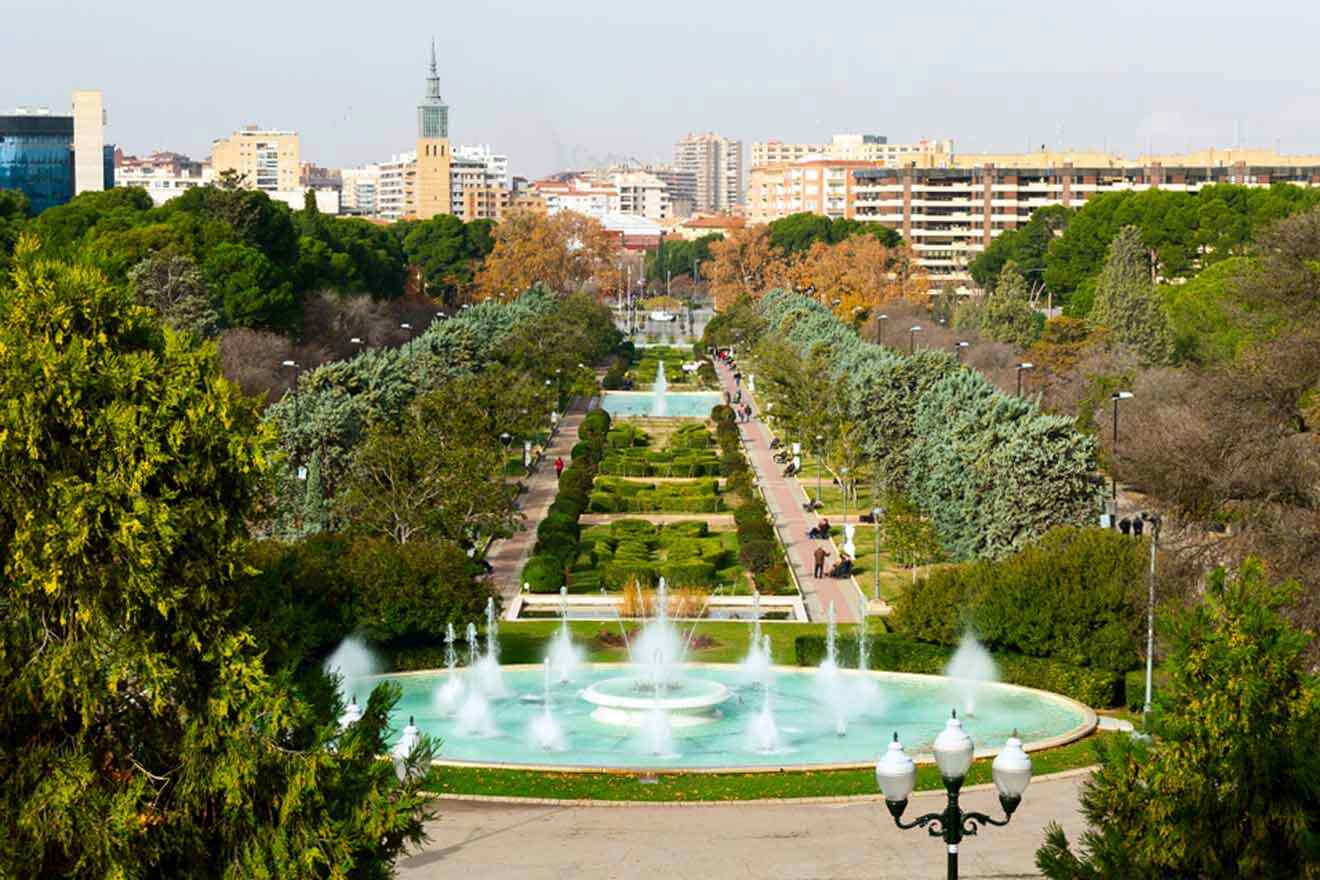 When you are tired of museums and churches, I recommend checking out the José Antonio Labordeta Park which, as the name suggests, is pretty big!
The pictures actually remind me of Versaille Gardens or Peterhof Palace in Saint Petersburg, Russia! If you've ever visited St. Petersburg you'll know what I mean!
The park is located south of the Old Town and it is about a 30 min walk (or public transportation/taxi!). It's the perfect place to spend a sunny afternoon enjoying the fountains.
You can have lunch there or rent bikes and drive around and even visit a botanical garden which is also located inside the park. There is so much to do – you can spend a couple of hours just walking from one entrance to the other!
PRICE: Free
15. Venture to Iglesia de San Pablo de Zaragoza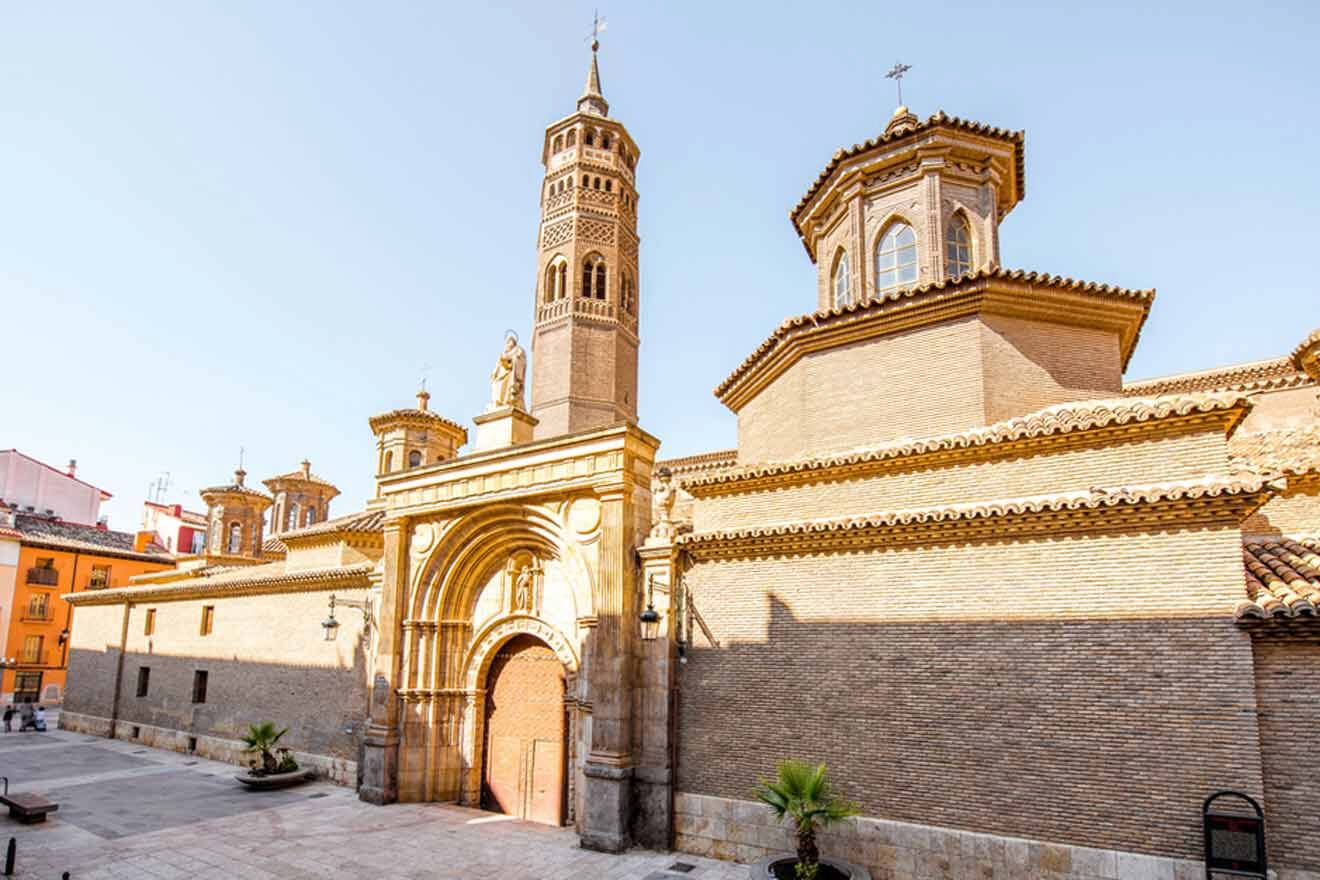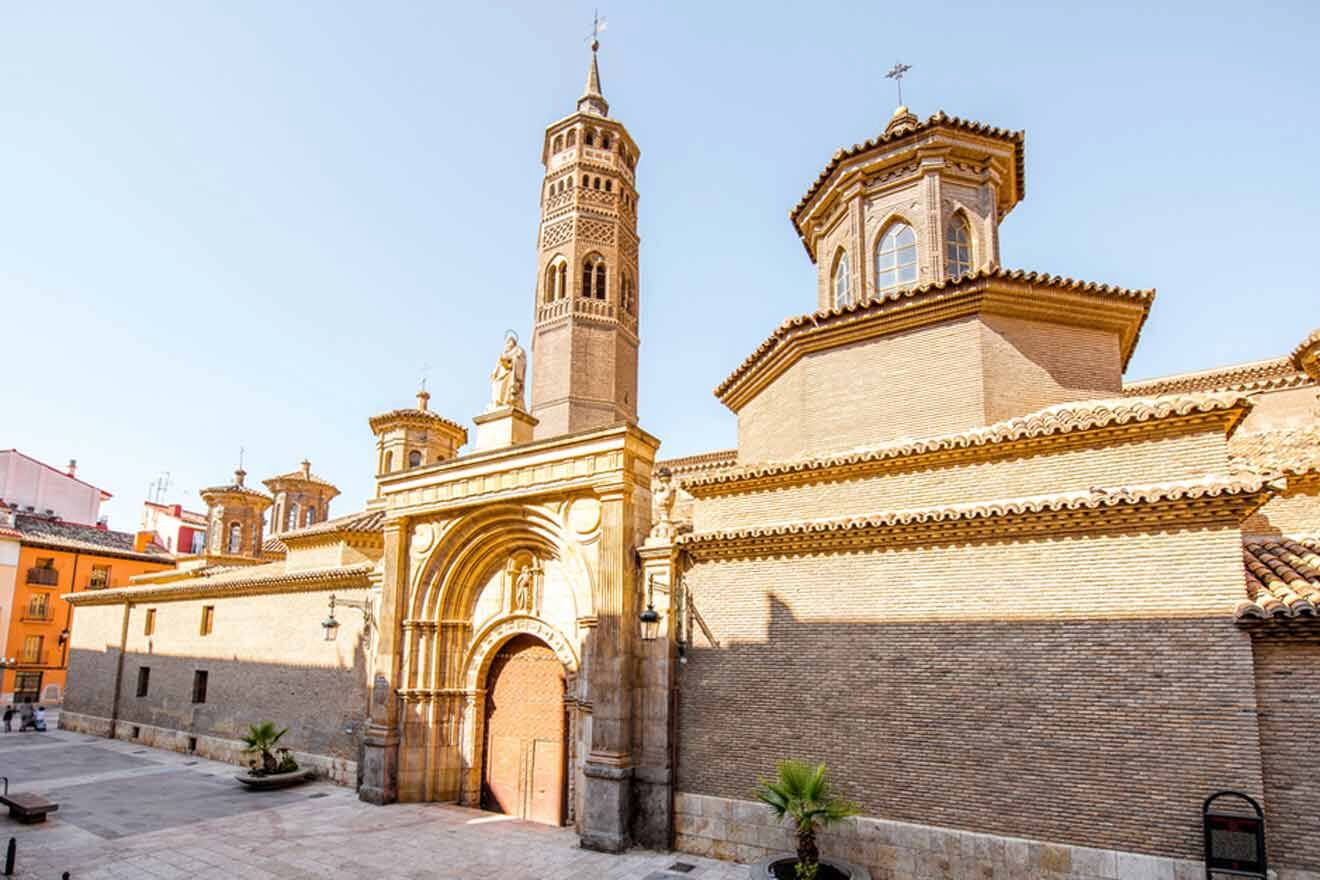 The Parish Church of San Pablo is a captivating church known for its exquisite Mudejar architecture. Built in the 13th century as a replacement for a smaller Romanesque church, San Pablo showcases the exceptional combination of Gothic and Islamic styles that define the Mudejar tradition.
As you explore the church, marvel at the stunning octagonal tower adorned with intricate geometric patterns and the ornate main altarpiece, a brilliant example of Renaissance woodcarving.
The entrance to the church is free of charge, but you can also take a guided tour of the church, cloister, and bell tower, which is a cool thing to do if you want to learn all about its history!
PRICE: Free
16. Visit the Pablo Gargallo museum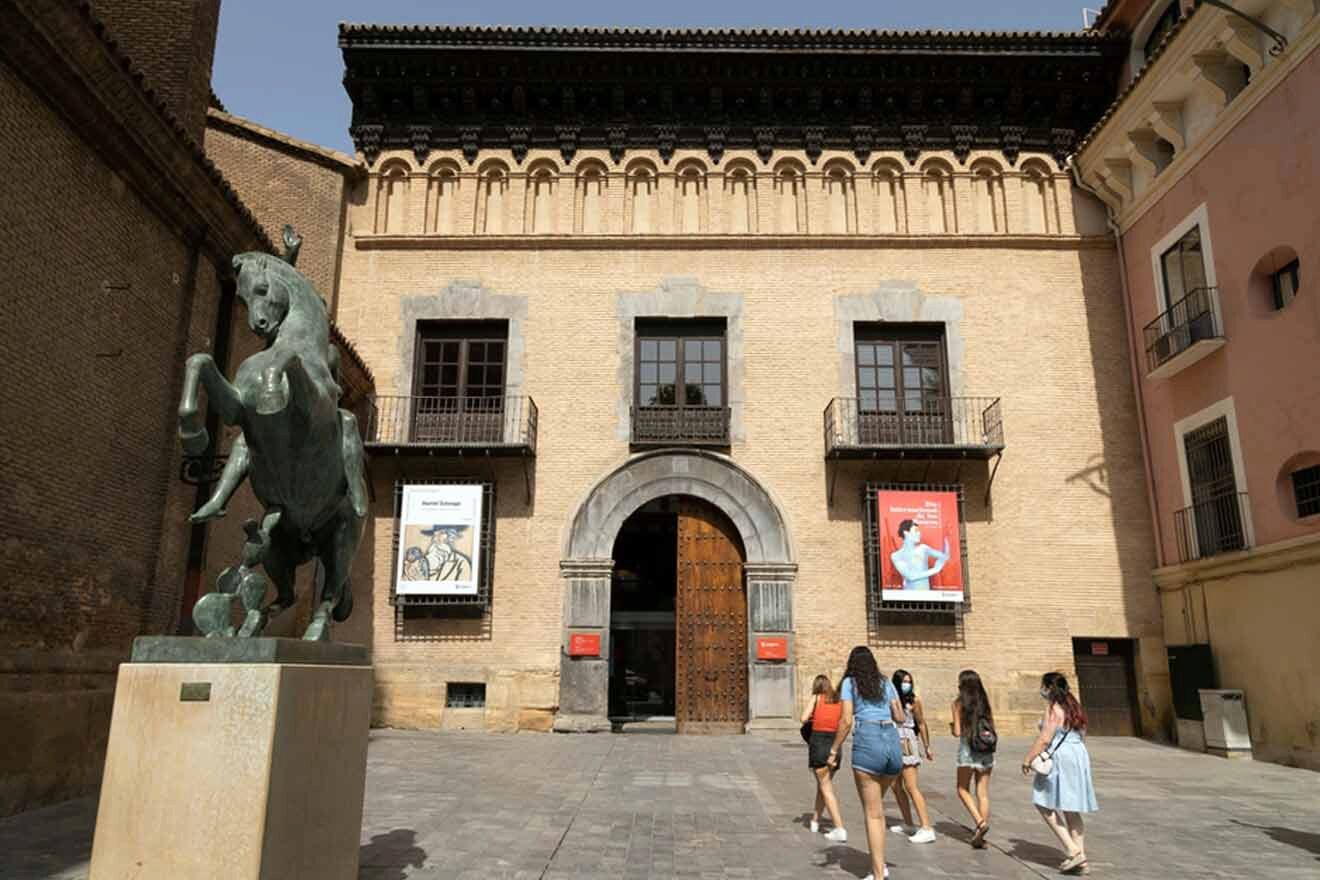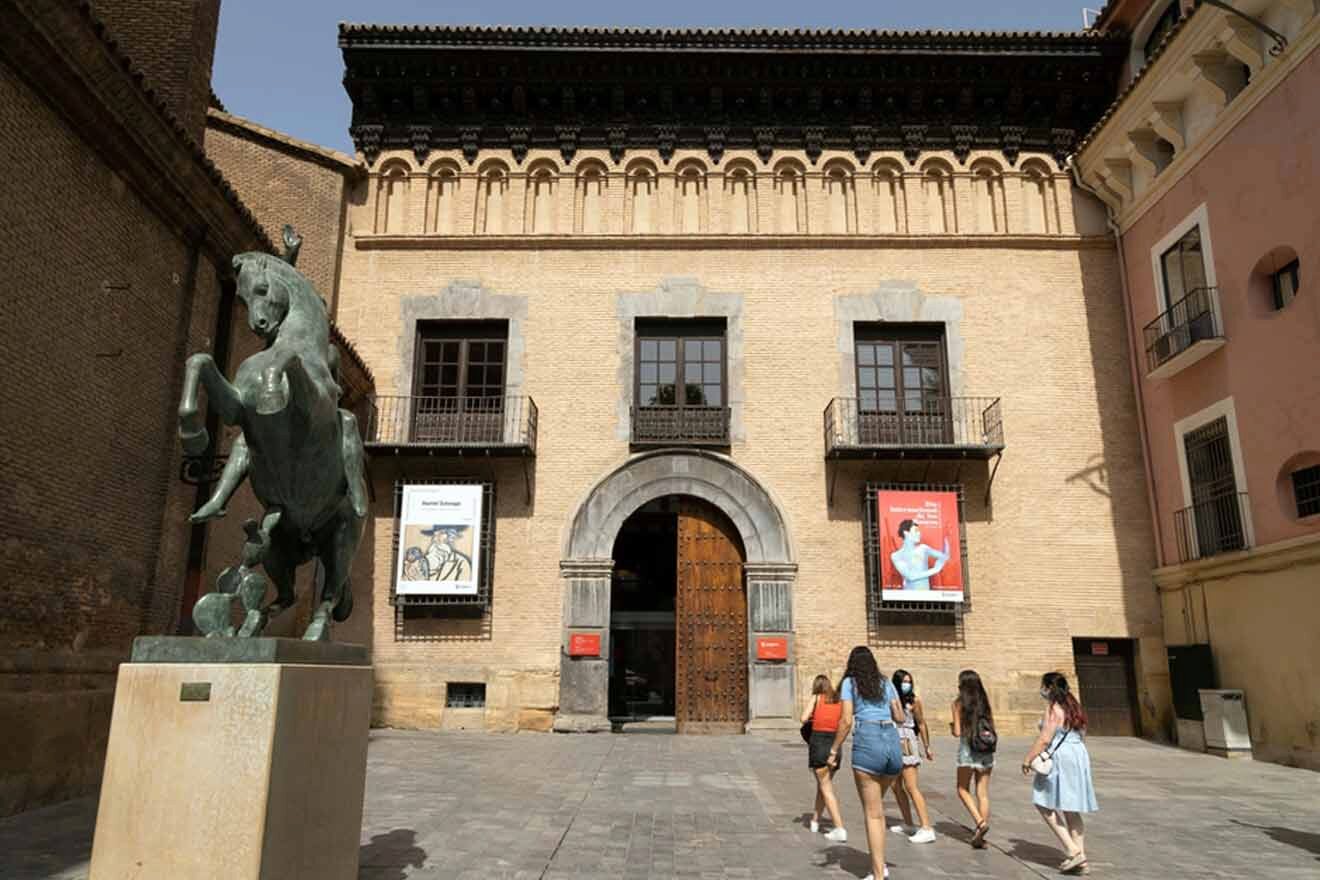 This museum is located in a beautiful restored Renaissance palace and is dedicated to Pablo Gargallois, a great contemporary Aragonese sculptor who left his mark, especially on metal. It is full of amazing sculptures, drawings, and sketches that show off Gargallo's unique style and creativity.
You'll see how Gargallo experimented with different materials like iron, bronze, and cardboard to create stunning artwork. Be sure to find "The Prophet," one of his most famous sculptures.
NOTE: As always, when you're planning your visit take into account that it closes in the middle of the day for siesta but reopens at 9 PM.
PRICE: €4
17. Stay overnight at Monasterio de Piedra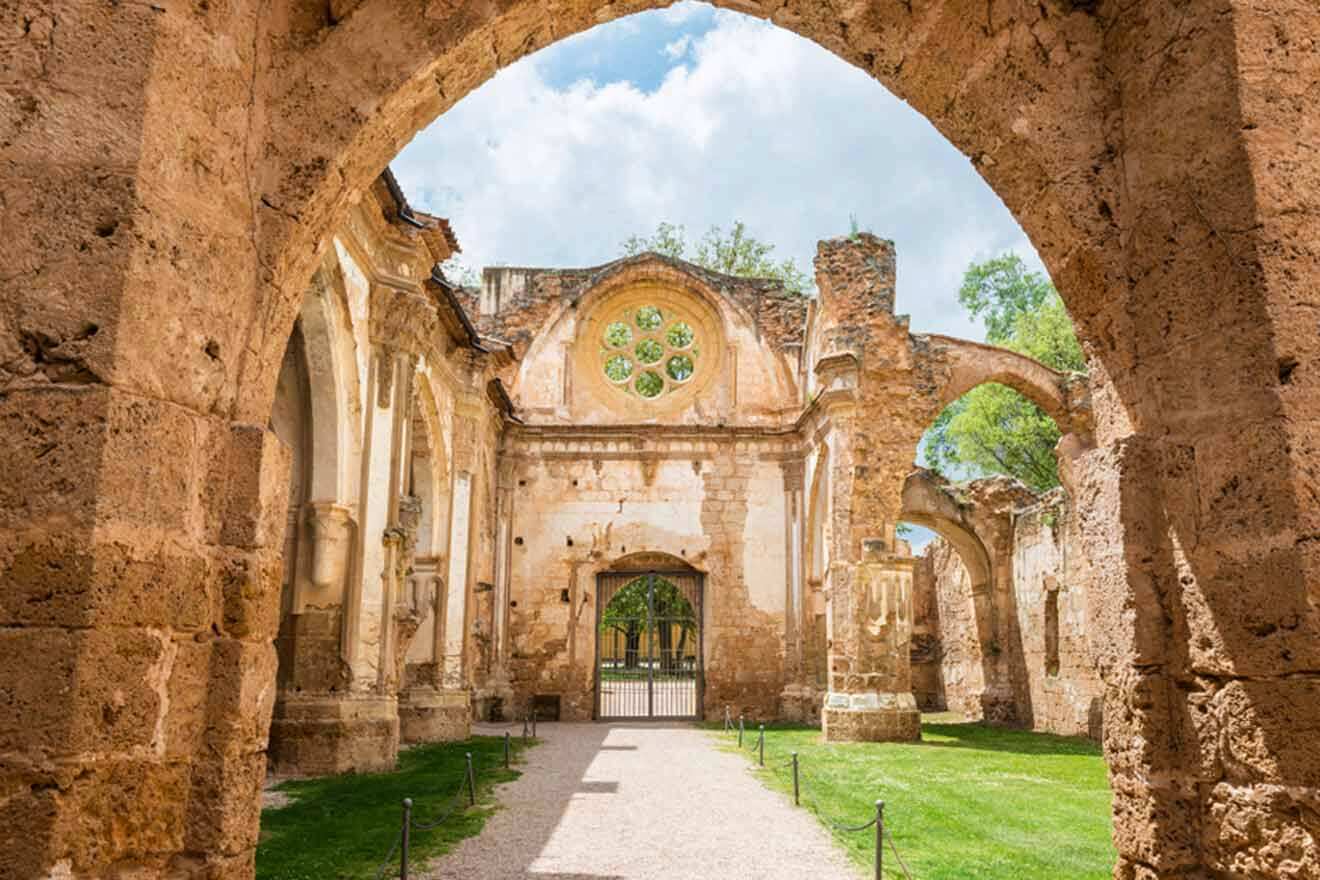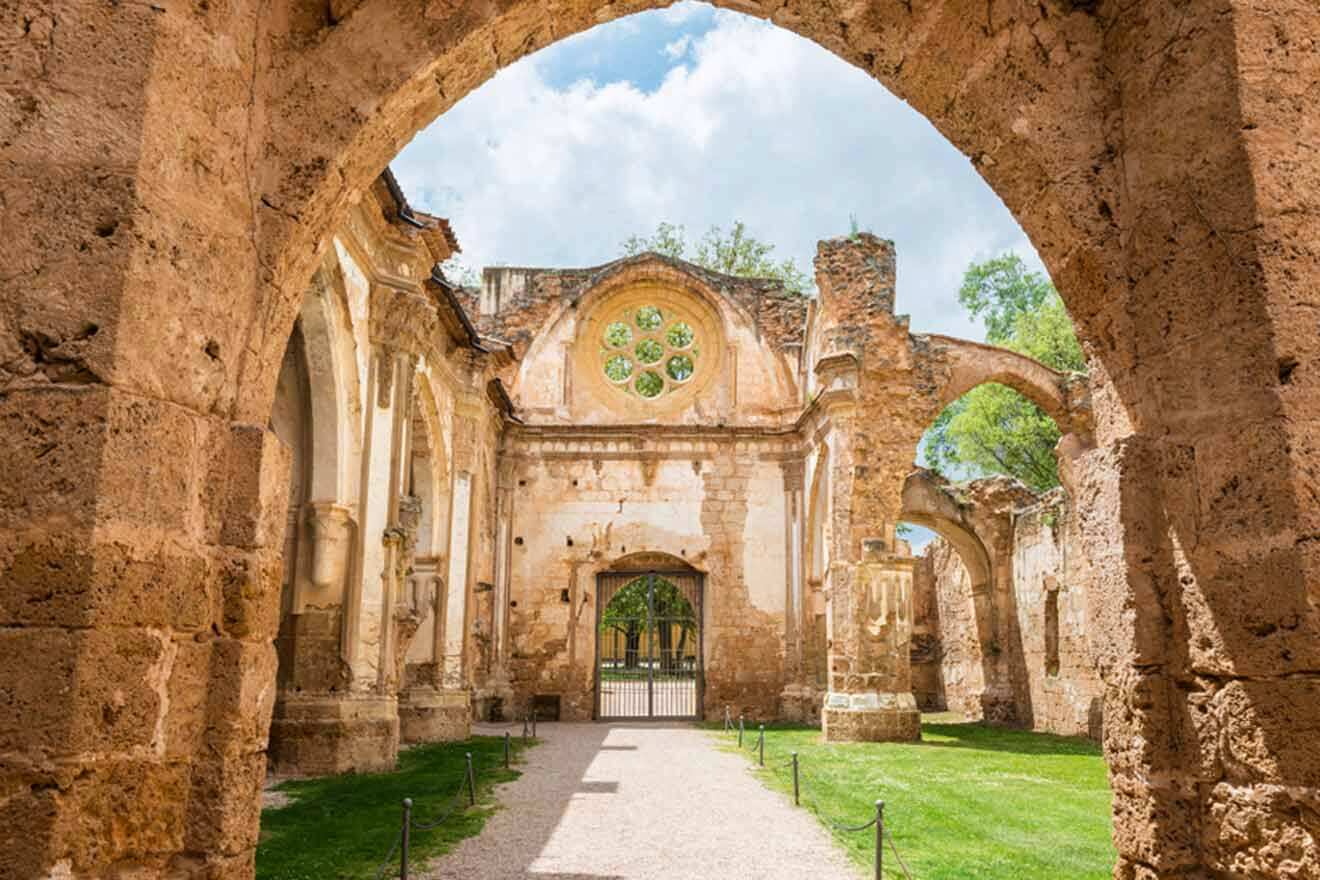 Even though a bit outside of the city technically (~110km), this monastery should be included in your list of things to do in Zaragoza as it is a great way to escape the city and enjoy some fresh air and stunning scenery.
Monasterio de Piedra is not only a monastery but also a beautiful nature park with lush greenery, awesome waterfalls, and hidden caves.
Spend a day exploring the park, following the walking trails, and taking cool photos of the waterfalls. The monastery itself is stonework with its original vivid paint still intact.
FUN FACT: you can actually stay there overnight! It is a 3-star spa hotel, originally a 12th-century monastery set in Aragon's Monasterio.
PRO TIP: Take comfy (preferably waterproof) shoes as it might get a bit wet on the waterfall trail. Be sure to leave at least 2 hours just for the hike.
HOW TO GET THERE:
PRICE: €17 to visit for the day, €80 for an organized tour, from €117 to stay overnight
18. Walk around Basílica Santa Engracia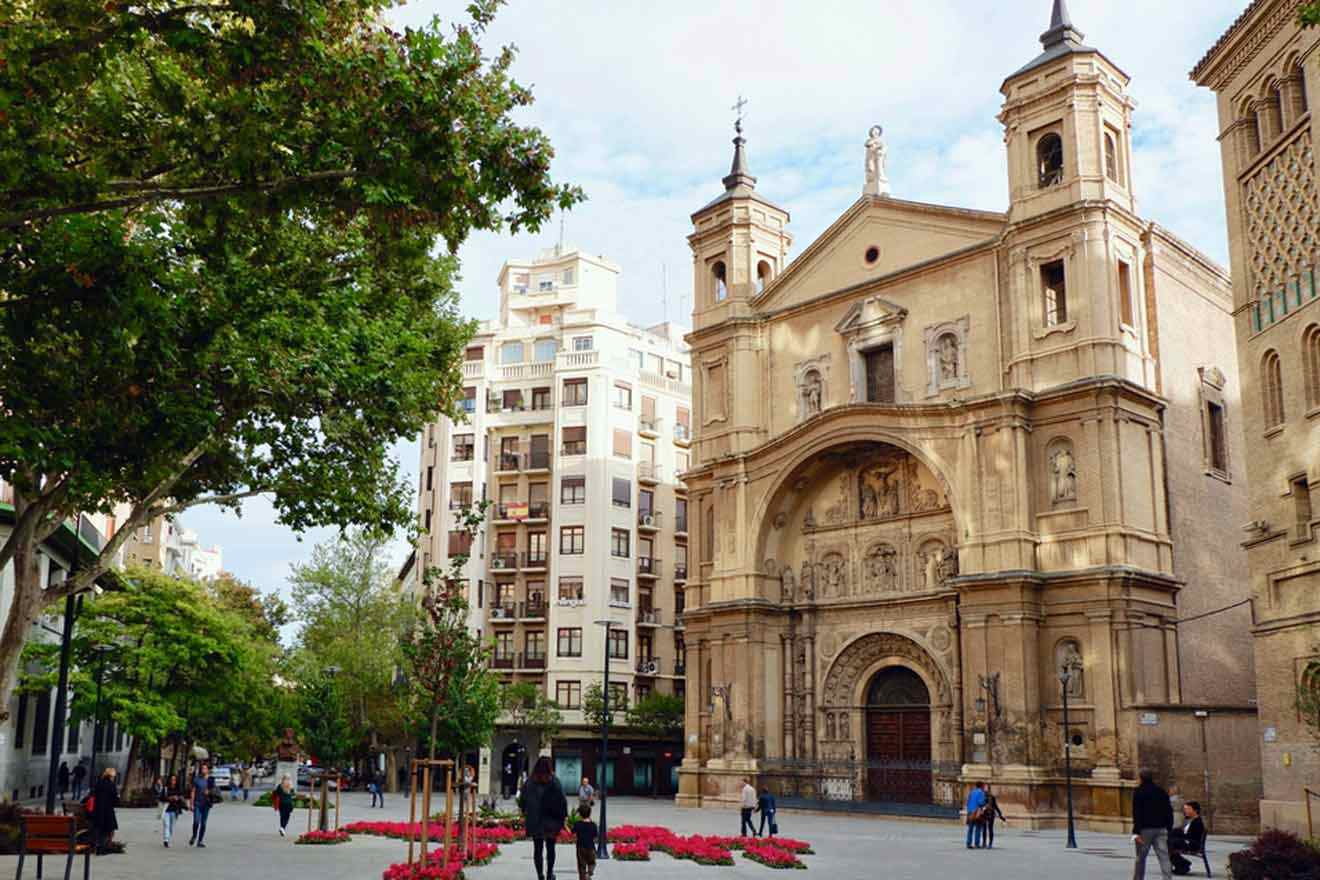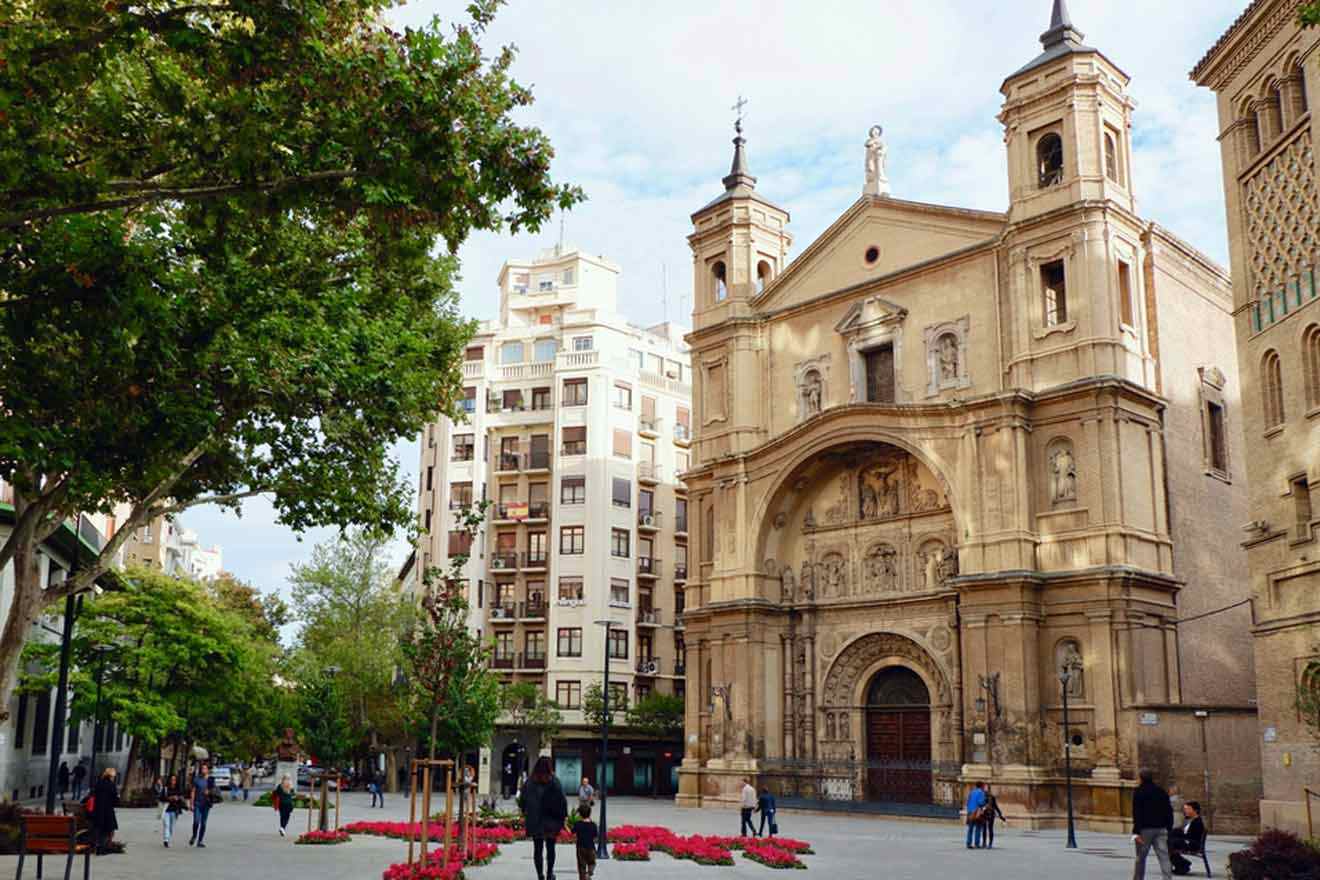 Basilica Santa Engracia is a stunning church that was constructed on the site of an ancient Roman necropolis and its origins can be traced back to the 4th century!
When inside, you'll see an awesome Renaissance front with detailed sculptures showing stories from the Bible. Make sure to check out the cool underground crypt too, where you can find ancient Roman sarcophagi and learn about the early Christian history of the site.
Guided tours (in Spanish) are available from the Alma Mater Museum here.
NOTE: Bear in mind that if you want a tour, it's recommended to book in advance!
PRICE: Free entry, €5 for a guided tour
19. Feel the Roman vibes at Museo del Foro de Caesaraugusta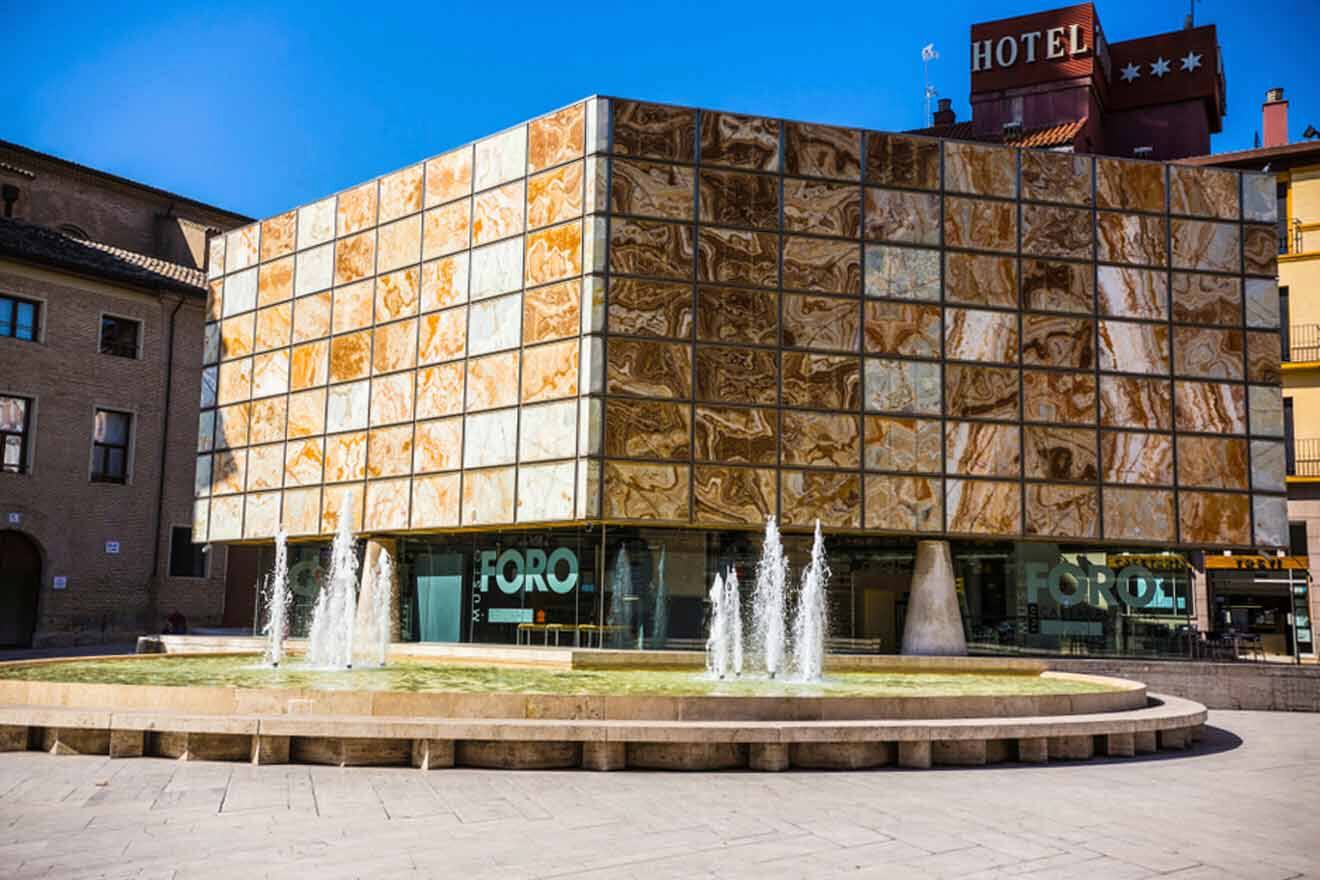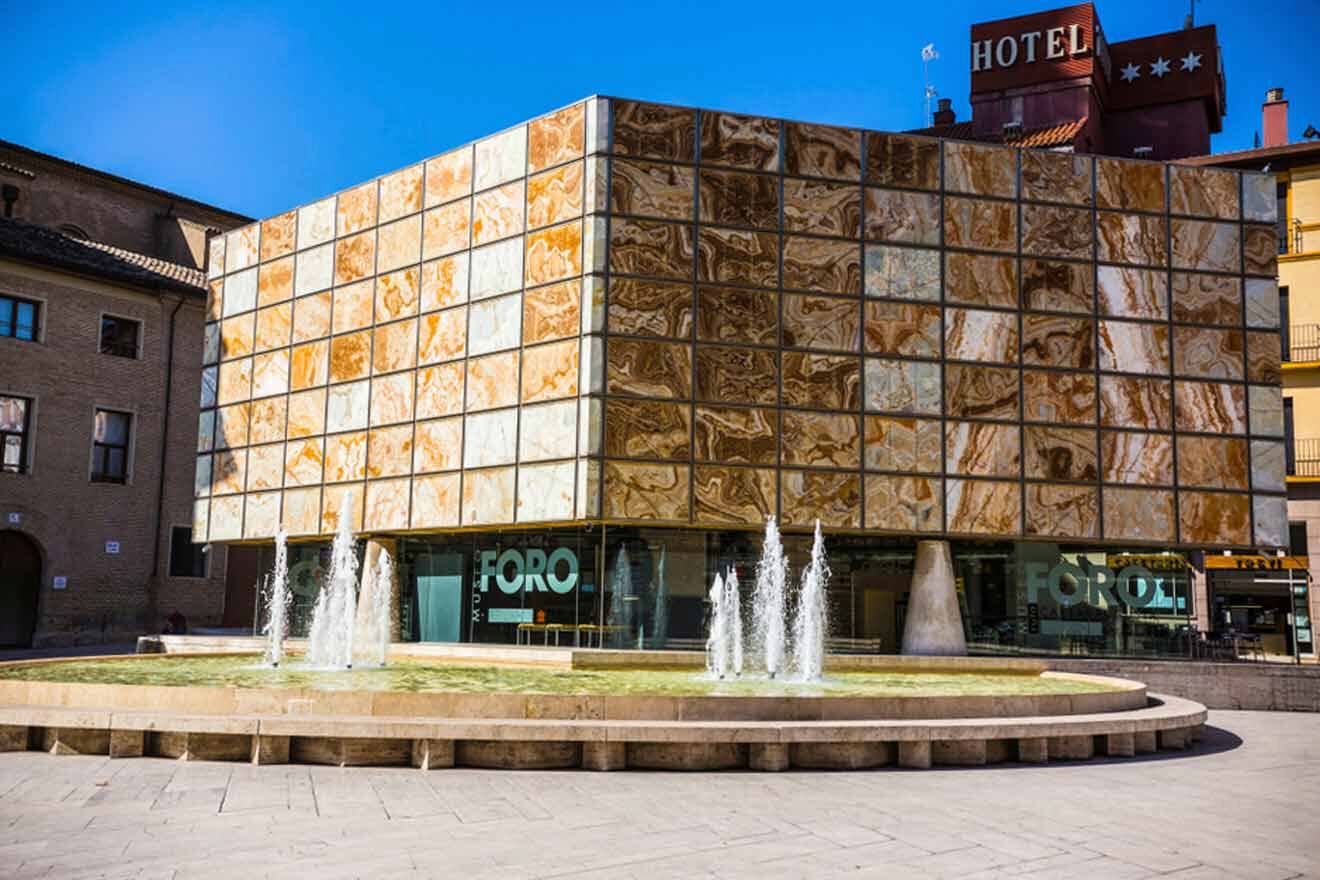 Missing those Roman ruins yet? I have another awesome, budget-friendly suggestion for you!
Caesaraugusta Forum was the heart of the ancient Roman city, and it's amazing to see how well-preserved it is!
At the museum, you'll learn about the forum's history and the daily life of the people who lived there. You can also check out the cool artifacts found during the excavations.
PRO TIP: As mentioned before, don't confuse this with another Zaragoza attraction, Museo del Teatro de Caesaraugusta. There are 4 Caesaraugusta sites – the forum, the baths, the port, and the theater. You can also get a combo ticket for all of them together for €7.
PRICE: €3 for entry, €7 for a combo ticket to all the Caesaraugusta sites
BONUS: Things to do in Zaragoza with kids
Zaragoza is a fantastic destination for families, offering plenty of exciting activities and attractions that will keep kids entertained and engaged.
Zaragoza Aquarium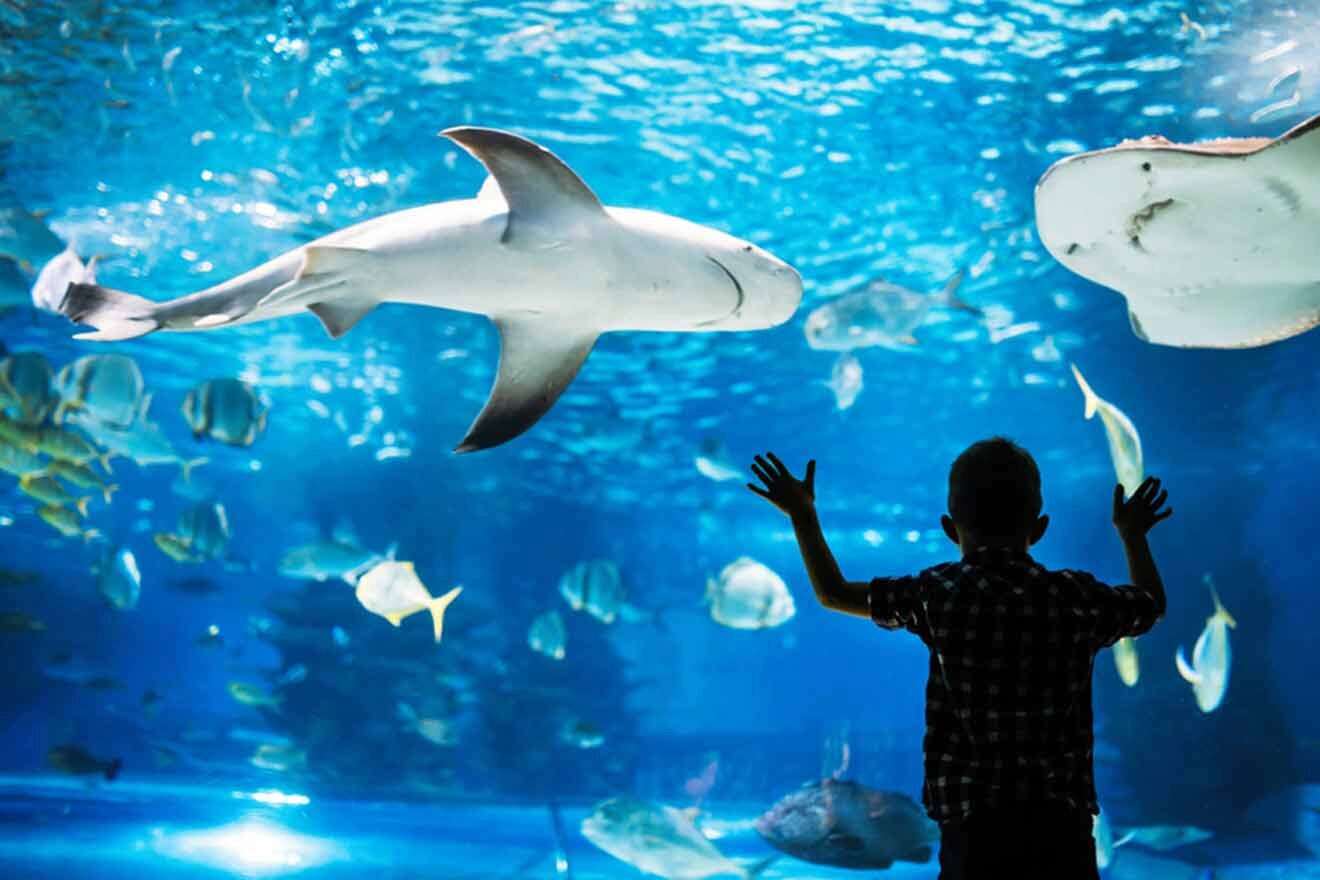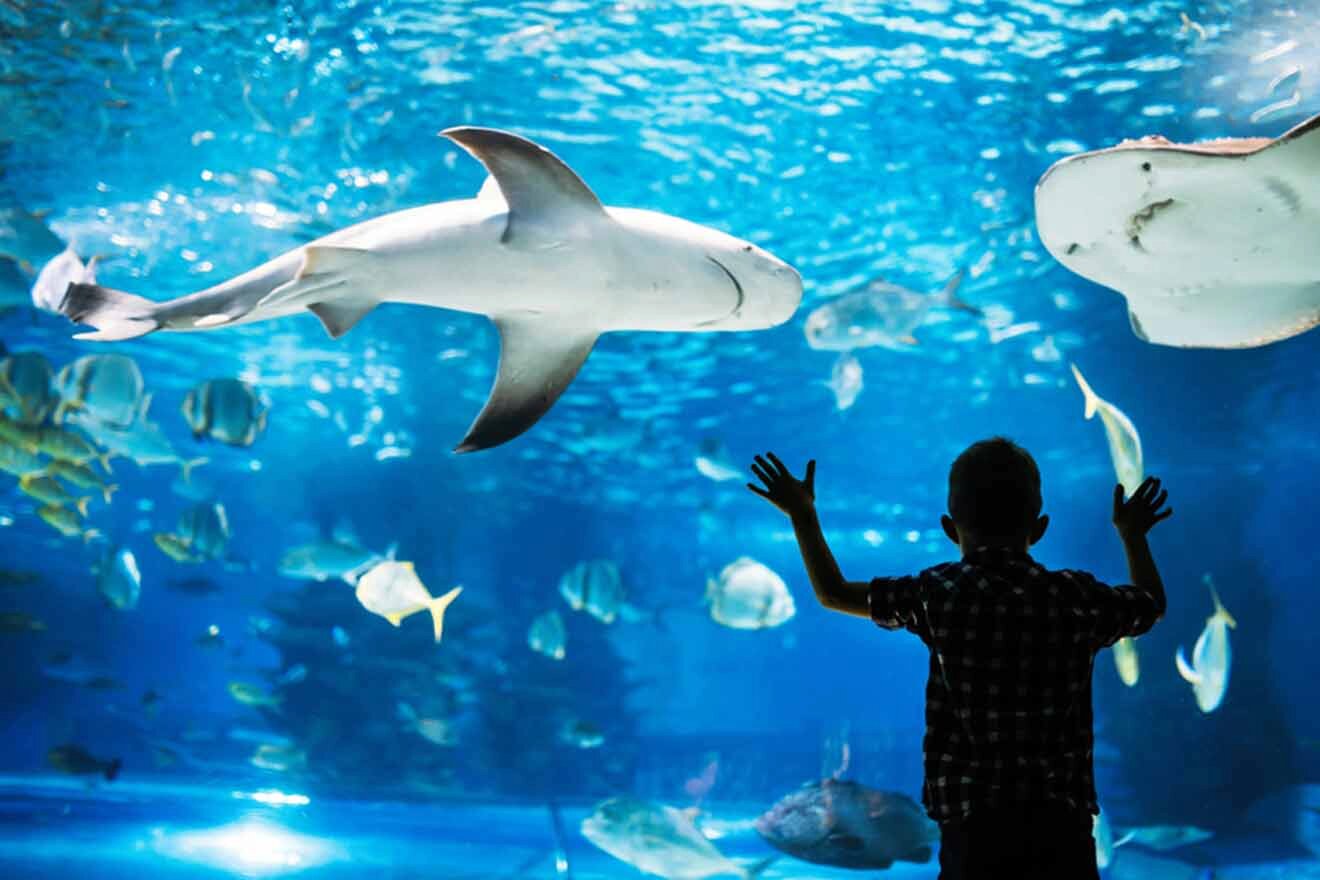 Don't let the size fool you – it may look small from the outside, but it has a huge variety of fish and animals that inhabit rivers all over the world including Amazon, the Mekong, and the Nile.
The entrance is located on the other side of the river about 30 min walking from the main square.
PRO TIP: if you are in the area, make sure to pass by El Alma del Ebro – it is quite an impressive contemporary sculpture located in Zaragoza's Expo Zone.
PRICE: €17 for adults and €11 for kids (€5 for kids 3-4yo and free for the ones younger than 3)
Origami Museum (Museo Origami Zaragoza)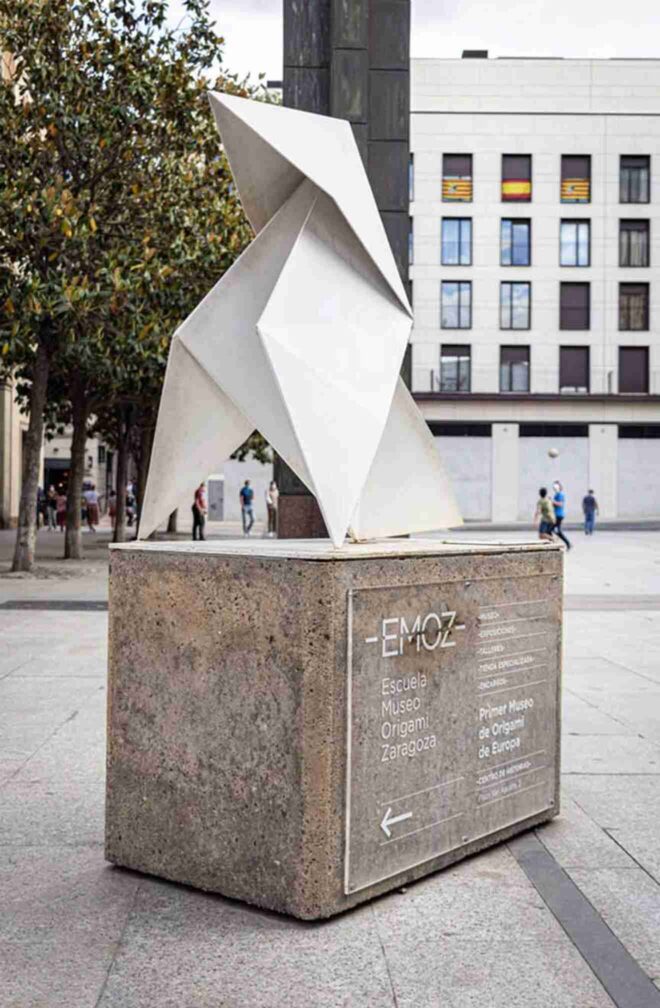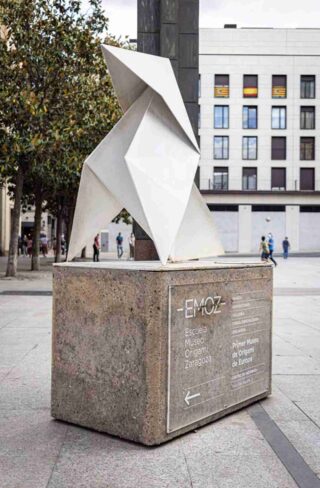 Yes, this is Spain, not Japan, but this museum is truly impressive – some say that they have the world's widest showcase of origami in the world!
The museum explains the history of origami and it also hosts regular exhibitions, featuring the work of renowned origami artists, providing inspiration for budding paper artists.
The little ones can learn the art of paper folding and create their own masterpieces to take home!
PRICE: €3
Practical info about Zaragoza
Now you know all the amazing things to do in Zaragoza, let's dive into all the practical things you'll need to know to make your vacay a breeze!
Where to eat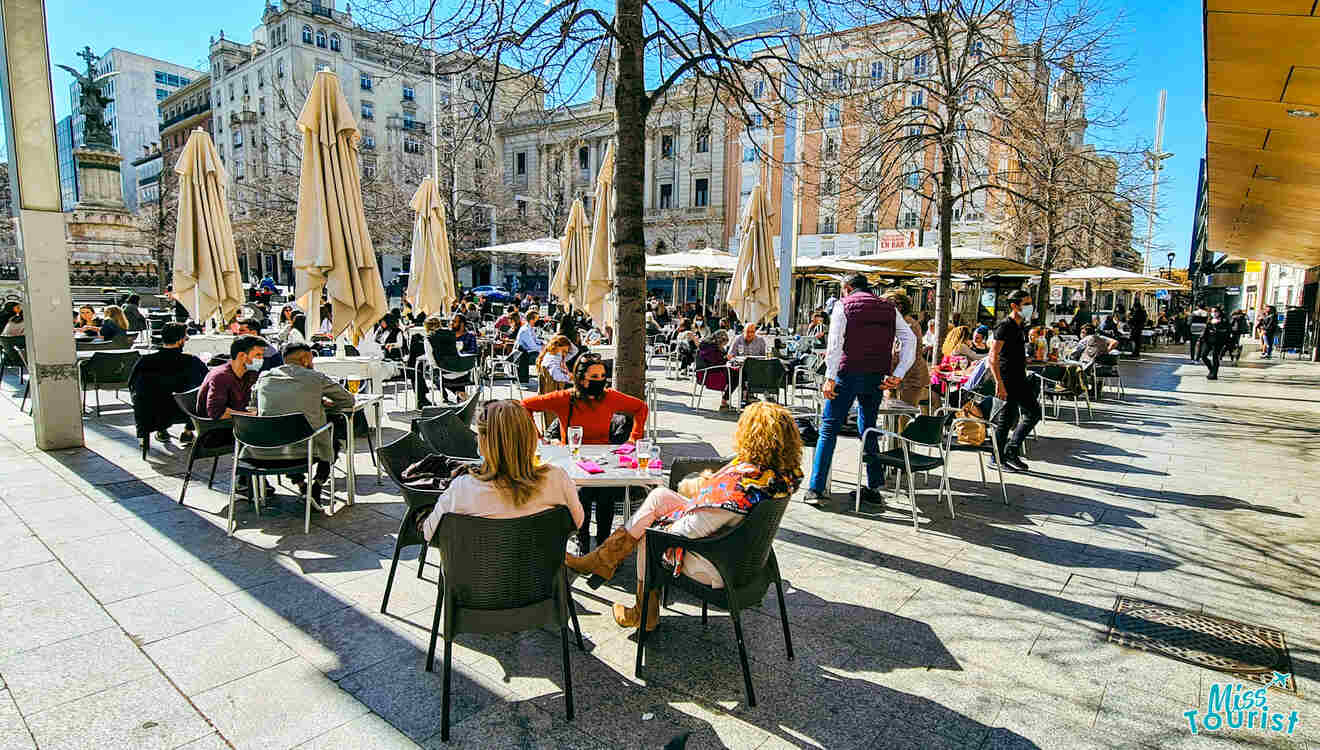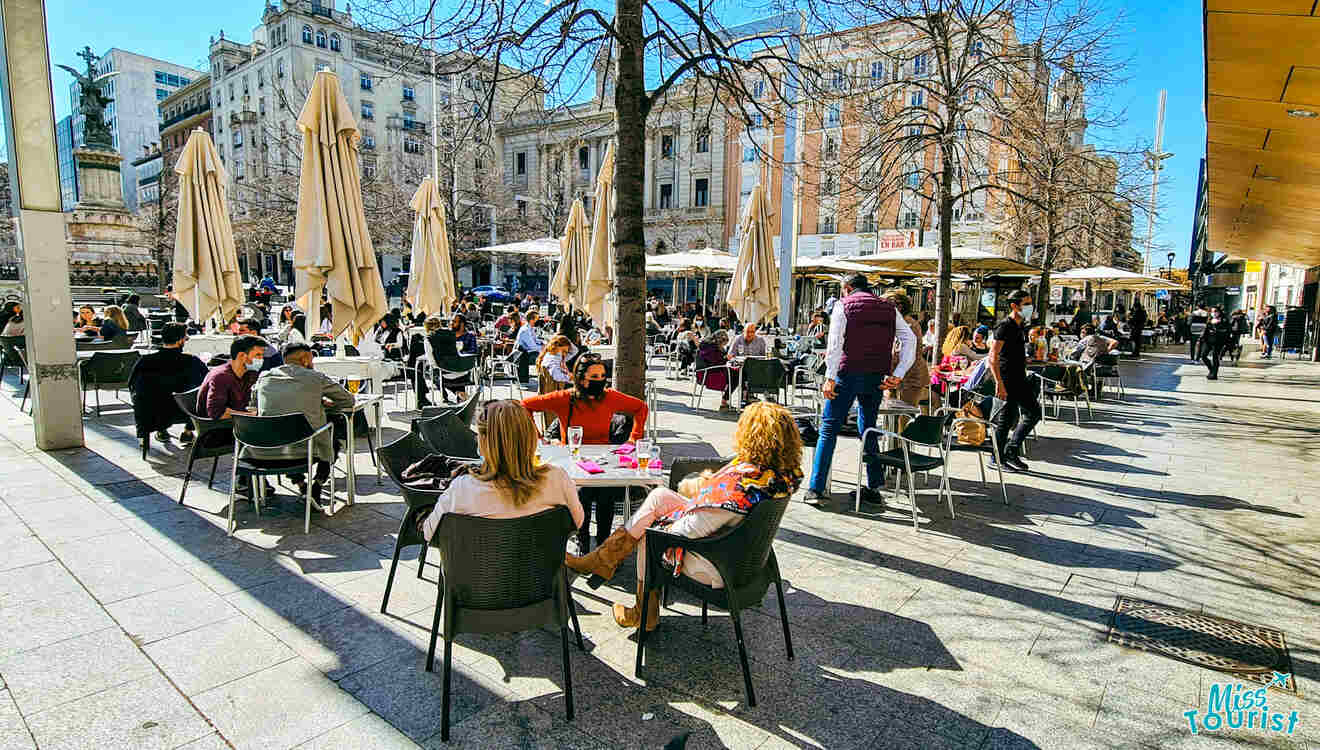 Check out these must-visit eateries in Zaragoza, each with its unique flavors and experiences:
Where to stay
Here are some great places to stay in Zaragoza sorted by budget, all centrally located and with fab reviews: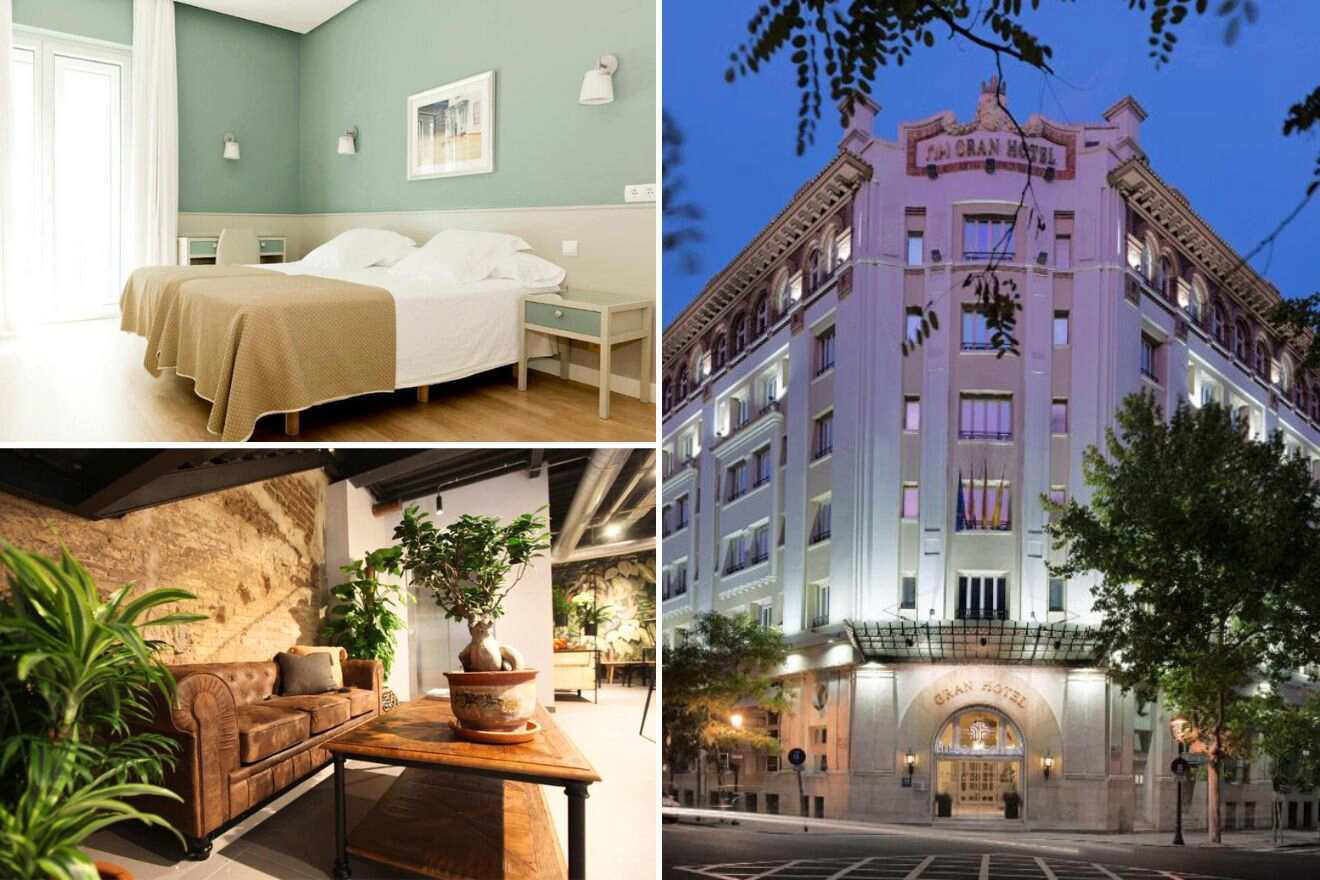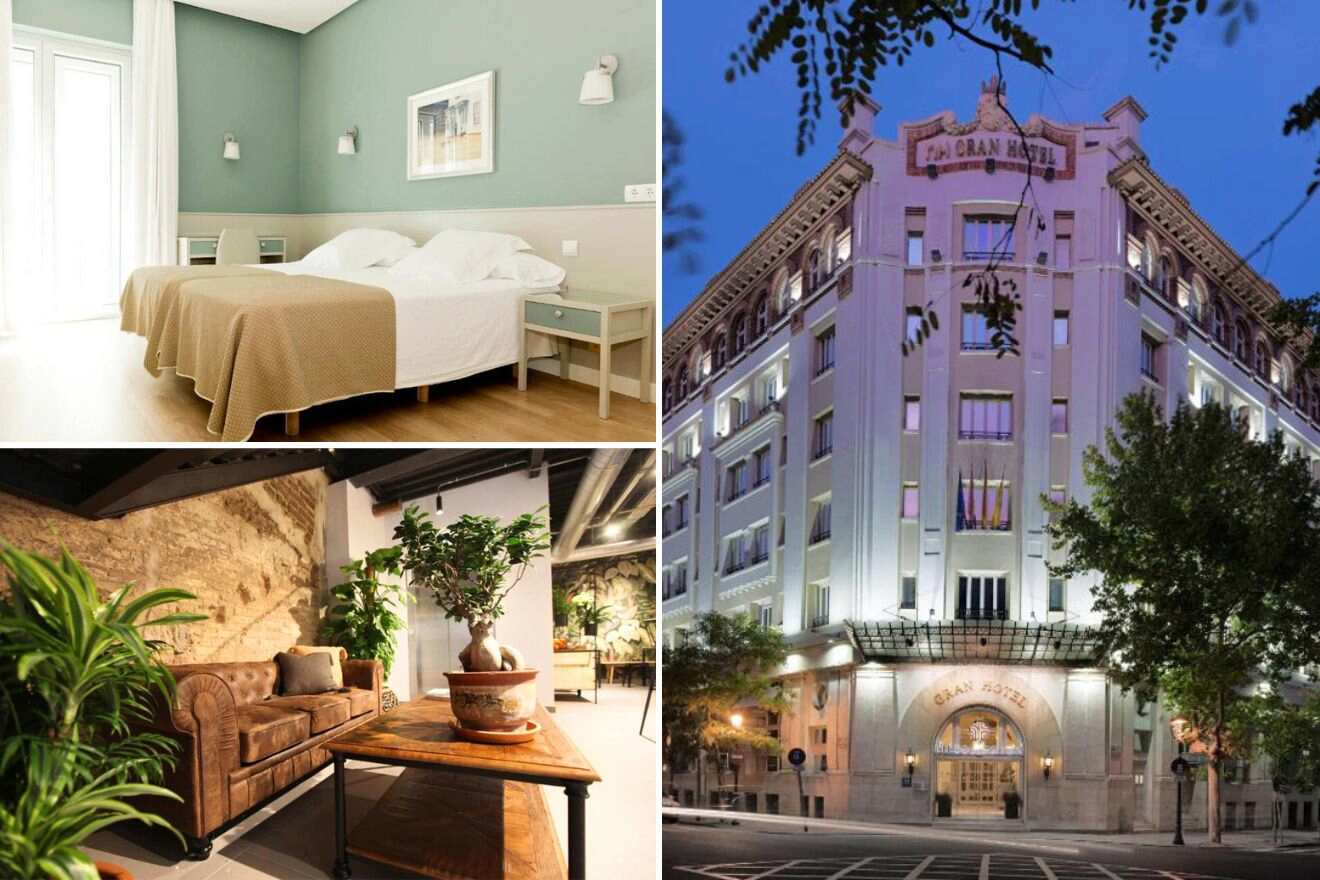 Luxury:
Mid-range:
Budget:
How to get to Zaragoza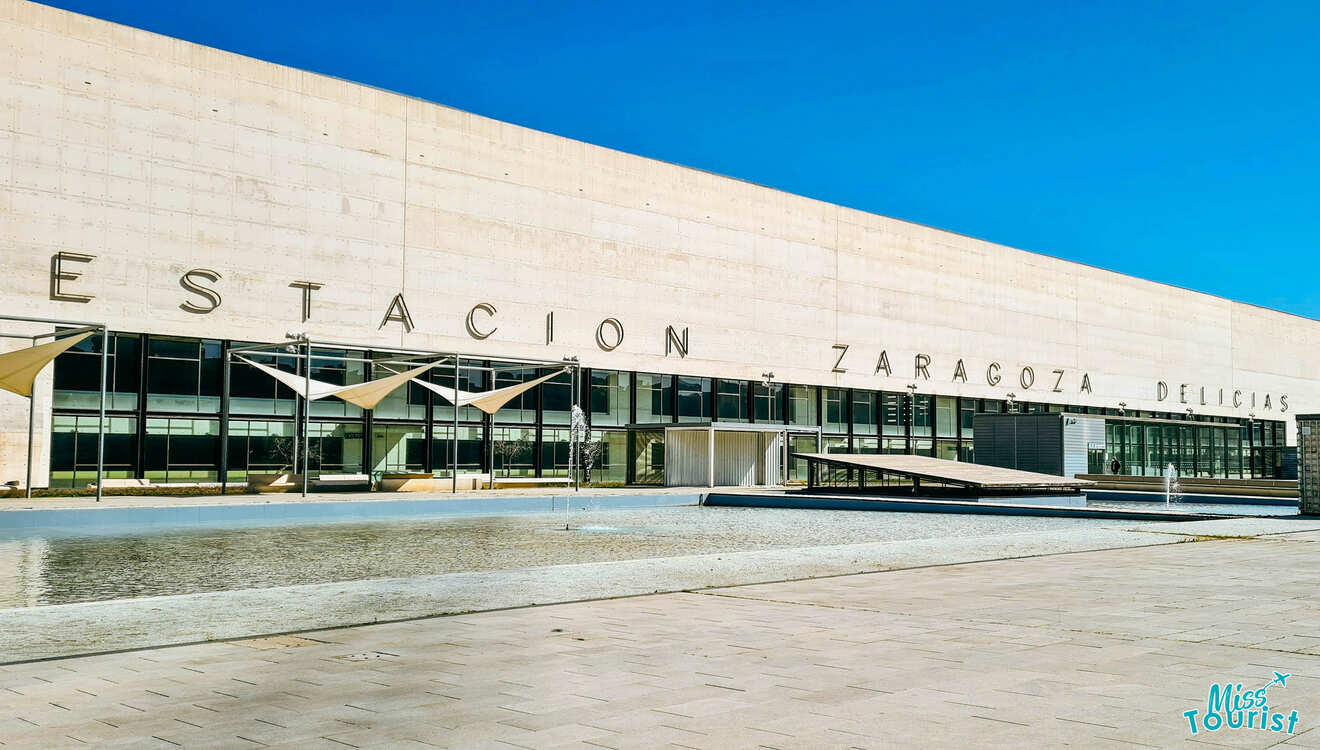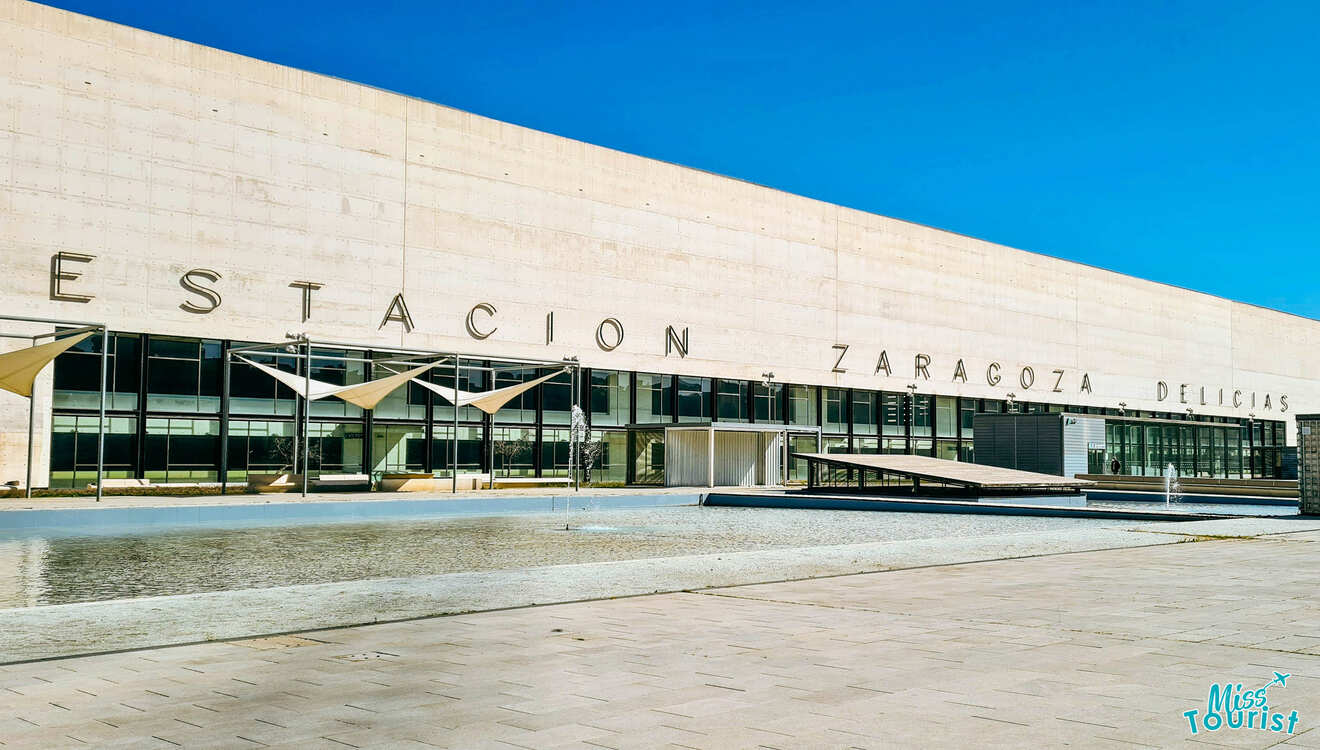 As I mentioned earlier, Zaragoza is so popular, partly thanks to its convenient location between Barcelona and Madrid. Here's a practical guide on reaching Zaragoza from each city:
From Madrid
From Barcelona
Once in Zaragoza, the railway station is about 40 minute's walk to the city center, or 10 minutes by car. I paid about €7 to get to the center from the train station through Cabify.
Things to know about visiting Zaragoza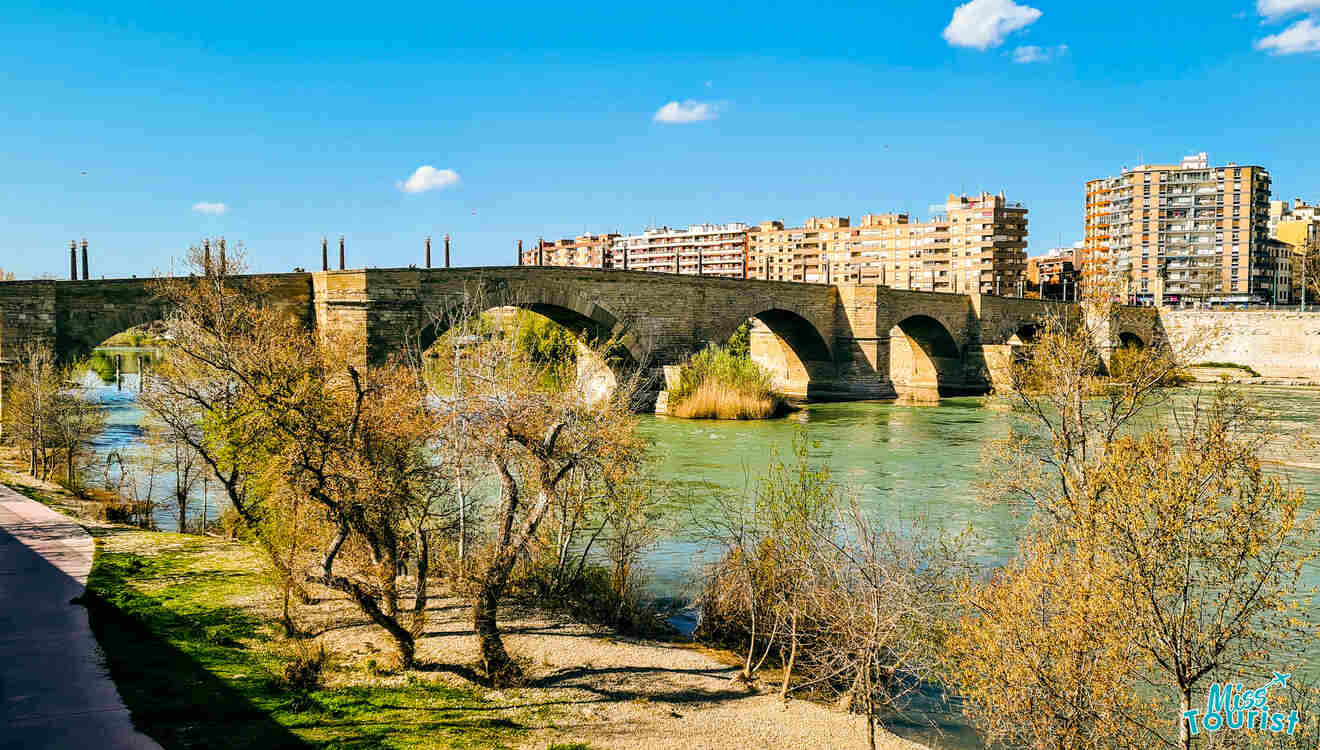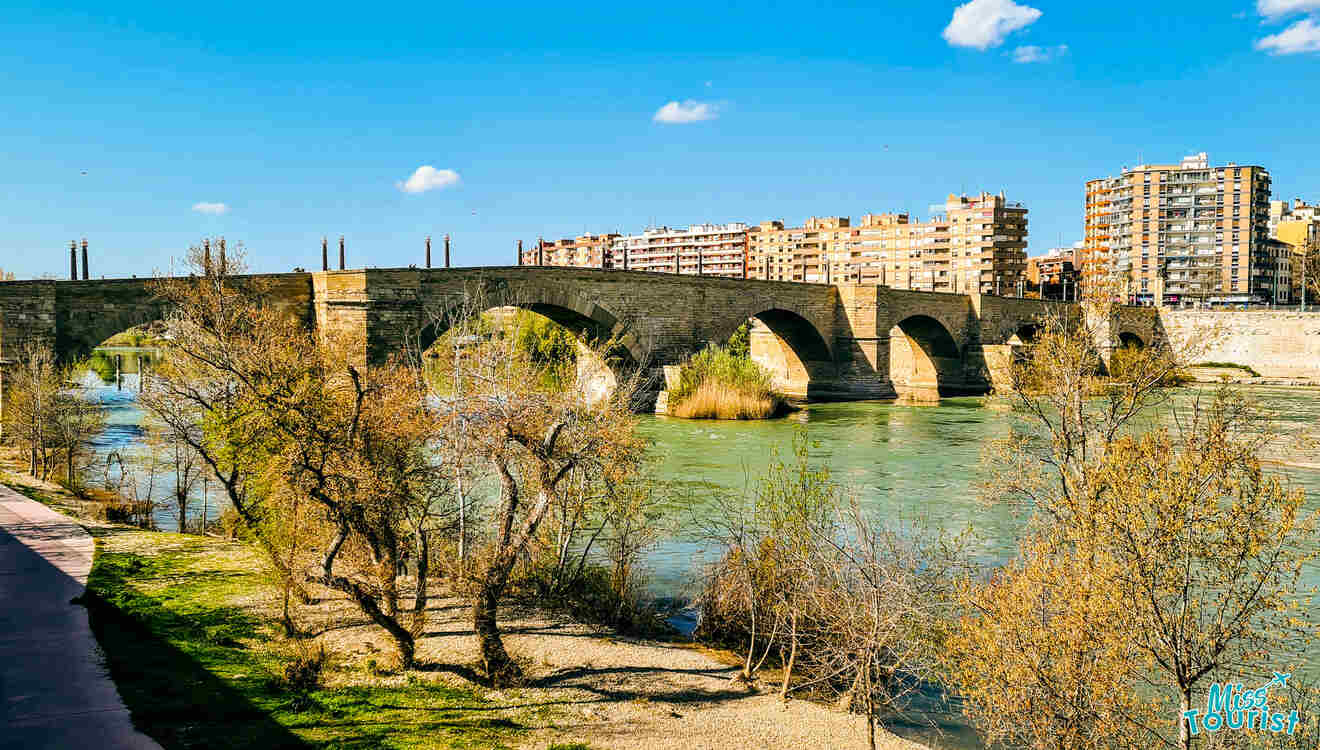 Here are some things that I collected along the way that I thought might be useful for you to know so you can have the ultimate vacation!
Siesta – Remember that many museums and shops close during the afternoon for siesta. Plan your visits accordingly to avoid disappointment
Limited English – Not all attractions offer extensive information in English, it is mostly in Spanish, so consider downloading a translation app or getting a phrase book like this one!
Public Transportation – Zaragoza has a reliable public transportation system, including buses and trams. You can find the table with updated fares here.
Tap Water – The tap water in Zaragoza is safe to drink, but some visitors might find its taste not to their liking. Keep a reusable water bottle handy and refill it at water fountains.
Tipping – in Zaragoza, like everywhere in Spain, tipping is not mandatory, but it's appreciated. For good service, a tip of around 10% is considered generous.
FAQs about things to do in Zaragoza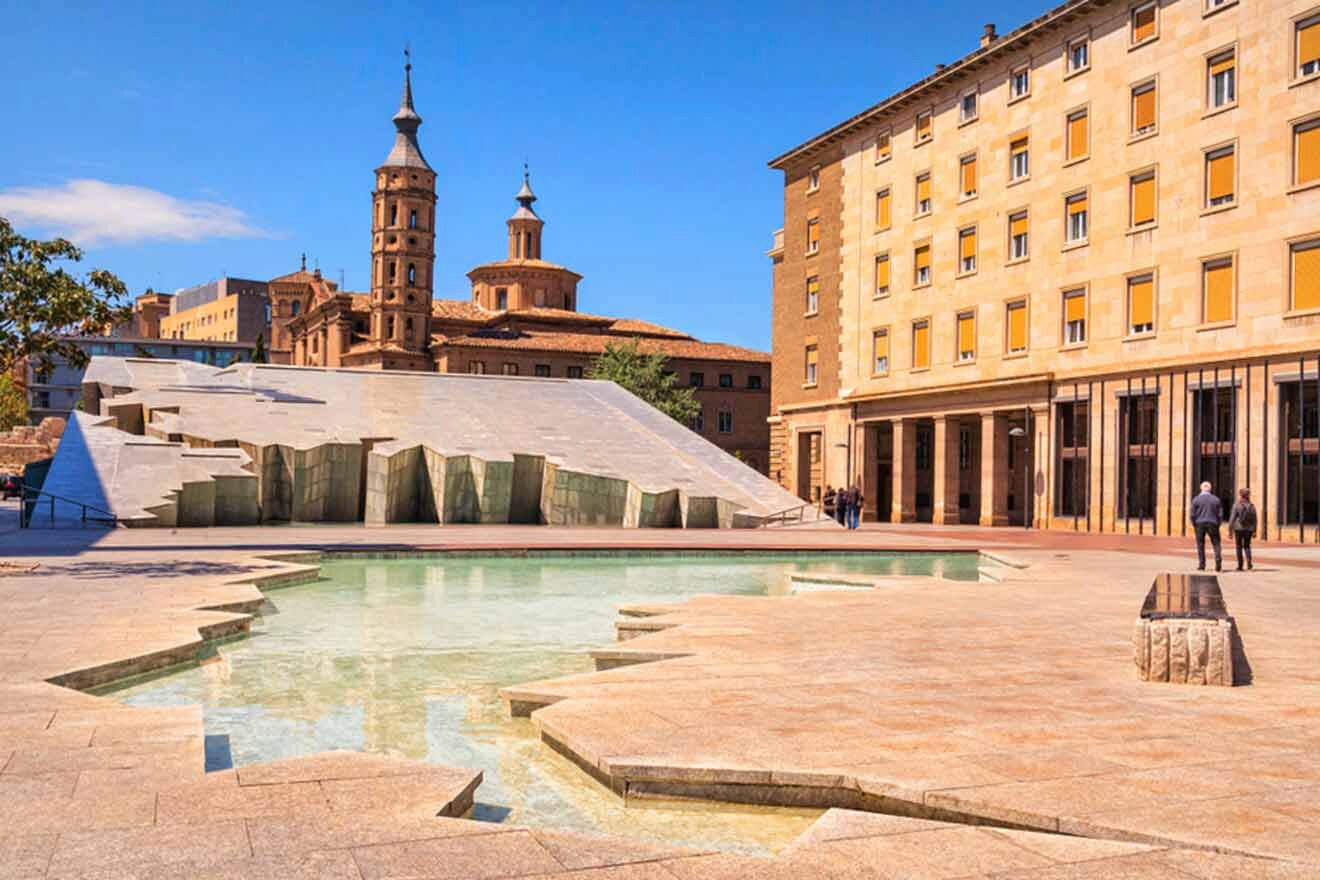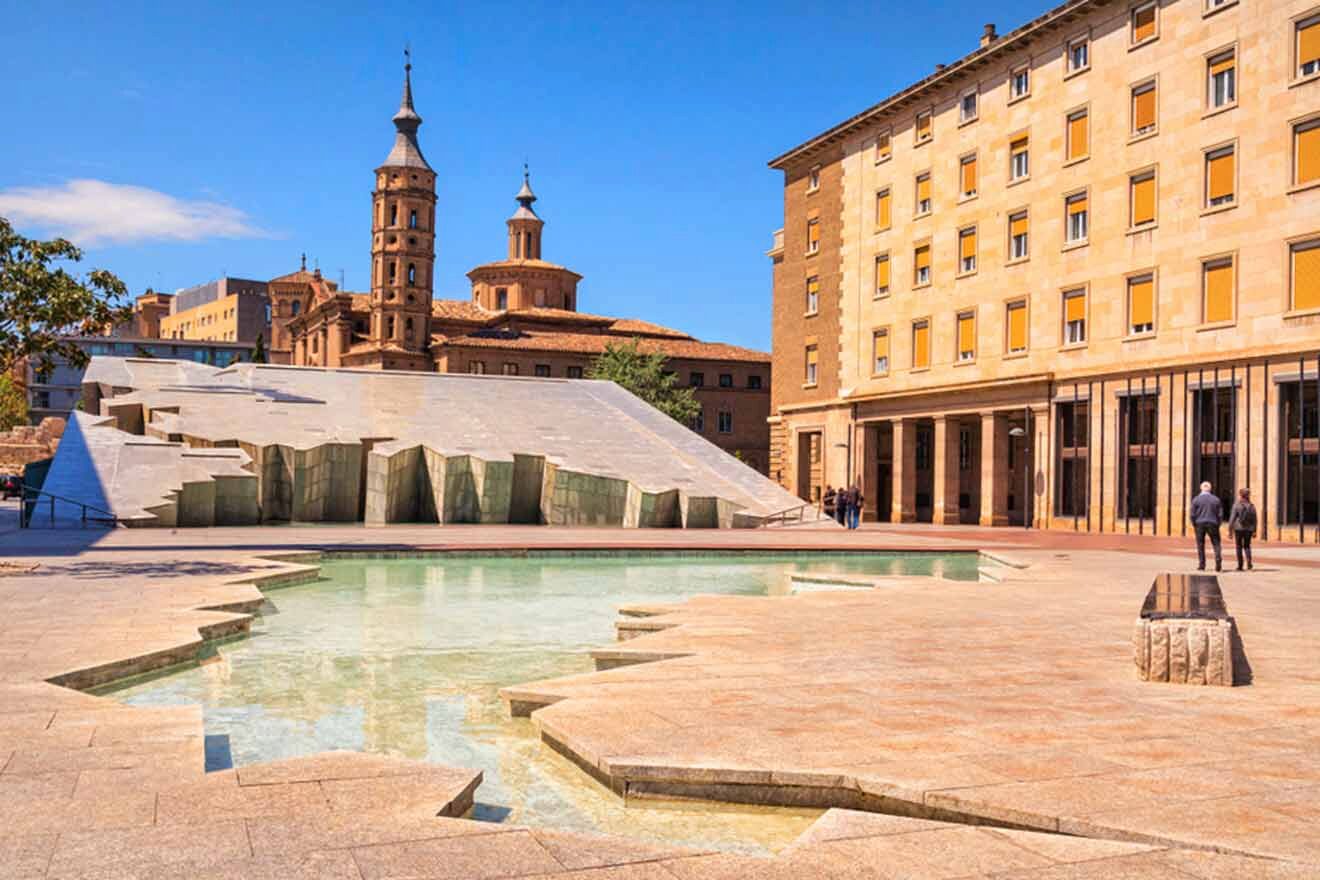 📅 How many days should you spend in Zaragoza?
Allocate at least 1-2 days to fully enjoy Zaragoza's main attractions, museums, and local cuisine, with extra time for day trips or lesser-known sites.
🎢 What are the must-visit attractions in Zaragoza for first-time visitors?
🏛️ Are there any famous museums to explore in Zaragoza?
🚄 Is Zaragoza suitable for a day trip from nearby cities?
Yes, Zaragoza is easily accessible from cities like Barcelona and Madrid, with high-speed trains taking around 1.5-3 hours. If you're in Barcelona, don't forget to check out our post on all the most amazing things to do there!
👪 Can I find family-friendly activities in Zaragoza?
🌨️ What is the best time to visit Zaragoza?
Spring (April-May) and autumn (September-October) offer pleasant weather and fewer crowds, perfect for sightseeing.
🍇 Are there any local festivals or events I should not miss in Zaragoza?
Experience the vibrant Fiestas del Pilar in October, featuring parades, live music, and traditional ceremonies!
Conclusion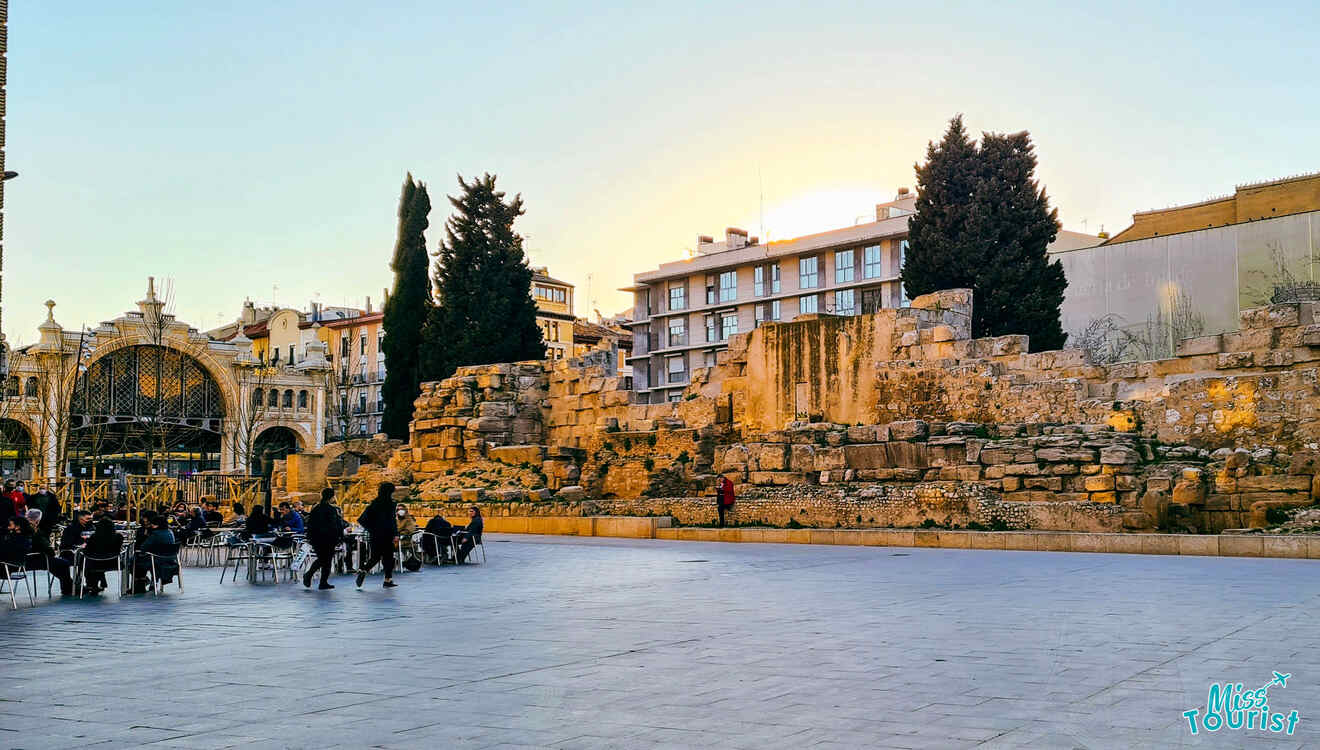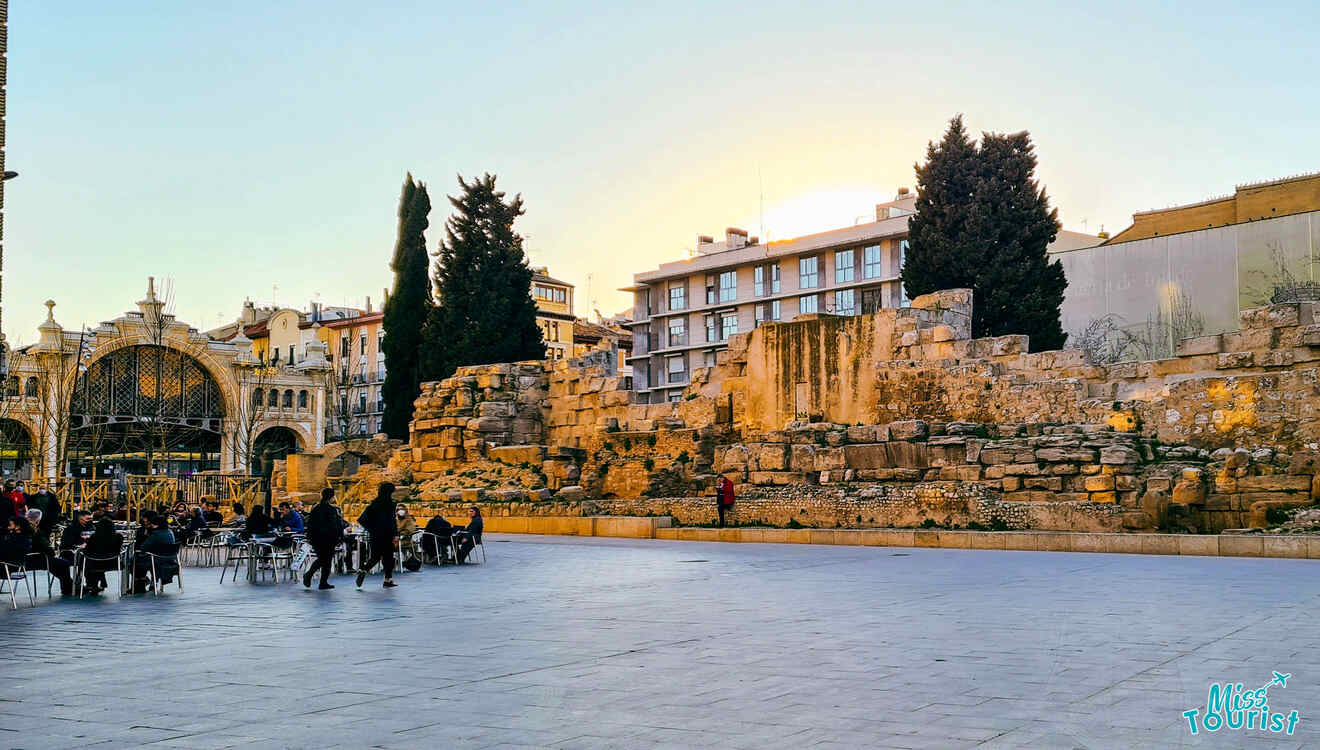 Well, well, well, my globe-trotting comrades, we've now reached the end of our virtual escapade of Zaragoza.
I sincerely hope it was useful for you and you are going to use some of those tips during your trip! Don't forget to drop me a comment if you have any questions!
So rally your travel crew, dust off that Spanish phrasebook, and get ready for a whirlwind adventure that'll leave you yearning for more of Spain. By the way, if you want to read more info about Spain similar to this, here you can find all my articles on the topic.
¡Salud, amigos! Safe travels, and I'll catch you on the flip side of wanderlust!
Yulia
---
Pin it for later!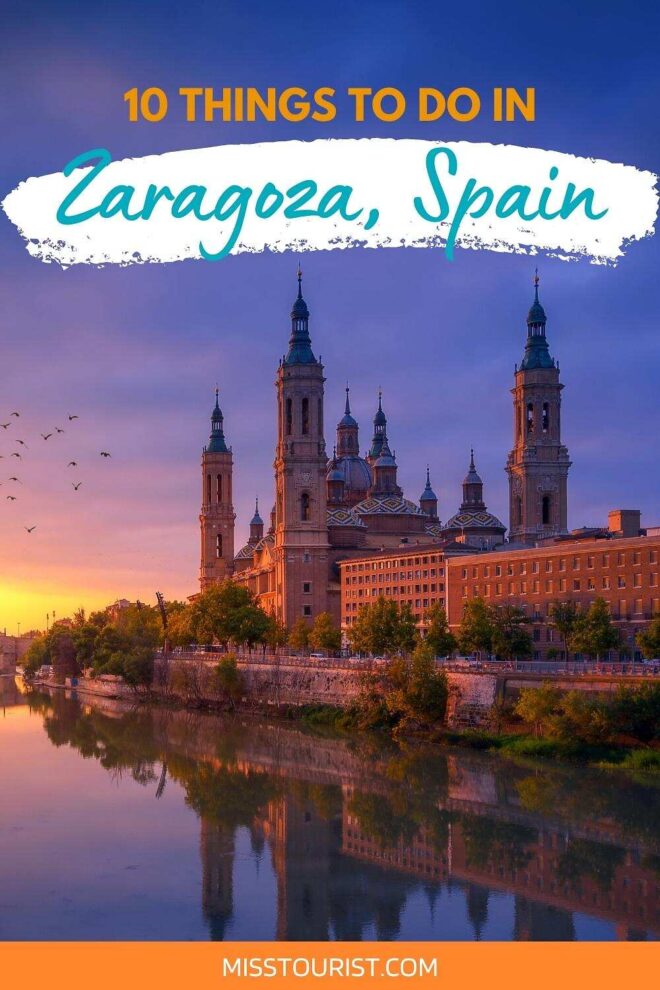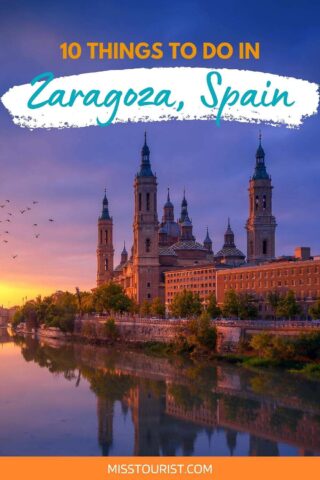 Pin it for later!