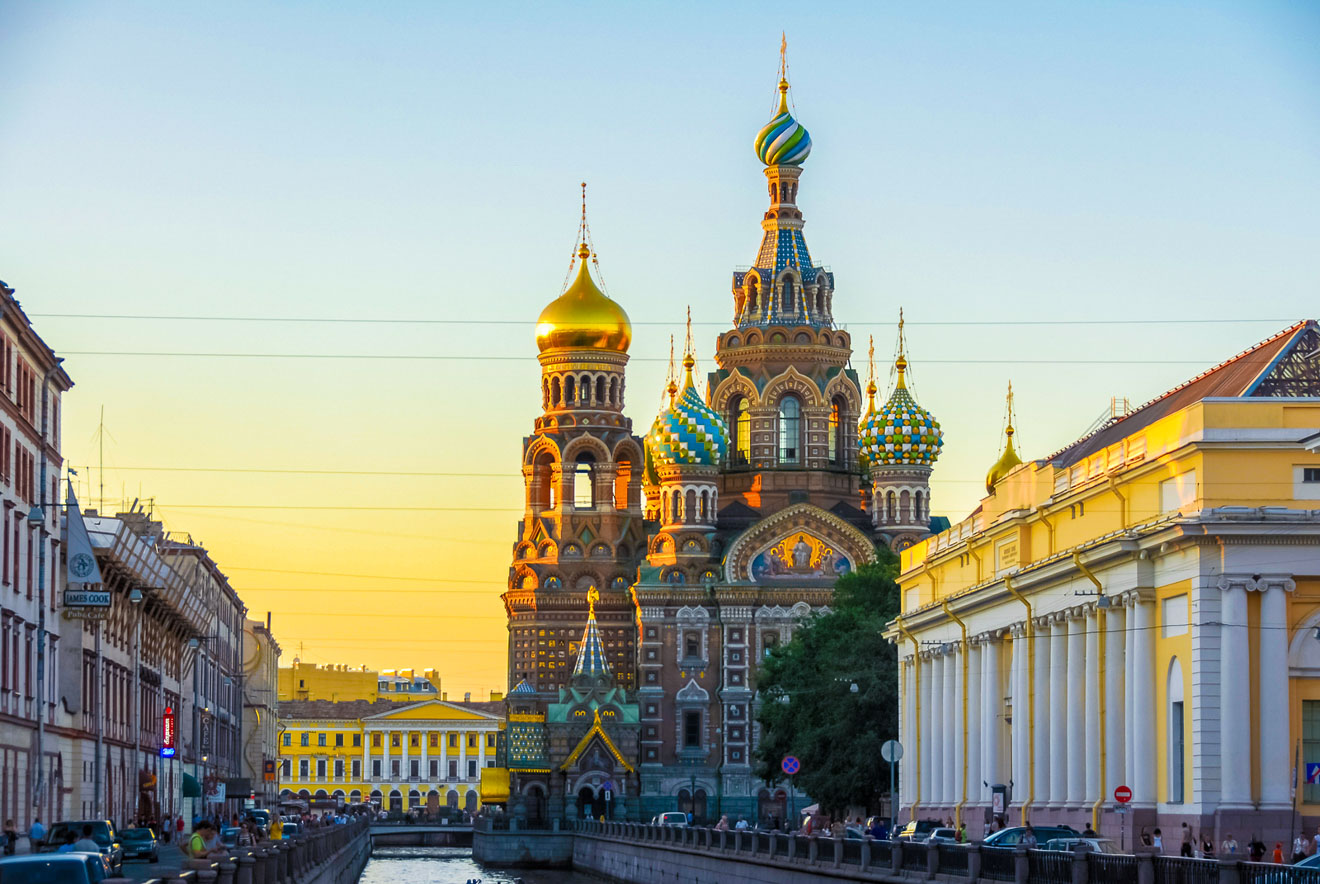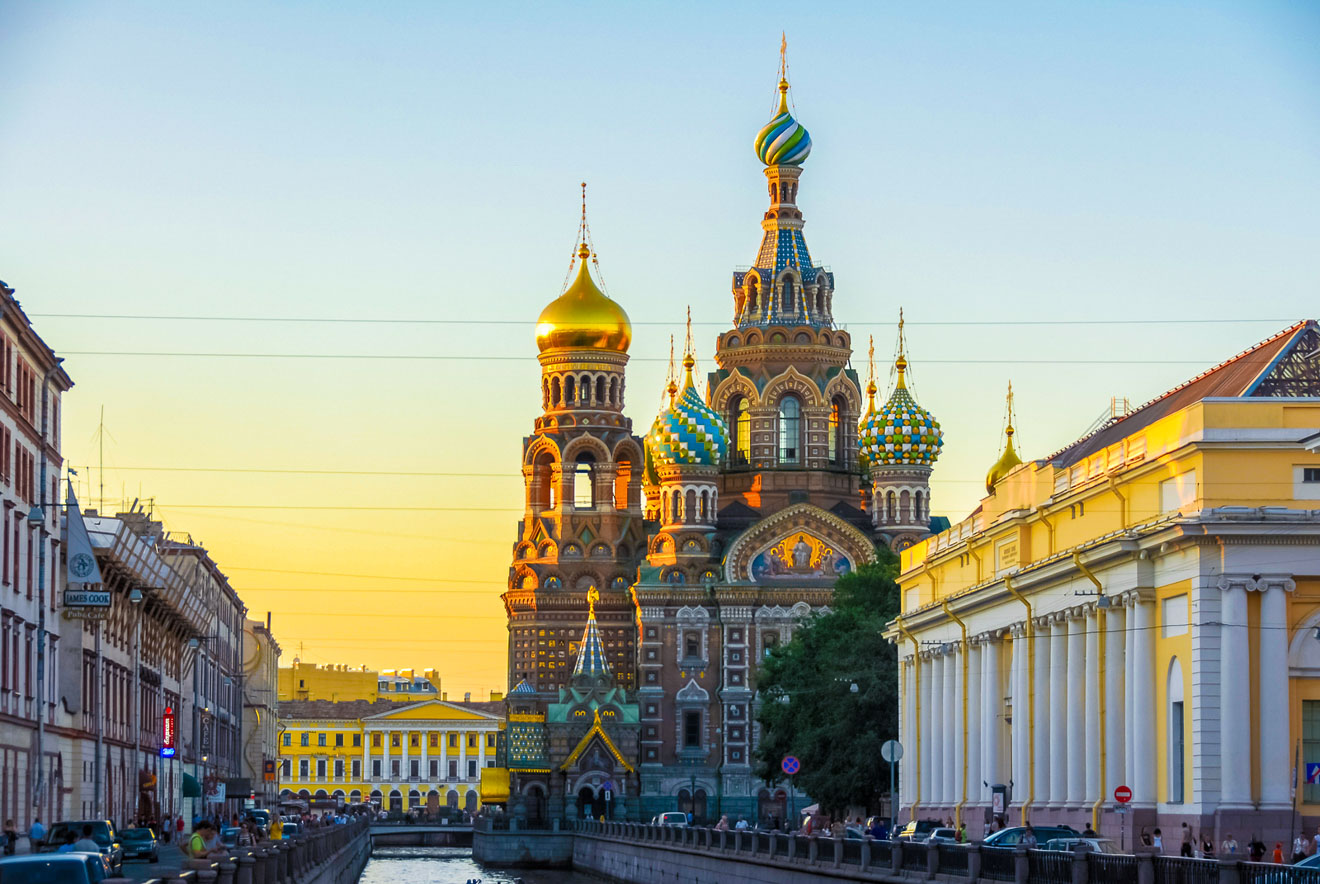 UPDATED: MAY 2019
Saint Petersburg in Russia is an amazing city that I simply admire! In my honest opinion, it is one of the most beautiful cities in the world (and I am not only saying that because I am Russian!).
If you are heading there for the very first time, I am so happy for you. You will surely have a great time and I am sure this list with the best things to do in St. Petersburg will come in handy!
Even if you were not planning to visit this destination in the near future, read my St. Petersburg guide nonetheless! You might add it right to your bucket list after this! 😉
Thanks to its royal history, St. Petersburg is a unique city. This is where the Tsar family used to live 300 years ago, and all the extravagant Russian royal palaces can be found here, too, and not in Moscow.
St. Pete, or "Peeter", as we call it in Russia, the city of Peter the Great and Queen Ekaterina, can offer so much to any traveler, regardless of if they are visiting for the first or tenth time!
While you can easily stay for two weeks and discover the city and its surroundings, there are some places and things to do in Saint Petersburg that you simply must do no matter how long you are there!
Here is my list of the 11 best things to do in St. Petersburg, Russia, that I carefully crafted for you:
If you want to visualize all the attractions I talk about, here is my Saint Petersburg map (the yellow pins are for my selections of best things to do and the pink ones are for the bonus activities):
1. Hermitage Museum (save $7 per person with my tip!)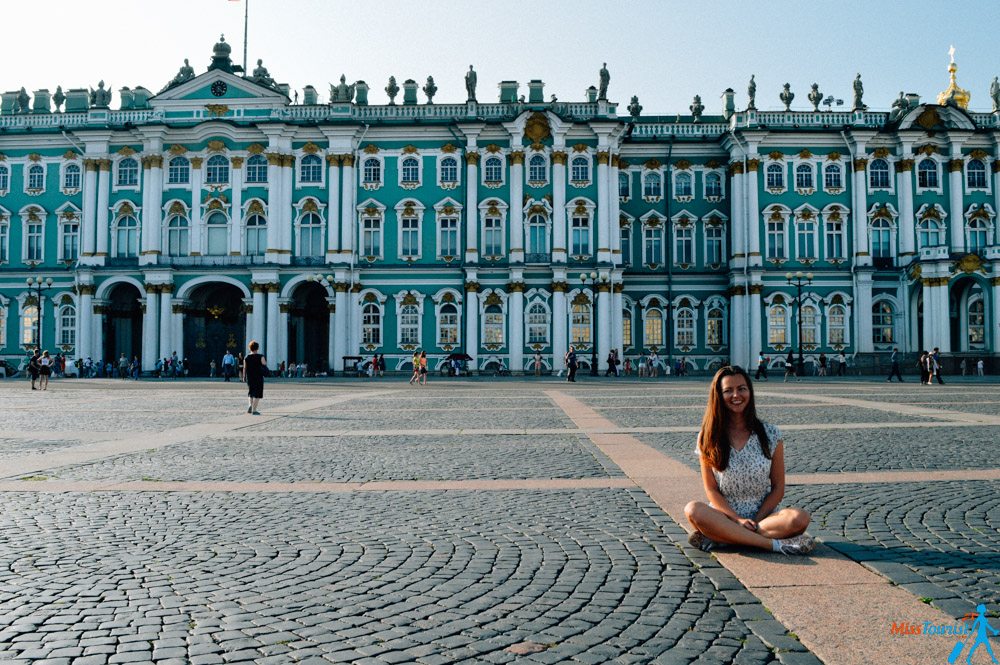 You might find it boring that I included a museum as the #1 best thing to do in the city, but believe me, the Hermitage Museum in St Petersburg is an absolute must-do while in the city!
Hermitage ("Эрмитаж"- rus.), or The Winter Palace as we also call it here, can easily compete with the Louvre with the number of masterpieces stored inside.
This is actually one of the oldest museums in the world and it includes works by Van Gogh, Monet, and even Leonardo da Vinci! And yes, if you want to visit everything at your own pace, your visit will most probably take more than one day as the museum is very large, so make sure to plan your visit carefully!
It is worth mentioning the museum's location as well – at the Winter Palace of Empress Catherine, which is an ex-Royal Palace of Russian Tsars (trust me, Russian kings knew a thing or two about luxury life!) – which I truly believe makes it an absolute must for a jaw-dropping experience! This is one of the most famous buildings in St. Petersburg!
How to buy tickets the smart way: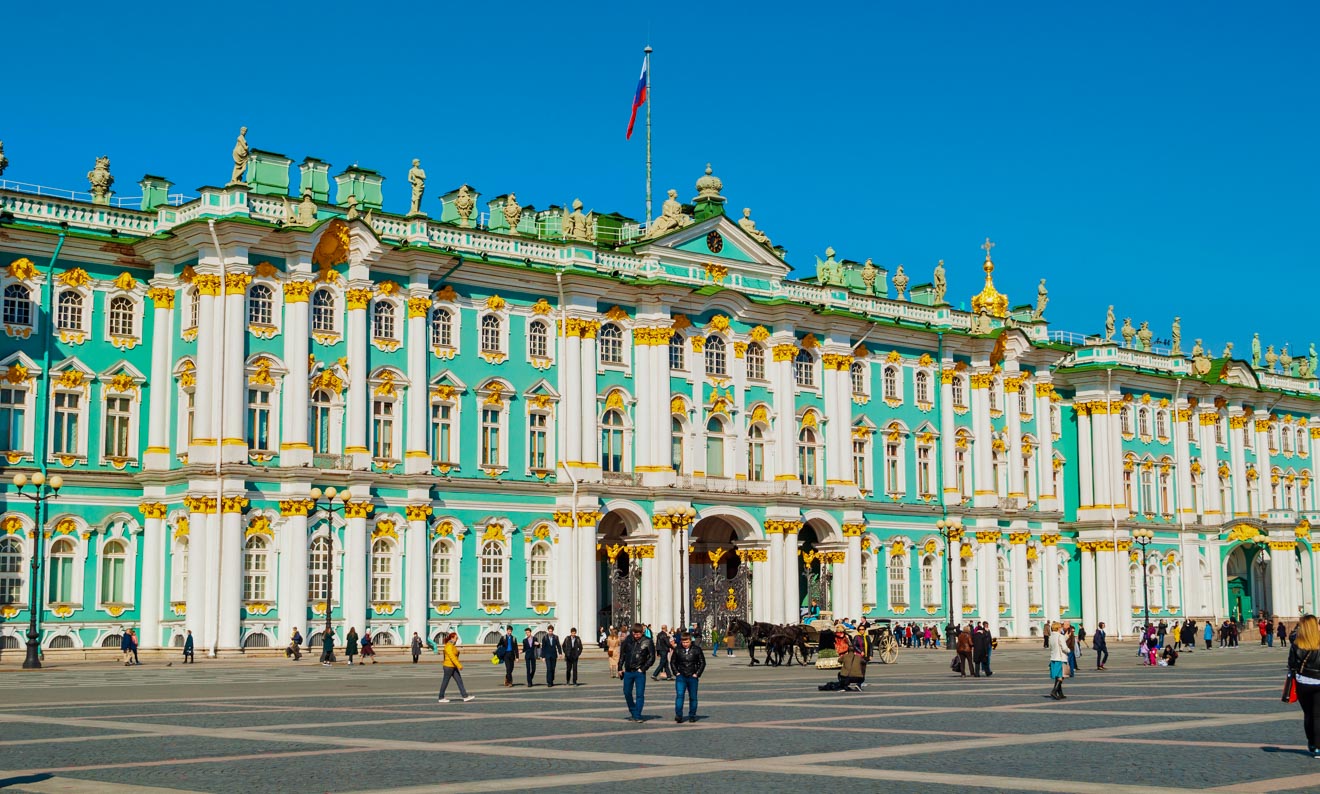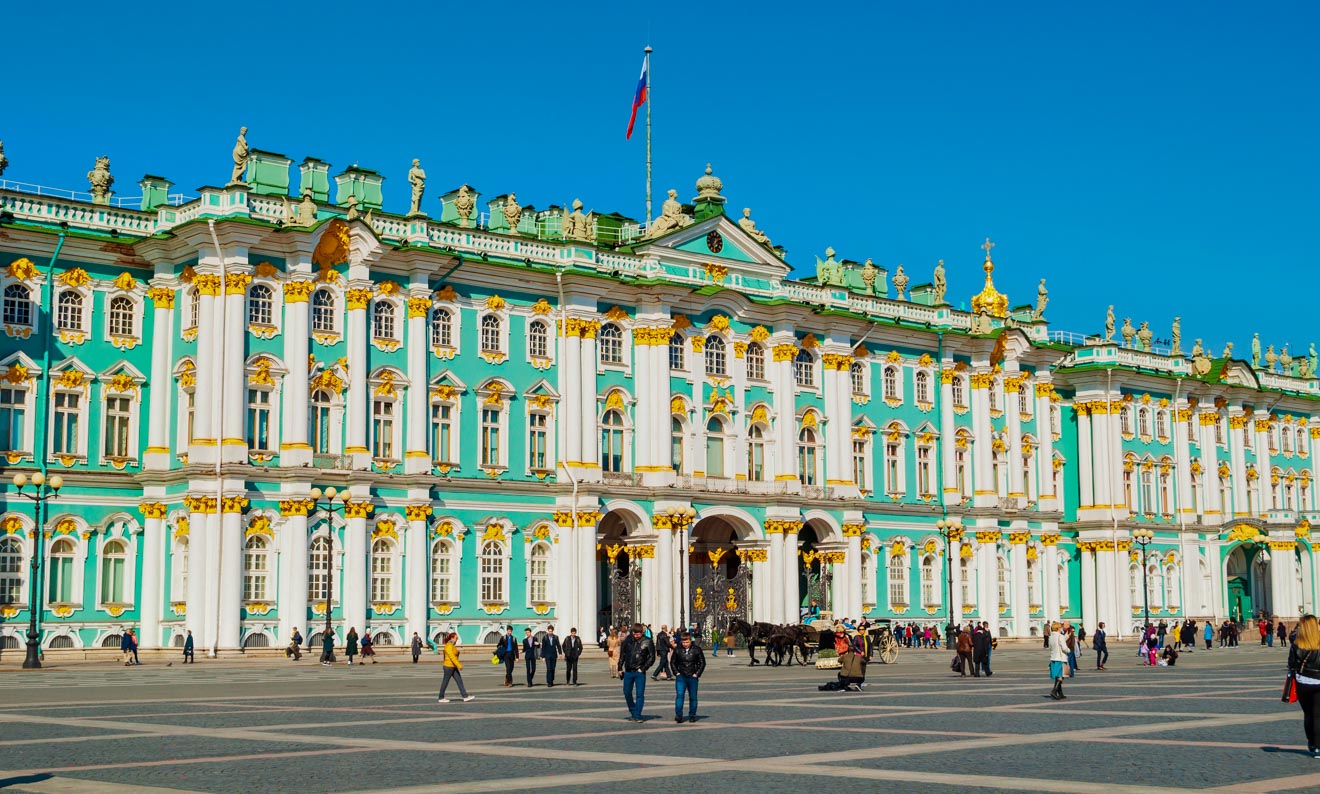 I recommend buying tickets online, as there might be long lines at the museum. If you did this, congrats, you have skipped the long lines and you can now enter using the special queue for the selected people that have online tickets (read – no line!). Check this map to see the entrances.
PRO TIP 1: In case you did not do your homework and you don't have your tickets bought ahead of time – be smarter than all those tourists lining up! You can also buy your ticket in the yellow building (called the Modern Art Museum) that is located right in front of the Hermitage. Then, you can easily go to the main entrance, bypassing the queue!
NOTE: If you are a student – you can get in for free, but you will have to stand in line with everyone else to present your ID in order to buy the discounted ticket.
PRO TIP 2: On every third Thursday (not Sunday) of the month the entrance is free of charge for all visitors.
PRO TIP 3: If you want to get a professional guide that speaks great English (but also German, Italian, Spanish and French) for a small group of up to 8 people and skip the line at the same time – this tour is great for you!
PRO TIP 4: If you are buying your tickets online, the price in English on the official website is US $17.95. You can buy the same ticket if you switch the language to Russian (Pyc) for 730 RUB (US $11.20) or 680 RUB during the summer season – about US $10.50. The difference is presumably due to currency exchange fluctuations.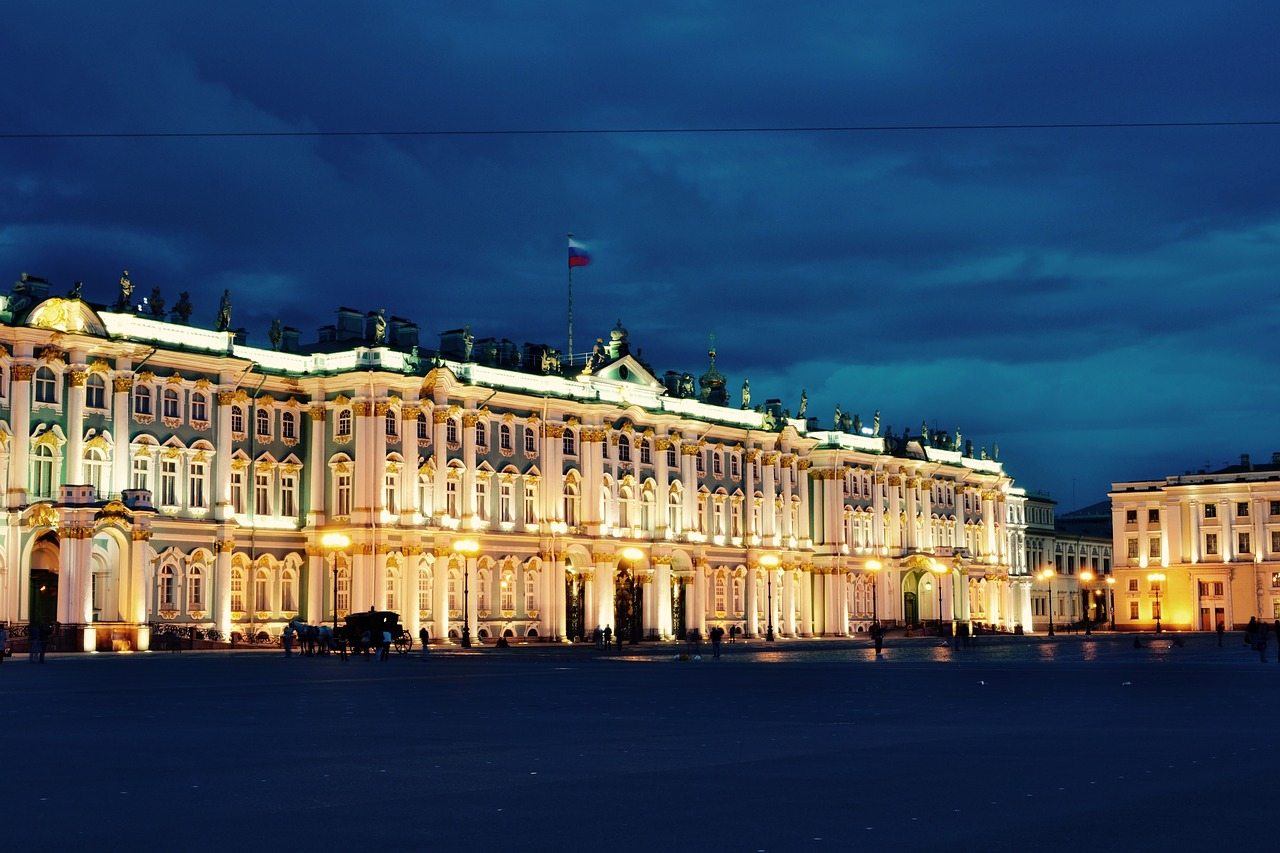 UPDATE: One of my readers told me that you can now buy tickets on the Russian version of the website only if you type your name in Cyrillic. I think this is not fair to our foreign guests, so here is how to trick the system – just use this site to transliterate your name into Cyrillic and copy-paste it to the buying form on the website. It is not always correct though, so I advise matching it with your Cyrillic name on the visa. Also, I don't think that it will be a problem if you make a mistake with your name – it is a museum ticket, not an airplane one, no one actually checks your name there!
Once you have your printed ticket, the barcode will be scanned at the entrance and voila, you are in! Here is the map to see where the entrance is located for you.
NOTE: Like most of the museums in the world, the Hermitage is closed on Mondays. Usually, the museum opens at 10:30 AM and closes at 6 PM, but on Wednesdays and Fridays it is open until 9 PM. It is a good idea to visit during the second part of the day because huge groups of cruise ship tourists usually leave by 3-4 PM. Check the up-to-date schedule here.
2. The Palace Square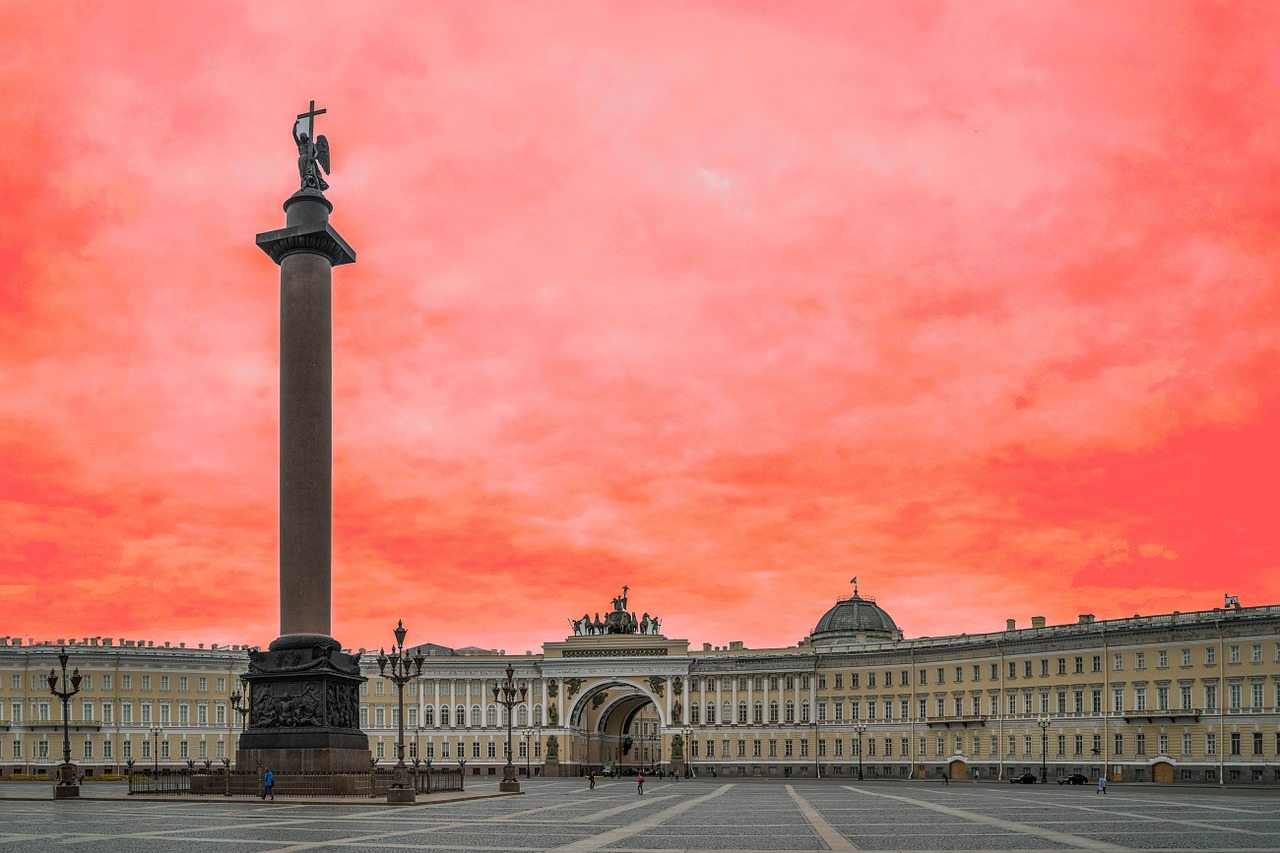 The Palace Square is located right in front of the Hermitage Museum; it is basically impossible to miss it!
In my opinion, this is one of the most beautiful squares in the world and you might already know that it is one of the main St. Petersburg tourist attractions! It is huuuuuuge (bigger than the Red Square in Moscow). This is the place where you can feel how enormous and opulent the Russian Empire was. This square witnessed both posh emperor parades and drama during the revolution and many Russians consider it to be among the 10 most beautiful places in Russia!
When you're there, you can stare at the Alexander Column that is located right in the center of the square. The column is 47.5m tall, weighs 704 tons and it does not have any foundation!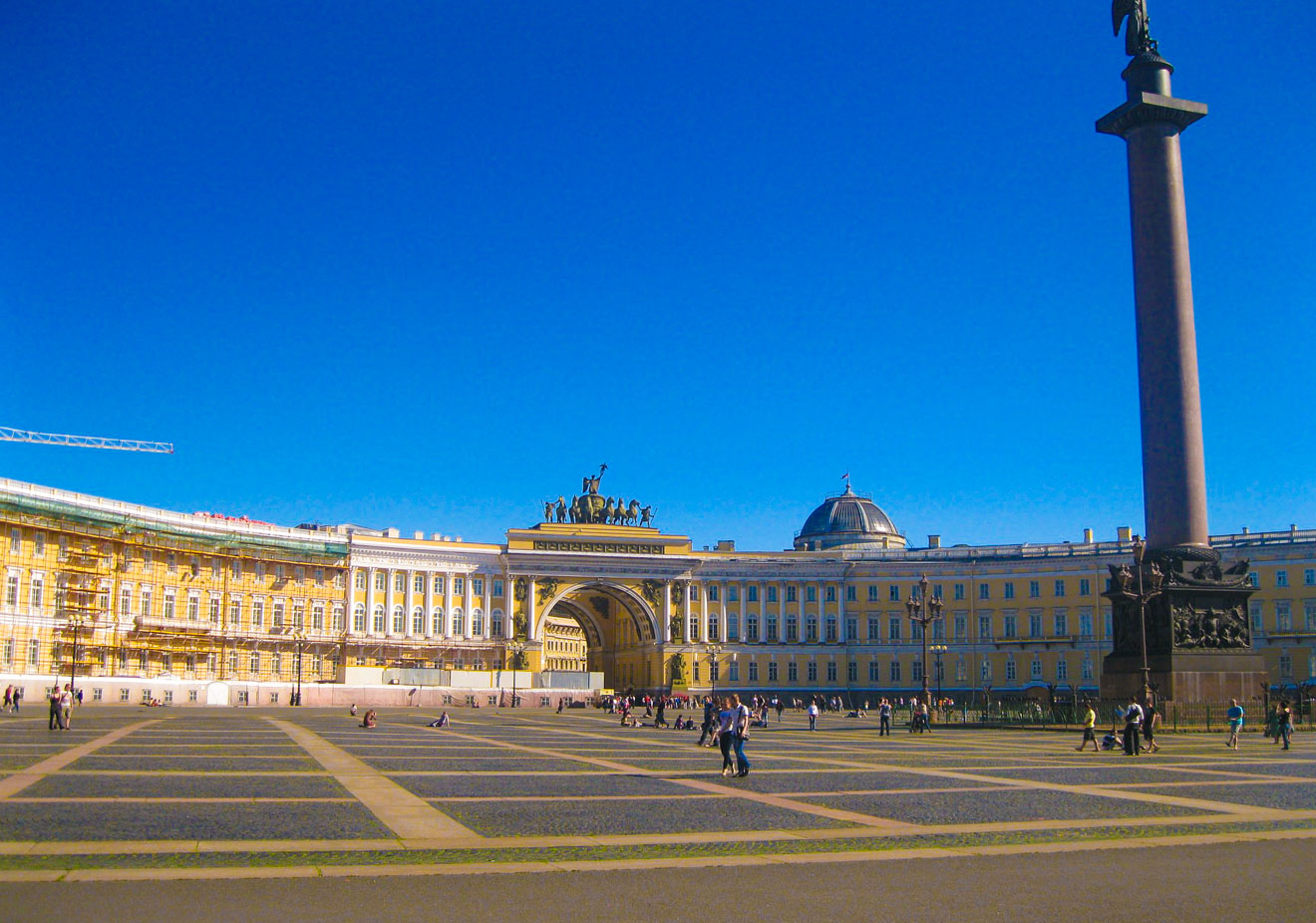 Can you even imagine it? A huge 704-ton column stands in the middle of the square under its own weight. It is so heavy, it does not even need a foundation!
No worries though, we had some great engineers back in those times so the column is designed perfectly and it's not going to fall down!
There are plenty of musicians and people that sit right at the base to prove my point, in case you do not believe me. Pay a visit – it is so worth it!
3. Cathedrals and churches!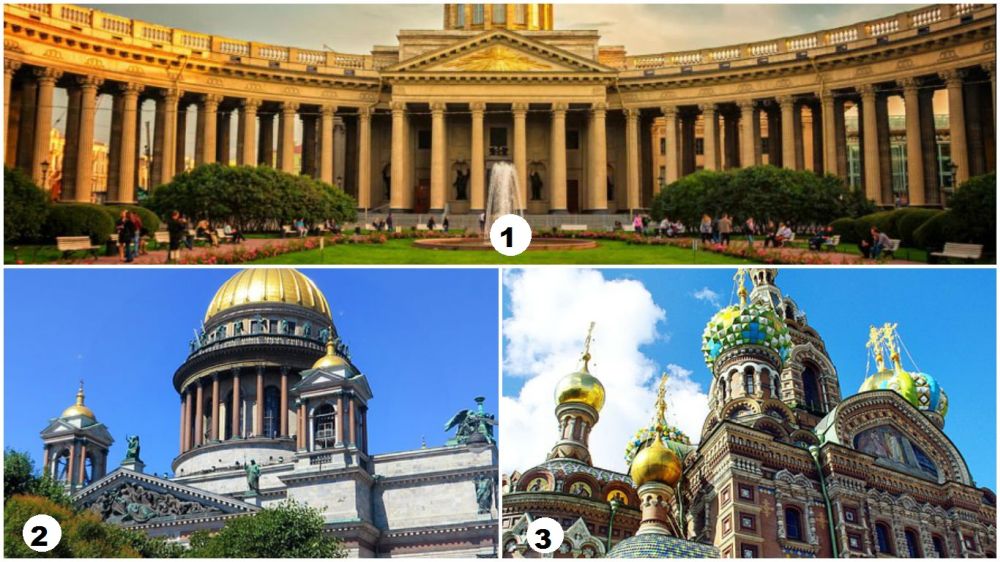 There are so many great cathedrals and churches in St. Petersburg to visit that it can be so hard to choose! I decided to group them in one section so you can easily decide which could be your favorite.
These are the three main cathedrals that are an absolute MUST in St. Petersburg:
1. Kazan Cathedral
The Kazan Cathedral is located on Nevsky Prospect, the main street of the city that I strongly recommend strolling around. It is the main cathedral of the city and they call it the "little brother" of the Vatican; you will see why when you get there!
WORKING HOURS: Open daily from 7 AM to 6 PM.
PRICE: Entrance is free of charge.
2. St. Isaac's Cathedral
Isaac's Cathedral in Saint Petersburg serves as a museum now and the colonnade above has a wonderful overview of the city from 43 meters up! This is the largest Orthodox church in the world and the fourth largest cathedral in the entire world (it has space for 14,000 people standing inside)! Also, don't miss the statue of the Bronze Horseman located right in front when you leave St. Isaac's Cathedral – it has become one of the most recognizable symbols of St. Petersburg!
WORKING HOURS: Open from 10:30 AM to 6 PM and until 4:30 AM during The White Nights in the summer.
PRICE: 250 RUB (US $3.80) for the cathedral and 150 RUB ($2.30) for the colonnade. You can buy your ticket at the machine on the spot.
If you want the whole experience and explanations for what's inside, I recommend you book a private guided tour of the Cathedral!
3. Church of the Savior of Blood
It is also known as the Church of Spilled Blood or "Tserkovʹ Spasa na Krovi" in Russian. Many people mix this one up with Saint Basil's Cathedral in Moscow. It is, indeed, quite similar as it is made in the colorful "Russian style".
The church has a very long and interesting history, including a period when it served as a warehouse for food during World War II and it actually marks the place where Tsar Alexander II was assassinated. Now it is a working church again.
WORKING HOURS: From 10 AM to 6 PM. On Wednesdays it is closed. From the 1st of May until the 30th of September it is open until 10:30 PM.
PRICE: The entrance is 250 RUB (US $3.80). Tickets can be purchased online here if you want to avoid queuing (make sure to select "Savior of the Spilled Blood" right below "Buy a ticket"), but the online price is 350 RUB (US $5.40).
I recommend taking a tour if you want to get to know the history of the place and learn about the details and mosaics inside. For example, this tour that includes the Spilled Blood Church and Peter and Paul Fortress (more details below) can be a great option!
4. Watch the bridges open during a drawbridges tour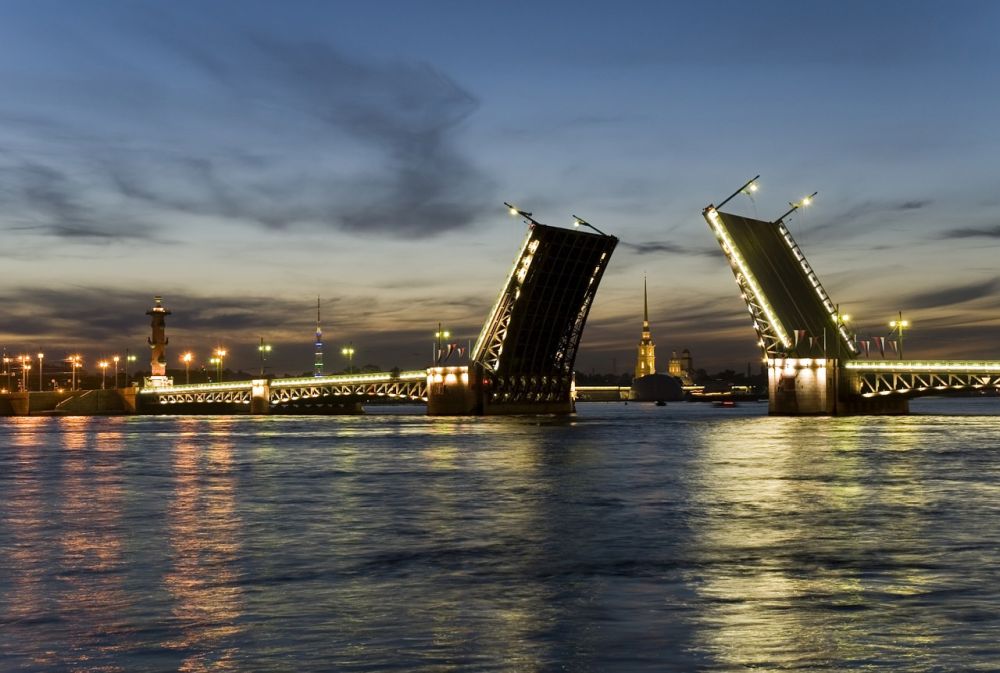 If you are looking for something to do in St. Petersburg at night, you have come to the right place!
St. Petersburg is also known as the city of bridges – and guess what? They open them up every night for the big cargo ships to pass through. This is a really BEAUTIFUL show that you should not miss!
Not sure why it took me years to do this, but I only took a drawbridges tour the 4th time I visited. But, I can say it is one of the most interesting things to do in the city to truly feel its spirit!
The first bridge opens up at 1:25 AM and then they go up one by one and, of course, it is much more beautiful to see it from the water when you are on a boat. That way you will see the opening "from the inside", observe all the details and not be lost in the crowd. Plus, if you are doing it by boat, you will be able to catch the opening of all the main bridges!
The tour starts at midnight and it usually lasts for two hours. Normally, the Draw Bridges excursion costs about 1,500 RUB (US $23) per person.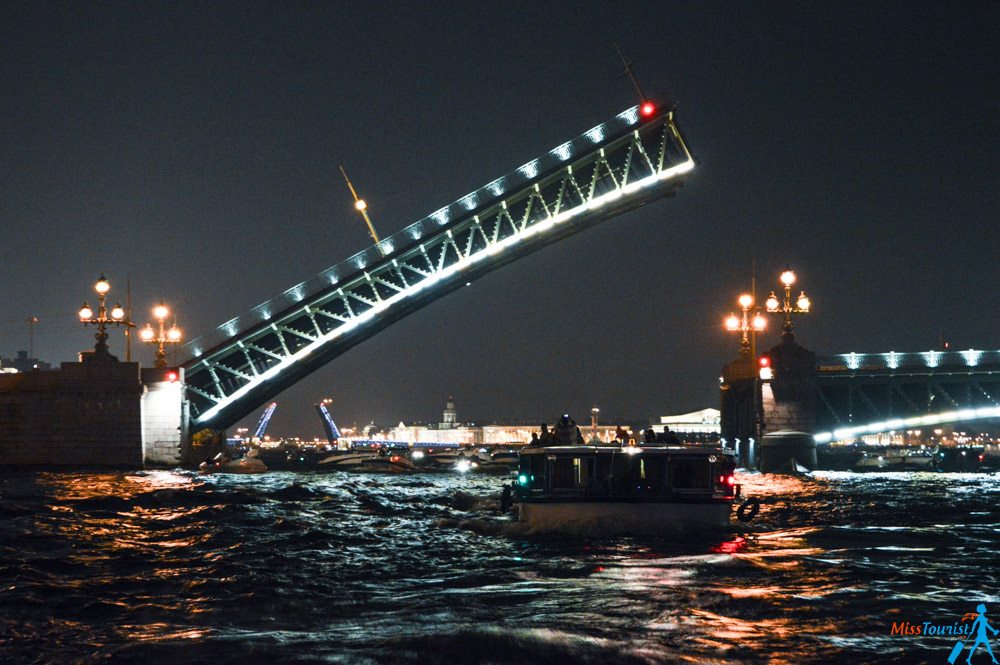 UPDATE: Some readers experienced problems finding the tour for the quoted price. It is true indeed – the tours you will find in English are usually more expensive – from US $50 to $80 per person. These are good for people who would like the entire tour to be arranged – transportation from and back to the hotel, assistance of any type, etc. You can find a tour like this here and here.
If you do not mind a small language barrier (which should not be too much of an issue as you are going to see a spectacular show and the information is not that important), then this tour of drawbridges at night will be great for you (use Google translate to buy the tickets)! I have taken this tour with my foreign friend and he loved it (as I said, no translation needed).
If you want to see the show from the land, that is fine – just make sure you are on the right side of the river, otherwise you will have to wait until they close the bridges and open them to traffic (at about 3 AM) to get back to your hotel!
5. Visit the Mariinsky Theatre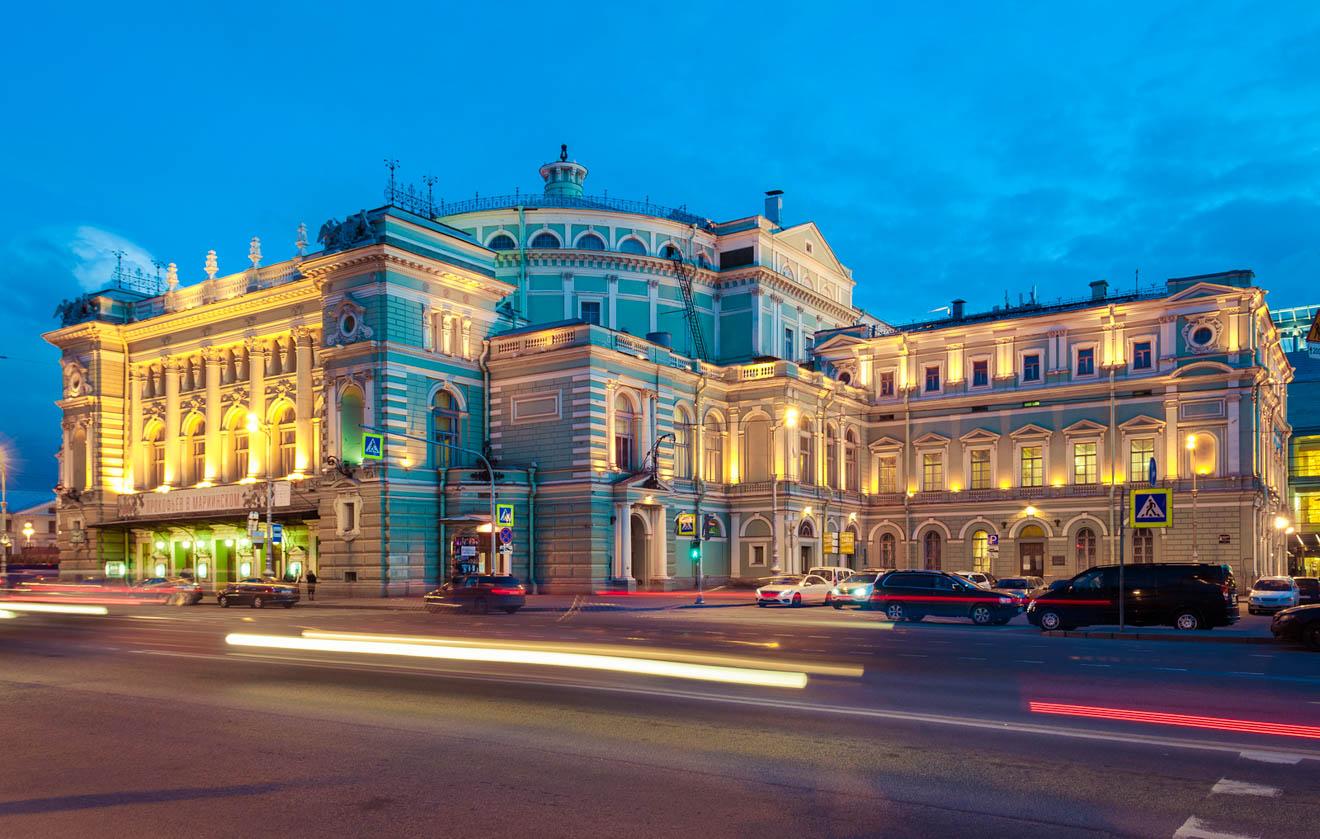 – Is she being boring again with her theater recommendations?

– Well, what can I say guys, you are visiting the cultural capital of Russia after all!

The Mariinsky Theatre in St. Petersburg is the main competitor of the Bolshoi Theatre in Moscow, except the prices are much lower here than in the capital! 😉
This theater was always famous for its fantastic opera and ballet performances – needless to say, it is also one of the top things to do in St Petersburg, right? And before you tell me that you don't understand Russian – you don't have to, as there are English subtitles!
So I can definitely say that going to a play, opera or ballet is an absolute must-do in Russia, as we are well-known for this art!
You can book your tickets here. Make sure to double check if your play has English subtitles.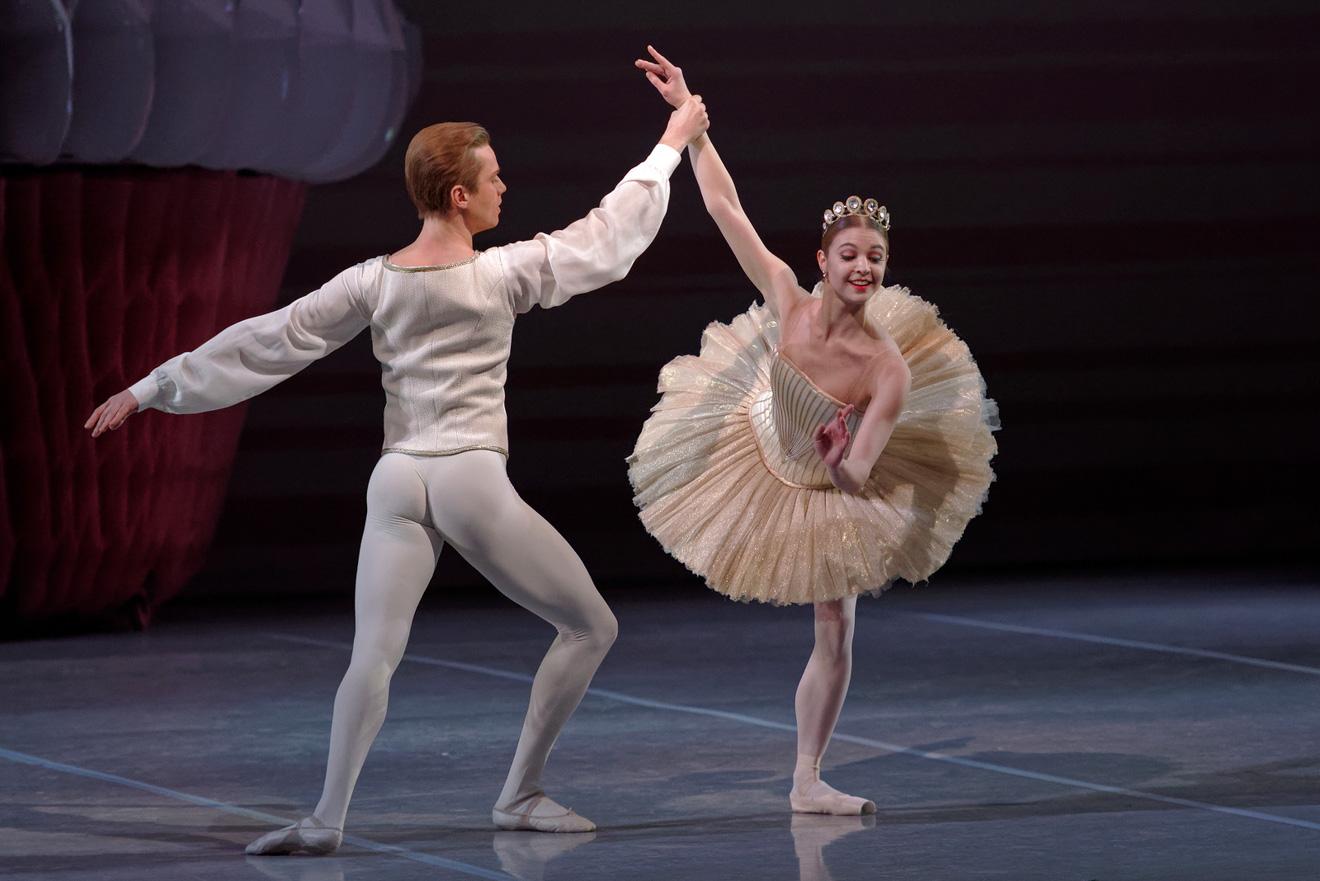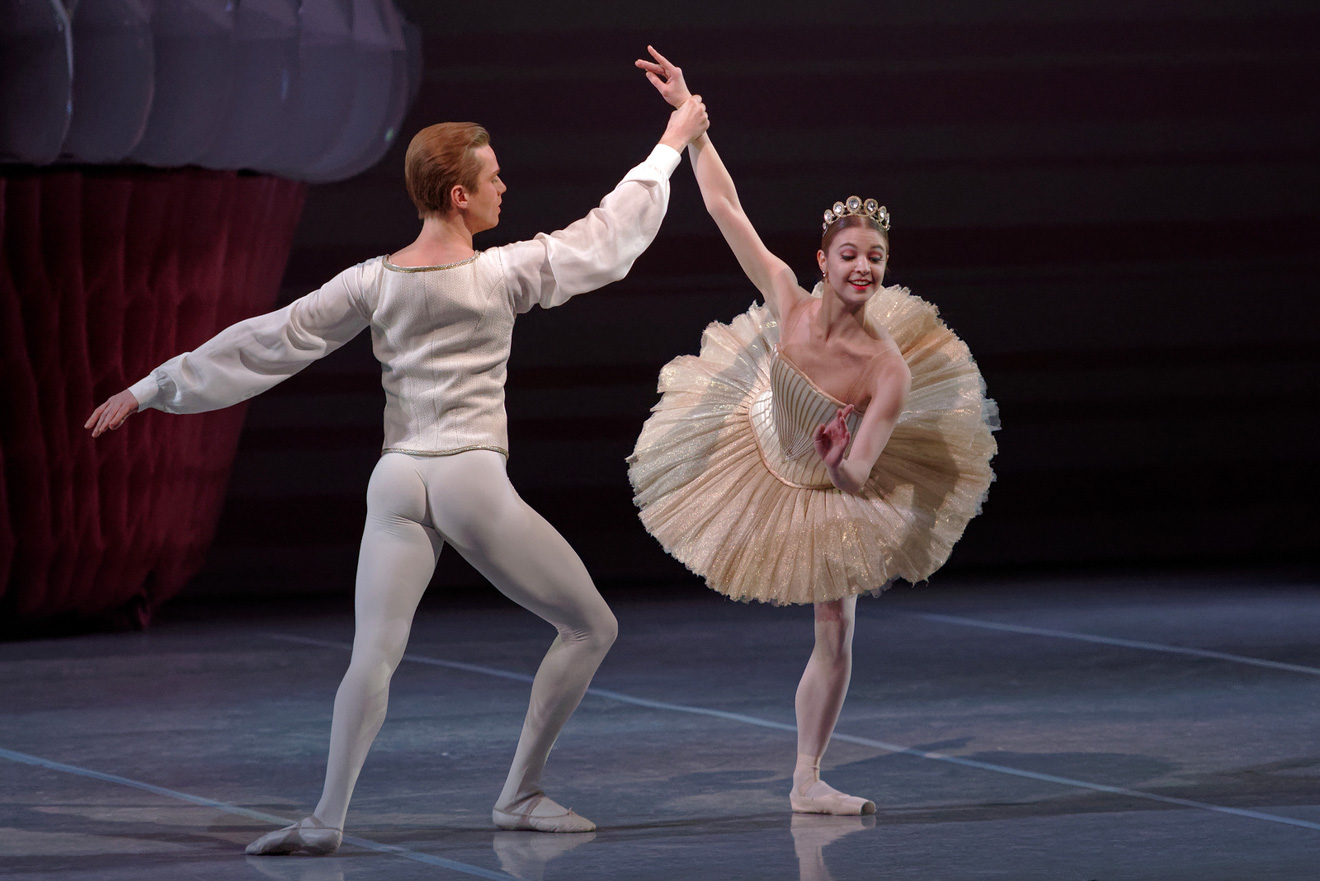 NOTE 1: Keep in mind that there is not only one, but a couple of buildings that belong to the Mariinsky theatre. The brand new one is spacious and it has great acoustics, so I think it is more interesting to visit it!
NOTE 2: The opera play I have been to ("Idiot" by Dostoevsky) only had Russian subtitles. Even though it said "English subs" on their website, it just did not work when we were there. This is why I suggest you call and ask – it never hurts! You can ask your hotel to do that for you, or just call them yourself (see my SIM card options below). I am quite sure somebody should be able to reply in English!
NOTE 3: Do not be late! Picture this – you paid for your tickets and you are supposed to have some good seats, but because you were late, you will be seated in some random free spots somewhere on the balcony (until the break, when you can change). Try to arrive 15-20 minutes in advance, just to be safe.
PRO TIP: If you did not manage to buy your tickets on time or the only tickets that are left are outrageously expensive, but you really want to go, I might have a solution for you! Just arrive about 1-1.5 hours before the show and you will probably see some resellers there. Bargain hard with them (use body language or write the price, they will probably speak basic English too) and you will get your ticket this way.
6. Climb the roofs of the city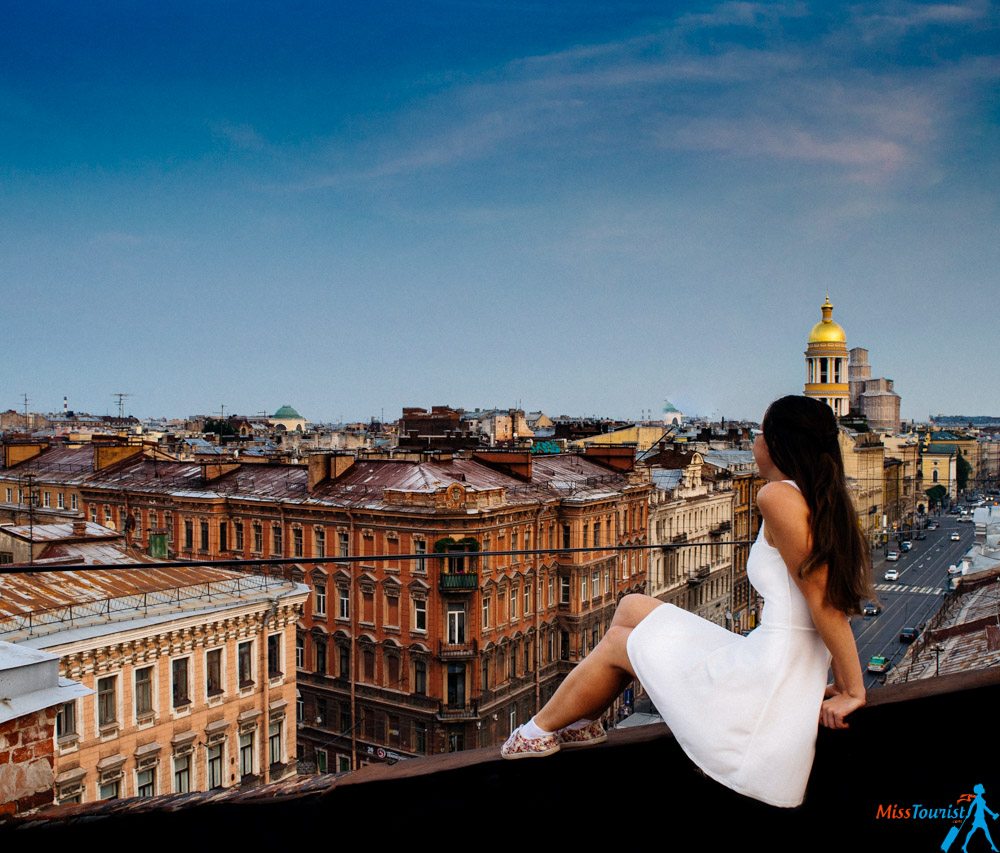 You were waiting for some real action, weren't you? Let's see if you are brave enough for this one!
Locals LOVE to climb on the roofs and admire the Saint Petersburg sights; they even organize romantic dates there. If you want to, you can even propose on the roof – there are companies that specialize in providing this service!
If you decide to take a rooftop tour in St. Petersburg, you will get to see a view like this. I bet none of your friends can brag they have a picture like this in St. Pete, can they?
To be completely fair, roofing is technically illegal in the country, but there are a handful of St. Petersburg tours that are known to be safe. Don't worry, I would not recommend it if I was unsure about it. But please use common sense, you still have to be careful while you are up there.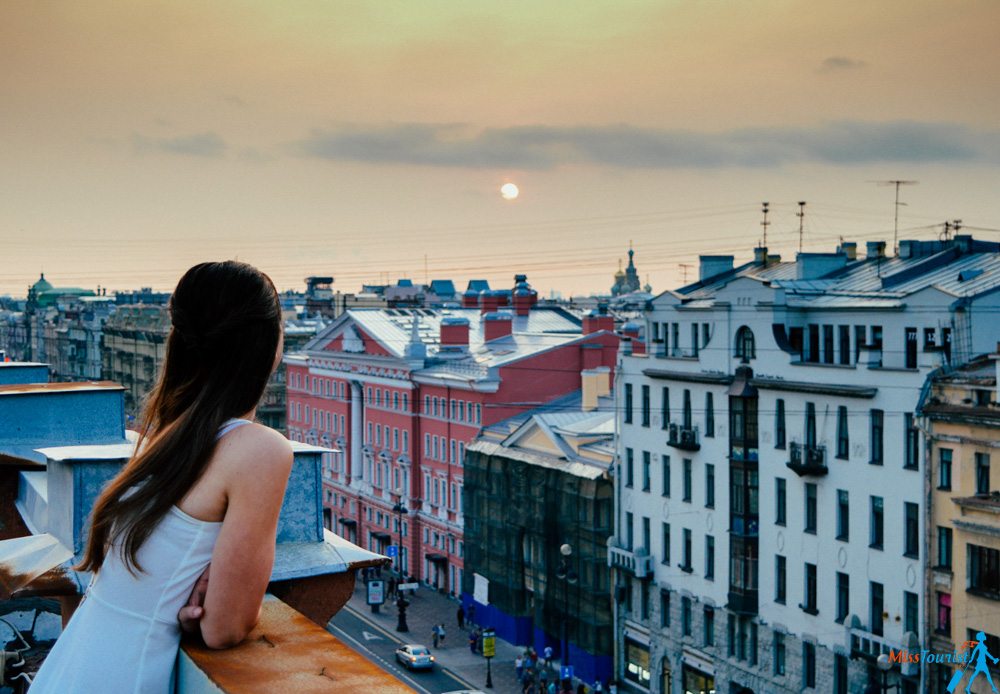 Experienced roofers will take you up one of the buildings. As long as you follow their advice, it is safe to be there and they also have agreements with the locals who live in the building, so no worries about that. This is the rooftop tour I took – it is 950 RUB ($14.50) and it is in English.
I chose to go up at sunset so I could watch the red-colored sun hiding behind Isakiy Cathedral. What an unforgettable experience!
PRO TIP: Make sure to bring some comfortable, suitable shoes (and your camera!) and you will have a lot of fun!
7. Peter and Paul fortress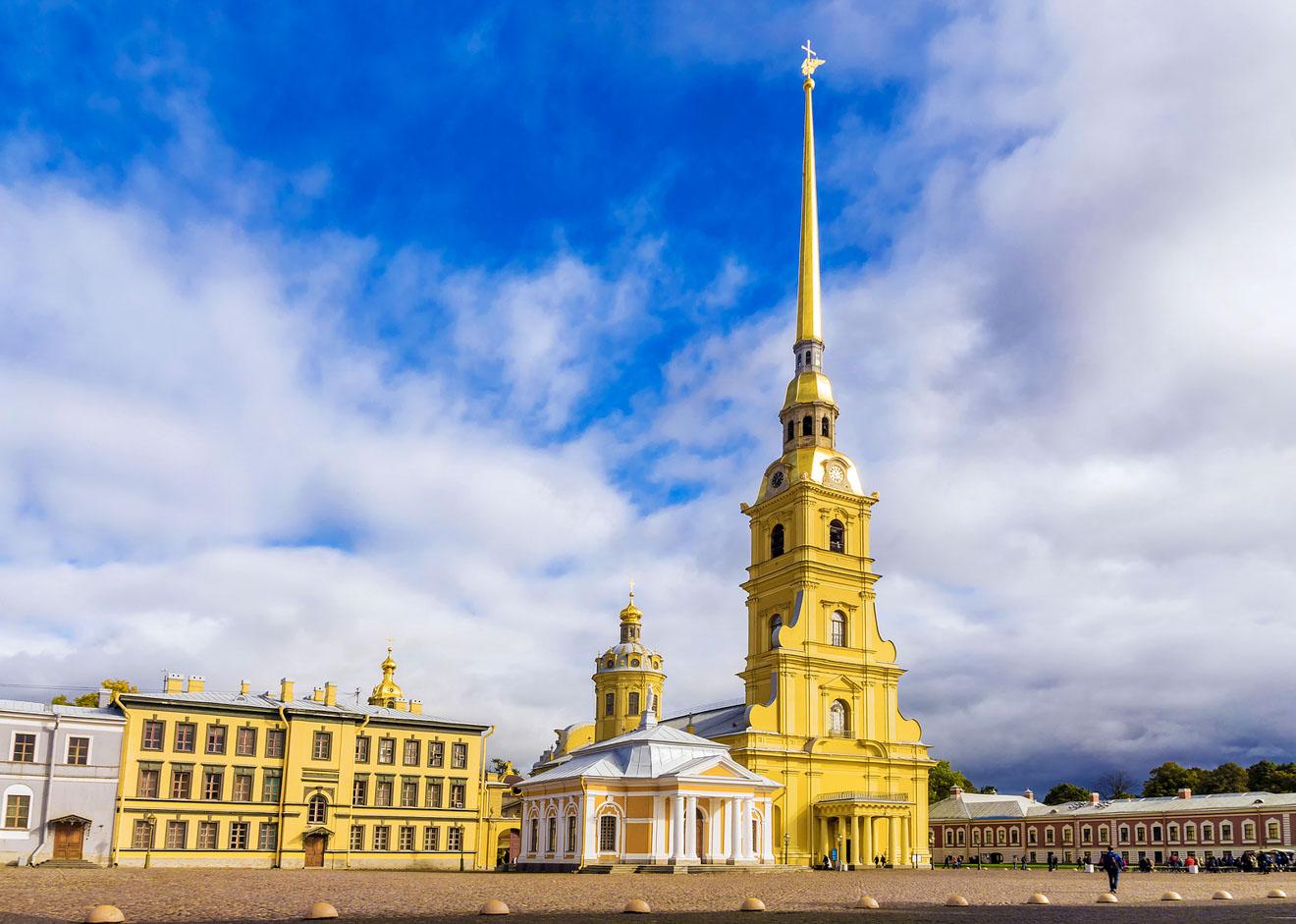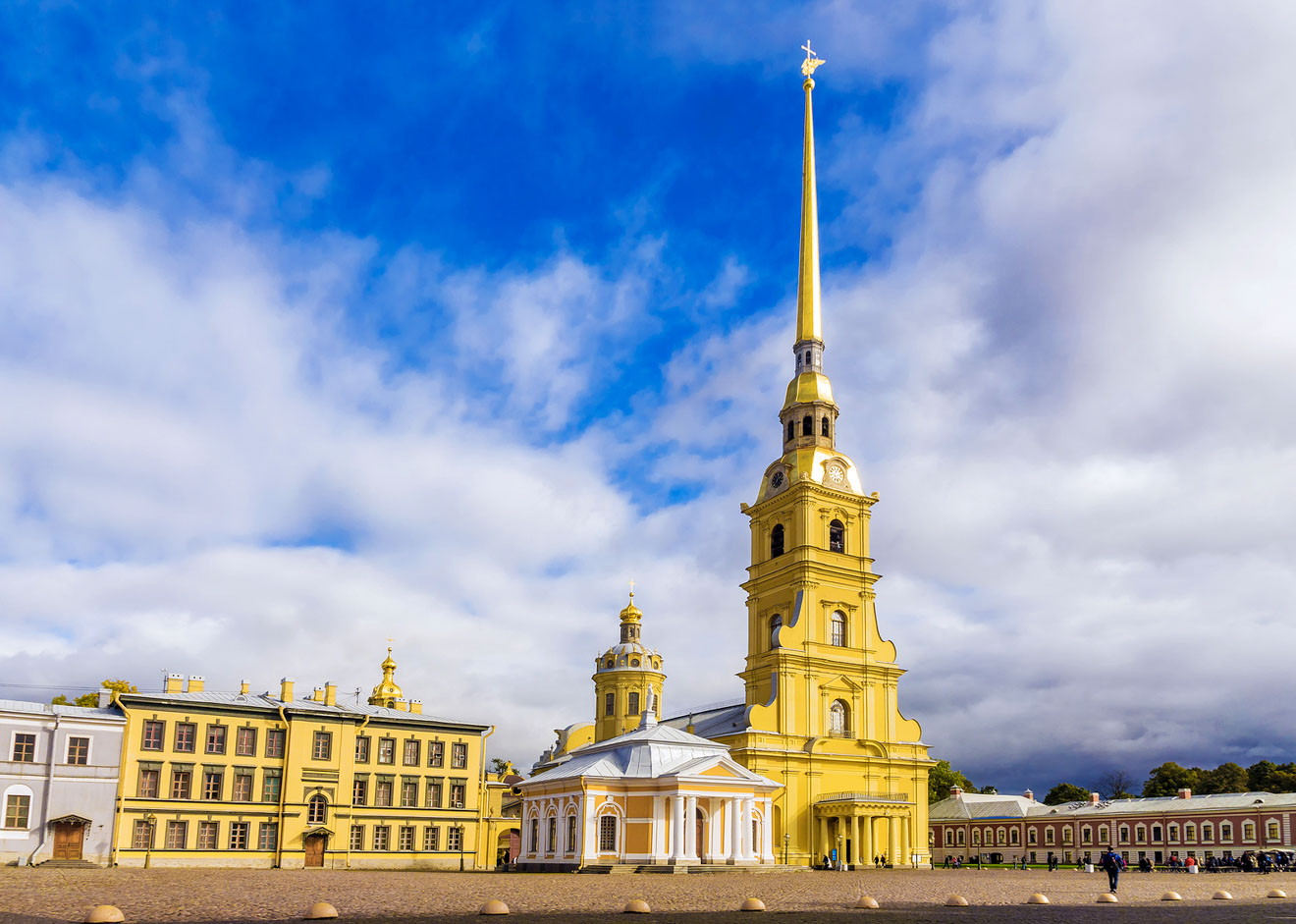 The Peter and Paul Fortress was built in 1703 by Peter the Great to protect the territories that were conquered by Russia in Sweden and you should add it right away to your list of things to see in St. Petersburg!
The fortress (known as "Petropavlovskaya krepost" in Russian), marks the exact spot where St. Petersburg was founded by Peter the Great in 1703. Later on, it was used as a prison and execution ground for the Bolsheviks, until the 20th century. From 1954 until now, a museum called the State Museum of Saint Petersbourg History has been there.
Oh, and did you know that the bell tower of the Peter and Paul Cathedral is the tallest building in the city?
If you decide to go there, you can just walk around on the island (called Zayachiy Island or Hare Island) or visit one of the many museums including the Emperor's tomb in the Petropavlovsky Cathedral. Here is a cool interactive map of the attraction.
Admission to the fortress is free. However, you have to pay to get into the museums if you wish to visit them. There are different options depending on what you want to visit, check the rates here.
PRO TIP: Don't miss the daily firing of the cannon from the Naryshkin Bastion at noon!
8. The Admiralty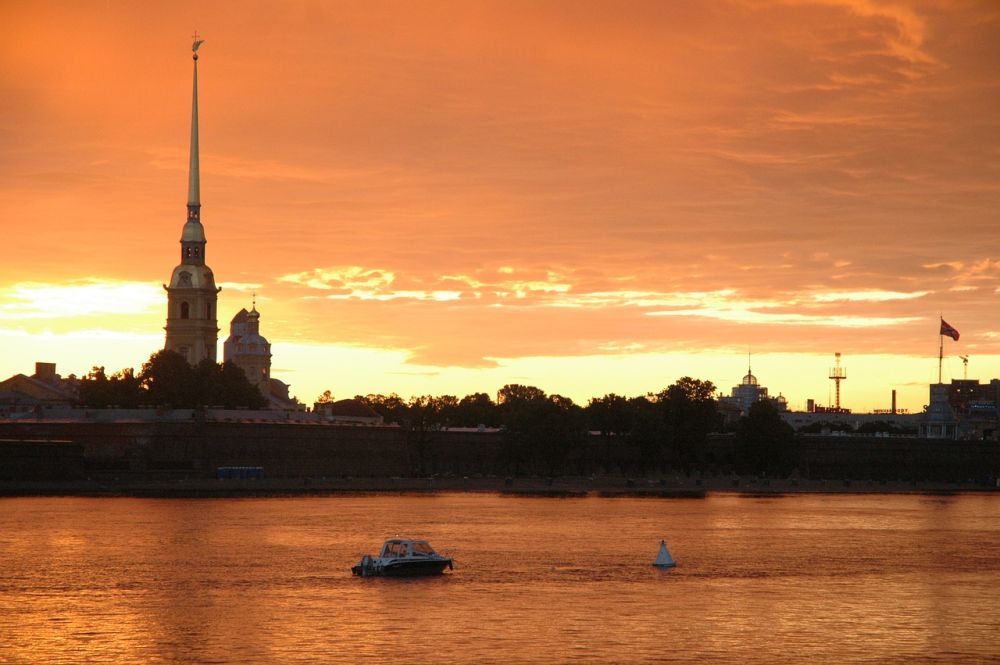 The Admiralty used to be a shipyard for the Baltic fleet and a fortress at the same time.
The first ship sailed from there in 1706 (with the participation of Peter I himself, who was an expert in shipbuilding). Now the place is completely rebuilt and it has a gilded spire with a little ship on the end.
The ship has become a symbol of St. Petersburg, so you will probably see it on many postcards and magnets!
If you want to go to St. Isaac's Cathedral during your visit to St. Petersburg, you can visit this attraction as well as it is only two minutes away by foot.
9. See some peculiarities at the Kunstkamera Museum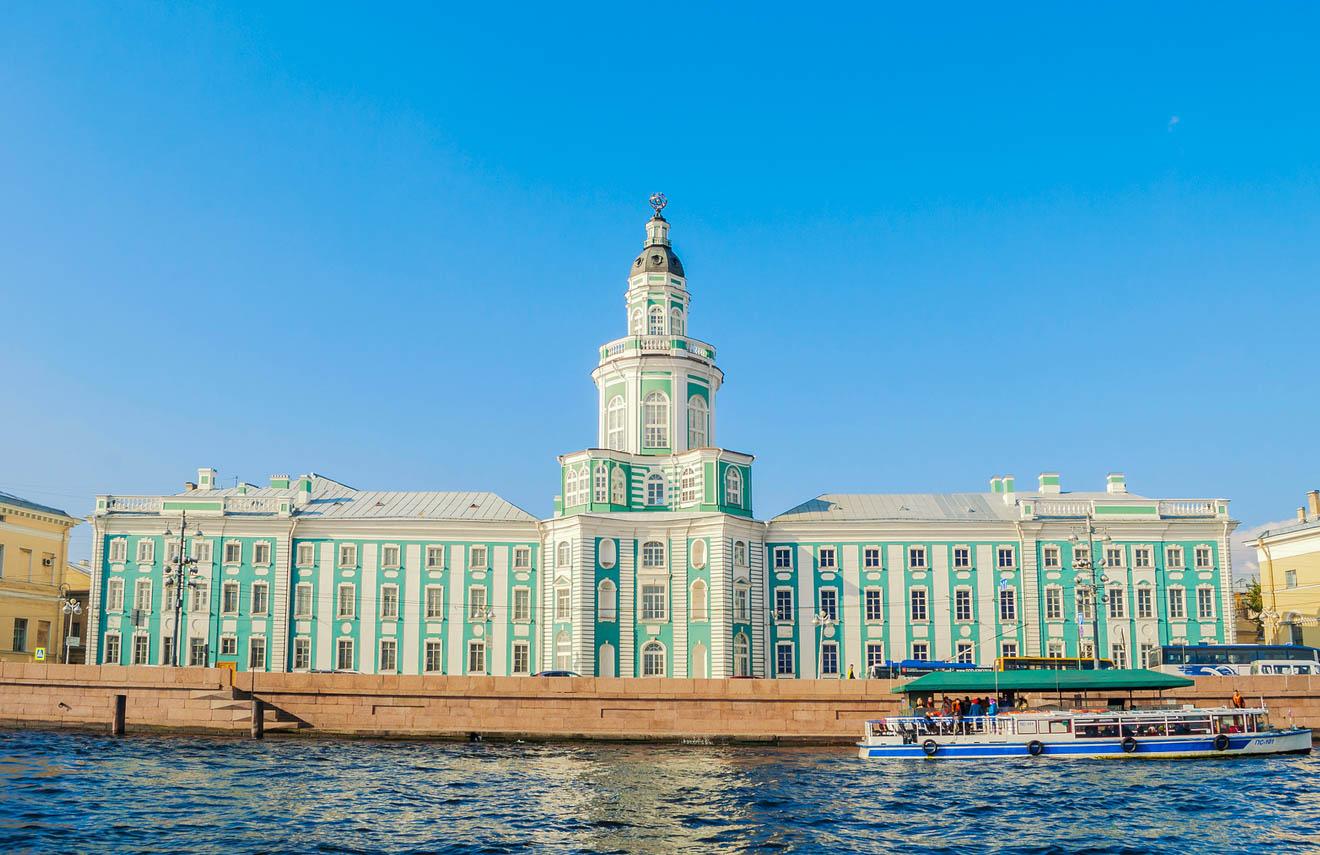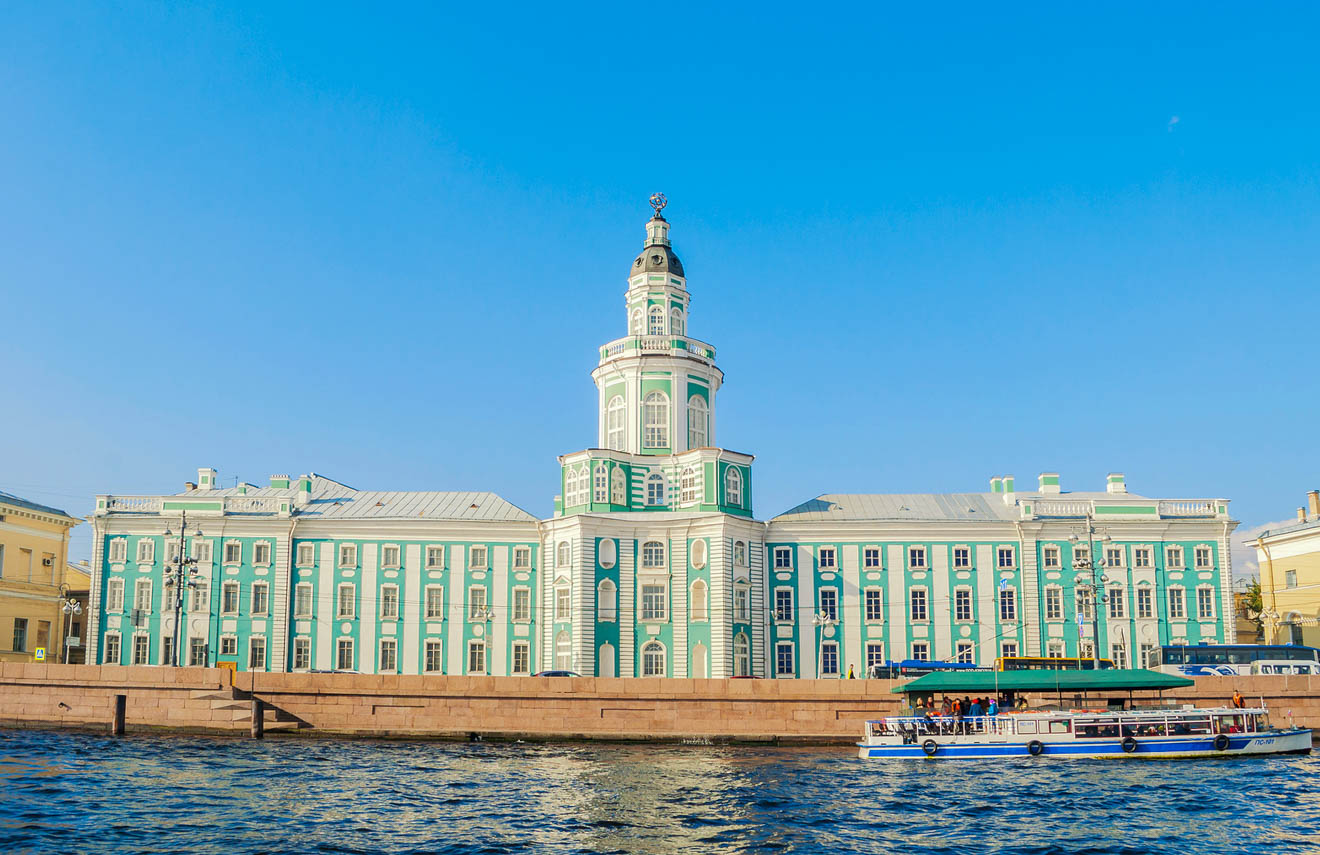 The Kunstkamera Museum might actually be one of the weirdest museums you will ever visit!
No, this time I do not invite you to enjoy fine art because this museum is far from that! Instead, if you go there, you will see some… peculiarities!
Kunstkamera (or, officially, the Museum of Anthropology and Ethnography) was the very first museum in Russia and is one of the oldest in the world. The museum was founded, you guessed it, by Peter the Great.
Back in those times, human or animal malformations of any kind were looked at as black magic, even the devil's creation. People were scared of them.
So what did the Tsar (Peter the Great) do? He sought to educate people and fight against those superstitions. He gave a prize to anybody who would contribute to his museum of peculiarities – a deer with two heads, a baby with a huge head – every kind of abnormality was welcomed there!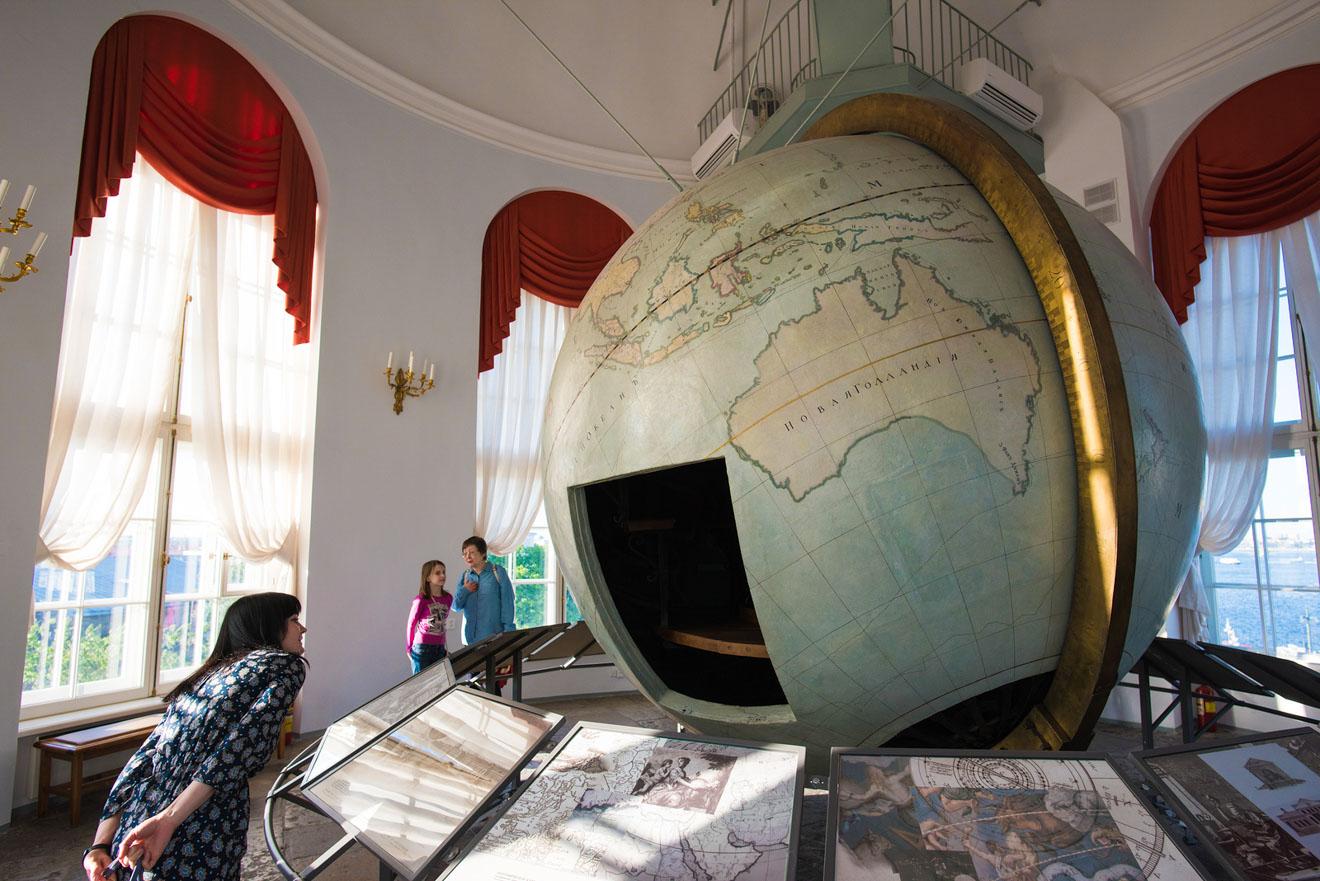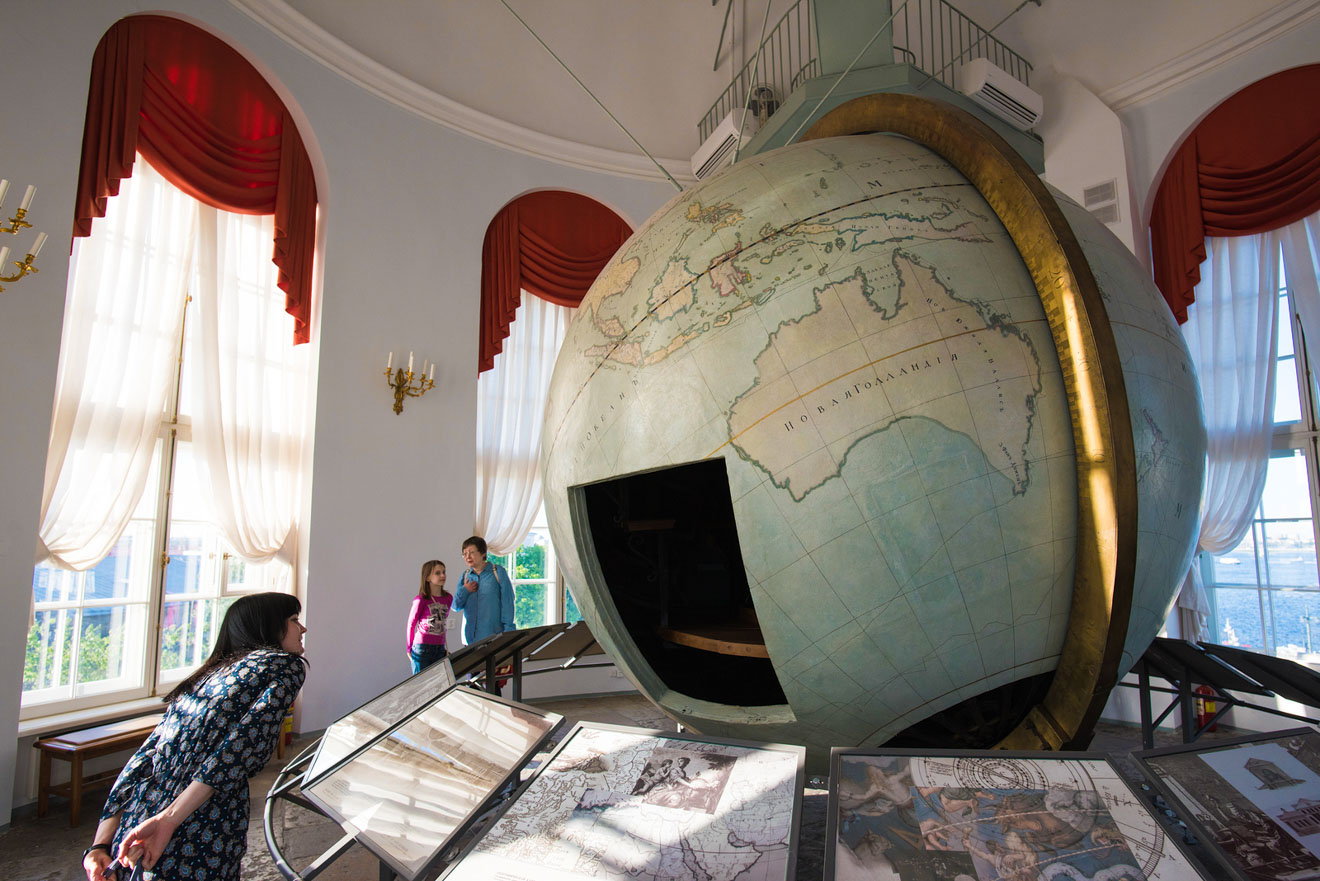 In fact, there are quite a lot of babies there, "marinated" in jars! So I dare say this is one of those unique places to visit in St. Petersburg that you will never forget!
I visited this museum when I was only 15 years old and it completely freaked me out! I remember my mom was pregnant back then and I honestly don't know how she could be so calm looking at all those babies.
To be fair, the museum holds thousands of ethnographic, anthropological and archaeological artifacts from all over the world and this was only one of the exhibits there. But, of course, it is the one I remember most!
The museum is open from Tuesday to Sunday from 11 AM to 6 PM. Admission is 300 RUB (US $4.60). You can check the updated schedule and prices here.
10. See the maquettes of Russia and St. Pete
There are two scale model museums in St.Petersburg that I really like and I am sure that, if you are into tiny, realistic models, you will enjoy them as well!
The first one is about Russia and the second one is dedicated specifically to St. Petersburg.
Grand Maket Show Museum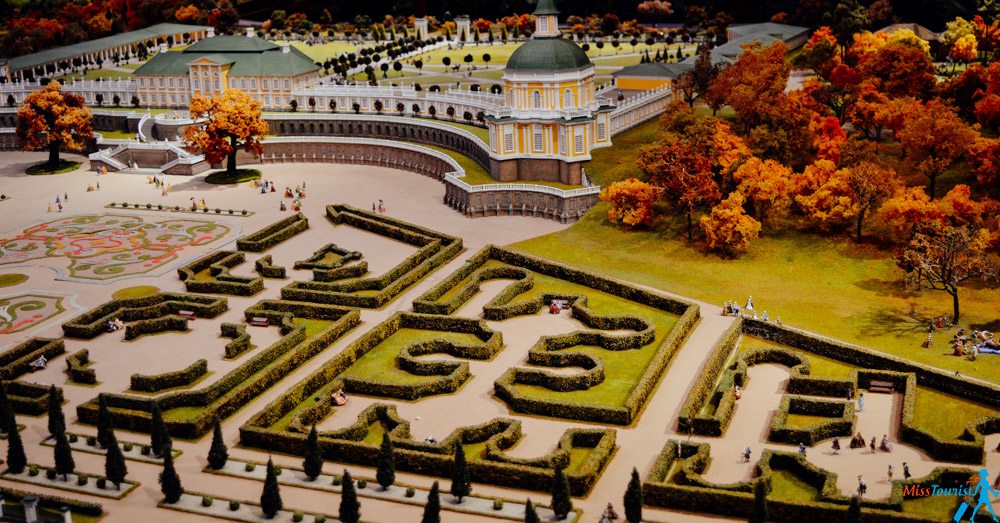 The Grand Maket Show Museum covers around 800 square meters of the colossal working layout of different cities in Russia. The exhibit gives you a chance to have a glimpse of the country nowadays in less than one hour! Grand Maket is one of the great activities to do in Russia if you are traveling with kids – they will have lots of fun as the exhibit is dynamic – all the trains and cars are moving, and many objects can even be controlled by visitors! Sounds fun, right?
The entrance fee is 540 RUB (US $8.30) and the opening hours are from 10 AM to 8 PM.
Petrovskaya Akvatoria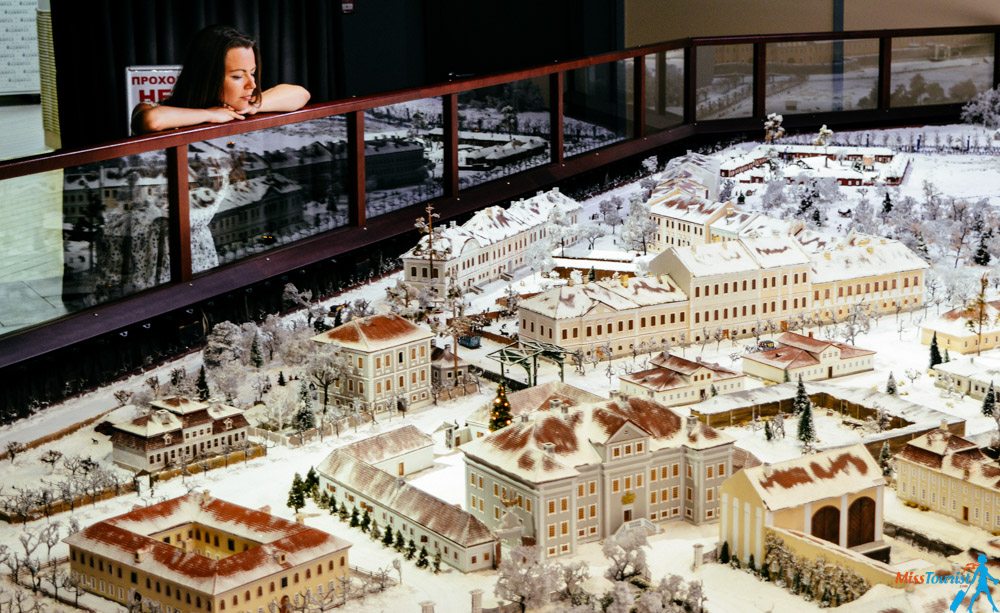 Petrovskaya Akvatoria shows how "the northern capital" (one more way to refer to St. Petersburg) looked in the 18th century.
25,000 tiny pieces were carefully used to create the model where everything has its own place and meaning. It even changes from day to night time and you can see tiny people dancing at the balls in the palaces during the night. I mean, how cool is that?
I highly recommend visiting it, as it is located only five minutes away from the Palace Square. But I advise you to go when you've already gotten to know the city a bit better, maybe after two-three days of visiting.
The English guide (included in your ticket) will tell you some fascinating facts about the old places during those times. NOTE: If you want the tour in English, please send them an email with the time of your ticket in advance. Here are the contacts. If you did not write in advance, no worries, there is an audio guide that you can rent for 100 RUB ($1.50).
The entrance fee is 450 RUB (US $7) and it is open daily from 10 AM to 10 PM.
11. Get wet at Petergof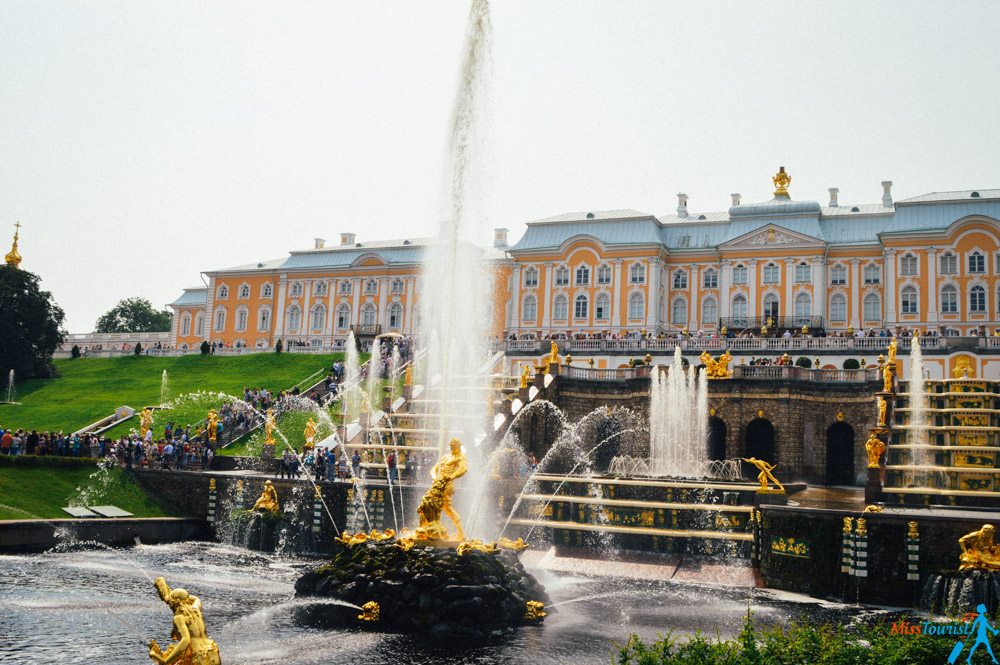 Last but not least – Petergof (or Petrodvorets) is an imperial palace located in the suburbs of St. Petersburg (around 30km away from the city) and was built by Peter the Great as well.
Now, you might have the impression that all the amazing things in St. Petersburg were built by Peter the Great. Yep, that is pretty much true! 🙂
Petergof is also known as "the Russian Versailles"! Peter the Great was, indeed, inspired by French architecture. Even though this place is not as big as Versailles, in my humble opinion it is much more beautiful and fun than Versailles (yes, I know, I am biased, but it is true!).
If you want to find out more, you can take a tour that will explain its history, take you to the upper and lower parks and explain the unique system of the famous Samson fountain.
If you prefer buying regular tickets, you can find them here.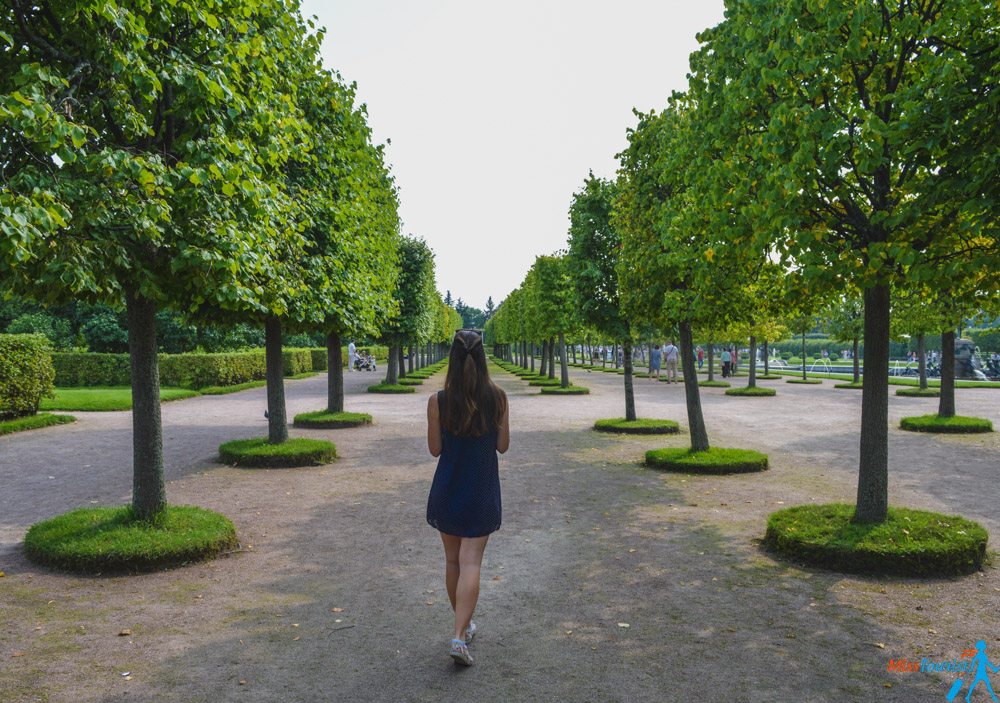 FUN FACT: There are more than 144 fountains and 500 statues at Petergof! Plus, the main fountain plays classical music at 11 AM during summer days.
PRO TIP: While you are there, make sure to visit Monplaisir Palace as well – the place where the tsars would have their baths – it is so unique! The entrance fee is 500 RUB (US $7.60) and you can buy your ticket here.
The best time to visit Petergof is in the summer, but the park is open and all fountains operate from May to early October.
How to get to Petergof from Saint Petersburg:
Petergof! It is not complicated to get there, don't worry!
Here are a couple of options – an expensive one and a budget one. You can choose the one that works best for you:
Fast and expensive: Take a Meteor speed boat. The price is 750 RUB (US $11.50) one way and it will only take you 30 minutes to get there.
LIFEHACK: You can get your Meteor tickets at the pink stands that you will see in all the touristy places in the city and the price will be 550 RUB (US $8.40 ) instead of 750 RUB.
Adventurous option (nothing crazy, you just need to take public transport): Get to either "Avtovo" or "Leninskiy Prospect" metro stations and take a "marshrutka" (a minivan with a fixed route) that has Peterhof (Петергоф) written on it. The driver is usually outside calling for passengers, or you can just ask him "Peterhof?" See, no Russian knowledge needed!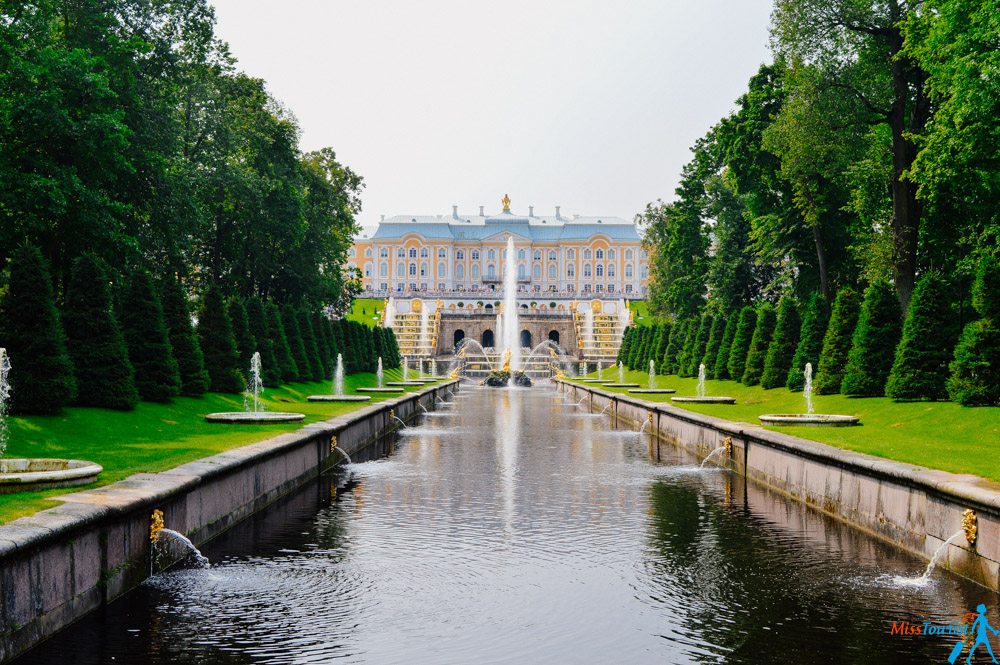 The minivans leave every 10-15 minutes. The price is 50 RUB (less than US $1) and the time to get there all together with the metro ride from St Petersburg city centre is about one hour.
Don't worry, you can't miss the stop, it is the last one!
If you don't want to take care of all the details about getting there and buying your tickets, I recommend you take a Petergof half-day tour like this one (hotel pick-up and drop-off included) or this Petergof group tour by bus!
UPDATE: I found a cheaper Peterhof tour here for 4,150 RUB (US $63)!
| | |
| --- | --- |
| 👨‍👩‍👦 Family-friendly score: | Great |
| 🖼️ Best museum: | Hermitage Museum |
| 🚶🏽‍♂️Top free activity: | The Palace Square |
| ⛲ Best for outdoors: | Petergof |
| ☀️ Best time to go: | May-September |
| 💵 Avg hotel price: | $120 |
Bonus Things To Visit in Saint Petersburg, Russia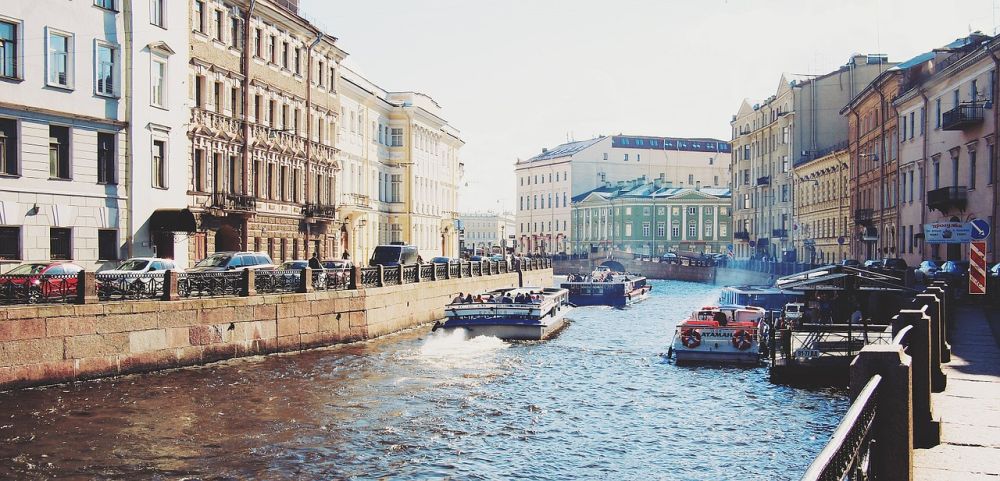 The only reason these places did not make it to the top of the list is because it already had so many suggestions, I could not squeeze them all in! Nevertheless, these activities and attractions are awesome as well, so you should consider visiting these sights too:
SIDENOTE: Leningrad is an old communist name for St. Petersburg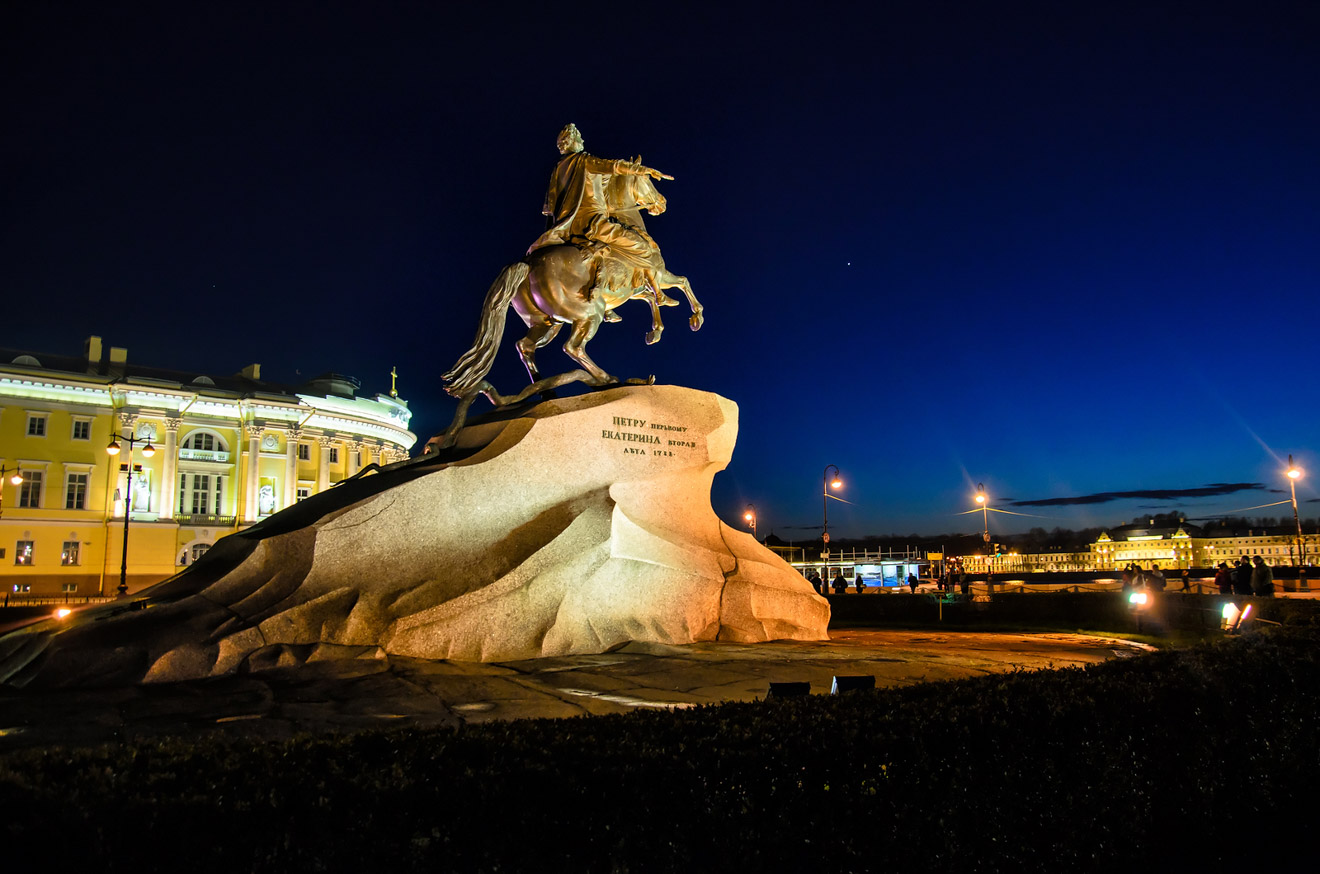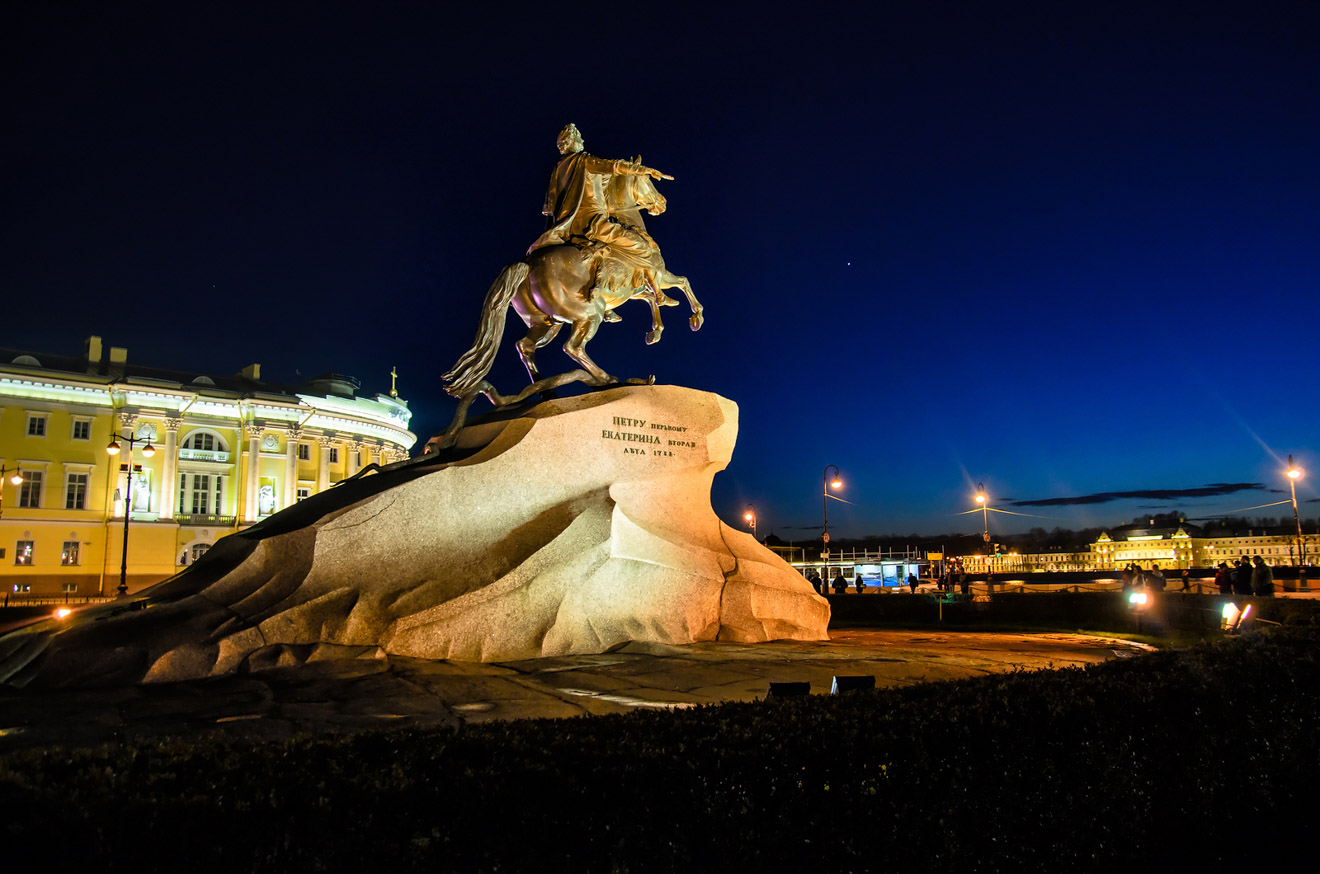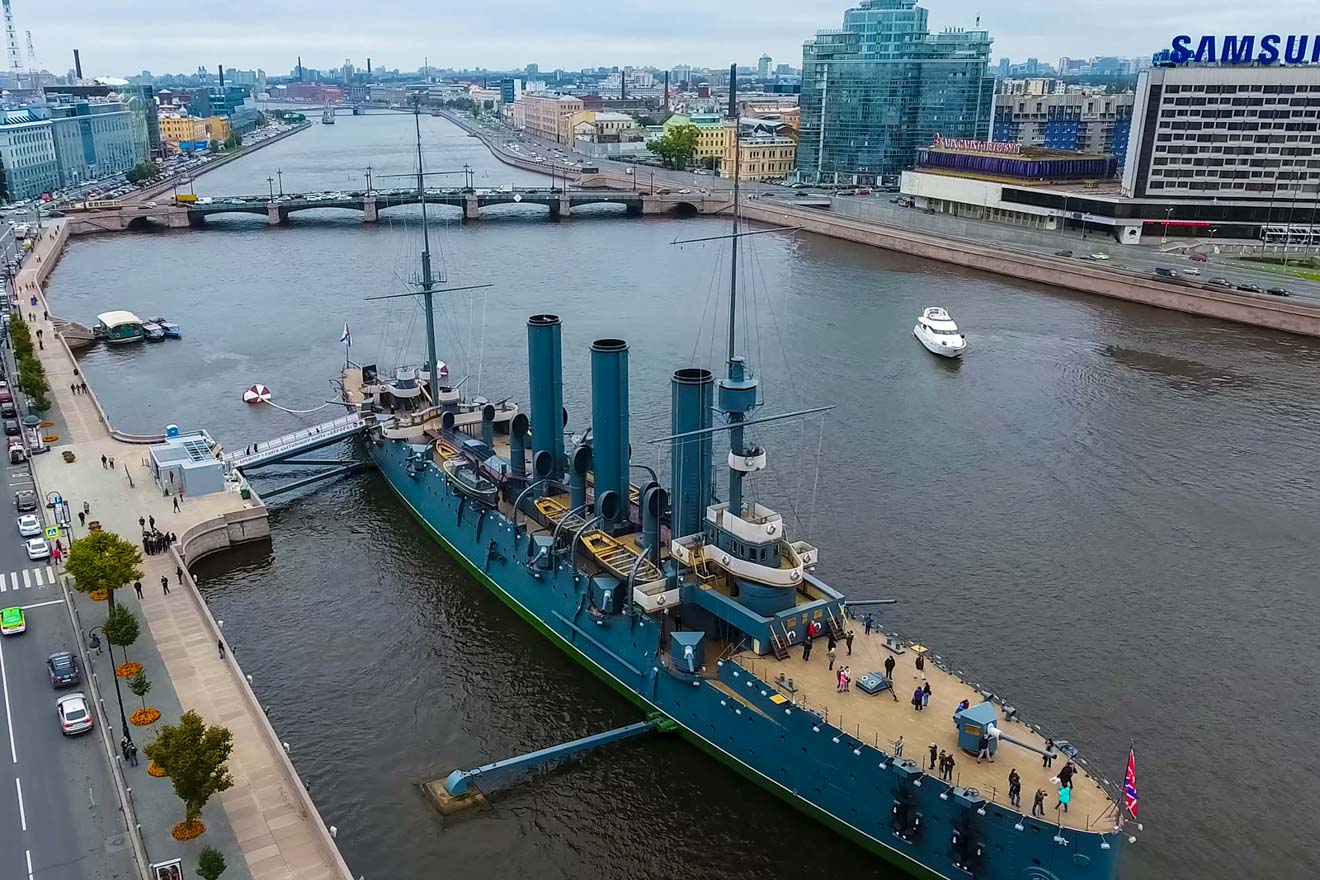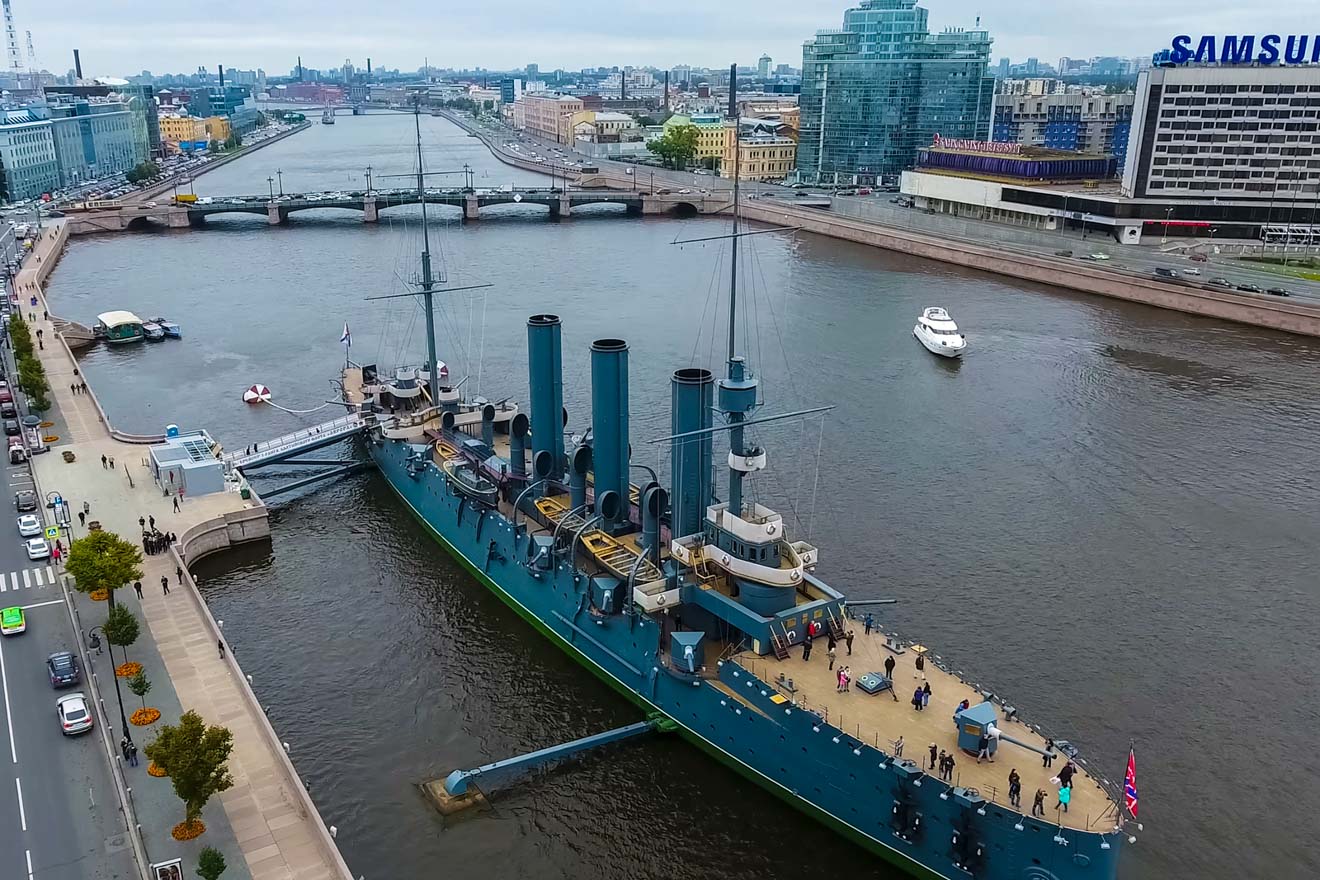 Yeliseev Emporium – This huge, opulent shop located on Nevsky Prospect is recommended to all the foodies out there! You can find Russian candy, unique souvenirs and even a café there.
Lazarus Cemetery and Tikhvin Cemetery – If you are into this kind of activity, then you should know some of the most famous Russian artists and writers are buried there!
Take a cooking class – During this 2.5-hour class, you will learn how to cook homemade bread from a local. Alternatively, you can request to learn how to cook a couplet casserole, borsch, crepes or herring salad! The class is in English, even though the description is in Russian!
Bonus – Day trips from Saint Petersburg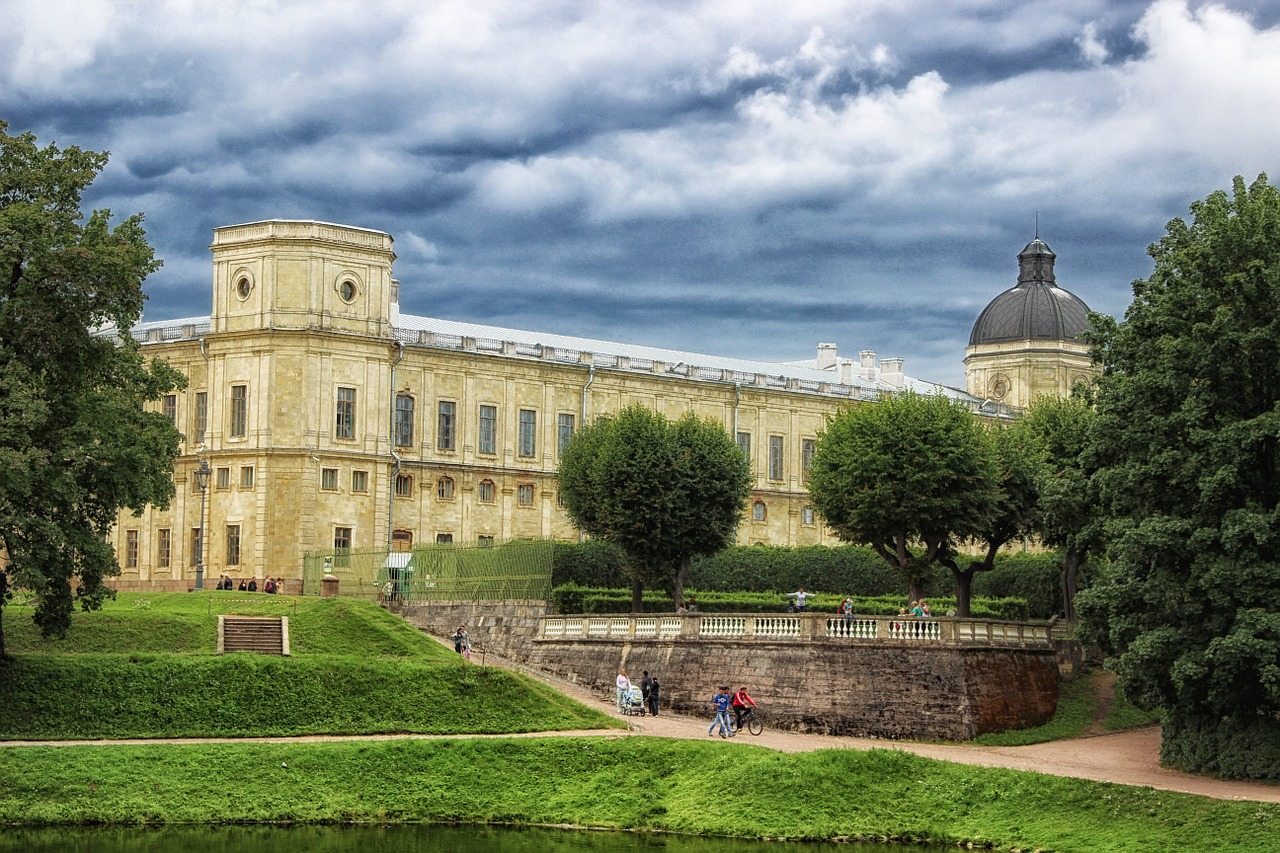 If you have even more time during your stay, don't worry – there are still plenty of interesting places to visit and things to do near St Petersburg!
All of these places are reachable in an hour trip from St. Pete, so you can easily make it a day trip:
Pushkin – Tsarskoe Selo is the place our great poet A. S. Pushkin studied and a summer residence for the old Russian tsars. If you decide to go there, you cannot miss the Catherine Palace and Gardens – they're absolutely gorgeous! You can get a tour with transportation included here or here if you want a cheaper option.
Pavlovsk – another breathtaking imperial estate and park complex. You can combine Pushkin and Pavlovsk in one tour.
Kronshtadt – St. Petersburg's main old seaport. If you want to explore this island on the Gulf of Finland, you can take this half-day tour for US $52.
Gatchina – Not that touristy, but worth it for its natural beauty and architecture. It was a home to the Romanov family in the old times!
Oranienbaum – If you are looking for some non-touristy things to do in St. Petersburg or around it, this is the place to go! I haven't been there yet, but looking at the pictures of this posh palace, it seems like it is one of those gems still undiscovered by mass-tourism!
Bonus – Useful things to know
Now that we discussed all these things that you must see and do in St Petersburg, Russia, I could not leave you without some useful information as well, right?
Good restaurants in Saint Petersburg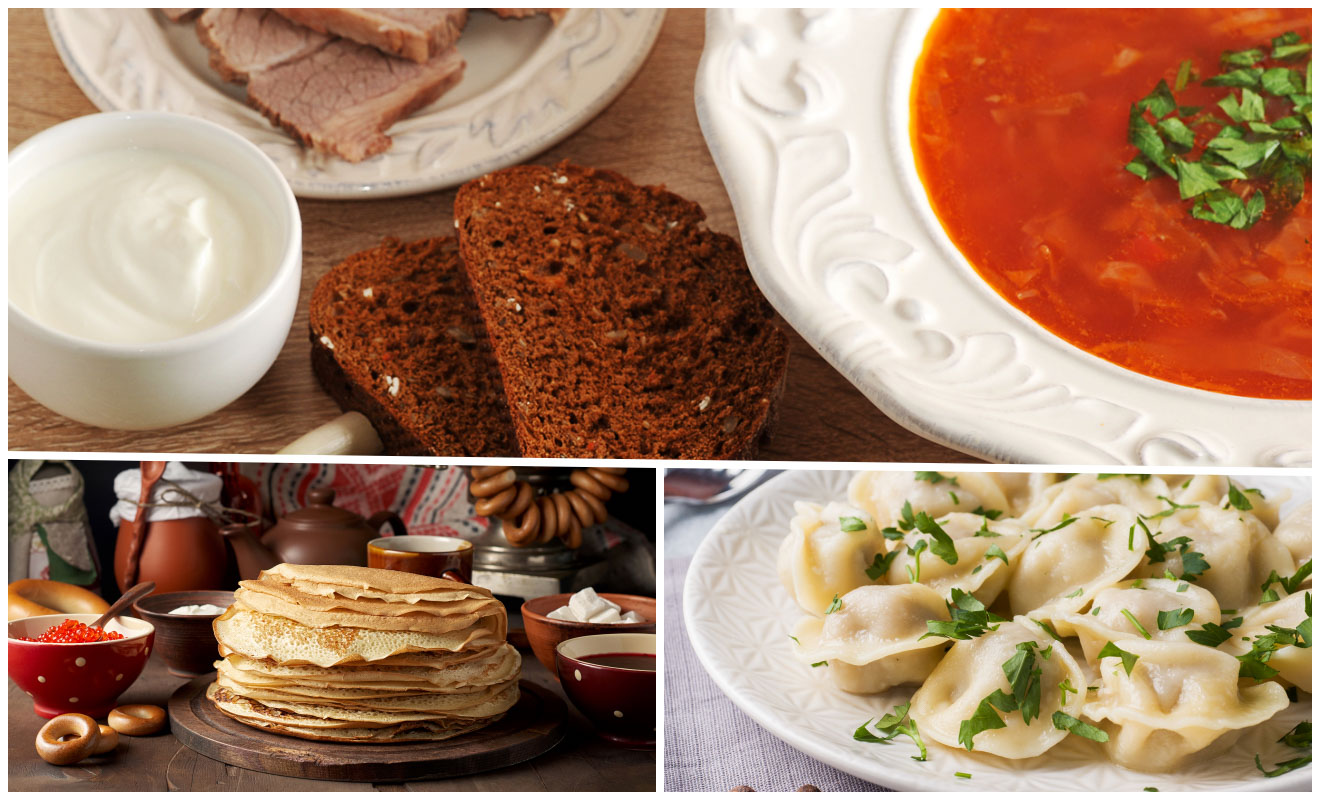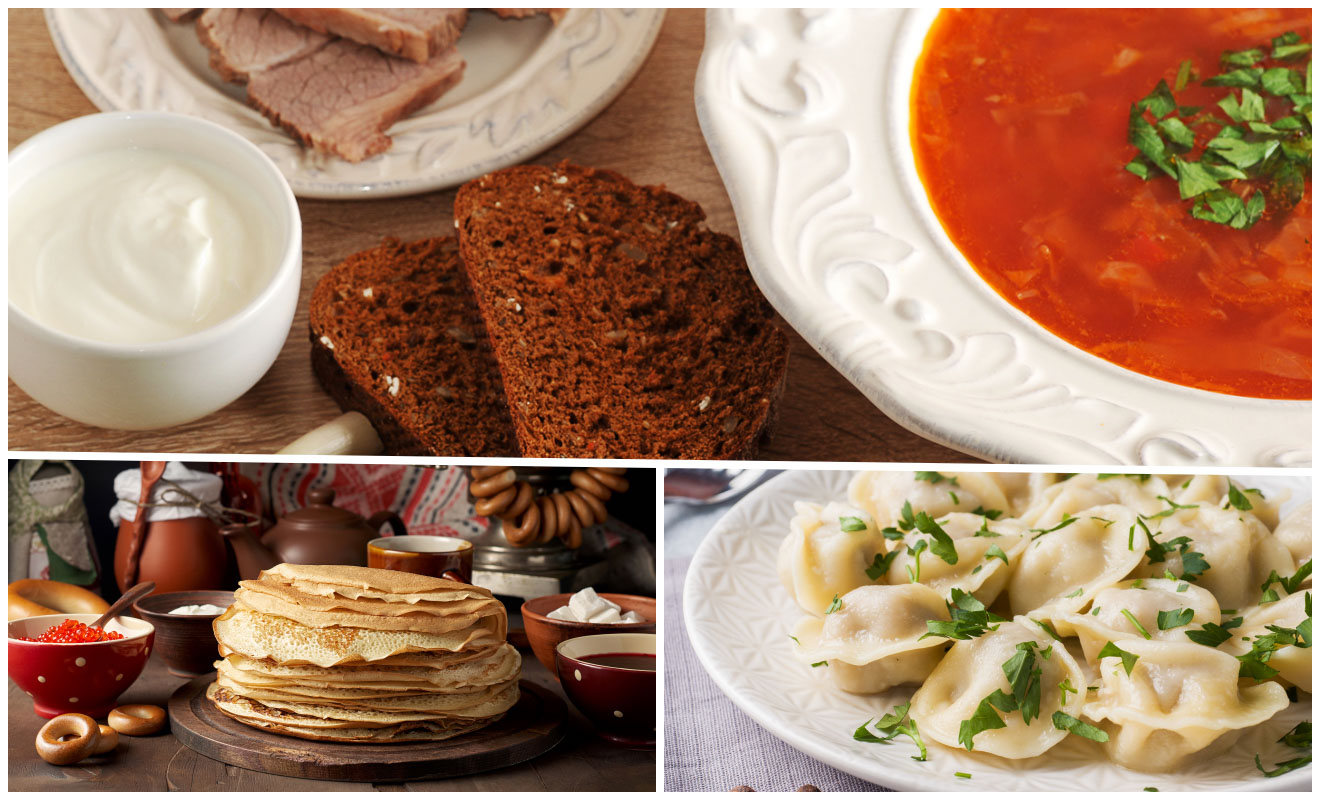 Here are some good places where you can have a delicious meal while in St Petersburg:
Where to stay in St Petersburg, Russia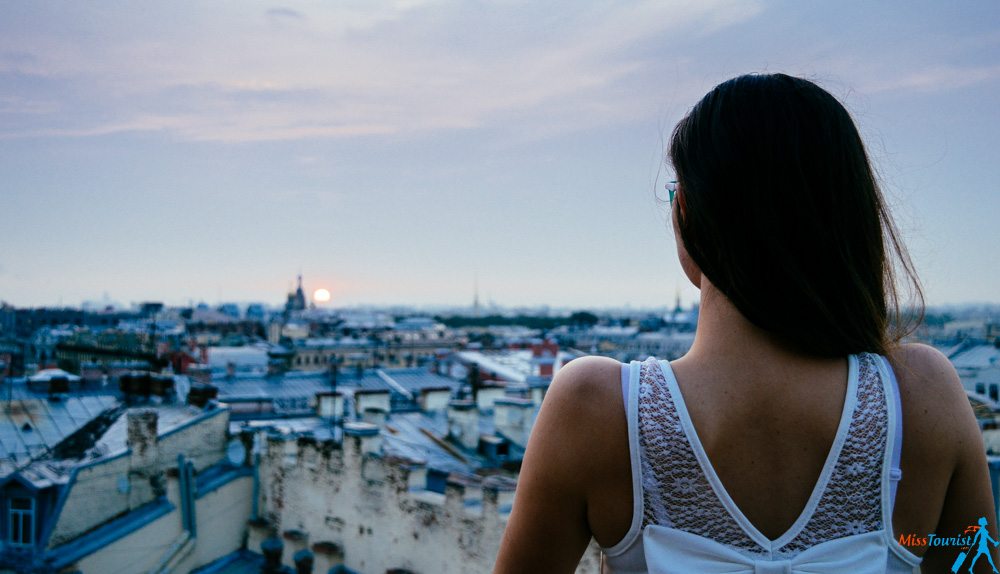 There are an abundance of hotels in all price ranges in St. Petersburg, so you have plenty of options to choose from!
Try to choose a hotel that is within walking distance of a metro station so all the attractions will be easily reachable.
Now, about the visas – by law, every foreigner is supposed to be registered by the authorities. If you are visiting St. Pete as part of an organized group, all the formalities will be taken care of ( if you are in St Pete for max 3 days as part of a cruise, you don't even need a visa). If you are staying in a hotel, you also don't need to worry about anything – they will take a copy of your passport and deliver your registration paper to the authorities themselves.
In case you are staying in an Airbnb or with friends, you will need to take care of the visa by yourself. I strongly do not recommend this. I once had to do it for my friend. We spent hours in line and everything was in Russian so he couldn't even fill in the papers by himself. Thus, I think the best option for all foreigners is to stay in a hotel for at least the first night so that the hotel will take care of your registration in the country and save your time and nerves.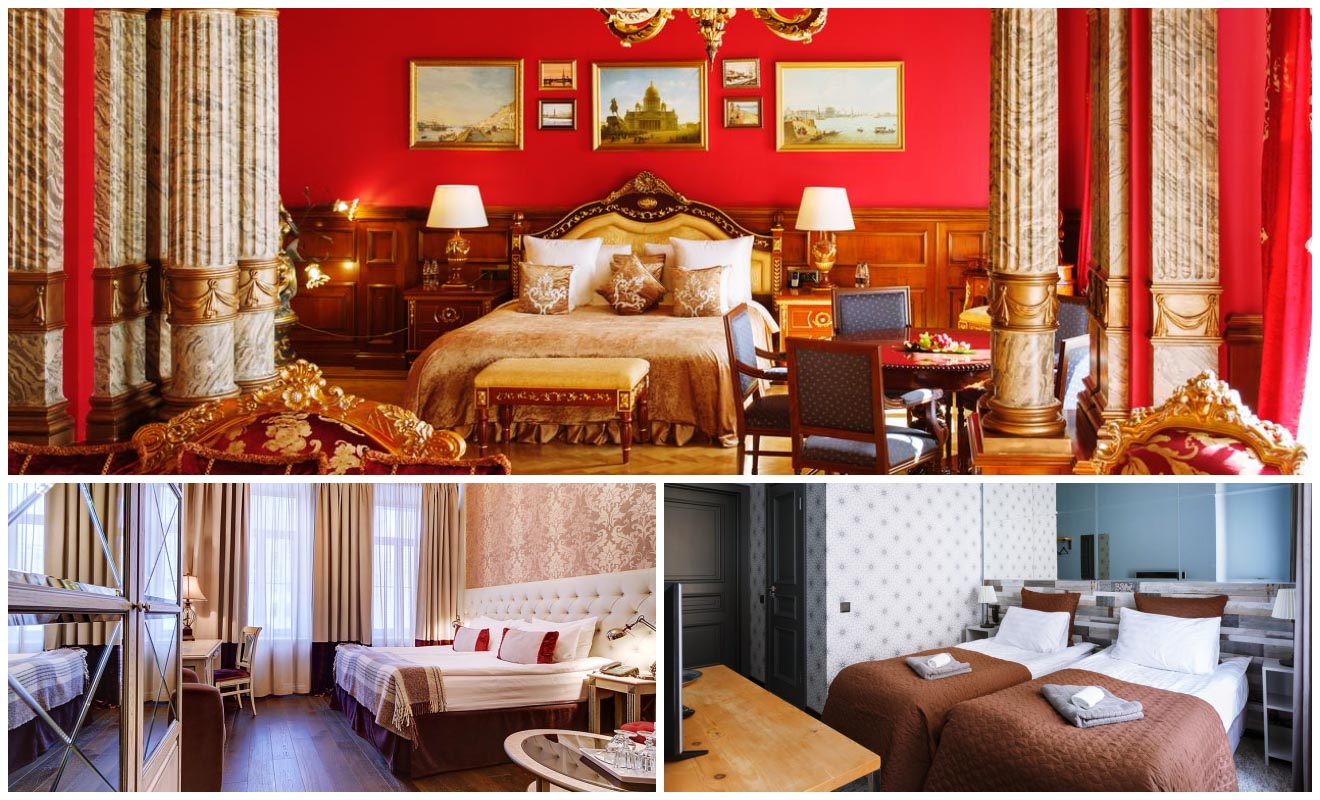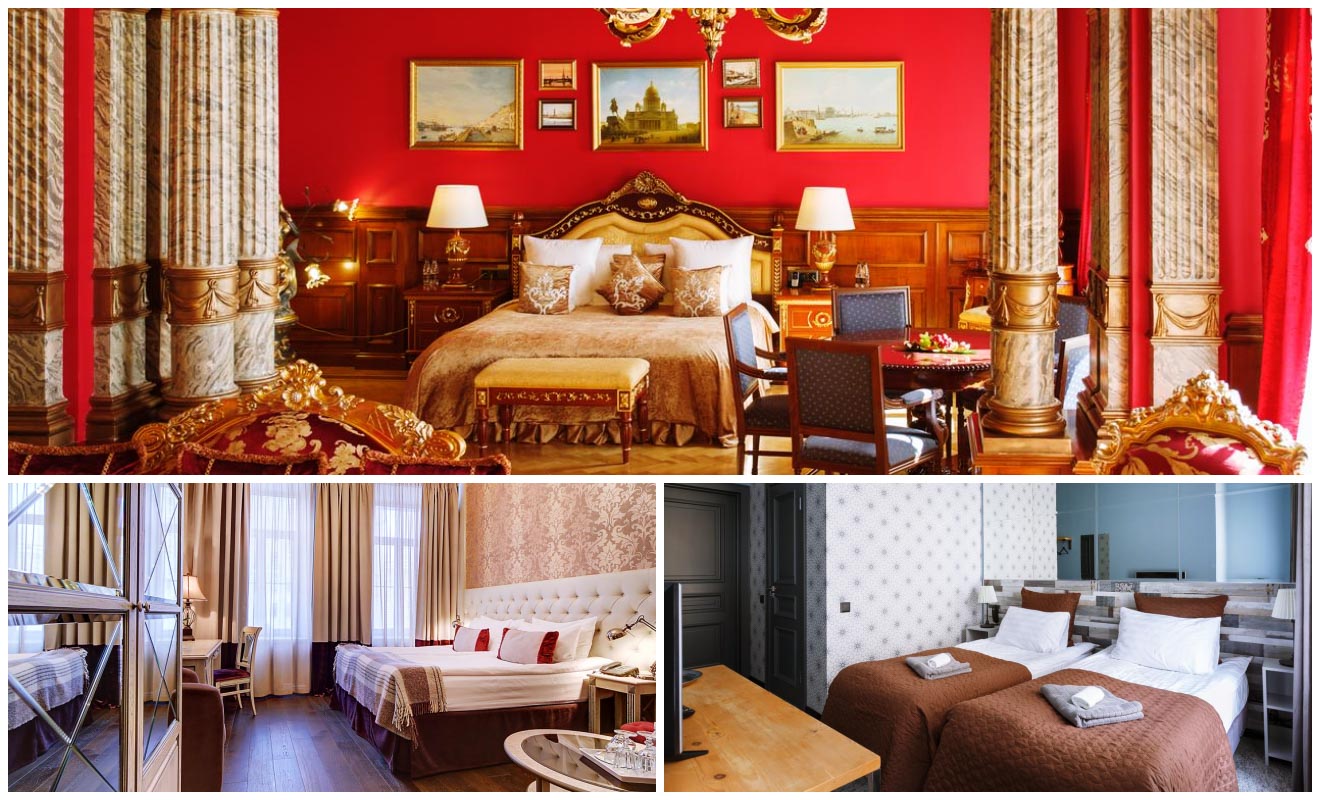 Here is my list of recommended St. Petersburg hotels – all of them have fabulous reviews, best-rated locations and they do the registration (for a visa) if you need it:
Luxury hotels (US $190 and up) – Trezzini Palace Boutique Hotel is one of the best hotels in St Petersburg, Russia and the perfect 5-star place for those who want to splurge on themselves in elegant imperial interiors. Just look at the pictures – isn't it a small palace? Alexander House is another great hotel located in a historical center. It has a cozy fireplace and a charming patio with a library, I loved the design of the rooms as well!
Middle price (US $70 – $190) – Pushka INN hotel is an 18th Century mansion located in the historic heart of St. Petersburg and what's better – it is just a 1-minute walk from the Palace Square! Galunov Hotel is also a centrally located, tastefully decorated hotel with great service!
Budget accommodation US $70 and less) – Station Hotel Premier S10 is a great value for money hotel, located only a 5-minute walk from the Sadovaya metro. They have attic rooms with an amazing city view! Station Hotel S13 is another great option, located only 900m away from St. Isaac's Cathedral. It has free Wi-Fi and 24-hour front desk service!
How to get around in Saint Petersburg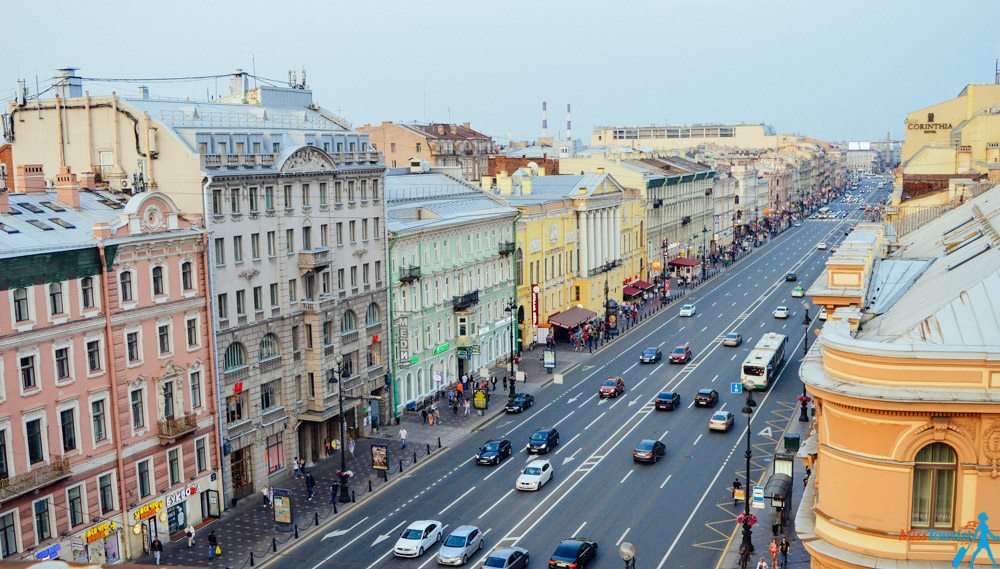 1) Taxis are quite cheap (especially with the recent currency fluctuations). The normal fare in Saint Petersburg would be 35-40 RUB (now ~US $0.50 – $0.60) per km.
These are the companies that locals use in Saint Petersburg and all of them have a phone app, of course:
Uber – this is what I was used while I was in the city. It is usually cheaper than a normal taxi and the service is always great! If you still don't have an account, register here (or type this promo code – "YULIAS774UE") – you will get your first ride for free!
Yandex Taxi – the same thing as Uber, with more or less the same prices. Yandex is a Russian competitor of Google, by the way! 🙂
Gettaxi – another app that you can use if none of the ones before worked for any reason.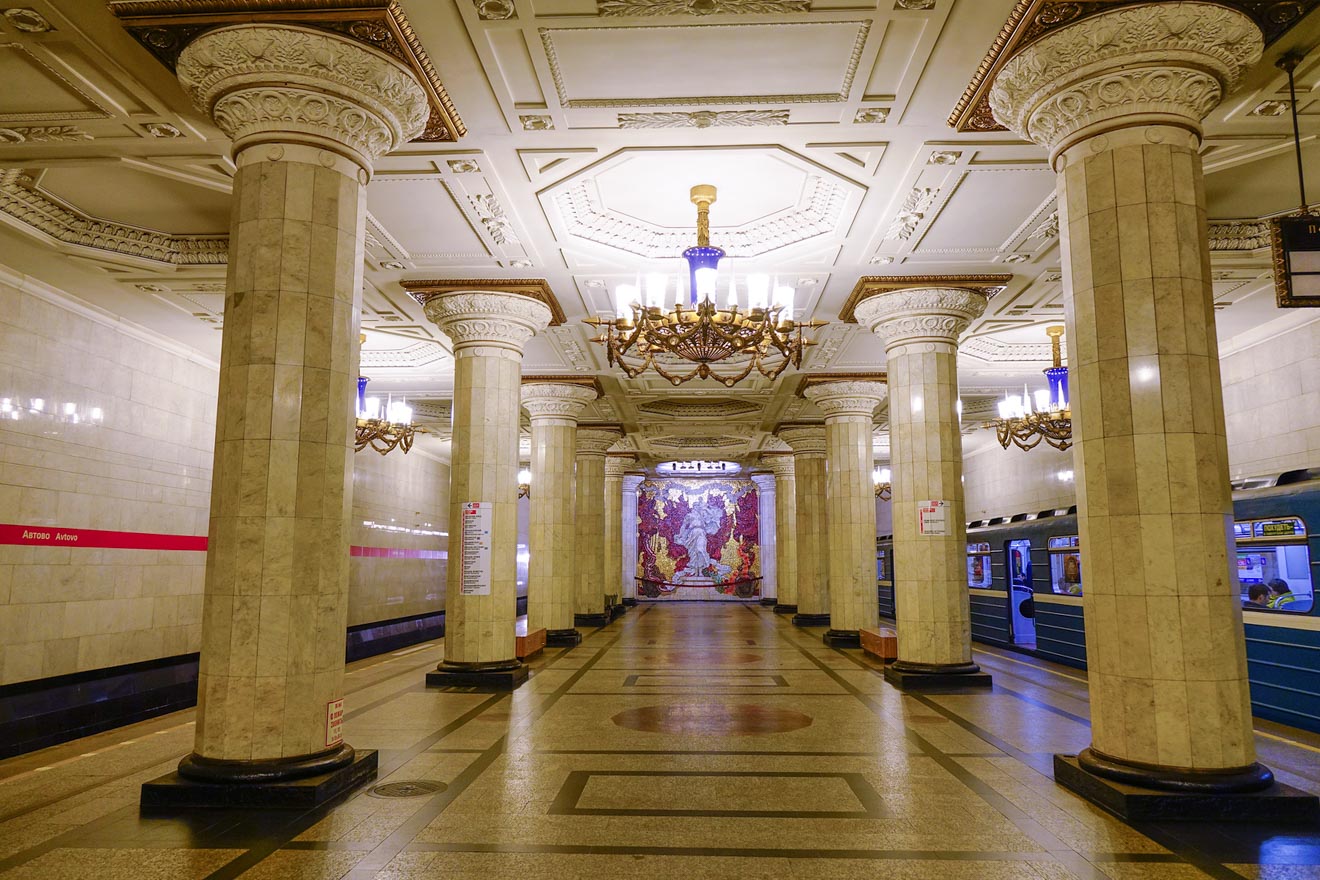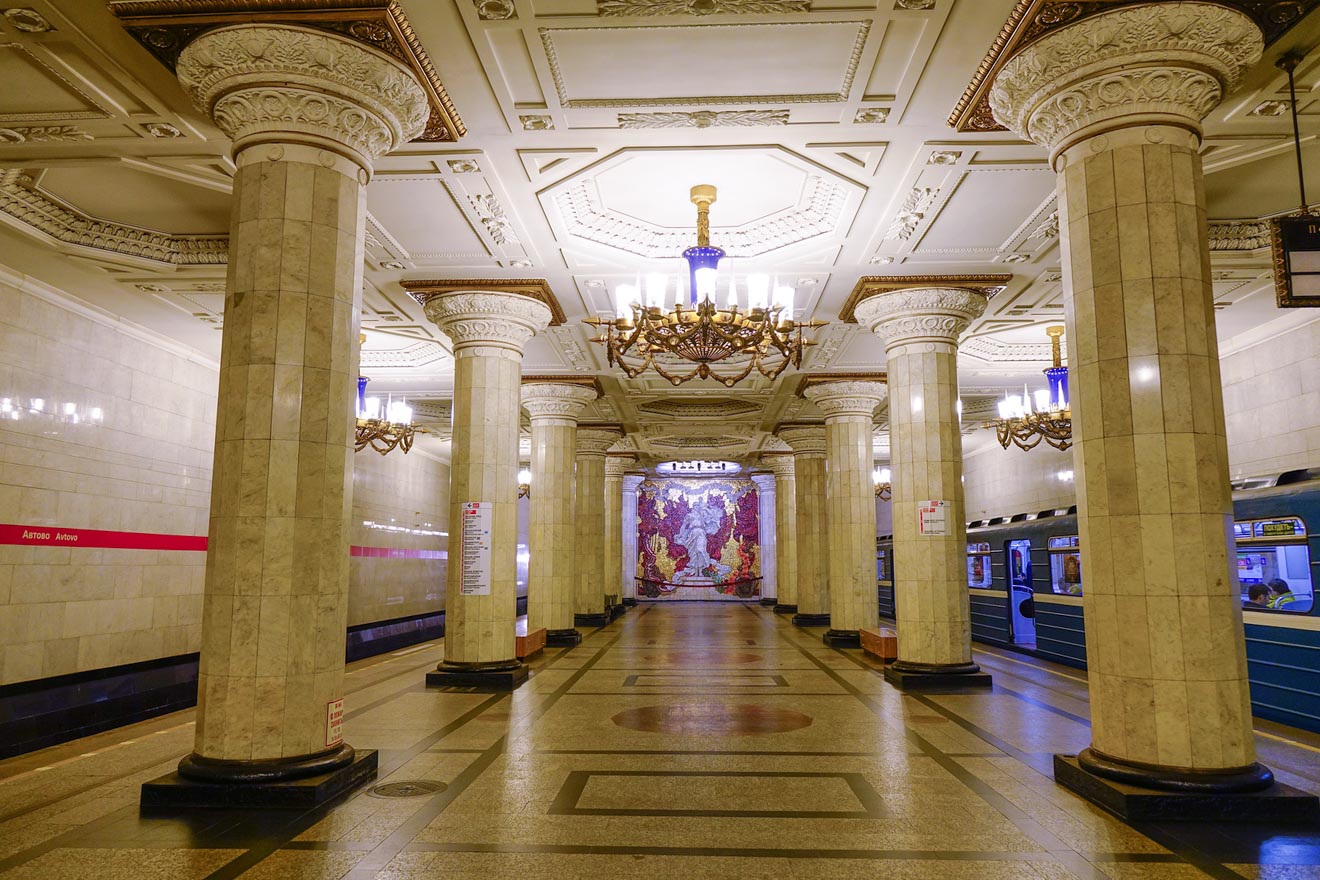 2) Don't skip the metro!
Metros in Moscow and Saint Petersburg are so beautiful, you can take a separate tour to visit them. I recommend you download this application on your phone, as it will help you calculate the fastest route with the metro, changed lines included. 1 metro ride costs just 45 RUB at the moment (about 70 US cents).
NOTE: Oh, and one more thing – if you want to ask people about the nearest subway station, use the word "metro" instead. Russian people who speak little English will point at the fast food chain that is called "Subway" instead! 😉
How to get from the Saint Petersburg airport to the city center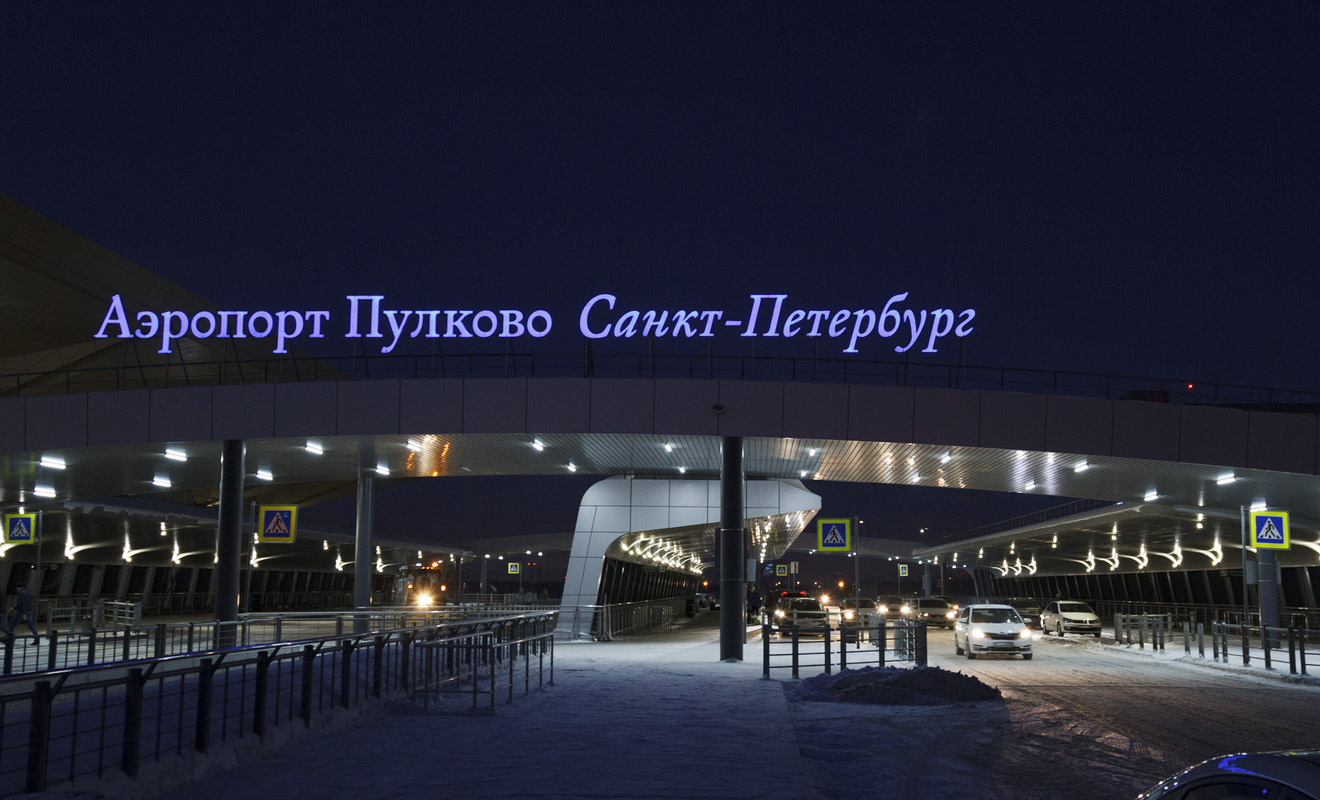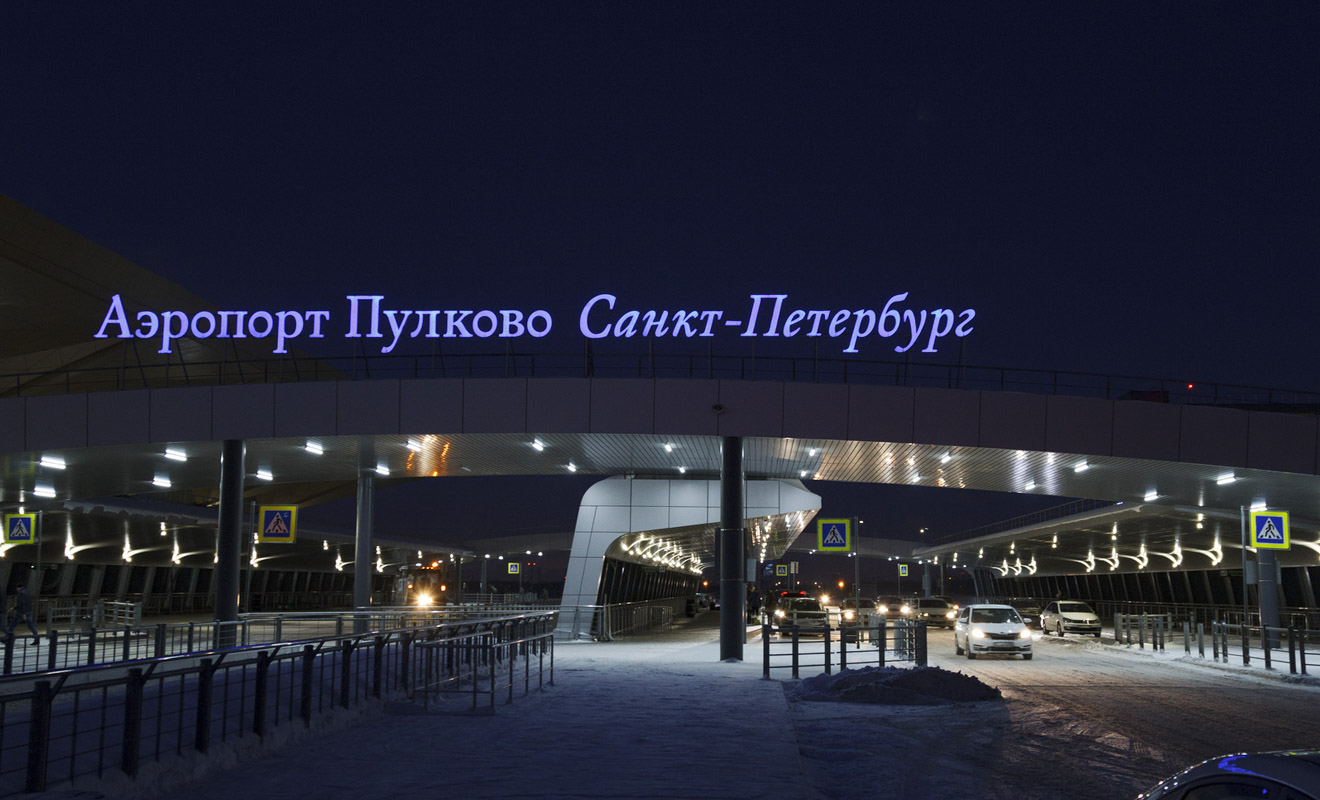 There is only one airport in the city – it is called Pulkovo Airport. Here is how you can get from the Saint Petersburg airport to the city center:
By bus: City buses 39 and 399 (Express) run between the airport and "Moskovskaya" metro station from 5:30 AM to 01:20 AM, riding time is 30 minutes without traffic (20 minutes for express) and the ticket is just 40 RUB (US $0.70).
By fixed-route minivan taxi: ("marshrutka" in Russian) minivan K-39 will get you to the same metro station for the same price (40 RUB), but a bit faster – 15 minutes if there is no traffic. Note that the minivan works only until 11:30 PM. Check the stops on the map here.
By taxi: A taxi ride to the city center should be about 600 – 700 RUB (US $9 – $11 ) if you get it through one of the apps above. You can also get your taxi from a taxi stand, but it will be much more expensive (multiply the above-mentioned price by 2).
Which SIM card to get in Russia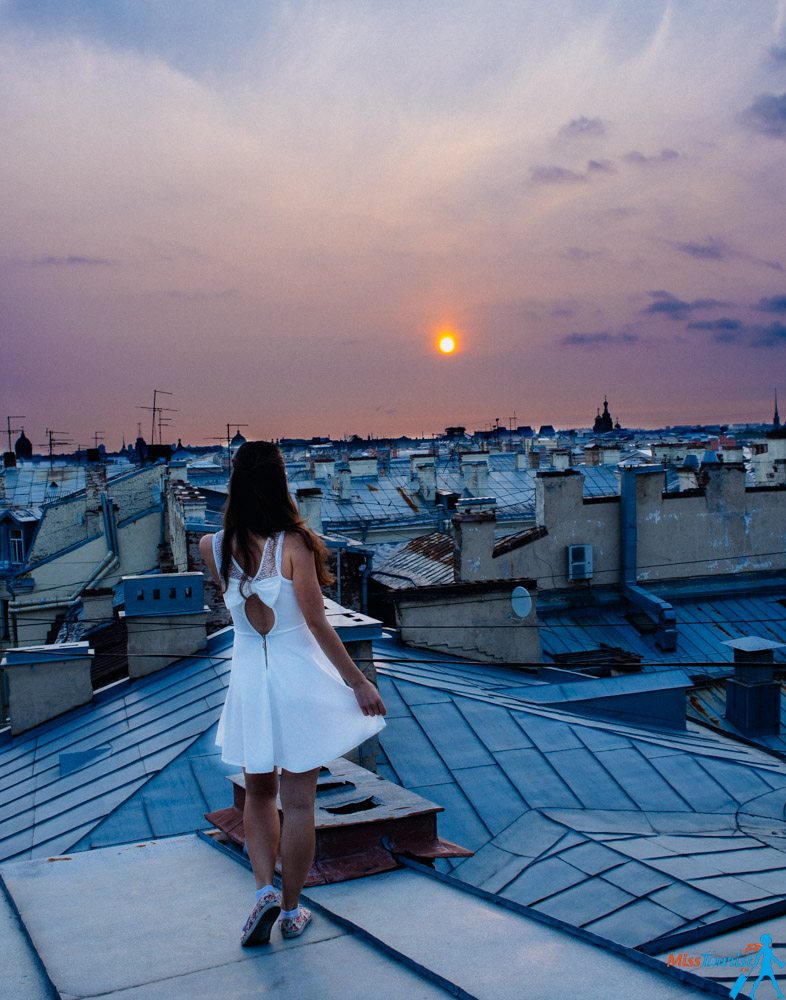 If you arrive during working hours at the airport, you can get a SIM card with Internet right there.
The mobile operator tariffs are pretty cheap. The average price that I looked up right now is 5GB for 300 RUB (US $4.60) a month.
The companies I recommend are – Beeline (the one that I also use), Megafon, Tele2, MTS (written МТС).
You could do some research on all their websites in advance (Google translate them) to understand which one currently has the best promotions, but you can also just stop by in any of those offices with your passport and get a SIM card, as the price difference is really not that significant!
NOTE: if you are going to travel to Moscow or do the Trans-Siberian region, make sure your Internet will work in all regions, not only in the Leningrad (domestic) region!
When to visit Saint-Petersburg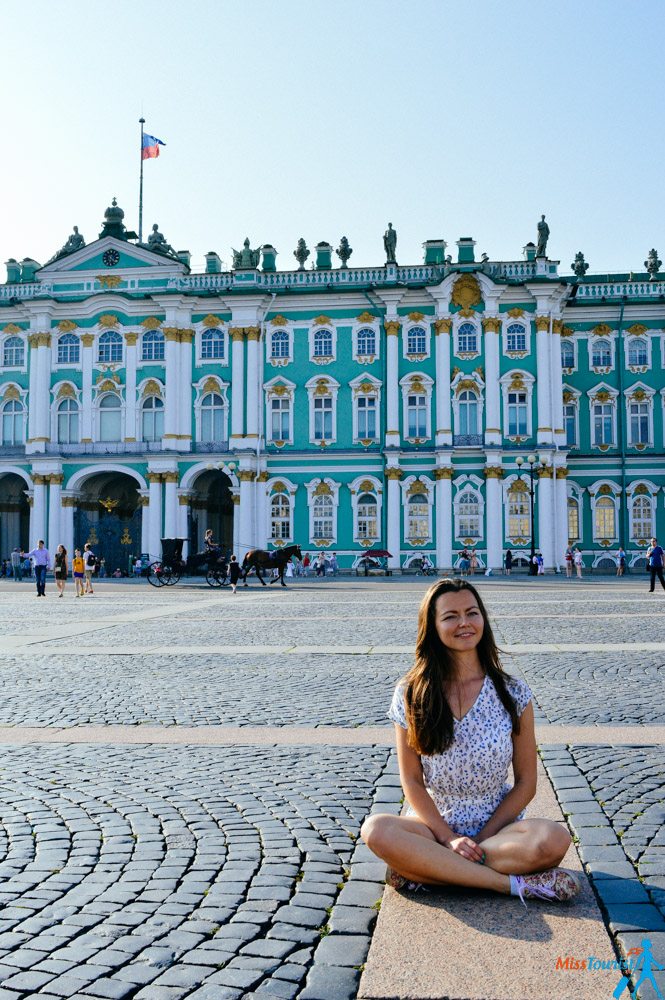 We have this entire list of things to do there, but when is the best season and month to travel to St. Petersburg?
I have visited St. Petersburg 4 times, every time in June – August. These are usually the sunniest periods in the city. Not only that, but you will also be able to enjoy a natural phenomenon that is called the "White Nights" if you go in July. It is really cool and I totally recommend it! It is basically a never-ending day and even though there is no sun during the night, it is still light! I have only seen something similar to this in Sweden.
I have never been to Saint Petersburg in autumn, but I have heard from my friends that September – Early October can be incredibly beautiful and romantic, too!
Winter is wet, very humid and well, let's face it… quite depressing. But hey, the architecture is just as beautiful and there will be no tourists around!
So, in conclusion, the best time to visit St. Pete is during summer, but it is just as beautiful at any time of the year.
Other useful things to keep in mind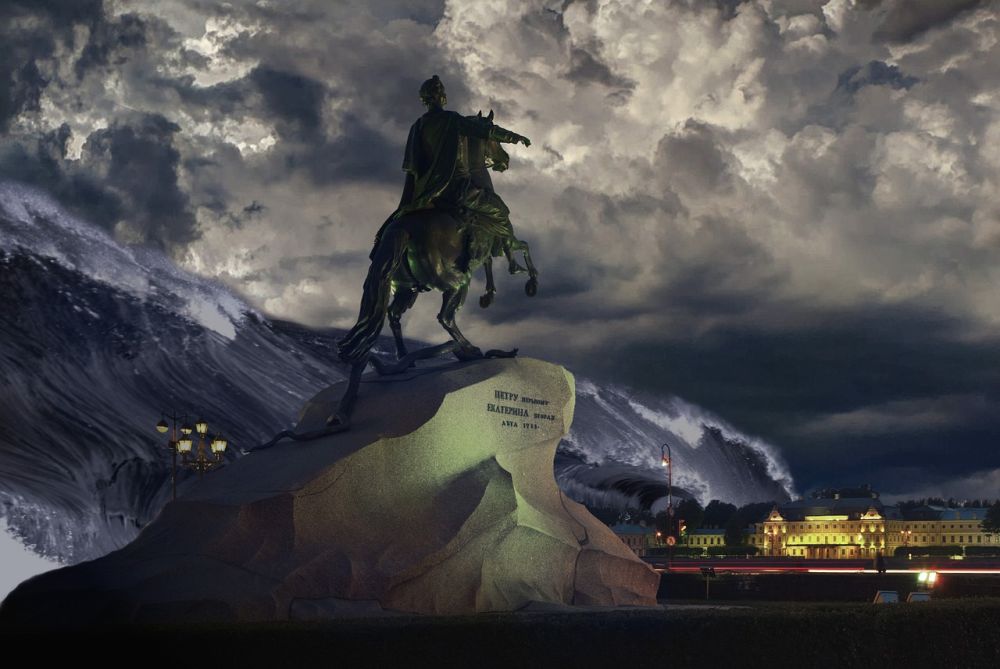 It is not mandatory to learn the Russian alphabet for your St. Petersburg travel vacation because you can easily get around without it. But if you want to do so, believe me, it is really easy – half of our letters are the same and another half is just a funny mirror reflection of the Latin alphabet! 🙂 You will have a lot of fun reading signs and you will impress your travel buddies by only investing 30 minutes of your time to learn it. So why not to do it?
Here is a great Youtube video that will make you a pro in the Cyrillic alphabet:
Credit cards are widely accepted almost everywhere – you can usually pay with your credit card in any restaurant, museum or supermarket.
Here is a very helpful fact about sightseeing in St. Petersburg: It is better to visit all the popular museums in the afternoon or during the evening because all the tourists that come in the morning with the cruises will leave the city by then.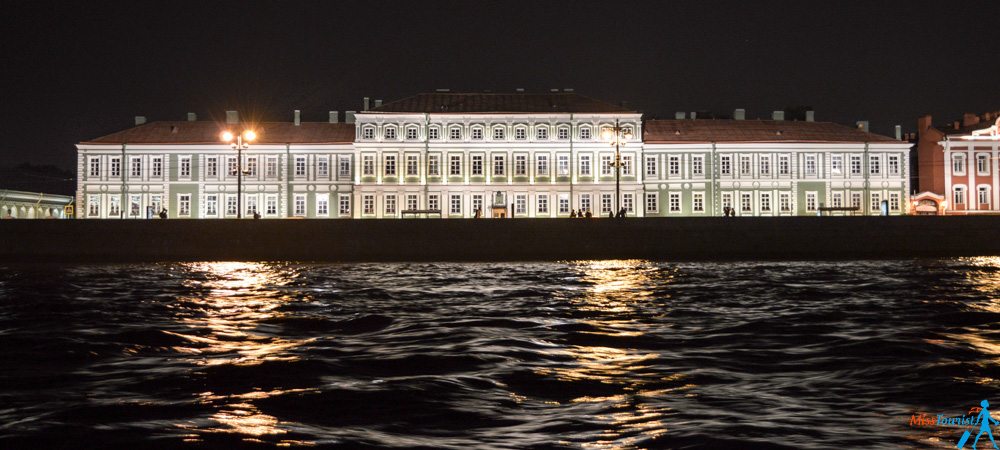 Public transport does not work after midnight, so you will have to go by taxi. And yes, some routes will be unavailable even by car because the bridges are opened up at night, remember? Make sure you plan for that fact in advance. If you stay on one island after 3 AM and your hotel is on the other island, you might have to make a big loop back to your hotel, oops! Or stay there overnight until 6 AM. By the way, we have many romantic songs about these kinds of stories!
---
UPDATE:
I know this is a long post (sorry about that, I can go on forever when it comes to St. Petersburg!) and by popular demand, I have created a printable PDF version of this post (I added the Russian alphabet and the metro map to it and deleted some unnecessary). You can print it or download it on your phone so it will be available offline when you are in Russia.
You can support my work by purchasing the PDF guide here if you wish to, the price is only US $2.99. Of course, all the information on the blog will remain free forever! 🙂
---
Conclusion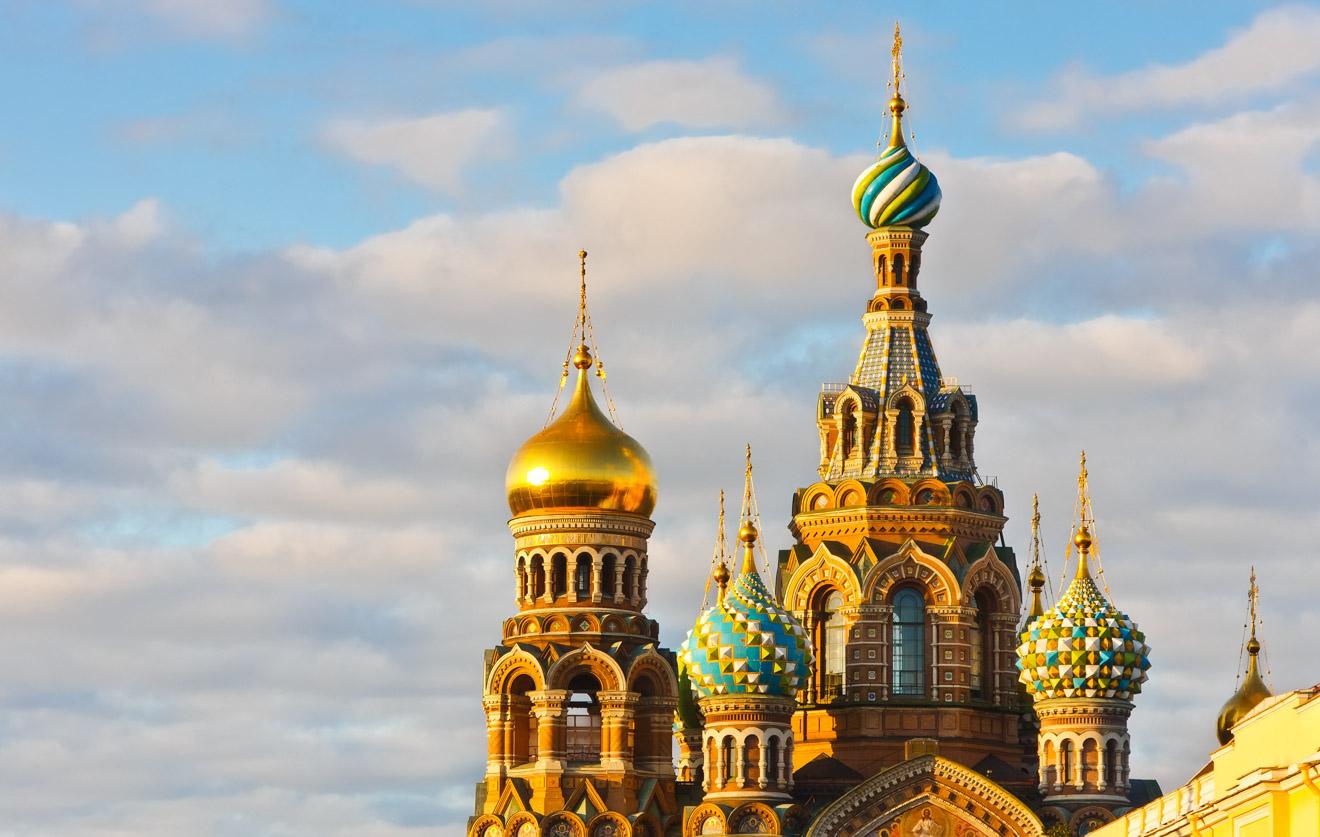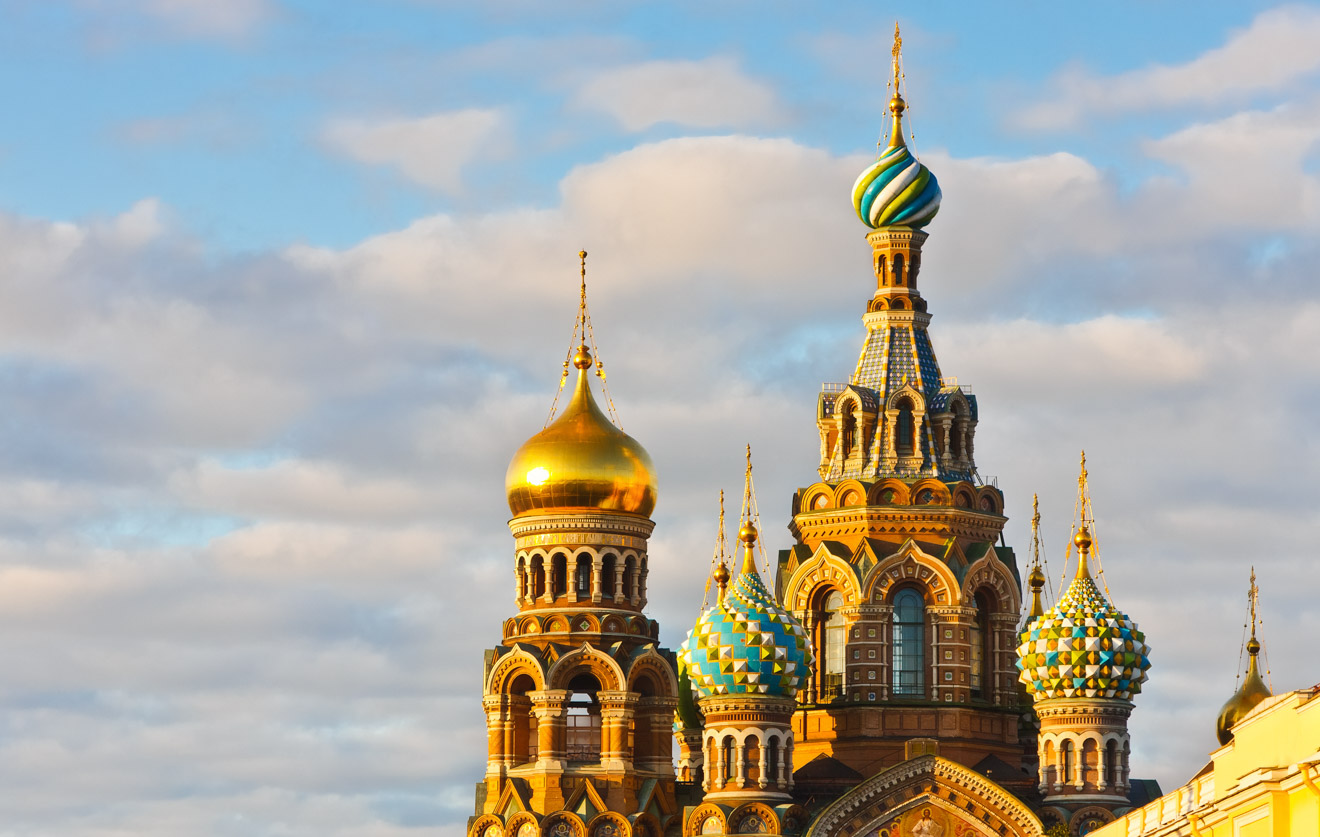 As we say in Russia: "Moscow is the financial capital and Saint Petersburg is the cultural capital". There are so many things to do in Saint Petersburg, you now understand why this post is so long! This city is eye-candy for photographers and a gem for any tourist. It is definitely my favorite city in Russia and one of my favorites in the world!
In this article we talked about the best 11 places that cannot be missed in the city and some important information about transportation, accommodation, things to do outside Saint Petersburg, etc. I also suggested tons of other great activities for those of you who have more time and are eager to explore, so your list for what to do in St. Petersburg should be never-ending!
Us Russians, we all love St. Petersburg for its charm and cultural heritage. I hope I managed to pass a tiny bit of my love for this city on to you and you will be able to feel its imperialism, enormity, communism and great history. All of this is reflected in every square meter of this city and you will feel it when you see the places described here in this post!
Remember, you haven't been to Russia if you haven't seen Saint Petersburg!
I will be so happy if you manage to see all the things on my list. If not, oh well, you just have to come back!
Let me know if my tips were useful! In case you have further questions, ask me in the comments, I will gladly reply!
Yulia
---
Pin it for later!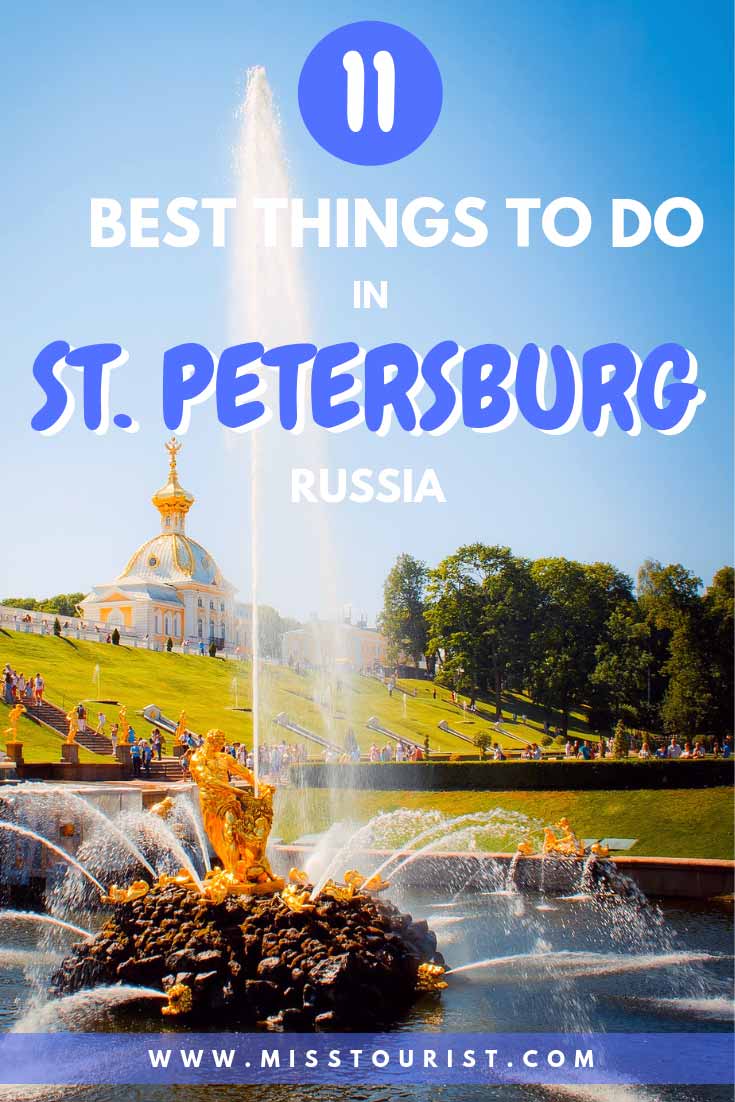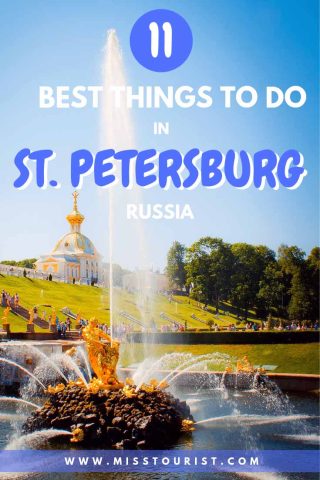 Pin it for later!