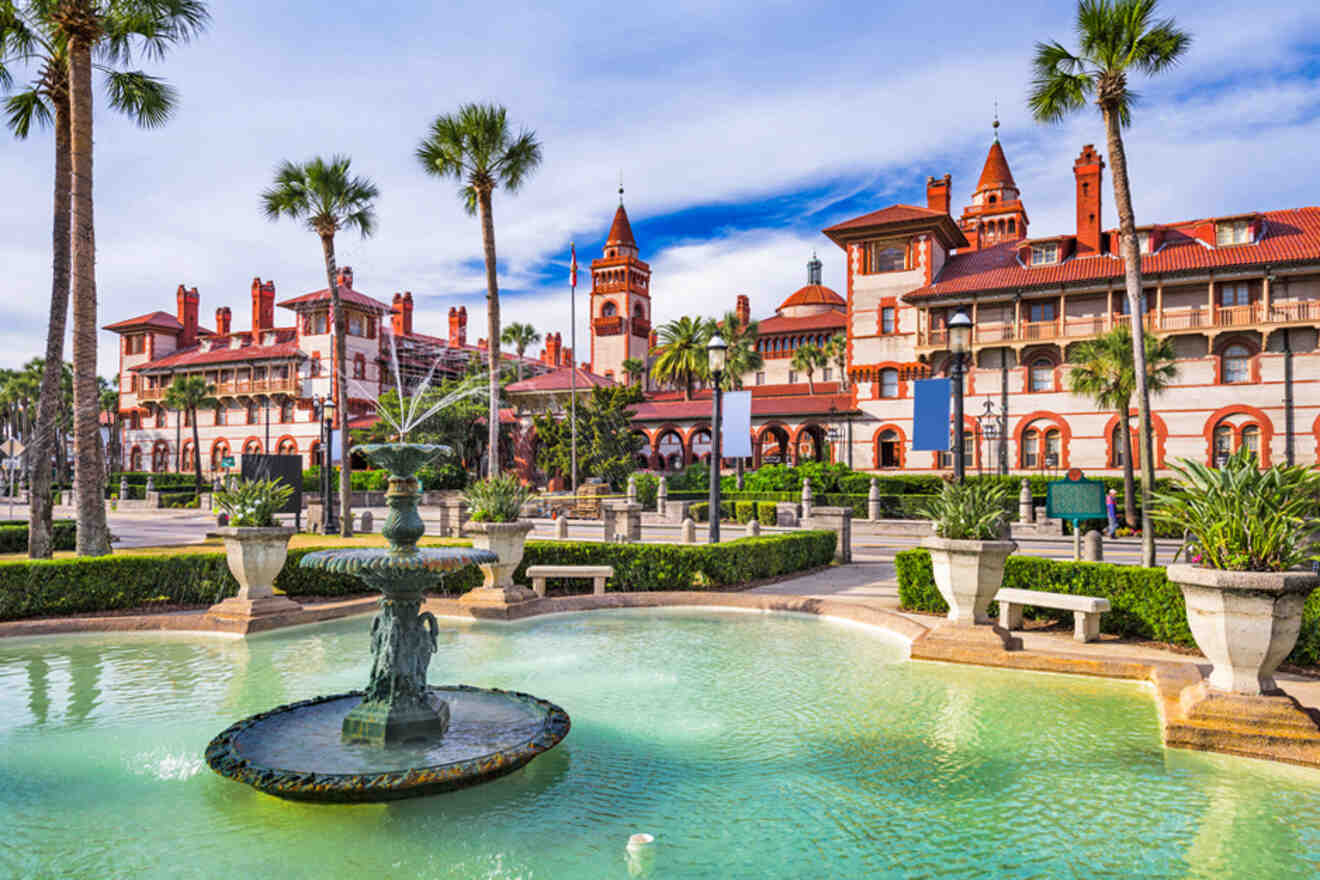 St. Augustine, FL, is unlike anywhere else I've ever been. If you're planning a trip there, you're in for a real treat! This one-of-a-kind place is the oldest continually occupied European settlement in the entire United States. Founded in 1565, St. Augustine is steeped in over 450 years of rich history, earning it the nickname "Ancient City."
I've lived in Florida for over half my life now and have been visiting St. Augustine for as long as I can remember. There are so many amazing things to see and do there – St. Augustine boasts phenomenal shopping, dining, museums, entertainment, beaches, parks, and historic attractions the whole family will love.
In this article, I narrowed down the absolute best things to do in St. Augustine for you, and I made sure to include something for everyone, from family-friendly fun to outings for the 21+ crowd.
It probably comes as no surprise, given the city's age, that locals consider St. Augustine to be the most haunted city in America. Paranormal investigators travel from all over the world to visit this hotspot for the afterlife, and ghost tours are super popular here. A few activities we're going to chat about include a chance to perhaps see these ghostly residents yourself. 👻
Let's get started!
If you are in a hurry
Short on time? I rounded up the must-do activities on our list that you'll want to book ASAP to secure your spot!
1. Immerse yourself in history at Castillo de San Marcos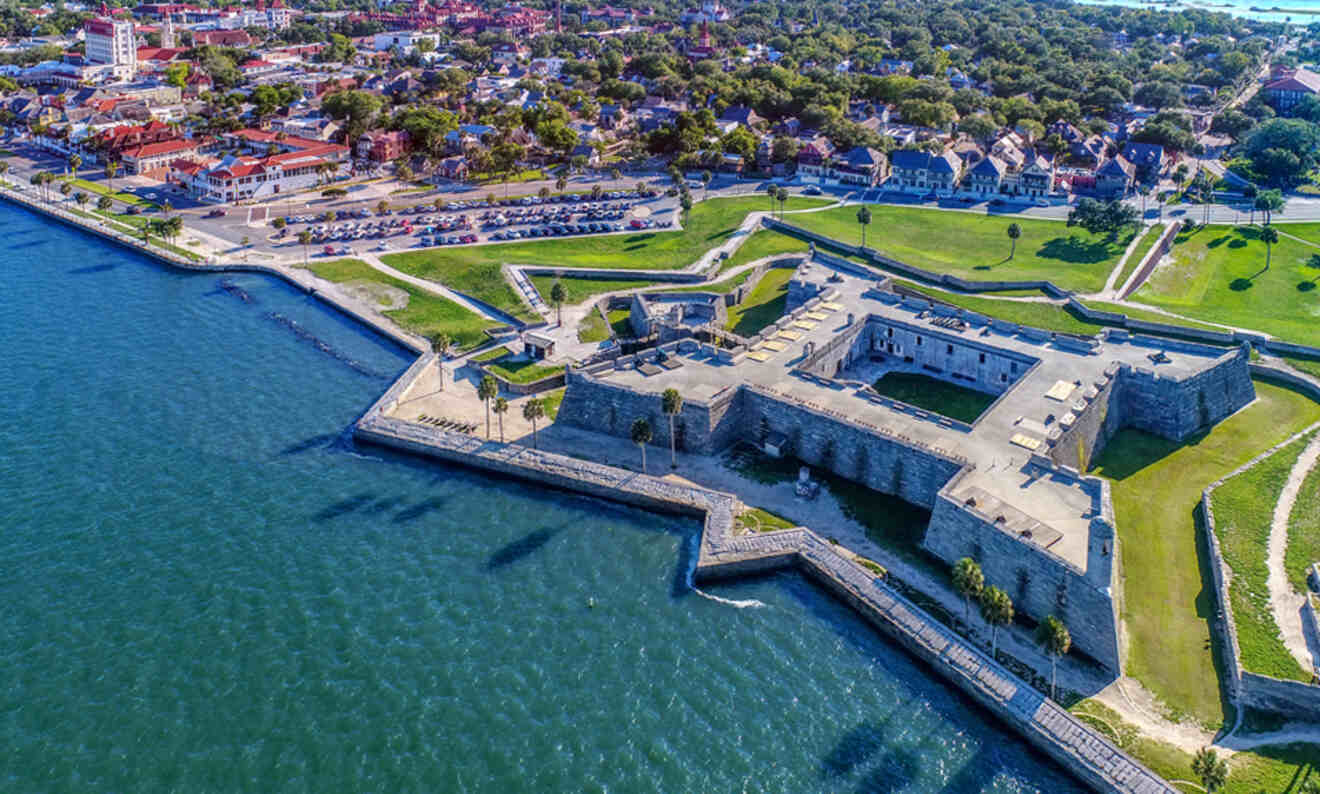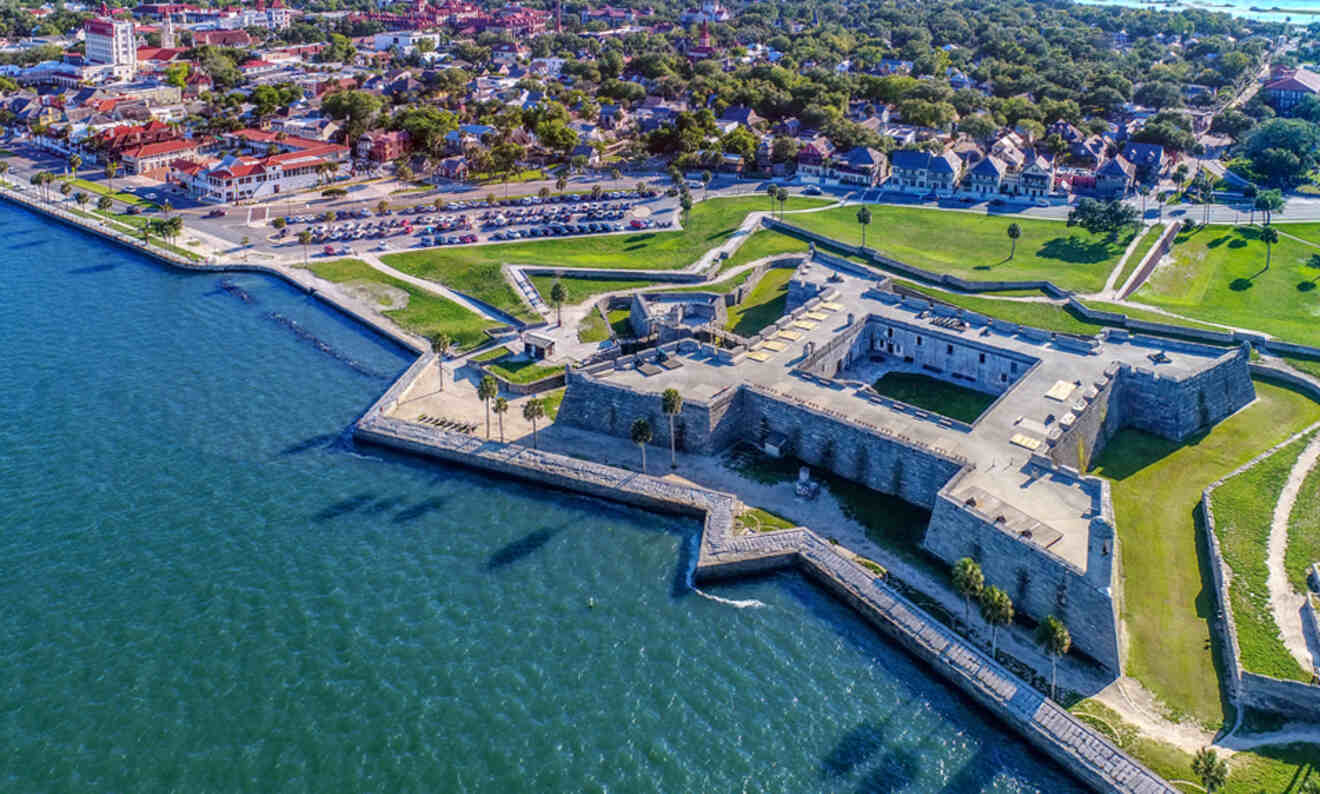 We're kicking off our list of unmissable things to do in St. Augustine with Castillo de San Marcos National Monument. Not only is it the oldest structure in America's oldest city, but it's the oldest masonry fortification in the entire continental United States, dating back to the 1600s when the Spanish government ordered the construction of a fort to defend their stake in the New World.
Much transpired over the years that followed, and today, you can visit Castillo de San Marcos to immerse yourself in the fort's over 350 years of fascinating history. Since all experiences are self-guided, you're able to explore at your leisure.
There are always super friendly park rangers and volunteers around to tell you more about things, and they even wear historically accurate costumes, which is great for photo ops! You can catch one of their 15 – 20 minute formal presentations or find them around the fort to ask questions.
The exhibits here are so interesting – even though I'm not typically the kind of person something like this would appeal to, I visited with my husband, and it was amazing! The views from here are breathtaking as well, so even if you're not a huge history buff, you'll want to check it out.
PRICE: US$15 per person, ages 15 and under are free
2. Take a sip from the legendary Fountain of Youth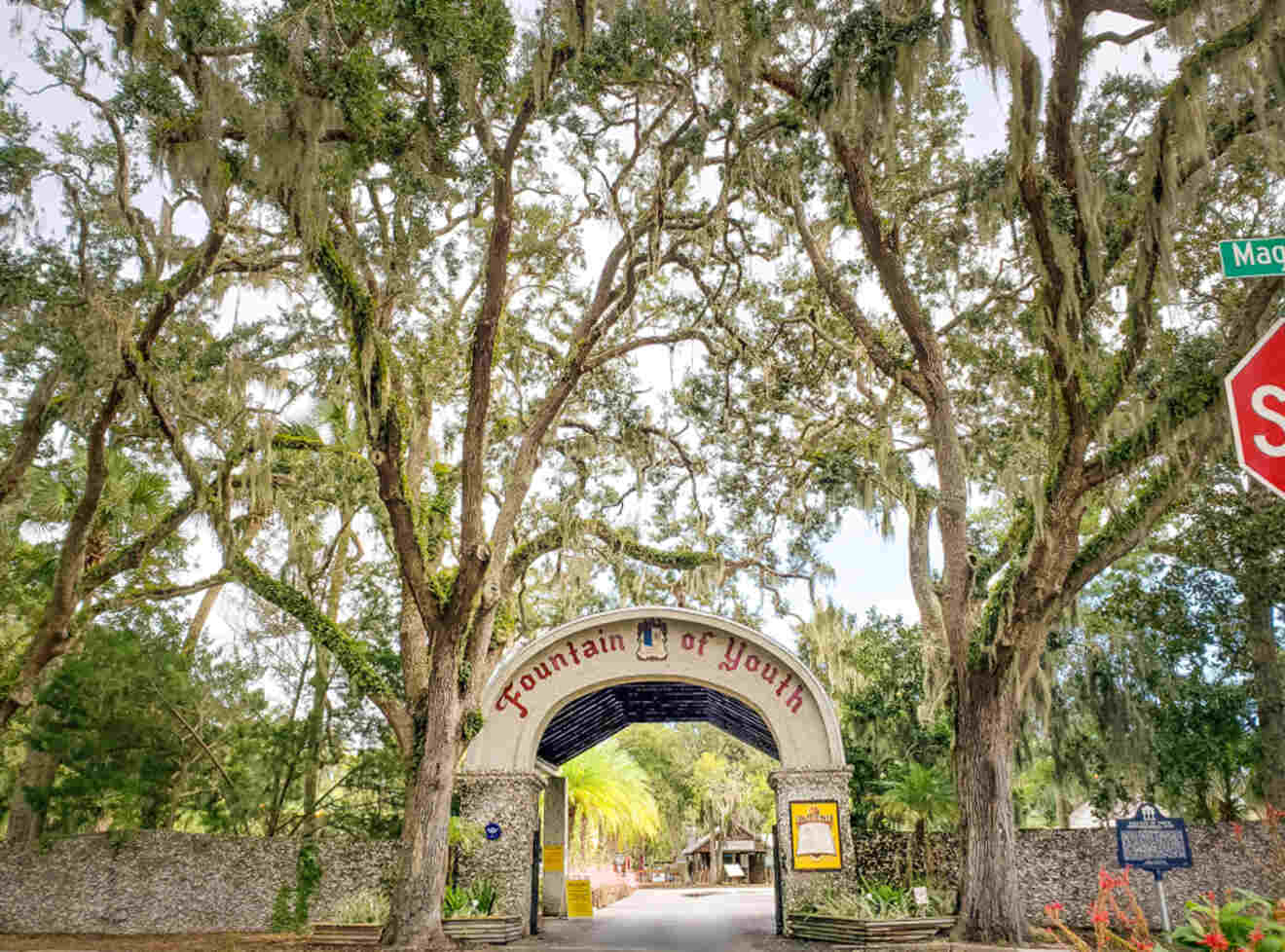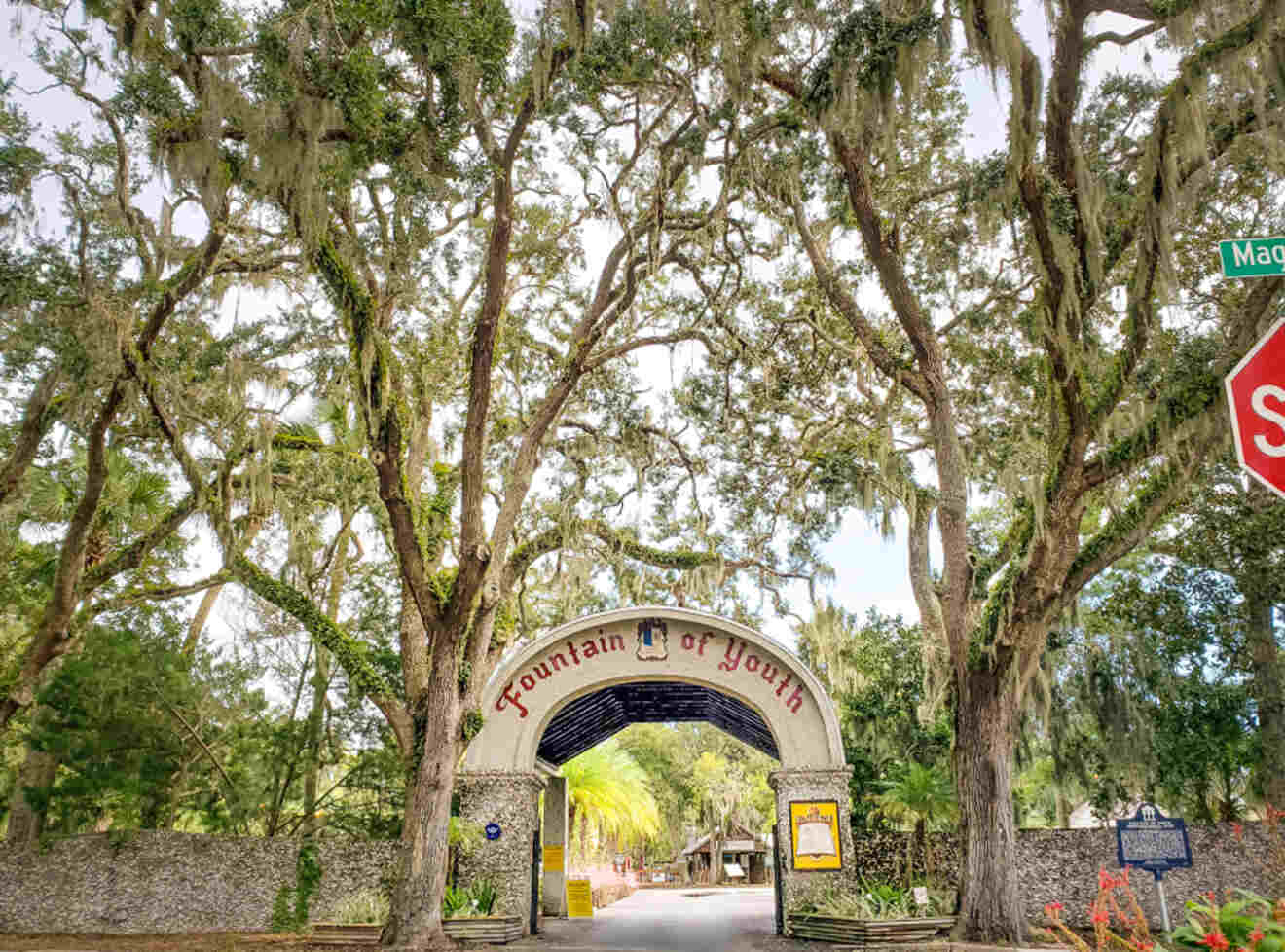 Fancy staying young and beautiful for the rest of the time? Legend has it that's what Juan Ponce de Leon was after when his pursuit mistakenly brought him to present-day Florida, and whether or not he ever found the real thing depends on who you ask!
Some claim these mysterious healing waters are right here in St. Augustine, and you can visit the storied Fountain of Youth yourself at Ponce de Leon's Fountain of Youth Archaeological Park. Juan Ponce de Leon visited the area for the first time in 1513, and Pedro Menendez de Aviles founded St. Augustine at this very spot in 1565, which at the time was the Timucua village of Seloy.
Over the past 100+ years, archaeological excavations here have revealed astounding findings, and thanks to the hard work of dedicated archaeologists like Dr. Kathy Deagan, who embarked on a 25-year search to uncover the exact location of St. Augustine's founding, so much is known about its rich history today!
At Ponce de Leon's Fountain of Youth Archaeological Park, you can explore over 500 years of history of the oldest successful European settlement in the United States, St. Augustine. The park boasts a variety of different immersive, educational exhibits, including an accurate re-creation of the 1st Catholic mission in the present-day United States, originally built here in 1587.
Make sure to stop by the Spring House at the park for a sip from the fabled restorative springs. That's right. You can literally drink from the Fountain of Youth! Even if you're not convinced of its healing powers, it's still sure to be refreshing on a hot Florida summer day – the water contains over 30 minerals!
PRICE: US$20 for adults, US$10 for children ages 6+
3. Shop, dine, and step back in time on St. George Street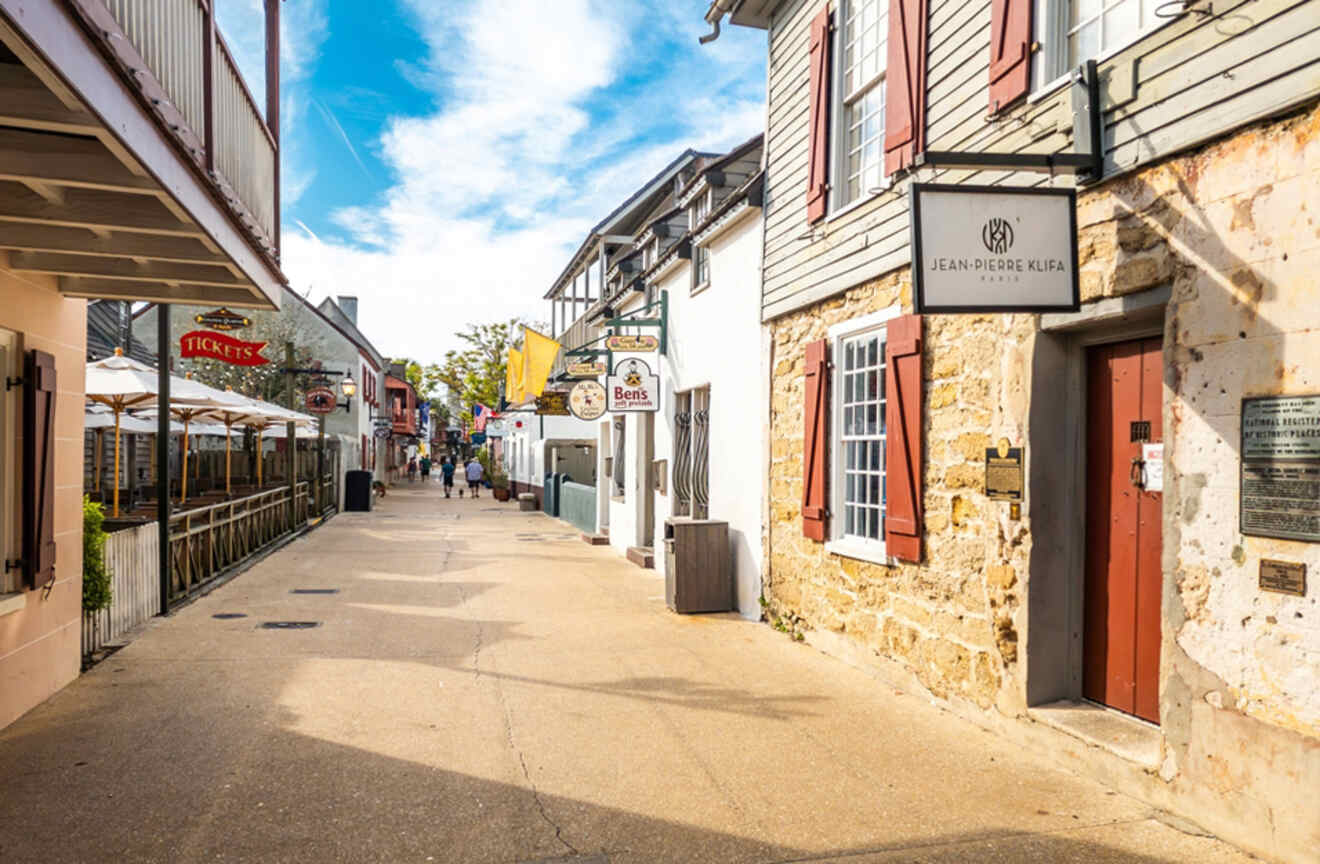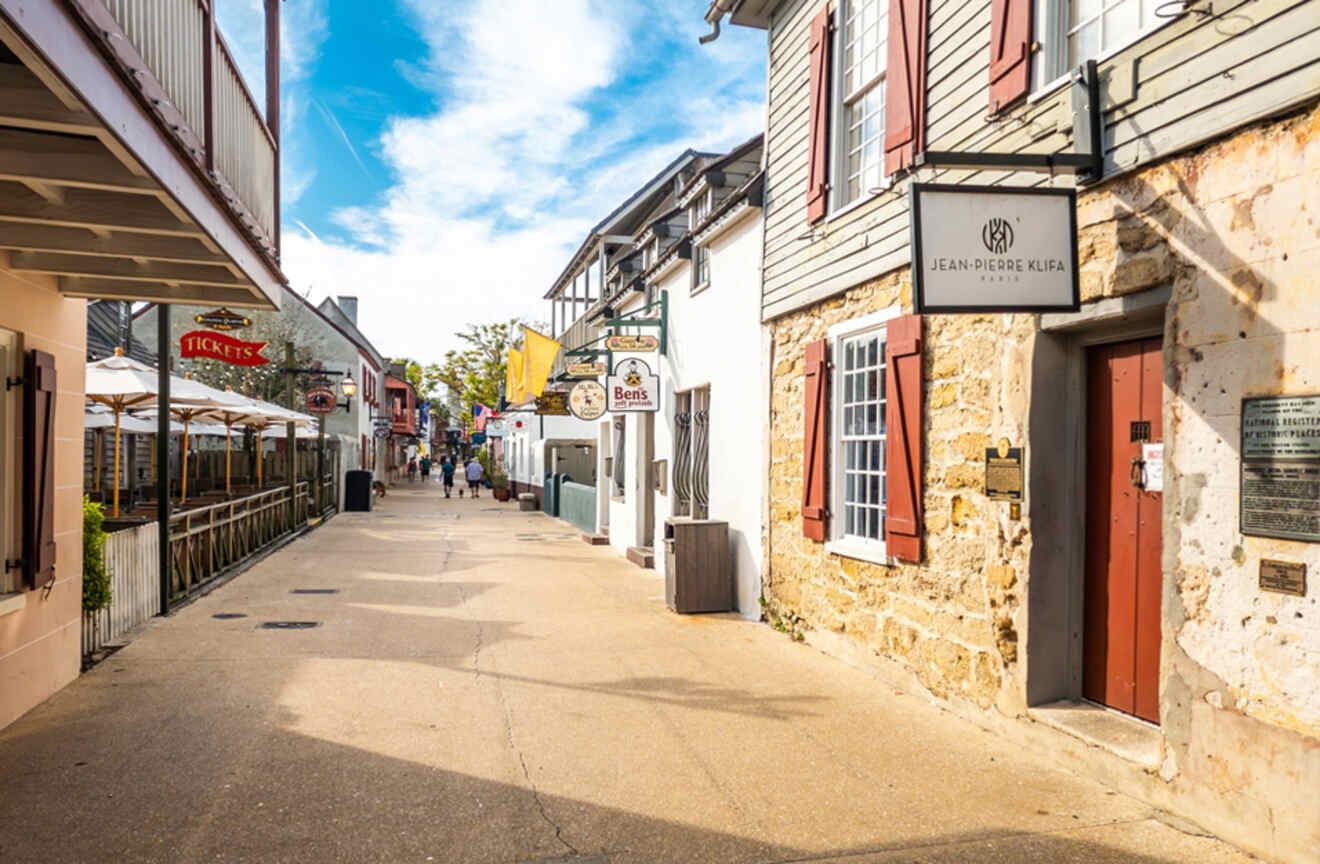 Whenever I visit St. Augustine, the famous St. George Street and the surrounding area is where you'll find me most! Nestled in the historic district, this pedestrian-only historic st. is steeped in history. It was once St. Augustine's main street and boasts many popular historic attractions, like the Oldest Wooden Schoolhouse and the Historic Pina-Peck House, which was built in 1750 by order of the King of Spain.
Today, St. George Street is teeming with restaurants, shops, galleries, and entertainment, and the pedestrian-only portion stretches from the Old City Gate to Plaza de la Constitución, the oldest public space in America, dating back to 1573.
This iconic street is known for its lively atmosphere, which continues well after the sun goes down. It also happens to be home to some of my all-time favorite places to eat and drink in St. Augustine: Columbia Restaurant for dinner (the Tampa location is the oldest restaurant in Florida, but all the locations are incredible!), Boat Drinks for sipping tropical libations on the balcony overlooking St. George Street, and A1A Burrito Works Taco Shop for the best burrito bowl I've had in my entire life.
My best advice for spending the day is to make sure you explore the side streets as well! Most of the touristy attractions are on the main drag, but by venturing off of it, you'll discover some local hidden gems.
4. Take the Living History Tour at Colonial Quarter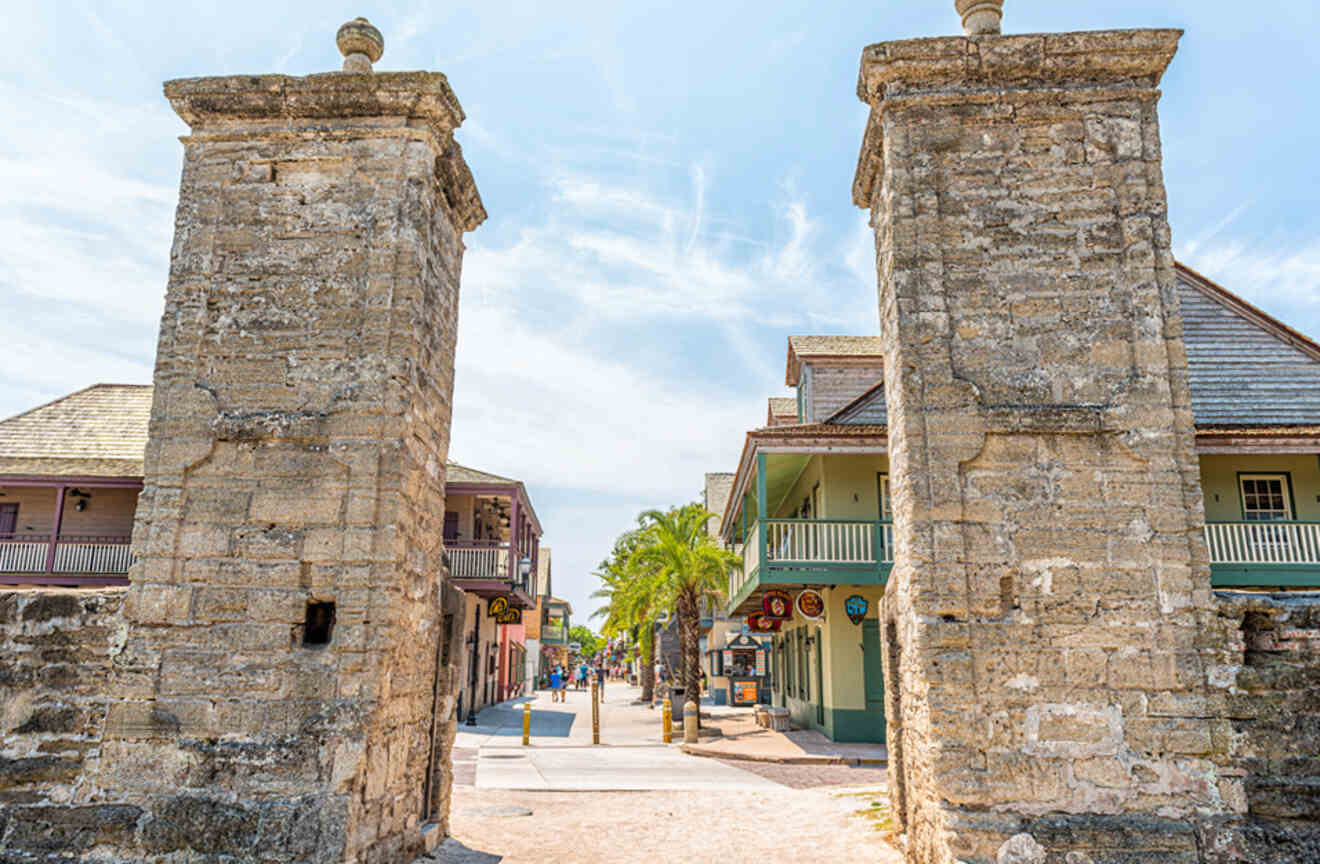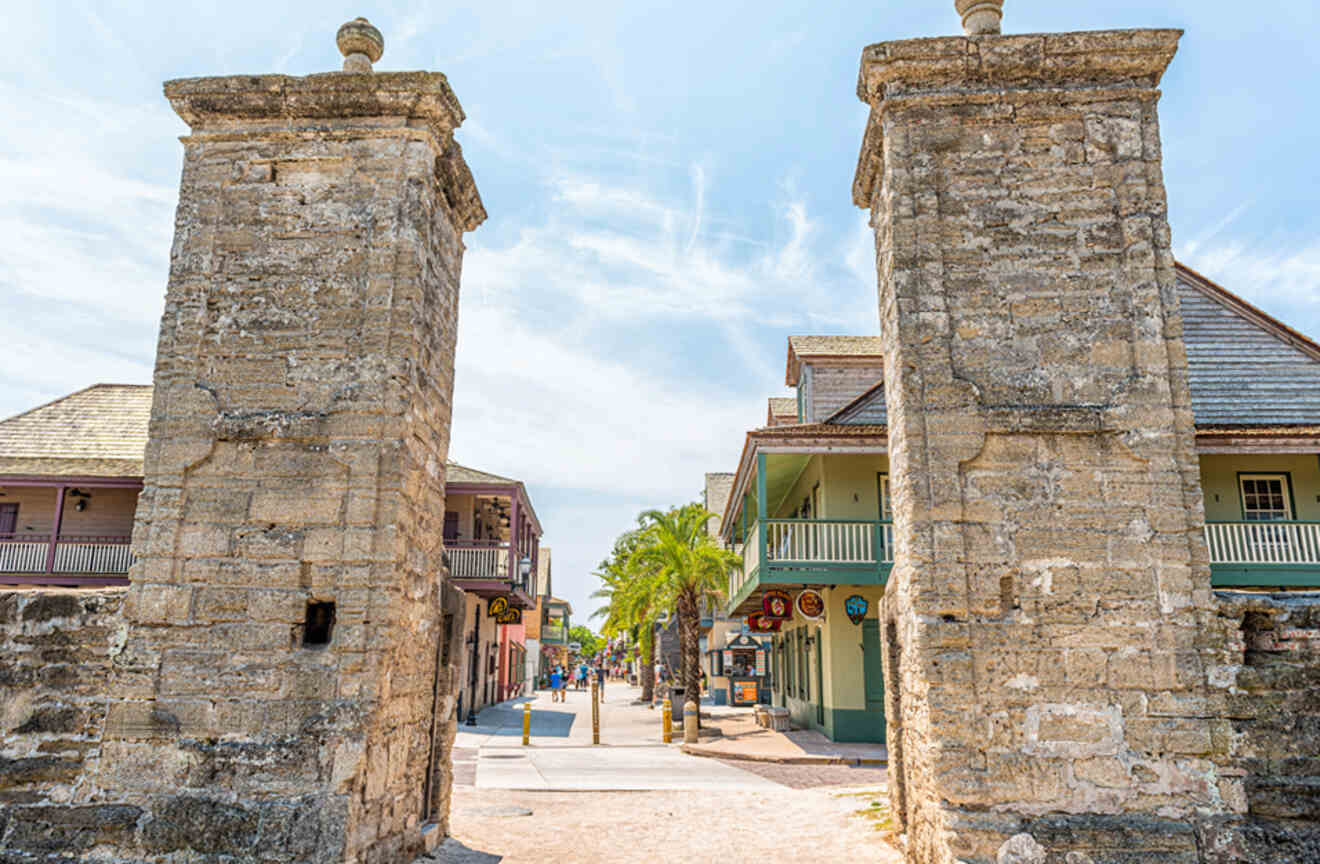 Located in St. Augustine's historic district on St. George Street, you'll find Colonial Quarter, an interactive attraction that fully immerses guests in hundreds of years of history. The St. Augustine Colonial Experience Living History Tour is one of the best things to do in St. Augustine with kids!
Your adventure back in time is led by a resident of the Colonial Quarter, who will show you the ropes. Observe a colonial blacksmith at work, take part in a live musket demonstration and drill, climb to the top of a 35 ft (11 m) 17th-century replica watchtower for sweeping views of Castillo de San Marcos and the St. Augustine bayfront, and explore a home that's more than 270 years old!
Those are just a few of the awesome things you'll experience on your visit. When you've worked up an appetite, I recommend heading to Taberna del Caballo, an 18th-century-style tavern serving up Spanish and Latin-inspired cuisine. The sangria here is so delicious that I always make a point to stop by when I'm visiting St. Augustine.
Tickets to the Colonial Experience Living History Tour can only be purchased in person. A little money-saving hack: You can show this coupon (scroll down to the bottom) for US$1 off.
PRICE: US$15 for adults, US$9 for children ages 5+
5. Explore St. Augustine on the hop-on, hop-off trolley tour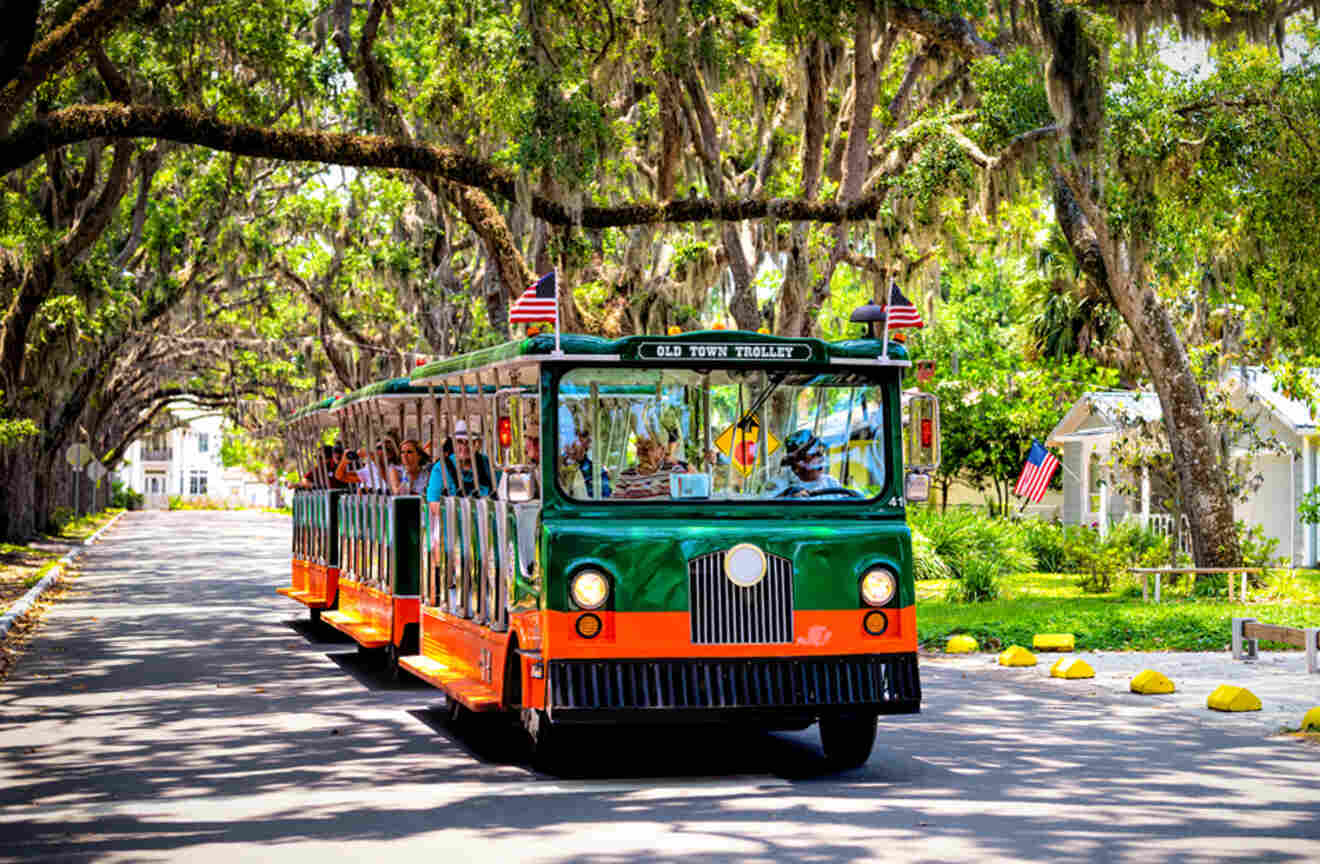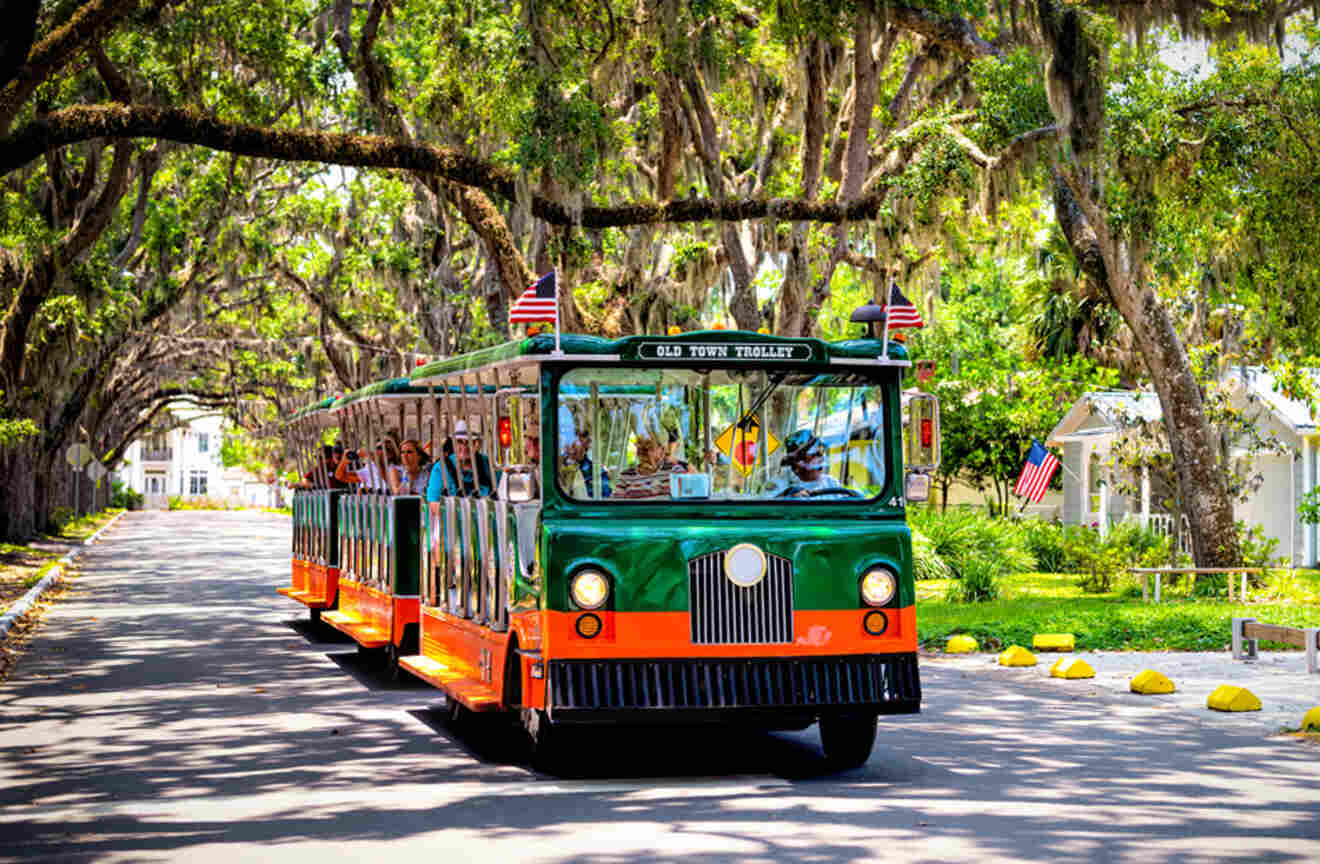 For a fun, convenient way to sightsee and get from place to place, I highly recommend the St. Augustine hop-on, hop-off trolley tour. I've done both Old Town Trolley Tours: this one and the Key West version, and they're a great way to save money and time on your trip. The trolley has 22 stops throughout St. Augustine, all of which are near the city's most popular historic attractions, including all of the places we've discussed so far, as well as many others in this article! You're able to see so much in such a short time.
You can ride the trolley for the entire 90-minute loop if you'd like to learn about the historic places along the route (there are a ton!), or you can hop off and back on again at your leisure for the duration of your ticket. Driving and parking in St. Augustine can be a real pain, but there's no need to worry about that with this tour!
The St. Augustine hop-on hop-off trolley tour includes entry to the St. Augustine History Museum, so you'll definitely want to make a stop there to explore more of St. Augustine's history.
PRICE: From US$37 per person
6. Check out the St. Augustine Pirate and Treasure Museum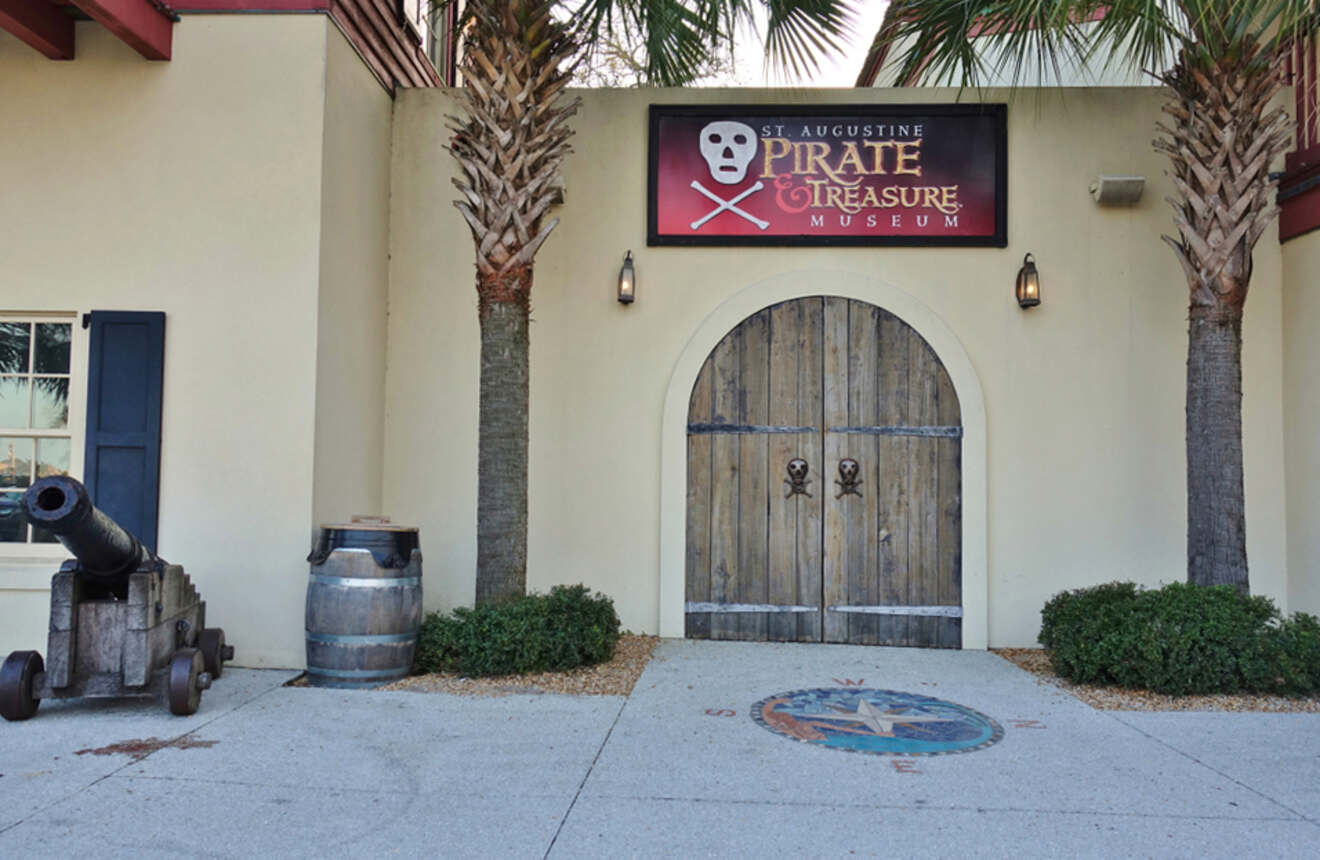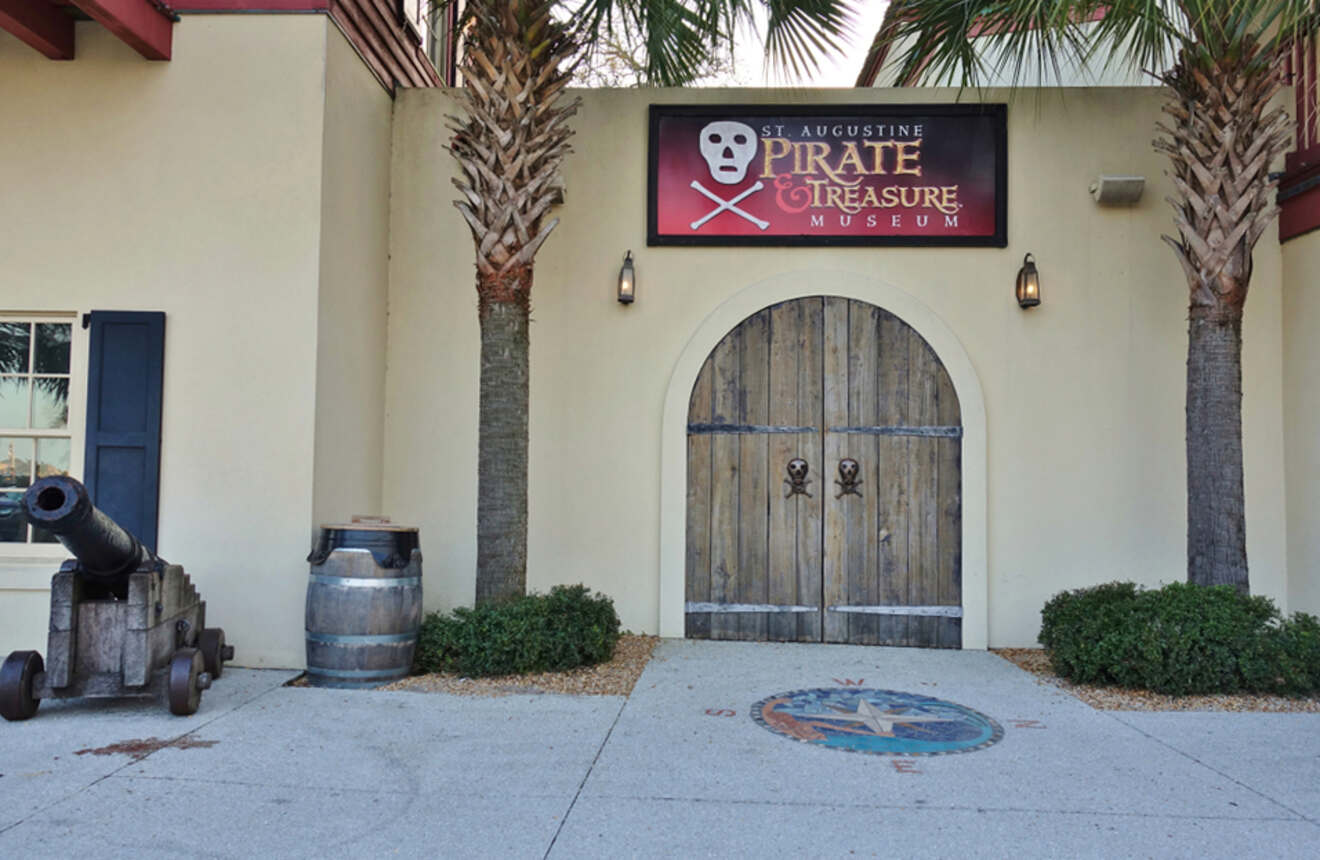 It probably comes as no surprise that St. Augustine's rich history includes pirates, and there's no better place to learn about them than the St. Augustine Pirate and Treasure Museum – one of the largest collections of historic pirate artifacts under one roof!
The museum is a great thing to do in St. Augustine with kids, but visitors of all ages will love this journey back in time over 300 years to the Golden Age of Piracy in Port Royal, Jamaica.
Discover over 800 authentic artifacts from the 1600s to the present day, including Captain Thomas Tew's 17th Century treasure chest! The founder of the museum, Pat Croce, has been collecting pirate artifacts since he was 12 years old. The Pirate and Treasure Museum is a passion project of his and has become one of the most beloved St. Augustine attractions, with interactive exhibits that bring the pirate history, both fictional and factual, to life.
PRICE: US$19 for adults, US$7 for children ages 5+
7. Meet the "spirits" at the St. Augustine Distillery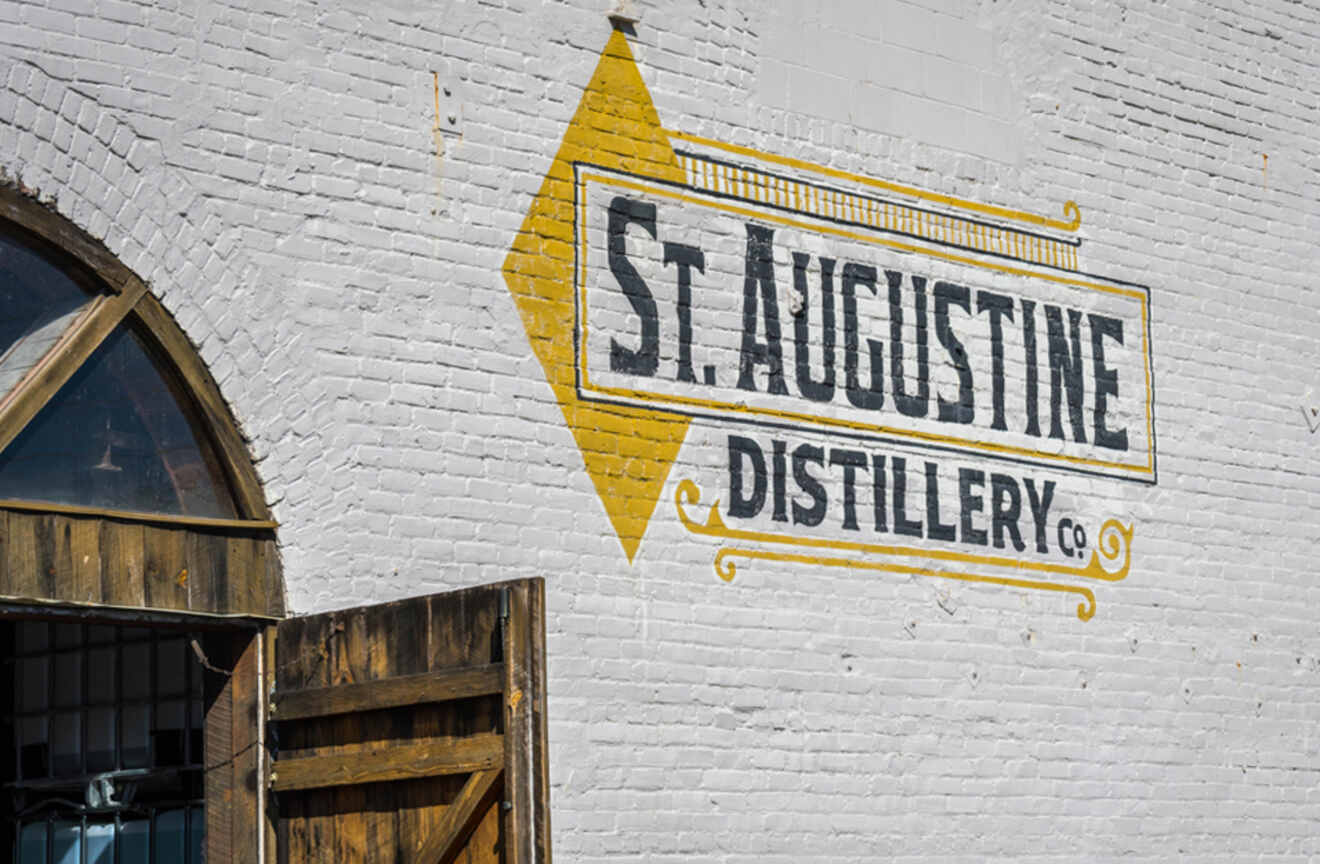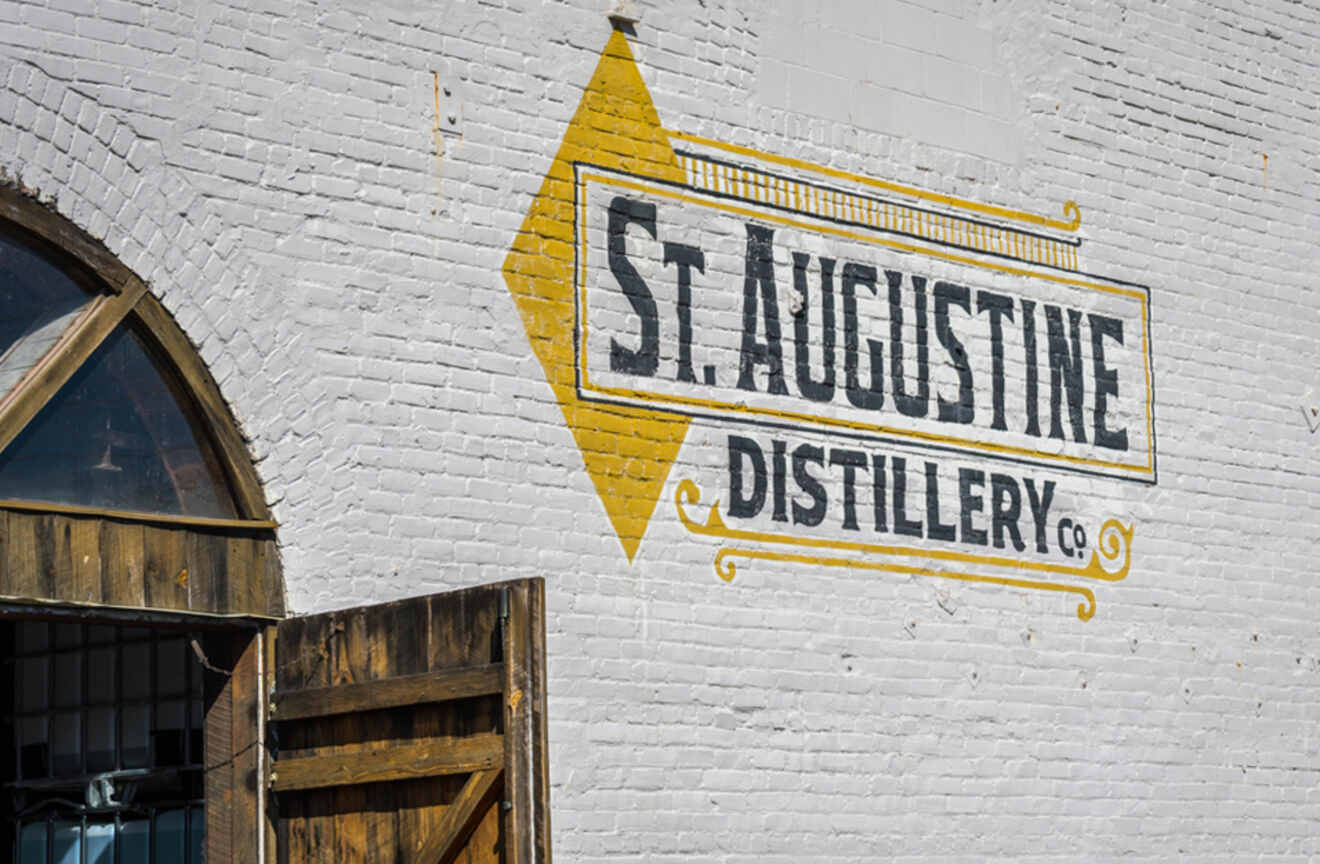 I warned you St. Augustine is full of spirits, only this time, I'm talking about the kind that comes in a bottle!
Located downtown and housed in a restored ice plant from circa 1907 (Florida's oldest ice plant, of course), the St. Augustine Distillery is a must-do for the 21+ crowd. This locally owned and operated distillery crafts some of the tastiest bourbon, rum, gin, and vodka I've ever had. You can take a free, self-guided tour of the distillery, and it's one of the most fun things to do in St. Augustine!
You learn so much about how these spirits are made and get to sample them along the way in some delicious cocktails. It's an absolute blast and America's #1 craft distillery tour for a reason. The tour wraps up at the St. Augustine Distillery shop, where you can try more drinks, browse the selection of bottles for purchase, and buy a bottle (or 2) to bring home with you.
8. Tour St. Augustine's most haunted historic places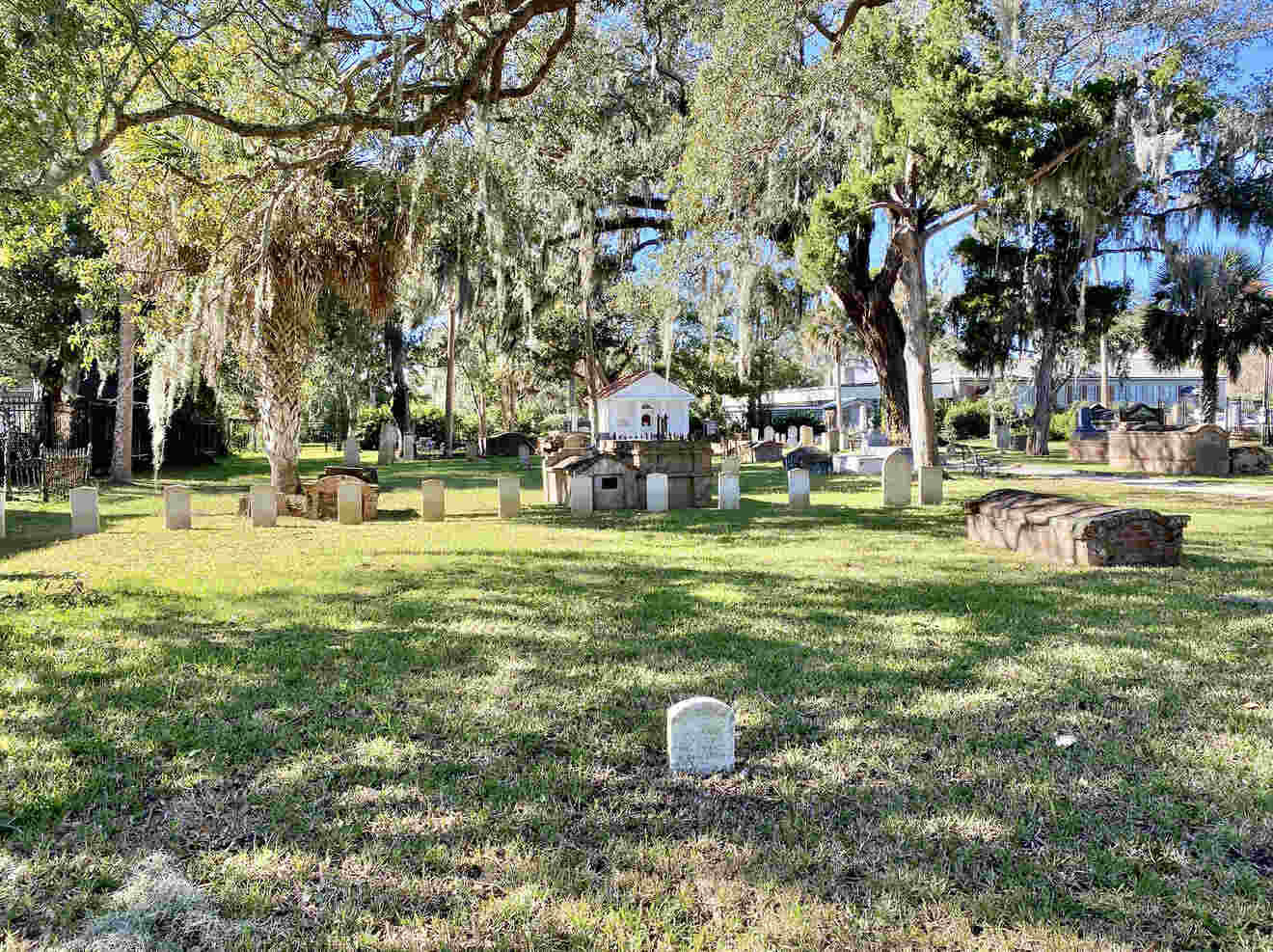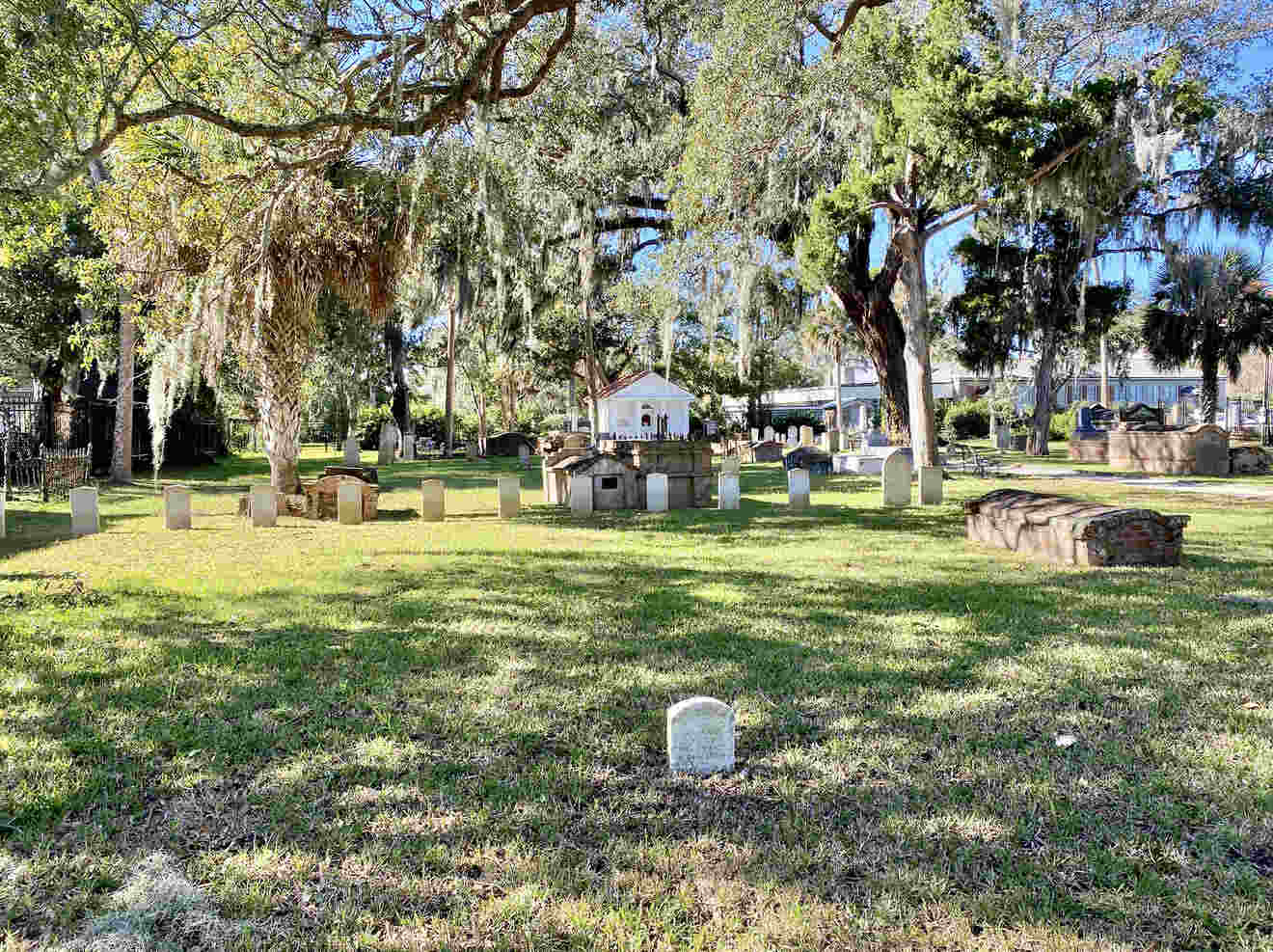 St. Augustine is considered one of the most haunted places in the United States, so if you're brave enough, I highly recommend taking a ghost tour while you're there! As you can imagine, the nation's oldest city has countless different ghost tours to choose from, and some of the more touristy ones can be downright cheesy. For something with less theatrics and more authenticity, check out the haunted history ghost tour.
This 1.5-hour tour is led by a paranormal investigator who will take you to some of the city's most haunted spots, including Huguenot Cemetery, St. George Street, and the state's oldest Catholic cemetery, Tolomato Cemetery, as well as share their own experiences in the field and teach you their techniques for communing with the "other side." This ghost tour focuses heavily on history, so even non-believers may learn a thing or two that changes their minds!
You'll leave the tour with your own ghost map of St. Augustine, so you can explore more haunted sites on your trip. The original haunted history tour is only offered Thursdays through Sundays, so be sure to book ASAP to secure your spot.
PRICE: From US$25 for adults, US$15 for children
9. Visit the original Ripley's Believe It or Not! Museum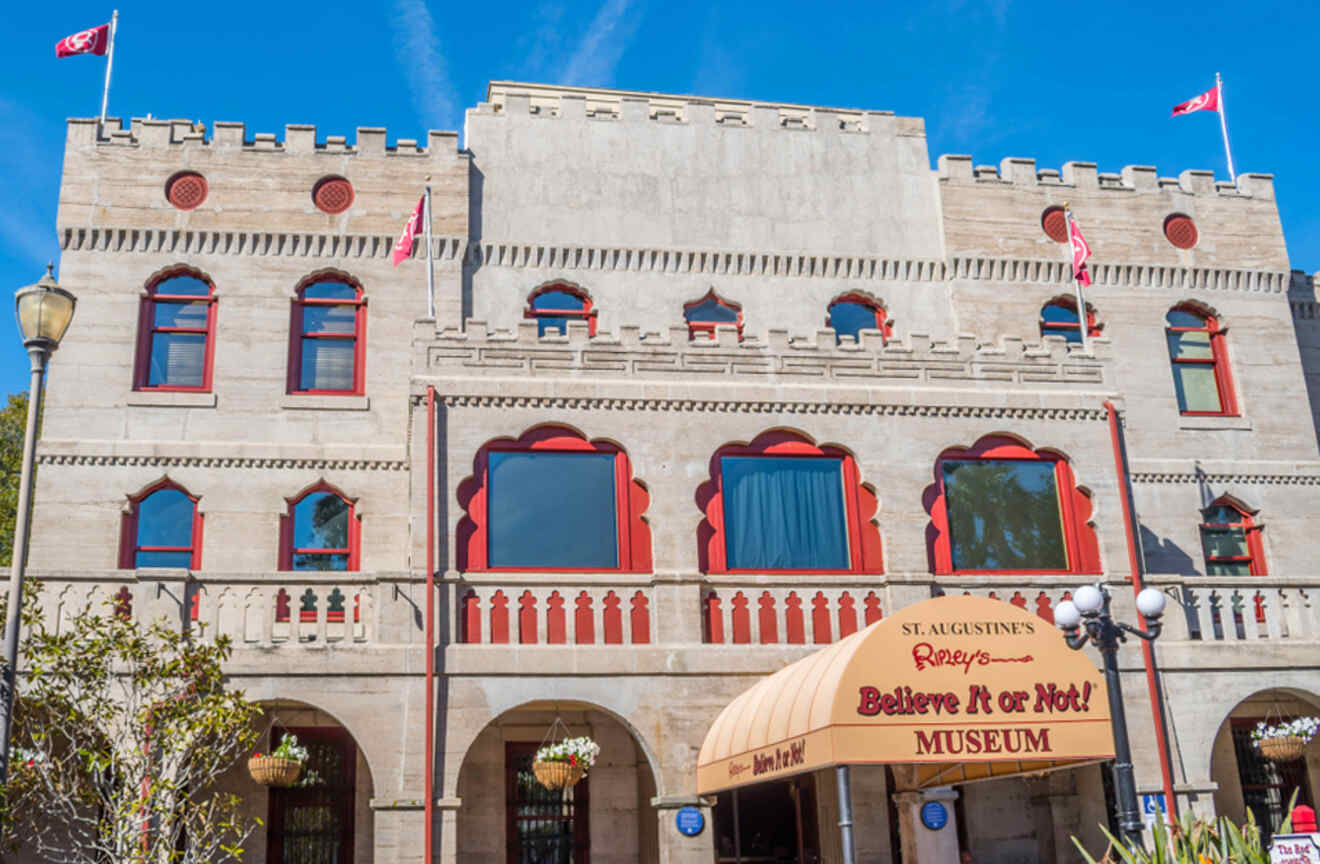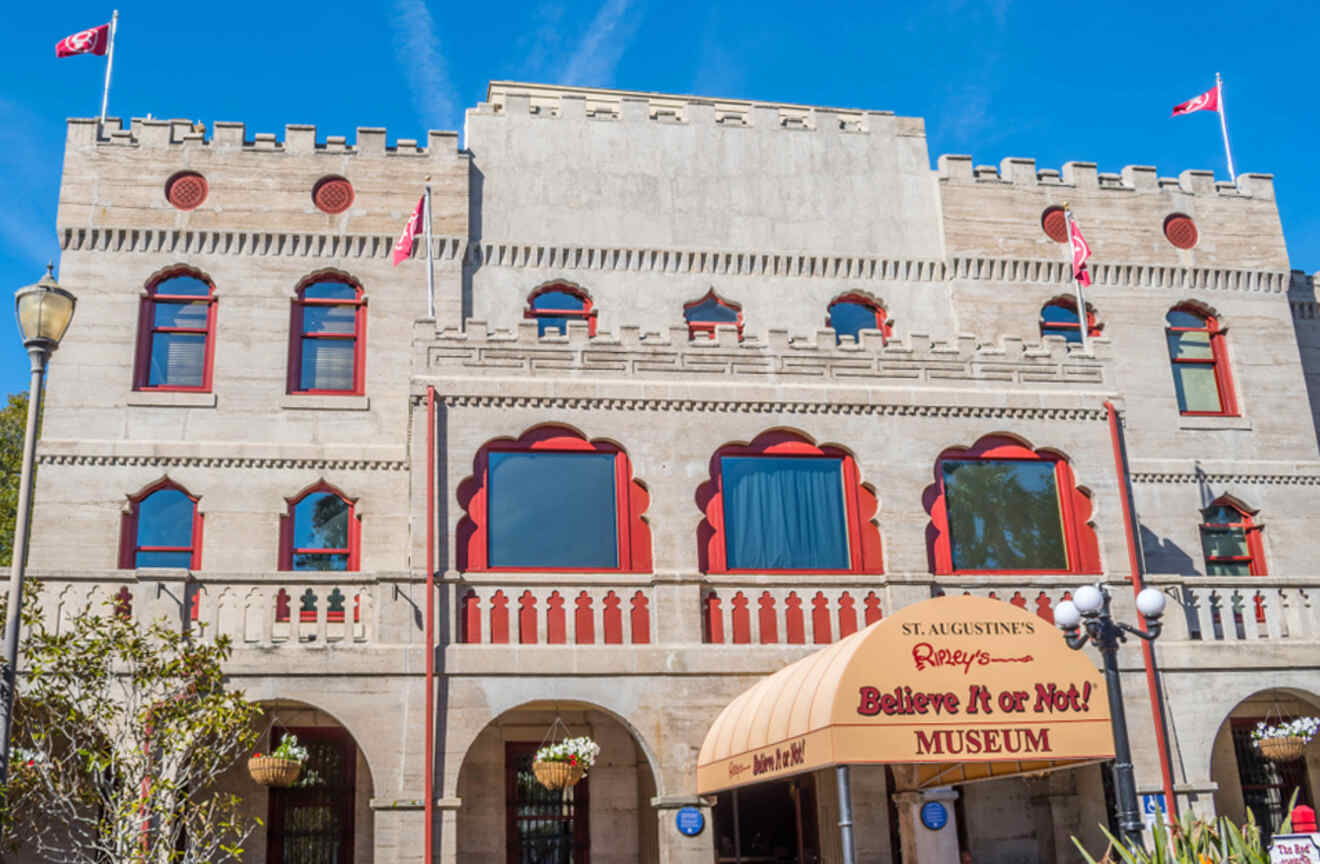 It's true there are Ripley's Believe It Or Not! "odditoriums" all over the world, but the St. Augustine location was the very first, making a visit to the original museum one of the coolest things to do in St. Augustine. If you're into all things weird, wacky, mind-bending, and bizarre, Ripley's is for you!
Ripley's Believe It Or Not! in St. Augustine is housed in a very historic building: Castle Warden, a moorish castle-style home, built back in 1887! Robert S. Ripley, the founder, stayed there when it was known as the Castle Warden Hotel, and he hoped to purchase it for his collection of oddities.
A year after his passing, the Ripley family purchased the property and turned it into the 1st permanent Ripley's Believe It or Not! Museum, which opened its doors in 1950.
Today, discover 20,000 ft² (1,860 m²) and 3 floors full of strange, odd, and unusual exhibits, including some of Robert Ripley's original collection! There are over 800 fascinating artifacts to check out.
Stories from the staff claim Castle Warden is a hotbed of paranormal activity (I can't argue with that!), and Ripley's boasts it's the most haunted building on the Southeastern Seaboard. You can participate in a guided tour through the castle's former hotel rooms and backrooms, equipped with EMF meters to detect its ghostly residents. This experience can be bundled with admission to save $!
PRICE: Admission is US$24 for adults, US$13 for children
10. Soak up the sun at Anastasia State Park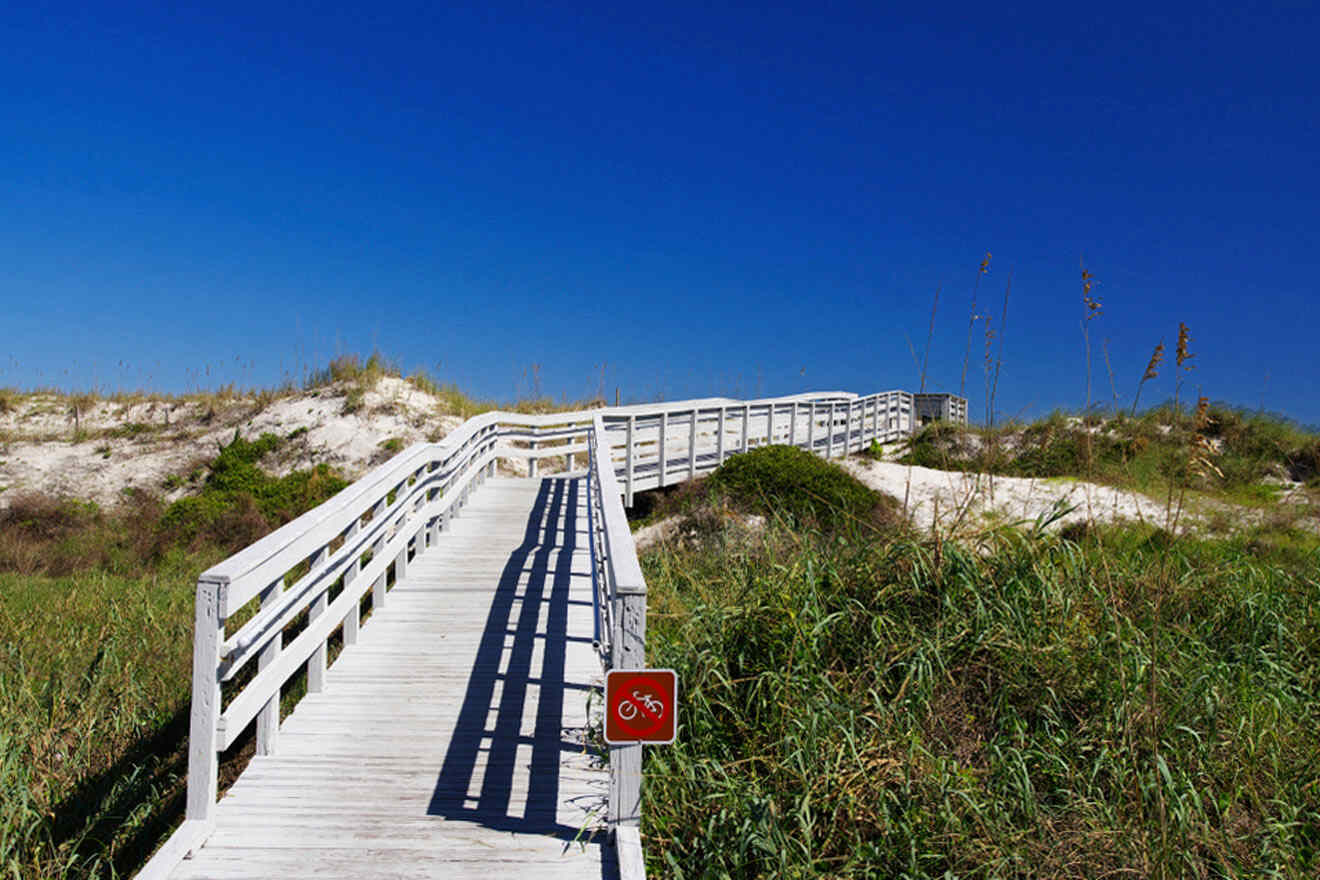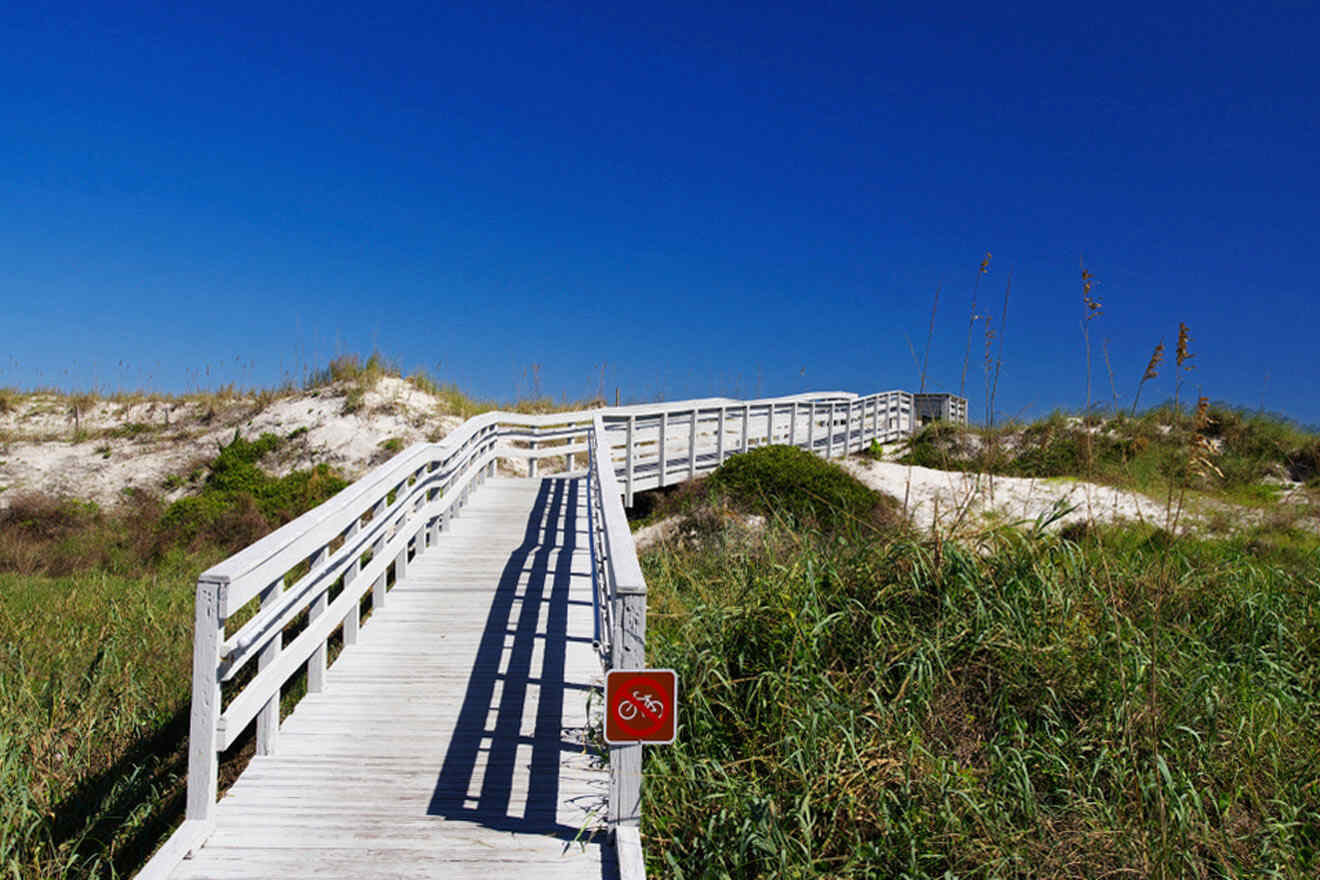 Encompassing over 1,600 acres (650 hectares) of pristine beaches, maritime hammocks, tidal marshes, and ancient sand dunes, scenic Anastasia State Park in St. Augustine is a must-do for beachgoers, nature lovers, and wildlife enthusiasts.
Anastasia State Park boasts more than 4 miles (6 km) of breathtaking, unspoiled beach, and visitors can spend the day here swimming, surfing, searching for seashells, and relaxing on the shore. From Memorial Day through Labor Day, there's a lifeguard on duty.
This Florida state park is home to an abundance of wildlife that dwells within its rich ecosystems! In the estuarine tidal marsh, you may spot dolphins, manatees, fish, sea turtles, and more. The park is part of The Great Florida Birding and Wildlife Trail, so you can expect plenty of opportunities to get a glimpse at incredible bird species, including shorebirds, waterbirds, and songbirds.
Explore the park by foot on the Ancient Dunes Nature Trail, which takes visitors through a shady maritime hammock and ancient dunes. If you prefer to explore on the water, Anastasia Watersports offers canoe, kayak, paddleboard, bicycle, and boat rentals on-site!
The historic coquina quarry here is where coquina rock was mined for the construction of the oldest masonry fort in the continental U.S. and #1 on our list of best things to do in St. Augustine, Castillo de San Marcos National Monument.
PRICE: US$8 per vehicle
11. Explore the past at Fort Matanzas National Monument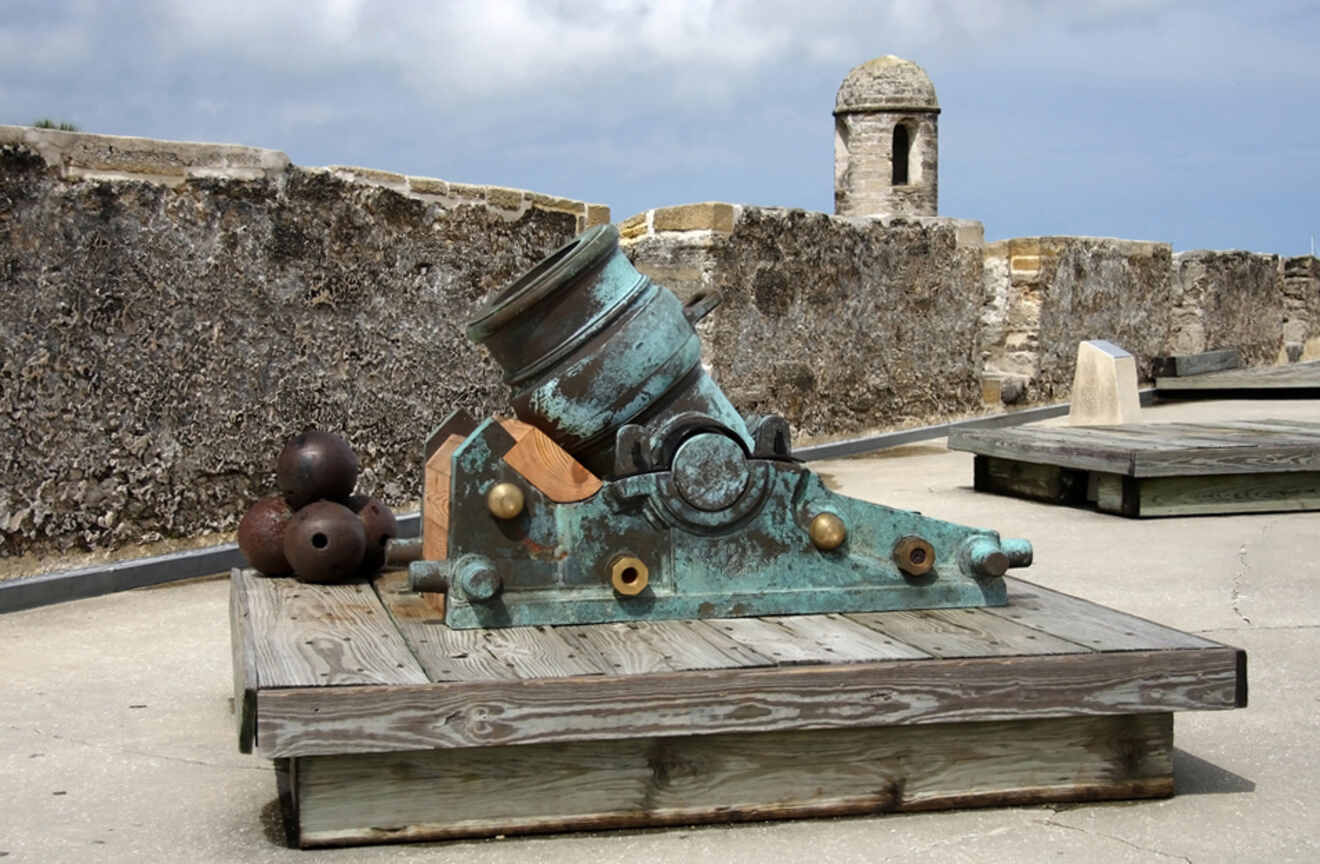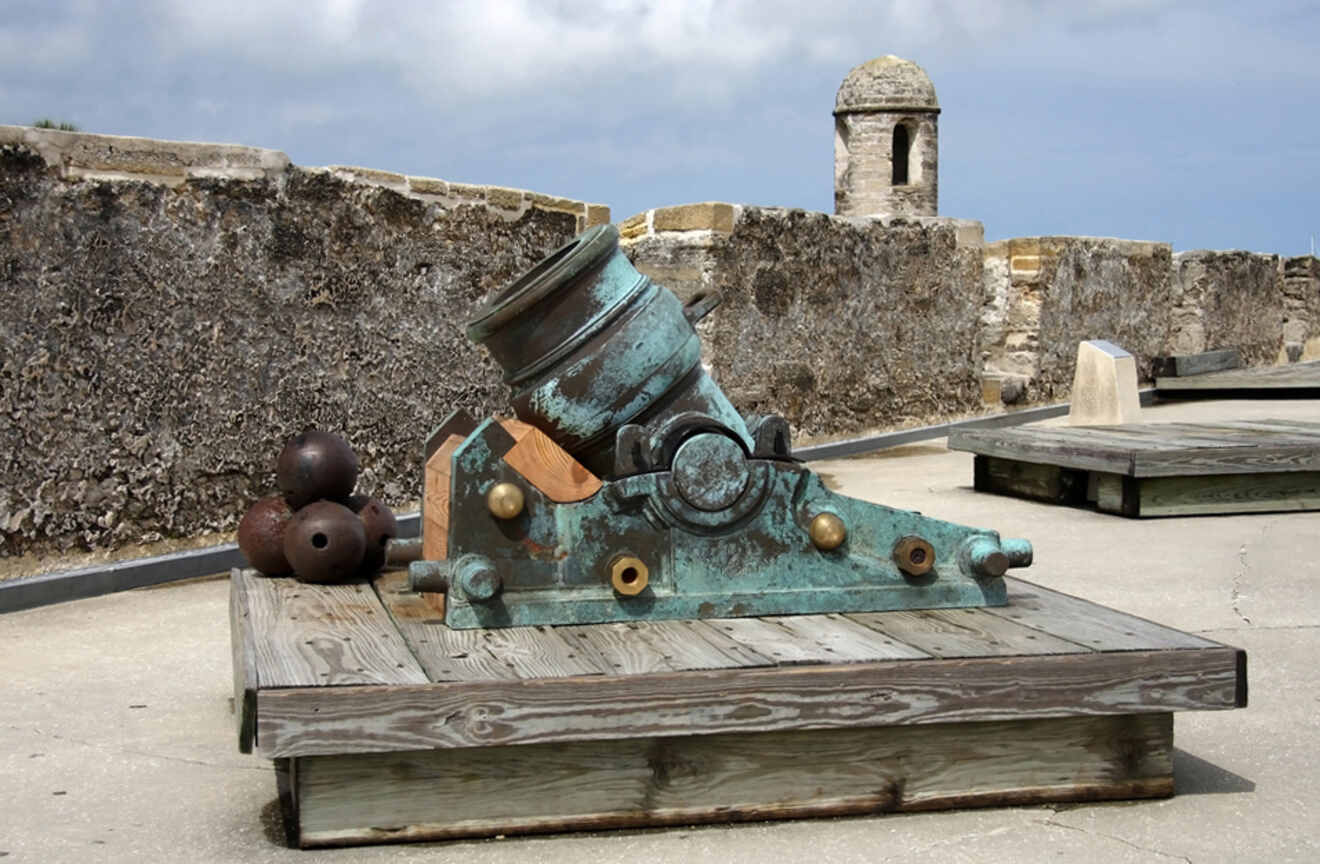 Another must for history buffs visiting St. Augustine, FL, is the Fort Matanzas National Monument! The construction of this Spanish fort was completed in 1742, and its goal was to defend and protect St. Augustine and the Spanish Florida colony from British attack.
The Matanzas River was the site of a very deadly battle 175 years before the fort was built, which is how it got its name: Matanzas translates to "slaughters." Pretty dark stuff, but a big part of what makes St. Augustine… St. Augustine.
Like Castillo de San Marcos, Fort Matanzas is made out of coquina – the stone is impenetrable to cannon fire! Visitors can explore the fort via a downloadable self-guided tour, which you can access through the National Park Services app, as well as speak with park rangers and volunteers to learn more.
During the summertime, there are frequent reenactments and living history presentations, as well as musket demonstrations on Wednesdays and Saturdays from 12:30 PM to 3:30 PM.
The Fort Matanzas National Monument also protects 300 acres (c. 120 hectares) of the coastal environment, including dunes, marsh, and maritime forest, where many threatened and endangered species can be found. As for flora, over 250 individual plant species have been identified in the area, despite its modest size.
You can explore the nature trails, eat al fresco in the scenic picnic area, or just relax on the beach. Fort Matanzas is only accessible by boat, but a passenger ferry is offered from the mainland on Wednesdays through Sundays from 9:30 PM to 3:30 PM. The ferry ride and fort entry are both FREE!
12. See history come to life at Potter's Wax Museum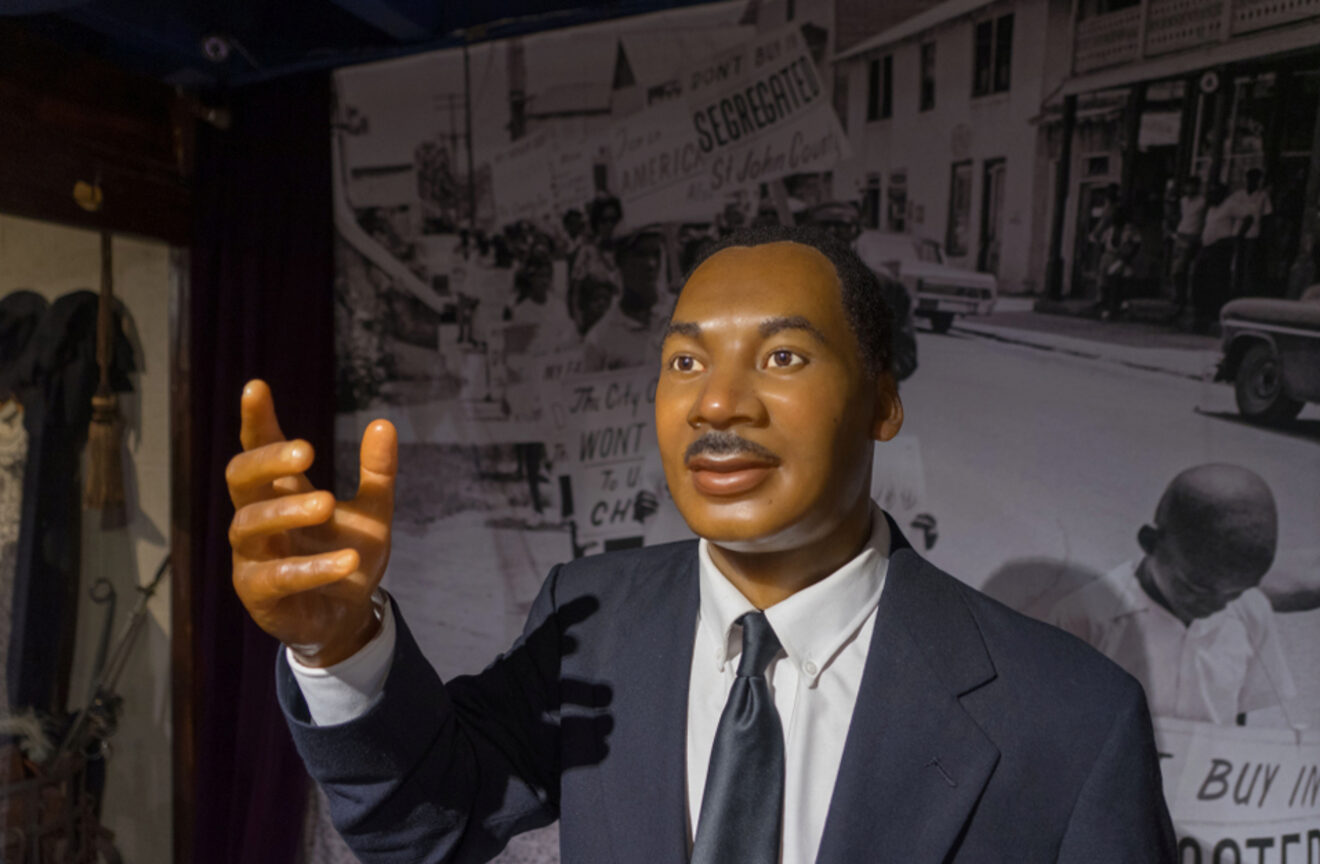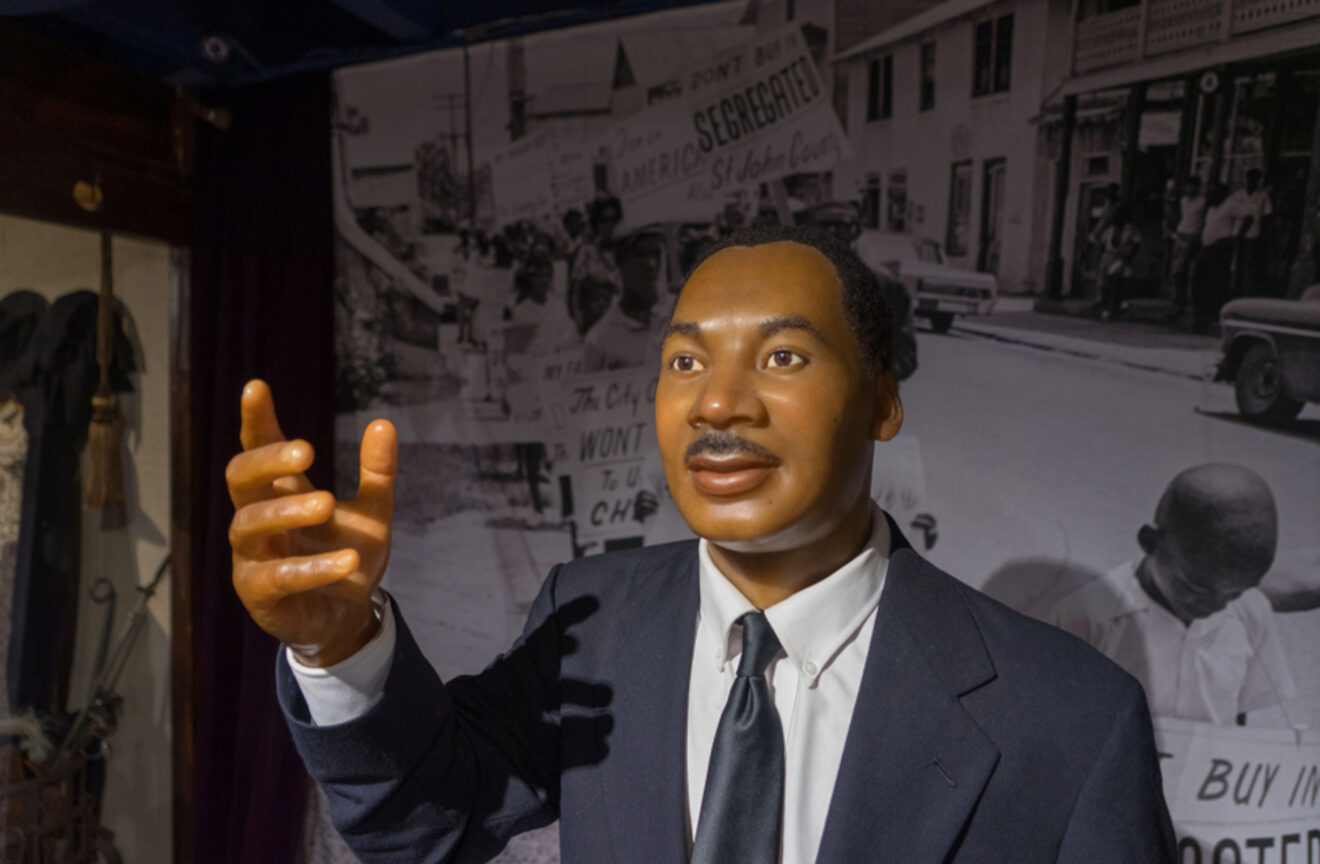 Since I'm all about honesty with my readers, I have to admit that wax museums have always given me the "heebie-jeebies" since I was a little kid. But I'm here to share the absolute best things to do in St. Augustine, and I'd be remiss if I didn't include Potter's Wax Museum on our list!
The oldest wax museum in the country is located in St. Augustine's historic district and is both a boutique wax museum and a family-friendly historic attraction. It's housed in the Old Drug Store, which was built in 1886. When you enter, you'll see some of the original bottles, drugs, and sundries sold there in the 1800s, and you're sure to get a kick out of what some of them say!
As far as wax museums go, Potter's is pretty special. The founder, George Leonard Potter, was captivated by wax figures after a visit to Madame Tussauds in London as a kid. Funny enough, it was my childhood trip to the very same place that made me afraid of them! 😂
George Potter was committed to the same excellent craftsmanship he saw at Madame Tussauds, so he worked with artists from all over Europe: wax from France, hair from Italy, and sculptors in Belgium. Potter's Wax Museum opened its doors in 1948.
At Potter's Wax Museum, you'll find over 160 amazingly realistic replicas of famous people throughout history and the present day, like Albert Einstein, Martin Luther King Jr, Ernest Hemingway, Elvis, and Michael Jordan.
While there are celebrities and even fictional characters on display (you can take a photo with Freddy Krueger if that's your cup of tea), the majority of wax figures here are of historical figures, which I think is really awesome and unique! Each figure has a plaque where you can read more about them, so it's a great teaching opportunity if you have little ones.
PRICE: US$17 for adults, US$10 for children ages 6+
13. Visit the Lighthouse and Maritime Museum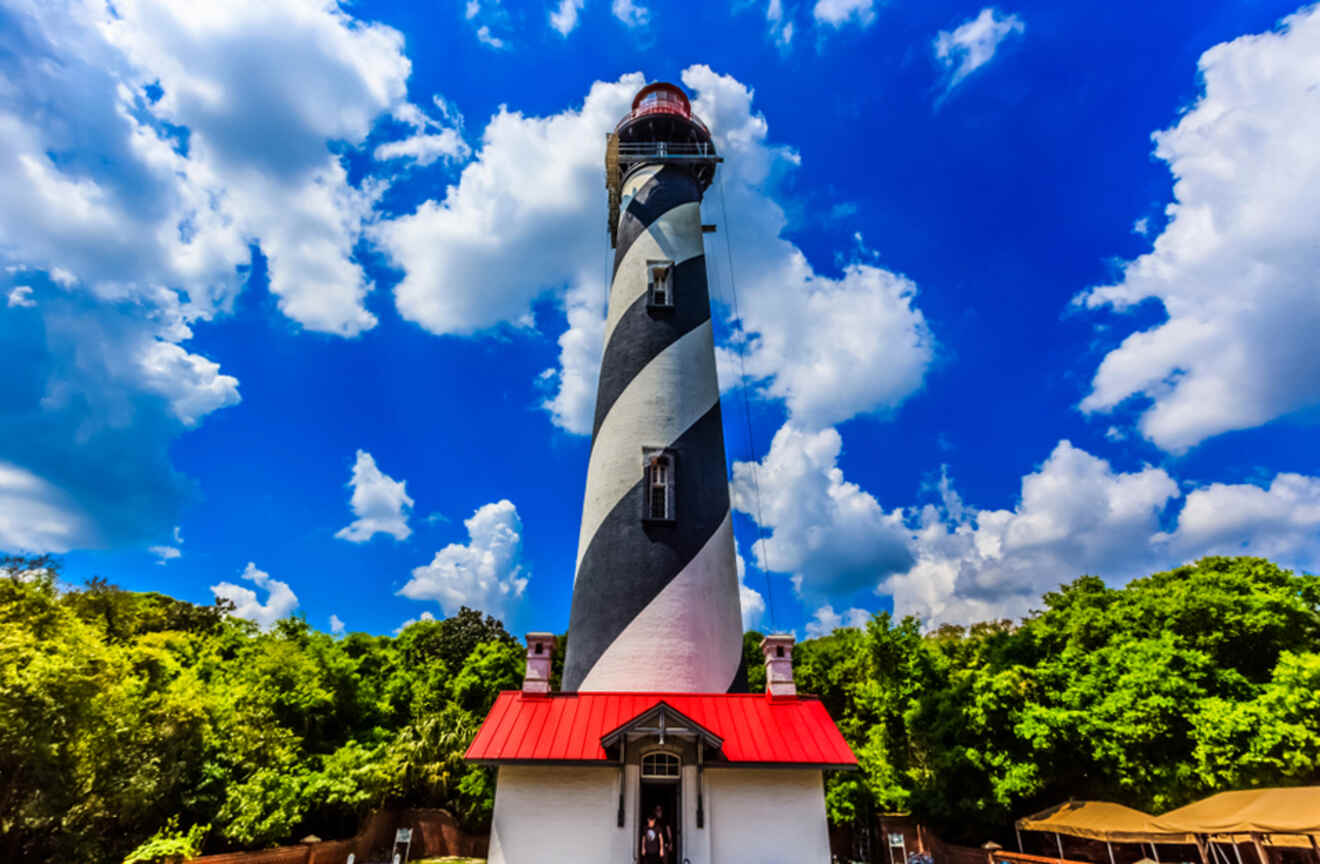 No first trip to St. Augustine is complete without a visit to the St. Augustine Lighthouse and Maritime Museum. Climb up 219 stairs to the observation deck at the top of the historic 1874 lighthouse, it's 165 ft (50 m) tall and offers breathtaking 360-degree views of the Ancient City and seemingly endless ocean.
There's a lot more to do here than just climb the St. Augustine Lighthouse, though! Learn about the Nation's Oldest Port through demos offered daily, showcasing the duties and daily life of lighthouse keepers. You can also participate in a Maritime Hammock Scavenger Hunt, included in general admission, which will lead you through the nature trails on a search for flora and fauna in this coastal habitat. Check out the 1876 Keepers' House exhibits and see authentic artifacts from a 1782 British loyalist shipwreck discovered right here! Little ones love the Shipyard Play Area.
Unsurprisingly, this historic lighthouse is known to be haunted, and the St. Augustine Lighthouse and Maritime Museum offers their specialty Dark of the Moon Ghost Tour that takes place in the tower at night – the only ghost tour of its kind in St. Augustine! You can purchase tickets to the tour online for US$25 per person.
PRICE: US$15 for adults, US$13 for children
14. Check out Fort Mose Historic State Park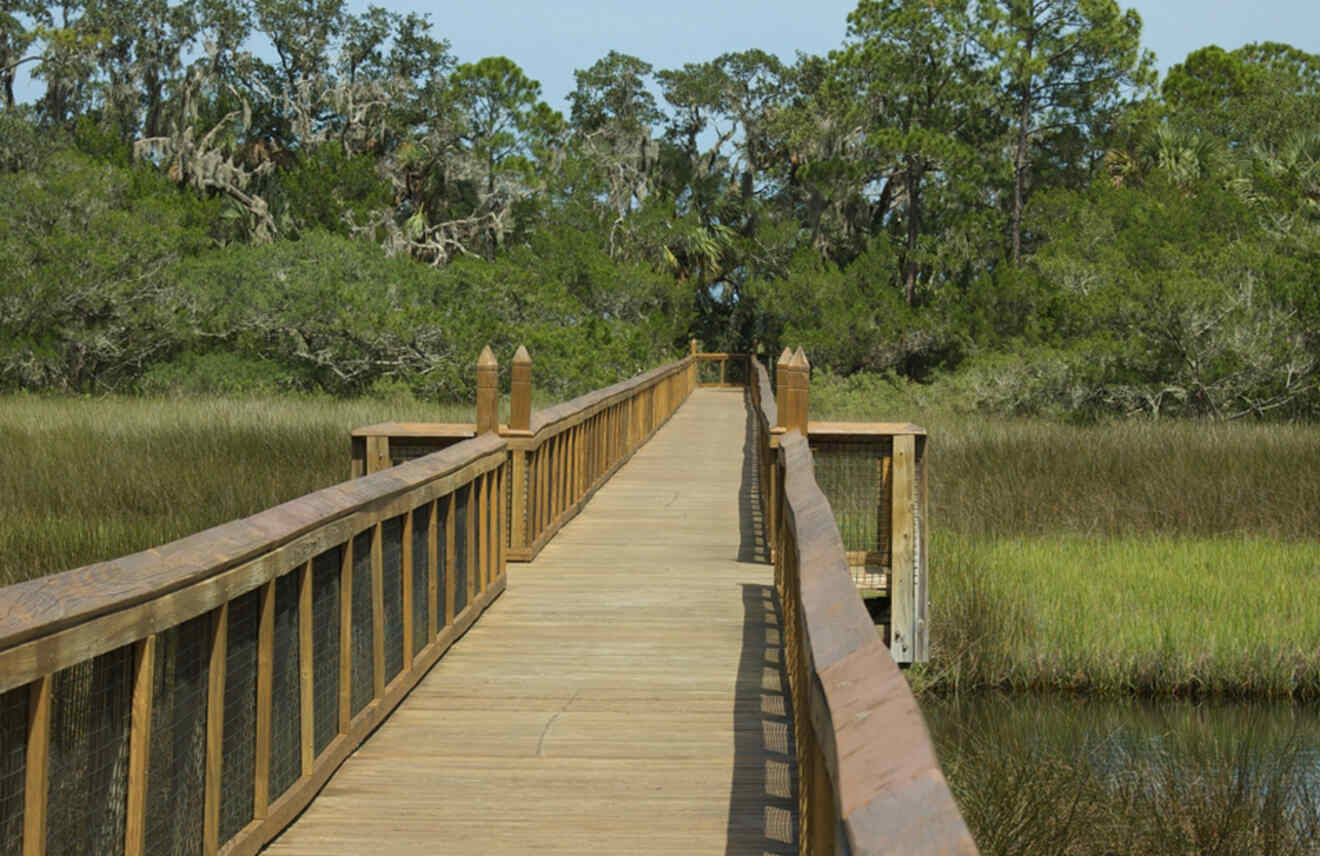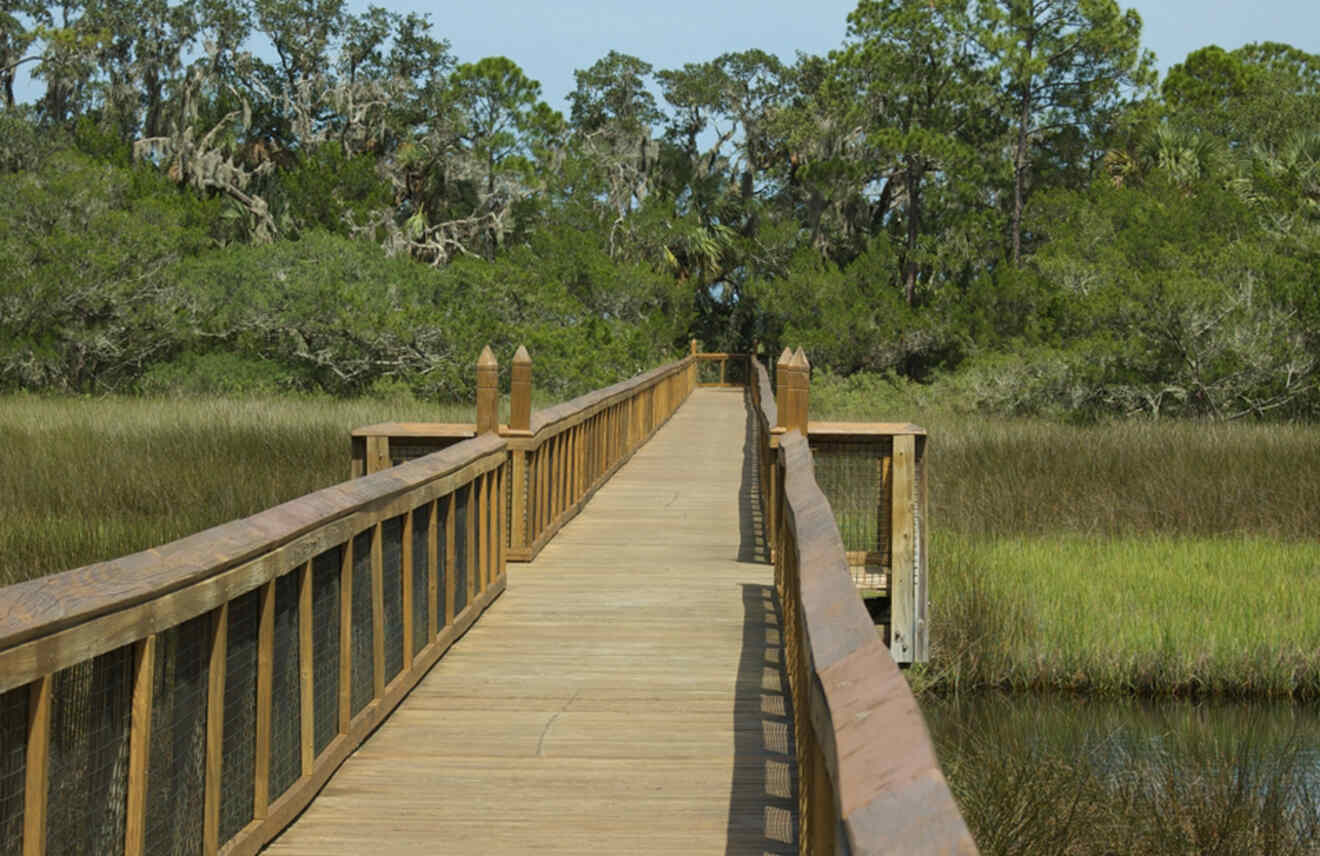 A National Historic Landmark and listed on the National Register of Historic Places, Fort Mose Historic State Park plays an important role not only in St. Augustine's history but in American history as a whole. For many slaves seeking liberation from the English colonies in Georgia and Carolina, Fort Mose was their first stop along the Underground Railroad. For some, Fort Mose became their new home.
If you're a history buff, Fort Mose is unmissable! The same goes for wildlife enthusiasts, as this Florida state park covers 40 acres (16 hectares) of waterfront and features 2 boardwalks where visitors can spot incredible birds, like bald eagles, great blue herons, and white ibis.
The 1st legally sanctioned free-slave settlement in the present-day United States, Fort Mose was chartered by the Spanish governor of Florida as a sanctuary for former slaves who emancipated themselves during British rule!
The stipulation was that they must vow allegiance to the King of Spain and join the Catholic Church. The result was that the residents here seemed to create a unique culture all their own, blending Native American, Spanish, and English customs.
The interactive museum at the park tells the story of the amazing people who lived at Fort Mose, and you'll find historic maps, paintings, and archaeological artifacts. There is no cost to visit the park.
15. Taste your way around town on a food and wine tour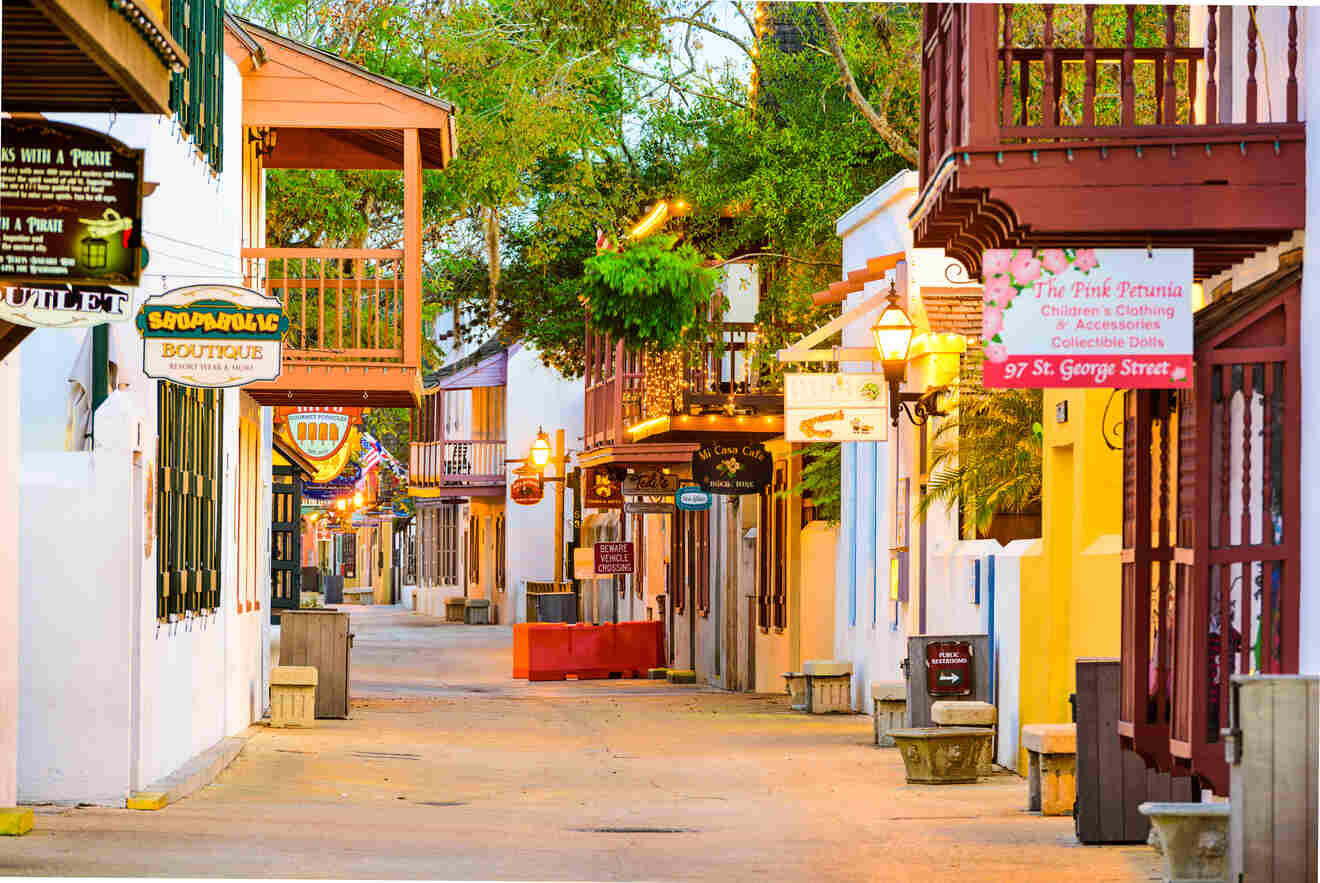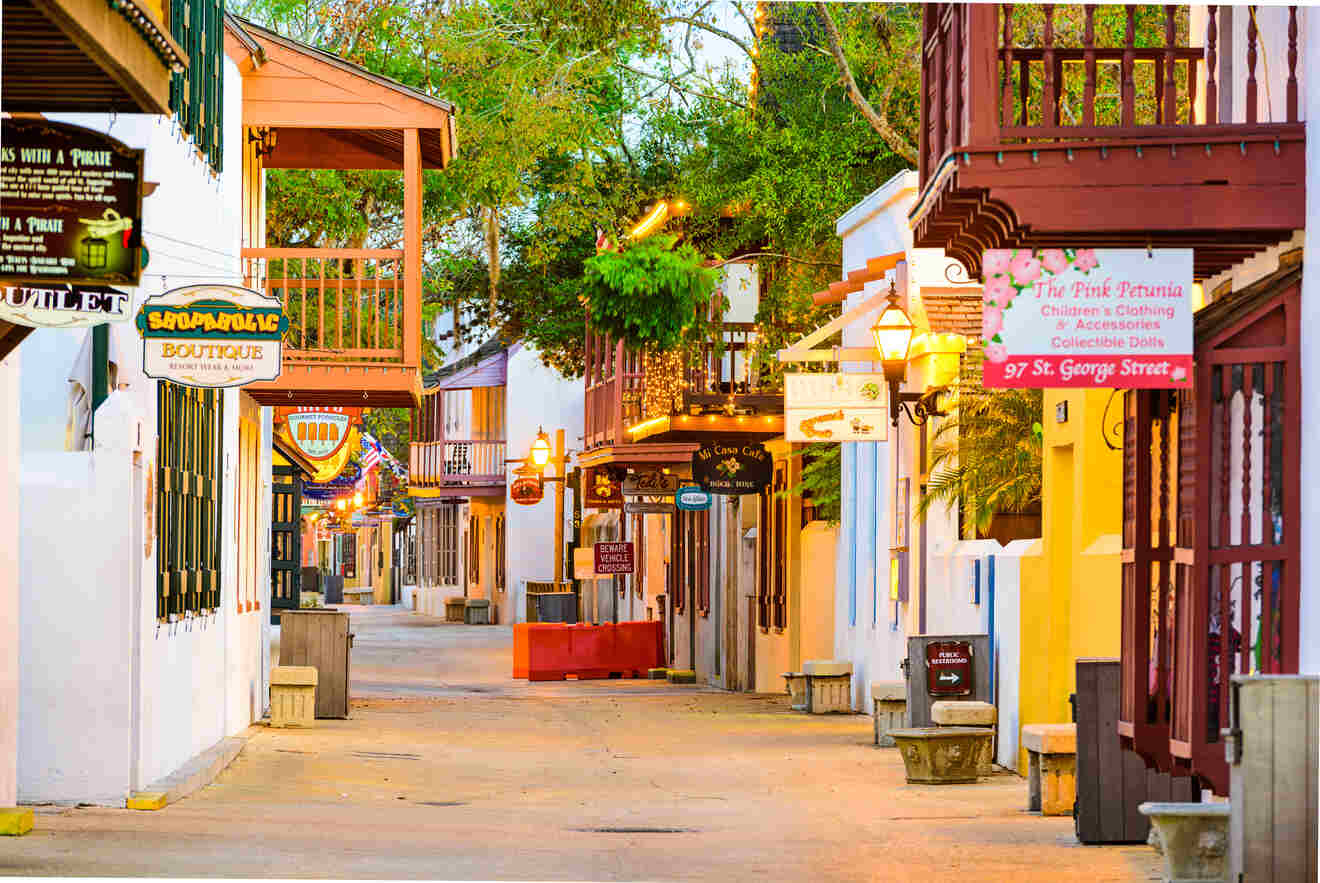 If you consider eating good food and drinking wine your top vacation activities like I do, then have I got the tour for you!
The Corks and Forks culinary tour takes you on a stroll through St. Augustine's Historic District, where you'll sample some of the best food and wine the Ancient City has to offer.
The tour pairs food and wine together at 4 to 5 of St. Augustine's most beloved restaurants, and the samples will fill you up just like a meal would. Along the way, you'll pass some of the city's major landmarks, like Flagler College, Plaza de la Constitución, and Cathedral Basilica of St. Augustine.
I love that if you're not big on wine, they'll let you swap it out for beer instead, which is a great way to convince your husband to join you on this tasty adventure! The tour is offered for ages 21+, and the price is inclusive of all provided food and alcohol tastings.
PRICE: From US$135 per person
16. Experience the unique Lightner Museum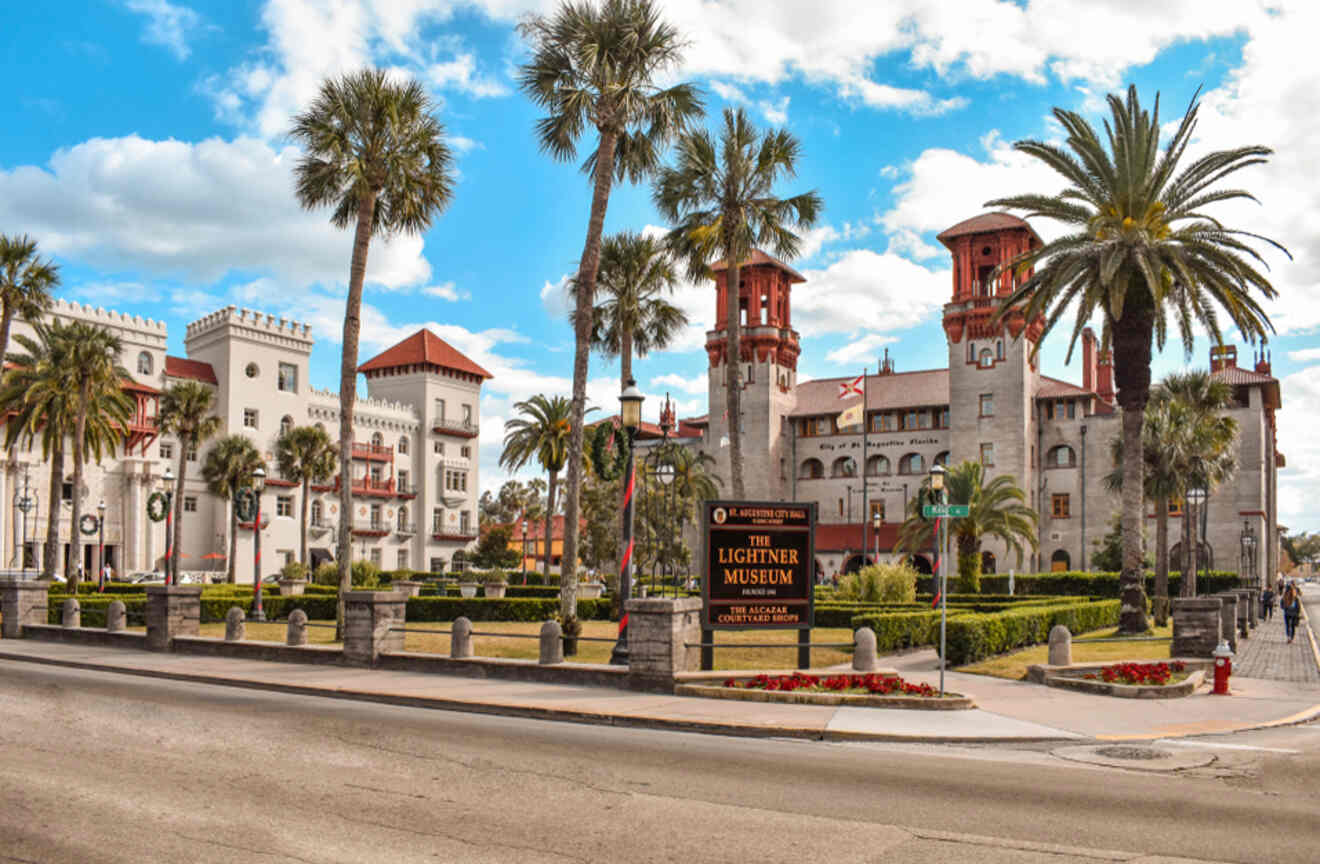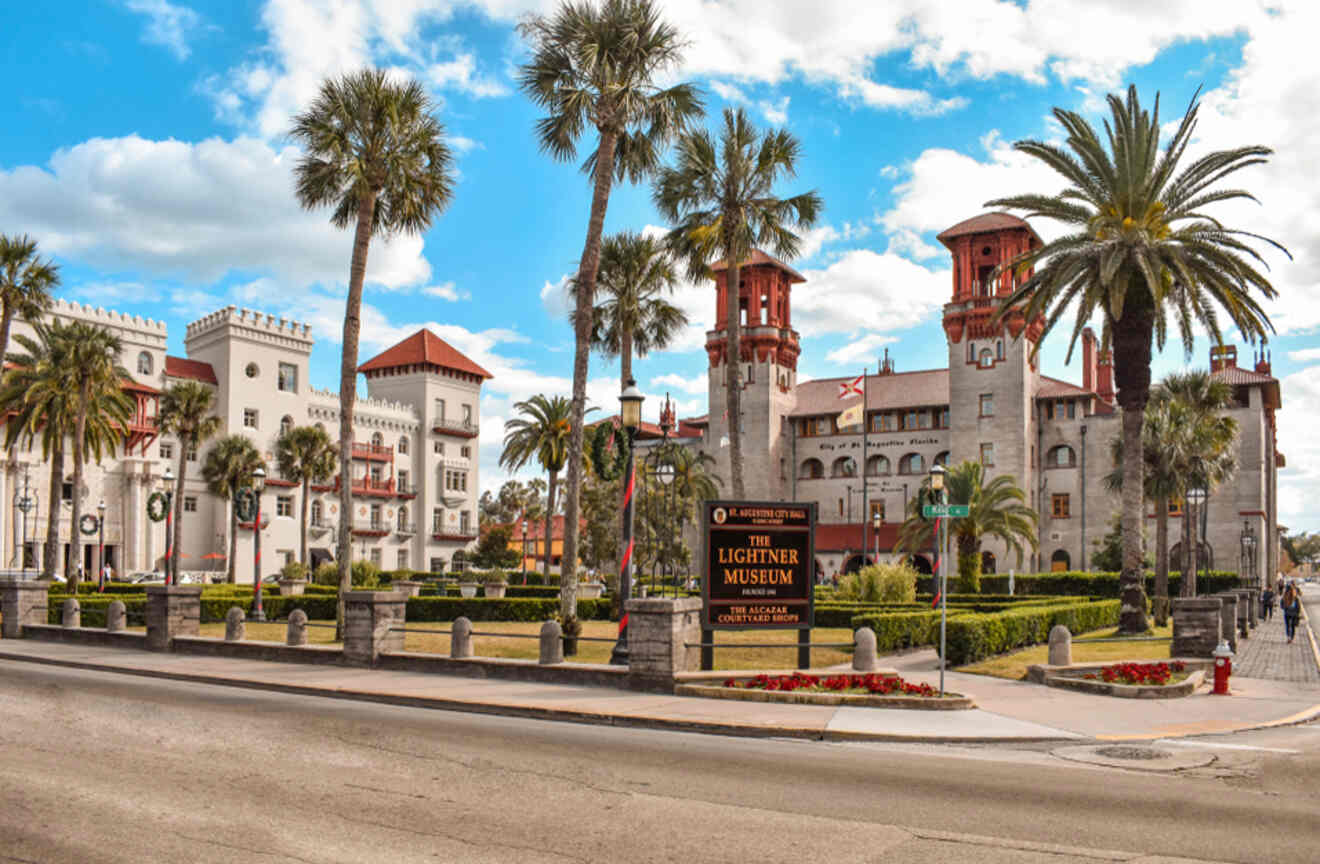 The Lightner Museum in downtown St. Augustine boasts an exquisite and diverse collection of fine and decorative art, natural history specimens, and antiques, many of which are from the Gilded Age.
Fittingly, it's housed in the jaw-droppingly beautiful historic Hotel Alcazar, which once boasted the world's largest swimming pool and was built in St. Augustine in 1888 by none other than Henry Flagler, one of the Gilded Age's most influential figures.
Discover the incredible exhibitions at the Lightner Museum, both permanent and rotating, ranging from priceless lamps by Louis Comfort Tiffany (be still my heart!) to shells collected from all over the world.
The museum hosts various programs and events throughout the year, like yoga in the garden, a nod to Henry Flagler's focus on well-being for guests at historic Hotel Alcazar, and artisan hobby workshops that pay homage to the museum's original name upon opening in 1948, Lightner Museum of Hobbies.
PRICE: US$17 for adults, US$10 for children ages 12+
17. Take a historic tour of Flagler College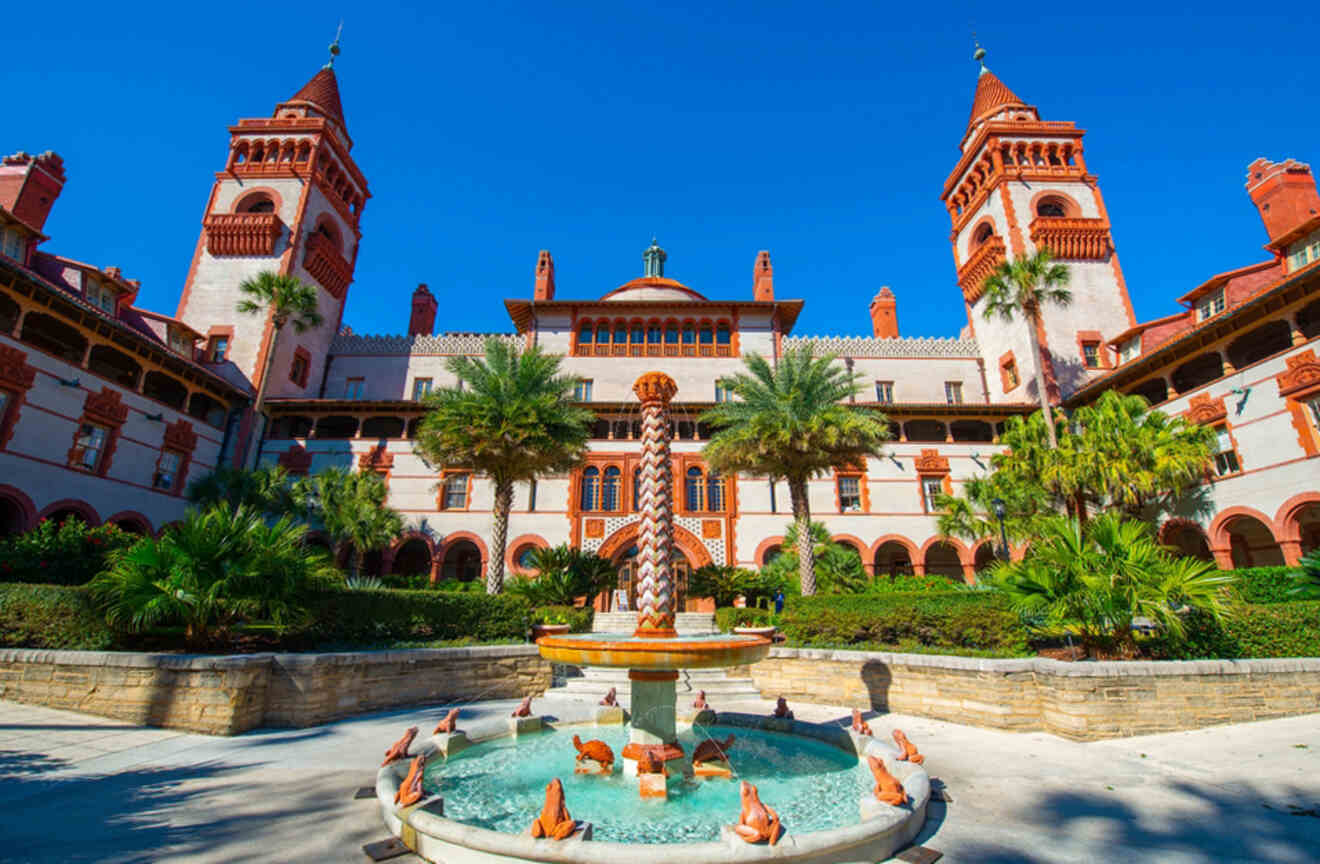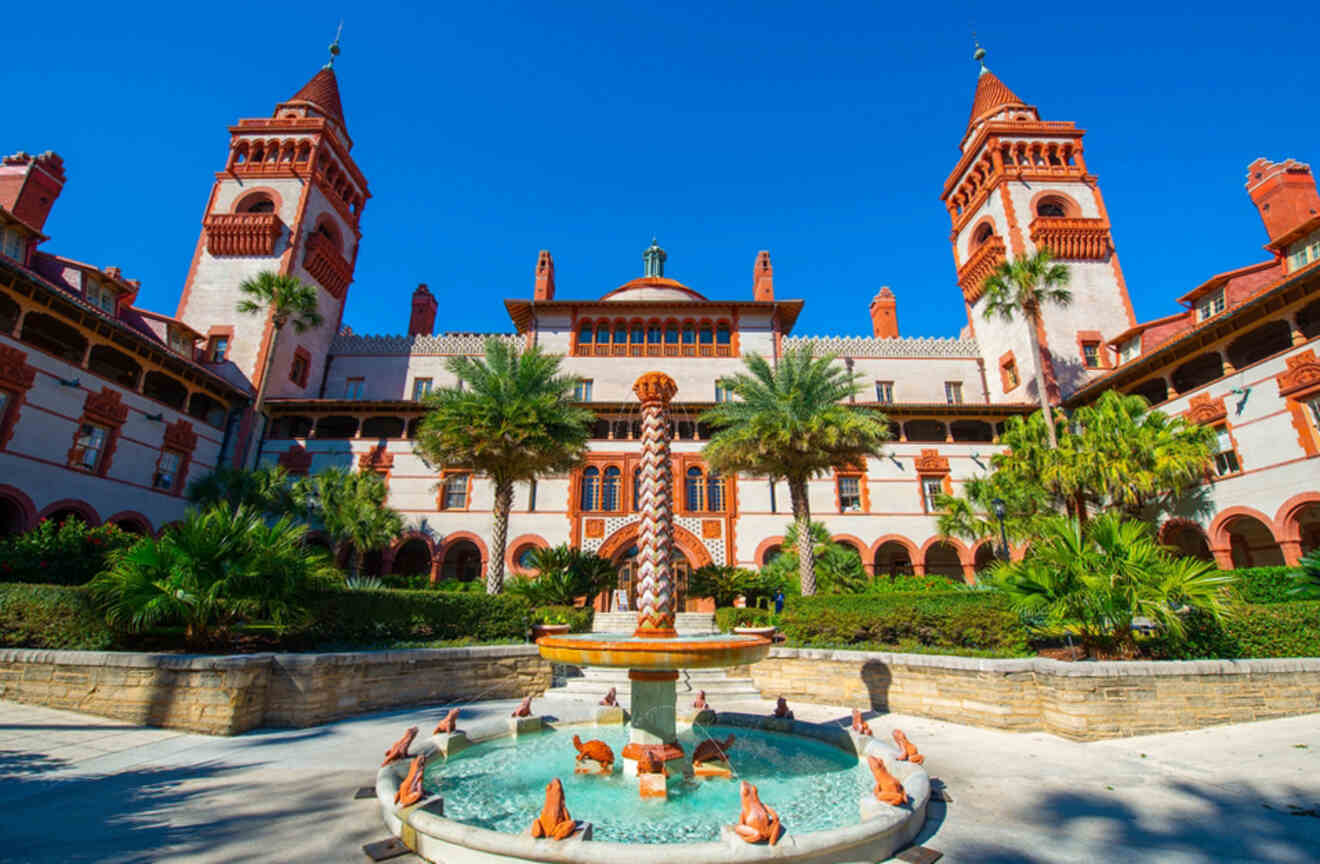 Just across the street from Lightner Museum is downtown St. Augustine is Flagler College, and it is hands-down the most gorgeous college campus I have ever seen! Although I've been visiting St. Augustine my whole life, it wasn't until my most recent trip there that my husband suggested we walk around Flagler College and see if we could join a tour.
The historic tours of Flagler College focus on its architectural significance, as it was once the Ponce de León Hotel, another one of Henry Flagler's opulent hotels in St. Augustine that he spared no expense in the building. Louis Comfort Tiffany was hired as an interior designer and created the stunning stained glass windows in the dining hall! Can you tell I've got a thing for Tiffany Glass? 😆
The tour is really amazing. The whole time I remained in complete and utter disbelief that students actually attend a school this beautiful! You can purchase tickets online, and I recommend doing so in advance as spots are limited.
PRICE: US$17 per person
18. Go wild at St. Augustine Alligator Farm Zoological Park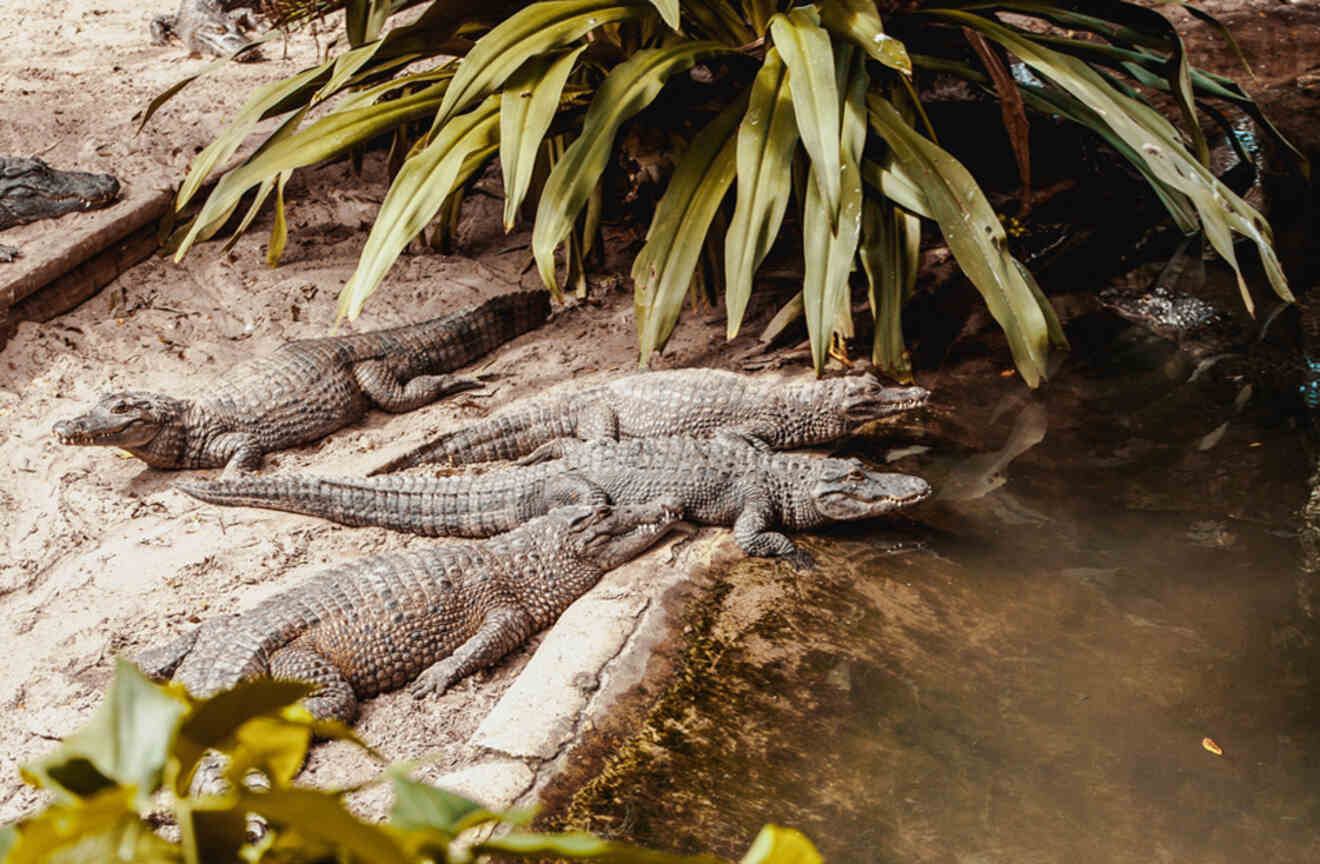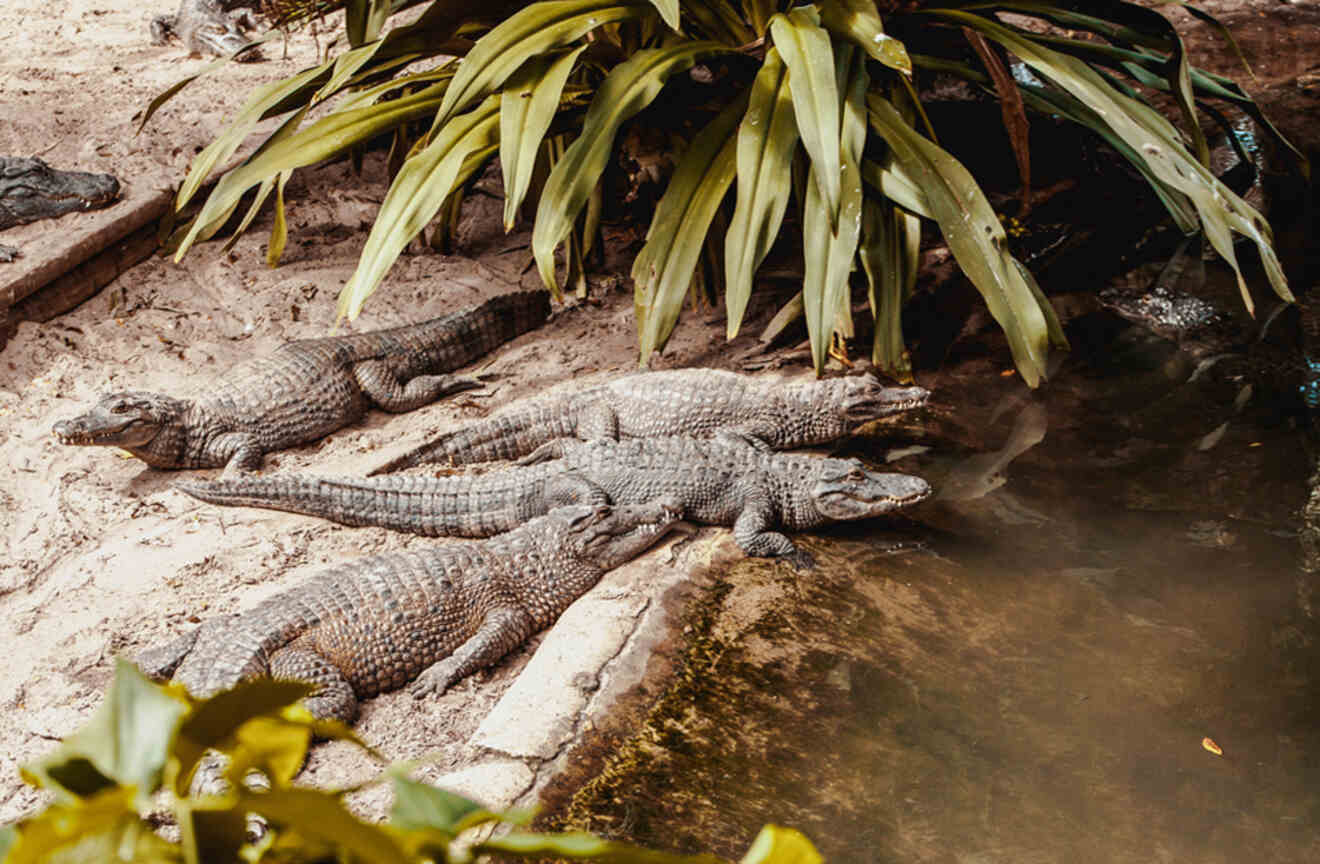 For a day filled with family-friendly fun and amazing animals, look no further than the St. Augustine Alligator Farm Zoological Park! The park dates back to the 19th century, when it started out as a small reptile exhibition.
Get to know the many animals that call the St. Augustine wild reserve home, including, of course, hundreds of alligators. It also happens to be the only place in the world where you can see all 24 species of crocodilians in one place! Daily wildlife shows are offered, and visitors can learn more about the incredible animal residents.
If you're searching for unique things to do in St. Augustine, you may want to try one of the thrilling aerial zip-lining courses here at Crocodile Crossing. Did I mention there are live alligators and crocodiles below your feet the whole time!?
Animal Encounters can be reserved for an additional fee, and these encounters allow guests to get up close and personal with Galapagos tortoises, alligators, and sloths!
PRICE: Admission is US$34 for adults, US$19 for children
19. Explore the Villa Zorayda Museum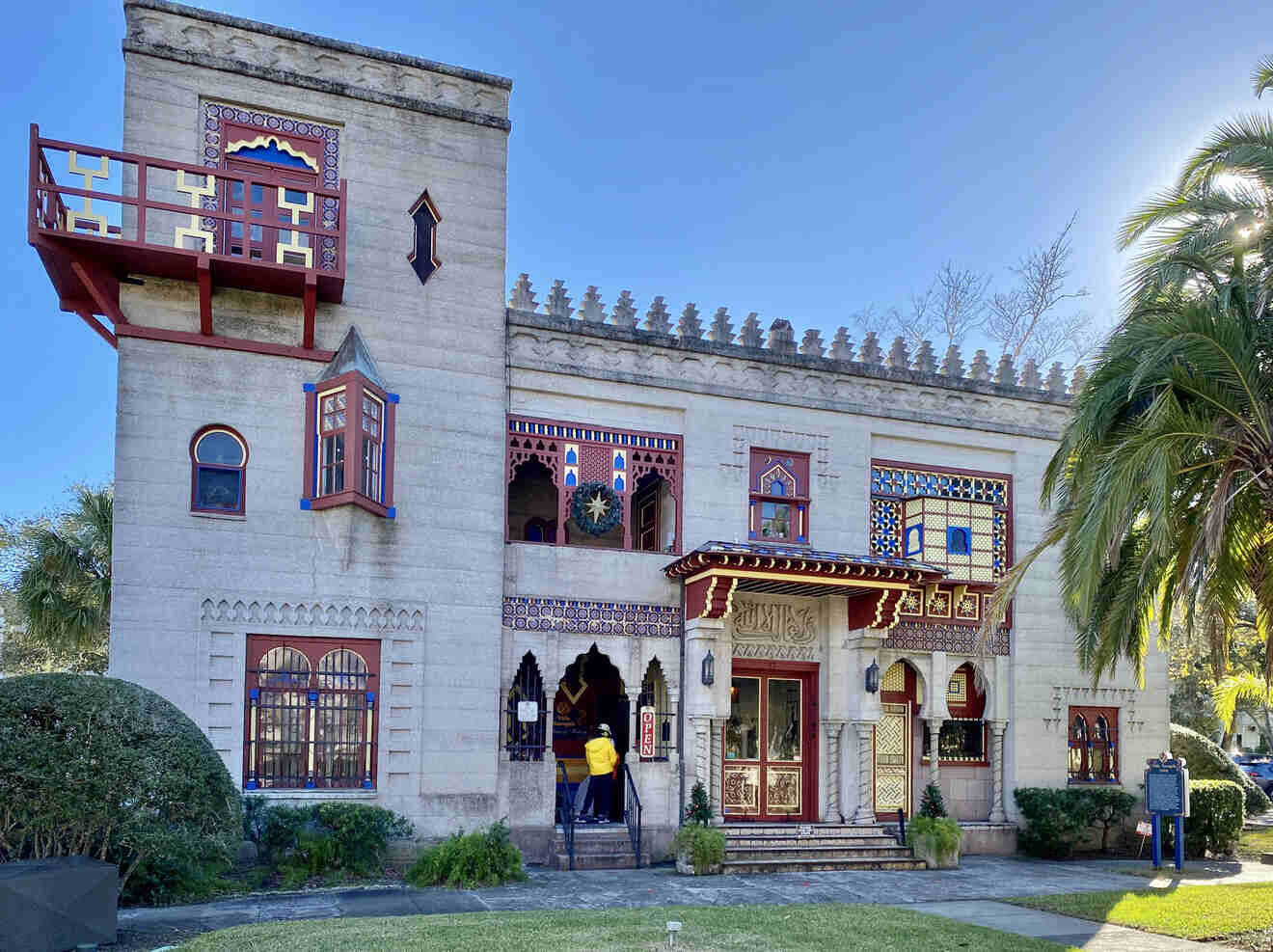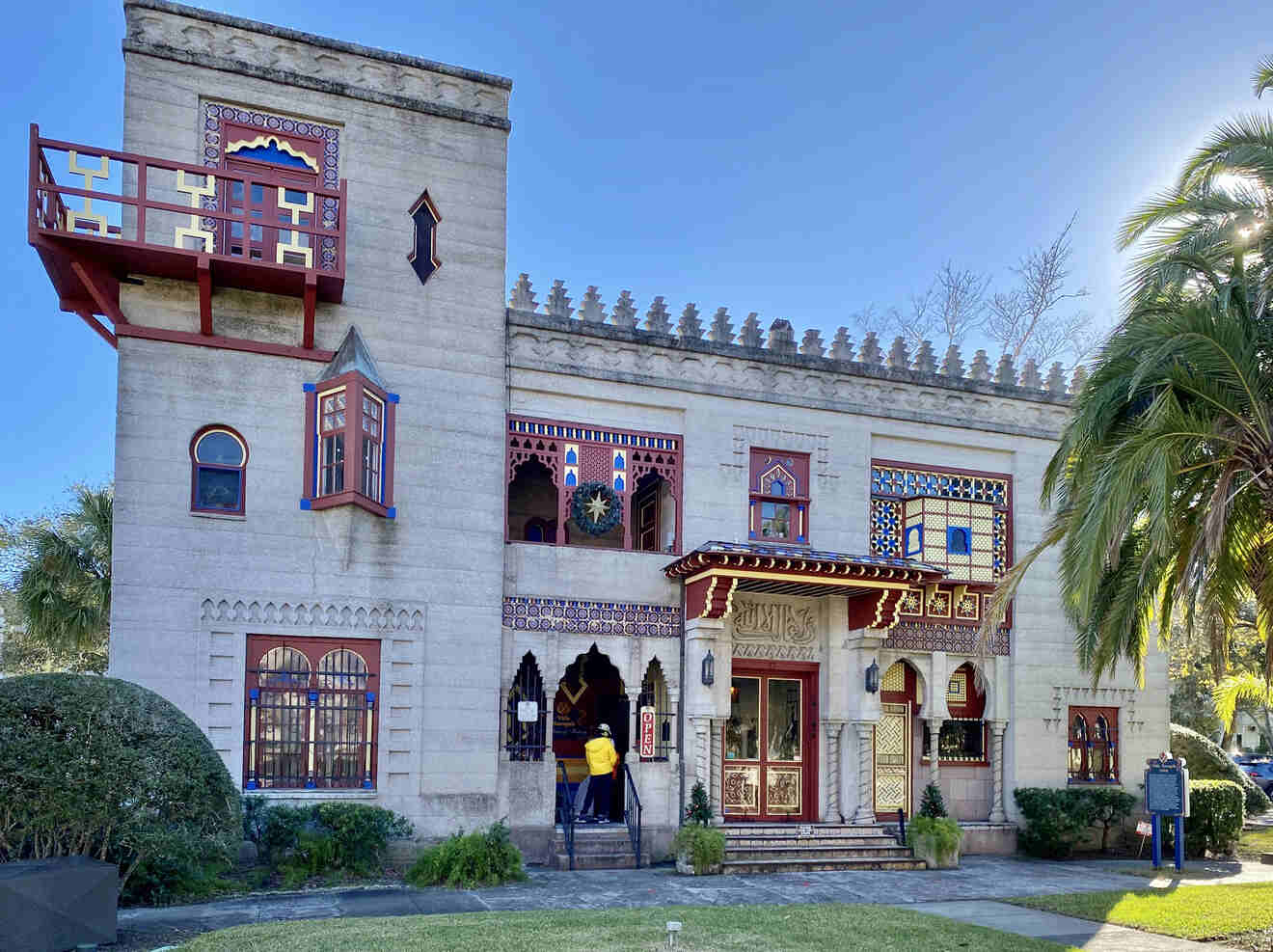 I love historic home tours – in my eyes, the more over-the-top extravagant the home, the better! The Villa Zorayda Museum fits that description perfectly. This Gilded Age mansion was built in 1883 for the eccentric Boston millionaire Franklin Webster Smith as his winter home and was greatly inspired by the Alhambra Palace in Granada, Spain.
The inside is just as extraordinary as the exterior – maybe even more so! You'll find a unique and extensive antique and fine art collection owned by the original family for over 110 years, including the present day. There's even an Egyptian rug more than 2,400 years old here that was originally taken from one of the pyramids in Egypt!
Self-guided audio tours are available in multiple languages and are included with admission, so you can explore the spectacular home at your leisure. If you're able to, I highly recommend visiting the Villa Zorayda Museum during Christmas time for their Candlelight Tour. While it does cost extra, the Villa is unbelievably gorgeous and decorated for the holidays, and there are more than 100 lit candles on display, making for a truly magical experience.
PRICE: US$14 for adults, US$7 for children ages 6+
20. Spend the day at St. Augustine Beach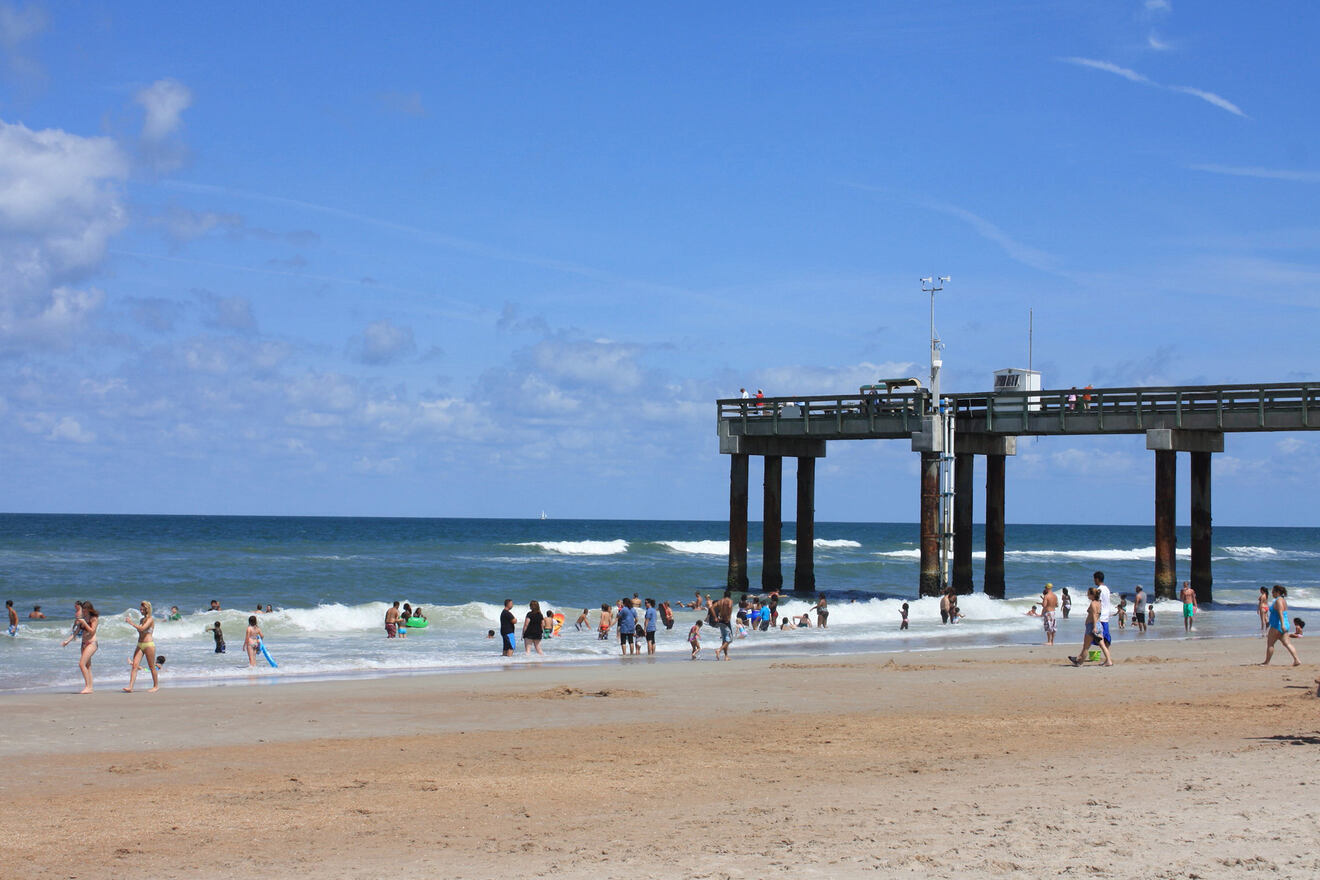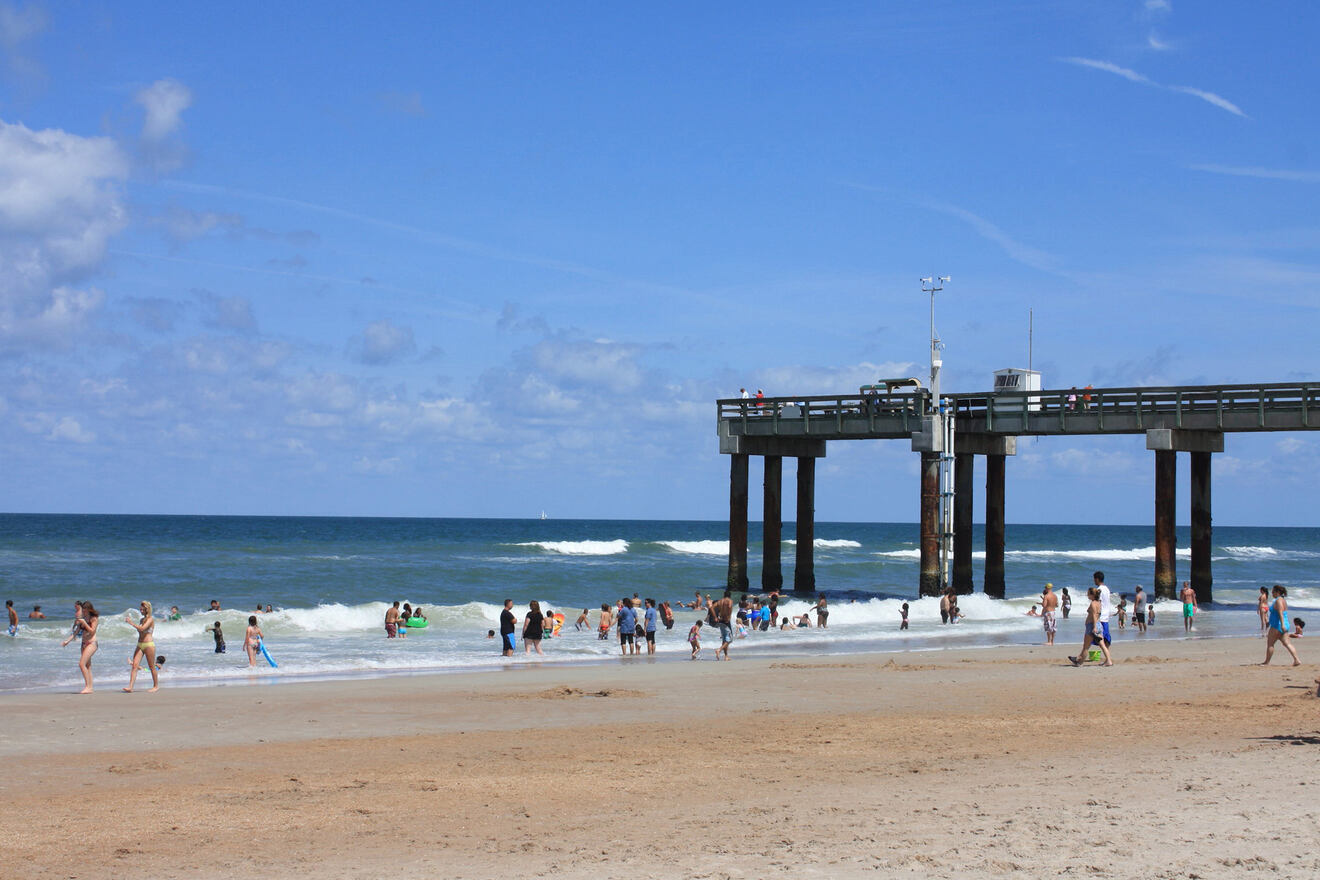 With so many exciting things to do and see in St. Augustine's Historic District, it can be easy to forget that the Ancient City boasts some pretty beautiful beaches too! We covered the beautiful beach at Anastasia State Park in #10 on our list, but St. Augustine Beach is the best beach if you want to be right in the middle of the action.
St. Augustine Beach, where you'll find the St. Johns County Ocean Pier, is a hotspot for beachgoers since it has everything you need for some fun in the sun: a wide, white sandy shore, a shaded picnic pavilion, restrooms, volleyball courts, waterfront restaurants within walking distance, and even a Splash Pad and playground for kids.
You can head to the fishing pier to catch some fish or just stroll along it and take in the beautiful views. If you forgot something important, like sunscreen, there's a gift shop on the pier selling souvenirs and beach day necessities.
21. Check out the Oldest Store Museum Experience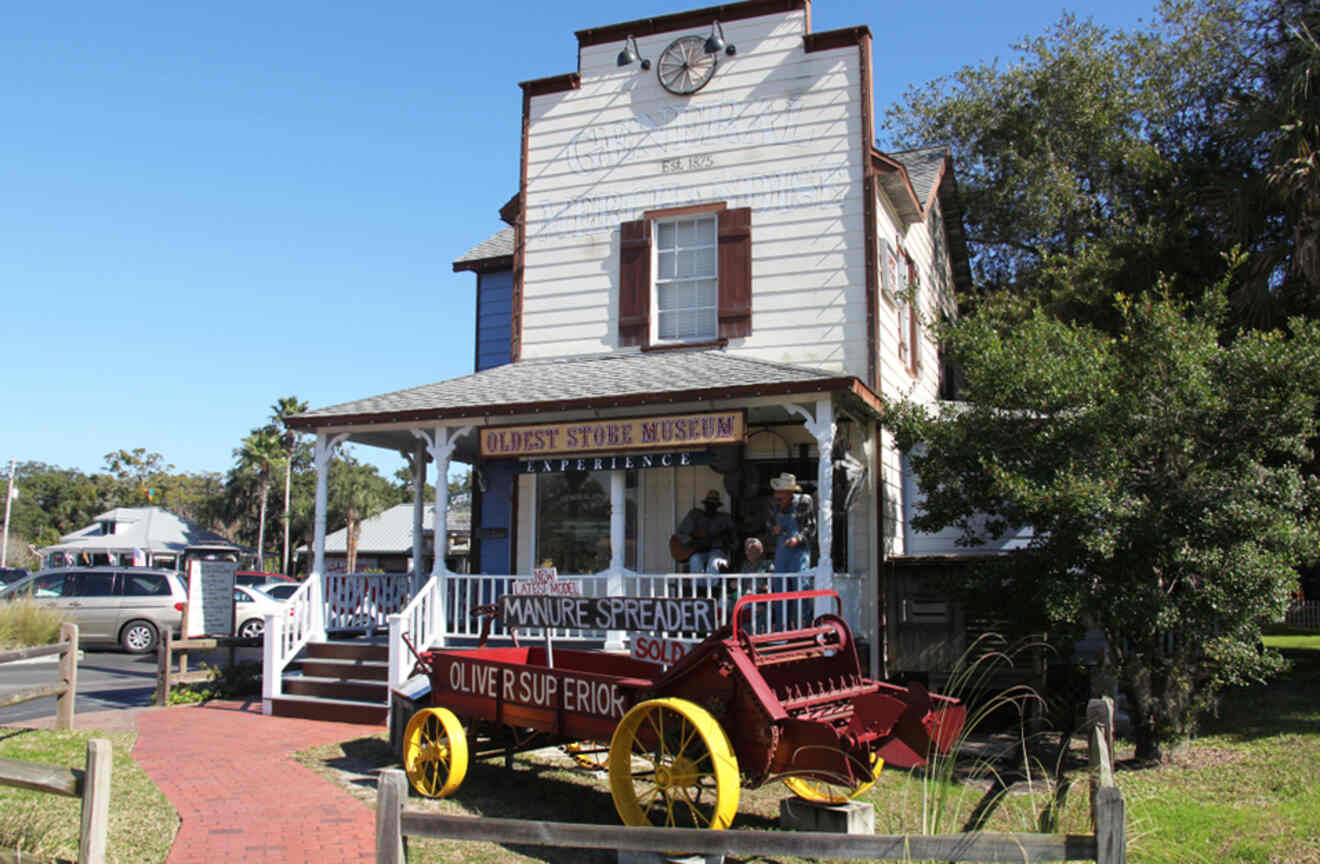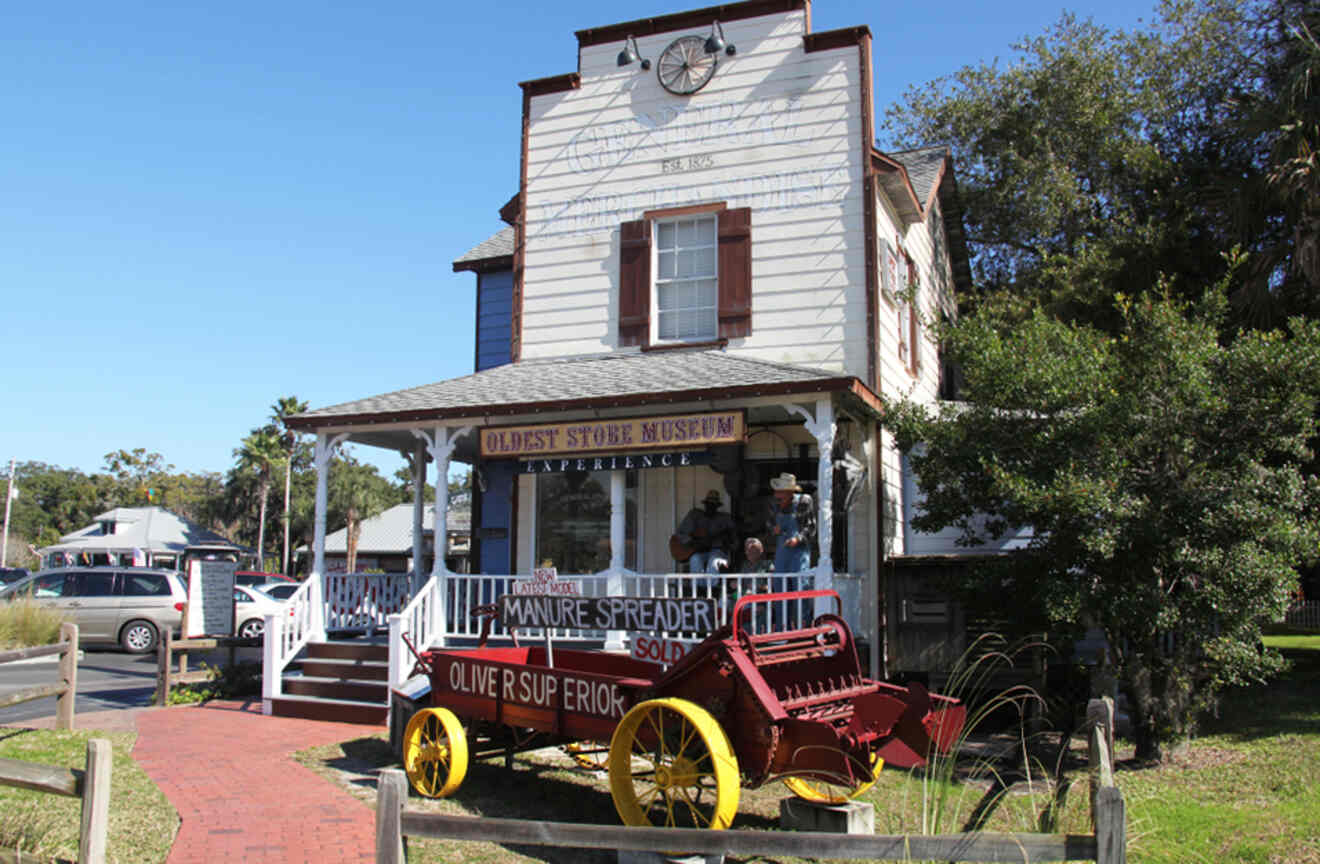 The Oldest Store Museum in St. Augustine is such a fun outing! The museum is housed in a replica of the original St. Augustine general store that C.F. Hamblen operated in 1908. A visit here really feels like you're stepping back in time.
The Oldest Store Museum is a living history museum, so the tour guides play the roles of clerks and salesmen showing off their wares. You'll learn about all the crazy inventions of the 19th and early 20th-century, as well as see some of the original items that were for sale in C.F. Hamblen's shop.
Tours of the Oldest Store Museum are offered every 20 minutes, so you can easily fit a stop here on your next St. Augustine trip. It's well worth it!
PRICE: US$17 for adults, US$10 for children ages 5+
22. Embark on the Ale Trail & History Tour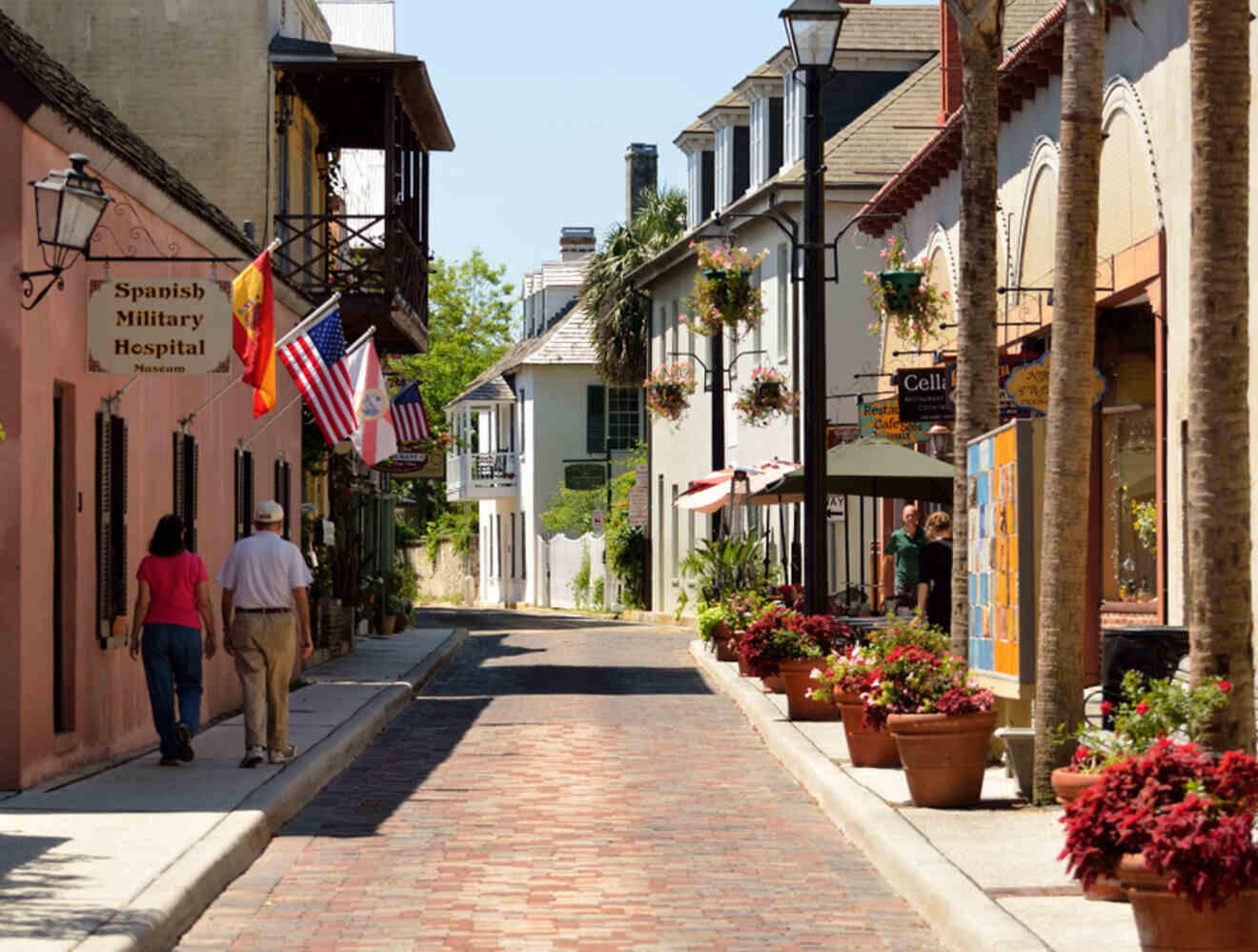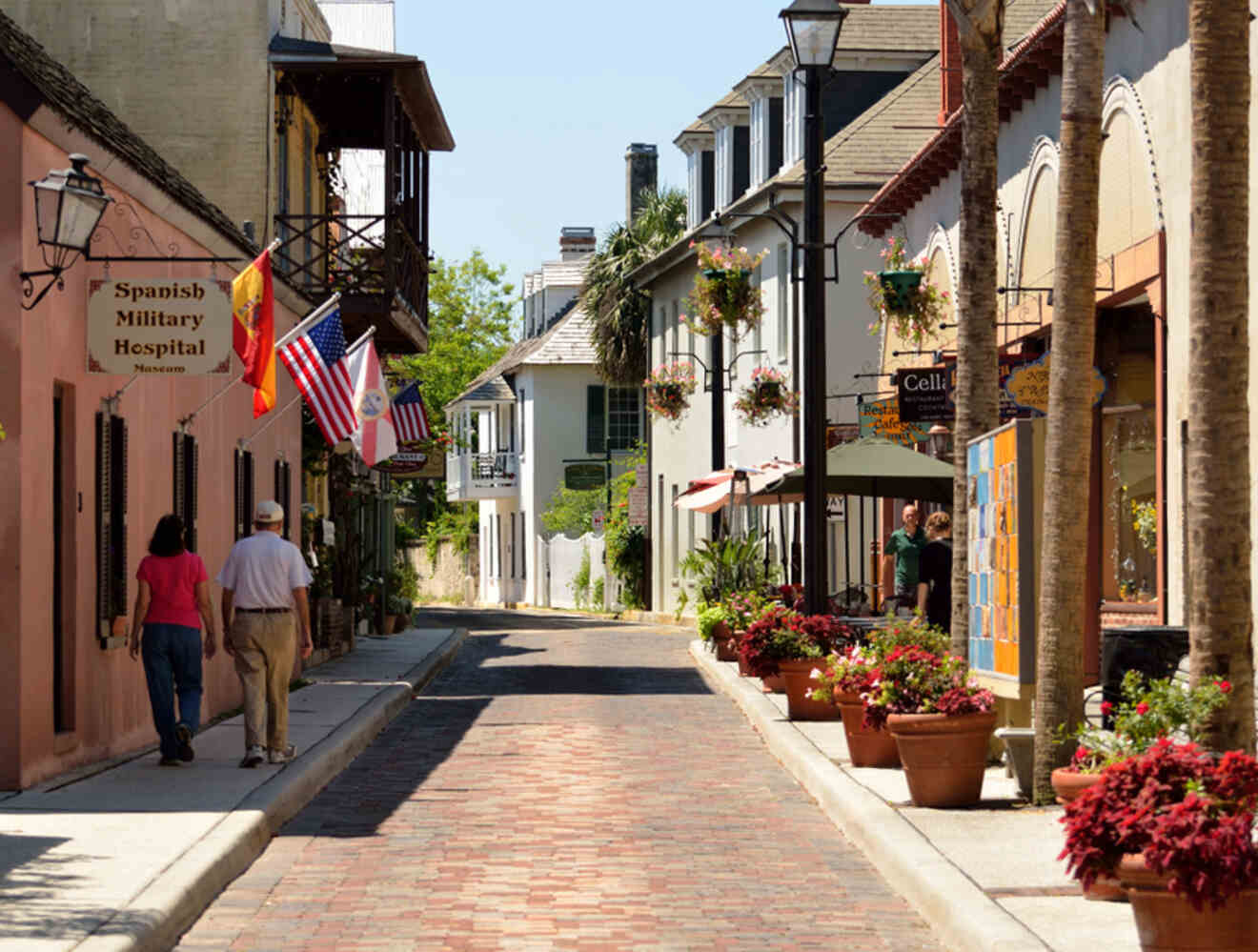 We've covered a lot of history tours so far, but this one is super unique! The Ale Trail & History Tour combines the rich history of the Ancient City with its very best craft beer.
The excursion starts out with a tour and tasting at a local brewery and continues on foot by various historic landmarks, like the Prince Murat House, historic Aviles Street, and Father Miguel O'Reilly House Museum.
Your guide will take you to different breweries and bars, including some fantastic hidden gems, while sharing St. Augustine's history along the way! I recommend planning this at the beginning of your trip, so you can go back to any watering holes you especially liked!
It's a super fun way to get to know St. Augustine. The tour groups are always kept to under 8 people for a more personal experience, but they do fill up fast! I recommend booking the Ale Trail & History Tour ASAP so you don't miss out.
PRICE: From US$110 per person
23. Explore the World Golf Hall of Fame & Museum
If you or someone you're traveling with is an avid golfer, you'll want to add the World Golf Hall of Fame to your St. Augustine to-do list! Located mere minutes away from downtown St. Augustine, the World Golf Hall of Fame & Museum at World Golf Village celebrates the game's history and legacy.
Learn about golf greats and legends through more than 4,000 artifacts, memorabilia, multimedia, and interactive exhibits – you can even play over 165 different courses on a simulator! There's also a natural grass, and an 18-hole putting course to test your skills on.
Admission includes a shot at the World Golf Hall of Fame Challenge Hole, a 132-yard island green not unlike the 17th hole at TPC Sawgrass. The shots are measured by the Hall of Fame staff and entered into an online daily leaderboard. The winner each month receives a commemorative brick under the gazebo to immortalize their achievement! Not too shabby of a prize, that's for sure.
You can buy your ticket in advance, so you don't have to wait in line upon arrival!
PRICE: US$21 for adults, US$14 for children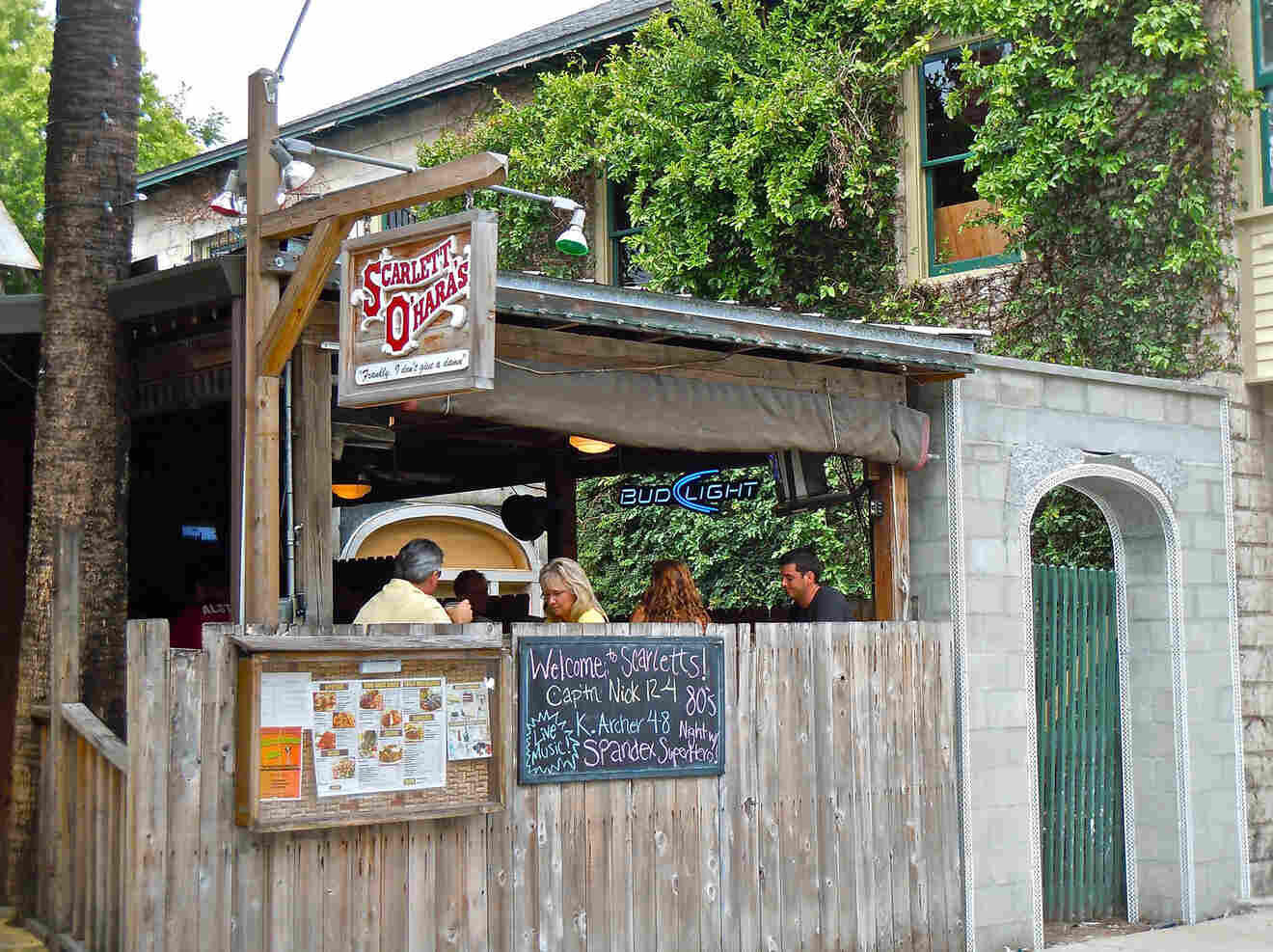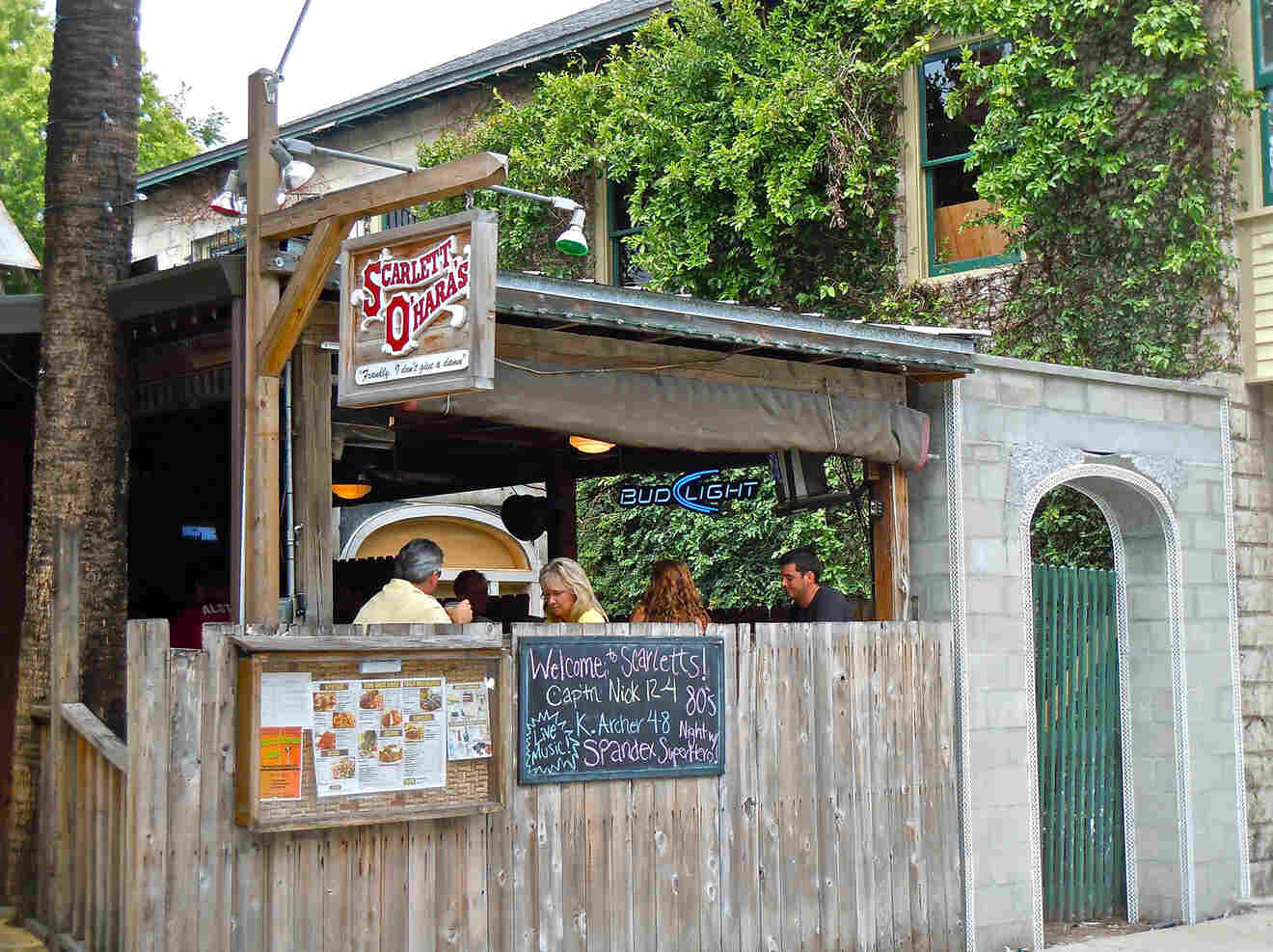 I had the time of my life on this tour, so of course, I had to include it. This haunted pub crawl in St. Augustine combines 2 things I love: spirits and spirits!
Your knowledgeable guide will take you on a tour of the Ancient City's most haunted bars, like Scarlett O'Hara's, Stogies Jazz Club, and more, where you can sit back, sip your drink, and hear hair-raising ghost stories and local legends. I'm not afraid to admit that there were several times during this tour that I was really creeped out. No spoilers here, but I definitely got what I came for: thrills and chills.
Since the haunted pub crawl is 21+, the stories you hear are a bit more sordid than the ones they tell on family-friendly tours. As someone who takes a lot of ghost tours, this was a welcome surprise. I learned a bunch of new, albeit creepy, things!
PRICE: From US$30 per person
FAQs about things to do in St. Augustine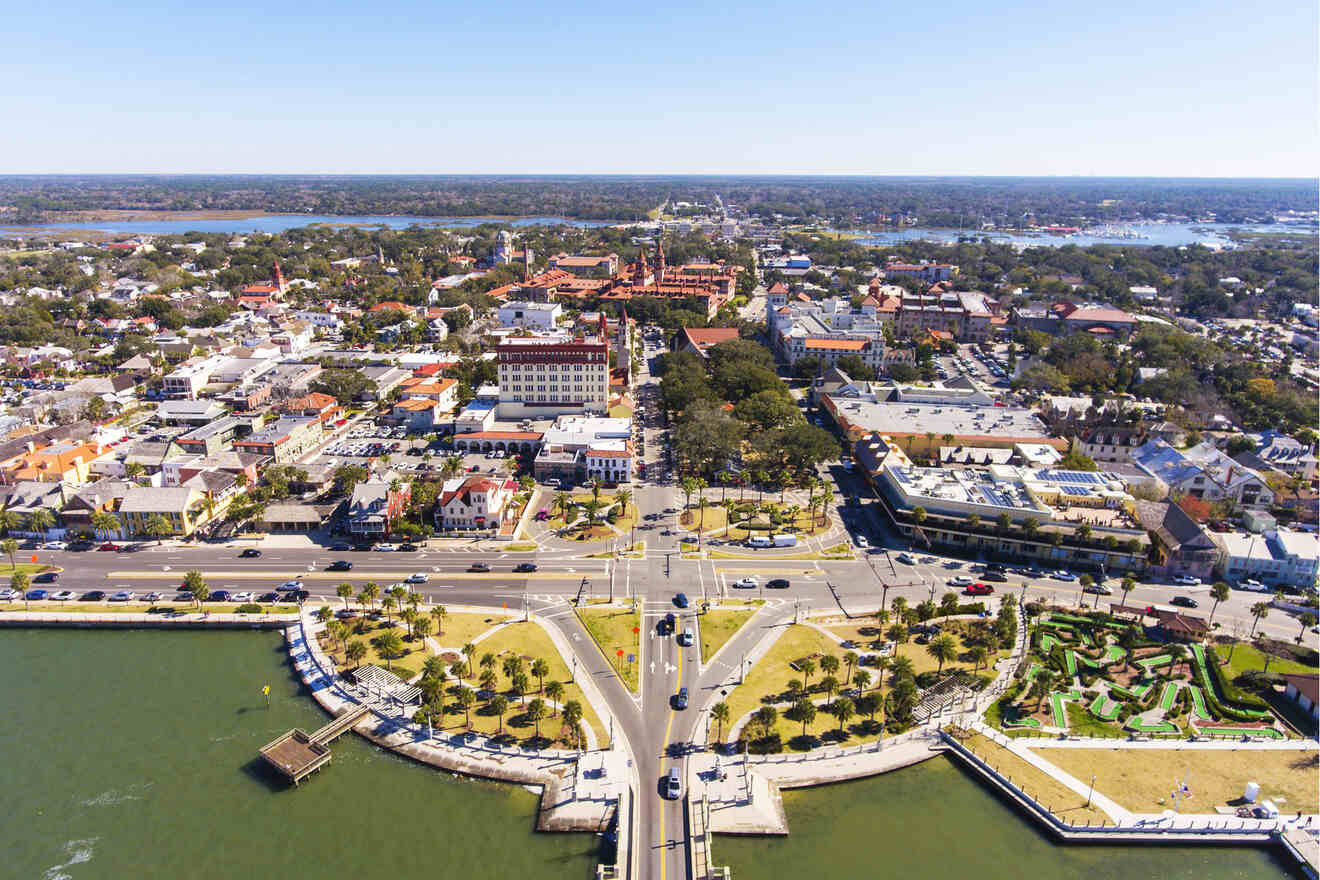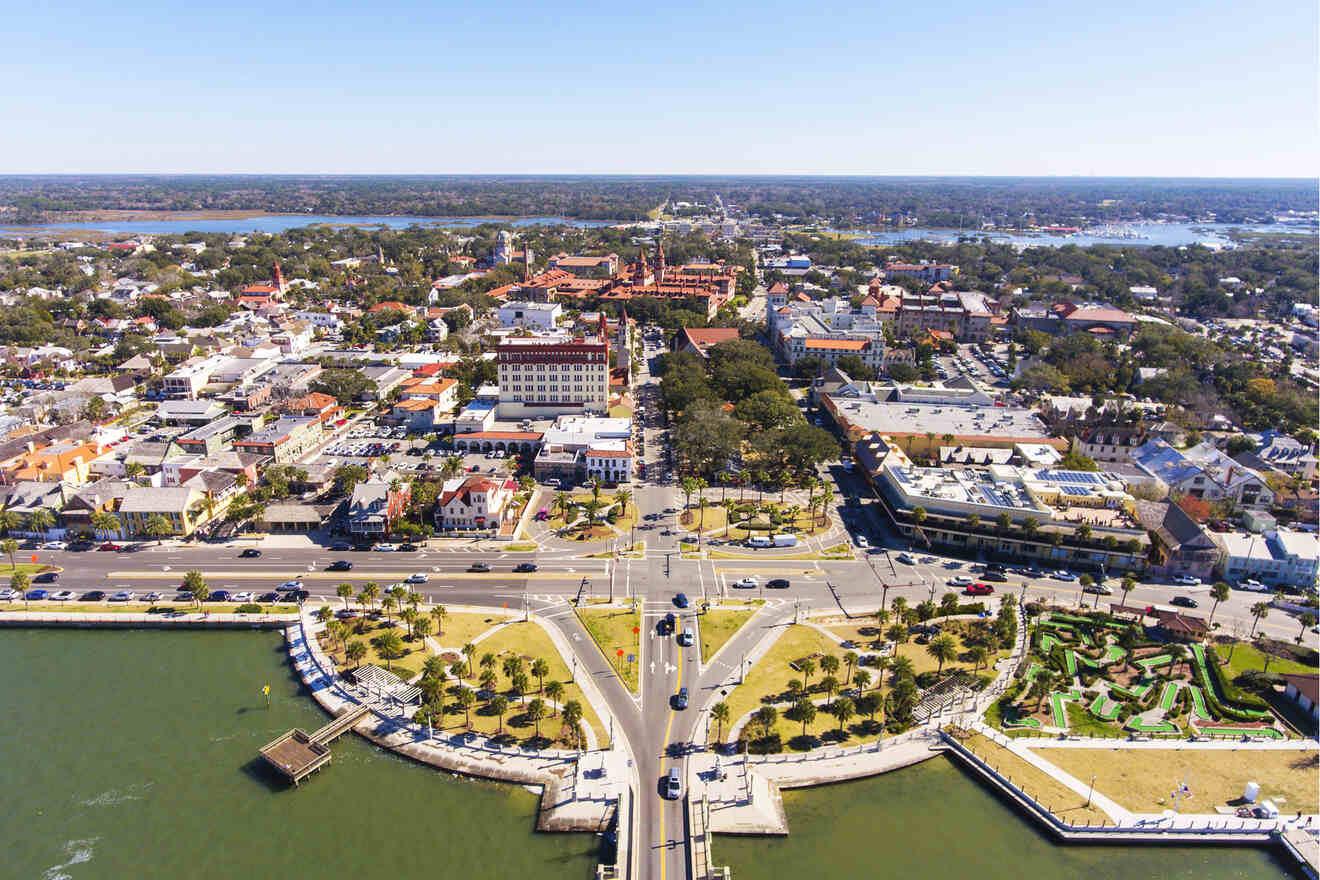 ☀️ How do I spend a day in St. Augustine?
To make the most of your day in St. Augustine, ride the hop-on hop-off trolley, which will take you to many of the most popular attractions, like Colonial Quarter, Potter's Wax Museum, and Castillo de San Marcos.
❓ Is St. Augustine worth visiting?
Yes! St. Augustine, the nation's oldest city, is as beautiful and fun as it is historic, boasting incredible dining, shopping, museums, entertainment, and historic attractions.
🌊 How can I spend 2 days in St. Augustine?
Spend 1 of the days sightseeing in St. Augustine's Historic District, where you can immerse yourself in its storied history. Spend the other day exploring Florida's natural wonders at one of the nearby state parks or St. Augustine Beach.
⭐ What is Saint Augustine, Florida, best known for?
Saint Augustine is the country's oldest city, known for its over 450 years of history, one-of-a-kind historic buildings, immersive historic attractions, and beautiful beaches.
Conclusion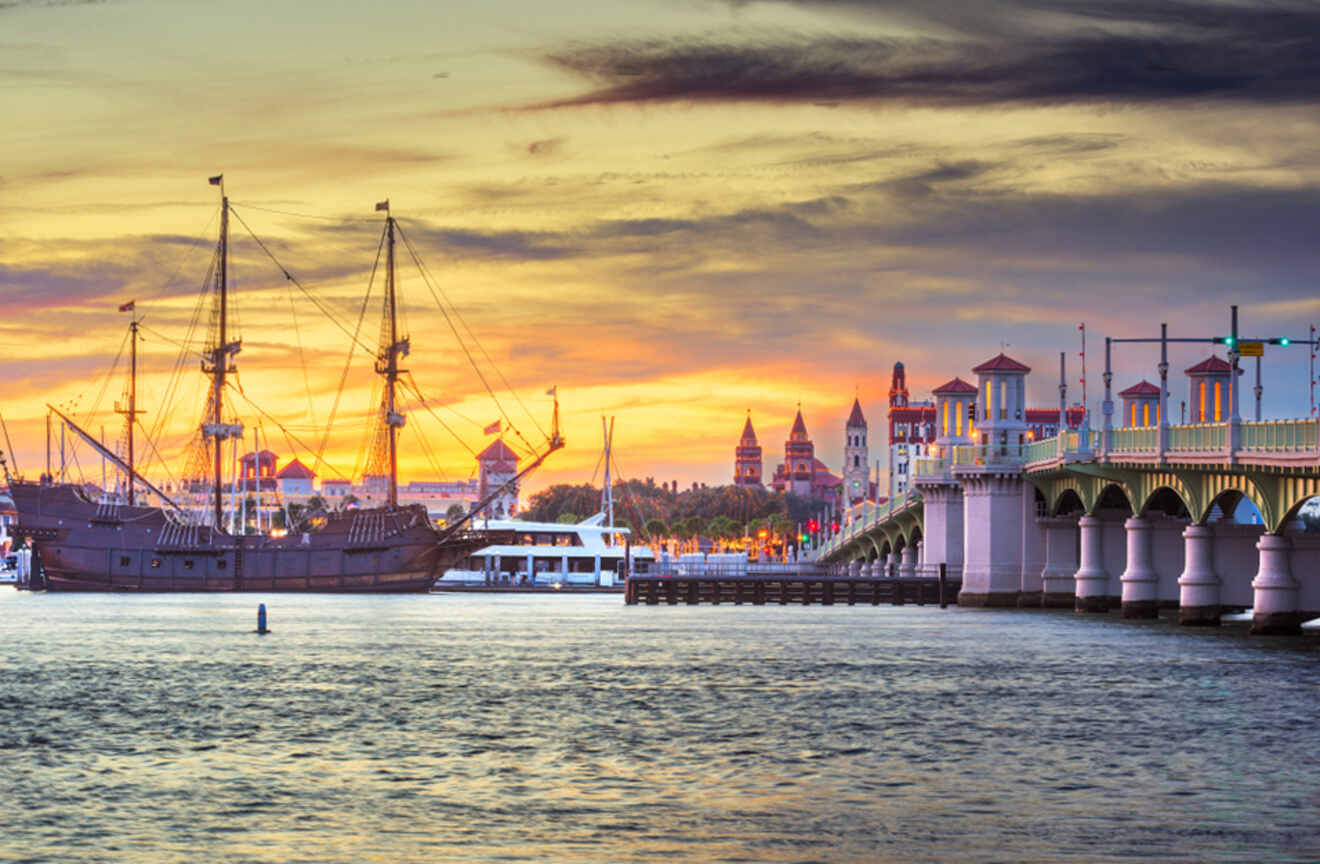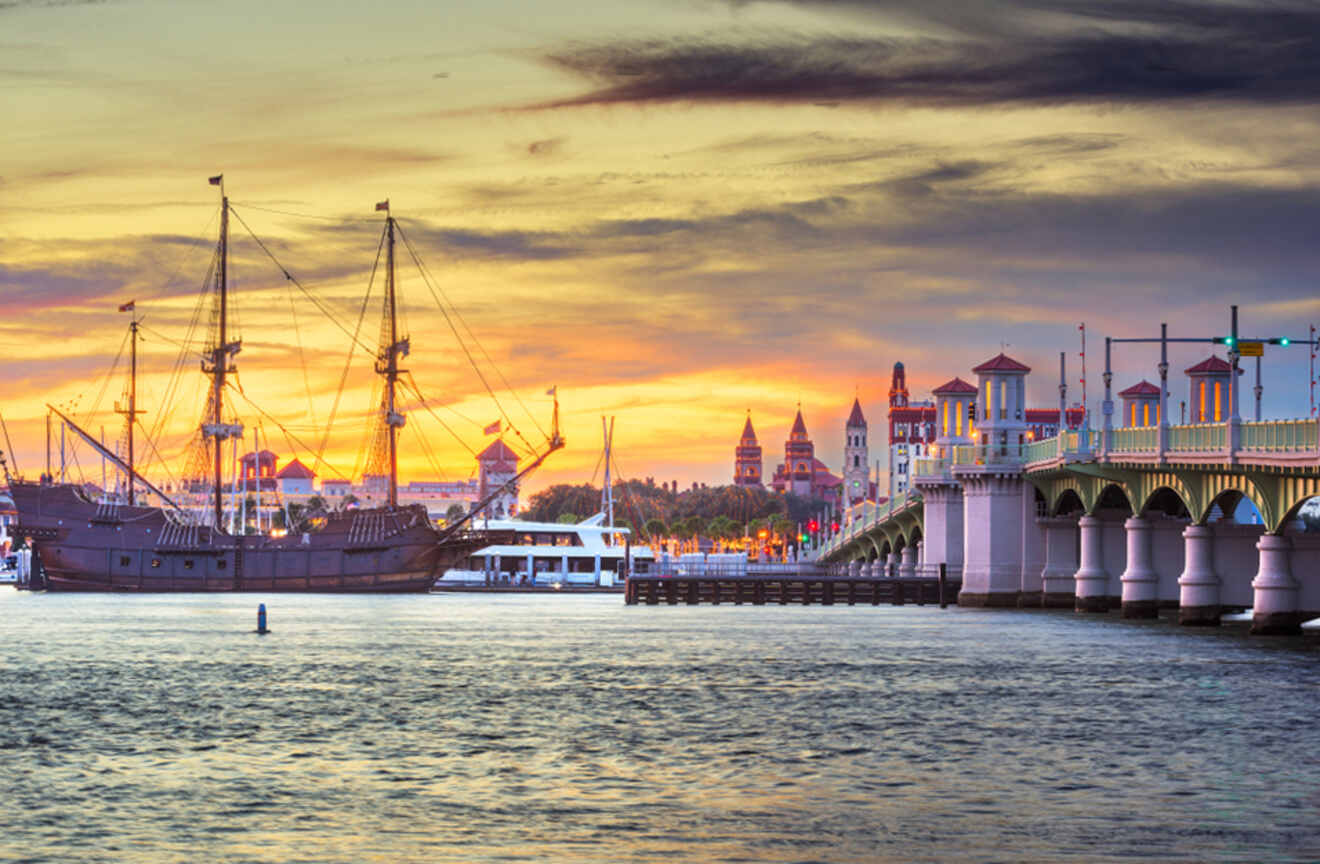 Woohoo! We finally made it to the end of this very long, super information-packed article!
As you can see, the historic city of St. Augustine, Florida, is a really special place, with tons of activities you can't experience anywhere else. Everyone I've ever taken here for the first time has fallen in love with it, and I'm confident you will too!
Since we covered so much today, let's do a quick recap of my absolute must-dos in St. Augustine that you'll want to book ASAP:
I could talk about the city of St. Augustine all day long, so feel free to reach out in a comment if you have any questions on what you read today, or need more ideas for things to do there. 😊
Happy travels!
Montana
---
Pin it for later!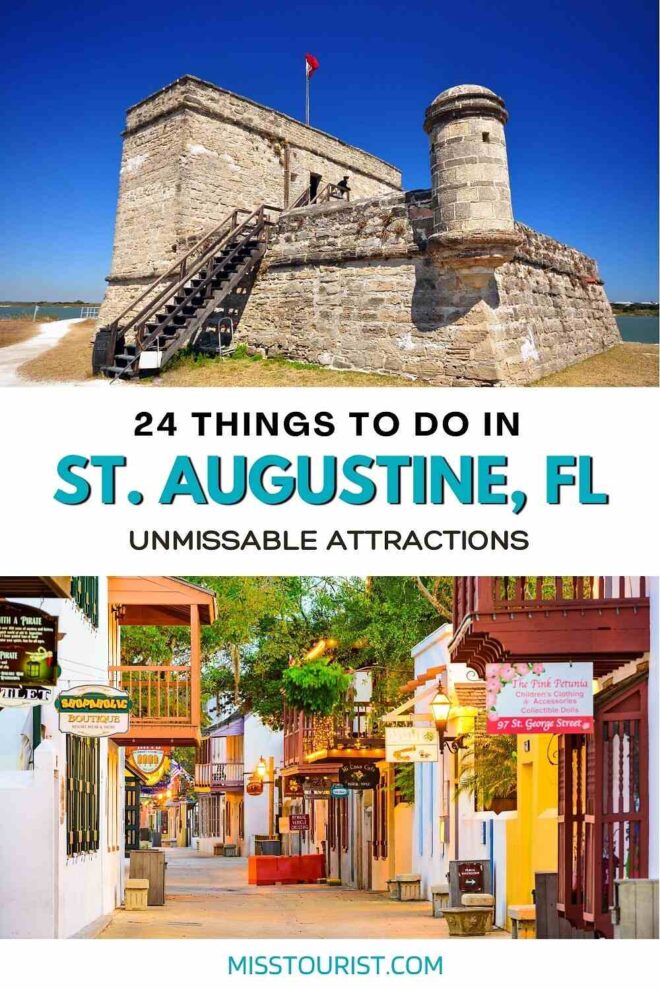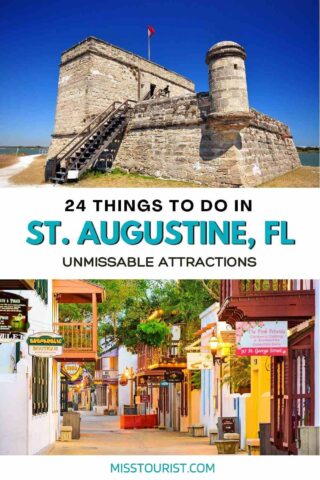 Pin it for later!