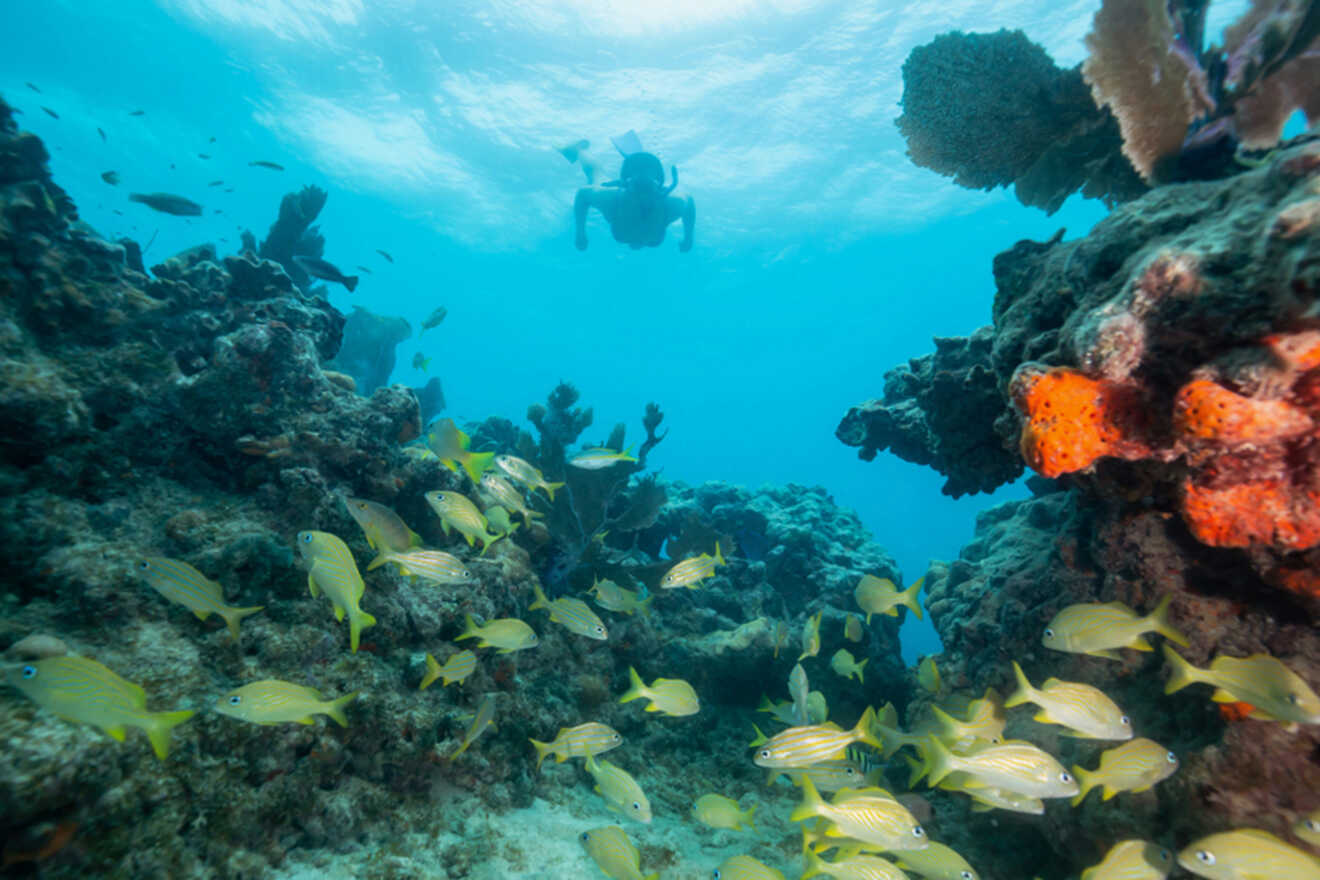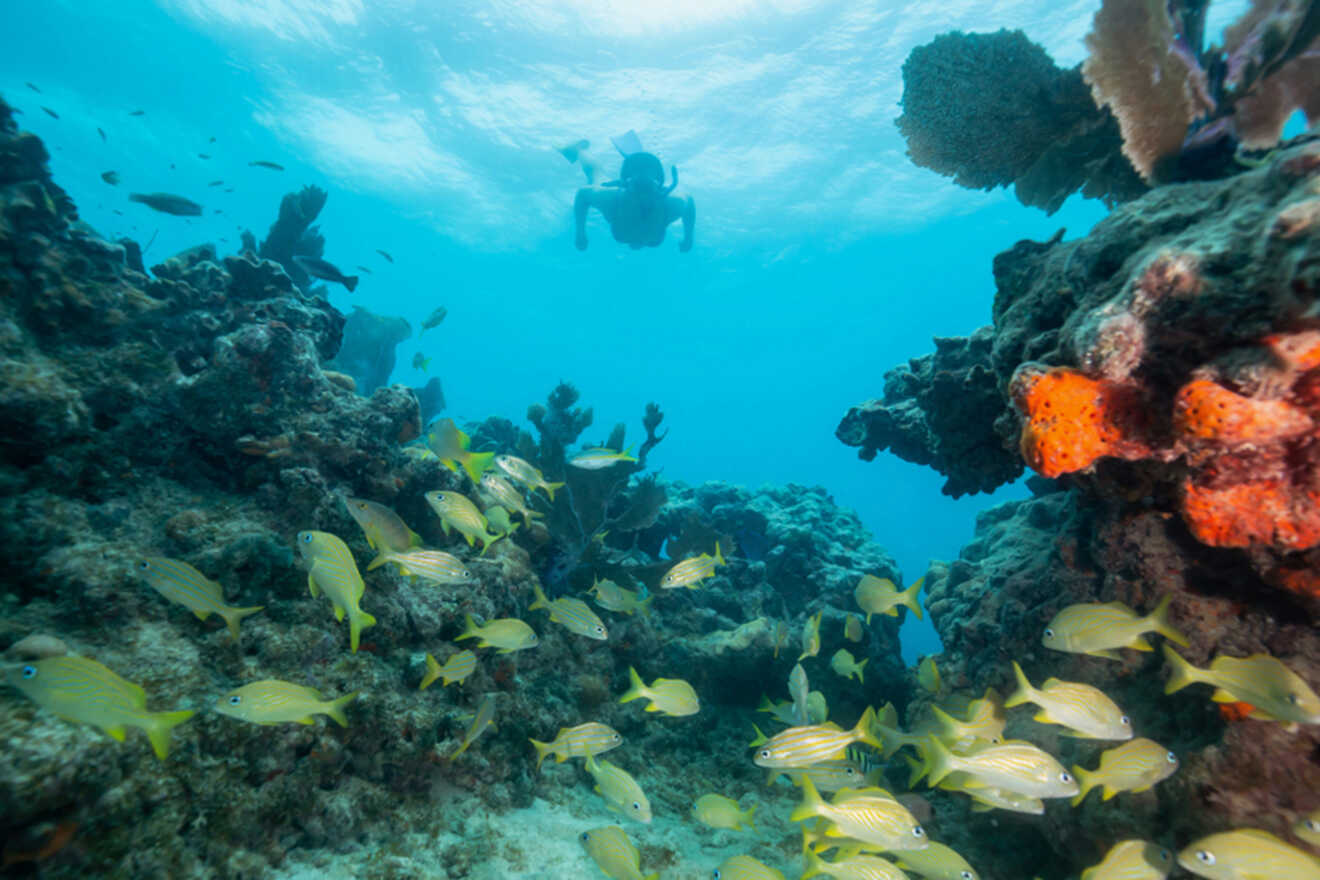 Crystal blue waters, vibrant sea life, and the world's 3rd largest coral reef system make the Florida Keys a snorkeler's dream come true! It's no surprise the Keys are consistently ranked as one of the top places in the USA to snorkel.
Growing up in South Florida, I'm lucky to have been snorkeling in the Florida Keys many times. It's one of my favorite pastimes and definitely a must-do on your next Florida Keys trip. As beautiful as the Keys are, the best way to experience them truly is in the water!
In today's article, I'm sharing the best snorkeling in the Keys, from Key Largo all the way down to Key West, so you can plan your next adventure in paradise. Whether you're a seasoned pro or have never put on a snorkel mask before, you'll find the perfect snorkeling destination for you on this list! I've included options for both avid snorkelers and those eager to embark on their first-ever snorkeling adventure.
Let's dive right in!
1. John Pennekamp Coral Reef State Park in 📍Key Largo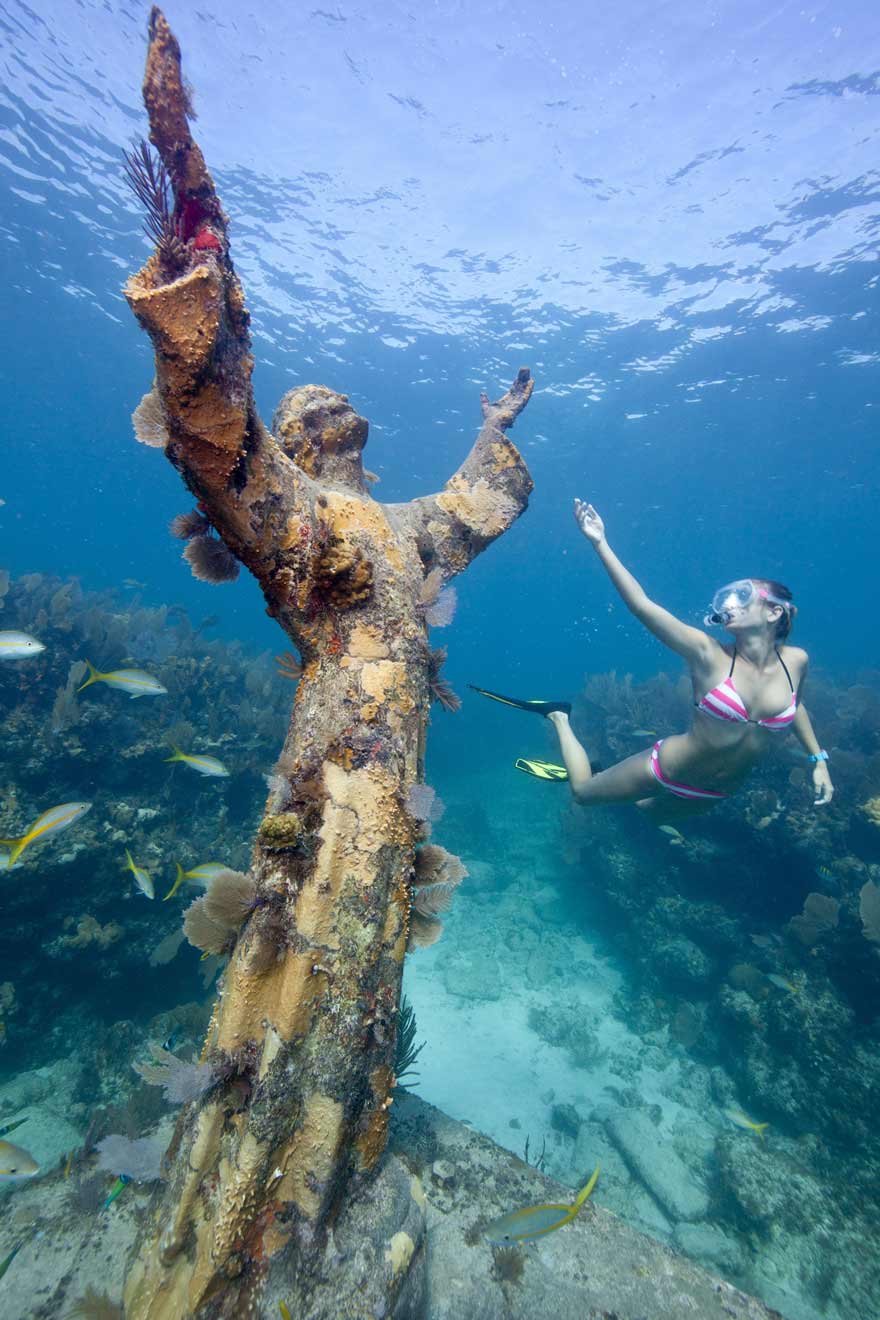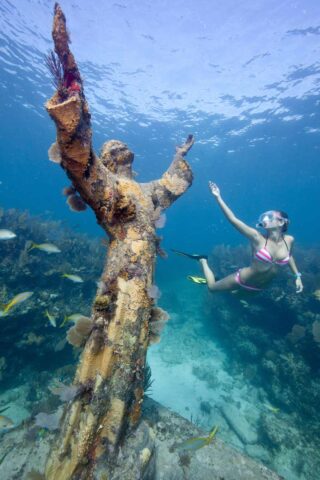 John Pennekamp Coral Reef State Park in Key Largo extends over 70 nautical square miles and offers some of the absolute best snorkeling in the Florida Keys!

With unparalleled views of the Florida Reef, the only living coral barrier reef in the continental US (and the 3rd largest in the world), John Pennekamp Coral Reef State Park attracts visitors from all over the globe who want to experience the reef's natural beauty up close. The park is also listed on the National Register of Historic Places.
If you're a beginner, this is a great place for your very first snorkeling excursion, as John Pennekamp Coral Reef State Park offers guided Florida Keys snorkeling tours, which will take you to the coral reefs between 3 and 8 miles (5 and 13 km) away from shore. Advanced reservations are highly recommended, and you can book your snorkel tour online.
For the ones among you who like to explore the coral reef without the large crowds, there is a private snorkeling tour that will take you and your group to the Christ of the Abyss and the National Marine Sanctuaries. Explore the nation's original undersea park and discover the beautiful, diverse communities beneath the ocean surface here.
In addition to the best snorkeling, the park boasts a ton of other activities that will get you out on the water, kayaking, paddling, and their famous glass-bottom boat tour.
PRICE: from US$650 for a group of 6
Book Your Private Snorkeling Tour
2. Sombrero Reef in 📍Marathon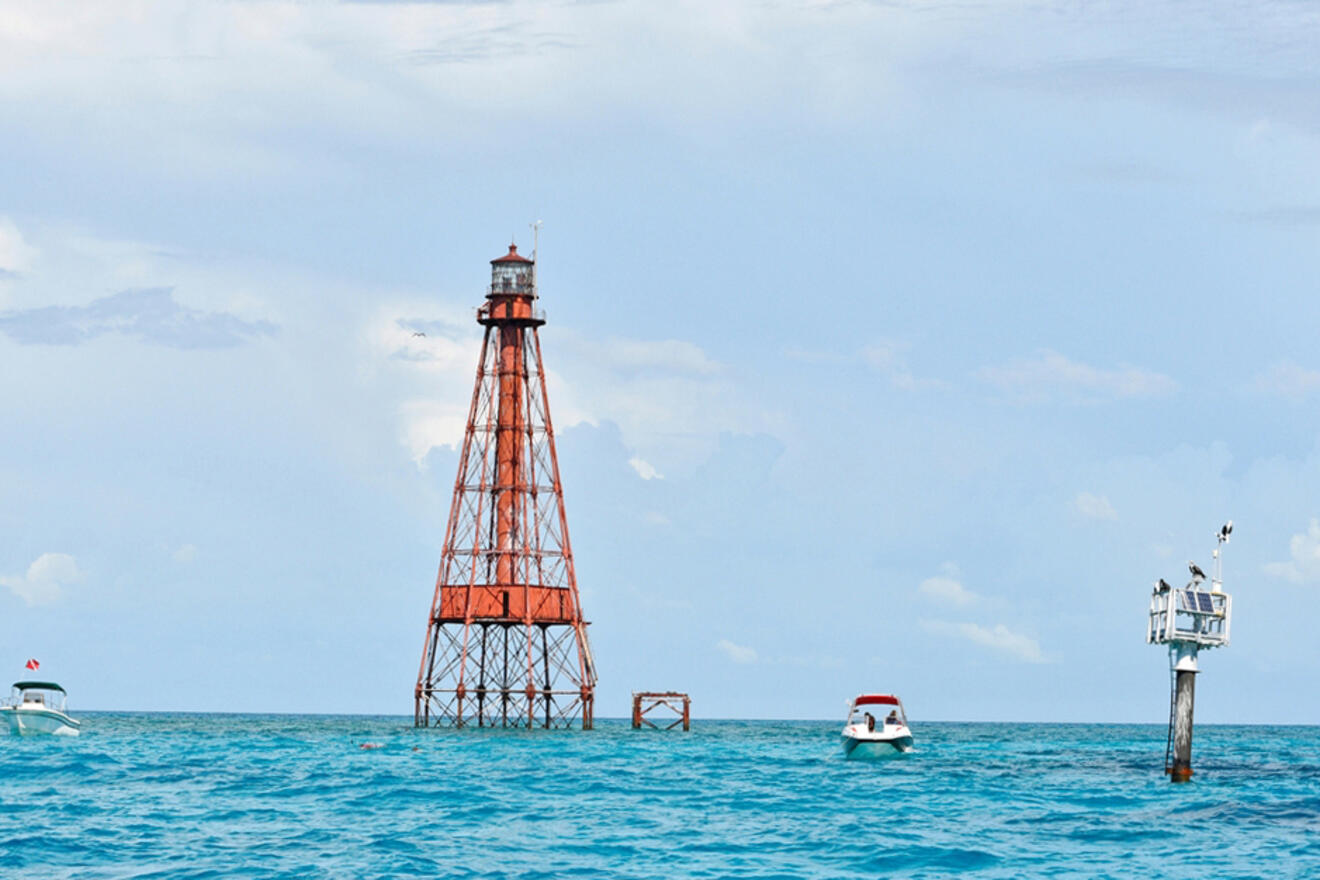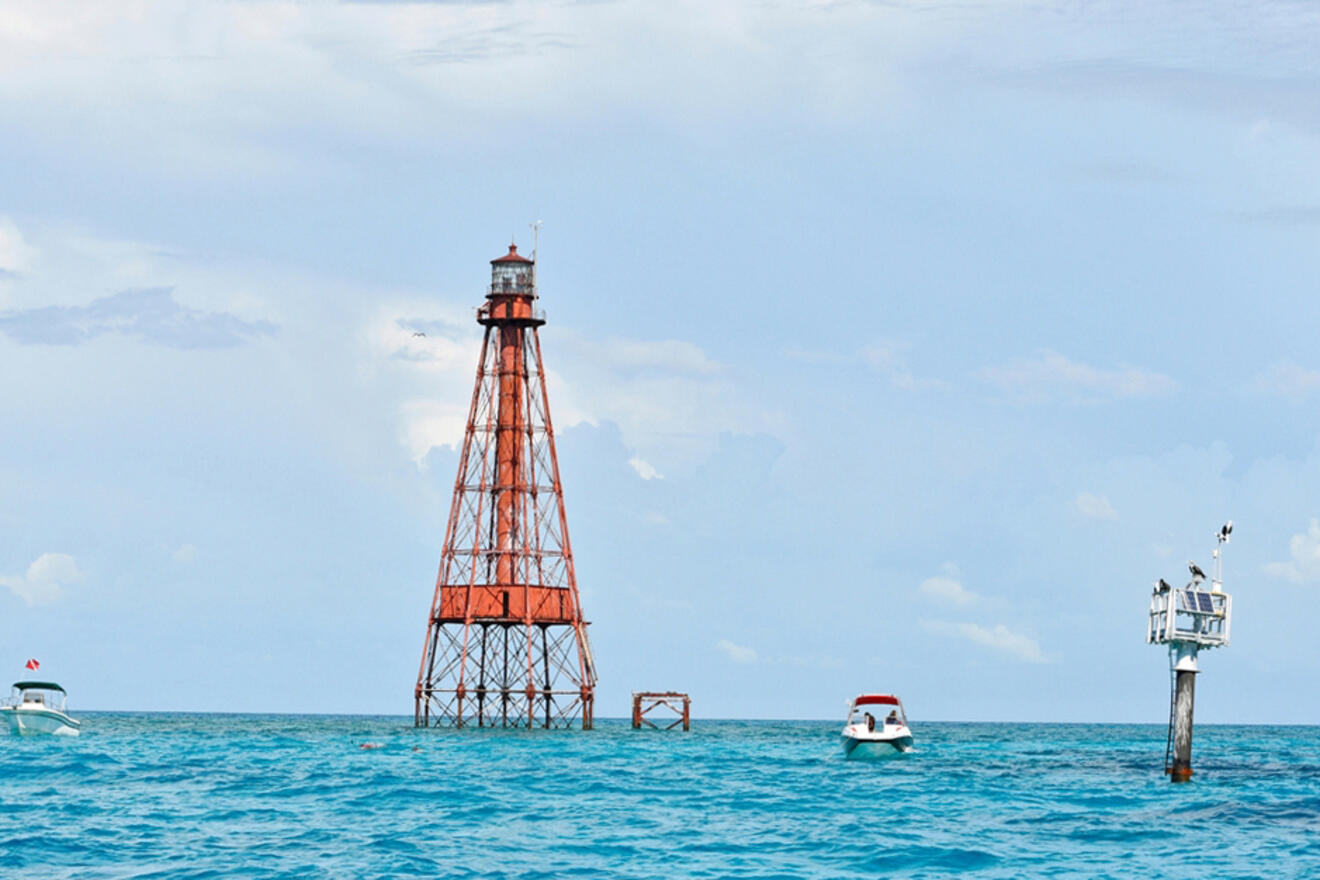 While tourists tend to flock to Key Largo in the Upper Keys or Key West in the Lower Keys for snorkeling excursions, South Florida locals know the Middle Keys are where it's at for an unrivaled snorkeling experience.
Sombrero Reef is often thought to be the best snorkeling in the Keys, and for a good reason! You won't find marine life this diverse anywhere else. You will need a boat to get there, though, as Sombrero Reef is about 8 miles (13 km) off-shore, but it's well worth the extra step.
Ranging from 2 ft to 30 ft ( less than 1 m to 10 m) deep, this 30-acre (12 hectares) coral reef dive site is shallow enough to be explored by snorkelers and not just SCUBA divers. Sombrero Reef features large boulder and branch coral formations and thousands of stunning tropical fish among the vibrantly colored coral reefs.
I suggest booking a snorkeling tour through Starfish Snorkeling since they specialize in family-friendly excursions to Sombrero Reef and all equipment. Transportation on the catamaran is included in the price!
3. Alligator Reef in 📍Islamorada
Another amazing destination for off-shore snorkeling is Alligator Reef, just 5 nautical miles off the coast of Islamorada! Not to worry, there aren't actually any alligators here. It's named after the shipwreck of the SS Alligator, which was a Navy ship that hunted Caribbean pirates! How's that for some fascinating local history!?
The shipwreck was located 200 ft (60 m) southwest of the Alligator Reef lighthouse, which is part of what makes this snorkeling spot so unique! The area is known for its fresh flow of exquisitely clear water, so you'll find some of the best snorkeling in the Florida Keys here.
That fresh water attracts so many tropical fish, as does the shade provided by the lighthouse structure. Underneath the lighthouse itself, you'll find countless marine animals that call this area home.
For a snorkeling tour of Alligator Reef, I suggest booking through KeyZ Charters. Their tours are very beginner-friendly and even start with a lesson in shallow water to ensure first-timers feel comfortable and confident before departing on the boat!
4. Looe Key National Marine Sanctuary in 📍Big Pine Key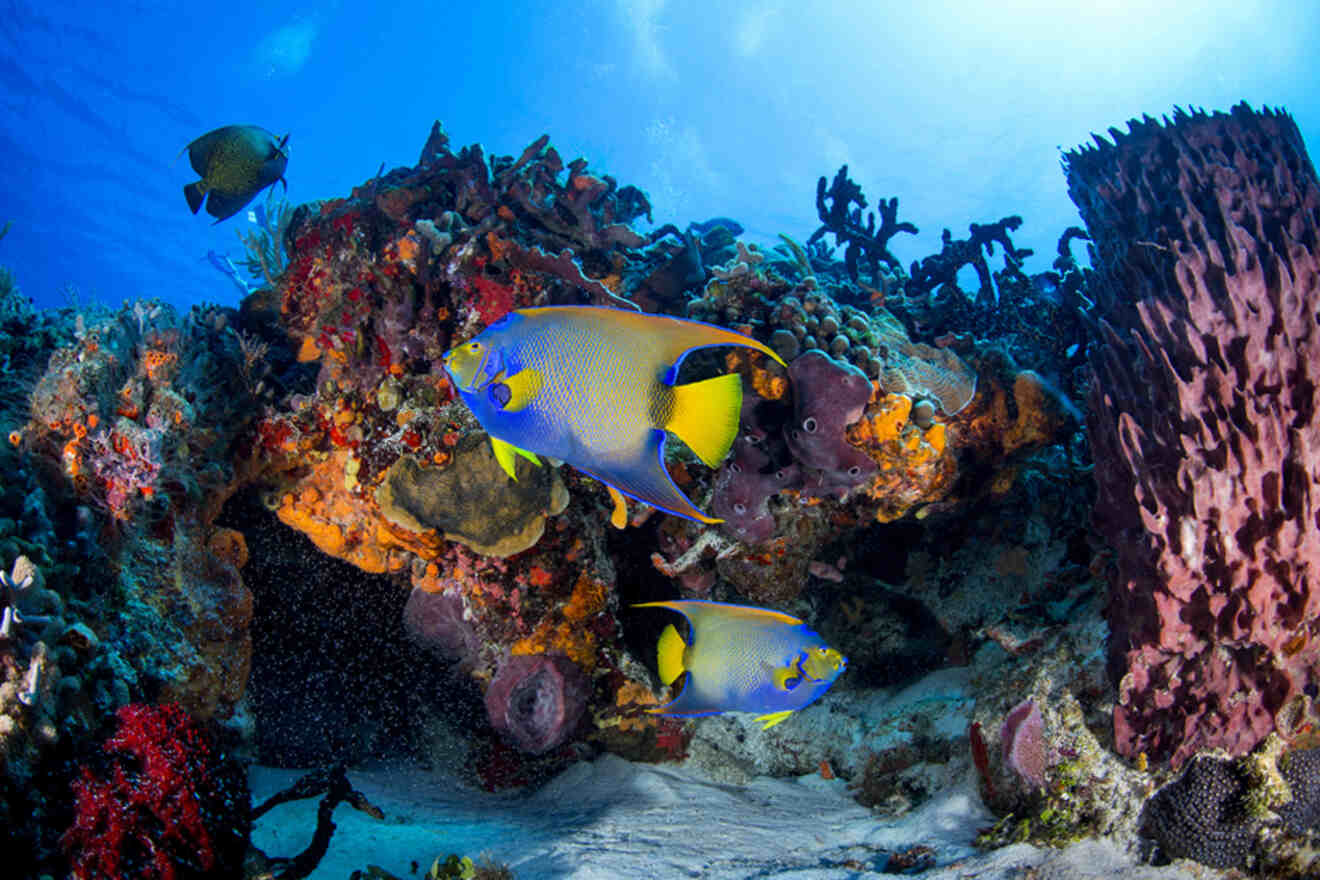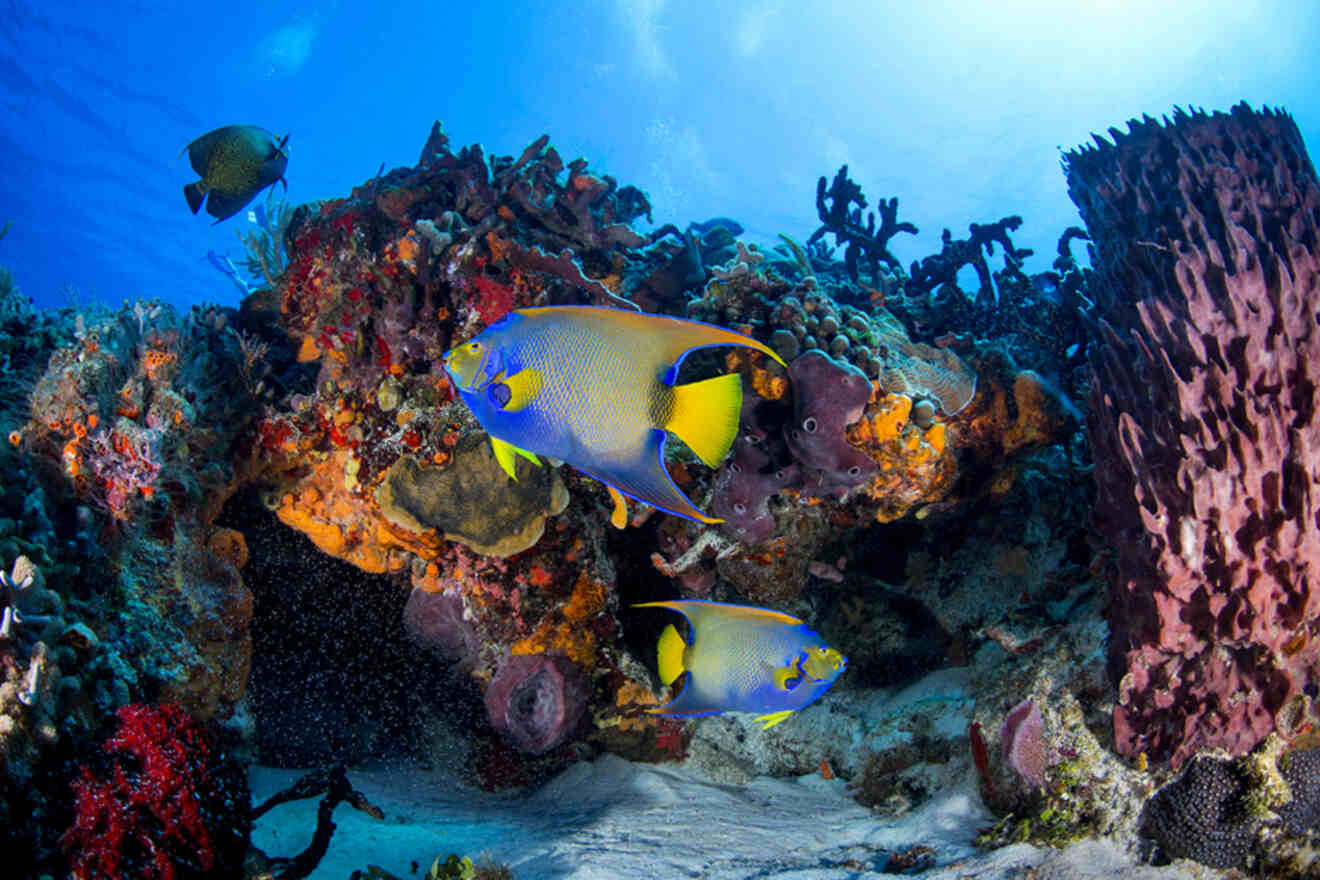 It's been called the best snorkeling in North America by many, so there's no doubt Looe Key is a must-do for snorkeling enthusiasts visiting the Florida Keys!
While the larger swells may not be suited for total first-timers, those comfortable with a mild challenge won't want to miss everything this beautiful sanctuary has to offer. The water clarity here is second to none, which makes for phenomenal marine life spotting. You'll see some surprisingly large marine life here!
Looe Key Reef is located in Big Pine Key, one of the most beautiful Keys, in my opinion. It's around 8 nautical miles from #6 on our Florida Keys snorkeling list, Bahia Honda State Park and the park even offers official snorkeling tours from Bahia Honda to the Looe Key Marine Sanctuary. Snorkeling gear comes at an extra fee of US$30 for adults and US$25 for kids.
Advanced reservations are highly recommended for the Looe Key National Marine Sanctuary snorkeling tour and can be booked online.
You can also explore Looe Key Reef on a private tour for up to 4 people. You'll depart from Big Pine Key to the reef with your captain, who will guide you and snorkel with you, pointing out the diverse marine life you encounter.
PRICE: US$575 per group of 4
Book Looe Key Private Snorkel Tour
5. Dry Tortugas National Park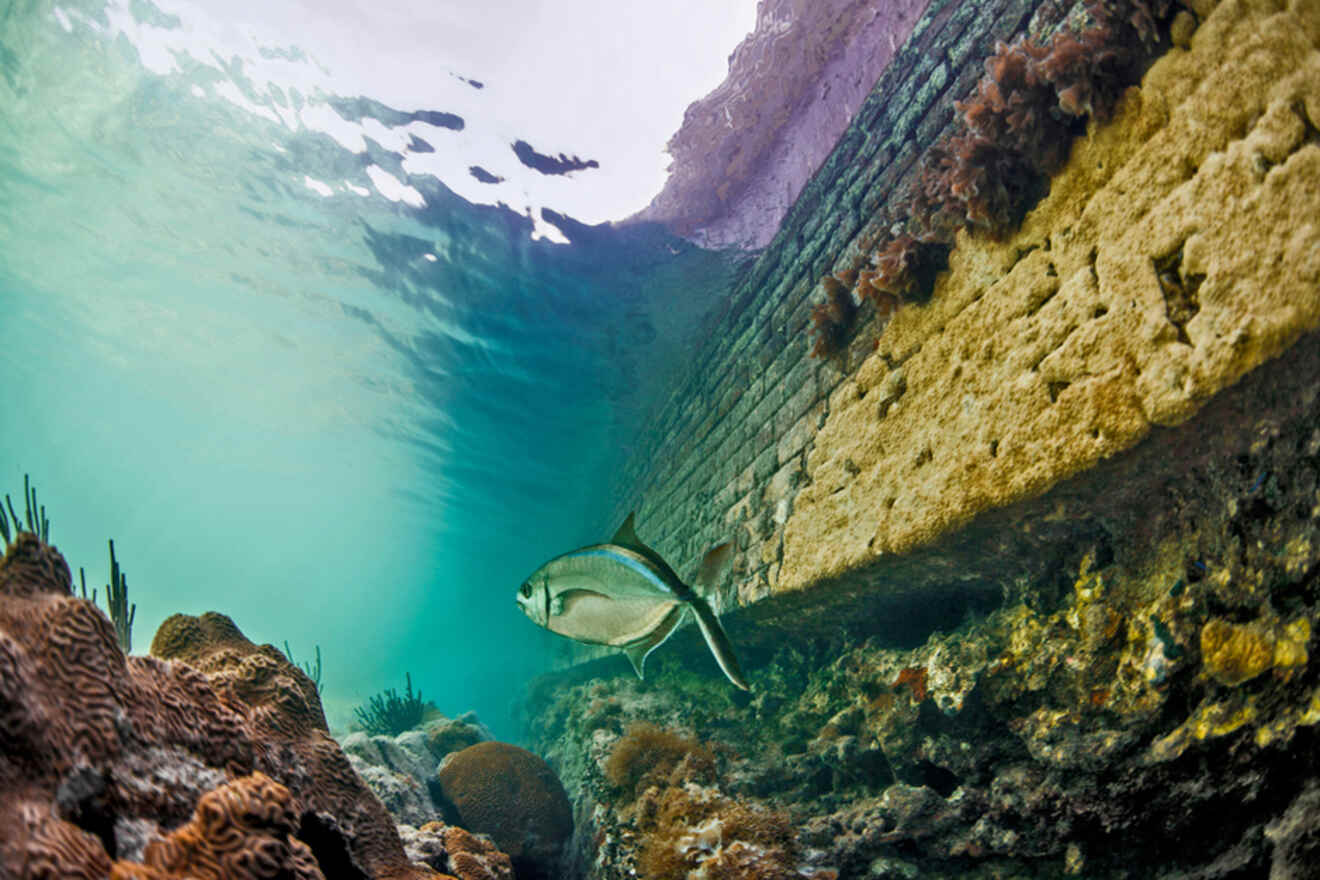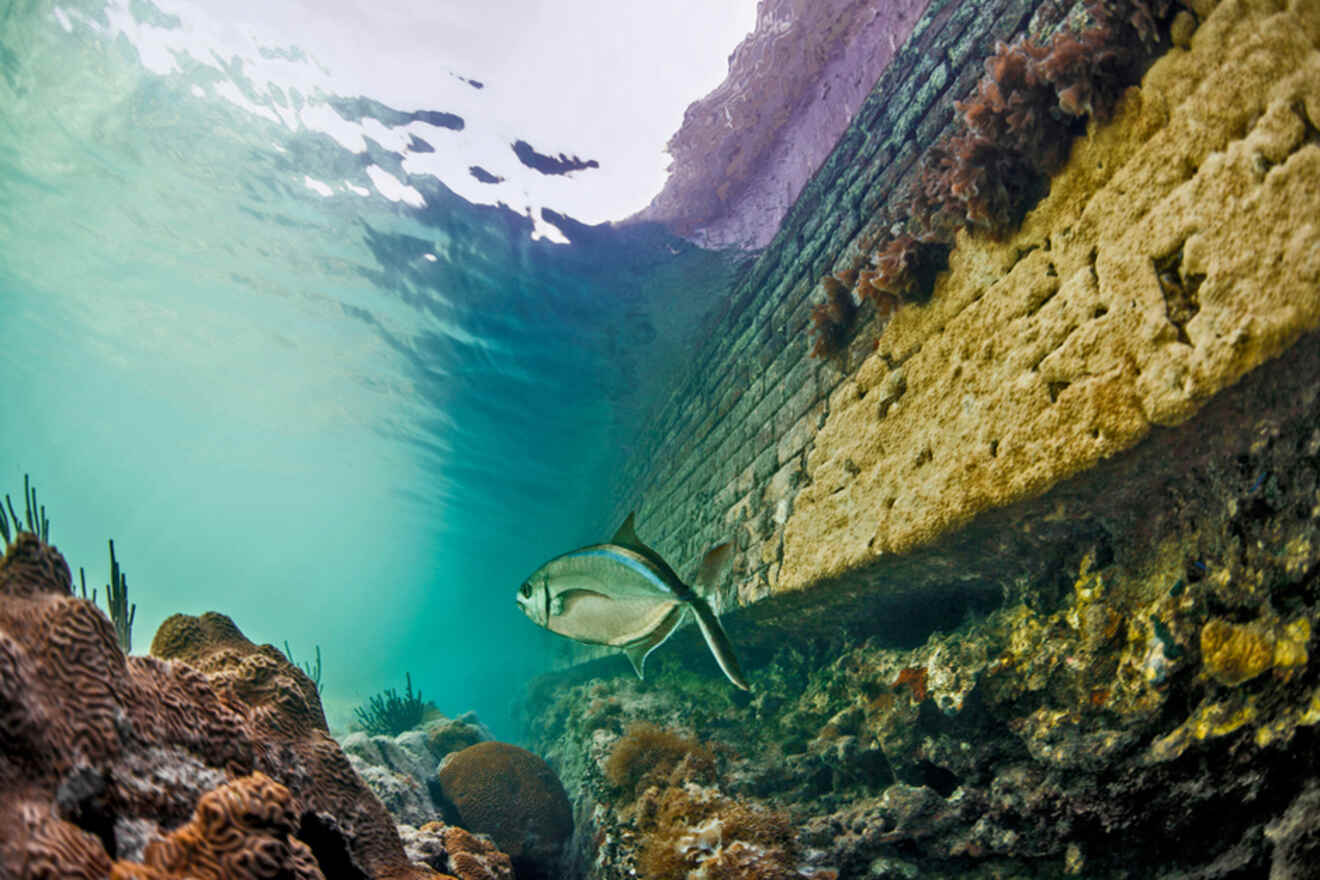 Dry Tortugas National Park is hands-down one of the most gorgeous places I've ever had the privilege of visiting, and not just in the Florida Keys! This breathtaking park is home to historic Fort Jefferson and what many believe to be the best Florida Keys snorkeling spot.
Despite its name, Dry Tortugas is actually 99% water, so you could easily spend all day exploring its unbelievably beautiful tropical coral reefs and the marine life that inhabits them. Depths range from 5 to 15 ft (2 – 5 m), so it's perfect for a relaxing day in the water.
You won't have to battle any crowds here, either. Even though Dry Tortugas looks like a scene from a postcard, it's the least visited of all national parks due to its location.
Dry Tortugas National Park is 70 nautical miles from Key West and is only accessible by boat or seaplane, so snorkeling there requires a bit of additional planning compared to the more convenient snorkeling spots on our list.
Lucky for you, I've managed to find this full-day trip from Key West to Dry Tortugas on a catamaran which includes a tour of the fort and snorkeling, too! Snorkel equipment is included in the price as well as breakfast and lunch. Outdoor enthusiasts especially will fall in love with this secluded, one-of-a-kind national park and the world beneath its watery surface.
PRICE: from US$200 per person
Book Your Dry Tortugas Snorkel Tour
6. Bahia Honda State Park in 📍Big Pine Key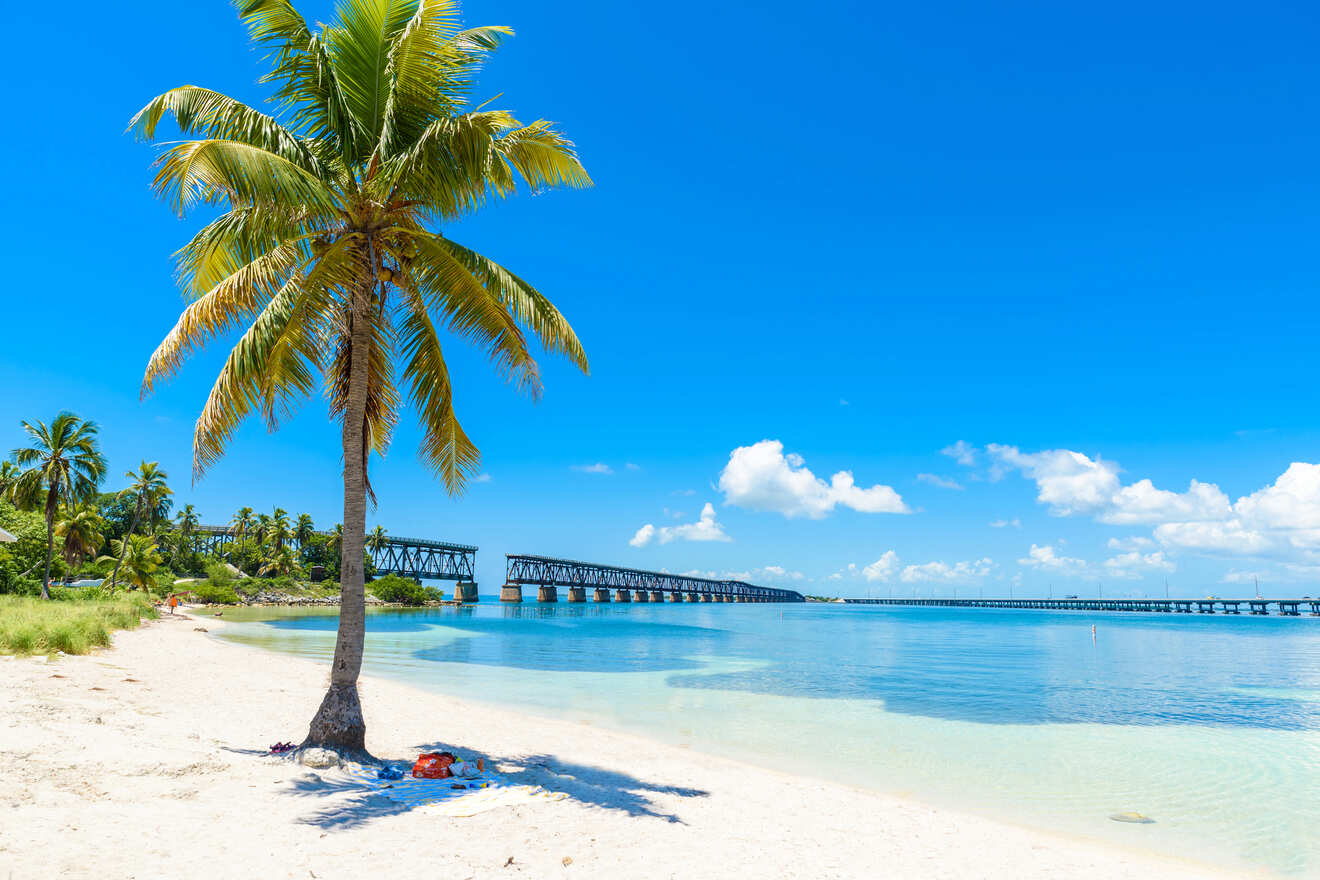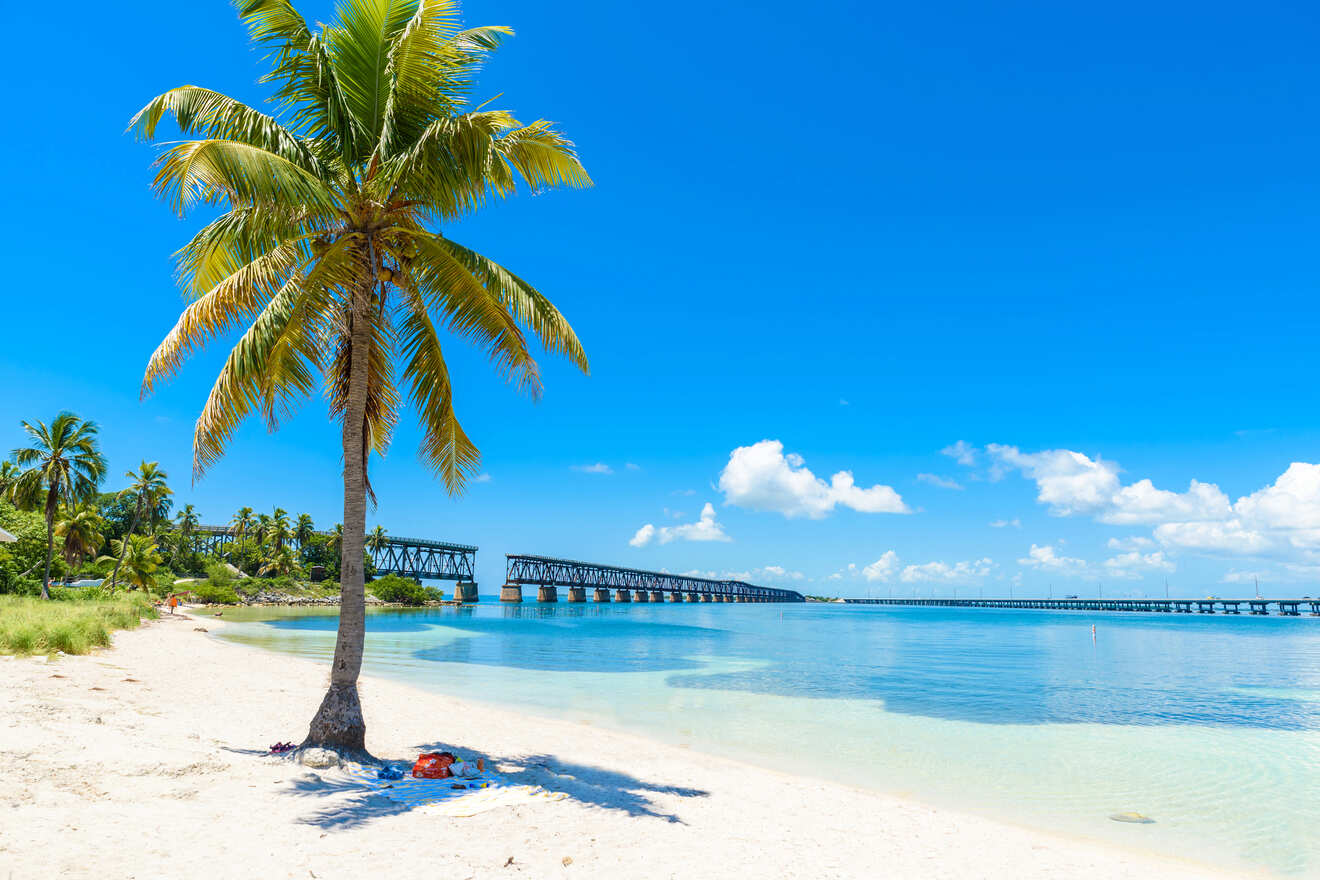 Bahia Honda State Park is an absolute gem in the Florida Keys with white sandy beaches, azure water, and a rich history that dates back 100 years.
A lot of the top-notch Florida Keys snorkeling involves traveling off-shore first, especially if you want to explore the incredible Florida Reef. However, there's no shortage of amazing snorkel sights to see close to shore either, which is what makes Bahia Honda State Park an excellent place to start, especially for beginners.
Snorkel equipment is available to rent, and the park has all the amenities you need for a stress-free beach day, like restrooms, picnic tables and pavilions, showers, and a refillable water bottle station. These are all benefits of foregoing an off-shore snorkeling spot and sticking near the beach at Bahia Honda State Park instead.
For those of you who'd like to go further, you can take the official park tours to Looe Key Reef, which I talked about in #4 on our list, or the private snorkel tour to Looe Key Reef from Key West, which I also mentioned within the same section.
7. Fort Zachary Taylor Historic State Park in 📍Key West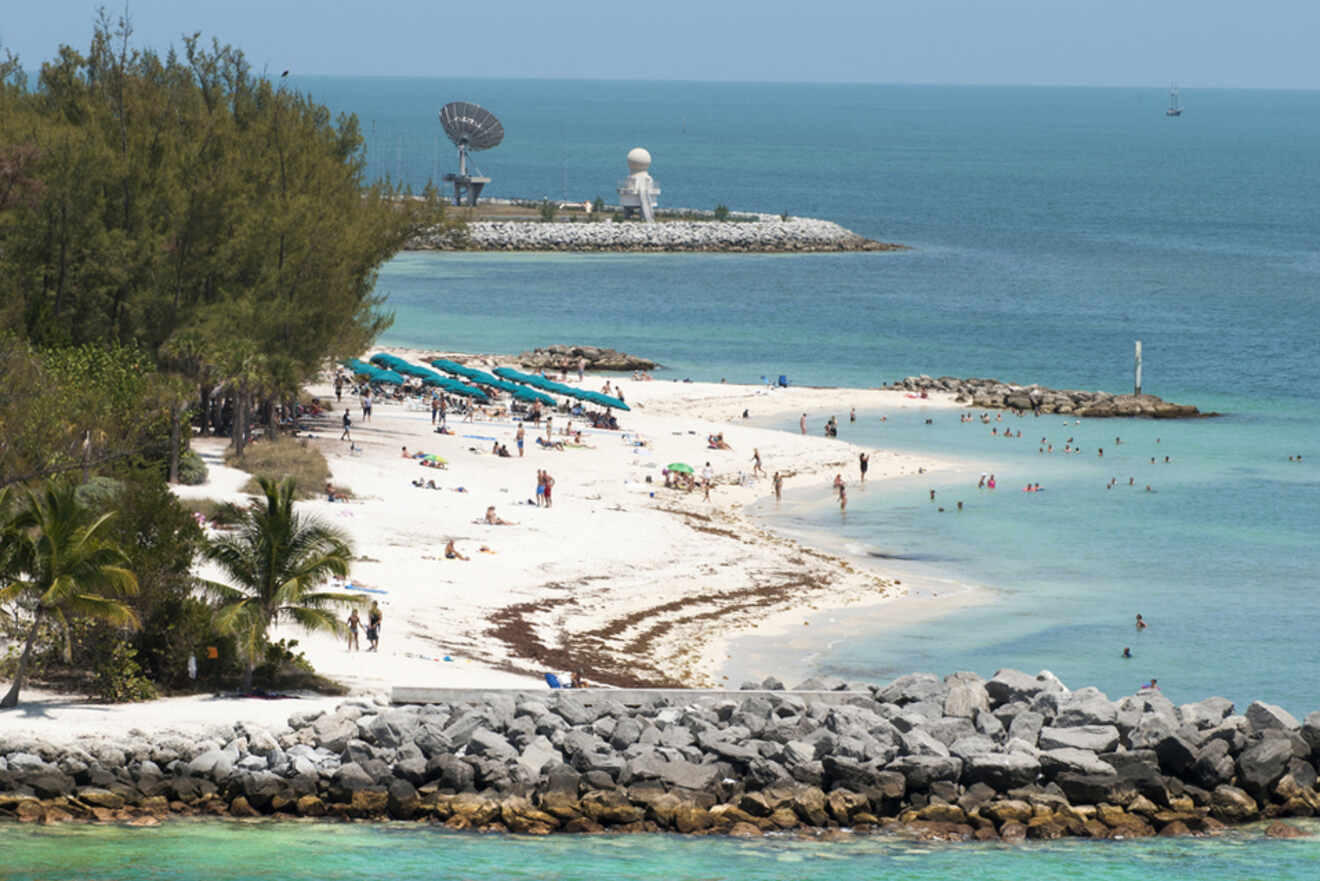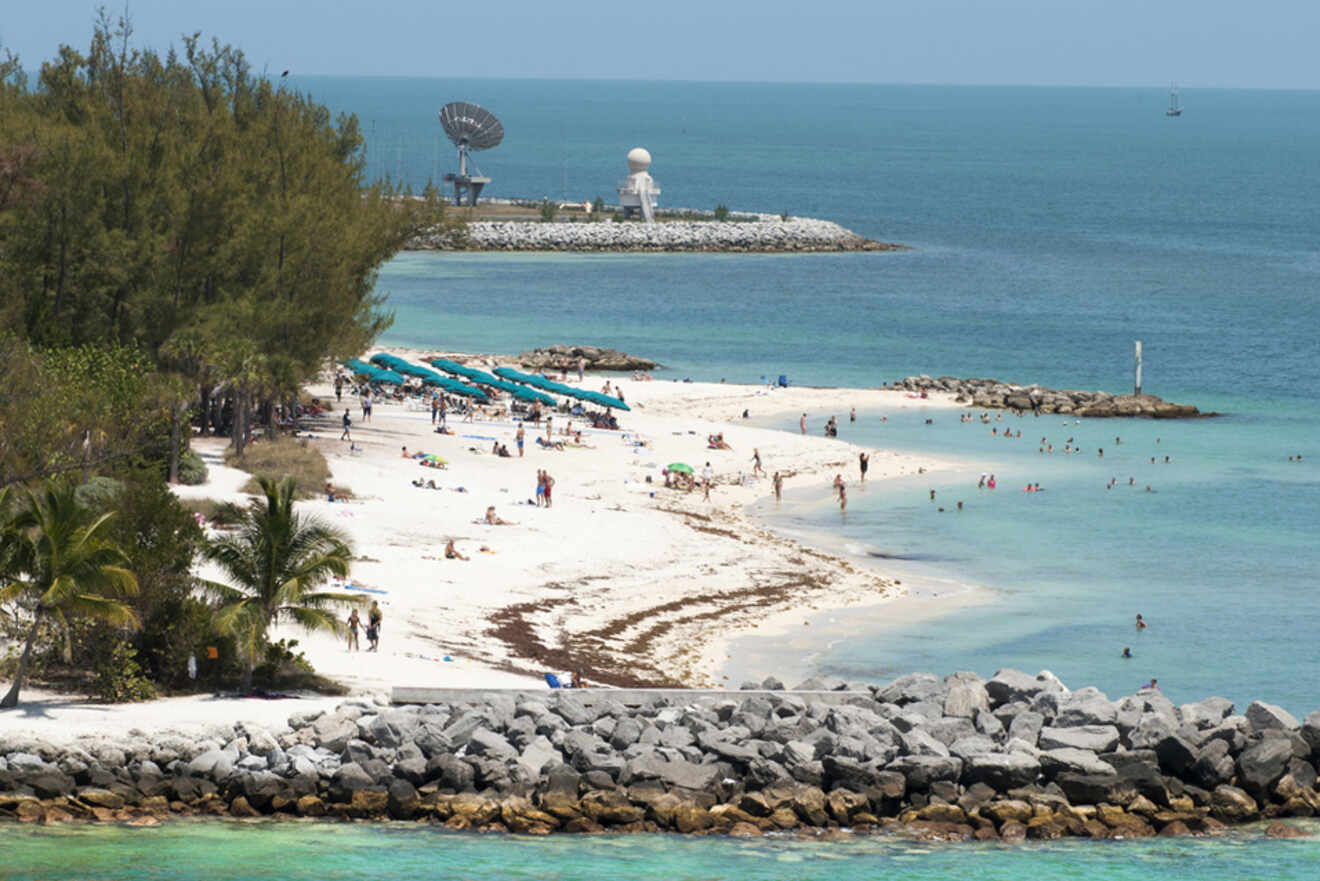 For an incredible beach snorkeling experience right off the shore in Key West, look no further than Fort Zachary Taylor State Park. Like Dry Tortugas National Park, this state park is home to a historic fort that you can tour when you visit. Construction on Fort Zachary Taylor took 21 years to complete and finally wrapped up in 1866!
Unlike Dry Tortugas, though, Fort Zachary Taylor Historic State Park is a breeze to get to. There's even ample free parking there! The southern end of the park is where you'll find the best beach in Key West, perfect for swimming, paddling, fishing, and snorkeling, of course.
The rock formations offshore, as well as the rocky bottom, act as artificial reefs and attract tons of colorful tropical fish. Focus on those areas when snorkeling there to get a glimpse of the wildlife. Because you can snorkel just off the beach, Fort Zach is beginner friendly, and you can bring your own snorkel equipment or rent it when you arrive.
I love how Fort Zachary Taylor State Park has all the amenities you could need while you're there: restrooms, showers, refillable water bottle stations, and even a restaurant, Cayo Hueso Café, which serves up local cuisine.
PRO TIP: The rocky bottom can be rough on feet, so I suggest bringing water shoes!
8. Cheeca Rocks in 📍Islamorada
Cheeca Rocks is a patch reef just a short boat ride from Islamorada and a real treat to snorkel! Halfway between the Keys and the barrier reef, Cheeca Rocks is the smallest of all sanctuary preservation areas, but it's jam-packed with tropical fish, marine life, and diverse types of coral, like star and brain corals.
The water at Cheeca rocks is more green-tinted than other snorkeling spots nearby due to algae, but that certainly doesn't take away from it offering some of the best snorkeling in the Florida Keys.
Cheeca Rocks is a very popular snorkeling destination for families since it's only a mile (less than 2 km) off the shore, so keep it in mind if you're traveling to the Florida Keys with kids! You might see sea turtles, hogfish, blue tang, grunts, angelfish, butterflyfish, parrotfish, snapper, nurse sharks, and so much more.
9. Sand Key Lighthouse Reef in 📍Key West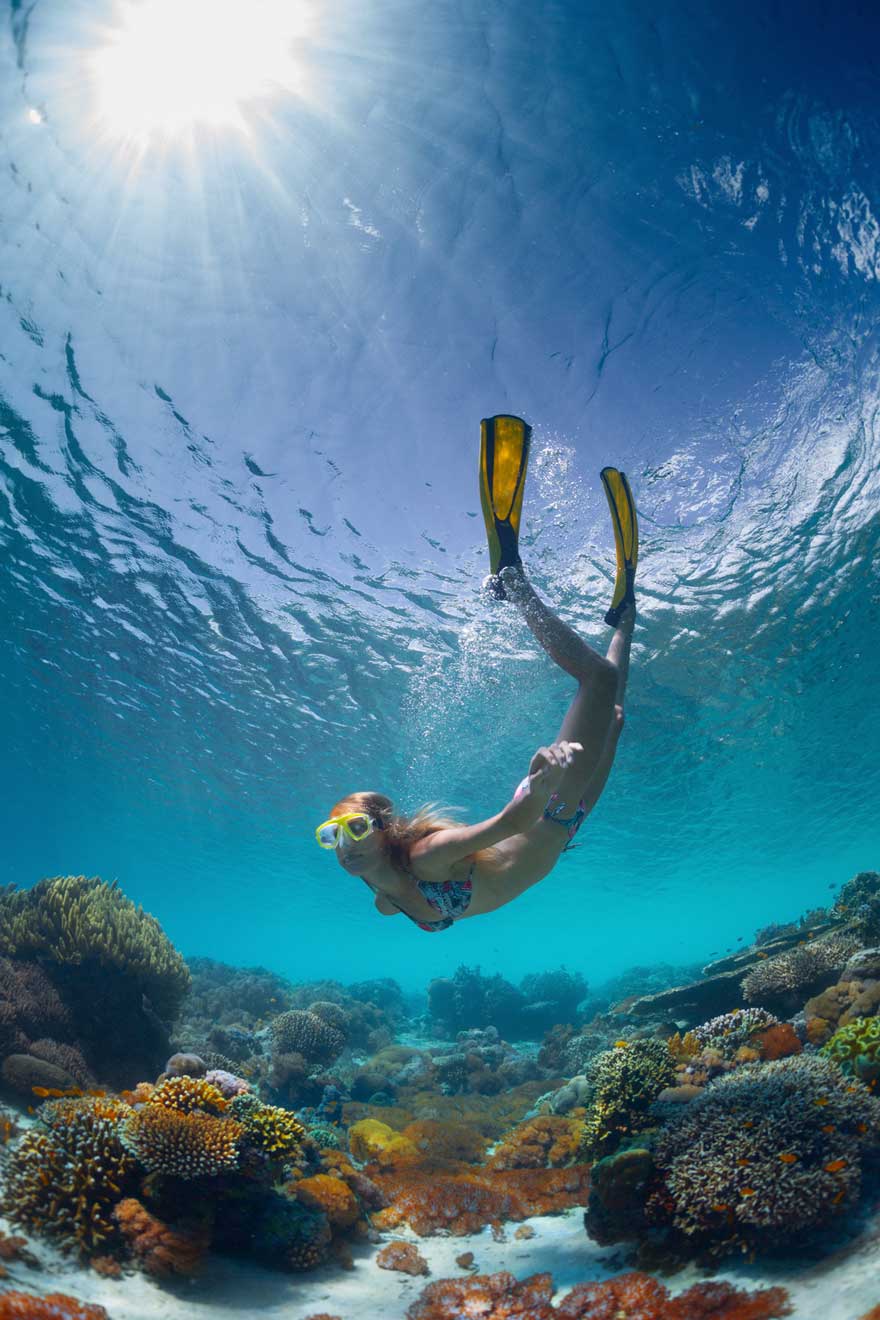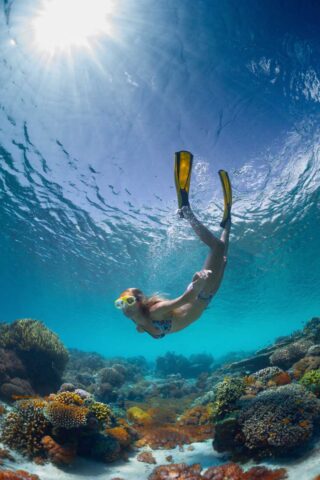 Imagine a lighthouse in the middle of vibrantly blue water that's surrounded by a healthy, thriving coral reef. Now imagine yourself there snorkeling! If that sounds like a dream come true, have I got the place for you!

Sand Key Lighthouse Reef is yet another incredible area for snorkeling in the Florida Keys, just 6 nautical miles southwest of Key West. The flat water and calm conditions here make for a relaxing snorkel excursion.

One of the best parts about Sand Key Lighthouse is the sandbars. You're able to pop out of the water at any time and see the breathtaking area from a different perspective. The marine life here is also unique, and you may come across green moray eels, nurse sharks, elkhorn coral, staghorn coral, fire coral, sea turtles, and barracudas!
10. Pickles Reef in 📍Key Largo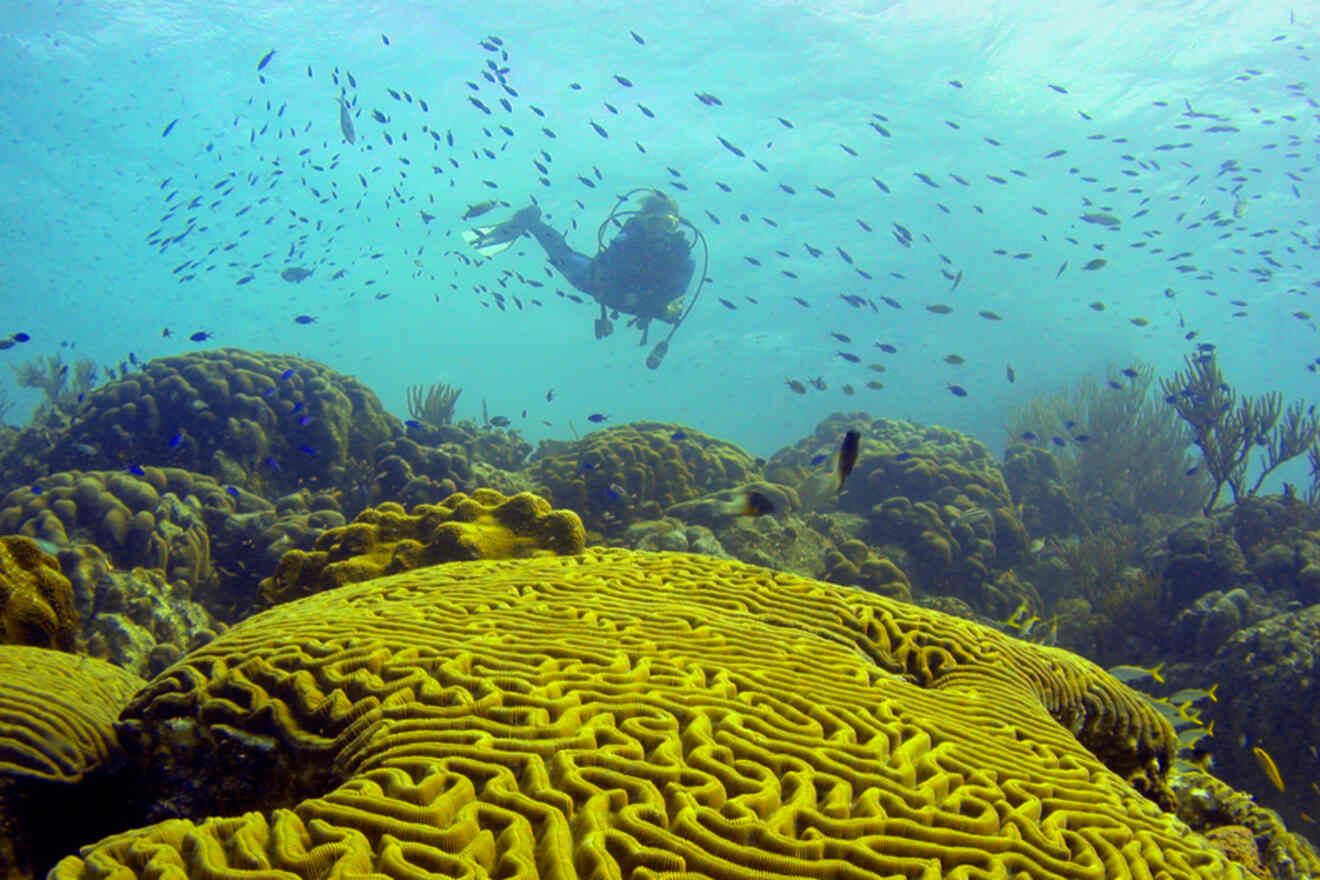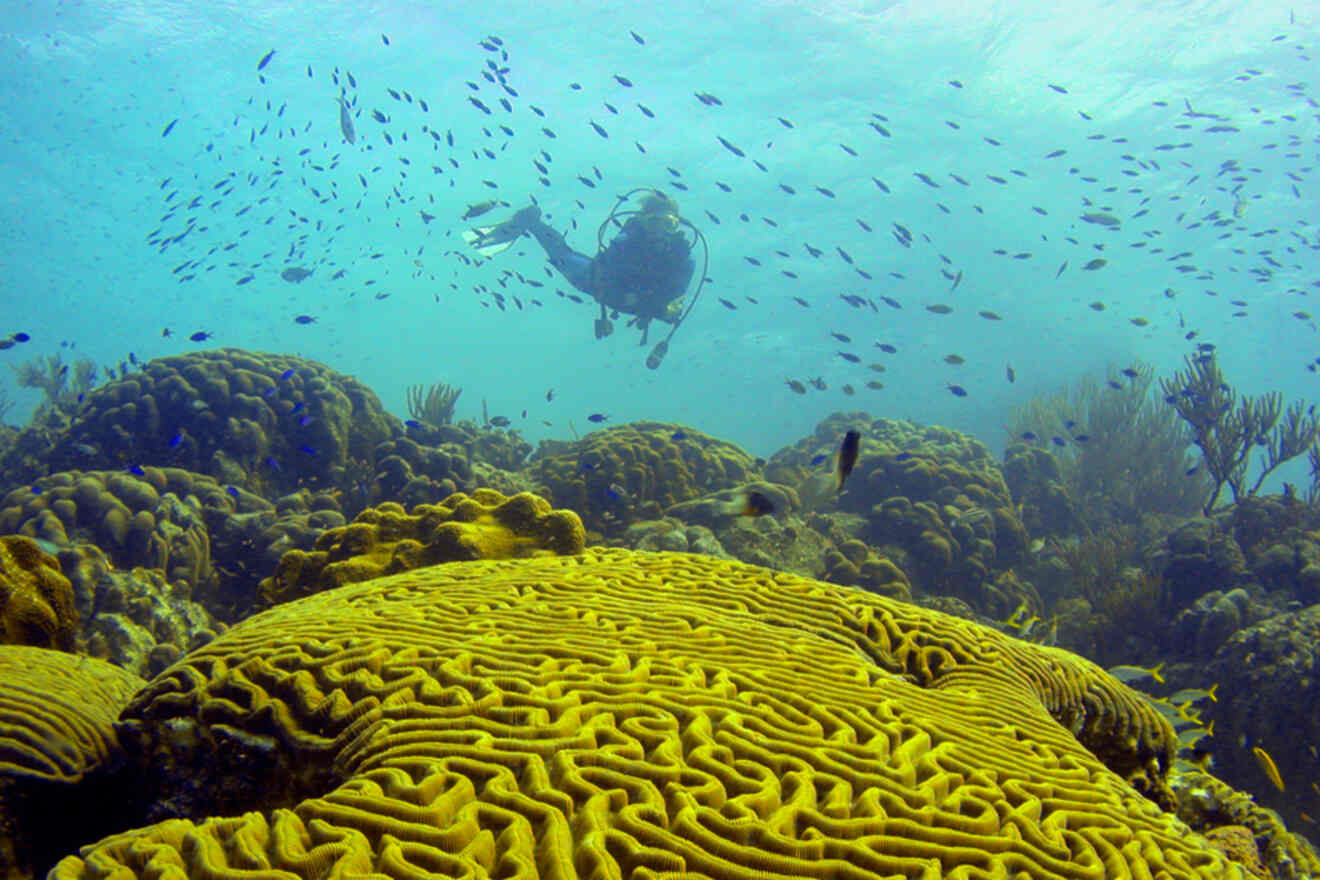 I'd be lying if I said I didn't crack up the first time I heard the name Pickles Reef, but once you get past that, it really is a fantastic snorkeling spot in the Florida Keys.
It's actually named for the cement-filled pickle barrels that sank here during the Civil War, and today offers some of the best snorkeling in the Keys, as the pickle barrels are now covered with massive pillar corals (largest in the Florida Keys!) that attracts lots of marine life. The depth ranges from 6 ft to 30 ft (2 – 10 m) deep, so Pickles Reef suits varying skill levels.
At Pickles Reef, you'll see plenty of fish that sound like they belong on a dinner menu, including snapper, hogfish, grouper, and blackfin tuna. There's an abundance of spiny lobsters as well! It tends to be less busy than other snorkeling spots nearby since it's around 6 nautical miles off-shore from Key Largo.
FAQs about snorkeling in the Florida Keys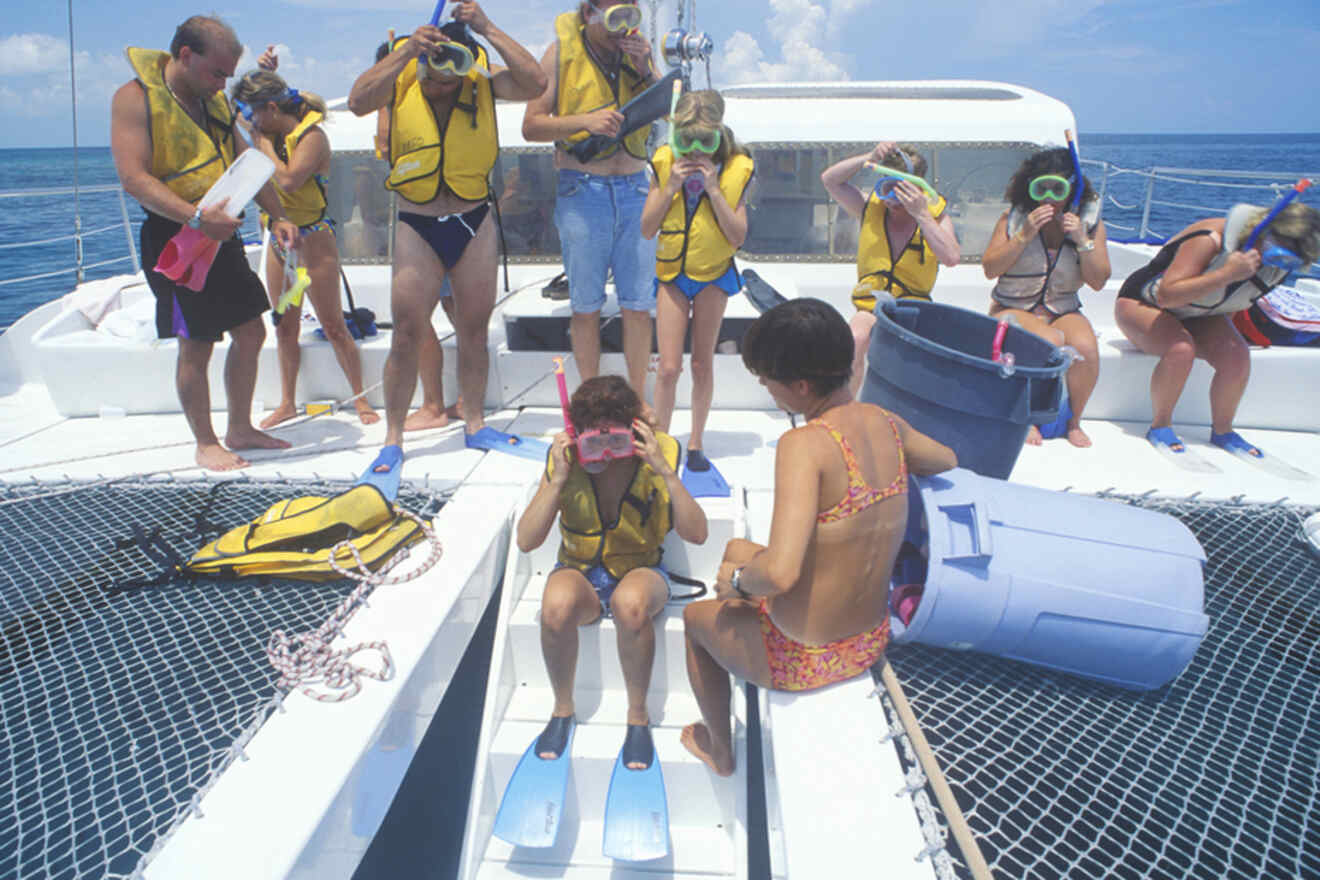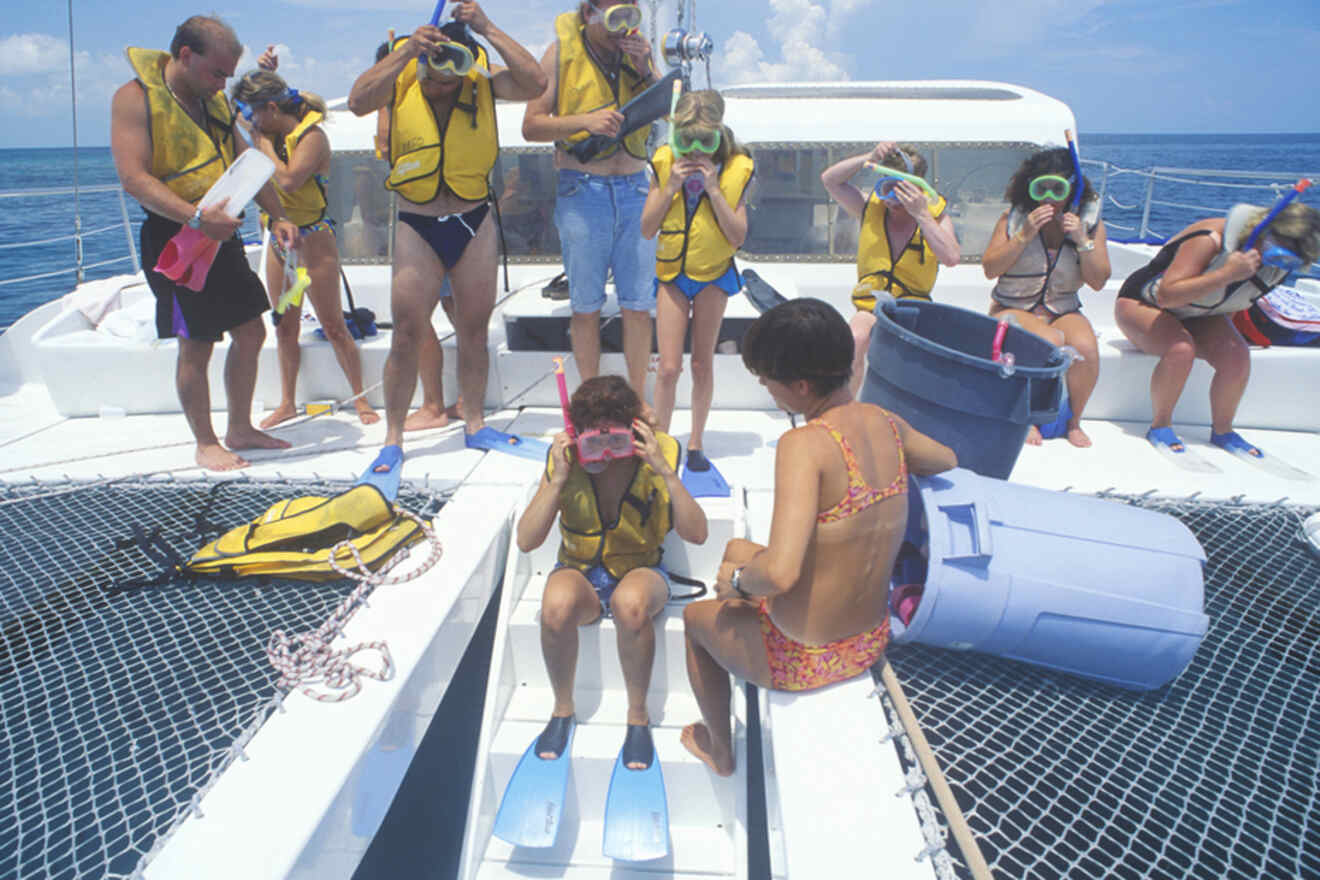 🏝️ Which Florida Key has the best beaches for snorkeling?
The best places for beach snorkeling in the Florida Keys are Bahia Honda State Park, located in Big Pine Key, and Fort Zachary Taylor Historic State Park in Key West. Both locations are beautiful and allow you to snorkel just off-shore.
🐠 Is snorkeling better in Key Largo or Islamorada?
You can't go wrong with Key Largo snorkeling or snorkeling in Islamorada! Key Largo is home to John Pennekamp Coral Reef State Park, the nation's first underwater park and one of the best places to see the living coral reef, and Islamorada boasts Alligator Reef.
🤿 Is snorkeling better in Key Largo or Key West?
Snorkeling is amazing all throughout the Florida Keys, including both Key Largo and Key West. Key Largo is known as the SCUBA Diving Capital of the World due to its impressive number of dive sites, and it boasts ample snorkeling spots for all skill levels.
📅 What is the best month for snorkeling in the Florida Keys?
April and May are the best months to go snorkeling in the Florida Keys, and the weather is still mild in the area compared to the much hotter, stormy summer months.
Conclusion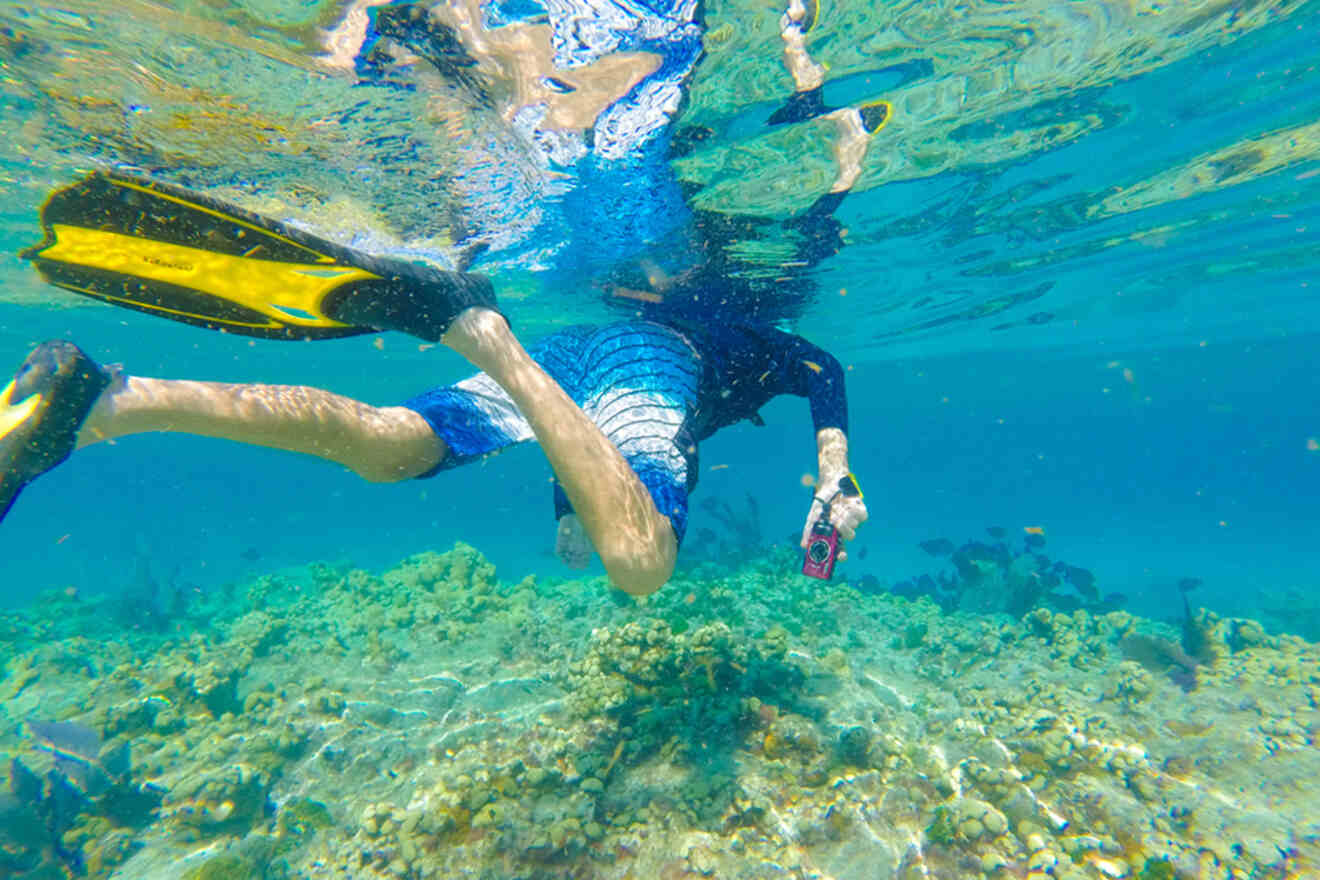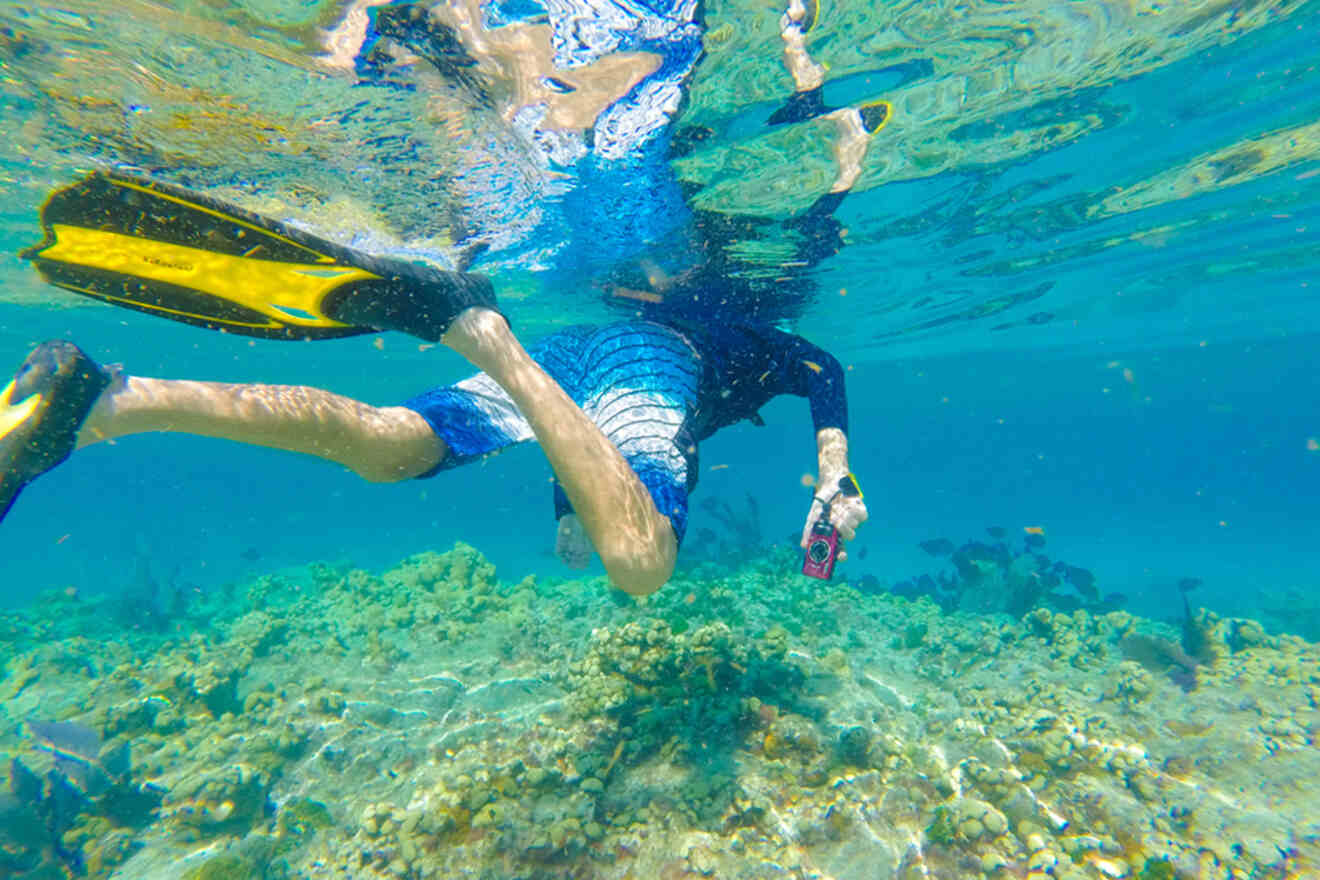 If you've made it this far into the article about the best snorkeling in the Keys, you're probably ready to grab your snorkel mask and jump into the warm, welcoming water. Same here!
There's nothing quite like the Florida Keys snorkeling spots anywhere else, and as I always say, you need to get in the water to fully experience what this beautiful slice of paradise has to offer. Snorkeling is the perfect way to do that – no certification or experience is necessary, just the willingness to jump in and have a good time.
We went over quite a few locations on this list, covering the Upper Keys, Lower Keys, and everything in between. Thanks so much for reading along, and don't forget to book your favorite snorkel tour to save your spot!
If you have any questions, leave me a comment, and I'll get back to you.
Happy adventuring!
Montana
---
Pin it for later!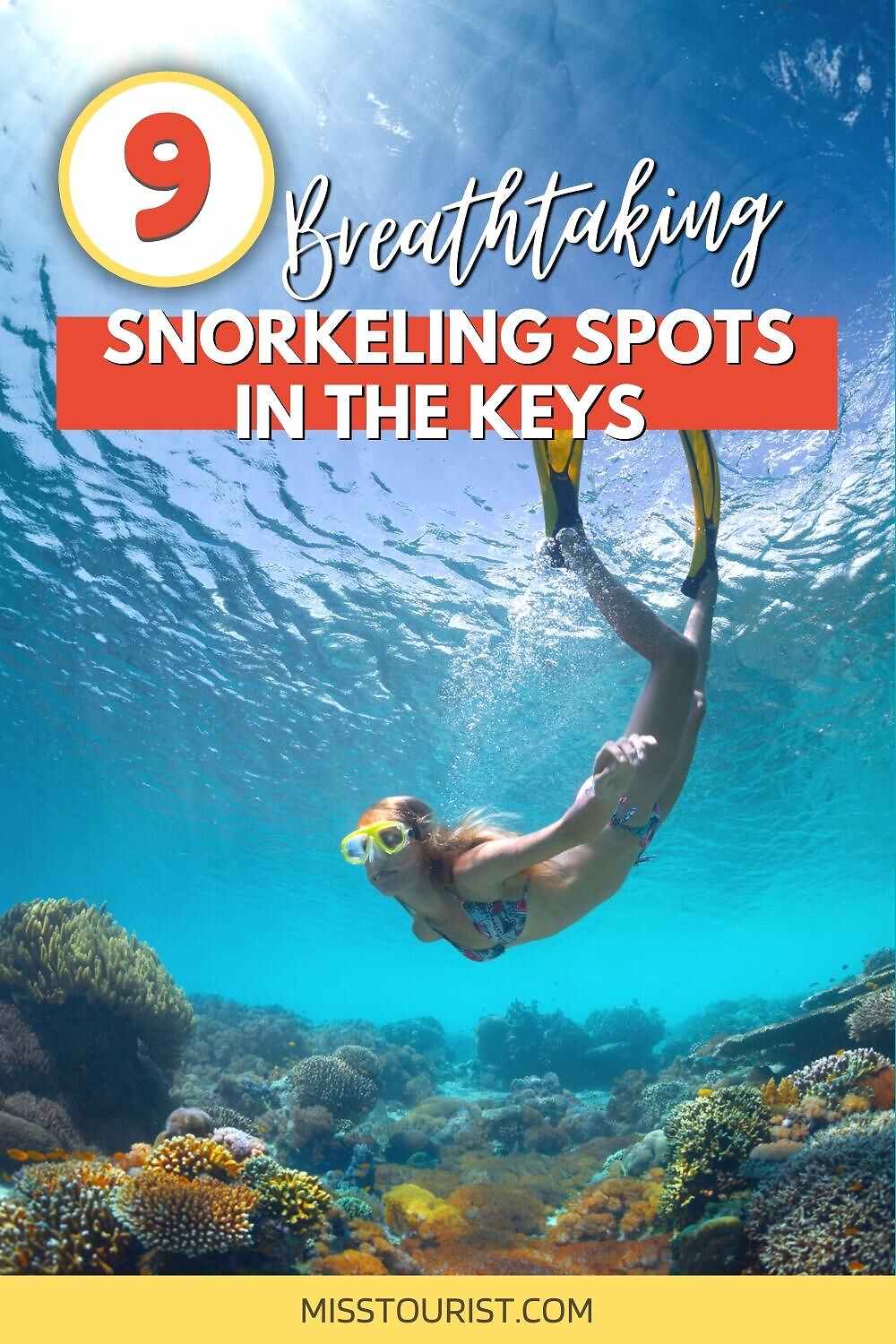 Pin it for later!