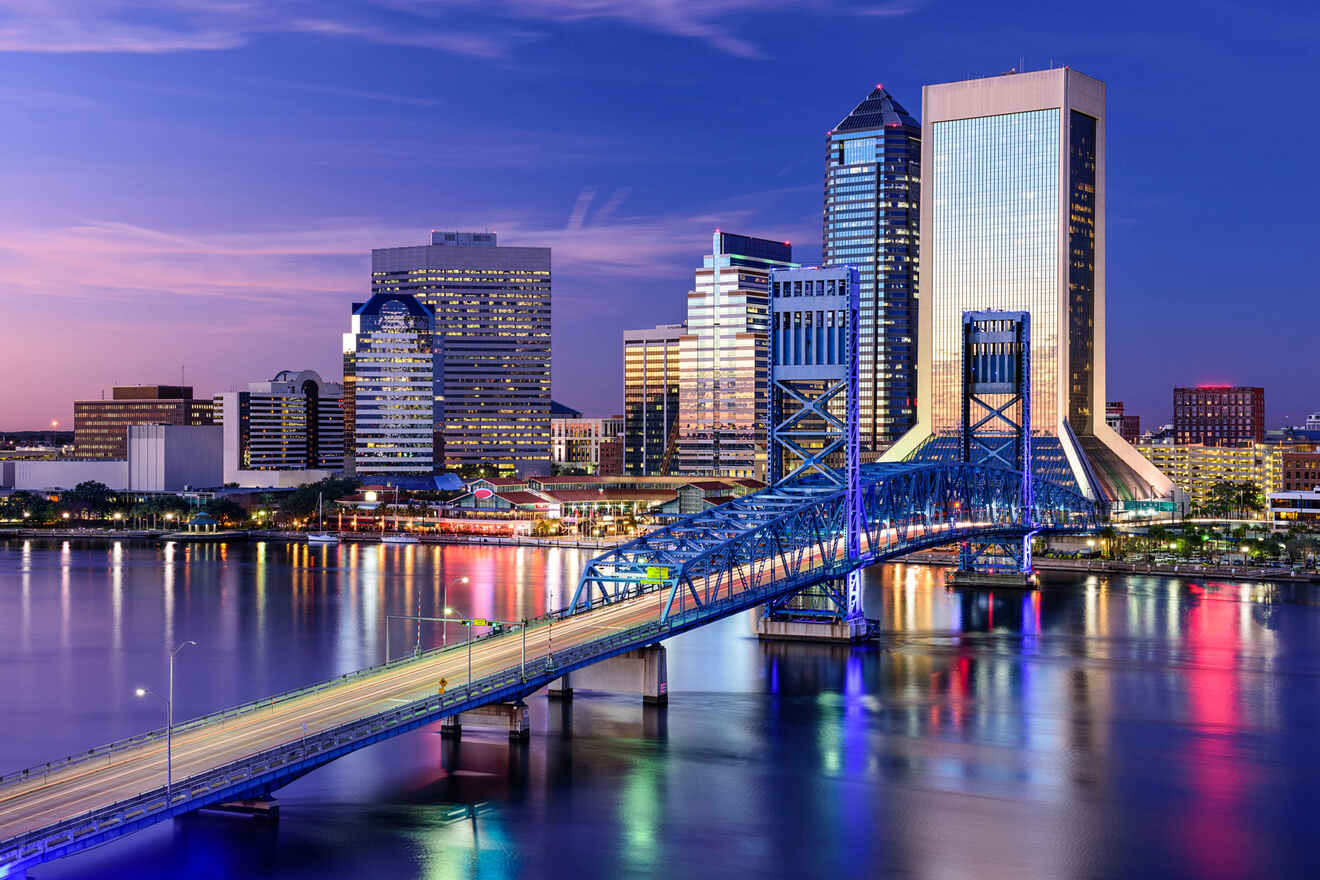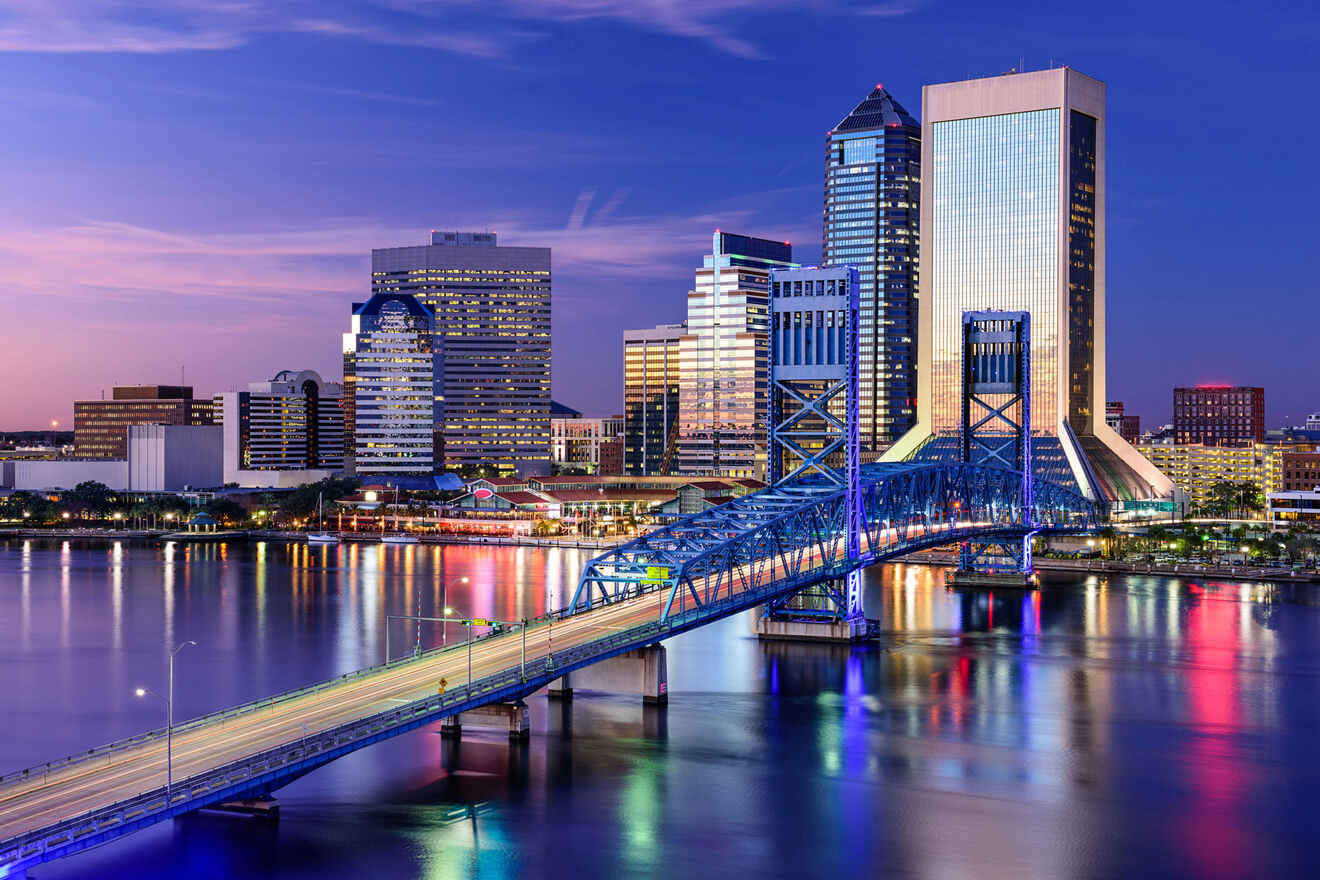 Ladies and gents, pack your swimsuit and your sunglasses because we're heading to Florida! To Jacksonville, more specifically, a place where urban city life blends perfectly with the beach life!
Downtown is the best area where to stay in Jacksonville, as it has the main attractions, fabulous hotels and just a great vibe!
But if the city center is not really your scene then scroll down because I've got 4 more areas which are great for budget travelers, families, those looking for trendy spots or luxury; South Point, Neptune Beach, San Marco and Ponte Vedra Beach.
So I've got plenty of options for you, plus a super fun bonus with places to stay in Amelia Island which is set right near Jacksonville and is famous for its pristine beaches!
But remember that these recommended hotels are the best you'll find! Which only means that they'll disappear fast. So I highly recommend booking early to avoid any disappointment!
Is everyone ready to go? Let's start!
If you are in a hurry
If you're not in the mood to go through the whole post, then have a look at the list below, it has the best hotels where to stay in Jacksonville, Florida:
Don't worry if you can't find all the places, the map below will help you visualize all the areas where to stay in Jacksonville, Florida: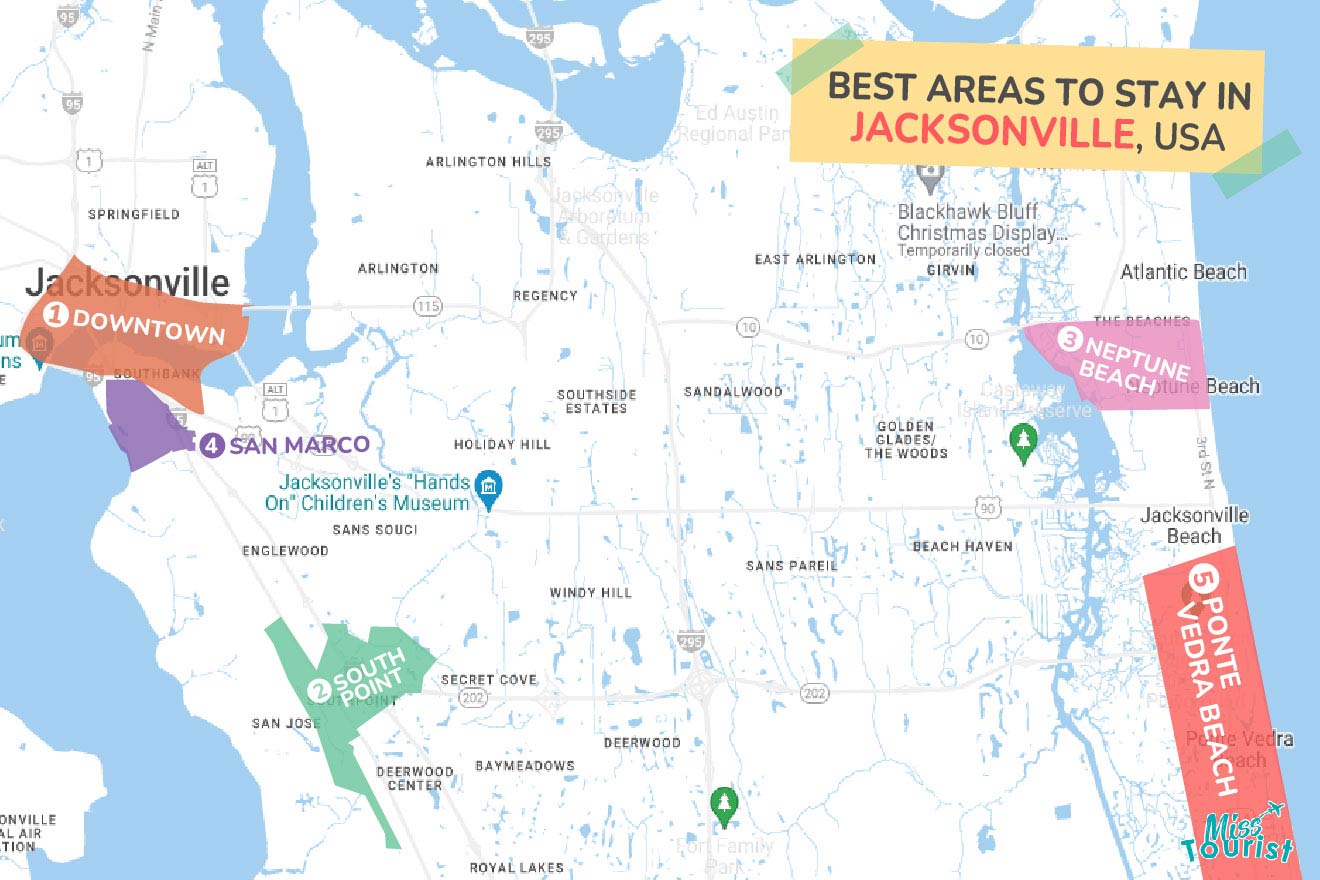 1. Downtown – where to stay in Jacksonville, FL, for the first time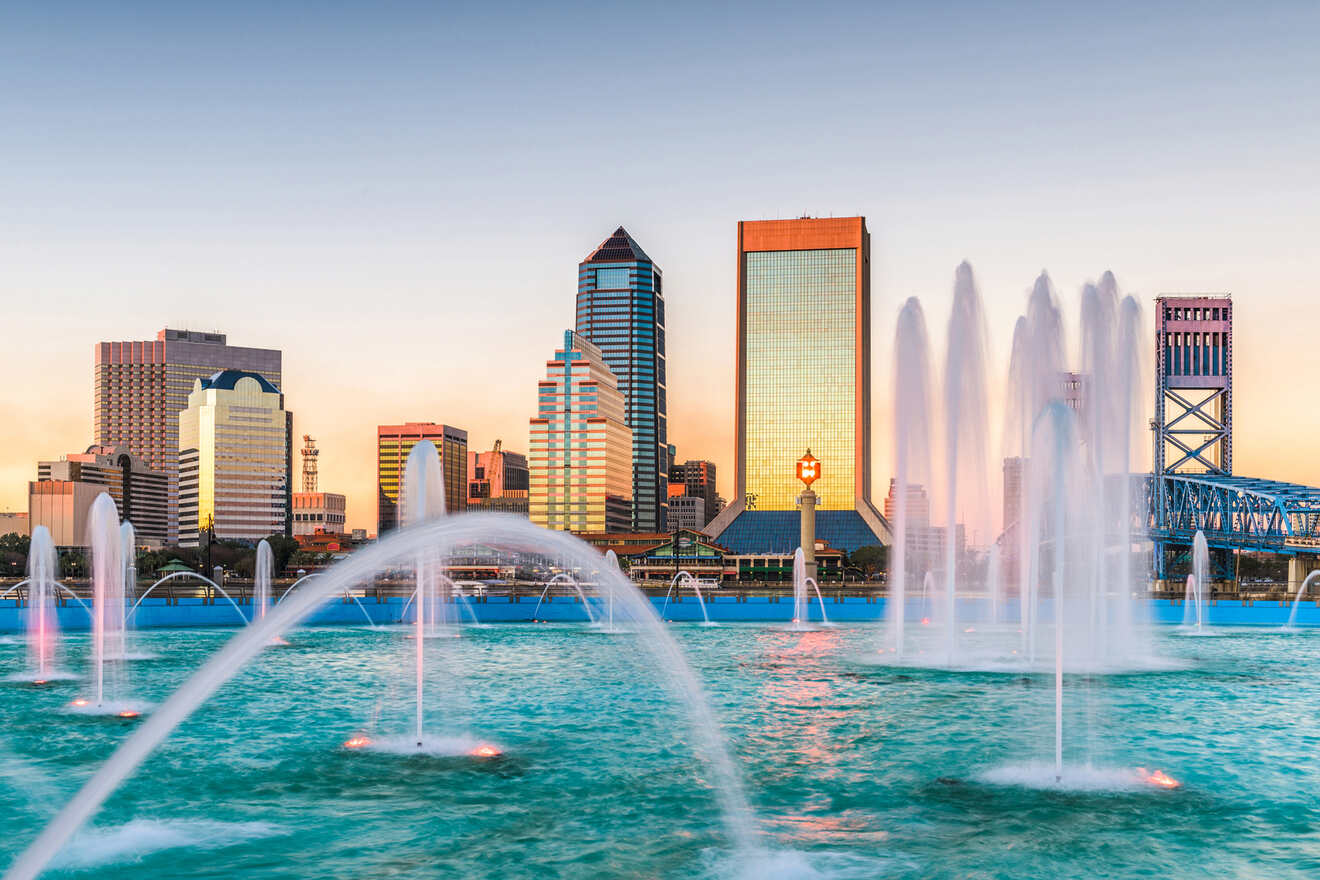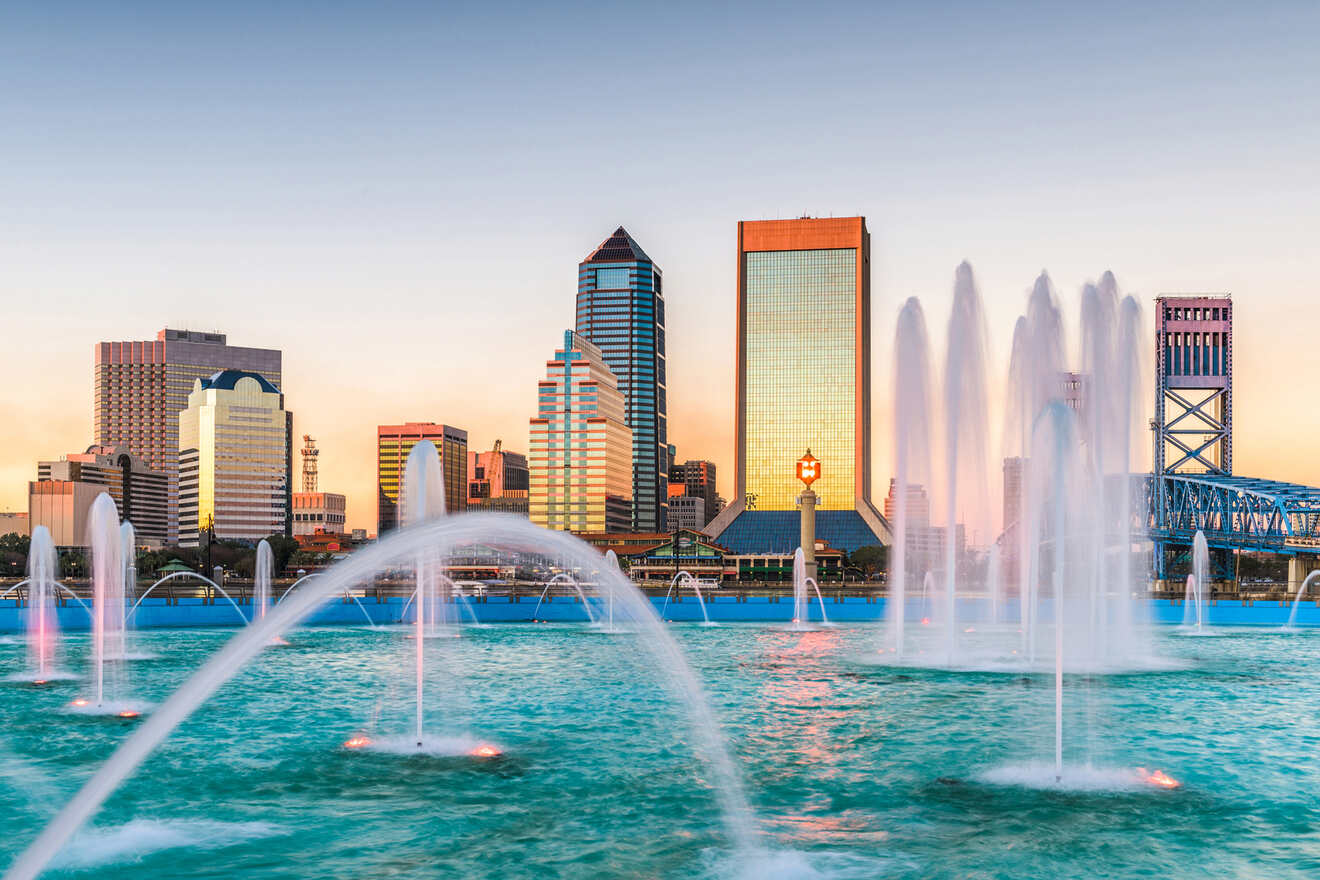 Who doesn't love a nice fusion of urban city life and beaches? Downtown Jacksonville offers the best of both worlds: cultural attractions, trendy shops and convenient access to the city's beaches and to the Jacksonville airport by public transport.
It's easy to see why I recommend it as one of the best places to stay in Jacksonville, Florida!
If you're coming here for the first time, then get ready to fall in love with the scenery! A modern atmosphere, high buildings, with a backdrop of St. John's river, and lots of cute boats.
Yep, there are many things to try in Downtown Jacksonville, from fun events to cool attractions like museums and markets. And when it's too hot to be around concrete buildings just head over to the Jacksonville beaches, they're just 1h away by public transport.
As one of the best places to stay in Florida, Jacksonville has lots of popular restaurants, entertainment venues, and of course many stunning hotels, which I'll talk about in a second.
But before we move into that, I should mention that it's important to book the recommended hotels, super quick! Yep, they sell out so fast that you might end up with the not-so-pretty-option (and no one wants that).
Luxury hotel
Hyatt Regency Jacksonville Riverfront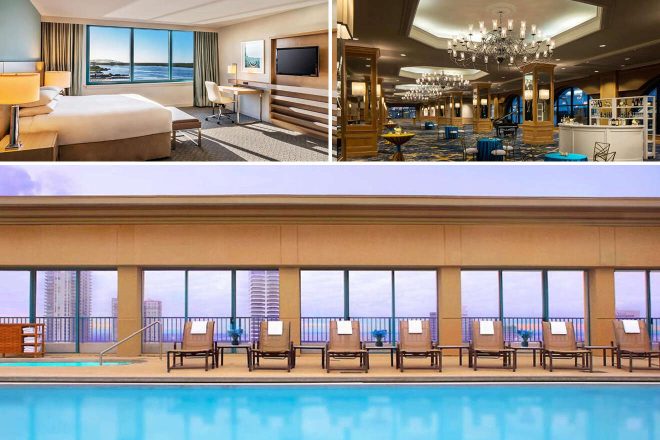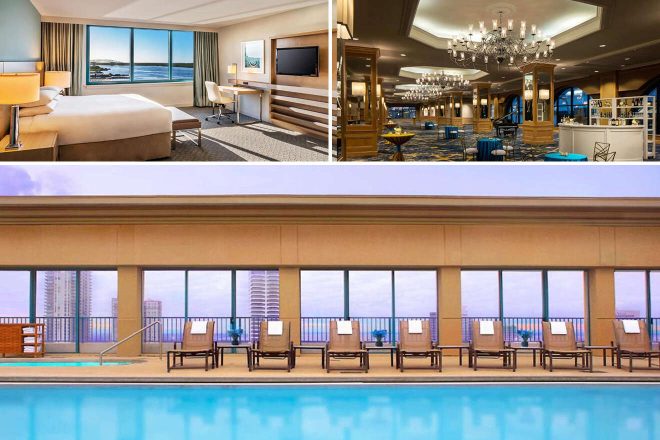 Set near the St. Johns River, this Downtown Jacksonville hotel has modern rooms which are super spacious and offer great river views! The accommodation comes with a rooftop pool, an on-site gym, and a hot tub. Lots of things to try here, plus a lovely restaurant where you can dine at the end of your day!  
Other accommodation options in Downtown
Mid-Range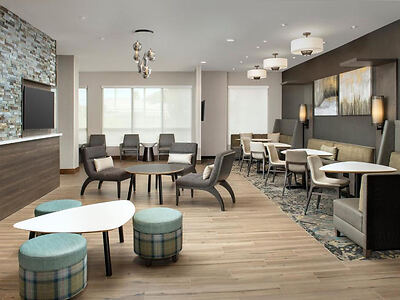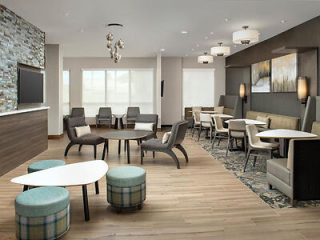 This hotel offers an outdoor pool and contemporary rooms with free wi-fi, and a private bathroom
Budget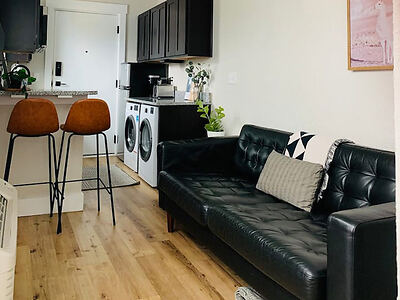 Enjoy your stay in Jacksonville at this apartment that has a kitchen and air-conditioned rooms
Airbnb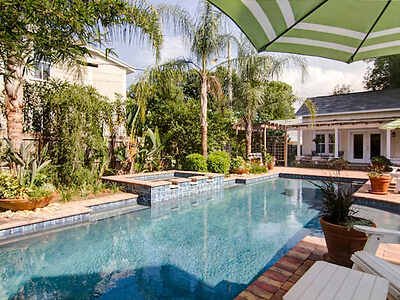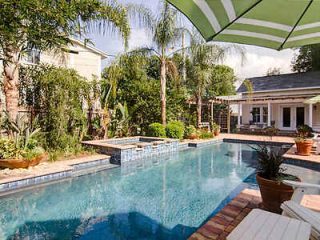 You'll love this stunning cottage which comes with an outdoor pool, a backyard, and free wi-fi
Things to do in Downtown
Visit the Cummer Museum of Art & Gardens
Buy cool stuff from the Riverside Arts Market
Eat candy at Sweet Pete's, a local candy factory
Shop for cool souvenirs at St. Johns Town Center
Catch a Jacksonville Jaguars game
Learn new things at the Jacksonville Contemporary Museum
Snap a pic at the Friendship Fountain in Downtown Jacksonville
2. South Point – best place to stay on a budget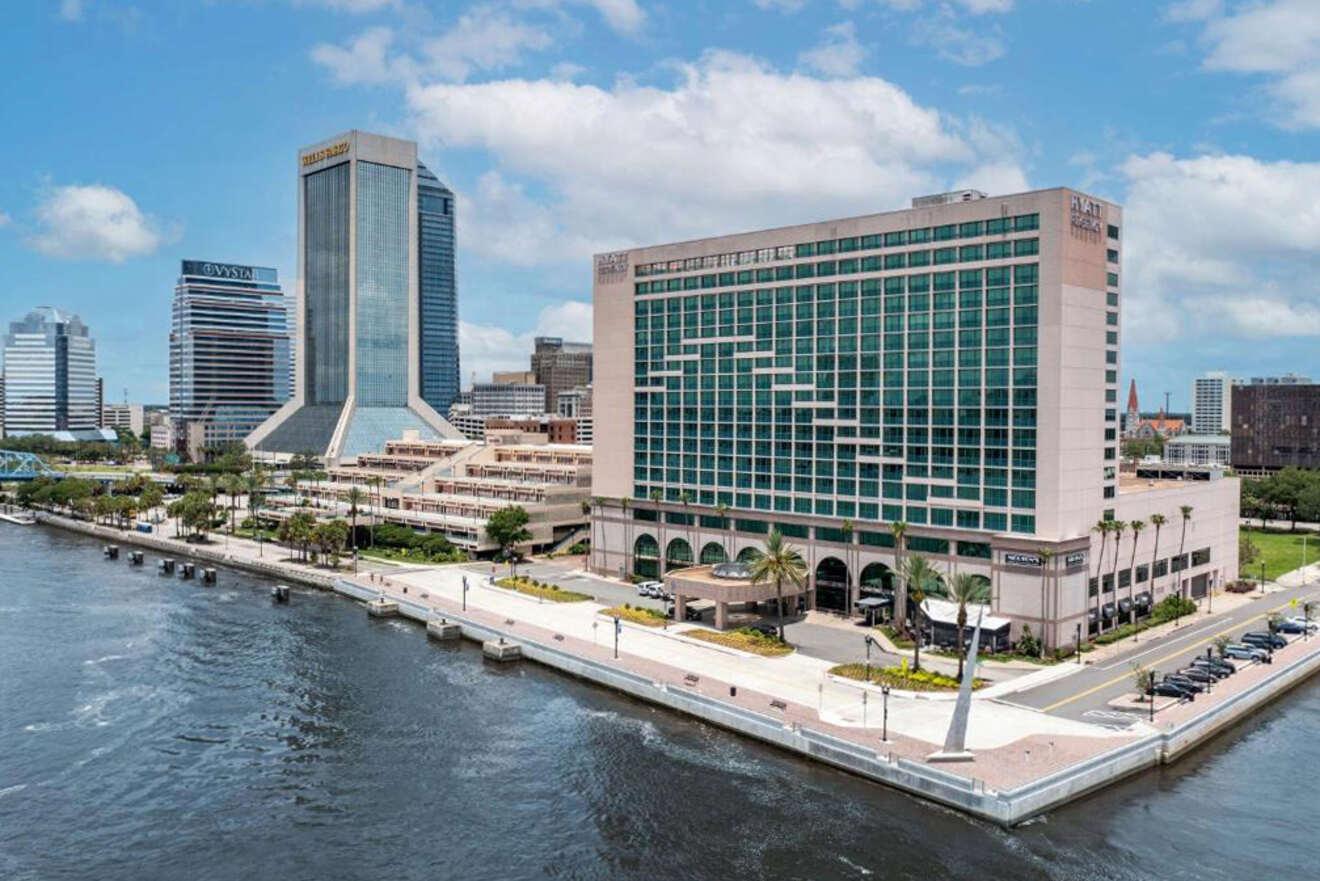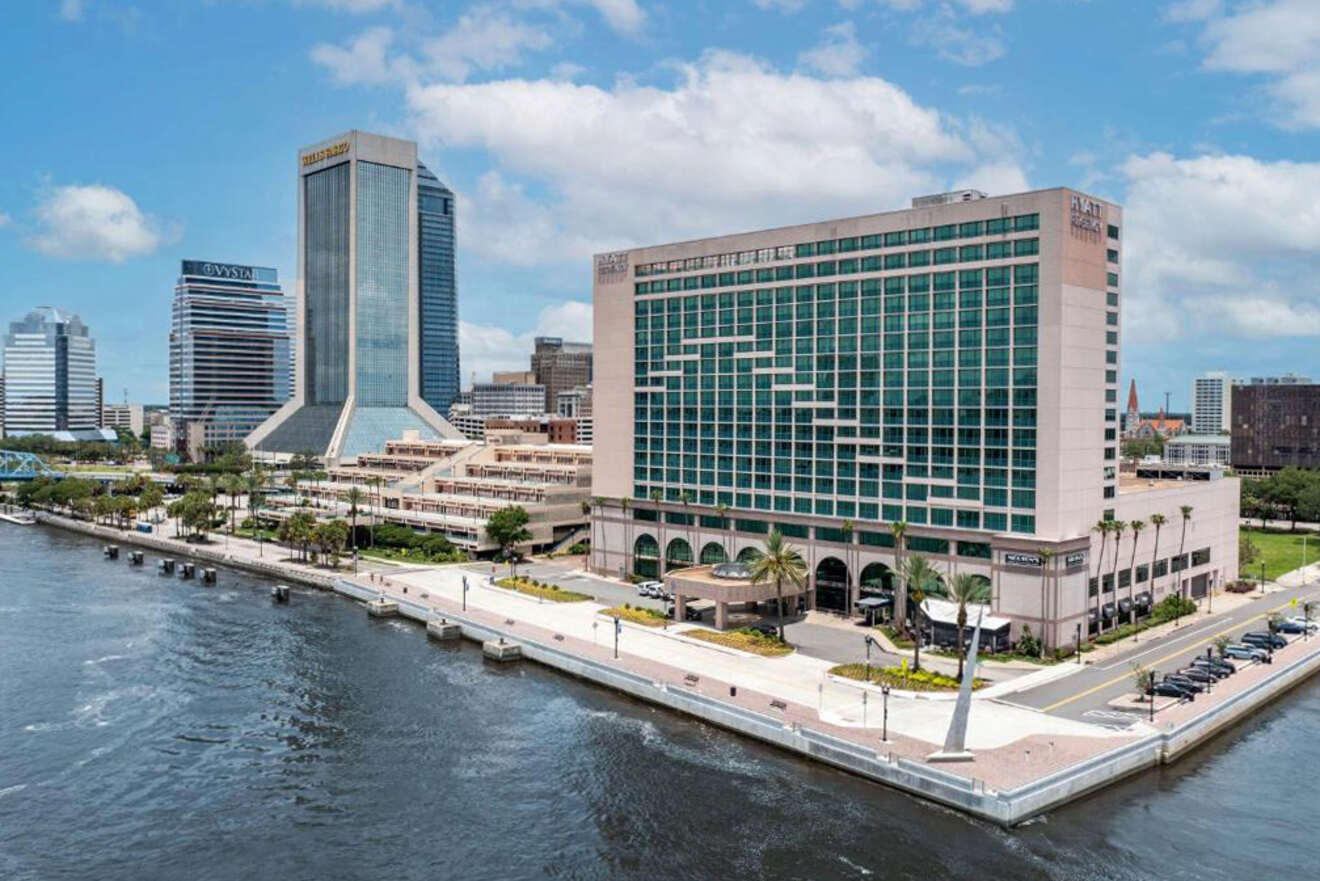 Looking for some cheap hotels to stay in Jacksonville? Then check out this area! Although it's set a bit further away from the city center, South Point is great for those traveling on budget.
And even for people who don't really like being near all the crowds. Although Downtown Jacksonville is pretty cool, at times it can get a bit too much for people who're not fans of congestion.
Home to many families, and local people, South Point is pretty chill and safe as well. Which also makes it a great place for people traveling with their families.
It's true you'll have to use public transport to head Downtown and see the main attractions, you'll also find some here like the Flight Adventure Park and a go-kart track.
Adjacent to the South Point neighborhood, you'll find a Country Club where golf fans can enjoy a nice relaxing afternoon!
By the way, if you want to explore other amazing areas in Northeast Florida, there are many places in St. Augustine that I'm sure you'll love! But now let's check out the best hotels in Jacksonville, South Point:
Luxury hotel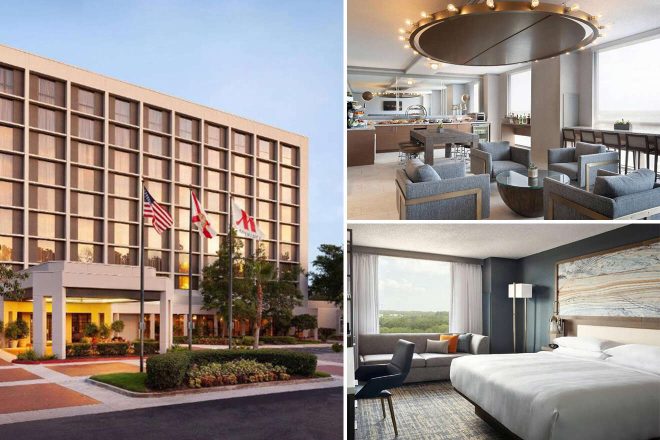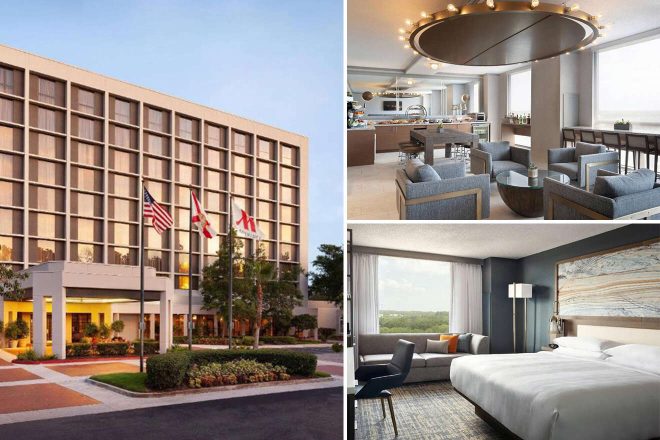 Simple, modern and equipped with all facilities you'll need for your stay in Jacksonville, Florida! This luxury hotel has an outdoor pool, a fitness center and bar. Start your morning with a yummy breakfast in your cozy room and then head out to explore!  
Other accommodation options in South Point
Mid-Range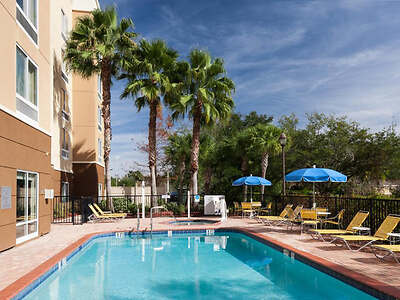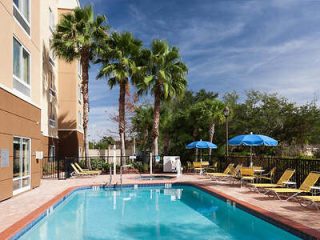 This hotel offers an outdoor pool, a hot tub and comfortable rooms with coffee makers
Budget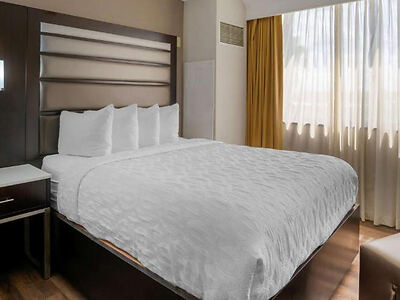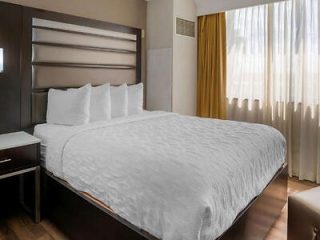 A great budget option where guests can work out in the fitness center, and swim in the outdoor pool
Airbnb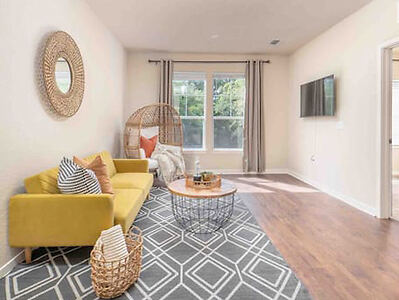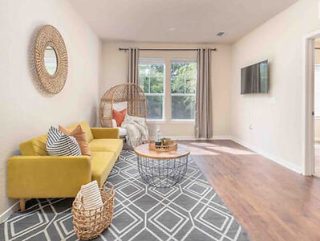 What a stylish place! And it has lots of space, a kitchen, a shared outdoor pool and a parking spot
Things to do in South Point
Try go-karting at Autobahn Indoor Speedway
Play some golf at San Jose Country Club
Go shopping at St. Johns Town Center
Grab dinner at Cracker Barrel Old Country Store
Spend a fun day at Flight Adventure Park Jacksonville
3. Neptune Beach – where to stay for families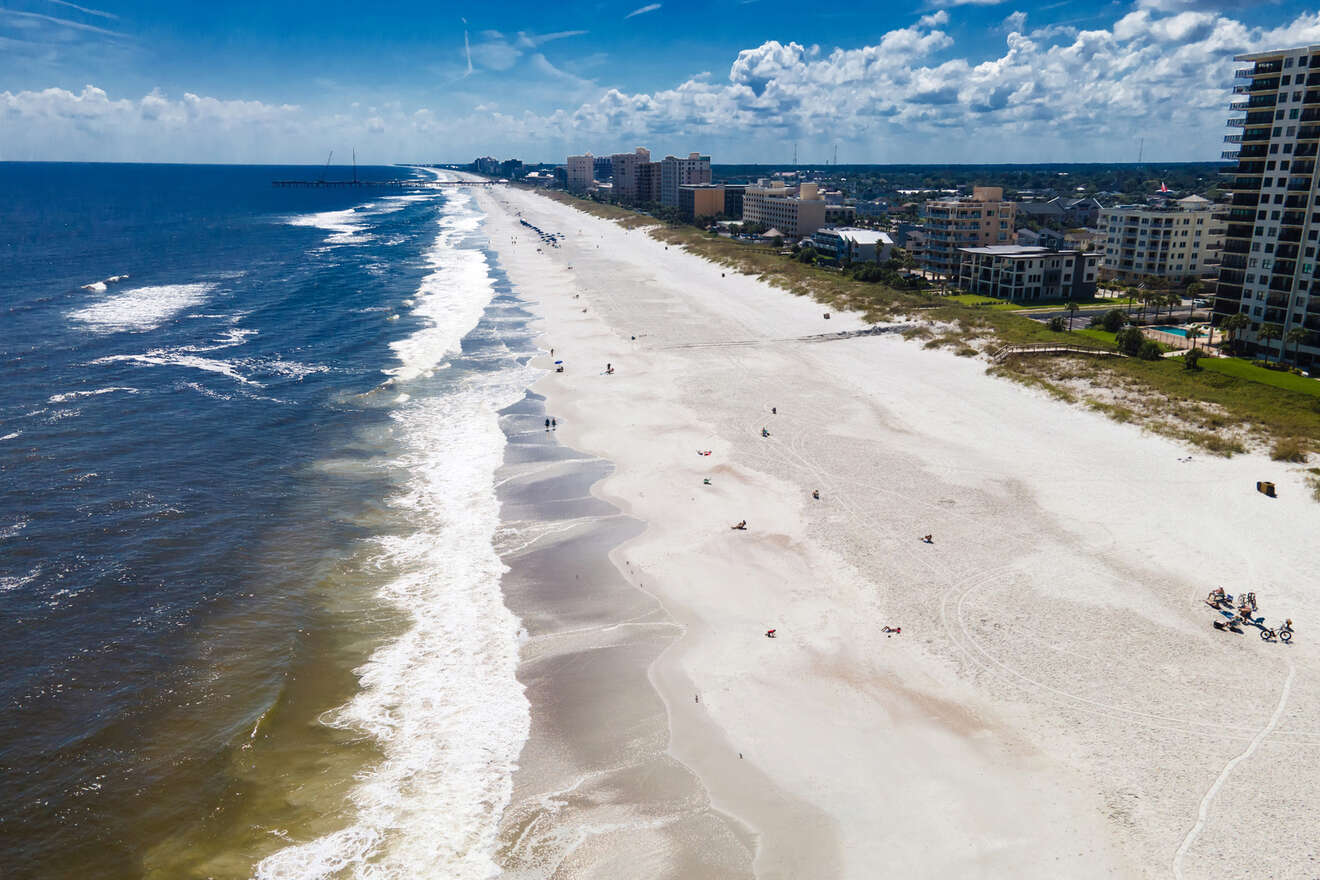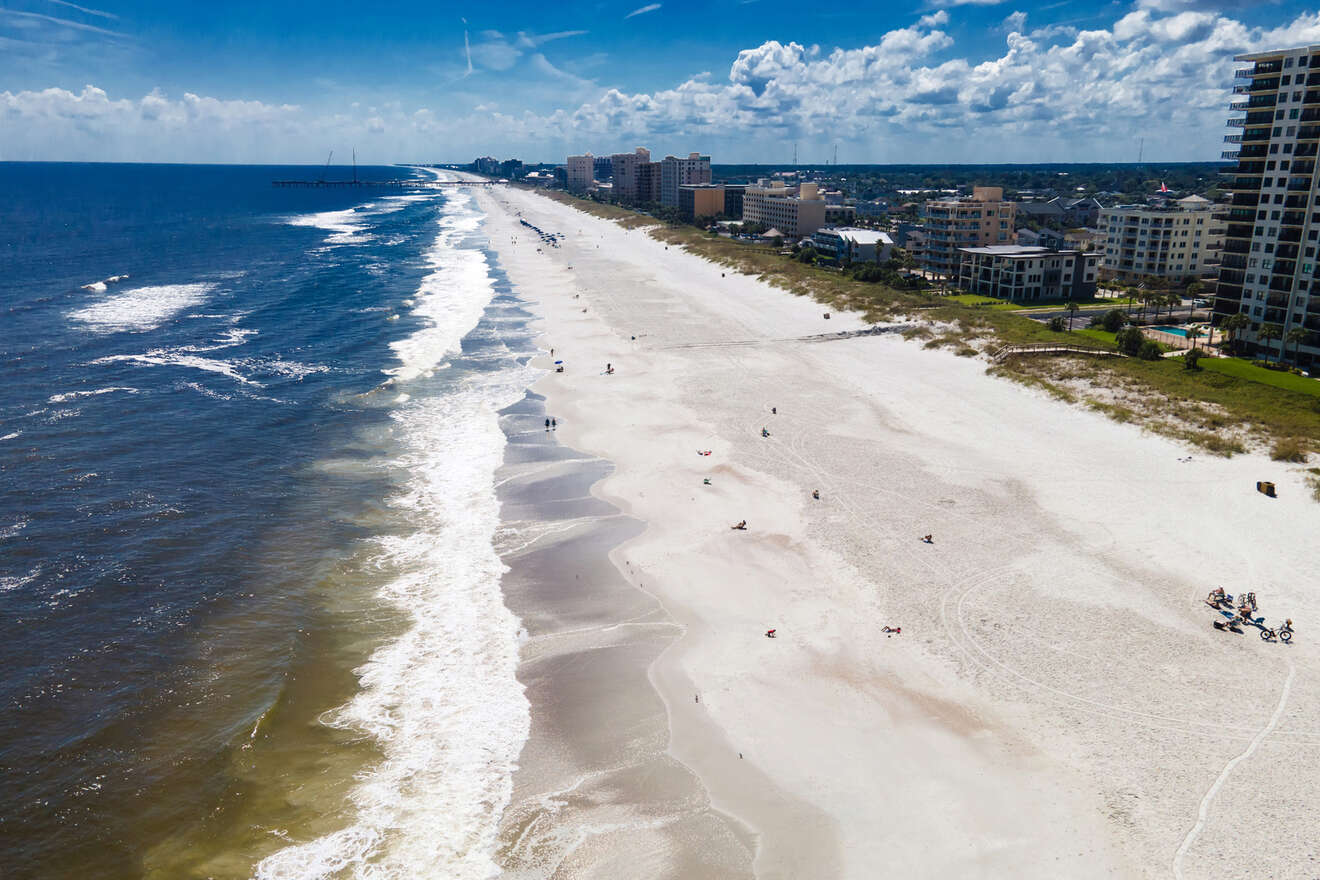 This city has lots of beautiful beaches and if you're planning a family getaway at the beach, then I'd recommend checking out this one for your stay in Jacksonville. It's pretty chill, and quiet compared to the rest plus it's the closest one to the city center, out of all the Jacksonville beaches.
Here you'll be far from all the city noise. It's true, the area doesn't have all those attractions but the beach and all the water sports make up for that!
Plus you can relax and enjoy a moment of peace and stillness here, as usually Neptune Beach isn't super crowded. And I'm sure the little ones will love to have almost the entire beach to themselves!
Most of the hotels here are set within walking distance from the beach, which means you can wake up and go straight into the waters! Now that's a nice wake-up call that I would love right now!
Luxury hotel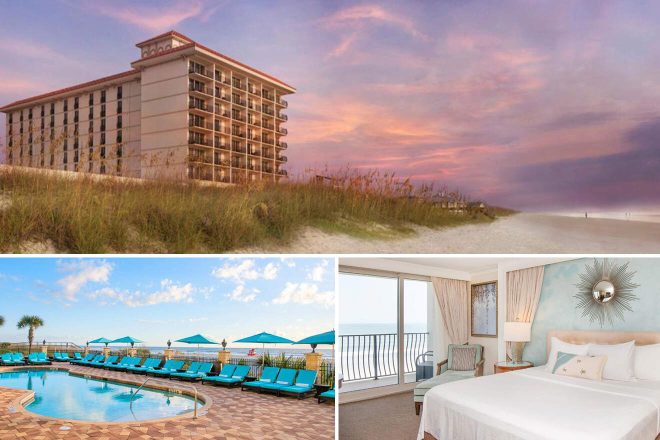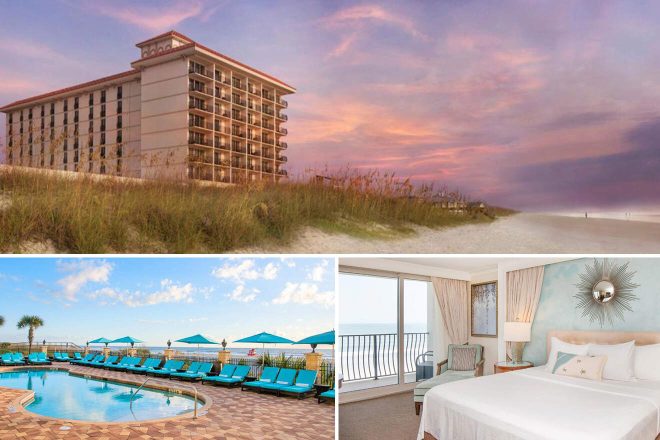 Set right on the beach, this hotel offers the most amazing views (especially from the balcony of your room, which is a great spot to drink your coffee). The accommodation comes with spacious suites for families, a spa center and a swimming pool! At night you can even chill by the fireplace with a wine glass!
Other accommodation options in Neptune Beach
Mid-Range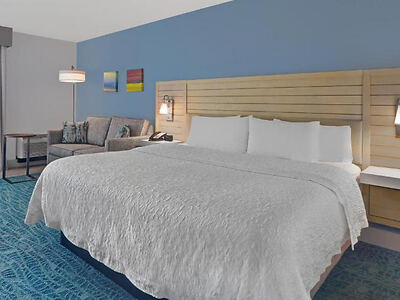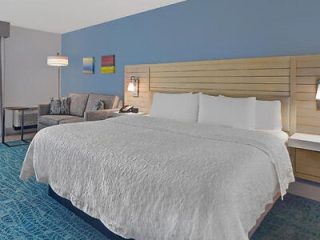 This hotel offers a private beach area, family rooms, a swimming pool and a daily buffet breakfast
Budget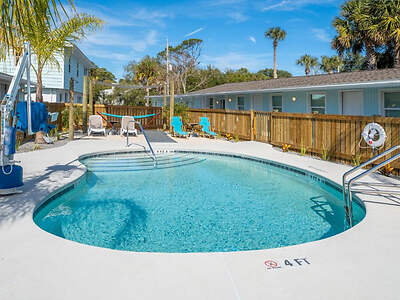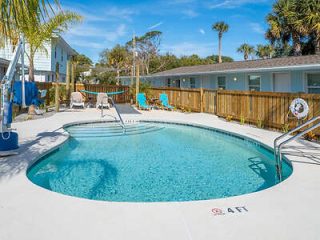 Super cozy inn that has air-conditioned rooms with coffee markers, an outdoor pool and a sun terrace              
Airbnb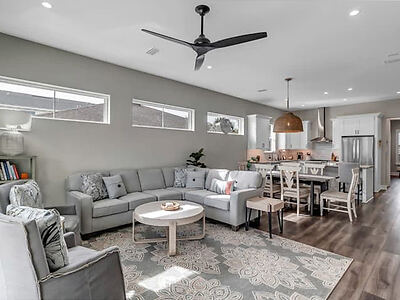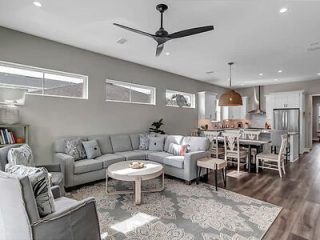 A large house that has all the facilities you need including a kitchen, air-conditioning and free wi-fi
Things to do in Neptune Beach
Spend a fun family day on the beach
Try some water sports
Visit the Kathryn Abbey Hanna Park
Explore Atlantic beach
Go on a trip to the Jacksonville Zoo
Shop until you drop at Beaches Town Center
Take the kids to Jarboe Park
Eat some yummy dinner at Sliders Oyster Bar
4. San Marco – trendiest place to stay in Jacksonville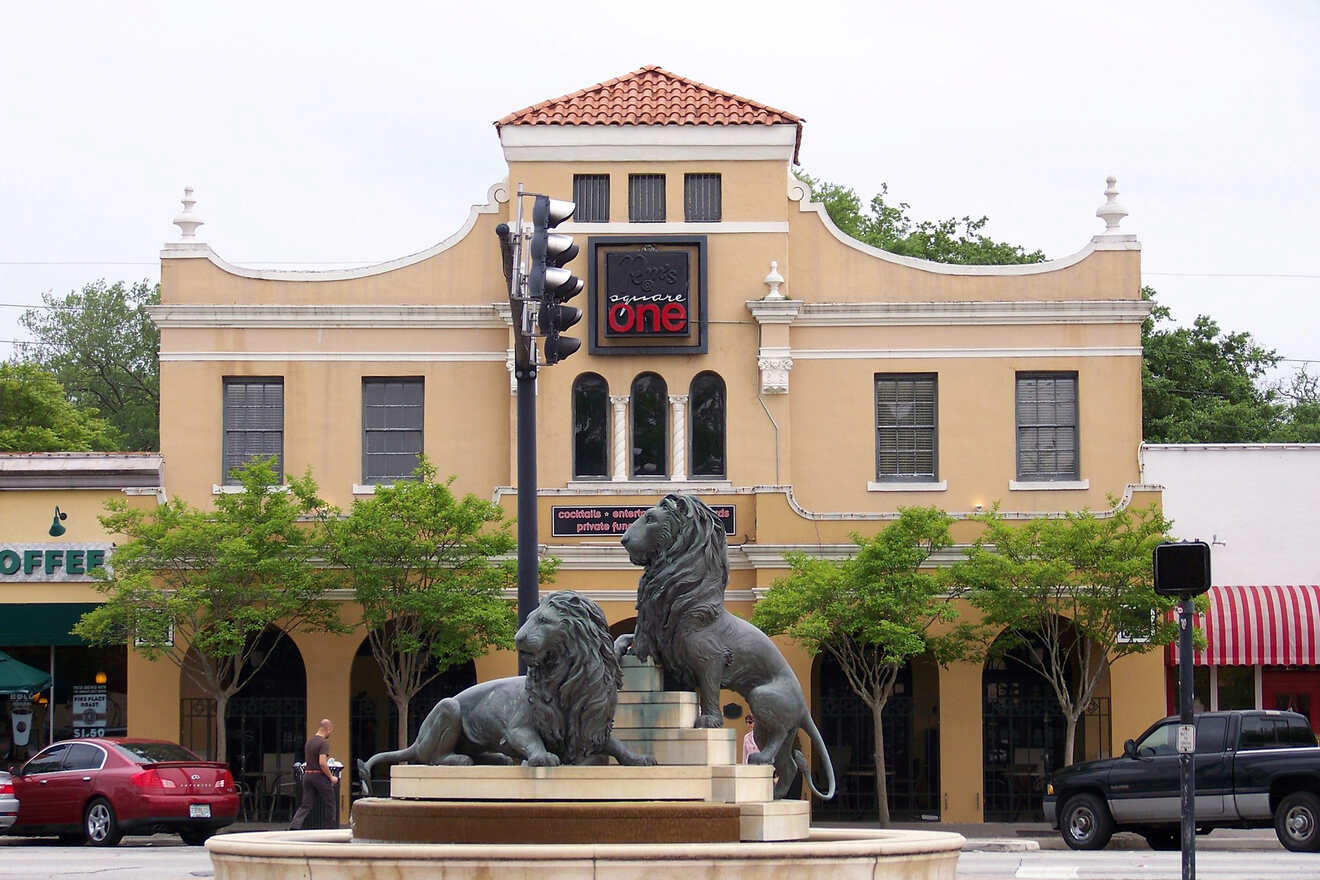 This super cool residential area is the place to be for anyone who loves quaint boutique stores and fancy restaurants! Set not too far from the city center, and only a 20 min drive from Jacksonville International Airport San Marco is definitely one of the trendiest places in town!
It's true, all that comes with a price, and you're likely to spend a few bucks if you stay in Jacksonville, San Marco, because you'll be so tempted to eat at the most amazing restaurants and shop for unique stuff in all the stores, but hey, you're on holiday after all!
So, if money is not an issue, check out the accommodations in San Marco, there are plenty of popular hotels, which I've just listed below, perfect for all kinds of tourists from business travelers to young people.
But before we move on with that, let's see what else you should know about this neighborhood!
Well, there are many parks around, here's one place where maybe you won't be spending any money. Most of them are set by the river so you can enjoy some pretty scenic views while walking around. Plus some cool art galleries that you should check out!
And now let's check out all the gorgeous hotels here:
Luxury hotel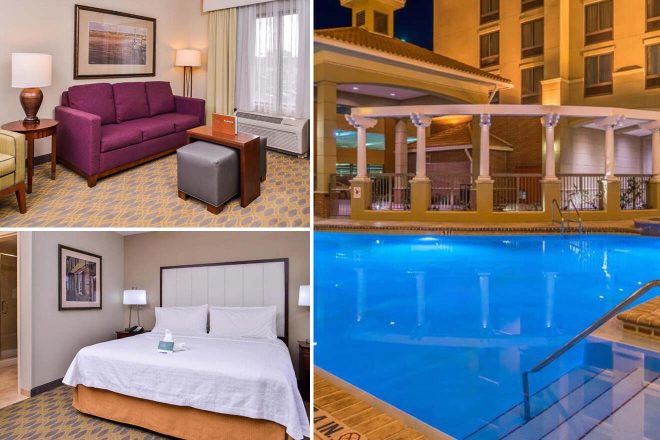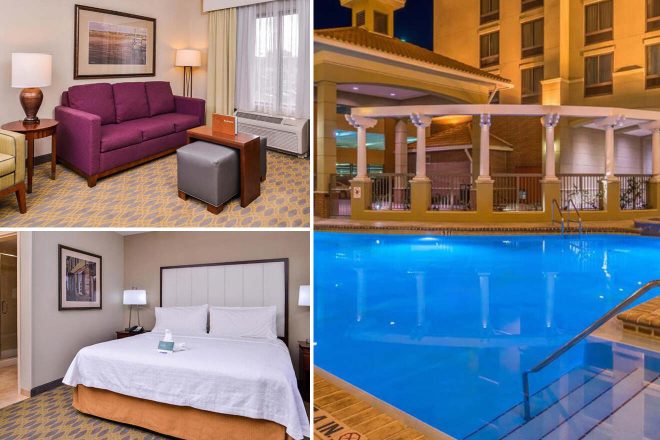 Relax by the pool at the best hotel in San Marco after a day of shopping and exploring! This accommodation is ideal for business travelers and it features suites with a small kitchenette, and a flat screen tv. Guests are welcome to work out in the fitness center and use the business center when they need!
Other accommodation options in San Marco
Mid-Range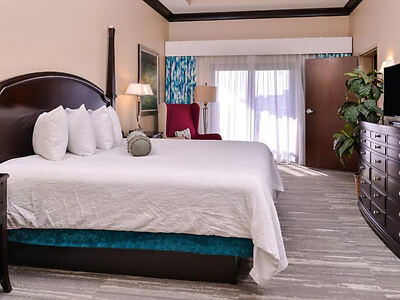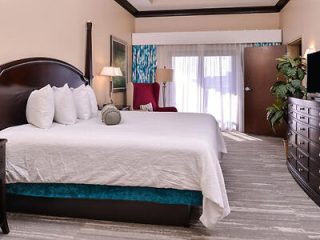 Enjoy your stay in Jacksonville at this awesome hotel that has a pool and 2 restaurants on-site
Budget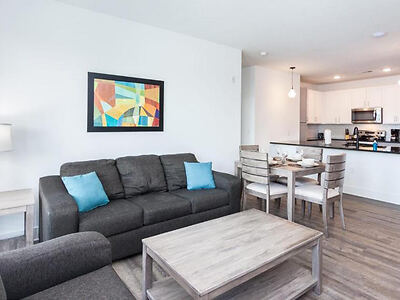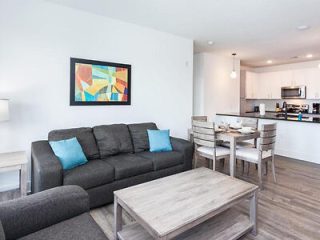 A super affordable option that has modern apartments equipped with a kitchen, free wifi and a patio
Airbnb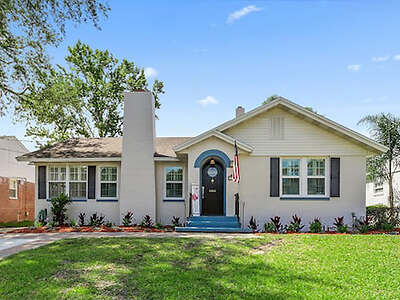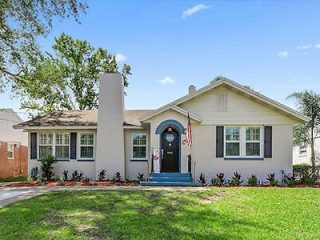 Perfect for a bigger group or families, this house comes with a private patio, a kitchen and a parking space
Things to do in San Marco
Grab dinner at Bistro AIX
Stop by the Theatre Jacksonville
Hit the mall at St. Johns Town Center
Go for a walk in Greenscape Celebration Park
Shop for cool clothes at Meow and Barks Boutique
Explore the Riverside Avondale historic district
Admire the art at Stellers Gallery
5. Ponte Vedra Beach – where to stay in Jacksonville for luxury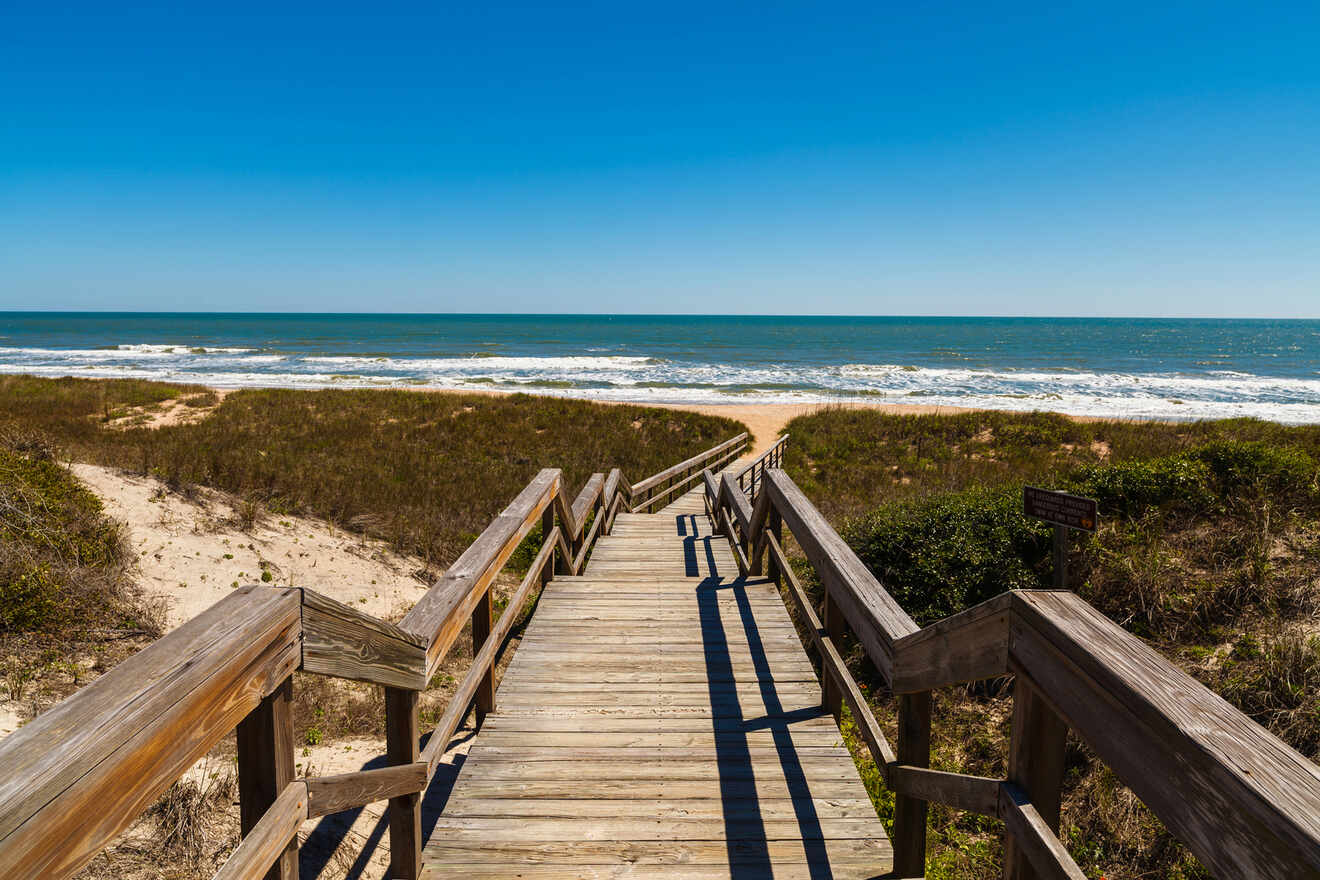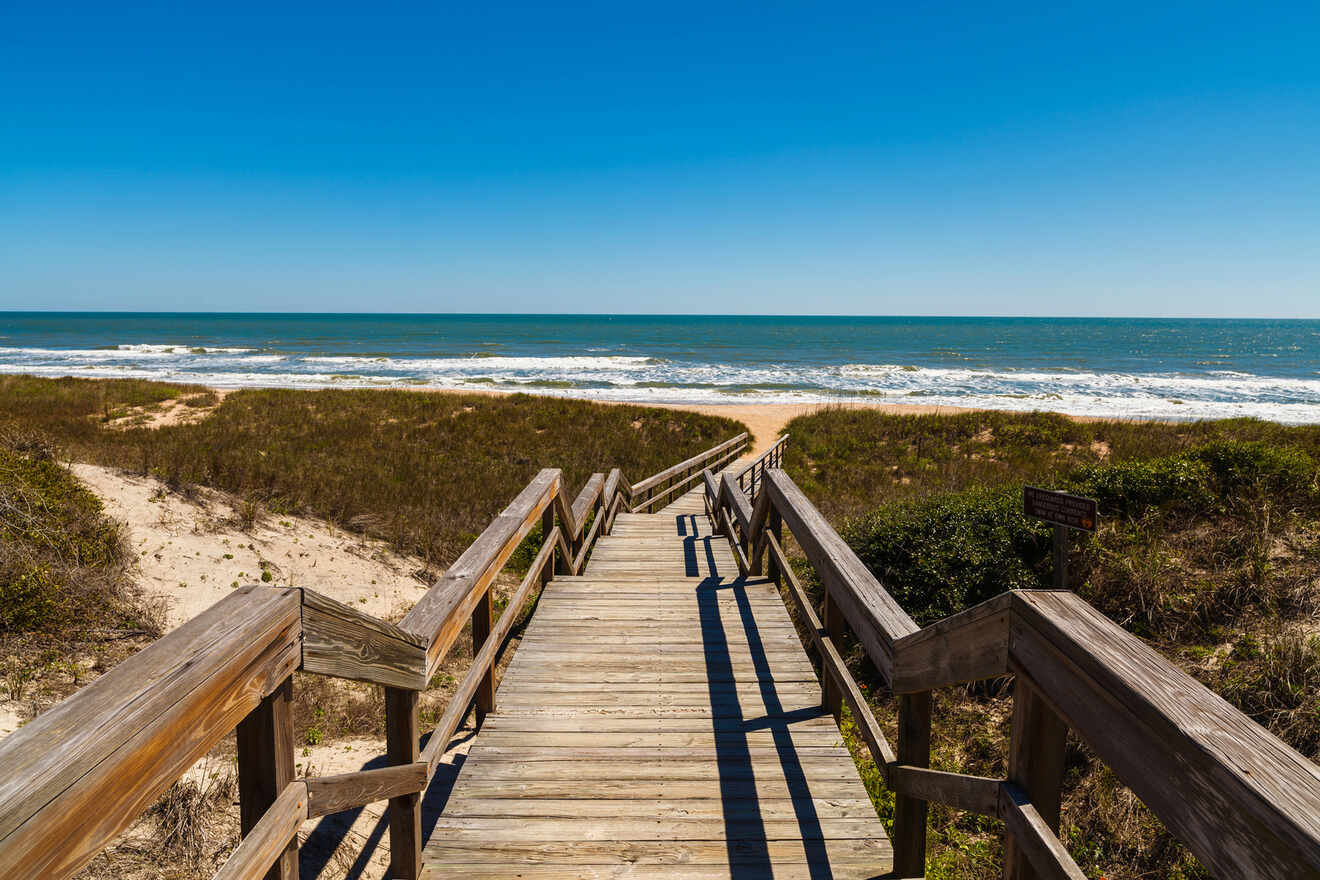 San Marco may be trendy and expensive but if you want to go all out during this holiday I'd recommend staying in Ponte Vedra Beach!
Yep, this fancy Jacksonville beach offers luxurious hotels, country clubs and high-end restaurants. Plus it's right near the ocean, so you can admire the beauty of the Jacksonville beaches!
It can also be a pretty relaxing holiday, this Jacksonville beach isn't so crowded so you can enjoy your time without being disturbed by lots of tourists. The golf courses will be waiting for you and of course let's not forget about the white sand beaches.
A cocktail, a sun lounger and your favorite book are all you need for a perfect day on the beach!
There are also a few green areas and parks around, so if you prefer spending some time in nature rather than in the busy city, I think you'll love it here! Now let's find some amazing hotels to stay in Jacksonville!
Luxury hotel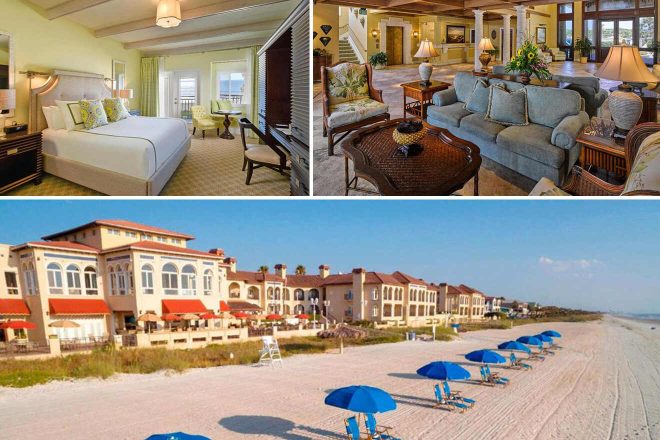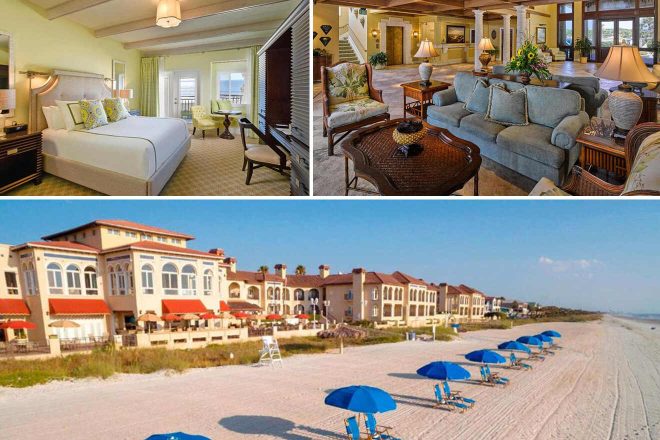 This fabulous resort set right on the Jacksonville beach offers lots of cool facilities including a kids' club, a tennis court and water sports! Enjoy your stay in Jacksonville to the fullest and sunbathe by the 2 swimming pools, relax in the spa and eat delicious food at the 2 restaurants on-site.
Other accommodation options in Ponte Vedra Beach
Mid-Range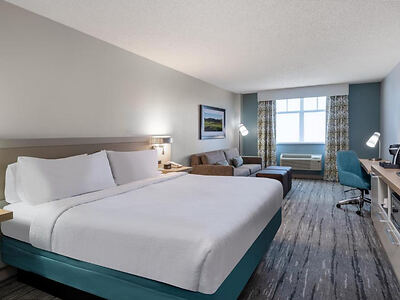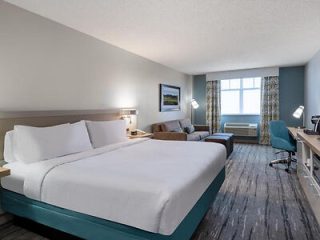 Enjoy your stay in Jacksonville at this hotel comes with a pool, spacious suites and a bar  
Budget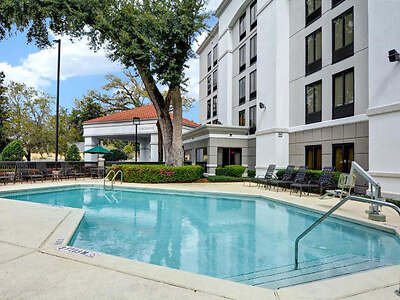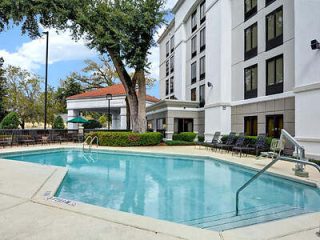 This hotel features elegant rooms with a private bathroom, a swimming pool and a snack bar
Airbnb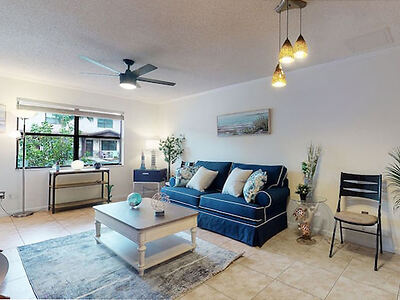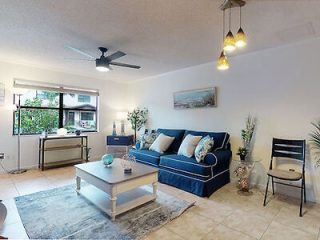 A big townhouse perfect for a family or group of friends that offers beach access, a kitchen and free wifi
Things to do in Ponte Vedra Beach
Spend your afternoon golfing at Marsh Landing Country Club
Admire the views at Bird Island Park
Catch a sunset at the Jacksonville Beach Pier
Relax on the beautiful beaches
Go for a walk on Atlantic beach
Check out the unique Kathryn Abbey Hanna Park
Enjoy a oceanfront dinner at Surf Deck Grille
BONUS: Best hotels on Amelia Island
Thinking of taking a short trip to the beautiful Amelia Island while you stay in Jacksonville? It's only a 30 min drive away from Jacksonville and it has an amazing beach scene, luxury hotels and lots of green areas to explore like Fort Clinch State Park.
It's definitely one of those place you can't miss while you're in town, and if you're thinking of staying there overnight, here are some awesome hotels for you: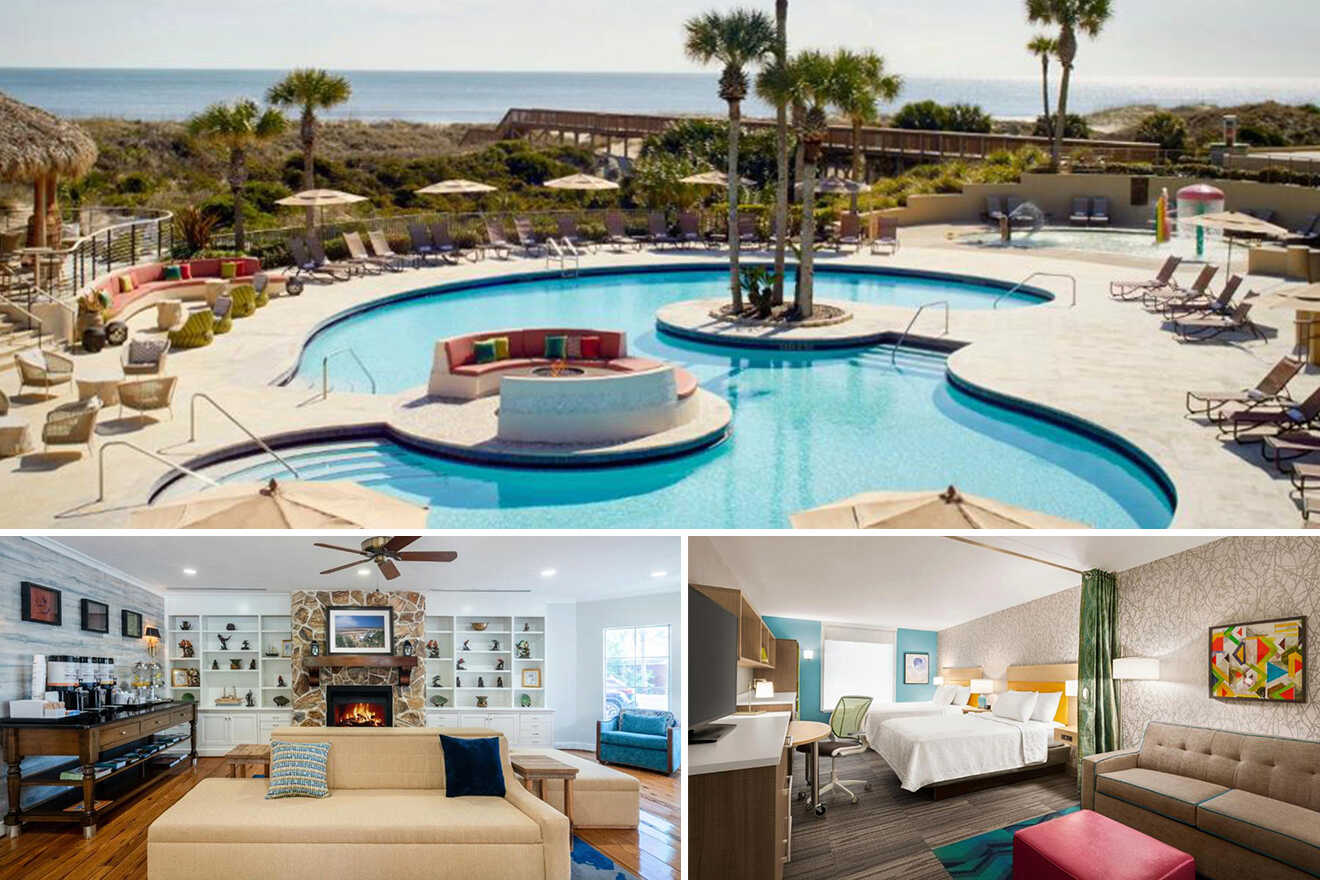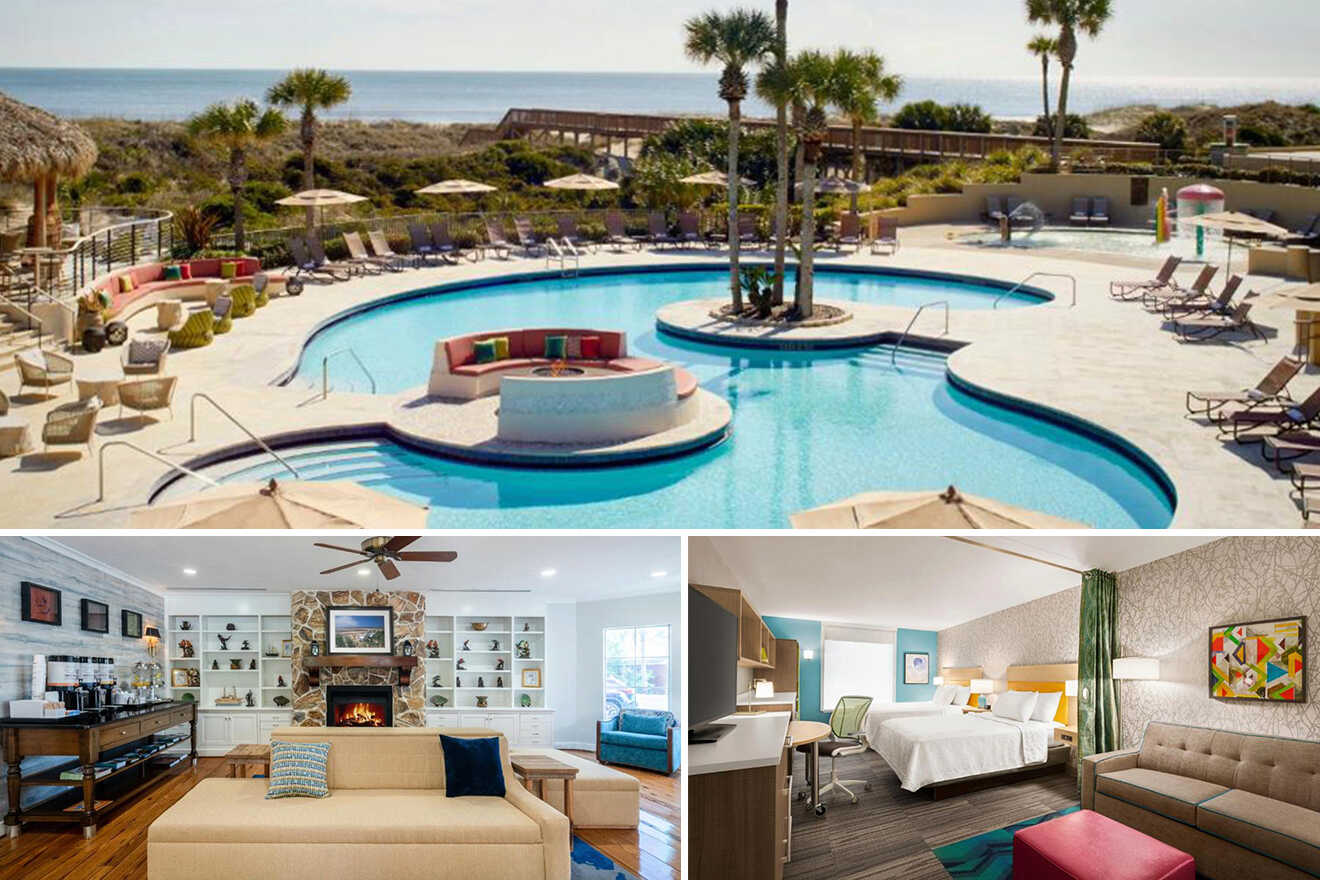 Luxury (US$300 and up)
The Ritz-Carlton – Class, elegance and what a location! Located on the beach, this beautiful hotel has such a lovely decor! The rooms are spacious and some of them even come with a balcony overlooking the beach. So get ready for a holiday of chilling in the hot tub and trying cool activities like golfing!
Elizabeth Pointe Lodge – A stunning lodge that offers the perfect mix of classic decor, historic charm and modern facilities! This accommodation is also set on the beach and it offers rooms with the most amazing sea views plus a fabulous porch with rocking chairs where you can admire the sunsets!
Mid Range (US$200 – US$300)
Hampton Inn & Suites – This cool Victorian-style hotel is set in the historic district of Fernandina Beach and it offers super large suites that have a fireplace and super comfortable beds!
SpringHill Suites – If you're looking for a place where you can relax and enjoy the Southern hospitality then this hotel is for you! The accommodation offers yoga classes, a hot tub, and lots of fun activities like cooking classes, tours and fishing.
Budget (up to US$150)
Home2Suites – For those who are looking for something a bit more affordable, I've found the perfect option! A modern hotel with super comfortable rooms that have a small kitchenette and a private bathroom. The accommodation also features an outdoor pool with lots of sun loungers!
FAQs about hotels in Jacksonville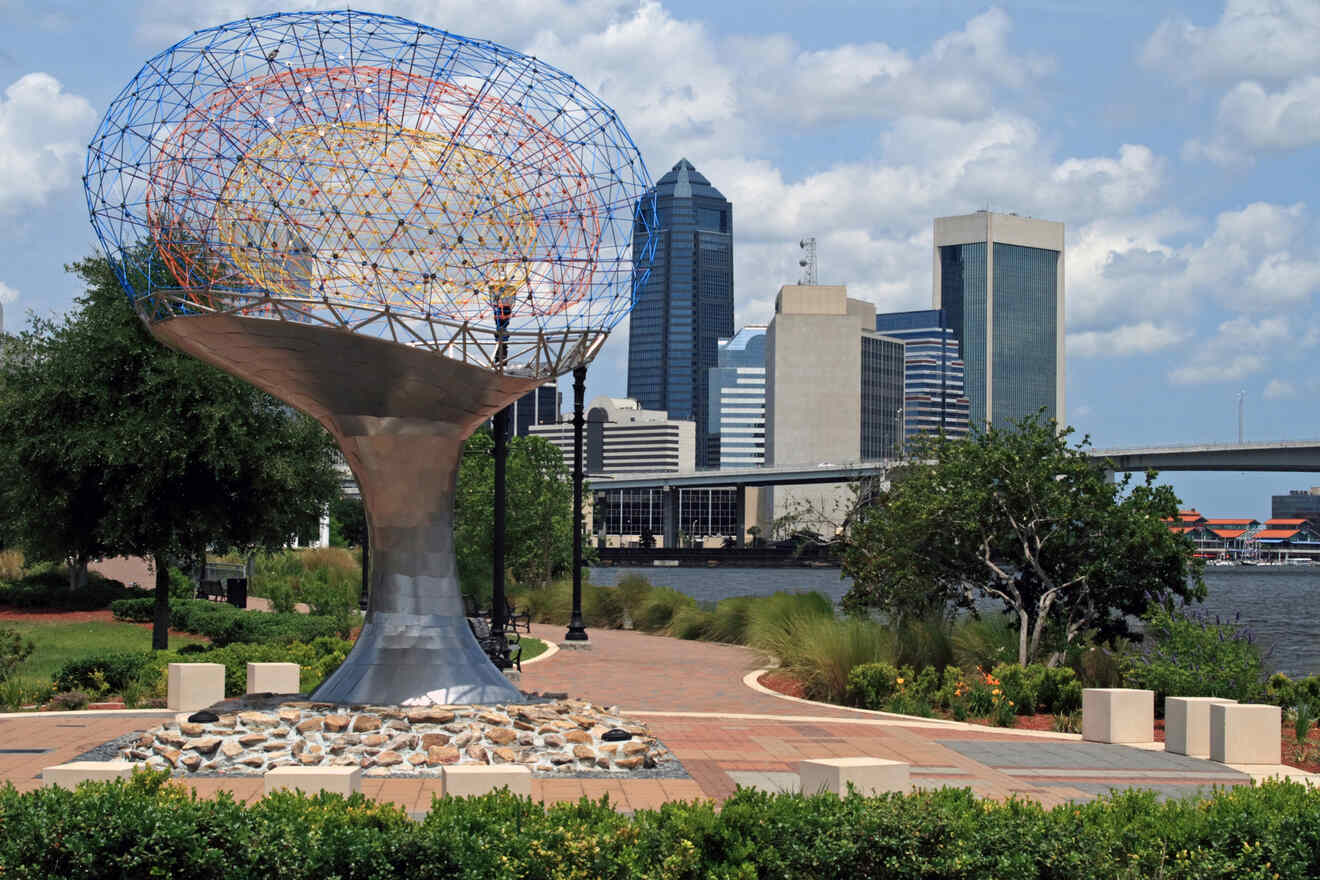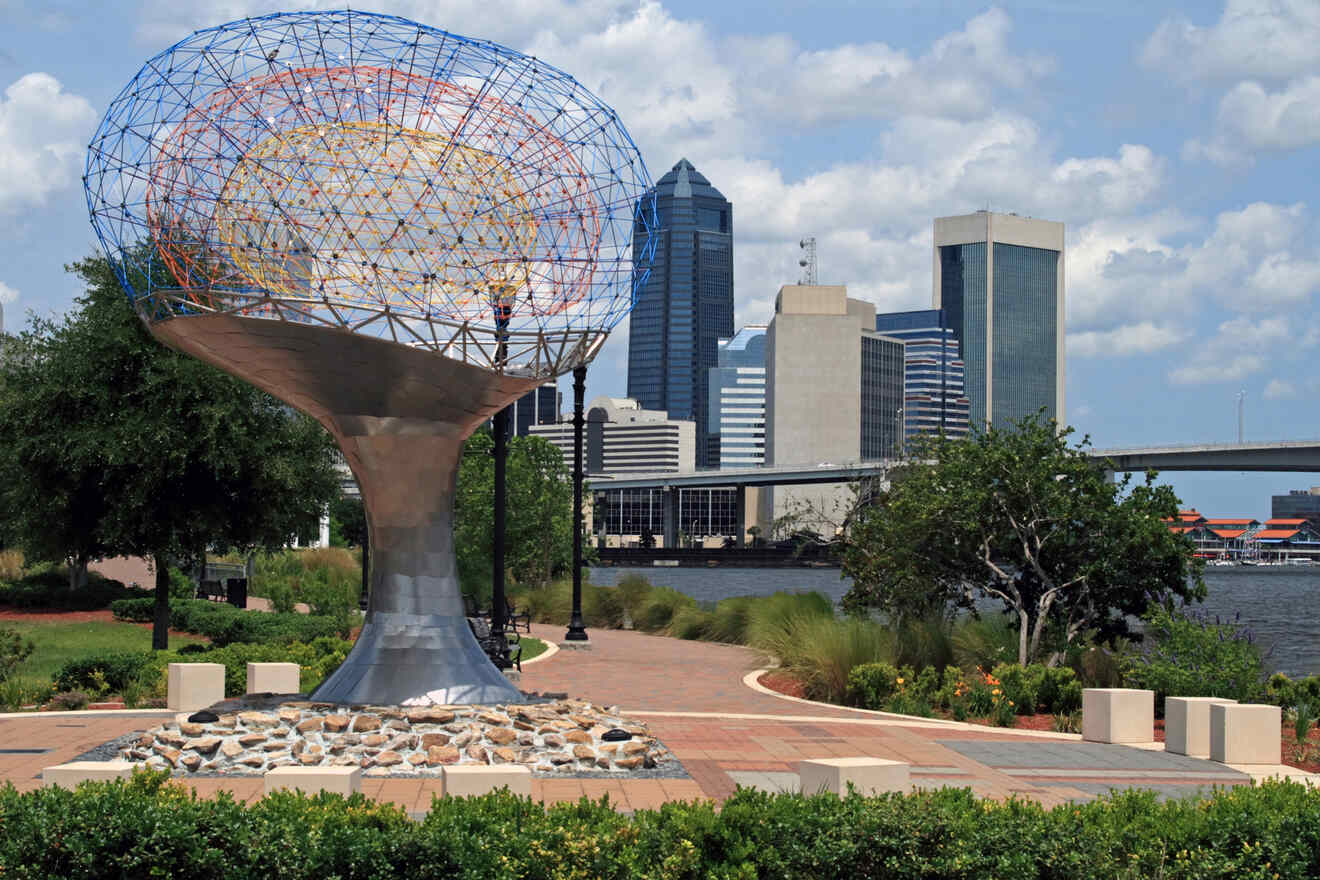 🤩 What is the nicest area in Jacksonville?
Downtown is the nicest area where to stay in Jacksonville, Florida. Here you'll find some of the best hotels around, and lots of attractions!
⛔ What are the bad areas of Jacksonville, FL?
Avoid staying in any of the following dangerous parts of Jacksonville: 29th and Chase, East Jacksonville, Mid Westside and Springfield as they are not very good for tourists.
🏖️ What are the best hotels on the beach in Jacksonville?
 🤔 Is Jacksonville, Florida, worth visiting?
Yes! Jacksonville in Northeast Florida is an amazing place that's super modern and has that urban city vibe but that also has lots of fabulous beaches.
Conclusion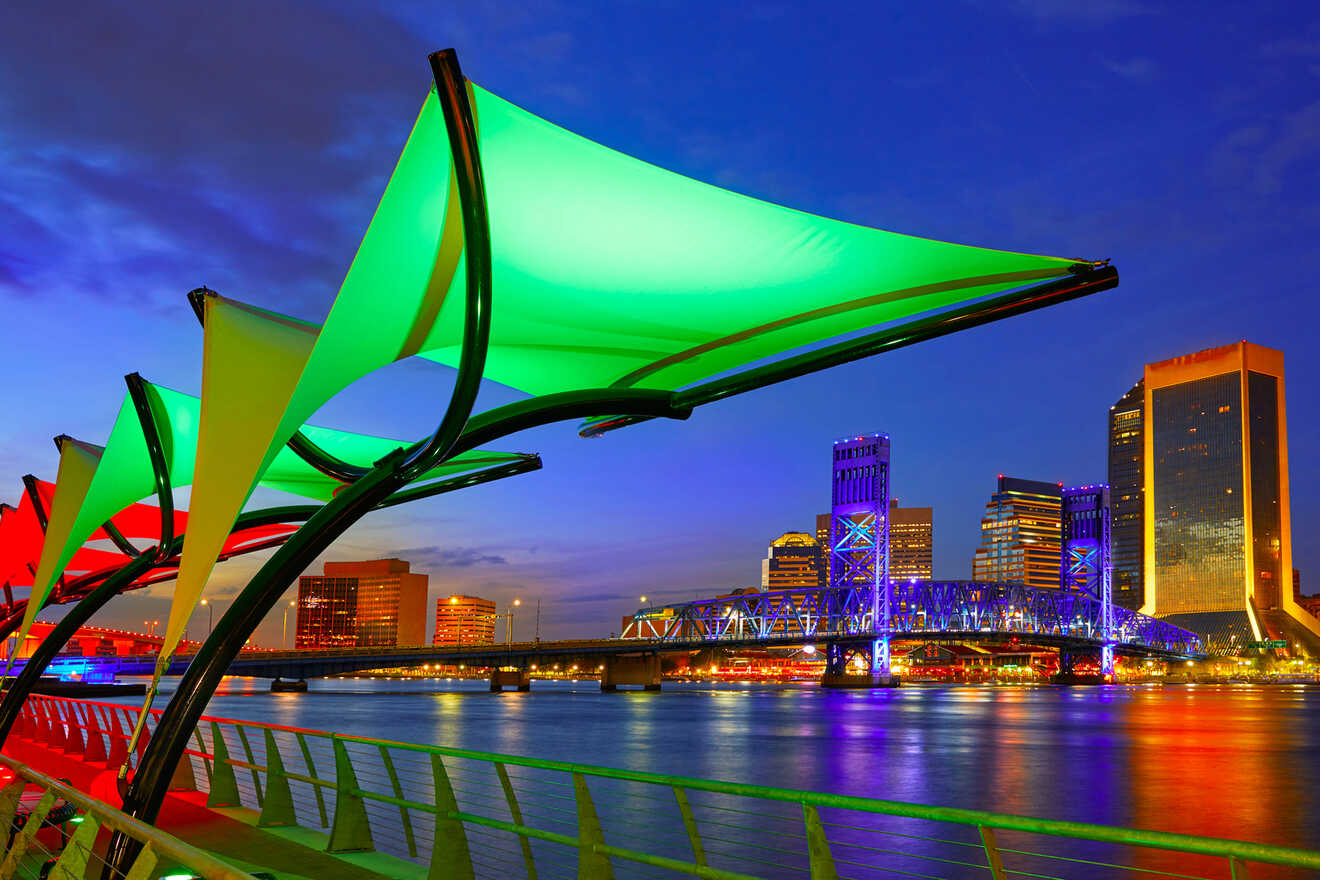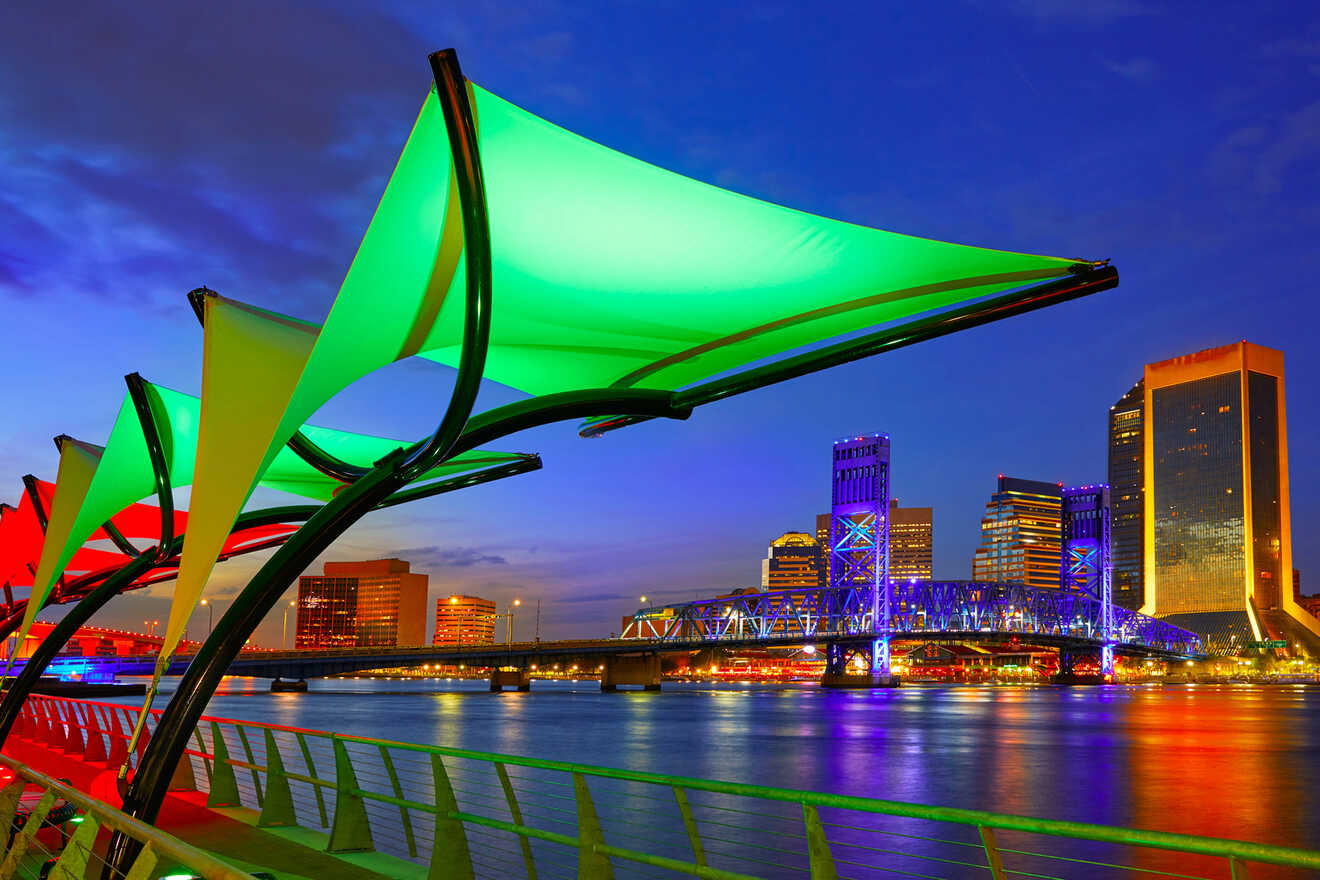 I'm sure we're all craving some time at the beach by now! Luckily you're headed to Florida soon and you'll chill on the Jacksonville beaches for as long as you want!
Before we wrap up for today, let's do a quick recap!
This post has the best areas where to stay in Jacksonville, Florida, plus a bonus section with awesome accommodations on Amelia Island, a lovely place right near Jacksonville.
As you can see there are plenty of fish in the sea for you! But choosing one out of this ocean of options is hard, I know. But as a parting gift I'll offer my 2 favorite hotels in Jacksonville below:
Remember to book your stay in Jacksonville, Florida early! This is a popular holiday place and if you don't want to be left with the most expensive or not so nice hotels, I'd recommend booking in advance.
Now that you've read the post I'm sure you're ready to travel all the way to Jacksonville. I made sure to add all the important details but if you need any other information just leave me a comment below and I'll help you out!
Happy Exploring,
Victoria
---
Pin it for later!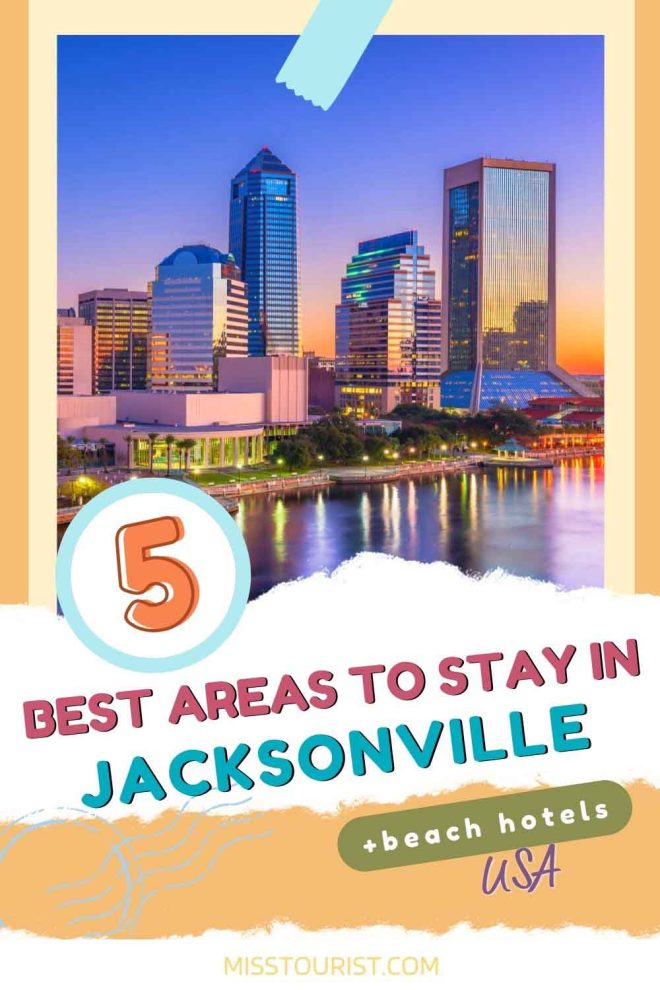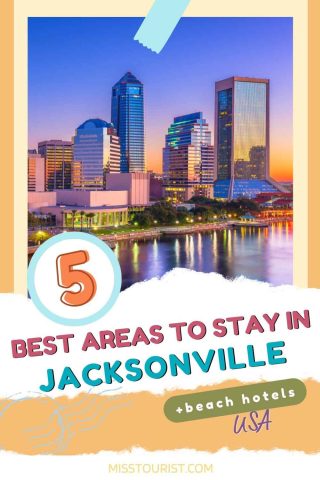 Pin it for later!