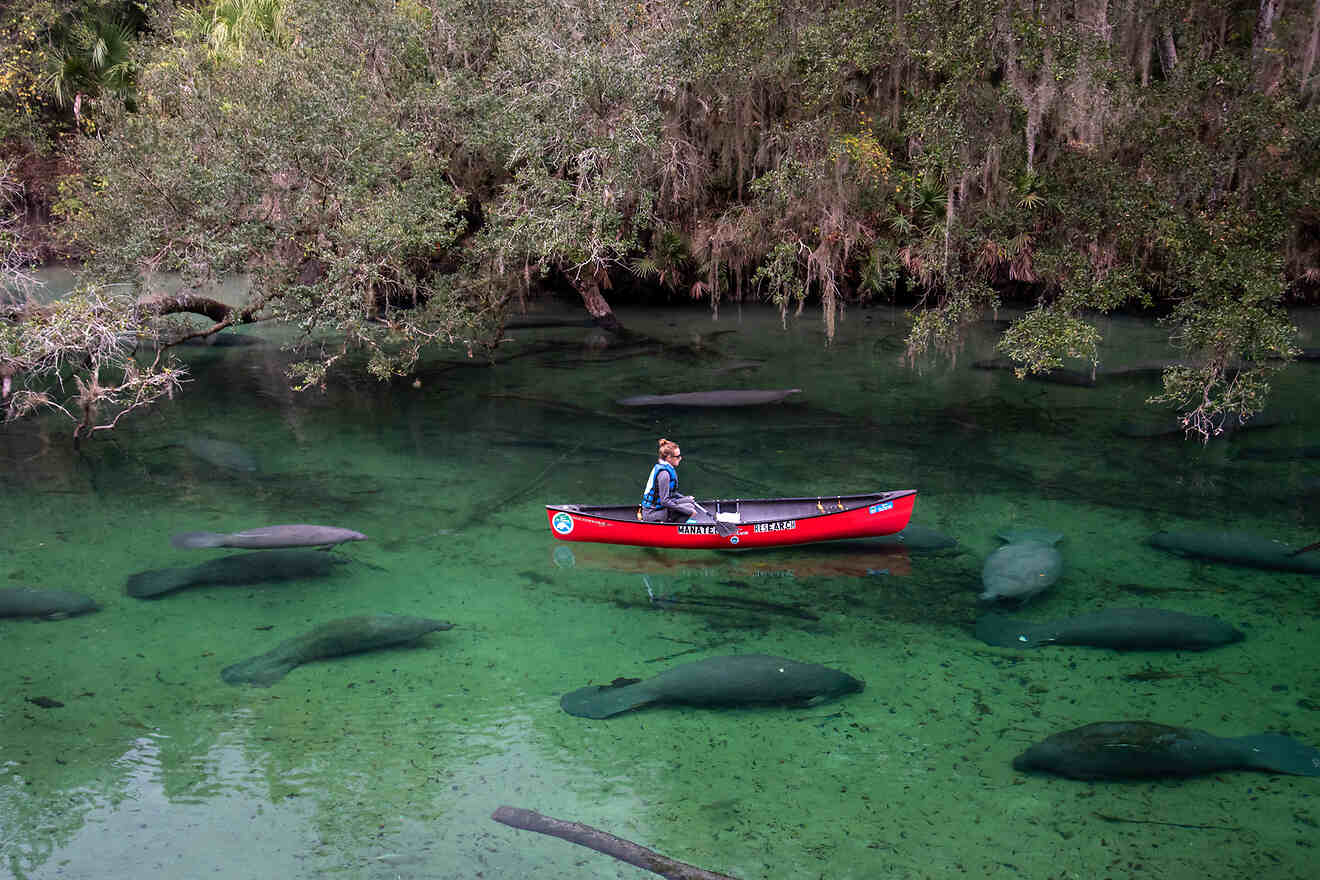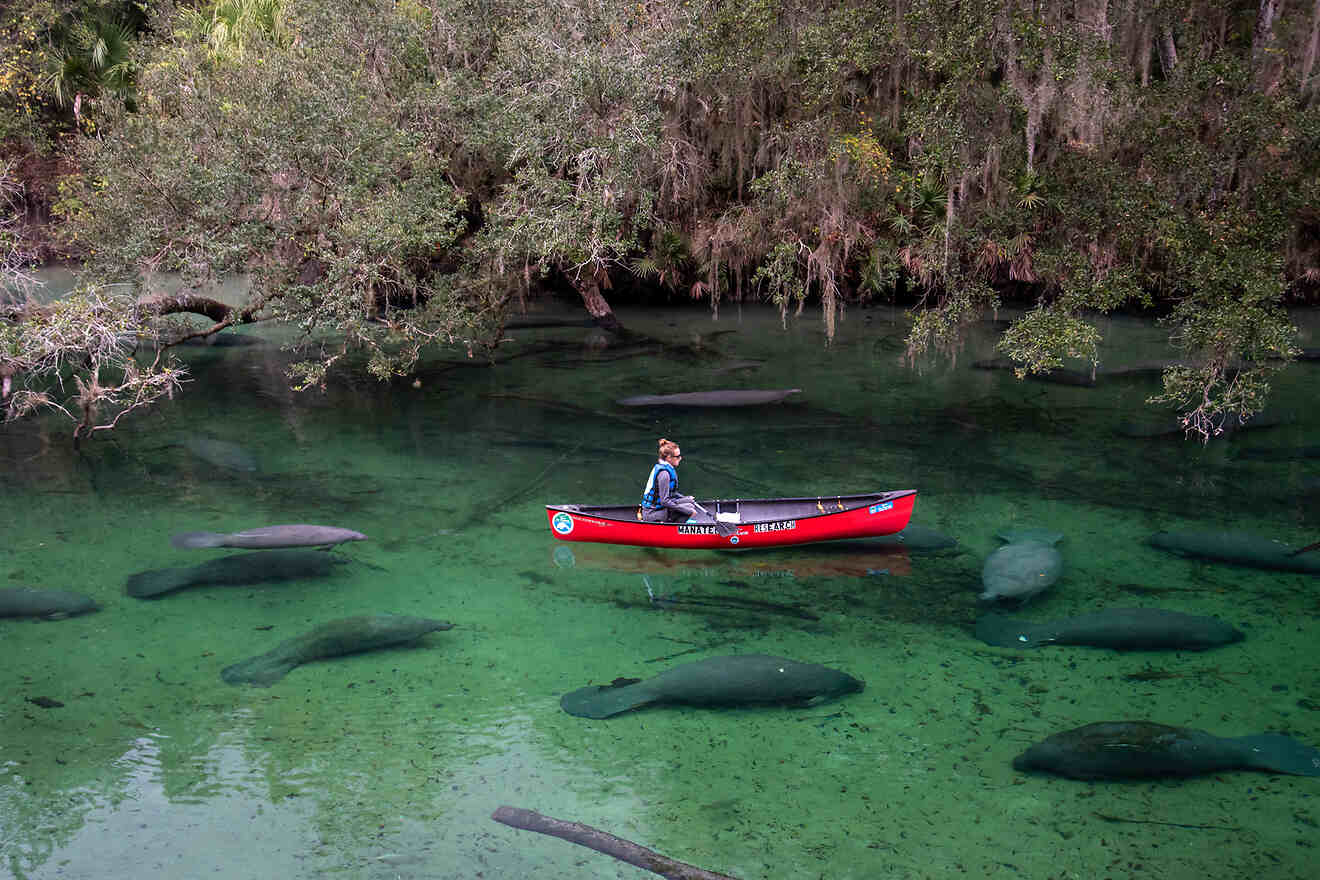 Today, we're talking about one of my favorite parts about living in Central Florida: the breathtaking natural springs near Orlando! From floating on the crystal clear water and paddling alongside manatees to catching a live mermaid show (the only one of its kind), there are countless things to do in the Florida springs that you won't find anywhere else.
The springs in and around Orlando are an ideal break from the busy theme parks, and the perfect way to cool off from that scorching Florida sun. I've put together a list of the 15 best natural springs in Orlando, and the nearby area, as well as the top activities to try (and book in advance) in each one, so you can start planning your next dream vacation!
I didn't visit the Orlando springs until later in life but trust me when I say, they are absolutely breathtaking! The vibrant blue water is warm and welcoming, and you get to know the local wildlife in a whole new way.
What are we waiting for? Let's dive in!
If you're in a hurry
Many of the tours in the springs near Orlando are super popular and fill up fast, so make a point to book the high-in-demand experiences early, so you don't miss out!
Here are the main things to book ASAP for your trip:
Since not all the natural springs I'll talk about are located in Orlando, but also within the vicinity, here's a map to better illustrate where each one is actually located:
1. Have fun in the sun at Wekiwa Springs State Park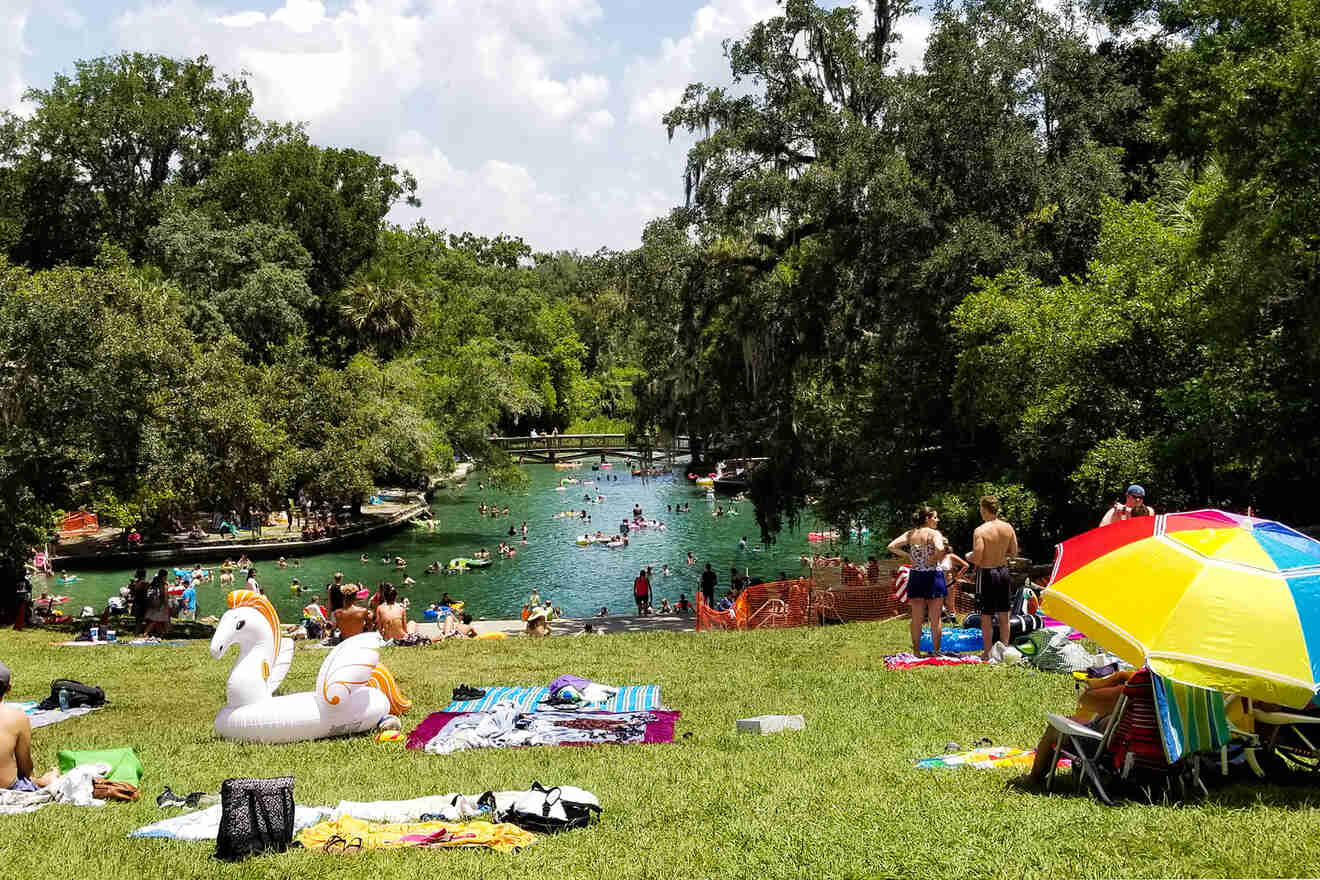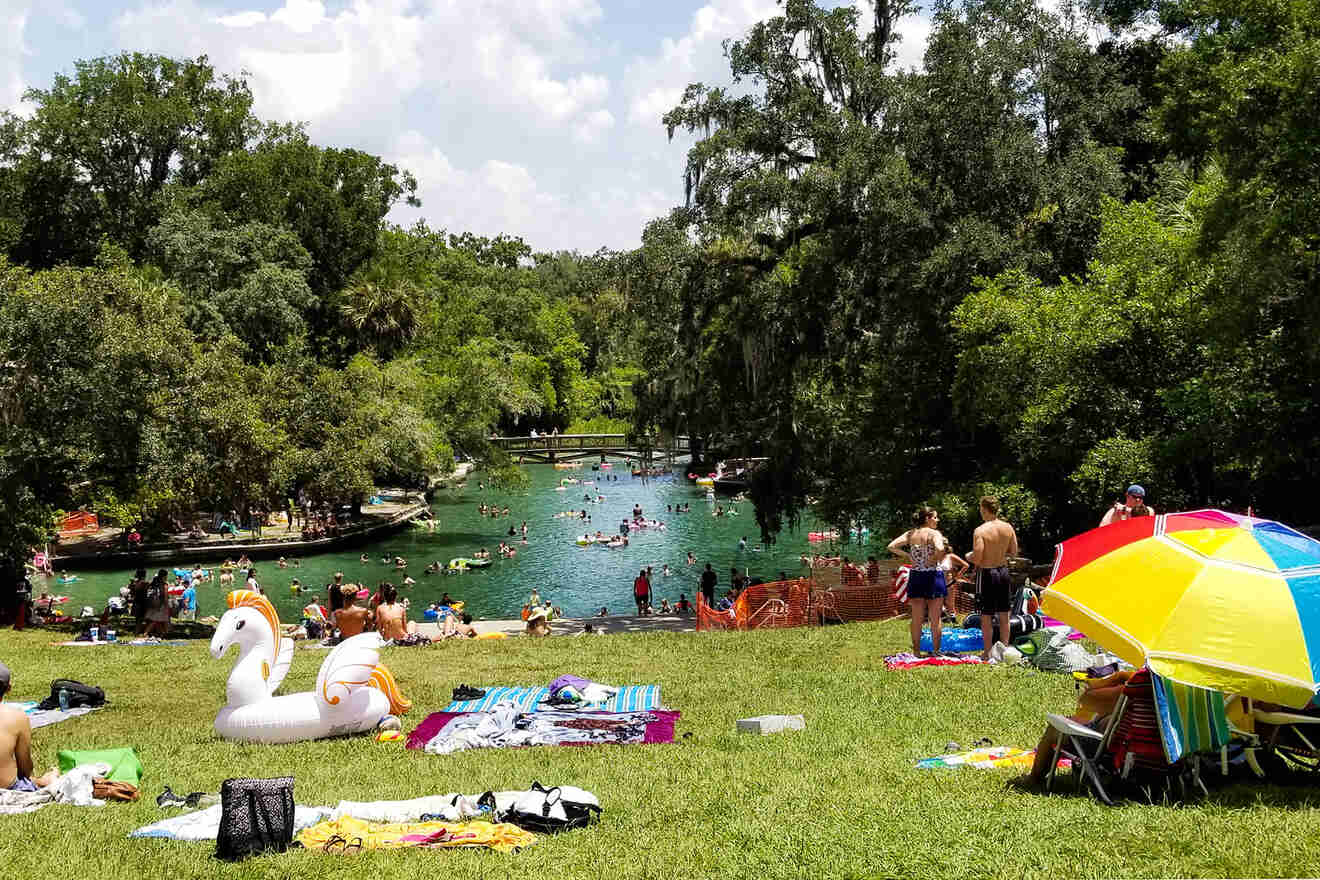 My top choice in the Orlando area is the beautiful Wekiwa Springs State Park. Us locals are obsessed, and many of my friends who are originally from Orlando grew up visiting this oasis regularly! It's less than a 20-minute drive from Downtown Orlando, providing a quick escape to the scenic beauty these springs are known for. Admission is just $6 per vehicle!
Wekiwa Springs State Park has an amazing swimming area. Take a dip or go for a float in the emerald springs – they're 72°F (25°C) all year round!
If you're looking for a bit of adventure, I suggest this tour, which is offered on paddle boards or clear kayaks. You learn so much about the landscape and spot incredible wildlife. On, or in the water, is hands-down the best way to see these gorgeous Orlando springs.
PRO TIP: Wekiwa Springs State Park has the most popular springs near Orlando, and fills to capacity very quickly during the summer months. Plan to arrive as early as possible to make sure you get in!
PRICE: US$70 per person
2. Kick back at Wekiva Island near Orlando
Wekiva Island is just 1.5 miles (2.5 km) away from Wekiwa Springs State Park, and offers a different way to experience the springs near Orlando. It's a family-owned and operated 2,000 square feet (185 square meters) recreational complex with so many fun, unique things to do!
Canoes, kayaks, and paddle boards are available to rent, so you can explore Wekiva River from the water. Grab a drink at the Tooting Otter Bar (ask about their happy hour!), or a hearty snack at the on-site food truck, Without a Paddle Café, in between adventures!
Then, relax and unwind in one of the adirondack chairs on the boardwalk, one of my favorite things about Wekiva Island.
Some fantastic additional amenities are the energy-efficient restrooms, designated swimming areas, private cabanas to rent, and a general store that sells any essentials you may need during your time there.
You'll want to add this special place to your Central Florida to-do list!
PRICE: US$2 per person to enter
3. Tube down Rock Springs at Kelly Park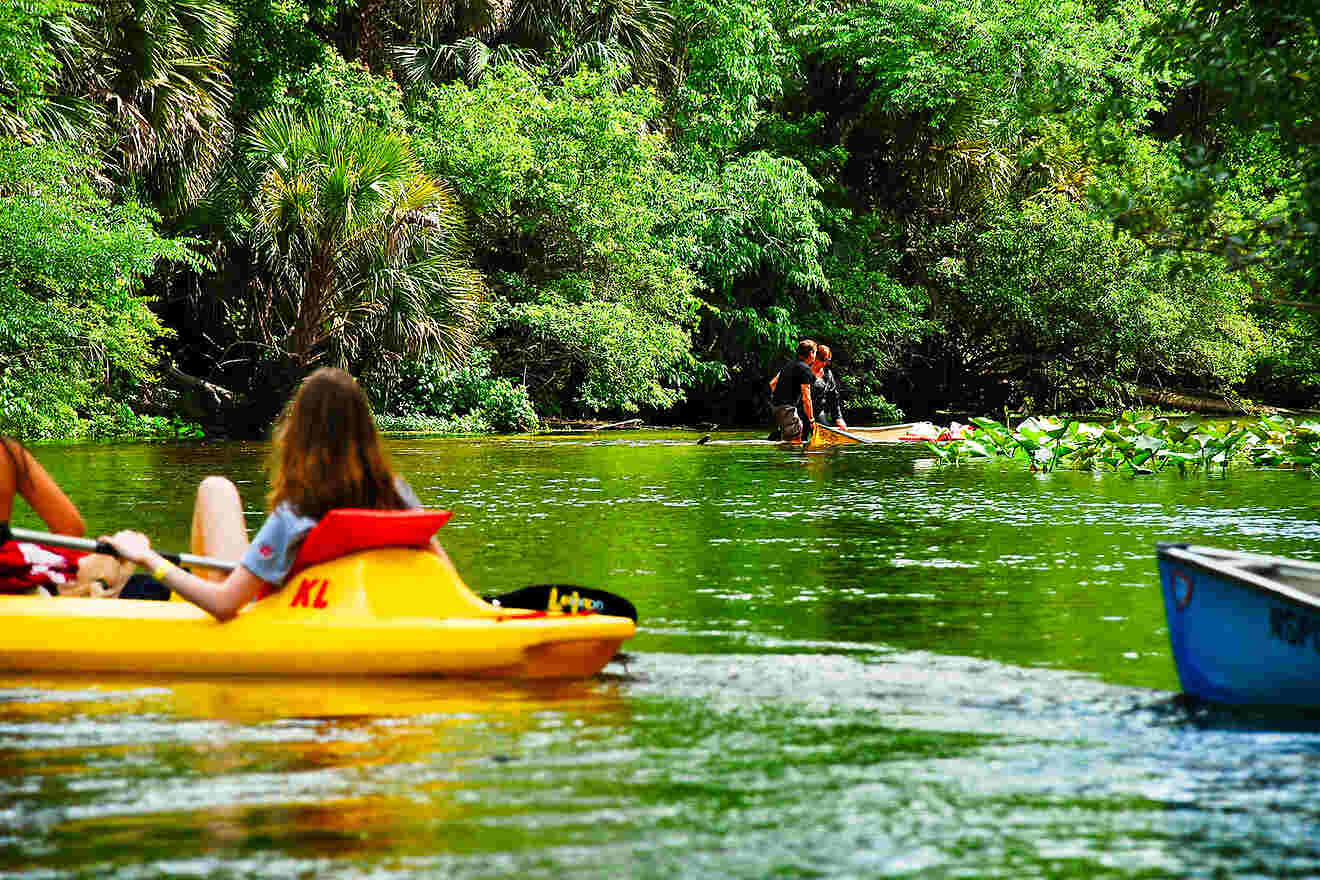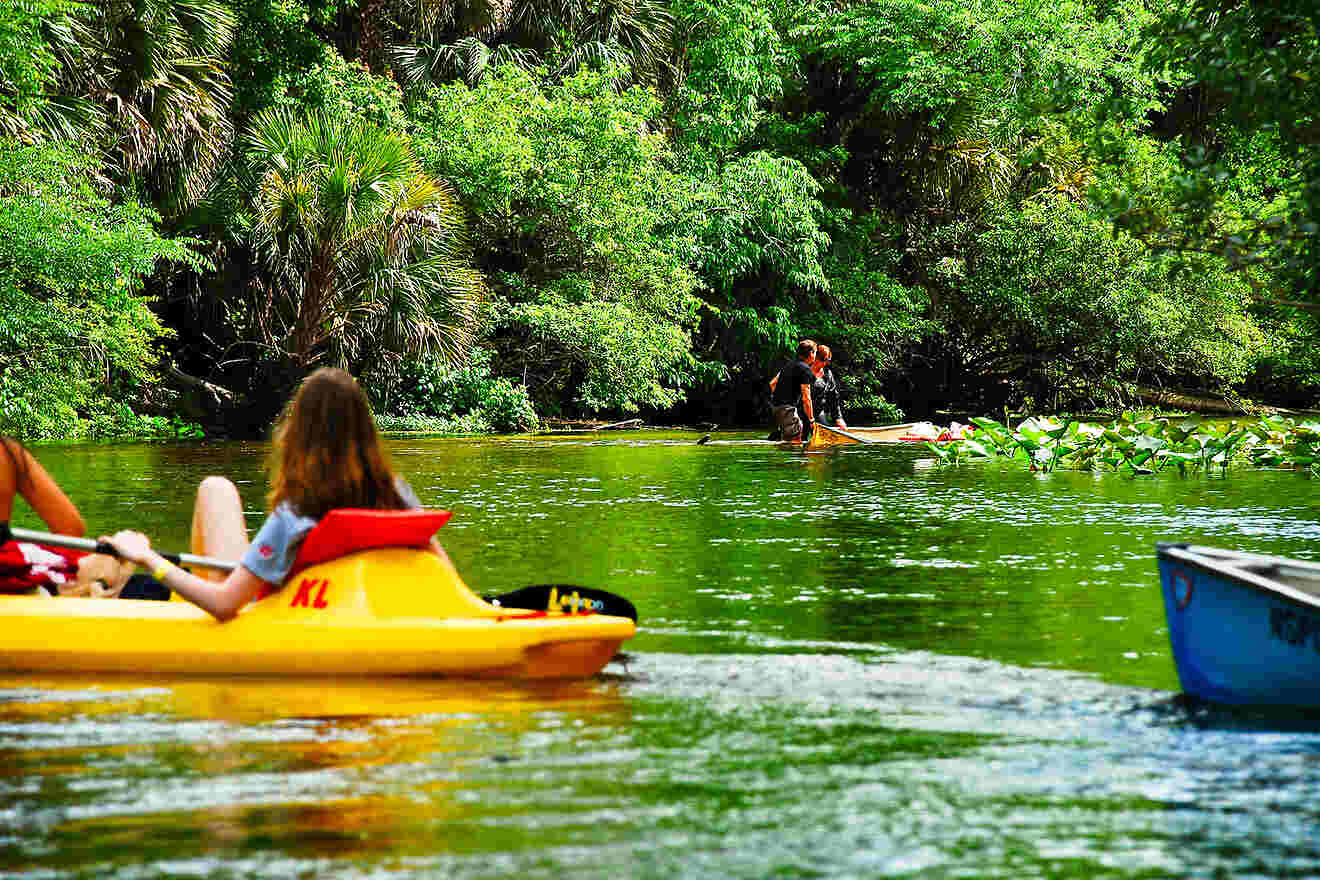 Also very close to the Orlando area is Rock Springs at Kelly Park (just a 30 minute drive from downtown), where you can go for a relaxing float down Rock Springs Run!
This real life lazy river is such a fun way to spend an afternoon, and one of the best things to do in Orlando with kids. Have some fun while you give your feet some rest after long hours in the theme parks. Want to turn your day of fun into an overnight adventure? Check out the camping options at Kelly Park's Camp Joy.
You can bring your own tubes, or rent them right outside Kelly Park at the Rock Springs Bar & Grill for $7. Completing the float down Rock Springs Run at Kelly Park takes around 30 minutes.
For a more up close and personal look at Rock Springs and its wildlife, nature lovers should try a glass-bottom kayak tour. This tour doesn't leave from Kelly Park, so it doesn't require admission. I love that it stops multiple times, so you can explore out of your kayak and take some photographs along the way!
PRO TIP: If you float down to Rock Springs Run at Kelly Park, you'll end up ¾ of a mile (1.5 km) from where you started, so be sure to tie some lightweight shoes to your tube for a comfortable walk back!
PRICE: US$85 per person
4. Make a splash at De Leon Springs & make pancakes!
Dive straight into history at De Leon Springs, one of the best springs near Orlando, and home of the native Mayaca people for over 6,000 years!
Take a dip in the 500 ft (155 m) wide swimming area, go boating down Spring Garden run, check out the ruins of the original Fountain of Youth, or take the De Leon Springs State Park boat tour to learn about the history and wildlife of this natural spring.
De Leon Springs is one of the best natural springs near Orlando. After you're done exploring, grab a bite to eat at the Old Sugar Mill Grill & Griddle. The restaurant is located in a 100 year old replica of the 1830s sugar mill, and features unlimited cook-your-own pancakes with a variety of yummy toppings.
PRO TIP: Waits for the restaurant can get long. I mean, really long! Make the most of your time by taking the boat tour during the wait. You won't lose your place in line while doing so!
PRICE: US$6 per vehicle
5. Meet the manatees at Blue Spring State Park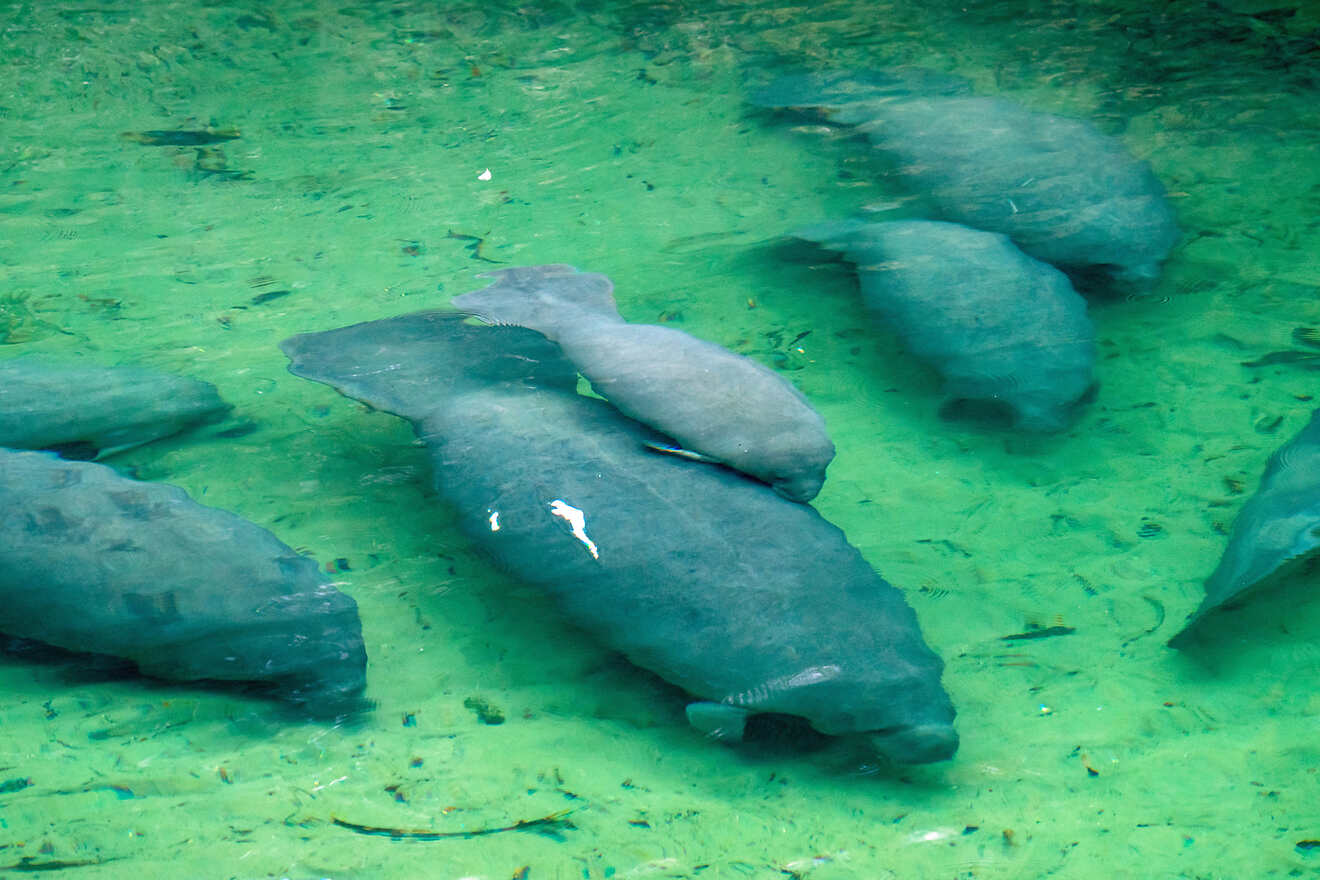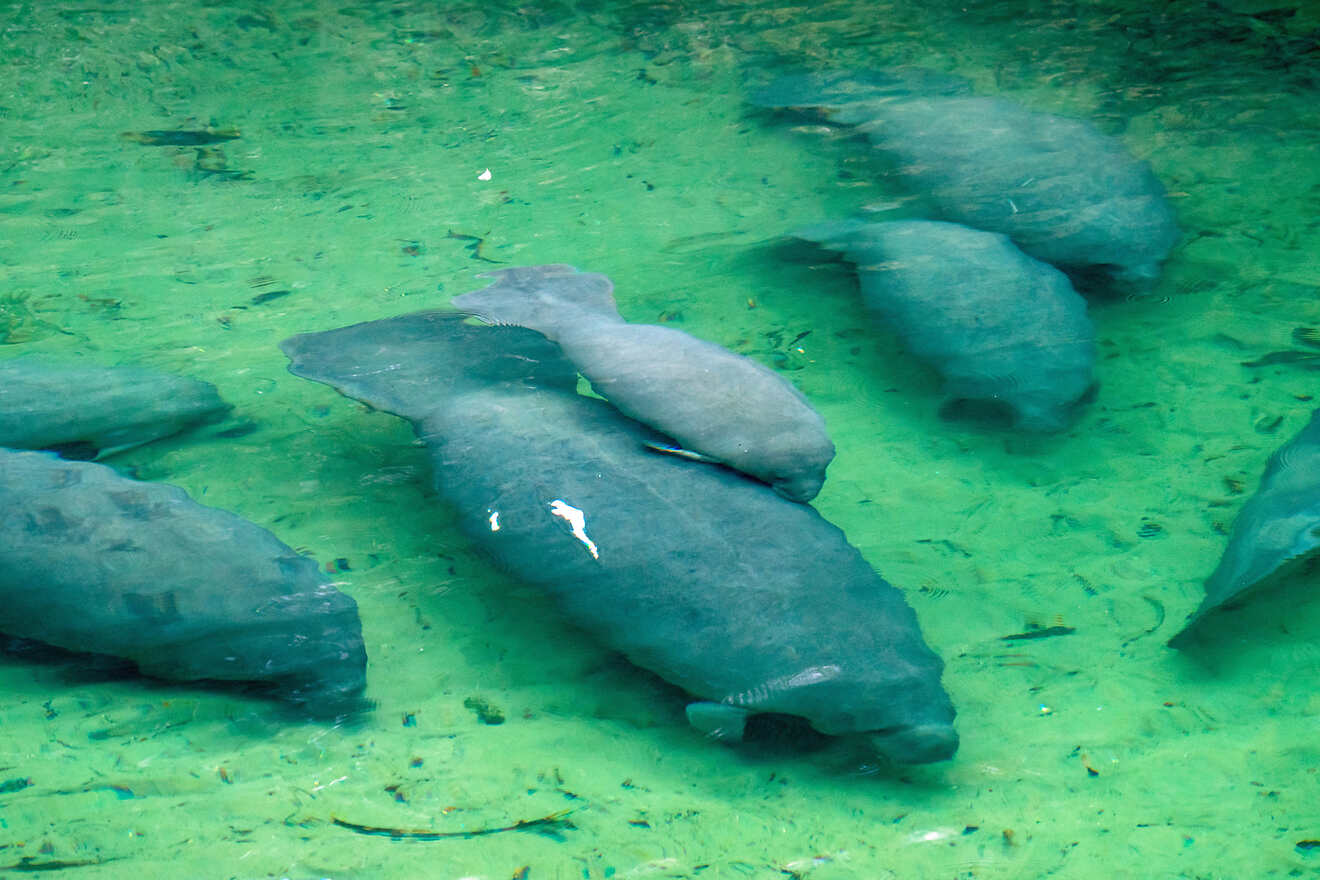 Visiting Blue Spring State Park during manatee season is an unreal experience that you absolutely cannot miss!
Every year, from mid-November to March, hundreds of manatees gather in Blue Spring along the St. Johns River for its warm waters. Visitors can kayak and paddleboard right alongside these sweet, gentle giants. For me, this makes Blue Spring one of the most amazing springs near Orlando.
The Blue Springs conservation efforts have been hugely beneficial for Florida's manatee population. Since Blue Spring State Park was established, the manatee numbers have increased from 14 to a record-breaking 724! Local and tourists alike flock to Blue Springs State Park every winter to marvel at these peaceful "sea cows" in the crystal clear water. It's truly something you have to see to believe.
Even if you're not planning a trip during the winter months, Blue Springs State Park is beautiful all year round, and home to incredible wildlife, like eagles, ospreys, and countless fish. My favorite way to explore this natural spring is on a guided tour, since they're led by local experts with so much knowledge to share.
PRO TIP: You can check the current manatee count at Blue Spring State Park online!
PRICE: US$65 per person
Book a Natural Spring Adventure Tour
6. Swim and play at Alexander Springs near Orlando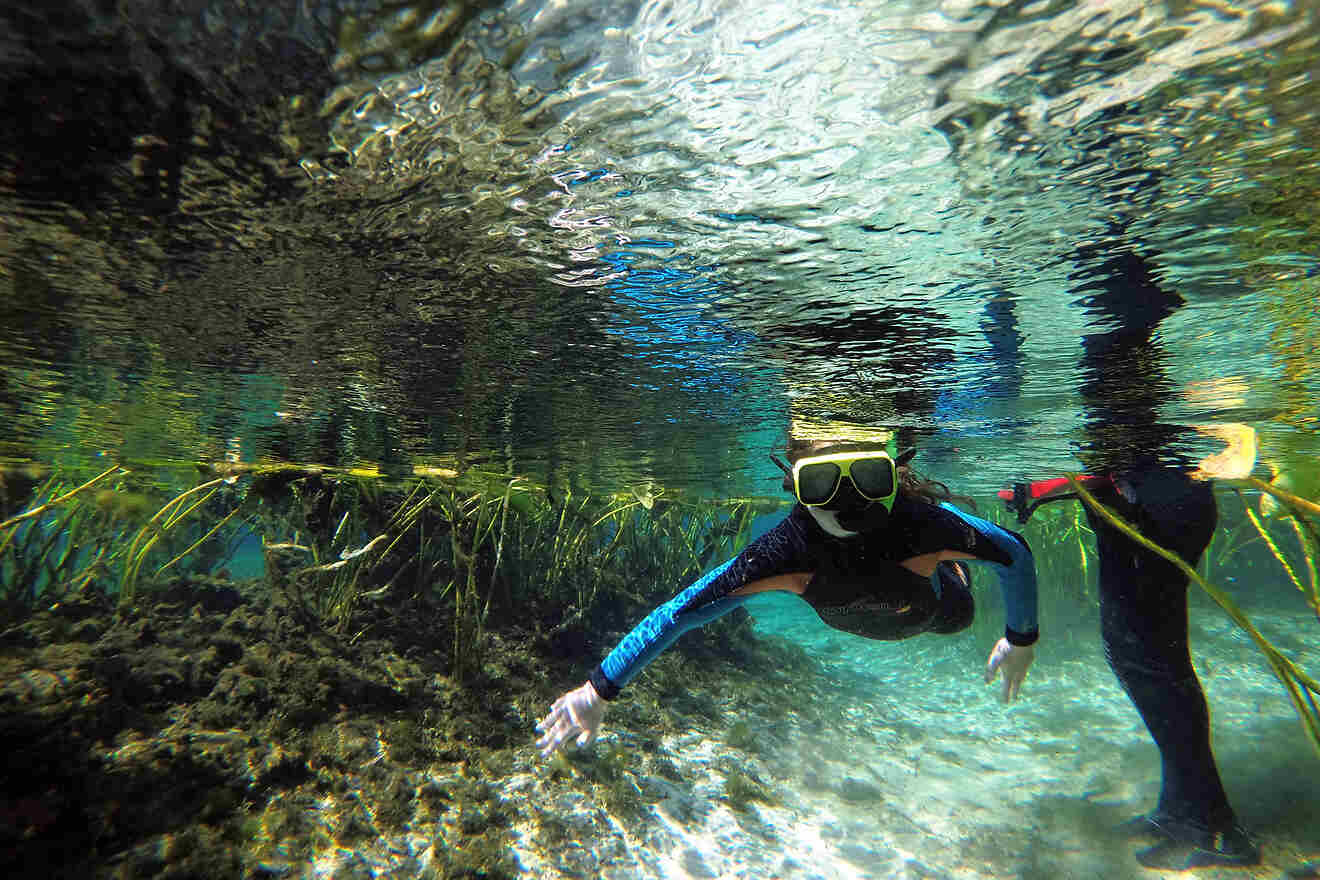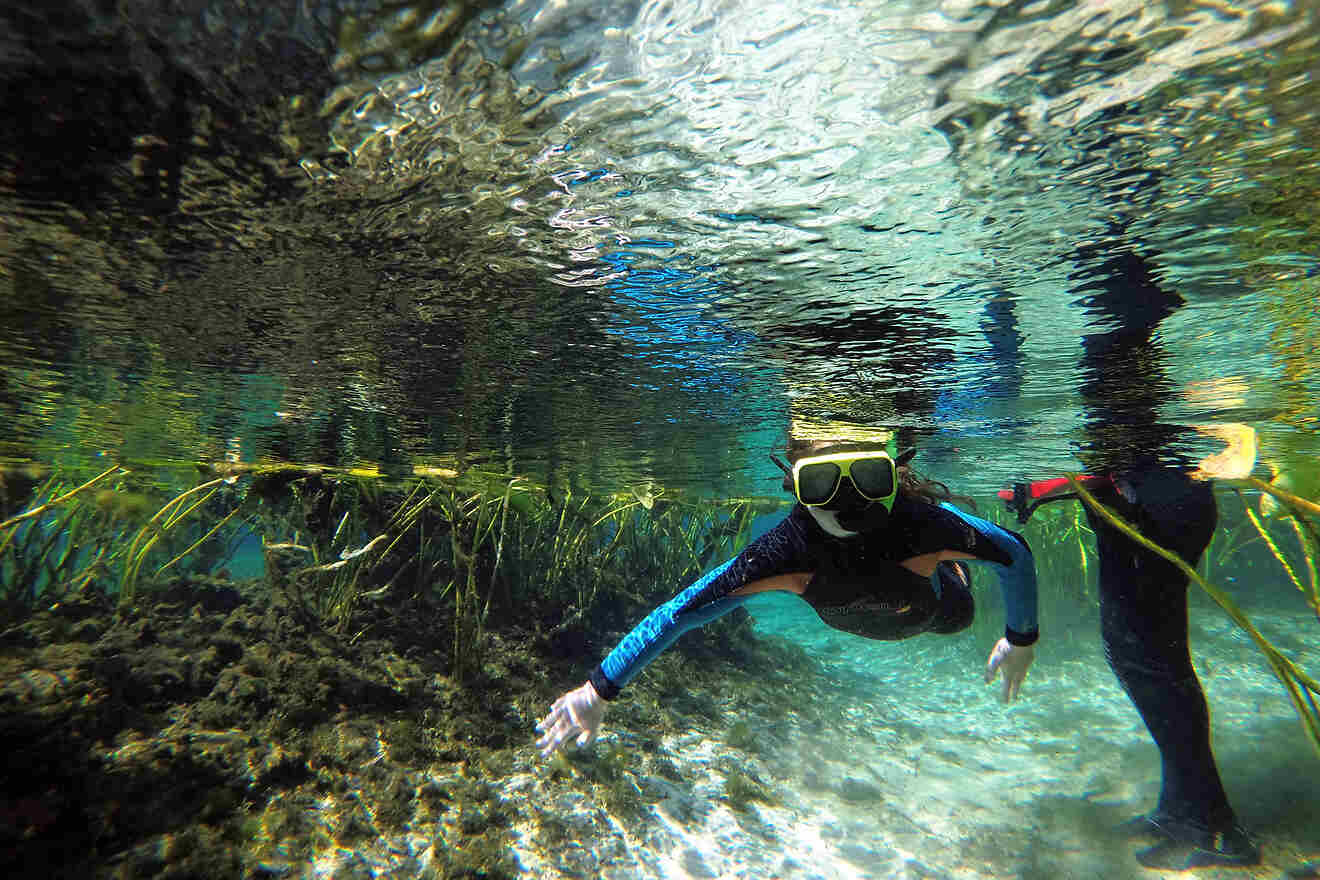 Just over an hour drive away from the Orlando area is Alexander Springs, a first magnitude spring and one of only 27 in the whole state. First magnitude springs discharge 64 gallons (or more) of water a day!
Like many of Florida's natural springs, Alexander Springs is crystal clear at a consistent, comfortable 72°F (25°C), and features a ton of eco-adventures, such as camping, canoeing, and snorkeling.
Alexander Springs is set in the magnificent Ocala National Forest, and steeped in rich Native American history as it was once home to the ancient Timucua tribe. In fact, some truly incredible artifacts have been discovered by archeologists near this natural spring!
If nature trails are your thing, you can explore the area by foot on the Timucua Trail, a 1 mile (1.5 km) loop that winds through the lush forest, highlighting the tribe's vegetation.
PRICE: US$9 per person on weekdays, $12 per person on weekends
7. Float the day away at Silver Glen Springs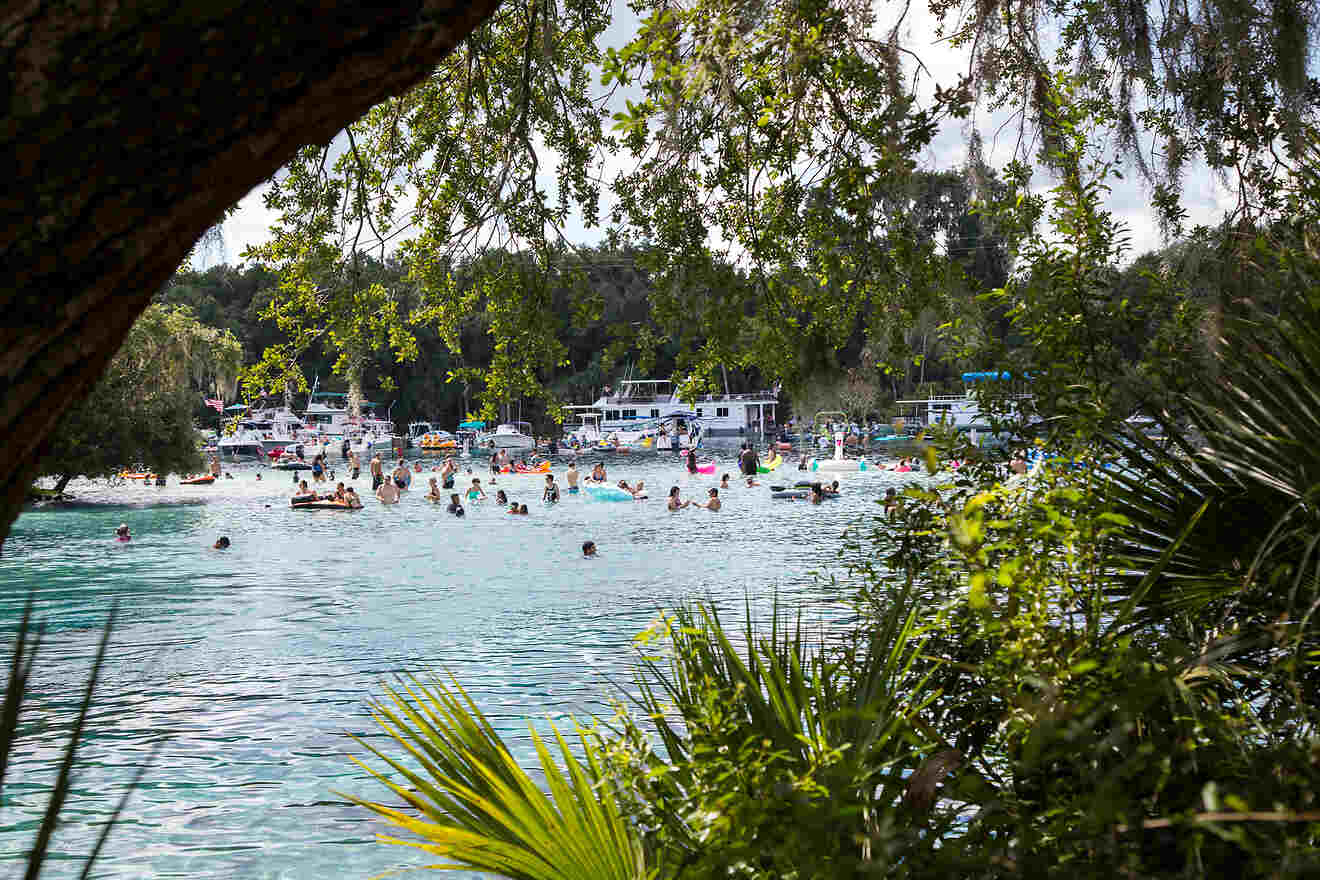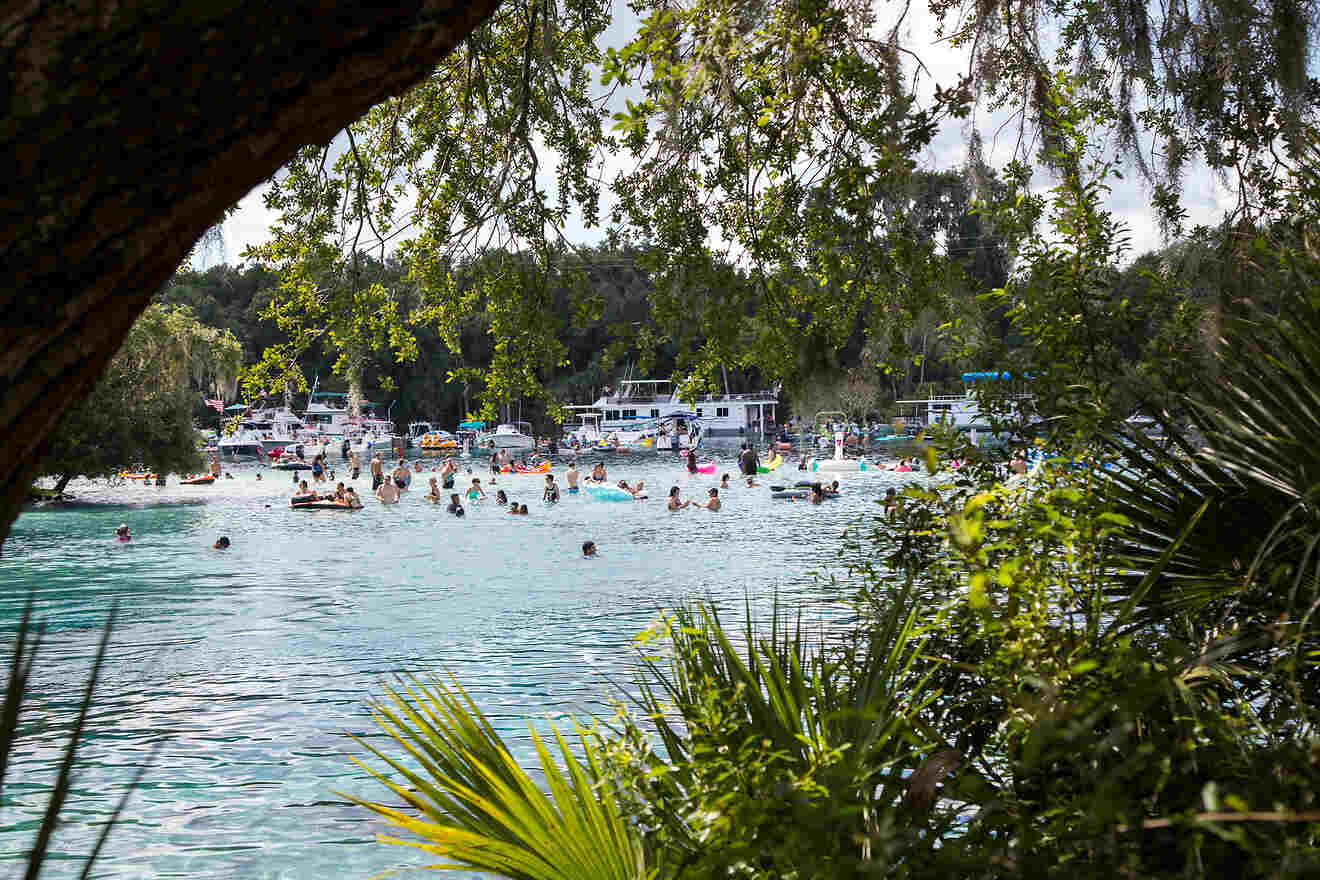 Another extraordinary stop in Ocala National Forest, and also a first magnitude spring, is Silver Glen Springs. Like Alexander Springs, Silver Glen Springs has a fascinating history and is the sight of many archaeological findings.
The blue-green waters surrounded by pine and oak trees are too stunning to describe. You really need to see them for yourself!
With a mixture of freshwater and saltwater fish, the best way to explore Silver Glen Springs is by snorkeling! Canoe and kayak rentals are also available if you'd like to take a trip down Silver Glen Run, which lets out at the St. Johns River.
FUN FACT: Silver Glen Springs has something you may have never seen before – ancient heaps of fossilized snail shells and ancient items, called middens. Take the Spring Boils Trail to learn more about them!
PRICE: US$9 per person on weekdays, US$12 per person on weekends
8. Hit the trails at Juniper Springs near Orlando
I've got one more for you just over 1-hour drive away from Orlando, and yes, it's also in Ocala National Forest! Juniper Springs is one of the oldest recreation areas on the east coast, and offers ample opportunities to swim, boat, and paddle in the crystalline waters.
Tiny bubble springs and huge bubble springs gush out under an enchanting canopy of palms and oaks. If you're interested in camping there, you can make a reservation online.
Juniper Springs is phenomenal for hikers, as it has plenty of trails for you to explore the lush foliage and see the local wildlife.
Stop in the old Mill to learn more about the rich history of Juniper Springs, and on the way in, you may spot one of the rare albino gray squirrels that call Juniper Springs home. My favorite creatures to look out for are the otters that play on the edges of the spring run!
PRICE: US$9 per person on weekdays, US$12 per person on weekends
9. Feel the healing power of Salt Springs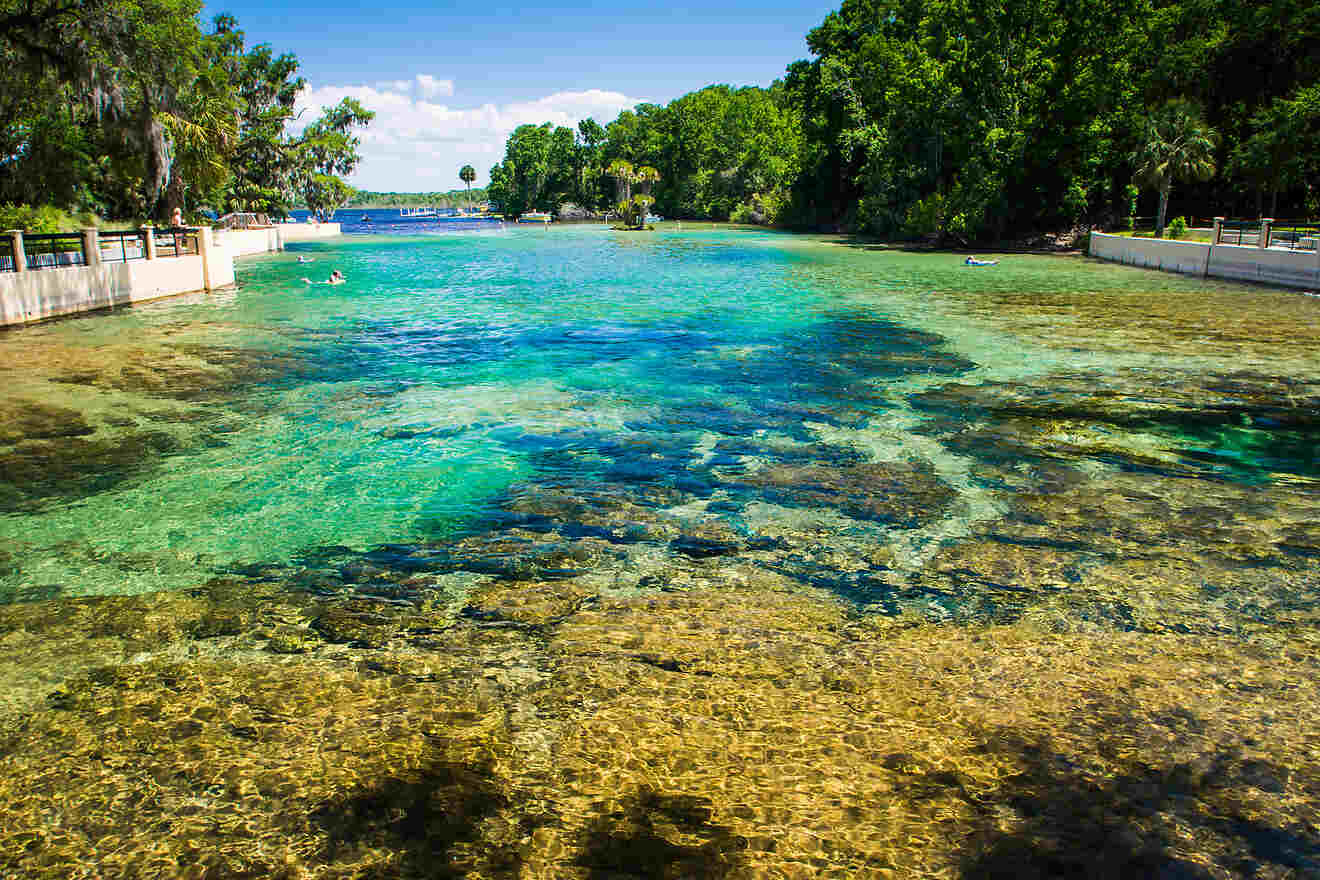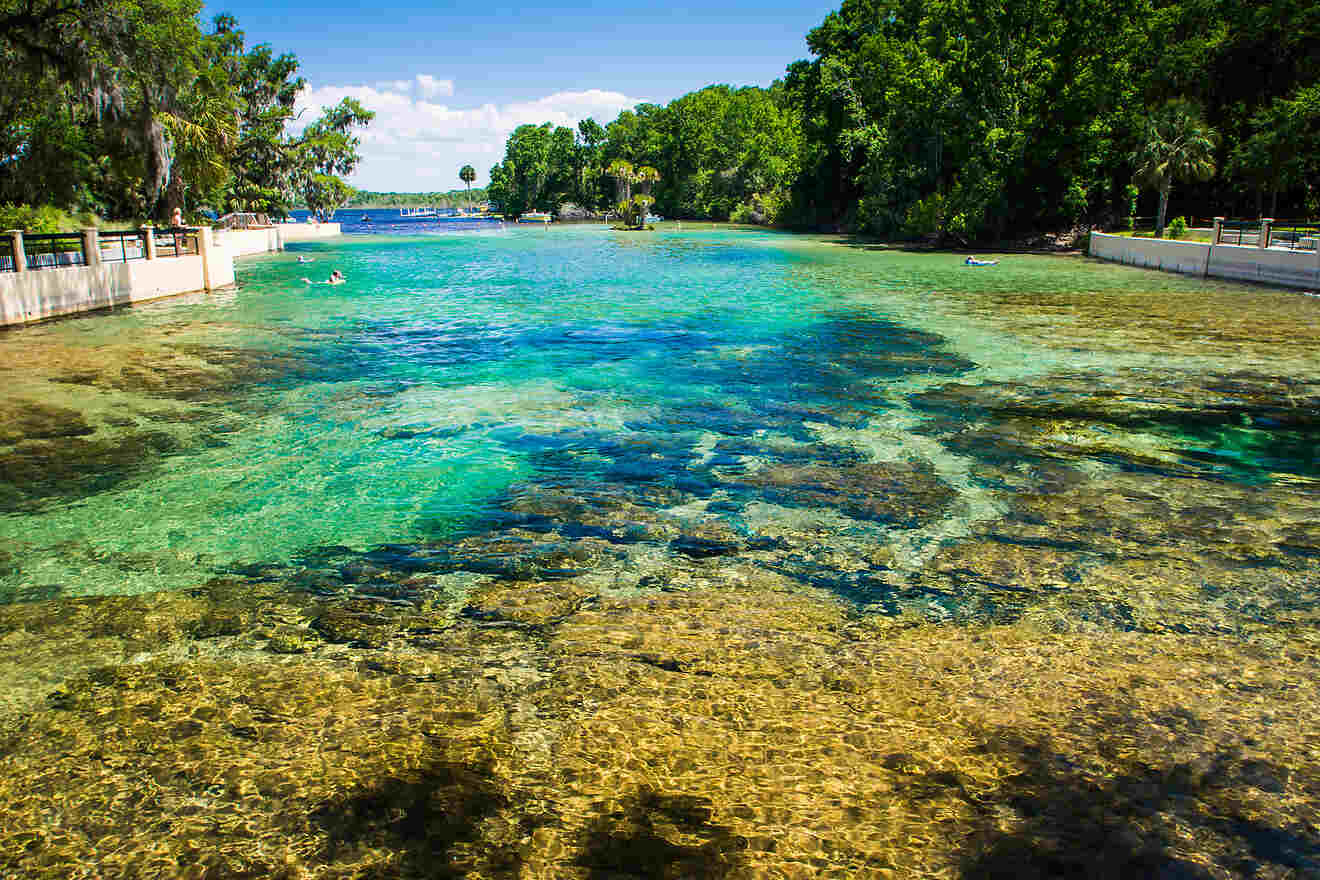 Wrapping up the best of Florida's springs in Ocala National Forest is Salt Springs, which gets its name from the presence of minerals. Personally, I really enjoy the story behind this natural wonder – it was a popular tourist destination in the early 1900s, as people believed these springs had medicinal healing powers.
When botanist William Bartram came upon Salt Springs in 1773, his description of it went on to inspire poet Samuel Taylor Coleridge in his writing about the Alph in Kubla Khan. Wow!
Today, Salt Springs Run is popular among boaters, and you can rent kayaks at the marina. It's also a splendid place to go for a hike, as it connects to many of the incredible hiking trails within Ocala National Forest.
Whether or not Salt Springs has the power to cure you of your ailments is yet to be confirmed, but if I know one thing, it's that taking a dip in these glittering azure waters is surely good for the soul!
PRICE: US$7 per person
10. Take a glass-bottom boat tour at Silver Springs State Park
Known for its world famous glass-bottom boat tours, Silver Springs is one of the largest natural springs in America. It also happens to be one of my favorite natural springs, as there are so many activities in addition to just spending time in the water.
Head to the Silver River Museum & Environmental Center to learn all about Florida's natural history, then check out the various nature trails, perfect for hikers of all skill levels, to see it for yourself!
Taking a glass-bottom boat tour is an absolute must-do while at Silver Springs State Park. After all, glass-bottom boats were invented here! Of course, you'll spot plenty of marine life, but you may even get a glimpse of some sunken movie props from back in the day when Hollywood productions were filmed at Silver Springs.
Silver Springs State Park offers their own glass-bottom boat tours, which you can buy tickets for on their website.
PRICE: US$12 per person
11. Explore magical Rainbow Springs State Park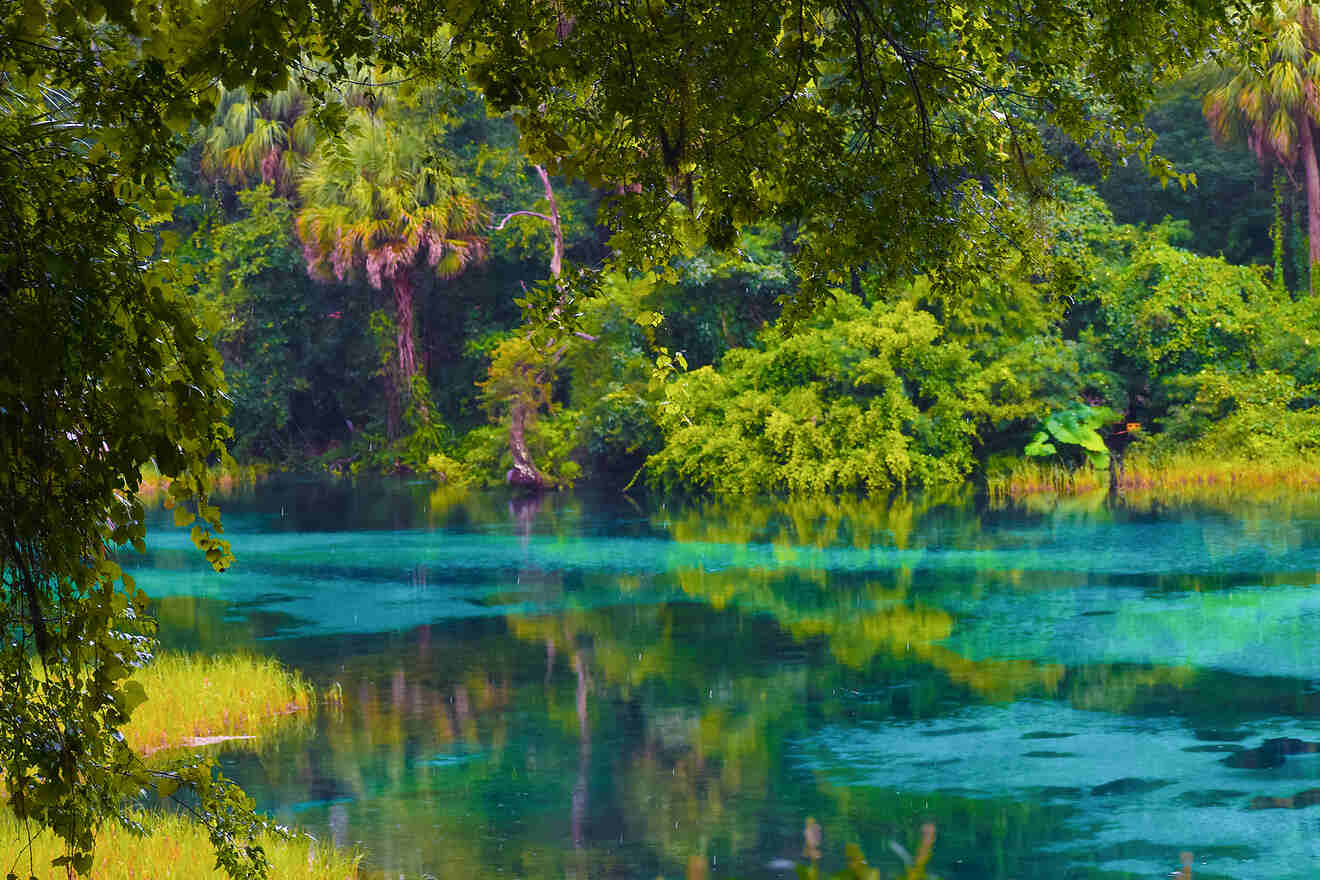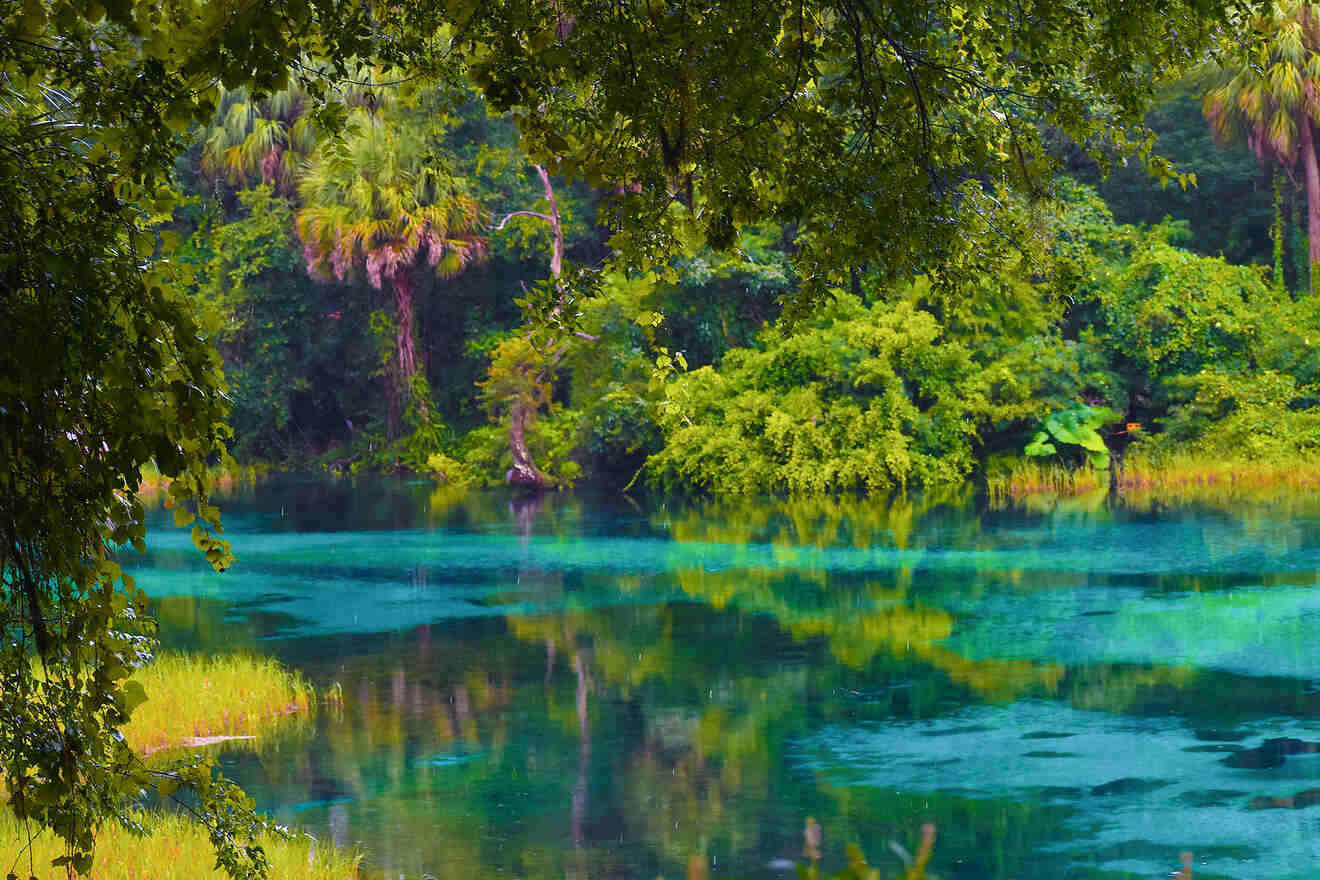 As you can see, Central Florida is home to some truly sensational Florida springs. And with a name like Rainbow Springs State Park, you know this one is going to be gorgeous!
The history of Rainbow Springs dates back centuries. With its sapphire blue waters, lush hammocks, and stunning river, it's no wonder people have been visiting Rainbow Springs for thousands of years!
There are all sorts of fun activities the entire family will love at Rainbow Springs, like tubing, swimming, geocaching, canoe and kayak rentals, and snorkeling in the headsprings of Rainbow River. Enjoy lunch on one of the many picnic tables, or cook something up yourself on one of the grills.
In case you can't already tell, my favorite way to explore the Florida springs is in a glass bottom… anything. This 2-hour glass-bottom kayak eco-tour through Rainbow Springs gives you an up-close, unparalleled view of the underwater world!
PRO TIP: For a great deal, get the TUBE & TRAM package for $20. This includes a tube rental and transportation back to the starting point after finishing the run.
PRICE: US$69 per person
Book Glass-bottom Kayak Eco-Tour
12. Splash & play at Weeki Wachee Springs State Park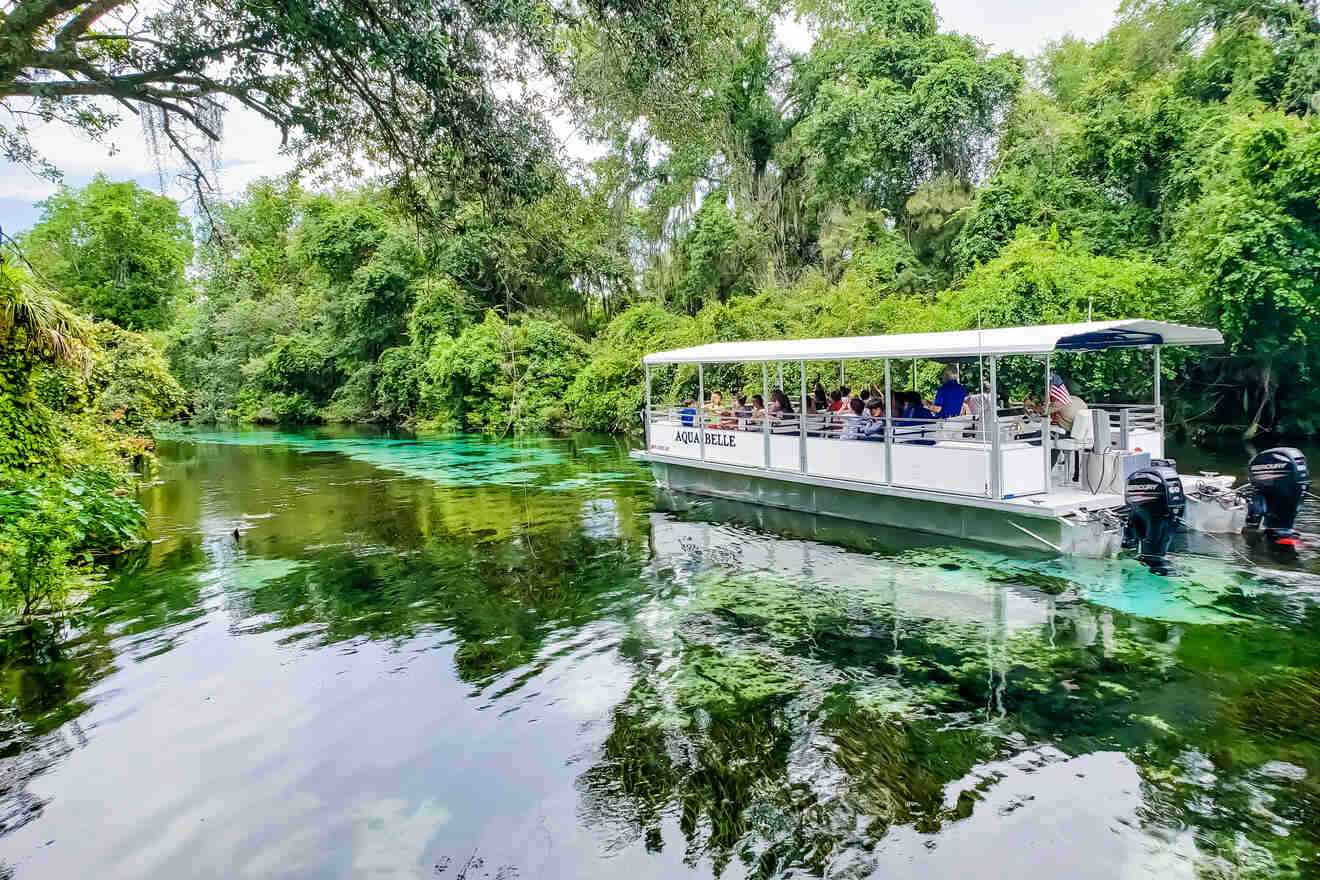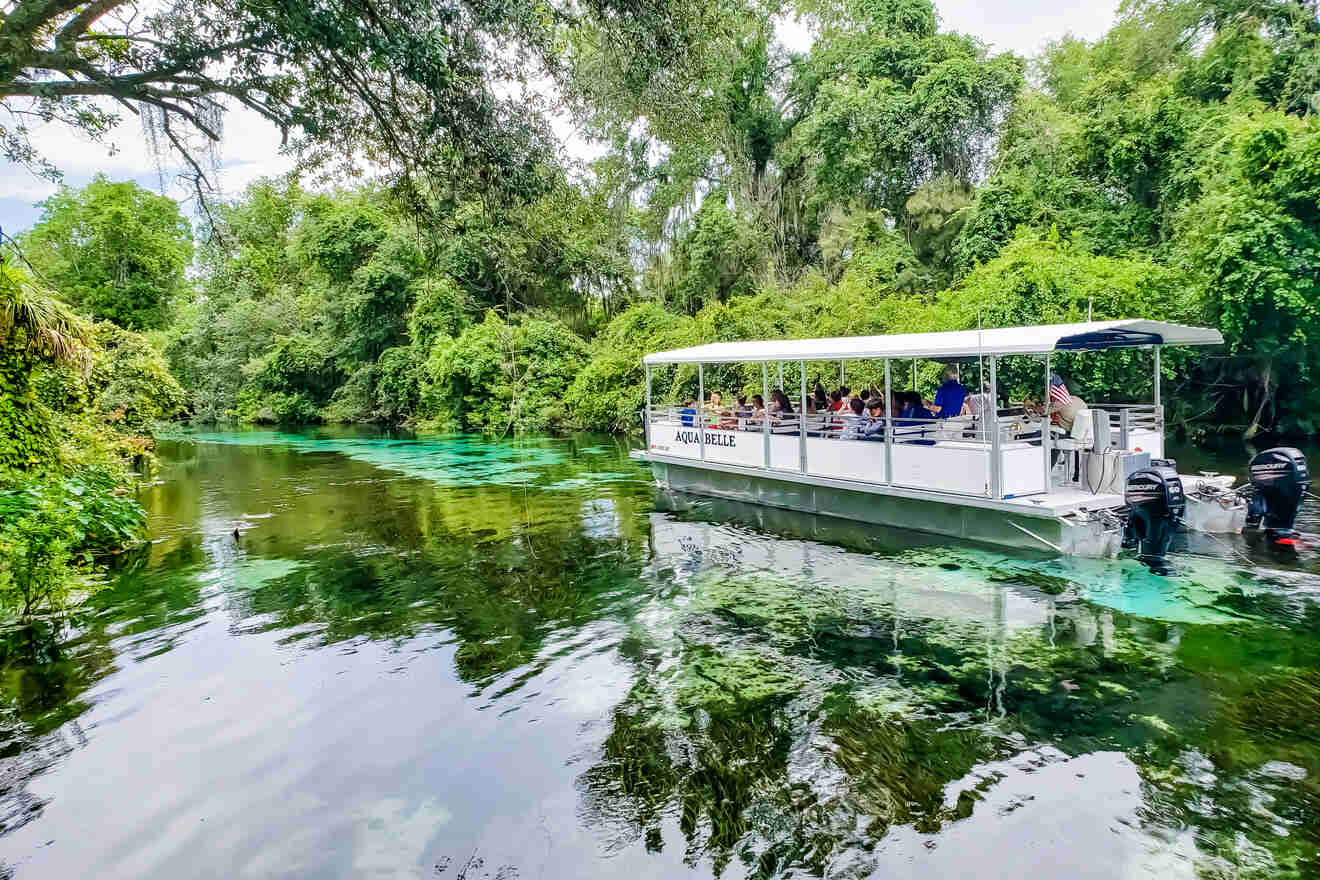 Weeki Wachee Springs State Park is a one of a kind, pure Florida experience that you need to see to believe! It's home to the deepest freshwater cave system in the country, a live mermaid spectacle, and Buccaneer Bay water park – 2 water slides into glittering blue Weeki Wachee springs.
Swim, paddle, and play the day away. You can grab lunch at the on-site restaurant, or cool off with some ice cream. Whatever you do, don't miss the Weeki Wachee mermaid show, a special telling of The Little Mermaid, performed in a 400-seat submerged auditorium. It's one of the best things to do in Central Florida!
The abundant wildlife in Weeki Wachee Spring, including manatees, otters, and dolphins, makes the area a fantastic place to explore on the water! Paddle down the Weeki Wachee River on a glass-bottom kayak tour, and learn about its vibrant ecosystem from an expert guide.
PRICE: US$70 per person
13. Jump right in to Ginnie Springs
Known as "a slice of pure Florida," Ginnie Springs boasts some of the bluest, most beautiful water I have seen in my entire life. Take a dip in one of the refreshing springs, or relax in the sunshine as you tube down the Santa Fe river. There are so many fun things to do at Ginnie Springs, whether you're looking for adventure or a little R&R.
Ginnie Springs also has great amenities to make your time there as carefree as possible. You can rent whatever you need for your day at Ginnie Springs at Ginnie's General Store, as well as stock up on beverages, snacks, and camping supplies. Ginnie's Grill serves up plenty of grub to keep you fueled up for more fun.
At just over 2-hour drive away from Orlando, Ginnie Springs is indeed a bit of a hike compared to other springs near Orlando, but I promise you it's worth it!
PRICE: US$20 for adults, US$5 for children
14. Dive into Devil's Den (yes, that's its actual name)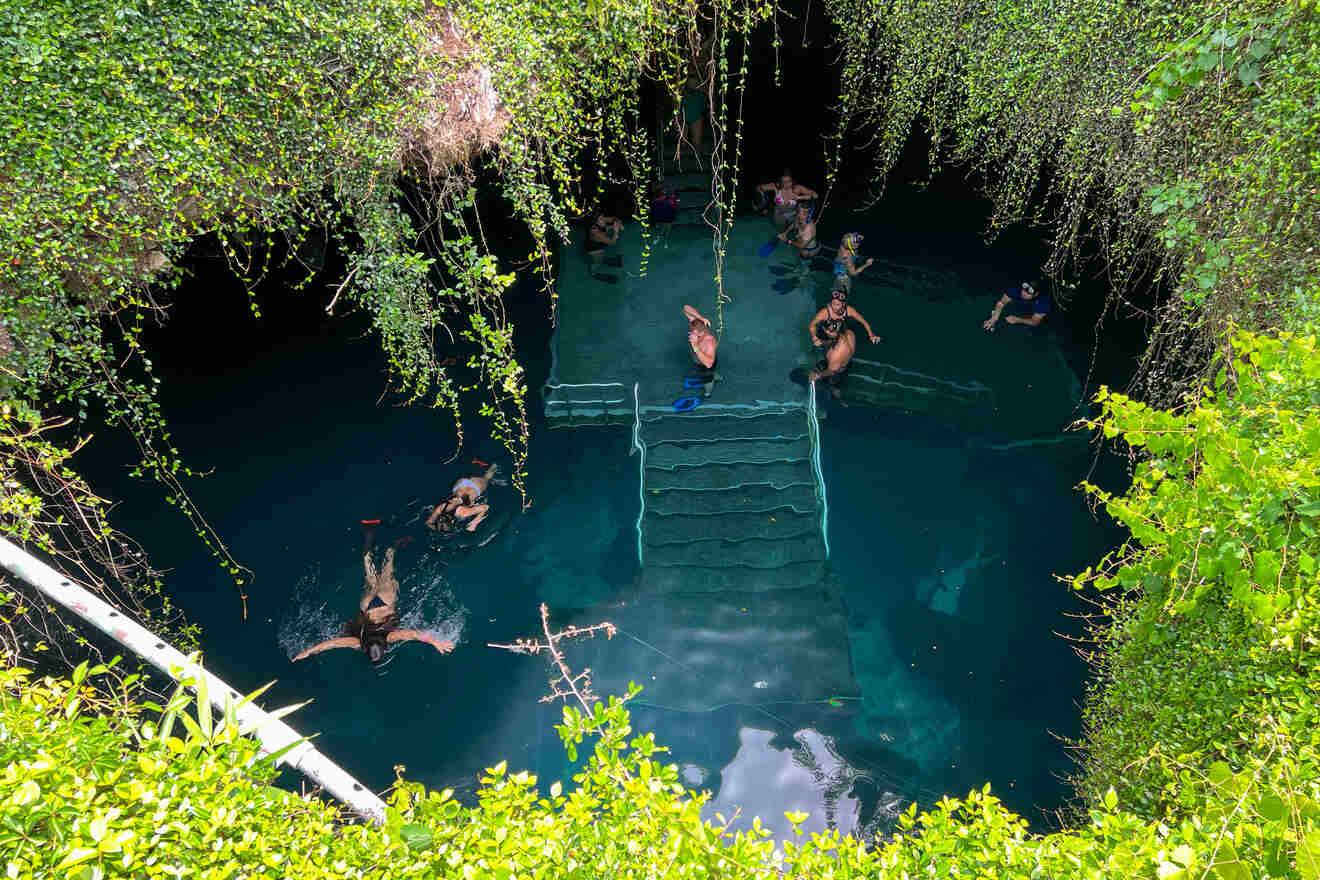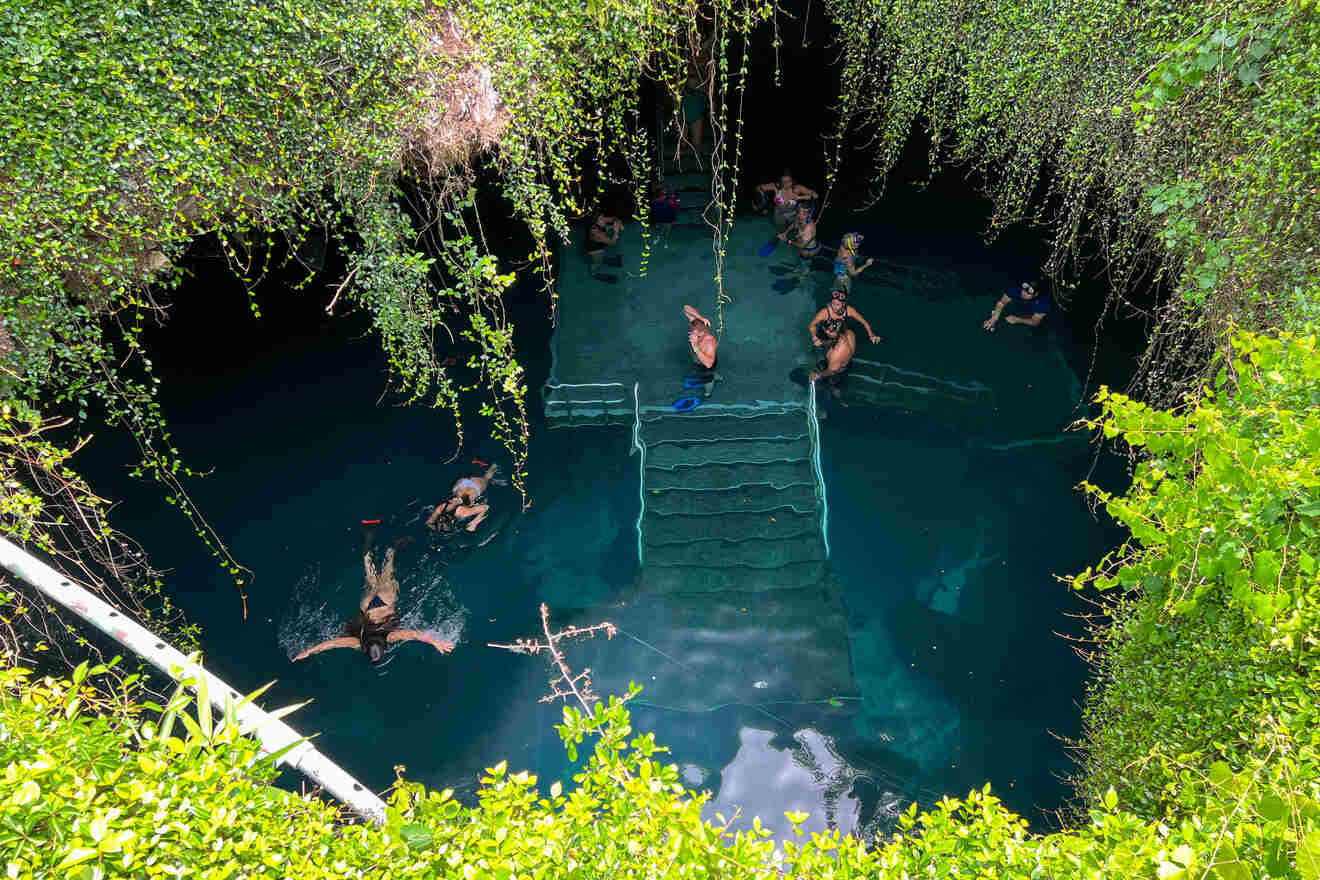 You may not find Devil's Den on many springs near Orlando lists, but you don't want to miss your chance to explore this prehistoric natural wonder!
Located just under 2 hours driving from downtown Orlando, Devil's Den is an underground spring that took millions of years to form. Limestone rock, also known as karst, is made up of ancient matter, and was dissolved by the groundwater to create a window that exposes the underground spring to life. The caves are what remains of a time long ago when Florida was covered by warm, shallow water.
The most popular things to do at Devil's Den are snorkeling and scuba diving. Appointments are required for snorkelers and you can make a reservation online. Both scuba diving (if certified) and snorkeling gear are available to rent on-property.
Just a warning: the descent to the underground spring inside can be eerie at first, but you're then met with a spectacular view of this remarkable oasis!
Those brave enough can even camp there, and they even have a swimming pool next to the camp grounds. Needless to say, Devil's Den is definitely the most unique of the springs near Orlando!
PRICE: US$18 per person, snorkel gear rental is an additional charge
15. Cool off in Hunter Springs Park & swim with manatees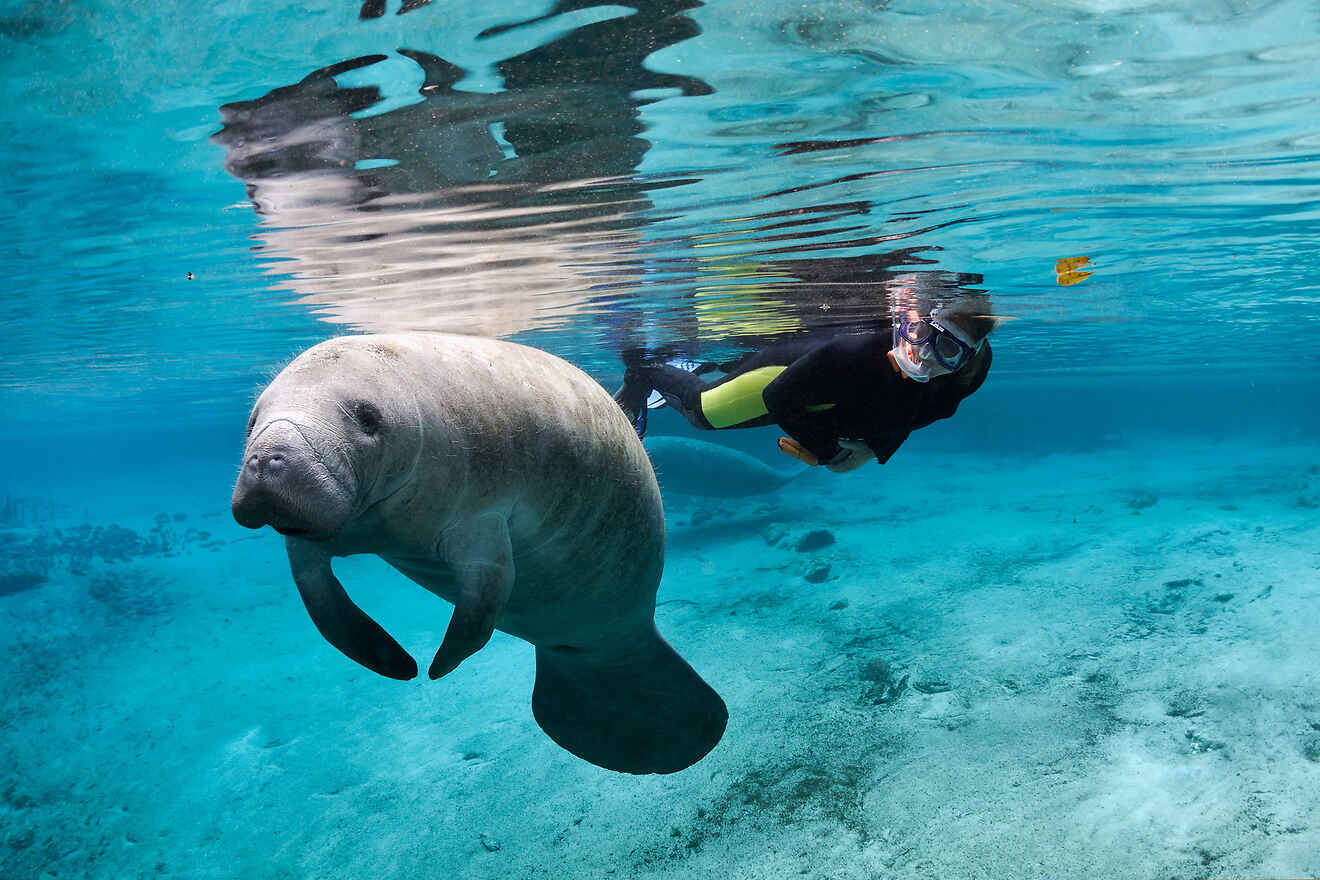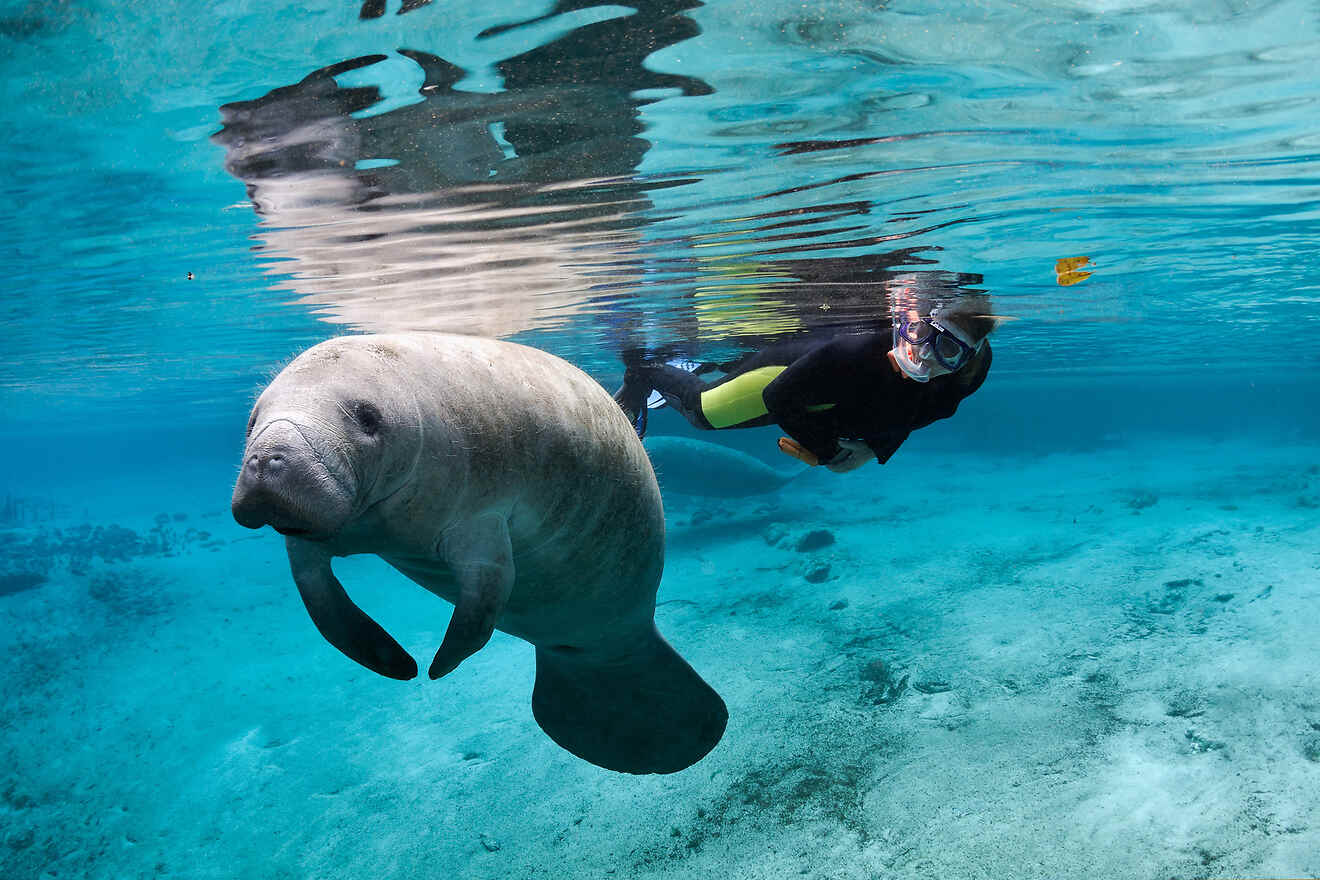 Although it is a bit of a drive from Orlando, Hunter Springs Park is, to me, one of the magical places in all of Florida. Just offshore is one of the 70 natural springs that feed into Crystal River and Kings Bay, both known for their manatees!
This park has a sandy beach and a roped off swimming area, perfect cooling off from the hot sun. There's also a boardwalk that wraps around the park, and a canoe/kayak launch if you want to adventure out on the water.
It's common to spot manatees in the springs, as they live in this area year-round! Crystal River is the manatee capital of the world. While you can kayak with manatees in other springs about Florida, Crystal River (and the Three Sisters Springs) is the only place in North America where it is legal to swim with manatees.
This once-in-a-lifetime experience is a must if you're visiting the Crystal River area! It's also a great day trip if you're staying in Tampa.
PRICE: US$70 per person
Book Swimming with Manatees Experience
Practical Information
We've gone over the best natural springs in Central Florida, now, let's cover how to get to them!
How to get around
The best way to get around Orlando and the nearby areas is by car. Orlando really is one of those places where having a vehicle is necessary, unless you plan to do rideshare, which can get a bit pricey if you're traveling too far.
I highly suggest renting a car here, so you have the freedom and flexibility to take day trips as you please! There are a ton of hidden gems around here, like the springs we chatted about, and it's nice to explore at your own leisure.
FAQs about the best natural springs in Orlando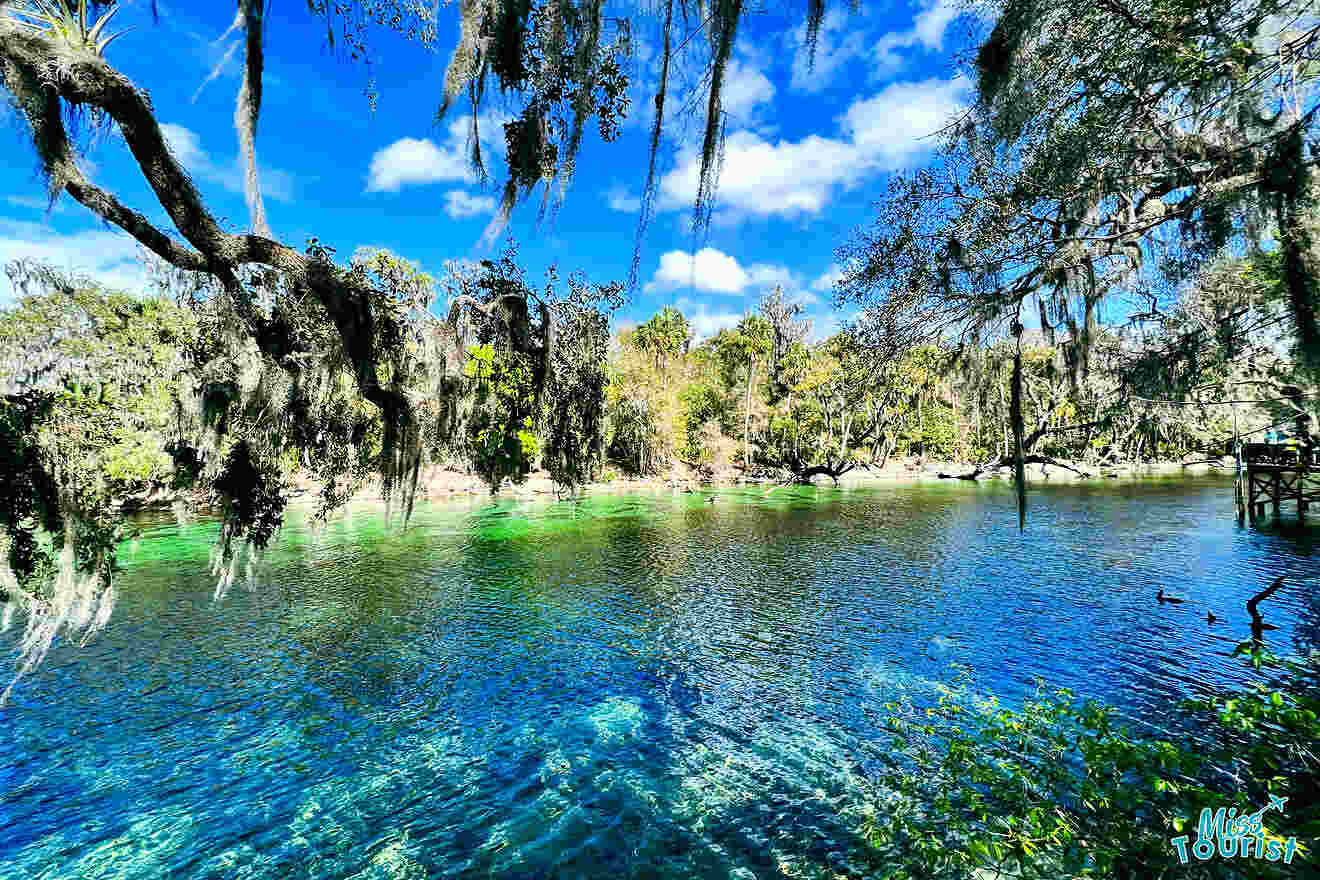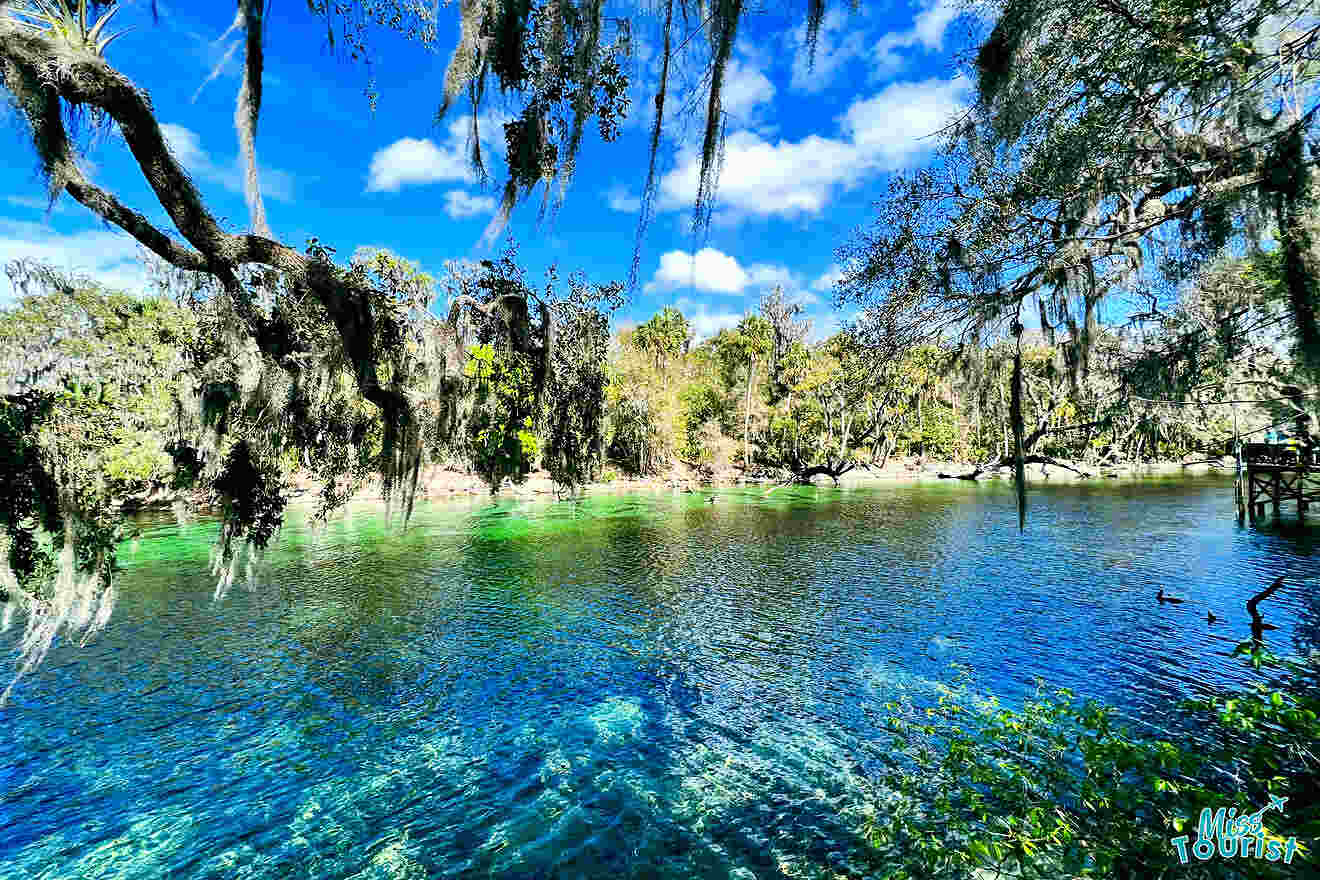 ♨️ Are there any natural springs near Orlando?
🍃 What is the best natural spring in Florida?
Kayaking with manatees in Blue Spring State Park is an unforgettable experience, while taking a glass bottom boat tour through Silver Springs is also wonderful. Weeki Wachee Springs is packed with attractions, like the mermaid show and Buccaneer Bay water park, so it's a great choice for kids.
🌊 Which natural spring has the clearest water in Florida?
Ginnie Springs is known for its crystal clear, very clean water, hence its slogan: "Pure Florida." This also makes it one of the best natural springs in Florida to snorkel in. You get an amazing view of the fish below!
Conclusion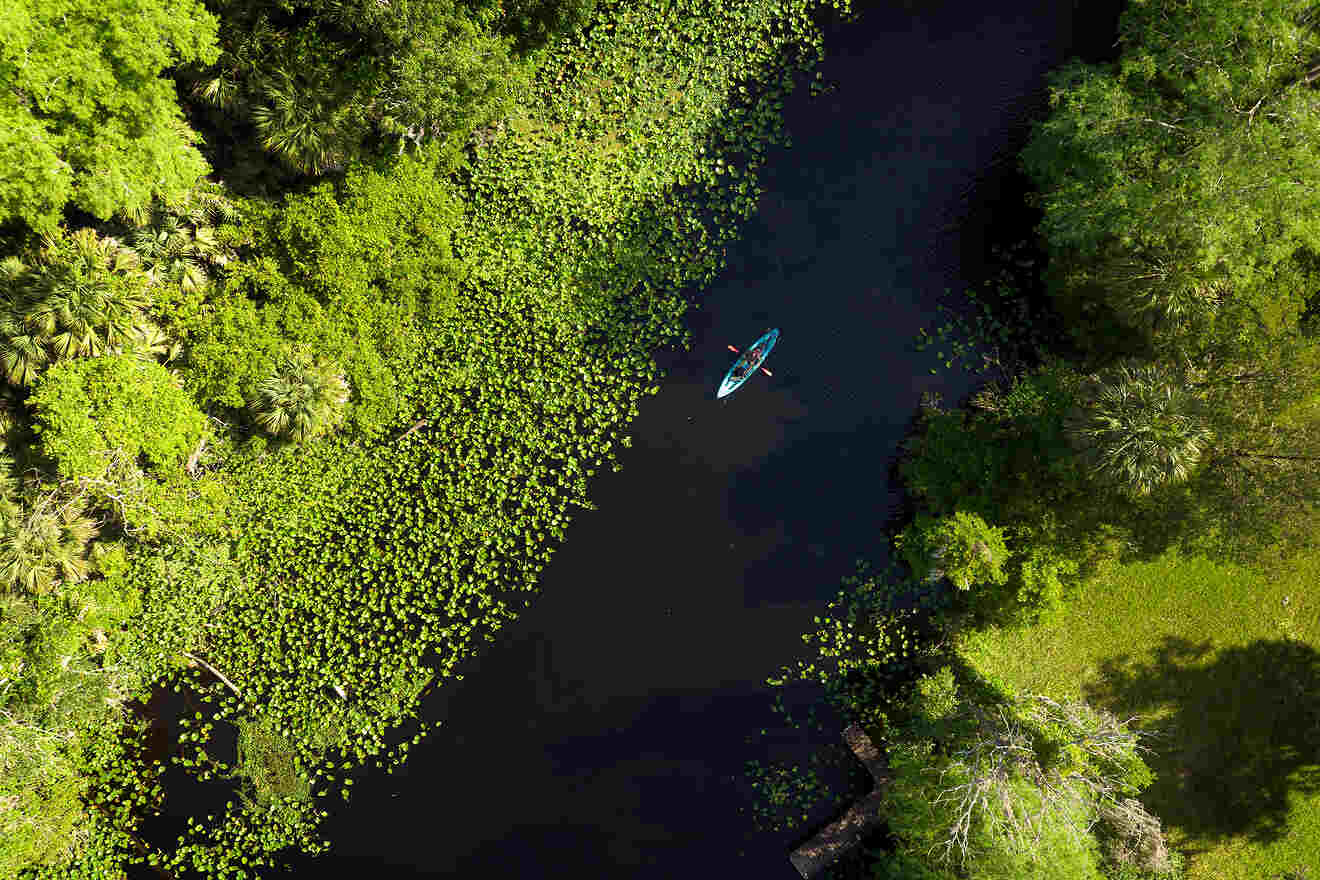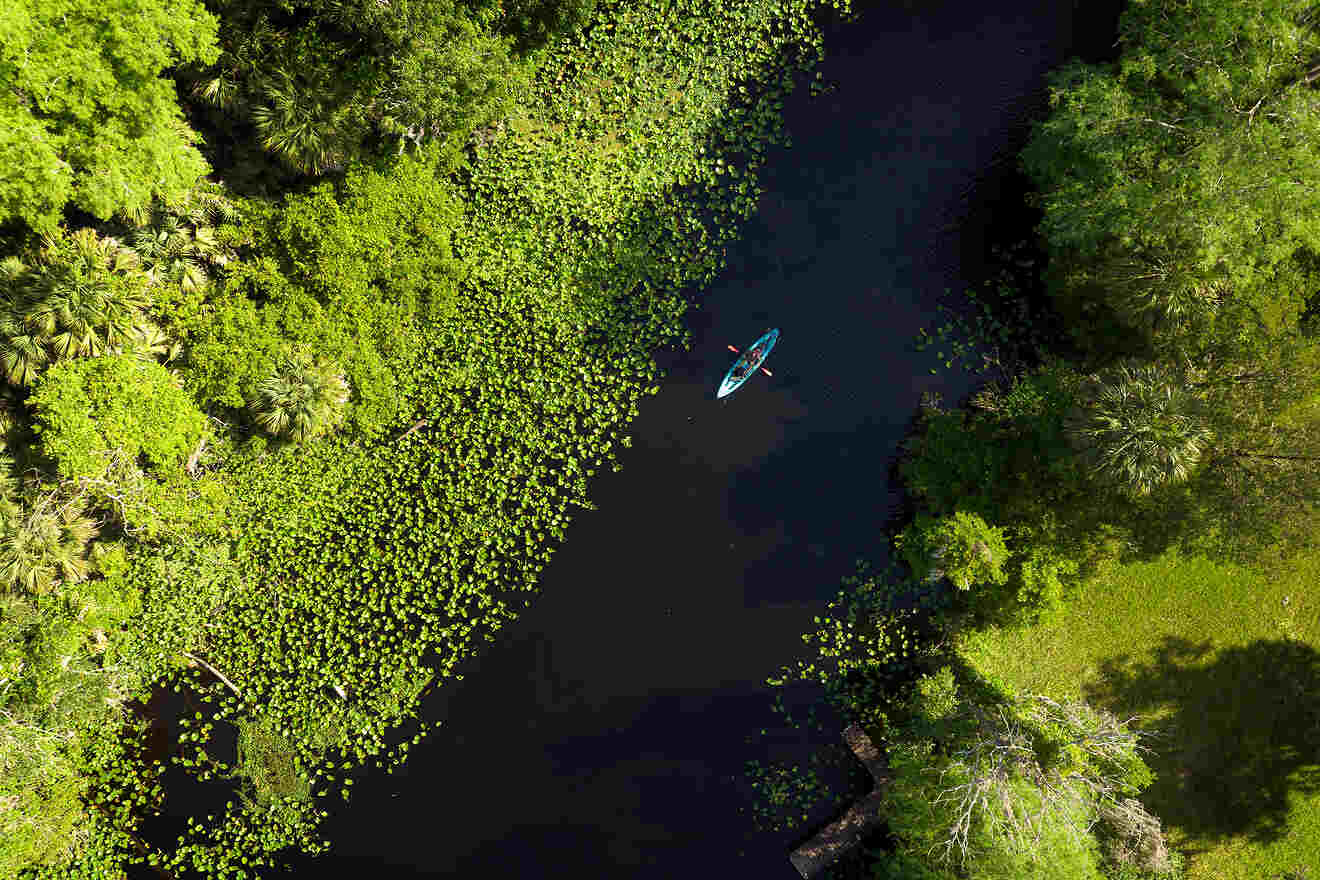 Isn't Central Florida incredible? There is so much magic to be found here outside of the theme parks, and the best natural springs in Orlando are a great way to relax and recharge on a busy vacation.
Before moving here, I'd never seen anything quite like them before, and I know you'll feel the same when you visit!
Whether you keep close to the city at one of the Orlando springs, like Rock Springs Run, or venture over to Crystal River to swim with manatees, you're going to have an absolute blast. Just make sure to book your manatee swim early!
If you still need to find the perfect place to stay in Orlando, see our favorites among the best Orlando hotels near Disney.
Let me know if you have any questions! I'm here to help make your next trip your very best trip.
Happy travels!
Montana
---
Pin it for later!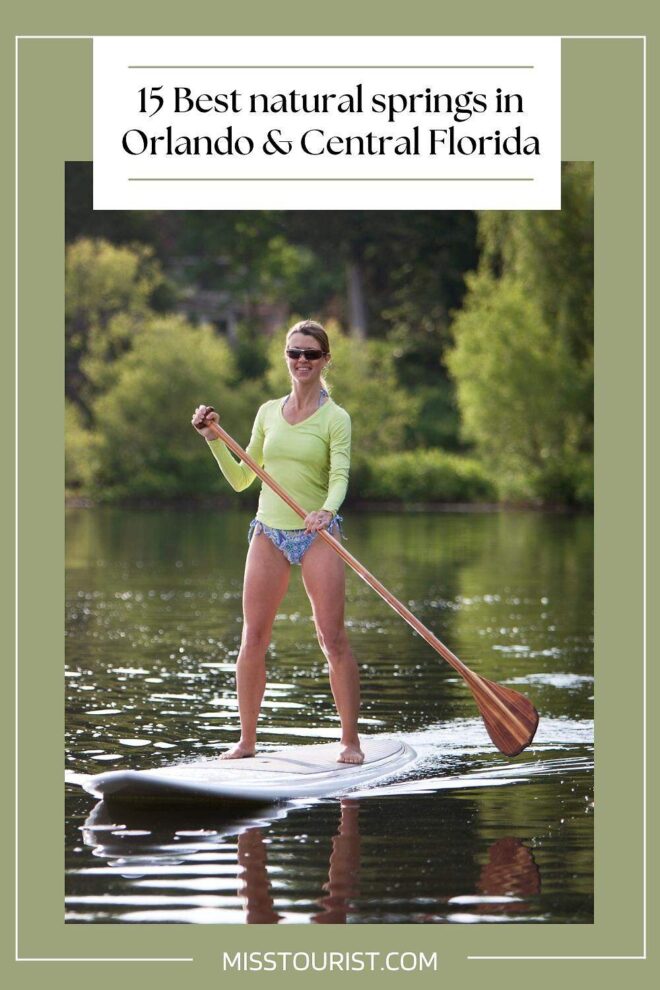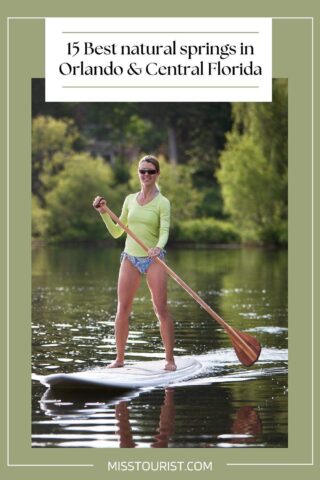 Pin it for later!