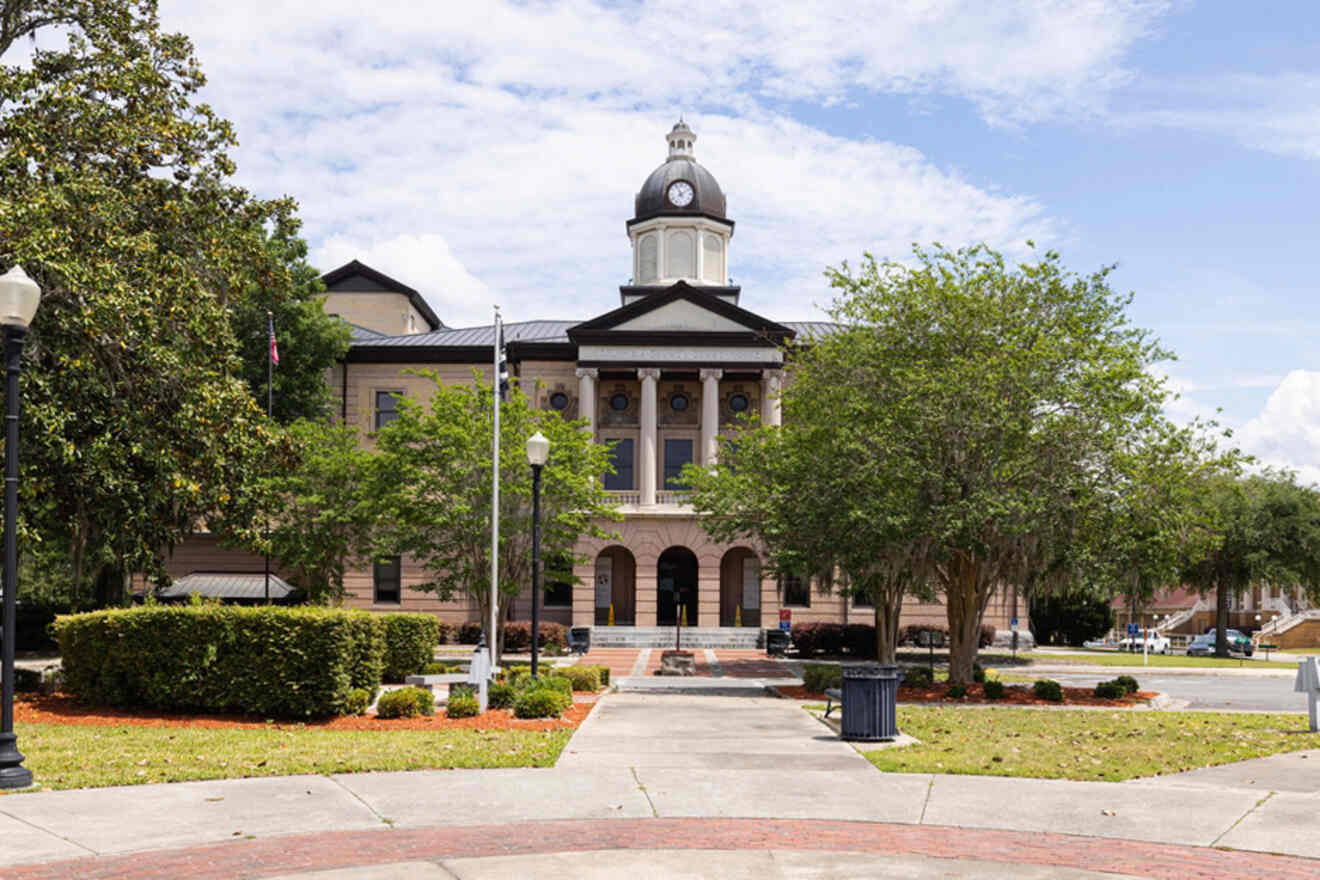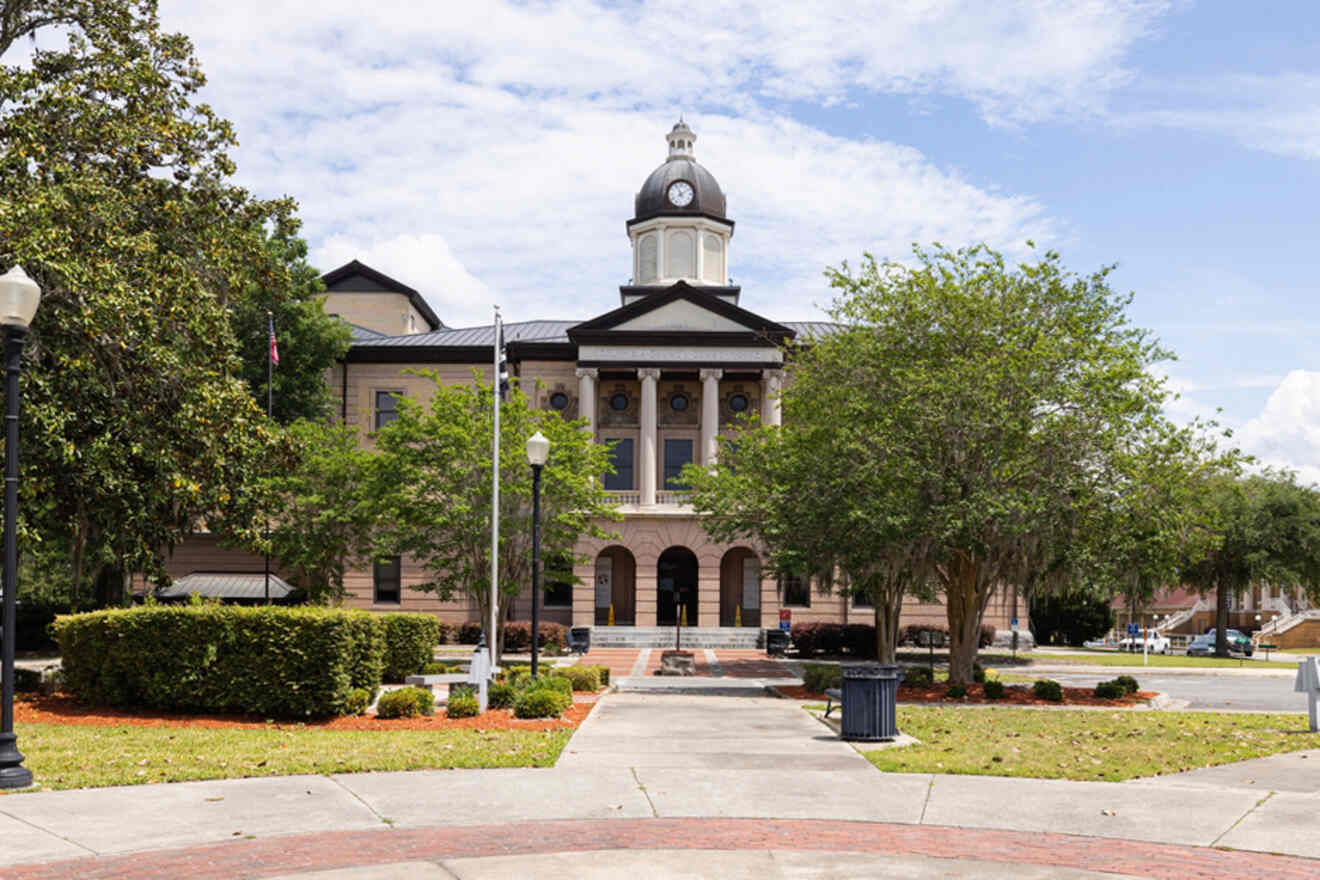 If you love exploring small towns off the beaten path, you're going to love Lake City, FL, and as a Florida local myself, I'm excited to tell you all about it!
Lake City is a historic town in north central Florida, steeped in natural beauty, rich history, and southern hospitality. For outdoor enthusiasts and history buffs, Lake City is a wonderland, boasting breathtaking state parks, iconic historic sites, and of course, beautiful natural springs that earned it the nickname "Florida's Springlands."
In today's article, I'm highlighting unmissable things to do in Lake City, Florida, including popular attractions, hidden gems, and even a secret waterfall! Get ready for fresh air, postcard-worthy views, and plenty of Florida sunshine.
Let's go!
1. Explore Osceola National Forest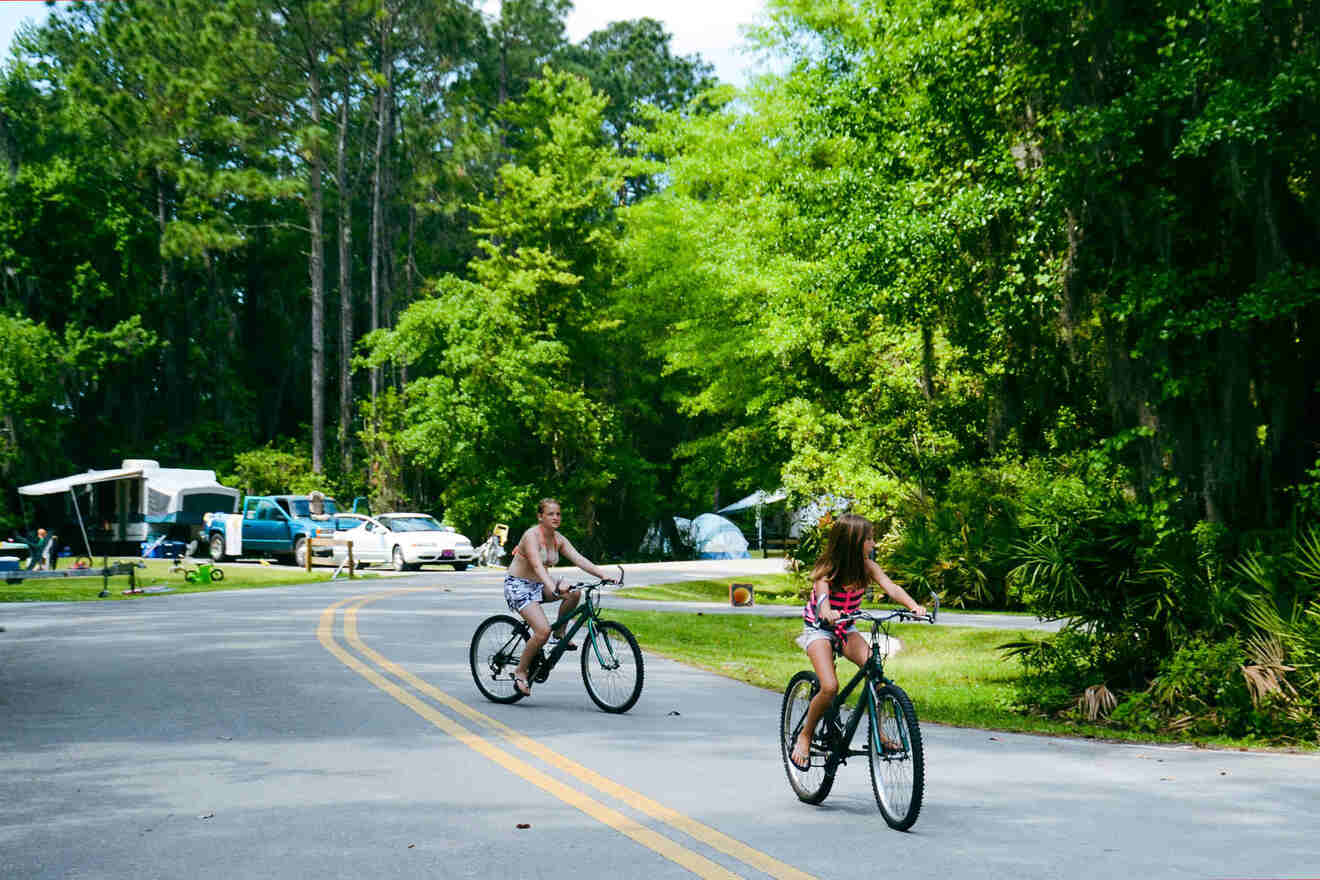 Whether you're looking for moments of peace in nature or a thrilling adventure in the great outdoors, Osceola National Forest is the place to go, encompassing nearly 237,000 acres (96,000 hectares) of forested woodlands and swamps.
Swimming, hiking, camping, fishing, and wildlife viewing are just a few of the most popular activities at Osceola National Forest. Olustee Beach is the perfect spot to take a dip in the water or recline on the shore. If you'd like to explore on foot, the forest has some incredible trails that will take you through various habitats. Keep your eyes peeled for wildlife – the forest is teeming with flora and fauna.
History buffs should check out Olustee Battlefield Historic State Park within Osceola National Forest. I'll tell you all about it in #4 on our list of best things to do in Lake City, Florida!
2. Wine and dine in historic downtown Lake City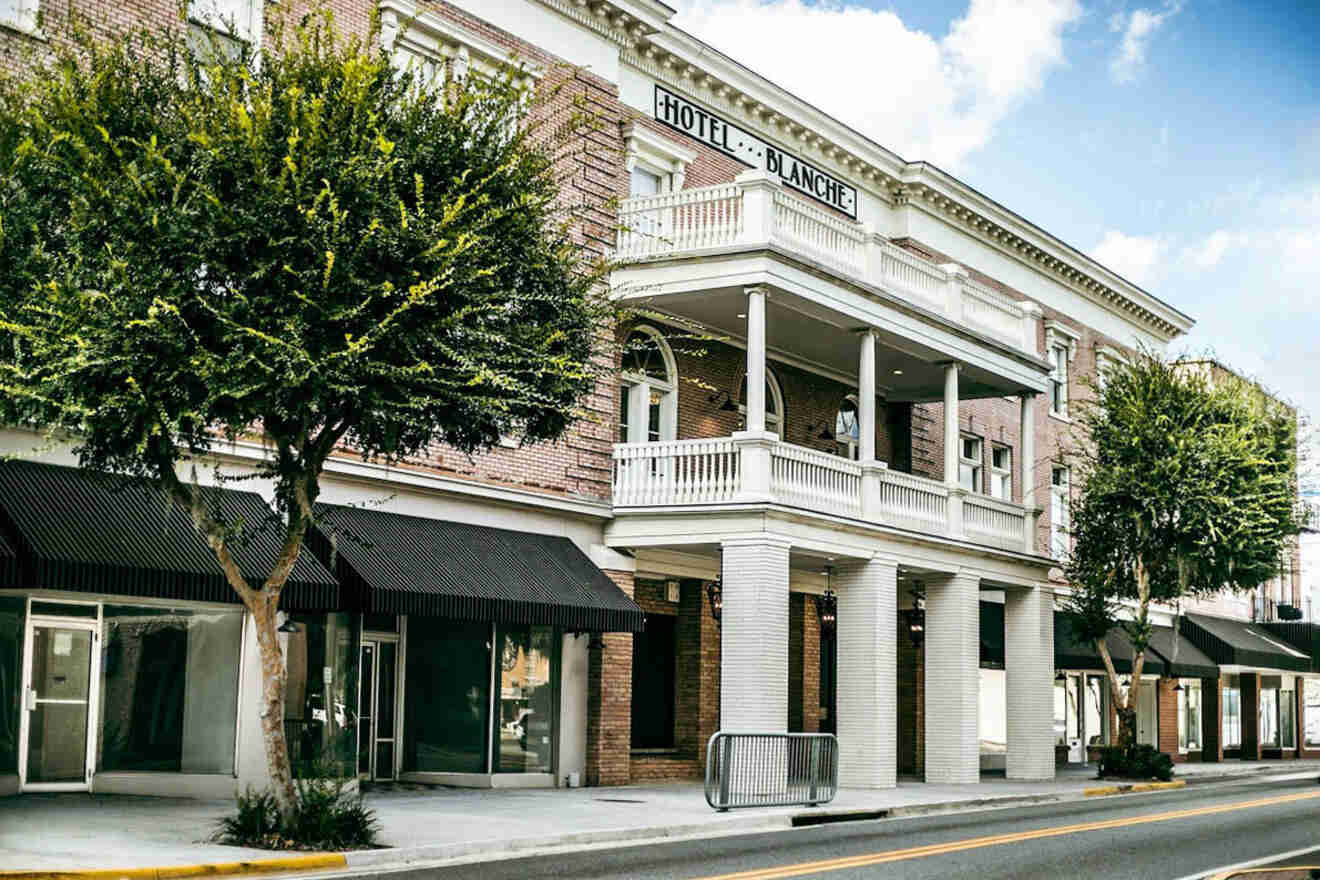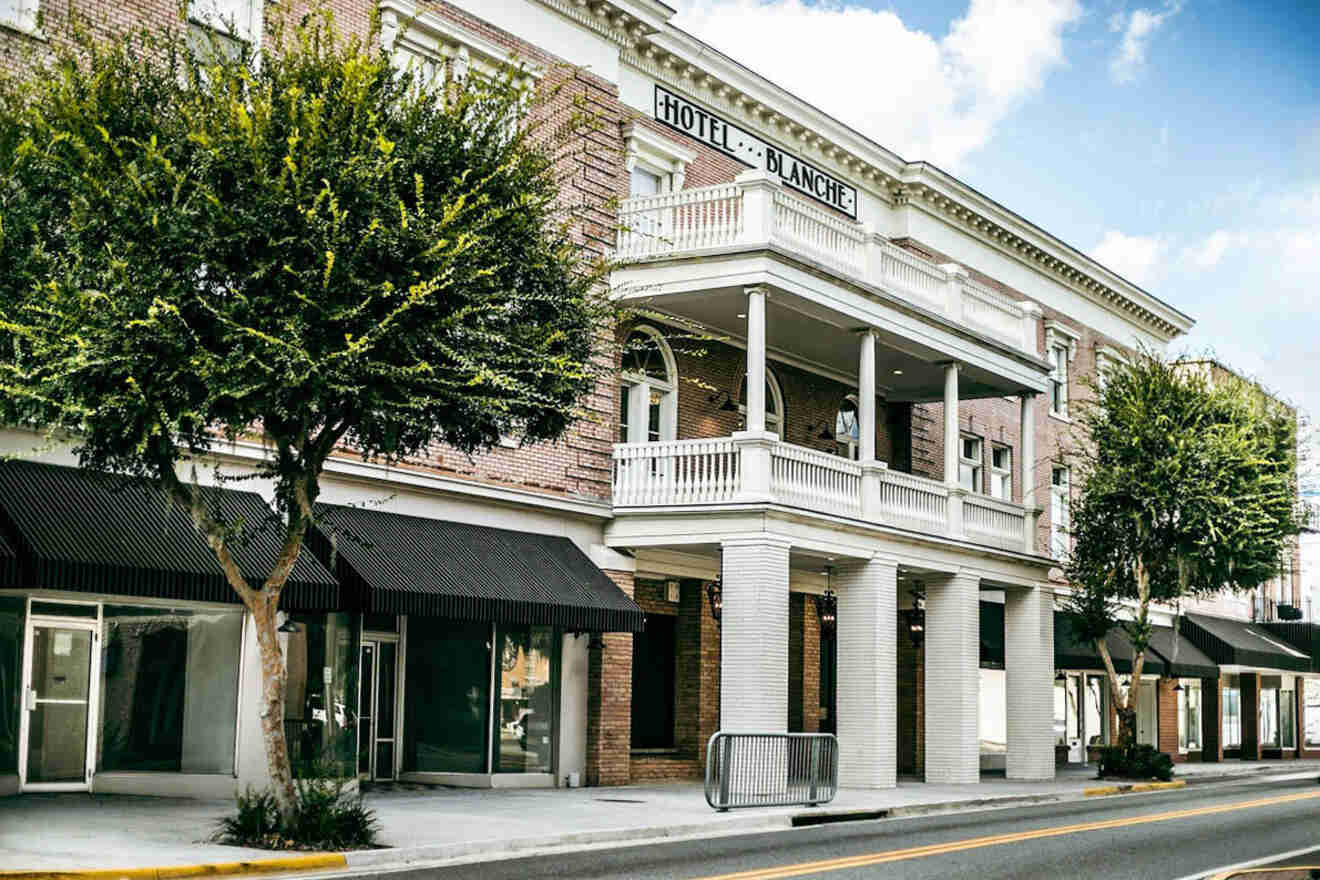 Lake City has the kind of charming downtown area you'd expect from a small, historic town, and it's definitely one of the unmissable things to do in Lake City, Florida! Marion Street, the main street in downtown Lake City, is teeming with local restaurants serving great food, boutiques, consignment shops, and galleries. It's also got a whole lot of history!
The historic Blanche Hotel in downtown Lake City has been an iconic landmark for 100 years, and it's listed on the U.S. National Register of Historic Places. Notorious American gangster Al Capone famously (or should I say infamously?) checked in for an extended stay at The Blanche. Johnny Cash, too, was once a guest there!
When you're ready for a snack after shopping, head to the locally-loved Marion Street Bistro for comfort food in a cozy, casual setting.
3. Go for a hike at Alligator Lake Recreation Area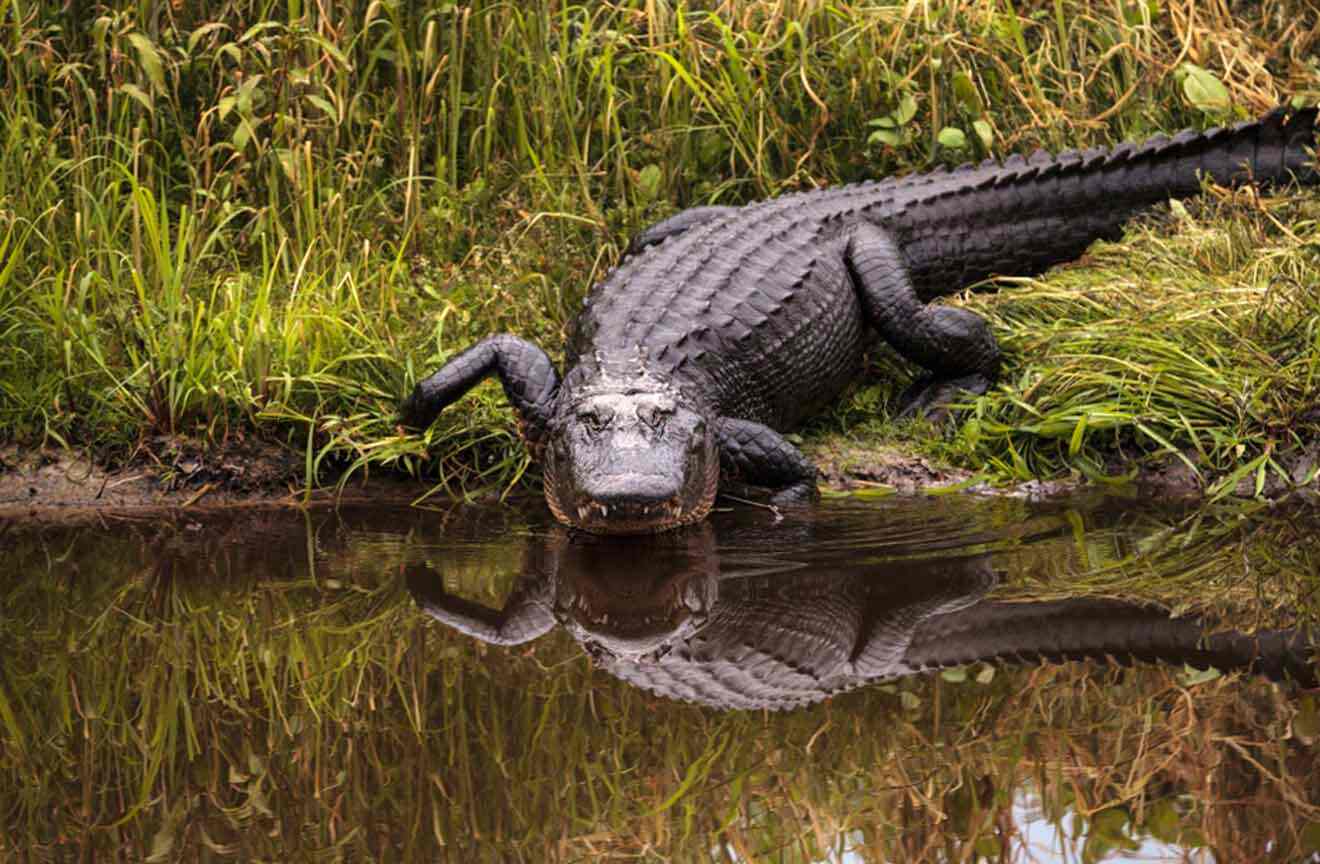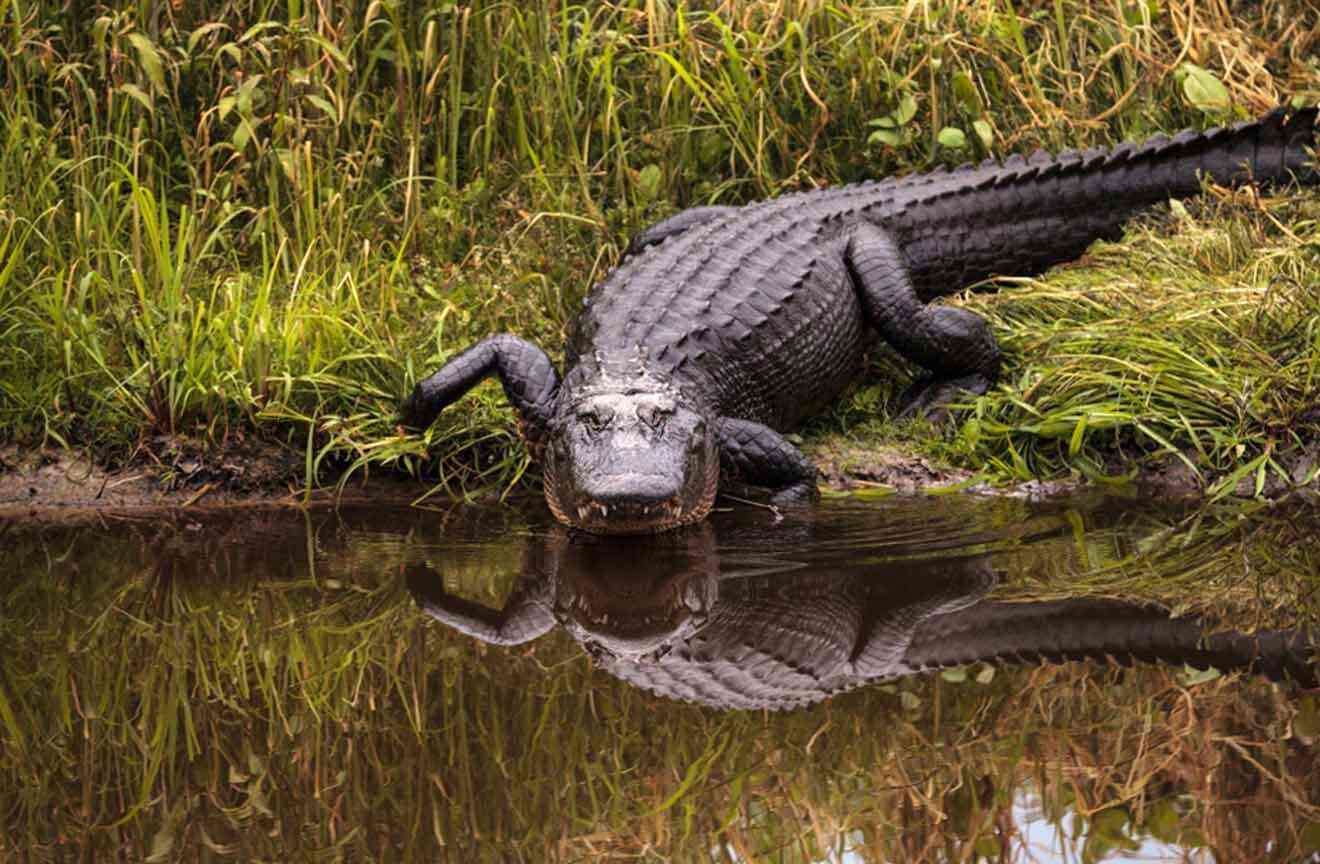 Just a 6-minute drive from downtown Lake City, you'll find Alligator Lake Recreation Area, also known as Alligator Lake Park, a paradise for hikers, bikers, and walkers, boasting 12 miles (c. 20 km) of scenic hiking trails.
It's also got a fantastic picnic area with 6 covered pavilions, as well as a sand volleyball court and accessible playground. In addition to exploring on foot, you can head out in the wetlands in a canoe or kayak to get a closer look at the flora and fauna.
Fishing is huge at Alligator Lake Park, and the lake has produced some lunker-size largemouth bass!
I know you might be wondering, and the answer is yes, there are alligators at Alligator Lake Recreation Area! But not to worry – alligators are more afraid of us than we are afraid of them, so just observe from a distance and go about your adventure!
4. Explore the past at Olustee Battlefield State Park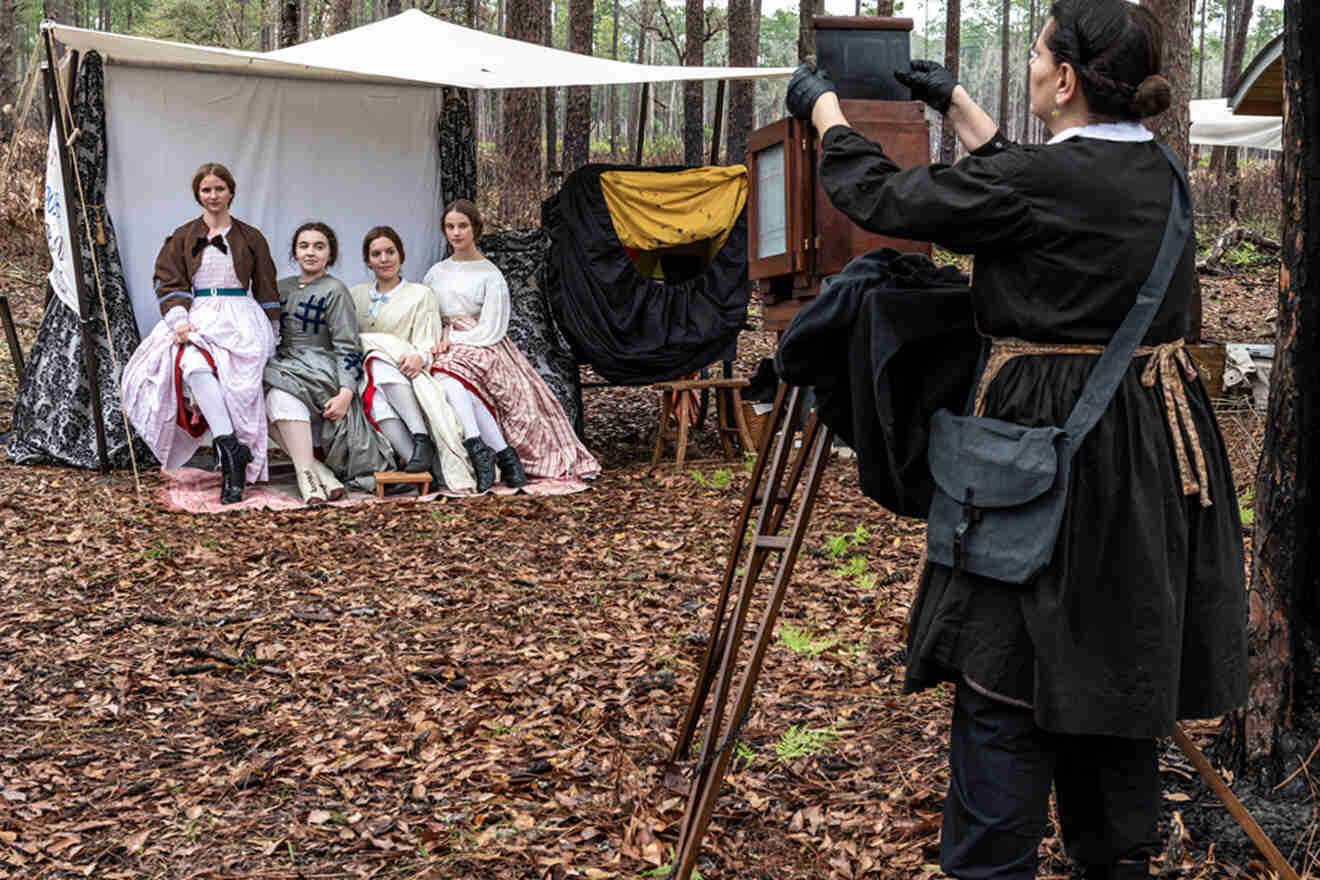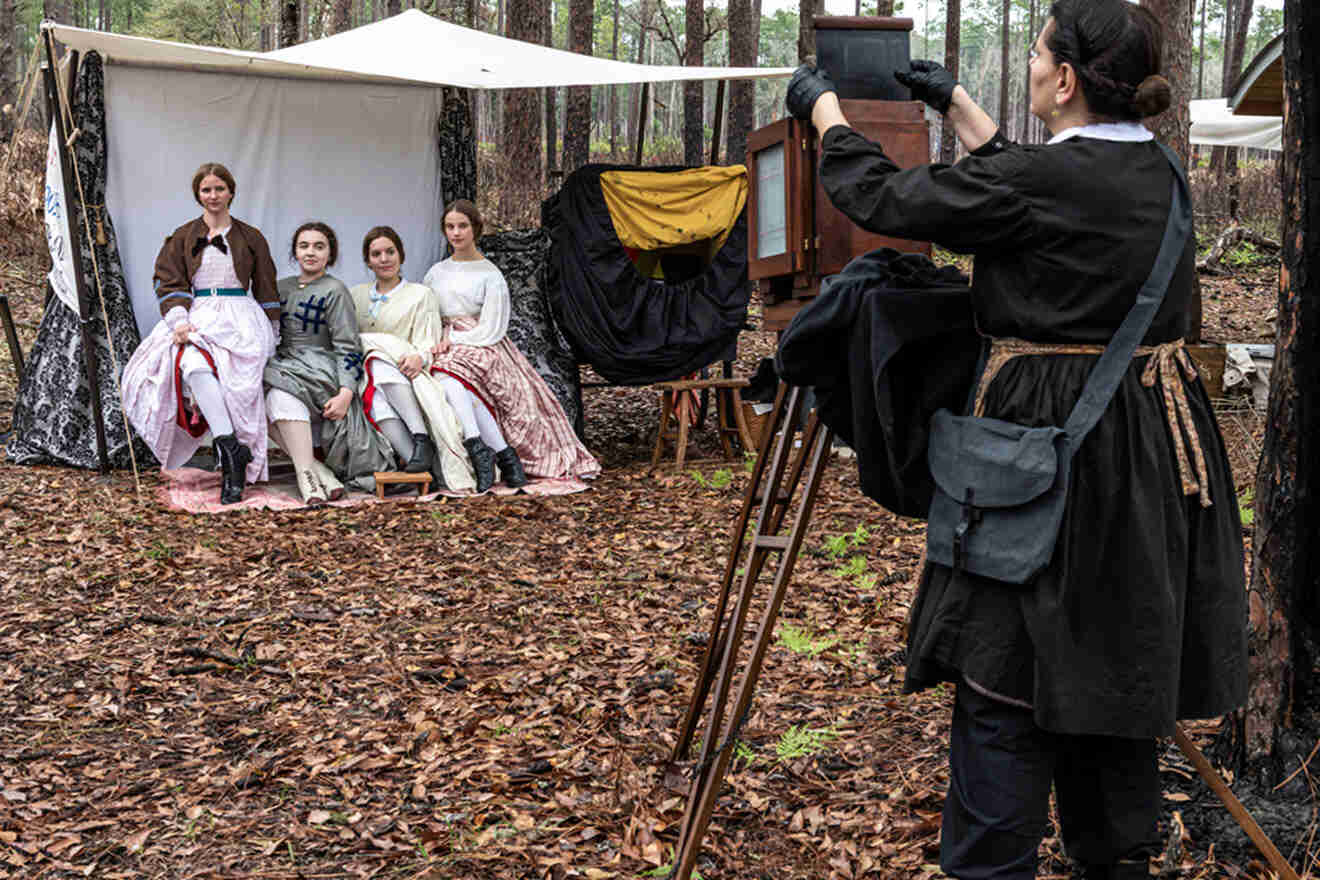 Alright, history buffs, this one's for you! Situated in historic Osceola National Forest, Olustee Battlefield Historic State Park tells visitors the story of the largest Civil War battle fought in Florida – at this very spot on Feb. 20, 1864. In 1912, Olustee Battlefield became the state's very first historic state!
Today, you can explore the park and learn about its role in American history. There's a 1-mile (less than 2 km) interpretive trail following the battle lines, as well as a Visitor Center with historical artifacts on display. Every February, Olustee Battlefield State Park hosts an annual Civil War battle reenactment, which has actually been filmed for several movies.
Don't forget to pack a meal with you, as Olustee Battlefield State Park is a beautiful place for a picnic under the shady pine trees!
5. Discover treasures at Webb's Antique Mall
I love checking out local antique shops whenever I can, so if you're an antique lover visiting Lake City, you've gotta head to Webb's Antique Mall.
Webb's Antique Mall is a massive, air-conditioned building with over 400 booths stacked with antiques. We're talking about home-period furniture, art, jewelry, records, apparel, toys, collectibles, and so much more! It's a treasure trove for antique enthusiasts and a must-do in Lake City, FL.
You seriously never know what you're going to find at a fun place like this, and that's the best part. New stock arrives daily at Webb's Antique Mall, so there's always something new to check out!
6. Hit the links at Quail Heights Country Club
Since Lake City is called the "Gateway to Florida," and golf is Florida's favorite pastime, it makes sense that hitting the links is one of the best things to do in Lake City, Florida, and Quail Heights Country Club is the place to do it.
Quail Heights Country Club in Lake City has an 18-hole championship golf course open to both members and the public. The golf courses have some challenges, like water, sand traps, and rolling hills, but the golf club promises these challenges won't drive you to break your golf clubs in half! 😆
There's a restaurant, pro shop, and practice facilities on-site at Quail Heights Country Club. You can book your tee time online!
7. Experience the natural wonder of Falling Creek Falls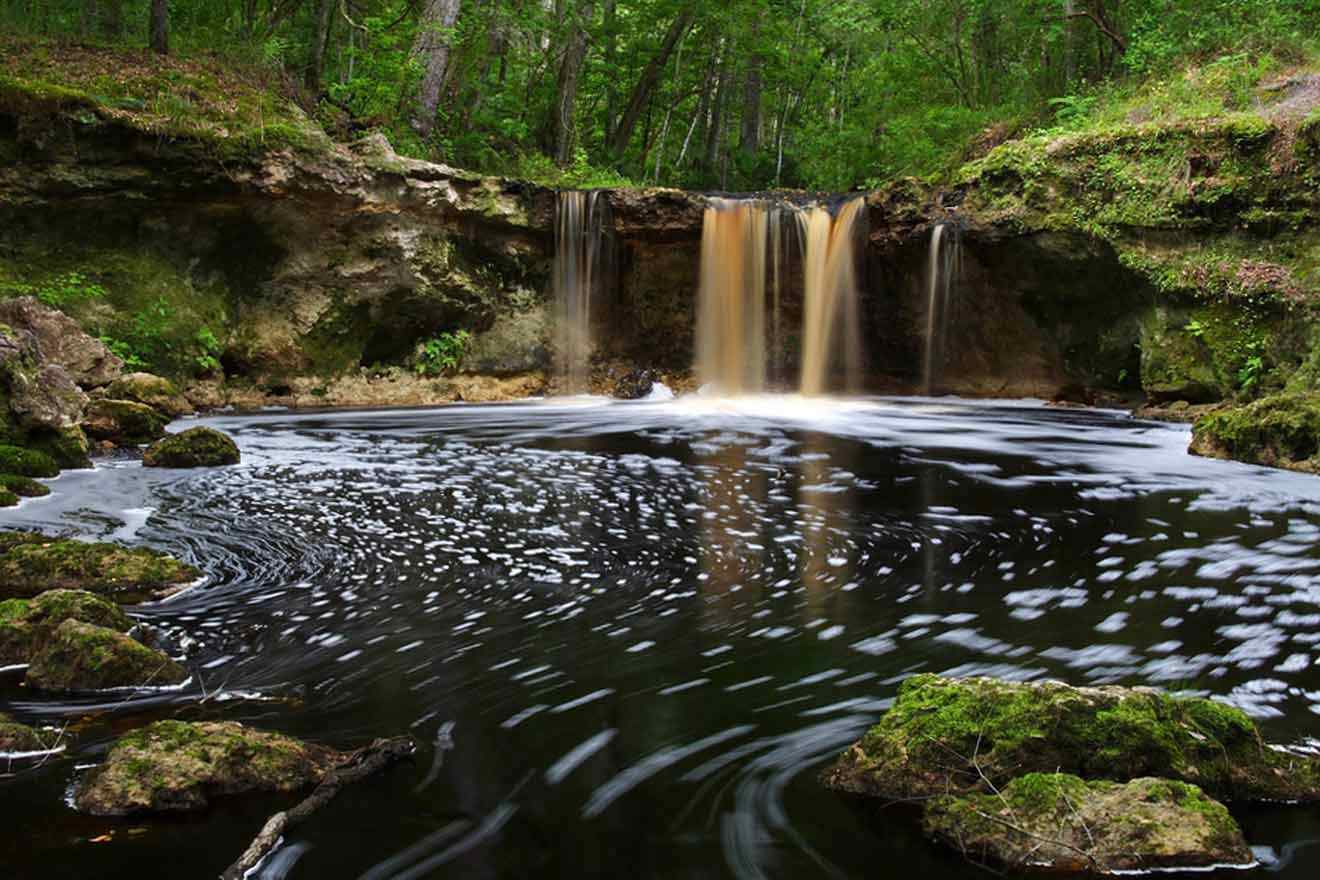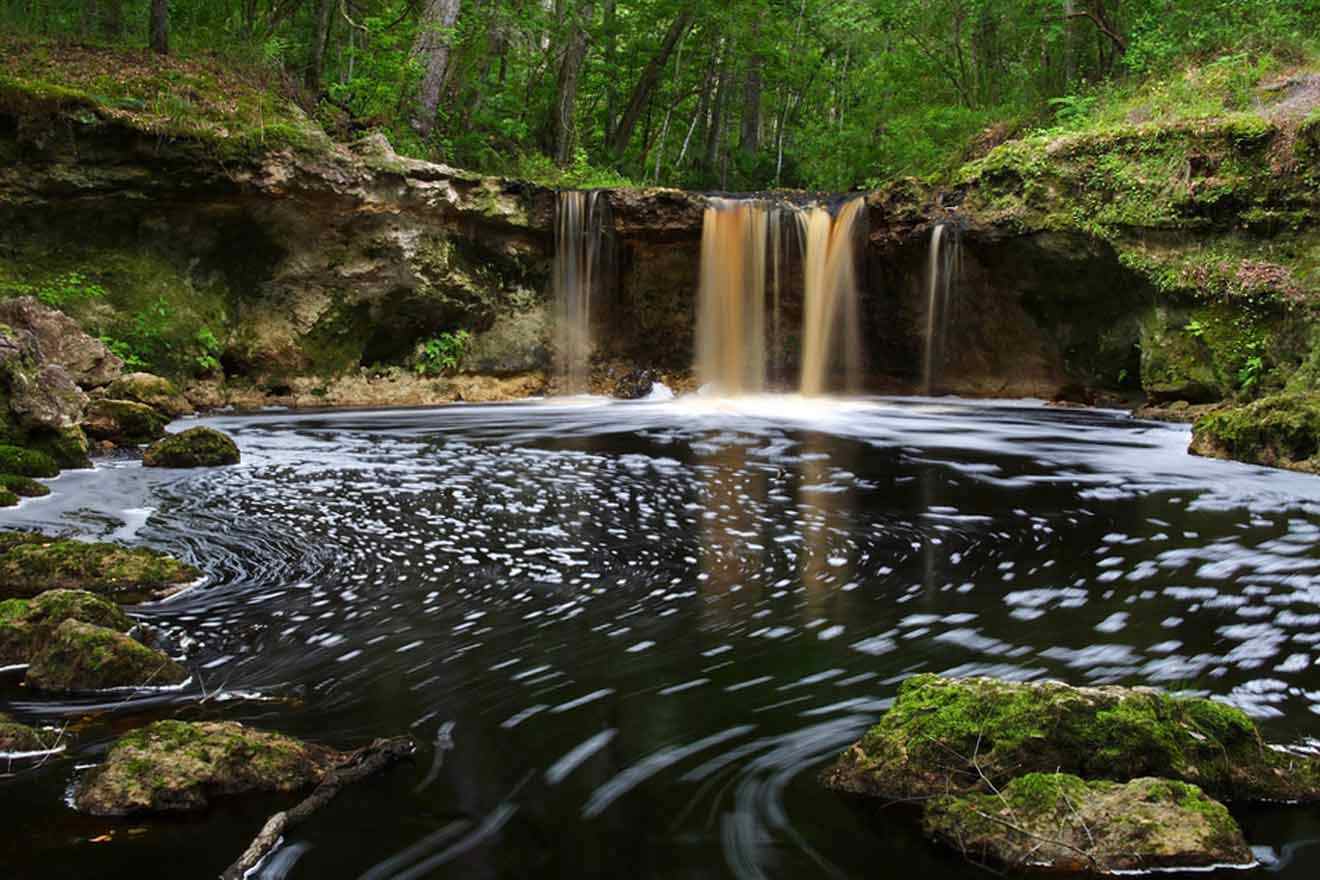 Falling Creek Falls is a true hidden gem in the Sunshine State! While waterfalls in Florida are few and far between, the aptly named Falling Creek Falls is a beautiful one just off I-10 in Lake City, FL – people drive past it every day, not knowing it's there!
The tannins in Falling Creek give the water its distinct root beer coloring, so it's unlike any other waterfall I've ever seen before! It falls from over 10 ft (3 m) above, but in order to see it falling, you'll have to visit during spring or winter. In the summer, it dries up, and you'd have no idea it was ever an enchanting waterfall, to begin with.
Like many of the other places on our list, Falling Creek Falls is a stunning place for a picnic. There are picnic pavilions and restrooms there, as well as an accessible, elevated boardwalk and nature trail to explore.
8. Step back in time at the Historical Museum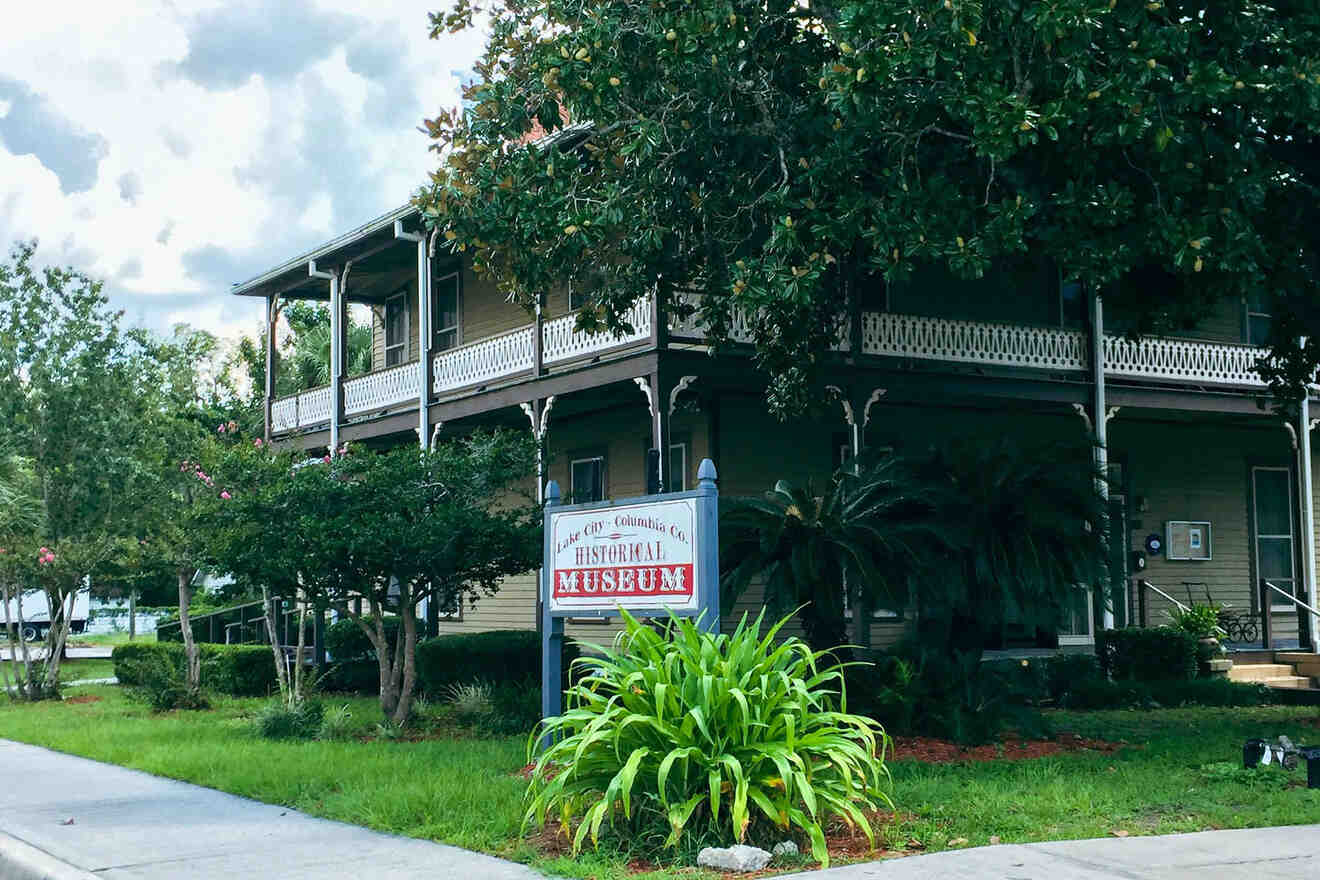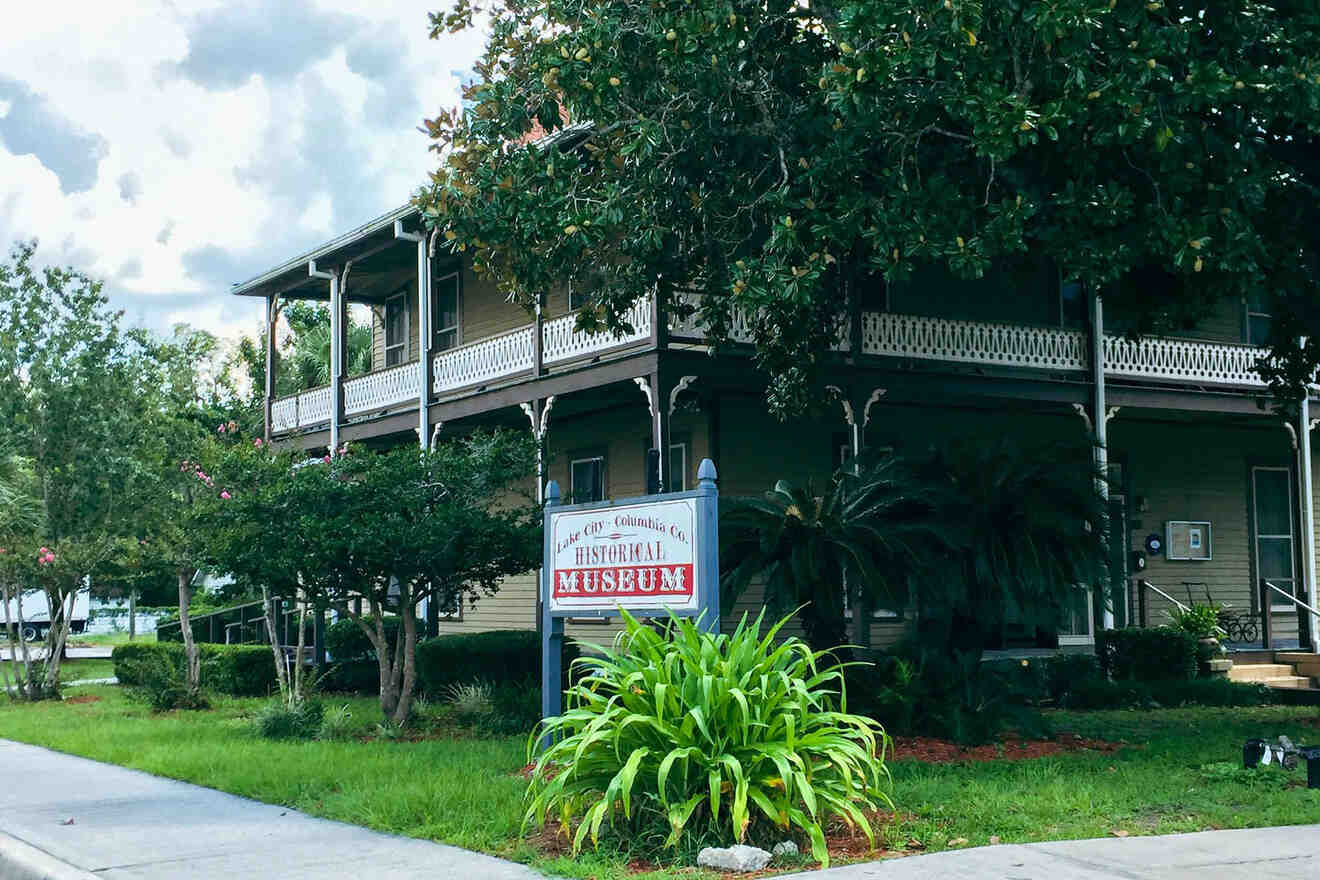 The Columbia County Historical Museum is housed in a historic home from 1870 in downtown Lake City. It's a blend of Northern Florida history and the story of the family who lived in the house, the Vinzants. Several rooms in the museum, including a formal parlor downstairs, are furnished to appear as functional rooms in a late 1800s house and even feature the family's original photos and some of their decor.
There are also themed rooms to explore at the Columbia County Historical Museum, like the Civil War Room, Patriot Room, and Native American Room. Guided tours are available by reservation only at 386-755-9096.
9. Grab a beer at Halpatter Brewing Company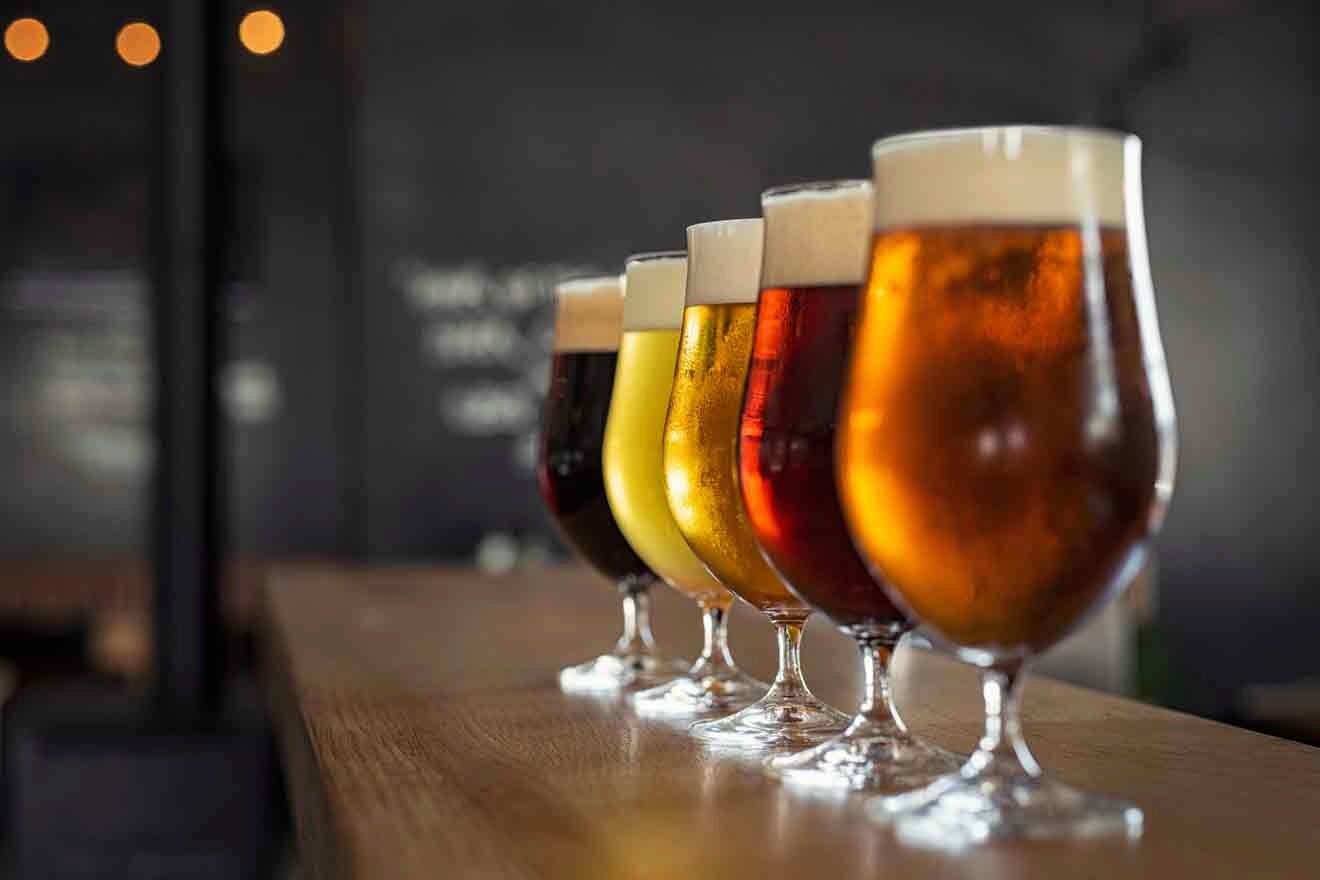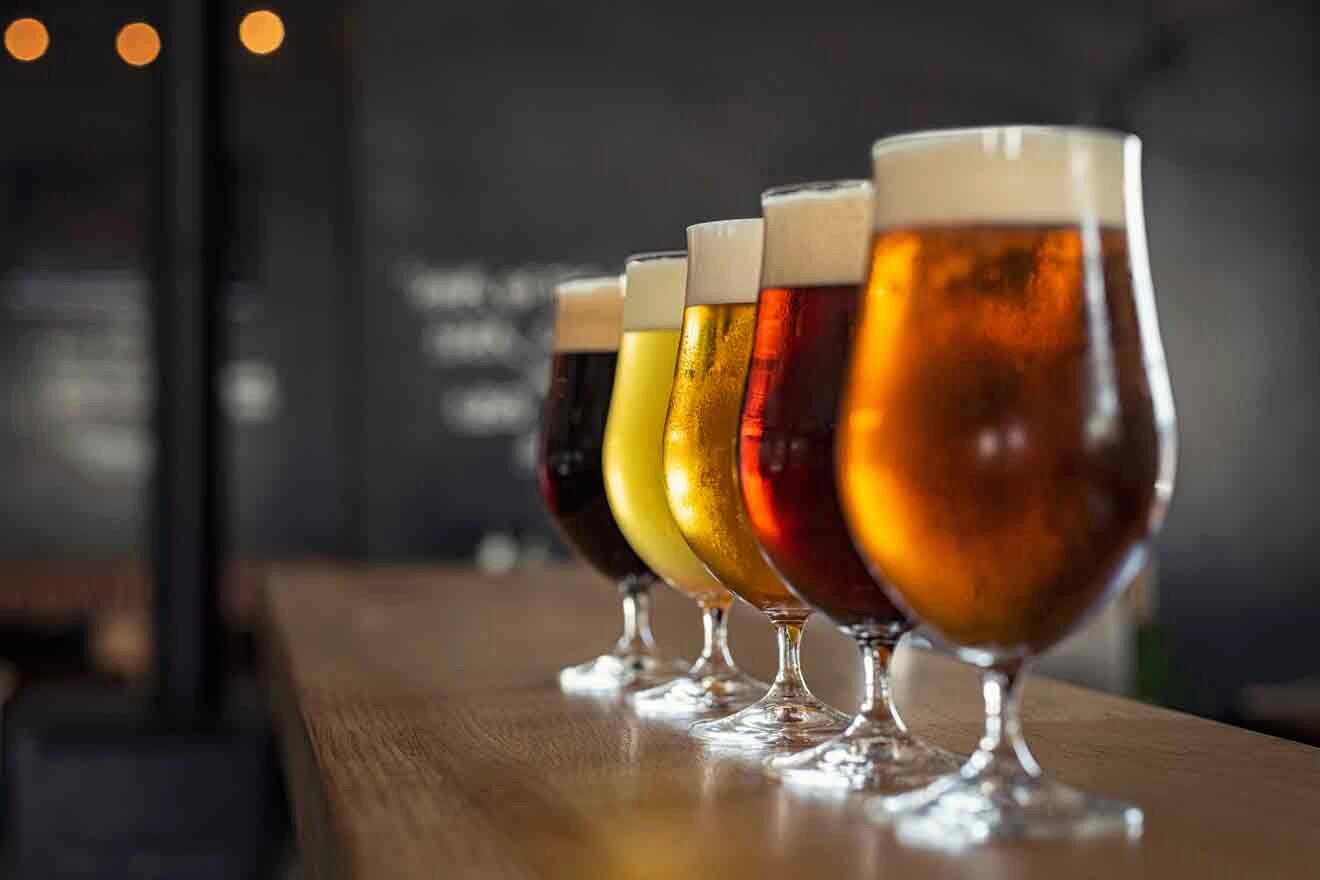 If checking out the local brewery scene is always on the top of your vacation to-do list, make sure you stop by Halpatter Brewing Company in Lake City, FL.
Spoiler alert: the beer here is good, really good. But the founders' heart and soul and commitment to the brewery's hometown of Lake City also help put Halpatter Brewing Company on the map.
True to the founders' Florida roots, Halpatter Brewing Company was named for the first settler in present-day Lake City, Seminole Chief Halpatter Tustenuggee – that translates to "Warrior Chief Alligator," in case you were curious.
Even the names of the beers are connected to Lake City history, with brews like O'Leno, named for the town that became O'Leno State Park, Seymour & Finnegan's, named for the 2 commanding generals at the Battle of Olustee, and Old School, named for the University of Florida, which had its beginning in Lake City.
The building where Halpatter Brewing Company is housed dates back to 1939 when it was built to be Lake City's city hall. The brewery moving in saved it from potential demolition and was able to leave nearly all of it preserved and intact!
10. Get creative at Painting with a Twist in Lake City
If you've never been to Painting with a Twist before, you're missing out! It is a unique art studio concept with locations all over the United States. The "twist" is actually that alcohol is allowed, and you can BYOB (or BYO wine, or whatever you fancy!). You're also welcome to bring snacks!
Painting with a Twist in Lake City, FL, makes for a super fun activity, whether you go with friends or your significant other for a romantic night out. Each studio event features a painting that participants recreate with the guidance of an art instructor.
It's a blast even if, like me, you're not the most skilled with a paintbrush. You just end up giggling from the wine and trying your best, and everyone leaves happy!
The paintings are always really cute, so you end up with something you're proud to take home with you. You can see each event's featured painting prior to signing up, and the full list of upcoming events is online. Painting with a Twist hosts family-friendly events, date nights, girls' nights, etc.
11. Shop local at the Lake DeSoto Farmers' Market
I'm a sucker for a good farmers' market, especially in a small town. The Lake DeSoto Farmers' Market in Lake City, FL, is a year-round "make it, bake it, or grow it" market that takes place every Saturday from 9 AM to 1 PM.
The Lake DeSoto Farmers' Market is packed with farmers, artists, food vendors, and small businesses. Everything for sale here is made or grown locally! Find fresh produce, eggs, spices, herbs, art, gifts, and more!
The market is hosted at Lake De Soto in the historic downtown area of Lake City. Even when the market isn't going on, the lake is worth the visit, boasting sweeping views of Florida's natural beauty. Fishing, biking, walking, and picnicking are all popular activities at this serene lake.
12. Celebrate the arts at Gateway Art Gallery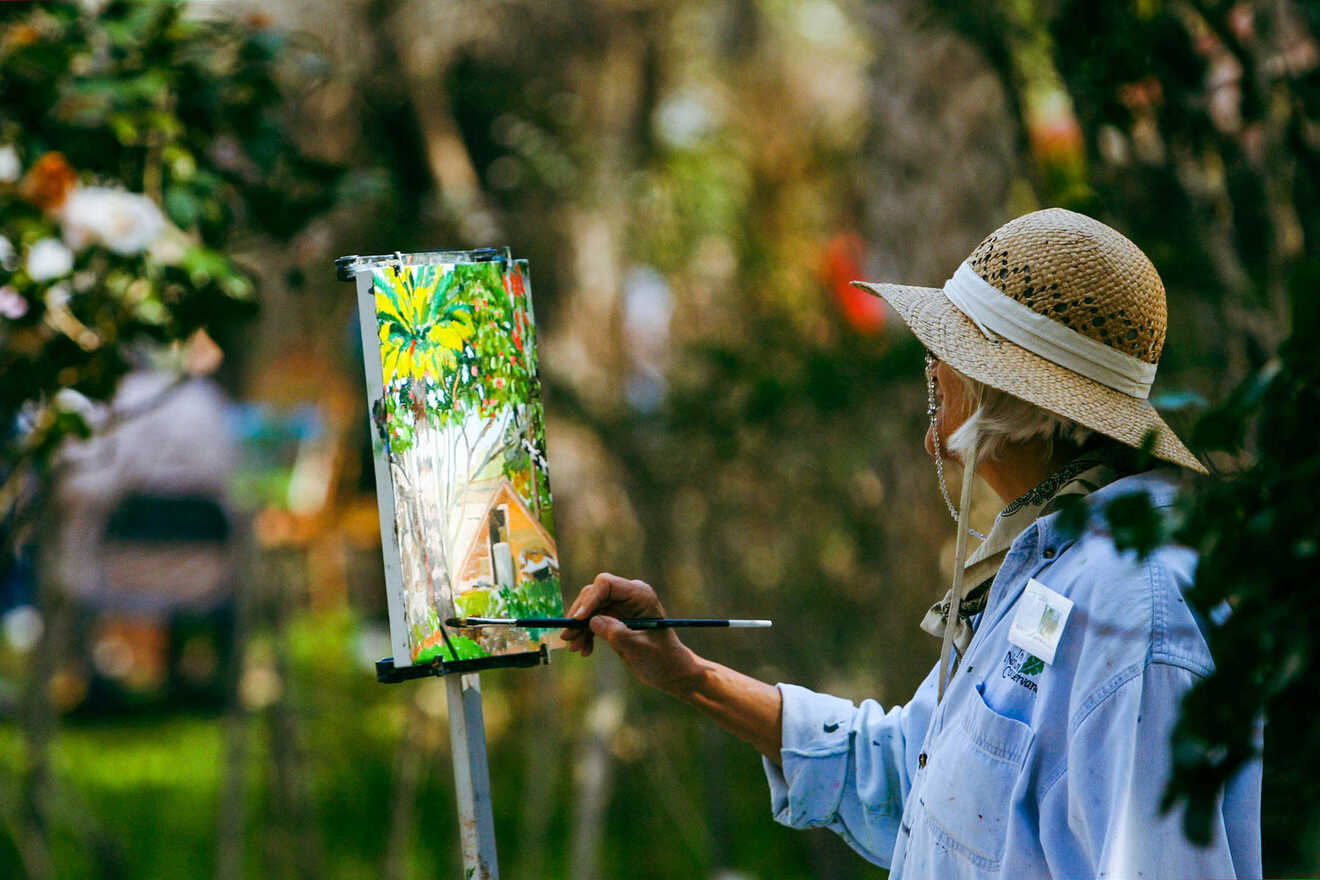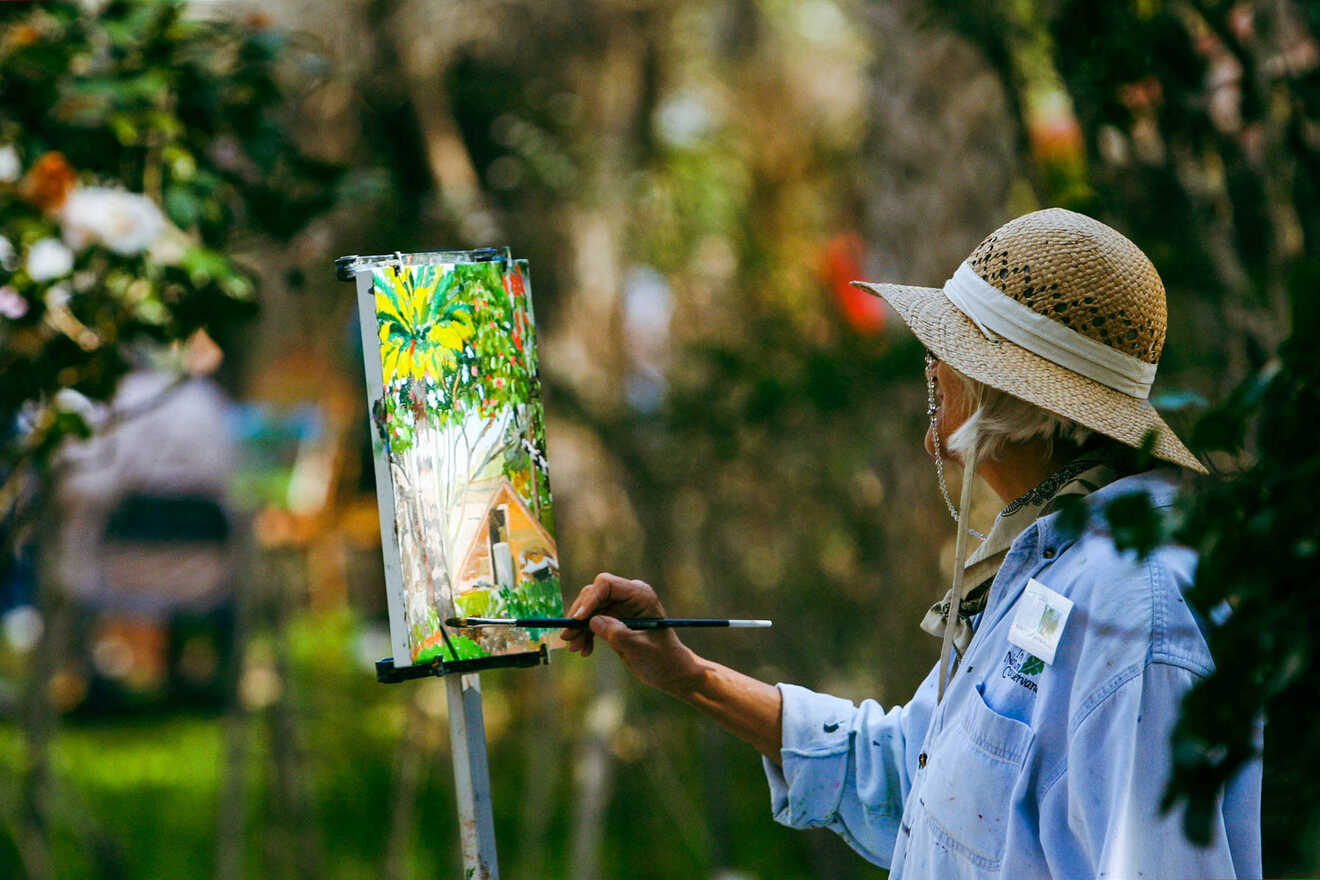 Art lovers visiting Lake City should head over to Gateway Art Gallery for a taste of the local art scene. Its mission is bringing art, culture, and education to the Lake City community, and so far, they've done an incredible job!
With the goal of providing a space where members of the community can freely create and celebrate their love of the arts, Gateway Art Gallery hosts classes, workshops, exhibitions, and special events all year long for both adults and children. Learn watercolor, digital painting, acrylic painting, and much more! You can also just stop by to view works by talented local artists on display.
The 1st Friday of every month, catch featured artist receptions, live music, speakers, and theater performances for their First Friday event. Check out the event calendar prior to your visit!
13. Float on the pristine waters of Ichetucknee Springs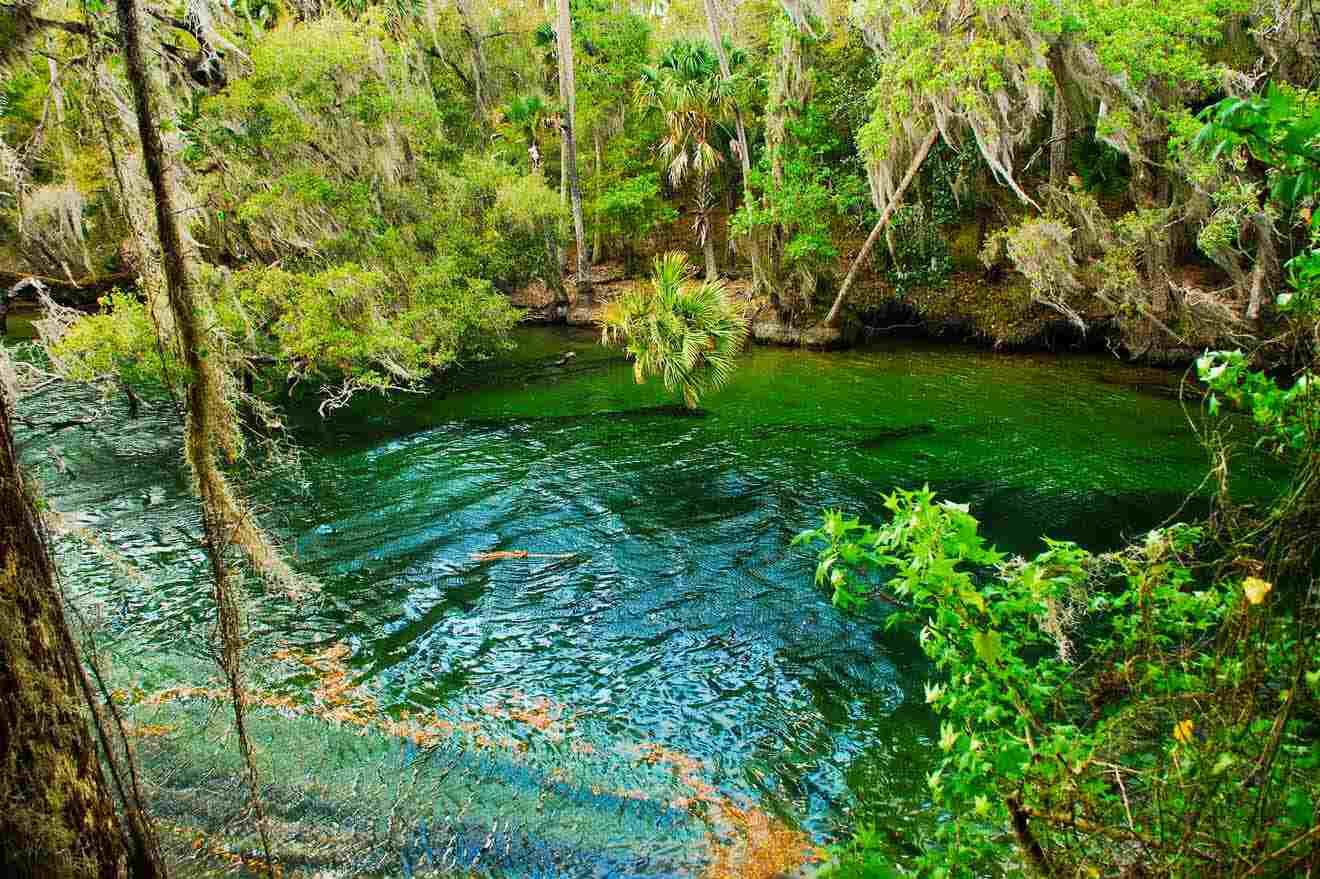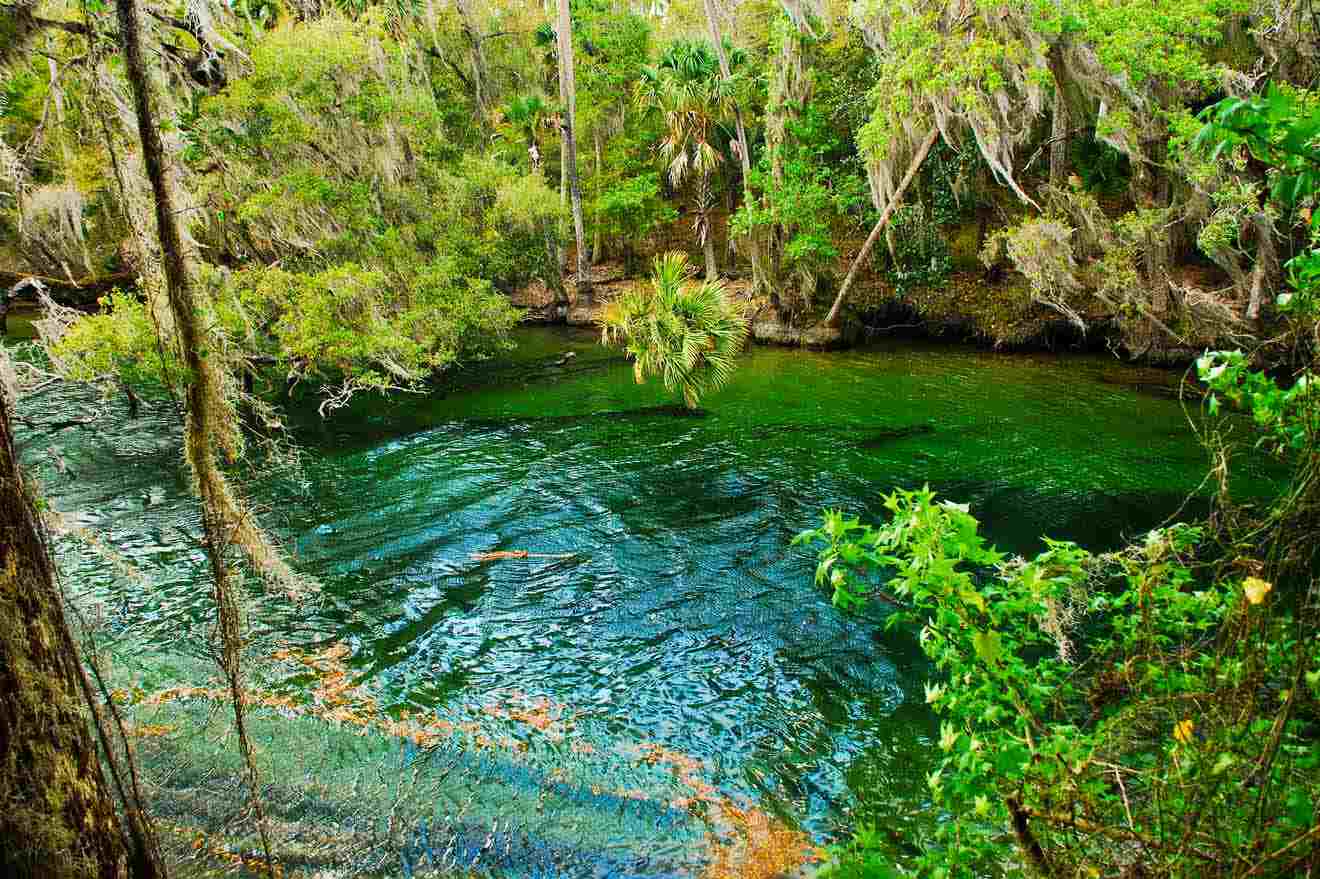 For family-friendly fun in the sun near Lake City, look no further than Ichetucknee Springs State Park, which is best described as the Sunshine State's natural theme park.
This 2,600+ acre (1,050 hectares) Florida state park is home to the breathtaking Ichetucknee River, a stunningly blue-green waterway that flows for 6 miles through shady hammocks and lush forests. The river is fed by 9 freshwater springs, including Ichetucknee Head Spring, which is a National Landmark.
The water here is crystal clear and a refreshing 72° F (22° C) all year long, so it's a paradise for swimmers and snorkelers. Both the Head Spring and Blue Hole Spring offer visitors a place to take a dip or make a splash.
Canoeing, kayaking, stand-up paddle boarding, and SCUBA diving are also popular at Ichetucknee Springs State Park, and there are 3 gorgeous hiking trails to explore by foot. Given the popularity of the park, it's no wonder that cabin rentals are also in high demand.
The must-do activity at Ichetucknee Springs State Park is tubing! In fact, it's probably the best tubing experience in all of Florida. Grab an innertube and blissfully float down the waterways of nature's lazy river – there are 2 different tubing adventures to choose from! Tubes are available to rent on-site.
Advanced reservations for tubing are highly recommended, and you can book your reservation online.
PRICE: US$6 per vehicle
14. Visit Stephen Foster Folk Culture Center State Park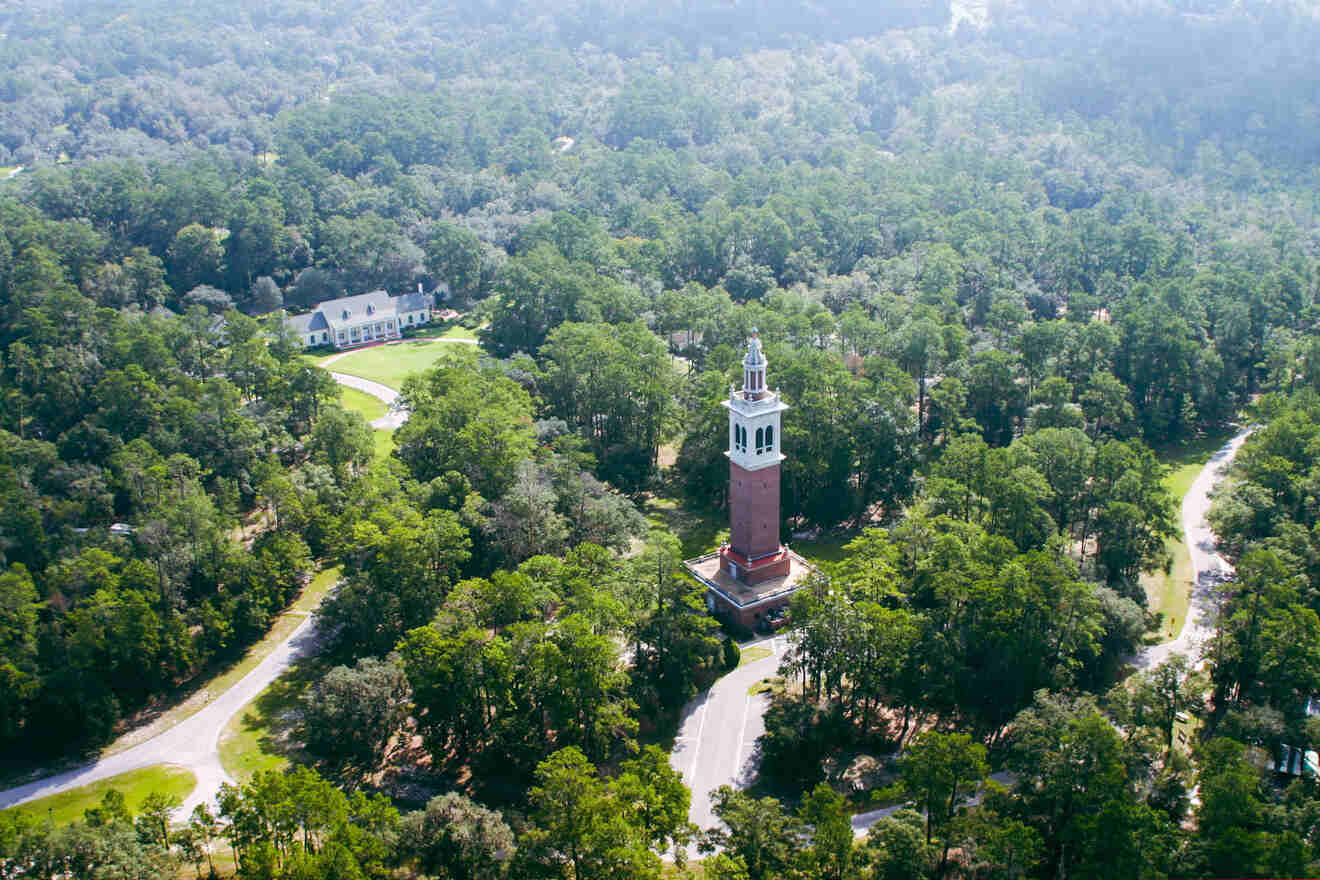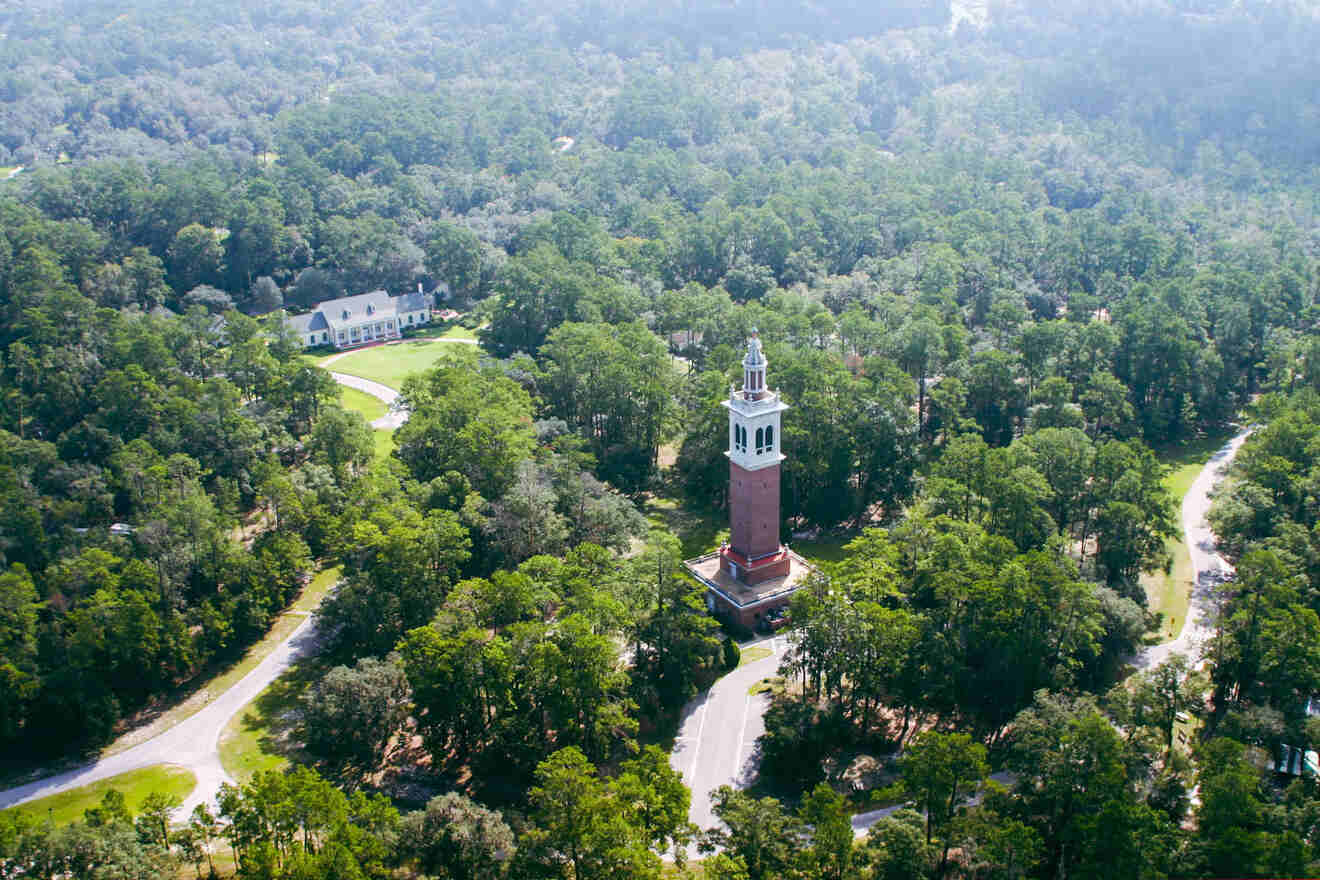 Another one for the history buffs and outdoor enthusiasts, but music lovers will appreciate this too! Stephen Foster Folk Culture Center State Park (phew, what a mouthful!) celebrates the life and legacy of American composer Stephen Foster, who penned Florida's state song, Old Folks at Home. It's under a 20-minute drive from Lake City!
The park is located on the banks of the storied Suwannee River, which is a big part of the song, in case you've never heard it! There's a fascinating museum on-site where visitors can see the desk Stephen Foster sat at when writing the song, historic pianos, and original dioramas depicting his works.
There are plenty of adventures and recreational activities to be had outside of the museum as well. Stephen Foster's Hammock Loop Trail is a scenic 8-mile (13 km) trail for hiking and mountain biking that takes you through high river bluffs, limestone outcroppings, and floodplain forest, with ample opportunities for wildlife viewing along the way!
PRICE: US$5 per vehicle
15. Have an adventure at O'Leno State Park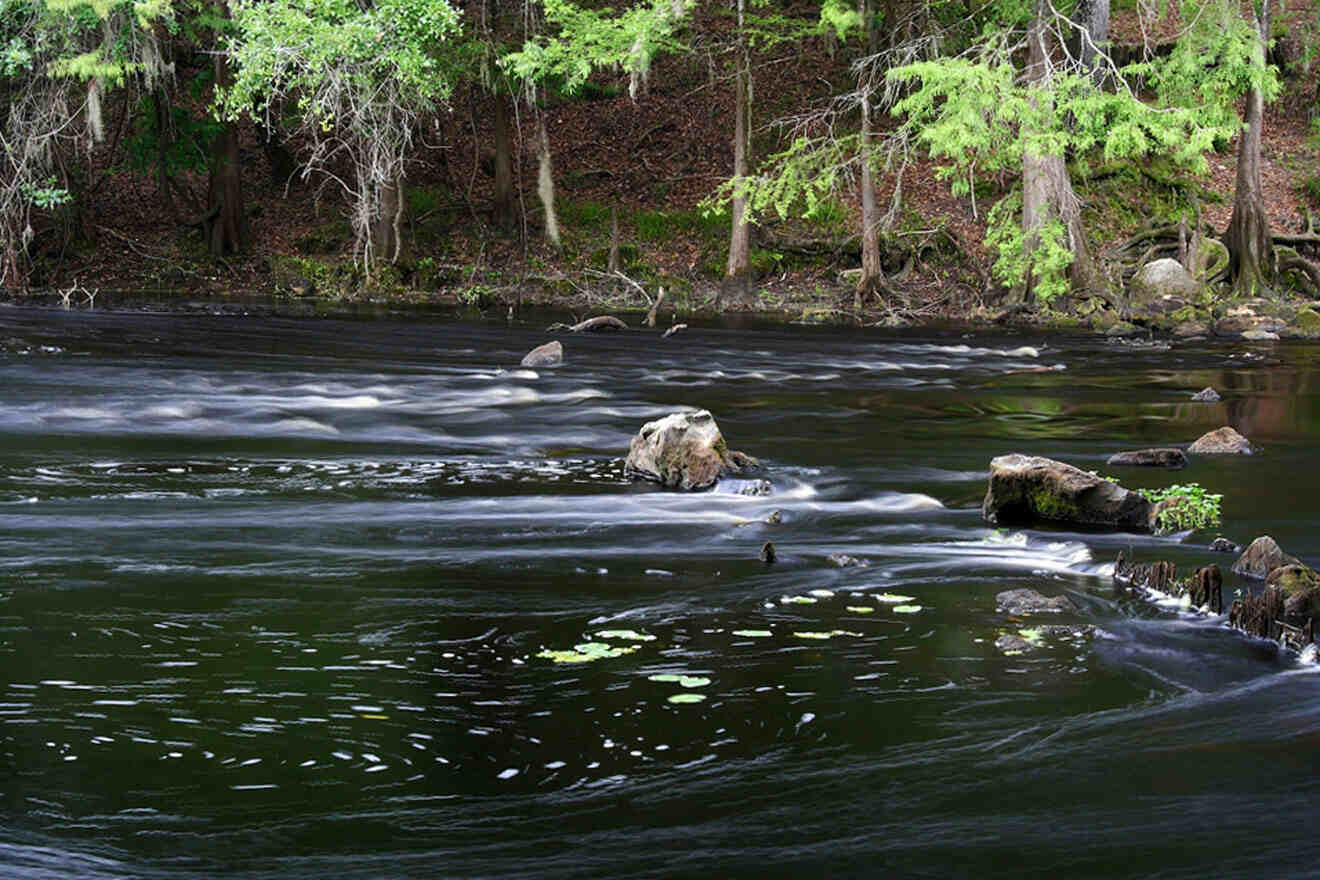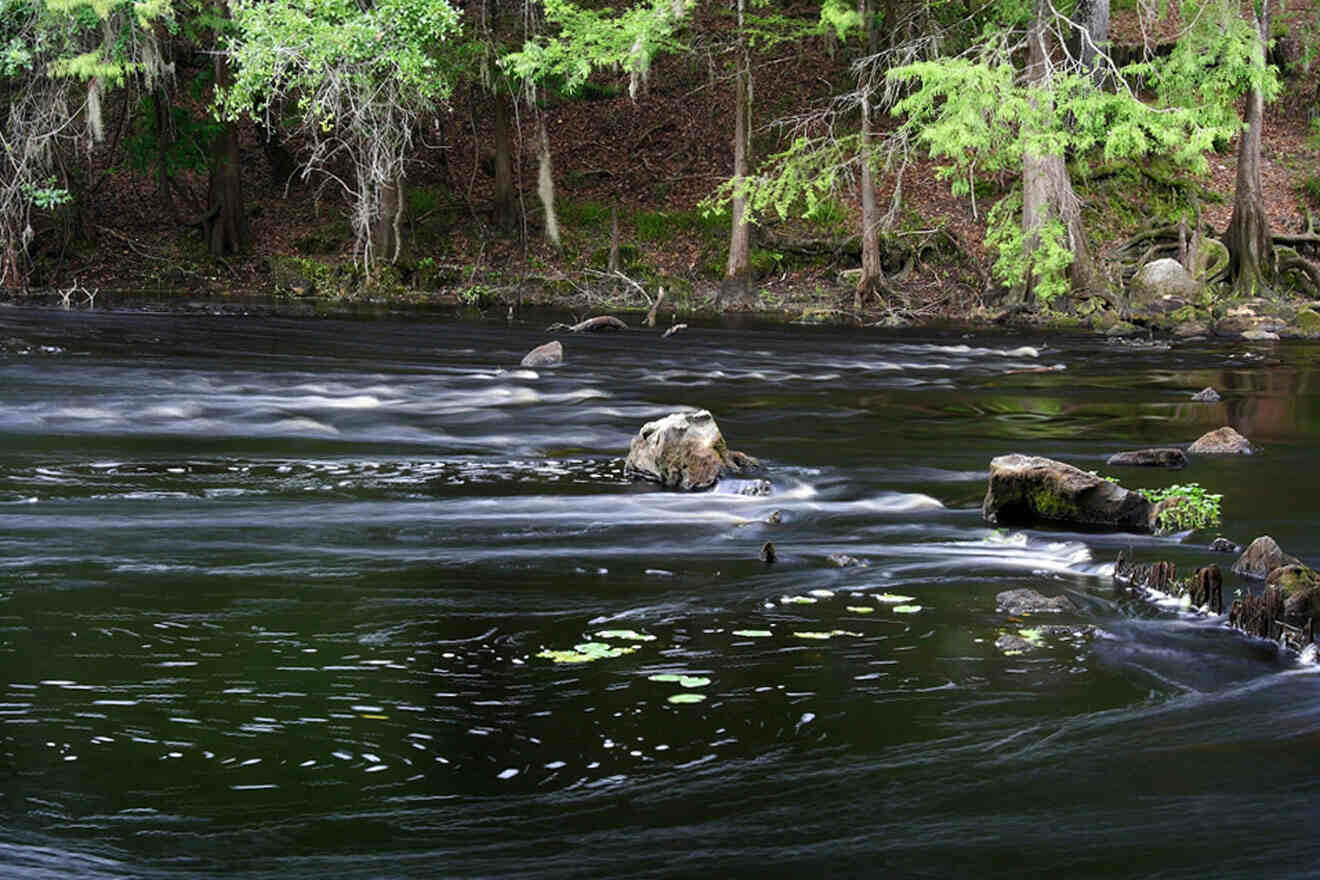 We're wrapping up the amazing state parks on our list with O'Leno State Park, which is only a 24-minute drive from Lake City, Columbia County. It is one of Florida's oldest state parks, and it's situated on the scenic banks of the Sante Fe River.
My favorite thing about O'Leno State Park is the story of how it got its name. Before it was a state park, it was a town and given the name Keno after a gambling game that was popular at the time. The application for a post office there was denied due to the name's gambling association, and the town was renamed Leno instead!
Even after everyone moved away due to a messy situation with the railroad, people kept coming back to Leno to meet up, hang out, and spend time together outdoors – swimming, strolling, and just enjoying nature. It got the nickname Old Leno, which turned into Ol' Leno, and finally, O'Leno State Park, as it's named today.
Despite all the years in between, visitors are still doing many of the same things people were here back in the day. There are several beautiful hiking trails, a picnic spot overlooking the Santa Fe River, and a swimming area to cool off from the Florida heat!
The wildlife viewing at O'Leno State Park is fantastic, so keep a lookout for rabbits, deer, turkeys, amphibians, and reptiles.
PRICE: US$5 per vehicle
16. Lake City Mall
Let's be honest – as much as we all want to strictly shop local on vacation, sometimes a situation arises where we need to get to a tried and true chain retail store, and yes, I'm talking about TJ Maxx. 😂
If you're visiting Lake City, FL, and a similar situation comes up, head to the Lake City Mall.
A small indoor shopping mall, Lake City Mall has big-name stores like JCPenney and Belk, clothing boutiques, jewelers, a nail salon, delicious food options, and a Starbucks across the way, in case you need to caffeinate to do more shopping.
FAQs about things to do in Lake City, Florida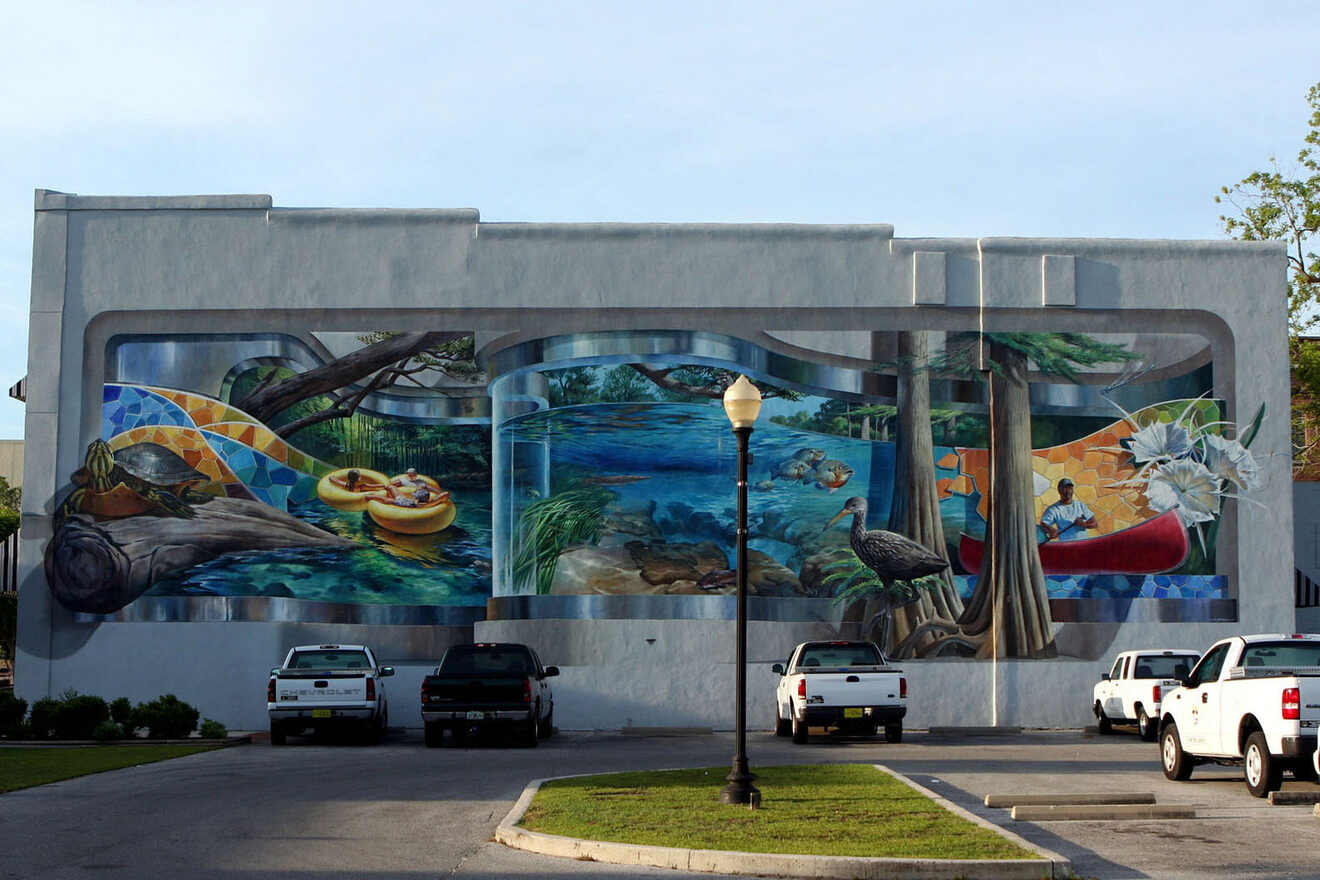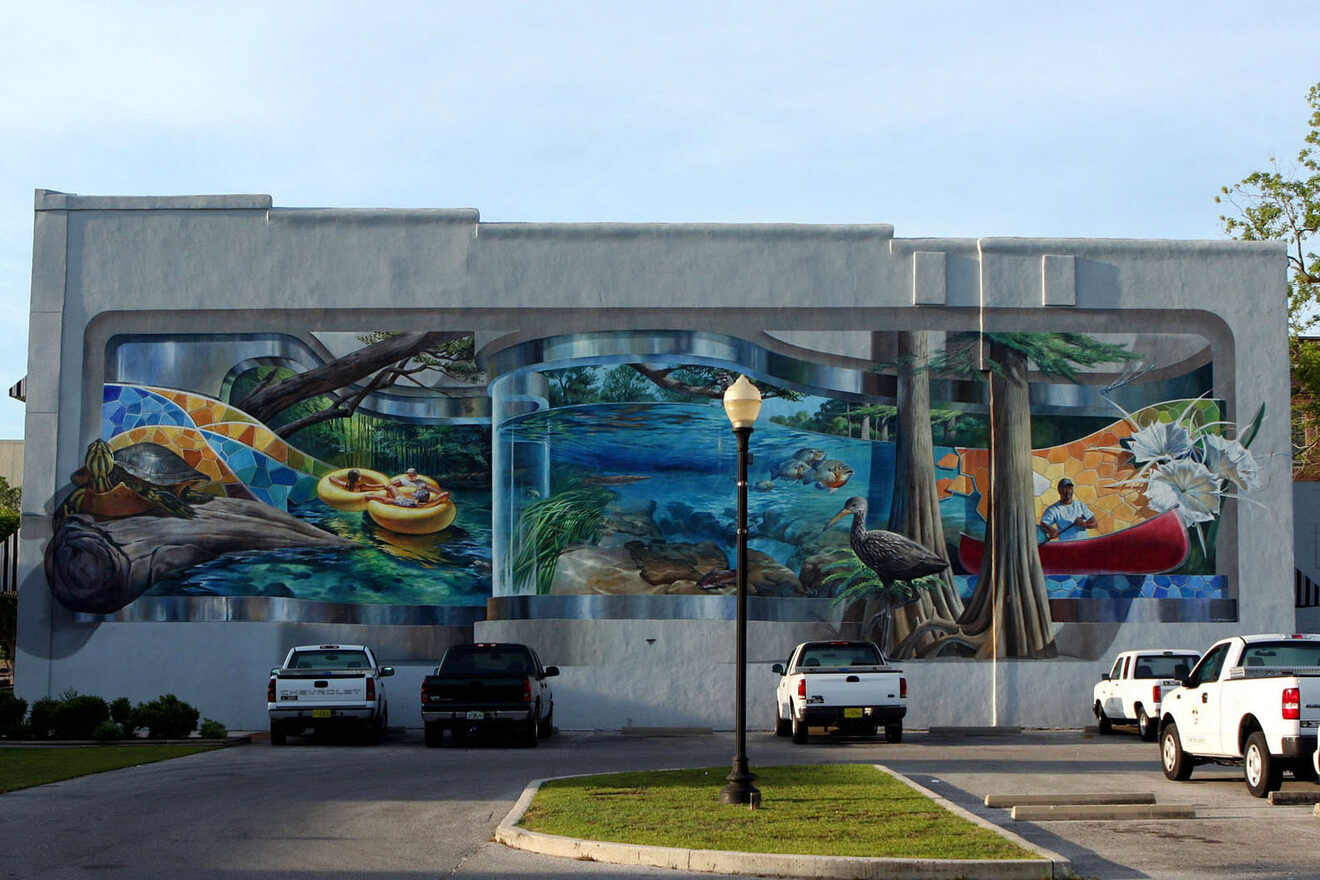 🌲 What is Lake City FL known for?
Lake City, FL, is a paradise for outdoor enthusiasts, nature lovers, and history buffs, known for its natural beauty, rich history, and abundance of outdoor activities.
🌊 Does Lake City, Florida, have lakes?
Yes! Nicknamed Florida's Springlands, Lake City boasts a ton of lakes and freshwater springs to explore on your trip there. Alligator Lake is one of the most popular!
🏖️ How far is Lake City, Florida, from the ocean?
📍 What county is Lake City, Florida, located in?
Lake City, FL, is located in Columbia County.
Conclusion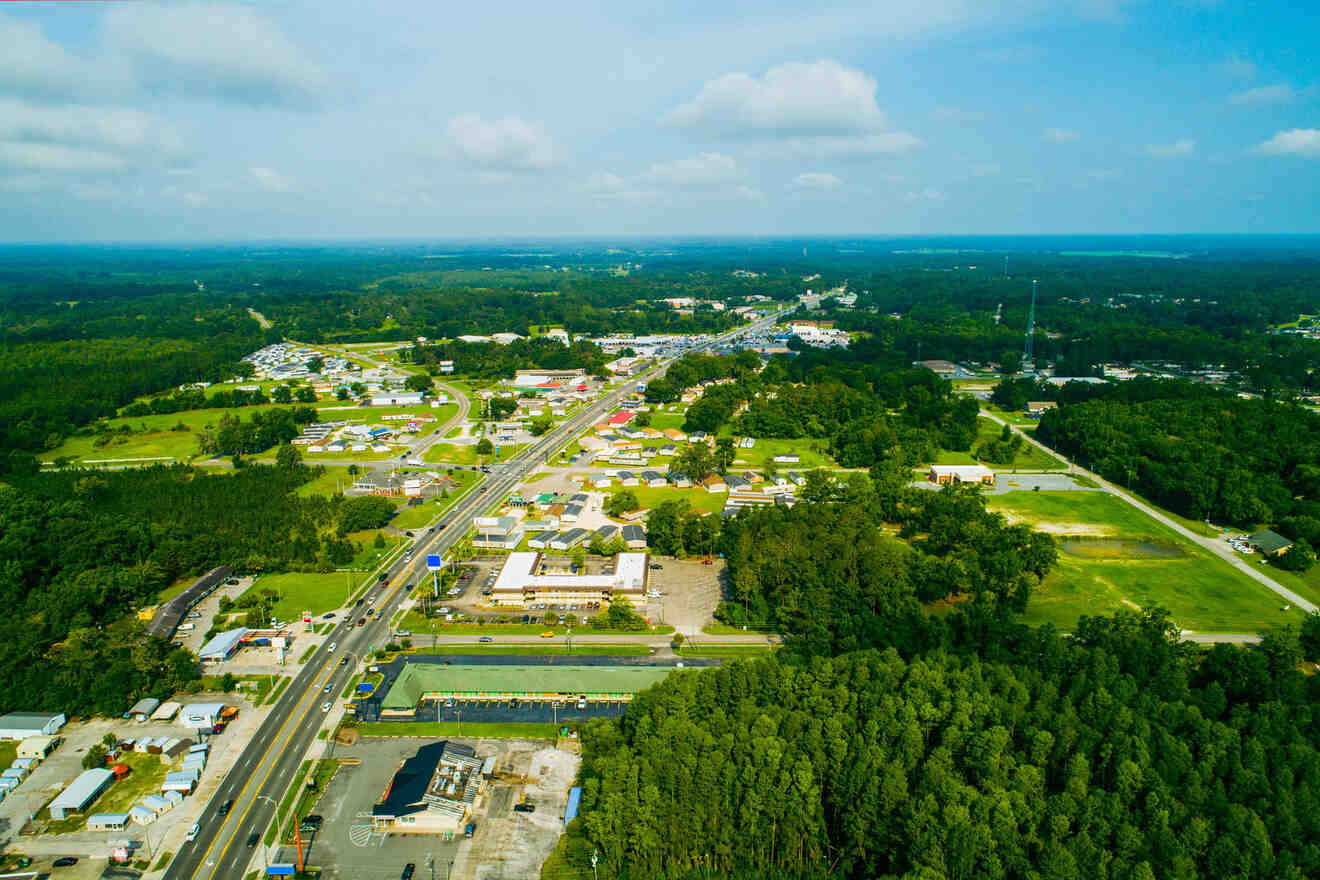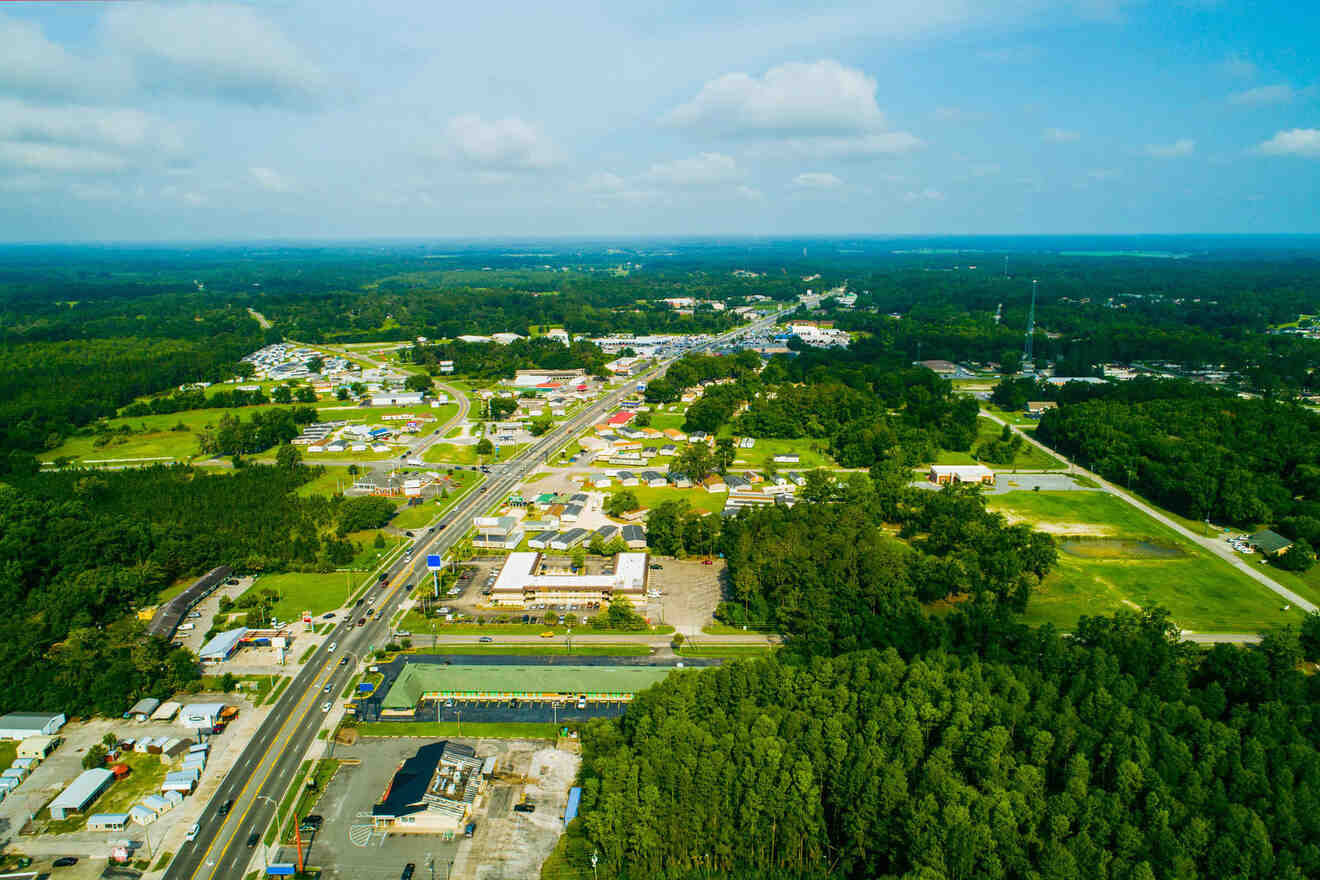 I hope you enjoyed today's article on fun things to do in Lake City, Florida! I had an absolute blast writing it for you, as I always do. It's definitely not your average vacation destination in the Sunshine State, but that's what makes it such a special place.
Whether you explore one of the gorgeous state parks nearby, shop and dine in historic downtown Lake City, try yourself at the Lake City Bowl, or make a splash in the natural springs, I know you're going to have a wonderful time experiencing all this Old Florida town has to offer.
Happy exploring,
Montana
---
Pin it for later!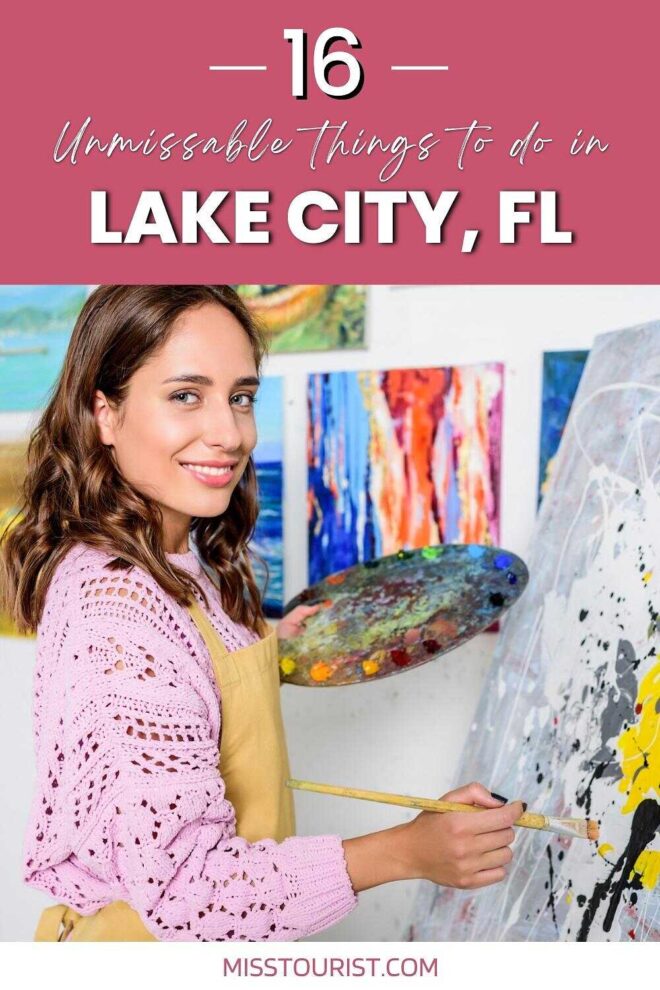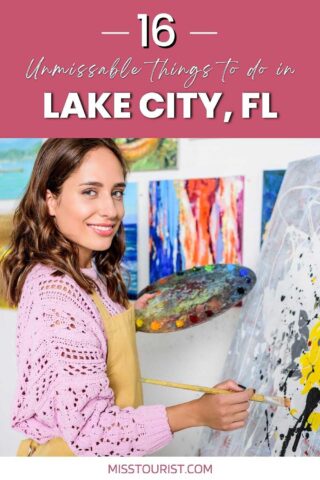 Pin it for later!