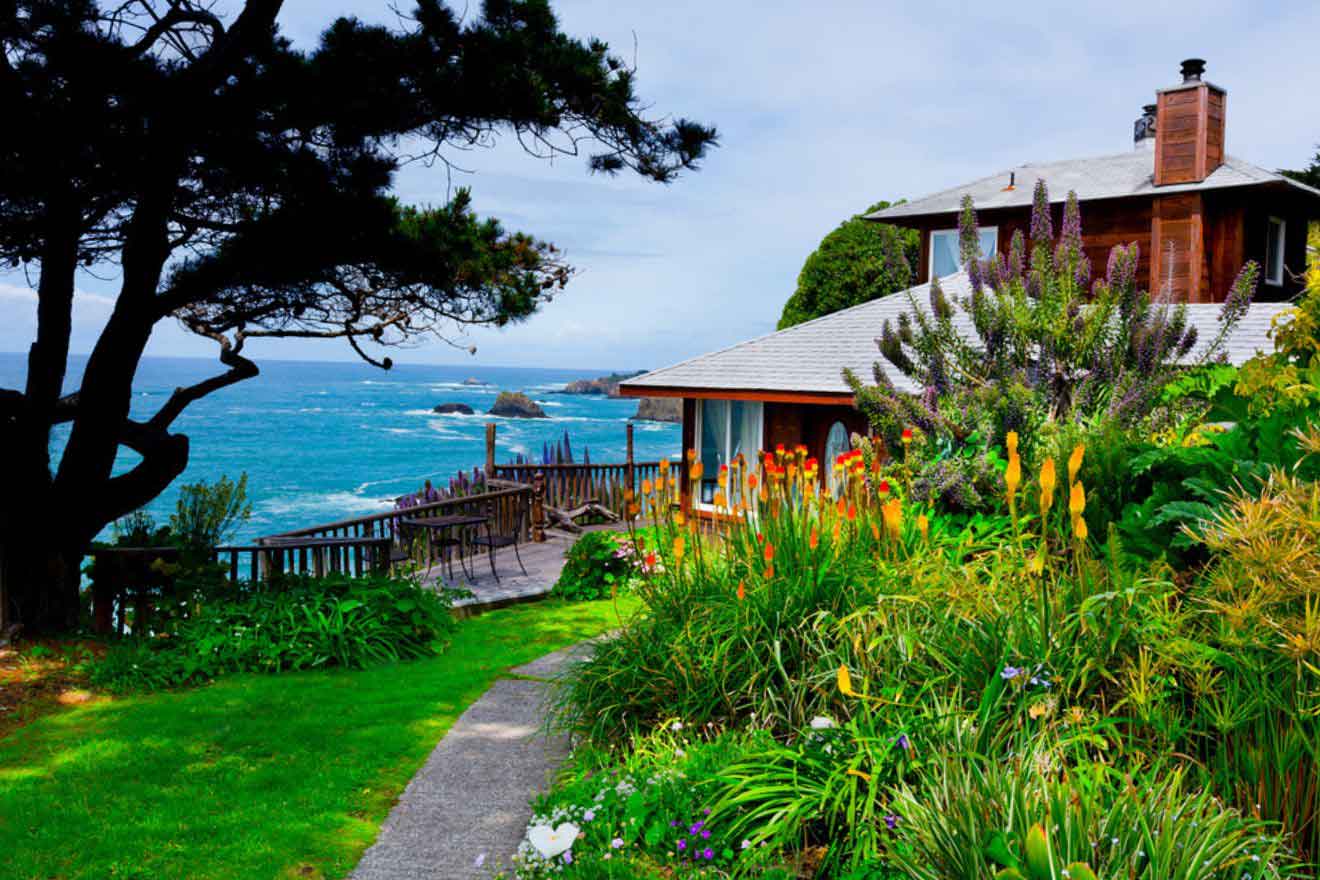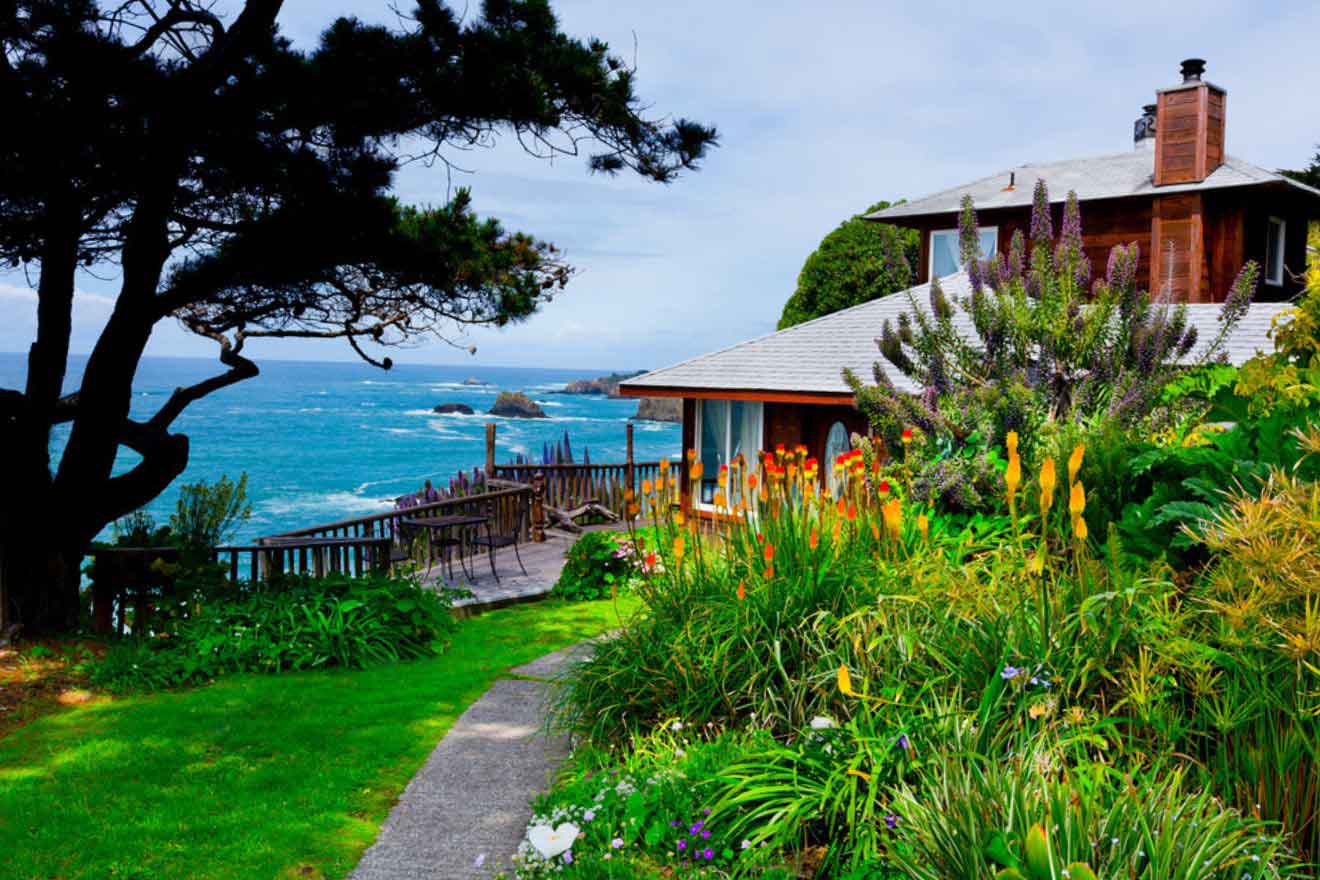 If you're a lover of natural beauty and lush gardens with Pacific Ocean views, then Mendocino will conquer your heart! Planning a trip there is such a thrill, but I'm sure you may need some guidance since there are so many amazing hotels and inns!
And today I'll help you with that! In this post, you'll find Mendocino's best hotels which I listed from most to least expensive after a long search on the web for the top spots. I've also added 2 bonus sections (since it's such a popular area) with unique holiday homes and some great hotels near Mendocino.
Although I've included quite a wide range of options, I recommend booking your accommodation in advance. Not only is Mendocino a famous holiday destination but the hotels here sell out super quickly which means you can easily lose your spot if you wait for too long.
Ready?
Then let's find you a hotel!
If you are in a hurry
Want to quickly find your favorite Mendocino hotel? Then check out this short list of incredible accommodations:
Luxury (US$350 and up)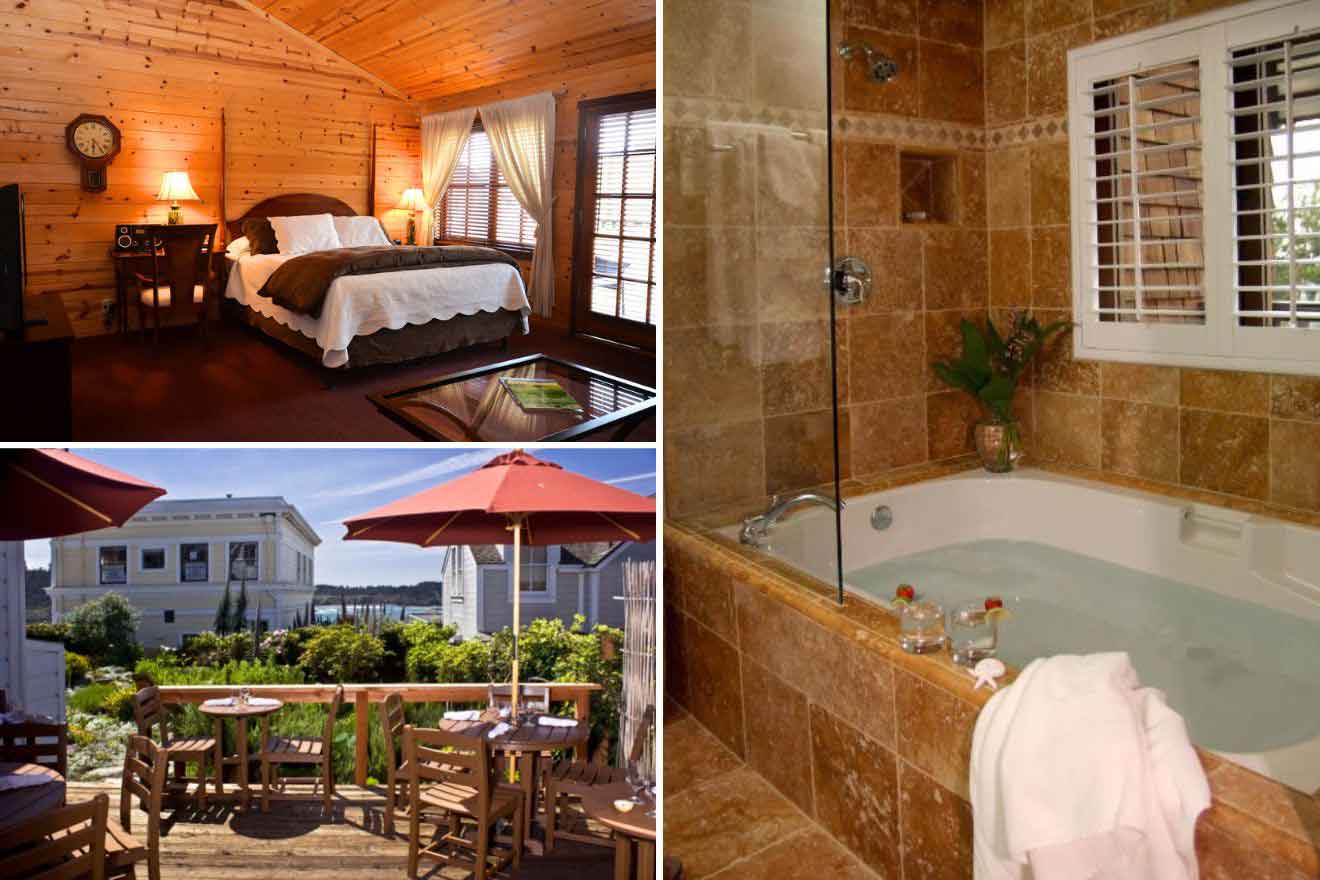 The Stanford Inn By the Sea – Tucked away between lush and organic gardens near Big River, this hotel offers some beautiful ocean views! The California resort with an indoor pool is perfect for your trip as it has a full-service spa where you can relax and some spacious rooms that are super cozy and have a fireplace. Definitely make sure you borrow some bikes from the hotel to explore Mendocino Bay.
Brewery Gulch Inn – Happy bees buzzing around your window covered in pollen, beautiful ocean views, and an atmosphere that will make you want to move here! This is one of the best luxury hotels on the Mendocino coast, and it offers beautifully-designed suites and organic cuisine! After a day of fun activities like hiking and horse riding, enjoy a free wine hour with appetizers or a nice long massage!
Trillium Cafe & Inn – Book an ocean-view room at this hotel in Mendocino, CA, and enjoy that fabulous sight each morning! Then run down to the on-site restaurant for a yummy lunch! The accommodation also has a beautiful lush garden with seating areas to enjoy your meals. Don't forget to book your Mendocino hotels early, this area is super popular, and the good places always go first.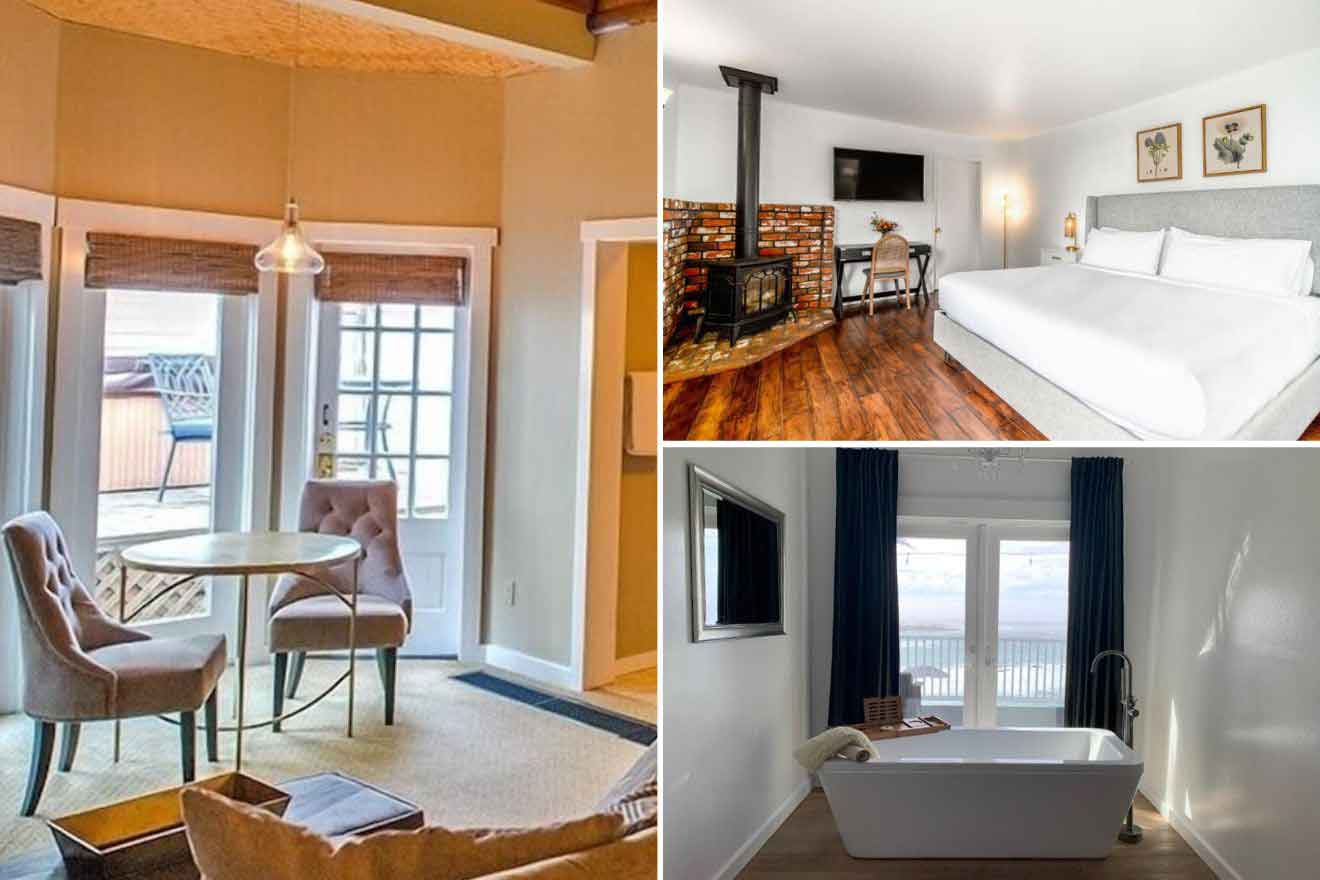 Agate Cove Inn – Featuring some spectacular views of the Pacific Ocean, this beautifully-decorated hotel offers a gourmet breakfast and free parking. The rooms and cliffside cottages feature a simple yet chic design, lots of space, and free Wi-Fi. End your day of exploring this incredible area with a glass of wine by the outdoor fireplace!
MacCallum House Inn – Set just a short walk away from the Mendocino Headlands State Park and the beach, this elegant hotel has a restaurant that serves delicious food (including some yummy gourmet breakfasts), a spa center, and spacious rooms. The hotel dates back to 1882, and it is a historical landmark with a gorgeous library that you can browse when you have some free time.
Mid-range (from US$200 to US$300)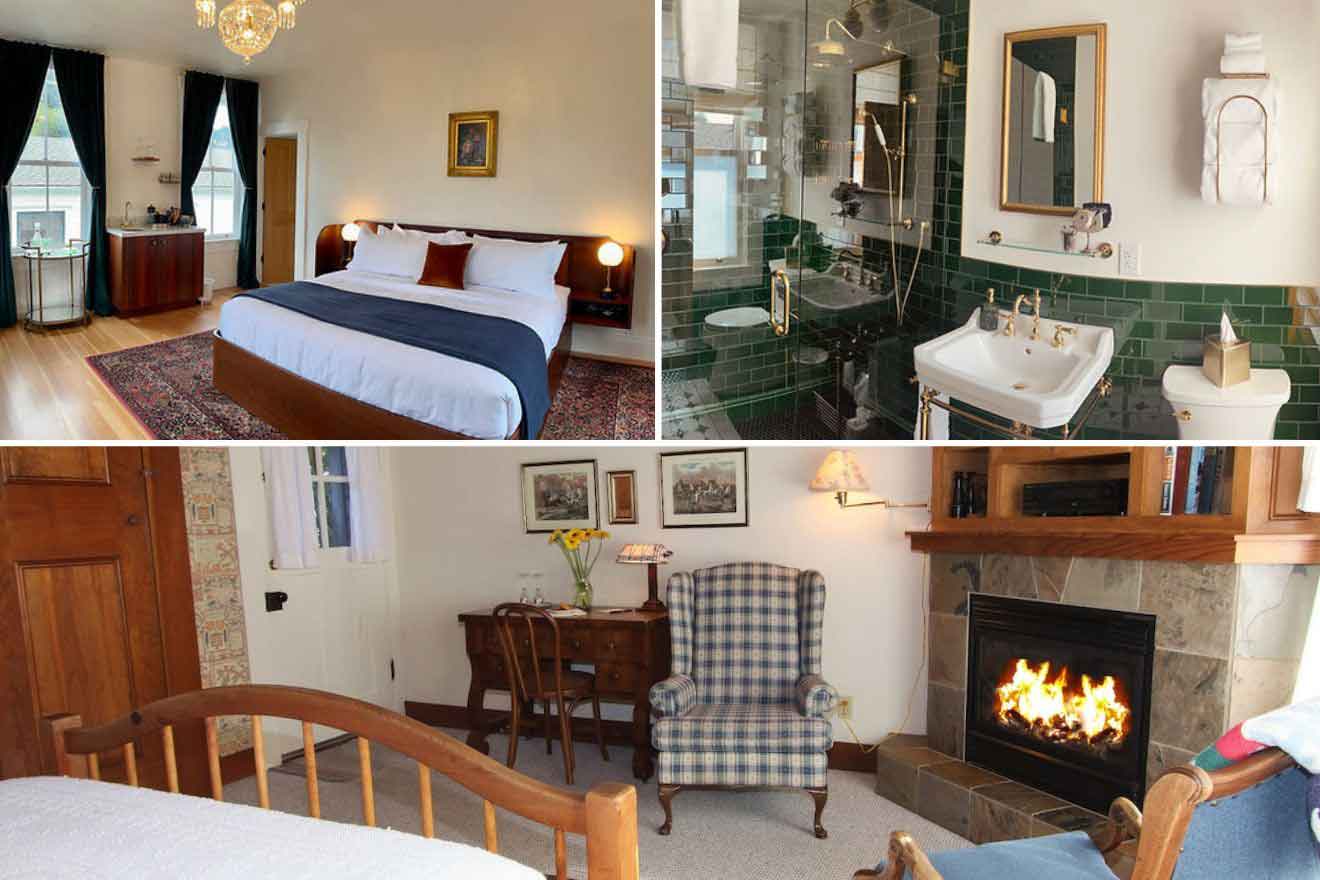 Nicholson House – If you're a lover of art and culture, then you'll love staying at this boutique hotel in Mendocino! Offering a gourmet breakfast in the morning and some stylish rooms which have high ceilings, handmade furniture, stunning views, and some even come with a fireplace, this place is surely a keeper! Explore the Mendocino coast during the day, and after that, head to the steam room for a bit of relaxation!
Joshua Grindle Inn – Gotta love that American Inn charm! This lovely accommodation has such a cozy vibe, and the rooms are beautifully decorated with unique furnishings. Of course, they have some amazing garden views, too. The hotel is not too far from Downtown Mendocino, and it has a picnic area and a terrace where you can enjoy your mornings or evenings!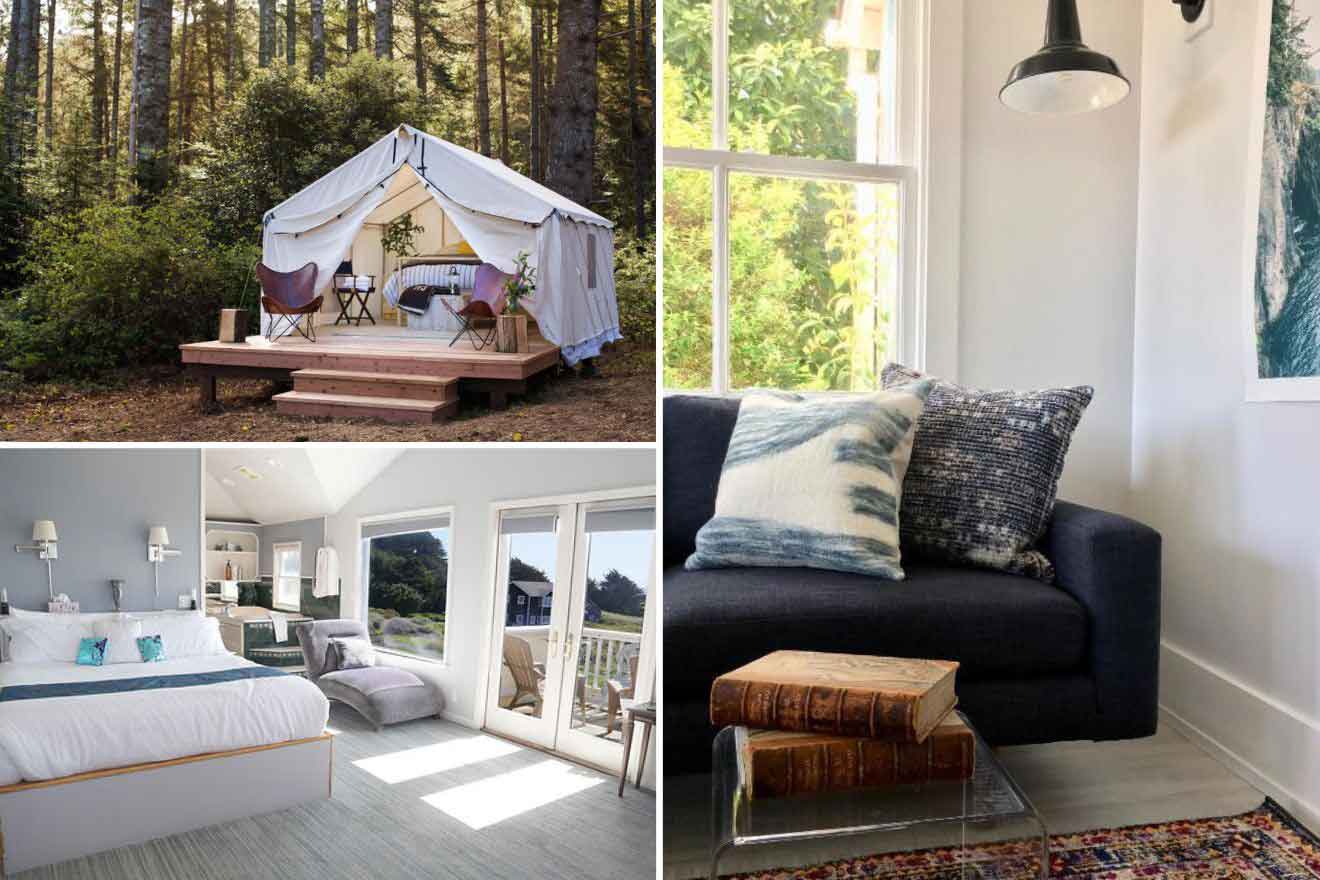 Mendocino Grove – Nature lovers, this place is surely for you! Set just a short walk away from the Mendocino Headlands State Park, this pet-friendly glamping site offers free Wi-Fi and a shared bathroom. The tent is pretty spacious, and it even has a small terrace where you can enjoy your coffee in the morning. Afterward, you can put your hiking shoes on and head out to explore!
Inns of Mendocino – Located near Downtown Mendocino, this gorgeous inn has such a great style! I'm sure you'll love the furnishings which create such a pleasant atmosphere in the rooms (which, by the way, come with an ocean view, but only a few). Enjoy the breakfast baskets from the hotel, and then head out to explore the town and Mendocino's coast!
Mendocino Seaside Cottage – This fabulous Victorian-style estate is set on the Mendocino coast, and it has some amazing pet-friendly rooms with an ocean view, spa bathtubs, fireplaces, and many other facilities. Perfect for a romantic getaway, this accommodation is super tranquil, and it offers such a breathtaking setting. Don't forget to book some wine-tasting tours or visit the Mendocino Coast Botanical Gardens.
Budget (up to US$200)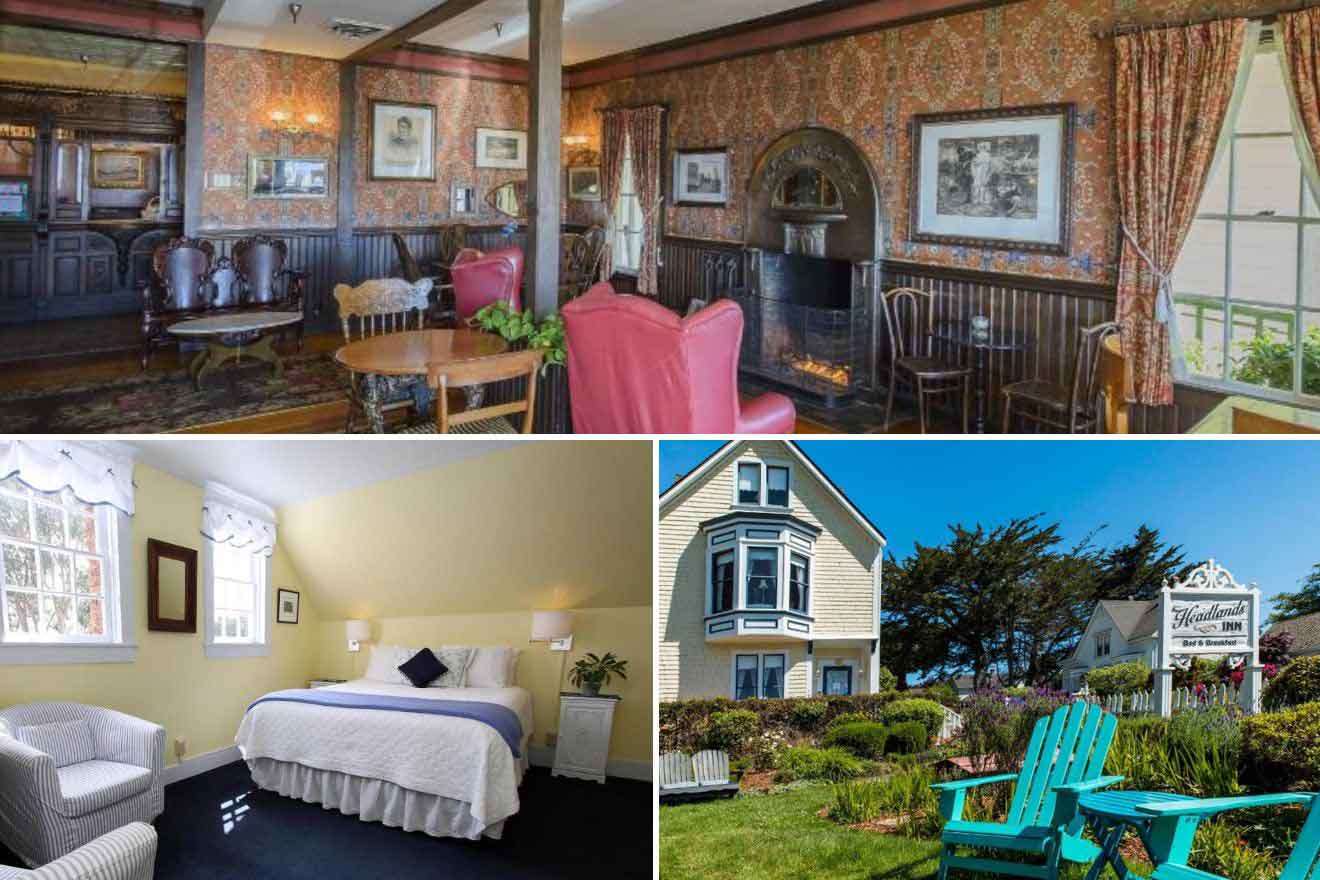 Check the Rates for Your Dates
BONUS 1: Best holiday homes in Mendocino
Since Mendocino is such a popular area I know for a fact that some of these hotels will sell out pretty fast. That's why I decided to add a bonus section with some beautiful holiday homes in town that I'm sure some of you who want more privacy or a more unique place to stay will love!
I've ordered the accommodation from most to least expensive so that you can easily pick your favorite, and the prices start from US$150 to US$500: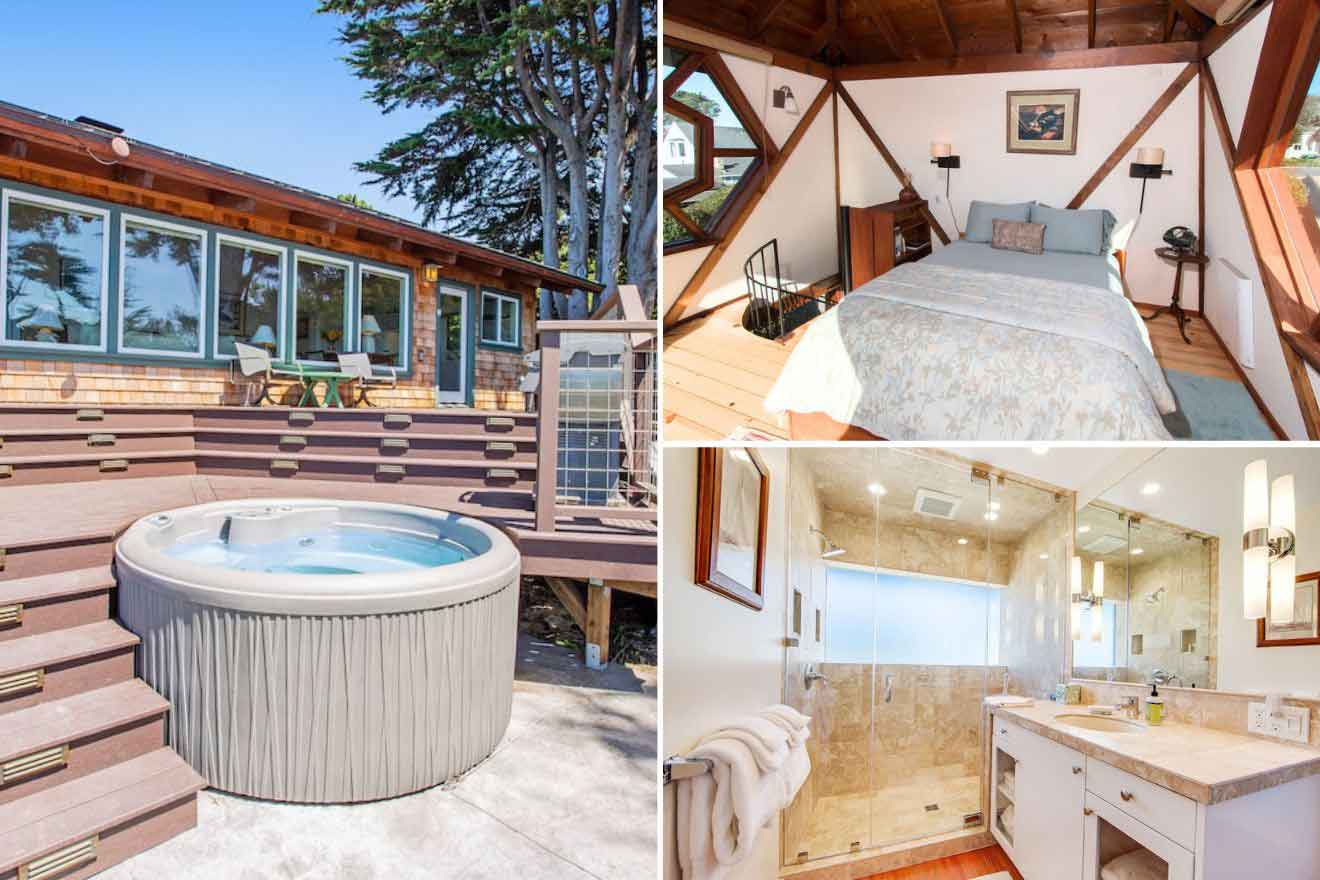 Oceanfront Home – There's nothing better than a house by the ocean with many windows! That way, you'll get to see those stunning views from all around the place! This stunning house has space for 4 people, and it features a fireplace, a hot tub, and a kitchen where you can cook your favorite dishes!
Jade's Tower – Ever wanted to stay in a tower? Probably not if you've read Rapunzel, but hey, this one is different, firstly because you can leave it whenever you want! The house has a great design, and it's perfect for 2 people. While staying here, you'll have the whole garden for yourself, a kitchen with all the amenities you need and a TV, although I doubt you'll use it since there are so many activities to try, like hiking and going on wine tours!
Historic Mendocino – Here's another tower that's super cozy and equipped with all the facilities you need for your stay. This one is a little bigger, though, and it has space for 5 people, making it perfect for families or a small group of friends. The accommodation comes with a TV, ocean views, and a shared pool.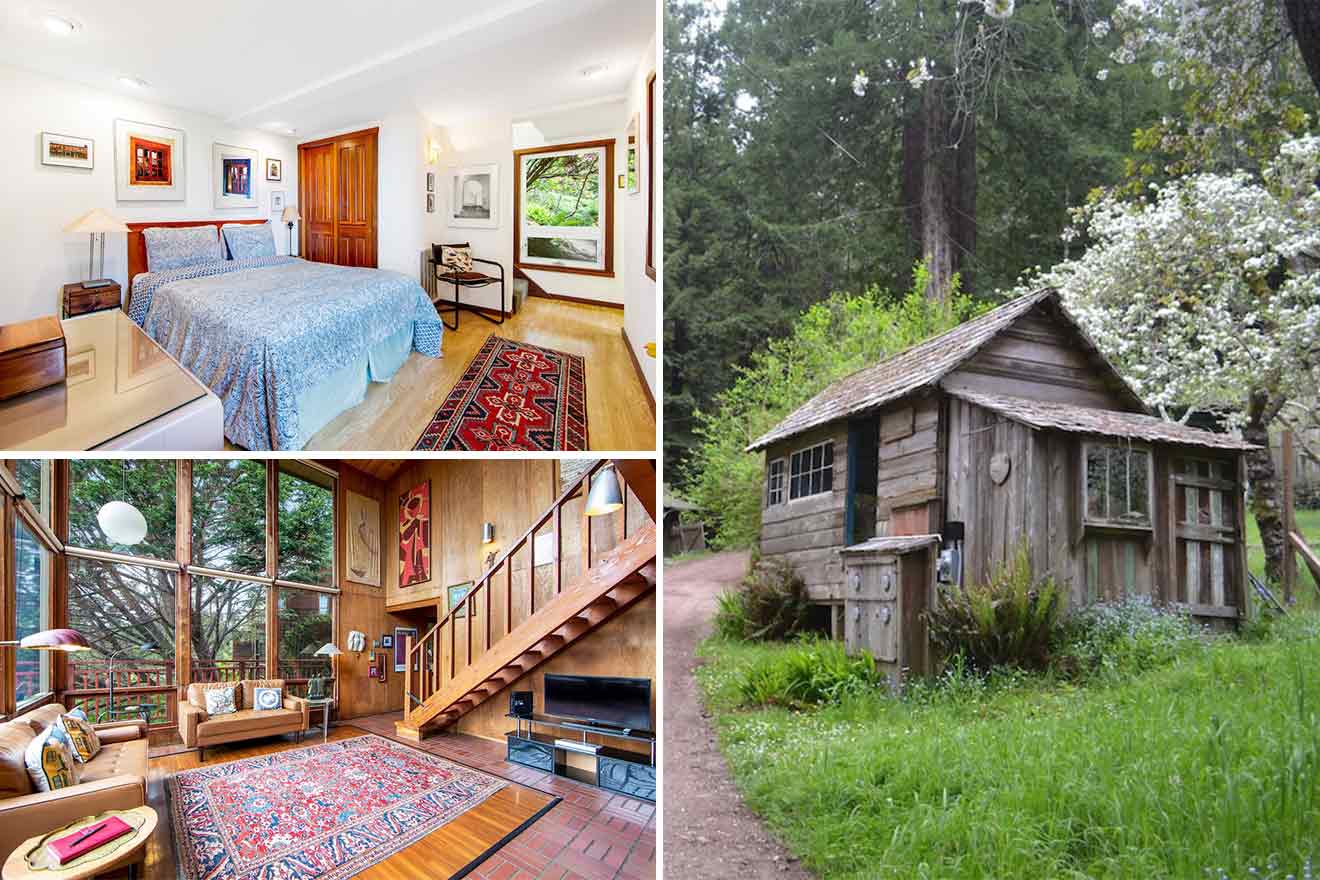 Chanticleer – Welcome to the dreamiest place you've ever seen! Just picture yourself on the couch in that bright and spacious lounge area that has such big windows overlooking the forest! What a sight! This stunning place can fit up to 7 people, and it comes with a fully-equipped kitchen, a fireplace, and original artwork on the walls.
Redwood Forest Getaway – Set less than a mile (1.6 km) away from Mendocino Headlands State Park, this place is just perfect for nature lovers! Surrounded by trees and greenery, this incredible vacation rental has room for 4 guests, and it features a kitchen, a living room area, games, and books! Pack up your hiking gear because once you get here, you'll want to go on as many adventures as possible!
BONUS 2: Top hotels near Mendocino
Not too far from Mendocino town (around 5 min by car), there's a small area called Little River (still part of Mendocino County) that offers the same kind of coastal beauty and incredible hotels.
Since there aren't so many options in Mendocino, I thought I'd add another bonus section with a few great hotels in this area that I'm sure you'll like. As always, I've ordered them from most to least expensive, and the prices are from US$150 to US$300: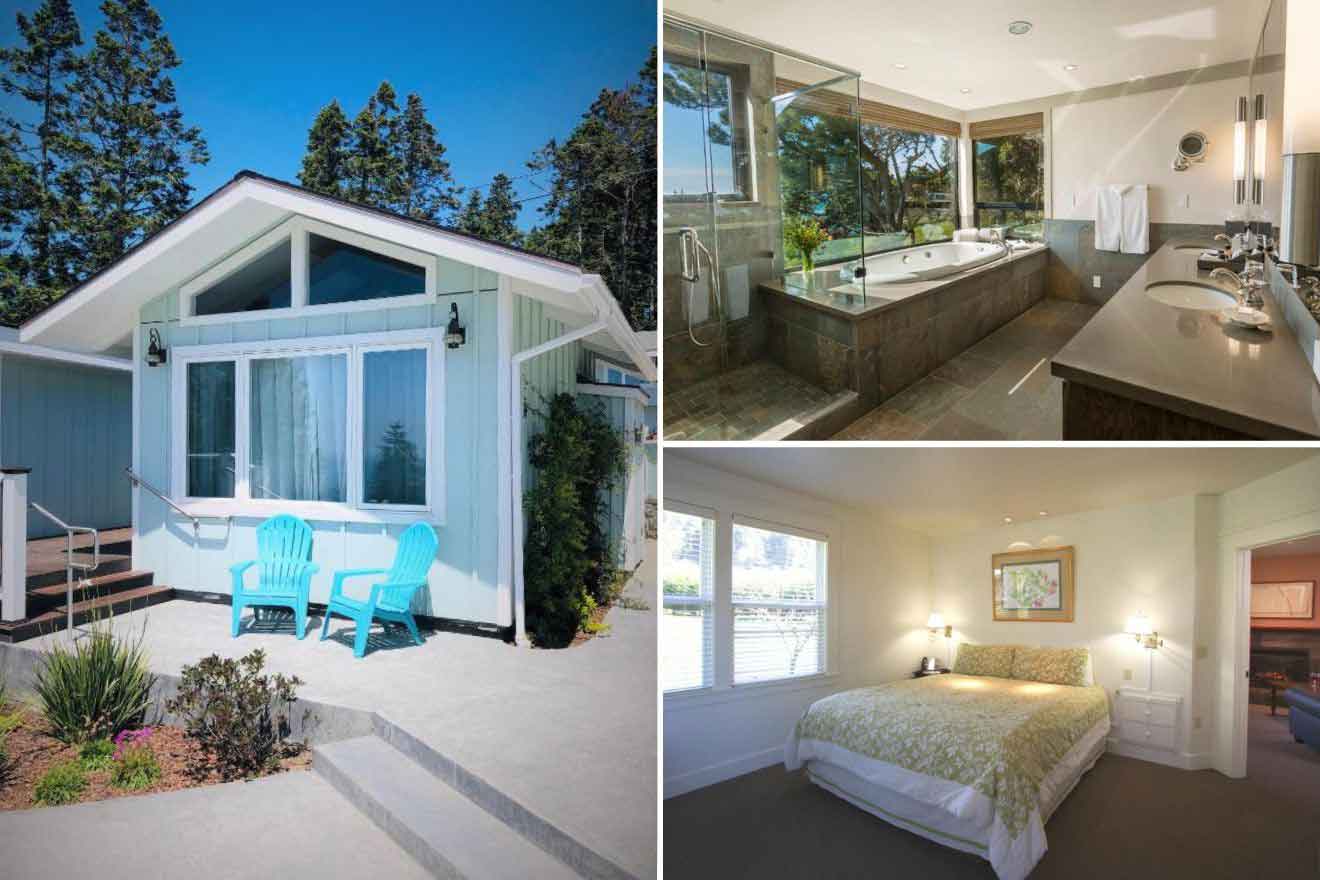 Heritage House Resort & Spa – Rooms with a view of the Pacific Ocean, a stunning location near Van Damme State Park, and stunning decor! This place in Little River is so amazing that you'll want to spend all of your holidays here relaxing at the spa, eating yummy food at the restaurant on-site, and reading a book on the terrace while admiring the Pacific Ocean from the private beach area!
Little River Inn – Ready to play some tennis or golf, visit attractions like the Point Cabrillo Light Station State Historic Park and enjoy the Californian sun? This beautiful inn set by the ocean offers such cozy decor, a spa center, and of course, some incredible sea views. The rooms feature a balcony and a flat-screen TV.
Seafoam Lodge – Looking for something a bit more affordable? Then check out this beautifully-designed lodge that comes with a garden, spacious rooms with four-poster beds, and free Wi-Fi. The accommodation is 3 miles ( 2 km ) away from Van Damme State Park and Van Damme Beach.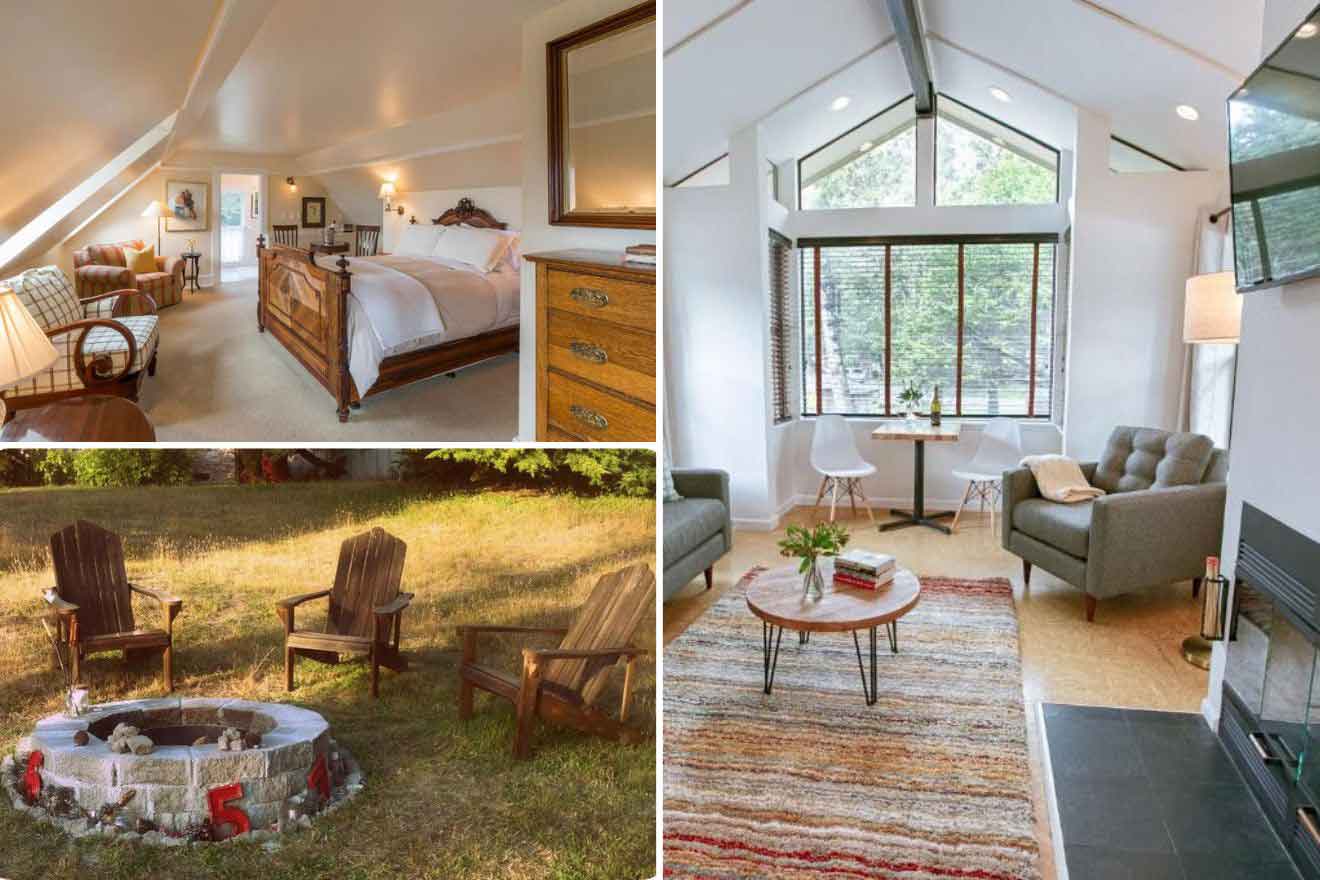 SCP Mendocino Inn and Farm – Ever wanted to live on a farm? Then check out this Little River Inn that is set not too far from Van Damme State Park. The accommodation has family rooms with free Wi-Fi, and some even come with a sea view. Each morning you'll get a complimentary breakfast, and you'll also have access to the shared kitchen.
The Andiron Seaside Inn & Cabins – Here's another cute inn that has some cute furry animals and chickens as guests. The accommodation is pretty simple yet super cozy, and it comes with family rooms (some with a spa bath), an outdoor fireplace, and a kitchen.
FAQs about Mendocino best hotels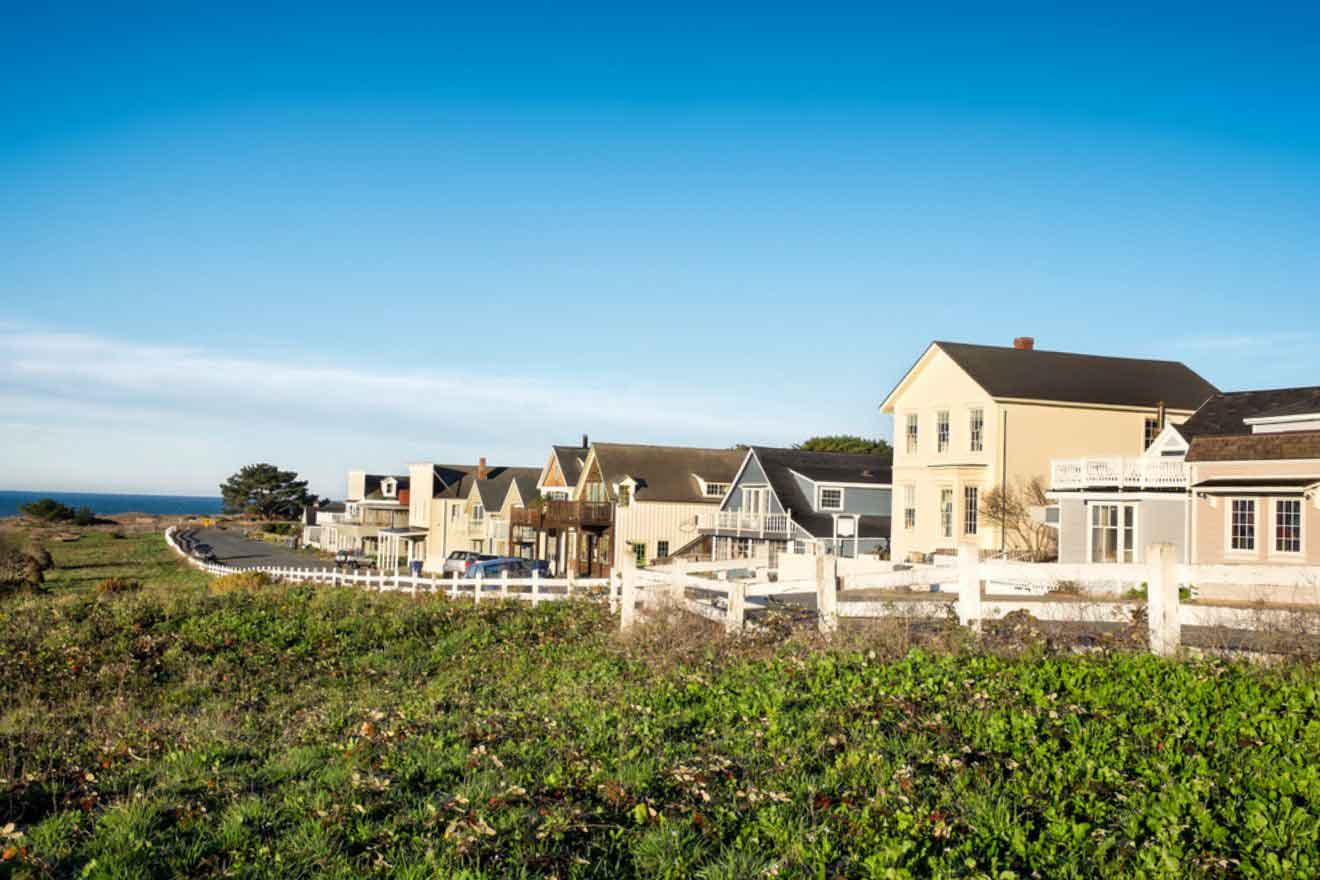 🌊 What are the best Mendocino Coast hotels?
Brewery Gulch Inn and Nicholson House are the best hotels in Mendocino that are set near the coast. The accommodations offer some incredible views and lush gardens.
🏞️ What are the best hotels near Mendocino Headlands State Park?
MacCallum House Inn and Mendocino Grove are some of the best places to stay near the Mendocino Headlands State Park. Both places are so unique and perfect for nature lovers.
📅 How many days do you need in Mendocino?
It depends on how many things you want to do, but 3 to 4 days should be enough for you to explore around and relax.
🤩 Why is Mendocino famous?
Mendocino is known for its Redwood trees, stunning beaches, and for its oceanfront botanical gardens!
🤔 Which are some unique places to stay in Mendocino?
Oceanfront Home and Chanticleer are 2 unique holiday homes in Mendocino with incredible views, lots of space, and gorgeous locations.
Conclusion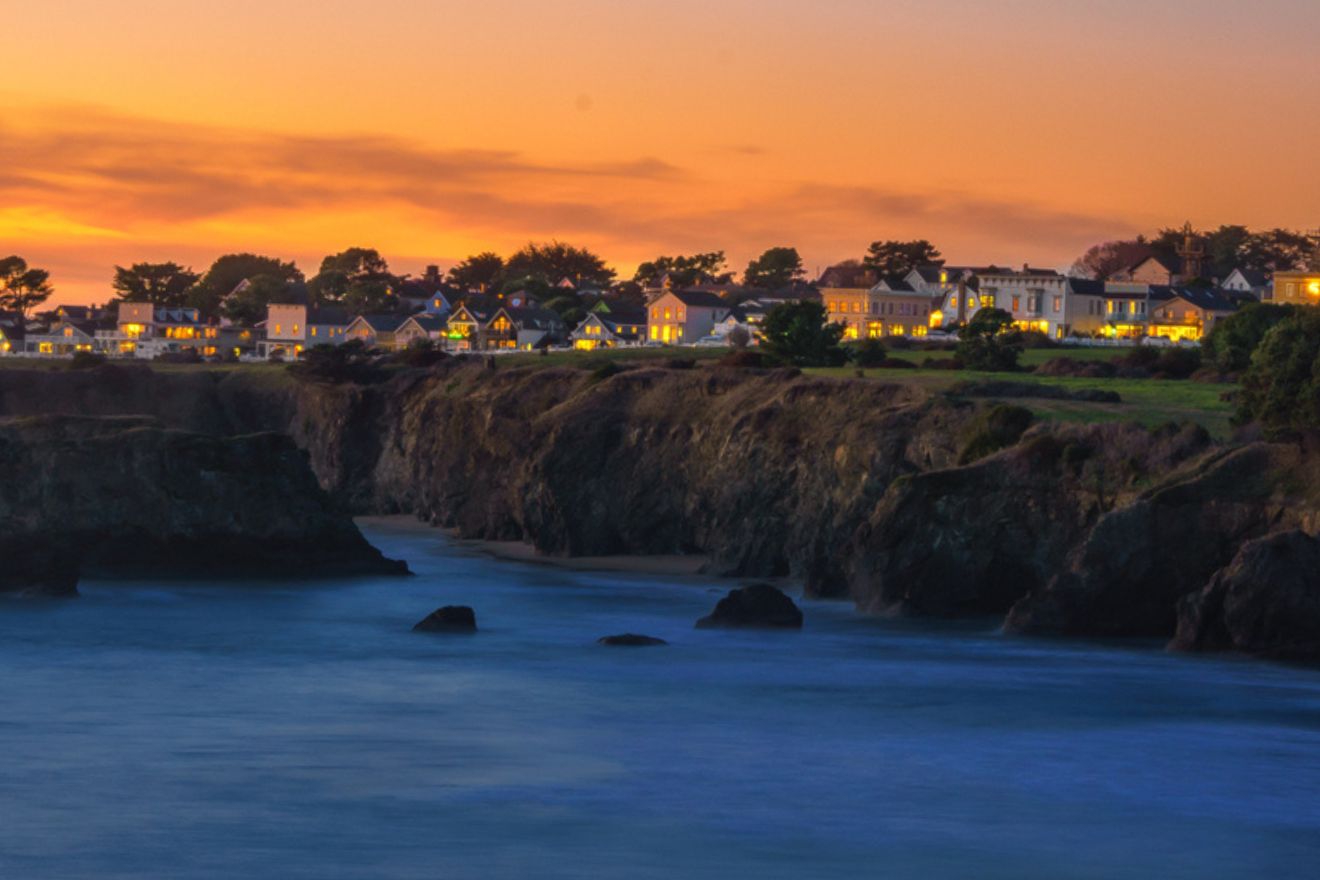 What an iconic place! I'm sure you'll have an unforgettable holiday here.
Today we've gone through a carefully-curated list of Mendocino's best hotels, plus 2 bonus sections with the top holiday homes in Mendocino and some other great hotels near Mendocino, in Little River.
It's easy to get overwhelmed when there are so many options, so if you need a bit of help, then check out my 2 favorite options below:
Brewery Gulch Inn – Indulge in all the organic cuisine at one of the best luxury hotels that offer a garden, views of Mendocino Bay, and spa facilities
Mendocino Grove – Perfect for nature lovers this cool glamping spot offers a great location in the woods and family rooms
Whatever you do, make sure to book your favorite inn, hotel, or tent in advance! As I mentioned, this area is super popular, and the hotels will sell out pretty fast!
Enjoy your trip, everyone! And don't forget that I'm around if you've got any questions! All you need to do is drop me a comment below, and I'll answer ASAP!
Safe travels,
Victoria
---
Pin it for later!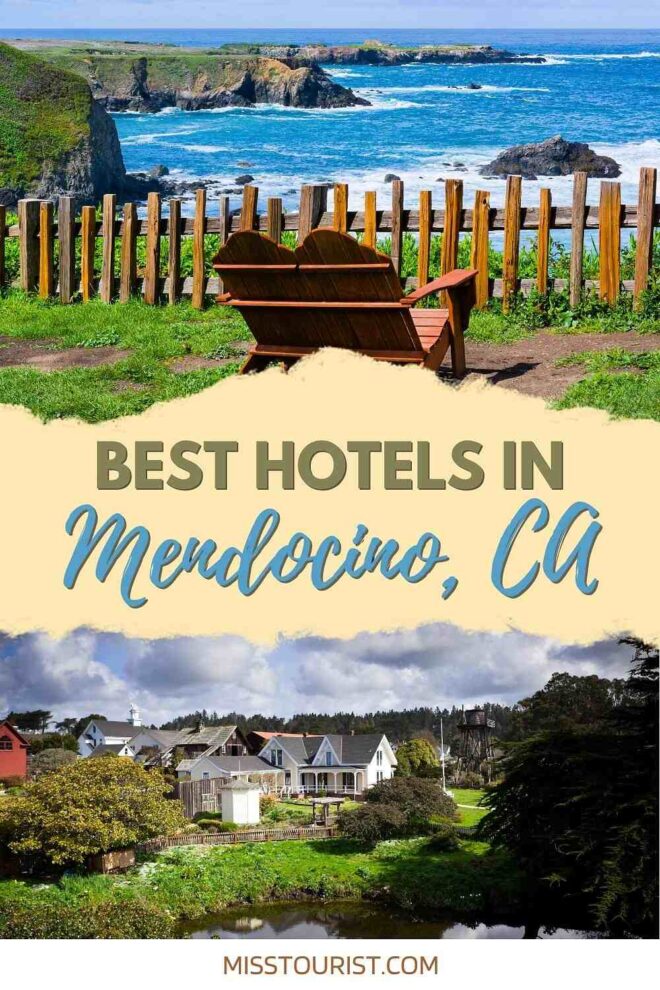 Pin it for later!