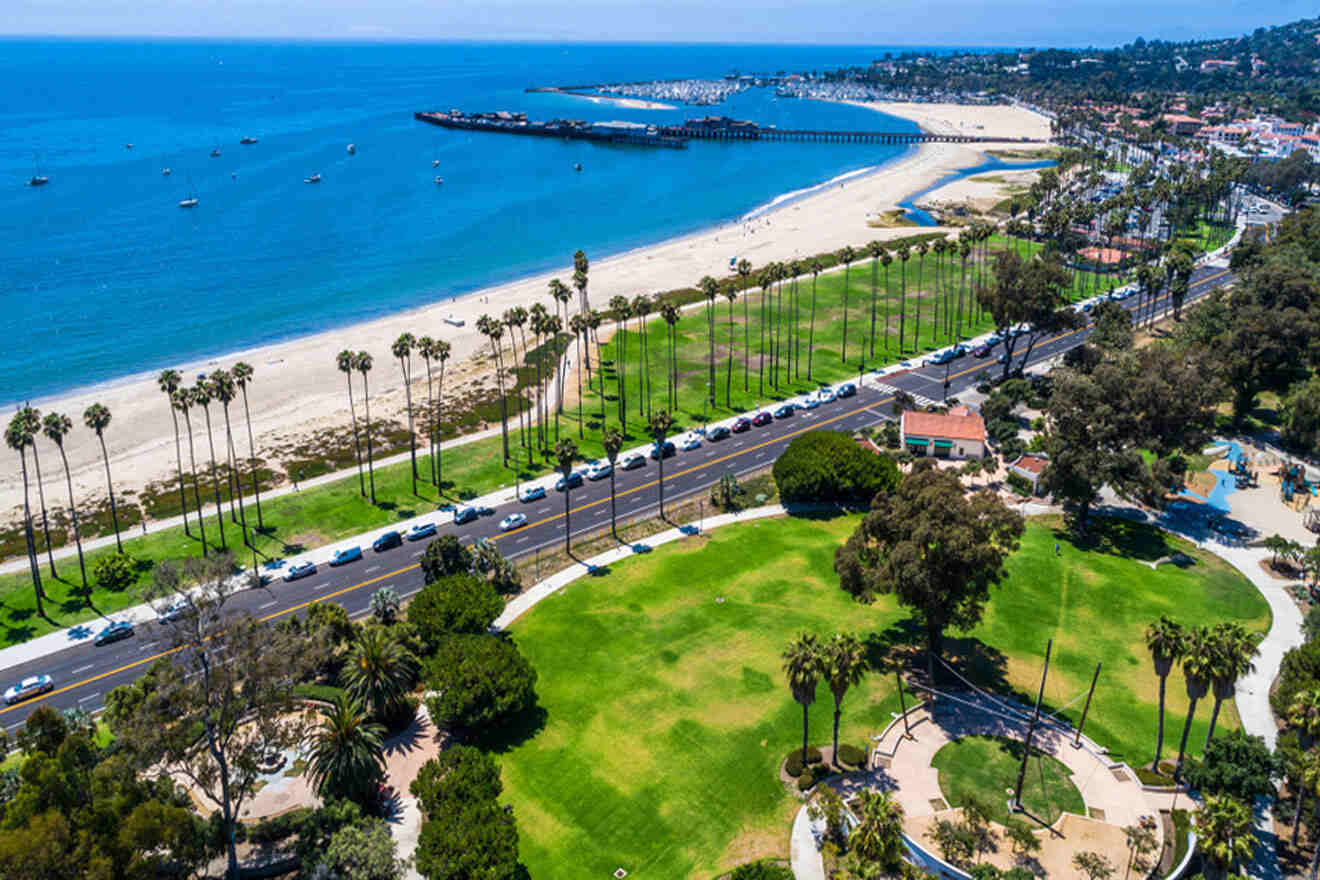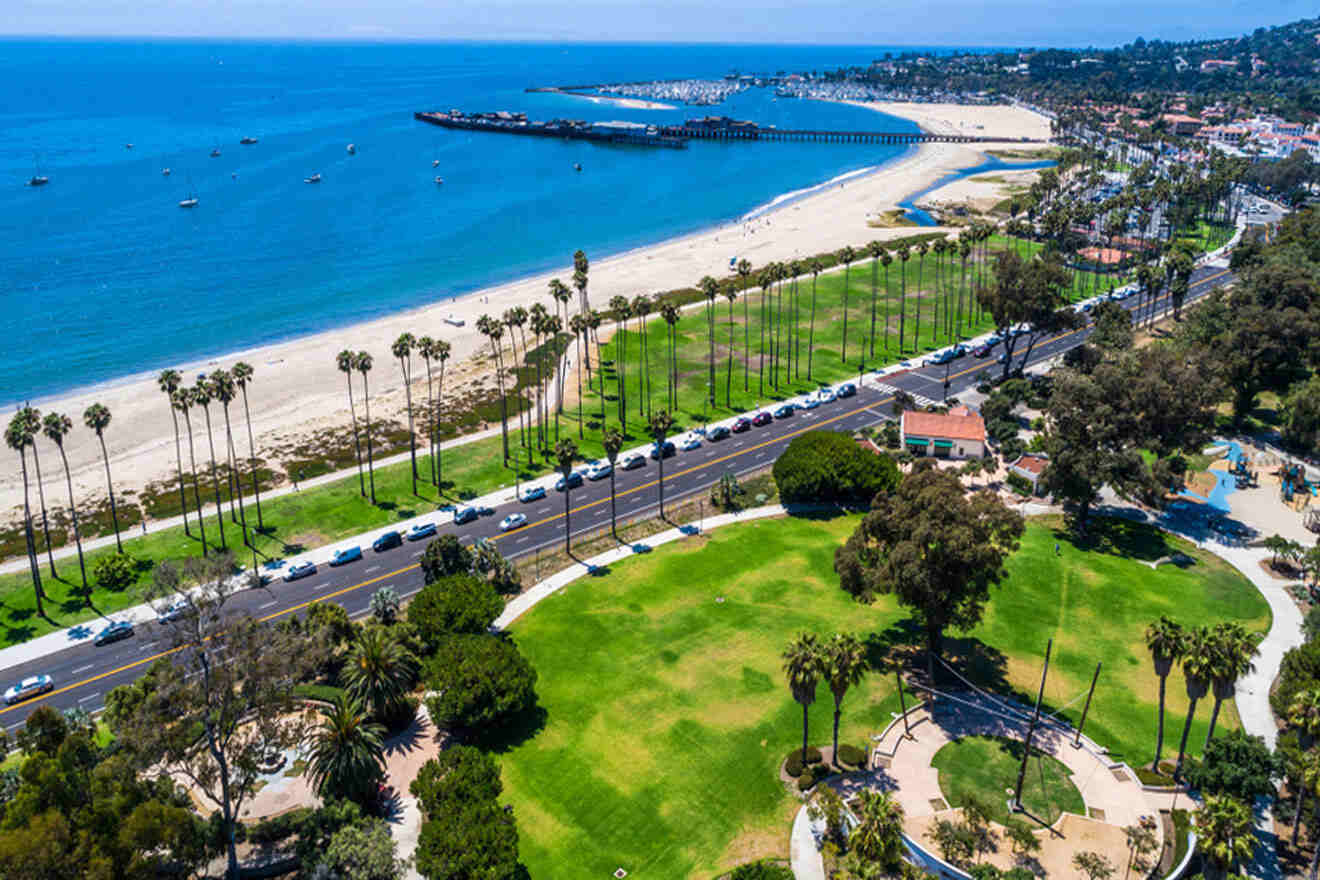 What better choice to steal away for a couple of days than to arrive in the glistening Central California coastal city for a Santa Barbara getaway weekend?!
Located between the majestic Santa Ynez mountain range and the Pacific Ocean, this Spanish-influenced cultural gem is a wonderful blend of beachside retreat and a metropolitan city tucked into Southern California. It's no wonder it's affectionately referred to as the "American Riviera."
As a California native, this ocean-side gem is one of my absolute favorites for a weekend getaway. I always know the weather is going to be awesome, the food is going to leave me raving to friends back home, and the mix of things to do makes me wonder why I don't call Santa Barbara home.
There are so many incredible reasons to visit Santa Barbara, and there are tons to pack into 2 days, but luckily I've done it all and am here to break it down for you. You just need to make sure to book any priority hotels or must-do activities well in advance.
So, let's head out and explore some of the best ways to spend your Santa Barbara trip!
If you are in a hurry
Santa Barbara is a popular West Coast city and a favorite among travelers to California. Be sure to reserve your tickets well in advance!
Here are the main things to book in advance:
And here are the best hotels: El Encanto, A Belmond Hotel (luxury), Simpson House Inn (mid-range), Castillo Inn at the Beach (budget)
Day 1
If this is your first time in Santa Barbara (and it probably is), you will need a map to see where each place is located. So, here's one with all the attractions you'll cover on your first day.
1. Start your day with breakfast in The Funk Zone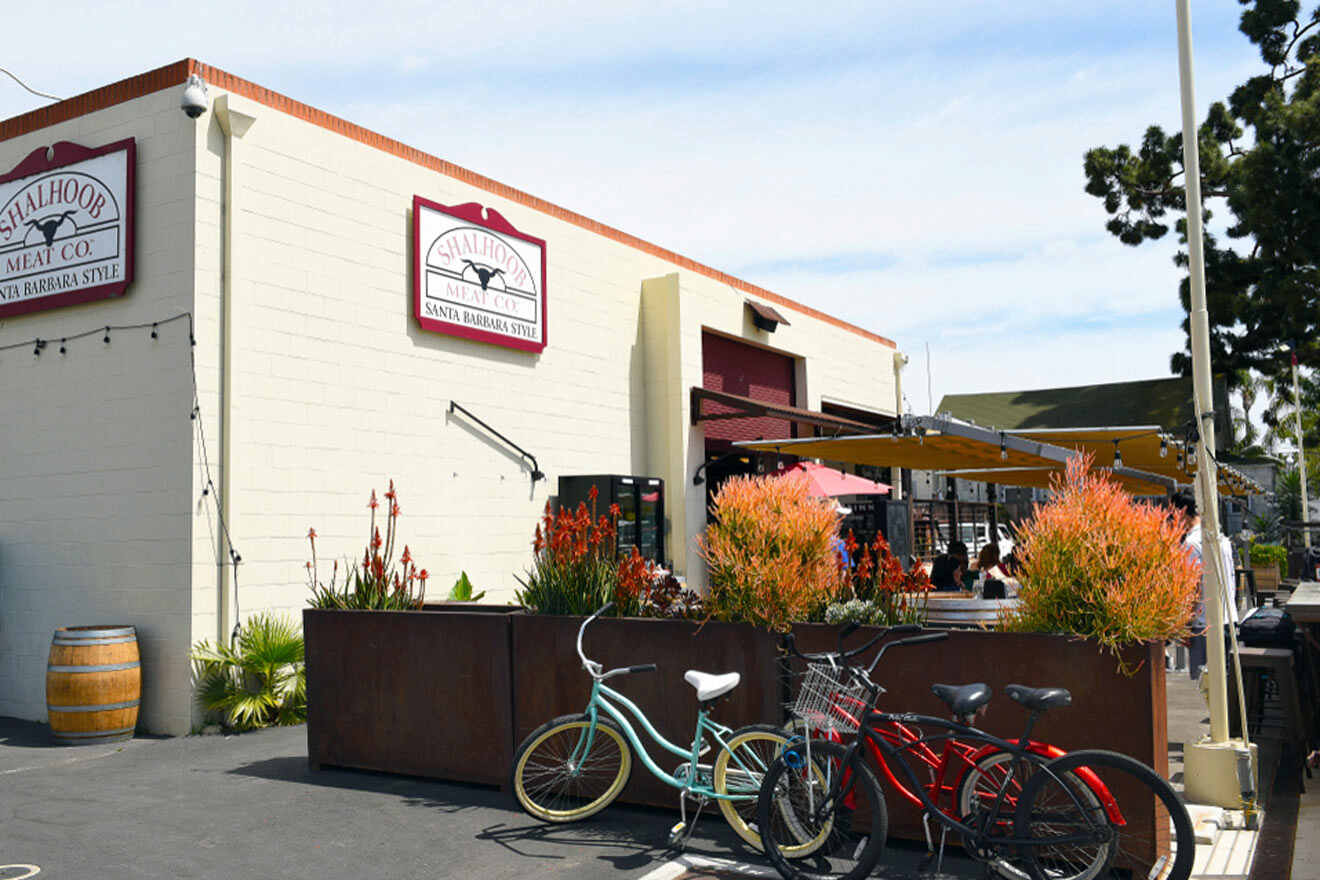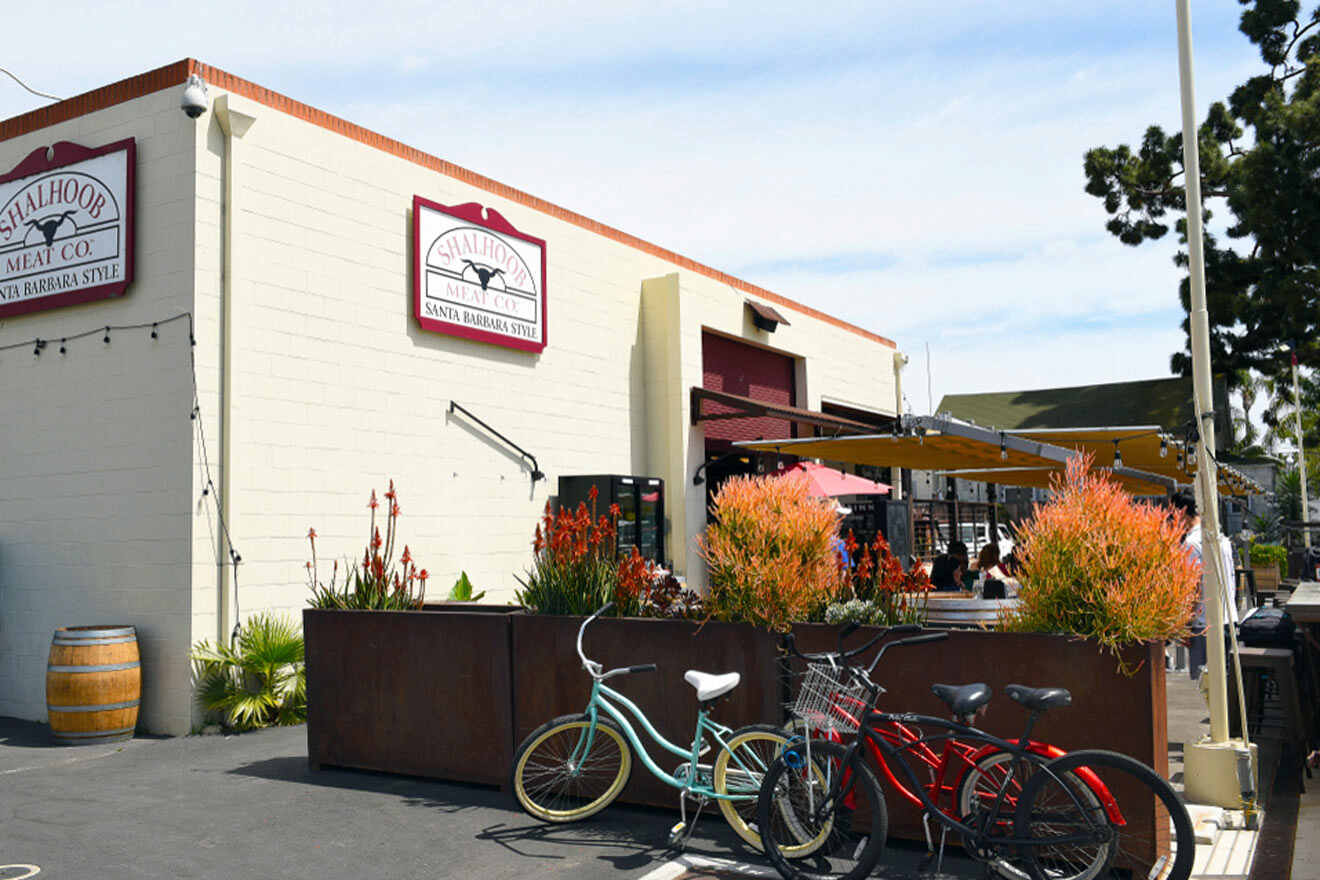 For many of you arriving late Friday night, Saturday will be your first day out in Santa Barbara, and you'll have a big day ahead of sightseeing all around town. Fill up and start your morning right with breakfast at Helena Avenue Bakery in the fun and eclectic Funk Zone. Don't worry, we'll be back in this area later for more tips!
The menu is chock full of California freshness, with incredible savory and sweet items to choose from. The farmer's market bowl was filled with sauteed wild arugula, roasted maitake mushrooms, sweet corn, cherry tomatoes, organic greens, and eggs. It was enough to fill me up, but I finished every last drop!
The blueberry scone was also noteworthy with its perfect balance of flavor and texture, and the banana bread Elvis style: peanut butter, bacon, and honey seemed pretty unique!
2. Stroll your way down popular State Street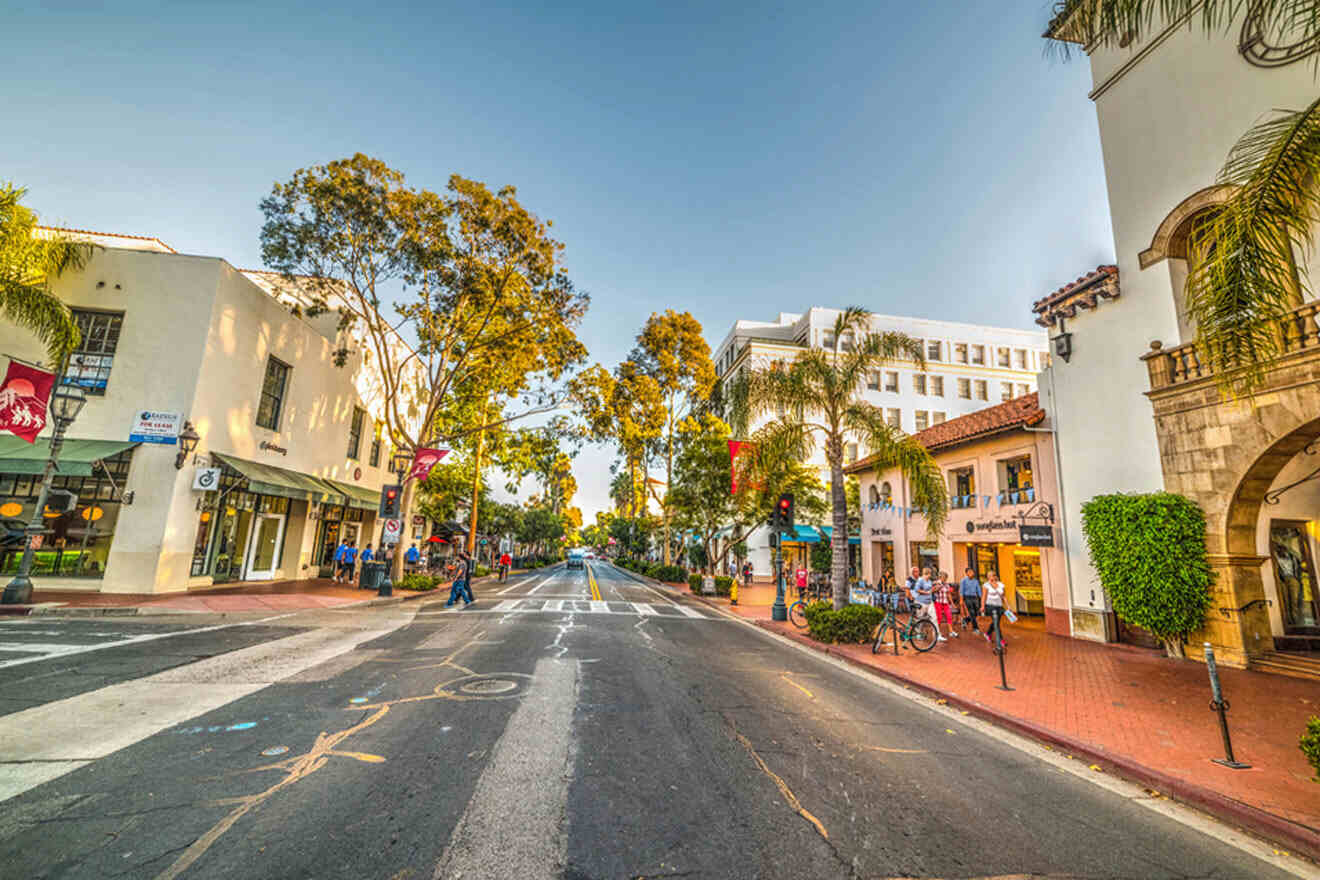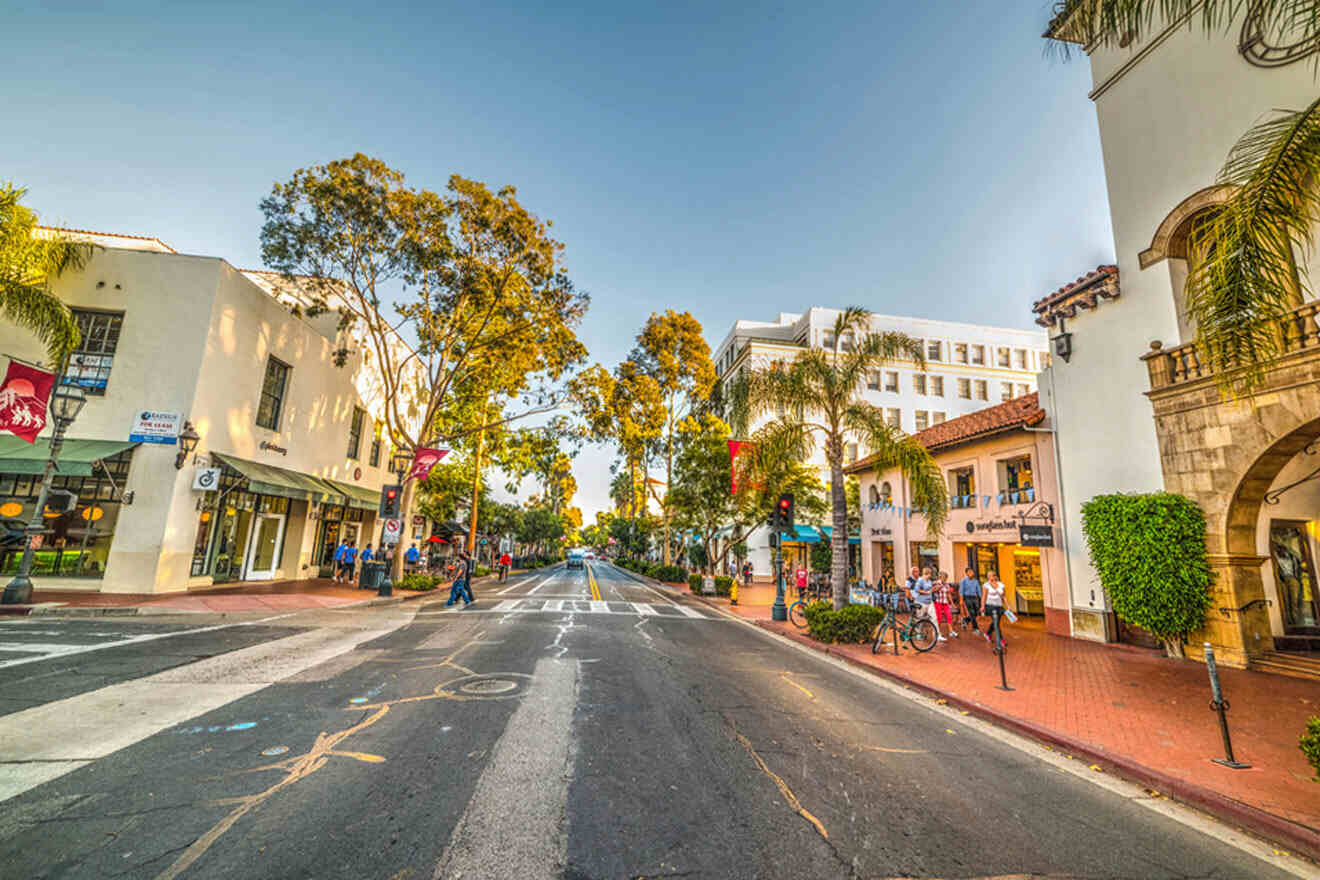 After breakfast, walk just a few blocks to the famed State Street, the major shopping street that stretches east to west, all the way to Stearns Wharf and the pier.
State Street in downtown Santa Barbara is a few blocks of boutique shopping and eclectic dining options. I love spending my day browsing the retail windows, popping into the local coffee shops, and trying out all of Santa Barbara's delicious seafood options.
On your weekend in Santa Barbara, make sure to stroll down State Street and sample the region's sparkling wine and char-broiled oysters. One of my favorite spots right on State is Lure Fish House.
There are so many opportunities to camp out on the plethora of large outdoor patio options that line the street in downtown Santa Barbara, you could spend the whole afternoon eating and drinking your vacation away. But don't forget, we have so much more to see!
I love that State Street is mostly closed to traffic, so you can shop til you drop without a care in the world. On Saturdays, be sure to stop by the State Street Farmer's Market to sample all the local art, produce, and baked goods.
Rather not walk? Take the Santa Barbara trolley tour and see the sites from the comfort of your seat.
TOUR PRICE: US$30
3. Get creative at the Santa Barbara Museum of Art
As you stroll down State Street, you'll notice that many of your sightseeing itinerary is right along your way! With that said, you might have to be a bit choosey with which museums you visit during your weekend in Santa Barbara, there are so many!
Santa Barbara Museum of Art is a wonderful addition to your Santa Barbara itinerary, allowing you time to reflect on the beauty and artistic nature of the 19th and 20th centuries that fill its foyer. Famous for housing a significant amount of Claude Monet's paintings, you'll find this museum attracts tourists from all over the world.
One of my favorite pieces, Portrait of Mexico Today, is a 1932 mural which is the last remaining art we have of famous talent David Alfaro Siqueiros in the USA.
While we are talking about weekend activities, I should just mention that admission is free Thursday evenings from 5 PM – 8 PM and closed Mondays, just in case you extend your trip a few more days.
PRICE: from US$10 per person
4. Visit El Presidio De Santa Barbara State Historic Park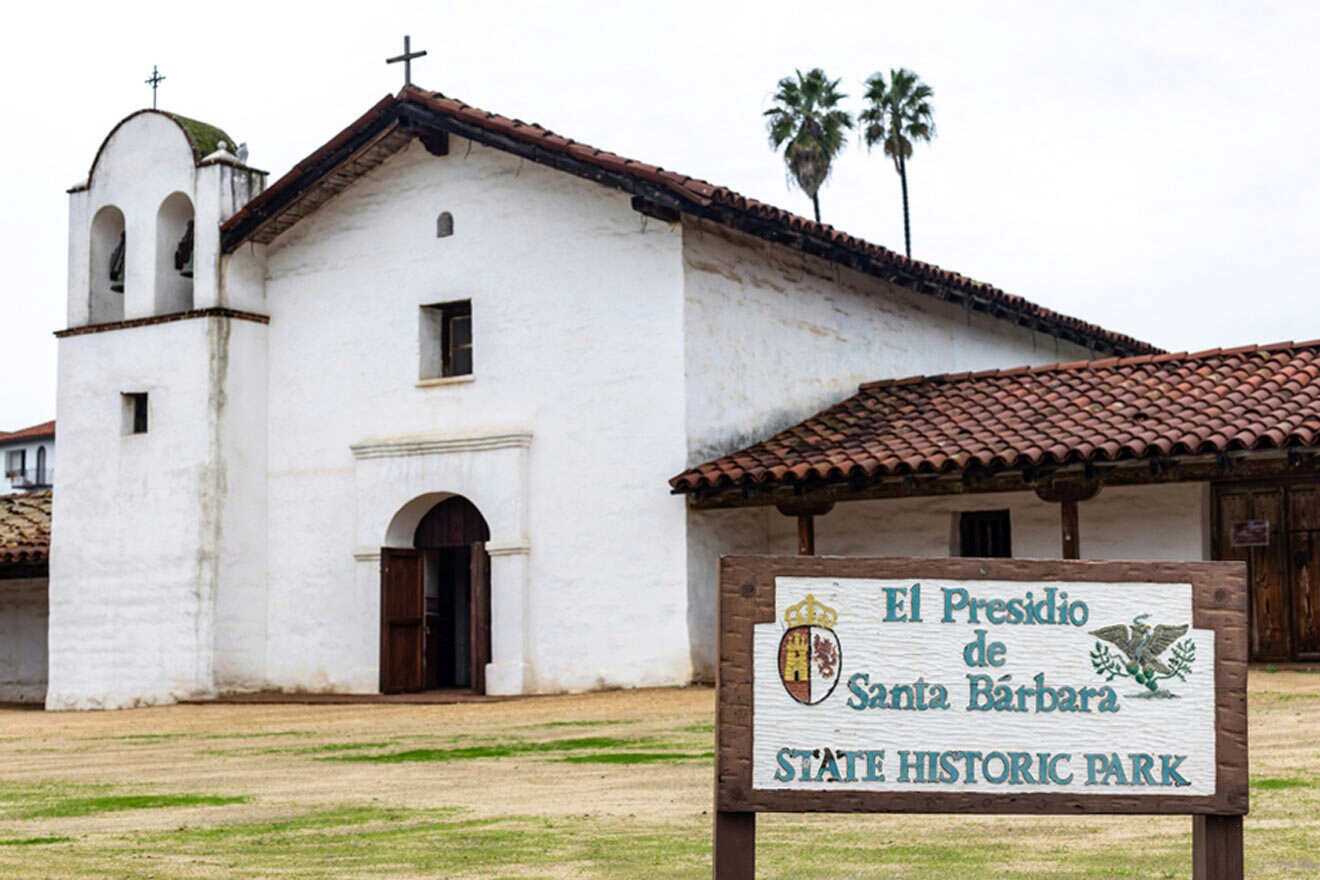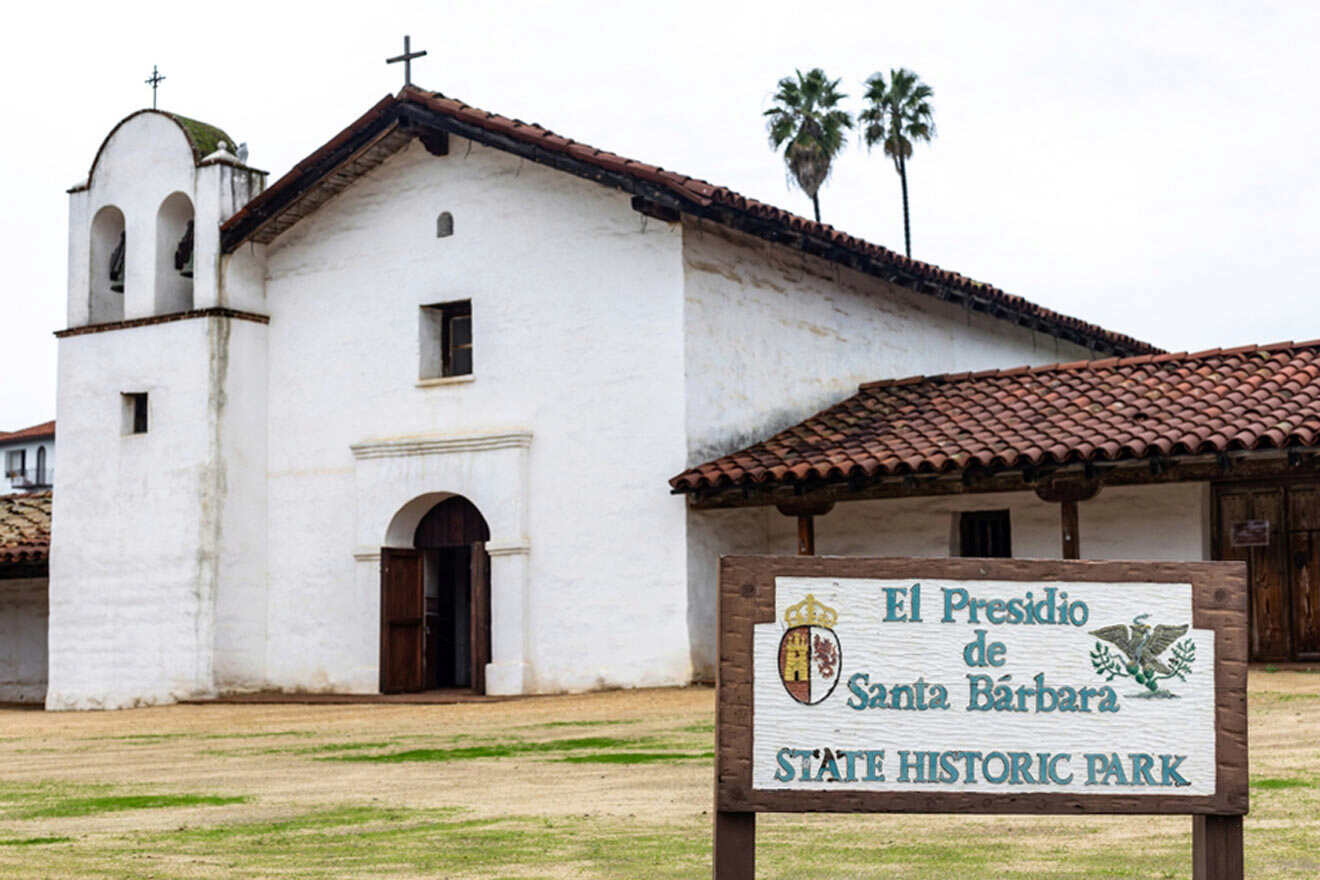 After you get your fill of creativity at the Museum of Art, just a short walk across the street to the impressive Spanish Mission, dating back to 1782, an actual military fort built by the Spanish Franciscans, and the last of 4 remaining Spanish forts in our country today.
Extending from the southern limits of what is now San Luis Obispo County to the Pueblo of Los Angeles, several of the original adobe structures are still standing. I love exploring the chapel and the reconstructed Padres' quarters. They make you feel like you have behind-the-scenes access to this historical site.
Don't miss the watch tower and the heritage garden for amazing views and abundant greenery.
5. Pop by the Santa Barbara County Courthouse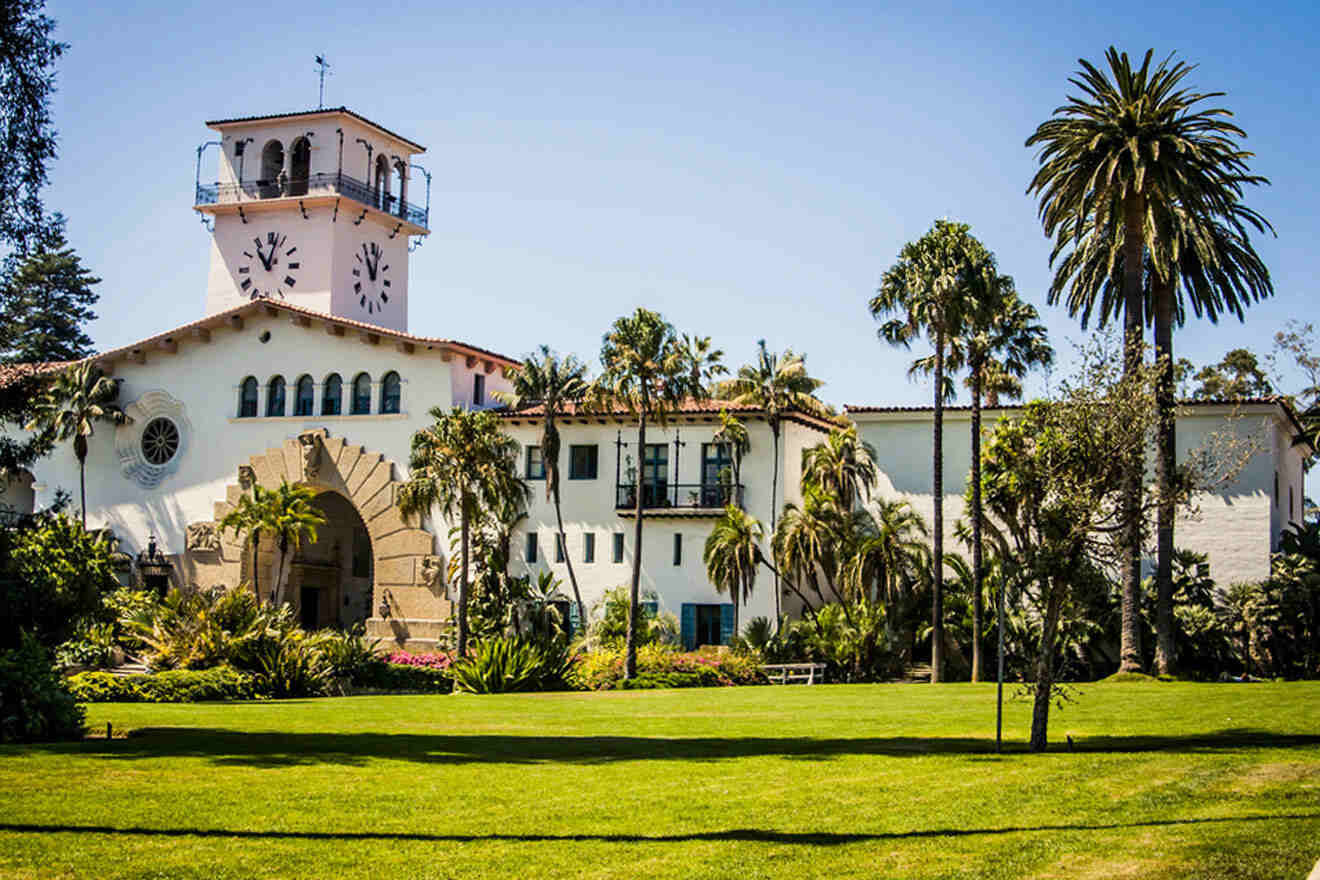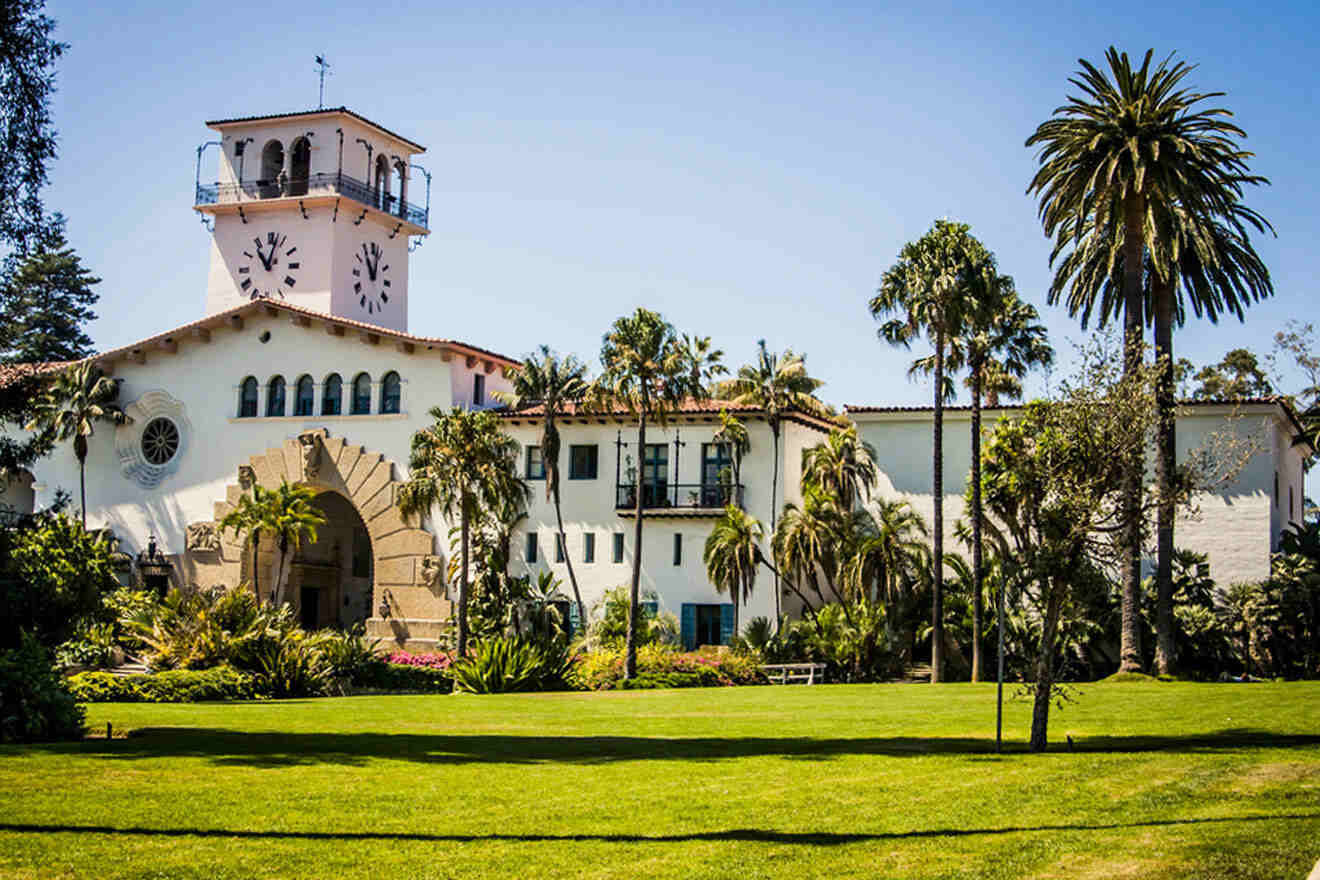 From the park, head just across State Street to the Santa Barbara County Courthouse. Rebuilt in 1929 after an earthquake wrecked the original, this courthouse serves as an artistic marvel and architectural gem in Santa Barbara.
I think one of the coolest things to experience here is El Mirador Clock Tower, an 85 feet (26 m) climb (phew), but as you can imagine, the top floor gives way to incredible views of Santa Barbara and the Santa Ynez Valley down below.
You can wander the halls of the Santa Barbara Courthouse, admiring the historic Spanish Colonial design and Spanish architecture brought over from Spain and Tunisia.
If you have the time, head out to bask in the sun of the sunken garden with flora from over 25 different countries – it's worth it! It's also worth mentioning that Santa Barbara Courthouse offers tours Monday through Friday at 10:30 AM to really give you the full scoop.
6. Go back in time at the Old Mission Santa Barbara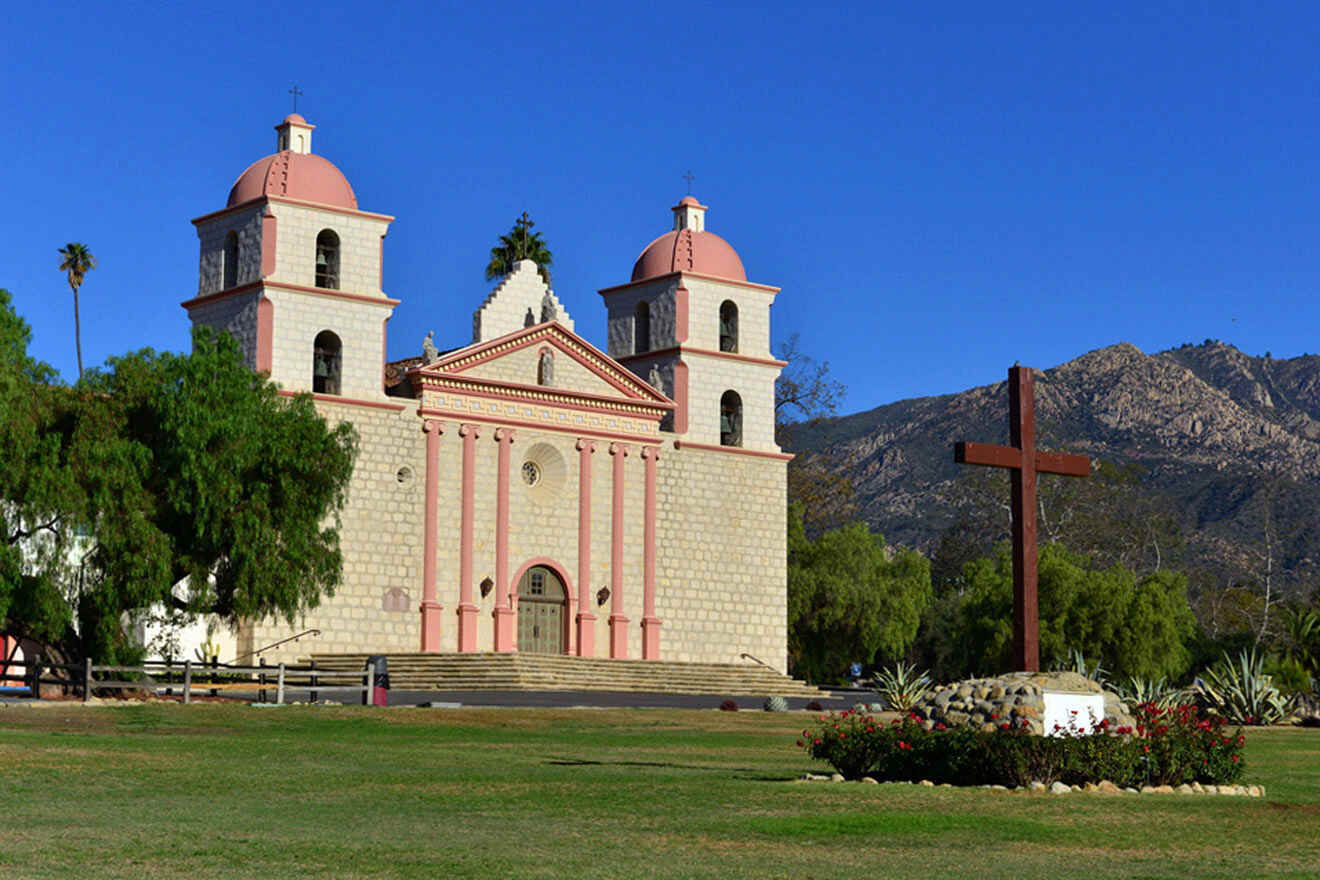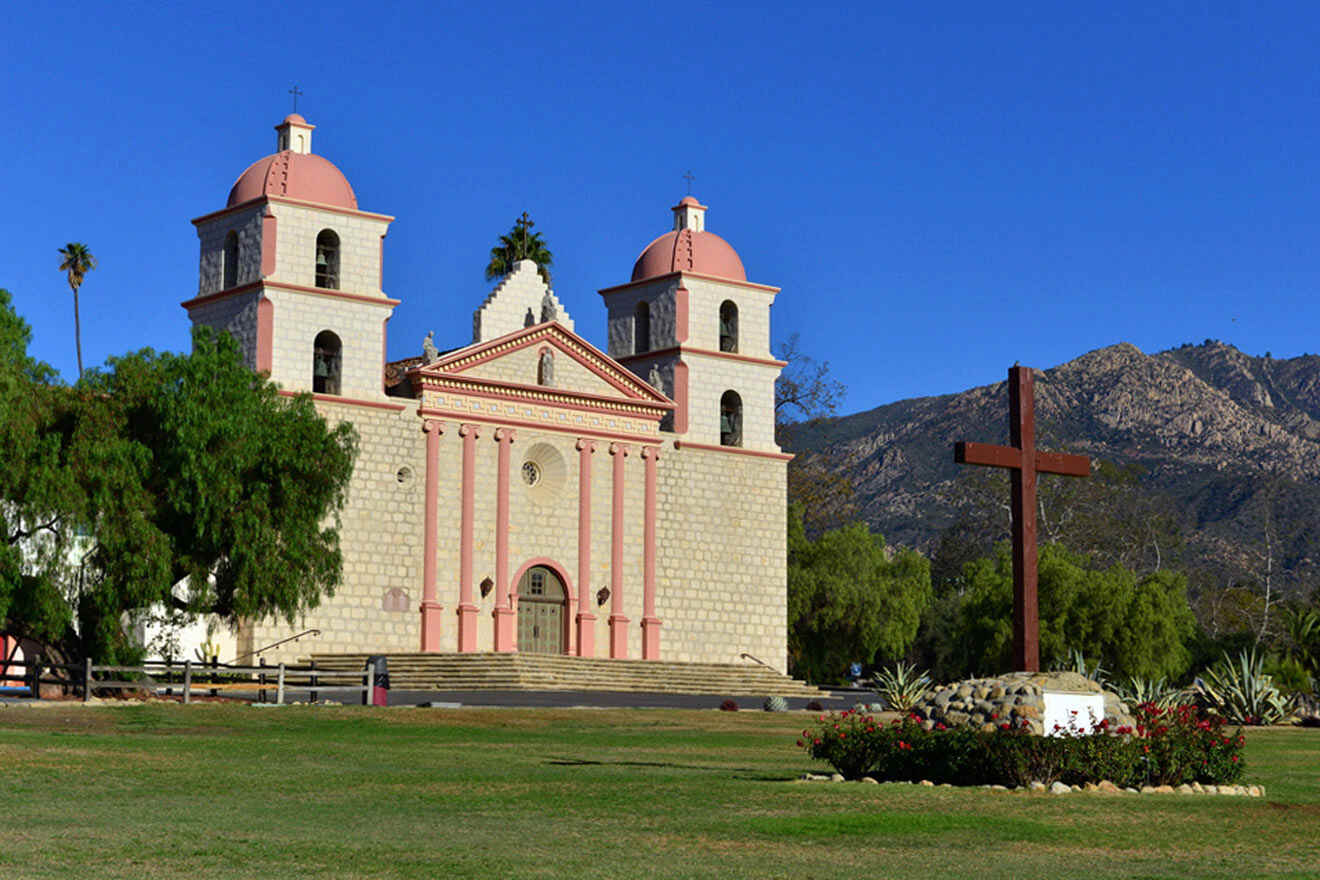 Arguably the most iconic landmark in the city, you don't want to miss the Old Mission Santa Barbara. Located about a dozen blocks from your other State Street activities, I like to leave this one towards the end of the first day to spend as much time as I like wandering around.
Don't miss the church built by the Chumash Indians in 1820, with its stunning Roman temple facade and twin towers looming high above.
But without a doubt, my personal favorite spot on the grounds is the Mission Rose Garden. Brimming with colorful, fragrant flowers and the most serene ambiance, I like to pack a picnic and plan for lunch on the expansive green lawns.
PRICE: US$25 per person
7. Catch a cotton candy sunset and dinner at Stearns Wharf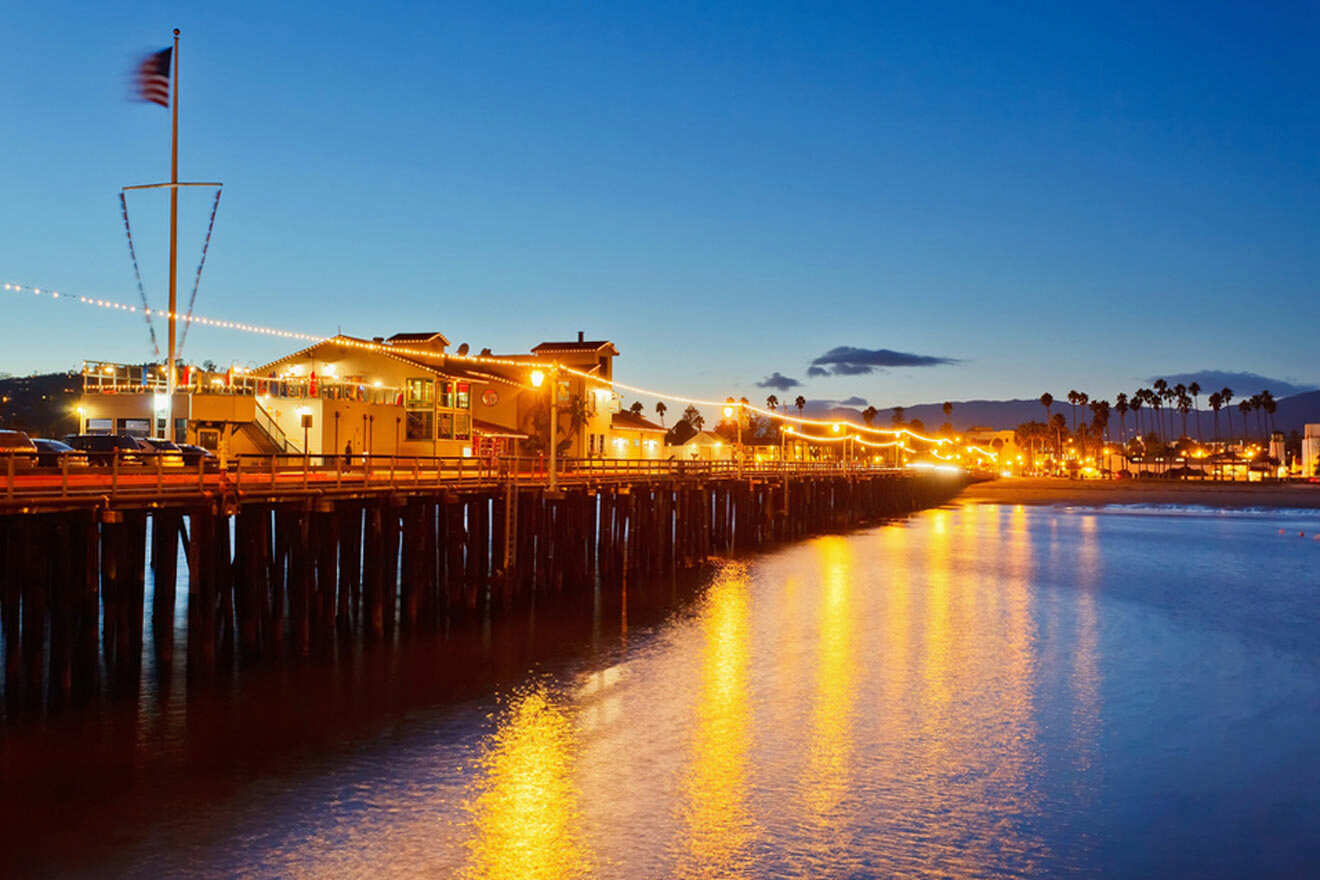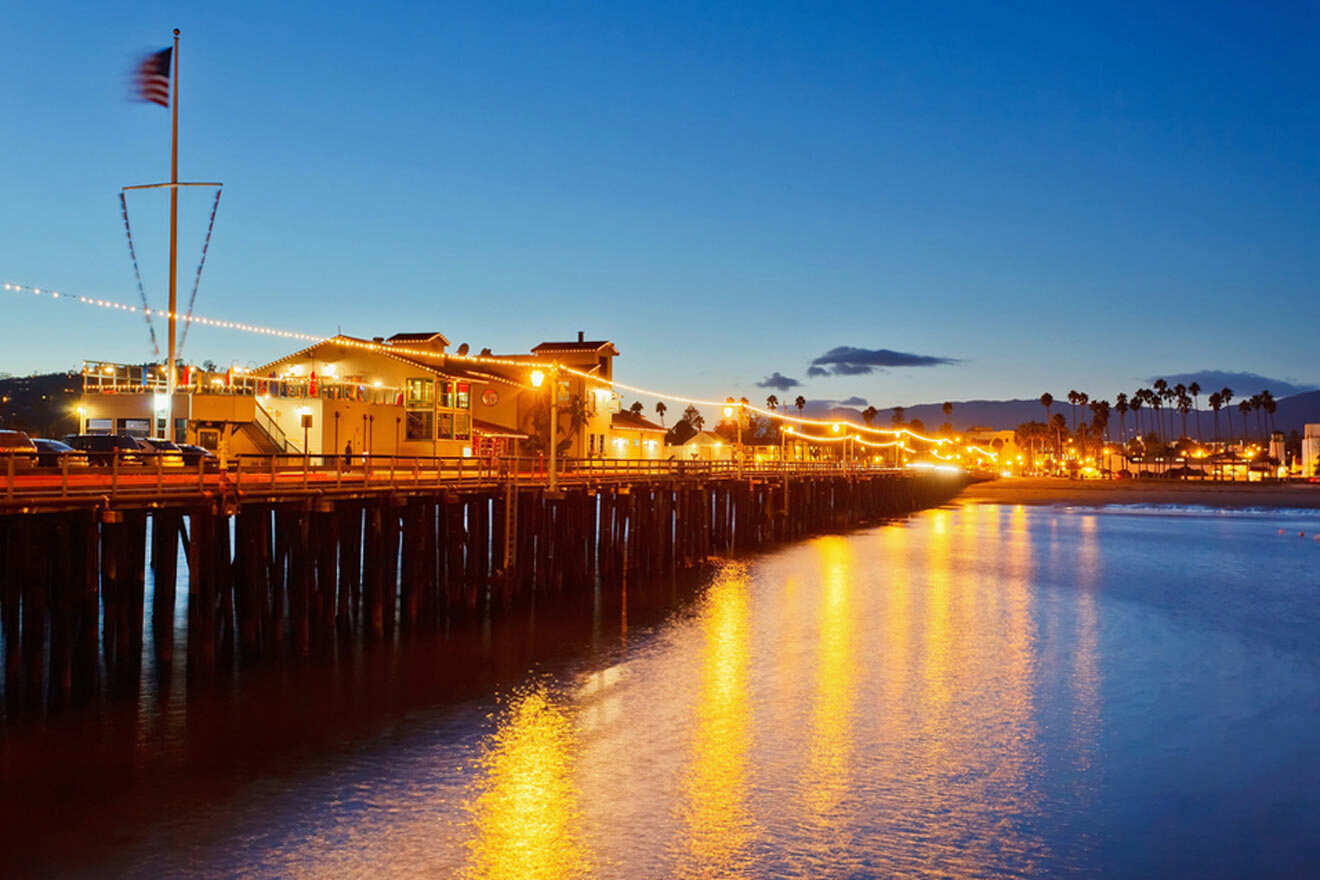 As a former New Yorker turned Californian, I never, ever pass up the chance to catch an amazing sunset on the West Coast. Situated at the very west end of State Street, Stearns Wharf is the perfect choice to wander over to after all of your sightseeing and catch an idyllic Santa Barbara sunset.
At its inception in 1872, the pier was the longest deep-water pier between Los Angeles and San Francisco, attracting the area's local fishermen. Now, Stearns Wharf is loaded with retail, dining, and great activities to keep you busy during your entire Santa Barbara weekend trip.
Watch the pink and orange sunset paint the horizon in front of the pier, and reflect on your incredible day in Santa Barbara thus far!
It's been a long, amazing day, so it's time to reward yourself and stumble just a few more feet to Santa Barbara Shellfish Company, tucked at the very end of the pier. This unpretentious, award-winning option presents some of the area's best seafood with an ocean view. Try the local shrimp. Oh my, so good!
Time to get a good night's rest, we have another full day planned for our weekend in Santa Barbara!
Day 2
Here's a glimpse at everything we'll cover on day 2 of our itinerary.
1. First things first – breakfast with a view
Start your big day ahead off right with a delicious breakfast at Chad's Cafe, located only 2 blocks north of the pier and directly across the street from West Beach.
You can choose from one of their many farm-to-table, healthy breakfast options, or give in to your weakness like me and opt for the stack of pancakes that they designed with a palm tree made of powdered sugar on top!
2. Next up, Santa Barbara Zoo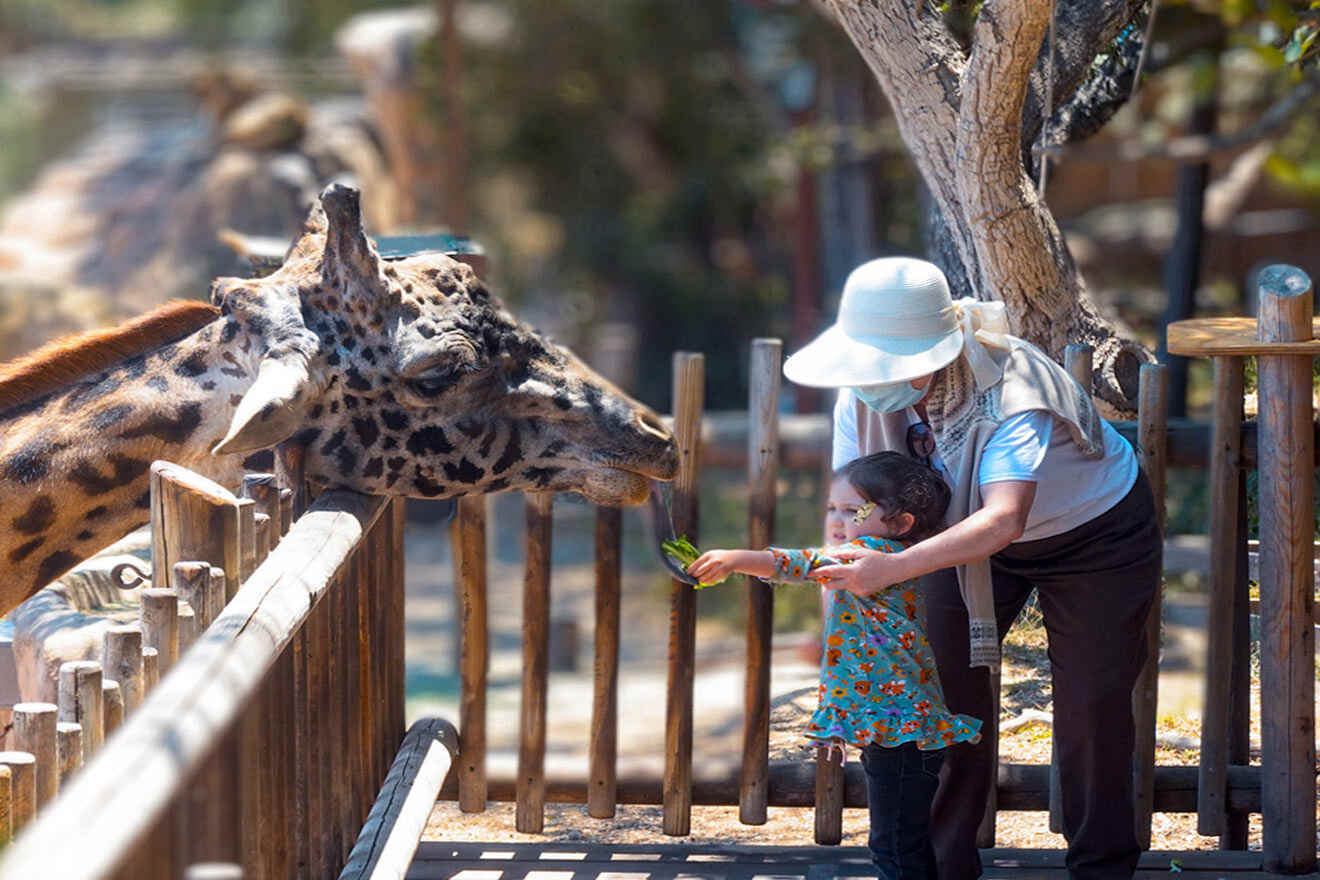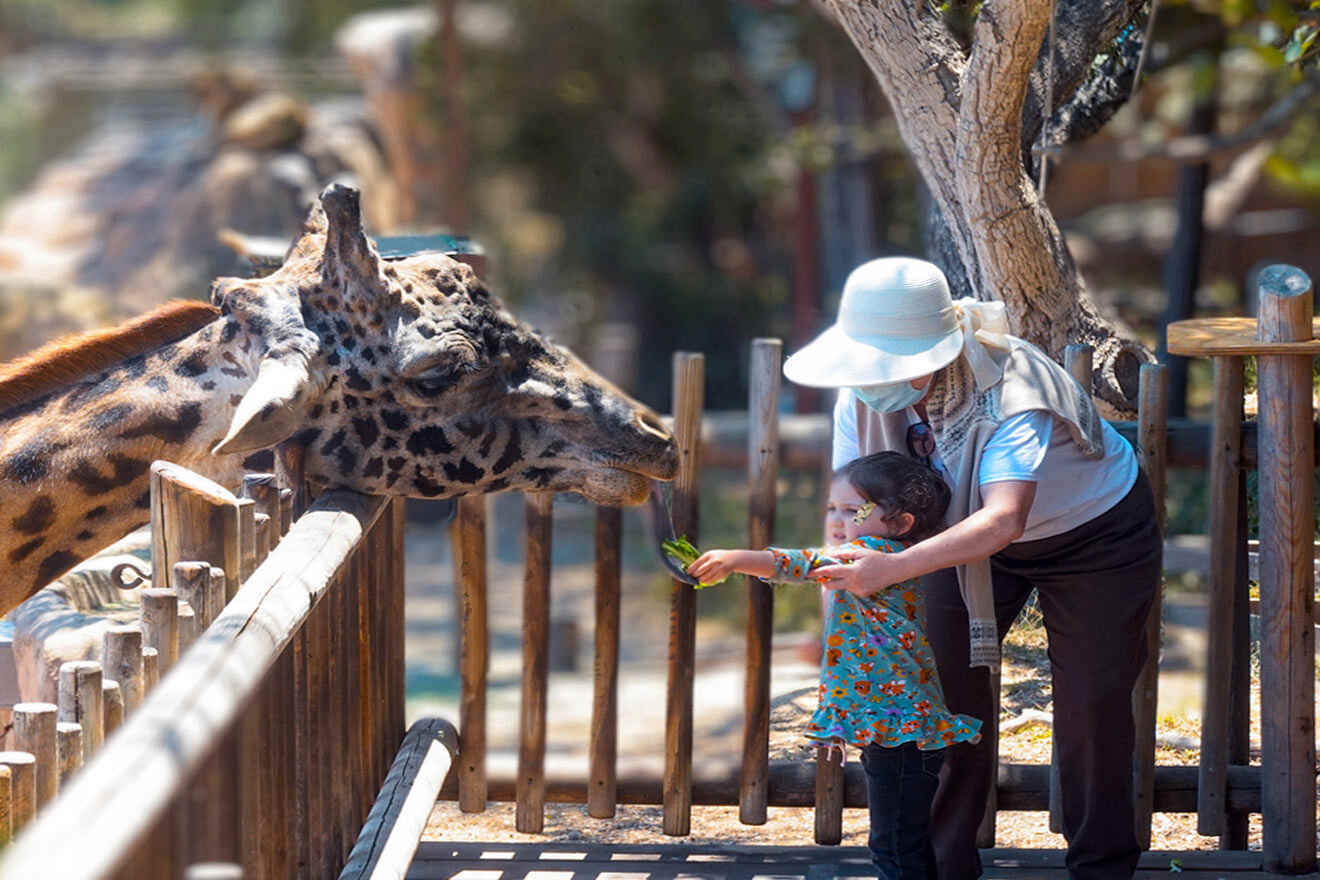 Now that you've fueled up, let's head south of the pier, to the Santa Barbara Zoo.
Small but mighty, the zoo is a great choice for your Santa Barbara weekend getaway. With stunning exhibits of the California condors, the snow leopards, and the lowland gorillas, I always have fun spending time in this wildlife oasis.
PRICE: from US$15
3. Sink into the warm sand of Santa Barbara's beaches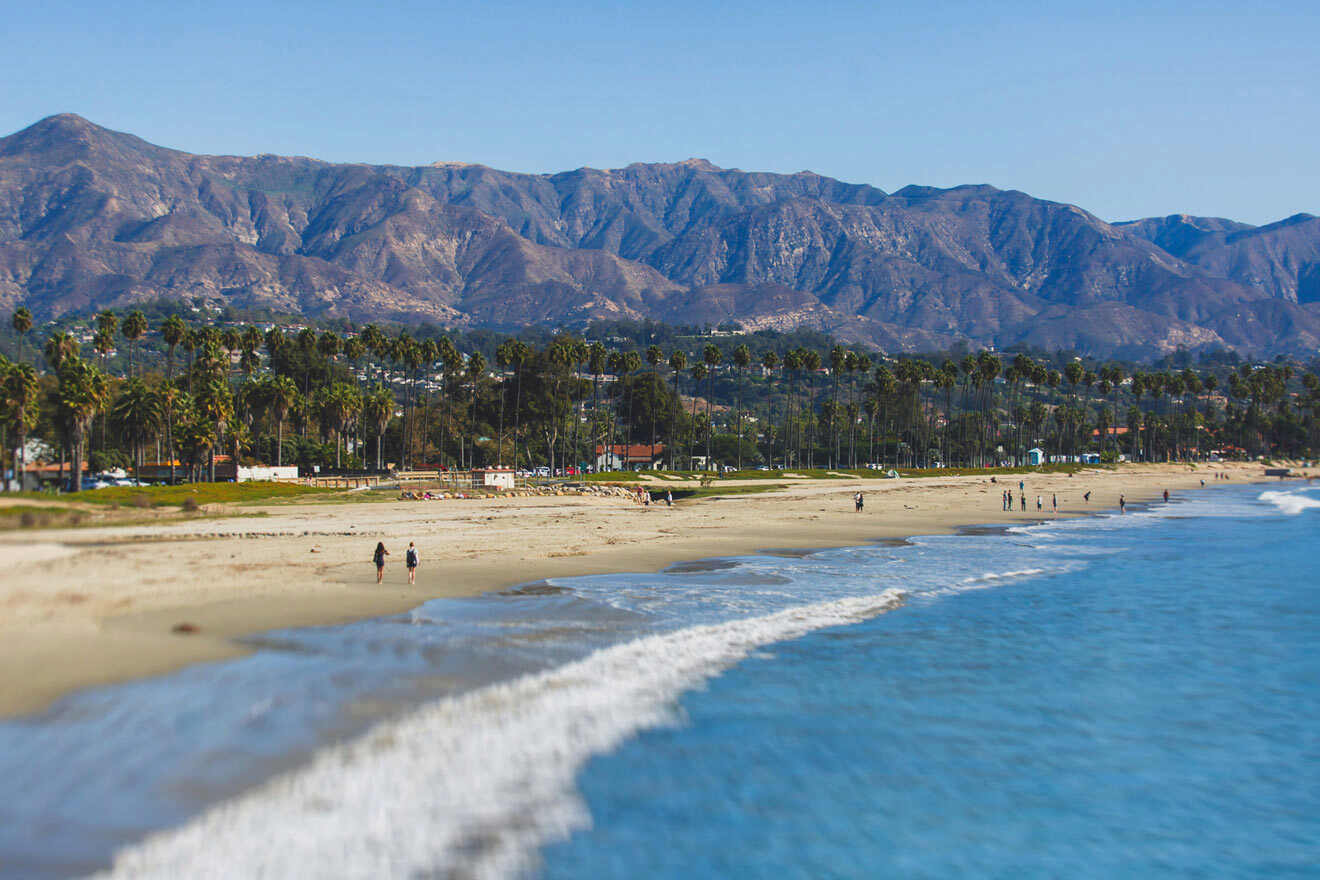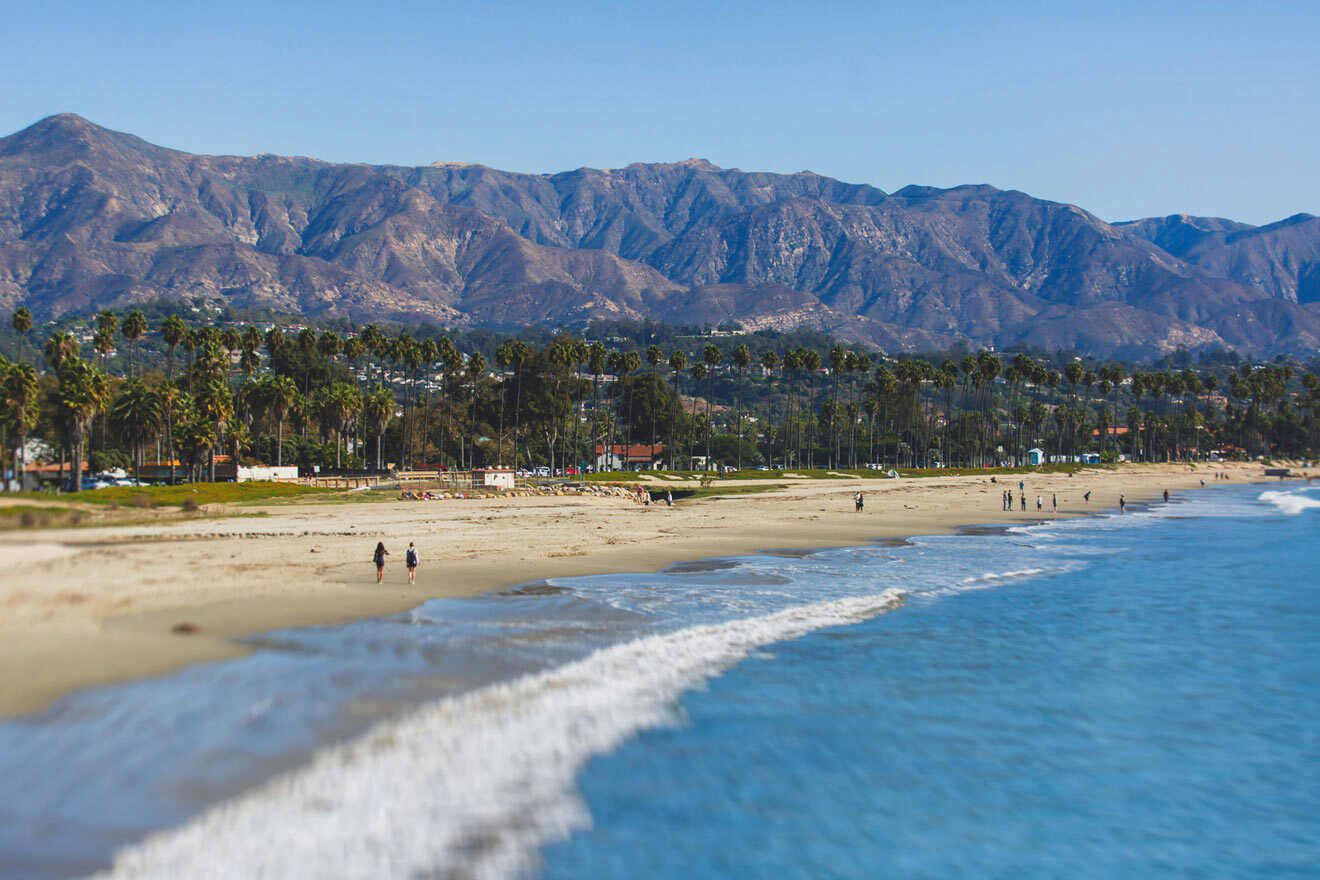 One of the best things to do during your Santa Barbara weekend trip is lay out your towel on the warm, white sand of Santa Barbara's sun-drenched beaches.
Smack in the middle of coastal downtown, East Beach and West Beach, stretch out in both directions from Stearns Wharf. Let's start at East Beach since we're down by the zoo.
East Beach is a gorgeous stretch of white sand south of the pier and is slightly more local and relaxed than other more densely populated beaches. As you continue north along the water, you'll pass Stearns Wharf and find yourself on West Beach, a similarly stunning landscape with tons of activities like beach volleyball and big wave surfing, as well as incredible vistas and people-watching.
I'm fairly sporty and love to get my heart pumping on vacay, so I usually jump on the popular Cabrillo Bike Path that lines the coast and take myself on a little self-guided tour. Walk, run, bike… totally your call. There are bike rentals available, as well as really fun guided tours if you want to maximize your time.
Head all the way east to Butterfly Beach, a small, picturesque option with dreamy, rolling waves. Butterfly Beach is located in the uber posh part of town called Montecito, home to the lavish estates of famous stars like Oprah Winfrey and Kevin Costner. Don't miss a drive down Coast Village Road for the high-end shops, dining, and people-watching.
If you're looking for something more kid-friendly, jump in the car and head north to Hendry's Beach, also known as Arroyo Burro Beach, for gentle surf and great beachside dining options.
When I head out to Hendry's Beach with my family, we love dining at Boathouse for a midday bite. Their beachy atmosphere and consistent, yummy food (like their mouth-watering crab cakes) make it a really easy choice!
BIKE TOUR PRICE: US$95
4. Play in the ocean breeze at Shoreline Park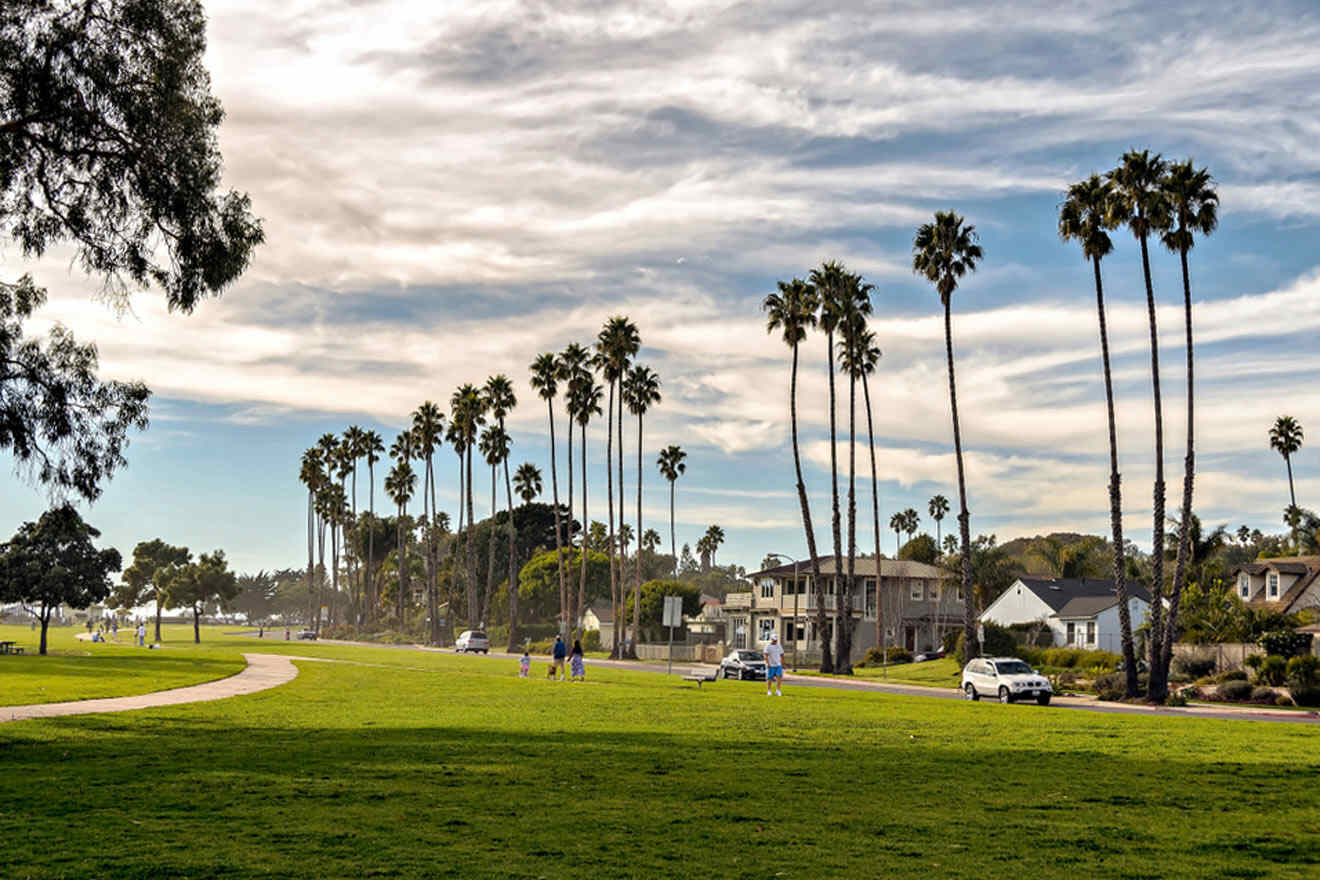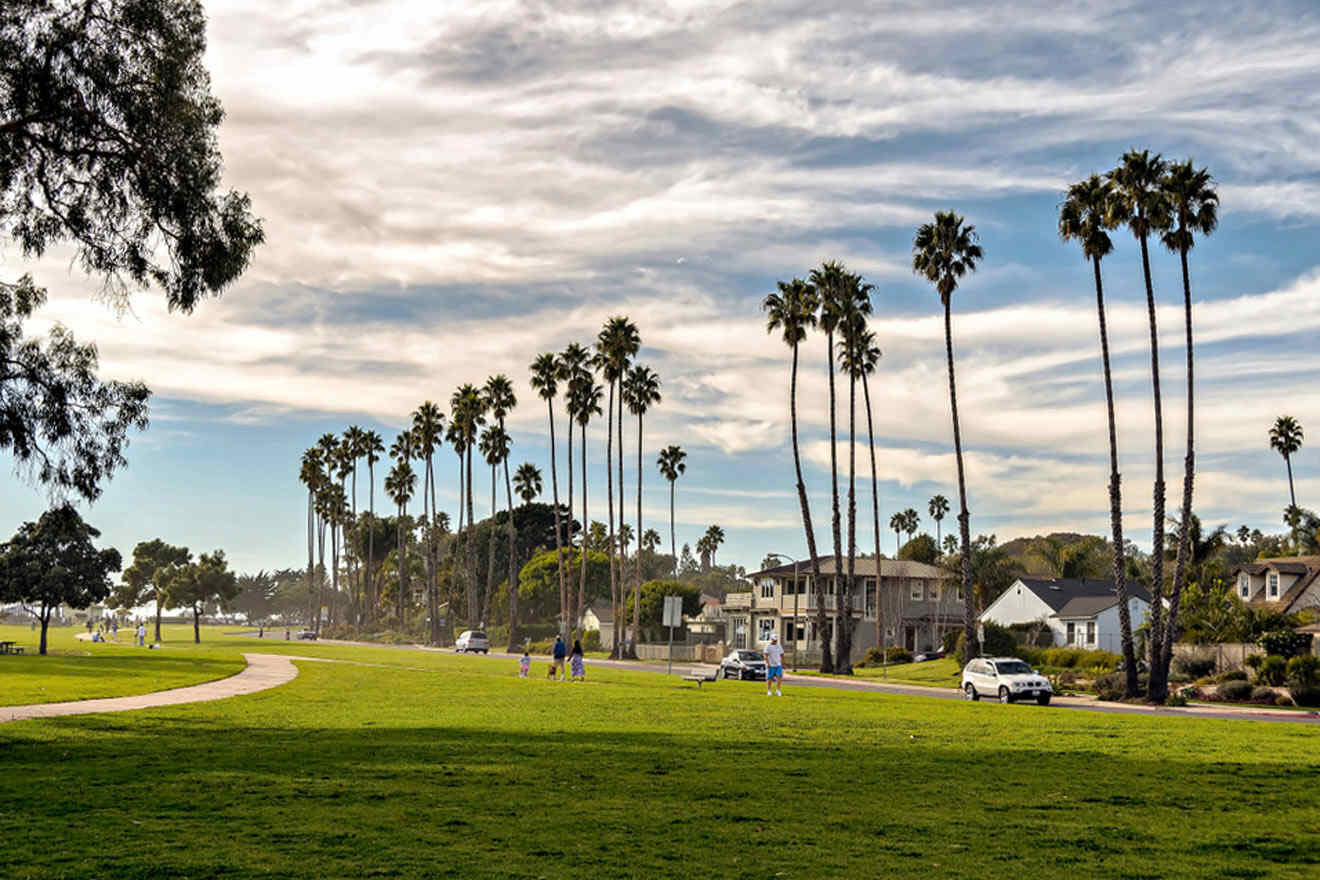 Since we are already quite a bit north of Stearns Wharf, let's stop at Shoreline Park for some amazing outdoor activities in the California sun.
You can bask in the warmth while indulging in recreational activities like volleyball, kite flying, or flag football or maybe just hang out with a book and a beach towel, and recharge from your busy day!
5. Sip & savor in Santa Barbara's many wine-tasting rooms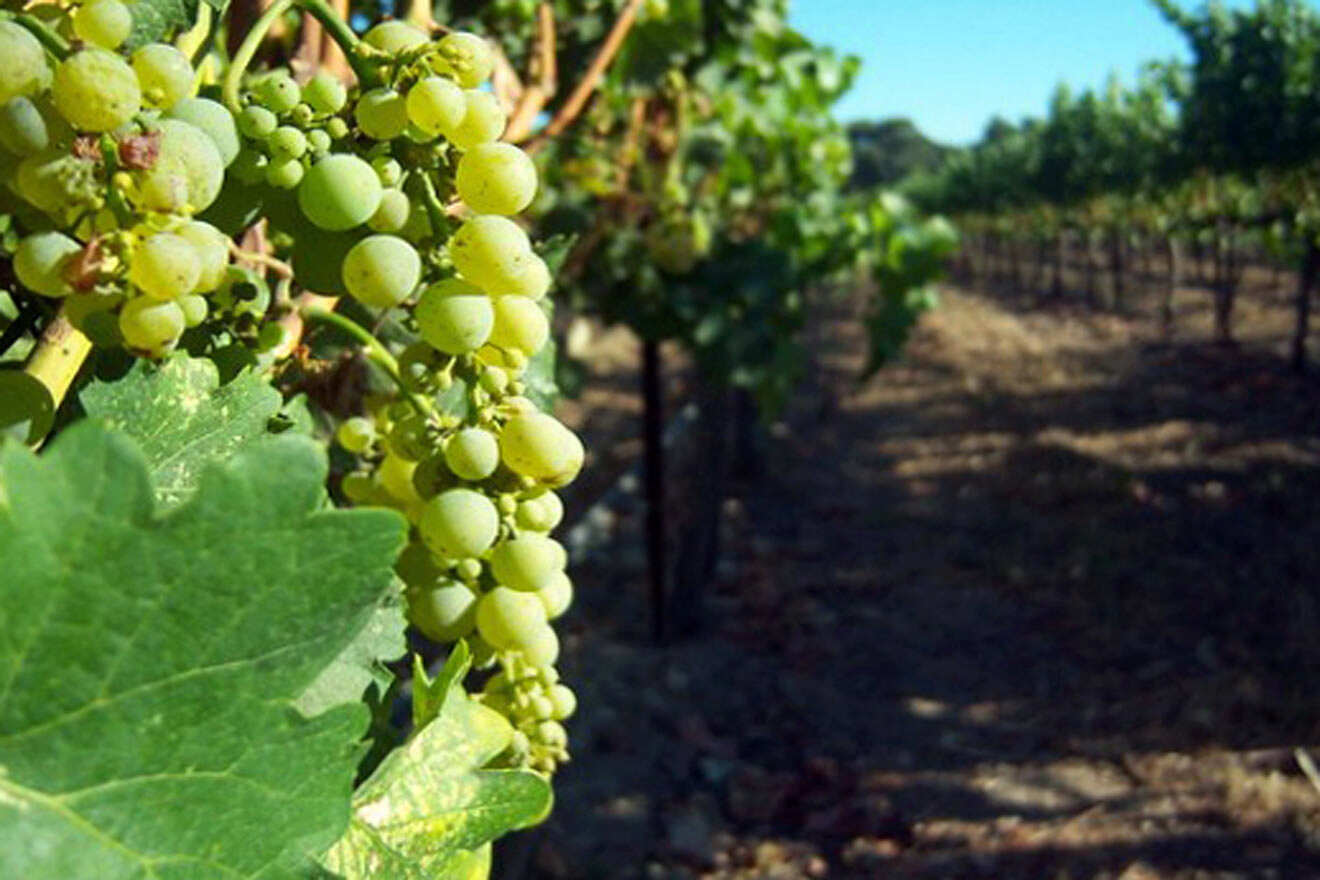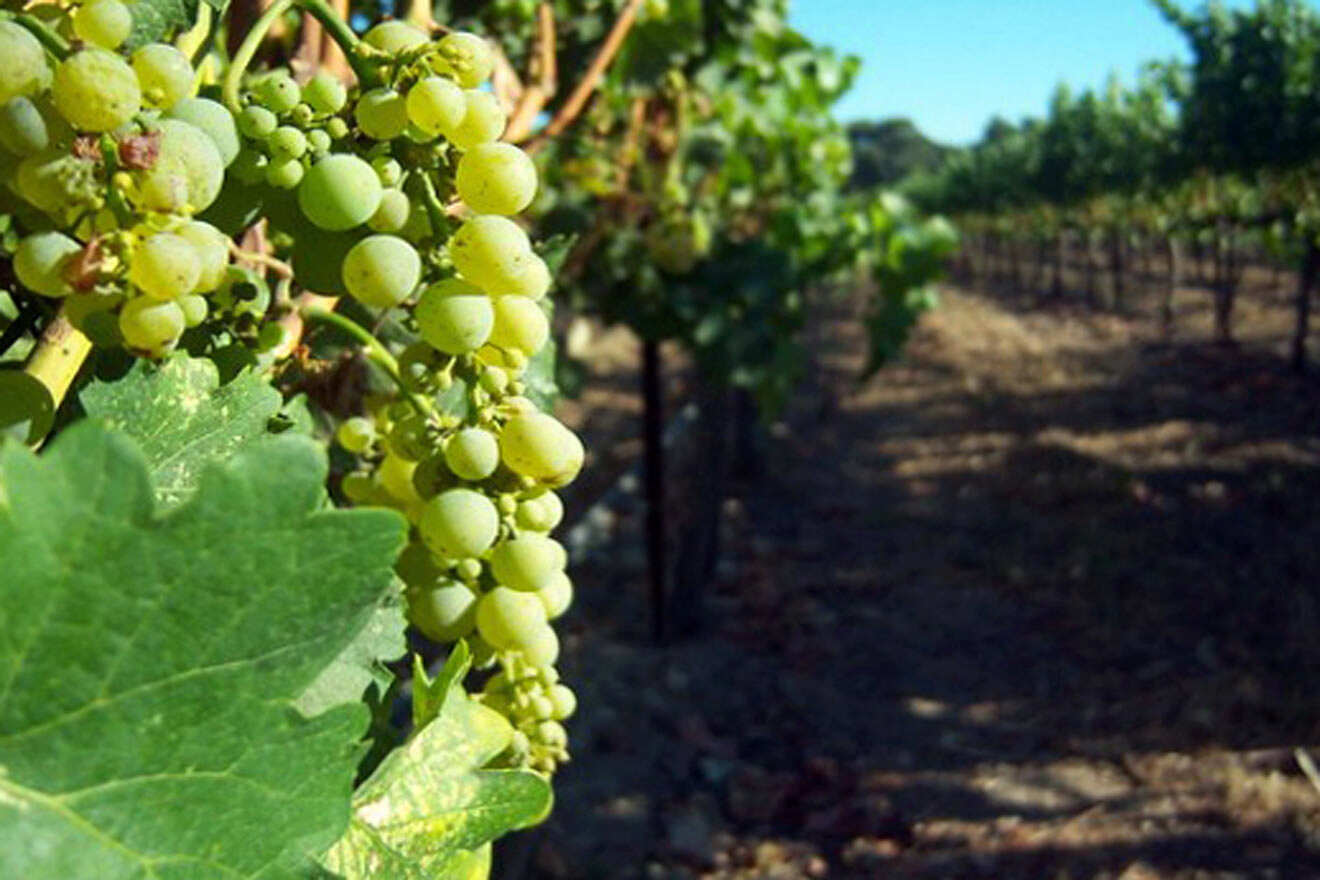 This one is optional but important to mention since Santa Barbara is known for its wine. If you're a grape aficionado or just want to learn more about it, there are countless tasting rooms spread all over Santa Barbara.
I will give you 2 of my favorite options, both located conveniently in downtown Santa Barbara, so you can squeeze it in before activities.
Au Bon Climat Tasting Room offers an intimate setting while sipping on their exceptional Burgundian-style wines, such as Chardonnay and Pinot Noir. This rustic tasting room has a really charming ambiance with a knowledgeable staff.
Just a short distance away, you'll find the Grassini Family Vineyards Tasting Room. This spot in all sophistication, indulge in limited-production Bordeaux-style wines as you sip the afternoon away. The elegant interior features a gorgeous bar and friendly staff.
After any wine tasting or wine tour, I usually need to walk it off and get a bite to eat, so I suggest heading to a museum and lunch from here.
6. Grab a seafood lunch with a view
It's lunchtime! I don't know about you, but the busy, sunny days get my appetite wound up, and the best solution is a convenient and delicious bite to eat at Brophy Bros.
This restaurant right on Santa Barbara Harbor has amazing ocean views and mouth-watering fresh seafood dishes. I'm telling you right now, you have to try their fish and chips dish. It's so tender and fresh, I can't stop thinking about it!
7. Learn the region's history at Santa Barbara Maritime Museum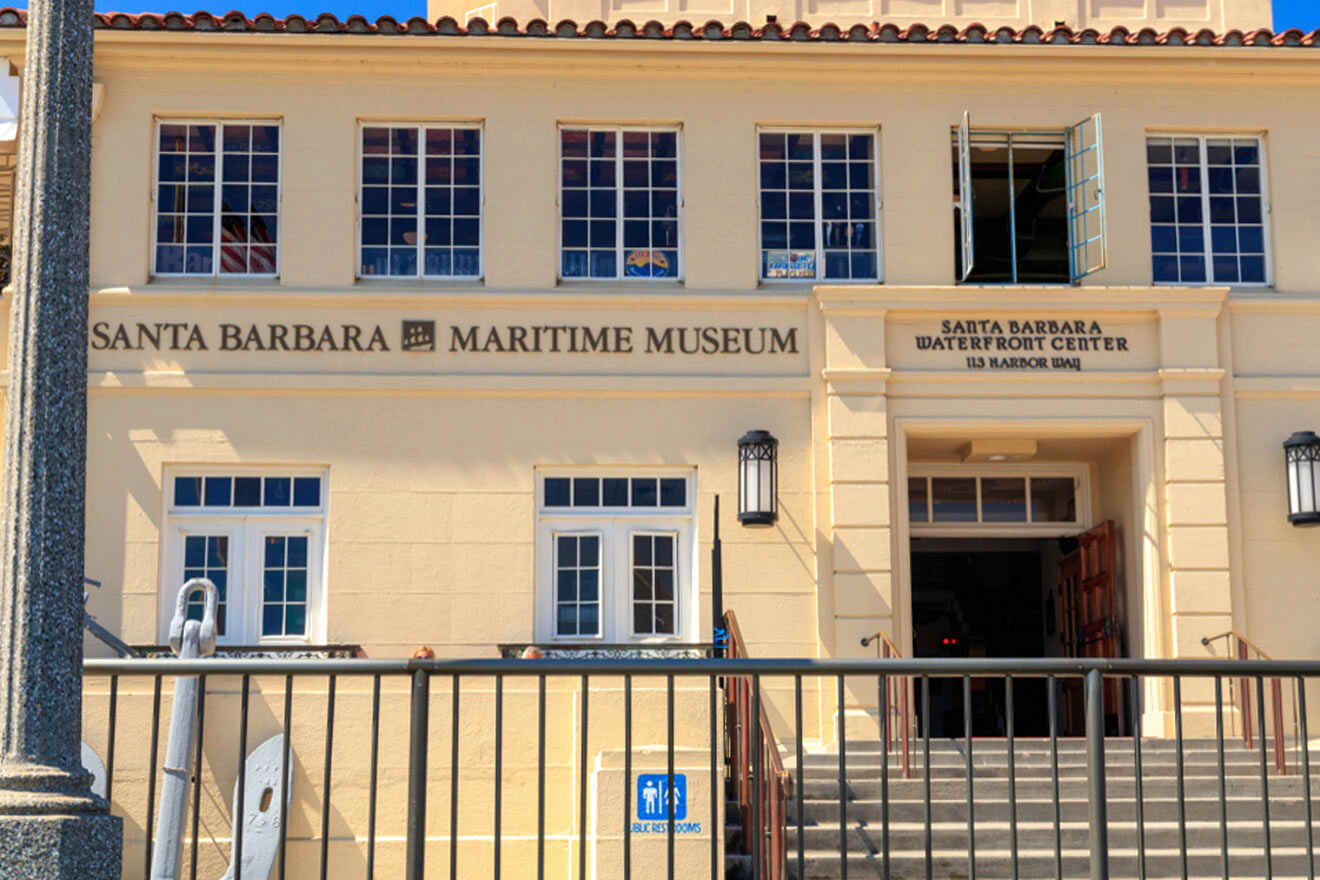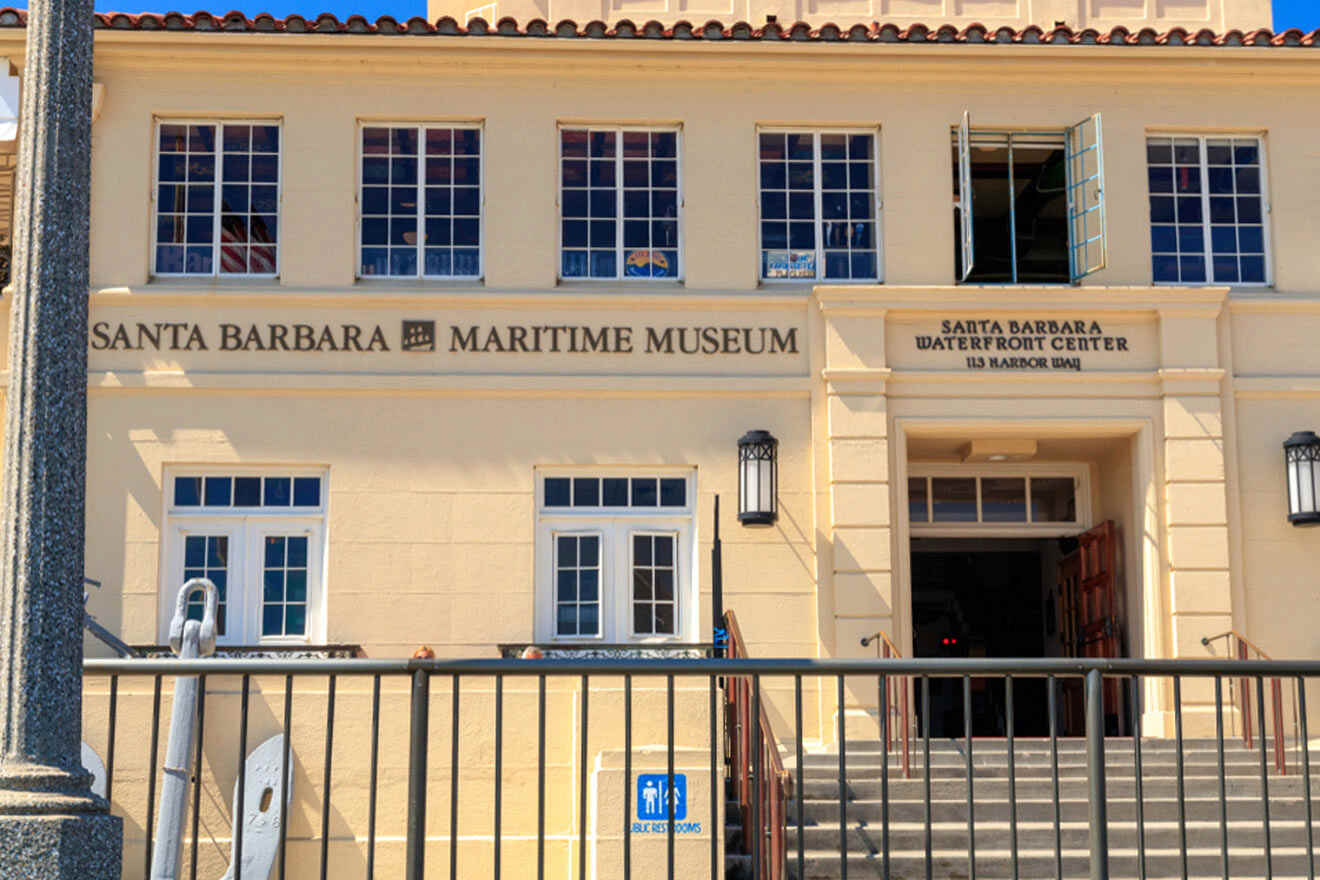 Remember when I said you might have to pick and choose between Santa Barbara's many museum choices? Well, this beautiful building dedicated to the region's fishing and maritime activities is pretty incredible and definitely falls into this category.
Located fittingly on Santa Barbara Harbor by West Beach, the Santa Barbara Maritime Museum is a great place to learn about the area's sea lions, fishermen, and Chumash Indians, and also about visiting Channel Islands National Park.
If you're into scuba diving, this is such a cool place to inspect dive equipment and its transformation throughout the decades, as well as old fishing tools and artifacts from the time.
PRICE: from US$16
8. Have fun, learn, and innovate at MOXI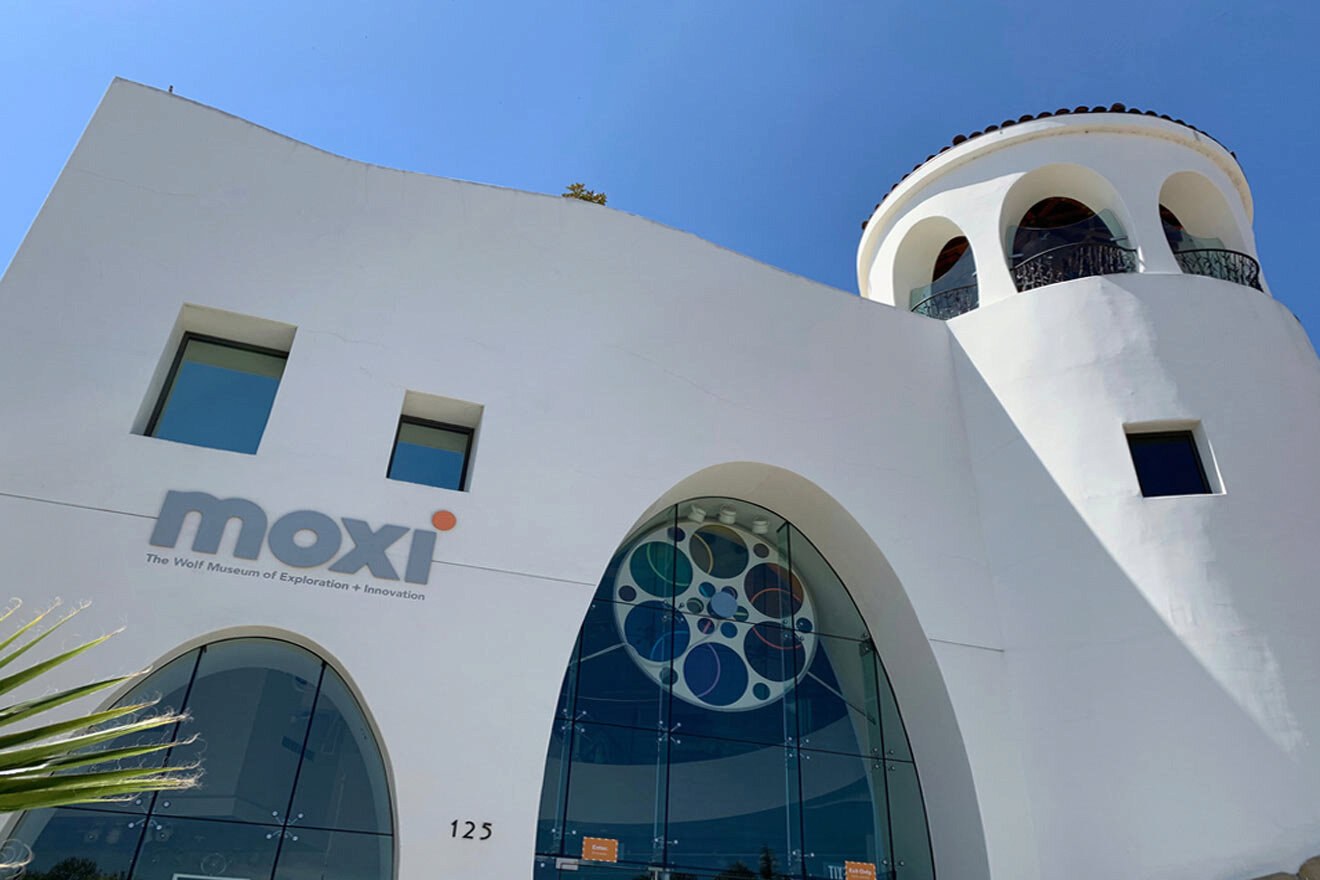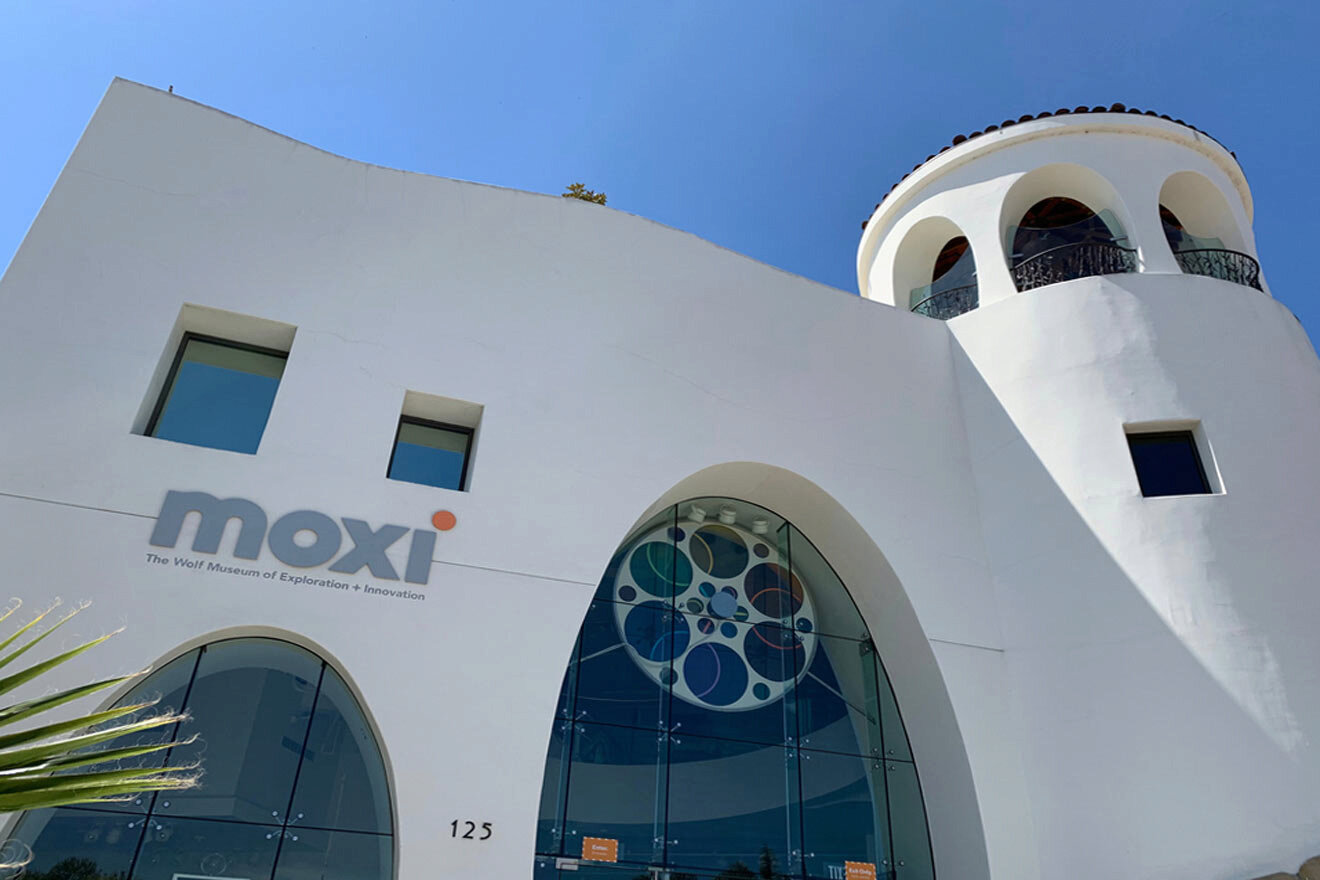 Another one of your many museums to choose from, this incredible museum option is actually interactive!
MOXI, The Wolf Museum of Exploration and Innovation really blew my mind, and I highly suggest getting tickets for your Santa Barbara trip. Filled with 3 full floors worth of science, innovation, and technology, you can see how Hollywood creates its movie sound effects or crawl your way into a giant guitar.
One thing to note, if you want to get that perfect bird's eye view of Santa Barbara, head to the top floor for a stunning lookout point.
PRICE: US$18 per person
9. Hit the Funk Zone for dinner and nightlife
I know it's been a long day, but everyone has to eat, right?
My hippie, artistic heart gravitates towards The Funk Zone, a hip and eclectic section of Santa Barbara that is alive with art galleries, trendy cafés, interesting shops, tasting rooms, and a feeling, unlike any other section of this beachy, urban town.
The Funk Zone is a great spot to pick up unique souvenirs, pop into a wine-tasting room to sample some of the best grapes in the Santa Ynez Valley, or take some killer Instagram photos against the many colorful muraled buildings.
After a memorable night in The Funk Zone, it's time to turn down the lights on an outstanding Santa Barbara getaway!
Optional Day 3
You lucky duck, you're in Santa Barbara for an extra day!? Great! Here are some additional tours that are awesome but take up a good chunk of time.
1. Explore Los Olivos
Didn't get enough of the delectable local grapes at the tasting rooms downtown? I highly suggest a local Santa Barbara winery.
Try taking a day and exploring Los Olivos, a captivating blend of rustic beauty, small-town charm, and exceptional wine. The town itself is super quaint, with adorable boutique shops, art galleries, and inviting tasting rooms.
The surrounding countryside offers breathtaking vistas of rolling vineyards and majestic oak trees, creating a serene backdrop for wine tasting.
To me, the best way to see wine country is, by far, via a guided tour. No one wants to drink and drive or play tour guide in an unknown place. Sit back and relax as you wind your way through the picturesque vineyards of Santa Barbara.
TOUR PRICE: from US$255 per person
2. Explore the young and hip Isla Vista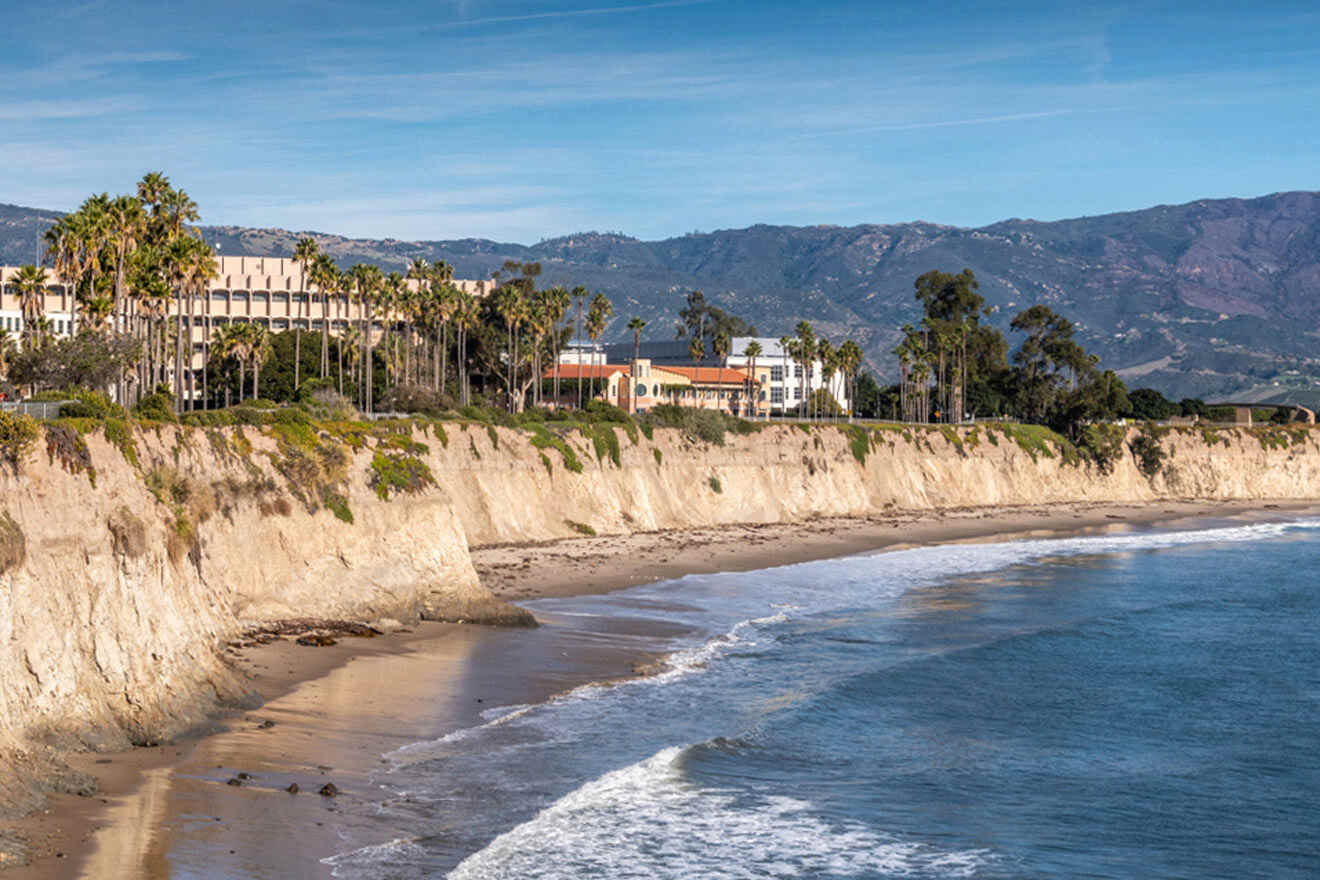 Worth peeking at if you have the extra time, Isla Vista, located near UCSB in Santa Barbara, is a happening college community with a lively atmosphere, sandy beaches, and nearby trails and nature walks. A well-known area for the younger crowd, college kids in Santa Barbara spend a lot of their time here.
3. Eat your way through the Santa Barbara Public Market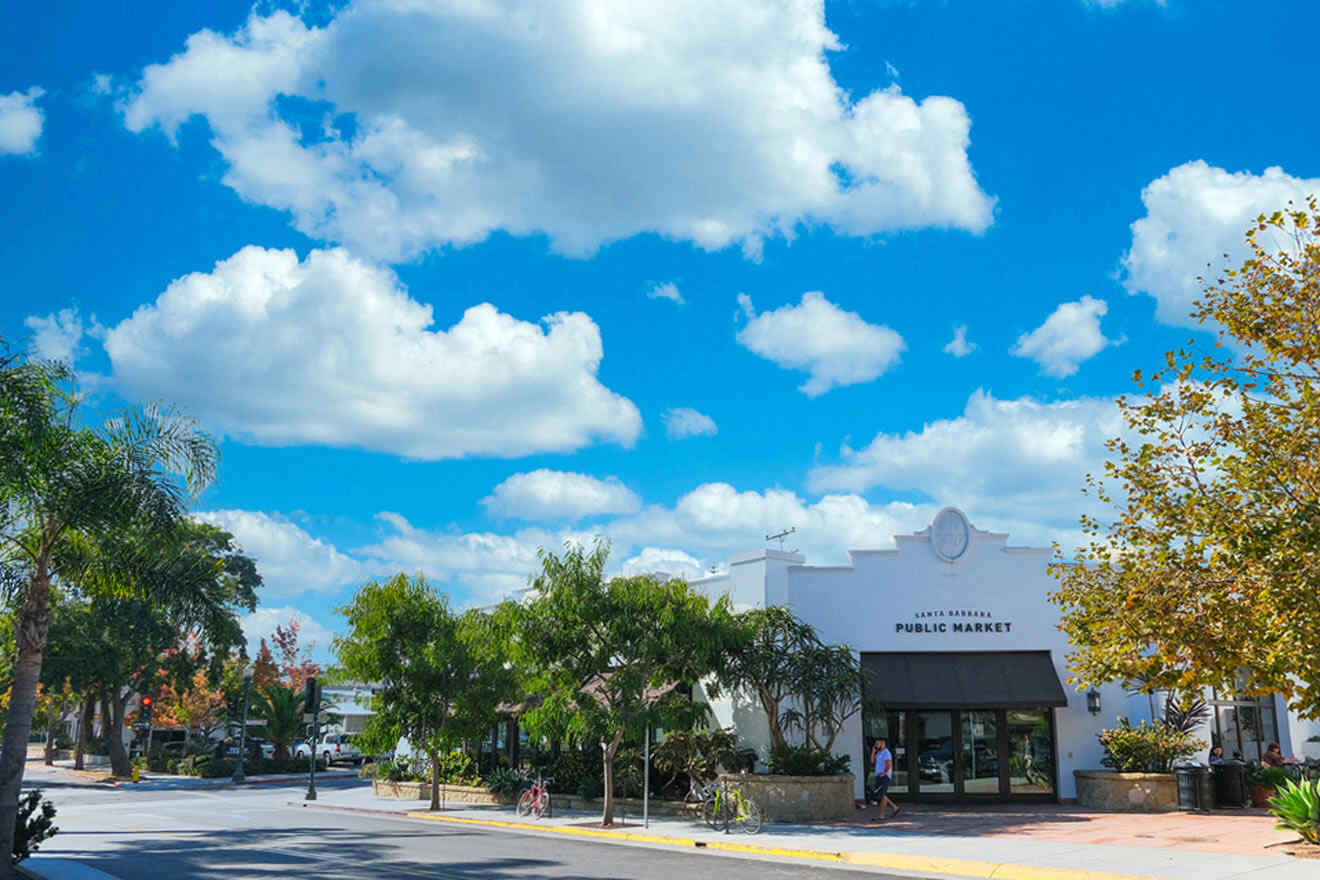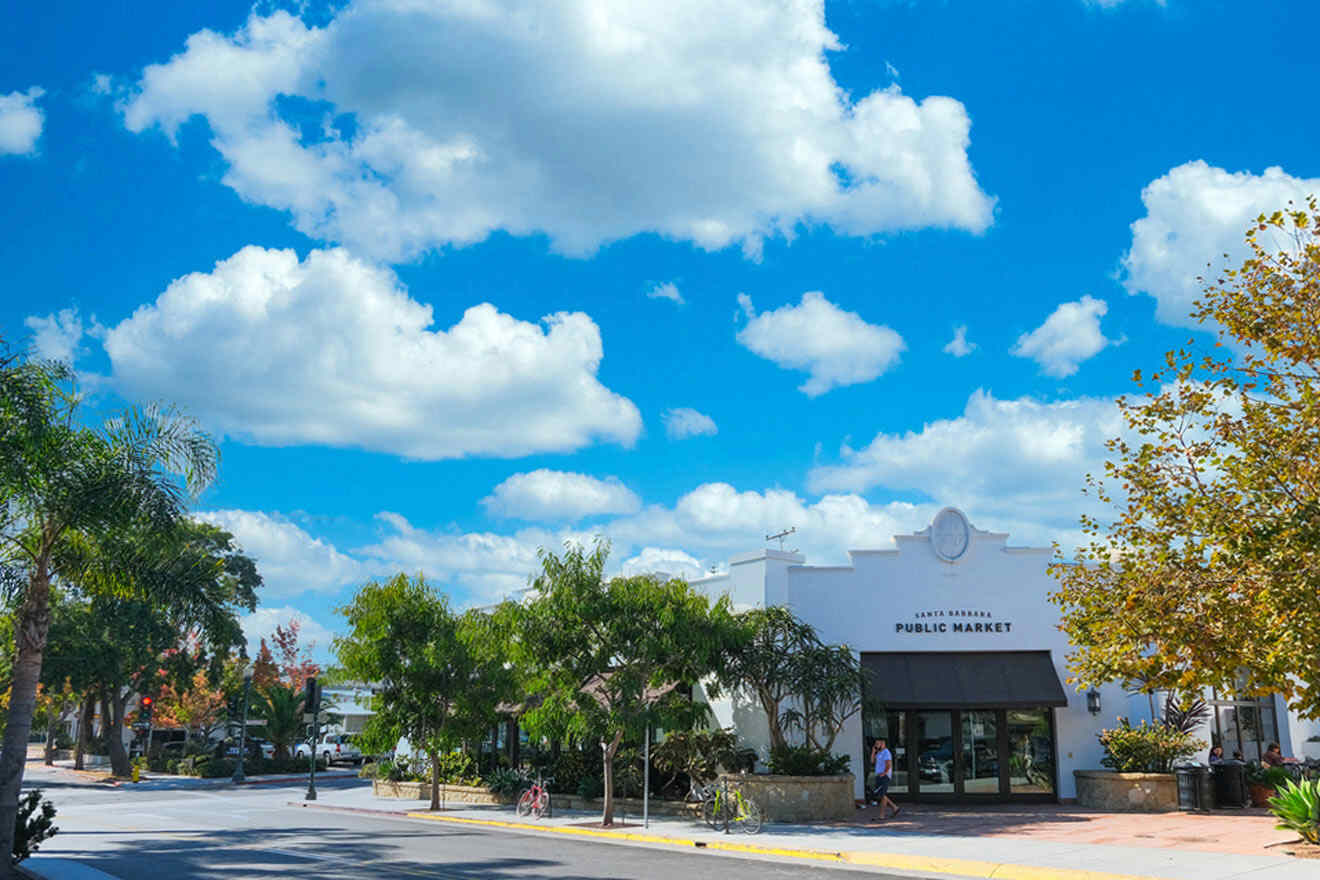 Did someone say eat? This new, trendy, and popular spot, the Santa Barbara Public Market, is an indoor food hall filled with a variety of food vendors and dining options.
It's in the heart of downtown Santa Barbara and only takes place on Tuesdays, so plan accordingly.
With over 60 local vendors from the area, you can find Thai, Japanese, Mexican, Italian, anything really! And, of course, wine!
4. Hop over to Santa Cruz Island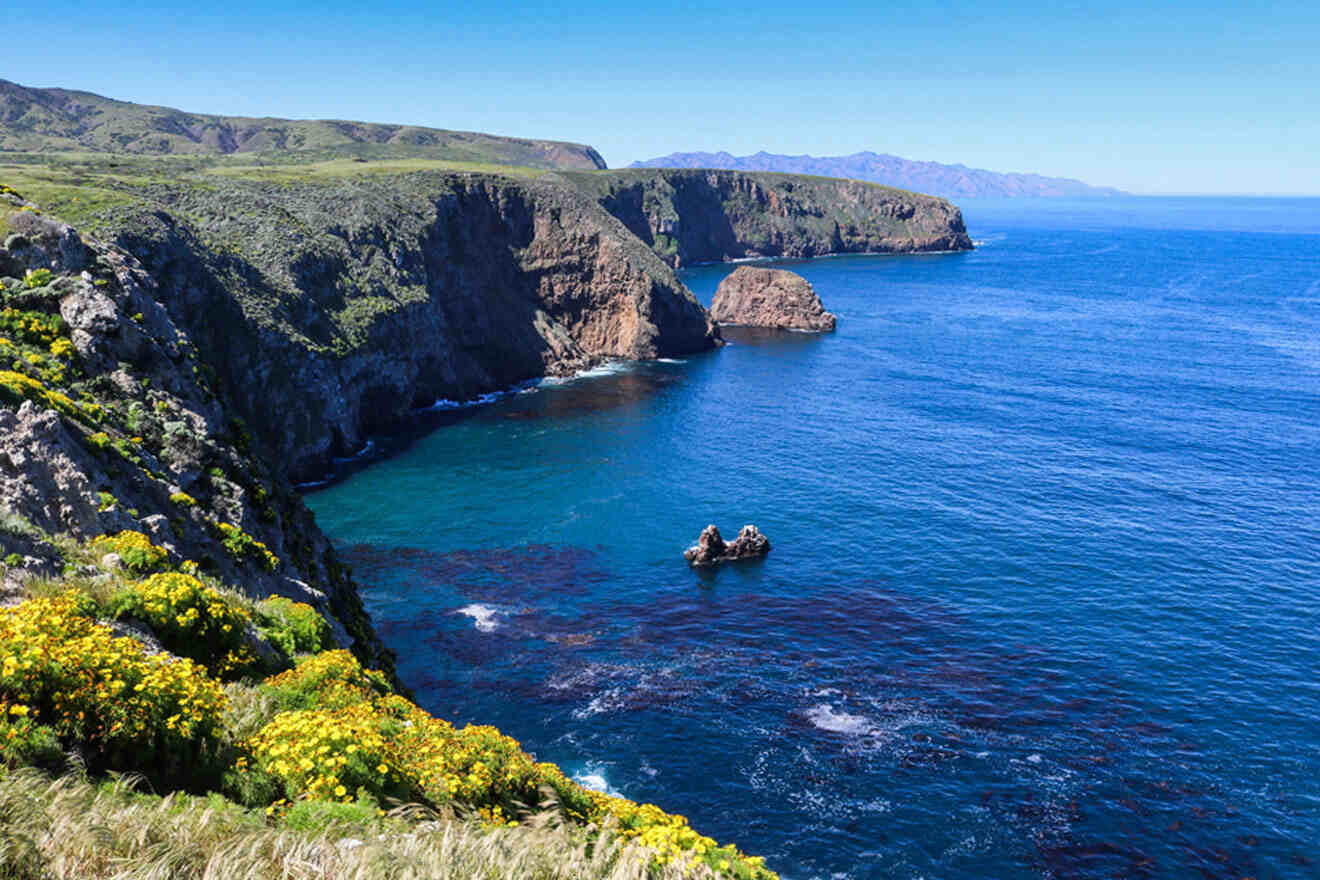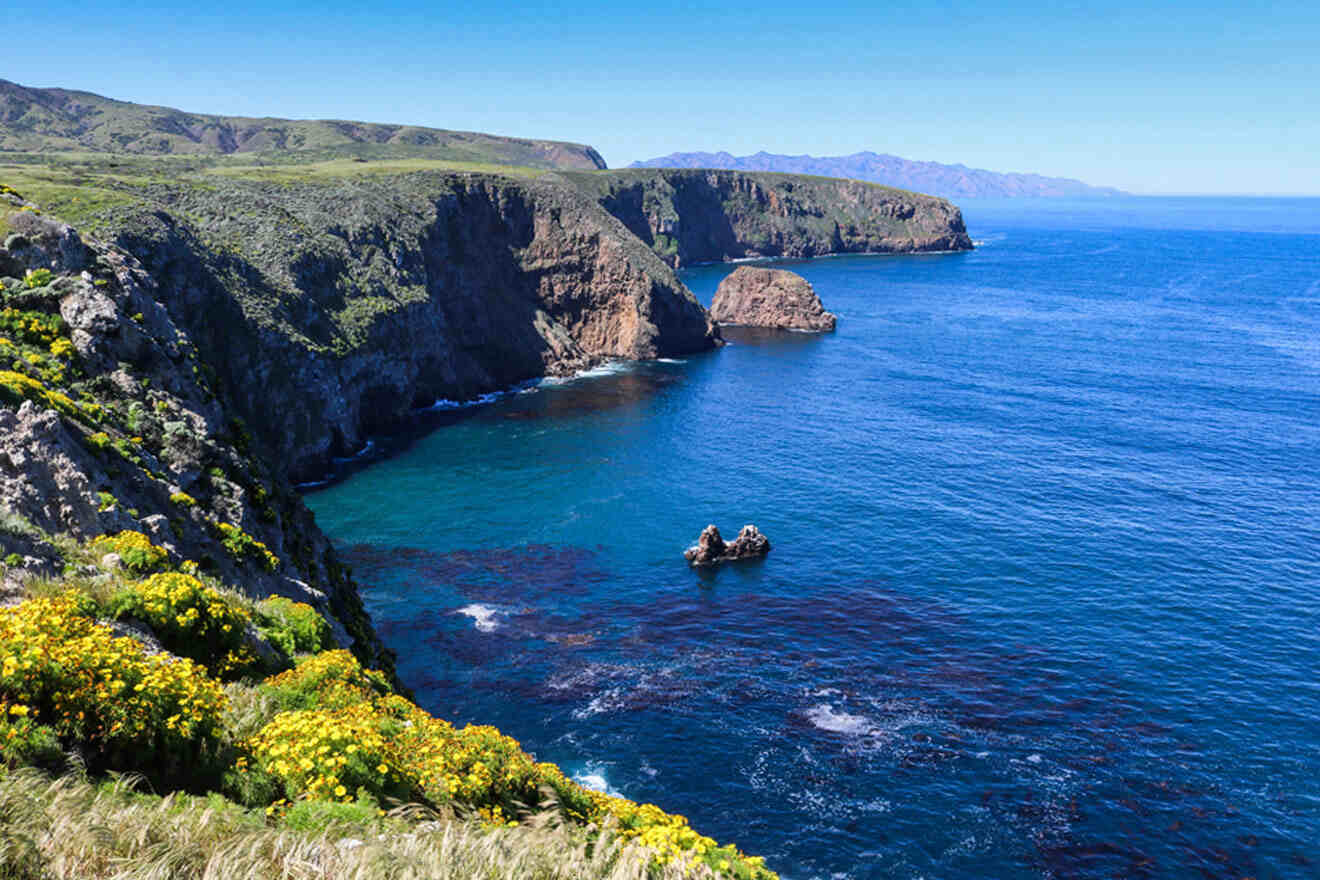 Island and vacation just sound like they go hand in hand, don't they? If you have time, visit the largest of the eight islands that make up Channel Islands National Park, known for its gorgeous natural beauty and rich biodiversity.
Santa Cruz Island is the perfect place for a 1-day trip from Santa Barbara or an overnight camping expedition. Head out on Island Packers Ferry and check the tour times. Keep in mind to pack wisely, there are no food options on the island.
5. Find peace at Santa Barbara Botanic Garden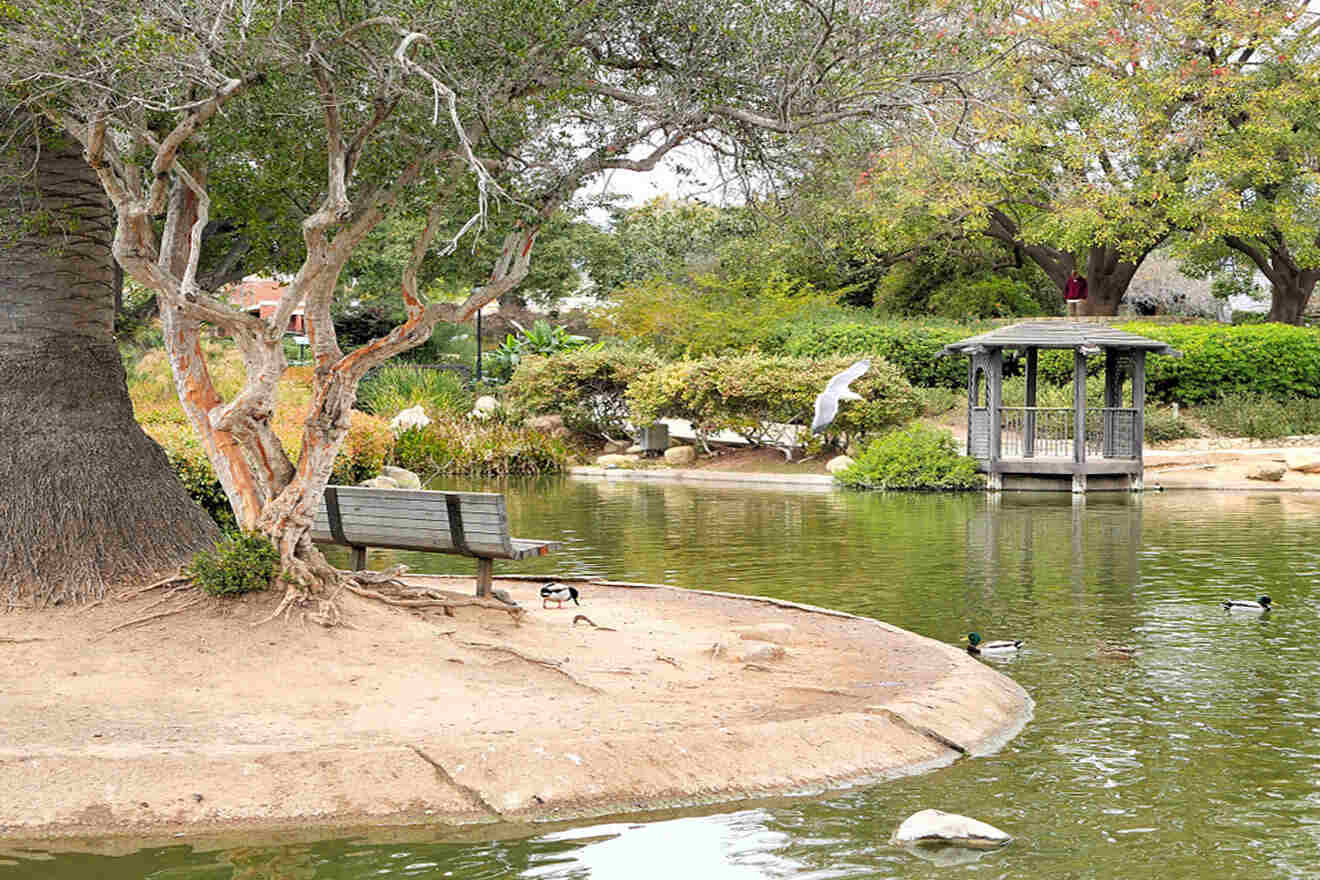 As a nature lover, the Santa Barbara Botanic Garden is a must on my Santa Barbara itinerary, but keep in mind, it's a 20-minute drive from downtown without traffic.
With over 5 miles (8 km) of trails, a Japanese tea house, and the historic Mission Dam, this garden provides a whole afternoon's worth of zen.
If you're feeling extra adventurous, take the 3-mile (5 km) hike to Inspiration Point for the most incredible views of Santa Barbara and the valleys down below.
I usually bring a journal, my headphones, and a coffee and spend some time reflecting on my time in Santa Barbara. I should mention reservations are required, so book ahead.
PRICE: US$20 per person
Where to stay in Santa Barbara
Since we are talking about a whole weekend, I thought I'd give you some accommodation options as well. The hotels are ordered from luxury to budget, with prices starting from US$200 per night for 2 adults.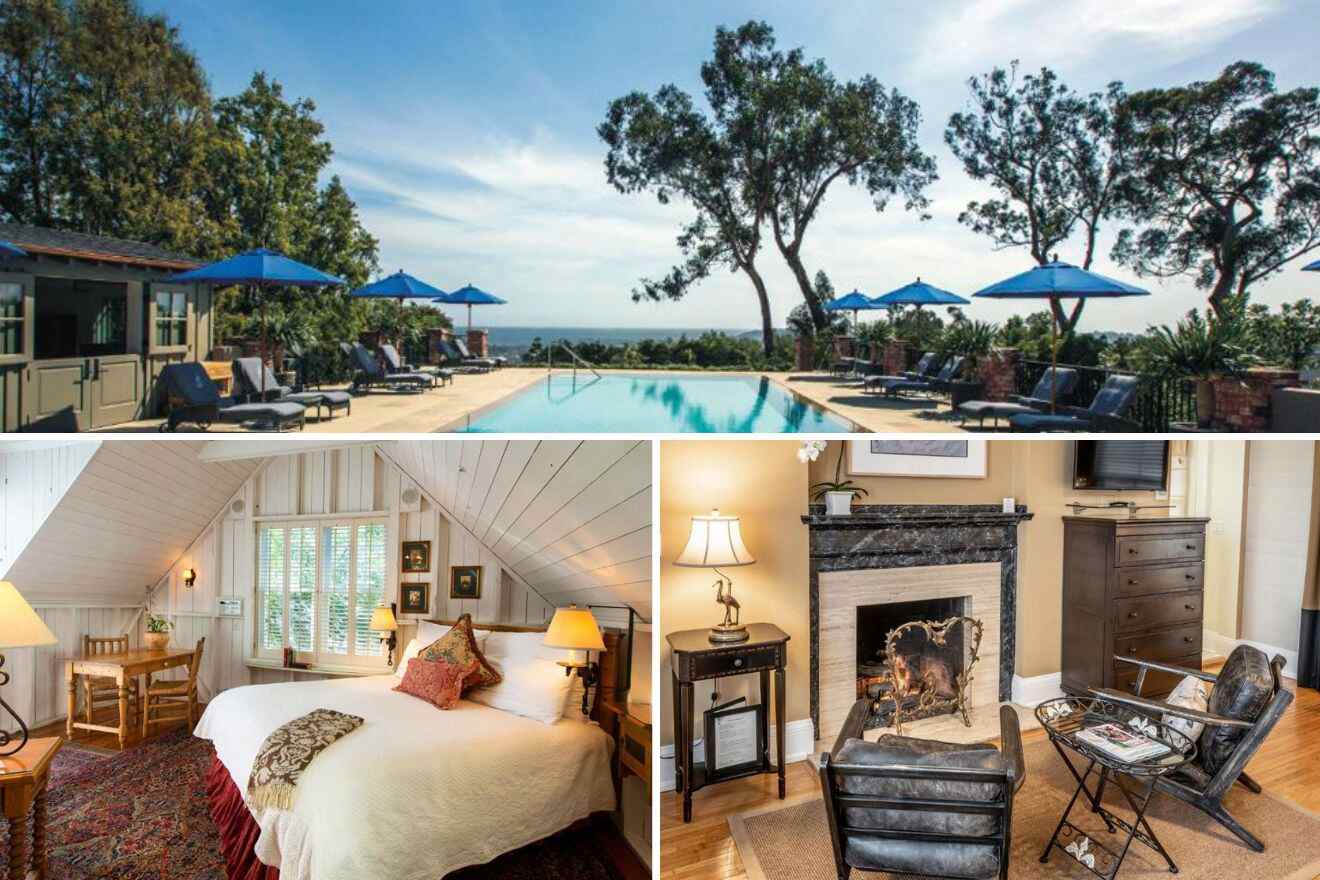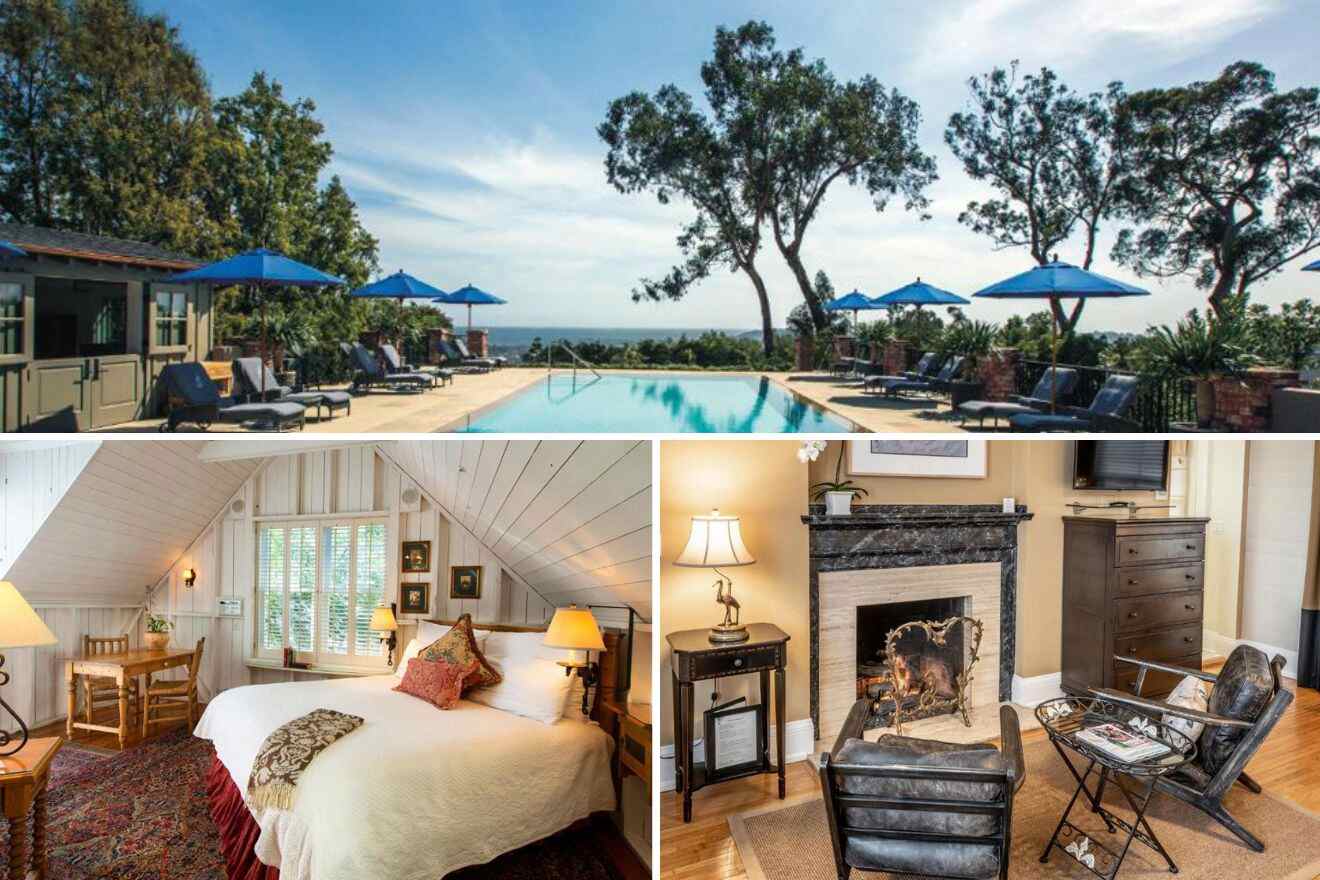 Luxury (US$750 and up)
El Encanto, A Belmond Hotel, Santa Barbara – Opulence, 5-star service, and impeccable rooms await you in this oceanfront gem with an infinity pool.
Hotel Californian – Located in the prominent Funk Zone, the Hotel Californian is a stunning hotel offering elegance and accessibility to Santa Barbara's best attractions.
Mid-Range (US$450 – US$600)
Simpson House Inn – This beautifully restored 19th-century Victorian mansion turned boutique inn offers an intimate, personalized experience in Santa Barbara.
West Beach Inn, A Coast Hotel – Stylish boutique hotel within walking distance of historic Stearns Wharf, State Street, and Santa Barbara's best sites.
Budget (up to US$300)
Castillo Inn at the Beach – Located a short walk from the pier and Stearns Wharf, this budget-friendly option is convenient, comfy, and clean.
Harbor House Inn – Convenience and charm fill the colorful halls of this great budget option in West Beach near all the action.
FAQs about your Santa Barbara getaway weekend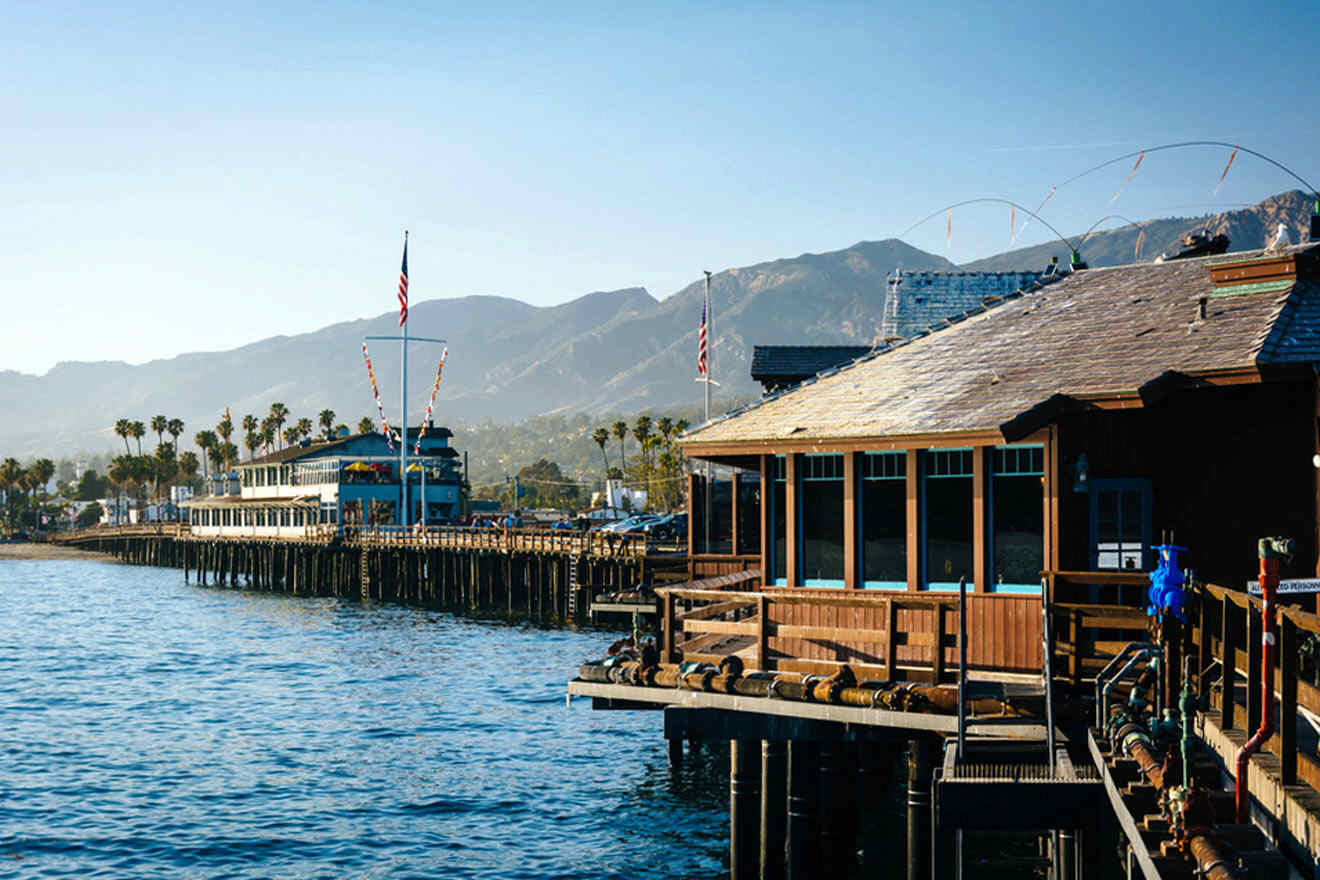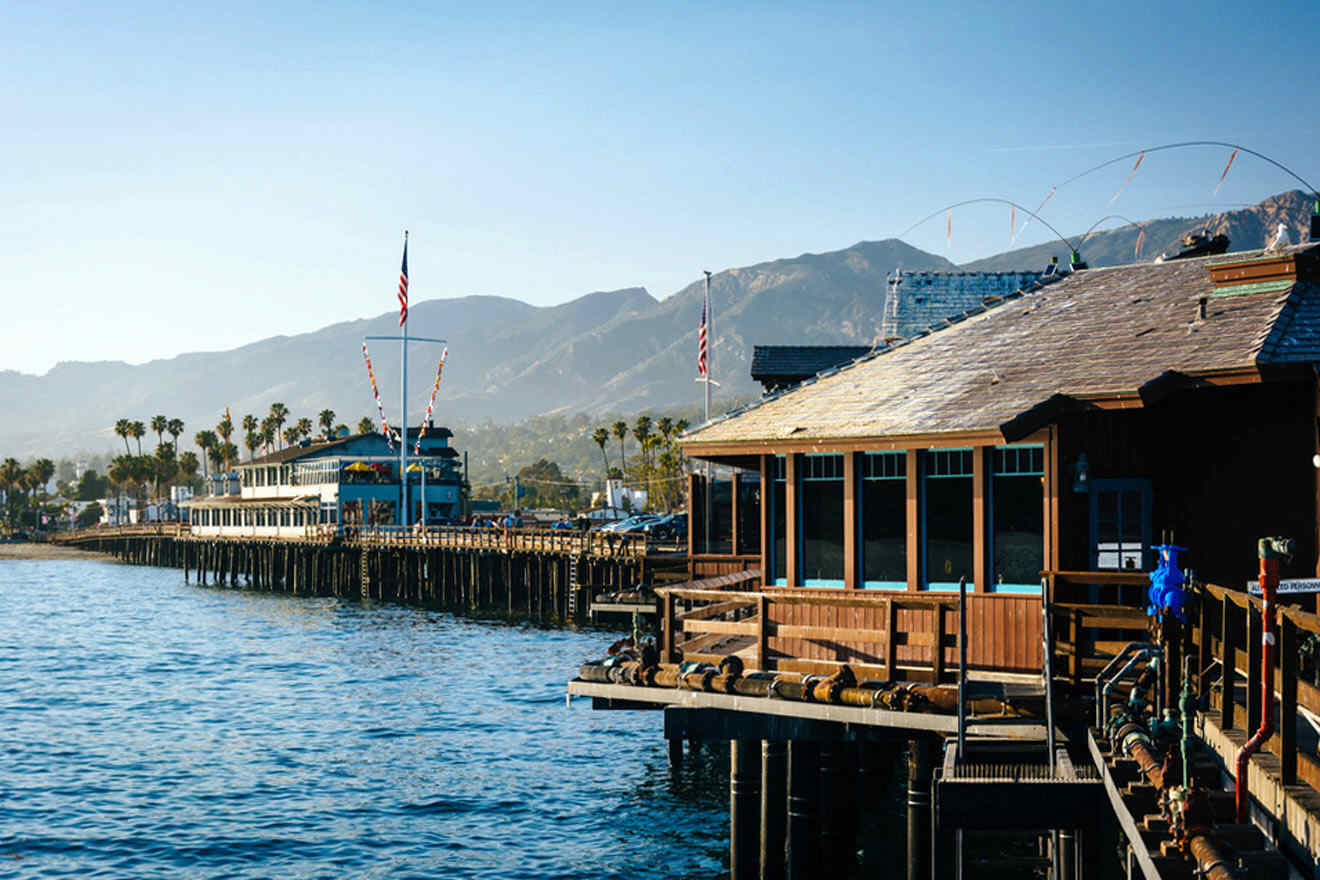 Conclusion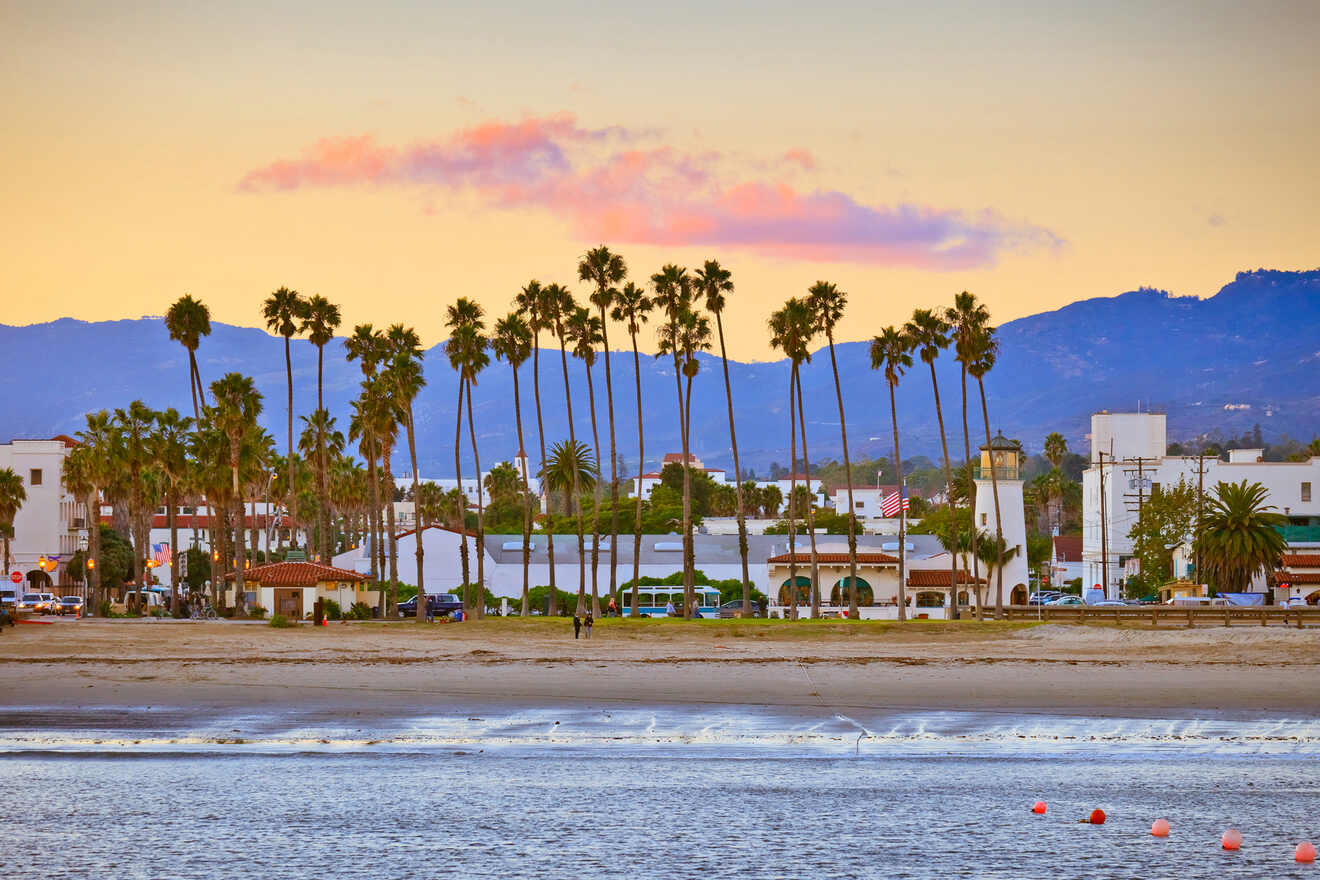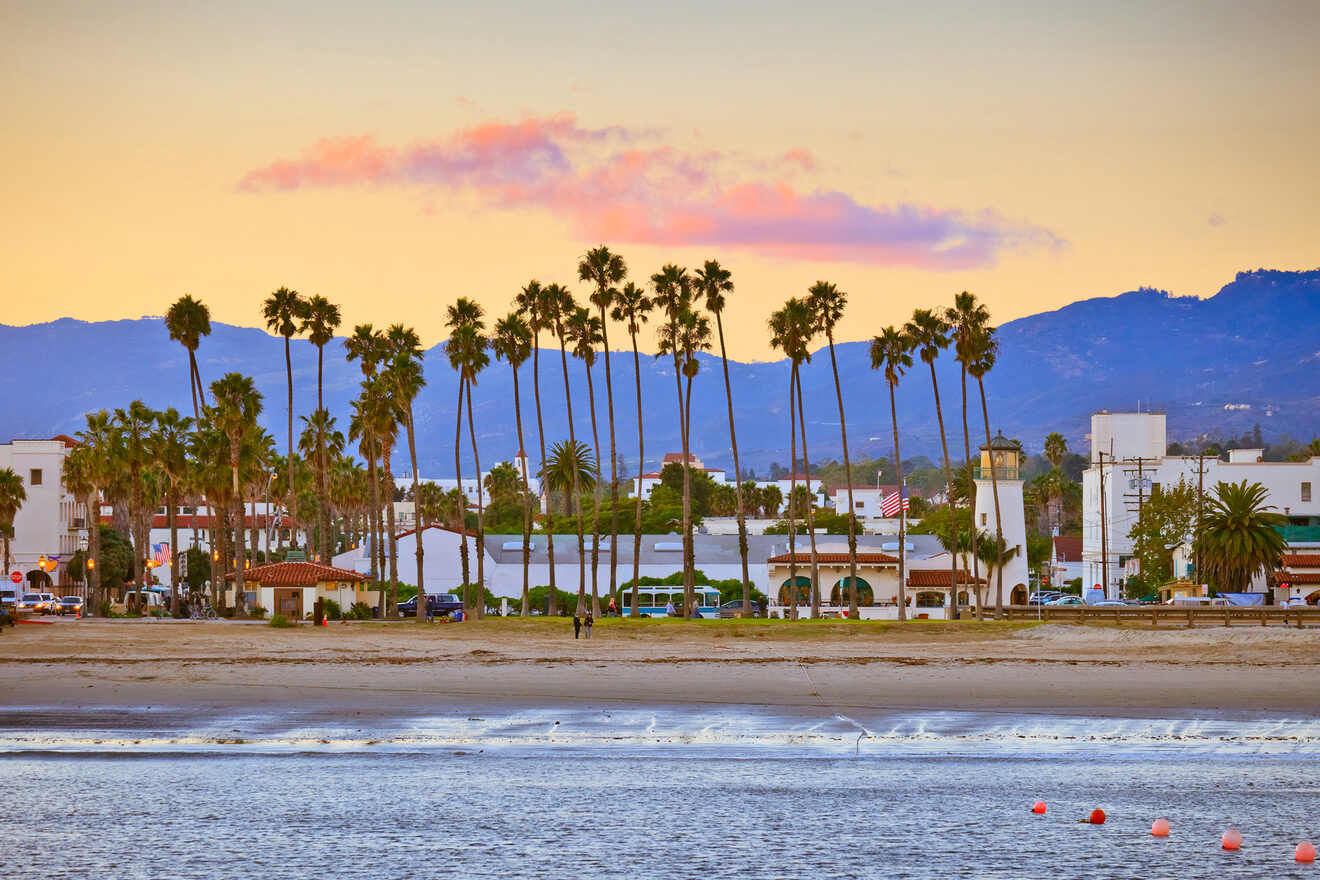 That was so much fun! I hope you are excited to make the most of your Santa Barbara getaway weekend.
This city offers you the perfect blend of relaxing beach oasis and vibrant city escape, proving its nickname "The American Riviera" to be quite fitting.
There's no end to the possibilities with amazing dining, unique shopping, and world-class beaches. Be sure to book any must-sees prior to arrival, as Santa Barbara is a busy place any time of year. Now, get traveling!
Don't forget to drop me a line once you visit with your personal favorites!
Aloha and safe travels,
Hayden Goldberg
---
Pin it for later!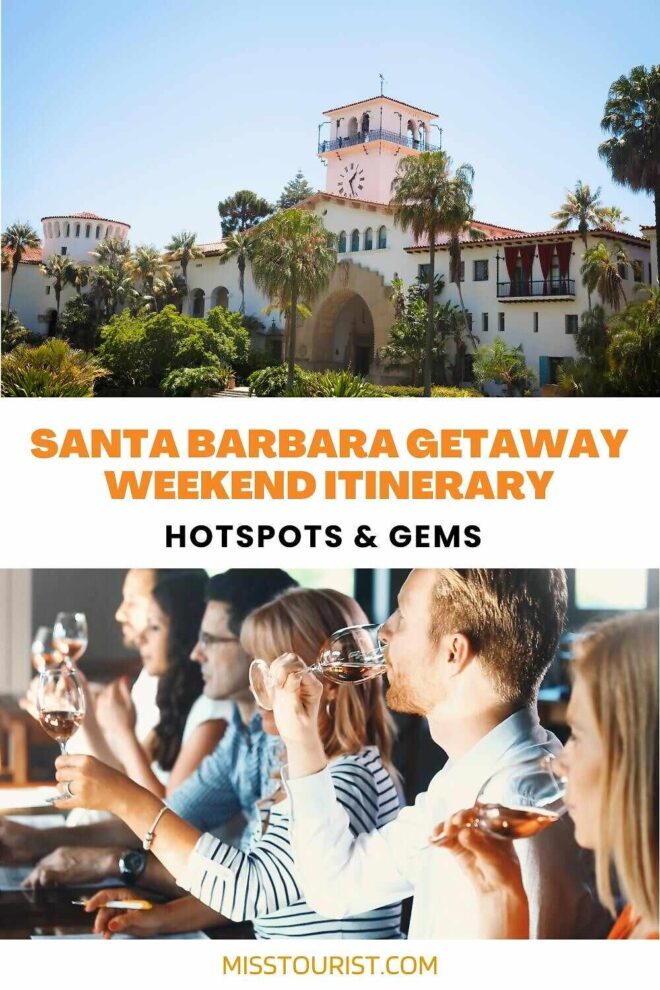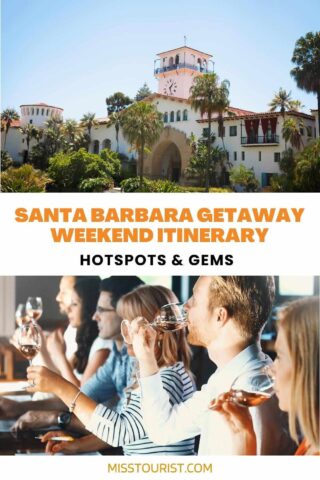 Pin it for later!