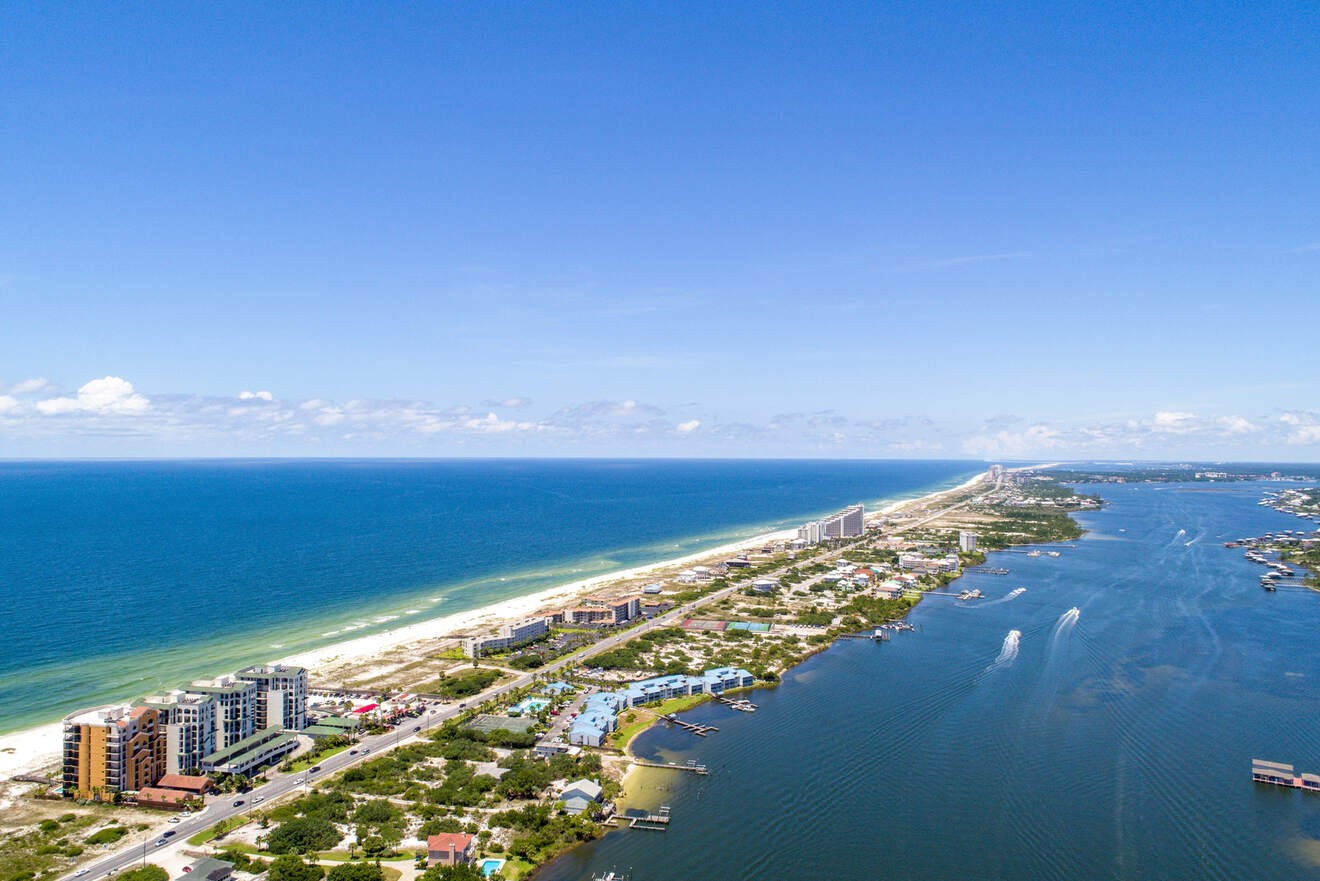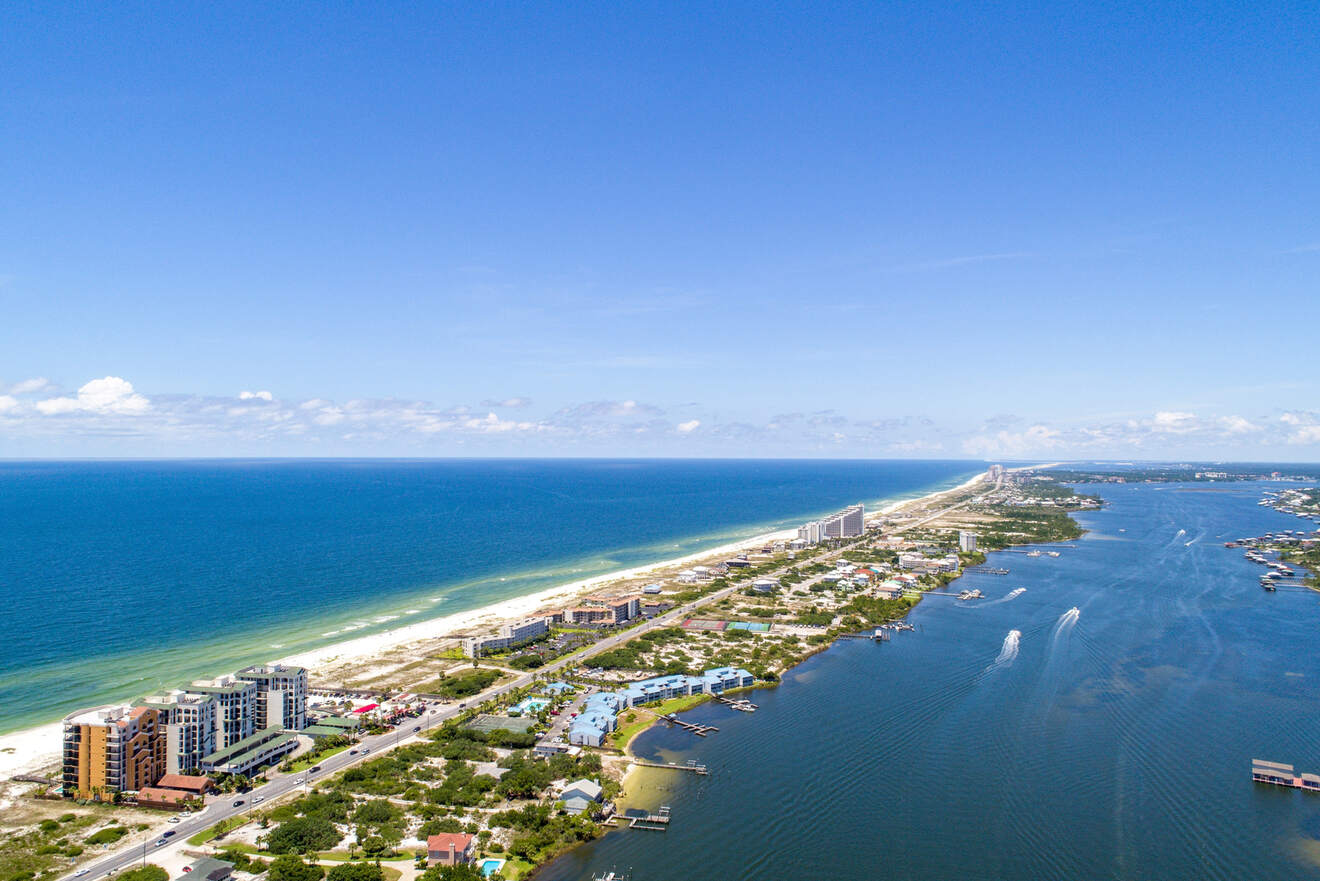 Florida sure has many hidden gems, and Pensacola is somewhere at the top of that list! I can't get enough of this state's wonderful beaches, amazing weather, and natural beauty!
In this post, I'll point you to the best places to stay in Pensacola! Downtown is my top choice as the best place to stay in Pensacola since it has all the major attractions, great restaurants, and hotels.
However, in this post you'll find 3 more areas perfect for beach lovers, those traveling on a budget, or if you want to stay near the airport; Pensacola Beach, Gulf Breeze, and Northeast Pensacola.
I know I mentioned this place is not as touristic as other cities in the state. However, trust me when I tell you that no place in Florida remains untouched by visitors. That's why I recommend booking you hotels in advance. Otherwise, you'll risk losing your favorite spot.
But enough about that now, I'm ready to have some fun and discover this cool city!
Let's head to the beach!
If you are in a hurry
I know many of you will want to book your hotel ASAP, so here's a list of the best accommodations, all located in Downtown Pensacola
Check out the map below! It will help you visualize all the areas to stay in Pensacola that I'll talk about in this post: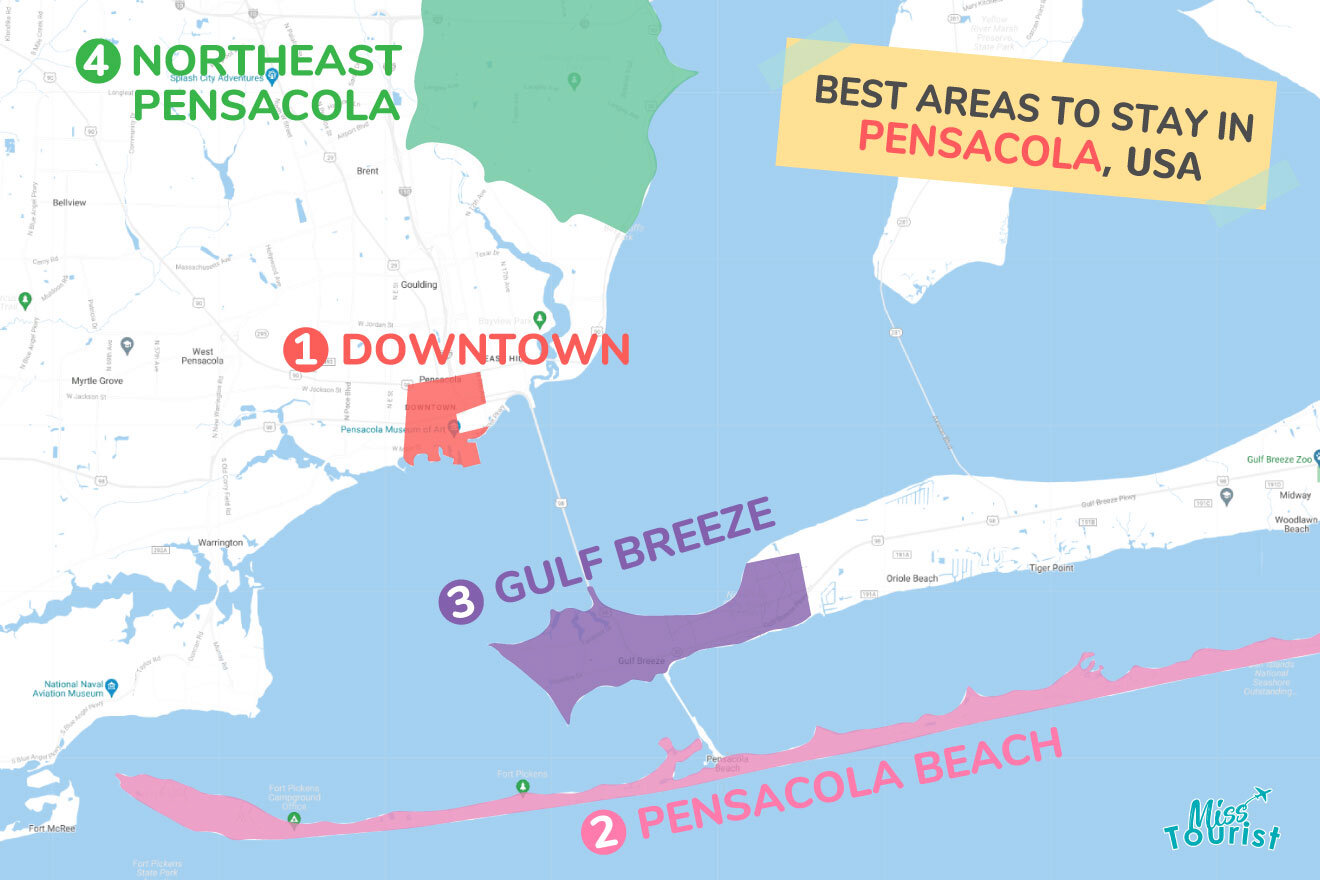 1. Downtown – where to stay in Pensacola for the first time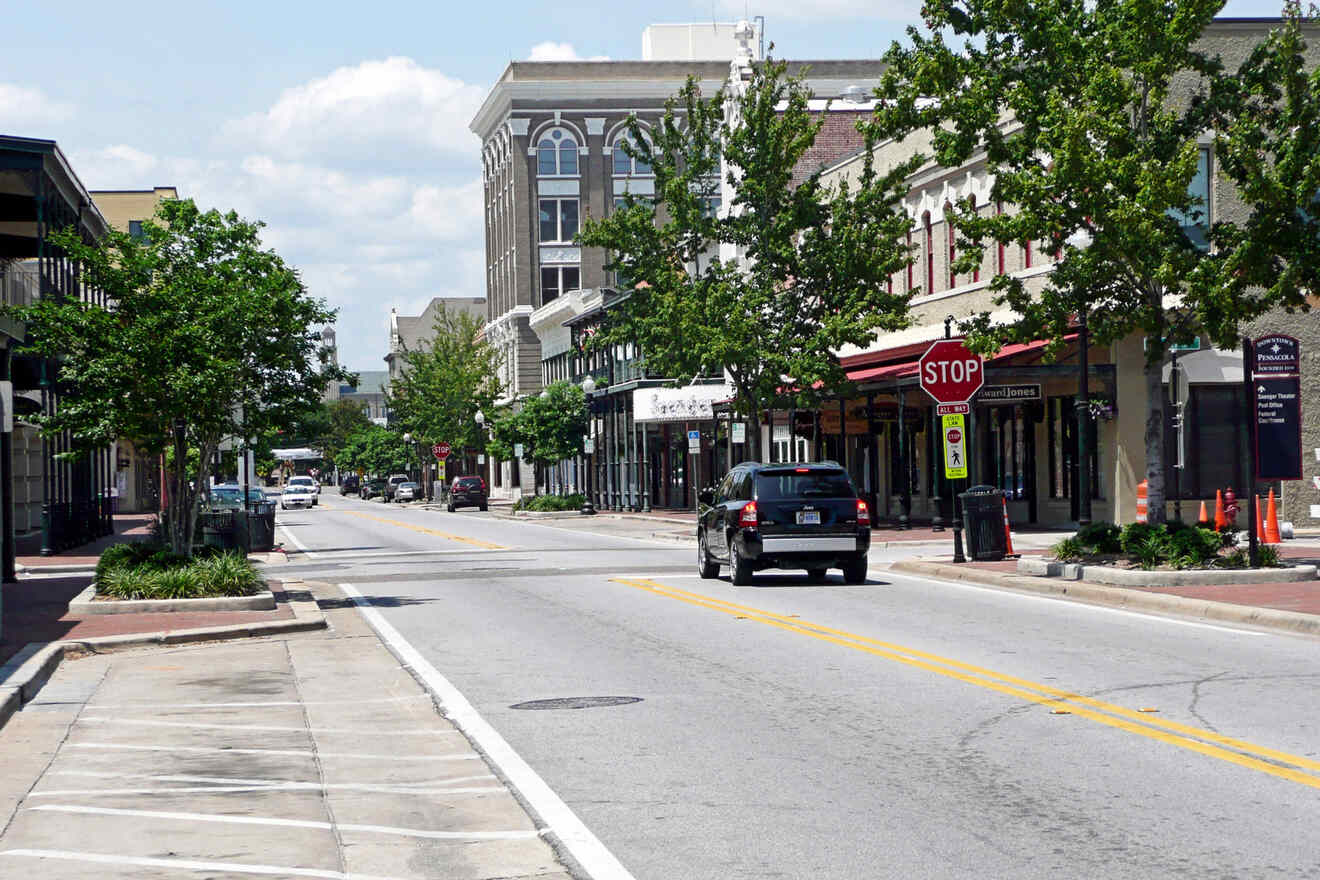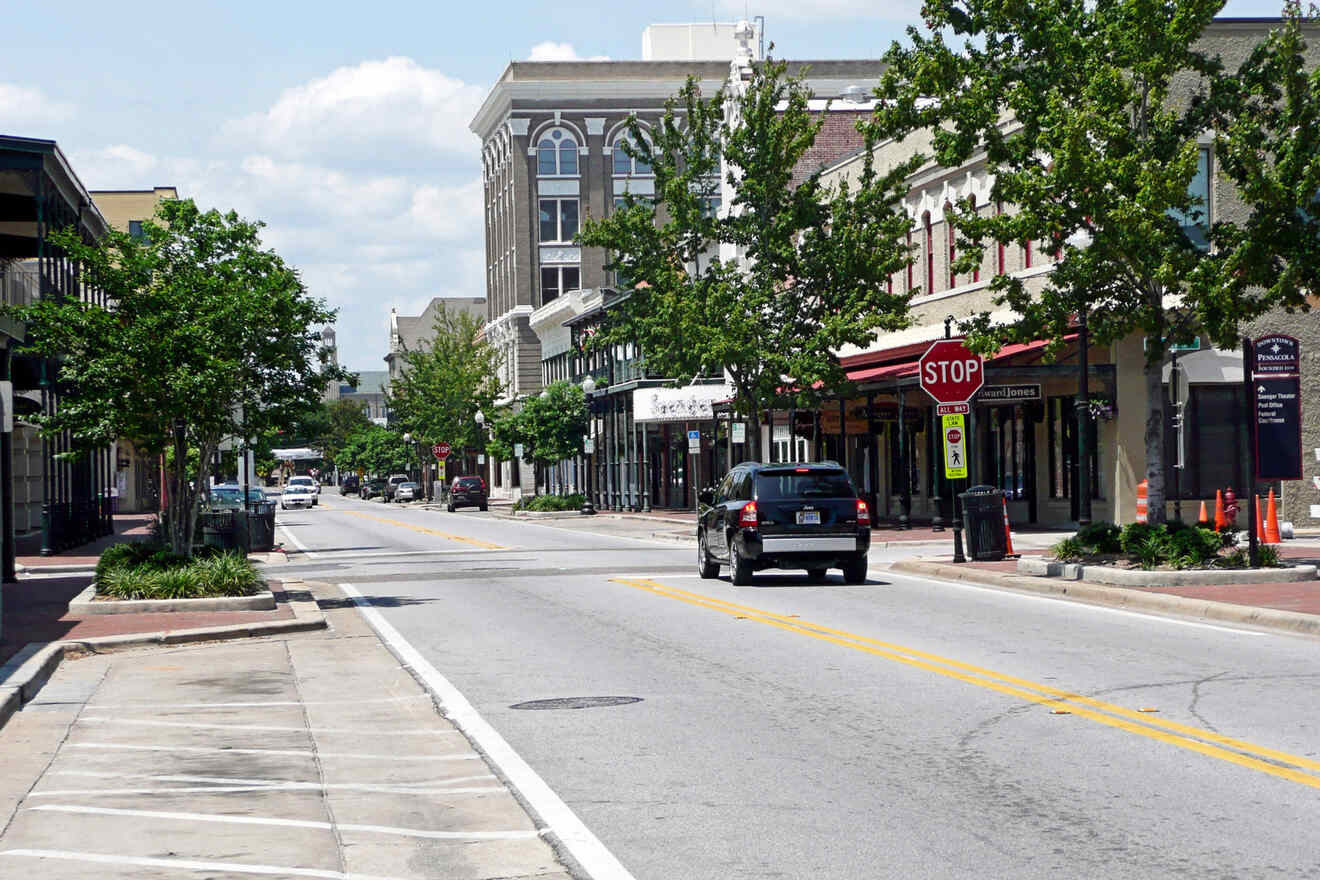 Hola traveler. Today we're traveling to Pensacola, the westernmost city in Florida! Ready to discover one of the state's hidden gems? If you're visiting for the first time, then there's no better place to stay in the city than Downtown Pensacola!
Since it's located on the waterfront, the area offers the best of both worlds, great attractions, plus a fabulous bay area filled with restaurants!
The area is pedestrian-friendly, so you don't need a car if you want to explore Downtown Pensacola. However, since the area doesn't have direct beach access, you still might want to rent a car to reach the beach, just a short drive away.
You'll find so many hotel options in this area, most of them are located within walking distance from the attractions (yay) and offer all the facilities you need! As I mentioned earlier, although Pensacola isn't the most popular place to stay in Florida, I still highly recommend booking your hotel in advance, especially in the Downtown area as this is the most popular neighborhood and the best hotels here sell out super fast (trust me).
Luxury hotel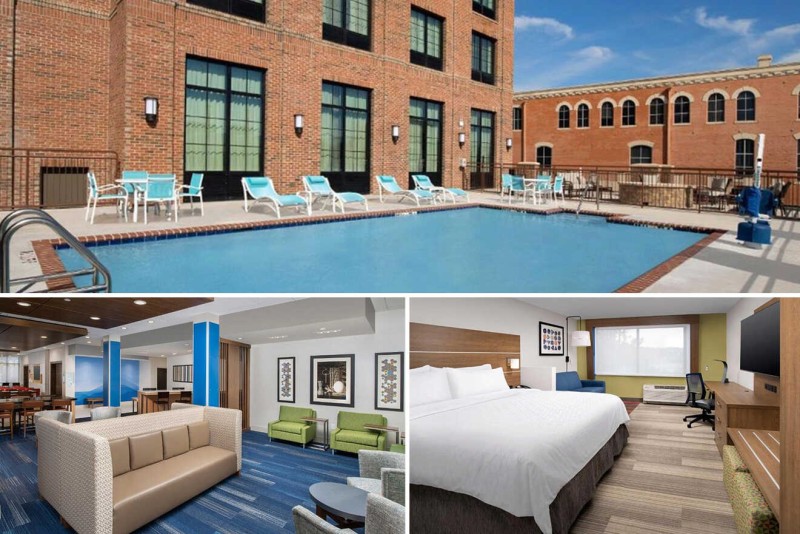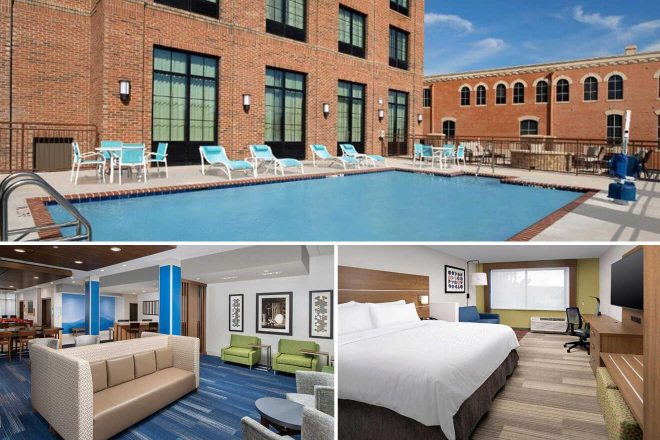 Featuring modern amenities and a great location, this hotel is the perfect luxury option for your stay in Pensacola! The suites have a nice design and air-conditioning. When you're not out exploring the city, you can go for a swim in the outdoor pool or relax by the fire pits! This is a good life!
Other accommodation options in Downtown
Mid-Range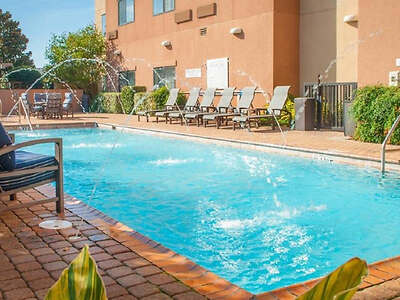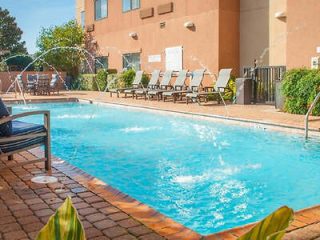 With a restaurant on-site and an outdoor pool, this cool hotel also offers comfortable rooms and free wi-fi
Budget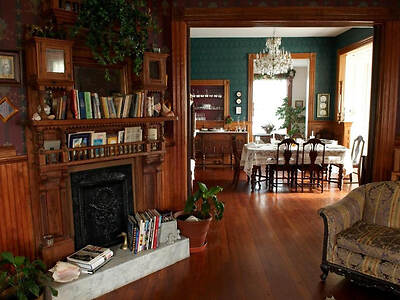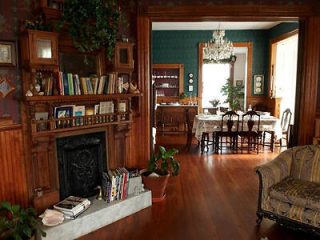 This cool Victorian house offers spacious rooms with  vintage decor and a complimentary breakfast
Airbnb
Perfect for anyone who needs privacy, this cozy cottage comes with a kitchen and a backyard
Since Downtown Pensacola is pretty big and it has so many amazing accommodations besides the cool hotels above, I thought I would add 4 more options for you. These holiday homes are perfect for bigger groups or families who need more space.
Things to do in Downtown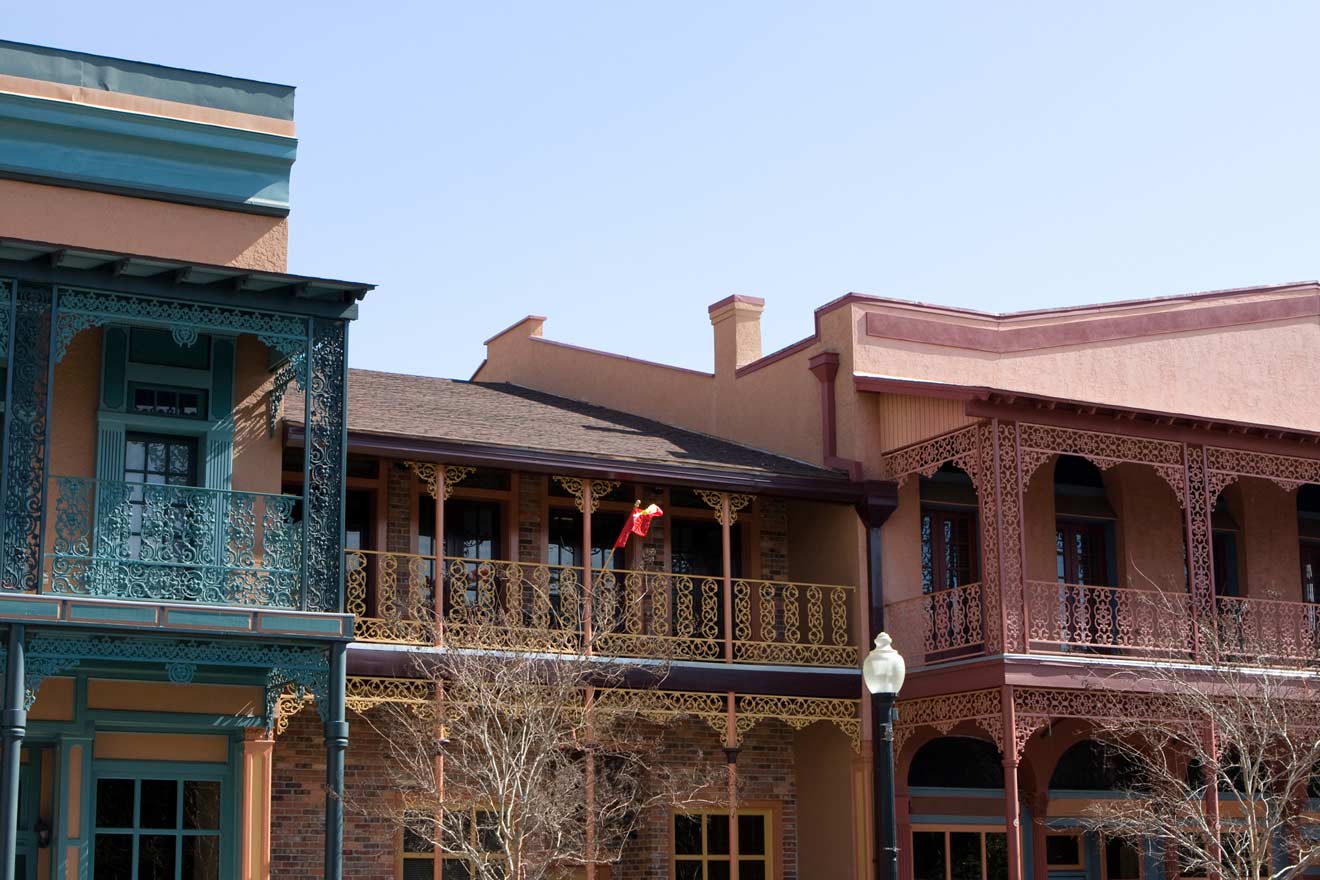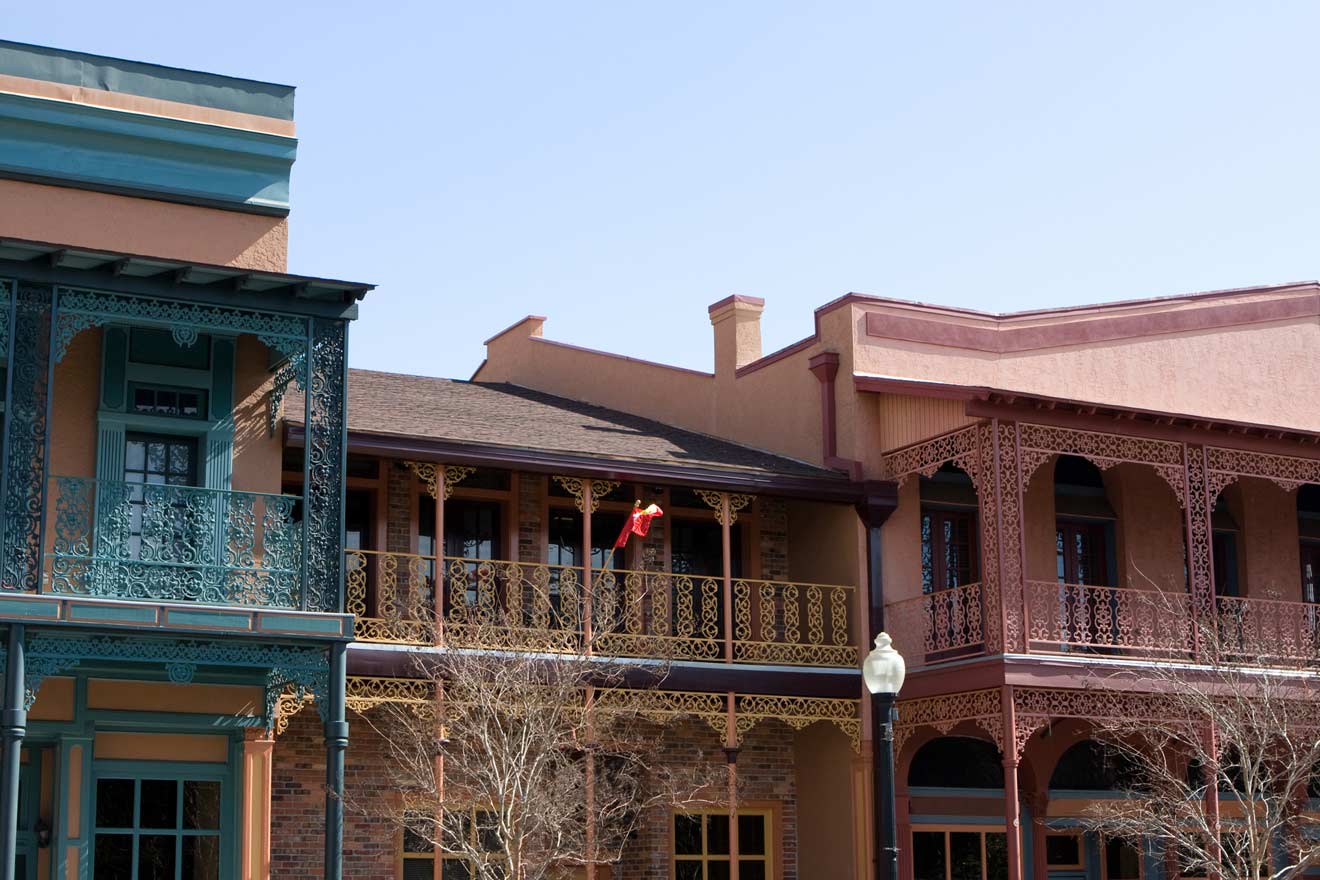 Catch an exhibition at Pensacola Museum of Art
Explore the Old Pensacola Village
Go for a walk in the Seville Square
Learn new things at Pensacola Museum of History
Enjoy dinner with a view at The Fish House
Shop for souvenirs in the Palafox Market
Catch a sunset near the Harbor area
2. Pensacola Beach – the best place to stay for beach lovers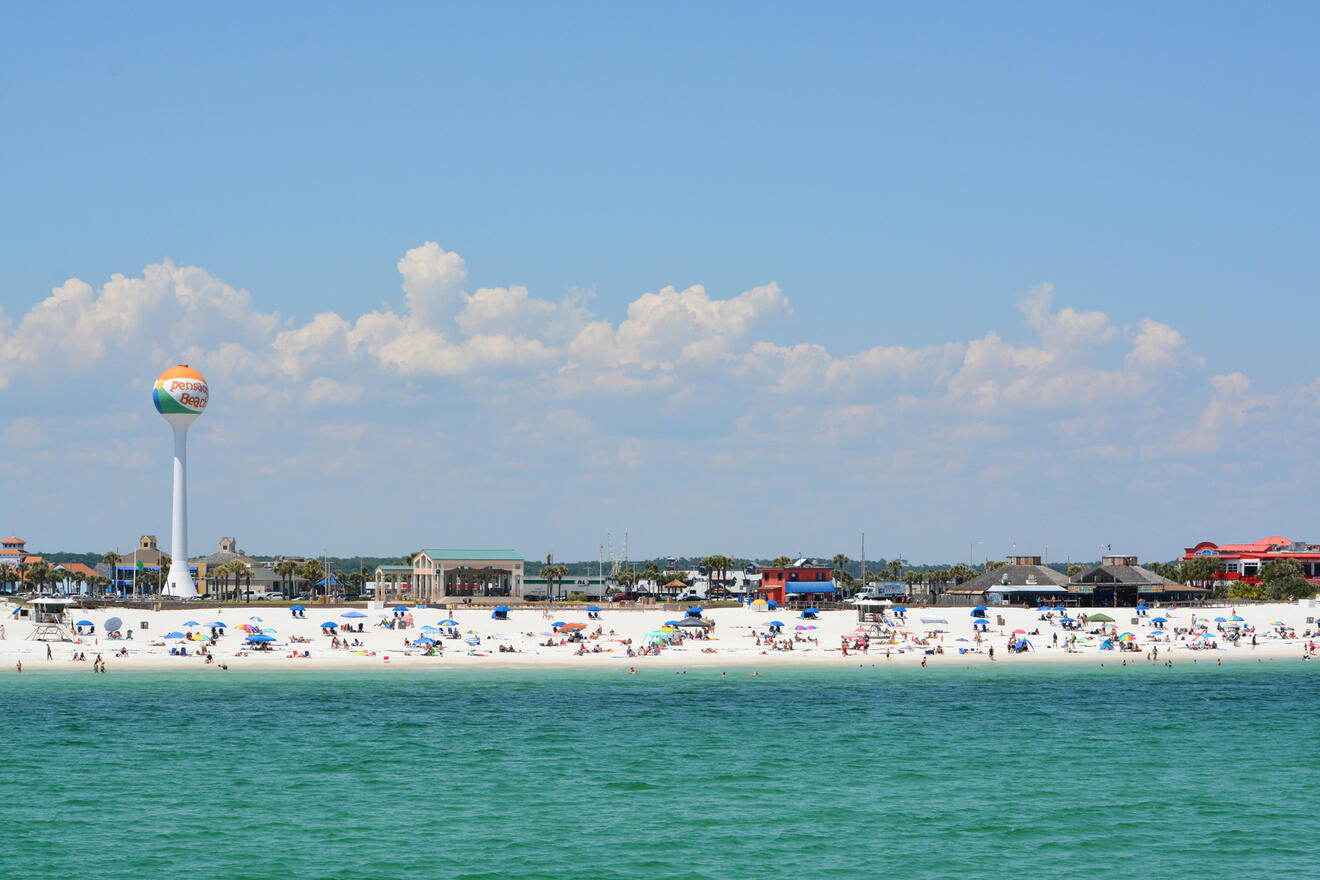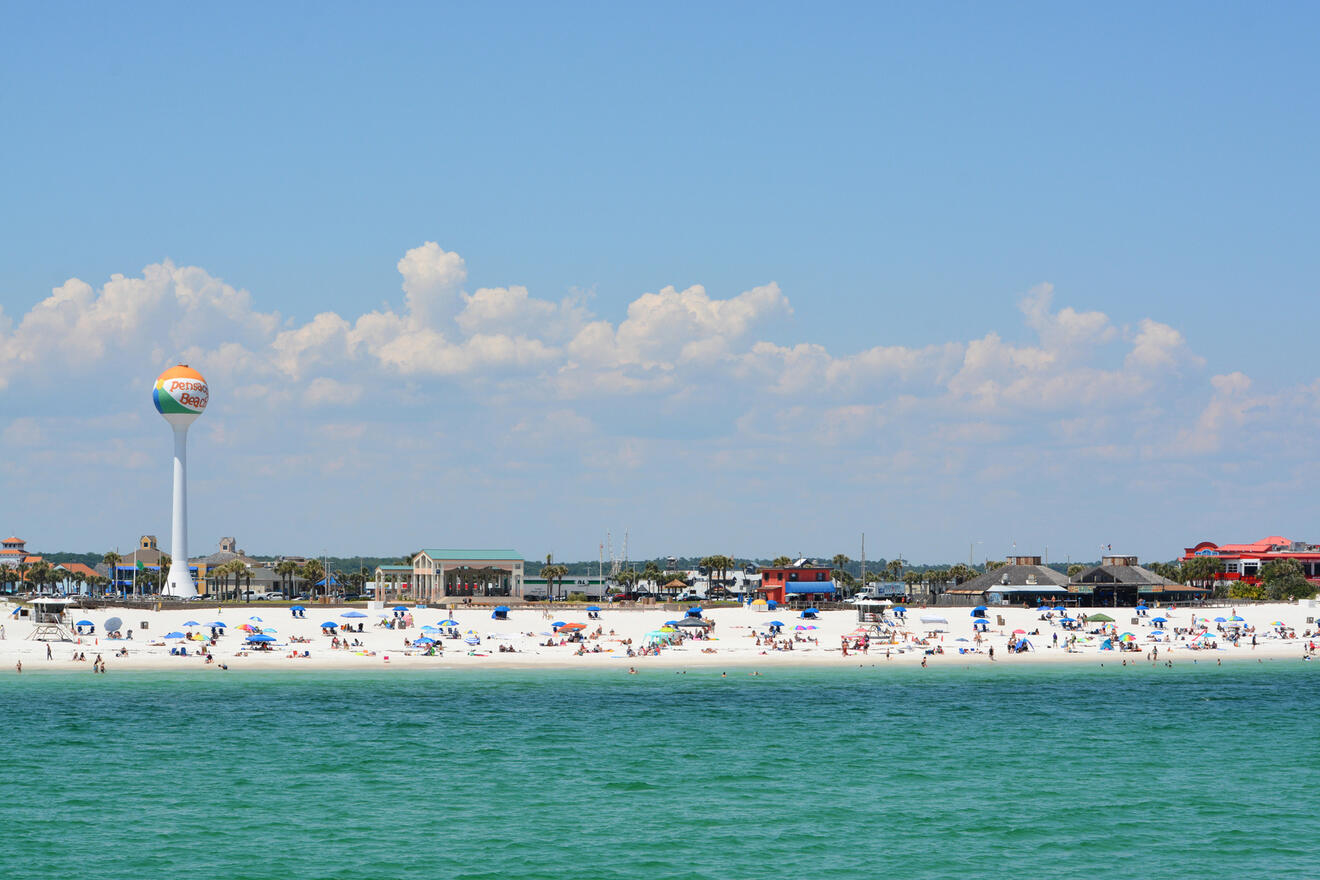 Florida has so many amazing beaches and I'm sure you will never get tired of them! Pensacola Beach is set on Santa Rosa Island, 9 miles (14 km) away from the Downtown area, connected by a long bridge across Pensacola Bay.
This area is perfect for people who want to spend most of their time on the sandy dunes at the beach and swimming in the ocean! There are many fantastic hotels in this part of Pensacola and you don't have to search too long for some unique beachfront hotels!
Prices tend to be a bit higher here than in other parts of the city, but it's so worth it! Most likely, you'll stay at an accommodation that's literally 2 steps away from the sandy shores.
You'll find all the restaurants, bars, and cafes around Casino Beach. This bit of Pensacola Beach is usually the most crowded, but it's where you'll find all the entertainment!
Now let's check out the best Pensacola Beach hotels:
Luxury hotel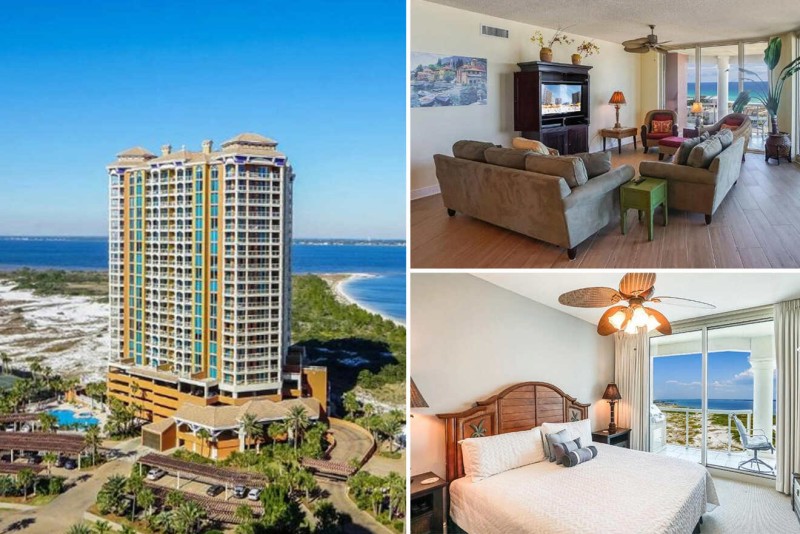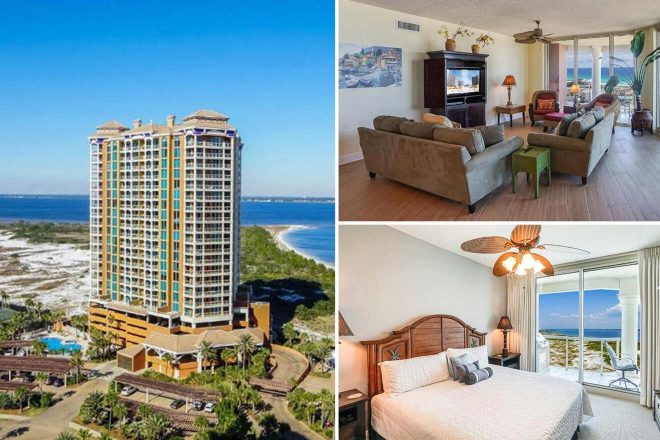 Besides the super amazing apartments that have such elegant decor, great sea views, and a balcony, this awesome resort also has a waterpark! That means non-stop fun! This Pensacola Beach accommodation comes with a tennis court, a spa, and 2 swimming pools. I recommend you make the most of your trip and try all the watersports like kayaking and paddle boarding!
Other accommodation options in Pensacola Beach
Mid-Range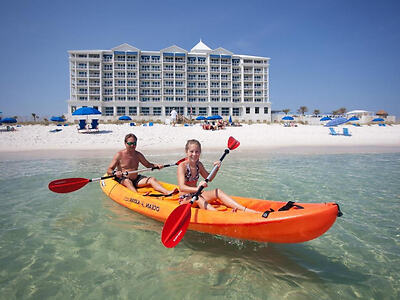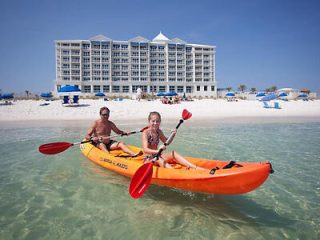 A fabulous Pensacola Beach hotel that comes with cozy family rooms, a kid's club, kayaks, and bicycles
Budget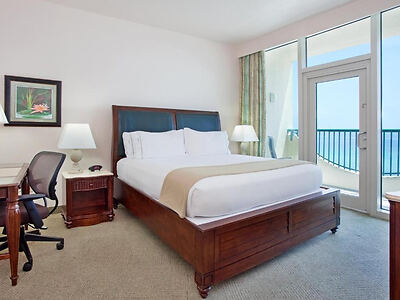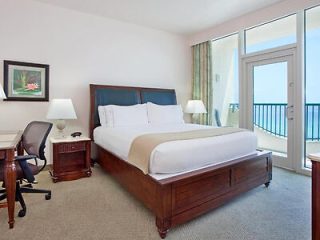 This beachfront hotel offers modern rooms with lots of facilities, an outdoor pool, and water sports  
Airbnb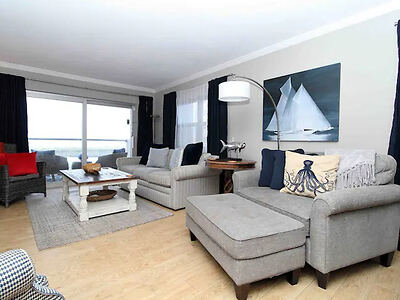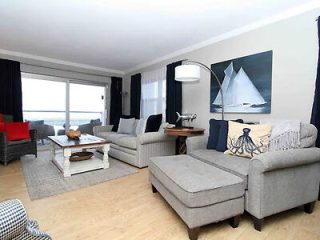 Great for a bigger group, this apartment near the beach has a kitchen and offers access to a pool
Things to do in Pensacola Beach
Check out the Pensacola Beach Ball Tower
Go for a swim at QuietWater Beach
Have a drink at Casino Beach Bar
Catch a sunset near Little Sabine Bay
Enjoy a walk in the beautiful Park West
Visit the Gulf Islands National Seashore
Grab a quick lunch at Laguna's Beach Bar + Grill
3. Gulf Breeze – where to stay in Pensacola on a budget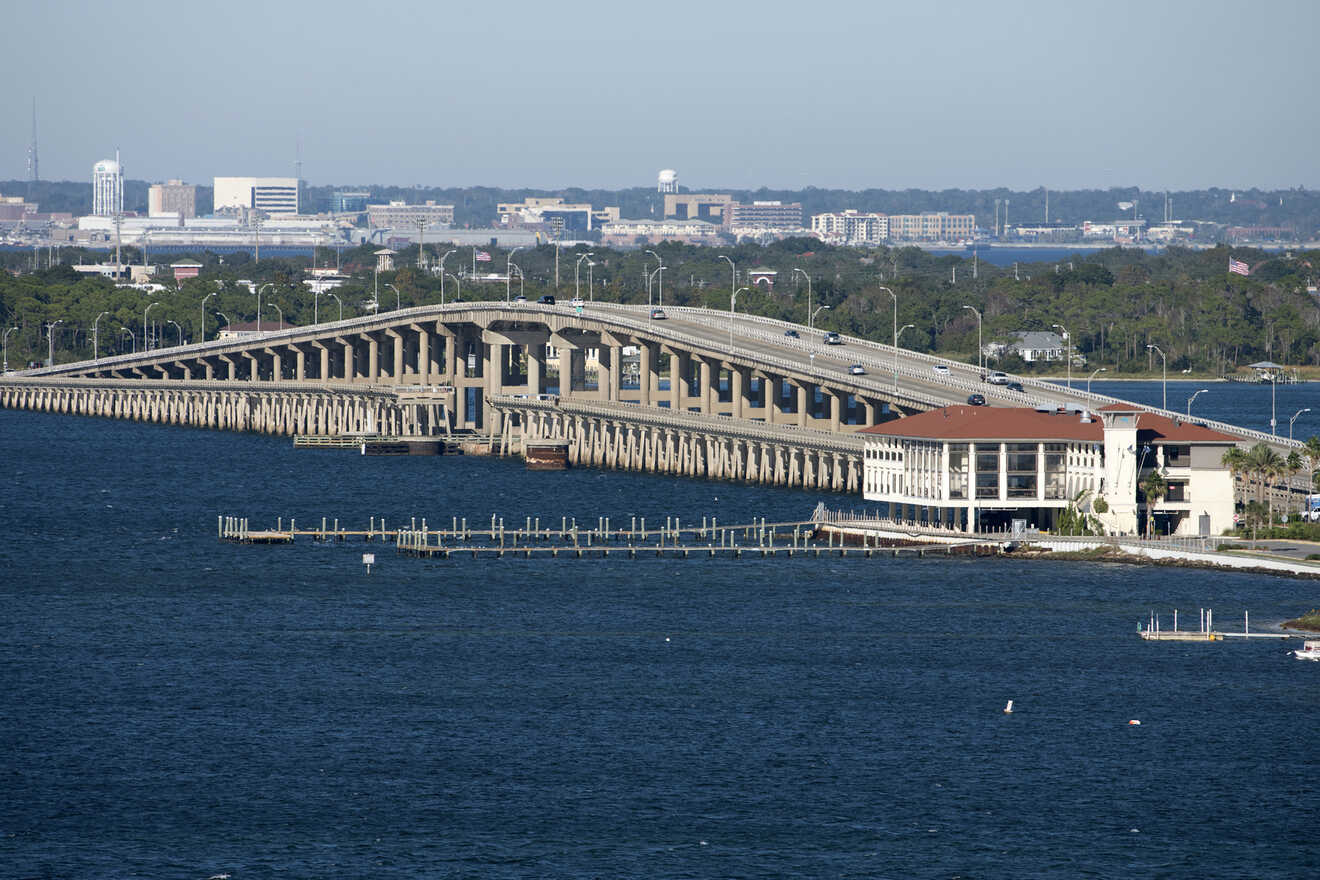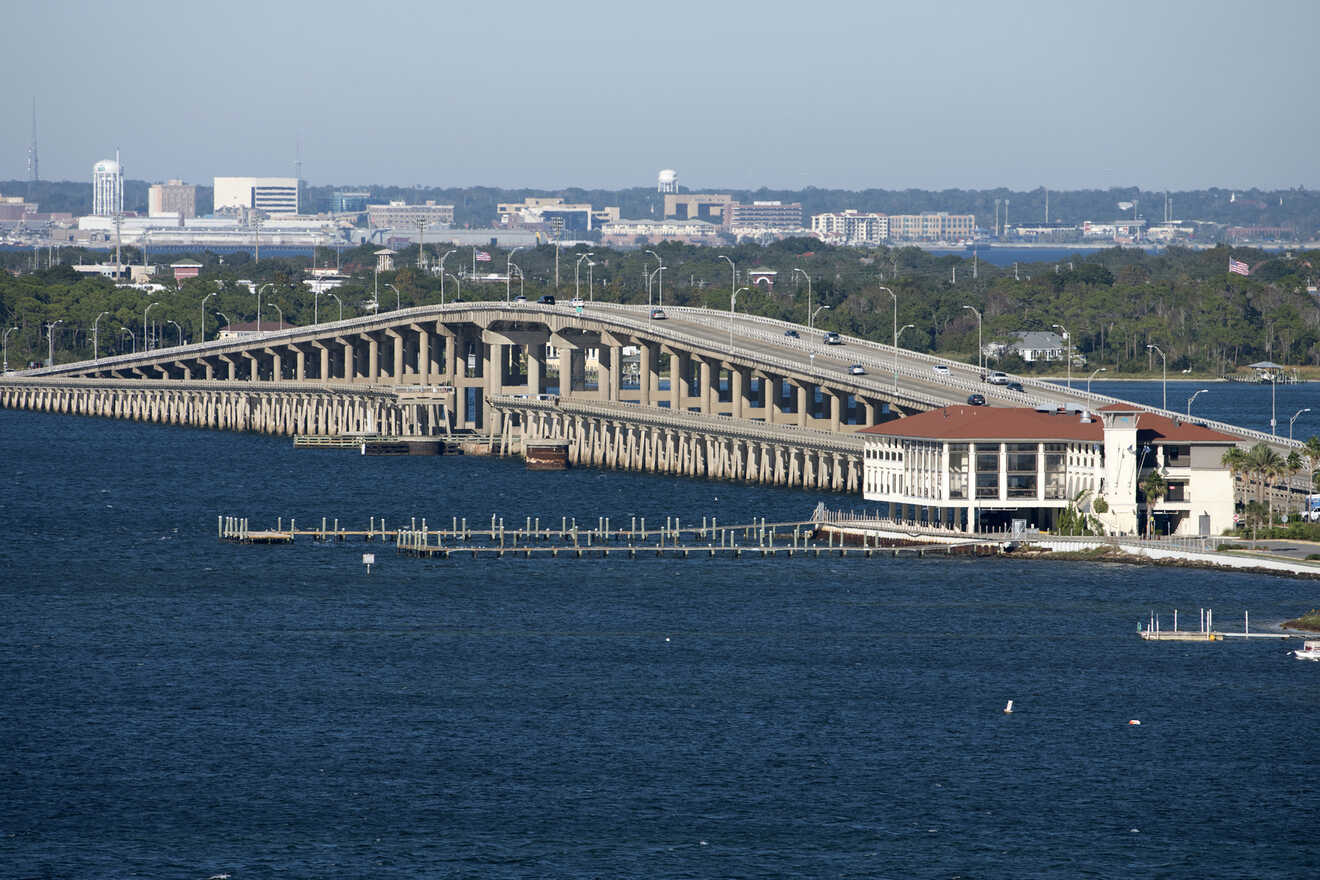 This area is set between Pensacola Downtown and Pensacola Beach, FL, which makes it perfect for people who want to hit the beach but also visit all the attractions and museums in the city center.
What's great about Gulf Breeze is that you'll find cheap places to stay compared to any of the other neighborhoods. So if you're traveling on a budget, stop scrolling for a bit and check it out!
Surrounded by the beautiful Pensacola Bay, Gulf Breeze is also a great spot for families. It's pretty chill, meaning you won't have to face lots of crowds and the hotels are amazing!
There are some family-friendly places to check out here like the Gulf Breeze Zoo, which is pretty big and hosts lots of cute animals like giraffes, zebras, and alligators! Even if you don't stay in this area, I think it's worth visiting the zoo, especially if you're coming with the kids!
Gulf Breeze is also fantastic for people who want to explore Pensacola's natural beauty. Besides the beach, this town offers other unique spots that I'm sure people who like outdoor activities will love. Naval Live Oaks Nature Preserve is one of those spots, and it's pretty big so you'll definitely need a few hours to go around it.
Luxury hotel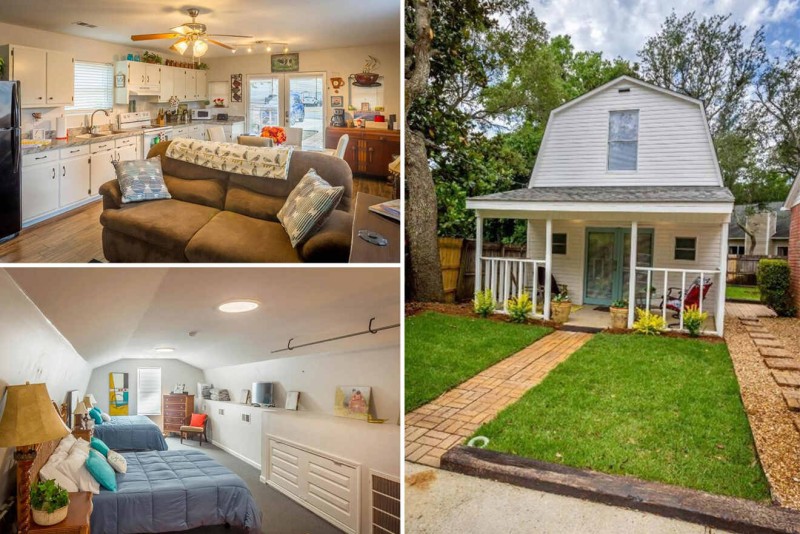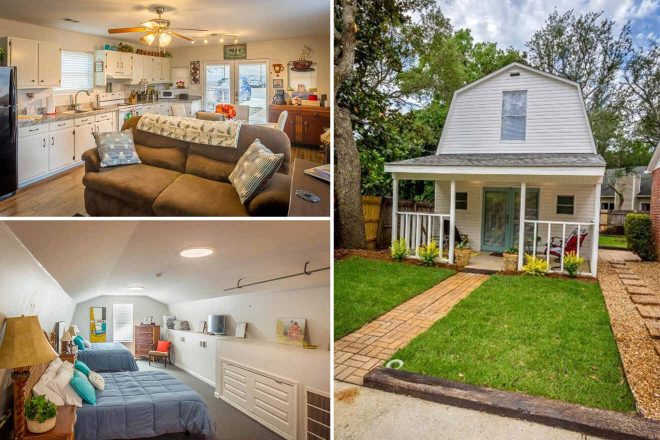 I love the decor of this holiday home. Everything looks super cozy, especially the little outdoor terrace! This tranquil place has a living room with a flat-screen tv, a kitchen, and free wifi. It also offers plenty of activities like hiking and windsurfing!
Other accommodation options in Gulf Breeze
Mid-Range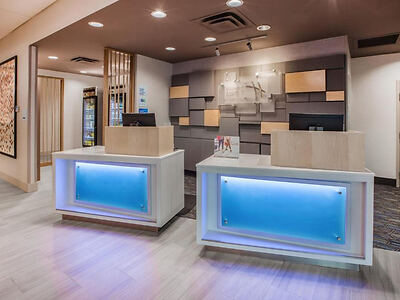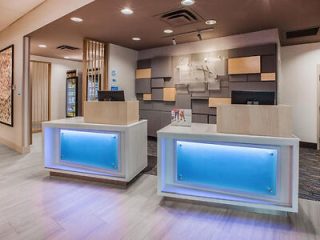 A modern hotel with simple decor, comfortable rooms, a pool, and complimentary breakfast
Budget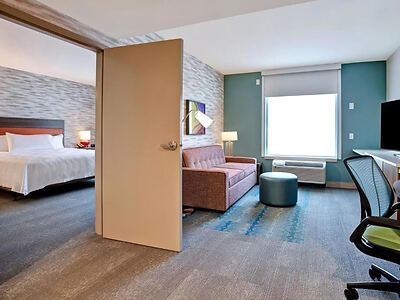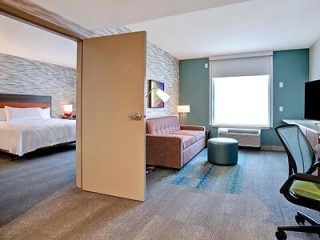 This affordable place to stay in Pensacola comes with family rooms, barbecue facilities, and a pool
Airbnb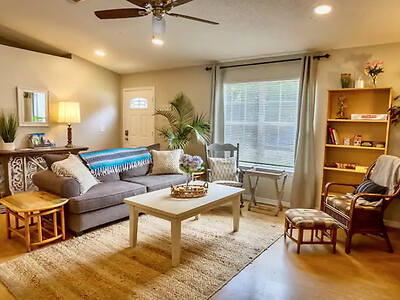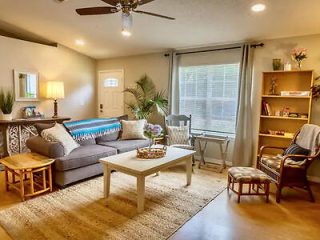 Loving the details and laid-back style of this Airbnb that offers free parking and a balcony  
Things to do in Gulf Breeze
Spend a fun day at Gulf Breeze Zoo
Go hiking in the Naval Live Oaks Nature Preserve
Sunbathe on Oriole Beach
Grab dinner at Mariachi's Mexican Grill
Play some golf at Tiger Point Golf Club
4. Northeast Pensacola – best place to stay near the airport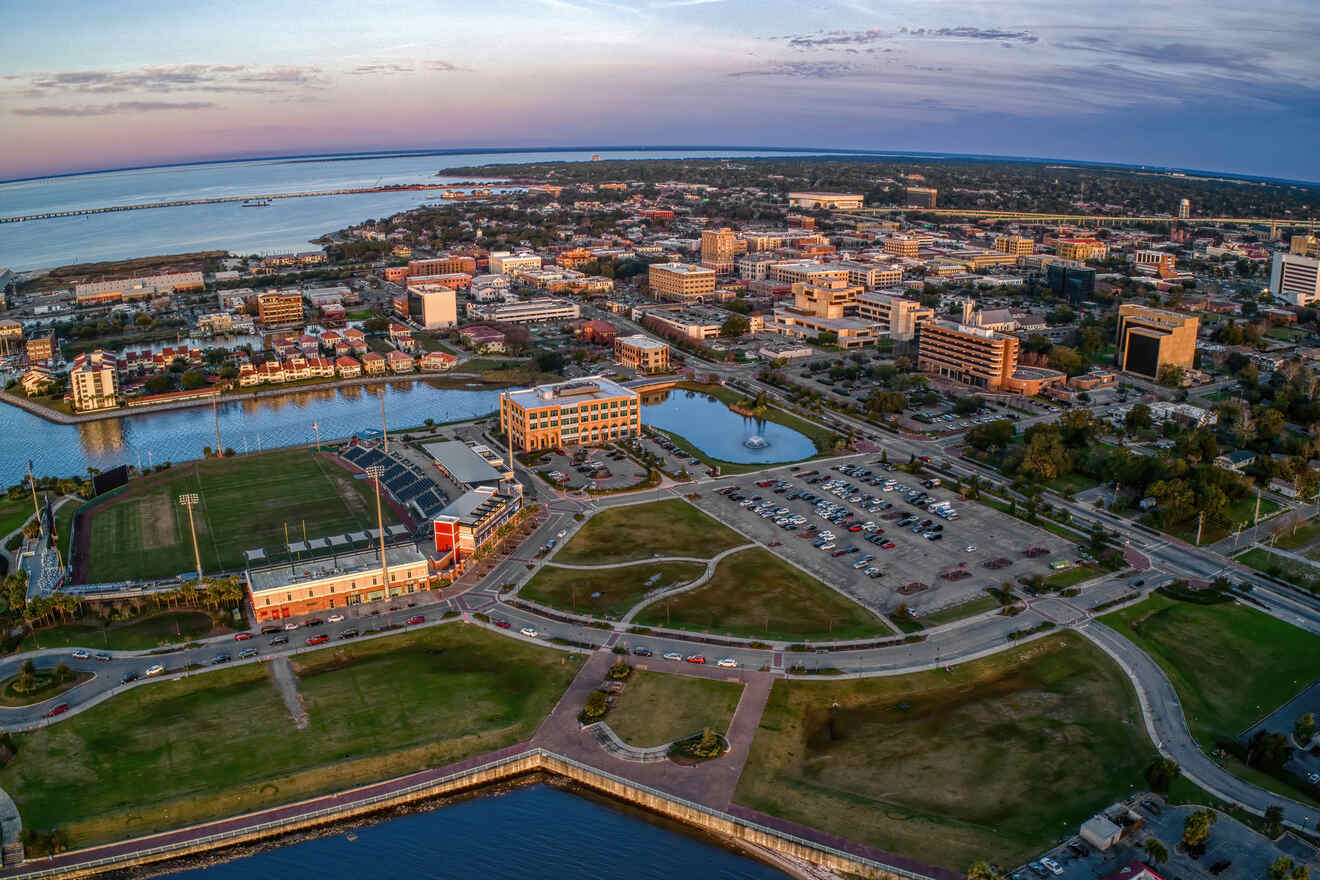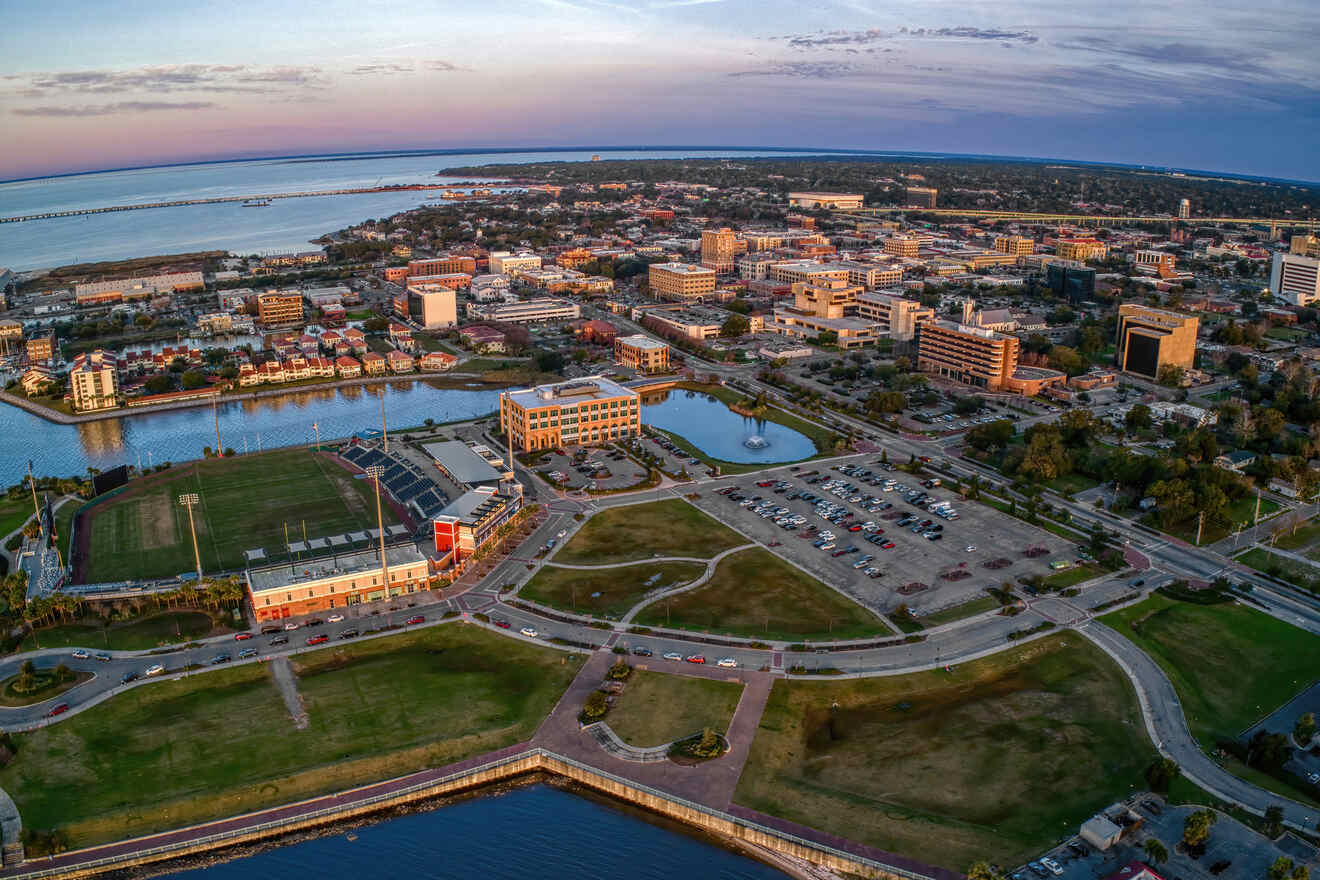 Looking for a great place to stay in the Pensacola area near the airport while also being pretty close to the city center? Then the Northeast part of the city will be perfect for you!
This part of the town is not as touristic, meaning you'll definitely won't run into many tourists. However, it's very convenient for people who want to be close to the Pensacola International Airport for a layover.
There are lots of shops and malls here so there's no need to head all the way Downtown for that. However, you won't find anything important in Northeast Pensacola in terms of attractions. As I mentioned, the area is primarily residential, which can also be fun if you want to get a taste of the local life in this part of Florida.
If you do want to visit some museums, you'll need to reach the city center, which is set a 10-minute drive away. And if you want to take a short trip to the beach, the shores are located a bit further away, but with a car, you'll get there in 15 minutes if there's no traffic.
Luxury hotel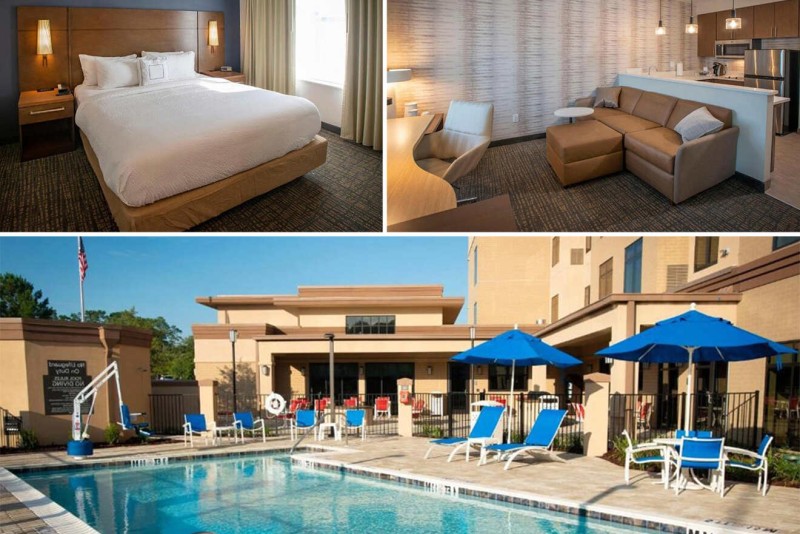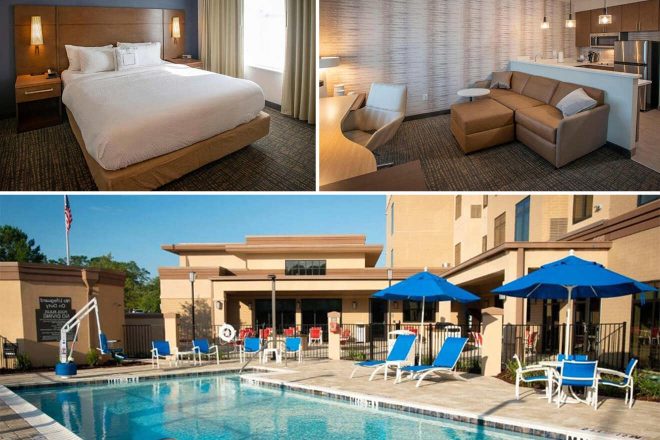 Sunbathe on the sun loungers by the pool all day long! This fabulous hotel not only offers a complimentary breakfast but also a free shuttle bus to the airport that's just 4 miles (7 km) away from the accommodation. Other facilities include a fitness center and free parking!
Other options in Northeast Pensacola
Mid-Range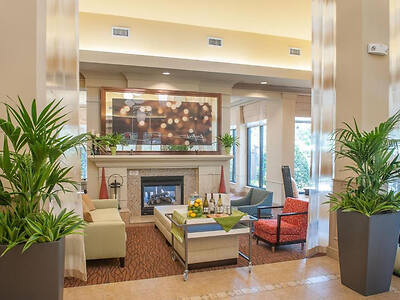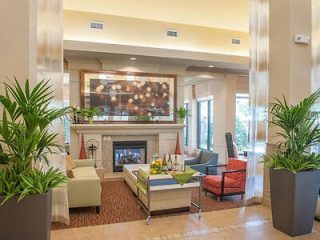 This hotel offers rooms with lots of space, an outdoor pool, a restaurant, and a free airport shuttle
Budget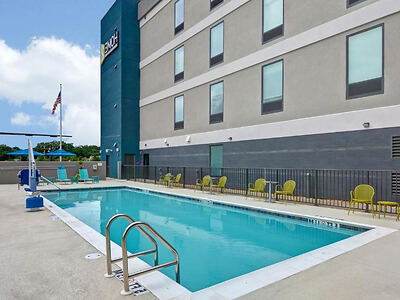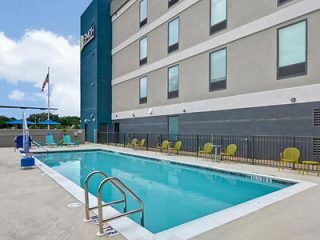 Relax by the pool after your flight at this hotel that comes with family rooms and a free breakfast
Airbnb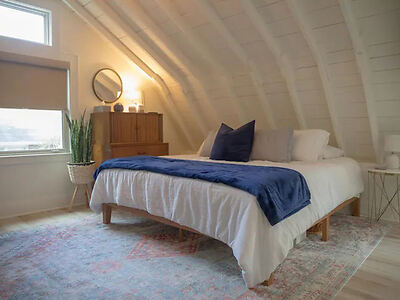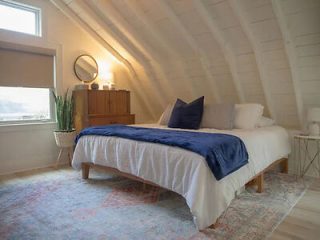 How cool is this place? I love the all-white decor! The house also has a great kitchen and air conditioning
Things to do in Northeast Pensacola
Shop until you drop in Cordova Mall
Take a trip to the Downtown area
Spend a fun night at Cordova Lanes Bowling Center
Frequently asked questions about hotels in Pensacola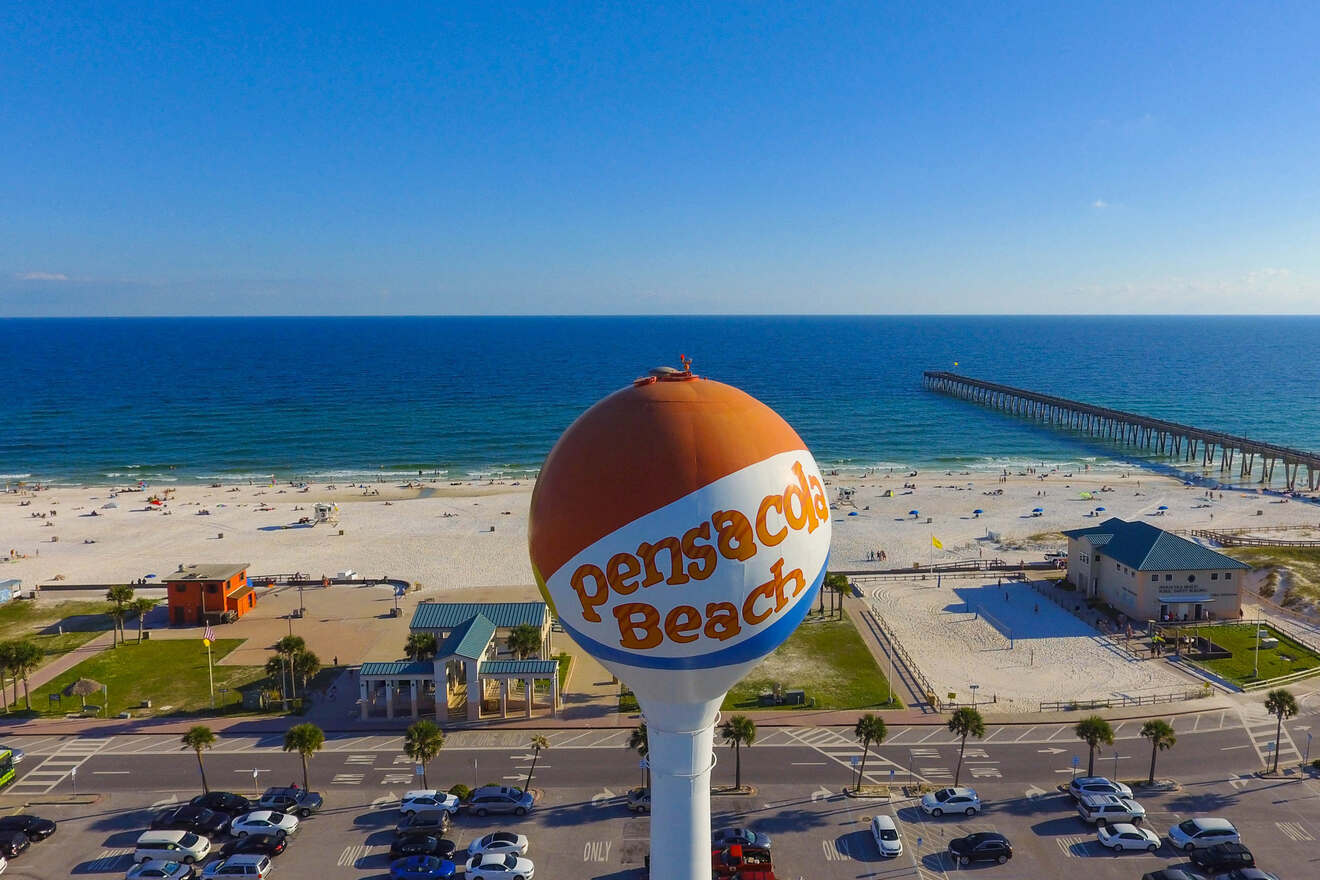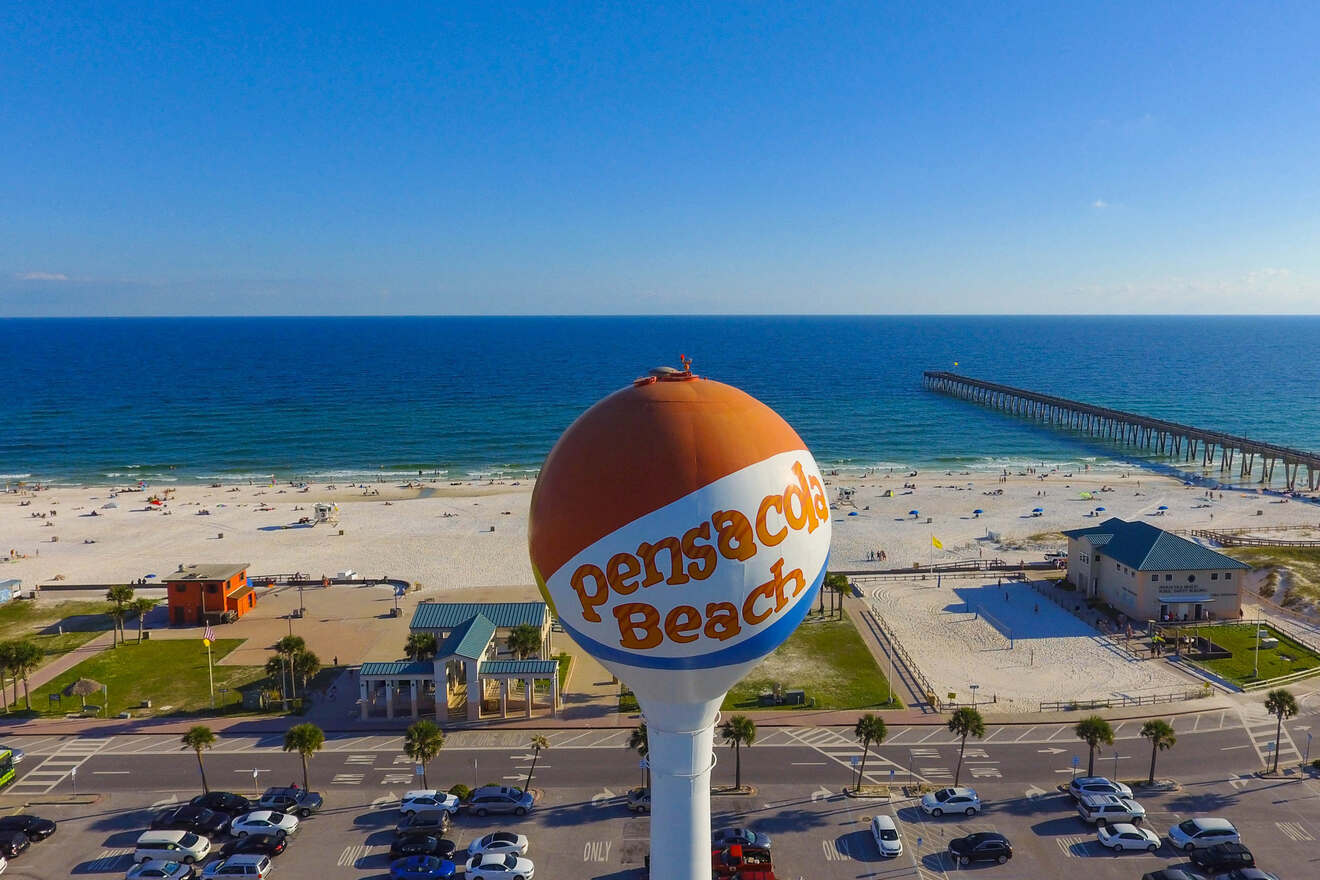 🤔 Is Pensacola Beach or Destin better?
Pensacola Beach is not as touristic as Destin meaning it's more authentic and not as crowded. However, Destin offers plenty of things to do plus many selections for shopping and dining. 
🛑 Is it safe to stay in Pensacola?
Yes, Pensacola is a safe place for tourists. However, the city is not so touristic so it's better to avoid walking alone at night or in secluded areas. 
🌊 How far is Downtown Pensacola from the Pensacola Beach?
The distance between Pensacola and Pensacola Beach is 9 miles. It'll take you around 15 minutes by car to travel from one area to another. 
🏖️ Which are the best beachfront hotels in Pensacola Beach?
Conclusion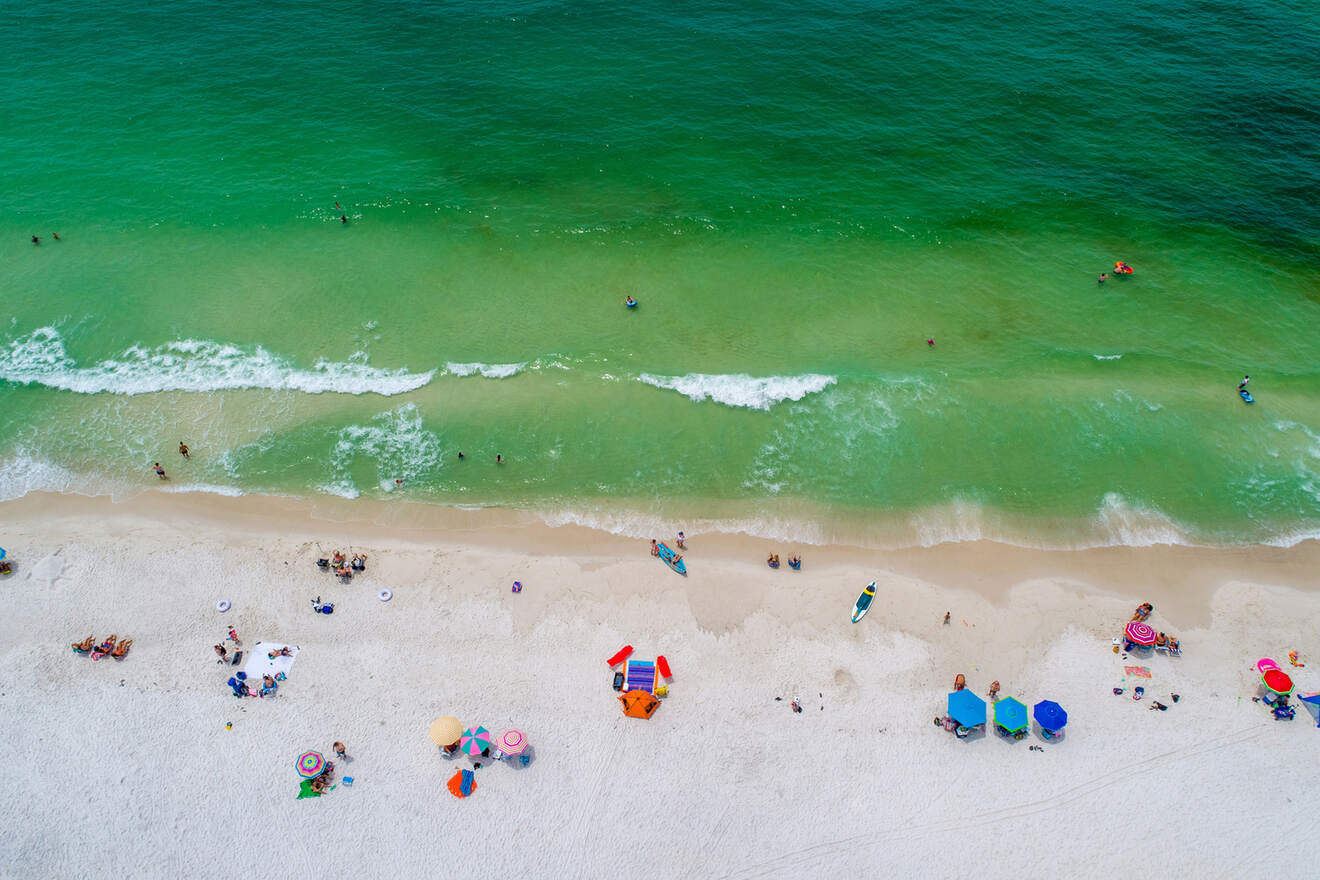 Florida, you've done it again! You've offered us yet another fantastic holiday destination that everyone will fall in love with! I hope this post helped you decide which are the best places to stay in Pensacola!
We've gone through basically all the main areas in the city, and I've offered a list of hotels, from most to least expensive, plus a short list of things to do in each of the neighborhoods!
I'm sure this will help you start planning your trip, but hey if you need any other information, just leave me a comment below and I'll answer ASAP!
Somehow I already know that many of you will have trouble trying to choose just one hotel (been there, done that) so here are my top favorite options in Downtown Pensacola
Holiday Inn Express – A fantastic luxury option with an outdoor pool, fire pits and comfortable rooms that have an elegant design
Courtyard by Marriott – This mid-range hotel offers a swimming pool with comfortable sun loungers and a restaurant
As I mentioned, make sure you book your hotels in Pensacola in advance! That way, you'll avoid the high prices or the risk of missing out on your favorite place to stay.
Enjoy your trip in this amazing city, I'm sure you'll come back more relaxed, with tons of pictures and in need of exploring more places in Florida, because let's face it, this state has it all!
Safe Travels,
Victoria
---
Pin it for later!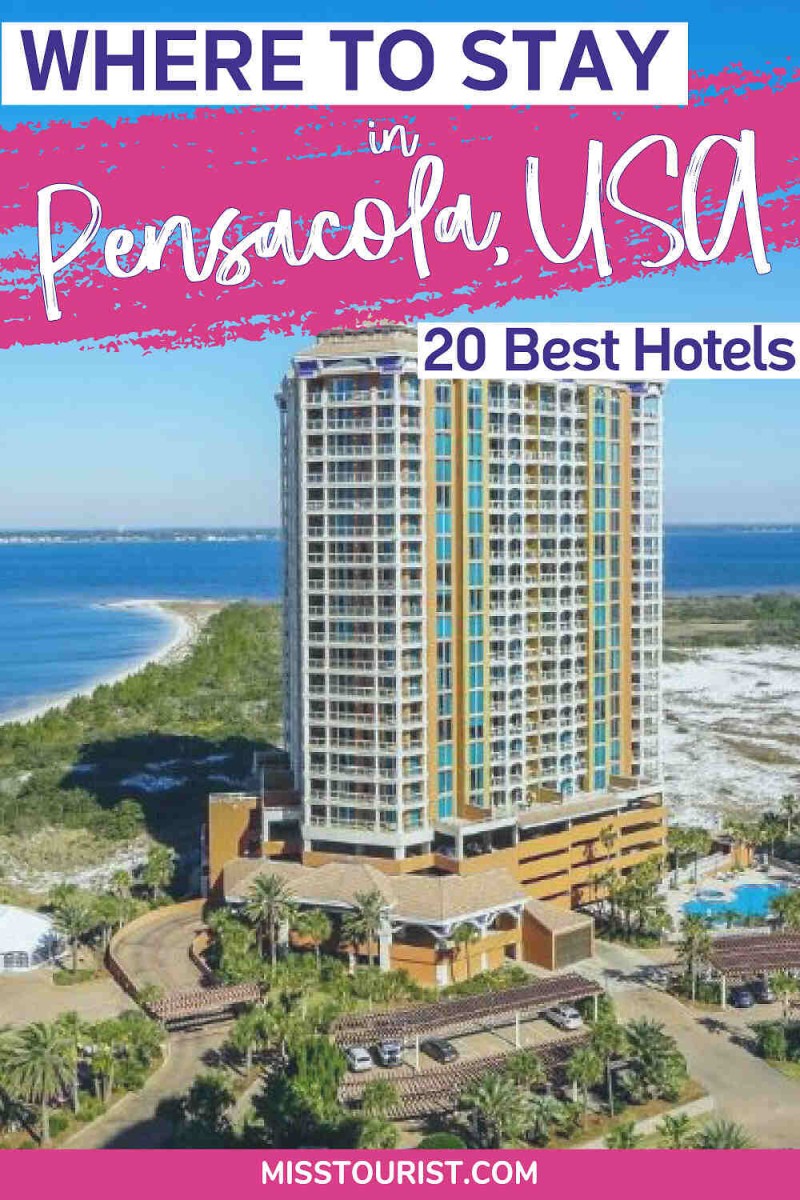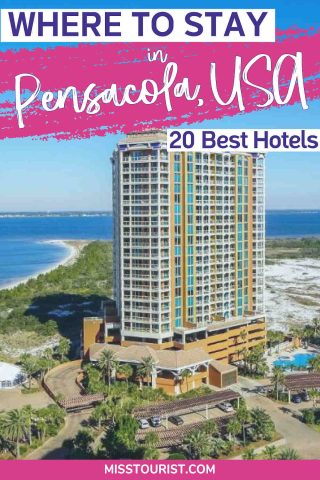 Pin it for later!