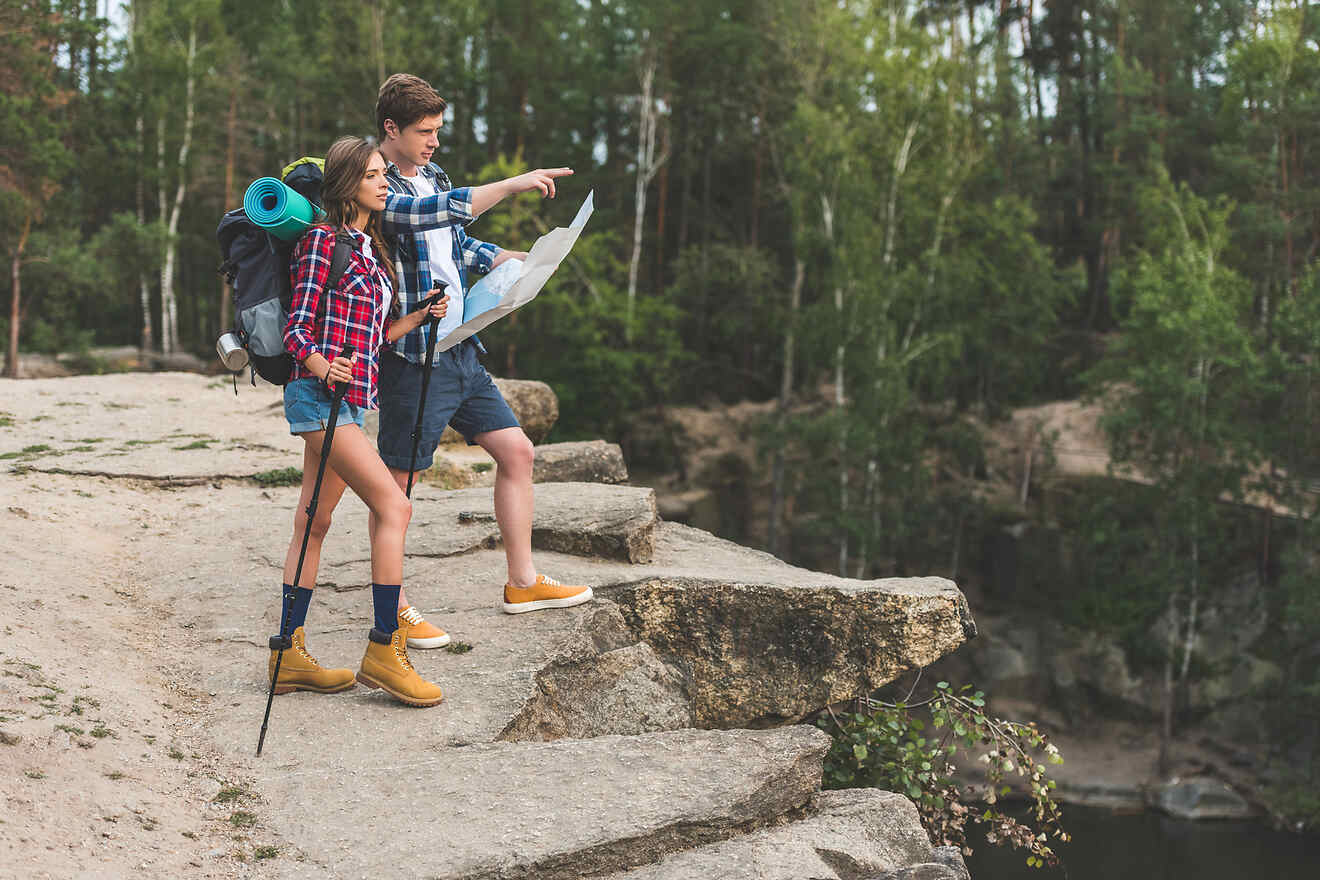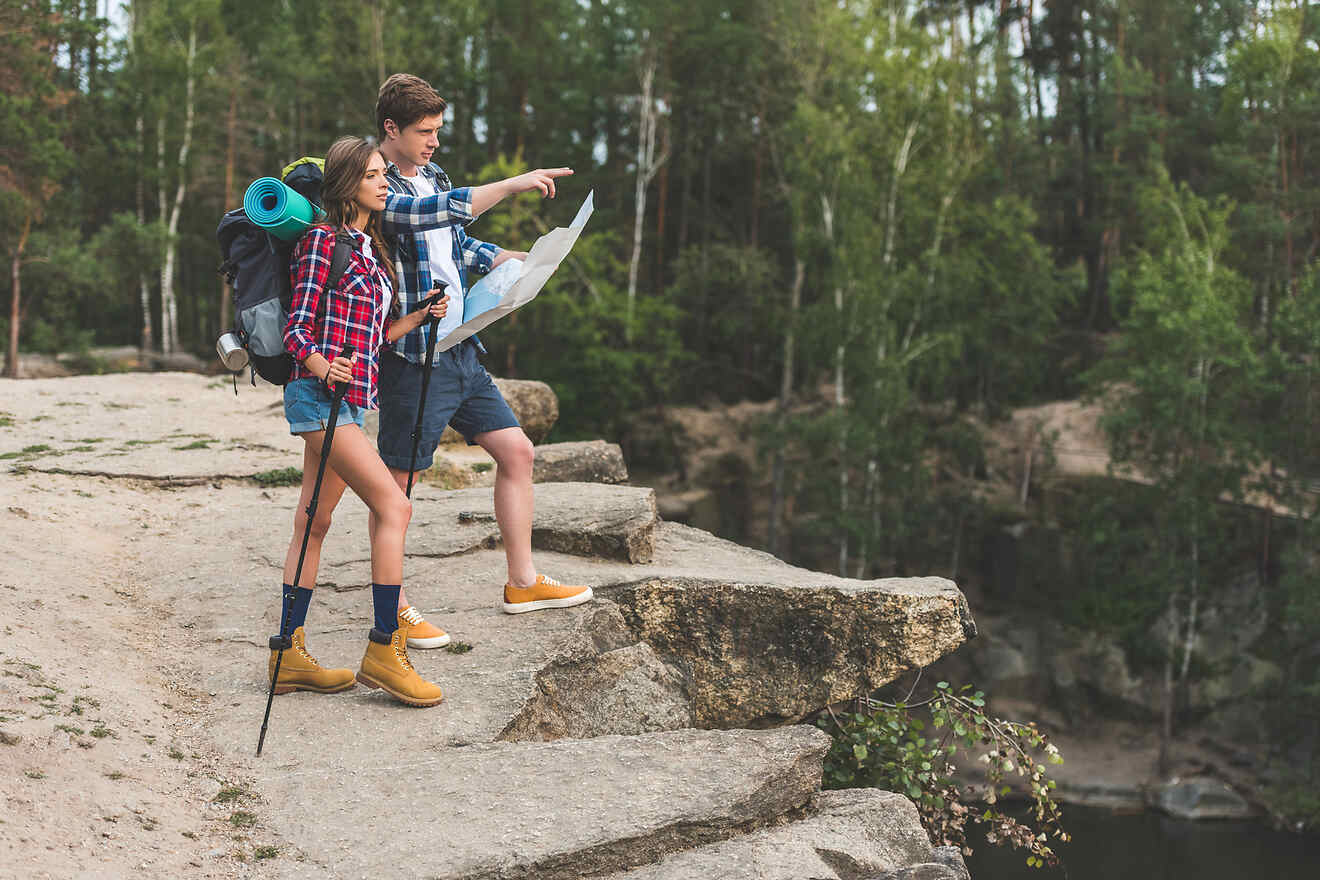 While Orlando may be known for its theme parks, its hiking trails are absolutely incredible and should be second on your list of things to do in Orlando.
If you go to The City Beautiful and don't experience one of our many hiking trails, you are seriously missing out!
As an Orlando native, I took the time to do my research, and based on my personal experience, these are the absolute best hiking trails in Orlando.
Let's explore, shall we!
If you are in a hurry
Check out these fantastic (and free) hiking trails in Orlando
1. Explore Spring Hammock Preserve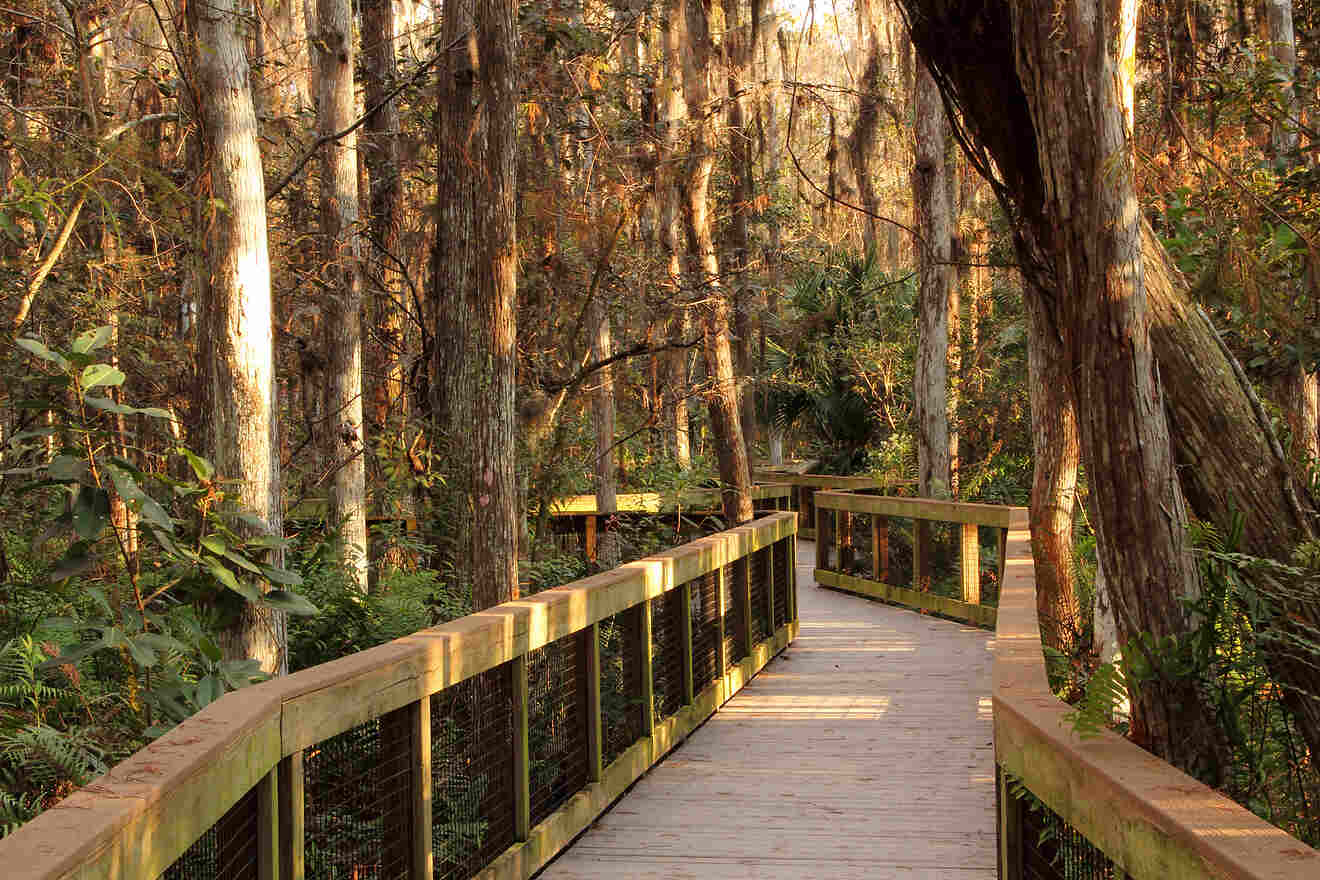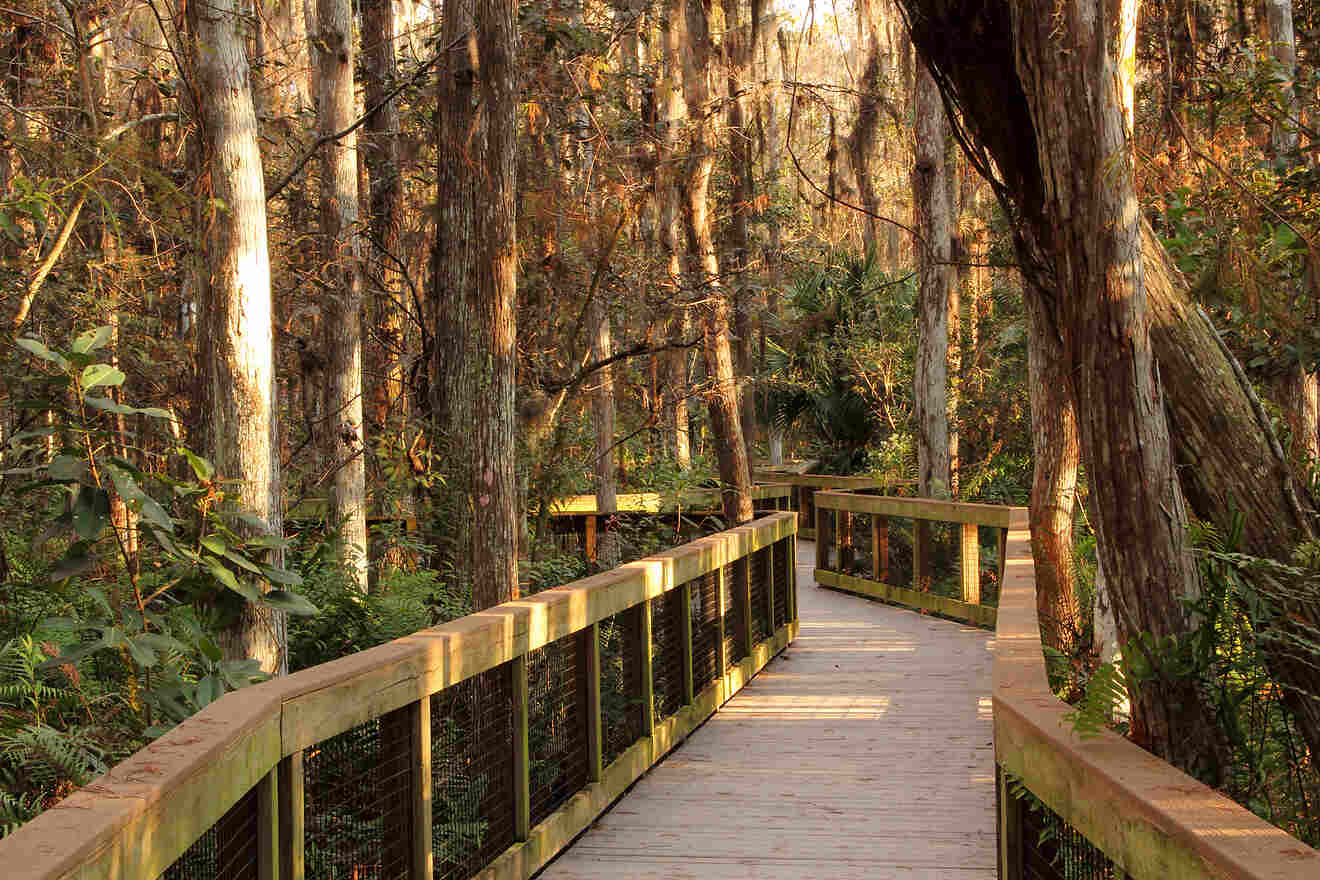 This is one of my absolute favorite places in Orlando. I bring my dogs here at least once a week, and we have so much fun exploring the trails and seeing the wildlife. Last time I was there, I saw a baby alligator chilling on a log and an armadillo digging in the Earth! It was amazing.
Spring Hammock Preserve definitely has one of the best hiking trails in Orlando. It's a long trail with a beautiful creek along one side and gorgeous palms, ferns, native violets, and wildflowers lining the paths. They have a few trail options; one is paved, and the others go through the forest.
There is even a spring there that is fed by the small rivers and creeks that lead up to Lake Jesup. Expect to see an abundance of wildlife on this hiking trail. I promise you will not be disappointed!
This is a reasonably easy trail as it is flat and has basically no elevation. This is an accessible trail for all age groups.
PRO TIP: If you're hungry after you leave, head on over to the Shiraz Market, only a few minutes away, for the best and most authentic Persian/Turkish food of your life.
Also, check out Big Tree Park, just minutes from Spring Hammock Preserve, with historic ancient cypress trees over 3,000 years old.
PRICE: Free
2. Take a stroll through the Lake Eola Loop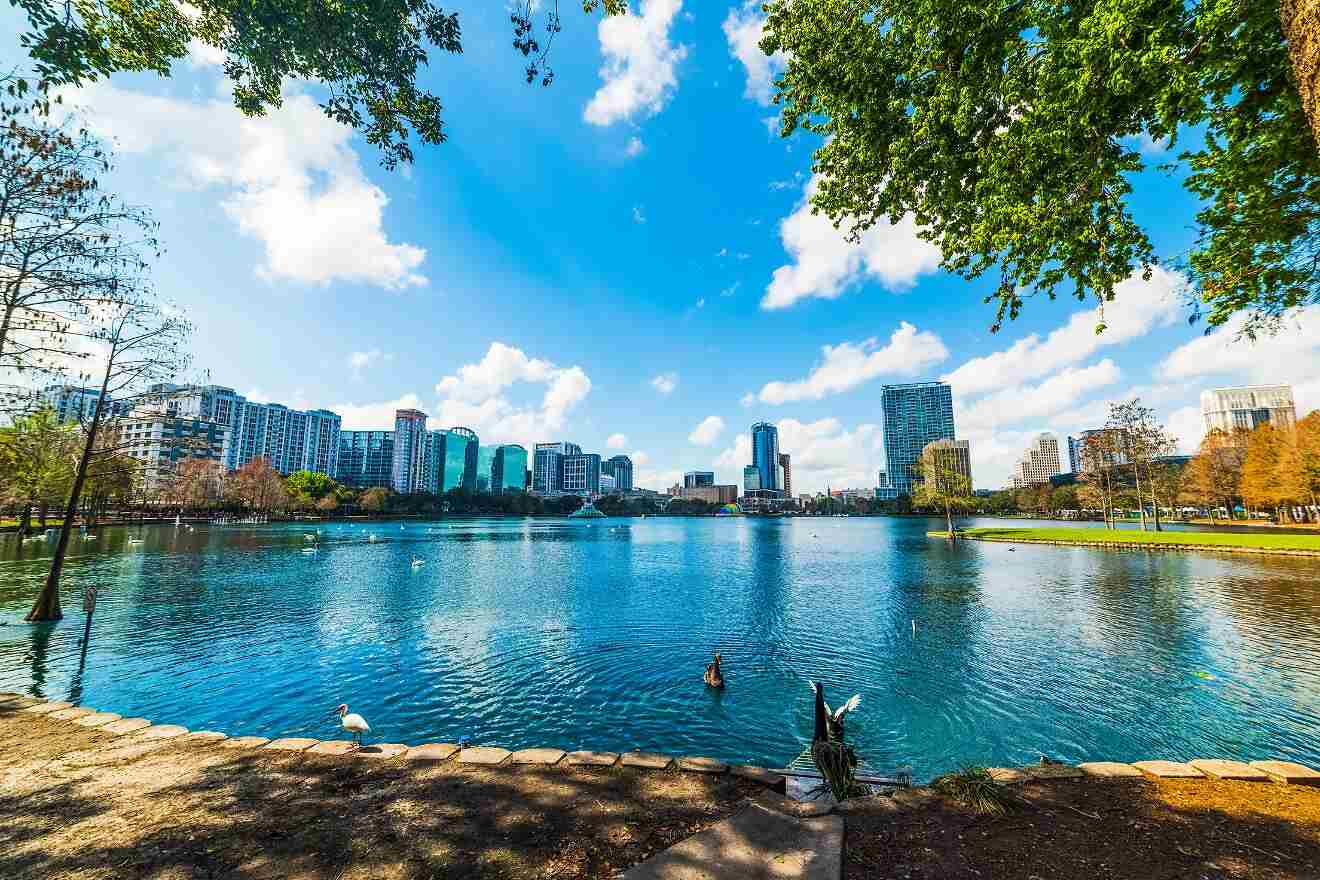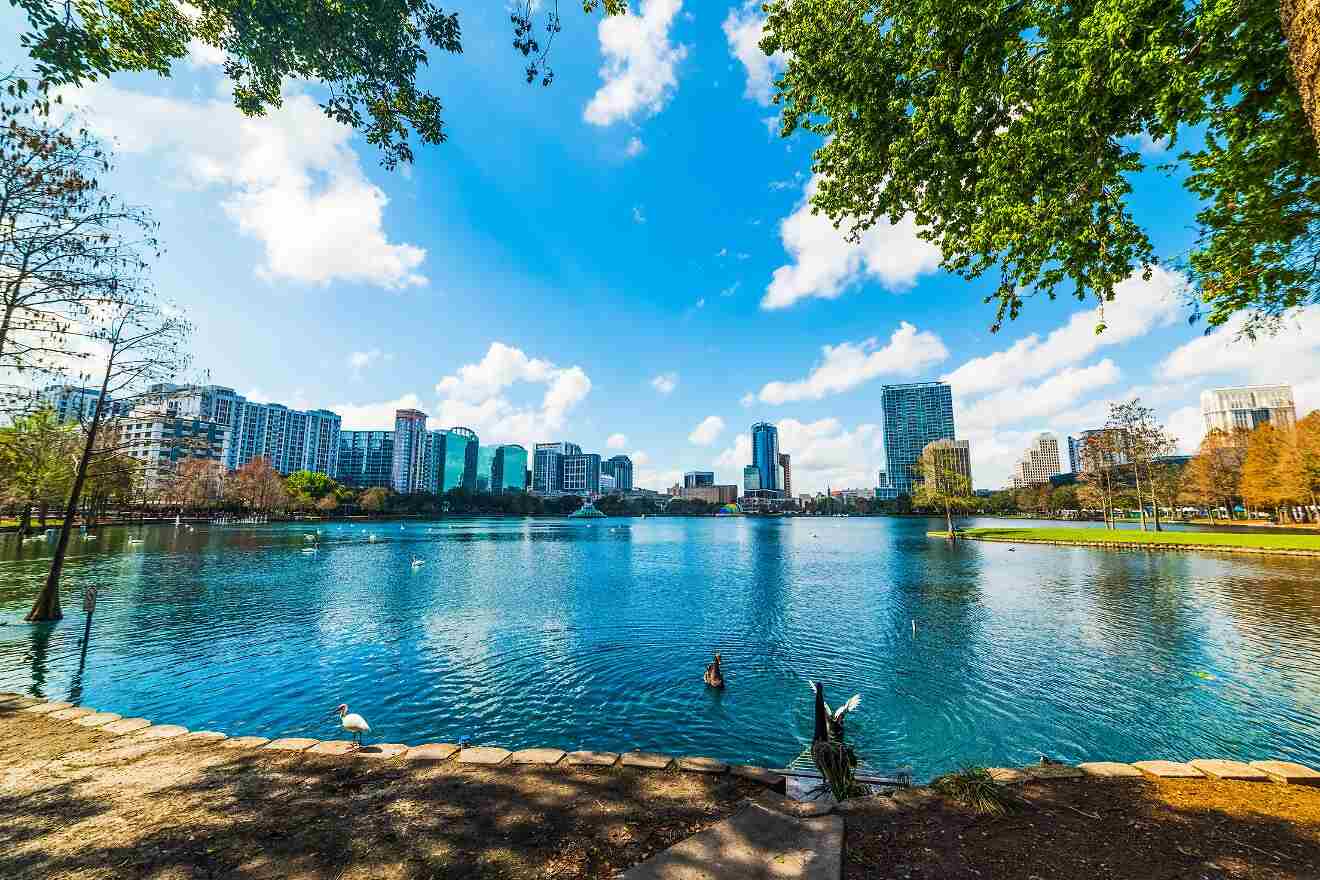 Strolling through Lake Eola Park is a classic Orlandoan activity. From the hundreds of swans to the massive cypress trees, the Lake Eola Loop is a really charming and fun activity to do alone or with friends.
This one is for people looking for a slice of nature that is still centrally located downtown and has plenty of restaurants and other amenities to offer. The Lake Eola Loop is a fun experience, and you still get all the healing nature has to offer while being right in downtown Orlando.
I love bringing my dogs here, seeing all the swans, and people-watching.
PRO TIP: Any time of day is a great time to walk the Lake Eola Park Loop. However, nighttime is nice too, because the lake is lit up, and it's a great place to grab a drink and gaze out at the swan-filled lake. This is a great loop to experience some relaxation in downtown Orlando.
PRICE: Free
3. Discover secret spots in Orlando on Cady Way Trail
Not far from downtown Orlando, this is an urban hike that is completely paved, so for all those bikers out there, this is a great trail to explore by bike.
Cady Way Trail is a 13-mile trail that is really popular for biking, running, and walking.
Located in Goldenrod Park, this is a great way to see Orlando through the lens of a local and see some beautiful nature while you're at it! This trail is mostly shaded, so it's an excellent choice for sunny days when the idea of walking outside seems exhausting.
This trail features gorgeous views and wildlife, is kid-friendly, stroller-friendly, and is a great walking trail in Orlando.
This hiking trail in Orlando is a relatively easy trail that is an accessible and fun experience for families and solo travelers.
PRICE: Free
4. Experience wild Florida on the Split Oak Swamp Trail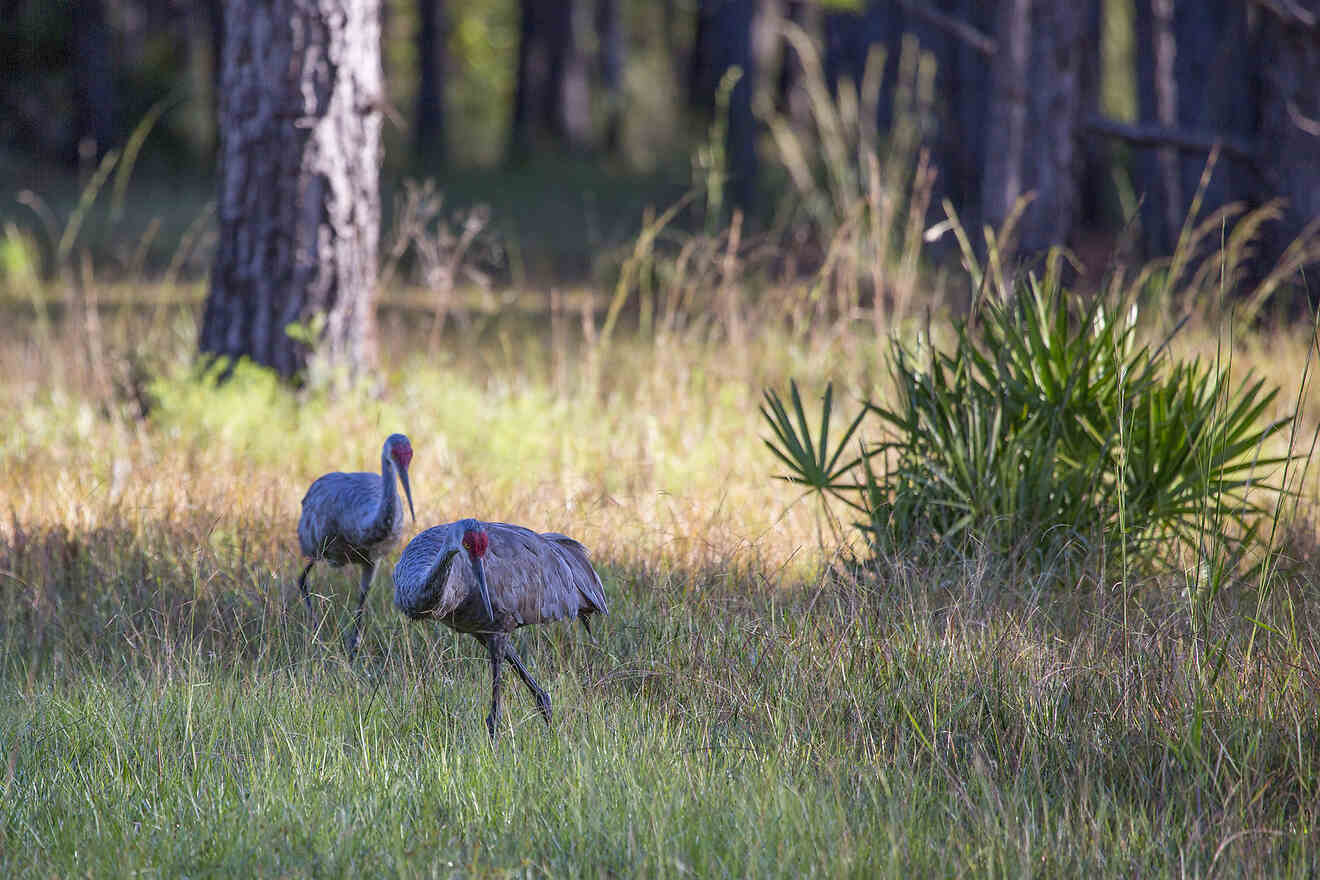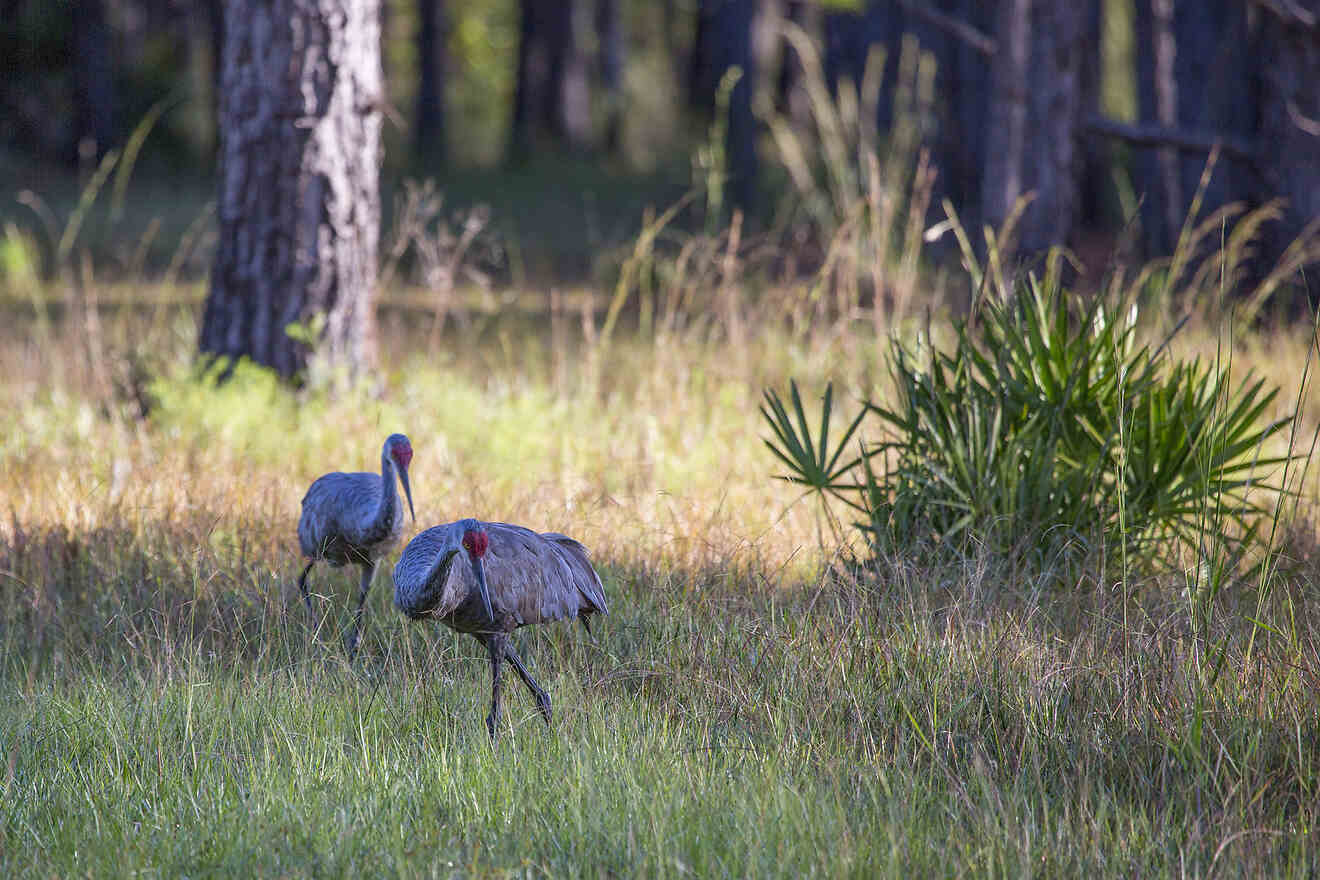 Split Oak Forest is one of my absolute favorite places in Florida. It is a beautiful conservation area home to so much biodiversity and untouched wild Florida. My partner and I always come here to get away from the city and experience pristine, undeveloped, wild Florida.
Located in South Orange and North Osceola County, this wildlife preserve boasts over 2,000 acres of wildlife habitat.
This particular hiking trail in Orlando is a 2.1-mile loop that generally takes around 34-40 minutes to complete. It is open year-round and a beautiful hike no matter what time of year you go.
Although people may think Florida doesn't have seasons, we most certainly do! The changes are subtle, but they are there. Go on this hike in the spring to see tons of different wildflowers blooming!
The Split Oak Forest wildlife is a sight to behold. Because this is a conservation area, it is home to a unique array of biodiversity specific to Central Florida.
NOTE: This is a conservation area, so please be respectful and refrain from leaving any garbage that could damage the ecosystem. Split Oak is actually at risk of being lost to development. See how you can support it here.
PRICE: Free
5. Escape the city crowds with Pine Island East Loop Trail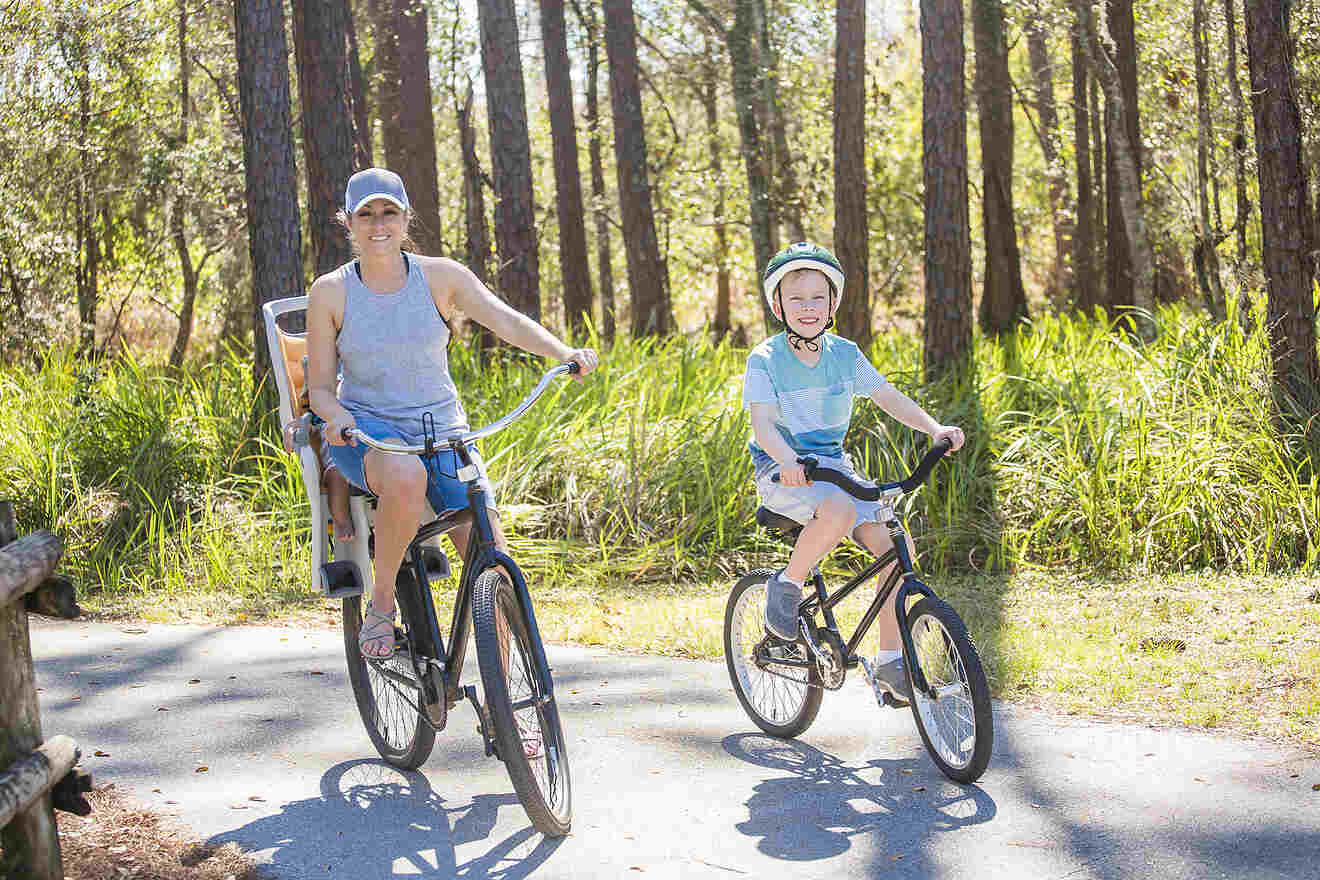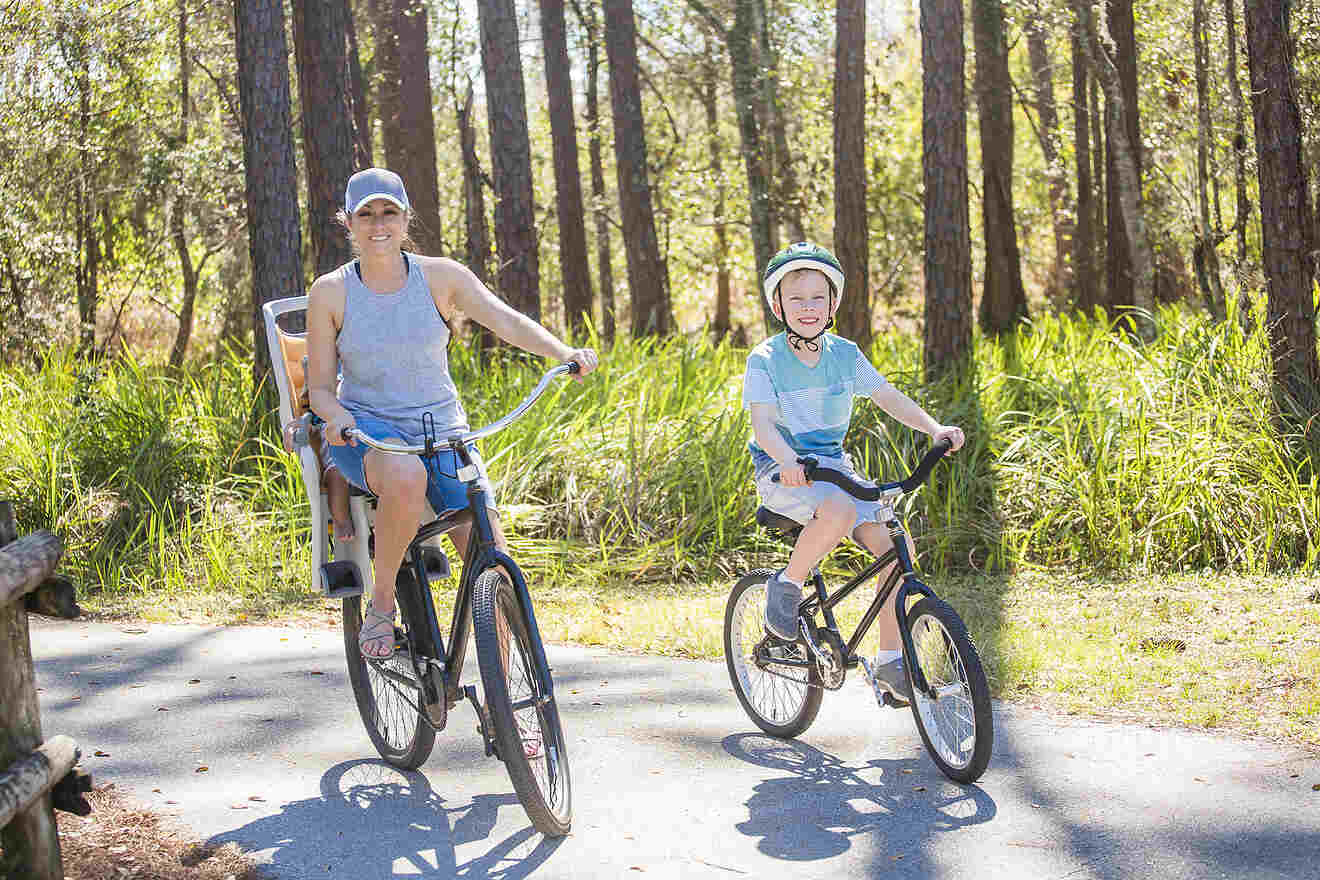 Most hikes in Florida are pretty easy when it comes to elevation. This is, after all, one of the flattest states in the country.
However, that does not mean that the trail is any less worthy. In fact, Florida has its own special magic to offer in light of its unique landscape.
The Pine Island East Loop Trail is a 3.4-mile loop just outside of Orlando. People say it generally takes about 60 minutes to complete this loop, so it's not an intense hike by any means. Rather, it is a lovely hiking trail in Orlando to experience the beauty and wonder of this land before it was developed into what it is today!
PRO TIP: This trail is very popular for birding, so bring your binoculars!
PRICE: Free
6. Enjoy the solitude at Tarflower Loop & Osprey Overlook Trail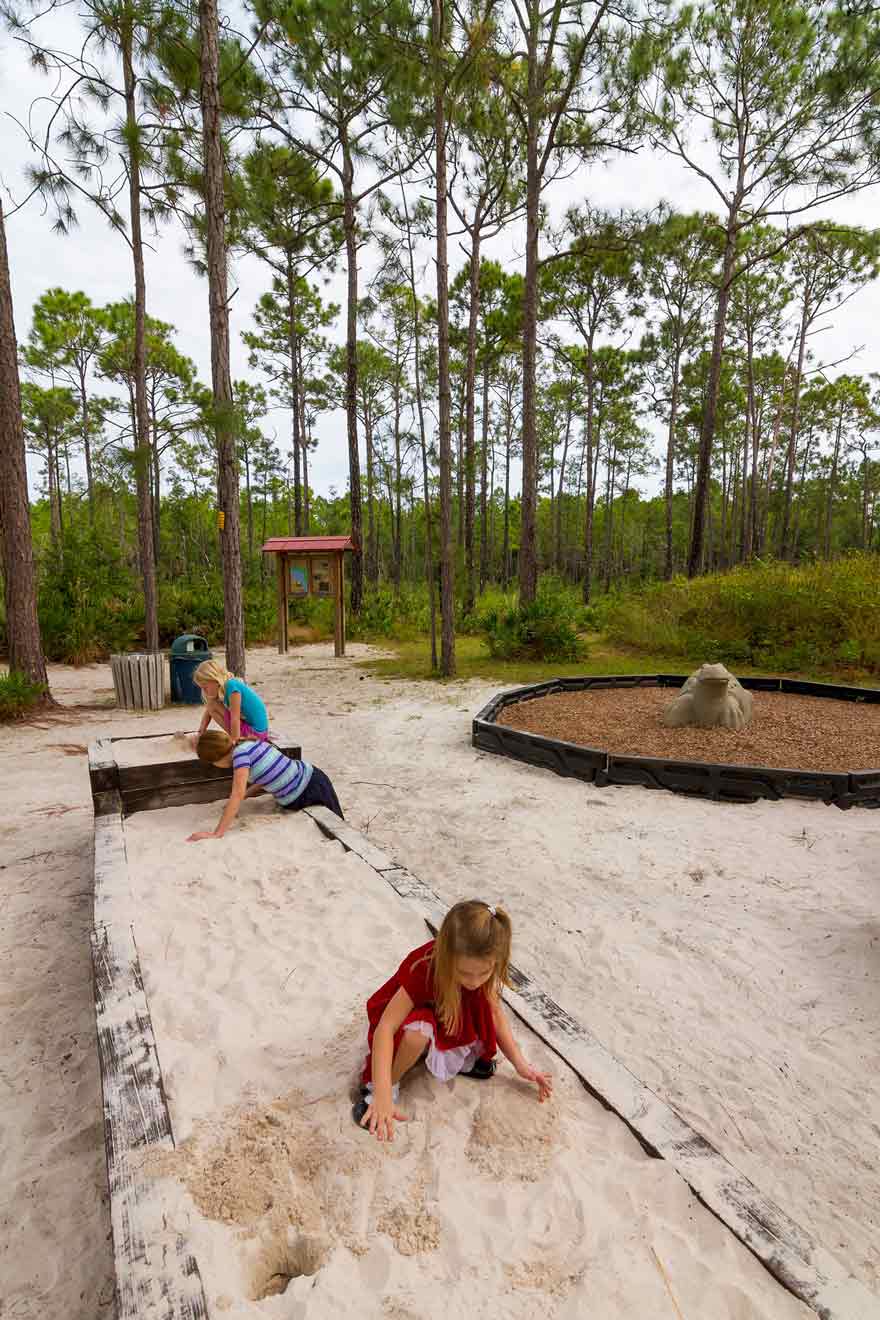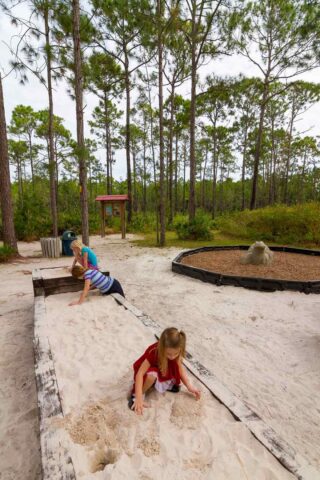 This is a fun nature trail because it's named after the native wildflower of Orlando, the Tarflower!
Fallen Log, Tarflower Loop, is about 2 miles long and takes around 35 minutes to complete. This is definitely one of the best trails in Orlando for birding, hiking, and just enjoying some of Orlando's beautiful nature.
Central Florida is home to some truly stunning biodiversity and wildlife. This hiking trail is one of the best to experience wild Florida.
PRICE: Free
7. Adventure through the Disney Wilderness Preserve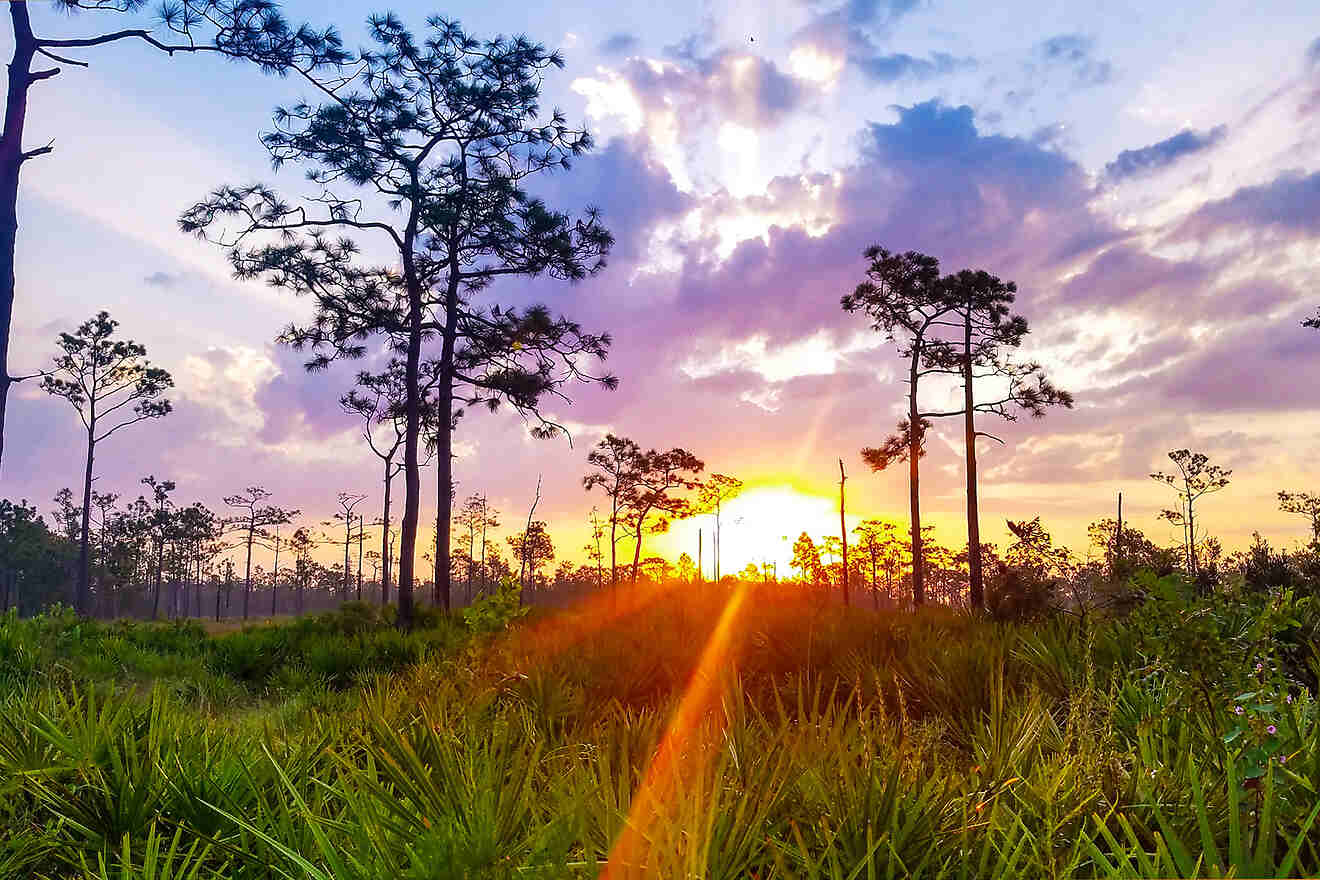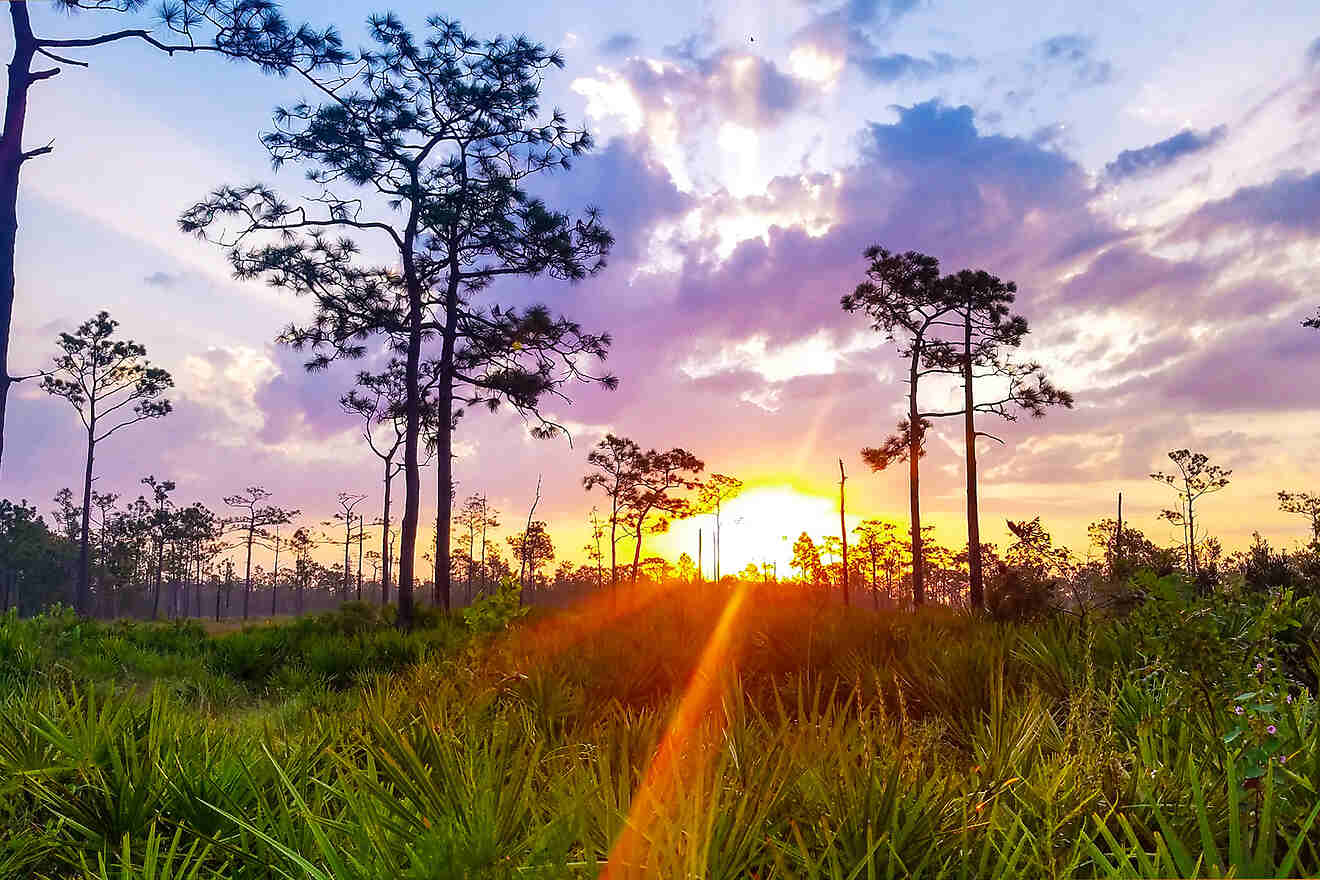 The Disney Wilderness Preserve is the product of a lovely agreement between the Walt Disney Company, The Nature Conservancy, and the state of Florida.
This agreement led to the creation of an 11,500-acre wilderness preserve and conservation effort located in Kissimmee, fifteen miles south of Walt Disney World, just outside of Orlando. This is a great place to enjoy nature, get the kids to explore some wild Florida, and unplug from fast-paced city life.
This preserve is home to over 1,000 species of animals and plants and is an integral part of the Everglades ecosystem.
Between the Spanish moss, the huge looming cypress, and the 3,500 restored wetlands, this preserve is truly a gem in Central Florida.
The series of hikes this preserve offers are some of the best in Orlando due to the size of this preserve and all the biodiversity you will encounter on your hike. The Disney Wilderness Preserve is a fantastic place to visit on your trip to Orlando.
List of trails at the Disney Wilderness Preserve:
The White Harden Trail – a short loop of 0.5 miles (this is one of the shorter hikes on this list)
Red Wilderness Trail – A 2.5-mile loop with access to Lake Russell and a more intimate look at the preserve's many ecosystems
Yellow Trail – Journey through wetland and upland habitats in a 6-mile hiking loop
PRICE: Free
8. Take a walk on the wild side at Wekiwa Springs State Park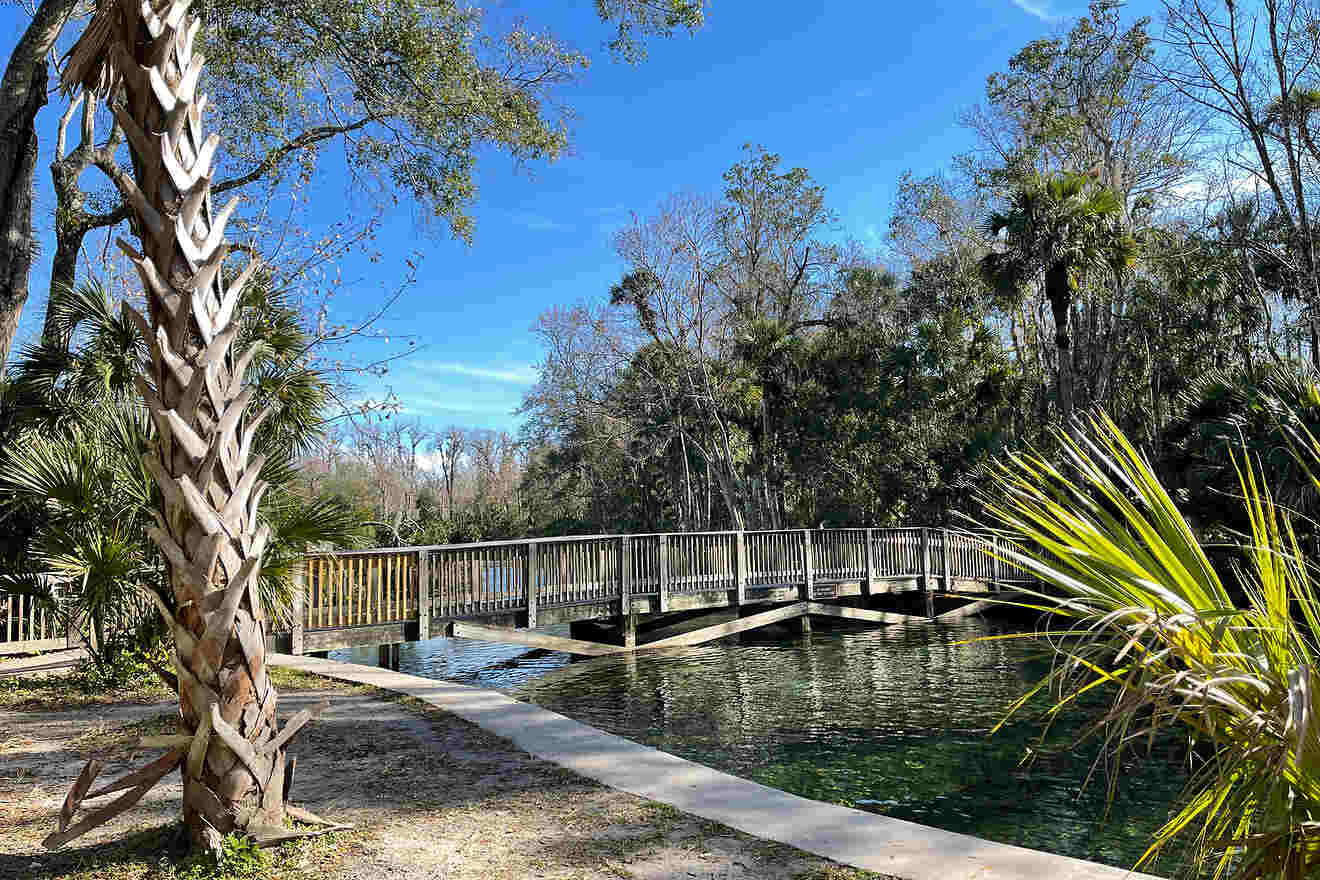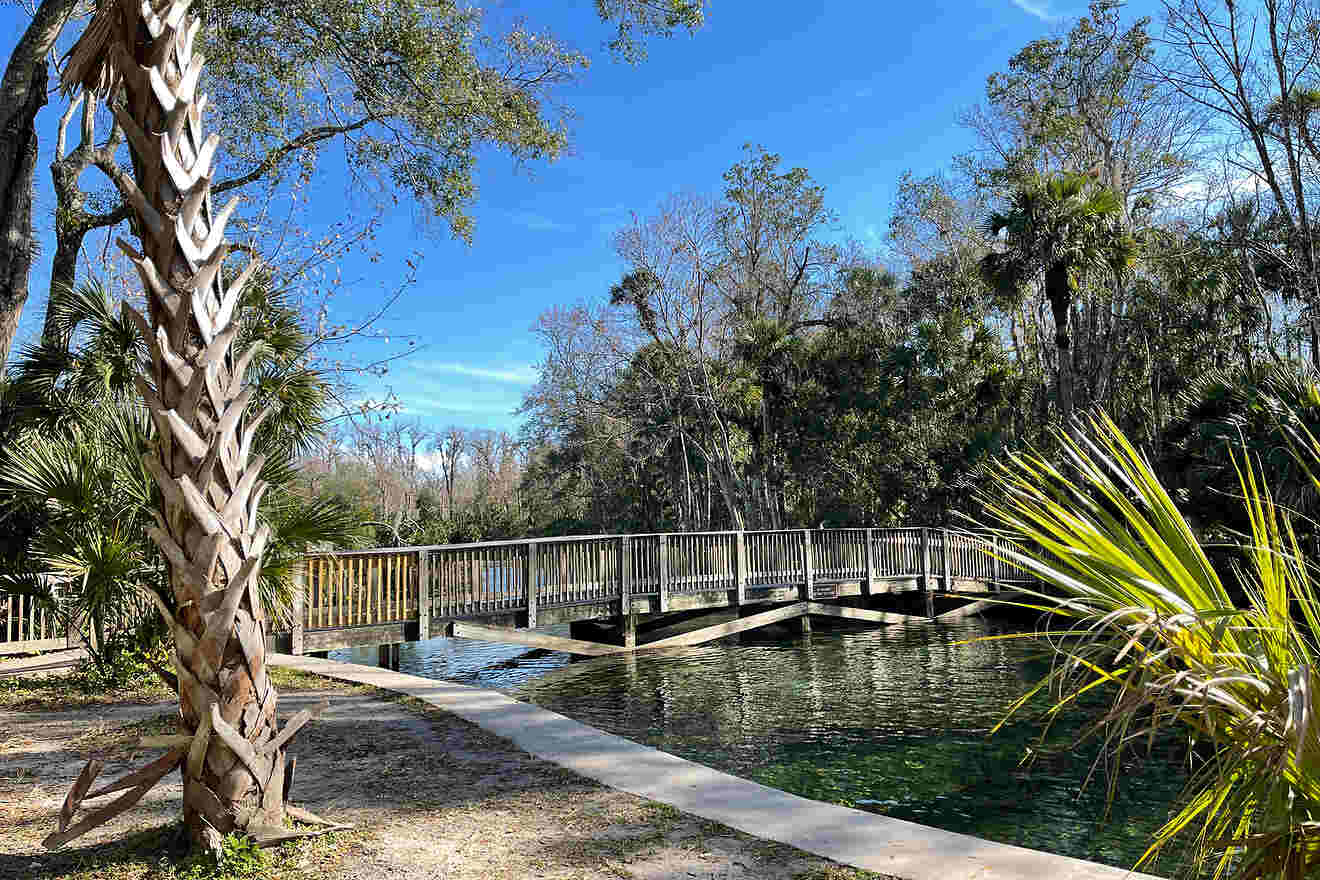 This is one of my absolute favorite places to hike, adventure, kayak, and explore in Central Florida. The Wekiwa Springs State Park is one of the best trails and places to experience wild Florida in the Orlando area!
Wekiwa Springs State Park is a 7,000-acre Florida State Park near Orlando. This gorgeous state park is around Altamonte Springs and Longwood, about 20 minutes from the Orlando area.
This park features all sorts of the natural wonders located in Florida, such as the head of the Wekiva river, crystal clear Wekiwa springs, and so many other incredible feats of nature!
Here you can hike through miles of lush tropical hammocks, walk alongside a springhead that feeds the Wekiva River, see some manatees, alligators, armadillos, otters, wild boars, all sorts of different birds, and so much more.
If you want to take a break from the hike but still get some exercise in, you can check out this 8 mile downstream paddle tour of Wekiva River!
See here for more in-depth info on all the hiking trails they offer (including the length so you can decide what you're up for!)
PRICE: $52.29 per adult for the tour, $6 per vehicle access to the park.
9. Explore the trails at the Black Bear Wilderness Area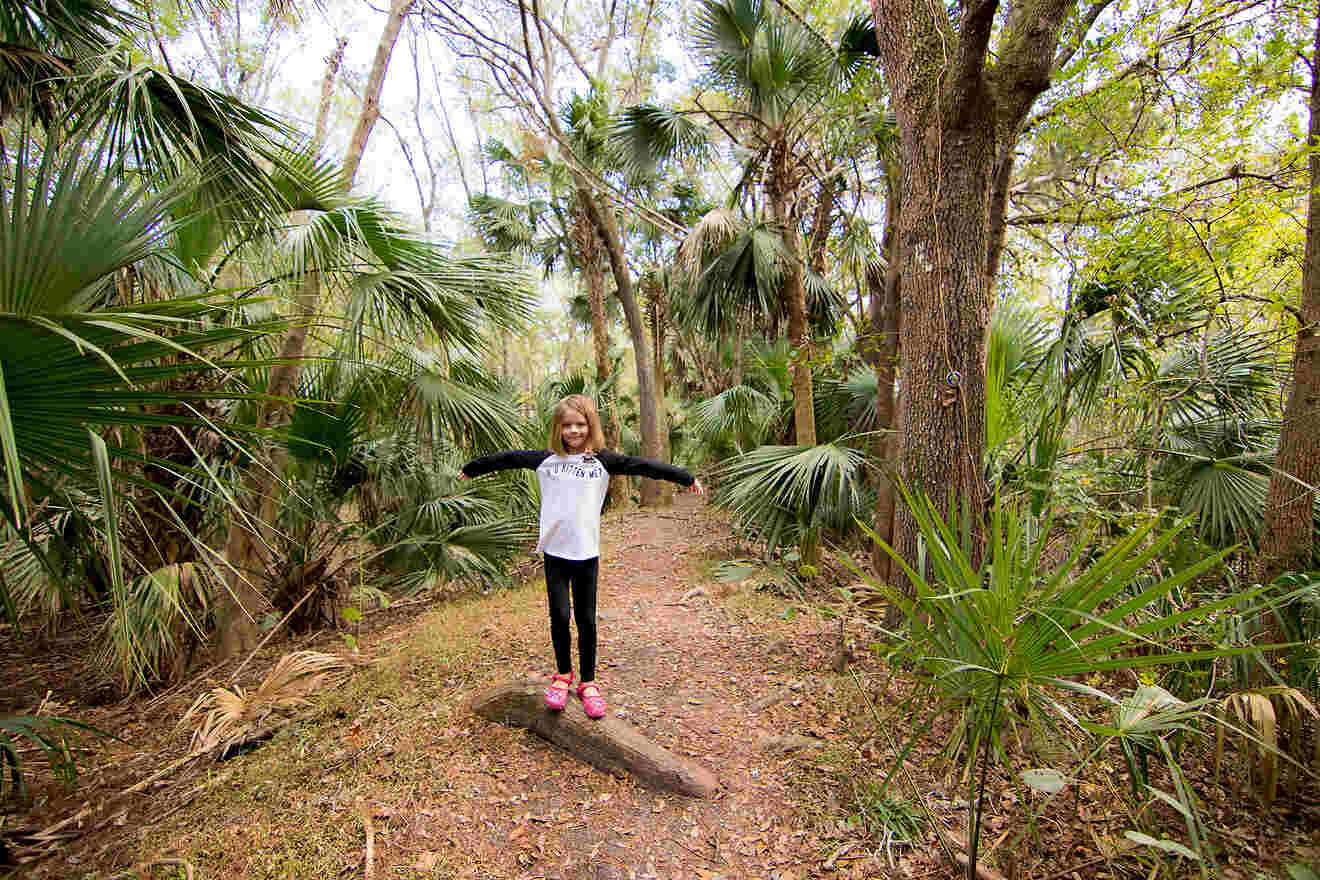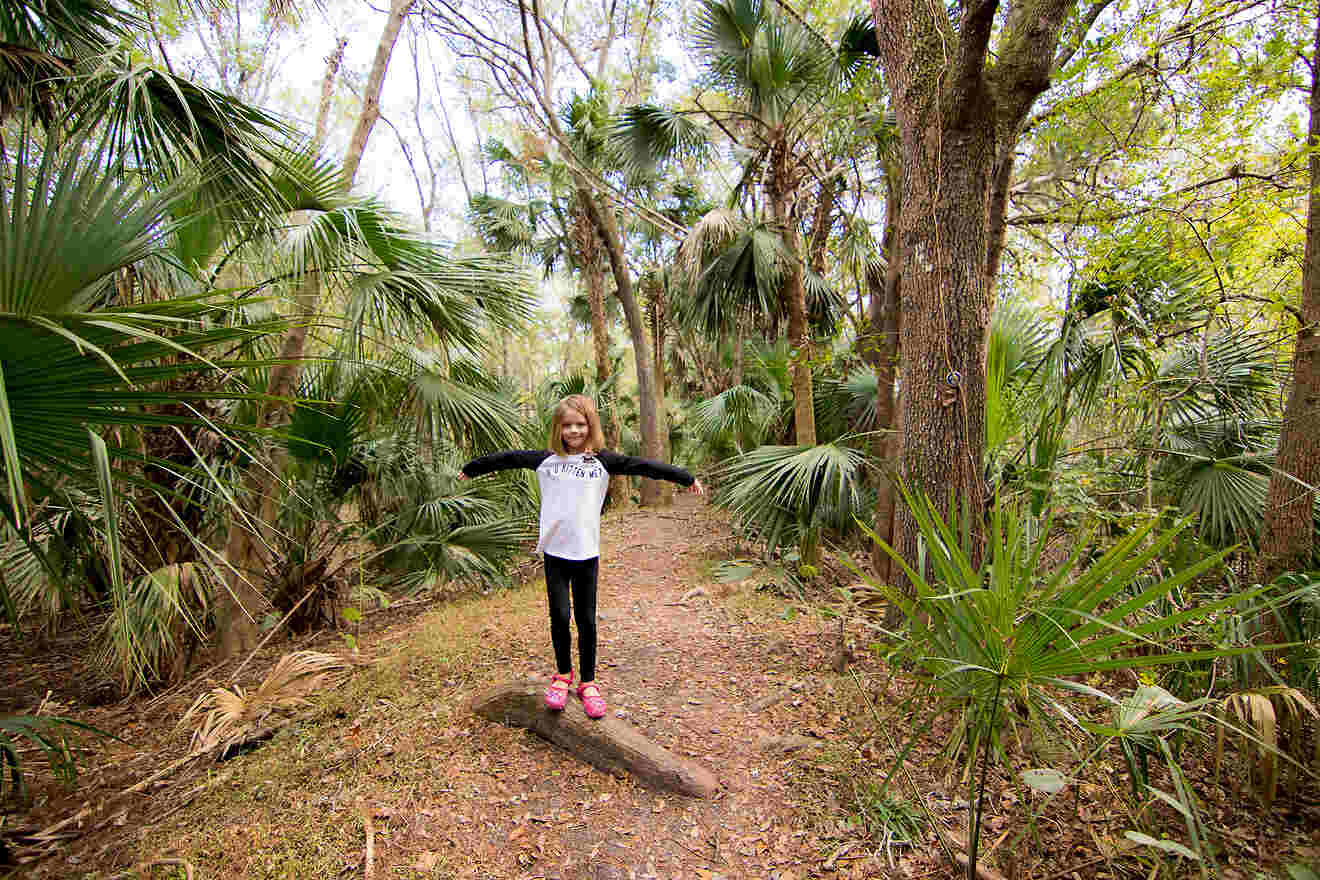 Looking to escape the city life and show your kids what real Florida looks like? The Black Bear Wilderness Area is an excellent place to do so.
This wilderness area is home to 1,650 acres of marsh, hardwood, and floodplain swamps. Located in the floodplains of the St. Johns River, Wet Prairie, Cypress Swamps, and Hydric Hammocks, this little piece of wild Florida is truly a gem you will not want to miss.
This conservation area is a vital piece of a puzzle, known locally as the Florida Wildlife Corridor, connecting natural areas between the St. John's and Wekiva river basins to the Ocala National Forest.
Keep in mind this is not one of the easiest trails on this list. It is a remote trail through rough terrain, over tree roots, animal holes, slopes, and more. So I recommend you wear the proper hiking gear if you plan on hiking these trails.
The hiking trails at the Black Bear Wilderness area are not for beginners. This trail is more for seasoned hikers looking for a bit of a challenge.
PRICE: Free
10. Enjoy a nature hike at Mead Botanical Garden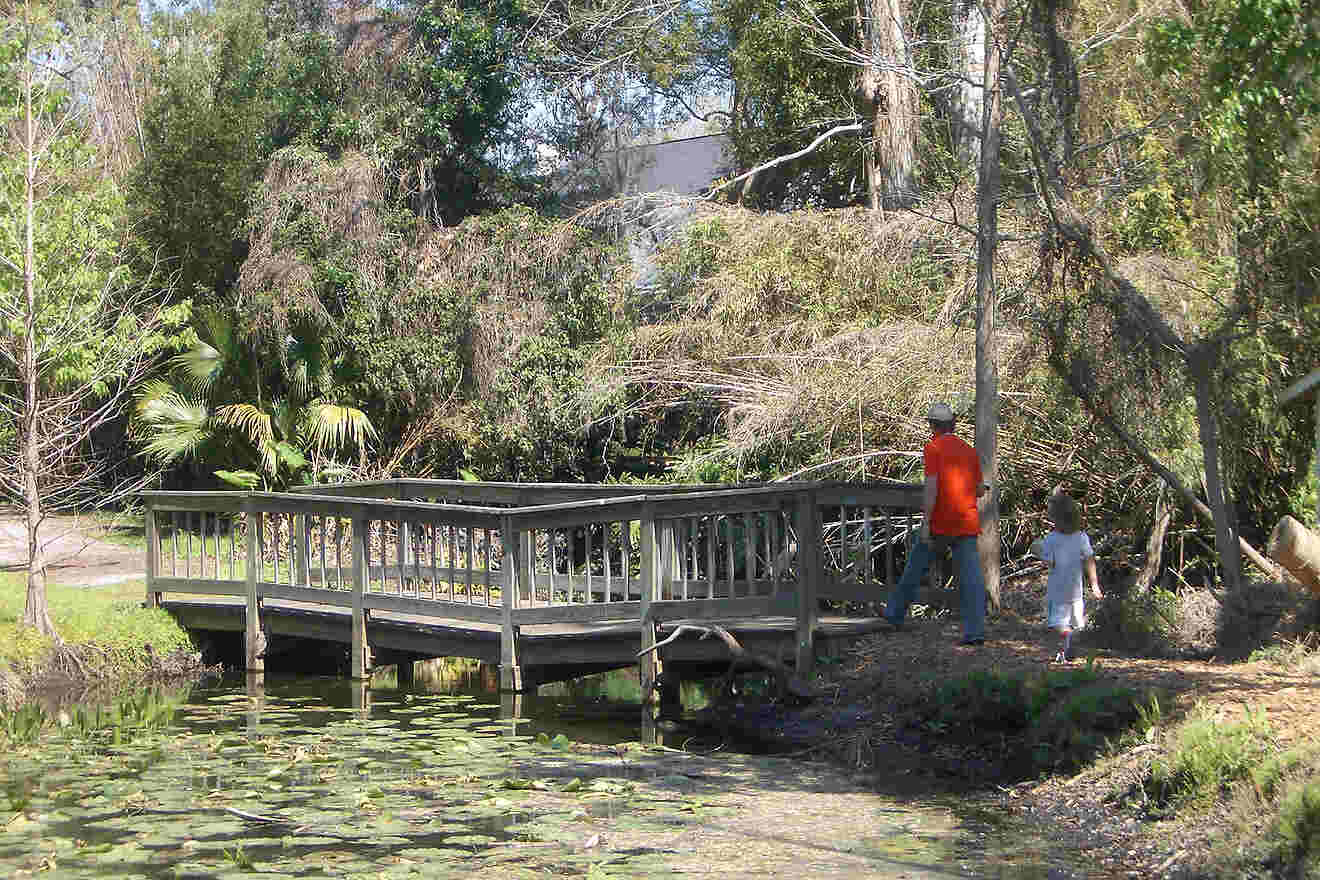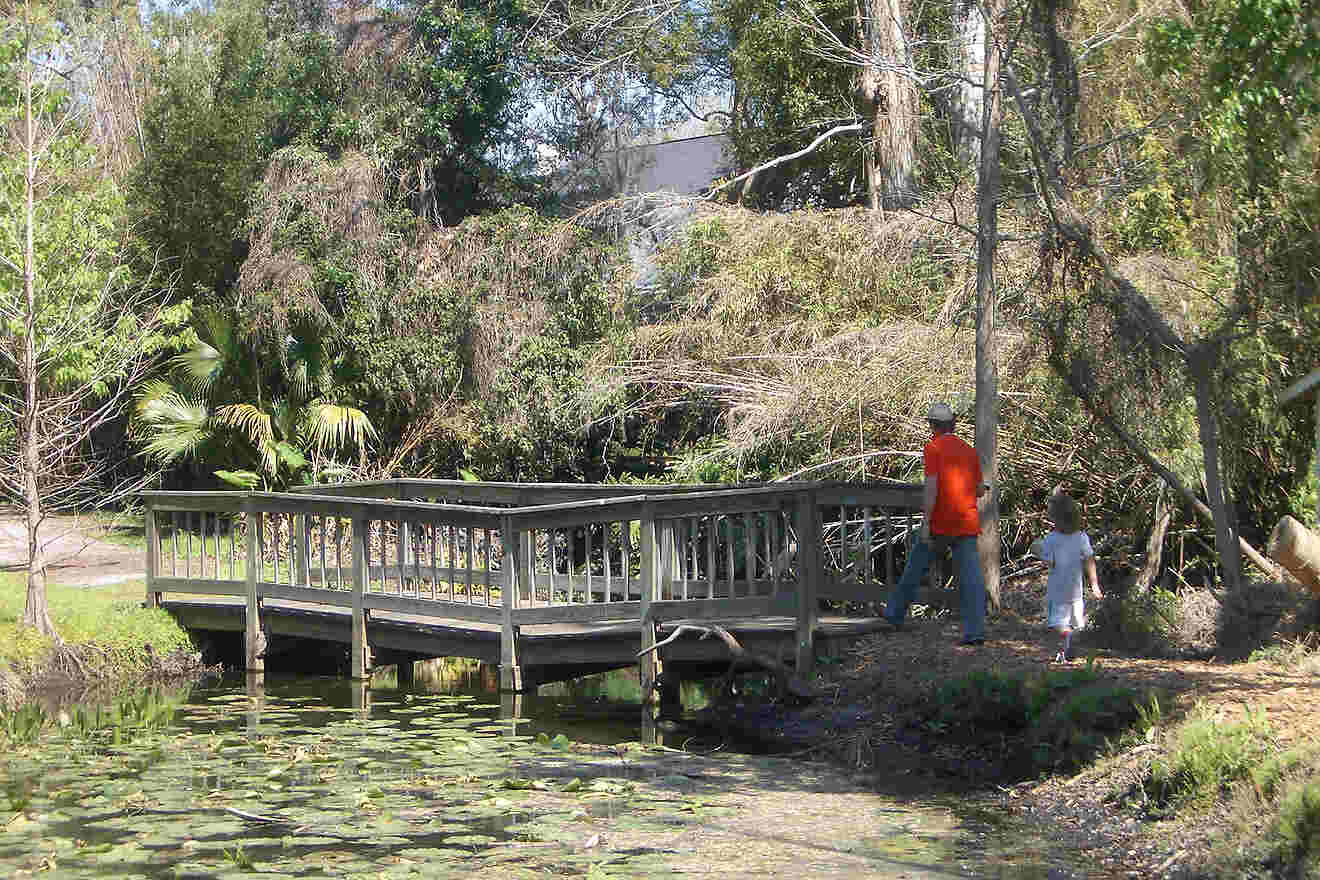 Love plants? Love butterflies? Love walking through nature and being near bodies of water? This one's for you!
Mead Botanical Gardens is one of my favorite places to visit in the Orlando area. Only ten minutes from downtown, this oasis is the perfect getaway!
This tranquil botanical garden boasts beautiful tropical plants, a butterfly garden, and a trail through a wild Florida habitat alongside a creek and a lake.
This is one of the more lowkey hiking trails in Orlando that doesn't require much effort but is effortlessly beautiful!
They offer pavilions, nature trails, lakeside benches, an event space, different habitats and gardens, and a butterfly garden!
Mead Botanical Garden is the perfect spot to take a quick hike, unwind under massive cypress and pine trees, gaze at trailing Spanish moss, or enjoy a picnic in nature! This hike is a local favorite.
PRICE: Free
| | |
| --- | --- |
| 🤩 Range of activities: | Large |
| 👪 Family-friendly score: | High |
| 🚶🏽‍♂️ Best free activity: | Split Oak Forest |
| 👧 Best attraction for kids: | Mead Botanical Gardens |
| 🕺 Best tour | Wekiva River Paddle Tour |
| 🥟 Must try food: | Shiraz Market |
FAQs about The Best Hiking Trails in Orlando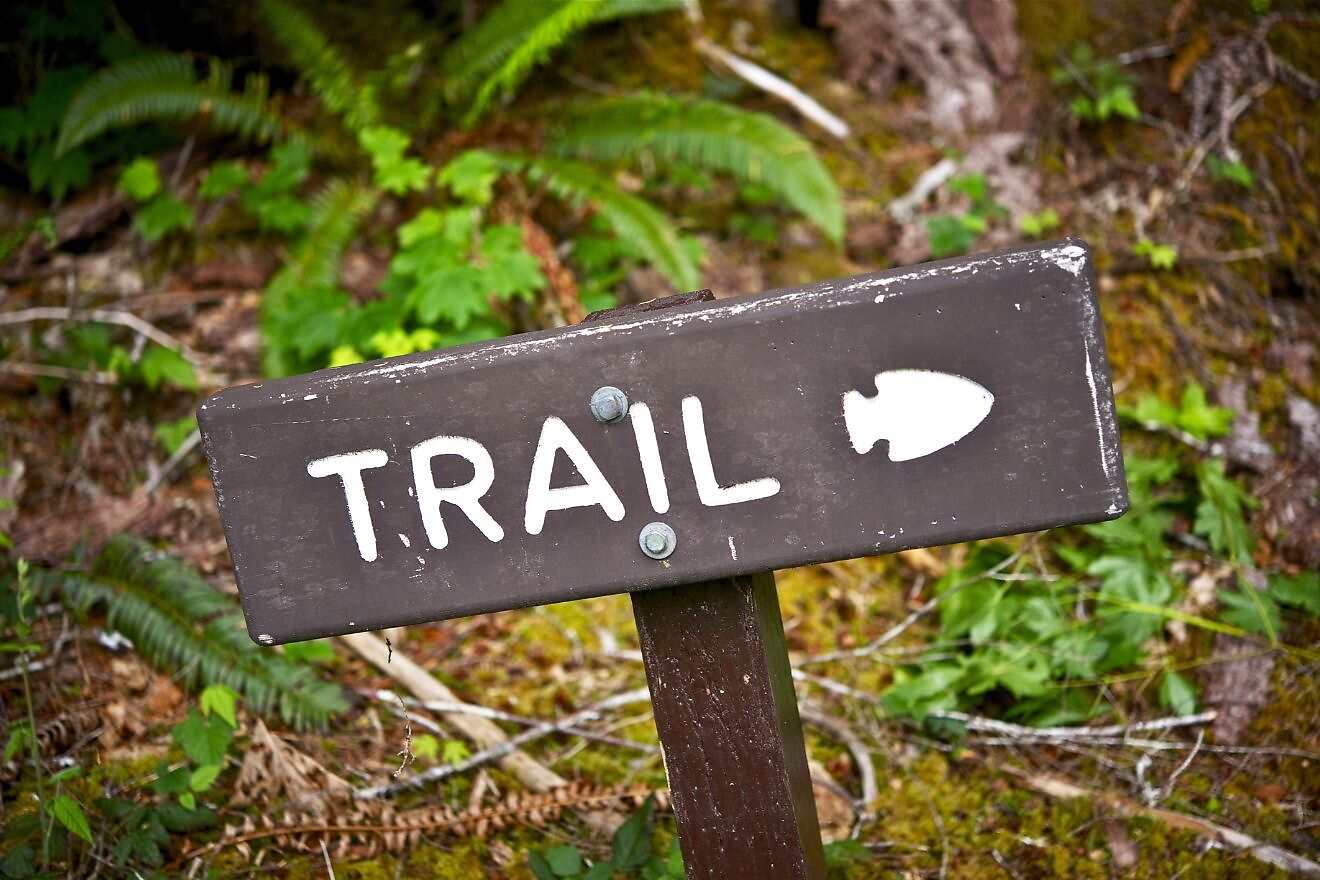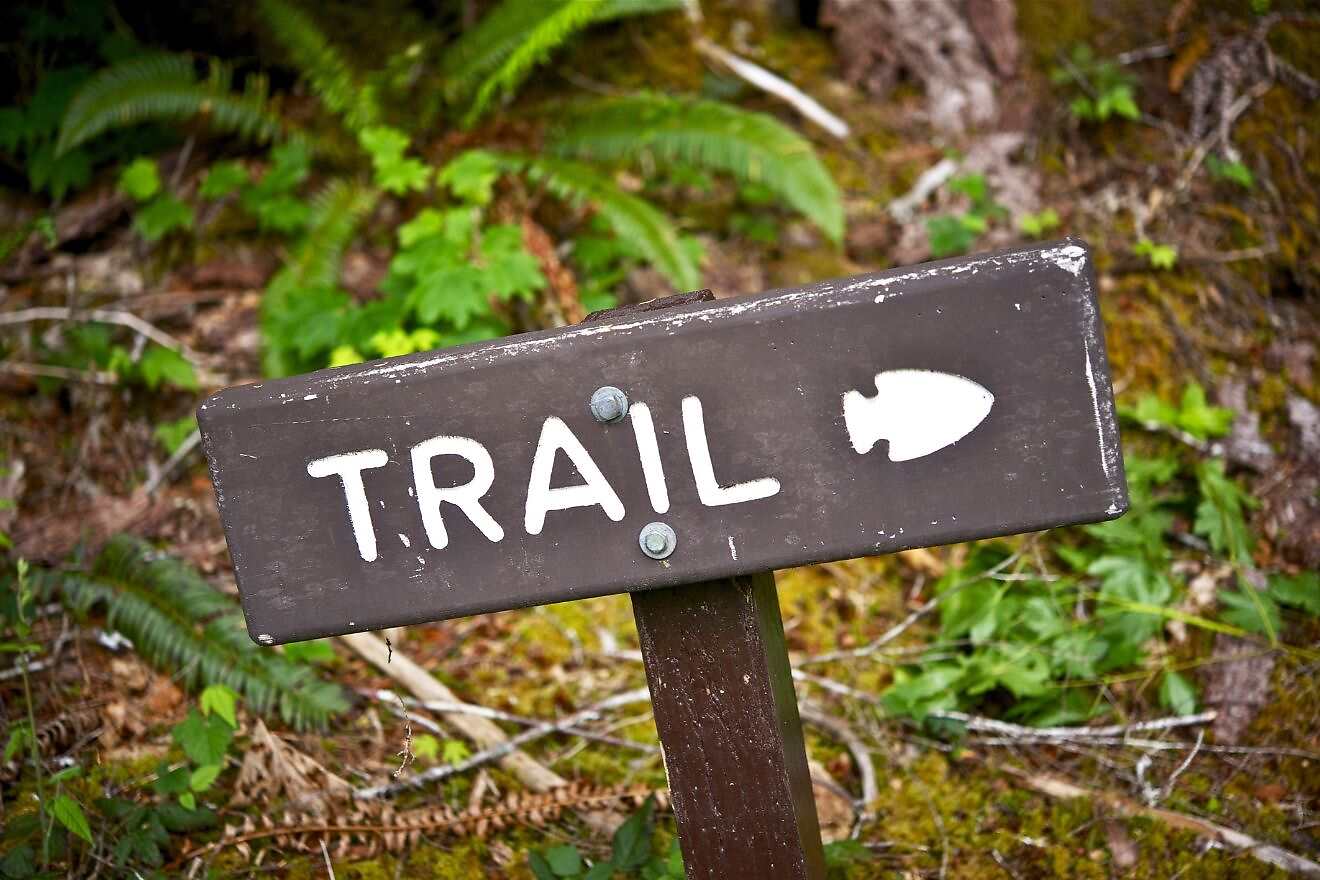 🌿 What are the best nature trails in Orlando?
🐶 What are the best dog-friendly hiking trails in Orlando?
🌱 Which are the best hiking trails in Orlando?
Orlando is jam-packed with hiking trails. The theme parks aren't the only reason to come to Orlando! The Split Oak Forest trail is one of the best and prettiest places to hike!
Conclusion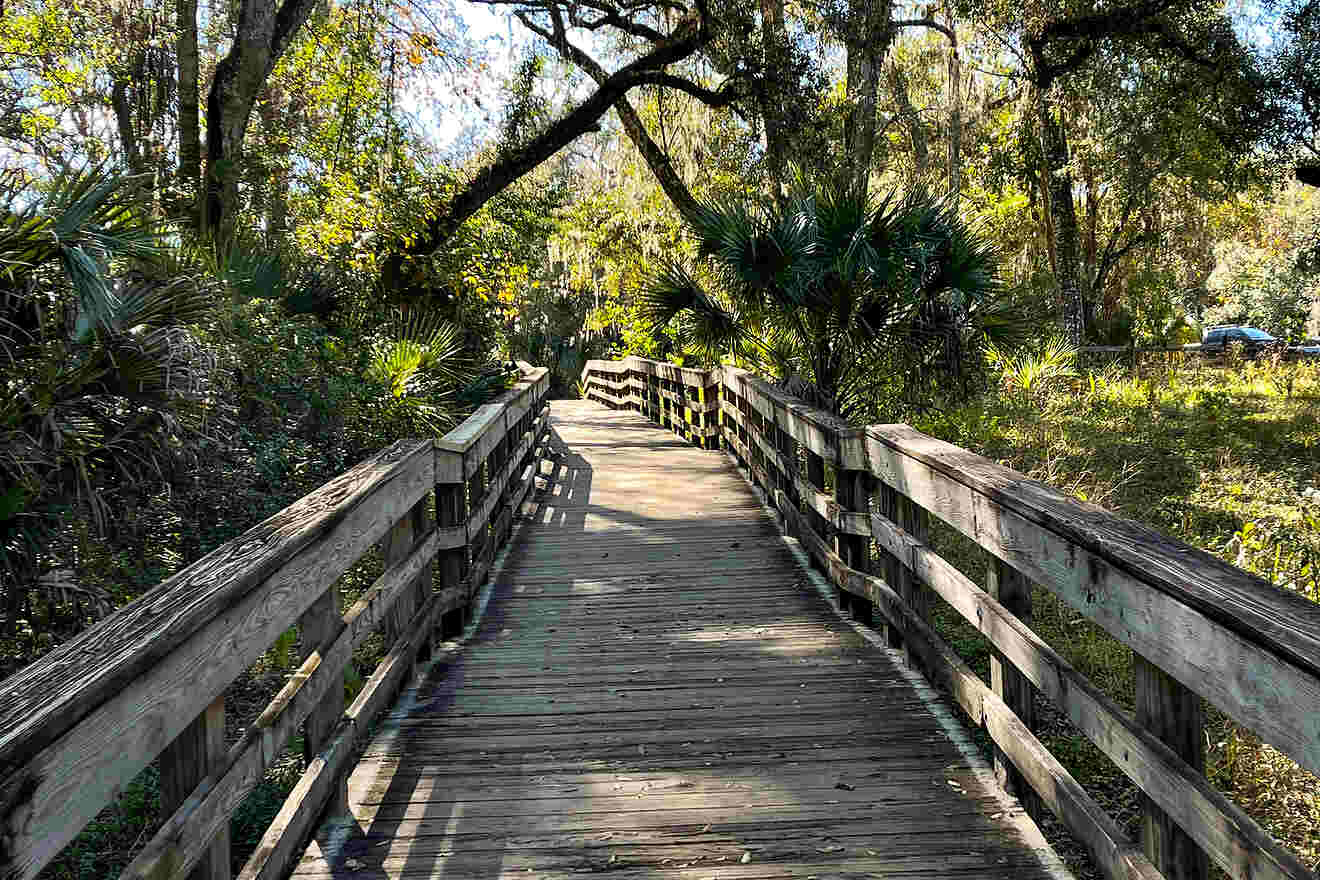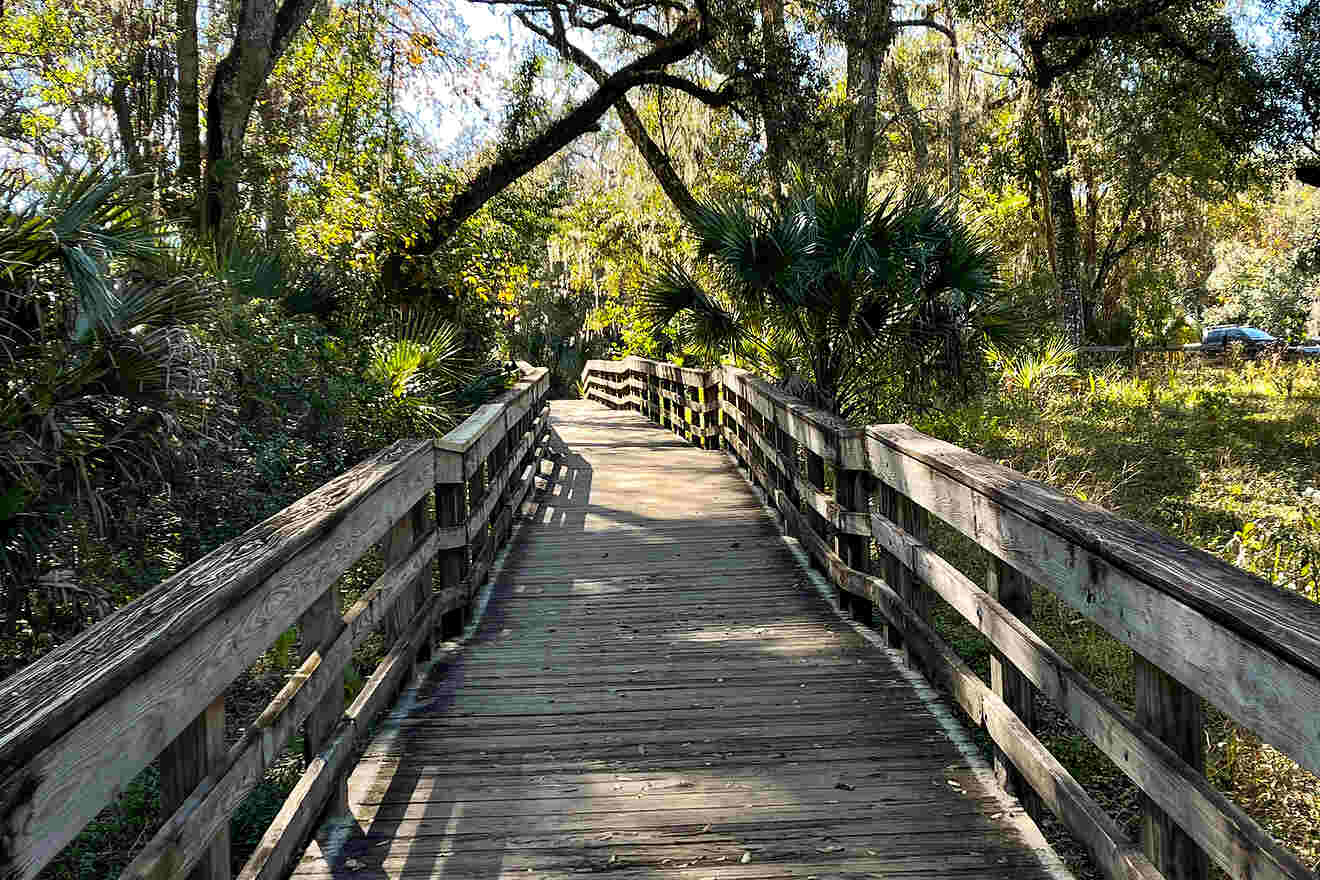 There you have it! 10 of the best hiking trails in Orlando. These hikes range from moderately intensive to a walk in the park (literally!)
Part of the reason I love living in Orlando is how abundant nature is and how many trails there are to explore these wild wetlands, tropical hammocks, upland scrub habitats, and more!
I hope you enjoy these trails as much as I do!
With love and gratitude,
Amira G
---
Pin it for later!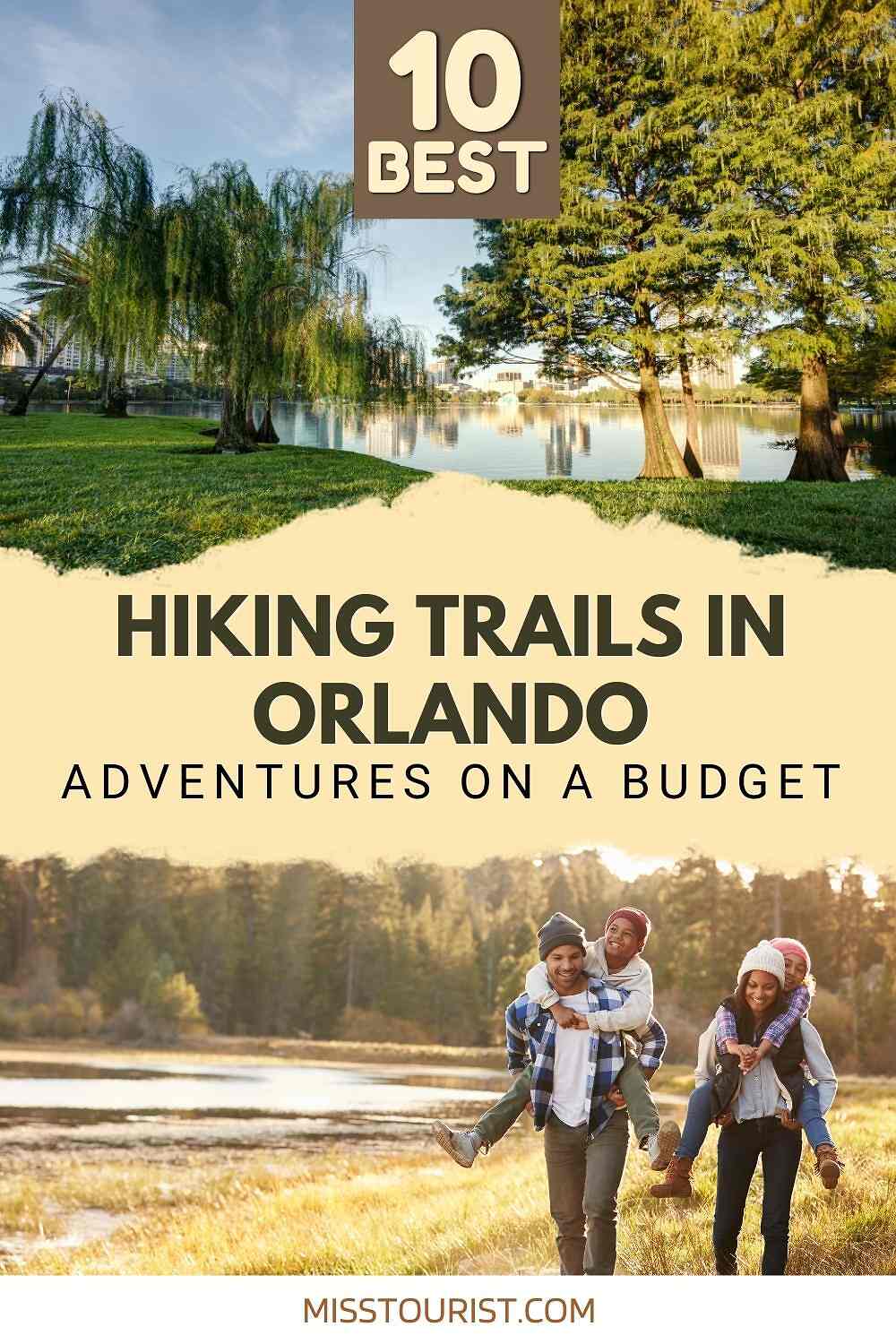 Pin it for later!