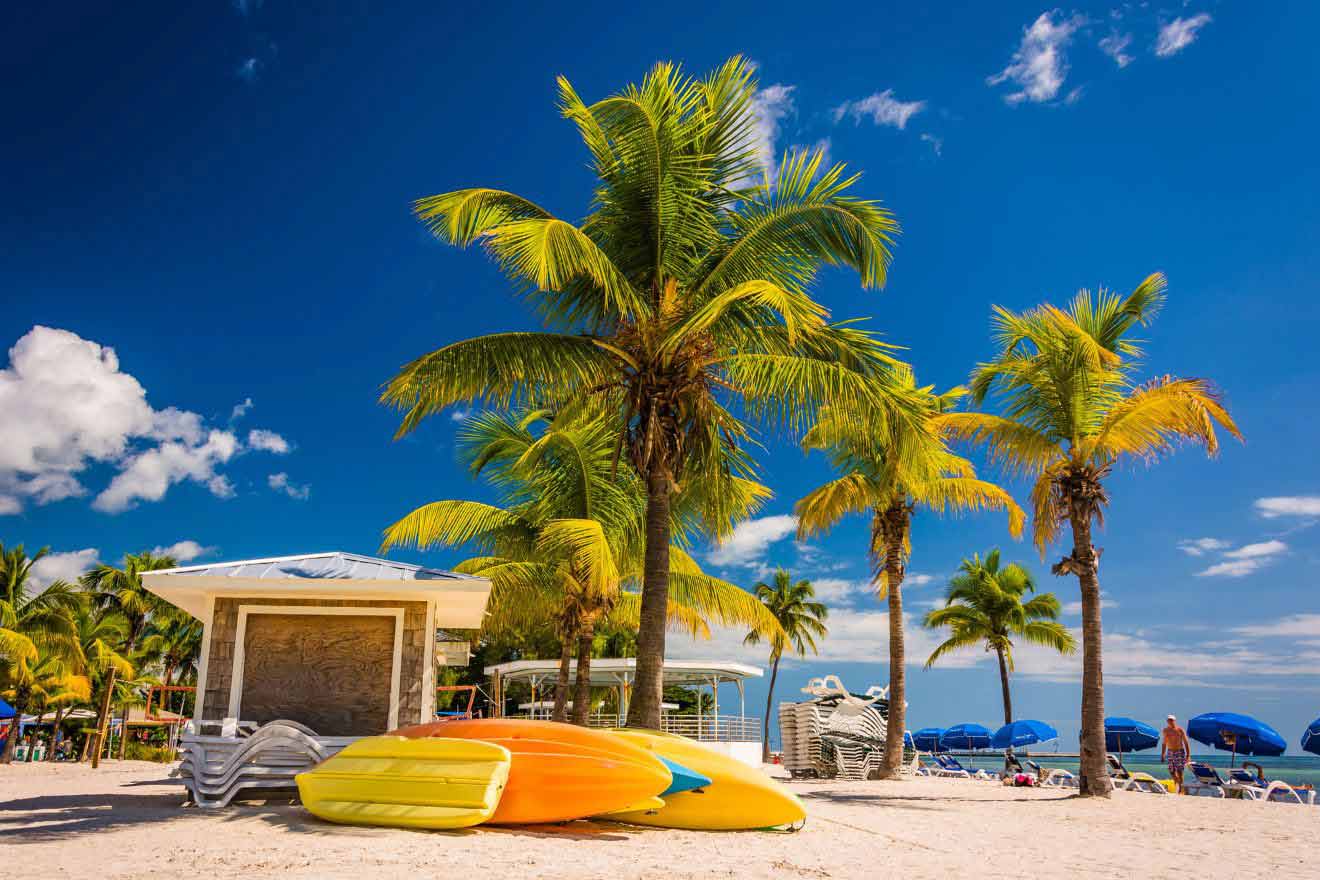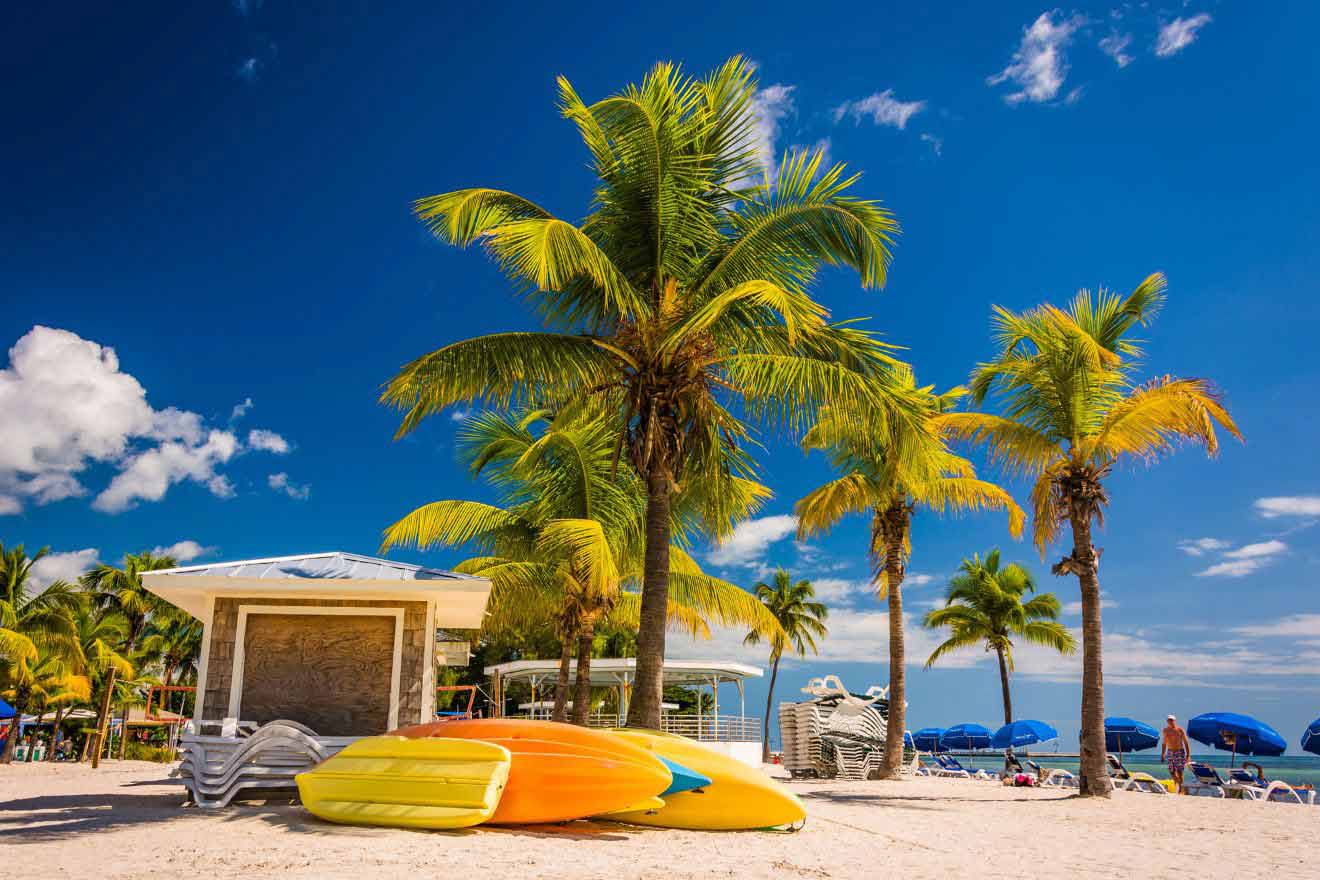 If you're planning a trip to the Florida Keys, you're in for an absolute treat! This part of Florida is hands down one of the most beautiful areas in the United States, with strikingly blue water, soft, sandy beaches, and exquisite, undisturbed natural beauty. Add in an incredibly rich, storied history and countless activities for fun in the sun, and you've got the makings of an unforgettable vacation destination!
The Florida Keys is a chain of islands starting with Key Largo, the longest and largest key just over an hour south of Miami, and ending with Key West. The Keys are connected by the Overseas Highway, which means you can easily hop from key to key on an exciting road trip.
Growing up in South Florida, I've spent quite a bit of time in the Florida Keys, and I'm so excited to tell you all about the very best things to do in the Florida Keys, so you can make the most of your trip there! We'll be covering all types of activities, so there is something for everyone on this list.
The sunshine is calling, so let's go!
If you are in a hurry
This is a lengthy article since I didn't want to leave any must-dos off the list! But if you're looking for the top Florida Keys attractions (and the ones that tend to fill up the fastest), I've got you!
Here are the main things to book in advance:
1. Go snorkeling at John Pennekamp State Park in Key Largo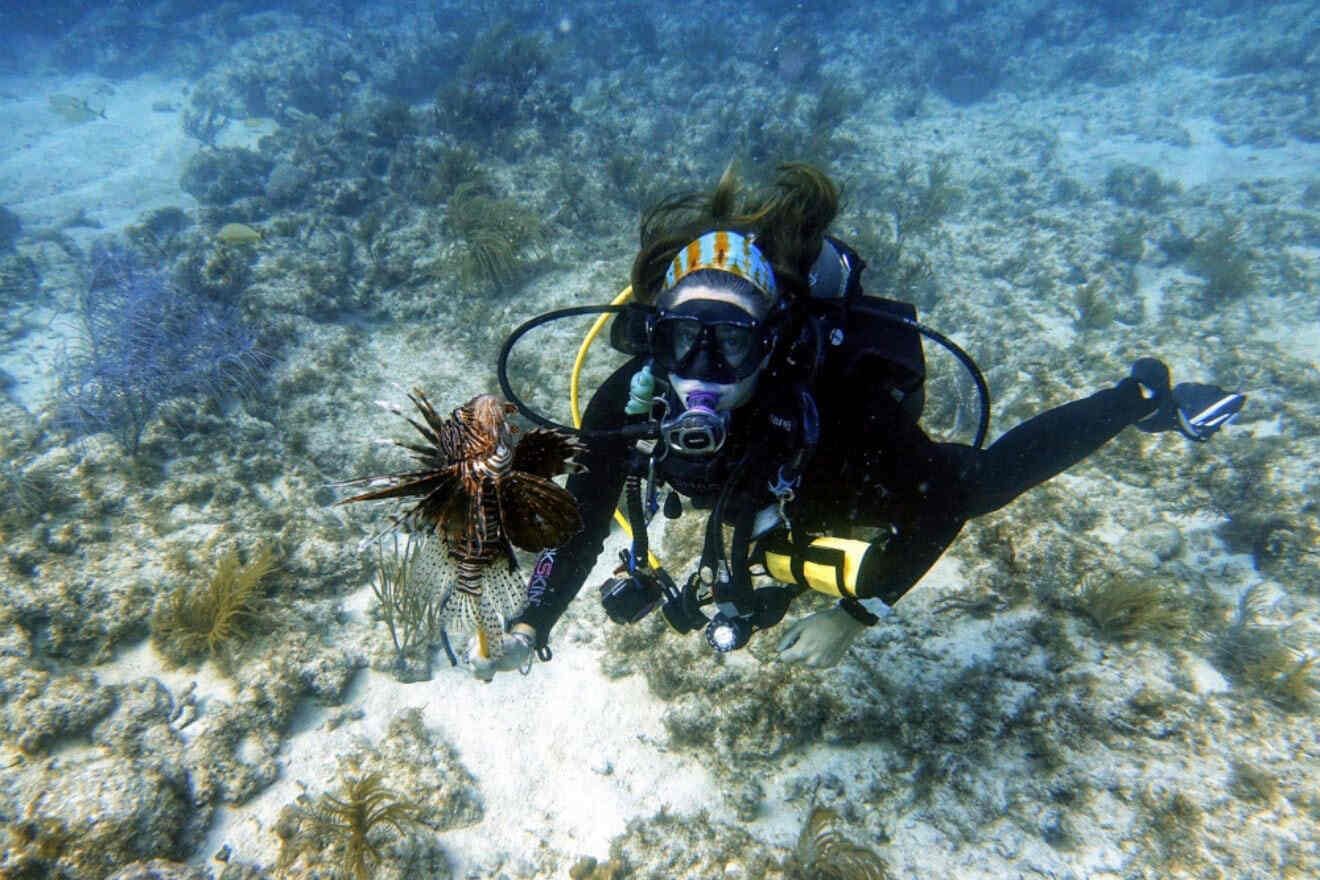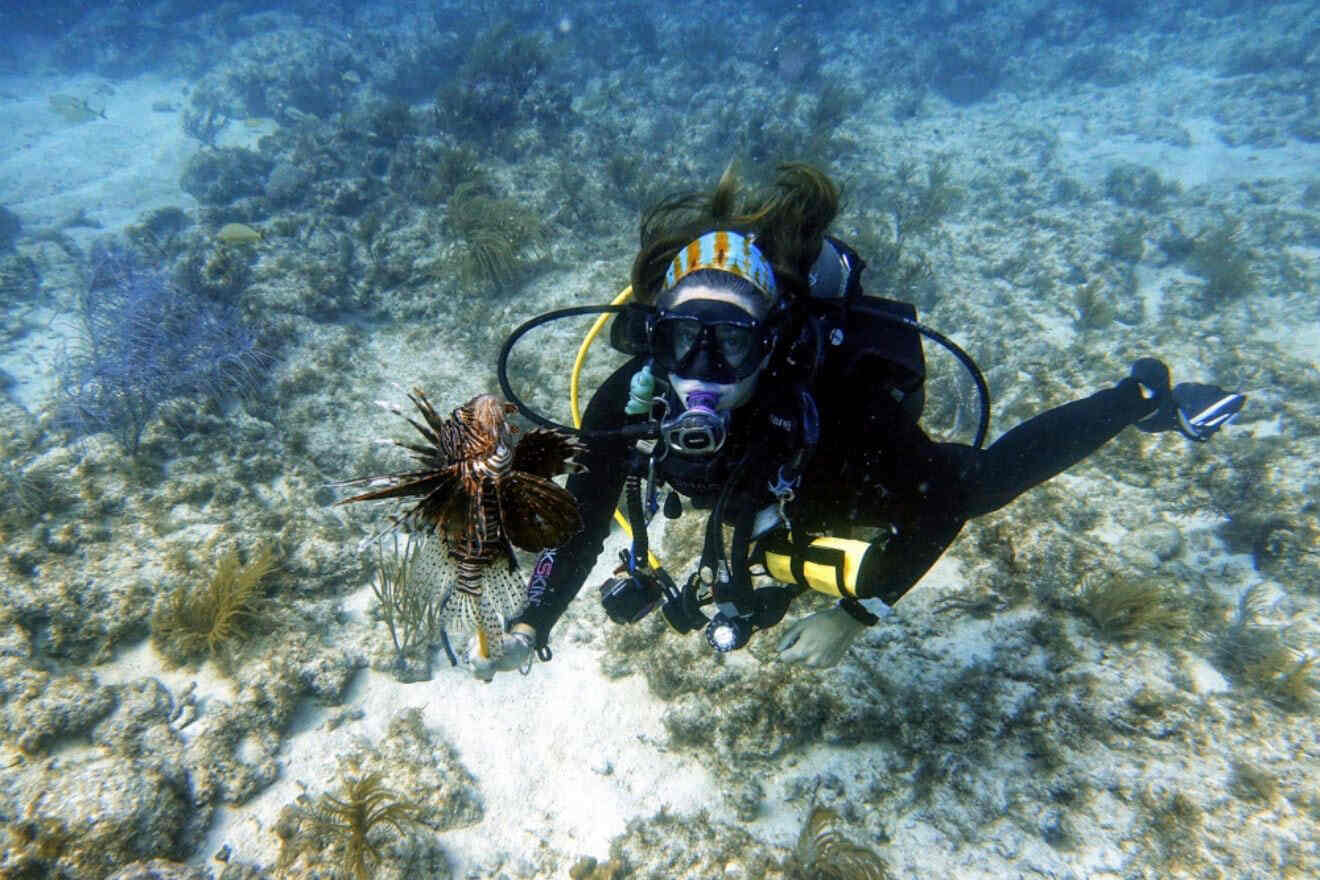 Did you know the Florida Keys are home to the only living coral barrier reef in the continental United States? At John Pennekamp Coral Reef State Park in Key Largo, the country's first undersea park, you can explore the vibrant Florida Reef and the abundant marine life that calls it home!
John Pennekamp State Park covers a massive 70 nautical miles (130 km), so the best way to experience it is on the water, of course! The park offers glass bottom boat tours, which are a very popular option for getting a glimpse of this natural wonder, but I highly recommend going snorkeling for the most spectacular view unless you're SCUBA certified – you certainly can't beat seeing it that close!
A half-day snorkel trip takes you on an exciting adventure through John Pennekamp Coral Reef State Park and the Florida Keys National Marine Sanctuary, where you can get in the water and see this incredible reef and its amazing inhabitants up close. It's beginner friendly, so even if this is your first time snorkeling, you're in good hands.
This tour fills up very quickly, so be sure to book ASAP, so you don't miss out!
PRICE: US$65 per person
2. Stay the night underwater at Jules' Undersea Lodge
I have not personally done this before, but this once-in-a-lifetime experience is definitely on my bucket list. Jules' Undersea Lodge was originally an underwater research laboratory that has been converted into an underwater hotel. Yes, you read that right – you can spend the night underwater!
Jules' Undersea Lodge is entirely underwater, but once you've checked in, you have everything you need for a relaxing stay: air conditioning, Wi-Fi, an Amazon Fire stick, 2 private bedrooms, and a common area that serves as a galley, dining, and entertainment space. Your stay includes pizza delivery, which arrives hot and dry despite making the journey underwater to you!
If you're celebrating a special occasion, you can even arrange for a "mer-chef" to dive down to the lodge and prepare a gourmet meal for you!
The coolest part is that the undersea lodge actually acts as an artificial reef, providing shelter and substrate to the marine life here. There's a 42-inch (107 cm) window in the lodge, where you'll get unmatched views of the amazing creatures that call the ocean home!
PRICE: Starts at US$1,125 per night
3. Kayak through the mangroves in Tavernier Creek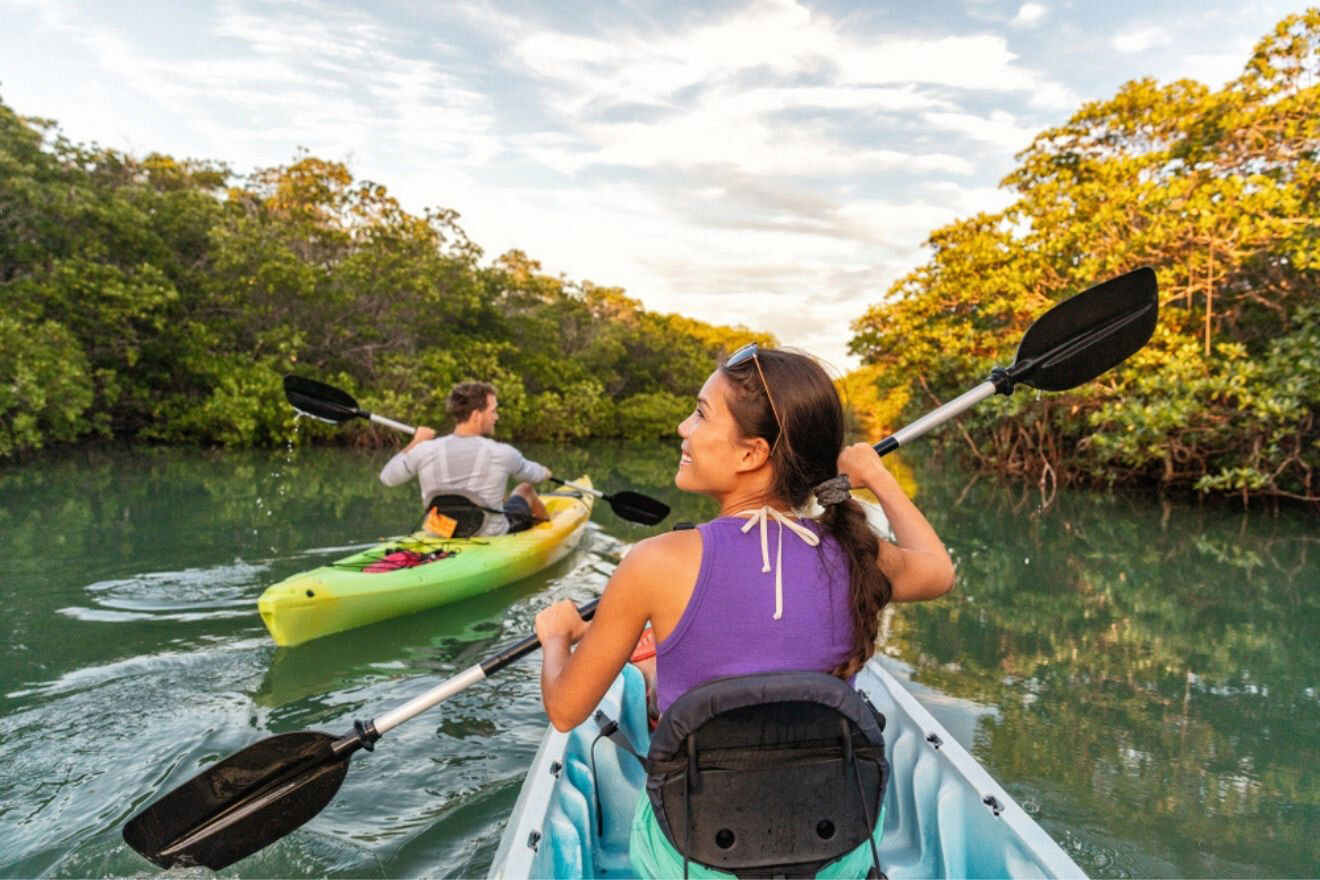 Exploring the mangrove forests is one of the best things to do in the Florida Keys and also one of my personal favorites – I'll never forget the first time I did a kayaking tour through this extraordinary ecosystem!
Mangrove forests are incredibly important to the coastline, as they provide stabilization and reduce erosion. They also provide shelter to abundant wildlife, like manatees, turtles, sting rays, and dolphins.
You can see these (and more!) up close on mangroves and manatees guided eco-tour. This guided tour takes you on an adventure through Tavernier Creek in the Upper Keys, where you'll learn all about the mangroves and the inhabitants while exploring them on a kayak or paddleboard!
You don't need any kayak or paddle board experience to participate – in fact, the clear, shallow waters are perfect for first-time paddlers. You're provided with all necessary safety equipment, and your guide is there to help you every step of the way.
For something a little different, try taking the guided tour at sunset or even at night! There are special lighted boards available for this, and it provides an experience totally unique from a daytime tour.
PRICE: US$65 per person
4. Spend the day at stunning Bahia Honda State Park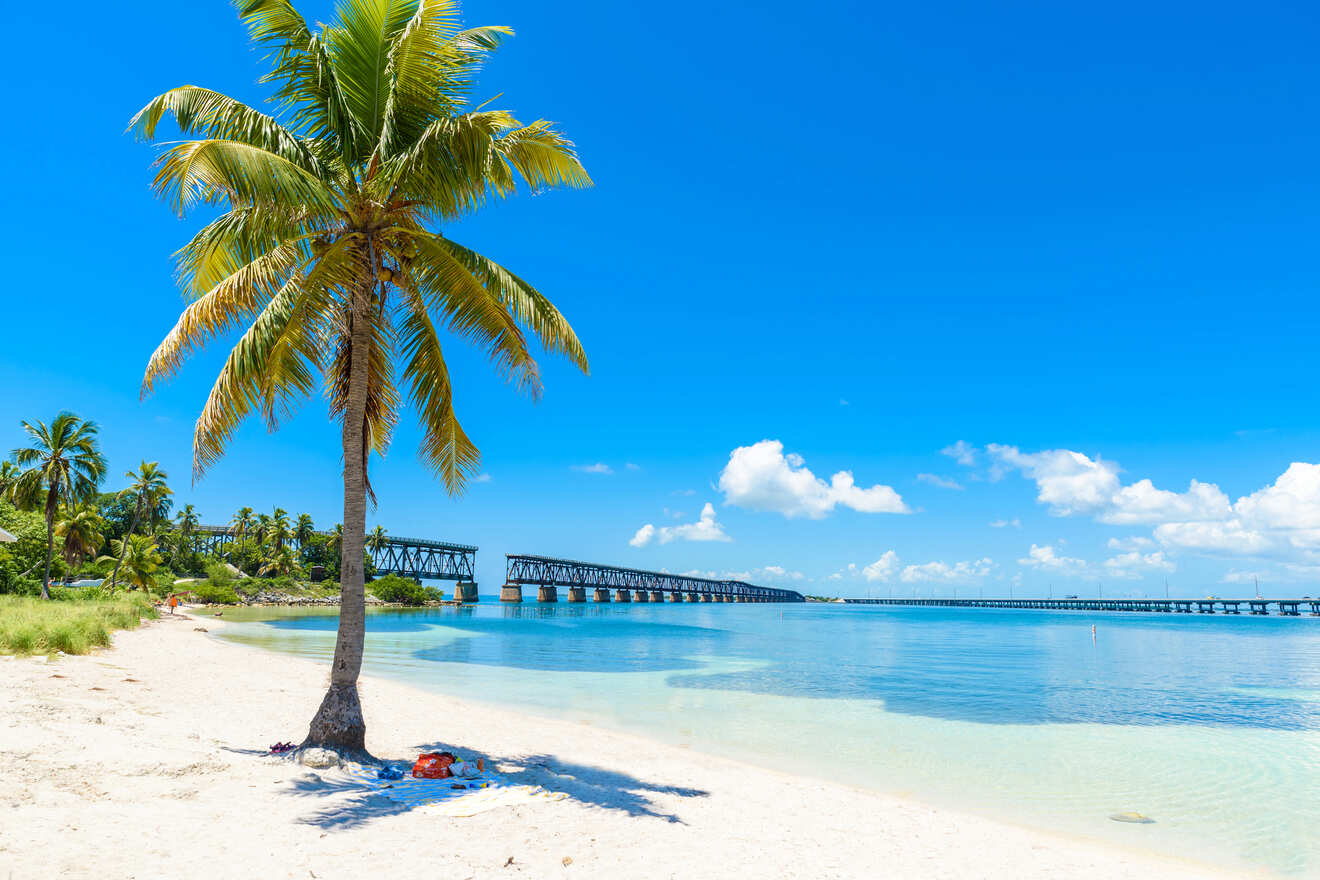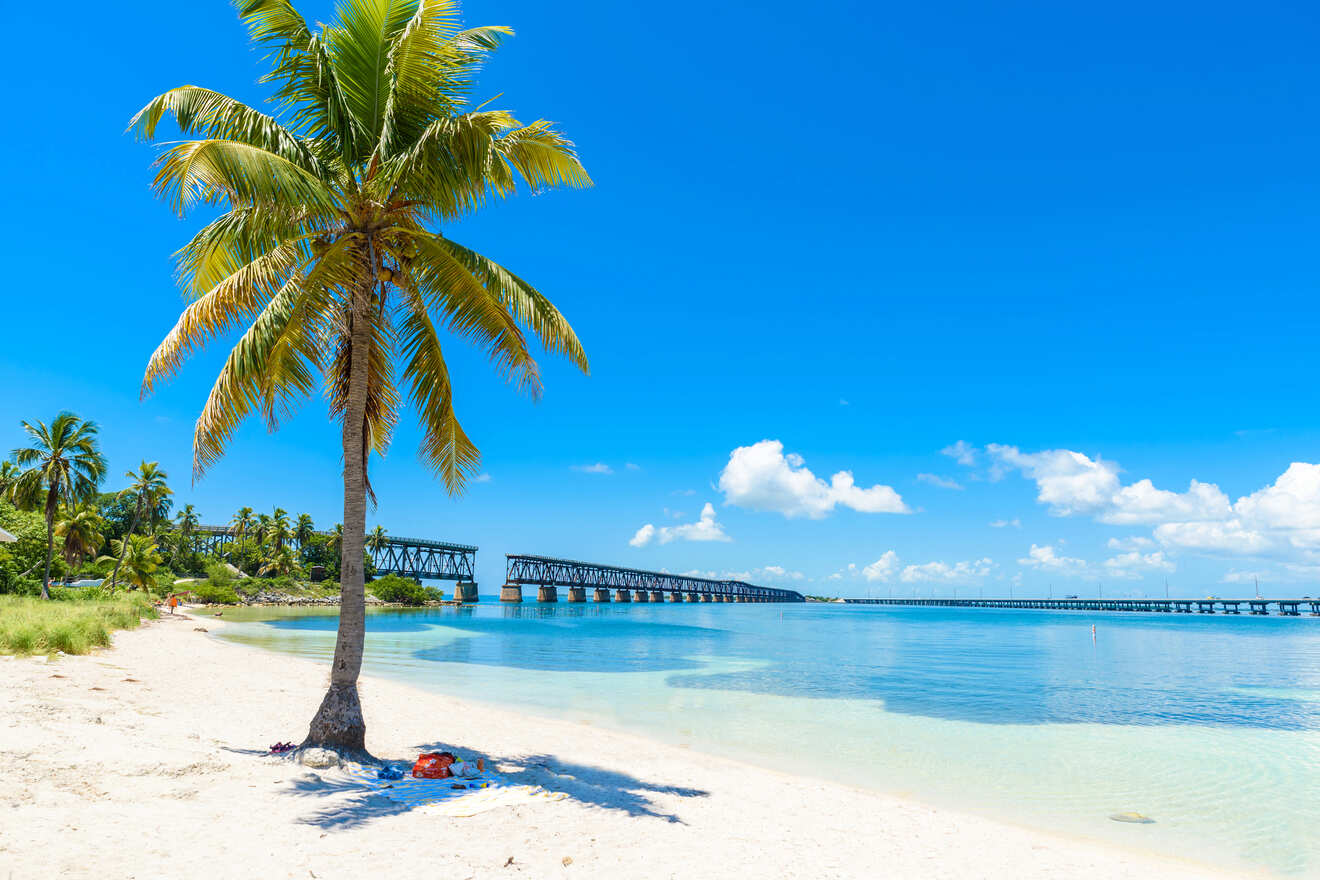 The Florida Keys boasts some phenomenal state parks – we've already covered John Pennekamp State Park and its breathtaking coral reef in the Upper Keys. In the Lower Keys, you'll find another slice of paradise: Bahia Honda State Park, located on Big Pine Key.
There are so many things that make Bahia Honda State Park special. For starters, it was just a remote island until Henry Flager's immense achievement brought the railroad down to Key West. At Bahia Honda State Park, you can see the 100-year-old Bahia Honda Bridge, a relic from Flager's Overseas Railroad that was famously more challenging to build than the Seven Mile Bridge.
Bahia Honda State Park offers 3 beautiful, palm tree-lined sandy beaches for you to choose from, and is the perfect spot for swimming, snorkeling, paddling, and experiencing Florida nature to the fullest. In fact, Bahia Honda State Park is one of the very best places to go snorkeling in the Florida Keys!
Camping at Bahia Honda State Park is also super popular – the stargazing here is unmatched because it's the darkest part of the Florida Keys, so the view of the stars is truly out of this world.
PRO TIP: Florida's state parks, especially Bahia Honda State Park, reach max capacity very quickly on weekends. You'll want to get there right when the park opens to ensure entry!
PRICE: US$8 per vehicle
5. Swim with dolphins in Key West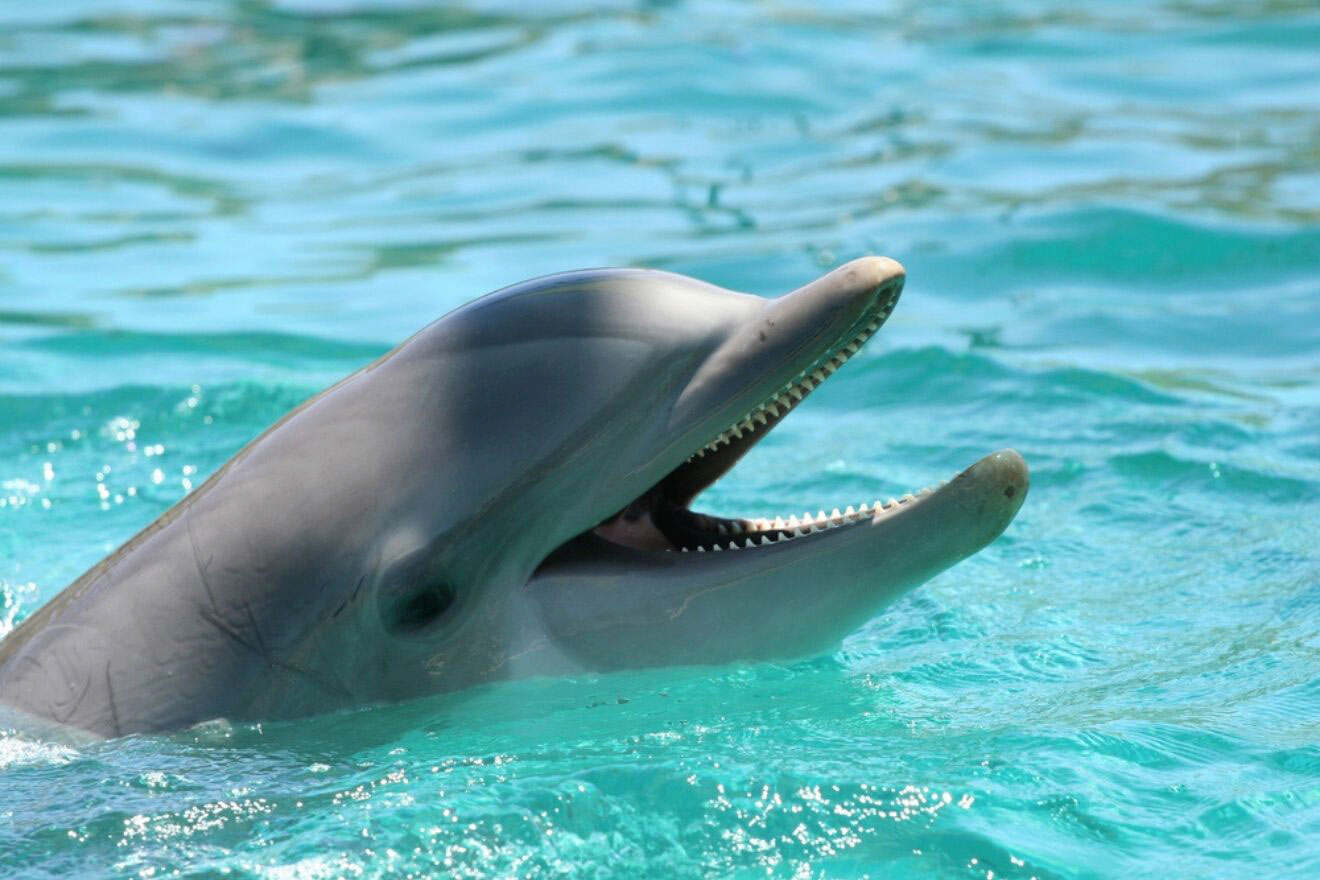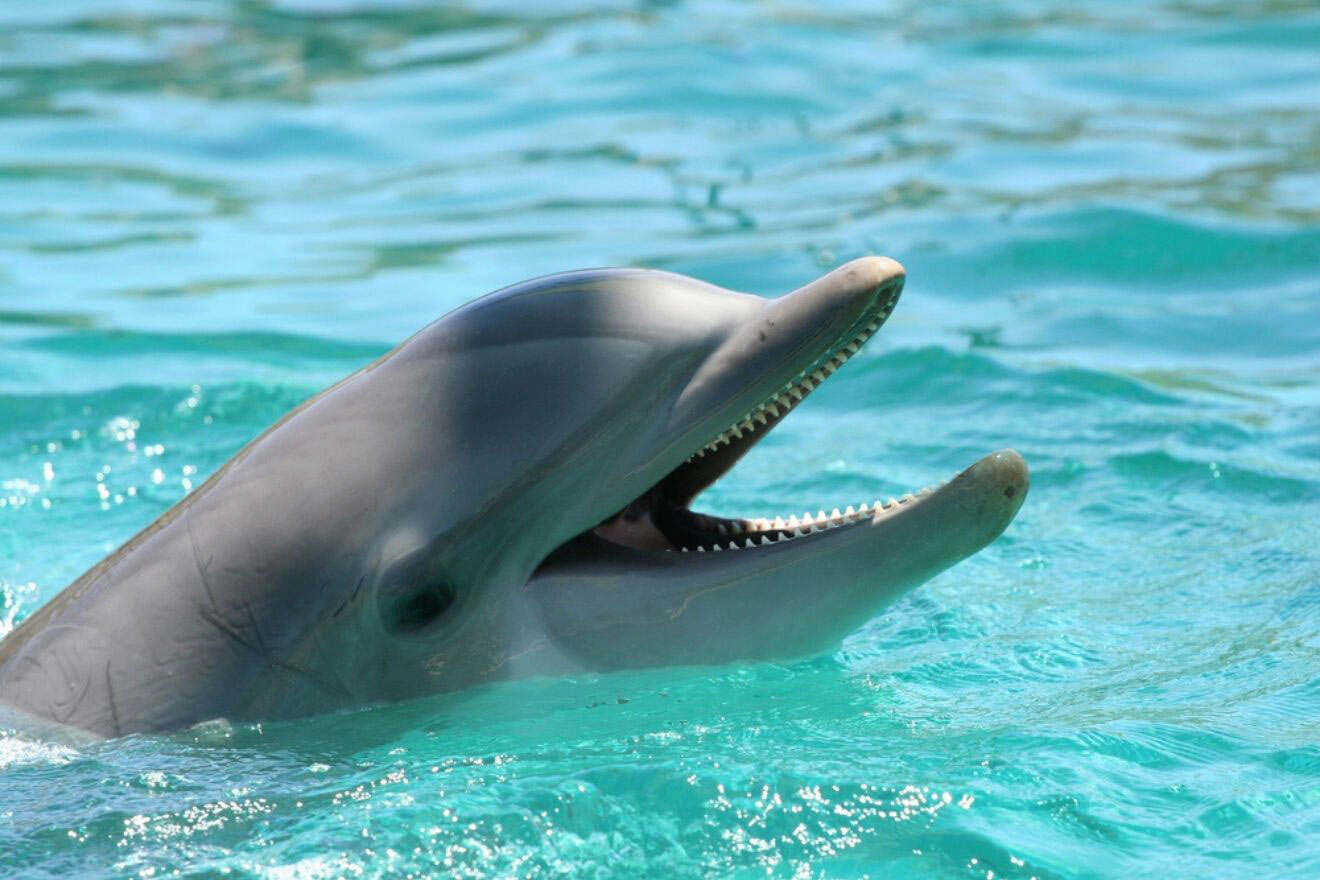 There are plenty of awesome Florida Keys attractions, but if I were to recommend one activity truly worth the splurge for unparalleled family fun, it's this one! Swimming with bottlenose dolphins is an absolutely unforgettable experience, and there is no better place to jump right in than in the beautiful Florida Keys.
You'll go on a super relaxing cruise where you can see the dolphins in their natural habitat, then you'll get to go for a snorkel swim!
If you're interested in this activity, you'll want to book as soon as possible to secure your spot – it's a once in a lifetime opportunity!
PRICE: US$83 per person
6. Visit the Turtle Hospital in Marathon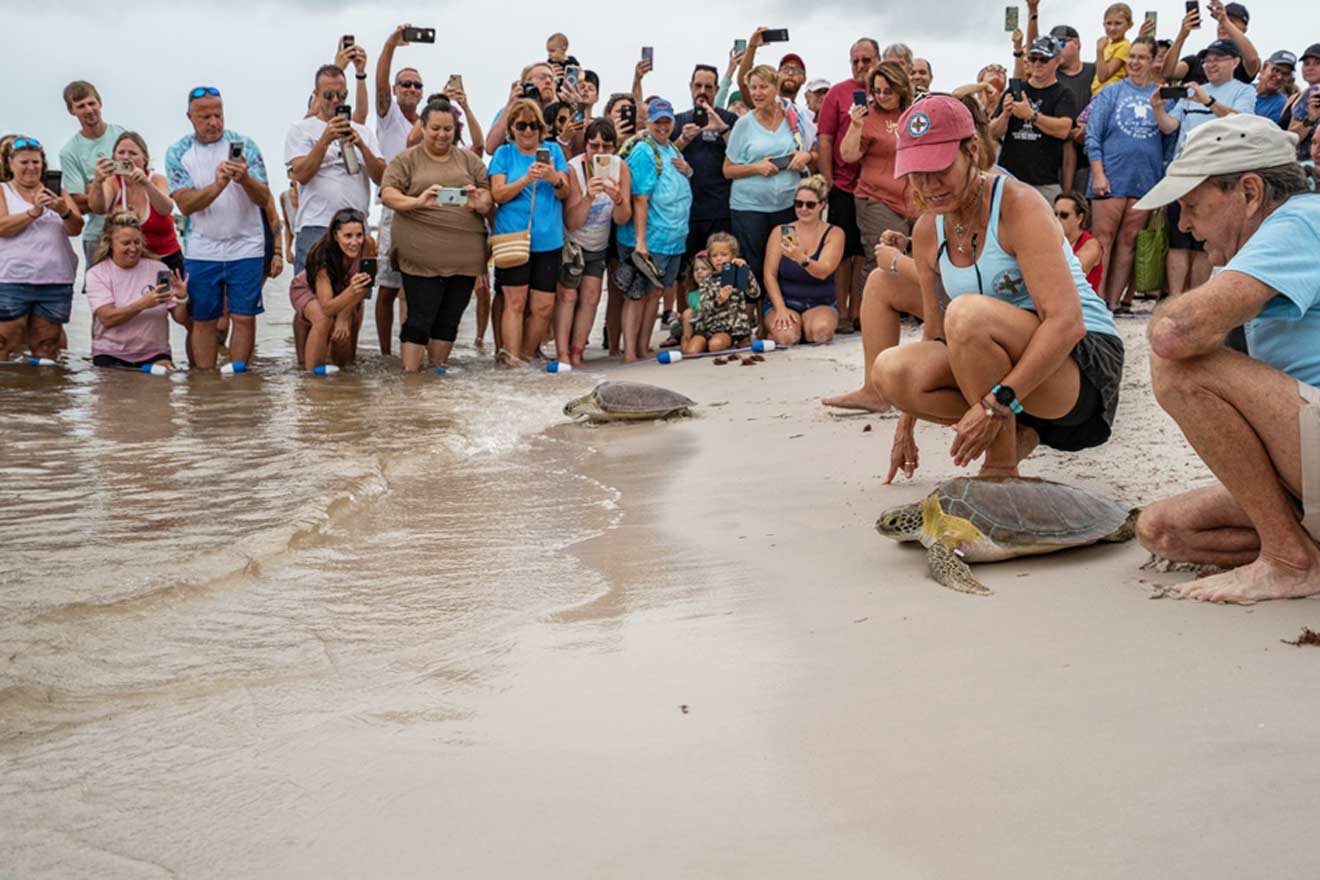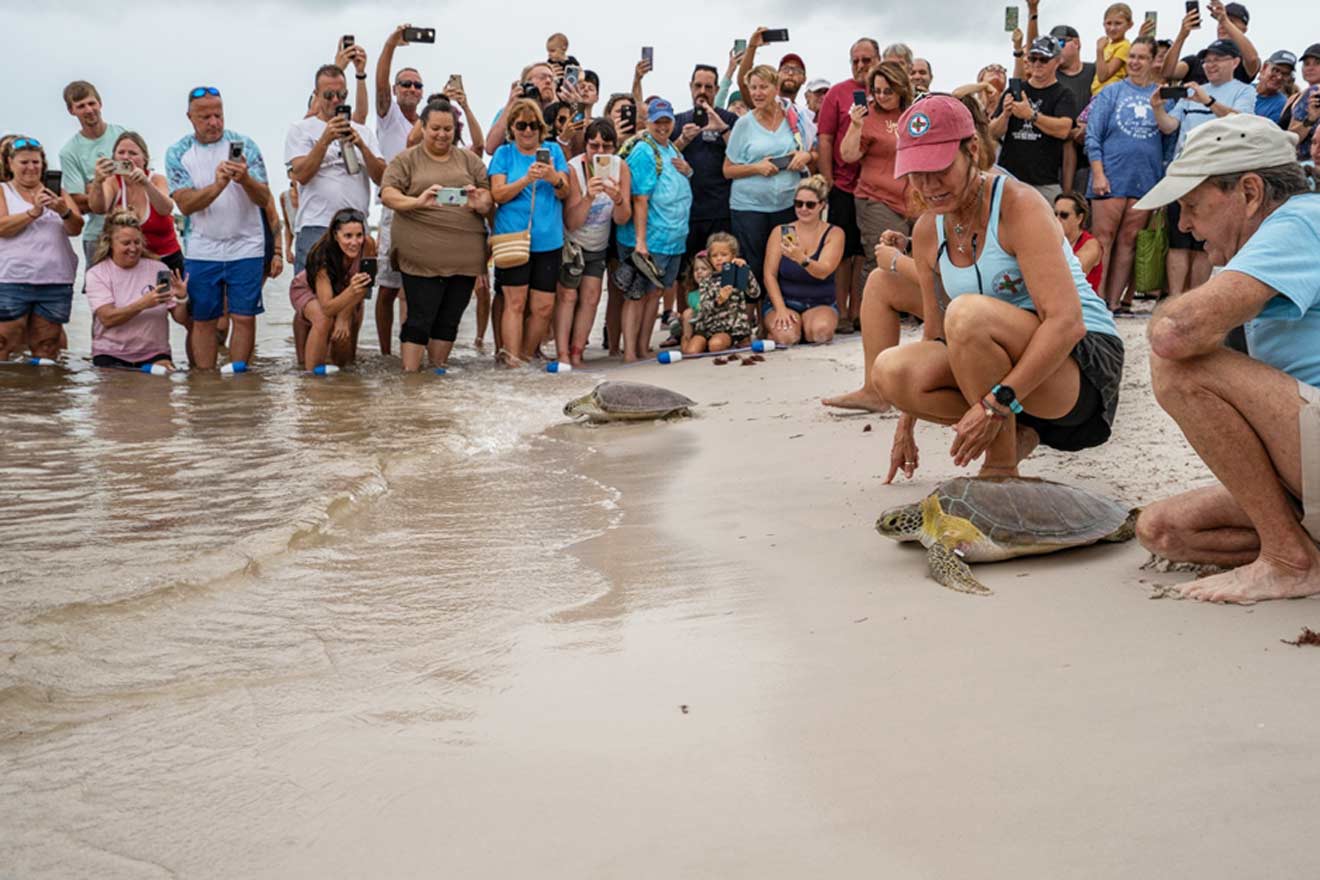 Just a 20-minute drive south of Duck Key on the Overseas Highway is the Turtle Hospital in Marathon – one of the most interesting things to do in the Florida Keys, and perfect for travelers of all ages!
Go behind the scenes of this working hospital dedicated to rescuing, rehabilitating, and releasing sea turtles back into the wild after they've received care. An official guided tour is the only way to experience the Turtle Hospital, but it is well worth it!
At the end of the tour, you'll get to meet the permanent residents of Turtle Hospital. These turtles were unfortunately designated as unfit to be released back into the wild by the Florida Wildlife Commission. However, they've found a happy forever home at the Turtle Hospital and can't wait to see you!
Making a reservation in advance is highly recommended for this, as tours book out quickly.
Also in Marathon, you'll find the Dolphin Research Center, a non-profit research and education facility providing a forever home for dolphins and California sea lions deemed unfit for release back in the wild. If you're an animal lover, you'll love this place as well!
PRICE: US$30 for adults, US$15 for children, ages 4 and under are free
7. Take a cruise on the African Queen in Key Largo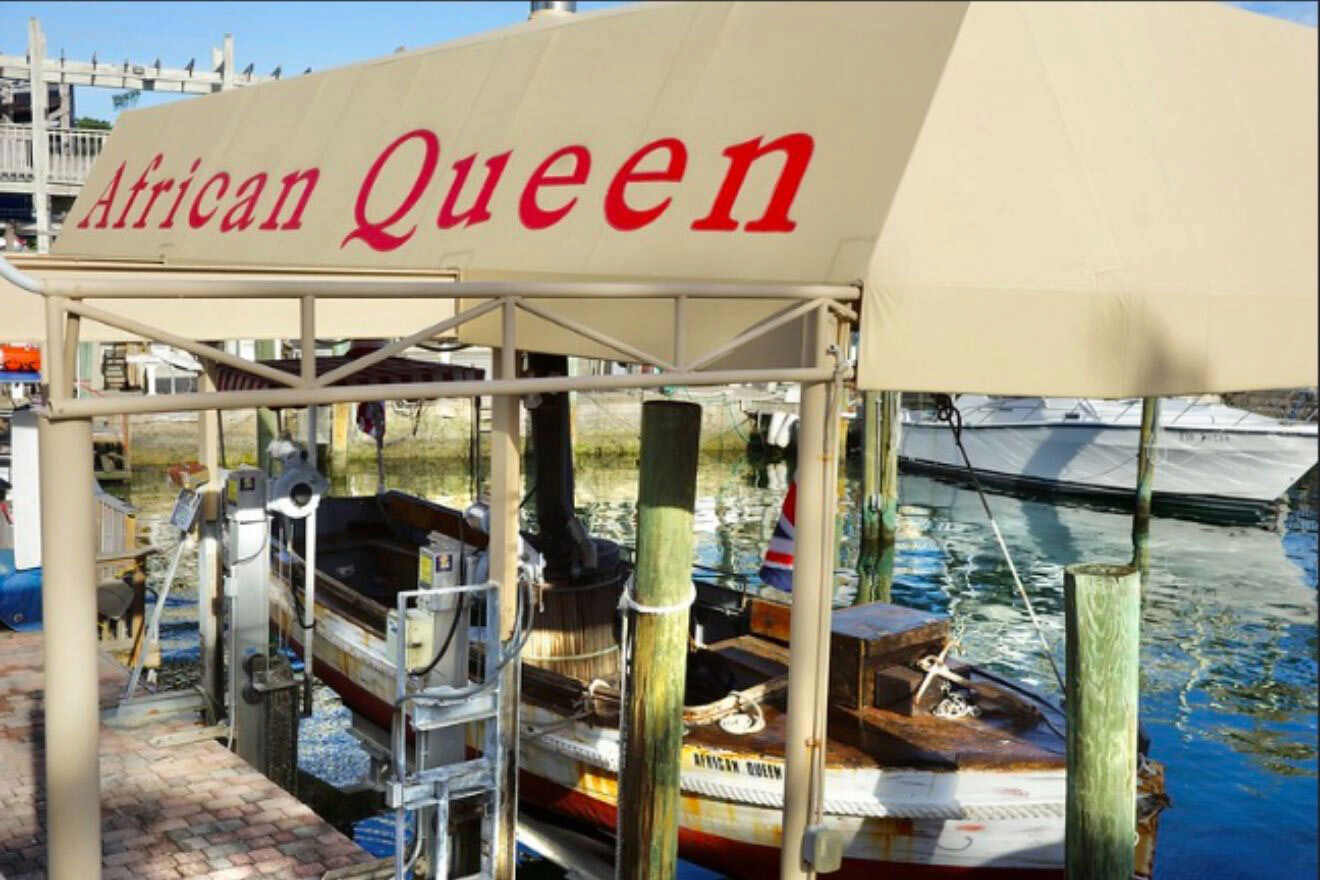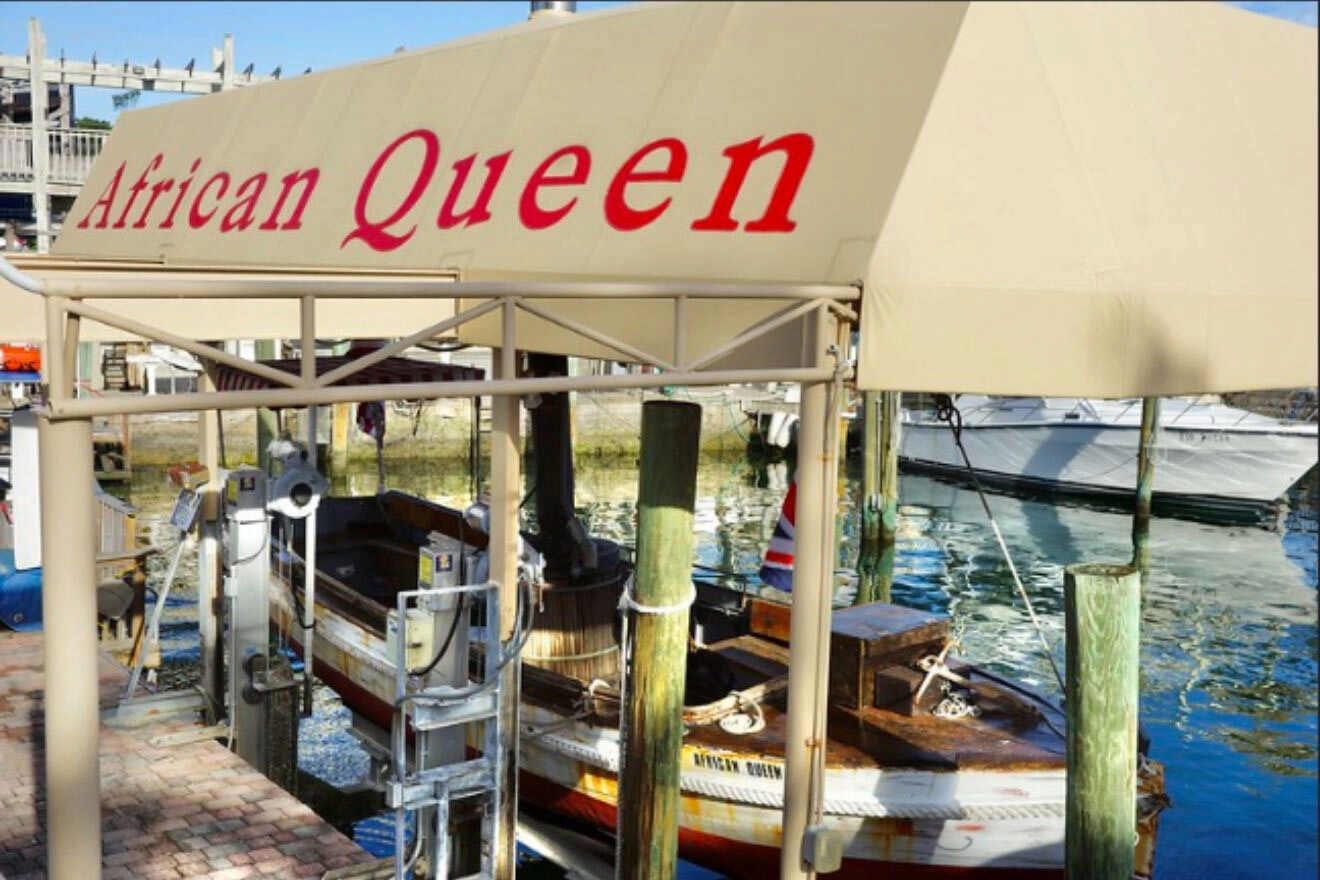 Hollywood plays a surprising role in Key Largo's rich history, and you can experience the magic of the movies on your next trip to the Florida Keys aboard the legendary African Queen.
Built back in 1912, this is the original steamboat from the 1951 Humphrey Bogart film The African Queen, which is how she got her official name. The African Queen was restored and eventually returned to Key Largo, where today, you can board the historic vessel for a relaxing hour-and-a-half sightseeing tour of the gorgeous Port Largo Canals.
For movie buffs especially, a tour of the African Queen is one of the best things to do in the Florida Keys. The cruises are offered daily at 10 AM, 12 PM, 2 PM, 4 PM, and 6 PM and can be booked in advance online.
TIP: For more historic Hollywood moments in Key Largo, grab a drink at the Caribbean Club, where the 1948 movie Key Largo, starring Humphrey Bogart and Lauren Bacall, was filmed. It's the oldest bar in the Upper Keys!
PRICE: US$60 per person
8. Visit the Hemingway Home & Museum in Key West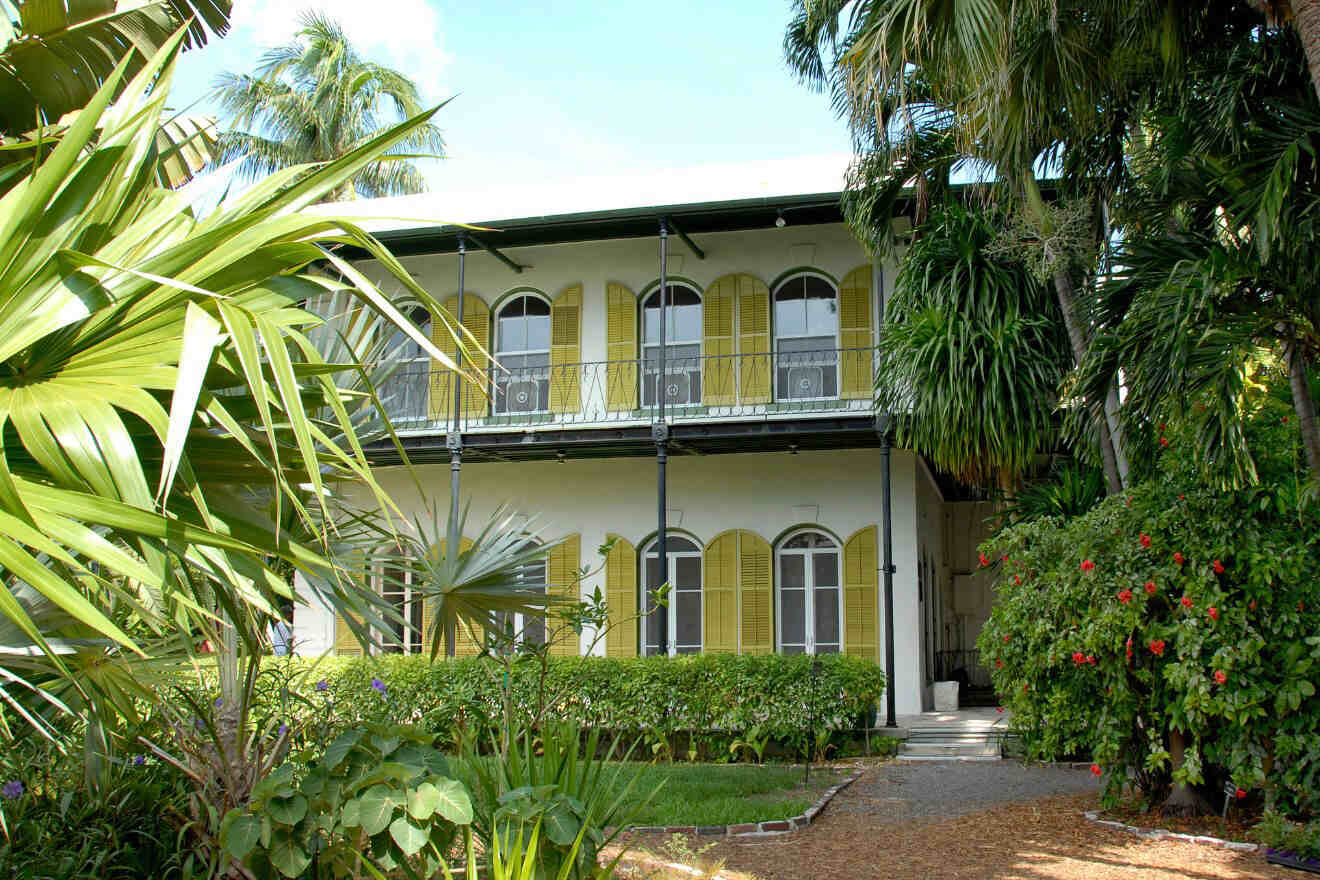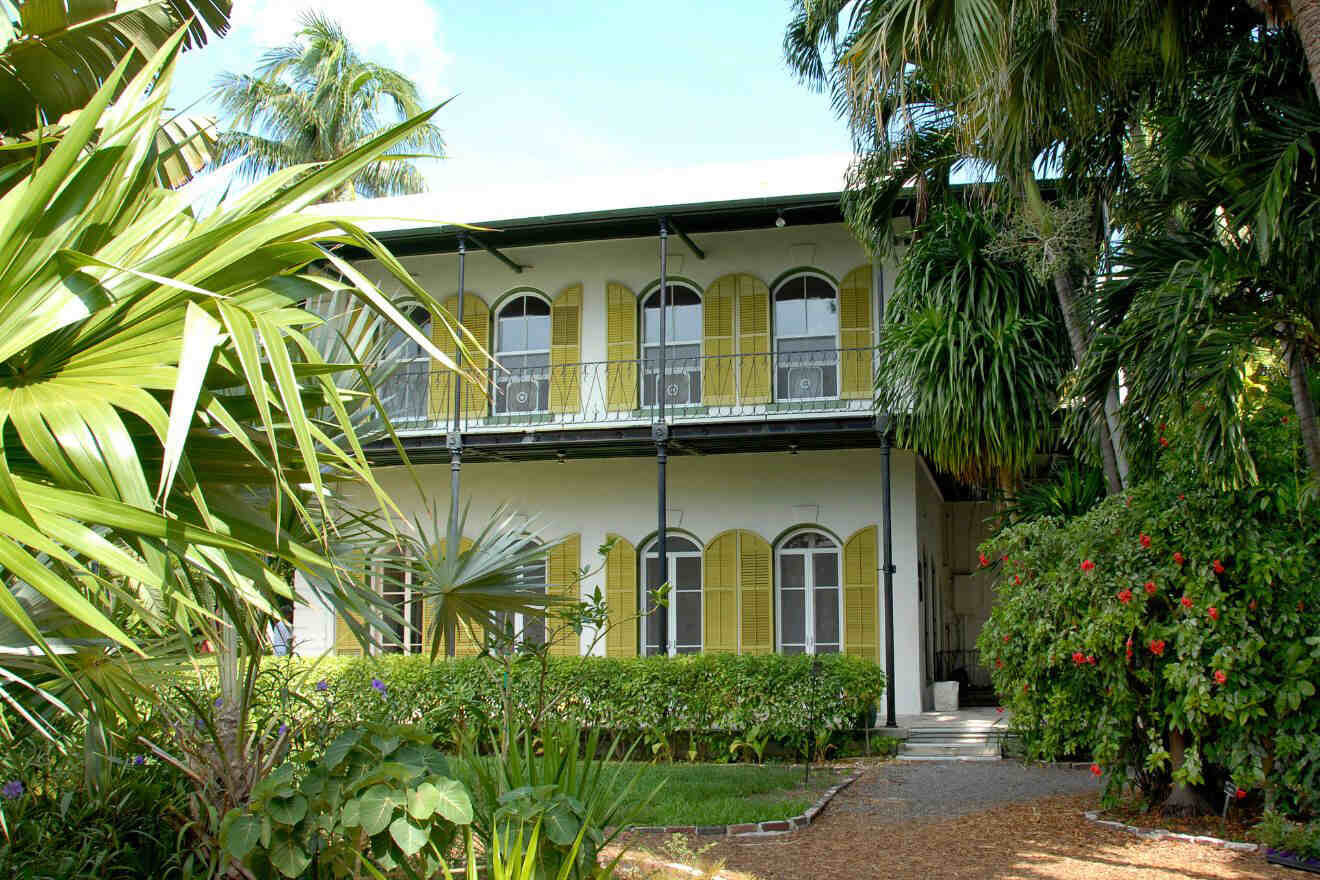 If you've read my other articles on the Florida Keys and Key West, you may already know I tied the knot at the Hemingway Home & Museum after wanting to do so since I was 13! It's that magnificent of a place and definitely a must-do on your next visit to the Florida Keys.
At the legendary author Ernest Hemingway's Key West home, you'll find lush, beautiful grounds to explore, around 60 polydactyls (6-toed) cats, and the opportunity to walk through the very halls and rooms Hemingway lived in and wrote in during his time in Key West.
Everything about this place is just so wonderful. The tour guides are super knowledgeable and share so many interesting details about Ernest Hemingway's life and legacy. Even though I've been on this tour numerous times, I always find myself coming back again and learning something new each time!
For more fascinating Key West history, stop by the Key West Lighthouse and Keepers Quarters across the street from the Hemingway Home.
PRICE: US$18 for adults, US$7 for children 5+. Cash only, and tickets are available for purchase at the entrance
9. Drink and dine down Duval Street in Key West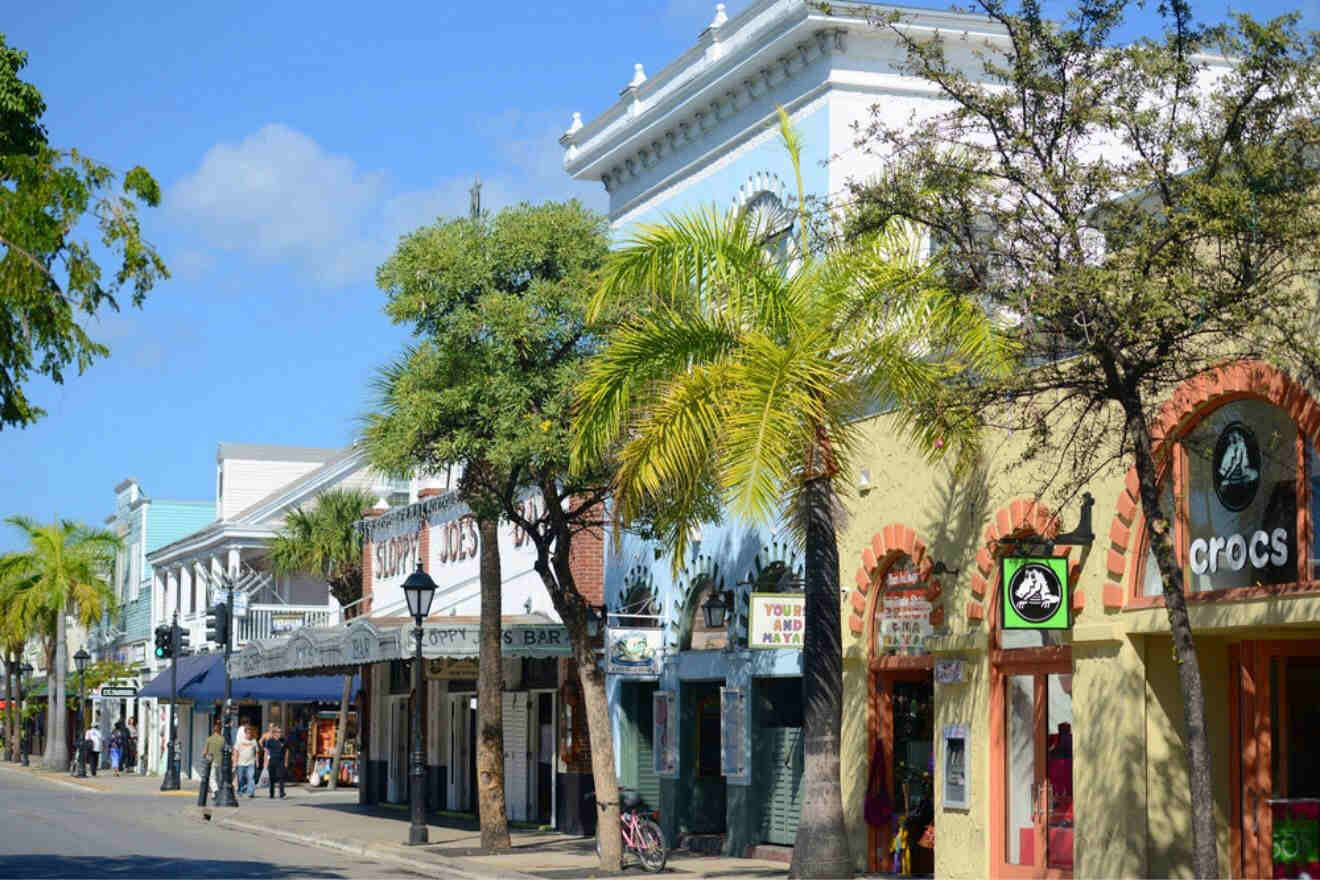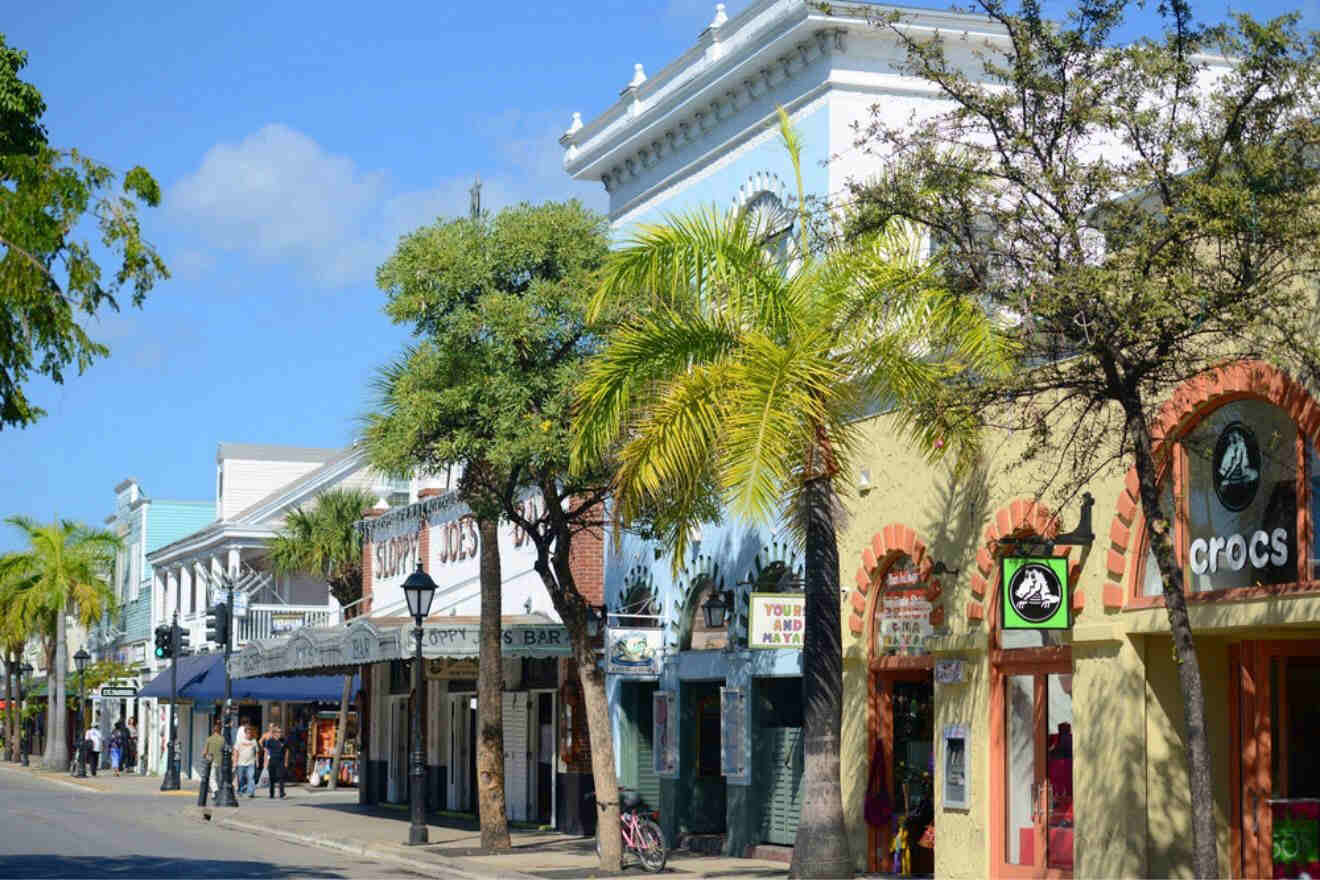 No trip to the Florida Keys is complete without experiencing Key West. It's my favorite place in the world for a good reason: you won't find anywhere else on Earth quite like it! A colorful history, laid-back island attitude, and impressive culinary scene all add to the magic that is this charming yet lively Florida town.
Duval Street is a must-do in Key West, where you'll find lots of shopping, dining, entertainment, and drinking. A lot of drinking. If you're looking for a party in Key West, after-hours on Duval Street is where you'll find it.
In the daytime, Duval Street is fun for the whole family. Enjoy fresh seafood at one of the amazing restaurants (Bagatelle is my #1 favorite restaurant in Key West!), do some shopping at the local boutiques, and explore the sights.
My best tip for visiting Key West is not to be afraid to go off the beaten path! It's true Duval Street is home to a lot of legendary Key West spots, like historic Sloppy Joe's, but you'll find locally loved, less touristy options on the side streets as well.
10. Check out the breathtaking Dry Tortugas National Park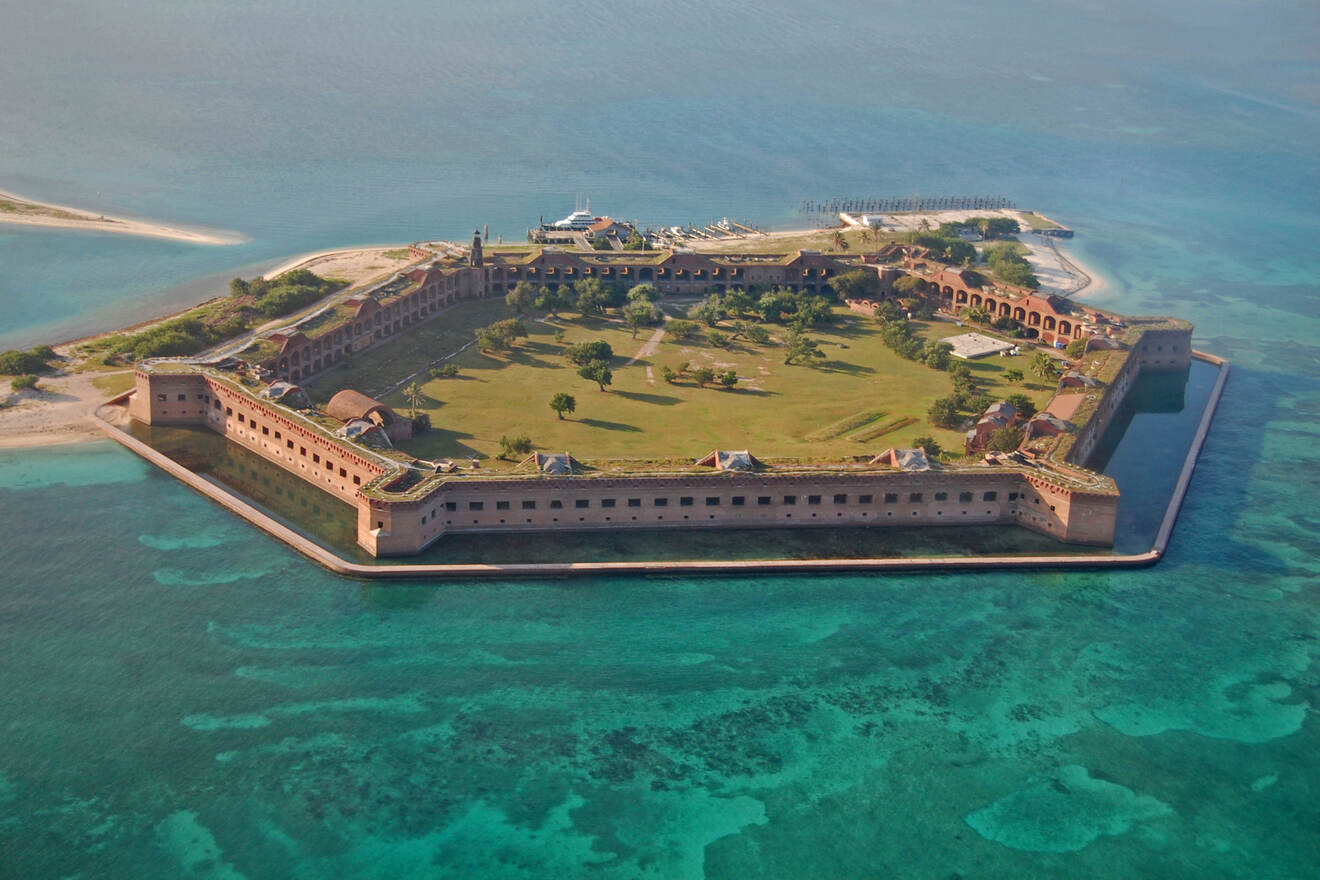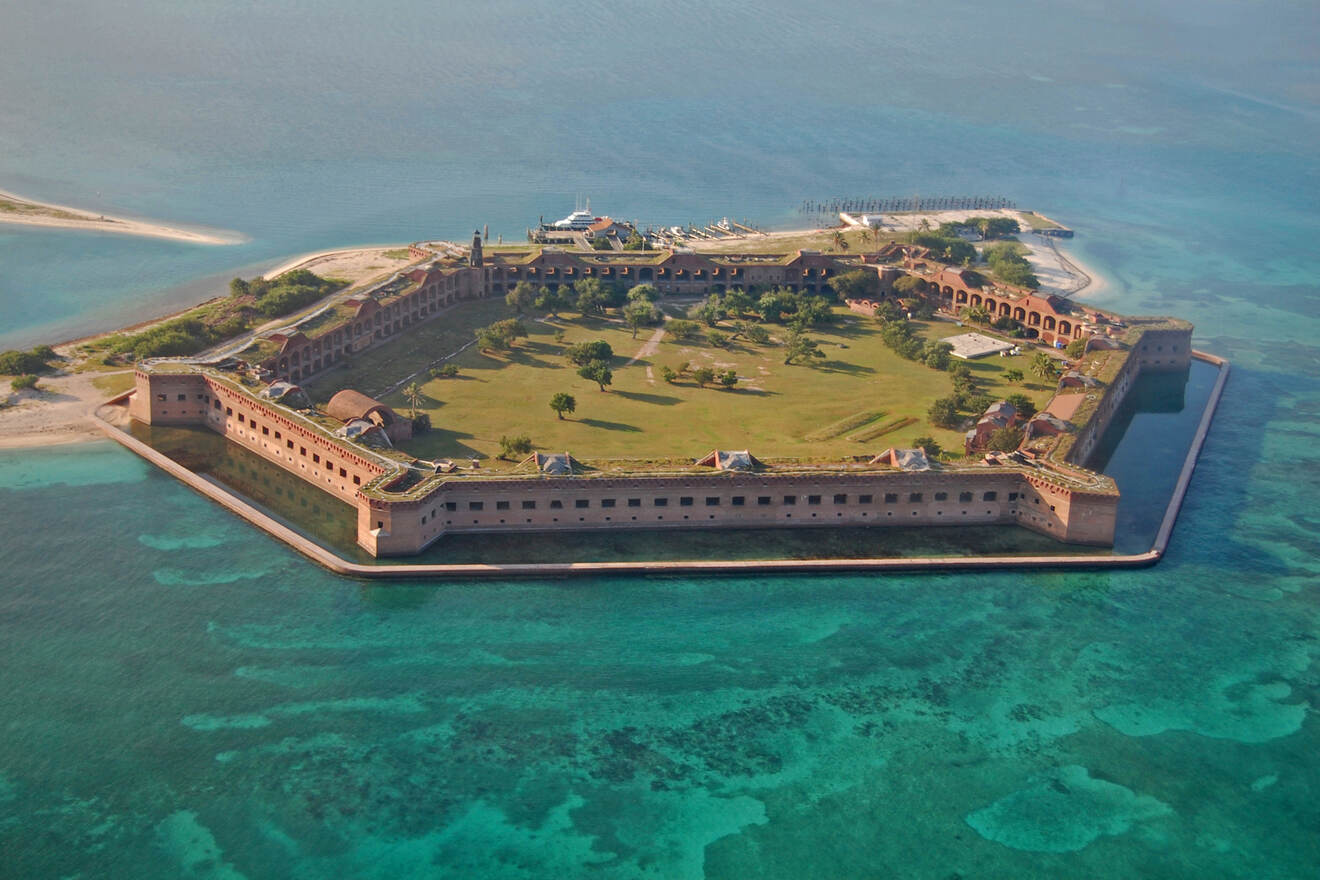 Of all the things to do in the Florida Keys, a visit to Dry Tortugas National Park takes the most amount of planning, but it's worth every second and every cent!
What makes Dry Tortugas National Park different from the other stunning parks on our list is that it's only accessible by boat or seaplane. Of Dry Tortugas National Park's 100 square miles (260 km²), only 1% is land! The rest is breathtakingly blue water and coral reefs, which you can explore by swimming, snorkeling, and diving.
Because it's tricky to get to, Dry Tortugas National Park is actually one of the least visited of all national parks. You'll never have to worry about crowds here, and those willing to make the journey over are rewarded with an incredible experience worthy of any bucket list.
History buffs will definitely want to check out historic Fort Jefferson, one of the nation's largest 19th-century forts. Heck, even if you're not a history buff, it's still a stunning sight to see!
Dry Tortugas State Park is 70 miles (113 km) west of Key West and completely remote. If you don't have your own boat, you can book transportation on the Yankee Freedom Ferry or via Key West Seaplane Charters. The secluded feel really adds to the beauty of this pristine paradise.
11. Visit the beautiful Key West Butterfly & Nature Conservatory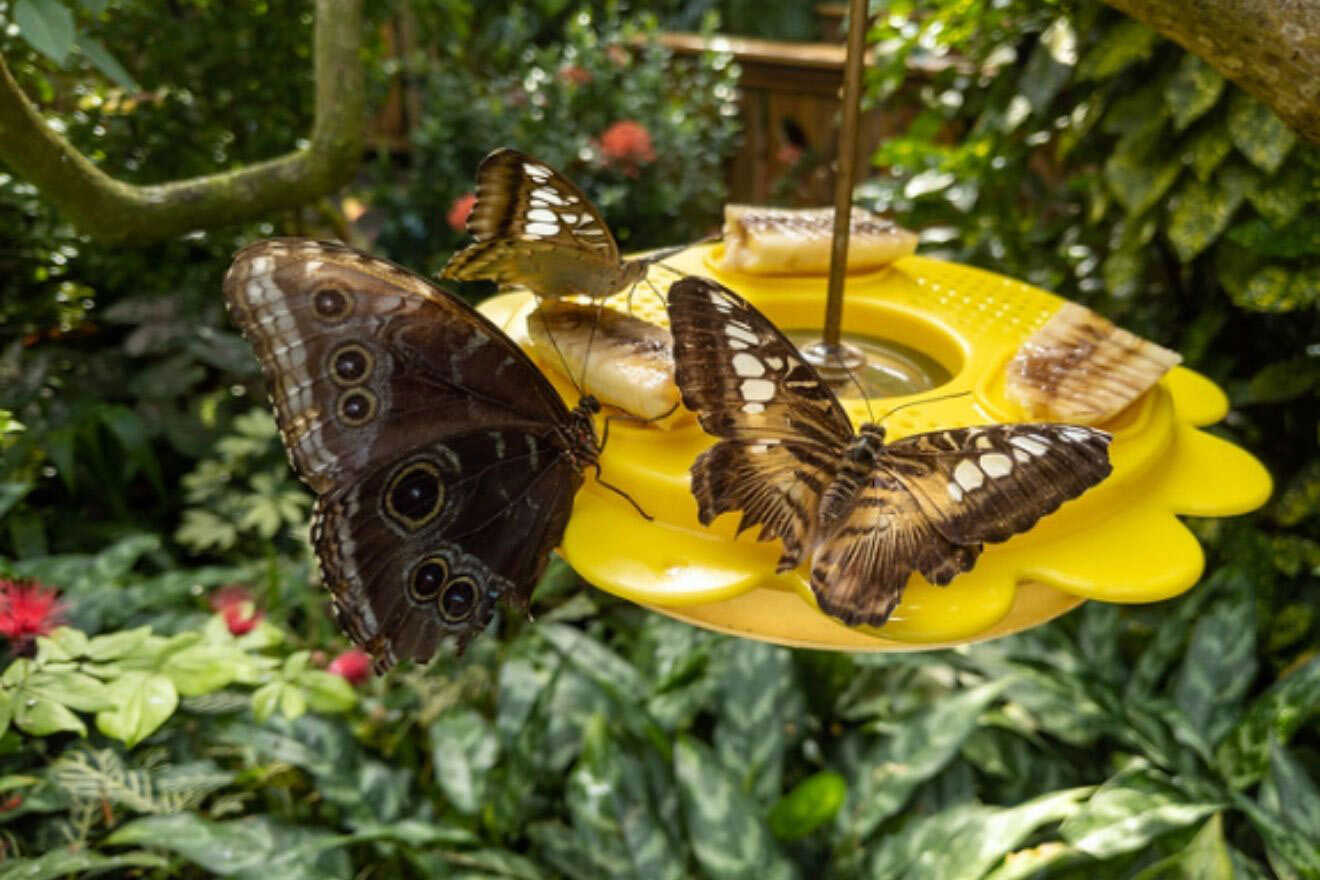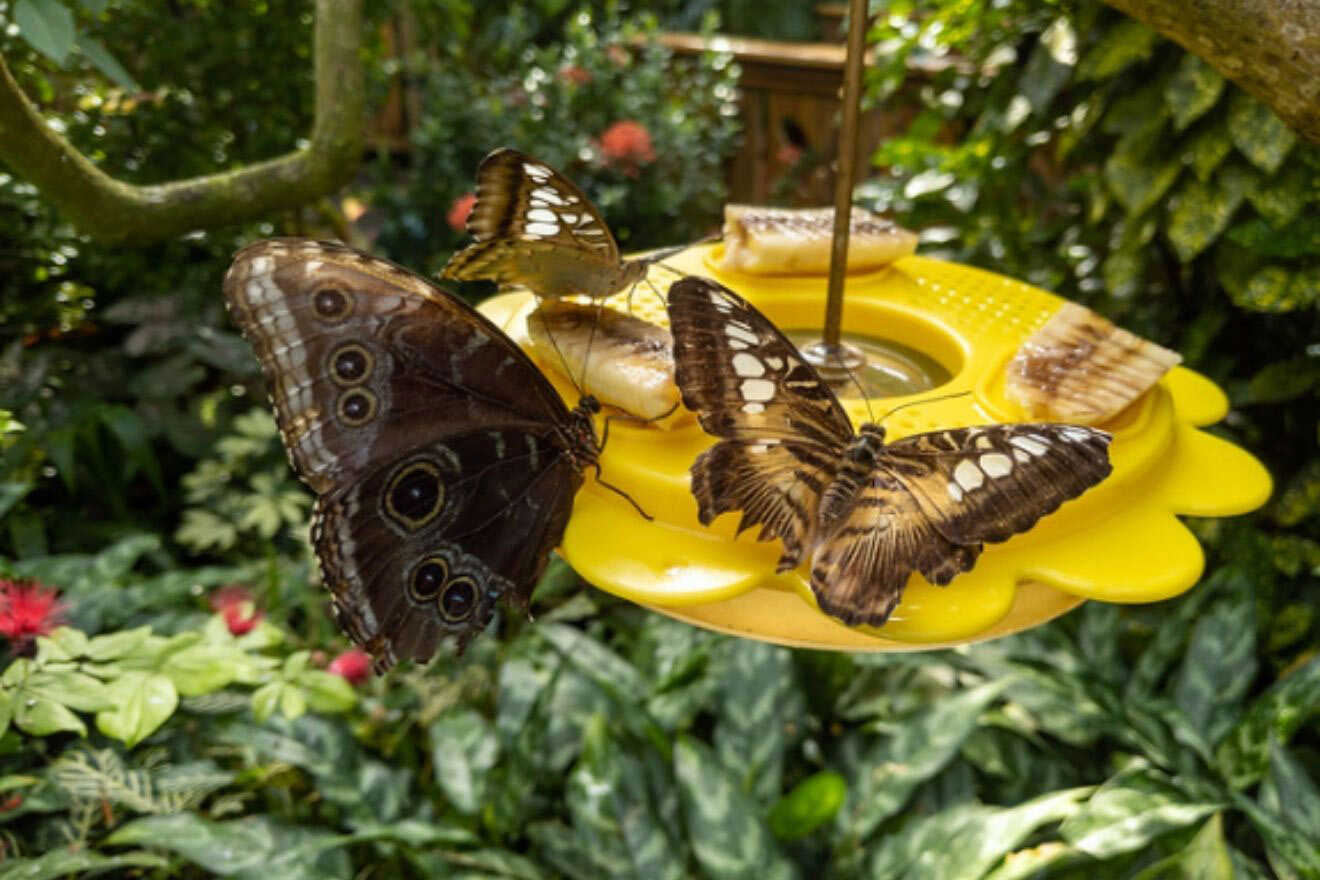 Located near the famous southernmost point in Key West, the Key West Butterfly & Nature Conservatory is a must-do if you're visiting the Florida Keys. There's nothing else quite like it. And it's a welcome break from how crowded with tourists Duval Street can be at times.
The tropical gardens here are an absolute dream to walk through. The Key West Butterfly & Nature Conservatory is home to hundreds of butterflies – over 60 different species! You'll also see stunning exotic birds, as 20 species live here as well.
If you're looking for family-friendly things to do in the Florida Keys, this is one of the best. Your little ones will be in awe of the gorgeous creatures around them, and there are tons of opportunities to learn on their visit.
PRICE: US$14 for adults, US$12 for children
12. Feed the giant tarpon at Robbie's in Islamorada
At first, feeding giant tarpon may seem like a cheesy Florida Keys tourist trap, but Robbie's Marina in Islamorada is far from it. While it is ideal for tourists visiting the Florida Keys (it's been voted the #1 place in the Keys every tourist should visit, this experience is a once-in-a-lifetime opportunity that you will never forget!
From the dock at Robbie's Marina, drop in some fish bait and marvel at these massive African Tarpon coming out of the water to grab a tasty snack. It's the ultimate photo opp and also one of the best, most affordable things to do in the Florida Keys, especially with kids!
Robbie's Marina in Islamorada is also home to an open-air market, a waterfront restaurant called Hungry Tarpon, and numerous fishing charters and activities for some fun in the sun. It makes for a great stop, even if you're just stopping through on your way from Miami to Key West.
PRICE: Admission to the dock is US$2.50 per person, and a bucket of fish bait is US$5
13. Visit the National Key Deer Refuge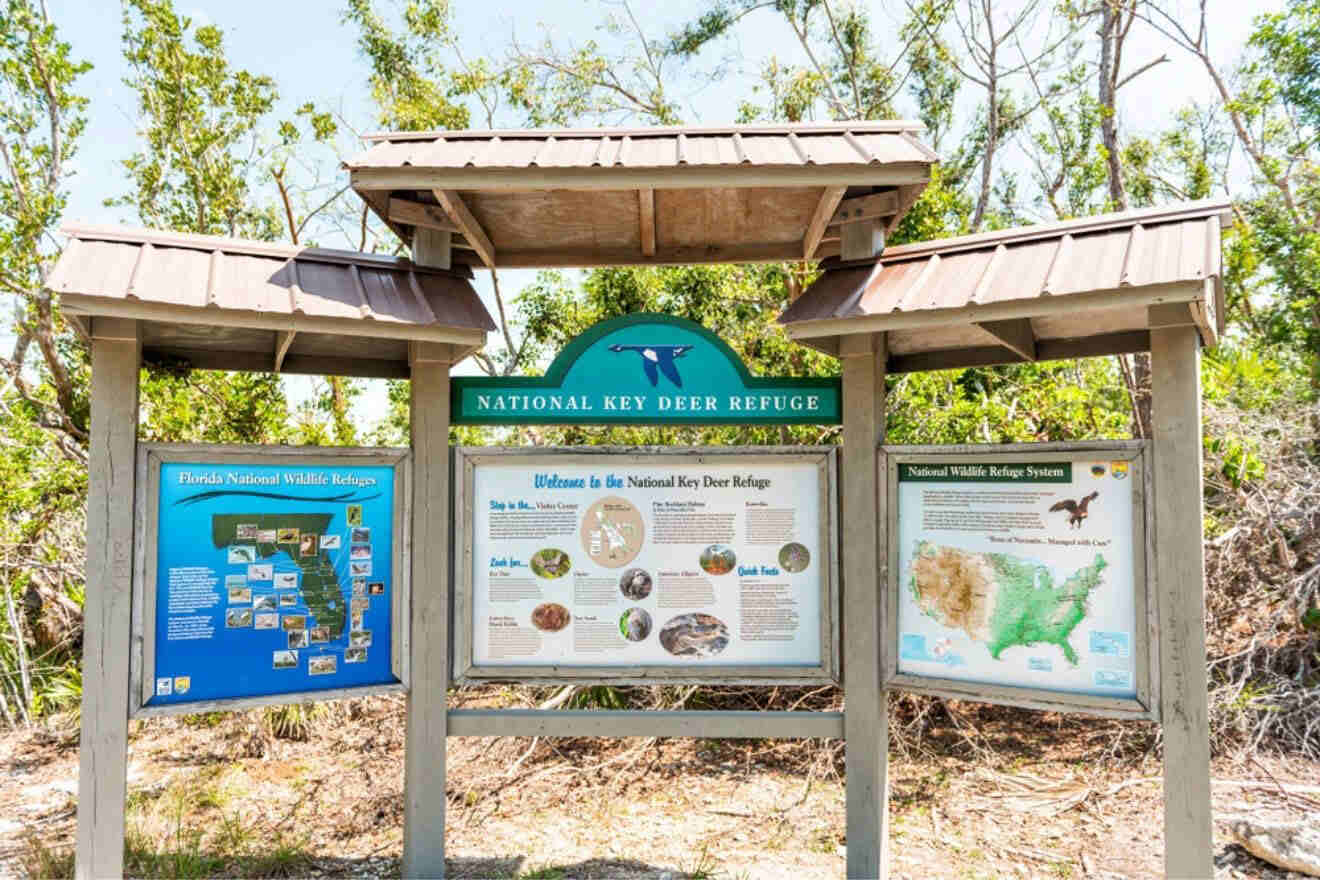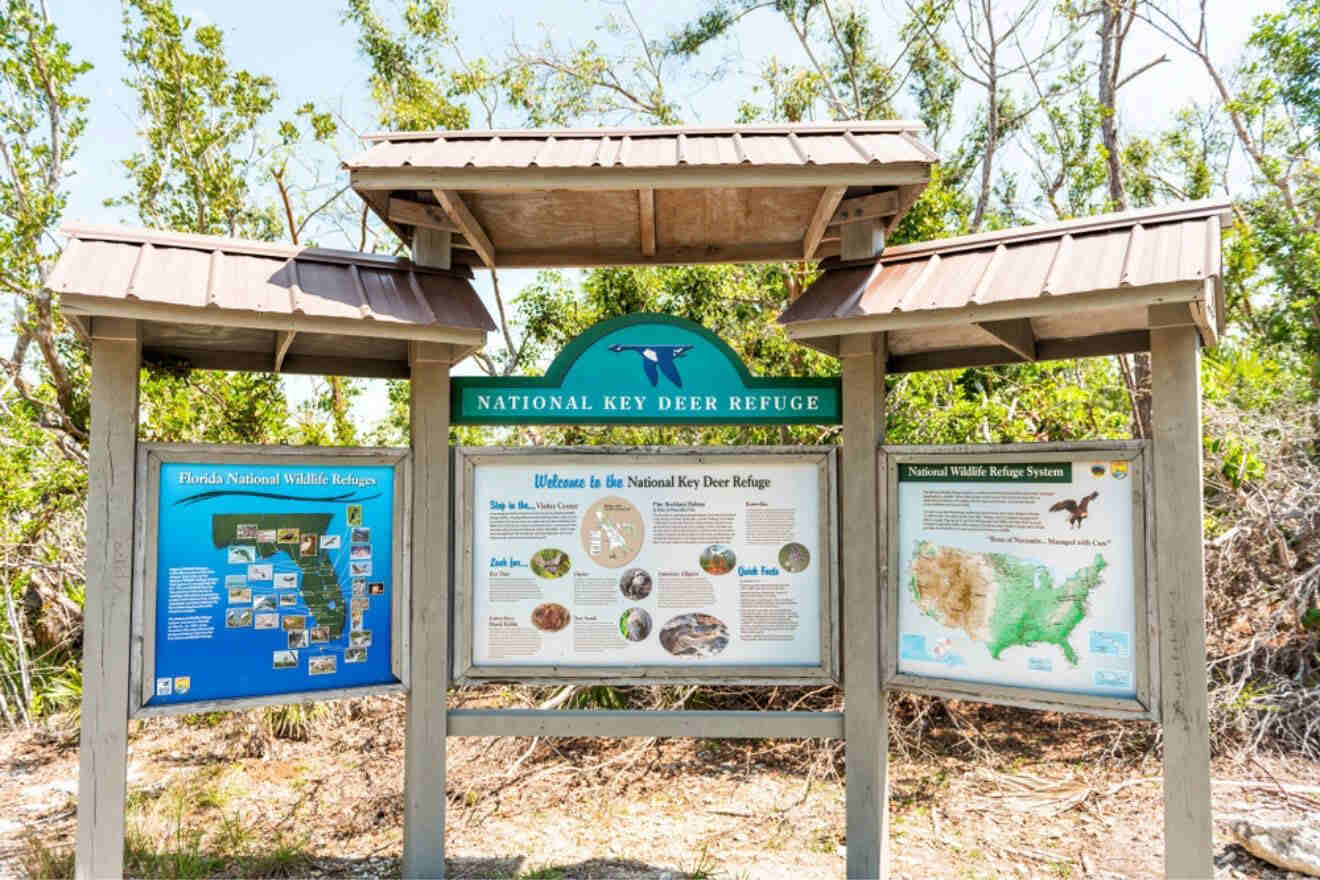 The Florida Keys boasts plenty of things you can do there or no place else, and seeing adorable Key deer in the wild is one of them! Key deer are the smallest subspecies of white-tail deer, and they're as cute as they sound. They can also only be found in the Florida Keys.
Because of their status as endangered animals, the National Key Deer Refuge was established to help protect key deer and their rare habitat. It's open for visitors to come and see these beautiful creatures roaming free.
The nature center at the National Key Deer Refuge is open on Wednesday through Friday from 10 AM to 3 PM, and I suggest going then so the volunteers can tell you the best locations within the refuge for spotting wildlife! This is one of the best free things to do in the Florida Keys.
14. Go on a haunted pub crawl in Key West
There are 2 things Key West does extremely well outside of being a beautiful vacation destination: pub crawls and ghost tours.
Combine Key West's haunted past with its vibrant nightlife, and you get the Key West haunted pub crawl. This unique walking tour takes you to some of Key West's most haunted and historic bars, where you'll learn about the local legends, lore, and spirits while enjoying some spirits yourself!
The haunted pub crawl in Key West actually wraps up in my favorite Key West bar, Captain Tony's Saloon. I won't give away any of its secrets, but it's a must-do bar in Key West whether or not you opt to do a whole tour!
PRICE: US$30 per person
15. Visit the Harry S. Truman Little White House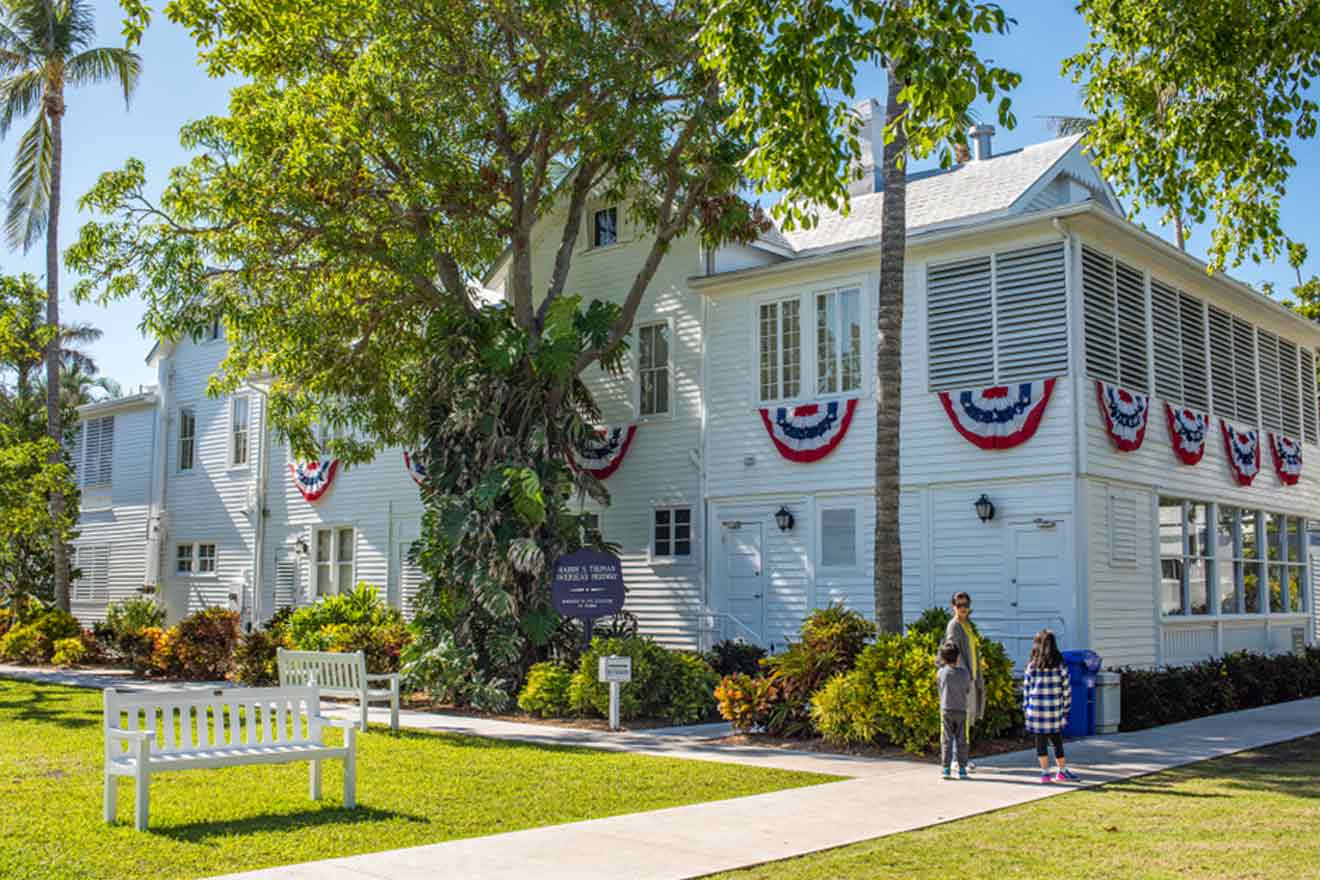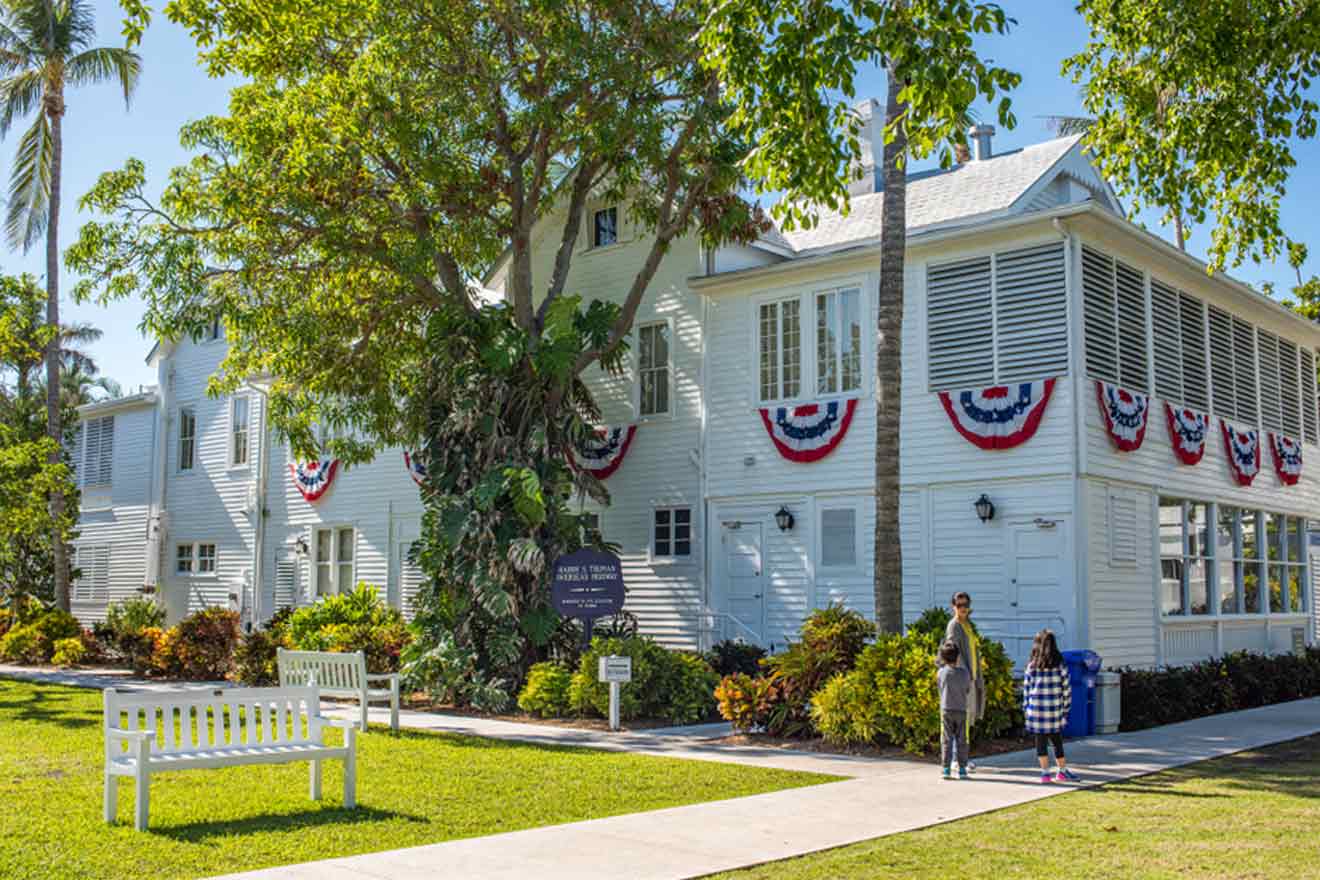 Did you know Florida's only presidential museum is located in the Florida Keys? Key West, to be exact! The Harry S. Truman Little White House is the former home of President Truman and an important part of Key West's vibrant history. Today, you can explore it on an interesting, educational tour of this iconic locale.
The home has hosted many prominent figures over the years, and Thomas Edison even lived here during World War I. I won't give too much away (you'll learn it all on tour), but it's definitely worth checking out and, by far, one of the most popular things to do in the Florida Keys.
The guides on the tours are incredibly knowledgeable, so history buffs will especially adore this experience!
PRICE: US$23 for adults, US$10 for children age 4+
Buy Little White House Admission
16. Explore the Laura Quinn Wild Bird Sanctuary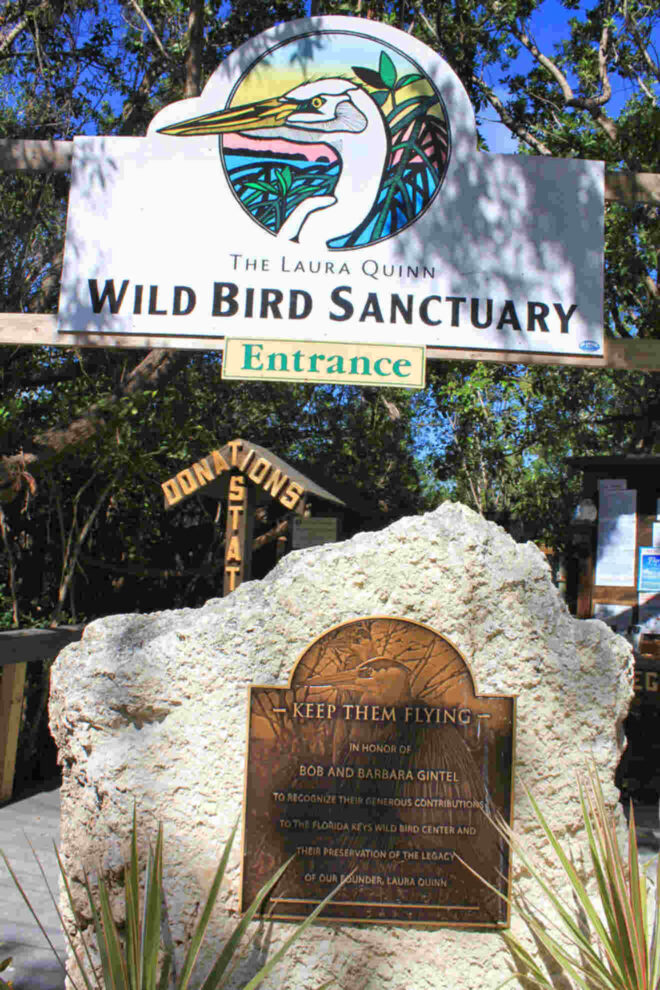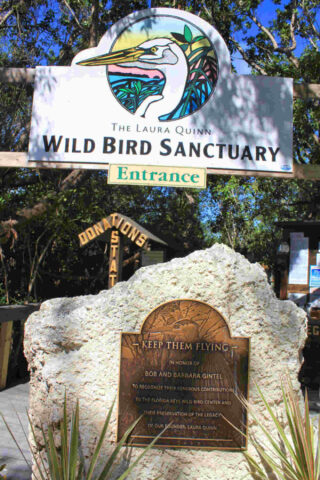 The Florida Keys boast so many amazing things to do for wildlife enthusiasts. This part of Florida is a paradise not just for beachgoers but for animal lovers as well. The Laura Quinn Wild Bird Sanctuary in Tavernier is a one-of-a-kind experience that shouldn't be missed!
Home to over 90 non-releasable birds representing nearly 40 different species, the Wild Bird Sanctuary provides a natural refuge for birds who would otherwise not survive in the wild due to injuries or other reasons.
Here, you can witness these beautiful creatures in flight and learn about how the Wild Bird Sanctuary has provided them with a forever home where they can thrive with the proper nutrition and enrichment. It's open 365 days a year from sunrise to sunset.
PRICE: There is no cost for admission, but there is a suggested donation of US$10 per person
17. Catch a world-famous sunset in Key West
Key West is famous for its jaw-droppingly beautiful sunsets. There's just nothing quite like them anywhere else. There are a few ways to experience these sunsets in Key West, and I'm going to share my top 2 with you today.
17.1 Attend the nightly Sunset Celebration at Mallory Square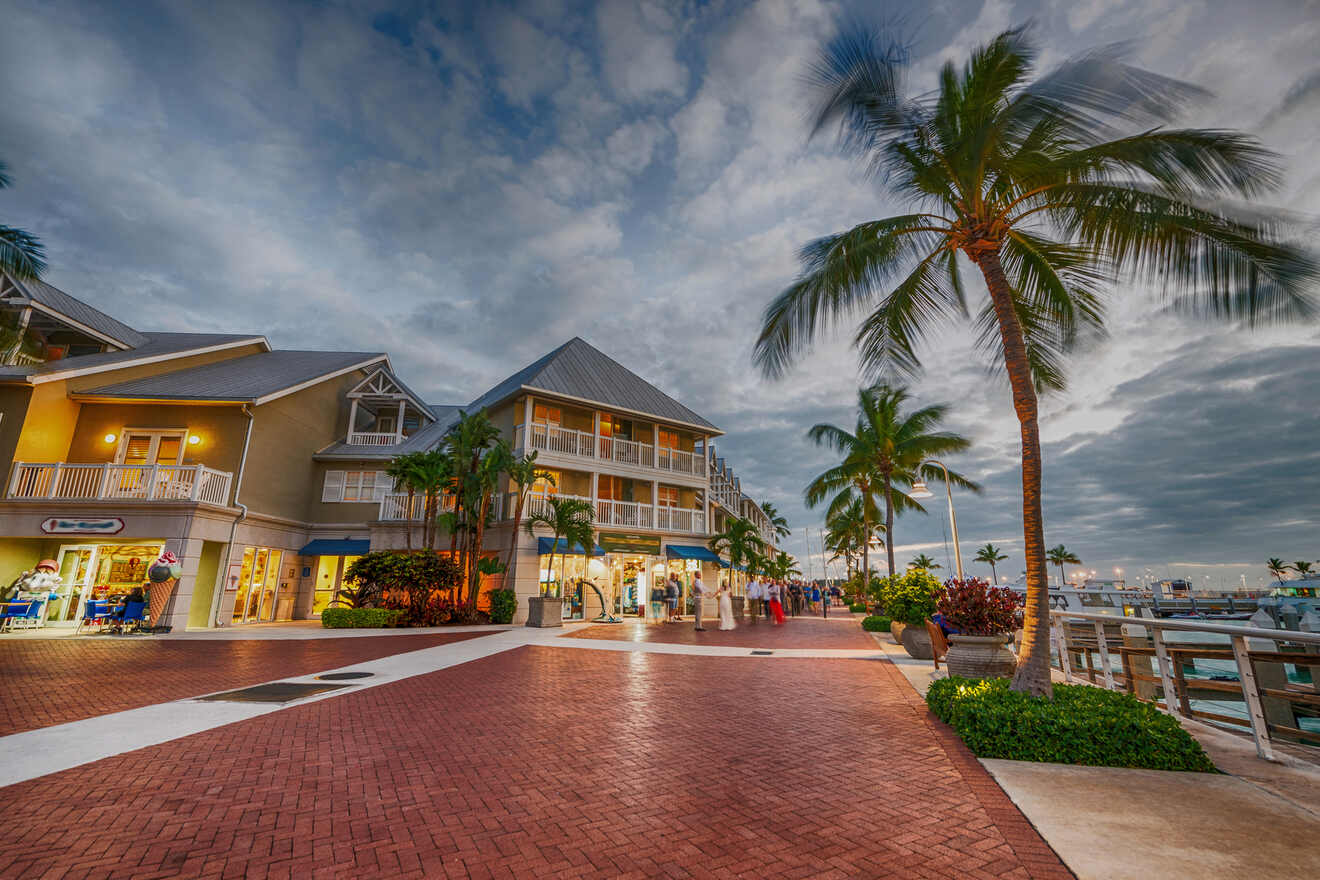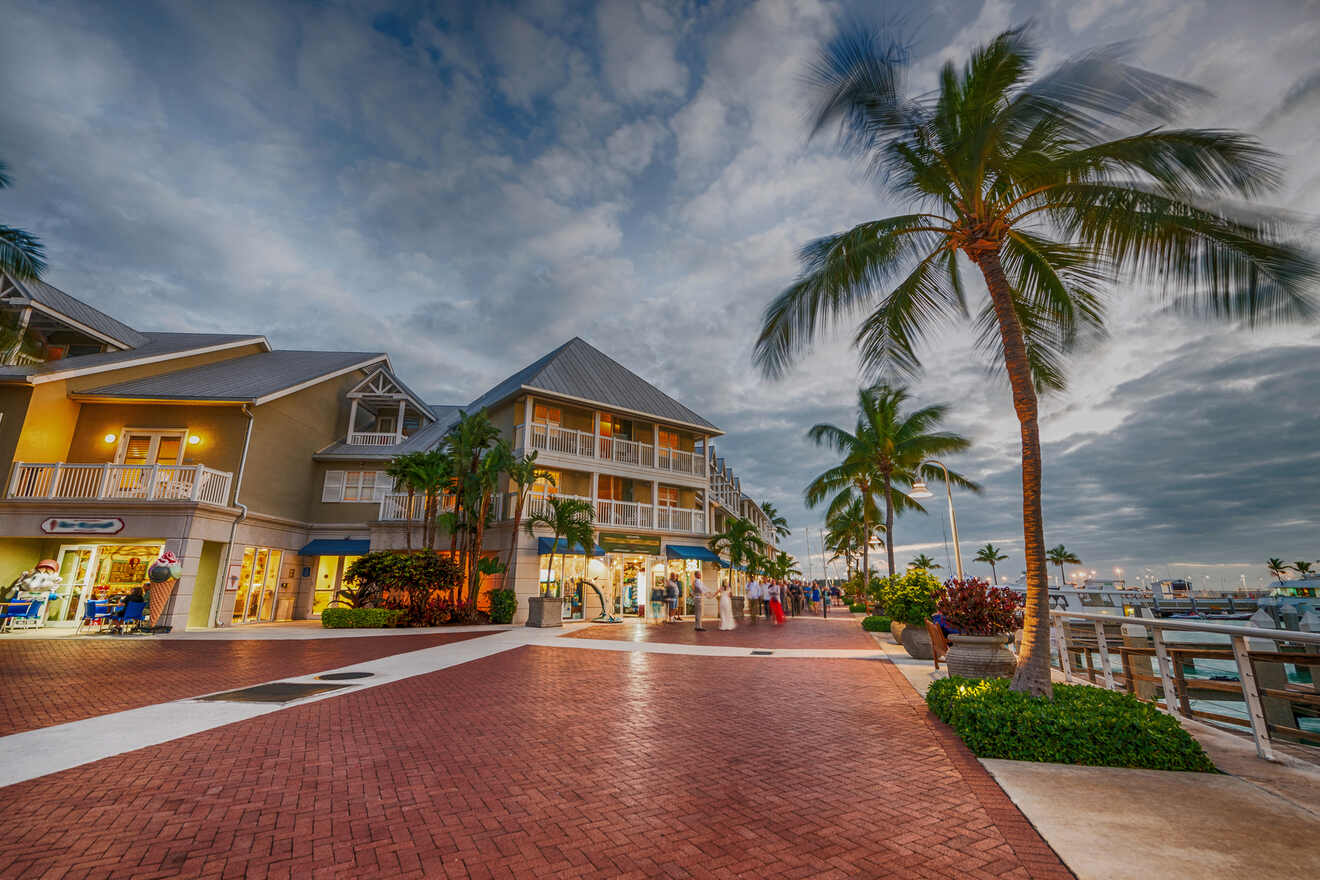 Mallory Square is an absolutely must-visit in Key West, located on the west side of the island. Nearby you'll find popular attractions like the Key West Shipwreck Museum (such a fun place to visit!) and the Key West Aquarium, in addition to many great restaurants, bars, boutiques, and galleries.
Every night, Mallory Square hosts its Sunset Celebration, starting at sundown. There is a ton of live entertainment, like musicians, comedians, and stunt performers, as well as vendors selling locally-made crafts and snacks. It's a blast, and you get to enjoy it all with a gorgeous sunset in the background!
There is no entry fee, but I do recommend bringing some cash if you'd like to tip any of the performers or vendors.
17.2 Take a wine-tasting sunset sail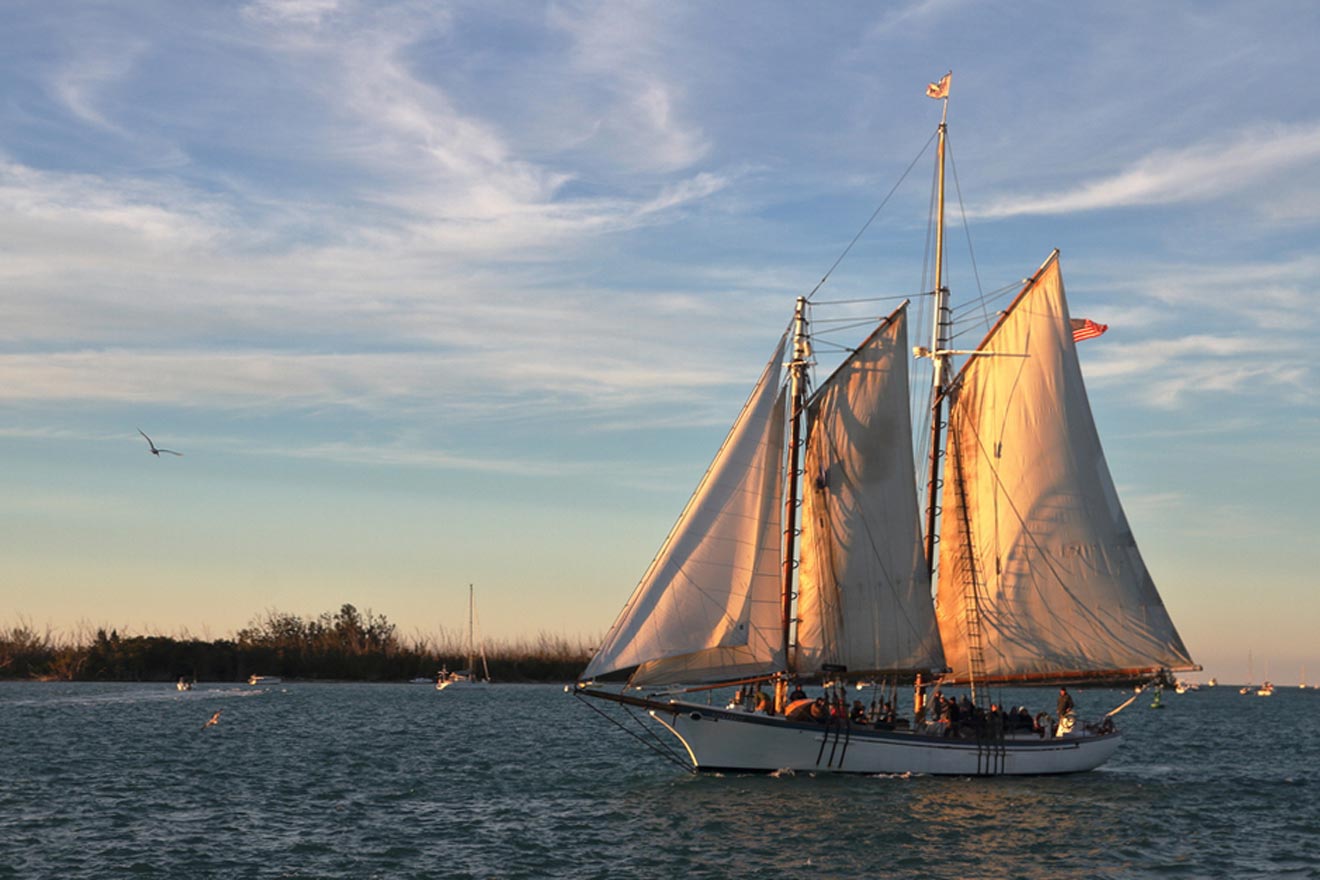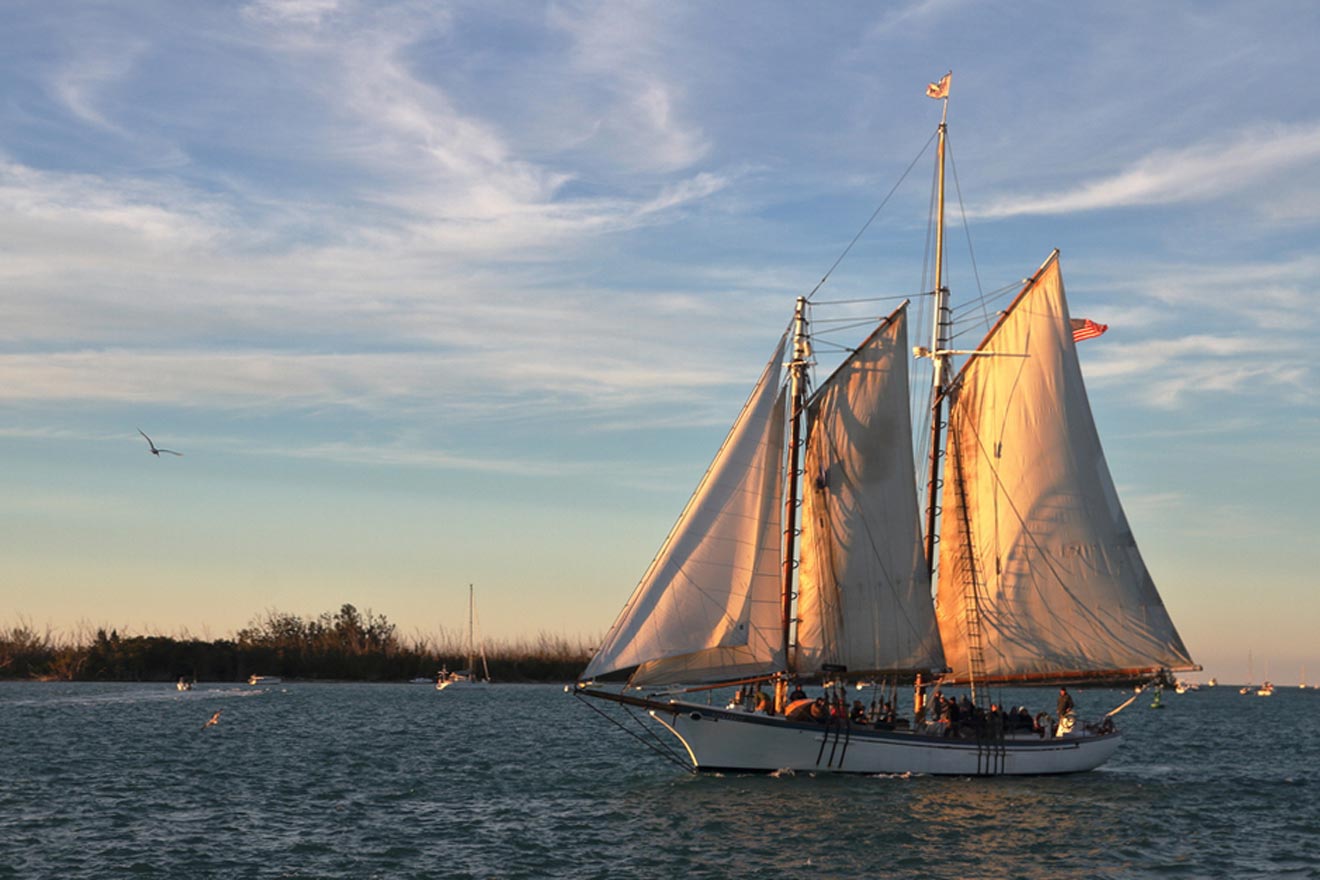 If you want to kick your sunset viewing experience up a notch, this sunset sail with wine tasting is for you!
Sit back and relax as you enjoy an unmatched view of the vibrant Key West sunset on the water. You can sample up to 8 different wines and/or 5 beers on this relaxing sunset sail, and there is also a variety of cheeses, charcuterie, and other nibbles available on board. Soft drinks are available as well since this activity is offered to ages 13+.
What makes this particular sunset sail special is that it's limited to a small group. This gives the whole experience a much cozier, more relaxed feel, which pairs perfectly with viewing a sunset like this! Because of this, you'll want to prioritize booking this Key West sunset sail.
PRICE: US$117 per person
18. Enjoy a local beer at the Florida Keys Brewing Company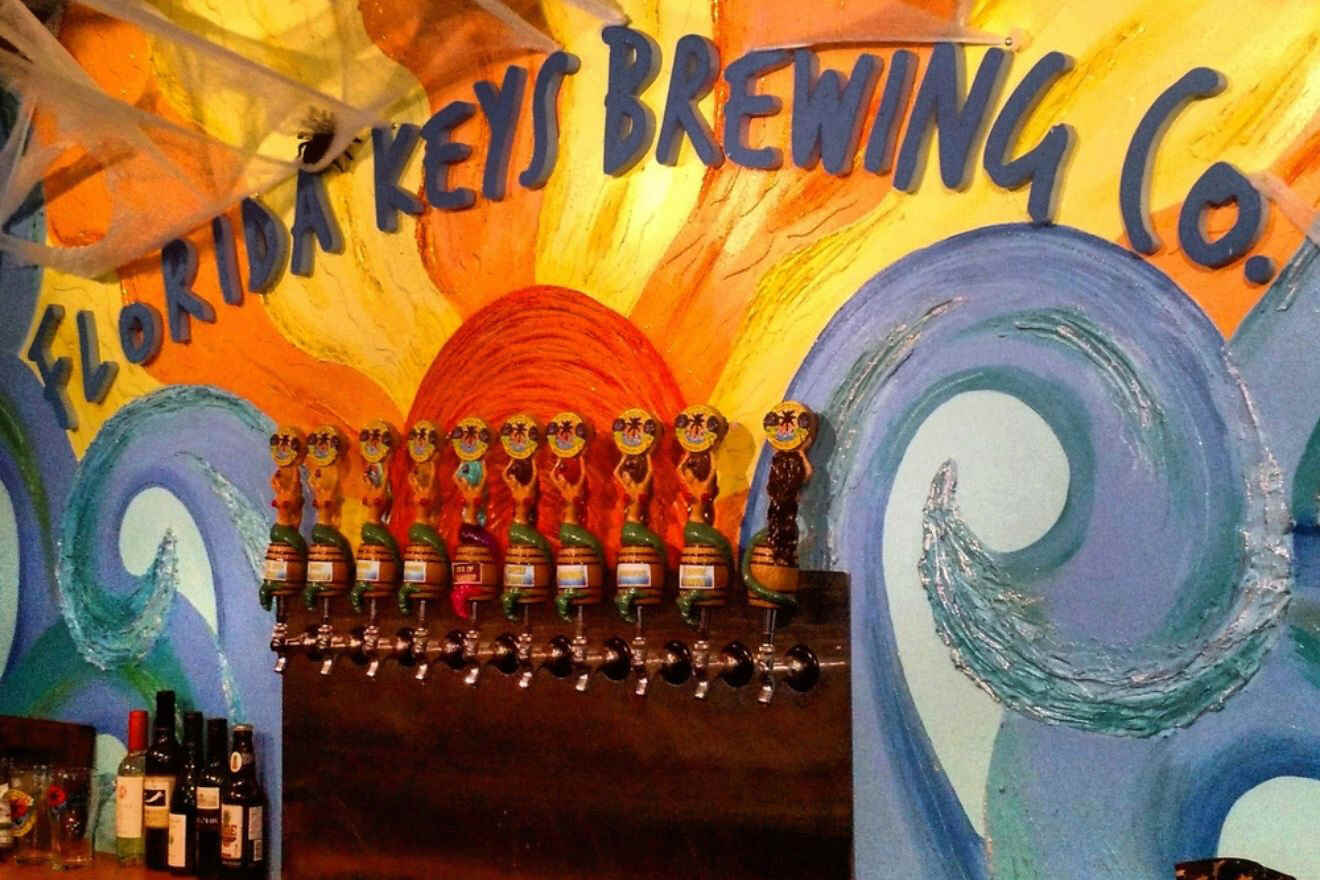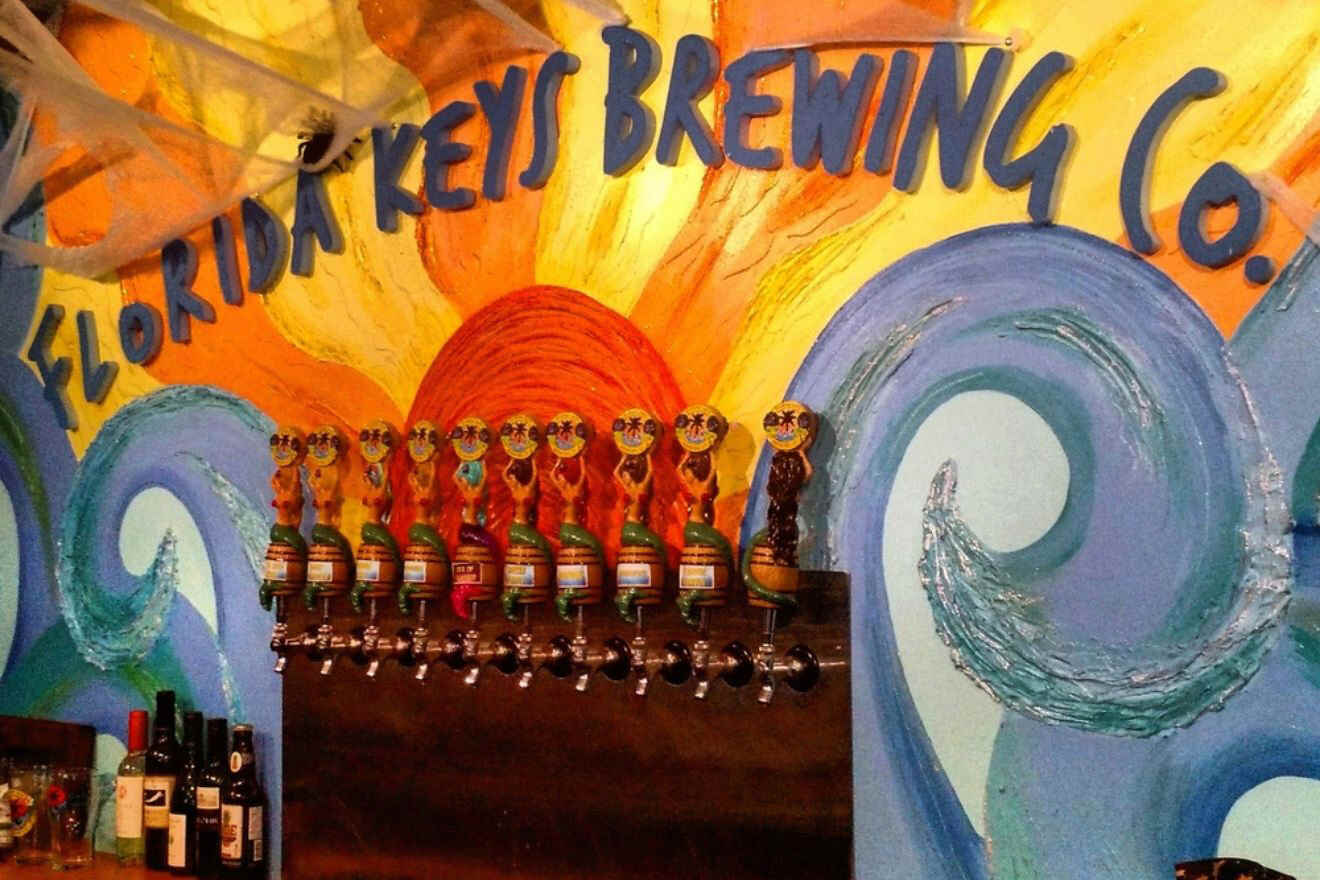 If you or someone you're traveling with is a craft beer lover, check out the Florida Keys Brewing Company in Islamorada. It's the very first microbrewery in the Upper Keys, and a visit here is an absolute blast!
In addition to the actual microbrewery and tasting room, you'll find the Florida Keys Brewing Company's beer garden, the perfect place to sit back and relax in the Florida sunshine. The beer garden is kid/pet-friendly, so it's fun for the whole family, even the furriest of family members 🐶
Sample your way through the beer crafted right on-site, grab a bite from the visiting food truck, try your hand at hula hooping or giant Jenga, and enjoy live music performed by local bands. Whether you're staying in Islamorada and making a night of it, or you're just stopping by on your Overseas Highway road trip, the Florida Keys Brewing Company is the place to be!
19. Check out the Morada Way Arts and Culture District
There are some really cool, unexpected things to do in the Florida Keys, and a visit to Morada Way Arts and Culture District is definitely one of them. It's actually the only designated downtown area between Miami and Key West and a very unique one at that!
The Morada Way Arts and Culture District encompasses 6 blocks of amazing galleries, yummy restaurants, and studio spaces. When you're there, you are completely immersed in local arts and culture. It's a fantastic spot to meet locals and learn more about the culture and lifestyle in the Florida Keys.
The best time to visit is the third Thursday of the month for the Art Walk. The Morada Way Arts and Culture District is transformed into a street party featuring gallery openings, live music and entertainment, local food, cocktails, and more from 6 PM to 9 PM!
20. Go jet skiing on a guided tour in Key Largo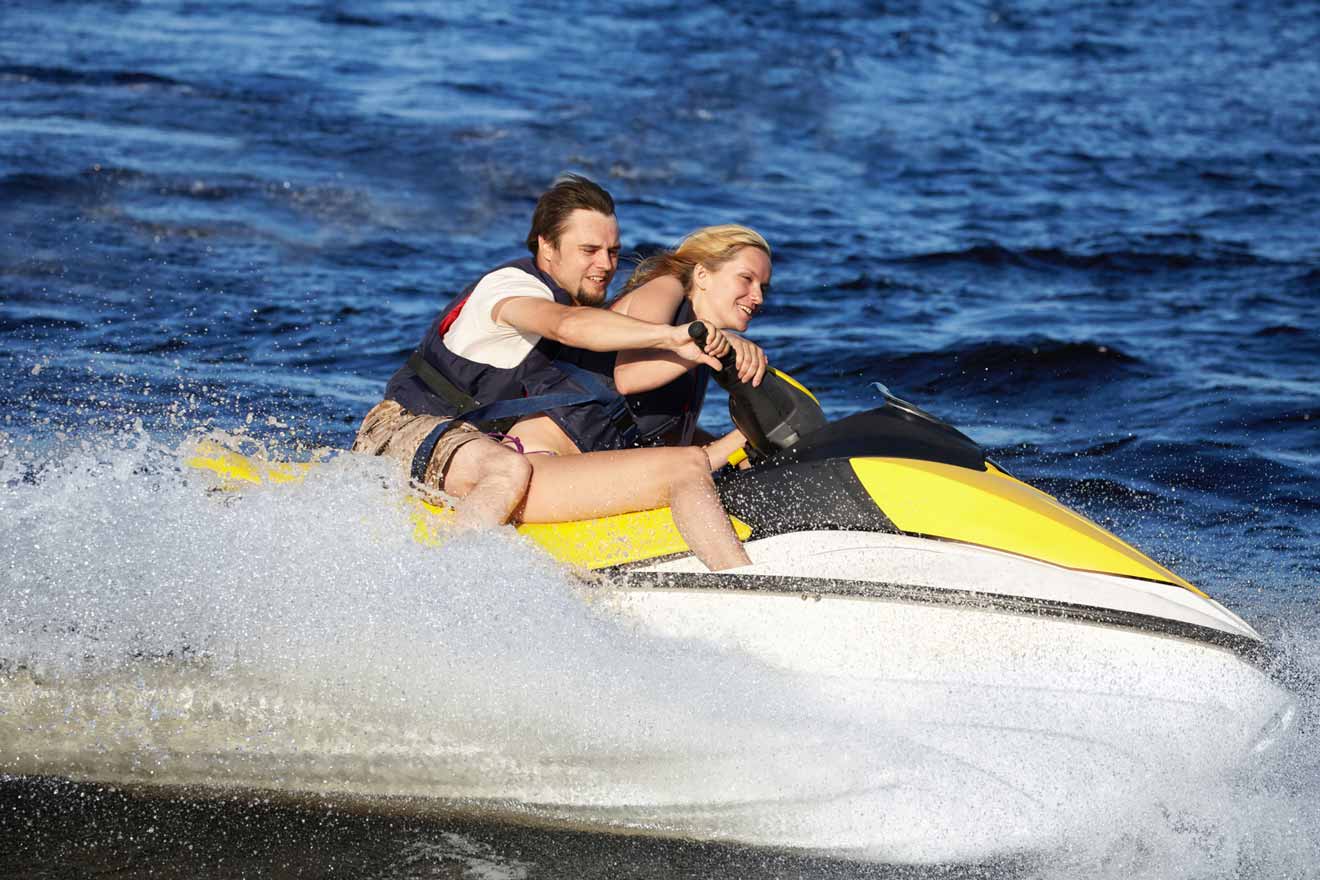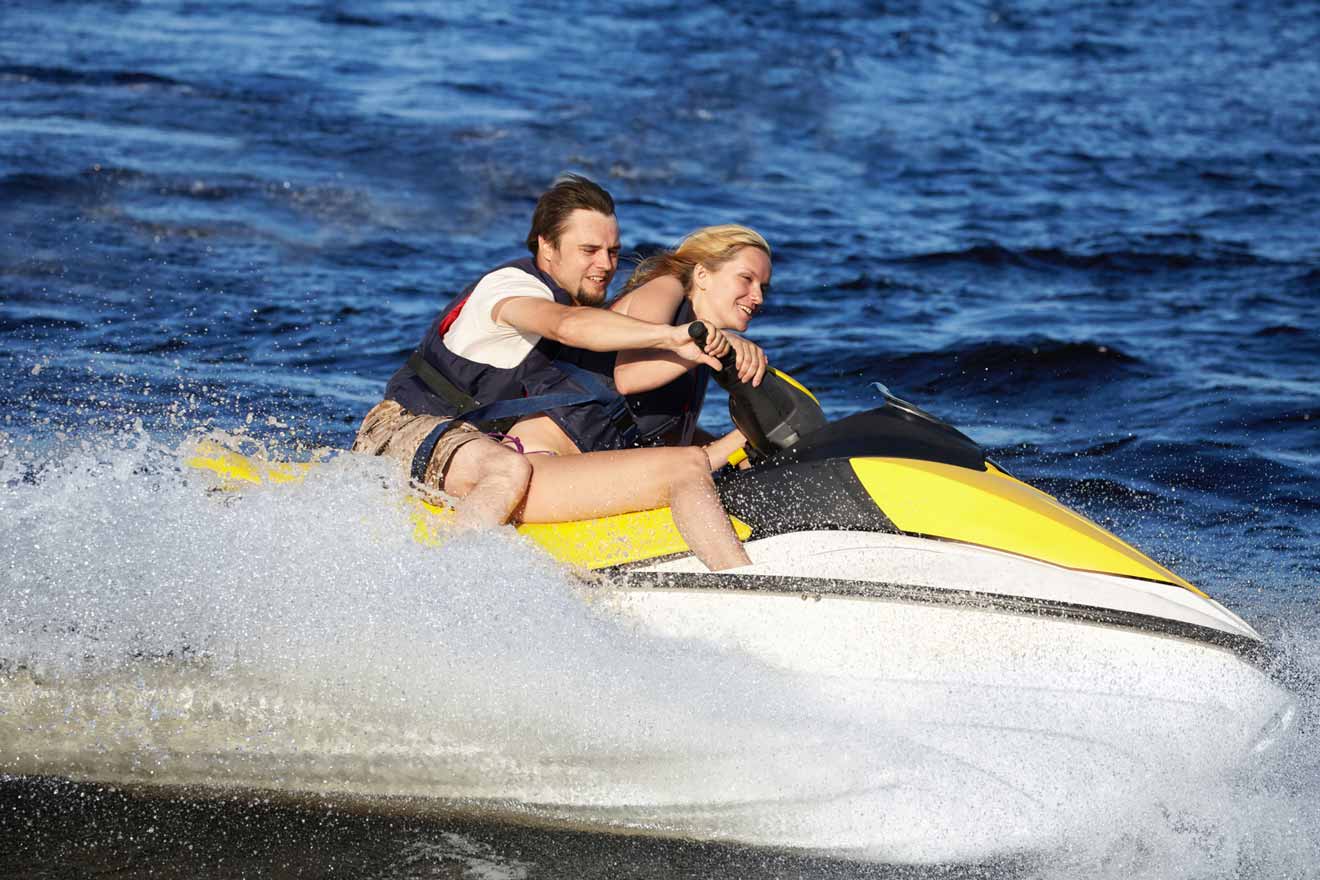 The first time I ever went jet skiing was in the Florida Keys, and let me tell you: if you haven't been, you've gotta go! It's so exhilarating, but not at all in a scary way. It's super fun, and the views down in the Keys are unreal; they're so pretty!
This guided jet ski tour in Key Largo takes you over the sparkling blue ocean and through the incredible mangrove tunnels. It's owned and operated by a local, so you know you're exploring the best spots around, including some hidden gems.
This jet ski tour is one of the most fun things to do in the Florida Keys, and it's something the whole family will love. If you're nervous about driving your own, you can always ride with a buddy – their watercraft fit up to 3 people. The tour even includes a stop to go swimming in the calm Gulf, which you won't be able to resist once you see how welcoming the water is!
PRICE: US$185 per person
21. Sit back and relax on Sombrero Beach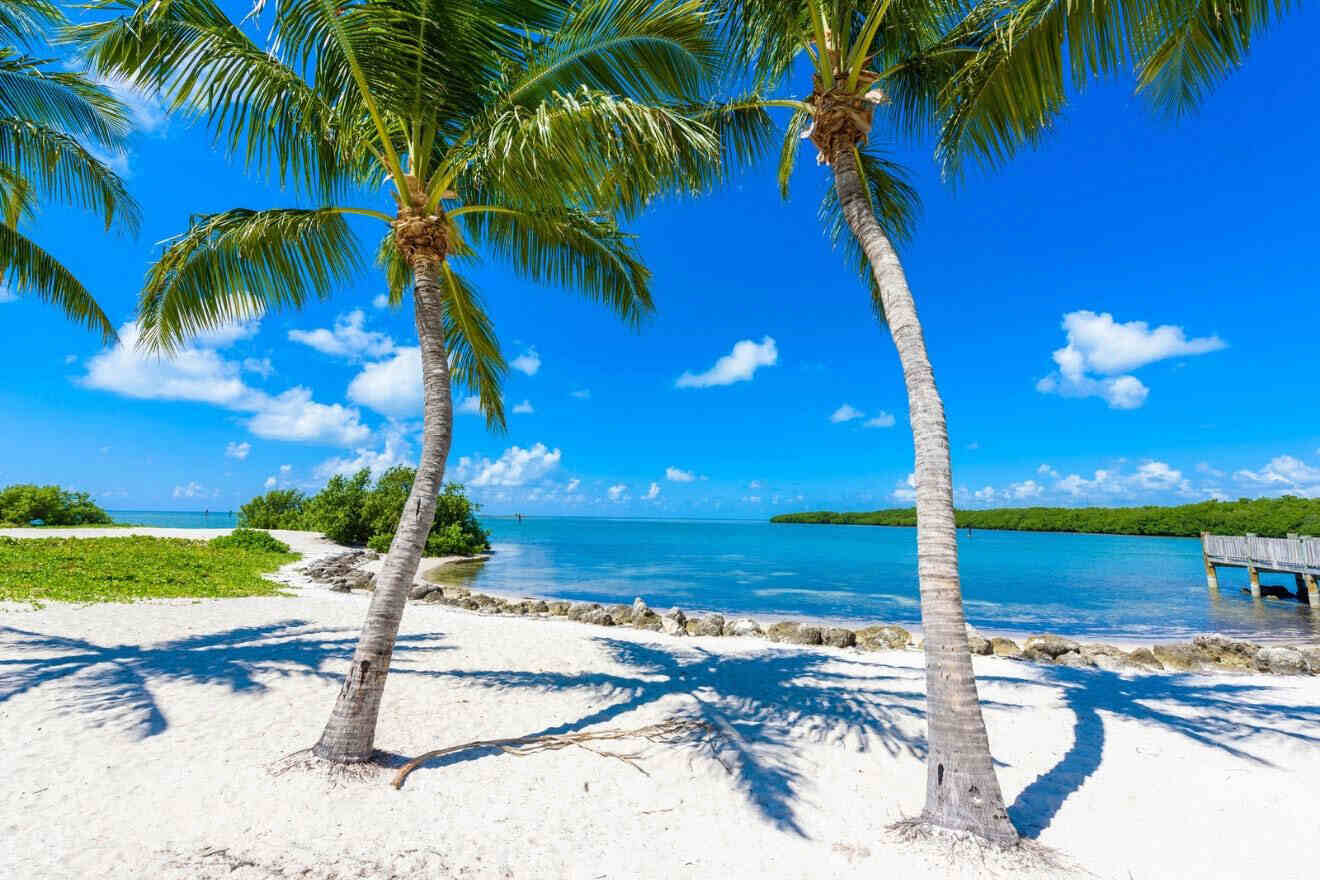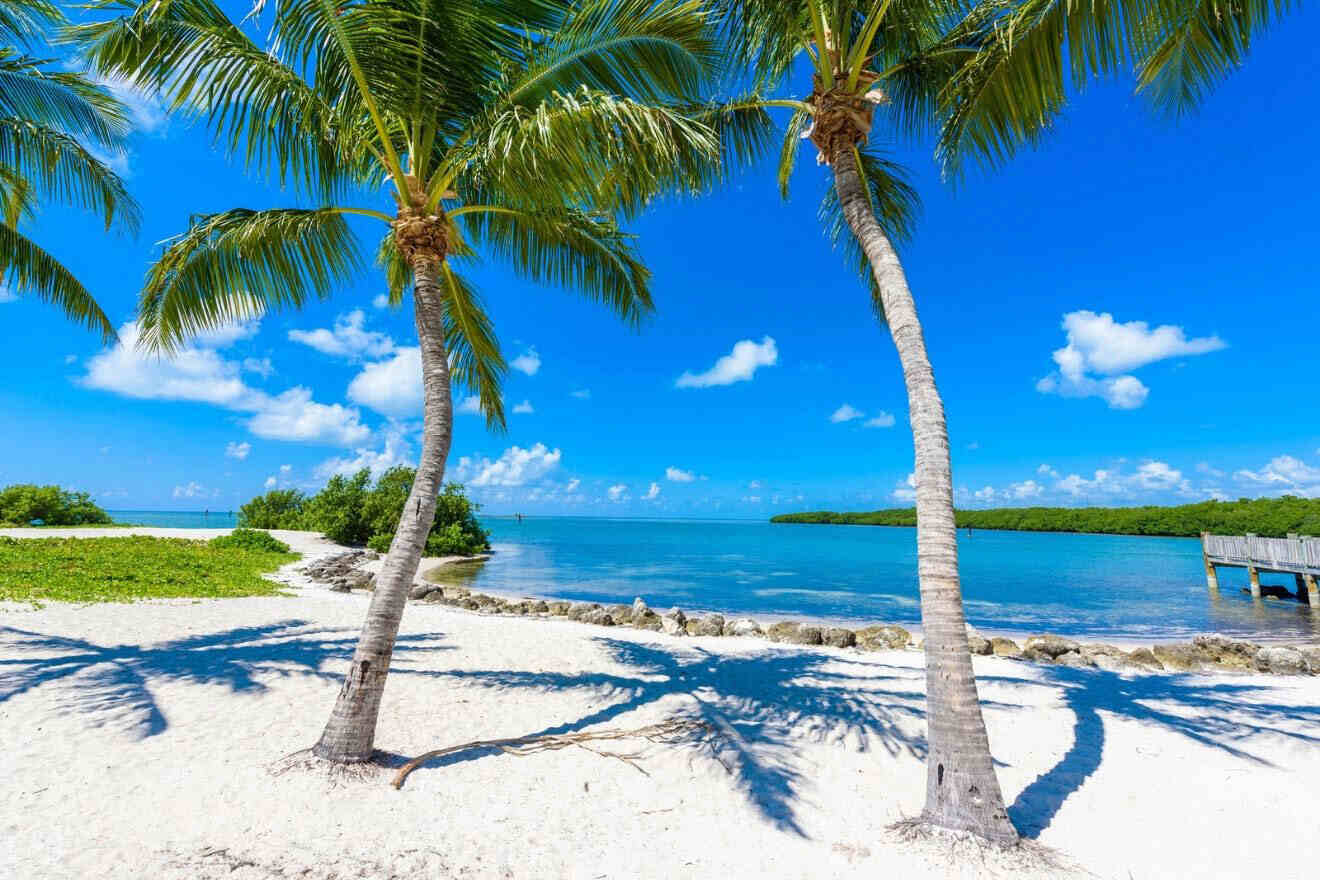 Sandy beaches are harder to come by in the Florida Keys than you may think! This is because most of the islands are surrounded by mangroves.
For a relaxing day in the sand, look no further than Sombrero Beach in Marathon – one of the best-kept secret beaches in the Florida Keys. It has everything beachgoers love: palm trees, crystal blue water, soft sand, and even a shady park with picnic tables, restrooms, and showers.
Sombrero Beach is a favorite of locals and long-time, in-the-know visitors, and it will be your favorite, too, once you visit! From April to May, Sombrero Beach becomes a nesting area for loggerhead turtles, who come up to the sand to lay their eggs. If you get there early in the morning, you might get to see this for yourself!
From Sombrero Beach, you'll be able to see Sombrero Key Light, the largest and tallest lighthouse in the Florida Keys! There is no entry or parking fee.
22. Step back in time at the Key West Shipwreck Treasure Museum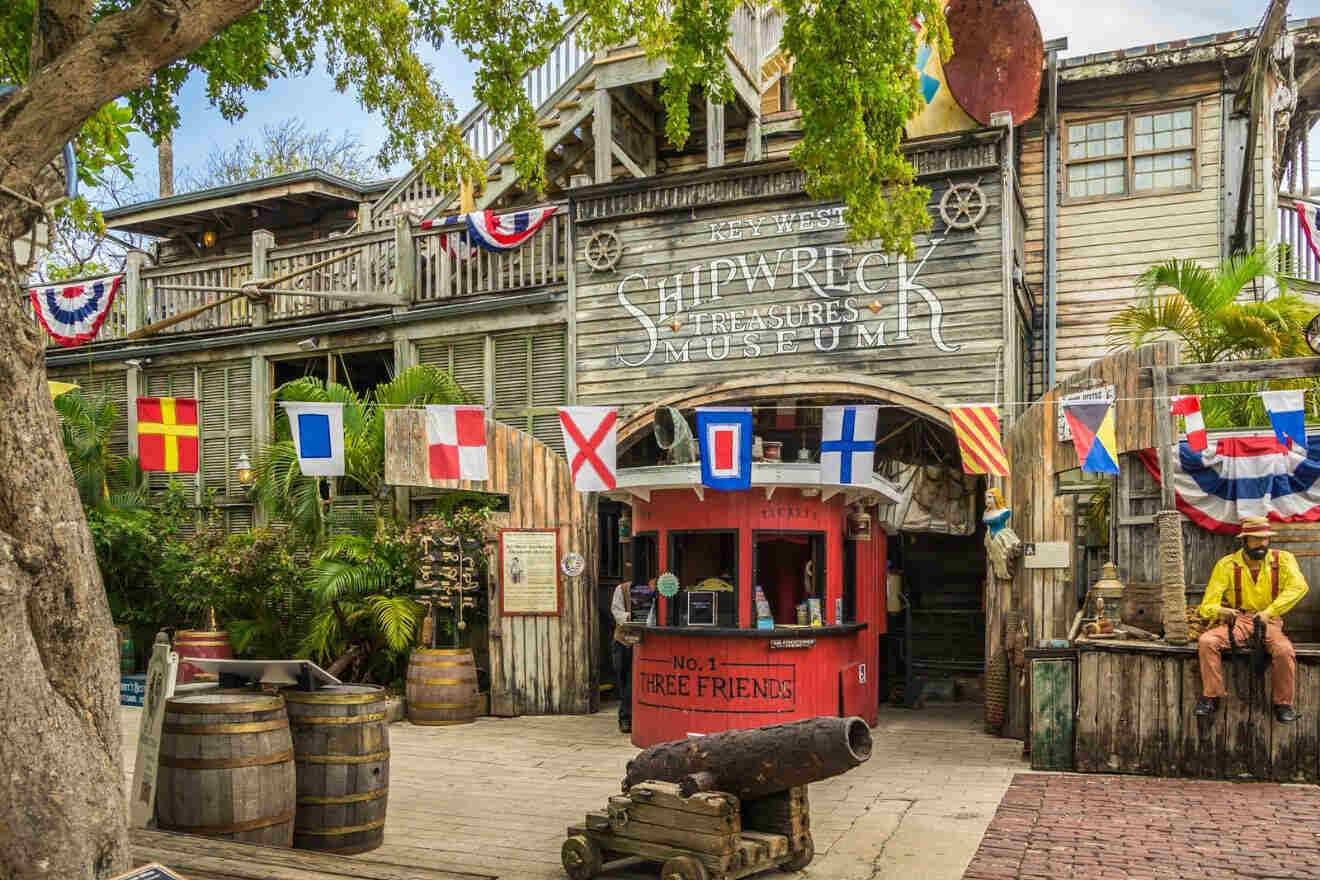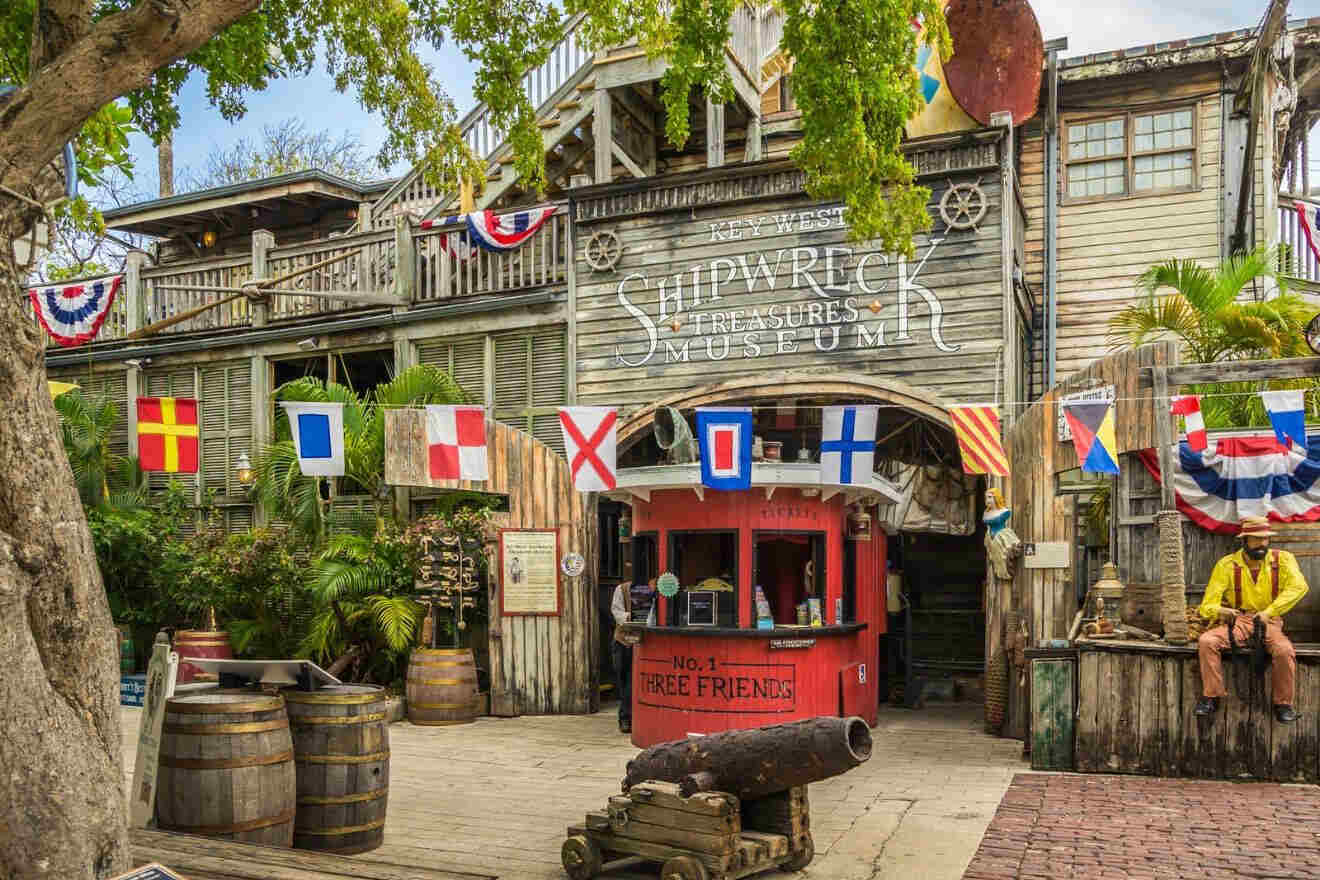 Last, but certainly not least on our list of things to do in the Florida Keys is the Key West Shipwreck Treasure Museum. After passing by it for years without checking it out, my husband and I visited the museum for the first time in 2021, and we loved it so much!
Key West has such an interesting past when it comes to shipwrecks – it's shocking what a thriving industry it was there! This museum really takes you back in time to Key West's bygone days, and you feel completely immersed in it. You'll find artifacts dating back to shipwrecks in the 1600s, and there are even costumed storytellers who bring the past to life. The building the museum is in is actually a recreation of the 19th-century Key West wrecker tycoon Asa Tift's warehouse.
The Key West Shipwreck Treasure Museum has this awesome 65 ft (20 m) lookout, where you get an amazing view of the city and the beautiful water. My calves were killing me after, but it was worth every step, and I suggest making the journey up there for the photos! Ladies, don't make my mistake – you'll want to wear flats for this one.
PRICE: US$18 for adults, US$10 for children
23. Try a slice of key lime pie
Of course, I had to include eating a big slice of key lime pie on our list of best things to do in the Florida Keys! This is where you will find the world's greatest key lime pie, and you really can't go wrong wherever you choose to stop for some.
In the Upper Keys, my recommendation is Keys Chocolates and Ice Cream. They have 2 locations – one in Key Largo and one in Islamorada. Their key lime pie is so delicious, and they even sell slices of key lime pie frozen and dipped in chocolate!
In the Lower Keys, my favorite is Kermit's Key Lime Shoppe in Key West. It's located right near Mallory Square, and there's nothing dreamier than grabbing a slice of key lime pie and enjoying it with stunning waterfront views. They sell a gluten-free version as well, which is a huge plus.
FAQs about things to do in the Florida Keys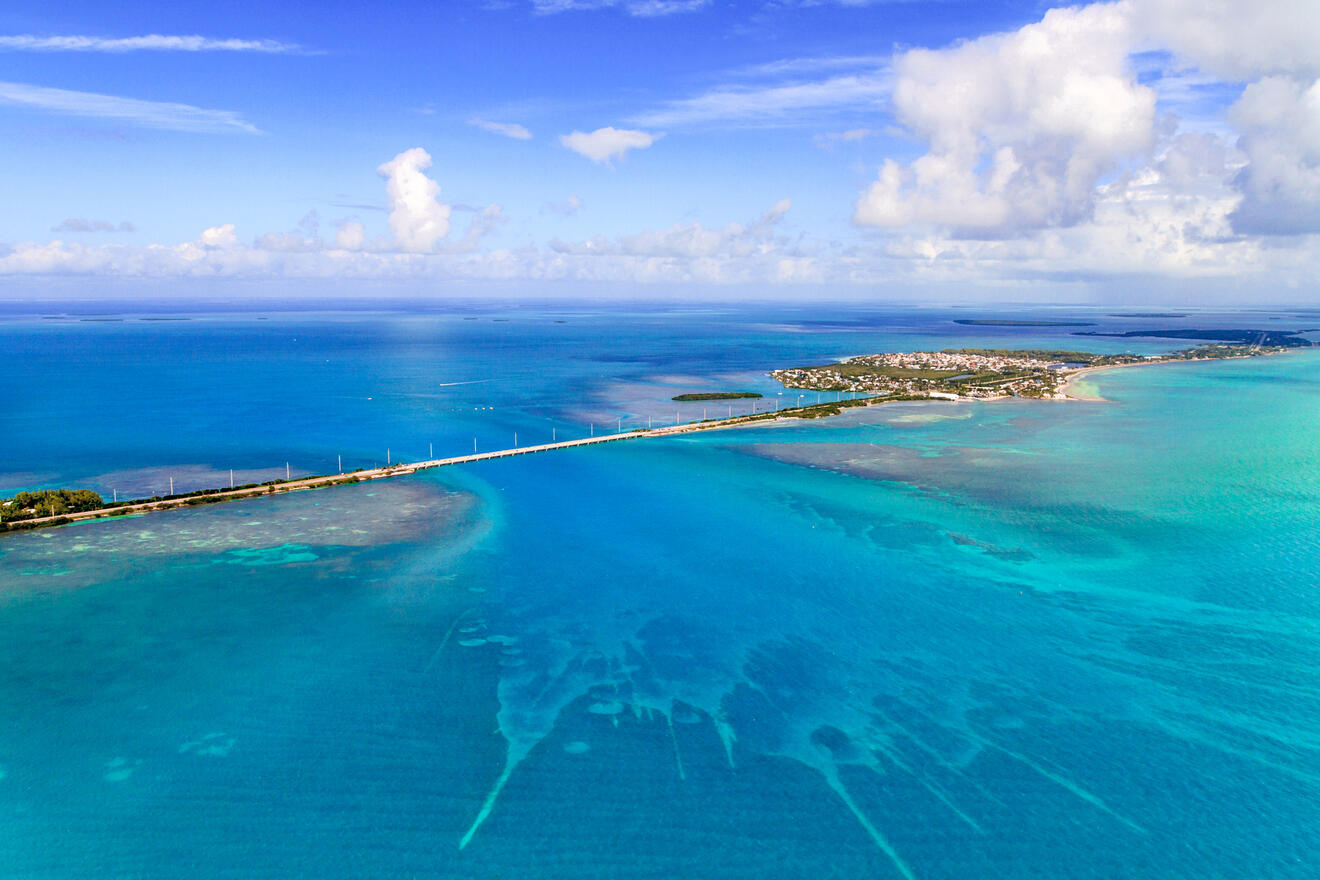 🏝️ Which Florida Key has the most to do?
📅 What is the cheapest month to go to the Florida Keys?
The Florida Keys typically see reduced hotel rates from June through October, with the lowest rates being in the late summer, as the weather is the hottest and stormiest during the late summer months.
😍 What is the prettiest Florida key?
🎣 What do people do in the Florida Keys?
There are countless things to do in the Florida Keys, whether you're seeking adventure or a little R&R on the sand. Snorkel and explore the only living coral reef in the continental US, get up close and personal with incredible native wildlife, and enjoy unsullied, natural beaches.
Conclusion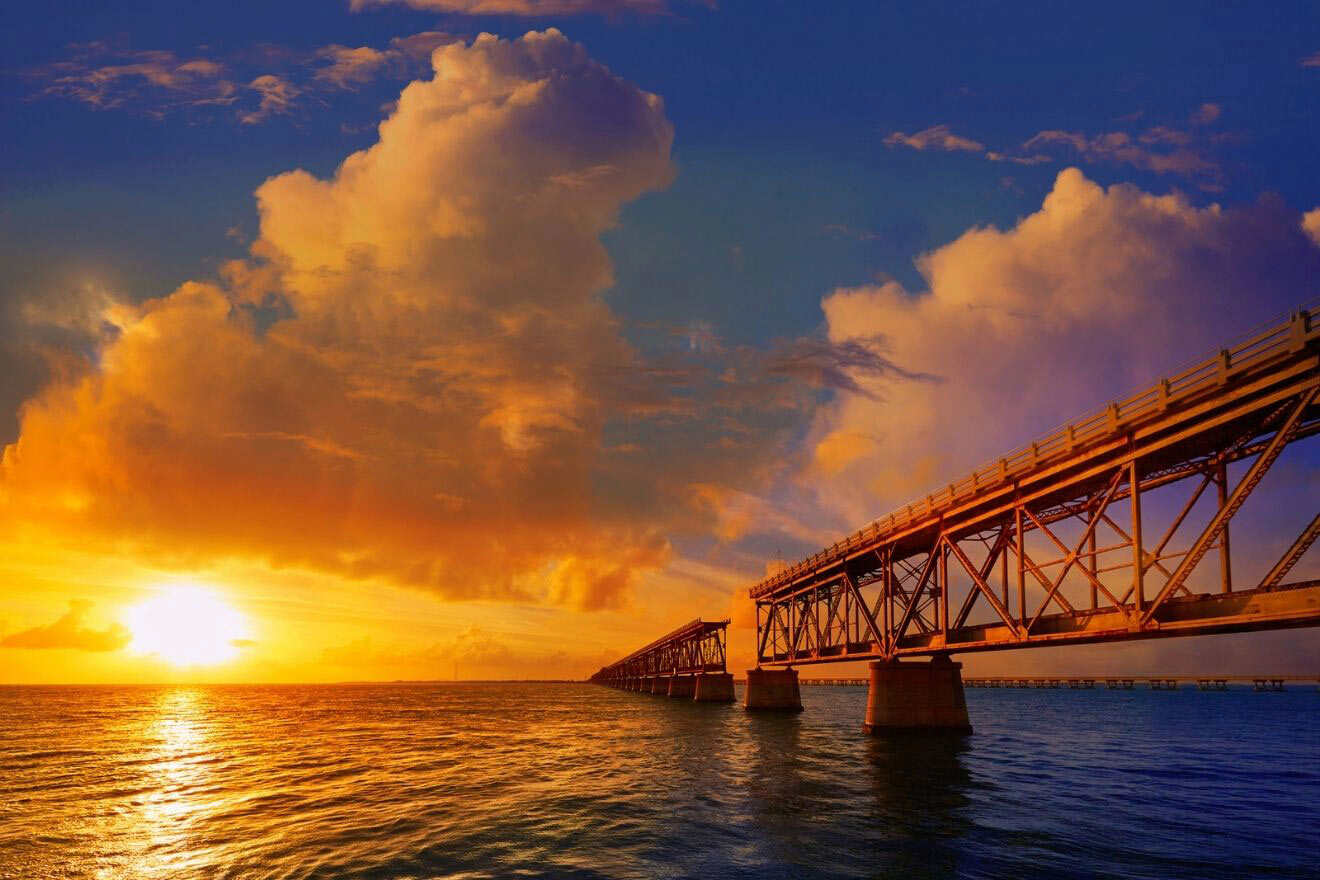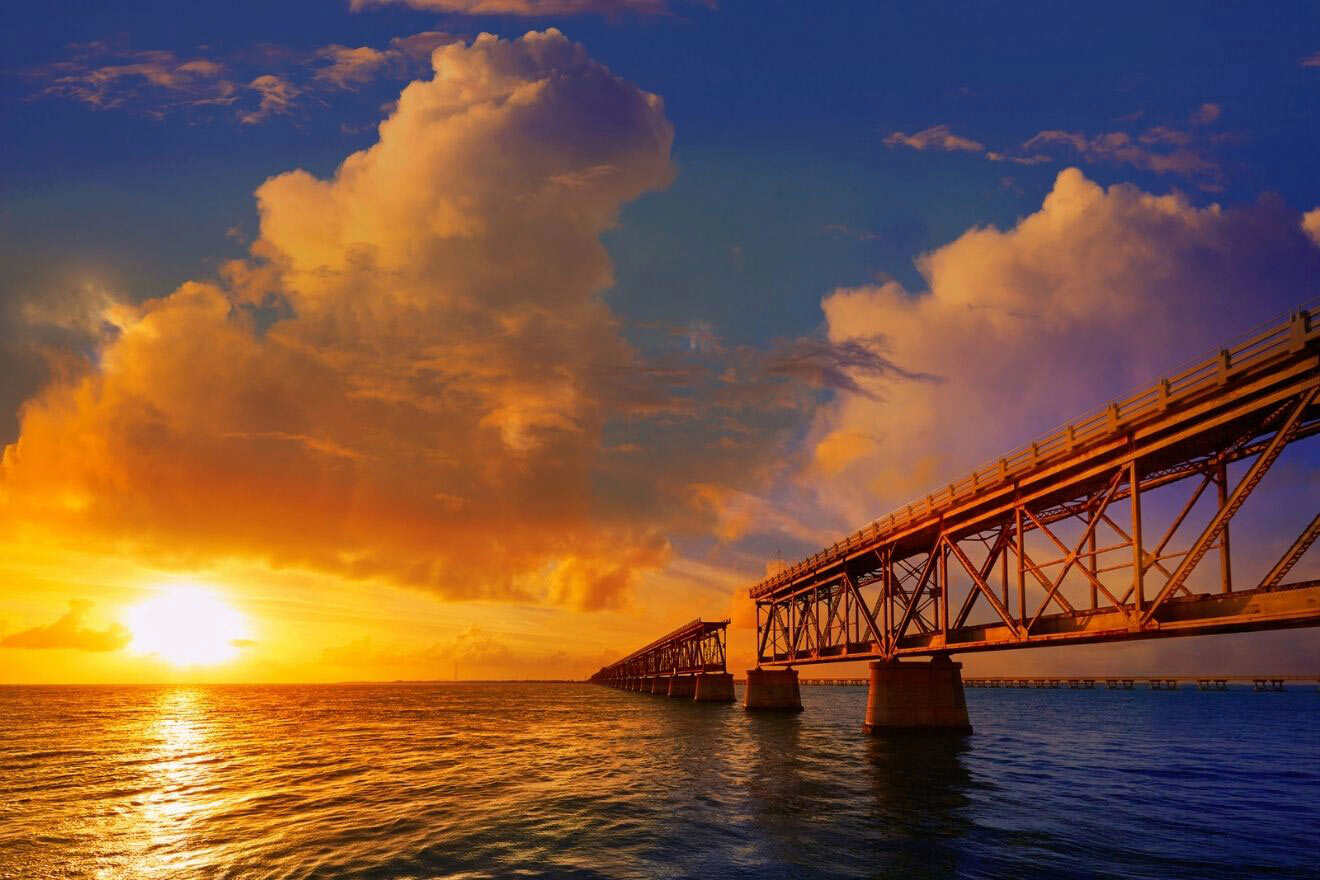 Wow, we sure did cover a lot of information today. Thank you so much for reading all the way to the end – it was a long article, but I didn't want to leave anything out! From relaxing cruises to thrilling, once-in-a-lifetime experiences, I hope you found something that excites you on this list.
Since we covered so much, here's a quick reminder of my favorite things to do in the Florida Keys, and ones you will definitely want to book ASAP to ensure a spot:
I just know you have the most wonderful Florida Keys vacation ahead! You can let me know if there is anything else I can help you with by leaving a comment on this post. And don't forget to pack your SPF. 😉
Happy travels!
Montana
---
Pin it for later!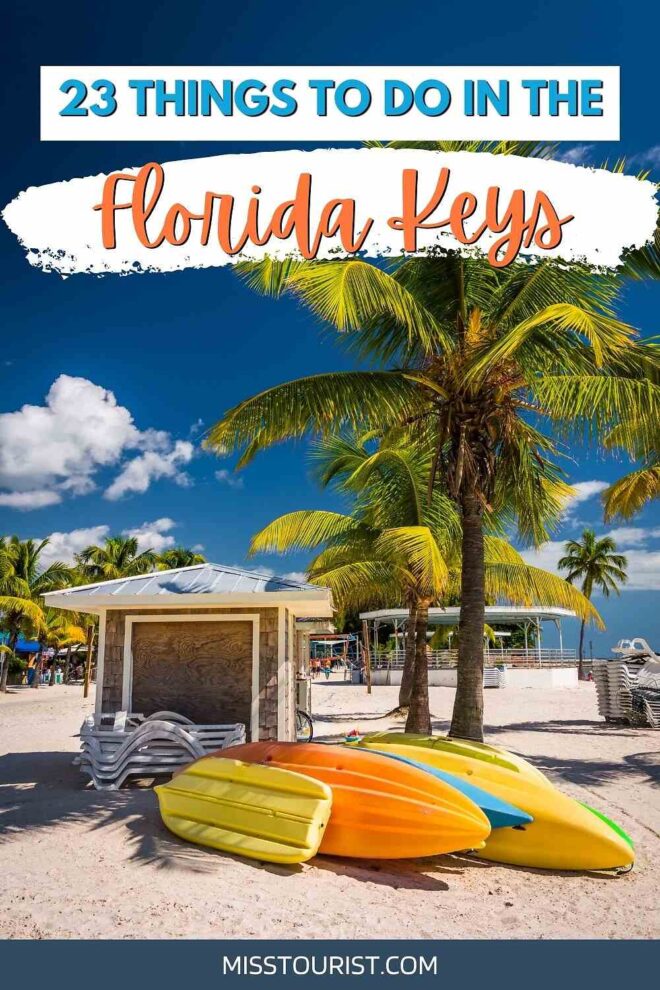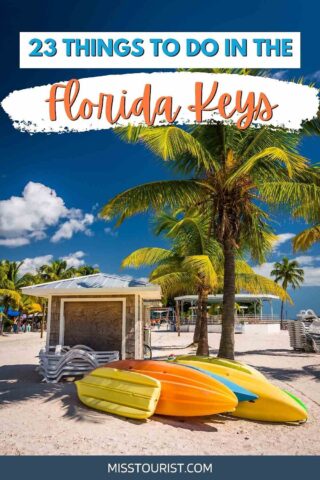 Pin it for later!