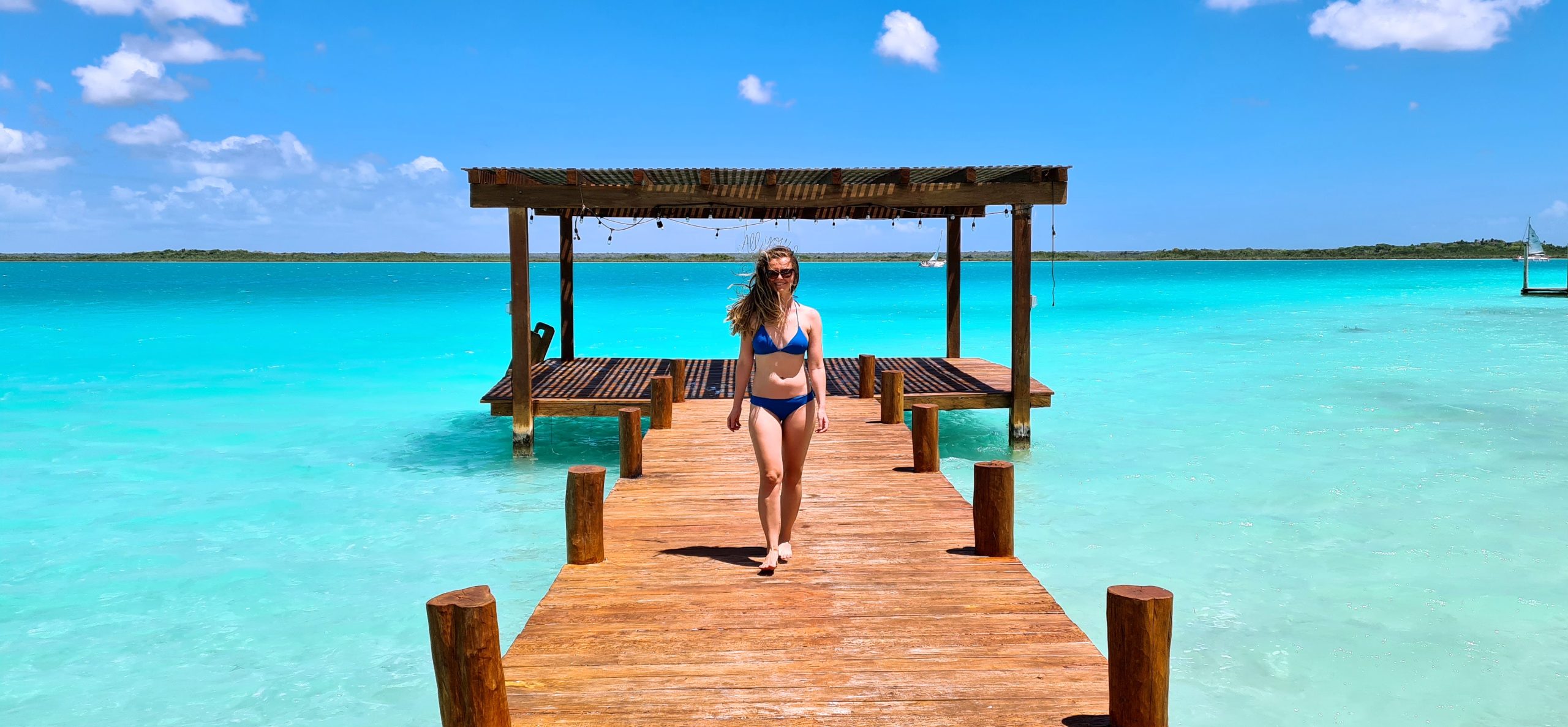 Bacalar, Mexico, is a dreamy pueblo magico (magic town) located in the Costa Maya. It is known for the beautiful turquoise waters of its famous freshwater Bacalar Lagoon!
Being located on the Belize border means most tourists do not reach it, so they don't even know what they are missing: boat tours, incredible beaches, cenotes, watersports… It is not by chance this is my favorite place in Mexico!
Since I want you to have the same great experience I had, I decided to write this guide to the best things to do in Bacalar, Mexico. I've also included some useful information about how to get there and where to eat delicious food.
Ready to explore the Maldives of Mexico with me and fill your Mexico bucket list?
Let's start!
If you are in a hurry
If you need to book quickly and don't have time to read the whole post, check out the best tours to do in Bacalar, Mexico:
Here are the main things to book in advance:
And here are the best hotels: MBH Maya Bacalar (Luxury), Casa Chukum (Mid-range), The Yak Lake House (Budget)
1. Take a boat tour of the Bacalar Lagoon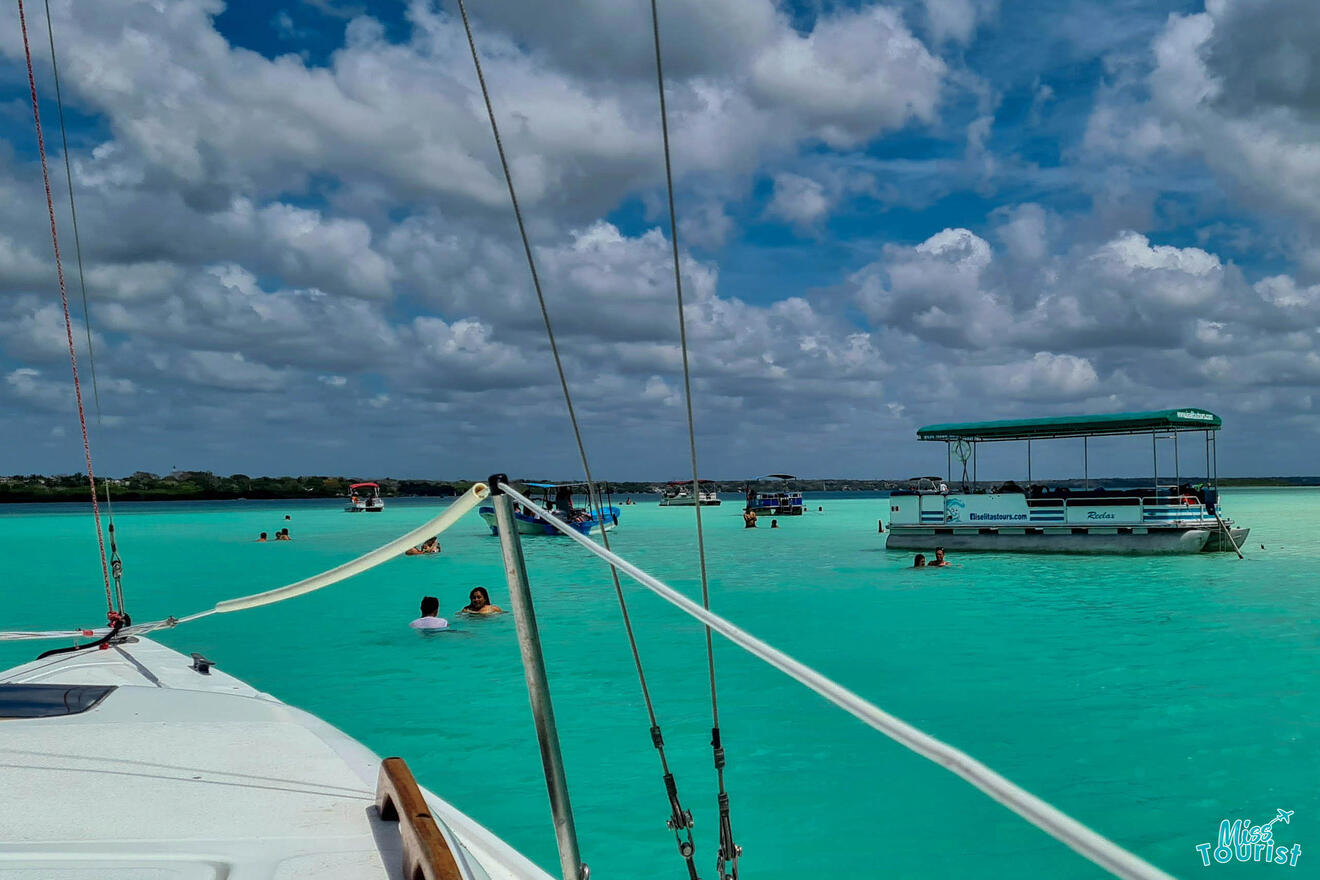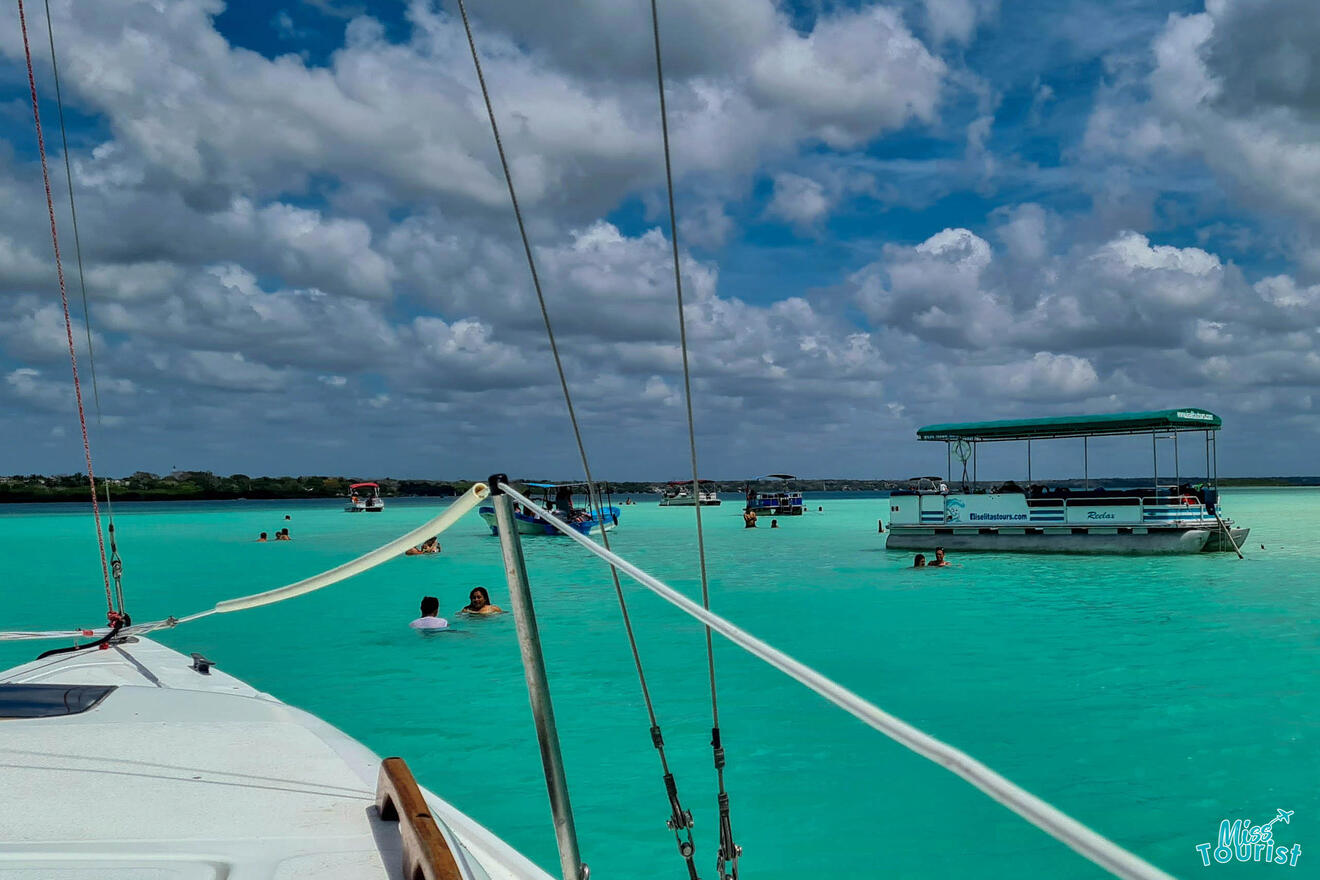 The main attraction of Bacalar is definitely its magical lagoon! Known as the "Lake of Seven Colors", the Laguna Bacalar (Lake Bacalar) is a long, narrow lake with seven different shades of blue and a white sand bottom.
Bacalar lake is actually one of the main reasons Bacalar was proclaimed a Magic Town by the Mexican government (there are 111 magical towns in Mexico, due to their cultural importance).
The Laguna Bacalar is one of the few places in the world where stromatolites exist: limestone formations that carry out photosynthesis. You will see it a lot on the bottom of the Laguna Bacalar… do not step on them!
Needless to say that if you're here, you NEED to explore Bacalar Lagoon's crystal clear waters and what better way to do that than taking a boat tour?
With this half-day boat trip on the Bacalar Lagoon, you will snorkel in its magical cenotes like the Cenote Negro (or Cenote de la Bruja), pass through the Pirates' Channel, and stop to make mud masks from sulfurous mud.
Before coming back you'll also navigate to Bird Island, where you'll be lucky enough to see the colorful migratory birds that flock to the Bacalar Lagoon. Another extra? The tours include snacks and a couple of drinks… isn't it amazing?
PRO TIP: I strongly suggest you apply tons of coral-friendly sunblock before going on the tour… the sun is crazy strong and I got really burnt! If you are super sun-sensitive, I would recommend wearing light easy-to-dry clothes (not bikinis).
PRICE: $40
2. Have a refreshing dip in Cenote Azul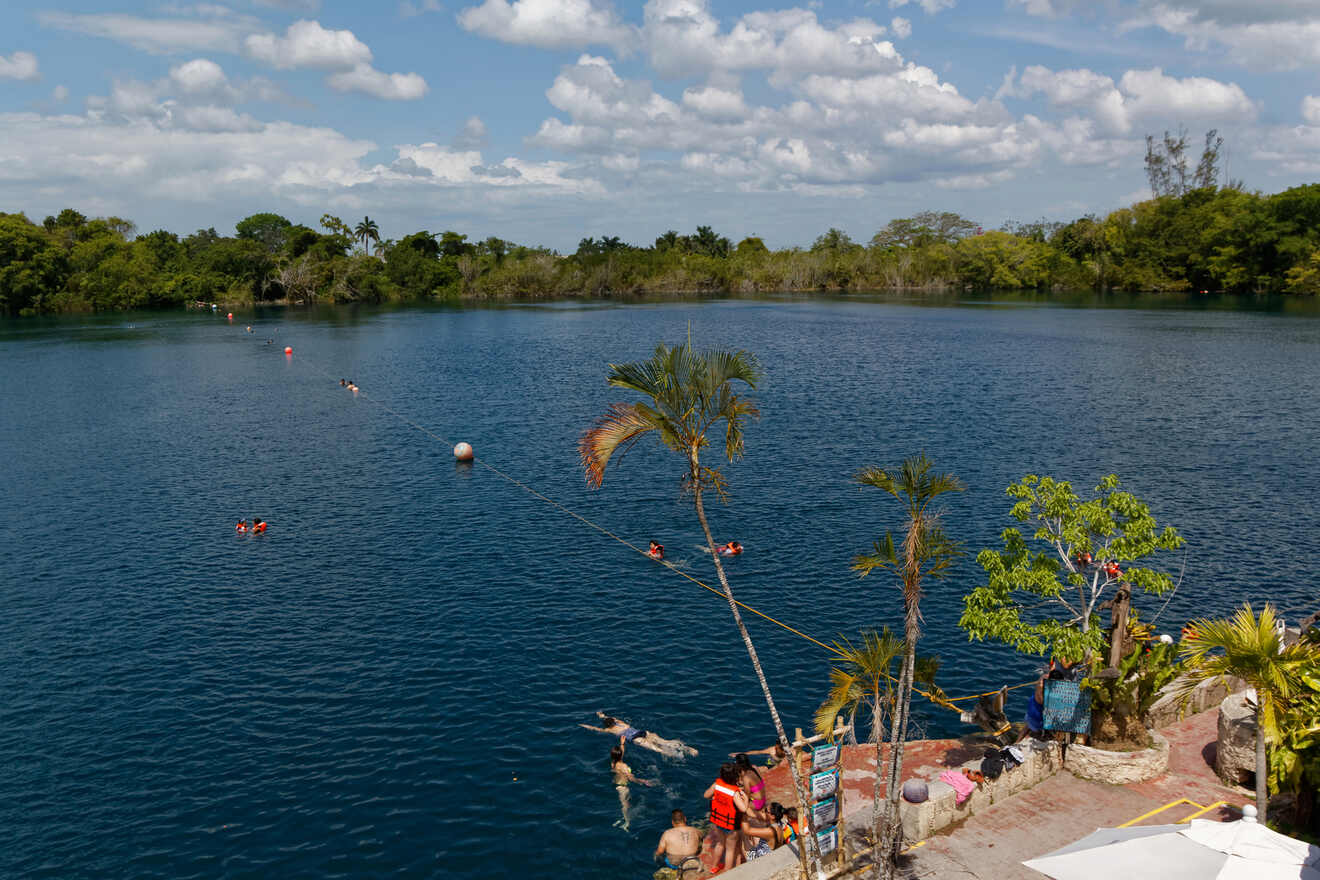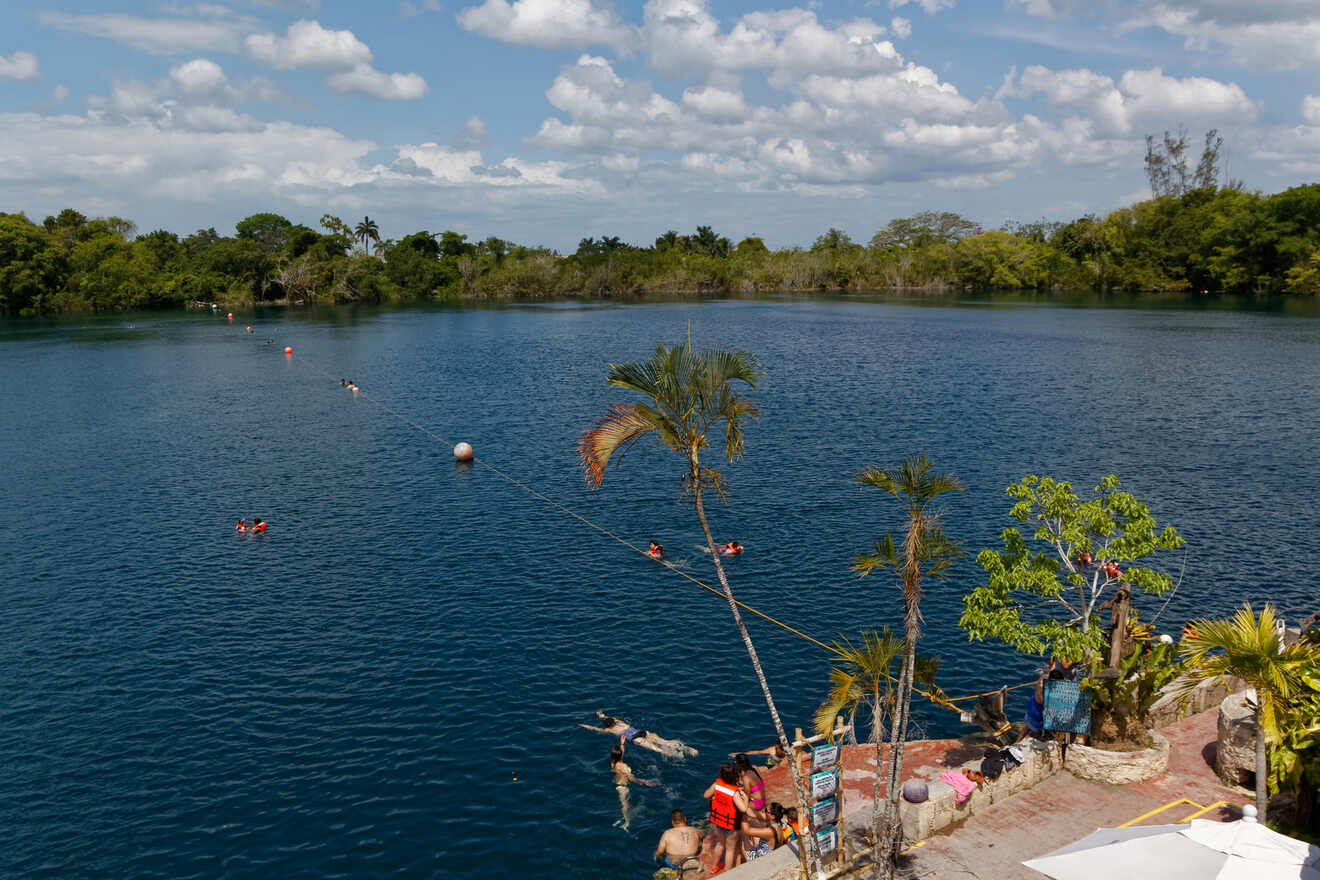 In case you didn't know, Mexico (in particular the Yucatan Peninsula) brims with cenotes: natural sinkholes resulting from the collapse of limestone bedrock, which get filled with water from underground canals.
Bacalar, Mexico, hosts the biggest cenote in the whole country: the beautiful Cenote Azul, where you can swim in blue sparkling waters. No matter how many people you'll find, it will never get too crowded since it's really big!
The Cenote Azul is quite deep, here you can explore its underwater caves, snorkel, or dive from natural platforms, and if you cannot swim it's not a problem, you can ask for life jackets (or you can dive there too!).
Inside you'll even find a restaurant (right at the main entrance) in case you want to have a refreshing drink or a delicious meal.
From Bacalar town, it is around a 10 min drive by rental car or taxi which will cost ~60-80 pesos ($4).
PRICE: 120 Mexican pesos ($6)
3. Snorkel at Los Rápidos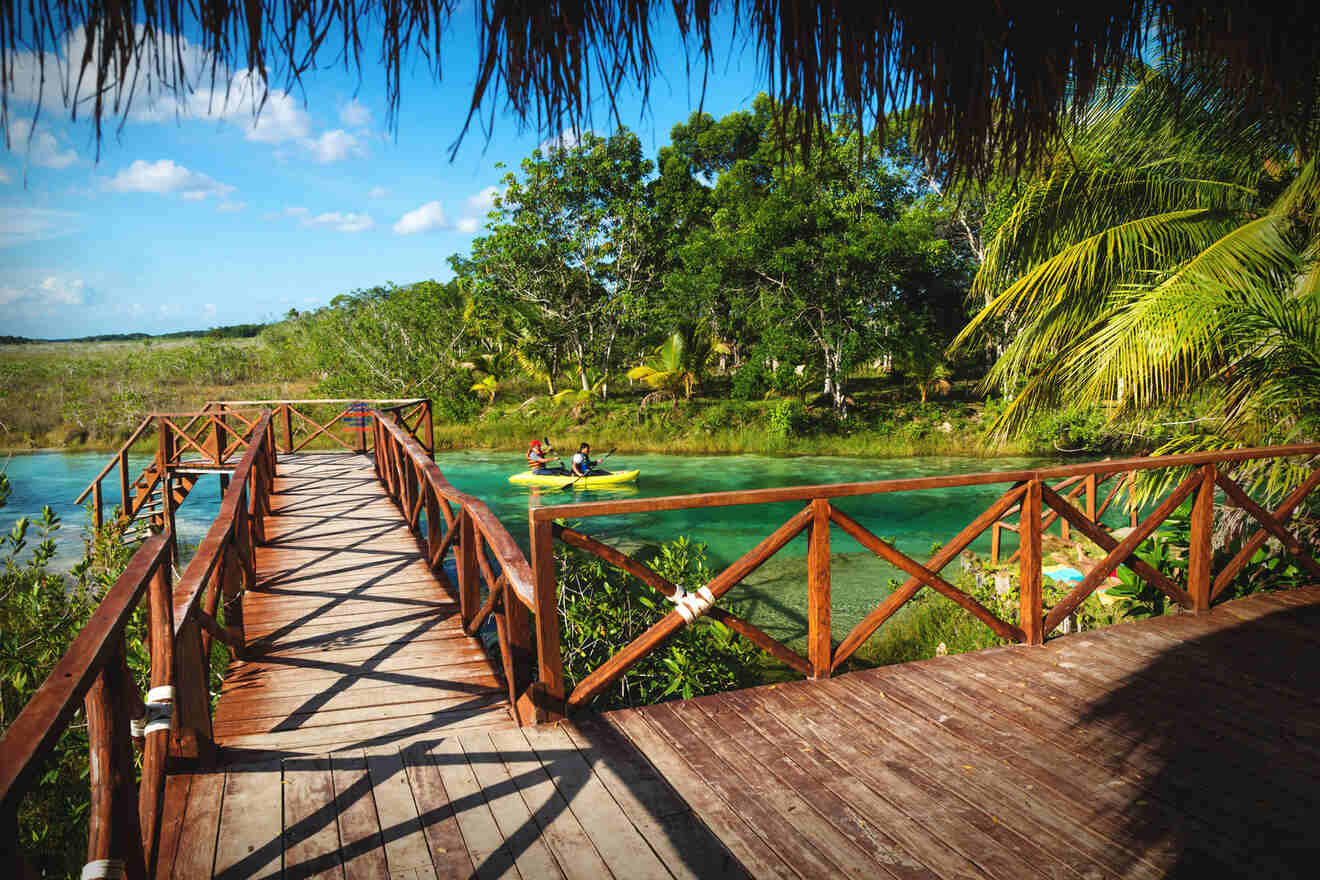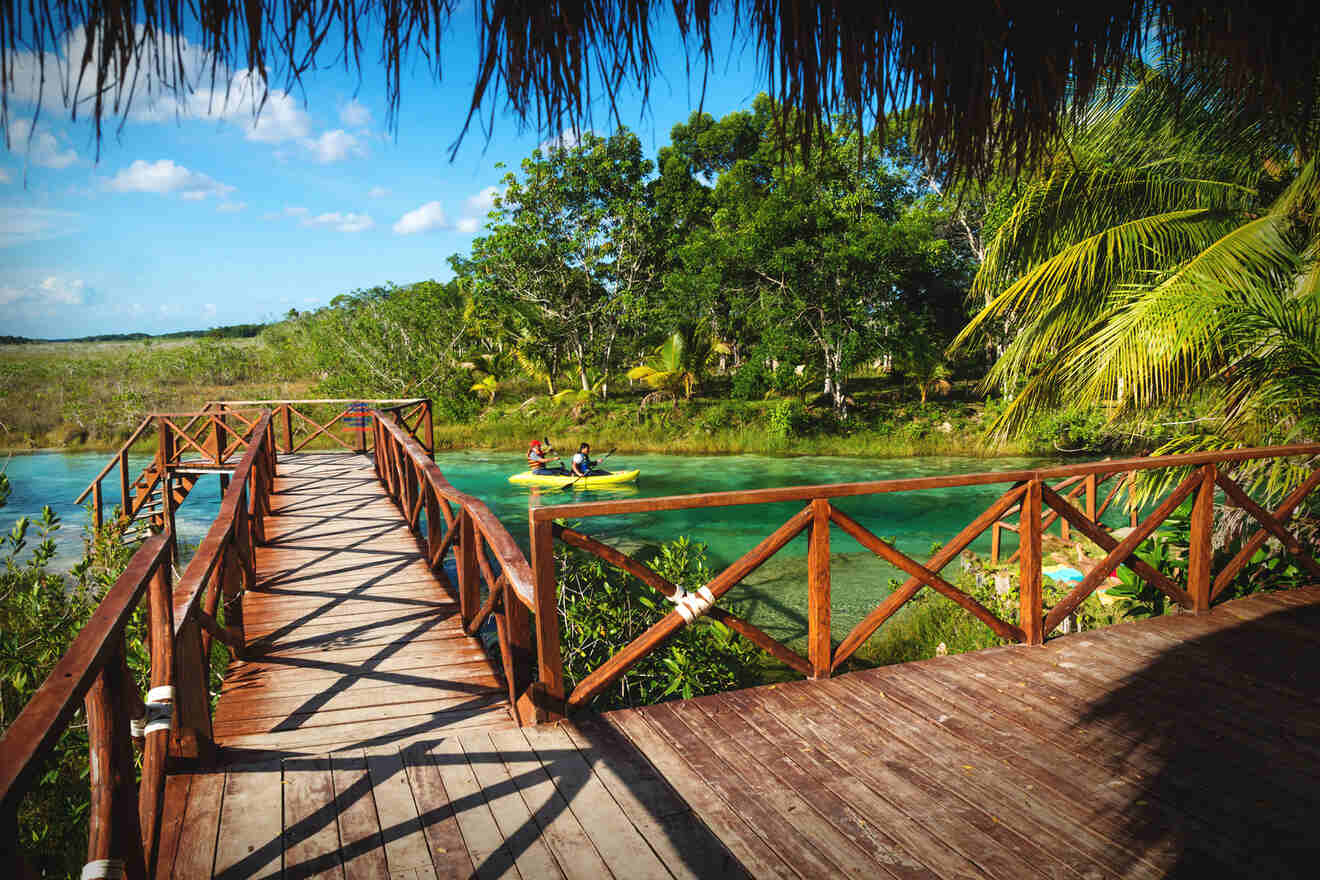 Located on the southern end of the Bacalar Lagoon, about a 30 minutes drive from Bacalar, Mexico, you will find Los Rapidos: small river rapids where you can snorkel and see the most colorful and diverse fishes!
The rapids start from a channel located close to a restaurant and in its surrounding area, you can swim or just take a seat and relax.
Otherwise, from the restaurant you can enter the water and let yourself be carried away by the current, which is quite strong. Remember that when you reach the end, you'll have to walk back to the restaurant!
NOTE: The area is full of stromatolites so, again, remember to not step on them.
Los Rapidos are perfect for some family fun, and between relaxing, snorkeling, and eating, you can spend the whole afternoon there! And if you are thinking of going on a long vacation in Mexico with your family, check out our post on the best all-inclusive resorts in the Riviera Maya for families!
A single taxi ride from Bacalar town center will cost you about 250 pesos ($12). Let the driver drop you off at the restaurant. To return, just ask the restaurant to call you another cab.
PRICE: $7
4. Relax at Beach Club Blu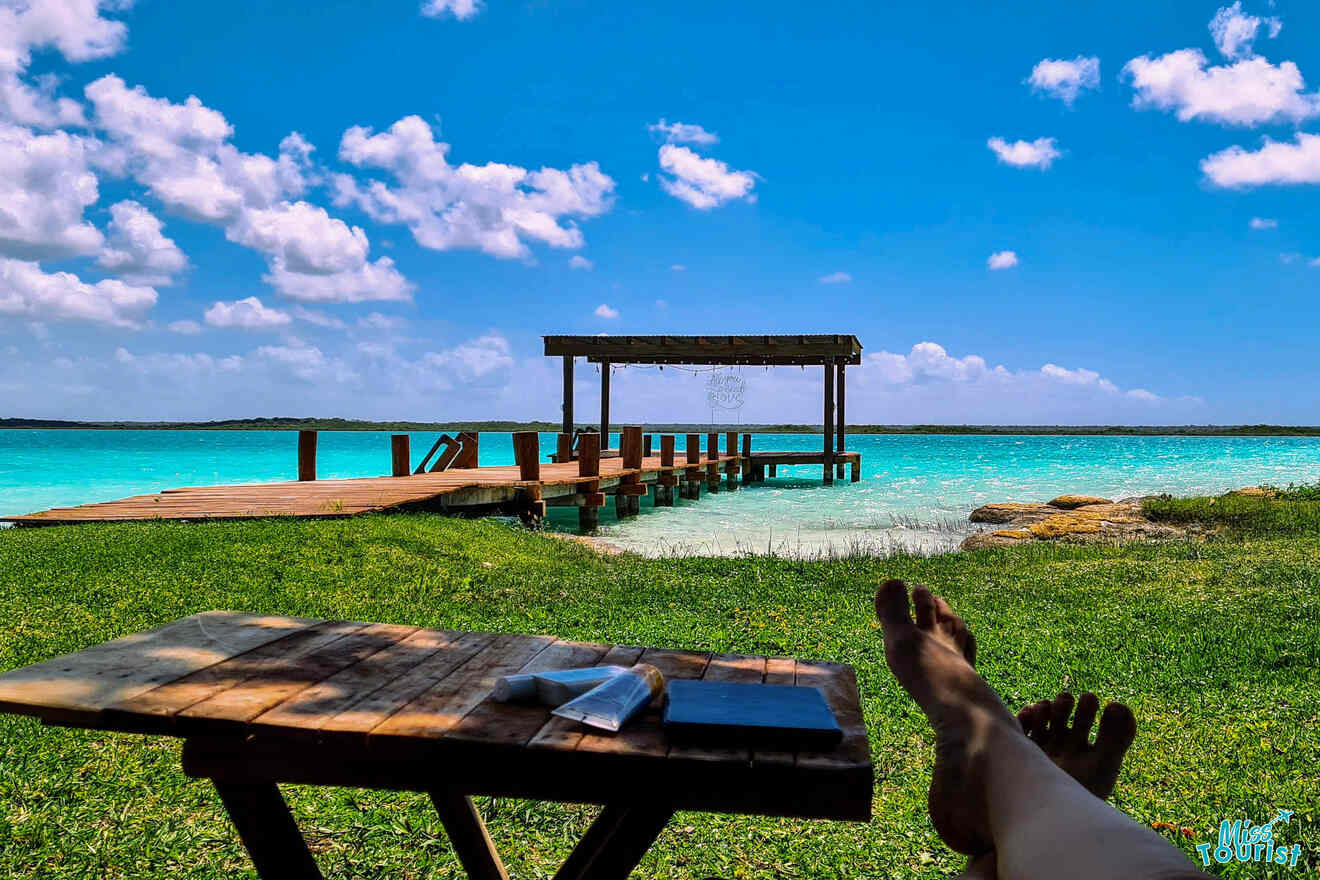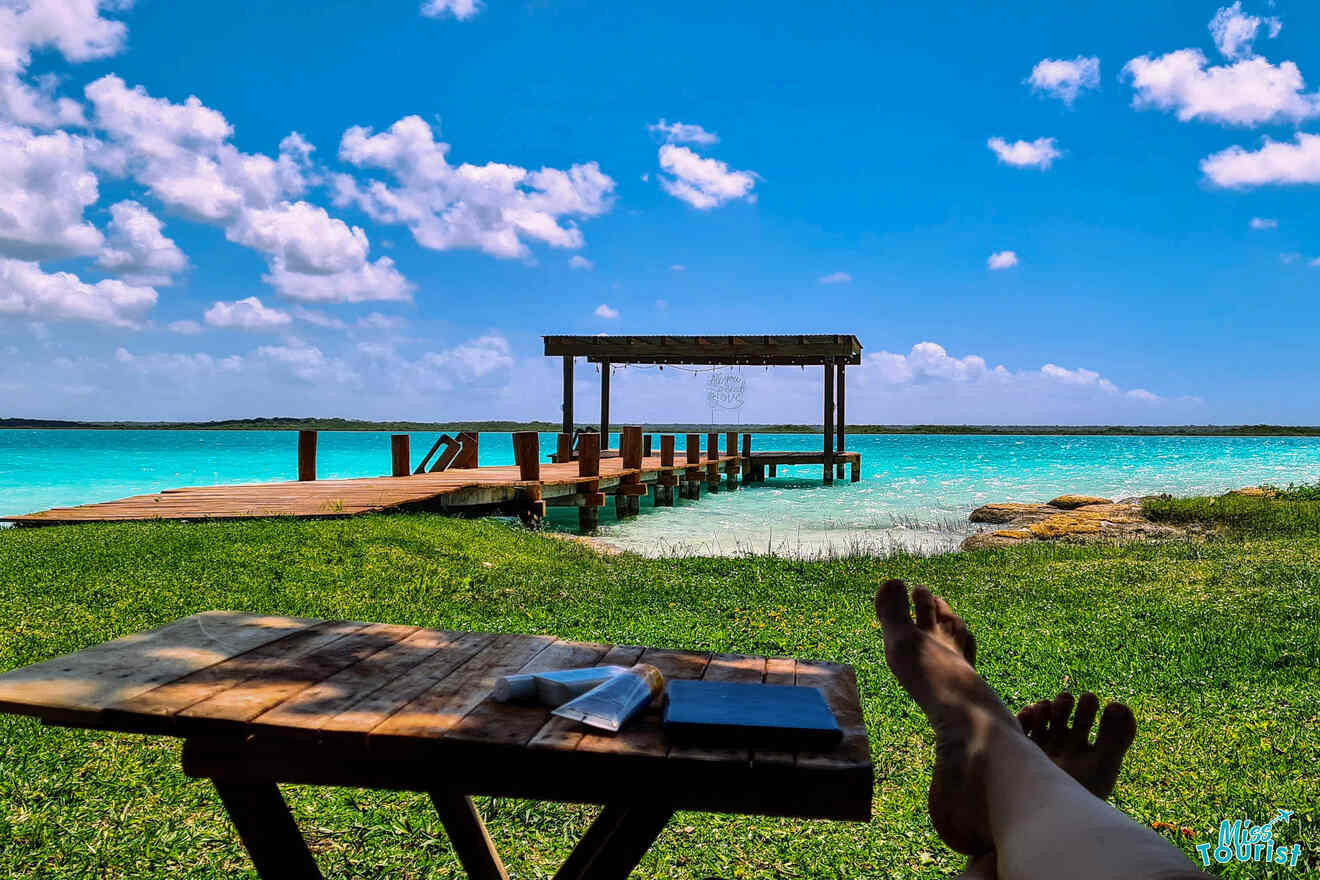 If you want to spend a day in complete relaxation in Bacalar, there's no better place than Beach Club Blu, an amazing oasis of peace and quietness, right on the waters of the Laguna Bacalar!
They have lounge chairs overlooking the Bacalar Laguna, a beautiful pool, a fully stocked bar, and a restaurant with a very good menu if you want to eat. And it's not crowded at all, which makes it the perfect place to disconnect from the world!
I absolutely LOVED that place and spent the whole day just chilling and enjoying the picture perfect view!
The entrance fee is 400 pesos but you can use 250 as credit in the bar or restaurant.
PRO TIP: Beach Club Blu opens at 11 am and if you want to take the lounge chairs with the best views, make sure you go there in the morning!
NOTE: They host many wedding parties, so I suggest you call beforehand to make sure they don't have one that day!
5. Visit Fort San Felipe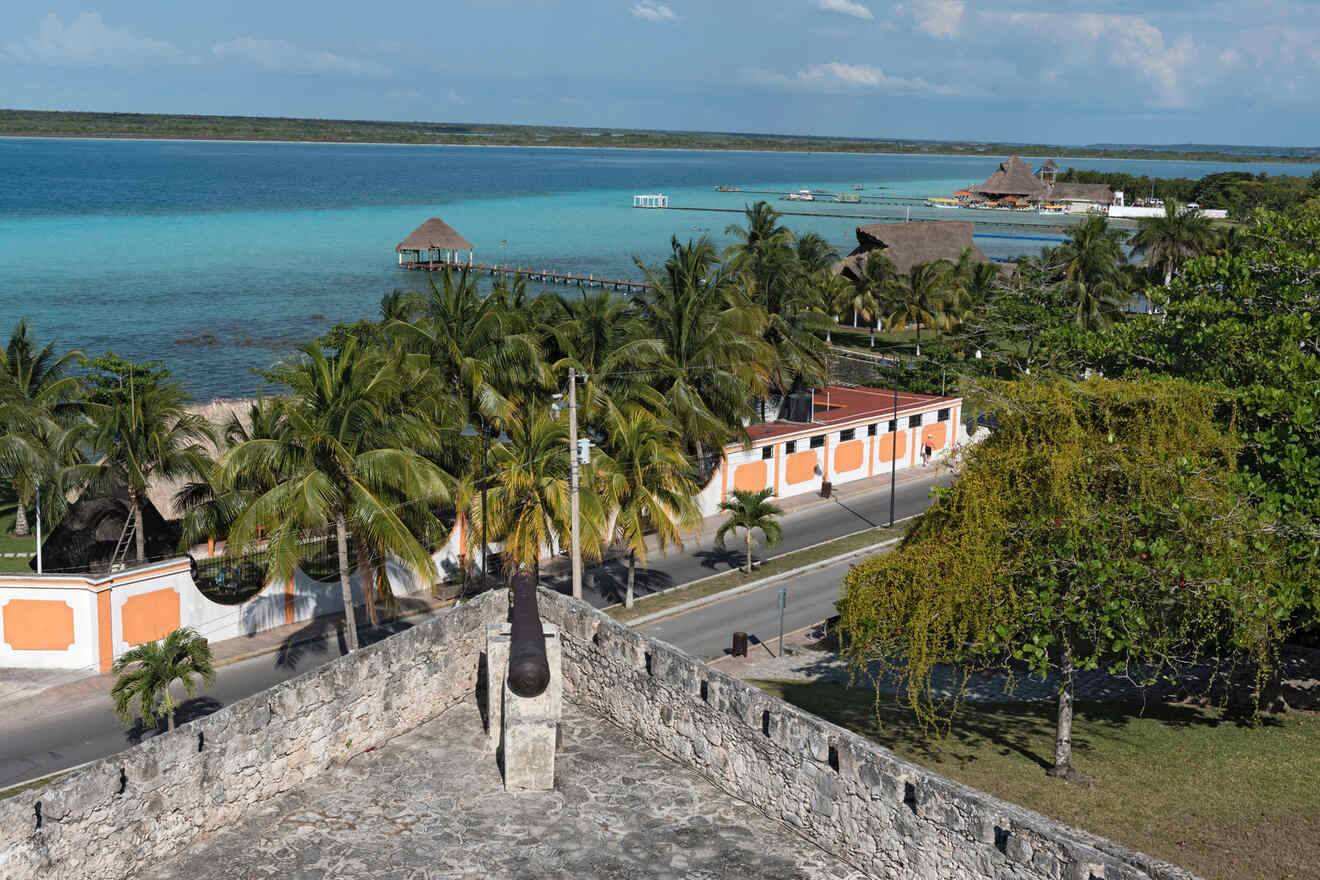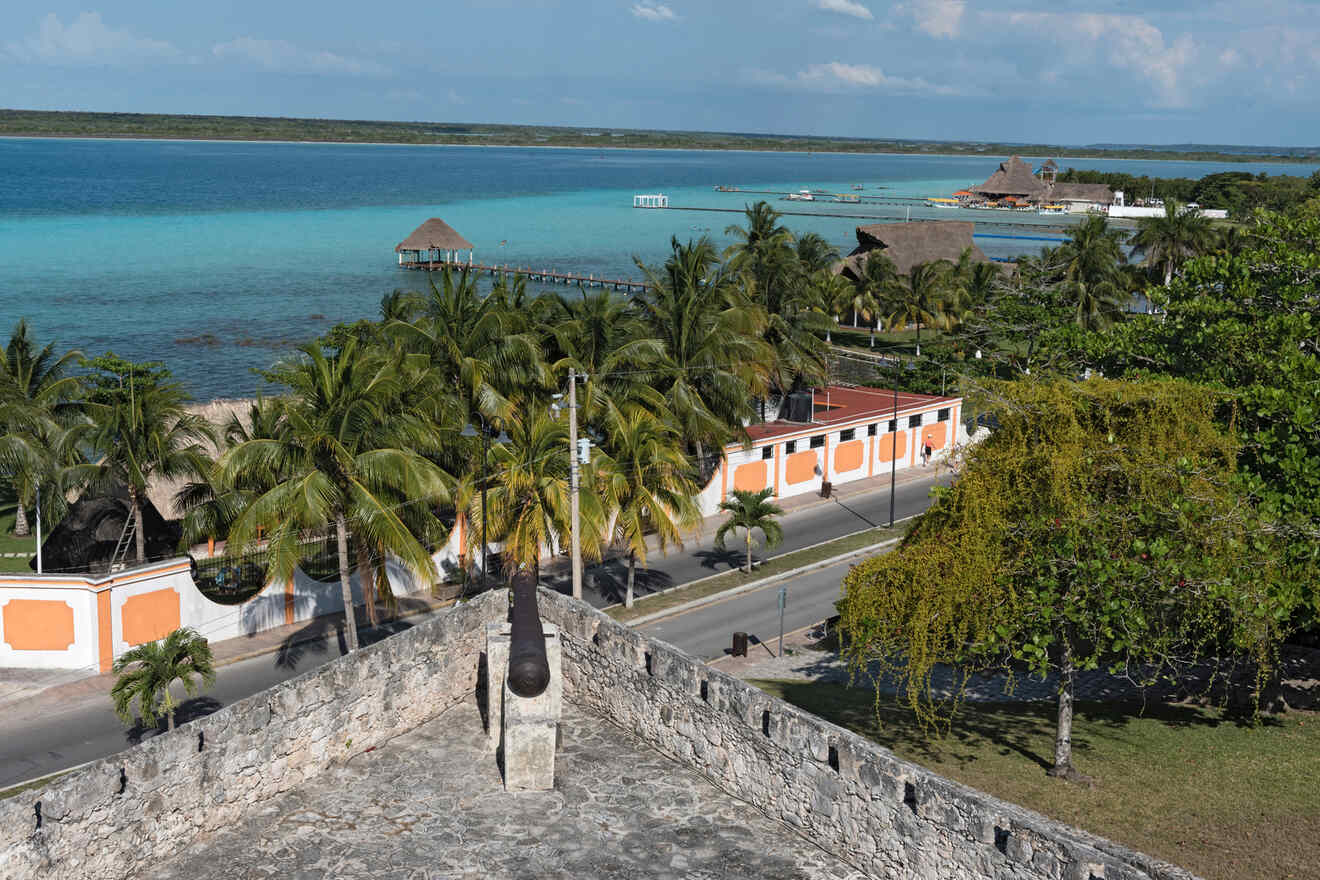 In the natural paradise of Bacalar, there is also a historical landmark to visit: the 18th Century Fort San Felipe (Fuerte de San Felipe in Spanish). This is definitely a must on your list of things to do in Bacalar!
Located in the heart of Bacalar town, this impressive stone fort was built during the Spanish era to defend the town and its people from pirates.
Today, the fort offers the best panoramic views of the lagoon and of Canal de Los Piratas channel, where you can even spot the shipwreck (we'll see it more in detail in section 8)!
Fort San Felipe, surrounded by a deep moat, also hosts a museum that you can visit by paying an entry fee to learn about the local pirate history, otherwise, you can just gaze at its architecture from the street.
The museum is open from 9 am to 5 pm and a visit takes around 1 hour!
PRICE: $2
6. Take a siesta on the water hammocks of Laguna de Bacalar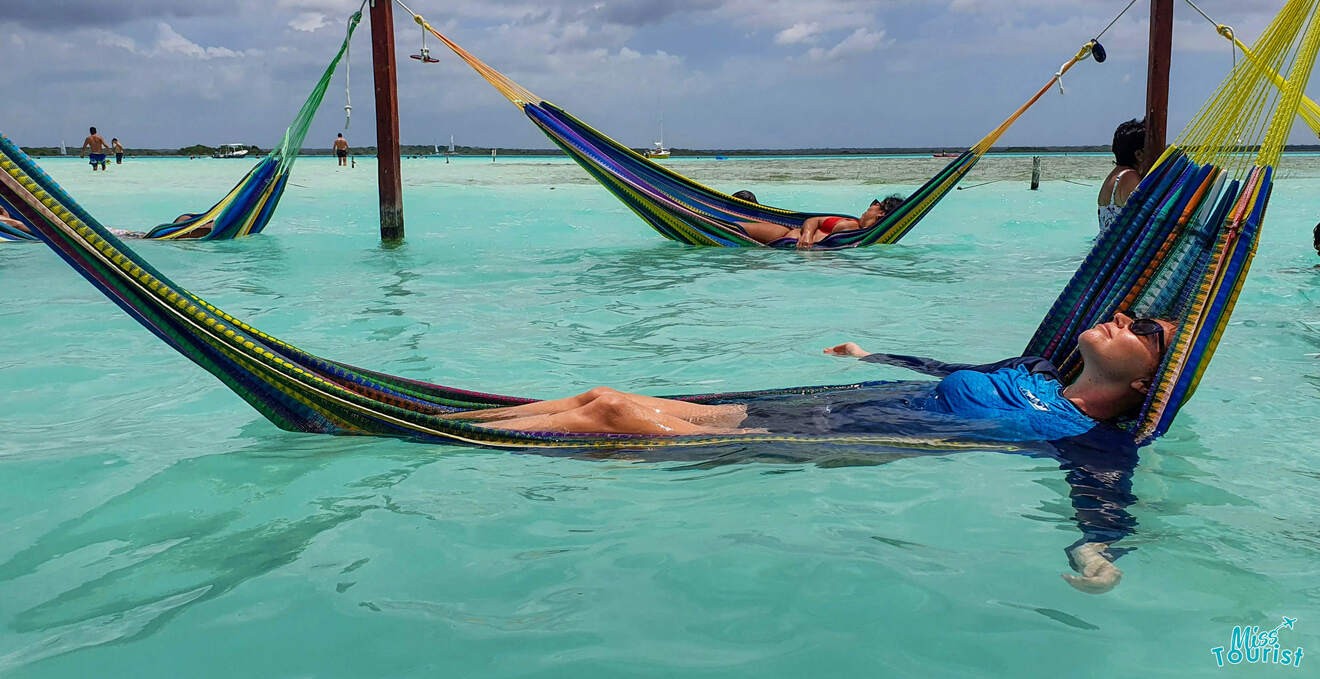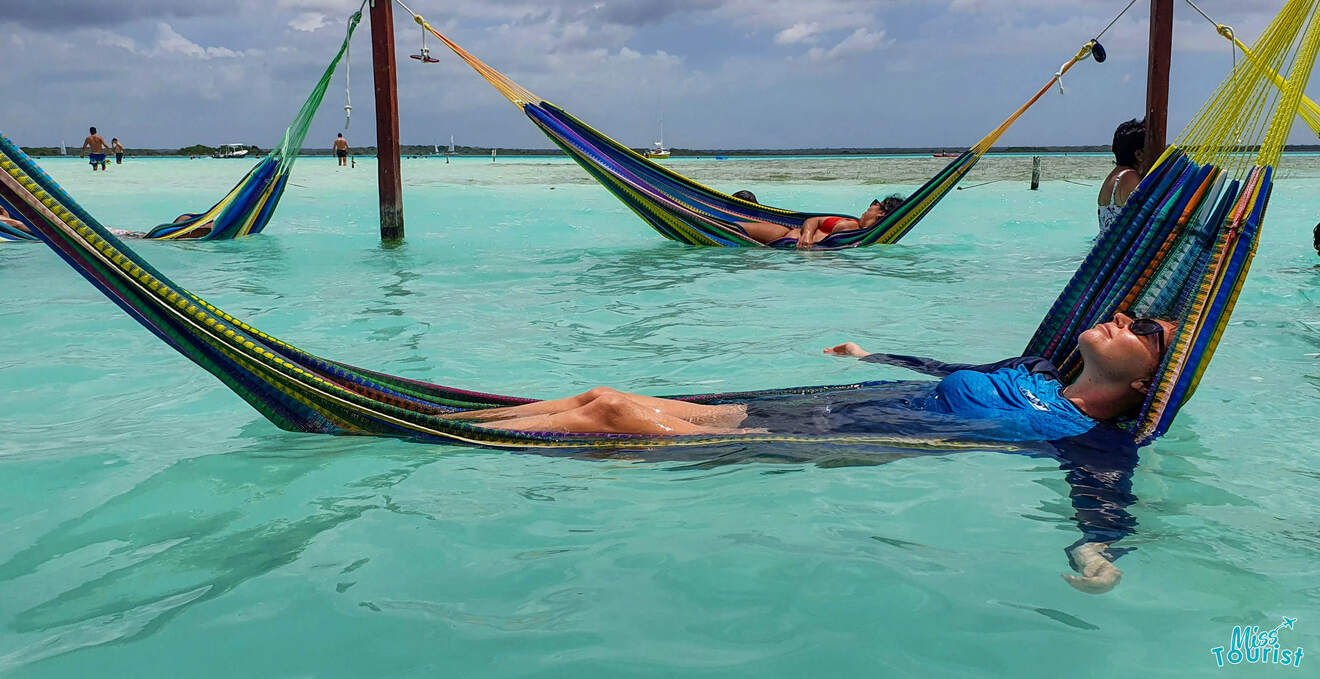 All around the Laguna Bacalar, you will find many docks with thatched palm huts and hammocks directly in the water, where you can relax, take a nap and sunbathe at the same time.
They are usually offered by hotels, beachfront restaurants, or beach clubs like the Beach Club Blue (that we saw in section 4), so it's usually easy to find a spot there. Since people can do other things where the hammocks are located, they won't spend the whole day in the hammocks so you don't have to worry about getting there early.
And all of this with the most incredible water views… how many shades of blue can you count?
Sometimes you also find swings in the water, like the ones at the famous restaurant Swing at Los Aluxes, where you can have a delicious waterfront meal (try the tacos!), relax, and take a dip in the Laguna Bacalar… a great place to go with the family.
Another great place if you're looking for swings, hammocks, and stromatolite formations is the cenote Cocalitos, where you can enter for only 35 pesos ($1.5)!
7. Eat delicious food at La Playita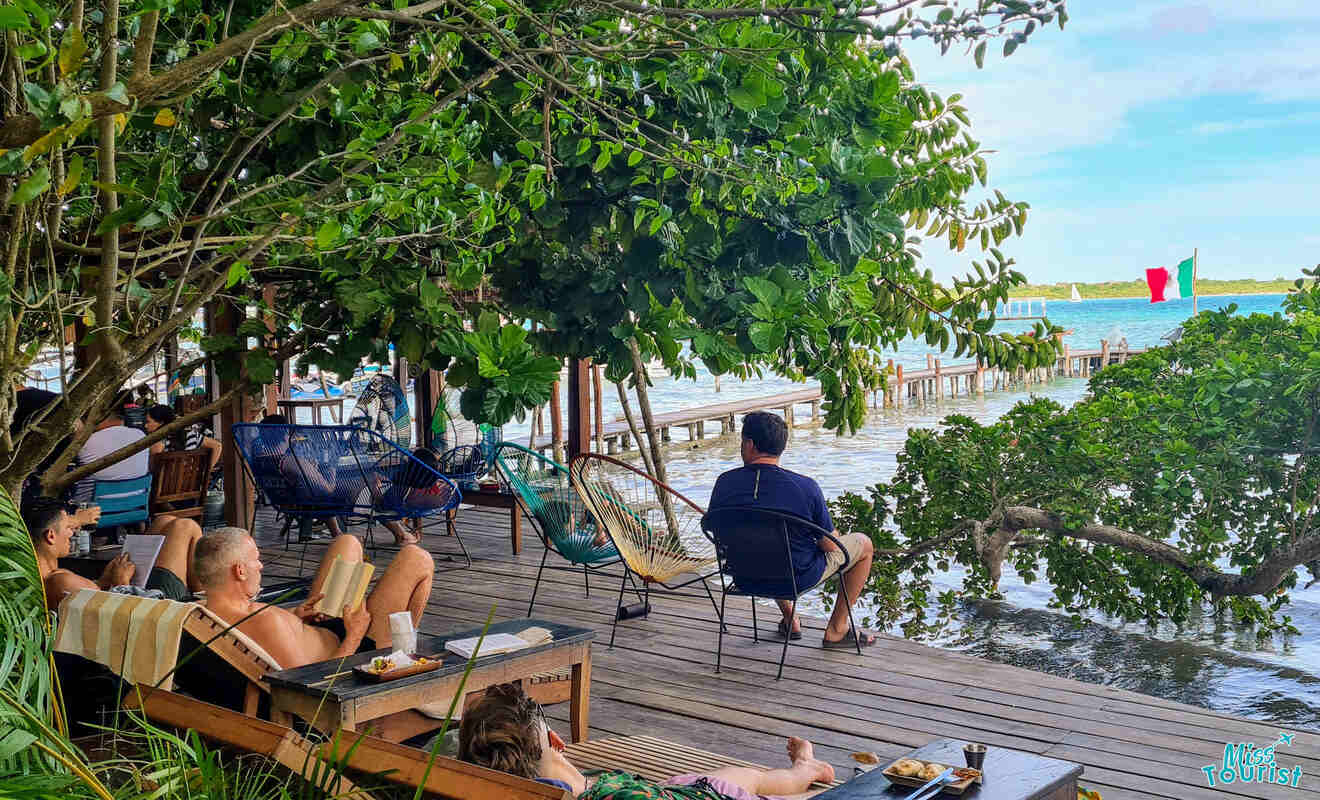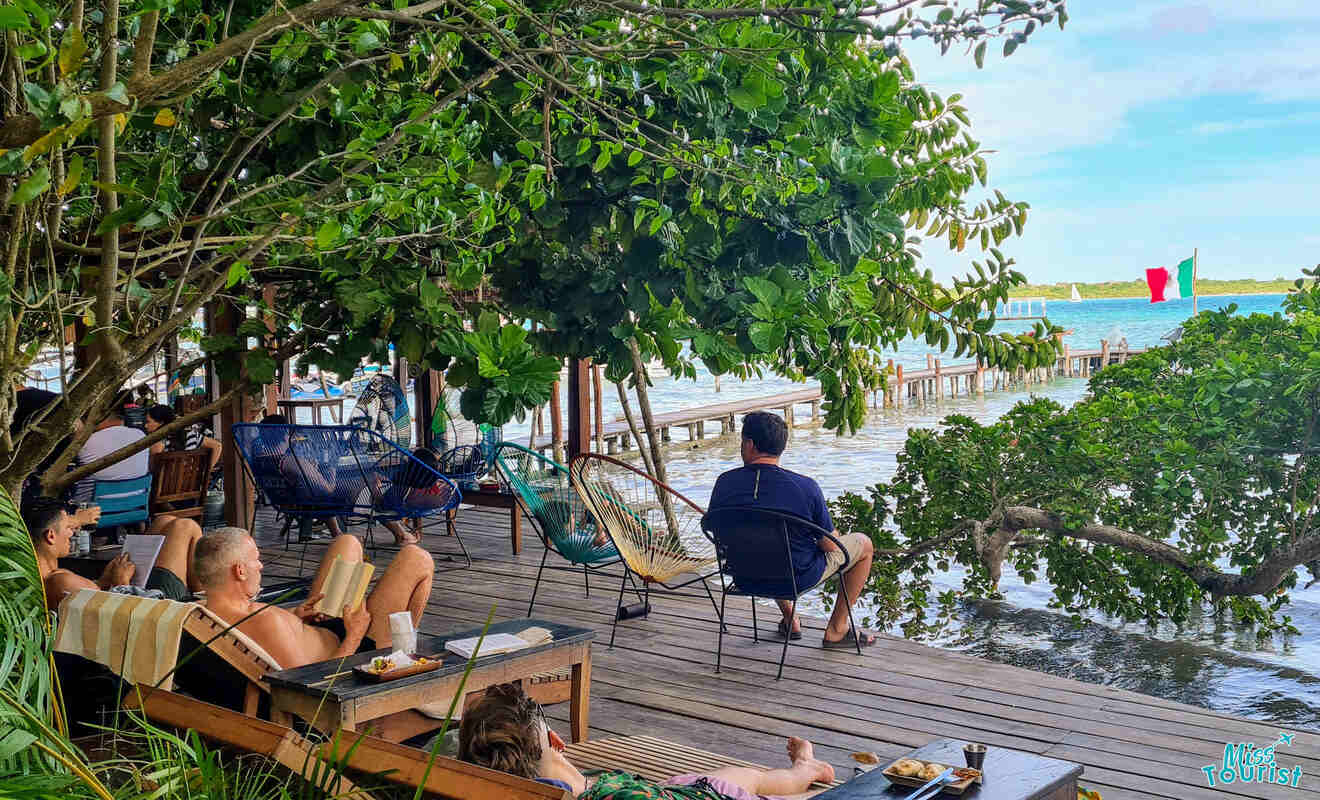 You will agree with me that one of the best things to do in Bacalar (and on a holiday in general) is… eating! The best place to have lunch or dinner, or at least my favorite one, is La Playita, located right on the shores of the Laguna Bacalar.
Here you will have the most delicious Mexican dishes and refreshing cocktails on a laid-back, beautiful terrace with jungle plants. The menu offers seafood, vegan, and meat options. Get ready to try the best empanadas, ceviche, fish tacos, guacamole, and much more!
But apart from eating, you can actually hang out here all day (the restaurant is open from 12 to 11 pm). Since it's on the lagoon, you'll find kayak and paddle board rentals, lounge chairs, and an outdoor shower in the area!
I've heard that the service is usually good, but ours was completely awful. Nevertheless, I still recommend this place hoping you will be more lucky as the vibe is pretty great there! The food was good too.
P.S.: If you're looking for more great places to eat, I have a great list for you in the practical information at the end of the post.
8. Kayak or stand-up paddleboard on the lagoon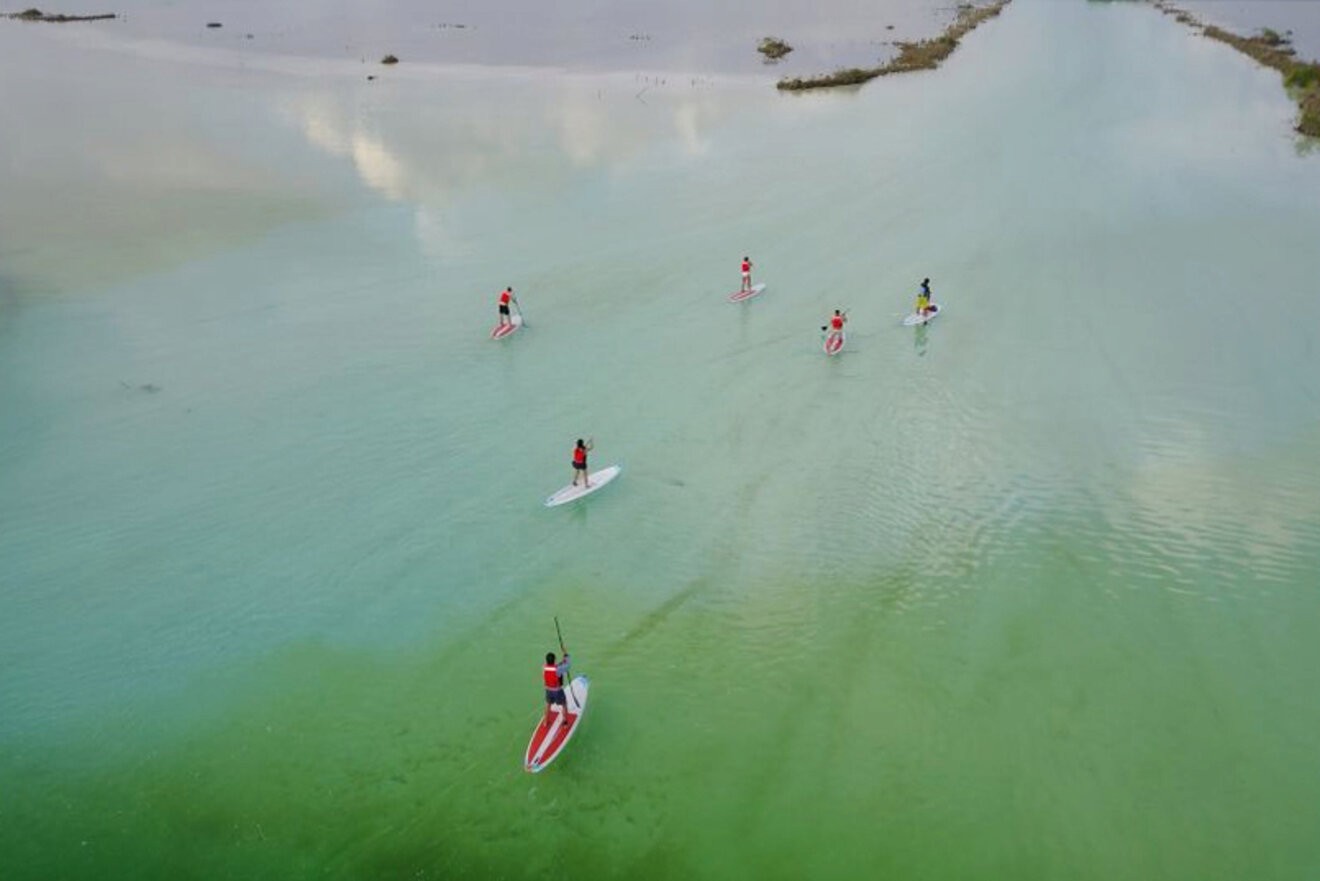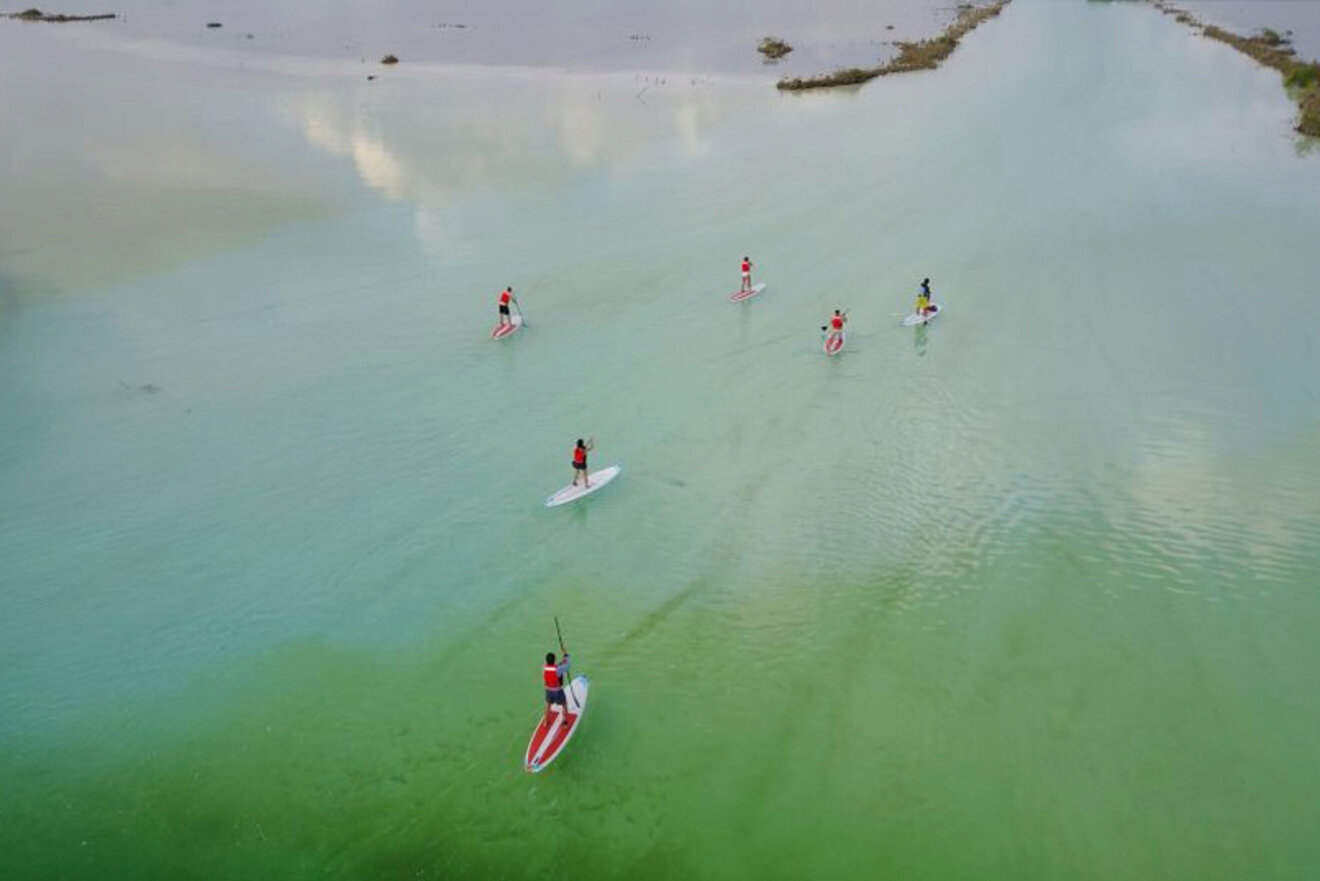 Kayaking or going stand-up paddling on the lagoon is definitely one of the most popular things to do in Bacalar, Mexico, and the perfect way to explore the lake waters by yourself!
There are many kayak rentals on the Laguna de Bacalar shores, and sometimes you can even arrange a kayak rental at your hotel.
PRO TIP: The best thing to do is to rent a kayak for 24 hours, so you have all the time to find the lagoon's magical spots!
Kayaks are suitable for 1 or 2 people, and they will come with paddles, life jackets, and instructions, but don't worry: the waters are super calm so you won't risk any danger.
This is the perfect activity for families, couples, or even friends who prefer to discover Bacalar Lake at their own pace.
My suggestion? Go kayaking or SUP at sunrise… the most unique experience!
9. Check out the shipwreck on the Canal de Los Piratas
On the opposite side of the lake from Bacalar town lies the Canal de Los Piratas (Pirates' Channel), which was once the entry point for pirates who would battle and hide around Lake Bacalar before attacking the town.
The main attraction at Canal de Los Piratas is the charming shipwreck, partially covered in trees. You can gaze at it from the water or climb onto the deck and wander around… to feel like a pirate for some time!
Another cool thing you can do in the area surrounding the shipwreck is given yourself a natural exfoliation treatment with the mineral-packed sulfur clay just beneath your feet… how cool is that?
There's no entrance fee to visit the shipwreck… so you can decide to go there either with one of the many boat tours that stop at this spot or by yourself with a kayak!
10. Explore the Mayan ruins of Kohunlich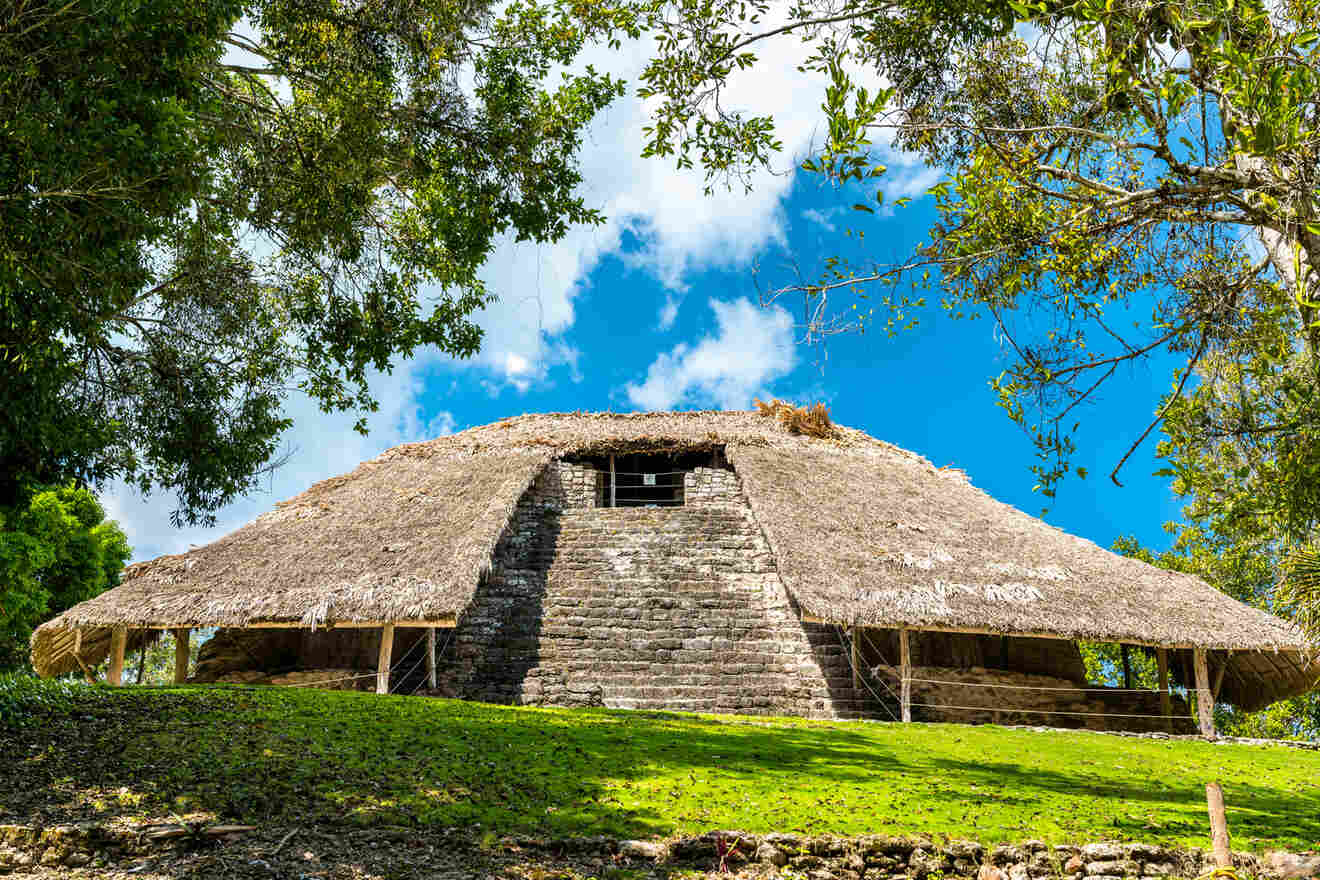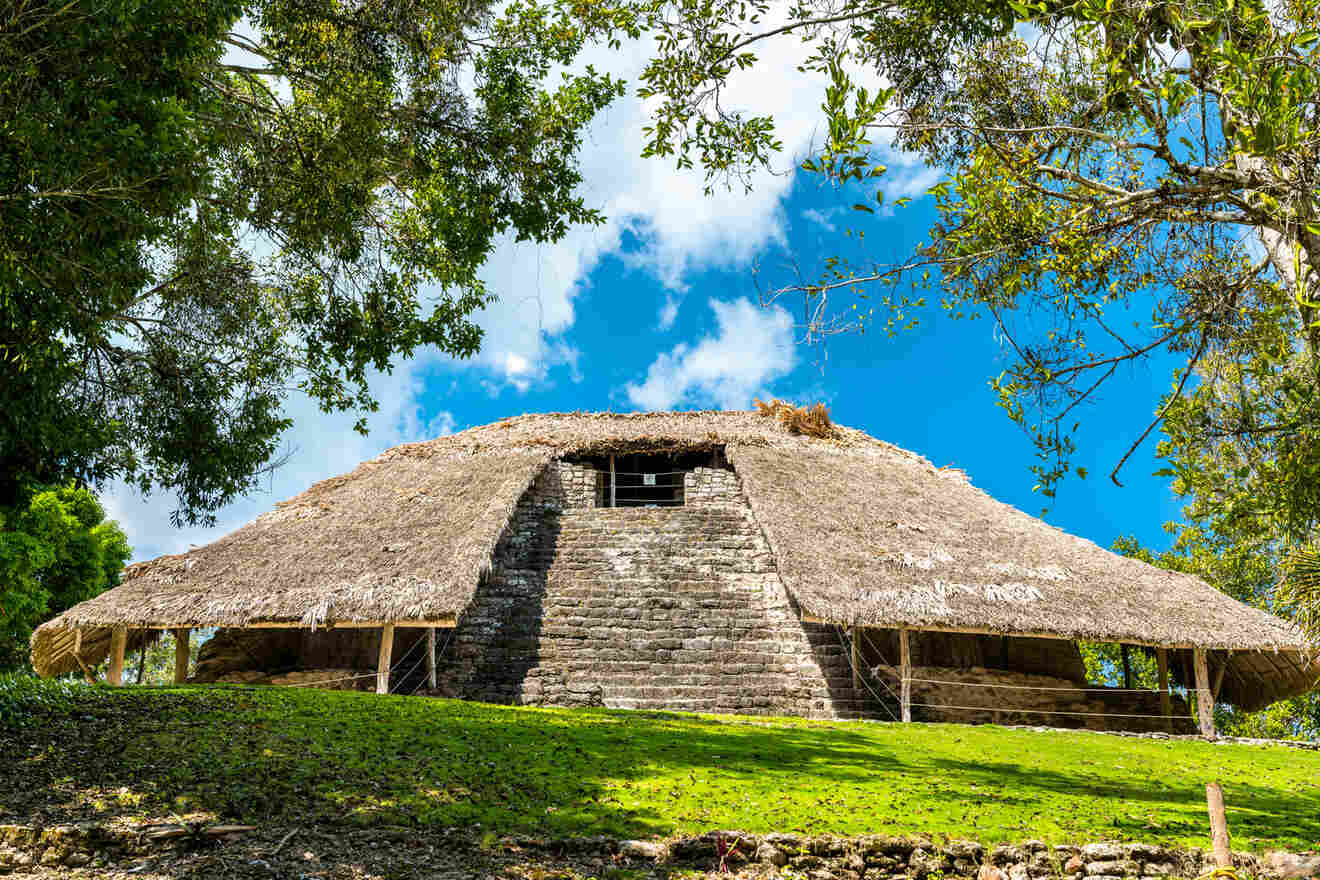 When it comes to ruins near Bacalar, Mexico, many people visit Chichen Itza, but they are quite far from the city (a 4-hour drive), so it could be time-consuming, especially if you're in Bacalar just for a few days.
About an hour away from Bacalar you'll find the ancient ruins of the Mayan City Kohunlich, which are just as interesting and beautiful! The ruins are completely nestled in the green jungle, which gives them a magical atmosphere with monkeys, snakes, birds, and insects.
Here you'll find charming temples covered by moss dating back to 200 BC, so you will travel back in time as soon as you see them!
Originally there were eight, but today you'll be able to visit only five, each eight-feet high, among which the most interesting building is the Temple of the Masks (a pyramid): the oldest of the Kohunlich's ruins.
This spot is perfect for a day (or half-day) trip: the ruins are open from 8 am to 5 pm (with the last access at 4.30 p.m) and they take 2-3 hours to visit them.
PRO TIP: Remember to bring water, mosquito repellent, sunblock, and cool clothes: it's super hot there and there is no food or drinks for sale.
If you don't have your own car, it will cost around $15 each way from Bacalar by colectivo (shared van), or you can explore the ruins with this tour which also includes the archaeological site of Dzibanché and a delicious 3-course meal at an exclusive location in the middle of the jungle, surrounded by birds and monkeys, for $170!
PRICE: 85 pesos ($4)
11. Stroll around Bacalar Town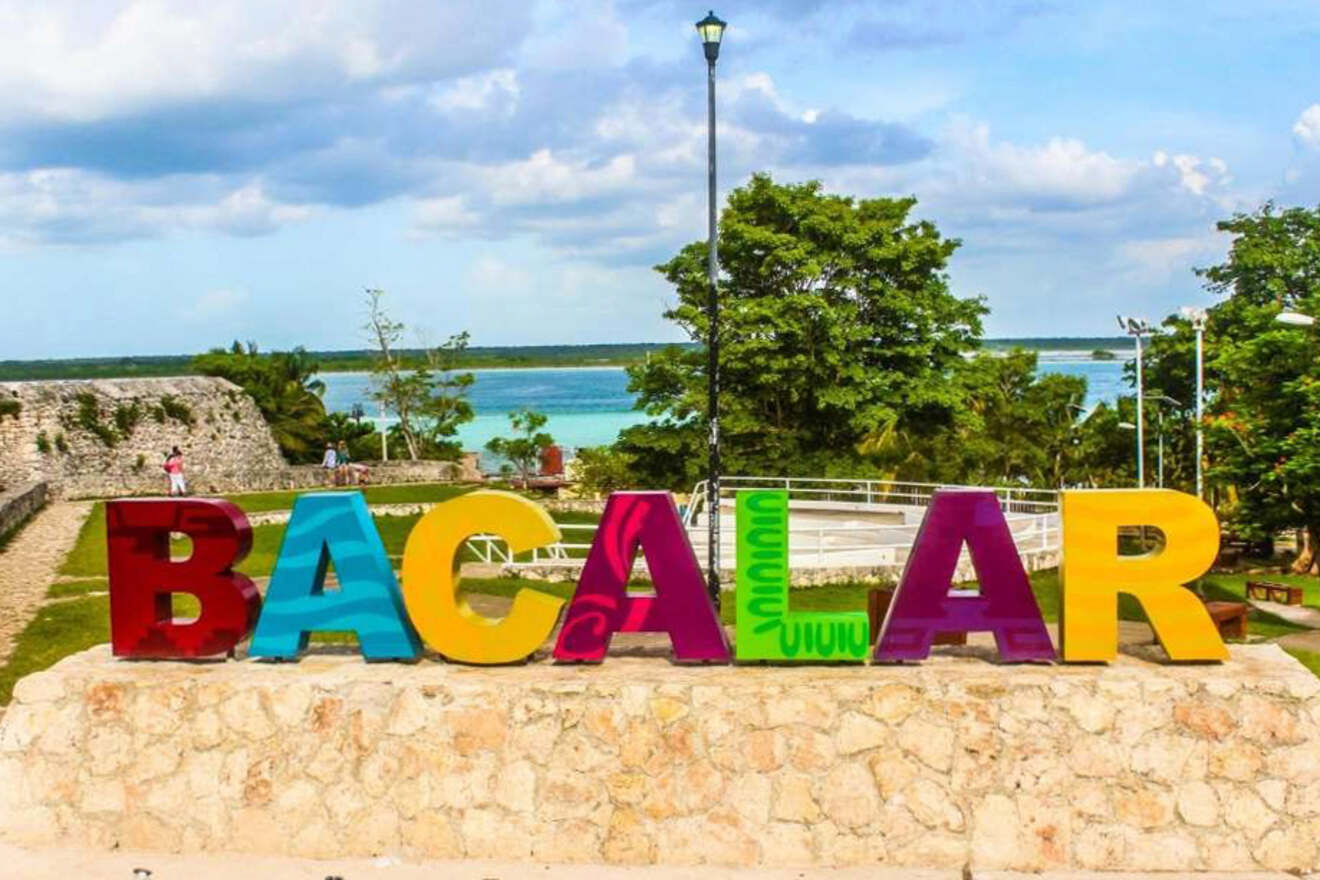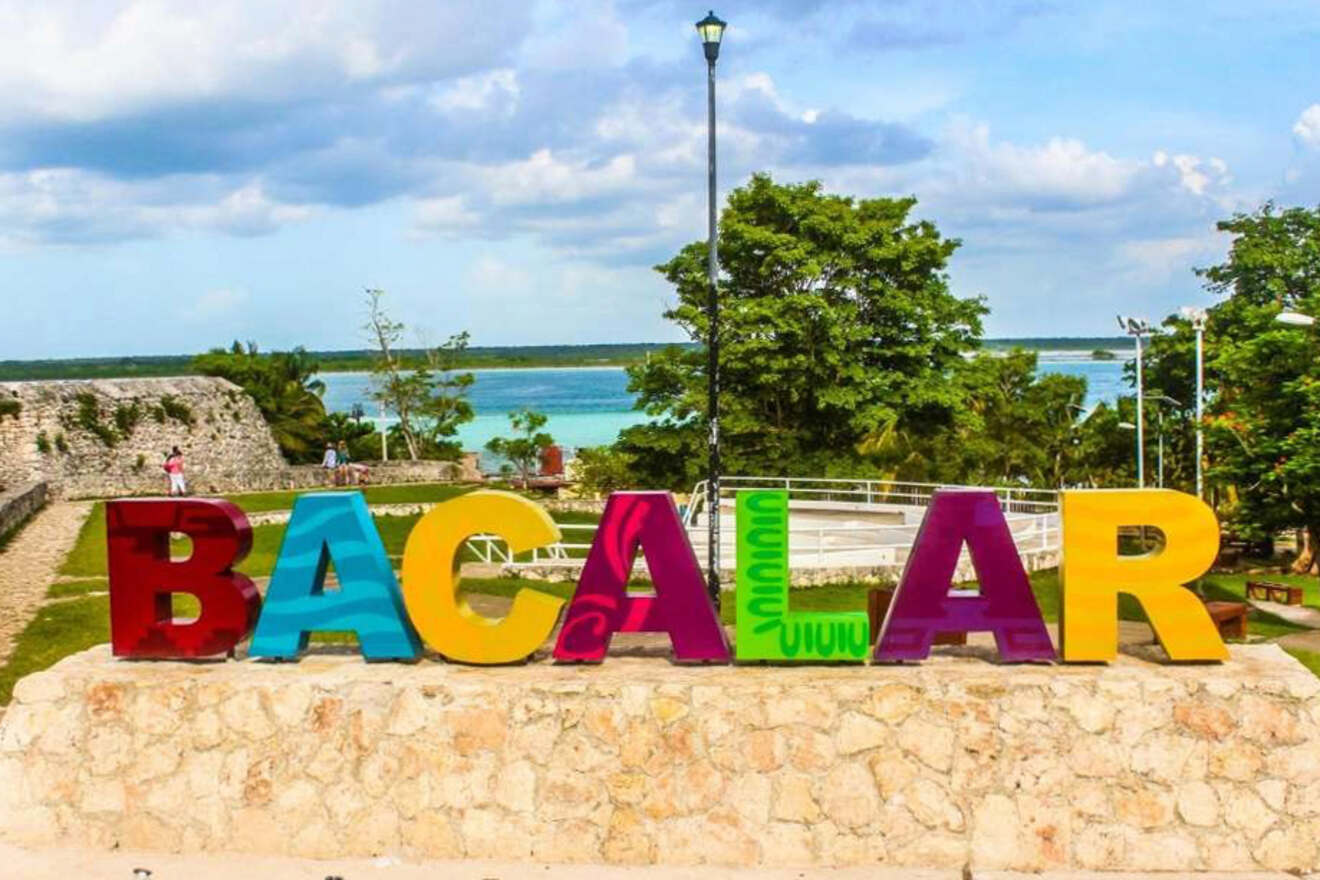 Due to its incredible beaches along the Laguna de Bacalar, Bacalar town often takes second place behind the lake in the things to do in Bacalar, but it has actually a lot to offer!
The whole town feels like an outdoor art gallery, with all the vibrant murals you can find at any corner, so it is perfect to just stroll around its charming streets, and try to find as much cool graffiti as possible.
And in the town square, you can take a picture with the Bacalar sign, a great memory of your trip to Bacalar!
Last but not least, near the Plaza Principal you will find one of many landmarks in the town: the Parroquia de San Joaquin, a church built in the 18th century, surrounded by majestic trees… a great place to reflect and enjoy some peace!
| | |
| --- | --- |
| 🤩 Range of activities: | Average |
| 👪 Family-friendly score: | High |
| 🏛️ Best museum: | Fort San Felipe |
| 🎢 Top paid attraction: | Cenote Azul |
| 🚶🏽‍♂️ Best free activity: | The Shipwreck |
| 🥟 Must try food: | Aguachile |
| 📅 How many days: | 2-3 |
| 📍 Best Area: | Laguna de Bacalar |
| ✈️ Cost of traveling: | Low |
Where to stay in Bacalar Mexico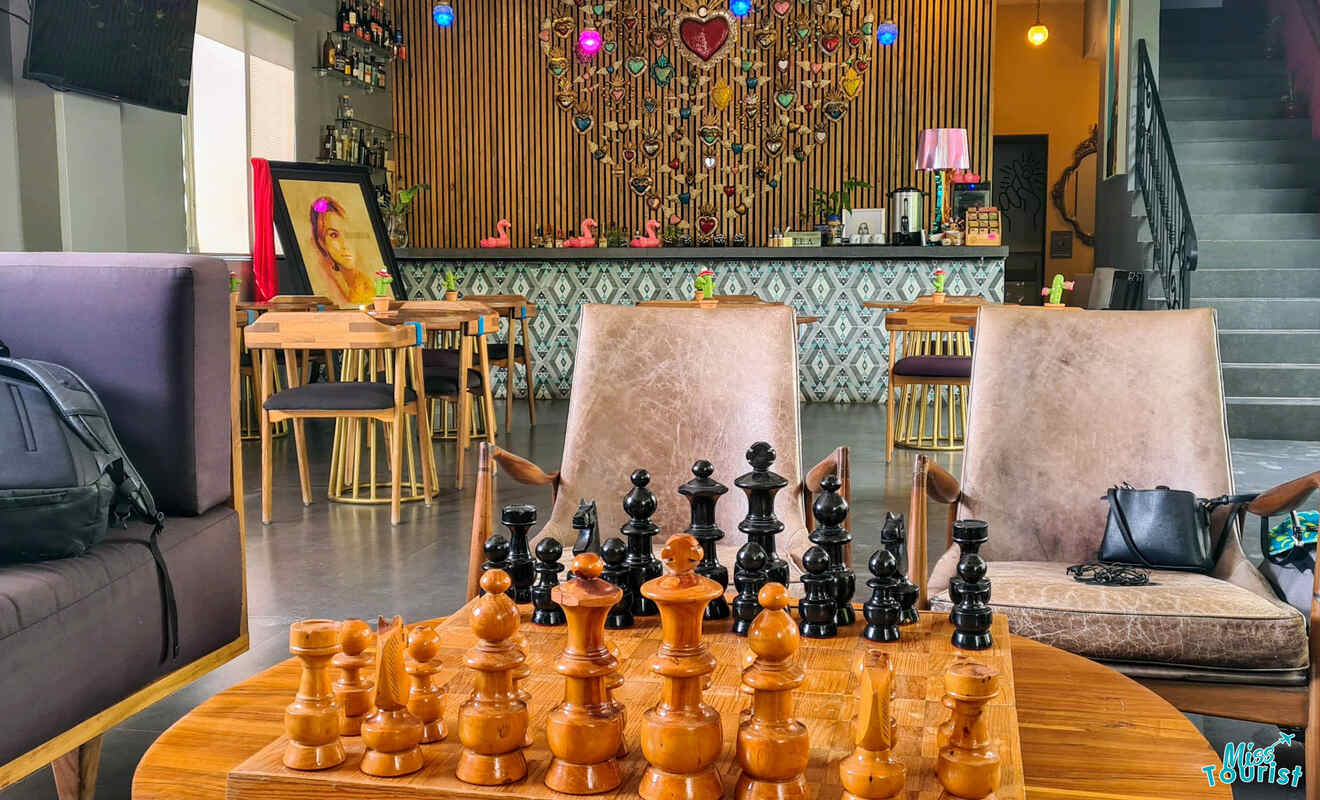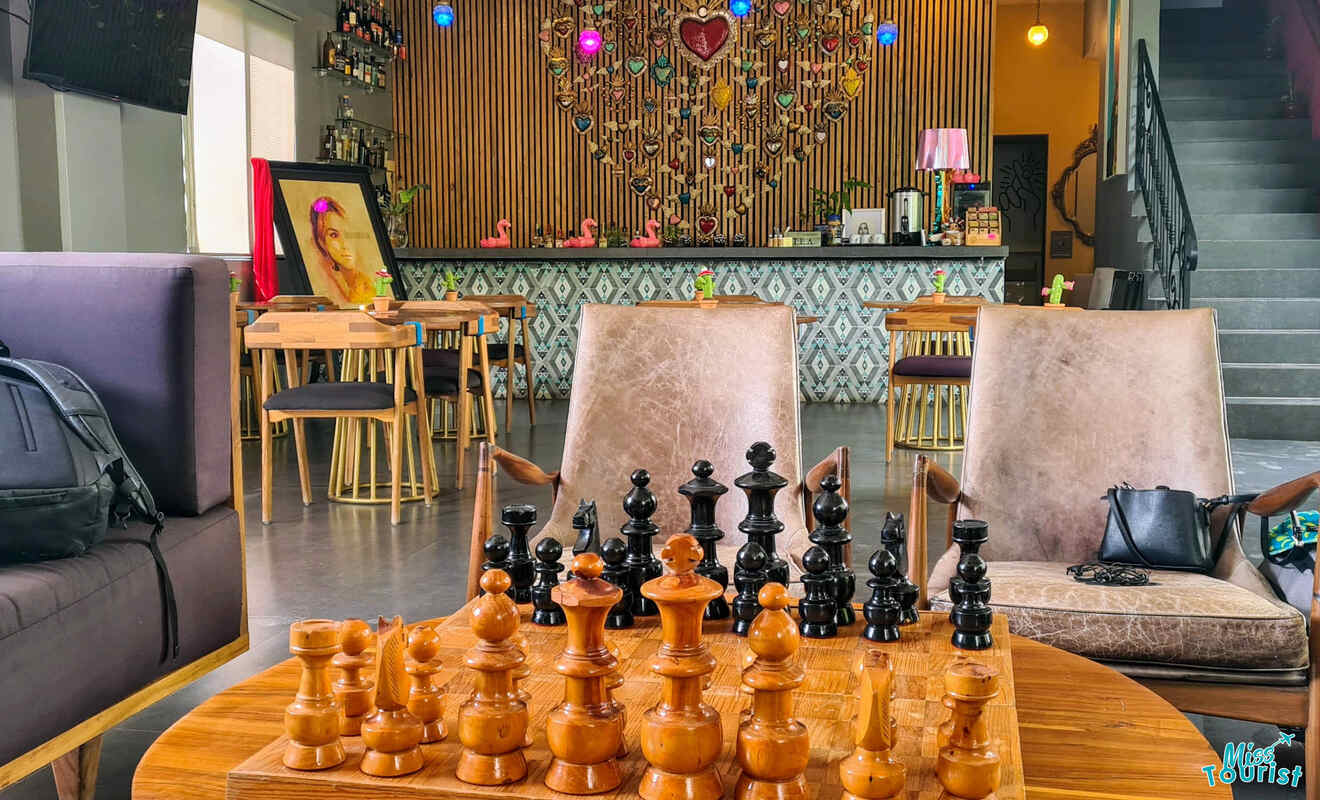 The best place to stay in Bacalar, as you might have understood by now, is Bacalar Laguna, which offers many beautiful hotels. Just take into consideration that you need to book way in advance if you want to find a spot as they get booked out super fast!
Otherwise, you can either stay in Bacalar town or a bit outside the area around the Cenote Cocalitos/Azul where there are a lot of nice hotels with direct views of the lagoon!
Luxury (US$180 and up)
MBH Maya Bacalar Hotel Boutique – This boutique hotel lies right on the Bacalar Lagoon and is completely nestled in nature! The hotel offers cool activities like cycling, kayaking, canoeing, and amazing private rooms, all offering a hot tub and a sauna!
Mid Range (US$100 – US$150)
Casa Chukum – I personally stayed in this hotel and they offered a great service. They even printed our pic and let us use the shower after a tour even though we had already checked out from our room! Check out the amazing reviews, they are totally deserved!
Budget (up to US$80)
The Yak Lake House – If you're on a tight budget, you will love this beachfront hostel offering a shared kitchen, a terrace, and a lot of activities to meet people… definitely the best place to stay in Bacalar for budget travelers!
Practical Information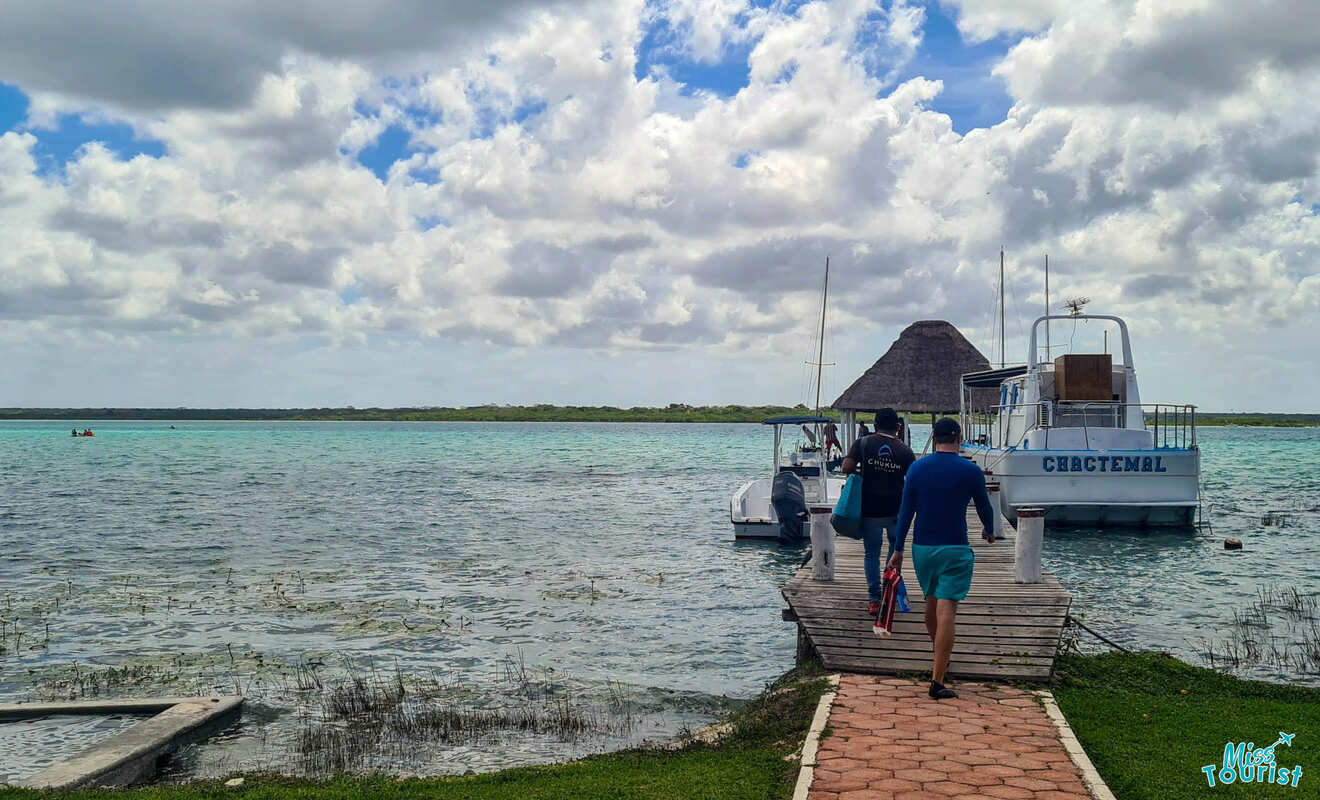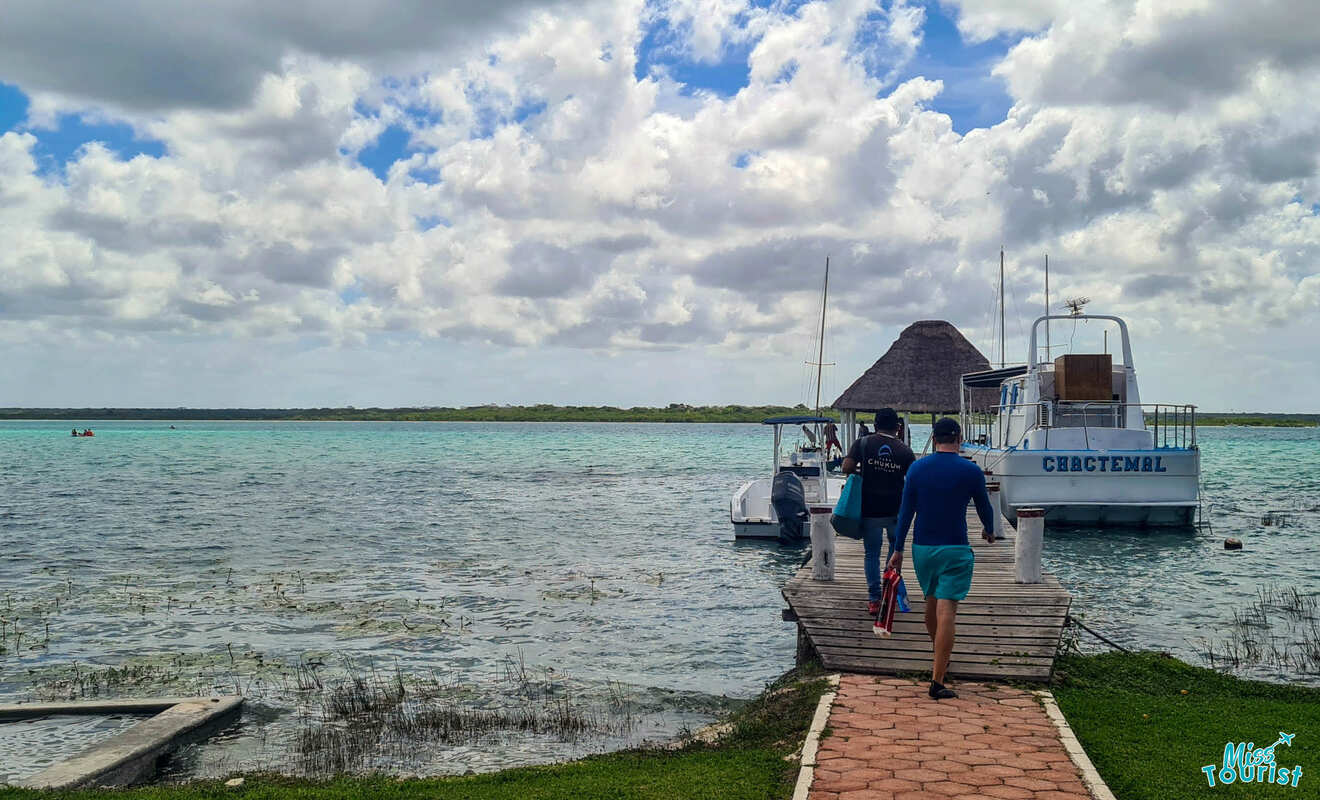 Now I will give you some more practical information that will help you save time and money during your holiday in Bacalar, like how to get to Bacalar and the best restaurants in town.
How to get to Bacalar, Mexico
First of all, you need to know that there are no flights to Bacalar so you'll have to fly to a nearby airport, and then get to Bacalar by rental car, shuttle, or bus. Let's check out the steps one by one:
Flight
If you're not already in Mexico, you will probably take a flight to get to Bacalar. The closest airport to Bacalar is Chetumal International airport. It's located around 45 minutes by car from Bacalar, but the downside is that it doesn't have many international flights.
So either you fly to Mexico City and then take a domestic flight to Chetumal, or you fly to Cancun Airport and then take an ADO bus to Bacalar, (the bus will take you around 5 hours).
Public Transport
One of the most popular and cheapest ways of traveling in Mexico is by ADO bus, which connects all the tourist destinations. I Took the Ado Bus from Playa del Carmen: it was comfy, there was a TV (in Spanish), and a toilet and the journey lasted ~4h.
Depending on where you land, or where you already are in Mexico, you can take the Ado Bus from Cancun, Playa del Carmen, Tulum, etc… basically, anywhere you are staying on the Riviera Maya!
PRO TIP: Try to book your ADO Bus online and in advance: there are often specials and it's cheaper to book there than at the bus station.
Car
The other way to get to Bacalar is by renting a car wherever you fly in; Cancun (4h), Playa del Carmen (3h), or Tulum (2h). Rental cars at Cancun airport will cost you around €24 a day, but anywhere in Mexico is quite affordable!
Where to eat in Bacalar, Mexico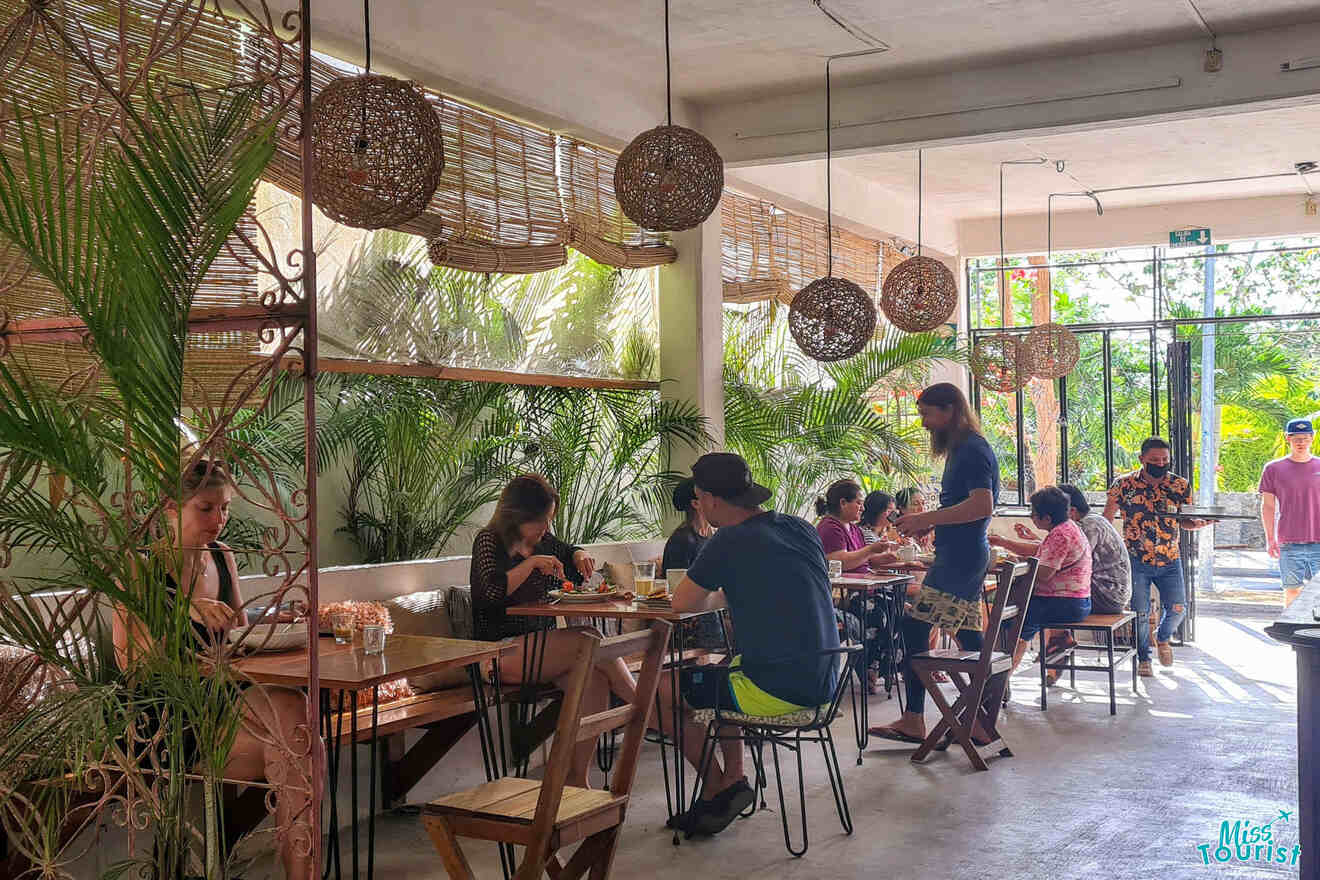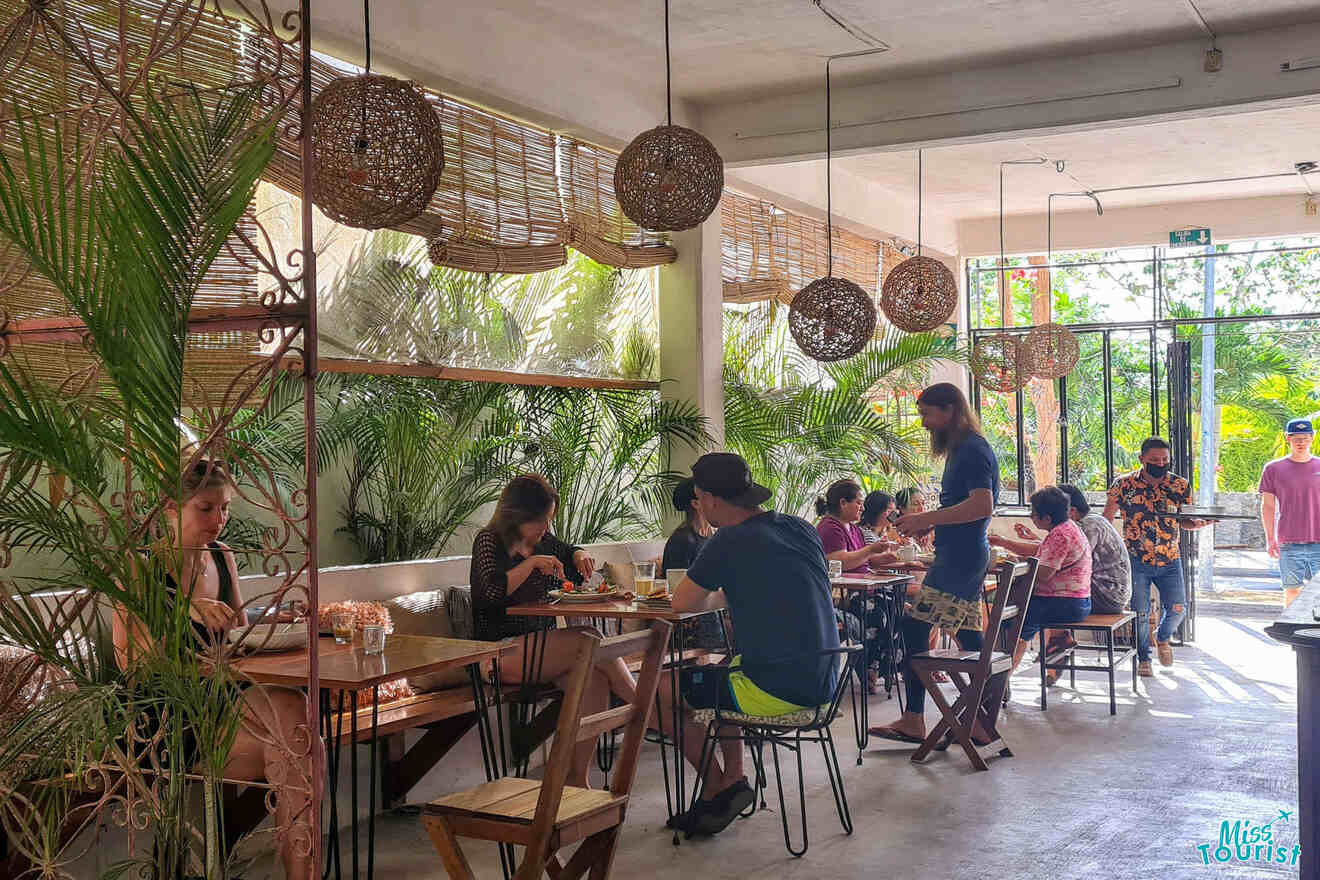 You will agree with me that the perfect combo with a relaxing beach holiday is enjoying some delicious food!
Good news: Bacalar has many great restaurants where you can enjoy fresh fish, Mexican fares, and sipping tropical cocktails… most of the time with a view of the Bacalar Laguna! I gathered here my favorite ones, check them out:
Frequently asked questions about Bacalar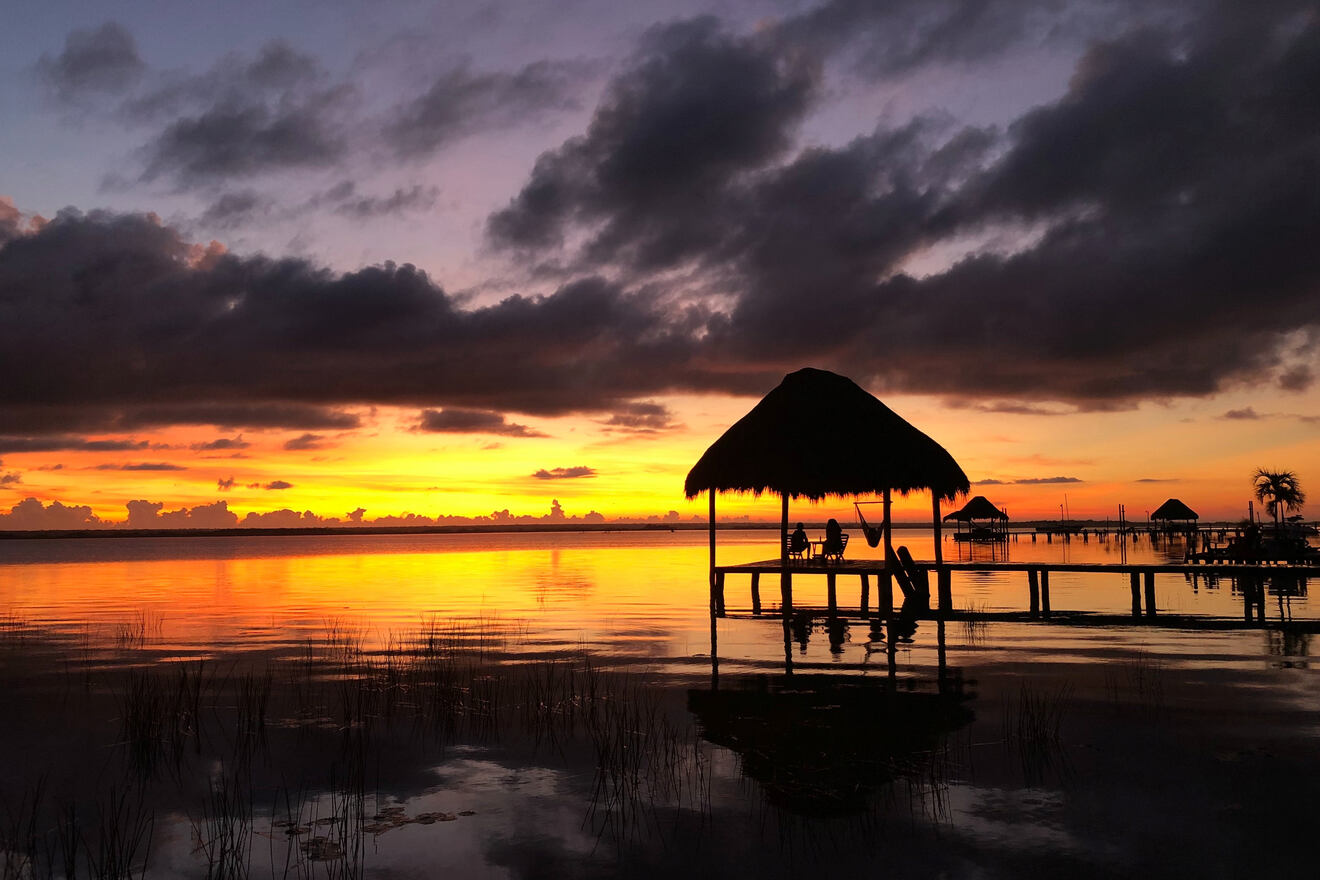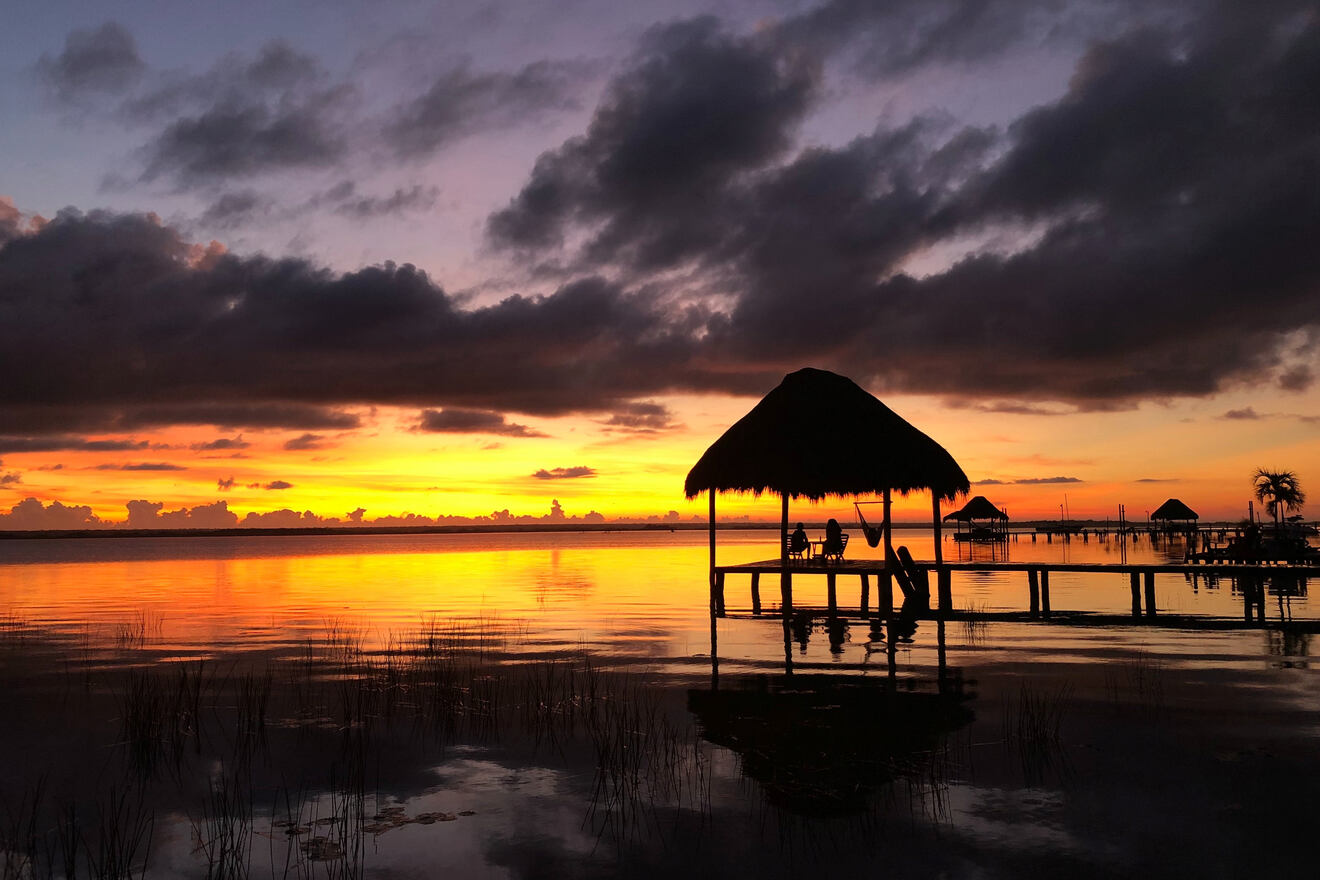 🤩 What are the best things to do in Bacalar, Mexico?
The best things to do in Bacalar, Mexico, include going on a boat trip to Laguna Bacalar Mexico with a visit to the bird island, or exploring the Mayan ruins of Kohunlich, one of the best day trips from Bacalar.
📅 How many days do you need in Bacalar, Mexico? 
If you are visiting Bacalar, Mexico, you should spend at least 2-3 days there, so you have all the time to relax, visit Lake Bacalar and explore all the cool natural attractions.
😎 Which is the best period to visit Bacalar, Mexico?
The best period to visit Bacalar, Mexico, is between December and March (the dry season) when the weather offers pleasant temperatures and is more stable than during the rainy season. 
👪 What are the best things to do in Bacalar, Mexico, for families?
The best things to do in Bacalar, Mexico, for families are swimming in the Lake Bacalar (Laguna de Bacalar) or going snorkeling in the Cenote Azul, one of the best Bacalar Cenotes.
📍Where is Bacalar located?
Bacalar lies in Southeast Mexico, less than one hour from the Belize/Mexico border, in Central America!
Conclusion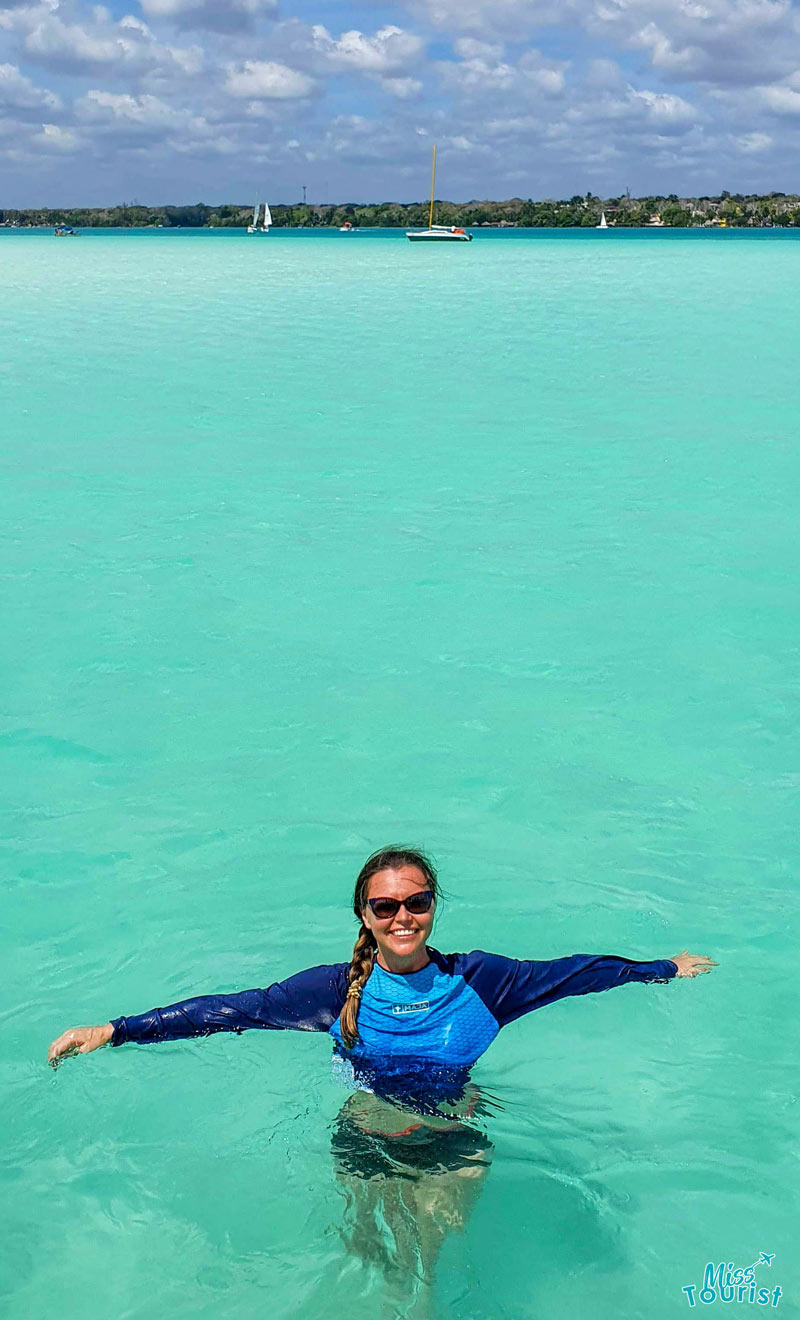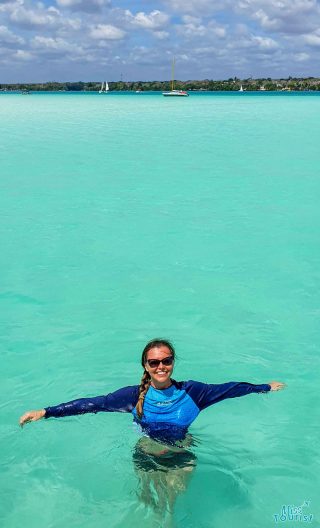 Here we are at the end of this extensive guide with the best things to do in Bacalar Yucatan, an amazing magic town in Mexico. I've also included some practical info about where to eat and where to stay in Bacalar to help you create your perfect Lake Bacalar itinerary.

This Mayan city is perfect to spend a relaxing time, explore the waters of the Bacalar Laguna, also known as the "Lake of Seven Colors", or visit its natural attractions like the cenotes!

I hope you enjoyed my Bacalar Mexico travel guide and will give you some inspiration on the best things to do in Bacalar for your holiday!

If you want to share your experience in Bacalar or you have any questions for me, please do that in the comments below and I will answer you as soon as I can!
Have an amazing trip!
Yulia
---
Pin it for later!
Pin it for later!