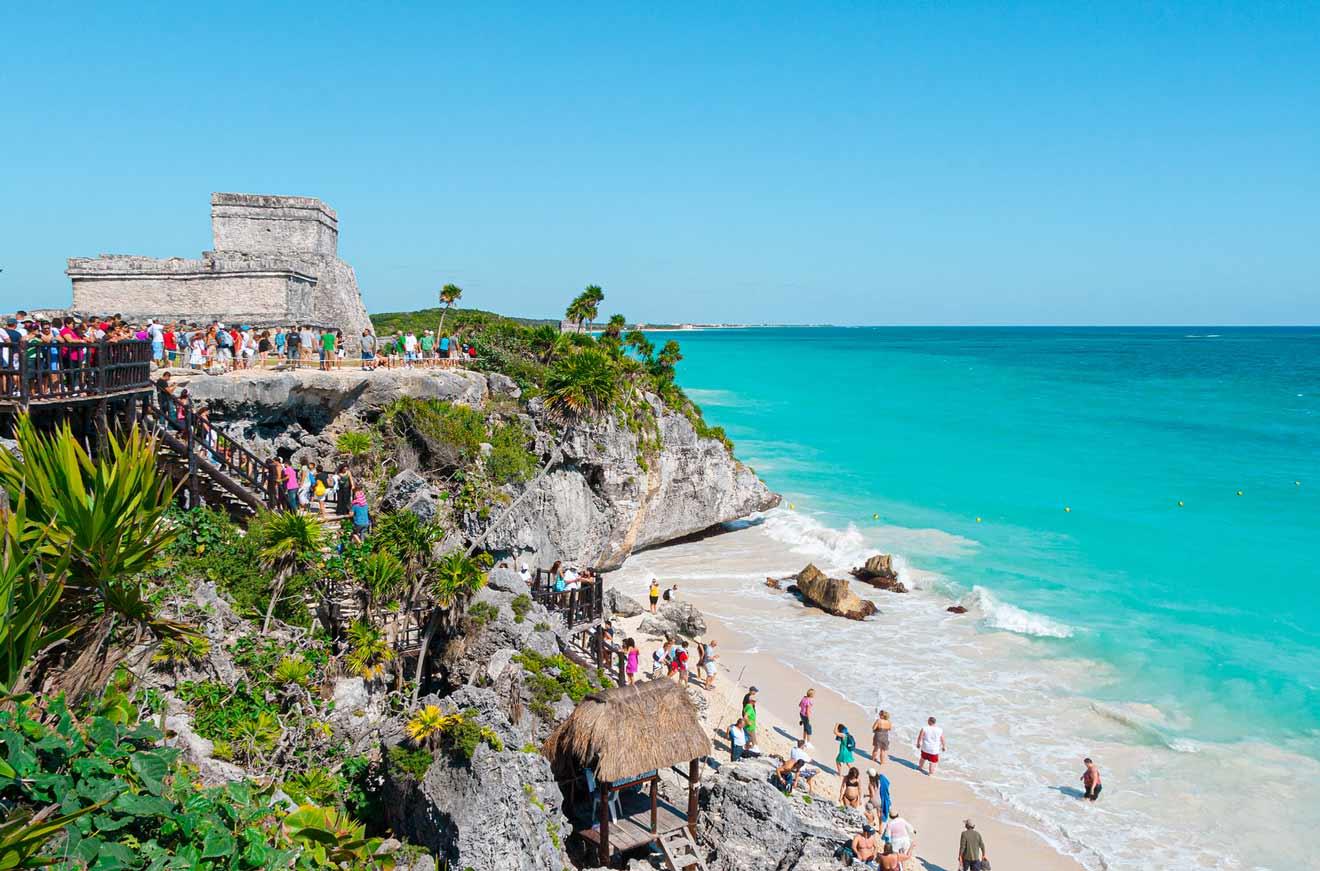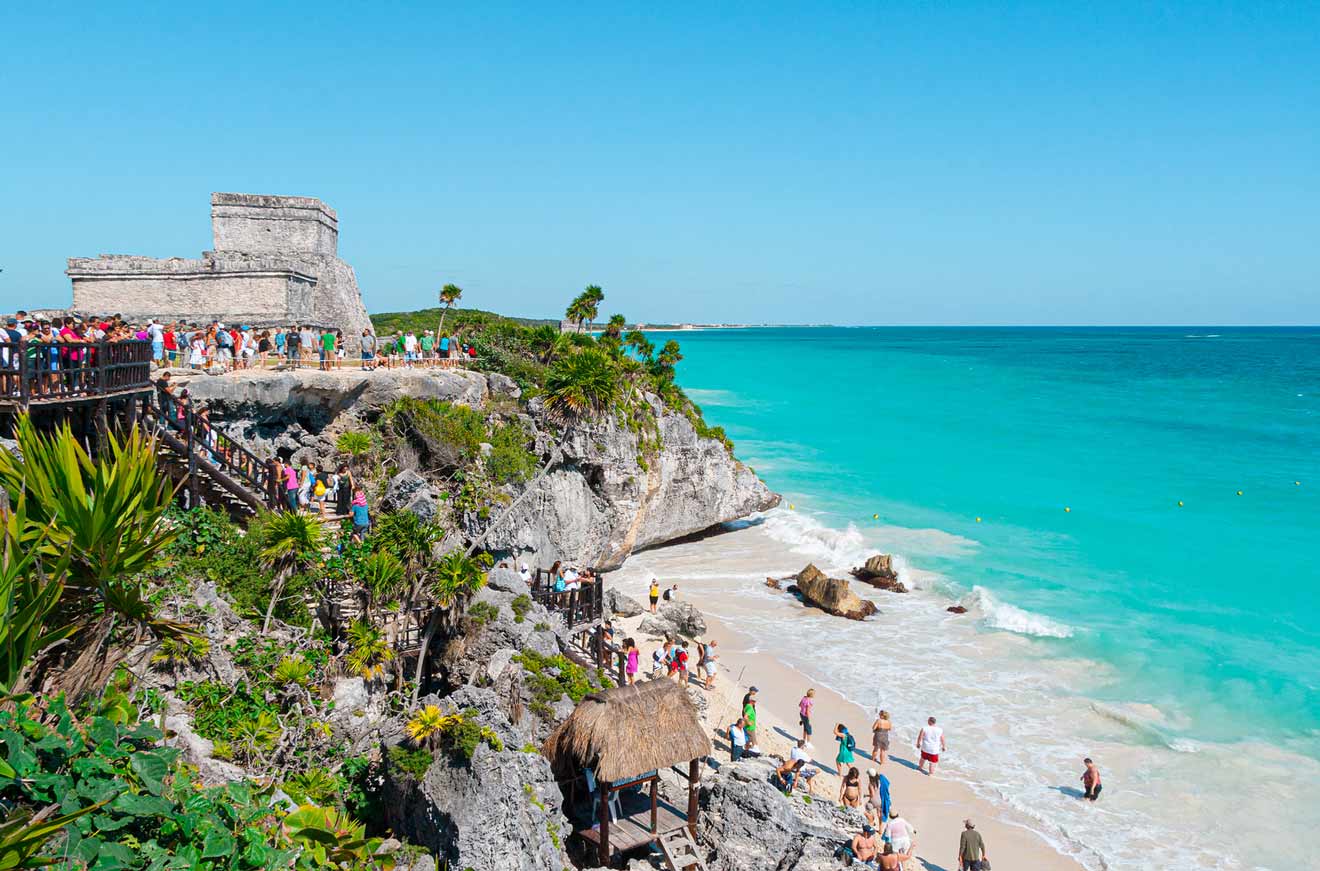 Are you looking for a cool, tropical destination for your next vacation? Search no more than Tulum in Quintana Roo, Mexico! This beautiful city is the perfect sandy beach destination, but also a great spot if you want to indulge in Mexican food, nightlife and explore the Mayan ruins, Sian Ka biosphere reserve, cenotes, and everything else in-between!
Now, if you decided to visit Tulum, here's the first problem you'll encounter – where to stay in Tulum for the best experience? This is a hard decision because the city is divided into two VERY different areas – Tulum Beach ("playa") and Tulum Town ("pueblo"). Your decision will be based on personal preferences and your itinerary in the city.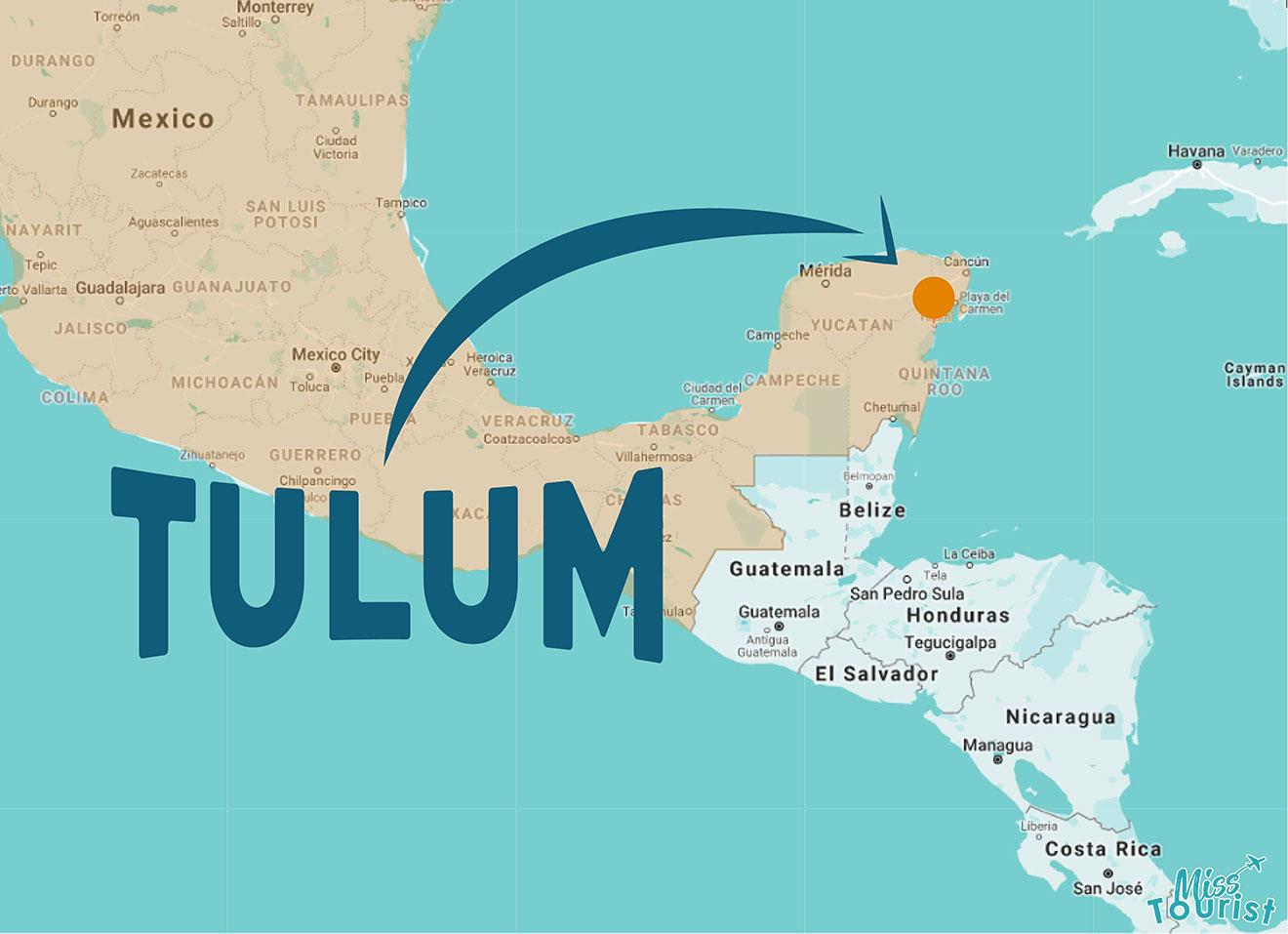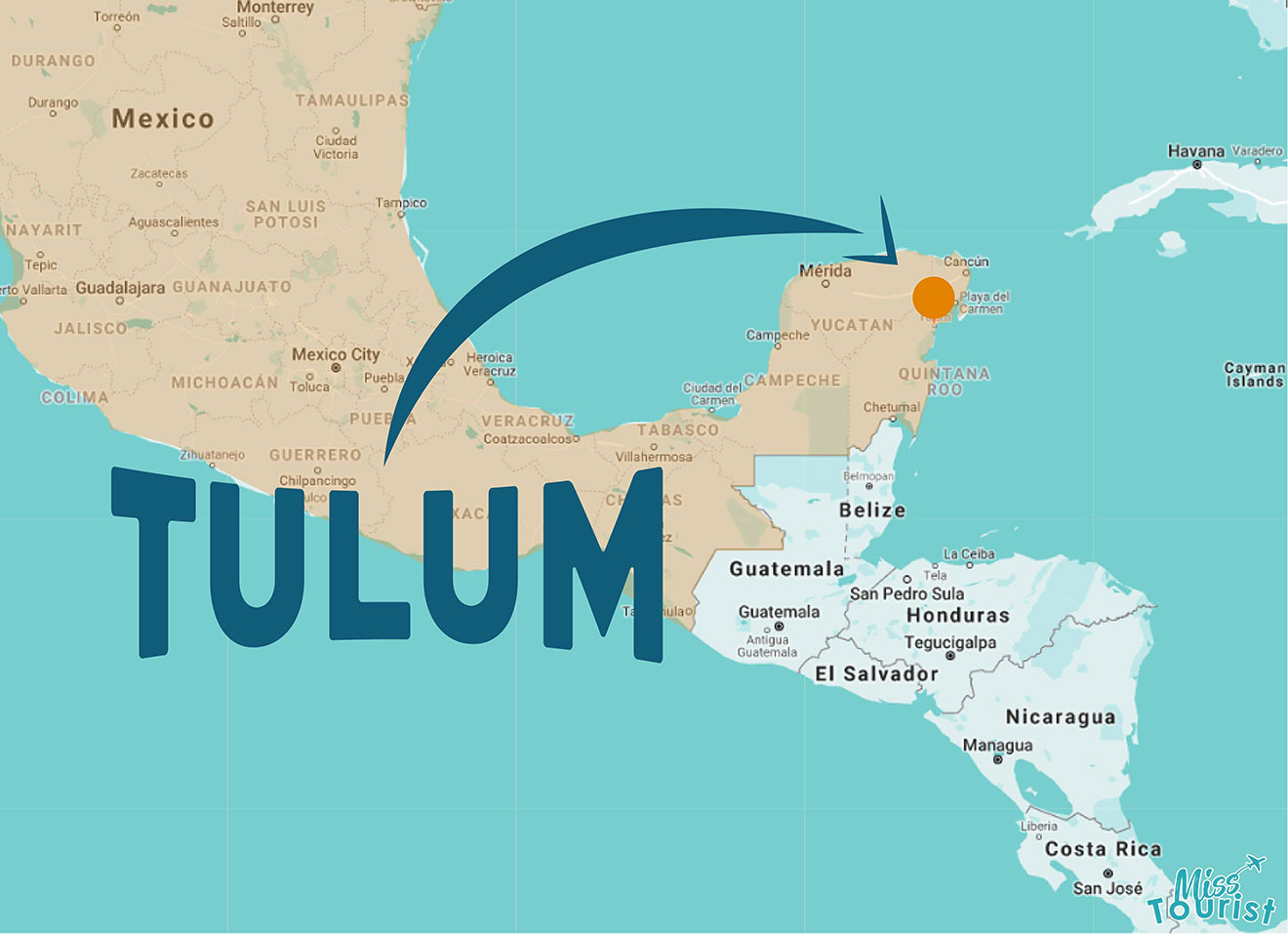 What you need to know for now is that you don't need to have a single worry in the world, as I'll guide you, step-by-step, into choosing the BEST hotel for your stay in the city! You'll find plenty of choices here, from hotels for couples, families to all-inclusive resorts and budget hotels.
That being said, are you ready to find out more from my guide on where to stay in Tulum, Mexico? Yes? Let's go!
If you are in a hurry
luxury hotel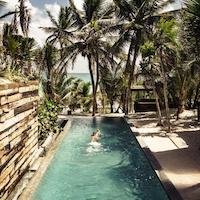 mid-range hotel
budget hotel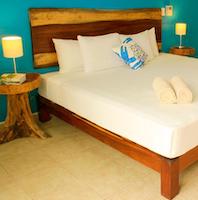 Where To Stay In Tulum – Beach or Town?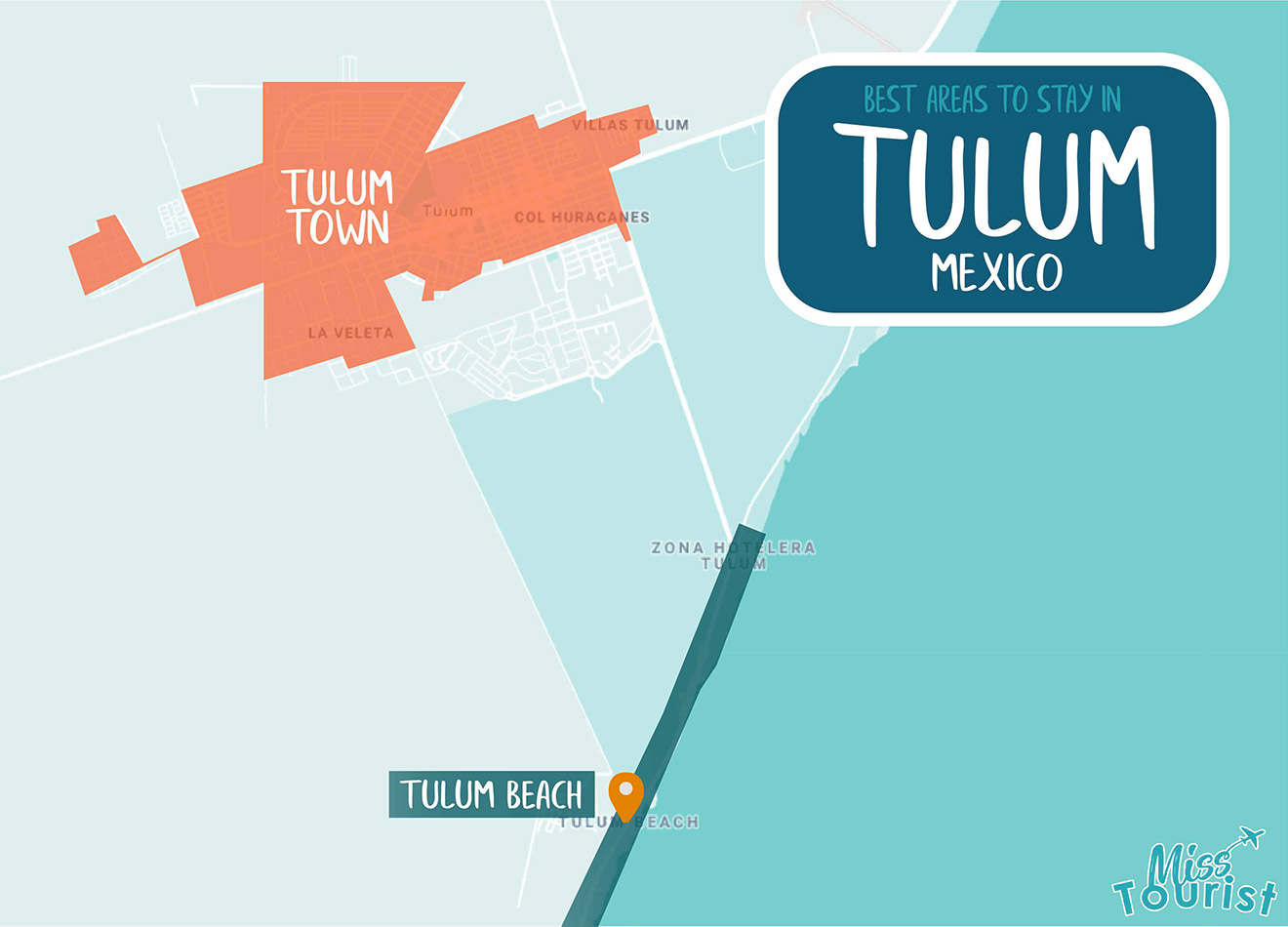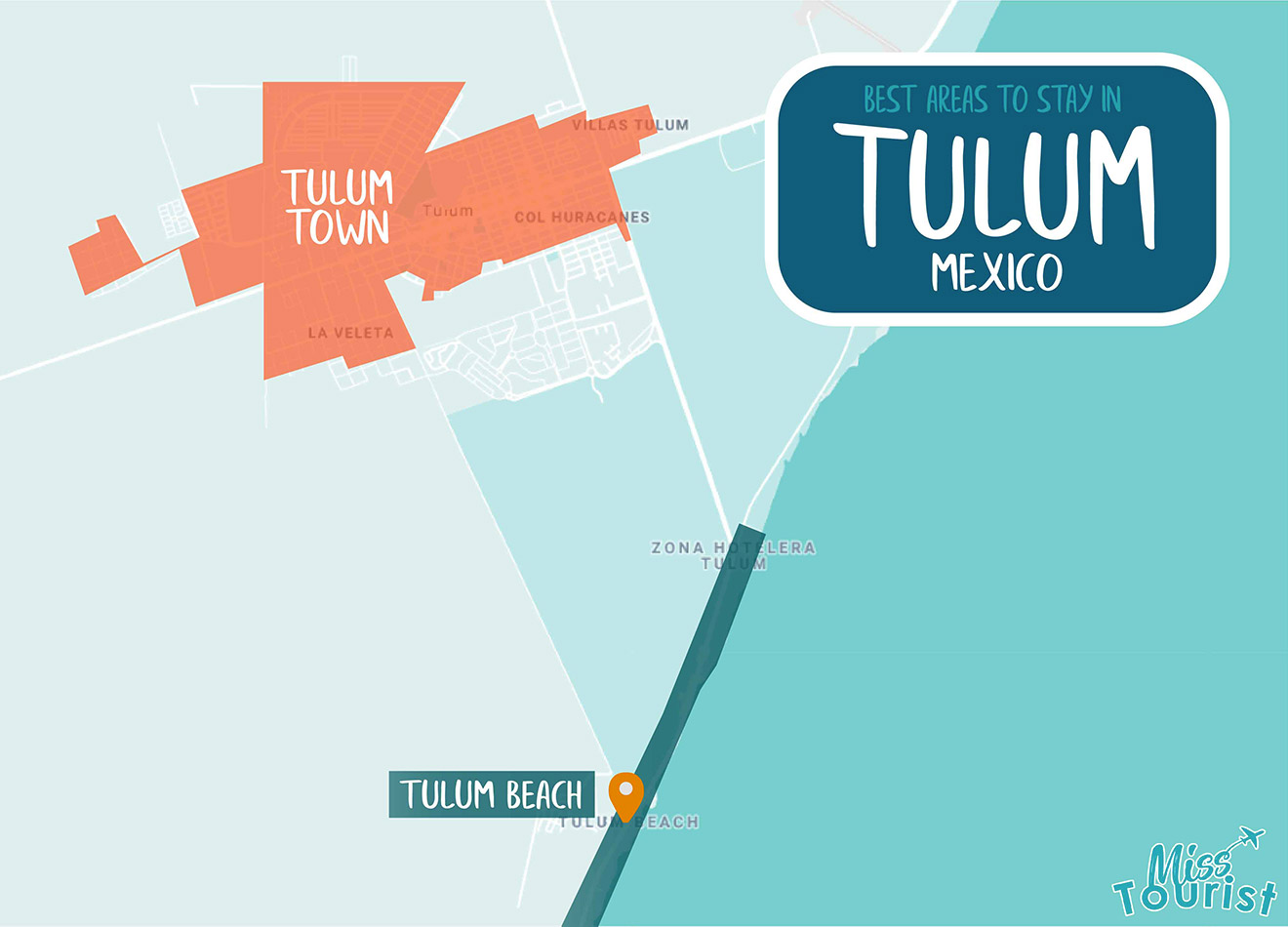 As I mentioned above, the city is divided into two very different (and distant, I might add) areas – Tulum Town, also known as "pueblo" for locals and Tulum Beach or "playa".
Okay, so far so good, but which one of them should you choose? Let's take a look at this quick table:
| | | |
| --- | --- | --- |
| | Tulum Beach | Tulum Town |
| 😀 Best for: | First-timers | Budget travelers |
| 💰 Prices: | Luxury | Budget |
| 🏖️ Attractions: | Beach + Resorts | Mayan Ruins + Day trips |
| 🔎 If you want to: | Relax | Nightlife |
| 💃 Vibe: | Touristic | Local |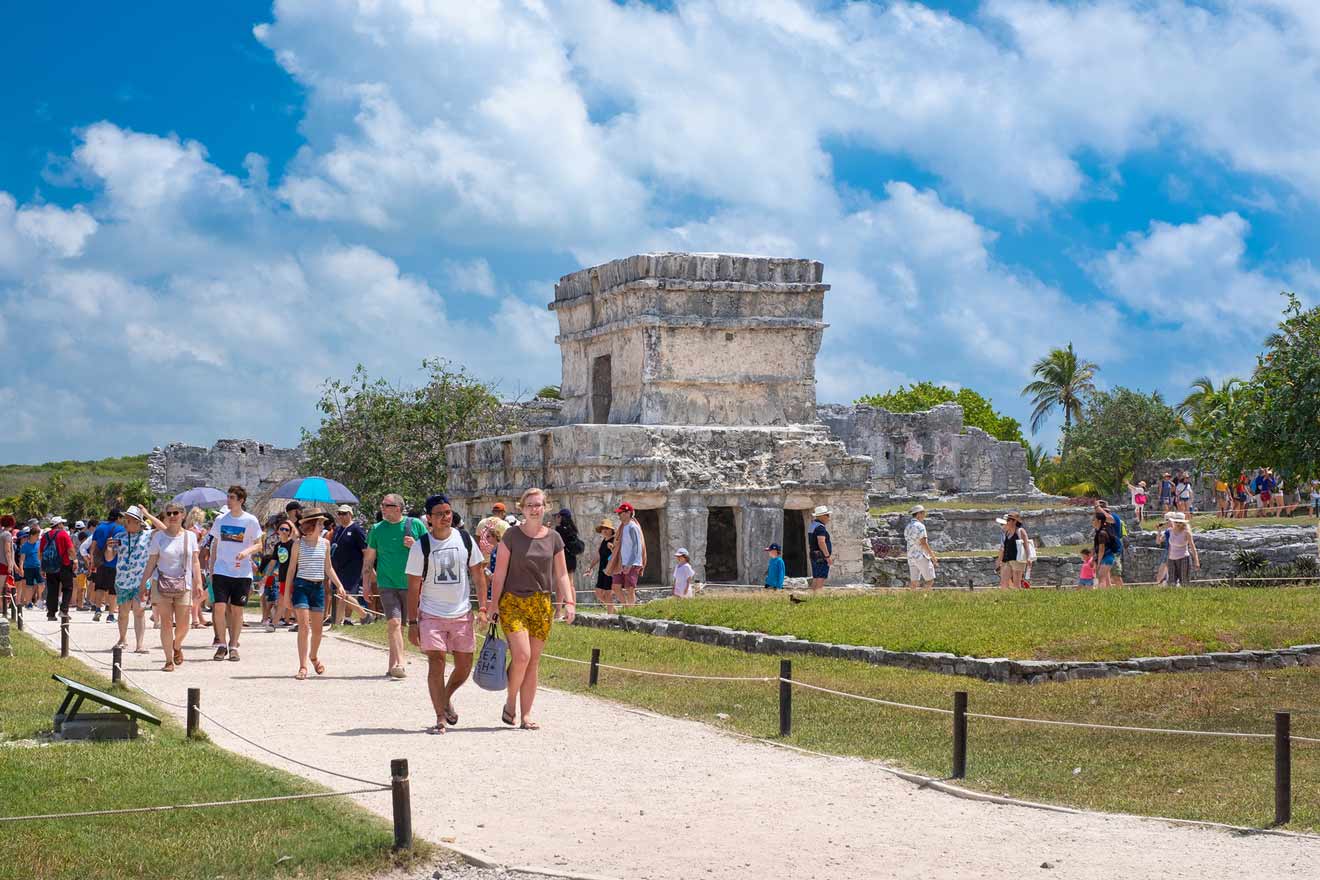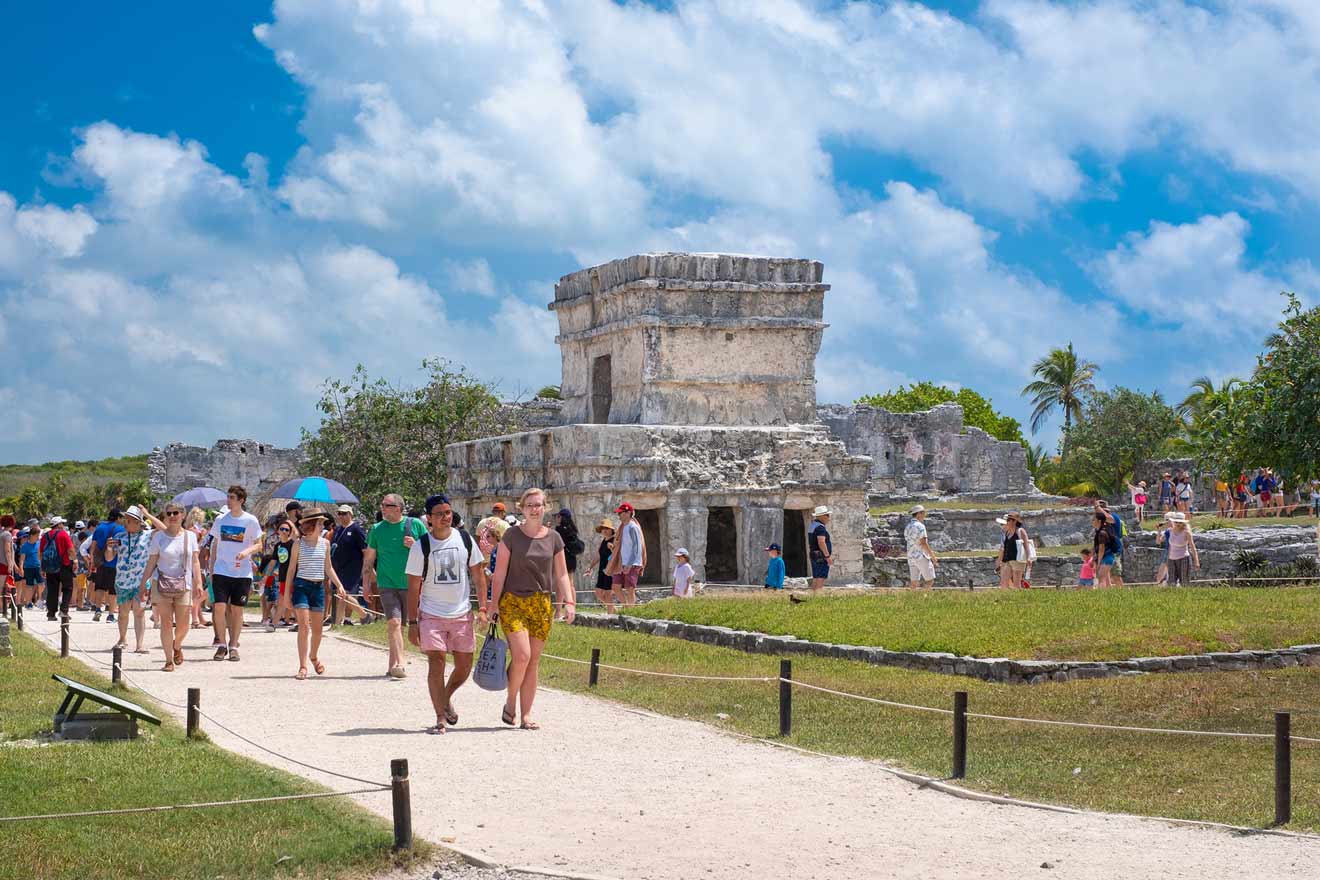 GO FOR TULUM BEACH IF:
you're visiting this place for the very first time
you are planning on spending your days relaxing on the beach
you want to splurge in a boutique hotel or resort
money is not an issue
GO FOR TULUM TOWN IF:
you are on the budget
you are planning on exploring the Mayan ruins, cenotes and do plenty of day trips in the surrounding area
you want to stay somewhere where you can experience an authentic local vibe
I know, I know, it's hard to decide, but unfortunately you'll have to, as it's too far to walk between the two areas. But don't worry, a taxi and it will only cost you 70 – 150 Mexican pesos (US$4 to US$8).
Now that the decision is more clear to you, let me share with you where and what are the best accommodation options in Tulum, Mexico in each of the two areas!
1. Best Hotels on Tulum Beach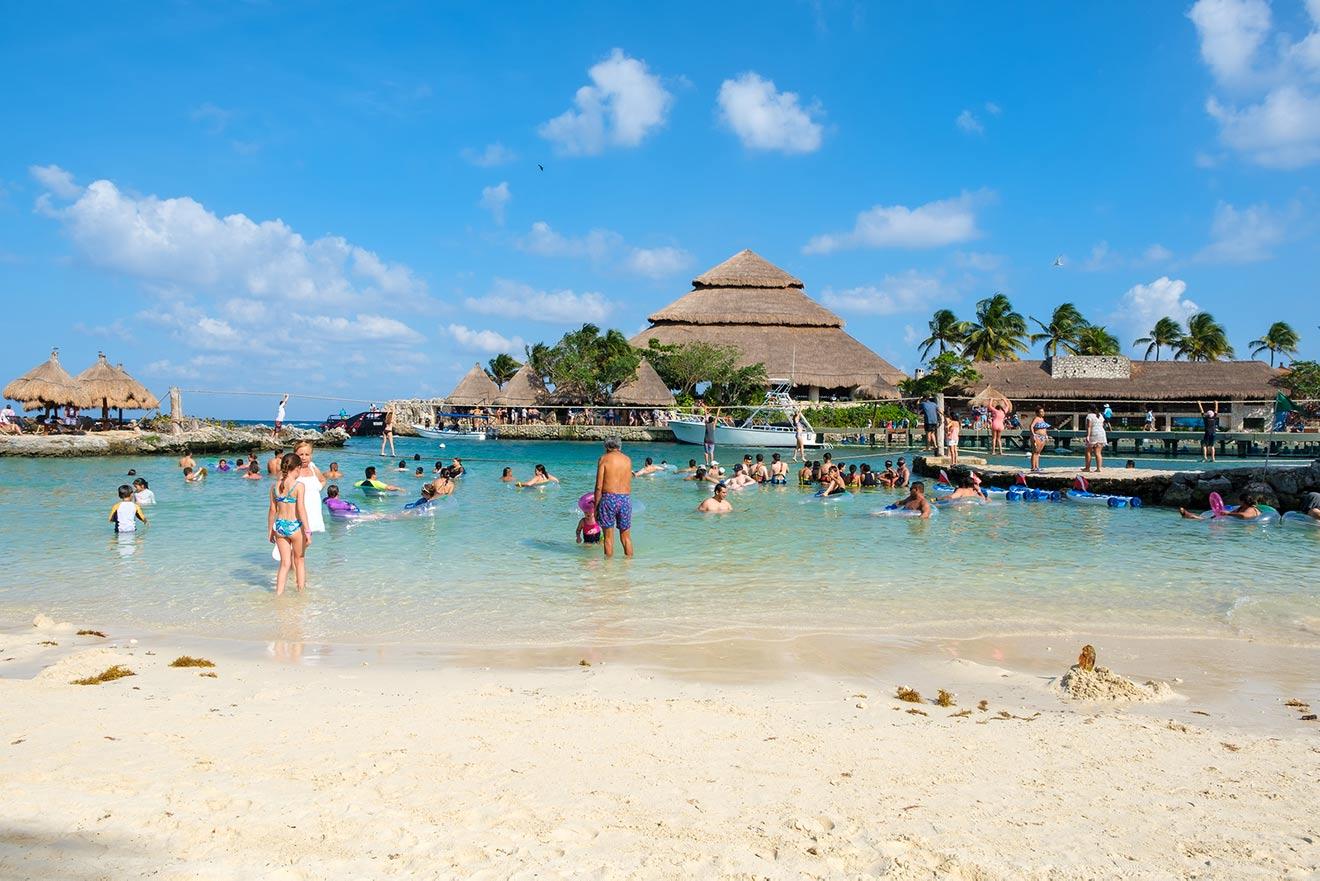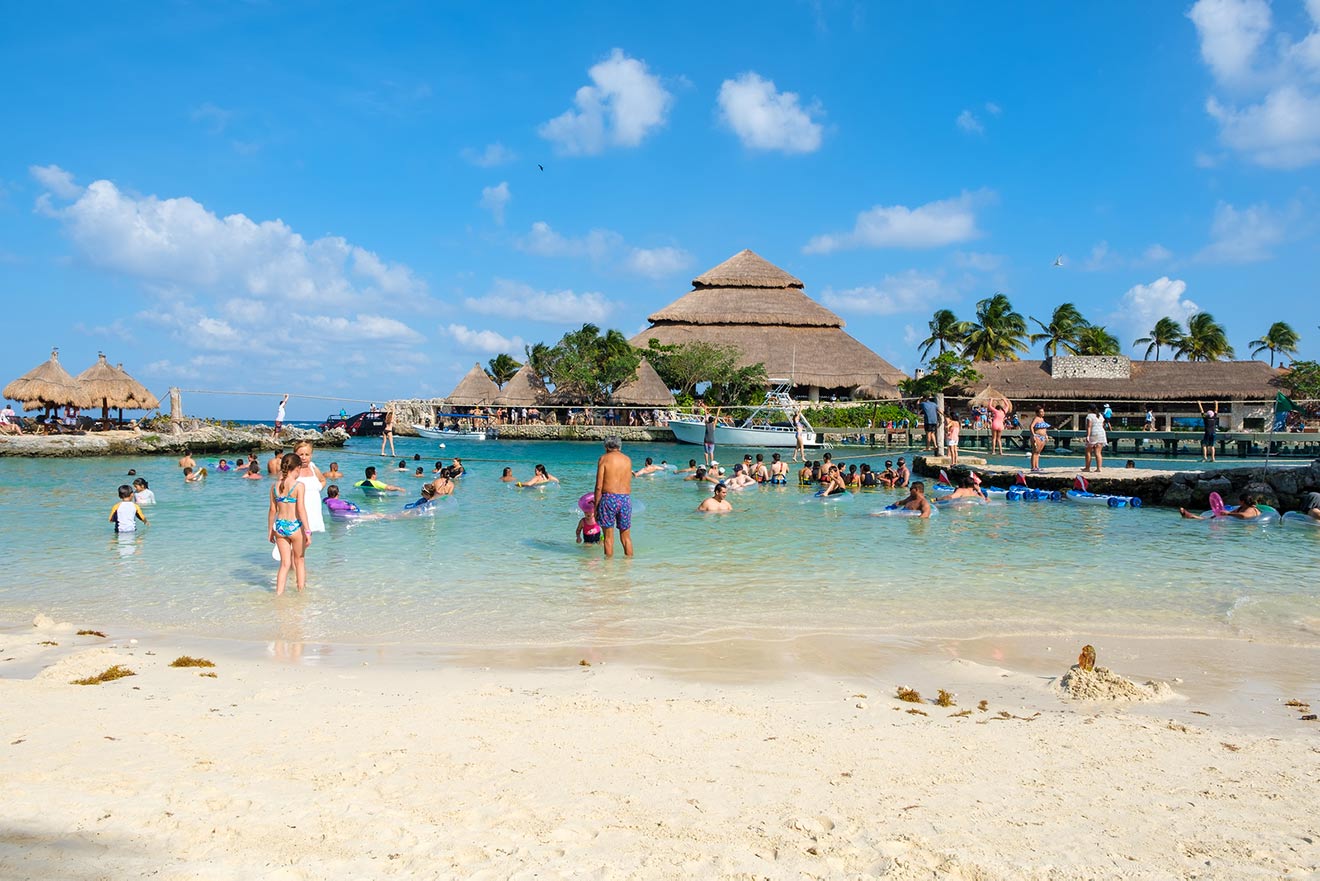 Wondering where to stay in Tulum for the ultimate beach vacation? You're in the right place, as the beach here is one of the most beautiful you'll ever see!
The "playa" is a long strip of beach where you'll find tons of luxurious resorts (and by luxurious I mean US$1.000 per night) that have direct access to the beach.
The way this area is organized is that, even though the beaches are technically "public", each of these resorts has its own stretch of beach and you'll have to be a guest in order to spend your time there.
But no worries, you will have some free public beaches that you can enjoy! Oh, and by the way, the further South you go, the beach and water will become even more beautiful (and the hotels even more expensive!). Such is life!
But this is definitely the best area to stay in Tulum, Mexico if you want to relax and enjoy your visit to the fullest! And, if I might add, it's where I'd stay as well. You'll have plenty of modern, local restaurants where you can eat, cool bars, chic hotels and luxury shops that you can choose from here.
NOTE: By the way, I think you already guessed that the budget category for the beach area is not your typical "budget" category, so expect higher prices than usual.
Where to stay in Tulum on the beach? Here are my recommended hotels for the best experience: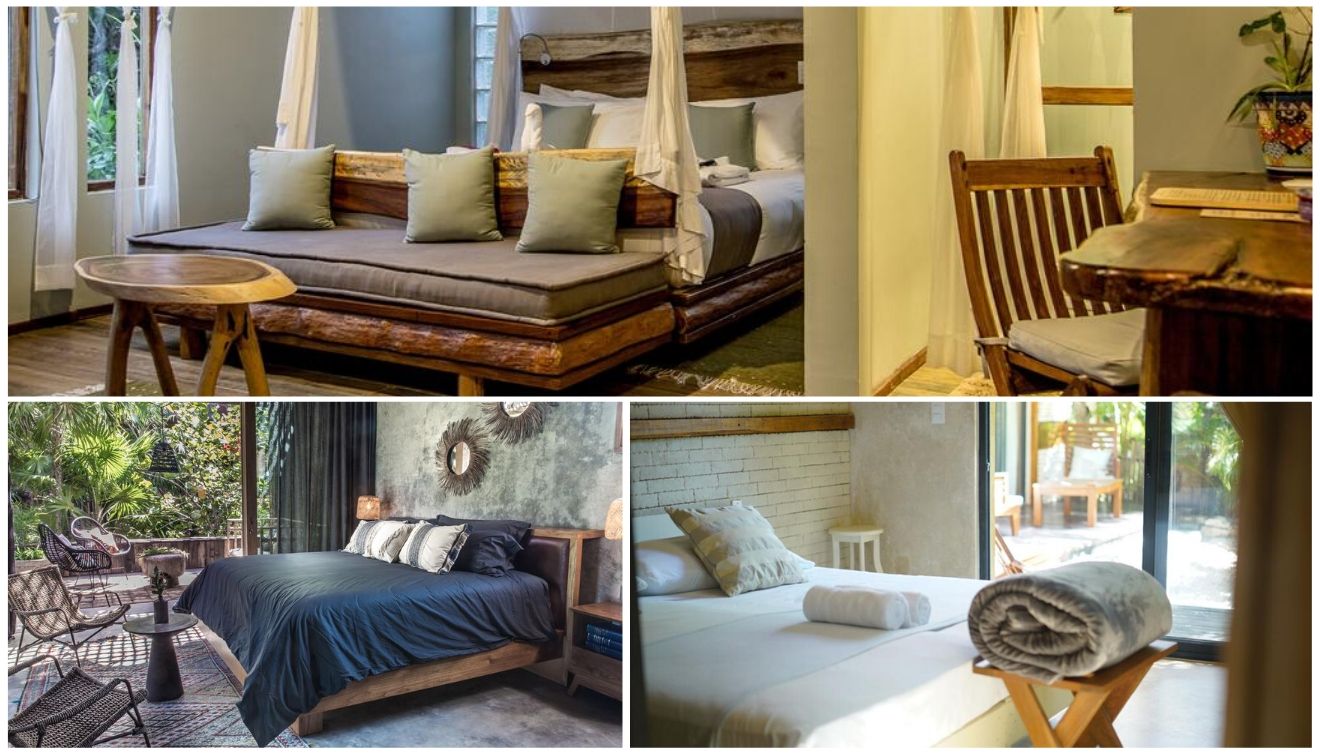 Luxury (US$500 and up)
This area is PERFECT for travelers that want to splurge and be spoiled, so I'll give you more hotel recommendations than usual. So here you have 7 top beach accommodations: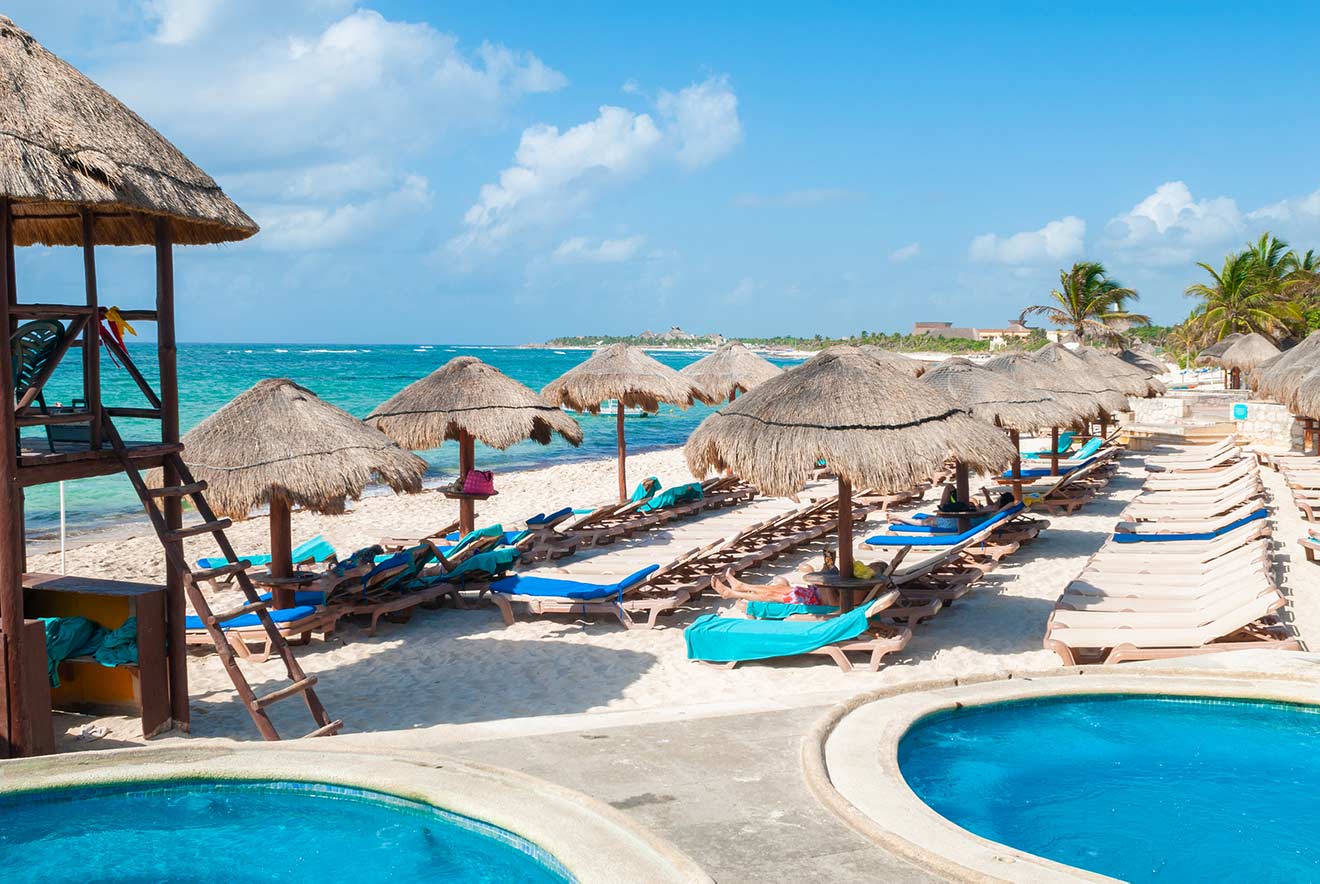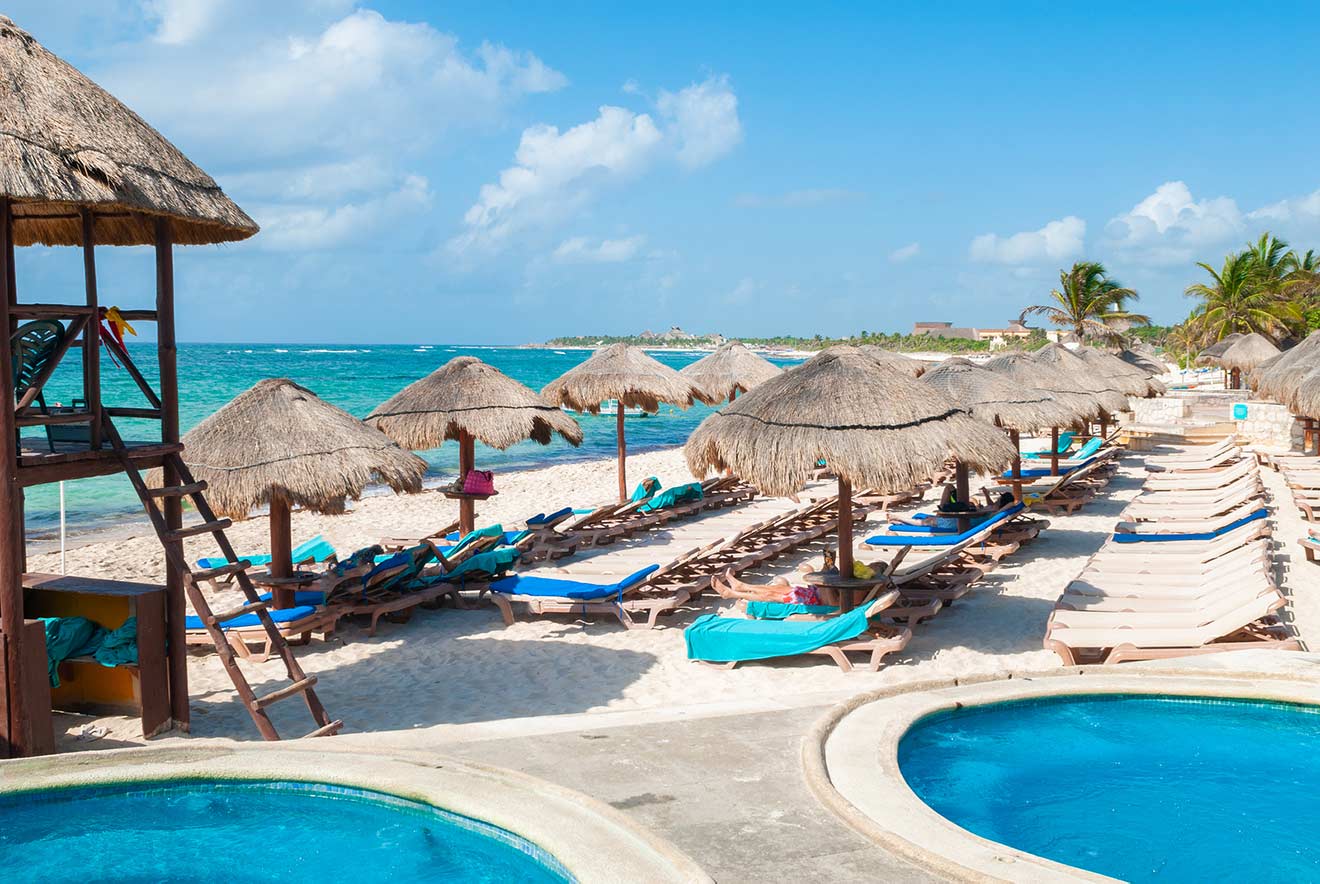 Mid-range (US$250 – US$500)
Budget (up to US$250)
As I know that US$200 might not be very budget-y for some of you and I get it, but these are the prices for staying on the beach! I search A LOT and I found some AMAZING hotels&hotels that offer affordable prices. But again, if you are looking for real budget (we are talking 20-50 USD), then scroll down to the Tulum Town budget section 😉
Nativus Glamping & Cenote Tulum – Did you ever dream of doing some glamping? Now's your chance! This awesome property is located in the Zona Hotelera area of the city and if you book it for your visit, you will surely enjoy a unique experience in the jungle, not far from the beach either! They have tent-like rooms that have all the facilities you might need, plus some very good prices so you can save some money!
Chancabañita Tulum – This beachfront bed and breakfast has a great location walking distance from everywhere, rooms with views on to the sea, and big and comfy beds! Here you'll also have access to free bikes, garden and terrace. Can't recommend enough!
Cinco Tulum – This beautiful camp right on Tulum Beach offers luxury tents at affordable prices! Be in contact with nature without renouncing to all the comforts of a restaurant, a bar, a garden, free wifi and a private beach area… you will just love it!
2. Best Hotels Inside Downtown Tulum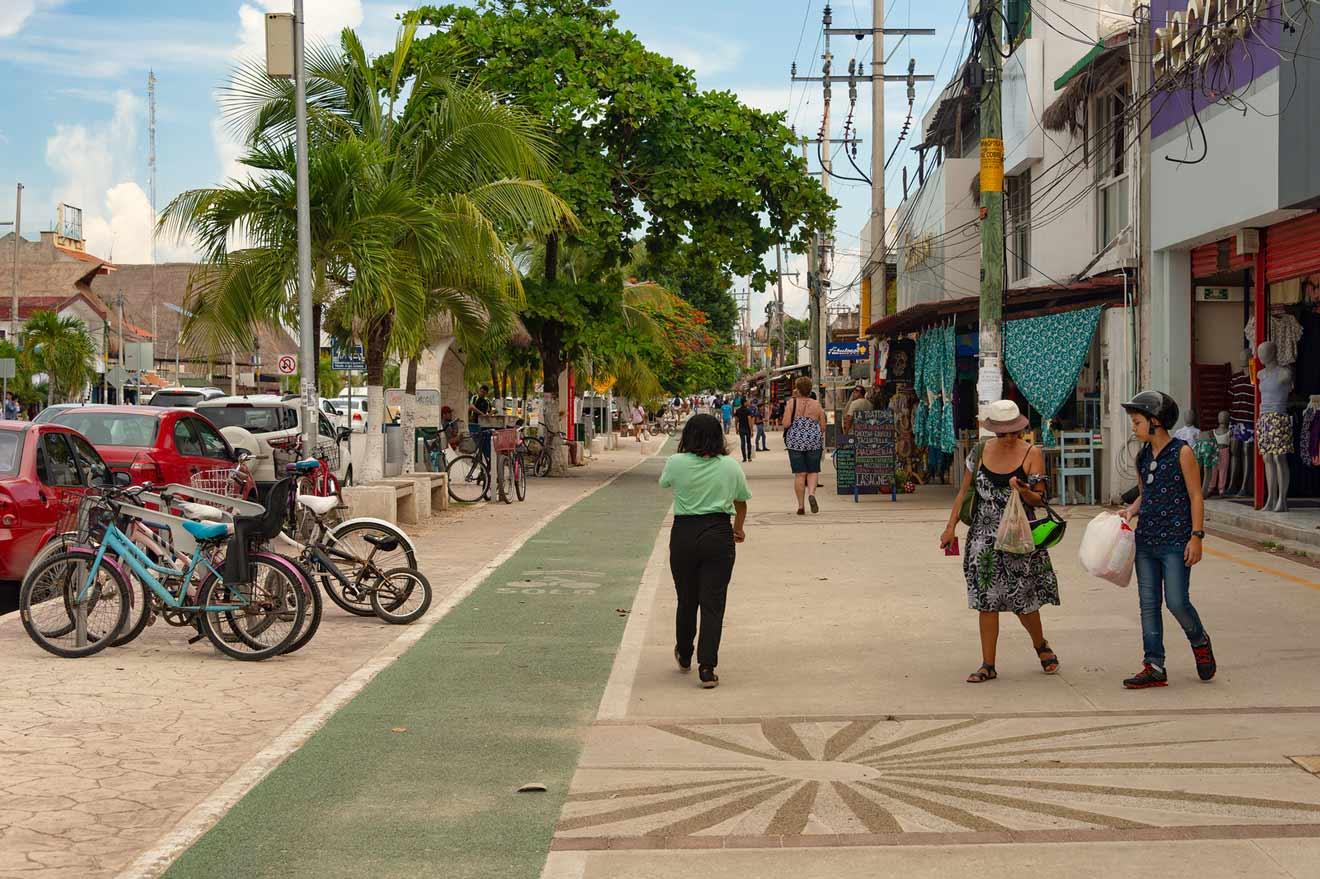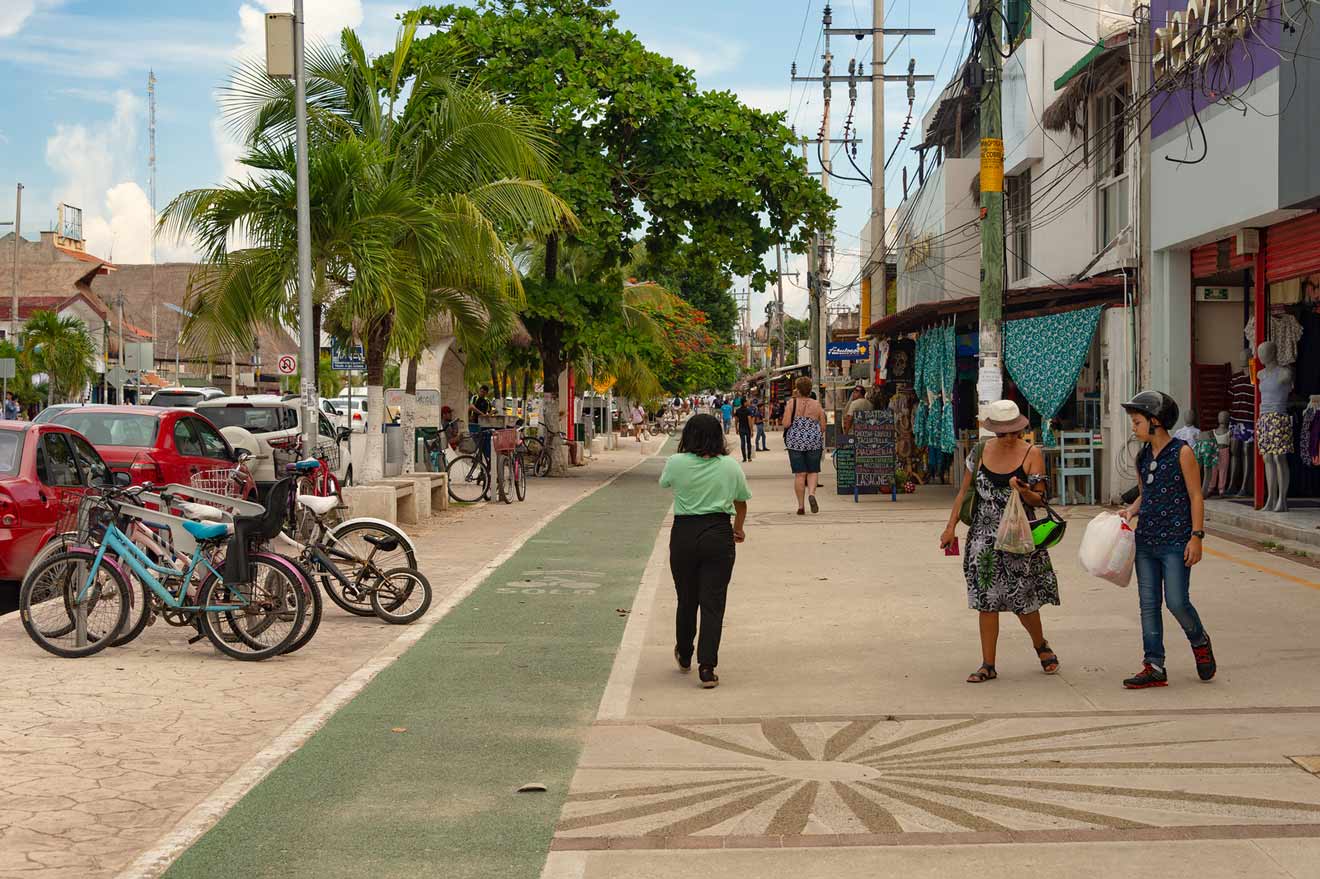 If you don't have the budget to stay in the "playa" area or if you're a more active type of traveler and you're planning to explore the surrounding area and to do day trips instead of laying on the beach, then I recommend staying in the town itself.
The "pueblo" is the actual village and it's a great place to explore the local vibe of Tulum town and the Mayan ruins, experience the typical nightlife, and to indulge in traditional Mexican food.
You'll find many souvenir shops, food stands and, last but not least, TONS of budget-friendly accommodations for your stay.
By the way, if you want to find out more about Mexico, I recommend checking out my article about 9 Unforgettable Things to Do in Riviera Maya!
The main con here is that you'll have to take a taxi if you want to get to the beach. If that doesn't sound that bad to you, here is the list of luxury hotels, budget hotels, and everything in-between for a great stay in Tulum Town: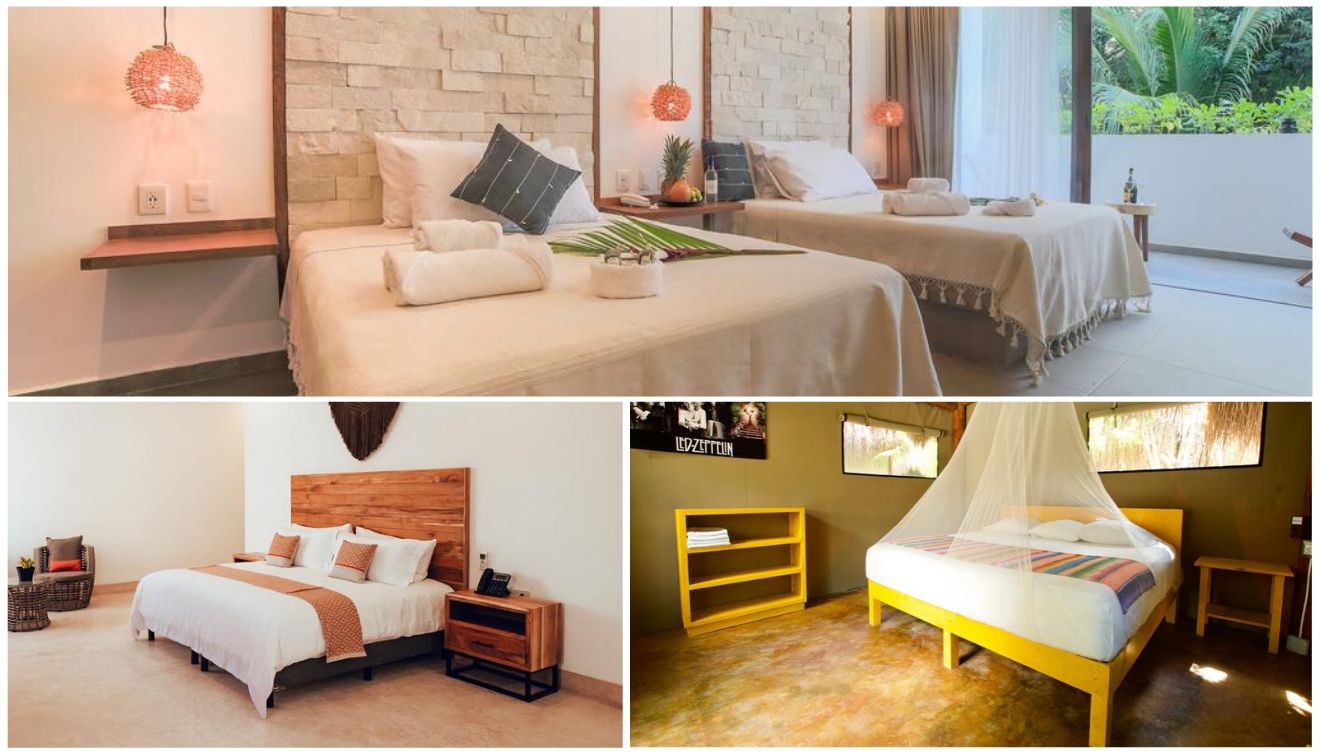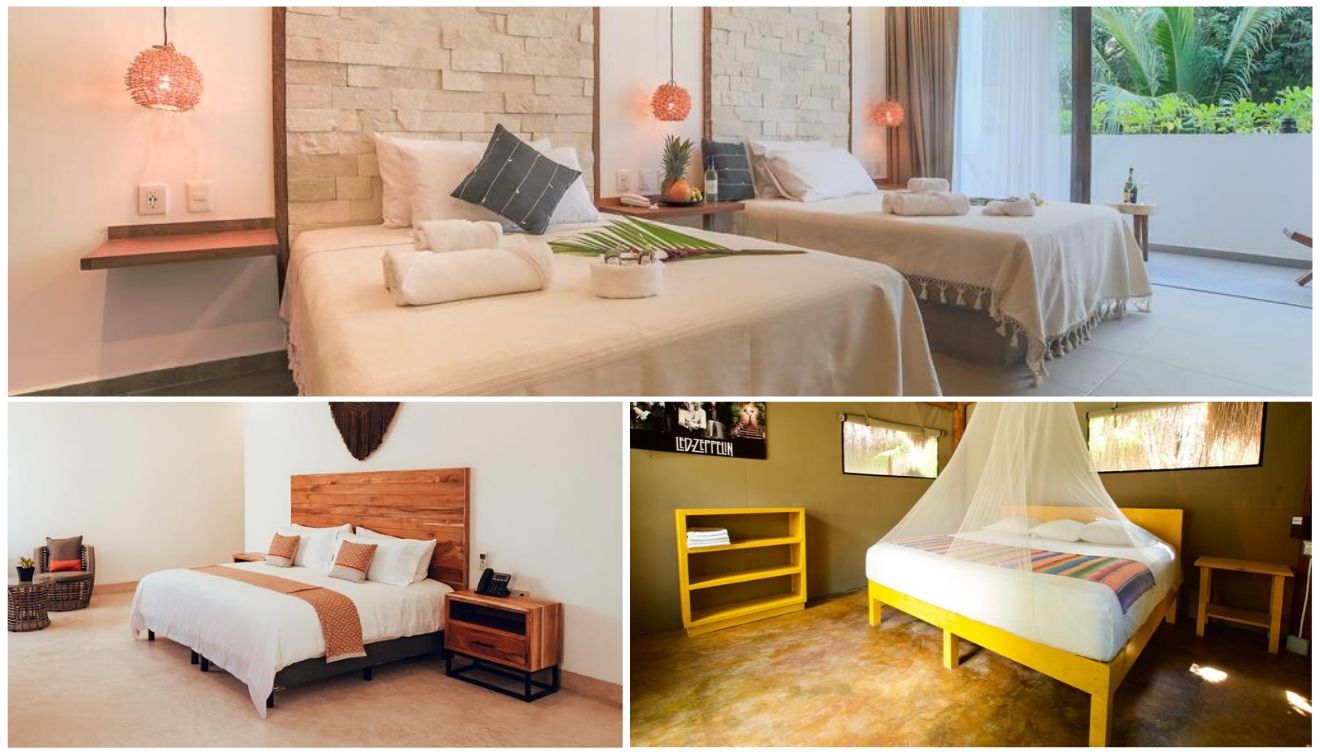 Luxury (US$100 and up)
Kaab – Here's an amazing choice if you want to take a break and feel like a queen (or king, of course) while staying close to the main city road! This is one of the top boutique hotels in Tulum Town where you'll find a gorgeous on-site restaurant, a garden and wonderful rooms. Plus, you can also do some awesome day trips from here, such as visiting the Mayan ruins!
Biwa – This 4-star hotel is a great option in Tulum Town as well in case you want to benefit from free bike rental, a cool swimming pool, an on-site bar and a terrace. Needless to say they have free Wi-Fi, room service and sparkling clean rooms, am I right? All in all, this is among the most superb luxury hotels out there!
Era Hotel & Spa Tulum – My third recommendation for where to stay in Tulum Center this stylish 4* hotel. It's honestly one of the best hotels in Tulum Town for couples (but not only) that I would definitely recommend to you! Chic design, caring stuff, a super instagram-worthy pool – I would move in right now!
Mid-range (US$40 – US$100)
Joy Tulum – Adults Only – This 3-star accommodation in the center is one of the top hotels in the center and it offers amazing quality for the money you'll spend when you stay here. Get ready for a great experience and a cute sun terrace, free Wi-Fi, plus a great location! Plus, the rates per night are very good!
Hotel Casa Sofia Tulum – This is actually one of the most popular choices among tourists that want to be in the heart of Downtown Tulum. Why? Because this awesome hotel offers perfect facilities for a very good price, like traditional Mexican décor rooms and an amazing outdoor swimming pool!
Hotel Central Station – This 3-star hotel in Tulum Town has many types of rooms that you can choose from and all of them are super clean, spacious and very cozy. The accommodation has an overall good location, a calm atmosphere and many great facilities!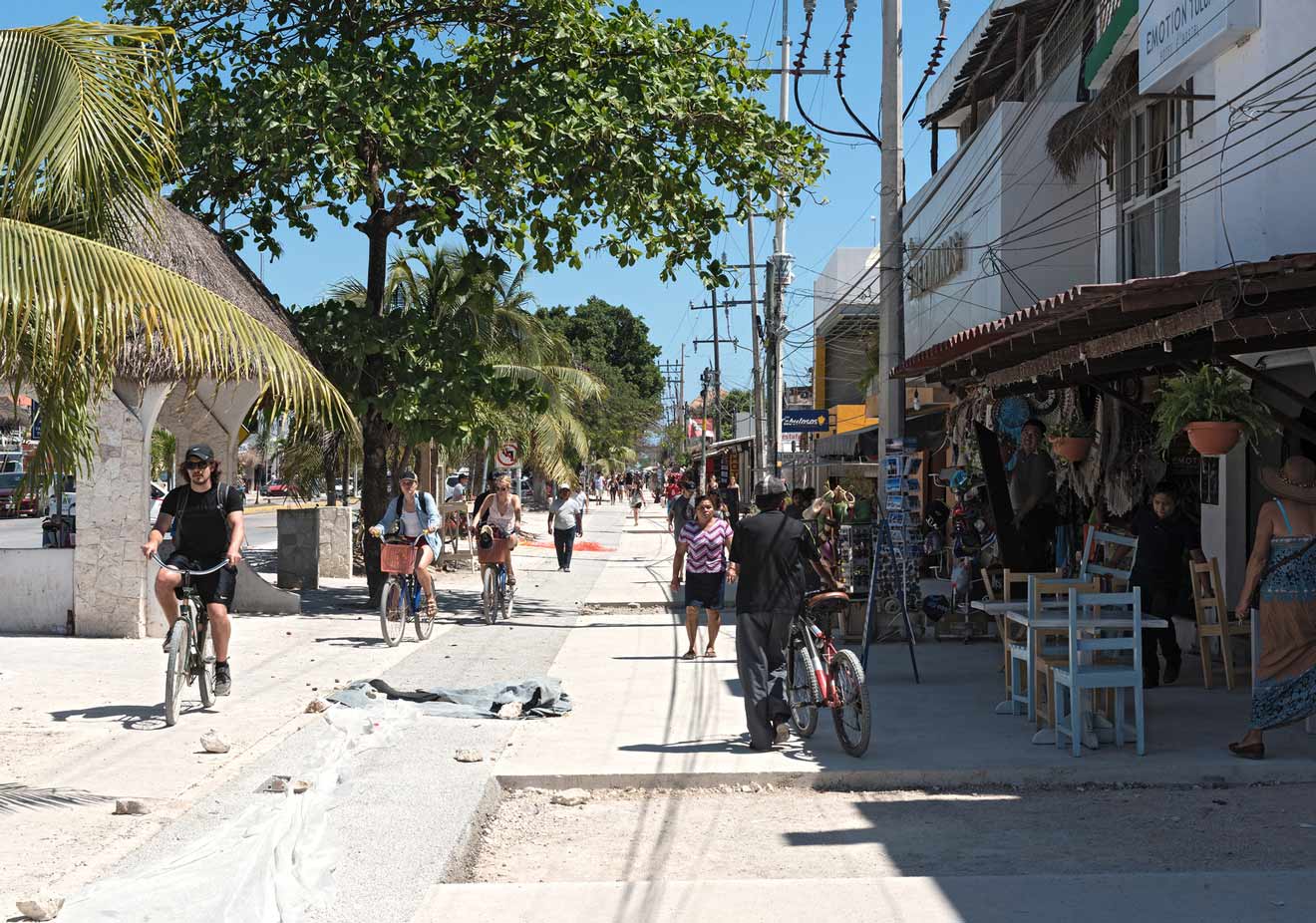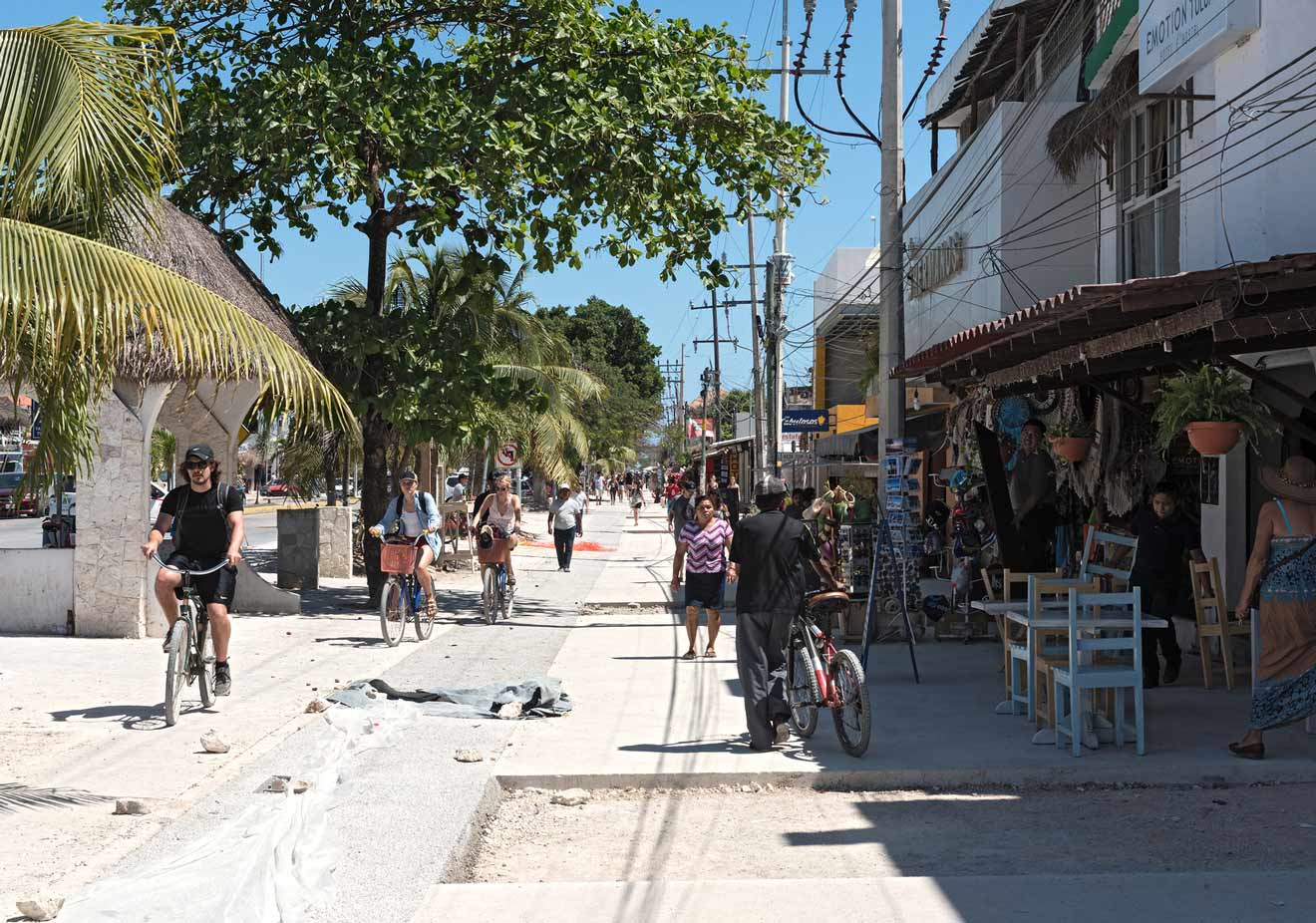 Budget (up to US$40)
Wondering where to stay in Tulum on a tight budget? As I said, Tulum pueblo is perfect for budget travelers and backpackers, so get ready for some amazing prices and even more amazing service!
Here is what I recommend if you want to stay in the heart of the city and have the Mayan ruins nearby:
La Palmita Budget Boutique Hotel – Last but not least, if you still haven't found where to stay in Tulum on a budget, this boutique hotel is another choice that you won't regret! During your stay, you'll be able to explore the cute jungle garden, free Wi-Fi and more!
Casa Almendro – This property is simply incredible because of its low prices and high standards! Casa Almendro is cozy, clean, it has a spacious terrace and super equipped kitchen – make sure to book in advance to get the best deal!
Colorbox Beds and Rooms By Milenium – Even though this one is not exactly in the center -center (15 min walk), this cool hostel has FABULOUS reviews! Trust me when I say that it's one of the most popular choices among budget travelers because it has a superb outdoor pool and a shared lounge.
3. Best Apartments in Tulum, Mexico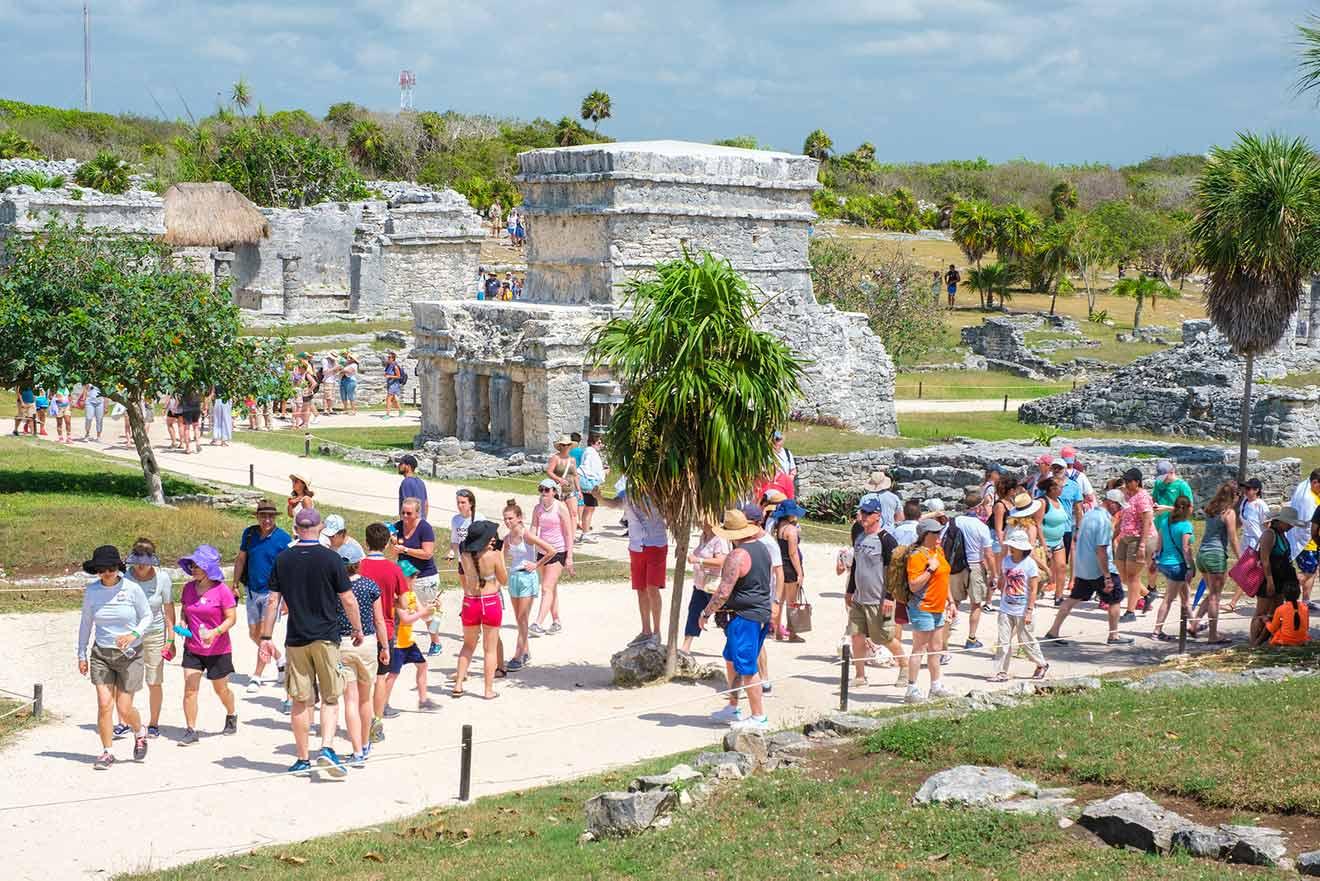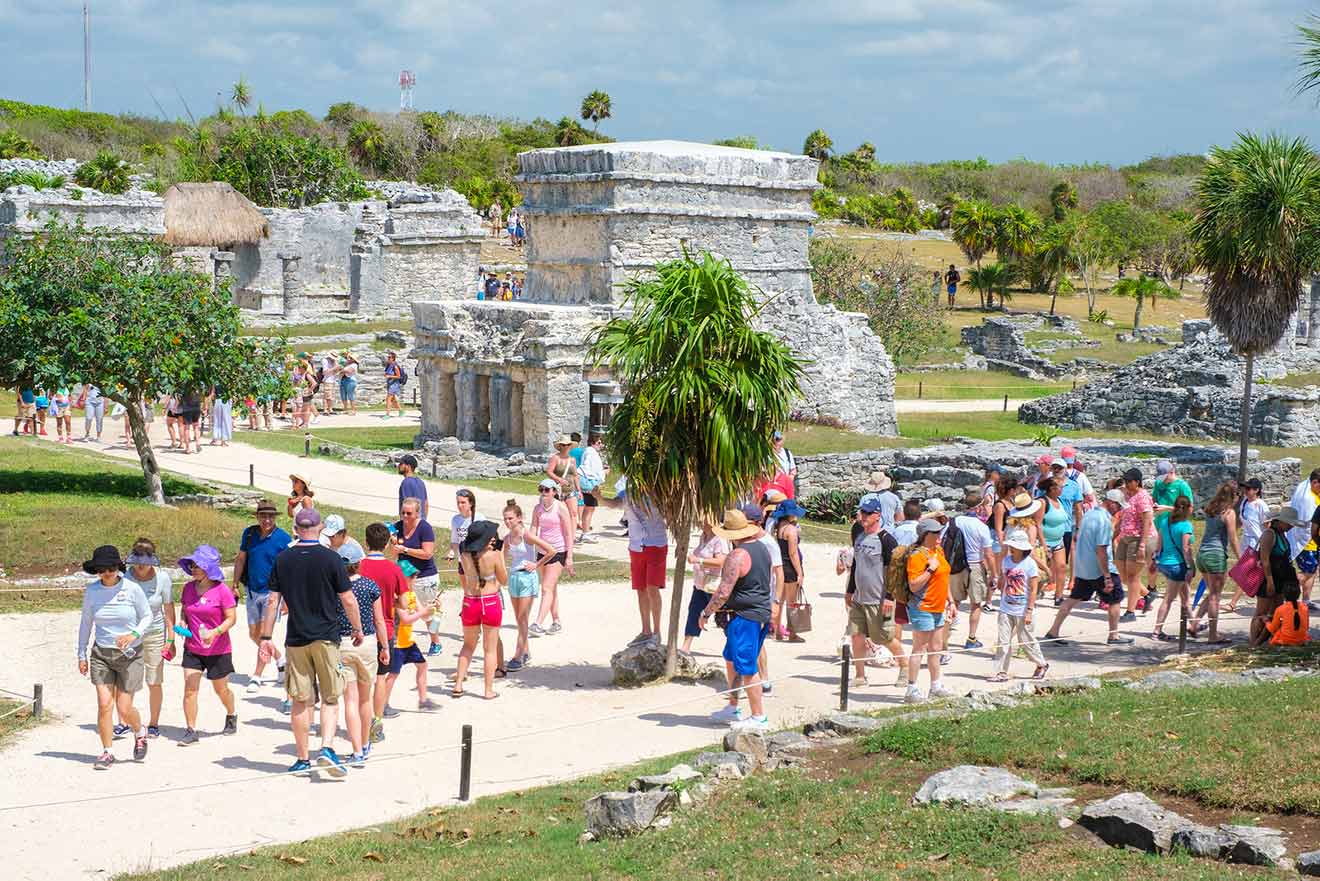 Except for superb beach resorts and nice hostels, this city has a wide range of apartments as well! Staying in an apartment is a great idea if you are traveling with family or in a big group, as it will give you a cozier atmosphere where you'll feel right at home. Plus, the prices tend to be more accessible for apartments!
Here is what I can recommend for each budget: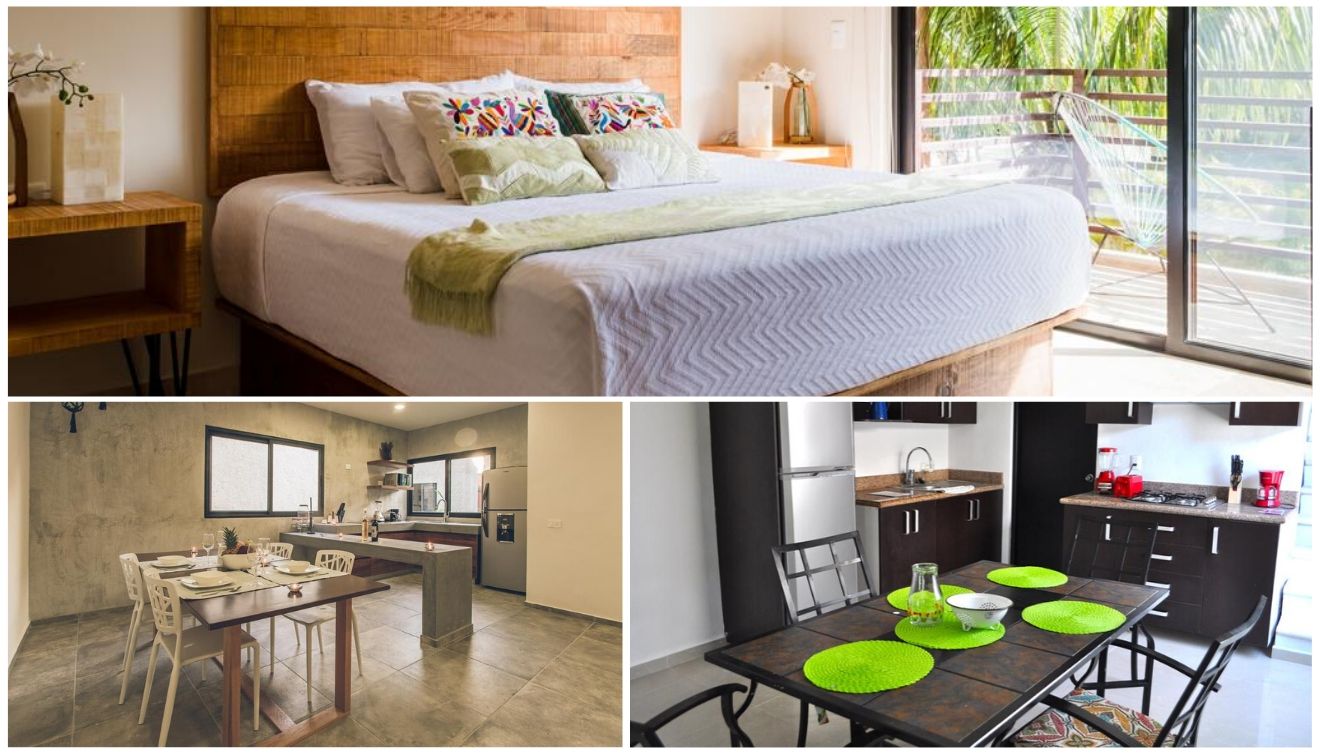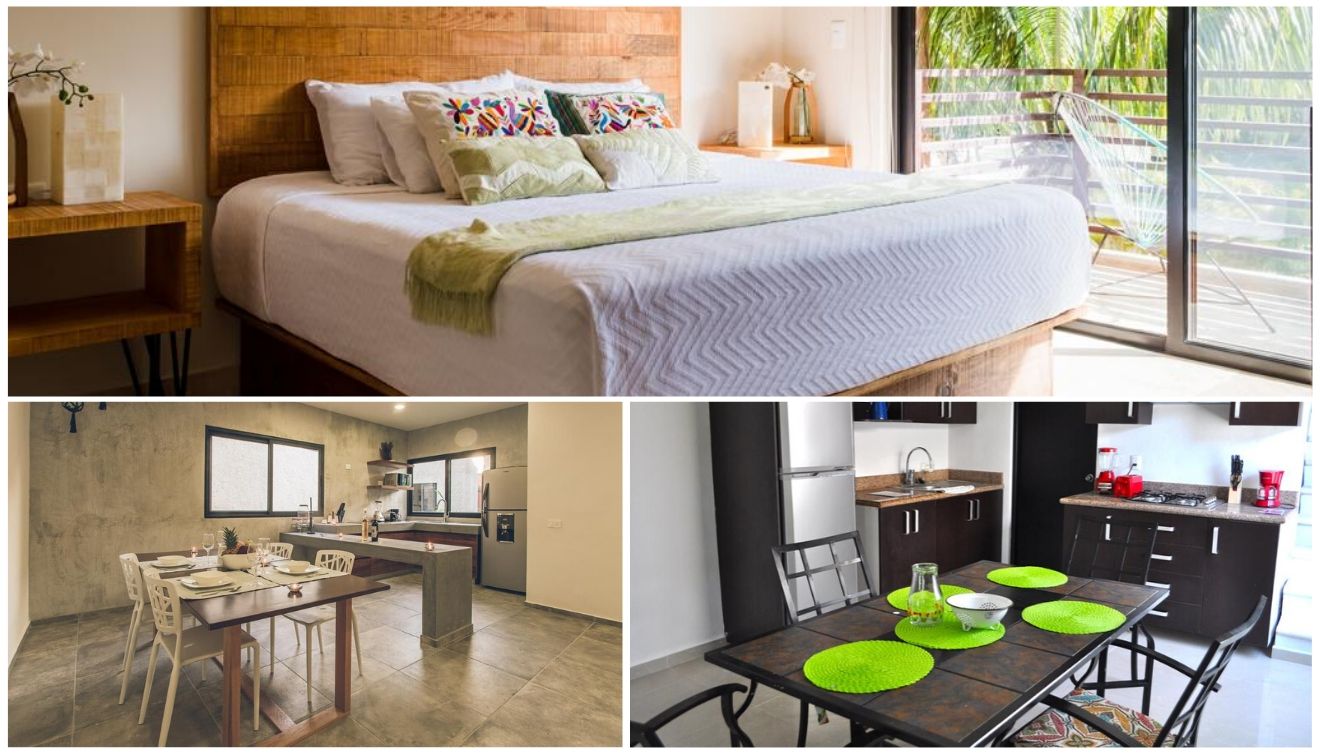 Luxury (US$150 and up)
Coco Village – Yes, you can stay in a jungle apartment and still be spoiled with a royal treatment and this is a perfect example! These beautiful apartments are fully equipped and have access to a swimming pool. It's ideal for up to 6 people. What are you waiting for?!
Valhalla Residence by Biwa – Here's another superb option in town! These apartments await with a superb decor, a private pool and an overall amazing service that will make your trip to Tulum simply unforgettable. P.s: it's recommended for up to 6 guests!
Mid-range (US$70 – US$150)
Hotel Panacea – Here is another stunning 4-star aparthotel in the town that combines the excellent service of a hotel with the coziness of staying in an apartment during your trip. The outdoor pool is simply gorgeous, they have many plants outside (just like a jungle!), free Wi-Fi, private parking, and a cool terrace as well!
LiveTulum – Apparently, there are many excellent aparthotels that offer a very good service and beautiful rooms and this one is no exception! During your stay you'll definitely be happy to enjoy the cozy rooms, outdoor pool, free breakfast and free wifi. You won't even want to leave the accommodation, unless you want to visit the ruins nearby!
Budget (up to US$70)
Trece Lunas – This budget apartments are located, as you guessed, in Tulum Town and it offers a great value for its money. The units have a private patio, a fully equipped kitchen with a fridge, and a private bathroom. Ah, they have a very nice outdoor pool as well, so cool!
Tulum Nah – this simple but nice aparthotel is a bit over 300 feet2, it has a nice shared pool for your to enjoy! It is located in a very quiet area so it will be perfect for tourists with kids or for those who work remote (the Wi-Fi connection is super strong too!) But hey, if you are there for a proper vacation, there is Netflix too! 🙂
| | |
| --- | --- |
| 👑 Luxury price: | $300 |
| 💵 Mid Range: | $110 |
| 🛏️ Budget: | $50 |
| 🏠 Airbnb: | $100 |
| 💰 Accommodation prices: | Medium |
| 📍 Best area: | Tulum Beach |
| 🛎️ Best luxury hotel: | The Beach Tulum |
| 💵 Best mid-range hotel: | Habitas Tulum |
| 👛 Best budget hotel: | La Palmita |
Frequently Asked Questions About Staying in Tulum
I have tried to respond to the most common questions about your future trip to this city:
🤔 Is it safe to stay in Tulum?
Even though Mexico is sometimes considered a not-so-safe destination due to drugs and gang violence, Tulum remains a safe place for your vacation. Just make sure to follow the common safety precautions, as pick-pockets on the beach are not impossible so watch your valuables!
✈️ Where do you fly into for Tulum?
There is no airport in the city. Cancun International Airport is the place to fly into for Tulum, located around 1.5hrs from Tulum by private transfer or bus. Your second option is Chetumal International Airport, but it's a smaller domestic airport and twice as far away.
🏖️ Where is the best beach in Tulum?
With turquoise waters and golden sands, the entire beach in Tulum is simply amazing! Tulum has a long strip of beach which get's better as you go South. Playa Paraíso, Playa Ruinas, Las Palmas, Secret Beach and Paamul Beach are my top 5.
🏨 Which is better Tulum Beach or Tulum Town?
The two areas are very different, Tulum Beach is best if you are looking for a luxury vacation relaxing on the beach, or, Tulum Town is perfect if you want to take lots of day trips or are on a budget.
🍹 What are the best all-inclusive hotels in Tulum?
---
Conclusion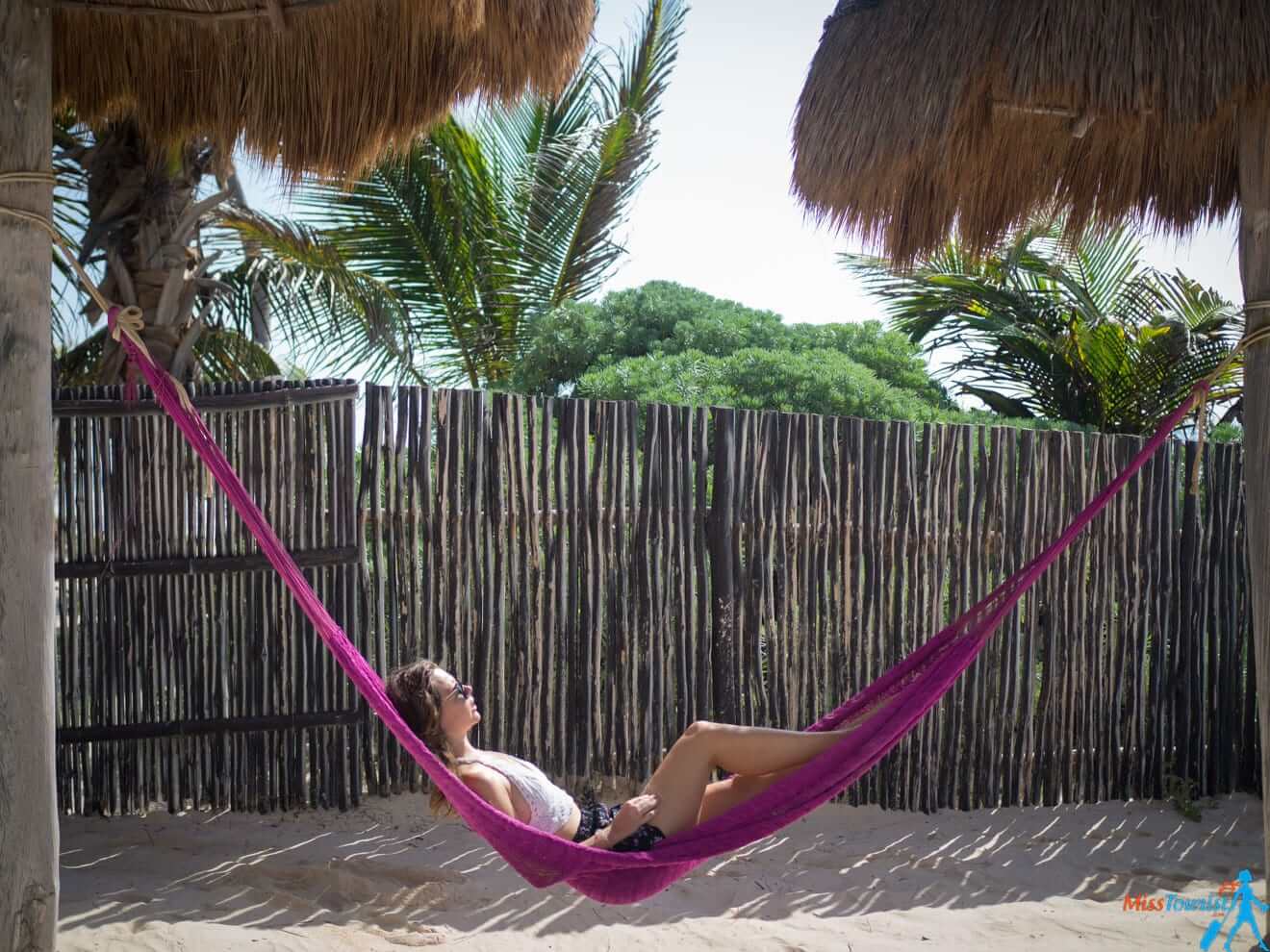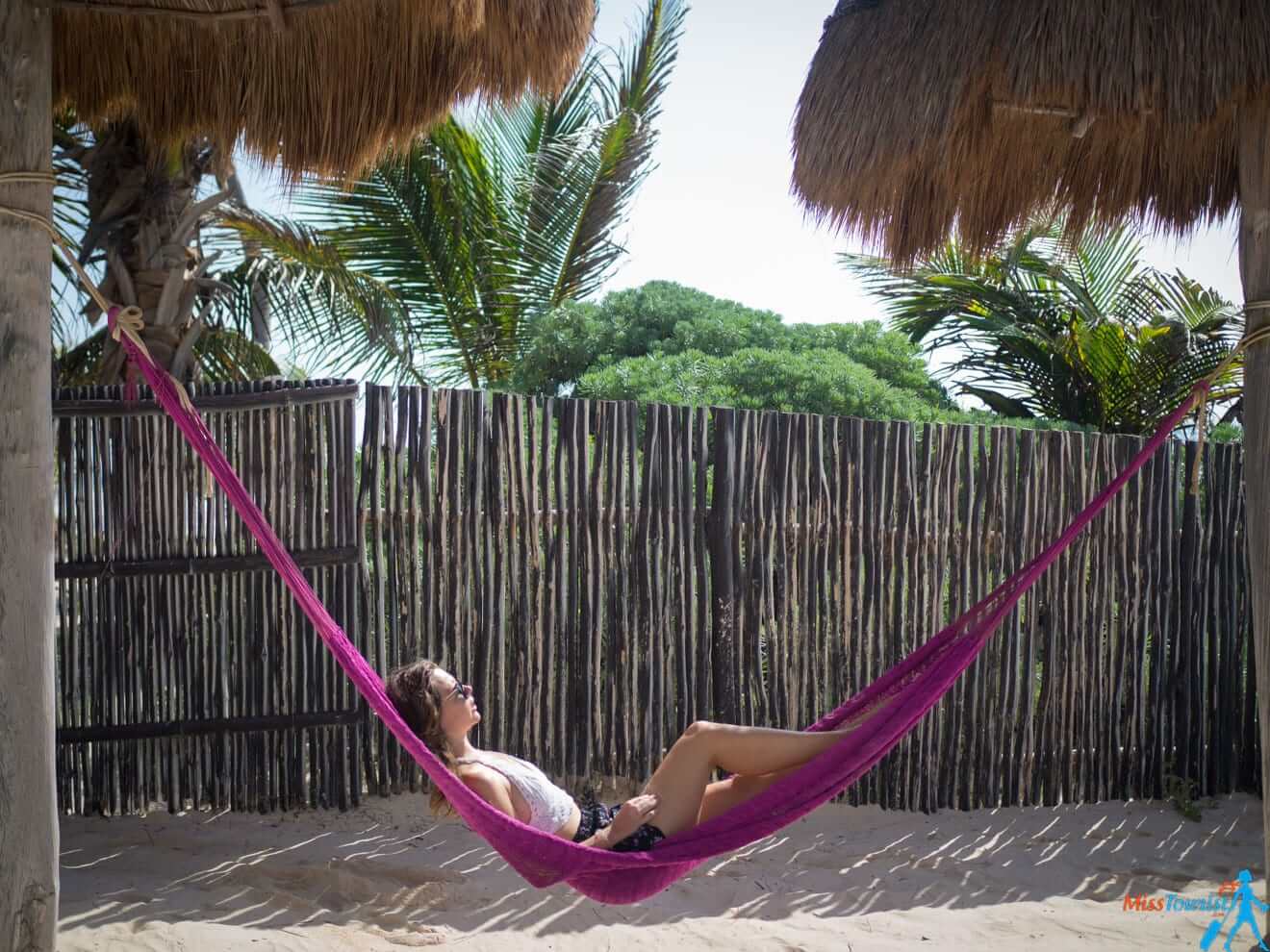 That was it! Here you have my complete guide on where to stay in Tulum, Mexico, both in the city center (pueblo) and on the beach (playa). I hope that you have already found THE perfect hotel for when you'll visit Tulum, Quintana Roo in the article above!
In this post, I gave you my hand-picked hotel recommendations after thorough research on the best spots and accommodations in Tulum, Mexico. You have everything here, from the best boutique hotels in Tulum to fabulous beachfront resorts with private beach club and cute budget ones – something for each type of traveler out there, am I right?
Anyways, if you still need some extra help in your decision, here are my top 2 choices, with great value for the price:
Radhoo Tulum – If you are looking for a great beachfront hotel, this might be your ideal place to stay!
Hotel Casa Sofia Tulum – Check out one of the most popular choices among tourists that want to be in the heart of Downtown Tulum!
If you want to find out more about exploring Mexico (including Cancun), be sure to read this article about 9 Unforgettable Things to Do in Riviera Maya!
Are you heading to this wonderful destination anytime soon? Let me know in the comments!
Yulia
---
Pin it for later: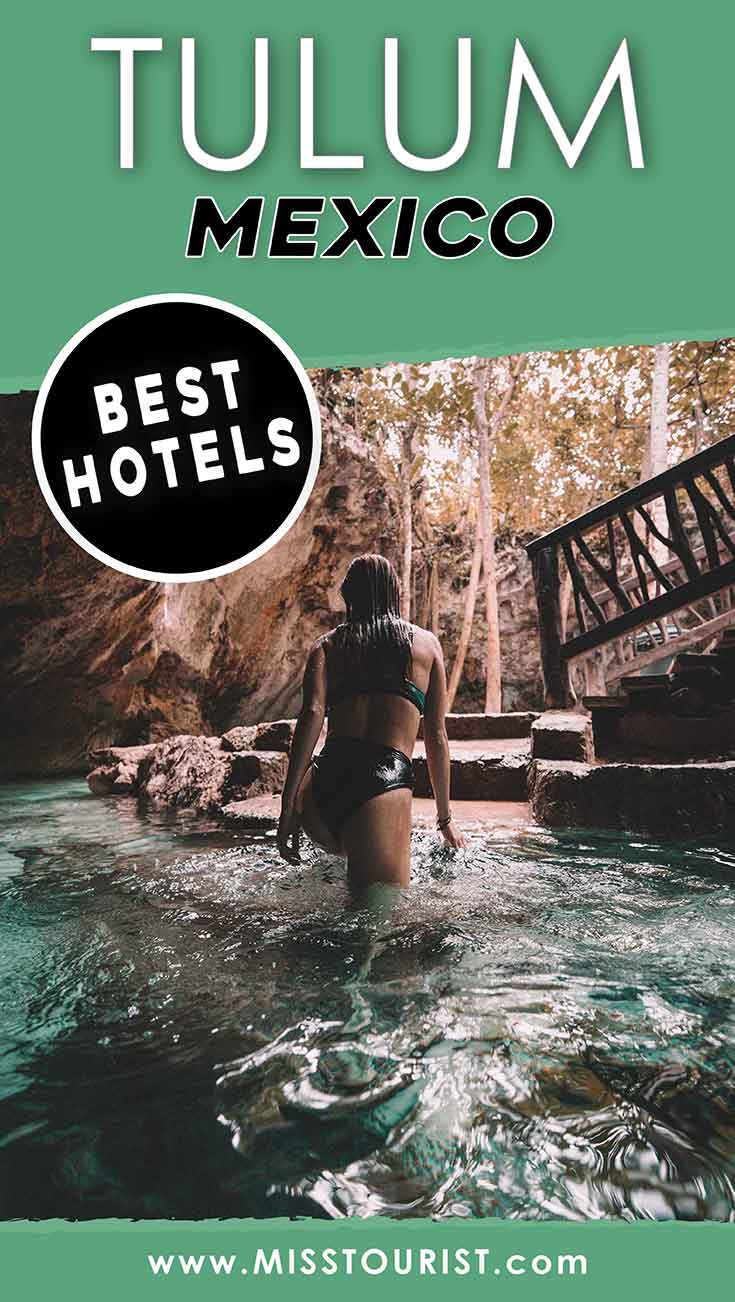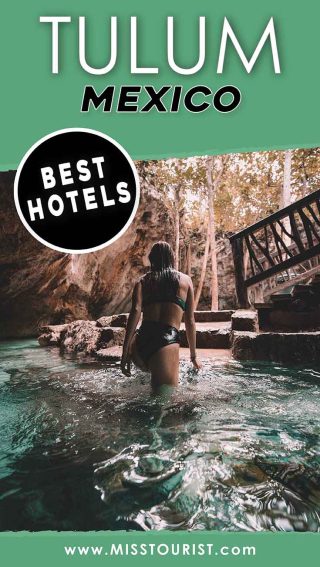 Pin it for later: