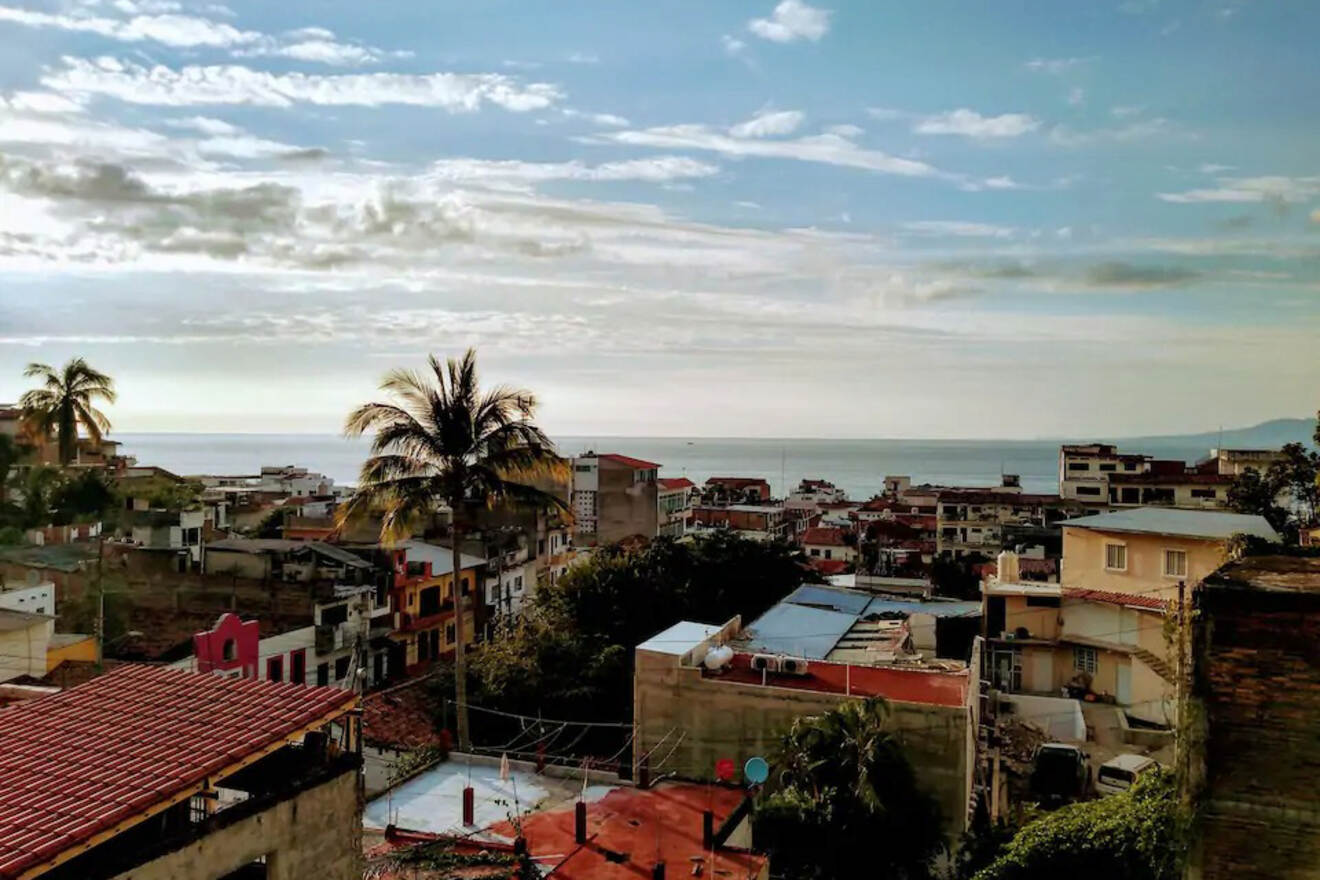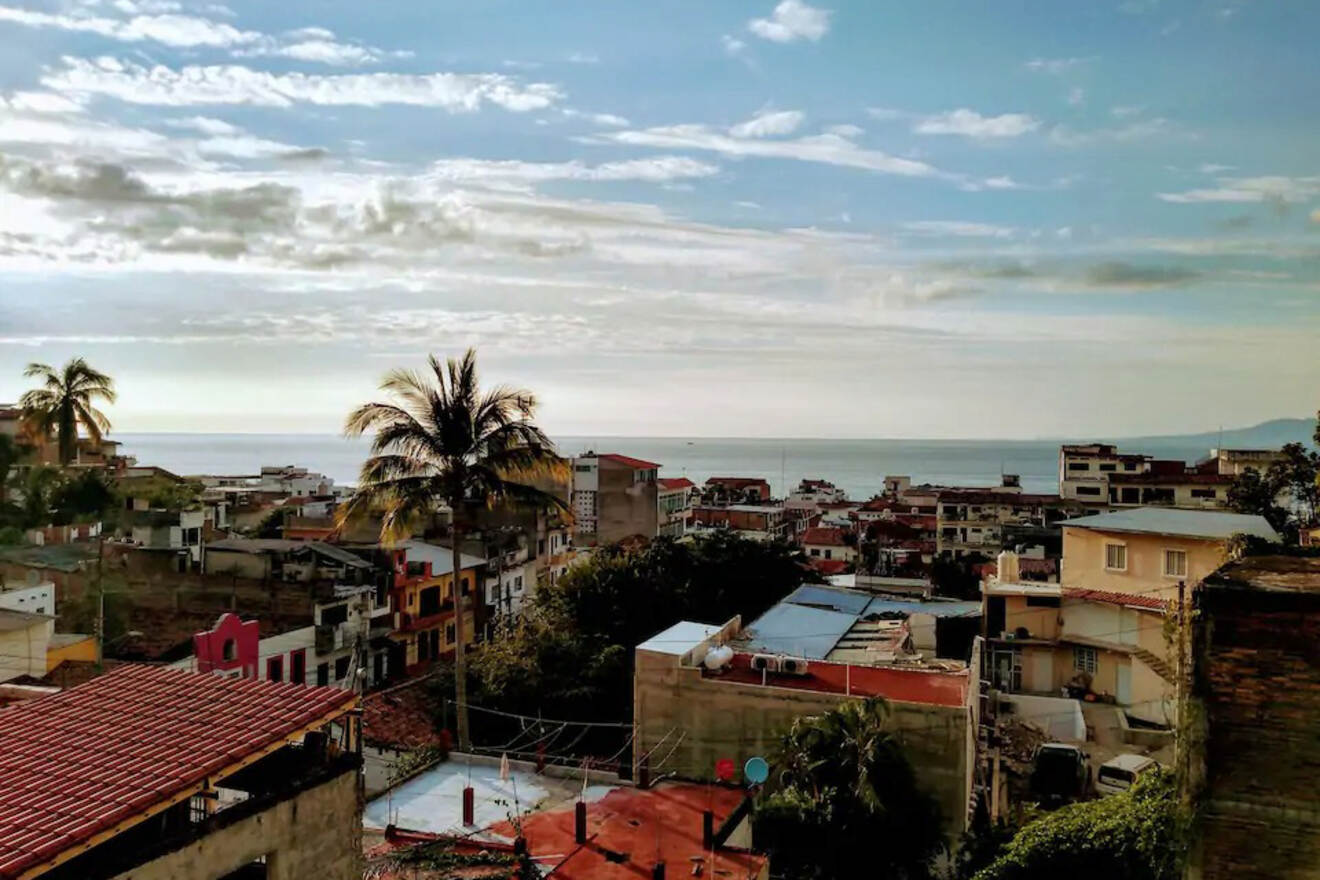 Heading down to Mexico for a tropical vacation? You'll need a wonderful place to stay – an Airbnb in Puerto Vallarta, perhaps?
Being a coastal town, there are tons of great water-related activities to check out in Puerto Vallarta. Discover the depths of this bay's crystal clear waters, learn how to sail, or go swimming with dolphins. Alternatively, you can spend your Mexican vacation relaxing on the beach and perfecting your tan.
The Malecon Boardwalk features many sculptures fashioned by famous artists. It also offers a gorgeous view of the bay. Los Arcos amphitheater is also located along the boardwalk. Here, you can check out incredible artistic performances.
Strolling through town, you'll also discover an array of bars, restaurants, and great breweries where you can enjoy Mexican or international cuisine. Art and craft galleries are also scattered throughout Puerto Vallarta and hold many breathtaking art pieces.
If You Are in a Hurry: Top Airbnbs in Puerto Vallarta
Know exactly what type of vacation Airbnb you're looking for but don't have the time to go through this wonderful list? Well, luckily, I've put together this list of the best Airbnb picks for you. Whether you're looking to live in luxury or are traveling on a budget, you'll find the ideal place to stay below.
Top 15 Puerto Vallarta Airbnbs
From palatial villas to cozy apartments, there's a Puerto Vallarta Airbnb to meet your needs. I've included only the top rentals, each with its own charm, design, and location. I'm sure you'll find an amazing Airbnb in Puerto Vallarta below.
These stunning rentals have great reviews and are ordered from most to least expensive. I've also included the cleaning and service fees in the price – so there'll be no nasty surprises when the time comes to settle the bill.
If Puerto Vallarta is just one stop on your travel trip through Mexico and you're thinking of heading across the bay next, check out our guide on Where to Stay in Los Cabos and in Mexico City.
1. Villa Azul – Luxury Apartment with Panoramic Views
Location: Conchas Chinas
Price: from US$1200 per night
Bedrooms: 8
Guests: 16
Live like royalty in this spectacular Puerto Vallarta Airbnb. The entire villa has been thoughtfully designed for maximum comfort. With five floors and eight bedrooms, this rental can easily accommodate up to sixteen people – you could even host a small wedding here!
Enjoy time together in the lounge, on the patio, or retreat to your room for some "me time." In each of the bedrooms, you'll get a plush king-sized bed, crisp air conditioning, and a spacious en suite bathroom.
Cool off in any one of the three pools. I recommend the bar pool; you can sit in the water, enjoy a cocktail, and check out the great view.
2. Magnificent Oceanfront Condo at Sayan Beach – Perfect for Groups
Location: Amapas
Price: from US$450 per night
Bedrooms: 3
Guests: 8
Spacious, sunny rooms and contemporary, vibrant furnishings describe the bulk of this Puerto Vallarta ocean view condo. With three bedrooms, this rental has ample space for up to eight people. If you're lucky enough to get the master bedroom, you'll be delighted to find a huge walk-in closet.
Spend your days on the sandy beaches or take a dip in the infinity pool. From the condo's private balcony, you can enjoy great sunset views. While you're there, spend some time behind the grill and enjoy eating al fresco at the outdoor table.
You can easily walk down the cobblestoned streets to Puerto Vallarta's historic downtown area or even the romantic zone for scenic fun.
3. Icon Vallarta condominium – Luxurious beachfront property
Price: US$450 per night
Bedrooms: 3
Guest: 8
Spoil yourself and your family in this premier beachfront resort in Puerto Vallarta. This 3-bedroom condo has a stunning ocean view and you will feel the cold ocean breeze from your balcony. 
This newly built property feels like a 5-star hotel with high-end amenities and services. Take a walk to their lovely private beach or take a dip in the pool and dine in their on-site restaurant. Their spa is a must-try, and they offer yoga, pilates, and aerobic classes too (for an additional fee).
4. D'Terrace Vacation like a Rockstar – Great Apartment for Friends
Location: Romantic Zone
Price: from US$310 per night
Bedrooms: 2
Guests: 5
Watch the sun dip below the horizon from this condo's rooftop infinity pool. Or, if you're looking for true relaxation, slip into one of the two jacuzzis. Guests will also get access to a stunning fire pit area – the perfect spot to enjoy a glass of vino while watching the sunset!
Make coffee in the kitchen, then laze in bed or on the terrace daybed, and watch as the city awakens. This condo's open-plan layout means that you can cook in the kitchen and still watch the TV across the room.
If this description hasn't convinced you to check out this Airbnb, then take a look at the rave reviews – it's basically a 5 star rated rental.
5. Beachfront Condo with Amazing Views – Great for Whale Watching
Location: 10 minutes south of Puerto Vallarta
Price: from US$210 per night (6 nights minimum)
Bedrooms: 2
Guests: 6
This is the best Airbnb if you're looking for a relaxing time in Mexico! Being just 10 minutes from the Centro area, you'll be close to all the action. And with an amazing superhost, you'll have a worry-free Puerto Vallarta vacation.
Warm furnishings and essential amenities make this condo feel like a home away from home. During the summer months, you'll be happy to find air conditioning in each room.
From the master bedroom, you'll have the best ocean views. Open the sliding glass doors to fall asleep to the sound of the waves.
From the balcony, watch dolphins and whales play in the sea; it has enough comfy armchairs for the whole group! At this rental, you'll find complimentary beach goods, which you can take to the beach below the condo.
6. Loft Apartment with a Pool – Best Mid-Price Airbnb in the Center
Location: Romantic zone
Price: from US$200 per night
Bedrooms: 1
Guests: 4
This gorgeous, clean Airbnb in Puerto Vallarta is located in the heart of the romantic zone. You can easily walk around, taking in the Mexican culture, or head down to Los Muertos Beach. After a night spent out in the old town, crash into the sizable king-sized bed.
Spend your morning lazing in bed with a cup of coffee and admire the colorful, local artwork. Then head to the rooftop pool for a dip or doze off in one of the hammocks.
This Airbnb superhost has thoughtfully provided all the essential amenities you need for an unforgettable stay in Mexico.
7. Fresh Loft in City Center – Amazing Views in Private Apartment
Location: Centro
Price: from US$170 per night
Bedrooms: 2
Guests: 5
With glass walls around half of this studio, you'll experience panoramic views of the Bay of Banderas right from your bed!. Watch the sunrise from the comfort of the loft master bedroom, or make a cup of coffee and enjoy it on the wrap-around balcony.
This clean Puerto Vallarta Airbnb's layout makes it perfect for couples wanting an intimate space but also spacious enough for a family of 5. Admire the colorful artworks on the walls or just kick back, relax and enjoy your favorite Netflix series.
Located just four blocks from the beach, this is the ideal place if you want to explore the old town area!
8. Traditional Open Air Style Casa with Terrace – Perfect for Couples
Location: Centro
Price: from US$170 per night
Bedrooms: 1
Guests: 3
The simple, clean exterior of this Airbnb Puerto Vallarta is incredibly deceiving. Once you step through the door, you'll find yourself amidst vibrant, Mexican-themed decor. The combination of original, local artworks, textured furnishings, and colorful, patterned tiles gives this casa authentic charm.
Spend your afternoons lazing on the day bed with a book in hand or sit out on the terrace listening to the soothing sounds of water bubbling in the stone fountain. After a busy day exploring attractions, come home and draw a hot bubble bath.
This rental has a fully-equipped kitchen, plus there's an array of nearby restaurants for you to choose from. The host of this Airbnb Plus really has thought of everything you need for a wonderful experience. Once you've stayed at this Airbnb, you'll certainly understand why it's received such outstanding reviews.
9. Condo Niza with Gym, Internet & Rooftop Pool
Location: Díaz Ordaz
Price: from US$150 per night
Bedrooms: 2
Guests: 4
This Puerto Vallarta Airbnb is filled with quirky pop icon artwork and comfortable furnishings, making it a great choice for families. It's just five blocks from the beach, and the host has thoughtfully provided an umbrella, ice chest, and beach chairs for guests to use.
If you aren't in the mood for a beach day, head on up to the rooftop pool. Your kids can splash and play while you get to see an epic view – one of the best views in Puerto Vallarta, apparently. Why not take a look and decide for yourself? A guest in this rental, you'll also have access to the gym – great for those who want to keep fit during their time in Mexico.
10. Modern Condo in the Heart of Puerto Vallarta – With Pool & Jacuzzi
Price: US$160 per night
Bedrooms: 2
Guest: 4
Looking for a relaxing place to stay while in Puerto Vallarta? Look no more, as I Found one of the best-reviewed Airbnb at an affordable price!
Incredible views, a beautiful pool, a relaxing jacuzzi, and a spa await you. You'll also love the colorful decors, handcrafted Mexican furniture, and art in this condo that creates a contemporary and relaxing atmosphere. Plus there's no better place than this if you want to be close to restaurants, bars, and the beach.
11. Condo Navila in Romantic Zone's Heart – Great Location
Location: Romantic Zone
Price: from US$130 per night
Bedrooms: 1
Guests: 4
Enjoy contemporary living in this modern, stylish Puerto Vallarta Airbnb. An open-plan layout coupled with wooden furnishings and tasteful art pieces creates a vogue atmosphere. If you're not enjoying the city and mountain views from the apartment, you can head to the top floor to see sweeping views of Banderas Bay or a dip in the infinity pool. The clean gym area also has mountain views, making your workouts that much more enjoyable!
Create a home-cooked meal in the kitchen or treat yourself to some takeout in front of the television. This Airbnb also comes with a wonderful, friendly superhost who's always ready to help and will certainly ensure you have an amazing stay in Puerto Vallarta.
12. Buddha Loft in Puerto Vallarta
Location: Romantic Zone
Price: from US$110 per night
Bedrooms: 1
Guests: 2
This clean, Puerto Vallarta studio is a hidden gem and the perfect place to recharge while on your travel vacation in Mexico. The neutral color scheme is complemented by wooden furnishings, Buddhist ornaments, and several plants, creating a calming atmosphere.
There's a sound system and Netflix for your entertainment, as well as a spectacular rooftop terrace – complete with a lounge, pool table, bar, infinity pool, and firepit (plus unbeatable views). After a night of fun, climb under the luxurious covers of your queen size bed. And with room-darkening shades, you can sleep in as late as you like!
13. Apartment with Beautiful Ocean & Cathedral Views
Price: US$50 per night
Bedrooms: 1
Guest: 2
With its unbeatable location, you can enjoy the ocean and cathedral views from the terrace or the comfort of your room. The room has large windows that let light in and has great air ventilation, plus it has a kitchenette if you want to cook for yourself.
No matter where you look or where you walk, there is always something interesting to see. You're just a few blocks from the beach and other tourist attractions as well as restaurants and bars.
14. Depa Fer Apartment – Best Airbnb for Solo Travelers
Location: Centro
Price: from US$40 per night
Bedrooms: 1
Guests: 2
Who said you couldn't travel and enjoy the beauty of Mexico on a budget? This amazing one-bedroom Airbnb apartment has a great location and a wonderful superhost who goes above and beyond for guests during their stay.
The bright, clean spaces and thoughtful touches give this place a homely feel. The kitchen is fully equipped with the amenities you'd need for a quick meal, or you can walk to one of the nearby restaurants for some Mexican cuisine.
Enjoy the view from the rooftop terrace or take a stroll down to the beach for a day in the sun.
15. Clean Private Room in Condo
Location: Marabella
Price: from US$40 per night
Bedrooms: 1
Guests: 2
If you're a solo traveler looking to live more like a local, then this is the best Airbnb for you. This condo's superhost is so friendly and always willing to suggest places to visit in the area.
In your private room, you'll find rustic wooden furnishings, a plush king-sized bed, and your own balcony. This clean condo features interesting art pieces and has a homely feel. It's also surrounded by tropical vegetation, so no matter which balcony you step out on, you'll always feel like you're in a lush jungle.
As a guest, you'll have access to the dining room, kitchen, bathroom, and swimming pool. There's also free parking available. If you're still feeling skeptical about this amazing rental, take a look at the rave reviews.
BONUS: Unusual Puerto Vallarta Vacation Rentals
While the above list contains the best regular Airbnbs in Puerto Vallarta, Mexico, the next two rentals are incredibly unique. You're guaranteed to have an amazing and memorable stay in either of these places. I also mentioned the driving time from the center of Puerto Vallarta to the place in brackets.
1. Tiny Home
Location: San Francisco, Nayarit (1-hour driving)
Price: from US$70 per night
Bedrooms: 1
Guests: 2
Tiny homes are just the best, and what better time to try one out than when you're on a travel vacation in Mexico? Just make sure you remember to pack lightly! This Airbnb near Puerto Vallarta has cleverly maximized the space by opting for a shower instead of a bath and a gallery-style kitchen.
Spend your afternoons in the hammock reading a good book, then, in the evenings, sit around the firepit and do some stargazing.
You'll be located in a quiet neighborhood that's only a 13-minute walk from the beach – what a pleasure! Another great aspect about this place is that it's pet-friendly – and don't worry, they can run around in the fenced yard.
2. Casa Palapa
Location: Olímpica, Puerto Vallarta
Price: from US$40 per night
Bedrooms: 1
Guests: 2
This Airbnb's most unique feature is that it has no windows! Yes, you read that right – this Puerto Vallarta Airbnb studio is completely open air. Instead of walls and windows, this unique rental makes use of blinds to create a private space.
Have a siesta on the king-size bed or doze off in the hammock. This Airbnb host is very friendly and has her own coffee shop on the ground floor – a great little spot. It's also in a great location – you'll be able to walk to the beach and eateries in the area.
Top 2 Airbnb Experiences in Puerto Vallarta
While there are tons of attractions and things to do around Puerto Vallarta, there's nothing quite like being shown around by locals. So, while you're finding your dream vacation place to stay, why not take a look at some of these outstanding Airbnb Experiences with great reviews.
Mexican Cooking at Private Villa – Enjoy unlimited margaritas and Mexican cooking lessons at this villa. You'll also learn about the process of distilling tequila.
Stand up Paddle and Snorkel in Los Arcos – Head to Mismaloya Beach, south of Puerto Vallarta, to explore beautiful caves and crystal clear water.
Conclusion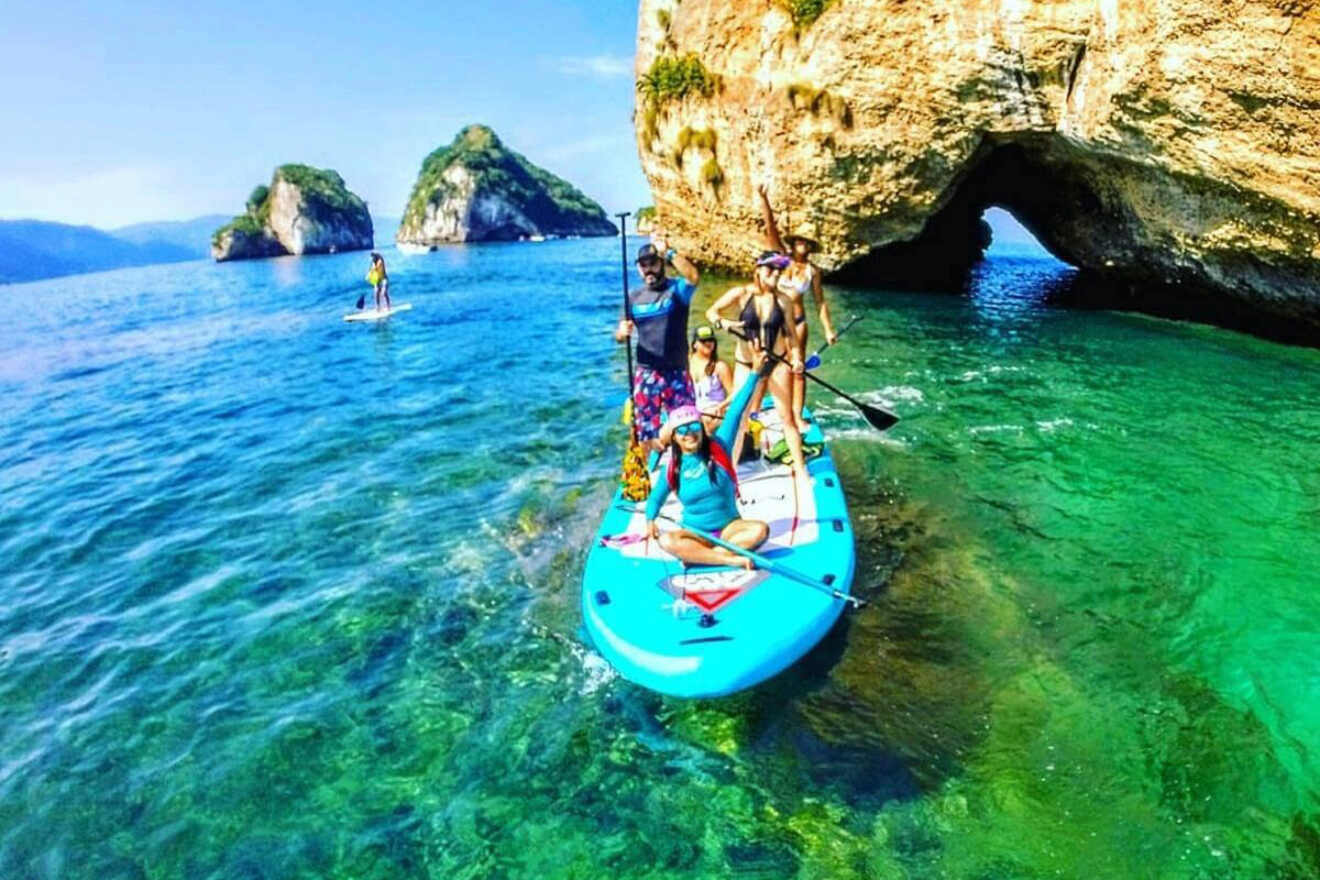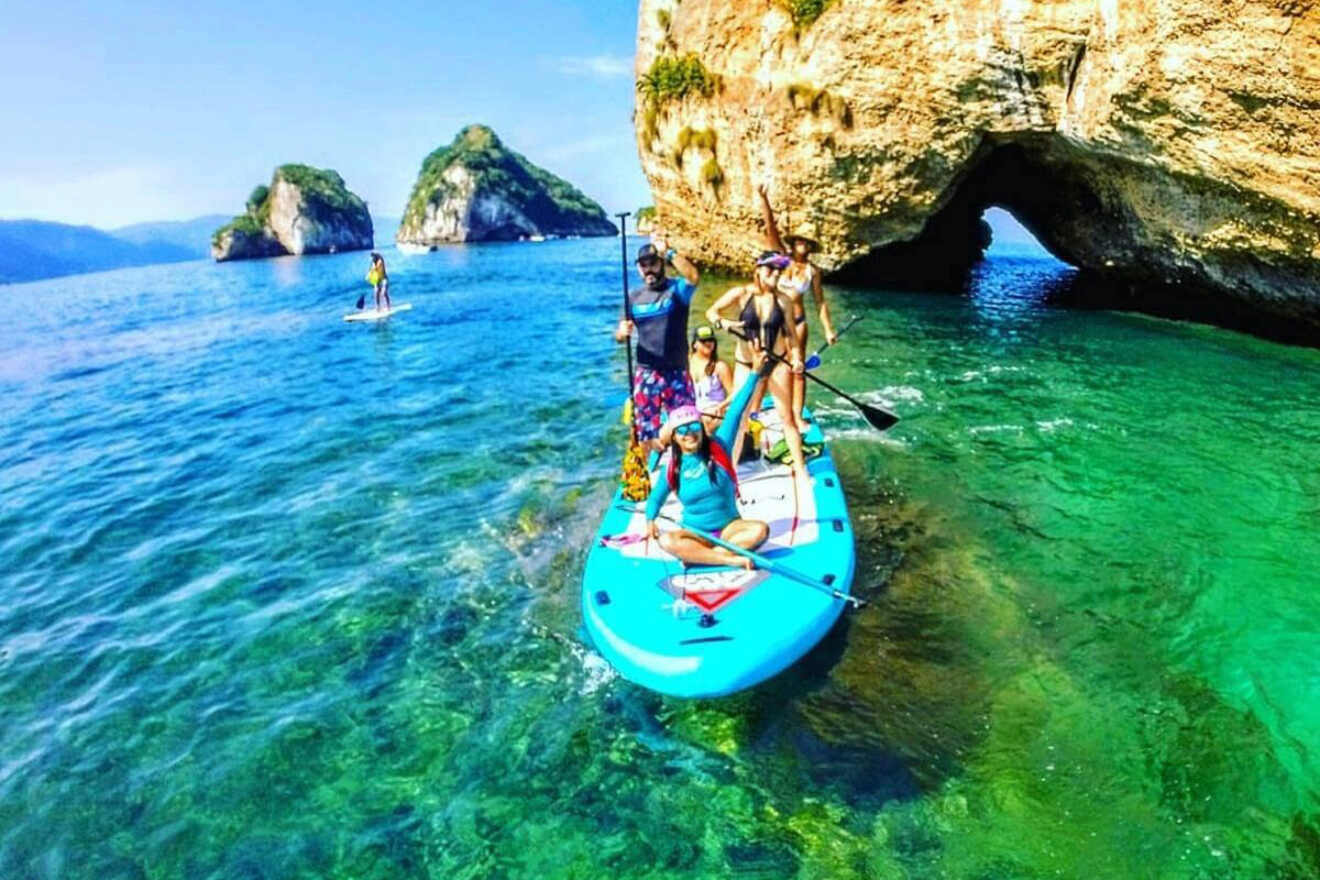 Puerto Vallarta is a charming Mexican destination – it boasts stunning natural scenery, delicious food, and drinks, as well as outstanding arts and culture. But there are also other amazing places to stay, like Tulum and Cancun, so be sure to check out my posts about them!
During your stay in Puerto Vallarta, you'll need a place to call home. An Airbnb can offer you just that, but also so much more. Whether you're vacationing with the entire family or you've decided to travel solo, you'll certainly find your dream Airbnb stay in the list above.
If you haven't quite decided on what you're looking for, why not take another look at this top-rated D'Terrace Vacation like a Rockstar? It has space for five and a great infinity pool.
Or else, the Buddha Loft in Puerto Vallarta is the perfect spot for couples wanting an entire studio to themselves. These are all very popular vacation spots, so be sure to book in advance to avoid disappointment!
If you've visited this luxury paradise before and stayed somewhere fabulous, please share in the comments below. I'd love to see some more Puerto Vallarta Airbnbs.
Adios amigos! I hope you have an incredible time in Puerto Vallarta!