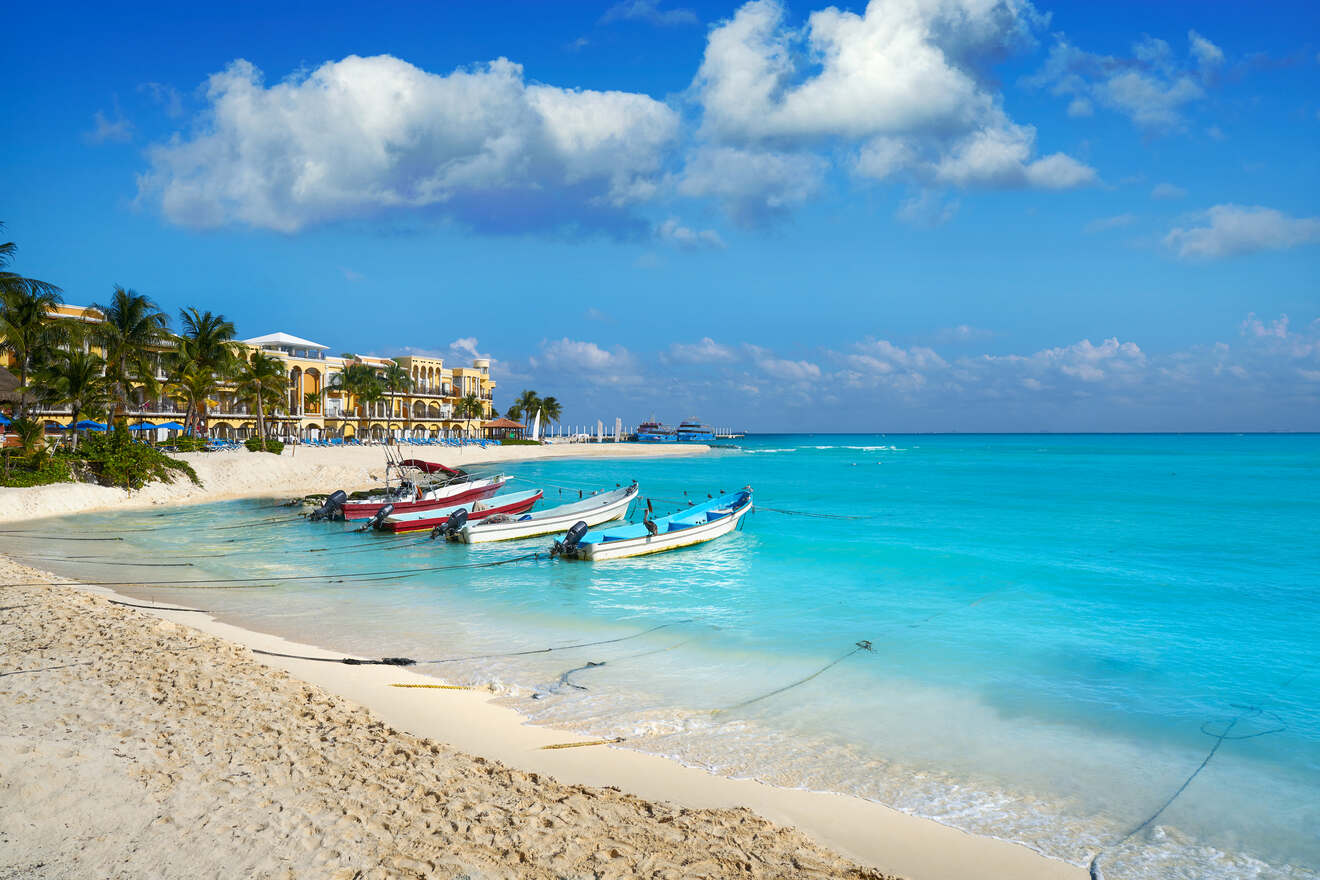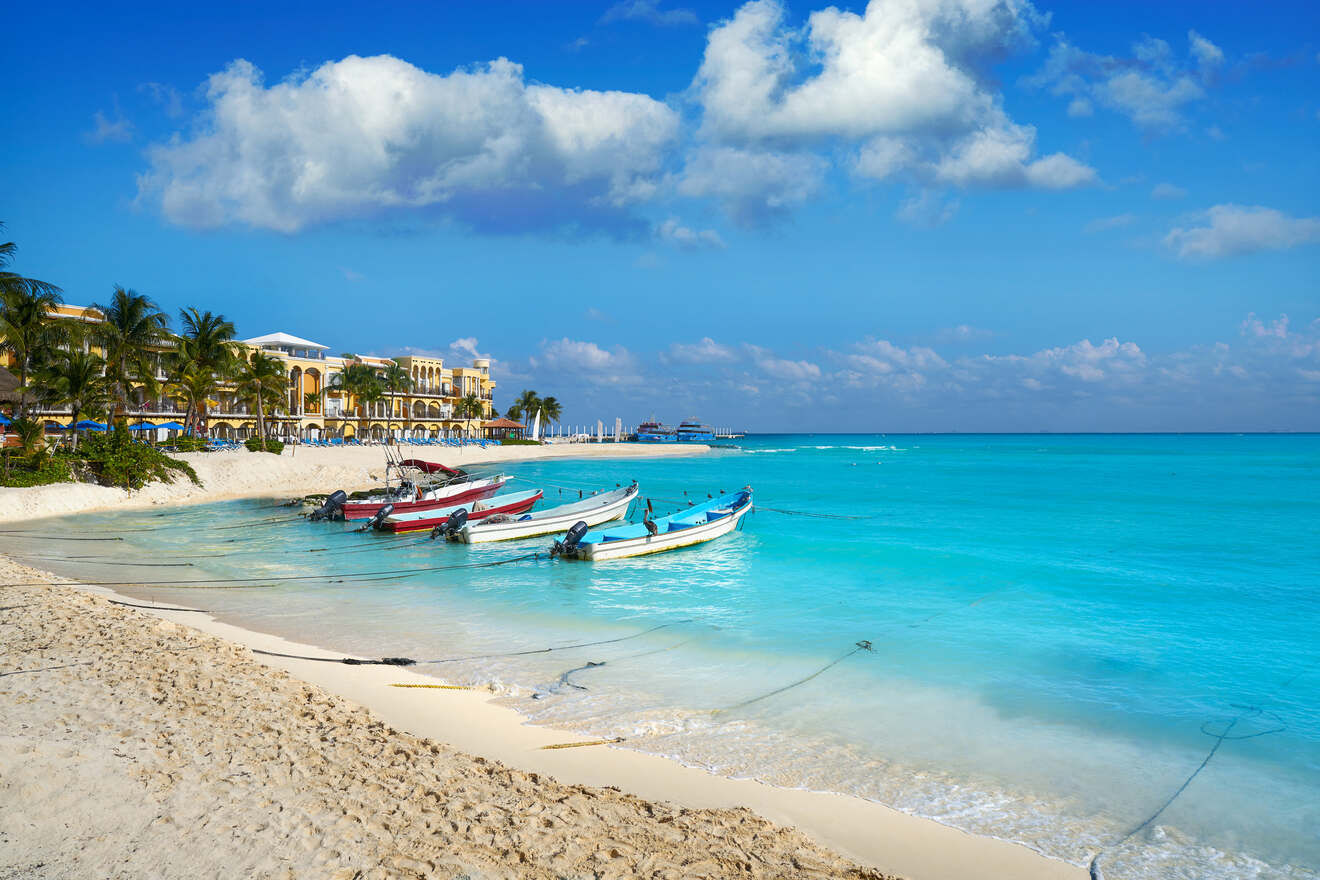 Endless white sandy beaches, 83 Fahrenheit (28 degrees) all year long, green rainforest jungles in the surroundings… is it one of the Pirates of the Caribbean movies? No, it's Playa del Carmen in Mexico!
The city is part of the Quintana Roo Province, with Tulum, Cancun, Cozumel, etc. Located along the Riviera Maya, just south of Cancun. Playa del Carmen is one of Mexico's most popular tourist destinations and a "must stop" for many cruise ships.
Who would even know that before the 90s, it was only a small fishing village? Today, its crystal clear sparkling waters, swaying palm trees, and relaxed vibe have made the city a popular setting for marriages and honeymoons! I have no intention of getting married soon, but Playa del Carmen is definitely at the top of my bucket list and if you're reading this blog, I bet it's also in yours!
But here, there's more than just sun and sand (which already sounds good!). This tropical city also offers outdoor adventures, action, and wild excursions. Scuba diving, snorkeling, skydiving, kitesurfing, rafting… music to my ears! But if you're looking for the typical "beach holiday," you're in the right place! There are so many beaches both in town and in the close surroundings from which to choose. Whether you need relaxation, excitement, or a party, Playa de Carmen won't let you down.
To spot the best neighborhoods for your interest and budget, I've searched all over the web and made a guide to help you choose where to stay in Playa del Carmen, including the top accommodations -resorts, hostels, and Airbnb. With a perfect location just an hour's drive from the Cancun Airport, Playa del Carmen is packed with tourists all year round… so once you choose the perfect option for you, make sure you book it immediately!
Get ready to set sail: the trip begins!
If you are in a hurry
If you want to book now, then waste no more time, check out this quick list with the best hotels in the heart of Playa del Carmen, from Luxury to budget:
Here is a map to help you visualize where are located all the different areas and places to stay I will be talking about: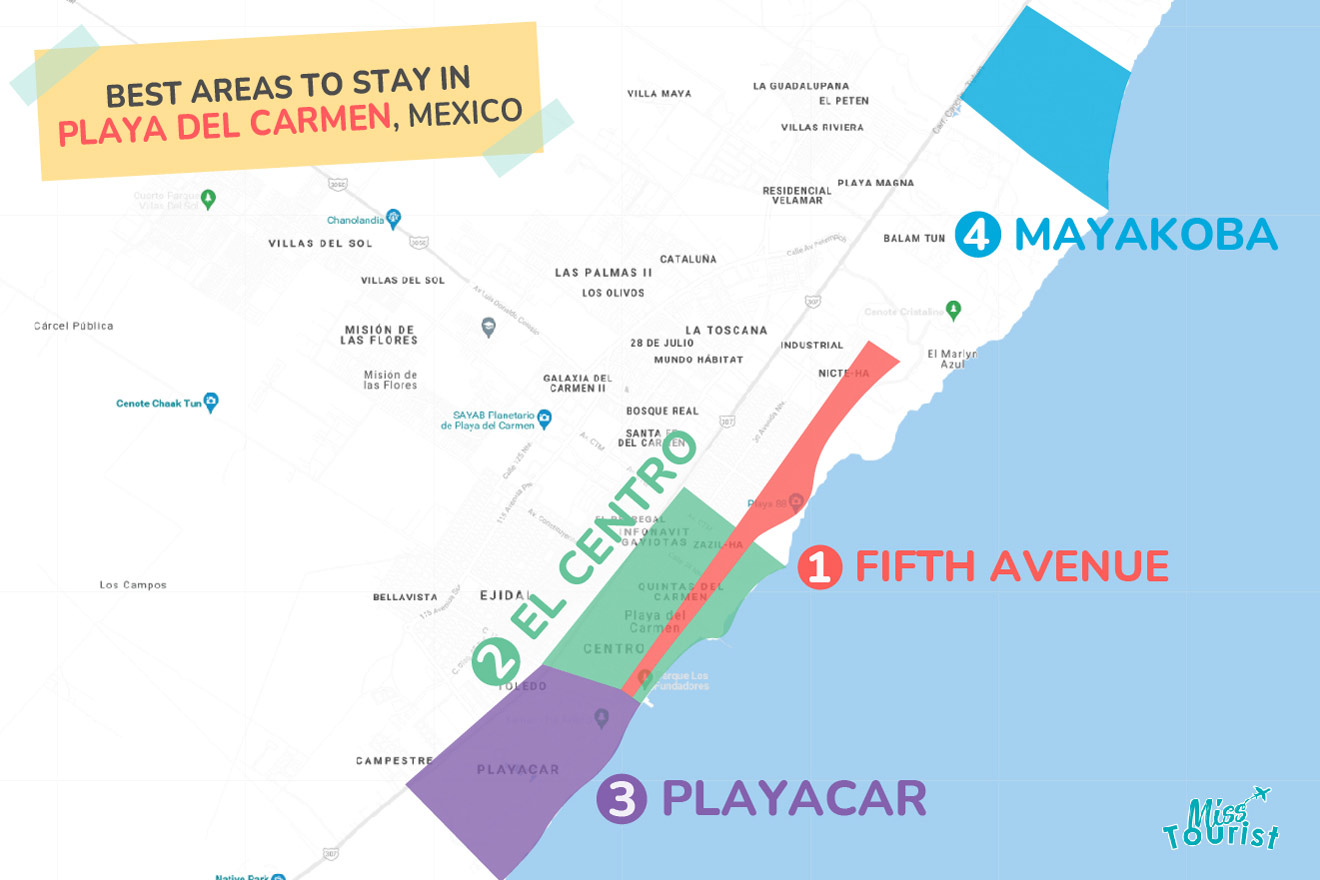 1. Fifth Avenue – where to stay in Playa del Carmen for first timers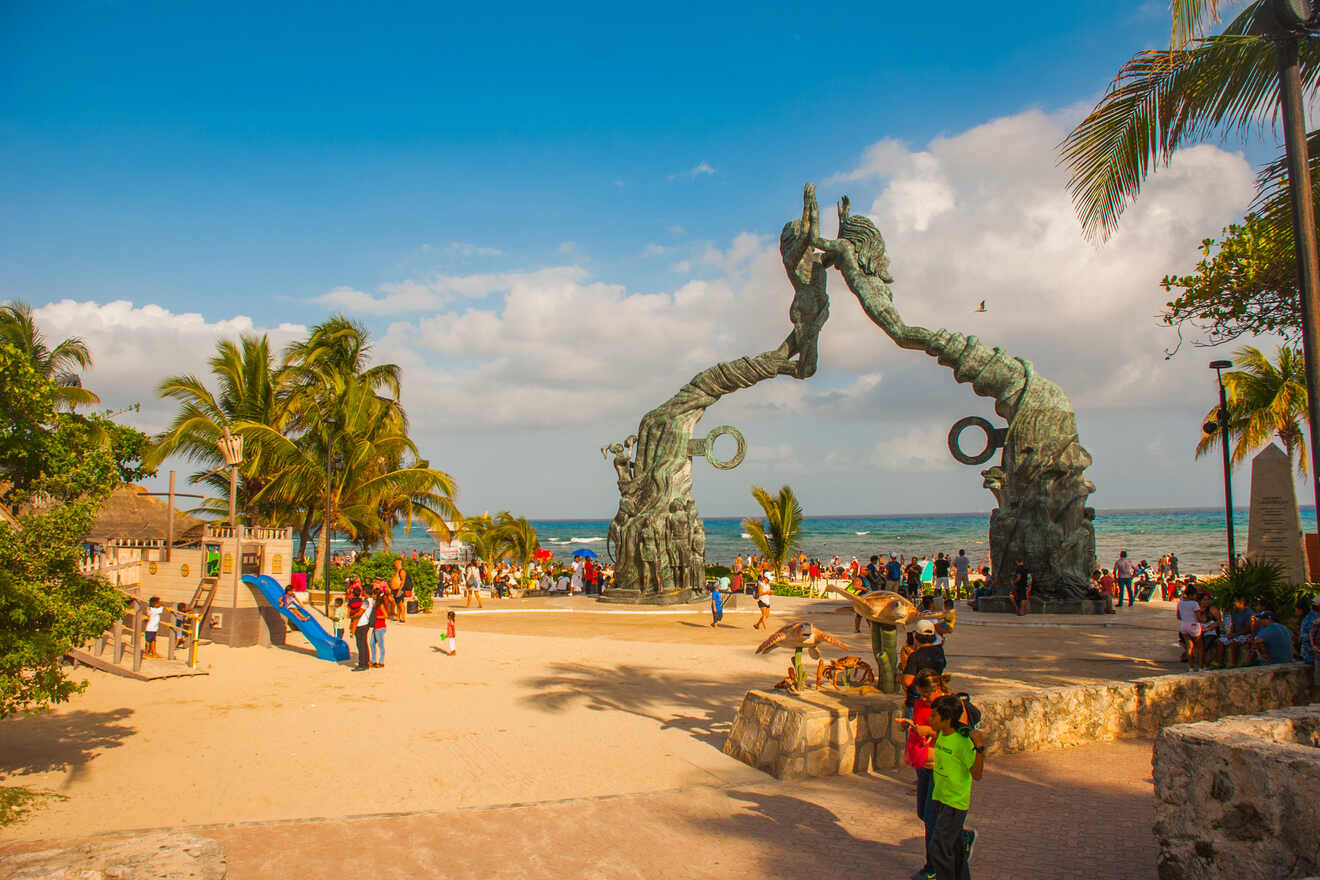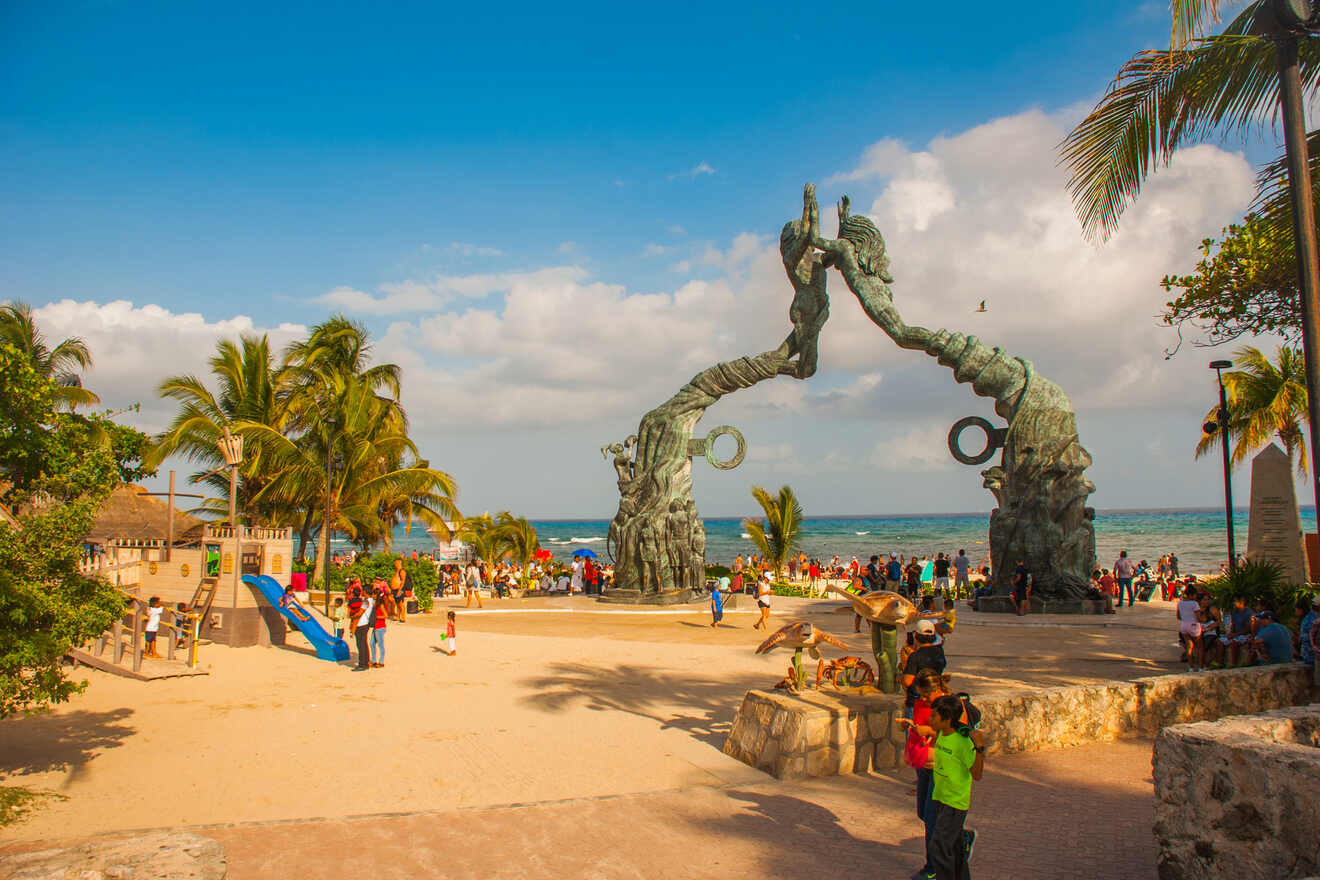 If you don't mind being in tourist areas, Fifth Avenue, locally known as Quinta Avenida, is the perfect spot for you! This pedestrian-only main street has the widest range of shopping, dining, and nightlife options.
The colorful and vibrant Fifth Avenue is safe, close to all the best beaches and downtown, everything first-time visitors are looking for! That's why if you intend to book a hotel here, you should do it well in advance! Very close by there's also Point Esmeralda, known for brilliant white sands and turquoise waters typical of the Riviera Maya.
Even if la Quinta is mainly known for its entertaining range of great shopping and bustling bars, it also has some cultural options too! On this street, you'll find the Museum of Frida Kahlo, one of the most influential artists in Mexico, who became a real symbol of courage.
With her numerous portraits, she explores Mexico's diverse cultural history: this museum is your opportunity to understand more about Mexican culture and traditions! Gaston Charo Gallery is another absolute must when strolling around 5th Avenue. Here you'll see super interesting interactive works with elements that change depending on the viewer's mood! Crazy, isn't it?
Luxury hotel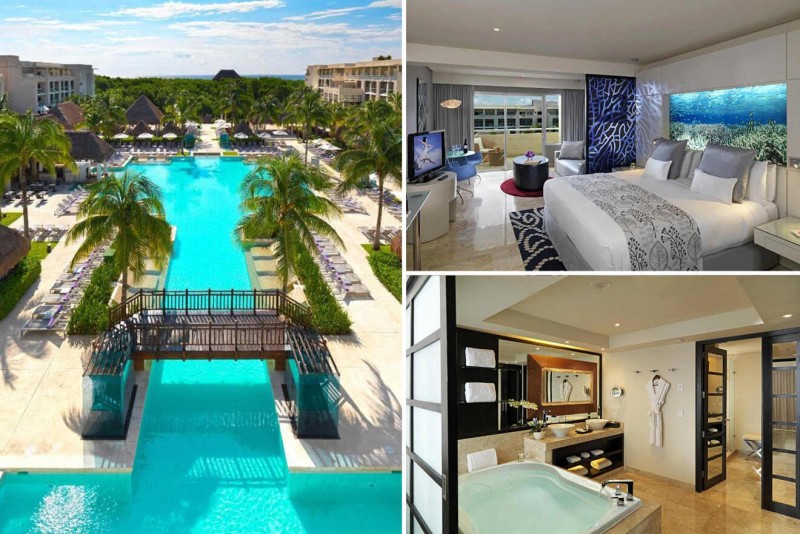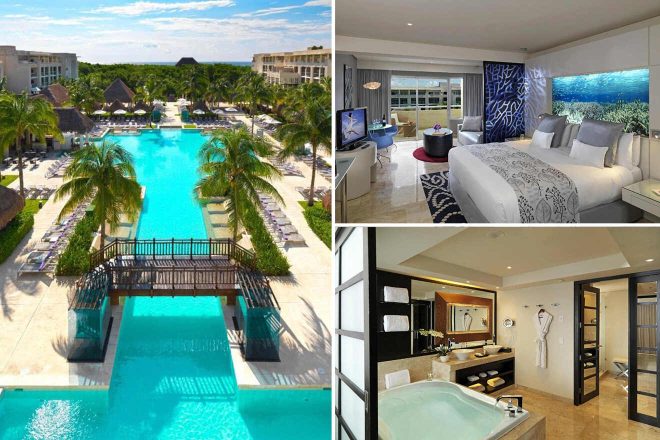 Live a dream in this five stars Adults Only All Inclusive luxury resort, featuring a big pool and a spa with wet and dry saunas. When you're not in complete relaxation, participate in the countless activities included: pilates classes, tango dancing, sushi-making, and cocktail preparation!
Other accommodation options in Fifth Avenue
Mid-Range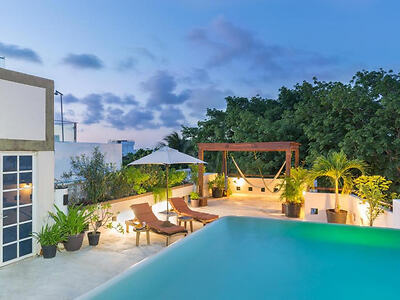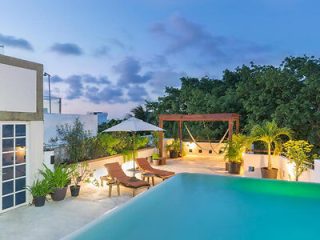 Modern rooms with great location, 2 minutes walking distance from 5th Avenue
Budget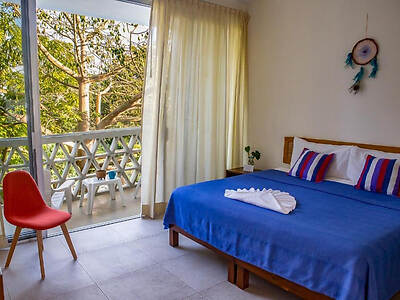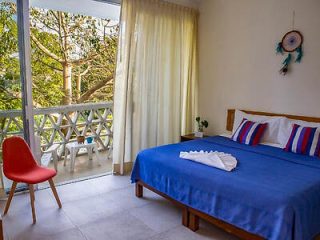 Free breakfast, bikes, and parking, in this multicultural hotel on the beach
Airbnb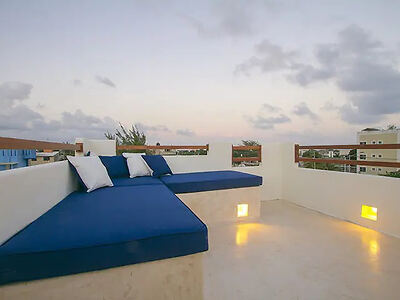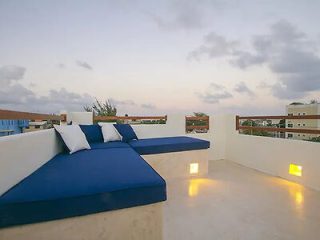 Quiet and beautiful apartment right on the beach, with outdoor terrace and garden!
Things to do in Fifth Avenue
2. El Centro (downtown) – best area for budget travelers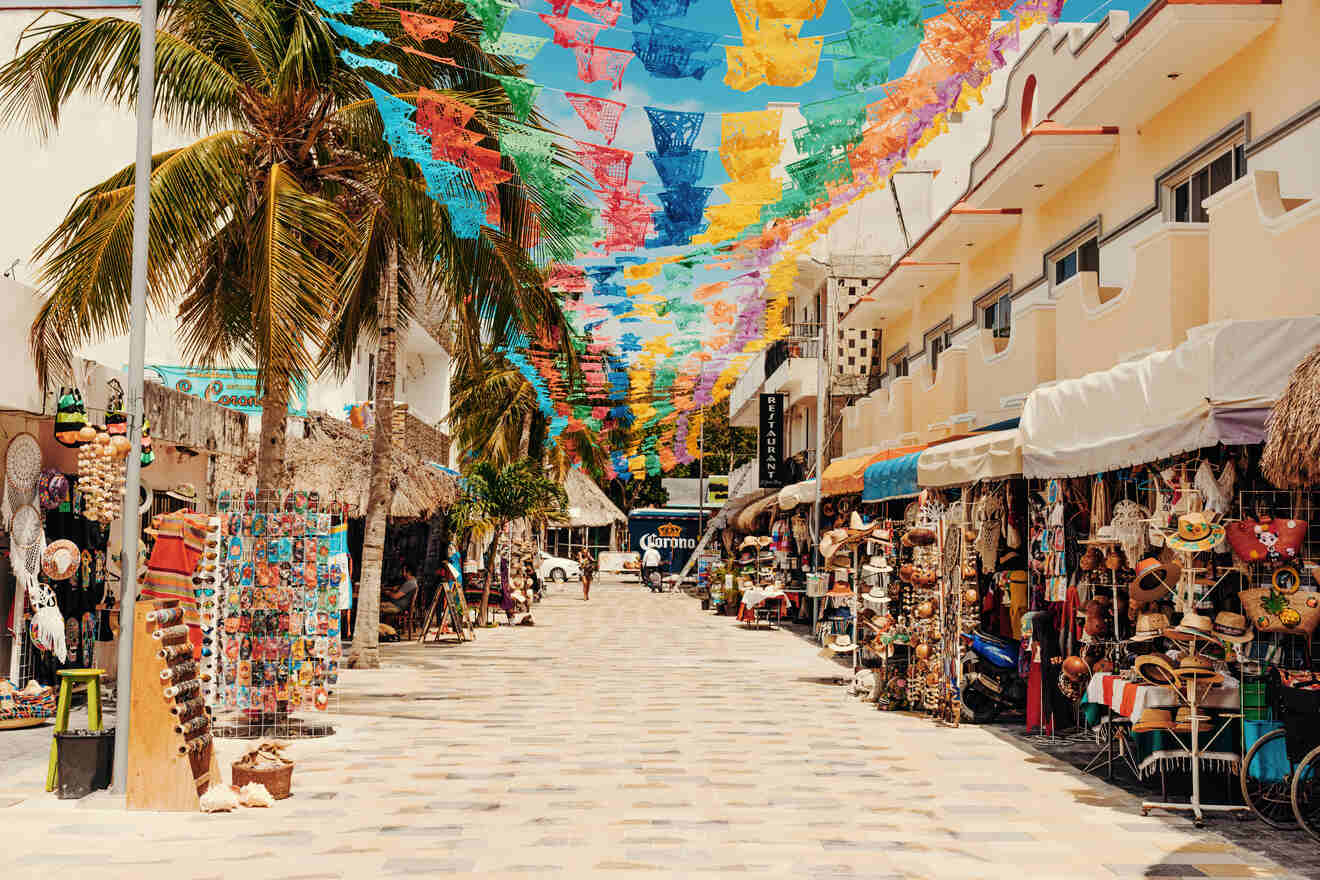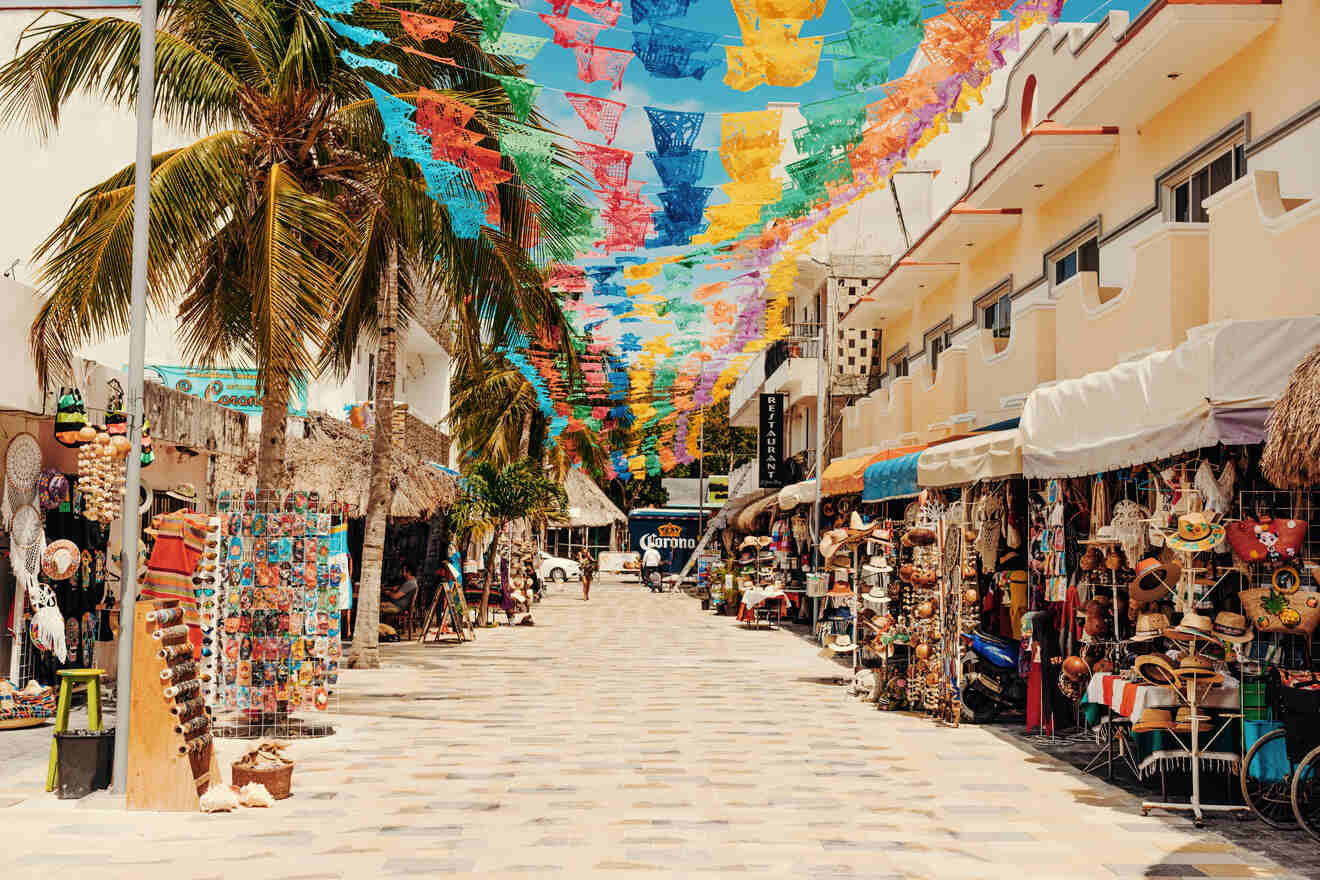 At the heart of Playa del Carmen, there is the Centro neighborhood. This is also where all the cheap restaurants and affordable hotels are concentrated making it the best choice where to stay in Playa del Carmen if you're on a budget! This neighborhood starts at the beach and goes up to the freeway and north to Constituyentes Avenue meaning you have a bit of everything here.
As the name would suggest, this is downtown Playa del Carmen, where the 5th Avenida begins, and it's known for unique attractions, excellent nightlife, and delicious savory food. Here you'll have a real journey through traditional Mexican flavors, street food, and succulent dishes! If you're looking for even more culture, I highly recommend you rent a car and go on a trip to Cancun!
Back in downtown Playa del Carmen, you'll also find several interesting attractions, such as Los Fundadores Park (Founding Fathers Park), where you can check out the bronze Portal Maya sculpture or assist at the amazing Dance of the Flyers and the Mayan dancers. In the center of the park, there are local women with carts selling cheap and super fresh cut-fruit in a cup, a thing that you'll see a lot in Mexico and something not to miss out on!
Luxury hotel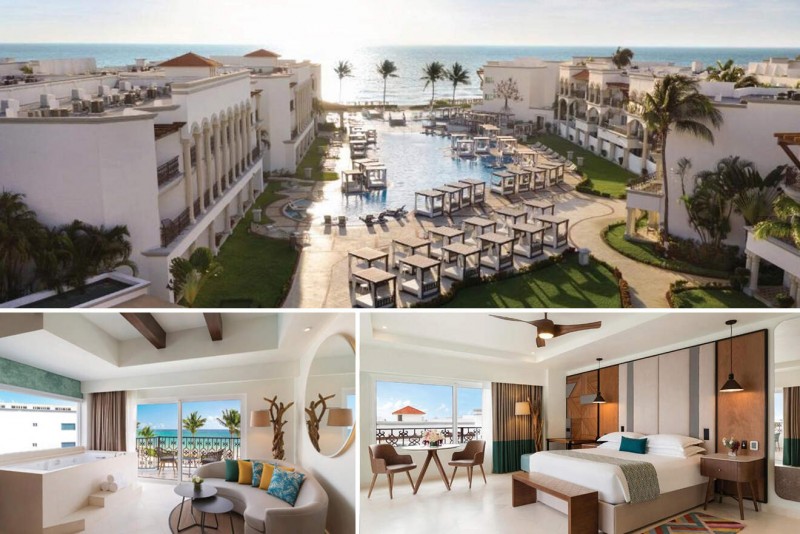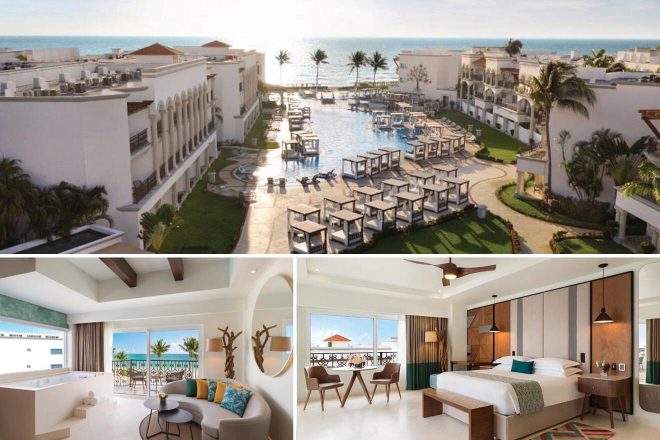 Just steps away from La Quinta Avenida, this luxurious, all-inclusive resort offers a stunning oceanfront view, first-class amenities, a private beach, adventures, and complete relaxation! Enjoy your sophisticated room after a full day of scuba lessons, live entertainment, world-class spas treatments, and have dinner in one restaurant of the seven specialty dining options!
Other options in El Centro (downtown)
Mid-Range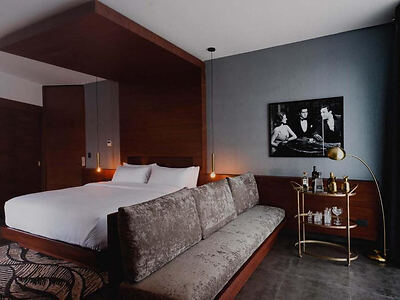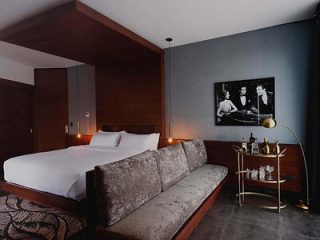 Spacious rooms in the heart of Playa del Carmen, with an outdoor pool, Mexican restaurant, and wifi included
Budget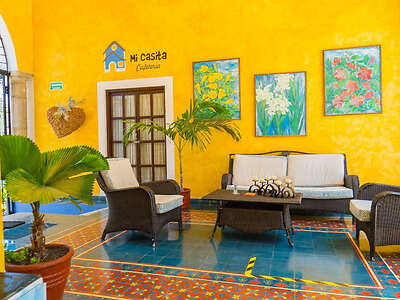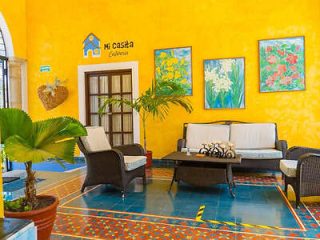 Air-conditioned and warm-colored rooms just a 5-minute drive away from Playa del Carmen Airport
Airbnb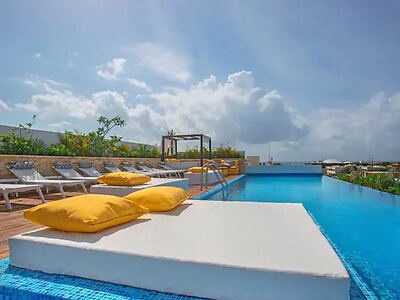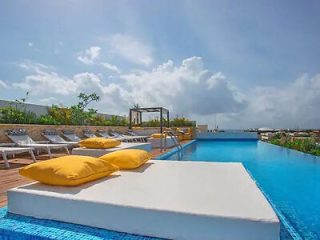 Room in a luxurious studio with access to a kids club, Spa, two pools, and terrace with view on the beach
Things to do in El Centro
3. Playacar – where to stay in Playa del Carmen for families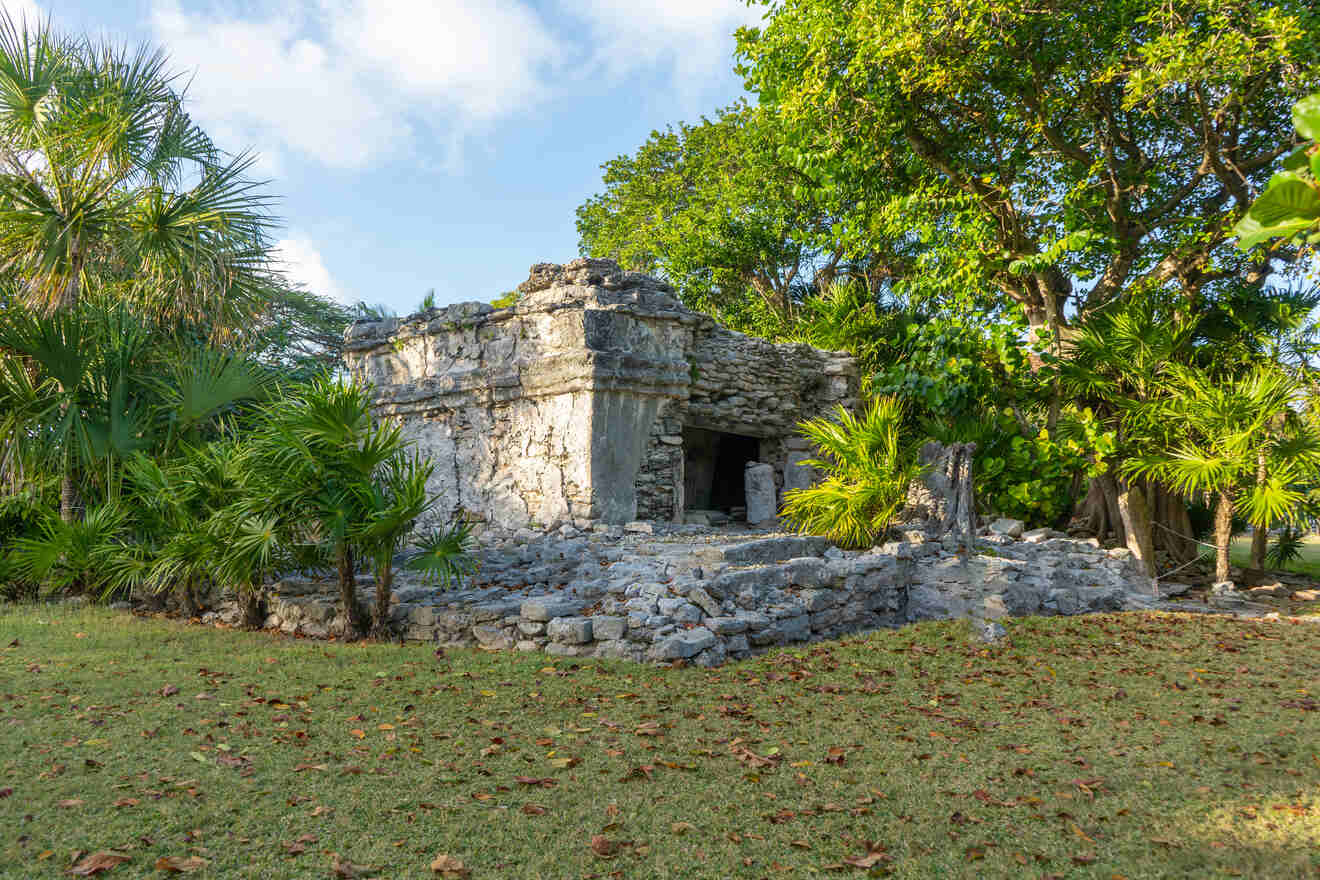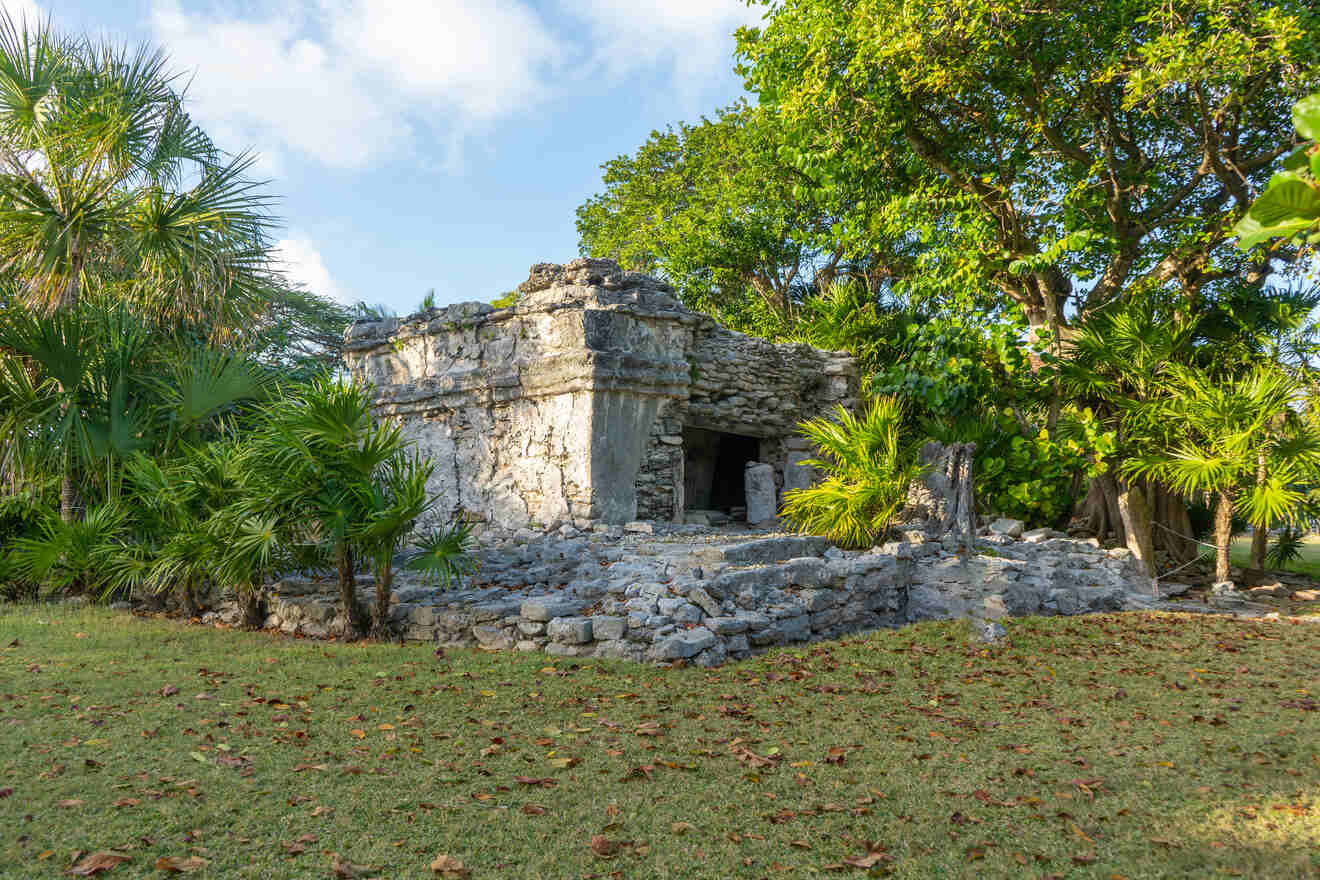 Playacar, a residential area for locals and ex-pats, is a safe and central gated area, the number one pick to stay in Playa del Carmen with kids. This luxurious neighborhood is located south of Downtown and is known for glamorous resorts, stunning beaches, and natural surroundings.
Playacar is ideal for a vacation with your family because it's close to excellent tourist attractions, like the park of Xaman-Ha ruins, perfect for exploring a piece of Mexico's past through the ancient Mayan ruins. In this small park, you'll connect with nature and have some quiet time far from the busy tourist hustle.
Playacar beach is another dreamy place to get some deserved relaxation, either laying on its golden sand or swimming in its transparent and calm waters.
Luxury hotel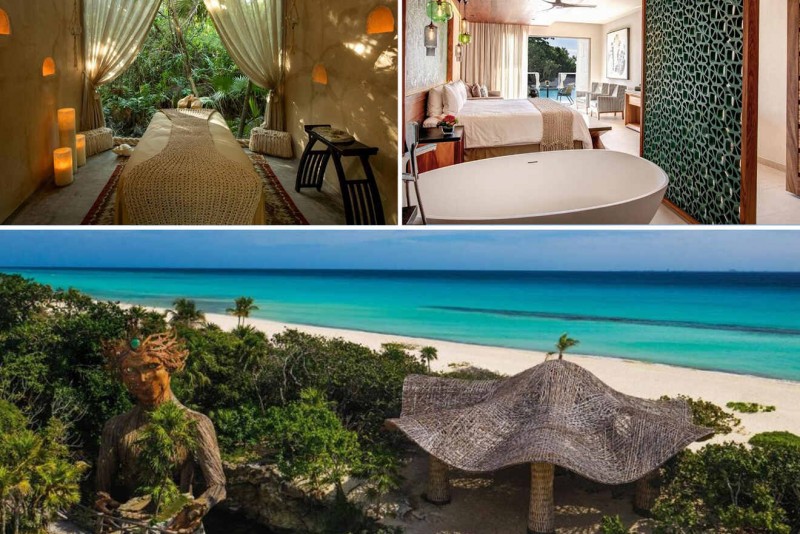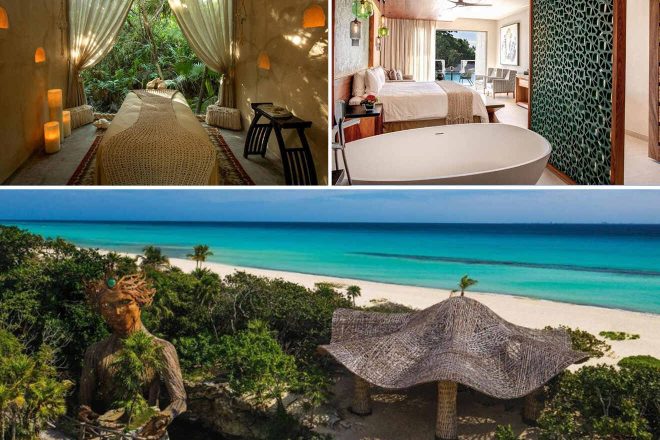 Reconnect with nature and with yourself in this wonderful all-inclusive resort, located between the Caribbean sea and the jungle, and get luxury wellness retreats in the spa or beauty center. The spacious suites of this holistic resort have stunning beachfront views, private terraces, and gourmet room service.
Other accommodation options in Playacar
Mid-Range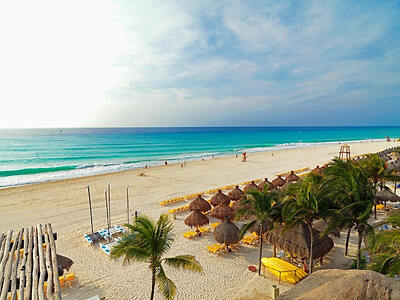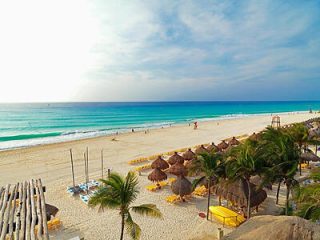 Amazing resort with private beach, outdoor pool, and garden with waterfalls!
Budget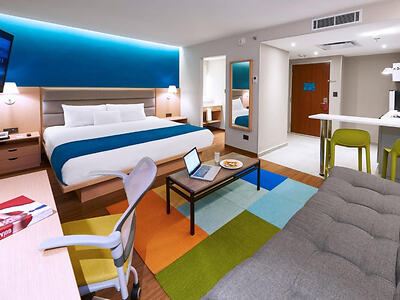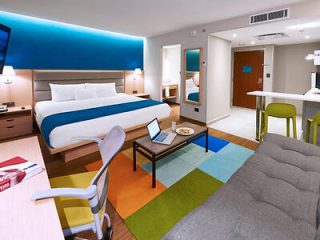 Family rooms with private kitchen and comfy beds. Guests love the breakfast!
Airbnb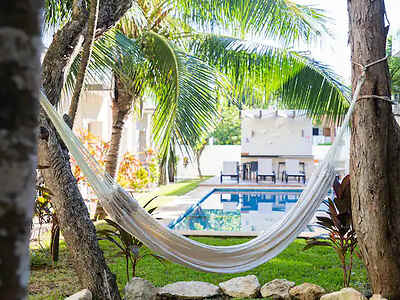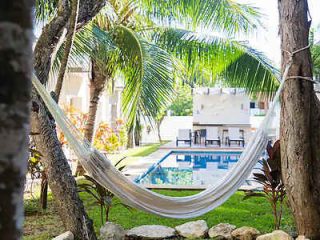 New spacious studio with free parking and free golf cart transportation
Hotel Xcaret Arte – I had to add an extra hotel here simply because it's too awesome not to mention. Hotel Xcaret Arte is an adults-only, all-inclusive retreat. Think about it as Disneyland for adults! You get complimentary entry and transport to all 8 parks (including the famous Xplore and Xel Ha), a luxurious spa, a private beach, and too many restaurants and bars on-site for your own good. All of this is included in your room price meaning your entire holiday is planned by booking this awesome hotel in Playacar!
Things to do in Playacar
4. Ciudad Mayakoba – where to stay for luxury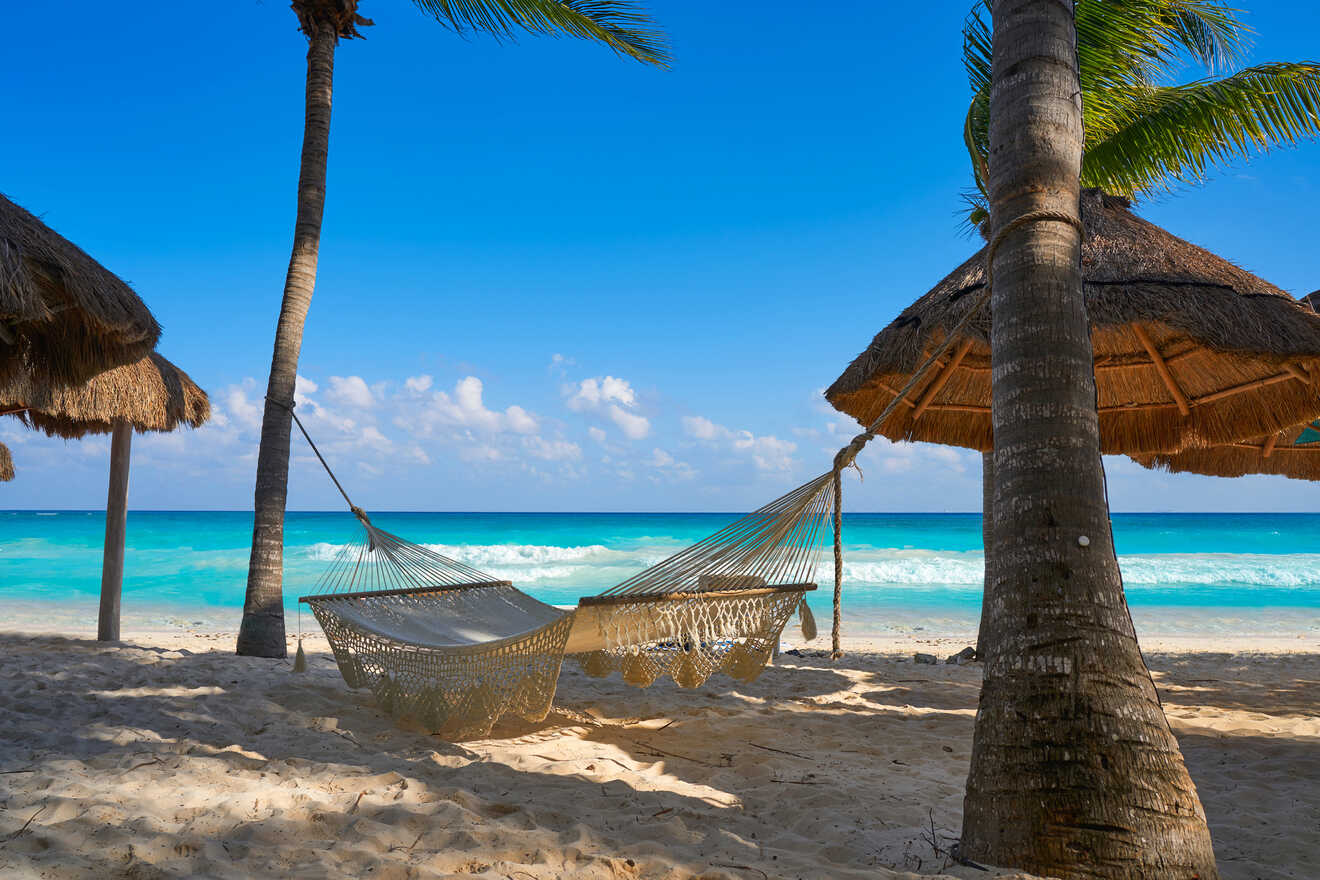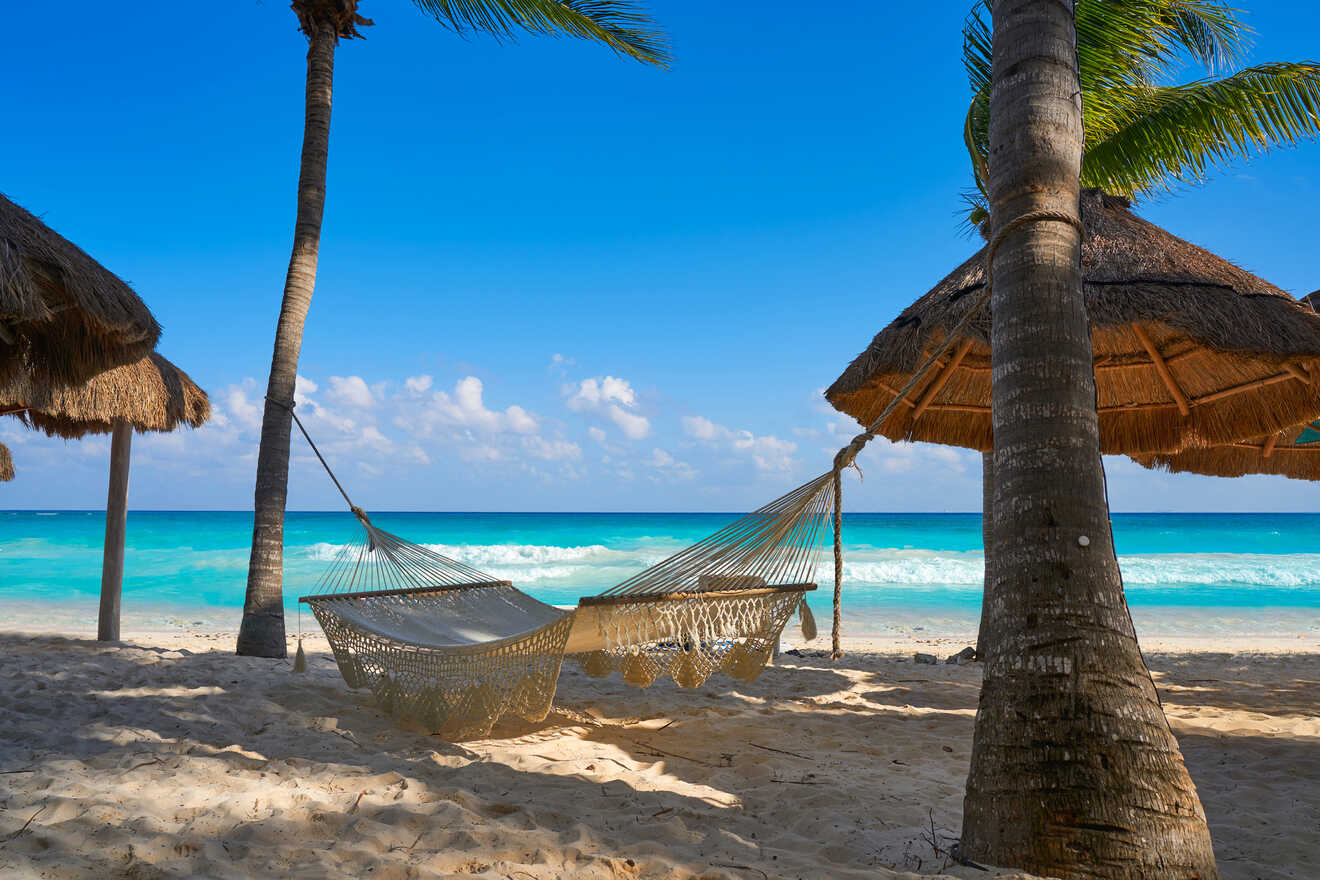 Mayakoba, meaning "village of water," is an extraordinary resort and residential area situated along the shores of Mexico's south Riviera Maya. This private gated community was designed to preserve and enhance the native landscape, and it extends over 620 acres of wild lagoons, jungles, and beaches.
Mayakoba lies between the spectacular Caribbean Sea and many lagoons and canals that end up in pristine forests. If you're looking for luxury and serenity, this will be your paradise! The area is home to award-winning best hotels, boutique residences, and three of the world's most exclusive resorts (most of them with an all-inclusive package), offering world-class cuisine, wellness, golf, and beach clubs.
Being also a multicultural residential area of Playa del Carmen, it hosts several shopping centers, art and culture spaces, stores, restaurants, and sports facilities, pedestrian/bike paths, and so forth! Mayakoba is a micro-universe itself: once inside, you will never want to leave!
Luxury hotel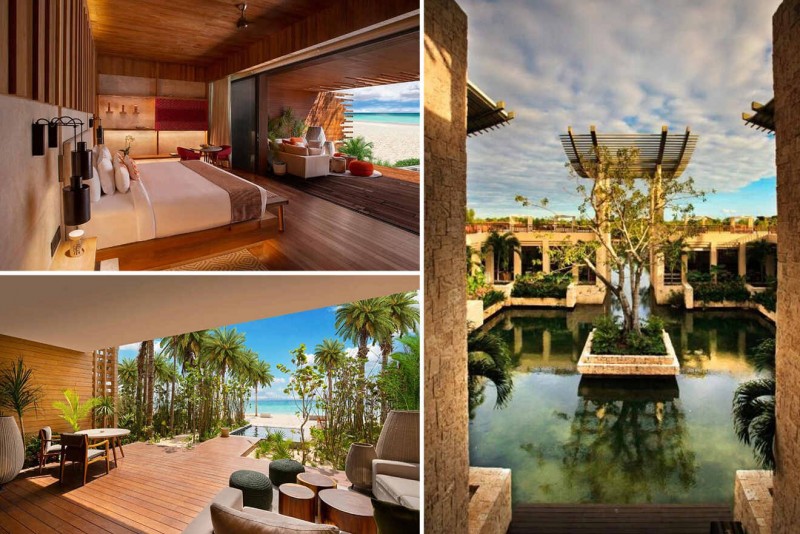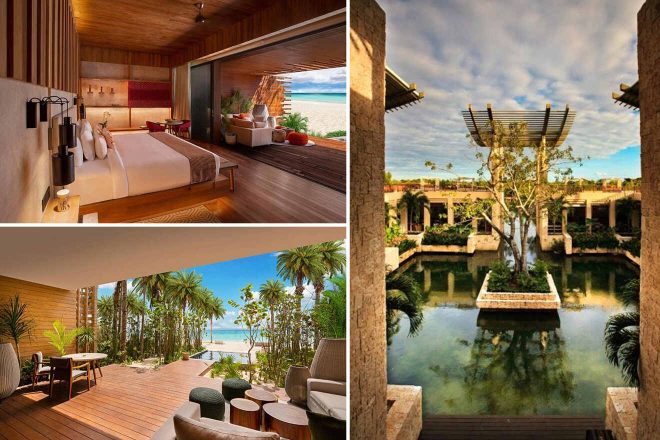 This beautiful 5-star resort will leave you speechless with its huge boutique villas, each one with a private pool, sun terrace, and landscaped garden! Choose where to spend the night among its 11 international restaurants and 3 bars, and get golf lessons at the El Camaleón Golf Club during the day!
Other accommodation options in Ciudad Mayakoba
Mid-Range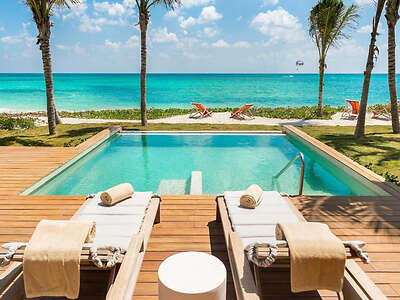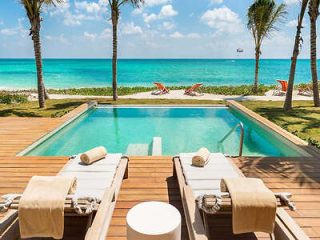 Relax in the private beach or the spa center of this 5-star resort!
Budget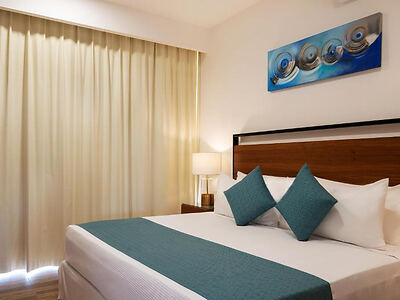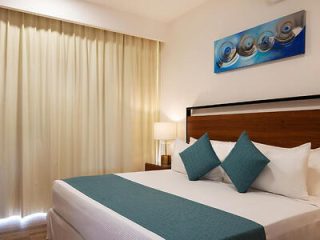 Cozy apartment with a beautiful outdoor swimming pool, garden, and terrace
Airbnb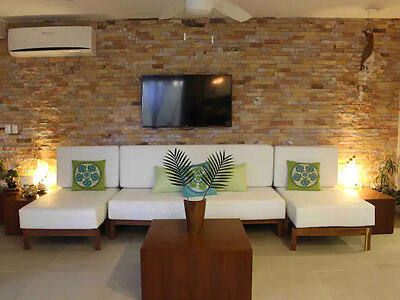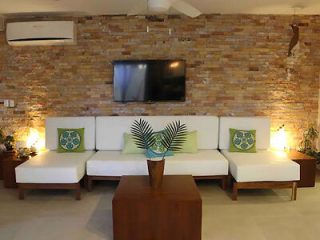 Gorgeous, spacious apartment with a terrace and tropical backyard
Things to do in Ciudad Mayakoba
BONUS: Best all-inclusive resorts in Playa del Carmen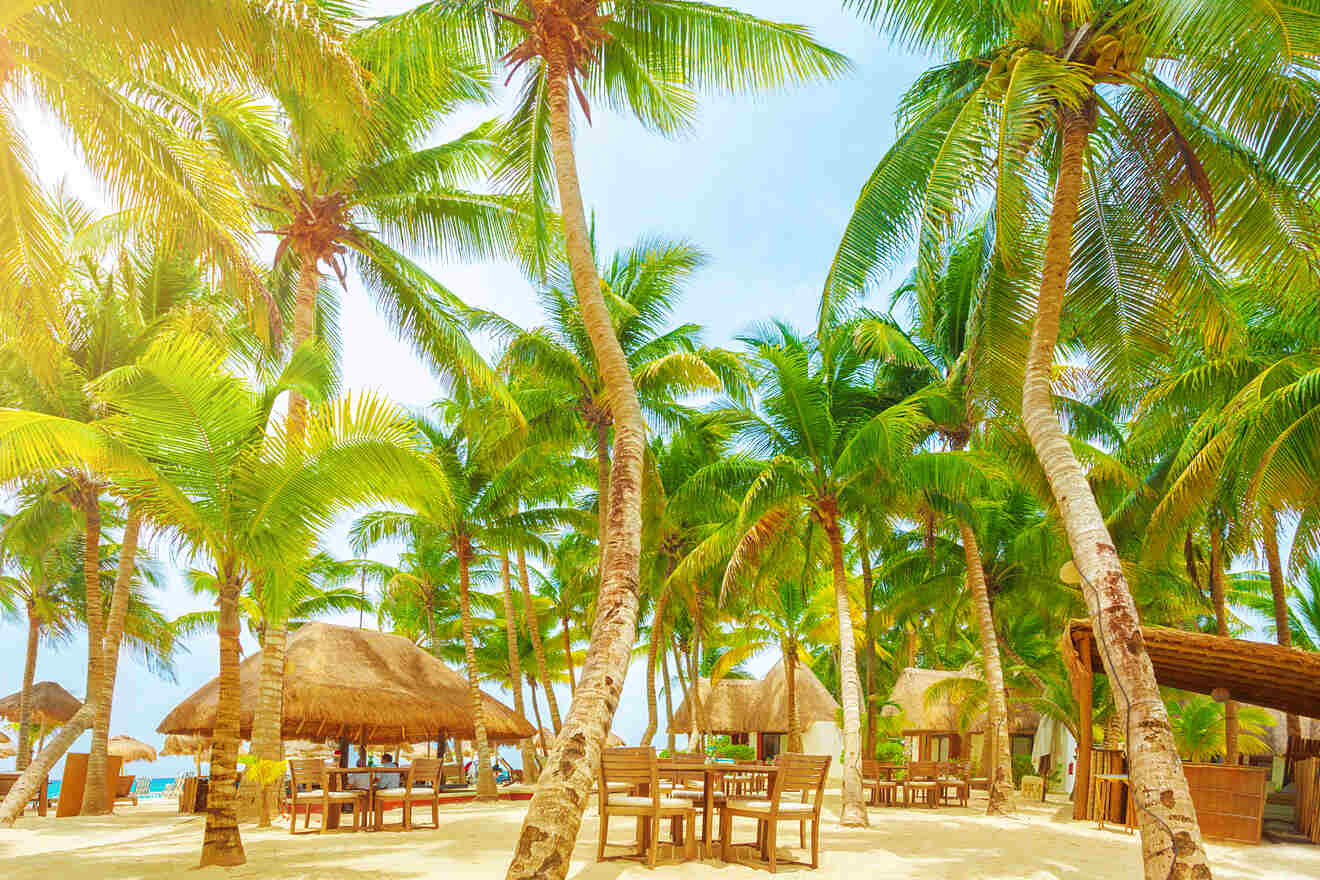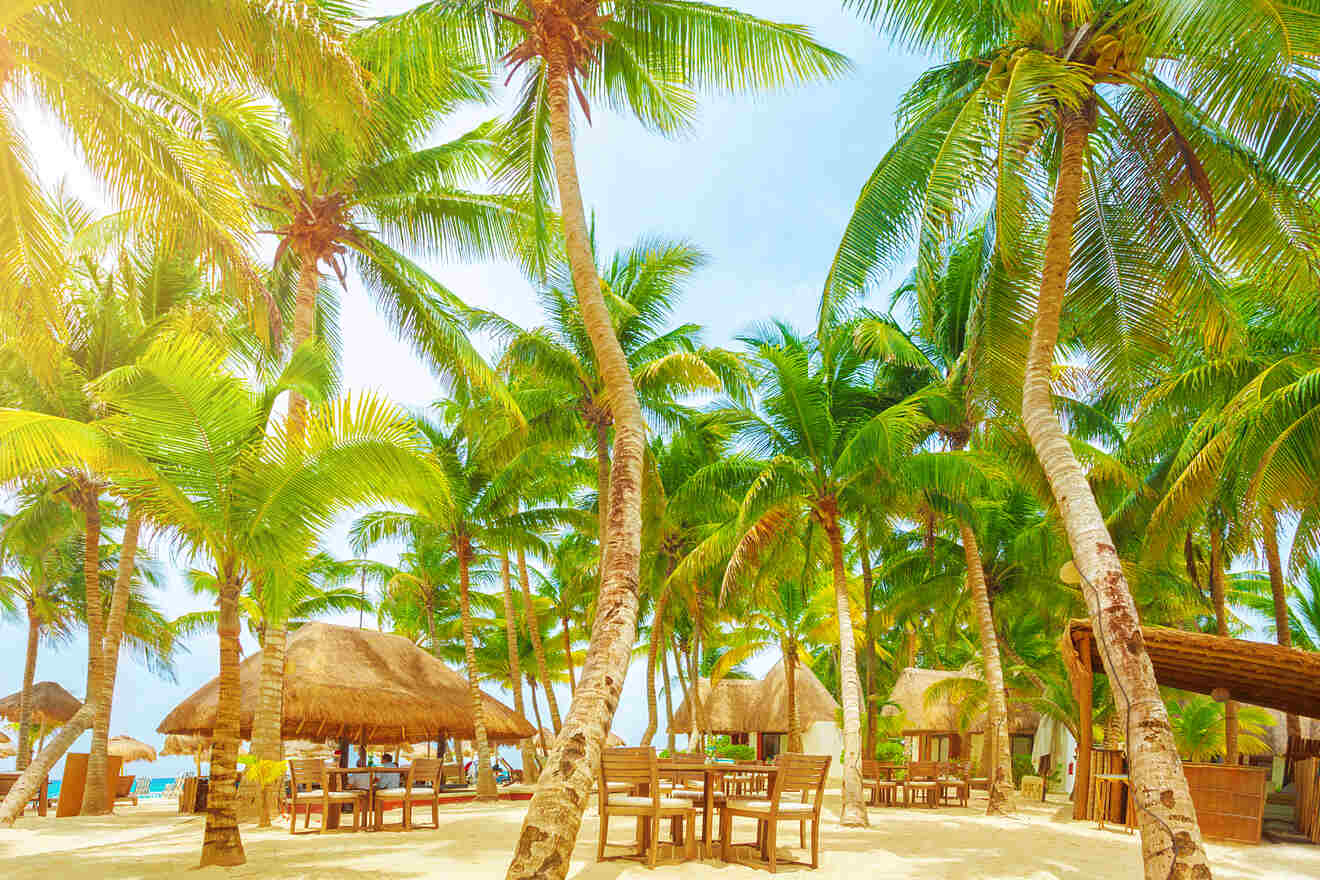 Playa del Carmen is packed with upscale all-inclusive resorts, offering an incredible range of amenities, fine dining options, and activities to keep you entertained (and happy) from the moment you wake up to when you fall asleep in your royal suite!
All these incredible resorts enclose a piece of paradise, having access to their private white sand beach and crystal waters… your vacation in Mexico will go beyond any expectation here! With so many options it's hard to understand which one suits you more so I picked the best places to stay for an unforgettable holiday! If you are coming on vacation with your family, take a look at our post dedicated to the best all-inclusive resorts in Riviera Maya!
Luxury: Royal Hideaway Playacar – Get your welcome in this five stars adults-only, all-Inclusive resort with champagne and a cool towel at your arrival. Keep spoiling yourself during your stay with massages and beauty treatments (aromatherapy, facials, and body wraps). Enjoy world-class luxury surrounded by lush gardens and the white sands of an idyllic beach on the south Riviera Maya!
Mid Range: Grand Hyatt Resort – Have your beautiful escape in this luxury resort on the beach, with oceanfront suites with private pools and a spa! Try the unique cuisine of its international restaurants and be delighted by the beverage concepts at the 3 bars and a fitness center. Keep yourself entertained with several water sports facilities, a beauty salon, and a games room.
Budget: The Reef 28 – This cosmopolitan and adults-only hotel (with an all-inclusive option) offers elegant suites and a luxurious Spa in the middle of Downtown playa del Carmen. The perfect option for those who want to take advantage of all the attractions of the city center! Enjoy the contemporary kitchen, relax in its luxurious Spa, and dance the night at the rooftop bar with DJ sets.
Airbnb: Panama Jack Resorts – Discover the perfect combo between relaxation and adventure in this family-friendly resort located on a secluded private beach, just a few steps away from Fifth Avenue! Cool and casual, Panama Jack Resort offers action-packed activities like beach volleyball and wine tasting to oceanfront swimming pools with waiter service.
Frequently asked questions about Playa del Carmen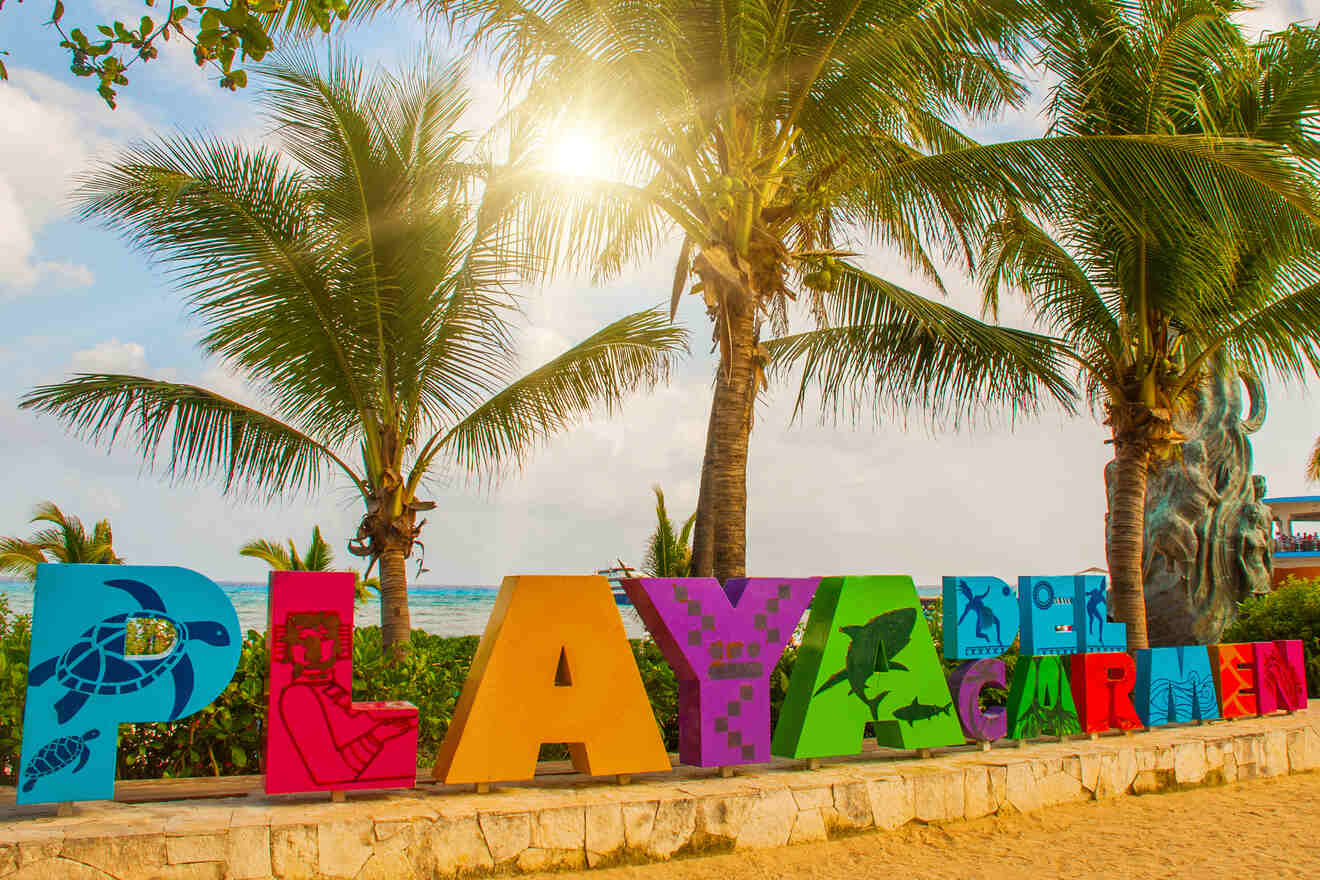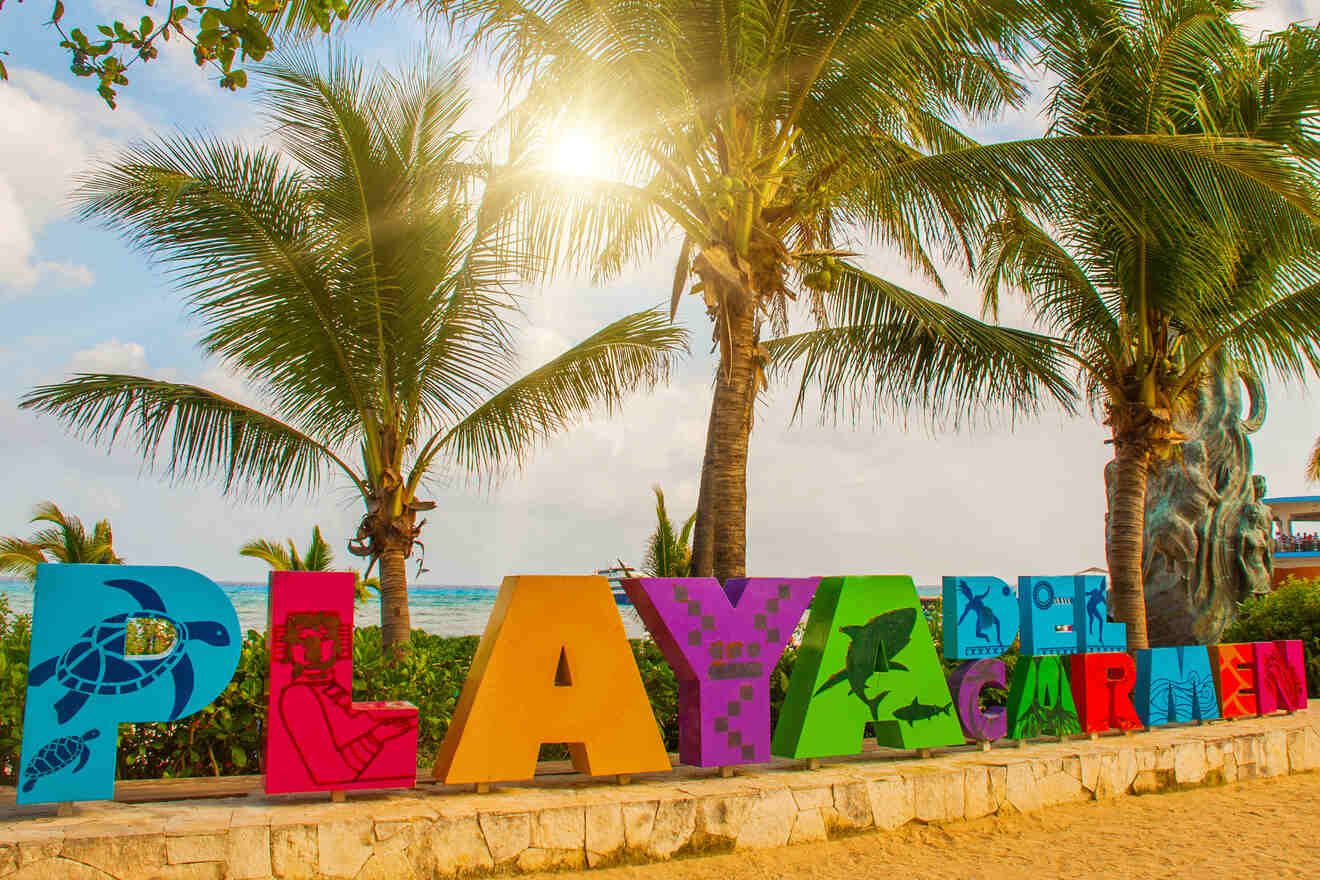 🏙️ Is Playa del Carmen Safe?
Even if Mexico has a bad reputation for being a dangerous country, the Mayan Riviera is generally a safe area. Anyways, some areas in Playa del Carmen are better avoided, like side streets, public transportation, and any place without tourists.
💂 Which is the safest place in Playa del Carmen?
Playacar is a very safe and family-friendly place to stay, quieter than other parts of the city. There's a security checkpoint at the main entrance and many security guards patrolling the area. Ciudad Mayakoba is also pretty safe.
💃 Which is the best area for nightlife in Playa del Carmen?
Gonzalo Guerrero is the best spot for nightlife and a lively night out in the city. Here you'll find the busiest restaurants, bars, and clubs for any taste. This neighborhood offers fun and excitement all day and all night.
🗺️ Which is the best area where to stay in Playa del Carmen?
Conclusion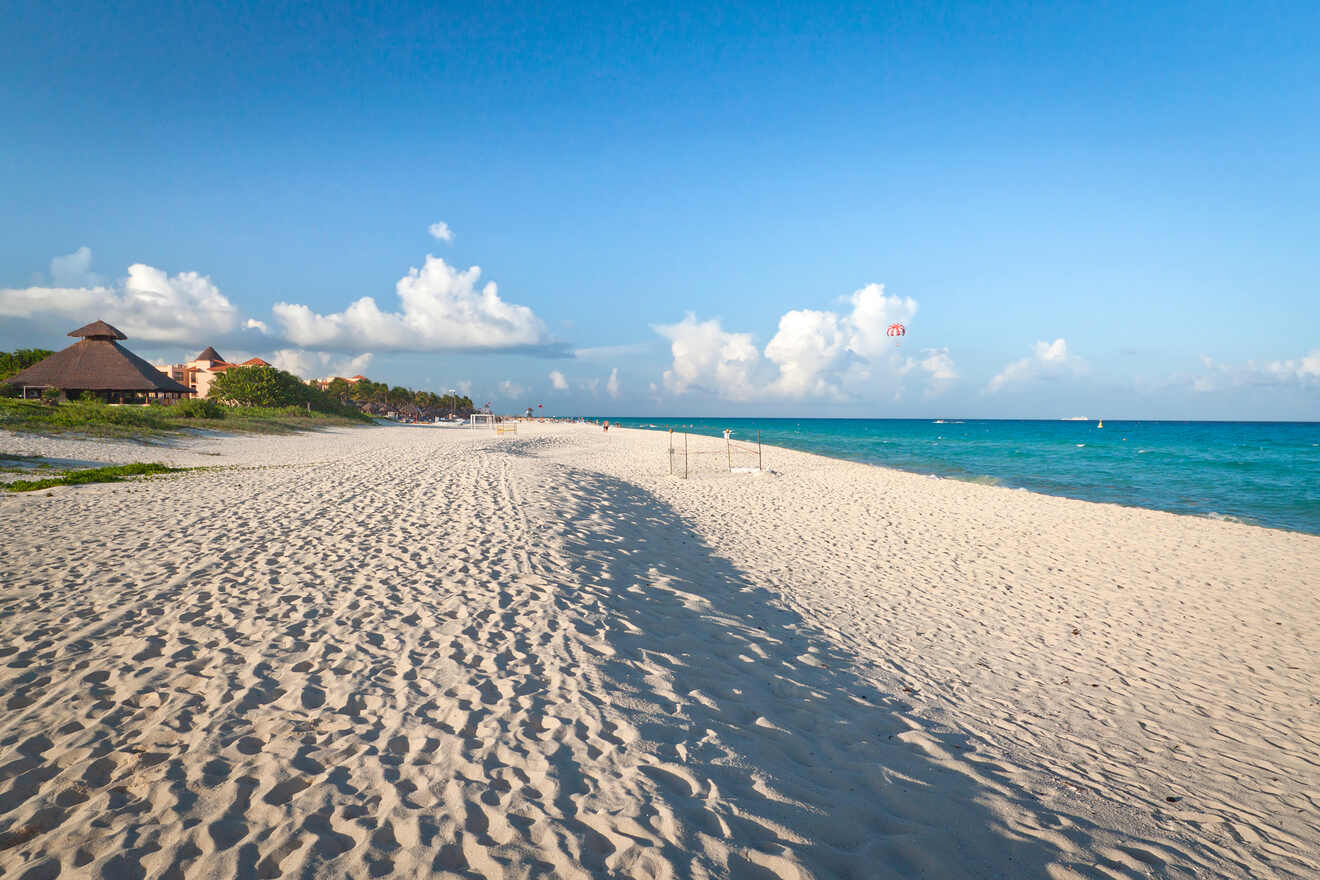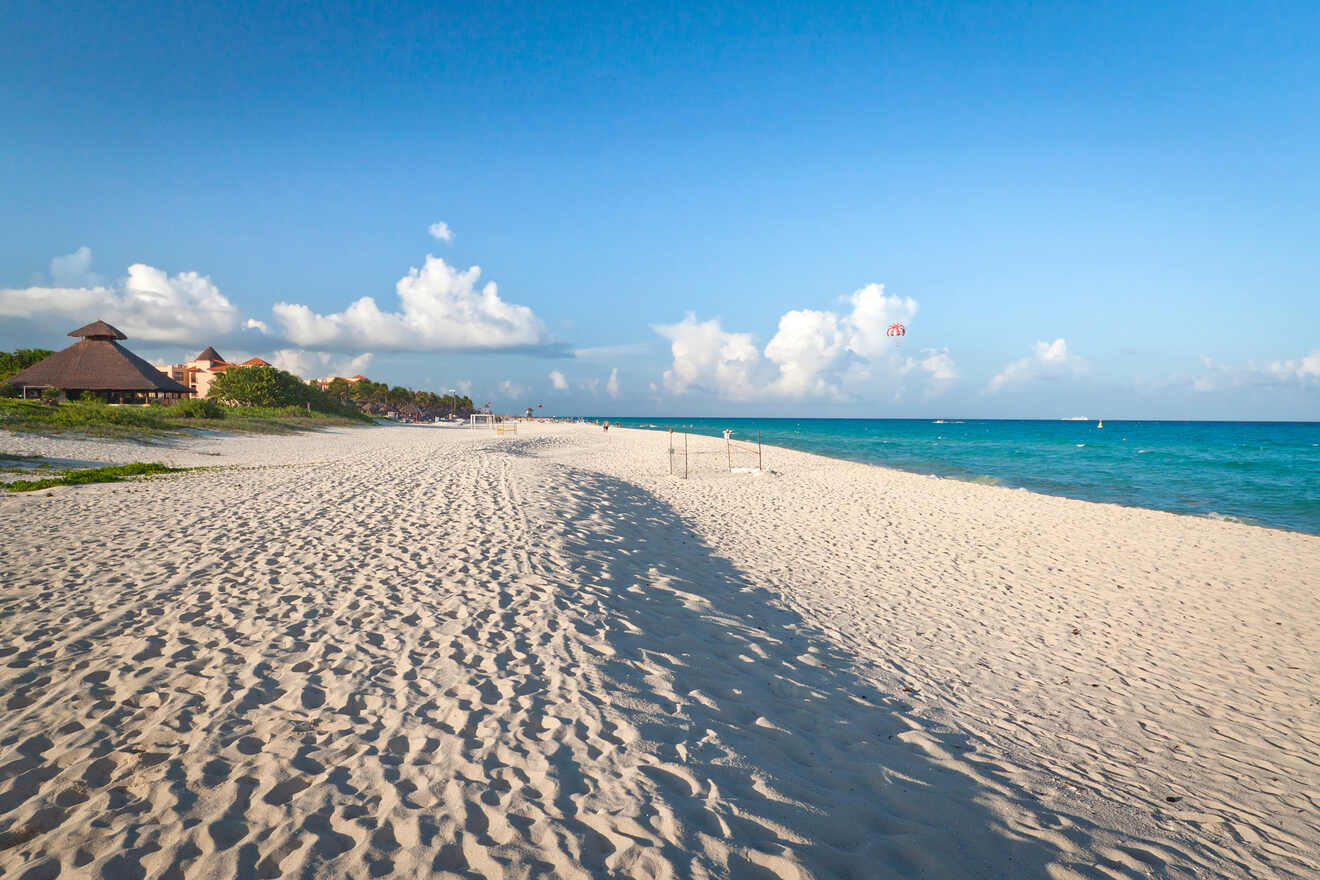 Here we are at the end of this dreamy and exciting trip through Playa del Carmen's best neighborhoods and accommodations! As you can see, there is such a big choice of amazing places to stay in Playa del Carmen, surrounded by the green jungles and white beaches of the south Riviera Maya. Whether you're looking for seafront hotels with a rooftop pool, upscale all-inclusive resorts on the beach, or "on a budget" options like me, this tropical gem won't let you down!
Now you know where to stay in Playa del Carmen! Or not? If you're still undecided, here are my absolute top choices:
I hope you enjoyed reading my guide, as much as I enjoyed doing the research to help you find the best option! If you are already imagining yourself on one idyllic beach of Playa del Carmen, I strongly suggest you book at least 6-months before your trip, as this is one of the most touristic destinations in Mexico (almost like Cancun!).
Have you been to Playa del Carmen and have any suggestions or comments for this blog? Leave a comment below, I'm looking forward to answering you!
Have a great trip!
Elena