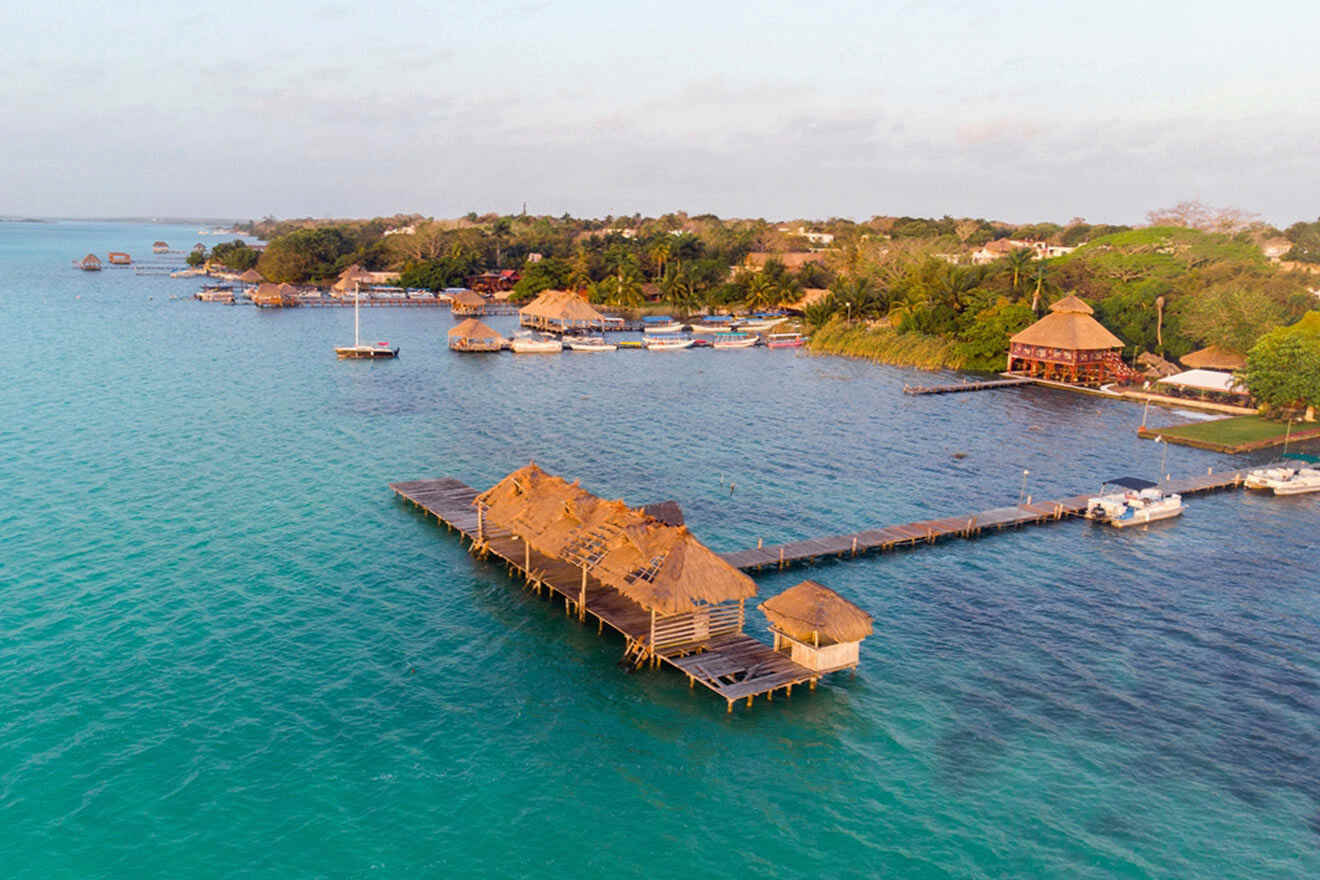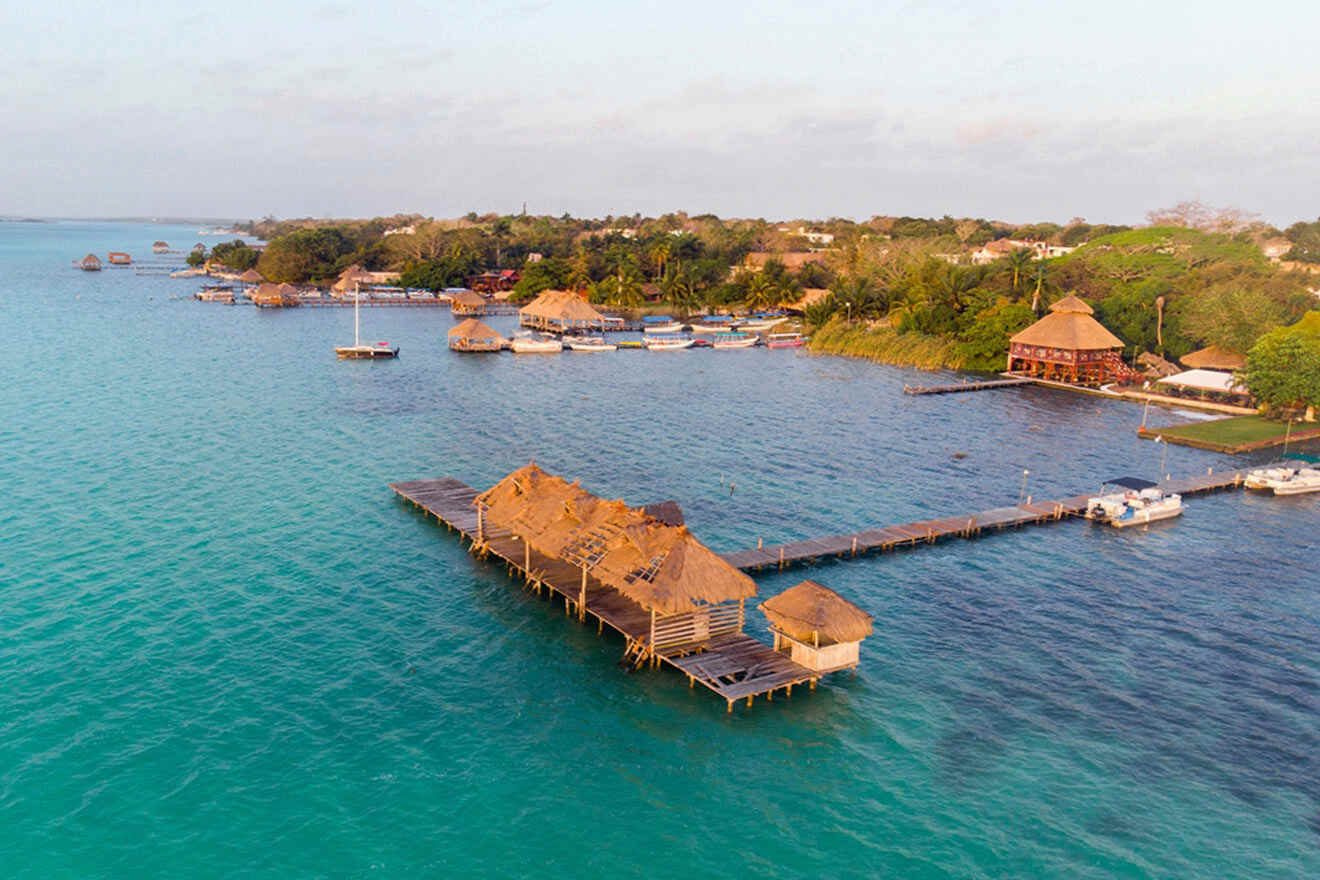 Are you thinking of visiting Bacalar? Then this is your lucky day! I have been looking for the best hotels in Bacalar for hours and hours, comparing one amenity with the next one, until I came up with the 20 best Bacalar hotels! The small town of Bacalar is truly beautiful and the perfect place to relax!
This post is arranged starting with the best luxury hotels first; at the end, there are some cheap hotels, but to be fair, all of the gorgeous hotels mentioned in this article feel like 5-star accommodations!
Bacalar is one of the most beautiful towns in Mexico, and it attracts travelers from all around the world, so if you want to get the best deals and stay in the room of your dreams, book in advance, and as soon as you make a decision!
Let's check out the best popular hotels to stay in Bacalar! Shall we?!
If you are in a hurry
If you don't have a lot of time to read the whole article and need to book a room soon, here are the best Bacalar hotels so that you can click and book!
1. Akalki Hotel y Centro Holistico – in front of Lake Bacalar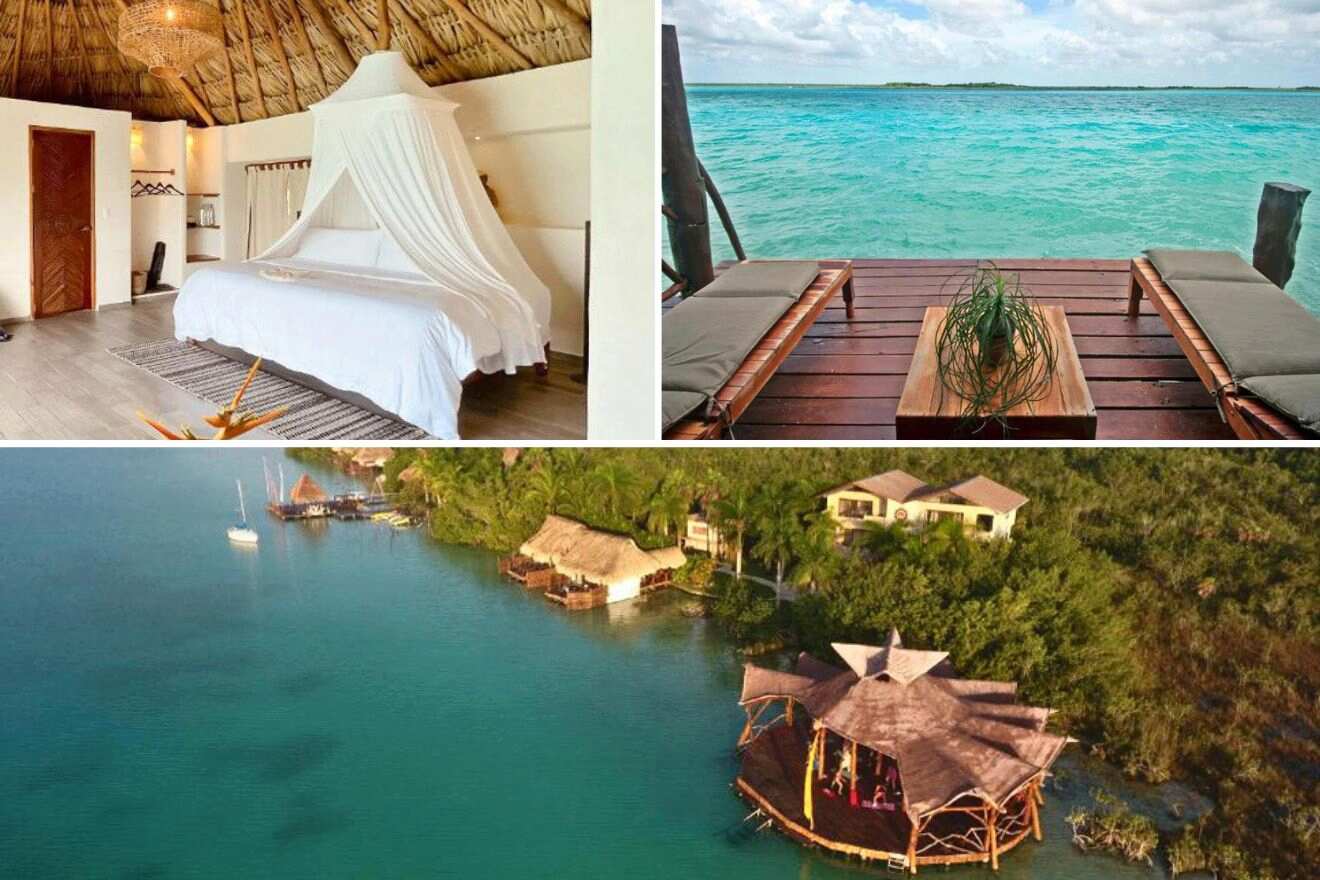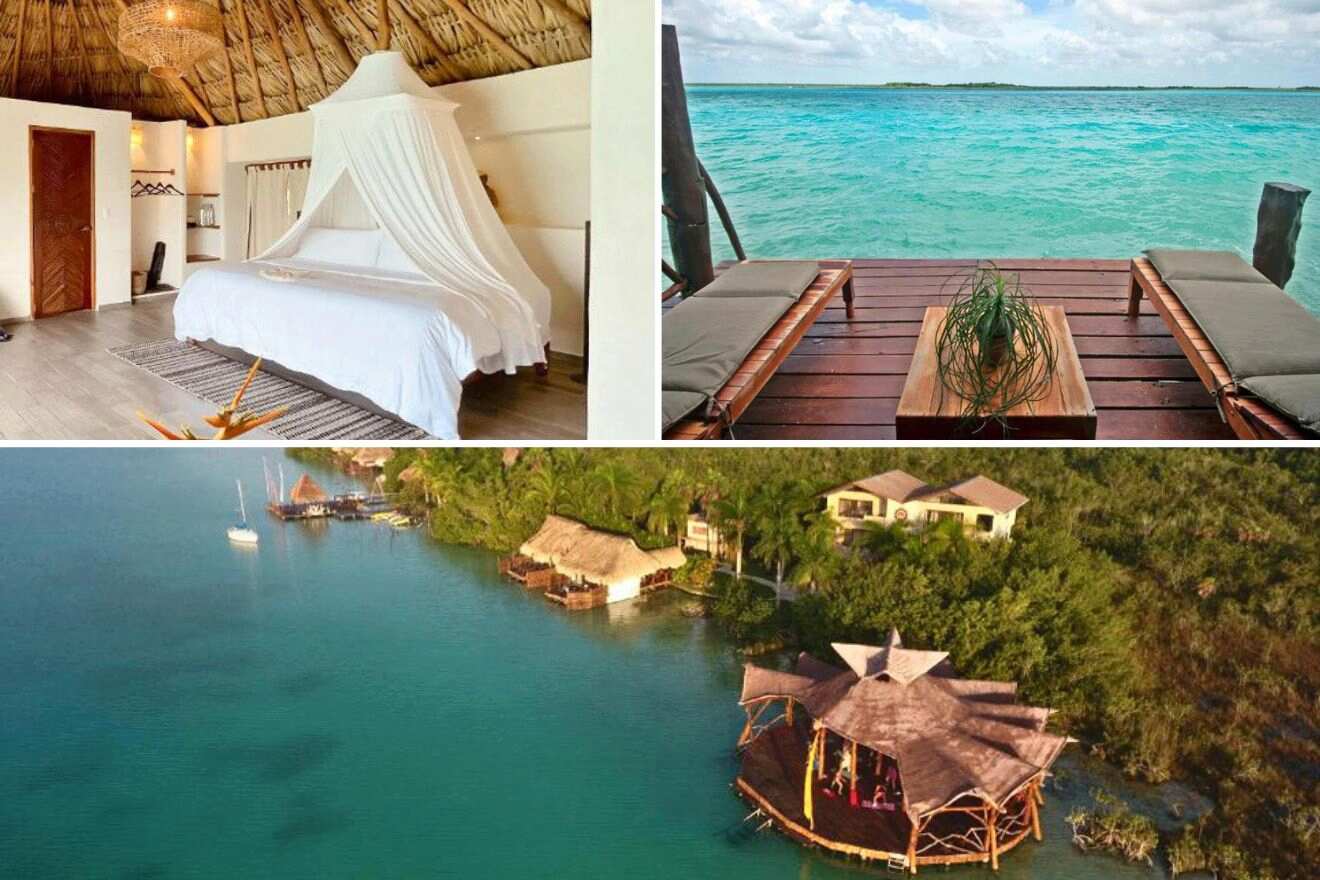 Wow! If you are looking to experience Mexican culture and relax in a beautiful and secluded space, this hotel offers just the amenities and facilities you need! It is located in Bacalar, with the Chetumal international airport being the nearest airport, 18 miles (29 km) away, and with Bacalar Lagoon (with seven shades of blue) right in front of it, which makes it perfect for swimming or practicing water sports.
One of the nicest things about this hotel (apart from the amazing views and location) is the fact that guests can join yoga classes or witness ceremonies at the temple; what an amazing experience that would be! All guests at the hotel can enjoy a continental breakfast each morning! The spacious rooms can host up to 3 guests.
2. Hotel Carolina Bacalar – with free kayaks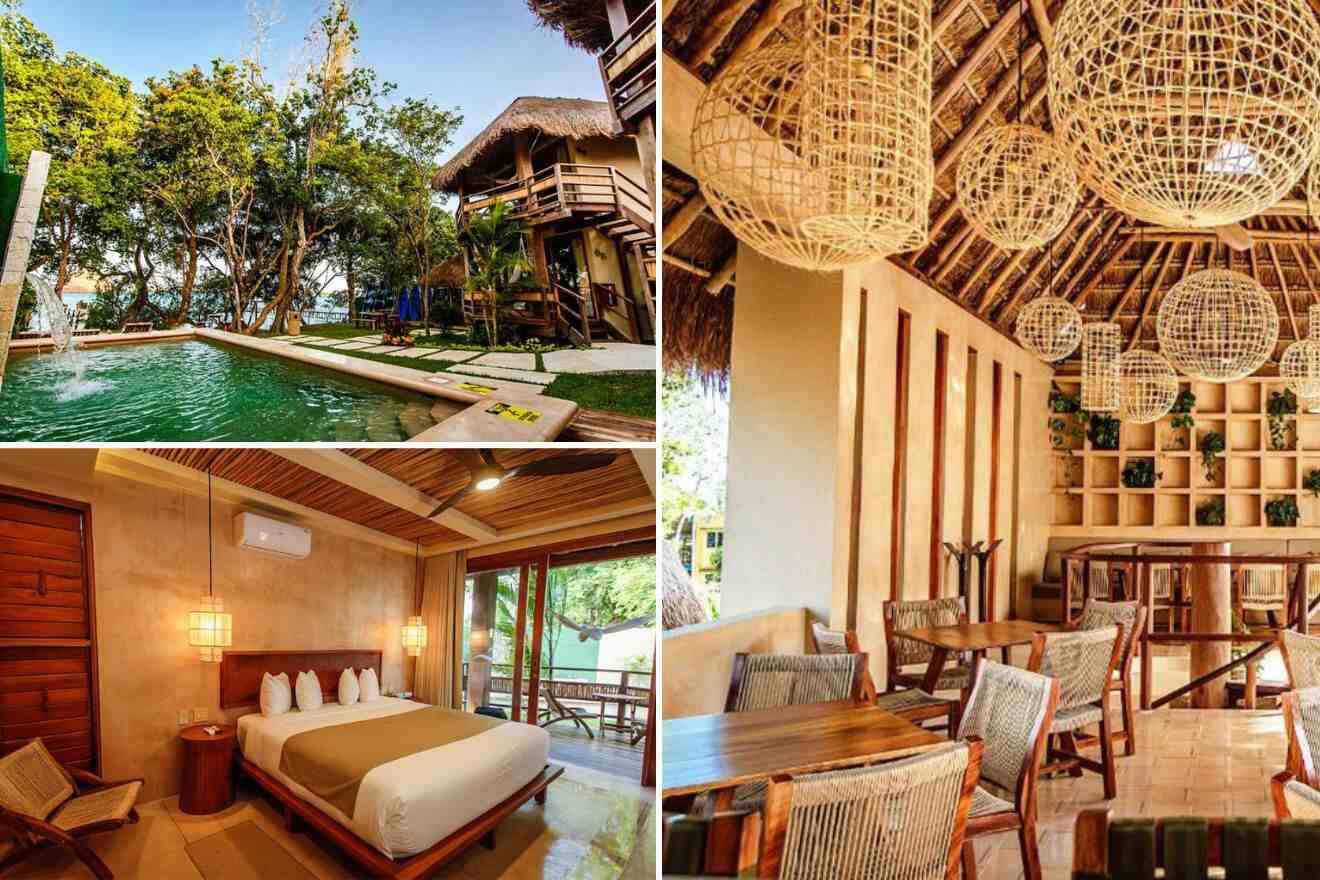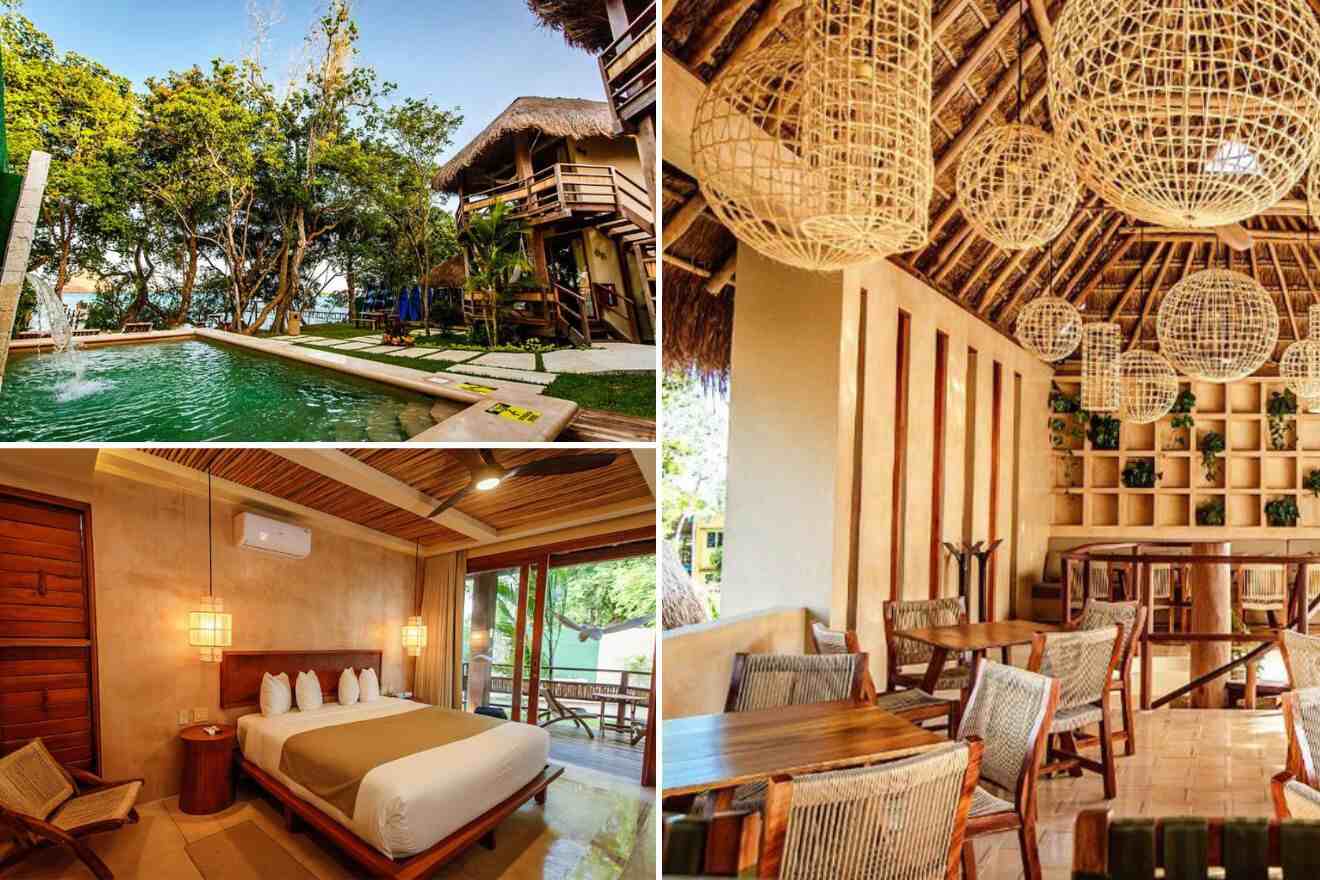 I love this hotel's style and decorations! The natural elements in the architecture really set you up for a relaxing time during your Bacalar vacation. The hotel features a private beach area, and there are kayaks and paddles available for guests for no extra fee, and a beach club nearby. The on-site restaurant has amazing fresh food, there is free private parking and a nice pool, and Bacalar city center is a walking distance away in case you want to explore the surroundings!
The rooms are a complete dream, and they can host 2 guests; I highly recommend the king room with a lake view. It comes with a beautiful balcony with a hammock and furniture, air conditioning, and free Wi-Fi.
3. Hotel Amainah Bacalar – amazing blue lagoon views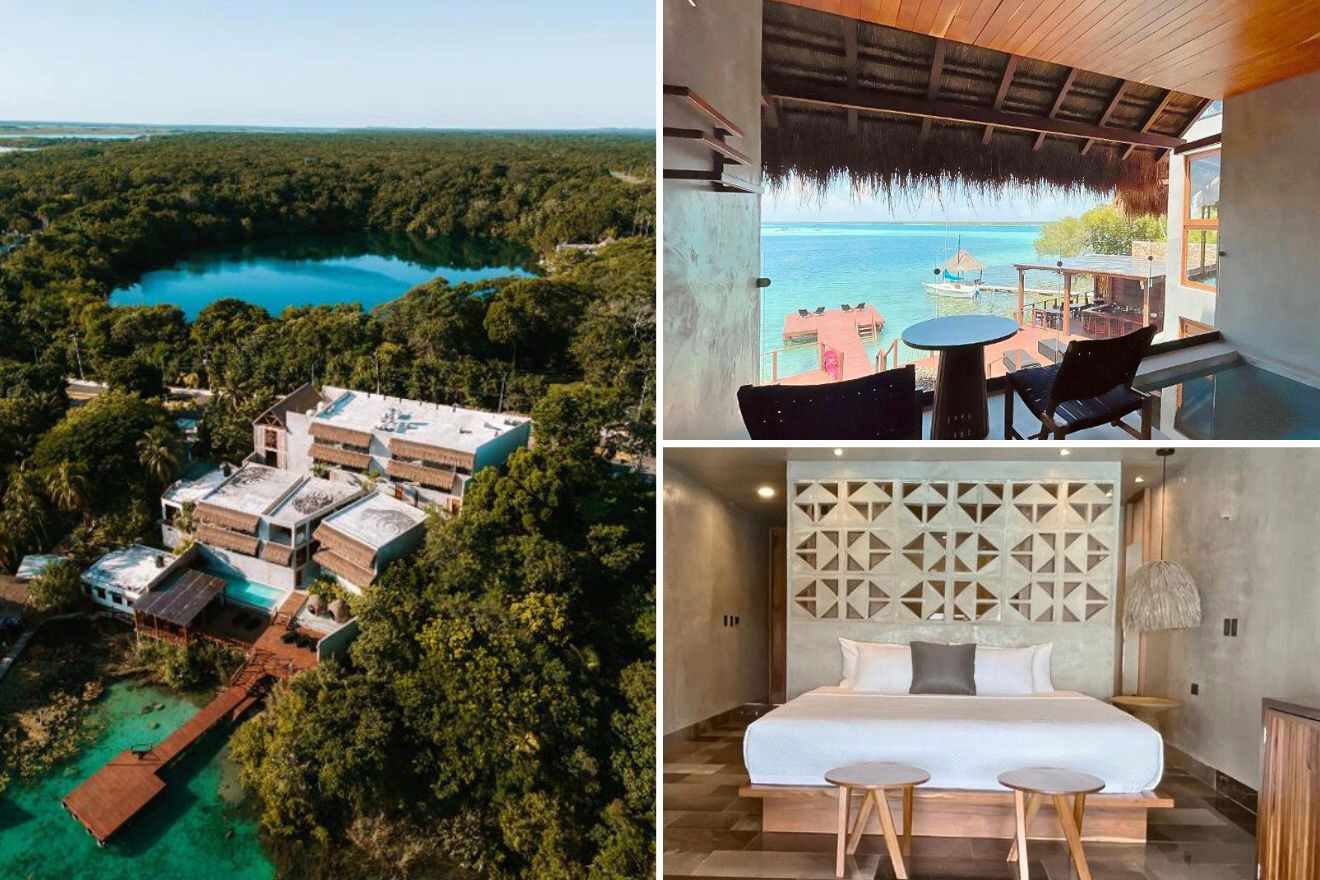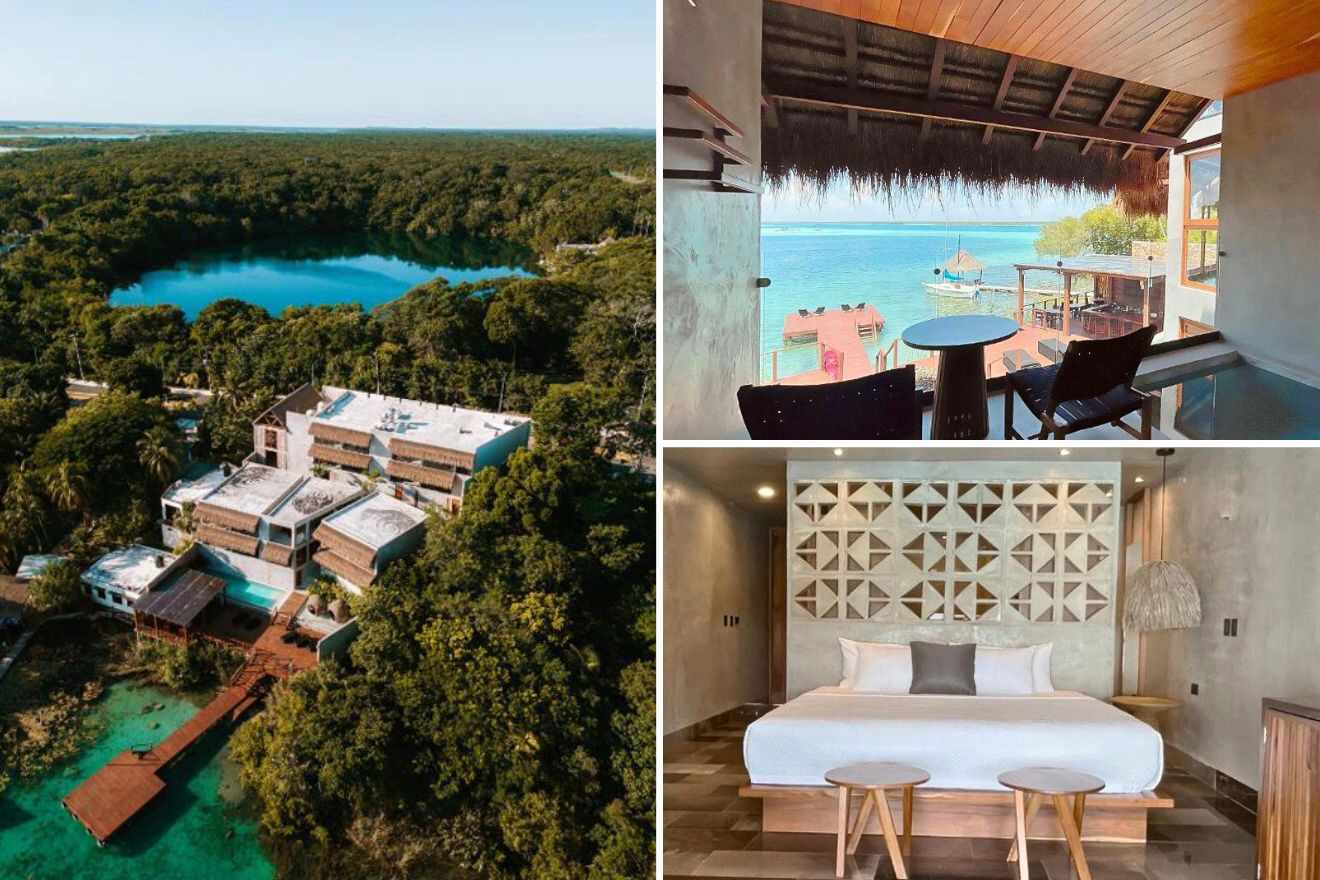 Located in Bacalar, and with Cenote Azul only a few minutes away from the property, this hotel is perfect for couples looking to spend a romantic time in a little piece of paradise! Start the day by ordering a lovely in-room breakfast, then you and your partner can choose between exploring the area with the hotel's bicycle rental service, going paddle boarding or kayaking, or simply relaxing at the spa.
In the night, indulge in the onsite restaurant's delicious food! The hotel also offers a paid airport shuttle service and an outdoor swimming pool, and all the private rooms come with a balcony and lake views.
Would you like to learn more about Bacalar? Check out our complete guide to areas in Bacalar!
4. Khaban Bacalar Hotel Boutique – for an infinity pool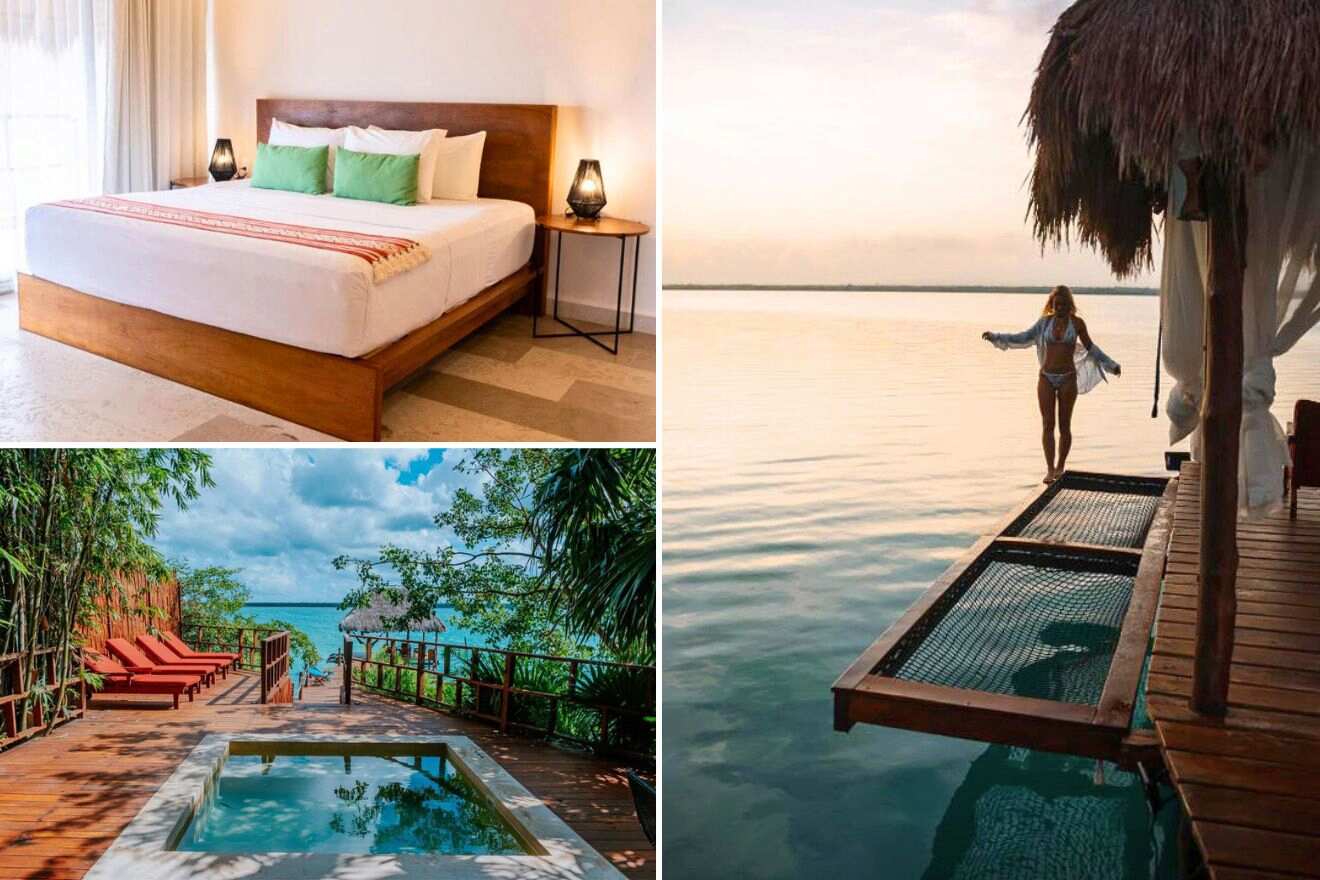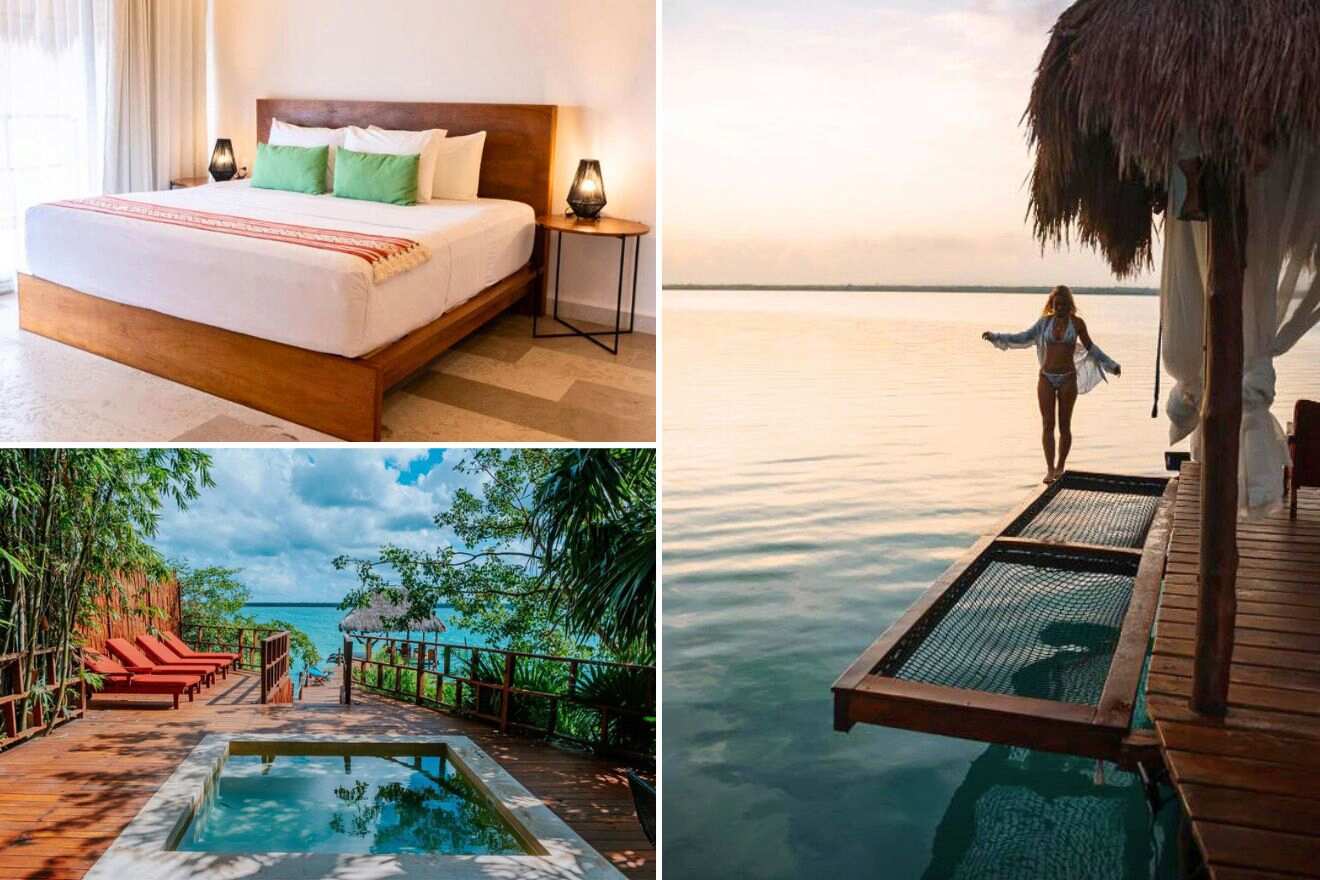 This place is so beautiful; the decor and style are the perfect mix between natural elements and a cool industrial style! The hotel's great location in front of the lagoon will enchant you with its great views! The hotel offers an amazing infinity pool with amazing views, free parking, and a free breakfast to start the day with energy!
All the rooms are beautifully decorated and will make your stay in the hotel feel like a breeze. If you are traveling with a big group, I recommend staying at the villa, it comes with a private terrace and a private pool!
5. Our Habitas Bacalar – reconnect with nature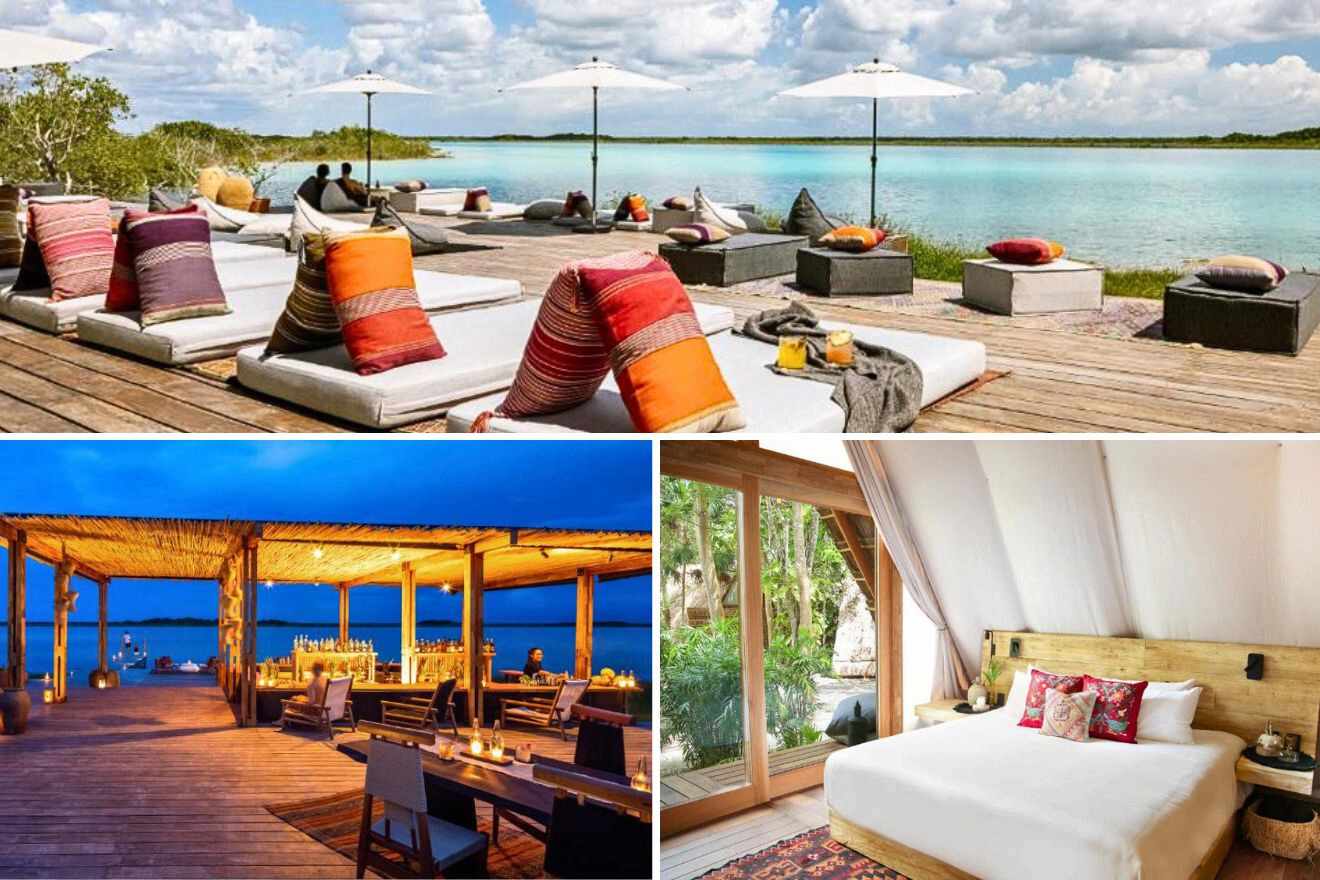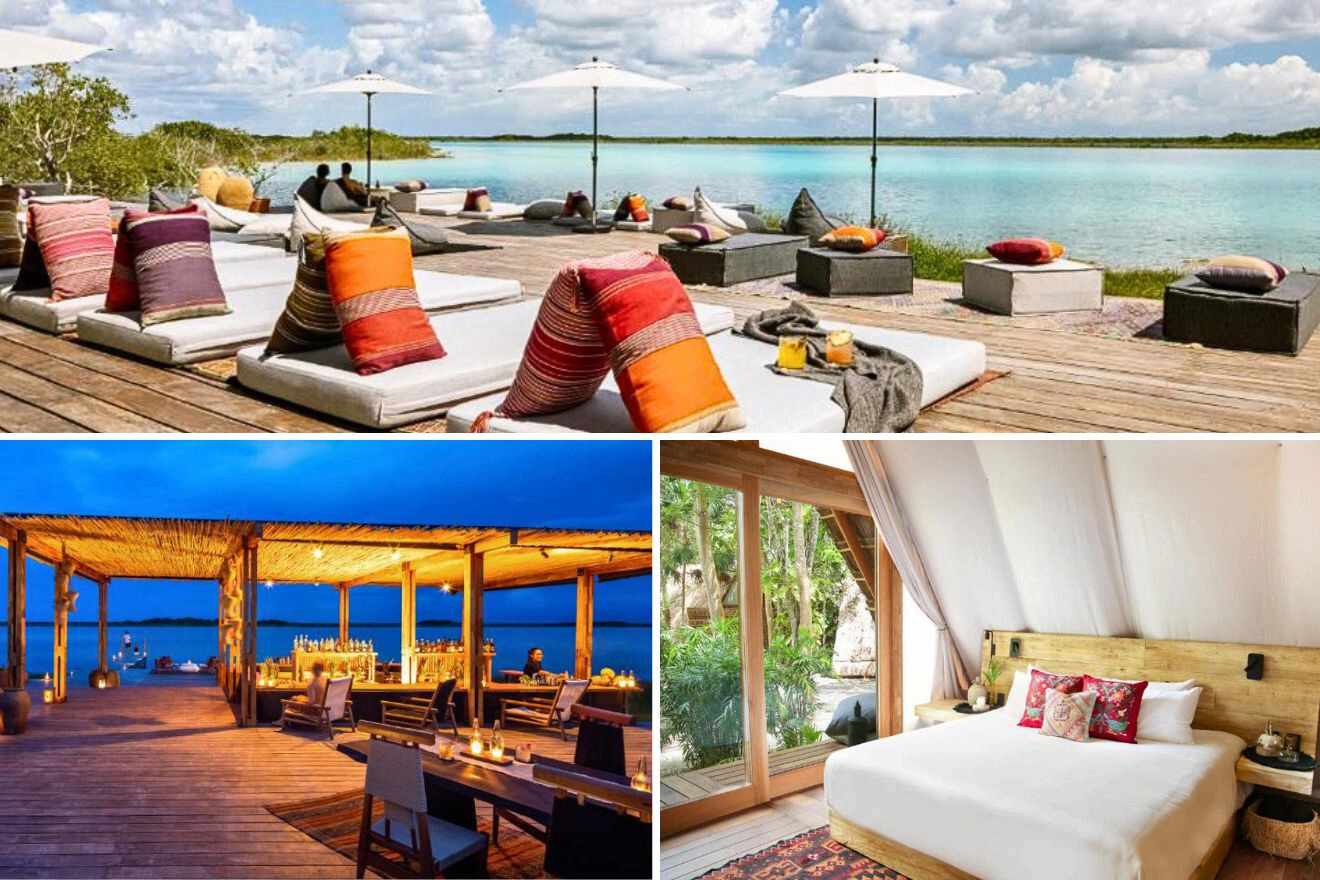 Oh my god! Our Habitas Bacalar looks absolutely stunning, and the hotel's surroundings look like a mirage! The hotel offers the best service, and it has great reviews; guests feel pampered and taken care of in this property!
There are many yoga classes and sailing boat tours available for all guests, and every morning the hotel will be serving breakfast with vegan and vegetarian options. This property offers air-conditioned rooms, and I highly recommend the king room with lake views to couples. The views are beautiful and romantic, and the outdoor shower has a special touch!
6. Hotel Casa Hormiga – for a convenient location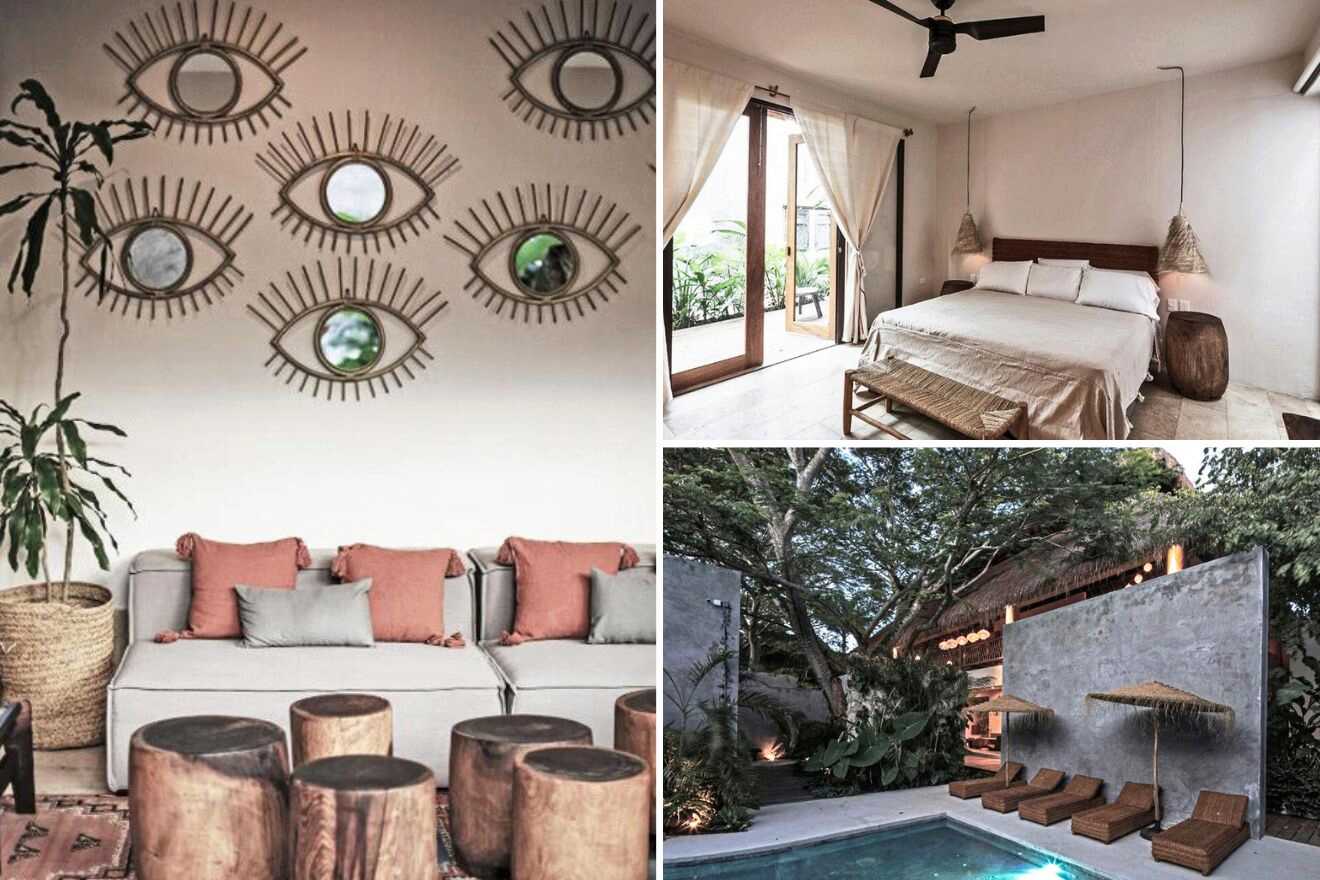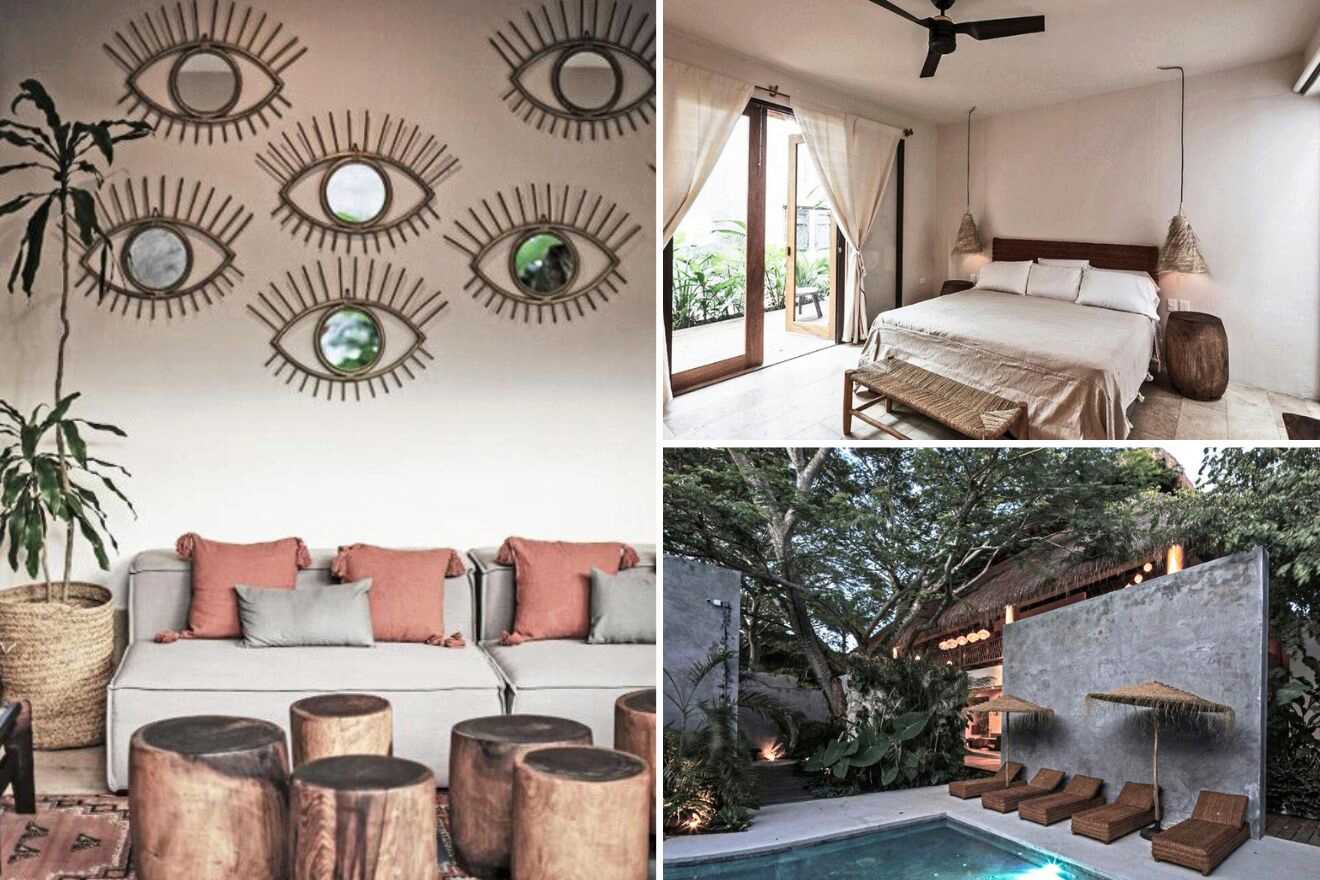 Oh my god! This hotel has the best style! The mix of traditional elements and a modern industrial style are just a treat! Carved doors, beautiful rugs, and wicker baskets decorate the space, with a nice contrast between the silver walls and green plants. So aesthetically pleasing! The hotel is located in Bacalar city center, and Playa del Carmen and Cancun airport are less than a 4-hour drive away.
The hotel offers free bikes to all their guests, perfect for exploring the surroundings! There is a beautiful outdoor swimming pool and an onsite bar and restaurant if you ever feel like staying in! The rooms are crafty and comfortable!
7. Blue Palm Bacalar – in downtown Bacalar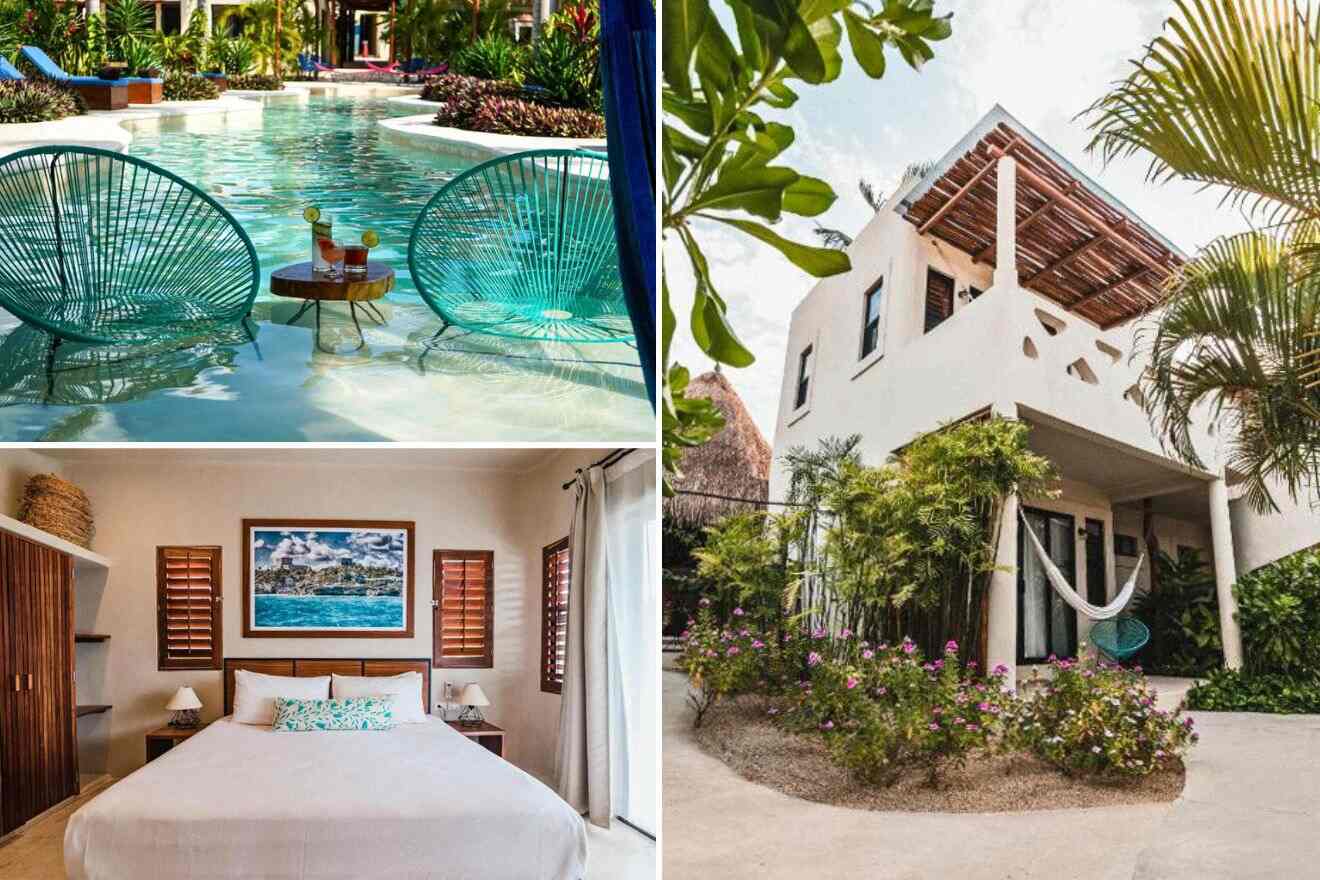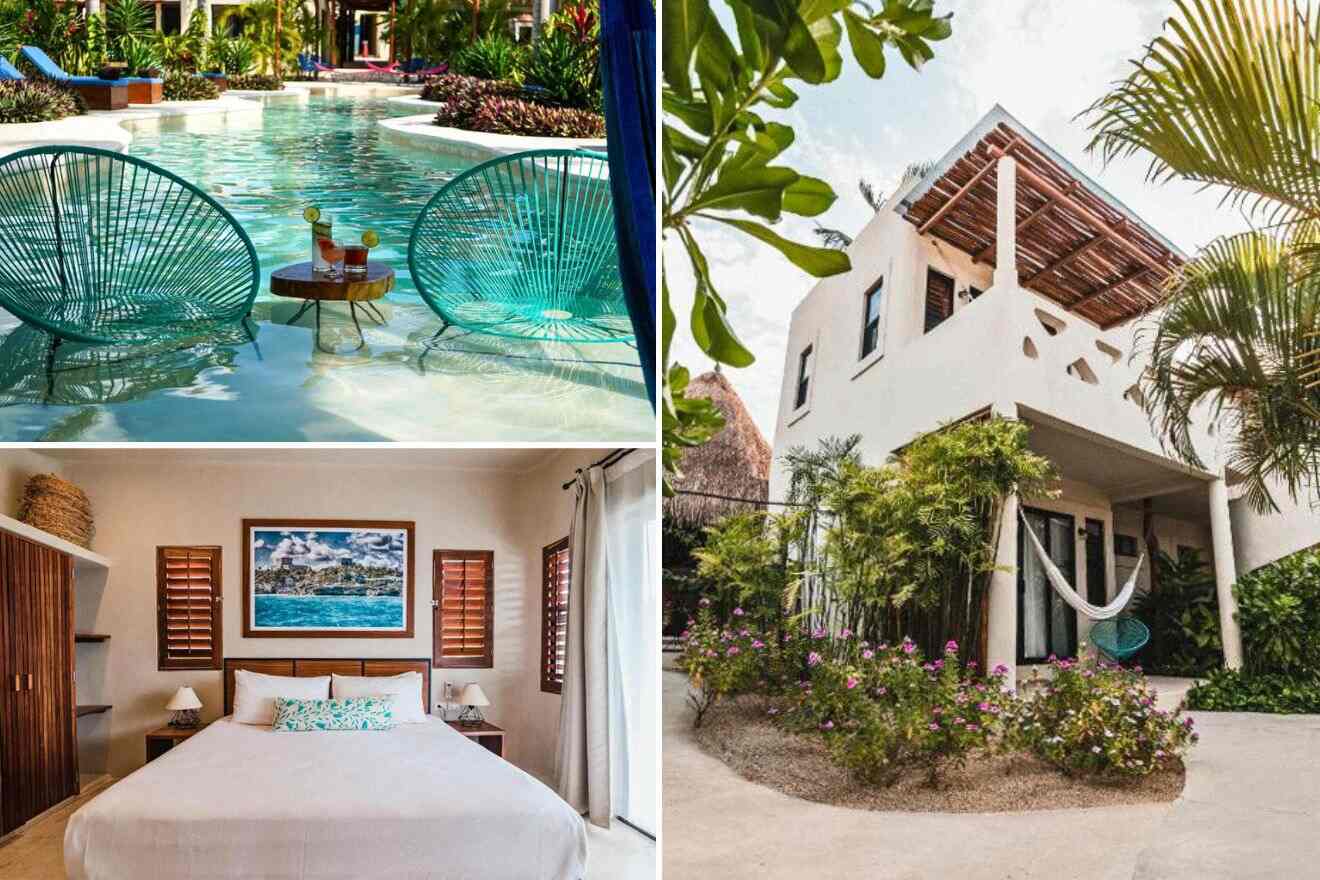 This amazing hotel is located in the Bacalar downtown area and has a lovely, fun, and fresh style! There's a beautiful terrace with high palm trees, hammocks, and beach chairs surrounding the outdoor swimming pool, which has the craziest shape! There is an amazing onsite restaurant open to all guests and a free bike service!
Every morning, the hotel will serve a delicious breakfast, so get ready and enjoy it before starting your day! All the rooms can host up to 2 guests, all the rooms come with a private terrace or private balcony, some of them with a pool view, and some with a garden view!
8. Hotel Rancho Encantado – with a private beach area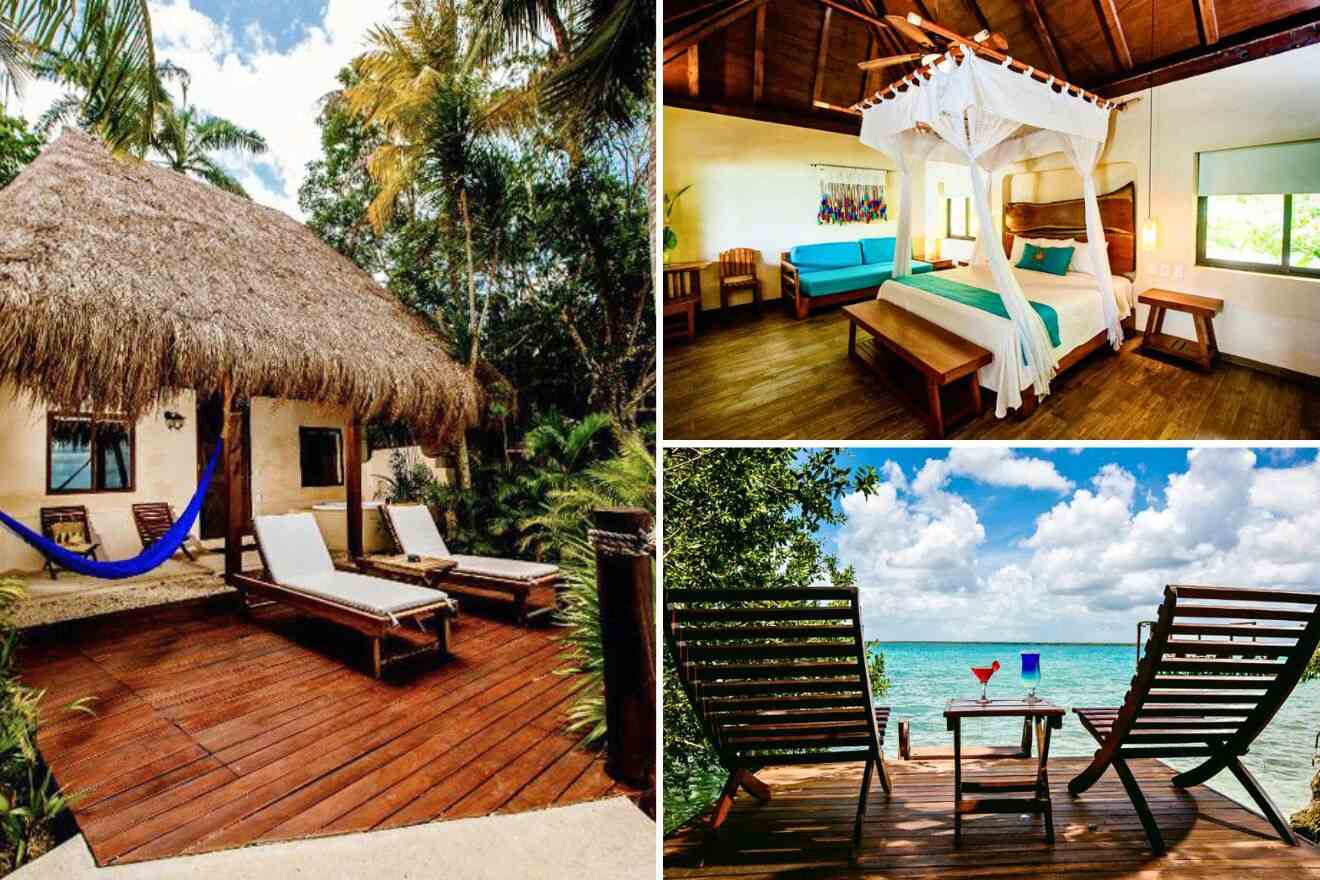 I am in awe! This hotel looks fantastic! Located in front of Bacalar Lagoon, this hotel is in a very quiet and private area, which is great if you are looking to spend a romantic getaway in a peaceful and tranquil environment. The property offers lake tours for a fee, which I absolutely recommend to enhance your Bacalar experience, as well as kayaks and paddles for free to explore the lagoon by yourself!
All the rooms feature an exquisite style and are spacious and comfortable! I recommend couples stay in the deluxe bungalow, which comes with a private terrace with views and a hot tub, perfect for relaxing with your partner while sipping champagne.
9. Hotel CasaBakal – for fun activities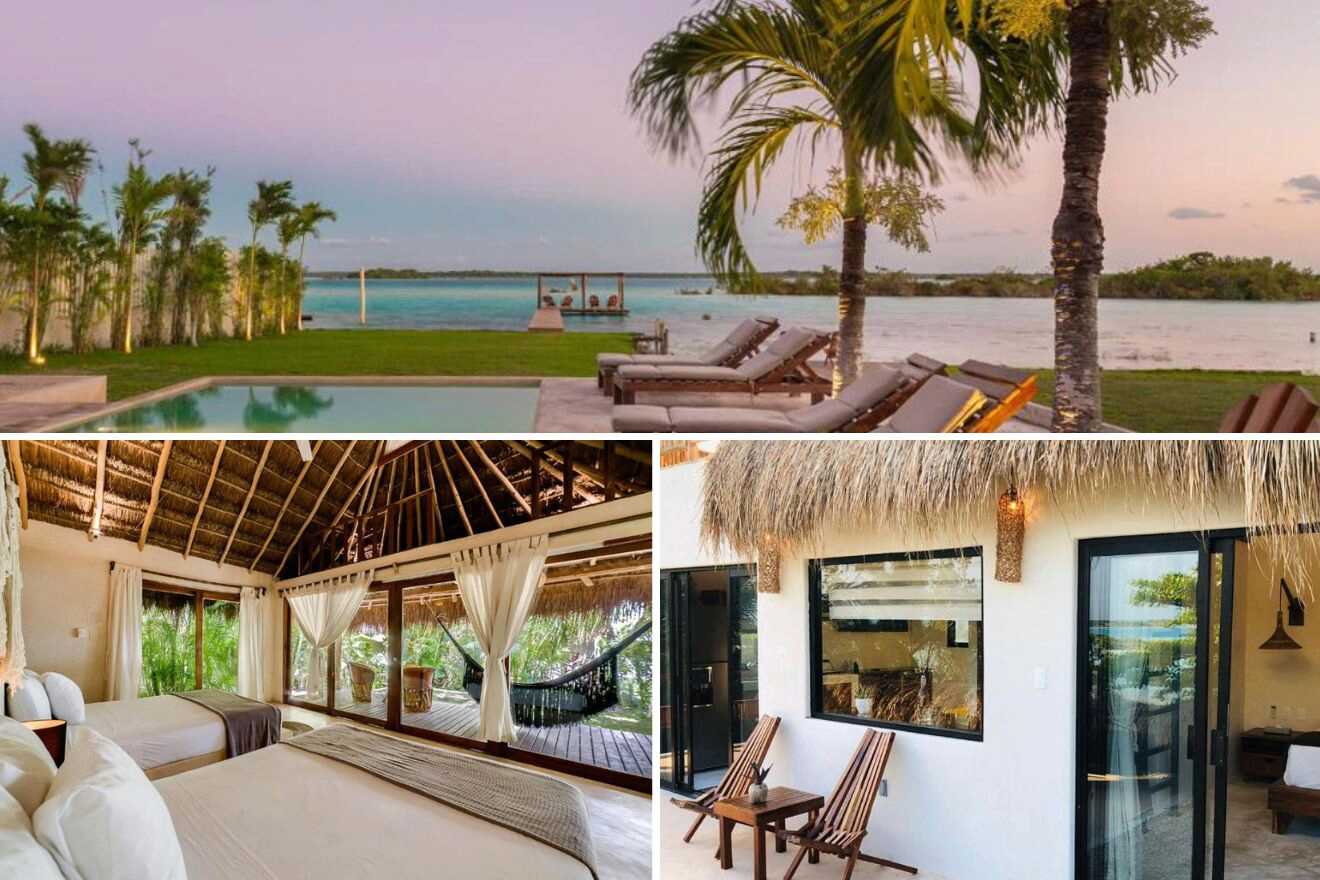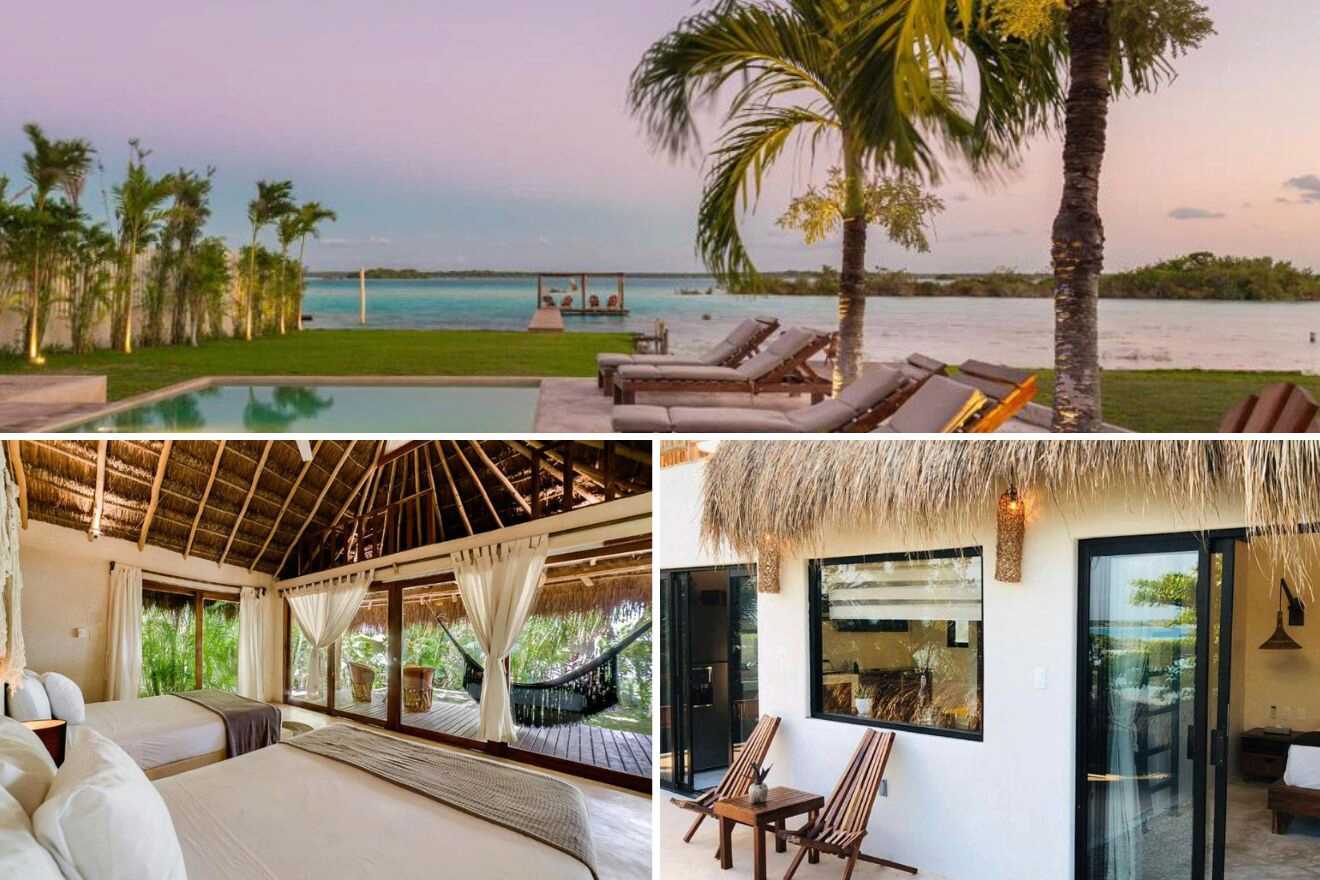 Wow! Is this hotel even real? Looking at the photos, it feels like you are part of a village full of wonders and beautiful scenery! First, there is an outdoor pool overlooking the lagoon, which has a private beach area, so yes, the views are out of this world! The hotel comes with an onsite restaurant and offers live performances, aerobic classes, and the chance to practice water sports!
All the rooms are beautifully decorated and come with all the amenities you could wish for and more! I suggest booking the quadruple bungalow with a mini pool to enhance the experience, it comes with a private terrace with a pool overlooking the garden!
10. Xcabal Hotel boutique – romantic and charming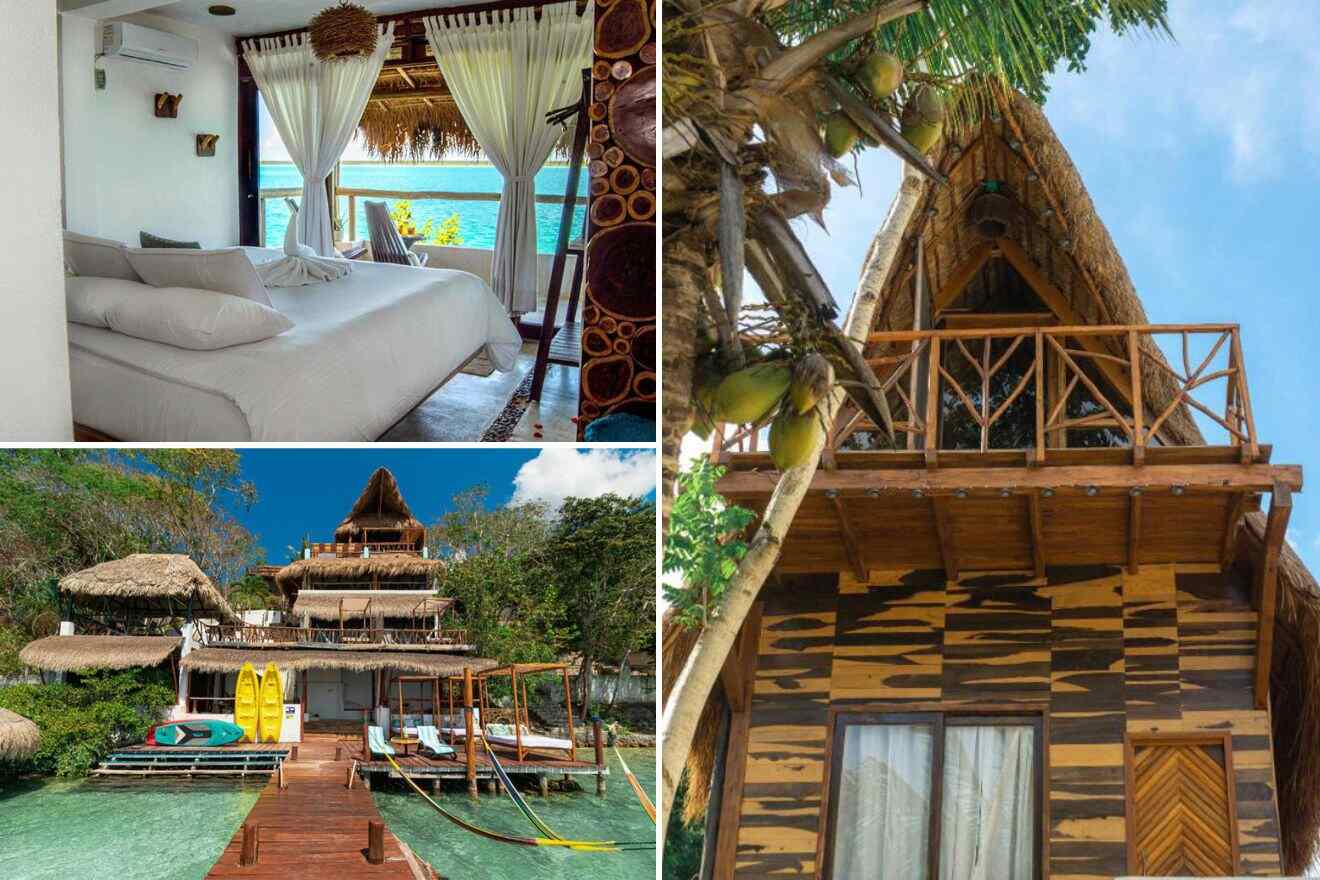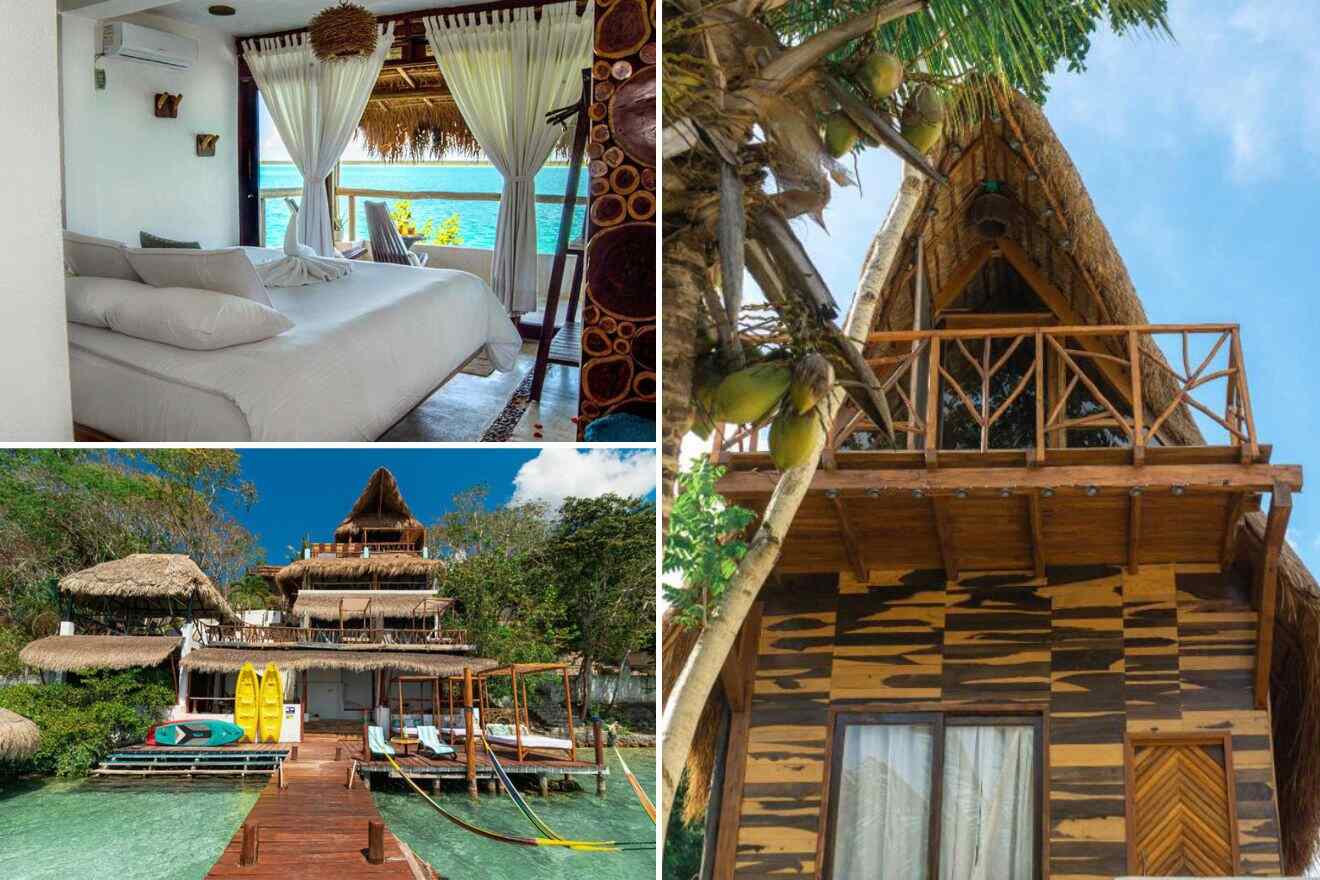 This must be one of the cutest boutique hotels I have ever seen! The style is a good mix between traditional Mexican and modernity. The property is located by the beachfront, with a private beach area, and comes with a beach club. Kayaks and paddle boards are also available for guests! If you stay at this hotel, you need to dine at the restaurant, it has the most exquisite dishes that will take you to the moon!
The rooms look amazing, so comfortable, and fresh with a trendy look! If you are traveling with a partner, the deluxe double room with a balcony and private bathroom is a must! The views of the lagoon from the balcony are like a dream, perfect for watching the sunset with your plus one!
11. Hotel Circulo Bacalar – for great amenities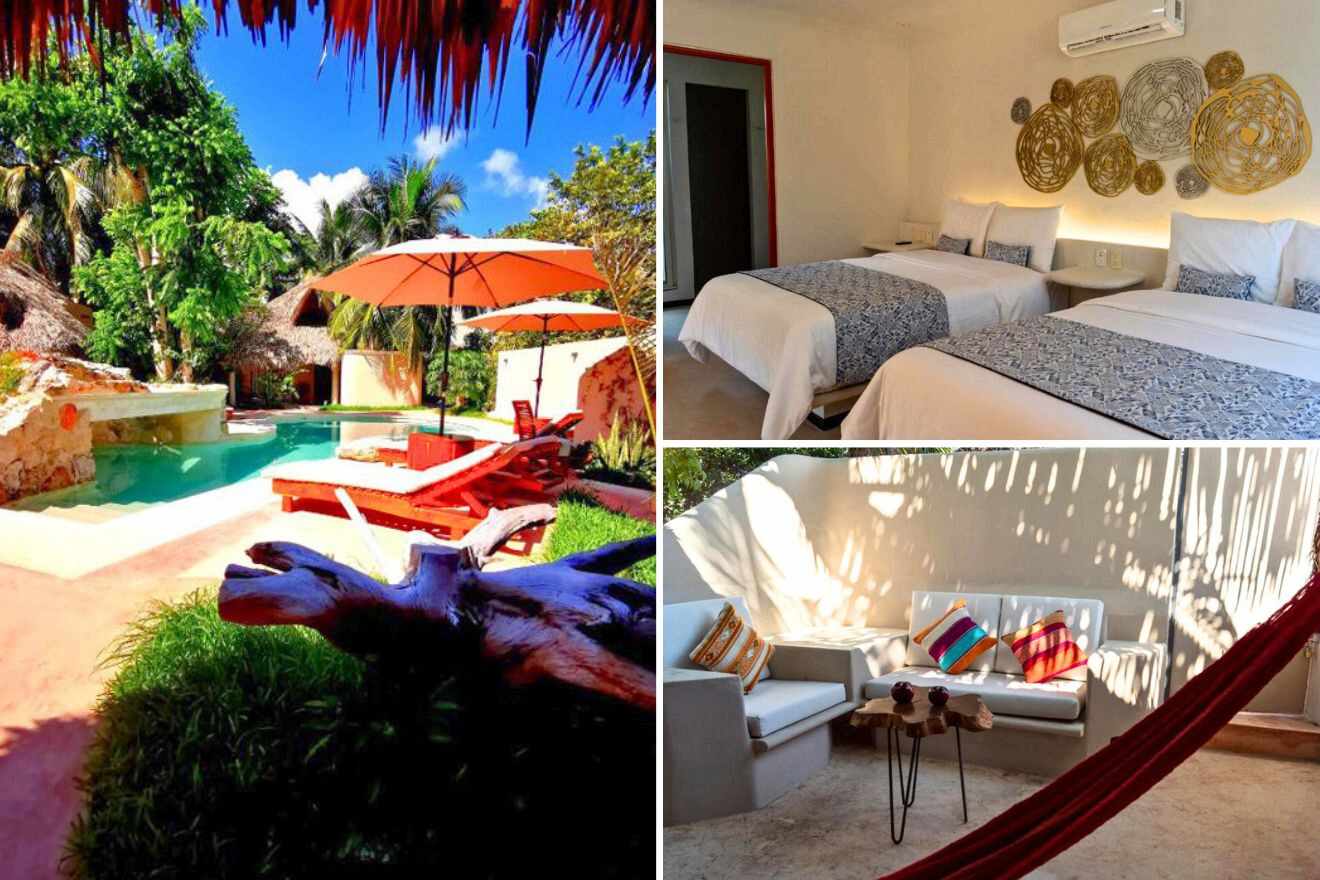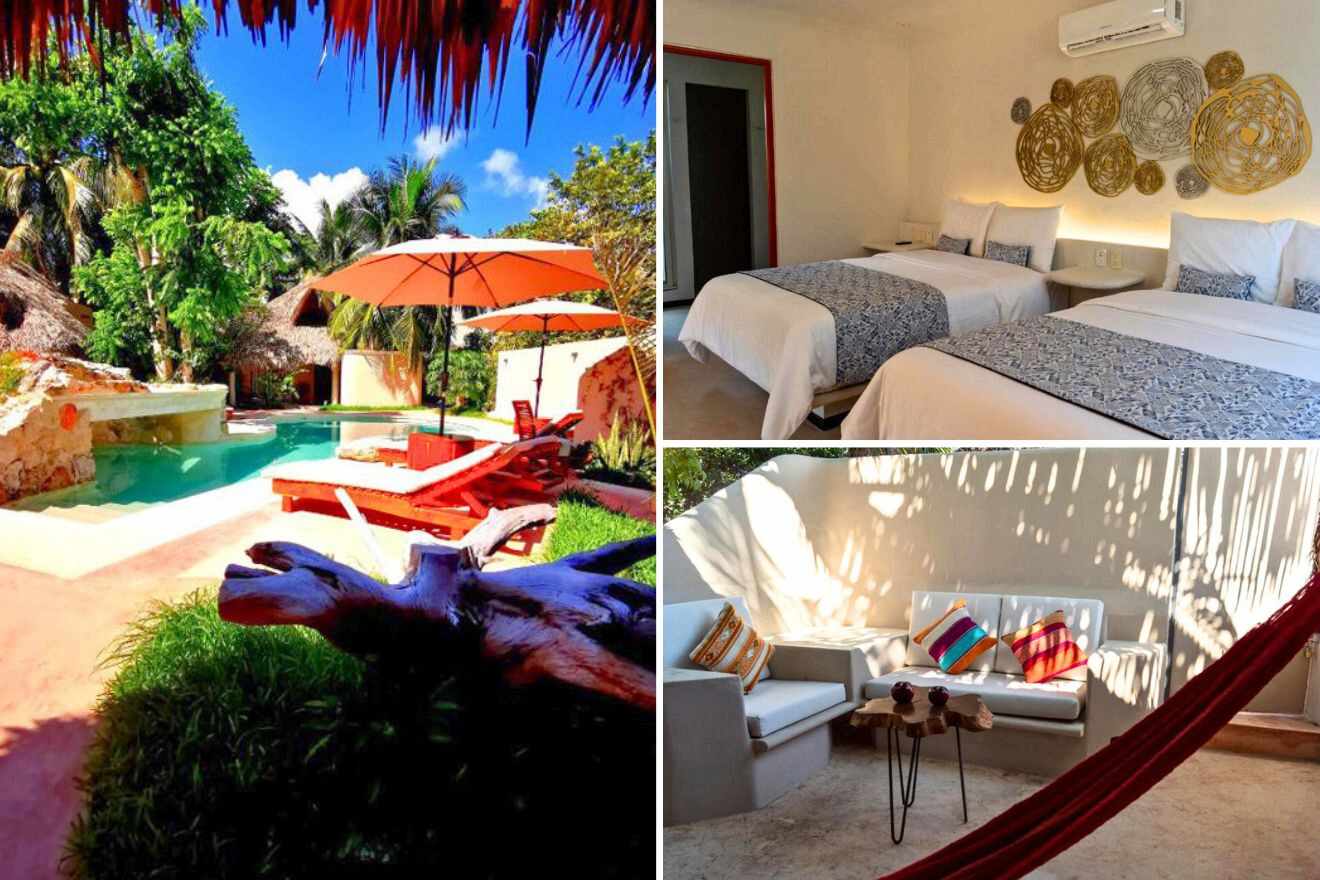 This hotel is located in downtown Bacalar, but the hotel's decoration and beautiful plants in the garden surrounding the outdoor swimming pool will make you feel like you are in the middle of the jungle! The lagoon is located a few minutes away; if you don't feel like walking, take one of the complimentary bikes and ride all the way to the water!
The rooms are spectacular; if you are traveling with your family, I recommend staying at the family bungalow, which comes with 4 bedrooms and can host up to families of 8 members! This bungalow has a private terrace with a hammock!
12. Casa Chukum – fun in the city!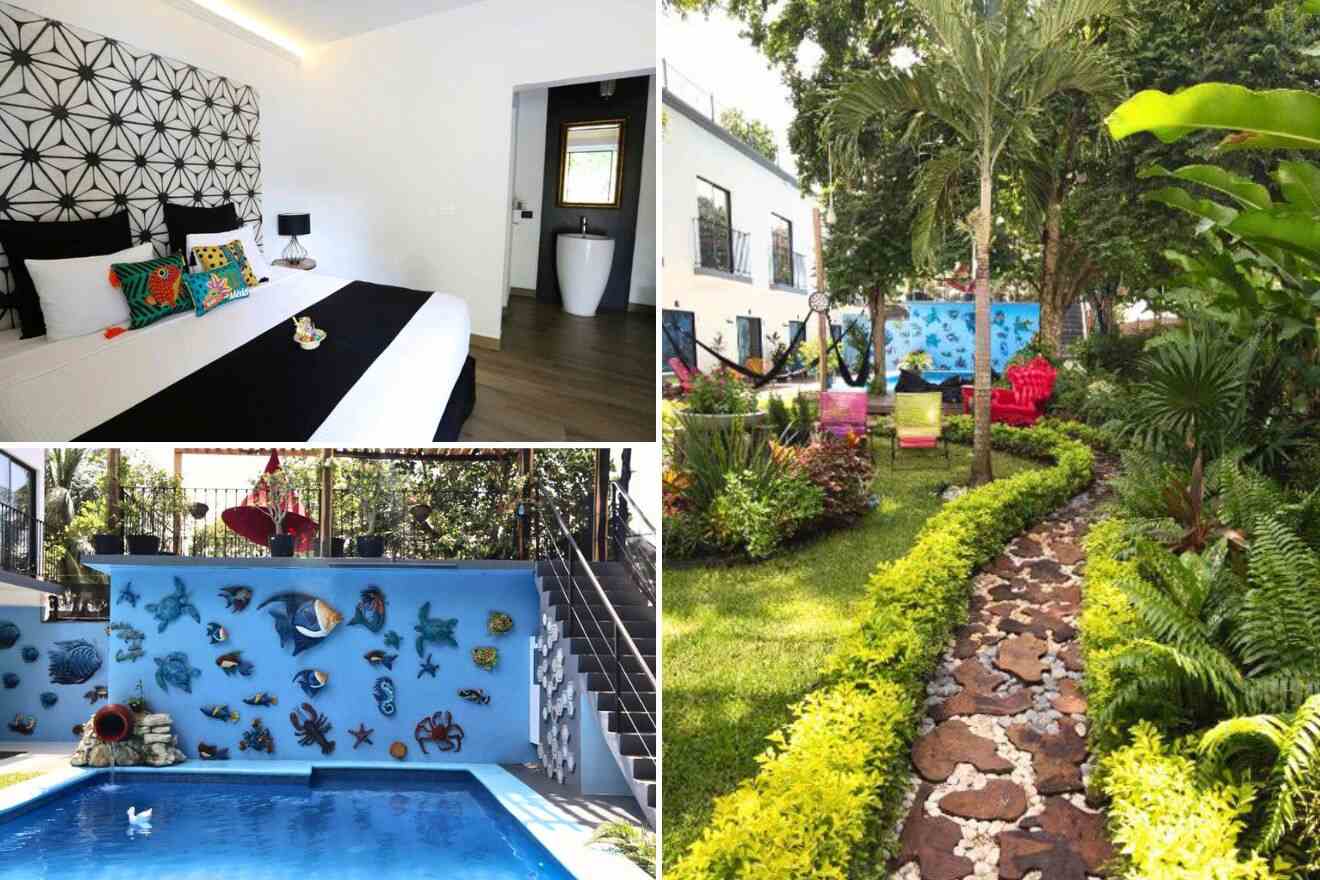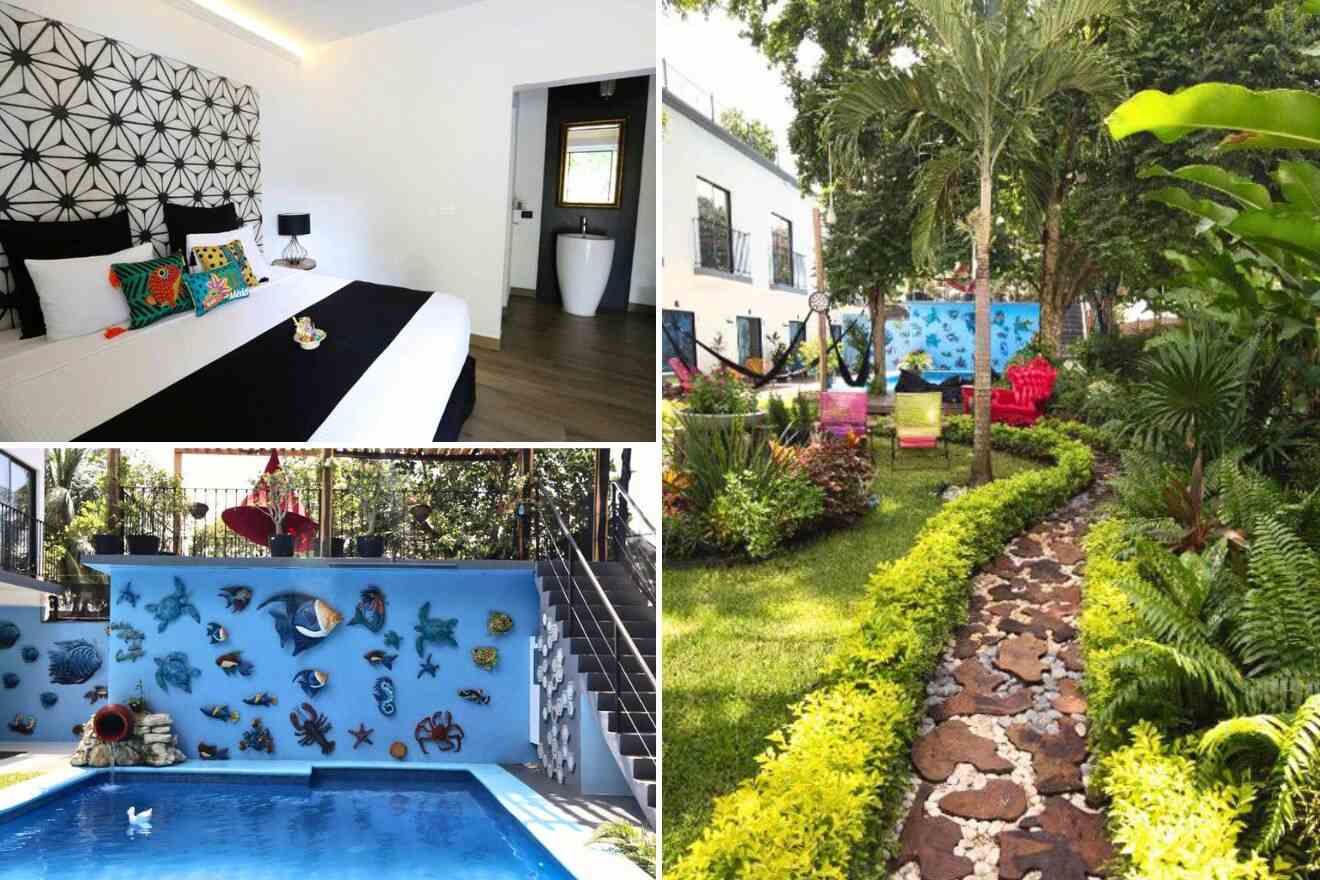 There is something about this hotel that feels like it is a fun hotel! It might be the neon lights in the lobby, the purple lights illuminating the outdoor swimming pool, or maybe the fact that it is located in the Bacalar downtown area with many options of bars and restaurants nearby! This little boutique hotel will make you feel at home with its lovely and friendly staff, who will go the extra mile to make you feel pampered!
All the rooms are stylish and come with air conditioning, a flat-screen TV, and some of the rooms come with their own private balcony. All the rooms can host up to 2 guests, and you can enjoy breakfast every morning for a fee.
13. La Galuna Bacalar – feel pampered!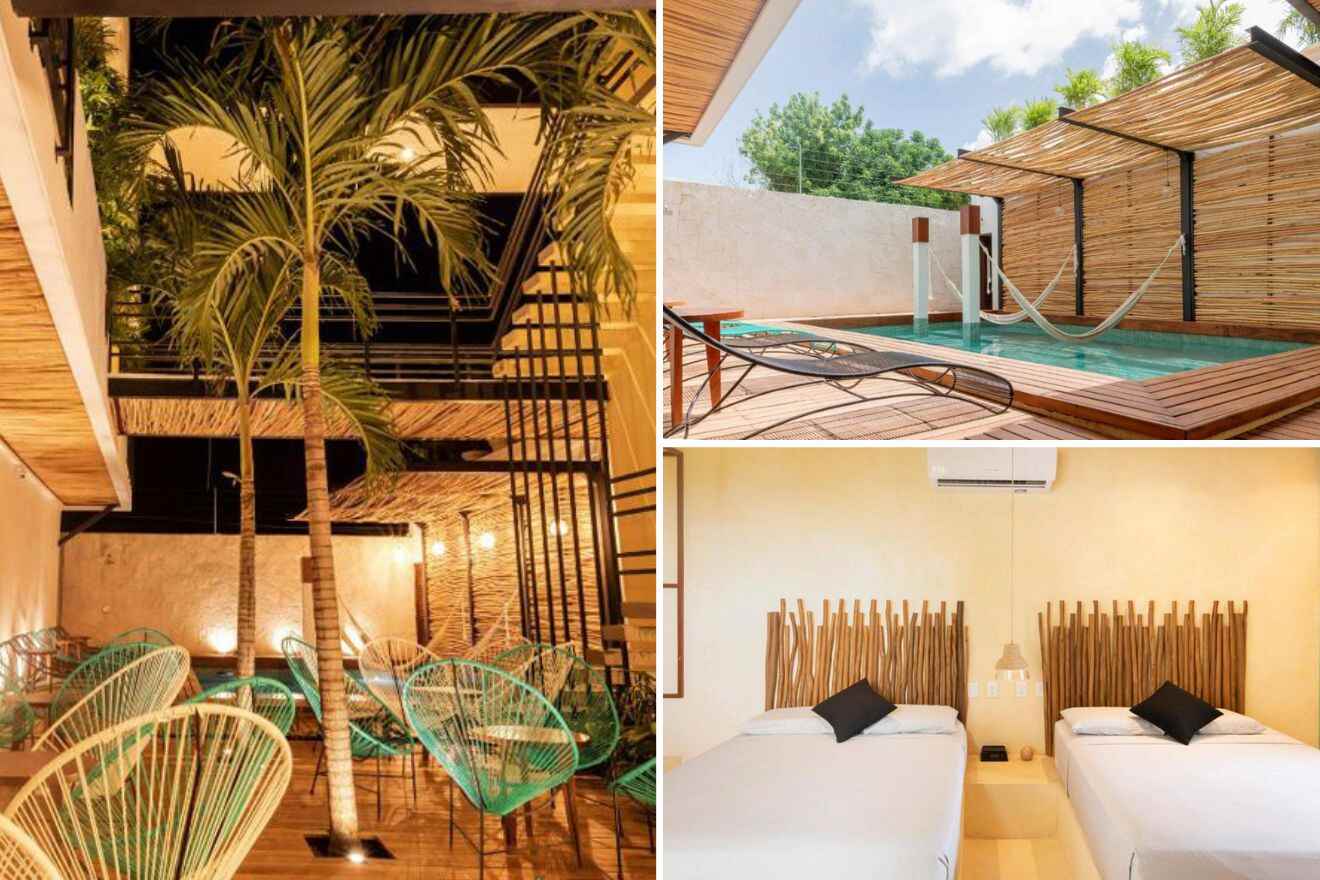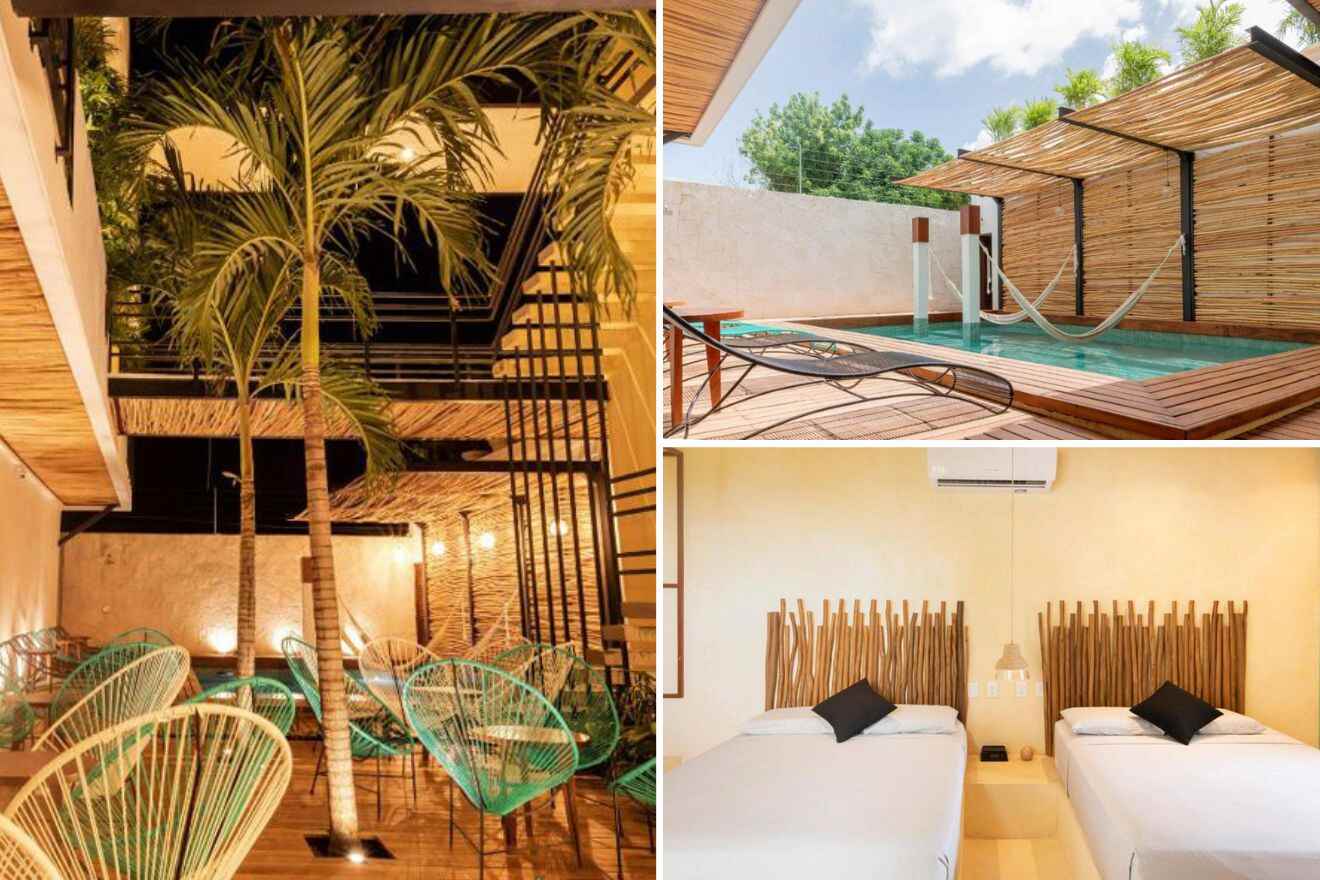 One of the best things about this hotel is the outdoor swimming pool which has hammocks hanging on top of it, and comfortable beach chairs so you can lounge in style! The hotel staff is so accommodating and helpful you will feel right at home. If you are looking to book a lagoon tour, they will help you out with it!
The location is quite ideal; you have the town and all the amazing restaurant and bar options just steps away, and the relaxing and stunning lagoon is a few minutes away from the property. I recommend staying in a room with a hot tub or balcony to make the stay even more memorable!
14. Hotel & Suites Oasis Bacalar – for a quiet stay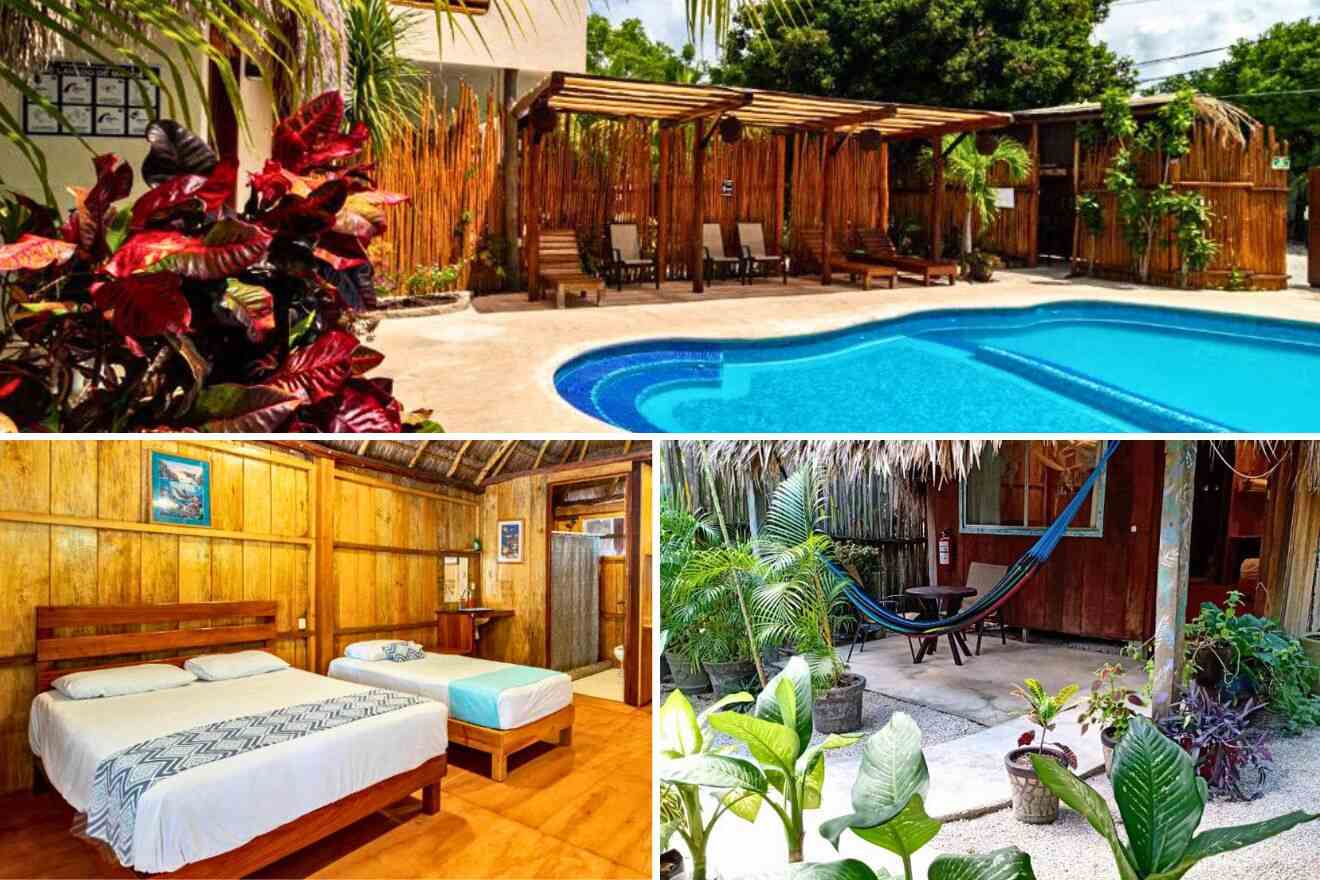 Want to have a pleasant vacation in a hotel located in the town center and with the Bacalar Lagoon steps away? Then this hotel is for you! You can have it all while staying in a quiet and tranquil little piece of paradise! It has a swimming pool and a beautiful garden and terrace, where you can sit to read and let go of all your worries.
The rooms look super cute, with wicker ceilings and wooden walls, the bathrooms have beautiful colorful sinks, and some of the rooms come with a balcony or terrace. If you are traveling with your family, they have some apartments available which can host up to 8 guests!
15. Hotel Aires Bacalar – for a centrally-located spa stay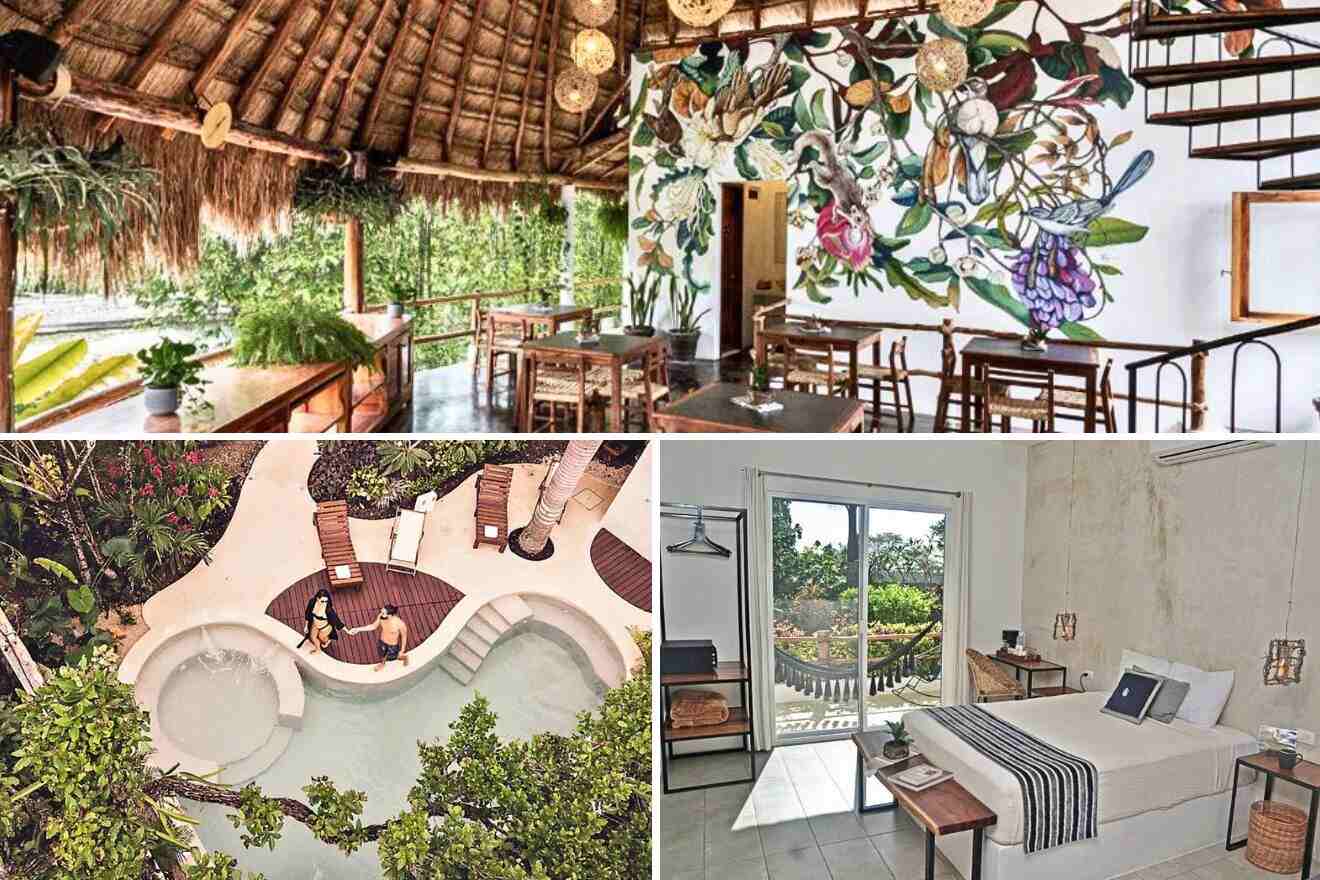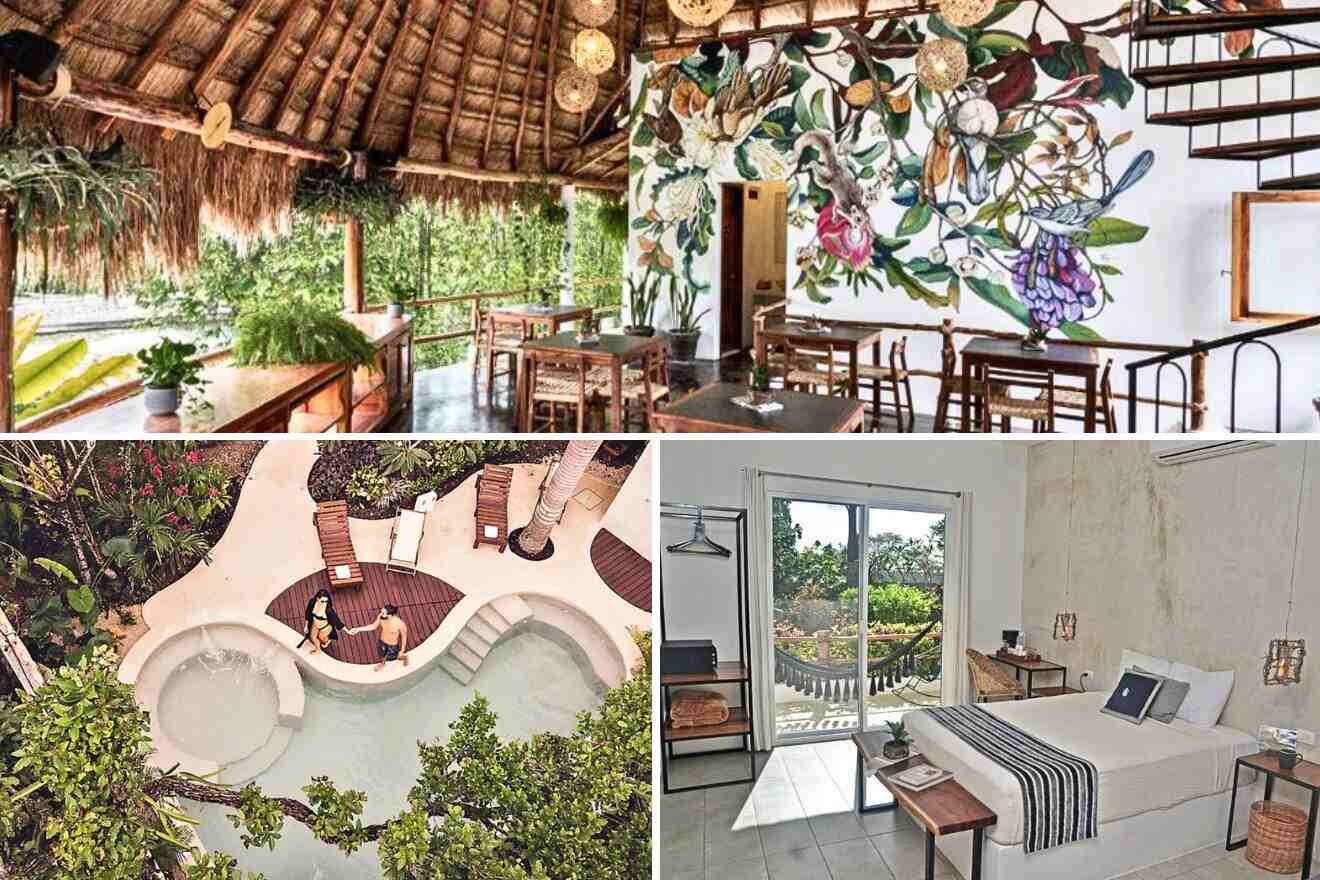 Well, this is the exact type of hotel I am obsessed with! The hotel is modern, chic, and fresh; the decor mixes bamboo and wicker elements, the walls have painted beautiful murals in them, there are plants decorated the entire property, and the outdoor swimming pool looks stunning! There is a spa center open to all guests, and the complimentary breakfast is super!
The rooms feature amazing amenities and up-scale furniture, and the balcony with hammocks gives the rooms a beautiful touch. The hotel is located right in the downtown area, and the lagoon is steps away from the property.
16. Hotel Sun Ha Bacalar – rustic with a charm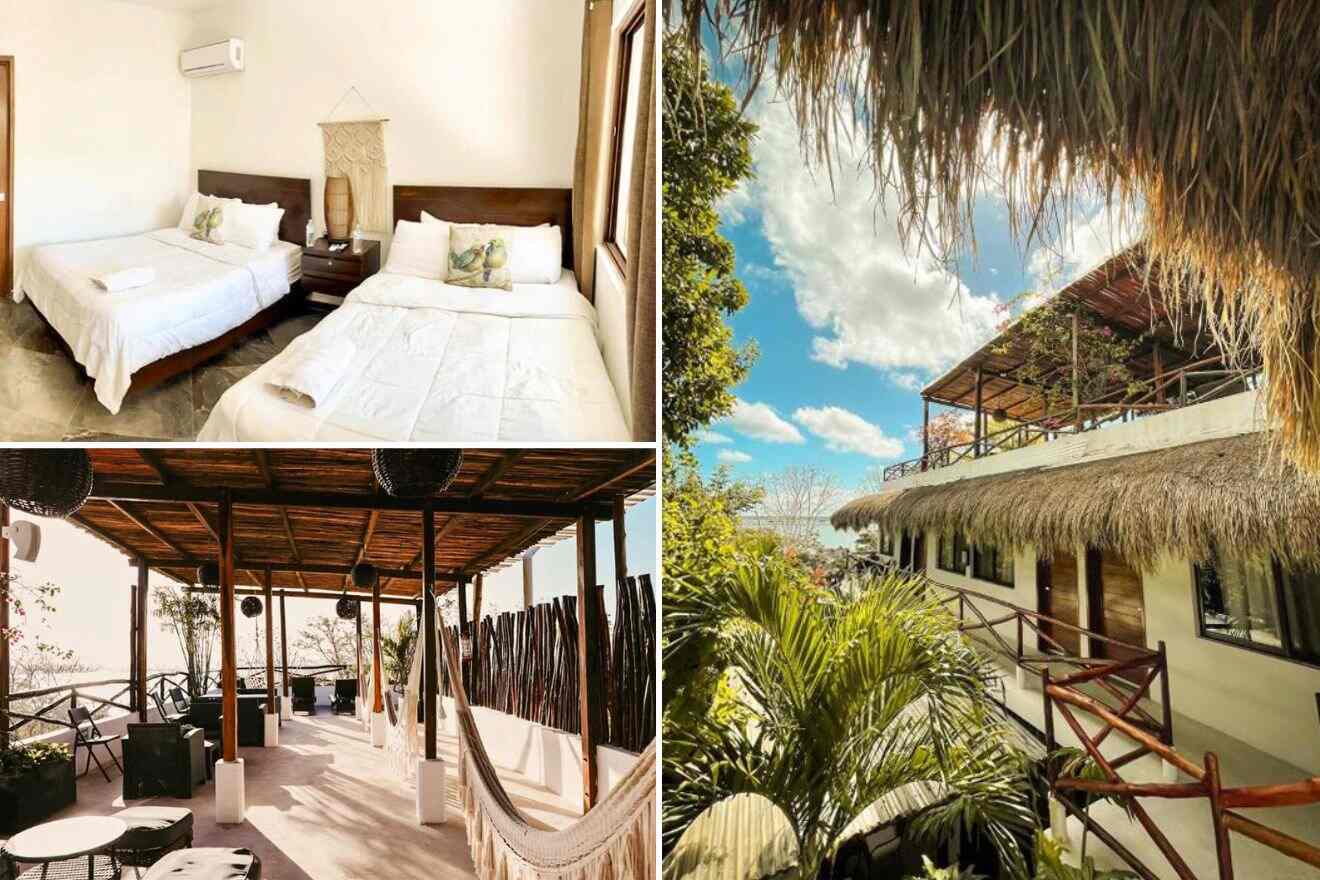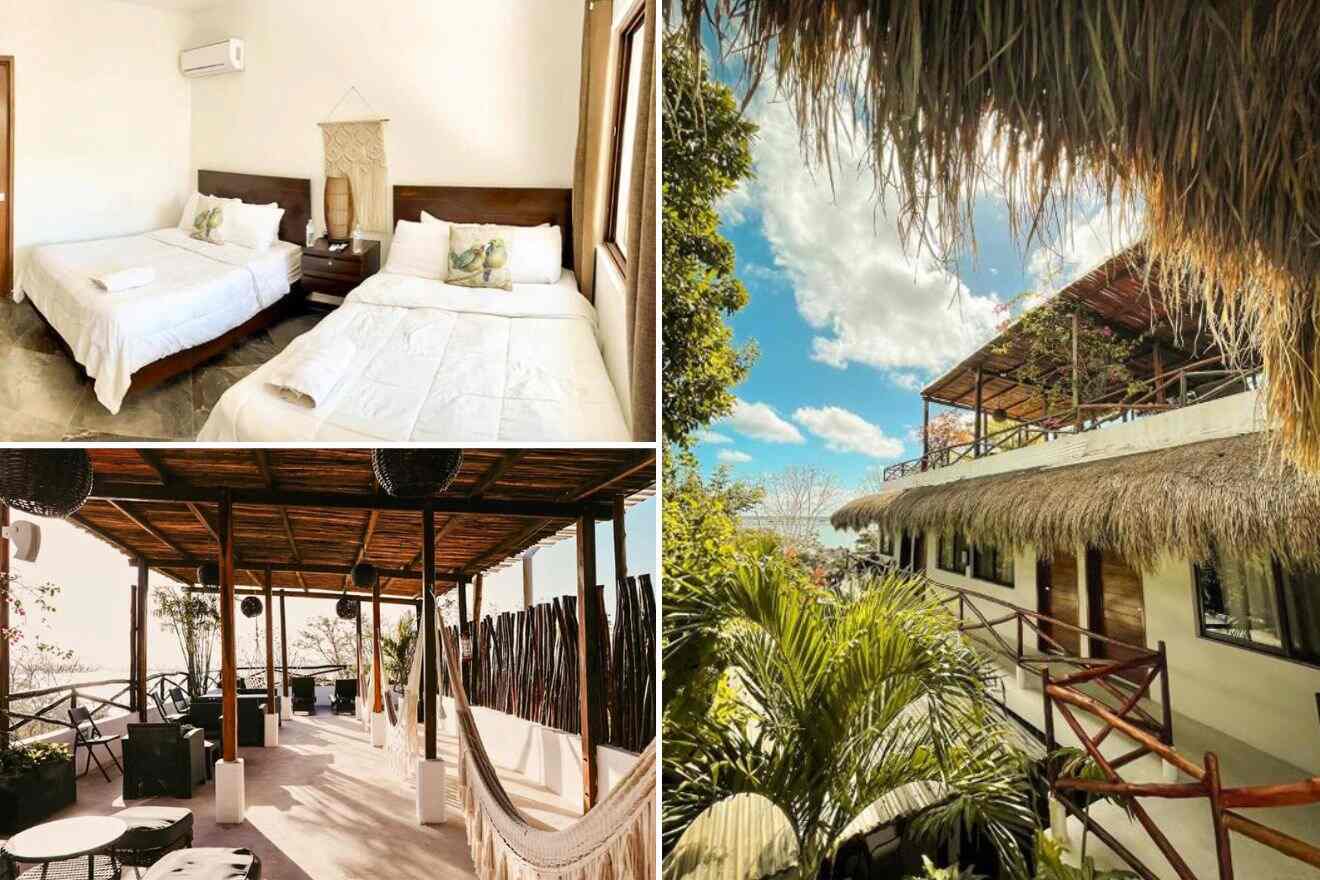 What an excellent and cute boutique hotel; it has a cozy rustic vibe that will make you feel like you are in a Caribbean movie! The hotel features natural materials and cream-painted walls that give certain tranquility when combined with the blue lagoon and green vegetation. The hotel is located near the city center, and there is a bicycle rental service available to explore the area!
Kohunlich is one of the nearby Mayan ruins, and it is located around a 1-hour drive away from the hotel, San Felipe Fort is located only a 5-minute walk away. If you wish, This property offers 2 types of rooms, all of them hosting up to 2 people. I recommend the Deluxe Suite with a balcony for a memorable vacation.
17. Villas Ecotucan – for a jungle adventure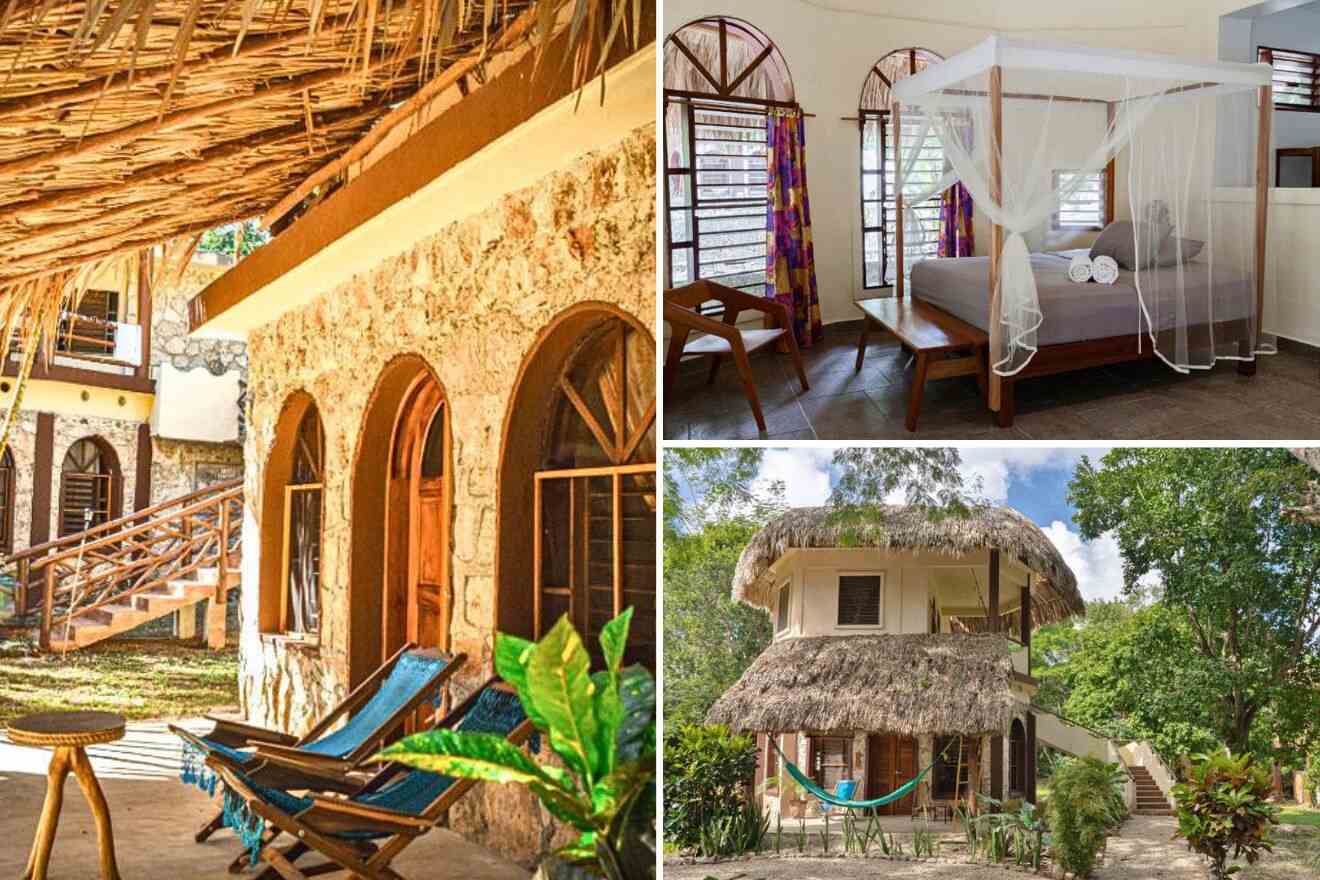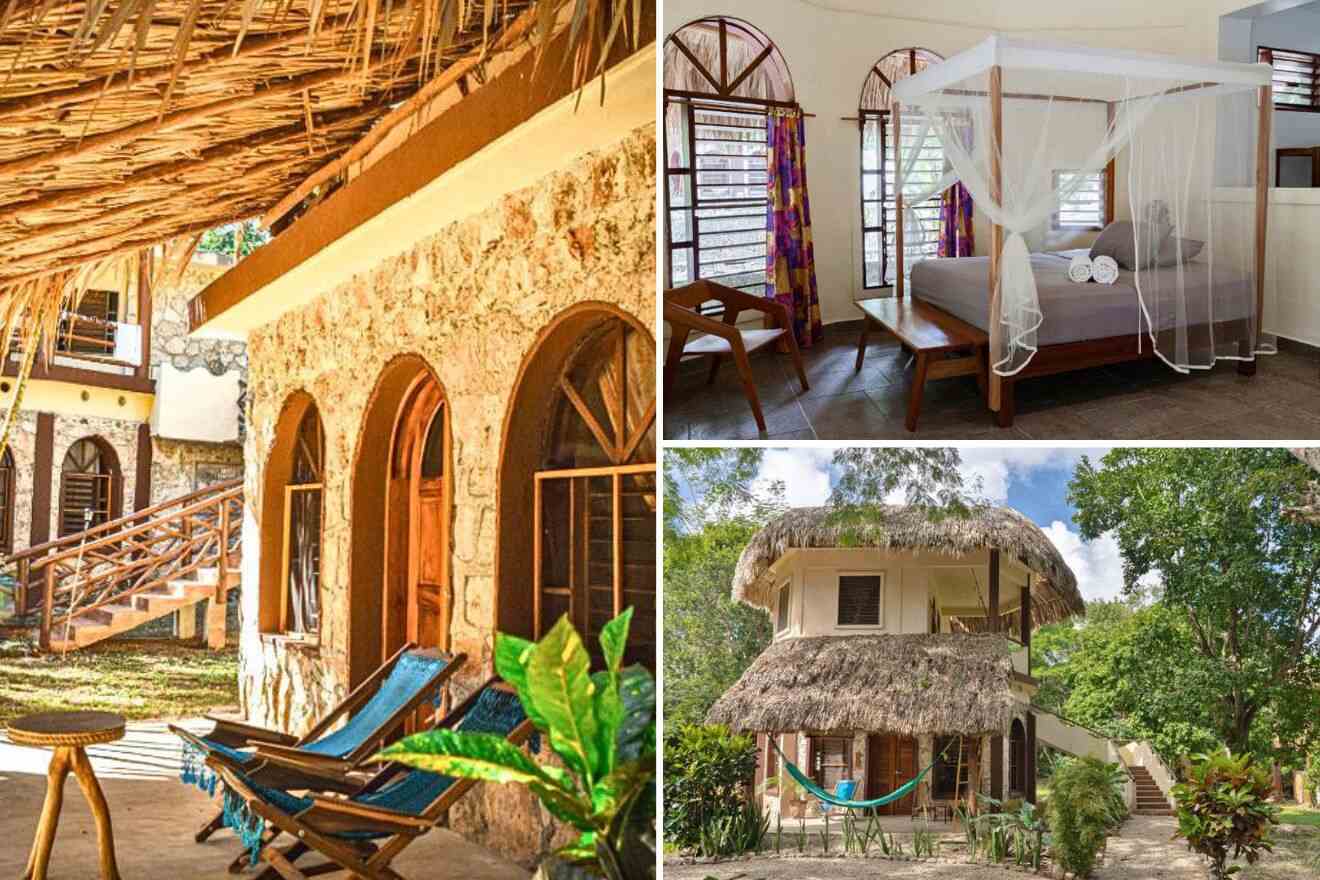 I am so amazed by this hotel! It is located a 20-minute drive away from downtown Bacalar, and it is surrounded by a lush, thick jungle; you could take any of the hotel's jungle walking tours or bird-watching tours to make the most of this vacation. The lagoon is only a few steps away from the property. Is there anything better than jumping into clear waters first thing when you wake up?!
The hotel offers a complimentary breakfast, and all of the cabanas come with their own private terrace with a garden or view of the forest, nothing better than sitting on the terrace and watching the night sky full of shiny stars!
18. Hotel Maria Maria – homey hotel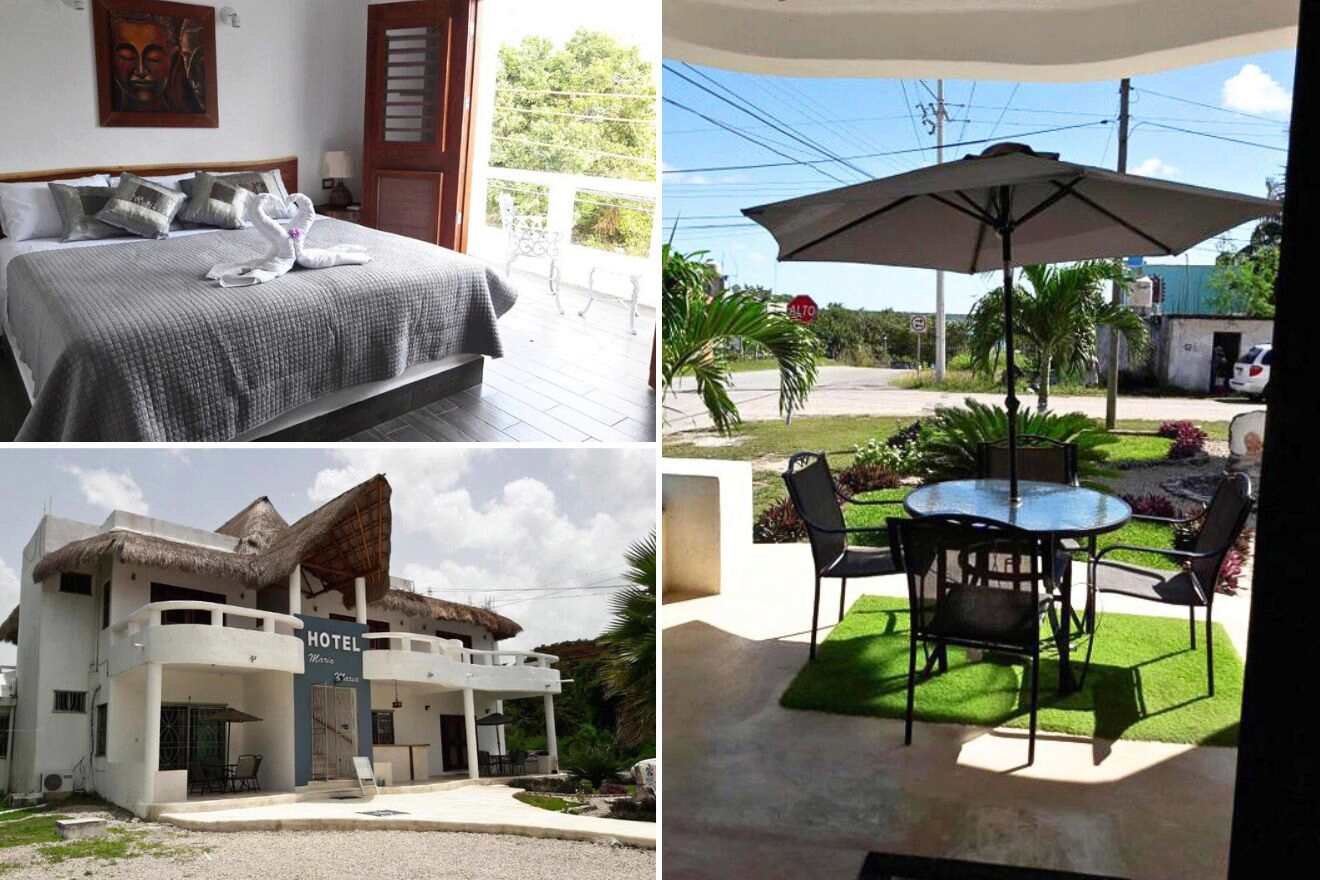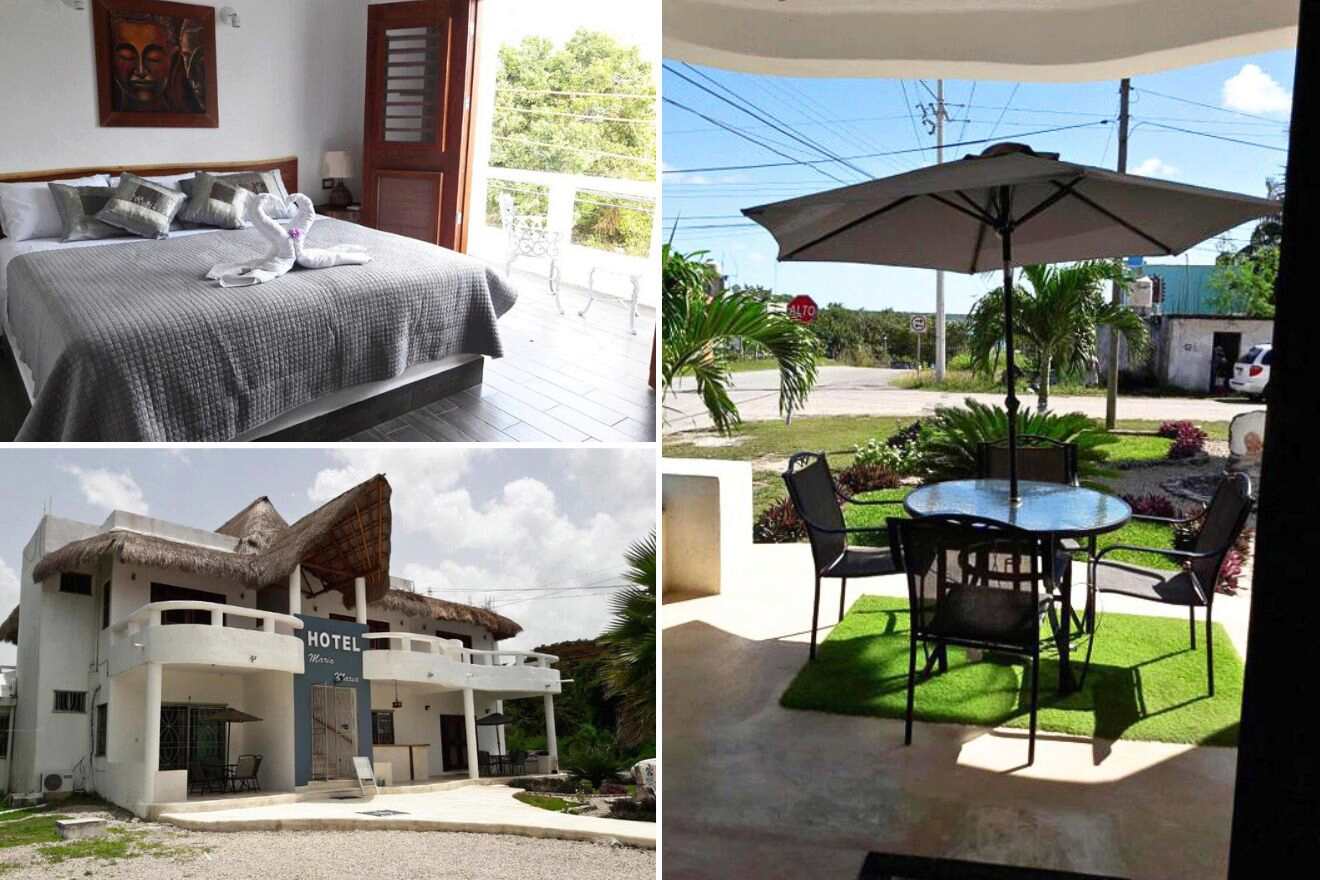 This hotel is super cool! It feels like it is a big house turned into a hotel, so, basically, you will feel right at home! It is located just a few minutes walk to Bacalar town center and to the beautiful lagoon. If you wish, you can check on the front desk for sailing tours around the lagoon; what an experience!
The hotel facilities are super modern, and everything is nicely decorated; all guests staying in any of the hotel rooms can enjoy a complimentary breakfast each morning. Stay in the queen room with a balcony to have amazing views of the lagoon from the comfort of your room!
19. Alma de Zorro – stylish and cozy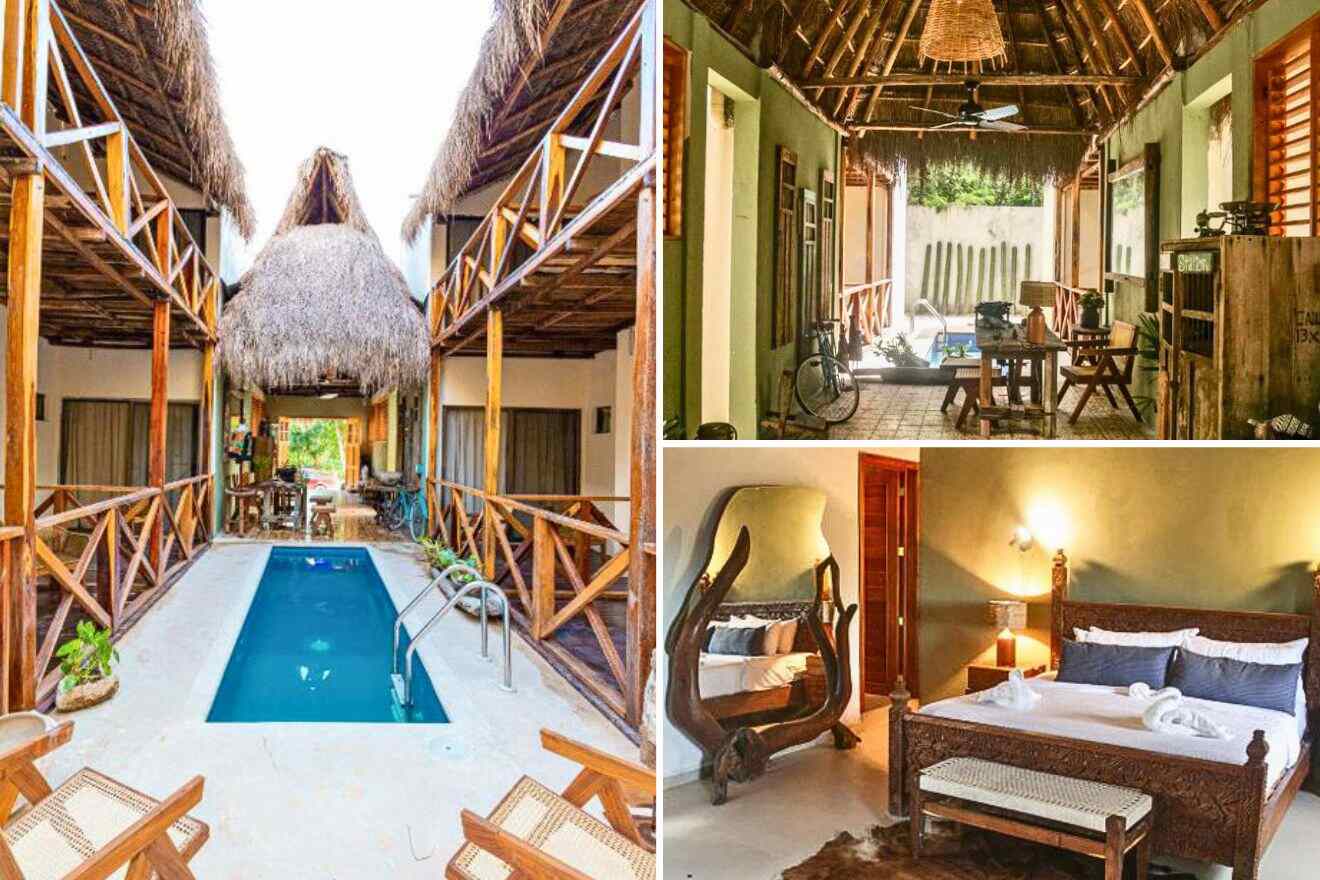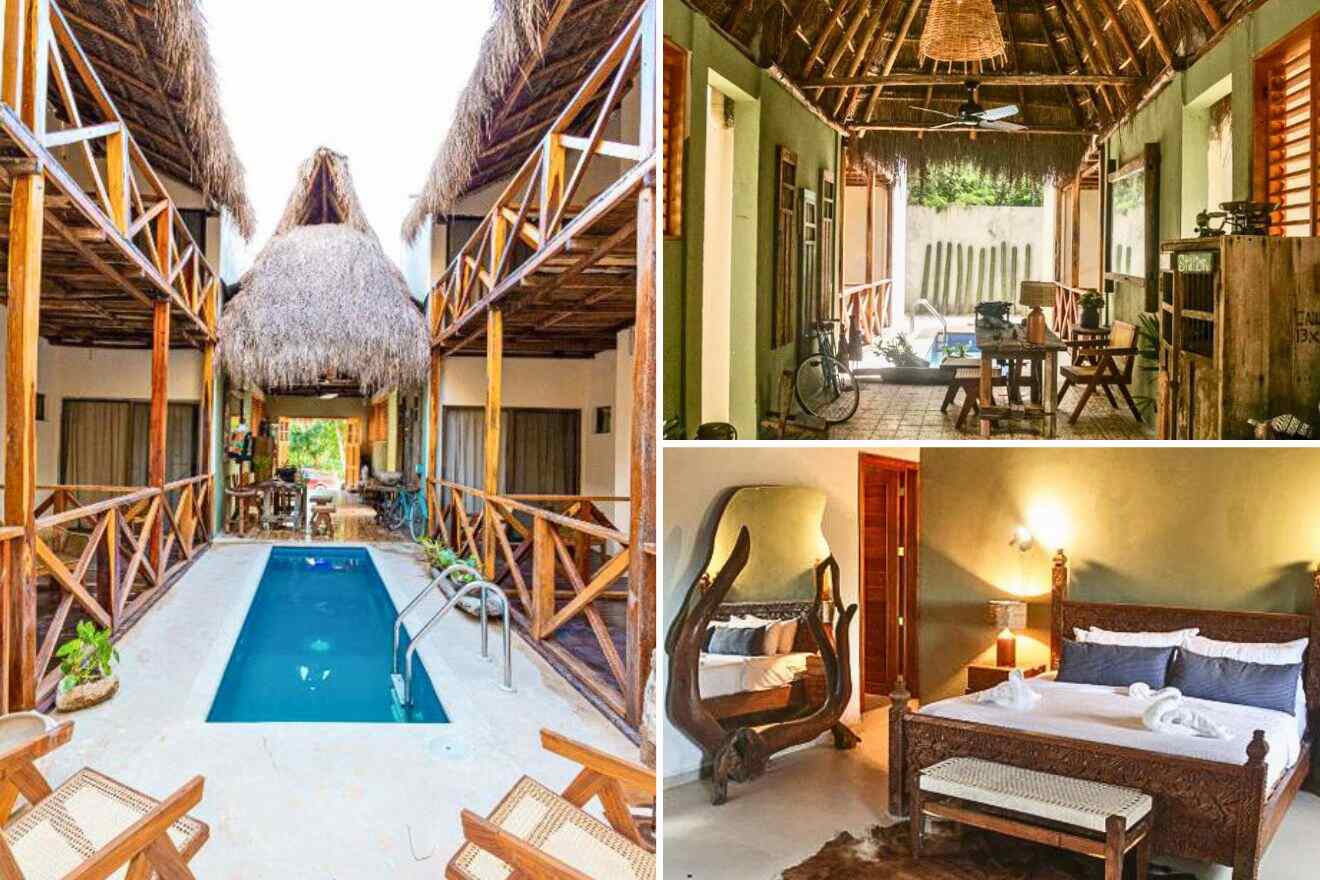 I love this hotel's style; the ceilings have a nice wicker cabana feel, the floors have beautiful traditional tiles, and the decoration is rustic and charming! There is an outdoor pool shared with all the guests of the hotel, and the Bacalar Lagoon is only a 5-minute walk away, so get ready to spend the entire day relaxing in crystal clear blue water!
The rooms look amazing, are spacious, and have trendy decor. I highly recommend staying at the suite with a terrace; it is super big and comes with a sofa, and from the terrace, you can see the lagoon. A complete dream!
20. Hotel Casa Poblana – feel like a local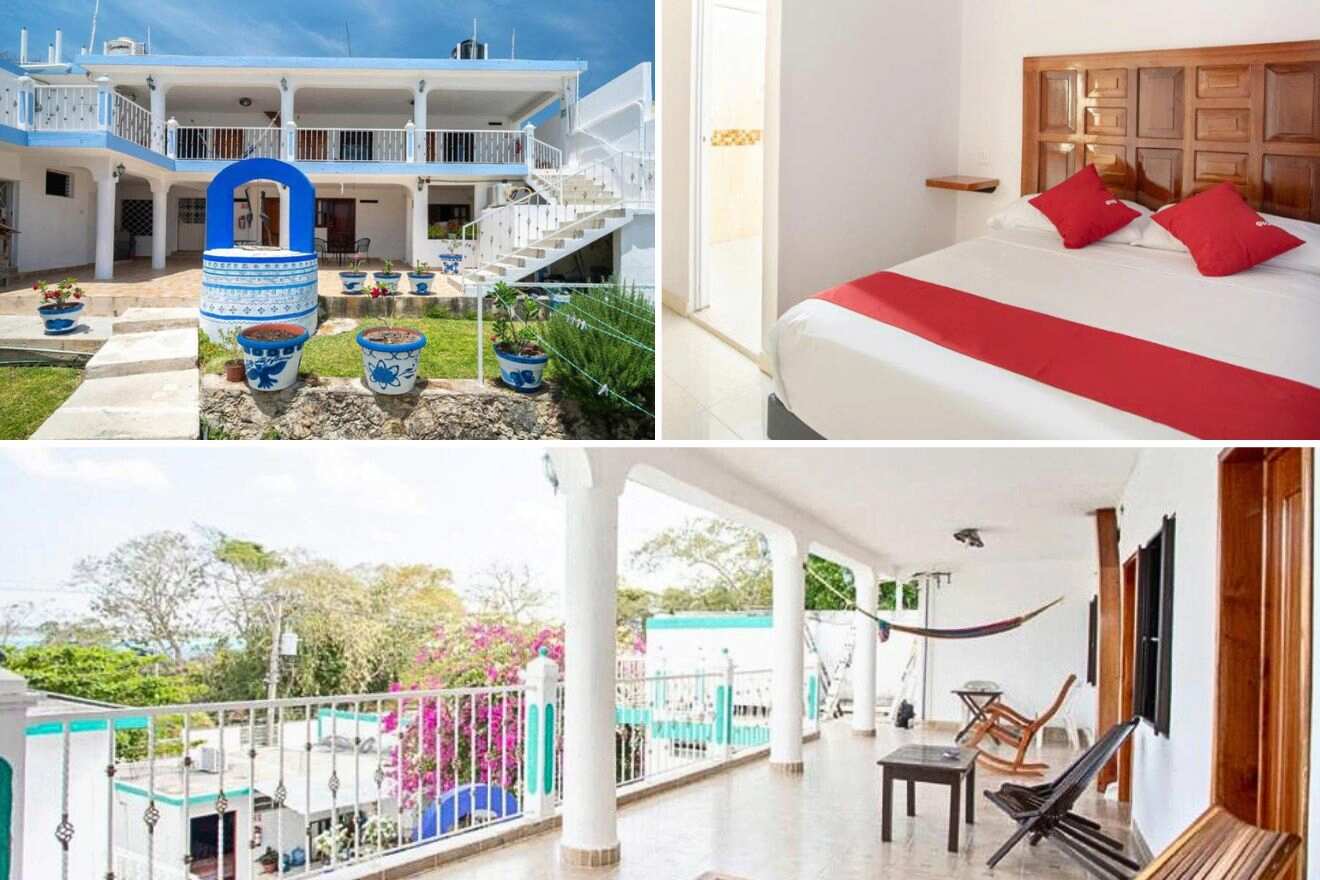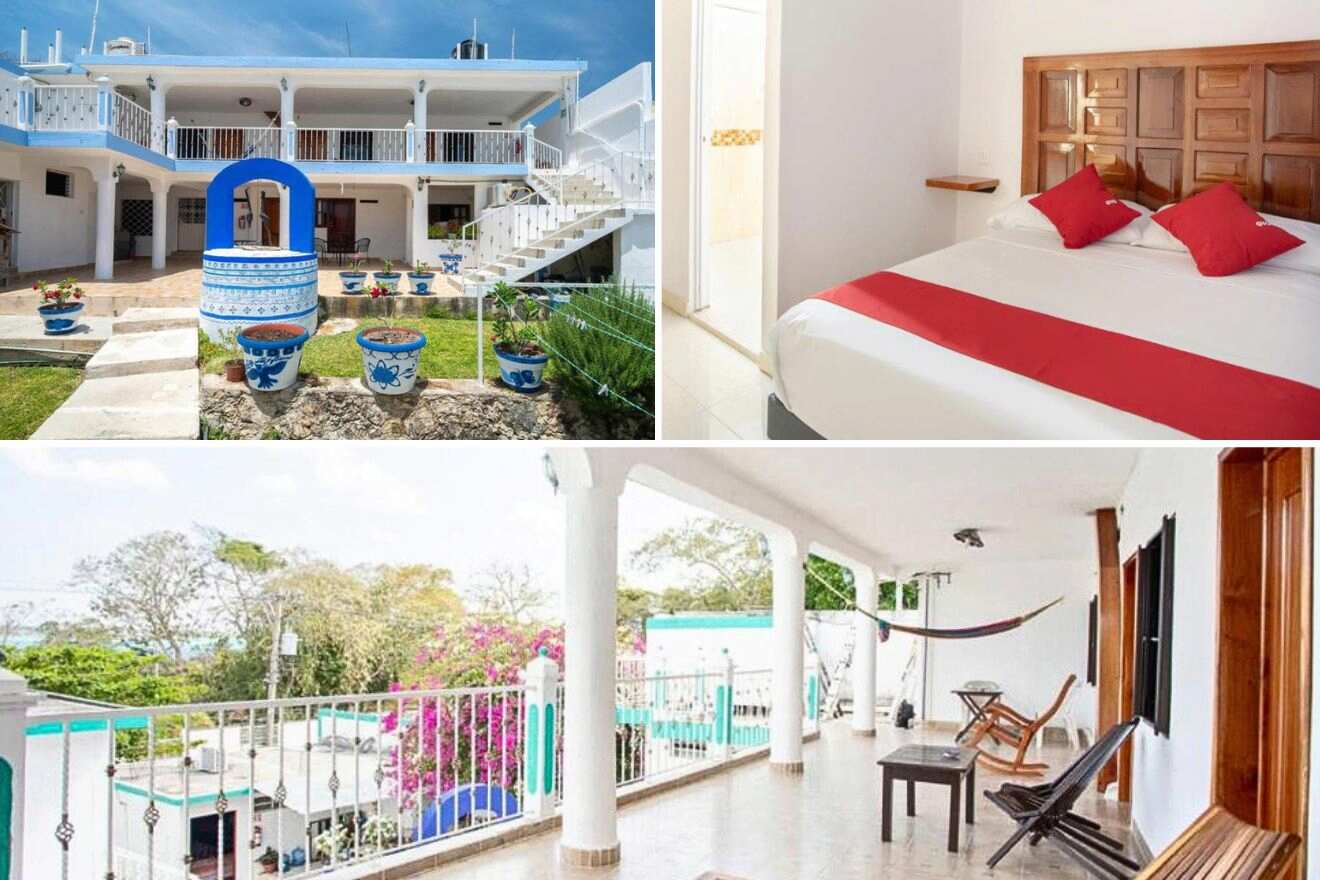 This hotel is located in downtown Bacalar and has a simple, colorful, and traditional vibe. I love it! From the hotel, you can see the beautiful lagoon and enjoy a nice drink from the terrace. The hotel has a communal kitchen which makes it perfect to cook some nice homemade meals and keep your wallet happy!
The rooms are super spacious, come with big and comfortable beds, a terrace, and have a nice view of the garden. There are 2 types of rooms, one for 4 guests and another for 2 guests, so book according to your needs!
FAQs about Bacalar hotels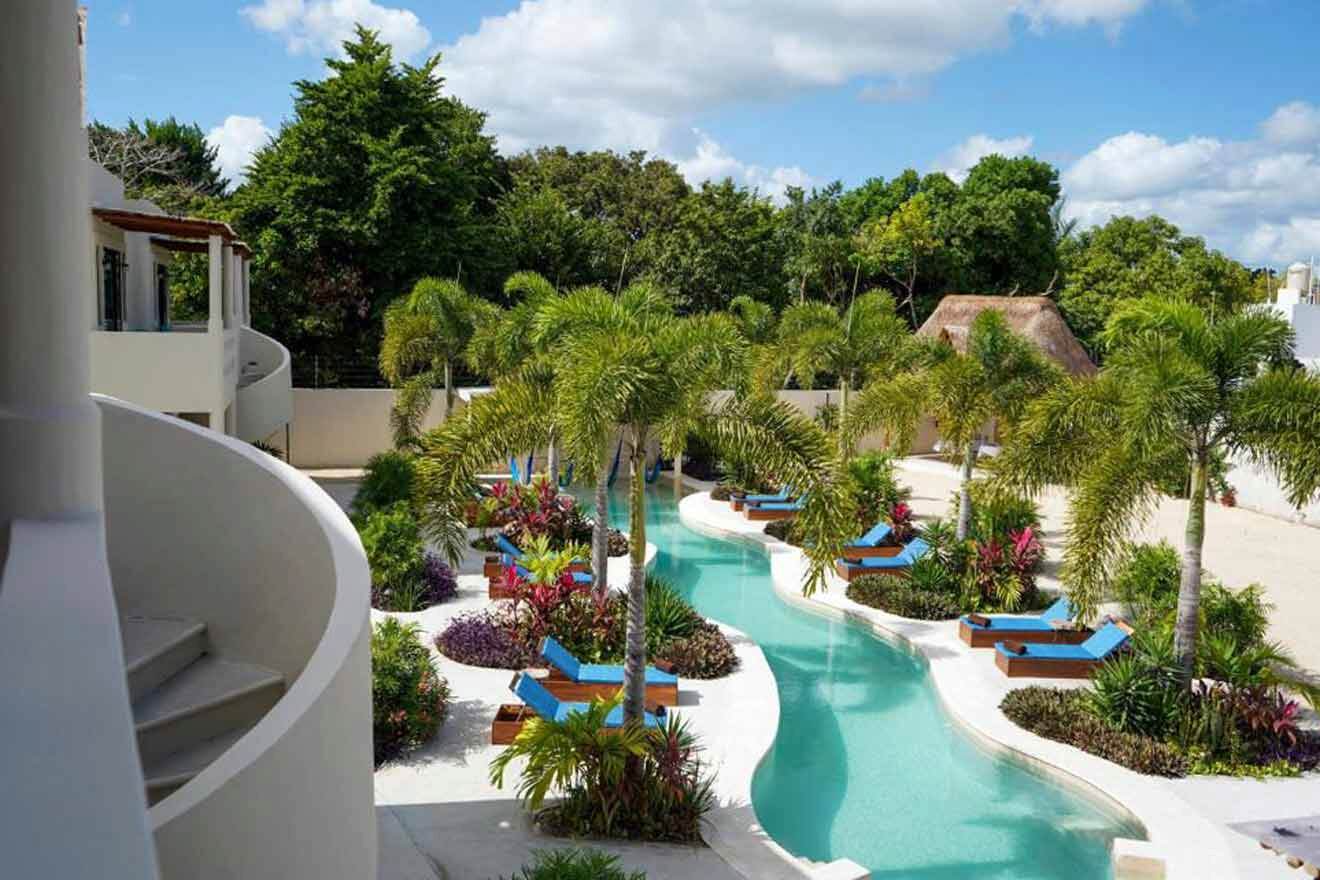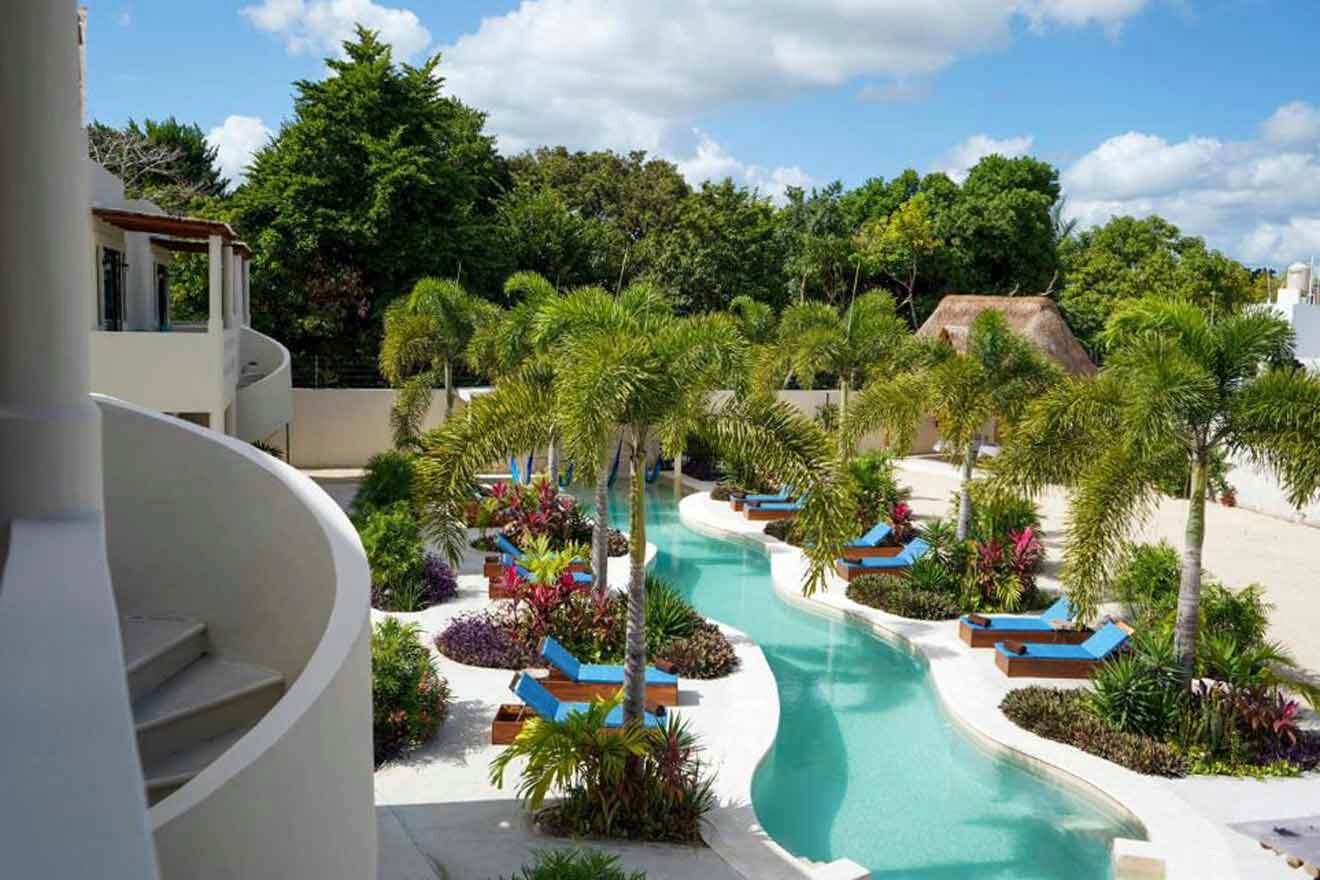 Conclusion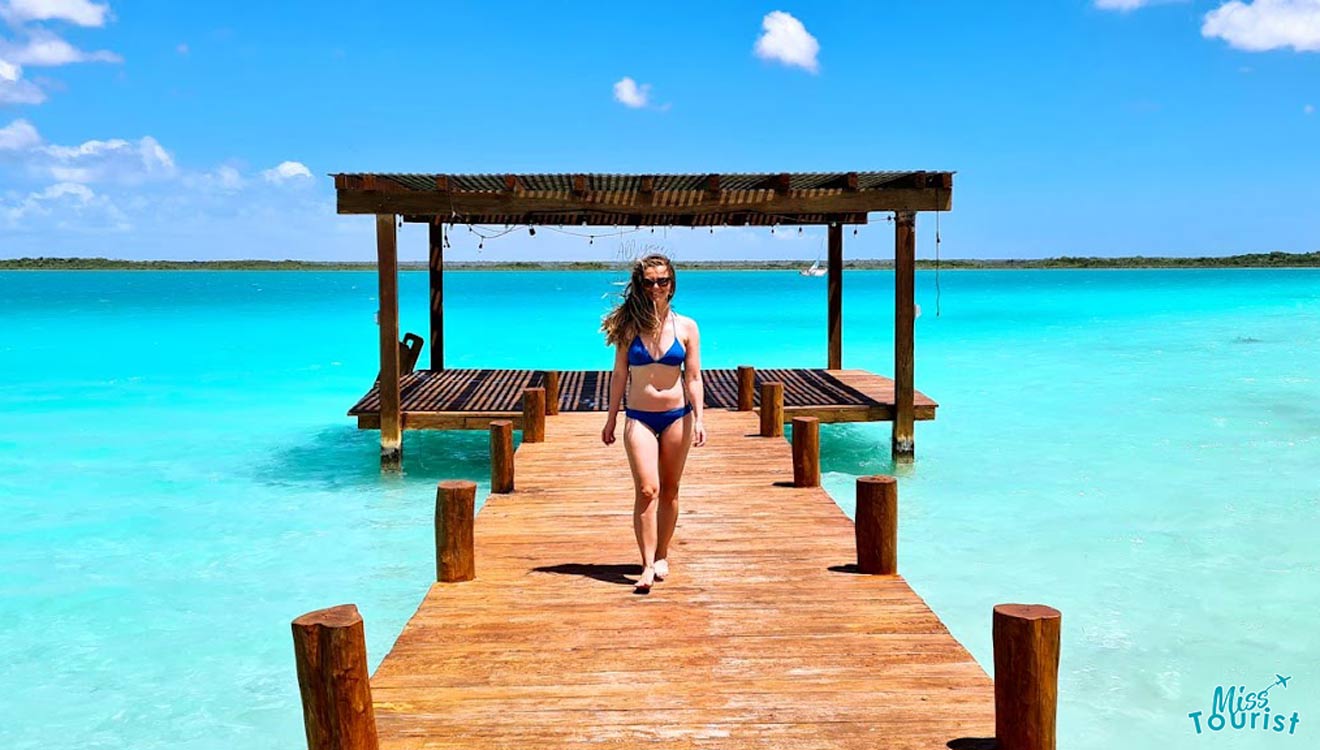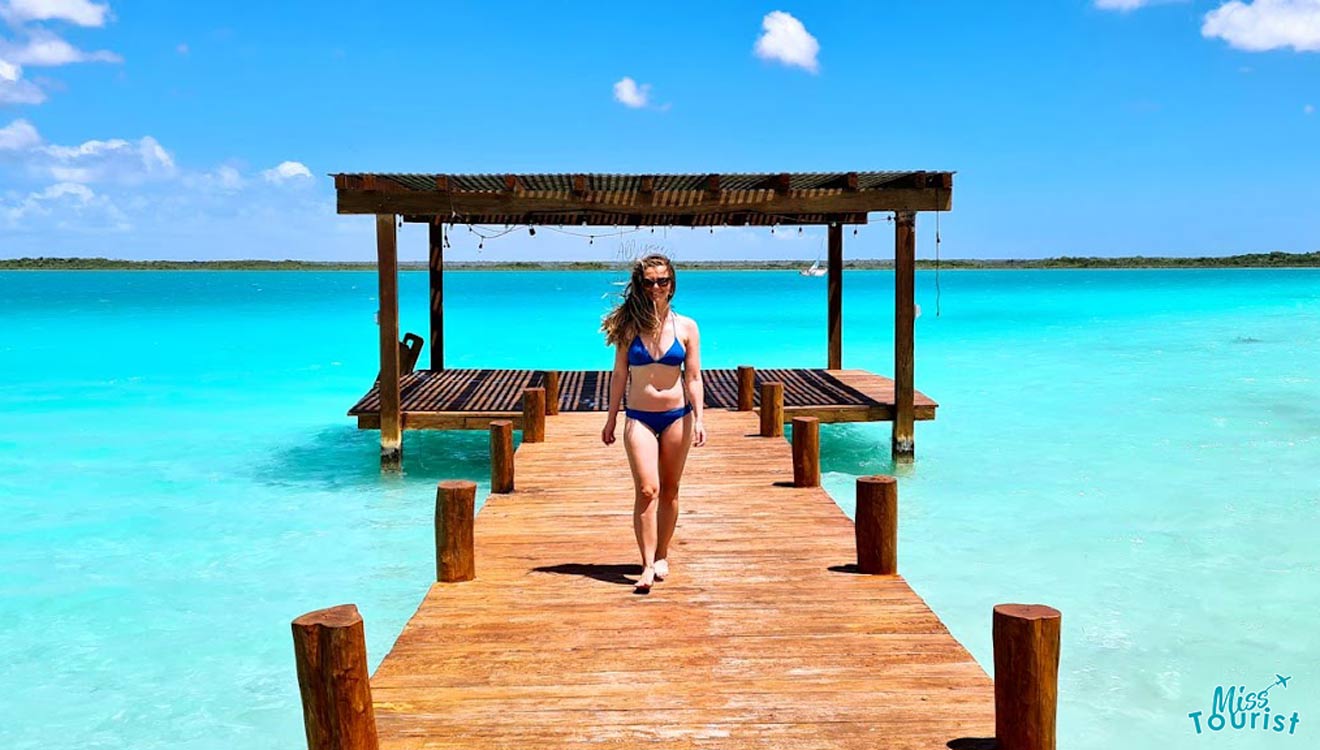 It's a wrap for today, my people! Those were the best Bacalar hotels out there; Bacalar is super popular among travelers trying to look for a relaxing and wholesome vacation. It doesn't matter if you want to take a city break from Mexico City or Berlin; Bacalar has all the things you need to unwind!
Honestly, all the hotels I have mentioned in this post are beautiful, but if I had to choose only 2, I would go with:
Hotel Aires Bacalar – I simply love this type of style and architecture; it feels so chic and fresh!
Villas Ecotucan – I love that you can take tours in the jungle and that nature and sustainability play a big part in this hotel!
Which of these hotels was your favorite? Are you ready for your Bacalar adventure? Let me know in the comments, and right after booking your hotel room, it is always better to book in advance in these popular destinations so you can get good deals and the room of your dreams!
Until the next quest,
Daniela
---
Pin it for later!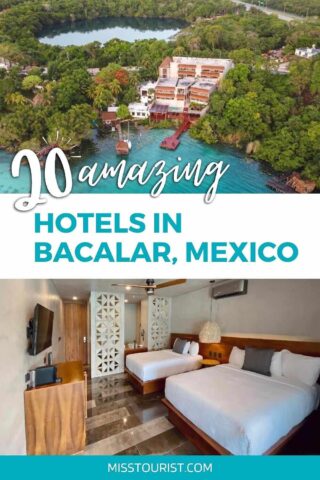 Pin it for later!