2. Cancun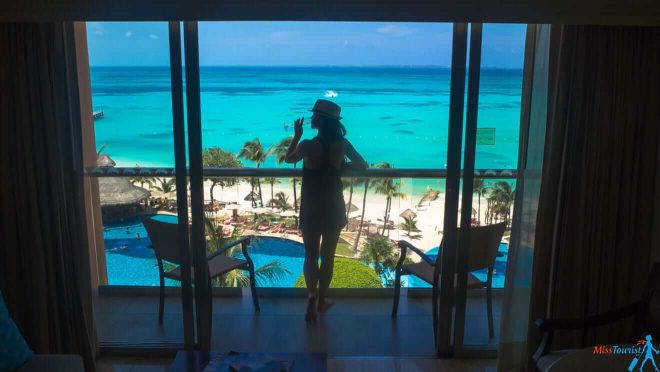 Cancun is a bustling touristic city and you will probably land here if your Mexican trip starts in Yucatan. You will find Cancun in many articles recommending things to do in Mexico, Riviera Maya. I only recommend stopping in Cancun if you stay in a nice all-inclusive hotel (such as mine – you can read more about it below). Otherwise, you can get that beautiful turquoise water anywhere else on the coast, in places with more cultural heritage and definitely fewer tourists! My 2 cents 🙂
Here are some Cancun money saver tips:
Tips about Cancun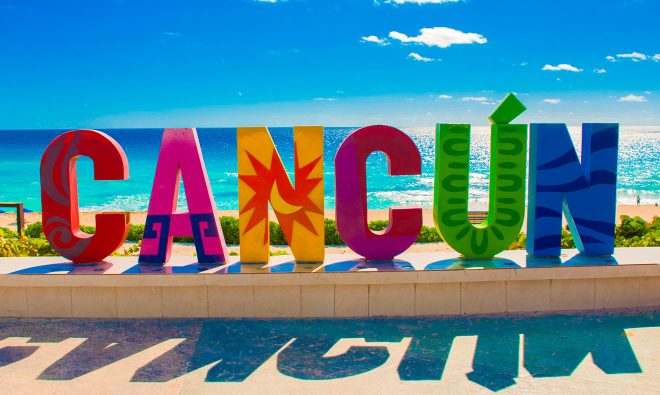 There is UBER in Cancun! It is a great transportation option if you want to take a taxi and not get ripped off. Use my promo code (YULIAS777UE) to get your first ride for free! A normal price for a taxi ride to/from the airport to the hotel zone is 400 pesos (around 20 US$) by taxi and 250 – 300 by Uber (which is 12-15 US$).
The public bus is just 12 pesos (0.6 US$). Just ask the driver the name of the place where you are going.
Souvenirs are waaaay too overpriced. You can try Mercado 28 in downtown Cancun for more accessible, local prices. Almost everything is negotiable and it is good to compare the prices with 2-3 other sellers before buying.
Avoid the Spring Break as this is the busiest (and the most expensive) time of the year to be in the city.
Things to do in Cancun, Mexico
The most famous Cancun attractions include shopping, clubbing in Coco Bongo and other hot nightclubs.
While I did not do any of those (I will explain why below), there are some other cool and popular activities in Mexico, Cancun that I am going to tell you about:
Looking for some unique things to do in Cancun? How about snorkeling/diving around underwater statues?
No more boring museums! Musa Underwater Museum will be one of the highlights of your Cancun trip! Check out the snorkeling tour here.
This half day tour will take you to the museum with a fast boat. If you have a diving certificate, I highly recommend getting the diving tour. It is just 10 US$ more expensive, but you will get to see the statues closer. I don't have the certificate at the moment, so I was given only the snorkeling equipment, using which I was only able to dive for a couple of seconds. Still a lot of fun!
After the museum, you will have 2 more picturesque spots where you will see a rich underwater life including sea turtles in the wild!
And the best part? It is just for you and your boat mates, nobody else is around!
Where to stay in Cancun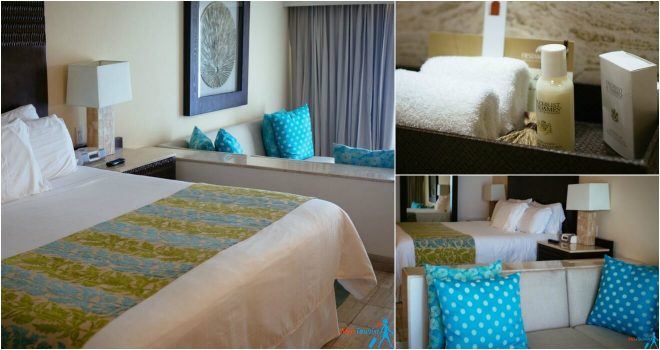 I honestly did not understand why people like all-inclusive hotels before.
I have been to one in Egypt, and I did not like it at all – I ate way too much, the quality of the drinks was horrible and I ended up traveling by myself leaving my hotel room empty at the end.
I guess I haven't stayed in the right all-inclusive hotel, yet.
Grand Fiesta Americana is a 5-star Cancun all-inclusive resort that has a FANTASTIC service, the view from my room was to-die-for and the food is a-la-carte. So no more buffets and no more eating way too much of the bad quality food!
Here are some of the things I loved the most about the Grand Fiesta Americana and why I think it is one of the best Cancun resorts:
A glass of champagne waiting for you at check-in. How is that for the start of a great vacation?
A double shower, so that you can take a shower together and not fight over it!
The live piano music in the lobby that I heard every day from my room was amazing
The room design and the outstanding quality of service go without saying. After all, it is a 5-stars hotel!
And I mean, who would be gloomy if your day starts with this view?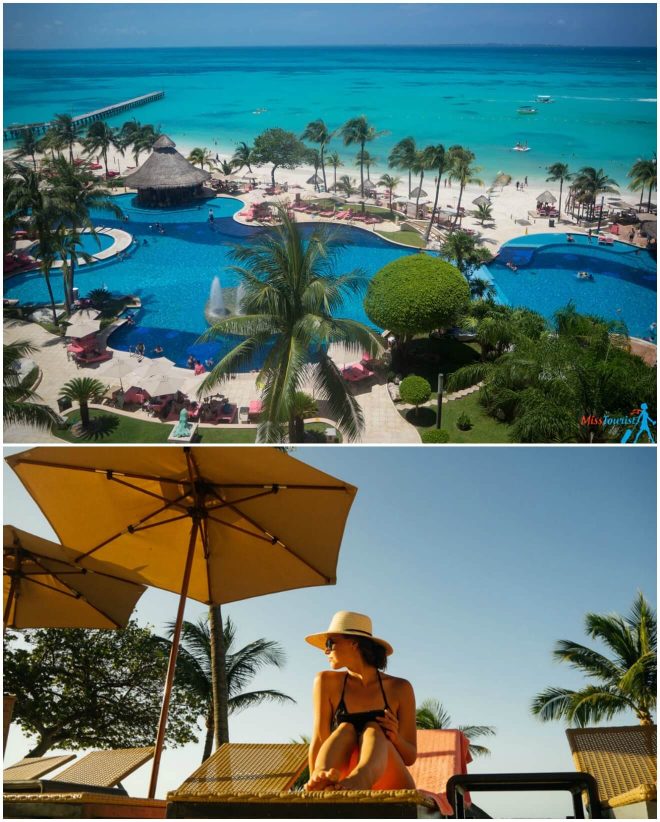 Call me old and boring, but when we walked outside to check all those noisy bars that are just 2 minutes away from the hotel, I wished to come back to my personal paradise right away!
Grand Fiesta Americana Coral Beach Cancun is an EP (European Package) hotel, so you do not need to commit for the all-inclusive food. They have 5 resort restaurants that you can choose from and you can order from them a-la-carte.
I loved ordering my food right by the pool! Aaand it was delicious too!
NOTE: Even if the hotel is big, it is constantly sold out, so make sure to book it in advance for your Cancun holidays in case you want to stay there!
Oh, and by the way, the hotel is located right in front of the pier for Isla Mujeres, so there will be no need to walk for long or take a taxi!
What is Isla Mujeres? That leads me to the next point:
3. Isla Mujeres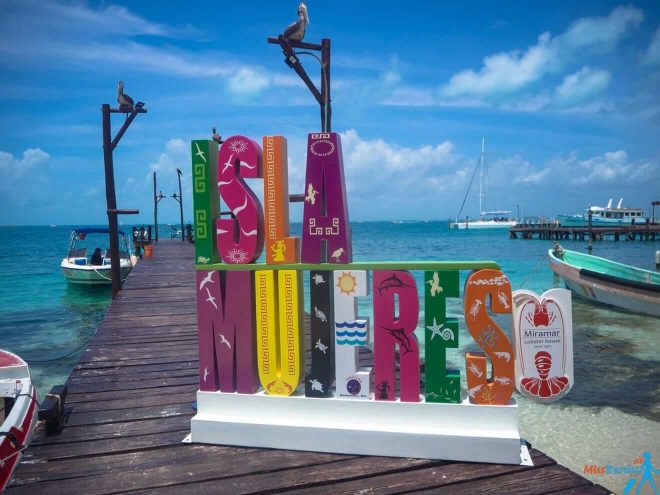 La Isla Mujeres is an island located only 13 kilometers off the coast from Cancún.
The island can be visited on a day trip, which I highly recommend as this is one of the unmissable Riviera Maya attractions!
To go to Isla Mujeres, please buy your ferry tickets online at least one day in advance (choose Playa Carasol if you will stay in Grand Fiesta Americana). For some reason, we couldn't buy the tickets to Isla Mujeres online even if there were plenty of spots left, so we did it at the cash register.
The price is 24 US$ at the cash register or 17 US$ online (14 + 3 US$ ferry tax that you will still need to pay in cash when boarding the boat). It takes about 30 min to get the island.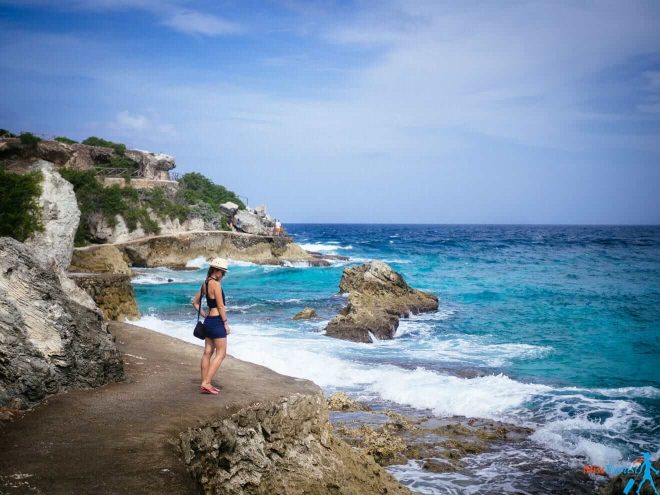 TIP: If you are only staying on Isla Mujeres for 1 day like us, you can rent a motorbike to discover the island. It is 140 pesos per hour (7 US$), 380 pesos (21 US$) per day (which means until 5 PM) or 480 pesos (28 US$) per 24 hours. We forgot our driver's license at the hotel, so we couldn't do it, unfortunately 🙁
Or why not rent a golf cart instead? The regular one for a maximum of 4 people is 65 US$/total/day and the large one (fits 4 people + cargo bin) is 80 US$/total/day. You can check the updated rates here.
Once on the island, the taxi was 100 MXN (5.5 US$) to Punta Sur. I guess we could have bargained, but as usual, we forgot to do it. 🙂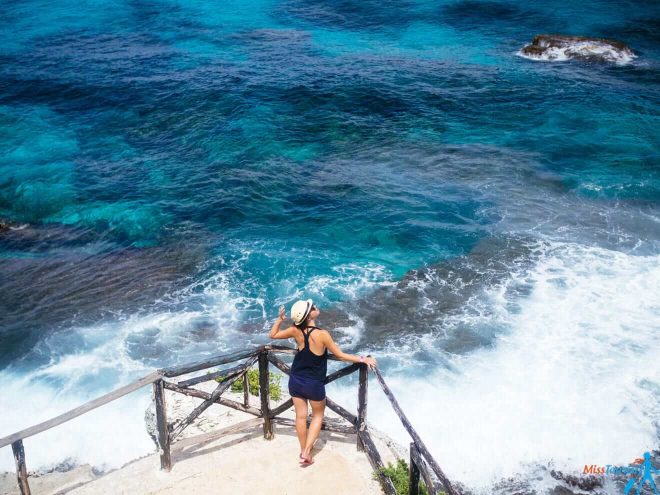 While you are on Isla Mujeres, make sure to visit the Punta Sur, one of the most fantastic and powerful places I have been to! The entrance is 3 US$, and those were one of the best spent 3$ for me! So worth it!
4. Cenotes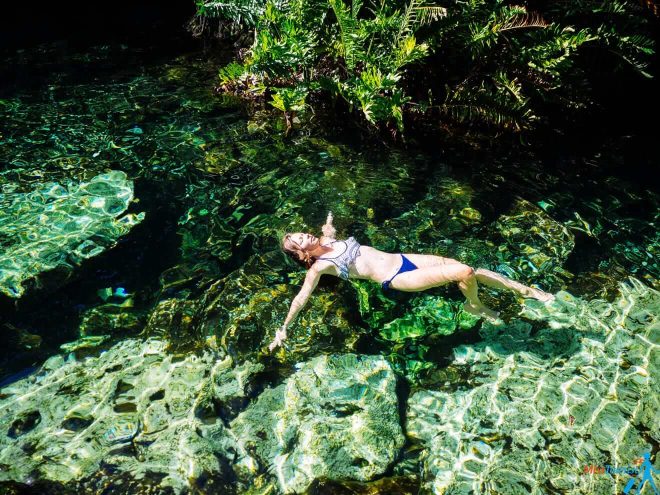 What are cenotes anyway? That is a good question!
A cenote is a giant sinkhole that is formed as a result of a bedrock collapse that brings the fresh groundwater under it.
As the underwater life is really beautiful in many of the cenotes, I recommend getting a snorkeling mask in advance. Otherwise, you will need to rent it numerous times, and thinking about how many people used it before me makes me shiver.
Remember that it will be quite cold because the water is fresh and there is no sun. But once you get inside and move, you will be fine!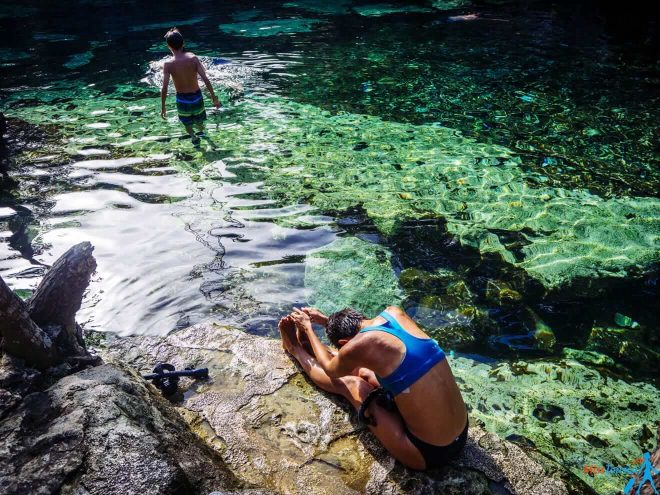 IMPORTANT: PLEASE do not use any sunblock before swimming in cenotes! The water there is crystal clear and all the rich underwater life will be affected because the cream stays in the water and poisons the fish there.
There are many cenotes in Riviera Maya that are spread all over the area. Below you will find a list of the most well-known ones, together with the updated entrance prices for each of them: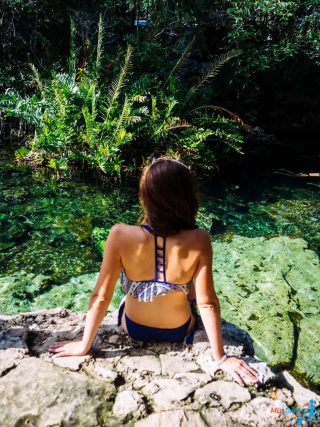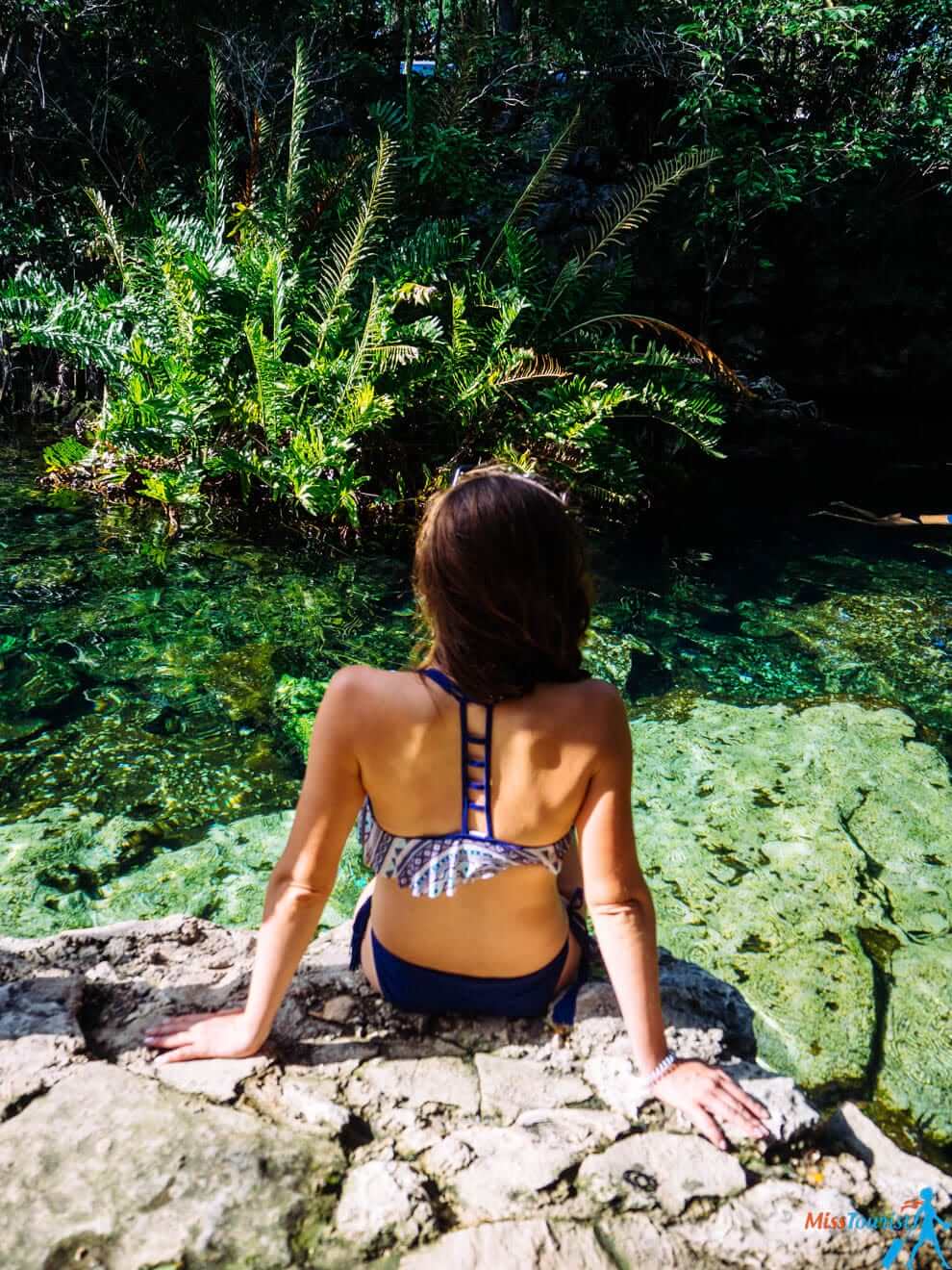 There are many more cenotes, so I advise you to visit some of them for an unforgettable diving or snorkeling experience! So, if you decide to have only one fun thing to do in Mexico, let it be swimming and snorkeling in cenotes!
All the cenotes usually close around 5.30 – 6 PM. The sun goes down that time in any way, so you will not want to stay for longer. The kids' ticket (4 – 8 years old) is usually half the price.
7. Coba ruins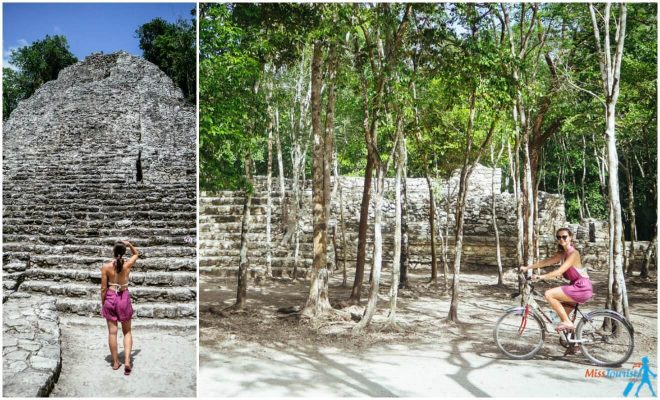 These are the Mayan Pyramids that you can actually climb! (for now)
The Coba ruins in Mexico are some other Mayan ruins, not as well-known as Chichen Itza (yet). They are still very impressive and let you appreciate the achievements of Mayan culture.
The Coba Pyramid is just 44 km away from Tulum and it can be easily done as a day trip if you rent a car or take a tour.
You can also visit it as part of your Yucatan road trip on your way to Chichen Itza.
The most fun part? Climbing the highest temple pyramid on the Riviera Maya for panoramic views. Remember that the stairs look much steeper than they actually are, but the view from the top is very nice!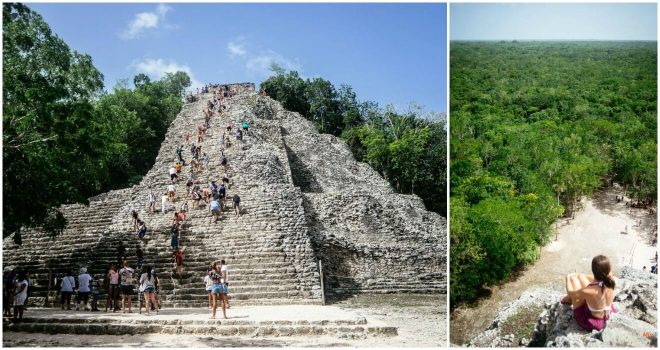 Coba ruins price
It is 50 pesos (around 5 US$) for parking, the entrance is 70 pesos (around 4 US$), add 45 extra (2.5 US$) if you have a video camera (or you could just put it in your bag, they will never check).
If you want to take a guided tour (which is always better, especially considering the fact that there is almost no info written there). Our guide was 600 pesos (around 31 US$) for 45 minutes, but we didn't negotiate though (we forgot again!).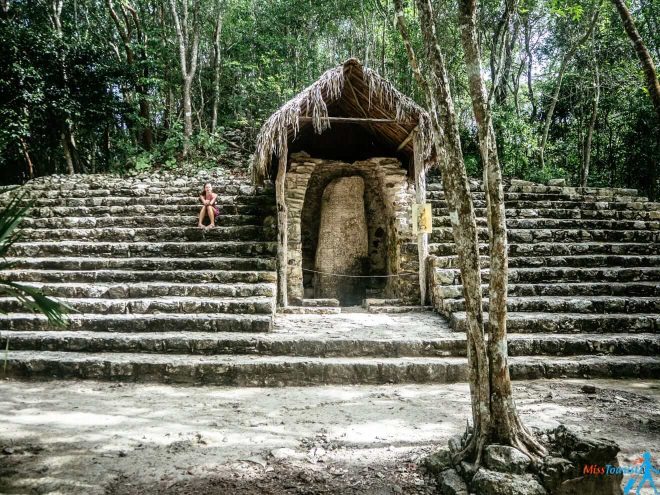 To get to the bigger pyramid you need to either walk for 2 km, or you can rent a bicycle for 60 pesos (3 US$)/person (unlimited time). If you don't trust your riding skills but don't want to walk as well, you can take a bike taxi – it fits 2 people and it is 100 Pesos (around 5.5 US$) plus the tip.
There is a third complex on the East side which is also great and very serene. Not many visitors make it there despite the fact that the main pyramid site is very crowded. I definitely recommend going!
Overall, the place was quite crowded, so I recommend arriving earlier, at around 8 AM, as it is not that hot and there are no tourists.
NOTE: There are no days off, Coba ruins are open every day.
NOTE2: As far as I know, this is the only Yucatan pyramid that you can still climb, but we don't know for sure when it will become forbidden because of the constantly increasing number of tourists. So better go as soon as possible – climbing a pyramid is a unique and unforgettable experience!
8. Akumal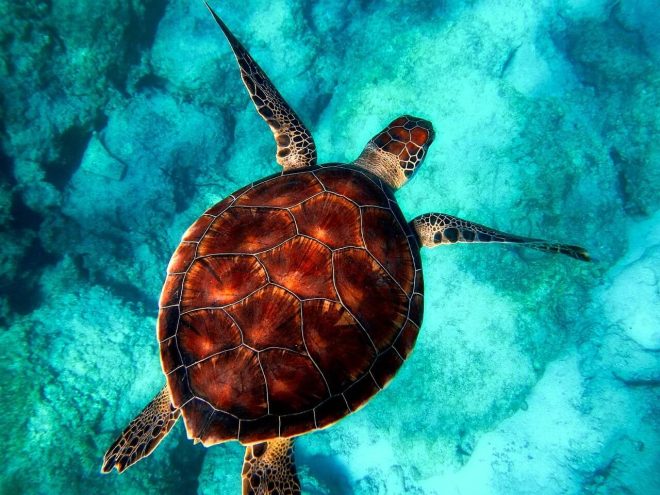 Akumal is a liiiiittle town in between Playa Del Carmen and Tulum that many people visit to see the sea turtles in their natural habitat!
Large and peaceful turtles can be spotted on Akumal, Riviera Maya on the beach pretty much during any season of the year.
IMPORTANT INFO: Everyone from a parking man to a shop vendor in Akumal will try to sell you tours to swim with the turtles and they will try to convince you that this is obligatory.
Now, please listen to me – I spoke with the locals who were not interested in selling me a tour (a guy working in a hotel), and he said there are indeed recent regulations that require you to have a life jacket (so that you don't dive and disturb the poor turtles), but you can absolutely see these majestic creatures by yourself free of charge, you don't need any Akumal "tours"!
Plus, the thing with this tour is the following – the "guide" will just take you to the water and swim near you sometimes pointing in the water if he sees a turtle.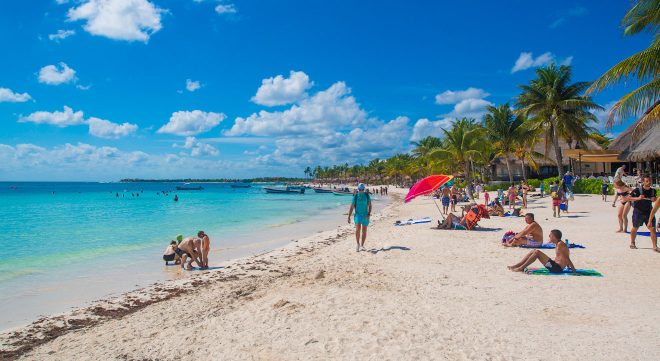 You can totally do it by yourself and it is not required to have a guide! Just walk a minute or two away from the most crowded spot and swim from there in order not to piss them off.
This is quite a big save considering that the price of the "tour" is 30 to 50 US$ per person depending on how you much you can bargain.
I saw 2 turtles and I swam near one of them for almost 10 minutes, it was SO much fun!
My boyfriend saw 4, but that is because he did not chase them around as I did.
Renting the life jacket is 100 MXT (~5,5 US$) for 2 hours, but the price may vary depending on your negotiation. Do not forget to take an ID with you, you will leave it as a deposit for the life jacket!
As a pleasant bonus, Akumal beach is one of the top ones I have seen in Mexico!
I recommend staying for a little bit more after you swim with Akumal turtles, just to relax and enjoy the wonderful view.
9. Holbox Island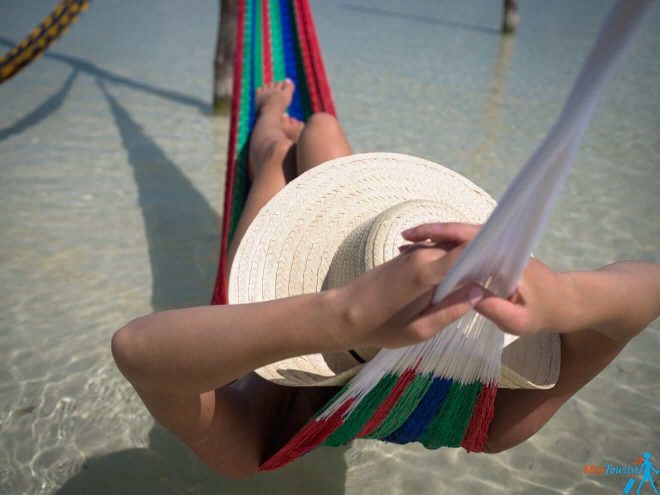 Isla Holbox (read as Hole-bosh) is another paradise-like narrow island located North of the Yucatan peninsula. It is still not that crowded – I would call it Mexico's best-kept secret (for now).
You should definitely visit Holbox, at least for a picture like the one above!
How to get to Holbox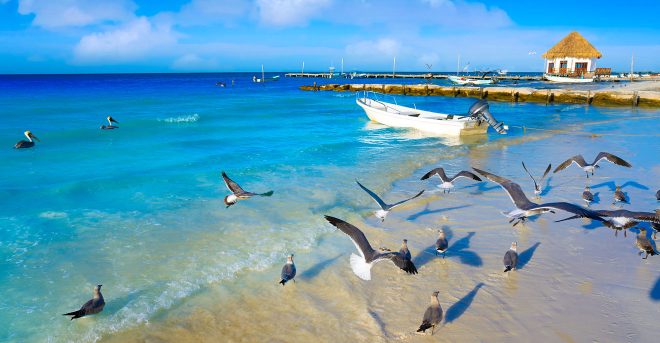 Holbox Island is a 2 hours-ride away from Valladolid if you go by car. You should leave your car in the parking of the city called Chiquila and take the ferry.
The parking is 50 pesos per day (they count the dates, not 24h). There are ways to leave it somewhere for free, but I would highly recommend leaving it under surveillance.
The ferry is 140 pesos (~8 US$) per person one-way, the ride is only 25 minutes long and it departs every hour. You do not need to reserve your ferry ticket in advance.
If you are going to Isla Holbox from Cancun, I would not recommend visiting it as a day trip, as you will spend a lot of time on the road and will not be able to enjoy this paradise island. Make sure to stay for at least one night!
TIP: If you want, you can get flights from Cancun directly to Isla Holbox. They cost around 500 US$/person roundtrip.
Things to do in Holbox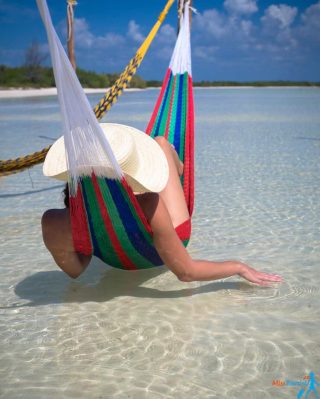 The island is pretty small, you should get a bike and ride around, as there are plenty of rentals for only 3-5$ a day.
Do not miss the Coco Beach and the South-West of the island (that's like 15 mins).
PRO TIP: Afterwards, go in the completely opposite direction, pass by all the hotels, and if you go even further and cross a shallow river, there won't be anybody, you will have the entire beach to yourself!
You can also swim with whale sharks, it is one of the most popular activities in Holbox! I did it in the Philippines and they are truly majestic and gentle creatures. I was in awe, and if you have never done it before, go for it!
10. Optional things to do in the Yucatan Peninsula (if you have more time)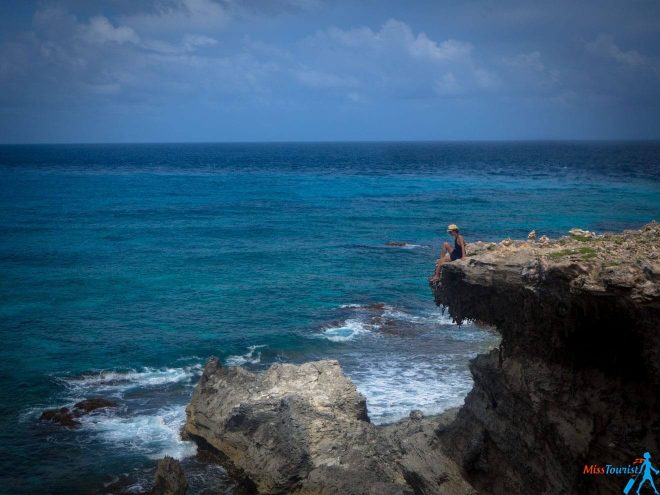 If you manage to visit all of the 9 places in Yucatan Peninsula above and still have more time to discover, here are more awesome places to visit in Yucatan that I can recommend. You can add these places to your list of Riviera Maya day trips or you can spend more time in one place if you want:
Cozumel Island
Cozumel, also known as the largest and best Caribbean island in Mexico, is located only 72 km from Cancun. There are endless activities to do there, from taking a food tour, enjoying a customized private jeep tour and, of course, snorkel!
Merida
Merida is a charming town full of history and delicious street food! You can discover its streets at your own pace and, if you want to spend more time in the area, you can even take a fun and non-touristy subterranean snorkel tour from Merida where you will enjoy discovering some underground cenotes!
Sian Ka'an
This is one of the most popular Riviera Maya trips! Sian Ka'an Biosphere Reserve, close to Tulum and 2 hours away from Cancun, is one of the 34 World Heritage Sites in Mexico! The biosphere is bursting with unique fauna and flora, tropical forests and more! If you want to visit the Biosphere with an organized tour, here is a full day trip where you will get to see wildlife and birdlife up close in this magical place!
Bacalar
Lake Bacalar (Lake of the Seven Colors) is the main attraction of the area and some of the activities you can do there include swimming, water skiing, sailing and the most popular one: kayaking! Here is a great full day tour to Bacalar from Cancun where you will visit the town and the lake.
Ek Balam
Ek'Balam is translated as "Black Jaguar" in Mayan and one of the best things to do in this area is to visit and climb on the Ek Balam ruins (go early if you want to have the entire place to yourself!) and then swim in the beautiful X'Canche cenote. Here is a great option if you want to visit Ek Balam ruins, Rio Lagartos, and Las Coloradas on a day trip!
Puerto Morelos
I recommend going to Puerto Morelos in case you want to visit a calm, off-the-beaten-path beach village. The top attraction that made Puerto Morelos famous is snorkeling in the second largest barrier reef in the world! During this tour I am recommending you will see colorful sea-life while snorkeling and then enjoy a delicious lunch at the Fish Market!
Other things to know about Yucutan Peninsula
Packing list for Mexico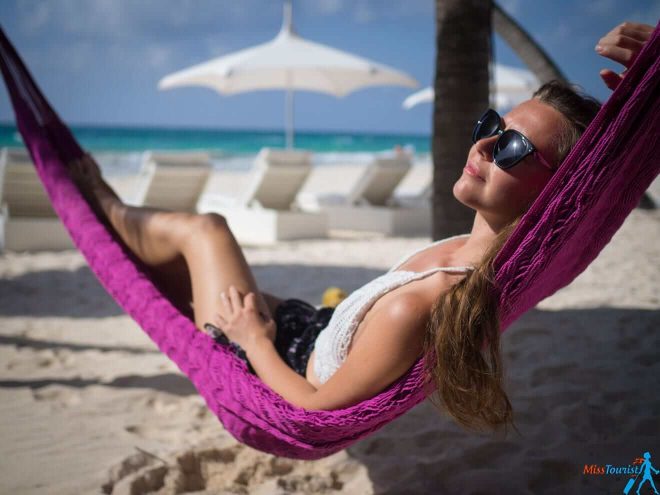 Here are the things that I found to be very useful in my Mexican trip:
How to get from Cancun to Playa del Carmen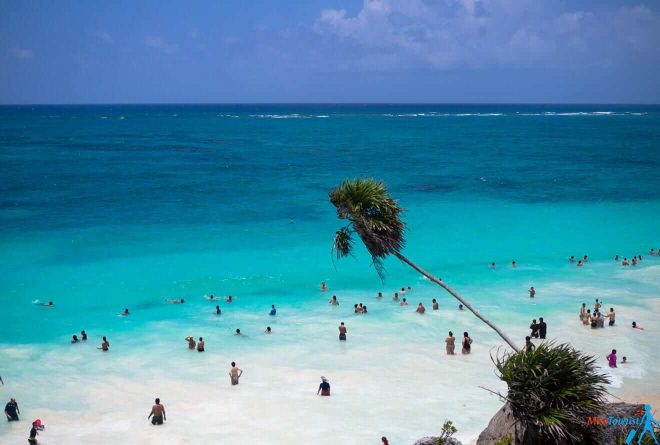 In many cases, the hotel provides transportation from Cancun airport, but if it does not, you can take a bus.
ADO bus is the cheapest option to get from Cancun Airport to Playa del Carmen or Cancun city. The buses leave every 30 min and you can pay by card. The price is 86 pesos (4.5 US$) to Cancun and 208 pesos (11 US$) to Playa del Carmen. You can check the up-to-date prices using their website and entering your departure point and destination.
The rules at the airport are very strict, so normal taxis do not operate there because they need a special license which is very expensive. But there are some special airport taxis that do. Taking a taxi from Cancun Airport to Playa del Carmen is around 650 pesos (34.5 US$) and it takes 45-50 minutes to get there.
A more popular option would be to book your private airport transfer in advance. A very good company that provides private transfers is USA Transfers. The set price is 1.150 pesos one-way per car (60 US$) and 2.100 pesos roundtrip per car (110 US$). You can check their updated rates here.
PRO TIP: Once you are in the bus terminal of Playa del Carmen, walk a block away from the entrance and get a taxi from there. We just crossed the street and saved 70 pesos (around 4 US$). We paid 50 pesos (3 US$) instead of 120 (6.5 US$) that the taxi driver required at the entrance to the bus terminal. Not bad, right?
If you want to rent a car right from the airport, use this link, it has the best rates in my experience! Usually, if you book for a week or longer, you will get some great discounts as well!
Sim cards in Mexico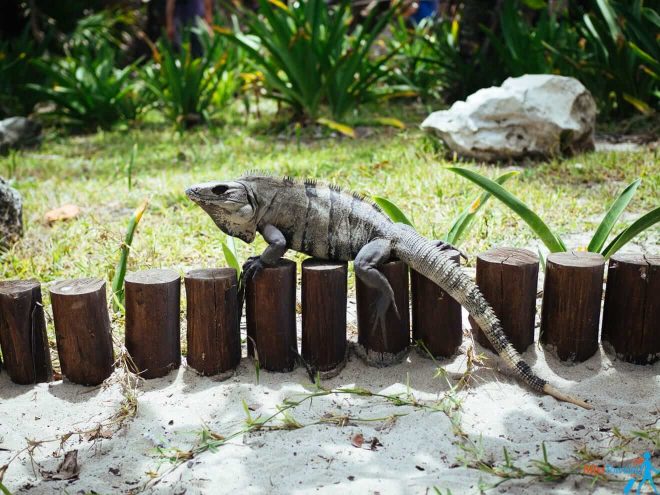 If you are like me, and you need Google maps to find your way and upload pictures on Instagram to share your experiences, you will probably need to buy a local SIM card. Which one to choose?
You should know that there is no Wi-Fi, nor a place to buy a sim card at the airport. I think it is done on purpose by the way, so that people take taxies, not Uber. 😉
Anyway, you will need to buy your sim card in one of the cell shops in the city.
So, which one to buy?
AT&T and other operators are cheaper, but Telcel has the best reception. I paid 420 pesos (23 US$) for a 2GB sim card and it worked great!
---
Conclusion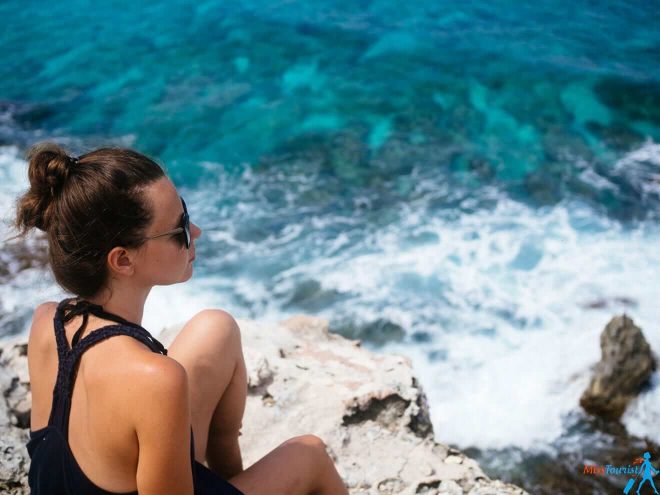 This was my list of 9 unforgettable things to do in the Yucatan Peninsula, as well as some useful information for your trip. During your Mexican vacation, you will see the famous ruins, enjoy the beach and see some amazing wildlife without rushing too much. I compiled a list of amazing places to visit on the course of 2 weeks – you can take something out of the itinerary if you have less time on your hands, or even add more things is you want to visit more.
Just don't rush too much, ok? Make sure to relax and enjoy the amazing views of Mexico during your Riviera Maya travel, which is the only way to feel the peninsula in the right way.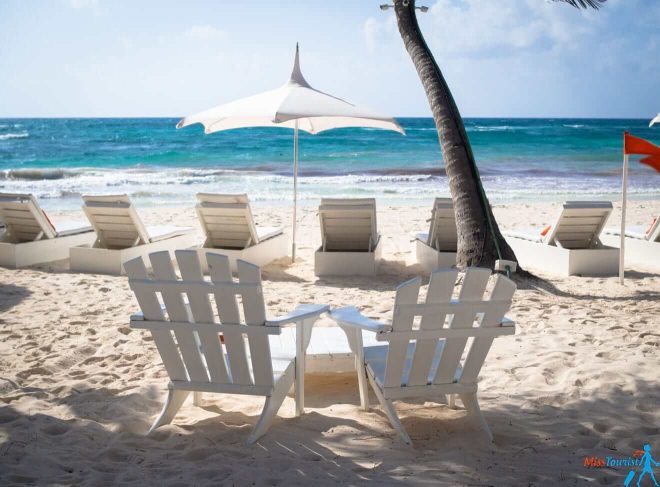 I hope this post with Riviera Maya things to do and see will help you plan your stay in Yucatan too!
Let me know if you have any questions in the comments!
Yulia
Pin it for later!
Pin it for later!