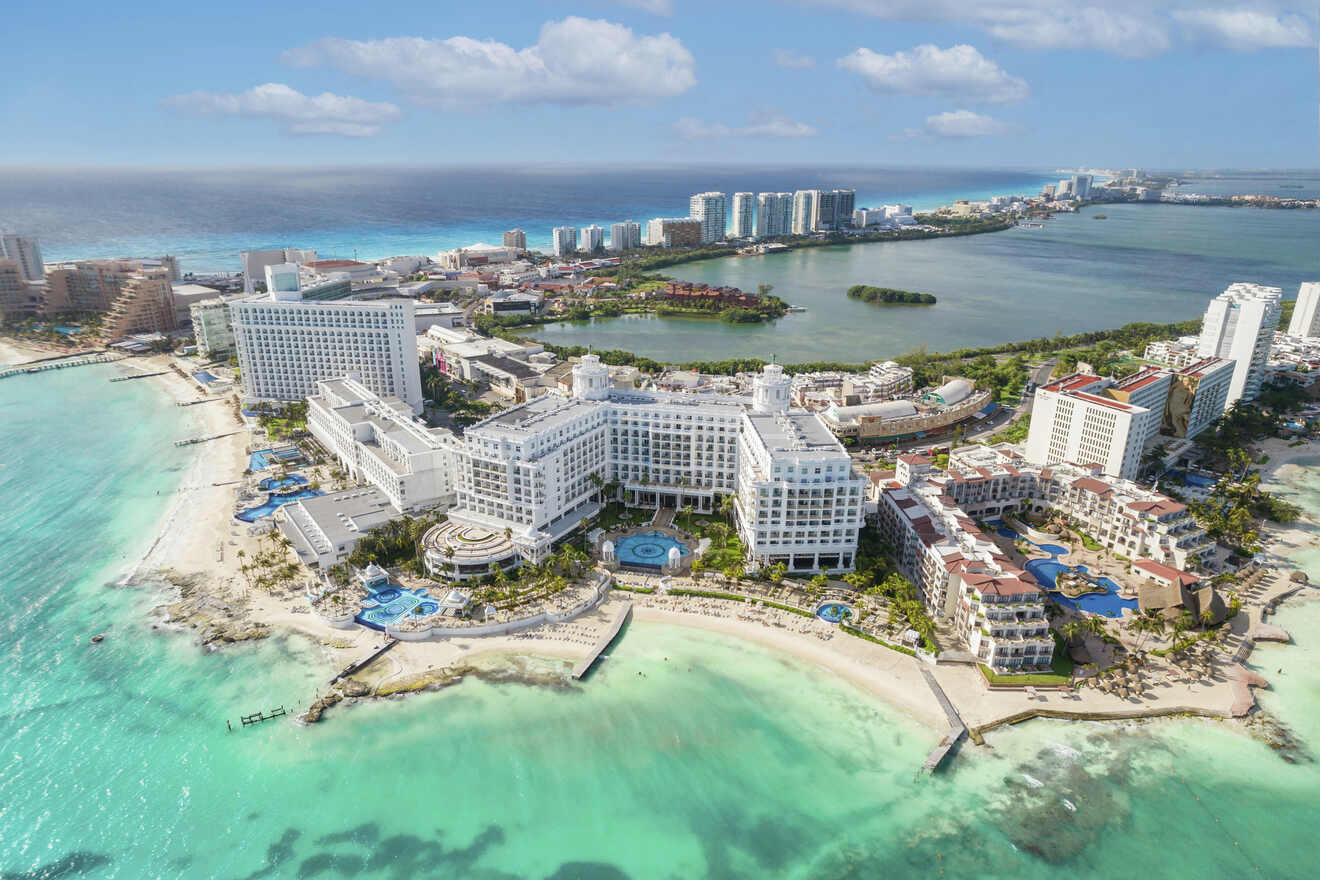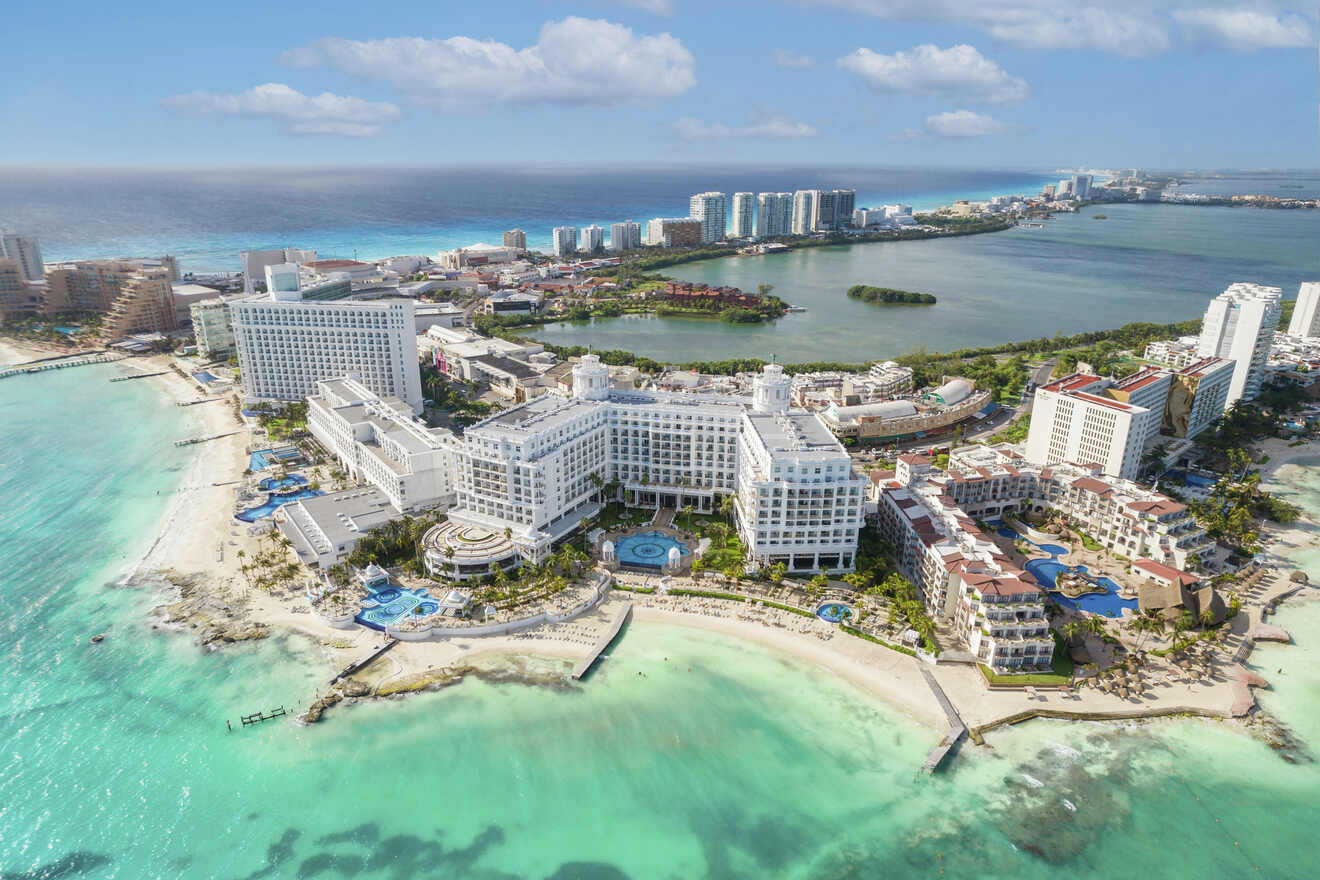 Cancun, on the coast of the Yucatan Peninsula, in South-East Mexico, has become through the years one of the most popular destinations in Mexico. And even if everyone relates it with parties and crazy nightlife, this magical city has much more to offer!
Most of all though, Cancun is known for its incredible exclusive resorts, which are exactly what I will focus on in this accommodation guide! If during your vacation you don't want to stress about anything, have all the comforts and splurge in luxury, here you'll find what you need!
After researching through the best booking sites, I grouped here the best Cancun luxury resorts, listed in descending price order from ~$550 to $180, with some hotels for more specific interests! In the end, I also included a bonus with the best all-inclusive resorts only for adults, so you have enough options to make the right choice!
So what are you looking for? Let's check out all these fabulous resorts! But before you start I have to warn you: in Cancun, as you could expect, places sell out in a minute, so don't forget to book your accommodation as soon as possible!
Now, let's start!
If you are in a hurry
If you don't have time and you need to book immediately, here are the best Cancun luxury resorts with amazing reviews and great locations:
Here's a map that will help you visualize all the luxury resorts that I will be talking about in this post:
1. Grand Fiesta Americana – a huge all-Inclusive resort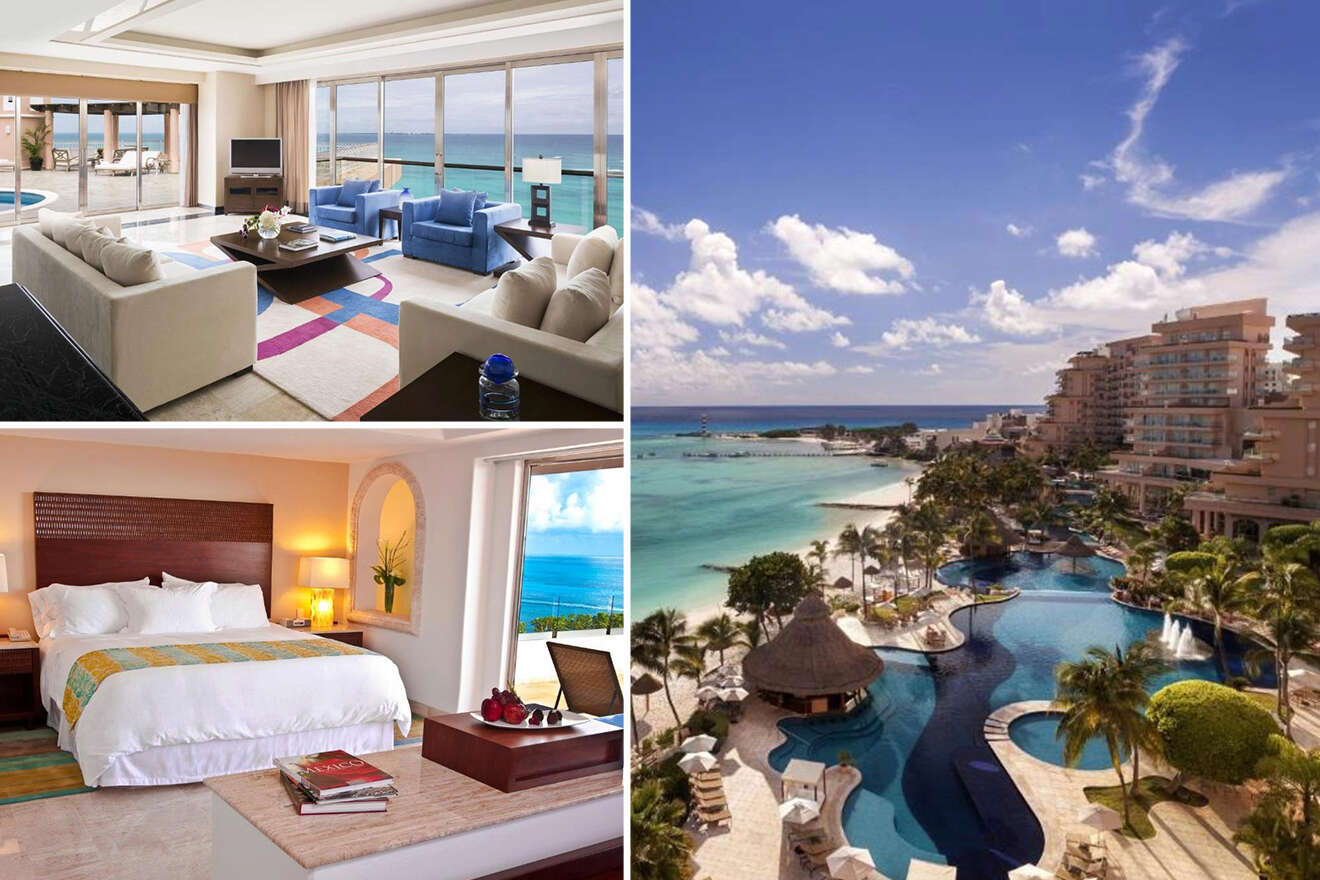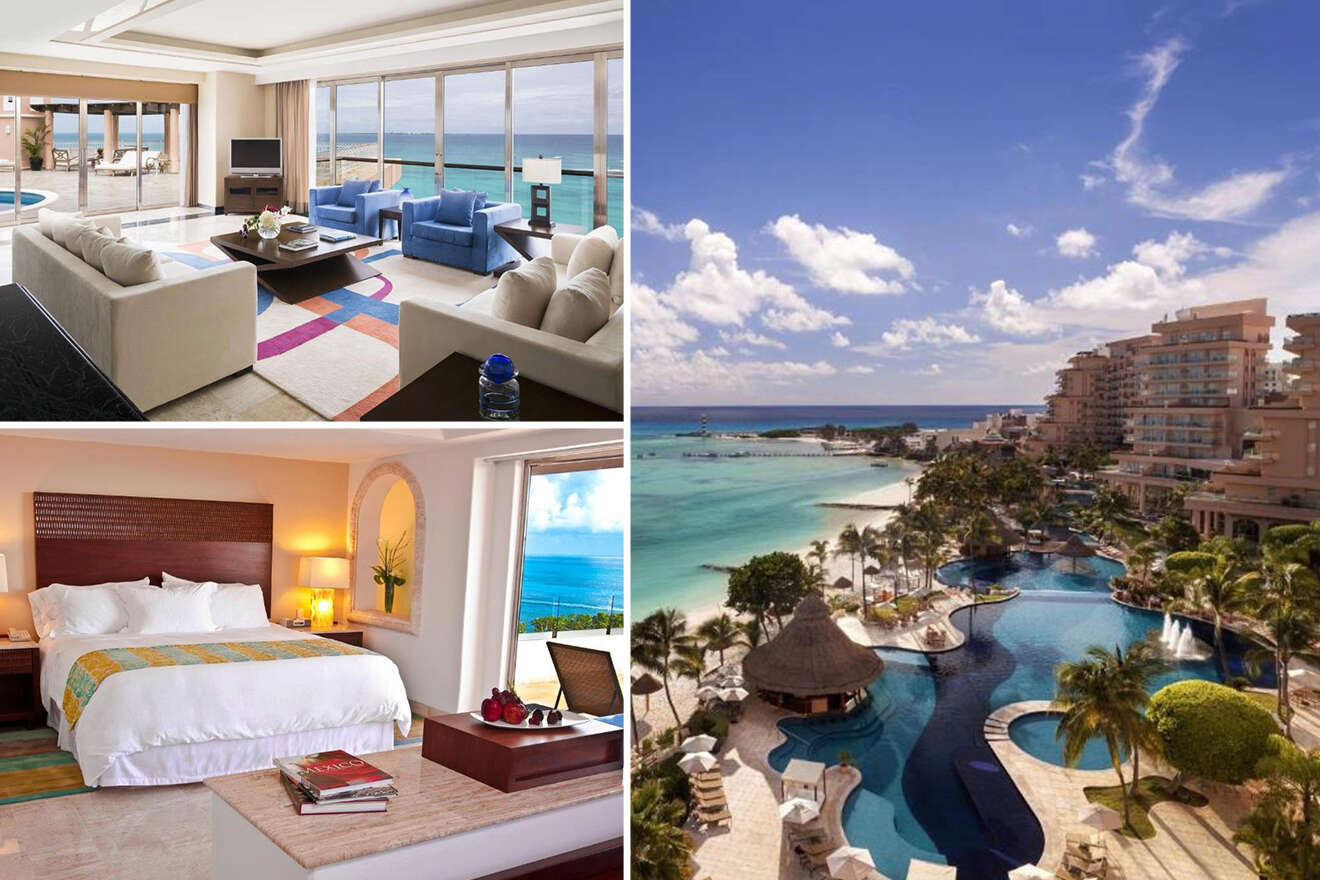 This luxurious all-inclusive resort has something for every type of traveler, from romantic couples' massages in the gorgeous SPA to an interactive kidz club and water sports for the whole family. Yulia, the founder of the site, has been there (loved it!) and she wrote about her stay in detail in this post.
With 6 (!!) chic restaurants, private plunge pools, and a gym with ocean views, Grand Fiesta Americana Coral Beach only gives you reasons to stay! And if you really want to splurge, check out the Infinite Ocean Front Penthouse Four-Bedroom Suite, which has a private pool on the rooftop terrace! Bonus points because of its location right in front of the ferry and the fact that you will have a sea view pretty much in any room you stay in!
2. Hyatt Ziva Cancun – for the best activities!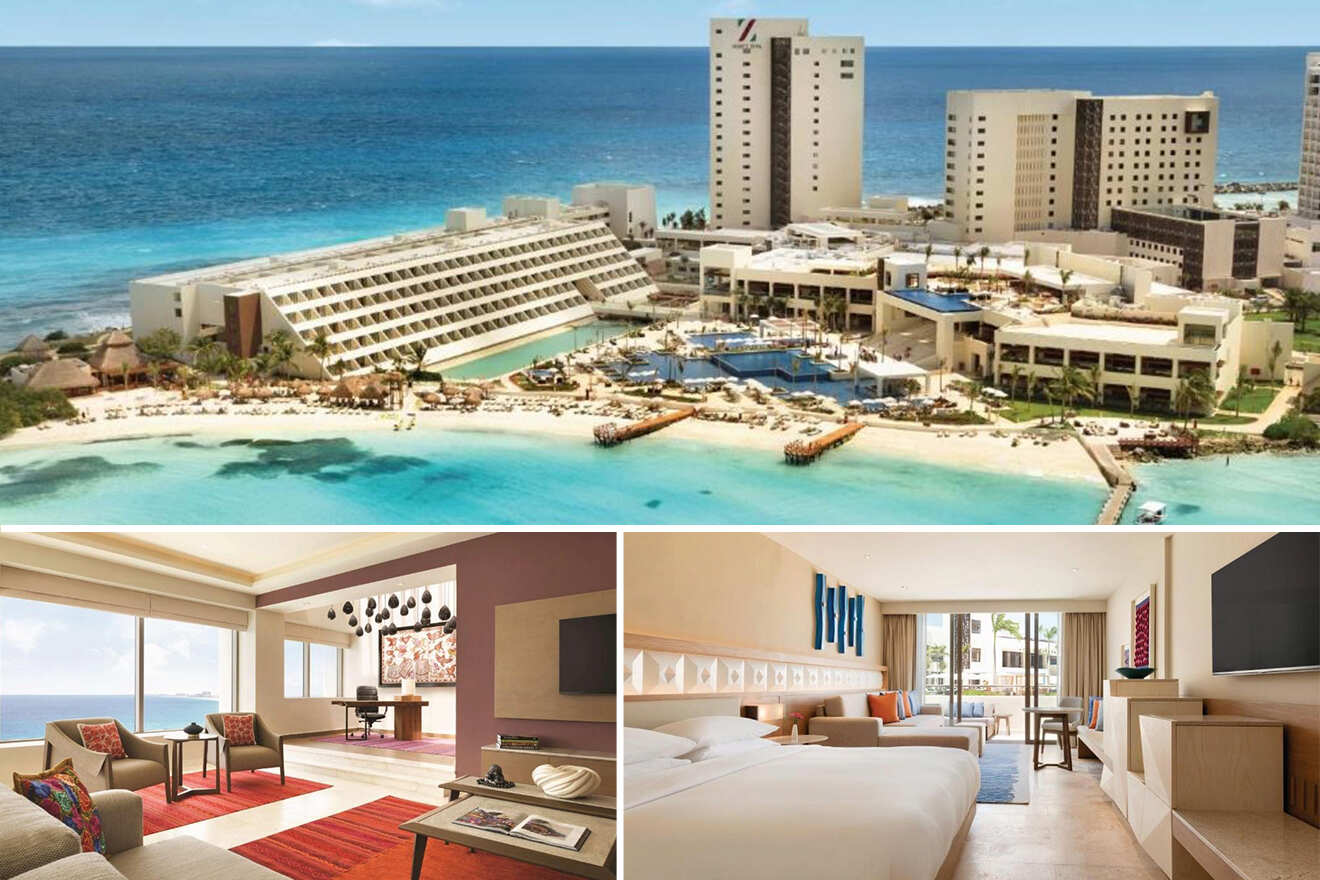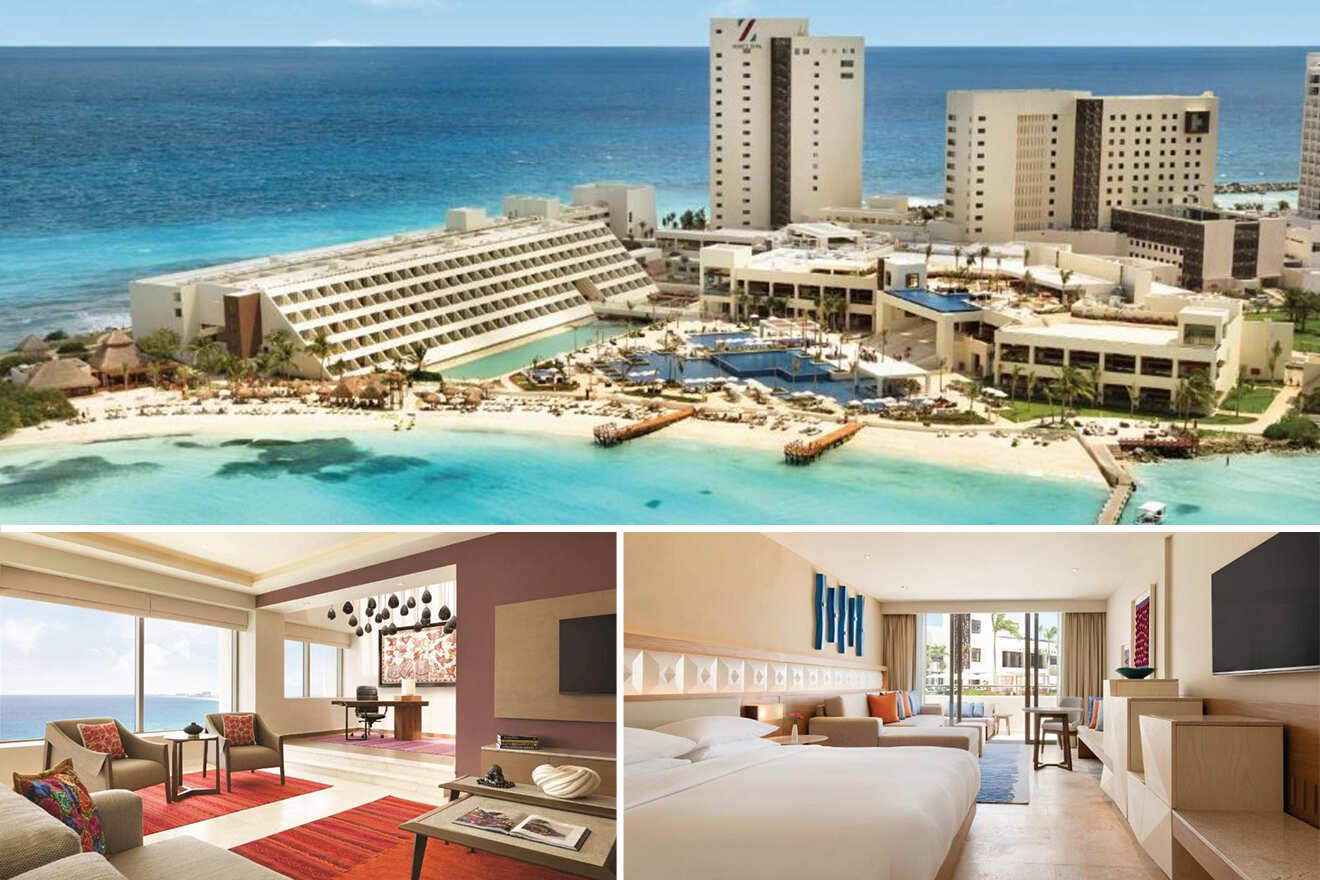 This stunning beachfront resort is located on the beautiful strip of Punta Cancun and framed by the turquoise Caribbean waters where you can either scuba dive, snorkel, sail, and swim, or just relax on the white sand beach! In Hyatt Ziva Cancun you will never get bored: from theater shows to water sports to tequila tastings and a microbrewery you will be entertained from day to night!
But it offers as many chances to relax: soak up the sun at the infinity pools or the swim-up bar overlooking the Caribbean sea or enjoy the oceanfront spa with a massage (reservation required!), holistic body treatments, hydrotherapy, etc.
3. Sun Palace – All Inclusive – for a romantic getaway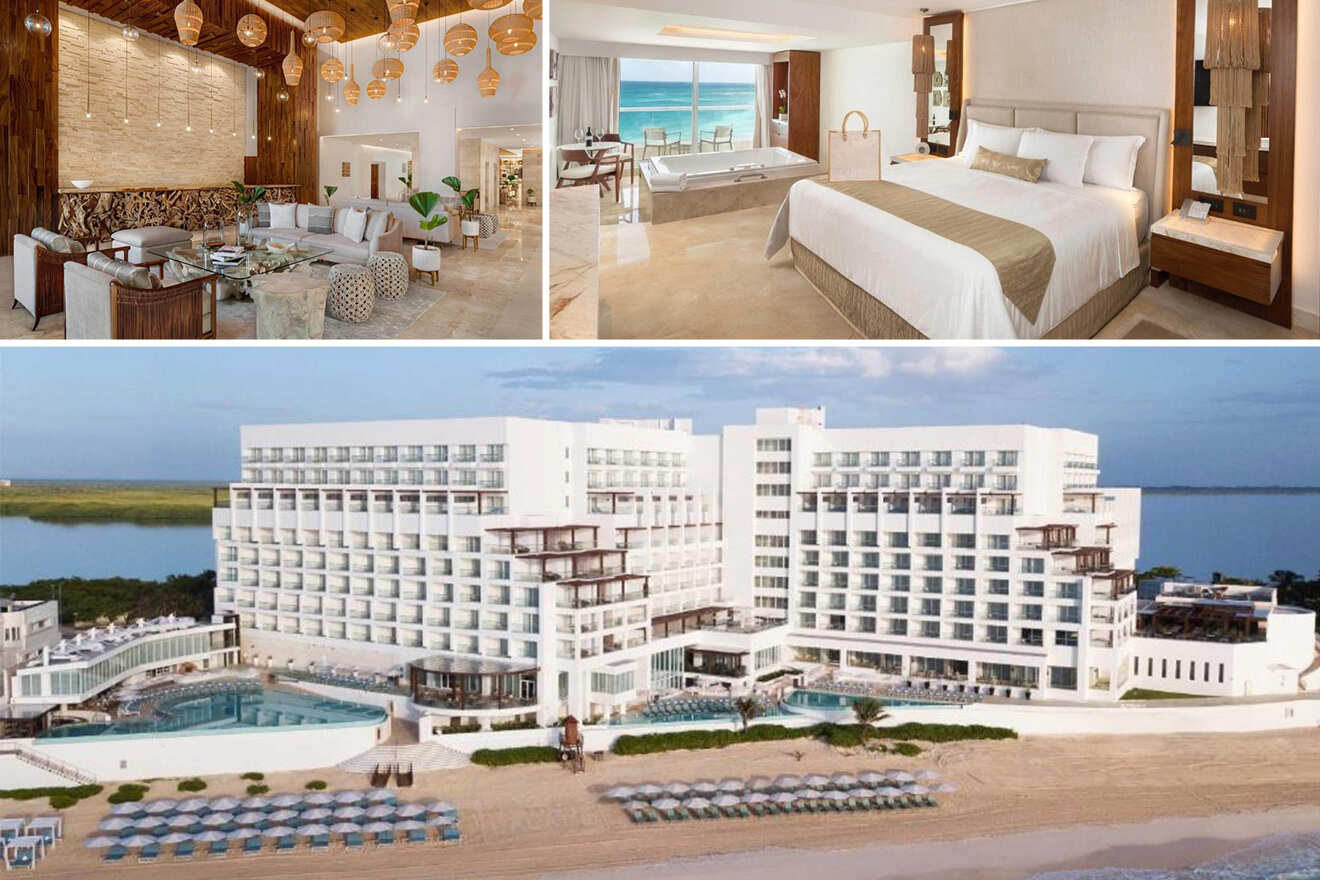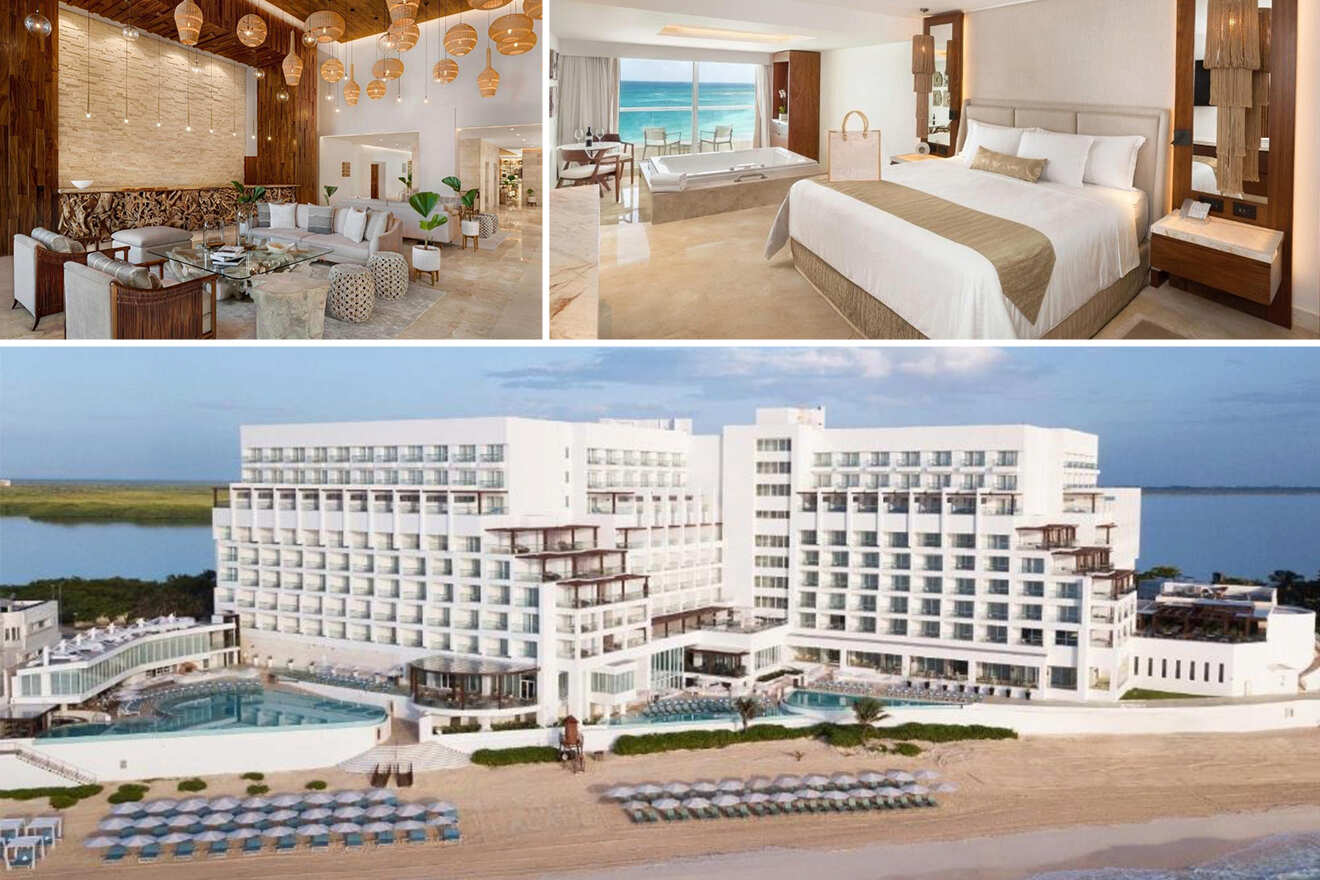 This couples-only all-inclusive resort definitely has the romance factor! Located on a narrow piece of land at the southern edge of the Hotel Zone, Sun Palace has an exclusive oceanfront location with easy access to the most popular Cancun attractions.
Even if smaller than other resorts in the area, it compensates with a vast array of amenities and on-site facilities including four restaurants, three bars, 24-hour royal service, and live daily and nightly entertainment… everything you might need for unforgettable memories with your special one!
4. Coral Level at Iberostar – for stunning ocean views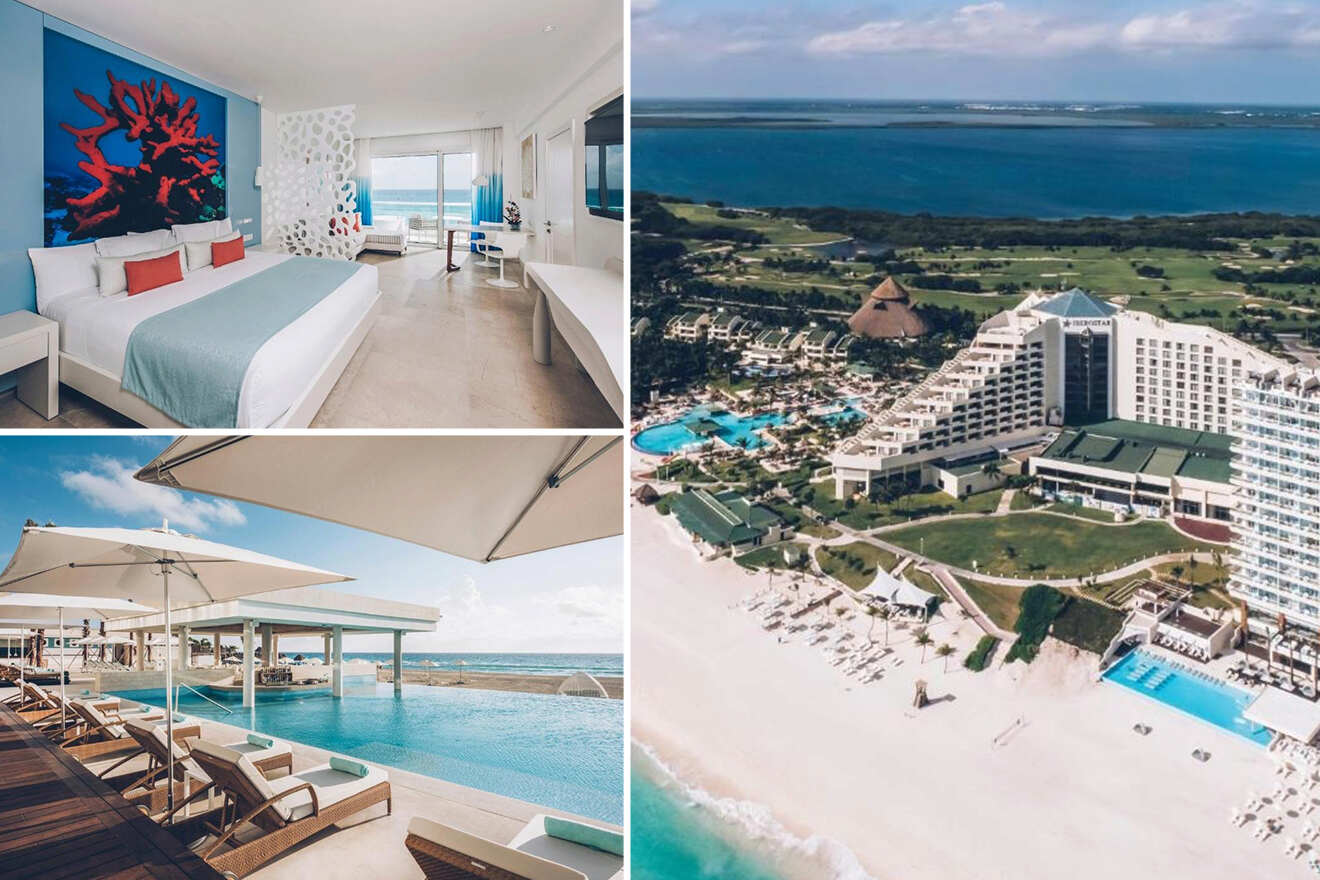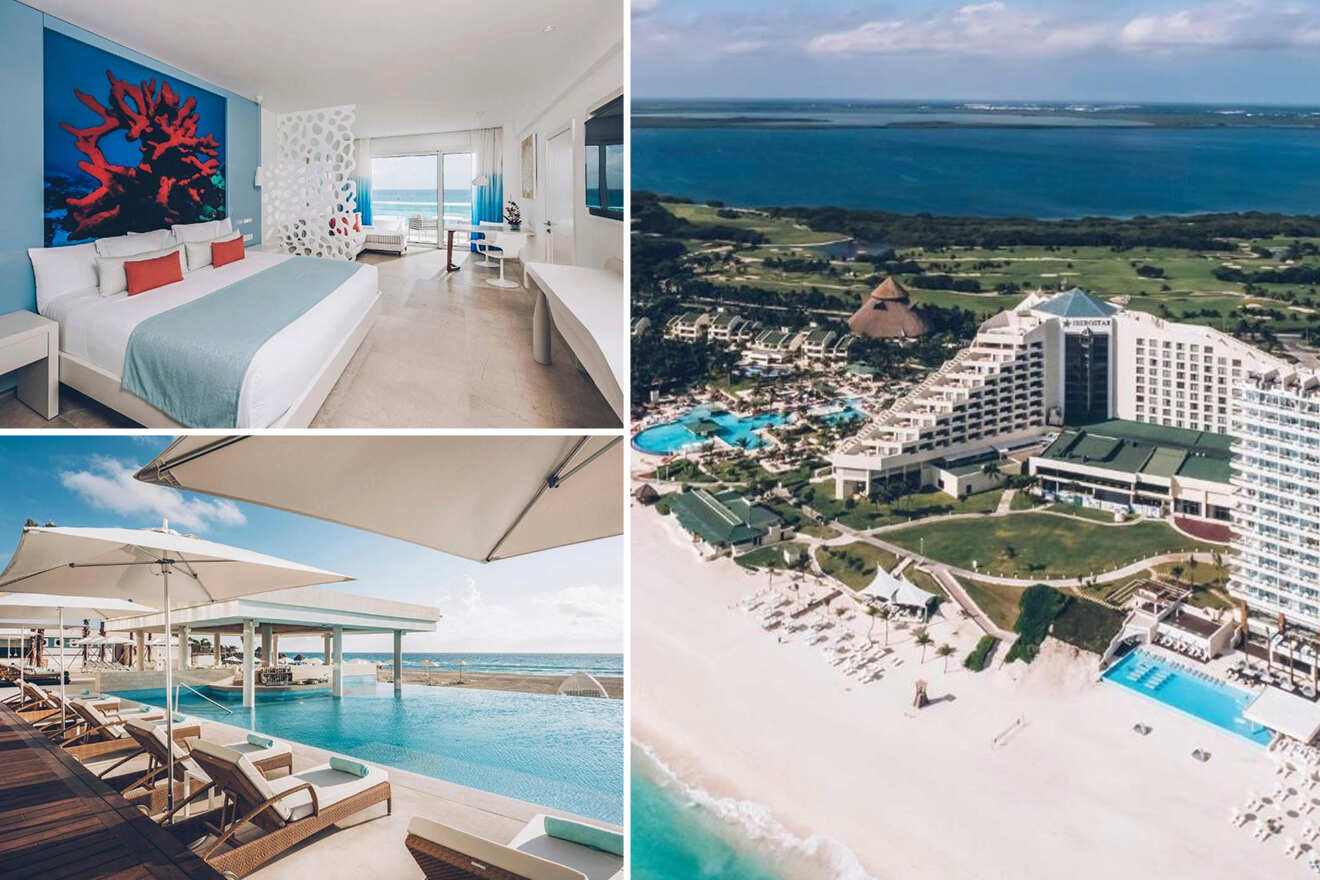 Get ready for one of the best all-inclusive resorts in Cancun! Suitable for adults, first-rate and luxurious, Coral Level at Iberostar Selection Cancún will bring your stay higher than you could ever expect.
In the exclusive area within the Iberostar Selection Cancún, you will get breathtaking ocean views and access to a private area with a pool. Don't forget to try the amazing on-site restaurant, where you can savor flavors from all over the world while you gaze at the cobalt blue Caribbean Sea. This luxury resort will show you that you can really live the dream!
5. The Ritz-Carlton Cancun – the best experiences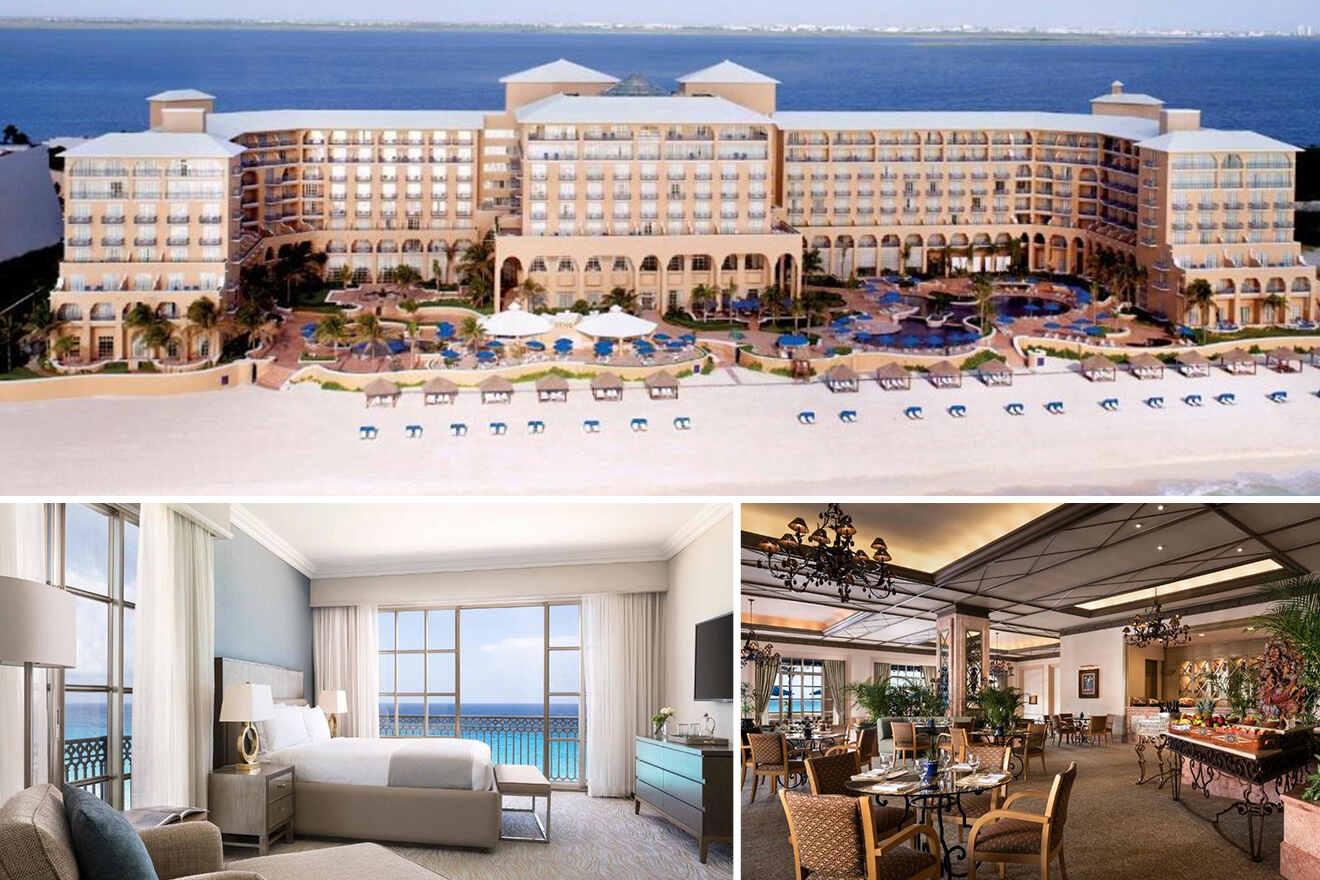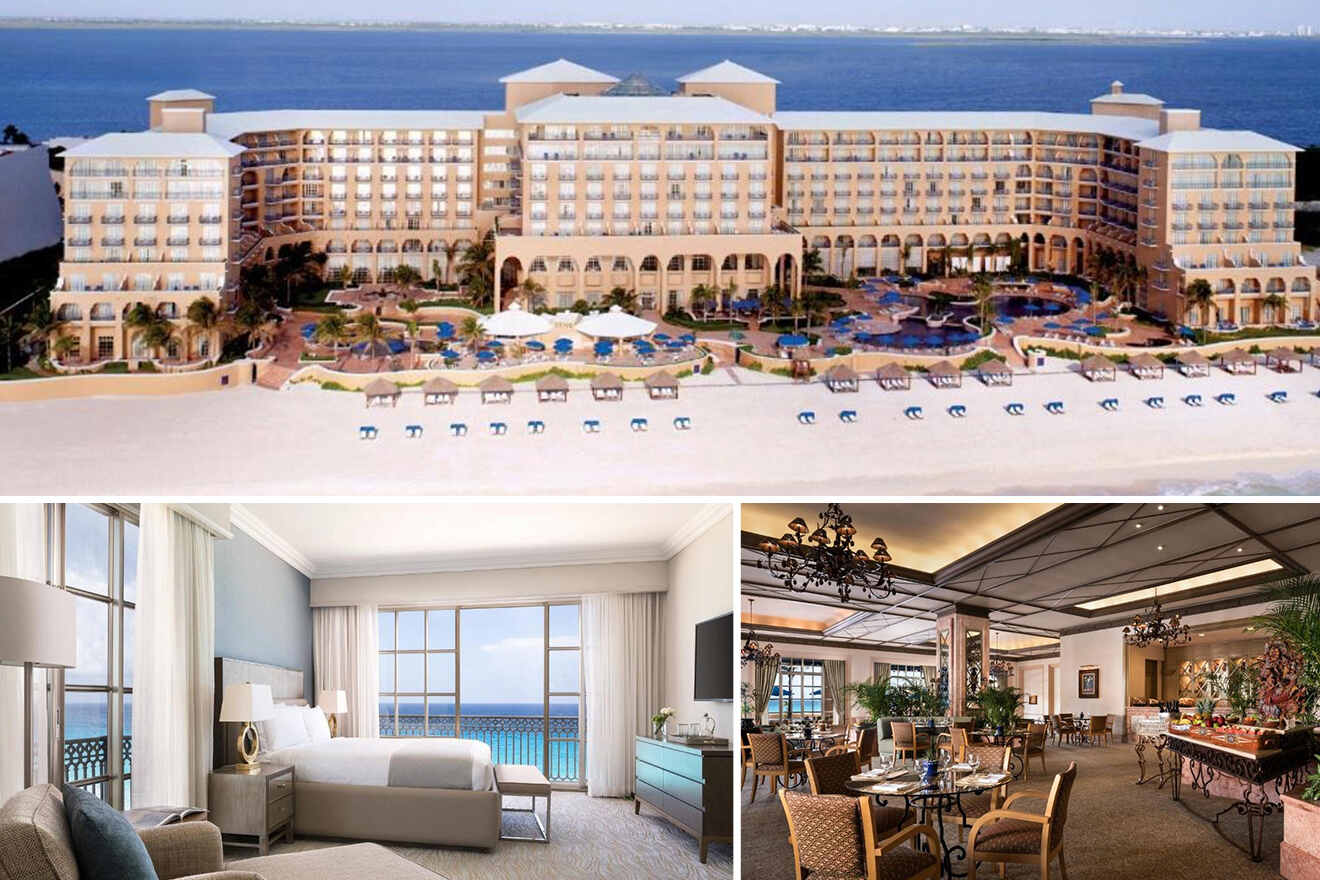 Perfectly situated along the aquamarine waters of the Caribbean, The Ritz-Carlton occupies one of the beautiful sugar and sand beaches in Mexico. This is one of Cancun's best luxury hotels, and it stands out for its sensorial experiences that range from cooking lessons to mixology classes by the pool and tequila tasting, every afternoon!
You can also get massage therapies, body treatments, and facials in a spa and wellness center, or get in shape in the gym and tennis court if you feel more active. Another plus? The service is excellent!
6. Live Aqua Beach Resort – for aromatherapy rooms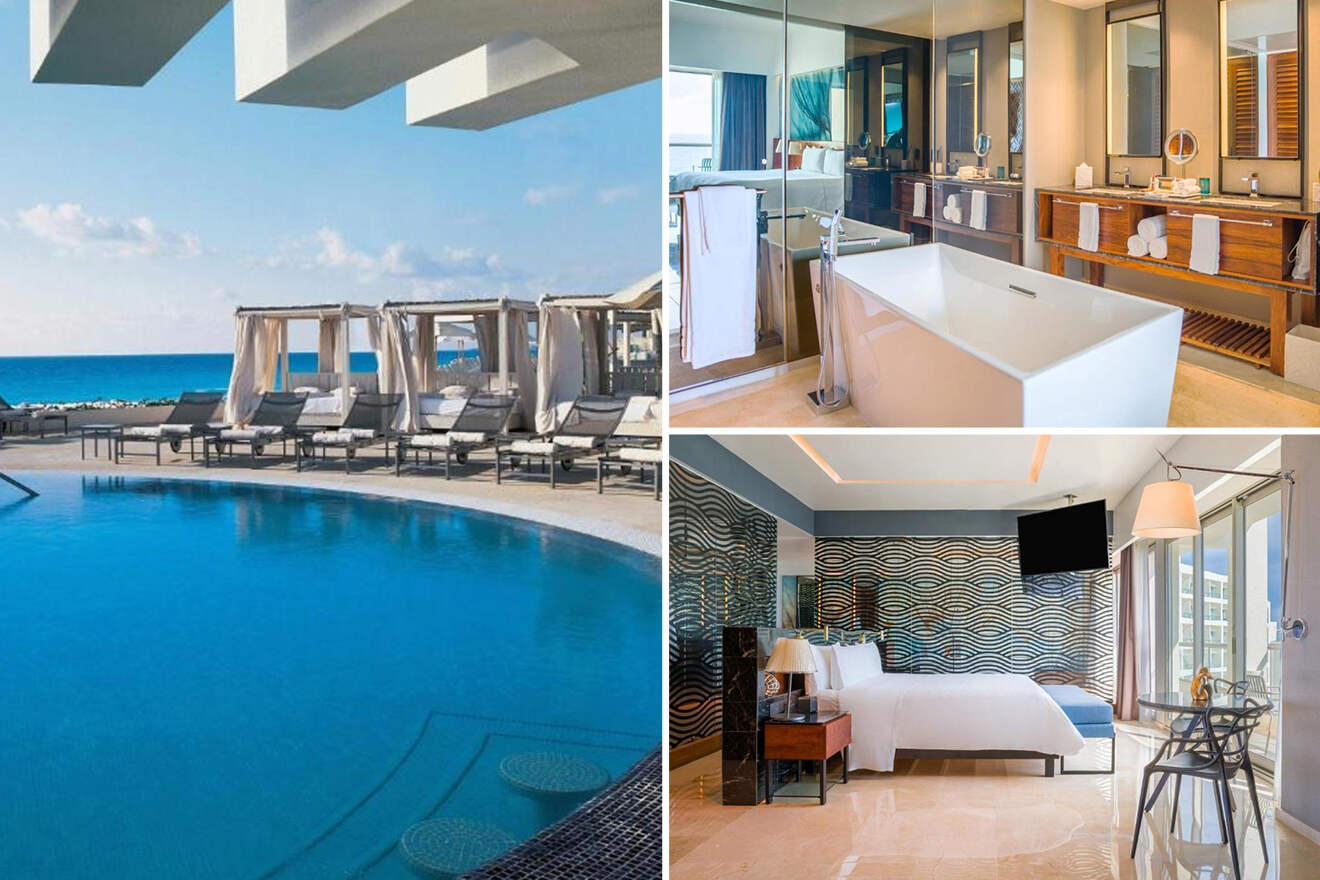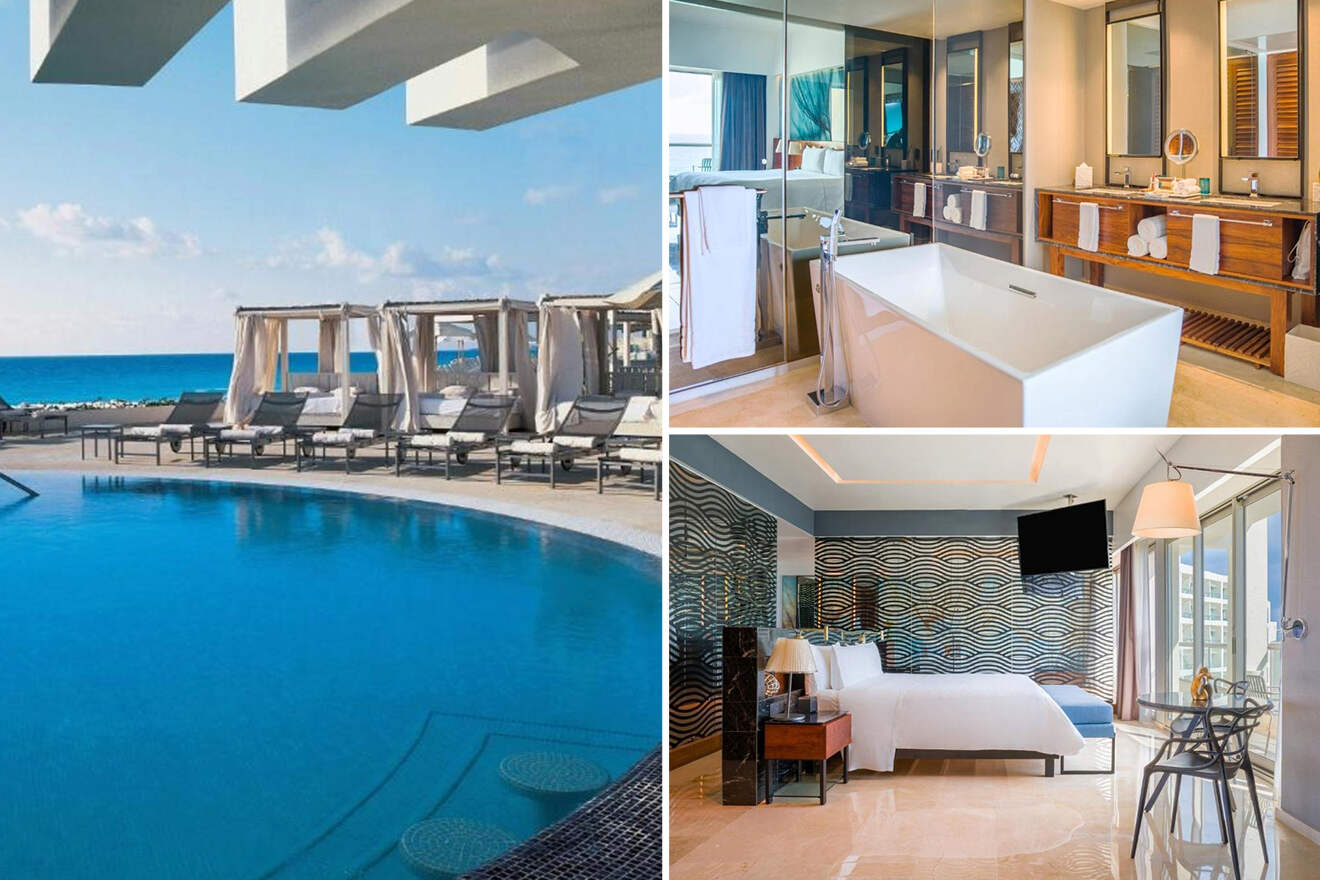 If you want to excite all your senses, this ultra-contemporary 5 stars resort won't let you down! Known for its in-room aromatherapy menus, it will seduce you with rosemary, eucalyptus, and peppermint soothing smells, warm-hued bedrooms with tiled floors and luxury bath products.
And if this wasn't enough, you will get the best views from the rooms' private balconies facing the turquoise Caribbean waters or the resort's lush gardens!
7. Nizuc Resort & Spa – the most beautiful design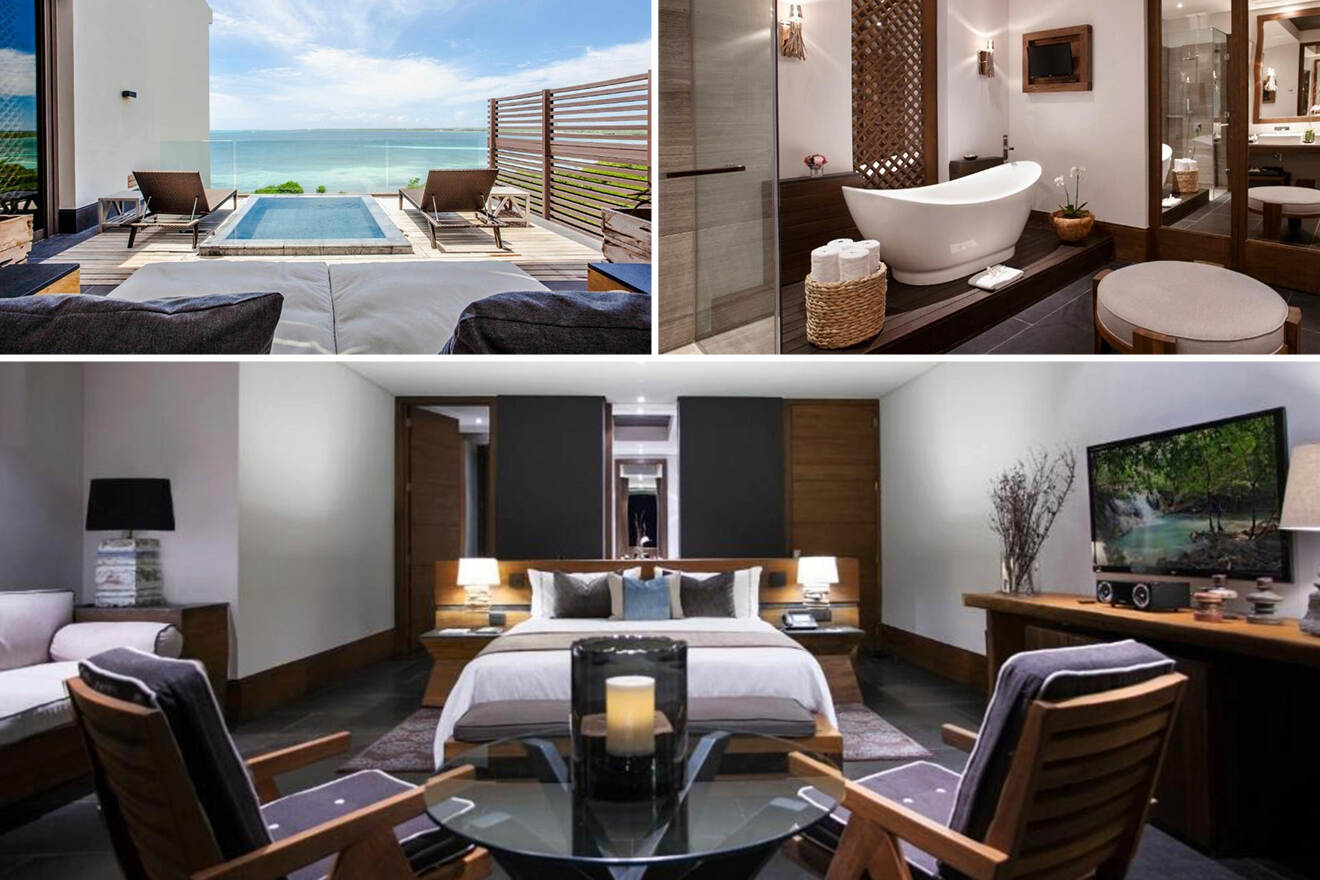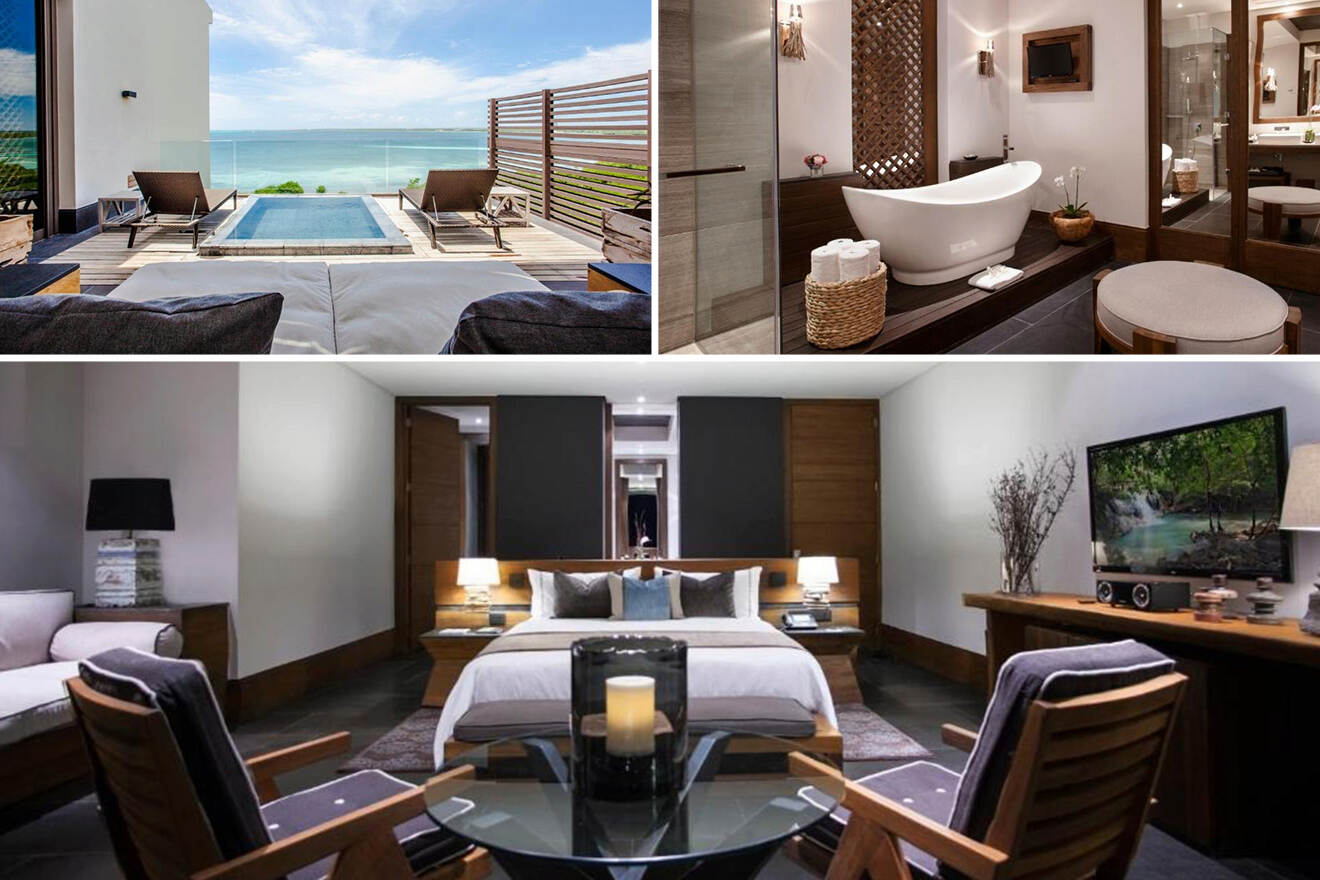 With 250 different suites, 5 international and delicious restaurants, and a lounge bar, Nizuc Resort is an oasis of relaxation and peace, where Balinese design mixes with the finest Mexican art to create an elegant and inspiring style!
But this resort is also a great option if you want to stay active, offering a nine hole golf course, a tennis court, a fitness center and many water sports like paddle-boarding, guided snorkeling trips, and kayaking, to enjoy the white sand beach and reefs along the coast!
8. Iberostar Selection Cancun – best for families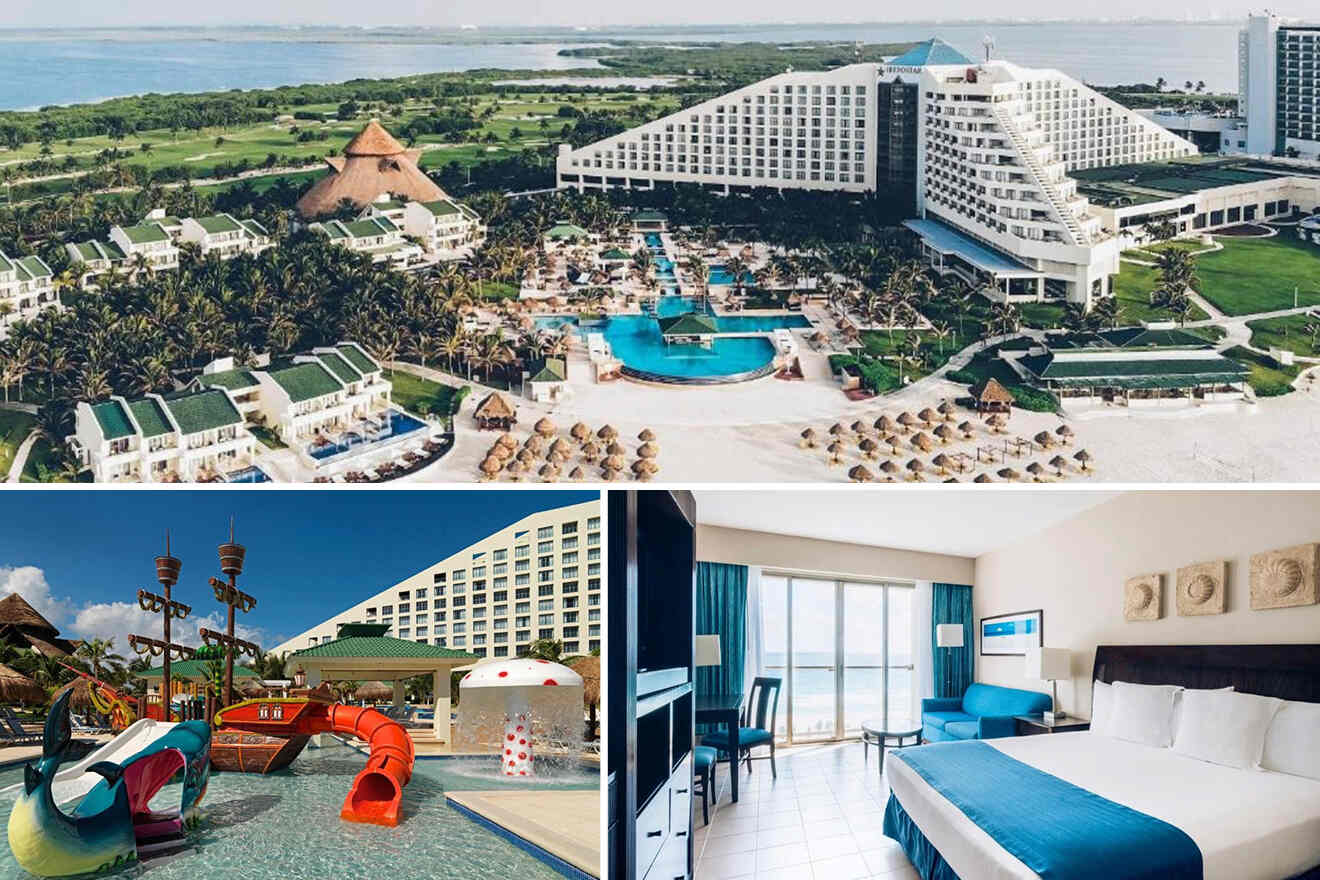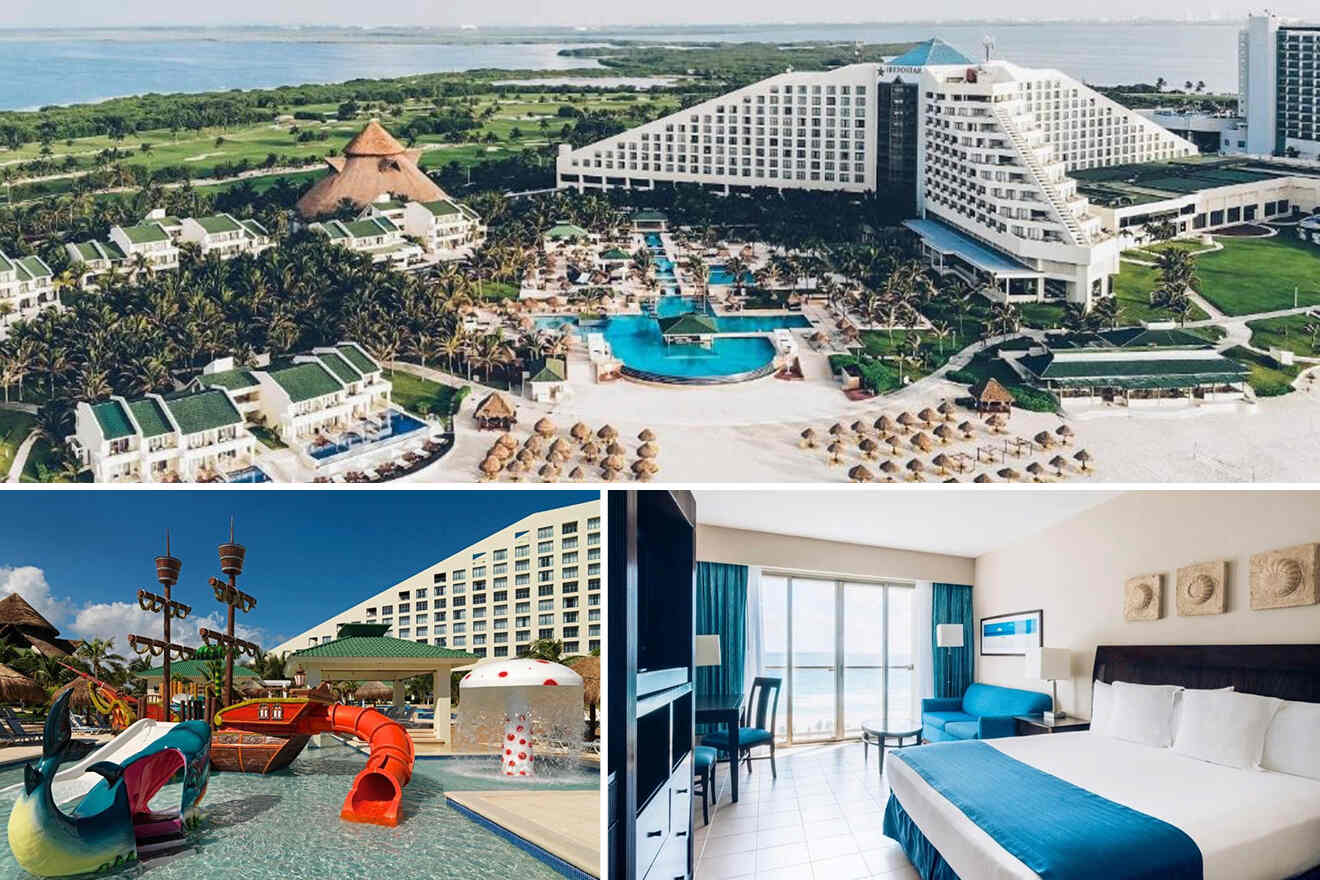 This incredible 5 stars resort set in the Hotel Zone is the perfect choice if you're on a family vacation and you want to keep your kids entertained while you relax on the private white sand beach. Featuring an Aqua Fun park for the little ones, sugar sand beaches at only a few steps away, a pre-Columbian era museum, local flora and fauna at easy reach, and a spectacular golf course, you will always have something going on here!
Have fun in the night club, relax in the beautiful pools, have the best ocean views and choose between 6 great dining options!
9. Fiesta Americana Condesa Cancun – All Inclusive with the best restaurants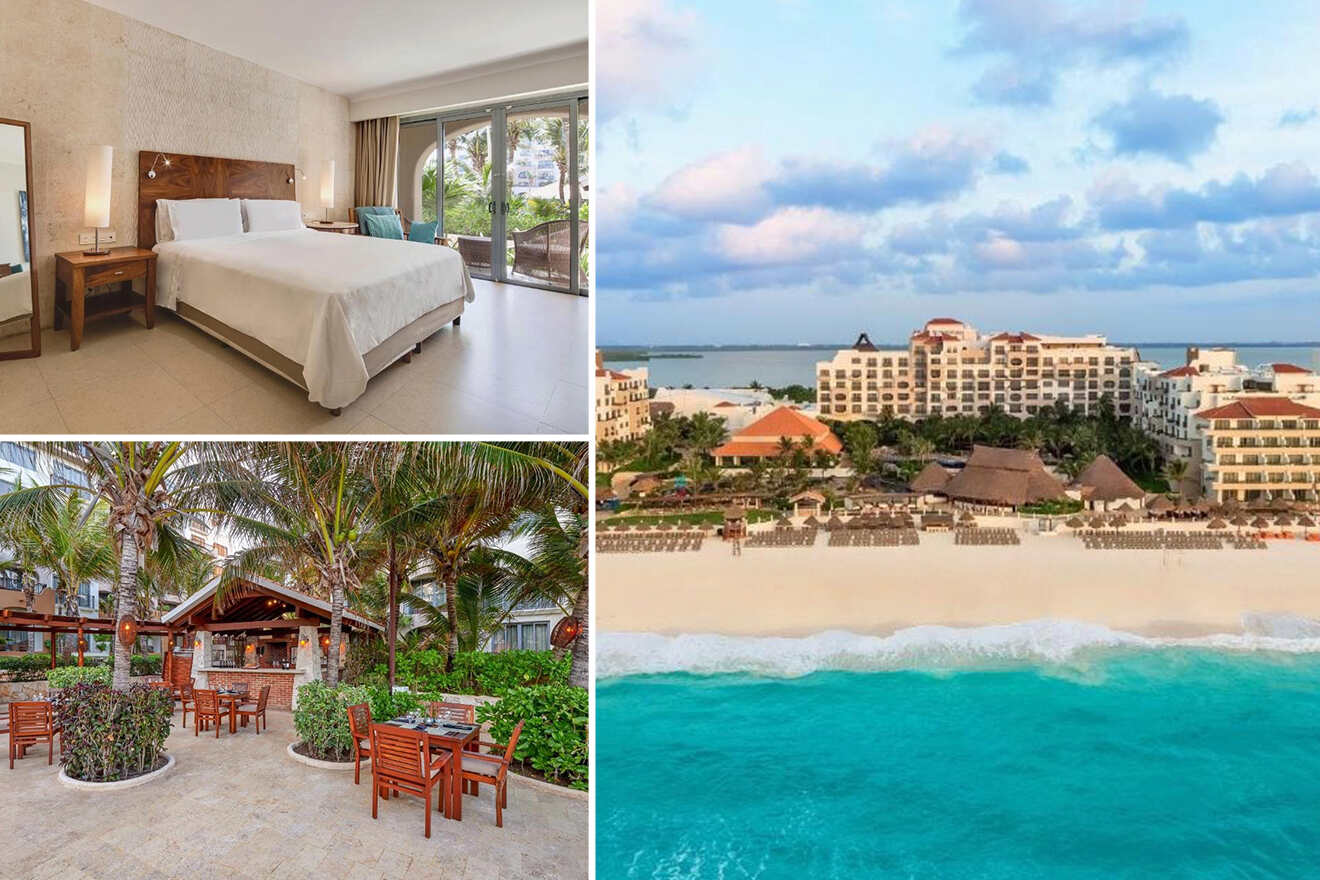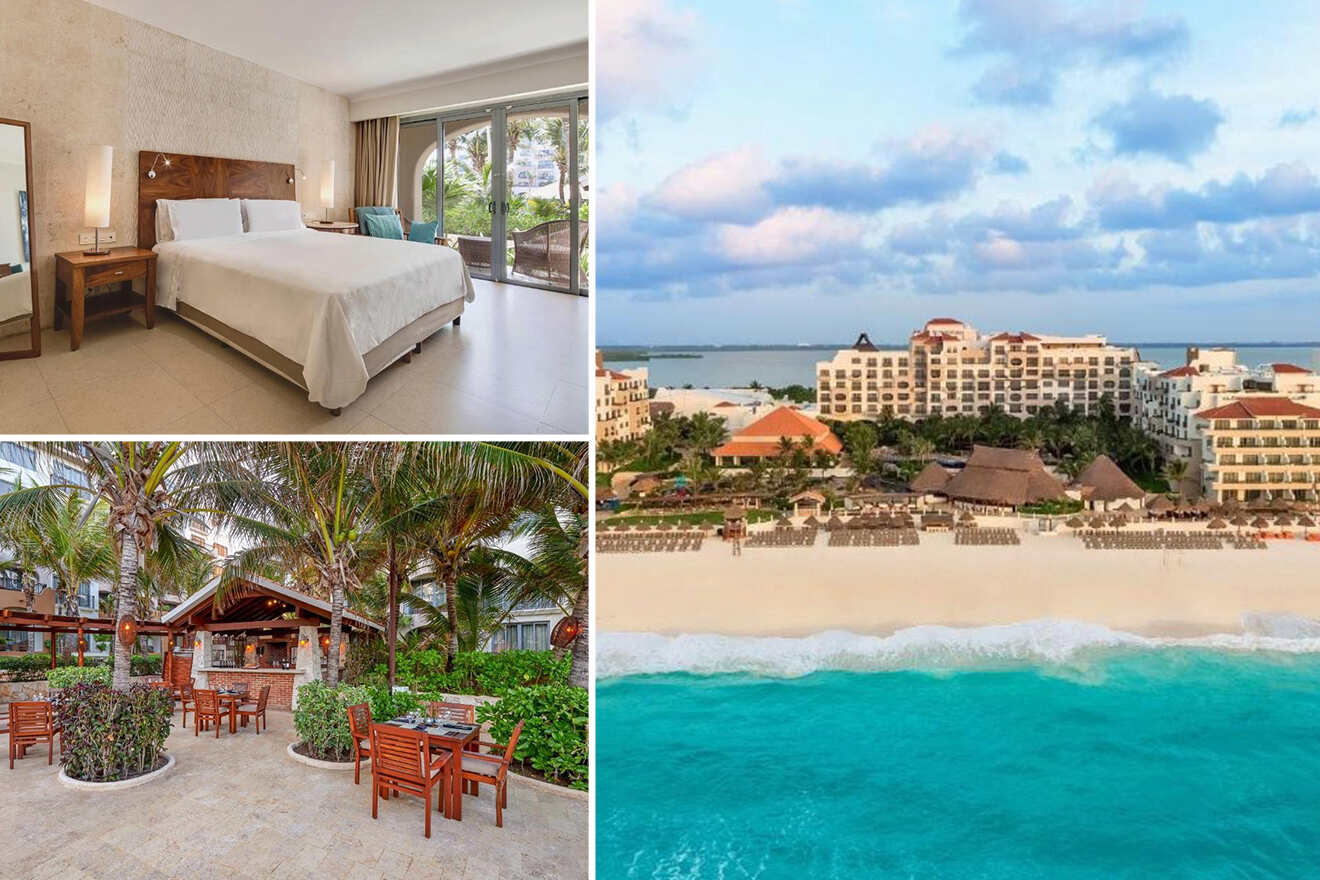 Located 5 minutes walking from the pristine beach, in Cancun's hotel zone, this family-friendly resort offers will surprise you with great views of Nichupte Lagoon! With 3 main buildings sheltered by palm trees, a beautiful outdoor pool and the smell of ocean breeze, you will feel in a tropical paradise.
Just like with the other Fiesta Americana that made is as #1 in my list, this hotel has an incredible choice of dining options: Argentinian dishes, an Italian Trattoria and Pizzeria, a Sushi Corner, Cantina offering the Mexican flavor, a children's option at the Pirate Ship and for adults La Cevichería! I'm sure it will satisfy your tastes!
10. Wyndham Alltra Cancun All Inclusive Resort – the most convenient location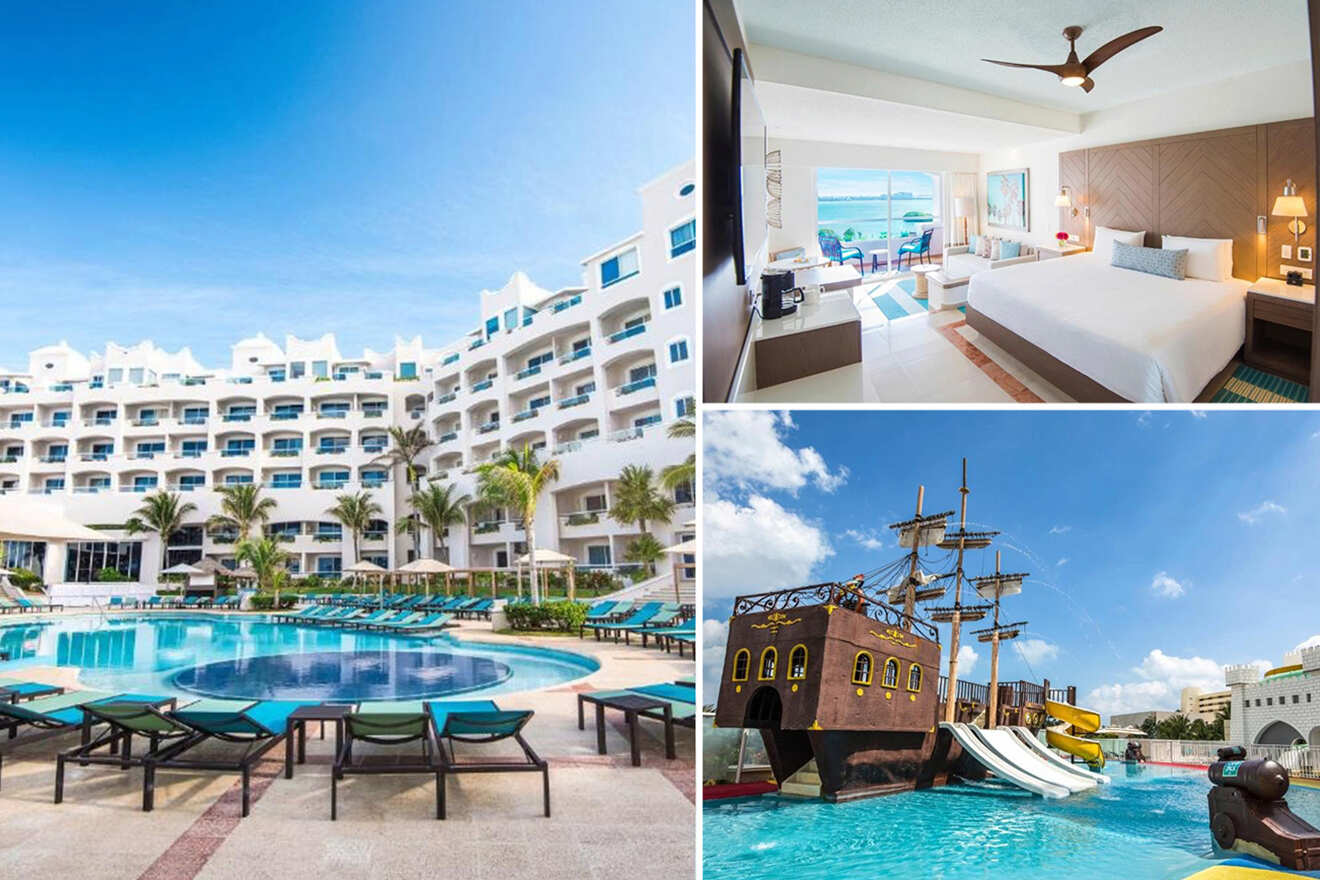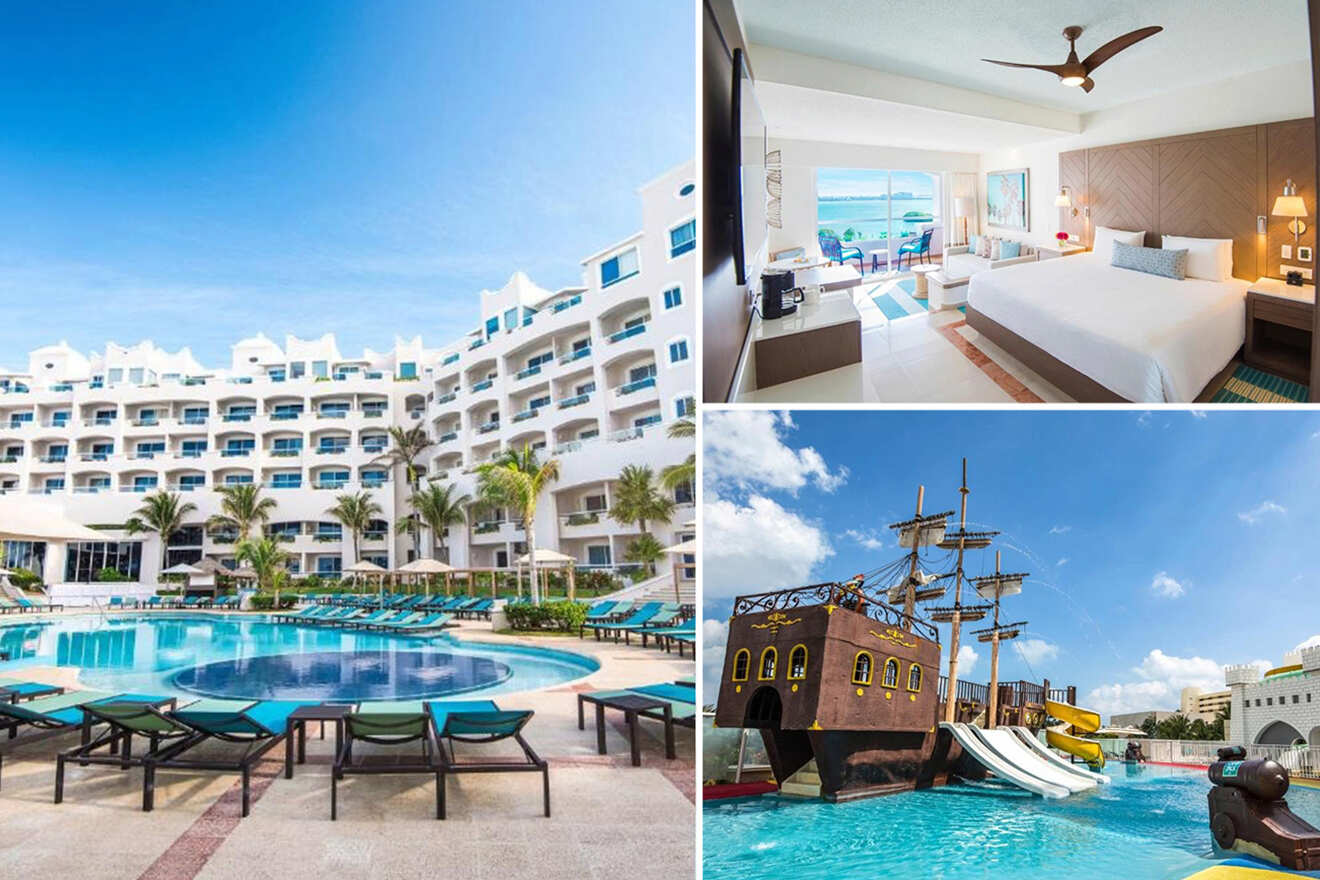 In the center of Cancun's epic Hotel Zone, Wyndham Alltra Cancun is a dreamy beachfront resort offering unlimited fun for couples, families and friends. With its glistening swimming pools, exciting activities like oceanfront yoga and live entertainment, a mini golf, splash park and the relaxing Aura Spa, nobody will be left behind here!
One of the best things about the resort is its great location, perfect to enjoy premier golf courses and explore the ancient sites of the Riviera Maya nearby!
11. Dreams Vista Golf & Spa Resort – experience thrilling adventures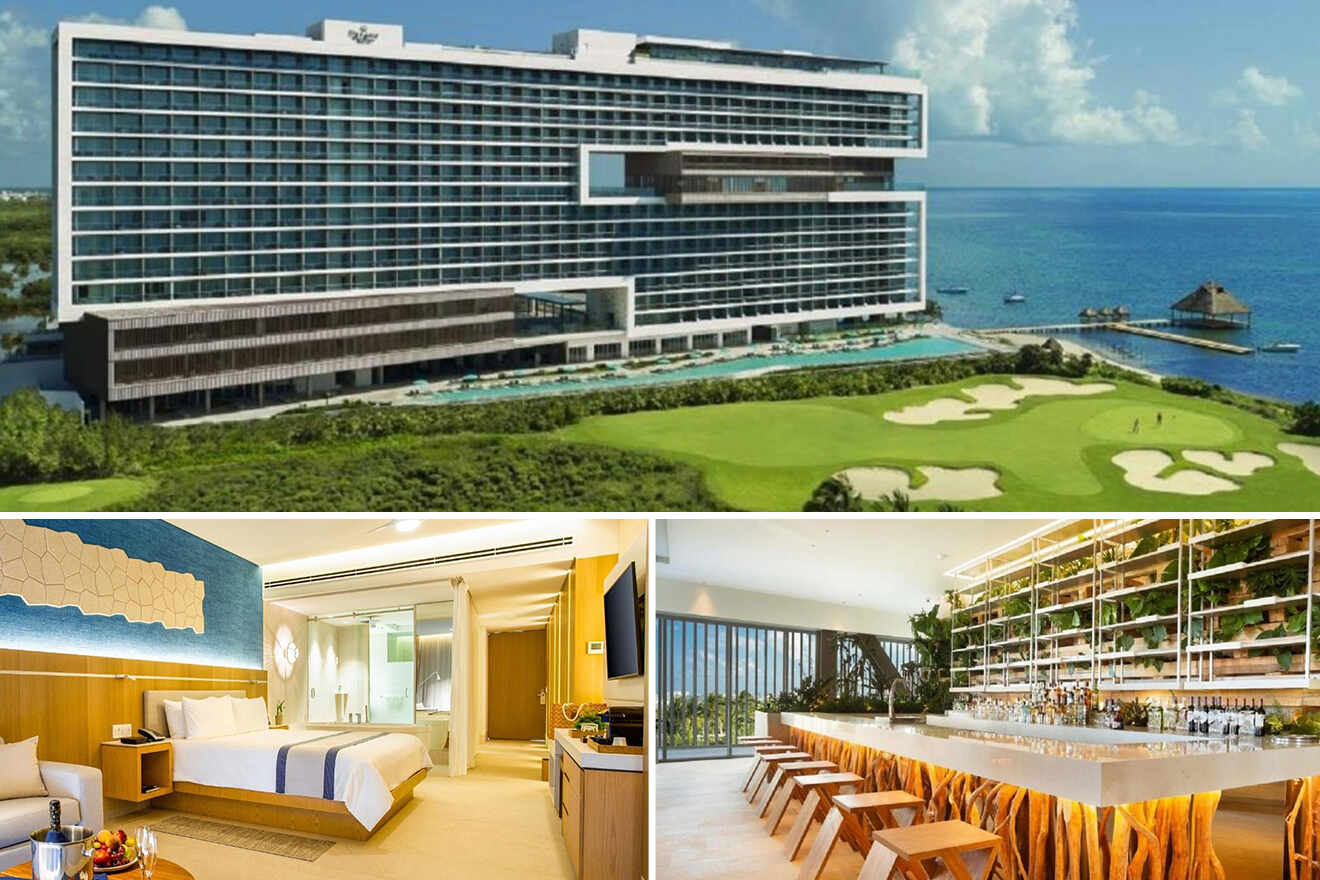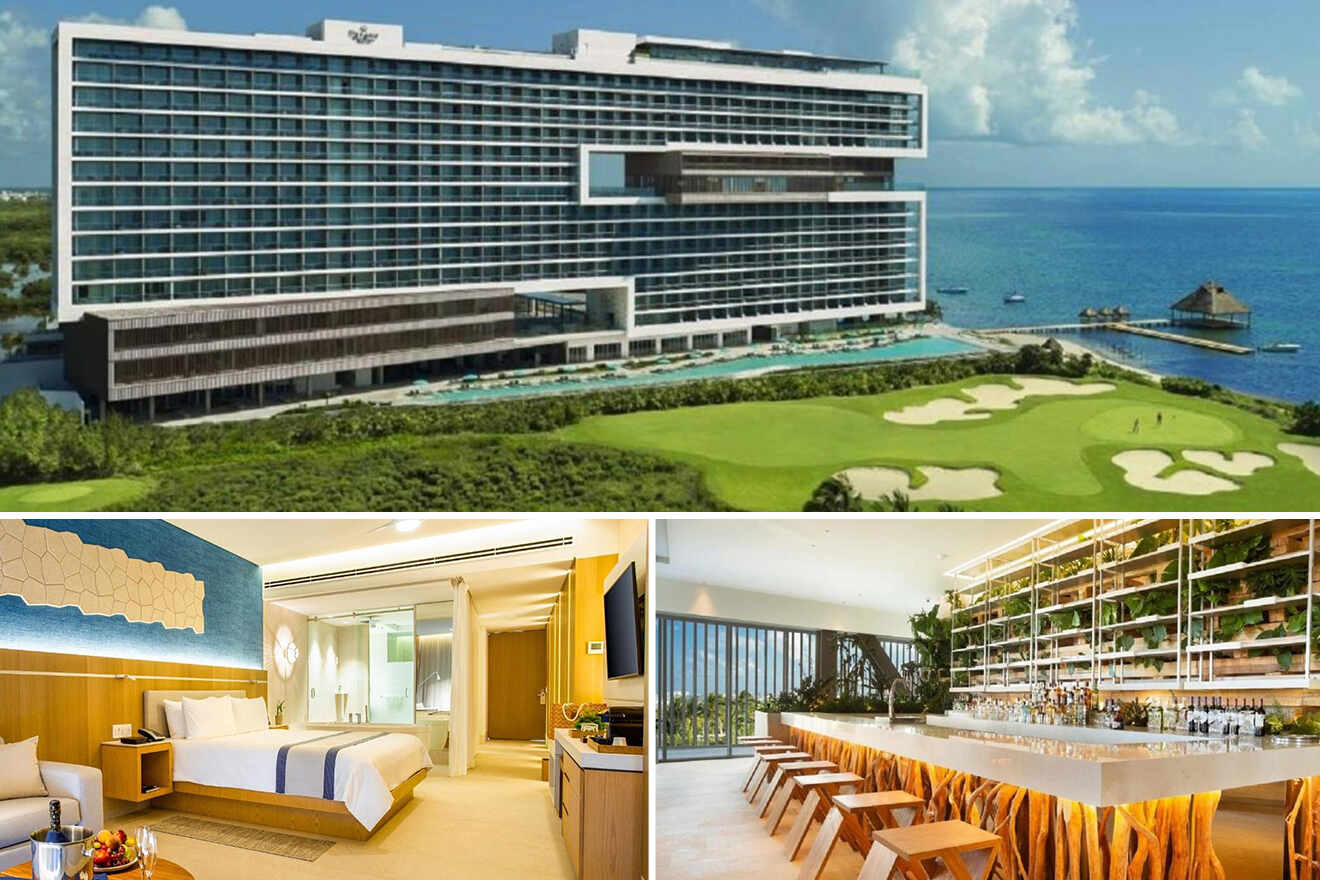 The family resort Dreams Vista Cancun Golf & Spa Resort will offer you luxurious fully equipped rooms and suites from where you'll have the best breathtaking views of the Caribbean Sea or nearby Isla Mujeres!
Other than relaxing in the world-class spa and rooftop pool, here you can satisfy your sense of adventure at the daring climbing wall or the innovative surf pools, or even have some family fun at the splash park and the outdoor theater!
12. JW Marriott Cancun Resort & Spa – best beachside resort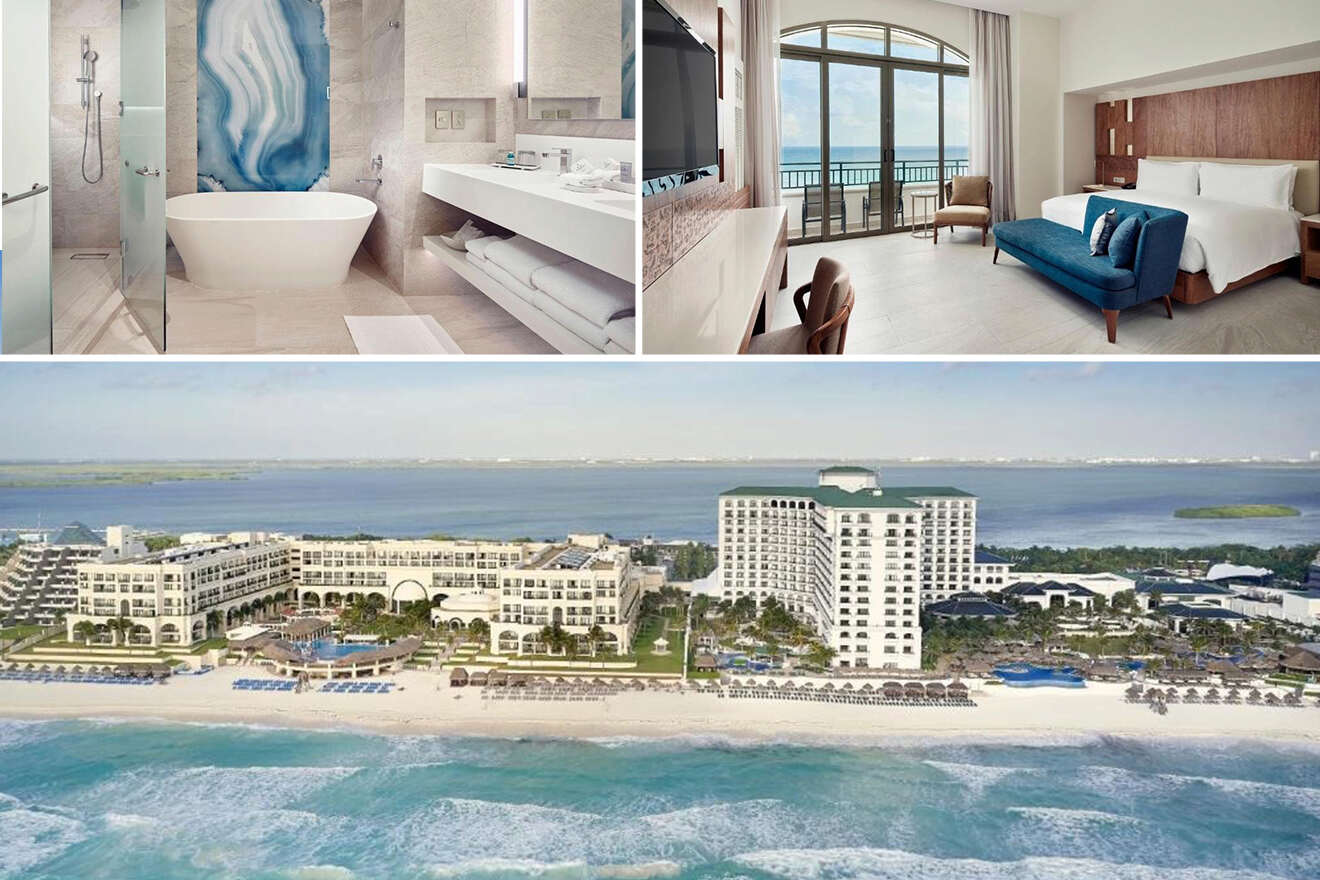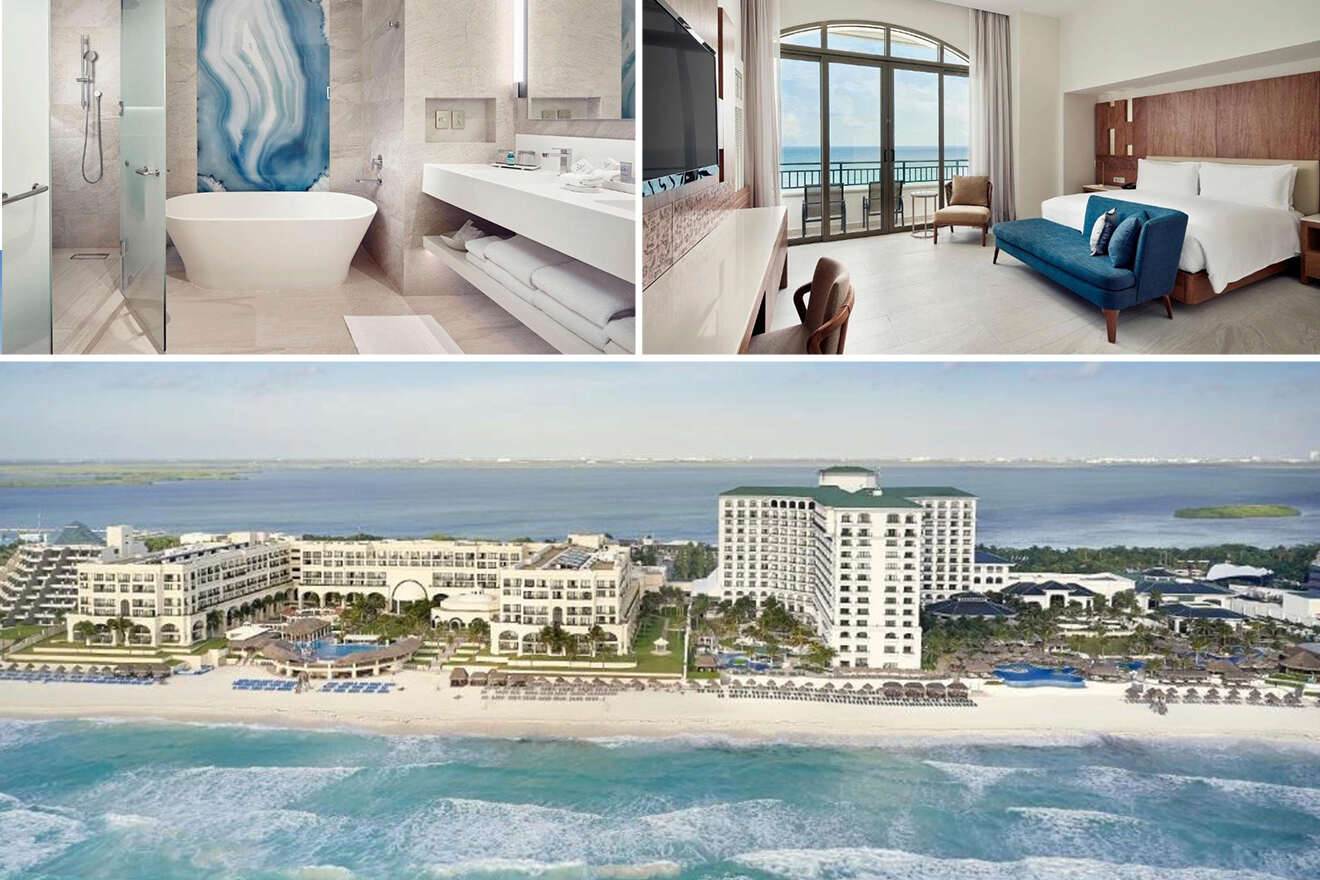 The luxurious JW Marriott Cancun Resort & Spa lies on the beautiful beach just off the crowded Hotel Zone. It offers 448 sophisticated and comfy rooms to choose from, each one with an ocean view (from the private balcony), marble bathrooms and quality aromatherapy toiletries.
This resort is perfect for any kind of travelers: families, couples and business groups, offering several kids activities, a grown-up vibe, an exclusive Mayan-inspired spa, fine-dining options, and extensive business features at the same time!
13. The Royal Cancun – best choice of lodging plans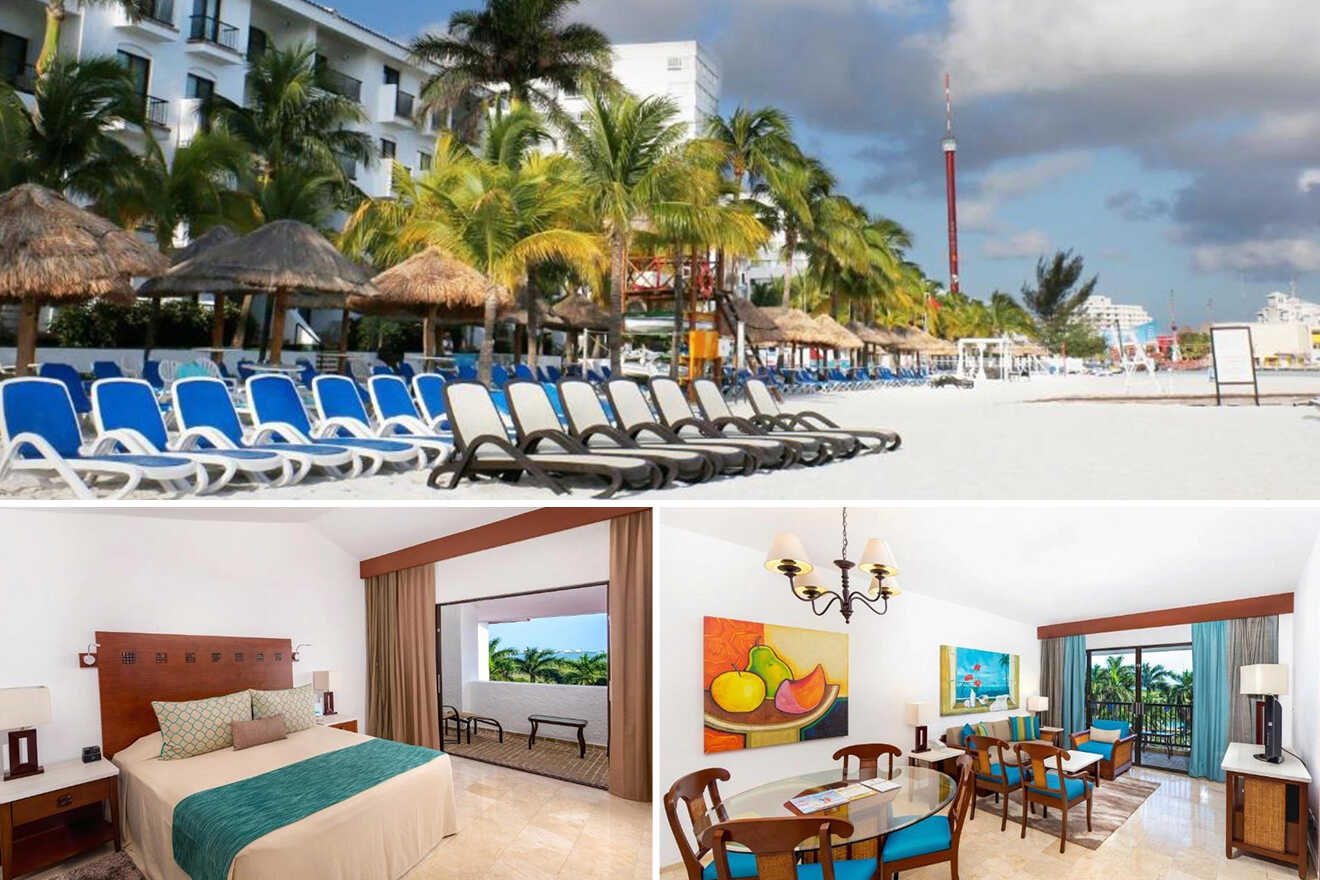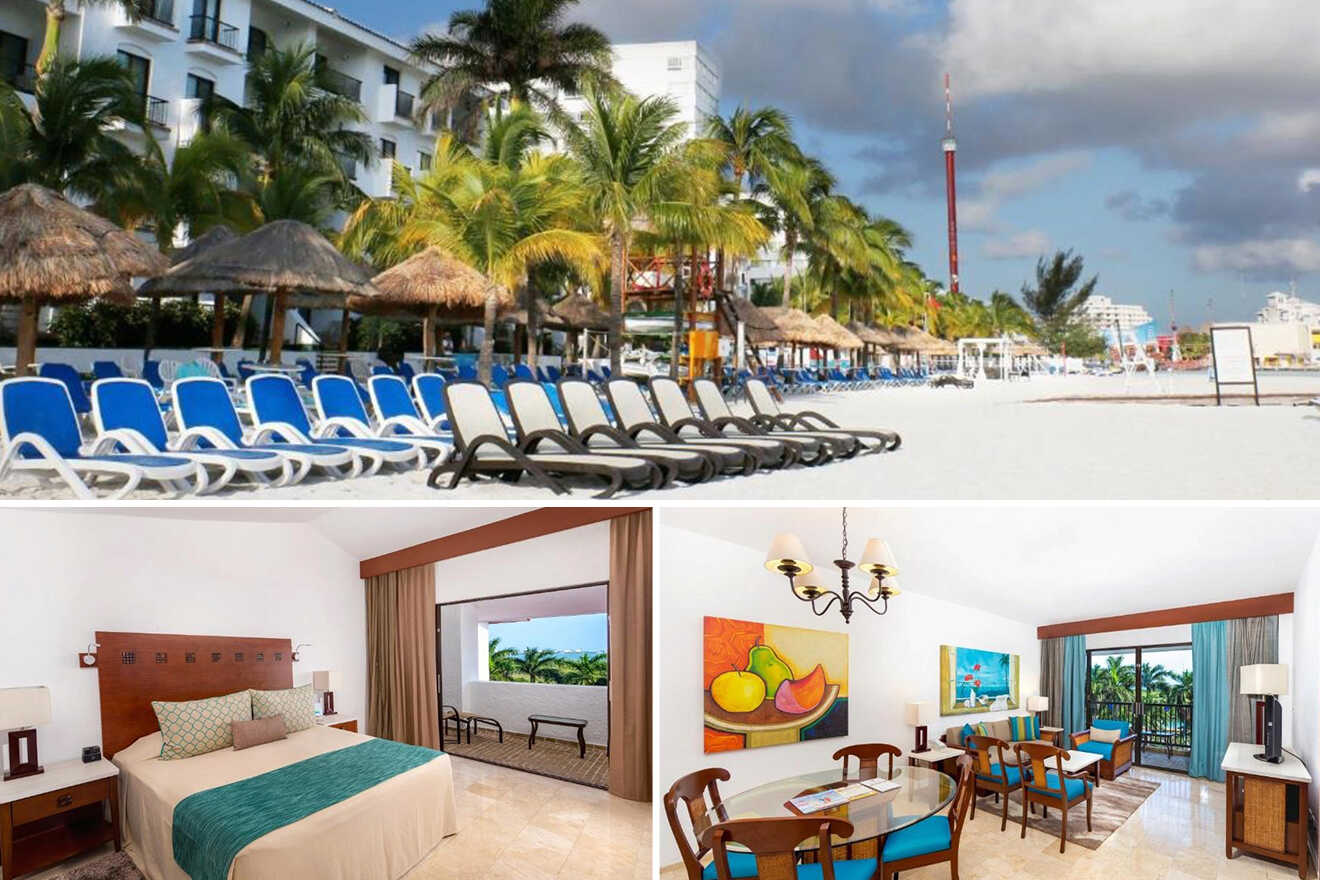 This charming and cozy 5-star resort is located in front of the turquoise waters and white sand beaches of Cancun's Hotel Zone, offering spacious suites and fully equipped apartments with a paradisiacal view of the beloved playa Mujeres!
The Royal Cancun offers many friendly-lodging plans for any kind of need: unlimited food and drinks, lodging with daily breakfast included or the accommodation-only plan, making it suitable for families, friends or for a couple's getaway! I suggest the all Inclusive service, so you can enjoy the delicious food of its four restaurants and enjoy the drinks at the swim up bar!
14. Marriott Cancun Resort – get the best sleep!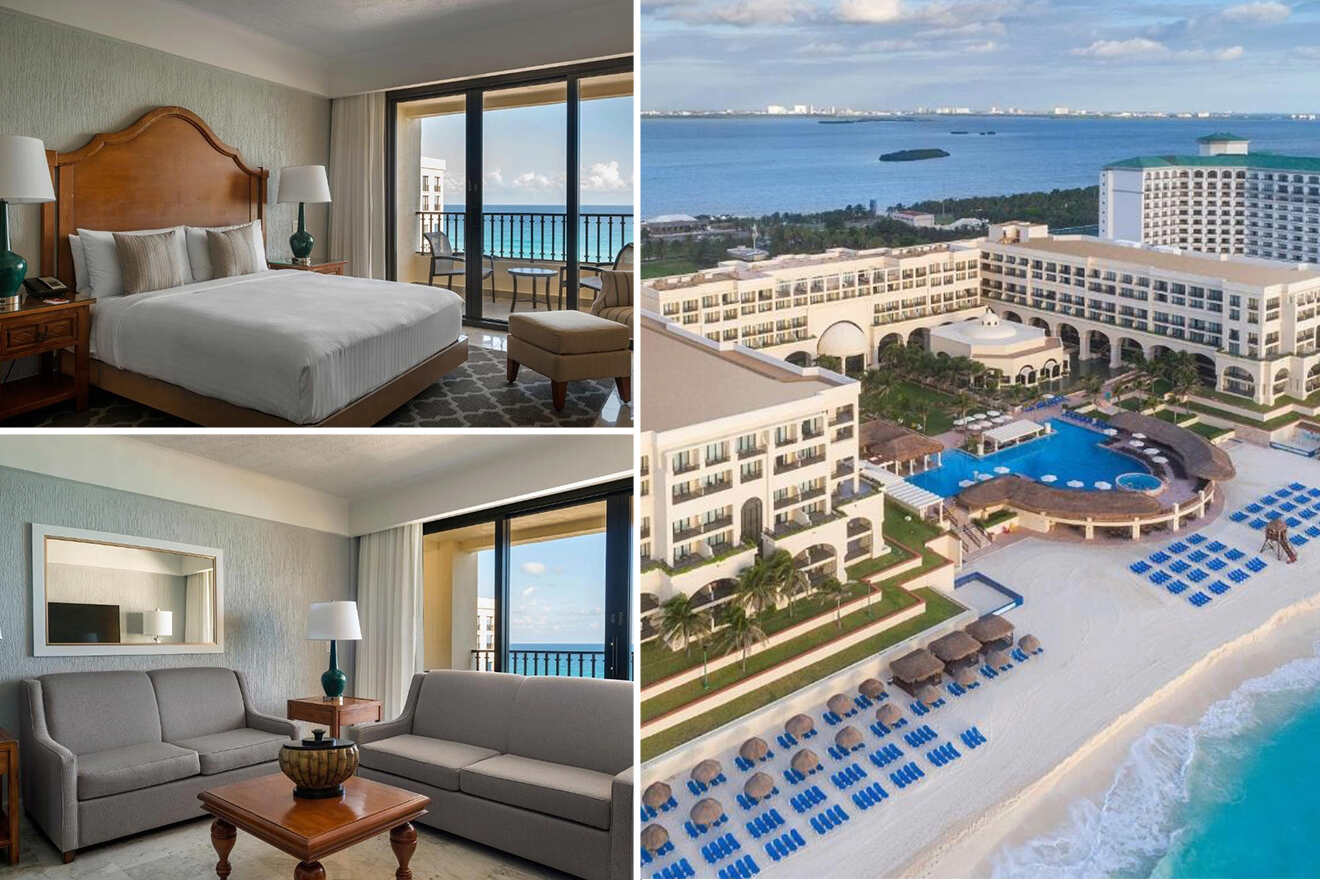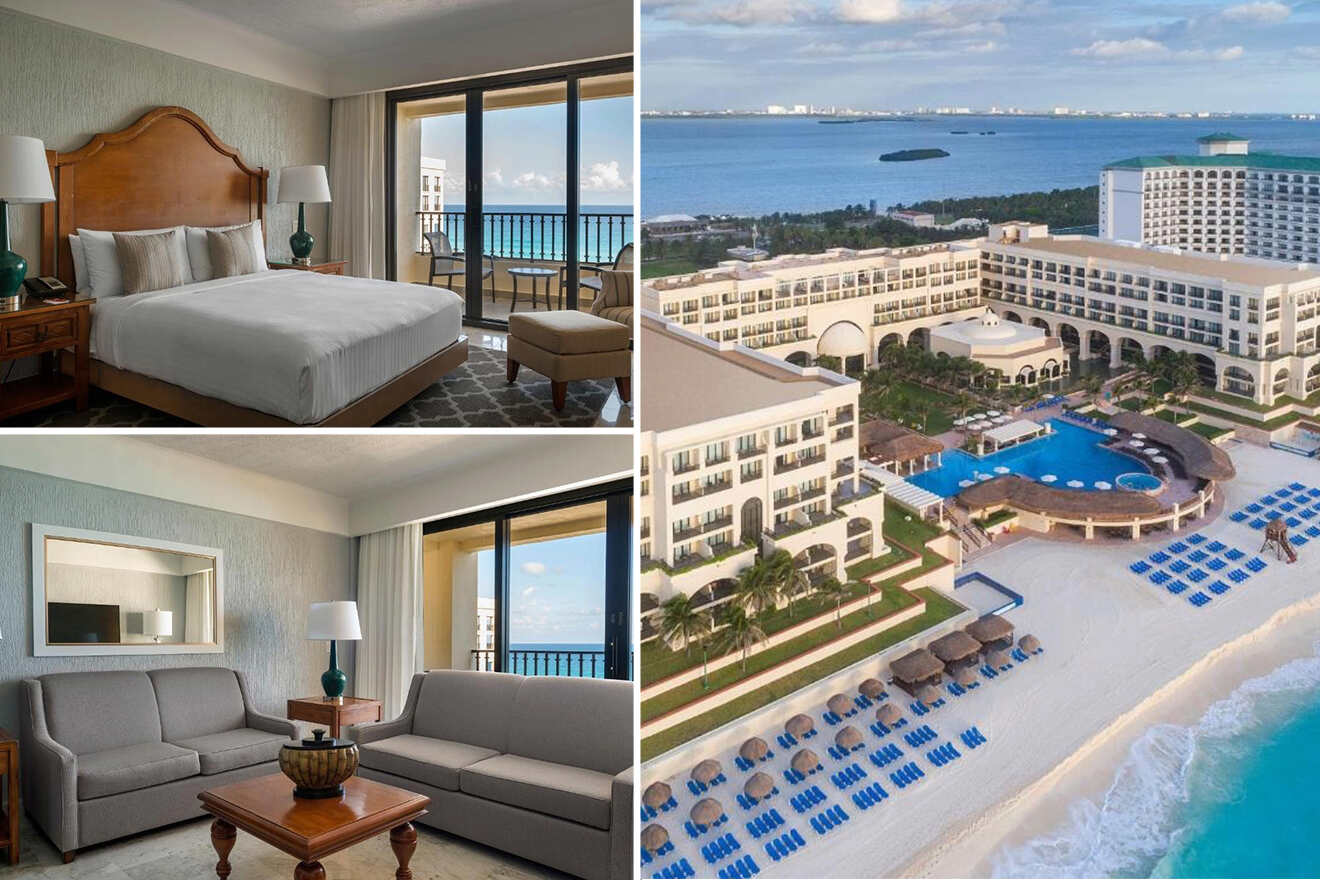 Get ready for the vacation of a lifetime at Marriott Cancun Resort, conveniently located close to the beach, La Isla Mall, Coco Bongo and downtown Cancun.
This is one of the best luxury hotels if you can't wait for some deserved sleep: in your super quiet room, you'll find a featherbed with a pillowtop mattress and a private balcony with a remarkable beachfront view! Another plus? You can dine at any one of the delicious 11 on-site restaurants!
15. The Villas at The Royal Cancun – the best all-inclusive service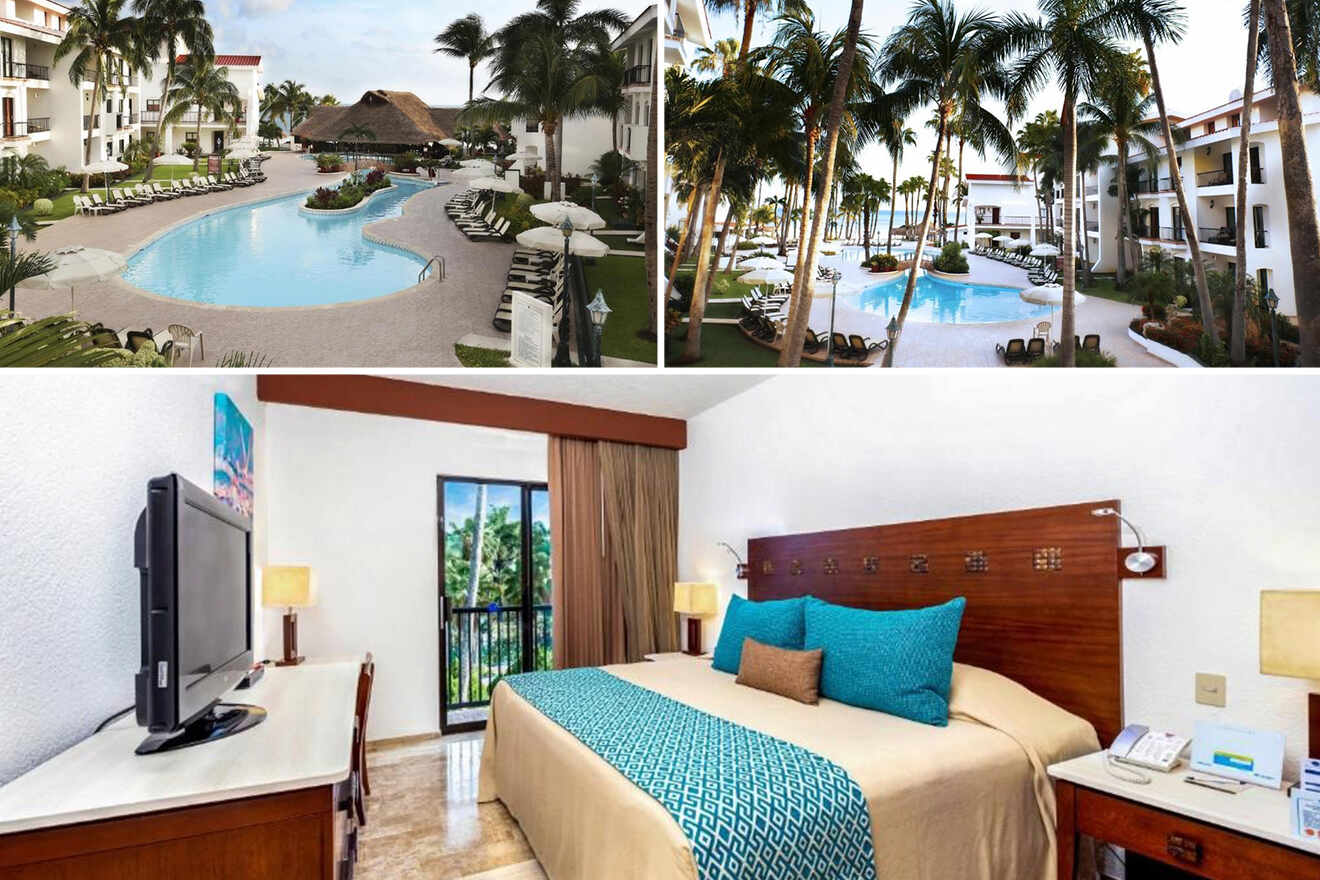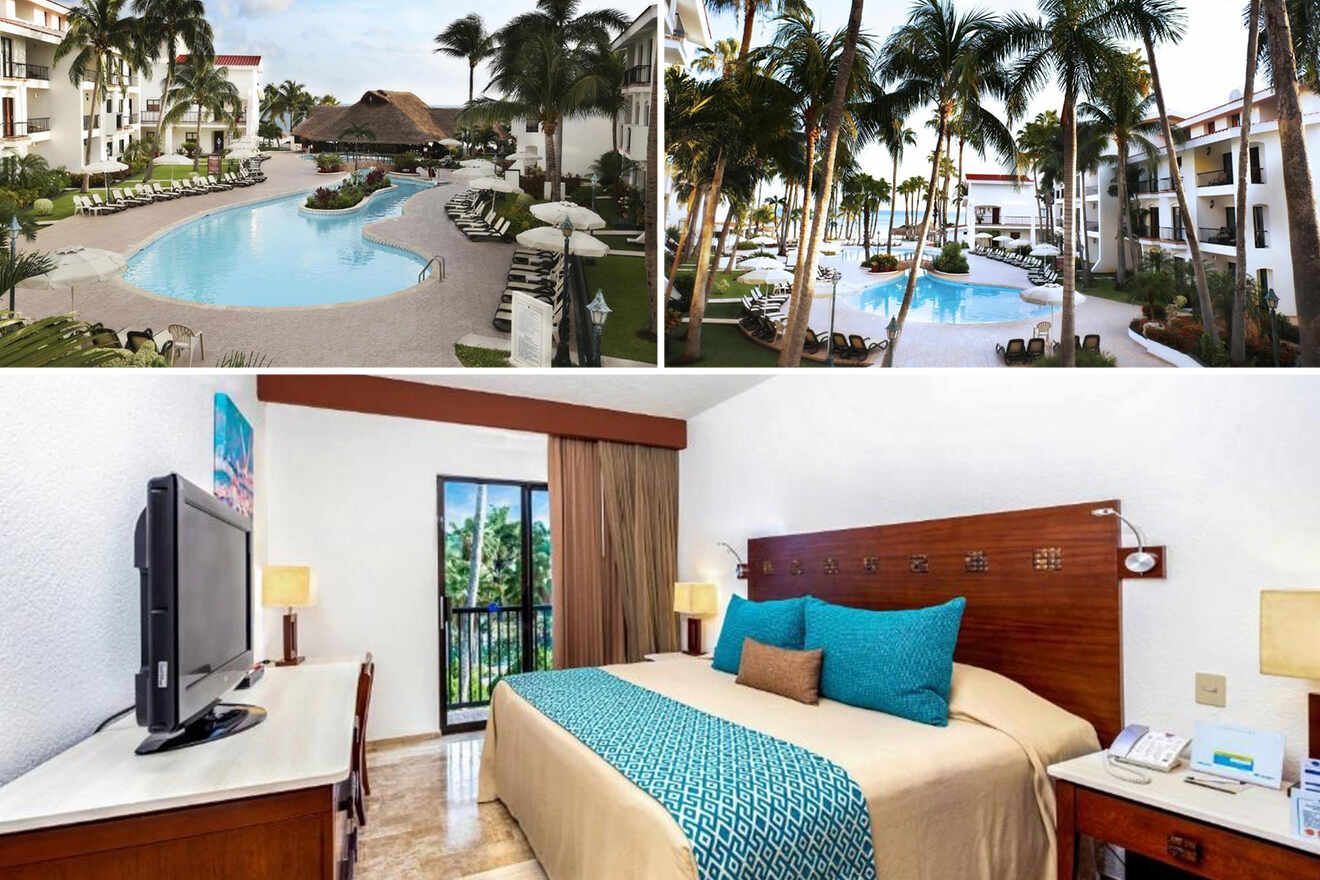 Are you in Cancun with your family or your other half? Well, in this incredible luxury resort it doesn't matter, because it has something to offer for both types of travelers (there's even a beach wedding venue)! Here you can have your privacy in your spacious suite, relax under the palms or join in daily activities like sail boating, snorkeling, and even try paddleboarding.
Do you want to add even more luxury to your vacation? Try a massage in the beautiful spa… incredible Mexican Caribbean moments are waiting for you!
BONUS: Best Adults Only, All-inclusive Resorts in Cancun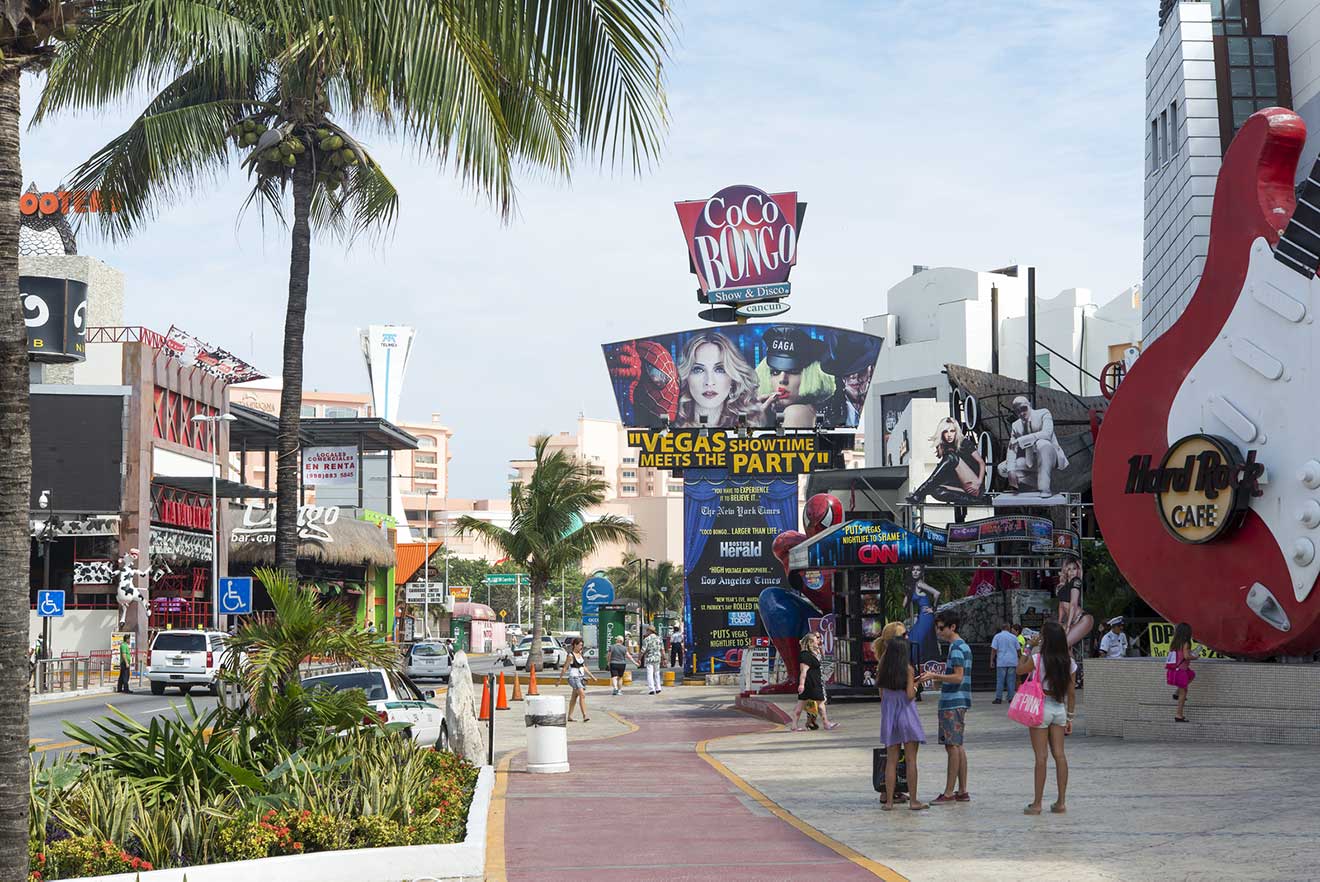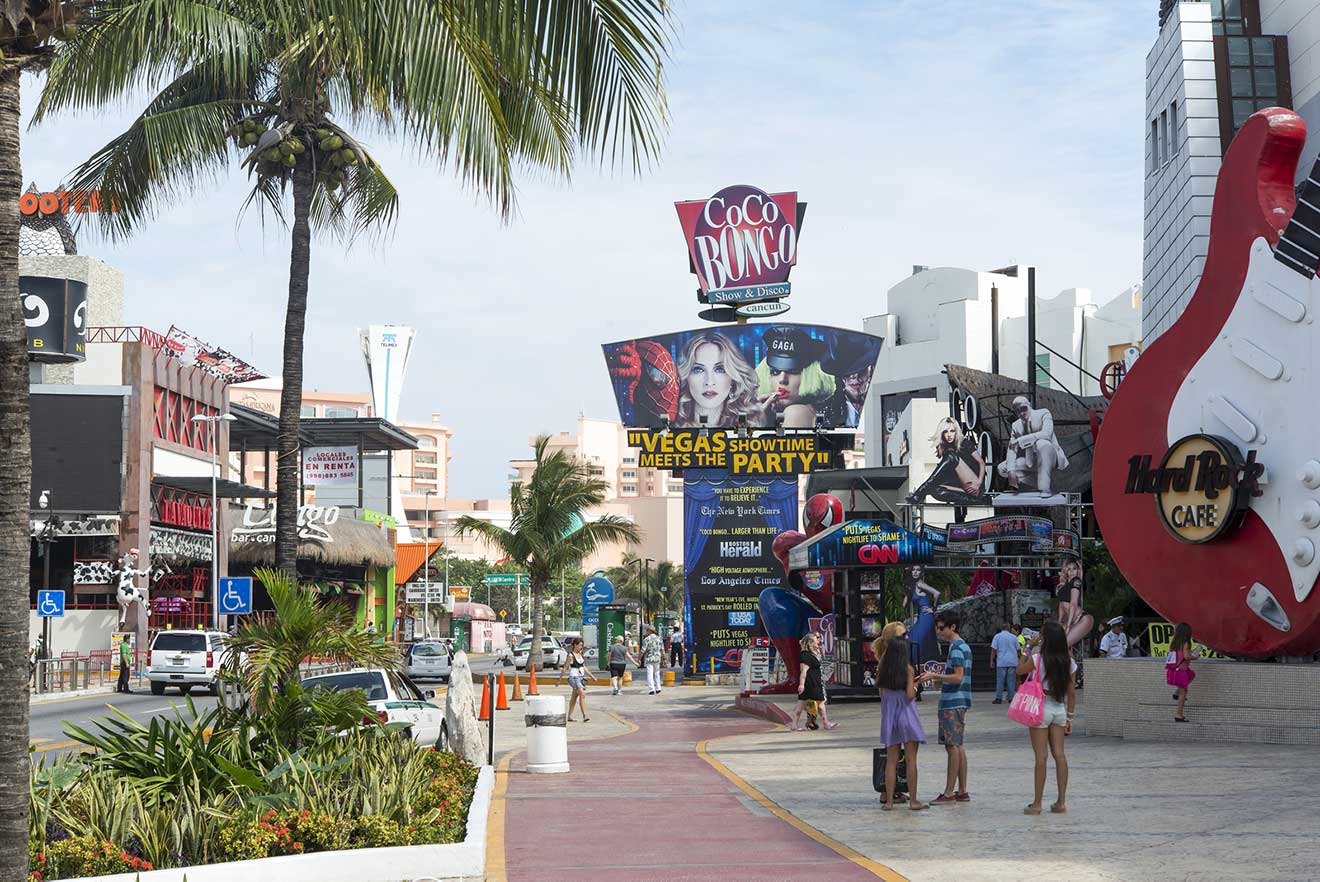 If you're dreaming about a holiday in complete relaxation and privacy, where you can spend some peaceful moments without standing the noise of kids, you should go for adults-only resorts.
Whether you're traveling solo, enjoying a romantic getaway with your special one or spending some quality time with friends, adult-only hotels are the perfect choice to recharge your batteries… and in Cancun there are plenty of options to choose from!
I gathered here the most exclusive adults-only all inclusive resorts, so you can take advantage of both their unique vibe and the comfort of an all-included package! Let's check them out, they're in descending order from the most expensive to the cheapest:
Frequently asked questions about Cancun luxury resort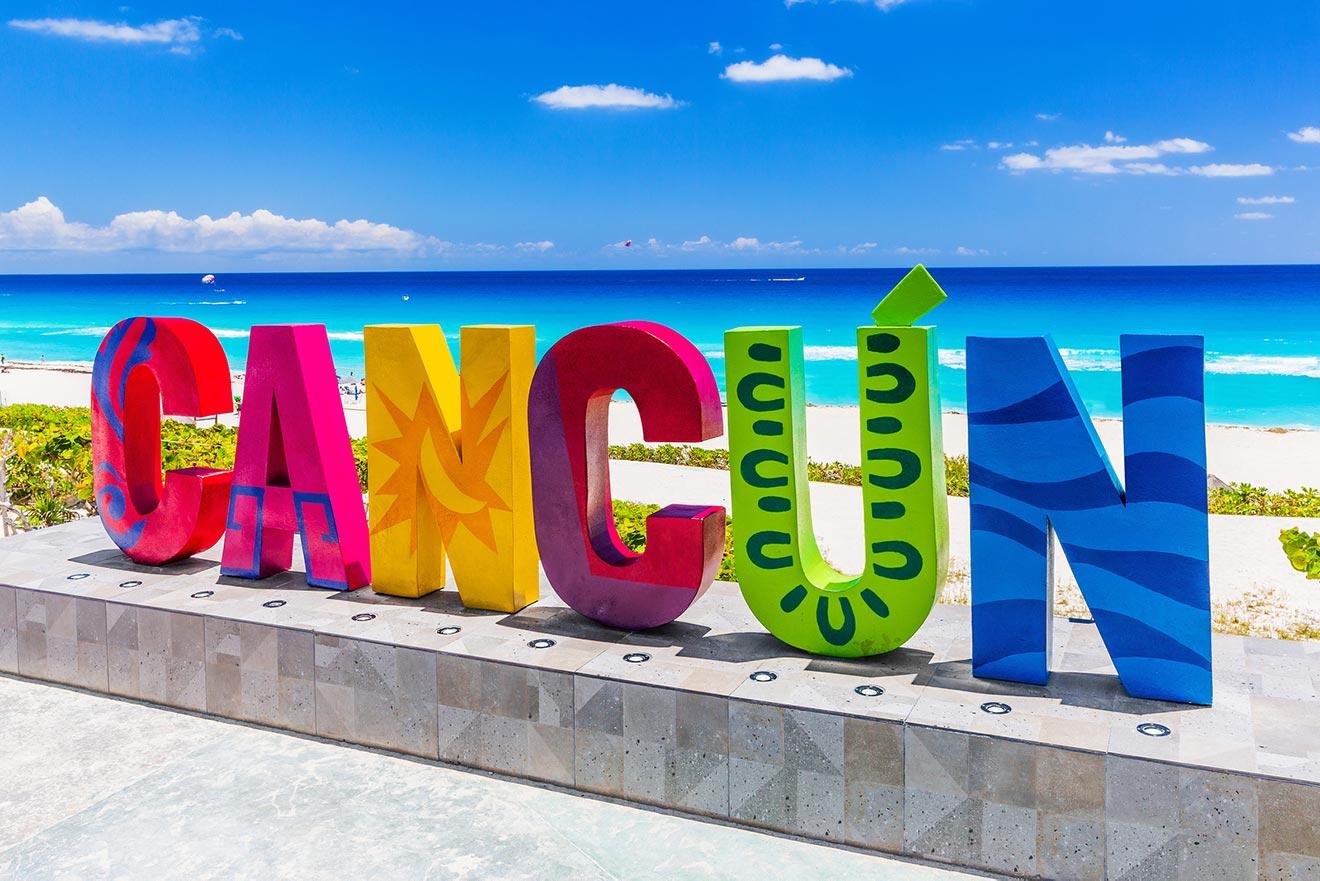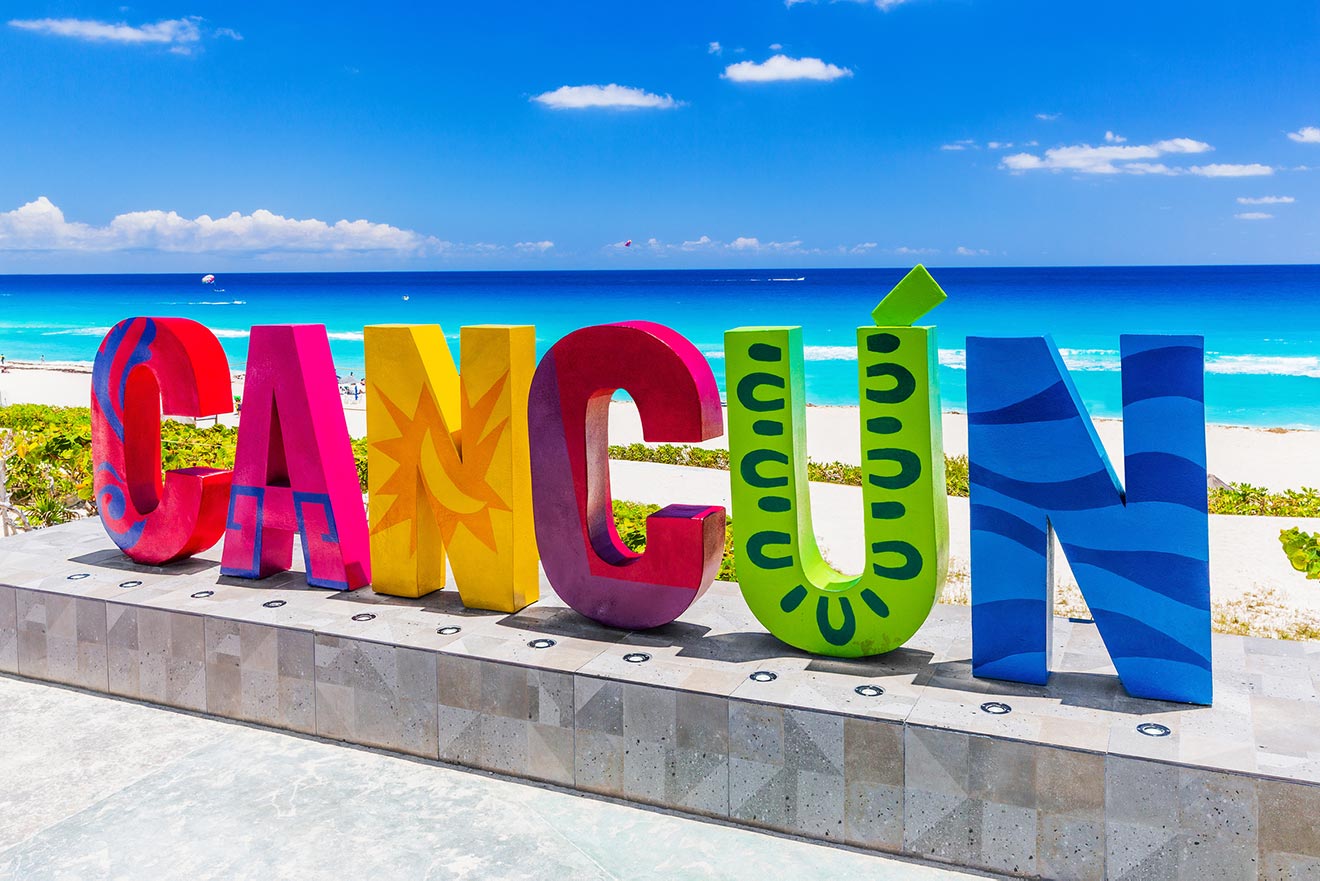 🛎️ What are the best all-inclusive luxury resorts in Cancun?
🔞 What are the best adults-only luxury resorts in Cancun?
👪 What is the best family-friendly resort in Cancun?
🌅 What are the best beachfront luxury resorts in Cancun?
🌅 What are the best things to do in Cancun?
The best things you can do in Cancun, apart from enjoying the white beaches (like the beloved Playa Mujeres), crystal waters, and watersports, is visiting the Mayan Ruins and the small fishing town of Puerto Morelos.
Conclusion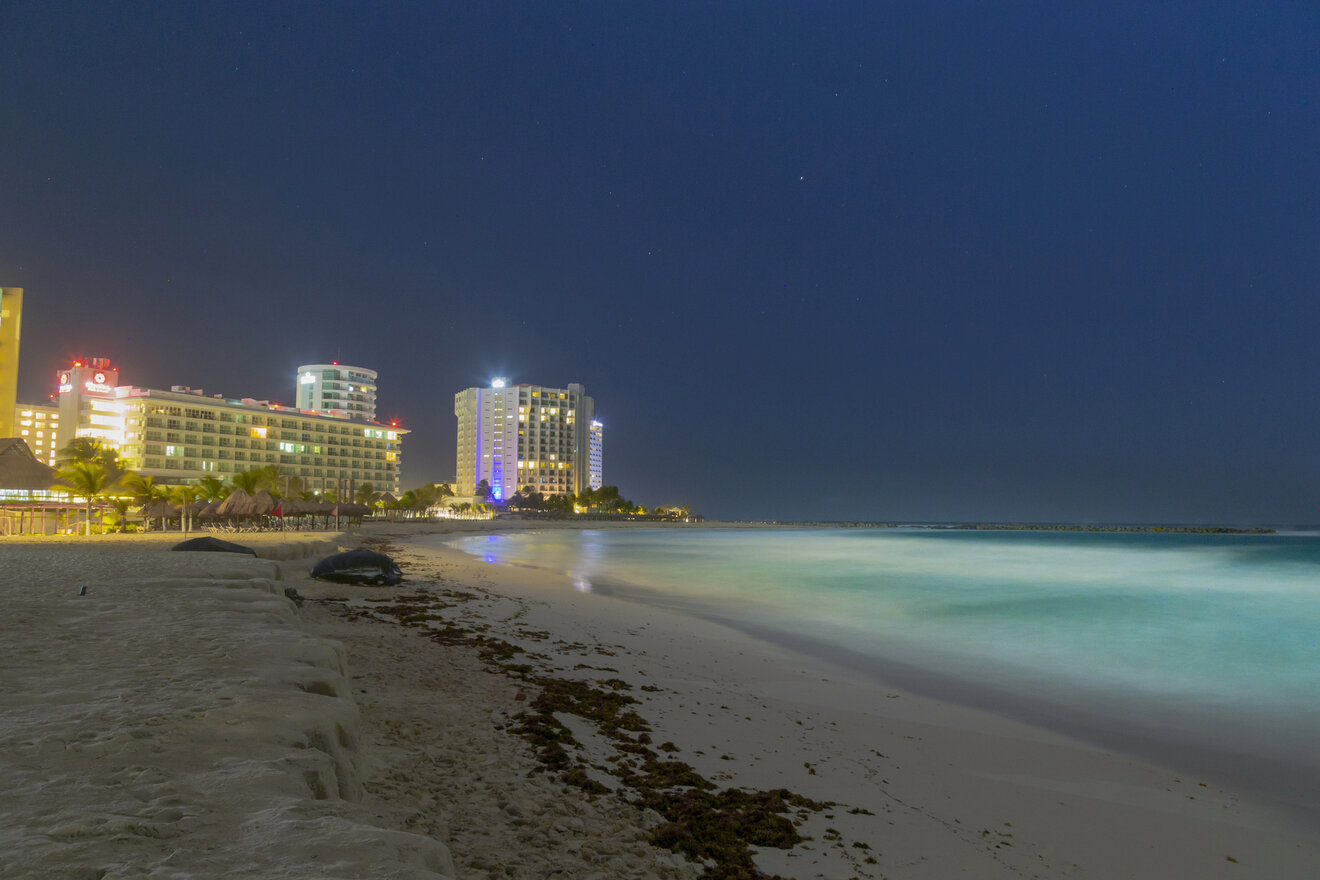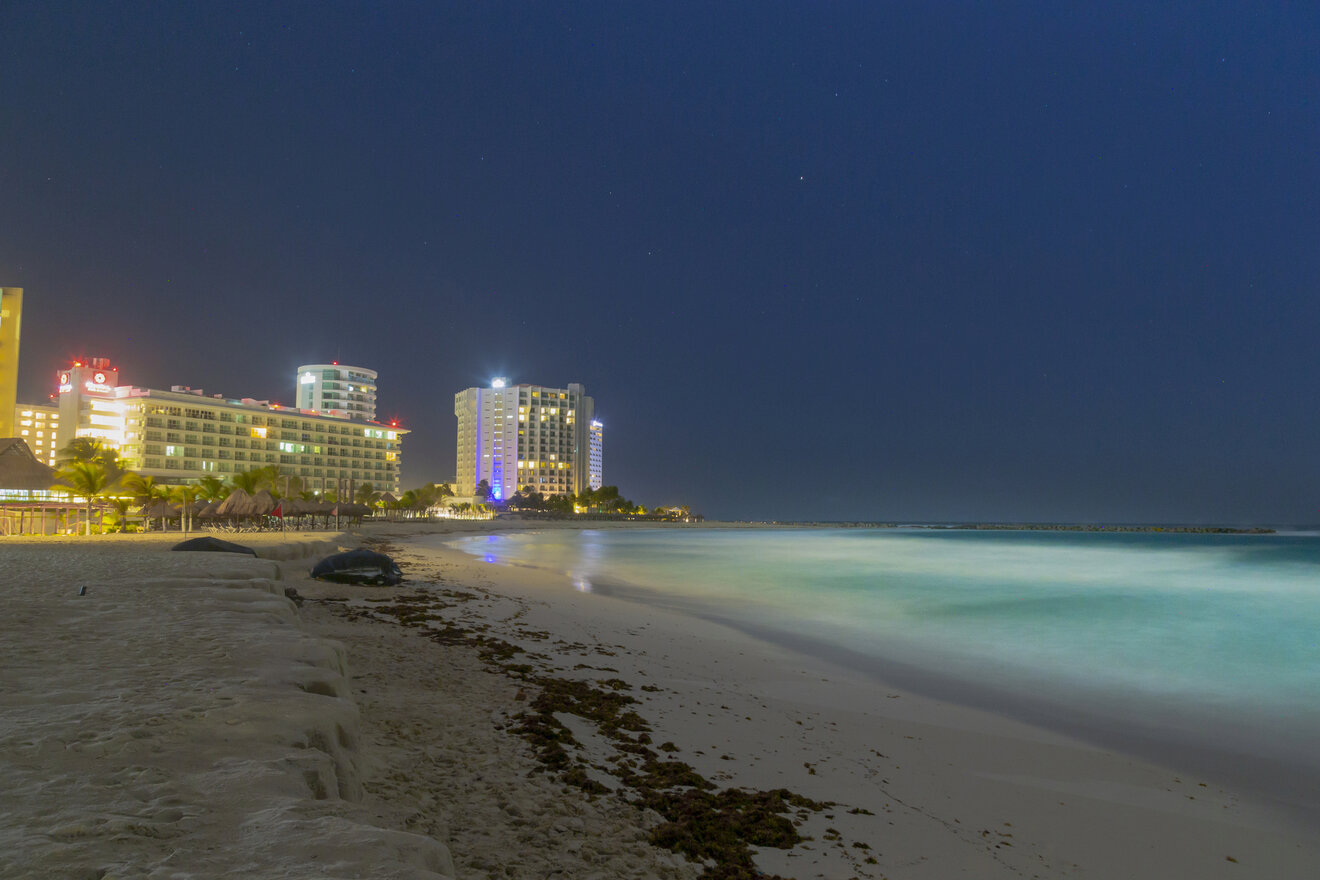 Here we are at the end of this ultimate guide with all the best hotels and luxury resorts in Cancun, for your dreamy vacation full of comfort, on the best beaches in Mexico! From beachfront resorts to family-friendly options and all-inclusive adults-only, there's for sure the right place for your needs and expectations!
If after checking out so many options you still don't know which luxury resort is best for you, here are my 2 favorite ones with great location and reviews:
Grand Fiesta Americana Coral Beach – Luxurious all-inclusive resort suitable for every type of traveler, offering romantic experiences or activities for the whole family.
Coral Level at Iberostar – One of the best all-inclusive resorts in Cancun, it will bring your stay higher than you could ever expect!
PRO TIP: make sure you make your reservation right now or as soon as you can, these exclusive accommodations always get booked up super fast!
I really hope you had fun reading my guide as much as I enjoyed writing it and I am sure it will help you find the perfect place for an incredible holiday! If you stayed in one of the luxury resorts above and you want to share your personal experience, I'd love to hear your thoughts and recommendations in the comments below!
Have a wonderful trip!
Elena