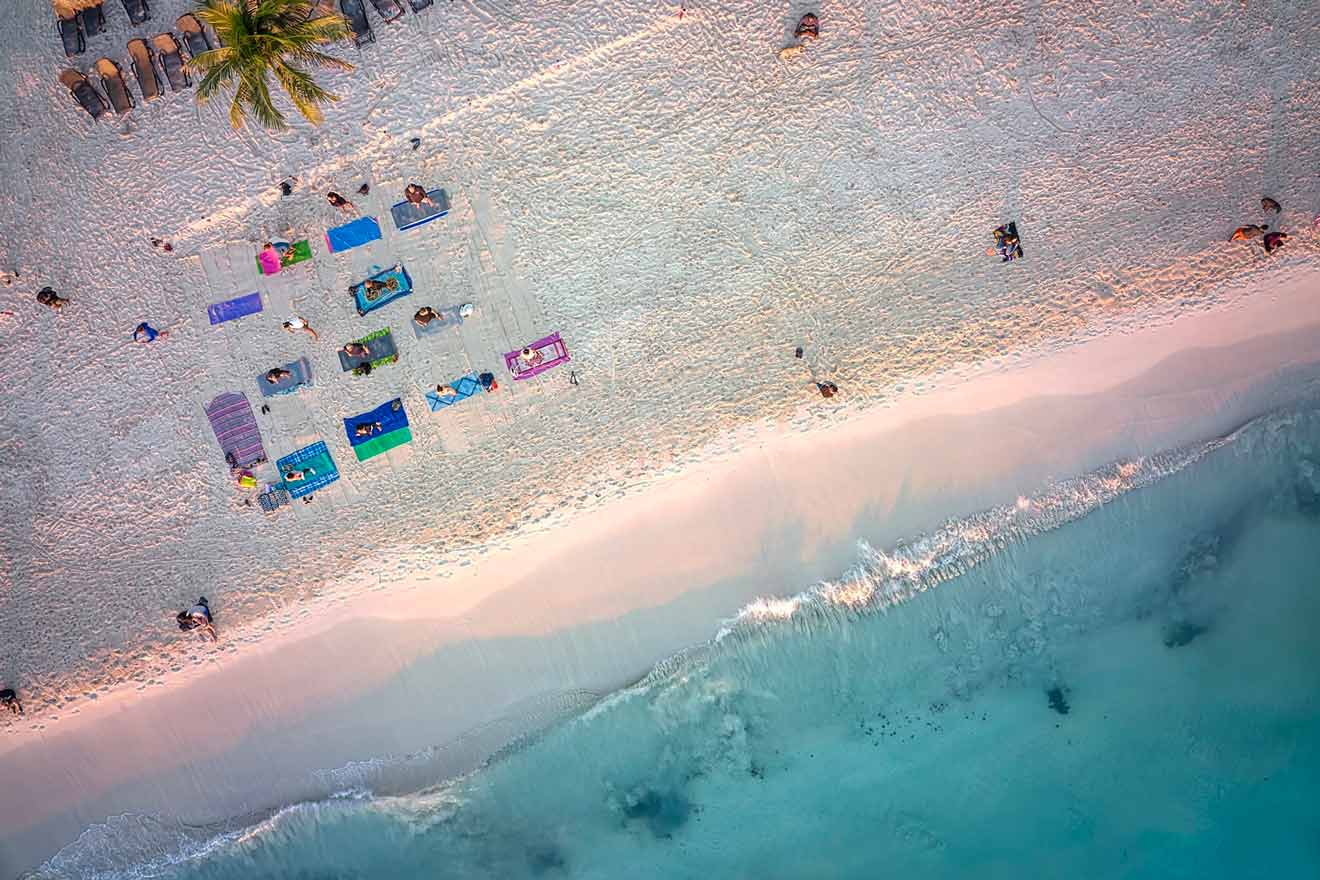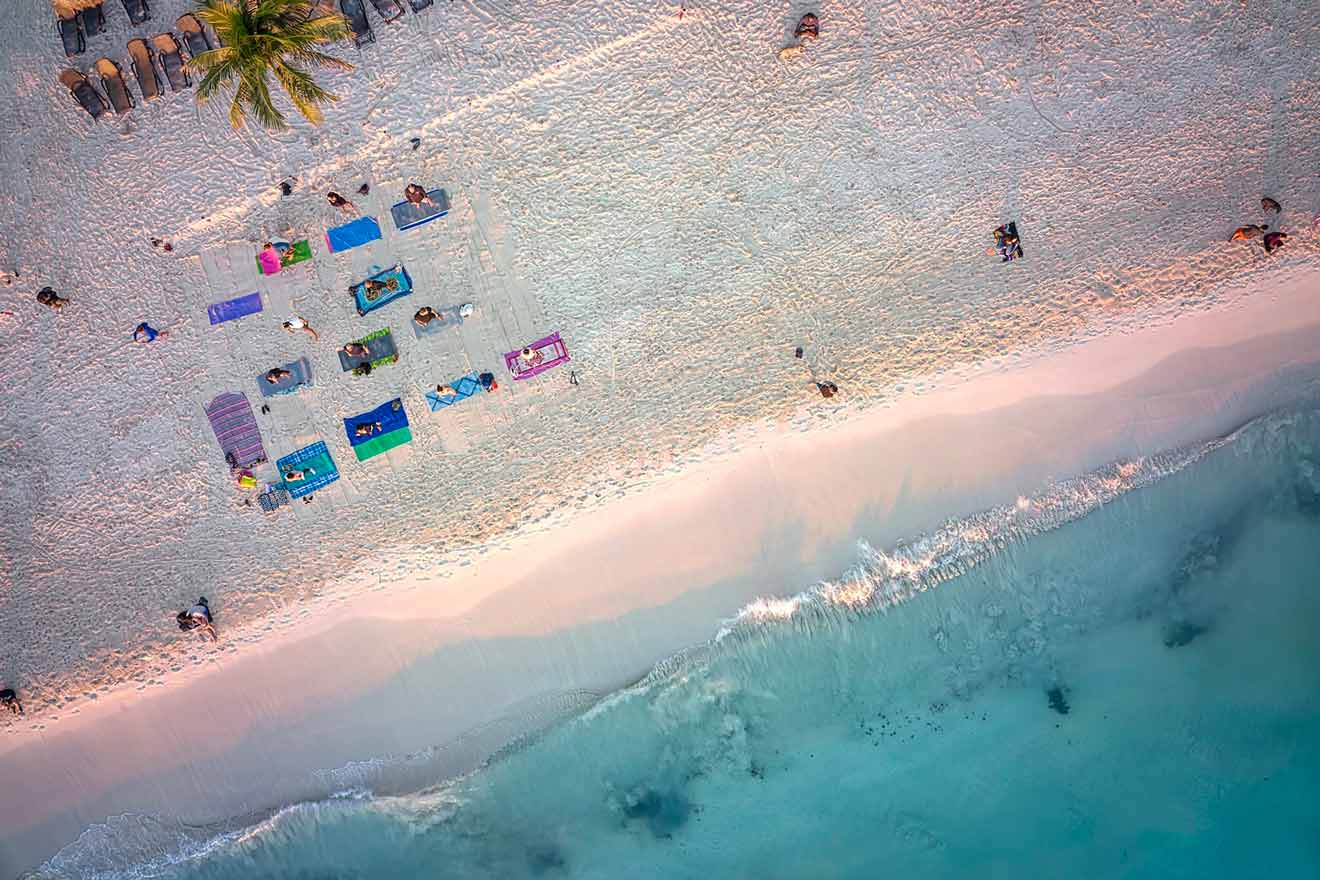 If you're looking for some great yoga classes during your vacation in Playa del Carmen, you'll be happy to know that this city wins the award for being one of the best yoga towns in Mexico, featuring yoga studios for any taste!
Whether you're interested in having a yoga class by the ocean, sweating a little with power yoga, relying on a world-class yoga teacher, or just learning the main positions as a beginner, Playa del Carmen has the perfect yoga studio for you!
Whether you are on a short holiday or exploring the country as a digital nomad, there are so many yoga studios here that it could be hard to decide which is the best one for your classes, that's why I made this guide with the best places to practice yoga in Playa del Carmen, including some useful tips for the best teachers and yoga studios in the city!
So, pack your yoga mat, and harem pants and prepare to take some notes… Are you ready to explore the best yoga studios?
Let's start!
If you are in a hurry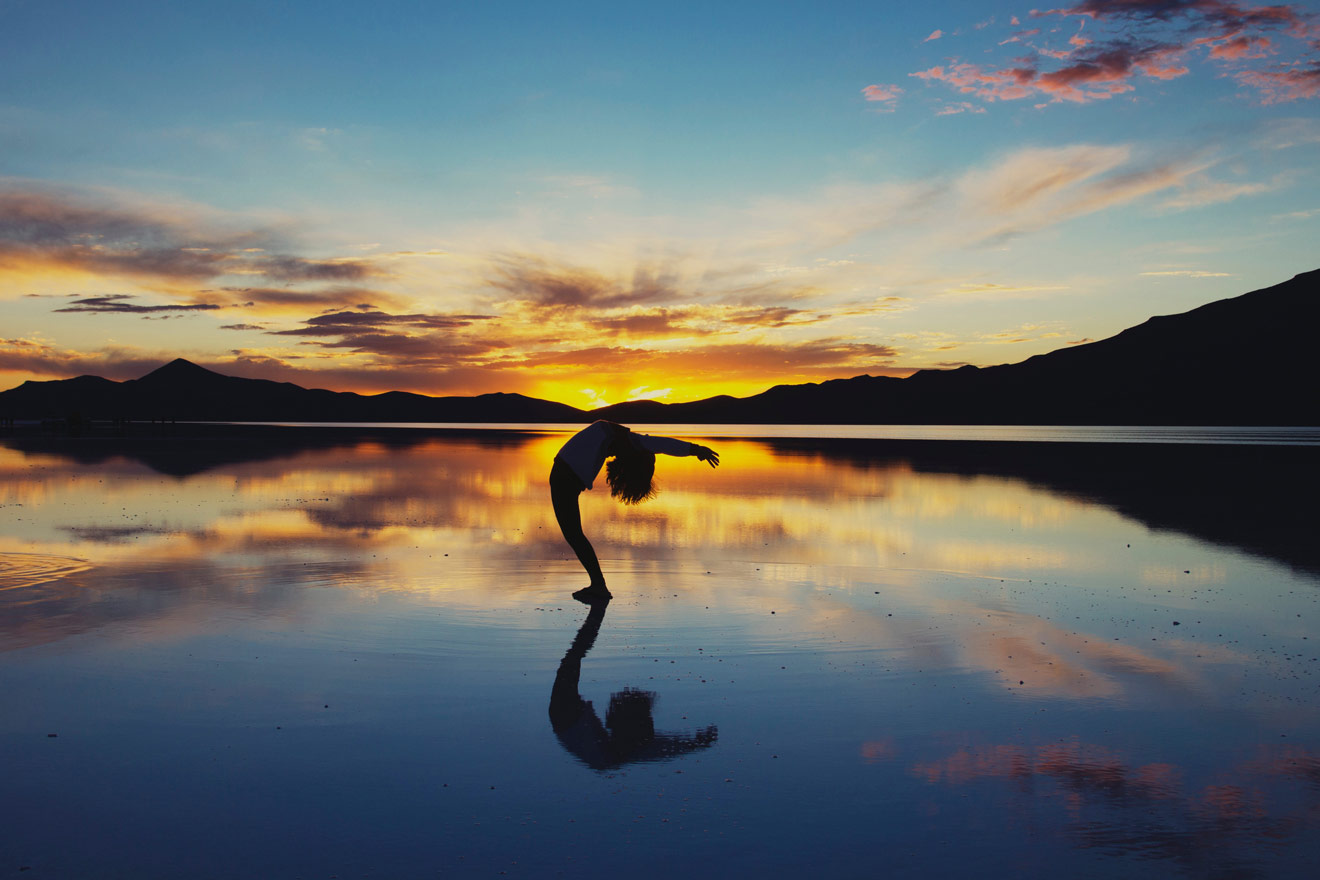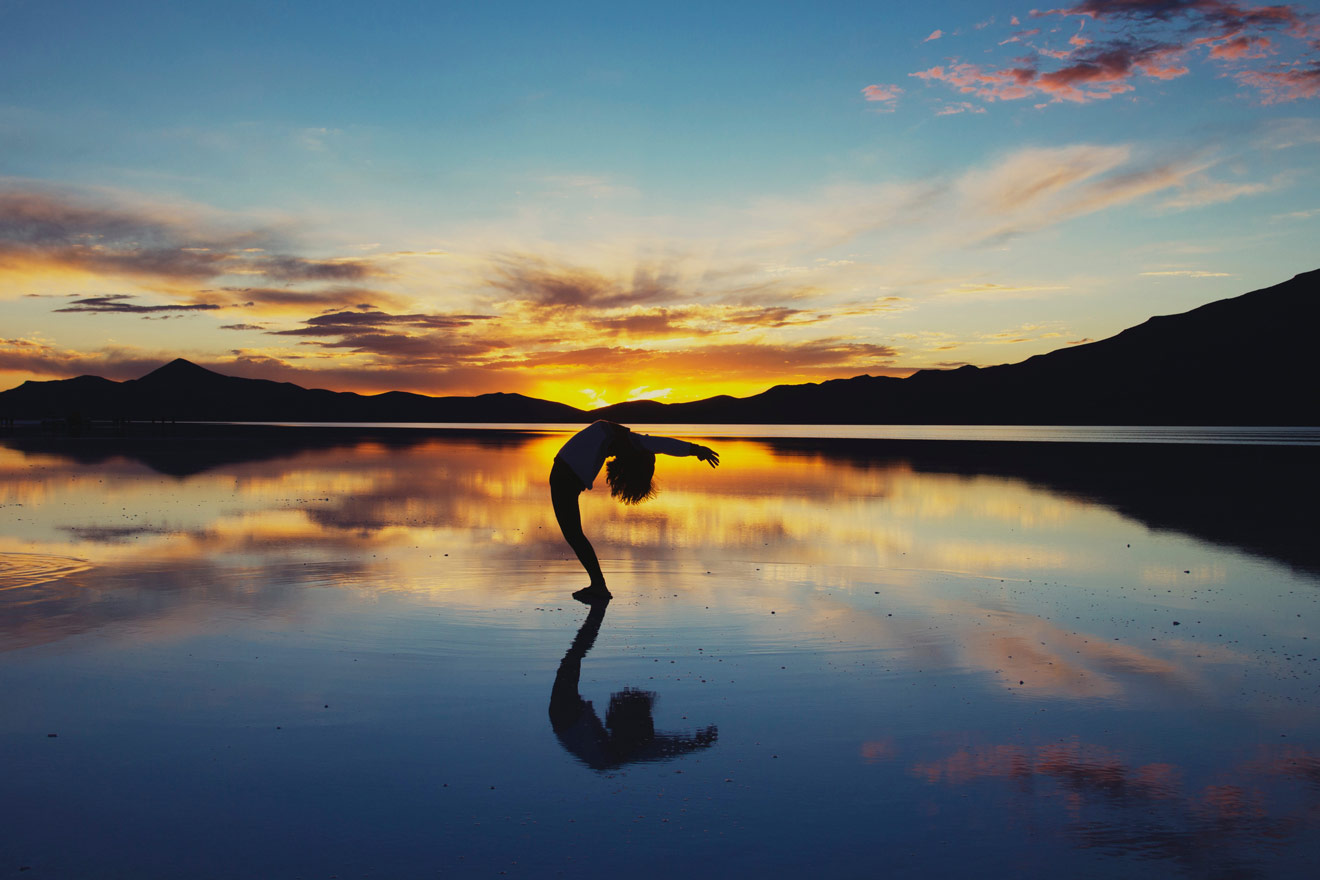 Here are the best of the best yoga studios in Playa del Carmen, Riviera Maya, for different interests:
Check out this useful map. It will give you a mental image of where all the best places for yoga, Playa del Carmen are located in case you simply want to find the closest yoga studio to you:
1. Yoga Loft – best for power yoga
This beautiful yoga powerhouse is one of the most popular yoga studios in Playa del Carmen, especially amongst the elite yogis.
At Yoga Loft you will notice all the little details that make such a big difference: locker rooms, hot showers, big and clean bathrooms, an open plan meditation studio… and very organized and friendly staff!
Even though it offers many styles, Yoga Loft specializes in Mysore, Ashtanga, Vinyasa, and Power yoga… So if you're looking for a sweaty workout, this is the place for you!
This top studio in the Riviera Maya hosts 4 core passionate teachers, who all give their hearts during their classes and are always ready to give you corrections and tips!
And the cool thing is that Yoga Loft often hosts specialist classes and weekly workshops with some of the top teachers from all over the world, as well as yoga retreats… so get ready to take your yoga skills to another level!
Price: US$9 per class or US$50 for 8 classes
2. Playa Yoga Tribe – has a great community vibe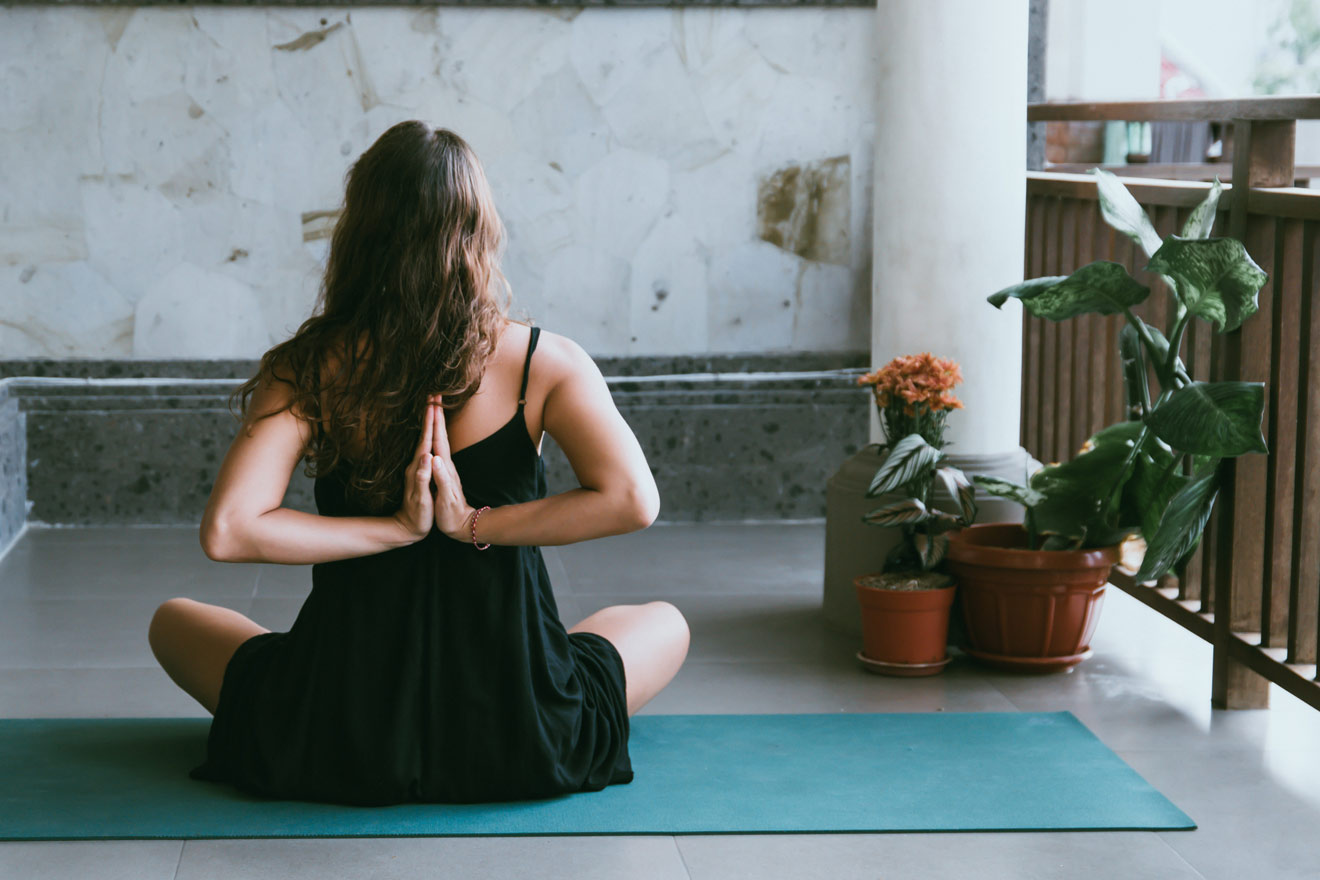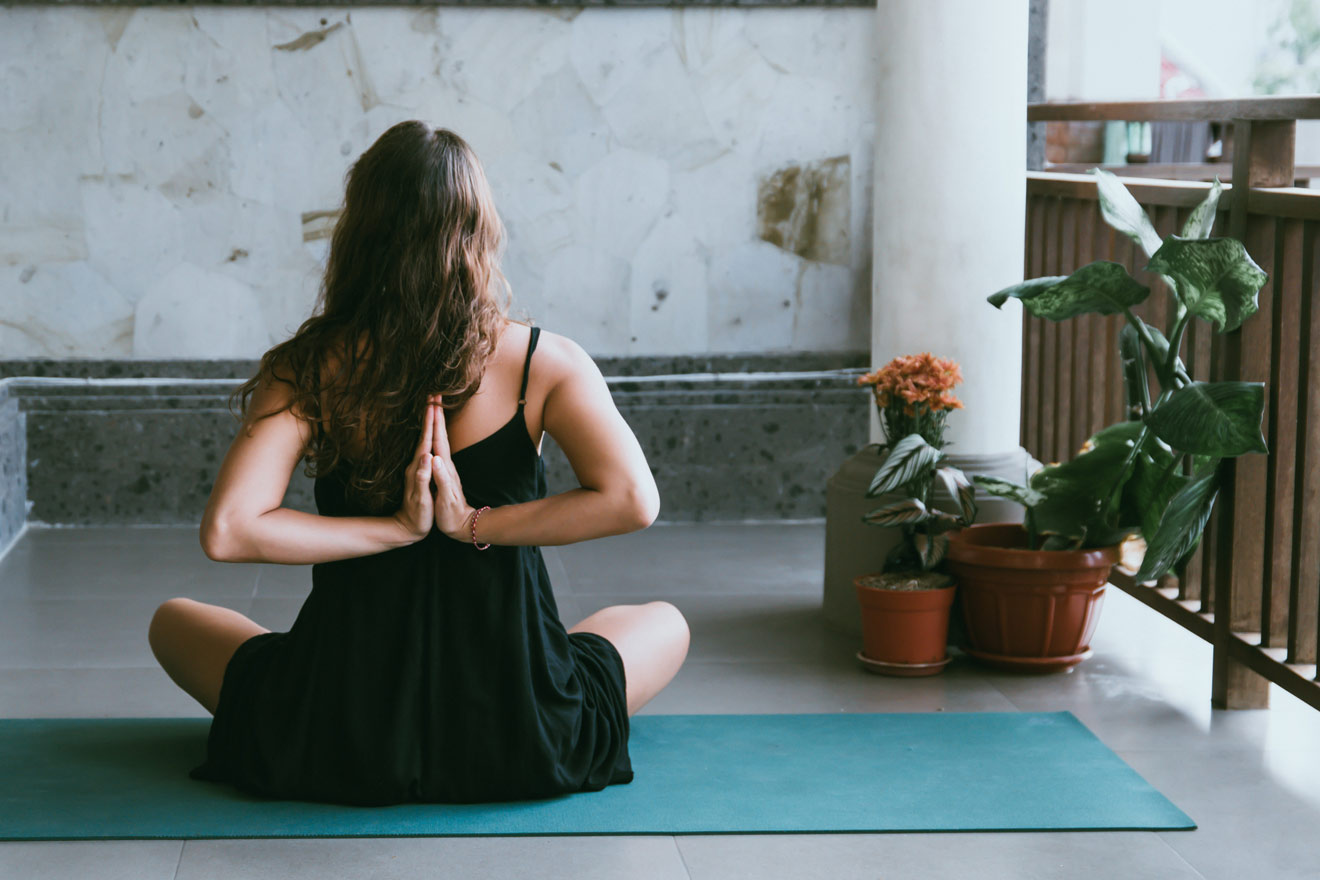 Playa Yoga Tribe is a very unique yoga studio as it feels more like a collective of teachers and it has a very special energy… they manage to create a real community.
If you're looking for something more down-to-earth and easy-going, this is the yoga studio for you!
The studio is a palapa (an open-sided dwelling with a palm leaves roof), located inside the Green Village Eco Boutique Hotel, and they give classes all day long: from early morning (7 a.m) to evening (9 p.m).
Here you can literally practice any kind of teaching style you want, and take yoga classes in Hatha flow, Kundalini, Vinyasa, Sivananda, meditation, Ashtanga, and Pranayama… sometimes they even do kids yoga or group Reiki classes!
The instructors are just great, all very professional, and they give bilingual classes, so no worries if your Spanish skills are not good.
NOTE: You may hear the yoga studio being referred to as Kava Kasa since before becoming Playa Yoga Tribe it was a bar called Kava Kasa. They don't have a proper website but a Facebook page, check it out!
Price: Classes are donation-based, so prices are pretty affordable.
3. Casa Ananda – where to go for spiritual yoga
Casa Ananda is a real piece of paradise: peaceful and welcoming, this is the perfect yoga studio if you're into a more spiritual, healing yoga focusing on meditation.
In fact, in Casa Ananda, they focus on "yoga from the heart", so they cater to truly passionate and dedicated Yogis. Here you'll find a wide variety of classes (running from 7.30 a.m to 9. p.m): from Ashtanga to Hatha flow, Yin, and Ananda…you will feel entirely at peace after the classes!
They also offer private classes and innovative classes for mothers and children, with the goal of spreading the love of yoga across different generations.
But what makes the difference in Casa Ananda are the lovely teachers (there are 3 main ones) who manage to create a very special environment and make you feel at home! Apart from being very prepared and professional, they truly care about the journey of every single student, so they will guide you during their powerful classes… you will never feel lost!
A very cool thing that they do during the classes is to invite local musicians and artists to create unique and wholesome energy in the room. In my opinion, this is one of the best yoga studios in Playa del Carmen! What do you think?
Price: US$9 for 1 class, US$44 for 10 class package
4. Yoga by the Sea – best beach Yoga in Playa del Carmen
This is definitely the most relaxing yoga studio in Playa del Carmen… I mean, what is better than doing your daily yoga classes while gazing at the turquoise waters of the Caribbean sea?
All the classes at Yoga by the Sea run just in the morning (8.30 – 9.30 a.m), from Monday to Saturday, and are taught by a world-renowned and calming teacher, Arielle Thomas Newman, who practiced professional yoga for over 20 years.
This is mainly a Hatha yoga studio but they also offer Yin classes, yoga for everybody (the best choice if you're a beginner Yogi), and sometimes even sound healings.
And if you're an inspiring Yoga Instructor, at Yoga by the Sea they also offer Yoga teacher-training courses several times a year, either in Playa del Carmen or online: check out their website for more info, this could be your occasion!
The only downside to this studio is that they charge tourists more than what they do with locals, and prices are more expensive than some other options in this list… but the whole experience is definitely worth it, so it's up to you!
Price: US$15 for 1 class, US$35 for 3 classes
5. Ashtanga Yoga Playa – for an insightful experience
If you love Ashtanga Yoga, well, the name says everything… This is THE yoga studio in Playa del Carmen!
Ashtanga Yoga Playa classes run from Monday to Friday from 7 a.m. to 8 p.m. and the first class is free, so you can see if it is the type of yoga course you're looking for.
Here they really focus on developing students' skills step by step, at their own pace, offering a path to self-knowledge, healing, and harmony… so it's not just a sweaty yoga class but a whole emotional and physical experience!
And another thing that makes the difference in this Playa del Carmen yoga studio is its amazing teacher and owner: Juan Carlos, very loved by his students for his kindness and professionality.
He gives all his patience and dedication to each individual student, managing to pass his passion for Yoga to everyone that attends. If you go to the classes, you will feel like you are in a sacred place, which is kind of a rare thing to find!
Price: There is no price info on the web, but if you want more info you can request it on the contact page.
6. Yoga Company – where to go to heal your body
Yoga Company is an amazing yoga studio in Playa del Carmen, with great energy, a welcoming vibe, and a unique style, featuring a tall palapa ceiling!
The spacious and clean studio is located on the 3rd floor of a Bio Organicos vegan restaurant: and offers towels, mats, a little pool, and showers.
They offer two main kinds of Yoga classes: Vinyasa, and classes with ropes, running from Monday to Friday (8.30 a.m to 9 p.m).
Rope classes begin with a few sequences of Vinyasa, followed by a slower session, involving props and ropes, perfect if you need to stretch your muscles and feel again your body!
The teacher running the classes, David, is very loved by their students because he guides you through the different poses, so is very good for beginners (plus he's English & Spanish speaking).
PRO TIP: Try a delicious acai bowl after class… the perfect way to fulfill your energies after intense training!
Prices: 1 class – US$12, 5 classes package – US$45
Frequently asked questions about yoga in Playa del Carmen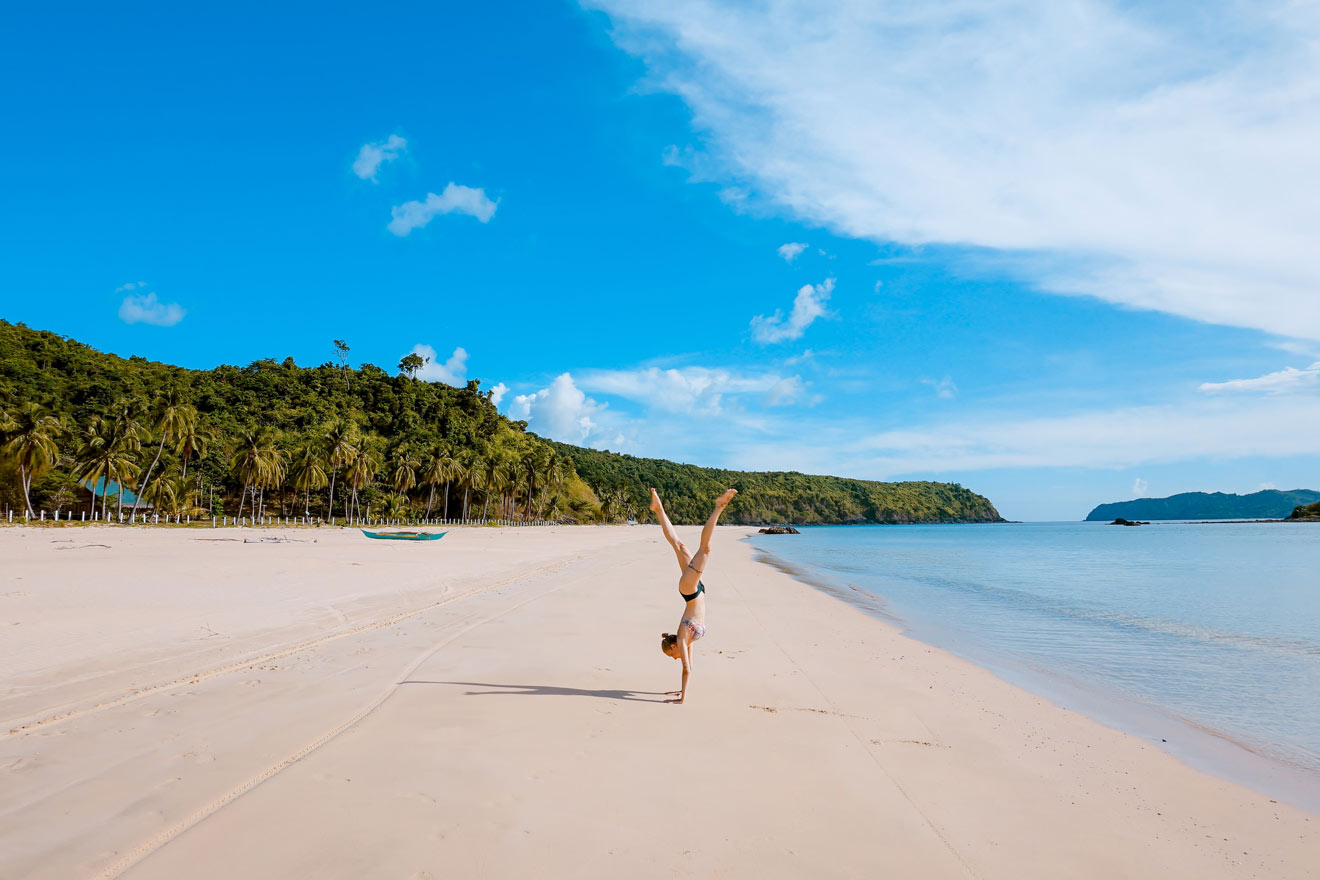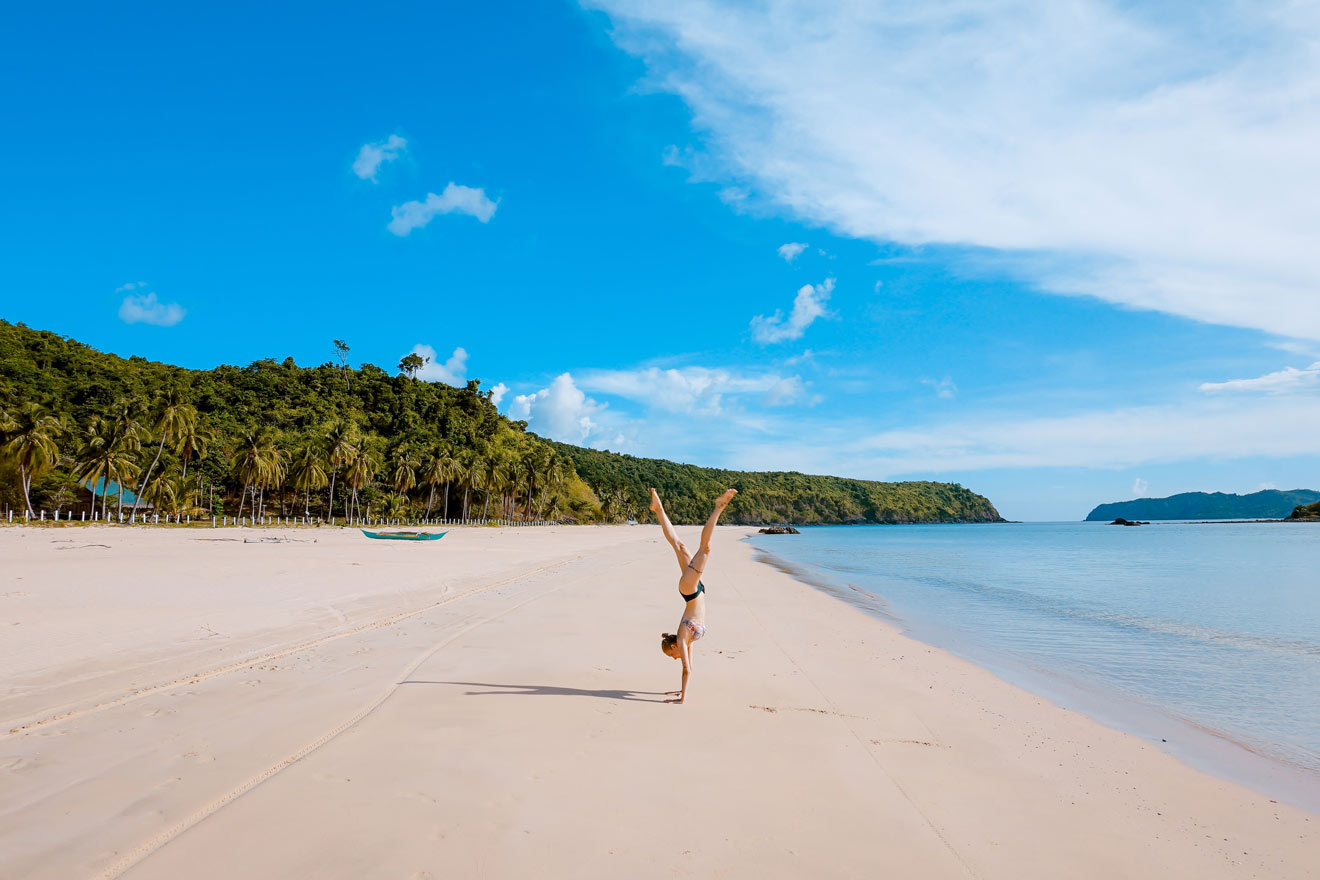 Conclusion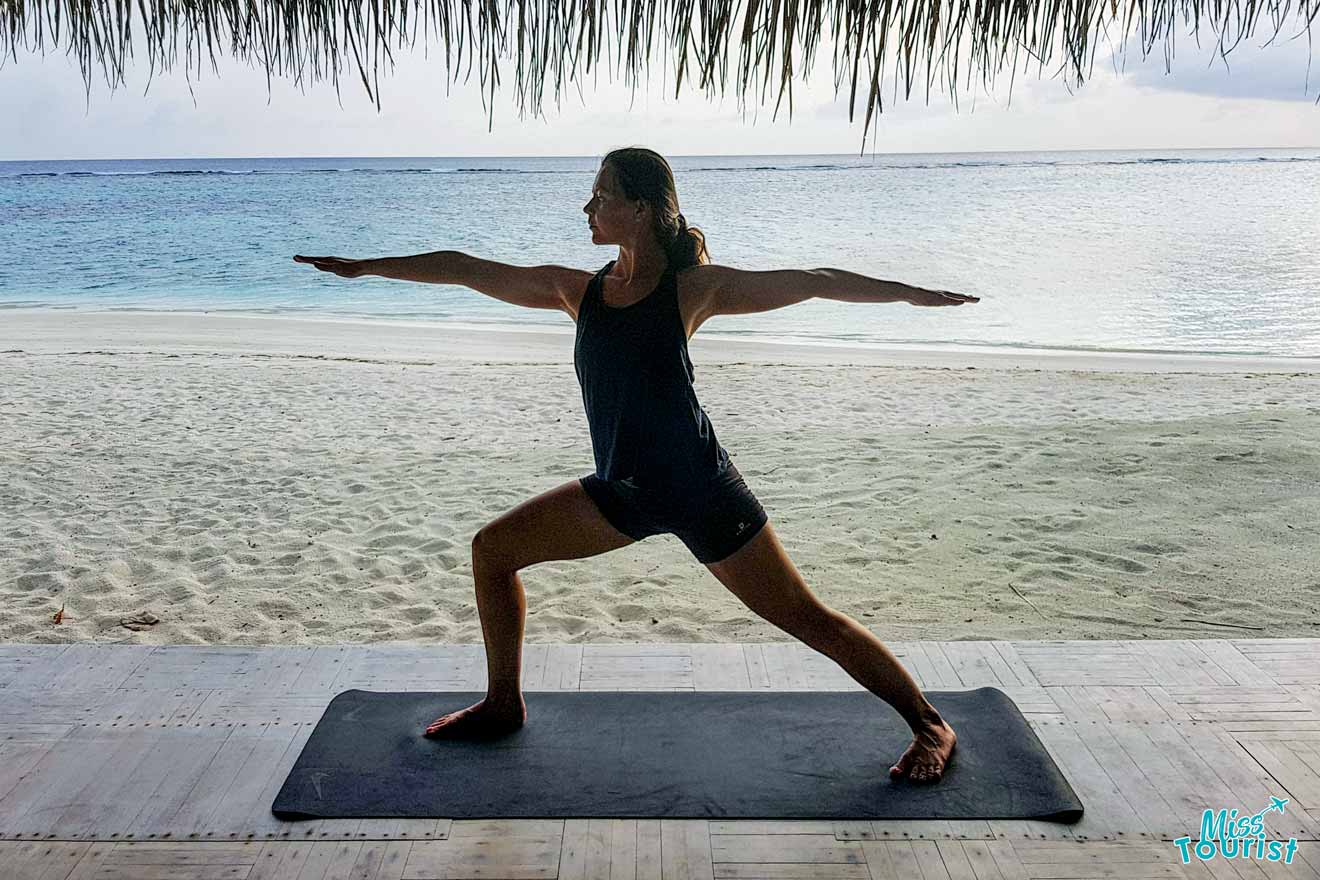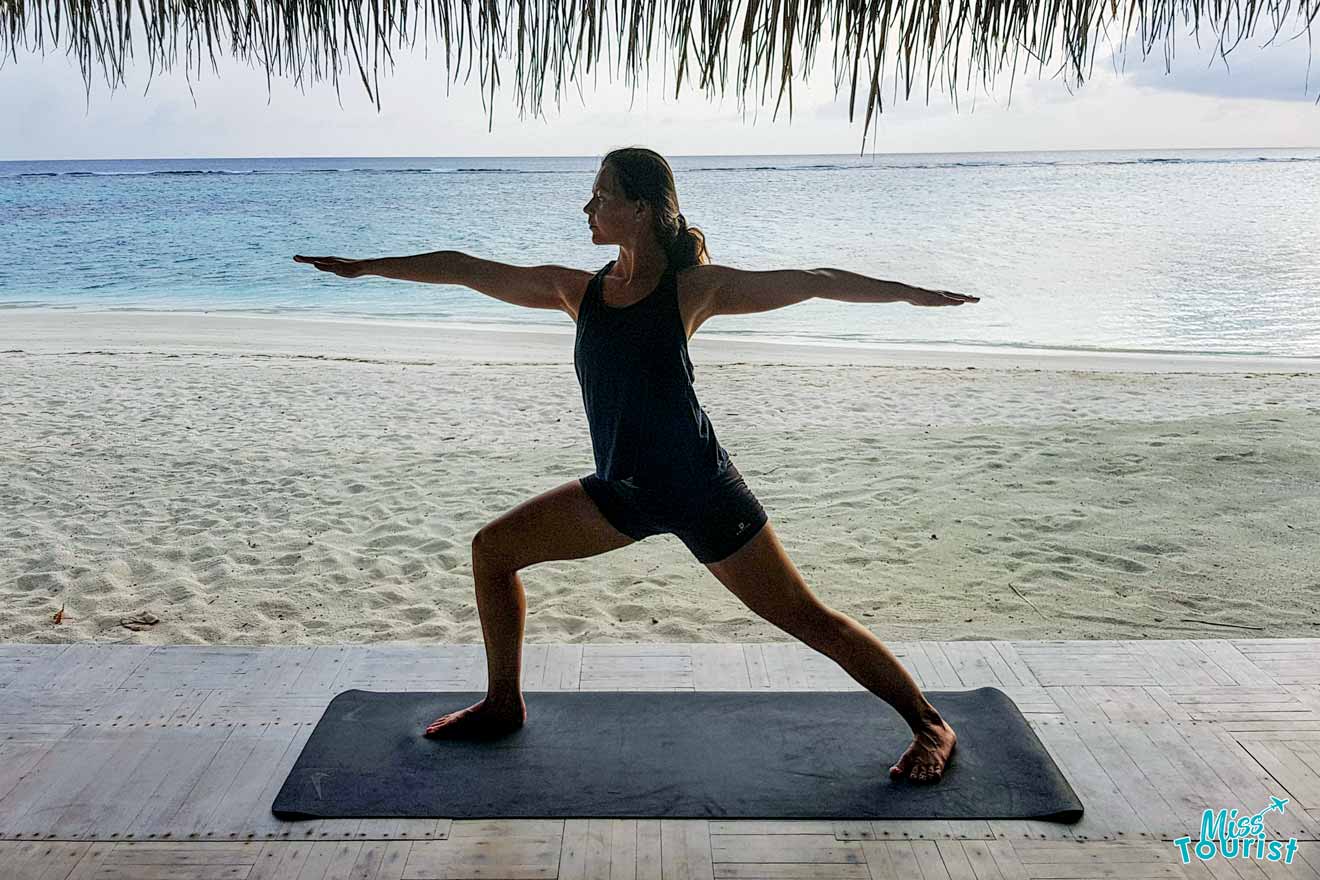 Here we are at the end of this guide to all the best teachers and yoga studios in playa del Carmen.
We saw options for beginners, expert yogis, meditation yoga, high-intensity yoga, yoga by the sea, and so on… If you wanted you could try a different school every single day!
I hope you enjoyed reading my guide as much as I did writing it and that it will help you choose the best yoga studio for your interests, level, and budget.
If you have any doubt or you want to suggest a great place to do yoga in Playa del Carmen, please do so in the comments, I am looking forward to reading them all!
Namaste!
Elena
---
Pin it for later!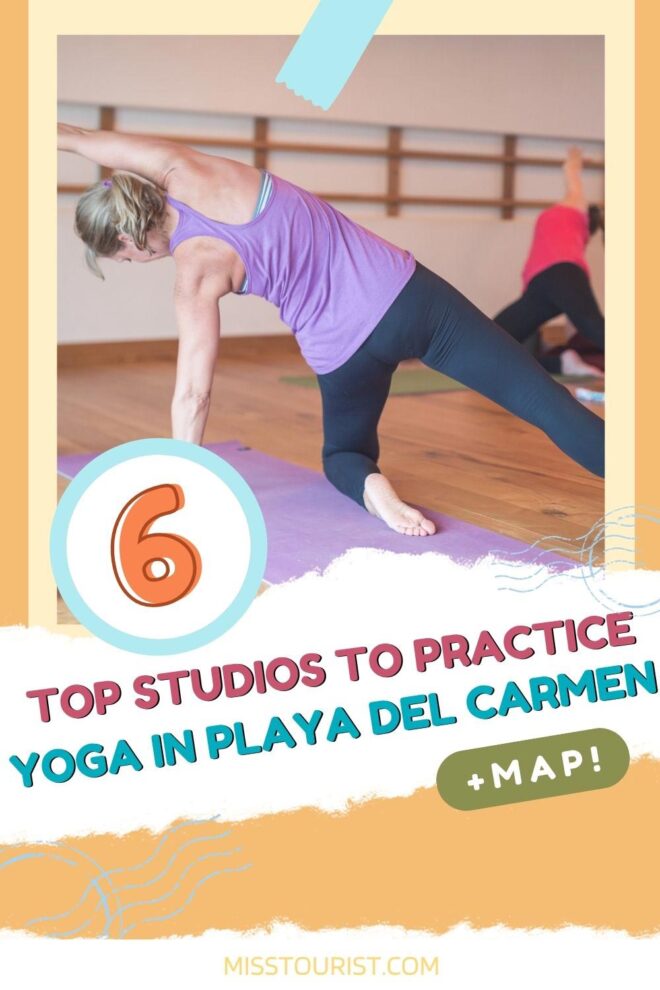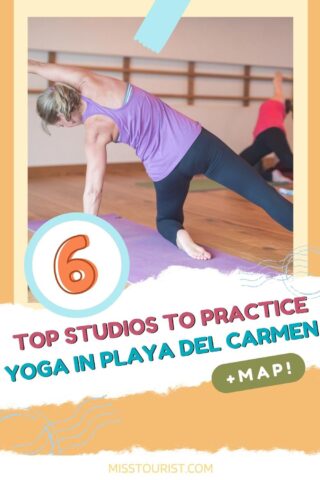 Pin it for later!