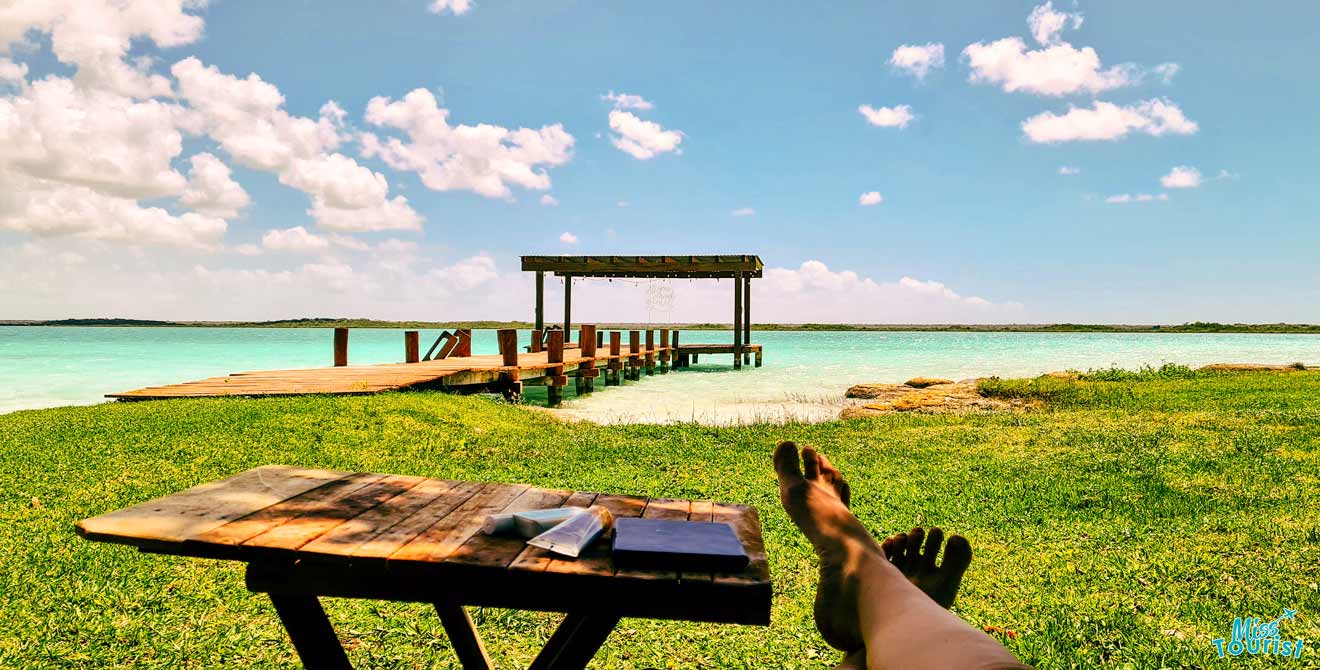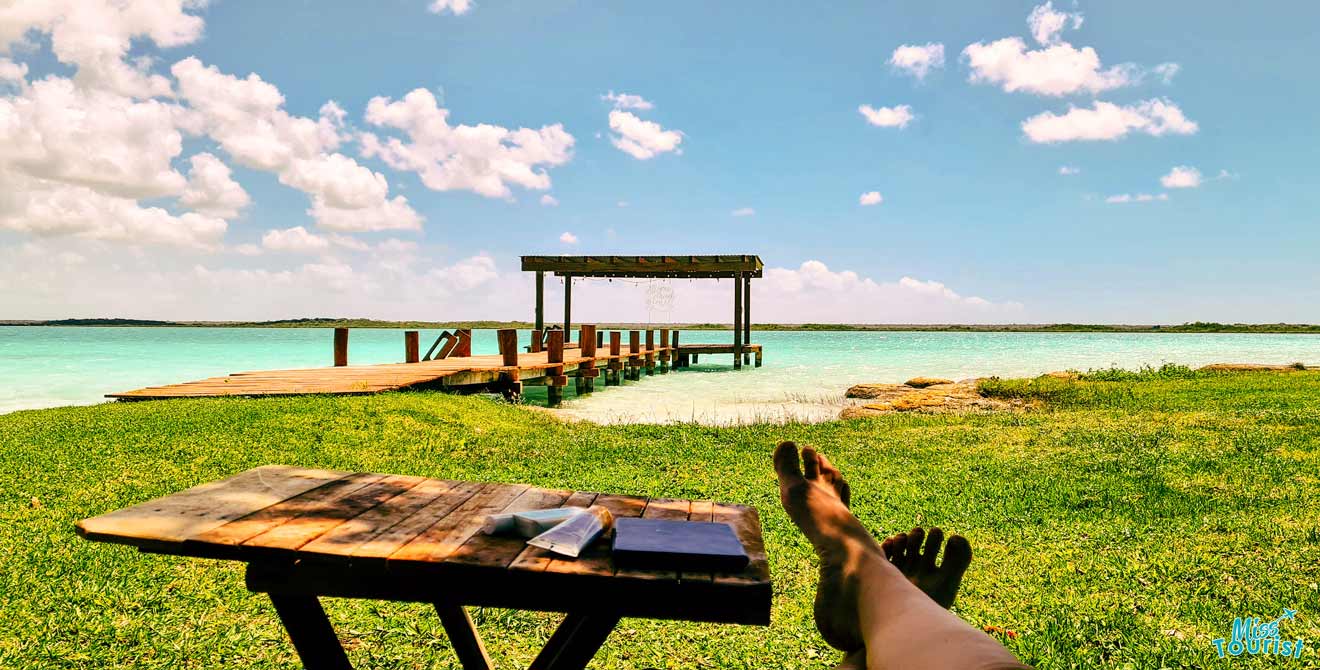 Bacalar is a small town beside the Bacalar Lagoon in the Mexican Yucatan Peninsula and is becoming more and more popular thanks to its stunning natural beauty and laid-back lifestyle.
Offering countless hotel options, it can be hard to decide which is the best place for your holiday in Bacalar, Mexico. But don't worry about that, in order to help you with your decision, I created this guide with the BEST hotels where to stay in Bacalar with options for different price ranges!
In this post, you'll find everything from the best luxury hotels to some cool options for budget travelers, pet-friendly hotels, and even a bonus with the best waterfront hotels… so nobody will be left out.
Since the village of Bacalar, Mexico, is becoming a super popular destination among tourists, I suggest you book your favorite Bacalar hotel at least some months in advance… It will ensure you don't miss out and you could also find some great hotel deals! Are you ready?
Let's start!
If you are in a hurry
Want to book now? Check out this quick list of the best hotels in Bacalar, from the most expensive to the cheapest ones:
Here's a map for you to visualize where all the best Bacalar hotels are located:
Luxury (US$180 and up)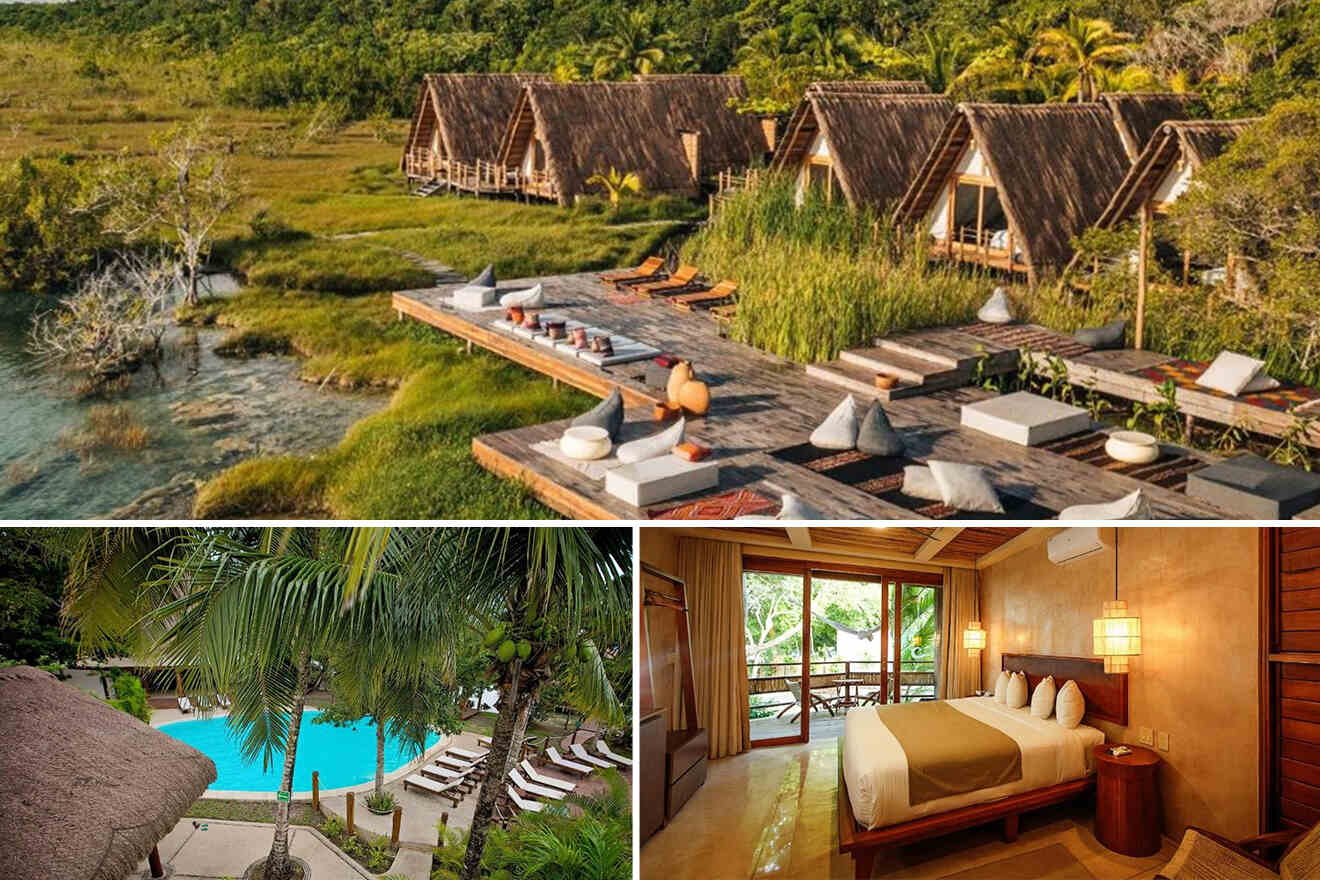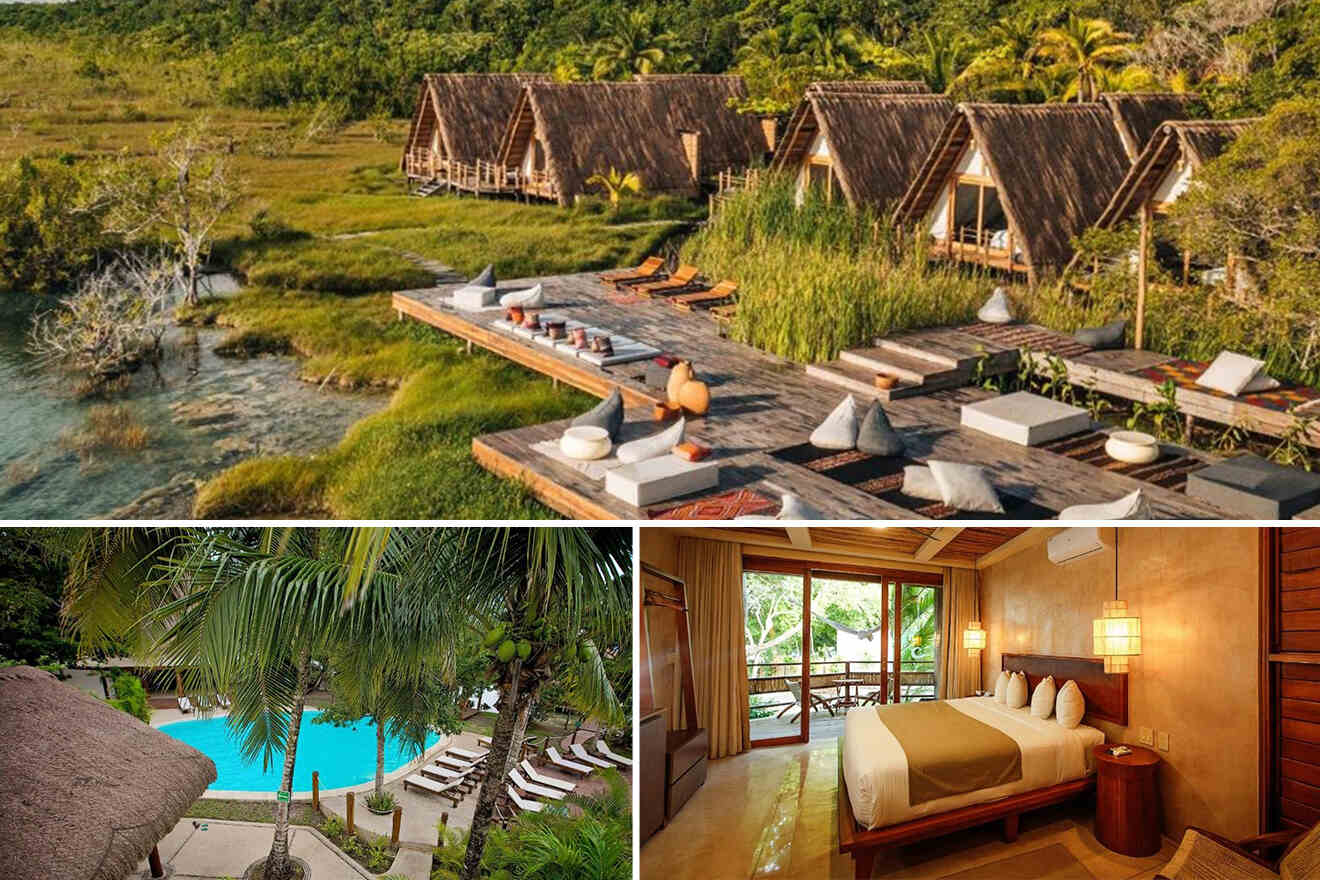 Khaban Bacalar Hotel Boutique – If you want to bring your holiday to the next level, check out this amazing property which is one of the most popular luxury hotels in Bacalar, Mexico! Get ready to try the best food at the on-site restaurant, chill at the outdoor swimming pool, and sleep in spacious rooms with air-conditioning and unbeatable views of Lake Bacalar. This great Bacalar hotel also offers some cool extras, like kayaks, relaxing massages at the wellness center, and yoga sessions on a pontoon.
Habitas Bacalar – This is definitely one of the best hotels in Bacalar, Mexico, if you're looking for luxury and 5-star service! Here you'll start your day in the best way with a delicious and energetic breakfast, refresh yourself with a swim in the outdoor swimming pool, and engage in cool activities like paddling or eFoil. The hotel also has a great location in a very quiet area, great to explore by car (you'll have access to free parking at the property). Another plus? The staff is very friendly and helpful!
Hotel Carolina Bacalar – Hotel Carolina Bacalar has everything you need for a relaxing holiday in Bacalar, Mexico, starting from a private beach area where you can soak up some sun on the beach chairs. Here you can enjoy some quiet moments in the spacious terrace, gaze at incredible views of the Bacalar lagoon at the swimming pool, and even join the boat tours organized by the hotel! And if you rent a car in one of the many rental car companies, you can park it in the free private parking of the hotel!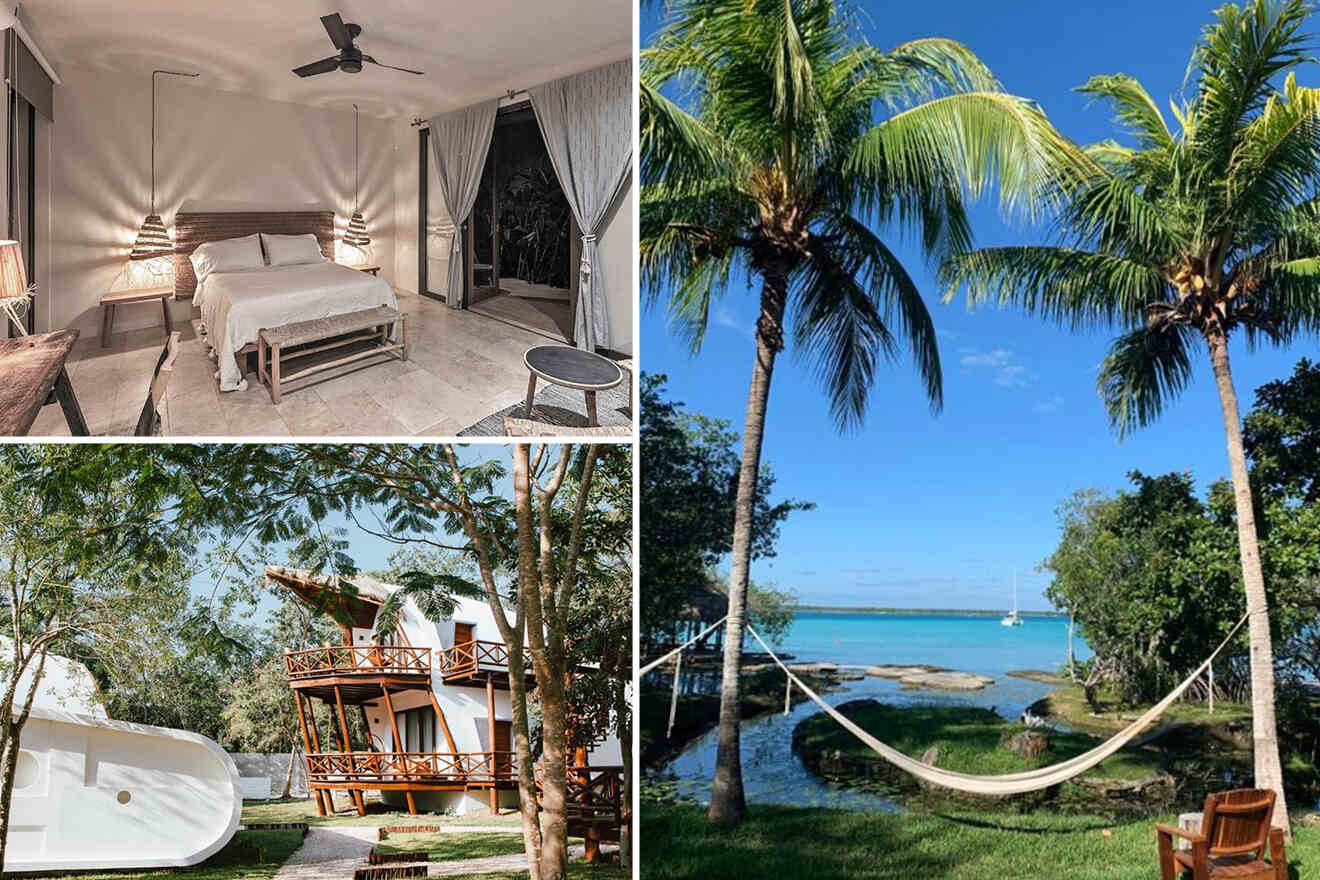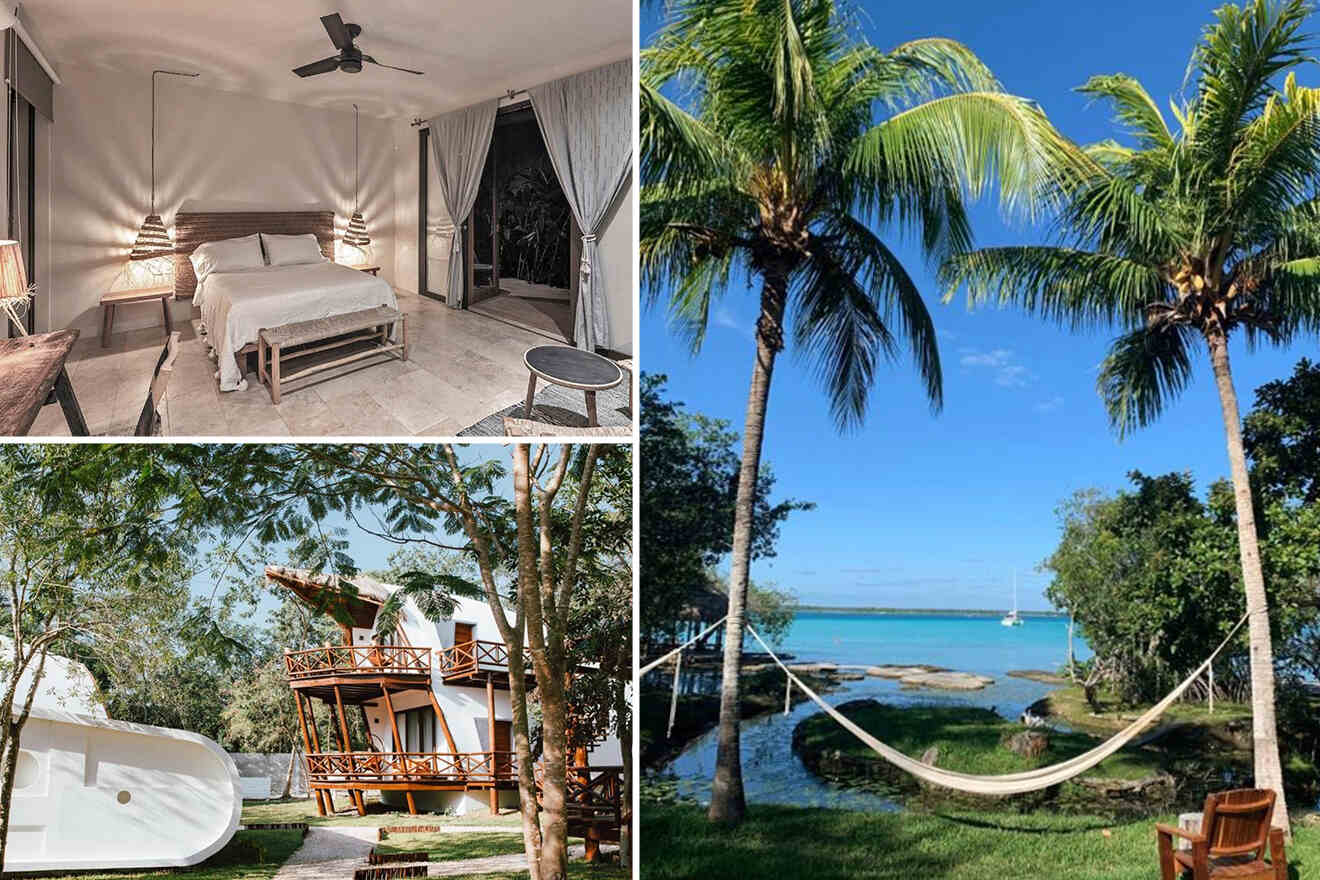 Mid Range (US$100 – US$150)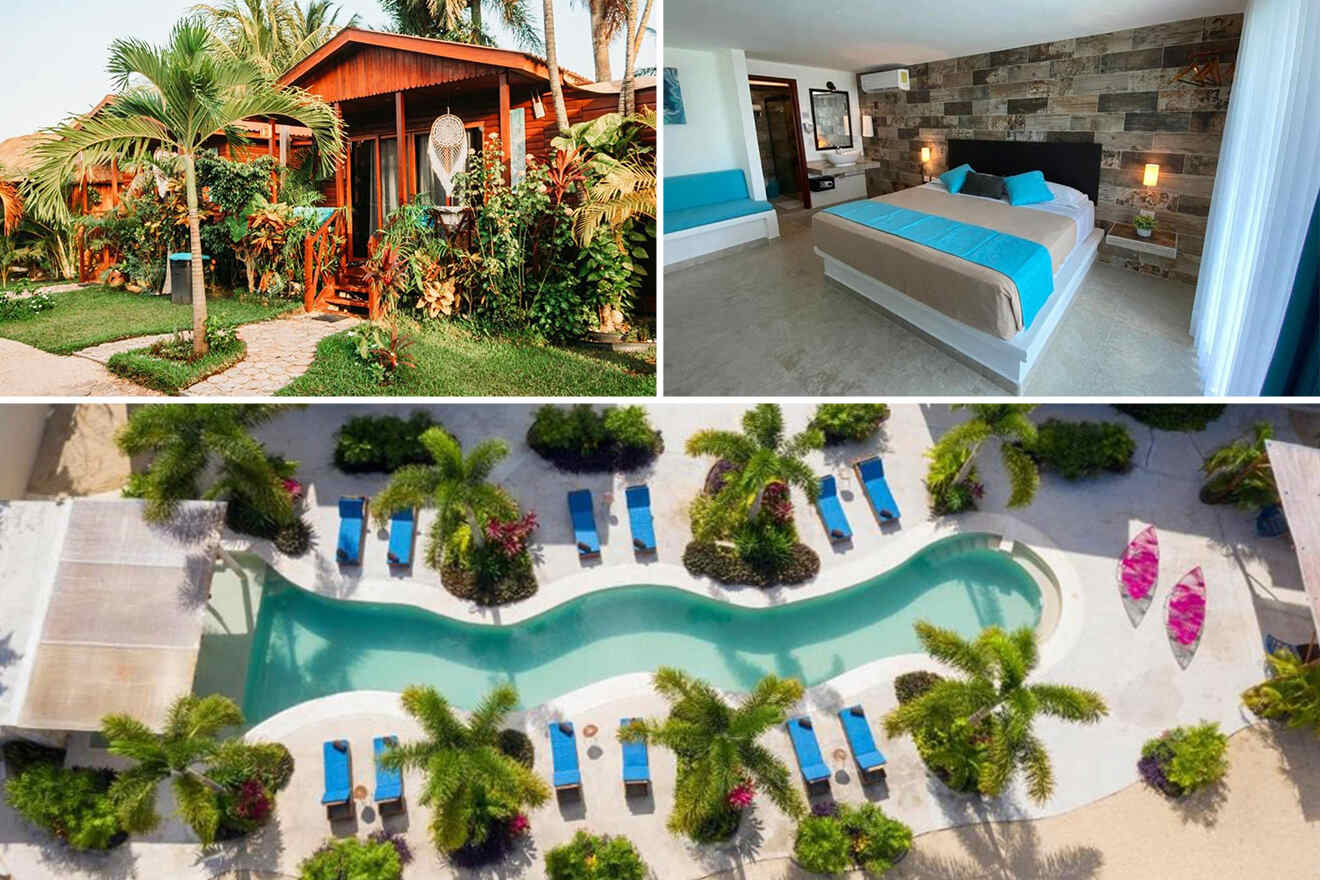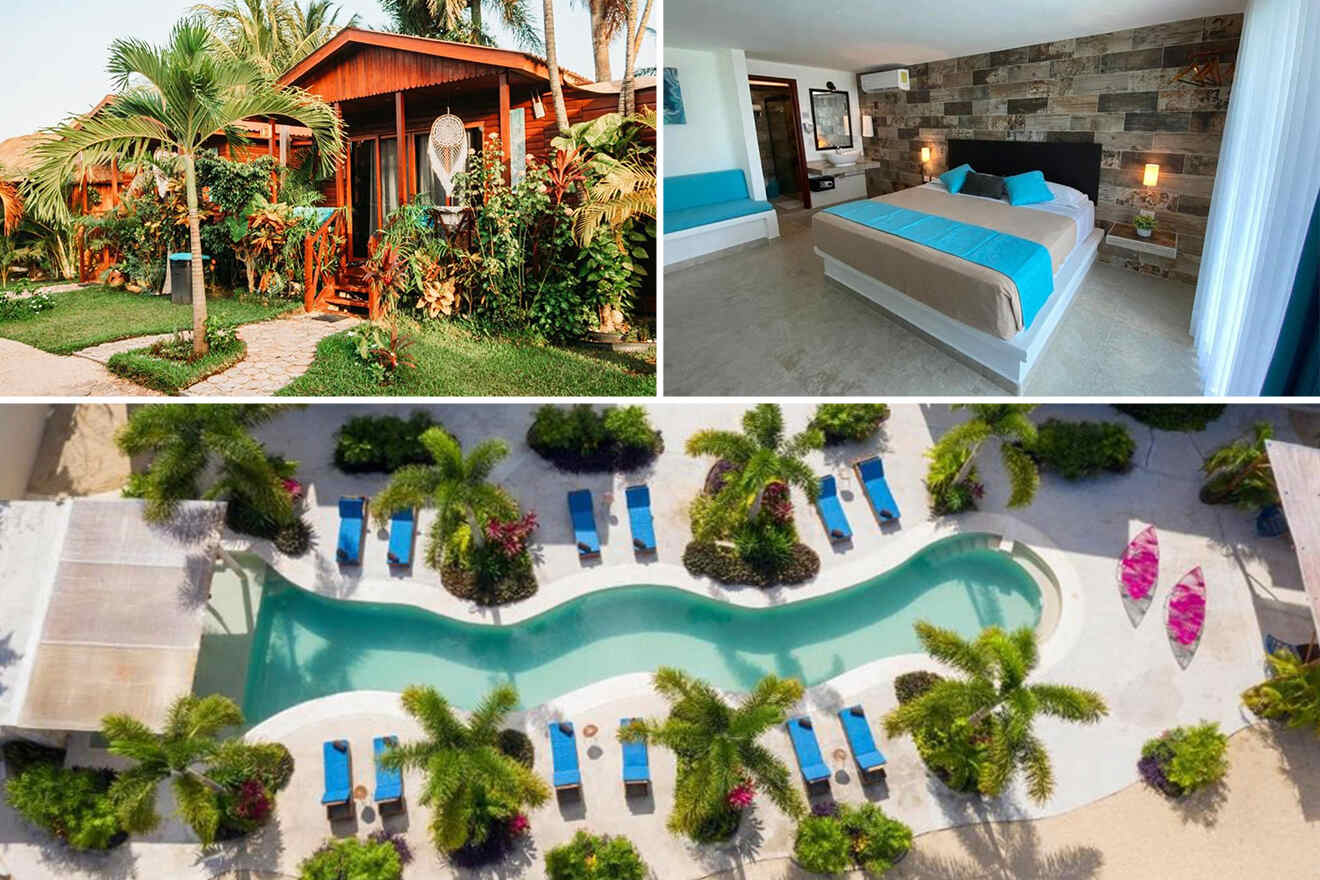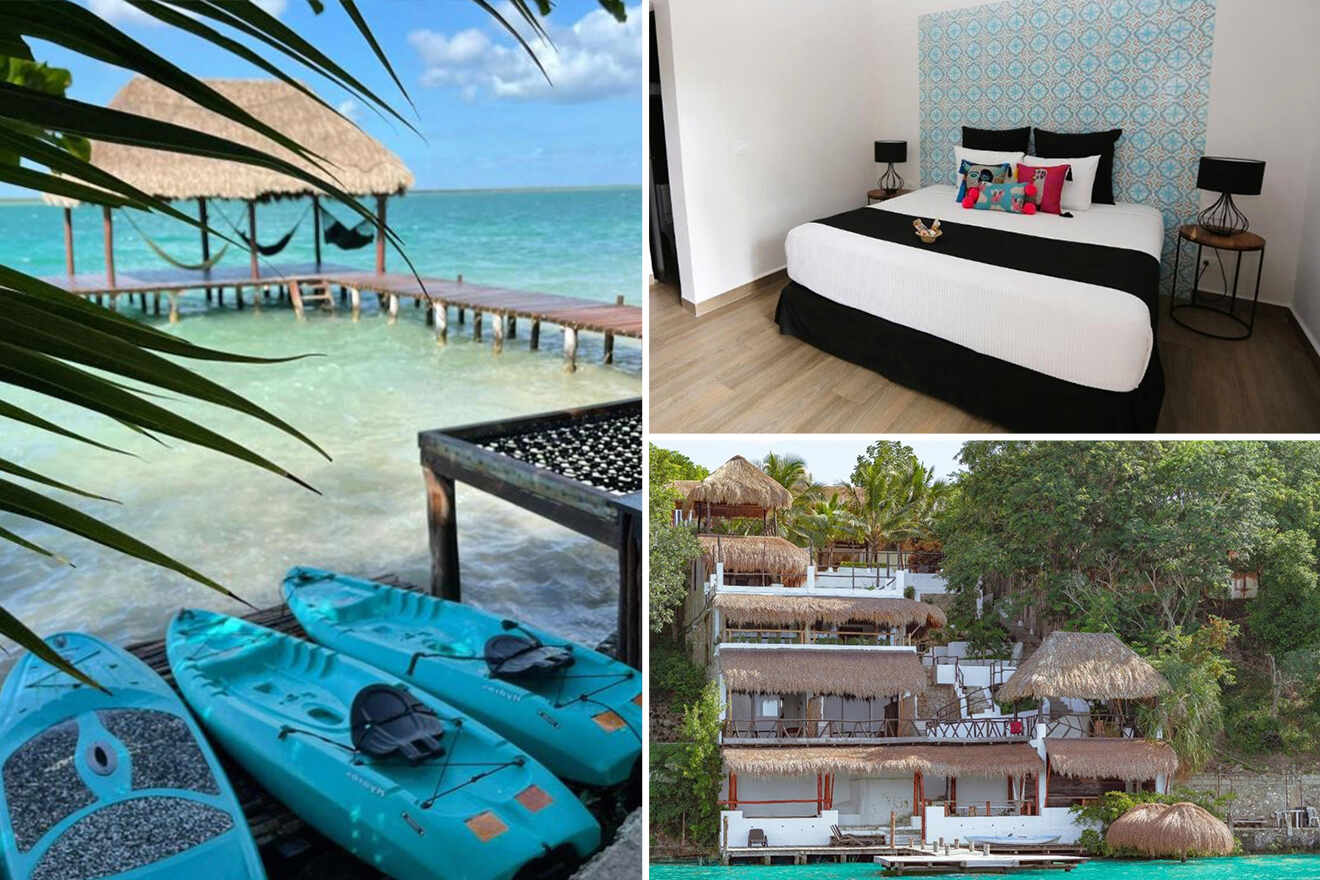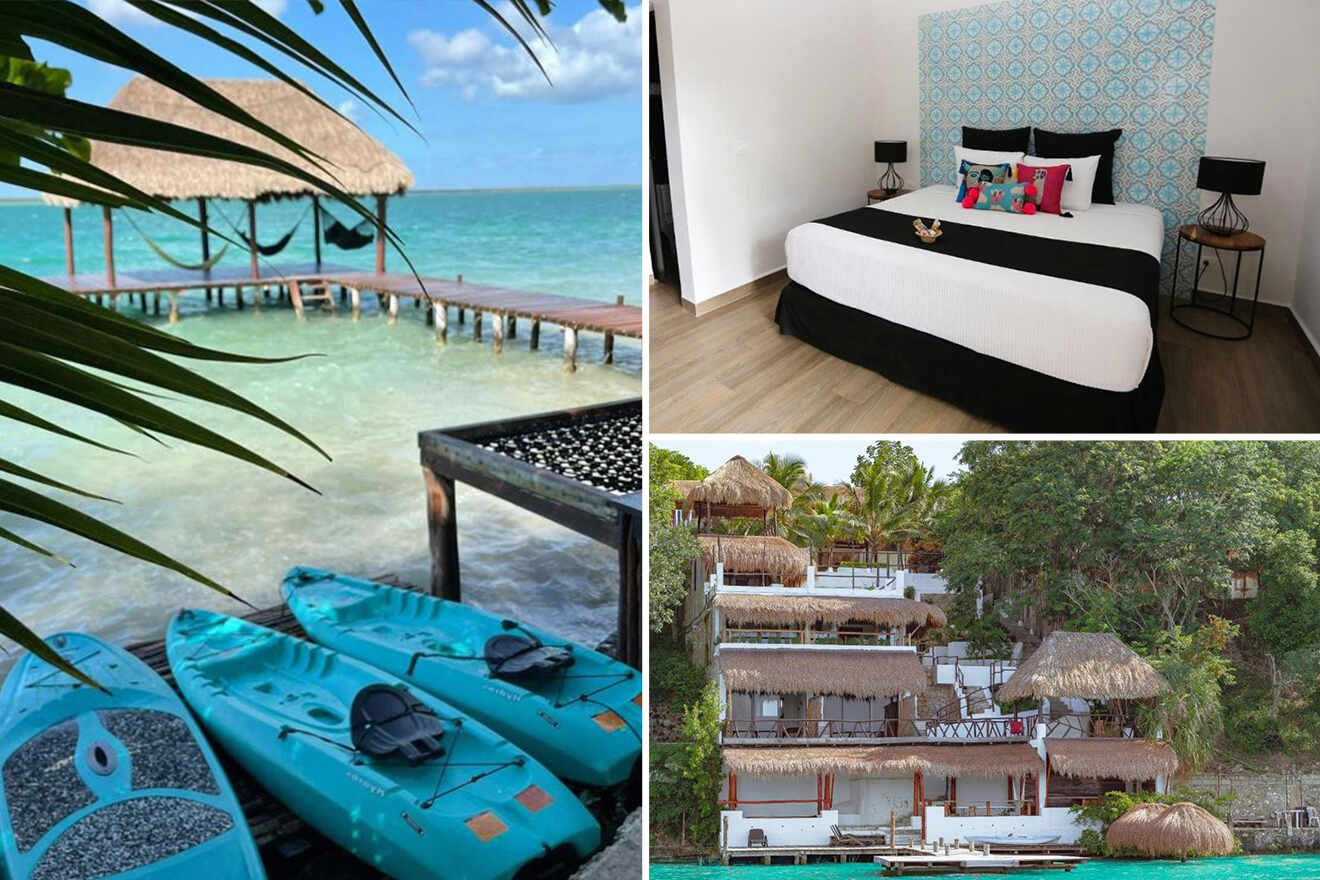 Xcabal Hotel boutique – If you want luxury, comfort, and a home feeling all at the same time, you will love this boutique hotel in Bacalar, Mexico! Here the atmosphere is very cozy and relaxed, and you will feel it as soon as you'll be welcomed inside the property by the lovely staff. In the Xcabal Hotel boutique, you can wake up with the most delicious breakfast just in your bed, look at the beautiful Bacalar lagoon (isn't it a dream?), and have the most relaxing massages at the on-site spa… What else do you need?
Casa Chukum – This great hotel is within a walking distance both from the Bacalar Lagoon beach and downtown Bacalar, so you can choose every day what you prefer to visit (if you're undecided, ask the staff: they often organize tours for guests!). The rooms offer private balconies with a view straight into the beautiful swimming pool, and they are very quiet at night… so get ready to have the best sleep! Another plus? The breakfast is just delicious: the best day to start a good day!
Los Aluxes Bacalar – Los Aluxes Bacalar is a small hotel with few rooms and some of the best views in the whole of Bacalar, right on the Bacalar Lagoon. If you want to disconnect from daily life and just enjoy full relaxation, here you won't be disappointed! The property offers a common space just close to the Lagoon where you can chill, an amazing massage area, and a restaurant where you can dine on delicious Mexican fare at very reasonable prices!
Budget (up to US$80)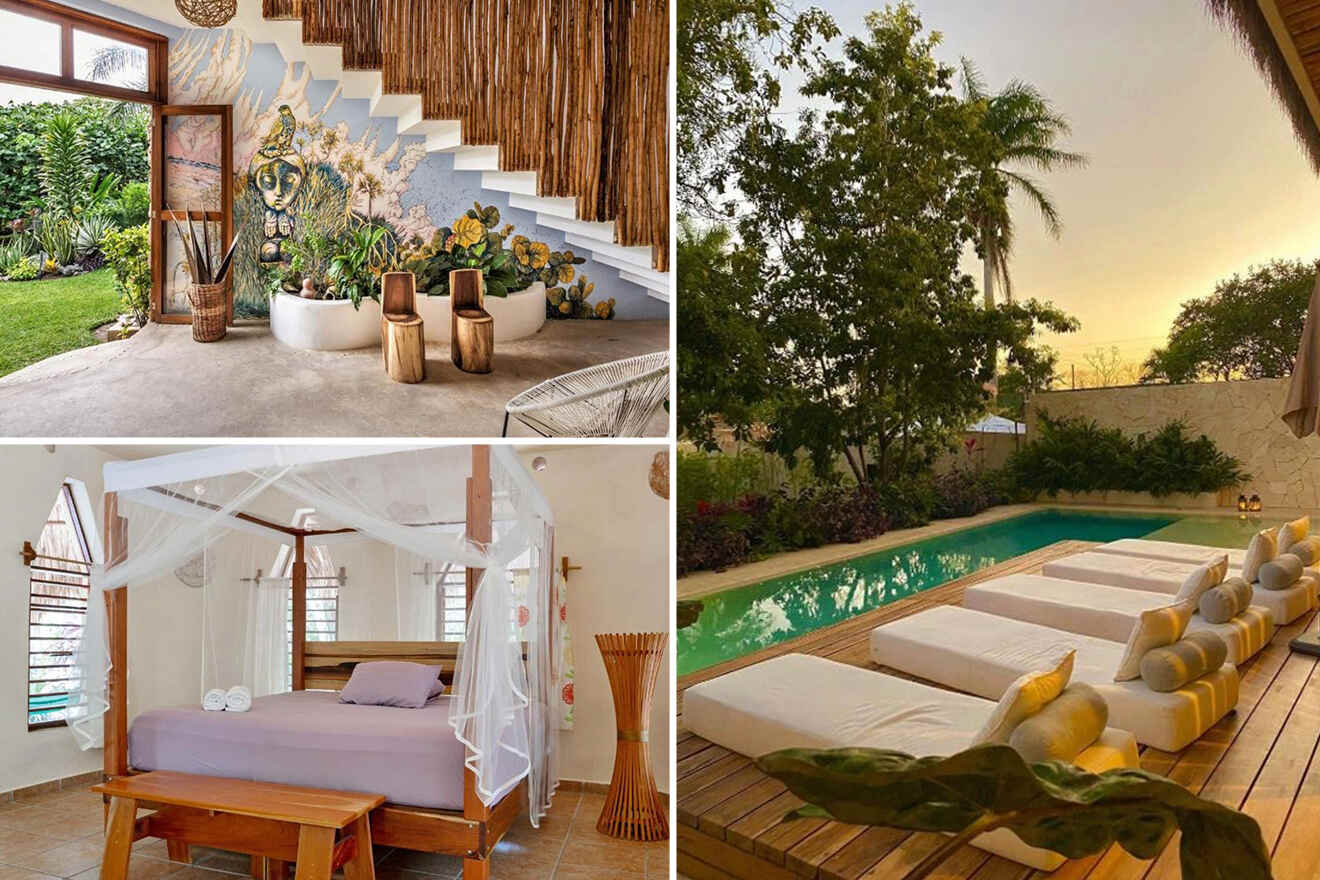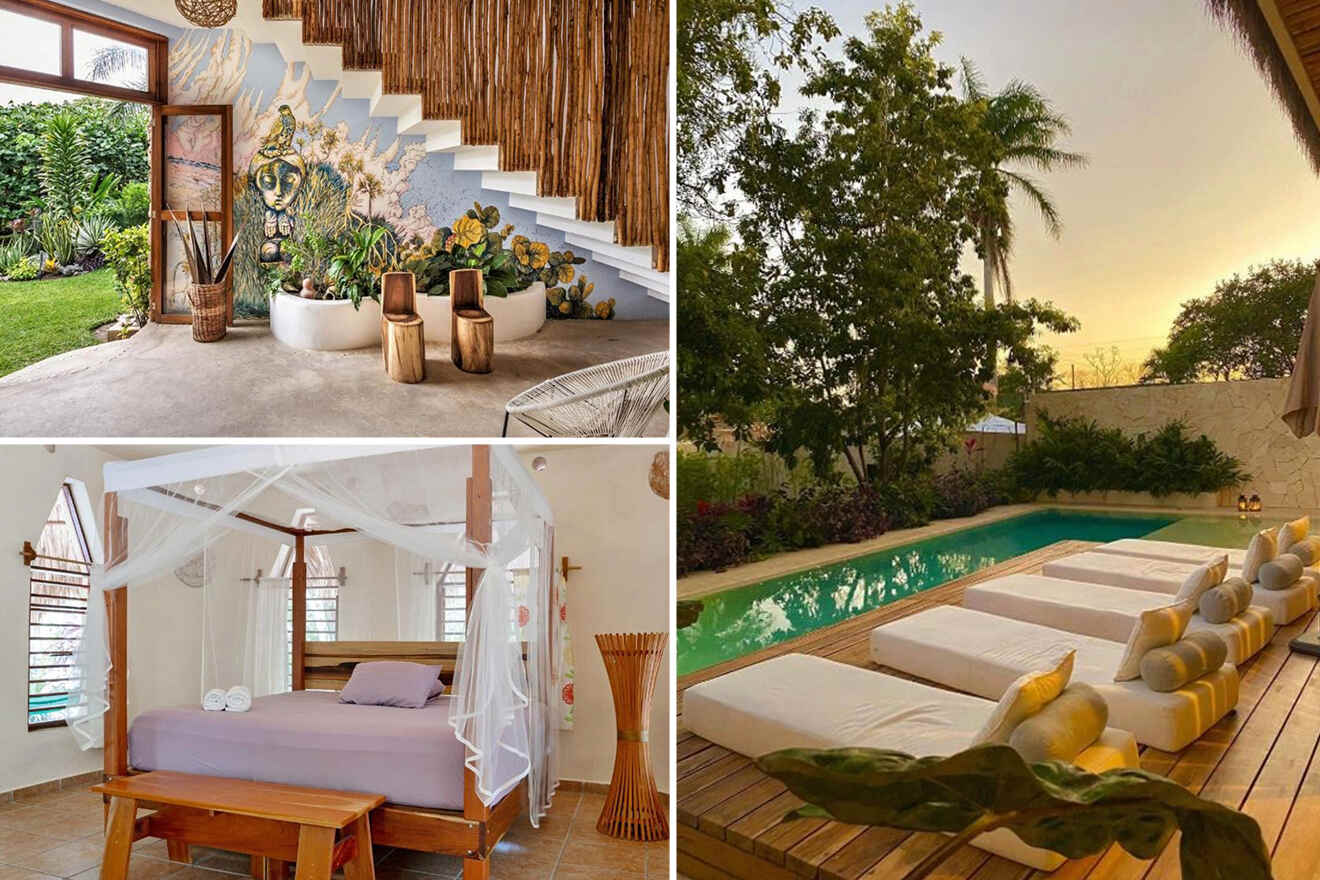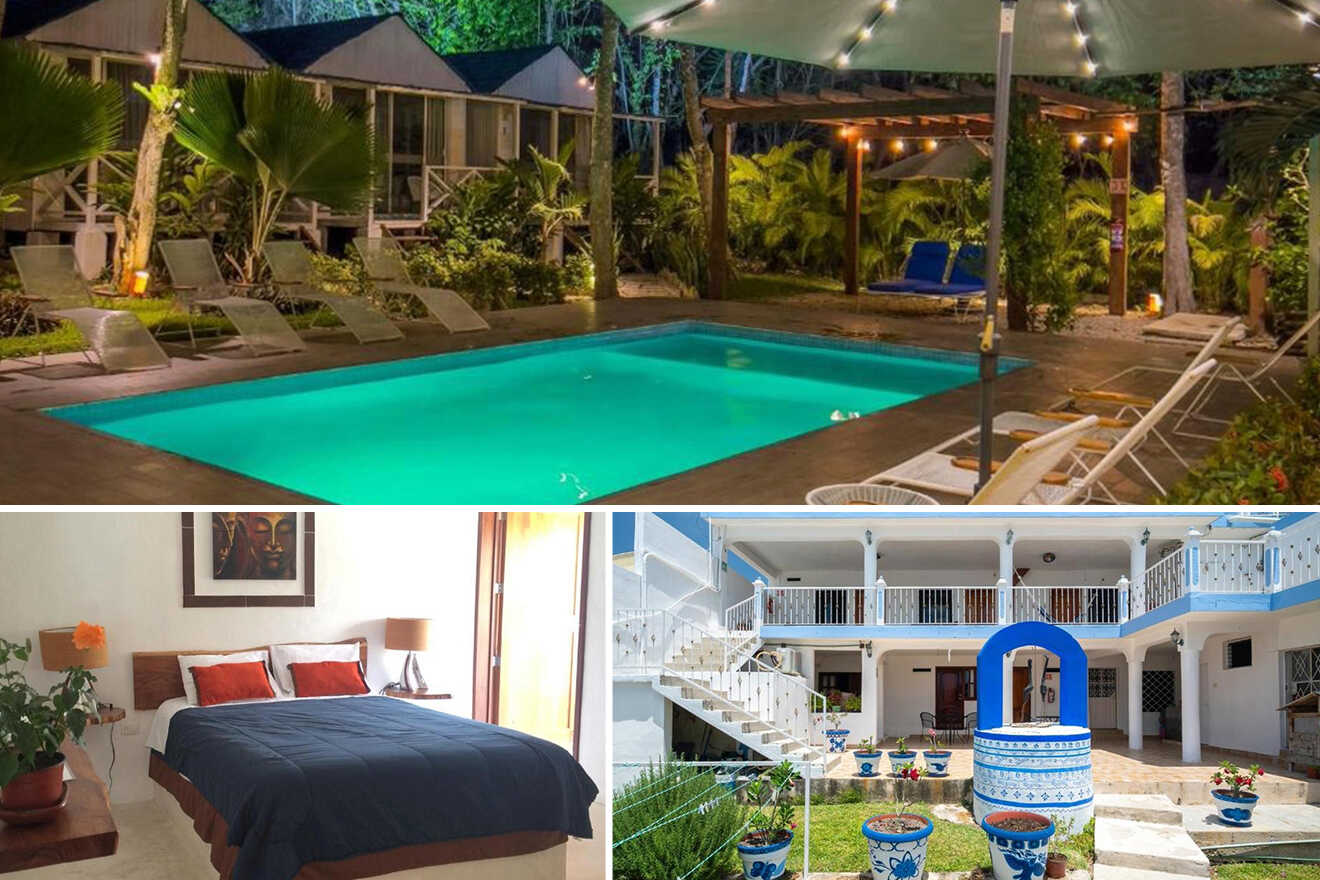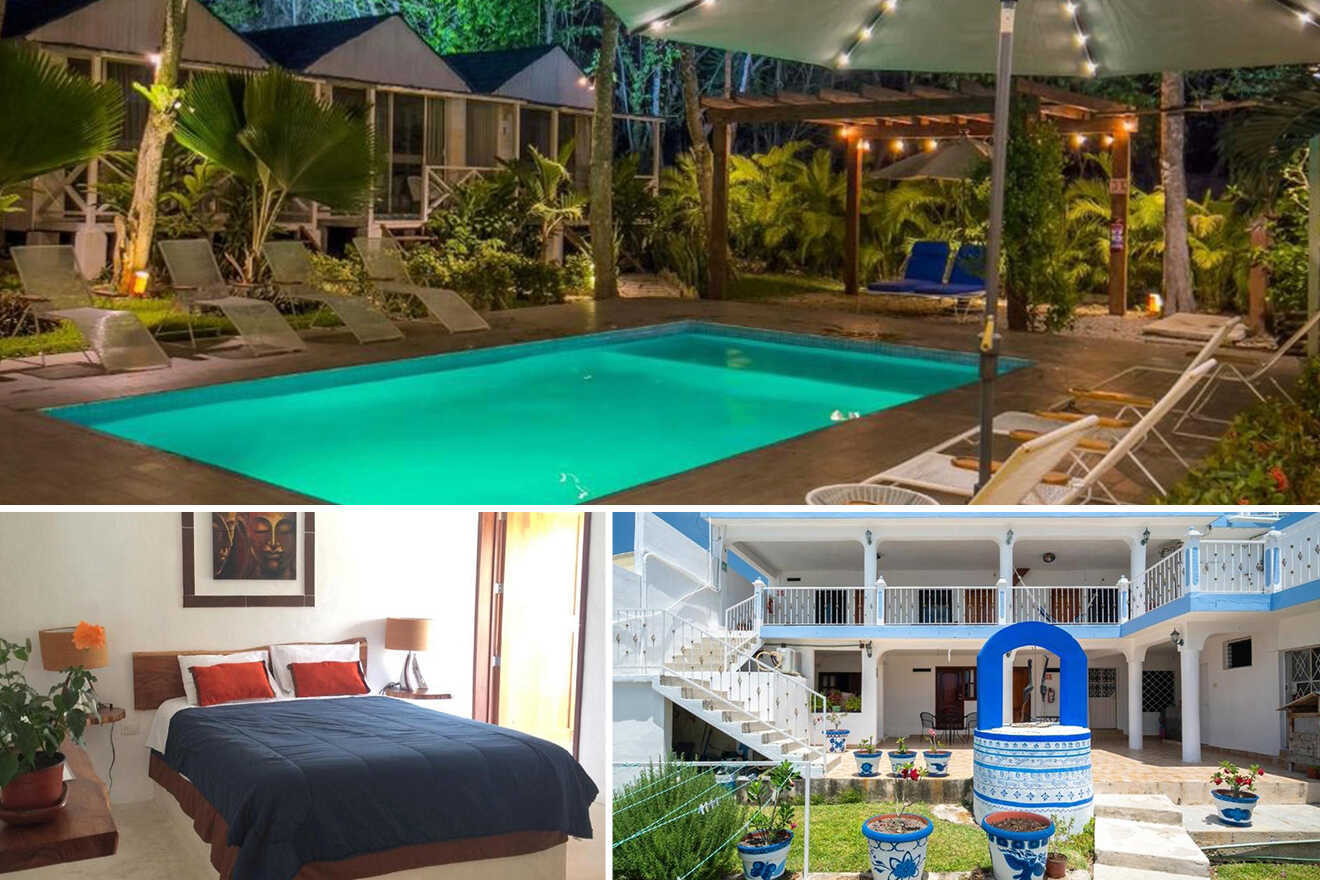 BONUS: 3 amazing waterfront hotels where to stay in Bacalar
Bacalar is primarily known for its beautiful Laguna, hosting the clearest and most stunning waters you'll ever see in your life, which is called 'La Laguna de Los Siete Colores' (the lagoon of seven colors).
So which better way to enjoy the fresh, crystal water than staying right on its shores in a great hotel with beach access, hammocks hanging over the waters, and terraces with stunning views?
Check out this quick list of the best waterfront hotels in Bacalar: they're all luxury hotels listed from most to least expensive with prices between $200 – $100.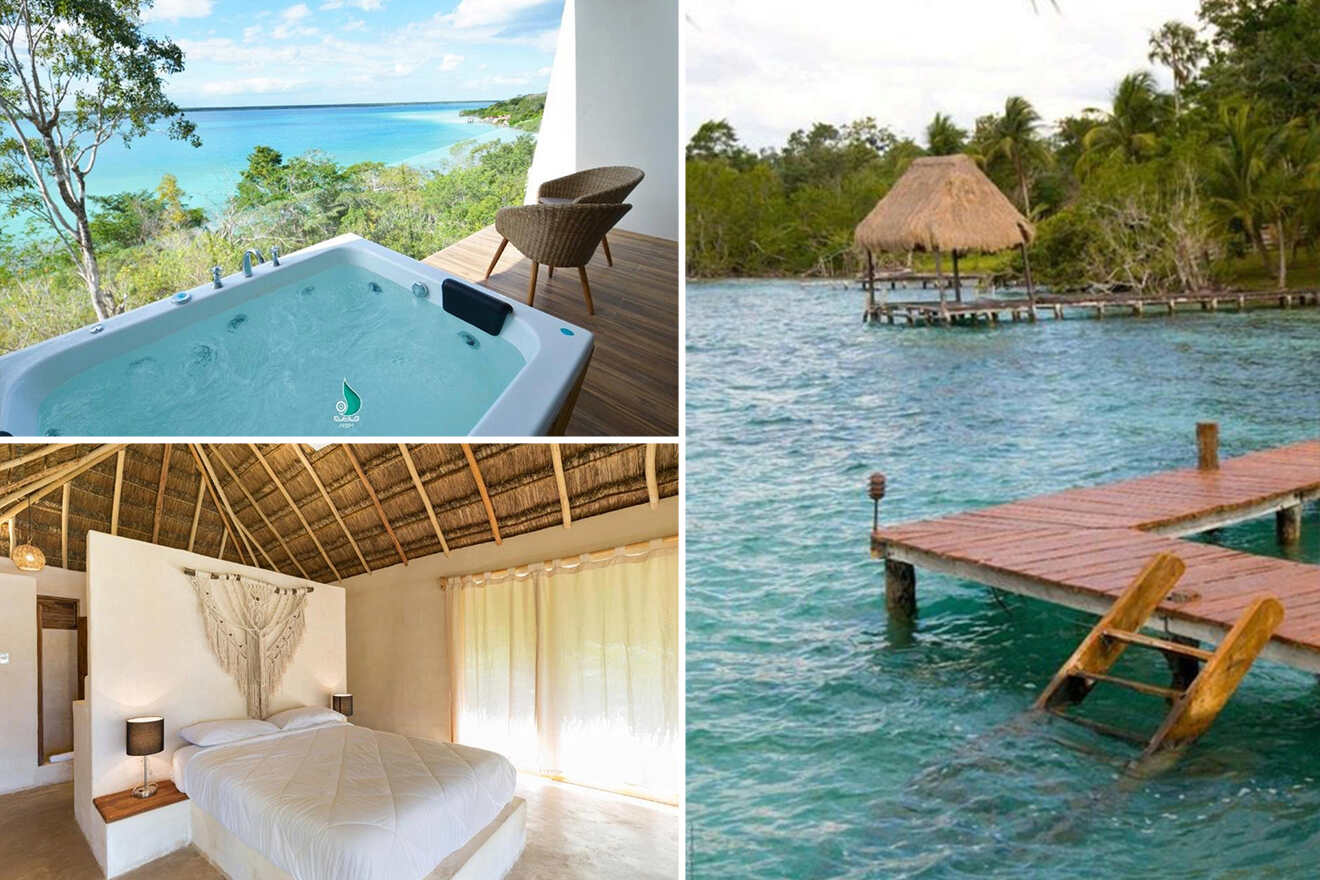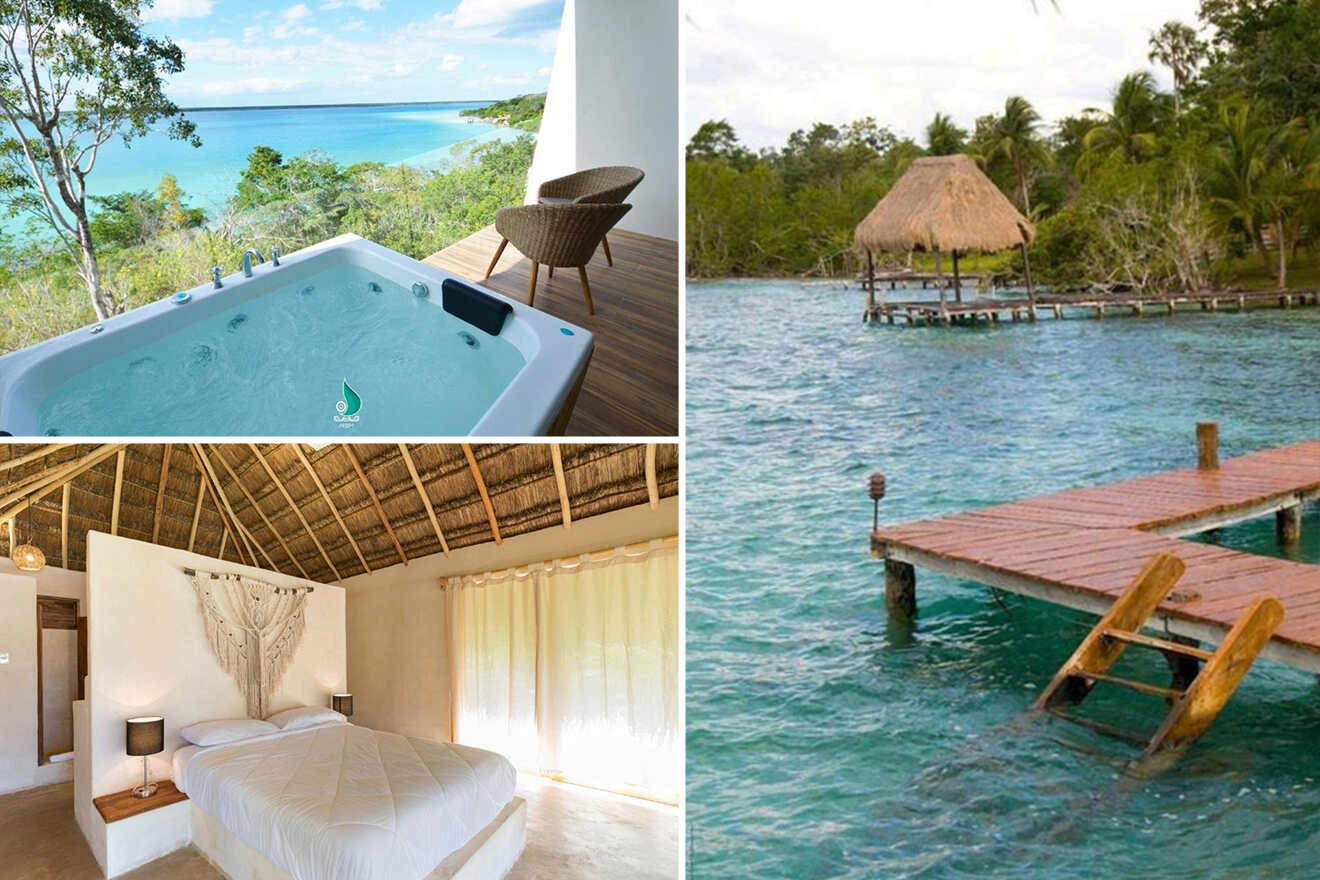 MBH Maya Bacalar Hotel Boutique – This is definitely one of the best boutique hotels in Bacalar, Mexico, lying right on the Bacalar Lagoon and completely nestled in nature! This is the best hotel if you want to engage in cool activities in and around Bacalar like cycling, kayaking, and canoeing. But the best thing about Maya Bacalar Hotel Boutique is definitely the private rooms, all offering a hot tub and a sauna, isn't it amazing?
Villas Eco-Románticas Kúuch Ka´anil – Nestled in tropical gardens right next to Lake Bacalar, these charming and rustic bungalows are the perfect place for a romantic getaway with your special one! In your bungalow, you'll have access to a private terrace with stunning lagoon views, an outdoor swimming pool, a relaxing spa, and a restaurant serving Mexican and international cuisine!
Hotel CasaBakal – This 5-star hotel has a spectacular location right at the feet of the Lagoon, and is the perfect place to enjoy many water activities! Here you can take free SUP boards and kayaks and explore the lagoon, or enjoy one of the many tours organized by the property like the private catamaran tour. Otherwise, just chill on the hammocks while sipping refreshing cocktails!
Frequently asked questions about hotels in Bacalar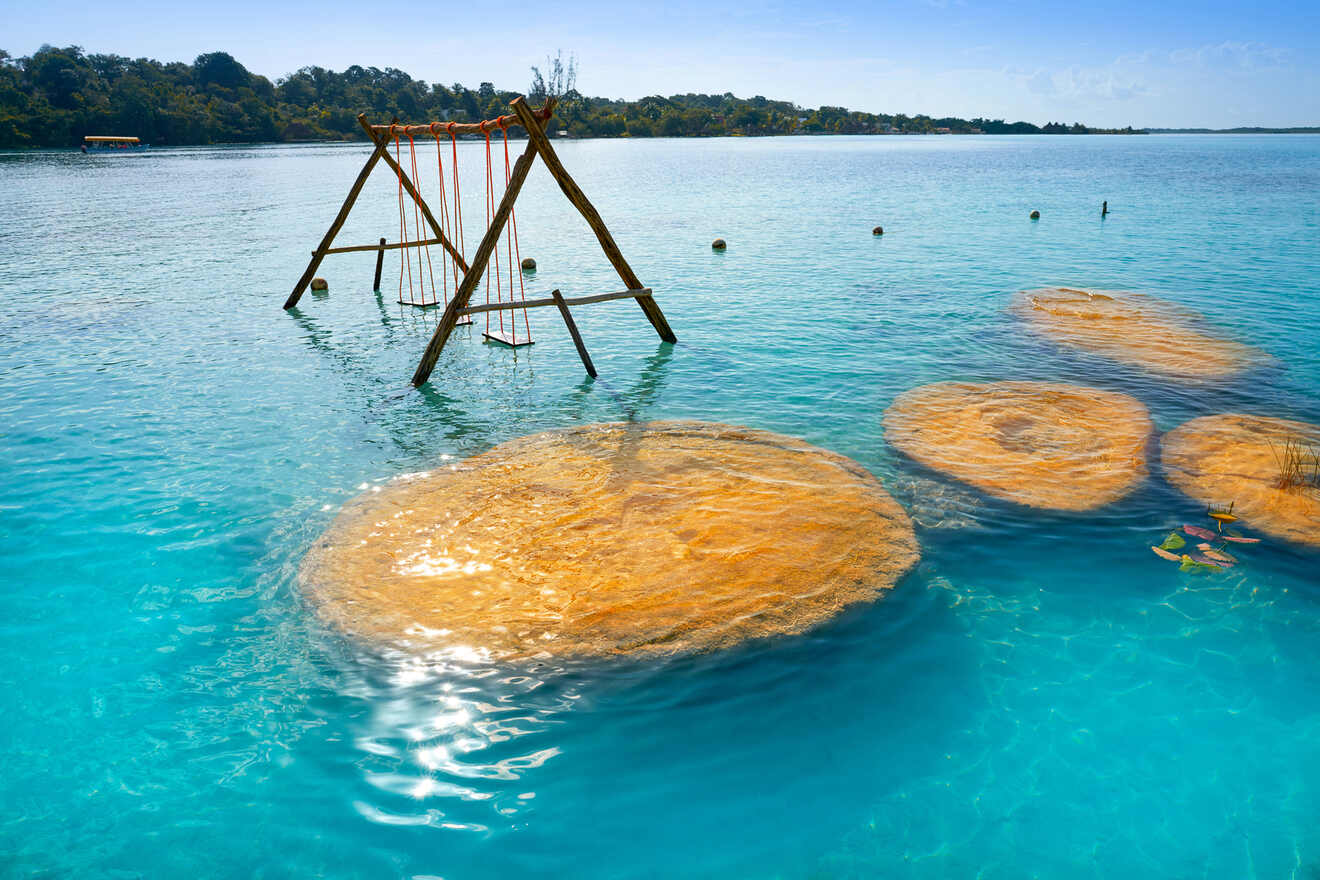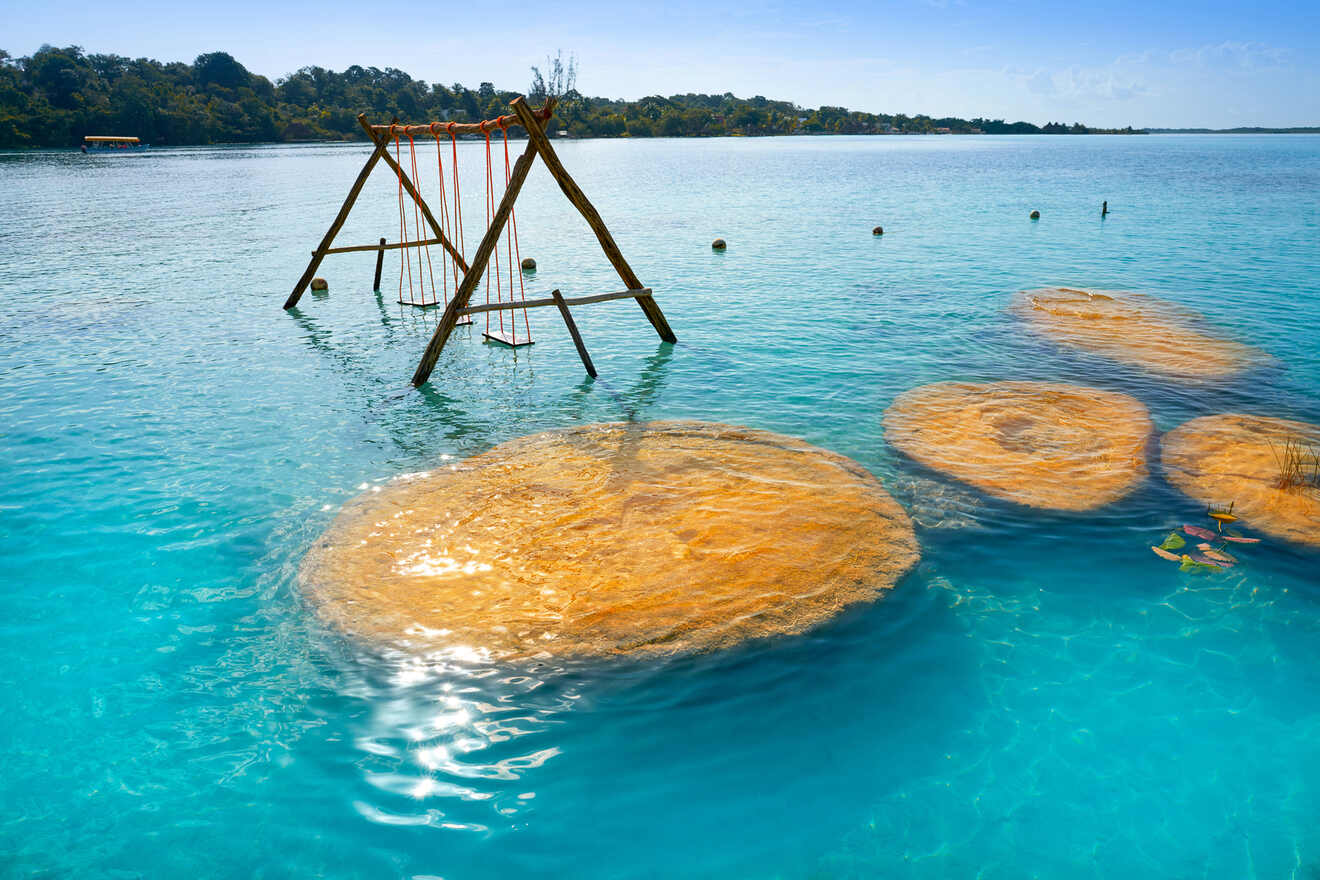 👑 Which are the best places to stay in Bacalar?
✔️ Is Bacalar worth visiting?
Definitely yes, Bacalar is one of the best places to visit in Mexico, hosting the beautiful Bacalar Lagoon, a stunning lake with fresh and crystal clear waters.
🛎️ Which are the best hotels in Bacalar for luxury?
💚 Is Bacalar safe?
Yes, Bacalar is a tranquil town and is really safe, especially if you compare it with other cities in the Quintana Roo state like Cancún, Playa del Carmen, and Tulum.
📅 How many days should I spend in Bacalar?
If you want to enjoy the lagoon waters and all the natural attractions of Bacalar you should spend at least 3 full days there: one relaxing in La Playita beach club, one going on a boat trip on the lake, and the last one visiting Los Rapidos.
Conclusion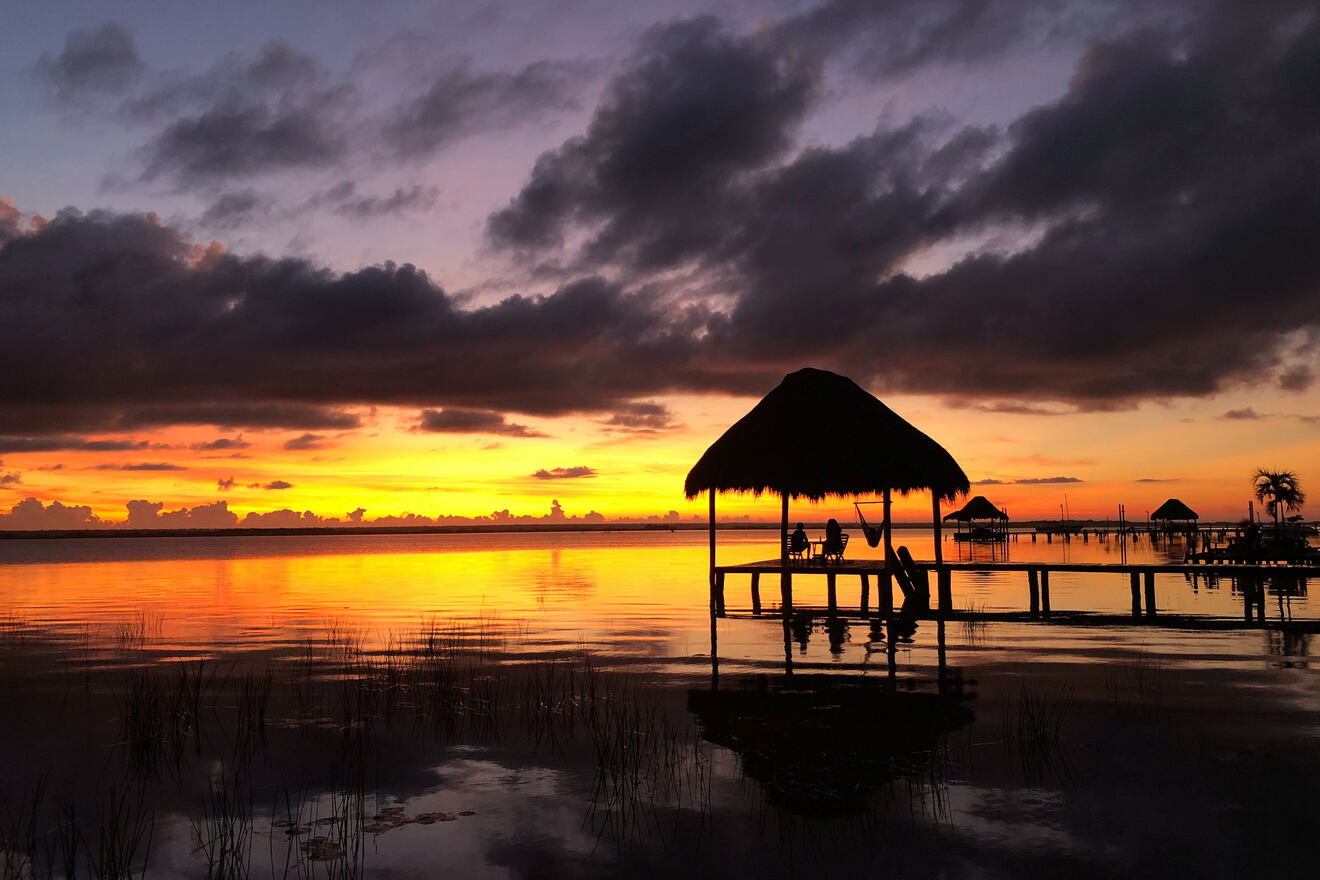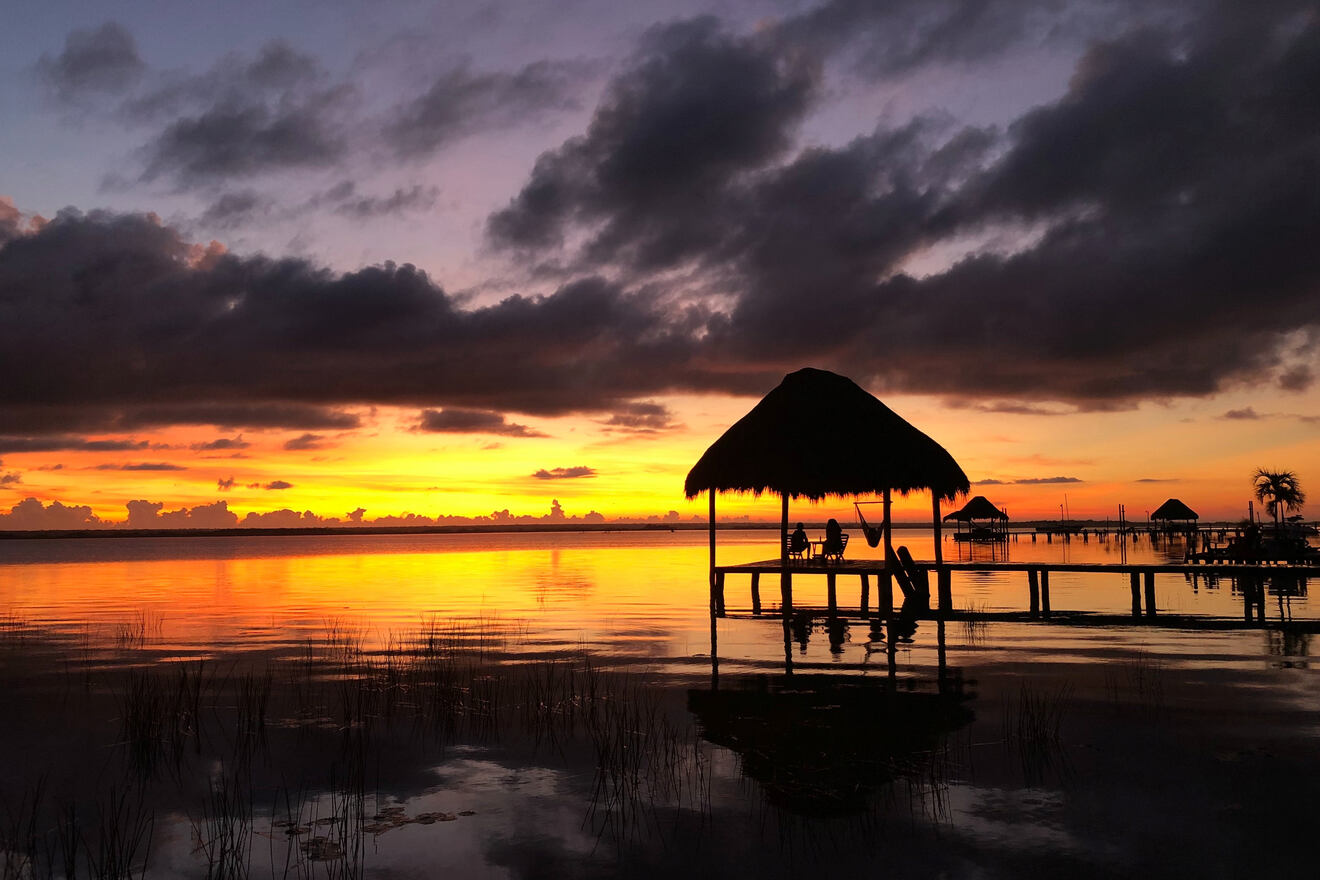 Here we are at the end of this very extensive guide on the best hotels where to stay in Bacalar, Mexico.
We went through accommodation options for any kind of taste and price range: budget-friendly hotels, luxury resorts, rustic bungalows, stunning waterfront accommodation… I am sure by now you have probably found the perfect choice for your dreamy holiday in Bacalar!
But if you're still undecided about which hotel to choose, I cannot blame you, we went through countless options! So let me give you extra help with my 2 absolute favorite choices, both with great value for the price:
Mia Bacalar Luxury Resort & Spa – One of the most popular hotels in Bacalar, Mexico, offering everything you need for a stay full of comforts
Mi Kasa Su Kasa – This midrange hotel has the best location, right in front of the Lagoon and a short car ride from downtown Bacalar.
If you like something, make sure you book it immediately so you don't risk losing the spot: Bacalar is fast becoming one of the most loved and popular destinations in Mexico!
I hope you found this post useful to help you book the hotel of your dreams. If you have any questions for me or you have already visited Bacalar and you want to share your experience, please do so in the comments below, I will answer you as soon as I can!
Have the best holiday!
Elena
Pin it for later!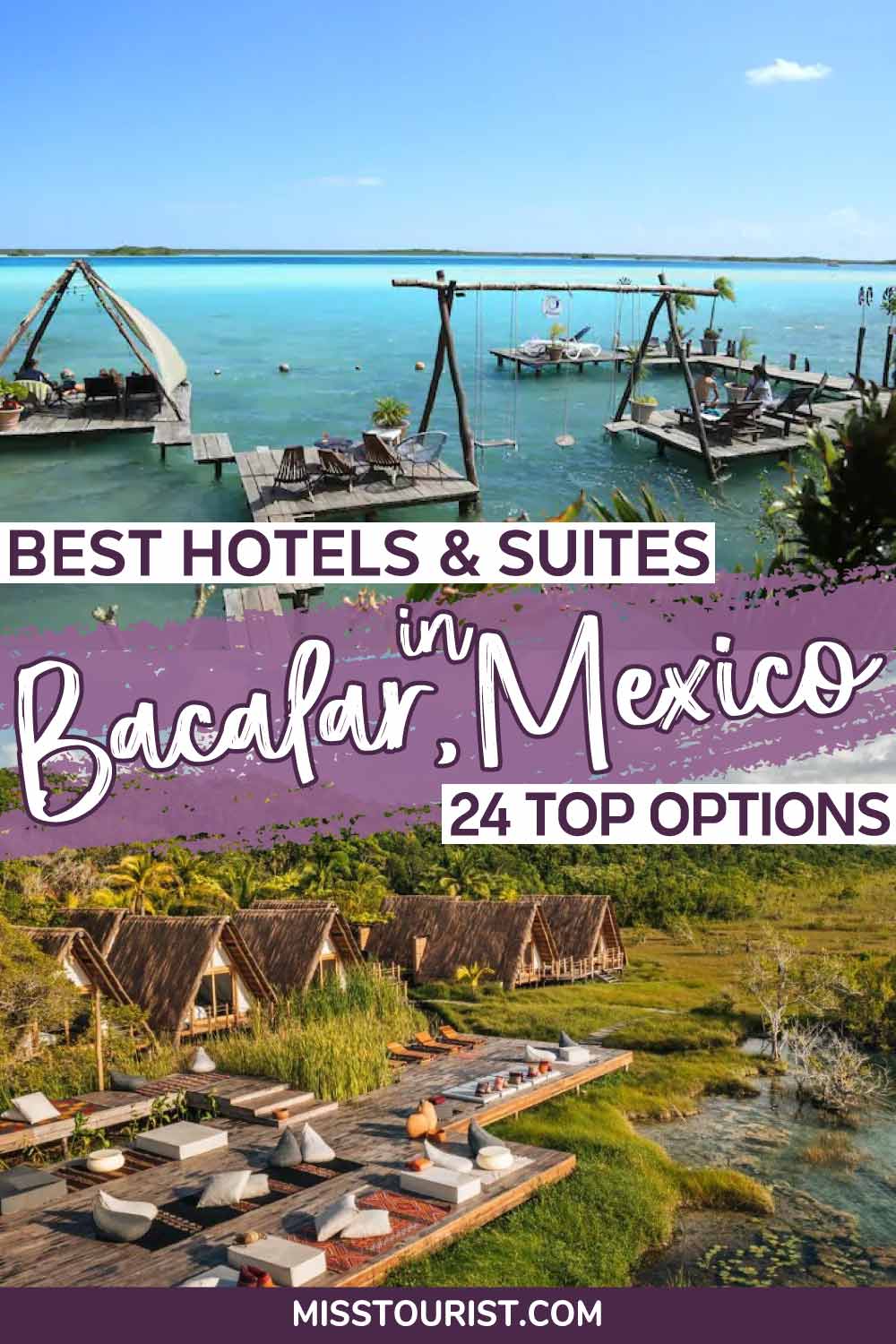 Pin it for later!