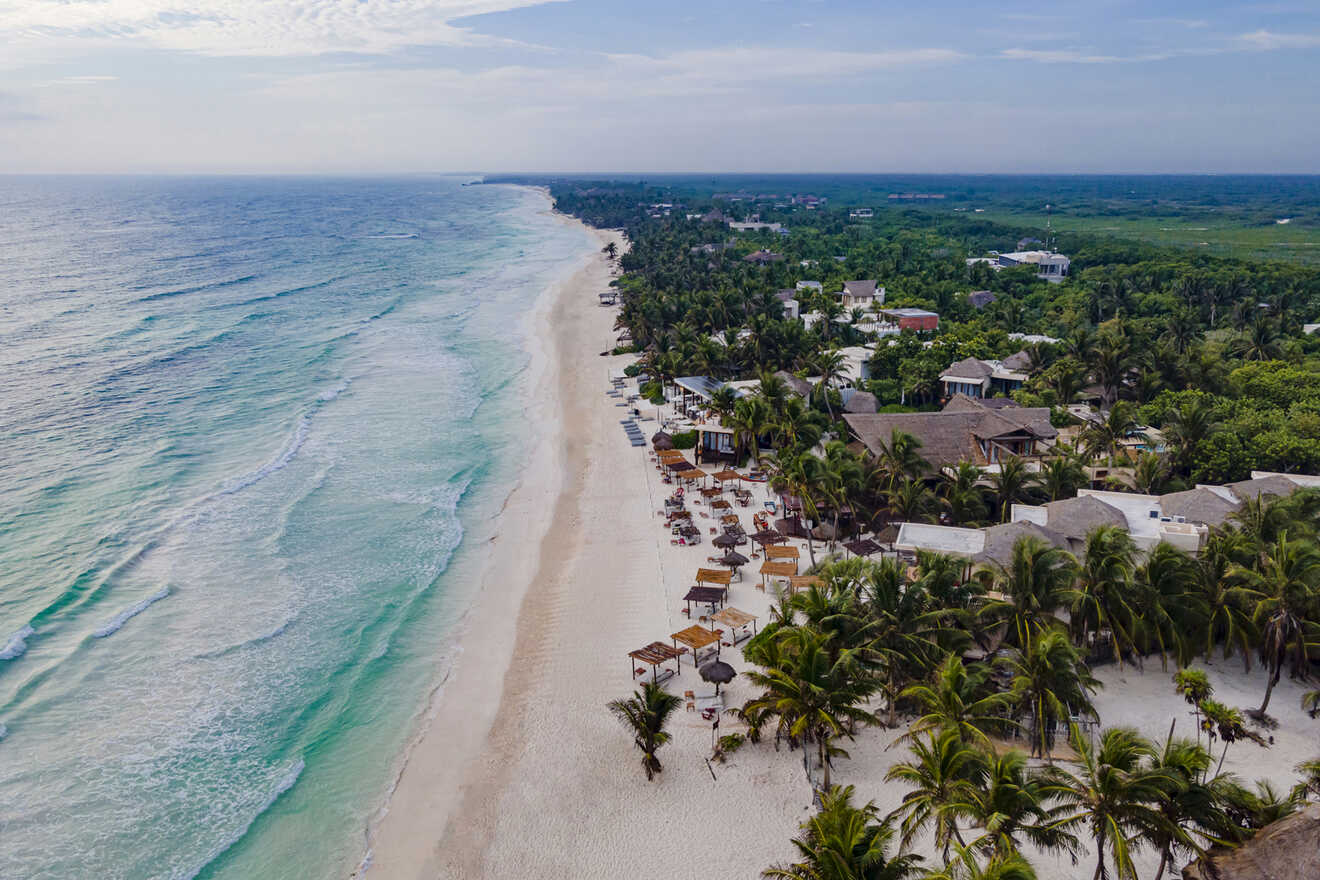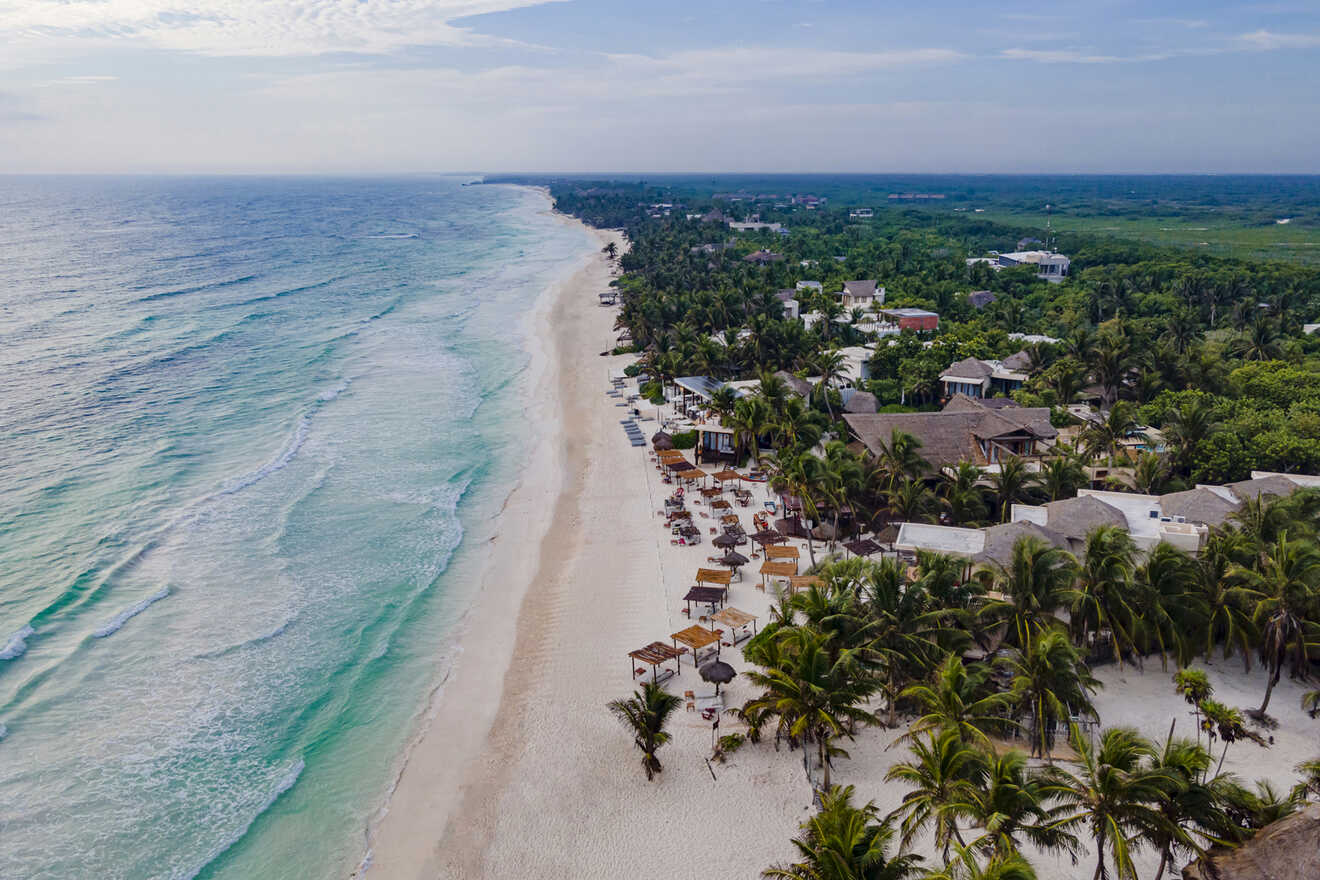 Tulum, overlooking the Caribbean Sea, is one of the most spectacular places in Mexico! Offering a chic and luxurious vibe, easy access to ancient Mayan ruins and pristine beaches, this city is fast becoming one of the most touristic destinations in the country.
For this reason, Tulum hosts so many incredible resorts, from all-inclusive resorts to adults-only resorts and boutique hotels, some of them even offering private access to a beautiful beach! In fact, you'll find most of them in the popular Hotel Zone, right on the coastline.
Since the options of Tulum resorts are countless, I selected the best ones and made this guide to the best resorts in Tulum, divided by price range and offering different benefits for any kind of traveler (beach clubs, spas, yoga classes, kids club, teens club, etc)!
I've done the work so you barely have to put in any effort: just read this article and take note… it will make your decision way easier! And one last thing: don't forget to book your favorite choice as soon as you can… places in the resorts in Tulum sell out super fast!
Ready? Let's start!
If you are in a hurry
If you don't have much time to book your resort in Tulum, here's a list of the best resorts in Tulum:
Here's the map to help you understand where all the best resorts in Tulum are located:
Luxury Tulum Resorts ($800+)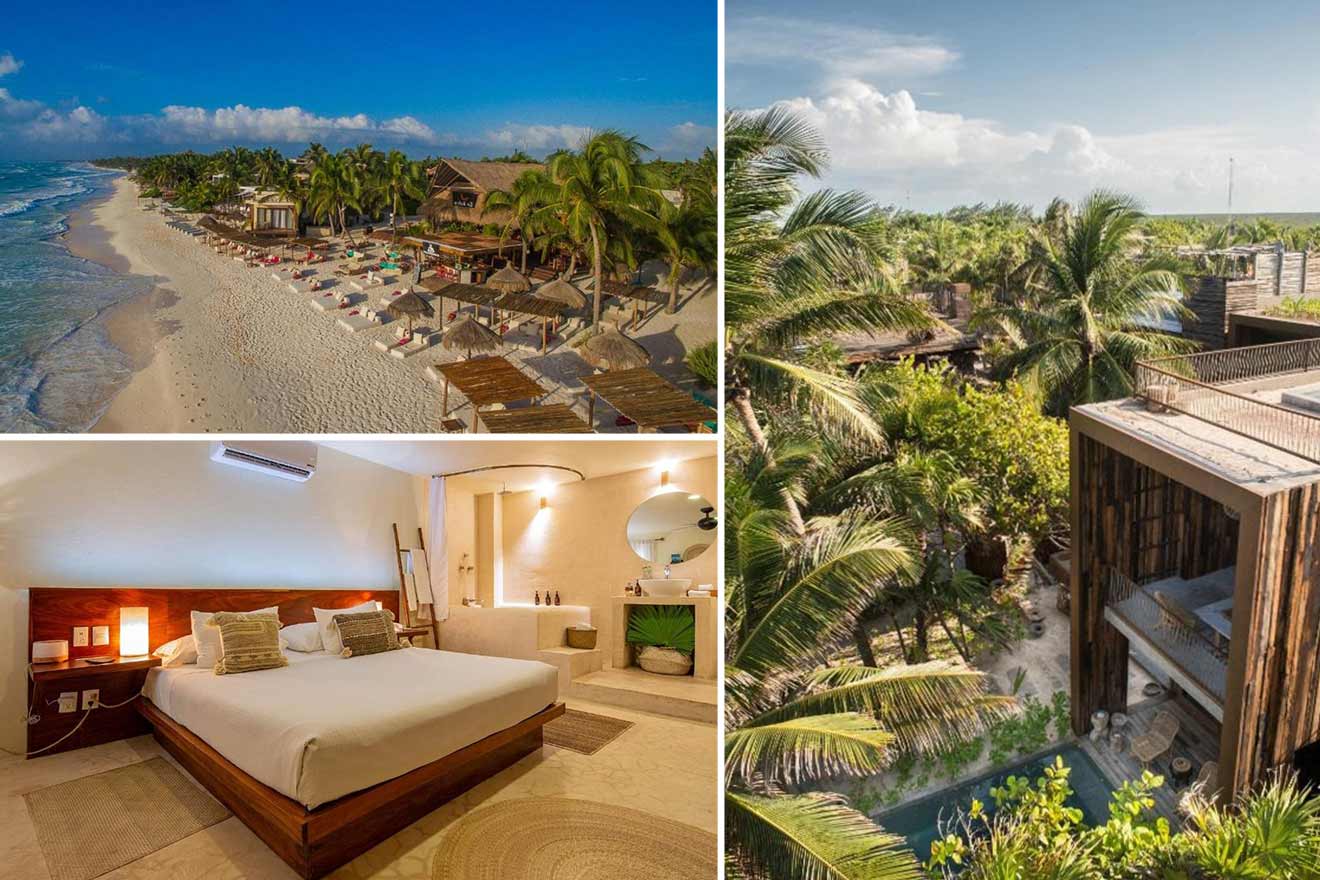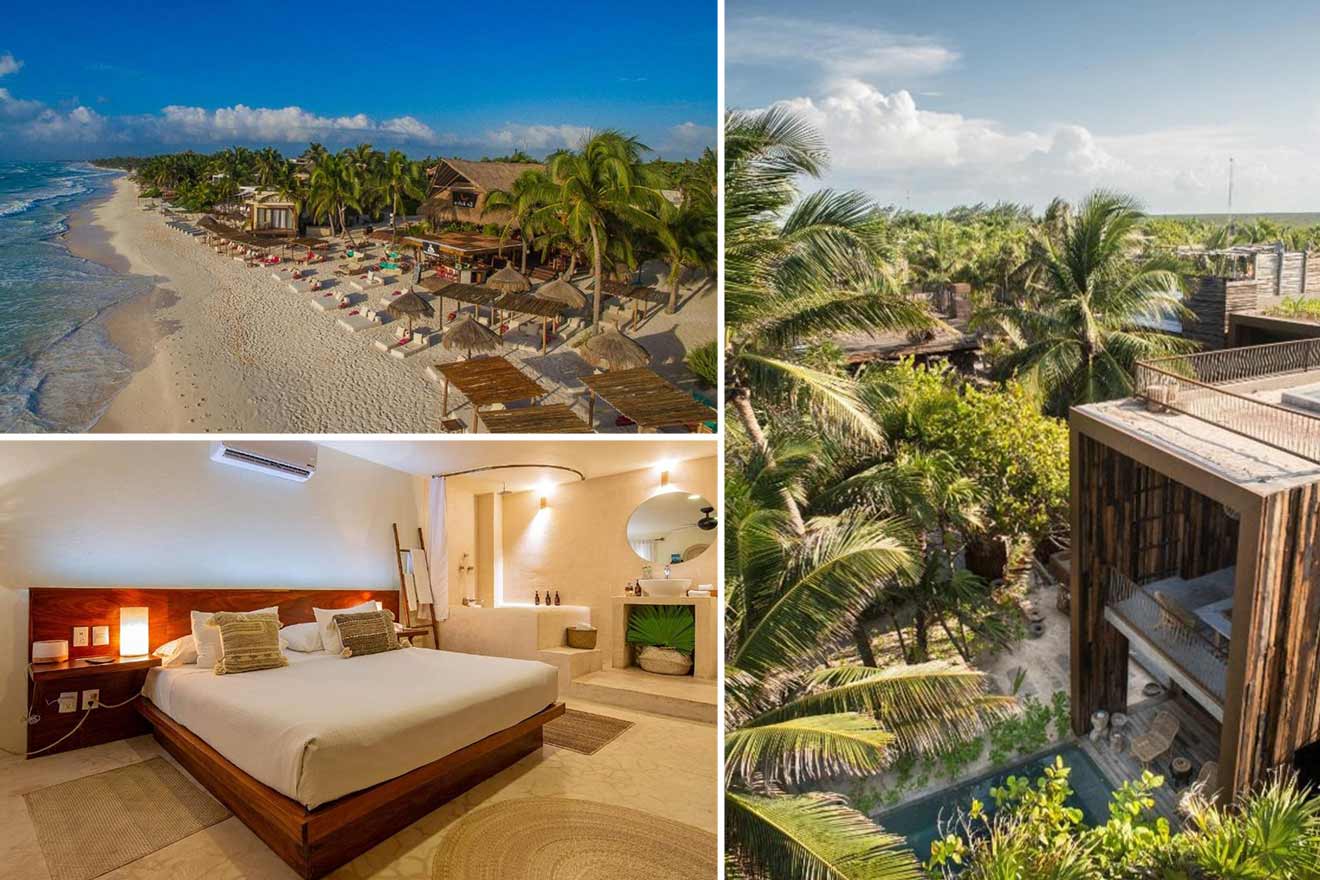 La Zebra a Colibri Boutique Hotel – If you're looking for the perfect mix between convenient location and luxurious accommodation, you just found it! Right in the heart of the Zona Hotelera Tulum, this is one of the best resorts in Tulum, offering only 15 rooms, you'll get a truly intimate experience with few guests. Ground-level rooms have a private plunge pool, while those on higher floors have private balconies. Perfect for a family vacation, a romantic getaway, or a fun escape with friends!
Mezzanine Colibri Boutique Hotel – This adults-only resort will offer you a luxurious experience, beach access, and a great location close both to the beach and the center! Here the service goes beyond your expectations, the staff are super friendly and the room comes with balcony Jacuzzis and unforgettable views of the Caribbean sea. You'll feel just like you're in a dream! Last but not least, Mezzanine Colibri Boutique Hotel has a wellness center with a menu of treatments so you can enjoy some well-deserved relaxation!
Be Tulum Beach & Spa Resort – Be Tulum Beach & Spa Resort is definitely one of the best hotels in Tulum, with direct access to a sugary stretch of sand! This resort in Tulum has 64 family rooms, all with a private balcony and access to your own private plunge pool, plus not one but three on-site restaurants! But the best thing about the resort is its Wellness Spa, offering everything you need to relax, from detox programs to body treatments and rituals, as well as a sauna and therapy pools…what else do you need?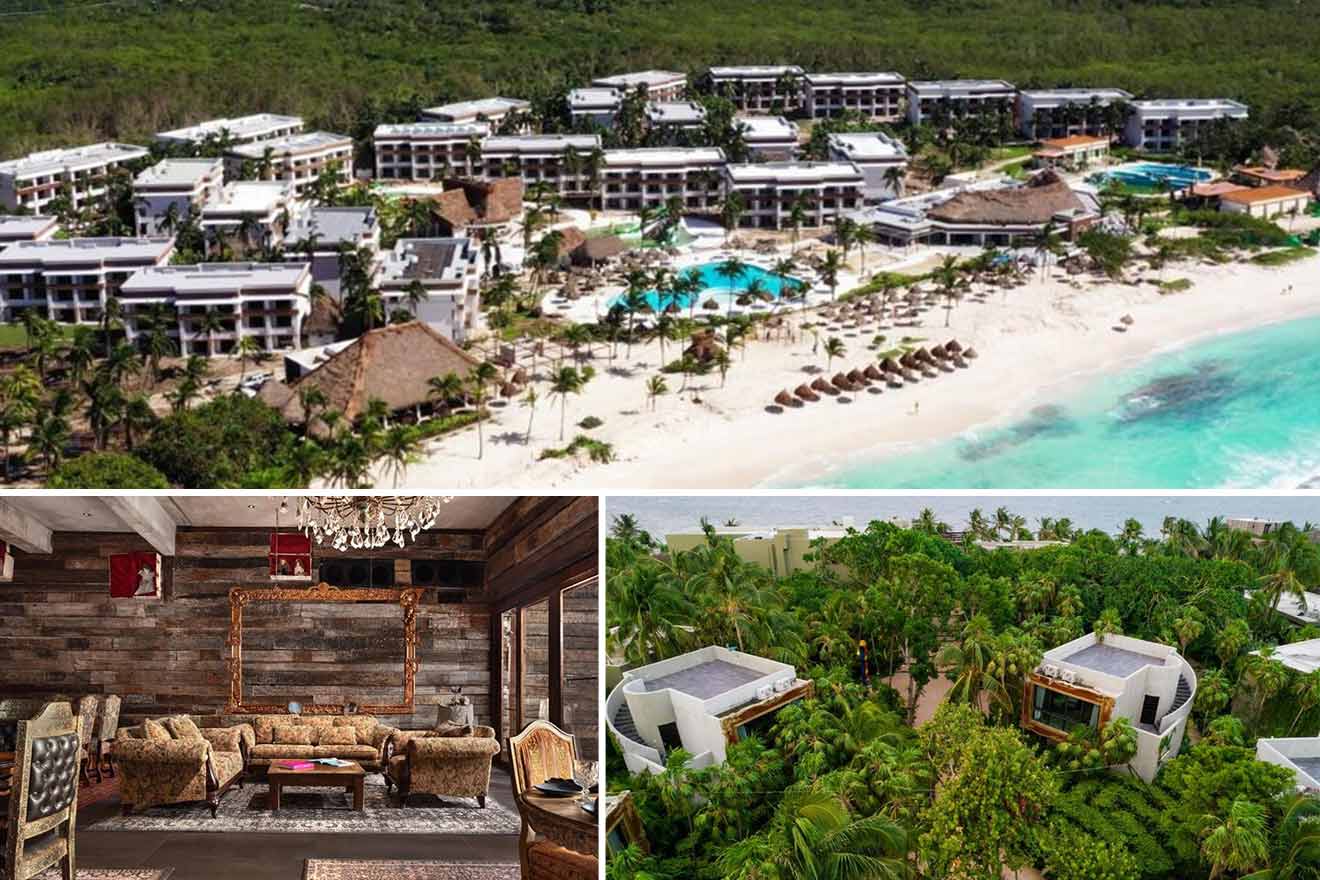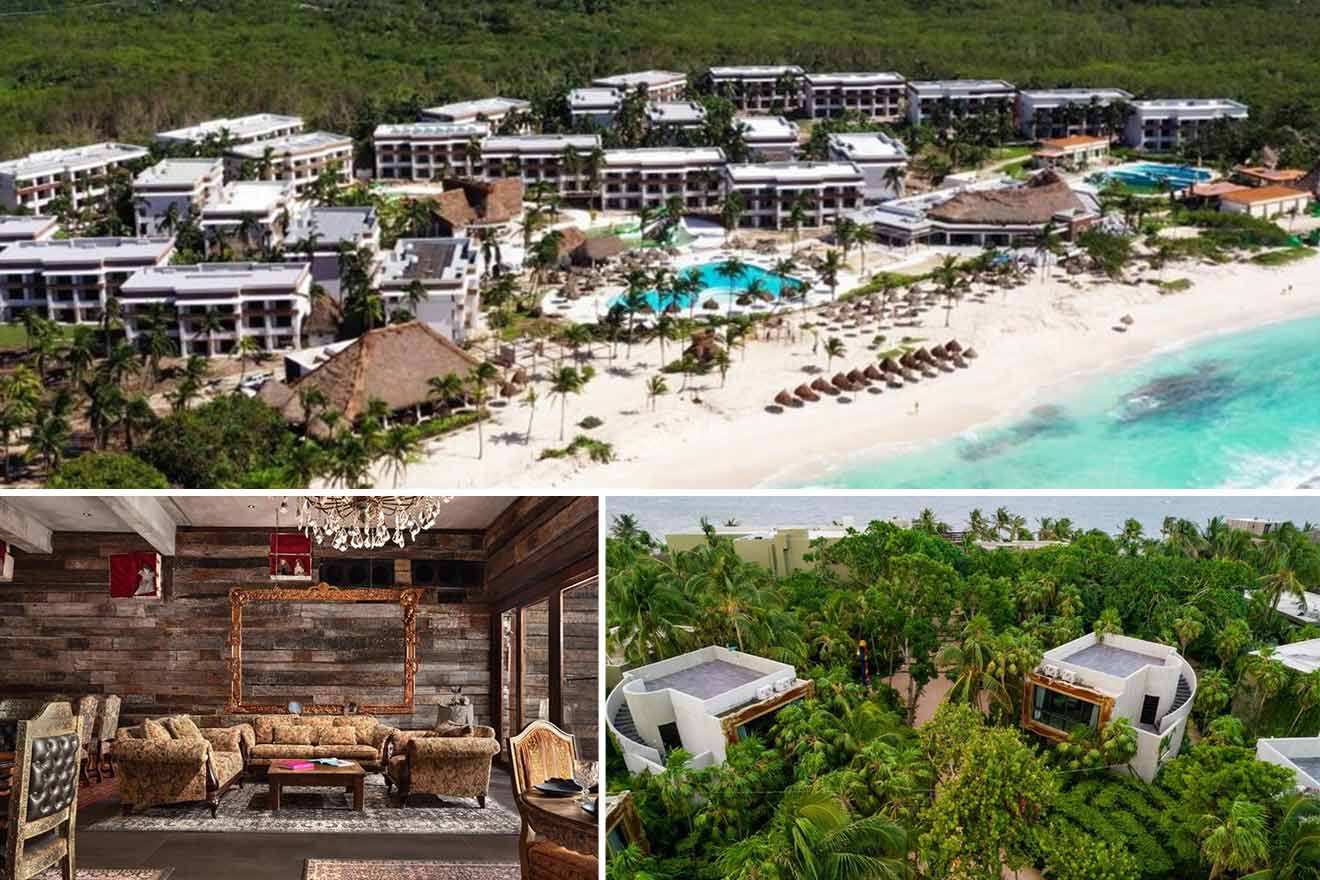 Casa Malca – This Tulum hotel is a work of art in itself: in fact, each room and space of the hotel is made by Lio Malca, an artist whose works have been showcased at the famous Whitney Museum in New York! Other than the beautifully furnished rooms with views of the gardens or the Caribbean Sea, Casa Malca has three pools and a Mexican fusion restaurant… everything you need for a relaxing retreat in Tulum!
Bahia Principe Grand Tulum All Inclusive – Welcome to one of the best all-inclusive resorts in Tulum, located right in front of the beach! Here you'll have everything you always dreamt of; a fitness center to stay active, a spa to relax, and a private beach area! Close to this incredible all-inclusive resort you'll also find a water park, nightclub, and casino to have fun with.
Mid Range Tulum Resorts ($200 – $400)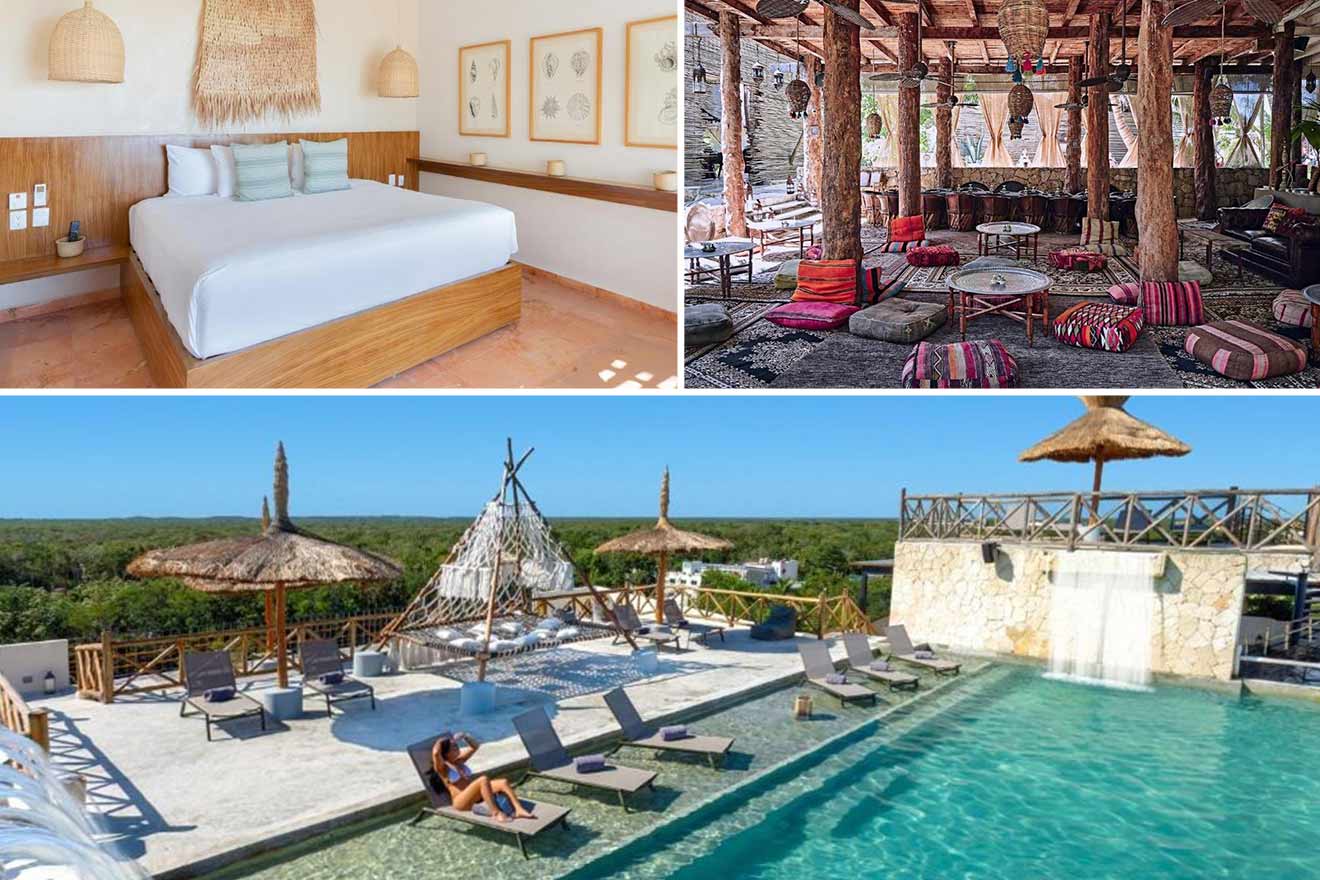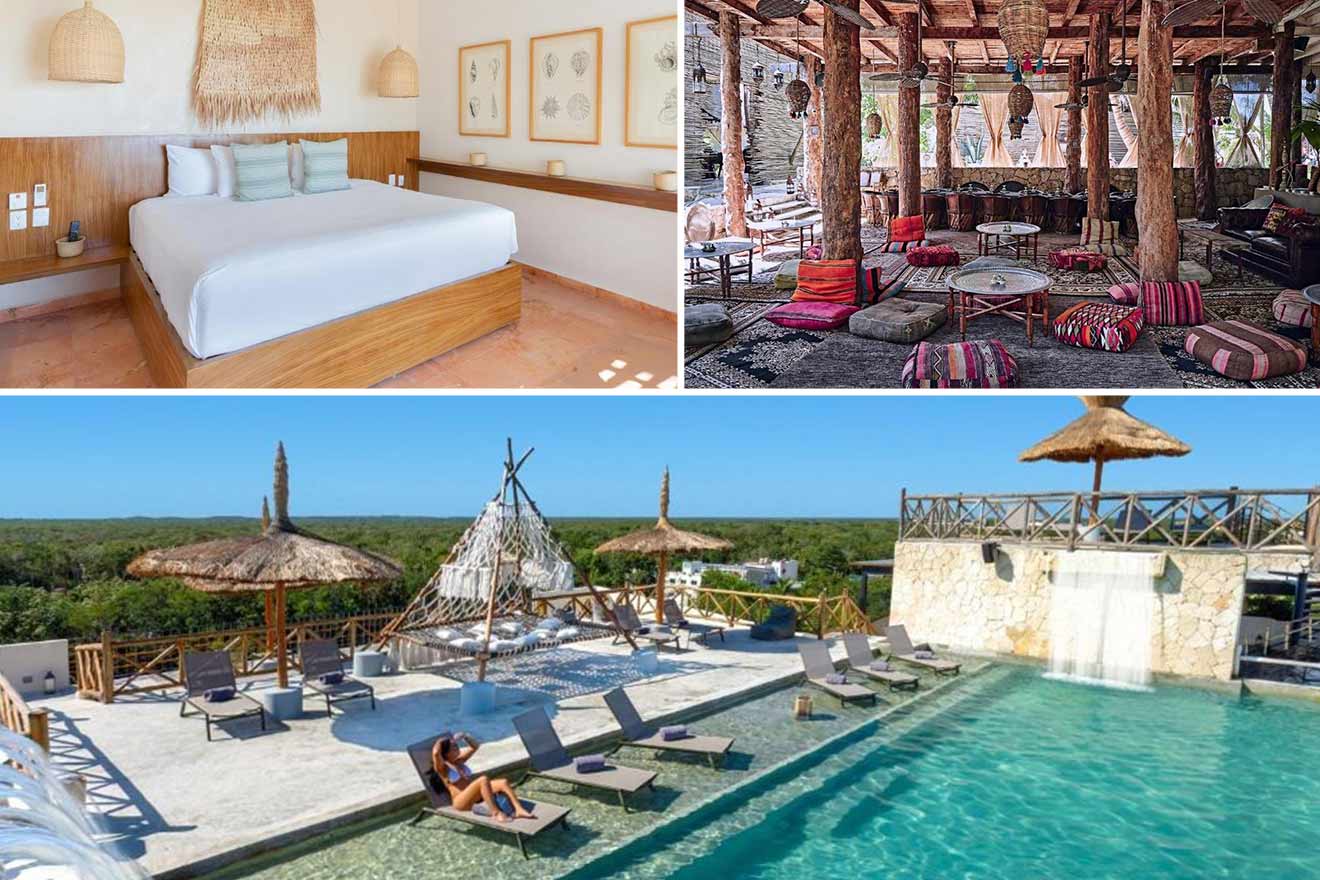 Naala Tulum – This amazing Tulum Hotel lies within walking distance of Tulum beach and is the best choice if you're looking for great value for money. Here you'll get a clean, large bedroom with air conditioning and a nice rooftop pool where you can watch the sunset! You NEED to try the Spa Massages and the delicious continental breakfast served every morning… or you can always ask for room service!
Mereva Tulum by Blue Sky – Just a 1-minute walk from the beach and 15 minutes drive from the Tulum Mayan Ruins, this incredible Tulum resort is perfect for a romantic getaway! You can enjoy gourmet food at the on-site restaurant or get spa treatments with wonderful Caribbean Sea views. This spa resort even offers cool activities like kayaking, snorkeling, and complimentary paddleboards.
Coco Tulum – Coco Tulum is designed for the traveler who wants to enjoy a laid-back vibe. Simple and quiet, this hotel is located in the Hotel Zone, in the heart of everything, but it will make you forget about the outside world! The rooms have all the amenities, views of the beach and jungle, and, the best of everything, very affordable prices. You can even relax in the hammocks of a beach club while you sip some good cocktails!
Nomade Tulum – This eccentric boutique hotel will bring you straight to Morocco, with its oasis vibes, carpets, cushions, and an "elevated bazaar" atmosphere. If you're looking for eco-friendly accommodation, this Tulum resort offers organic vegan food and architecture with natural materials incorporated into the design. If you stay here, don't miss the cool experiences that the hotel offers, like the ceremonies with traditional temazcal and cacao, breath workshops, and Kundalini yoga classes. THE resort in Tulum for healthy living!
Budget Resorts in Tulum (up to $200)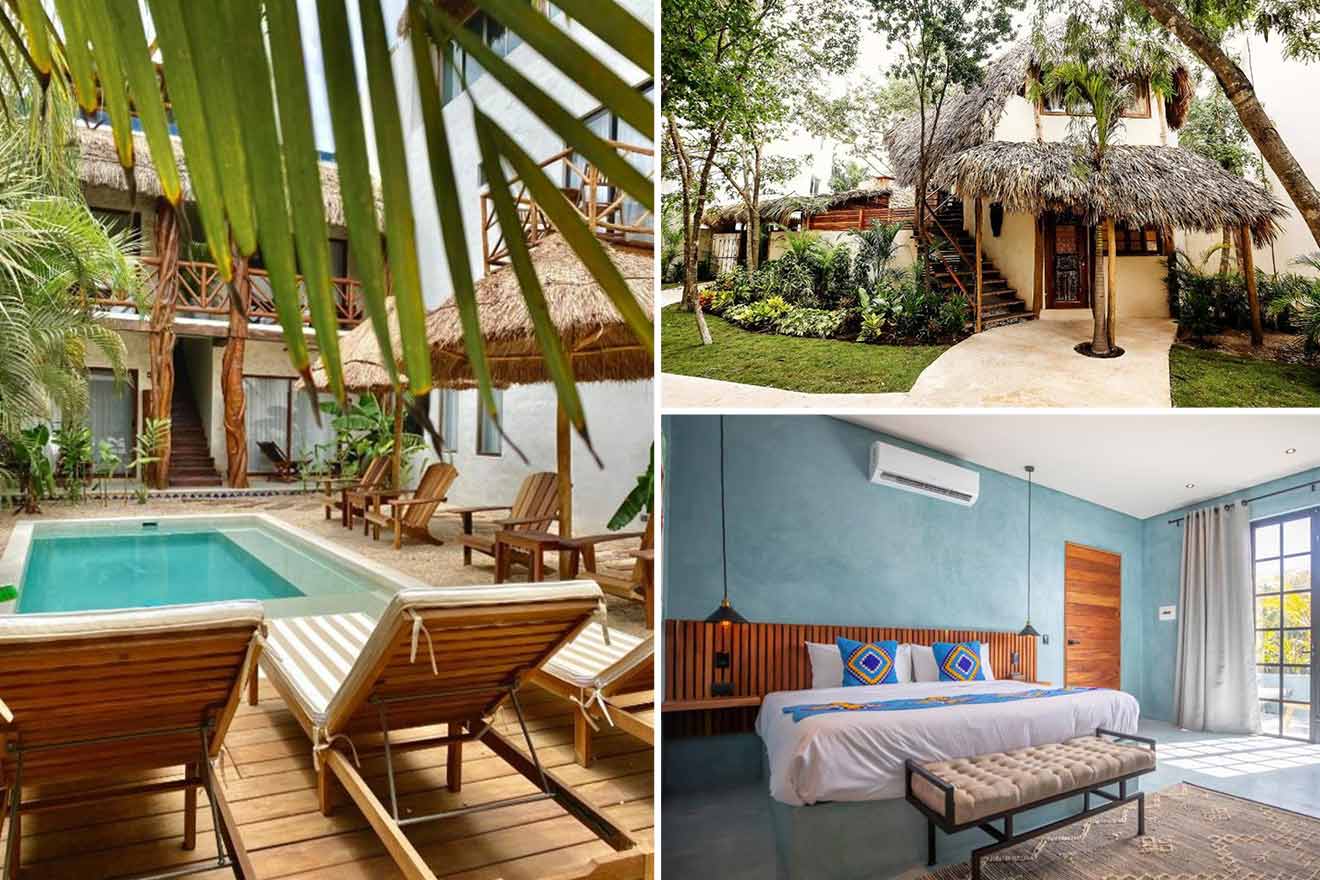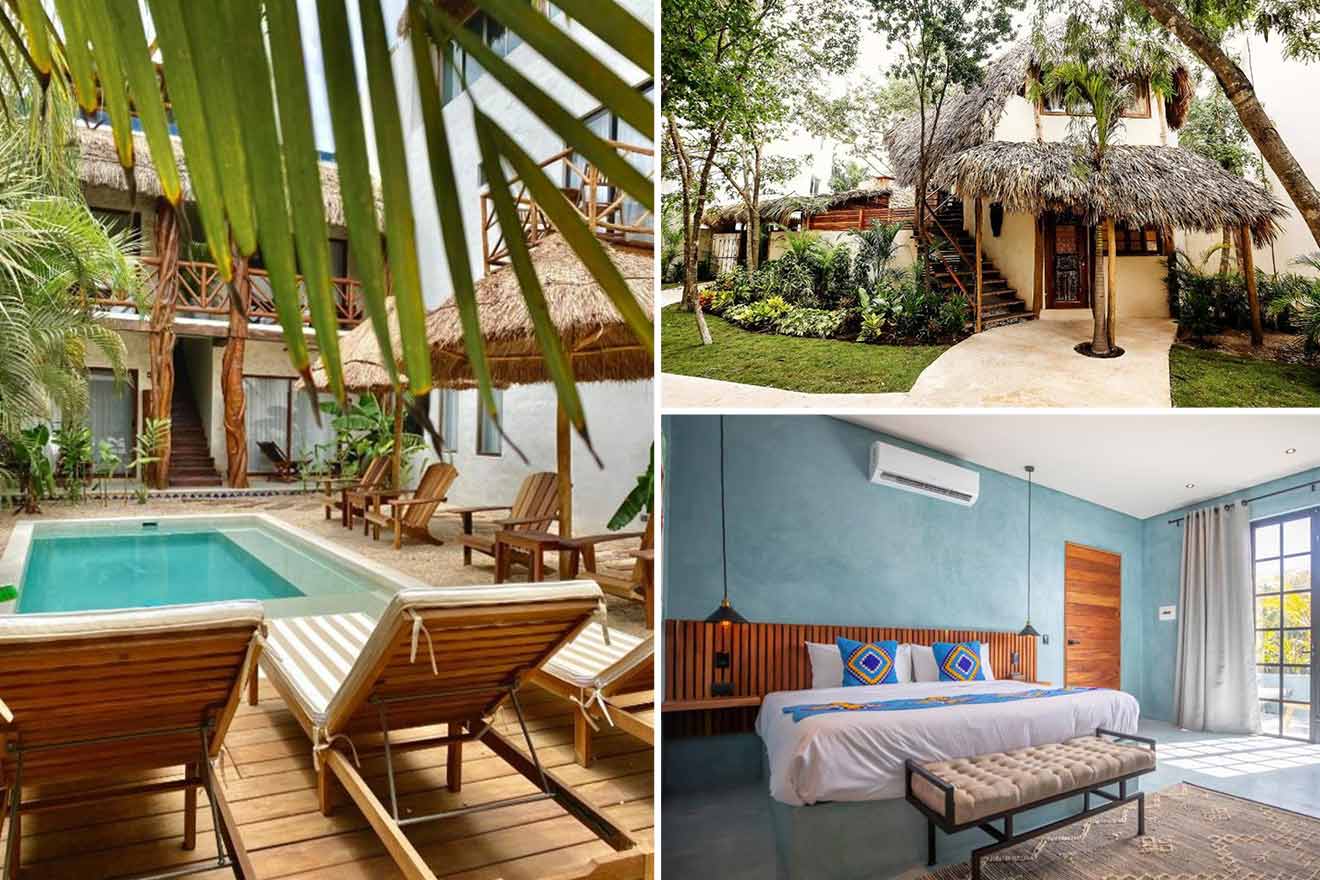 XscapeTulum – Check out this incredible hotel in Tulum, with helpful staff and a great location close to many restaurants and bars in downtown Tulum. You can rent scooters and bikes from the hotel for a really reasonable price and get to Tulum beach in only 10 minutes! Here you'll for sure love the happy hours, with delicious cocktails by the pool… the best way to end your day in Tulum!
Caribeña Tulum – Located only 2 miles from Parque Nacional Tulum, Caribeña is one of the best resorts in Tulum if you want to stay on a budget! It offers air conditioning rooms with a patio, plunge pools, and a restaurant for the best dinners or breakfasts. Another plus is that Tulum beach is only 15 minutes walking distance from the Tulum resort, what else do you need?
Xaha Villas Suites & Golf Resort – Within walking distance of the beach, this stunning Tulum resort has everything: from a delicious restaurant to room service, bar, garden, outdoor pool, and sun terrace. The accommodation also offers many modern amenities like a business center, free WiFi access, and free private parking if you want to explore the Riviera Maya area!
Turquoise Tulum Hotel – If you want to stay on a budget, this is one of the best hotels in Tulum, with beach access! Here you'll find 2 year-round outdoor pools, lounge chairs, and rooms with a private balcony offering pool views. The location is also great, close to some restaurants where you can have an amazing dinner and only 2 miles from the Tulum Archeological Site, a must during your stay in Cancun!
BONUS: Best adult-only resorts in Tulum, Mexico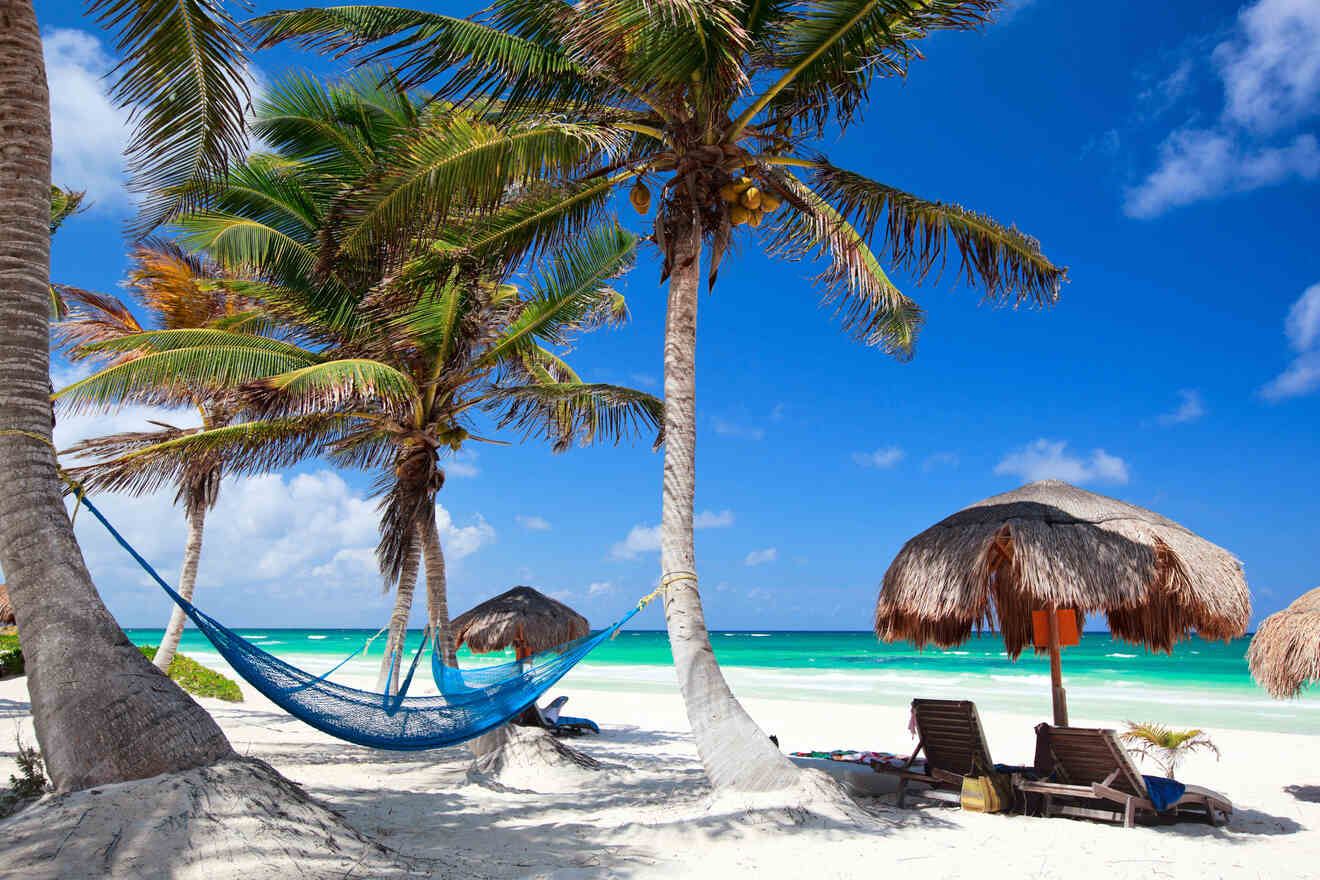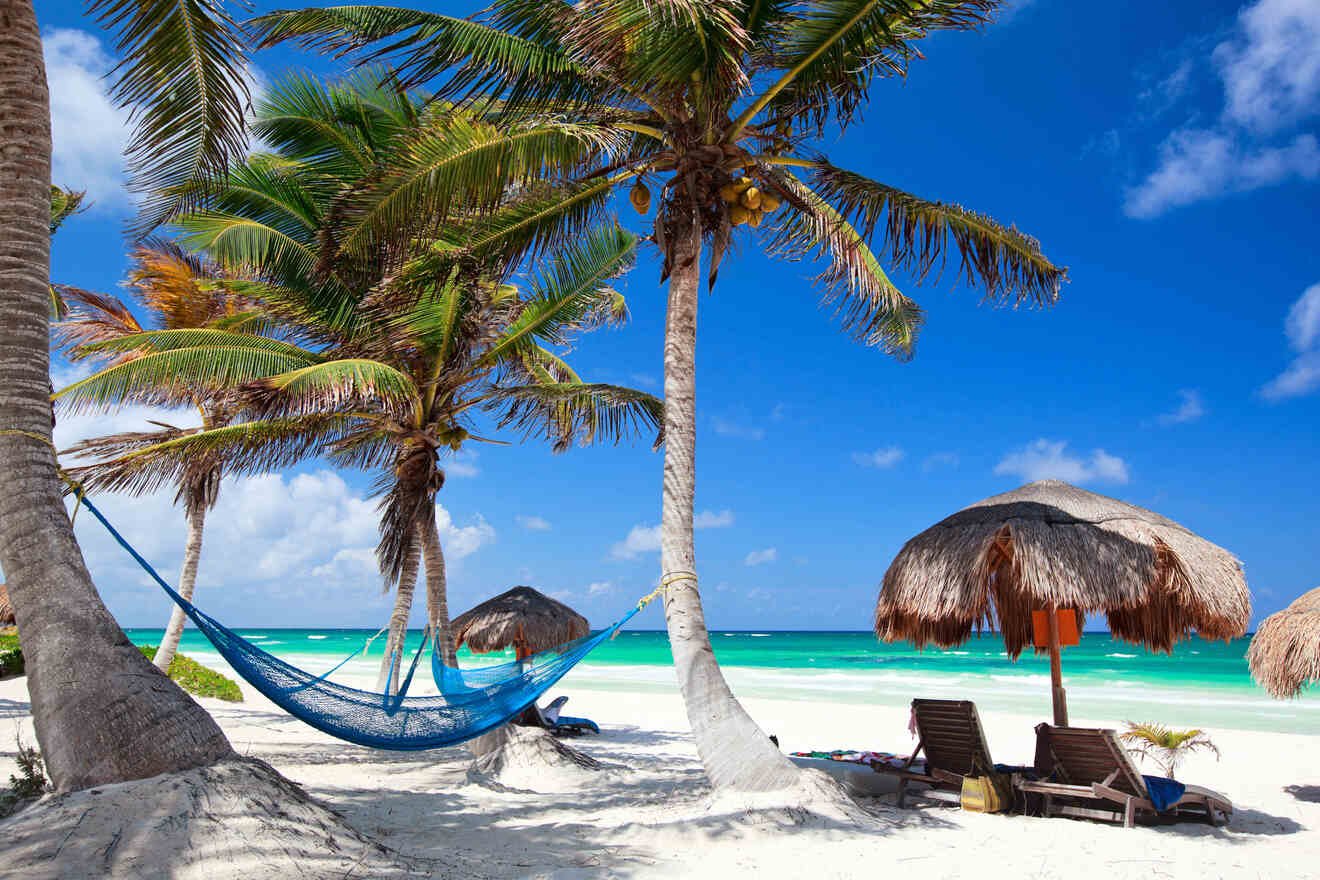 If you want to enjoy your stay in Tulum in total privacy and quietness, without the noise of kids (we all know how annoying this can be), you can opt for one of the many adult-only resorts in Tulum!
I gathered here a list of the best adults-only resorts in Tulum, with beach clubs, plunge pools, and modern amenities, including also some great inclusive resorts in Tulum.
Whether you're coming for a fun holiday in Tulum with your friends, or for a romantic getaway with your special one, here you'll definitely find what you're looking for:
1. Mezzanine Colibri Boutique Hotel-Adults Only
Colibri Boutique Hotels are known for the wide range of activities that they offer, and Mezzanine a Colibri Boutique Hotel one won't let you down! Combining design, nature, and style, this all-inclusive resort will make you happy with its beautiful beach, and breathtaking views of the Caribbean Sea. Here you'll get luxury treatment and great service… the perfect combo!
2. The Beach Tulum
This adults-only hotel has great value for price and the best location just 4 miles from the famous Mayan Ruins. From your luxurious air-conditioned room, you'll get amazing views of the beach and access to an outdoor pool, beach club, and a restaurant. There's even an onsite spa where you can spoil yourself with full relaxation and an onsite shop to buy some souvenirs!
3. Joy Tulum – Adults Only
Joy Tulum is one of the best resorts in Tulum only for adults, featuring an outdoor pool and sun terrace all year round! Here you'll get free WiFi, free parking, and free use of bicycles. As a guest you can enjoy activities in the surrounding area, popular for snorkeling, diving, and windsurfing… you'll have a lot of fun!
4. Coco Hacienda Tulum – Adults Only
Check out this adults-only boutique hotel with a great location in downtown Tulum. Here you'll have access to two outdoor pools, spa services, and free parking on site. I suggest you enjoy a delicious dinner at the restaurant or a drink at the bar… the best way to end your day in Tulum! During the day, instead, you can engage in several activities like snorkeling, cycling, and fishing.
Frequently asked questions about Tulum Resorts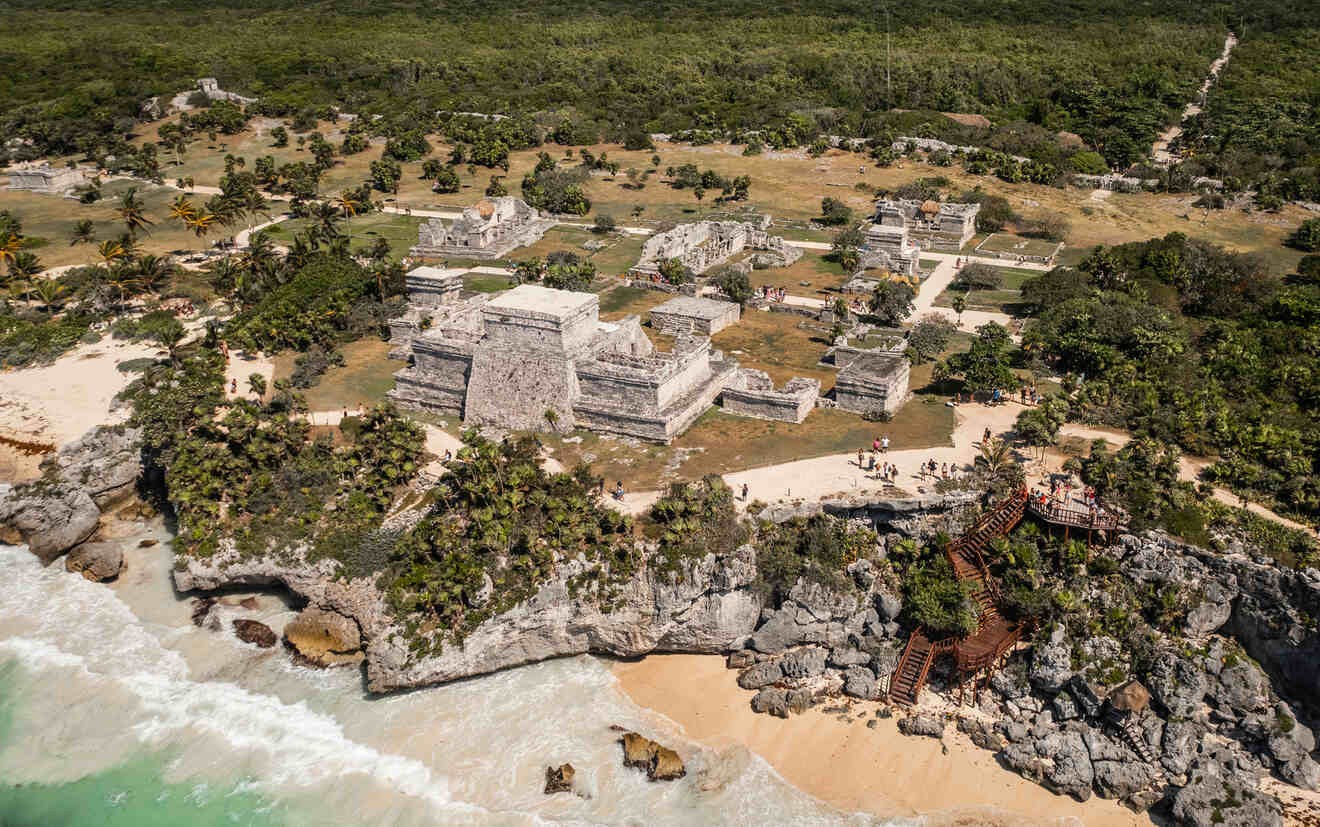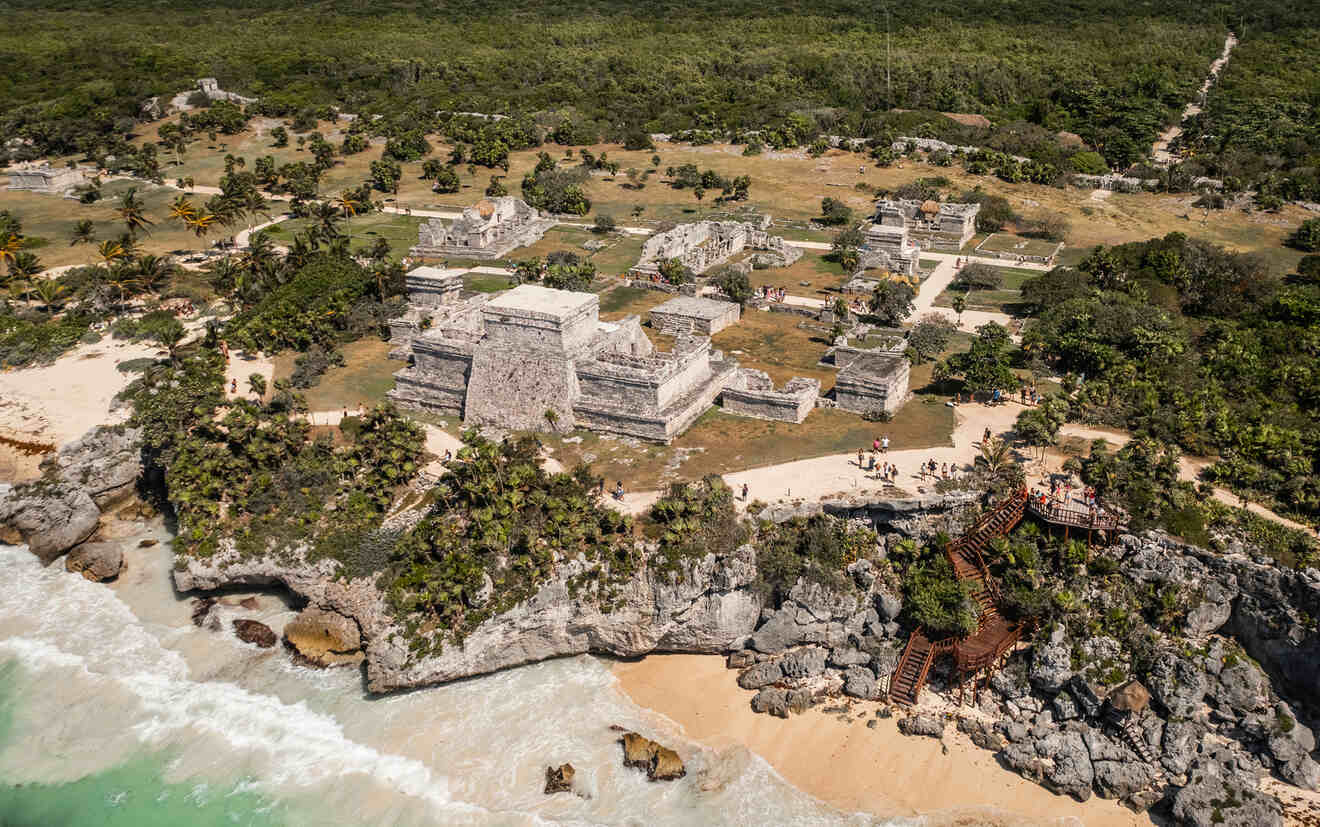 Conclusion
We finally reached the end of this extensive guide on Tulum best resorts. From all-inclusive resorts to adults-only options and resorts with swim-out suites and access to a private beach, you have everything you need to choose the right accommodation for your holiday in Tulum!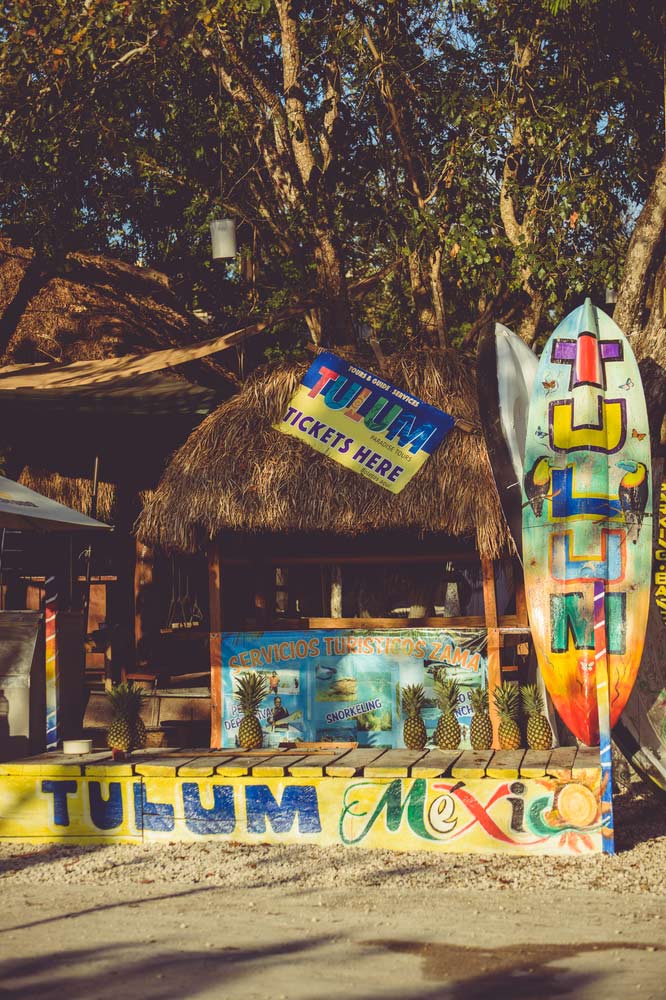 If you're still unsure about which Tulum resort is the best for your needs and budget, these are my 2 absolute favorites, located close to the beach and offering great value:
Be Tulum Beach & Spa Resort – Be Tulum Beach & Spa Resort is definitely one of the best hotels in Tulum, with access to a sugary beach!
Coco Tulum – this resort is located in the Hotel Zone, in the middle of everything, and offers a great beach club where to relax!
I hope you found this article helpful and you enjoyed reading it as much as I had done all the research for you… I bet you're already imagining yourself lying on your private beach with a cocktail!
If so, I suggest you book your favorite choice as soon as possible, places in Tulum sell out incredibly fast! But if you still have any questions or doubts regarding a resort, please leave me a question in the comment, I'll be super happy to answer you.
In the meantime, I wish you an amazing holiday!
Elena