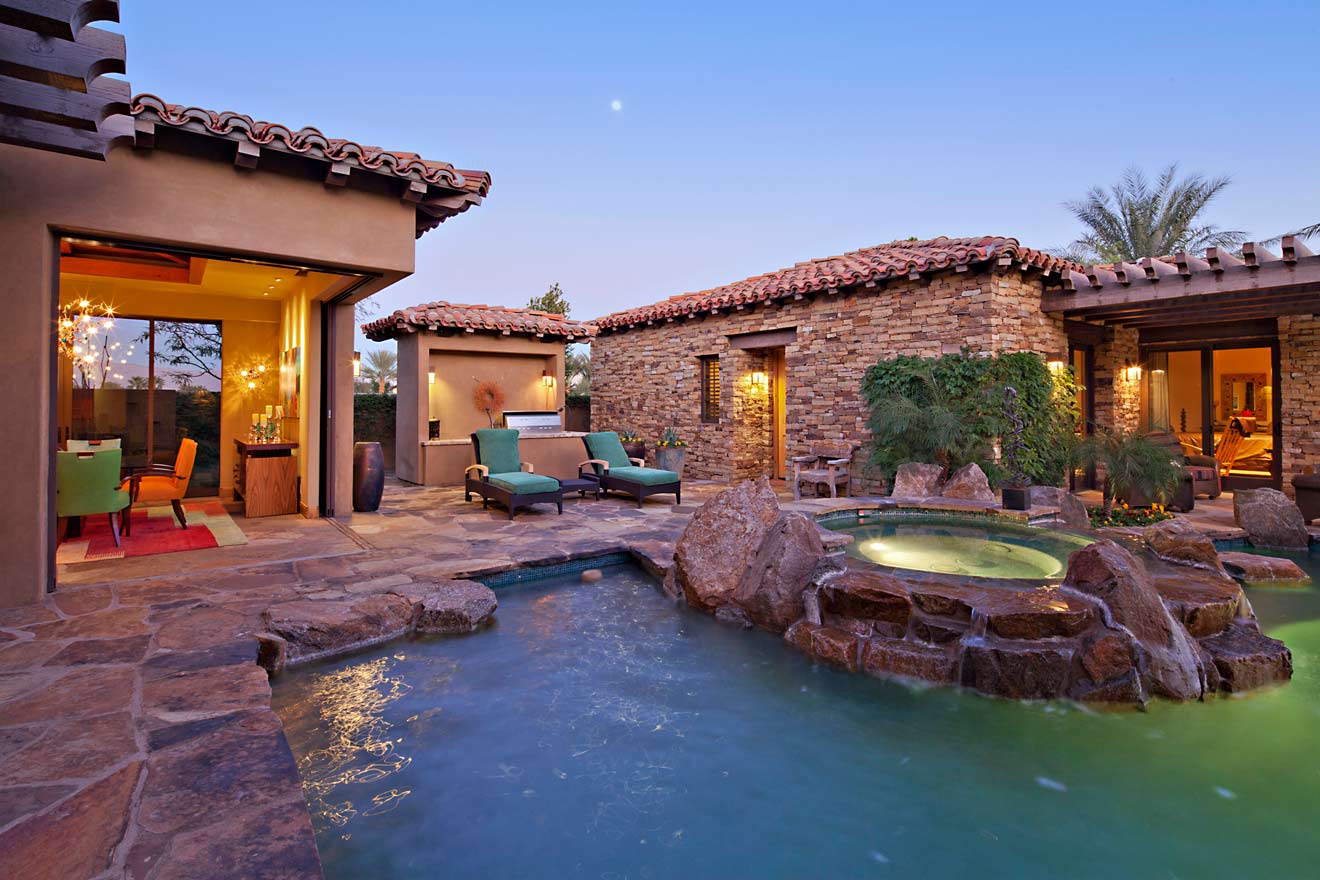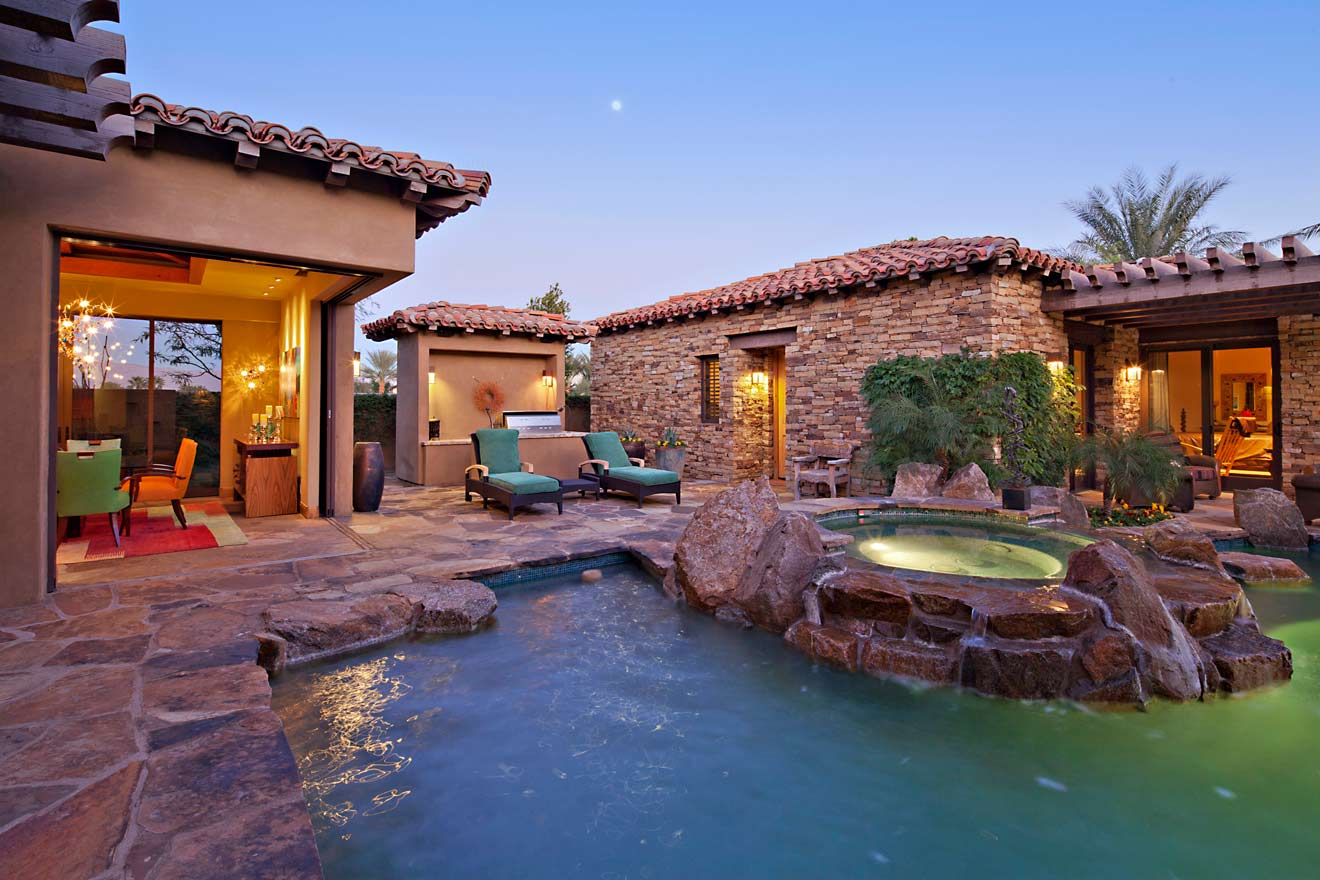 Looking for a cool hotel to stay during your next trip to California? Well, here is exactly where you'll find it!
In fact, there are so many cool hotels in California that I decided to save you some precious time and collect the best ones here. I also divided them by their special features and listed them in descending order from the most expensive to the cheapest one.
Most of the unique hotels mentioned in this California travel guide are located in southern California, in cool places like Palm Springs, Santa Monica, or the Big Sur, but I've also included some based in northern California, all with the purpose to list options for any taste!
The only thing you need to do is remember to book your favorite hotel at least a few months in advance if you want to reserve yourself a spot. Remember, these accommodations are so cool that they get booked out incredibly fast.
And now, are you ready to explore all the cool hotels in California with me?
If you are in a hurry
If you don't have time to read the whole post, check out this quick list of the coolest hotels in California, divided by interest:
Check out this map of California to visualize where all the cool hotels mentioned in the post are located:
1. Alila Ventana Big Sur – best luxury hotel for adults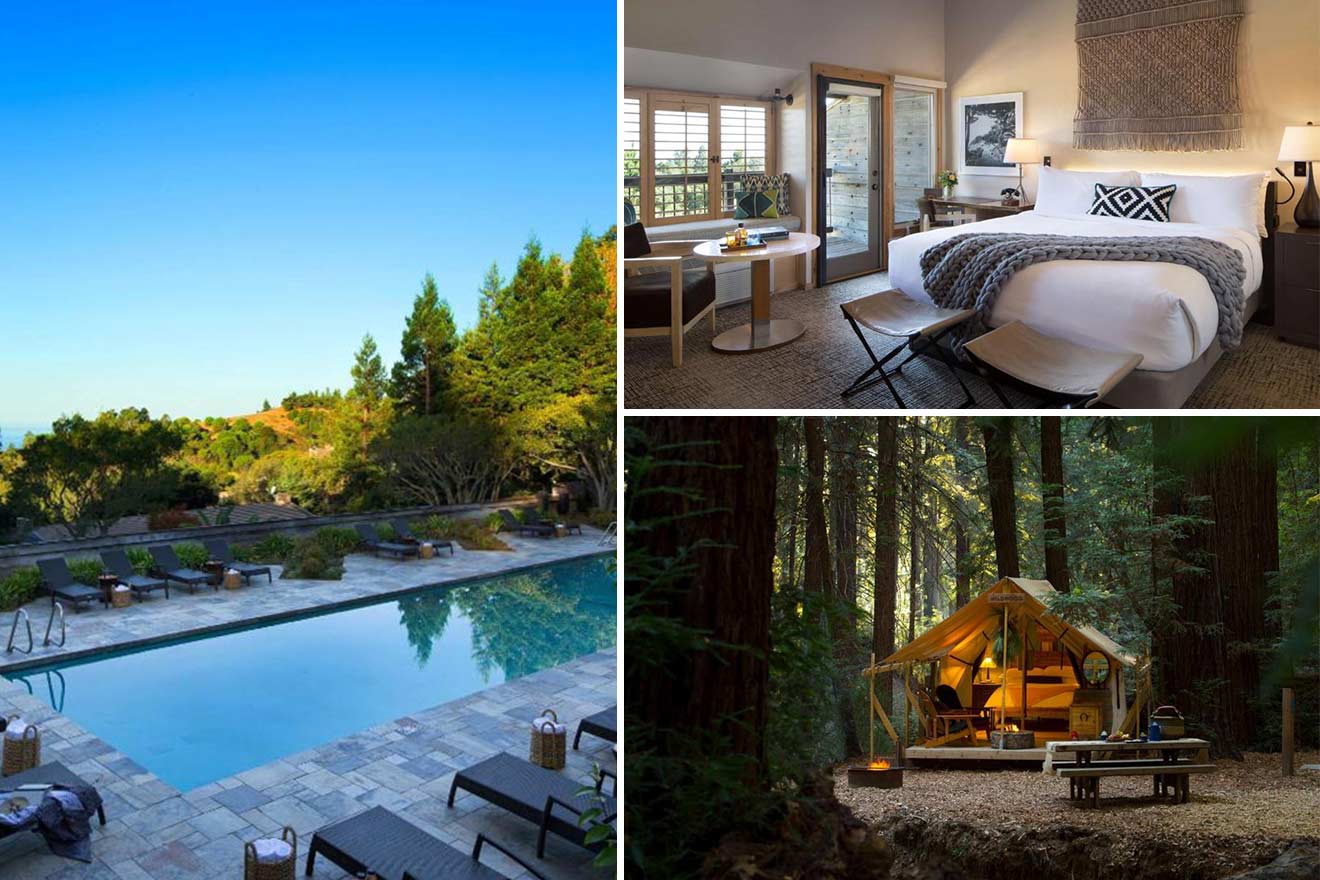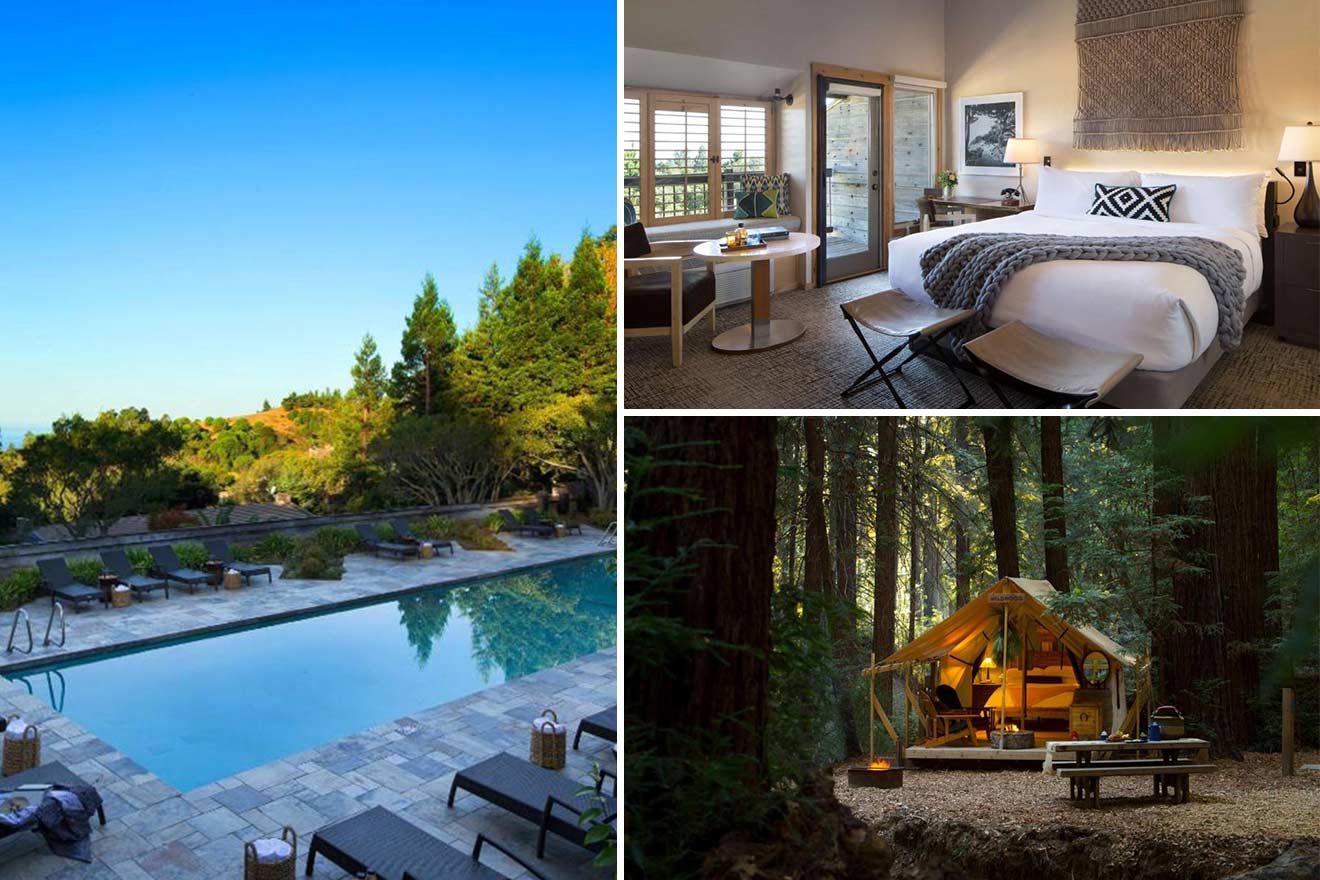 This southern California hotel is the perfect place if you want to have a luxury stay completely nestled in nature. In fact, this adults-only resort is located right on a Big Sur hill overlooking the beautiful Pacific coastline, within 160 secluded acres!
Here you will be spoiled with every kind of comfort: 2 outdoor pools, a Japanese hot tub, an on-site restaurant where to enjoy a fine dining experience with stunning ocean views, and a relaxing spa.
But just wait until you see the luxury rooms, featuring a private balcony or patio with views of the forest/ocean/canyon, binoculars, and walking sticks, and some of them even offer hot tubs on the decks, or fireplaces. Check them out, you will fall in love!
2. The Beverly Hills Hotel – most iconic hotel in California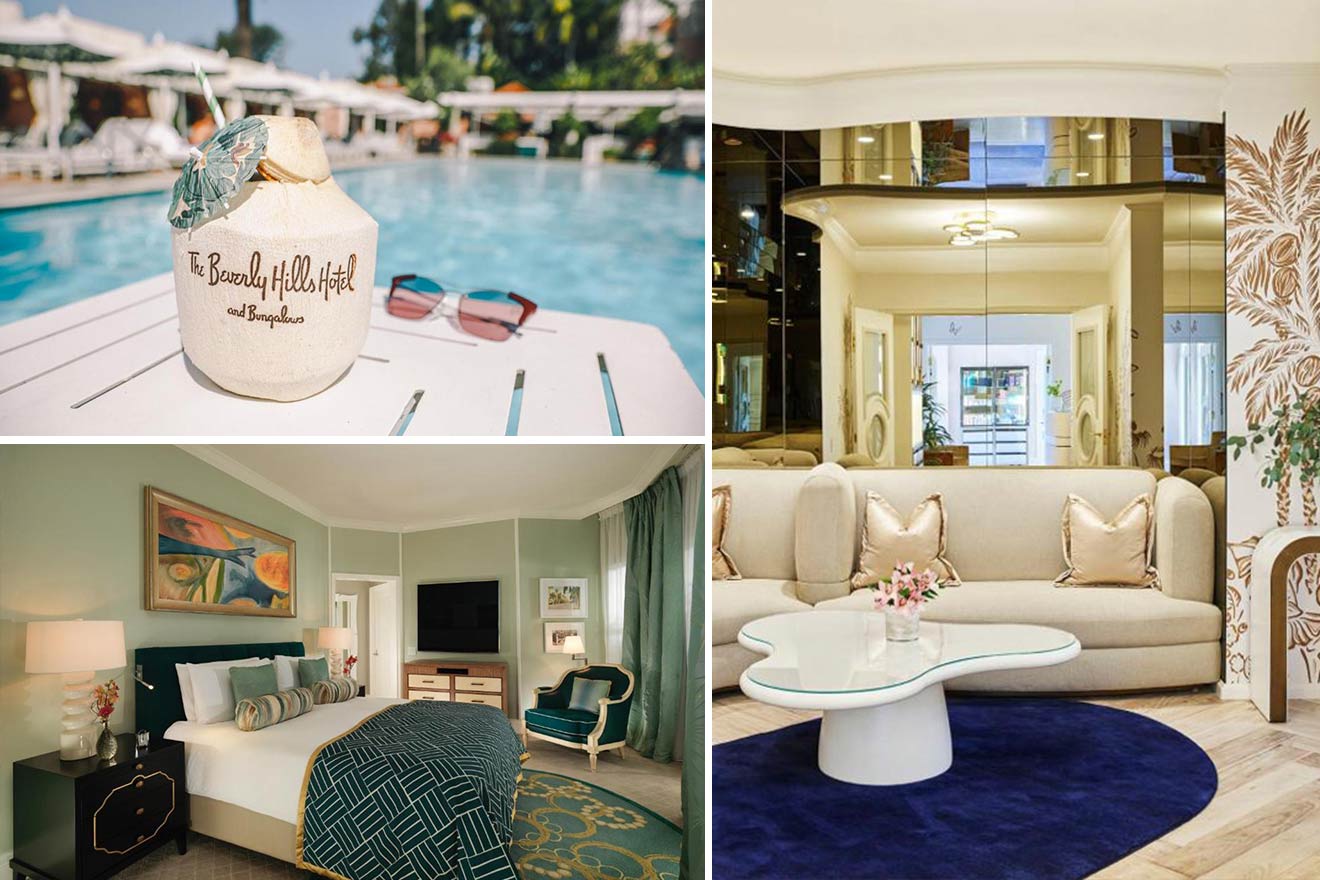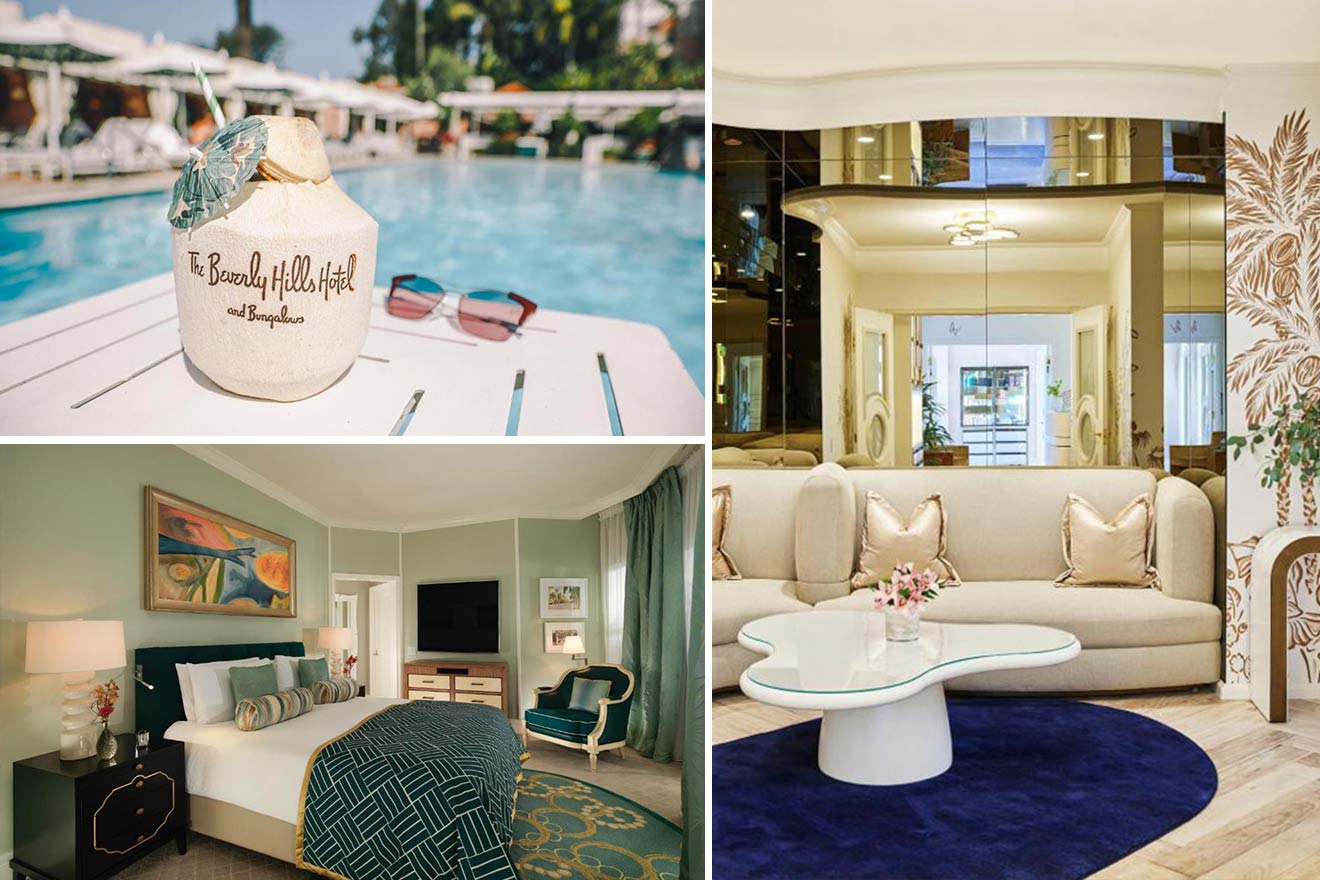 Located in Beverly Hills, LA, this is definitely one of the coolest unique hotels in California, and you will notice that from its cordial visitors, who are, for the most part, celebrities! This famous property distinguishes itself for its iconic pink color and palm leaves patterned walls on its interiors, which makes it one of the top-themed hotels in California!
Here even the hotel's facilities are cool… some examples? The Beverly Hills swimming pool featuring underwater music, the poolside Cabana Café for the most refreshing cocktails, the on-site fitness center with free fruit, juices, and water to boost the energy before workout, and the Polo Lounge, a favorite among famous people – you will feel like a real star!
3. Montage Laguna Beach – top beachfront accommodation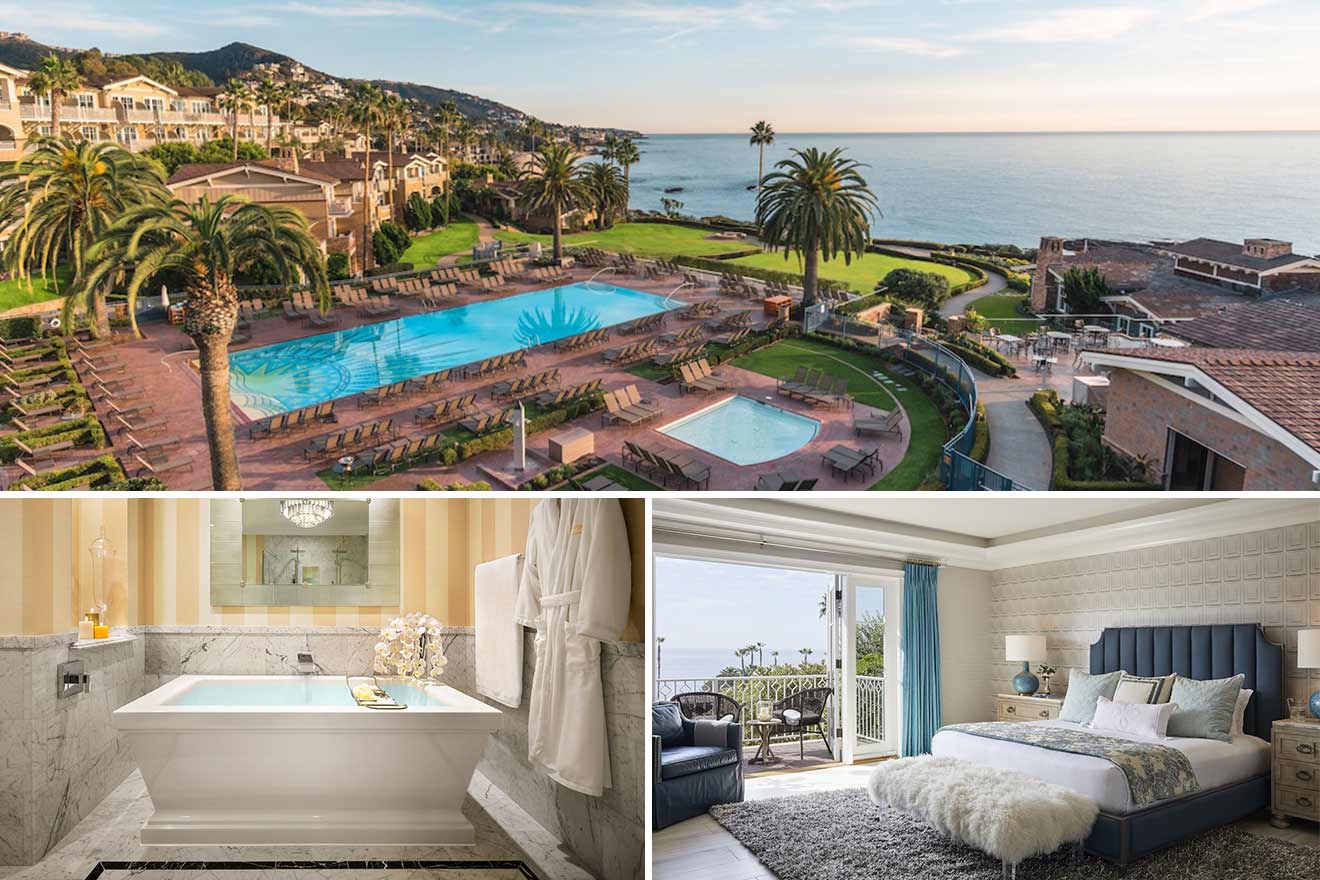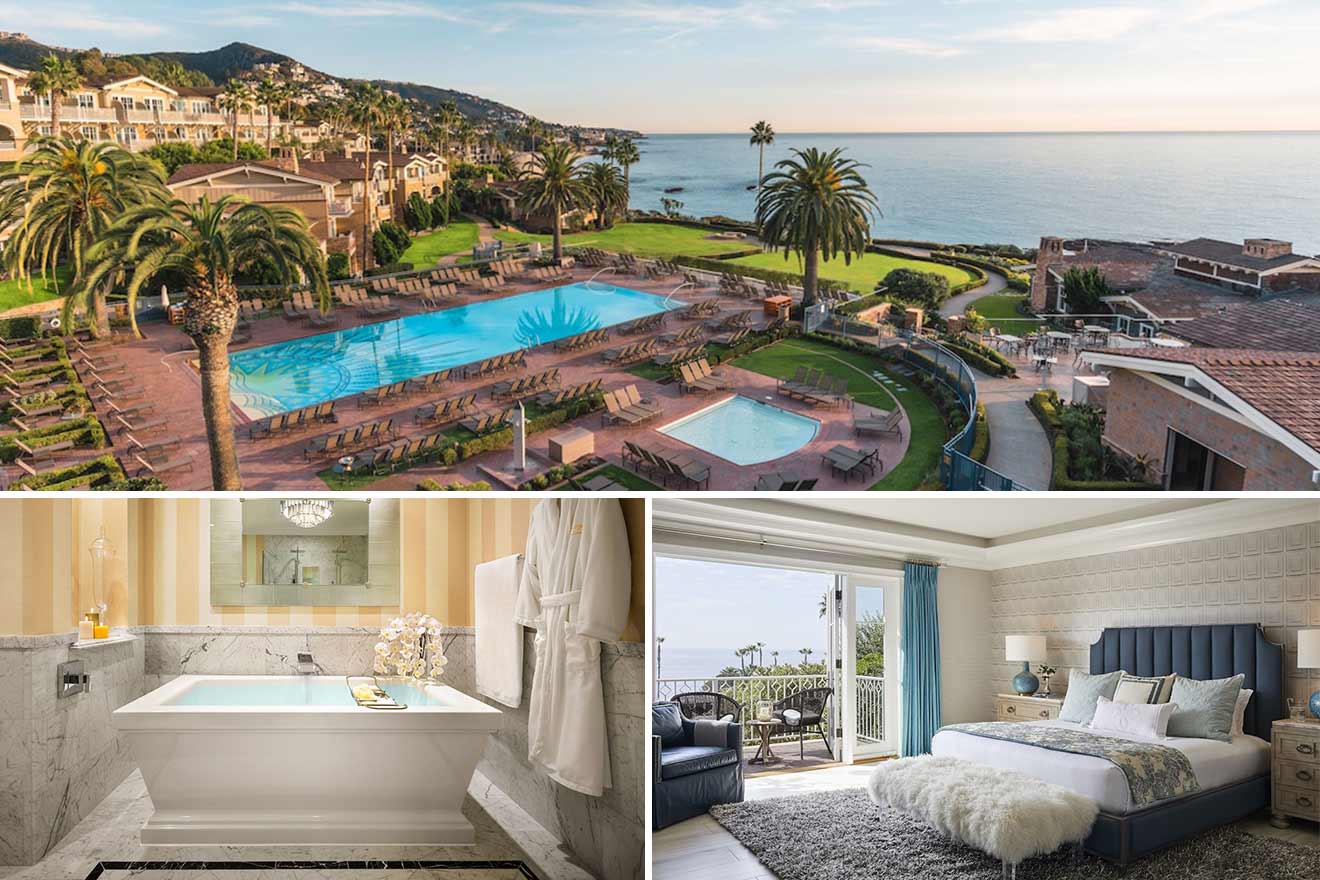 This southern California hotel, located in Treasure Island Park in Laguna Beach, offers the best beachfront accommodations, from bungalows and villas to regular rooms and suites, all offering some of the most amazing sea views.
Here most rooms feature private balconies and marble soaking bathtubs, and access to some incredible amenities such as a luxury spa with 21 astonishing treatment rooms and 3 pools, among which an oceanfront swimming pool to relax and enjoy the views, and a lap pool for swimming and training for the more active ones among you.
Speaking honestly, this is definitely one of the best hotels in southern California!
4. Solage – the coolest location in a Cali regional park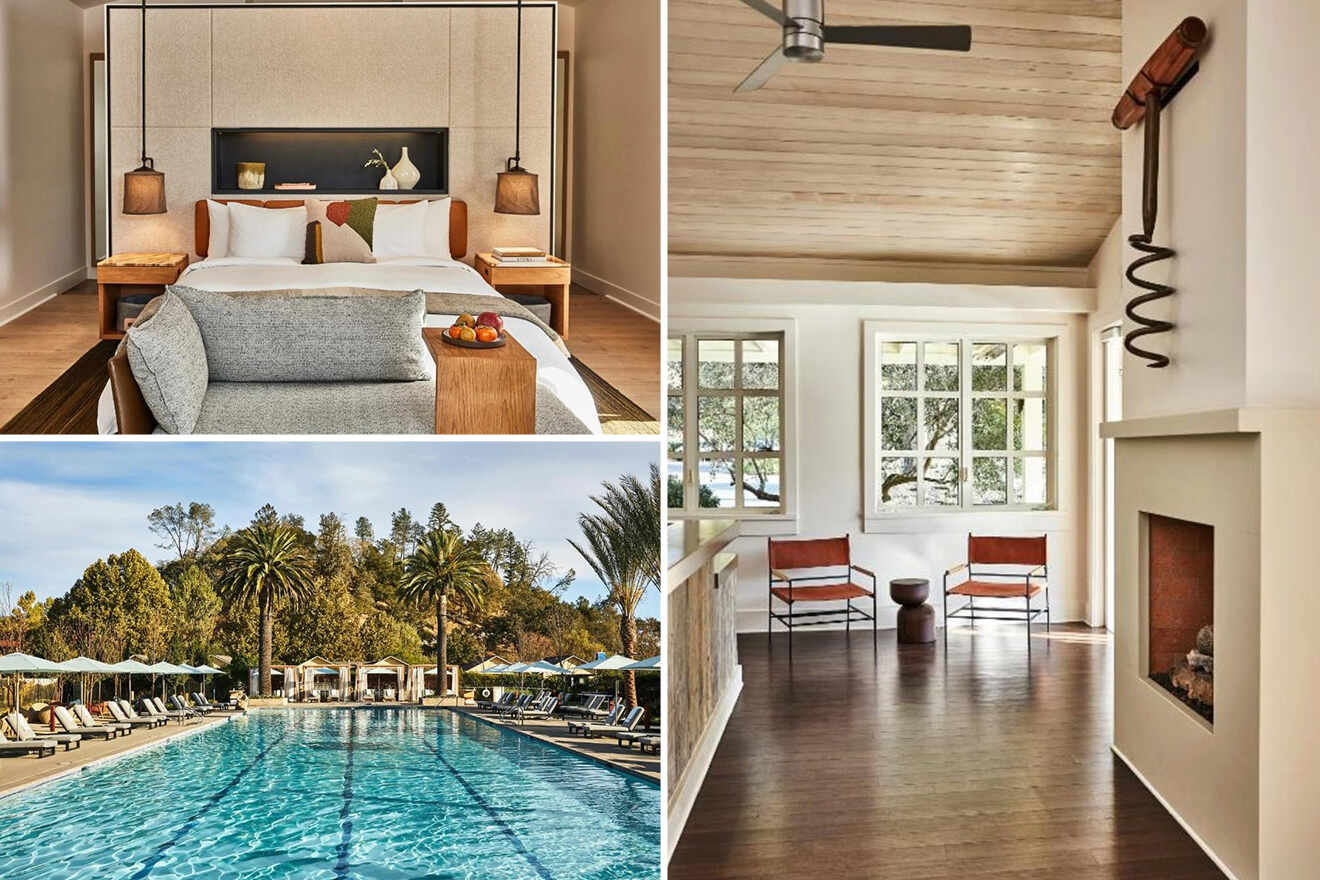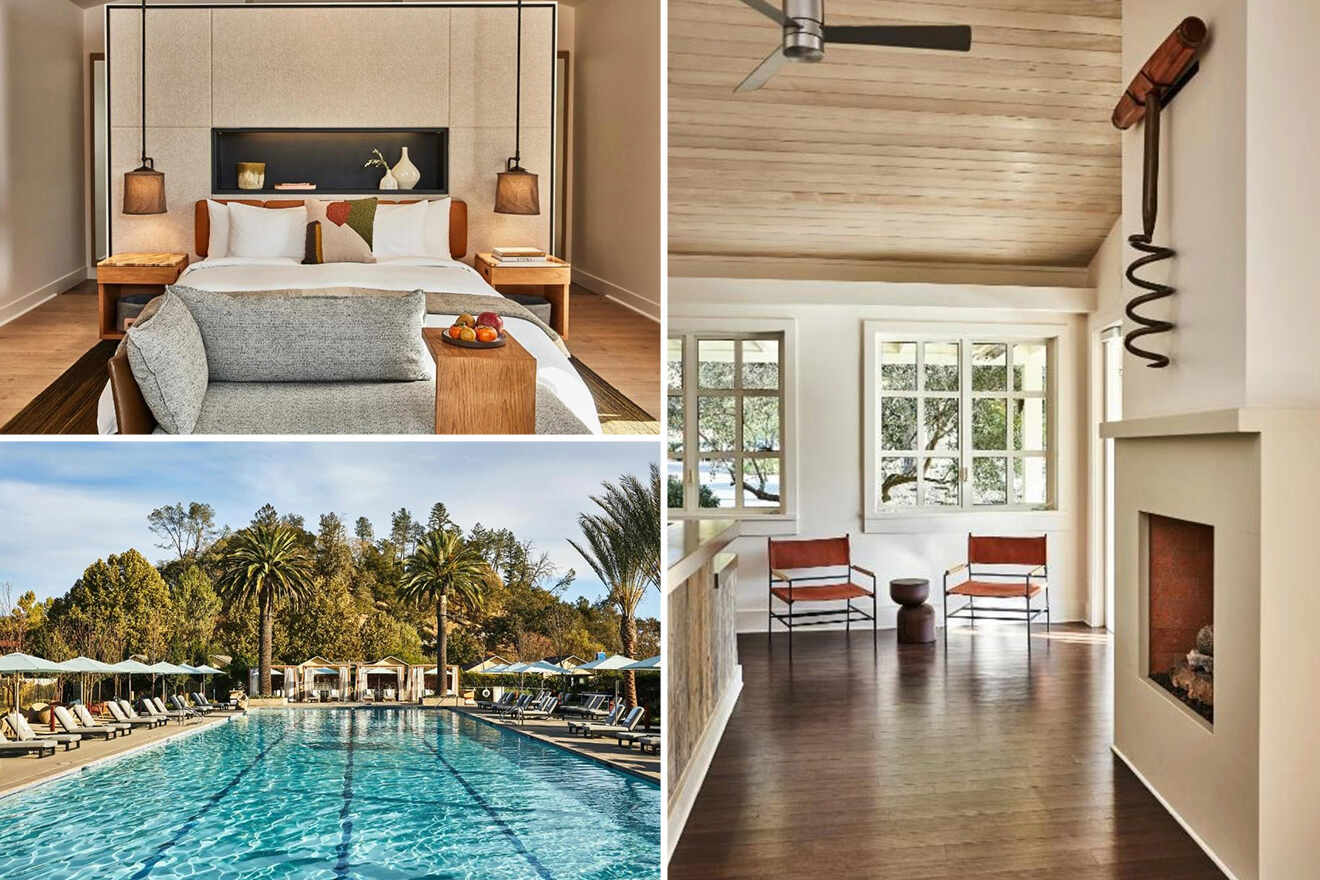 Located in Calistoga, in a regional park, this is definitely one of the top unique hotels in California, right between the Bothe-Napa Valley State Park and Trione-Annadel State Park. This cool property is perfect for those who want to spend some time in nature and disconnect from the outside world!
In fact, from the hotel, you can explore the natural beauty of the 2 parks, playing golf at the course nearby or go hiking and biking on the many trails of the area… you will never get bored here!
After a day full of activities, you will get body treatments, massages, and hydrotherapies at the onsite spa, or indulge in delicious Californian cuisine at the fine-dining restaurant.
5. Carmel Valley Ranch – a California countryside resort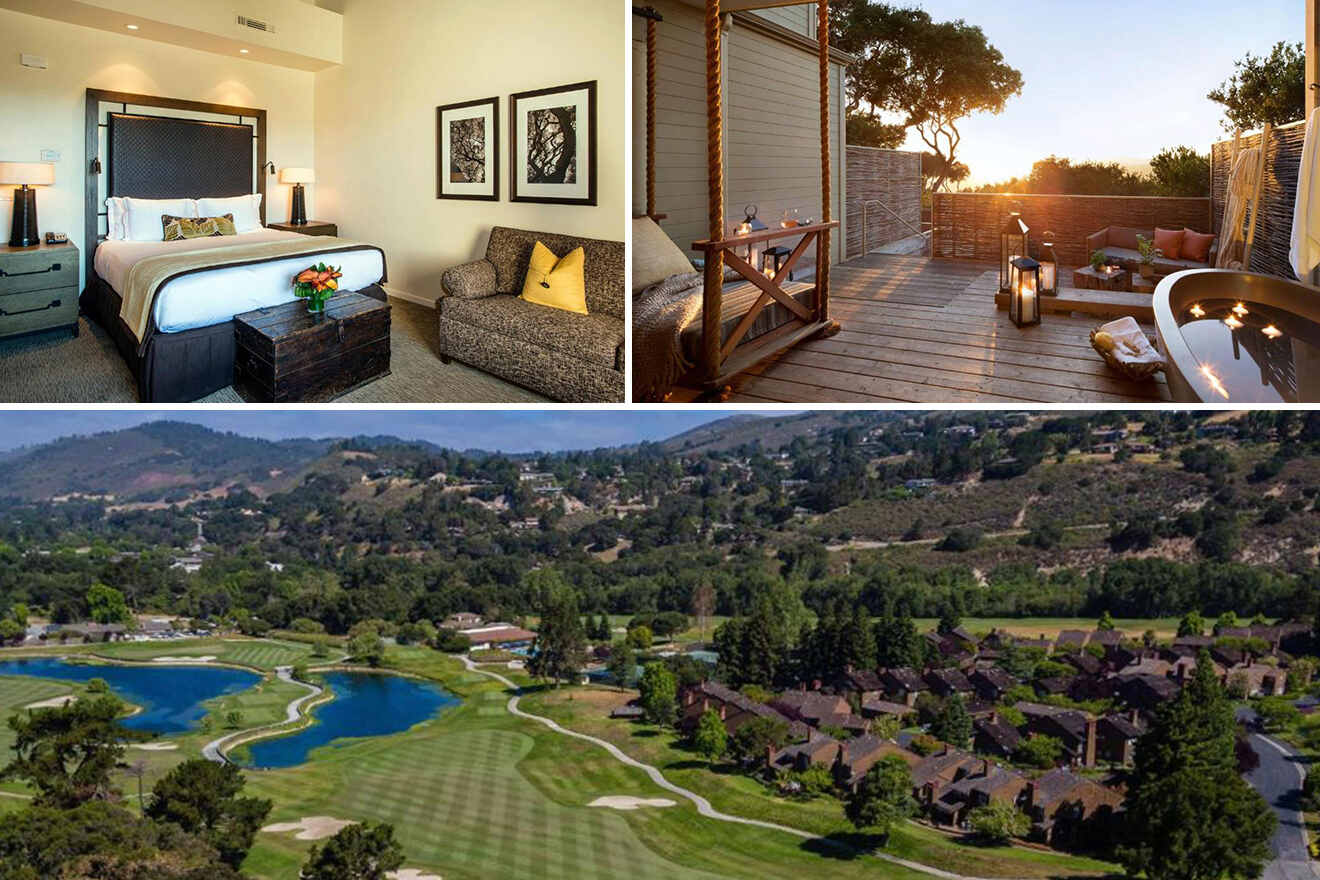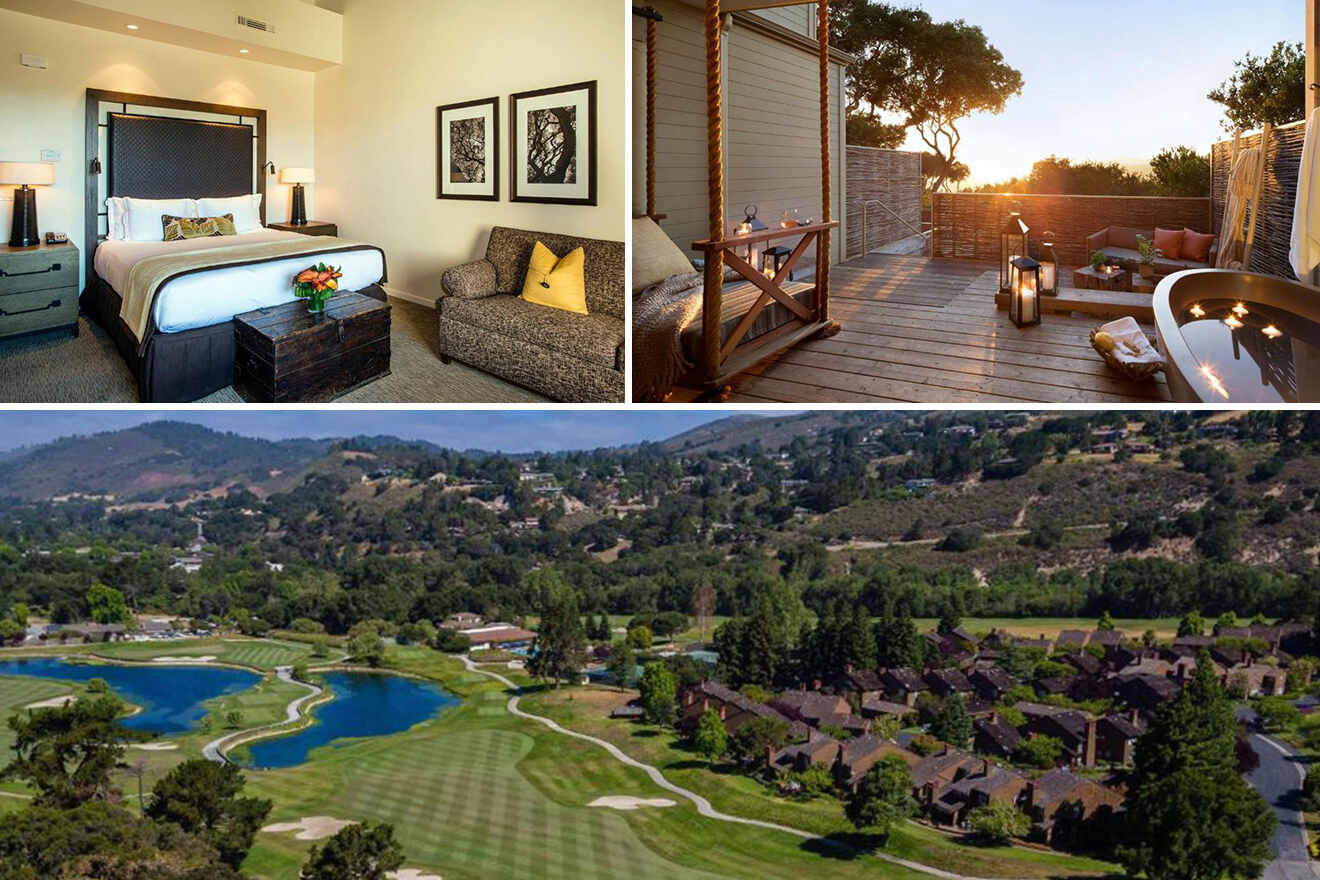 This unique hotel, an all-suite countryside resort, is located on 500 acres in Carmel, in a natural reserve among vineyards, golf courses, and forests and is one of the best hotels in California with a private pool!
All the rooms here include a fireplace, a private deck, and bathrooms with separate showers and soaking tubs, but the best thing is that they will give you access to great facilities. Some examples?
The property hosts a full-service spa to enjoy some deserved relaxation, a golf course, 9 tennis courts, 2 outdoor pools, a gym, hot tubs, and scenic hiking trails just nearby making it definitely one of the coolest hotels in California!
6. Hotel Joaquin – for an intimate getaway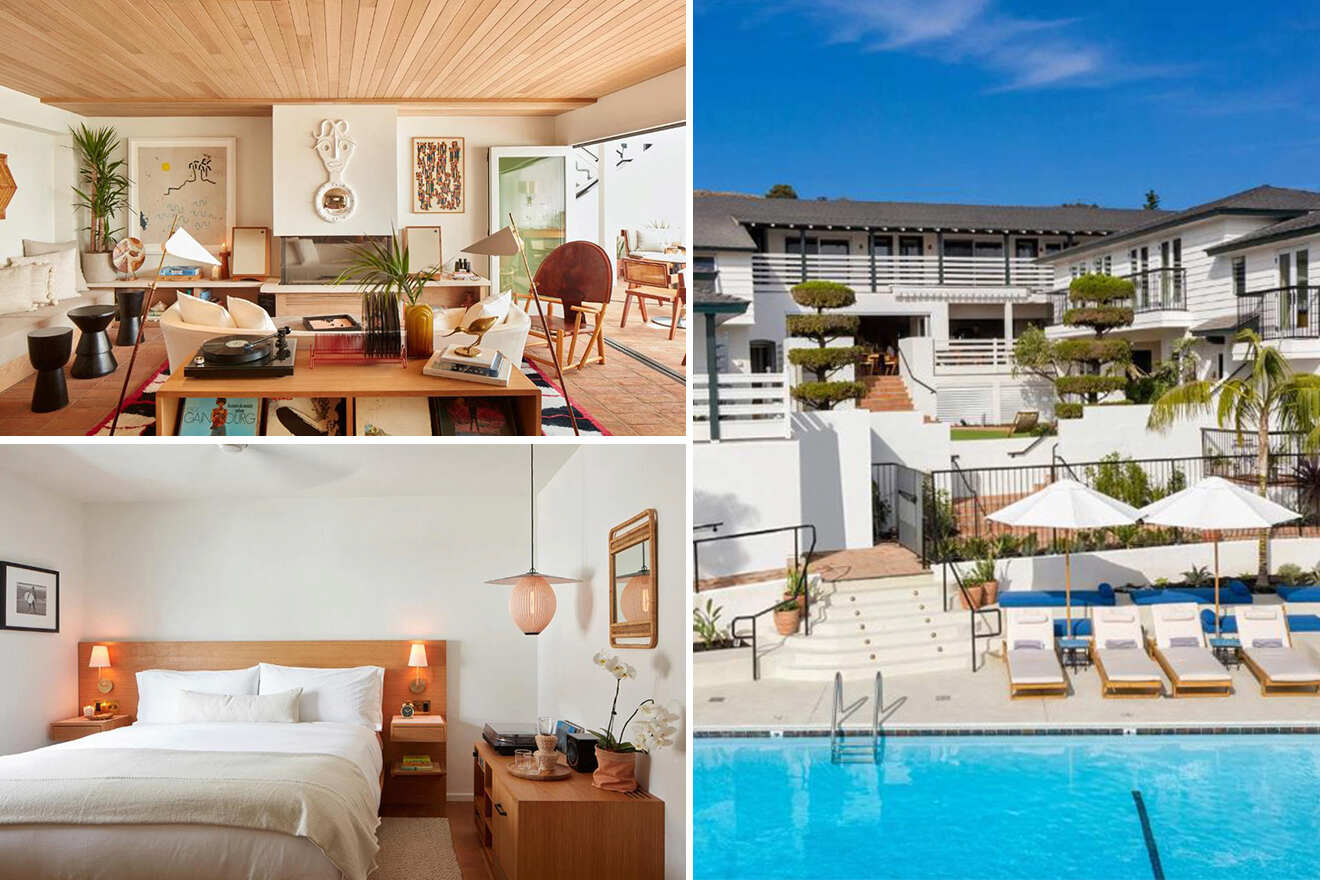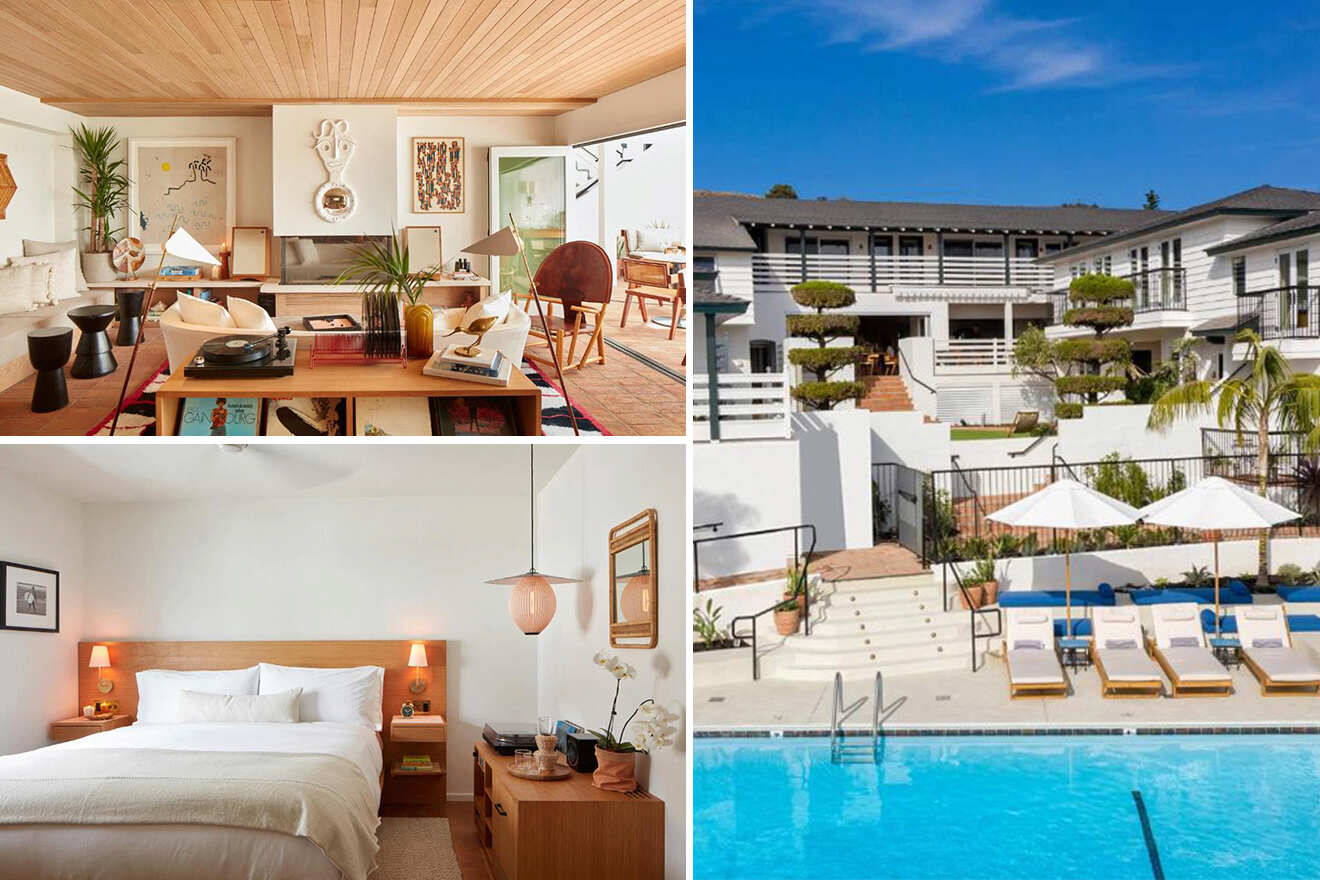 If you're looking for a cool hotel where you can enjoy an intimate stay in absolute tranquility, this Laguna Beach property is for you, which is also one of the most photographed lobbies in Southern California!
In fact, this stunning coastal boutique hotel hosts only 22 rooms, all featuring breathtaking views of the Pacific Ocean, an intimate space, and a cozy design that will make you feel immediately at home.
But even if small, this property offers many cool facilities, like a delicious on-site restaurant, a bar, a beautiful pool area, and access to many activities such as yoga, surfing, kayaking, snorkeling, and more.
7. Palihouse Santa Monica – for classic rooms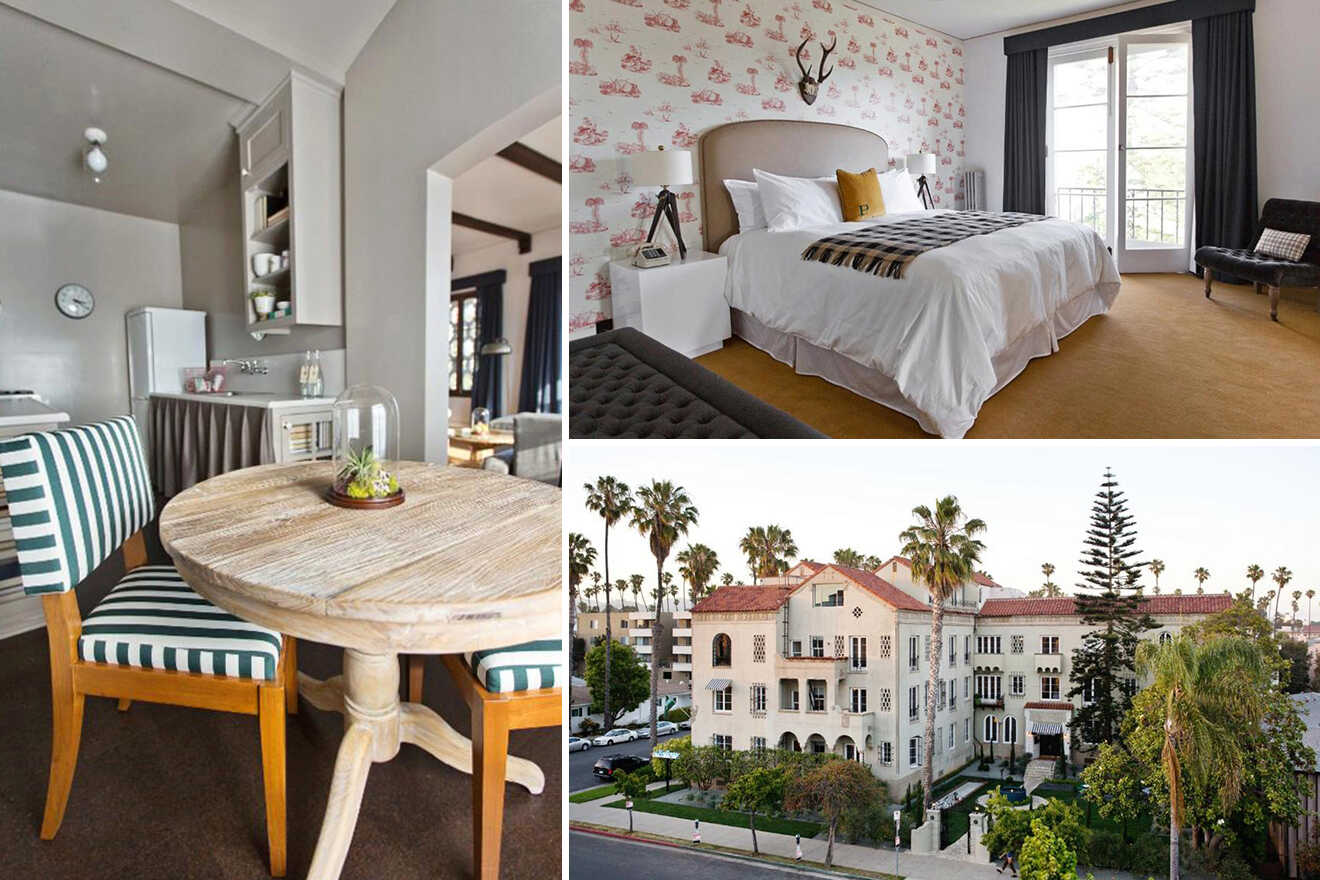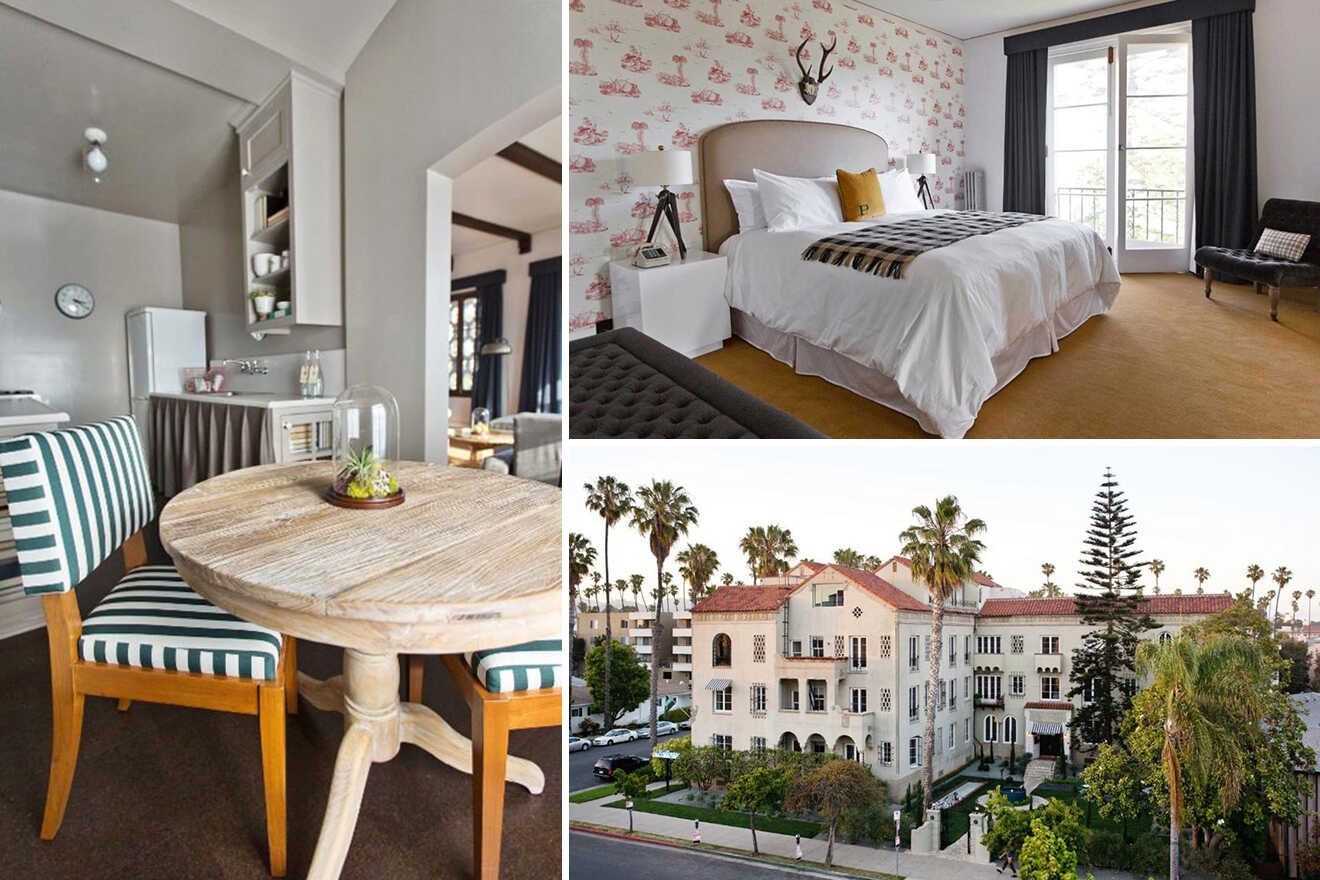 This southern California hotel, dating back to 1927, is perfect if you love to stay in properties with a classic, historical vibe, offering 38 generously appointed classic rooms and studios, all featuring fully equipped kitchens perfect for a stay with the family.
Located in Santa Monica, this hotel stands out for its Moorish-influenced Mediterranean architecture, and also offers a convenient location to some of the best attractions in LA, like the Santa Monica Pier, Venice Beach, and Mandela Park, all at walking distance from the property. Check out the pictures, I am sure you'll love it!
NOTE: This hotel scored a little lower than what I usually recommend, but it is one of the coolest hotels in Southern California, so I decided to include it in this list!
8. The Claremont Club & Spa – a castle-like hotel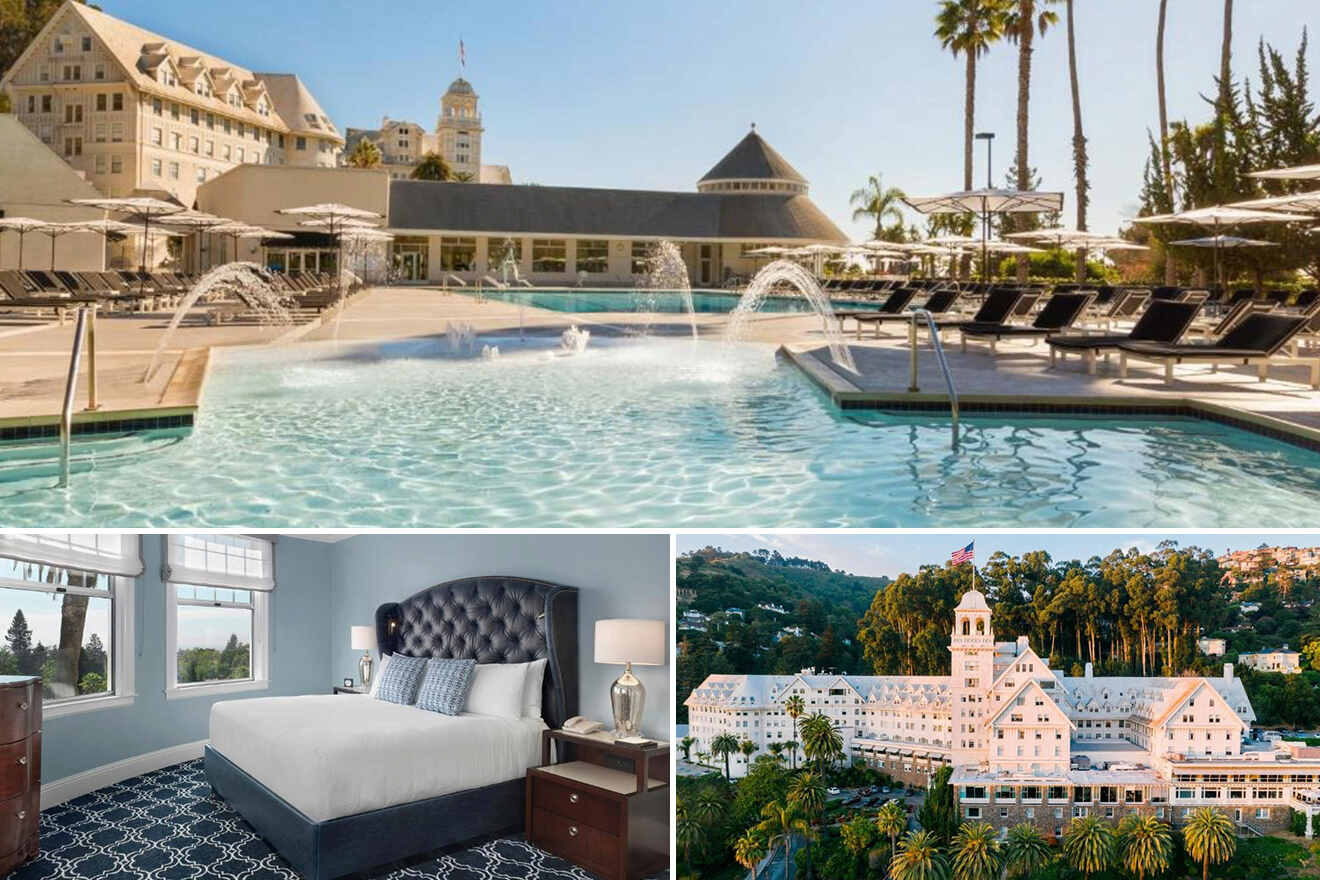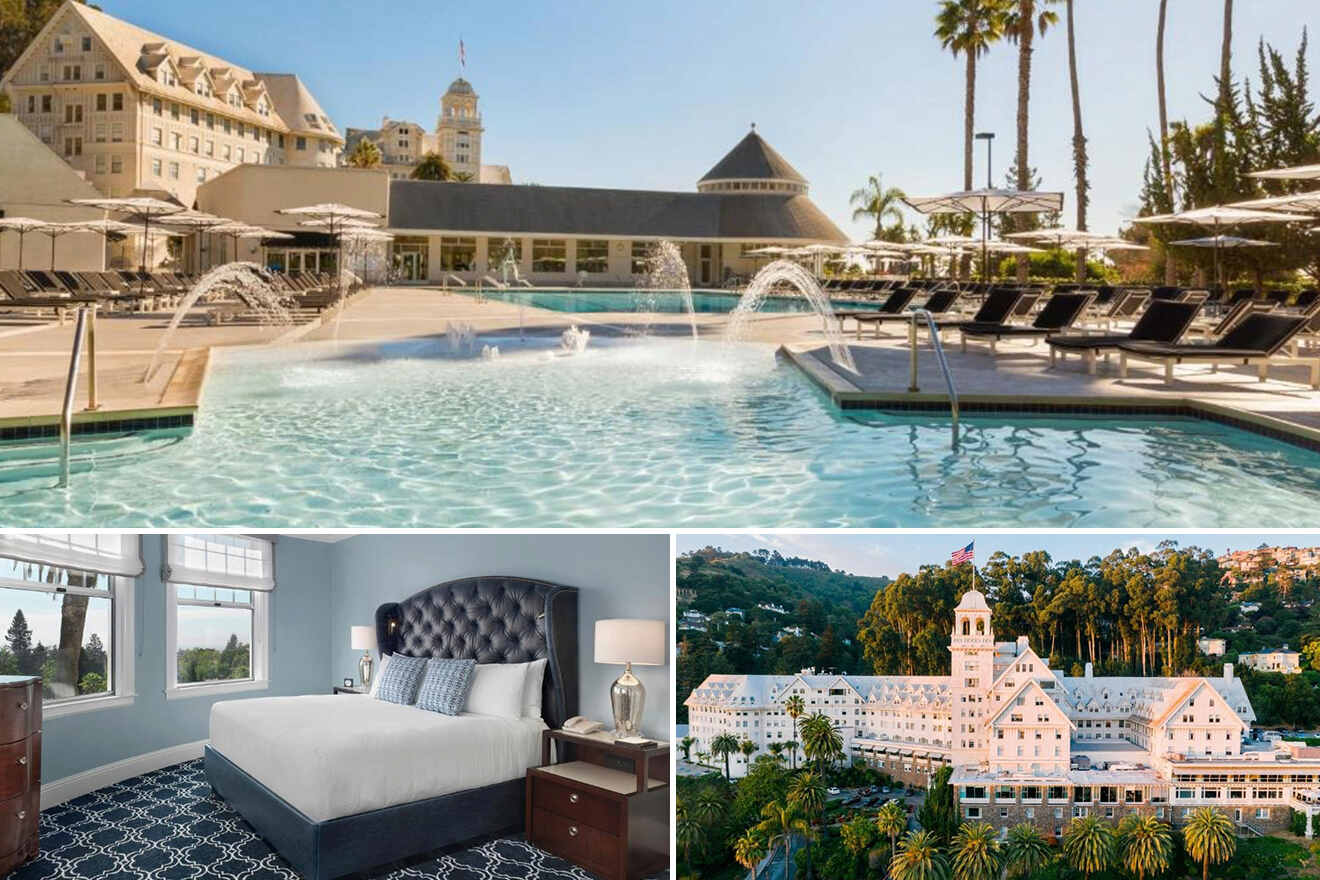 If you want to feel like the queen & king that you are, check out this southern California hidden gem, located in Berkeley and looking like a real castle! Here you will have access to literally everything you might need and want during your holiday, like 3 fine-dining restaurants, 2 heated pools, a children's pool, 10 tennis courts, a state-of-the-art fitness center, and a business center.
Another plus? Each luxurious guest room is uniquely designed and varies in size and décor, but they all feature air-conditioning, a flat-screen TV, spa, bathroom amenities, a mini-bar refrigerator and terry cloth robes… What else could you ask for?
NOTE: This hotel scored a little lower than what I usually recommend, but it is still a great choice for tourists, so I decided to include it in this list of the coolest hotels in Southern California!
9. Gaige House – for an Asian-inspired spa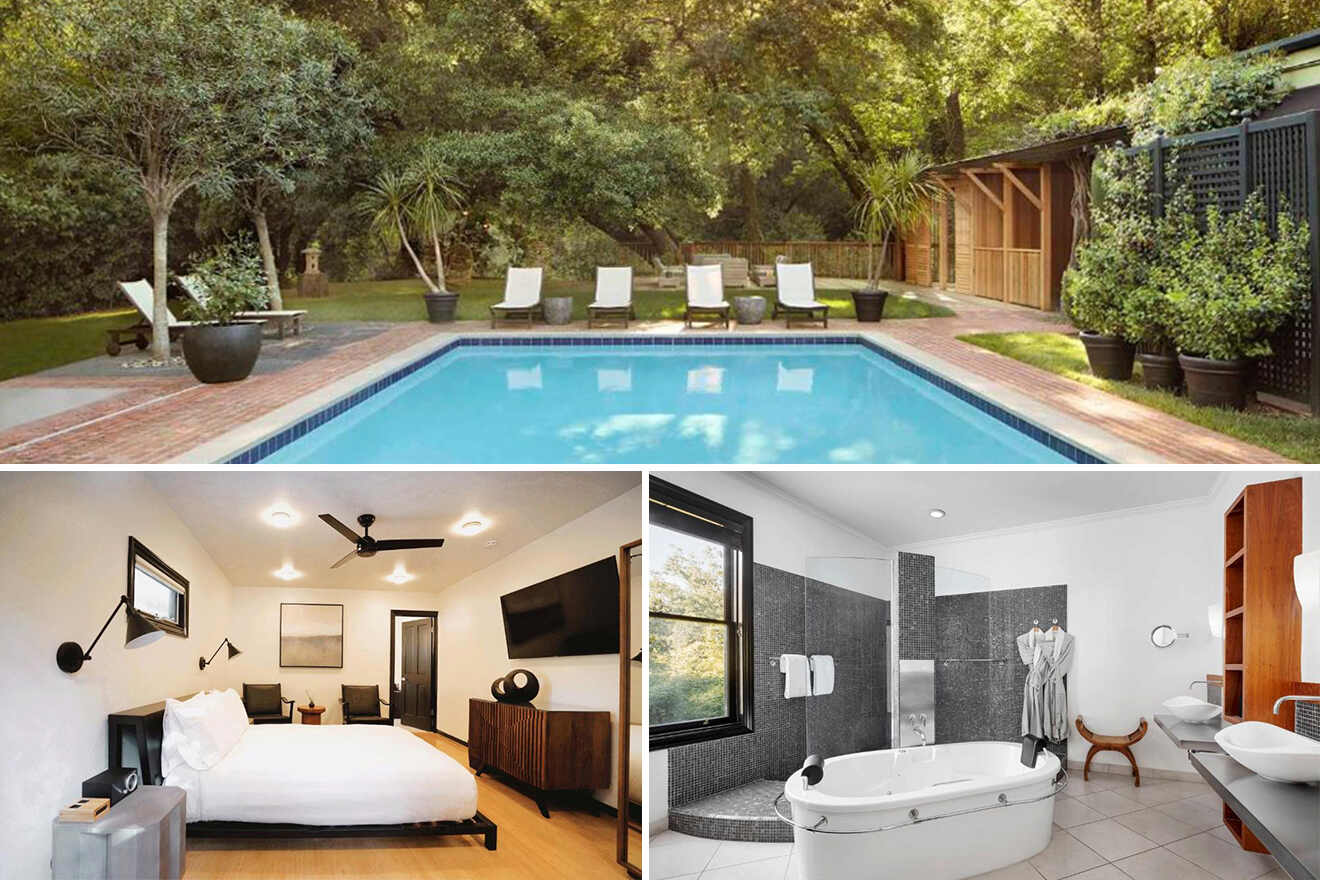 Located close to both Sonoma and Napa Valley wine countries, this hotel will make you travel from southern California to Asia in just a few steps, offering a wooden Japanese-style spa where you can get hot stone massages, and other treatments.
All spacious rooms at the property have private entrances, free Wi-Fi, and a private patio with garden views, but if you want to stay in the "Asian mood" you should choose the zen ryokan suites, fully decorated with Japanese furniture. Also, don't forget to enjoy the daily full buffet breakfast, and free wine and cheese tasting in the evening. It's the best way to start and end your days!
10. Timber Cove Resort – the best ocean views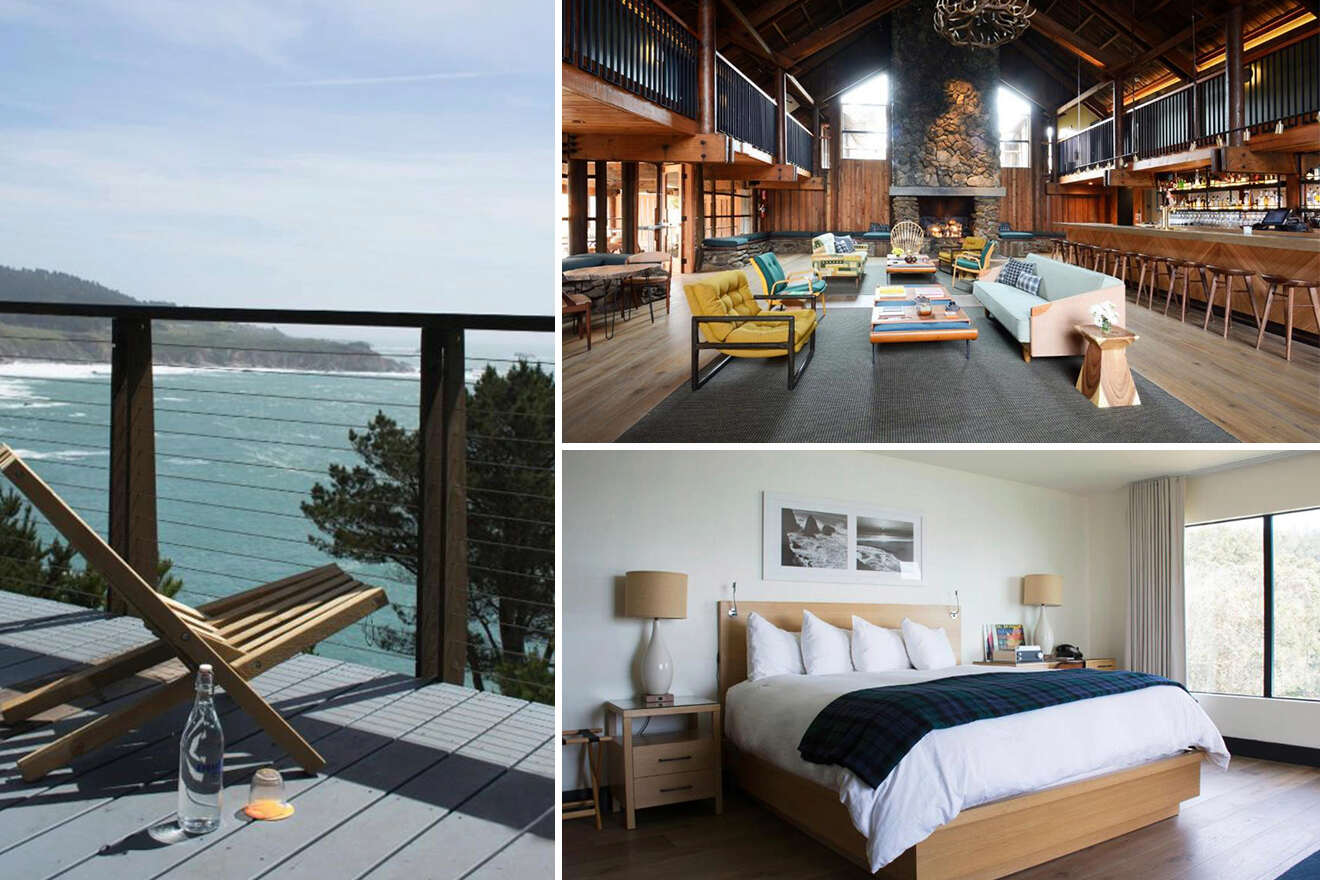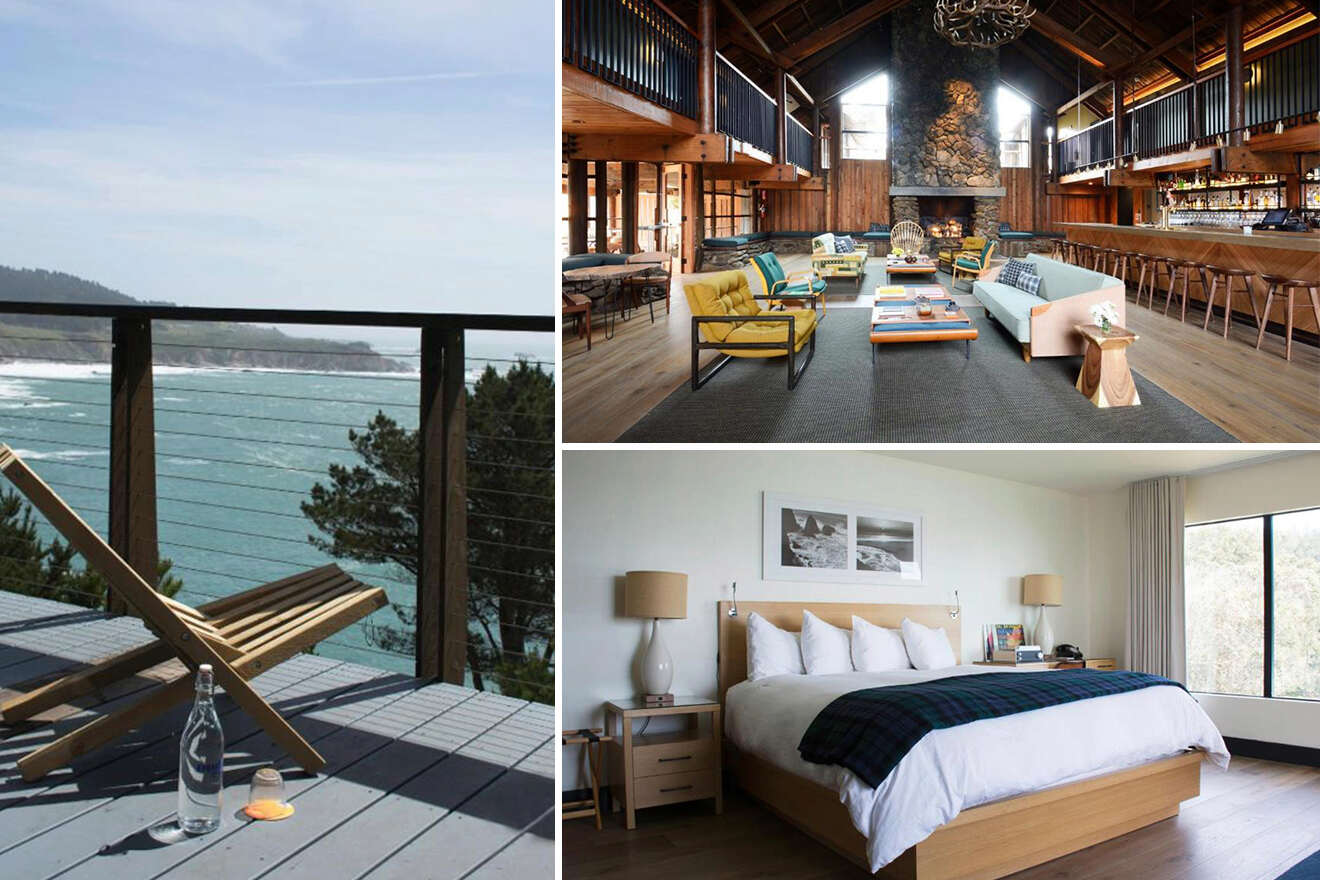 This upscale boutique hotel is located in northern California, precisely on the Sonoma coast, on a cliff overlooking the Pacific Ocean, so it goes without saying that it offers some of the most stunning ocean views you will ever see!
Rooms here offer the perfect combo between the cozy atmosphere and modern amenities and will give you access to many cool facilities, like a delicious on-site restaurant offering seasonal fare with breathtaking coastal views, ocean view decks, and outdoor fire pits… even the gym offers great views of the ocean… Can you believe that?
11. Downtown Los Angeles Proper Hotel – the coolest design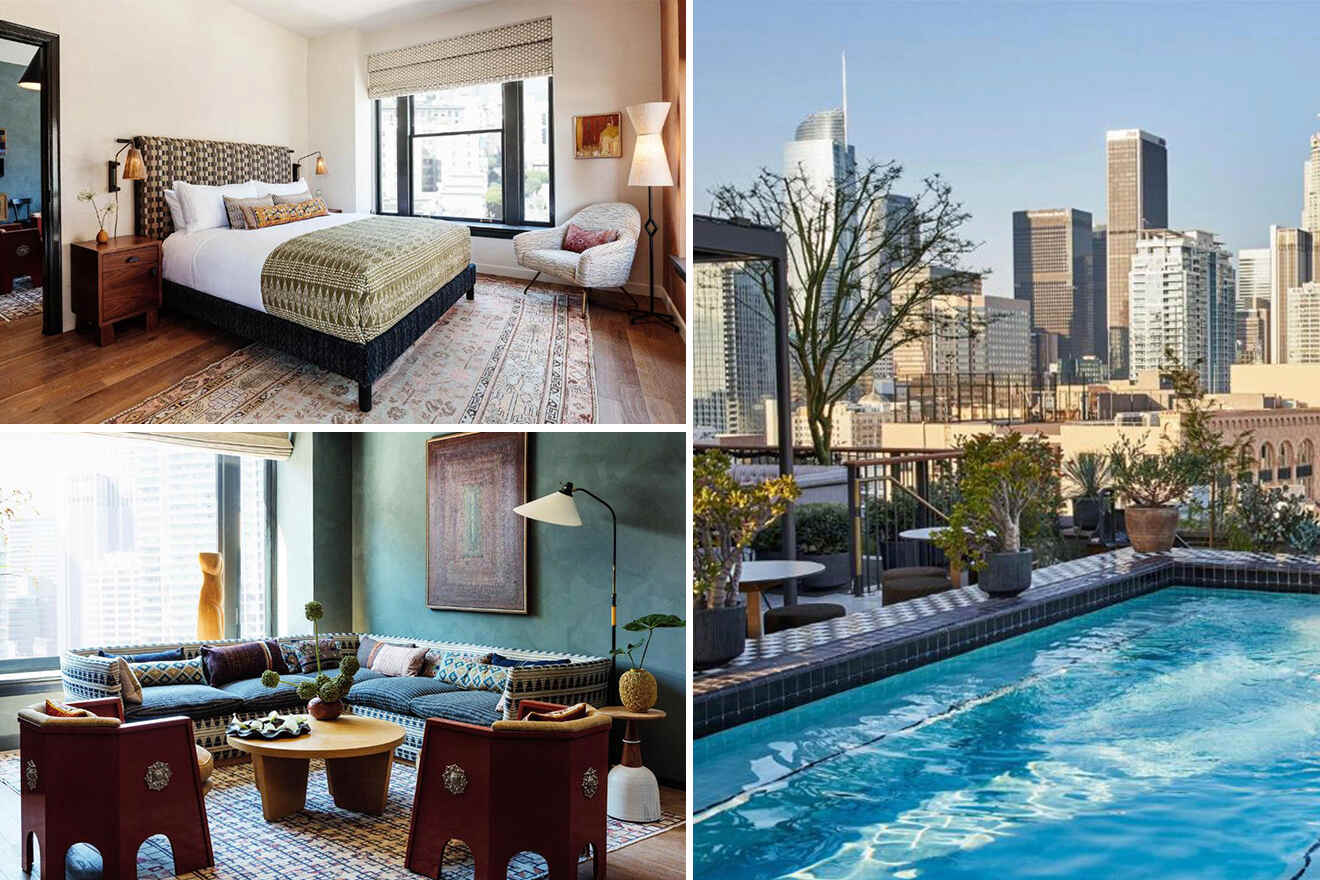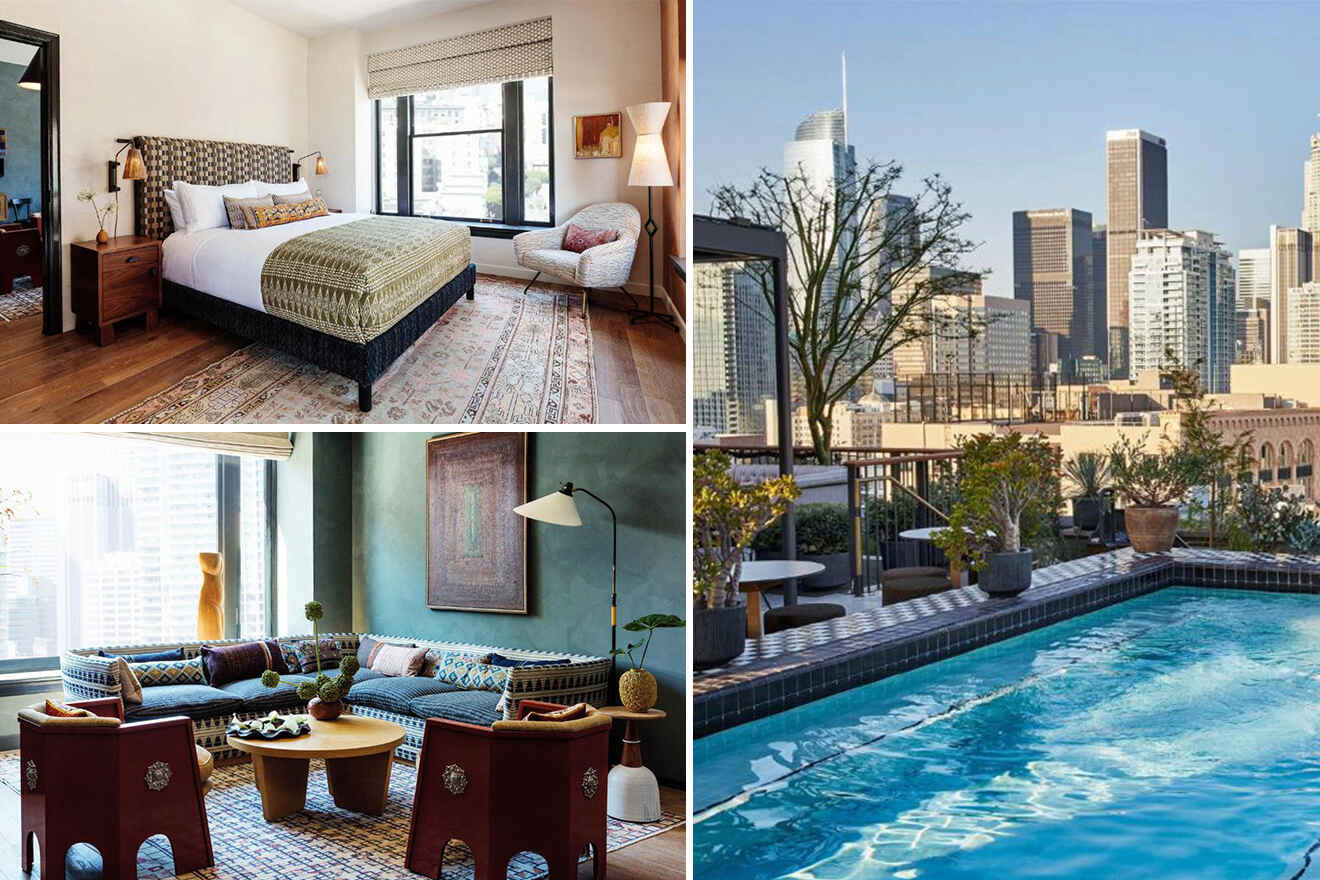 Located in Downtown Los Angeles, this southern California hotel has the most stylish interior design, inspired by nature, made of neutral colors, natural wood, organic textures, and handwoven textiles… you will feel relaxed as soon as you step inside!
Whether you want to relax, or join a fun activity, there are facilities and activities for any taste. You can book a relaxing treatment in the Ayurvedic Spa, chill at the rooftop bar, or pool while enjoying views of the Pacific Ocean, join yoga classes, or go paddleboarding, surfing, and biking in the hotel's surroundings. In my opinion, this is one of the most unique hotels in California!
12. Ace Hotel & Swim Club Palm Springs – the most stylish hotel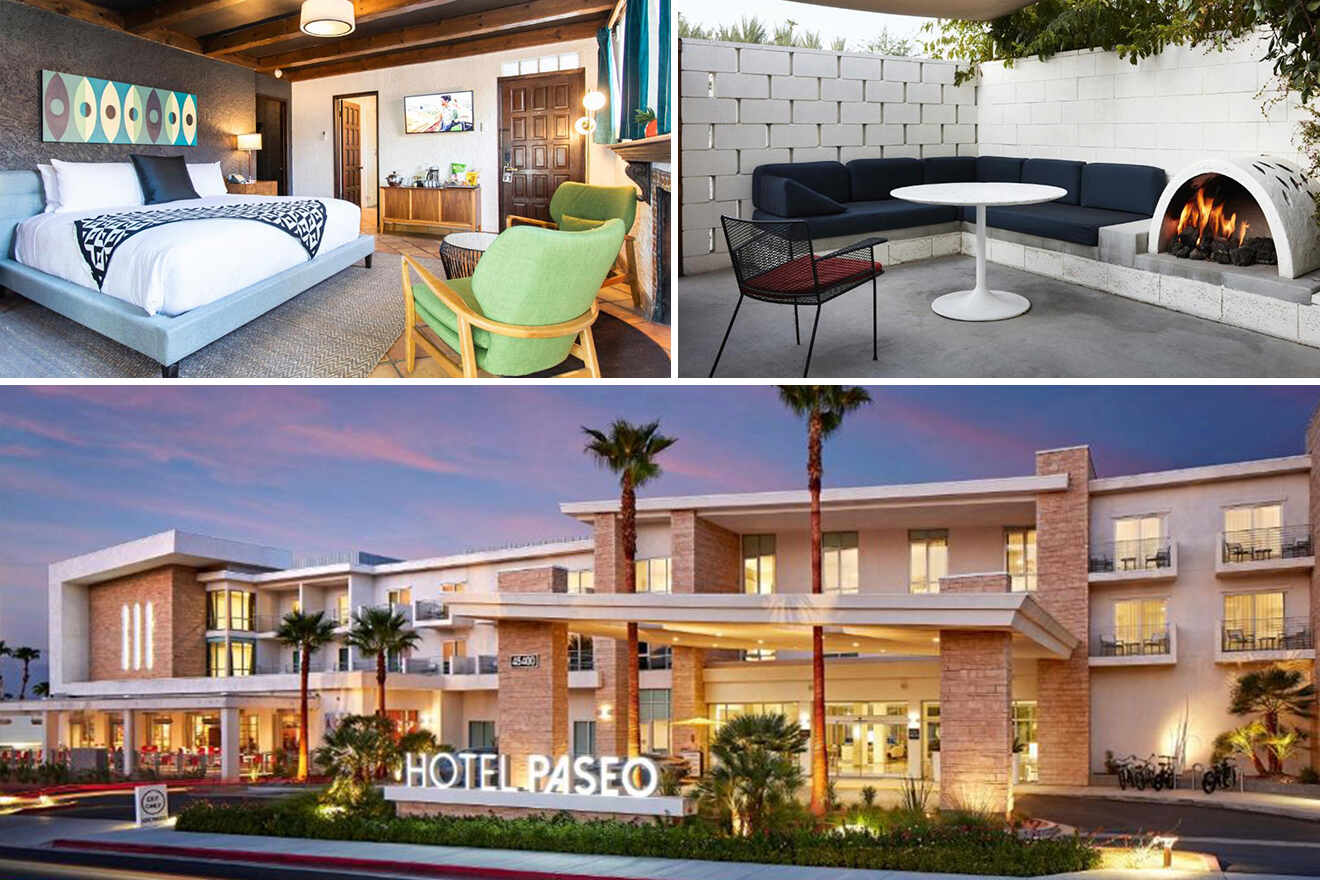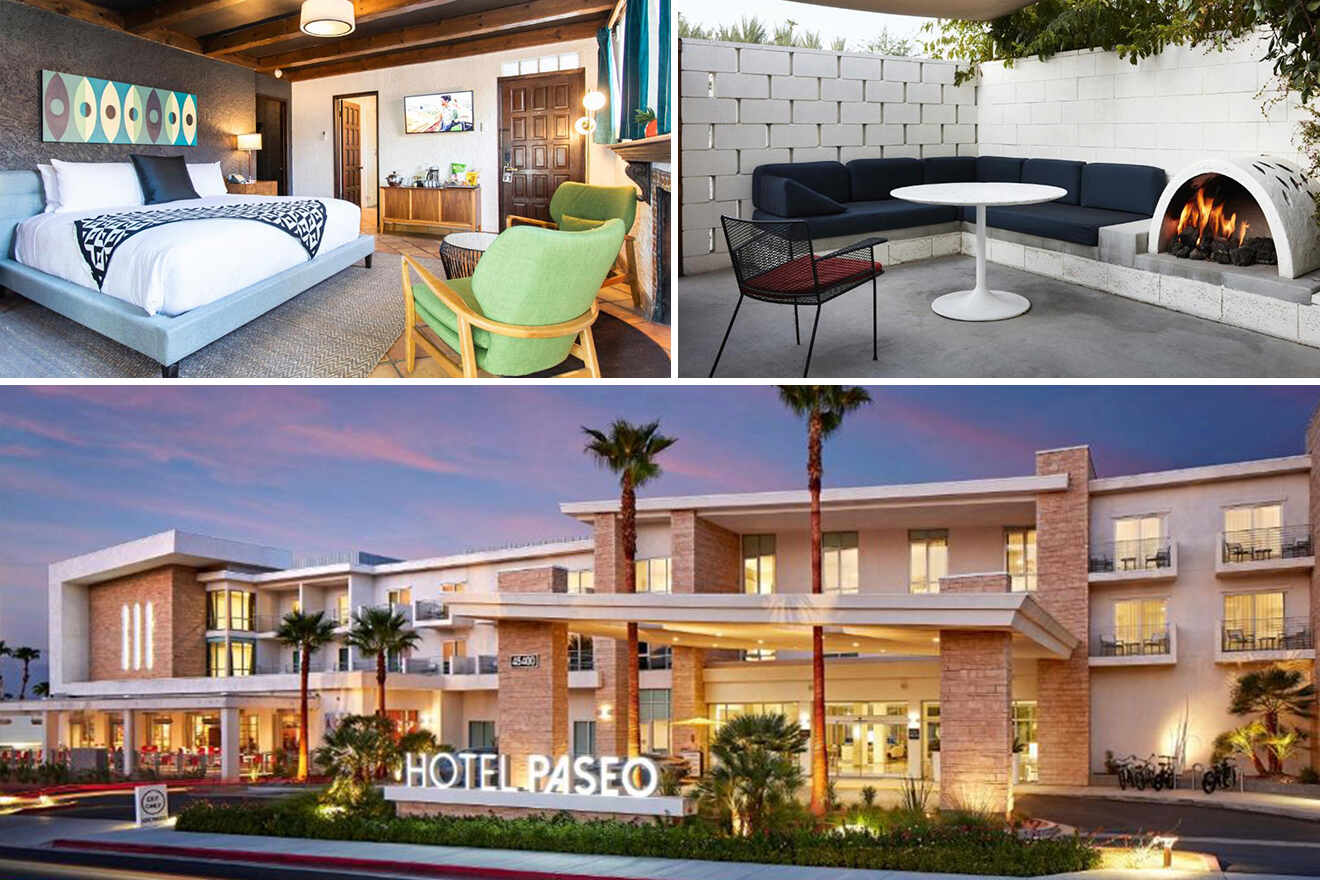 This modernized mid-century hotel features 1950s motel decorations throughout the property, and stylish rooms with vintage furniture and calm colors, offering views of the city, the pool, or the mountains.
Located in Palm Springs, this southern California hotel will give you access to many facilities, like a swim club with 2 outdoor pools, an outdoor fireplace (the perfect area to enjoy some relaxation), a fitness center for those who want to stay in shape, and a full-service spa offering body treatments, and massages.
Other advantages of the hotel are its cool pool parties, and golf course just nearby, so you'll be entertained the whole day!
NOTE: This hotel scored a little lower than what I usually recommend, but it is so cool that I had to include it in this list of the coolest hotels in Southern California!
13. Miracle Manor Boutique Hotel & Spa – top eco-friendly hotel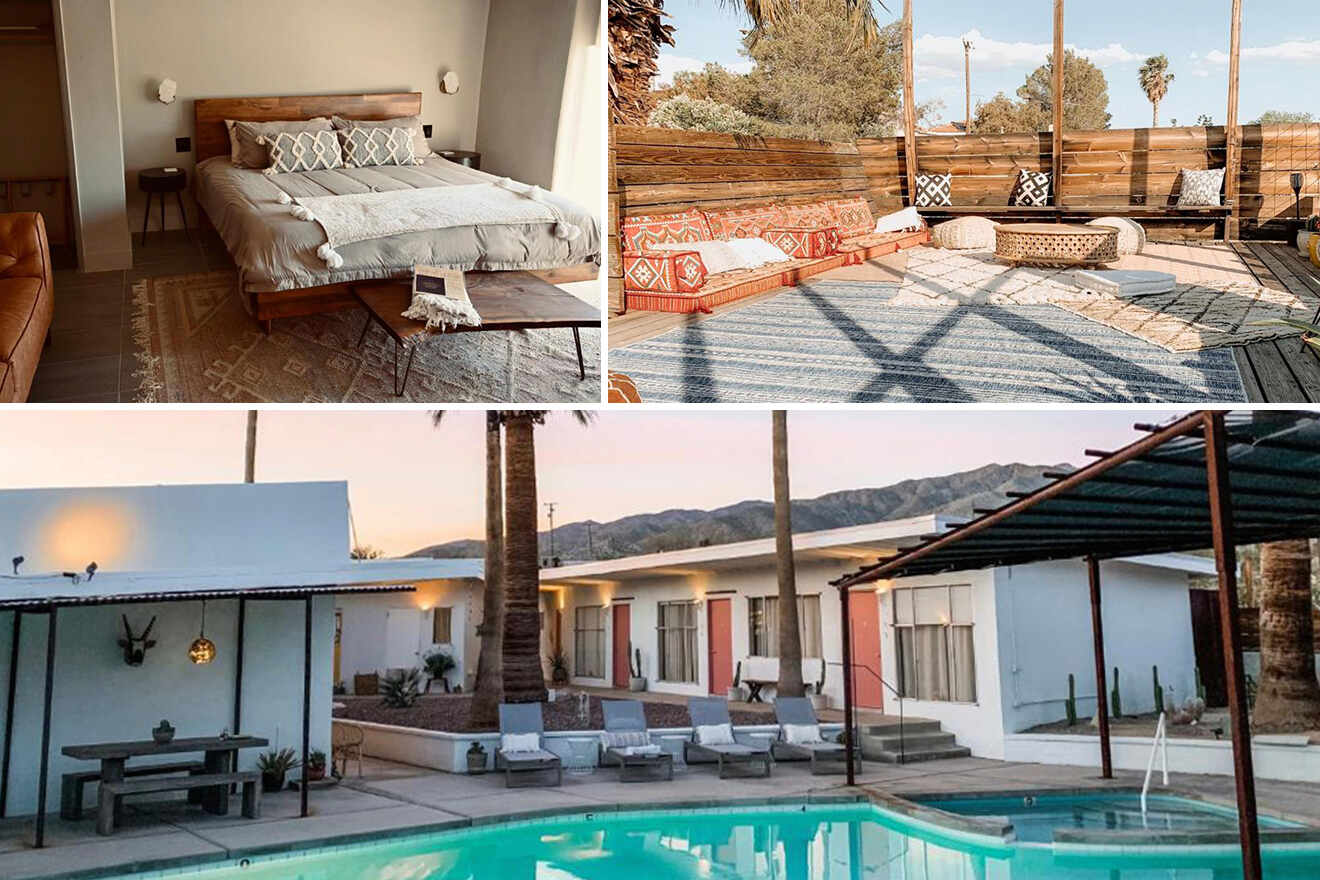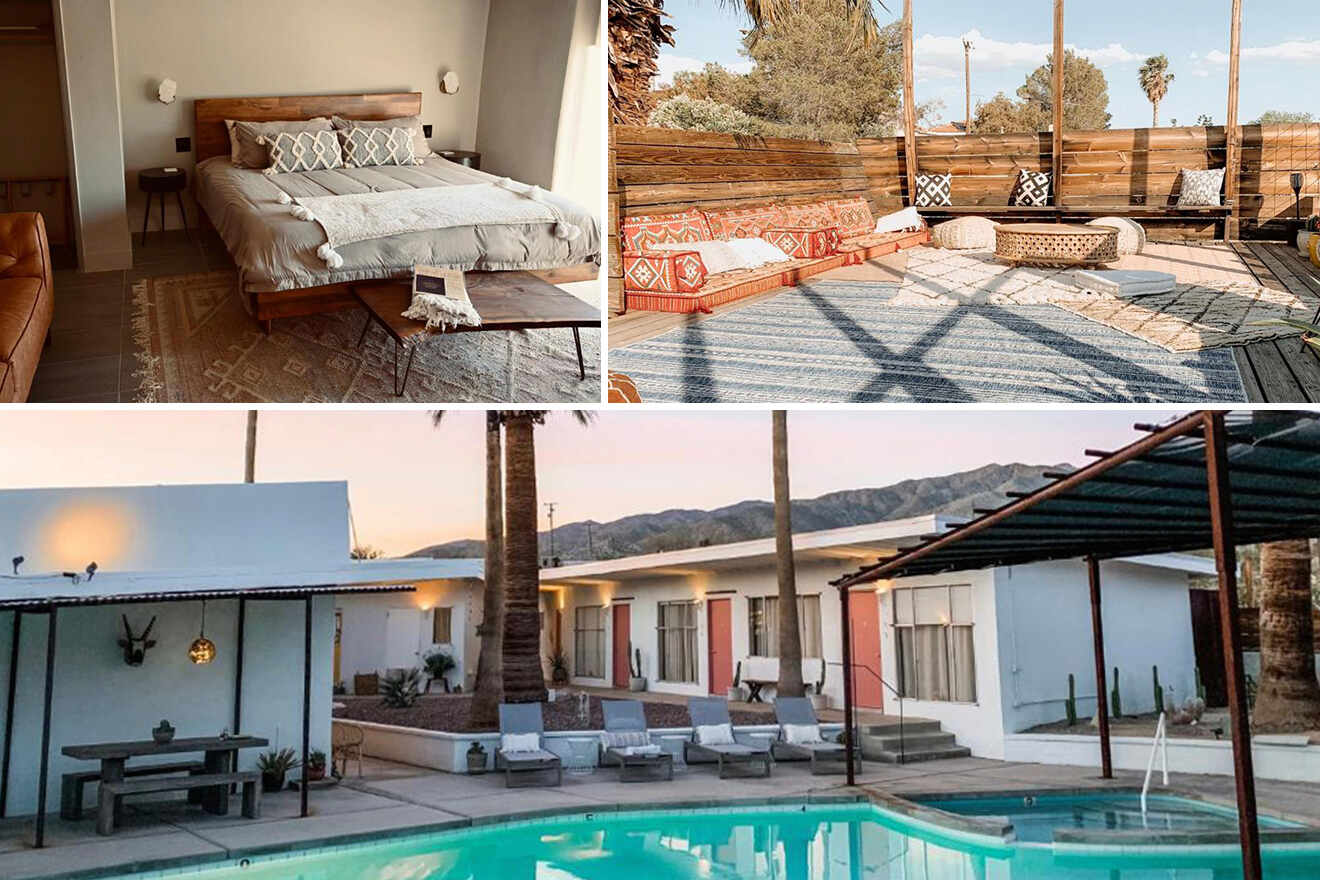 Situated in Desert Hot Springs, at the western edge of Joshua Tree National Park, this is one of the Cali hotels to stay that cares about its environmental and social impact.
This eco-hotel hosts rooms without TVs and phones, but gives access to many facilities to enjoy full relaxation and wellness, like a hot spring soaking tub, a pool with rejuvenating mineral water and a specialty spa offering facials, and deep tissue massages.
But one of the best things about the property is definitely the delicious, healthy breakfast served every morning, which is all-organic and non-dairy!
14. Madonna Inn (San Luis Obispo) – for unique rooms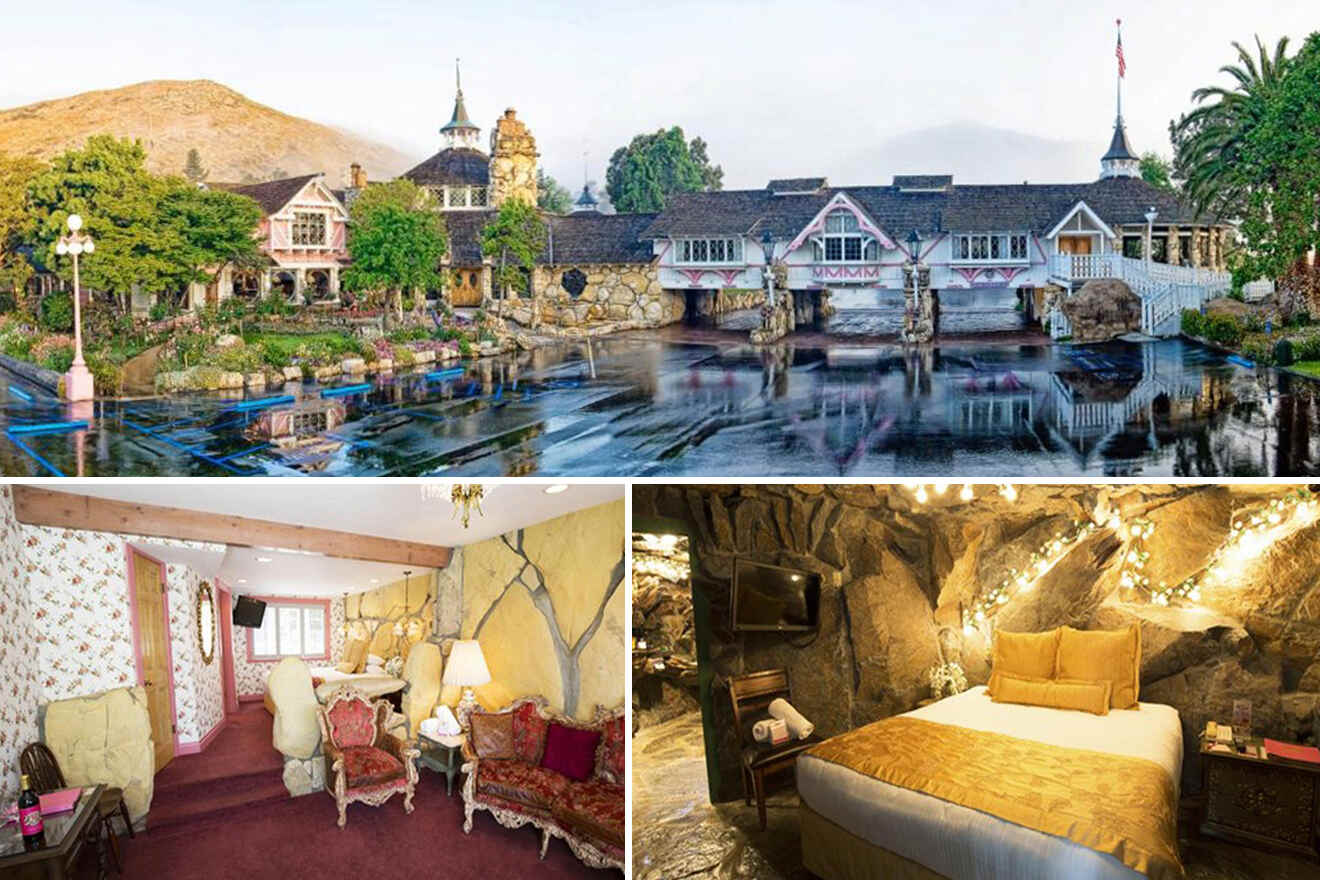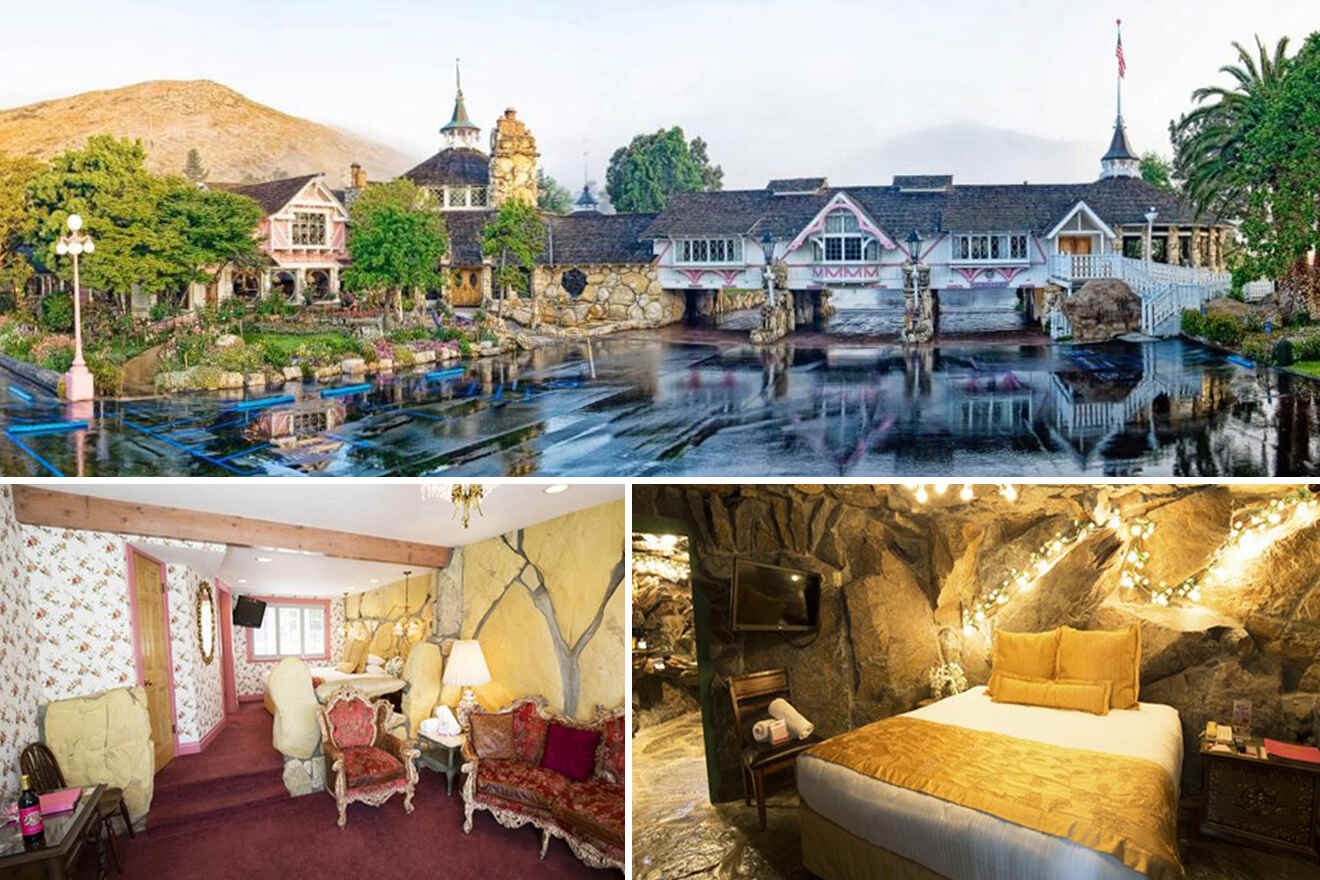 Located in San Luis Obispo, on over 1,000 acres of land, this Southern California hotel hosts 110 completely unique rooms, all with different themes and names like Jungle Rock, Floral Fantasy, Whispering Hills, and Sir Walter Raleigh – you'll never find 2 rooms that are the same!
But make sure you don't spend the whole time in the room, the property has so many facilities that you can enjoy, like a heated pool, shopping venues, and tennis, basketball & pickleball courts, all coming in bright pink, the signature color of the hotel!
At night, have a delicious dinner at the Gold Rush Steak House, enjoy a cocktail at the pink and trendy cocktail lounge, and dance the night until late hours at the on-site club!
15. Treebones Resort – best glamping yurts
Located in the beautiful Big Sur, this is the hotel to stay in California if you love glamping, featuring luxurious spacious yurts with breathtaking views of the pacific ocean, just imagine waking up like that!
If you want to have a really unique stay, book the Birds Nest yurt, completely made out of wood branches, hands down, it looks precisely like a bird's nest, but it still has all the comforts you need!
In addition, you can have candlelight dinners at the top-notch sushi restaurant on-site, or join many cool activities like music concerts, and yoga retreats organized at the property.
16. Sierra Meadows – the coolest California cabins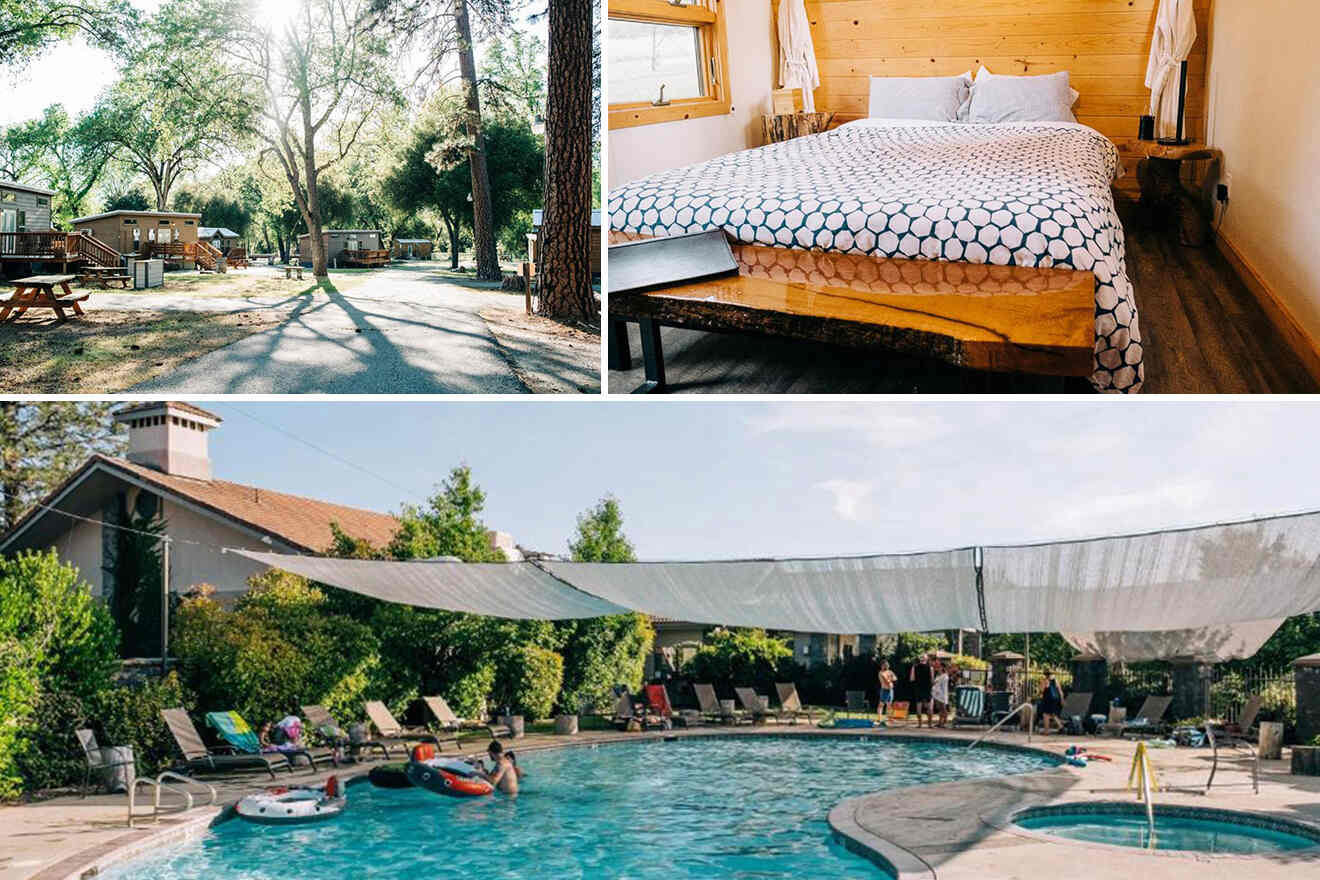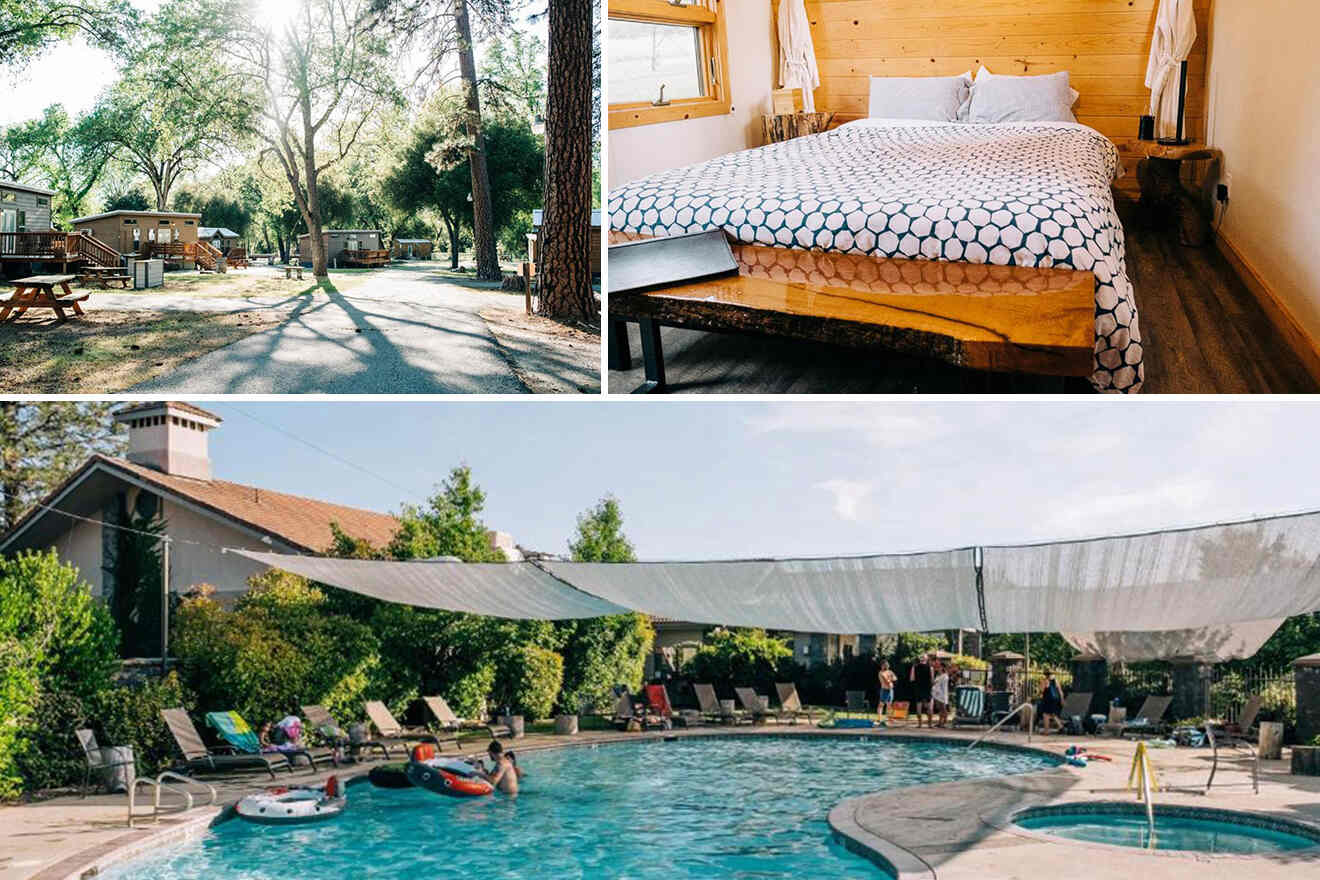 Located at a short drive from Yosemite National Park, this unique accommodation offers cool and tiny cabins (they are glamping cabins), fully equipped with comfy beds, air conditioning and heating, a mini-fridge, a private patio, free Wi-Fi, and in some of them even a private bathroom.
At the property, you will find free bikes to explore the surroundings, a seasonal outdoor swimming pool where you can relax, and a shared kitchen to cook your favorite meals.
On top of all, the nearby area offers many cool activities to enjoy, like hiking and fishing nearby, or, of course, exploring the famous Yosemite national park – you cannot miss that!
FAQs about cool hotels in California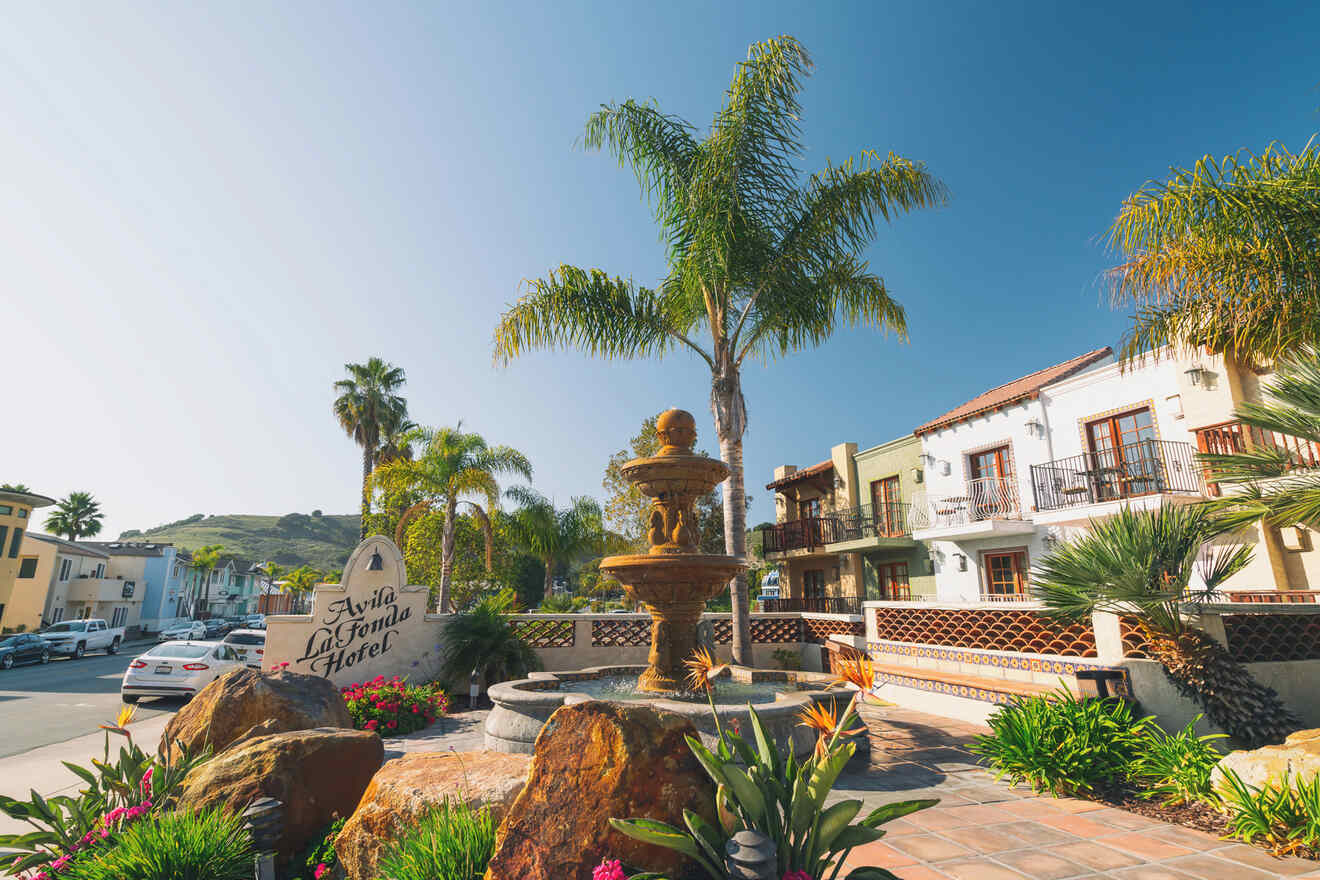 Conclusion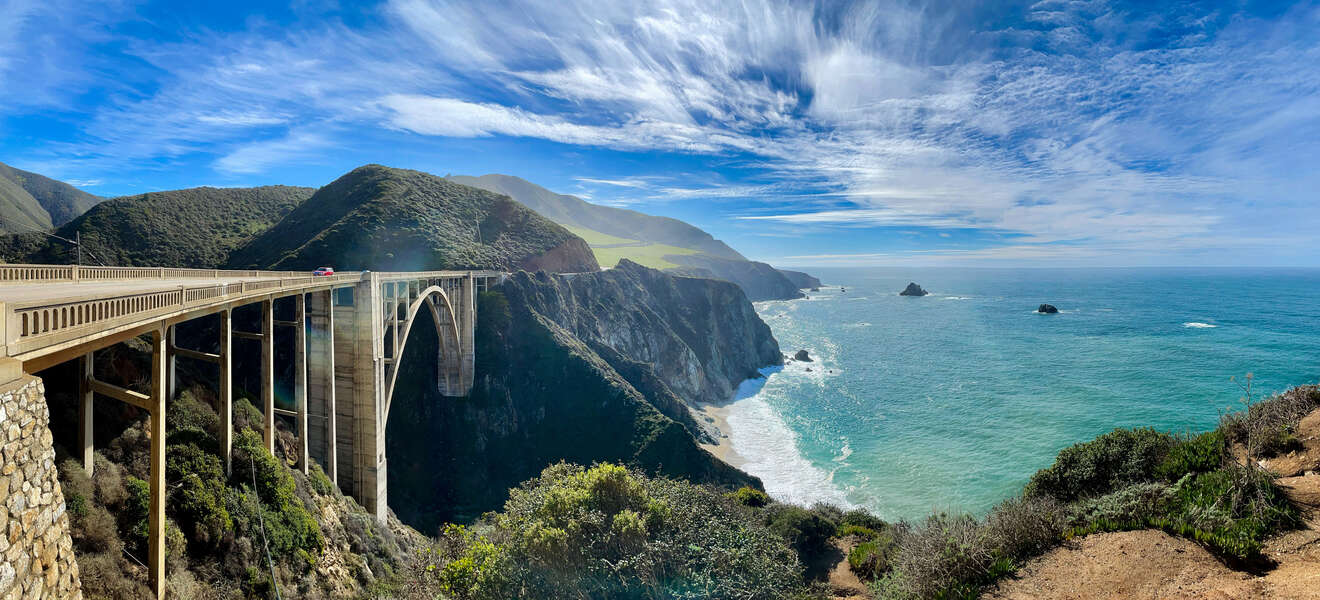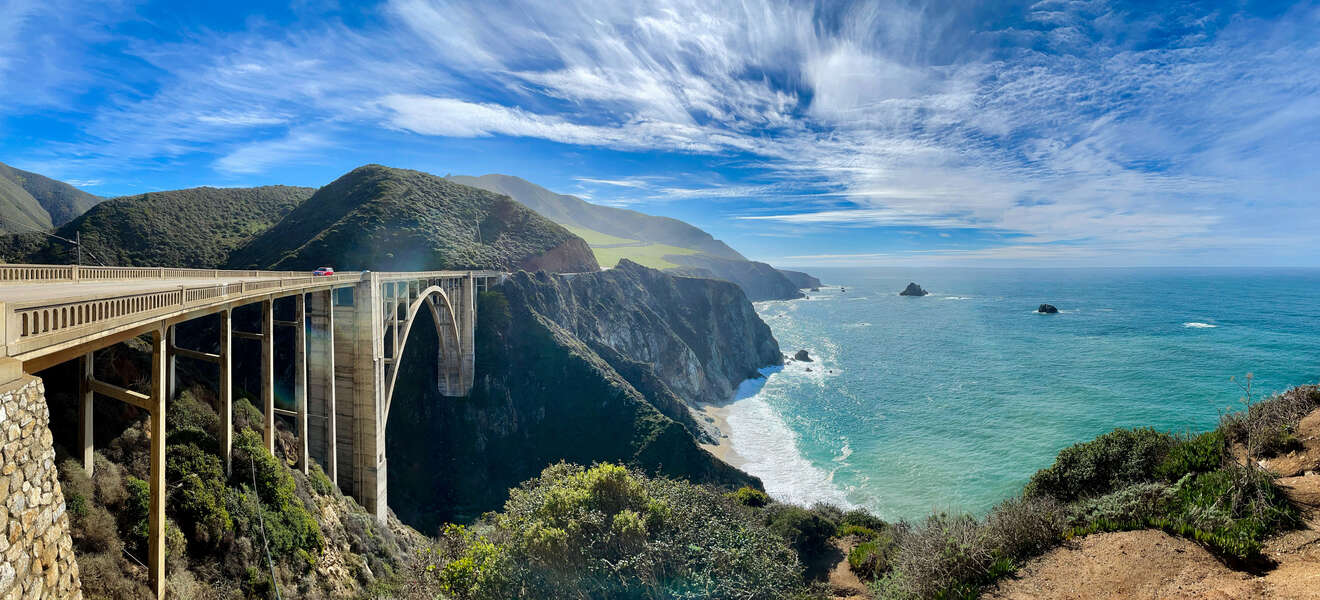 Here we are at the end of this extensive travel guide about cool hotels in California, including themed hotels, stylish accommodations, properties in panoramic locations, and many more.
Most of the hotels in this list are located in southern California, in cool places like Palm Springs, Santa Monica, Sonoma wine country etc., and I've also included some options in northern California. So, which one will you stay at?
If you still don't know it, I cannot blame you… it's hard to decide between so many good accommodations! So, let me give you extra help with my 2 favorites from the cool hotels in California:
These cool hotels in California get booked incredibly fast, so make sure you reserve a spot in your favorite accommodation at least some months in advance!
Do you know other cool hotels in California, or do you have any questions for me? Then share them in the comments below… I'm looking forward to reading them all.
In the meantime, have a great holiday!
Elena
---
Pin it for later!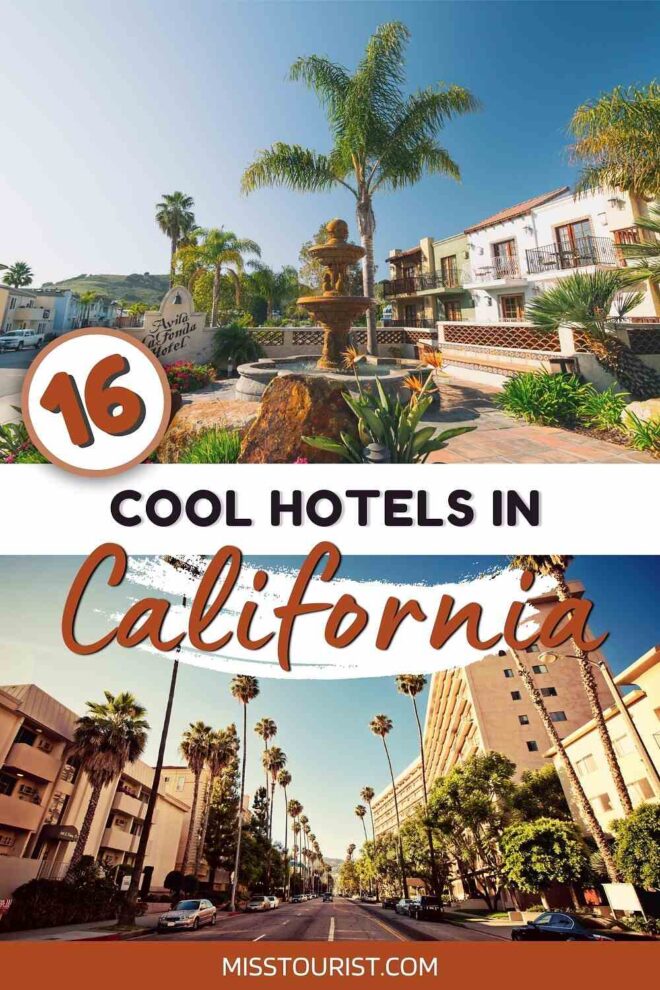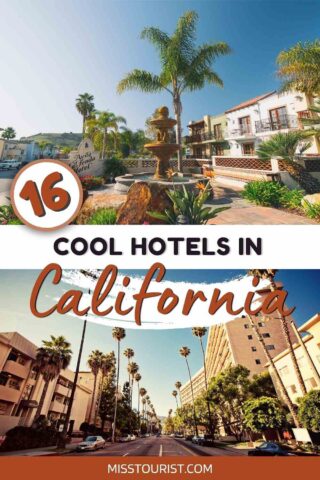 Pin it for later!