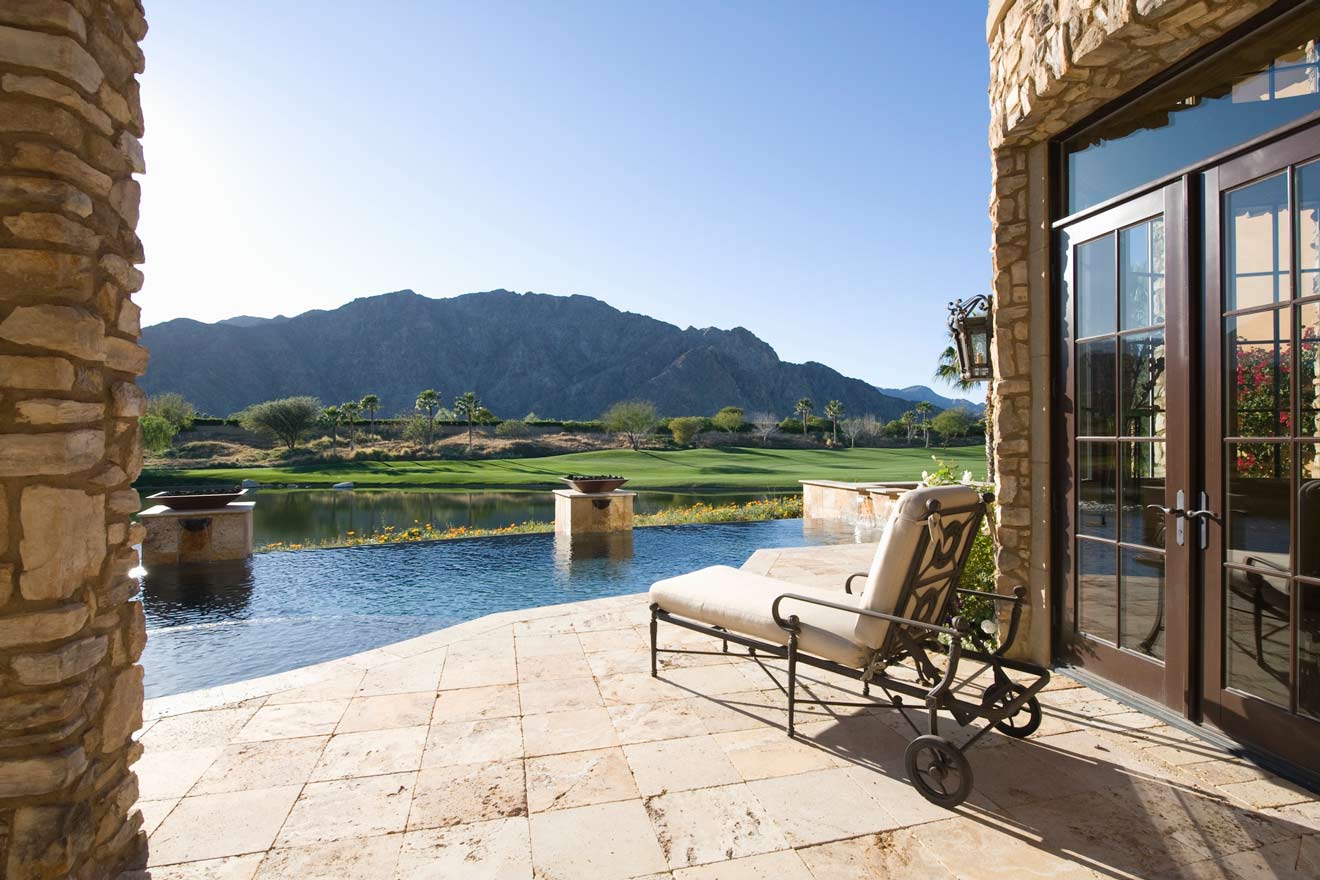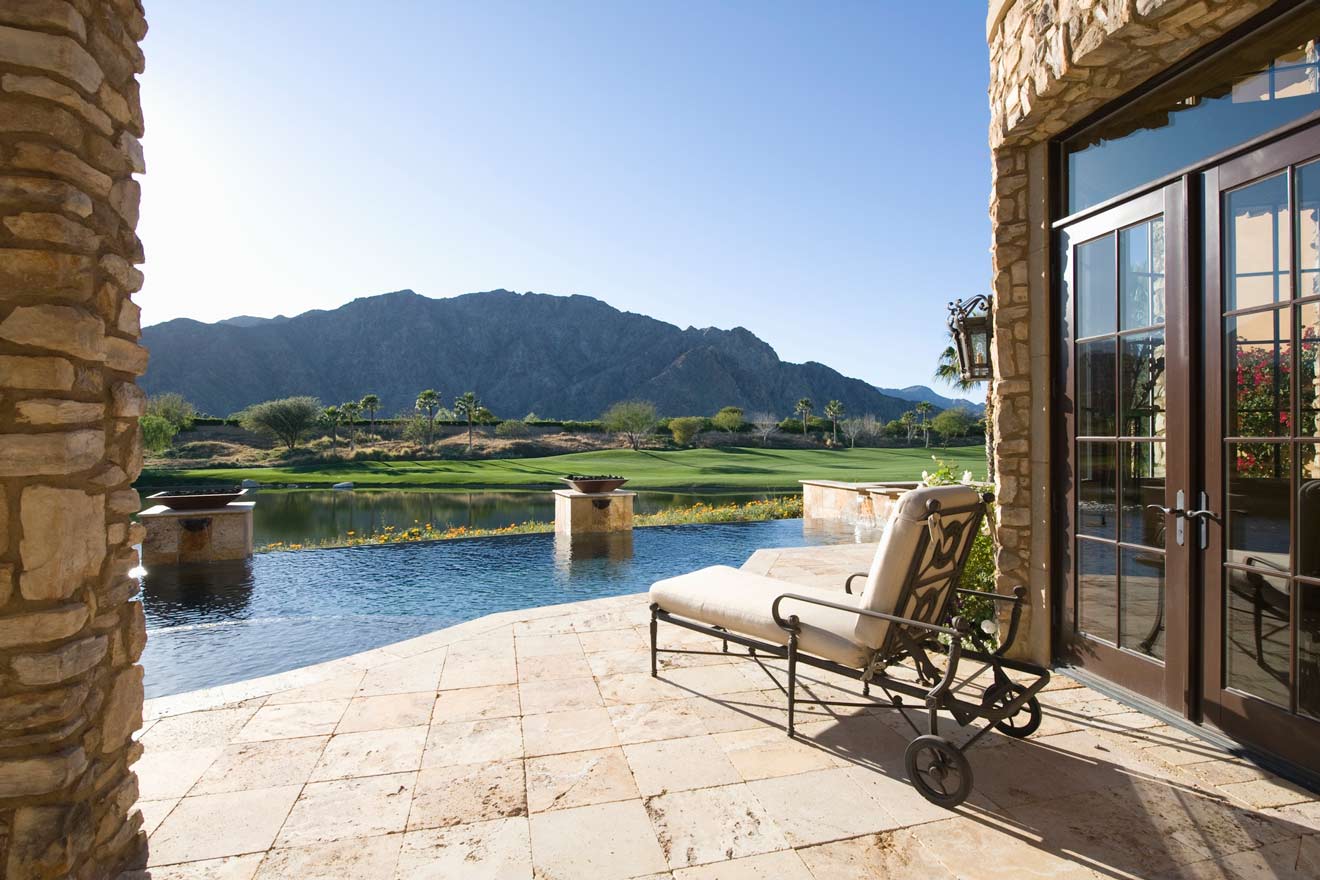 Are you looking for a romantic hotel in California where you can enjoy the privacy and comfort of an uber exclusive room? Then why not stay in a hotel with your own private pool?
To save you some time, in this post I've already gathered the top California hotels with private pools, offering suites with a private plunge pool, outdoor pool, hot tub, panoramic ocean views and more. You may fall in love with all of them, but I'm sure the perfect one for you here!
When you find it, make sure you book it right away or at least some months in advance. Everyone wants to stay in one of these stunning accommodations, and rooms get booked super fast!
If all the hotels on this list are booked out for your dates, I also included a bonus with the best hotels for a romantic getaway with your couple, so you have some extra options.
Now, let's check them all out together!
If you are in a hurry
If you just want to quickly book your accommodation, check out this list with the best of the best hotels in California with a private pool:
1. Hotel Bel-Air, Dorchester Collection – best 5-star hotel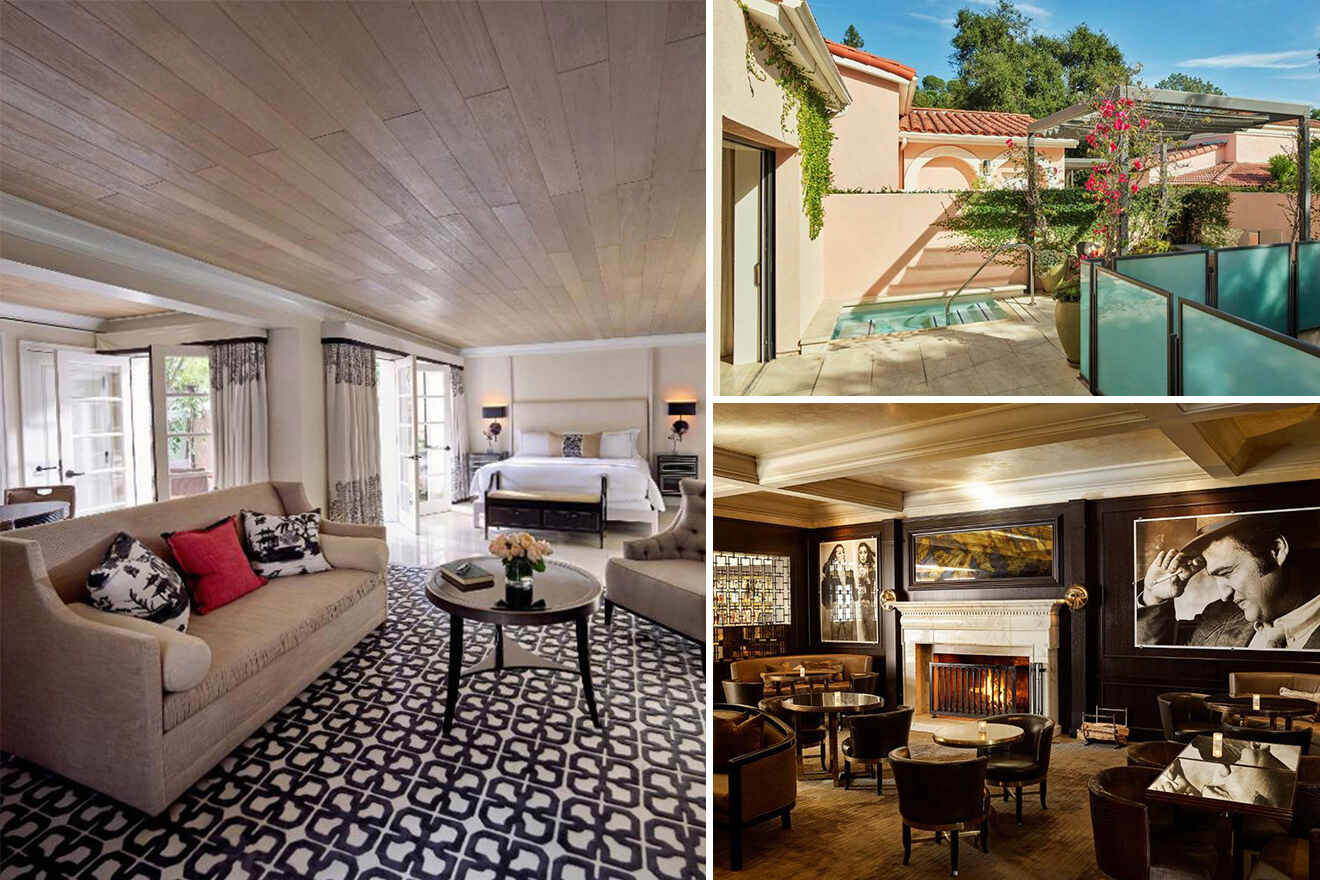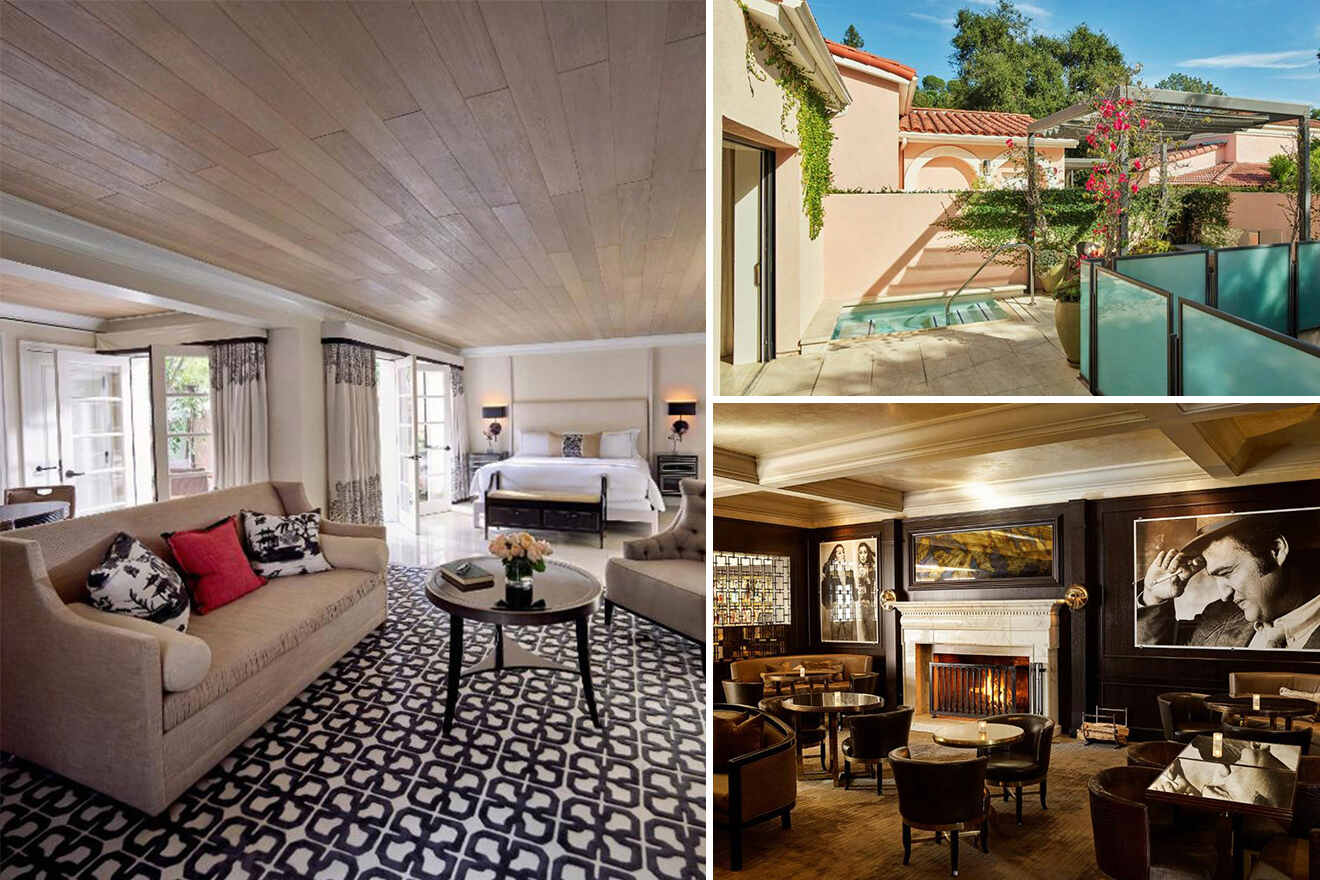 If you are looking for a luxury hotel for your romantic holiday in California, the historic five-star Hotel Bel-Air is the right option for you. As you may have guessed from the name, this hotel is located in Bel-Air, one of the top neighborhoods in Los Angeles. Book the Canyon Studio featuring a private pool, a private outdoor patio with a fireplace, and a spa-style bath for the ultimate stay in relaxation.
But the property itself has many more great facilities for you like a beautiful outdoor swimming pool area with lounge chairs where you can soak up some sun, a peaceful garden to relax and a fine dining restaurant on-site for delicious dinners! So make sure you venture out of your room!
2. L'Horizon Resort & Spa – top adults-only resort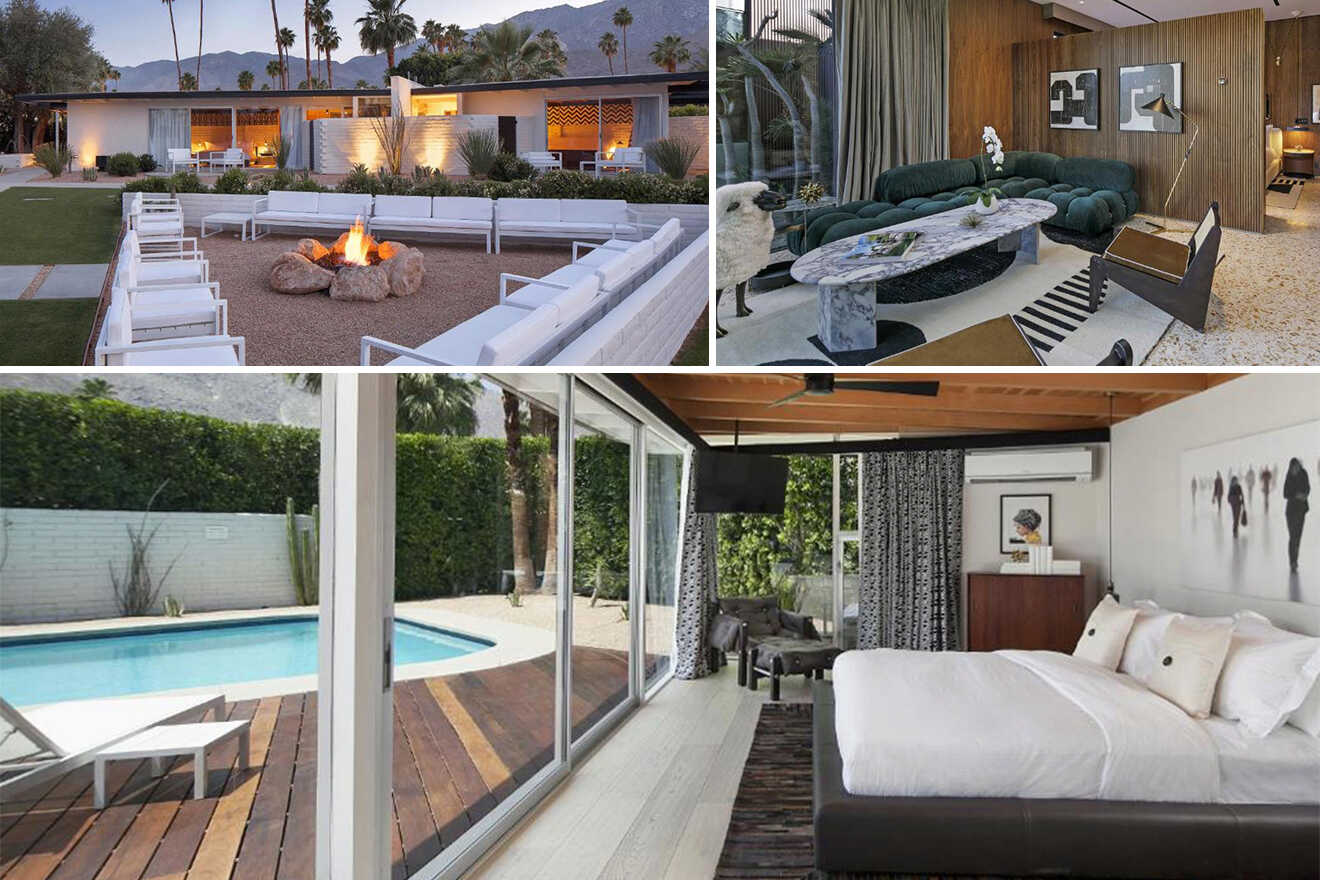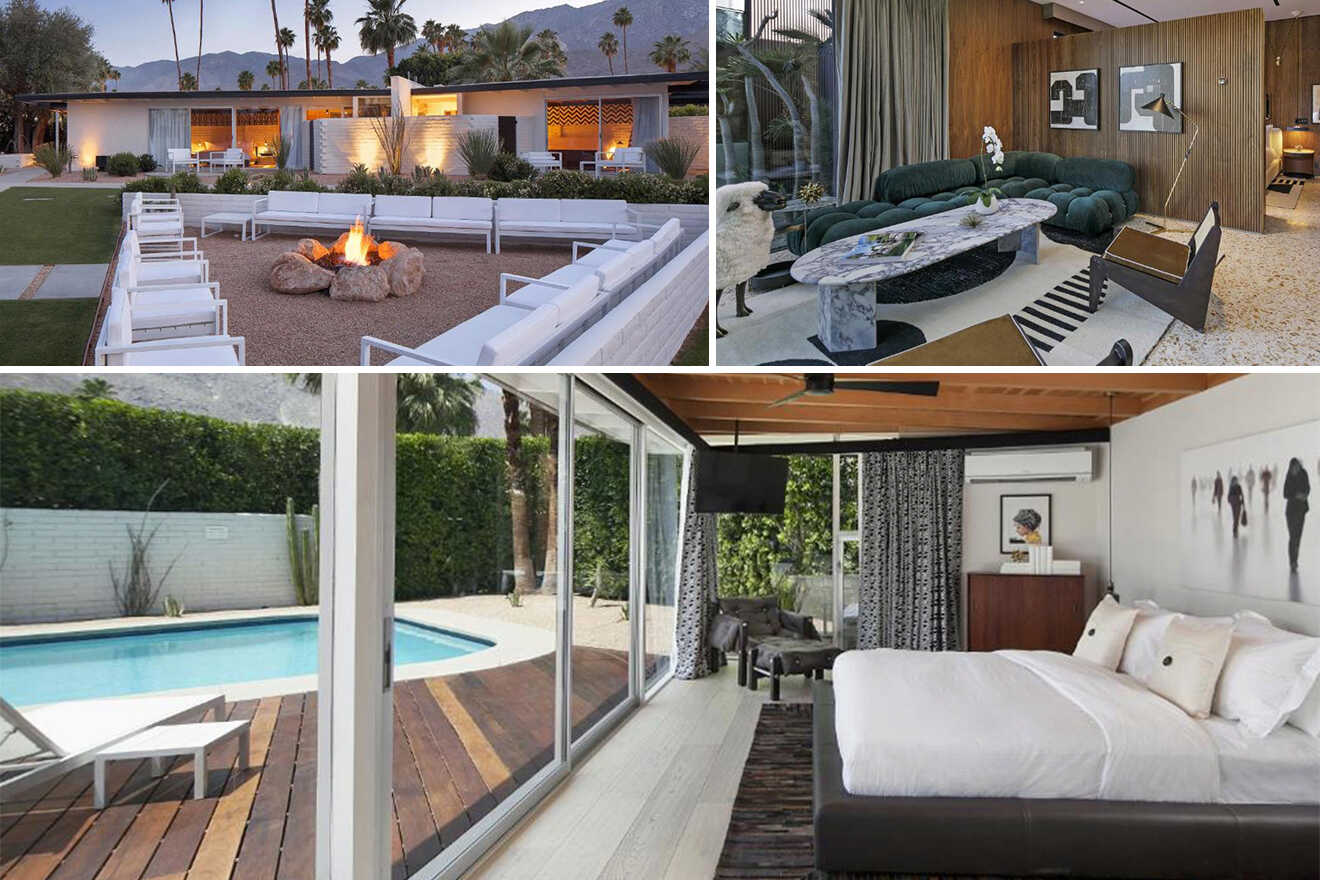 If you're looking for a place where you can have a tranquil and exclusive getaway in California, you should check out this chique, adults-only resort in Palms Spring, offering a full-service spa with a hot tub, an amazing restaurant and a big infinity pool for guests.
But to enjoy the pool, you won't have to leave your accommodation! In fact, if you choose to stay in the One-bedroom house, you will have your own private pool as well as air conditioning, and a fully equipped kitchen… check out the pictures, you will fall in love!
PS: If you like the idea of staying in this sunny Californian city, check out the 4 TOP areas and hotels to stay in Palms Springs!
3. La Quinta Resort & Club – for the top amenities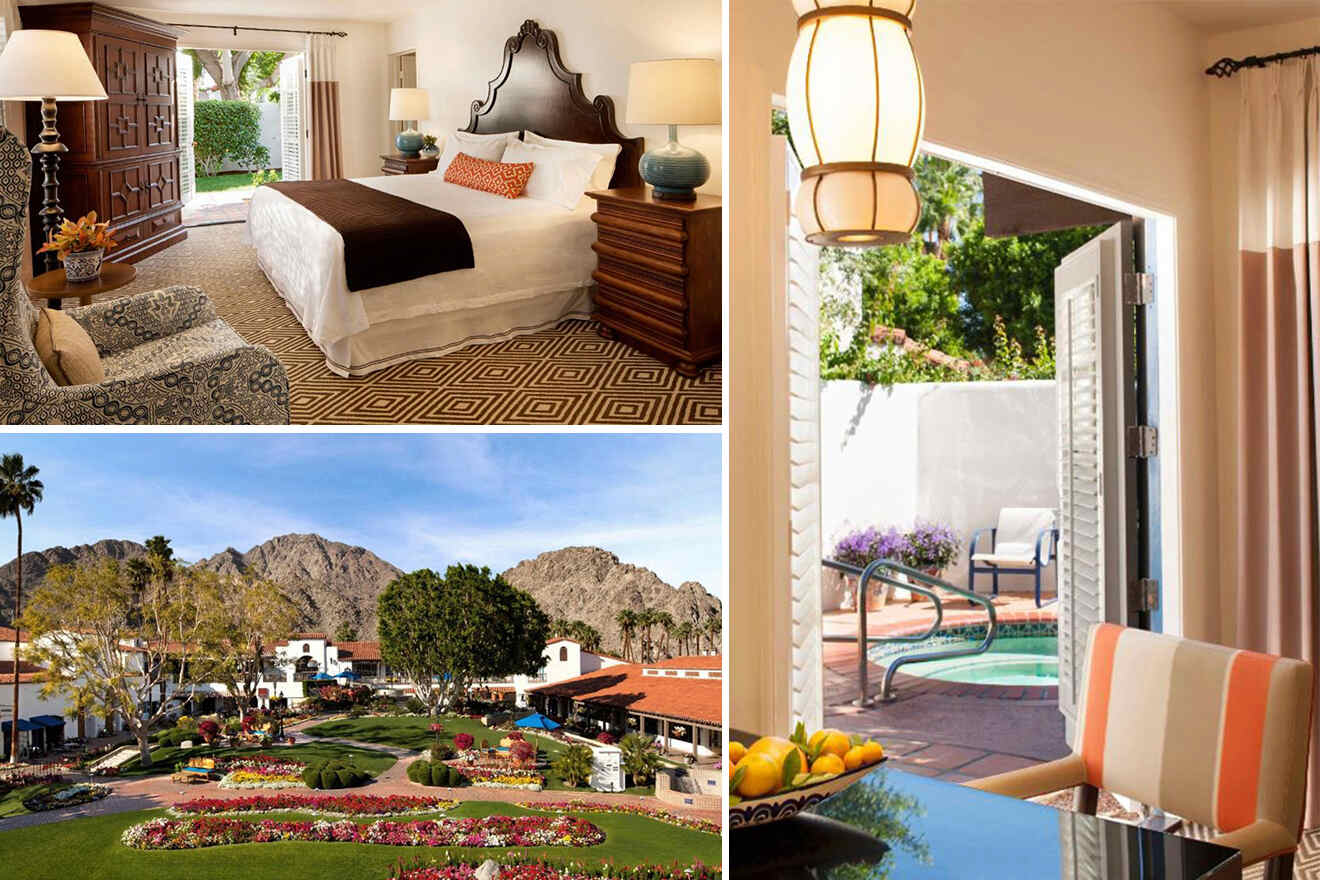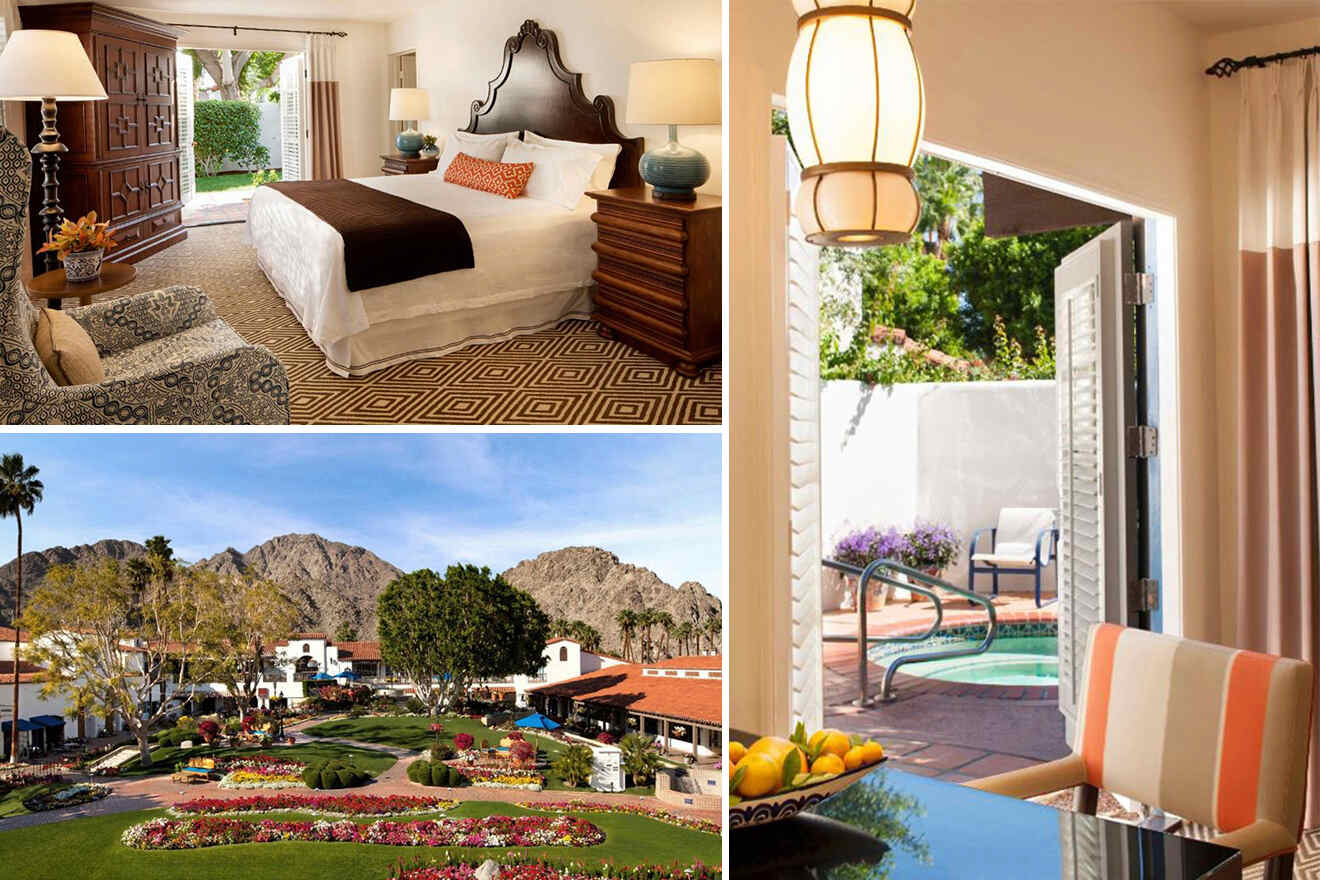 Located at the base of the Santa Rosa Mountains on 45 lush acres, this luxury resort will give you access to many exclusive amenities, among which more than 40 climate-controlled pools, 53 hot tubs, 23 tennis courts, 5 championship golf courses, pickleball courts, a full-service spa, and much more… you will have something to do at any time of the day here!
But the best part of the property is the Pueblo Suite with Private Pool and the Whirlpool Casita, both offering a private plunge pool or hot tub, and featuring air conditioning, a spa-like bath, a private yard, and 1920s-inspired decorations… and they're all pet-friendly, so you can bring your four-legged friend with you.
4. Aqua Soleil Hotel & Mineral Water Spa – the best location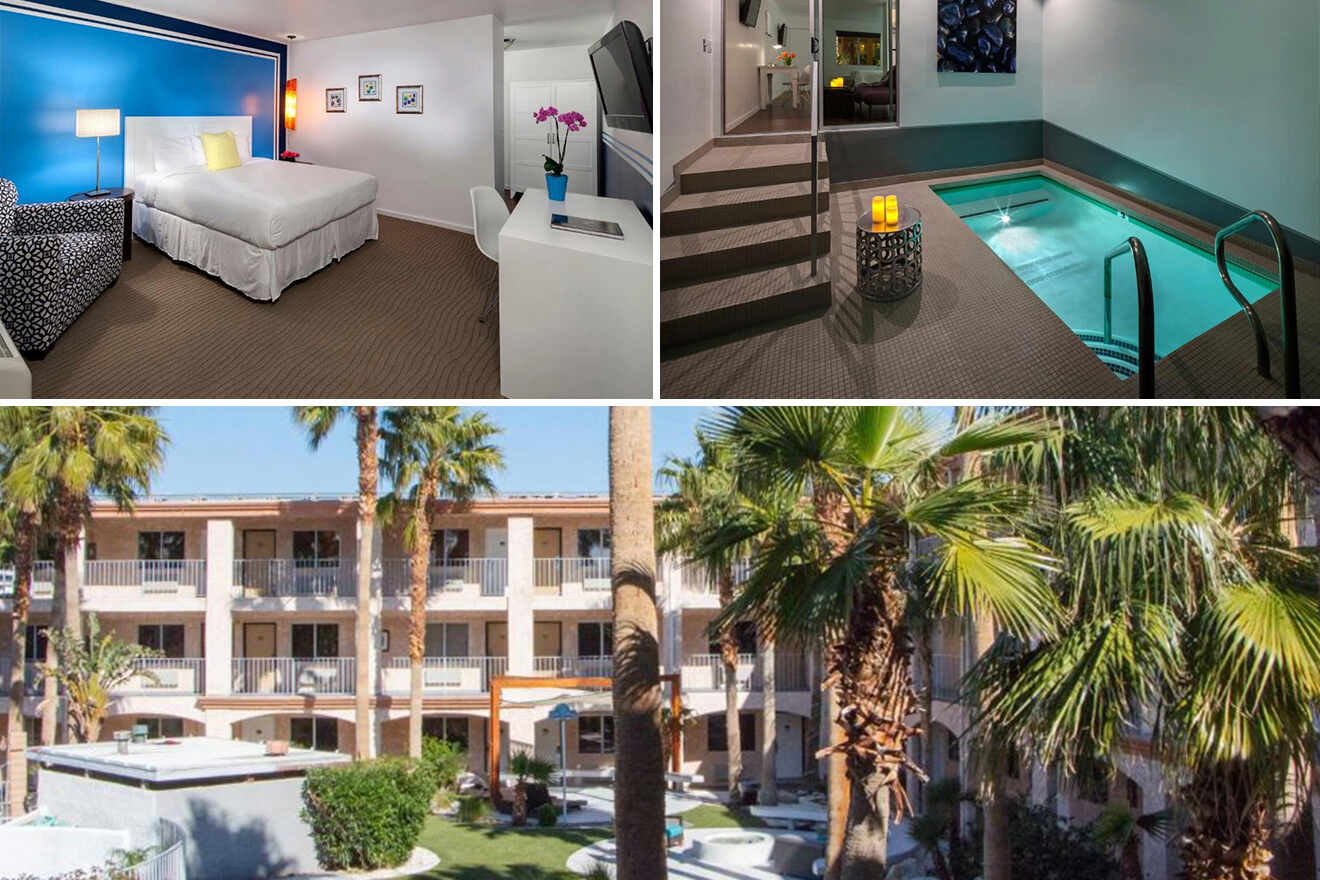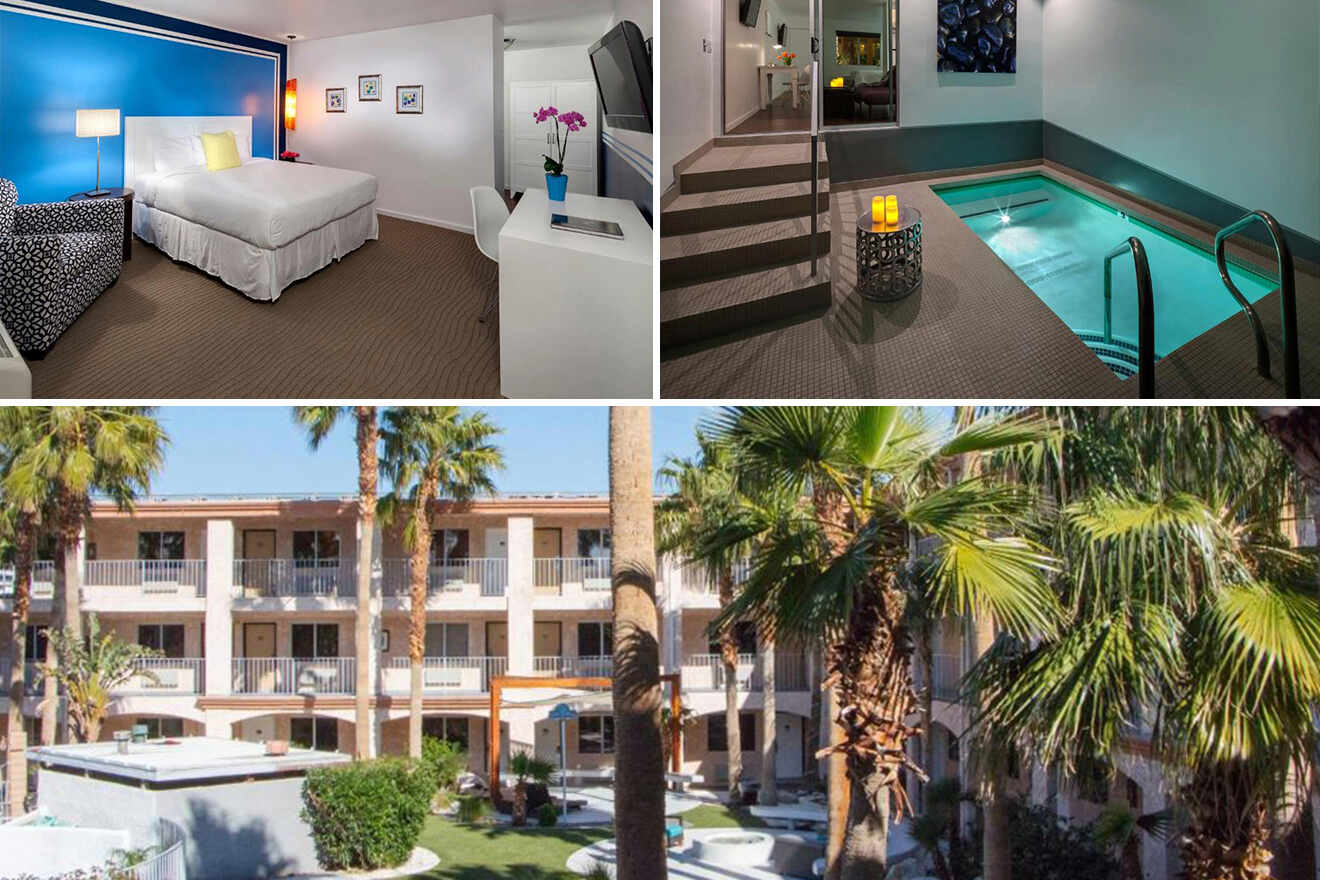 This incredible property is conveniently located in Desert Hot Springs. Just a short drive from Downtown Palm Springs, Palm Springs International Airport and Joshua Tree National Park, the location is perfect if you want to explore the hotel's surroundings during your free time!
But I doubt you will ever want to leave this place! Here you will have access to a communal outdoor and indoor mineral swimming pool, and stunning rooms with a private pool filled with Desert Hot Springs mineral water and a spa-like bath… perfect also if you're looking for honeymoon suites in California!
Note that this hotel is rated a little lower than what I would normally recommend, but I included it in this list because there aren't many hotels with private pools in California, but I still wanted to give enough options for you to choose!
5. Hyatt Regency Newport Beach – for a relaxing retreat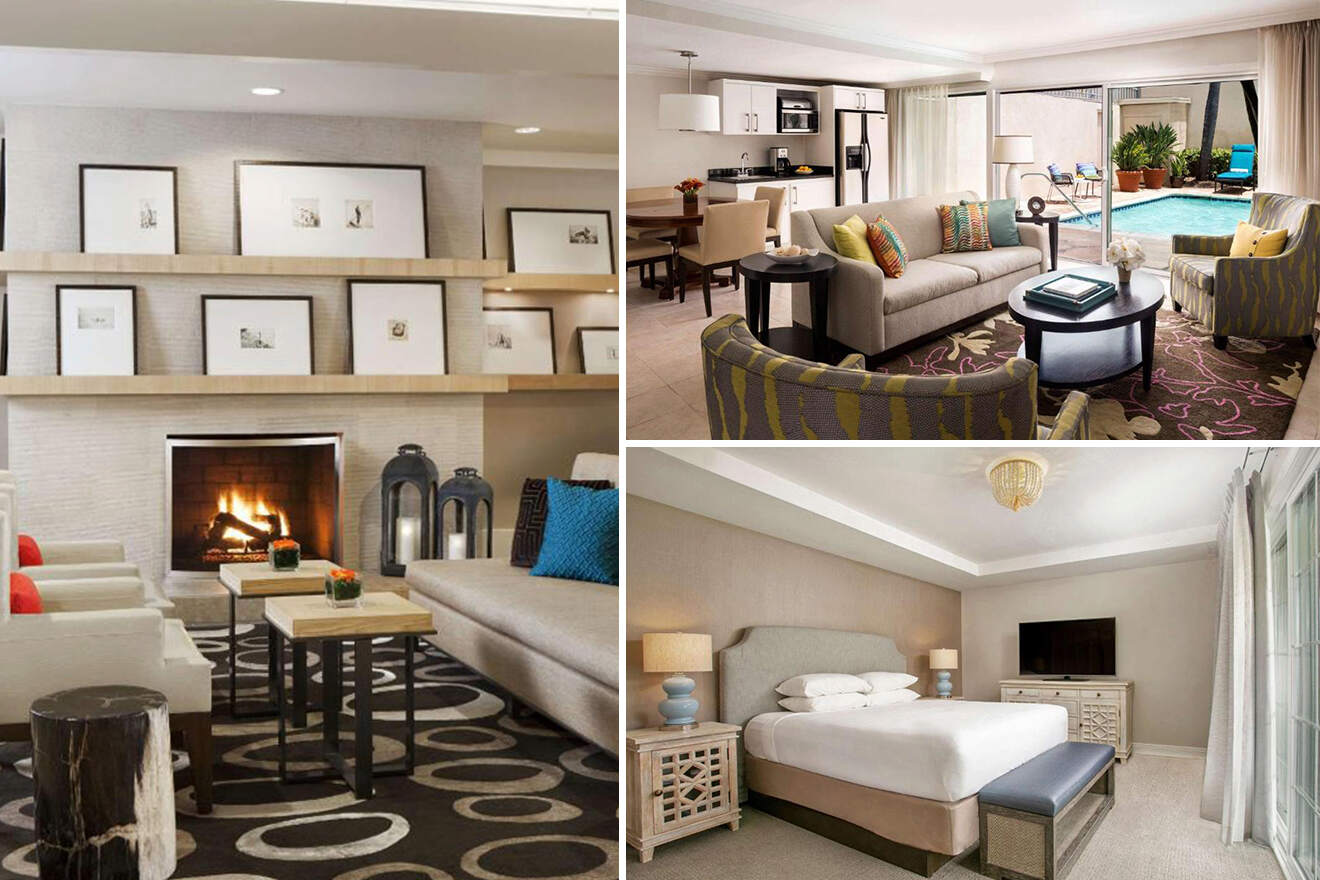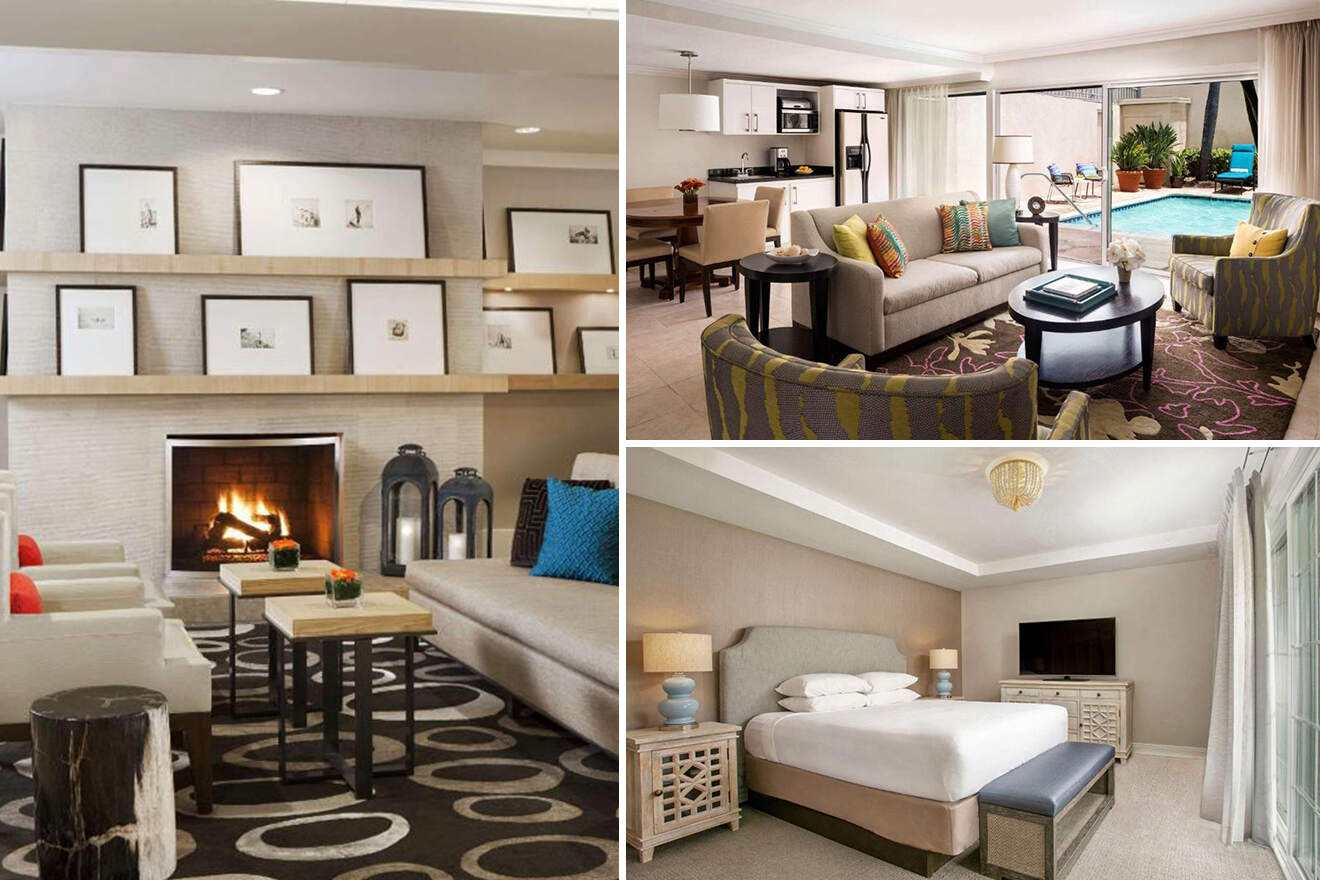 If you just want to enjoy full relaxation during your holiday, there's no better place than this California hotel, located in Newport Beach (a few minutes drive from John Wayne Airport), and nestled in 26 acres of green palms… the perfect place to disconnect from the world!
The exclusive Villa Suite is definitely the best accommodation at the property, offering a private pool, a spa-like bath, and a private patio, and will give you access to all the amazing hotel amenities, like 3 outdoor swimming pools, 3 hot tubs, an on-site restaurant serving delicious local seafood, a golf course, and tennis courts… What else can you ask for?
As with the last hotel, this one is rated a little lower than what I would normally recommend, but it still looks like a pretty great option if all the other hotels on this list are sold out!
6. The Beverly Hills Hotel – for a true Hollywood experience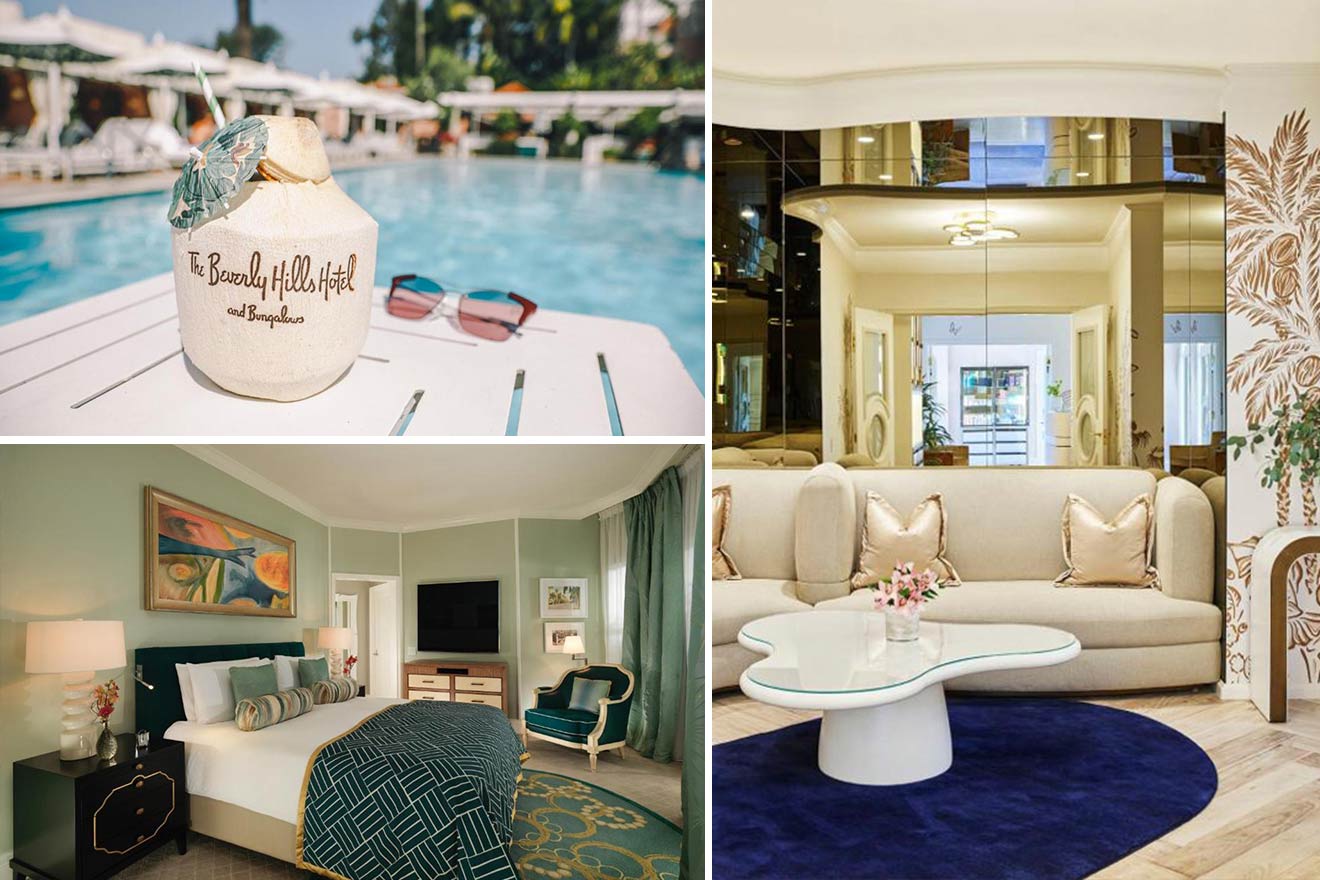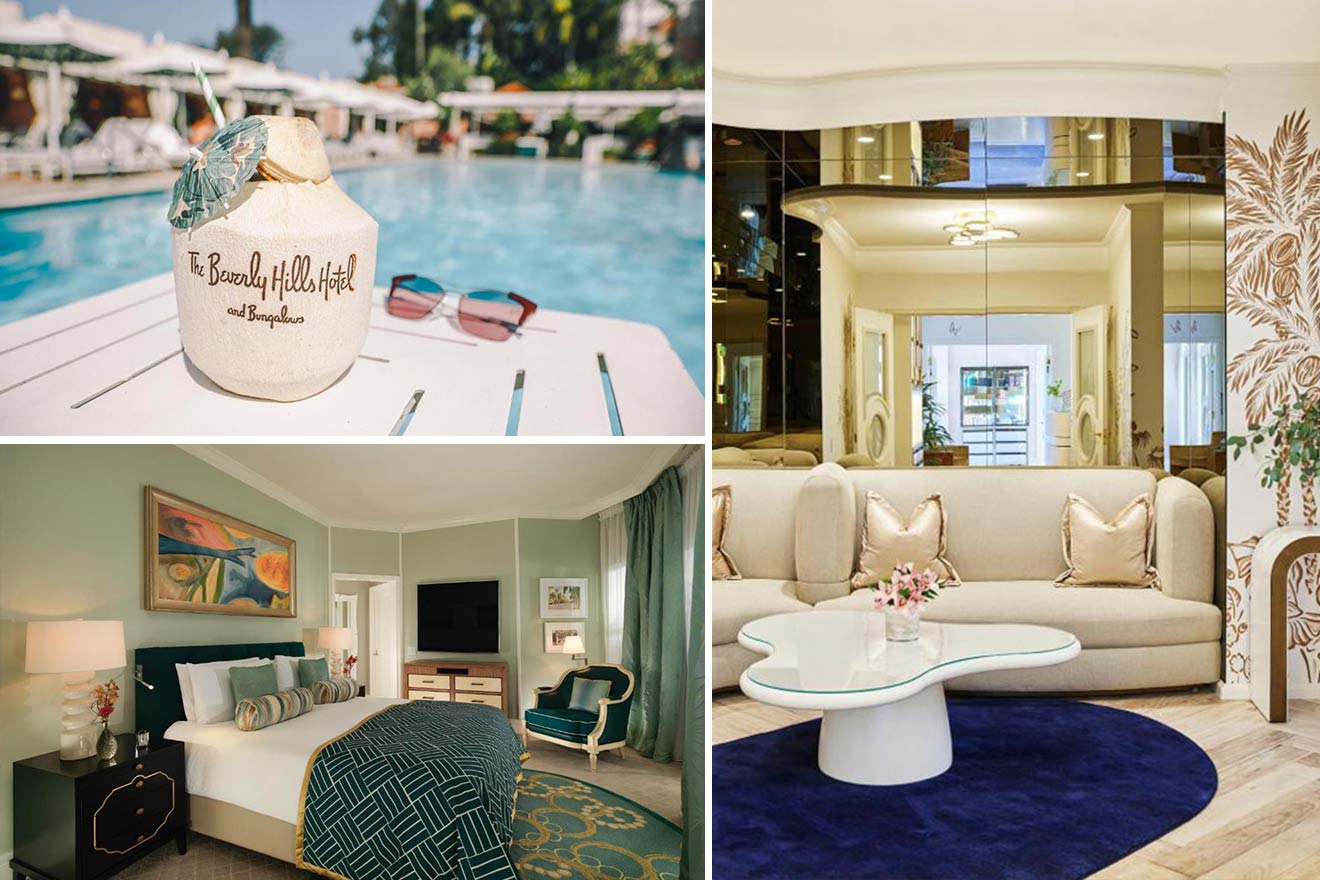 Are you ready to have a truly iconic stay? Then check out this exclusive hotel in Beverly Hills, spread out over twelve acres of tropical fields. Here the staff will offer you exceptional service and go above and beyond to make you feel like the king or queen that you are! This is one of the coolest hotels in California!
If you want to splurge a little with your partner, choose the Presidential Bungalow, which has its own private infinity pool and will give you access to a cool pool with underwater music, a fitness center with free fruit, juices, and water, and a full-service spa… no wonder why this is a very popular option among Hollywood stars!
7. Summers House – for the ultimate romantic getaway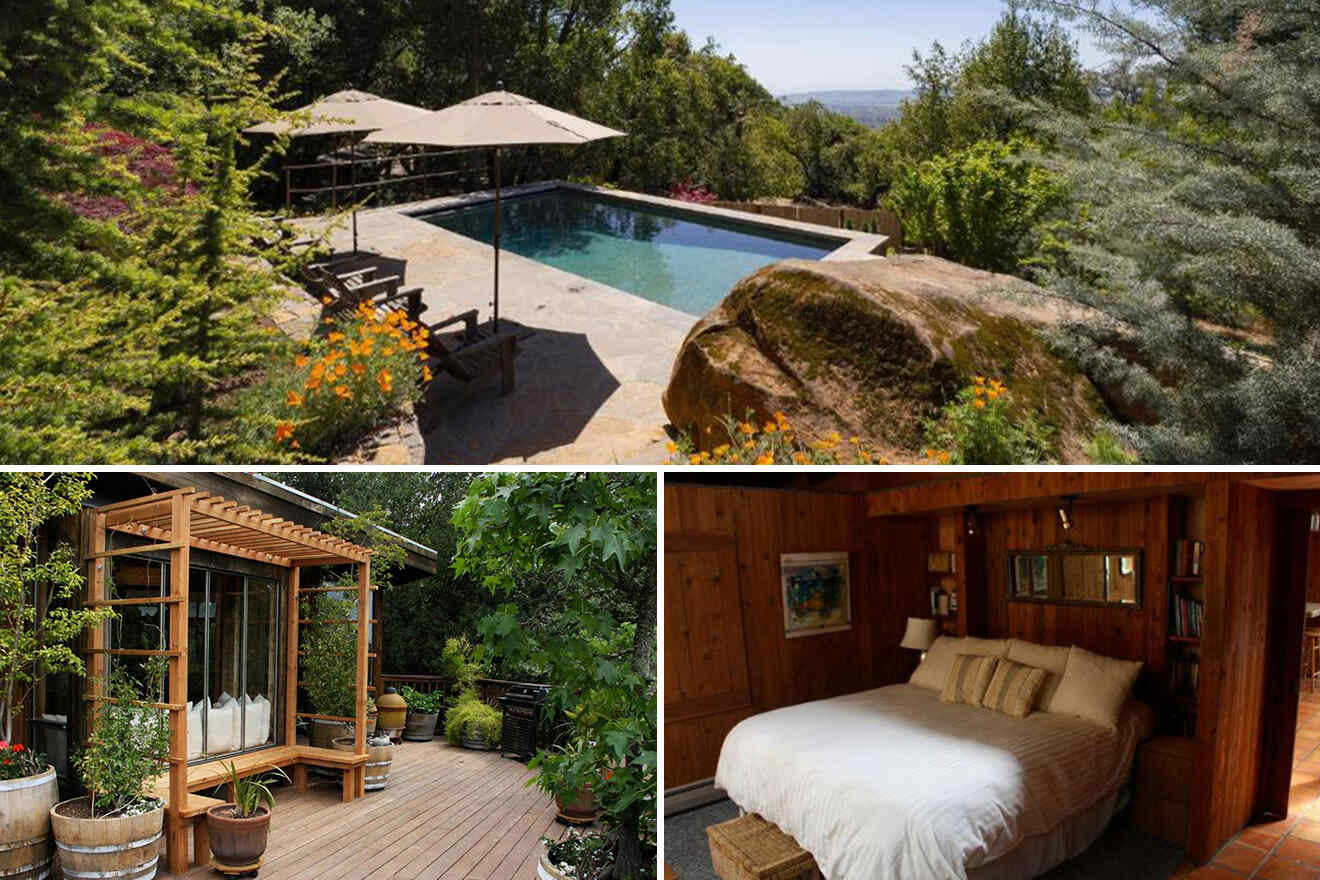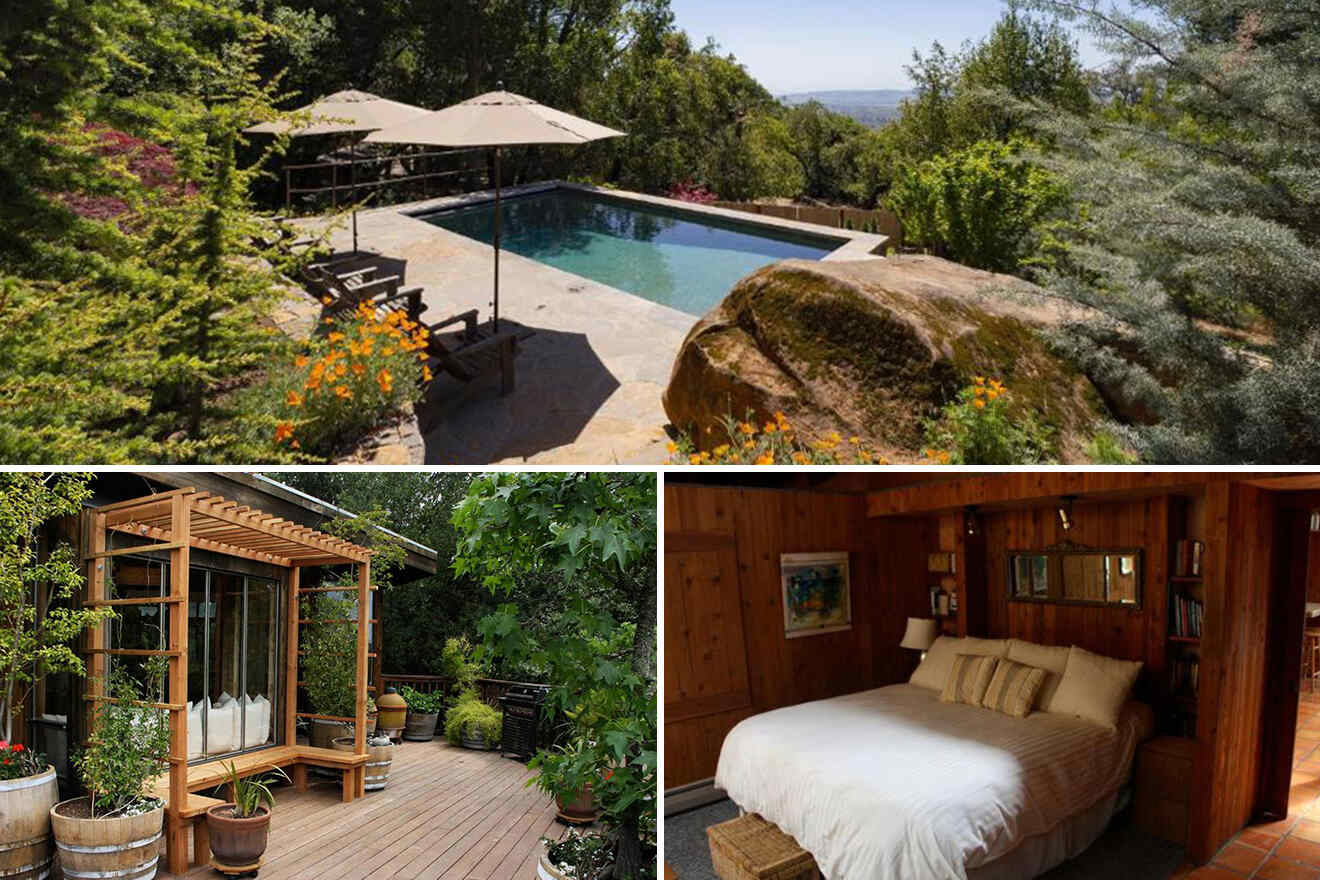 This rustic vacation home in Sonoma is just perfect if you're looking for a place where you can spend a romantic holiday with your special one. Featuring Mexican tile floors, a native stone fireplace, leather furnishings, and a quarter-sawn Oak piano, this place is so charming!
Although not technically a hotel, the 3-bedroom home has literally everything you need including a private pool and hot tub for full relaxation, a beautiful garden, grill facilities, and a fully equipped kitchen to cook your own meals and enjoy them in the fresh air on the private patio. Doesn't it sound like a dream? Then just wait until you see the views of the surrounding mountains!
8. Dessert Hot springs / Palm Springs – the best views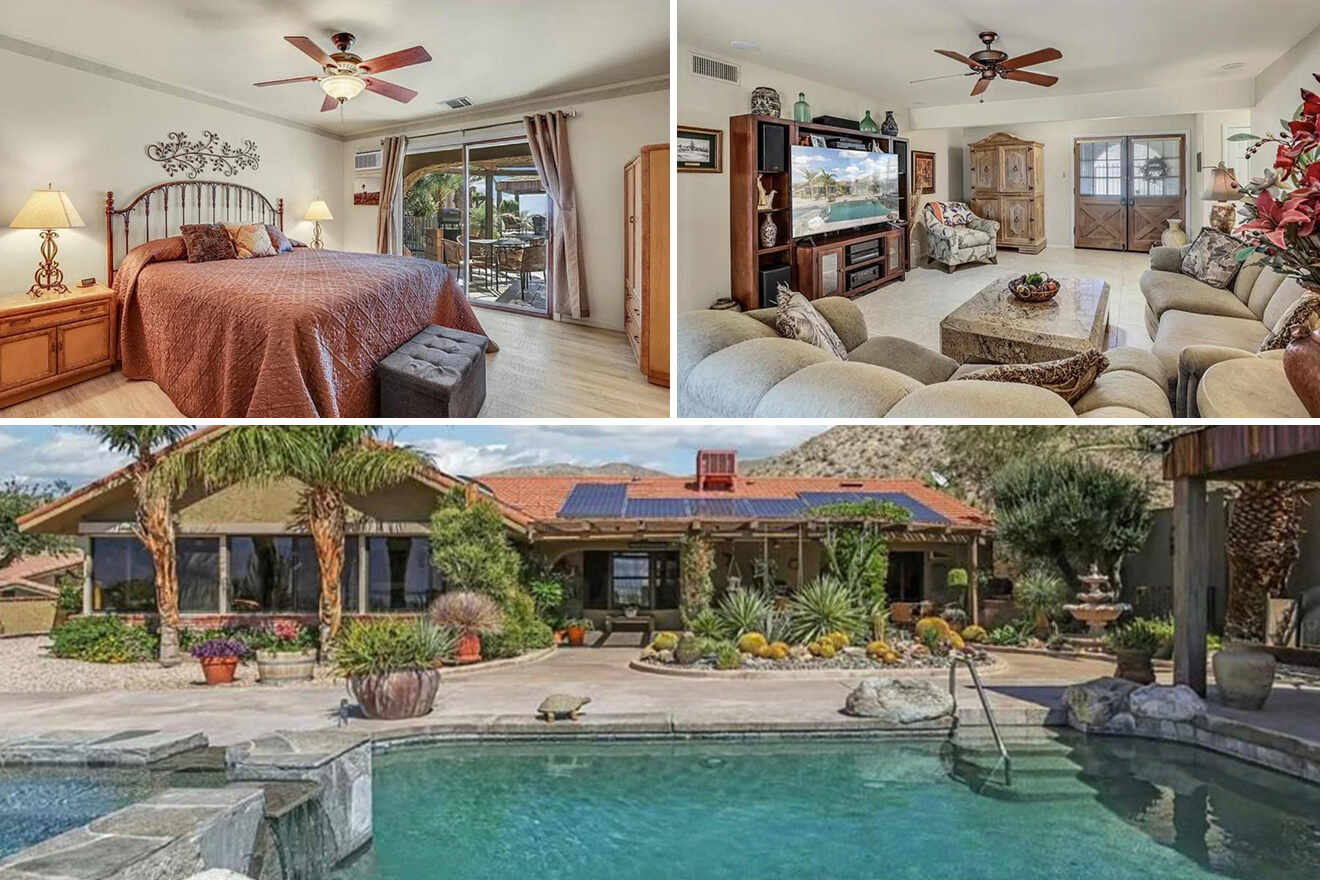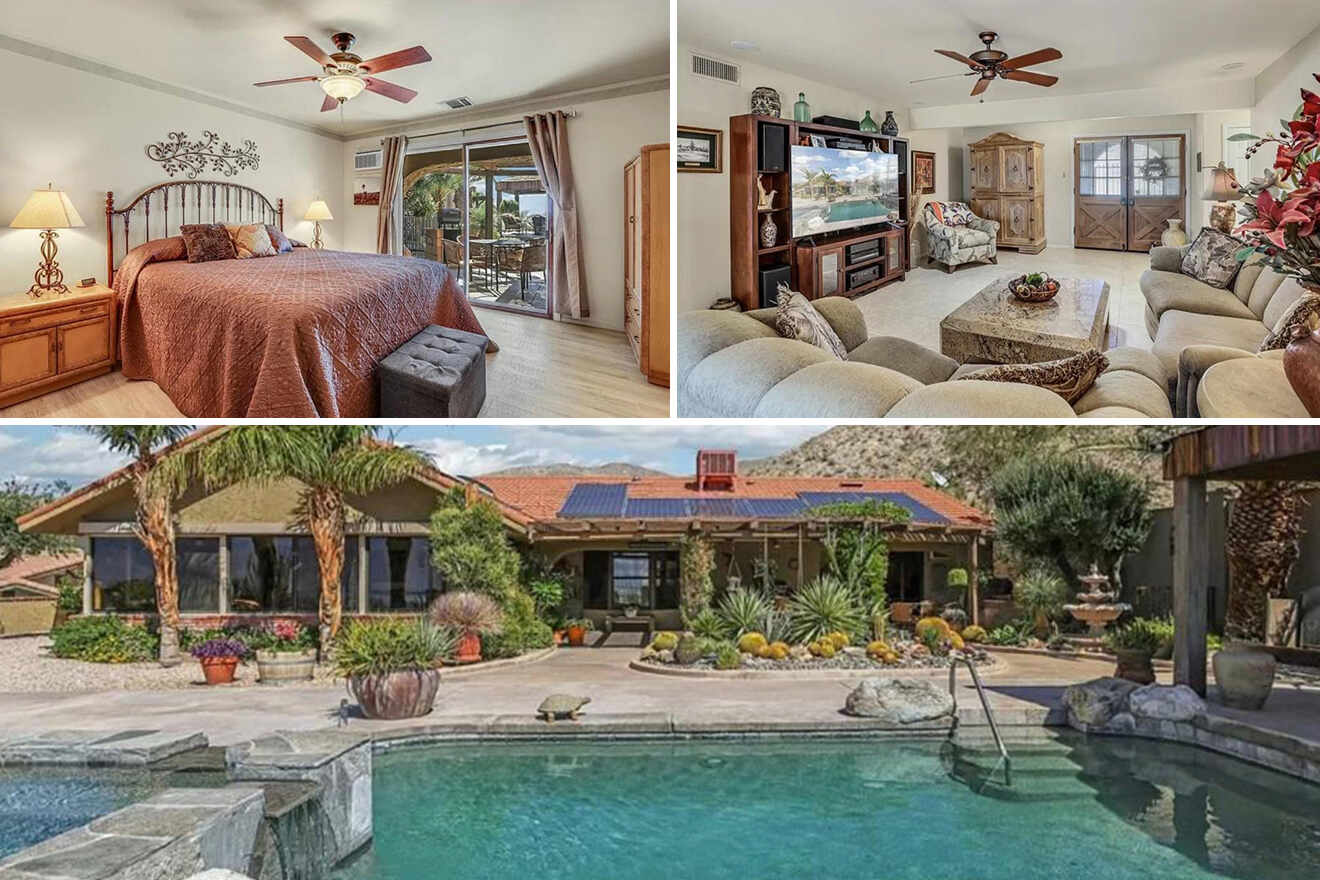 If you want to feel at home away from home, this incredible 3-bedroom holiday home in Desert Hot Spring is for you! Located on top of a hill, offering breathtaking views of the mountains (imagine waking up with that!) and a private pool, this place is like a dream!
Apart from the outdoor swimming pool and hot tub, the house also offers a bar and a terrace, a garden, barbecue facilities, an equipped kitchen, a washing machine, free Wi-Fi and free private parking. And if you want to discover the area, there are many hiking trails in the surroundings… perfect for nature lovers!
BONUS: Best hotels for couples in California
We have seen all the top hotels offering a room with a private pool in California, but what if you haven't found the right one for you or if there's no availability for your chosen dates?
Well, no need to worry! If you're not 100% set on having your own pool, there are still some amazing hotel options for a romantic getaway in California, and I have gathered them all here in this special bonus.
In the list right below, you will find 4 great accommodations offering everything you need to spend unforgettable moments with your special one. Honeymoon suites, access to an outdoor pool, a hot tub, and many luxury amenities… Let's check them all out!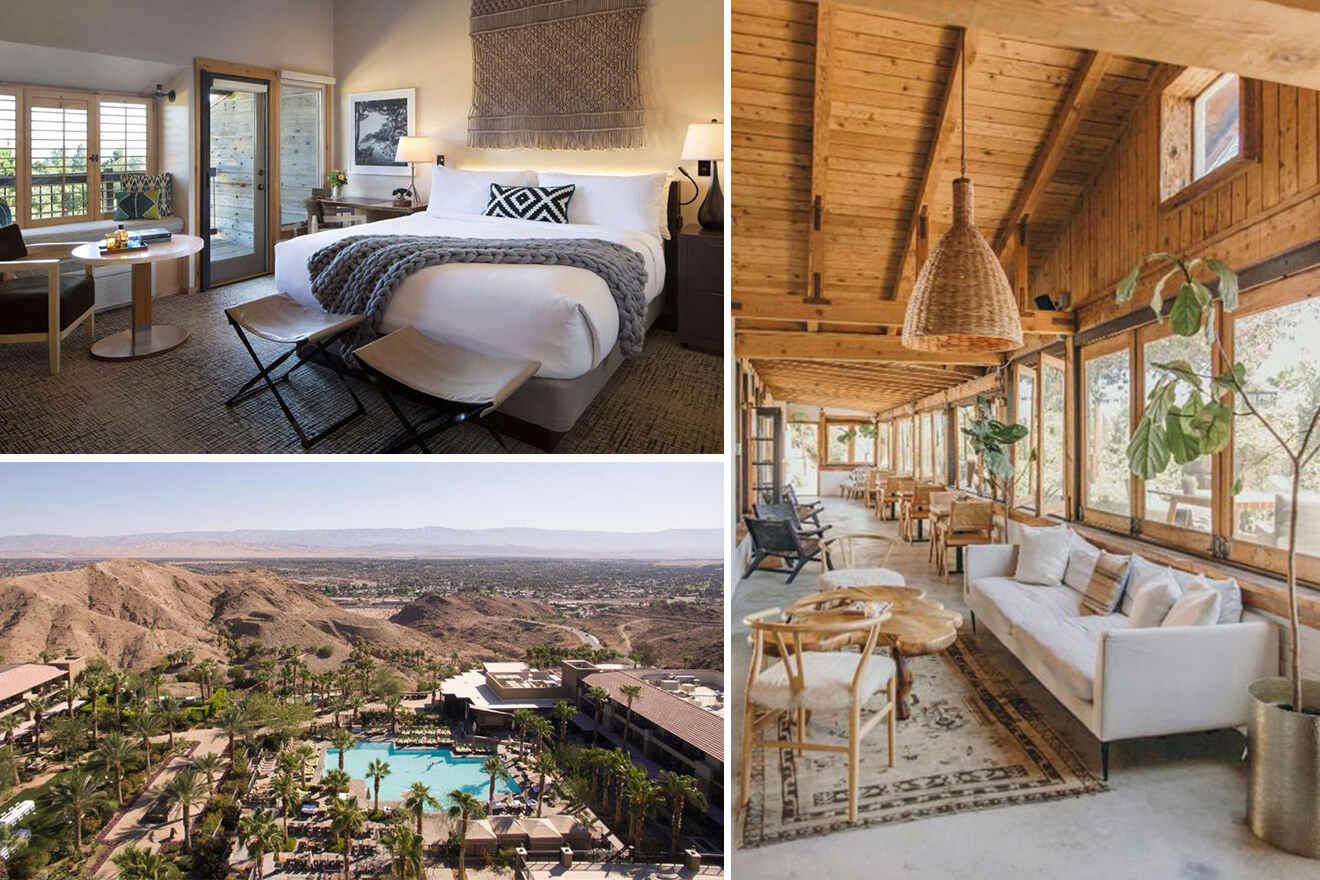 Calamigos Guest Ranch and Beach Club – Located in Malibu right on the California coast, this 5-star hotel offers access to a 200-acre ranch in the Malibu Wine Country, an exclusive beachfront Beach Club, an on-site spa and an outdoor swimming pool on the rooftop terrace. But one of the best things about this property are the rooms, each one features air conditioning, a private bathroom, and air conditioning… check out the pictures, you'll fall in love!
Alila Ventana Big Sur Adult Only – Set on a hillside overlooking Big Sur's Pacific coastline, this adults-only resort offers spacious guest rooms with a private balcony and breathtaking views of the forest, ocean, meadow, or canyon. Each room also features an en suite bathroom with a walk-in shower and soaking tub, and some of them even have a hot tub on the deck or fireplaces! On the property, you can also join many activities like yoga classes, guided property tours, afternoon wine tasting and more!
The Ritz-Carlton, Rancho Mirage – I am sure you will fall in love with this beautiful hotel, surrounded by the picturesque Santa Rosa Mountain Range, and offering spacious rooms with gorgeous views of the mountains. Here you will have access to many facilities for a holiday full of comforts such as an outdoor pool, an on-site spa, and wellness center, and 3 fine dining restaurants serving delicious food at any time of the day… What else do you need?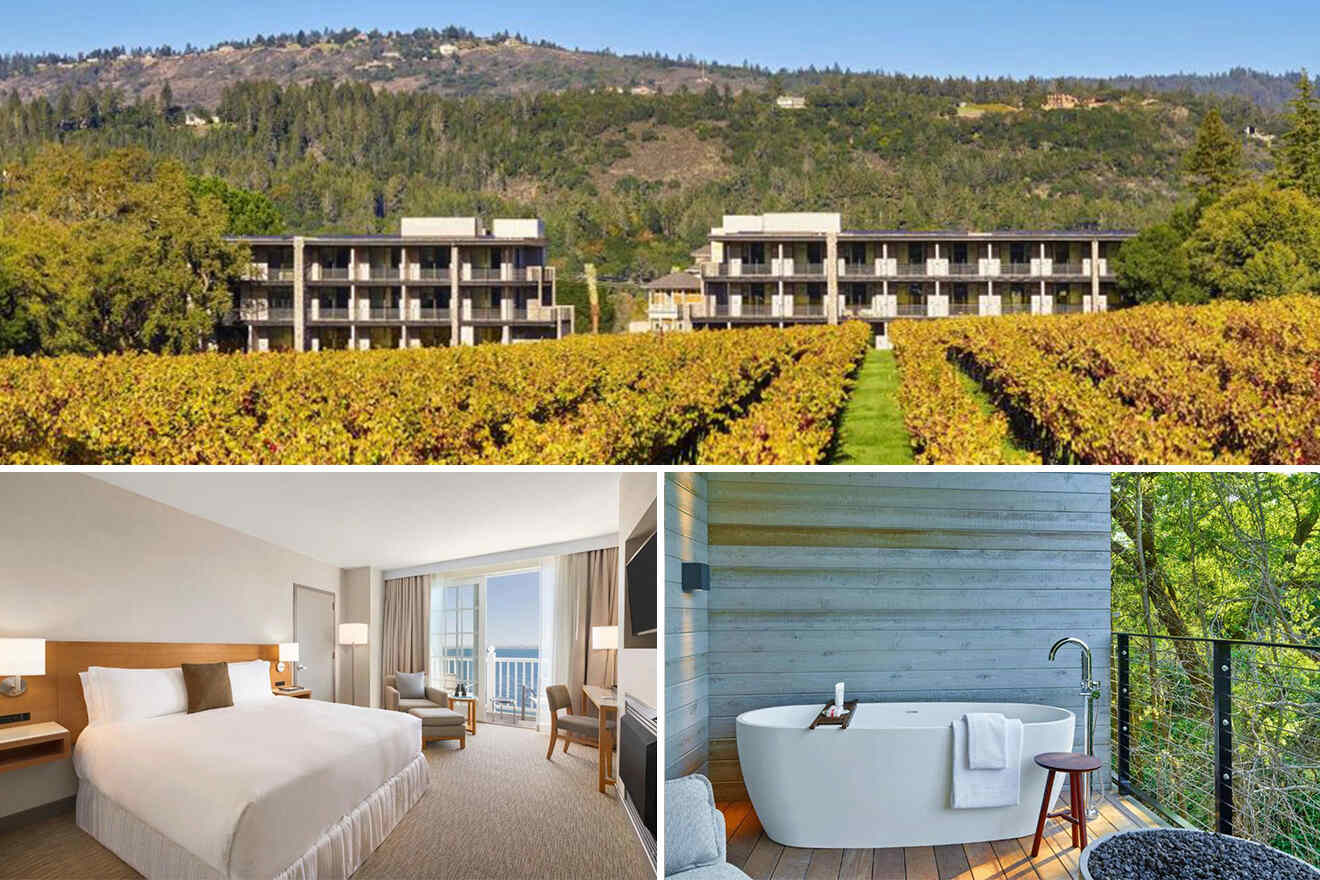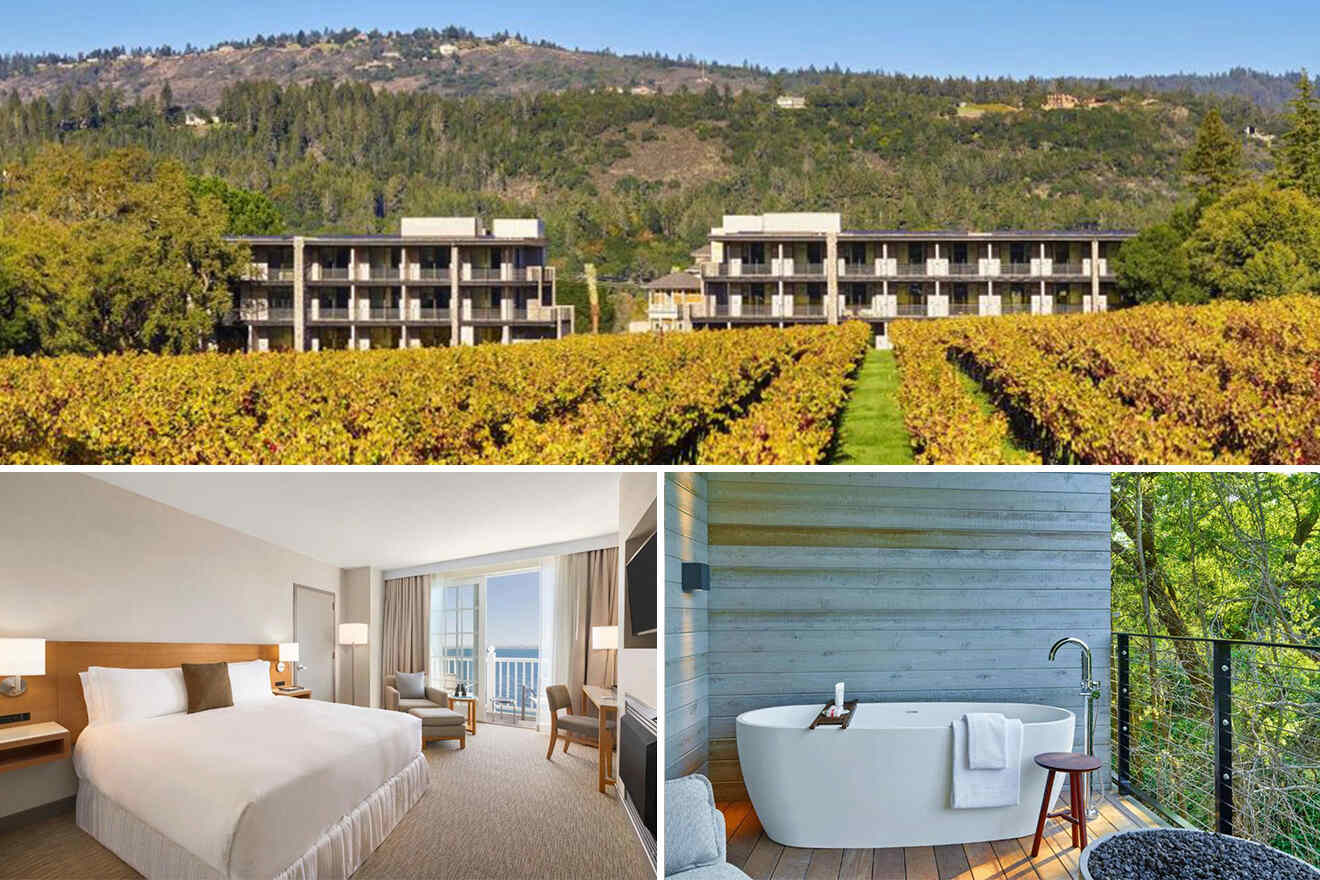 Alila Napa Valley – Nestled in the middle of picturesque vineyards in St. Helena, this charming resort offers very spacious rooms with air conditioning, king beds, a private balcony, and room service, perfect for couples who want to enjoy some quietness. Here you will wake up with a delicious breakfast, chill at the outdoor swimming pool and stay in shape at the fitness center!
InterContinental The Clement Monterey – Located in the heart of Monterey's Cannery Row, this California hotel offers the perfect solution if you want to go on a relaxing getaway, but cannot avoid bringing the whole family with you! Here you will stay in the elegant family rooms or private cabanas: they all offer an outdoor patio and an en suite bathroom with a hot tub, and access to a full-service spa, a children's club, a game room, and a delicious restaurant… What else do you need?
FAQs about California hotels with private pools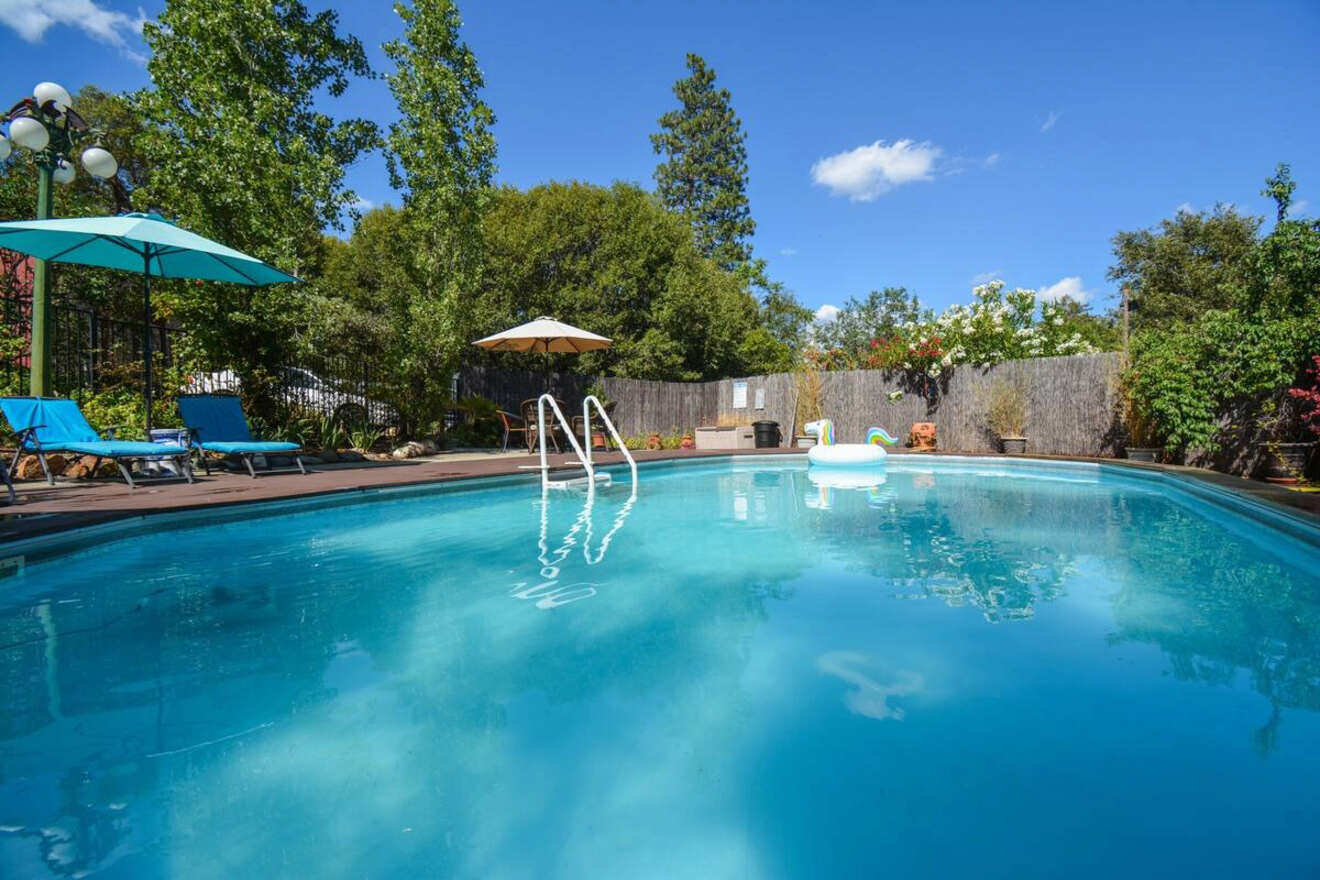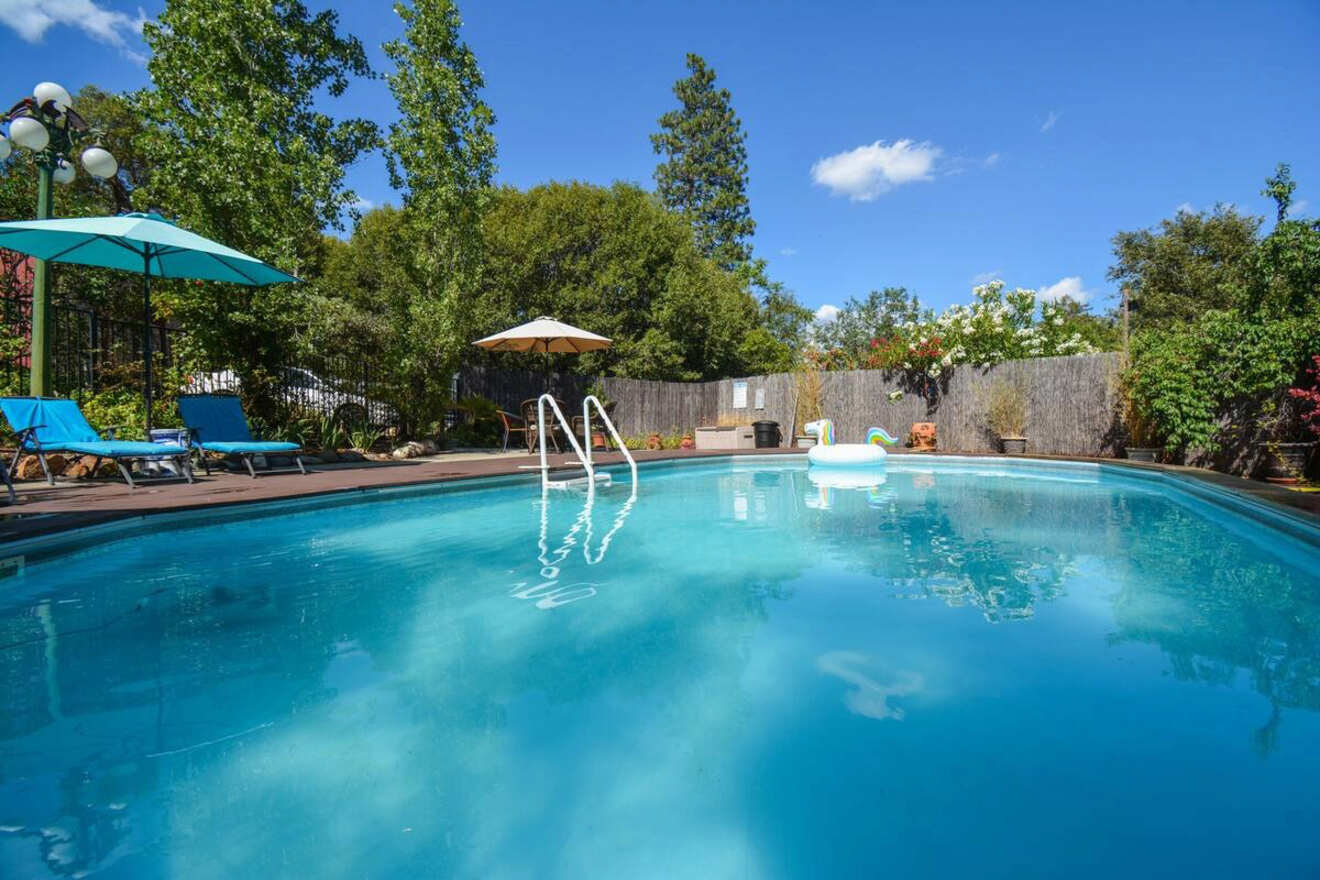 Conclusion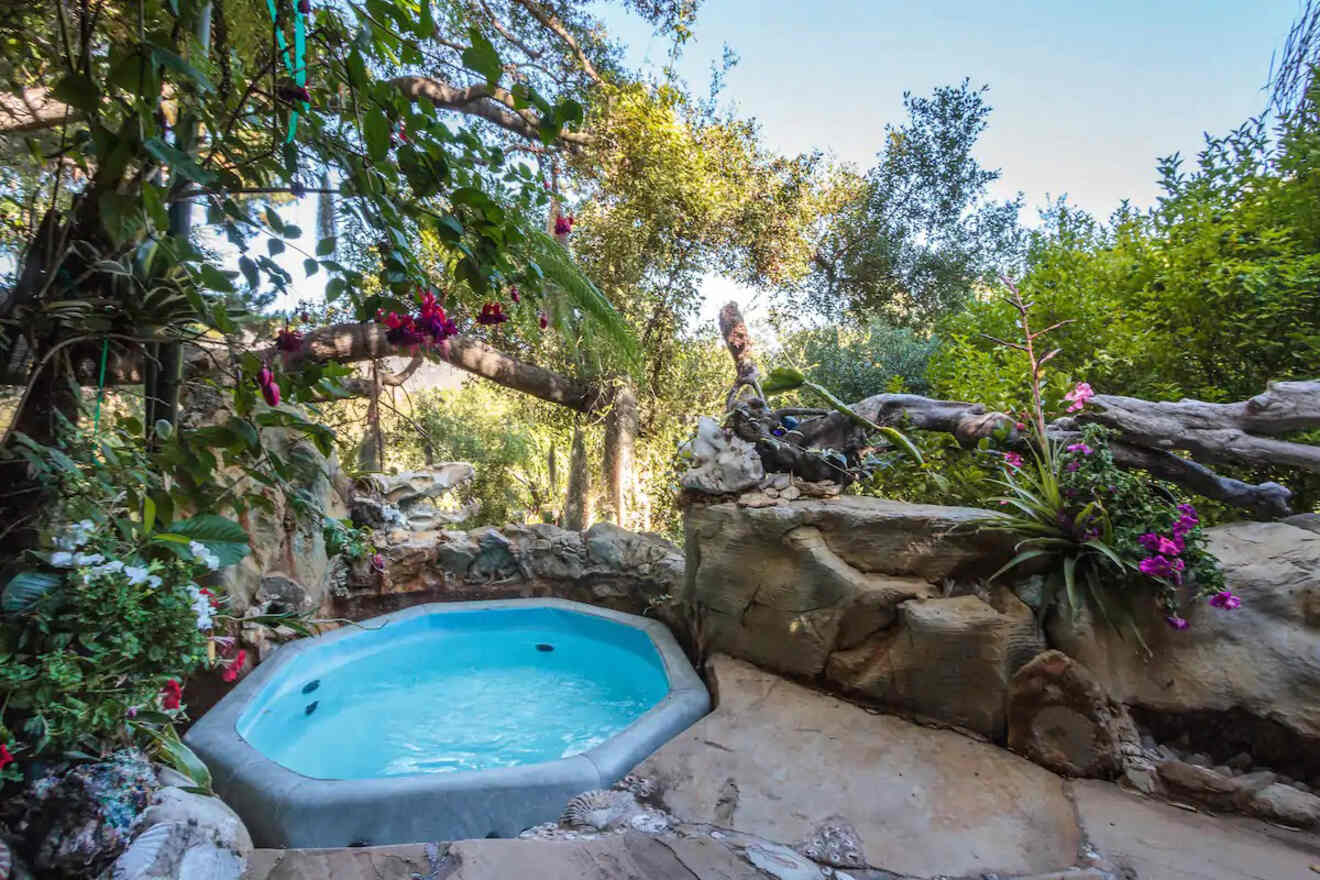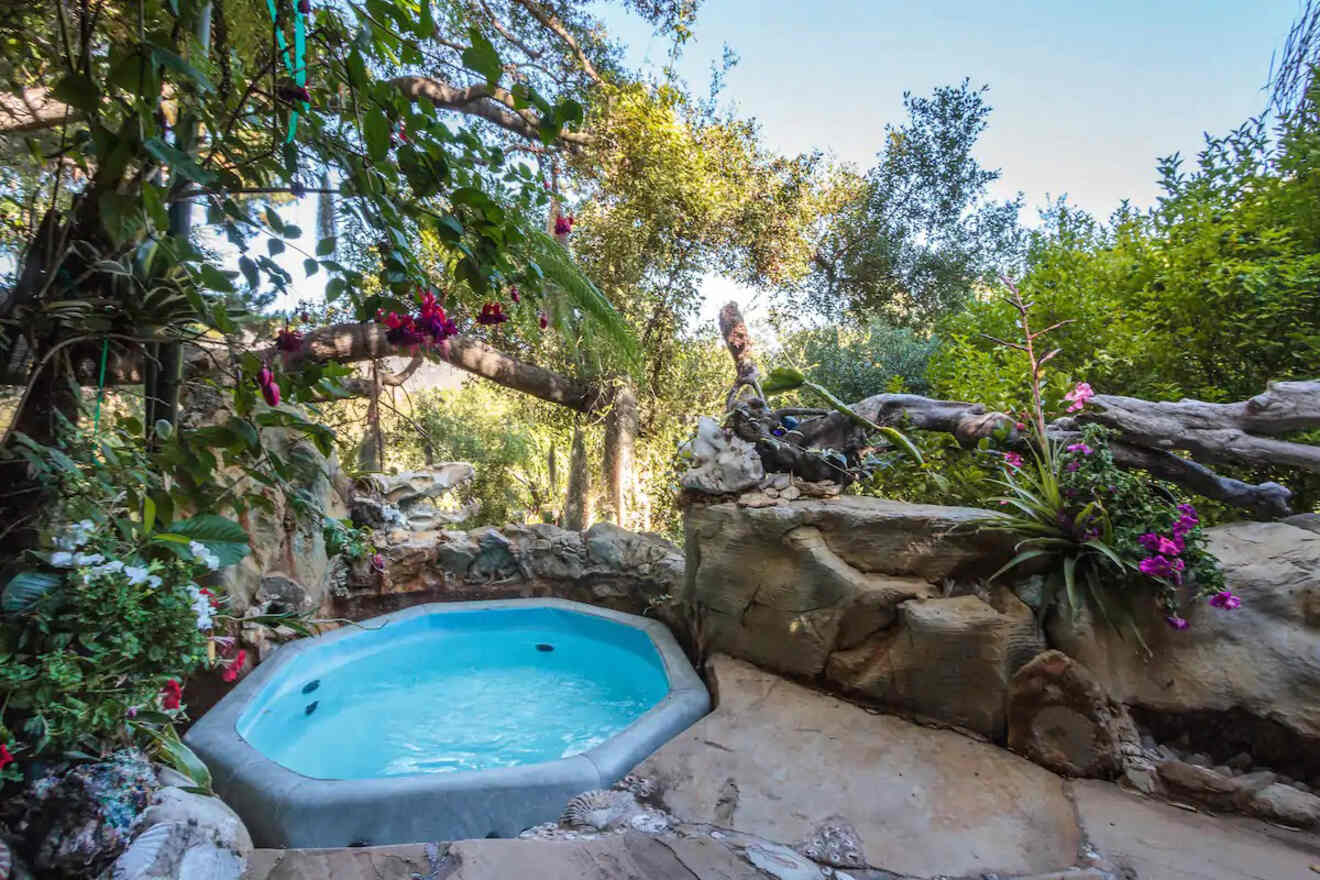 Here we are at the end of this guide about the best California hotels with private pools, perfect for a romantic holiday with your special one.
We saw accommodation options for any taste, offering rooms with their own private pool or hot tub, private plunge pools, private balconies/patios, plus some extra romantic hotels for couples, all ideal for a honeymoon or a tranquil retreat.
So where will you stay? If you are still undecided, I cannot blame you, all the accommodation options we saw were just great! So check out my 2 absolute favorite hotels. I hope this will help you make up your mind!
L'Horizon Resort & Spa – This California hotel offers adults-only accommodations with private plunge pools and access to an amazing restaurant on-site.
Aqua Soleil hotel, Desert Hot Springs – Check out this hotel located at a short drive from Joshua Tree National Park Downtown Palm Springs, offering great rooms with private pools
If you like them as much as I do, make sure you reserve yourself a spot and book immediately (or at least some months in advance), rooms get booked super fast in these accommodations!
And if you have any questions or hotel suggestions for me, please share them in the comments below, I am looking forward to reading them all and answering you.
Have an unforgettable holiday!
Elena
---
Pin it for later!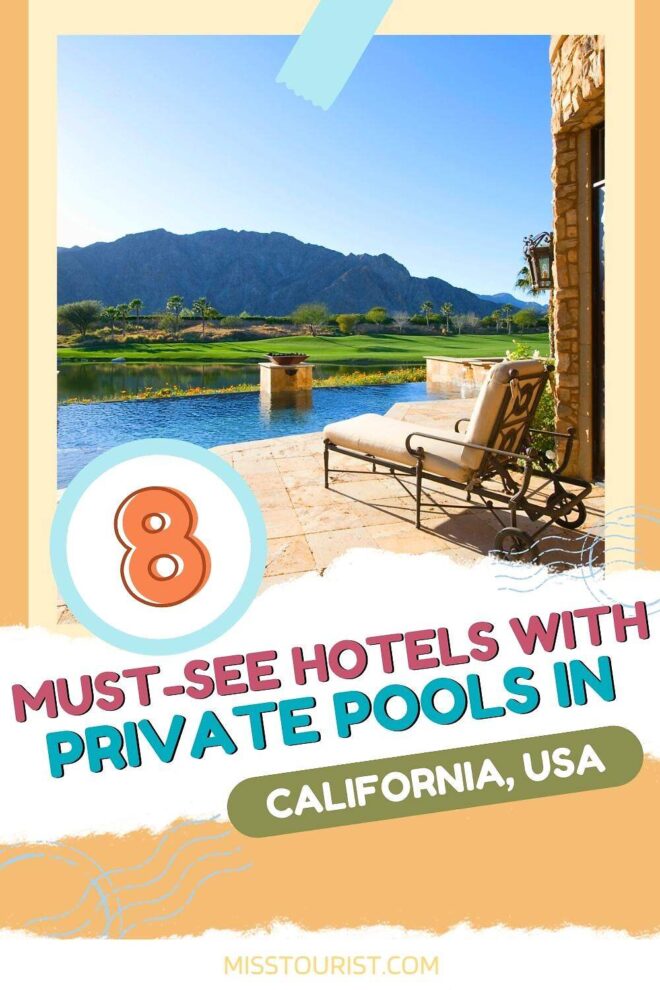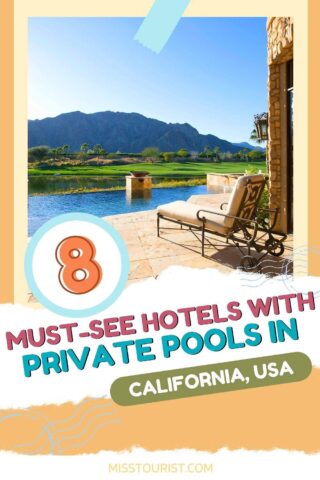 Pin it for later!